Dear a.netters and fellow tripreporters!
Welcome to my – for some long awaited – tripreport on Malaysia Airlines, from Amsterdam to Denpasar, the airport of Bali island in Indonesia.
Malaysia Airlines longhaul in Y: AMS-KUL-DPS

This was for me just another longhaul flight to Asia, I've been doing quite a few of those similar flights in the previous years, but for my partner this was the first time 'really' longhaul and for both of us our first time to Indonesia. This is the 'motherland' of my partner, as well The Netherlands always will remain to have a special historical relationship with Indonesia as well. Since this was the first time being so far away from home we decided to go to the relatively 'easy' island of Bali, as well a sidetrip to Lombok was taken.
Flights were booked on Malaysia Airlines in Economy Class, featuring a very comfy 34" seatpitch which is the most possible in this class to Asia. I was able to order SFML/Seafood Special meals for all of the flights on this carrier
and we also collected Flying Blue mileage on all sectors.
After taking some vaccinations as pre-caution (I had some boosters only to renew), finally the day came to leave Europe for the better climate of SE Asia. Saturday 8th October, not really holiday season in The Netherlands, but once we arrived at AMS for check-in it showed that this flight to KUL would become busy. MH is doing good business in AMS, though recently they downgraded the operating aircraft from the B747-400 to the B777-200ER with their fantastic 2-5-2 layout.
Our flight would still be on the Boeing 747-400, and we were able to get pre-assigned seating after contacting with MH's downntown office in AMS. I decided that the 'private' 2-seater in the back of the cabin would do fine for us, also offering some additional floorspace between the seats and the window. This is always good to store the blankets and pillows at times that you won't need them.
Anyway, check-in was performed at the desk, our assigned seats were confirmed, and baggage was checked through to DPS. The staff was friendly and efficient, while it was interesting to see that some other passengers needed ages to get things sorted.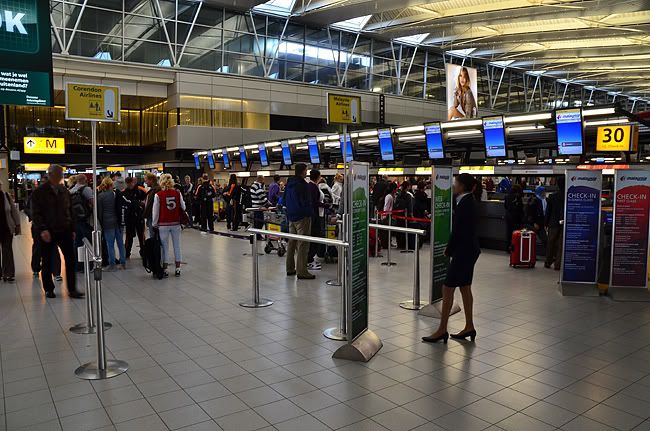 .
Check-In desk at AMS
Passport control was done in a minute, with several desks open, and there we were in the taxfree zone. We did some 'window shopping' and bought a few magazines for the trip, so we would at least have something to read at the pool or on the beach. Also some exchange of Euro's into US Dollars and even we got a load of Rupiah already including small notes since the banker just got this returned by another customer. He was happy to change to us and waived the fees for one of these transactions.
Our gate was E20, and the wonderful Boeing 747-400 was already there. As usual this flight arrives in AMS around 6am and after unloading, parked on a remote position. Before departure the ground handling company returns the aircraft back on a gate, so it all remains convenient for the passengers.
Gate E20,… I've used this numerous times before when I flew out on JL to Japan. It brought back some memories to me.

.
This Boeing 747-400 is ready to go for another 12 hours nonstop flight
Security was done at the gate, with these body-scanners. Without thinking we both used these machines (without further trouble btw), but ever since I will not accept this kind of screening anymore. It often seems that passengers have no choice or rights to refuse this kind of checks, but there is still no final answer if these machines are safe for human health, plus I still have my doubts about the privacy of a passenger. Lucky enough there are not often situation that I wil have to use these detection systems in AMS.

| | |
| --- | --- |
| Flight | MH017 |
| Route | AMS-KUL |
| Aircraft | Boeing 747-400 |
| Registration | 9M-MPK |
| Scheduled Departure Time // Actual Departure Time | 12:00 // 12:22 |
| Scheduled Arrival Time // Actual Arrival Time | 06:05 // 06:29 |
| Class of Service | Economy Class |
| Seat No. | 60A/C |
The boarding pass was screened and boarding was allowed immediately for us since we would be in the aft cabin on this flight. Boarding was done by row numbers, to avoid congestion in the cabin. At doorside the boardingcard was checked once more and we were greeted and waived to the first aisle on our right. On our way to the final rows, several crewmembers made a friendly greeting to us, definitely a good first impression.
A big plus is the free newspaper selection and even some Dutch magazines free to take upon boarding.
The seat was made our of a purple fabric, slightly worn but very comfortable. The headrest is adjustable in 2 ways, legroom is 34", making this a winner for me. The IFE screen is older styled but still AVOD, with a remote controller in the armrest. On the seat we find a blanket packed in plastics as well headphones. A pillow is placed on each seat as well. You know, the extra free space between the A seat and the window comes handy, and we store out items exactly there.
All seats on board are taken, except the last 2 rows on each side, which are being used for crew rest during the flight.

.
View on our seat. China Airlines going to BKK and doing good business at AMS as well
Finally we have about 20 minutes delay due to a few connection passengers from Germany coming in on one of the KLM feeder flights, on which MH has a codeshare agreement. No big deal, 20 minutes don't count on > 11 hour flights (well it does, not for us this time). I was impressed that our captain, Cpt. Hamoudi, did make an announcement to explain our delay.
The cabin was finally prepared and the safety demo is shown on the IFE screens. Our pushback is in taxiway A12 before we taxi out to departure runway 24. That means that we taxied only for about 5 minutes before we made our lengthy take off roll before we lifted off for an expected 11h25min flying time!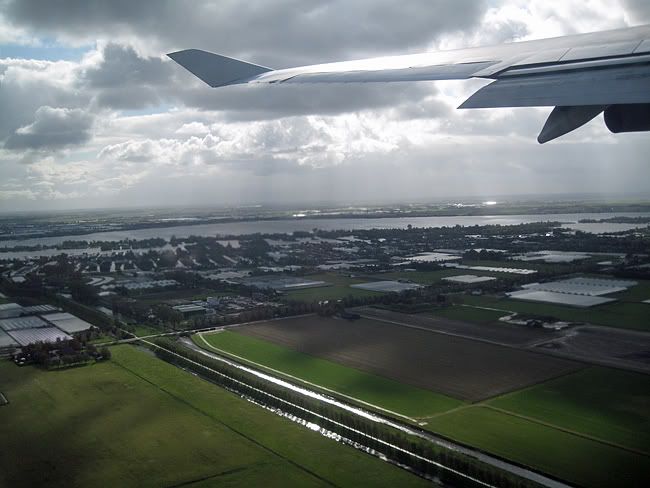 .
Here we go! Airborne from runway 24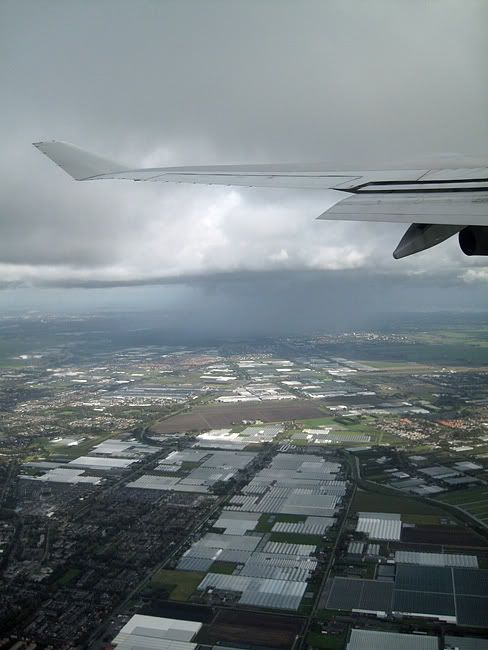 .
A last view on the Dutch glass houses below

.
And we dissappear into clouds
We slowly climbed to higher altitudes and I was once again impressed that the crew immediately came in action when the seatbelt sign was switched off.
Several crewmembers came along the aisles offering cans of beer (Heineken or Carlsberg, I took the latter), plus small bags of delicious nuts. I never experienced a drink service so quickly. To make a note that juices (orange, guava) and water was offered as well.

.
Malaysian Airlines branded peanuts are delicious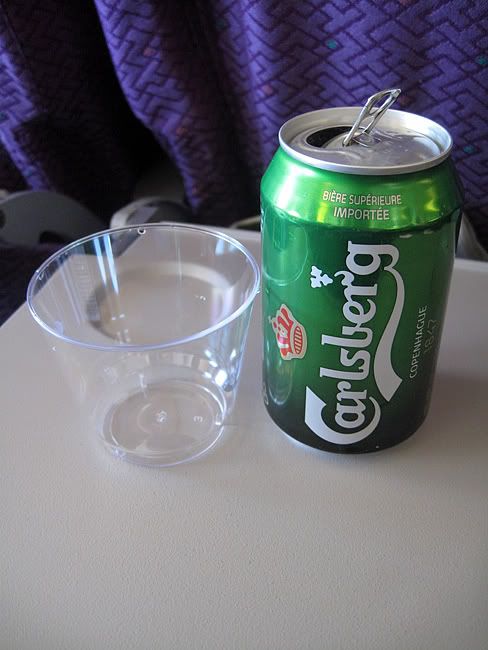 .
Cans of beer are distributed at this point too
We initially climbed to 31,000 feet cruising altitude and meal service was served about 90 minutes after takeoff. My partner was able to choose from 2 options and took something with chicken. I actually forgot to picture that regular meal. For me, the Seafood Meal was delivered as requested and I was pleasantly surprised by the nice combination of vegetable, potatoes and a large piece of fish. It tasted really good too. Altough I would've preferred a more 'Asian' dish this was not bad at all.
Drinks were offered, includings beer, wines, juices. Coffee and tea service was done later on as well, plus refills.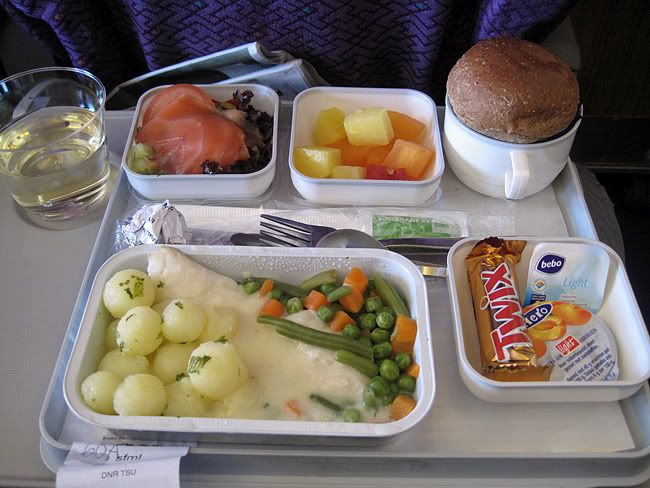 .
My Western SFML (Seafood Meal) dinner

.
The sun sets some 5 hours after departure… ready to sleep?
The flight continued with our routing passing over Ukraine, Turkmenistan and Kazachstan, we overfly Kabul in Afghanistan, then over Pakistan, crossing India and finally overwater to Malaysian. We make step up to 35,000 and 37,000 feet later inflight, with less weight to carry after several hours of fuel burn, we can cruise smoother at higher levels.
I tried to sleep a bit during this flight, with window shades all closed and a dark cabin. And the moments I'm awake I play some games on the IFE, check the flightmap, and listen to the music from the entertainment system. MH does offer a good selection of pop albums and you can also create own playlists, despite this being an older system.
A few rough bumps are experienced when we overfly the Gulf of Bengal. Not unheard of in this area though.
During these quiet hours MH offers a snack pack, which could be collected from the galleys. A message about this was shown on the IFE screens. I went to get some and found an offering containing a large American cookie, peanuts, cheese and Toblerone chocolate. To drink a white wine was my choice, due to absence of Baileys. But, rum or whiskey was on offer according the crew.

.
Midnight snack
Breakfast was served 2 hours before landing in KUL. 2 choices; omelet or nasi lemak. My partner decided to go for the nasi and to try if MH can match with the quality we prepare this dish at home. Well, the nasi lemak definitely made good impression. For me the seafood breakfast was given, containing omelet with salmon filet, baked potatoes and mushrooms. Definitely a very tasty meal for for me and I was very satisfied.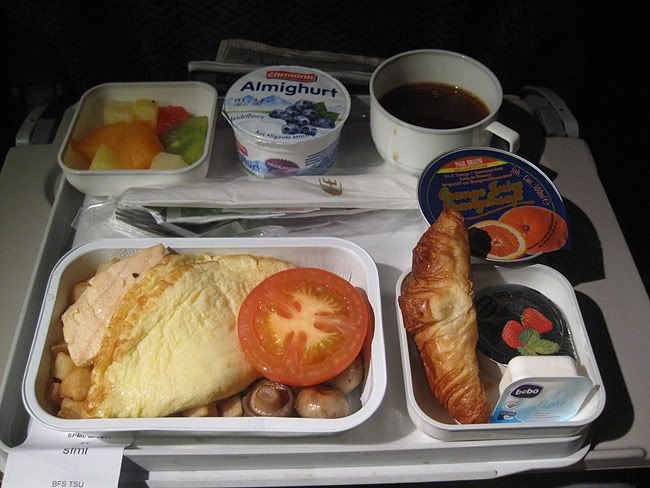 .
My SFML (Seafood Meal) breakfast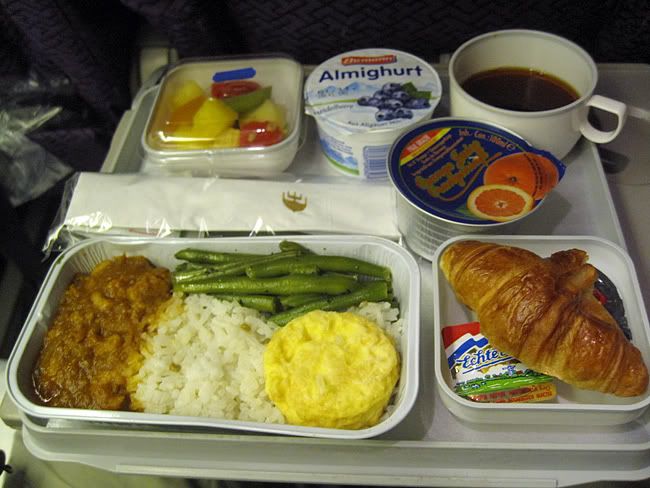 .
One of 2 regular choices: this is Nasi Lemak for breakfast
After breakfast I wanted to brush my teeth, but I didn't see toothbrushes in the washrooms. So I went to the crew to request a set, which was given immediately to me. I always feel better when I arrive after such a long flight in a bit 'fresh' condition haha.
During descend for KUL, a MH/KLIA arrival video is shown, explaining about formalities, and about the country. I've been in K.L. before but never in other areas. But definitely we will come to this country to spend a holiday in the future!
The video is here: [url]
http://www.youtube.com/watch?v=SxQfC...xt=1&list=PLA5049DE9AB796A92[/url]
Landing was in the early morning light, on runway 32L. A smooth touchdown and braking, meaning a long roll out using the full runway length. Is this a noise abatement procedure at this airport?
Parking was slightly delayed at gate C17, and of course disembarking took a while. There are 2 fingergates attached to the aircraft to speed up things a bit. It was great to get a goodbye in Dutch from the captain at doorside, really nice!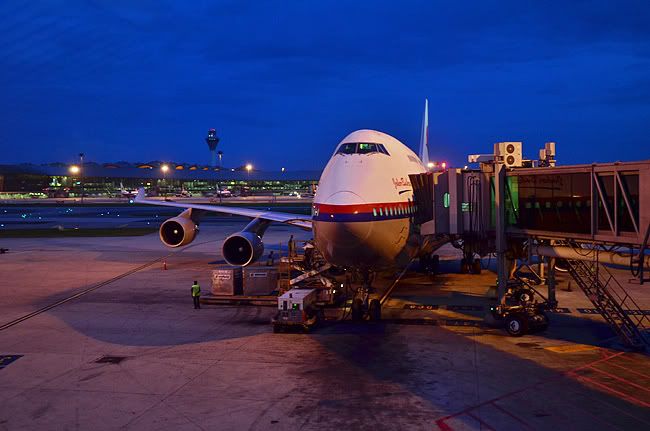 .
Another flight completed!
Our transfer in KUL is several hours before we proceed further to DPS. So after a long flight we are happy to walk around a bit and wake up more and more. From a dutyfree store I buy one extra memory card for my camera, and we also have a look in the KLIA Jungle Board Walk, a small mini-forest. I must say this is an original idea and a welcome difference from the usual airport life.
The airport in general is very well laid out, shiny floors, very clean, good shopping. Views on the aprons are limited though, but on the other side, the airport does offer free WiFi throughout.

.
Shiny terminal in KUL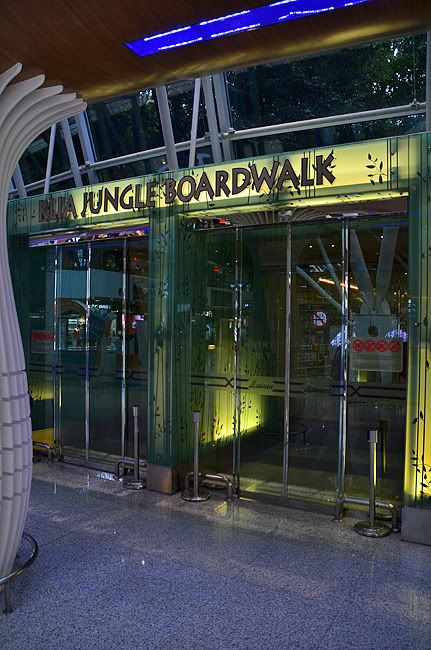 .
The famous KLIA Jungle Board Walk (a mini forrest inside the building)
Next is the flight to DPS. Gate C3 is assigned to ours and we walk there early. Pre-boarding was already in progress, several staff is around and check the boarding pass and passport. It was nice to hear that the staff checking my passport said that his birthday was on the same date as mine. He really paid attention to details, it seems.
Also a security check is done at this time. The staff is really friendly including the security officers. No hassle at all. Another MH ground staff comes to us and hands out the Indonesia immigration form and customs declaration, so there was now time enough to fill these forms out.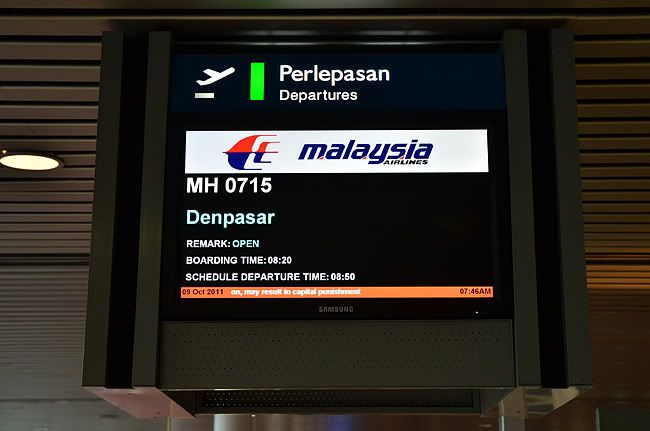 .
Next destination: Denpasar!
Aside from filling out the forms, a slight dissappointment for me when I noticed that our aircraft was not one of the new batch of A330-300's, which was expected to be honest (and operating this flight often). Instead I noticed 9M-MKH, a 16 year old lady spotting the 'old' colourscheme and interior. At least legroom would be good on this bird as well a coloursful journey towards Bali. It would be a short flight anyway.

.
One of the older MH A330-300's is operating the flight
Boarding starts ontime and by row number. All in a civilized and efficient manner.

| | |
| --- | --- |
| Flight | MH715 |
| Route | KUL-DPS |
| Aircraft | Airbus A330-300 |
| Registration | 9M-MKH |
| Scheduled Departure Time // Actual Departure Time | 08:50 // 08:41 |
| Scheduled Arrival Time // Actual Arrival Time | 11:50 // 11:37 |
| Class of Service | Economy Class |
| Seat No. | 37A/C |
Also on this flight a friendly welcome by the crew, and we walked into the colourful cabin. Seats of fabric, in orange, green, blue colours. It's different, for sure. And actually I liked it personally. It's very fresh. I must say that despite the ago of this aircraft, the cabin was in a great shape and no signs of use where seen.

.
Good amount of legroom
The cabin fills up quickly until we reach a close to full load. I guess the majority on this flight are holiday makers, from the Europe and Australia mostly. Everybody was in a good holiday mood.
Pushback is even ahead of schedule and we use runway 32R for takeoff, following a red A330-300 operated by AirAsia. Once we got airborne and turned towards the Southeast I got a good view of KUL and the new runway construction.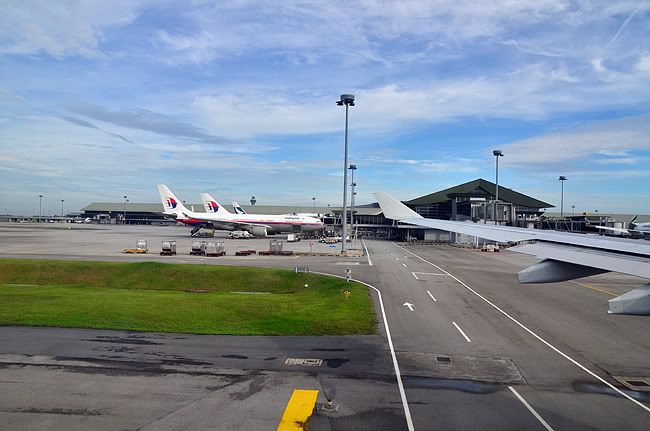 .
Taxi Out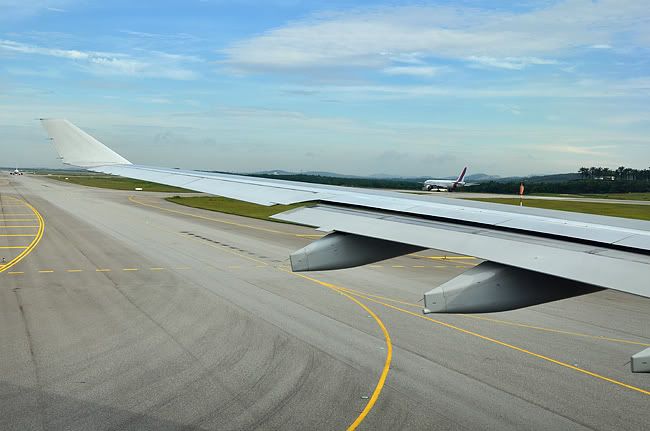 .
The Boeing 757-200 from Nepal is arriving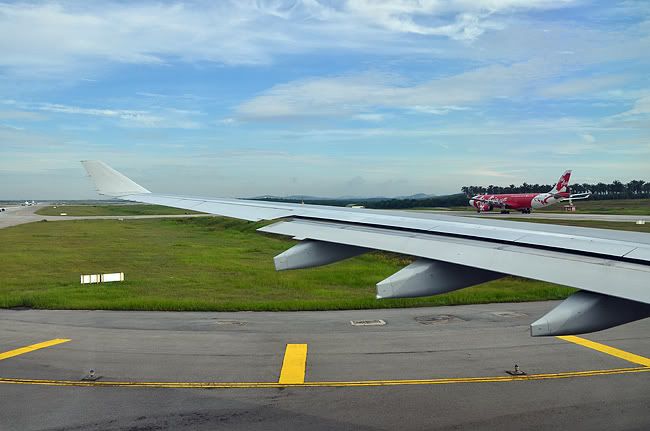 .
We follow this red A330-300 of Air AsiaX

.
Lining up the runway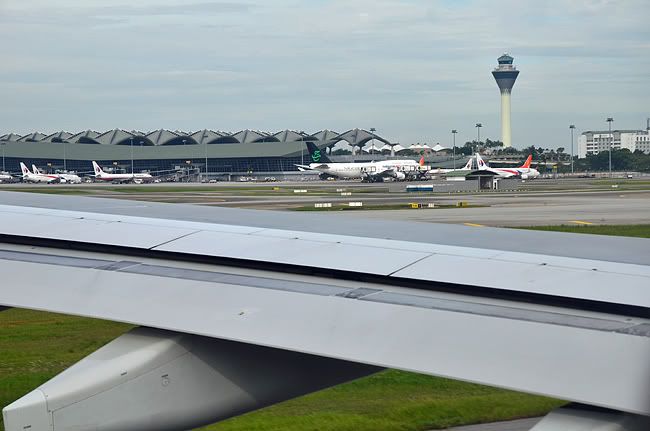 .
This strangely painted 747-400 is MH's 9M-MPD (used for Hadj?)

.
Airborne!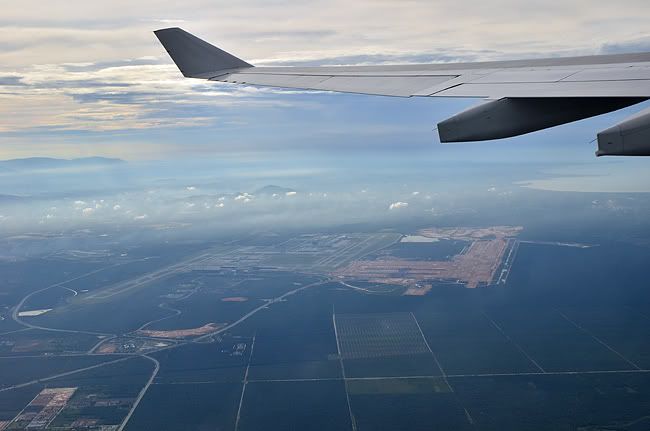 .
The new runway construction at KUL
The seatbelt sign switched off and immediately a choice of juices is offered. We go again for the delicious guava juice this airline is famous for.

.
Delicious guava juice

.
And a cabin view for you… Lovely colours
The first part of the journey is calm and after 45 minutes a meal is offered. It's kind of half-sized in a nicely presented box style. For me the seafood option was loaded, with some local fishy dish. A bit on the dry taste, but ok. It was interesting to receive a box of raisins as well, never got that before on an aircraft! More drinks were offered by the crew.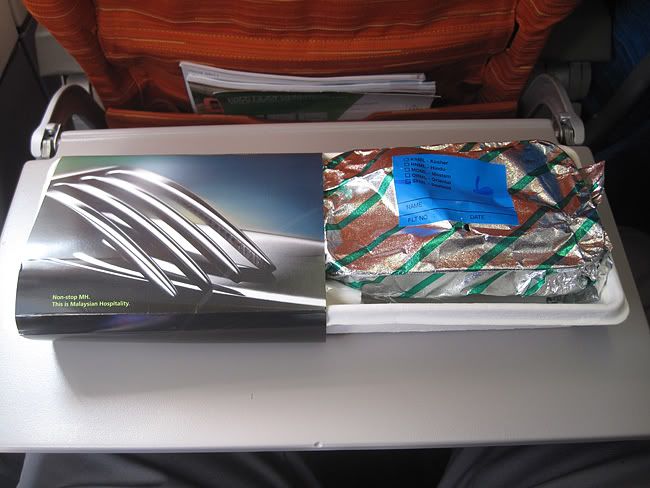 .
My meal comes in the box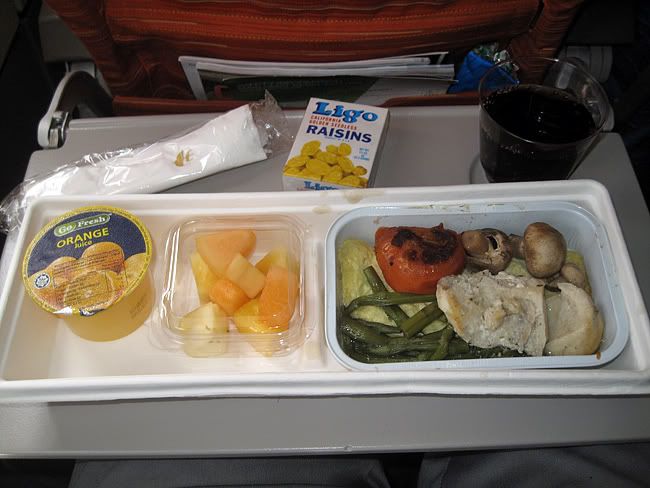 .
Seafood indeed, good portion for this 'short' flight
Before the tables were cleaned we flew into some high level clouds, around some CB's (Cumulonimbus Clouds). This resulted in suddenly very strong turbulence which lead to several items falling down on the floor from the drink trolley. The crew holds tight on the seats at this moment. Luckily enough the cart was secured and in front of the cabin section (not near the seats). Of course immediately the seatbelt sign was switched off and the crew was ordered to take seat immediately. It was interesting to see that the cart was left in the aisle at this time and the crew left. We had several minutes of severe turbulence and shaking around, the aircraft took different course and also power settings of the engines was controlled differently at this moment (different sounds coming from the engines). Well, aside from that I noticed at least 2 passengers using the airsickness bag, on across the aisle, father of a young child. This flight seemed a nightmare for him, it seems haha.
After some time we reached blue skies again and the service was continued, but no hot drinks were offered anymore on this flight. The crew remained professional at all times and very friendly. Also the English language was spoken very clearly, plus some jokes was never a problem.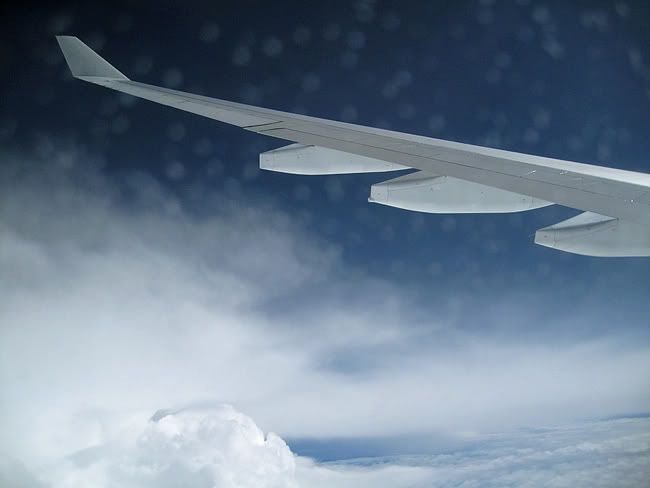 .
Clear skies again… we leave the rough air behind
After roughly 2 hours, on the horizon, we notice the tops of some volcanoes above the clouds. This must be Indonesian territory for sure. This were the major peaks from Bali of course. We start descending and also the cabin was prepared for landing.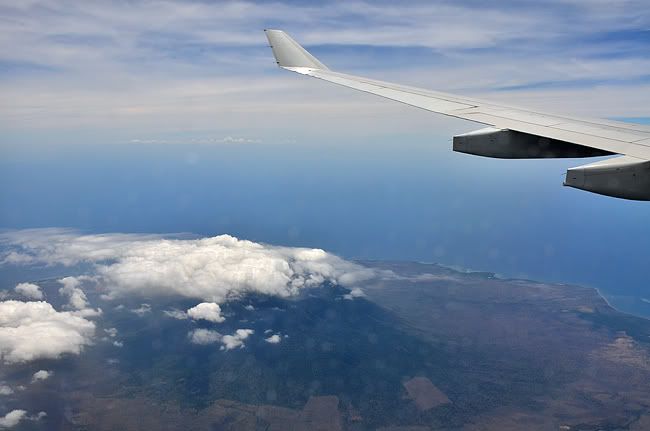 .
This is Indonesia and one of the many volcanoes
Our approach from the West is oversea, and during approach the flaps extended more and more. It got my attention that some rubber (?) part was visible and got torn off more and more. The wind circulation on the wing was cause of this. At some point it even resulted in some small sparks being visible, but at the time that my camera was ready to picture this, the part was torn off completely and gone (in the sea). For me this was no reason to feel uncomfortable about it, but definitely an item I wanted to tell the crew about.

.
Approach over sea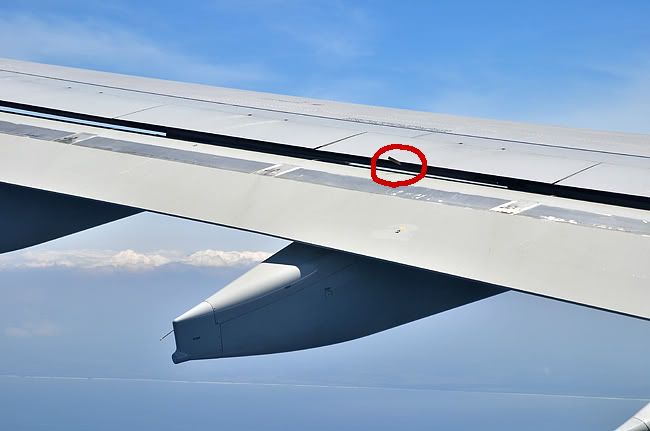 .
Some rubber/metal piece is torn off by the wind circulation
We approach over the sea and finally land at runway 09, in beautiful weather conditions.

.
Final approach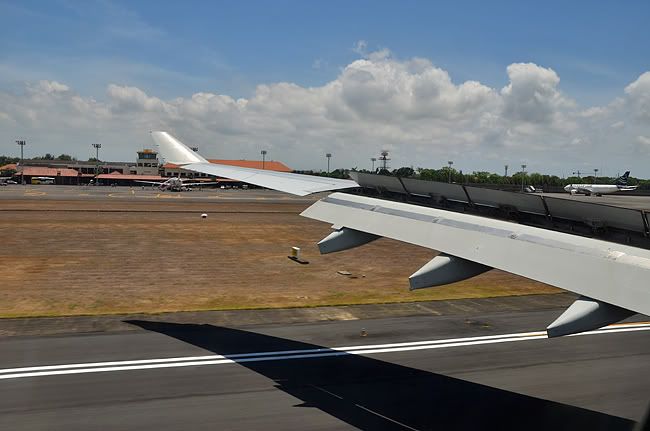 .
And landed! Notice the Batavia Air A330-200. What a great aircraft!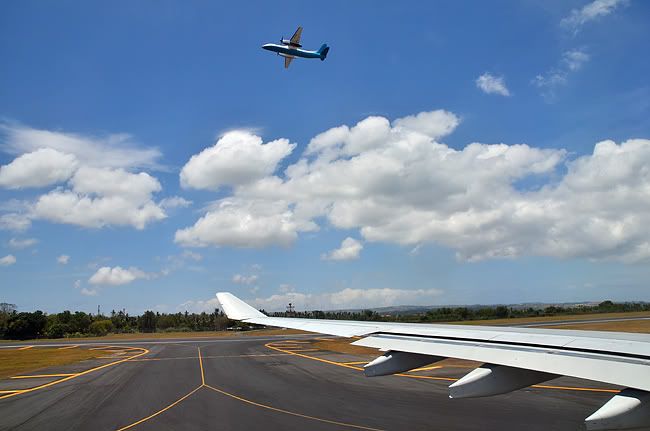 .
Hmm… interesting bird taking off… Stay tuned for part 2

.
We park next to this Garuda 737-800
The holiday feeling comes even more now! Upon disembarking various crew members say goodbye to us. I told the crew that I needed to talk to the captain and was let entrance to the cockpit immediately. The captain listened to my story about the approach and the missing rubber from the wing. Probably not something to worry about but nevertheless the captain was really thankful and told me to have a look himself outside before flying back to KUL.

.
A last view on this A330-300 which flew us in
Now we were in Indonesia and queued for 2 minutes to obtain a Visa on Arrival, paid this in USD and some Rupiah. Then about 10 minutes in the queue for immigration. The 10 minutes were sometimes quite annoying with the ongoing same repeating sound of traditional gamelan music
Let alone for the people who work there haha.
Also immigration formalities were hassle free and we were let into the country. Our baggage was meanwhile on the carousel and we picked it up.
Now another small queue, for an exit customs check: all baggage items have to be put in the large x-ray machine and custom officers check the contents. It just takes a while, but not a problem to be honest. We had nothing to worry about, but I read in the Bali Post that an Austrialian teenager was caught on arrival with marihuana in his suitcase some days after our arrival in DPS. He was put in jail immediately. Well, good job by the authorities! I think his parents were less happy from that moment…
We struggle through a load of taxidrivers trying to earn our business, but decided not to play their game and go for the fixed rate Bali Taxi (the blue cars). After arrival and once outside, turn to your right to find the ticket booth. You can purchase a taxi against a fixed rate and a driver will take you to his taxi. Do some tipping on arrival of course. But at least there is no inconvenience to discuss the fare.
After a 30 minute ride we arrive in our resort in Sanur, where we will stay one week… Some pictures will follow in part 2;
For now, I can only conclude that Malaysia Airlines still offers a great Y-class product, for competitive fares. The meals were very sufficient throughout, the crew was very attentive and I was very pleased by the legroom on their aircraft. Despite the older style IFE – which I hardly used –, there was not a dull moment in this flight.
Meanwhile MH changed to the B777-200ER on their KUL-AMS flights, which I personally like a lot since these aircraft have a 2-5-2 configuration. So many 2-seaters, fantastic if you travel with a partner.
Transferring at KUL is hassle free. The very modern airport offers all kind of facilities, so it never gets boring. The groundstaff there was very friendly as well, so there is no need to worry about anything after arriving from a longhaul flight and waiting for your Asia/Australia-connection.
Thanks for reading and stay tuned for part 2 which will follow soon,
Eric