Introduction
The time has come when I finally take the plunge and write a TR on Airliners.net. I have become a fan of reading trip reports for quite some time and think its time I finally made my own contribution. I was actually reading the trip report by PlaneHunter about the painful A380 delay with AF because I was on that same flight, and I can actually see myself in PH's photos!
At the time of making this trip the photos I took were just for my own pleasure and to share with friends, it was never my plan that they would form a trip report so apologies for the quality. Had I planned to do a trip report at the time, I would probably have taken some more photos around critical parts of the journey, for example check in, boarding and baggage reclaim.
Background.
EarIy in 2011 I was feeling quite excited at the prospect of the new TP service from MAN-LIS. I had long been planning a trip to Lisbon, even back in the day when we had an evening Portugalia service but never got around to it. Of course there were other options to consider, EZY from LPL was competitive so long as I juggled the dates of travel about to get a lower fare. WW was also still an option, though they were more expensive than TP in the end, even before adding charges for luggage, credit card, on board snack and whatever else. So on April 9th I made a booking on TP's website for a MAN-LIS-MAN return 5-9th September at the price of GBP £93.09
MAN-LIS
I arrived at MAN about 3 hours before the flight, even though I only live 30 minutes from the airport I always like to allow plenty of time. I had completed OLCI the previous evening, though on arrival at the airport I discovered there was no 'bag drop' desk. In fact there were only 2 check in desks for this flight, one for Economy and one for Business. It wasn't a problem as there was only one person in front of me. The check in agent asked the usual baggage questions, and I was soon on my way through security and into the labyrinth of duty free that you have to negotiate your way through in T1 before finding a window to look through.
Some movements at MAN whilst I was waiting: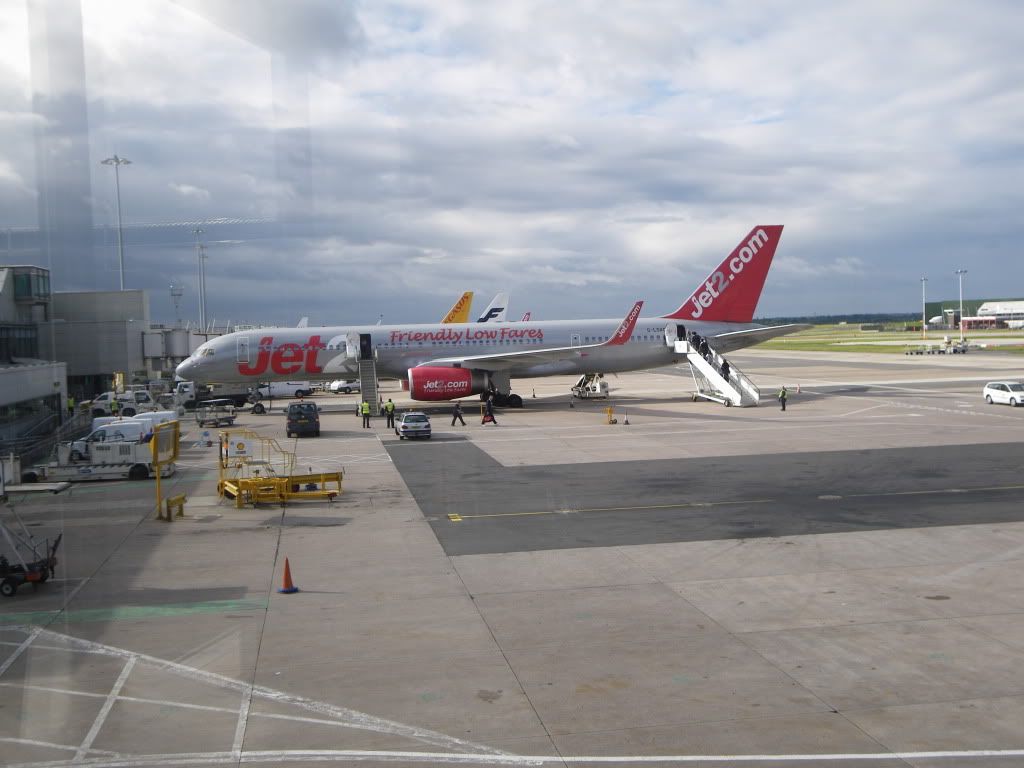 LS boarding for TLV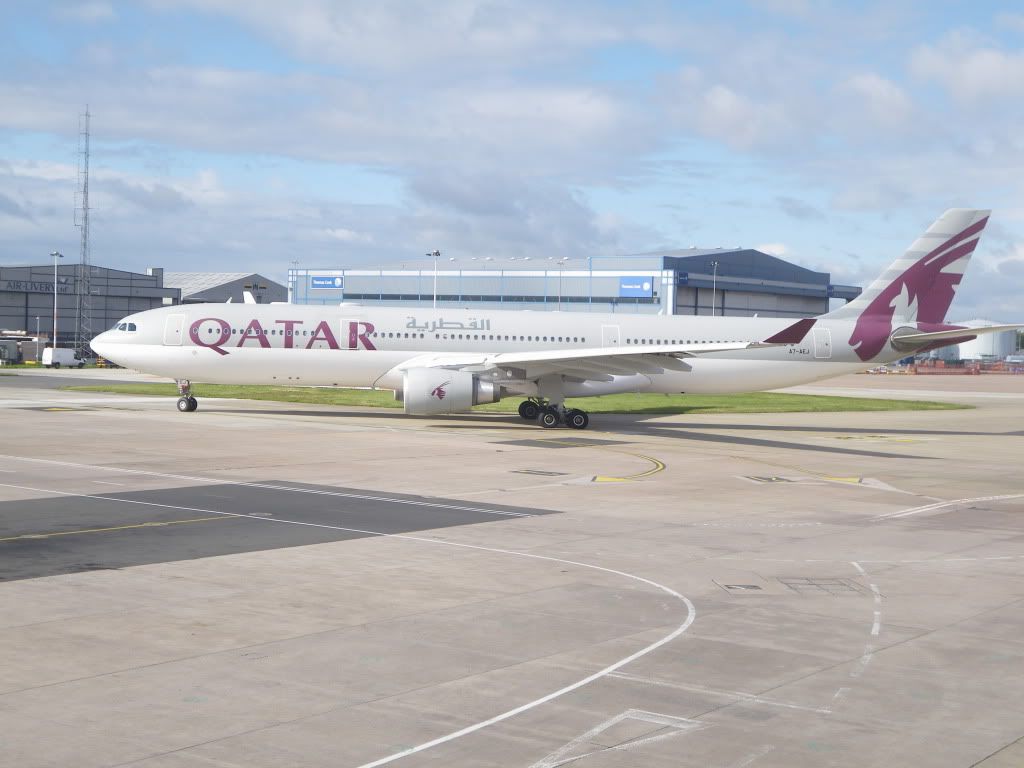 QR - One of my favourite liveries - departing to DOH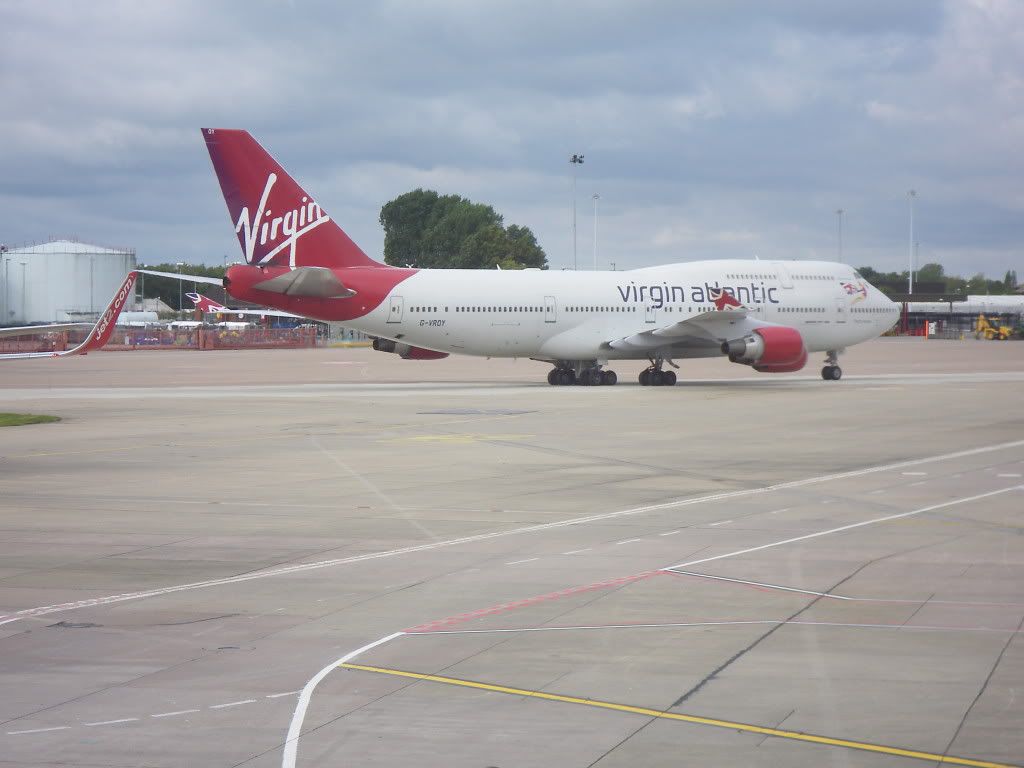 VS arriving from LAS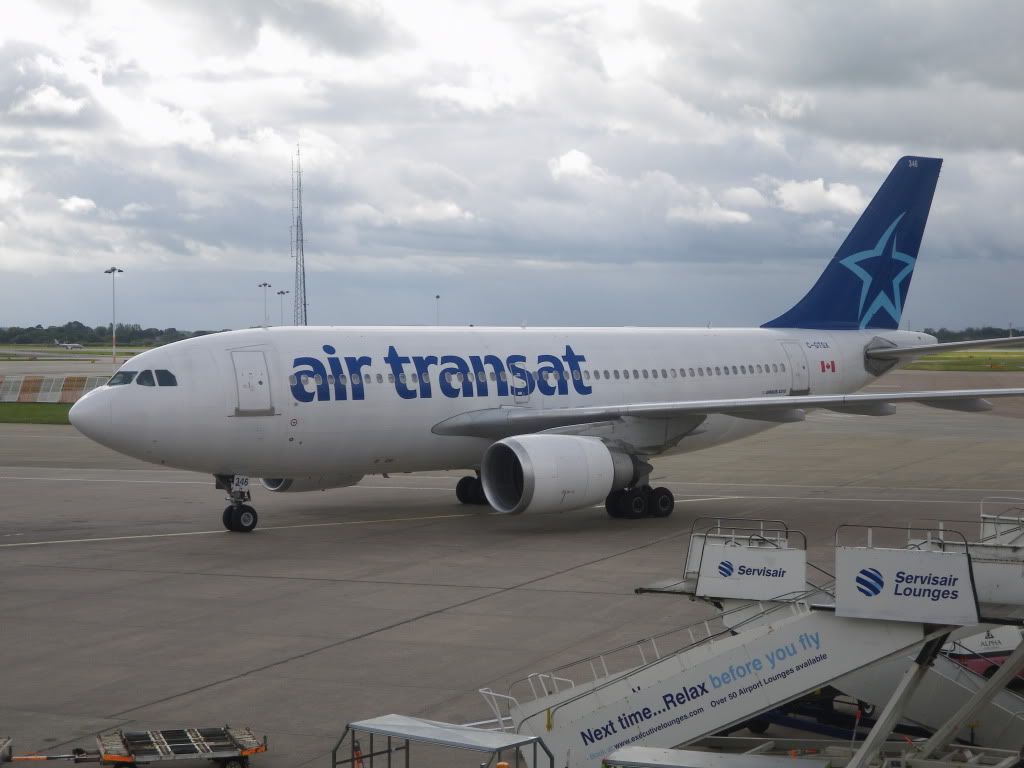 TS arriving from YYZ
Finally TP arrives with the expected A319: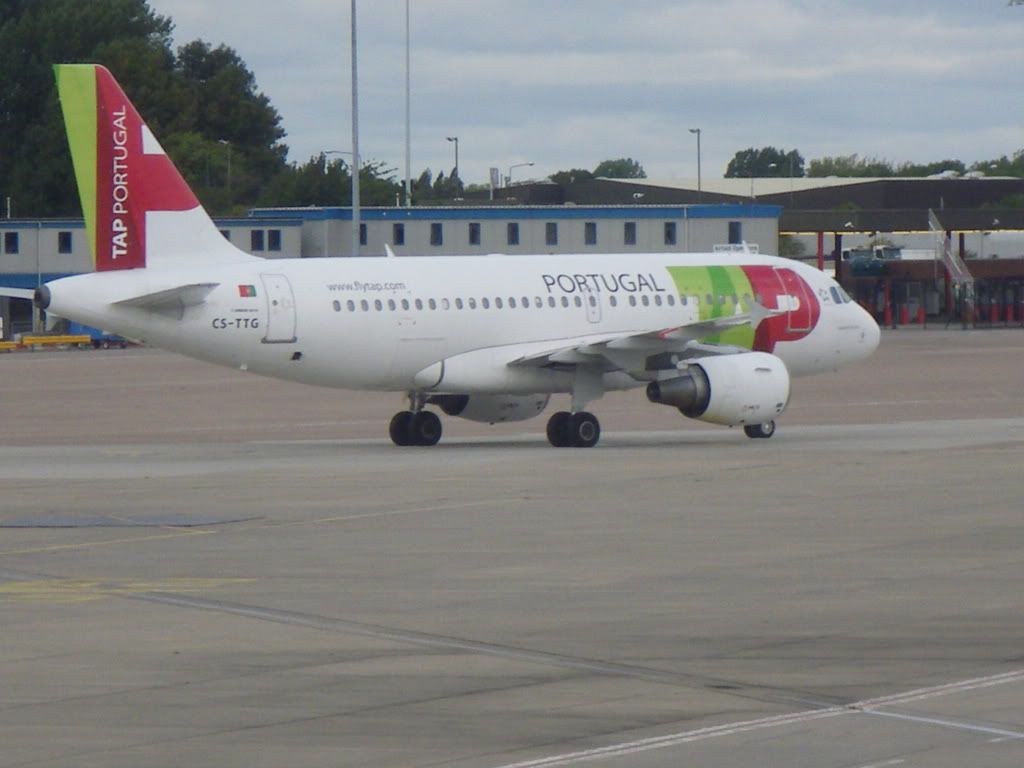 5 Sep 2011 11h25
TP321
MAN-LIS
A319 CS-TTG
Boarding commenced promptly and an ontime departure was anticipated. Economy looked quite full, only 2 empty seats as far as I could see. There was only 1 passenger in business class.
Customary legroom shot:
Before long we were speeding down Runway 23L and within seconds passed though some clouds.
Departure from MAN: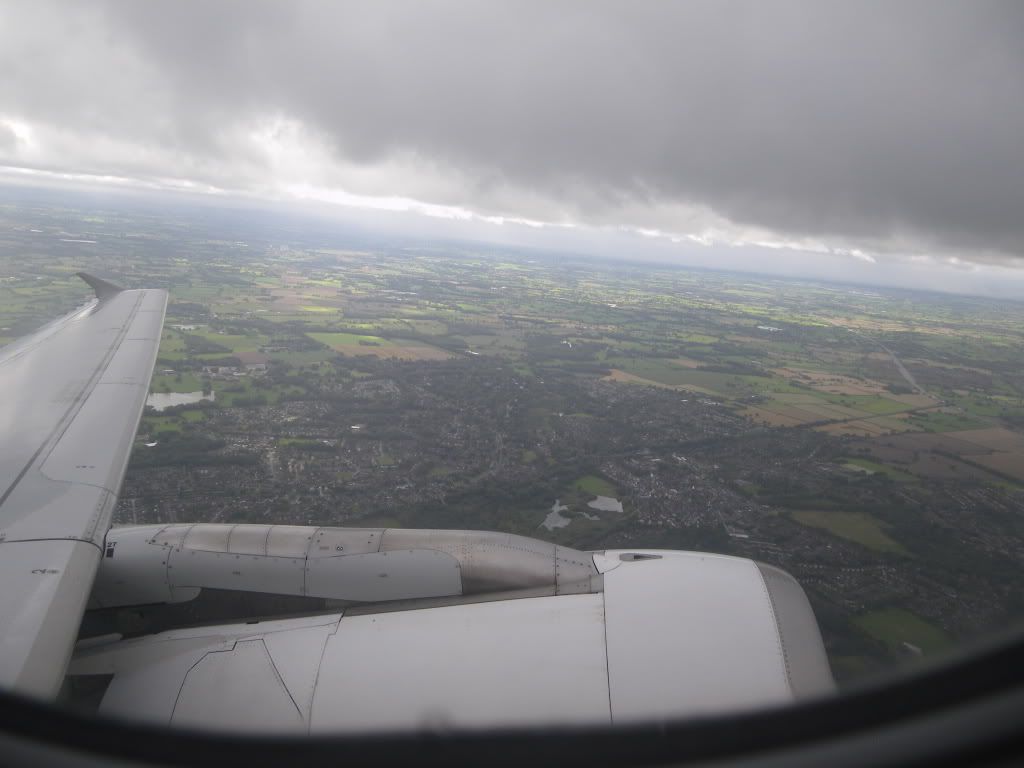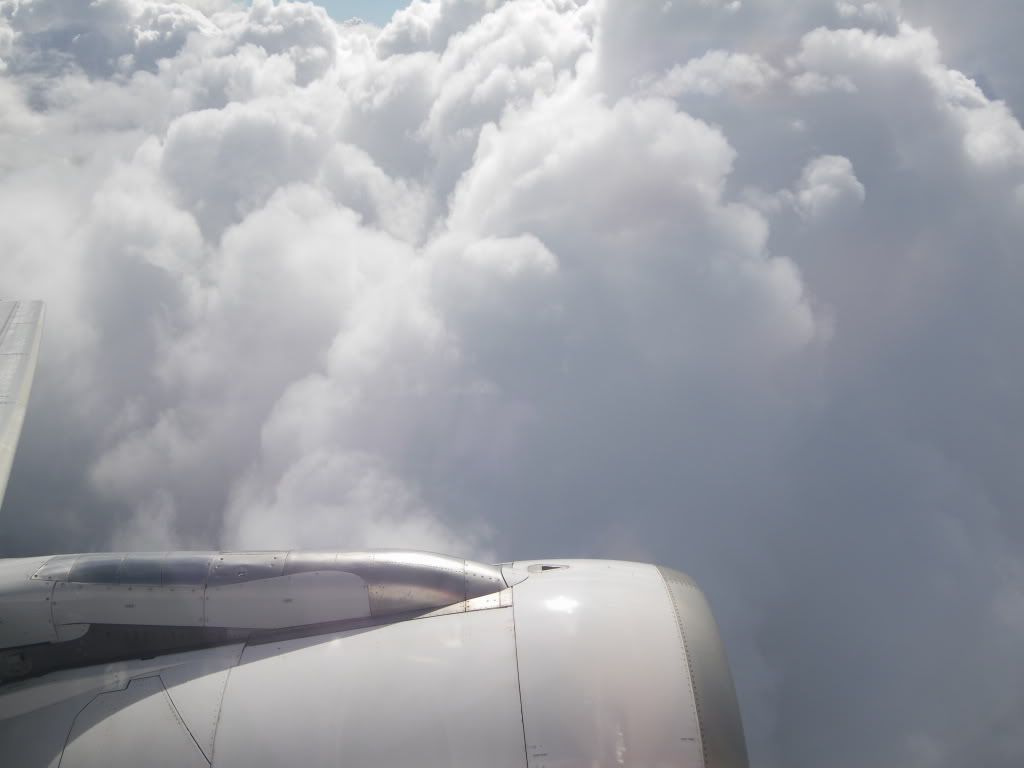 The front economy section of the aircraft was being looked after by a young male member of cabin crew. He was professional and spoke good English, though he did not smile. Thirty minutes after take off the inflight catering emerged with TP's standard offering:
The smoked salmon sandwich and fruit drink were very tasty for me and as it was now lunch time it seemed appropriate to have a glass of white wine.
No IFE was available, that didn't bother me on this 2 hour sector. The window is enough for me.
Before long the Captain announced that we were beginning our descent into Lisbon. On doing so we were treated to some spectacular views with the airport being so close to the city.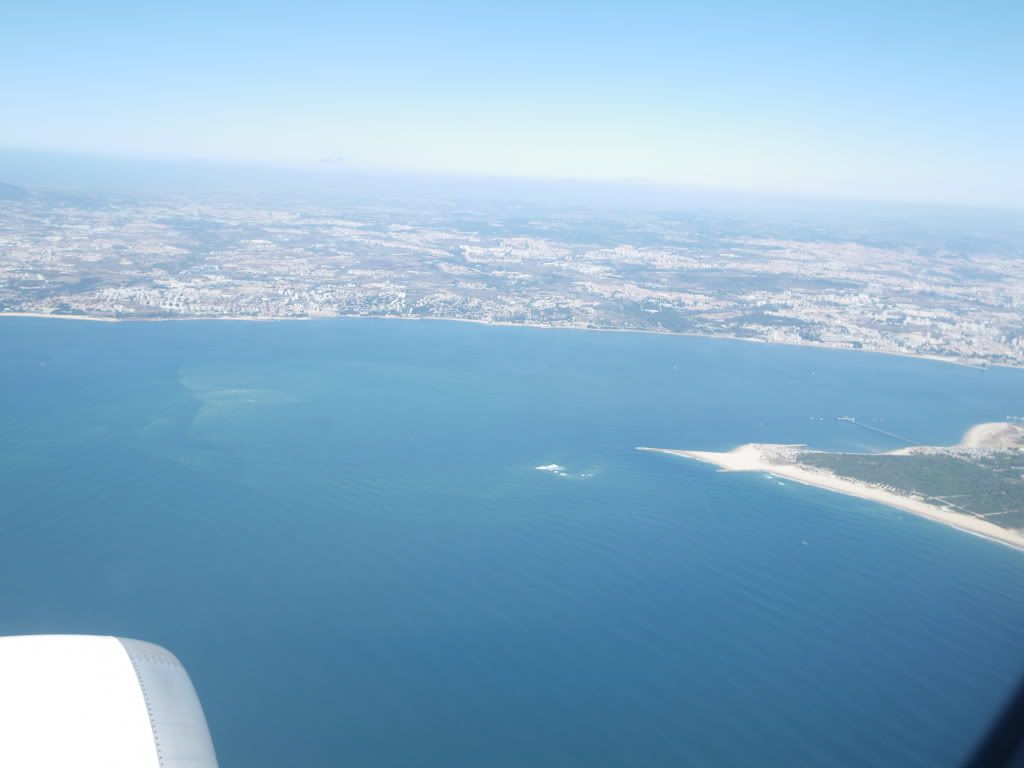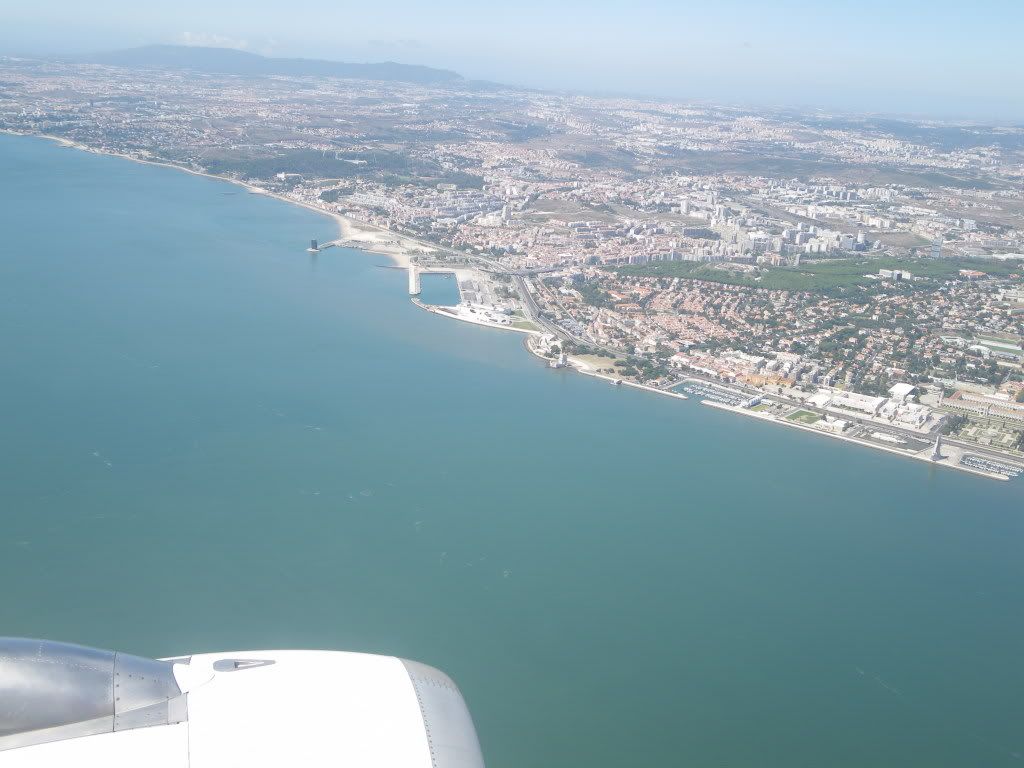 In what seemed like no time at all we were on the ground at LIS where we had quite a long taxi to a remote stand. This is another point where I could have taken more photos had I actually planned to write this report because we had quite a lengthy bus ride back to the terminal.
First impressions of the terminal building at LIS were that it appeared functional and clean, nothing fancy. I made my way to Passport Control where there was a small queue and I had to wait 10 minutes to reach the front. A few places in front of me 2 young American guys who had been on my flight were in the 'EU' passports queue rather than the 'other' passports queue which took a little longer to process. One positive from a small wait at Passport Control was that on reaching the baggage claim, the bags for my flight were starting to emerge and I didn't wait long for mine. I made my way out of the terminal and caught the Airport bus into the city centre. This seems like a popular service, I had to stand for the entire journey.
A few photos of the beautiful city of Lisbon from my stay:
The famous 100 year old trams
Sampling the local brew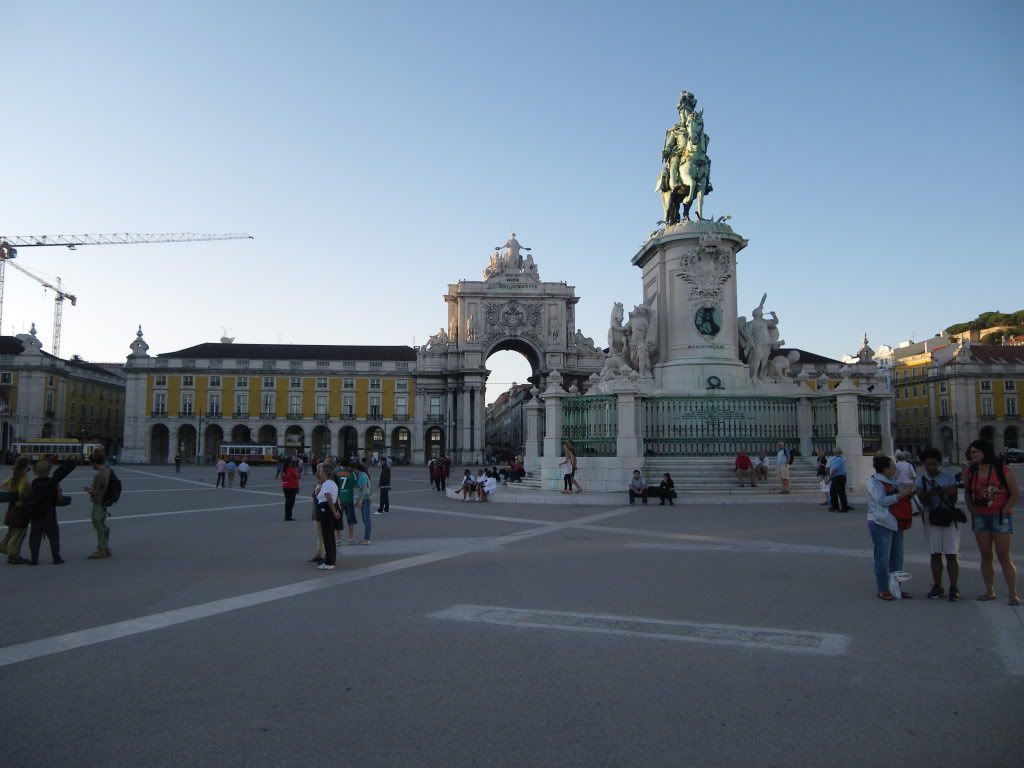 I spent 4 nights at the Ibis Lisboa Saldanha which was well priced and within easy reach of everything. My only complaint was that the beds were quite uncomfortable and they were the very narrow type of single bed.
Whilst staying at the Ibis I figured out that there was actually a bus direct to the airport which stopped almost right outside the hotel, so about 11AM on September 9th I checked out and waited for the next bus. I didn't have to wait long and was pleasantly surprised at the low fare of €1.75. The journey back to the airport took about 20 minutes.
On arrival at the airport, I made my way straight to the TP check in to leave my luggage. I only had a small suitcase, that technically could have been taken onboard with me. However this was not possible because of the EU liquids ban and I had 2 bottles of wine and 6 cans of beer in there!
I went straight through security with no hassles and went for a look around the terminal. To be honest, there is not a lot to see. Just miles of walkways. So I headed for gate 41A as per my boarding pass and took a seat where I could watch aircraft movements.
A sunny Friday afternoon in LIS: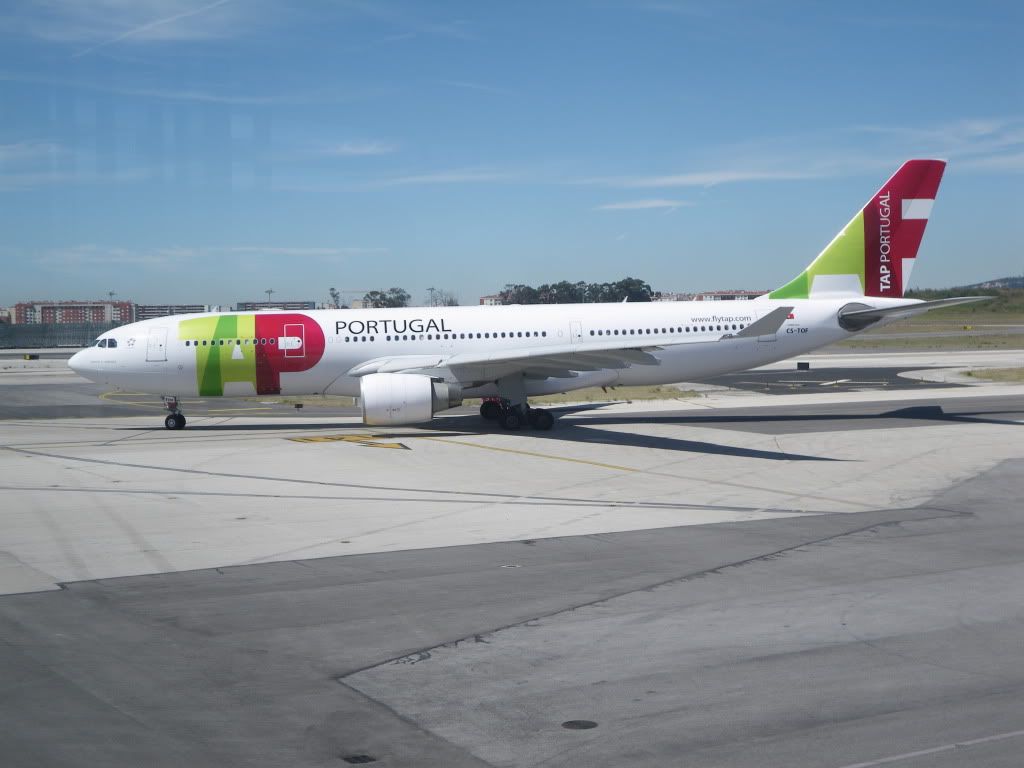 Face to face with a TP A340
LIS-MAN
Departure of flight TP322 was scheduled for 15h05. As this time was fast approaching and I had not heard any boarding announcements I thought I should check the Flight Information Display. Much to my dismay, the status of my flight was 'next information 1530'. Ahh well nothing to do but sit back down and wait. 1530 came and went and by 1615 the flight information was still 'next information 1530'
There were a lot of murmurings among my fellow passengers, some of whom had relatives already waiting to meet them at MAN. Apparently, the arrivals board at MAN stated that the flight was cancelled. About another 10 minutes later the Flight Information updated with that word you never want to see next to your flight number 'CANCELLED'. A queue rapidly formed at the gate desk where TP's ground handling representative was dealing with people one by one. When I finally reached the front of this queue, all she could tell me was that someone would be along to talk to us shortly, to advise us what will happen. Could she not have made a gate announcement to this effect? I did not really need to queue up to be told that! After what seemed like an eternity another ground handling representative came and advised us that we would be taken to a hotel by coach and provided with dinner and a room whilst alternative flights were found for us. We then passed through some doors that had to be opened with a swipe card and along a corridor to find ourselves back at passport control. I then had to have my passport checked as I was re-entering Portugal and the entire plane load of passengers followed this one guy out to the front of the airport where 2 coaches were waiting. On boarding the coach, he ripped my boarding pass and kept the smaller portion. On the larger portion he wrote the word 'Hollyday' which apparently meant I was being taken to the Holiday Inn. The next hour was a bit of a farce as we sat waiting on the coach to be told please transfer to a different coach. I then sat on coach no 2 for 45 minutes to then be asked to transfer back to coach no 1! Eventually we made our way to the four star Holiday Inn which was actually very nice. However at was after 1900 hrs by this time, a long time since I left my hotel that morning to end up going nowhere!
I felt very tired despite not having done much so after dinner I just relaxed in the hotel room watching tv, and eventually fell asleep. I was awaken my a loud banging on the bedroom door at 0530 on the morning of Saturday 10th September. A guy from the hotel's reception was there who told me I had been rebooked onto a BA flight via LHR and was departing at 0800 and a taxi would be ready to take me back to the airport in 30 minutes. Wow! After all this hanging around I now had to rush! I noticed that other passengers details on the email stated that some were rebooked on Saturdays TP flight to MAN, whilst others were on AF via CDG, KL via AMS or like me, BA via LHR. This use of other airlines & alliances surprised me. I thought they might have used their own flights to connect with their Star Alliance partners such as TP/LH via FRA or TP/BD via LHR.
The taxi took me back to the airport as promised. I had no particular instructions, and wasn't sure what to do. However, I saw some other passengers from the cancelled MAN flight at a TP reservations desk. They seemed to be being given some documentation detailing their rebooked flight so I queued up for mine. I then proceeded to the BA check in. A very friendly agent was on hand to assist with the automated check in terminals, he helped move me so that I had a window seat and the machine promptly spat out two boarding passes, one for each leg of the journey. I asked him about our luggage, and he went to have quite a lengthy conversation with his counterpart on the TP reservation desk after which he assured me that my luggage had been transferred to BA. There wasn't any more I could do but to trust him on that. I made my way through security again and along the same long walkways that I had walked down the previous afternoon. What a feeling of de ja vu!
Saturday morning at LIS: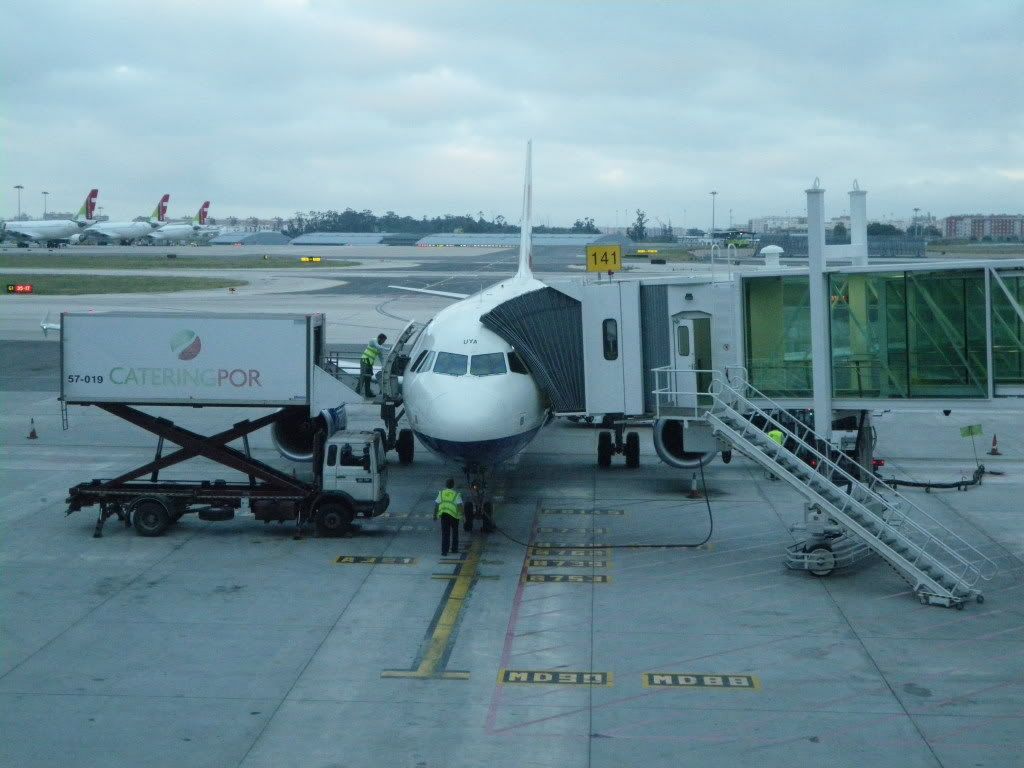 G-EUYA being prepared for the trip to LHR
Two flights to MAN, and I wasn't on either!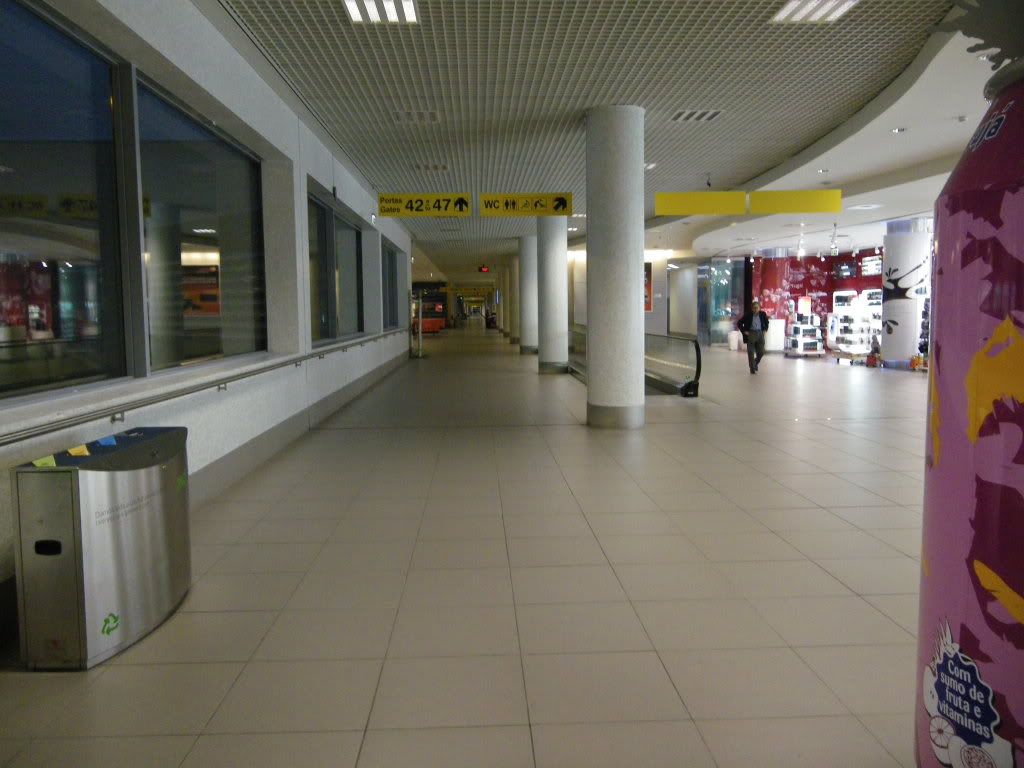 Miles of anonymous walkways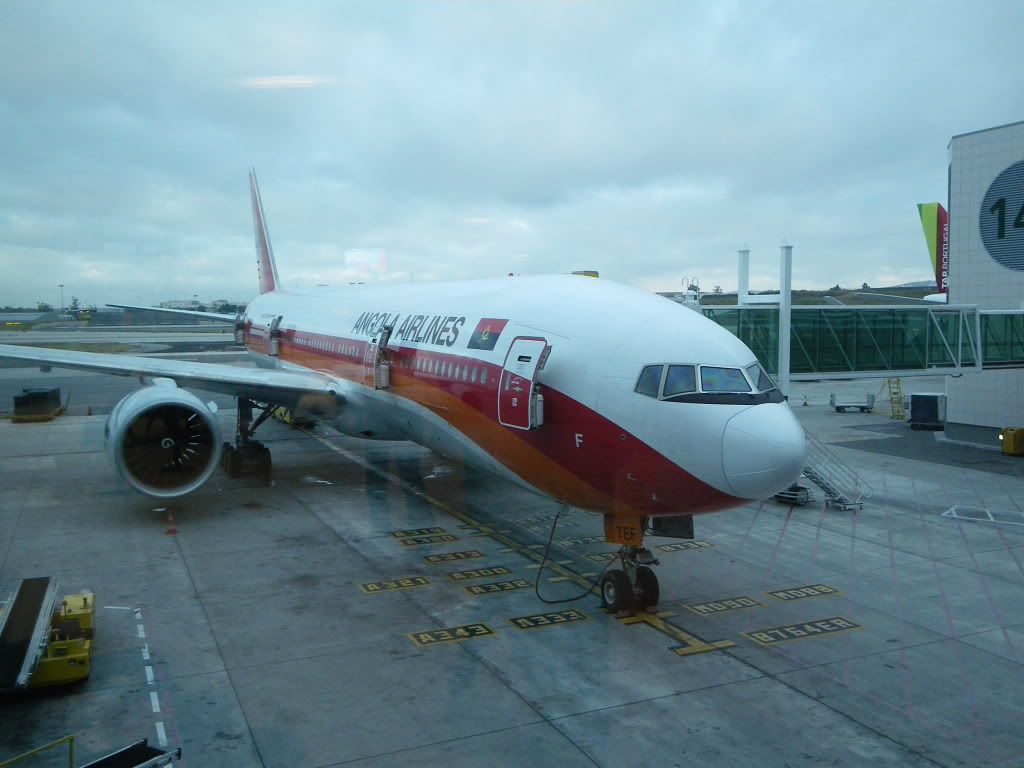 TAAG Angola B772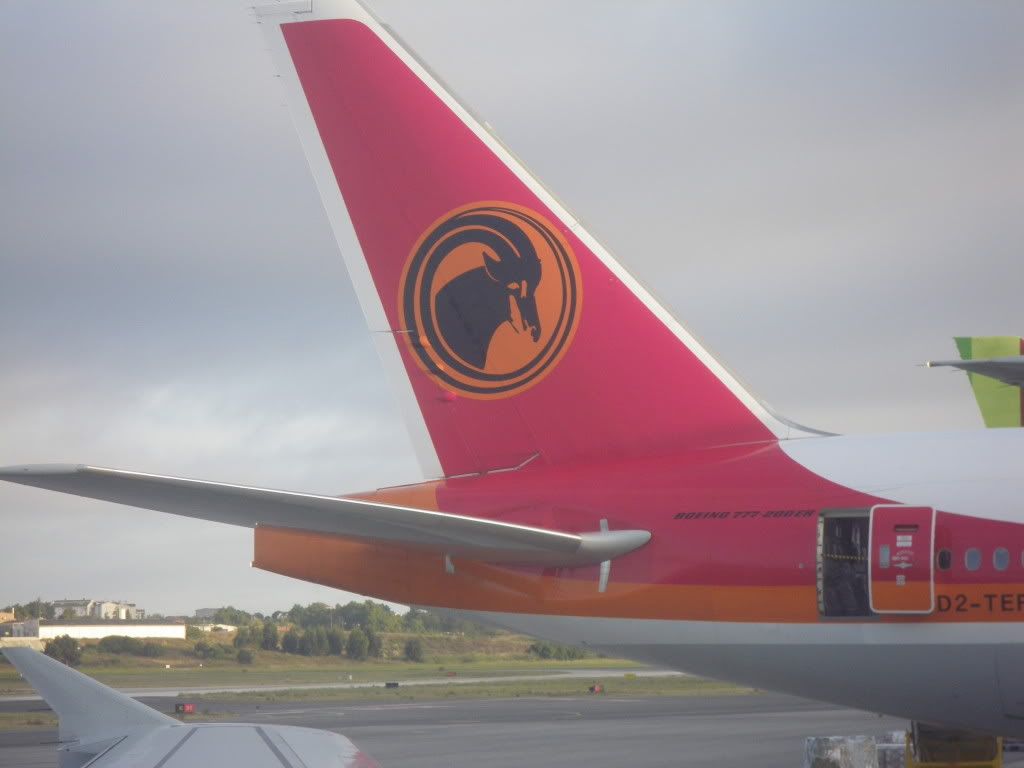 Quite a colourful livery
LIS-LHR
There wasn't long to wait before boarding commenced, as I had only arrived at the airport approximately 90 minutes before the flight.
10 Sep 2011 08h15
BA499
LIS -LHR
A320 G-EUYA
I was welcomed aboard by middle aged female cabin crew who seemed cheerful.
I had unwittingly scored myself an exit row seat, although the legroom didn't seem any more generous than in other rows.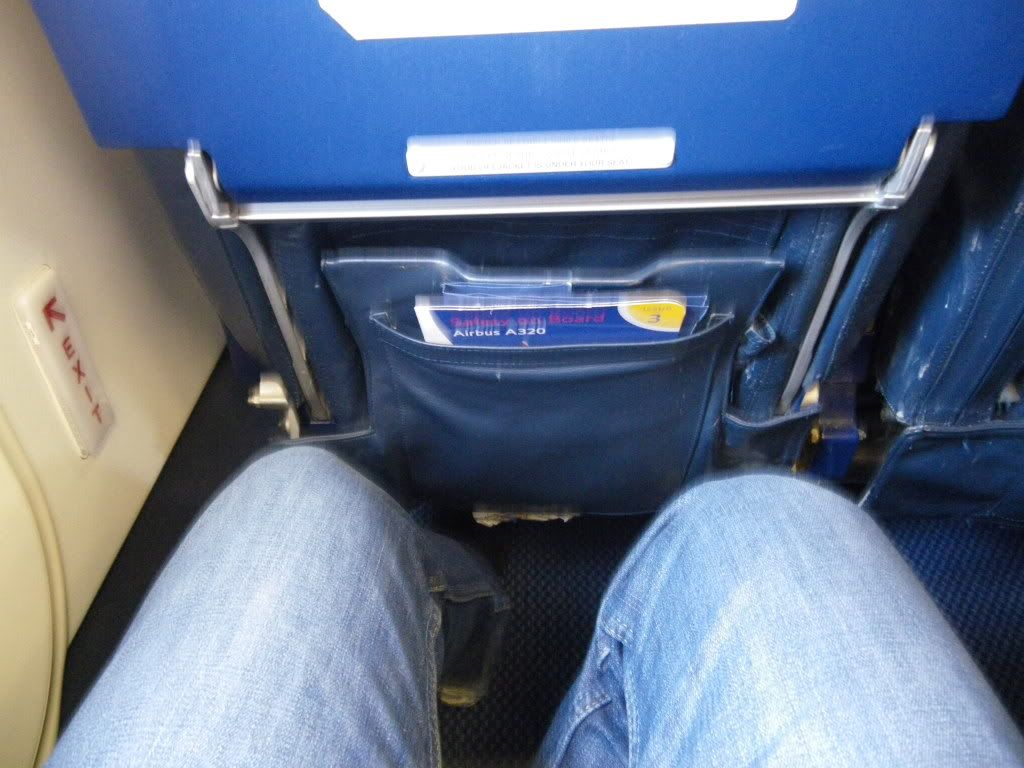 Seat 10A
Departure from LIS
About 30 minutes into the flight there was a meal service. It's been a while since I have used BA and was hoping for maybe a hot cooked breakfast. Alas, no. Breakfast consisted of a Salami sandwich with Orange Juice. I found this a bit of an odd meal for breakfast, though it was perhaps aimed at Portuguese clientele of which there were many on this flight.
It was nice to have the map available on the drop down screens
A very clean engine reflecting the fuselage.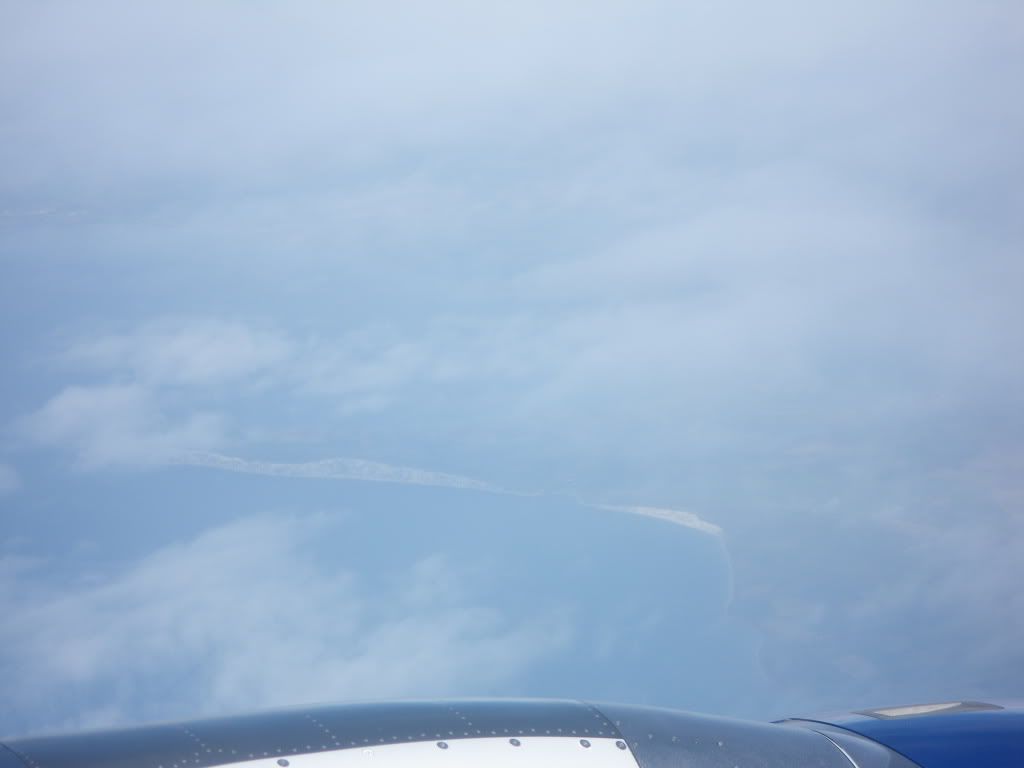 Passing the south coast of England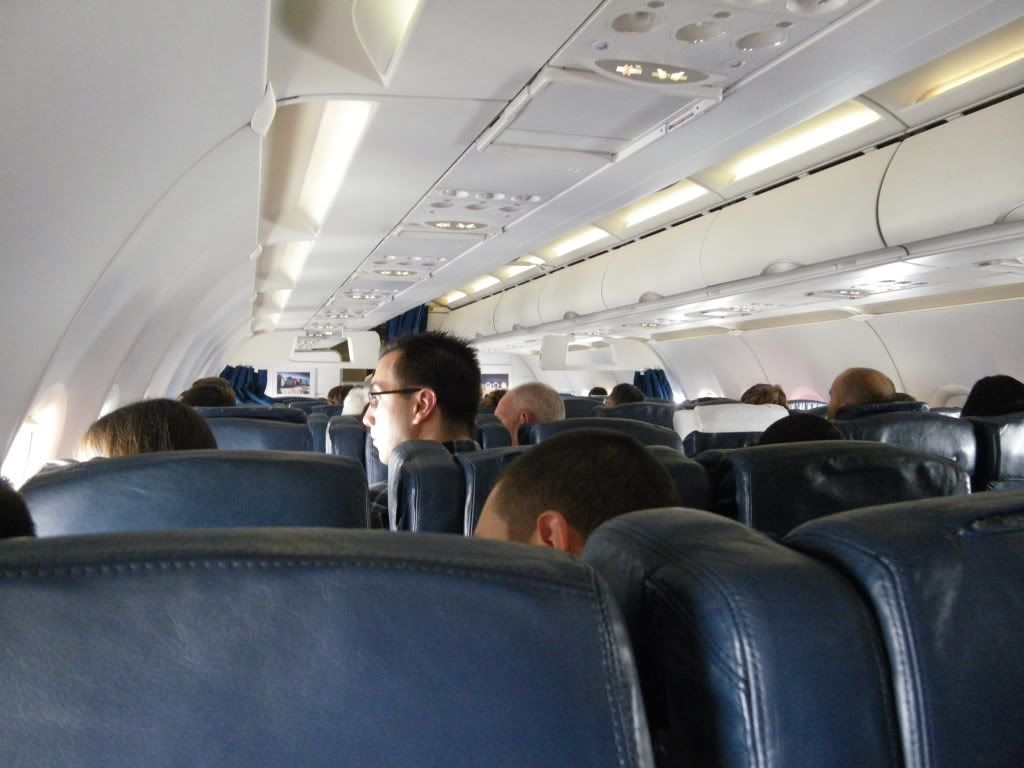 Approaci1052.photobucket.com/albums/s452/addictedMAN/255.jpg[/img]
[img]http://i1052hing LHR and the screens have been stowed away already
I had actually quite enjoyed my flight on BA, but wondered what I would encounter at LHR. We were to arrive at terminal 3, but the flight to MAN would leave from terminal 5.
On arrival at LHR:
VS A346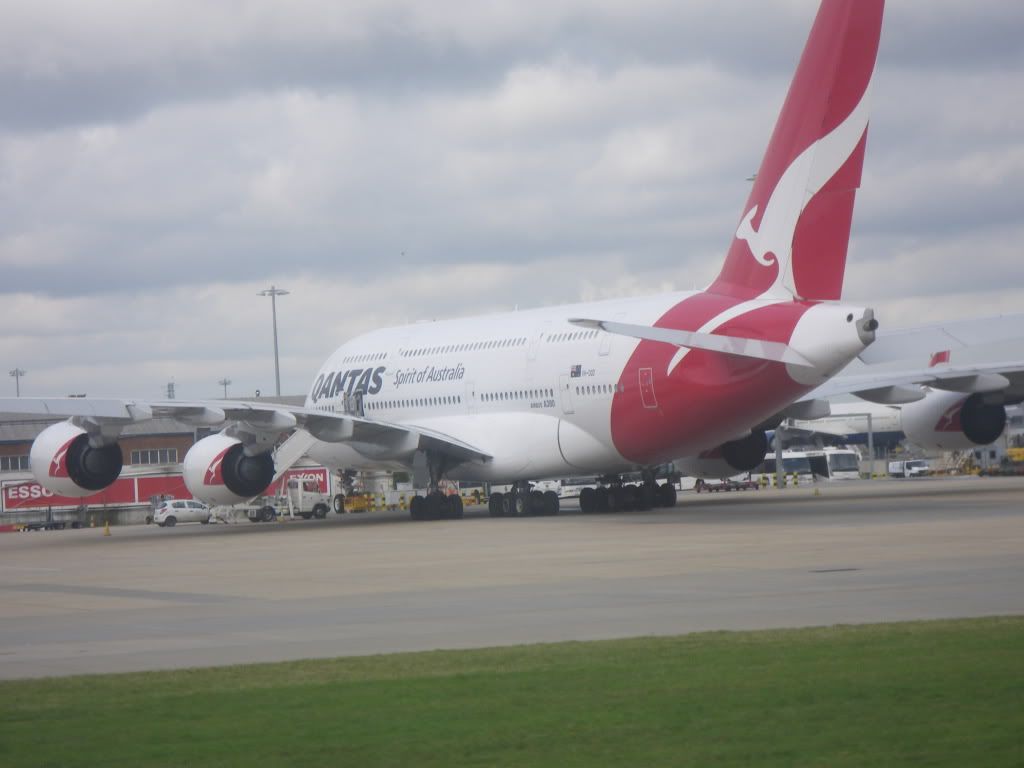 It wouldn't be LHR without the customary QF A380
Procession for departure
Once inside the terminal I followed the transfer signs which eventually led me to a bus which took me on the 10 minute drive to terminal 5. Whilst terminal 5 was very busy I was impressed with how efficiently everything seemed to be running. Security was straightforward, as was boarding for the flight to MAN. The gate agent at for BA asked me for the document that TP had given me in LIS, it's a good job I had (a) collected it and (b) kept it!
A packed terminal 5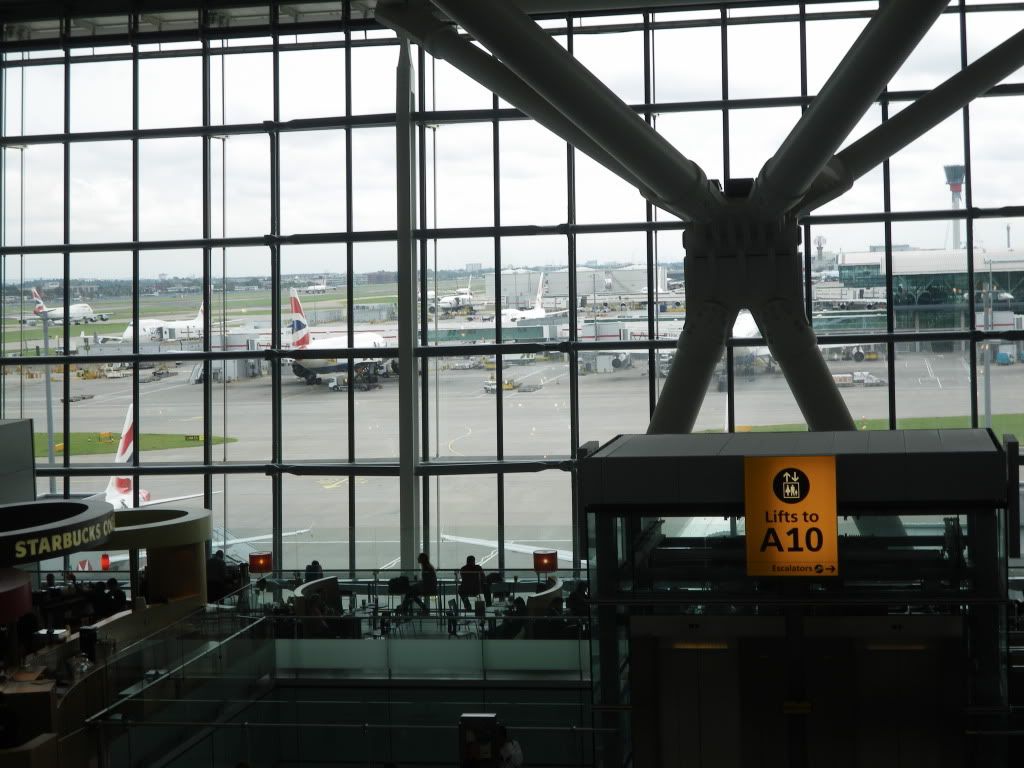 You can see the One World 744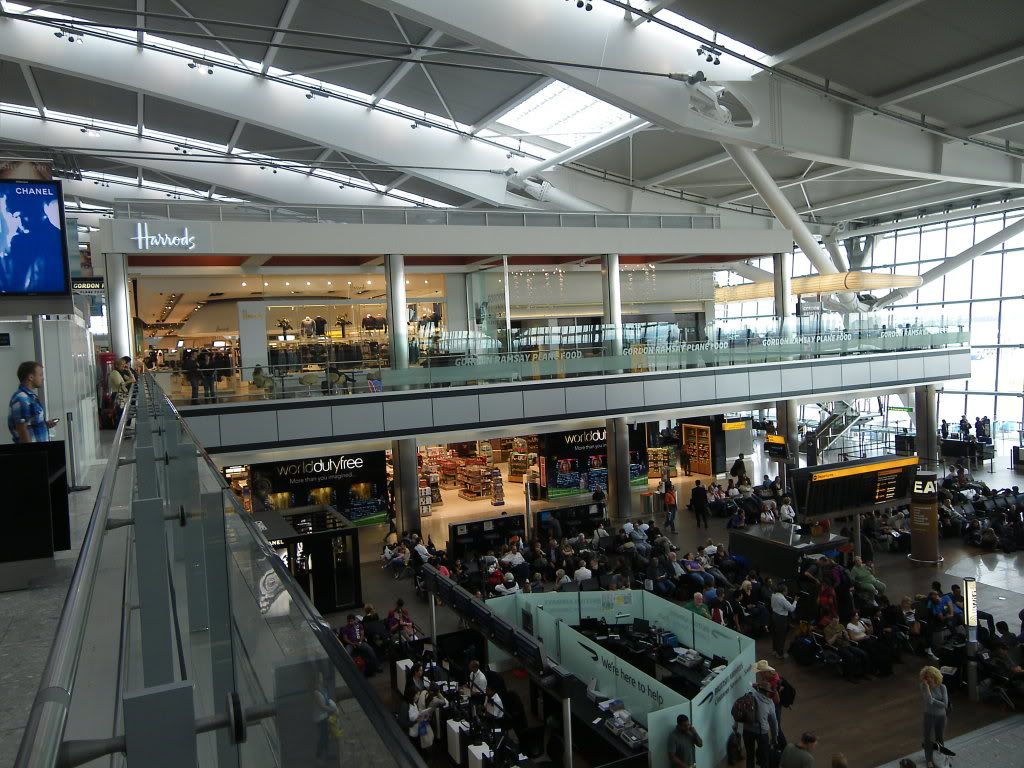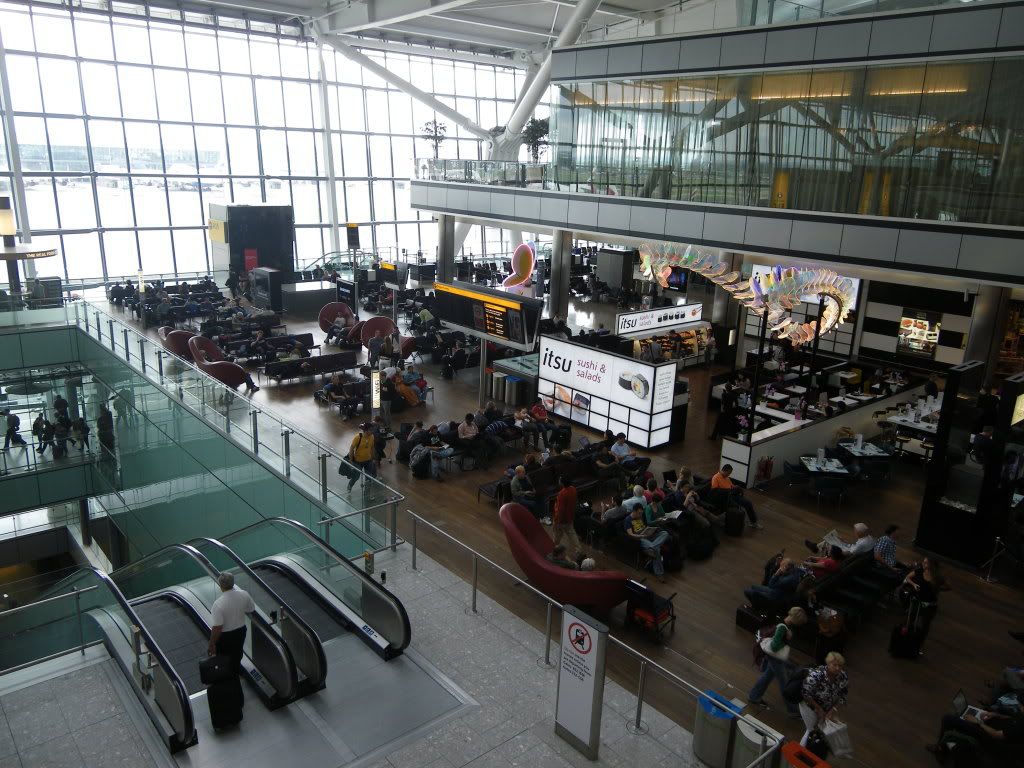 10 Se9p 2011 13h30
BA134
LHR-MAN
A320 G- EUUR
I was welcomed aboard by name by a young female cabin crew member. That was nice. I've not experienced that since I flew on Concorde in 1997!
We pushed back from the gate on-time though it would be another 25 minutes before we were airborne, then we only flew for 29 minutes before landing at MAN!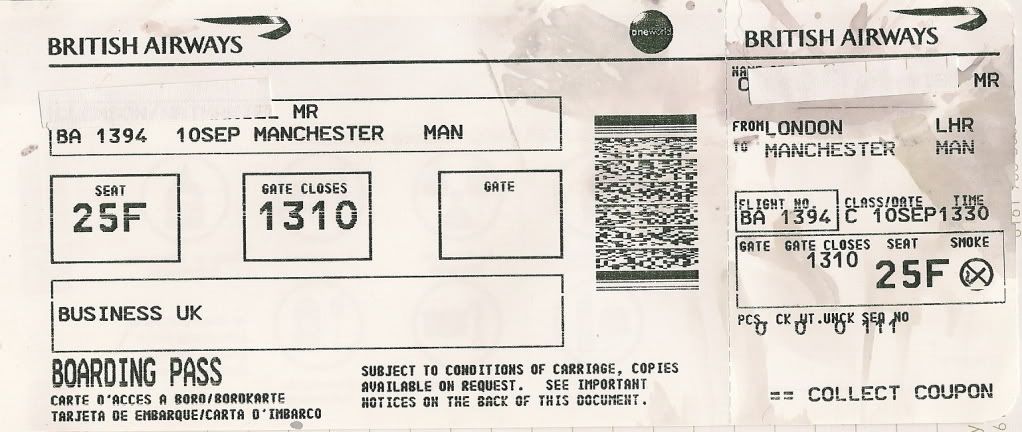 Departure from LHR:
I was impressed that I was offered an alcoholic drink on this very short sector, so I had a Vodka & Diet Coke.
Passing over Stockport on the approach to MAN:
Another A380 at MAN, but this time it is (of course) EK: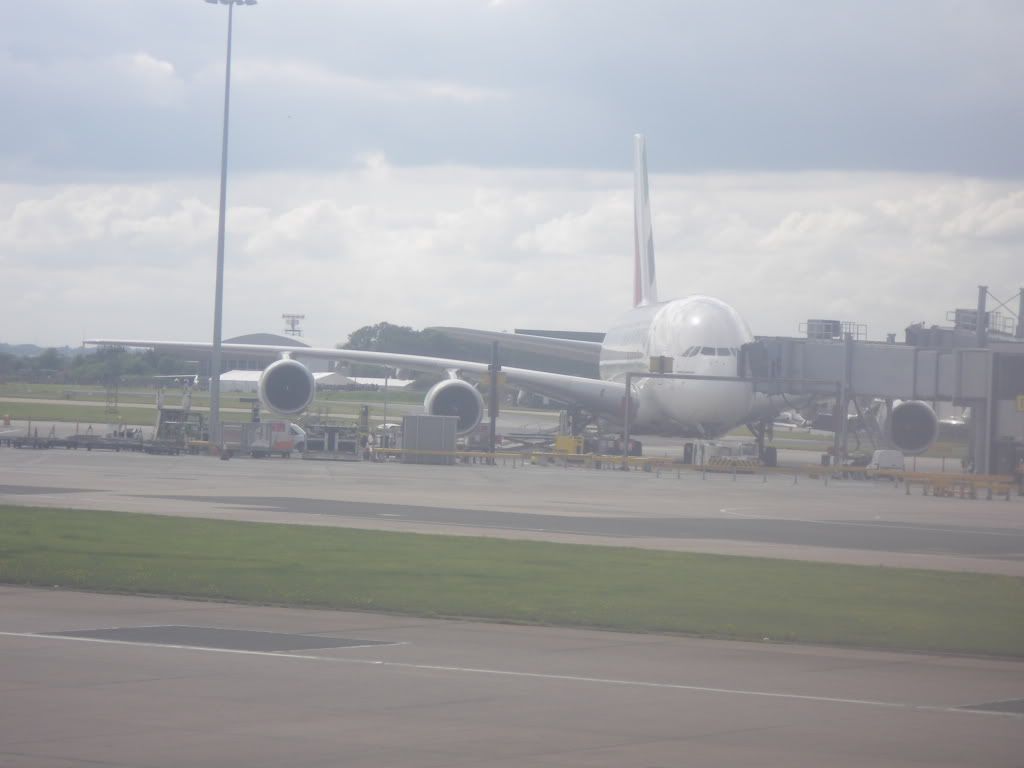 It didn't take long to leave the aircraft at MAN, and I was in the domestic arrivals of terminal 3, somewhere I haven't been for many years. Luggage from BA1394 was delivered quickly, and I had this feeling of impending doom that my bag would not be among them. I was right! I had to declare my bag as missing. I actually received it over 2 days later by courier, so my bag had extended it's trip to Lisbon by 3 days!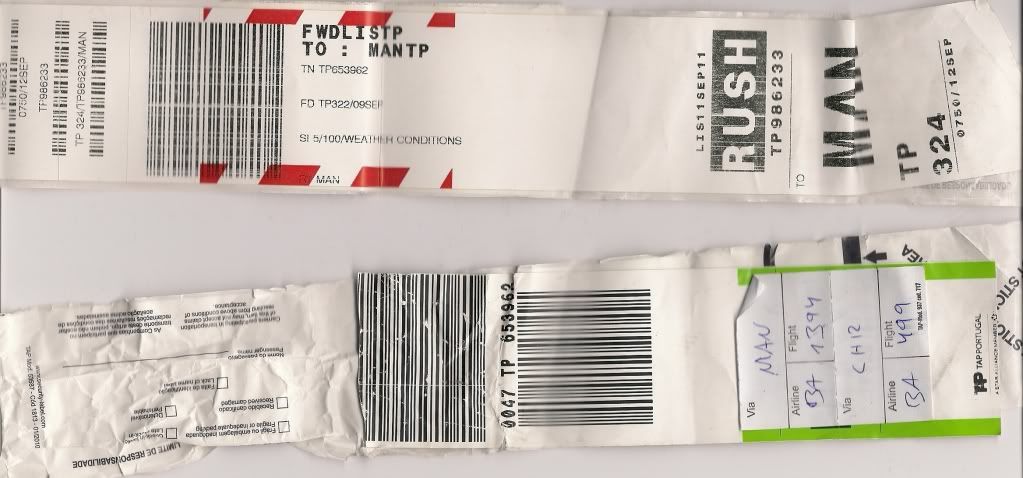 The green bagtag is the original one. Theres a handwritten sticker with details of the BA flights which it obviously didn't make. The red tag has the details of TP324 from Monday 12th September. I have to laugh at the way airlines use the word 'RUSH' when they deliver your bag over 3 days late.
One final legroom shot: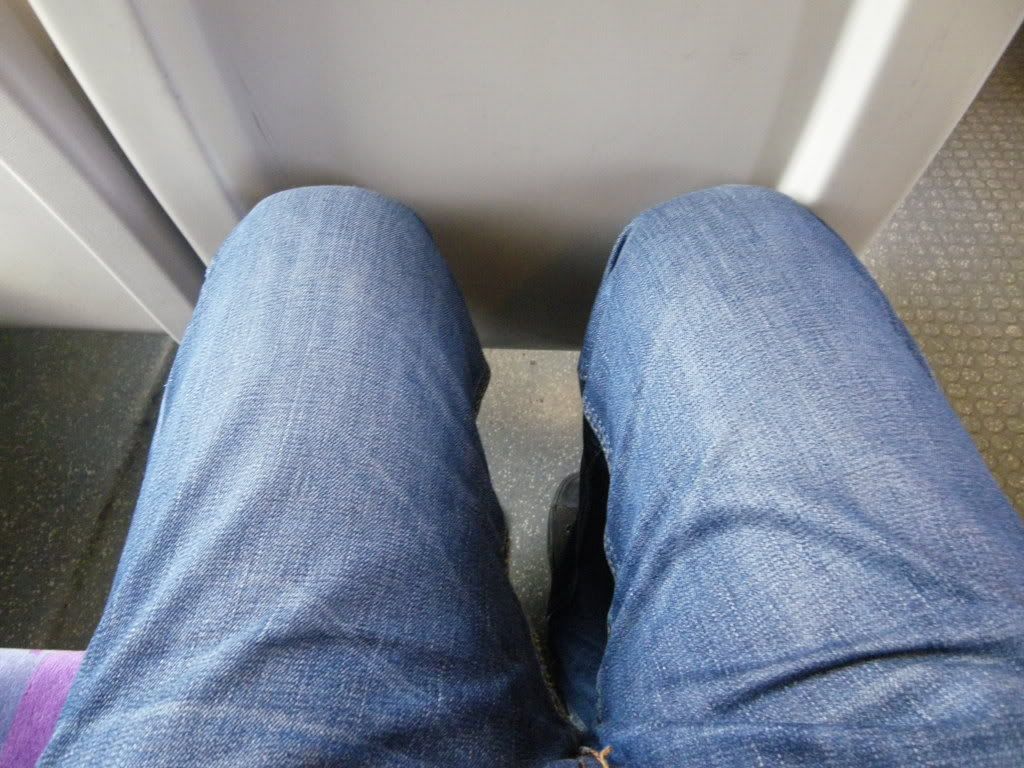 TPE - No not Taipei but Trans Pennine Express from MAN to Piccadilly Station. Not as comfortable as TP or BA but at least it was only for 15 minutes.
In Summary
TP offered a well priced service which included inflight meal, and there were no additional charges for baggage or payment via credit card.
Would I use them again? Actually, despite the cancellation, yes. All airlines have cancellations from time to time, and apart from the farce of moving from one coach to another and then back to the original one, and a bit of hanging around, they did look after us. I am sure that my night in the Holiday Inn with dinner and the flight home on BA cost TP quite a bit, so I would give them another chance should the opportunity arise.
Comments and criticisms welcomed, but please be gentle with me, remember it is my first attempt!
Thank you for reading.
James.