Dear readers and fellow tripreporters,
Let me present part 2 of the trip to Indonesia. After bringing you the story about the current Economy Class product on Malaysian Airlines in Economy Class:
Malaysia Airlines Longhaul In Y: AMS-KUL-DPS
(by
airbuseric
Feb 29 2012 in Trip Reports)
I would like to show you some pictures which I took during our stay on Bali. In addition to these pictures which won't fit this website without a flight, we make a jump aside and fly to the island of Lombok on for me very interesting equipment, the Chinese build Xian MA-60.
Bali Scenes & the AVIC Xian MA-60 to Lombok

Anyway, let's start on Bali. We decide to enjoy the island in several ways. First the relaxed mode of course, sunbathing and poolside, 4* luxury and fantastic Indonesian cuisine. We do some walking in the evening and visit the small shops where we purchase souvenirs to bring home.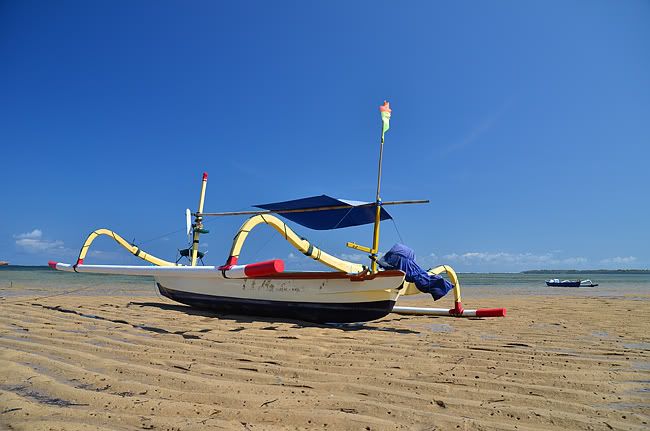 .
Traditional Bali boat (Junkung) posing for my camera
Many Balinese people come from far on their motorbikes, just to work in the tourist areas. And late at night they make the whole tour back to their villages further away. I spoke with a local female, she told me that the had a hard time driving her motorbike to reach the small beachclub she is working for. 90 minutes oneway, and back around midnight, on scary roads which are in bad condition and no light of course. Dogs walk around everywhere in search for food (they often eat the offers brought by the people), but also in front of her motorbike so she felt already 3 times that week. Life is good for their standards, but hard to my standards. She has to feed 2 childs also. It's good that this island can rely on the tourists. It's their life!
Outside our resort in Sanur we get in touch with a local driver. He works for a small agency which operates a couple of minivans. After discussing the price for a full day we agree that he can be our driver and guidance for a day. We propose that he drives to the areas of our interest.
The next morning at 9am he's in front of the lobby and waves. Let's go! We tell him what to do and he acknowledged. We are on our way…
During the day it becomes clear that the driver is going the 'touristic route' and we visit some places after his recommendation, but all places which are visited by other tourists also. Aside from that, the lunch in Kintamani with a view on Gunung Batur is done in a touristic buffet-restaurant. Good food, but a 'European price'. Still it's not a problem for us to pay this amount, but on the other side, this is not truly Indonesia. Our driver gets his lunch for free in a room out of our sight, he never told us but of course we know. That's how things work on Bali (and elsewhere).

.
Gunung Batur seen from Kintamani
After our lunch we go to see some panorama's and taste Balinese coffee at the coffee farm. It's interesting to see how Kopi (Coffee) Luwak is produced out of poop of the Civet. The civet eats the coffee berries but leaves those undigested in their droppings. After collecting the poop the coffee seeds are taken out and cleaned, before they are roasted for coffee production. It's an expensive coffee, said to be most expensive in this world, and produced in small quantities.
We bought some coffee for my parents in law, both Indonesian but living in the Netherlands for a long time already.
Well, we continue our way down South again and end up in Sanur again around dinnertime. A first tour has been completed, mostly interesting and beautiful. But on the other side, also a bit touristic. We tell the driver and have a good conversation. We explain our feelings and how we think of it… But he wants to take us again also. We promise a higher tip after the next trip, but then he follows our route, found after reading the best travelbooks (Roughguides, imho). Less touristic, more quiet, less explored landscapes and eating in local places. He agrees, we go again on tour for 2 more times and enjoy the beauty of Bali more then ever before. Serene quietness, the green colours, the beautiful roads leading through the landscape. Our driver also enjoyed our ideas. He drove at places he never was before and had to ask the way several times also. A bit off the beaten track never hurts it seems.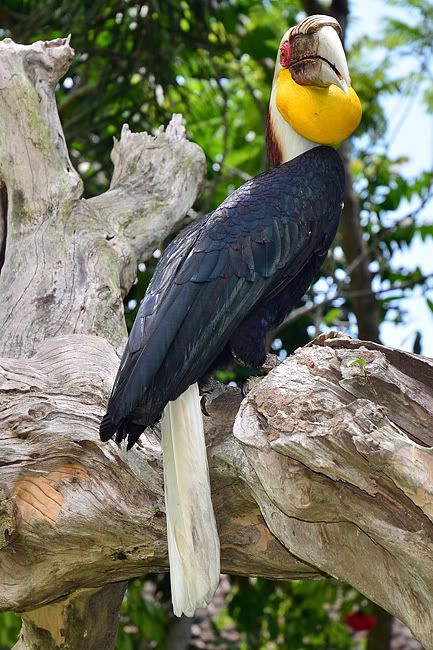 .
Bali has beautiful birds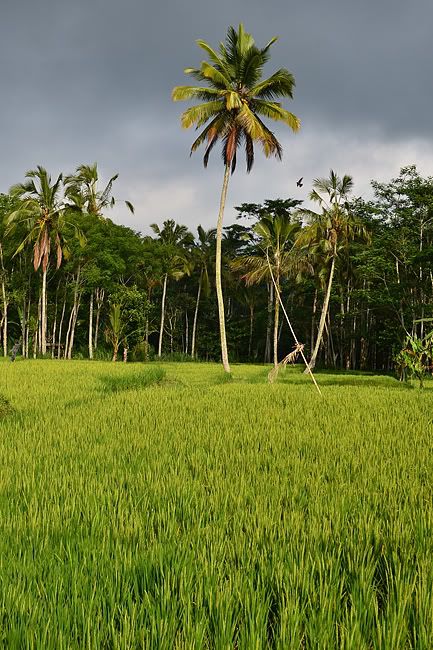 .
And Bali has even more beautiful landscapes! Gorgeous colours all around!

.
So genuine Bali!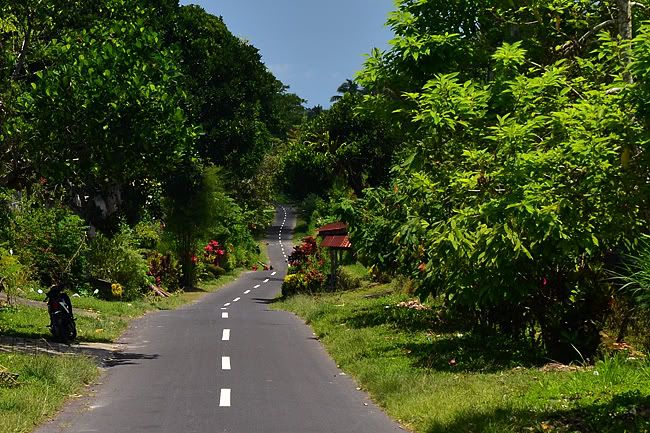 .
Small roads to less explored places as we read in our book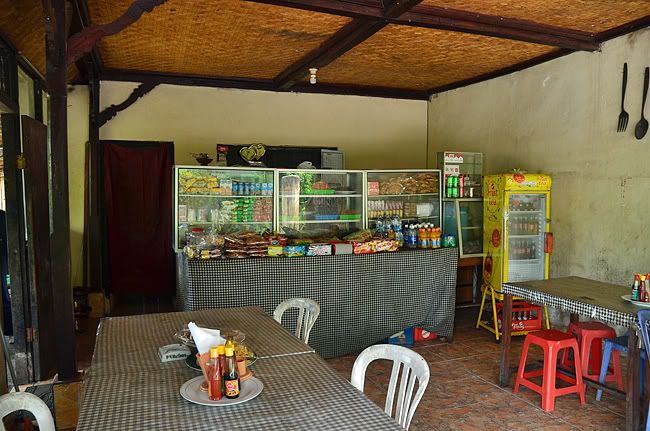 .
Would you go inside at first sight? Well, the food was delicious here!

.
A view on Gunung Agung (3,142m), highest peak on Bali

.
Semarapura (Klungkung)

.
The beauty of flowers, like this Lotus.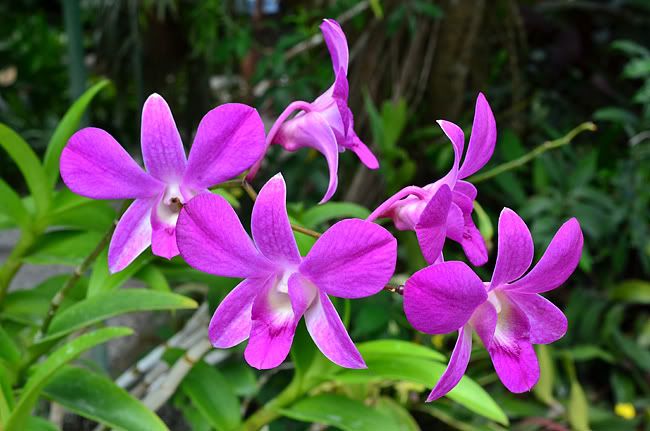 .
Or maybe you like orchids more? You'll find them here also!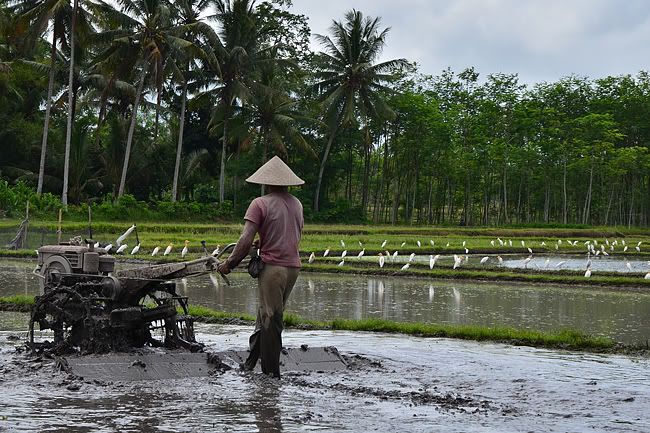 .
Ploughing the rice fields. The birds are watching from a distance…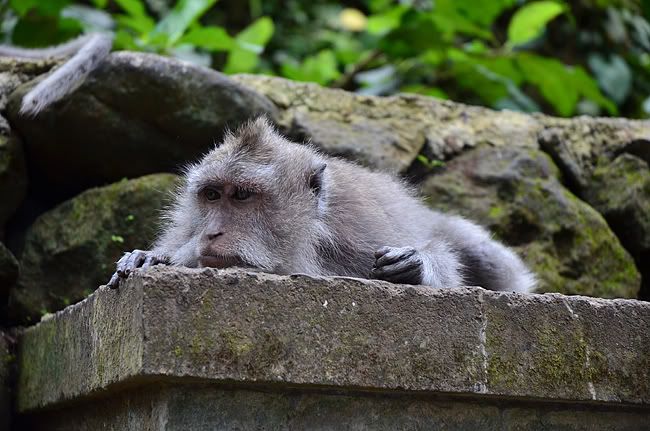 .
Lazy Monkey
After a week in Sanur we change from 4 start to 5 with a luxury suite in a Nusa Dua property. Life is good once there. More expensive though, but our residence suite is an apartment which many of us can live in for our daily life. Cleaned by 3 men every morning during our time at the impressive breakfast buffet.
Nusa Dua is not an area to meet the locals. It's a –by wall surrounded and secured– area with only 5 star luxury properties. To locals come here to work and serve. A real treat! But real life is just at the other side… that's where we go to eat and drink and prefer to spend the money.
***
From the luxury time on Bali to a relatively poor island nearby: Lombok. It's situated about 45 minutes apart from eachother by plane. The island tries to gain tourists also but does not succeed yet. Several resorts are located on the main island of Lombok, but all in quiet areas. People going there mostly depend on the offering by these resorts. In the surrounding areas is basically 'nothing' to do but surfing.
Lombok is known as a hotspot for windsurfing. Great waves and beautiful beaches can be found at this island. So the different type of tourist comes here, in much smaller quantities then those going to Bali. It's more relaxed easy going, surf boys and girls, mostly Australian, but seemingly also popular by the French public.
Sengigi on the westcoast is where you find most touristic restaurants and shops, far away from the surfspots which are mostly located in the South. Also famous are the Gili Islands close to Lombok. It's paradise there, 'they' say. Well, I haven't visited those but seen them from a distance. Very small islands, maybe paradise, but what to do on such a small island?
***
We book tickets online at a travelagency known online as 'ticketindonesia', they have an office located in Jakarta. But e-tickets are issued and communication is very fine and efficient. Against a small fee they are able to book you on basically any Indonesian carrier, and you can use Western creditcards (often not the case on the Indonesian airline websites except for Lion Air, and some countries on GA).
My good friend Suryo (akhmad) used this website also after my advise as far as I know, and also had a good impression about them, so I can only highly recommend it.
It's Tuesday October 18th when we are going to Lombok. I was looking forward to this trip, especially the flight on Merpati Nusantara. Not recommended by the aforementioned website, and known for their schedule changes or cancellations on short notice. Aside from that, Merpati Nusantara is also known from several air incidents/accidents in recent years.
To make a small summary:
2009: a small Twin Otter was flown into a mountain side when they flew in haze under VFR conditions

2009: A Fokker 100 was involved with a runway excursion, bringing substantial damage to the frame

2010: quite some injured pax when a 737-300 had a runway excursion and received substantial damage

2011: one of their CASA aircraft went off the runway after continuing an unstabilized approach

2011: one of the Xian MA60 aircraft crashed into the sea during approach in bad weather condition. All passengers and crew died, 25 in total. The aircraft was destroyed.
But especially the Xian MA60 was which made me decide to book on Merpati Nusantara. It's a very rare aircraft type and flown in some obscure countries. 5 accidents are known since 2008, which is a high amount since 66 aircraft were said to be delivered till October 2011, of which 2 full losses.
I wasn't completely sure if this type was operating the flight. According stories also the Fokker 100 or 737's are operating this small route, but I thought my chances were good enough to give this a go, especially keeping in mind that my other choices were basically a Fokker 50 of IAT or the Wings Air ATR-72's. Also small operator Travira does fly the Cessna 208 Caravan but I didn't find a way to book ourselves on this. GA does operate a single evening flight on the Boeing 737, more on that later.
We ordered a taxi at 630am for the drive from Nusa Dua to DPS domestic terminal. The driver was waiting for us, bang on time, and drove us to the airport for just 60,000 Rupiah. Traffic was non excisting that morning, resulting in this cheap ride.
The domestic terminal offers several small shops aka minimarkets, a Starbucks facility even. Who would've thought!

.
Starbucks at DPS

.
Domestic Terminal
Our flight is on the departure board, destination LOP. This is the new airport code for the brandnew airport. It became operational on 01 October 2011 at 2am. We visit just 2 weeks later…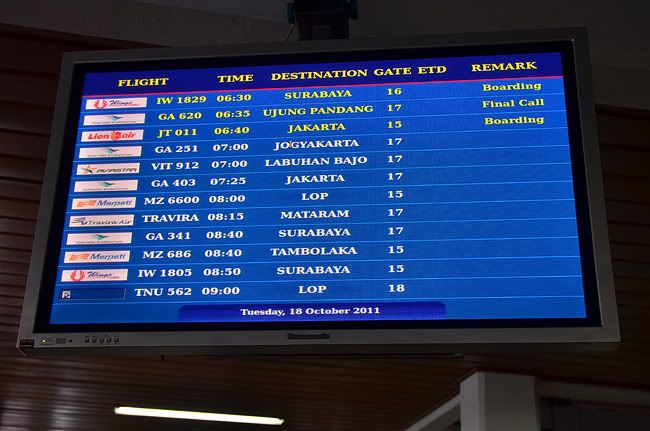 .
MZ6600 is on the screen. Notice airport code LOP is not recognized yet.
We check-in at the desk, some Australian surfers in front have to pay for bringing on their surfboards and equipment. It was not a big deal for them, and I guess the fare they got quoted was low anyway.
A friendly lady is assisting us, handluggage only, and seat at row 2 requested and granted. She advises to take the emergency row which offers more legroom, but I still insisted that row 2 is the preferred place to be on this flight.

.
Check-In Desk
When we finished the check-in we decided to have a further walk in this terminal. We see a small McDonalds and Dunkin'Donuts shop as well, plus a small selection of souvenir shops selling the usual Bali offering.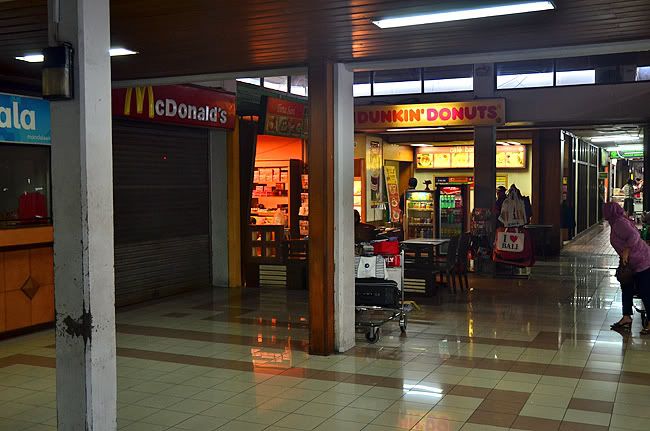 .
More food here…

.
Souvenirs Shops all around
Before going through security check we have to pay the usual departure tax in cash, which is 40,000 Rupiah per person on domestic flights out of DPS. A sticker is placed on the backside of the boarding pass and we proceed to security. Bringing 1 liter of water is not any problem here and the staff is very friendly to us. They wish us a good trip
.
The departure lounge is in the same old fashioned style we got to see before. Heavily used seating, a low ceiling. Some cafe's around which sell against low prices, quite a few small souvenir shops also here. There were a few windows and I can see a Lion Air and Air Asia here.

.
Seating and Cafe in the departure lounge

.
Air Asia A320 and Lion Air taxiing out with the B737-900ER
Boarding is from gate 15, and it's ontime. We're handed a carton (meal)box before we walk down the stairs to the small minibus. Inside the bus, it's hot! And crowded, since all passengers are put in this bus before we go on our short drive onto the apron.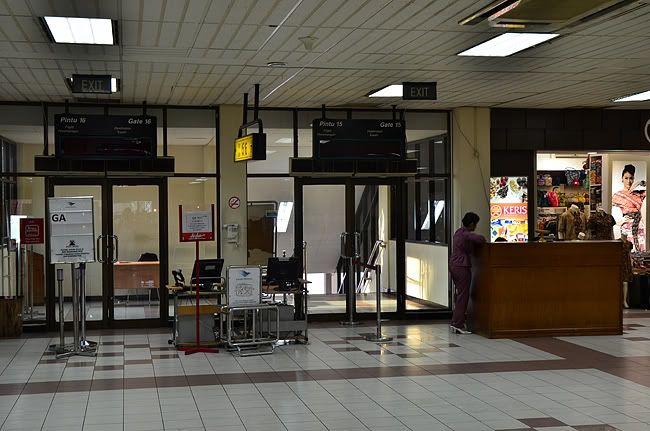 .
Boarding Gate No. 15
On the apron I notice a Germany registered VIP Airbus A319 and a USA Navy C-9b Skytrain II, registered '1266'. It's far away from home! A rare sight indeed!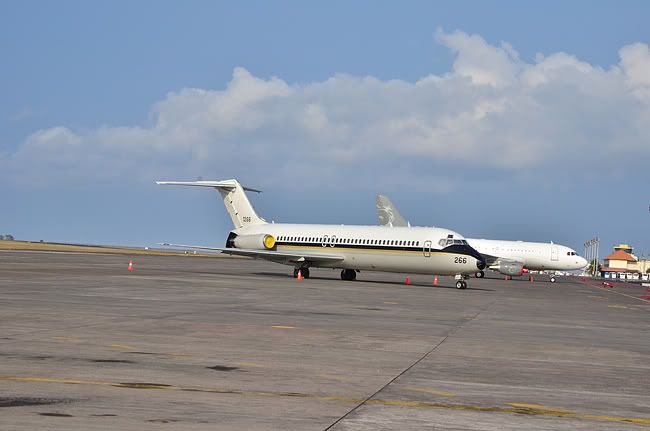 .
Some interesting US Navy metal here
More excited I was about the plane to take us to Lombok. It's the Avic Xian MA-60 where I hoped for. Not in the standard Merpati colourscheme, and spotting PK-MZM as registration.

.
Yes! The MA-60 is here for me…
Boarding is with a door in the back, steps are placed on the apron to use. We are friendly greeted at doorside by a female flight attendant. Good first impression, the aircraft looks in good condition! Making photo's on the apron is not a problem at all here.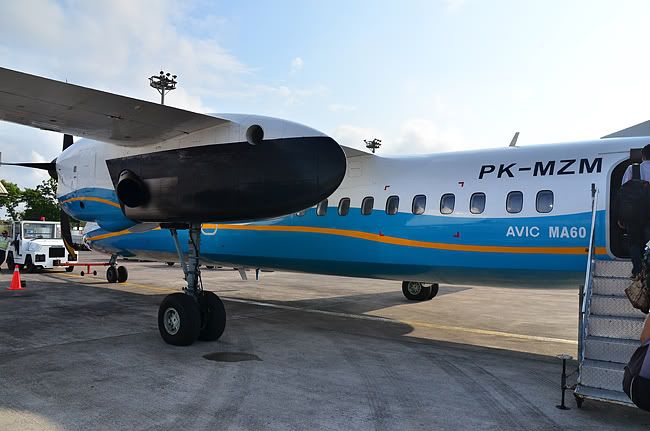 .
Boarding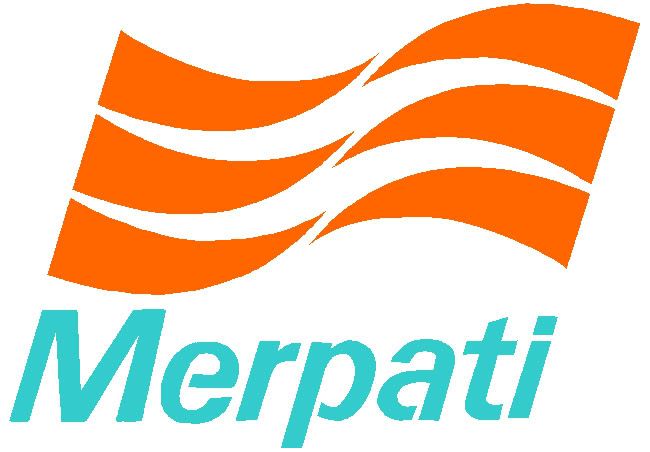 | | |
| --- | --- |
| Flight | MZ6600 |
| Date | 18.10.2011 |
| Route | DPS-LOP |
| Aircraft | AVIC Xian MA-60 |
| Registration | PK-MZM |
| Scheduled Departure Time // Actual Departure Time | 08:00 // 07:58 |
| Scheduled Arrival Time // Actual Arrival Time | 08:45 // 08:37 |
| Class of Service | Economy Class |
| Seat No. | 02A/C |
The cabin looks in impeccable condition. Dark blue, leather look, seats. A cloth headrestcover spotting a commercial for some telecom operator. Legroom is little but fine for the shorter hops.
I place my bag in front of me, place the mealbox on it and fasten my seatbelt. Double check for the lifevest: yes it's indeed under my seat. Interesting to read that also the seat cushion can be used as floating device. Together with the lifevest, this makes it 'extra safe'
Also above me, the overhead panel, is offering a modern selection. But no oxygen masks apparently.

.
Legroom – ok for shorter flights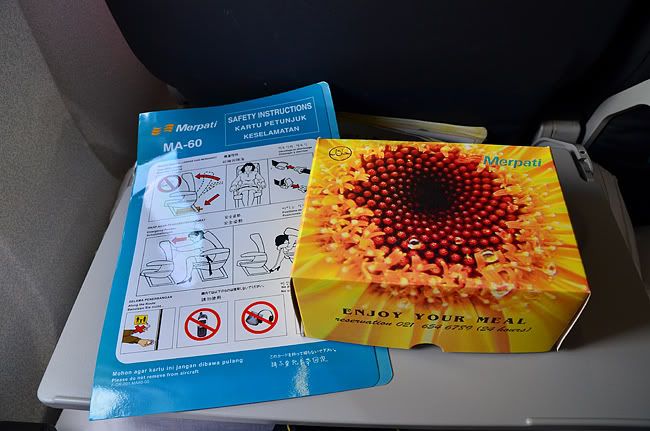 .
This mealbox was given at the gate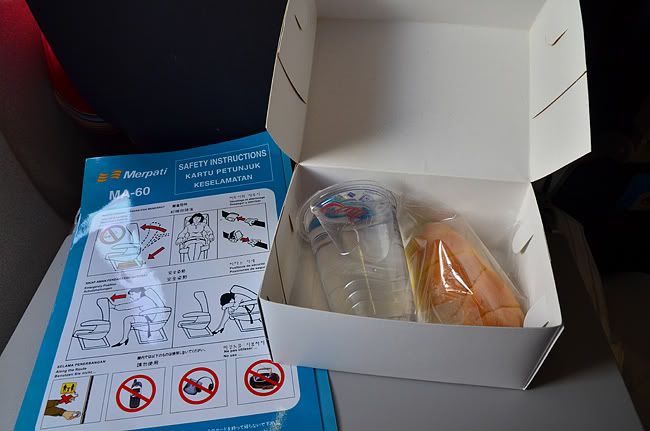 .
Inside: water and a creamy breadroll

.
Fairly modern overhead panel

.
Behind the bulkhead is the cargo hold, and the way to the cockpit
Behind the door in front of row one, which leads to the cockpit, is the cargo hold. I didn't get the chance to have a look in that area, unfortunately.
With a load of estimated 95% we manage to pushback a bit early. During startup, which some 'strange noises from the engines' where heard (not negative, but noises I never heard on other props), also the manual safety demo was given. There was also a quick check for hangluggage etc but nothing 'serious' it seems. The crew seems to take things easy on this flight.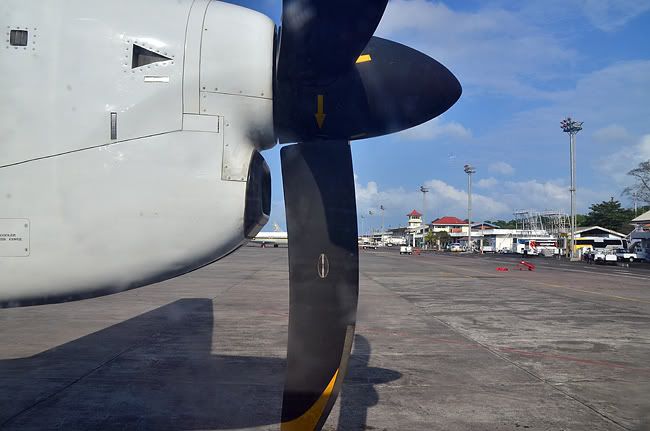 .
Ready to go
We taxi out for a runway 09 departure, and can line up without wait. The engines spooled up and we go! I notice SQ around with a B777-300 in Star Alliance livery, and also Merpati just arrived with a Fokker 100.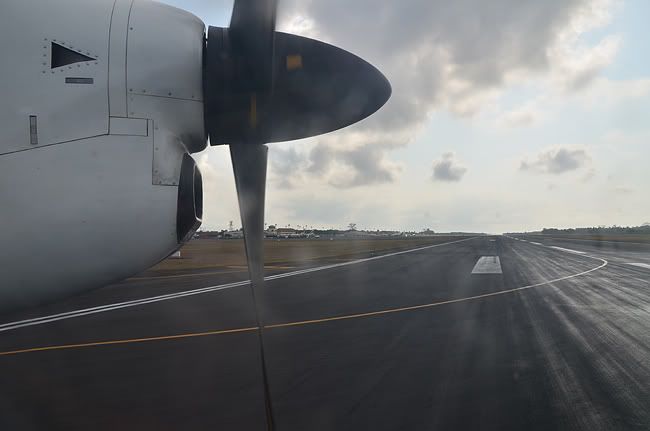 .
Lining up for a runway 09 departure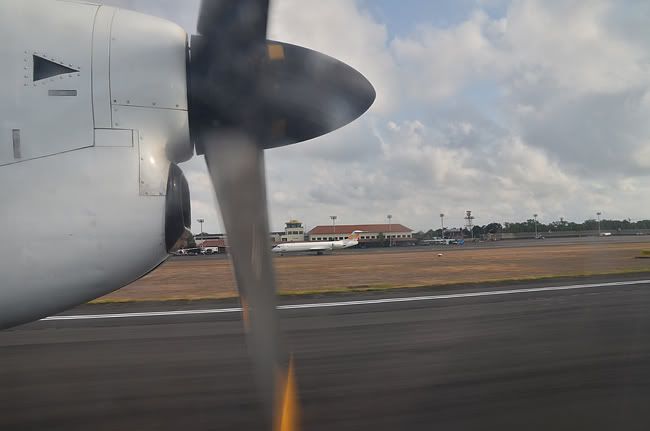 .
Merpati Fokker 100 is taxiing in after arrival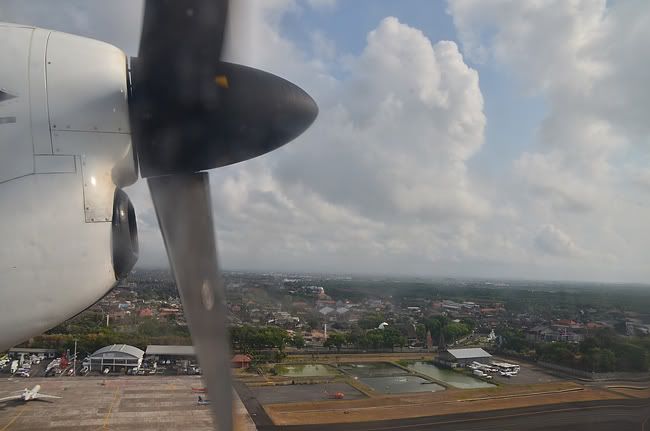 .
And we're airborne. A view on in direction of Sanur/Denpasar

.
It does climb pretty well
We climb till just above the clouds for a rather smooth flight. Service wise nothing was delivered. The 2 cabin crew came around with inflight shopping sales, and where busy with 2 ladies in front of us buying both a Quran book. Interesting to see this book on sale on a flight, isn't it?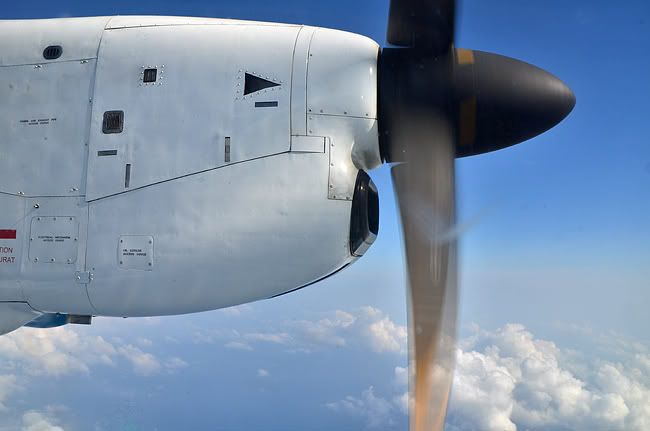 .
Cruising level

.
Cabin View. The 2 crew are doing the inflight sales
Soon we overfly the island of Lombok. It's green at first, later changing to a rather dry looking landschape below. Our speed is reduced and we quickly descend. Landing is on the very new asphalt runway 13, a smooth touchdown and a succesful flight came already to and end so quickly again.

.
Overflying Lombok island prior landing

.
We landed at new Lombok International Airport (LOP)
We taxi onto the large but yet quiet apron, where nothing else then another MA-60 is parked. That example was PK-MZO and in the regular Merpati livery. In addition to that, a Wings Air ATR-72 (PK-WFM) is also arriving when we disembark.

.
Another MA-60 is in when we arrive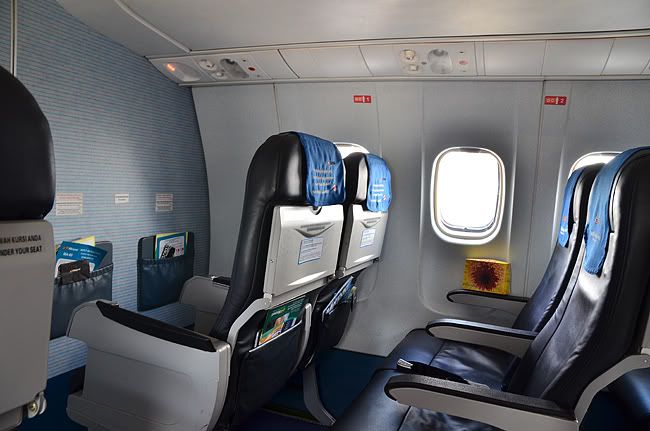 .
Seating on the MA-60 (picture taken after landing)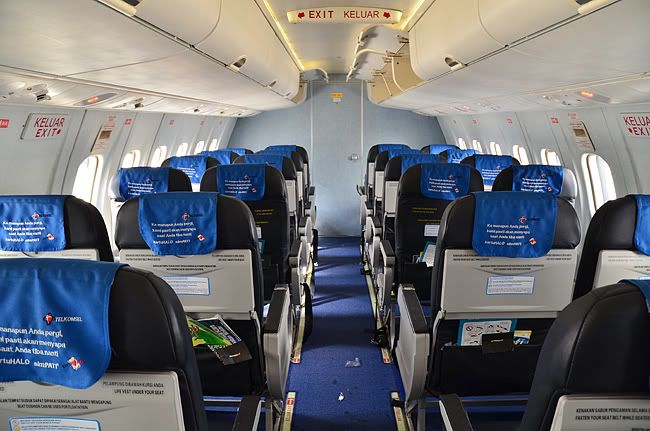 .
Cabin view (picture taken after landing)
Upon deplaning I ask to take the safety card, which was first denied. But I ask once more and explain that this was a very special aircraft to fly on for me, and my request is granted. I obtain a safety card but have to hide it in my bag.

.
Wings Air ATR-72 is seen taxiing in
Lombok International Airport; brandnew. It seems in a relaxed mode. I was able to walk at my own liking towards the terminal building. No guiding at all, plus, more time to make a few more pictures.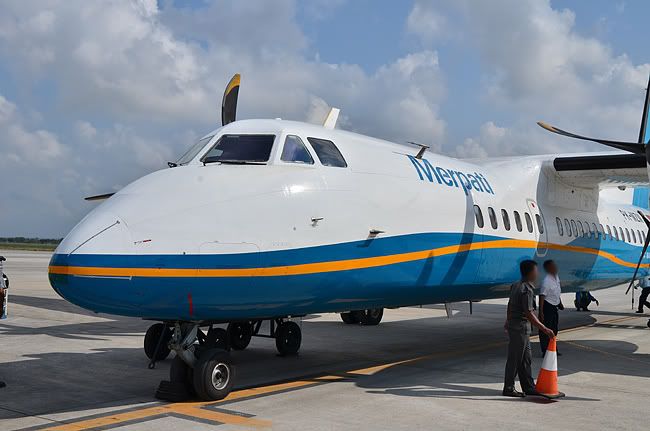 .
It has the 'Antonov An-24 looks'

.
A closer look on PK-MZO, parked next door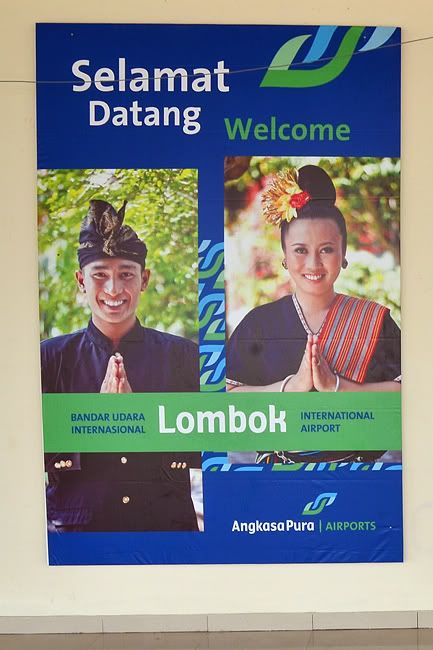 .
Welcome to Lombok sign
Inside the terminal there is a baggage hall with several belts to retrieve the bags. Everything looked and was very new, but just 'not finished'. Indonesia style! No time to have furhter looks now, because our personal driver was waiting in front of the exit with a large sign and looking for Mr. Eric haha… we meet up and together we walk outside the crowded area. What's going on with all these people here at this airport… Well, I'll explain that to you in the next episode. Also then, the pictures from Lombok and the flight back on GA, and further home to AMS.
For now I hope that you have enjoyed my view of Bali, and that you like the pictures I showed to you. The flight on Merpati was very fine and on time, the MA60 seems to be a modern aircraft but feels 'strange' compared to the aircraft we use in Europe. Merpati crew were very friendly to us but I can't say that how they are on longer flights. The catering provided is a nice extra but just a drink would be fine on this short flight too.
Lombok would become a total different experience then we saw on Bali, with different landscapes and people, far less touristic but very interesting.
Thanks for your reading and it's always appreciated when you leave a small comment.
Regards
Eric