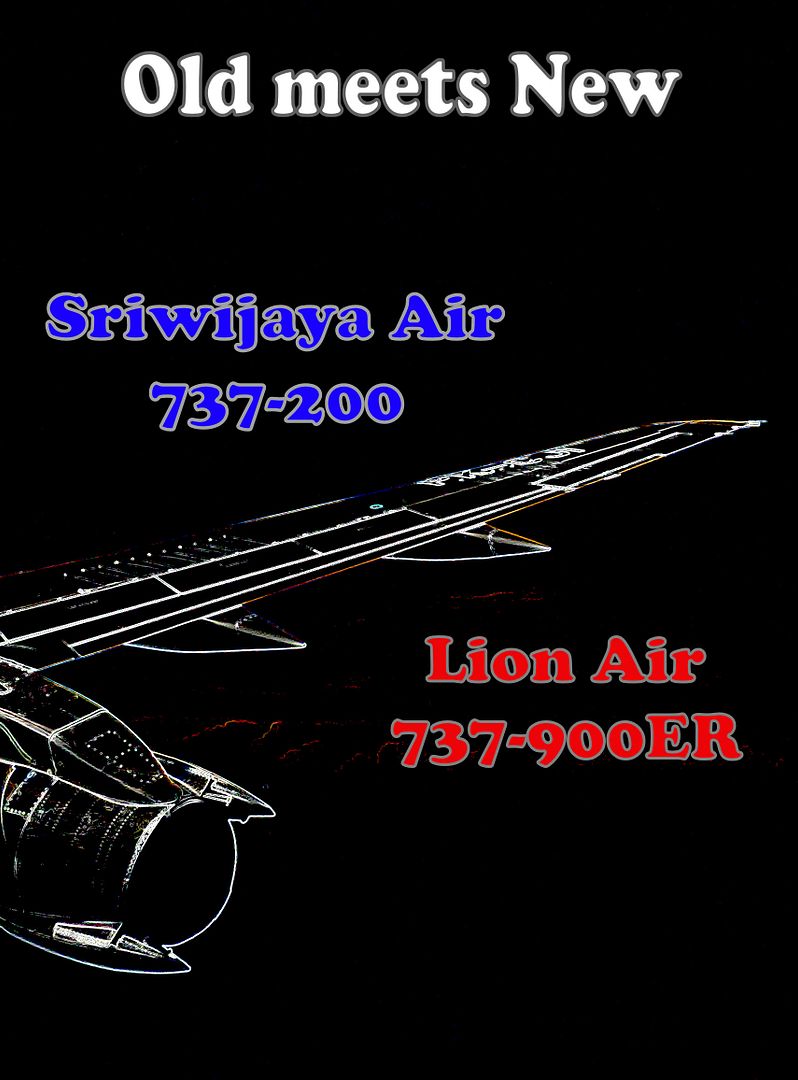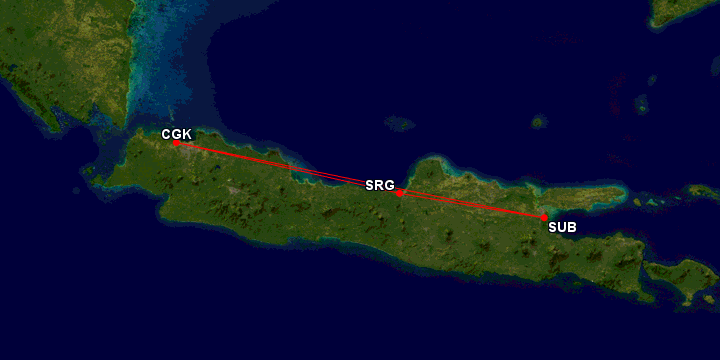 Map generated by the Great Circle Mapper - copyright © Karl L. Swartz
Background
I early 2011 my friend Satchmo and I decided to go on a spotting trip to Asia in late October. We had been planning to visit Singapore and Kuala Lumpur from the very beginning and focused on getting on Qantas' A380 between LHR and SIN. I had flown Qantas before, but I wanted to increase the number of A380 carriers in my log to five. At a later date, we also decided to include Jakarta where we had never been before. Of course we tried to get as many new airlines and interesting types as possible and it took a while to create an exciting itinerary. Finally, we booked 10 flights operated by 8 different carriers (including four new ones) and reserved hotel rooms in Singapore (one night), Kuala Lumpur (one night), Jakarta (two nights) and Bangkok (one night). We exclusively combined one-way flights and one-way combos, so we had eight different flight reservations in the end. Here's what the preliminary itinerary looked like:

Munich-London
London-Singapore
Singapore-Kuala Lumpur
Kuala Lumpur-Jakarta
Jakarta-Singapore
Singapore-Phuket
Phuket-Bangkok
Bangkok-Mumbai
Mumbai-London
London-Munich

While Satchmo was planning to use our entire time at Jakarta for taking pictures, I decided to squeeze in a domestic day trip. I found an interesting combo on two new carriers and added three more flights:

Jakarta-Semarang
Semarang-Surabaya
Surabaya-Jakarta

Now I was looking forward to 13 flights on 10 different carriers - including 6 new ones - and 4 widebodies (details to follow). At that point of time I couldn't imagine that I would end up on 14 flights, 7 new airlines and 5 widebodies.
Parts I & II can be found here:
QF A380 Grounded, Bags Lost - LHR-SIN, TK A330/340
(by
PlaneHunter
Jan 30 2012 in Trip Reports)
Widebody Hopping & KUL Spotting: SIA A330, KLM 77W
(by
PlaneHunter
Feb 21 2012 in Trip Reports)
Sriwijaya Air Surprise
The booking process on Sriwijaya Air's website had been quick and easy. Unlike Lion Air, the carrier accepted my MasterCard without any problems. However, I couldn't find any details about the aircraft type used for the Jakarta-Semarang-Surabaya one-stop service. A.net users
Lufthansa747
and
Mandala499
who had also given me some general advice about flying in Indonesia suggested that it could either be a 737-200 or 737-300 - with tendency towards the latter. I had already flown on the 737-200 twice and my main goal was getting a new airline, so it wasn't a big issue. Knowing the type in advance would have still been nice, nevertheless.
Btw - after I had finished the booking process, I read a note that Sriwijaya Air would contact me by phone for verification.
Lufthansa747
told me that the airline had never contacted him but it really did in my case. A friendly lady called me a few days after booking and asked a few questions - I had never experienced anything similar before.
Back to Jakarta. After we had checked in at the
Jakarta Airport Hotel
(located at Terminal 2) following our arrival from Kuala Lumpur, we took the shuttle bus to Terminal 1 to have a look at the spotting facilities. I was also planning to find out more about my Sriwijaya Air flight. Apart from that, I was hoping to be able to make a seat reservation.
The outdoor area between the road and the terminal halls can become very crowded during peak times
(picture taken on the next day)
: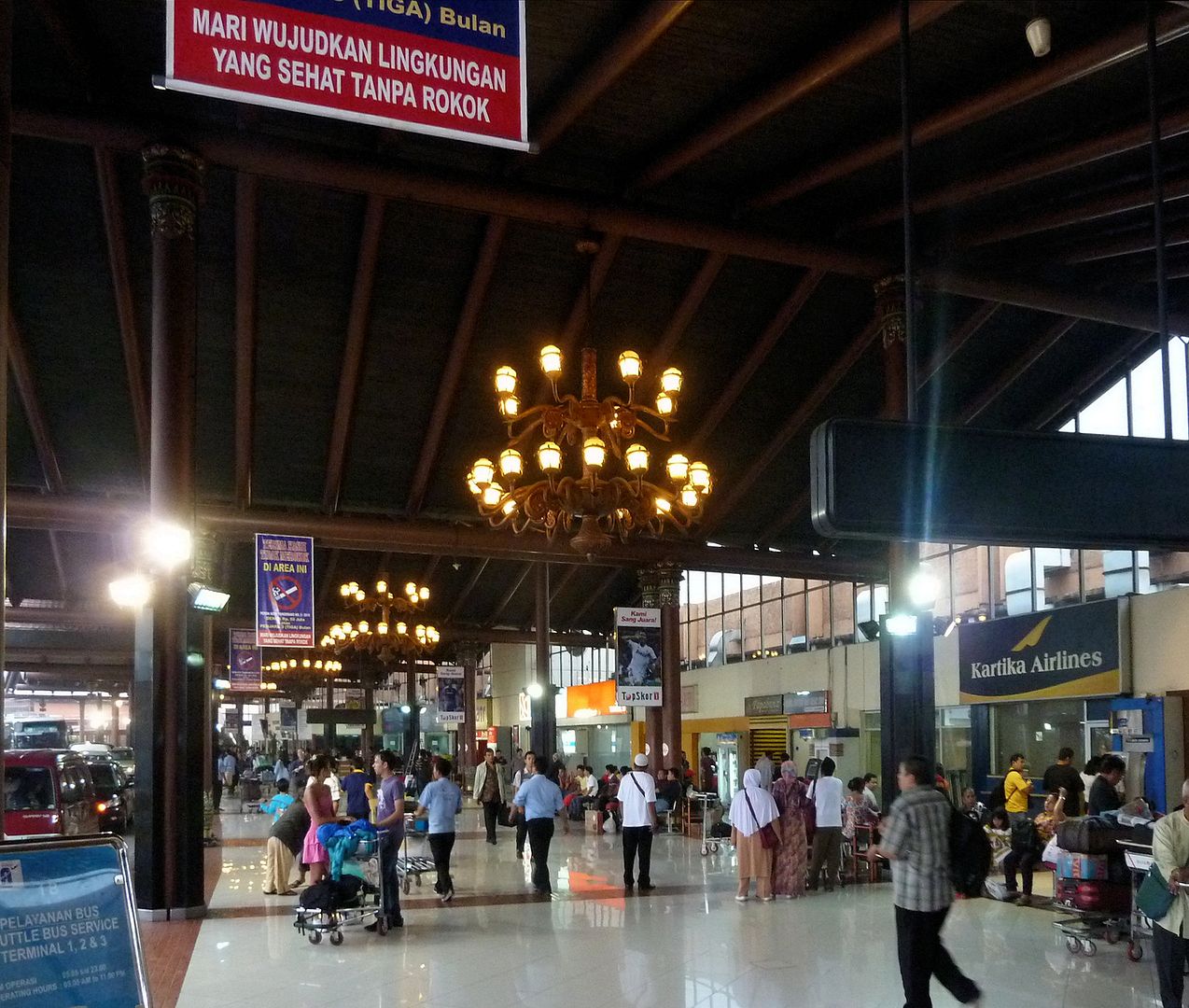 When I checked a departures screen for the next morning, I was very surprised to find 09:10 (scheduled time) and 08:05 (actual time) next to my flight number SJ224. This was odd considering that it had already been 08:05 at the time of booking. Well, one more reason to talk to the airline. We soon discovered a Sriwijaya Air office - perfect for me
(picture taken on the next day)
: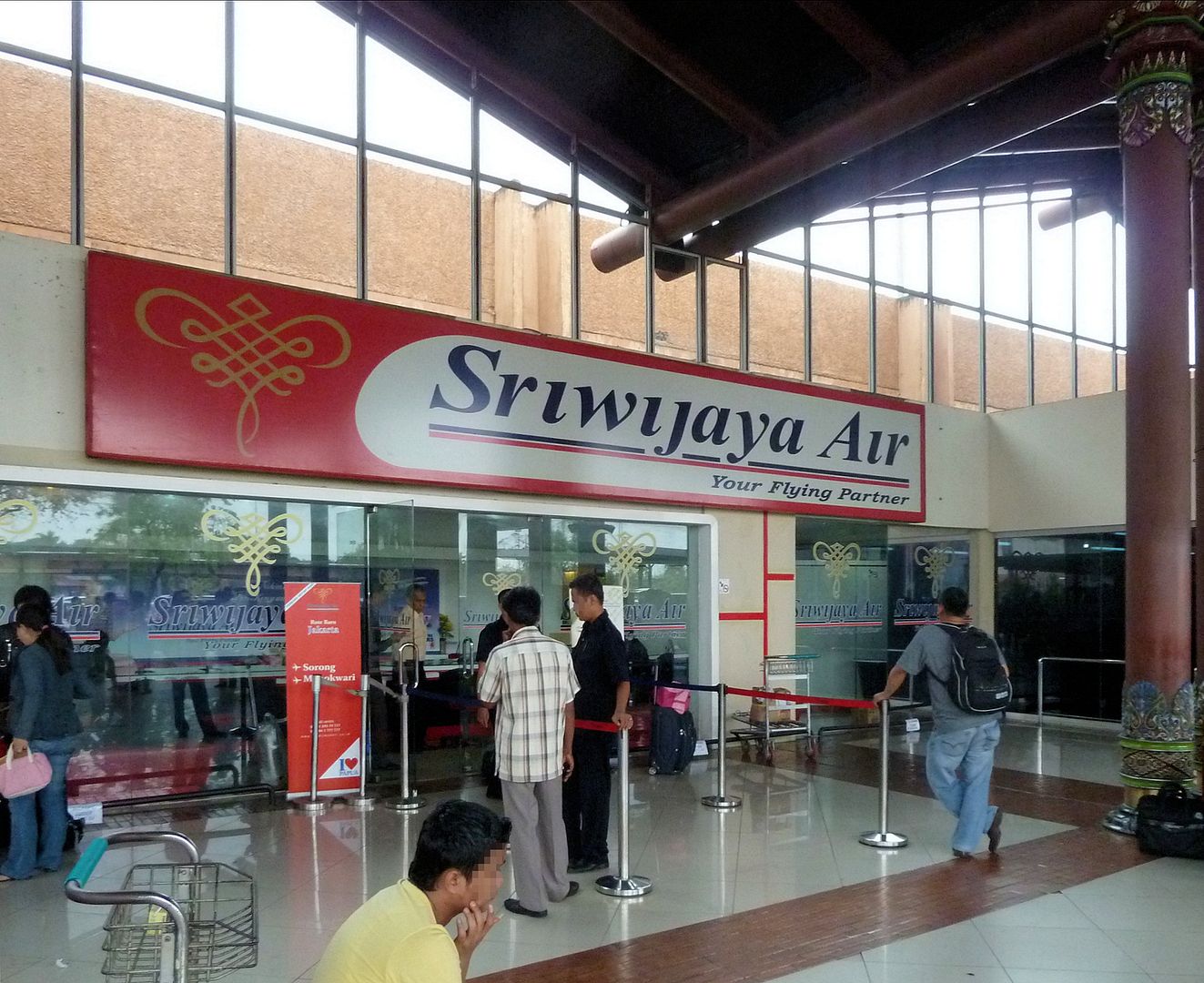 A friendly lady welcomed me and tried her best to answer my questions. Her English skills were limited, but that wasn't a big problem. First of all, she confirmed that the flight would definitely depart at 08:05. Later I would find out that the different schedule was only valid for a few weeks. The lady also tried to reserve a window seat in the back for me, but after a few minutes she said that it wasn't possible yet to assign a seat.
"Can you tell me the aircraft type?"
, I finally asked.
"Yes. It's a 7-3-2."
, she replied. That was a nice surprise and made my day!
That's what I saw from our room on the next morning: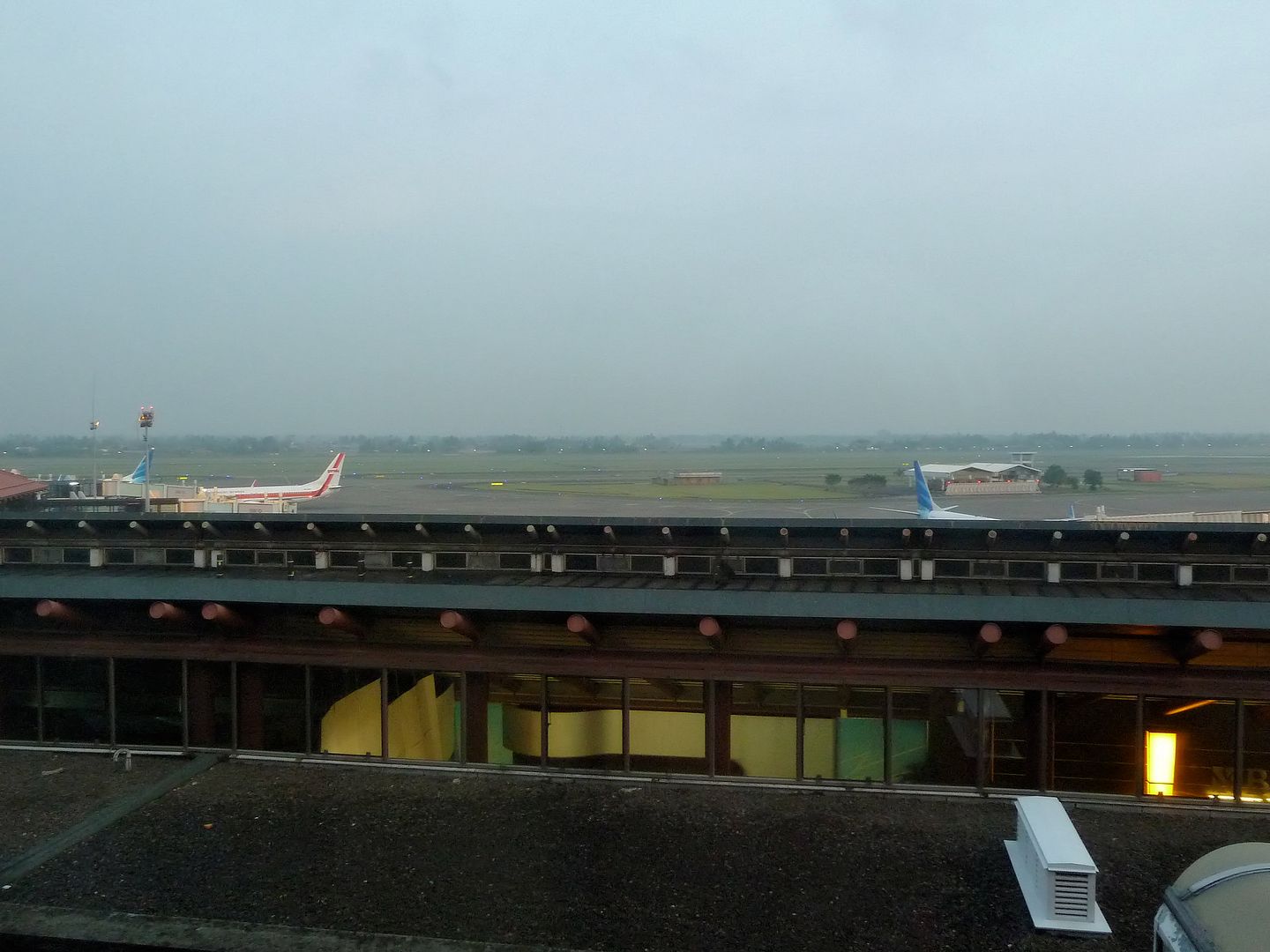 This is Garuda Indonesia 737-800 PK-GFN, wearing the scheme used between 1969 and 1985: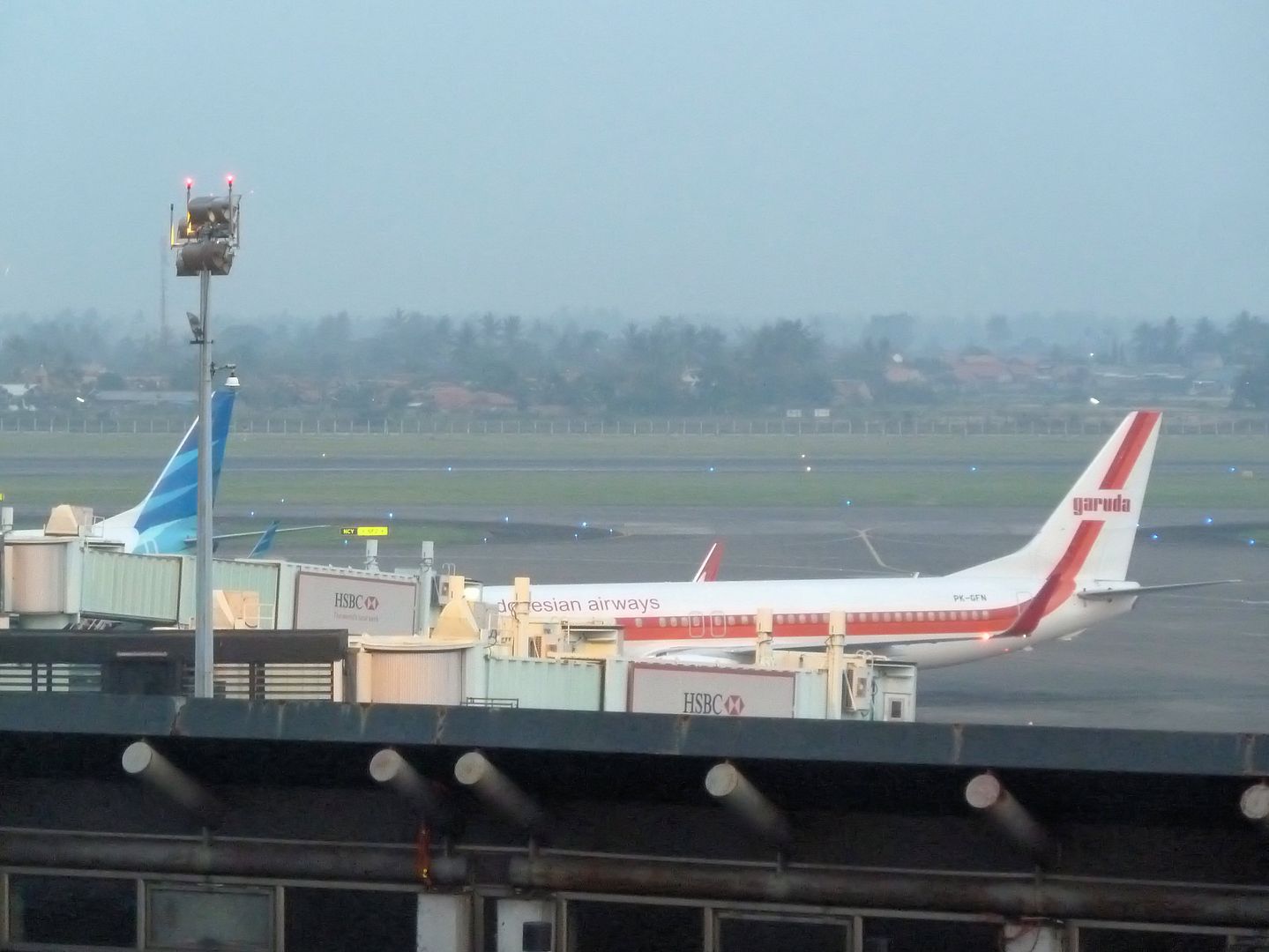 Some more Garuda 737s:
Hotel floor and the terminal's road side: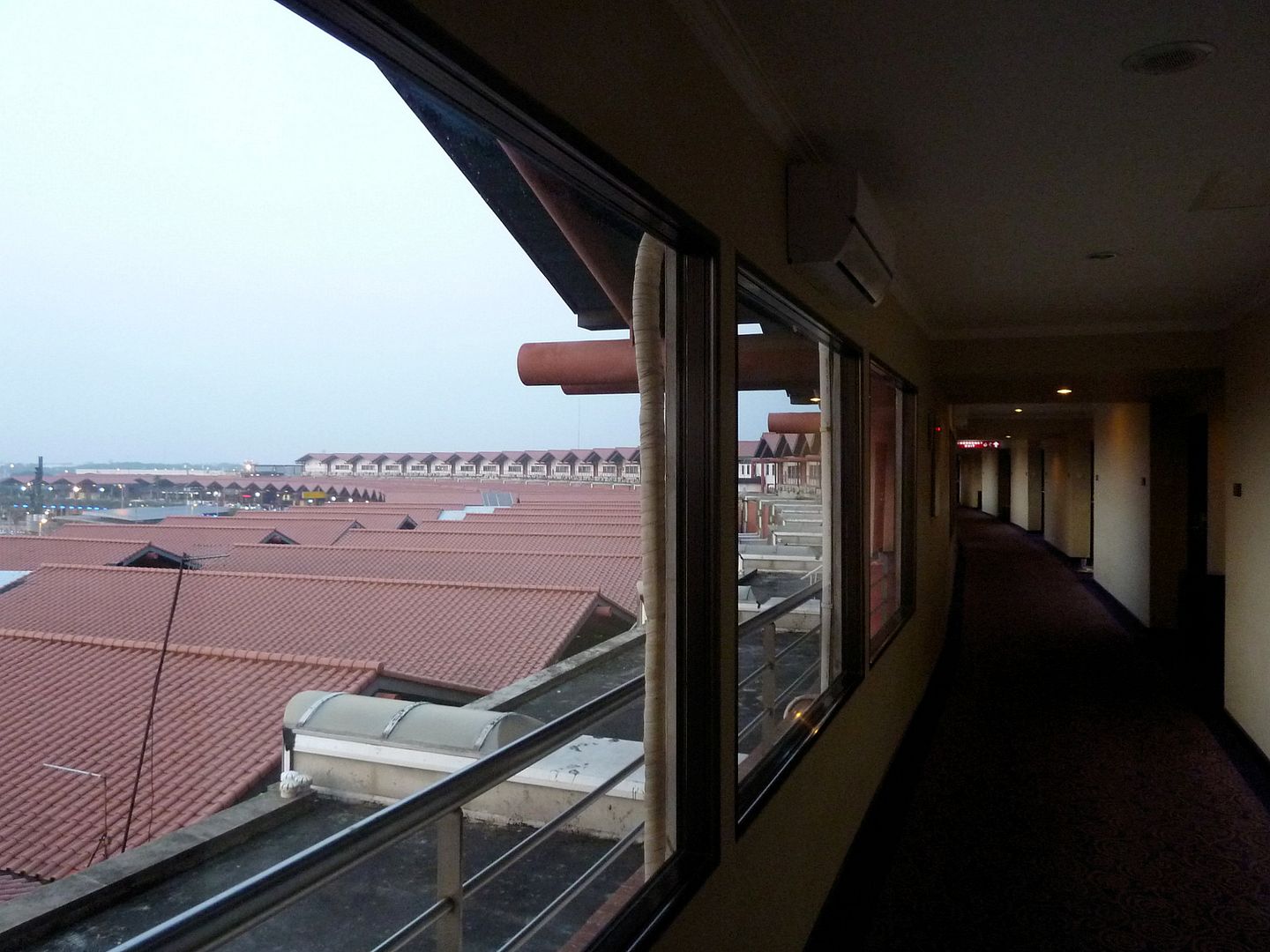 I had pre-ordered a transfer to Terminal 1 in the evening before, so a friendly hotel employee was already waiting for me in the lobby two hours before departure. After a five minute ride, I got off in front of Sriwijaya Air's check-in hall.
Wednesday, November 2011
Jakarta (CGK) - Semarang (SRG)
Sriwijaya Air SJ224
Scheduled times: 08:05-09:05
Actual times: 08:31-09:26
Flight duration: 00:42 (hrs)
Distance: 262 miles
Economy Class (single class), seat 22F
Boeing 737-2B7 Advanced
PK-CJI (s/n 1054), named "Membalong"
First delivered to US Air as N332AU in 11/1984
1st flight on PK-CJI
3rd 737-200 flight
27th 737 Classic flight
61st 737 flight
125th airline
Former appearances as N288AU and PK-ALV
The check-in hall was crowded, but I didn't have to wait very long in queue. A friendly Sriwijaya Air agent quickly handed out my boarding pass after she had kindly accepted my request for a seat in the very back: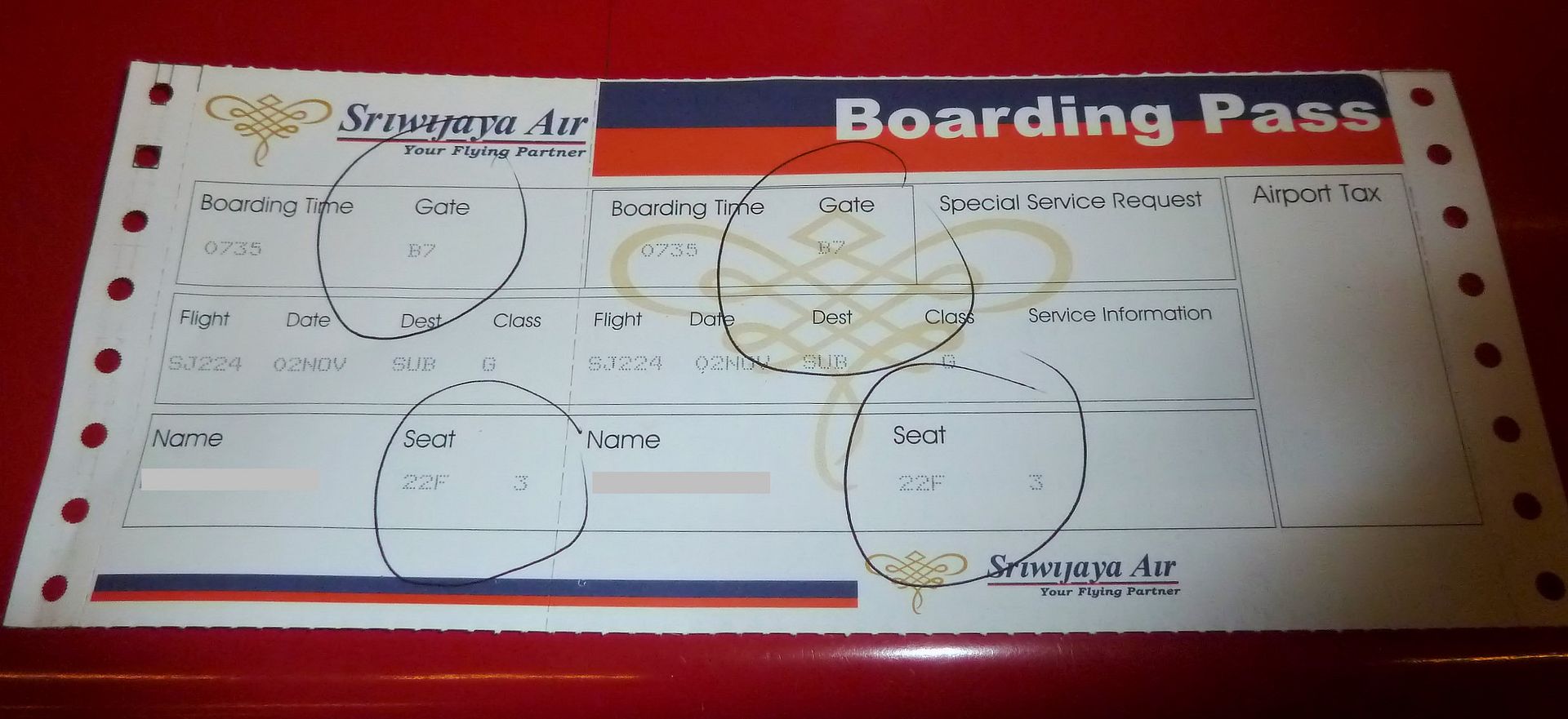 After paying a departure tax of 40000 Rupiah (= €3,30) and getting my boarding pass stamped at a dedicated counter, I had a light breakfast in a small cafe and finally passed security.
Both Terminal 1 and Terminal 2 were designed to resemble a traditional Javanese house. The airport structures are designed as open pavilions, set within the natural environment, providing shade, shelter, and ventilation. The architect's wish to keep the pavilions and all the circulation spaces beyond the check-in areas completely open to the natural landscape was fully realized in Terminal 1: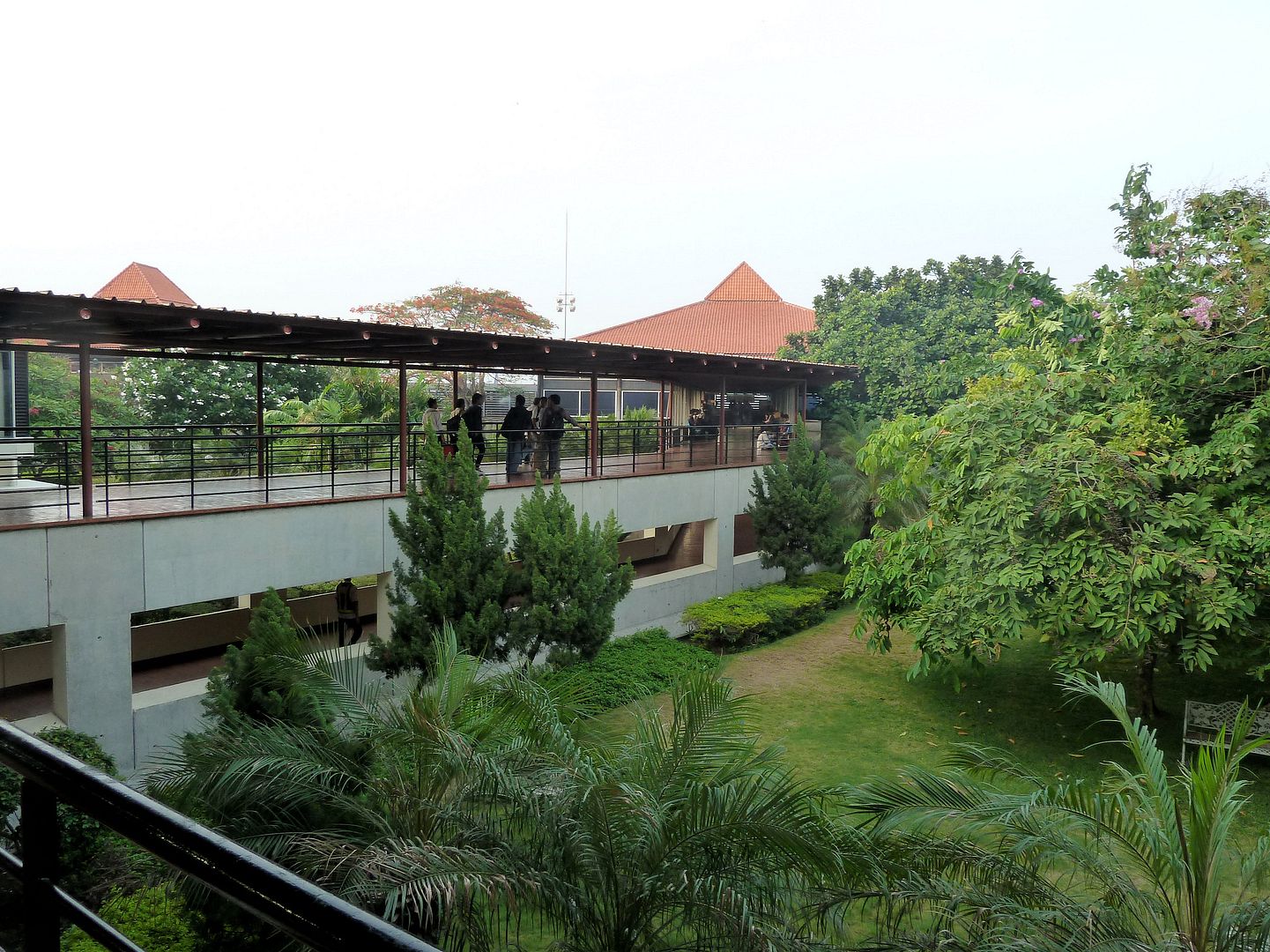 The result is that it can become very hot and humid in the open areas, only the waiting rooms themselves are air conditioned. In Terminal 2, windows were installed throughout the pavilions and circulation corridors, separating the interior spaces from the gardens.
My flight was the third one to operate from gate B7 this morning: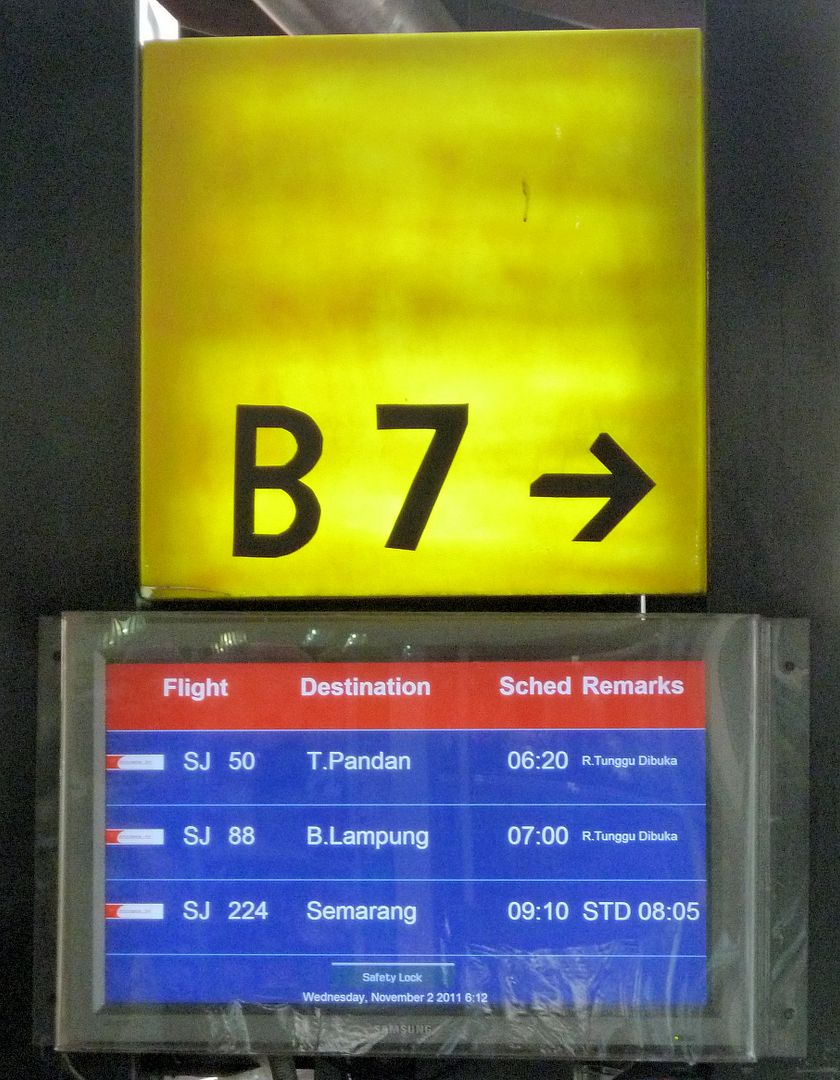 Let's go!
A friendly Sriwijaya Air agent checked boarding passes at the entrance and handed out snack boxes. I didn't get one, so I asked her about it. She checked my boarding pass again and said:
"There is service on board."
So I guess the snack boxes were only handed out to passengers booked on the short hop to Bandar Lampung, just some 120 miles from Jakarta. That's impressive considering that the flying time is probably less than 25 minutes.
Unfortunately, spotting options in the gate area were limited. An inner glass front prevented access to the windows towards the apron - and the sun shade was an additional annoyance: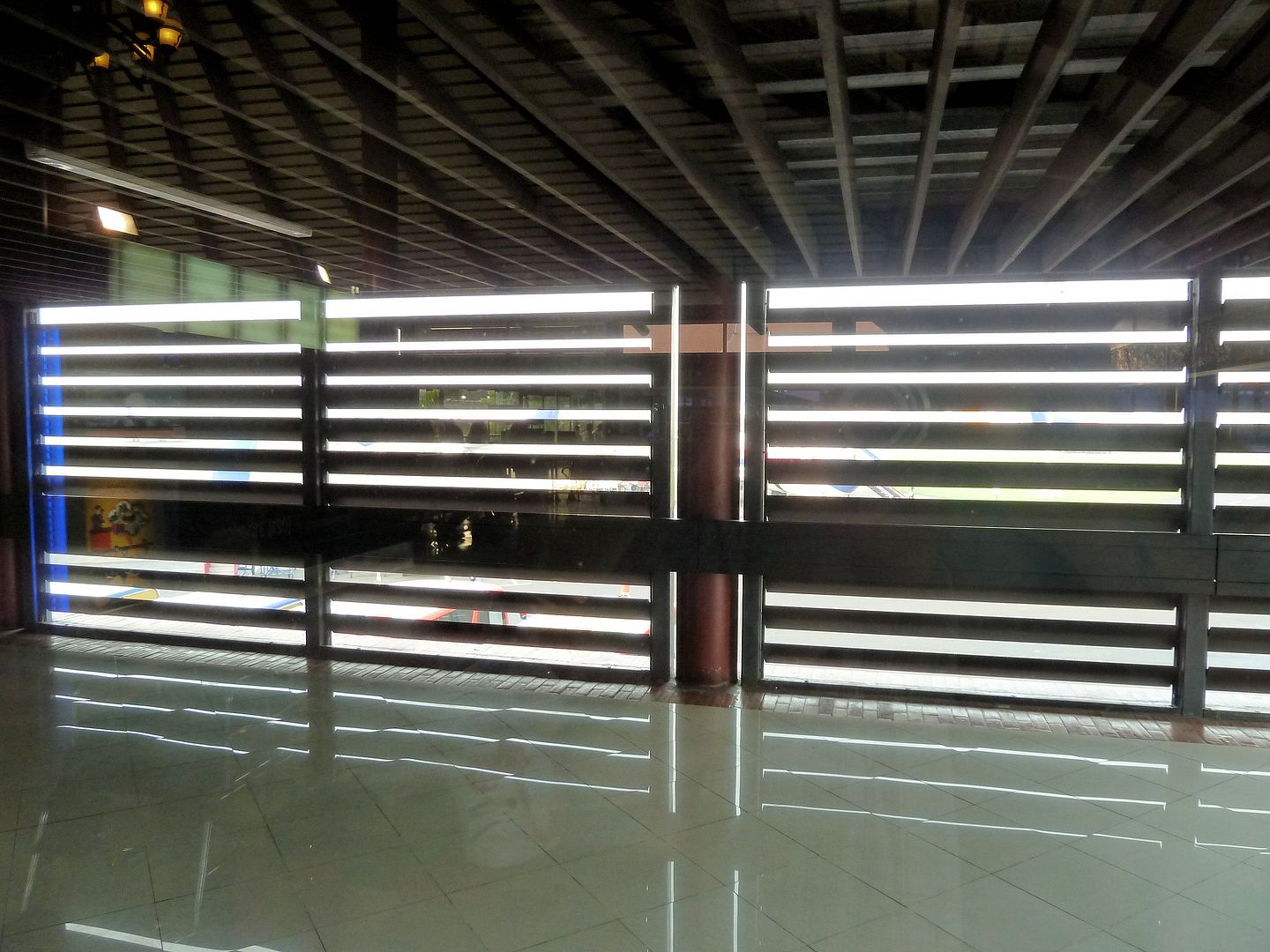 Well, I was still able to log numerous registrations, so waiting in that area wasn't too bad.
The official boarding time was 7:35, but nothing happened for another 30 minutes. Finally, after I had reinsured that everything was alright with the flight, the agents started the boarding process - exactly 10 minutes after the scheduled departure time. I didn't hear an explanation for the delay at any time.
Anyway, here's the nice little Boeing 737-200 which would fly me to Semarang and Surabaya - it looks fresh and clean, doesn't it?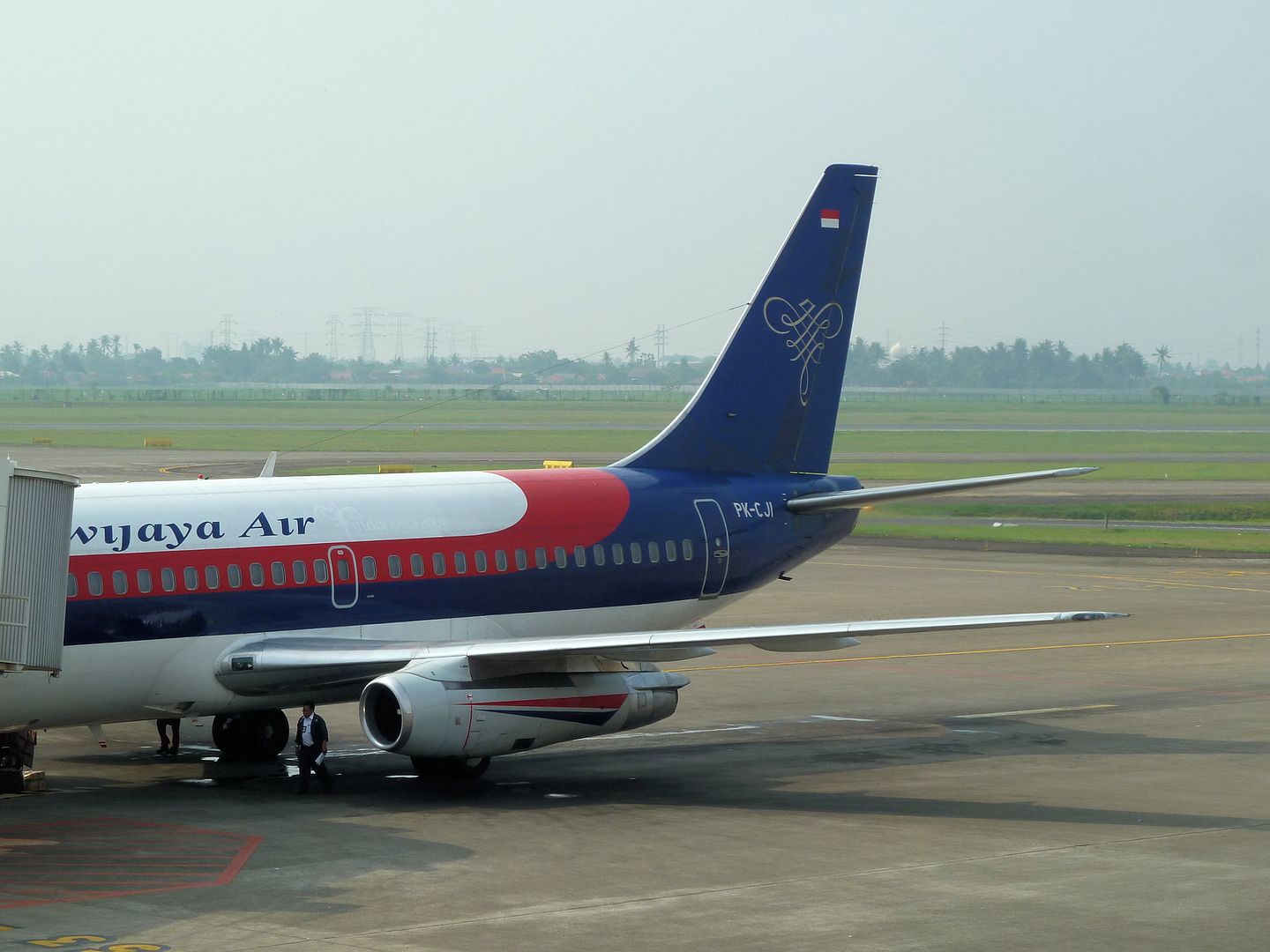 PK-CJI
was built in October 1984 and subsequently delivered to US Air as N332AU. It was re-registered as N288AU four years later and transferred to MetroJet in May 1999. The plane was retired in October 2001 and remained stored until Star Air of Indonesia took it up as PK-ALV in August 2002. Star Air shut down services in June 2005 and the plane went into storage again until Sriwijaya Air added it to its fleet in January 2006. Sriwijaya Air operates a fleet of 14 Boeing 737-200s, 13 Boeing 737-300s and 7 Boeing 737-400s. However, one 737-300 is currently out of service after a landing incident at Jogyakarta in late December.
Young friendly flight attendants in pretty uniforms welcomed me on board with a smile. The cabin was clean and looked as immaculate as the plane's exterior. The bright red old-style seats were alright...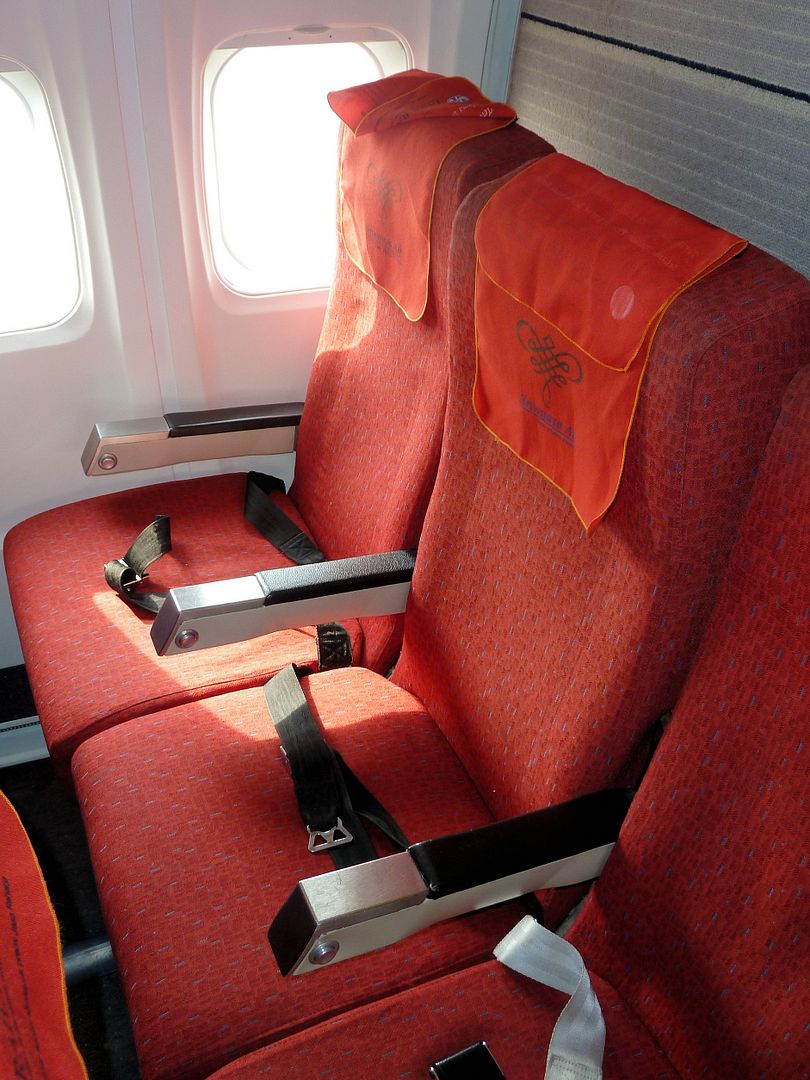 ...but legroom was very tight what I found a bit shocking - probably the worst seat pitch I have ever experienced:
Even though I felt very cramped, I didn't mind so much considering that both flights would be short. What was more important was the fact that I had the chance again to enjoy a 737-200 flight.
Nice inflight magazine and nice safety card: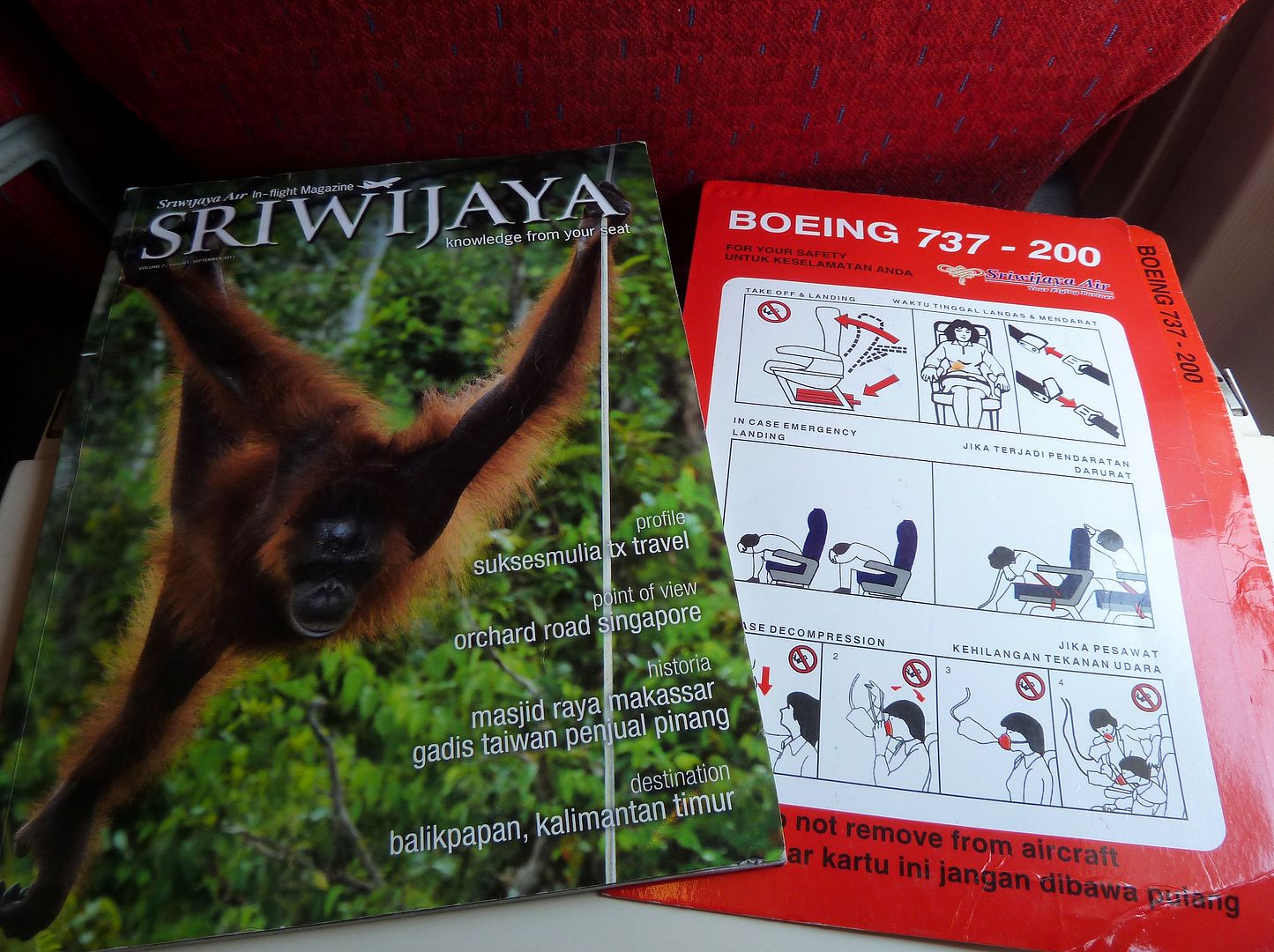 There was also a shopping guide, but I cannot remember seeing the flight attendants offering anything for sale: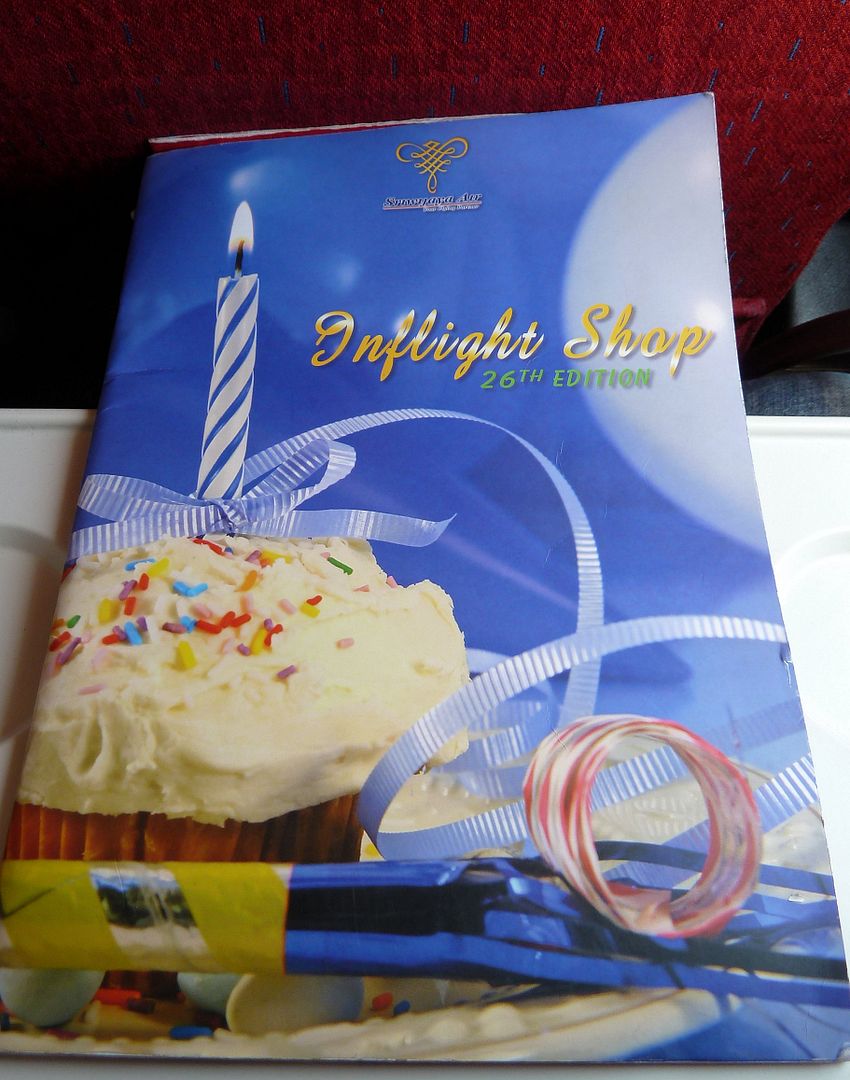 As far as I could see, not a single seat remained empty. Two friendly male locals took the seats next to me - actually I didn't see a single stern face in the whole cabin, all people looked relaxed and happy. Try to find that on a morning flight in Europe!
After boarding had been completed, the flight attendants distributed candy - nice!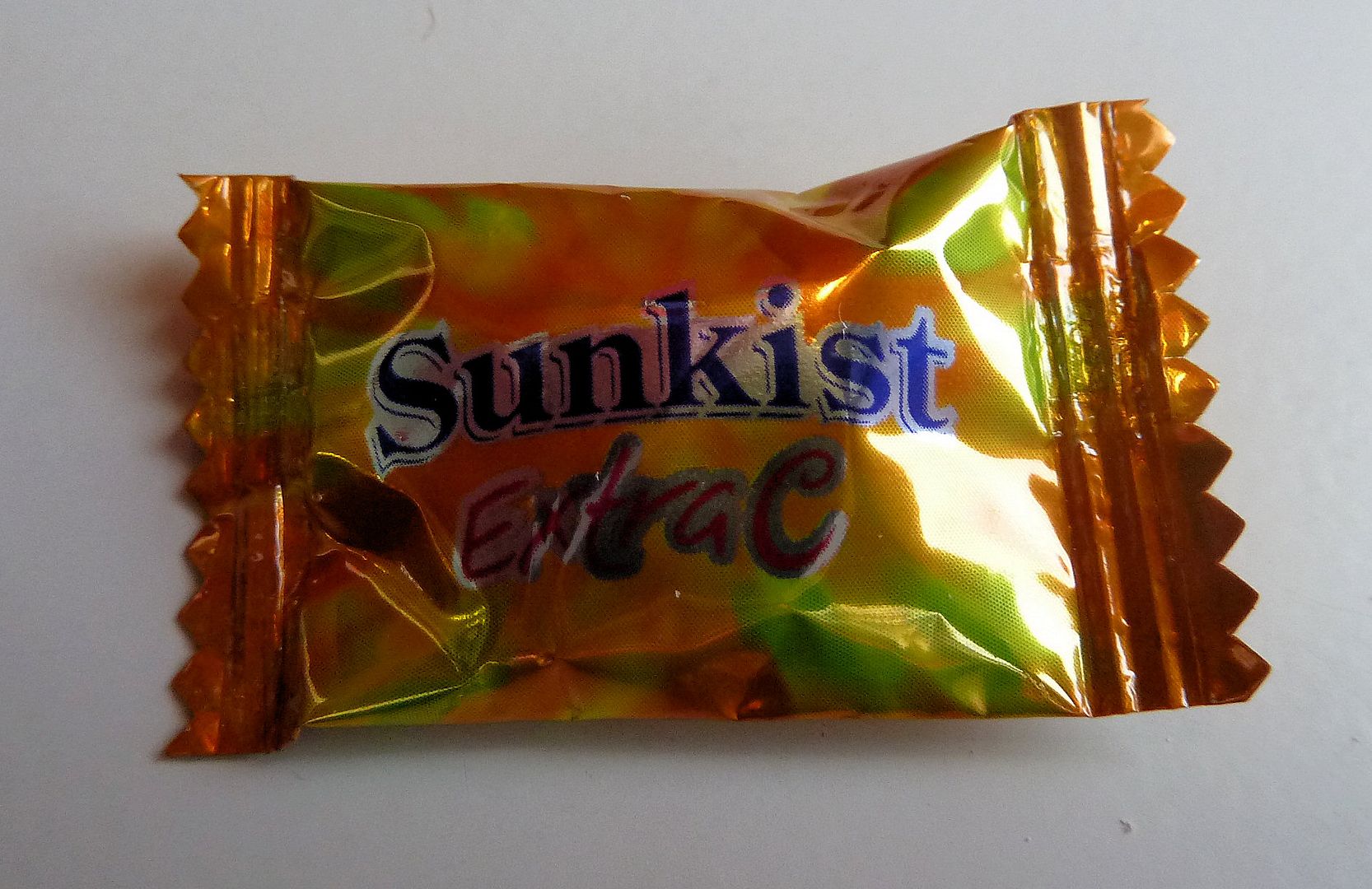 Parked next to us was 737-400 PK-CJU: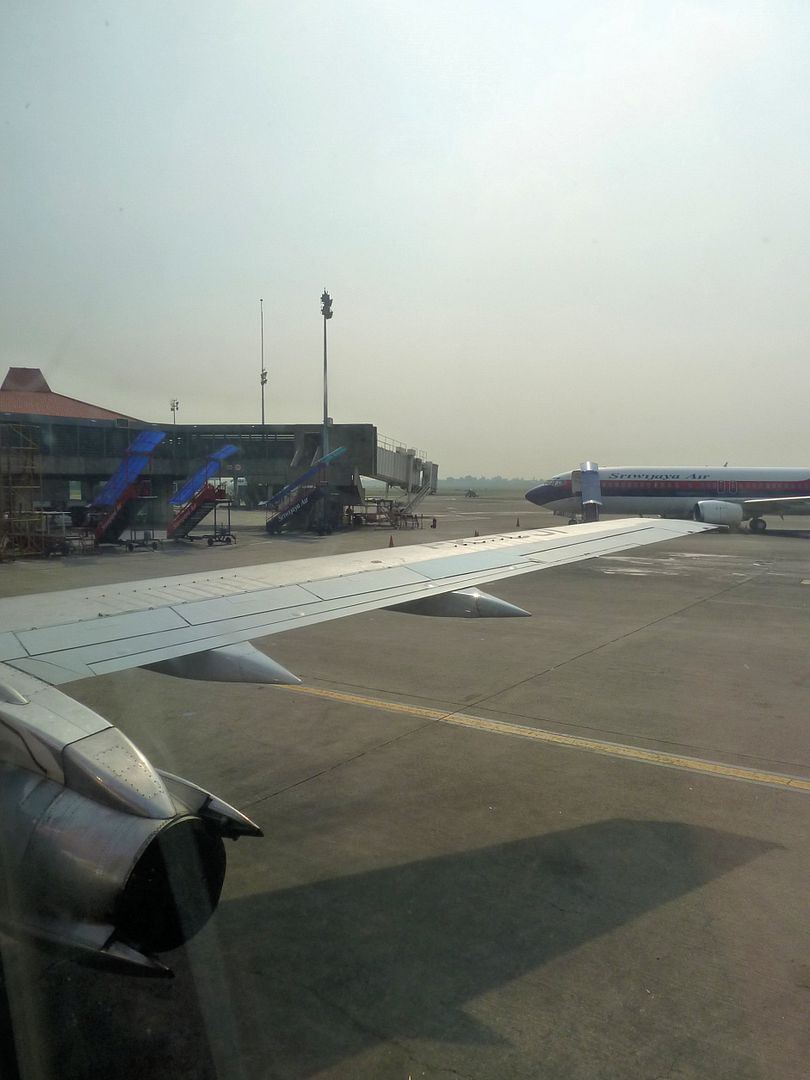 We were finally pushed back 26 minutes late and I thoroughly enjoyed the engine start-up. What a nice blast from the past! Three different "Lions" at once - a 737-400, a regular 737-900ER and a "Dreamliner" 737-900ER: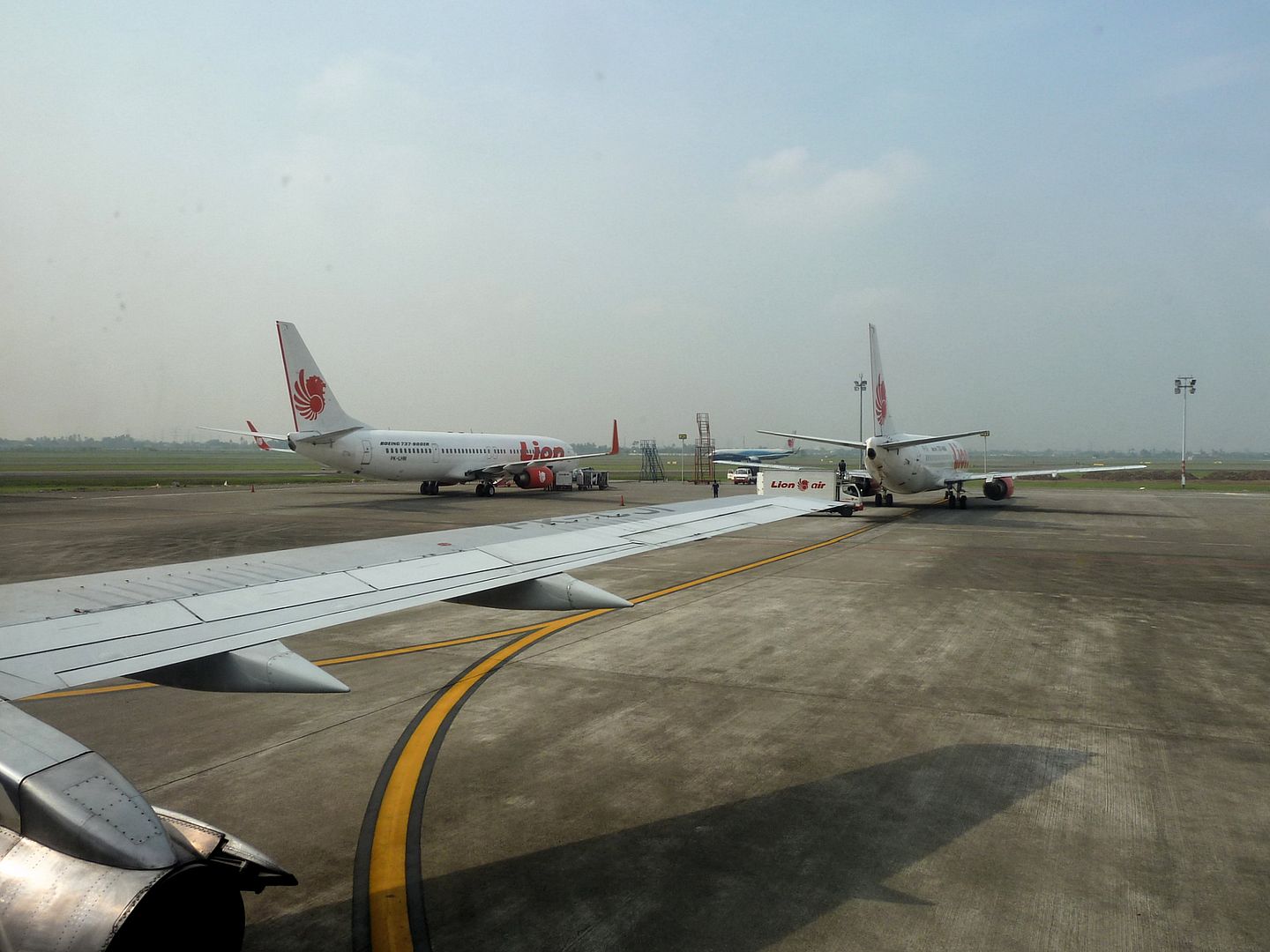 Our classic 737 rolled straight onto the runway, the two Pratt & Whitney JT8D-15A engines started roaring...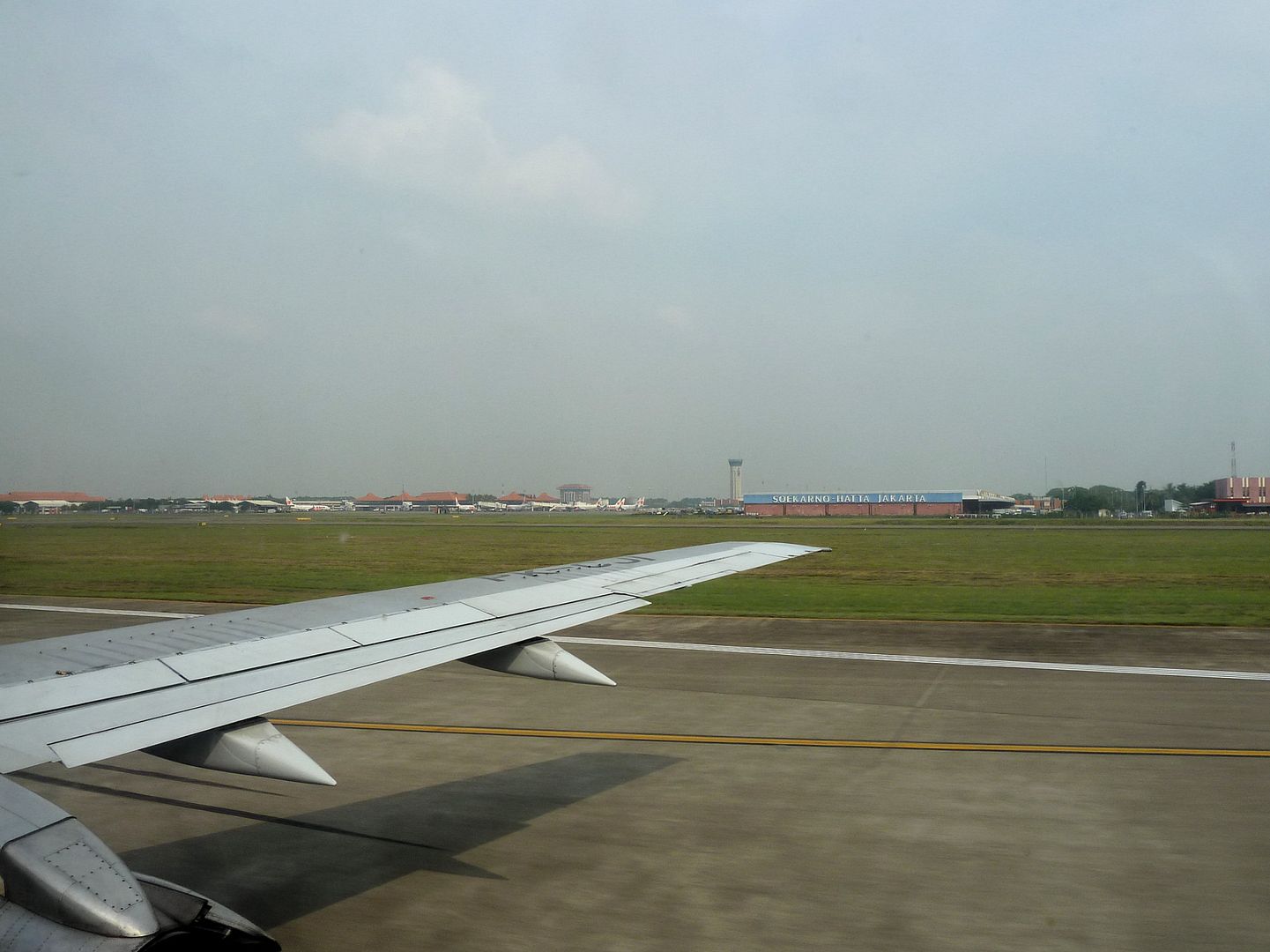 ...and we soon lifted off after a powerful takeoff run - what an amazing sound!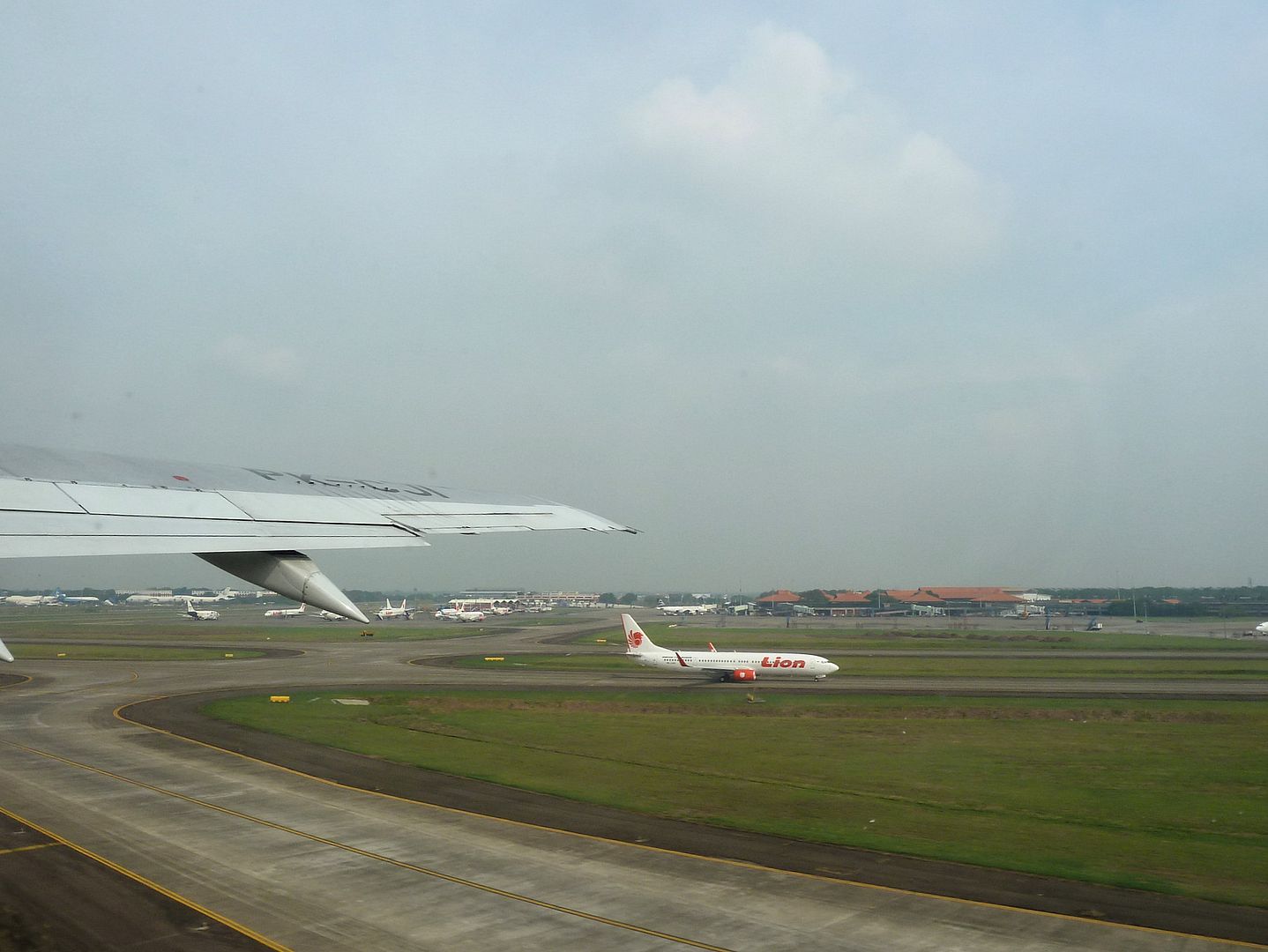 Numerous stored aircraft...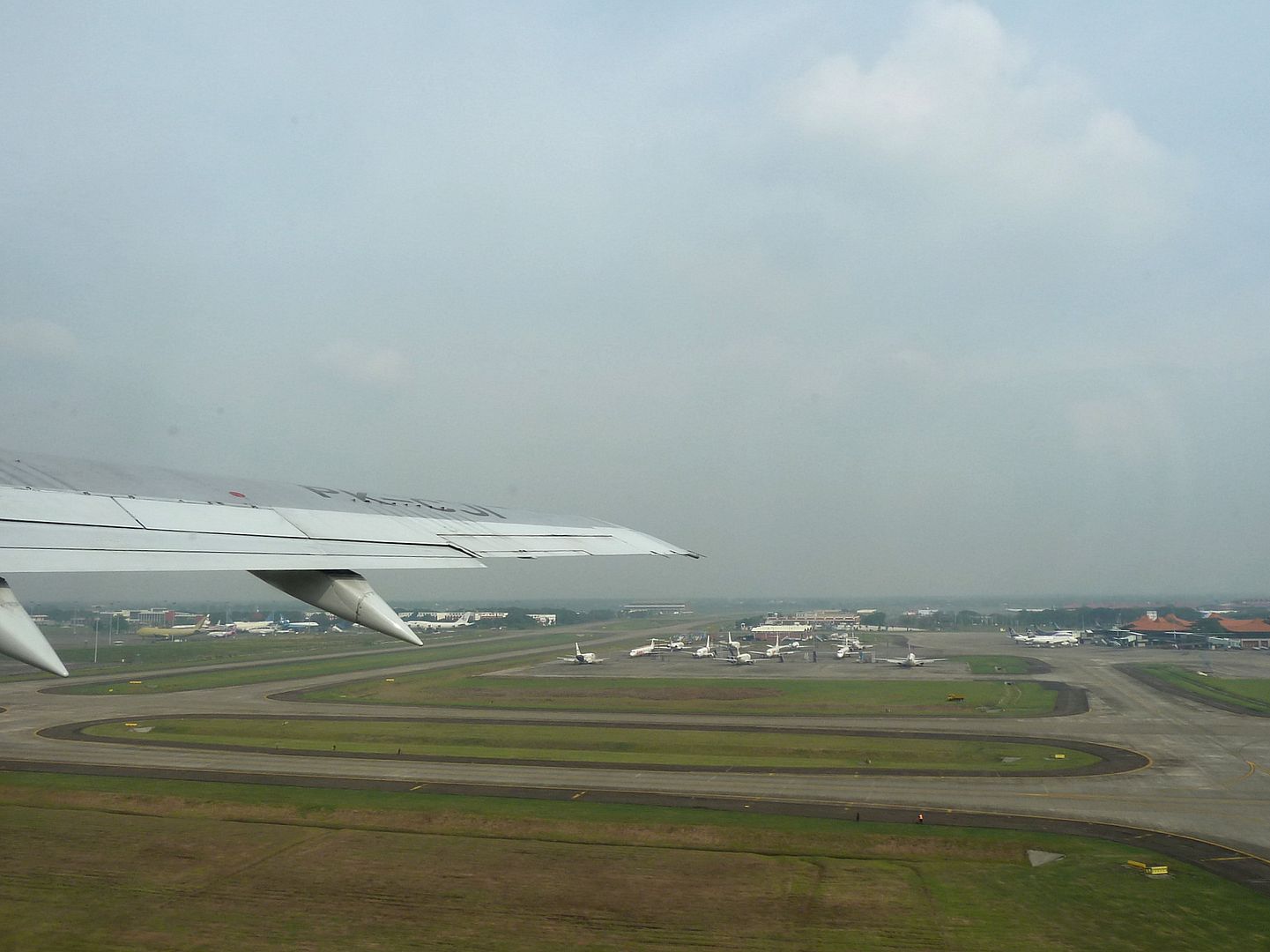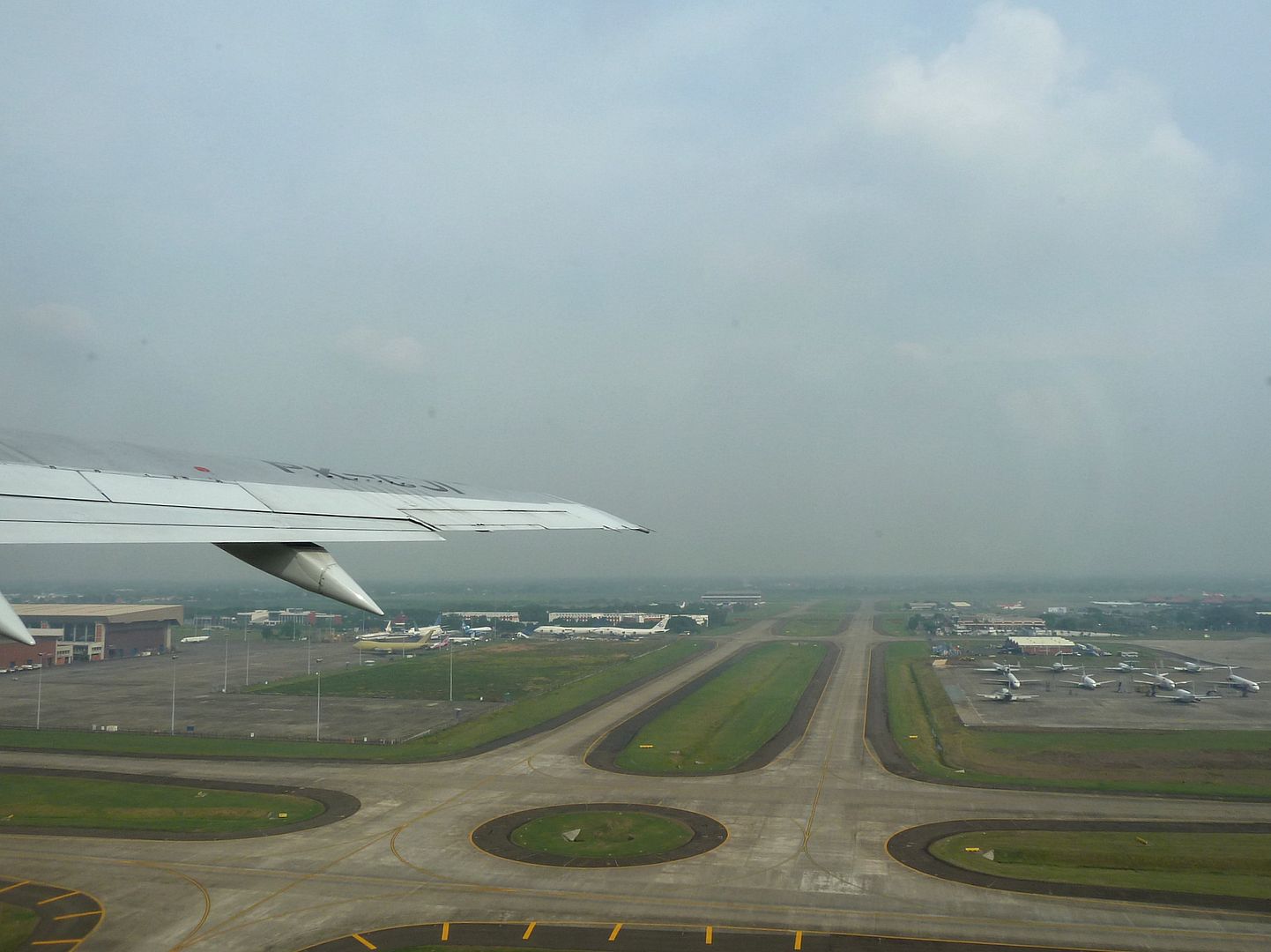 ...and a Garuda Indonesia 747-400 and a Garuda Indonesia A330 parked in a hangar: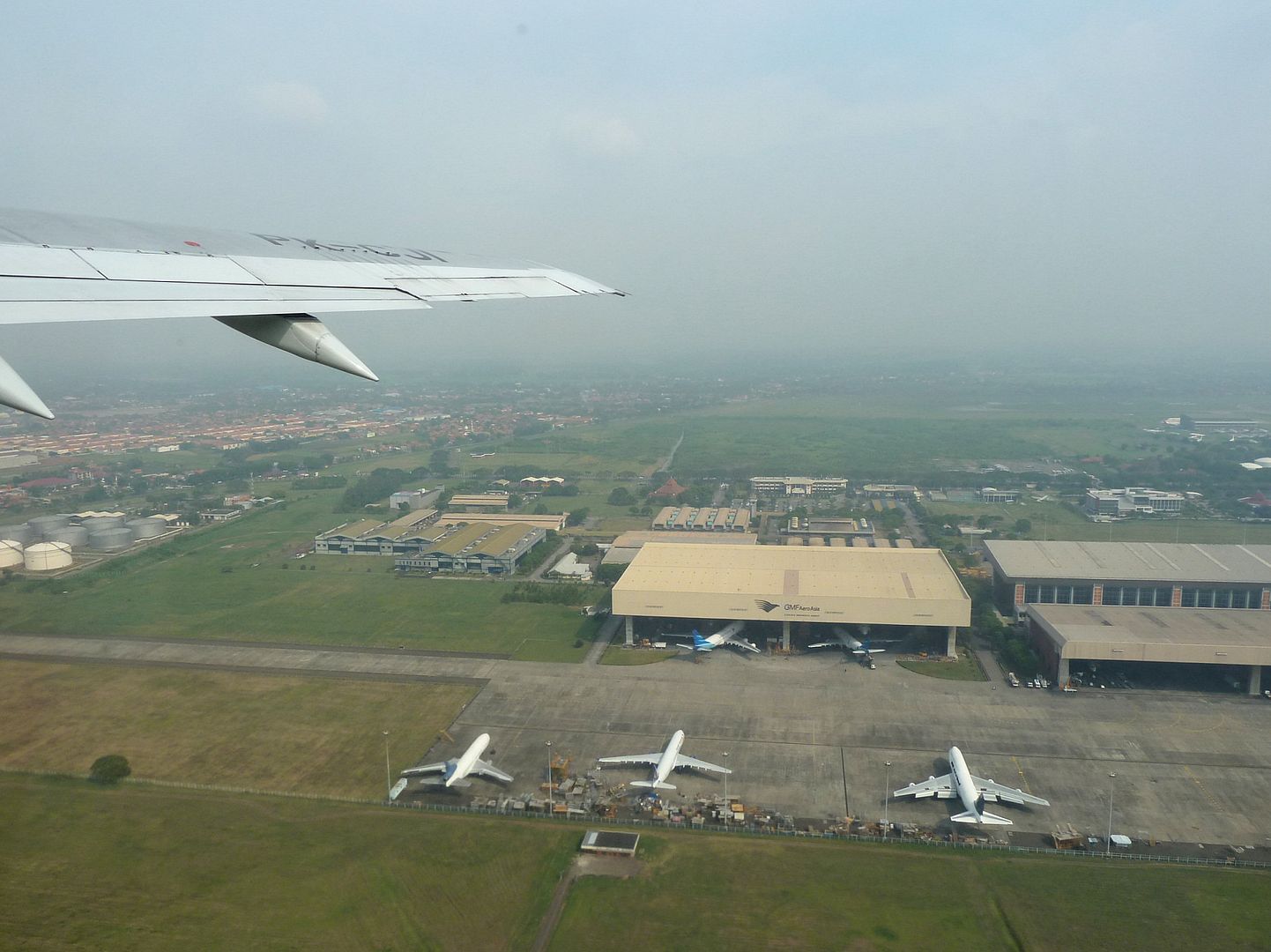 There was an announcement during climb, but I couldn't understand a single word due to the engine noise. I was really enjoying the ride on this classic bird:
Less than 10 minutes after takeoff, the flight attendants handed out snack boxes. I felt even more cramped after folding down the table: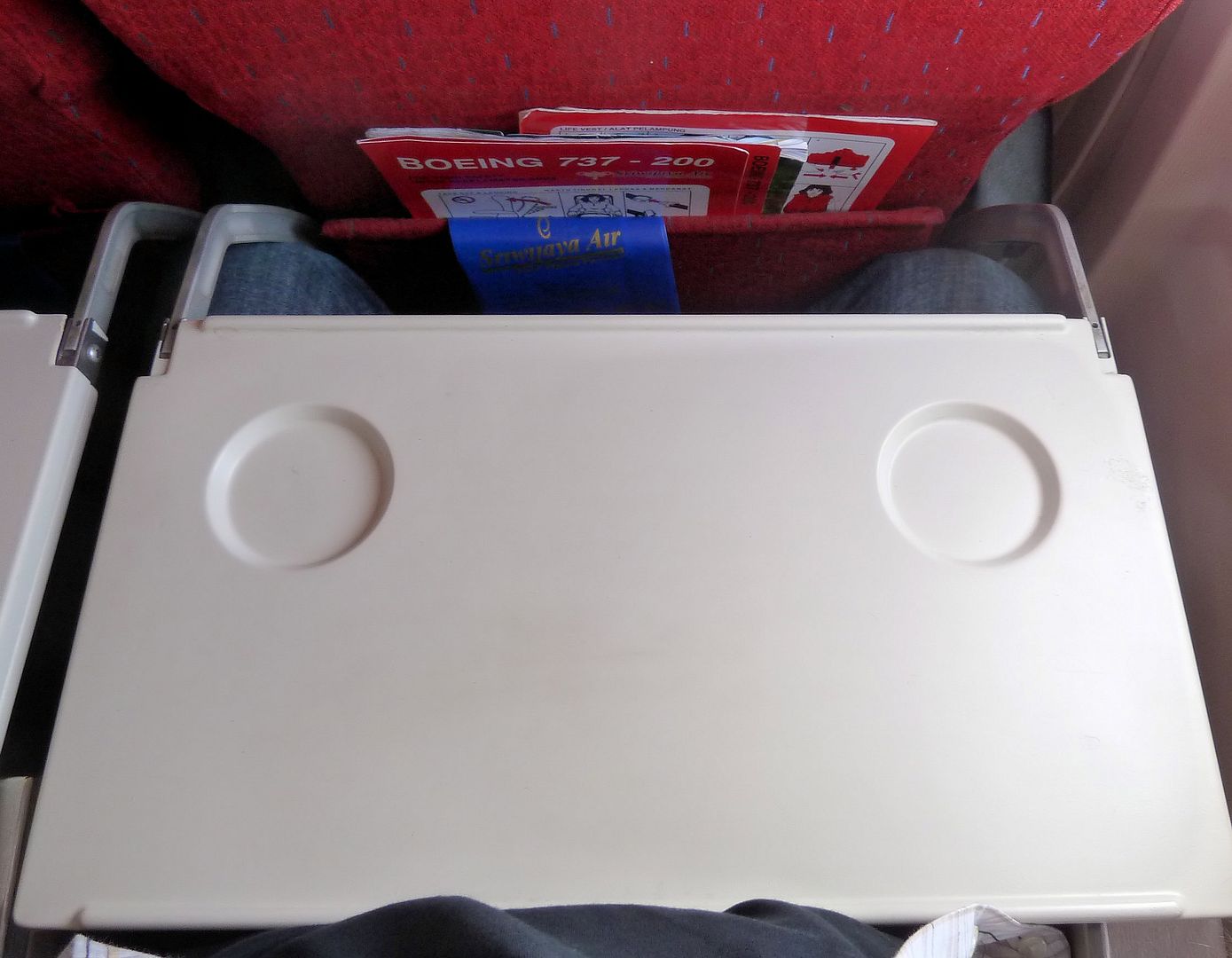 The nice red box...
..contained a savory croissant, a piece of cake and a cup of water: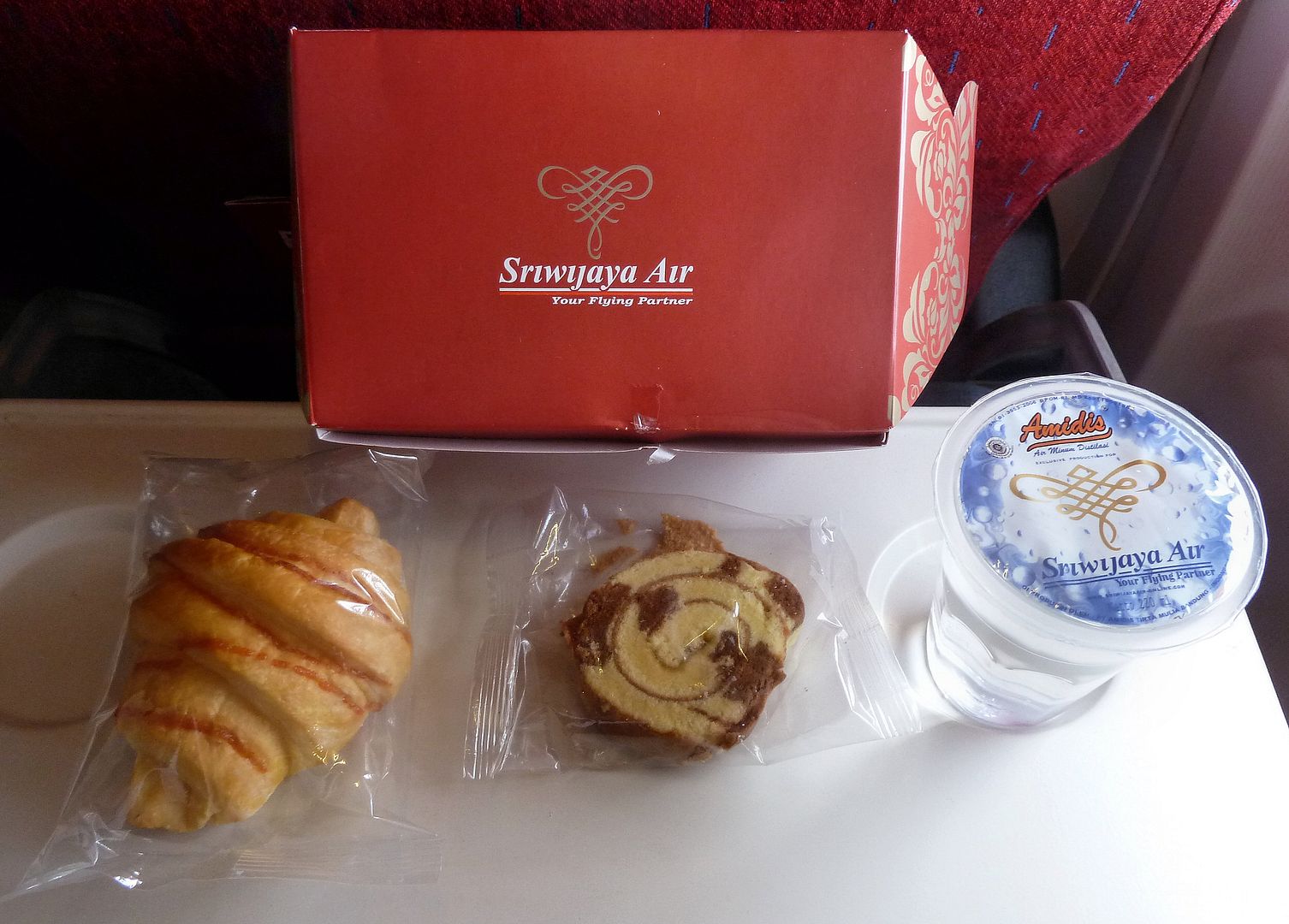 Unfortunately, the croissant didn't taste fresh and contained a strange paste, but the cake was fine. I was still impressed by that kind of service on such a short flight.
You cannot miss the registration when flying on Sriwijaya Air: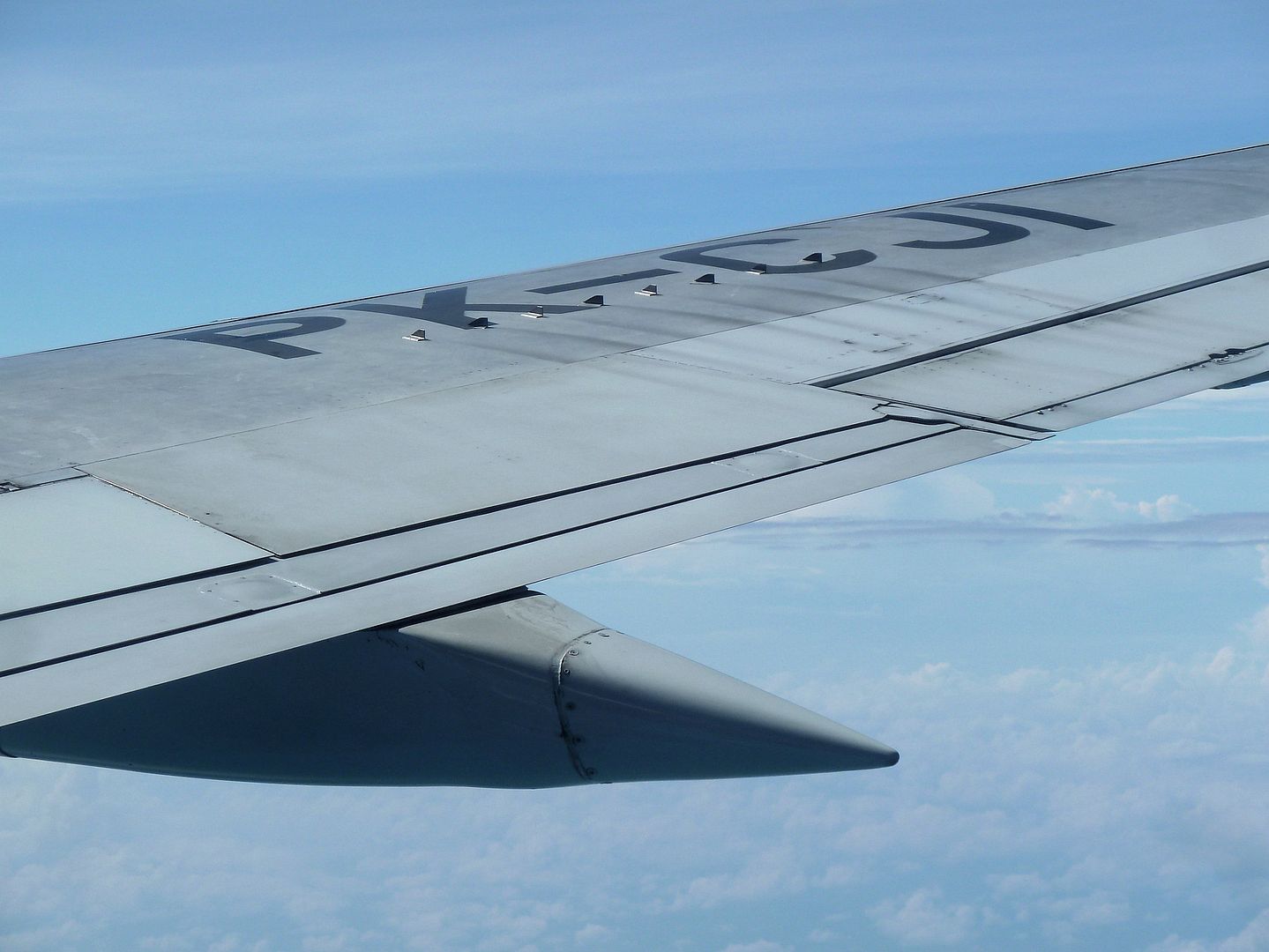 Beautiful scenery:
We soon started descending...I was really looking forward to the arrival at user
Akhmad's
hometown airport: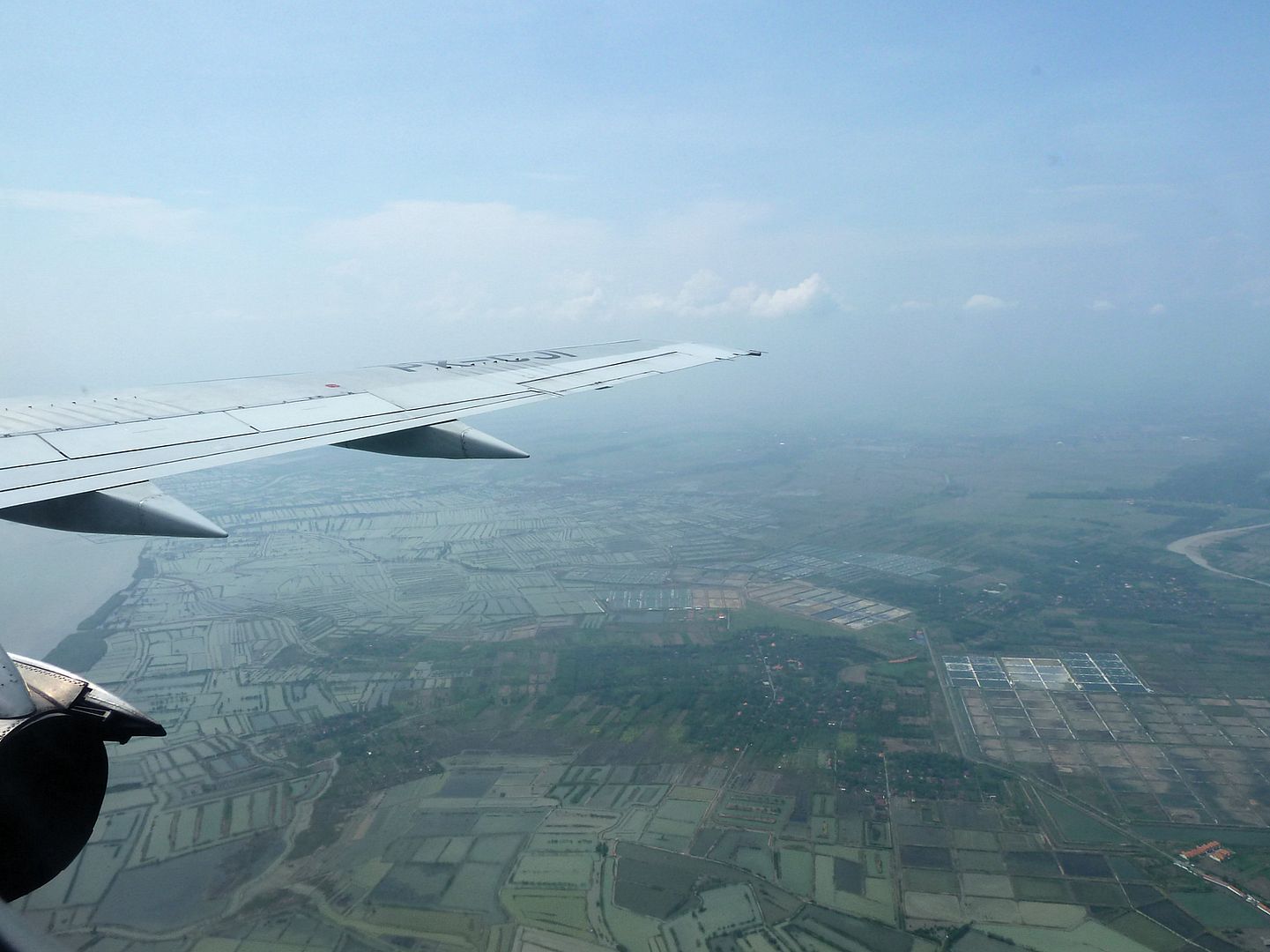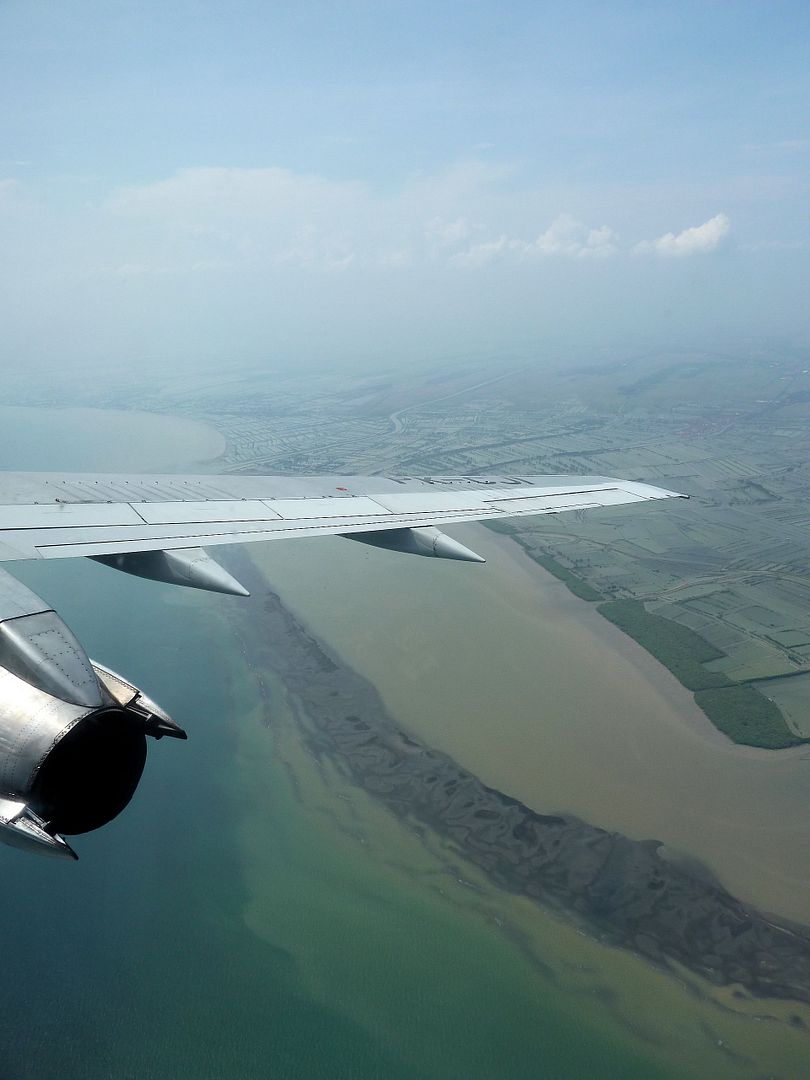 Final approach along large areas of wetlands: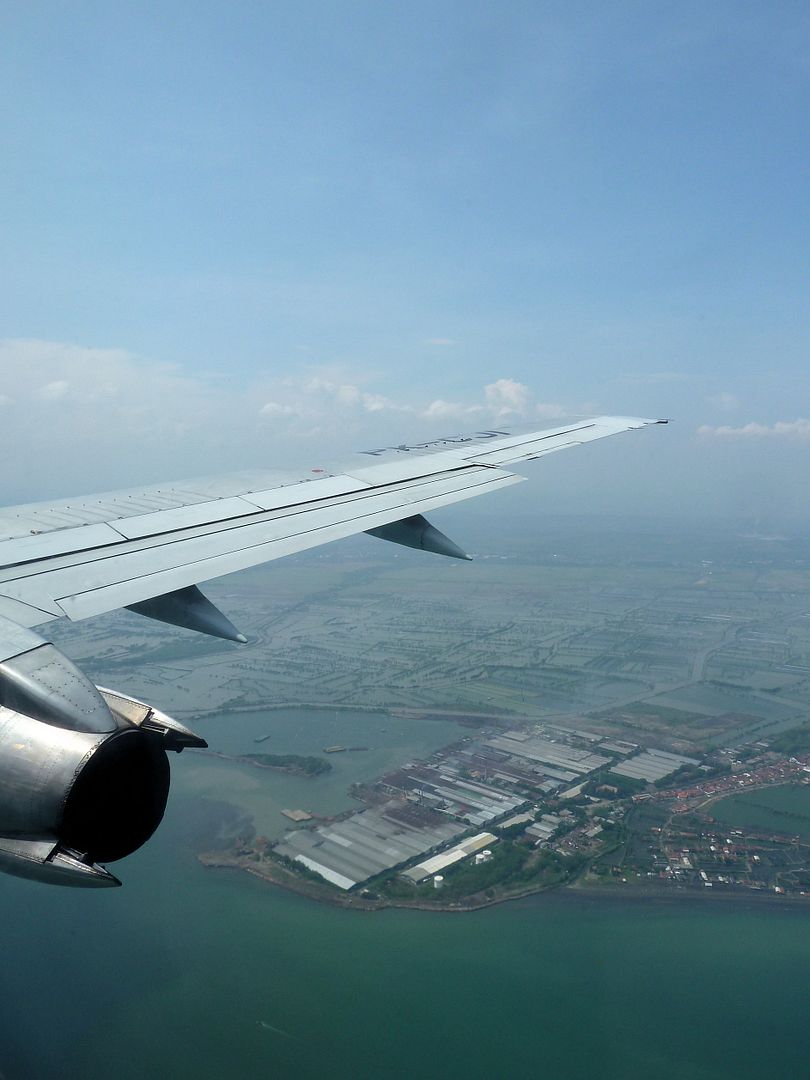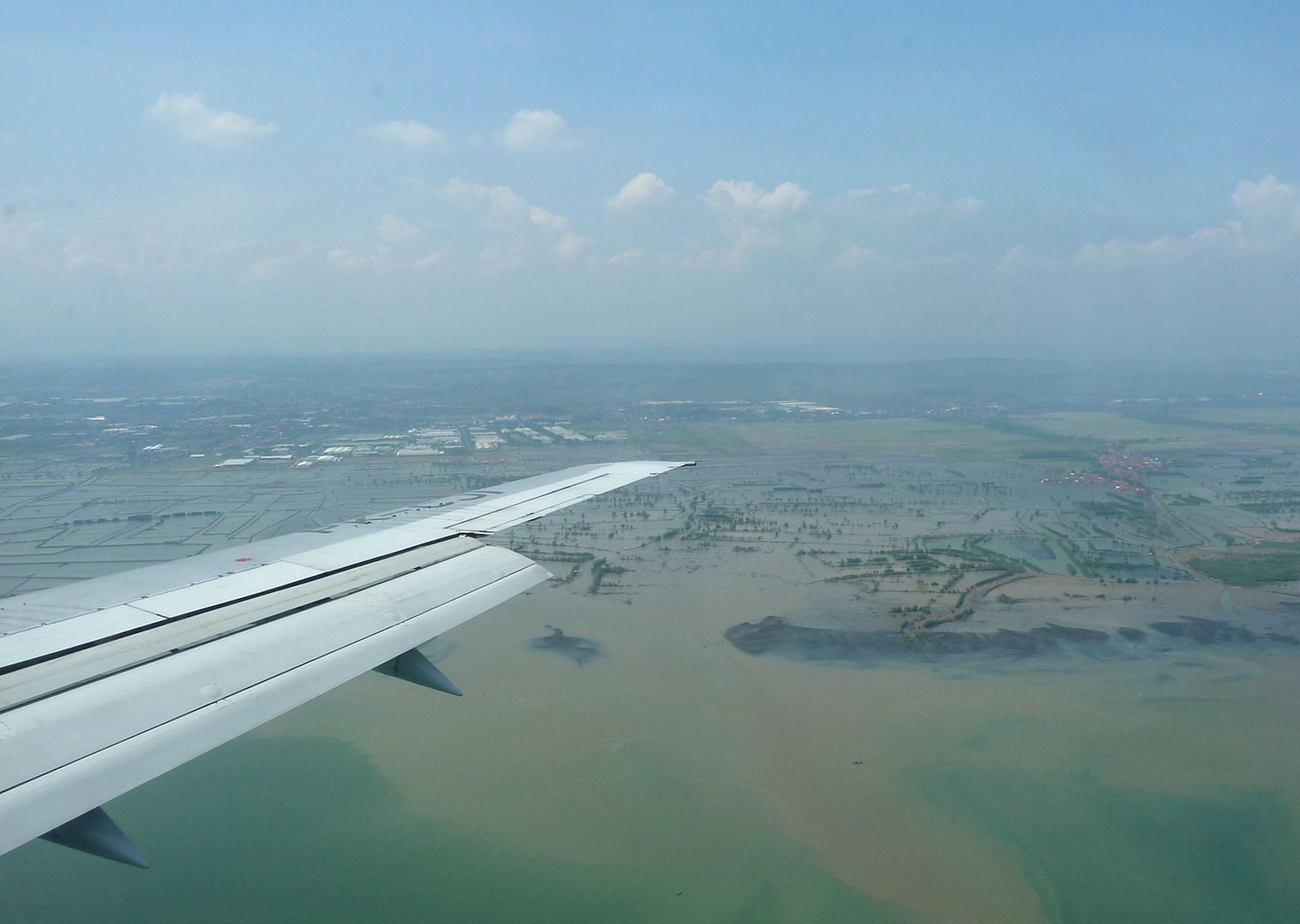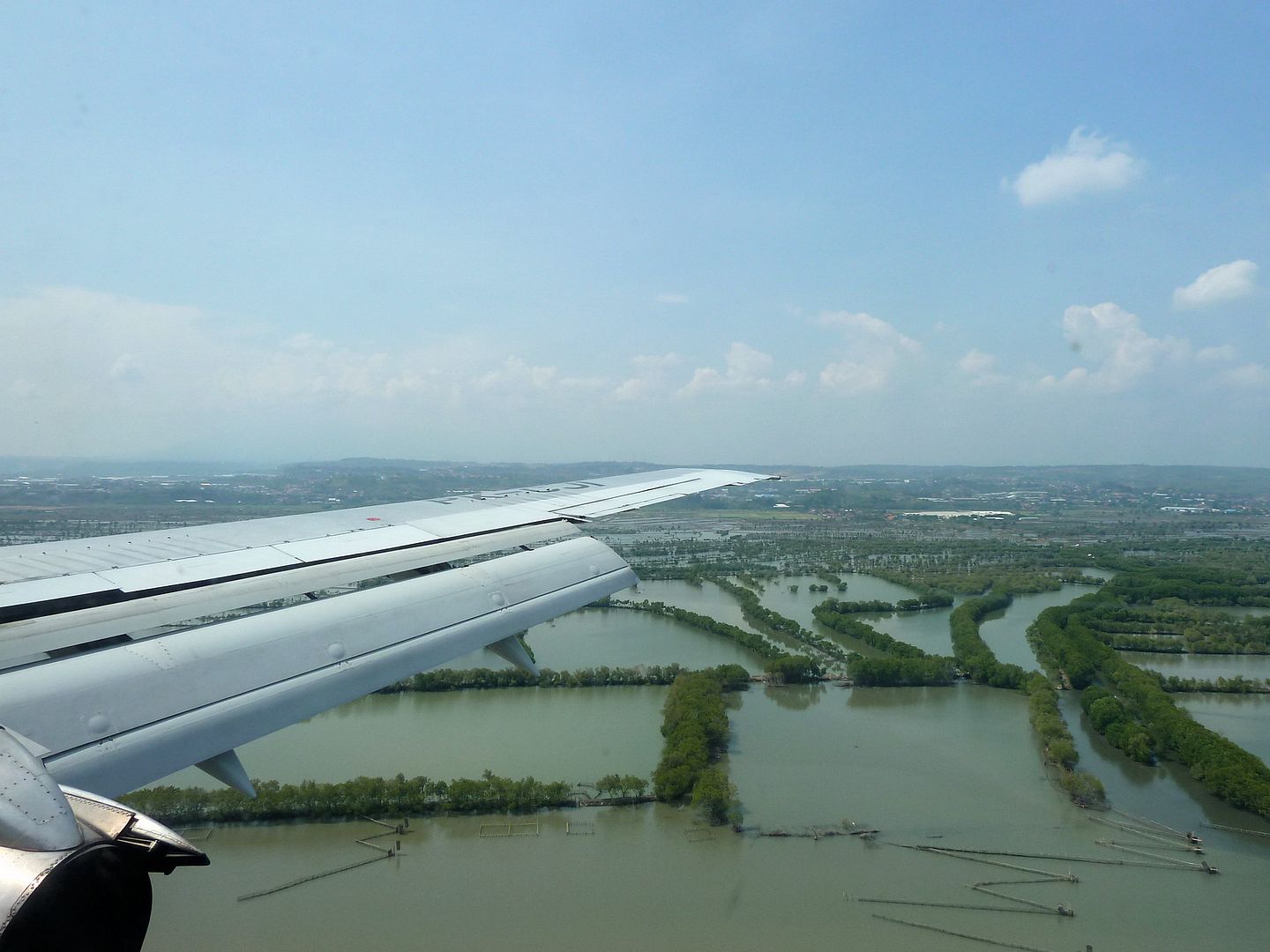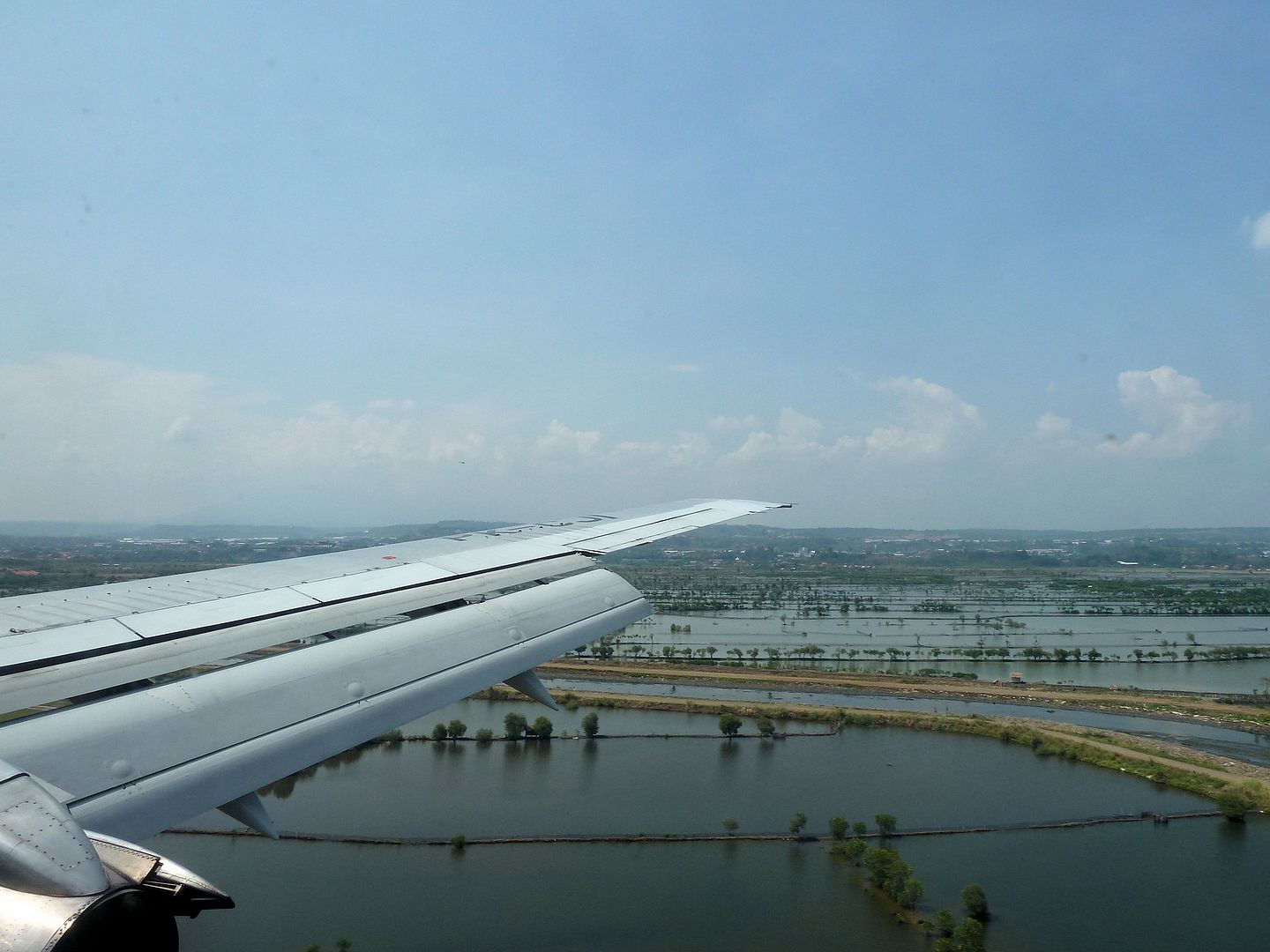 Touchdown happened 42 minutes after takeoff - the reverse thrust sound was awesome!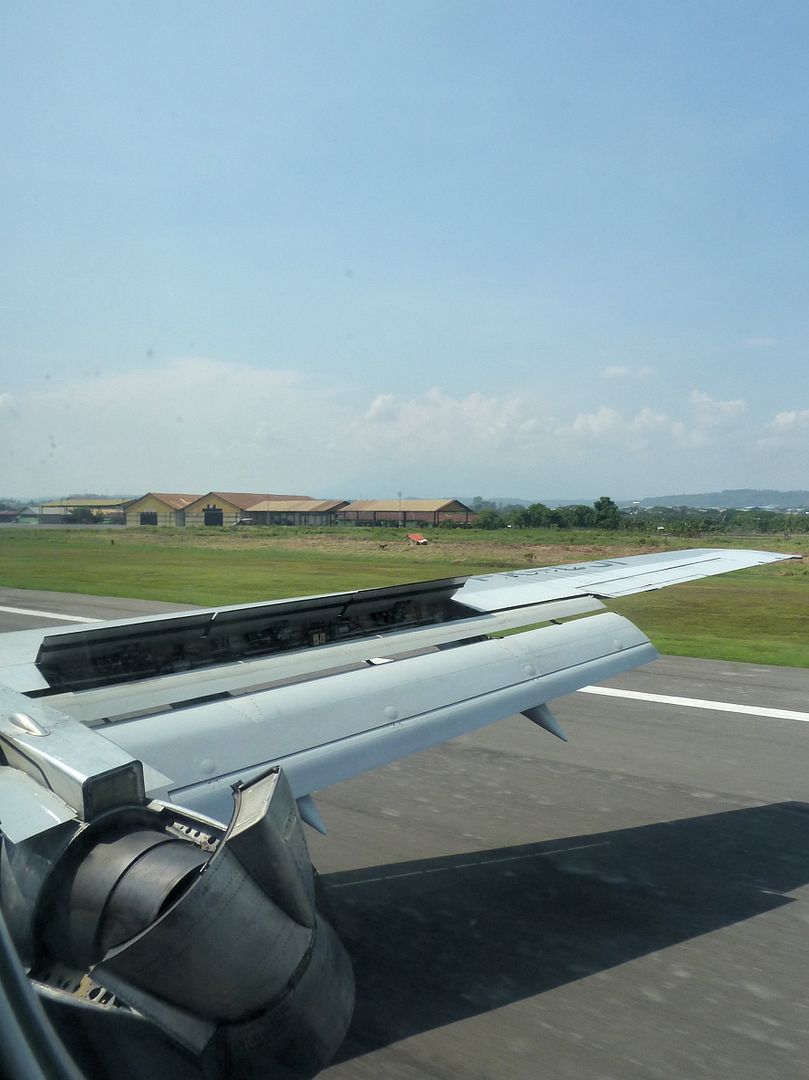 I didn't see any of those Wings Air ATR 72s at Jakarta:
PK-CJI
stopped at a parking position next to Garuda Indonesia 737-800 PK-GER - user
FlyingFinn76
once flew on that frame when it was still operated by Air Berlin as D-ABAD: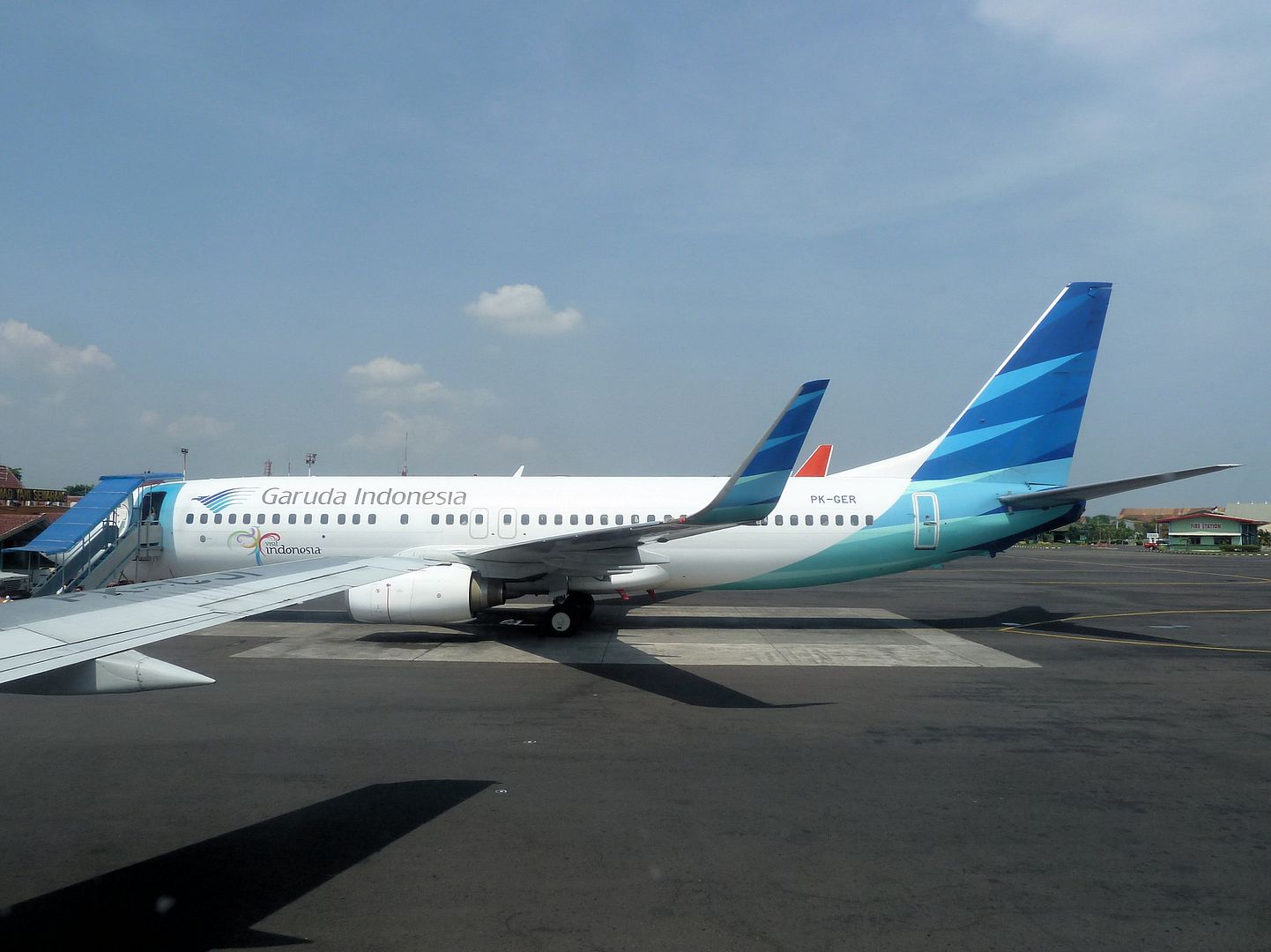 All Surabaya-bound passengers were asked to leave the aircraft, too. I chose the rear exit and took the chance to take numerous pictures. Lovely plane, lovely livery: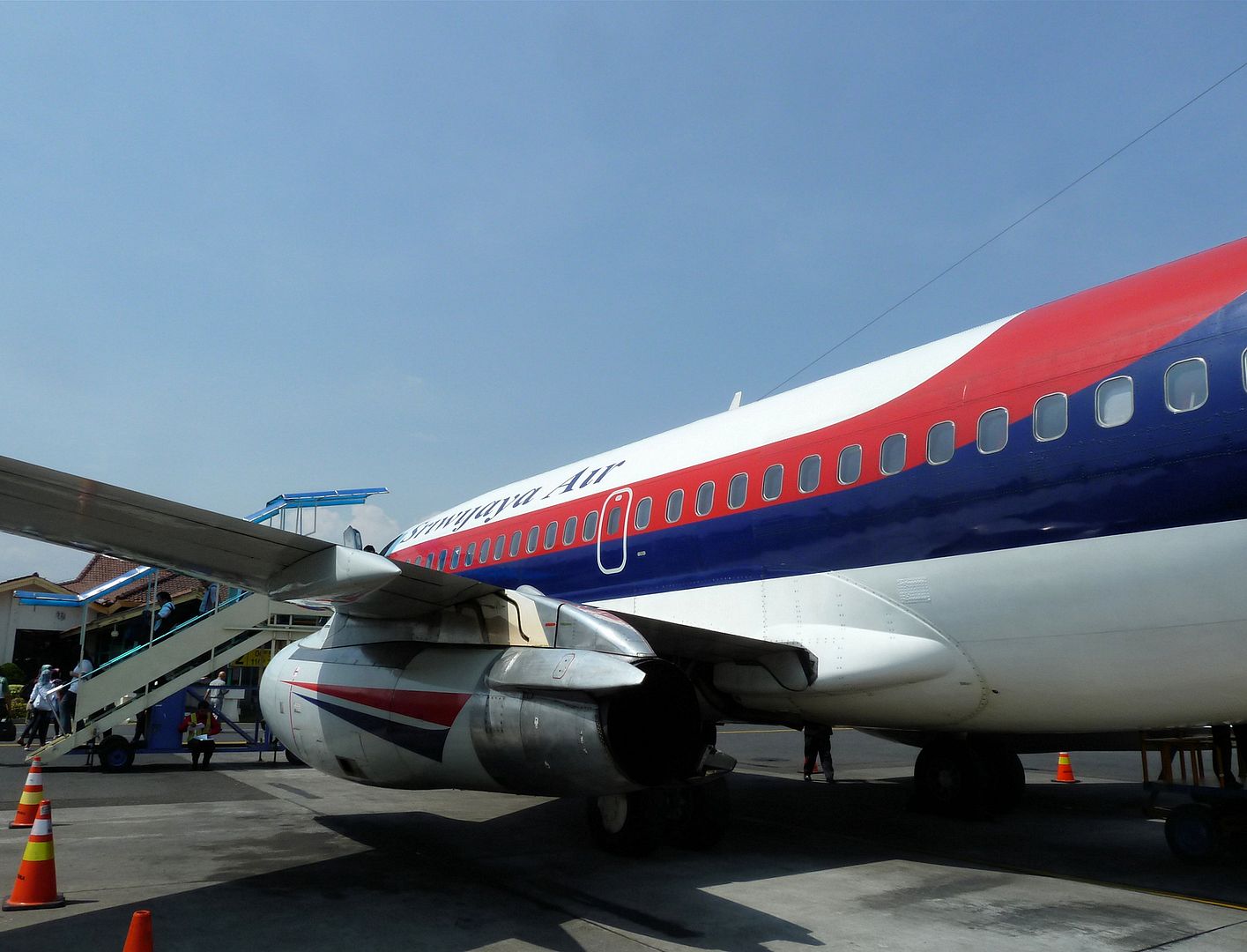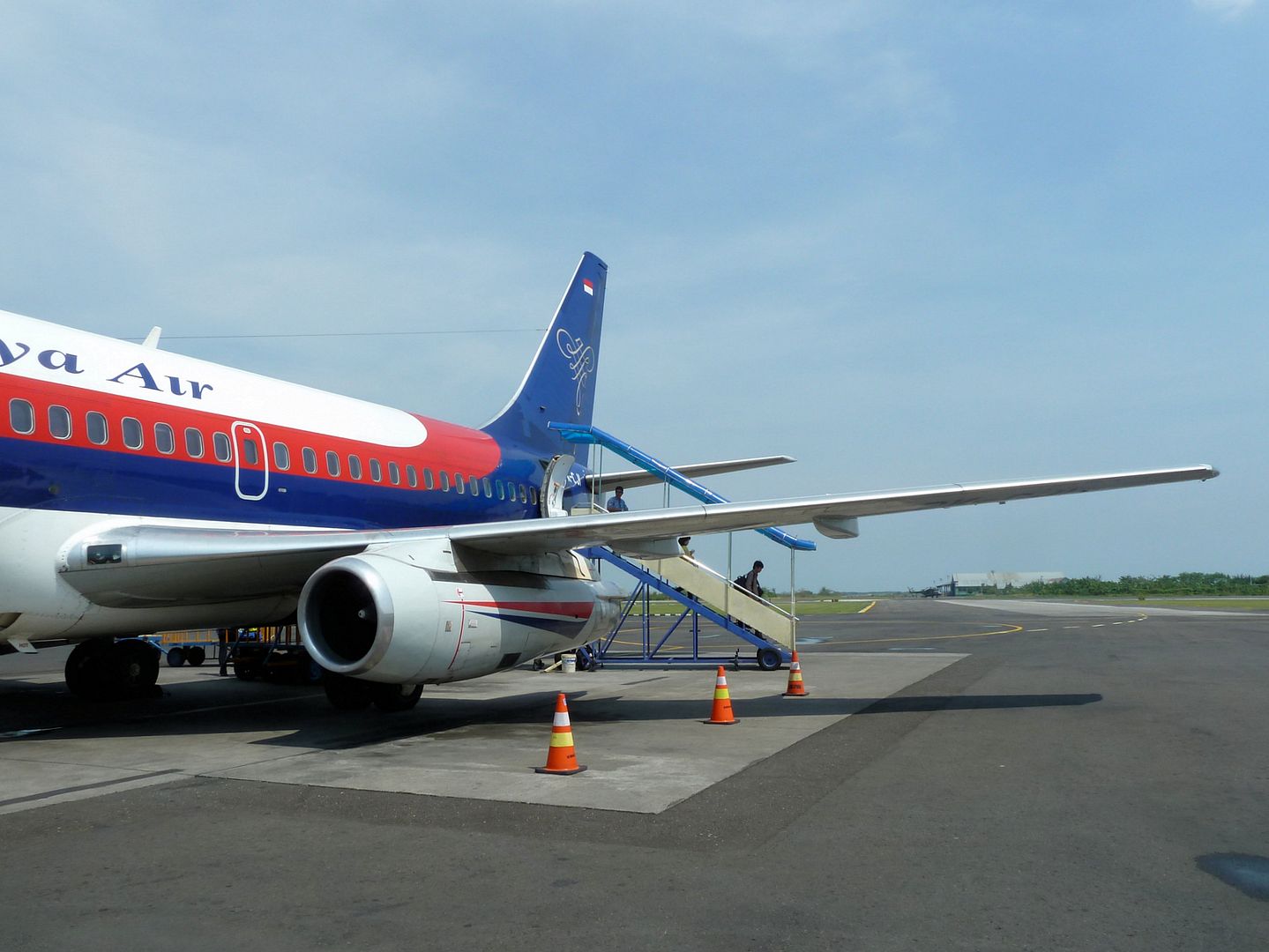 The plane looked so immaculate - I guess most passengers wouldn't have believed that it was already 27 years old: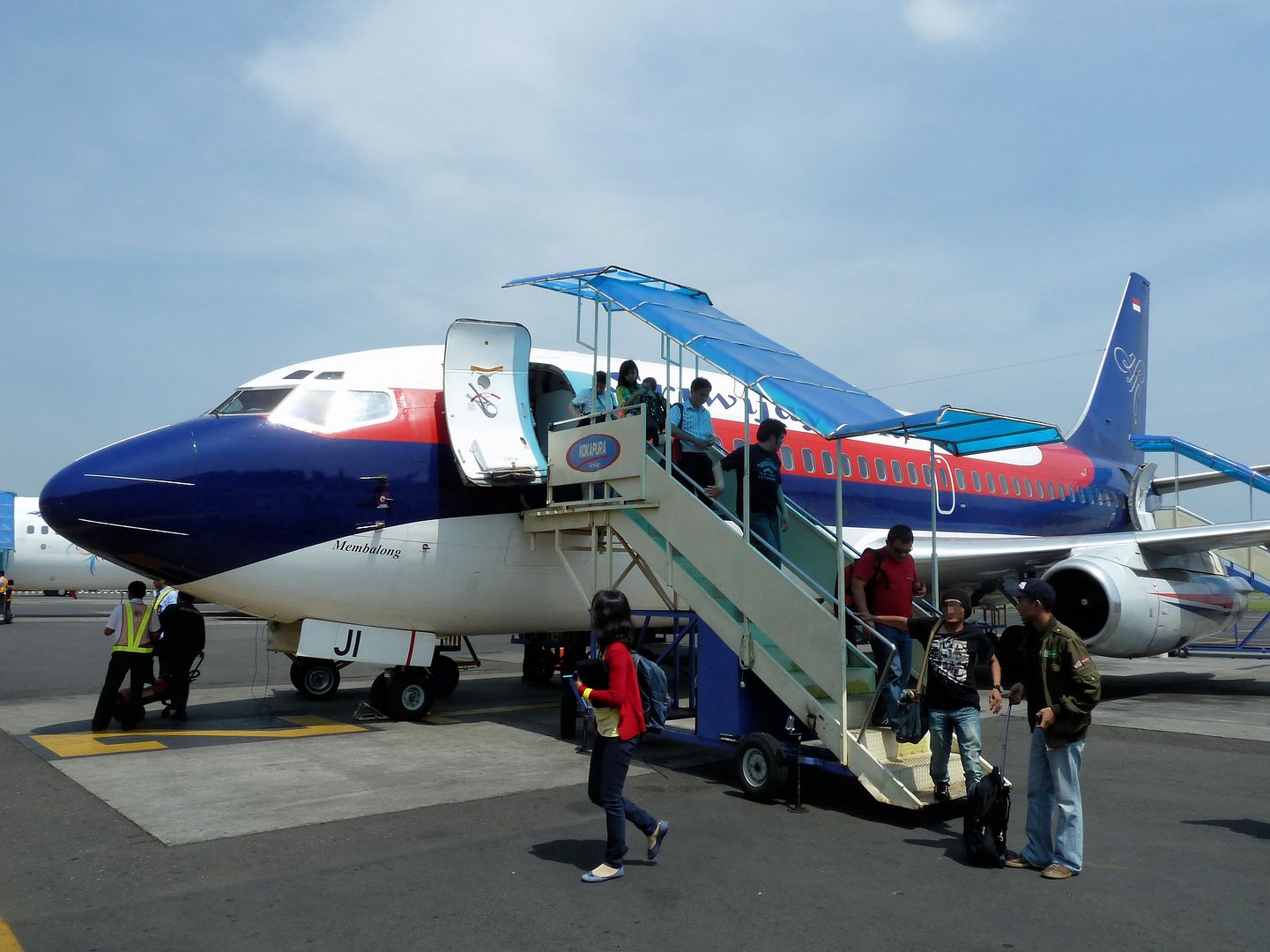 After entering the small terminal building, I passed the luggage carousel, but didn't see a sign for transit passengers. I couldn't see a Sriwijaya Air employee either and therefore asked a police officer for the way to the gate area. However, he didn't seem to understand and directed me back towards the apron side of the hall. Finally, I noticed a Sriwijaya Air ground staff member and told him that I was bound for Surabaya. He smiled, checked my boarding pass and quickly opened a door to the gate area for me.
Wednesday, November 2011
Semarang (SRG) - Surabaya (SUB)
Sriwijaya Air SJ224
Scheduled times: 09:40-10:30
Actual times: 09:53-10:38
Flight duration: 00:33 (hrs)
Distance: 168 miles
Economy Class (single class), seat 22F
Boeing 737-2B7 Advanced
PK-CJI (s/n 1054), named "Membalong"
First delivered to US Air as N332AU in 11/1984
2nd flight on PK-CJI
4th 737-200 flight
28th 737 Classic flight
62nd 737 flight
Former appearances as N288AU and PK-ALV
Boarding commenced only a few minutes after I had arrived in the gate area. I had lined up immediately so that I would be the first passenger on the apron. A friendly agent checked my boarding pass, I gladly accepted a snack bag and returned to the good old 737-200.
Marvelous engine, enhanced by a nice Sriwijaya-style design: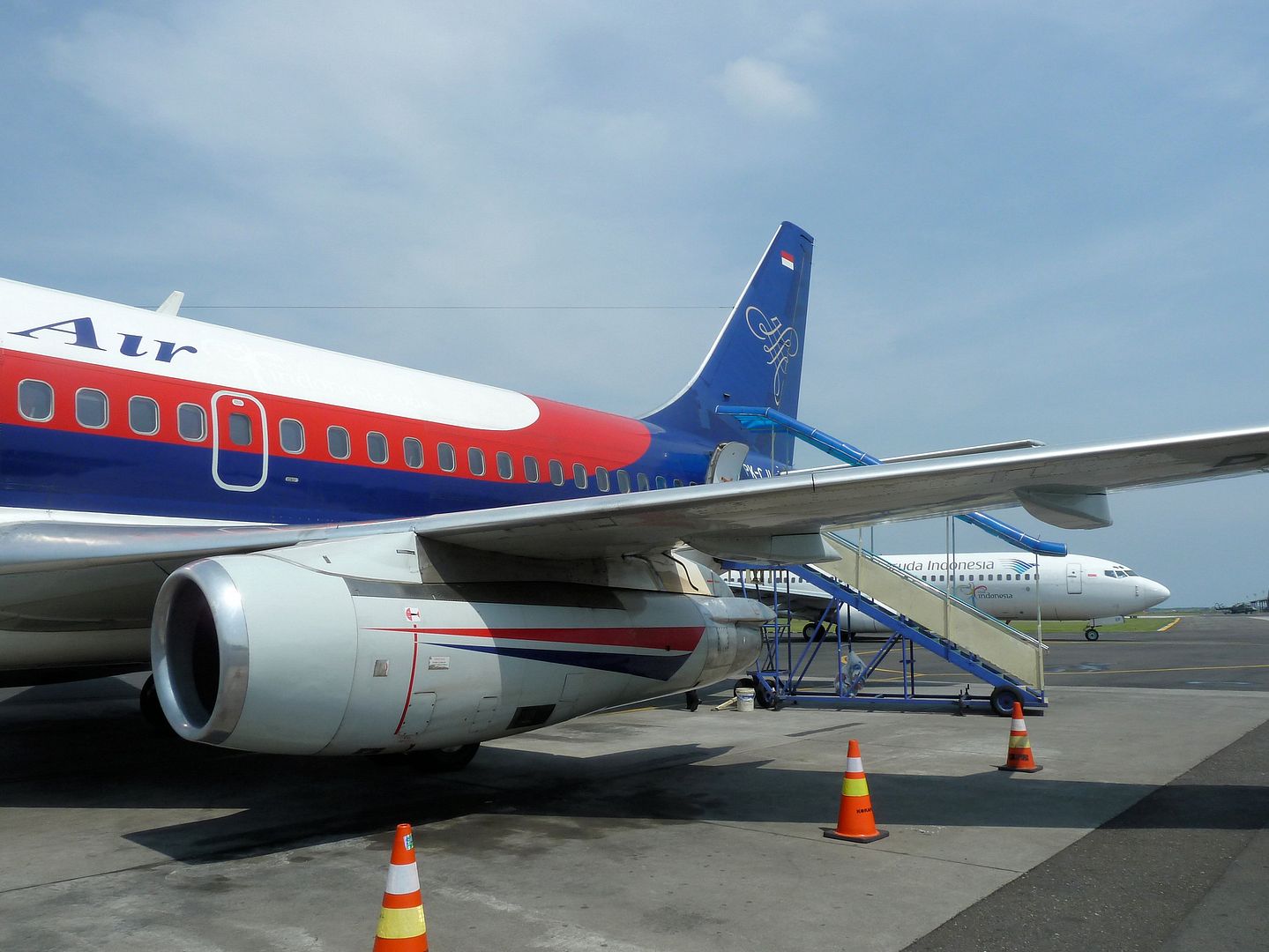 Very classy tail logo: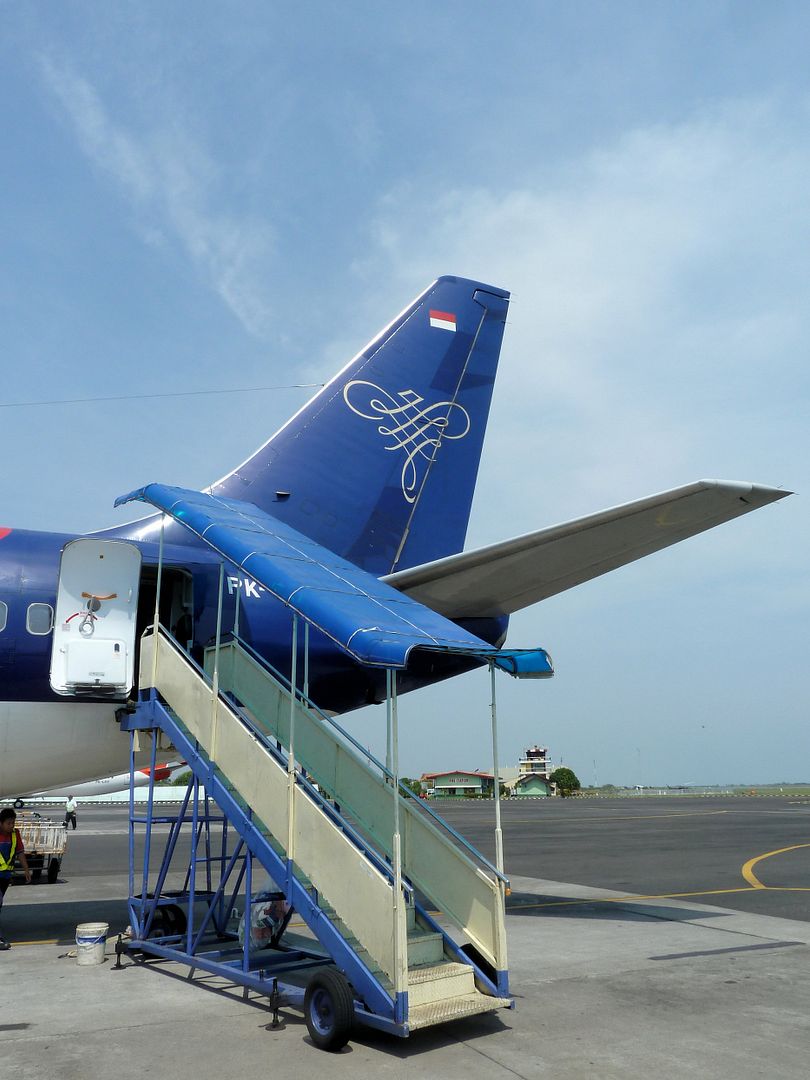 Can you see any dirt spots or a single scratch anywhere?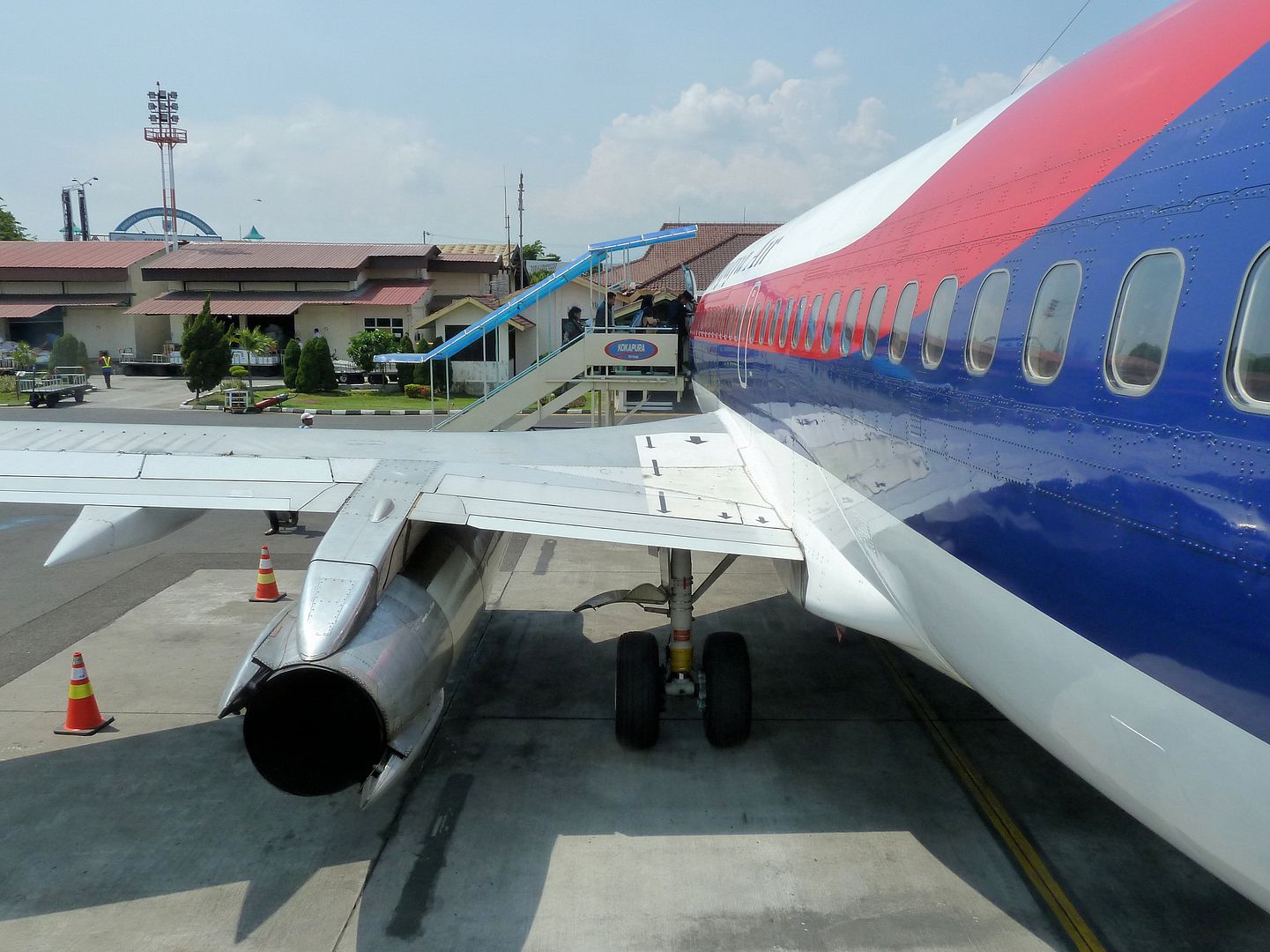 Spotless classic cabin:
I took my seat 22F again and was looking forward to another ride on this great bird.
Bandar Udara Internasional Achmad Yani Semarang
- this picture is dedicated to
Akhmad
: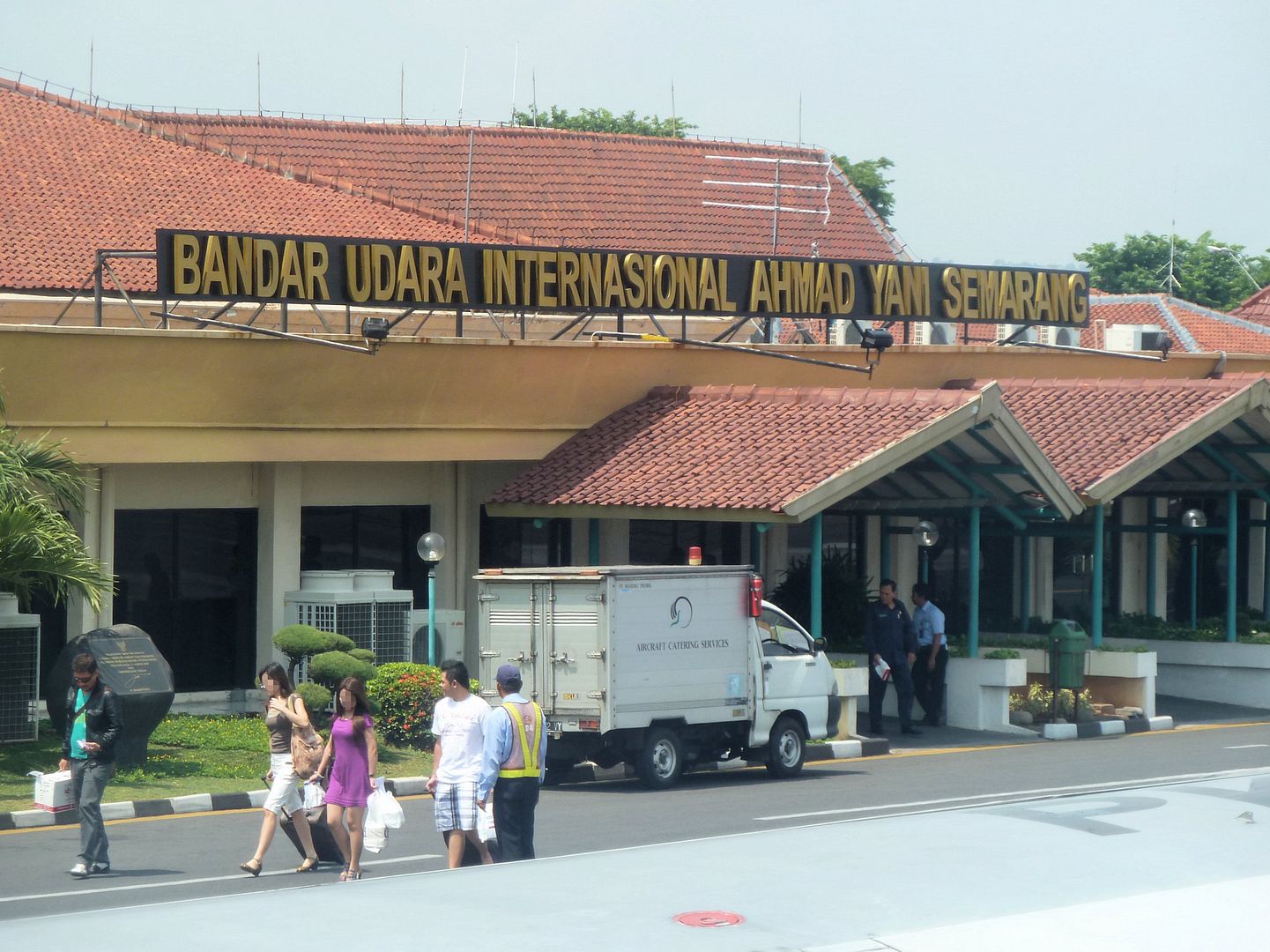 While boarding was continuing, I had a closer look at the pretty snack bag...
...which contained a (very sweet) chocolate-filled roll and a cup of water:
The cabin was packed again and my impression was that most passengers were new ones - I must have been one of few transit passengers.
PK-CJI
left the parking position again exactly 27 minutes after arrival: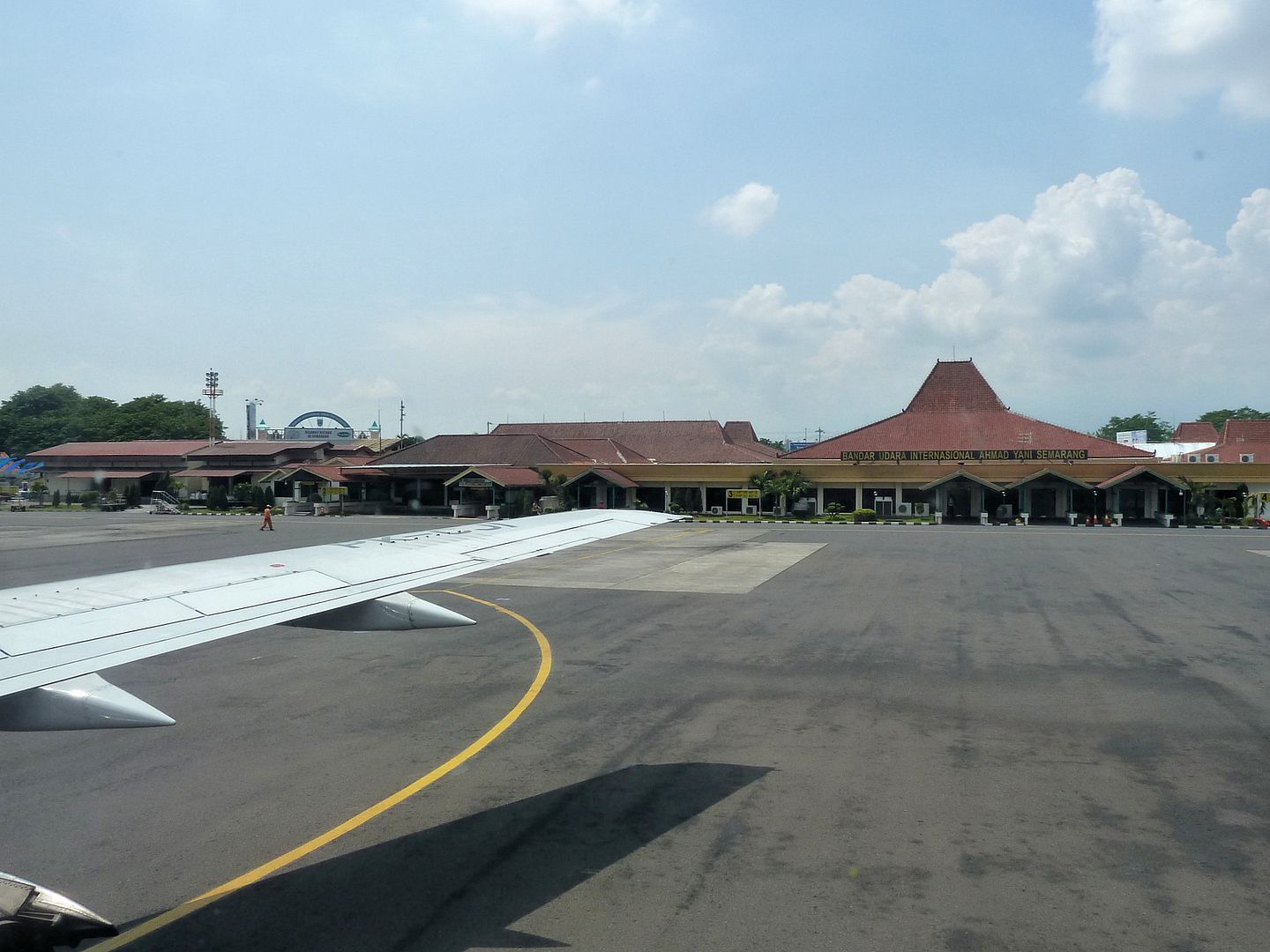 Indonesian Air Force helicopters:
After entering runway 13,
PK-CJI
started another powerful and noisy takeoff roll: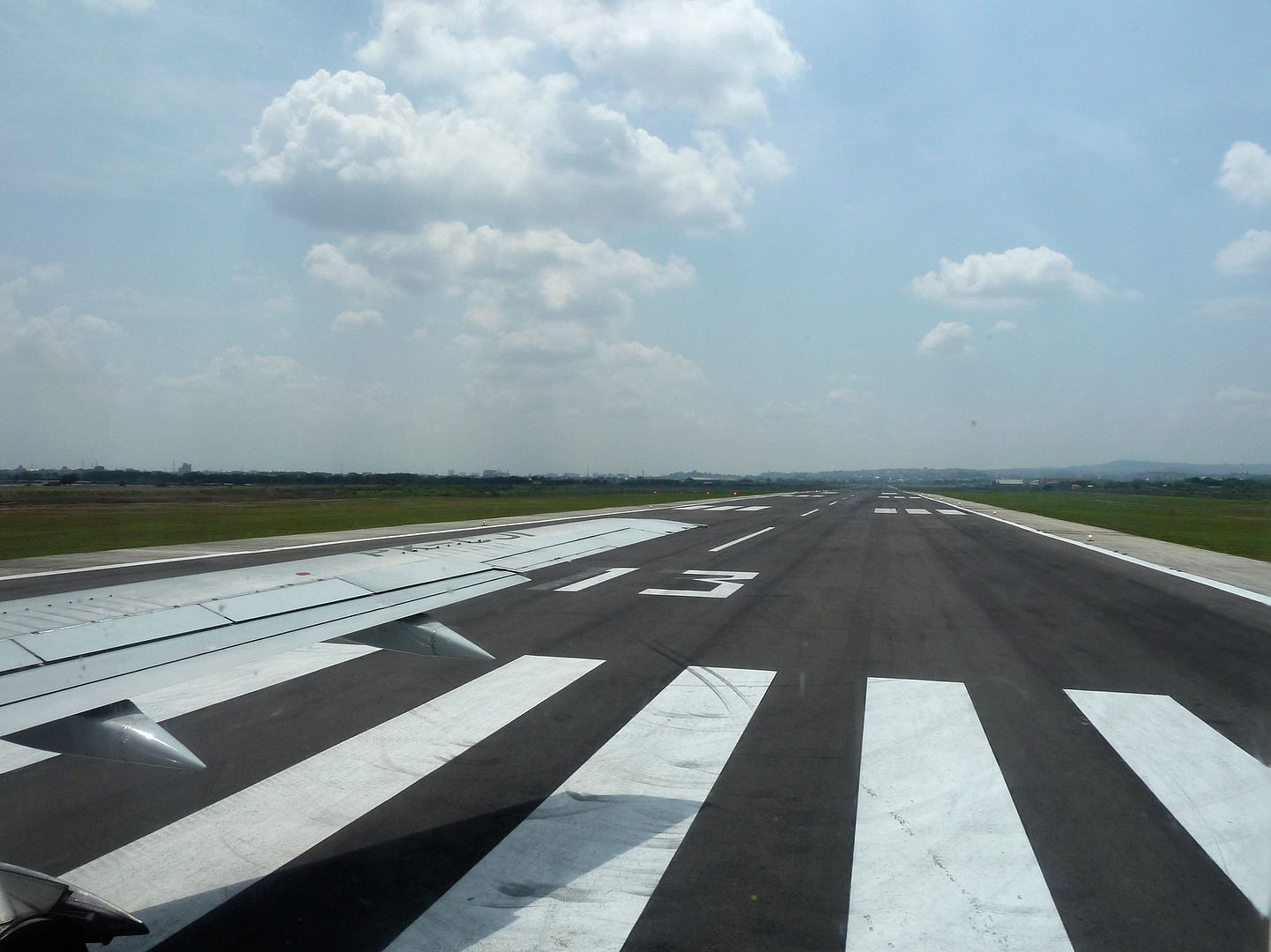 Goodbye, Semarang - maybe I'll stay a bit longer next time: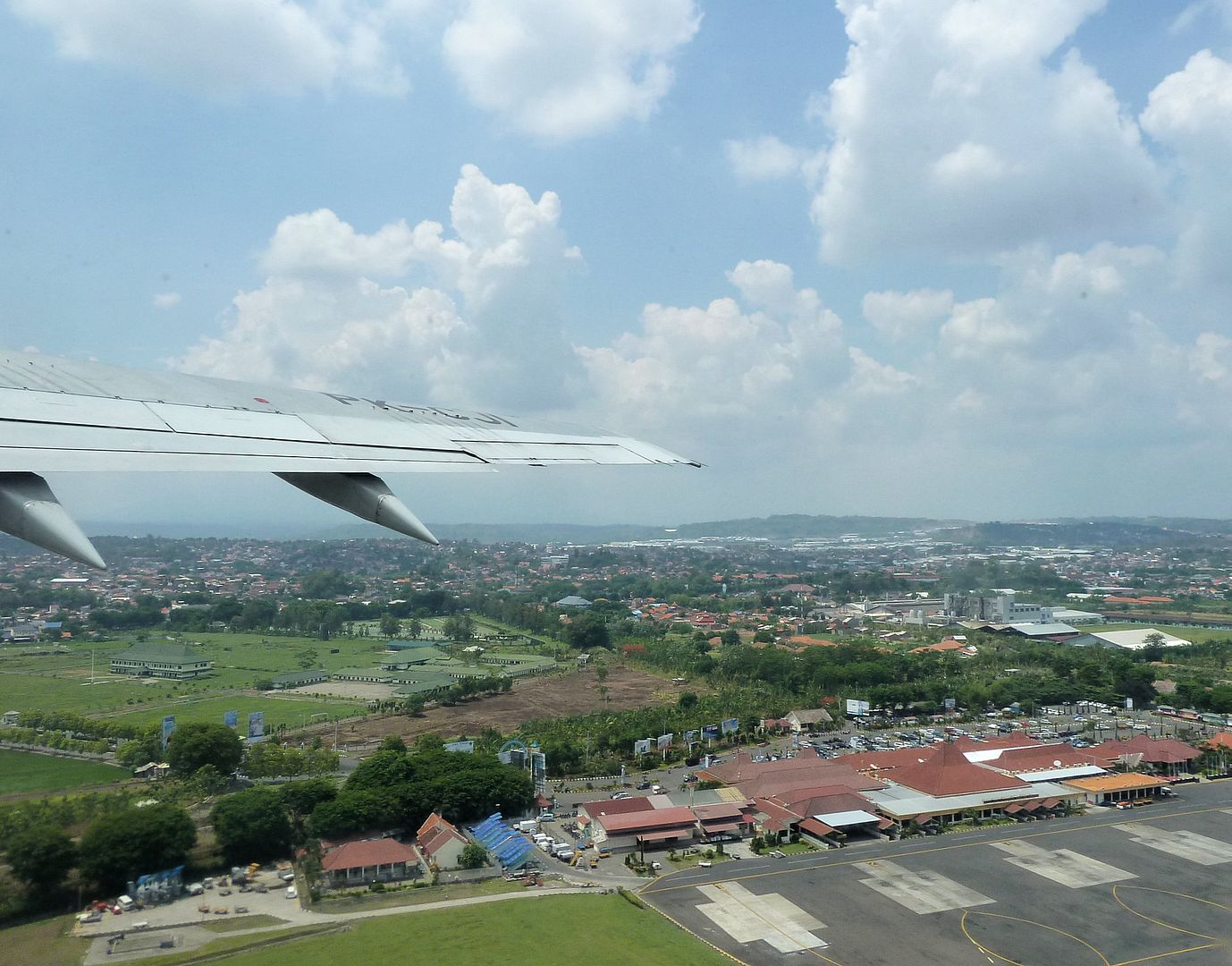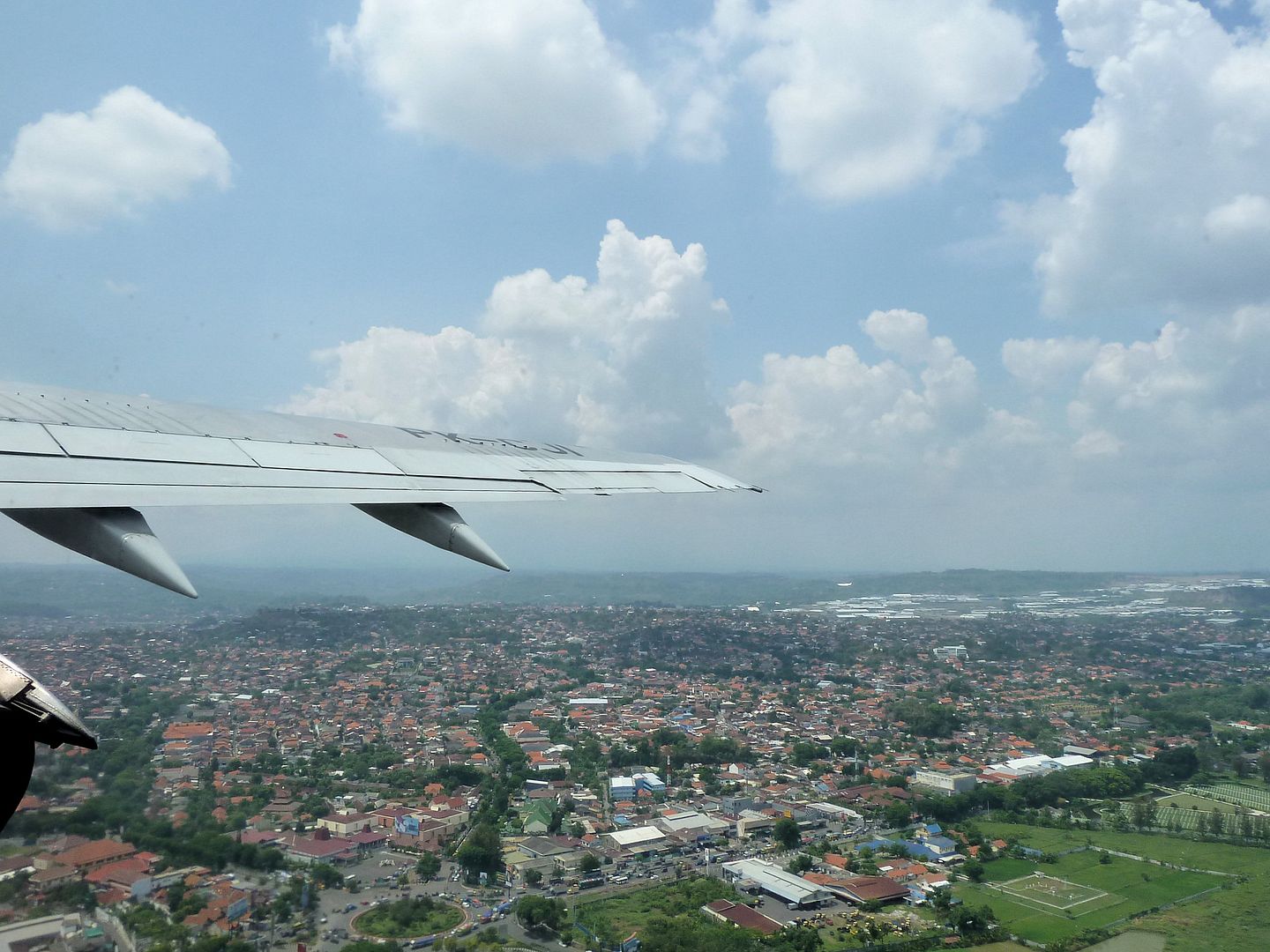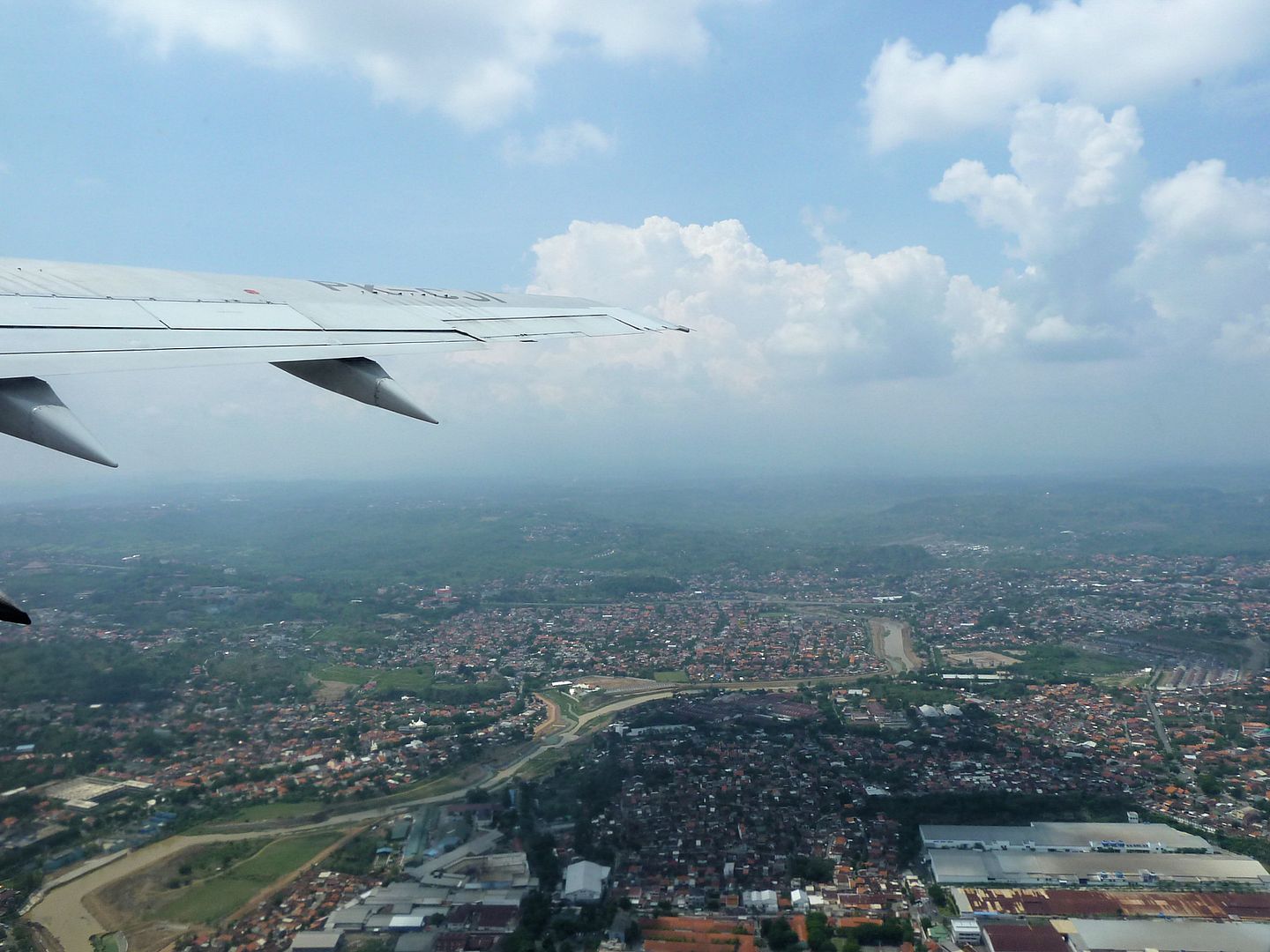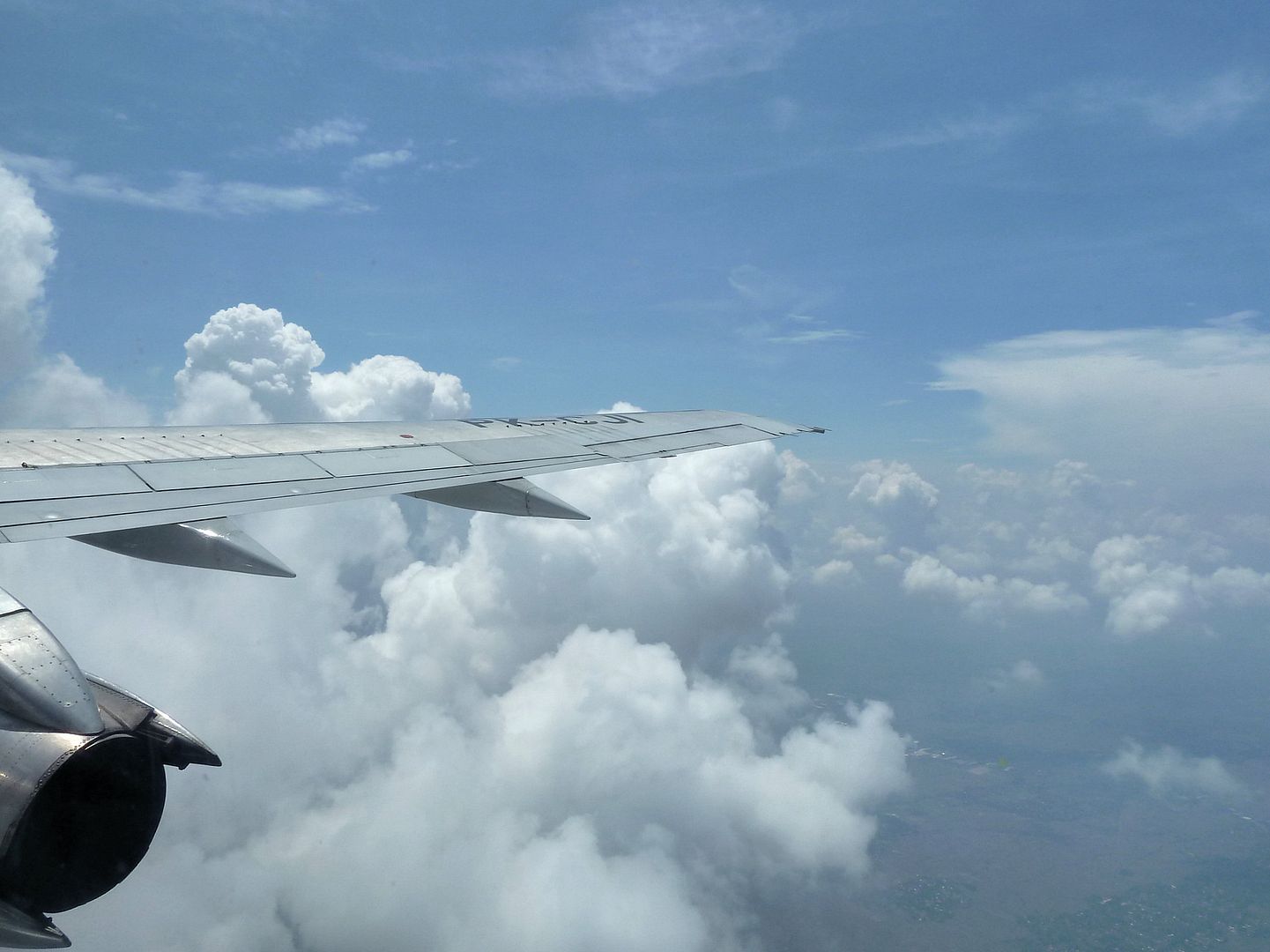 Once again I enjoyed the beautiful scenery - and of course I enjoyed listening to the engine sound: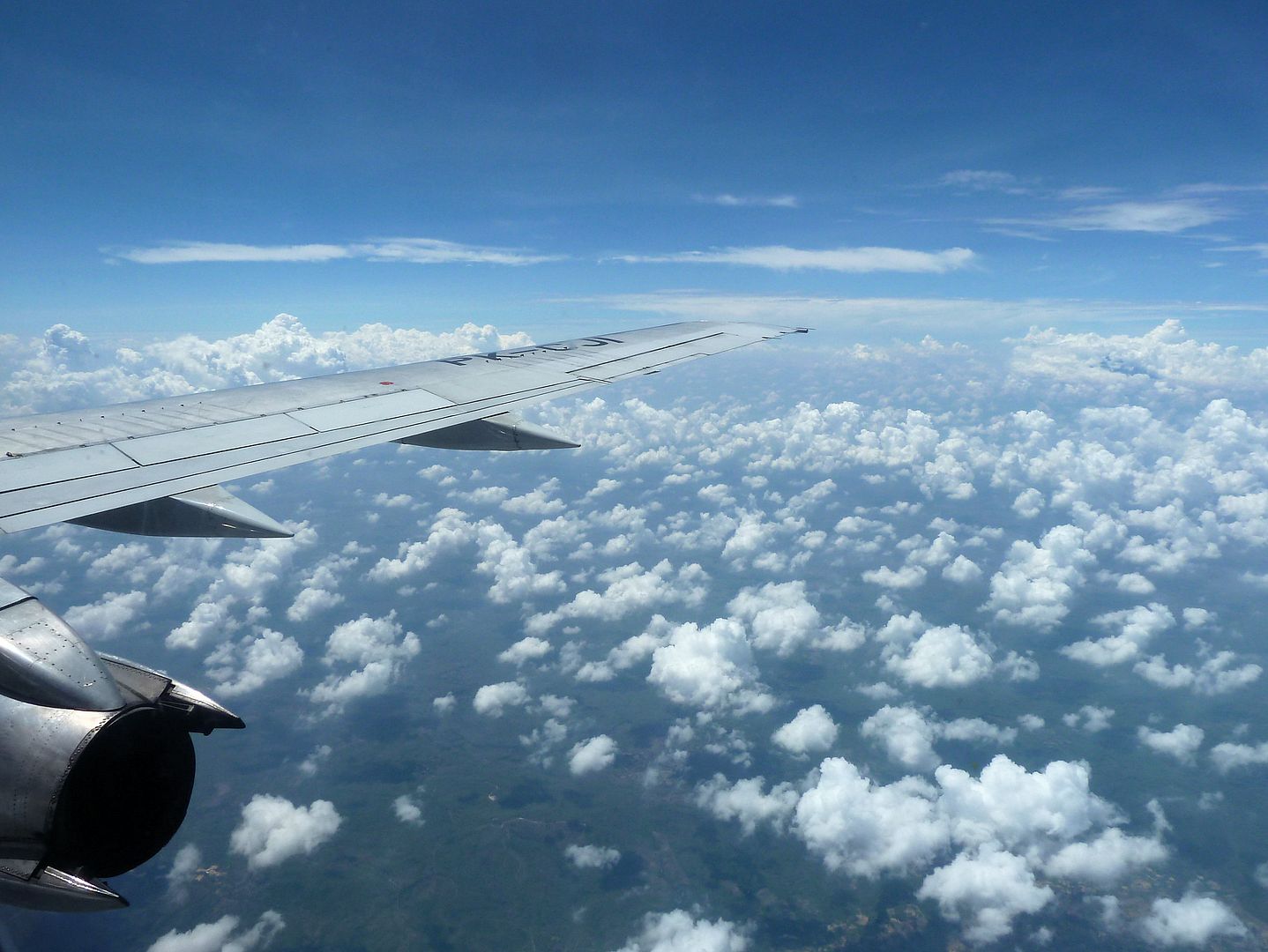 Descent commenced only some 20 minutes after takeoff: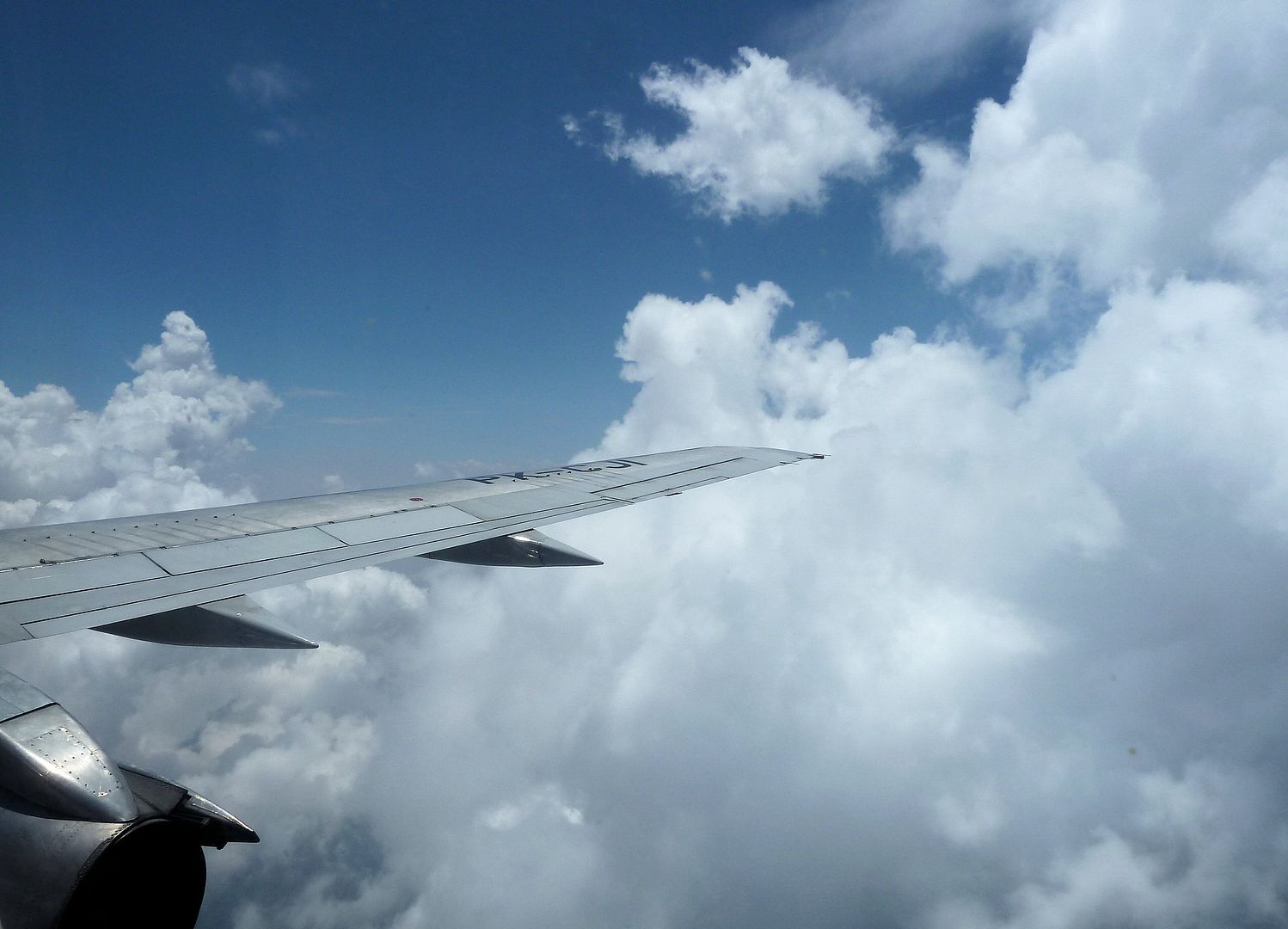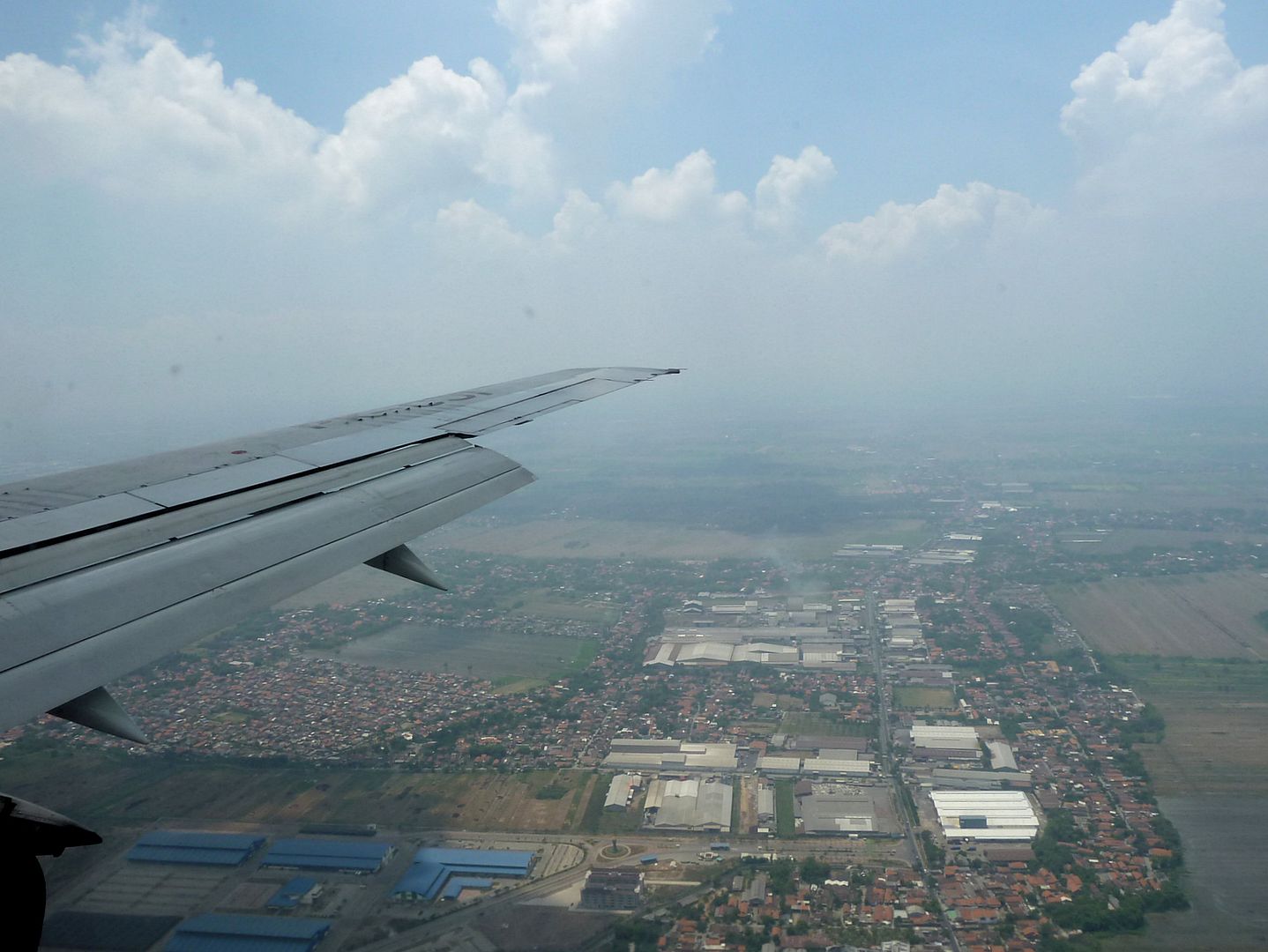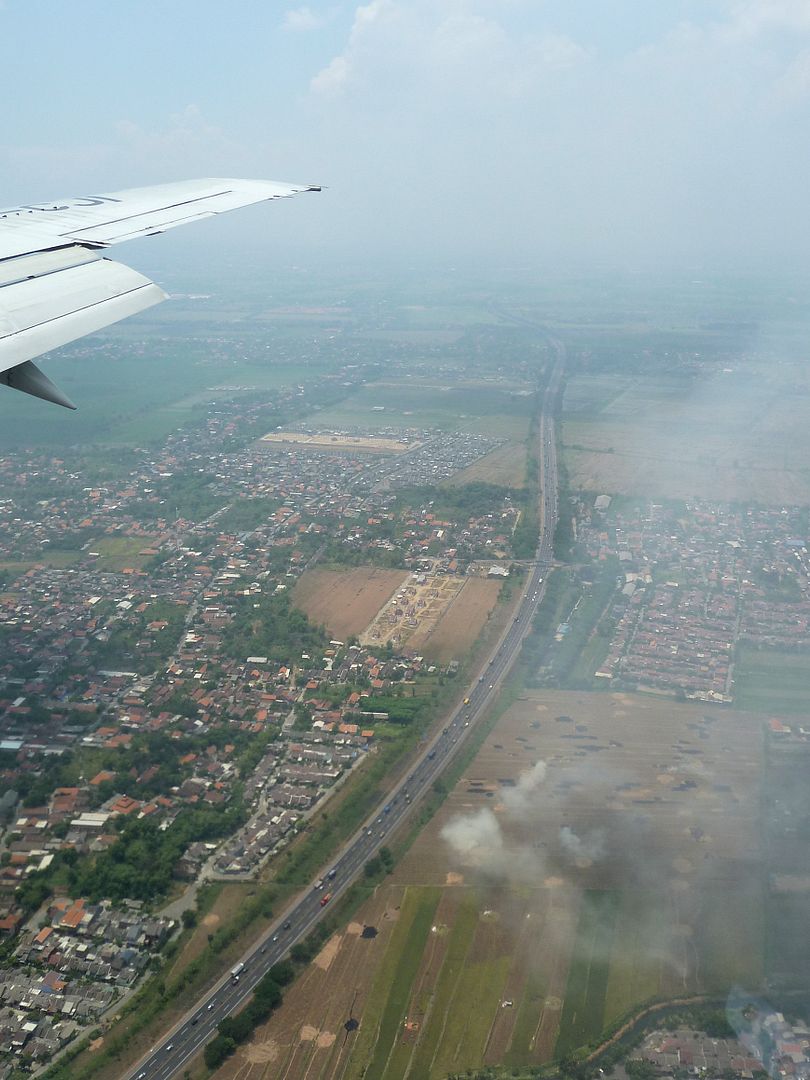 Large industrial facilities: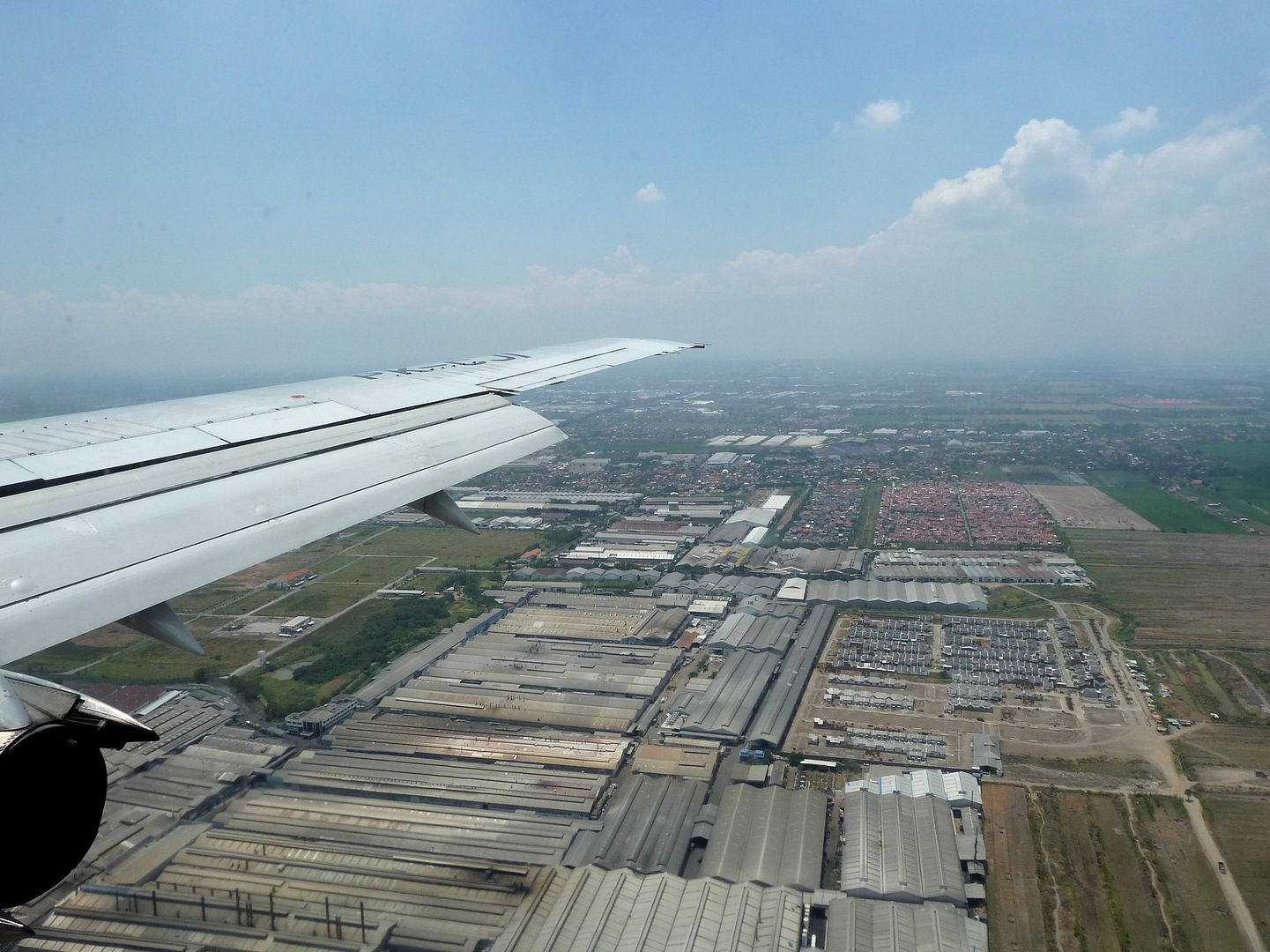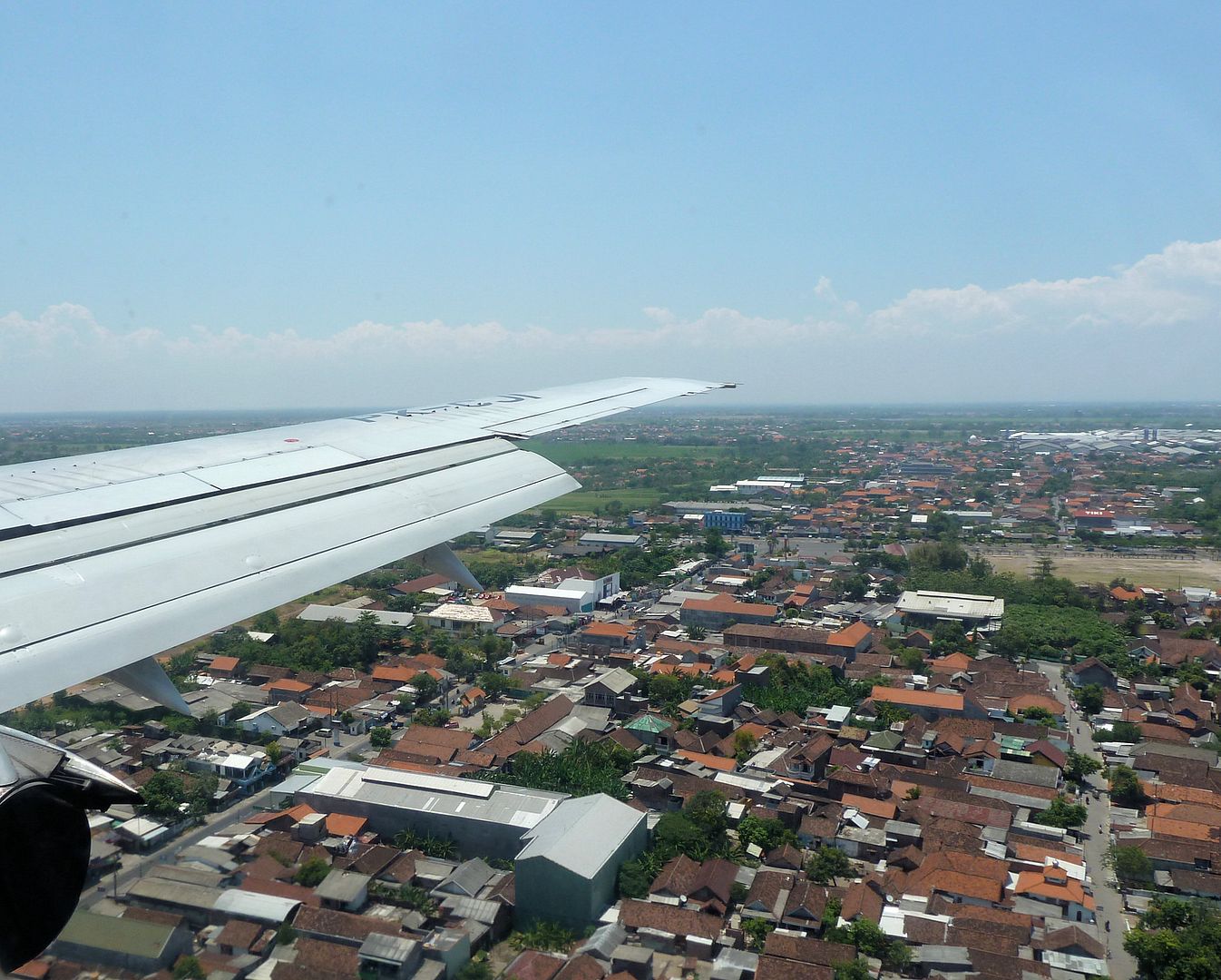 Very interesting collection of parked and stored planes - many of them will never fly again: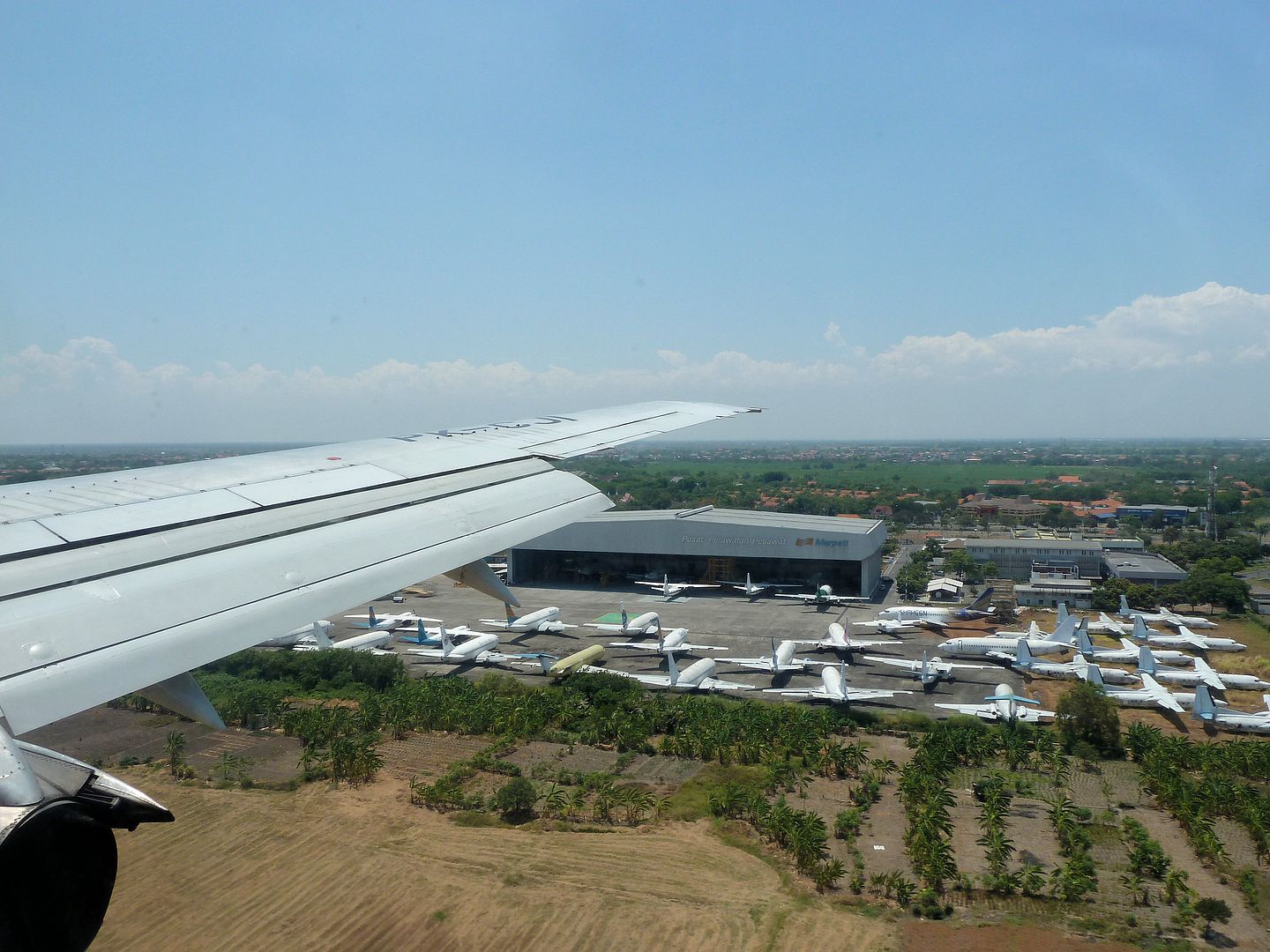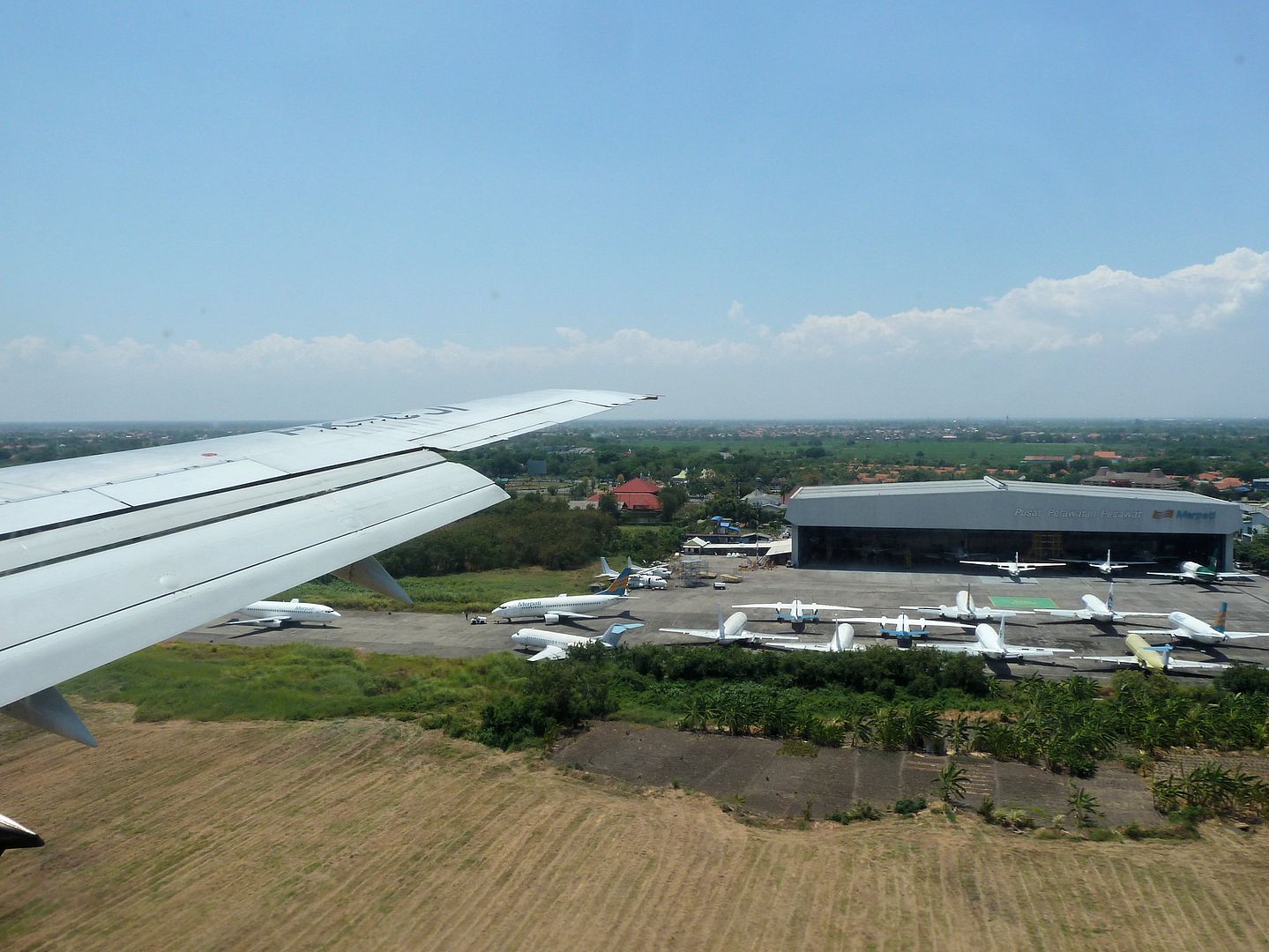 We touched down after a flying time of 33 minutes and I could enjoy listening to the reverse thrust sound one more time. Two Garuda 737-800s and a Citilink 737-300 in new colors:
Sriwijaya Air 737-300 and one of the two Lion Air "Dreamliners" again - my chance to get one of them was even lower now: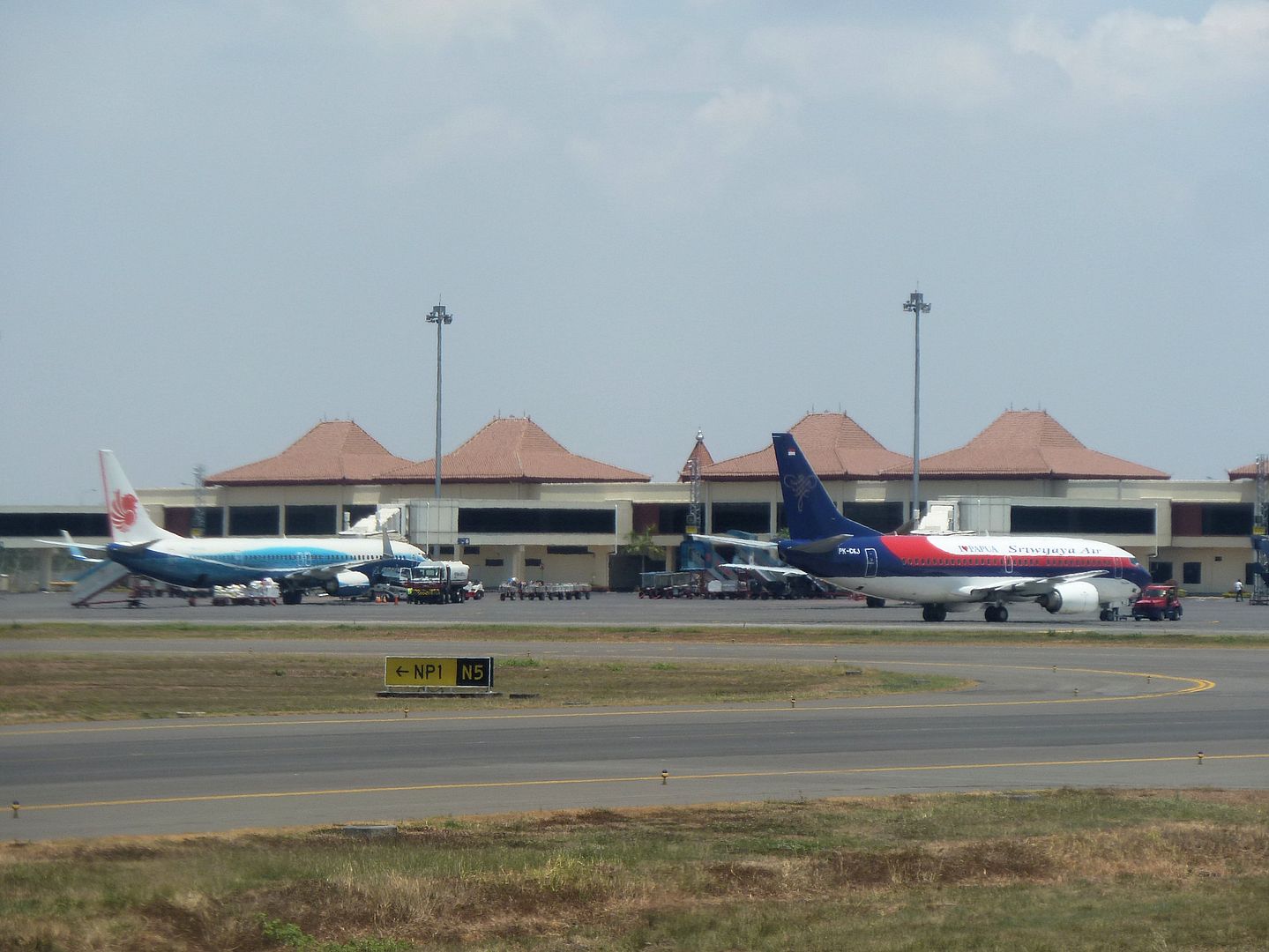 I was glad that no jet bridges were used, so I could take some more pictures of the plane: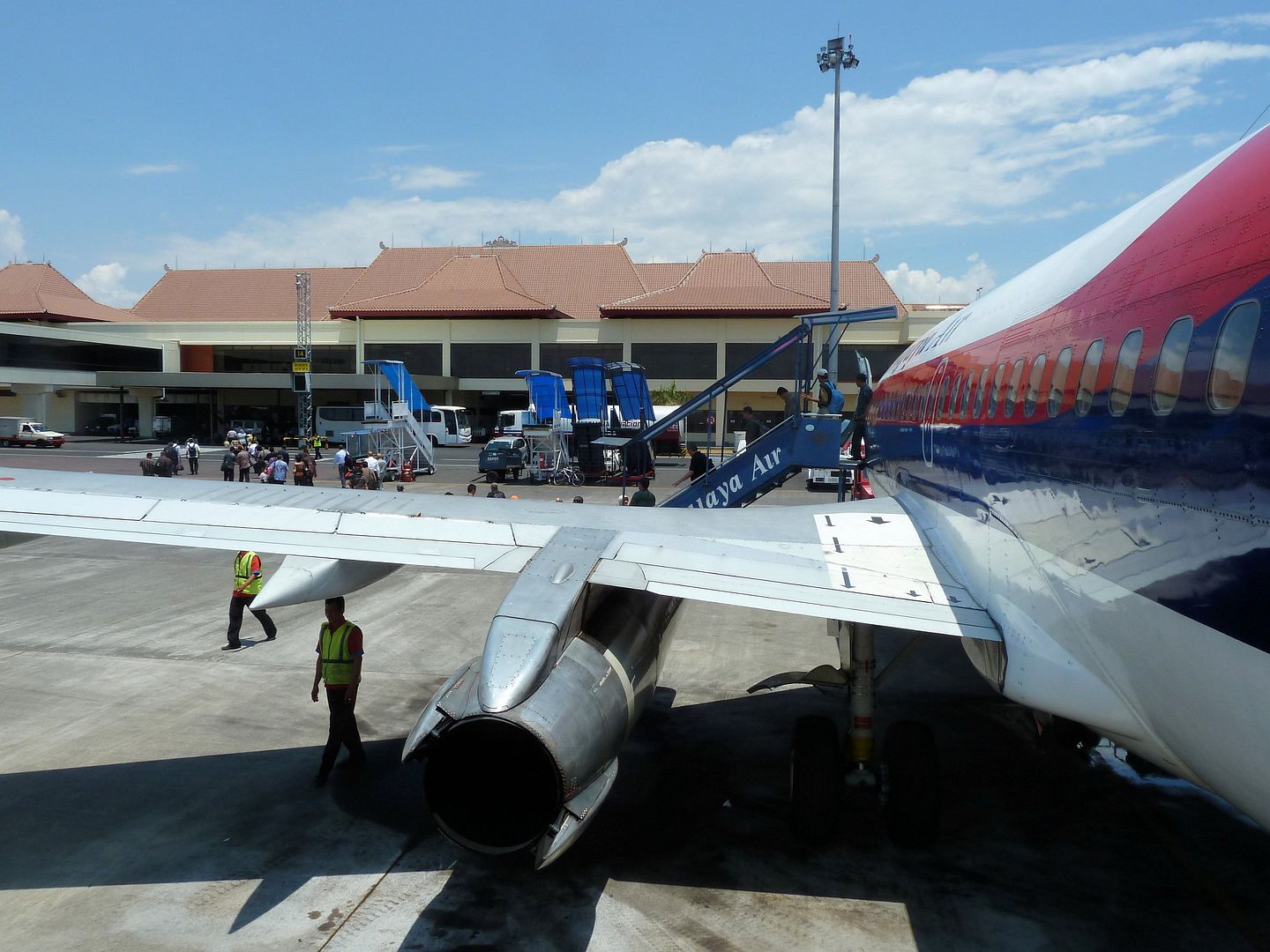 Goodbye,
"Membalong"
, it was a pleasure!
PK-YUZ is Batavia Air's sole 737-500:
[Edited 2012-03-07 11:15:16]