Welcome to my latest report here on A.net, featuring 2 European routes that are set to be closed in the near future.
Introduction:
In the world of commercial aviation it seems that the only thing one can be sure of is constant change. Nothing wrong with this, why sit around and stagnate? In this ever changing world the airlines have to adapt to different situations in the market. Sometimes this means the closure of certain routes that might not be bringing the yields they once did. For those of us who have a strange fascination with flying, this situation can leave us making a quick trip to log those routes before they disappear, possibly never to return.
It would just so happen that this situation presented itself around two airports quite local to my home.
Firstly KLM cityhopper announced that the x3 daily Amsterdam (AMS) – Liverpool (LPL) Fokker 70 service would cease to run as of 25th March 2012.
This was followed by an announcement that SWISS in partnership with bmi would call an end to the RJ service from Basel (BSL) into Manchester (MAN) from May 21st 2012.
Lets say I wasn't desperate to go out of my way to make either of these flights, but if a glimmer of a situation presented itself I would probably make an attempt.
Fast forward a month or so and I noted some discussion on the Fbook page about a few fellow members looking into making the cityhopper flight, namely Hannah "Infodesk", Eric "airbuseric" and Robert "parton87". I gave it the good old thumbs up and before much time had passed Eric messaged me asking if I would be interested to join Robert and himself on the LPL – AMS flight they had booked for the evening of the 1st of March. I told him I would get back to him in a few days, but when I saw the price of just £39 I booked it without a second thought right there and then.
With the first flight fixed up I had an idea to see if it would be possible to score the other soon to be axed flight from BSL in the same trip. Well, what do you know? A perfectly timed late evening flight with easyJet could transport me to Basel and put me in position for the 10:00am flight back to Manchester. Brilliant. The dots were joined.
I noted the arrival time into Basel as 22:35, so once again I decided to skip a hotel and sleep in the airport. I have done this a few times now and I'm starting to find it not so bad. Sure, a proper bed would be preferable, but for a late arrival I just can't see the point in handing over excessive amounts of money for a basic airport hotel. Besides, if I could sleep 'till 5am I could then move into the SWISS lounge and get comfortable in there.
Here is the route then, as always using
GreatCircleMapper.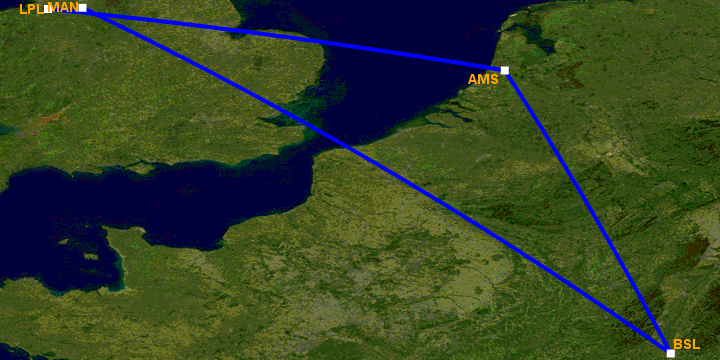 Thursday 1st March:
Time to hit the trail again then. The departure time was nothing too serious in the AM zone but I was pretty much wiped out. Having just returned from Krakow a few days earlier after a long weekend of partying then going right back into work for a couple of days I could have used a bit of a longer lay in bed.
The plan was something a little strange. I would actually make my way by train to the usual departure point of Manchester airport, and not Liverpool!!!. Turns out that it is actually more convenient for me this way as a coach makes a direct trip between the two airports (no direct rail service to LPL airport). This would also allow me to meet Robert and Eric after their flight from LGW – MAN. This way I could also just purchase a return train ticket to Manchester Airport as I would fly back into there in the morning. No point messing around with different one way train tickets as it's far too expensive. Oh no, I'm starting to sound like Jonas....
I met the guys at T3 domestic arrivals and after exchanging greetings we headed over to the bus station, via a coffee and cake stop.
I had never used a National Express coach service before so was looking forward to the experience. The bus showed up right on time and after out tickets were inspected we were given the o.k to board the bus.
I was pleasantly surprised at the quality of the interior.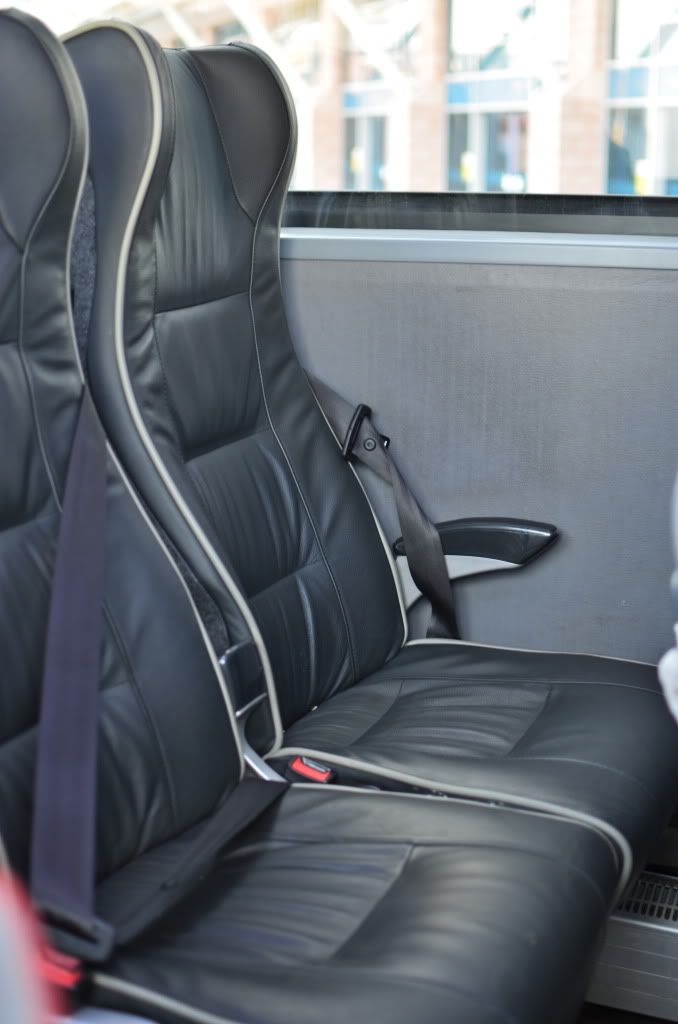 Aircraft style overhead panel picture.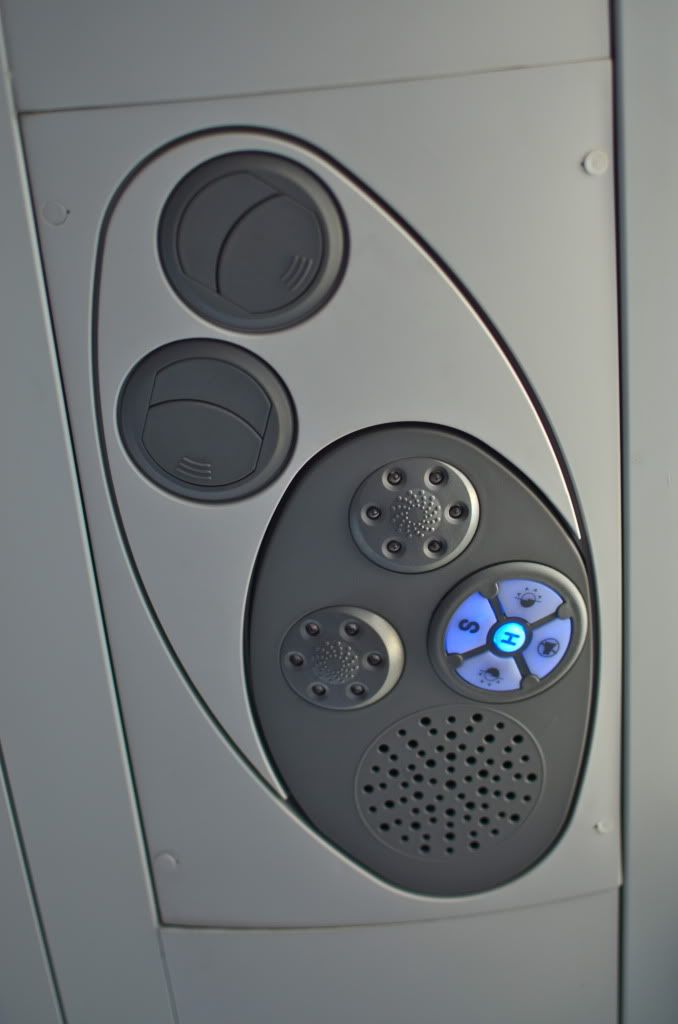 Eric lends me his FishEye lens for a picture.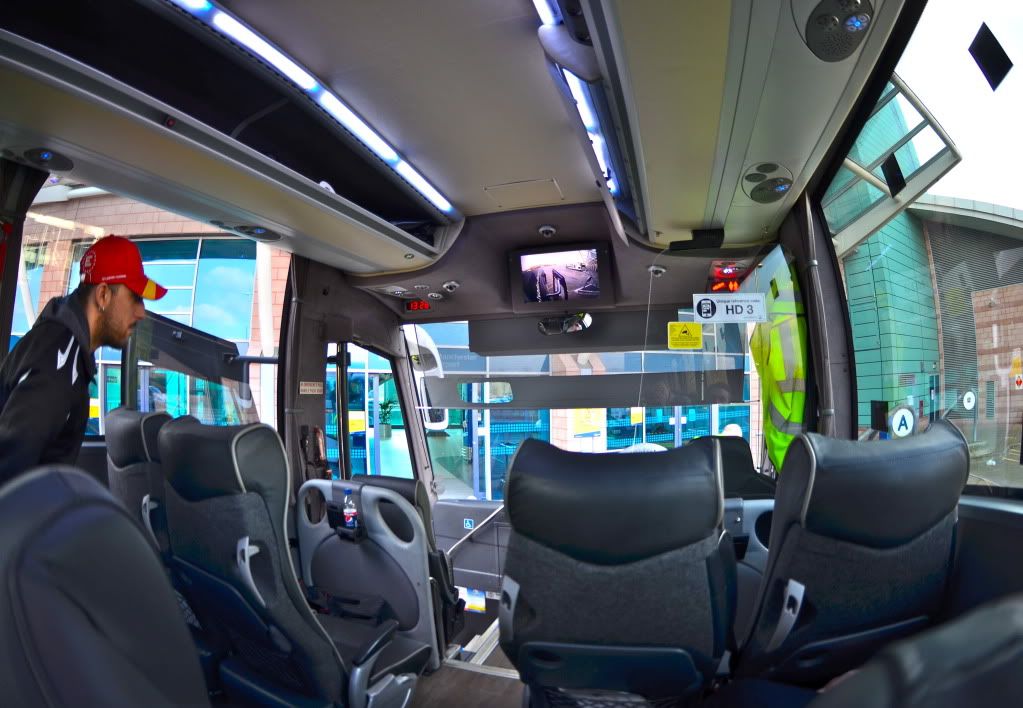 We left the station right on time and made our way down the motorway to Liverpool. Traffic was light and the road conditions were good. We arrive some 10minutes early.
Time for a picture of our transport.
The main frontage of Liverpool airport paying tribute to a local band member you may have heard about.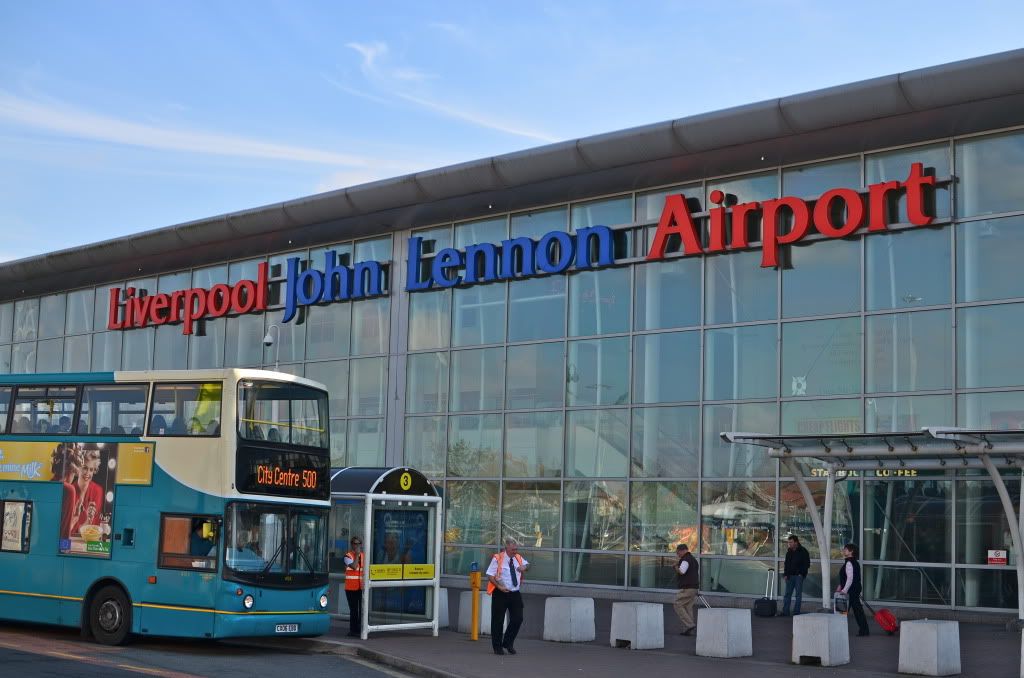 Something a little arty on the hotel across the road.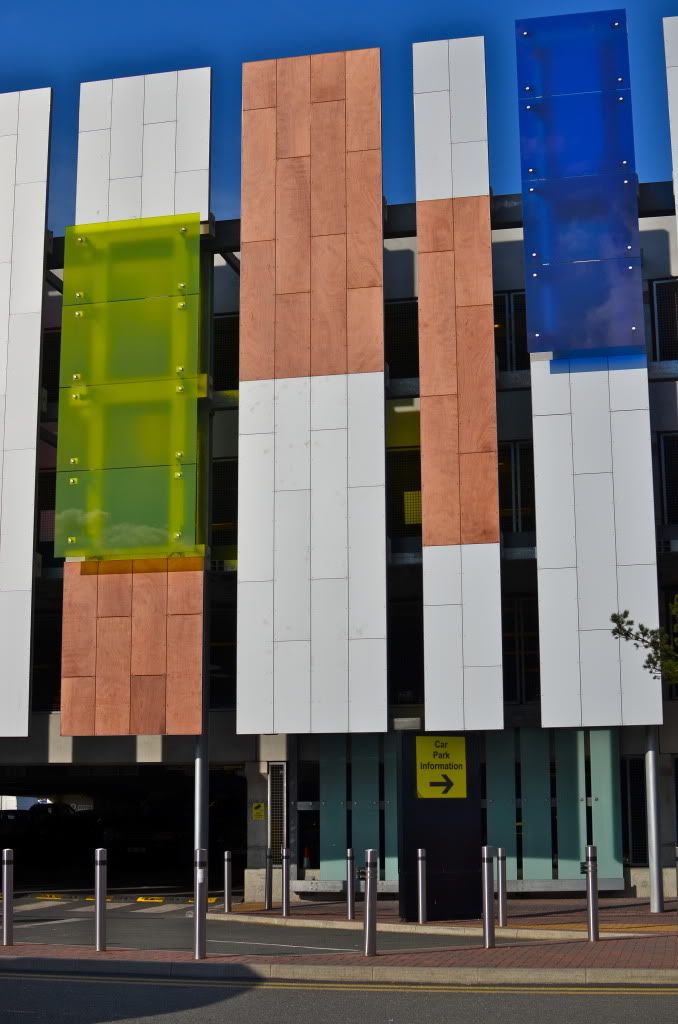 We had allowed quite a buffer in the itinerary at this point. Well, it's a lovely day and we had spotted an opening that would allow us to take in some of the airport action for a couple of hours. A shame it's such a quiet place. We watched a few U2 and FR birds arrive and depart along with a decent amount of private jets and GA stuff but nothing amazingly exciting. We had some good conversation about the usual subjects, planes, planes, routes, planes, and a few plane conversations thrown in just to spice it up a touch.
After breathing in the smell of burned Kerosene for a while we made our way back to the terminal to collect our boarding cards and then head airside. Security was not so busy and the queue moved along nicely. I passed through the detector and was selected at random for a pat down. The guy doing this made a detailed explanation of what was going on but I feel the procedure is too personal/intimate. What can you do? I made a joke with him that they should put some brushes on the x-ray machine as this was the second time in 6 days my boots had passed through the same machine and they could use a polish.
One through security you are forced through a duty free area and then out into a general waiting zone.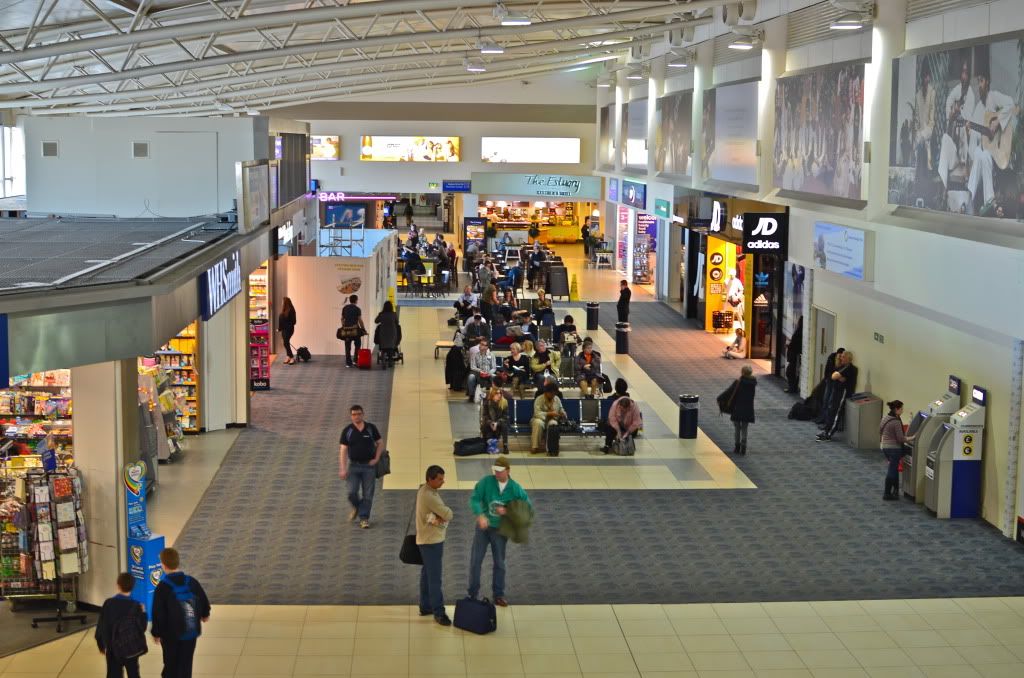 Some small opportunity to get a picture.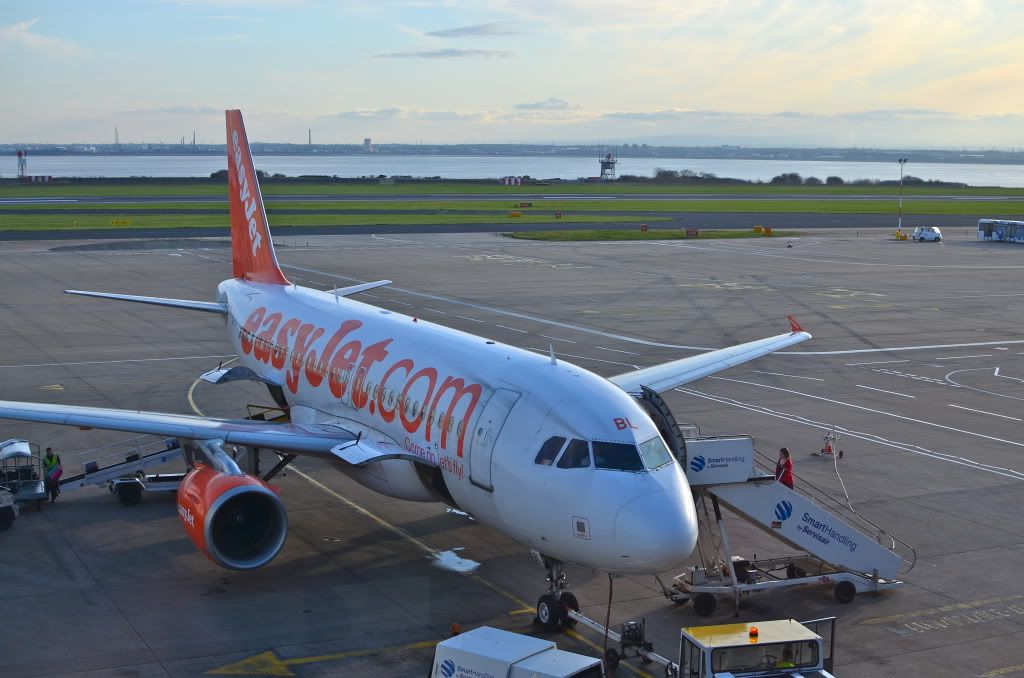 There is not much to say about this place other than it is a bit of a dump. It just has a very old and worn out feel, broken lights, worn carpet. Some parts resembled more of a portacabin than a terminal. I guess it serves it's purpose at a minimal cost?
Boarding was called and we lined up.
A note about the aircraft: Unfortunately for me we had an equipment change. An up-gauge from a F70 (which is missing in my log) to a F100. I had done 4 flights already on this type so I was a little disappointed, but hey, as I said at the top of the report, nothing is certain in this industry and you just have to accept the way it goes.
Flight Number: KL 1042
Route: LPL – AMS
(1st time flying this route)
Airline: KLM cityhopper
(1st time flying this airline)
Aircraft: Fokker 100
(5th time flying on this type)
Registration: PH-OFP
(1st time flying on this aircraft)
Economy Class
Seat:14 F
Duration: 01hr : 02 min
Walking out to board our aircraft.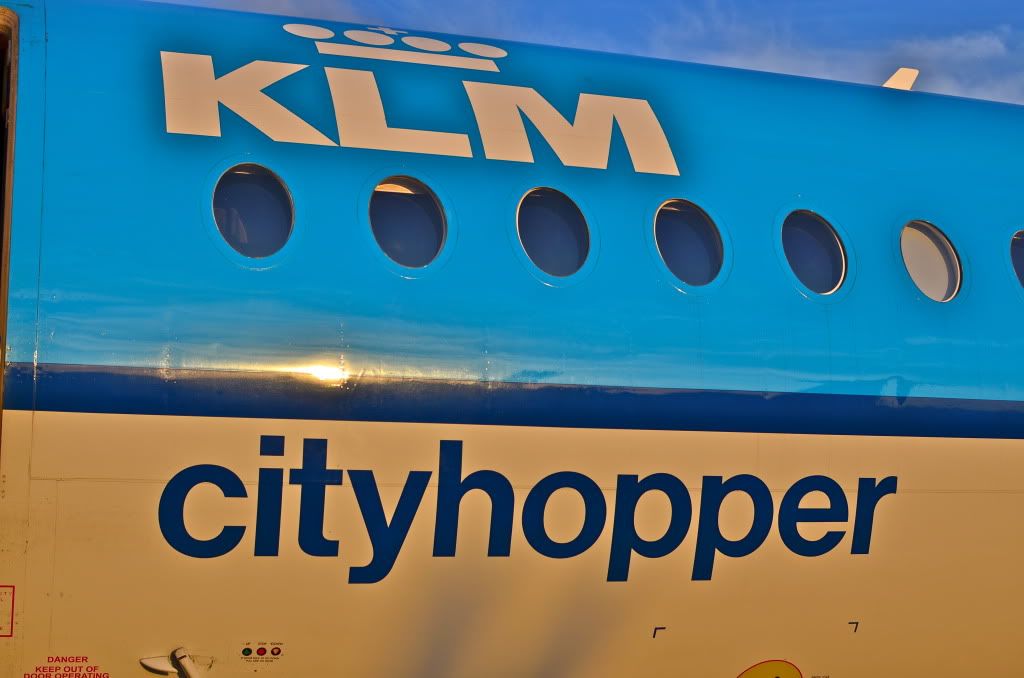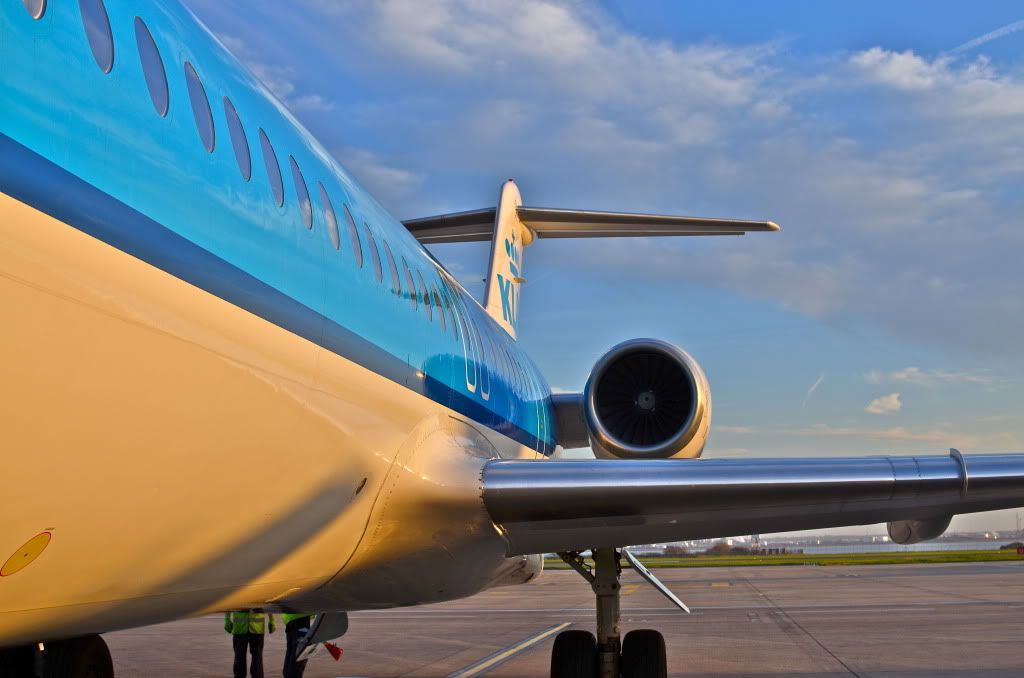 I was greeted at the door and made my way down past the wing to find my seat. Due to the change in aircraft I had inadvertently snagged an exit row seat. Very good legroom and a comfortable old seat.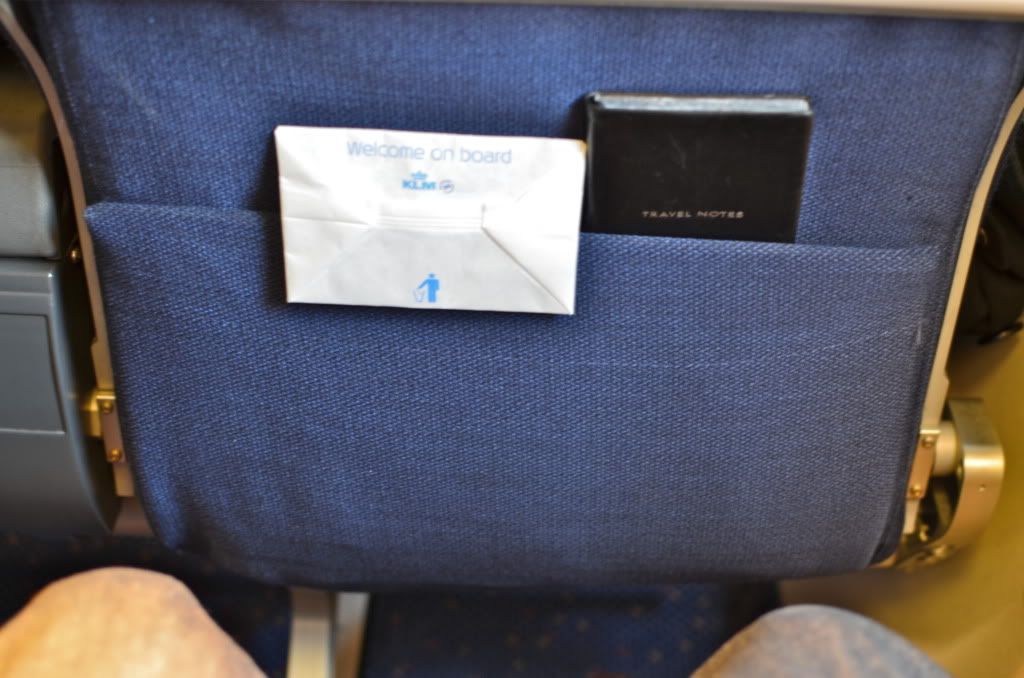 The doors were closed and we started our push back on time with a load of around 70%. I had the seat next to me free.
Push back with a more common carrier off our wing.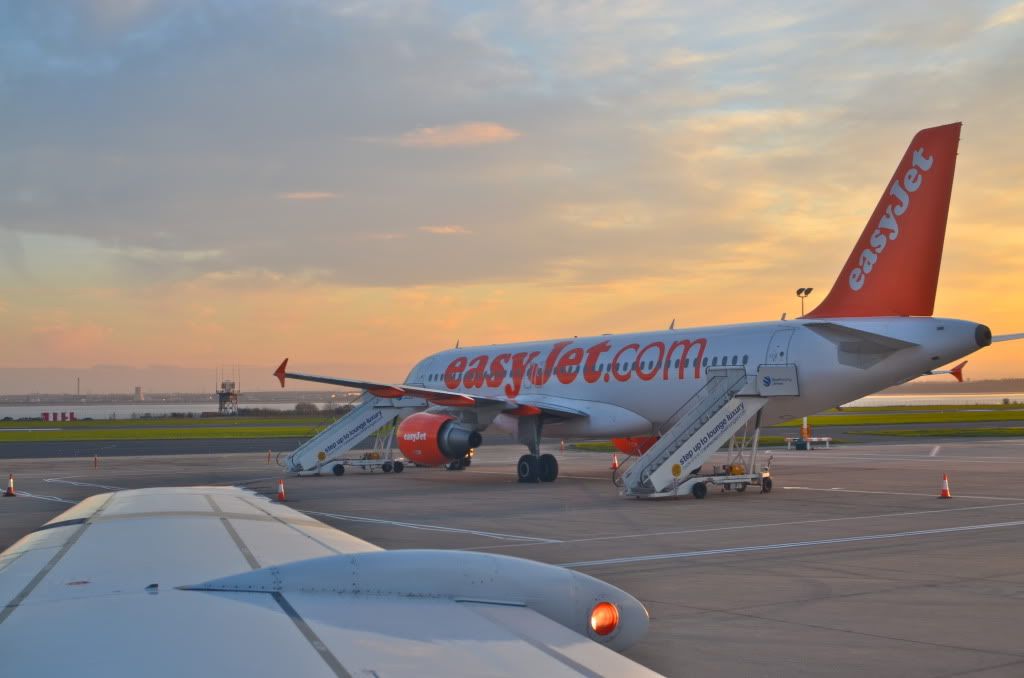 We made our way down to runway 27 followed by a nice noisy departure.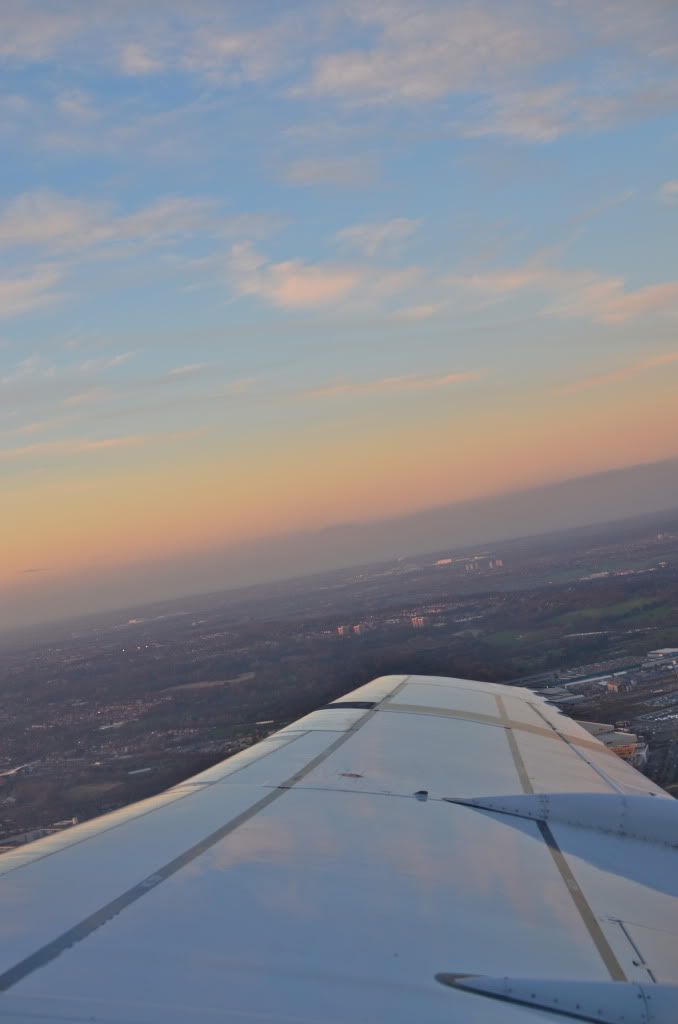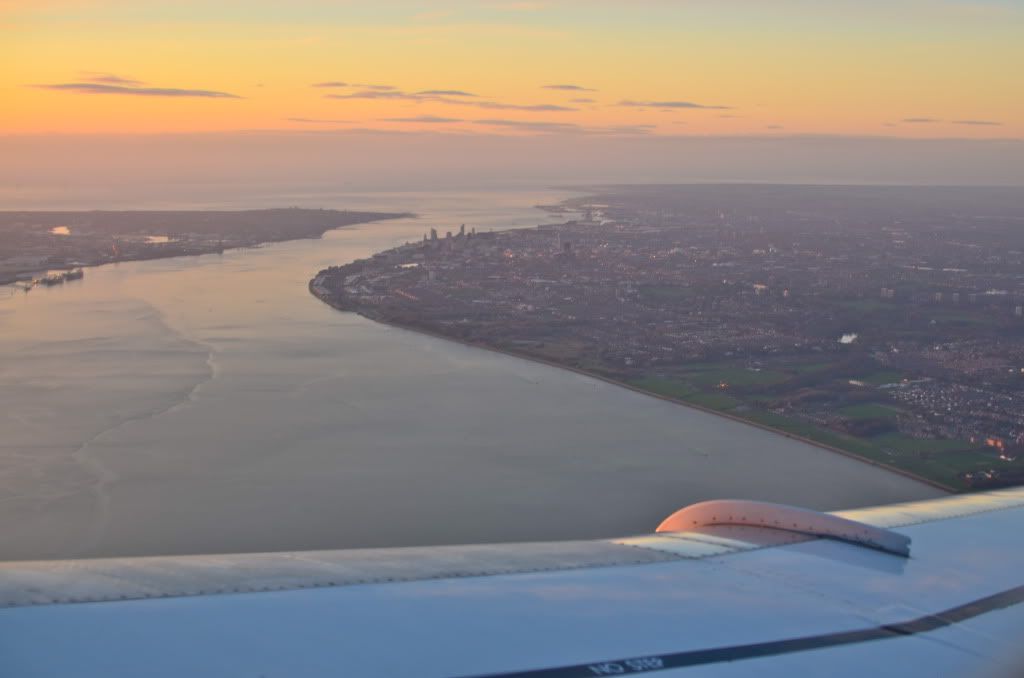 Runway visible.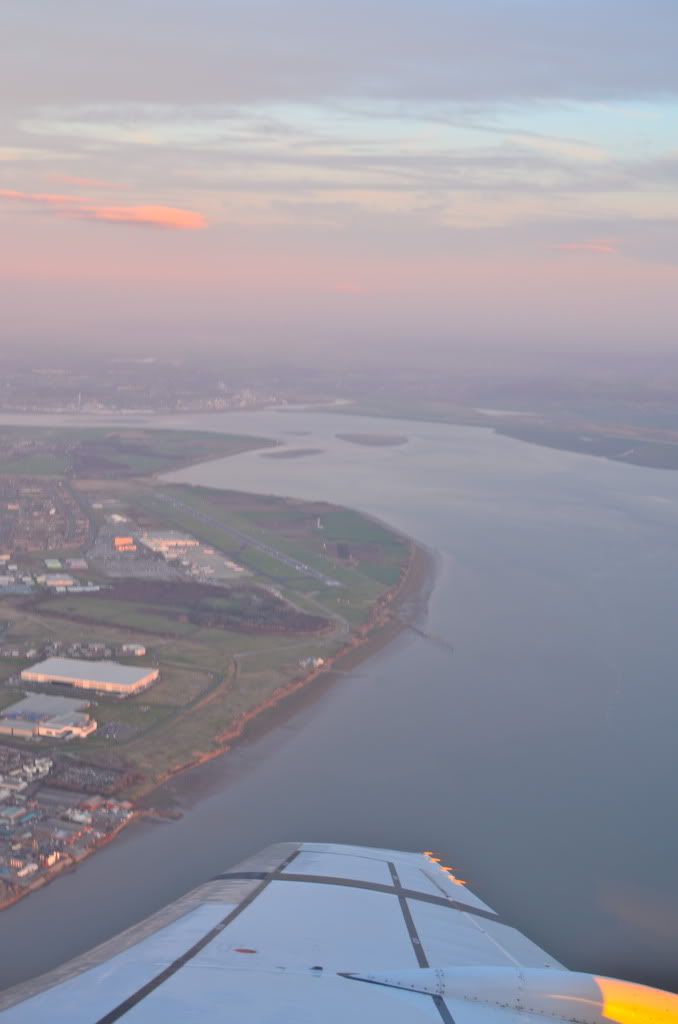 We climbed through various levels of cloud but the ride remained fairly smooth.
Here is a general cabin picture from 14F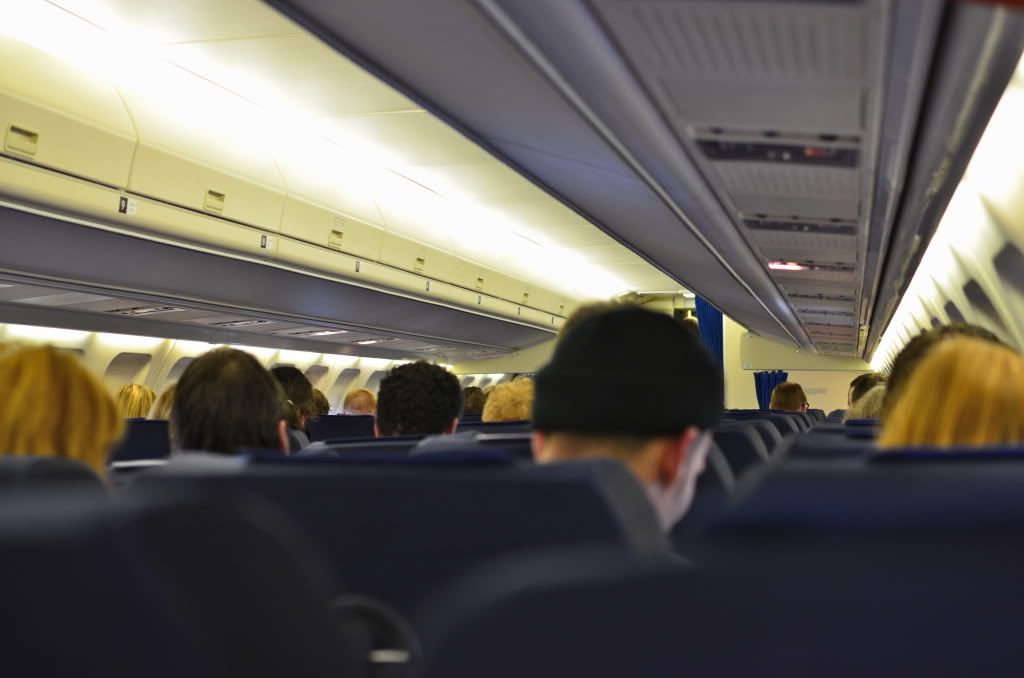 I was fascinated by the show going on outside the window. Some amazing colours during the sunset.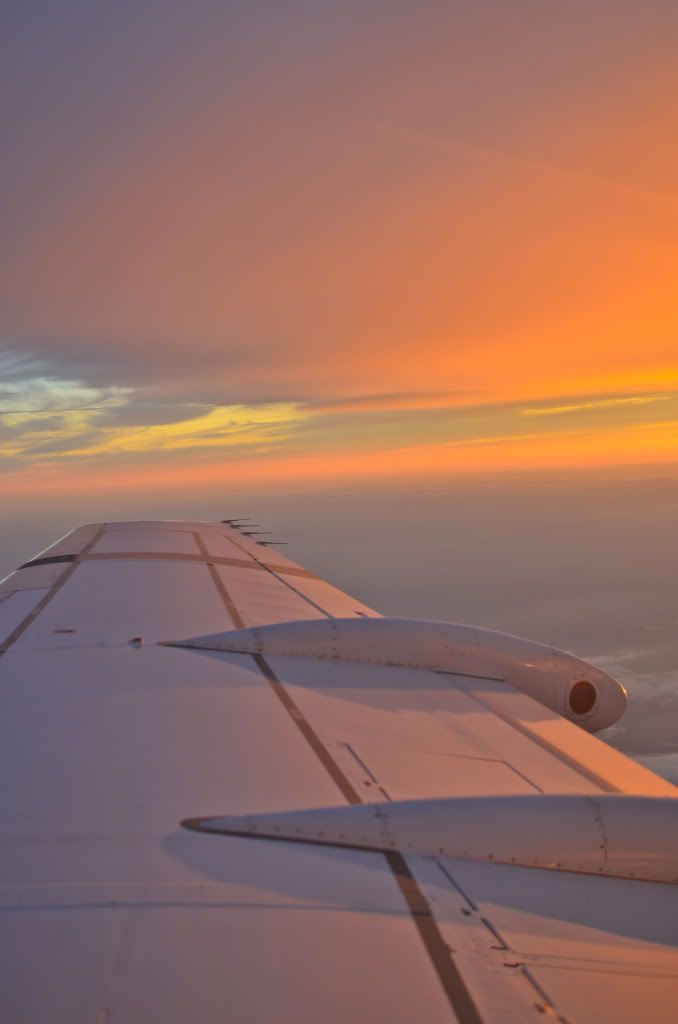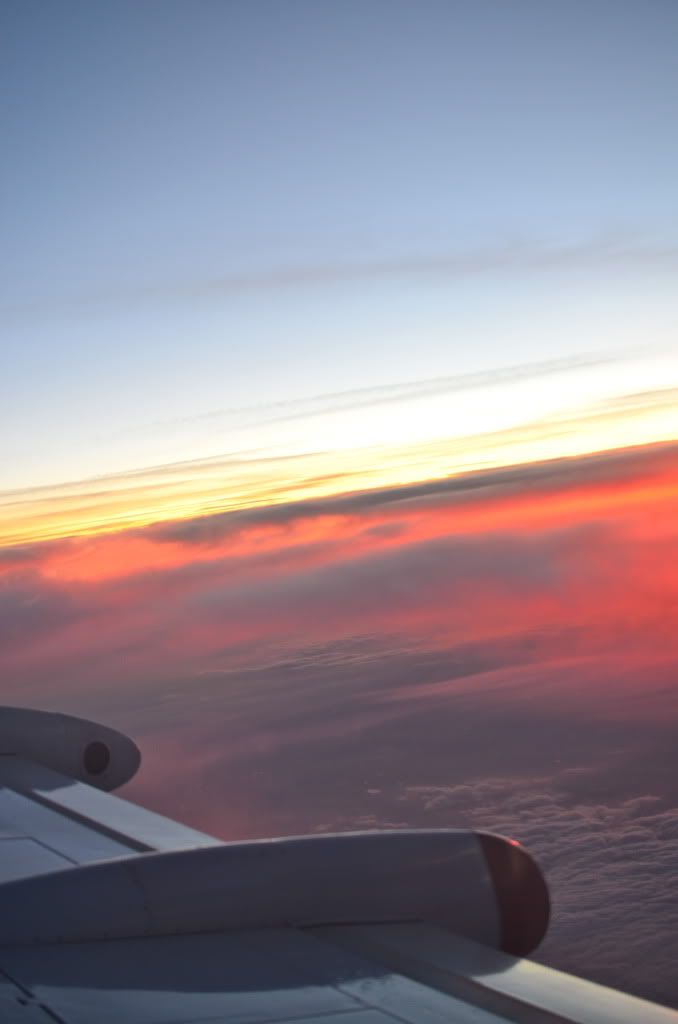 The on board service followed shortly. The biscuit was tasty and the beer was o.k. I like the design on the can.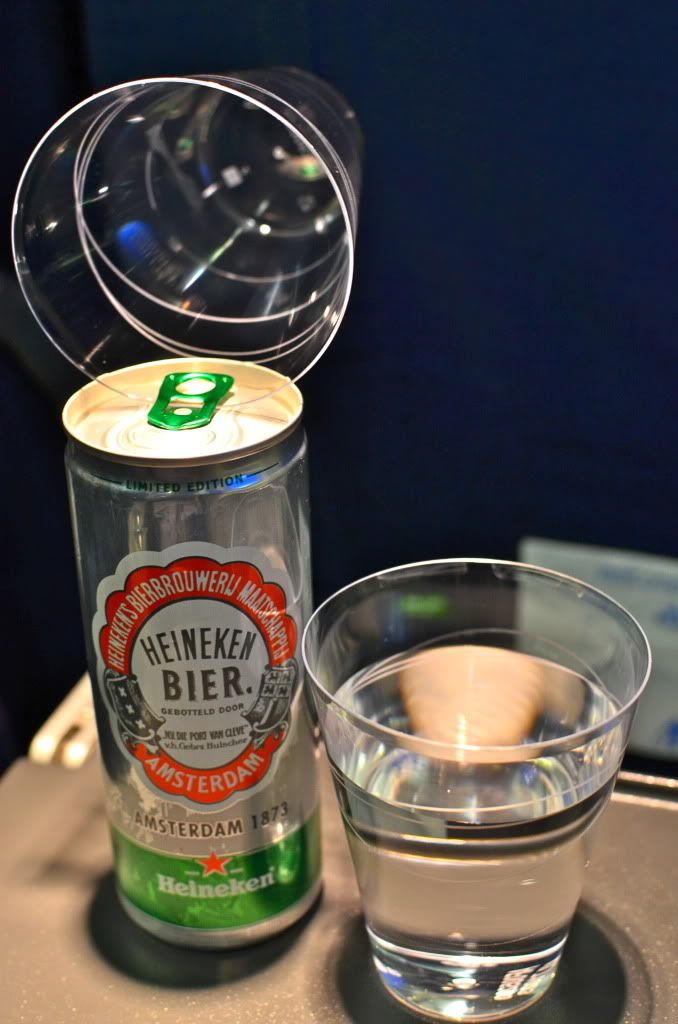 A look at the colourful magazine.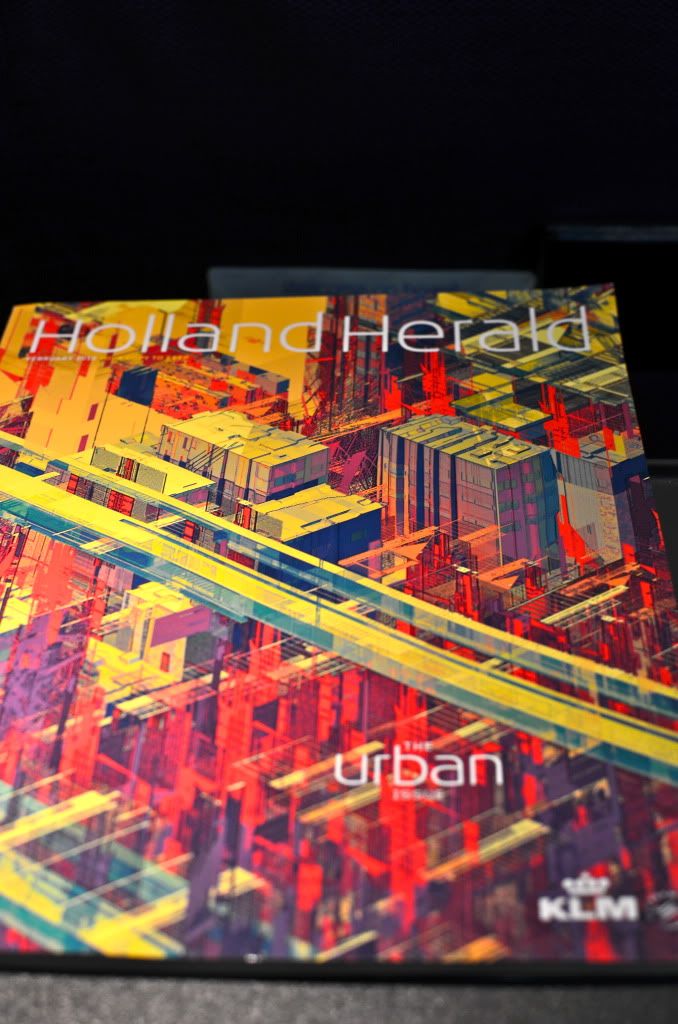 All too soon we started our approach. We seemed to fly a zig-zag pattern and there were around 6 other aircraft visible at some points. We dropped into the cloud and the engines were spooling up and down all the time, the sound was amazing. The flaps were extended, the gear dropped and still we were in some really thick mist/fog. At around 300 ft above the ground the lights finally came into view and we made a smooth touchdown on the Polderbaan. Some 15 minutes taxi ahead to the stand then!!
The classic Fokker window shape.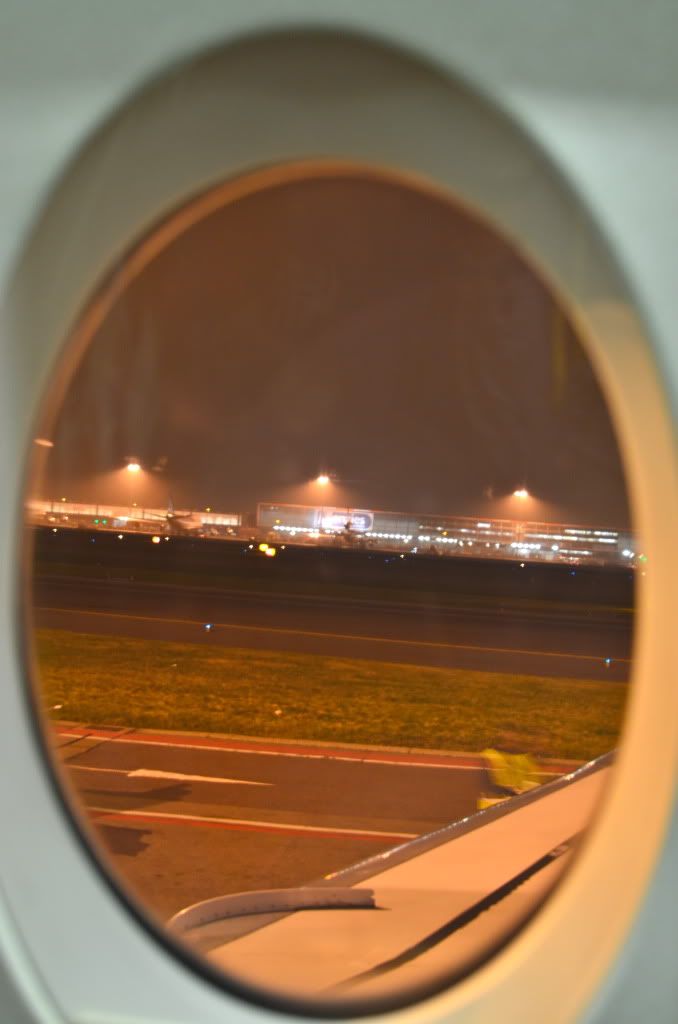 Time for a quick detail shot as we leave the aircraft.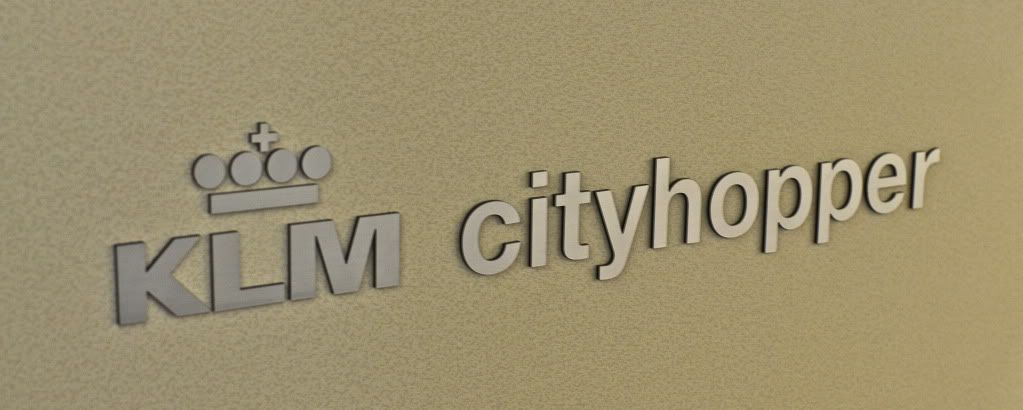 The 3 of us hooked up again back in the terminal and Eric offered that they will escort me to the next zone. I had around 1hr in hand at this point so the connection was good and safe.
We said farewell as I had a security check to clear now and we head off. Thanks for a great afternoon guys, glad we found some luck with the weather in Liverpool and see you again soon I hope?
The security check was efficient and I head through into a waiting area for the low cost airlines.
I was surprised how nice this area is. Really modern feel and good colours.
After a quick call the the Mrs I noted that the gate was posted for the BSL flight. Best get down there pronto then and into the scrum.
Once there it was clear I was one of the last to enter the holding pen, but I quickly made a assumption of a load at around 60%. Who knows, maybe even some space to spread out a bit once onboard?
Around 10 people used priority boarding, followed by the rabble. I made a few crafty manoeuvres and managed to get up near the front as we pile out of the door.
Flight Number: EZS 1046
Route: AMS – BSL
( 1st time flying this route)
Airline: easyJet Switzerland
( 1st time flying this airline)
Aircraft: A319
( 20th time on this type)
Registration: HB-JZS
( 1st time on this aircraft)
Economy Class
Seat: 17 F
Flight Duration: 01hr : 09min
Time for a quick registration check during the rear stairs boarding. Aircraft looking in a dirty state.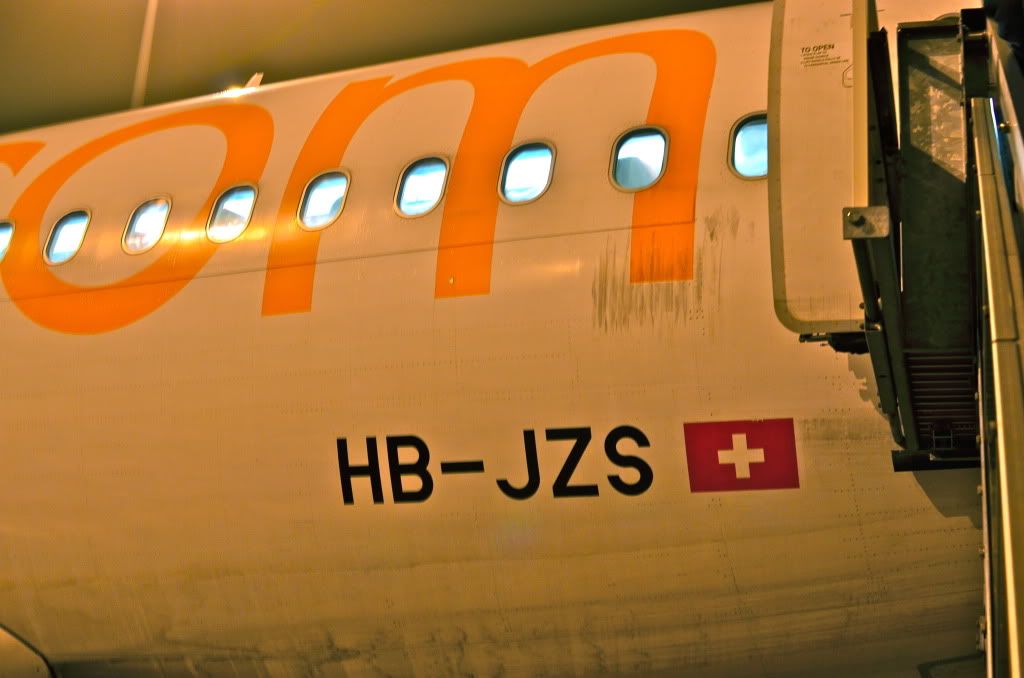 Luck was with me today. As most people were traveling in groups on this flight and space was ample I scored a full row to myself. The captain informed us that we were around 15 minutes early for departure and that 3 people were missing so we will be waiting for them as long as they don't get too late. The 3 stragglers show up a few moments later, the doors are closed and we wait some time until our departure slot. We actually take a bit longer to get moving, probably due to the low visibility around the airport. I'm in no rush now. I would rather sit longer in a aircraft seat than on a metal bench in the airport.
Eventually we get going around 20 minutes late. I'm not sure of the departure runway. It was dark, foggy and I couldn't spot any taxiway/runway signs.
We climbed out of the pea soup and into the clear sky above.
Time to look at the surroundings
In-flight literature.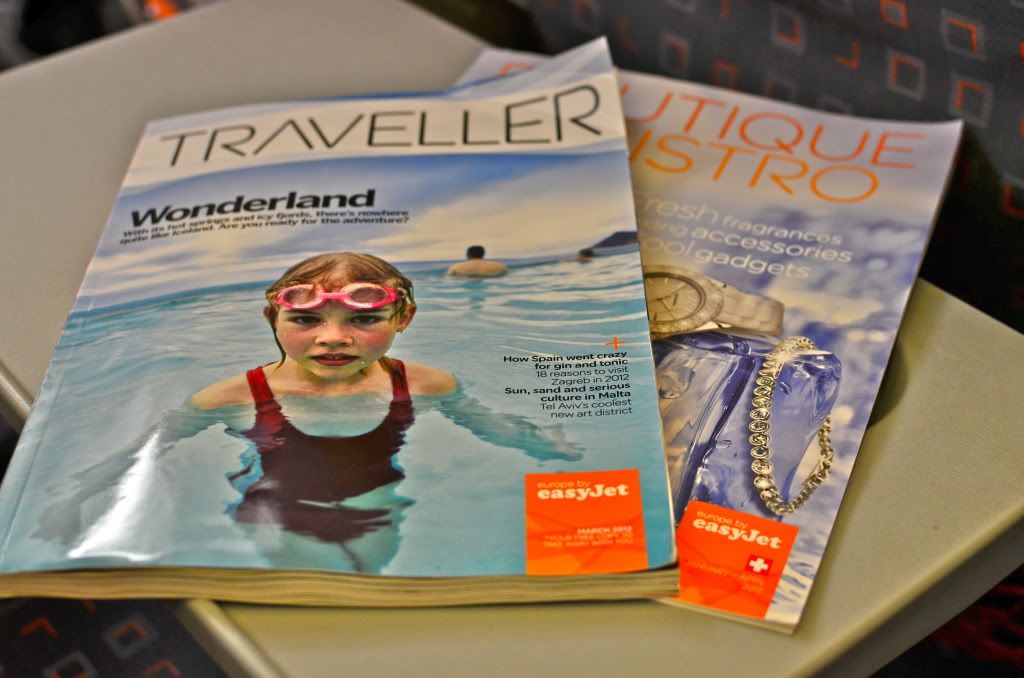 Safety card with a few Swiss touches.
I wasn't sure what food would be available at BSL during the night so I decided to purchase a meal deal on this flight. €8 was not so bad, the sandwich was substantial and contained chorizo and gherkin.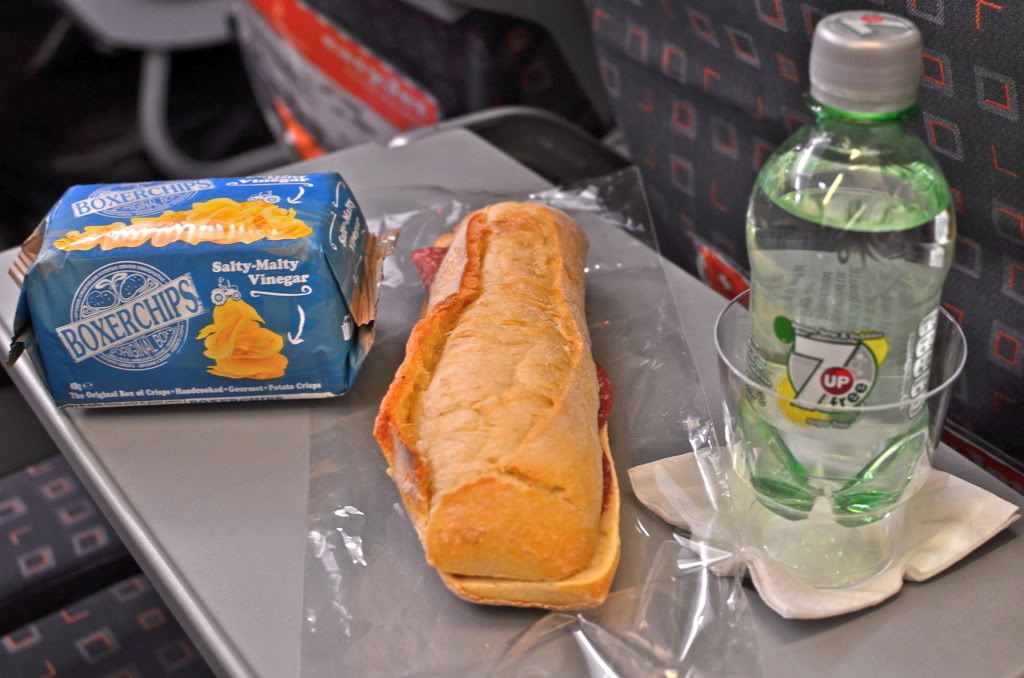 A pretty un eventful night flight followed. Not much to see outside either.
During the descent it looked like we would be landing under the same conditions as encountered earlier at AMS, perhaps under even denser fog?
The ground suddenly appears again and only seconds later we kiss the tarmac, nice and smooth.
I took a couple of pictures during the taxi in. Not technically perfect, but I kind of like the effect the lights give.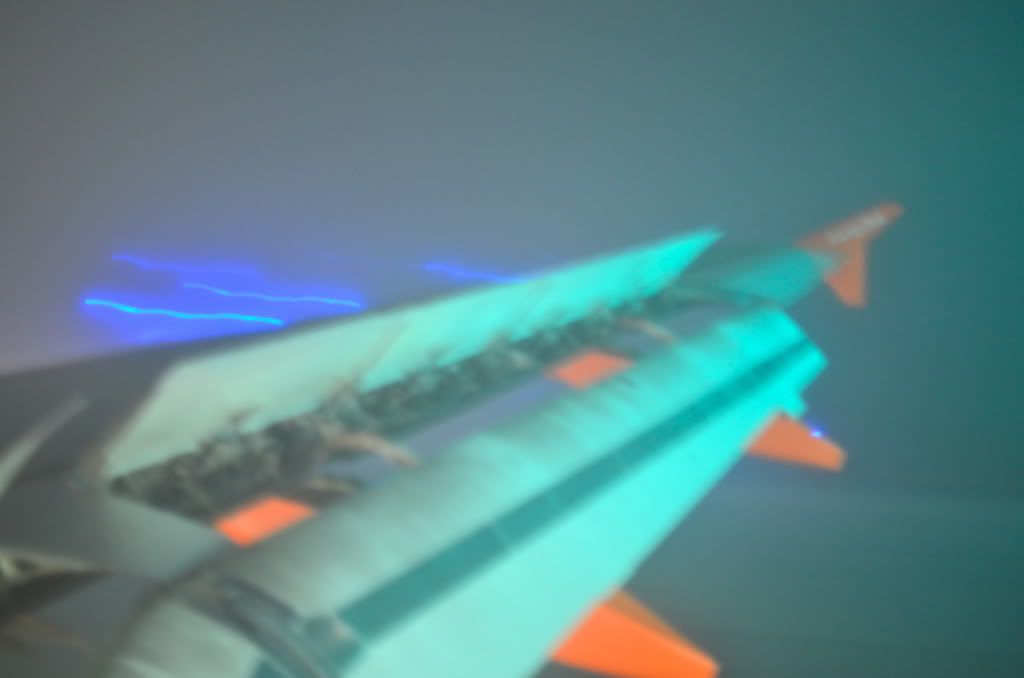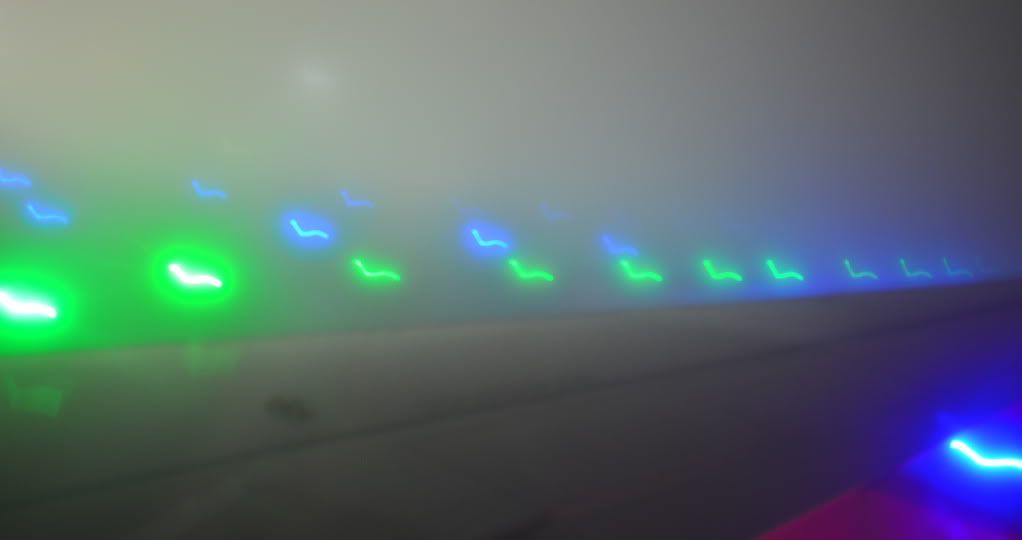 After parking up I head out of the back door and onto the bus. I get a few moments to snap some shots as we end up waiting for a large family with quite a few toddlers.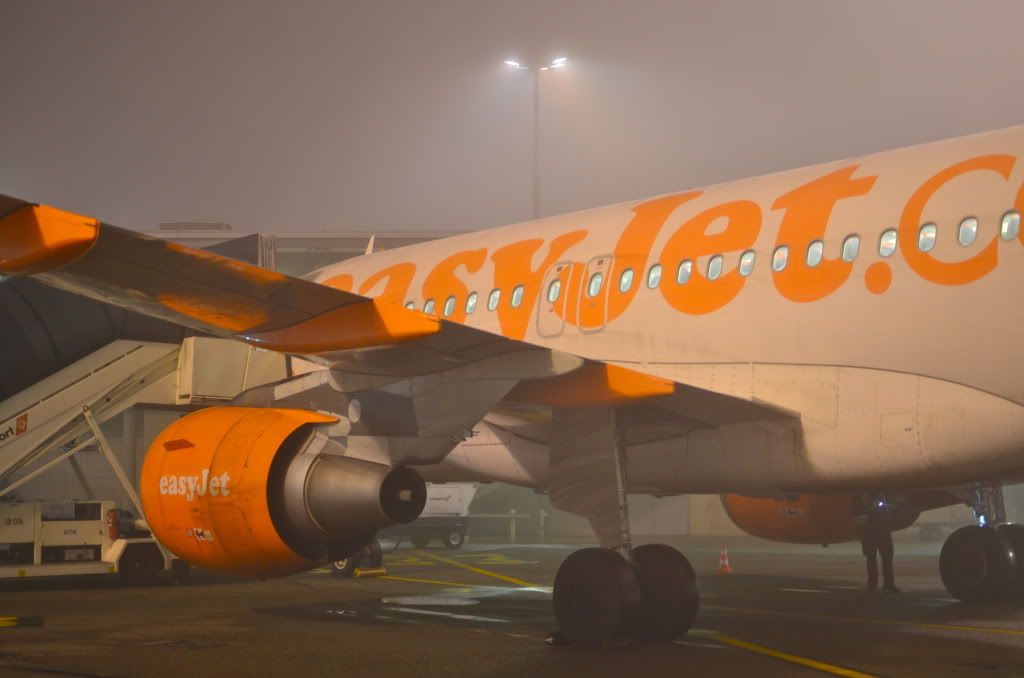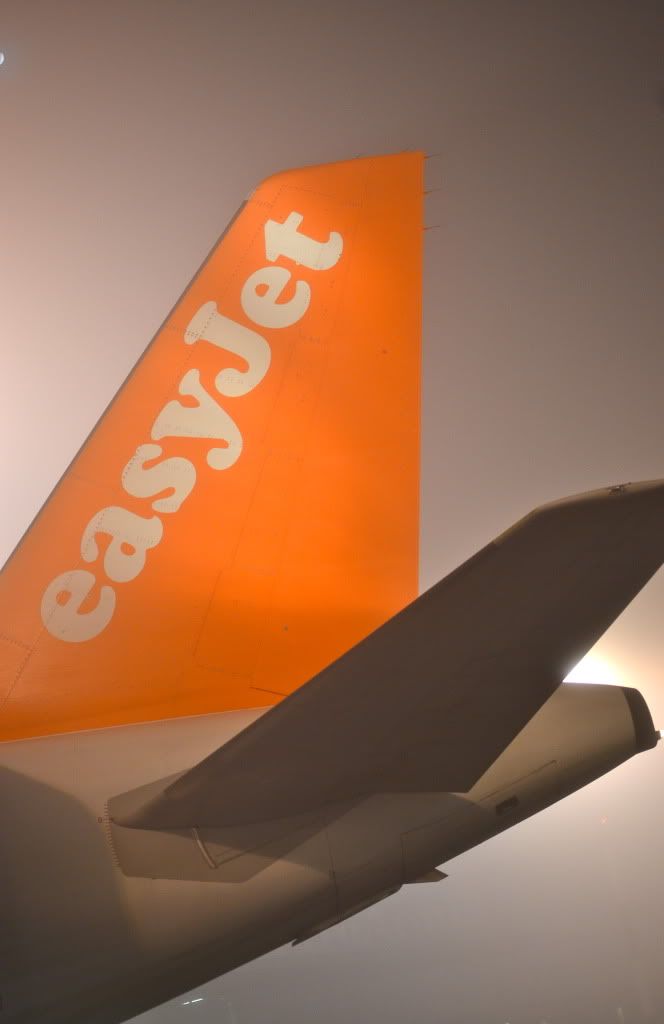 Once in the terminal I follow the signs to arrivals. On the way I spot this. I don't really like the RJs, but I will keep going with them on LX 'till I get a ride on this one.
I take a quick walk outside to get a picture of the terminal frontage.
Then heading back inside to set up camp somewhere. I got kind of lucky, or so I thought, and found one of the massage chairs. Truth is, it wasn't so comfortable. I decided to do a bit more scouting around. There was an area next to some construction work and a lot of the lights were off. I found a very uncomfortable looking bench and gave it a try.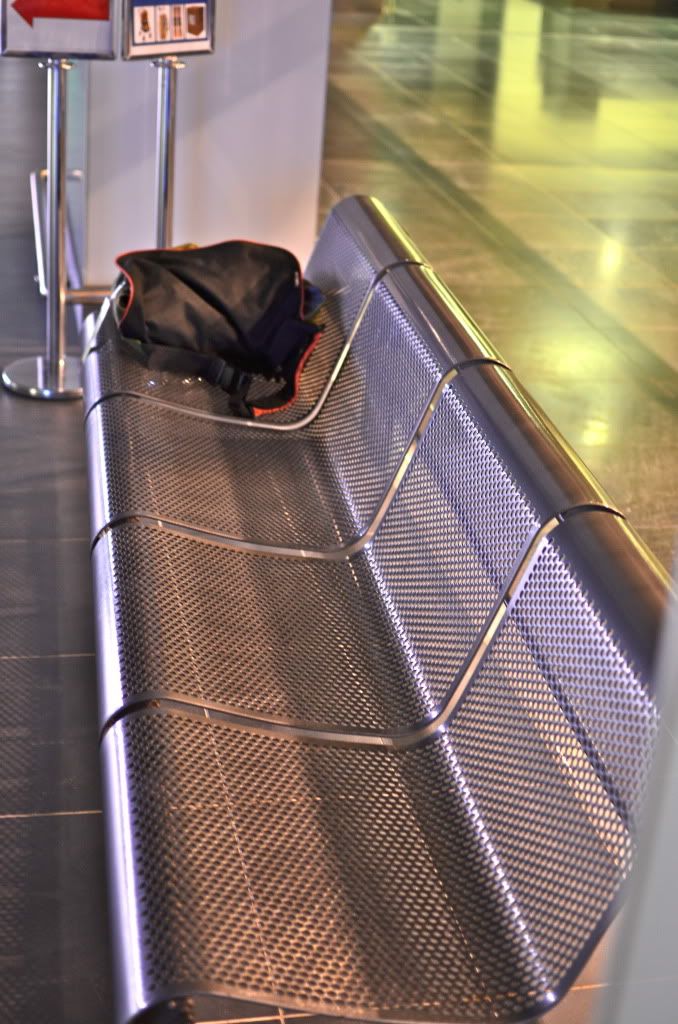 It must have been ok as I got 4 hours of half decent sleep taking me up to around 4am. Check in would open a 5am, so I just played Angry Birds on my Mac until then. Easy, and saved around €70.
I got my boarding pass and headed airside to relax in the lounge for 5 hours.
Some views on the way.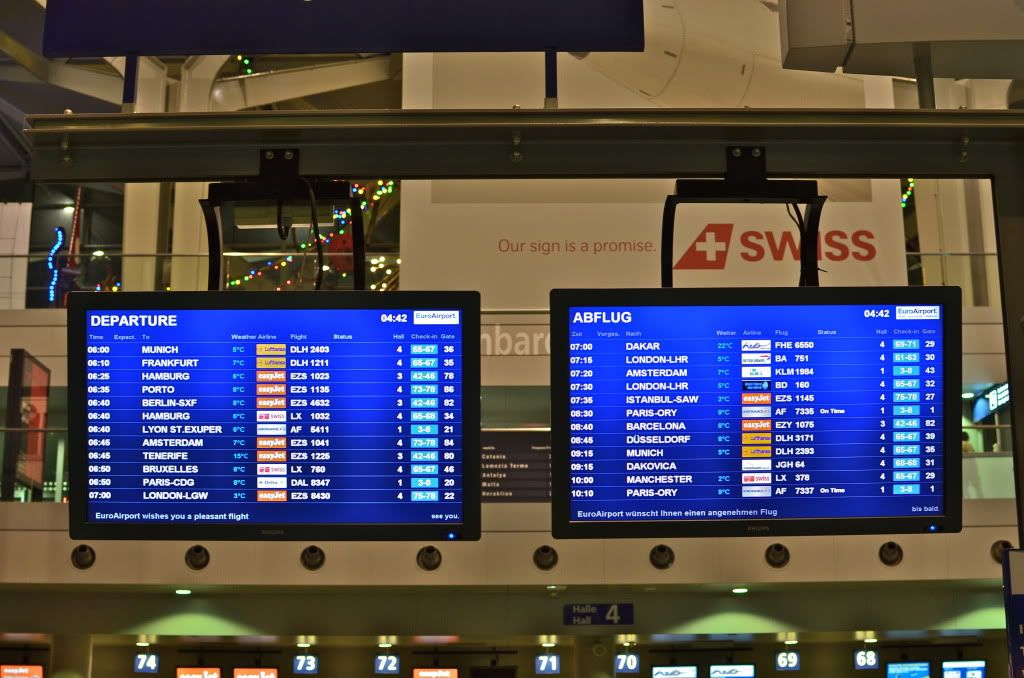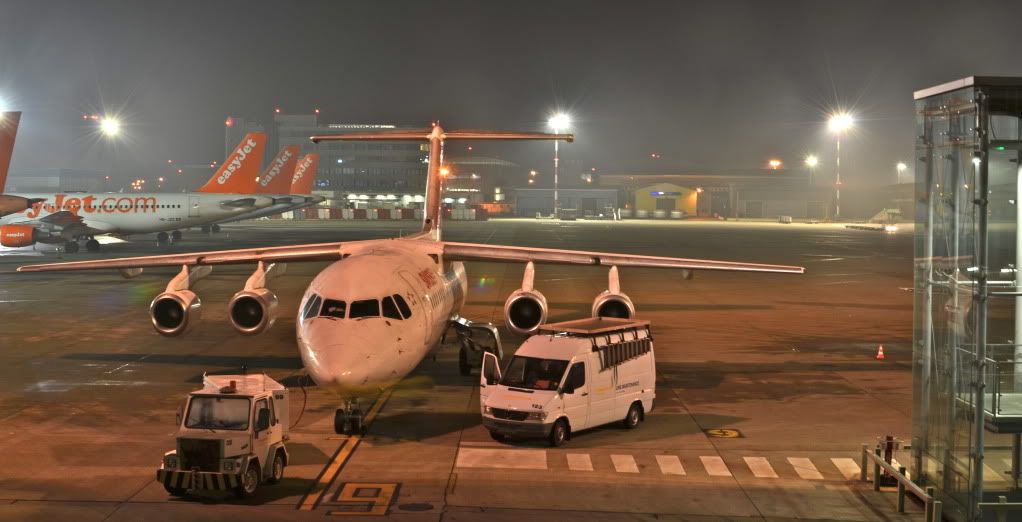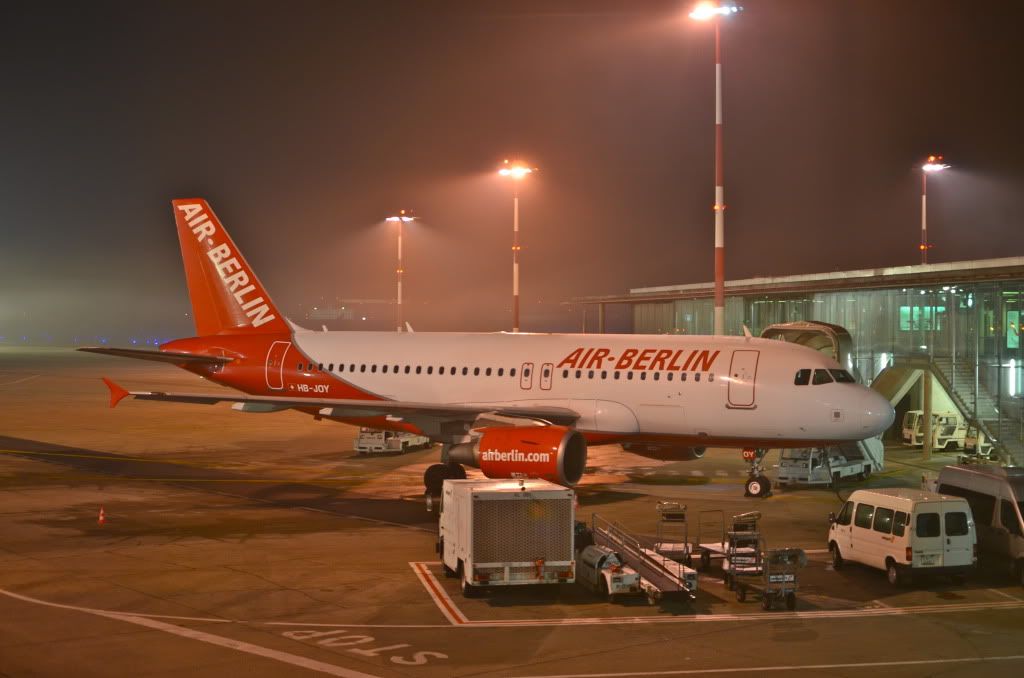 And the lounge entrance. Looks a bit of a dump from the outside.
I was met by a older dragon who didn't seem too friendly, again, at 5am I can understand. She looked at my documents and let me in.
Wow... This place is pretty good. Nice relaxing atmosphere and very much under used by the looks of things. Don't think there were ever more than 10 people in here during my stay. I just found a big chair, put some music on and kicked back.
Some impressions.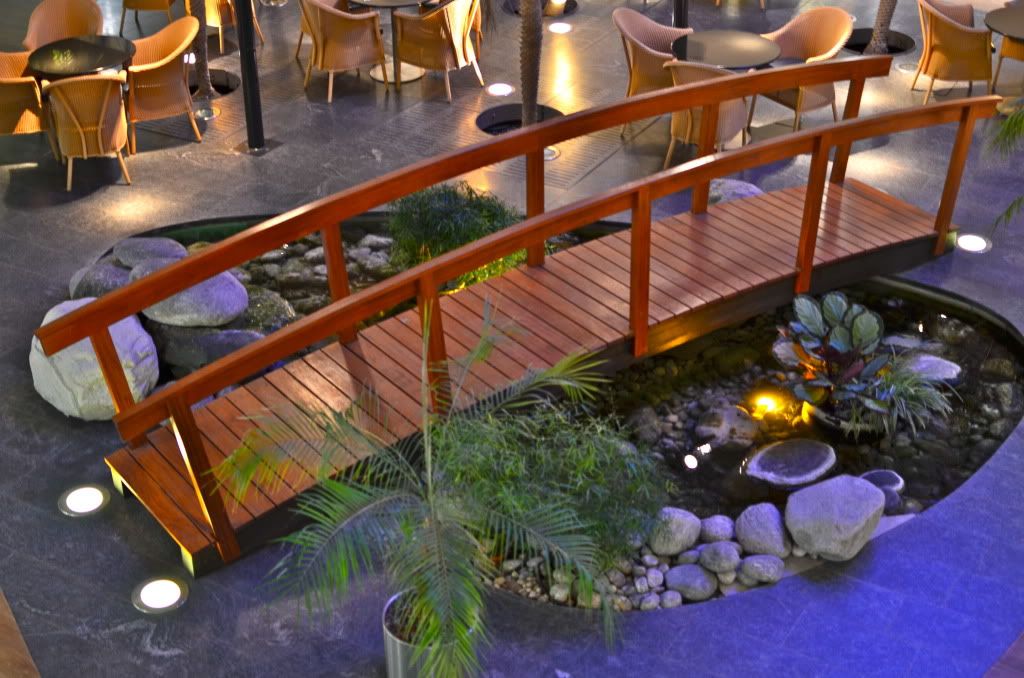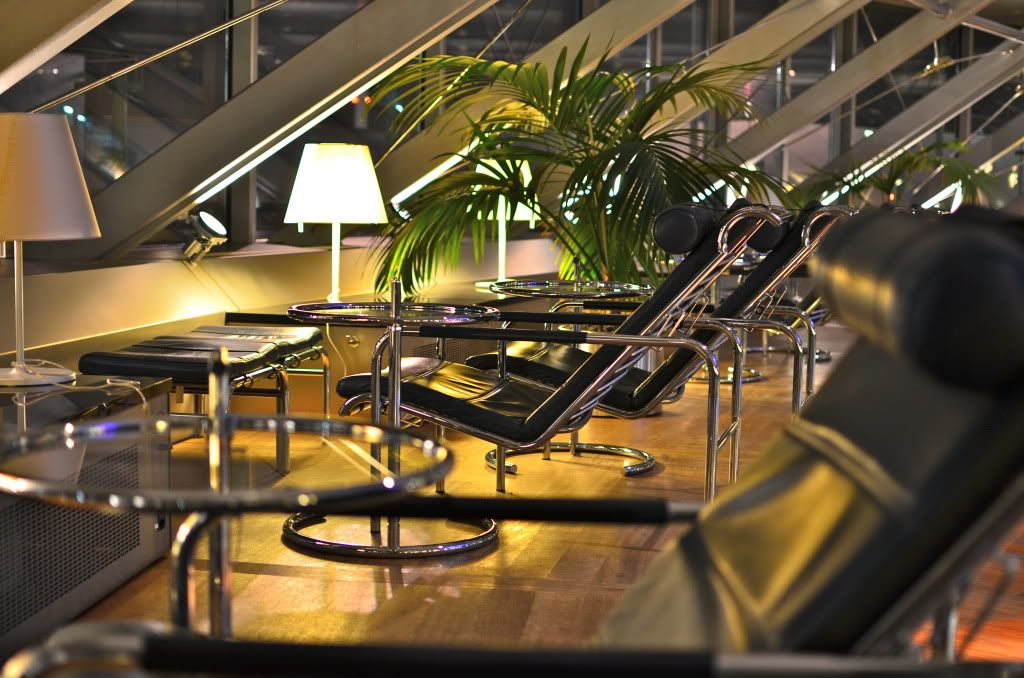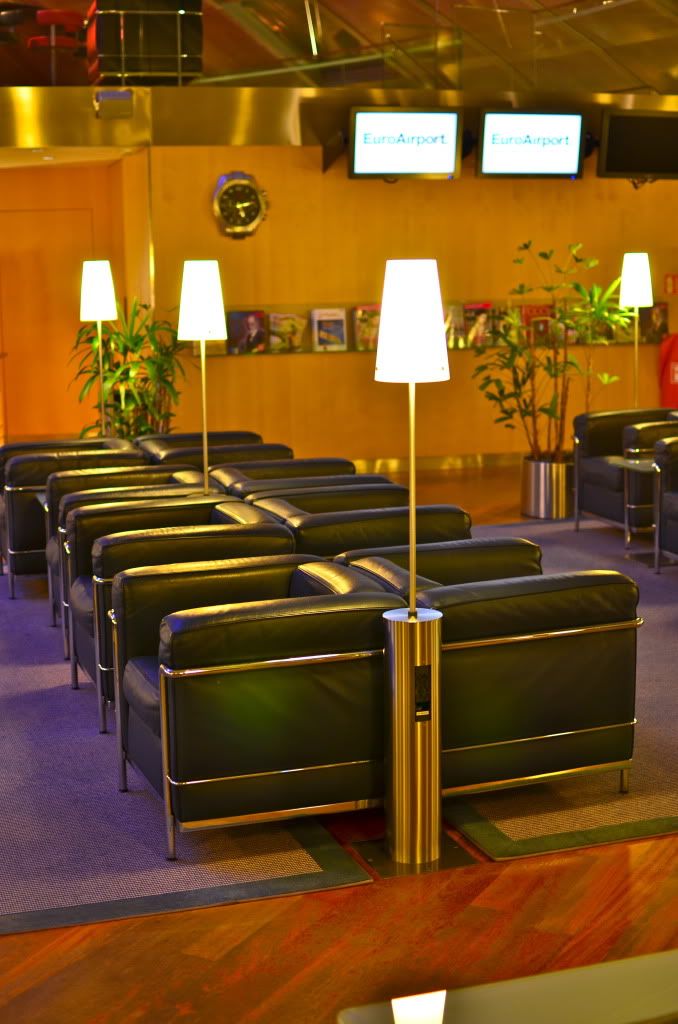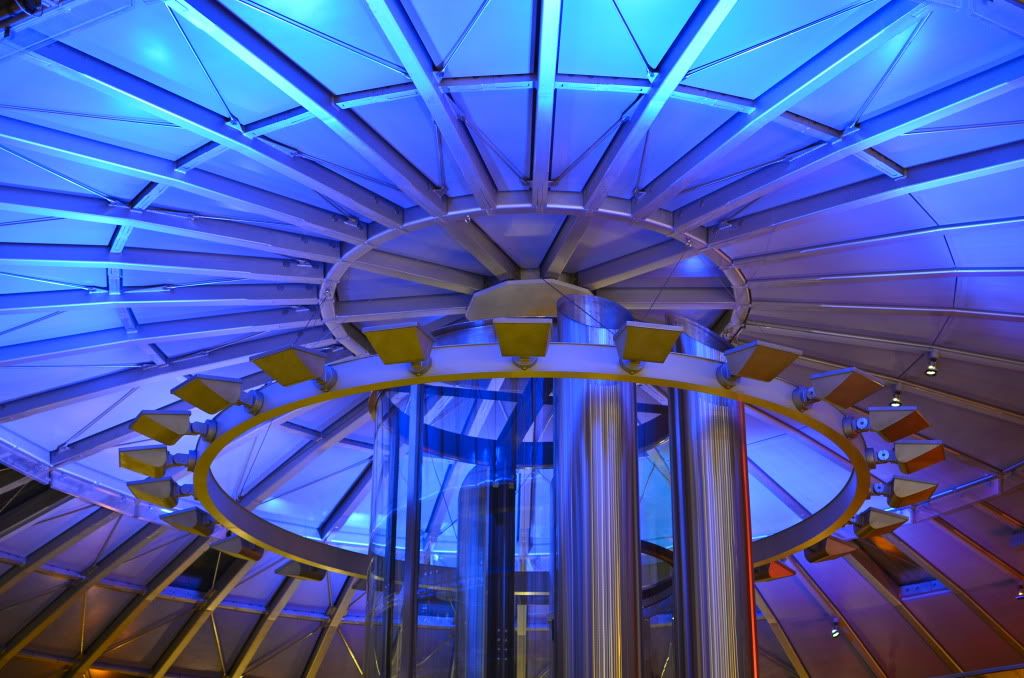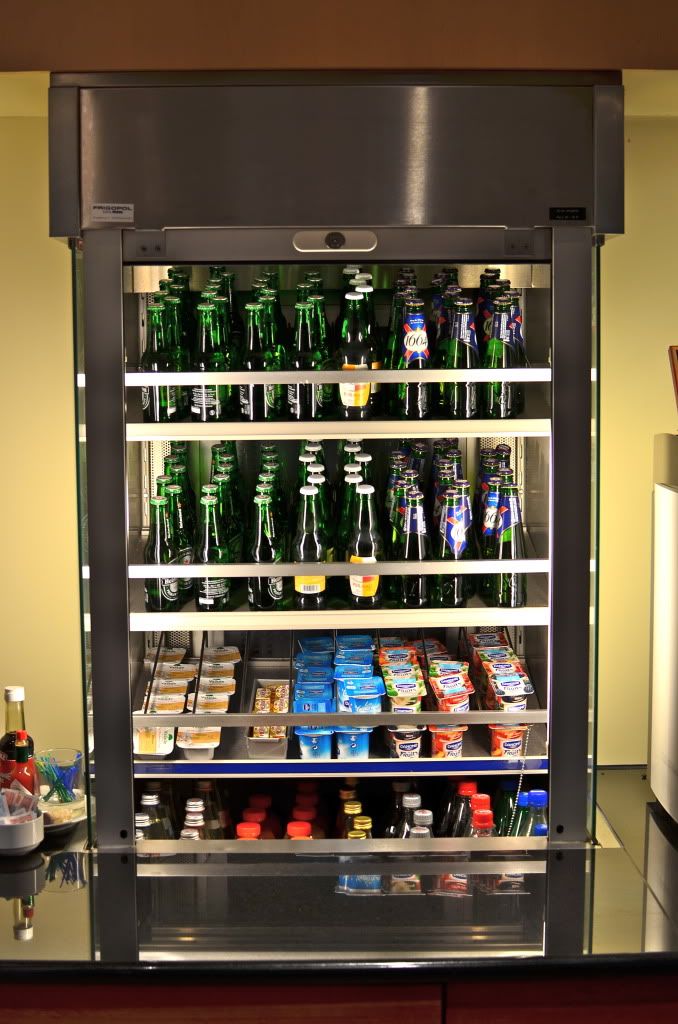 After a bit I got some snacks. The only bad thing really was the limited offerings.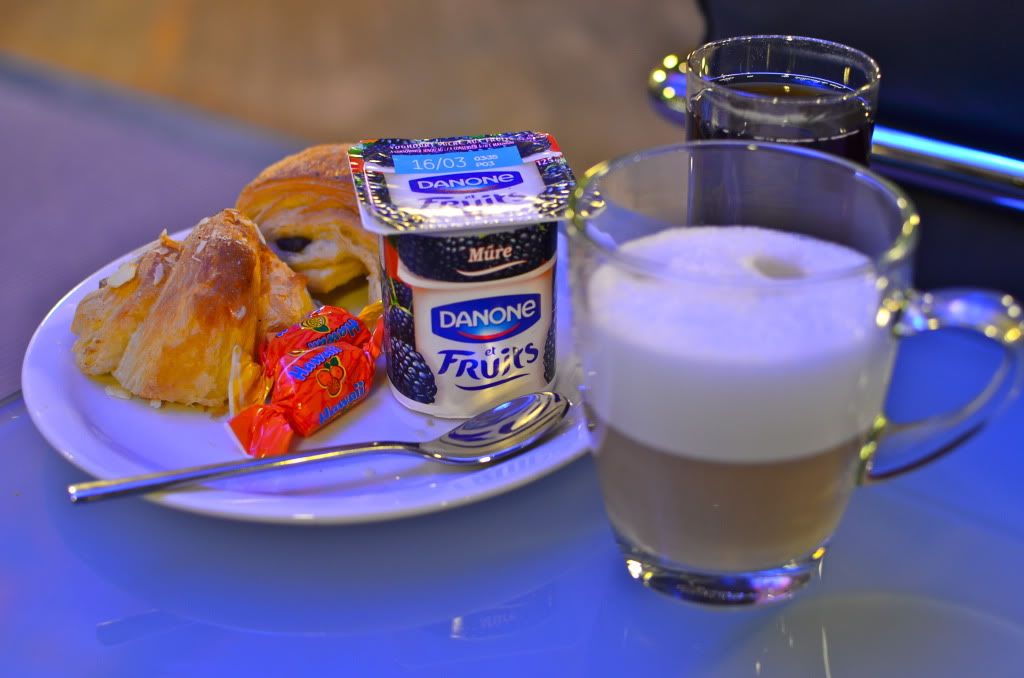 Once the sun started to rise I decided to sample some of the booze on offer. I managed to get through a good few glasses of bubbly, it's never too early, is it?
In what felt like no time it was 9am and time to start thinking about making a move to the gate. For me, that is the sign of a good lounge. Making a layover fly by.
After leaving the lounge I had to use a quick passport check for the Non-Schengen gates. Once at the gate it was clear my quest for the Zurich Shopper RJ100 would have to continue. Just a plain old vanilla type for today.
Flight Number: LX 378
Route: BSL – MAN
( 1st time flying on this route)
Airline: SWISS European
( 4th time on this airline)
Aircraft: RJ 100
( 5th flight on this type)
Registration: HB-IYQ
( 1st time on this aircraft)
Economy Class
Seat: 8A
Flight Duration: 01hr : 41min
Here she is during the boarding process.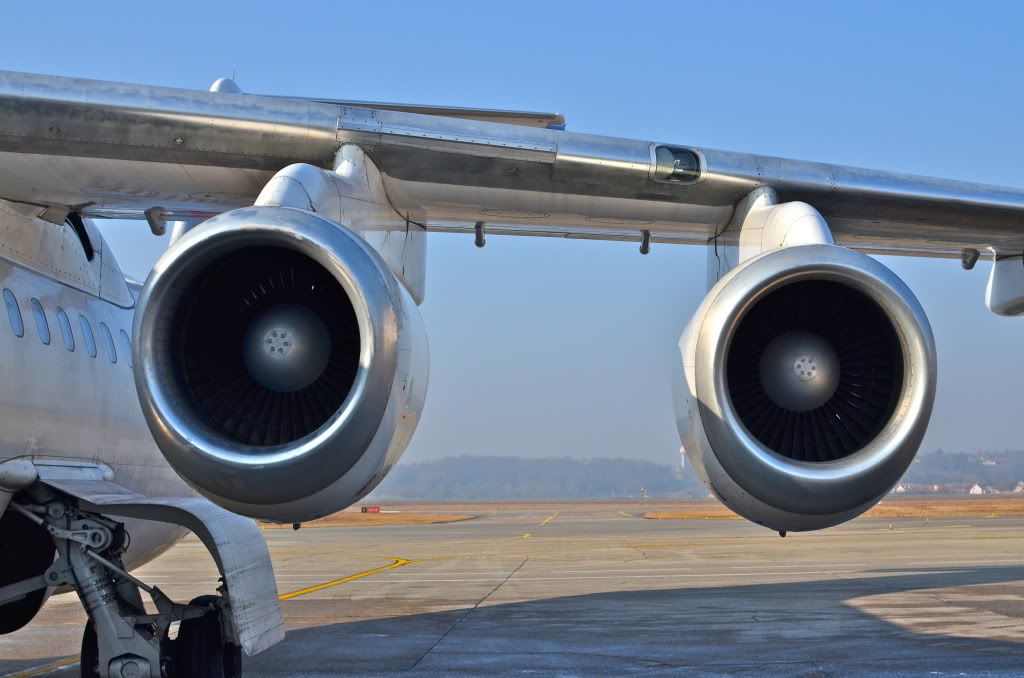 I took my seat and was soon joined by another passenger next to me.
All the paperwork was completed and all passengers were in the aircraft on time, we were ready to go now. Nice and efficient. A load of around 80%
Departure off runway 15 followed by a left turn to the North and a good rate of climb.
A few engine obstructed views.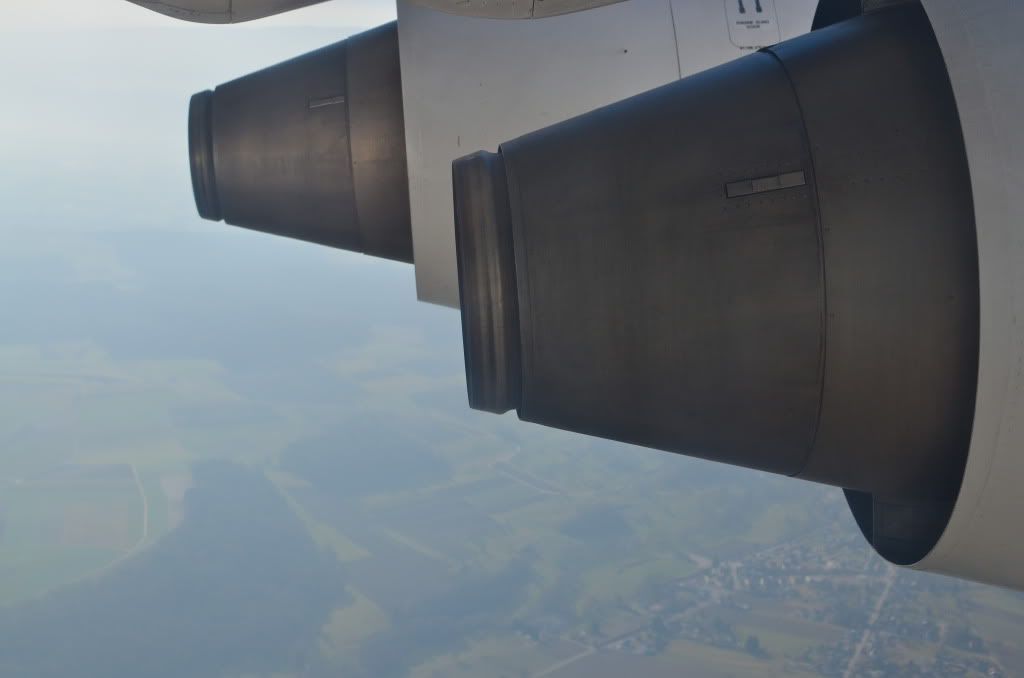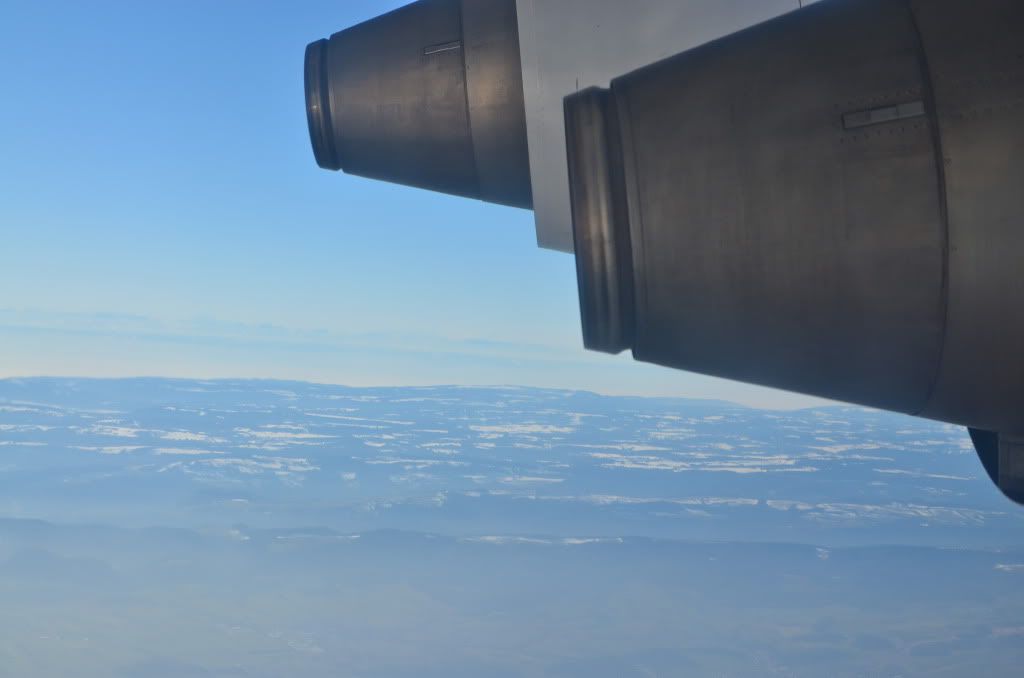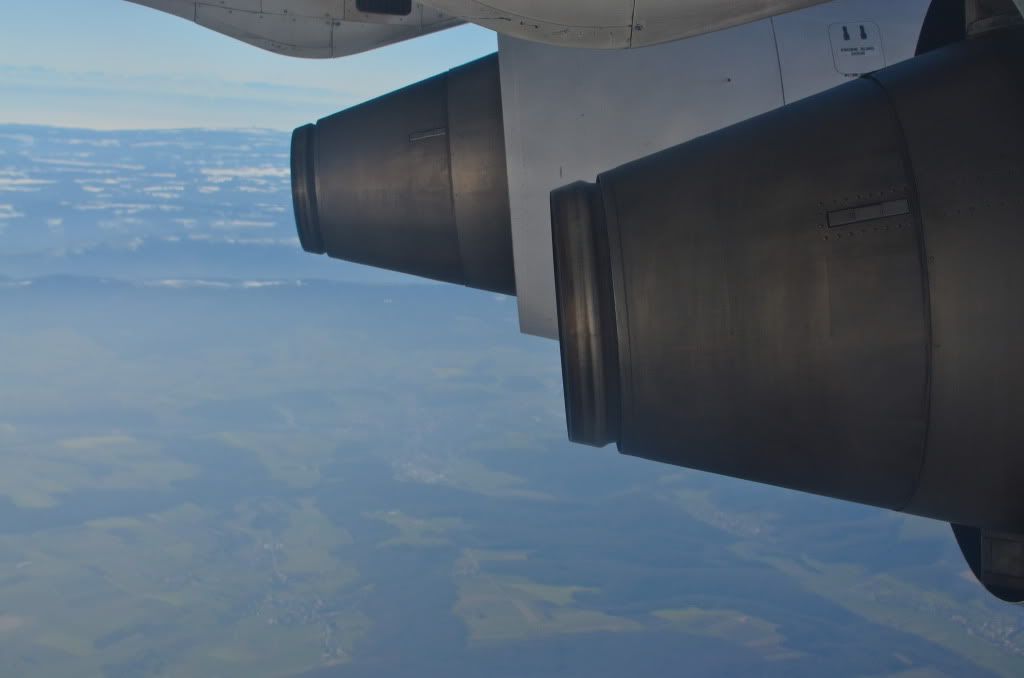 Next up was the service. I was pretty disappointed here. I know it's LXeuro, but this flight is the same length as ZRH-MAN, it would be nice to get a sandwich. The coffee was only half filled even though I said I was taking it black, and the crew just seemed a little un interested. Not the usual style anyway.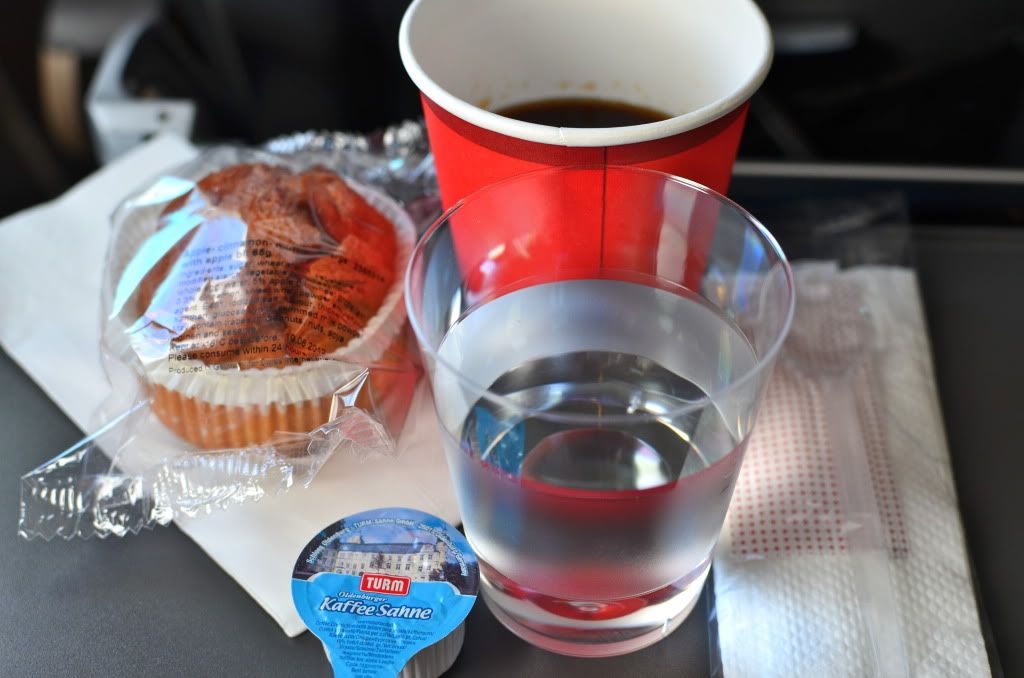 The flight progressed over cloud covered terrain and not much was happening.
After the trash was collected the all male crew came around offering the SWISS chocolates. I noticed that something was different here. The packaging has changed to white. I was actually hoping that the chocolate would be white also, but not the case.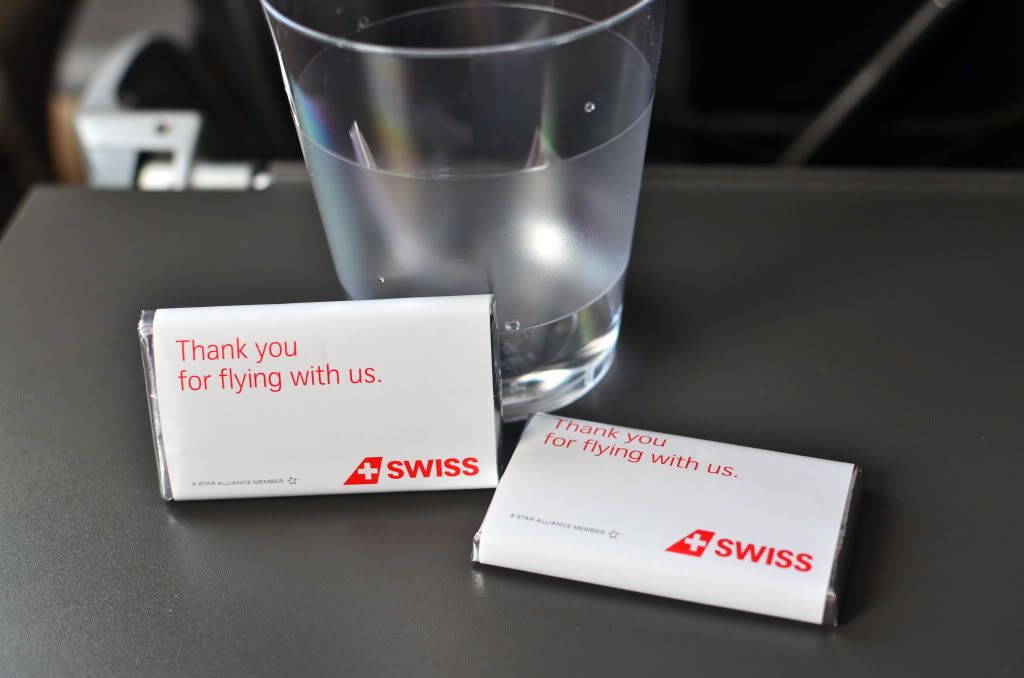 The bar looks a touch smaller and I think has a slightly less sweet taste than before, still very nice anyway. On a note about the crew again here. I usually see that when the crew offer chocolate to the passenger, they will often look away, as if to say "i'm not going to judge you if you feel like you want more than one". On this occasion, you should have seen the stare down I got when I picked a couple. Jeez, I nearly put one back in the tray.
We made our descent into Manchester in the usual fashion from the South with no holding at DAYNE.
Some approach shots.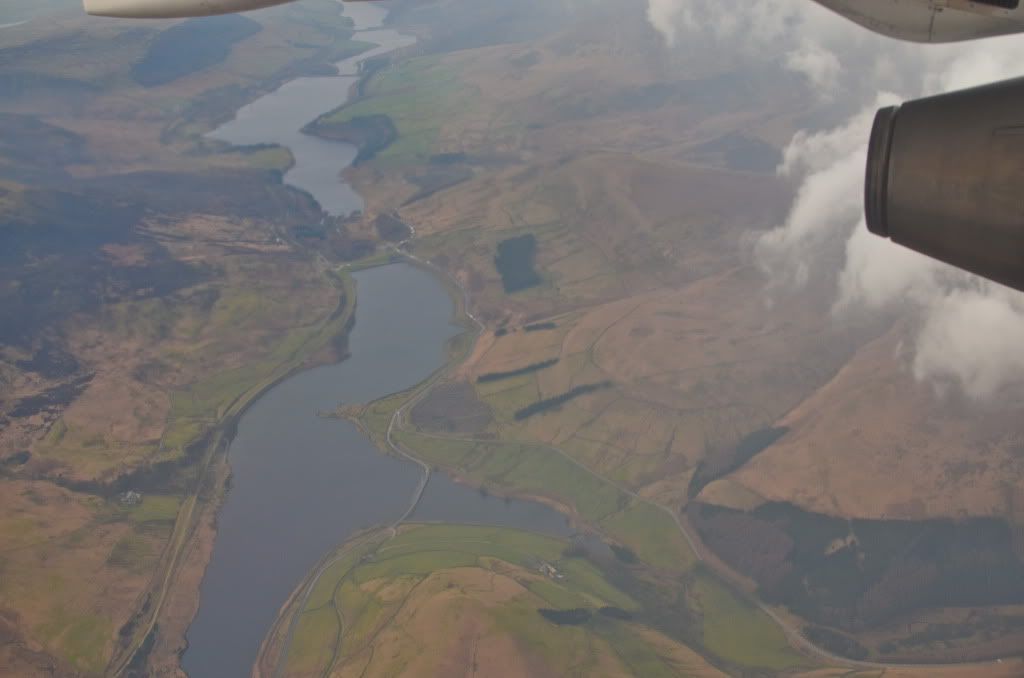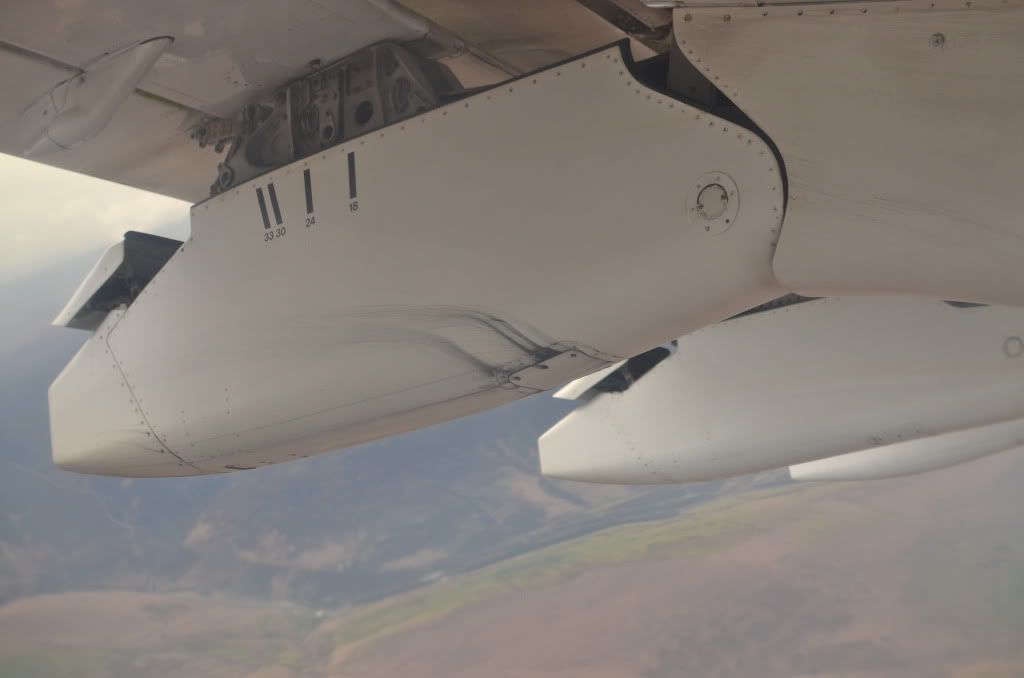 After touching down on 23R we made way over to the stand at T1 and there ended another good journey.
3 new routes, 3 new flown registrations, 2 new airlines and 1 new airport. And thanks again to the guys for the company on Thursday afternoon. Lets make an excuse to do it again sometime.
Cheers, Lee.