Feedback always appreciated.
I > Background:
A sudden opportunity had led me to spend around 2 weeks flying around Canada and visit some of her remote parts. The first report covered Air North's HS7 on a YXY to YEV run (https://www.airliners.net/aviation-forums/trip_reports/read.main/211334/) - this second report in the "CANADA SERIES" covers how I went from past the Arctic Circle in Inuvik all the way down to the first major city of Edmonton on another airline, CANADIAN NORTH (5T).
(Route Recap)
Using A.Net search, I could not find any reports on Canadian North – this I find hard to believe, so please post links to older report if you can. I believe this would be the first report to cover the Inuvik (YEV) to Edmonton (YEG) flight which stops at Norman Wells (YVQ) and Yellowknife (YZF) on another classic aircraft – the Boeing 737-200.
II > Pre-Flight:
a) Before Airport:
Canadian North (IATA: 5T) is an airline based in the capital of NWT – Yellowknife. From there, it flies to key Canadian cities, and maintains service across northern Canadian communities. 5T was purchased from Canadian Airlines in 1998 by Norterra, a wholly Northern aboriginal-owned holding company, and became an independent airline after Canadian and Air Canada merged in 2001. Its fleet of 732 and 733 are supplemented by DHC aircraft which primarily serves the Northern communities.
Their functional website at
http://www.canadiannorth.com/
was my first stop and with a few clicks I was able to book my ticket and receive e-tickets in the mail. I was not able to select a seat – which was slightly weird as the site definitely had an option to do the same apparently? Anyways, the fact I could revisit the site to view my itinerary made me happy. The airline did not have features such as flight modifications, but those really are advanced stuff and like Air North, I was rather impressed by how this small airline had all the basics down.
b) At Airport:
2 days of hanging around Inuvik was enough for me – this included taking a long ride on the road Dempster Highway to mark the official crossing of the Arctic Circle. Inuvik was an interesting enough town and I do encourage more Canadians to see the true great white north! Anyways, on the day of departure, I woke up late, had an invigorating run, checked out of my hotel (the NOVA – oddly run by a ex-Somali Airlines pilot – amazing and sad where people displaced end up), and headed to the Inuvik airport (YEV).
Inuvik airport is functional enough – though, the Canadian North counter was a complete zoo. Haphazard-like, it was frankly a zoo. The people had no sense of queues, and it took almost 30 minutes before I got to an agent. The agent was friendly enough and was curious to my travel plans. She was amazed at my Liechtenstein passport and promised me she would Google it when she went back home.
Like the flight on Air North, there was no security, and boarding was called 15 minutes prior to departure. Again, we walked to the tarmac where the 732 looked absolutely beautiful in the graceful 5T colours. Every time, I think I am on my last 732 ever, I am proved wrong … and I continue to wonder how long I will be able to fly these beautiful sturdy aircraft.
Walking up the ladder, I took a quick last look at Inuvik, and did a nice breath in. At the door, there were 3 crew members – though, none of them were particularly friendly and no greetings were forthcoming. Instead, the forlorn trip just looked on and let the passengers get by. Y load varied between 60% and 80% depending on the leg.
Airport - External:
(Inuvik Airport)
Check-in:
(Chaotic Check-In)
*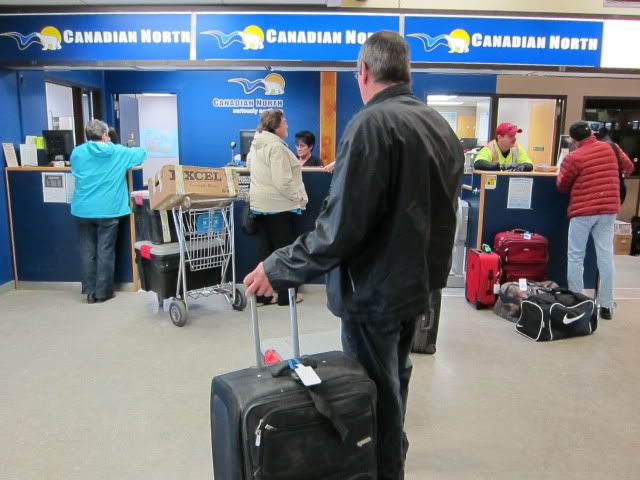 Airport - Internal: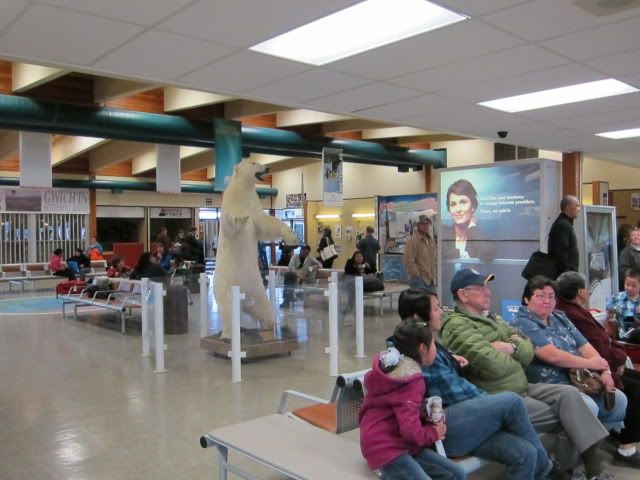 *
(Baggage Claim Area ANFD Gate Area)
(FIDS)
NONE
*
(Post Security @ YEV)
NONE – There was no security ☺ -
*
Scenes of the tarmac:
(Kenn Borek Air)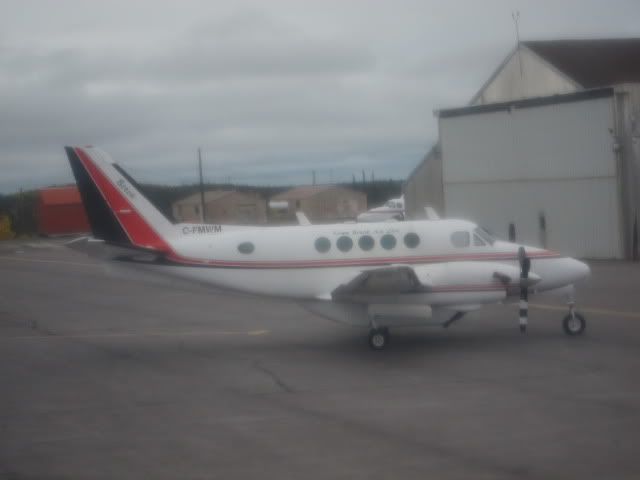 Lounge
NONE
Boarding:
(Gate Area)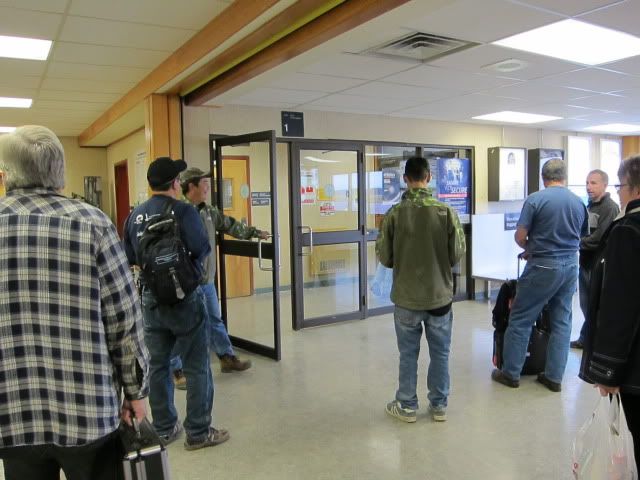 *
(Boarding)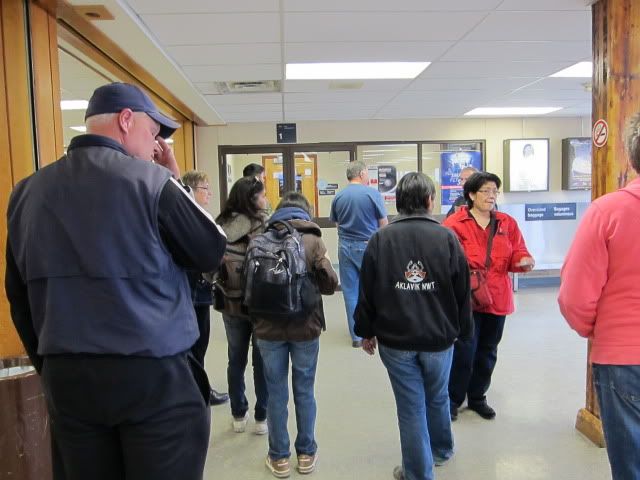 III> In-Flight:
a) Service Schedule + Impressions:
Nothing distributed while on ground. On the YEV-YVQ (Norman Wells) leg, coffee and snacks. On the YVQ-YZF leg, a cookie; and finally, on YZF-YEG, a full dinner service.
The highlight of the flight … was to take a different route back from Inuvik and stop at such places like Norman Wells and Yellowknife. Of course, it did not disappoint. As the pictures would show, each airport was an amazing and an incredible glance at life in some of the most remote places in the Northern world. At each stop, we had to get off the plane, go to the terminal, wait, then get walk back to the plane. The only divergence from this routine came at Yellowknife where we had to go through security to come back to the flight. Apparently, flights going "South" need security clearance – and since the flight was not "secure" when departing at Inuvik, these formalities are done at places like Yellowknife.
The airport at Norman Wells seemed brand new and incorporated a rather ubiquitous design of a small town mall in Latin America – those familiar will understand. Yellowknife looked like Canadian airport design architecture from the 1970's and does not warrant any generous adjectives. Edmonton airport was rather BLAH. Though, I hear they just finished an entire new concourse.
b) Aircraft + Seats:
I must say that Canadian North has maintained their aircraft very well. Even the bathroom was super well maintained. The 732 looked good, and I personally love the 5T colours. However, the actual seats were uncomfortable with remarkably tight pitch and very limited recline. Another note was that it probably had the dirtiest windows I had encountered in a while. Anyone have any idea on the lineage of this bird. PH?
Aircraft:
(Our aircraft: the beautiful 732 @ YEV)
*
(Sitting in the sunlight at YVQ)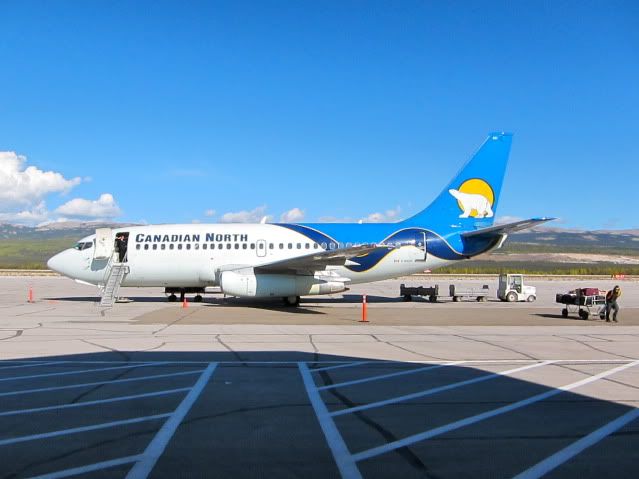 *
Views from Aircraft:
(Approaching Normal Wells)
*
(Norman Wells Arrival)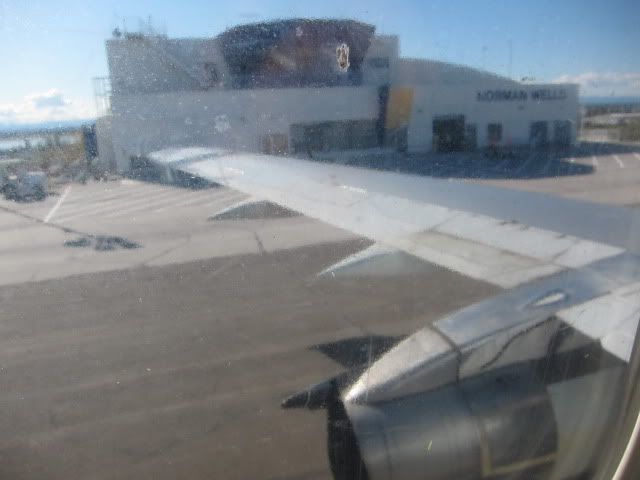 *
(Norman Wells Airport)
*
(Norman Wells – Check In)
*
(Take off from YQV)
*
(Over YQV)
*
(Arrival @ YZF)
*
(Yellowknife Airport)
*
(Welcome to the real world – Security Area @ YZF)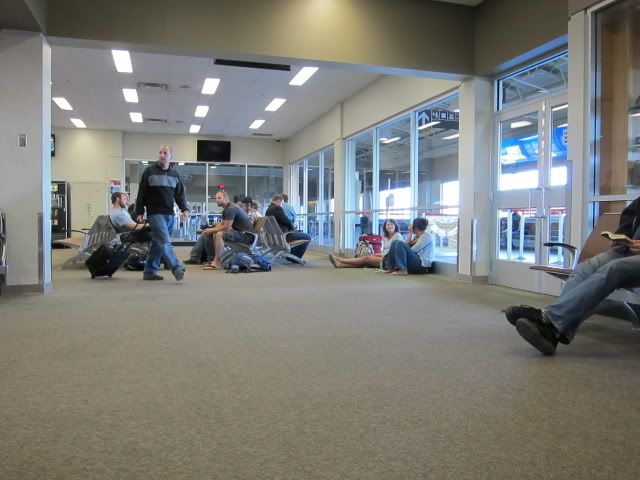 *
(Boarding again)
General Seat Views + Seat Legroom
(Seat)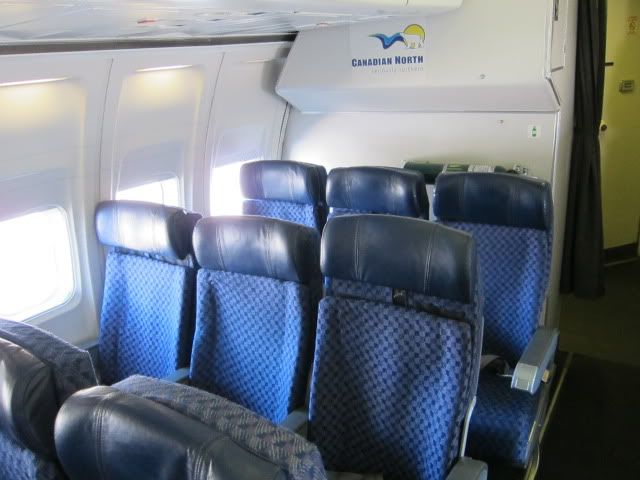 *
(Front of seat)
NONE
*
(Seat controls)
NONE
*
(Around Seat)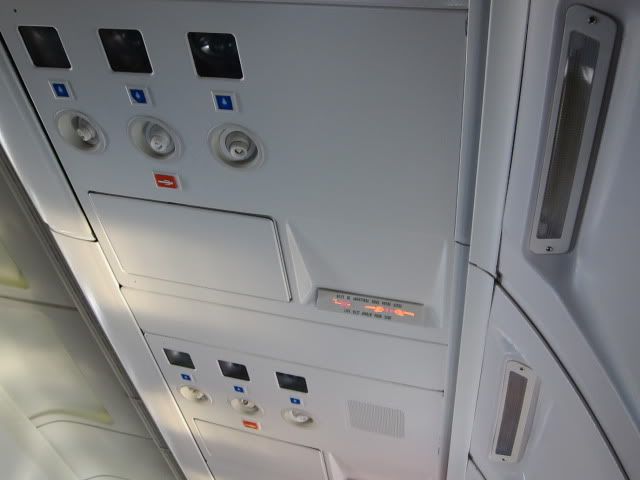 *
(Legroom)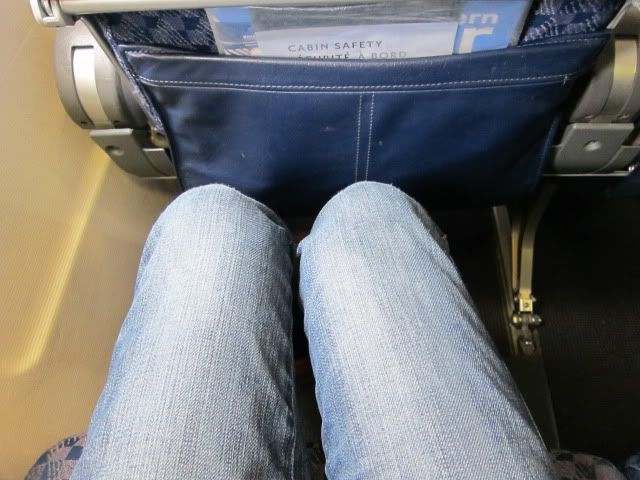 Seat Recline + Angle View:
*
Cabin:
*
*
(Blanket ++)
NONE
(Bathroom)
*
*
c) Meal + Beverage:
Canadian North is probably one of the last handful of airlines in North America that provides full meal service on domestic economy flights. It is indeed sad when such things become a treat, and you're excited to get airline food.
On the first leg to Norman Wells, the flight attendants came with a beverage cart where I had a rather good café. Then, the lead flight attendant (a rather dour lady) came with a tray filled with a chips mix (good) and a nice cookie. Not bad given stage length. On the second leg between Norman Wells and Yellowknife, a warm cookie was served. Now while I appreciated the gesture, the cookie itself was rather hard and I wondered why a warm cookie could be that hard.
The "best" was saved for the last leg when a full meal service commenced. This included another beverage run and a full dinner – there were no choices offered. Today's offering included a small (but, fresh) salad, a very hard roll of bread, the main of beans-chicken-mash potatoes, and a small dessert. The main was not too my liking – the gravy looked like it came from a nasty TV dinners and the mash potato was a tad soggy for my liking. The dessert cake however was pretty good.
Either way, I felt good about the offerings – perhaps more a reflection of the airline industry in these parts of the world.
(Between YEV and YVQ)
*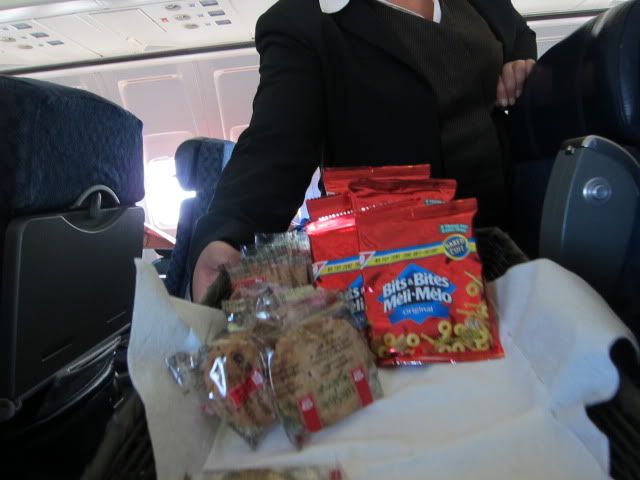 *
*
*
(Between YVQ and YZF)
*
(Between YZF and YEG)
d) Inflight Entertainment:
While there was no audio-visual entertainment on 5T, I was kept entertained by the in-flight magazine which was surprisingly good. 

("In-flight magazines", Boarding Passes, etc.: Not too shabby – loved the postcards in the magazine)
e) Crew:
If the hardware fails, the software can often make a difference on any flight. Sadly, Canadian North's in-flight crew left much to be desired. The three attendants all competed with each other on how to be grumpy. All of them wore a permanent frown and I never saw any of them smile or talk to the passengers – worse, they rarely spoke or talked to each other.
Forget the fact that they did not greet passengers or offer assistance during boarding, these three musketeers just did not want to be there. During several of the services, I would say a thank you or a smile with the hope that it would be reciprocated. No dice. Each time, it was met with an extremely annoyed stare, which gave me the impression that not only did they not care, but that I was a burden. It is rather rare that at every halt, I wished I got a new crew. Finally, at both Norman Wells and Yellowknife, the lead crew member went around smoking in plain view which I found unprofessional.
For whatever needs to be said about Olga (for those unaware of Olga, read here:
IR Aero IRA 1: JUN/11: IKT-HTA-BQS-VVO: Y Cabin
(by
abrelosojos
Feb 5 2012 in Trip Reports)), I always felt that Olga took pride in her job, and in the case of emergency, would fight for me. I wish I could say the same about the 5T crew members.
They just were not a representation of Canadian and Northern Canadian hospitality.
IV> Post-Flight:
Arriving into YEG on time, I was soon out of the secure area and on route to my hotel downtown … which reminds me, why the hell is the bloody airport @ YEG so far from town? Did the airport builders think Edmonton would expand … or that YEG would become a global gateway?
V> Impressions + Scores:
Canadian North provides essential air service to a lot of Northern communities in Canada. Perhaps due to the remote location of these communities, and the lack of real competition, it has let go of some essential service elements. While I did appreciate the in-flight meals, I was left disappointed with the rather uninspired crew who clearly did not want to be there. It left a considerably negative image of the airline. Otherwise, the 732 was always charming, the ground staff adequate, and the IFE (in-flight magazine) average.
Overall, if given a choice of airlines, I would probably go with another carrier. A single thumb down.
VI> Other Trip Reports:
PREMIUM:
9.27: JET AIRWAYS **FIRST** (110): LHR-BOM: 10/2010
9.27: THAI AIRWAYS **FIRST** (108): BKK-LHR: 07/2010
8.66:
Brussels Airlines (93): FIH-BRU: 01/2010
8.64:
Turkish Airlines (59): JFK-IST: 11/2008
8.63:
Jet Airways (88): JFK-BRU: 10/2009
8.61:
Air Canada (49): YYZ-SCL: 06/2008
8.54:
Turkish Airlines (77): GRU-DKR-IST: 04/2009
8.36:
Kingfisher (98): BOM-HKG: 01/2010
8.30:
Jet Airways (74): KWI-BOM: 04/2009
8.23:
United Airlines (72): SFO-SYD: 03/2009
8.11:
Aeroflot (33): MOW-DEL: 09/2007
8.05:
Air India (80): CCU-JFK: 06/2009
8.04:
Korean Air (40): NRT-ICN: 10/2007
8.02:
Delta Airlines (24): JFK-CDG: 08/2007
7.82: UNITED AIRLINES **FIRST** (110): SFO-ICN: 10/2010
7.82:
Singapore Airlines (06): EWR-SIN: 09/2006
7.66:
Sri Lankan (104): DEL-CMB: 07/2010
7.64:
Royal Jordanian (91): AMM-YUL: 12/2009
7.61:
China Southern (103): LOS-DXB: 04/2010
7.57:
Pakistan Airlines (102): ORD-BCN: 06/2010
7.46:
LAN (55): YYZ-JFK: 09/2008
7.38: AMERICAN AIRLINES **FIRST** (112): LHR-JFK: 10/2010
7.38: CATHAY PACIFIC **FIRST** (109): HKG-LHR: 10/2010
7.25:
Iran Air (88): BOM-IKA: 12/2009
7.23:
Air Pacific (120): NAN-APW-HNL: 01/2011
7.23:
Virgin Atlantic (81): BOS-LHR: 07/2009
7.14:
Swiss (52): SCL-GRU: 06/2008
7.11:
Aer Lingus (105): MAD-IAD: 05/2010
7.11:
Austrian (79): VIE-JFK: 06/2009
7.07:
Privatair (84): BOM-FRA: 08/2009
7.02:
Qatar (68): DOH-JFK: 01/2009
6.96:
Etihad (61): JFK-AUH: 12/2008
6.93:
Delta Airlines (18): SEA-JFK: 11/2006
6.88:
Egypt Air (123): LHR-CAI: 03/2011
6.84:
ConViasa (65): CCS-DAM: 01/2009
6.82:
Air Burkina (106): BKO-OUA: 06/2010
6.81:
Air Canada (17): ICN-YYZ: 10/2006
6.75:
Afriqiyah + Libyan (113): CAI-TIP: 11/2010
6.70:
KLM (32): EBB-AMS: 08/2007
6.52:
Emirates (99): LHR-DXB: 02/2010
6.39:
South African (97): EZE-JNB: 01/2010
6.36:
Privatair (60): MUC-BOS: 12/2008
6.29:
TAM Brasil (96): POA-EZE: 02/2010
6.25:
Korean Air (45): NAN-ICN: 10/2007
6.21:
Iberia (87): BOS-MAD: 10/2009
6.11:
A SKY (107): OUA-COO: 06/2010
6.11:
TAP Portugal (53): GRU-OPO: 06/2008
6.00:
Gulf Air (75): BOM-BAH: 04/2009
5.88:
African Express (89): DXB-NBO: 11/2009
5.75:
Singapore Airlines (16): CCU-SIN: 10/2006
5.64:
SATA Azores (101): BOS-PDL: 04/2010
5.64:
NorthWest (46): ICN-NRT-SEA: 10/2007
5.54:
Ethiopian Airlines (95): ADD-BOM: 01/2010
5.46:
Icelandair (83): KEF-BOS: 08/2009
5.39:
LOT (54): WAW-JFK: 06/2008
5.21:
Egypt Air (73): CAI-IST: 02/2009
5.11:
Tunisair (115): TUN-ORY: 12/2010
5.07:
TACA (66): JFK-SAP: 01/2009
4.89:
TAAG Angola (117): TMS-LAD: 12/2010
4.42:
Air France: CDG-JNB (25): 08/2007
ECONOMY: Long + Medium:
9.26:
Air India (48): JFK-DEL: 02/2008
7.38:
Avianca (01): BOG-LIM: 07/2006
7.07:
Sri Lankan (62): KWI-CMB: 12/2008
7.00:
LAN (94): IPC-SCL: 01/2010
6.81:
STP Airways/Euro Atlantic (116): LIS-TMS: 12/2010
6.67:
Air Malta (124): MLA-FRA: 04/2011
6.63:
Vladavia (126): KHV-PEK: 06/2011
6.41:
Air North (127): YEV-YEG: 06/2011
6.41:
Avianca (78): JFK-BOG: 05/2009
6.41:
American Airlines (58): LHR-BOS: 11/2008
6.39:
Condor (85): SEZ-FRA: 09/2009
6.26:
Jet Blue (21): CUN-JFK: 02/2007
6.11:
Caribbean Airlines (119): POS-FLL: 01/2011
6.06:
Air Canada (04): YYZ-YVR: 09/2006
5.89:
USA 3000 (19): PUJ-BDL: 01/2007
5.85:
Spanair (69): MAD-LPA: 02/2009
5.80: Canadian North (128): 06/2011
5.79:
Air New Zealand (42): RAR-NAN: 10/2007
5.52:
Aerolineas (86): USH-AEP: 10/2009
5.46:
TAP Air Portugal (23): OSL-LIS: 05/2007
5.19:
Air Europa (70): LPA-MAD: 02/2009
5.16:
Iberia (71): MAD-BOS: 02/2009
5.11:
Air China (82): FRA-PEK: 08/2009
4.59:
IR Aero (125): IKT-VVO: 06/2011
ECONOMY: Short
8.56:
Paramount Airways (38): BLR-MAA: 09/2007
8.56:
Kingfisher (64): HYD-CCU: 12/2008
8.24:
Kingfisher (14): IXA-GAU: 10/2006
7.87:
Indian (34): BOM-MAA: 09/2007
7.72:
Alliance Air (13): CCU-IXA: 10/2006
7.57:
Indian Airlines (10): DEL-CCU: 09/2006
7.23:
West Jet (03): YYC-YVR: 09/2006
7.15:
JetLite (37): BOM-GOI: 09/2007
6.98:
Air Koryo (100): PEK-FNJ: 04/2010
6.70:
Spice Jet (09): CCU-DEL: 09/2006
6.63:
Air Fiji (44): NAN-SUV: 10/2007
6.63:
Jazeera (67): DAM-KWI: 01/2009
6.58:
Air Tran (02): EWR-MDW: 08/2006
6.48:
Air India Express (63): CMB-MAA: 12/2008
6.44:
CO Micronesia (39): ROR-YAP: 10/2007
6.41:
Pacific Sun (43): NAN-SUV: 10/2007
6.37:
Skybus (47): SWF-CMH: 02/2008
6.33:
Kenya Airways (29): NBO-BJM: 08/2007
6.33:
Sky Europe (56): LTN-BTS: 10/2008
6.31:
Indigo (15): GAU-CCU: 10/2006
6.31:
easyJet (57): BUD-LTN: 11/2008
6.22:
Air Link Swazi (28): MTS-JNB: 08/2007
6.22:
Air India (36): HYD-BOM: 09/2007
6.13:
Adam Air (07): SIN-CGK: 09/2006
6.13:
Air Rarotonga (41): RAR-AIT: 10/2007
6.04:
Suriname Airways (118): PBM-POS: 01/2011
6.00:
Transairways (27): INH-MPM: 08/2007
5.95:
Air Canada (05): ALB-YYZ: 09/2006
5.85:
SAS Norge (22): OSL-AES: 05/2007
5.81:
LAM Mozambique (26): JNB-MPM: 08/2007
5.69:
Air Deccan (12): IXZ-CCU: 10/2006
5.67:
Rwanda Air Exp (30): KGL-NBO: 08/2007
5.52:
Sevenair (114): TOE-TUN: 11/2010
5.37:
Felix Airways (92): SCT-SAH: 12/2009
5.11:
Aero Republica (76): BOG-CCS: 04/2009
5.07:
Go Air (35): MAA-HYD: 09/2007
5.04:
Biman (121): DAC-CGP: 01/2011
5.00:
Sky Airline (51): IQQ-SCL: 06/2008
4.96:
United Bangla (122): CGP-DAC: 01/2011
4.96:
Valuair (08): CGK-SIN: 09/2006
4.78:
Air Comet Chile (50): SCL-IQQ: 06/2008
4.74:
Fly 540 (31): MYD-LAU: 08/2007
4.33:
Viva Aerobus (20): ELP-MTY: 02/2007
4.11:
Air Sahara (11): CCU-BOM: 09/2006
(Note on Codes: Y – Economy, J – Business, F – First :: I/D – International/Domestic :: SR/MR/LR – Short/Medium/Long Haul)
(Note on Date: Dates are modified to be +/- 3 days from actual flight date to not reveal actual flight pattern)
VII> Other Pictures:
(Inuvik and surrounding areas)
*
(Hmm …)
*
(Houses are apparently painted in bright colors to prevent depression)
*
(Dempster Highway)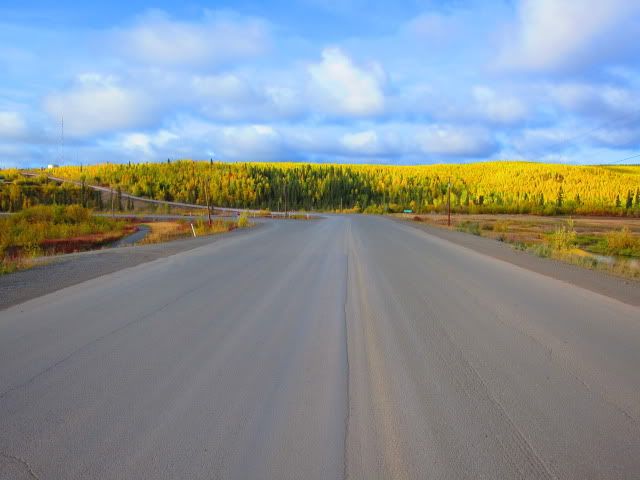 *
*