Part 1: U2 LTN-BCN, SQ BCN-SIN 77W Business
Welcome to the first part of my spring trip to Asia! I'll try and keep the prologue succinct, as I know I have a tendency to ramble. A good friend of mine moved out to Indonesia in early March to teach English. Having found it had to adjust to the life back in England after my jolly in Africa, I thought I might as well bite the bullet and book some tickets to see him sooner rather than later.
I still had some miles left with BD, so it made sense to use them. Checking out the forums on Flyertalk, I realised that I could get a lot more for my miles if I booked a trip to Zone 7 (Indian subcontinent) rather than Zone 10 (Thailand/Singapore/Indonesia). The trick here is to choose a destination in Zone 7 only served from Zone 10 so you get a free stopover in Zone 10. Clever, huh? I knew from the forums that KTM (Kathmandu in Nepal) worked, but for some reason I wanted to go to Bangladesh. With Dhaka decided on I called BD only to find that Bangladesh is actually in Zone 10 (doh, misread the miles chart AGAIN). I then decided on Sri Lanka for convenient transit location, only to find that that was also Zone 10…why are these two countries in SE Asia rather than the Subcontinent zone? MLE is in the Indian zone (correctly), along with SEZ, which I think should be in the East Africa zone. Strange.
I was left with little option but to go via India (something I wanted to avoid as I didn't want the hassle of a visa). With that decided I booked BCN-SIN-CCU (Kolkata, aka Calcutta). Why fly out of BCN? Well as it's in Zone 2 rather than Z1 (UK/France/Germany basically) it was cheaper for miles, and more importantly saved me over GBP 150 in UK departure tax. The hop down to BCN would be solved with easyJet and my nectar points. The total BCN-SIN-CCU with SQ in Business class cost? 15,000 miles + GBP 326 (cash and tax).
My connection to Indonesia would be courtesy of Jetstar Asia (and their subsidiary Valuair) over to Medan in Sumatra.
I'll fill you in on the other flights later, but basically my booked flights currently stand as:
Valuair (Jetstar Asia) Singapore-Medan (SIN-MES)
Garuda Indonesia Medan-Banda Aceh (MES-BTJ)
Sriwajaya Air Banda Aceh-Medan-Jakarta (BTJ-MES-CGK)
Lion Air Jakarta-Singapore (CGK-SIN)
Singapore Airlines Singapore-Calcutta (SIN-CCU)
JetLite Bagradora-Calcutta (IXB-CCU)
Biman Bangladesh Calcutta-Dhaka (CCU-DAC)
Biman Bangladesh Dhaka-Kathmandu (DAC-KTM)
Thai Airways Kathmandu-Bangkok (KTM-BKK)
Thai Airways Bangkok-Frankfurt (BKK-FRA)
Lufthansa Frankfurt-Dusseldorf (FRA-DUS)
Sun-Air (British Airways) Dusseldorf-Billund (DUS-BLL)
Sun-Air (British Airways) Billund-Manchester (BLL-MAN)
British Airways Manchester-London Heathrow (MAN-LHR)
I'm hoping to add a few domestic flights in Nepal and Bangladesh onto the list.
The entire map:
This report's map:
You may recall during my Greek Tragedy my camera charger broke? I decided that instead of replacing the charger, I'd take the opportunity to upgrade my camera instead. As I'm not good with manuals, and the camera has a lot of knobs and dials, I'm still getting to grips with using it. Hopefully this report will have some slightly better photos than my previous ones. As it's much larger than the camera I'm used to, I've not always managed the shot I want as it's too fiddly/cumbersome to be able to just whip out/snap away with discreetly. As such, I used my camera phone as well.
With an early start, I took the horribly overpriced First Capital Connect service to Luton Airport Parkway, then the expensive onward bus to the airport. Check in was almost deserted, and I was checked in without delay. My bag was 2kg over the 20kg limit. I moved a few books into my hand bag (no weight limit for hand luggage), and I was good to go.
It was a foggy morning in LTN – the previous day a lot of flights out of London were cancelled.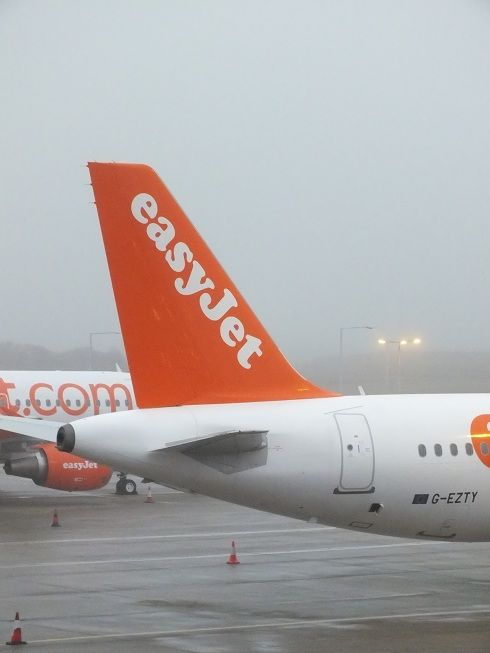 There wasn't much queue for security, although it wasn't very fast as there were a LOT of muppets flying today who were in no rush whatsoever. They had time to stop and have a laugh and a chat with their friends about being stopped, and told to take off their belts and shoes… AND they were dressed like business people so one would assume they knew the ropes. Grrrr.
FIDS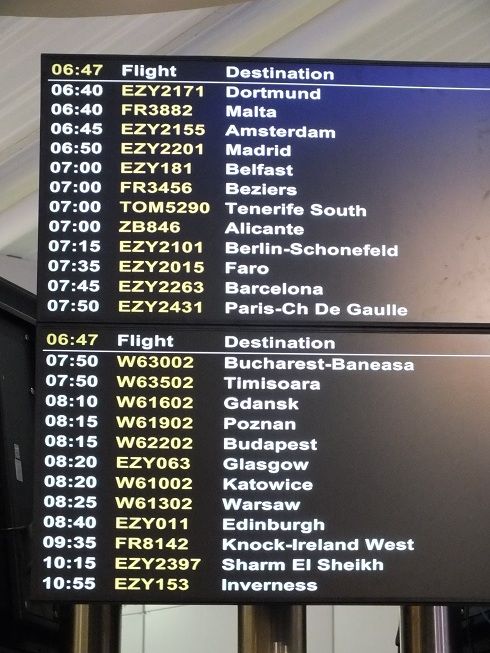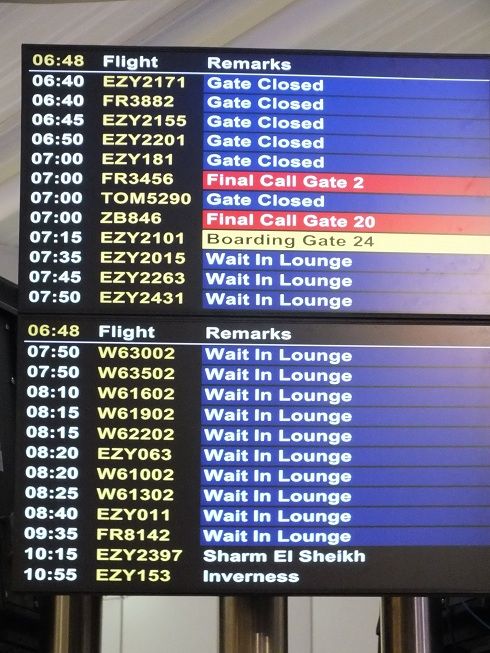 Terminal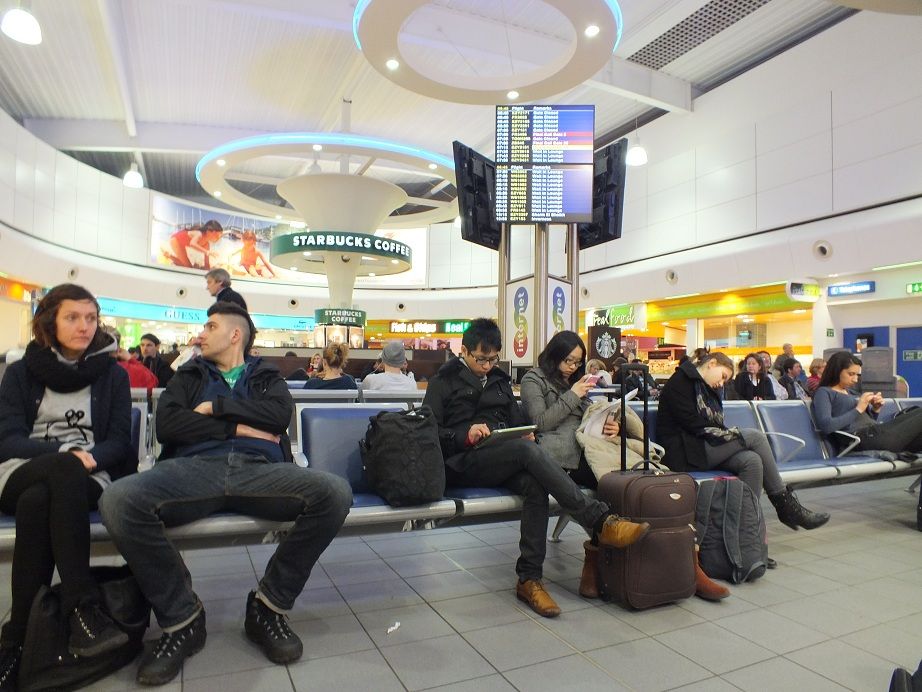 I was standing in a good location when the gate was announced so was one of the first into the holding pen.
G-EZAI
March 2012
London Luton (LTN) – Barcelona (BCN)
easyJet U2 2263
Scheduled: 0750-1045 (1h55m)
Actual: 0751-1036 (1h45m)
Airbus A319 G-EZAI
Economy
The flight was fairly full, but I managed to get an emergency row window seat, with the middle left open. Wet and foggy morning.
But sunny up above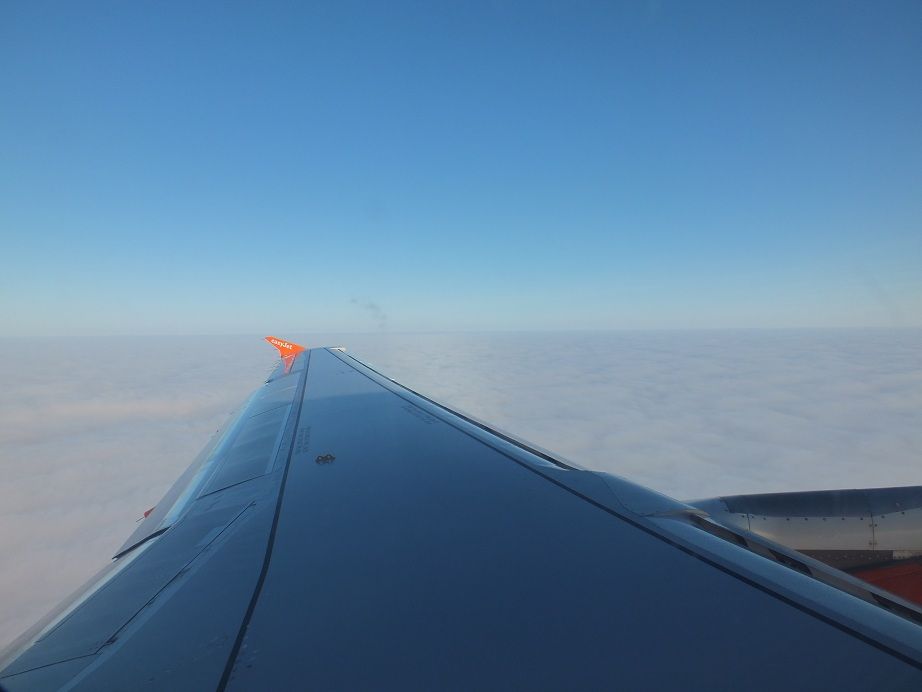 Cabin
Legroom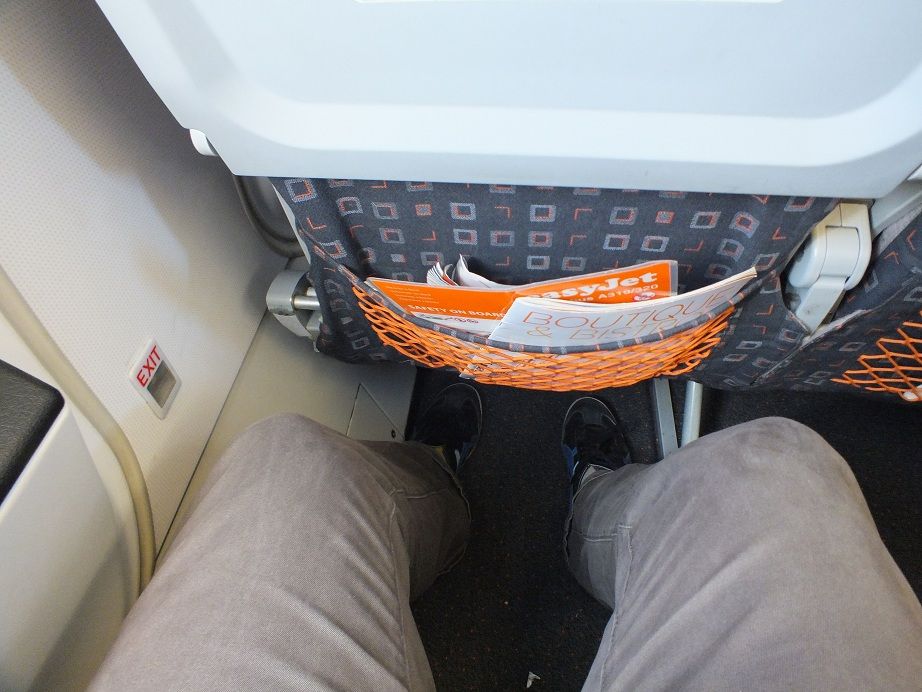 Airport article in the easyJet magazine
I managed to snooze most of the way down. I woke up just as we passed over some spectacular mountains, which seemed very close to the plane.
Despite the late departure, we touched down easy into Barcelona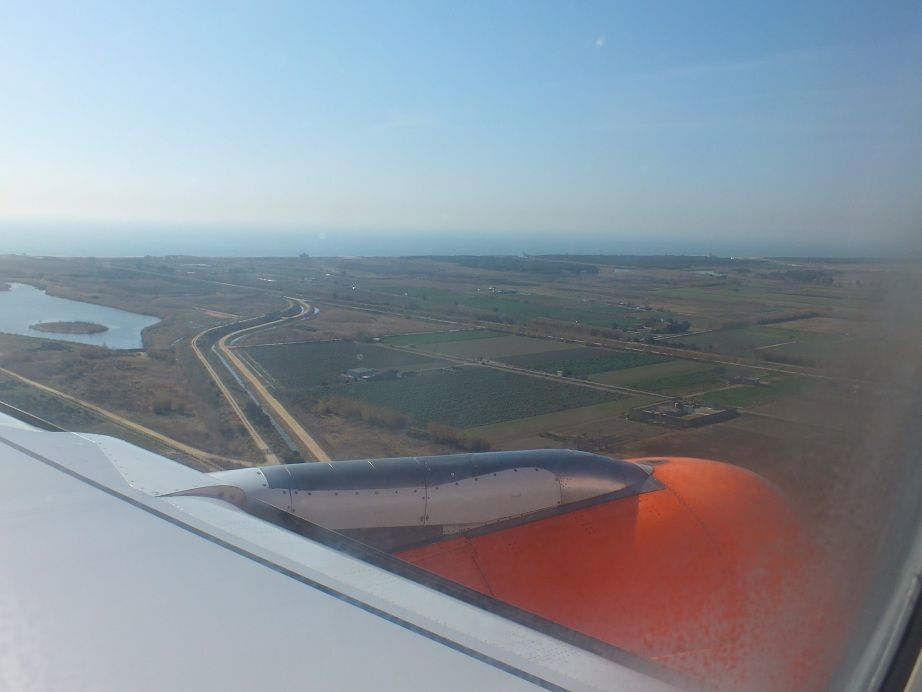 QR A330 lifting off
EasyJet uses the older and nearly empty Terminal 2, originally built for the 1992 Olympics. I only saw 3 planes on stand….not sure they needed the extra terminal to be honest, as nice as it is.
Despite the plethora of empty gates, we were given a bus stand
Bags came out pretty quickly. With my bag in hand, I got a map from the information office, then the free bus over to Terminal 1. Once inside I headed for the very furthest corner, which hosts the left luggage office. With my bag stored, I caught the bus into town.
Outside Terminal 2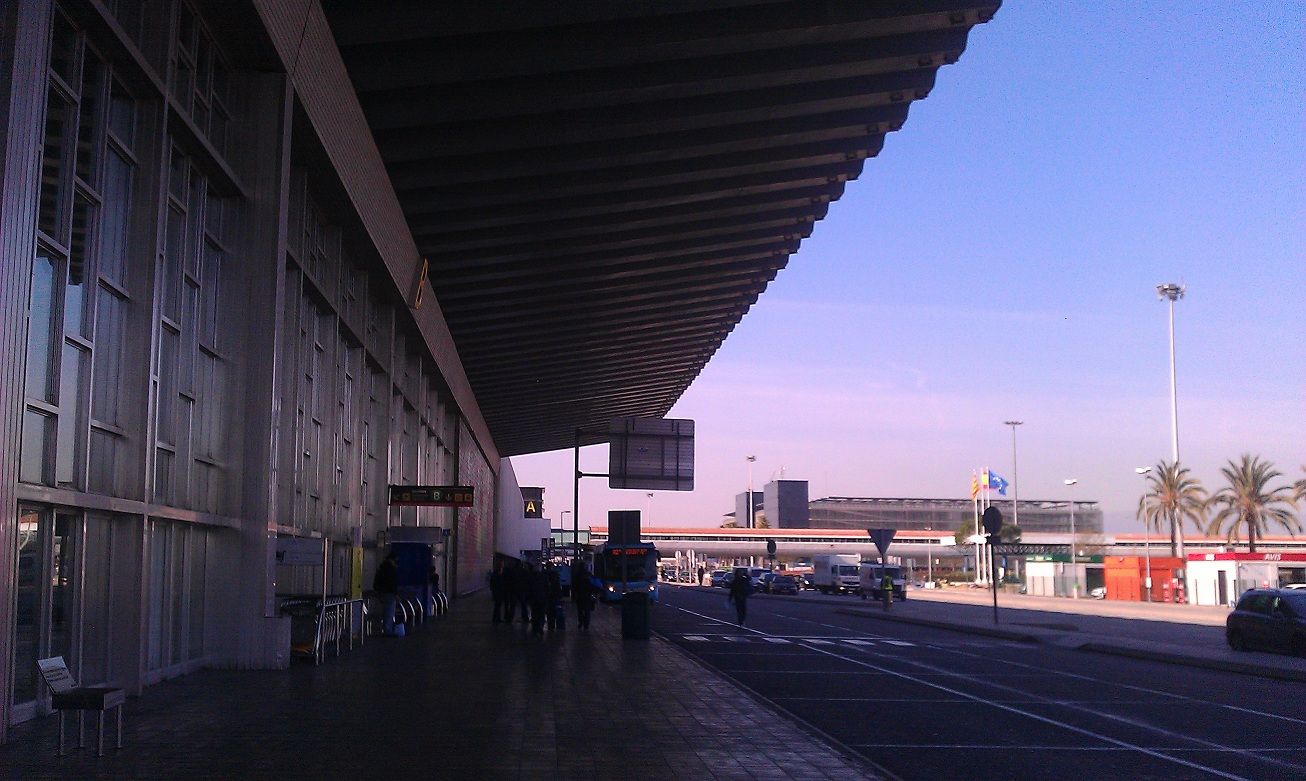 Such a cliché, I know. First stop was La Rambla
Fabulous market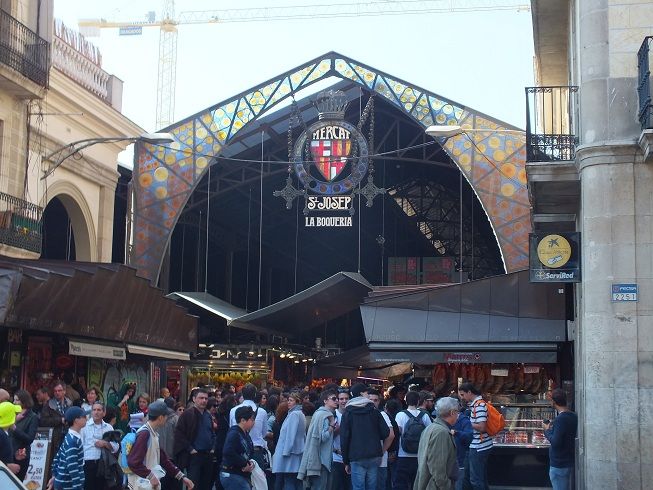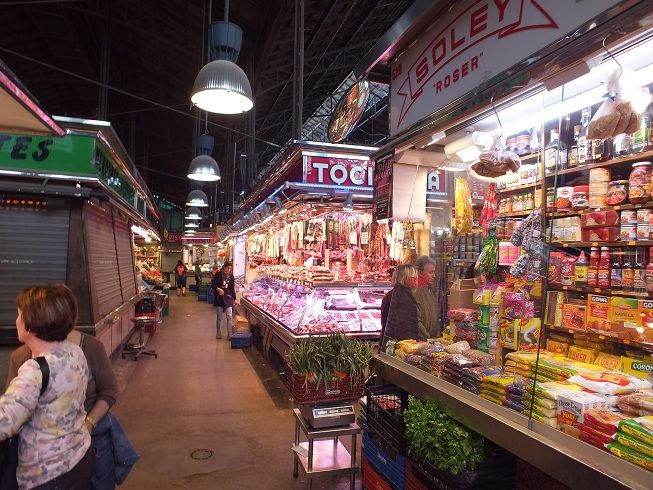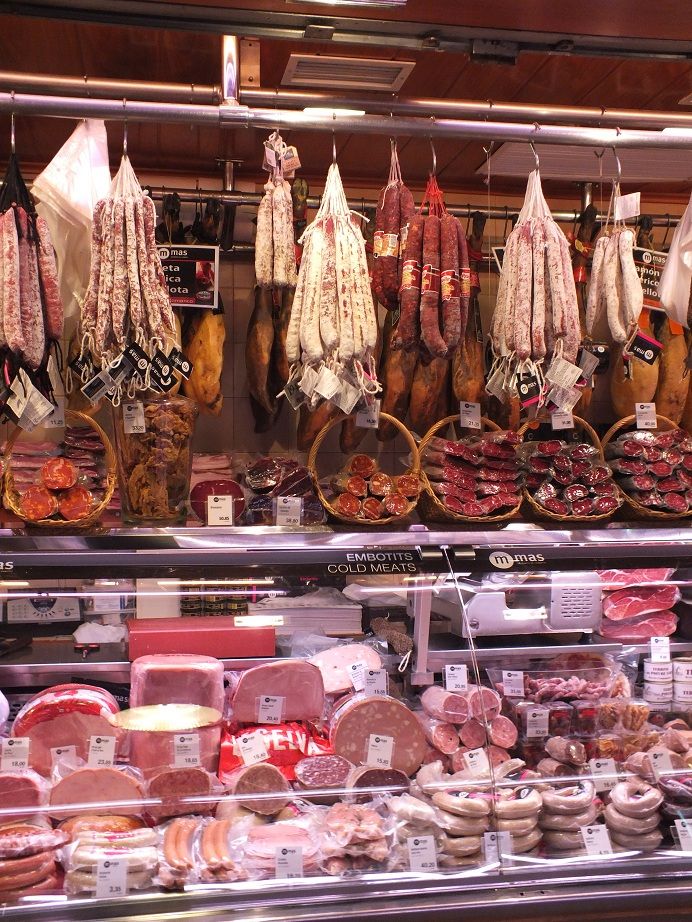 Very tasty muffin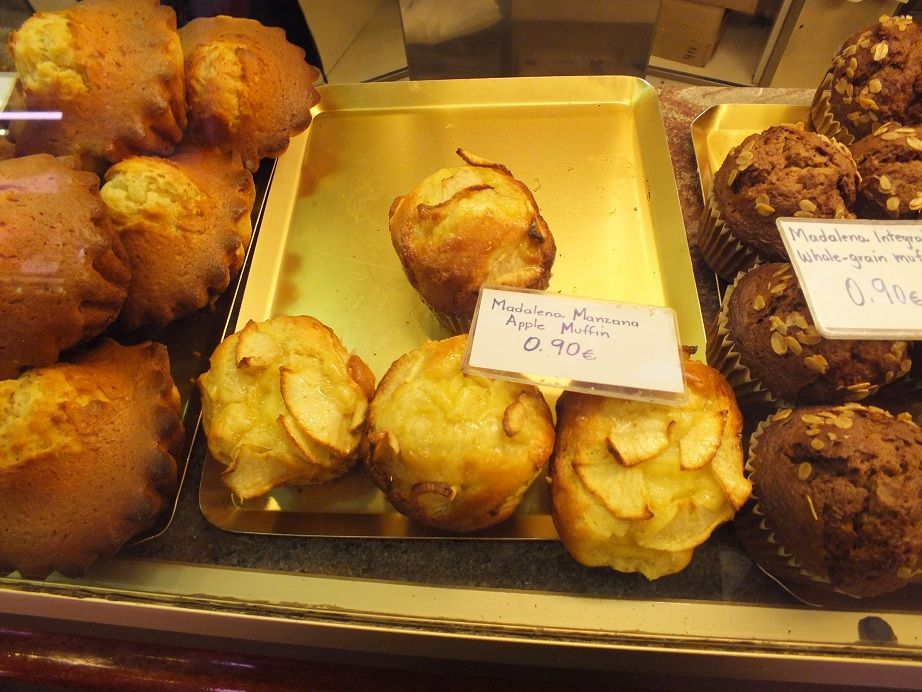 Lunch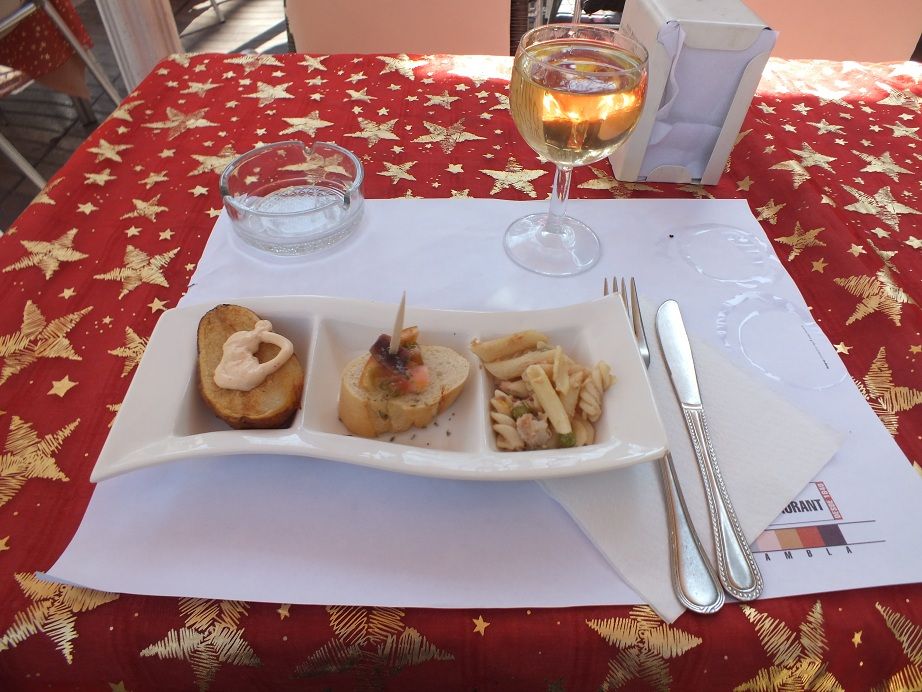 Some arty city shots en route of La Sagrada Familia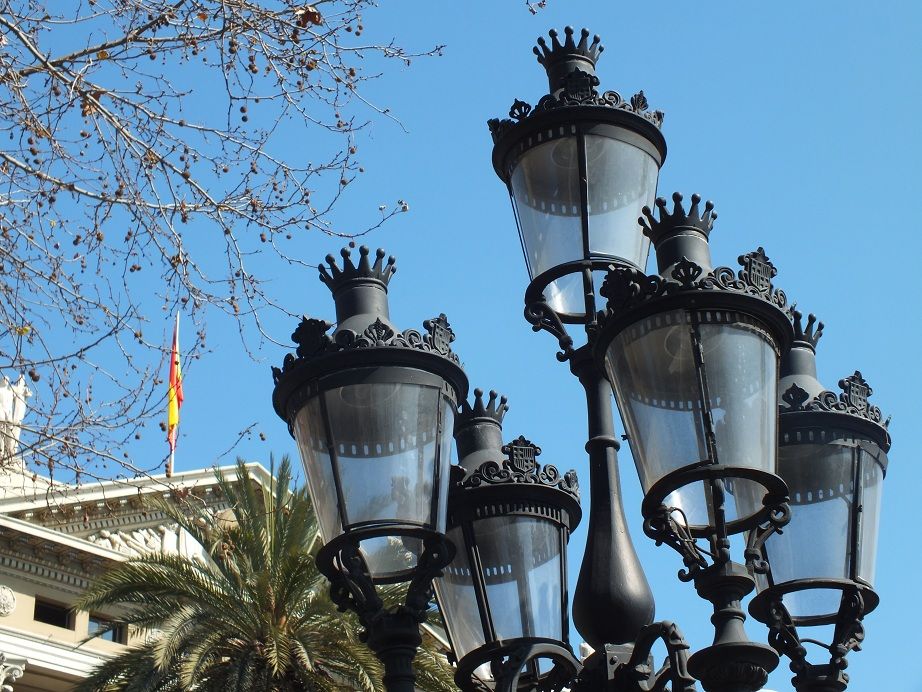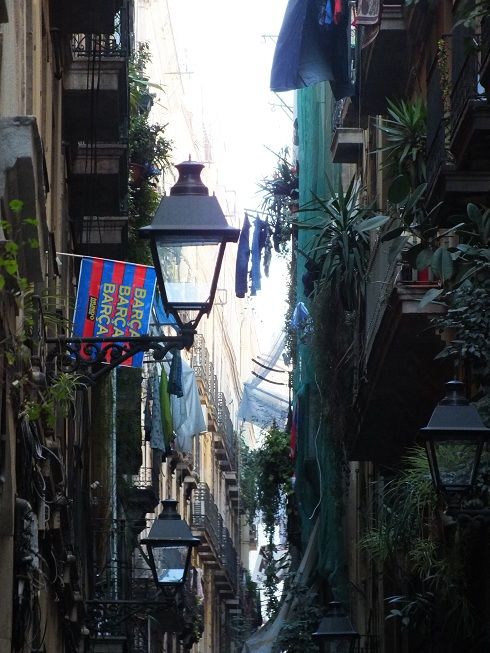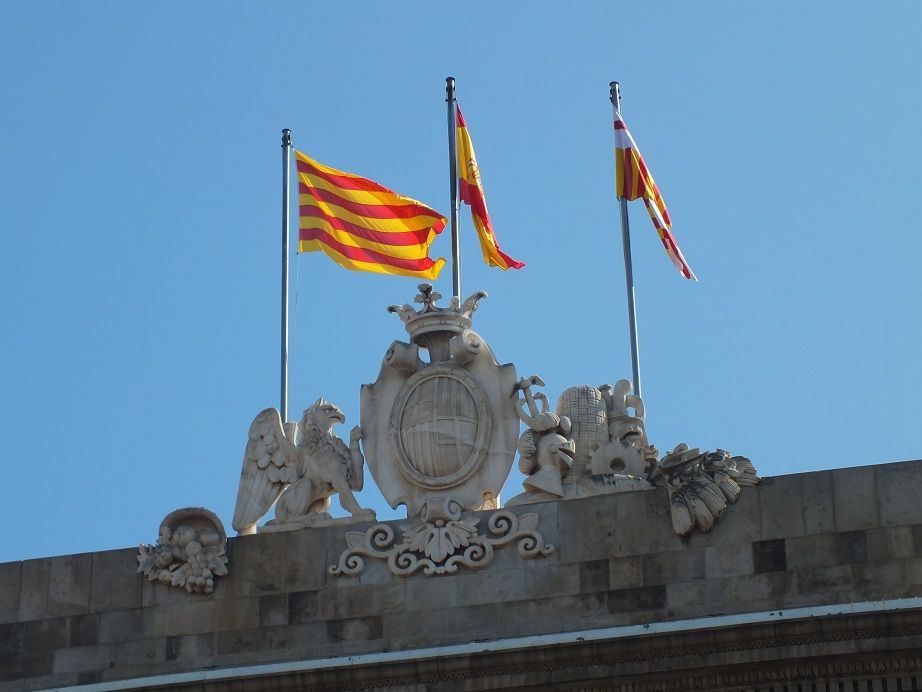 La Sagrada Familia – very beautiful, and still unfinished. I last here in 1992 and I remember being much more in awe back then….children are easy to please. Maybe I was just tired, but it wasn't so jaw dropping in 2012.
I got a poorly timed train back to the airport. Unfortunately the station is at Terminal 2, so I had to stake the shuttle over to T1. The station was woefully inadequate for it's rather obvious and simple objective. Way too many people in too small a space.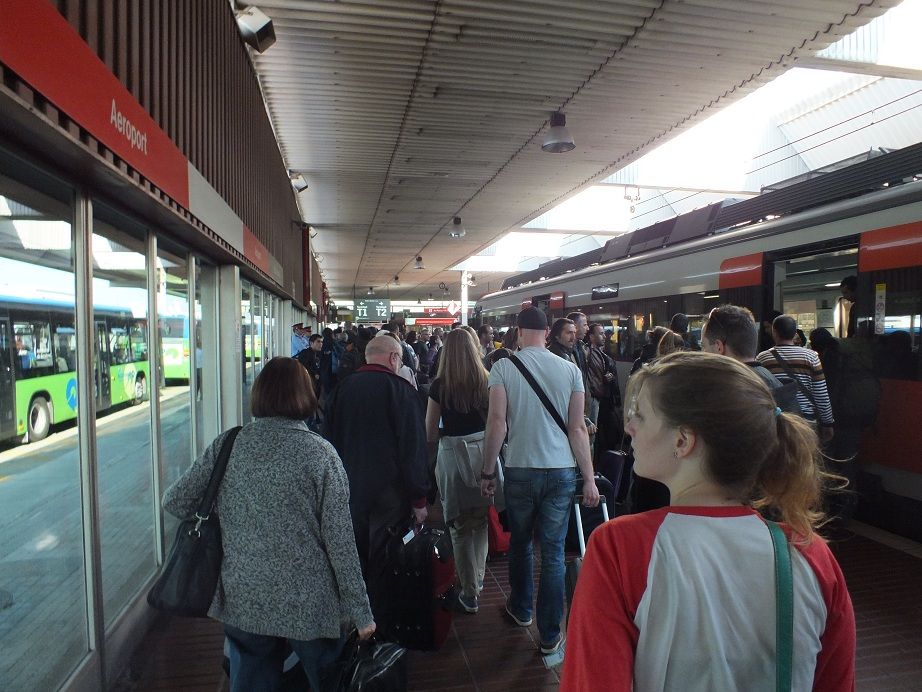 After another long walk down to the bowels of the airport to collect my bag, I resurfaced next to the SQ check in desks. There was no queue for Business class, and my bag was tagged. I asked if they could check it through to Medan, but this was understandably not possible. I had reserved a seat in the second cabin of the plane as there were no window seats left in the more exclusive 2 row cabin behind First. I asked if there were any spare seats in there, and luckily one had freed up. I guess it was probably only available to prebook for Golds.
There was only a short queue for security (no priority queues were apparent), and no queue for immigration. The view from the non-Schengen walkway into the Schengen zone.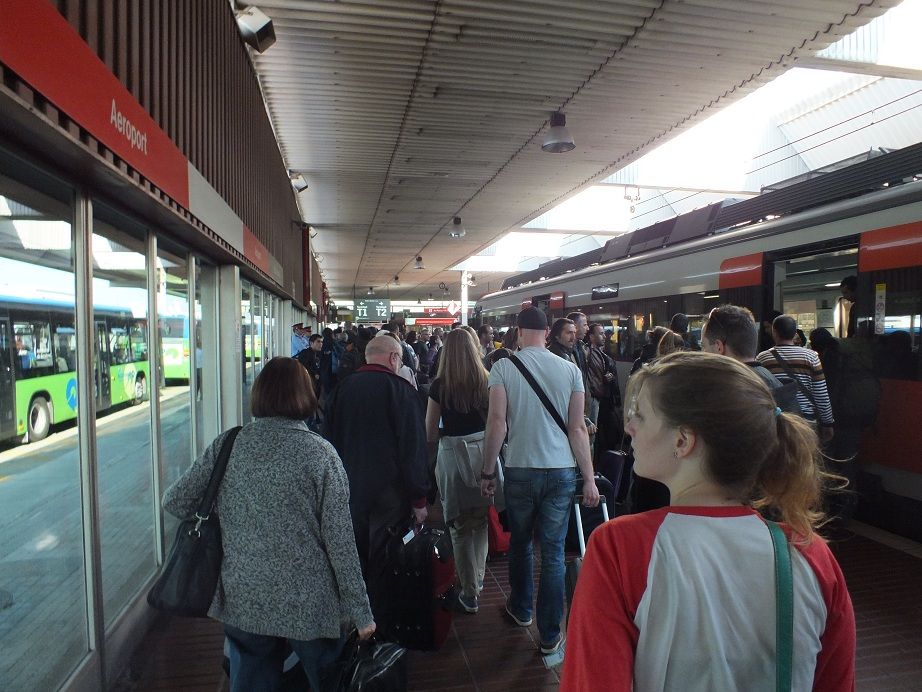 Ooh, some Singapore Girls.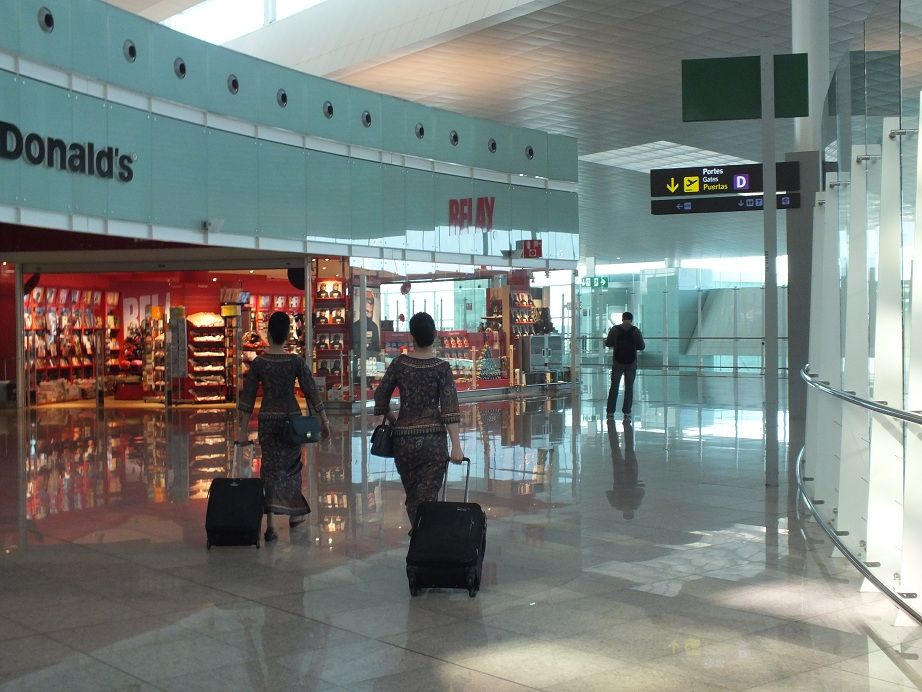 There wasn't much to see in the departures level, so I went down a level to the Miro Lounge.
The lounge was pretty nice – nothing was obviously missing, although I believe you had to pay for showers.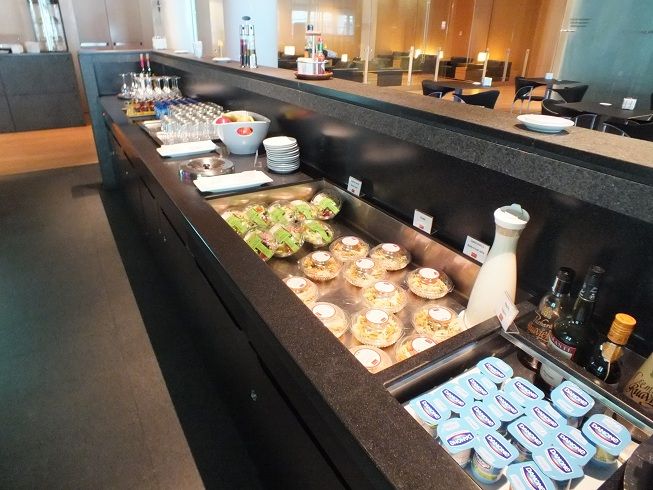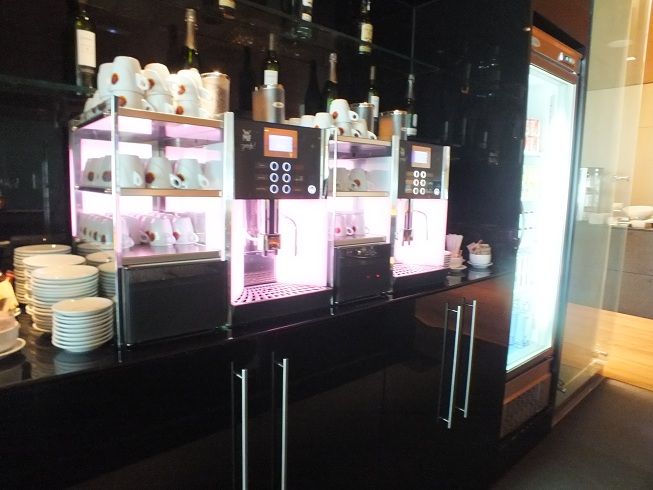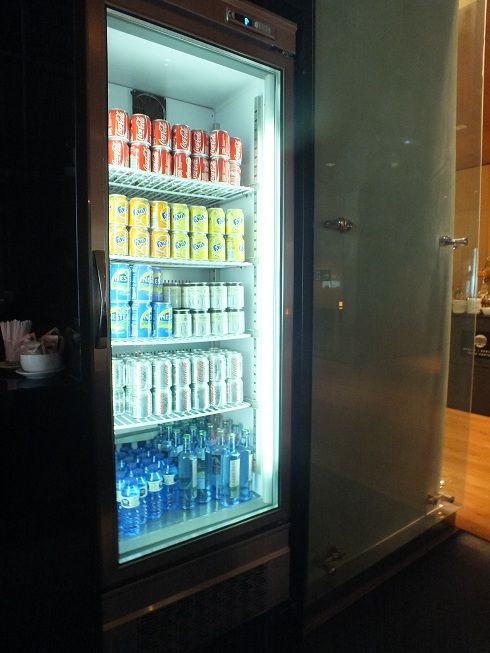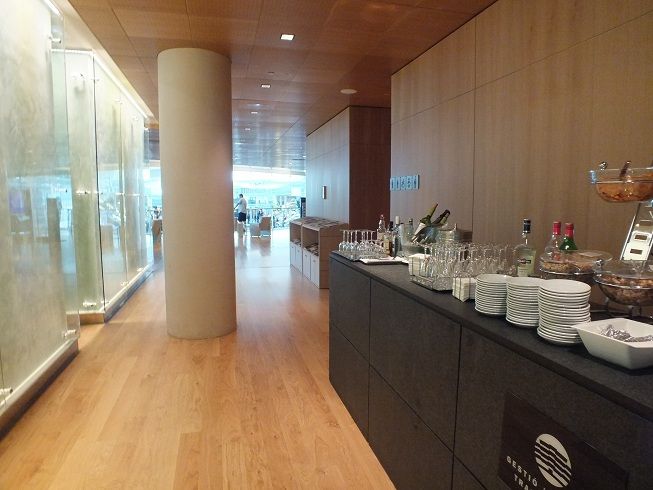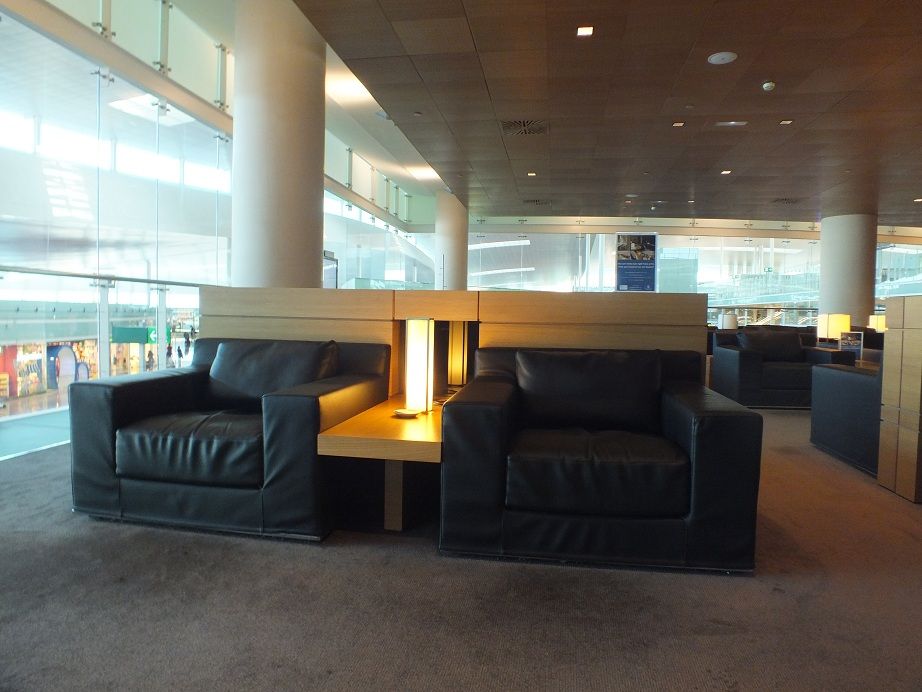 I wasn't in the mood for much. I had a few bottles of water (I was quite dehydrated after all the walking around the city), a small sandwich, and later a vodka and tonic (just for tasting purposes – it tasted nice).
Airport map
There weren't many other flights leaving, so the terminal was quite empty.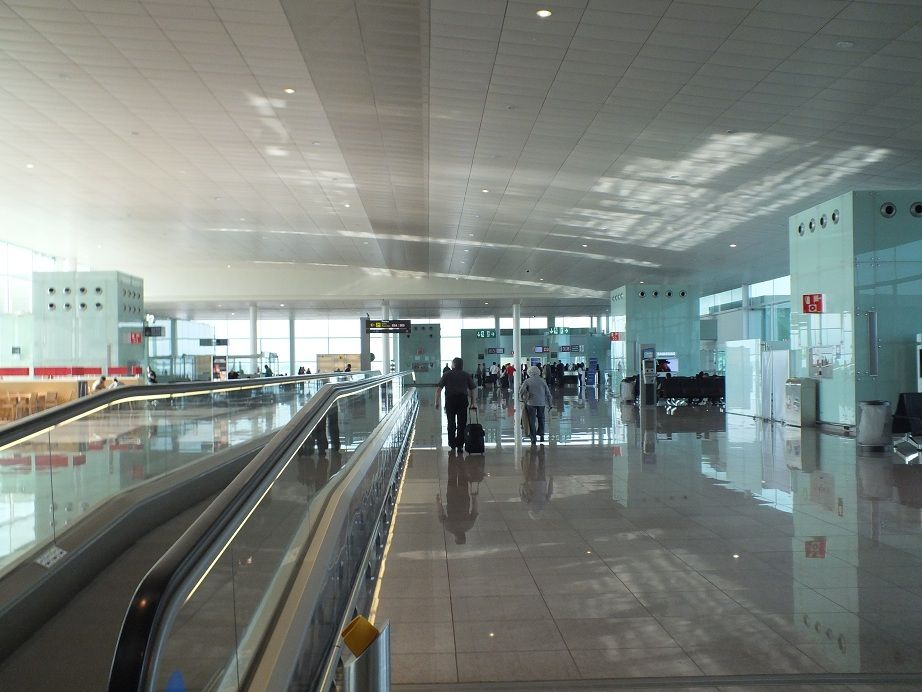 A few Vuelings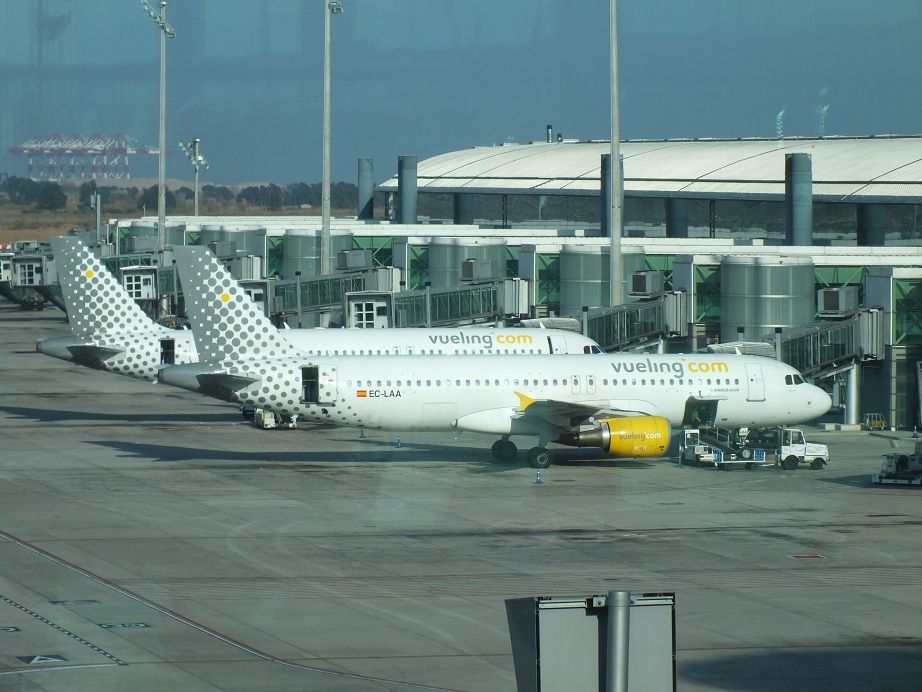 Lovely vantage point of -WD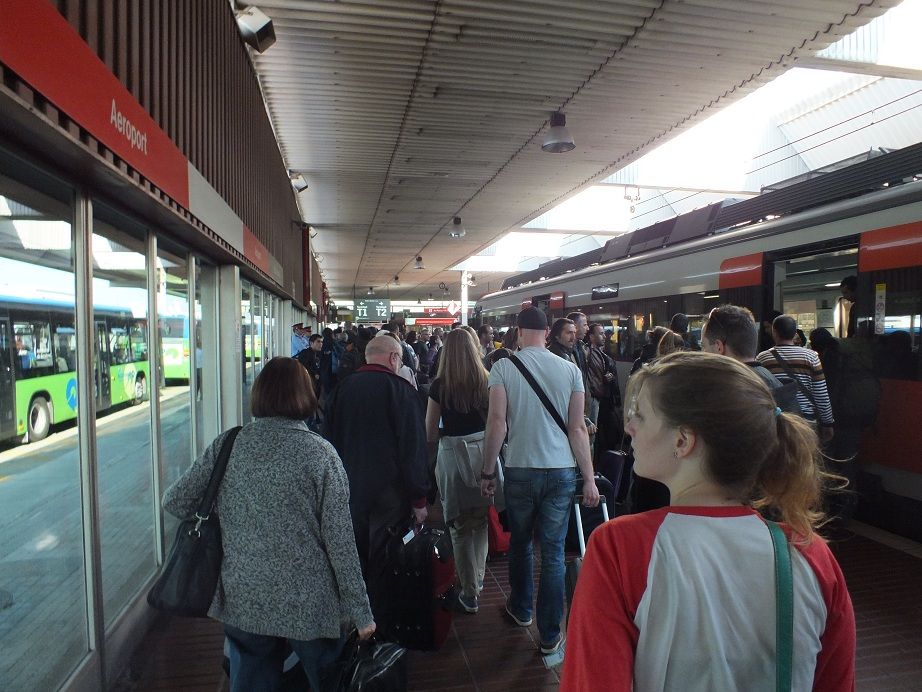 March 2012
Barcelona (BCN) – Singapore (SIN)
Singapore Airlines SQ 67
Scheduled: 1730-1310 (12h40m)
Actual: 1743-1237 (11h54m)
Boeing 777-300ER PV-SWD
Business
**A bit of trivia about this sector. BCN-SIN in SQ's longest nonstop flight to Europe, beating LHR-SIN by XX miles**
There was a short queue for economy, but none for Business. My boarding pass was ripped, and I was sent on my way. One thing apparent even before getting on the plane was the number of staff. There were people in uniform everywhere. At the entrance door (1L), I was greeted by the Leading Steward and shown just three rows down to my seat, 11A. walking through First class, I didn't think that the seats loked very different to those Swiss have in F. The big difference is in business though. How's this for C class?! I think this seat definitely beats everyone else's C class hands down, and probably quite a few F seats.
Bulkhead seats are quite a bit more spacious than regular ones. The bed/seat are the same, but the TV monitor is about 30cm closer to you (about where the aisle partition is). The seat is incredibly wide. Unless you hae incredibly long arms, you can't rest both arms on the arm rest simultaneously, which is why they given you a little leather cushion, as well as a pillow.
With the bulkhead seats you can also use the side leg rest at a little seat!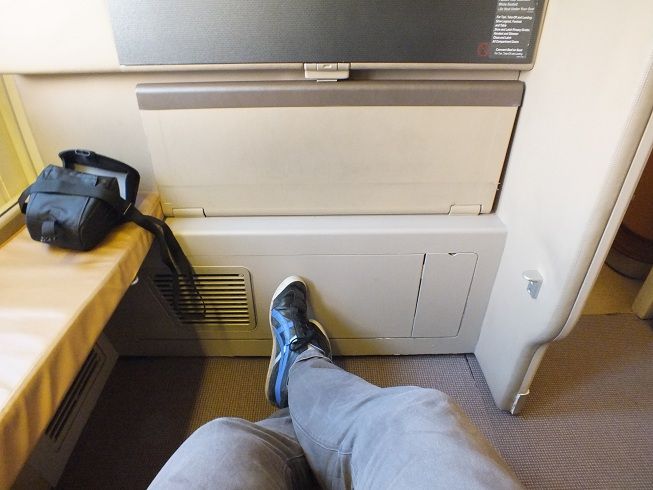 My view sideways. Luckily the middle seats weren't used, so the seat felt very private.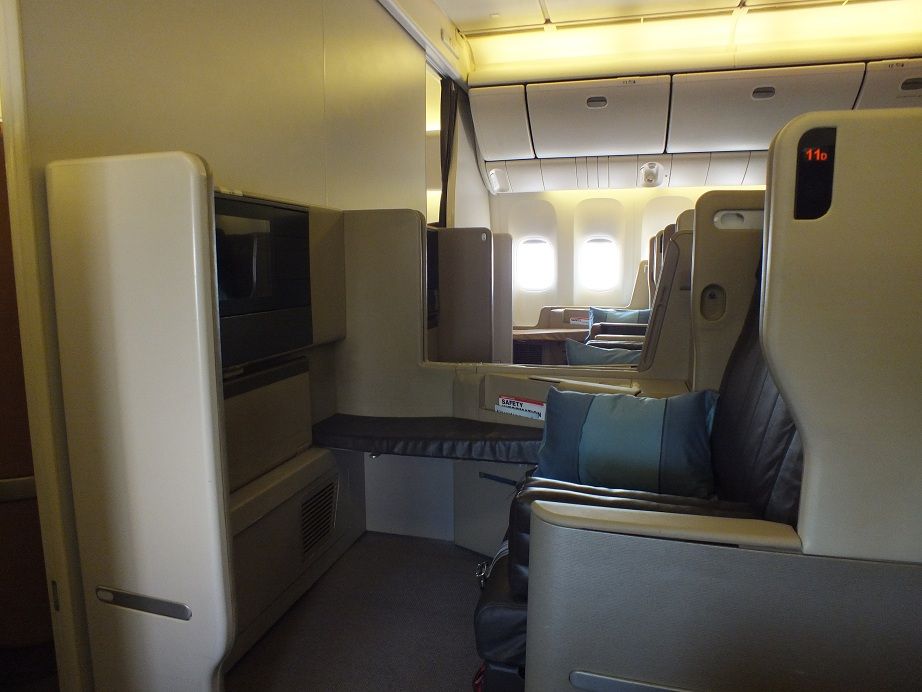 One negative of the bulkhead is that you lose a little bit of storage space (to the side of the seat), and the pull down glass tray/mirror is too far away to be of use.
Power
A view into F. Notice the fluffy carpet stops at the "border". I suppose they need to differentiate the products somehow. Comparing the first 4 rows of the plane, the seats look scarily similar (much like on Egyptair!).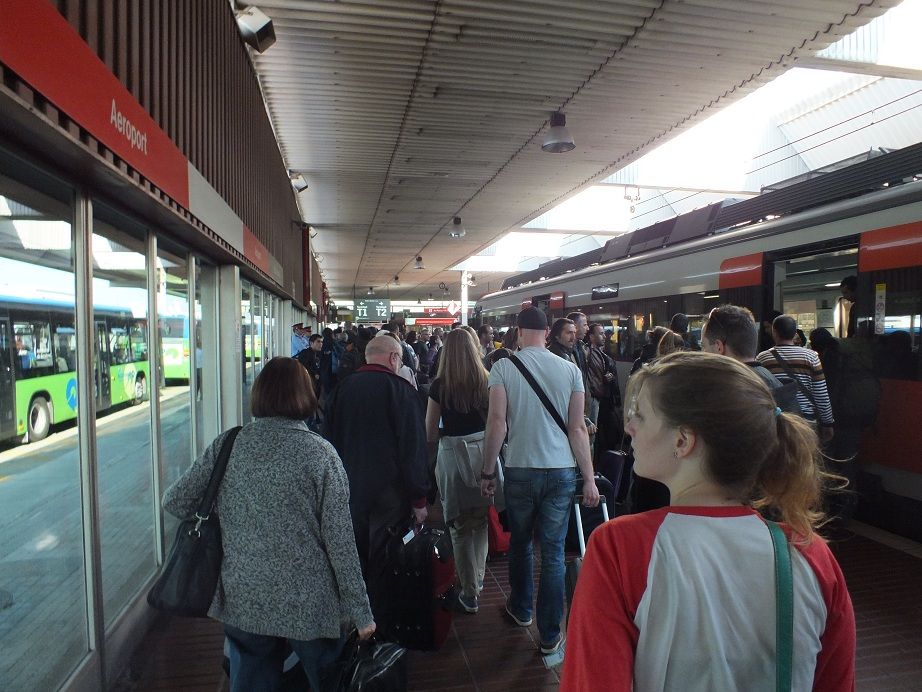 There was a short documentary on how to change the seat into a bed. There wasn't a printed seat guide.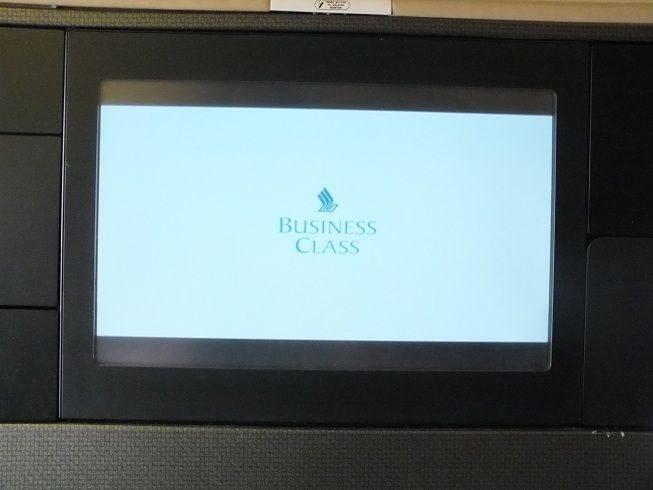 Moving map – 12 hours today down to Singapore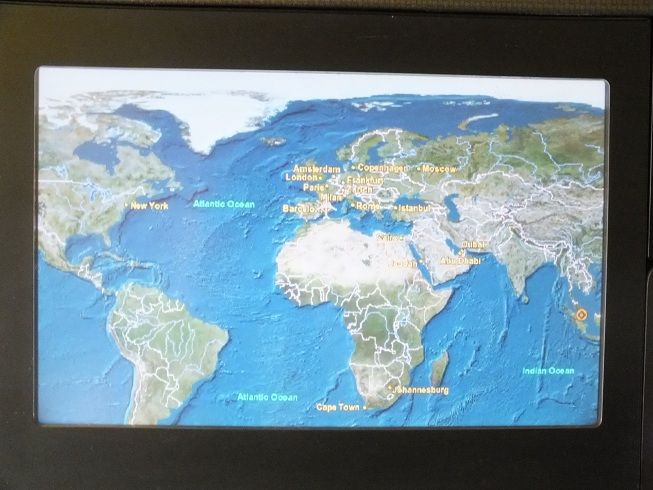 Today's menu. It was the thickest menu I've ever had on a plane. It had all the food for SQ 67's journey…GRU-BCN-SIN in English, Spanish and Portuguese. SQ 67 runs 3 times a week with a nice afternoon departure from BCN. SQ 377 runs 4 times a week from BCN, stopping in MXP on the way. Times for this aren't so great with a morning start, and a 7am arrival into SIN (nightmare for jetlag). It's funny how a few years ago SQ flew B744s to MAD, and nothing to BCN. Now they don't serve MAD and have 7 flights a week from BCN, with 3 a week to GRU. Way to go BCN!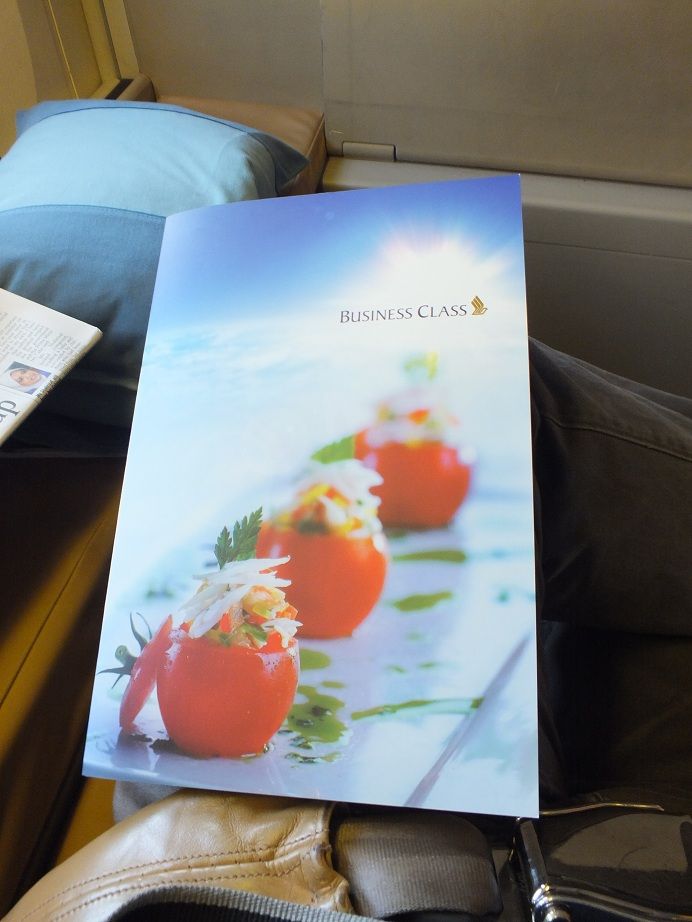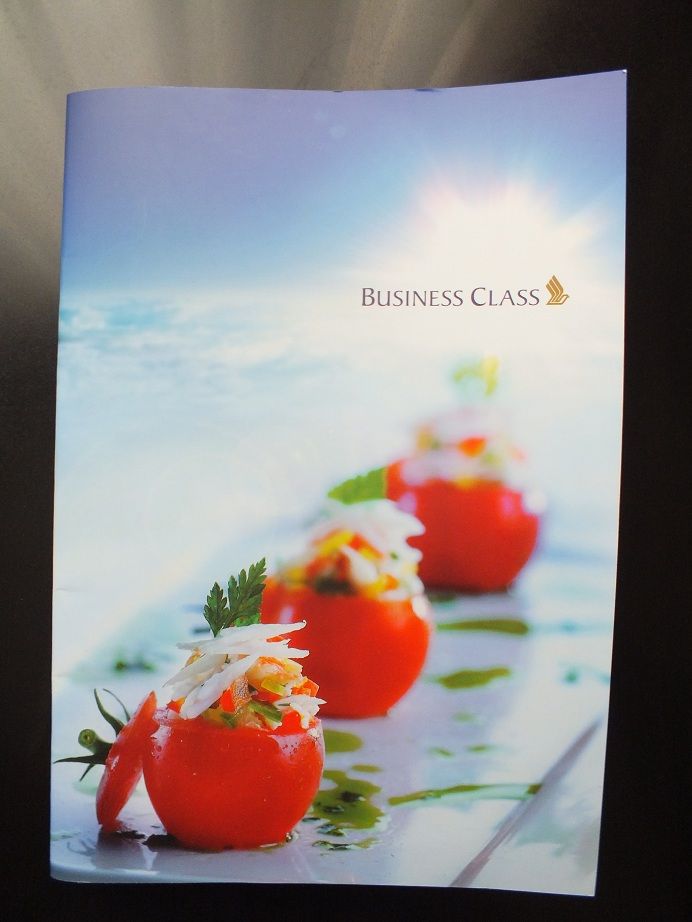 The GRU-BCN menu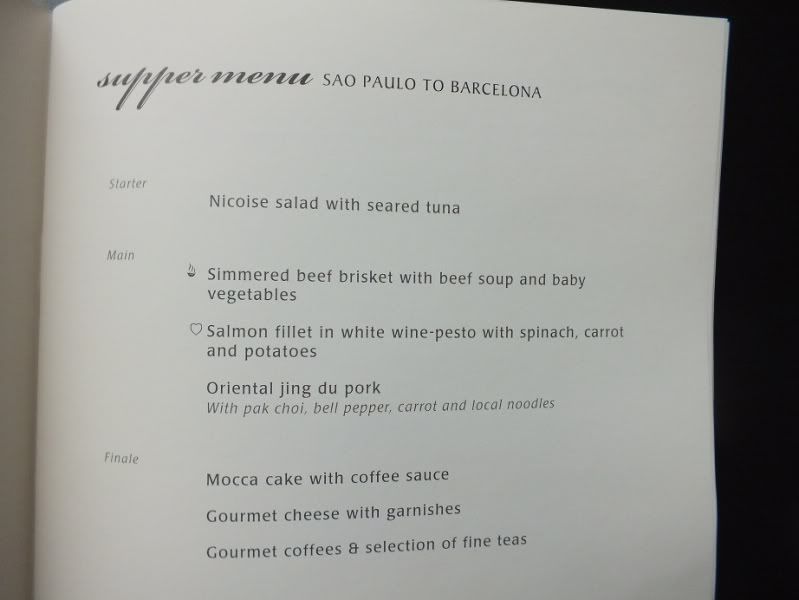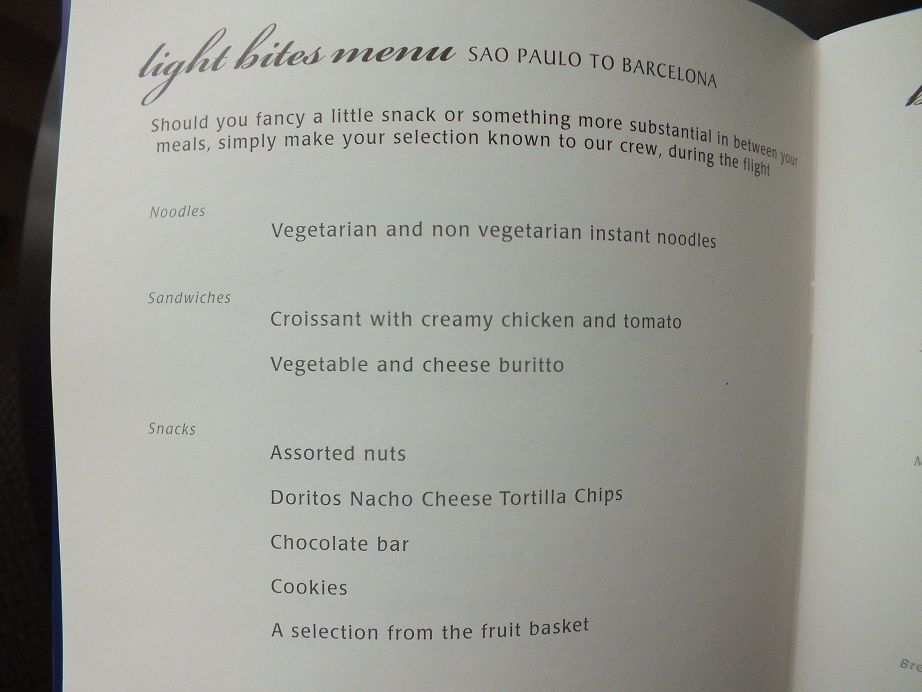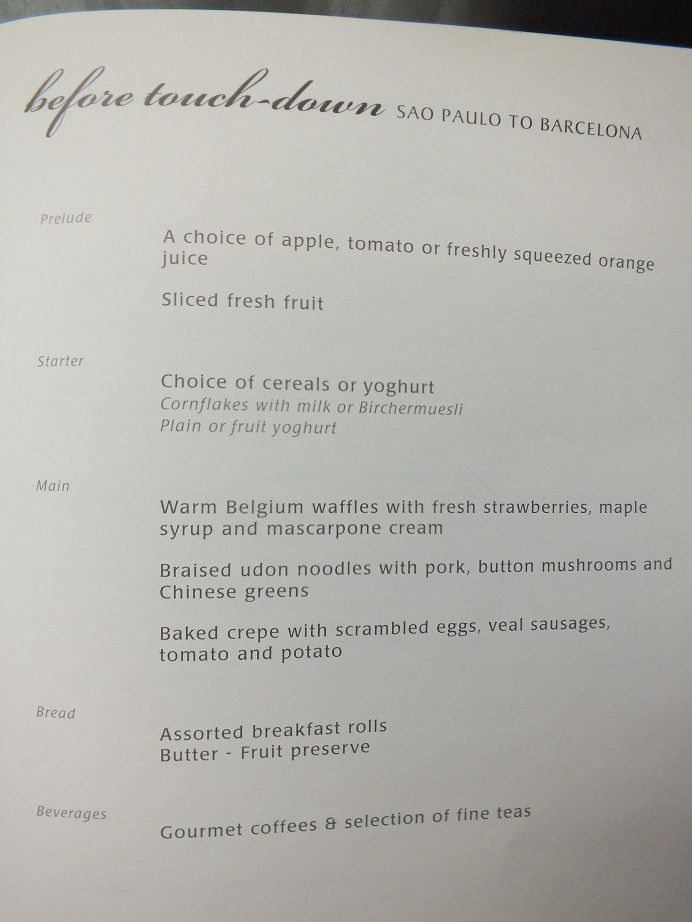 Newspaper and headphones
I was asked what I would like before takeoff…champagne of course. It wasn't a full glass, but I got two top ups before take off.
The first of many hot towels. I've forgotten the actual number, but I think was given at least 6 during the flight.
View to the front
Outside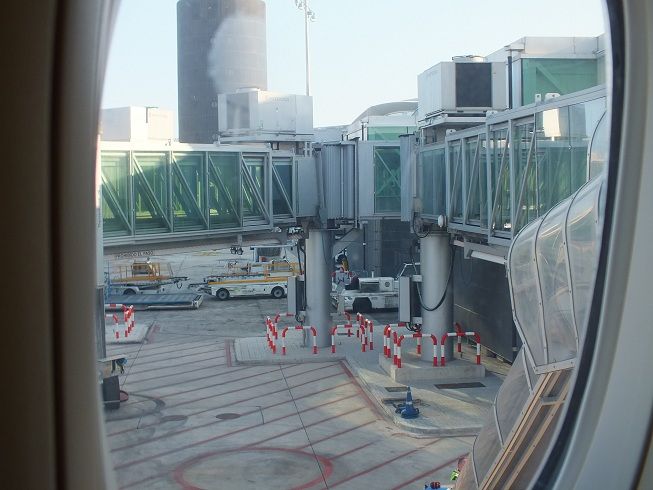 A packet of nuts was also offered
And a bottle of water (all the way from Brazil).
I should take a moment and mention the staff. In a word, WONDERFUL! With a few very minor exceptions, all the staff I met were faultless. On my trip to Africa I was addressed by name ONCE on 13 First and Business class flights. On SQ every single member of staff called me by name every time they interacted with me throughout the flight. Two of the staff also introduced themselves to me as well. Nothing seemed too much for them. In the past they have had quite a bit of flak thrown their way from people calling them robotic and boring. I don't think these bunch could be further from that at all. I hope this is the norm for Business Class, and not just because I was sitting in the "hot seat" (first seat of C), nor that my surname is the same as that of one of the ex-SQ CEO!
On some airlines the crew frown at photo taking. Before take off I was spotted by two different crew (including the Leading Steward). What did they do? Insisted on taking my photo, even when I said I didn't want one! Very photo friendly!
Safety demo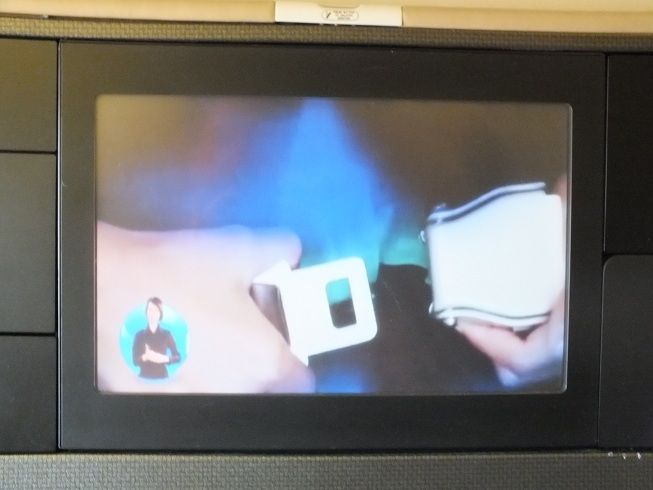 BA 767
The nearly empty T2 – is BCN one of the few places where FR uses a jetbridge?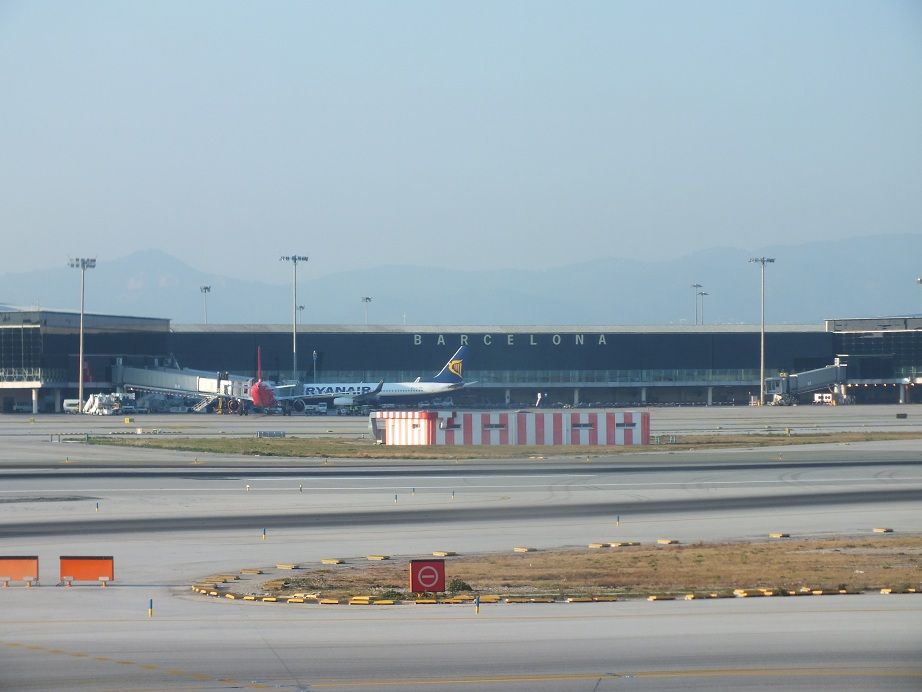 25R today
T2
Over the shores of the Mediterranean
Barcelona through the haze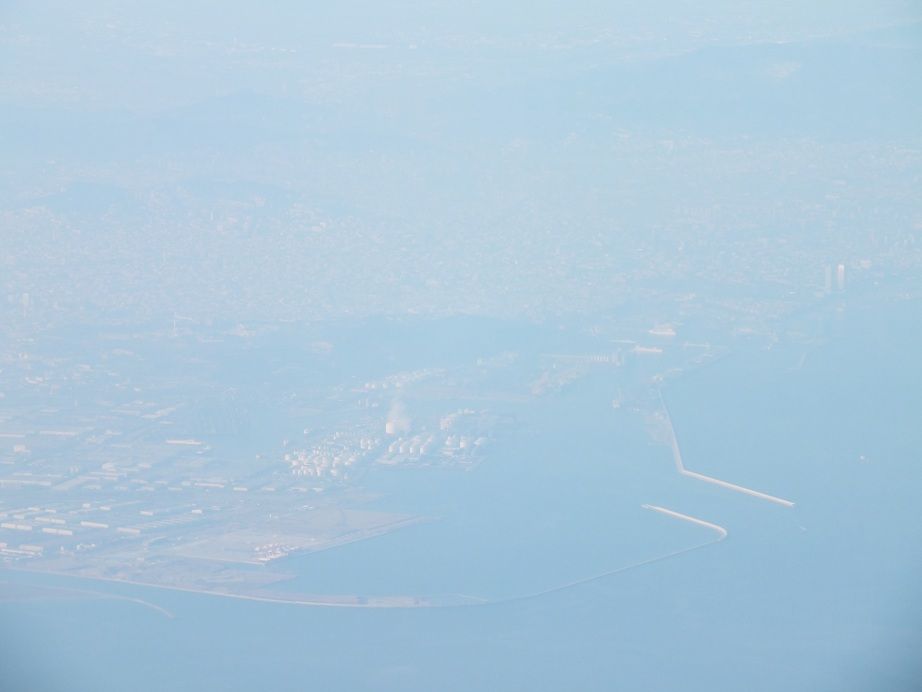 I was quite surprised that there was no amenity kit. Instead eye masks and slipper socks were handed out. The last time I flew SQ was in economy in 2009, and they had them then. There were amenities (toothbrushes etc) in the bathroom though. To be fair to SQ, other than the lip balm and slippers (not the socks), I never use anything from the kits anyway, just take them away as a memento.
For my first after take off drink, I went with the signature Singapore Sling. On my last SQ flight I must have got through about five of these. Either they've changed the recipe (or they use better quality products in front of the curtain) or I've lost my appreciation of sweet drinks – it wasn't great.
Drinks menu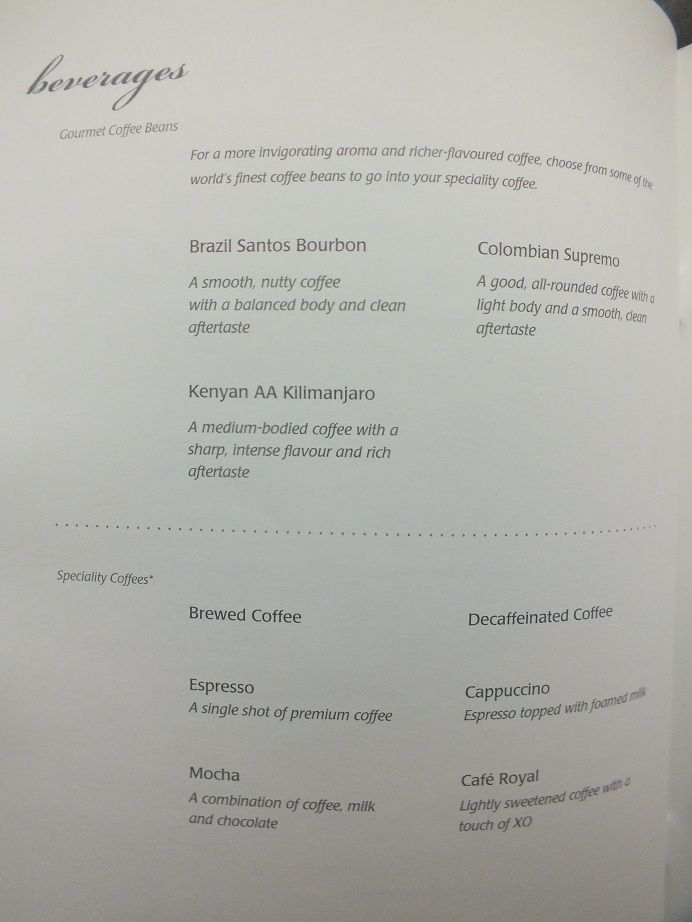 KrisWorld has a great selection of things to watch. I decided to go with Tintin (I'm a great fan) as I hadn't seen the film yet.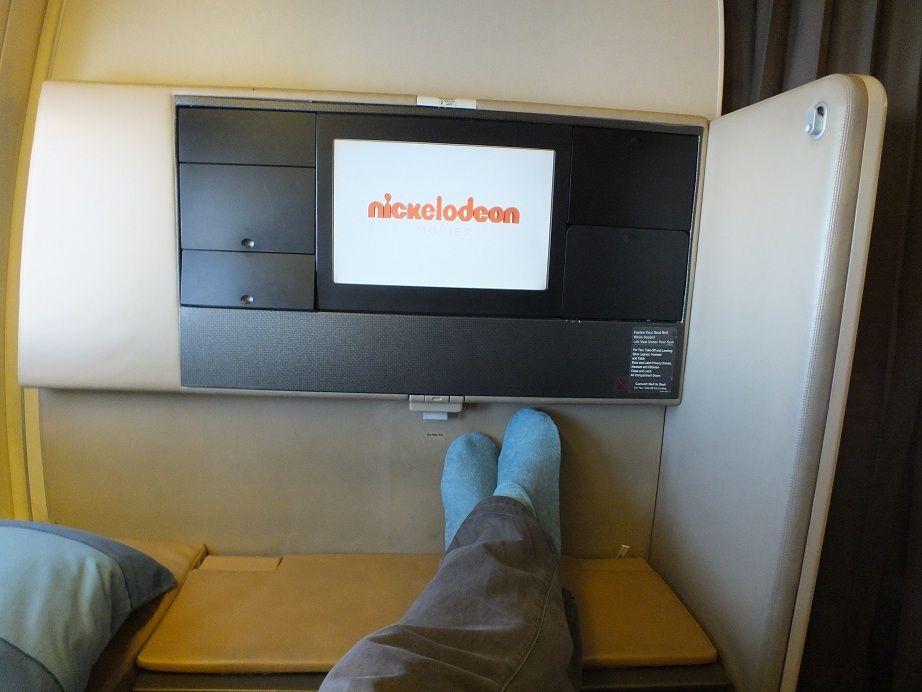 Dinner menu
Dinner started half an hour after takeoff with some satay (skewered meat with peanut sauce)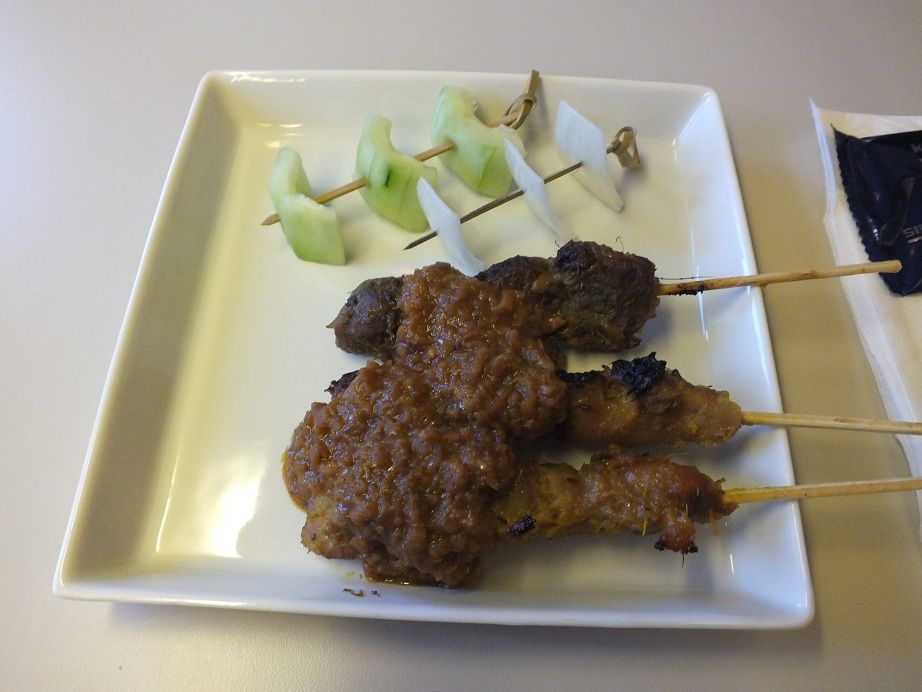 Sparkling water to prepare me for my next drink….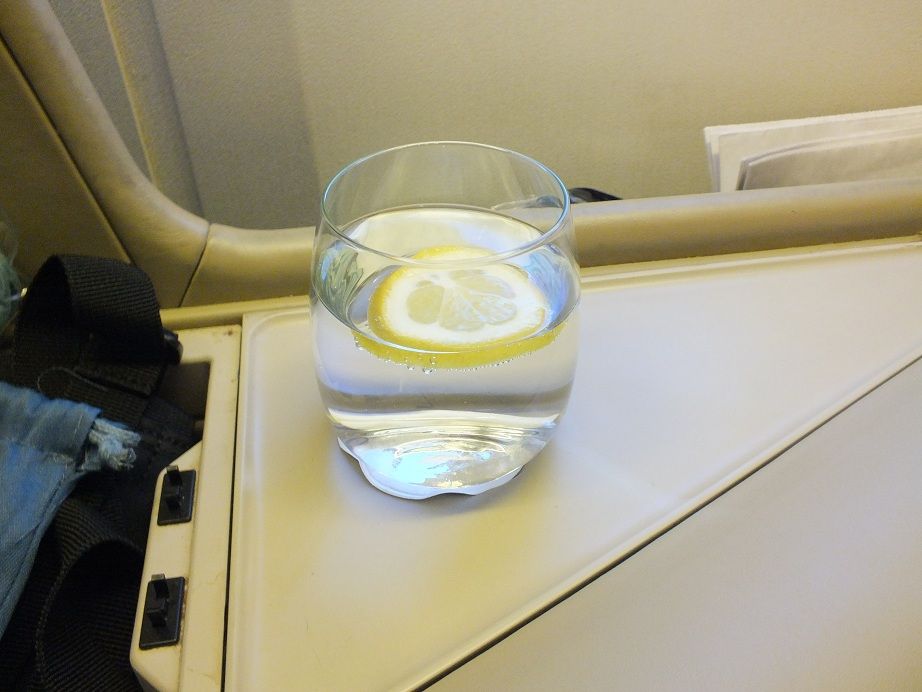 NEEDING to make the most of an airline with a proper cocktail menu, I decided to try Jubilee Lining – tasted quite nice, better than the Sling (hmm, these drinks all seem to have a hint of double entendre. I'm sure SQ did not intend for that)
Over the Med
I didn't like the table. It was too big (and couldn't be halved) and was too low to be able to eat with the seat slightly reclined. I compromised by having it at a slant.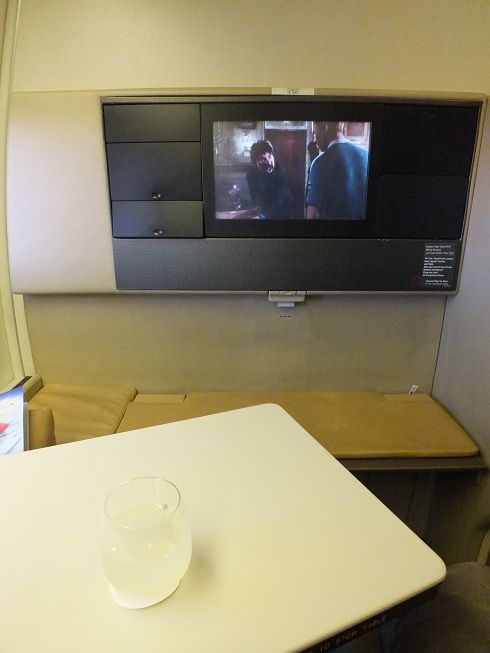 This is the best wing view I could get
Over Sardinia, with Corsica in the distance
Map
Ooh, the cleaners missed something, although at least it wasn't a bloody tissue this time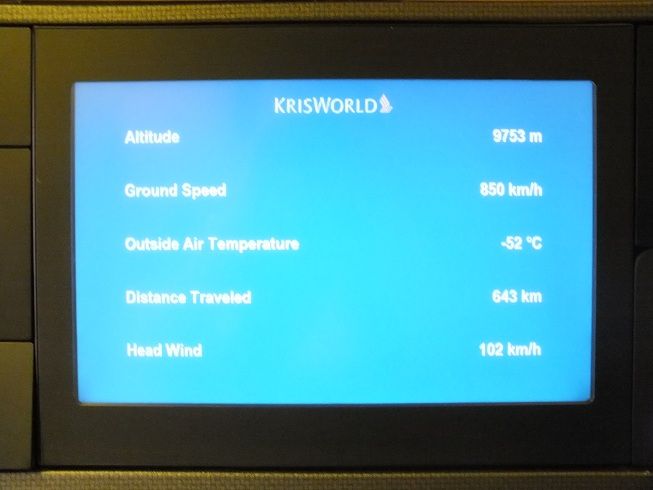 Nearly the Italian mainland
Forty minutes after the satay was served, the table is set (no pre set trays)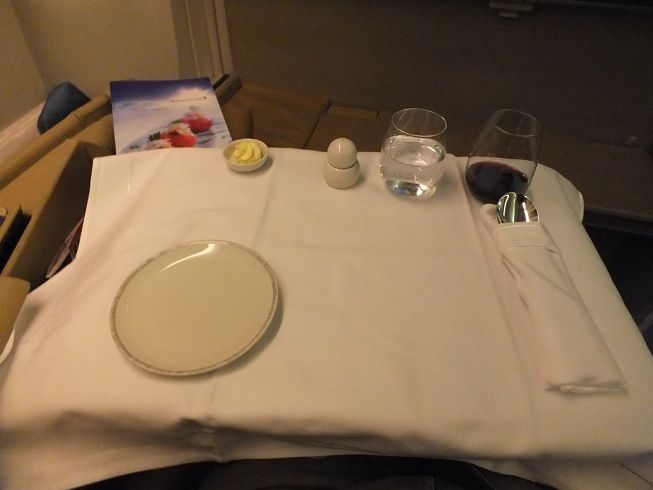 Bread is offered. I go with the very tasty antipasto plate. In the words of Maria Von TrappL "these are a few of my favourite things".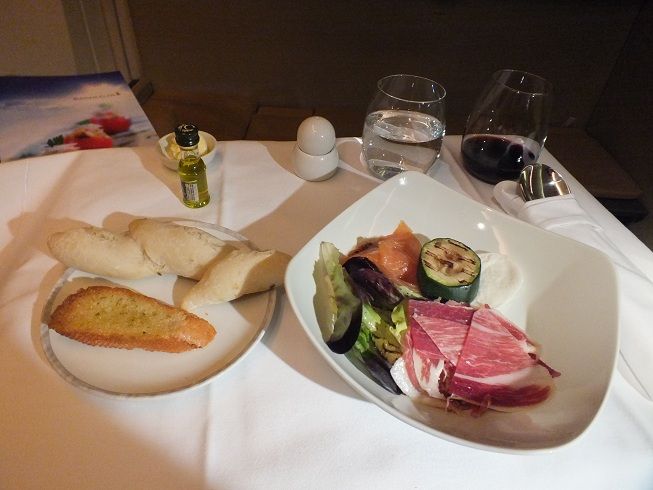 I struggle with choosing a main course as they all look so tasty. I honestly wouldn't have minded any of them. I asked the terribly helped stewardess (as SQ refer to them) if the Thai curry is very spicy. "Have you had much red curry before?", "No", "oh, well the last time I had it was quite spicy, and I eat a lot of spice". "Hmm, well, I'll give it a go". "Great, I'll get some more drinks ready in case if you need them! You can choose something else if it's too spicy". I didn't find it too spicy in the end. Plenty of meat and rice – another winner. It was individually plated too – this really is more like F than C. I got a glass of Bordeaux to go with the curry.
I decided to give the cheese course a miss, and instead asked if I could have both. So she didn't need to say no (I guess they only load enough for 1 each) I said I'd have the cake, and if there were any ice creams left I'd gladly help finish it! She seemed happy with this. The cake was good.
However, less than five minutes later the ice cream was delivered – clearly a lot of people had skipper dessert. It was perfect to finish off the meal. I asked for the red wine to be taken away (I don't drink much red), but instead a few minutes later it was returned refilled. Turns out I quite enjoyed sipping it watching the end of Tintin.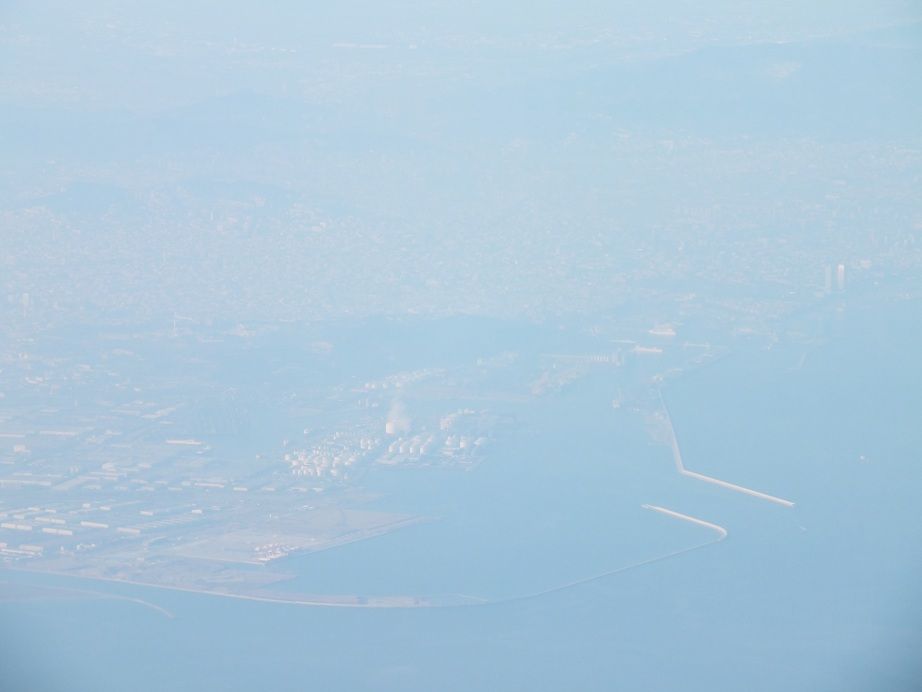 A cup of peppermint tea too.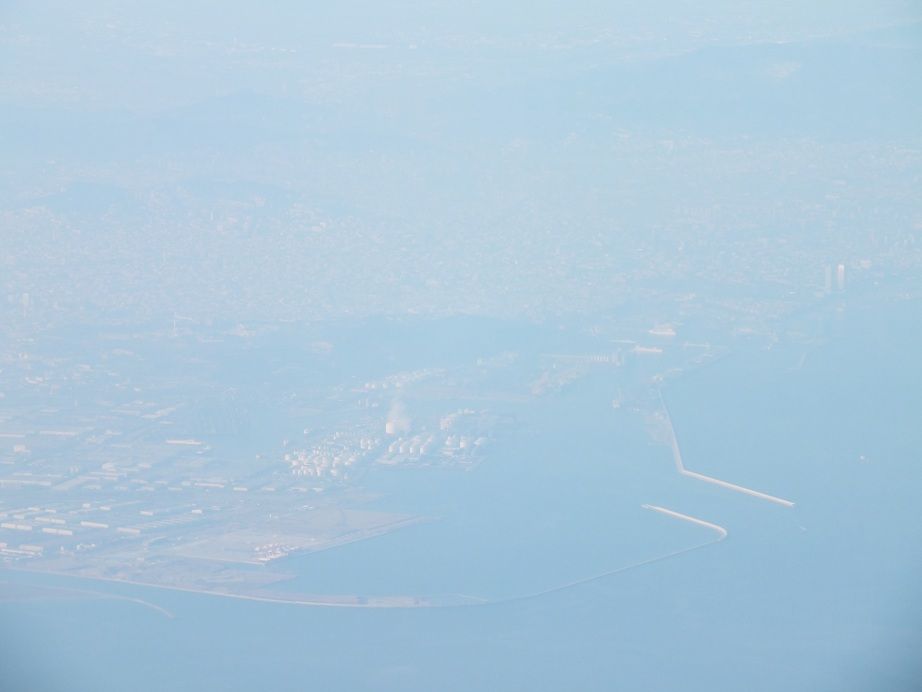 Where have we got to? Skirting along the Northern Coast of Turkey. Like I said earlier, I was still experimenting with my new camera, so the IFE shots were a bit over exposed.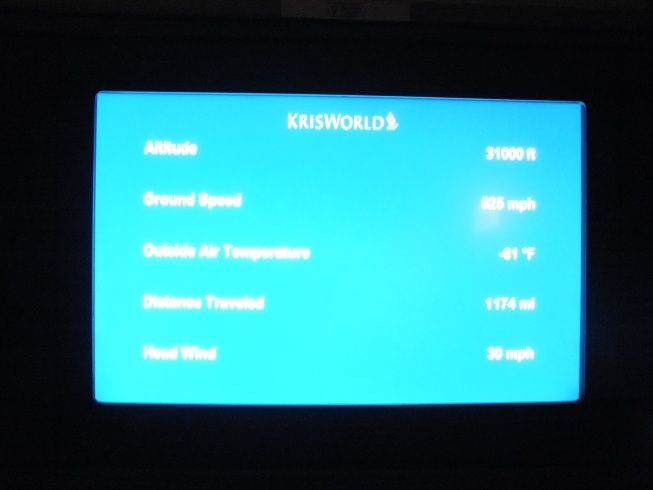 A quick visit to the facilities reveals a very nice set up – moviestar lighting, and more wood/leather
Once dinner was all cleared away, a stewardess came and asked if I wanted my bed making. I said yes, and in a few seconds, my seat looked like this: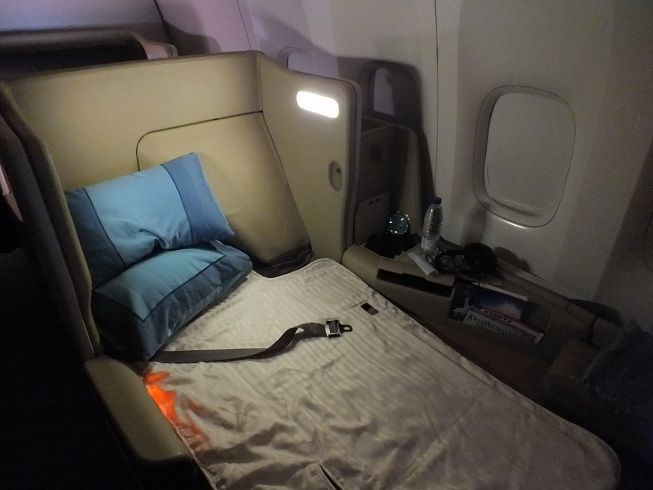 Whilst not quite as plush as the LX First seat, it was pretty damn good. I was also given another bottle of water, this time from Spain. I watched an episode of Ab Fab before trying to get some sleep.
I was still awake when we hit the Georgian border. It's always nice to fly over places you've been to.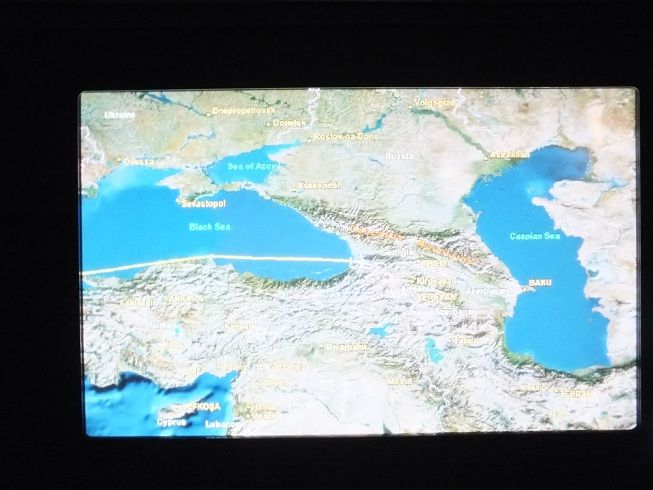 I finally managed to get some sleep. I woke up briefly during a jolt of strong turbulence ov