Feedback always appreciated.
I > Background:
For those reading my last few reports know, a sudden opportunity had led me to spend around 2 weeks flying around Canada and visit some of her remote parts. Journey recap:
- Air North's HS7 on YXY to YEV:
Air North 4N 307: JUN/11: YXY/YDAYOC/YEV: Y /HS 7!
(by
abrelosojos
Mar 4 2012 in Trip Reports)
- Canadian North's 732 on YEV to YEG:
CDN North 5T 445: JUN/11: YEV/YVQ-YZF/YEG: Y Cabin
(by
abrelosojos
Mar 11 2012 in Trip Reports)
(Route Recap)
Using A.Net search, I could not find any reports on FIRST AIR – this I find hard to believe, so please post links to older report if you can. I believe this would be the first report to cover the Edmonton (YEG) to Iqaluit (YFB) flight which stops at Yellowknife (YZF) and Ranken Inlet (YRT) on an extremely rare classic aircraft – Boeing 737-200 Combi.
In fact, this would be my first 737-200 Quick Change Combi flight ever, and again, I think first time featured on A.Net
II > Pre-Flight:
a) Before Airport:
First Air (IATA: 7F), is an airline headquartered in Kanata, a suburb of Ottawa. It operates services to 34 communities in Nunavut, Nunavik, and the Northwest Territories, and also provides flights to Canadian "hub" cities at Edmonton, Ottawa, and Montreal. A motley crew of 732's, 73M's, ATR's serve their passenger operations complemented by cargo operations that even see a leased 767 in service.
Of the other "Northern" carrier websites I had visited, I found First Air's (http://www.firstair.ca/) to be the nicest and most functional. Within a few clicks I was able to book my ticket and receive e-tickets in the mail. I was even able to chose my seat, and view my itinerary at a later date. The airline did not have features such as flight modifications, but those really are advanced stuff and like the other Northern airlines, I was rather impressed by how this small airline had all the basics down. Moreover, the entire site was visually appealing and well presented, with several areas clearly promoting their indigenous roots.
b) At Airport:
I stayed in Edmonton for a day – not really my kind of city – the highlight of the visit is supposed to be a mall? Anyways, I was dying to go back "north", and did not mind the 5am wakeup for the journey to the airport. Today's trip would see me backtracking to Yellowknife and then cross Canada at the "top" to Iqaluit (YFB: in Canada's newest Territory) via a stop at Ranken Inlet (YRT). Apparently, in Canadian aviation circles, this route is called "Over The Top".
Edmonton Airport was interesting – again, it reminded me of a tad too 1970's/1980's architecture, though airside was significantly nicer. First Air counters were at the edge of the airport, and an agent quickly was able to check me in and issue a boarding pass. There was apparently something wrong with the computer and it would not issue me the YZF-YRT-YFB boarding passes – she profusely apologized and called the operations control to make sure someone would be there on hand in Yellowknife to hand me the boarding passes again. During the entire time, she would smile at me, and politely ask my seating preference, etc. When she found out the intent of the trip (random aircraft spotting), she asked me to wait a minute, headed to the office, and brought me a collection of old and new First Air ticket jackets. She even gave me an email address of someone in Kanata (their HQ) who can provide me with a logo jet! I was thoroughly impressed by her, thanked her, and headed to security.
Security was quick enough and boarding was 15 minutes prior to departure. It was very smoothly run, and I was impressed when the clearly Polish gate agent and I had the following interaction:
Agent: "Aah. Mr. AM. I see you are flying us to do some plane spotting."
Me: "Yes." (Surprised)
Agent: "Well, Amanda at the check-in desk had told me, and here is a printed information on the aircraft, some registration info as well. I would advice you to sit on the left hand side – the views are better"!!
Wow. I was clearly impressed and headed down the bridge to be greeted by a graceful lady who welcomed me with a smile, and said that she had been "warned" that I might be "causing trouble" ☺. WOW. I just knew it was going to be a great flight with 3 great attendants. Cargo was apparently packed, while Y-class load fluctuated between 10 and 40% depending on the leg.
Airport - External:
(Edmonton Airport)
Check-in:
(First Air Check-In)
Airport - Internal:
*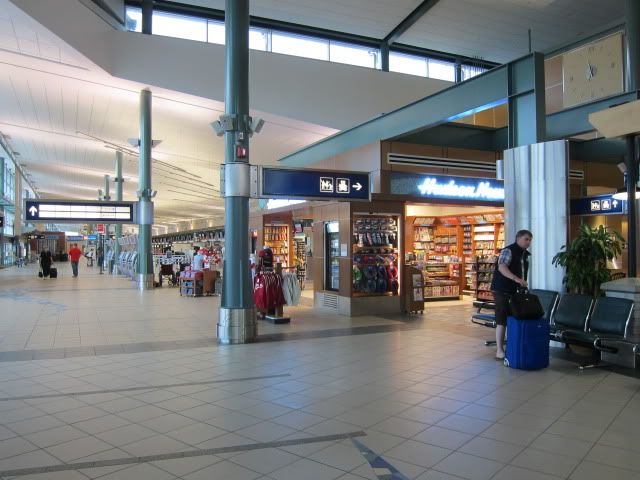 (FIDS)
*
(Post Security @ YEG)
Scenes of the tarmac:
(Canadian North 737's with cargo being uploaded)
Lounge
NONE
Boarding:
(Gate Area)
*
(Boarding)
NONE
III> In-Flight:
a) Service Schedule + Impressions:
There was service overload and I frankly thought we got more stuff on First Air than on most intercontinental Business Class! On the ground, hot towels (!) were distributed. These were again distributed at every stop, AND after every meal service. Clearly, classic service.
Breakfast was served on the YEG-YZF leg; a full meal service on YZF – YRT, and then ANOTHER full meal/lunch service on YRT-YFB!
Newspapers and magazines in a variety of languages were also distributed prior to each leg.
Again, the highlight of the flight … was the flight itself and the various stops it made along the way. Unlike the other flights, this was an entirely different experience. After Edmonton, where we had to go through security, we got new boarding passes issued at Yellowknife. However, @ YZF, there was no security for the onward connection as it was in the "Northern" world. The most unique stop was at Ranken Inlet (YRT). A town I had never heard of, came to greet the plane with lots of locals being curious about me. At Ranken (which apparently almost became capital of Nunavut), the skilled pilots of First Air were the only ones who could land. Wind speeds were over 80, and we were advised that we might do a missed approach if it was too dangerous. Thankfully, we landed … and were apparently the only airline that was able to. There was a Canadian North 732 which had the same routing YZF-YRT-YFB and were told unable to land and went directly on to YFB.
Ranken Inlet (YRT) was like no other. It felt like the world had ended, and we were the only survivors. This was the middle of summer and it was -10C and snow on the ground. I found myself developing a strong admiration for the people here, and wondering how my life would have been living here. Soon though, a friendly agent requested us to re-board the aircraft, and off we went.
b) Aircraft + Seats:
First Air had maintained their Boeing 737-200 QC in immaculate condition. On today's flight, it was configured to 76 passengers. Unlike 5T's 732, these even came with the original bathroom layout at the back (again, immaculate). The dark printed seats were very comfortable – unlike Canadian North, seat pitch was excellent and recline very generous.
Overall, the condition and comfort of the seats were far superior to the experience on Canadian North.
Aircraft:
(Our 737-200M @ YZF)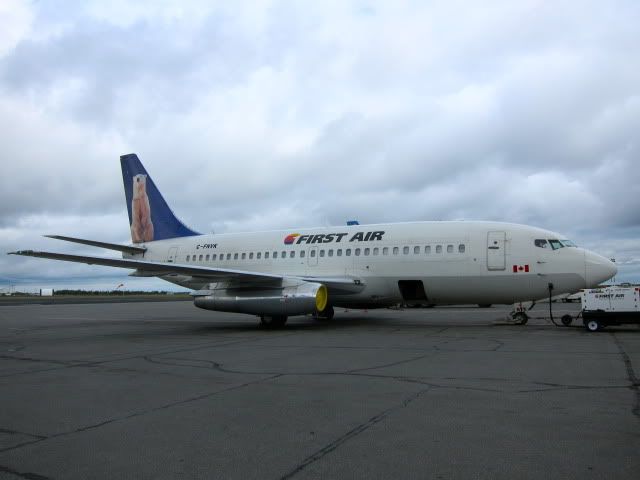 *
(@ YRT)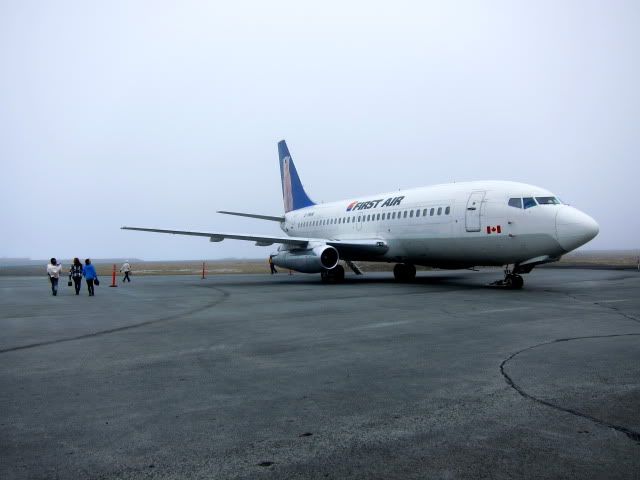 *
(Look at those engines)
*
(After disembarkation @ YRT)
*
Views from Aircraft:
(Arriving @ YZF)
*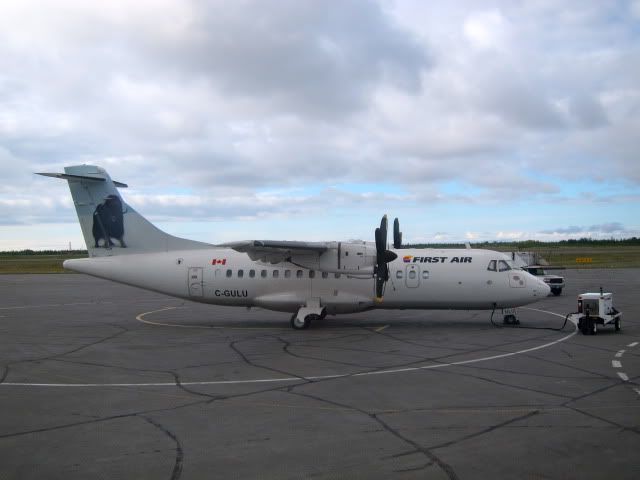 *
*
*
(Yellowknife Airport)
*
*
(YZF Airport – Same boarding area I used to go to YEG – now, without security as "northern" departure)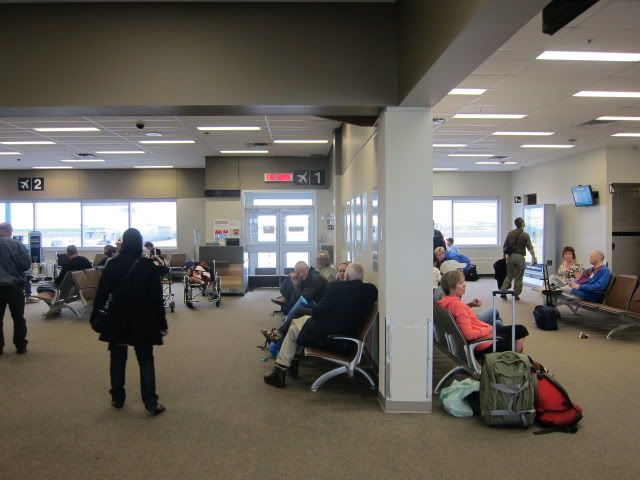 *
(YZF Airport – Boarding Gate)
*
(YZF FIDS – Look at the diversity …)
*
(Landing @ YRT)
*
(The conditions were CRAZY – the pilots HEROES)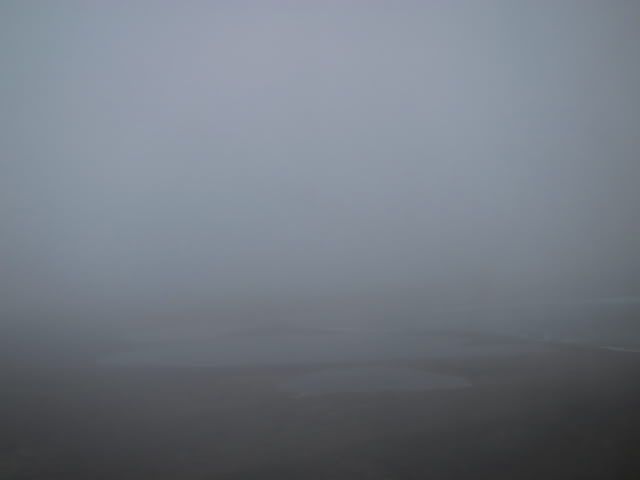 *
*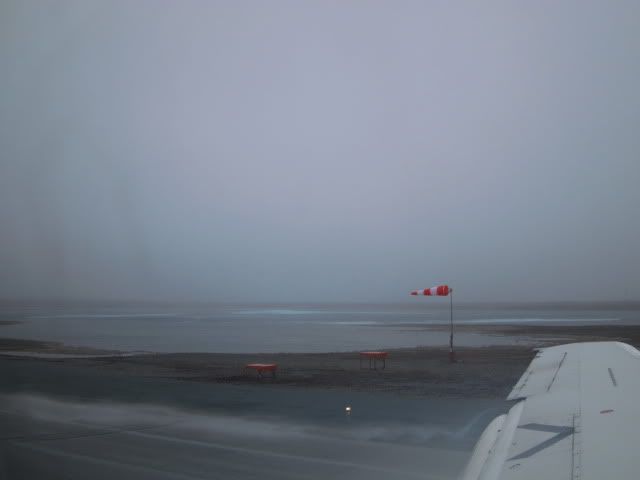 *
*
(Ranken Inlet)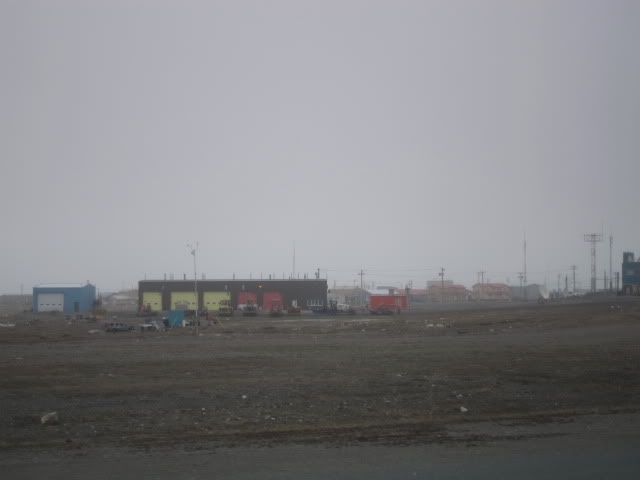 *
*
(YRT Airport)
*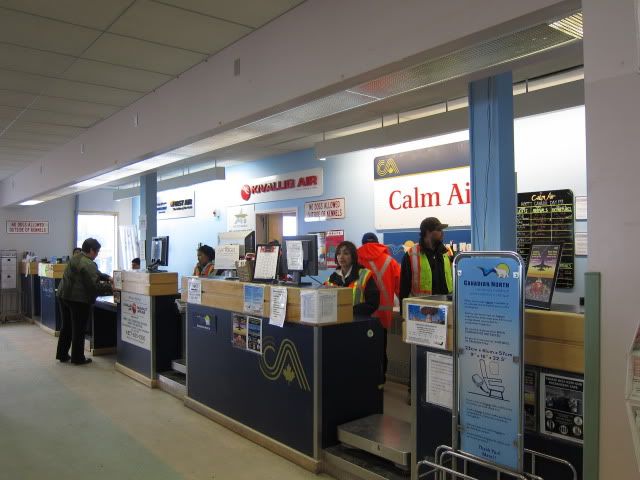 *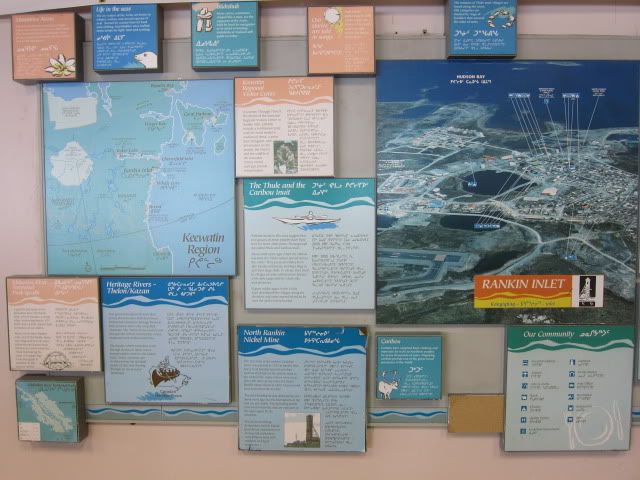 *
(Innovative Bag Delivery System)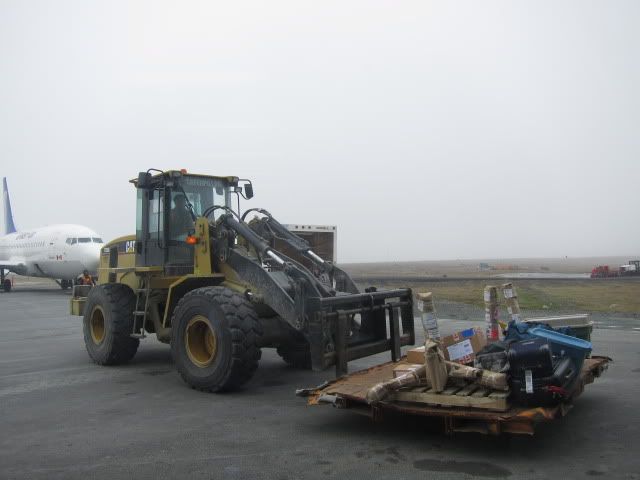 *
*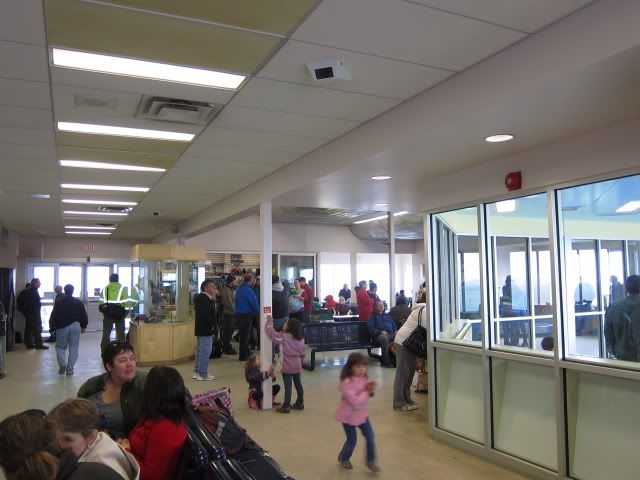 *
(The Airport)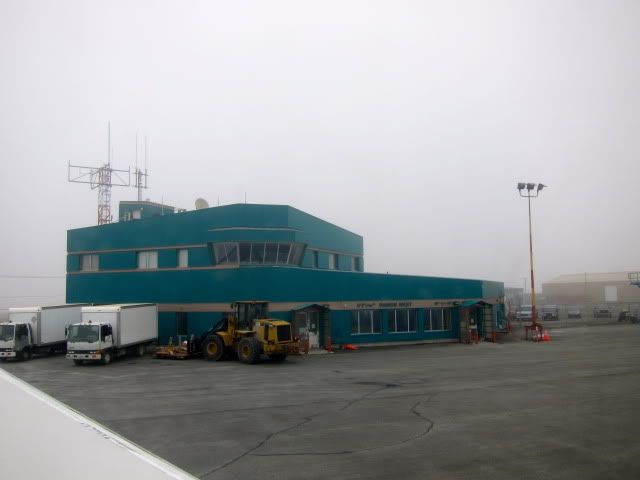 *
(Company Movement)
*
(Crazy weather continues)
*
(Overflying the Arctic, and the beautiful landing in Iqaluit)
*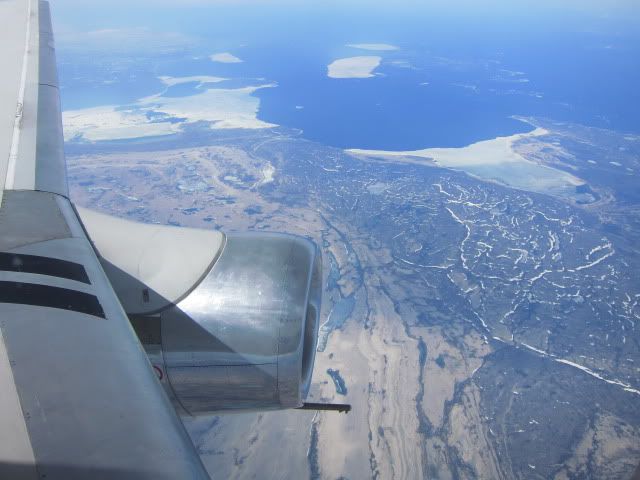 *
*
*
*
*
(I want to fly the DC3 @ YFB)
*
*
(With the 5T aircraft that missed approach at Ranken)
*
(More @ tarmac)
*
*
(Iqaluit Airport interiors)
General Seat Views + Seat Legroom
(Seat)
*
(Front of seat)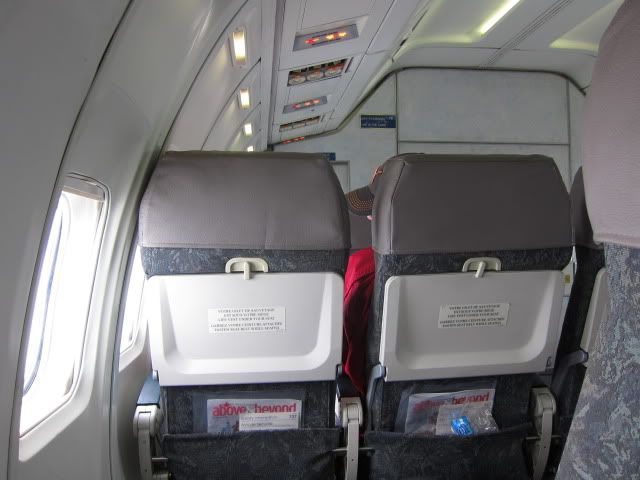 *
(Seat controls)
*
(Around Seat)
*
*
(Legroom)
Seat Recline + Angle View:
(Rather generous)
*
(Beautiful view – very classic I think)
Cabin: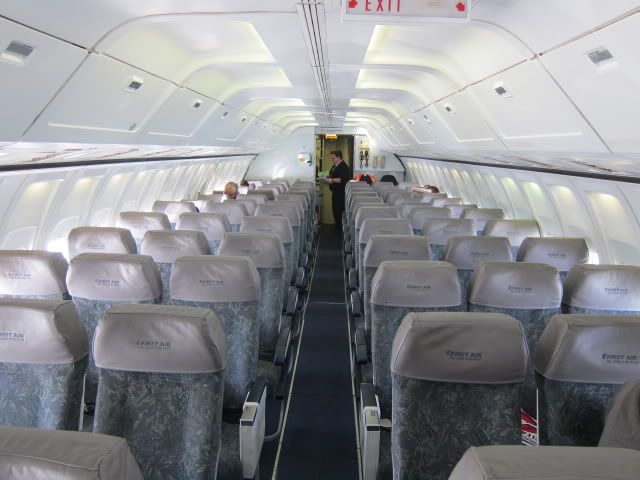 *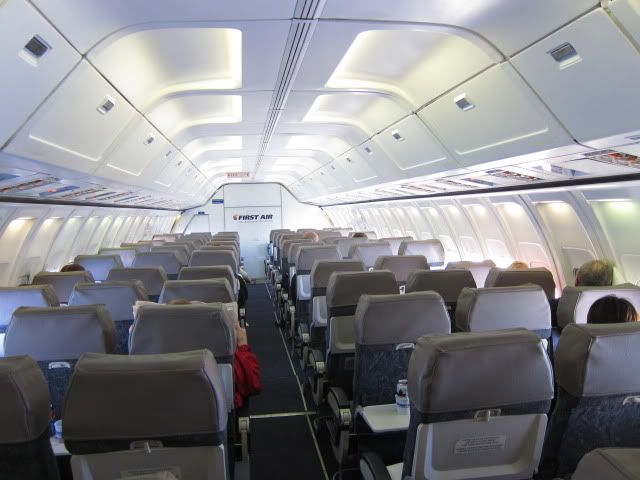 *
(Around a gorgeous aircraft)
*
(FA takes food … and gets my curiosity)
*
(Voila)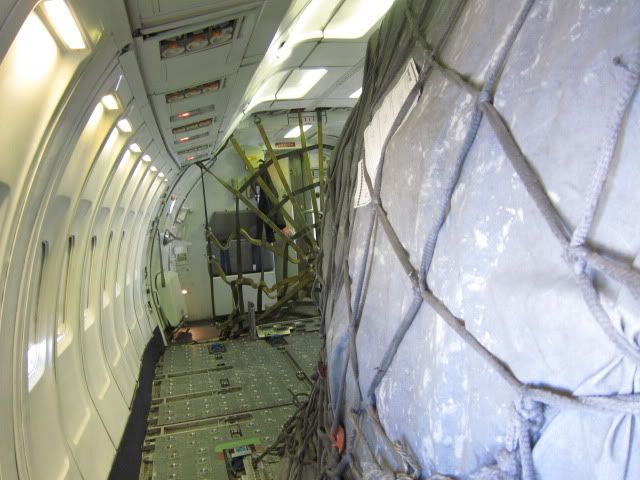 *
*
*
*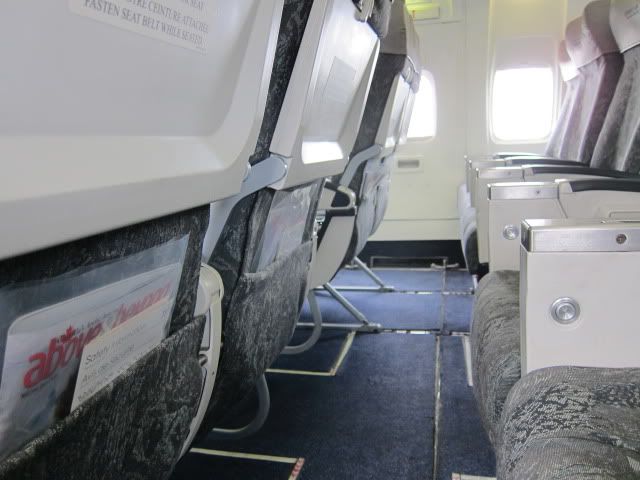 (Blanket ++)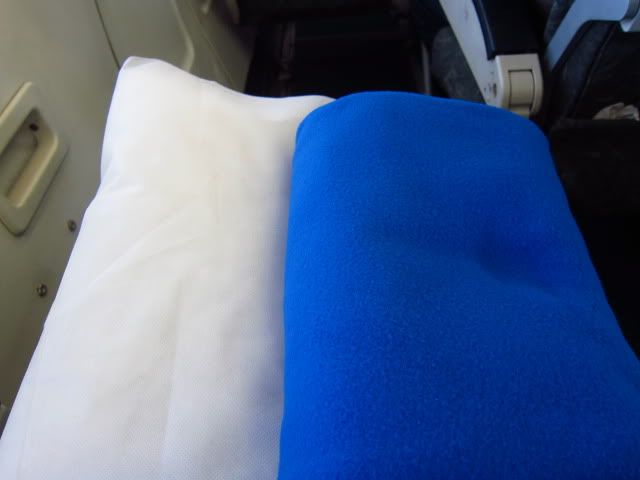 (Bathroom)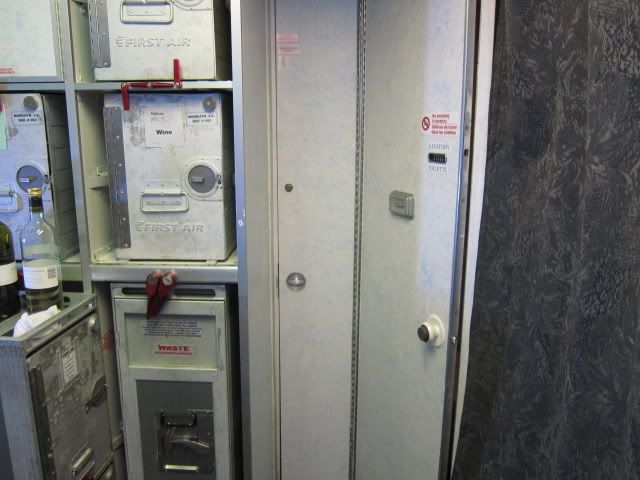 *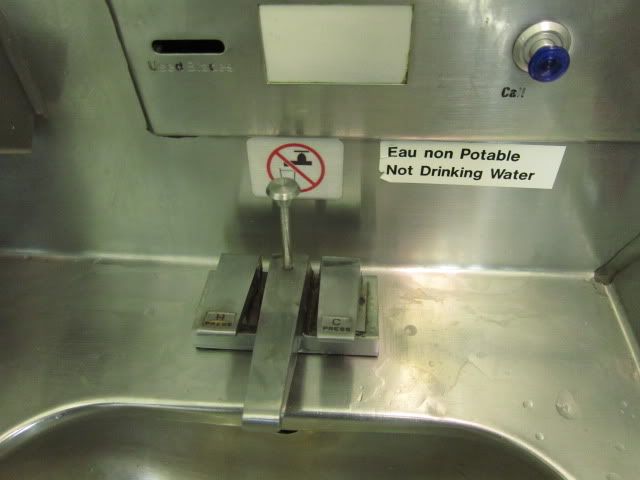 *
c) Meal + Beverage:
On the last installment, I reported how Canadian North is probably one of the last handful of airlines in North America that provided full meal service on domestic economy flights. Well, First Air truly would get my vote for one of the most extravagant meal services I have experienced ANYWHERE in the world in economy class in today's world. Who would have thought that the quality and quantity of food and beverage offerings would be far superior to that of any airline in Asia?!
This little unknown airline had completely won me over with the choices served – and probably remains one of the best in the world.
On the first leg to Yellowknife (and on every subsequent legs), candies were distributed at take-off, and prior to landing. During the breakfast flight on YEG to YZF, we were served fresh fruits, orange juice, a beef/egg concotation that tasted really good, and a very nice raisin dessert. All this was washed down with extremely good café.
Then, between Yellowknife and Ranken Inlet, a lunch service commenced which included a warm bread roll, fresh salad (and I mean FRESH), a choice of chicken kiev or beef – I chose the chicken which came with potatoes and spinach and was pleasantly surprised, and a chocolate dessert. All this was accompanied by generous supply of wine and other beverages. The lead flight attendant came by several times and offered to top off our wines. I had actually never experienced such service in Economy and kept pinching myself. More importantly, I was not in Asia – but in North America – but in Canada! Finishing the whole affair, we were offered Ghirardelli Dark Chocolate Squares – and lots of them – see the crew section for more on this.
Finally, between Ranken Inlet and Iqaluit (YFB), we were served another meal(!). This was a chicken sandwich in a croissant type bread, some nice peach, a chocolate cake, and more generous offering of wine. Now, some passengers who had embarked upon just in Ranken Inlet were also offered a generous alternate "fuller" meal – some potatoes, mushrooms, a sandwich, orange juice, wine, fruit salad, and a fruit cake. Since I was so amazed by this entire service protocol, I asked for the same and was given it! Needless to say, I could not eat it.
Without any doubt, this was the most amount of food I have ever been served anywhere in the world over a 7 hour total elapsed time period. Better still, the quality of the food was exemplary, and I wondered who in their right mind would fly Canadian North when they had First Air on the exact same routes!
(Between YEG and YZF – towels + candies on all sector)
*
*
*
*
(Between YZF and YRT)
*
(Between YRT and YFB)
*
(Or, alternate option for those joining at YRT)
*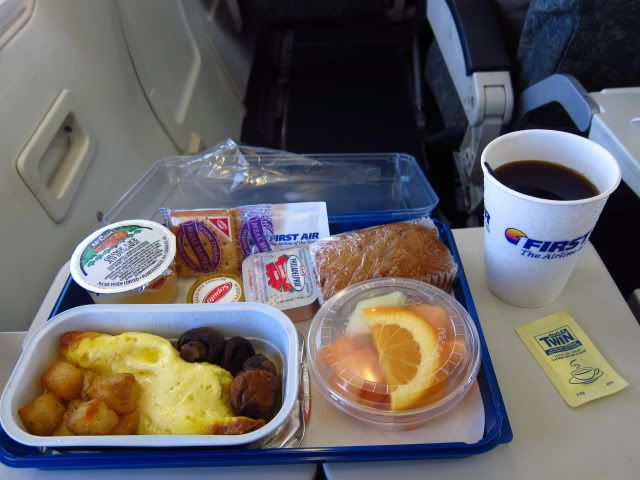 *
d) Inflight Entertainment:
While there was no audio-visual entertainment on 7F, I was kept entertained by the in-flight magazine which was surprisingly good. 

(Newspapers)
("In-flight magazines", Boarding Passes, etc.: Not too shabby – loved the postcards in the magazine)
e) Crew:
Well, I had a good feeling about the crew ever since the fantastic ground operations at YEG. This amazing and welcoming attitude continued onboard as I was served by a fantastic group of 3 flight attendants – 2 women in their 50's, and a younger guy. All of them showed incredible warmth and proved that the earlier disappointments of Air North and Canadian North were quickly forgotten. Simply speaking, this was probably the best crew I have encountered in ANY Economy Class on a North American carrier. Their hospitality started the moment we boarded with greetings to each passenger, help with baggage storage, and especially attentive details paid to the elder indigenous passengers. Throughout the flight, they would check in with the passengers, do generous water and beverage runs (especially liberal with the wine), and chat/joke with the passengers. It all felt like a exclusive business class than an economy class of a combi aircraft.
Some personal anecdotes that just bowled me over:
+ I am a big fan of Ghirardelli Squares – so I rang the button after meal service and asked if I could greedily have a few more. The lead FA said, "Honey – you are not greedy. You just have fine and exquisite taste". She disappeared and moments later appeared with a First Air sickness bag filled with the chocolate squares! She also brought me some more red wine – in case I wanted to start eating the chocolates now!
+ During the flight between YRT and YFB, I asked the male FA how the Combi section looked during flight. He said, "Well – why don't you see it for yourself?". He called the Captain and got a confirmation to show it to me in-flight.
+ Sitting at the exit seat, I was clearly cold. The lead FA seeing this came to me and said, "Let me guess … you are from the South right?" Moments later, she appeared with a pillow and blanket.
+ At one point, I went to the galley to ask them if they had any recommendations on Iqaluit. The three crew members wrote me a detailed one page guide on the best places to eat, go out (apparently, the Canadian Legion is where it is happening on Saturday), gave me the phone number of a friend who can "vouch" for me to get entry into the Canadian Legion for Saturday night.
As I got off the plane, I thanked them profusely and told them that it was one of the best crew I have ever encountered. I had a little pack of Venezuelan souvenirs that I carry and gave each of them one of it. They were truly appreciative, and as I walked away from the Combi, a smile came all across me. These three had truly made me feel special and reminded me why I love flying, and why I love this industry so much.
IV> Post-Flight:
Arrival into Iqaluit was quick as we touched down before arrival time. I bade goodbye to the crew one last time, got a hug from both the crew members, and was landside in ten minutes.
V> Impressions + Scores:
Who would have ever thought that one of my best trips would be on an obscure airline in North America. First Air was simply flawless. Every step of the way, they made me feel special. It started from an amazing on-ground crew and went all the way to one of the best crew I have encountered in the air. I rarely get emotional, but I even had a tear as the lead FA hugged me when I was disembarking. In today's travel, which has become a commodity, and which I take for granted, moments like this are there to remind us that air travel will always be special. It is a form of transport which can magically move us from one part of the world to another completelt different. Adding to the wonderful crew was the most elaborate meal service I have encountered on an Economy class flight anywhere recently. All of it made me forget that there was no IFE. I didn't even miss it.
Overall, one of the best experiences I have had in Economy class travel. Their overall score of
9.04
will place them 2nd in the Y-Class (Long+Medium Haul) – and the only reason is because Air India's IFE was infinitely superior. I will continue to seek to fly First Air as they are miles ahead of Canadian North. Overall, two thumps way way up!
VI> Other Trip Reports:
PREMIUM:
9.27: JET AIRWAYS **FIRST** (110): LHR-BOM: 10/2010
9.27: THAI AIRWAYS **FIRST** (108): BKK-LHR: 07/2010
8.66:
Brussels Airlines (93): FIH-BRU: 01/2010
8.64:
Turkish Airlines (59): JFK-IST: 11/2008
8.63:
Jet Airways (88): JFK-BRU: 10/2009
8.61:
Air Canada (49): YYZ-SCL: 06/2008
8.54:
Turkish Airlines (77): GRU-DKR-IST: 04/2009
8.36:
Kingfisher (98): BOM-HKG: 01/2010
8.30:
Jet Airways (74): KWI-BOM: 04/2009
8.23:
United Airlines (72): SFO-SYD: 03/2009
8.11:
Aeroflot (33): MOW-DEL: 09/2007
8.05:
Air India (80): CCU-JFK: 06/2009
8.04:
Korean Air (40): NRT-ICN: 10/2007
8.02:
Delta Airlines (24): JFK-CDG: 08/2007
7.82: UNITED AIRLINES **FIRST** (110): SFO-ICN: 10/2010
7.82:
Singapore Airlines (06): EWR-SIN: 09/2006
7.66:
Sri Lankan (104): DEL-CMB: 07/2010
7.64:
Royal Jordanian (91): AMM-YUL: 12/2009
7.61:
China Southern (103): LOS-DXB: 04/2010
7.57:
Pakistan Airlines (102): ORD-BCN: 06/2010
7.46:
LAN (55): YYZ-JFK: 09/2008
7.38: AMERICAN AIRLINES **FIRST** (112): LHR-JFK: 10/2010
7.38: CATHAY PACIFIC **FIRST** (109): HKG-LHR: 10/2010
7.25:
Iran Air (88): BOM-IKA: 12/2009
7.23:
Air Pacific (120): NAN-APW-HNL: 01/2011
7.23:
Virgin Atlantic (81): BOS-LHR: 07/2009
7.14:
Swiss (52): SCL-GRU: 06/2008
7.11:
Aer Lingus (105): MAD-IAD: 05/2010
7.11:
Austrian (79): VIE-JFK: 06/2009
7.07:
Privatair (84): BOM-FRA: 08/2009
7.02:
Qatar (68): DOH-JFK: 01/2009
6.96:
Etihad (61): JFK-AUH: 12/2008
6.93:
Delta Airlines (18): SEA-JFK: 11/2006
6.88:
Egypt Air (123): LHR-CAI: 03/2011
6.84:
ConViasa (65): CCS-DAM: 01/2009
6.82:
Air Burkina (106): BKO-OUA: 06/2010
6.81:
Air Canada (17): ICN-YYZ: 10/2006
6.75:
Afriqiyah + Libyan (113): CAI-TIP: 11/2010
6.70:
KLM (32): EBB-AMS: 08/2007
6.52:
Emirates (99): LHR-DXB: 02/2010
6.39:
South African (97): EZE-JNB: 01/2010
6.36:
Privatair (60): MUC-BOS: 12/2008
6.29:
TAM Brasil (96): POA-EZE: 02/2010
6.25:
Korean Air (45): NAN-ICN: 10/2007
6.21:
Iberia (87): BOS-MAD: 10/2009
6.11:
A SKY (107): OUA-COO: 06/2010
6.11:
TAP Portugal (53): GRU-OPO: 06/2008
6.00:
Gulf Air (75): BOM-BAH: 04/2009
5.88:
African Express (89): DXB-NBO: 11/2009
5.75:
Singapore Airlines (16): CCU-SIN: 10/2006
5.64:
SATA Azores (101): BOS-PDL: 04/2010
5.64:
NorthWest (46): ICN-NRT-SEA: 10/2007
5.54:
Ethiopian Airlines (95): ADD-BOM: 01/2010
5.46:
Icelandair (83): KEF-BOS: 08/2009
5.39:
LOT (54): WAW-JFK: 06/2008
5.21:
Egypt Air (73): CAI-IST: 02/2009
5.11:
Tunisair (115): TUN-ORY: 12/2010
5.07:
TACA (66): JFK-SAP: 01/2009
4.89:
TAAG Angola (117): TMS-LAD: 12/2010
4.42:
Air France: CDG-JNB (25): 08/2007
ECONOMY: Long + Medium:
9.26:
Air India (48): JFK-DEL: 02/2008
9.04: First Air (129): 06/2011
7.38:
Avianca (01): BOG-LIM: 07/2006
7.07:
Sri Lankan (62): KWI-CMB: 12/2008
7.00:
LAN (94): IPC-SCL: 01/2010
6.81:
STP Airways/Euro Atlantic (116): LIS-TMS: 12/2010
6.67:
Air Malta (124): MLA-FRA: 04/2011
6.63:
Vladavia (126): KHV-PEK: 06/2011
6.41:
Air North (127): YEV-YEG: 06/2011
6.41:
Avianca (78): JFK-BOG: 05/2009
6.41:
American Airlines (58): LHR-BOS: 11/2008
6.39:
Condor (85): SEZ-FRA: 09/2009
6.26:
Jet Blue (21): CUN-JFK: 02/2007
6.11:
Caribbean Airlines (119): POS-FLL: 01/2011
6.06:
Air Canada (04): YYZ-YVR: 09/2006
5.89:
USA 3000 (19): PUJ-BDL: 01/2007
5.85:
Spanair (69): MAD-LPA: 02/2009
5.80:
Canadian North (128): YEV-YVQ-YZF-YEG: 06/2011
5.79:
Air New Zealand (42): RAR-NAN: 10/2007
5.52:
Aerolineas (86): USH-AEP: 10/2009
5.46:
TAP Air Portugal (23): OSL-LIS: 05/2007
5.19:
Air Europa (70): LPA-MAD: 02/2009
5.16:
Iberia (71): MAD-BOS: 02/2009
5.11:
Air China (82): FRA-PEK: 08/2009
4.59:
IR Aero (125): IKT-VVO: 06/2011
ECONOMY: Short
8.56:
Paramount Airways (38): BLR-MAA: 09/2007
8.56:
Kingfisher (64): HYD-CCU: 12/2008
8.24:
Kingfisher (14): IXA-GAU: 10/2006
7.87:
Indian (34): BOM-MAA: 09/2007
7.72:
Alliance Air (13): CCU-IXA: 10/2006
7.57:
Indian Airlines (10): DEL-CCU: 09/2006
7.23:
West Jet (03): YYC-YVR: 09/2006
7.15:
JetLite (37): BOM-GOI: 09/2007
6.98:
Air Koryo (100): PEK-FNJ: 04/2010
6.70:
Spice Jet (09): CCU-DEL: 09/2006
6.63:
Air Fiji (44): NAN-SUV: 10/2007
6.63:
Jazeera (67): DAM-KWI: 01/2009
6.58:
Air Tran (02): EWR-MDW: 08/2006
6.48:
Air India Express (63): CMB-MAA: 12/2008
6.44:
CO Micronesia (39): ROR-YAP: 10/2007
6.41:
Pacific Sun (43): NAN-SUV: 10/2007
6.37:
Skybus (47): SWF-CMH: 02/2008
6.33:
Kenya Airways (29): NBO-BJM: 08/2007
6.33:
Sky Europe (56): LTN-BTS: 10/2008
6.31:
Indigo (15): GAU-CCU: 10/2006
6.31:
easyJet (57): BUD-LTN: 11/2008
6.22:
Air Link Swazi (28): MTS-JNB: 08/2007
6.22:
Air India (36): HYD-BOM: 09/2007
6.13:
Adam Air (07): SIN-CGK: 09/2006
6.13:
Air Rarotonga (41): RAR-AIT: 10/2007
6.04:
Suriname Airways (118): PBM-POS: 01/2011
6.00:
Transairways (27): INH-MPM: 08/2007
5.95:
Air Canada (05): ALB-YYZ: 09/2006
5.85:
SAS Norge (22): OSL-AES: 05/2007
5.81:
LAM Mozambique (26): JNB-MPM: 08/2007
5.69:
Air Deccan (12): IXZ-CCU: 10/2006
5.67:
Rwanda Air Exp (30): KGL-NBO: 08/2007
5.52:
Sevenair (114): TOE-TUN: 11/2010
5.37:
Felix Airways (92): SCT-SAH: 12/2009
5.11:
Aero Republica (76): BOG-CCS: 04/2009
5.07:
Go Air (35): MAA-HYD: 09/2007
5.04:
Biman (121): DAC-CGP: 01/2011
5.00:
Sky Airline (51): IQQ-SCL: 06/2008
4.96:
United Bangla (122): CGP-DAC: 01/2011
4.96:
Valuair (08): CGK-SIN: 09/2006
4.78:
Air Comet Chile (50): SCL-IQQ: 06/2008
4.74:
Fly 540 (31): MYD-LAU: 08/2007
4.33:
Viva Aerobus (20): ELP-MTY: 02/2007
4.11:
Air Sahara (11): CCU-BOM: 09/2006
(Note on Codes: Y – Economy, J – Business, F – First :: I/D – International/Domestic :: SR/MR/LR – Short/Medium/Long Haul)
(Note on Date: Dates are modified to be +/- 3 days from actual flight date to not reveal actual flight pattern)
VII> Other Pictures:
(Some images of beautiful Nunavut – Iqaluit)
*
*
*
*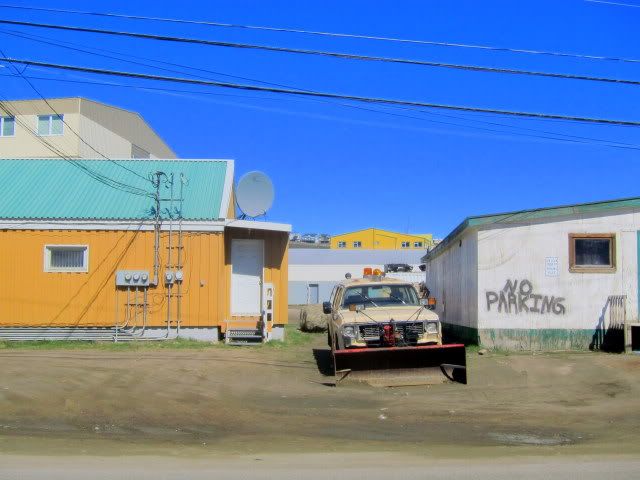 *
*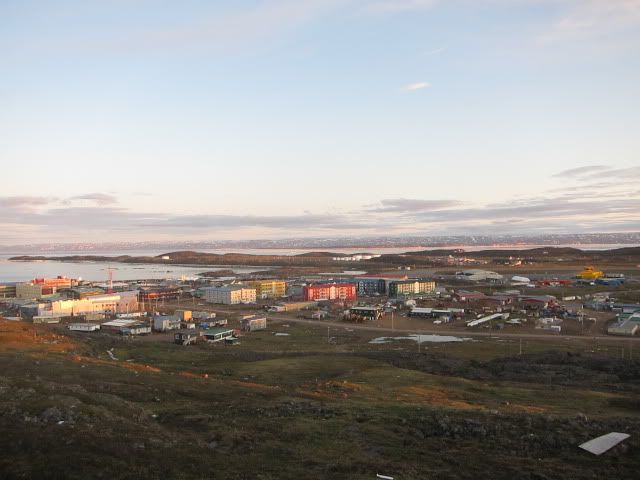 *
(Outbound flight was on a 737-200 QC again to YOW – hope this picture can start doing justice about the powerful take-off)