Introduction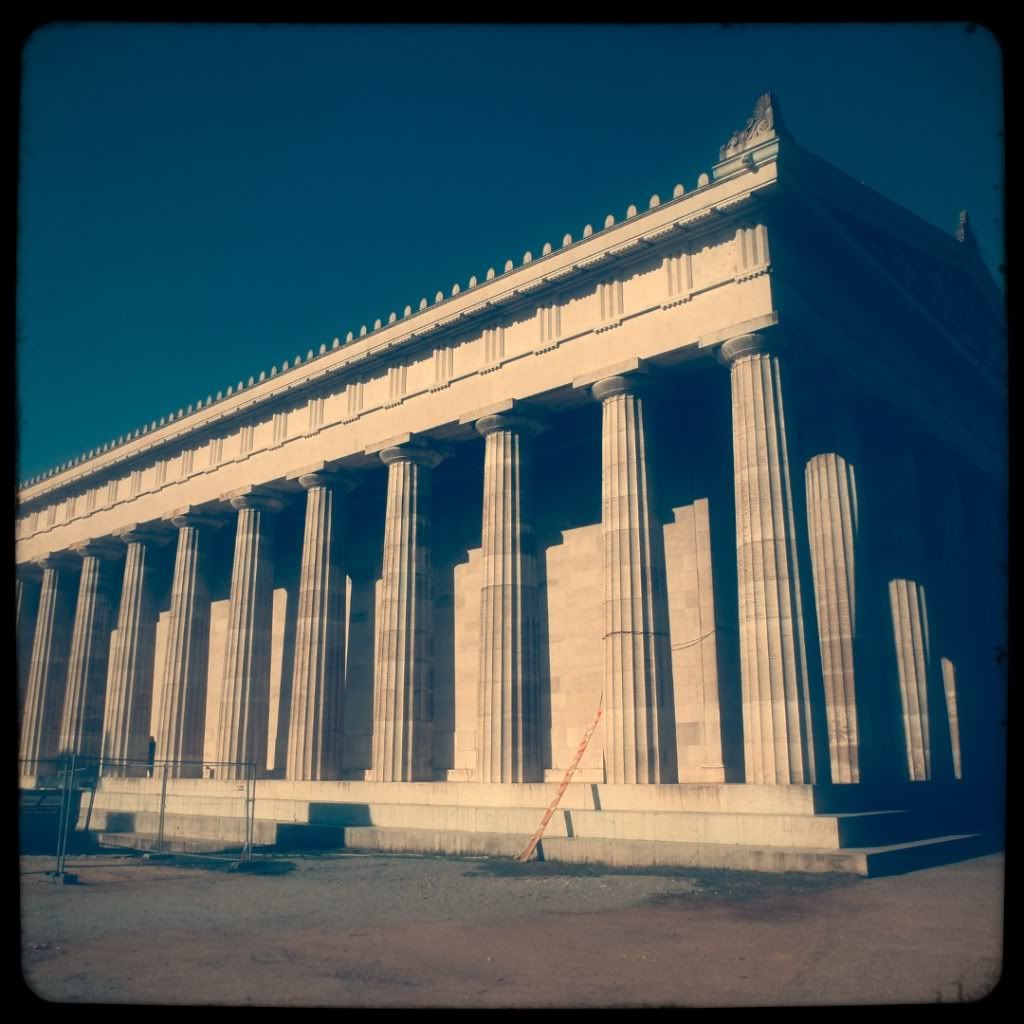 This is the final trip that started at BT's very generous sale late last year (the same one where Jonas got his cherry poppin' BT tickets:
Mother Fokker! And The A.net Meet (pics)
(by
LH4116
Apr 4 2012 in Trip Reports) ). After booking a couple of tickets I went to take "one final look" and surprise surprise - ended up booking a HEL-RIX-MUC flight for 34 EUR, not that I intended to...
I had no real plans as what to do with that flight - toyed around with flying LH to KRK or LOT to WAW but those fares shot through my threshold while I was doing so. Finally I decided I'll just visit a couple of places in Bavaria I've longed to visit for quite some time instead of turning this into my usual hopping-around-many-places-in-many-different-planes kind of endeavour. So I decided to book my return flight for Sunday - SAS via CPH was the most suitable option but then I figured out that a return ticket with KLM was only around 40 EUR more and would offer me my first flights on the Cityhopper E190, something which I definitely wanted to do! Plus it would leave me with a return flight back to Bavaria to realize one plan I've been hatching for quite a while now...
So anyway I booked the KLM itinerary for around 170 EUR. Finally I added a rental car from Sixt (and rebooked a couple of months later when Sixt and SAS was conveniently running a very nice promo for 2000 EB points on a single rental during the period which perfectly matched my time there) as relying on public transport on this trip would be quite a hassle.
So here we go - a simple itinerary for this weekend trip: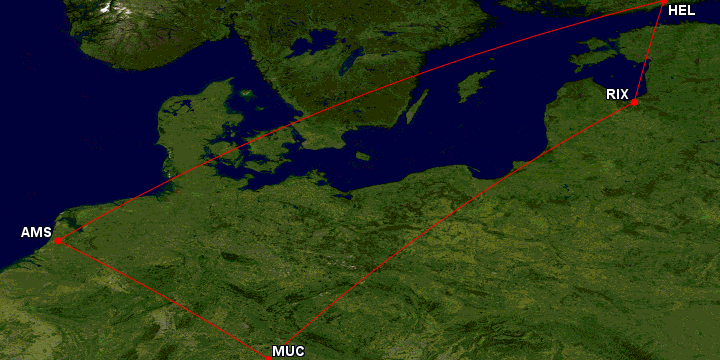 Well when one of the airlines in your itinerary just happens to be airBaltic you are bound to have some fun with your booking. At some point in early 2012 they announced that the MUC route would be going double daily - this caused my noon flight to be moved to a very early departure ex-RIX. So I did something desperate and asked to be rebooked on the "early bird special" with a departure time at 5.05 on a Saturday morning - and my original flight had a far more civilized departure time of 8.40!
As if this wasn't bad enough a few weeks before departure BT notified me of a yet another schedule change: the early bird flight would now be departing at an even more inhumane hour of 4.45! This would be the earliest or latest flight I've ever taken, depending on your point of view. Well, I had no other choice than grudgingly agree to this as well - at least it meant I'd have a bit more time to have a proper breakfast at the RIX lounge - breakfast is one thing they usually do quite well.
Saturday 31.3.2011
Waking up at 3.30 AM I have to double check I'm not someone living in South Germany - but no, it still is Finland. I'm not up for any food at this insane hour so after an ice cold shower to wake me up, a glass of juice and fumbling for my clothes and backbag I call a taxi (no way I'm taking a bus as the schedules would have me waking up around 3!) which promptly arrives and the nice older driver gets me to T1 in record time - no traffic at all at this hour!
As expected T1 is pretty much deserted at this hour - just some staff at the BT check in desks and a few sleeping passengers on the benches. Quick through the security - actually our gate agents are following me through the check and as soon as they reach the gate 13A which is right opposite the checkpoint they set it up and call for boarding - no nonsense just as I prefer this early.
Remarkably there's almost no wait in the bus for any last minute pax - from what I can see I think I was pretty much the last pax to arrive at the gate. Quite a few people for this early flight - including a large number of Indians and some Asians, is BT now stealing AY's bread and butter passengers as well?
Today's load almost justifies the use of the larger Dash over the Fokker - unfortunately it is YL-BAJ, my second ride on this particular one. The earlier time was back in January, on another one of these BT special deal tickets on my way to Gatwick (see report here:
Fare Thee Well, BMI: HEL-RIX-LGW/LHR-TXL-CPH-HEL
(by
FlyingFinn76
Feb 4 2012 in Trip Reports) ).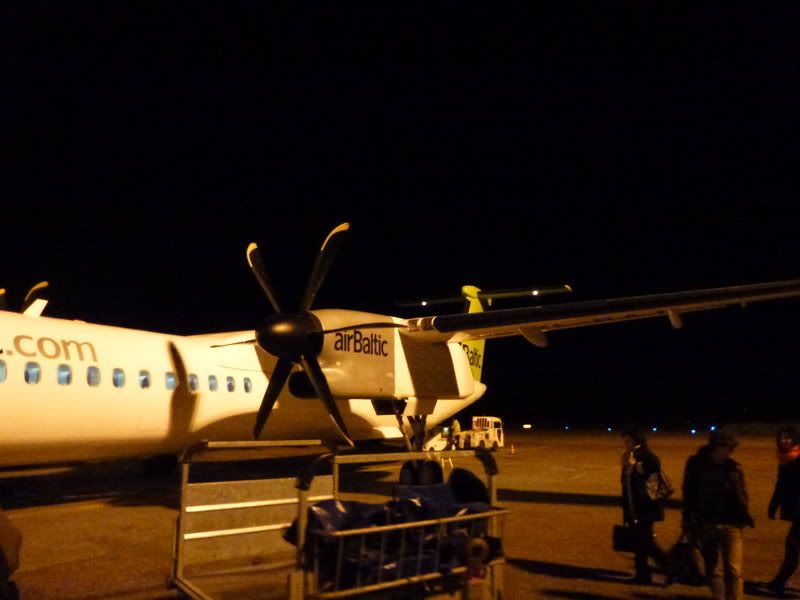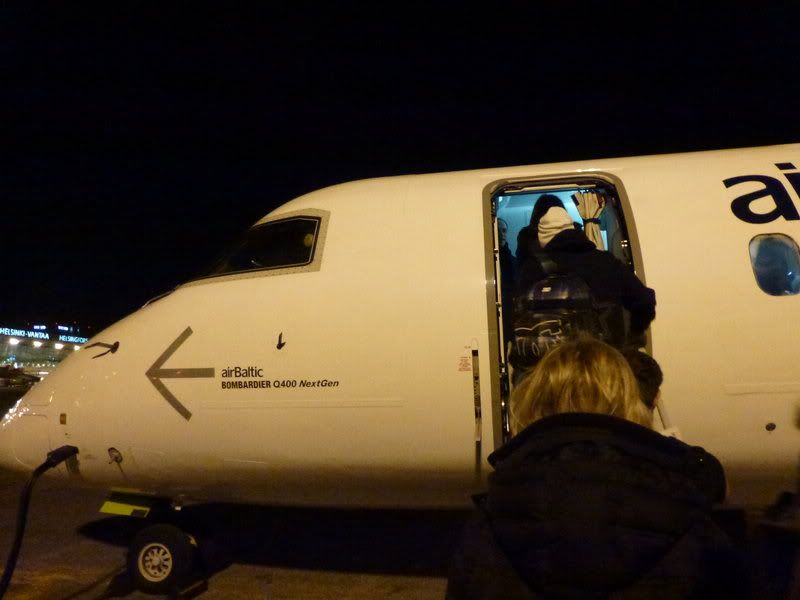 HEL - RIX
BT330
Dash 8 Q 400 YL-BAJ
Seat 21D
4.43 - 5.35
Onboard two male FAs this time - I have the usual jokes about the early flight with them and the other one confesses to sleeping an hour, the other one having no sleep at all - this is the crew that arrives HEL on the "Midnight special" flight, SAT at five minutes past one
in the night
so not that unusual for them.
This is LN-NIA, Norwegian's first plane with the "Famous Finns" tail - this particular Finn being our national poet, Mr. Runeberg: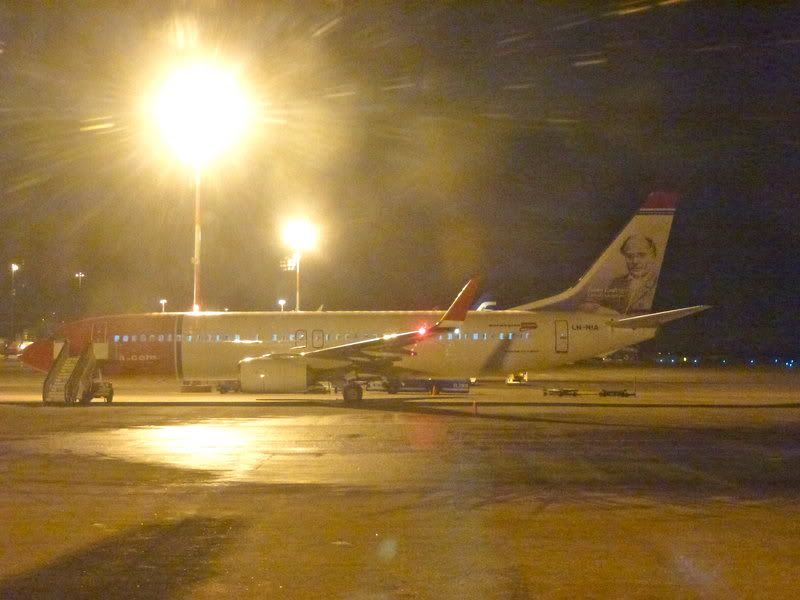 Or Johan Ludvig Runeberg to give his full name:
Interestingly the purser announces the languages spoken onboard (by the crew I assume as I think I can still remember how to speak Finnish) as "English, Latvian and Russian" - never had this with BT before. In the cockpit there seem to be some additional languages spoken as the captain sounds like a Frenchman to me, welcomes us onboard and announces a quick flight time of 50 minutes.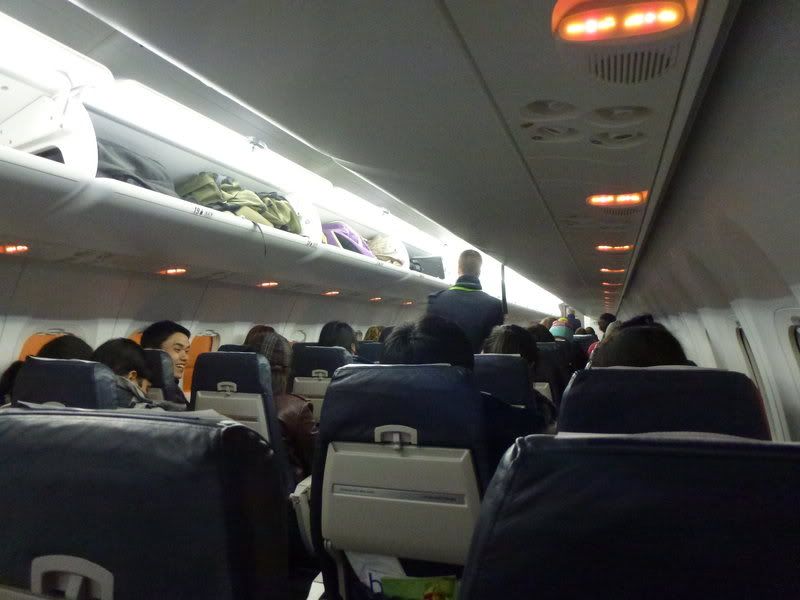 No need for dangerous and potential delay inducing deicing this morning, so after the doors are closed and engines started we leave the position a couple of minutes ahead of schedule.
No congestion of course so a few minutes later we take to the skies from 04R.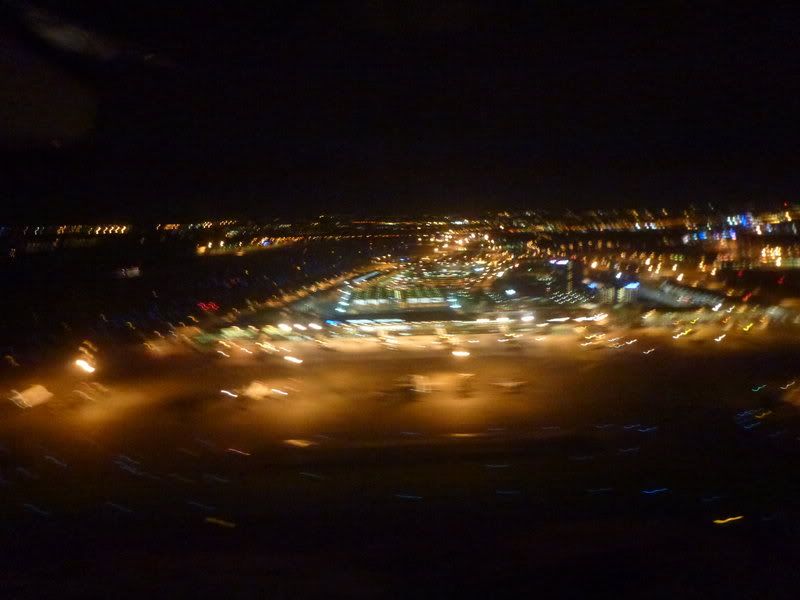 Some pretty views of the Capital Region lit up on departure: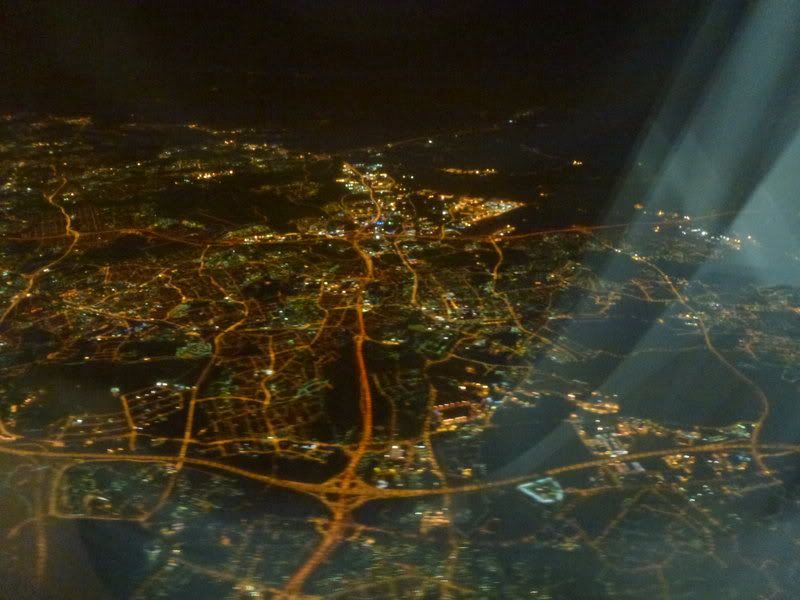 I like this photo as it shows how the centre of Helsinki is constrained on that narrow peninsula in the middle of the photo with no space to grow anywhere - all the black areas are sea: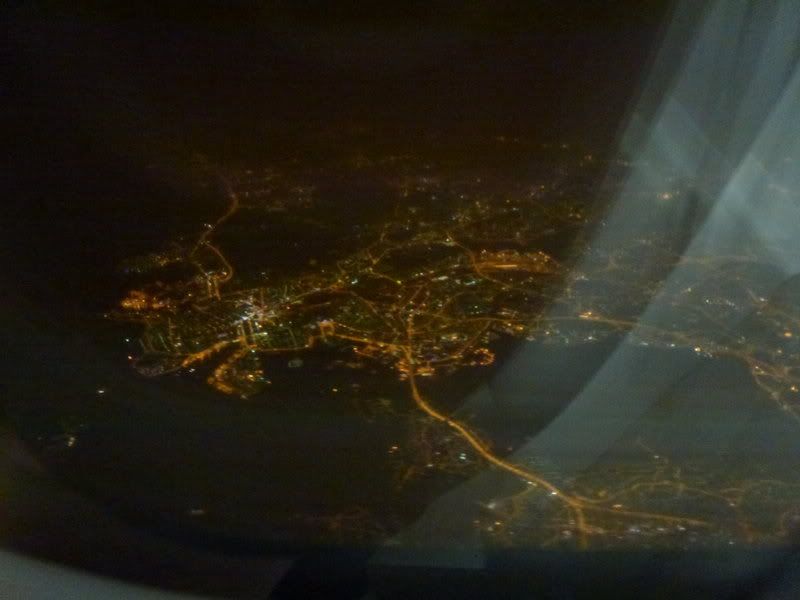 No doubt what I do for the next 45 or so minutes - drift off into dreamland although it is more like dozing than actual deep sleep, but refreshing nevertheless.
I'm woken up by the sound of the gear coming down and a few seconds later we touch down on RIX's runway 18, "15 minutes ahead of time" as the crew is happy to announce - looks like this Dash might be equipped with the experimental PWC quantum leap engines as it manages to defy the laws of physics regarding time.
A rather miserable morning in Latvia: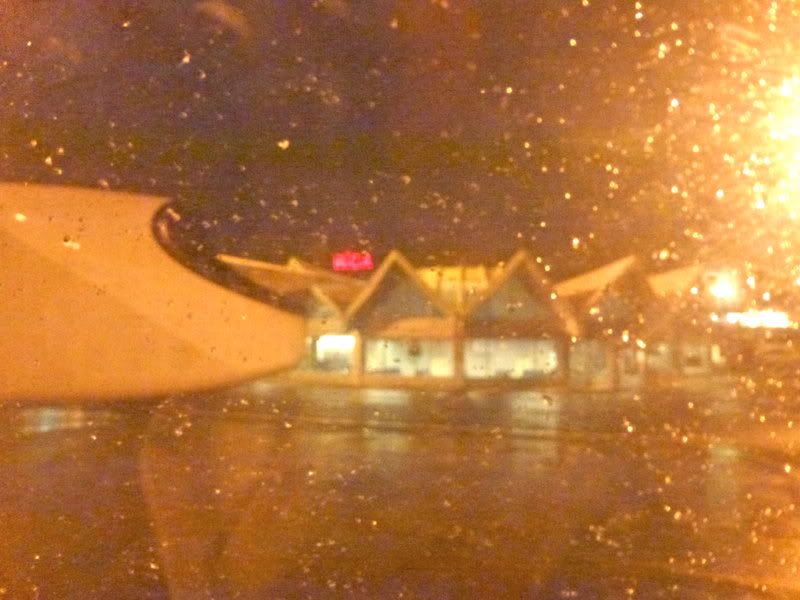 Couple of minutes later we stop at a proper gate in the B pier (not that the jetway goes that low so we could use it...) and after a bit of a wait for the ground crew who apparently weren't expecting us this early they let us out and I make a beeline for the BT lounge.
Riga Airport
There's no one at the lounge reception so I take a look at the display case they have set up with various airBaltic branded merchandise. One of these days I'm going to get me a pair of these cool sneakers - they were first used in the BT advertising but apparently people started asking where they could buy them from so they decided to actually sell them:
Soon a guy appears from somewhere in the bowels of the lounge. He seems to be part of the permanent fixture nowadays - I think he's been there for the last five or so times I've visited. I kinda miss the nice girls...
So now it is time for a proper cooked breakfast with cheesy egg rolls and sausages: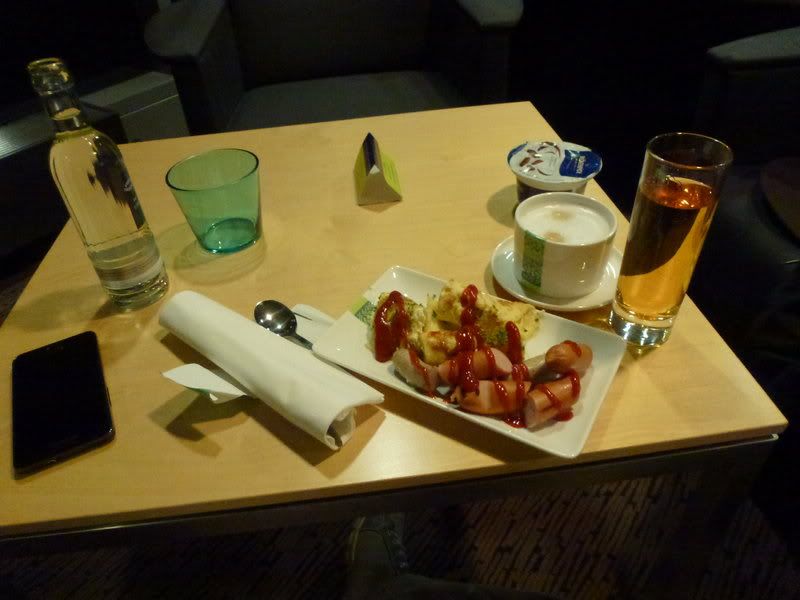 Definitely hits the spot very nicely and I've recently taken an unexpected fondness on the hot chocolate their coffee machine dispenses - yummy!
That is all I have time for as the front desk guy soon comes and advises me that my flight is boarding, so I say my thanks, gather all my trash and head for gate seven. On the way I notice something interesting: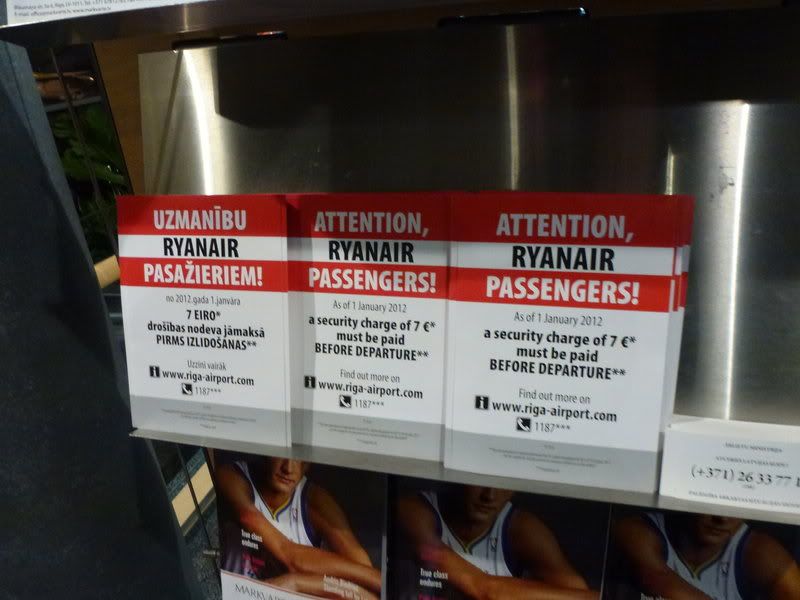 Yes, apparently RIX airport nowadays charges FR pax a special "security fee" as I guess they gave Mr. O'Leary such a good deal that it doesn't cover their operating costs. Very dubious and low in my opinion!
Gate seven is right next door to the gate where I arrived half an hour or so earlier so I know the ride will then be YL-BBX just as I suspected. I get a bit of a deja-vu feeling as this is the very same plane that took me to Gatwick back in January, after flying in on YL-BAJ as well... Third flight with her in any case.
Looks like a lot of people want to go to Bavaria this morning as the boarding queue is very long - while waiting I have another case of deja-vu as on the passport queue for the non-Schengen gates at the end of the B pier next to me I spot the same Ukrainian sports team that I shared my unfortunate RIX-TLL flight the previous Sunday (
How Not To Deice A Plane: HEL-RIX-TLL
(by
FlyingFinn76
Mar 26 2012 in Trip Reports) ), apparently on their way back to KBP.
On the queue I recognize several familiar passengers from the HEL flight as well - so I'm not the only one doing this connection today.
RIX - MUC
BT221
B737-300 YL-BBX
Seat 4F
6.45 - 7.42
The plane is freezing inside and the faux leather seats are almost painful to touch. Three rows of business class with a single passenger, economy has a good load but luckily I get an empty middle seat next to me after a wealthy looking Latvian woman takes the aisle seat.
Another obligatory legroom shot: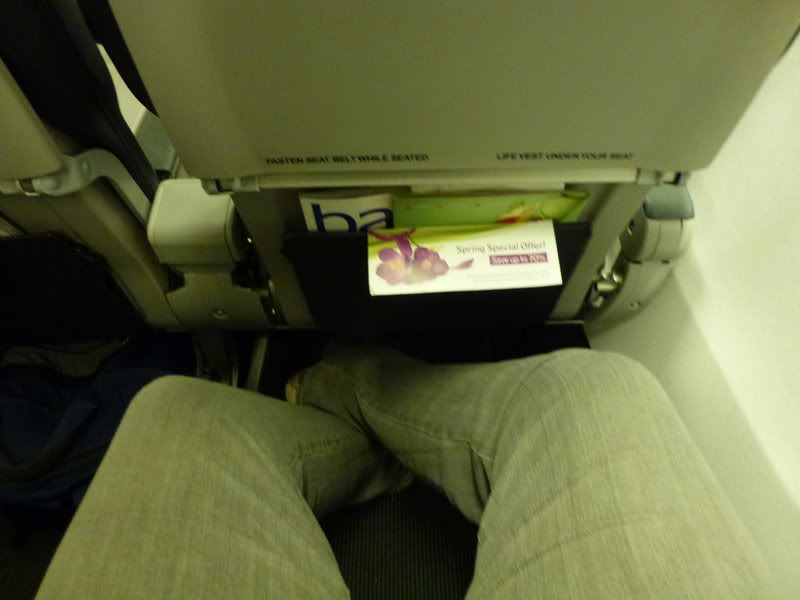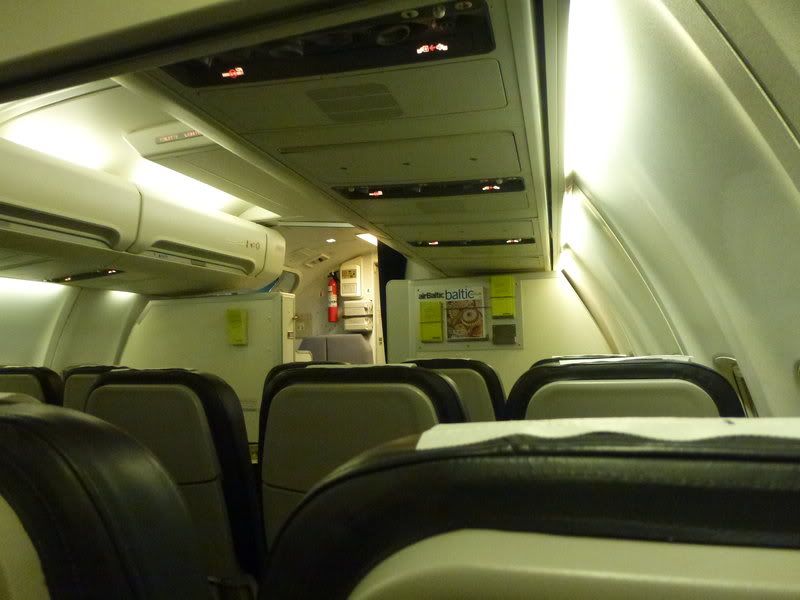 At some point your stereotypical large, older Bavarian man boards the plane and very loudly asks the purser "Wie geht es?!" in a thicker than thick Bavarian accent. The poor lass is a bit confused, apparently speaking no German and unsuccessfully tries Latvian, Russian and English with the man who says something else which I can't quite make out, smiles smugly and makes his way into... economy class. With his demeanour and air of authority around him you'd at least expect him to be seated in business!
Our captain is British this morning - James something - but also fluent in Latvian (well at least as far as my Latvian understanding goes which is not too far). He announces a flight time of 1h55mins and says that we will be on our merry way as soon as a bit of deicing action has taken place. Following this we push back, five minutes late.
My inbound ride getting deiced next to us: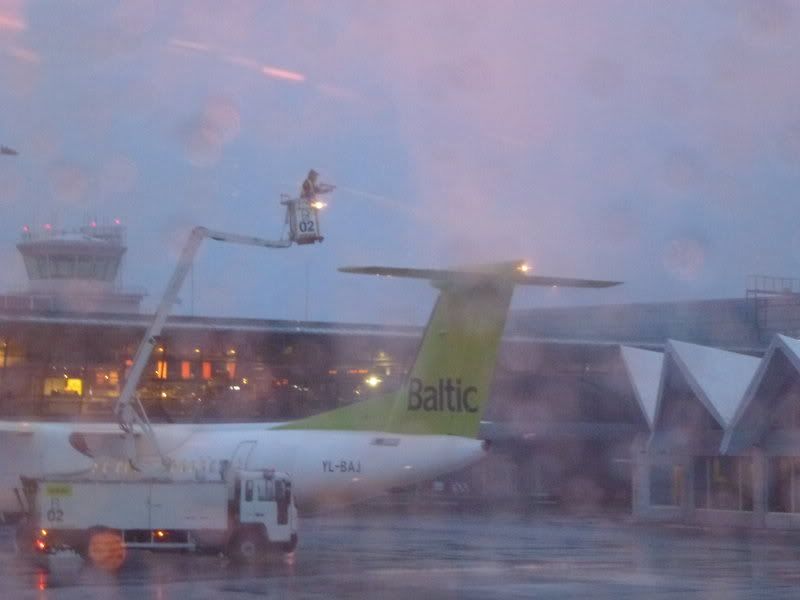 Deicing seems to be smooth enough with no APU-related incidents this time and afterwards we taxi at a rather slow speed to the runway 18 threshold and take off.
Looks like a couple of the Fokkers have been parked here and are apparently not being used actively: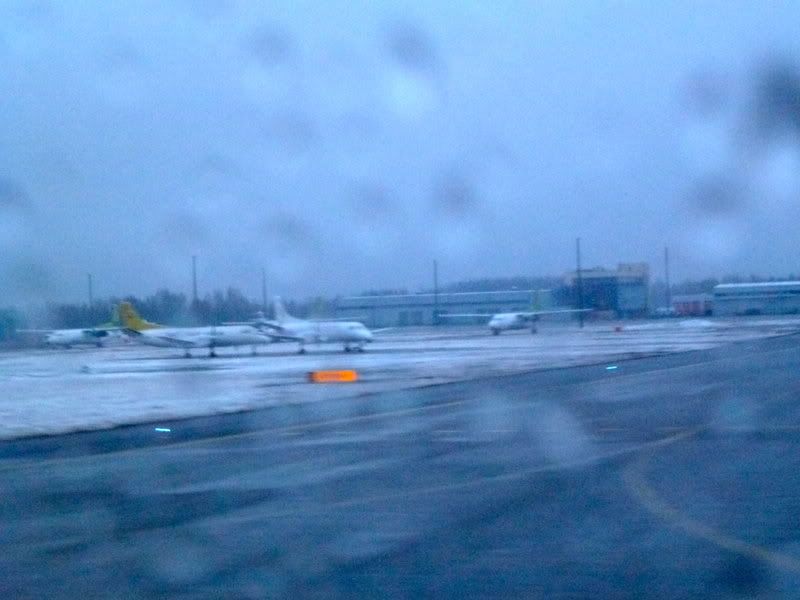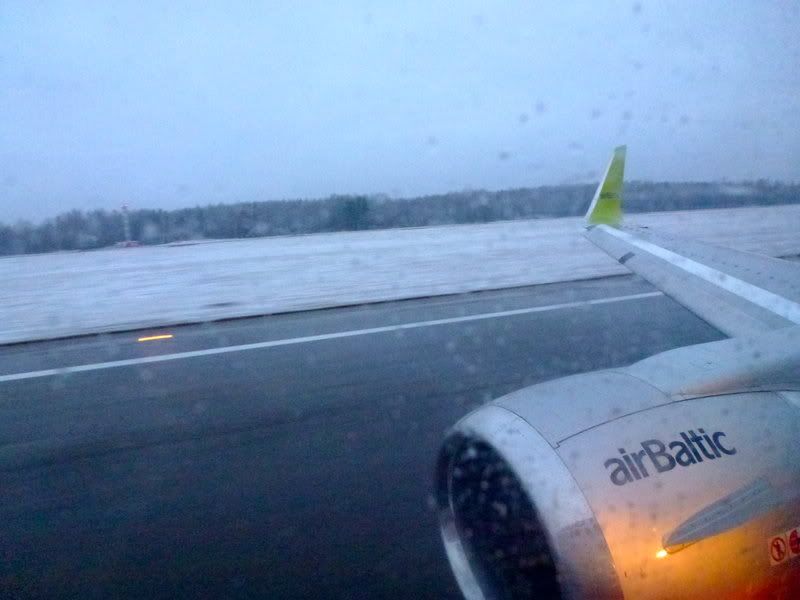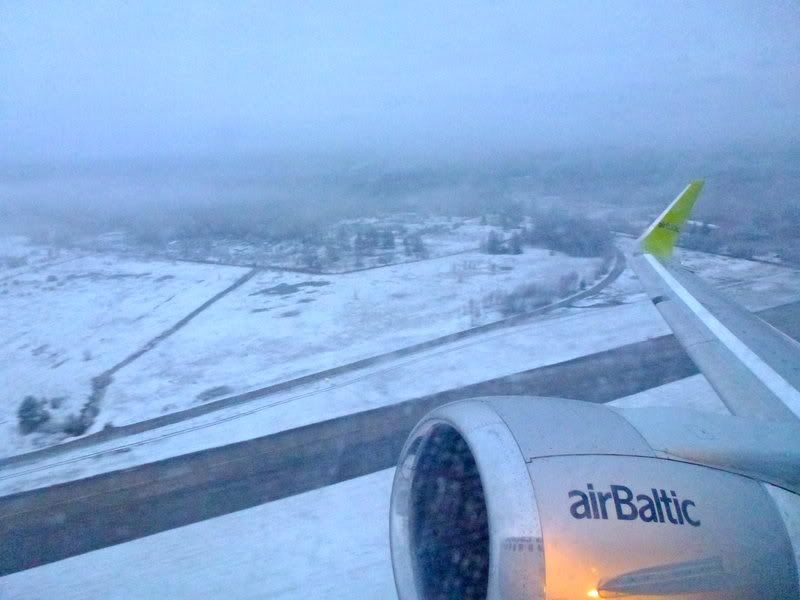 This would be the view out of the window for most of the flight - overcast all the way: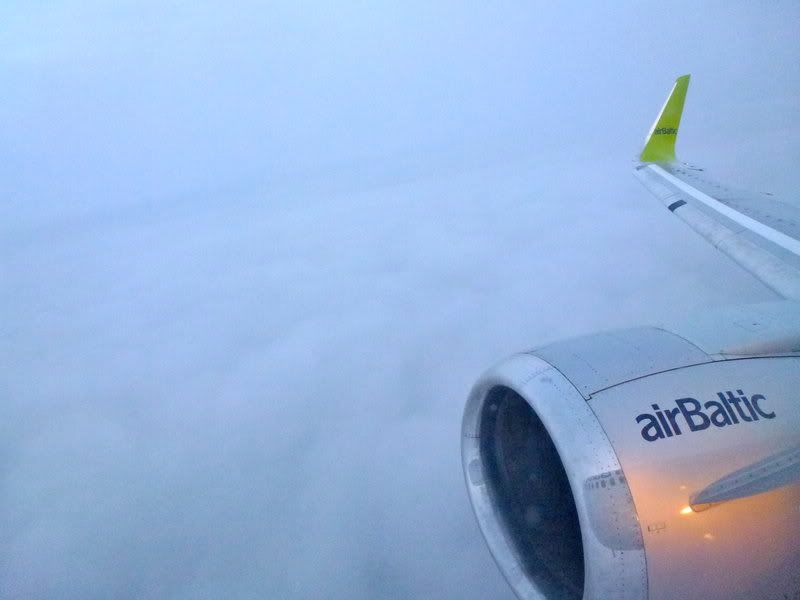 It is another very uneventful flight - for the first half I finish my morning paper (yes, this time it showed up before I had to leave, yay for a news addict like me!) and splurge for a coffee from the BOB service: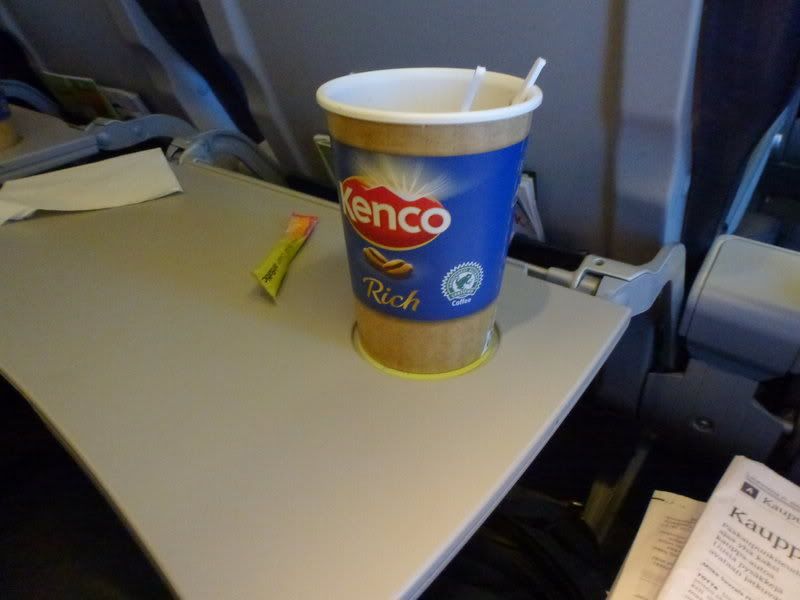 For the second half I just listen to some music and kinda drift off, thinking of various things and trying to feel rested enough for the upcoming drive around Bavaria.
Still cloudy but at least not murky:
The biggest event on this flight is when a toddler a few rows behind me decides to self upgrade himself and wanders up the aisle, thru the curtain into business class - future up front flyer I guess!
This flight actually goes very fast and I am quite surprised (ok, I might have slept for a while...) by our descent and the captain's announcement about landing in no time at all. After we break the cloud base there are some nice views of the Bavarian countryside around us: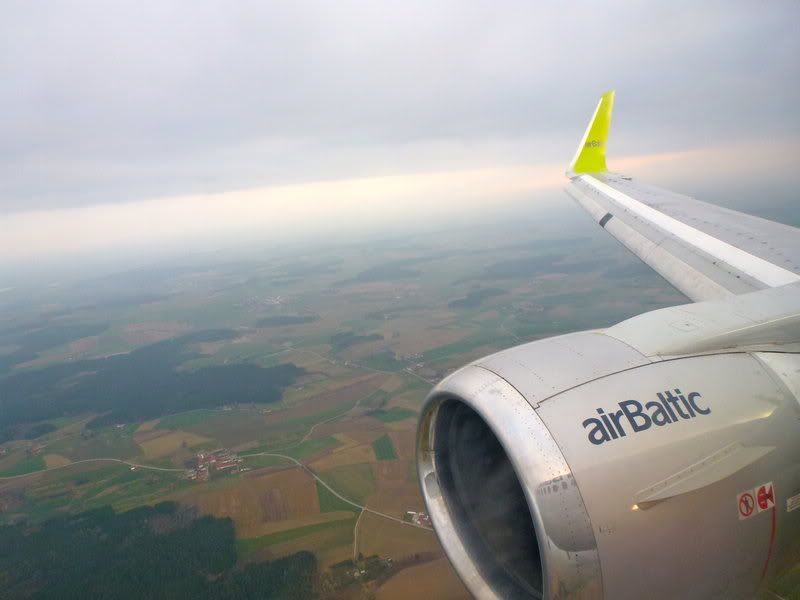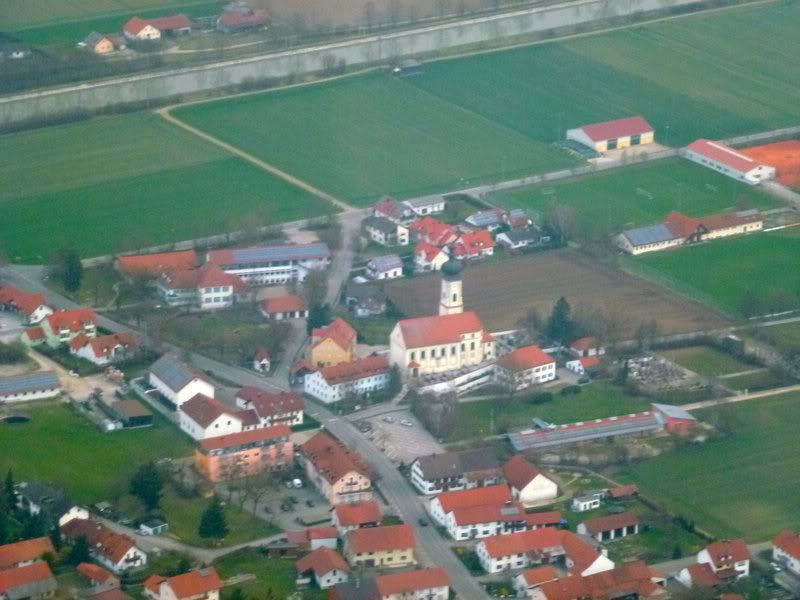 Landing is on runway 26R, total flight time around 1h45mins.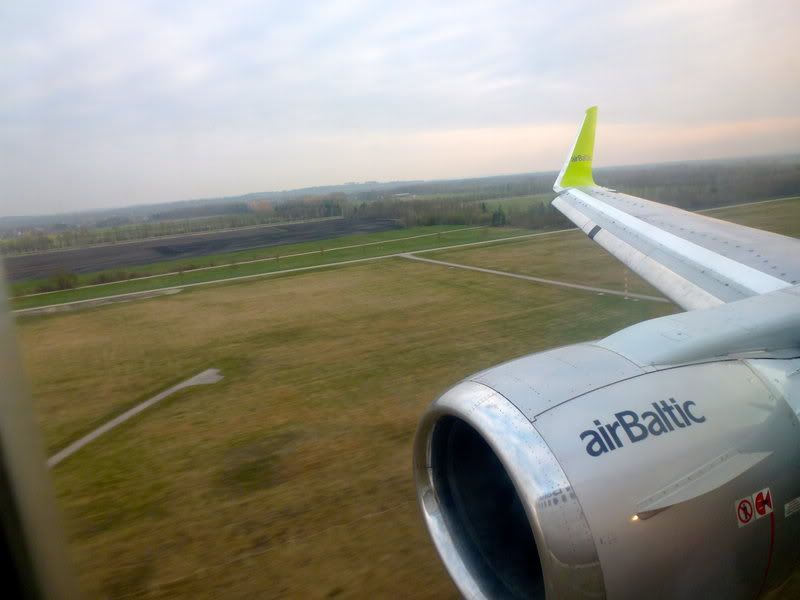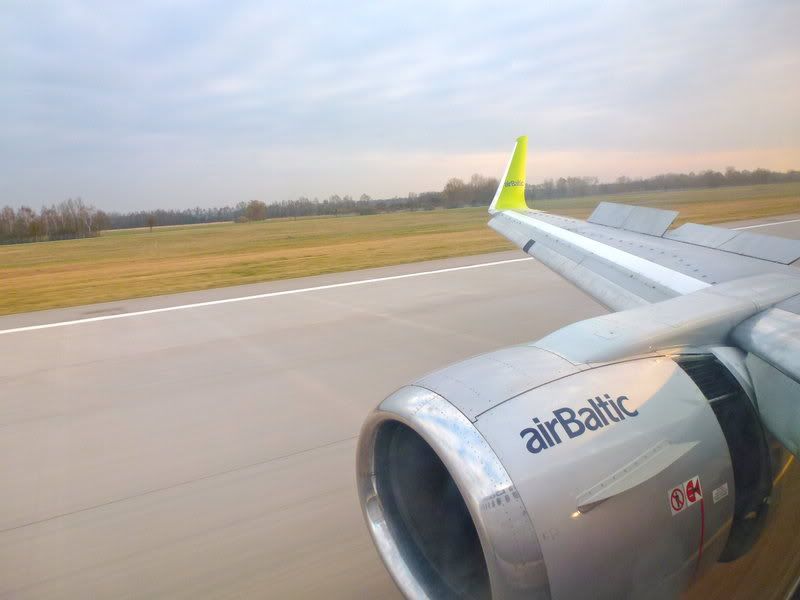 The ancient Bavarian tribes built these earthen pyramids that were used to spot flying things - this tradition continues to date: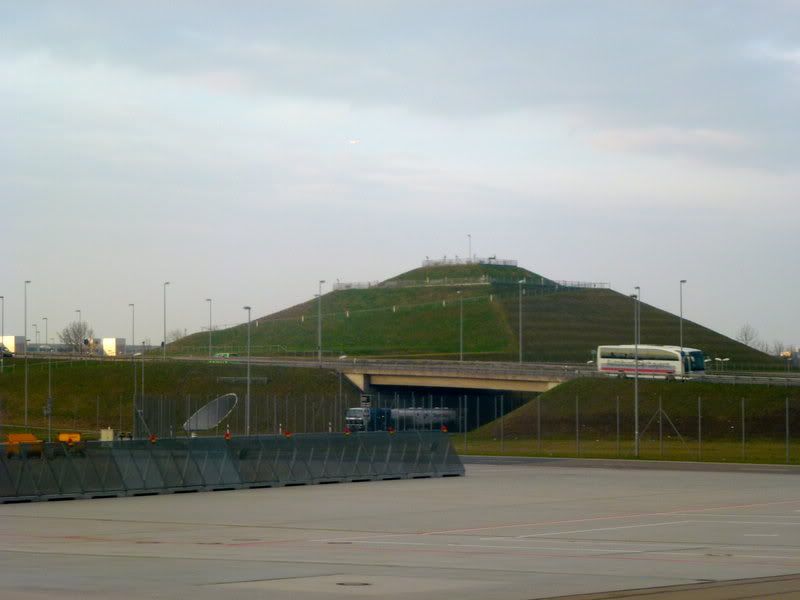 While we are taxiing to T1 I'm surprised to see quite a number of LH birds parked on remote stands around it - looks like MUC definitely needs that new T2 satellite building (not to mention the third runway):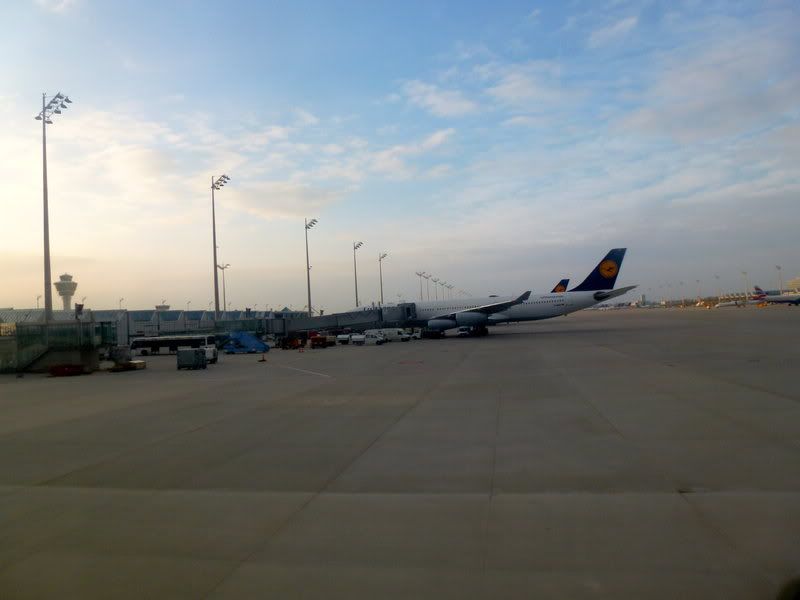 We get a jetway gate at a rather empty looking T1 next to this Air One bird, apparently operating the new MXP-MUC service - quite a big plane for such a short hop: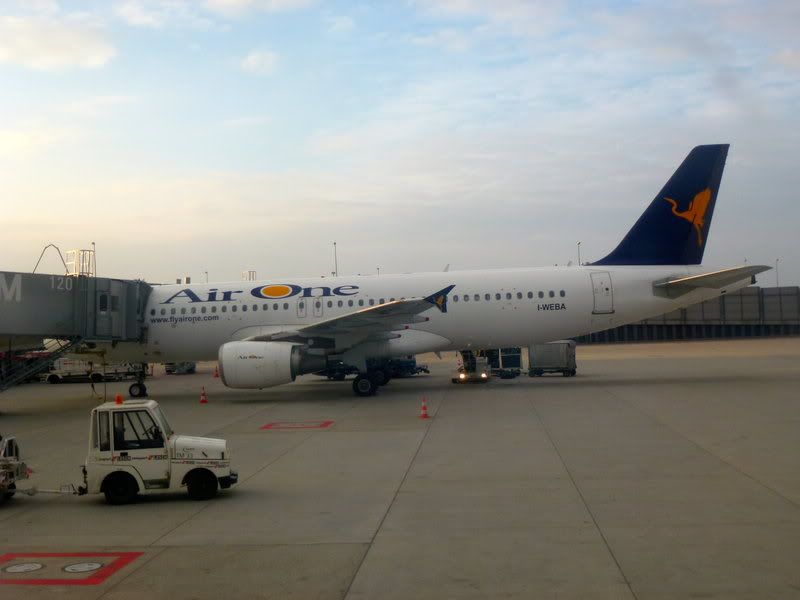 Bye: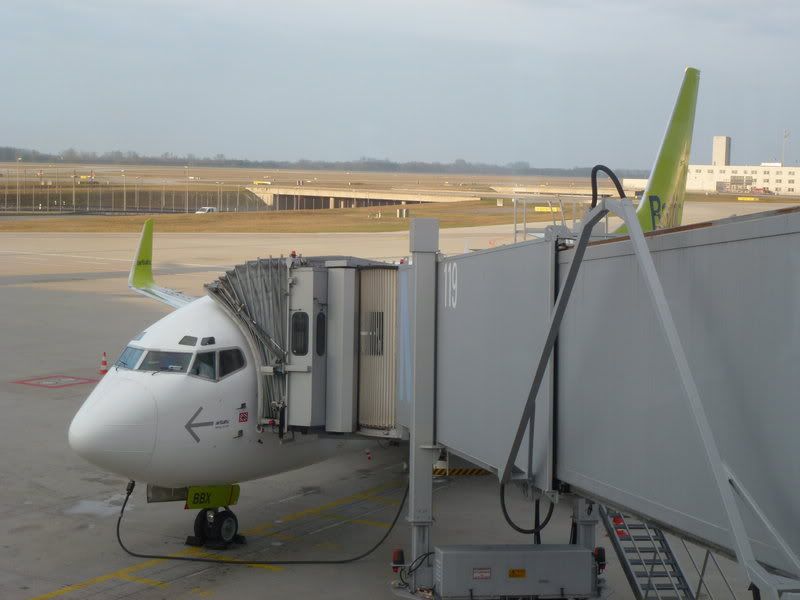 Munich Airport, take 1
Deboarding is fast, but it is a bit of a hike to the Munich Airport Center - an area between T1 and T2 that houses facilities such as a lot of shops, restaurants, the train station and most importantly (for me today) the car rental offices. The route from T1 features a rather funkily lit corridor with travelators, I guess the one at DTW looks a bit like this: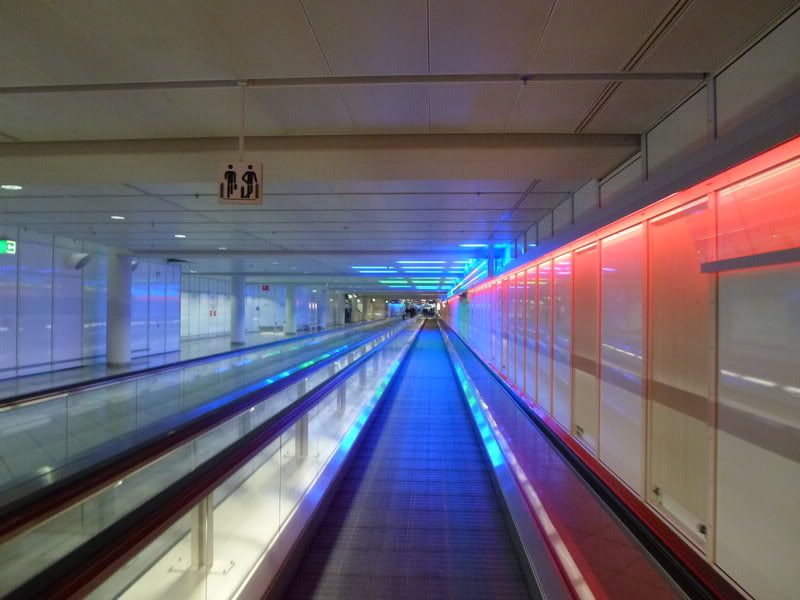 After locating the Sixt counters I get my paperwork sorted out with a very pleasant girl, choose the offered Fiesta over some Fiat model (I'm a Ford man, after all!) and head towards the garage to pick up my ride.
After getting familiar with it it is time to head out, hitting the Autobahn for my first objective of the day.
Primary Objective #1
First stop on my journey is the sleepy but beautiful town of Oberschleißheim, home not only to the Schleissheim Palace (which I drove through) but also the aviation part of Deutsches Museum at the former grounds of the Schleissheim airfield: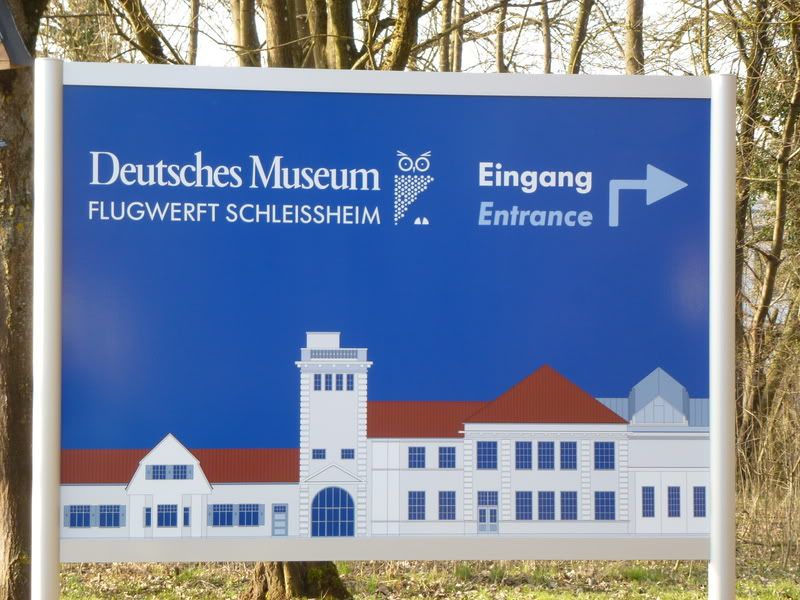 A tranquil and very beautiful morning: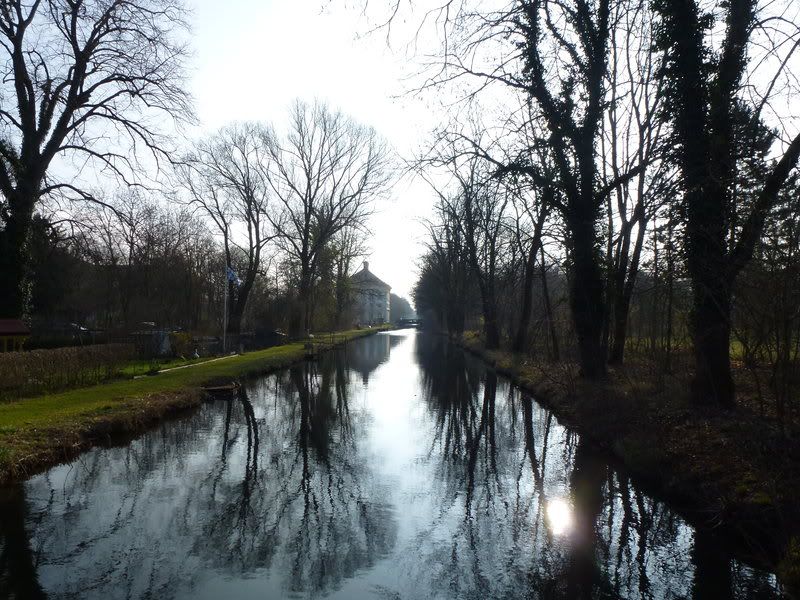 My spiffy little Fiesta - a fine car but could only do 160 km/h and if you know the German Autobahns that's nothing: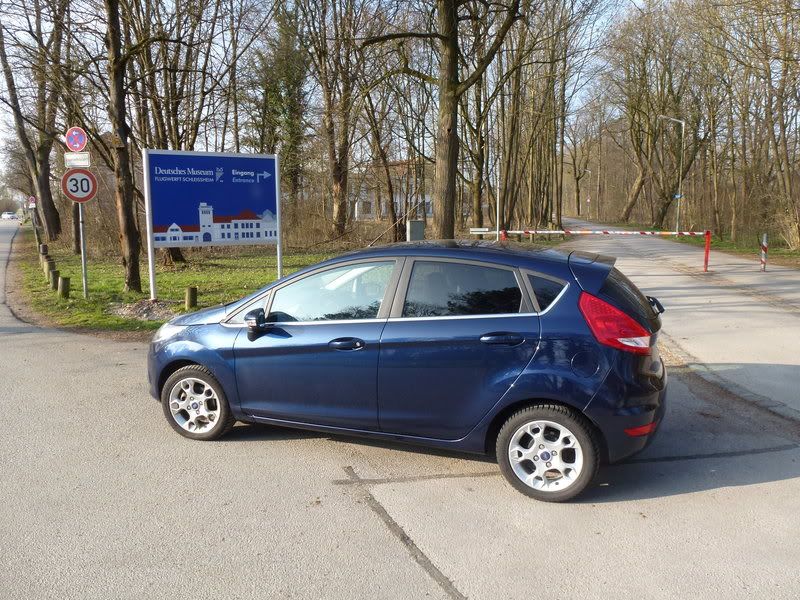 Some shots from the museum where I was the first guest of ther day - I was there one minute past the opening time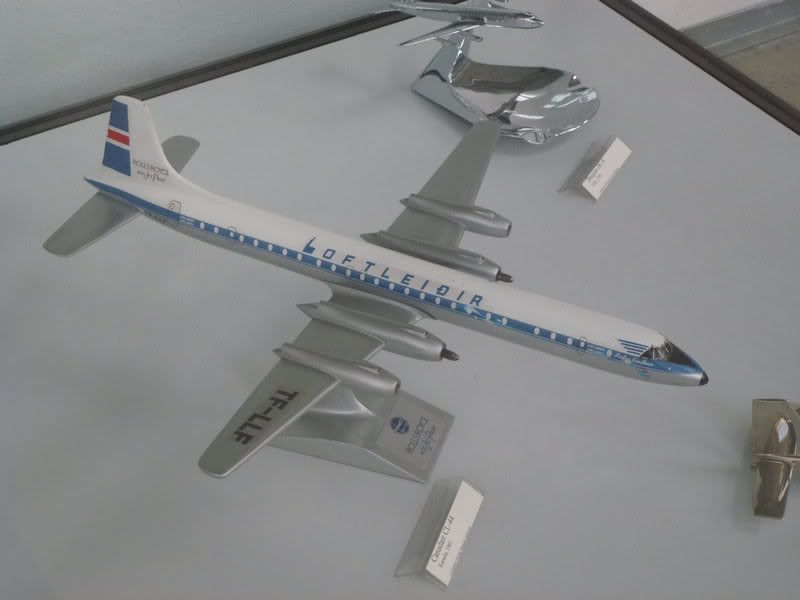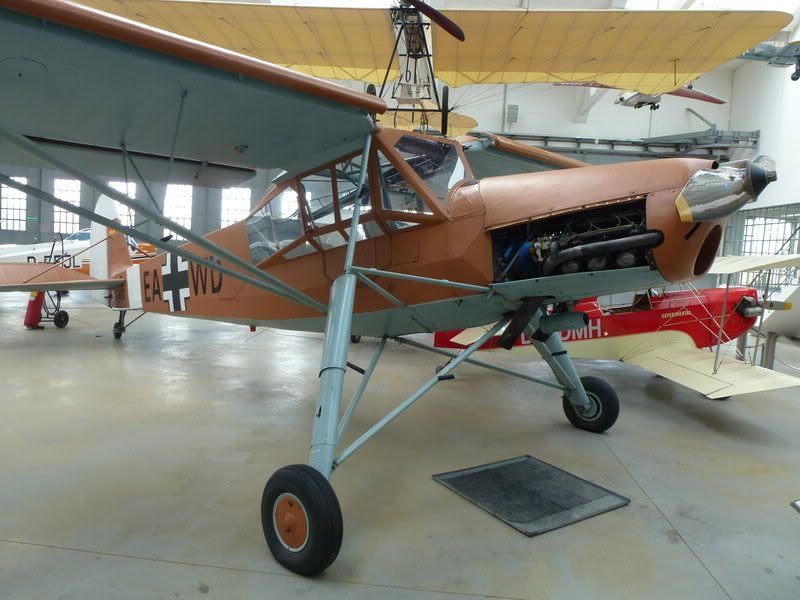 I wouldn't mind that in my garden. If I had a garden, that is: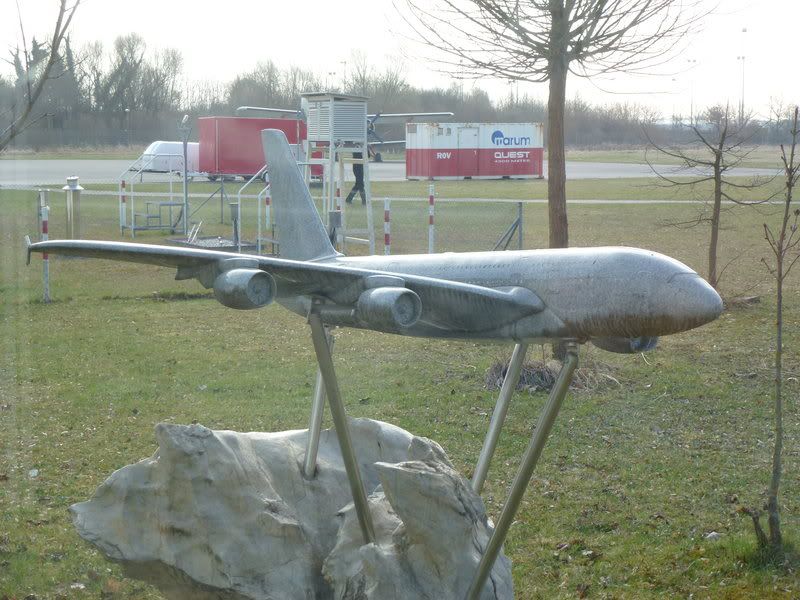 A wonderful, truly wonderful CASA 2.111 - a Spanish built HE-111: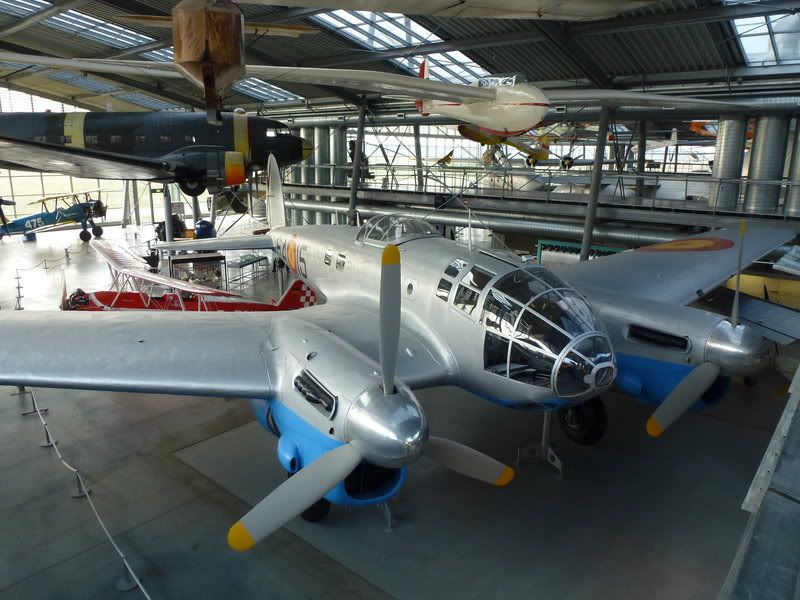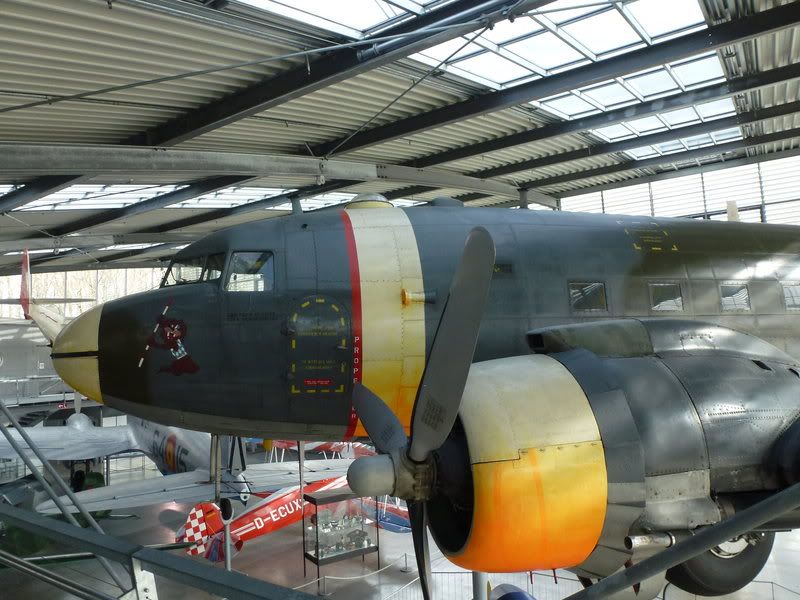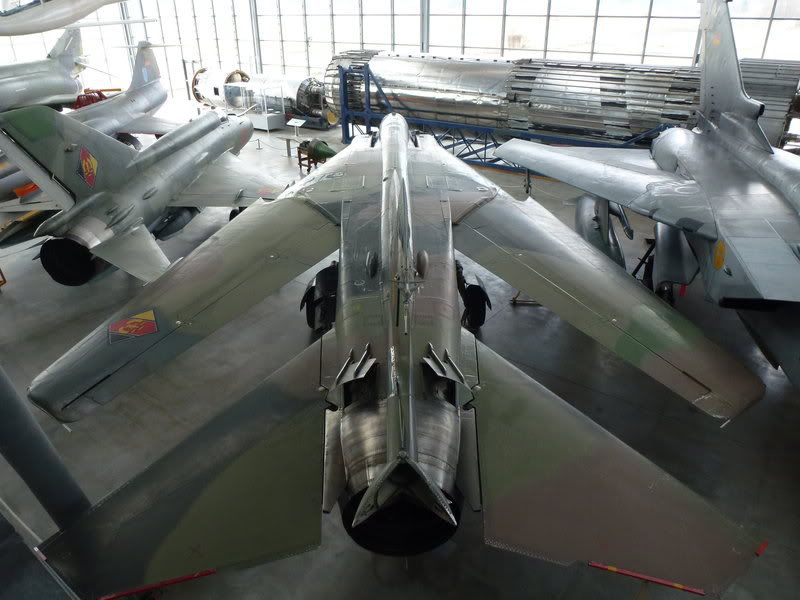 Are there camels in Afganisthan: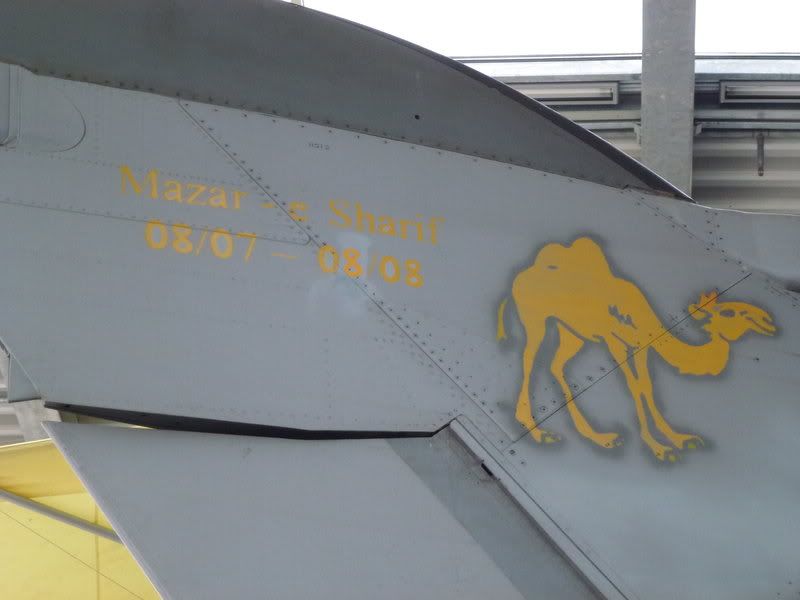 Bogeyman: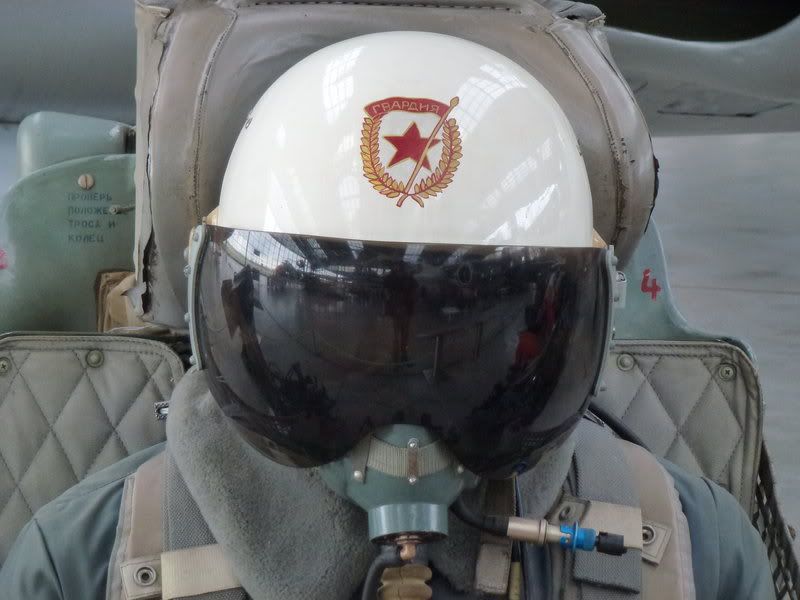 After a couple of hours of aviation bliss it was time to move on.
Primary Objective #2
I drove to the nearby town of Dachau, (in)famous for its concentration camp which has been turned into a memorial site. Hence my second objective, the KZ Gedenkstätte Dachau:
Arbeit Macht Frei: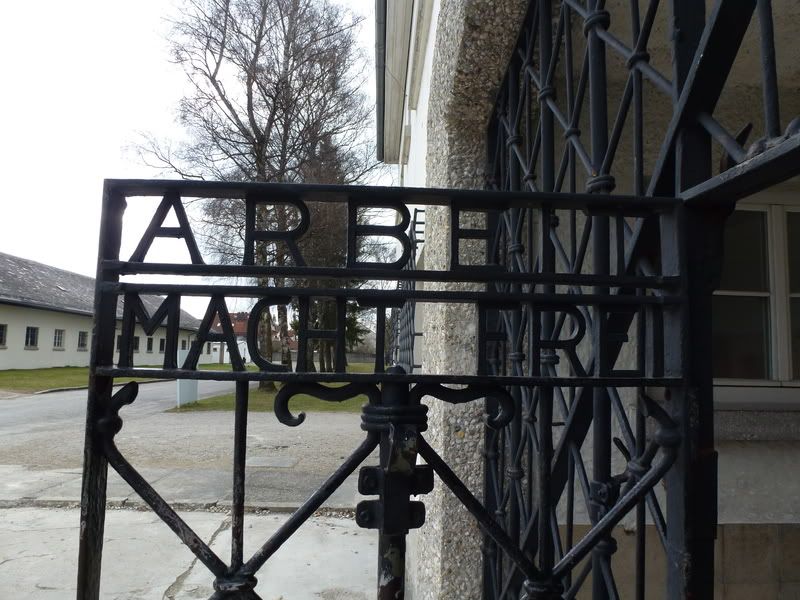 The vast gathering ground - tons of Italian teenage school groups around: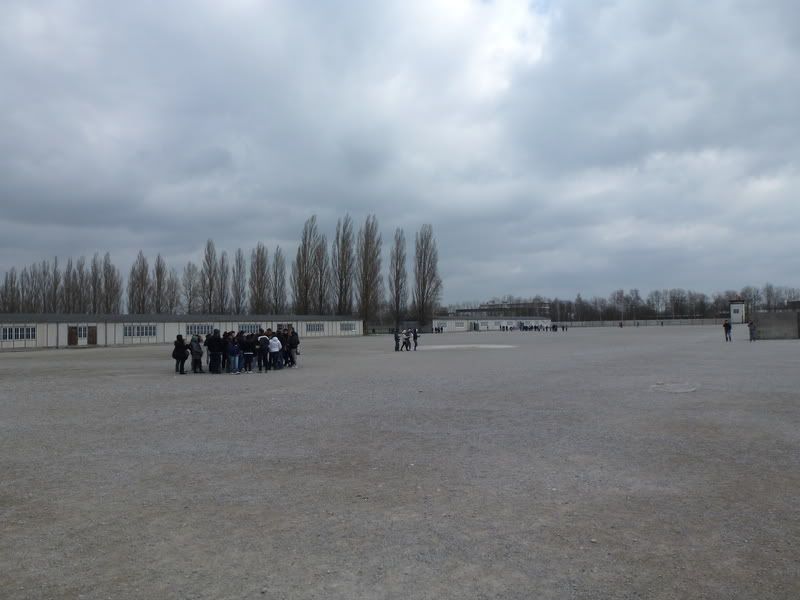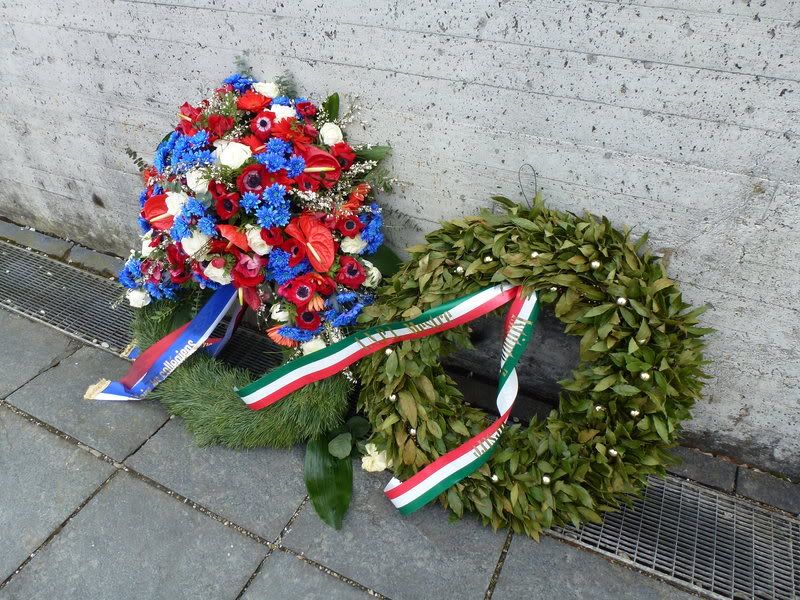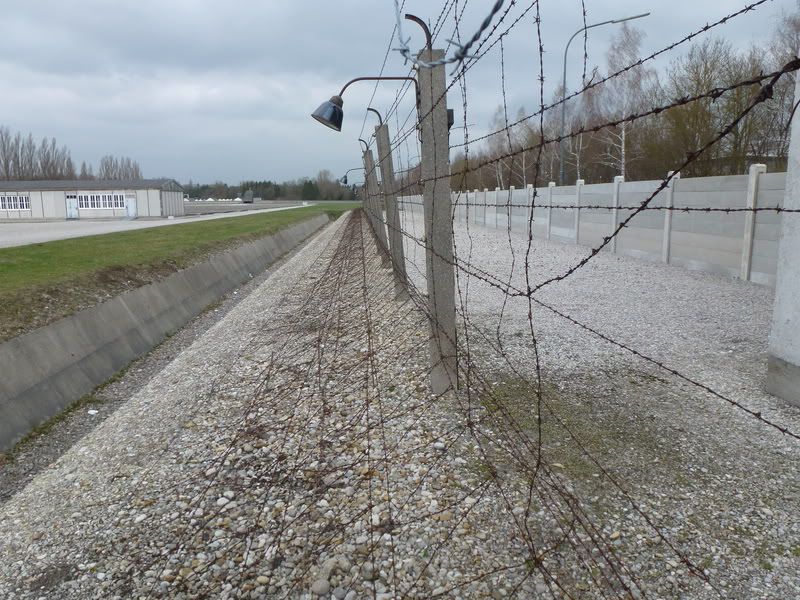 Another couple of hours went flying past exploring this very interesting historical site. Afterwards I had a bit of a lunch at Dachau before getting back on the Autobahn for the drive up to Regensburg.
The A9 Munich - Ingolstadt - Nürnberg one was full of cars - wonder why everyone was trying to reach Franconia this day: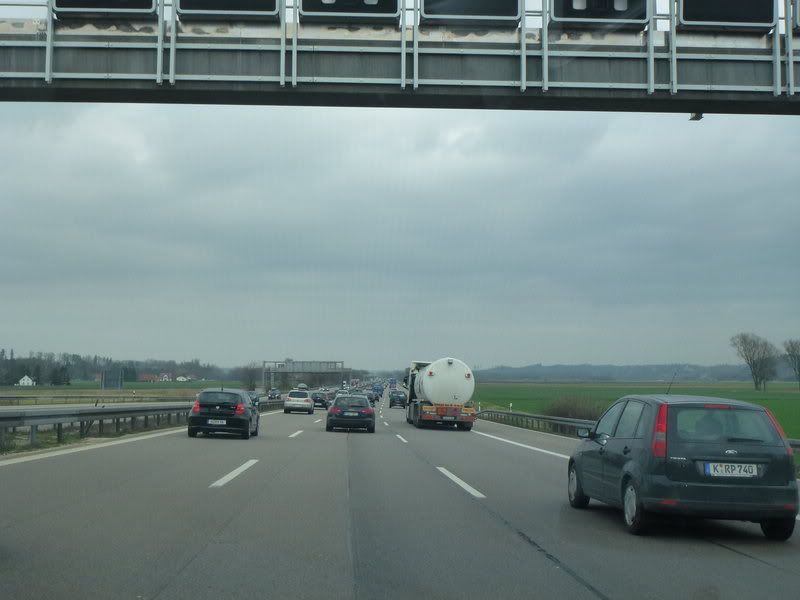 Luckily after a while things settled down and after turning on the A93 it was smooth progress (but that road had a lot of speed restrictions, bummer). The first part of that Autobahn is certainly interesting as it apparently takes you through most of the areas where hop is cultivated in Bavaria.
Eventually reaching Regensburg I had some problems finding my hotel, thanks to me leaving the Autobahn on the wrong side of the Danube and ending up in some drab industrial park. Eventually after backtracking my way back to the A93 I got onto the right track and finally found my hotel right on the outskirts of society: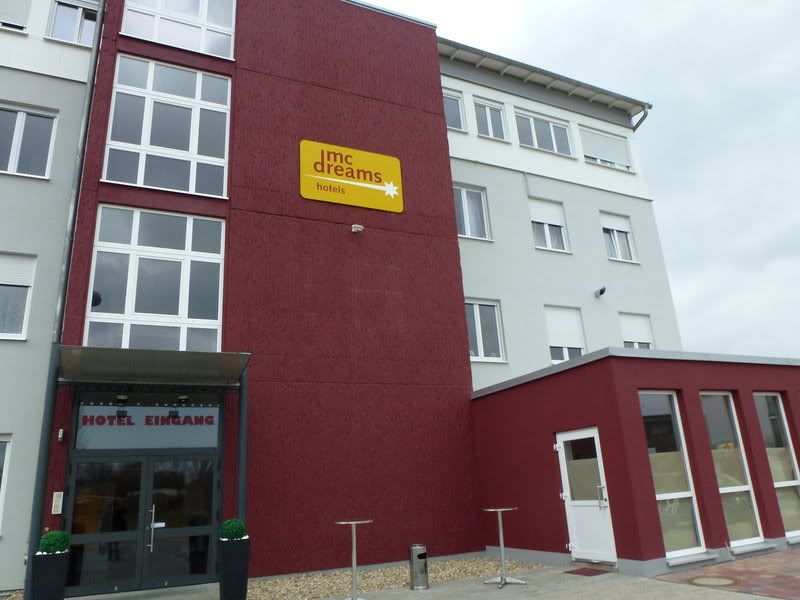 Yes, that hotel is indeed called "McDreams". I'm pretty sure they will (be forced to) change their name after a certain US corporation takes interest in them...
In the lobby they have a fancy looking self check in machine so I decided to use that one. Sure it got the job done but was so frustratingly slow that in the time it took to do it I could've done the manual check in five times over and still had time for a wee pint: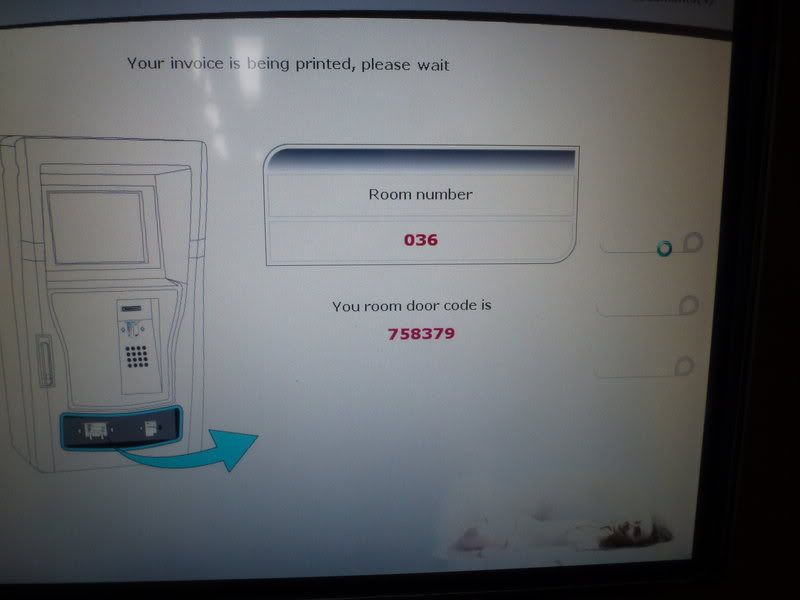 My room - "functional" and "bare bones" are two of the terms that spring to my mind: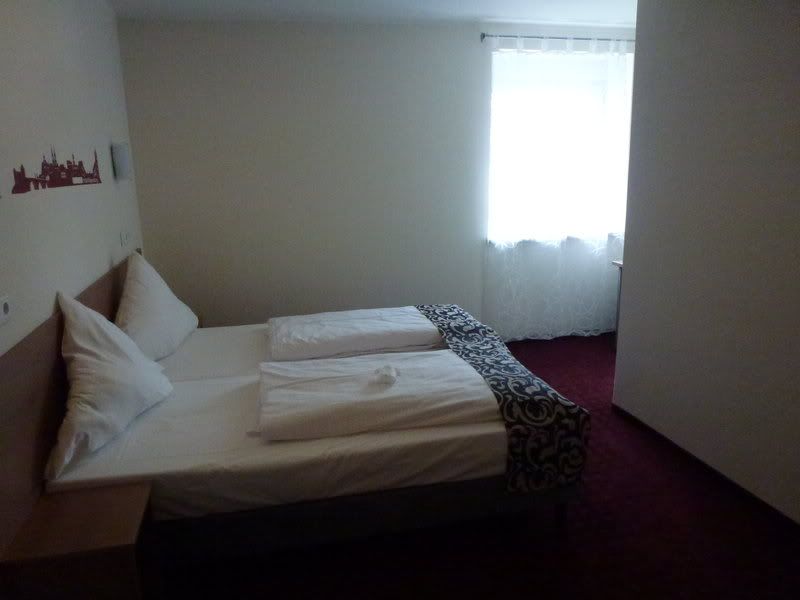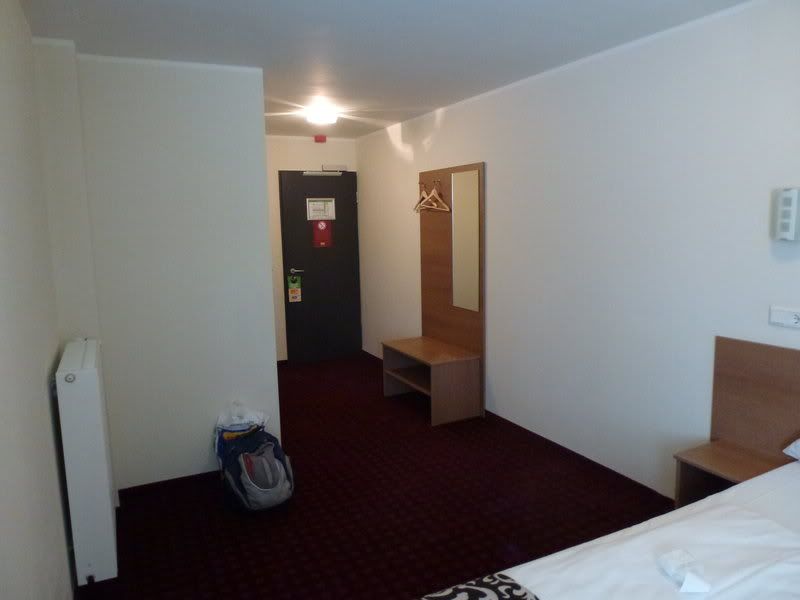 Still for 35 EUR per night including free wifi (which was very patchy apart from early in the morning, must be all those teenagers downloading porn clogging it up) okay for me.
Did they steal this mural over the bed from some other hotel: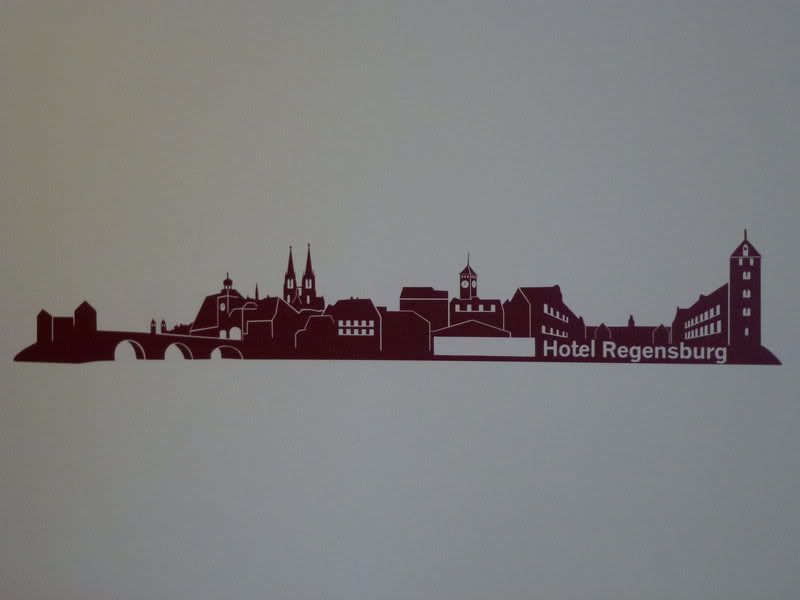 This room access code (yes, no keys or keycards) is a bit of a mouthful: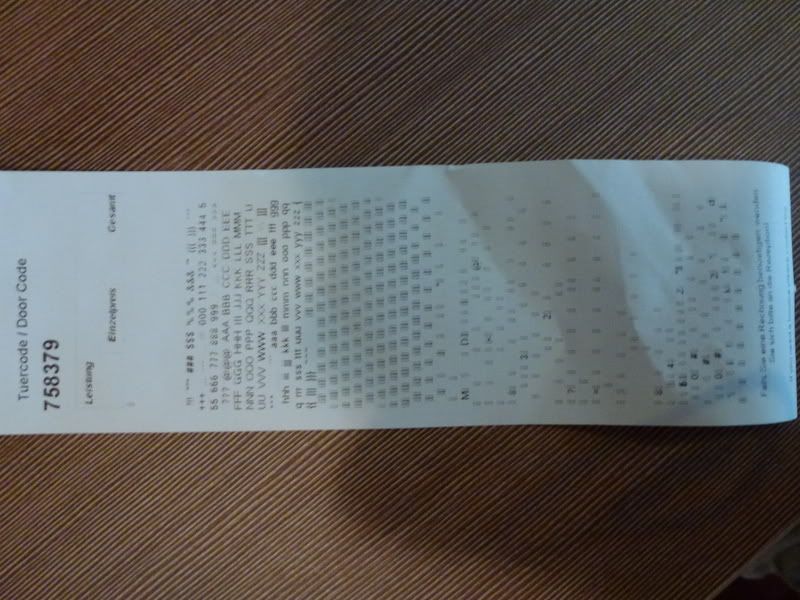 As I mentioned the hotel is somewhere in the boondocks, but as I had the car and it offered free parking plus advertised convenient bus connections to the city I decided to try my luck. Sure there is a bus stop a few hundred meters away with buses to the city centre so fine with me.
Secondary Objective #3
So eventually I took the bus to Regensburg centre. Some images of this Unesco World Heritage listed city: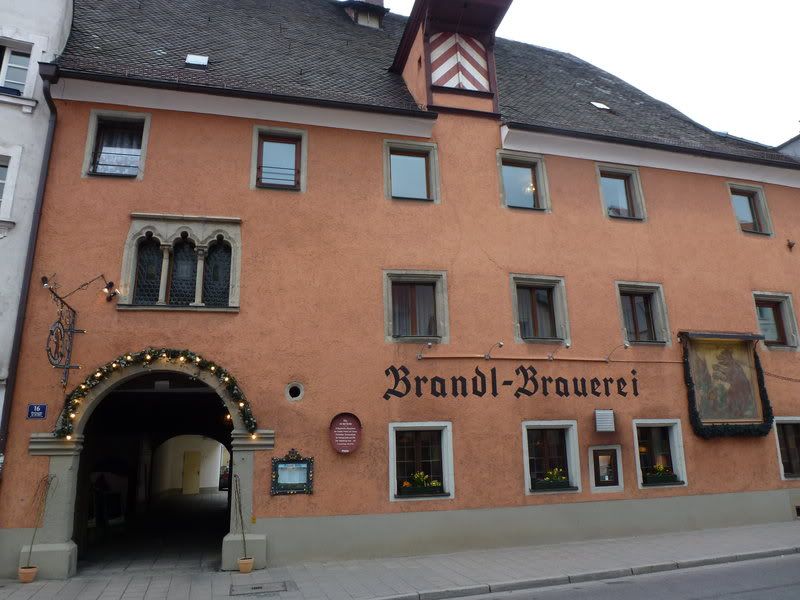 The good 'ole Danube river: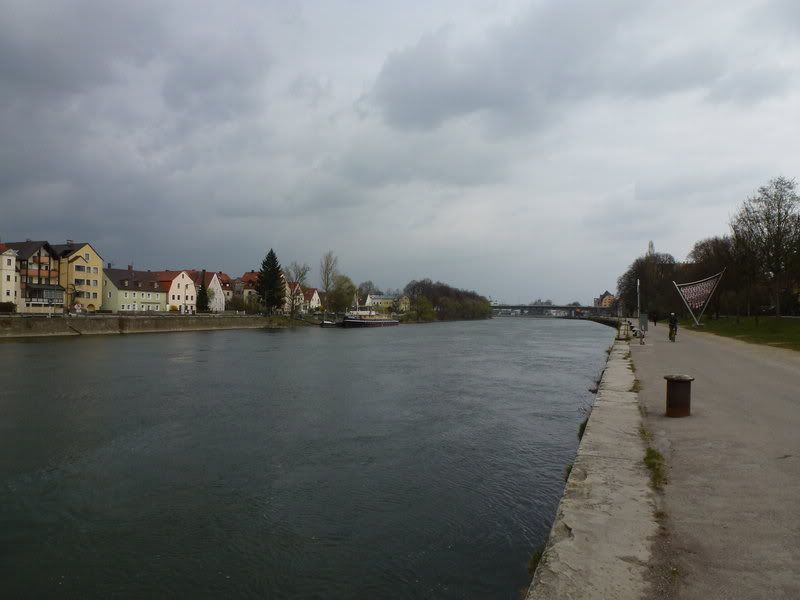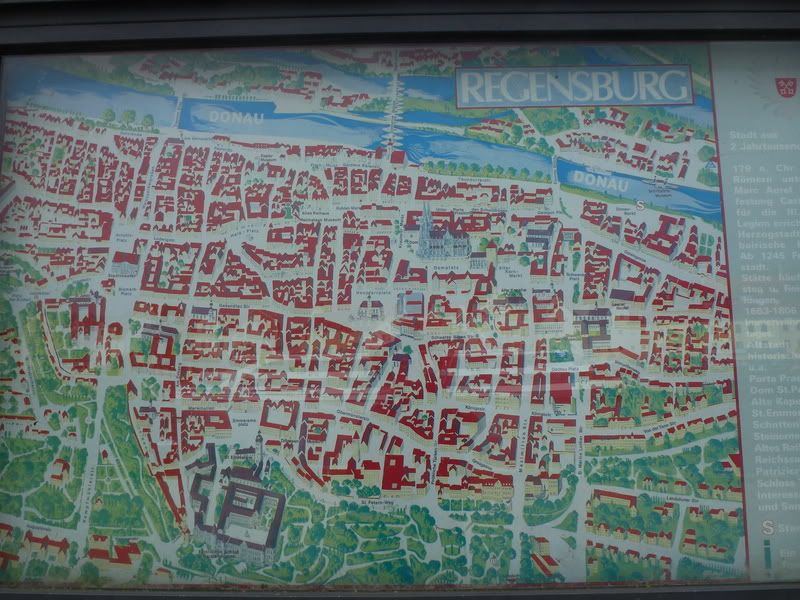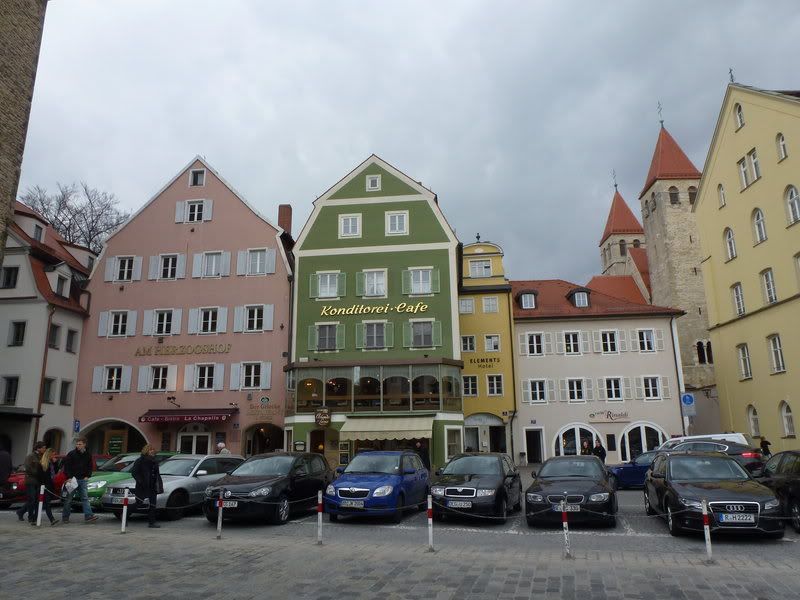 The mighty Regensburg Cathedral: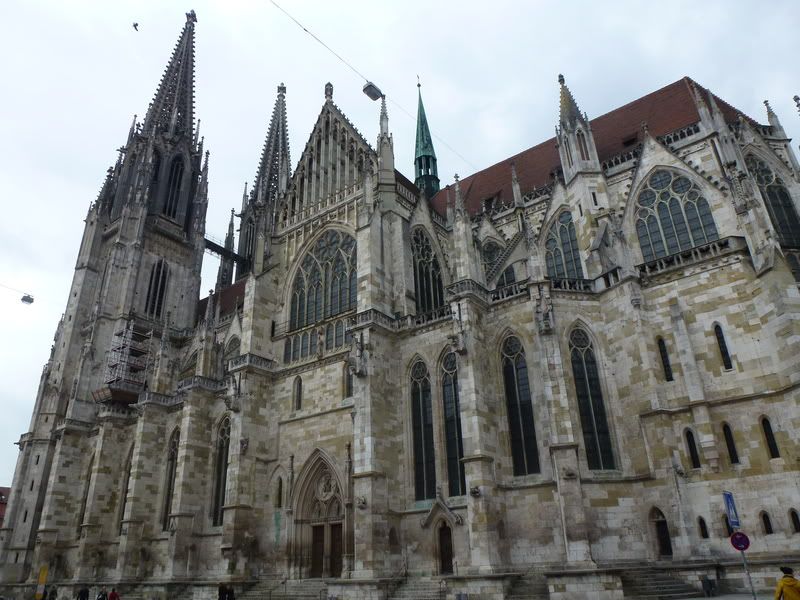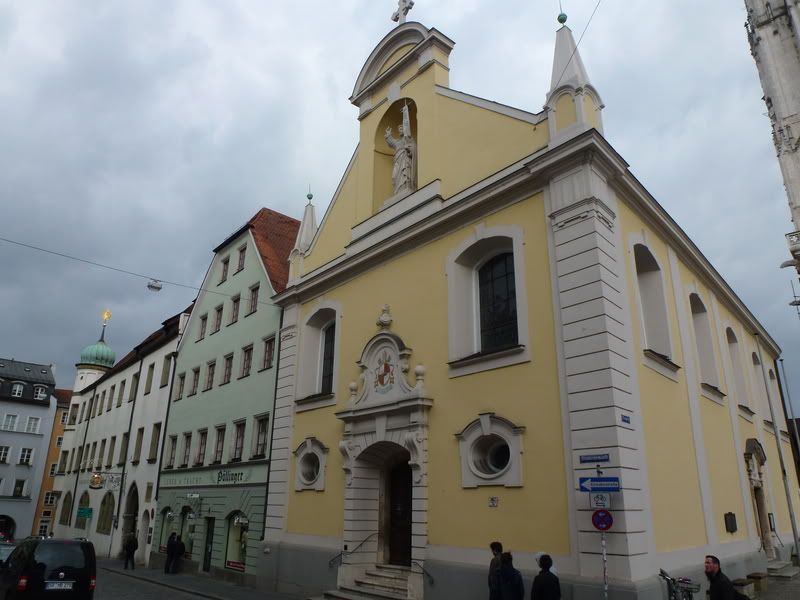 For some reason this hatmaker's (The Mad Hatter?) shop caught my attention:
A Burger hat (McHat?):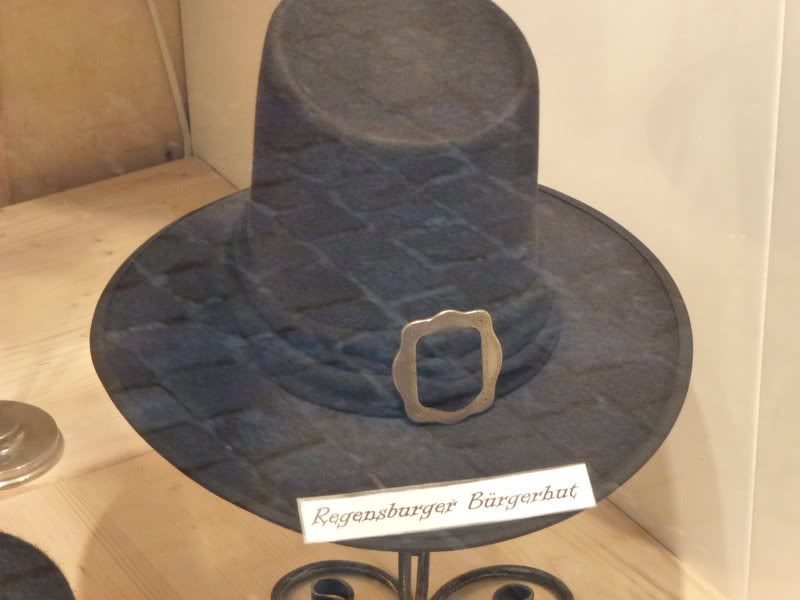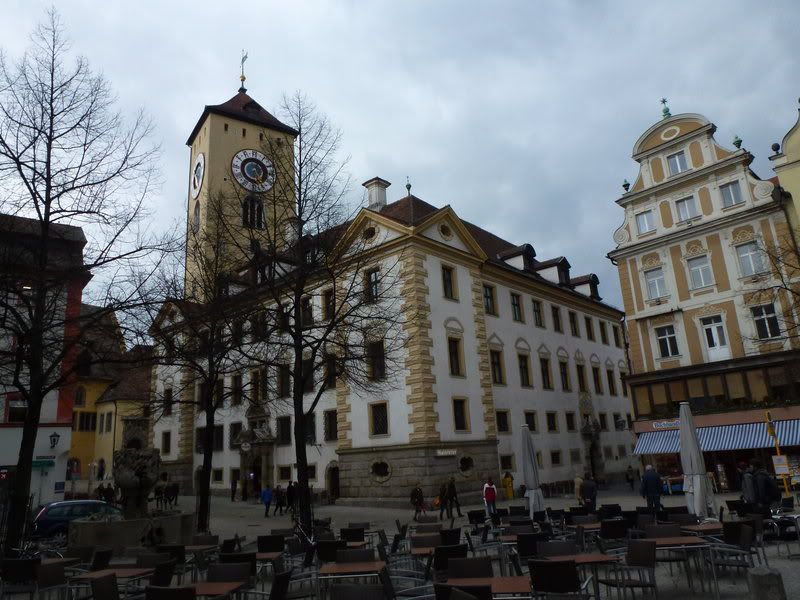 No, not München: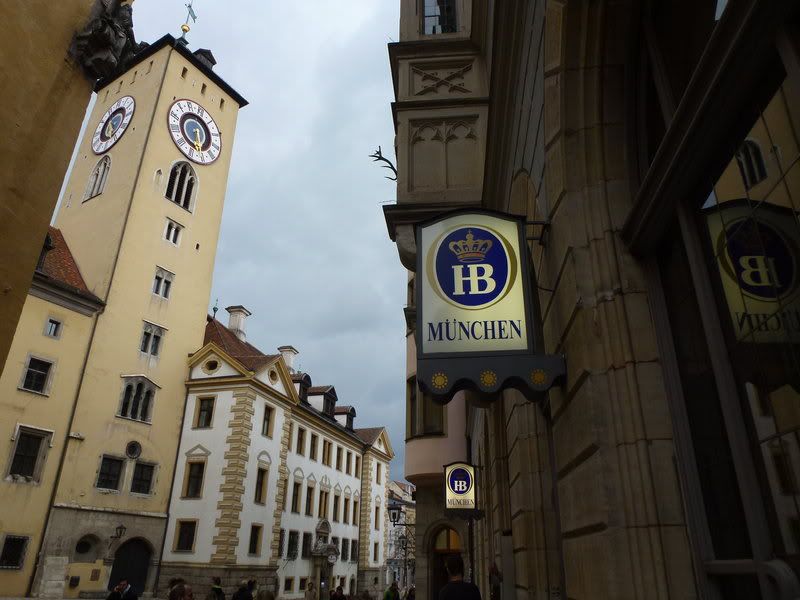 This building reminded me a bit of the Rathaus in Basel - must be the red color and the style of the architecture:
Very nice local beer at a traditional beer hall: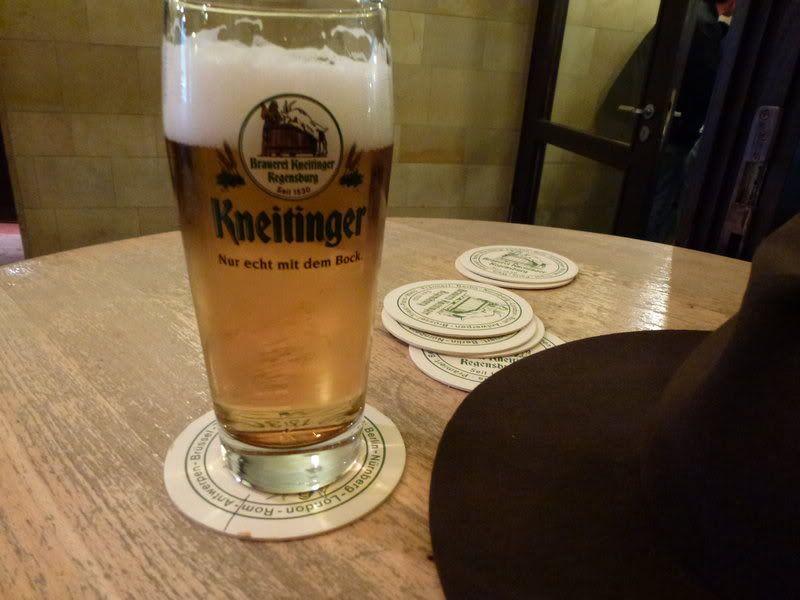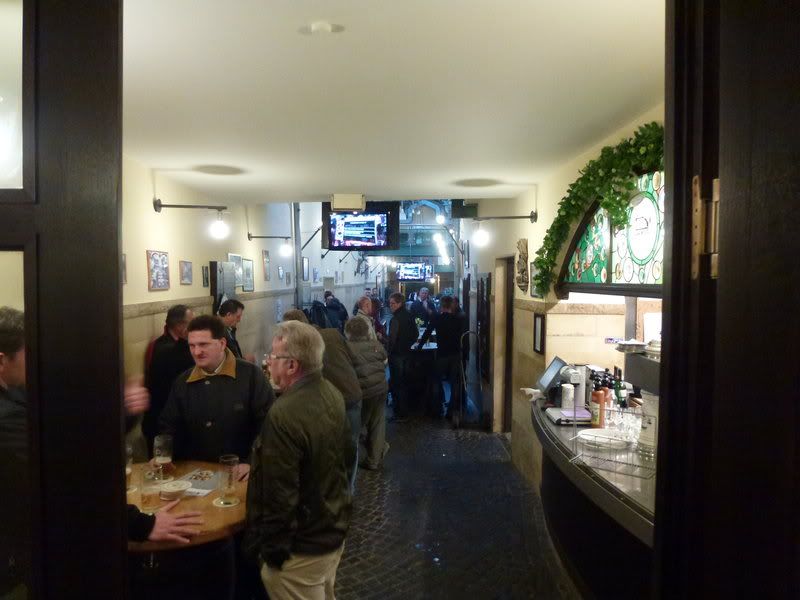 The Stone Bridge over the Danube - one of the best preserved medieval bridges in the whole of Germany: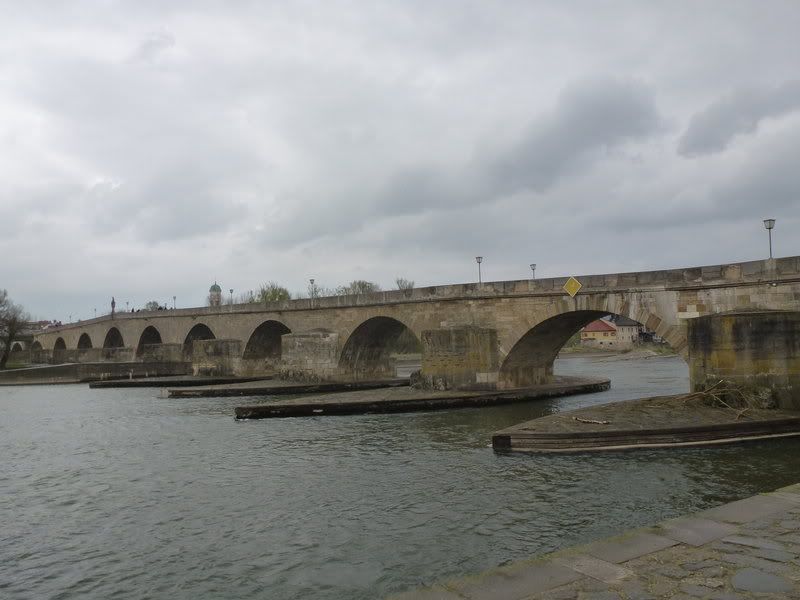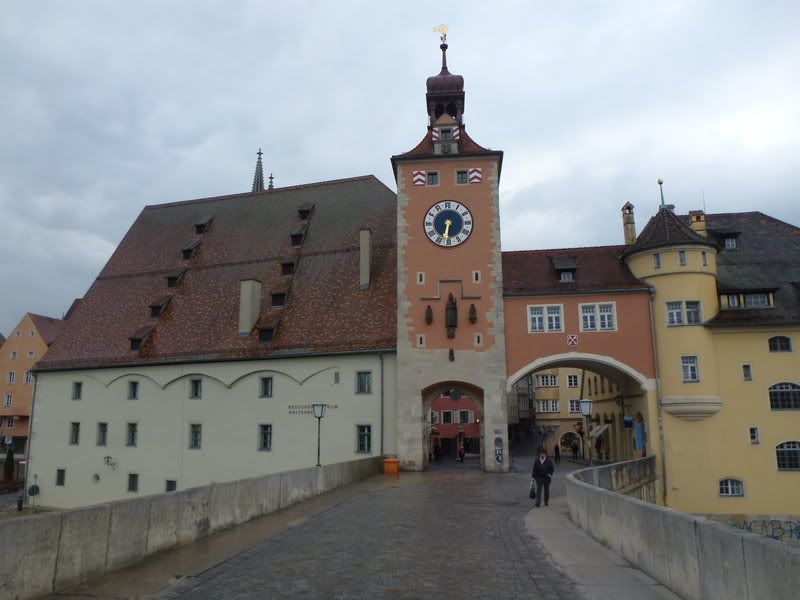 Kudos to AYA333: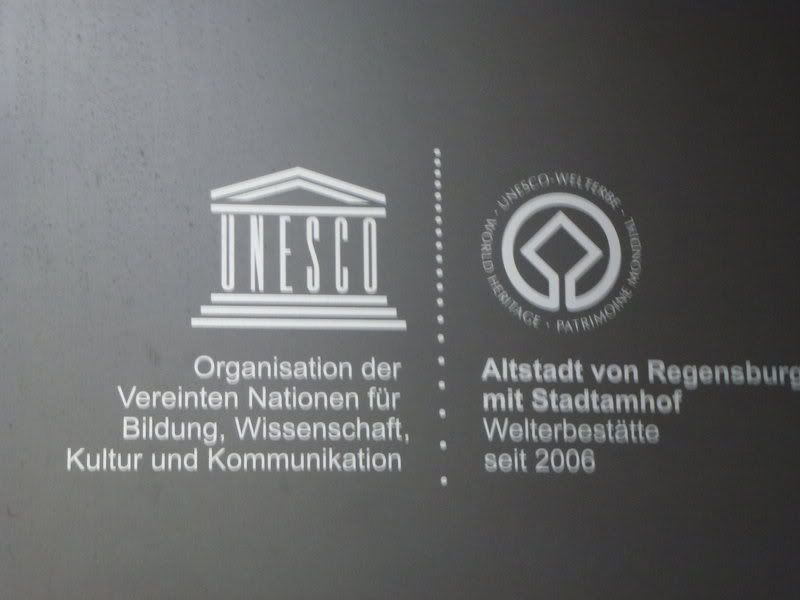 David & Goliath: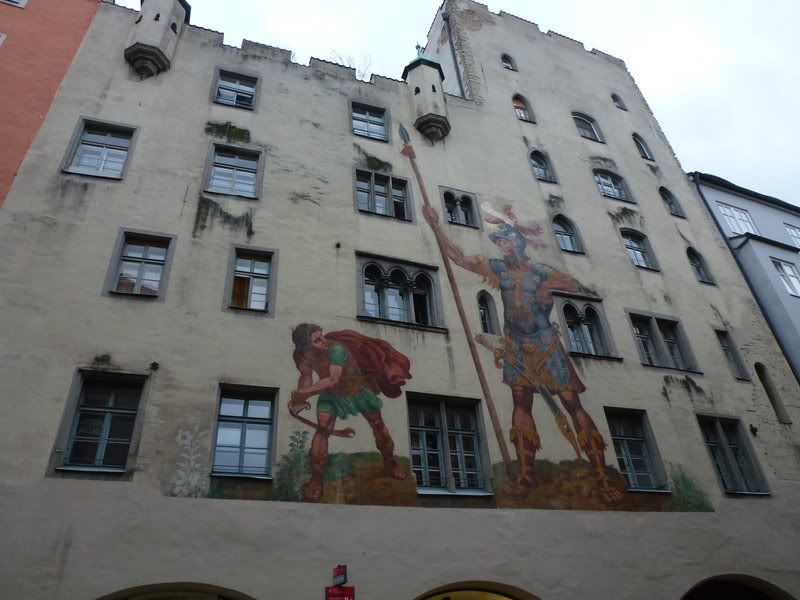 Sunday 1.4.2011
After a long night's sleep this morning dawned sunny and cloudless which was a nice change from the drabness of the previous day. One of the first things I did was to check in for my flights in the evening - that HEL flight must be packed with connecting passengers since I already got this sequence number: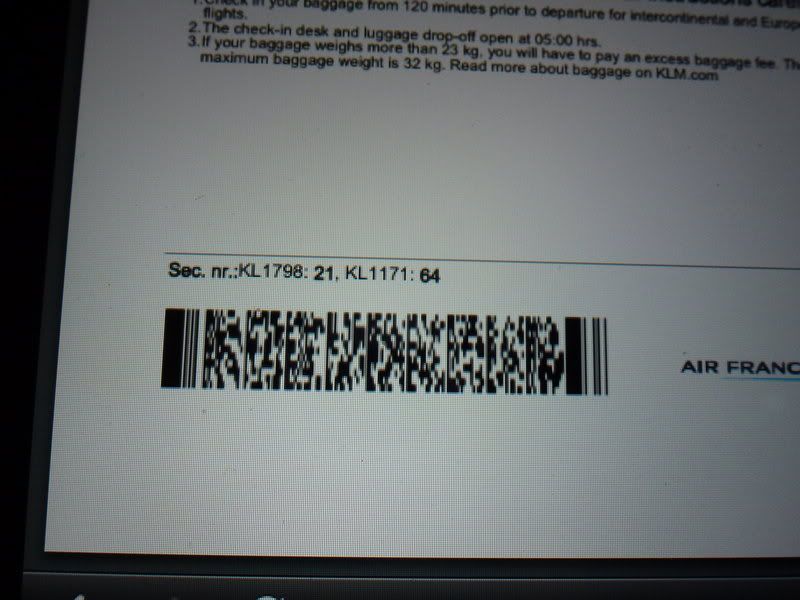 After a bit of lazing around I finally got a grip, showered up, packed and headed out. Outside it was very chilly - and the thermometer in the car confirmed it: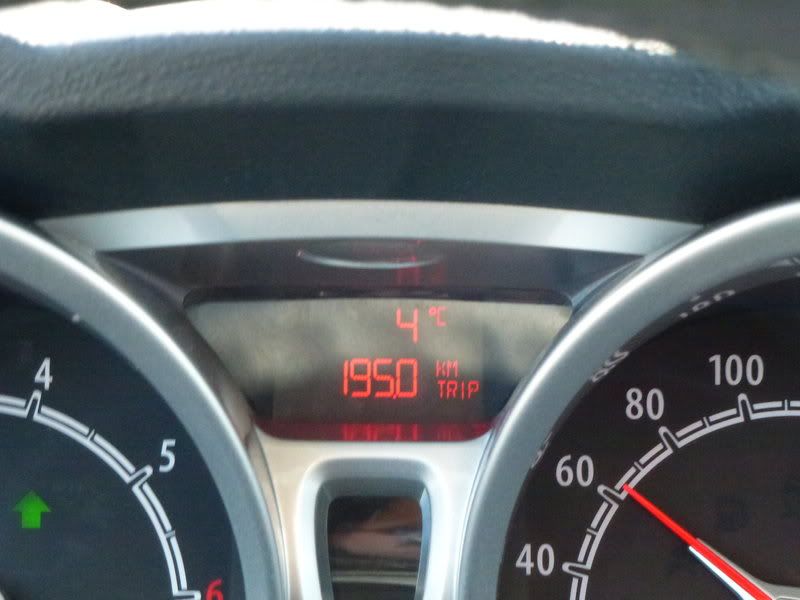 Primary Objective #3
A short drive along the completely deserted (hey, all good Bavarians are doing the Catholic thing right now, leaving the streets open to the pagans like me) takes me to my final objective of this trip - the Walhalla, located on top of the hill in the middle of very scenic setting: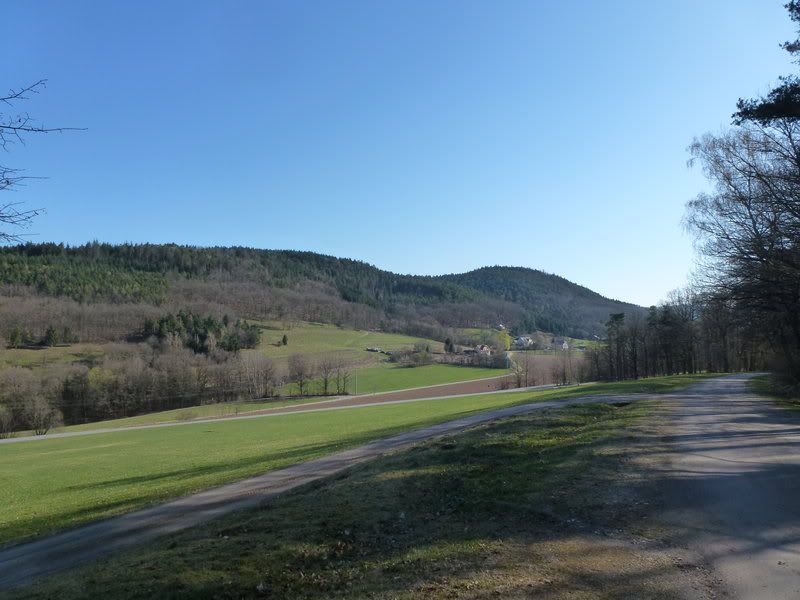 The drive up that hill was extremely surreal as the Bavaria 1 radio channel was playing Ace of Base which brought me back around 15 years or so...
So here is Walhalla: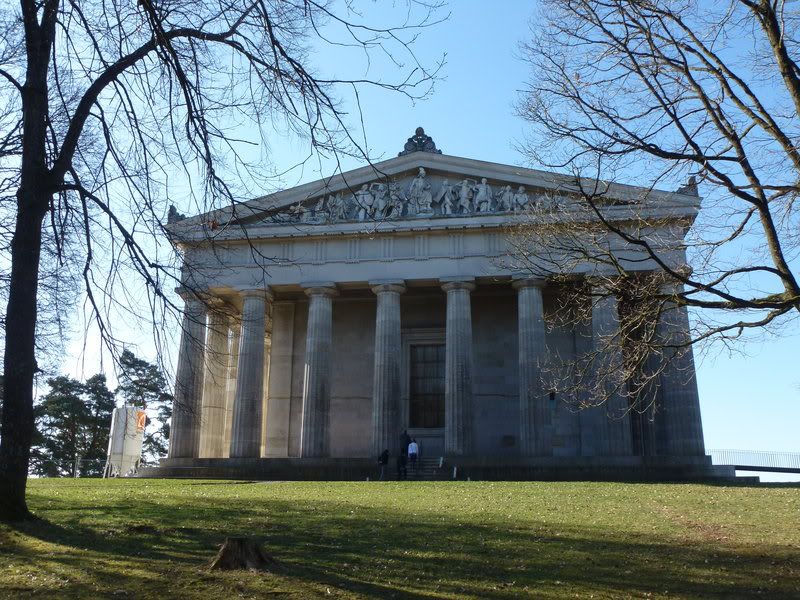 Yes, it is very surreal, isn't it? I have been intrigued about this place ever since I saw some pictures of it somewhere on the intellectual wasteland also known as the Internet. Turns out this building, resembling a classic Greek temple was built by the King Ludwig I of Bavaria (no, he is not the one usually associated with the somewhat flattering nickname "Ludwig the Mad") to celebrate and honor famous and distinguished Germans. Wow, who would've have guessed?
There are excellent views over the Danube and the surrounding flatlands from up here: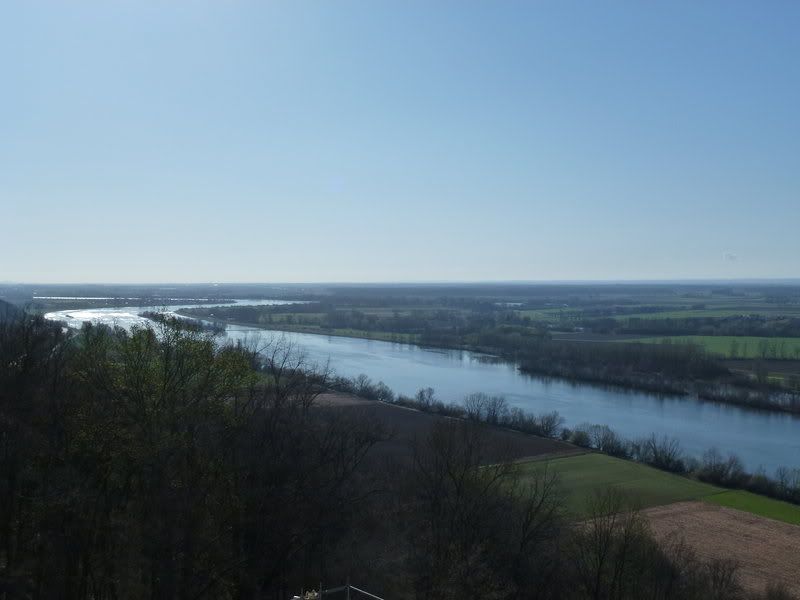 View from below: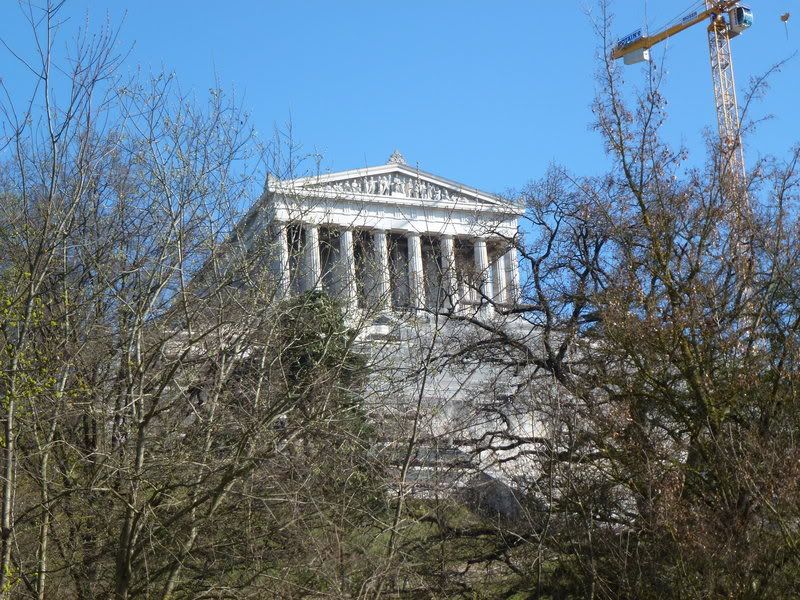 Congratulations - you have just completed all three of your primary objectives. Now fire at will but return to base safe and sound, thank you!
So I actually had no plan for the rest of the day. After consulting the crap (well not really crap, the scale just was far too coarse for my needs) map the Sixt girl gave me the previous day I decided to head down to the town of Deggendorf, through what the roadside signs described as "Bavarian Wine Country" (and I thought Bavarians were beer folk!).
The ride certainly was very scenic, well at least up until I took a wrong turn and ended up on the Autobahn instead of the country road and eventually I made my way to Deggendorf where I parked the car and went for a bit of a walk.
I had assumed Deggendorf to be a very boring, ugly town (must be the association in my mind with Degendorf, a rather drab district of Düsseldorf) but it turned out to be another very pretty Bavarian town: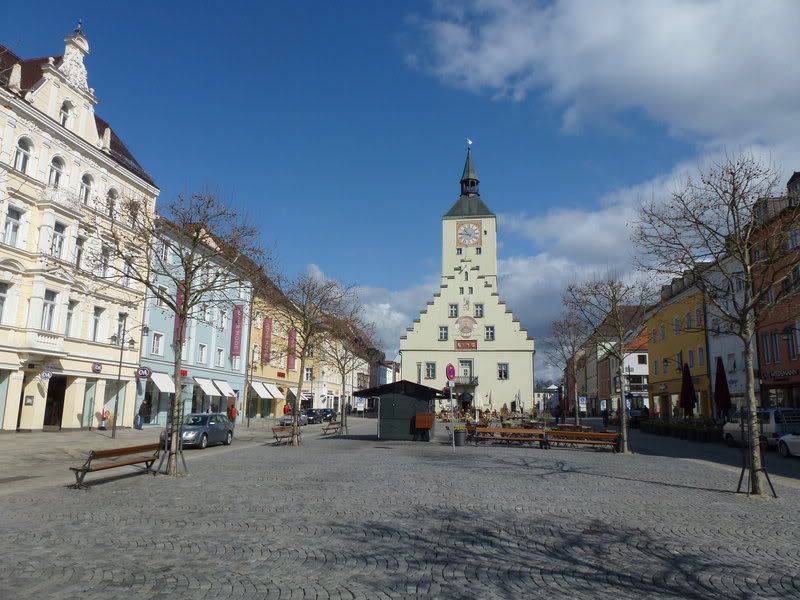 It was well past breakfast time so I decided to indulge and have something the menu called a "Bavarian breakfast" - al fresco and all: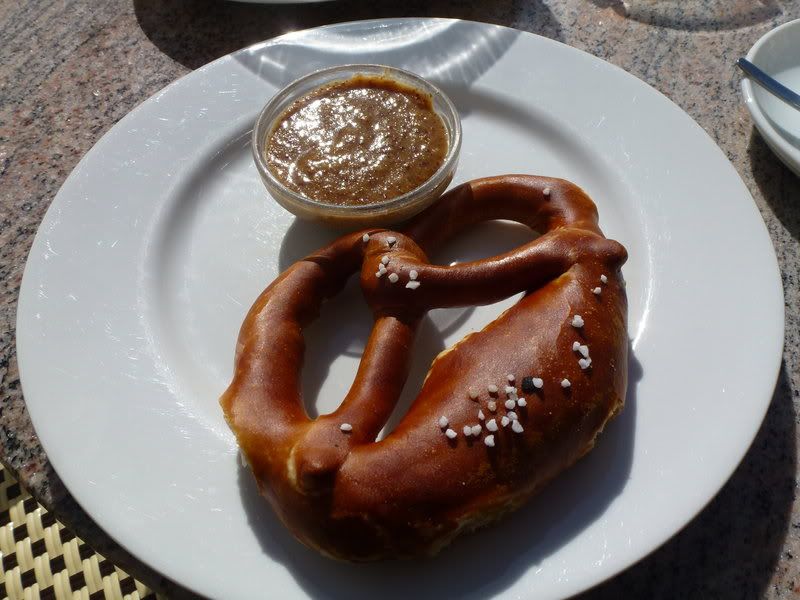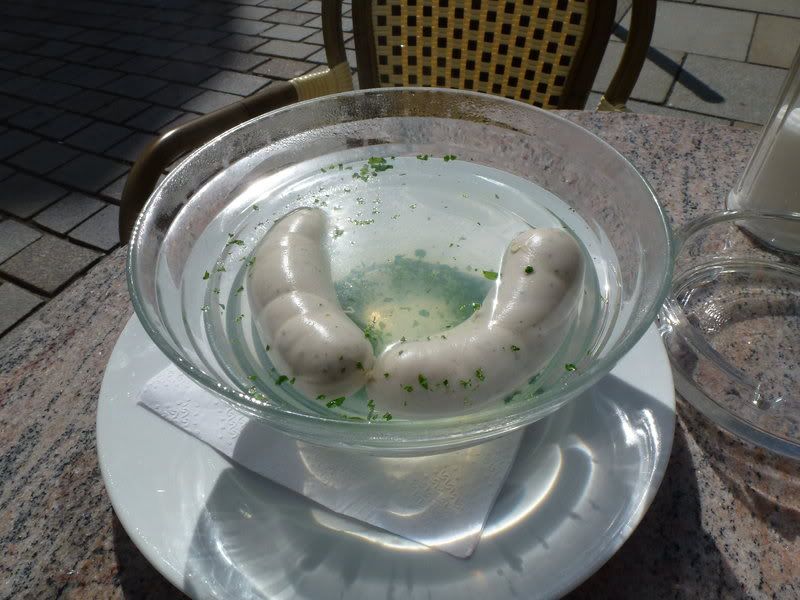 After a short stroll around the city centre I returned to the car and hit yet another Autobahn towards Munich. Instead of going straight to the airport I decided to pay the nearby town of Erding, famous for the Erdinger Weissbier a visit to grab some lunch.
The town's namesake brew: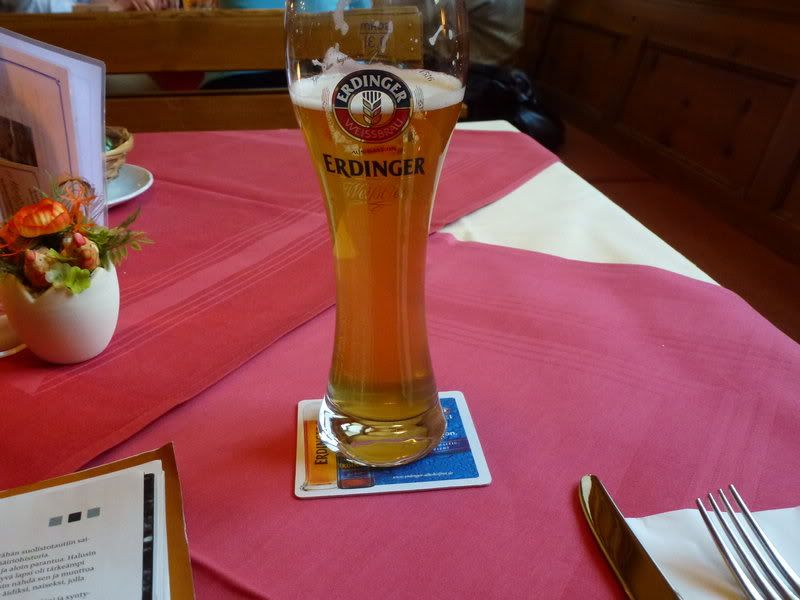 Good, hearty Bavarian food: