Hello everyone and welcome to my 6th trip report!
This trip report is part 2 of my weekend trip to Toronto during Easter. It will cover my little stay in Toronto and the journey back: YYZ-FRA-AMS. This is the link to Part 1:
To Toronto For The Weekend Pt. 1: AMS-FRA-YYZ
(by
adamspotter
Apr 12 2012 in Trip Reports)
The map thanks to gcmap.com: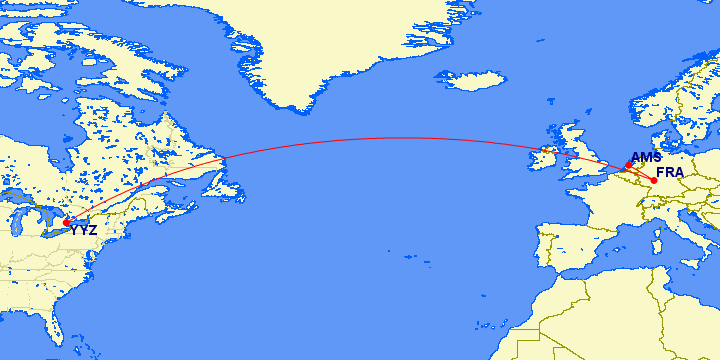 I left part 1 with me falling asleep at 9 o'clock in my very comfortable hotel bed. 10.5 hours later and I was wide awake at 07:30. Watched some TV, listened to some music and in no time it was 09:30. Took a nice bath and went downstairs to try the breakfast buffet at the Yonge Street Grill Marriott restaurant. The buffet was very nice with lots of choices. After finishing my very big breakfast, I went back upstairs to get my camera and other belongings. The view from my room: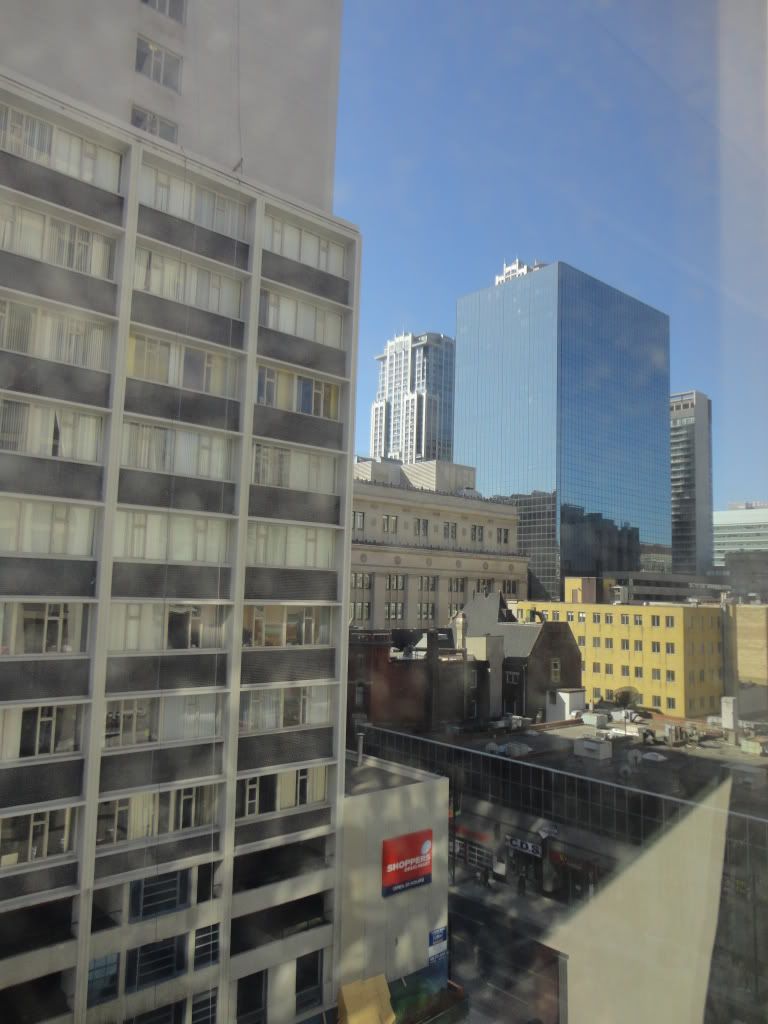 Now it was time to go visit the CN tower! That meant a walk of about 30 min. No problem for me as I walk fast (being 2m long) and it was very nice weather! Some views on my way: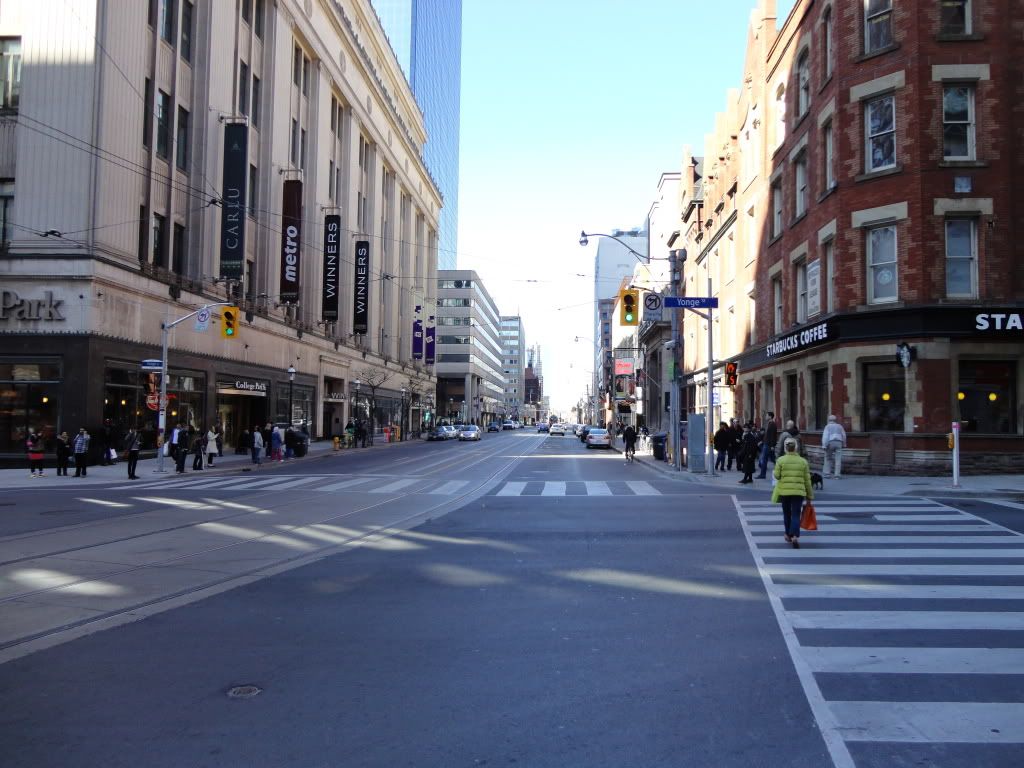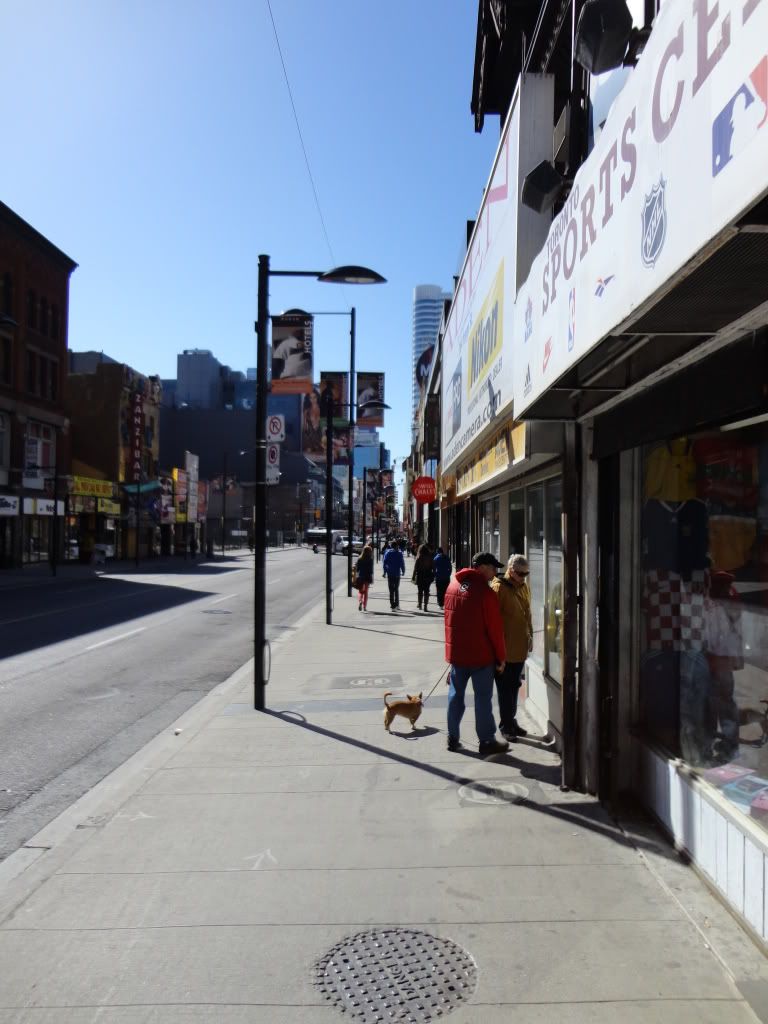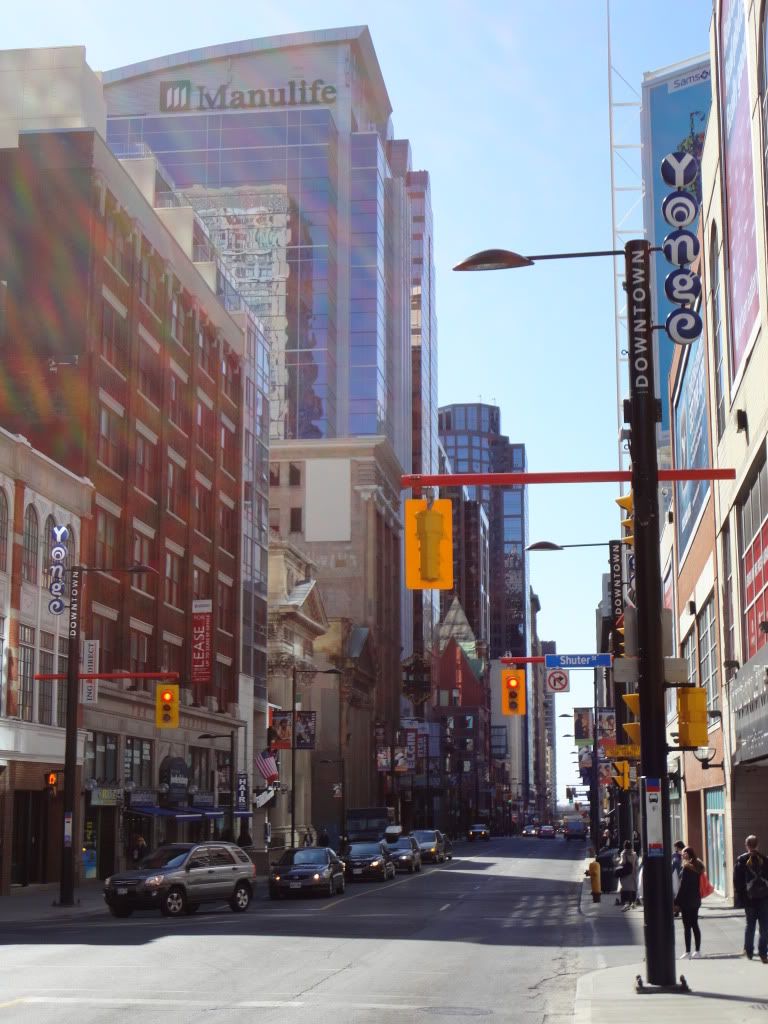 Some nice and tall buildings, one being of the Dutch company KPMG: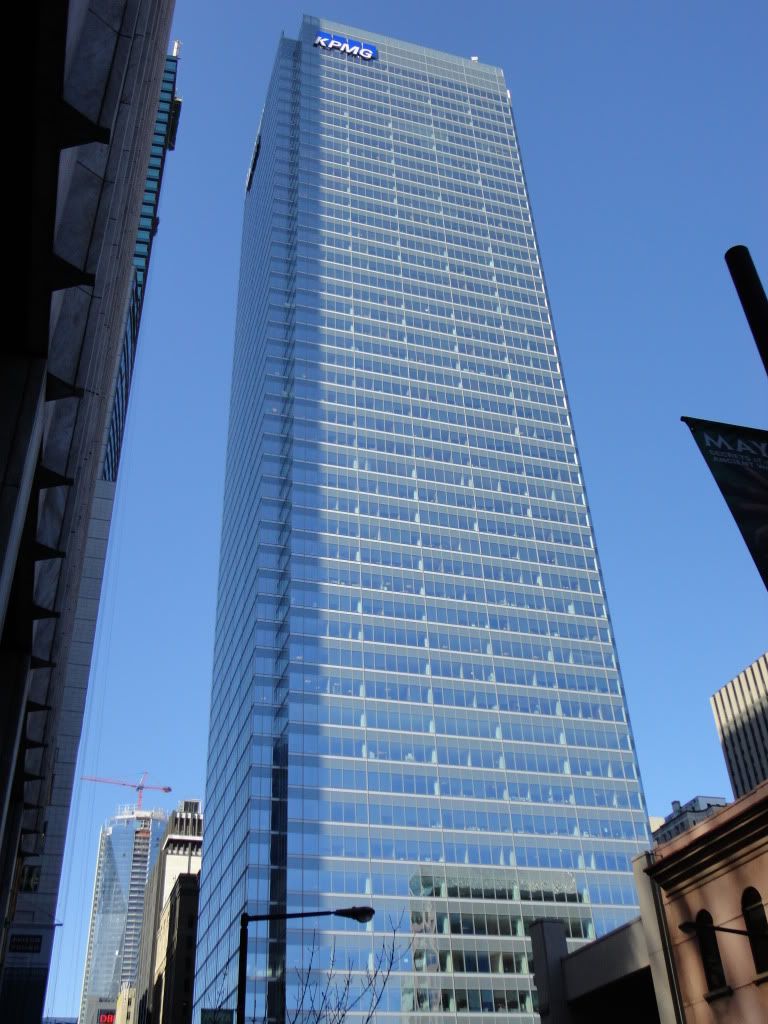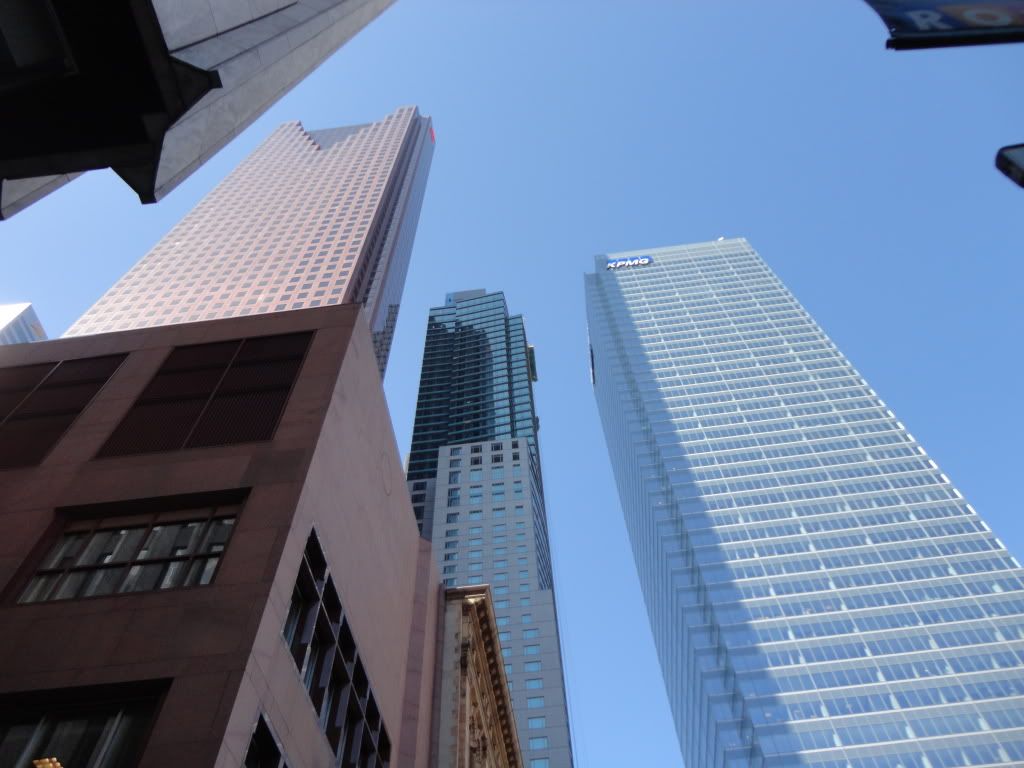 The CN tower already in sight!: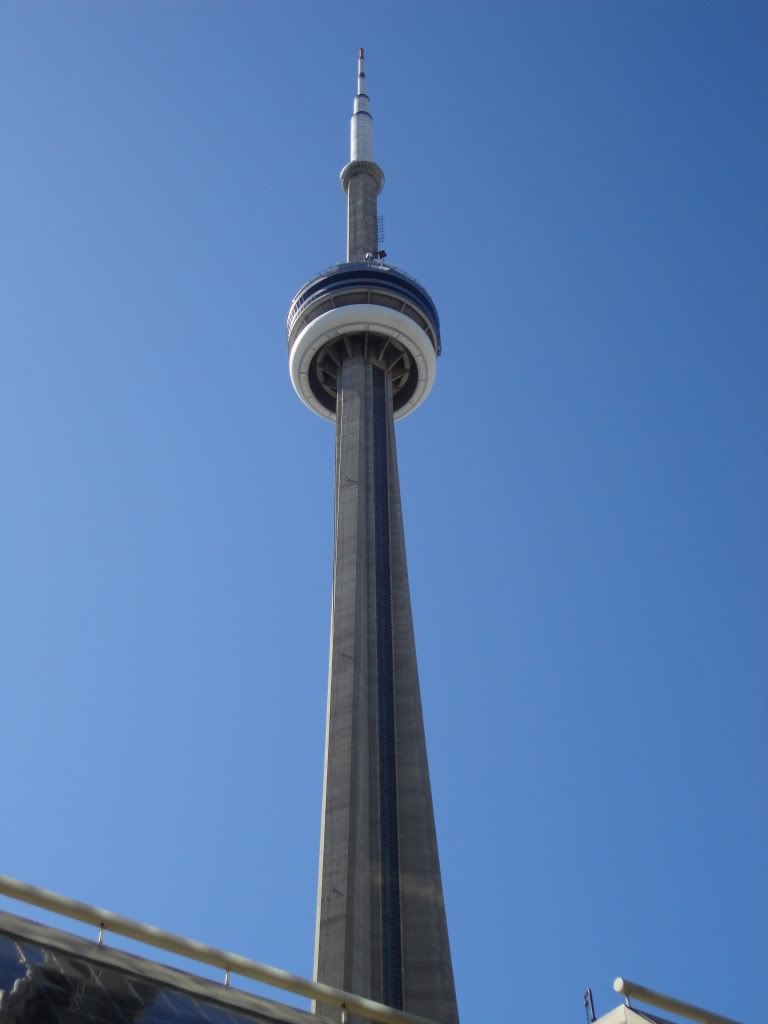 Almost there!:
The sun nicely behind it: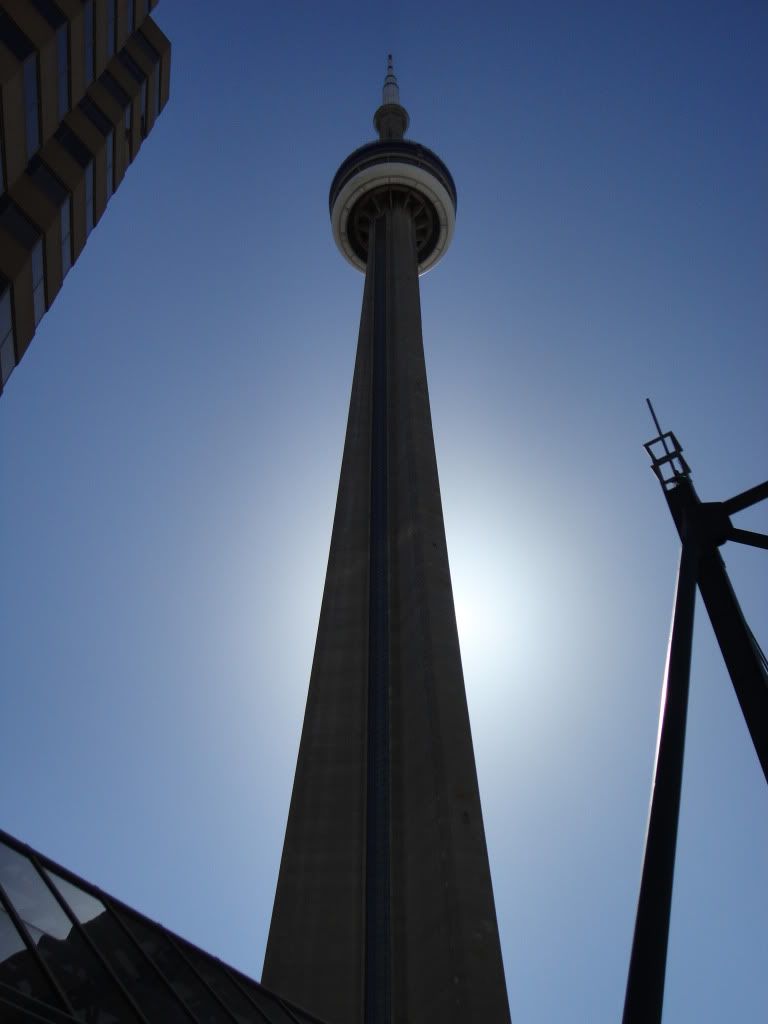 Once arriving at the CN tower it was quite busy with lots of tourists. Went over to the ticket desk and decided to go for the whole tour, which includes: the Look Out, Glass Floor, Sky Pod, Movie and Motion Theatre Ride. Total costs for this tour is: 35,99CD. After paying the cashier, off it was to the elevators! First my ticket got checked by a very friendly employee. Then it's off to the next checkpoint where everybody gets their picture taken. After that it's off to security, which means a full body scan. After having my ticket being checked once more I am directed to one of the 4 lines in front of one of the 4 elevators. The gift shop: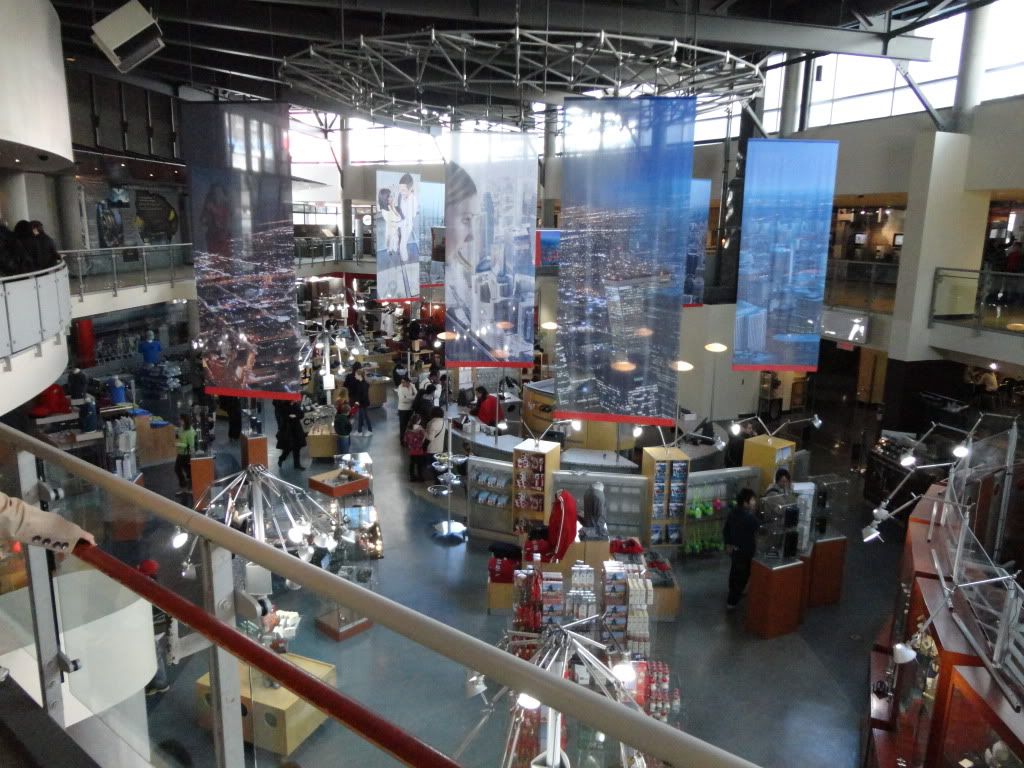 15 minutes later I was in the elevator and up we went! In no time I arrived at the first part of my tour: The Lookout! As it was nice weather we had a very nice view of Toronto and further. I'll let the pictures do the talking: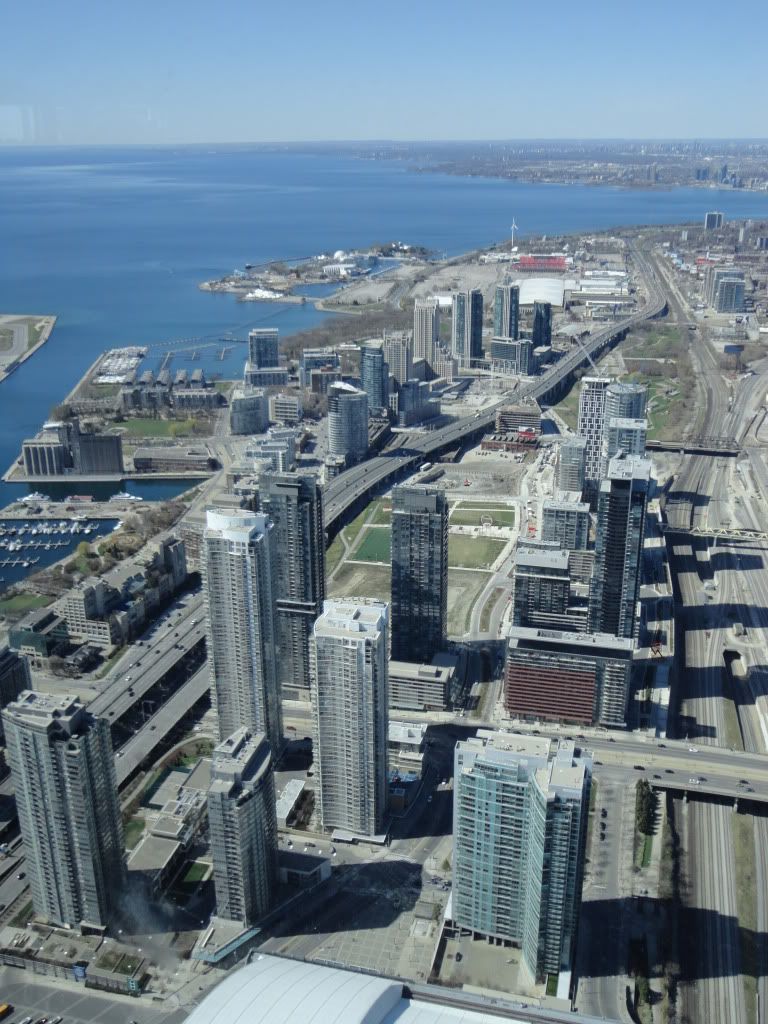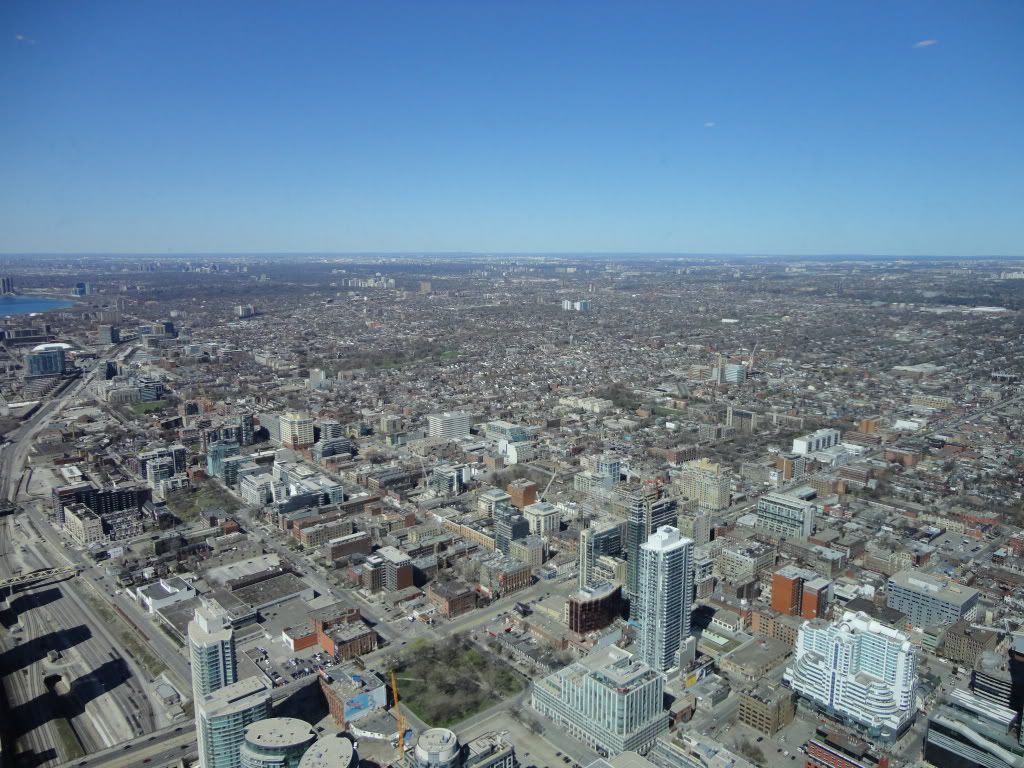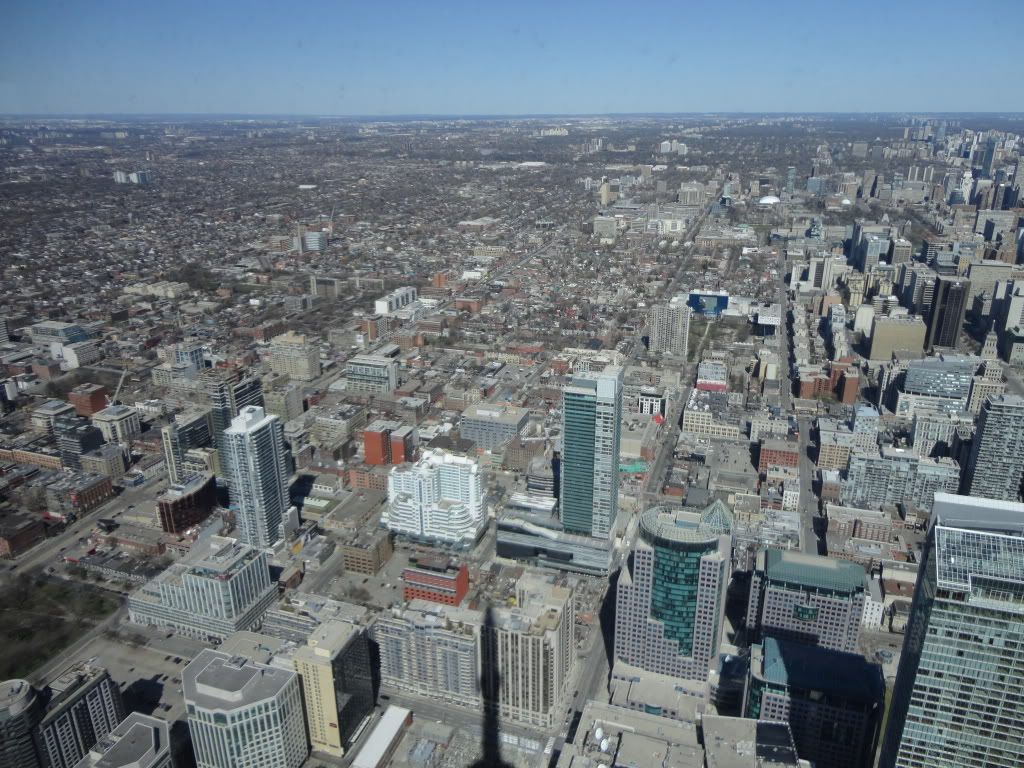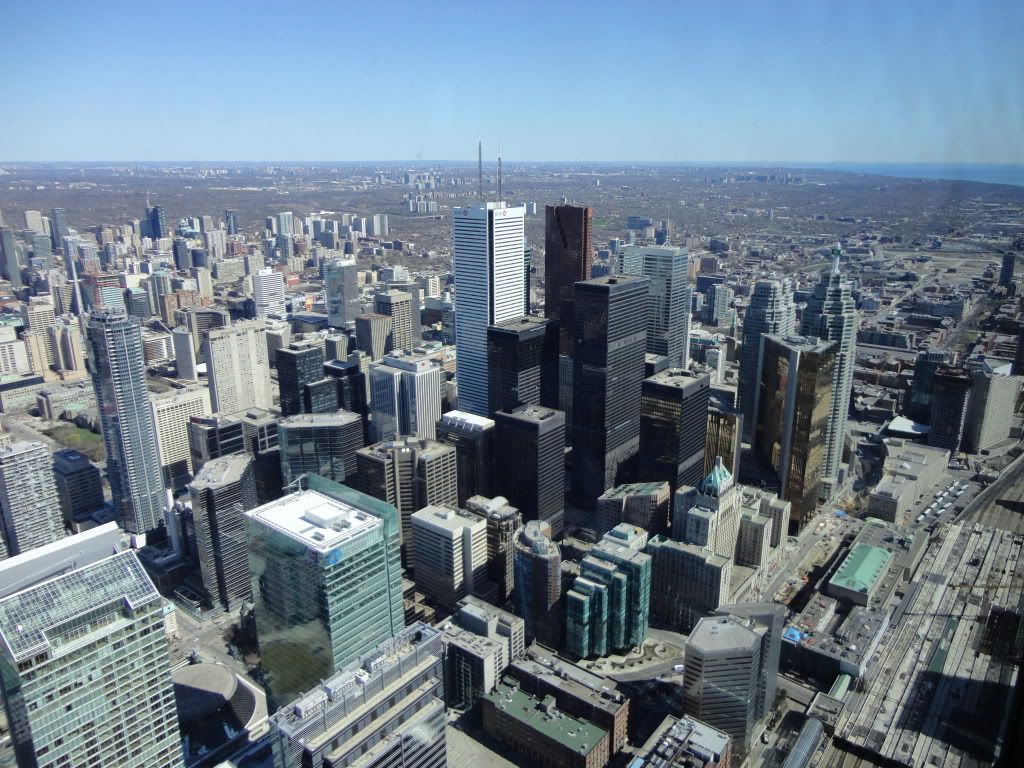 And of course Toronto City Centre Airport: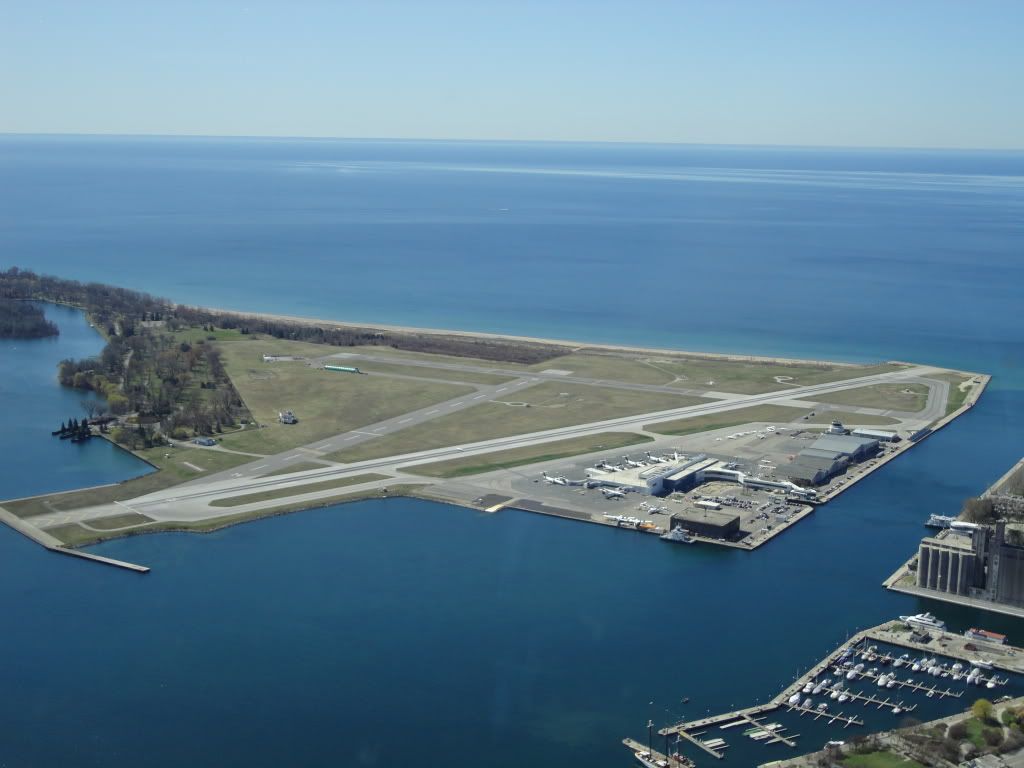 Close up on the terminal: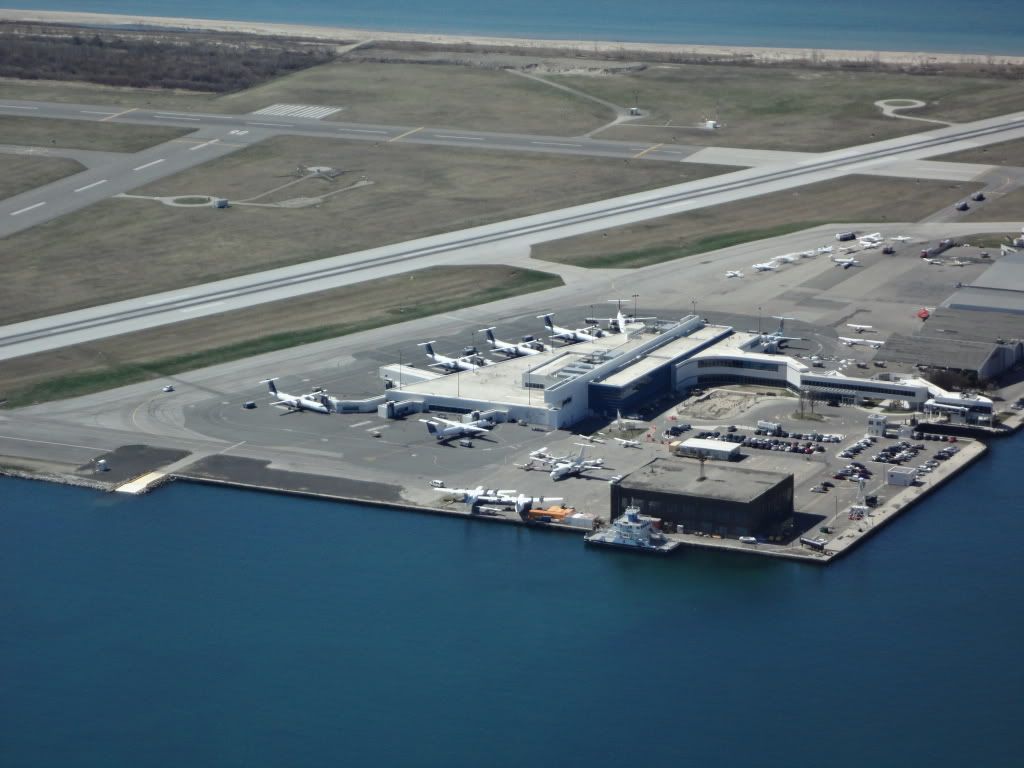 Off to the 2nd part of the tour: the Glass Floor. I didn't dare to stand on it as I have a slight fear of heights. Did get this picture though, pretty high I must say!: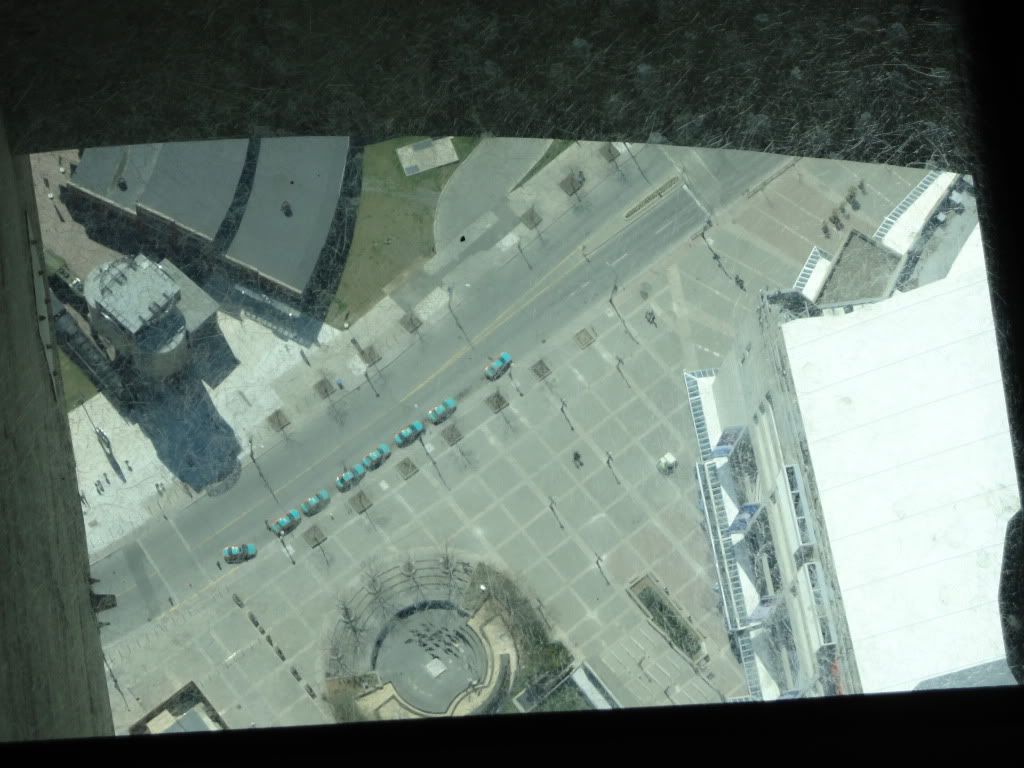 You could also walk around outside where it was quite windy: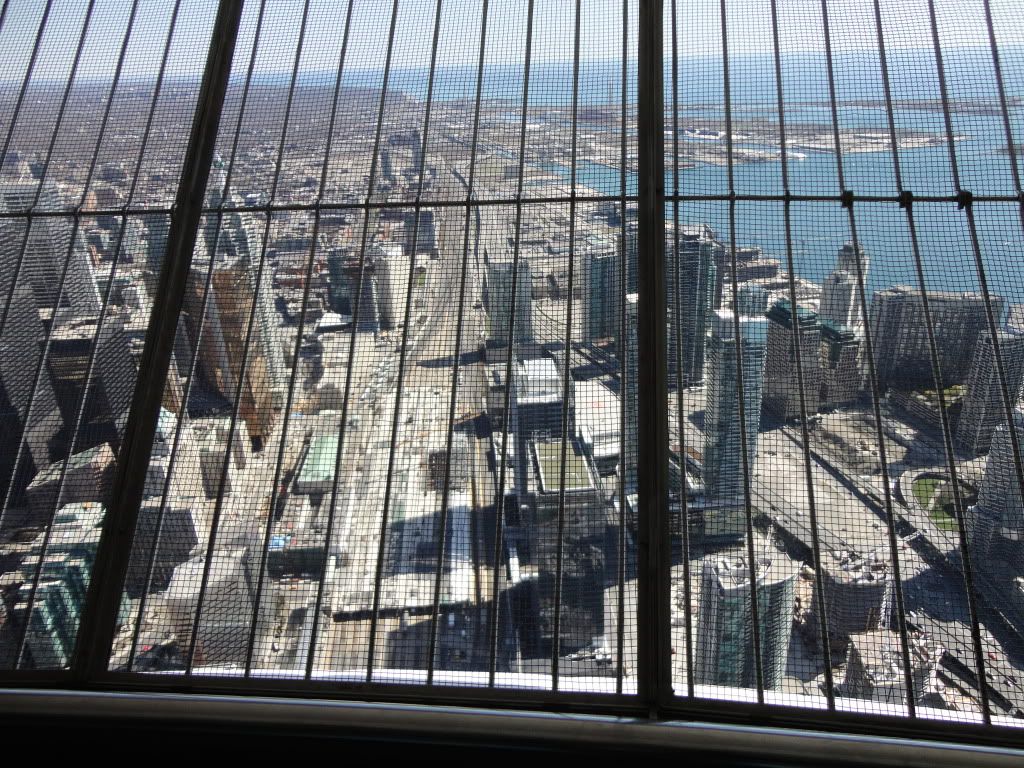 Off to the 3rd part of the tour: the Sky Pod. That meant going even higher with the elevator! First I had to stand in a very long line. Some interesting facts about the CN tower: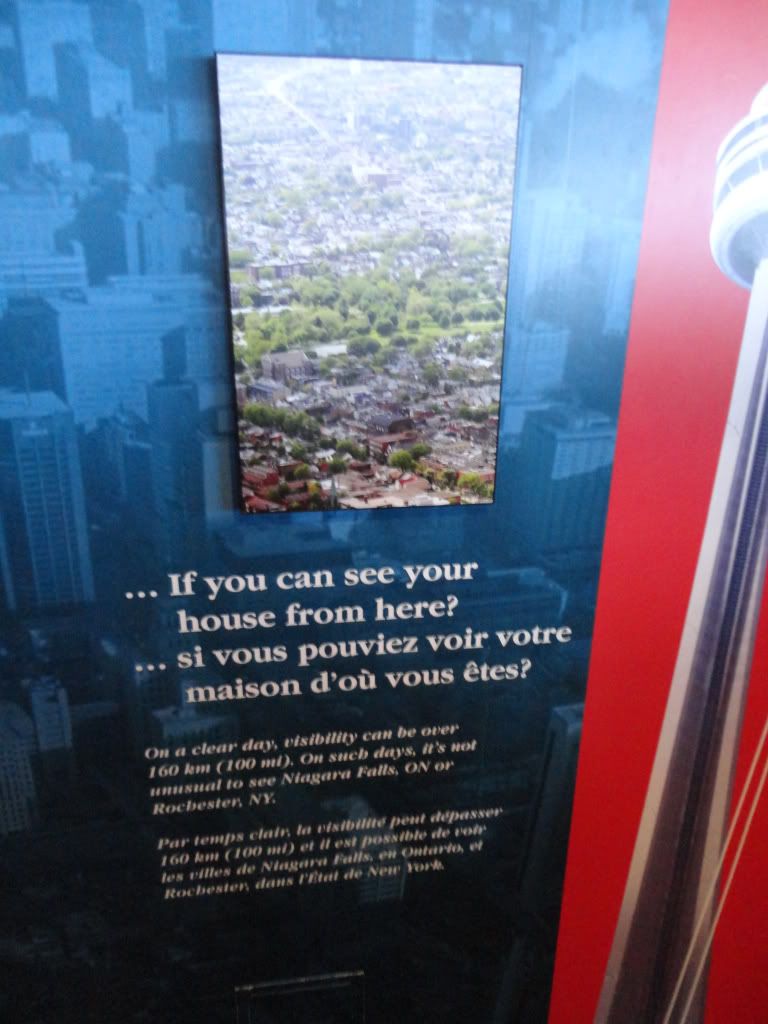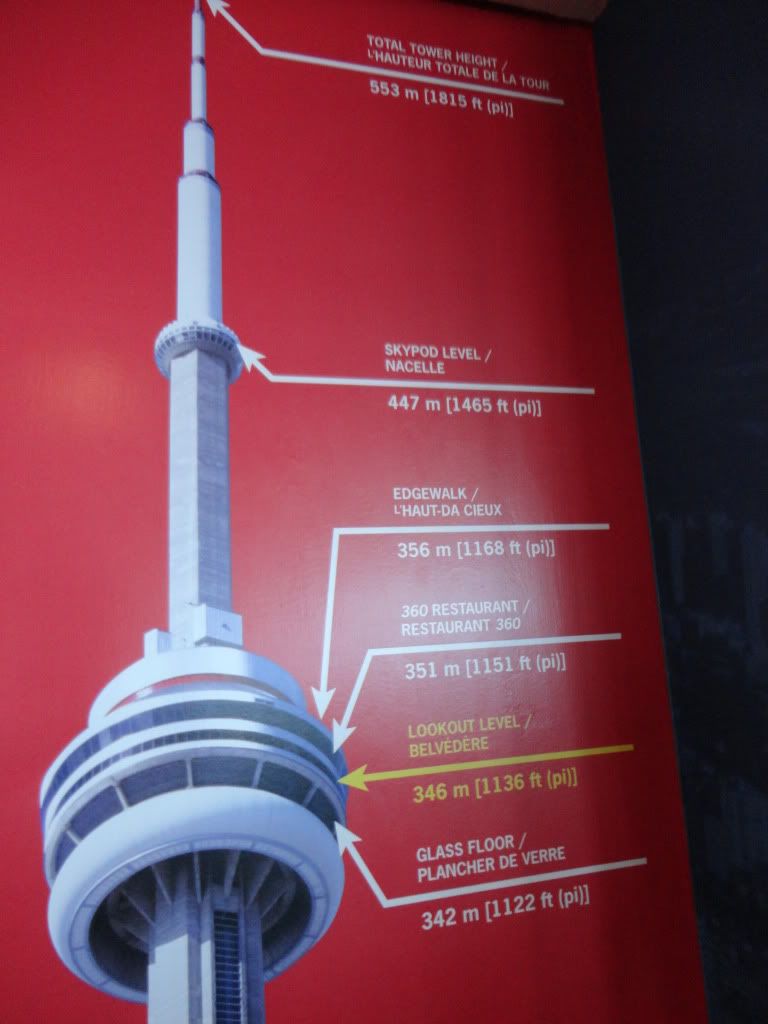 After 30 min I finally reached the only elevator and up I went once again. This elevator was a bit smaller than the other one and carries about 8 people each time. Once reaching the Sky Pod my fear of heights really came to me so took a picture and went straight down to the Look out again: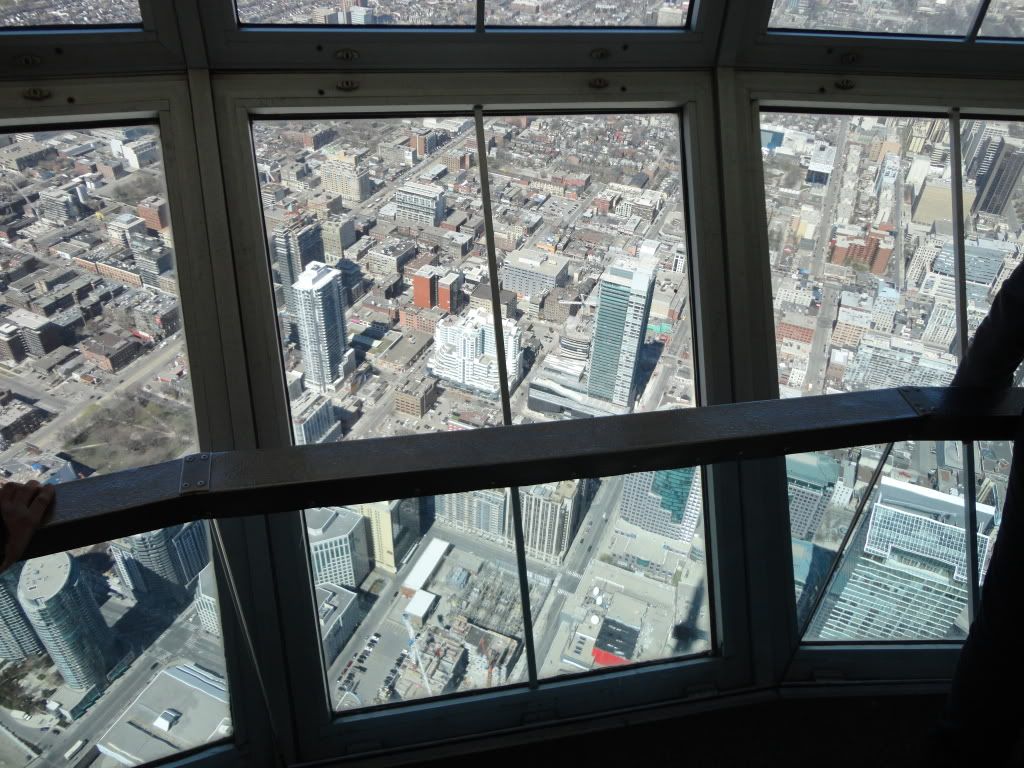 After having seen everything I decided to go back down and do the last 2 parts of my tour. Stood in line and after 5 min I got to cut the line as there was still room for 1 more person in the elevator and there were only families/couples in front of me (one of the good things of travelling alone).
When reaching the ground floor I switched to another elevator which took me one floor under the ground. I have now reached the 4th part of the tour: The Motion Theatre Ride. This time the theme was called: Himalamazon. It was a fun ride!
After that I walked over to the last part of the tour: The 3D movie. The movie showing this time was called: Ultimate Wave Tahiti which I also enjoyed watching.
Now the tour was over and it was time to leave this nice tower. Before going back to the hotel I had to walk past the Rogers Centre, home of the Toronto Blue Jays:
One more picture of this amazing tower: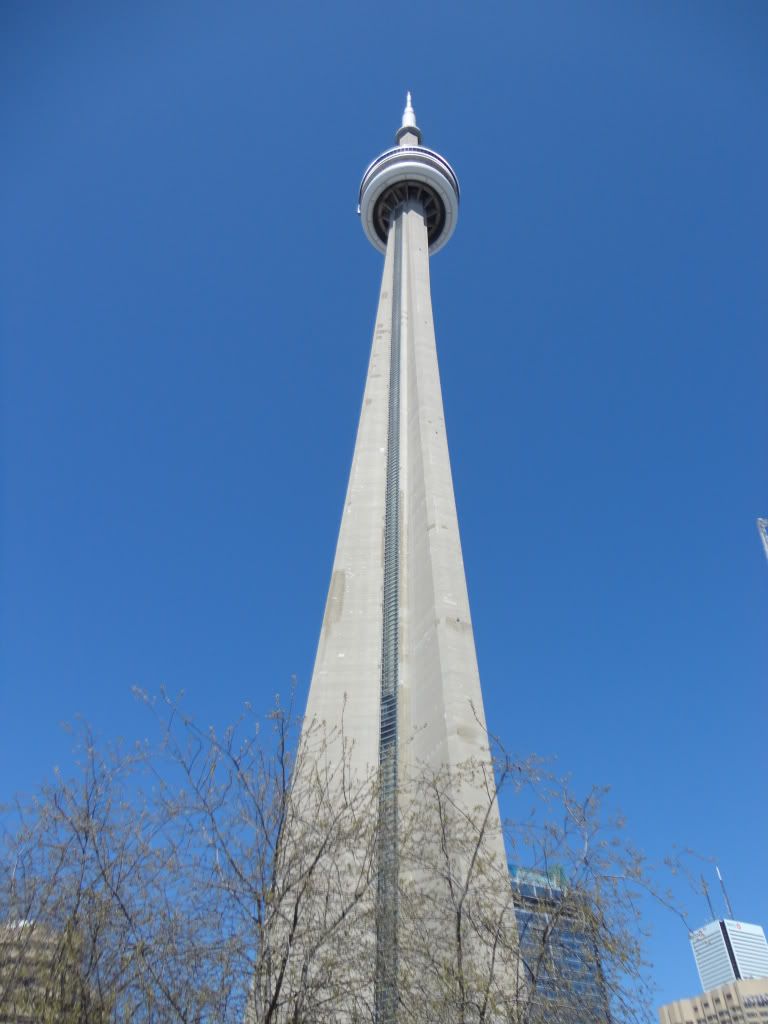 I walked back to the hotel and hung around in my room watching some TV. Around 4 o'clock I went back outside to do some shopping. Plenty of shopping options in the neighborhood including the nice Toronto Eaton Centre shopping mall. After buying some clothes I went back to the hotel to drop everything off. Now it was time to eat, after having already eaten at the Marriott restaurant Friday night I decided to walk around and look for a nice restaurant. I decided to go to an old fashioned fast food restaurant called Johnny Rockets. Had some chicken tenders and fries which was quite tasteful.
After that it was off to the Shoppers 24hr drug mart to buy some bottles of A&W root beer and Dr. Pepper, that's the good stuff!
After arriving at my hotel I went over to the "Business Centre" to do the online check in for my flight the next day: YYZ-FRA. Went to the reception desk to extend my check out to 2 pm (normal check out is at 12 pm) for the next day as my flight wasn't leaving till 18:40 and spent the rest of the night in my room watching some TV and falling asleep at 12 o'clock.
10 hours later I woke up after yet again a very nice sleep. Watched some TV, took another bath and started packing my bag. Then I went back downstairs to check in online for my other leg: FRA-AMS. After doing that I went to the Marriott restaurant one more time to enjoy a special Easter brunch buffet! Again a wide selection with lots of choices. Being very full I went back upstairs to pack the rest of my bag and get ready to check out.
Just before 2 o'clock I checked out at the reception and walked outside where there was a taxi waiting for me. Half an hour later, 4h20min before my departure time I arrived at Toronto Pearson Int'l airport. Paid the taxi driver and proceeded into the terminal. Aisle F for me: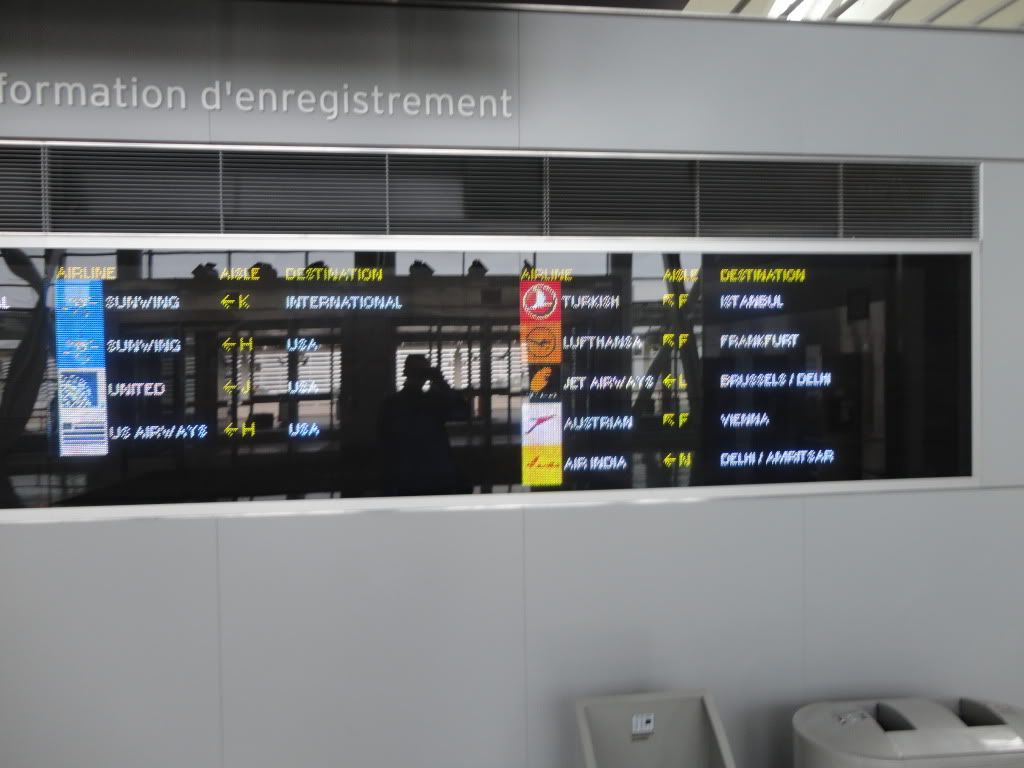 A short walk and I was at the Lufthansa/Austrian check-in counters. There was no line so it was my turn right away and 5 minutes later I had my BPs and my baggage checked in all the way to AMS by the very friendly ground agent. The FIDS: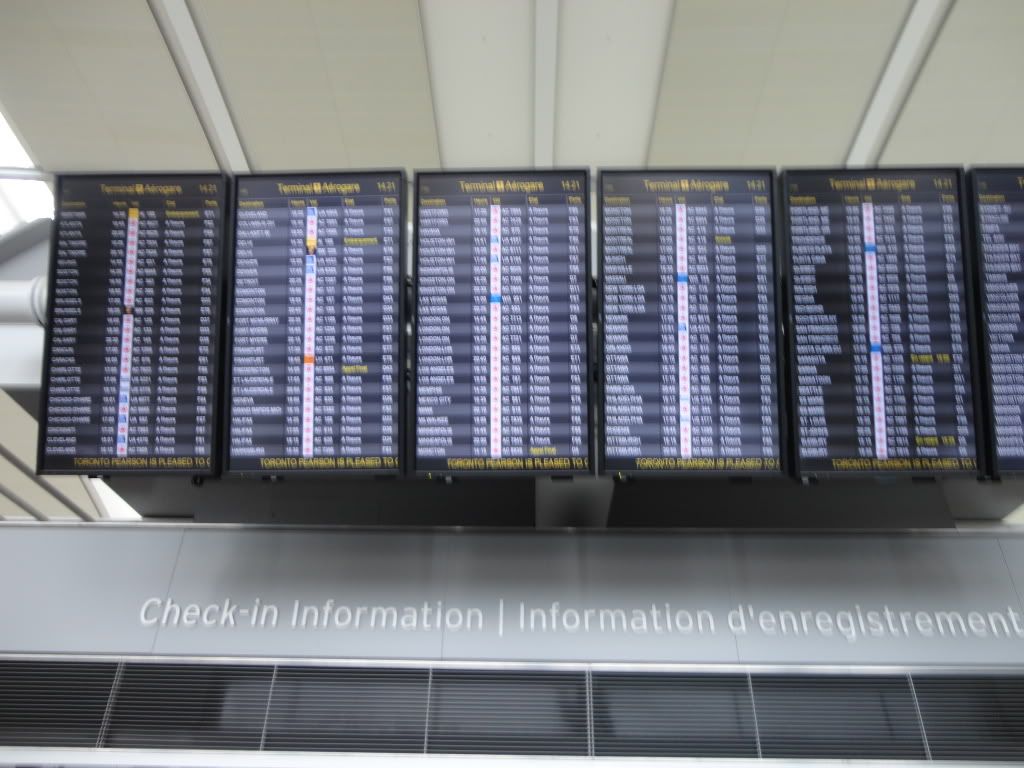 The nice check-in area: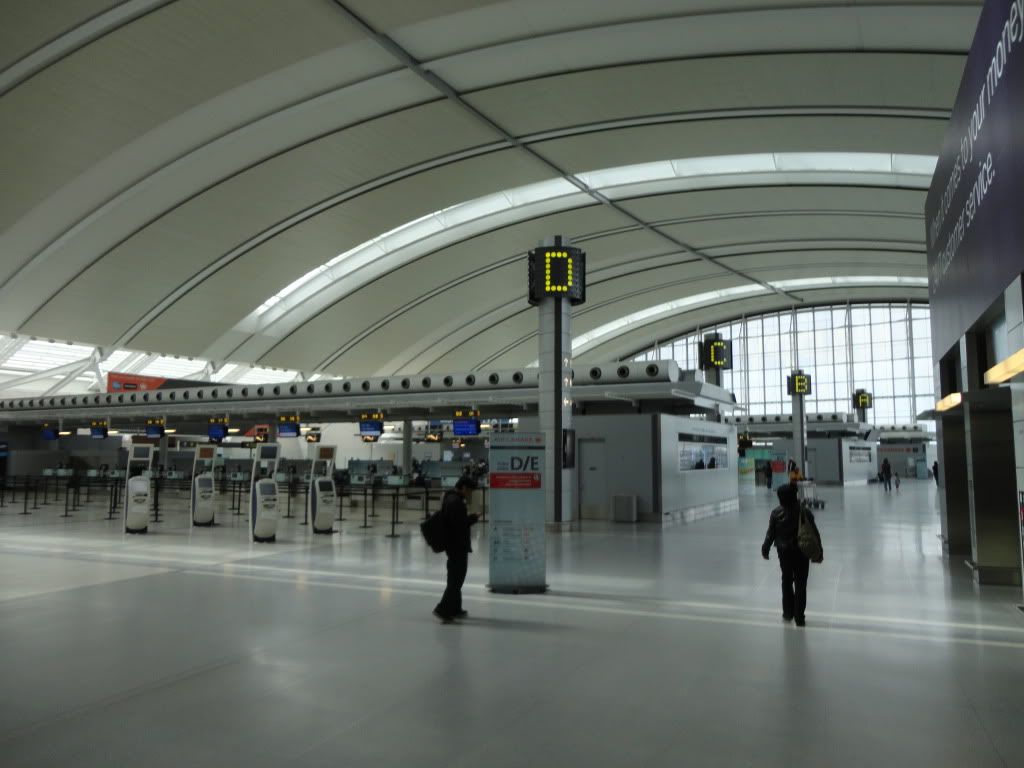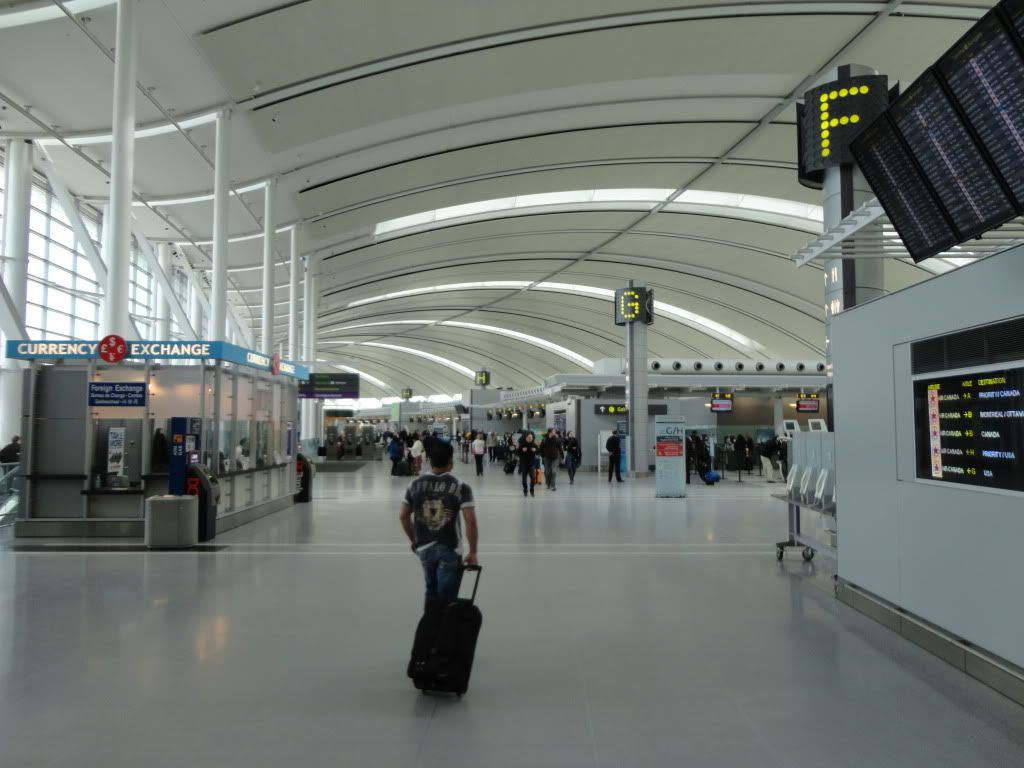 After taking the pictures I proceeded to security. Once I arrived, there was nobody in line and I was through within a couple of minutes without a hassle, nice! I then proceeded through a glass corridor (the same type where I arrived at a couple days before) with the domestic gates below. Took a quick picture of these AC birds waiting at the gate for their next flight before proceeding onto the walkway: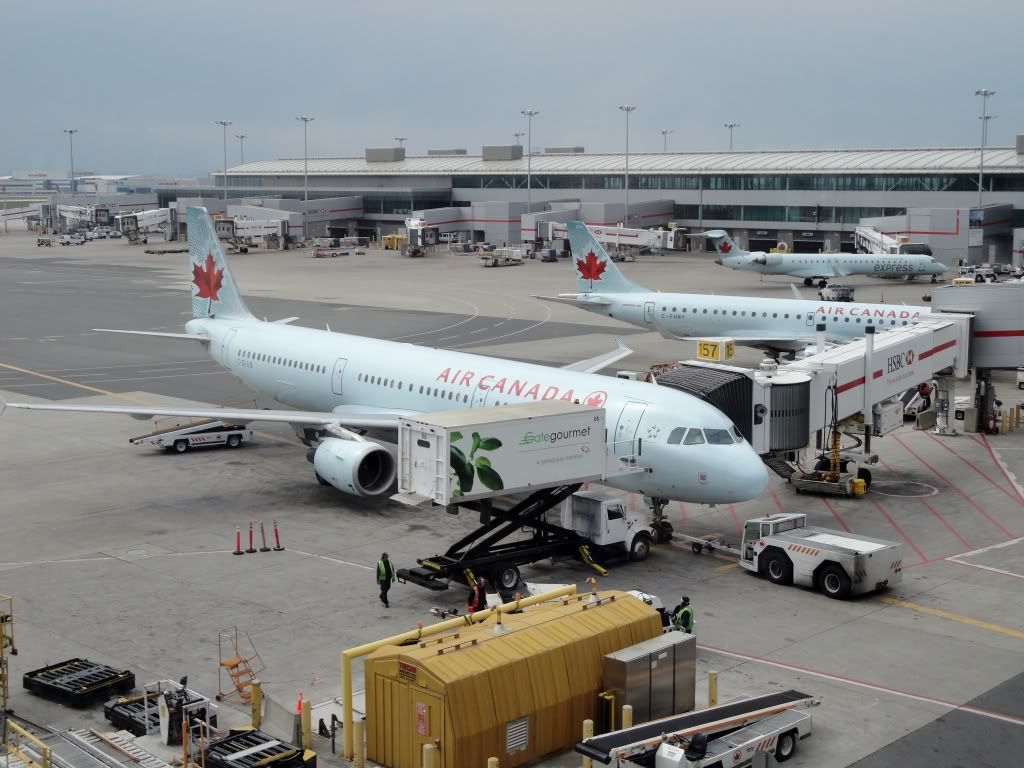 At YYZ you have a "normal" walkway(left) and an "express" walkway(right):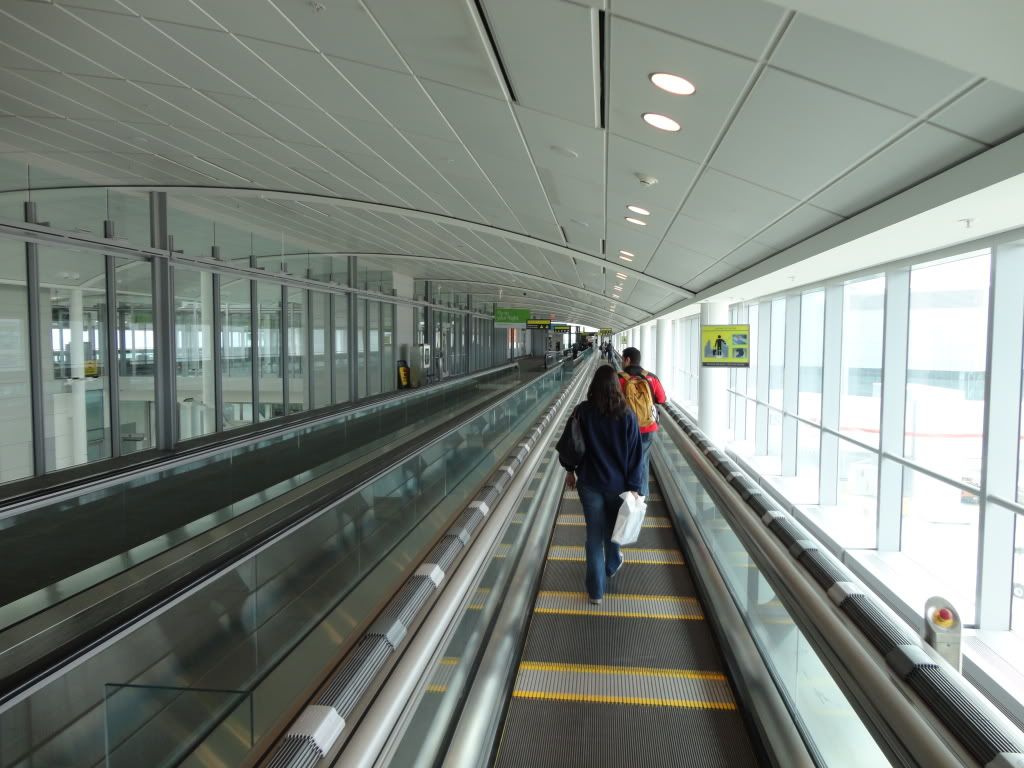 At the end of the corridor I took an escalator down and have now arrived at the E-gates Int'l terminal. There you can find duty free shops and some places to eat including of course Tim Hortons.
AC 777 all ready for the very long journey to PEK: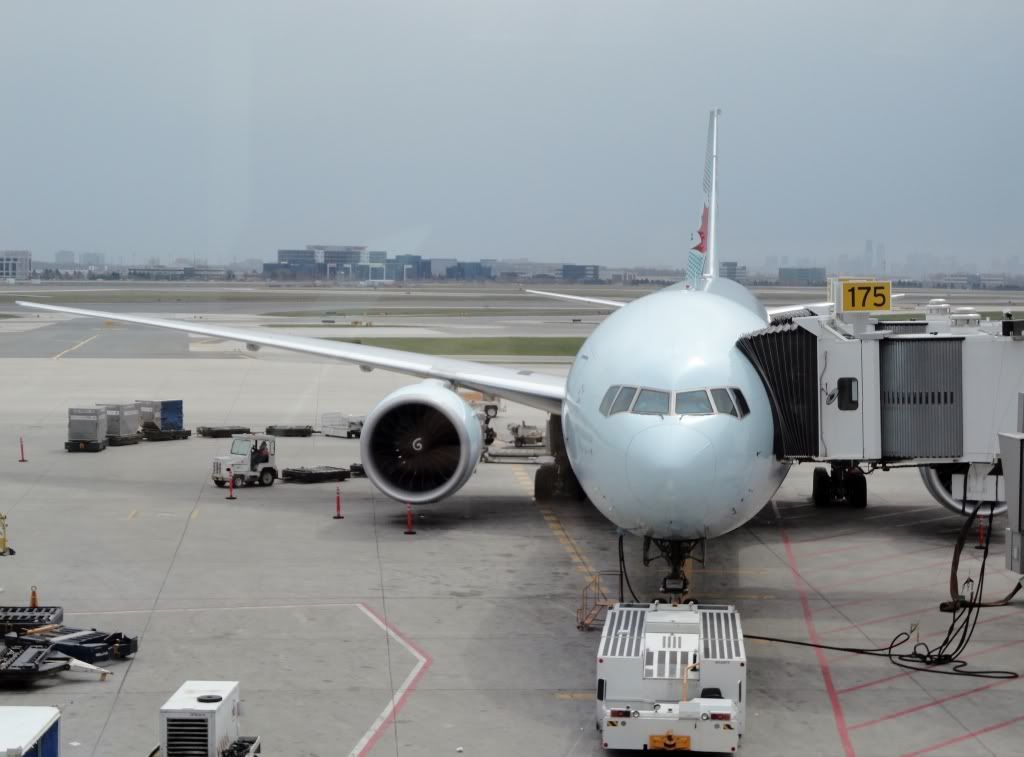 This AC 777 was heading to FRA and left 1h10min before my departure time: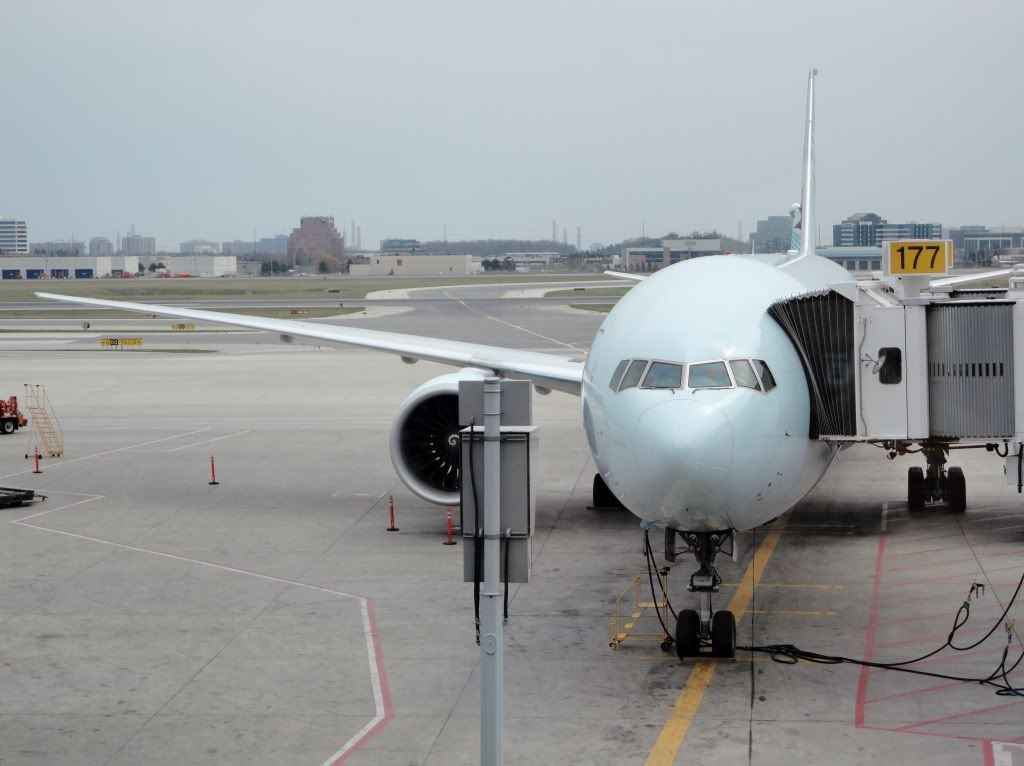 My flight already on the screen at my departure gate: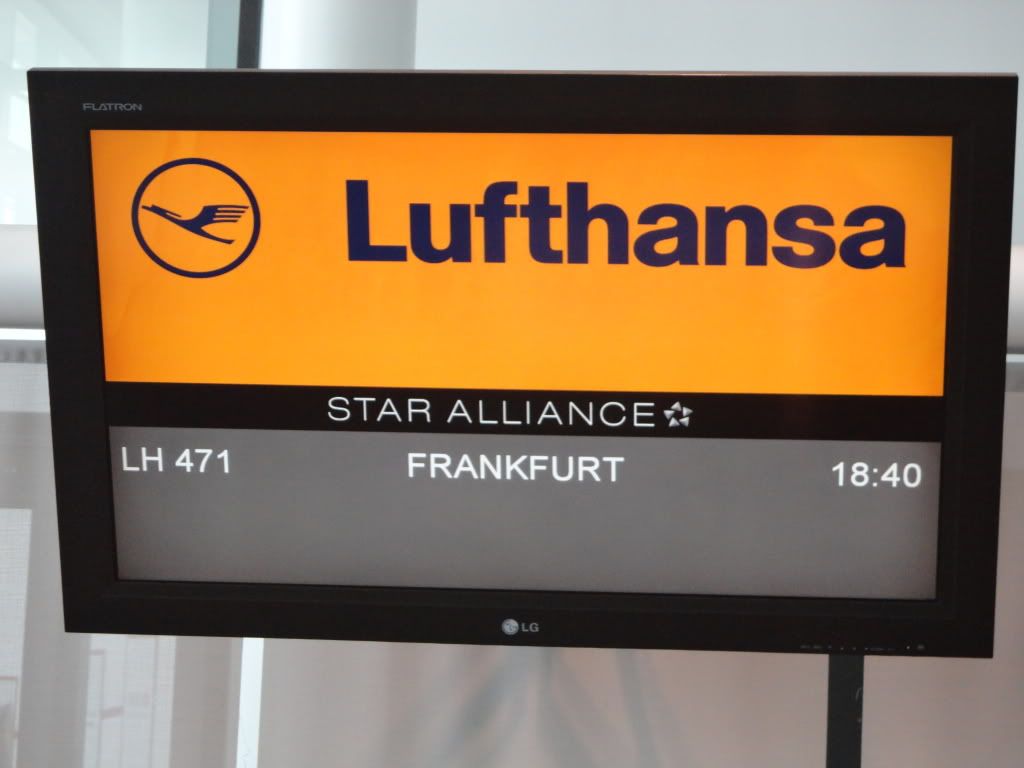 Gate E79 will be the gate used for my flight later on: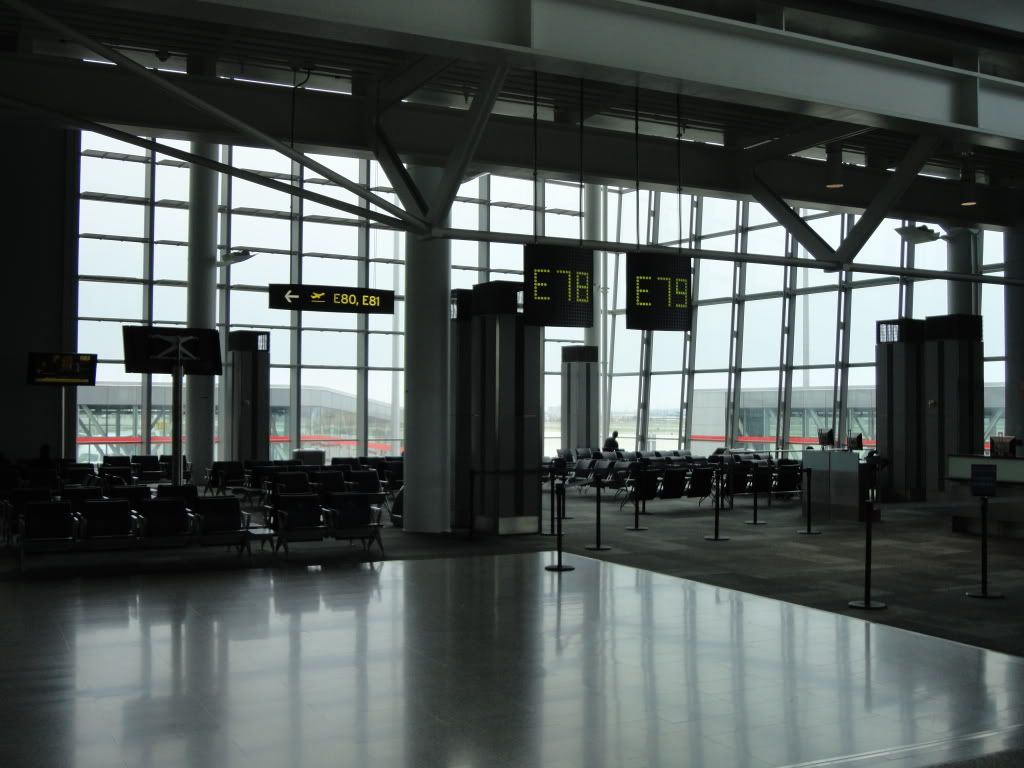 Part of the gate area: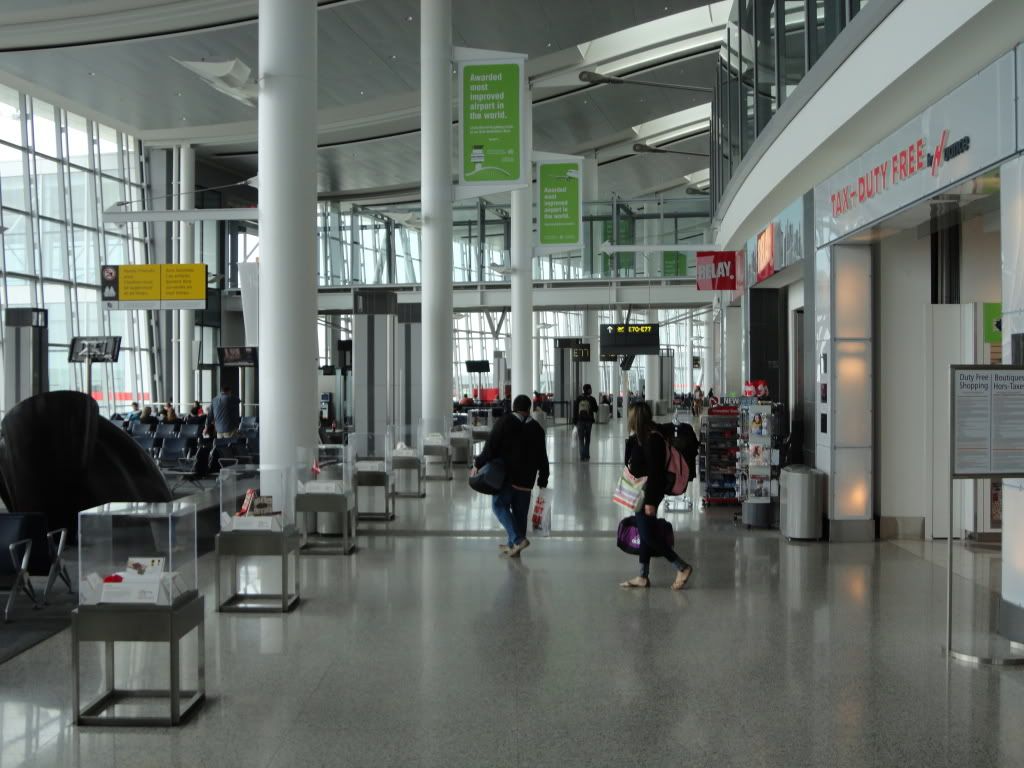 Before settling down to do some spotting I visited some of the duty free shops and ended up buying some very nice earphones. After doing that I settled down on a chair very close to the windows to do some spotting while listening to music.
C-GGND a pretty fresh AC express Dash 8 being delivered on 09/12/2011: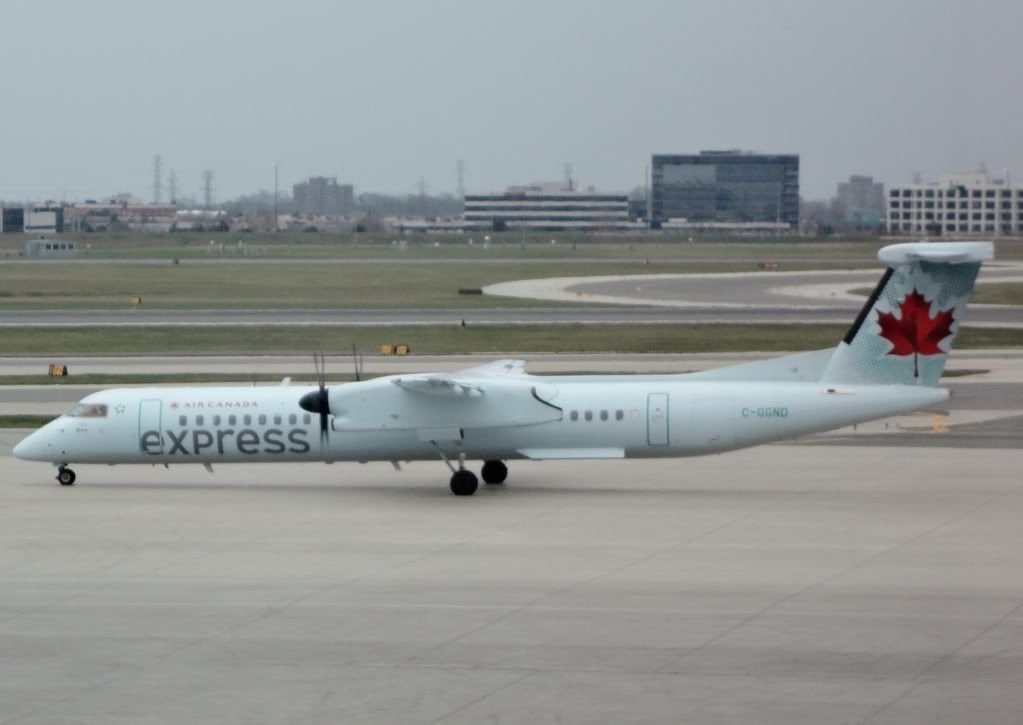 AC A330 arriving at the gate: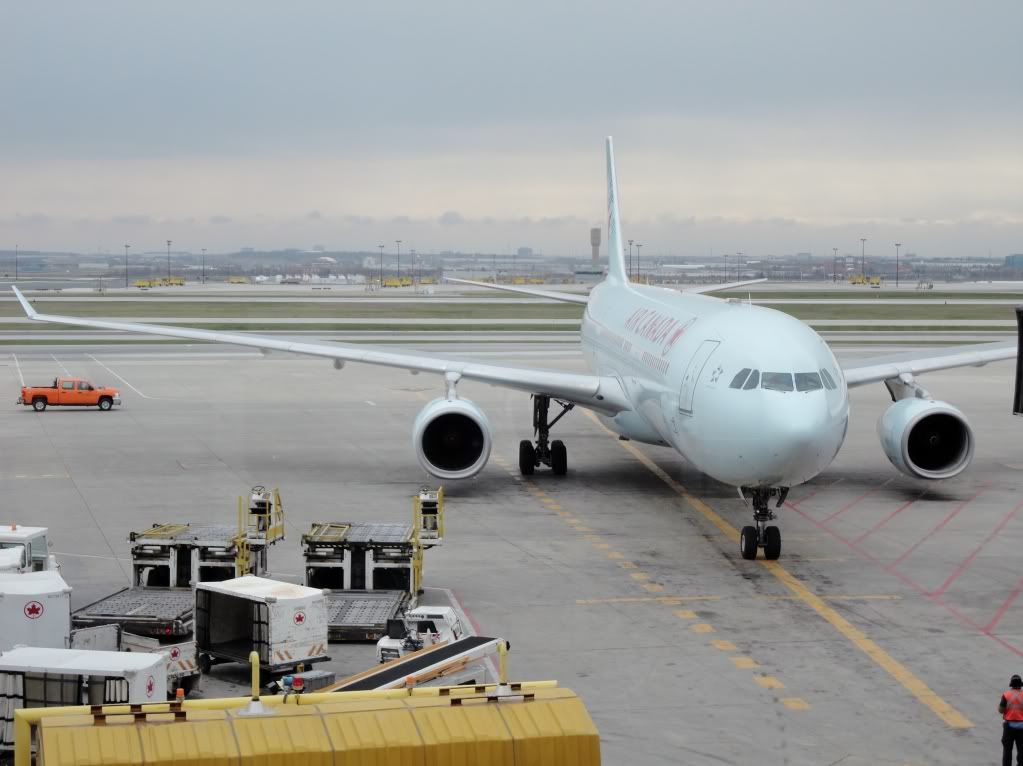 AC A320 C-FZUB:
MQ CRJ7 N509AE: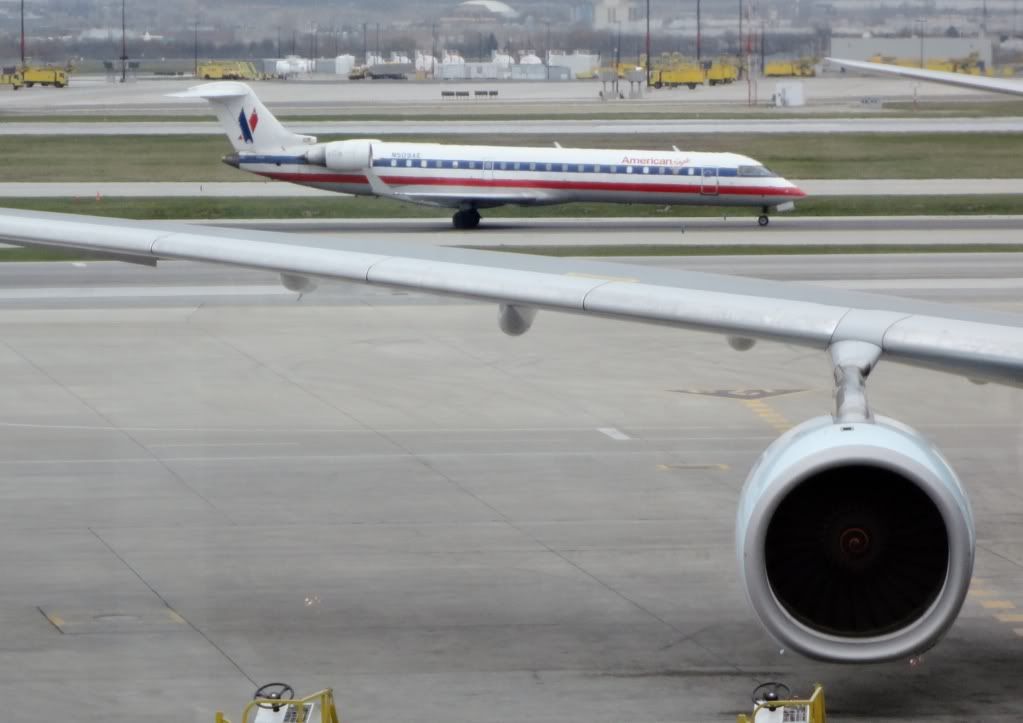 AC Jazz CRJ2 and AA 737 cross paths: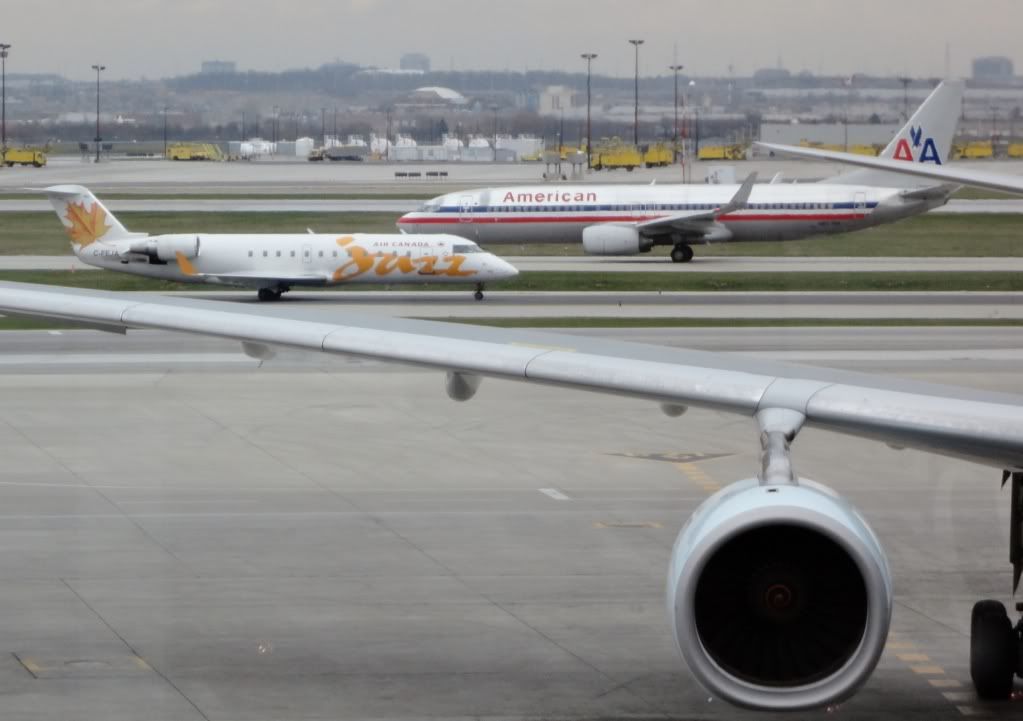 Pretty cool to see a Transavia scheme in YYZ, too bad it didn't taxi in front of me: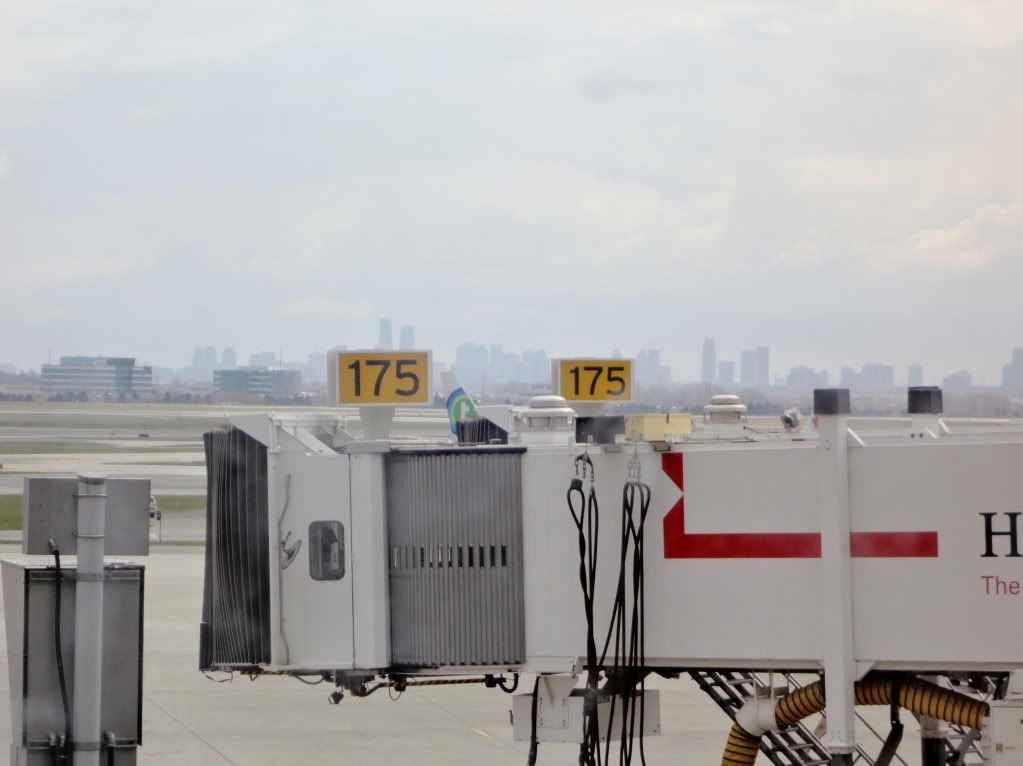 AC A319 C-GBHR taxiing to the gate. It will later depart to MEX: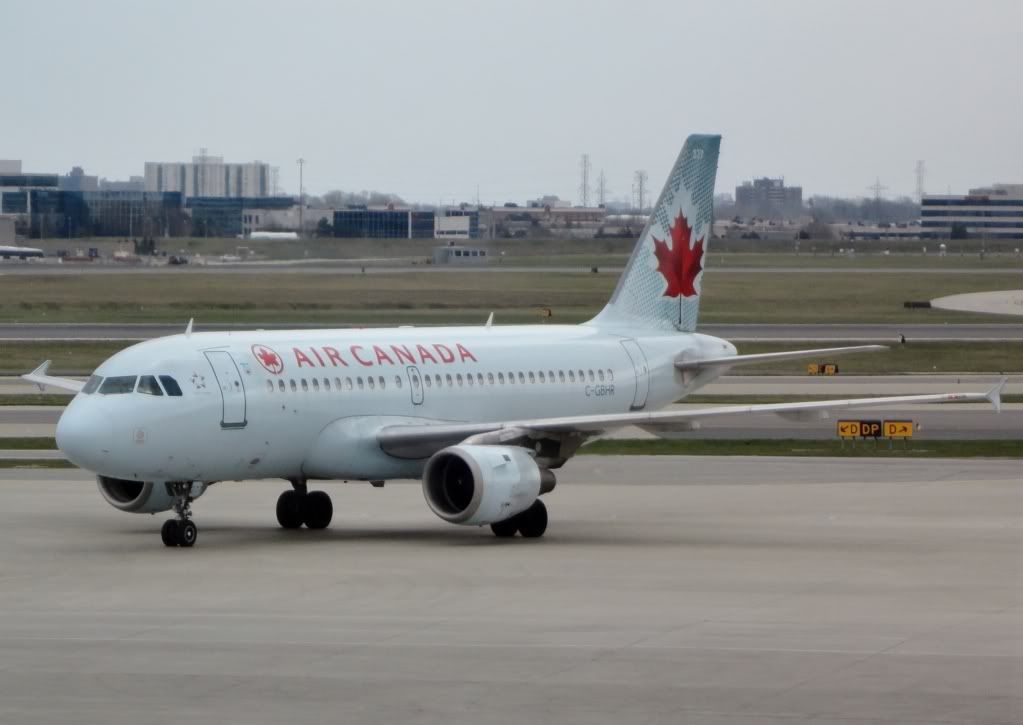 AC A330 C-GFUR being towed to the gate: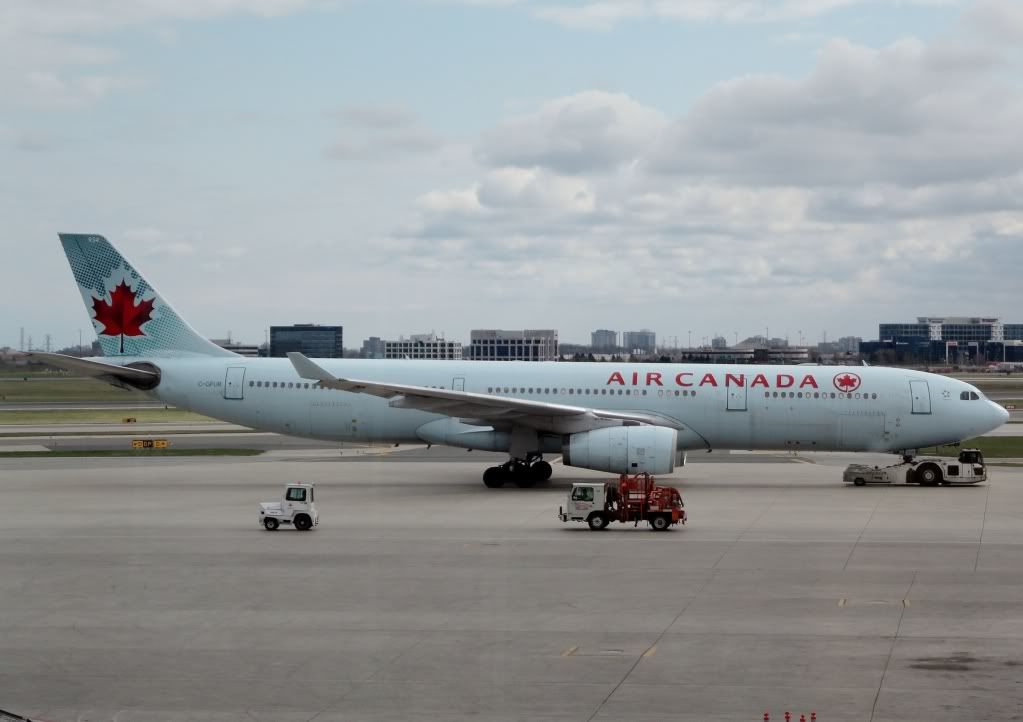 AC Jazz Dash8 C-FABA:
AC EMB190 C-FGLW:
AC 767 C-FMWV: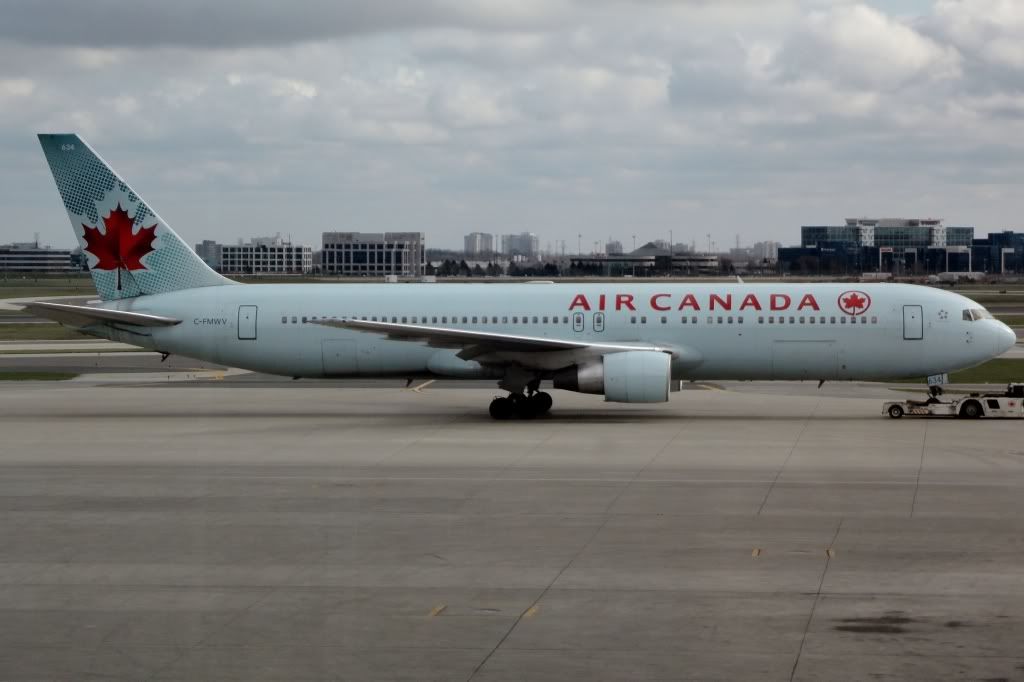 Soon enough I saw my aircraft arriving right on time. It took a while before it finally reached the gate as it had to wait, and finally taxi past quite a few waiting aircraft at the runway to depart: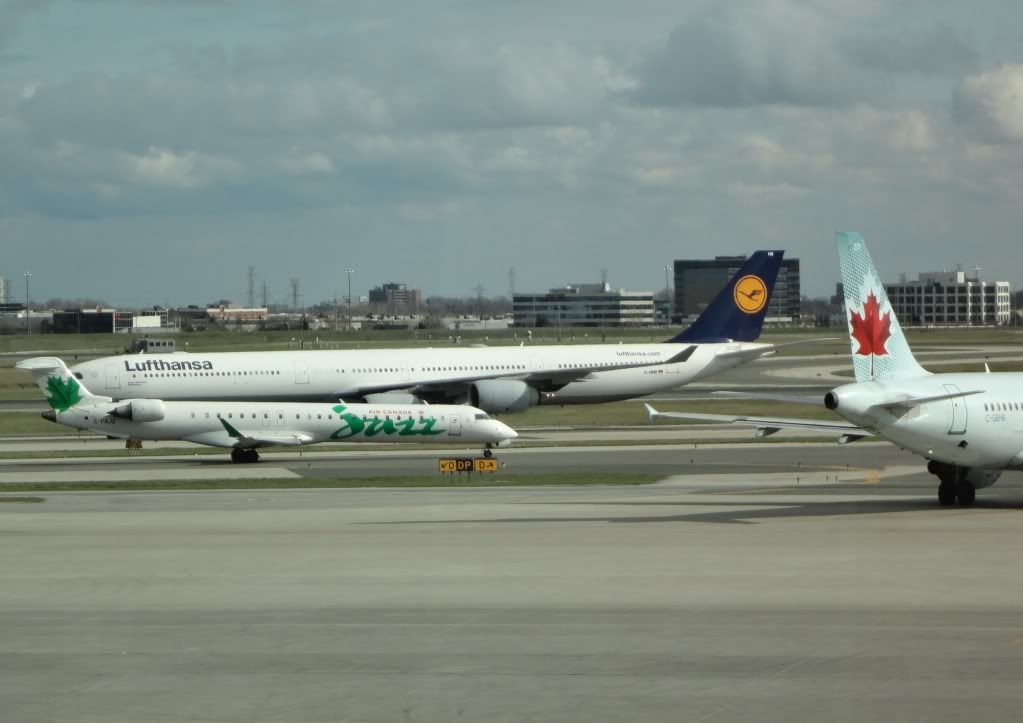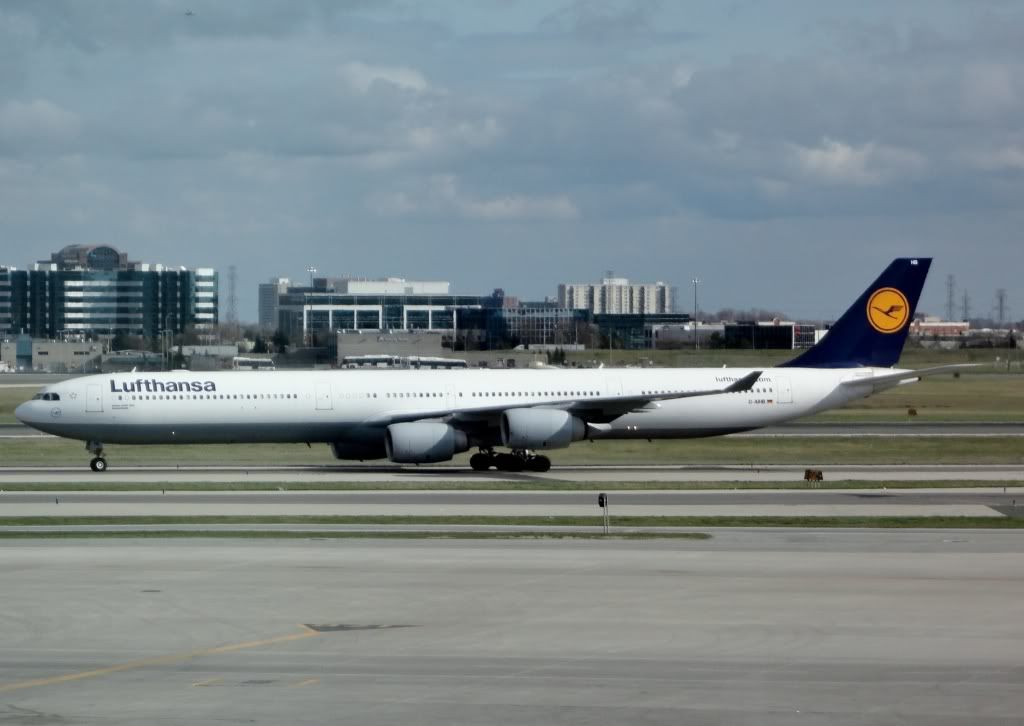 I proceeded to my gate to get a closer look, D-AIHB will be doing the honors for me today: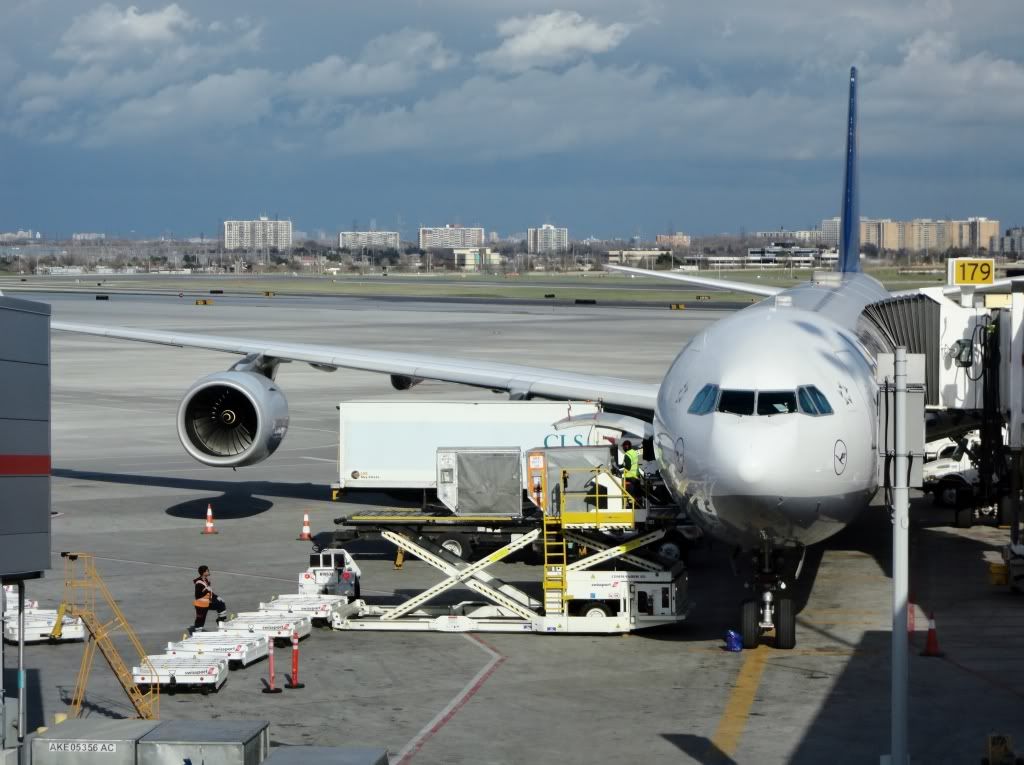 YYZ-FRA
LH471 // 35K
A346 Lufthansa // D-AIHB
19:10 – 08:50
The remaining time I stood near the gate listening to some music and waiting for the boarding call. At the gate next to us there was a 9W flight to BRU and then DEL. Everybody had boarded 20 min prior to departure time except for 2 people who they were calling many times. At last they arrived right at departure time. The whole gate area and surroundings was full of people meaning that this was going to be quite a full flight. A delay was announced of 15 min and at 18:25 boarding finally commenced.
As always I was one of the last to board: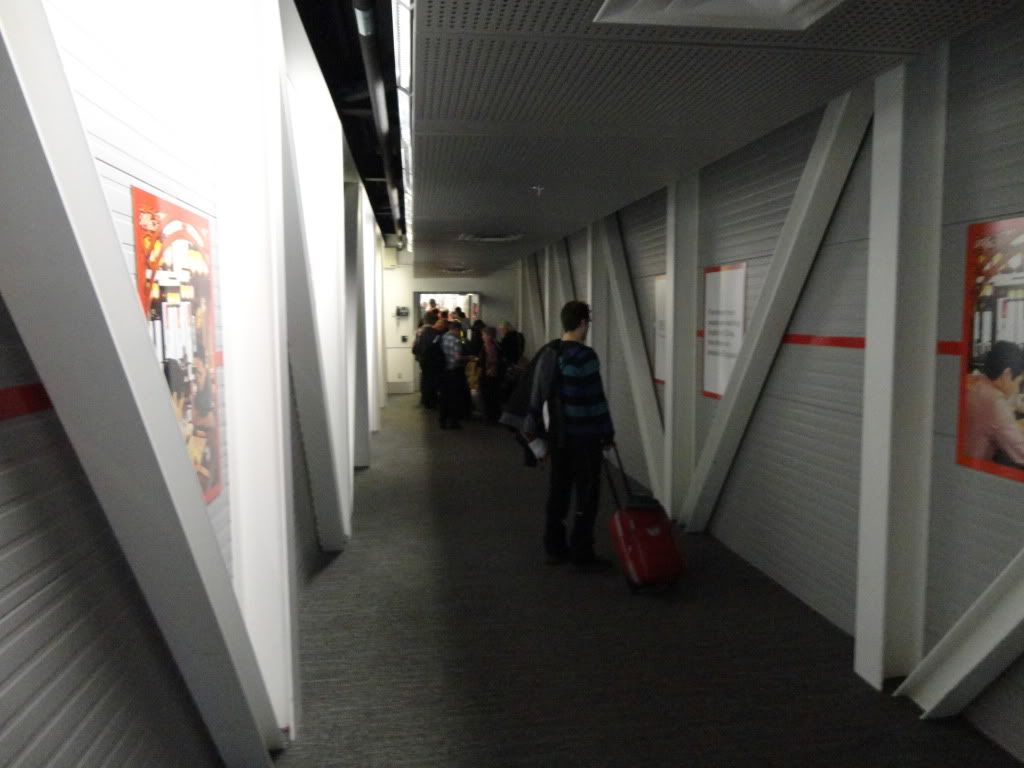 When finally boarding the aircraft I was kindly greeted by a female FA and showed my BP. Through the galley to the 2nd aisle and I arrived at my seat: 35K. There was an elderly women sitting next to me. The view from my seat: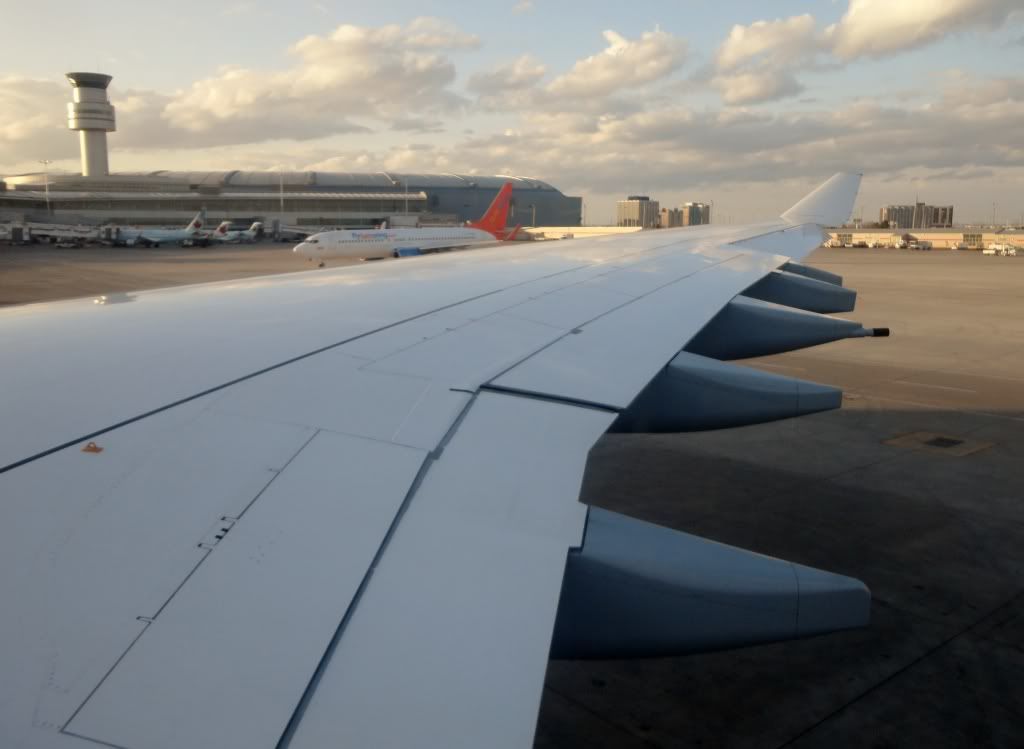 My PTV which I had to press on a couple of times before I wanted to open something during the whole flight: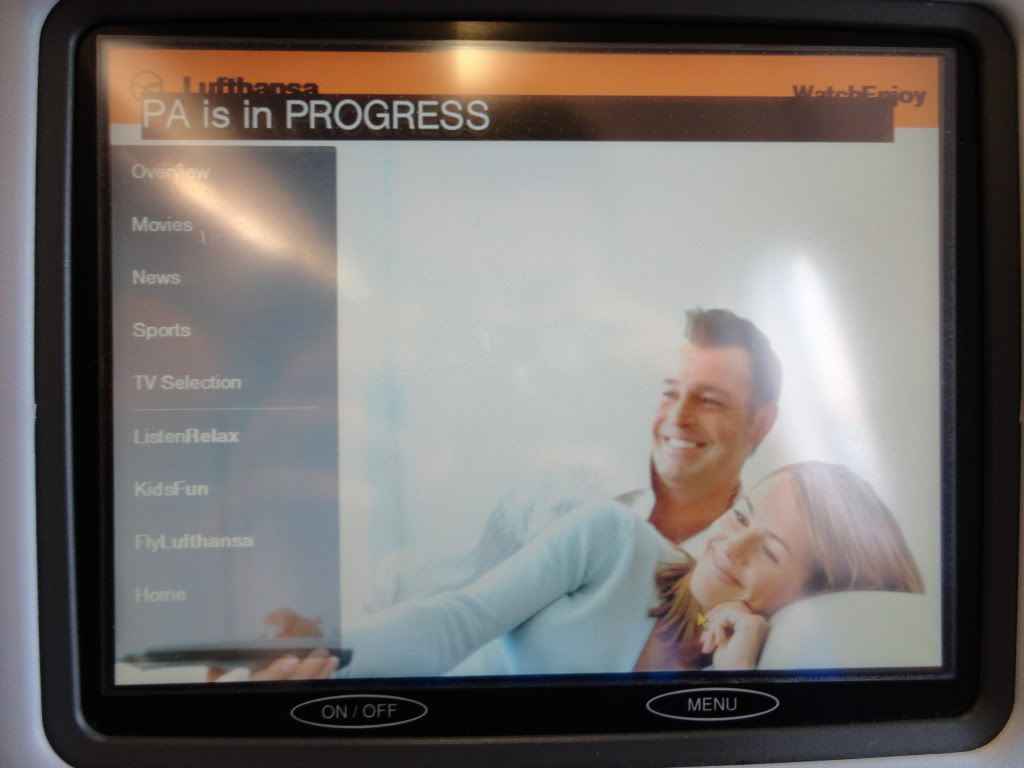 Boarding was completed, the load being at about 90% with just a couple of spare seats in the forward and rear economy section. The lady next to me moved to another seat where she had more room and gave me more room to stretch my legs, very nice. A nice welcome from the cockpit with an announced flying time of 7hrs and we finally pushed back 30 minutes late at 19:10. A bunch of regional jets at their gates: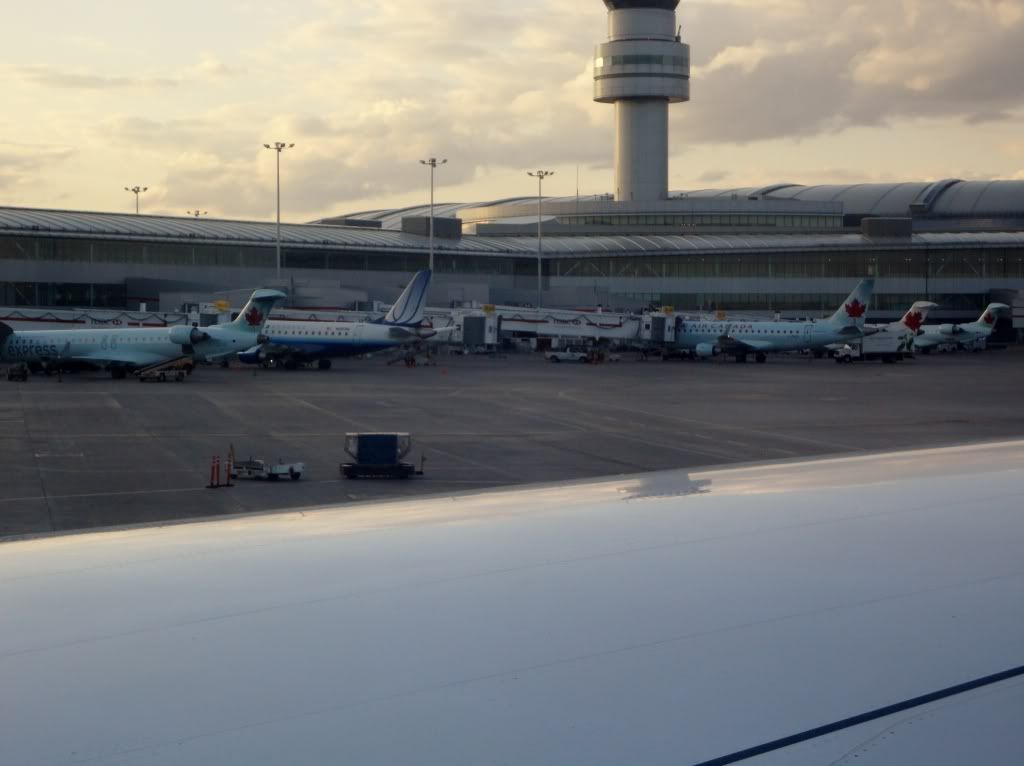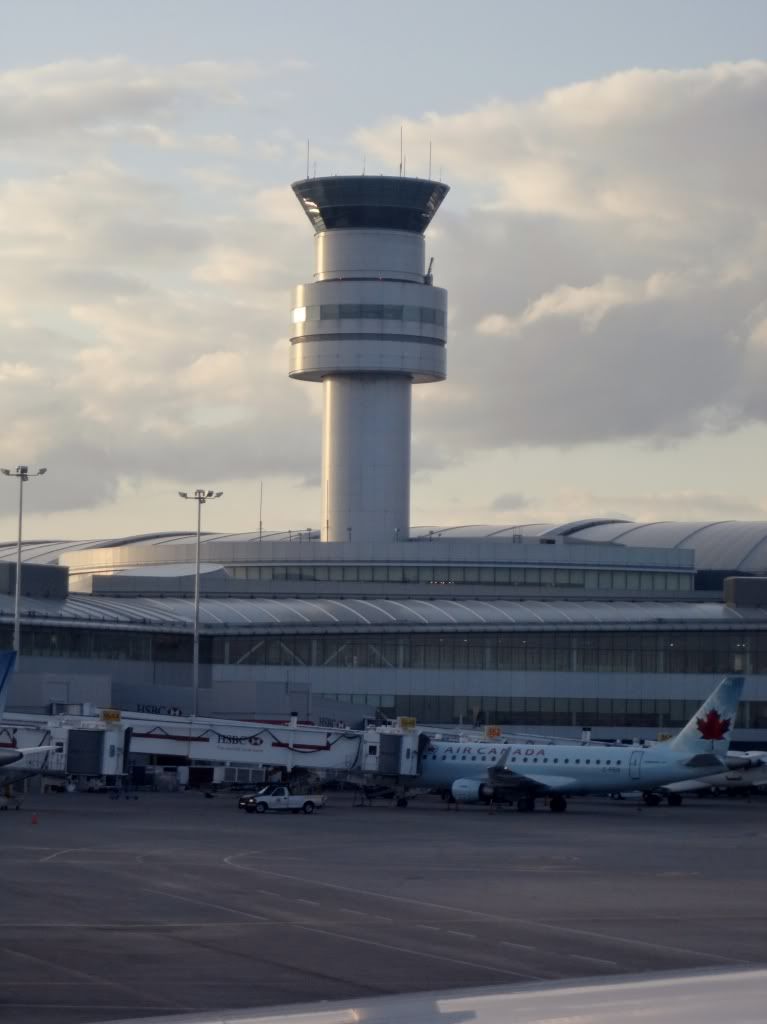 The safety demonstration was being played on the PTVs: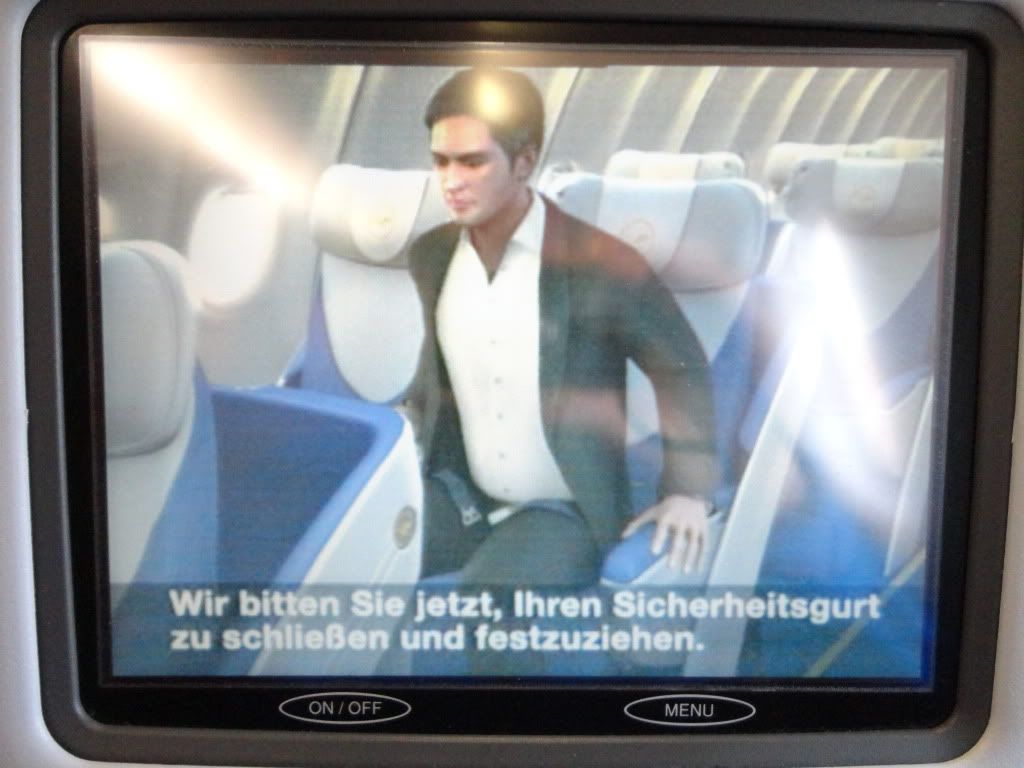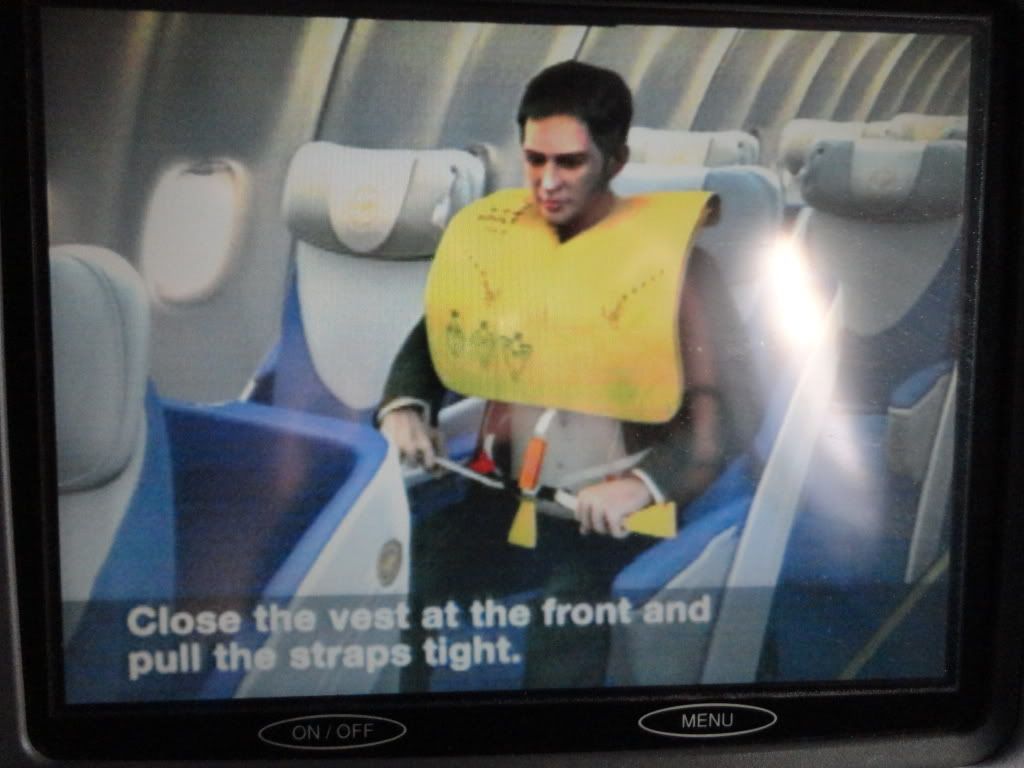 Passed a bunch of AC heavies: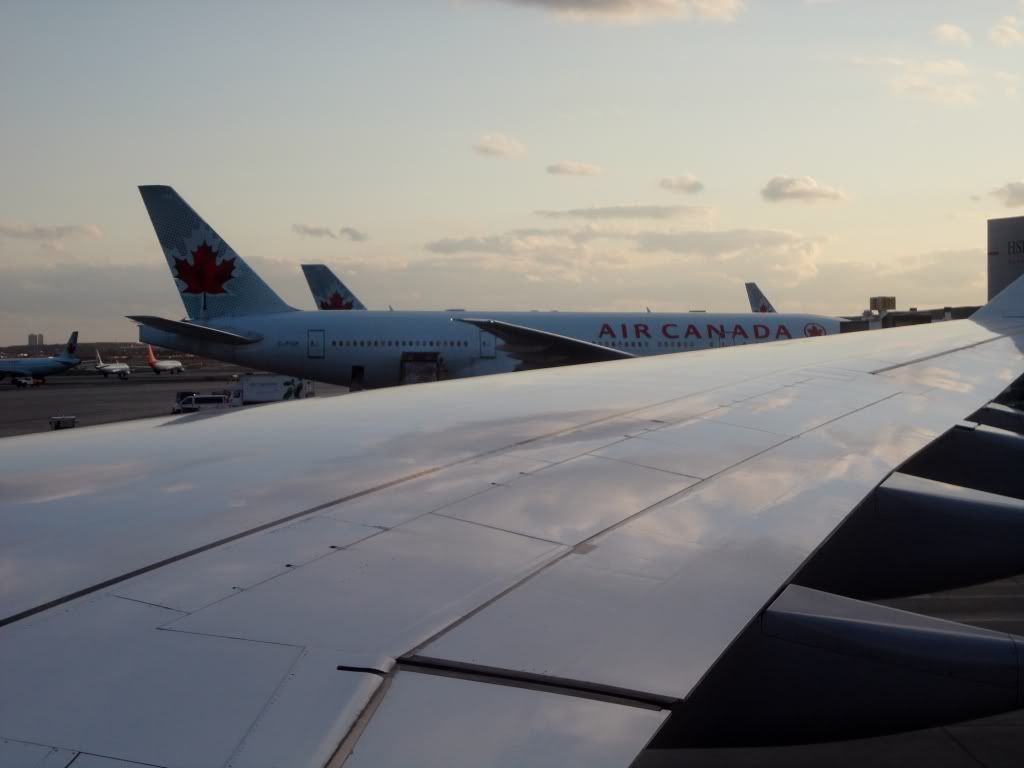 During taxi I heard someone talking very loudly. When I looked behind me there was a mentally challenged man sitting behind me with his wife (or woman he was travelling with) next to him. During taxi, take-off and the first half of our flight he kept talking/screaming quite loudly which the fellow passengers found quite disturbing, I felt very sorry for his wife as she tried to calm him down the whole time, but more on that later.
It was rush hour at YYZ which meant a lot of stopping/waiting: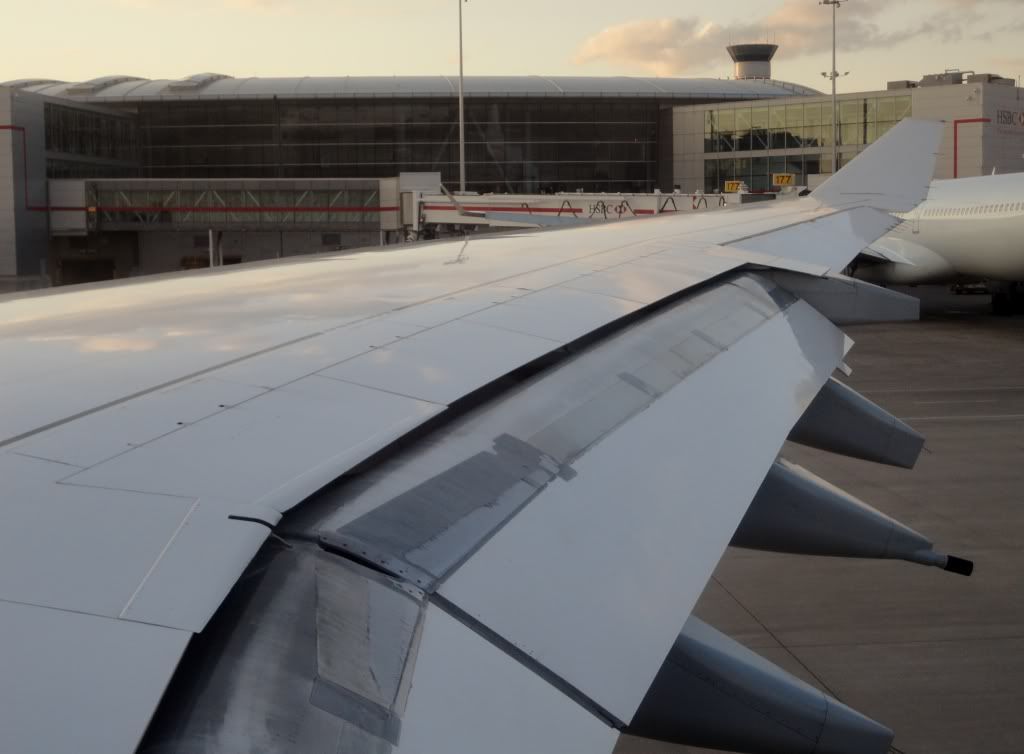 Listening to one of my favorite songs at this moment: Gotye – Somebody that I used to know: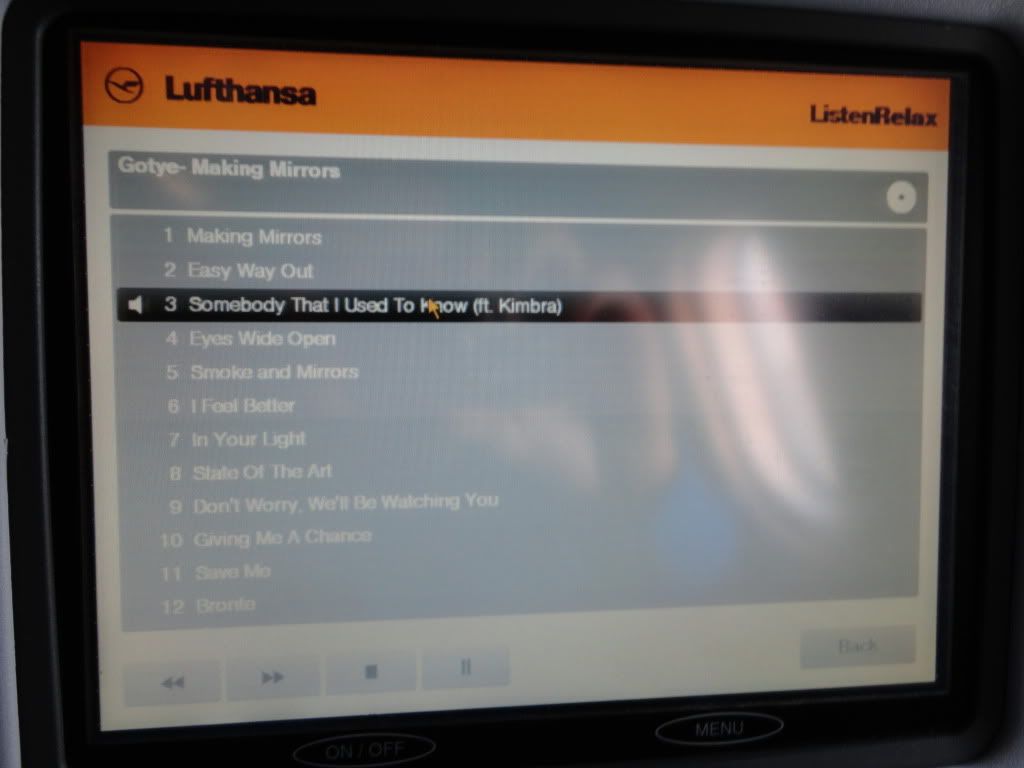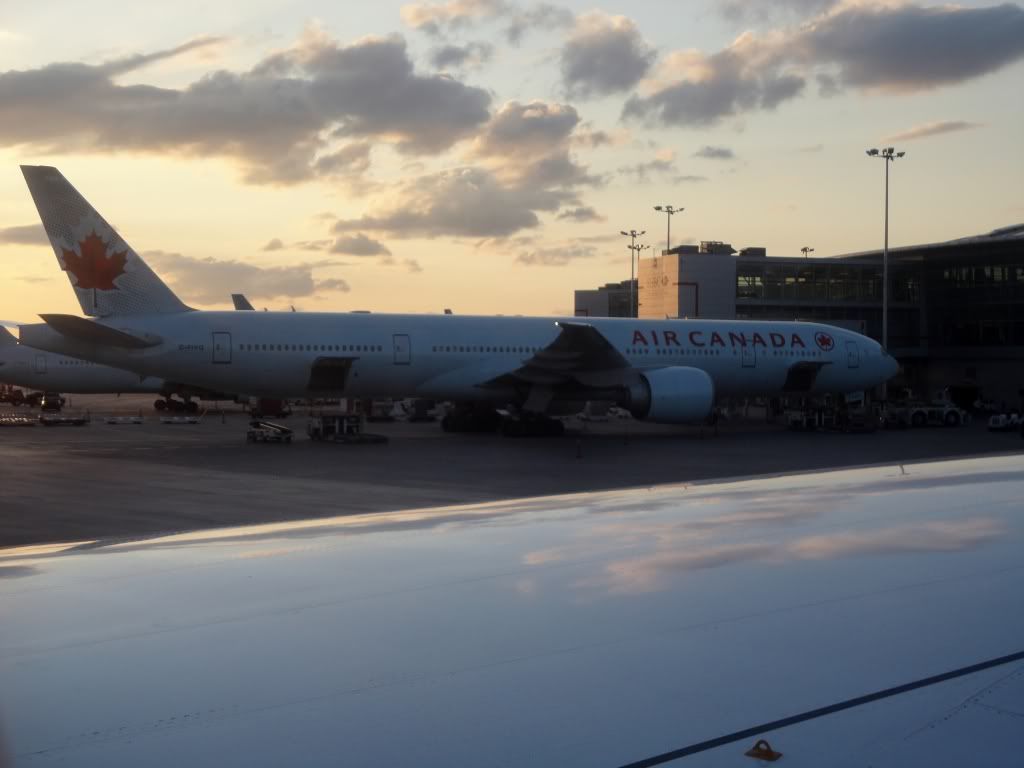 Half an hour after push back we lined up on the runway and started take-off roll: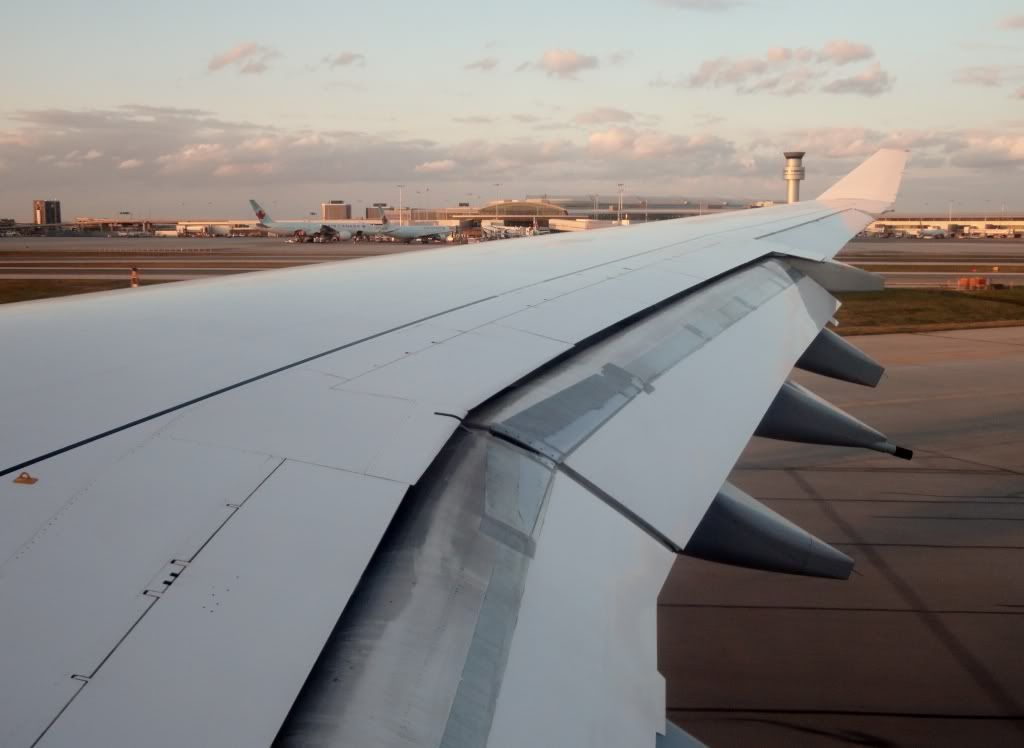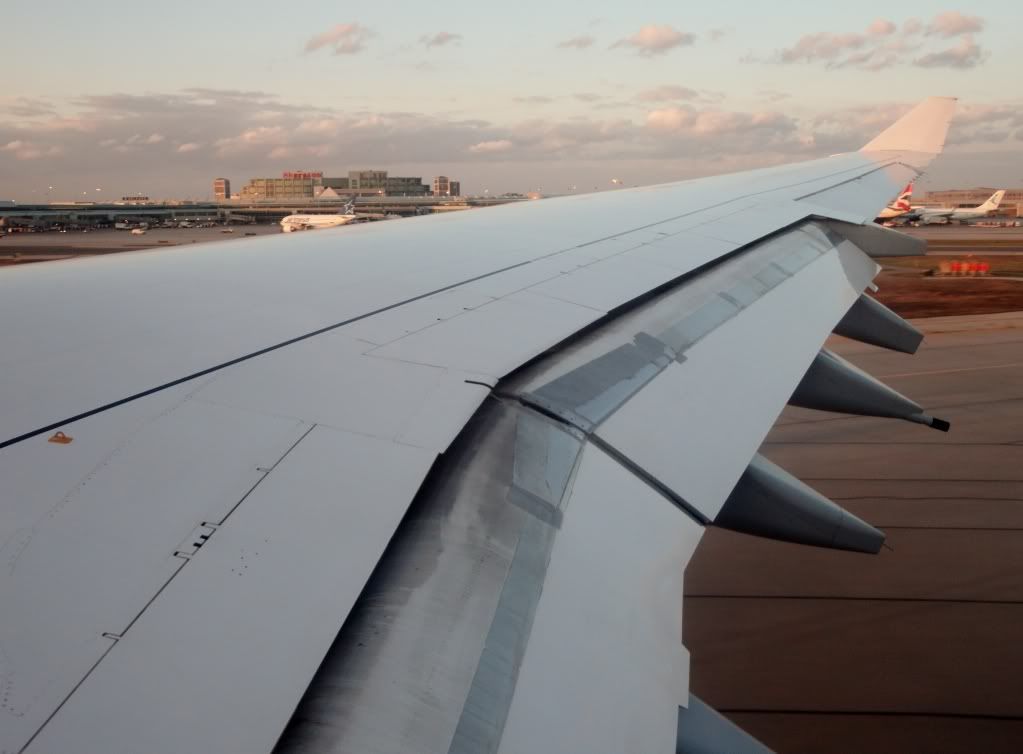 And lift off!: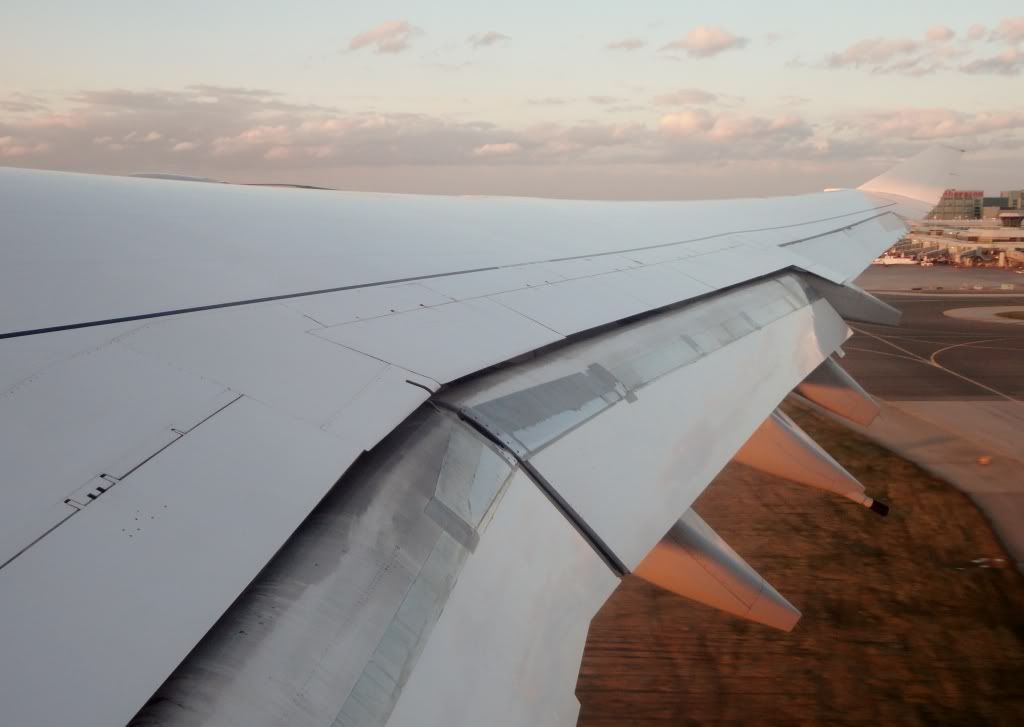 We straight away took a right turn: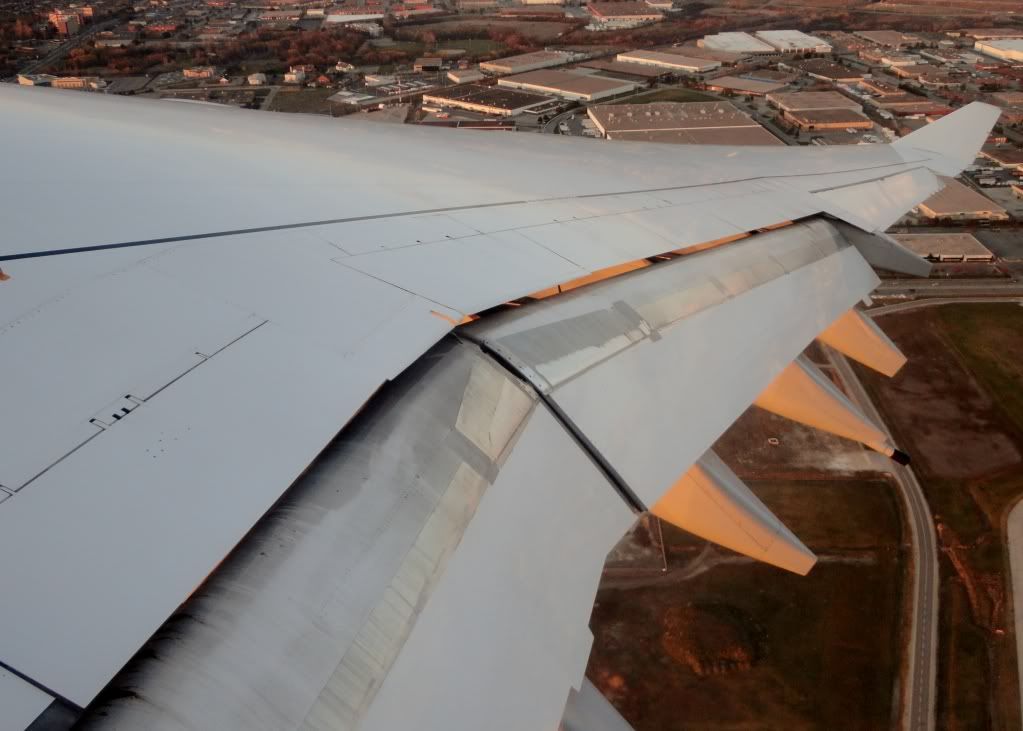 The woman that was sitting next to me came back to her seat, as it was very cold where she was sitting more up front. Too bad as I now had less space to stretch my legs, but oh well. I had a nice chat with her explaining my hobby, which she found very interesting, and showed her the steps downstairs to the lavatories as she had no idea where they were after looking for them before. The sun was slowly beginning to set: