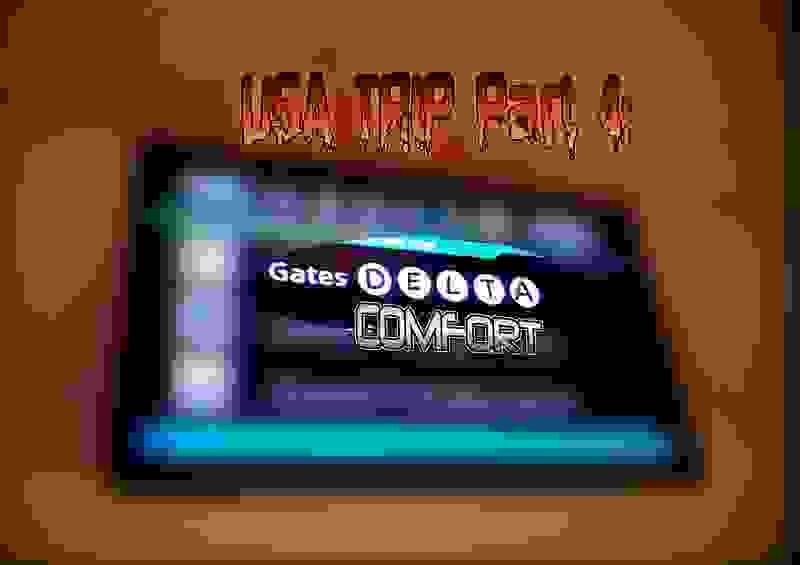 .
Introduction
This is the fourth part of my Summer 2012 US Trip Report. It covers my first encounter with Delta with the flights from Fort Lauderdale to Washington D.C. via Atlanta (what else?).
For the earlier parts, see these:
- Part 0:
US Trip 2012 Part 0: Prologue (JYV-TLL)
(by
FlyingFinn76
Jun 12 2012 in Trip Reports)
- Part 1:
US Trip 2012 Part 1: Warming Up (HEL-TXL-BRU)
(by
FlyingFinn76
Jun 20 2012 in Trip Reports)
- Part 2:
US Trip 2012 Part 2: Oh (Air) Canada: BRU-YUL-YYZ
(by
FlyingFinn76
Jun 26 2012 in Trip Reports)
- Part 3:
US Trip 2012 Part 3: JetDashBlue (YYZ-EWR-FLL)
(by
FlyingFinn76
Jun 30 2012 in Trip Reports)
So the previous parts had gotten me as far as Dania Beach, FL, right next to the FLL airport. I sure love flying a lot, but I still wanted to spend at least a day or two somewhere interesting - and this time Southern Florida didn't really appeal to me! With this in mind I narrowed it down to one of the large cities on the east coast - easy to get back to NYC for my flight home on Monday and plenty of things to see there. Eventually after playing around with various booking engines and fares I decided I'd head to D.C. - I've heard plenty of good things about the place and I found a great fare with Delta for 90 USD. So another new airline for me then.
There were plenty of flight options for that fare - mostly via the Delta fortress hub at ATL but also at least one flight via CVG, and an MD-88 would be operating the FLL-CVG sector! That was very tempting, but in the end I decided to take out the first flight of the day at OMG o'clock ex-FLL just have more time to spend in Washington. I also opted to fly into DCA since there were more flights available and of course I was hoping for the stunning approach down the Potomac.
Initially both flights were on 757s (-200 models unfortunately) but then DL gave me a nice gift - the ATL-DCA segment was changed to an MD-88 - I was pretty happy about this as it is a very rare plane nowadays. I've done two MD-88 flights with IB, but still wouldn't mind another one. Some two months later however DL took the carrot away and I noticed the flight was now on a 737-800, probably the most boring plane model out there, yikes! Well, there's nothing I can do but to make sure I reserve the best seats in the house using the DL's website - and thankfully being Skyteam Gold I could reserve seats on the so called "Economy Comfort" section in the front of the Y cabin - a couple of rows with additional legroom.
The simple route for today: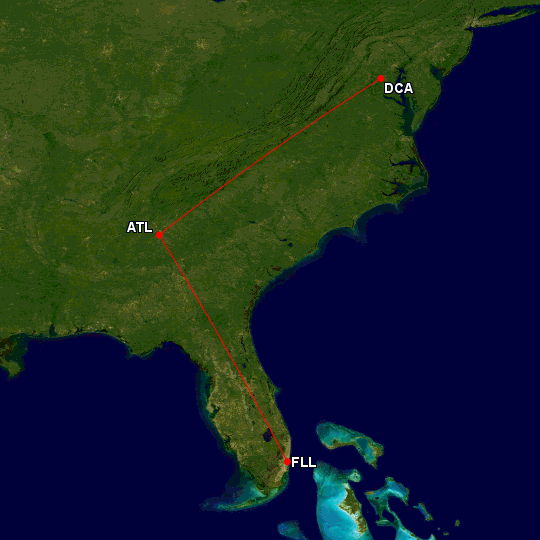 .
Saturday 16.6.2012
Another early start this morning, getting up before half past three (that's AM, in the case you are wondering), a bit earlier than my alarm would've gone off. After the usual morning stuff and cursing a couple of times the fact that I decided to do this trip carry on only (somehow during a trip your stuff seems to evolve to use up much more space than what it did when you left home, neatly packed and all...) I head downstairs to check out. Nobody at the reception desk but a family of four or five persons is there. I say that I'm very surprised that I'm not the only one up at this horrible early hour - well turns out they are not early but *late* instead, having just recently arrived on a very delayed flight and are now waiting for a bit of a breakfast (shouldn't that be supper or a night snack then?) before hitting the sack. They are sort of baffled that I have already slept and this is an early morning for me...
Anyway I soon manage to check out and hit the roads. Driving at this hour is an absolute delight as I think I see a grand total of two cars during the short drive back to the airport and I think both of those are heading to the 24H IHOP that's halfway down the road to the airport - I'm not sure why someone would want to eat pancakes in the middle of the night - but hey, if you want you can! The drive is so short in fact that the needle is still showing F so no need to spend any money on gas with this car! A nice Filipino chap accepts the car just fine and directs me to complete the paperwork inside.
The drop off is handled far quicker than the way slow pick up process the previous night and the guy laughs at me when I ask whether it is possible to *walk* over to T2 (I saw that T1 was basically right next to the car park and rental facility) - "Yeah, but it'll take you ages" he says. So into the shuttle bus I go, and I have to admit I'm quite surprised to see that it pulls off at the T2 curb less than two minutes after leaving the parking/car rental facility. I bet I could've walked this in five minutes!
T2 looks just quite depressing at this early hour - bright, fluorescent lights, low ceilings and the omnipresent carpeting. The check in is not yet staffed, although there are plenty of people around: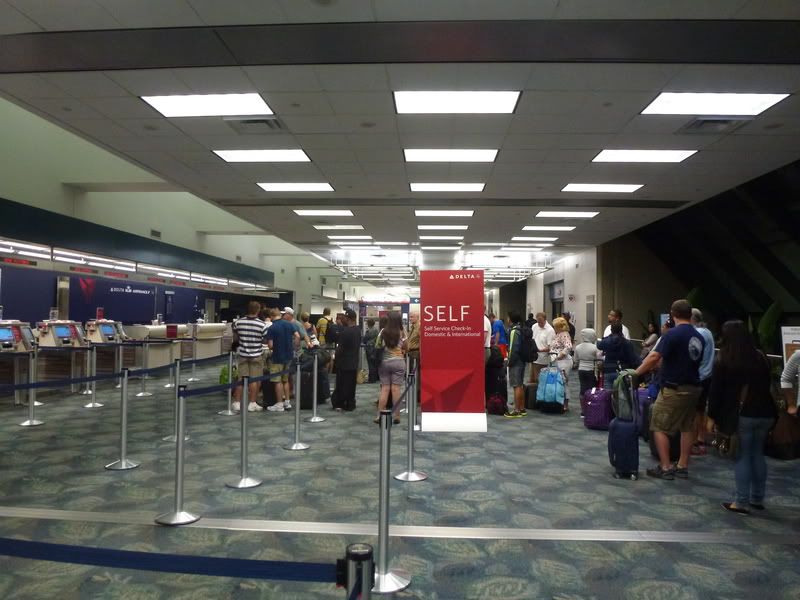 FIDS - yes, I'm on the first flight of the day. I wonder why this display is sorted chronologically when the norm here is to do it alphabetically: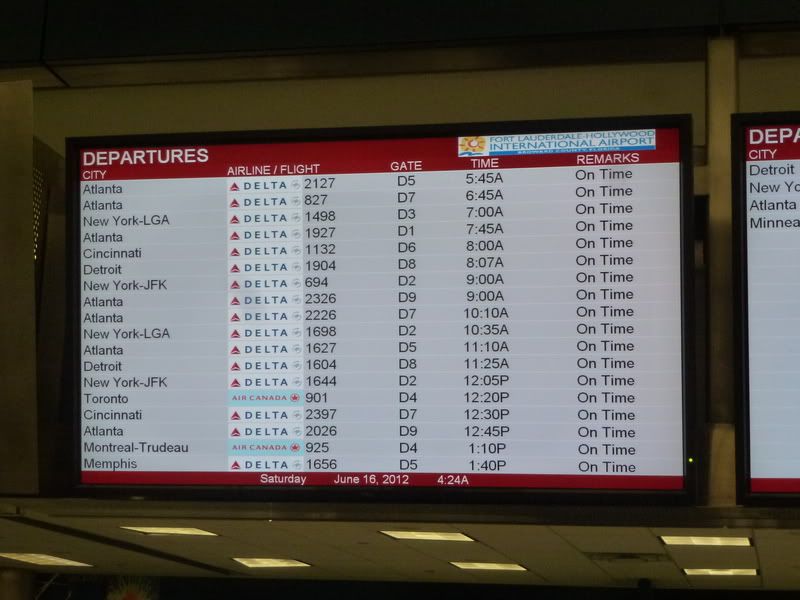 I join the Priority Access queue which is much shorter than the one for the Great Unwashed. While waiting I squash a cockroach on the floor much to the horror of the Californian lady in front of me - welcome to Florida - I also got bitten by some fire ants in my hotel room the previous night!
Soon an unnaturally chirpy (for this hour) woman shows up and proceeds to turn on the self service kiosks bolted to the check in desks and asks us to check ourselves in. This is another thing I don't really understand - many carriers on most big American airports have these kind of things - you are supposed to check yourself in and are only allowed to talk to an agent in person if the machine spits out a special card saying so. Well that would still be okay, but I don't understand why couldn't they have the machines running 24H - you still need to queue which seems to be a bit pointless to me especially since I'm not planning to drop any luggage off and have already done OLCI - I just need my (flimsy) pieces of paper to be set. Oh well, a minute after we get the permission to do so I'm in possession of my two boarding passes for the day and proceed towards security.
The security is your usual TSA affair, first the boarding pass checker is trying hard to look like a figure of authority, taking a long hard look at my boarding pass and an even a longer one to my passport before scrawling something completely illegible on the BP and grunting something which I assume means "Ok, go on" but could just as well be a suppressed burp... Shoes and everything off and thru the nudiescope again, and that's it, I'm airside. No, nobody offered me the choice for opting out of the nudie scan this time, not that I'd wanted to anyway!
Airside - so empty: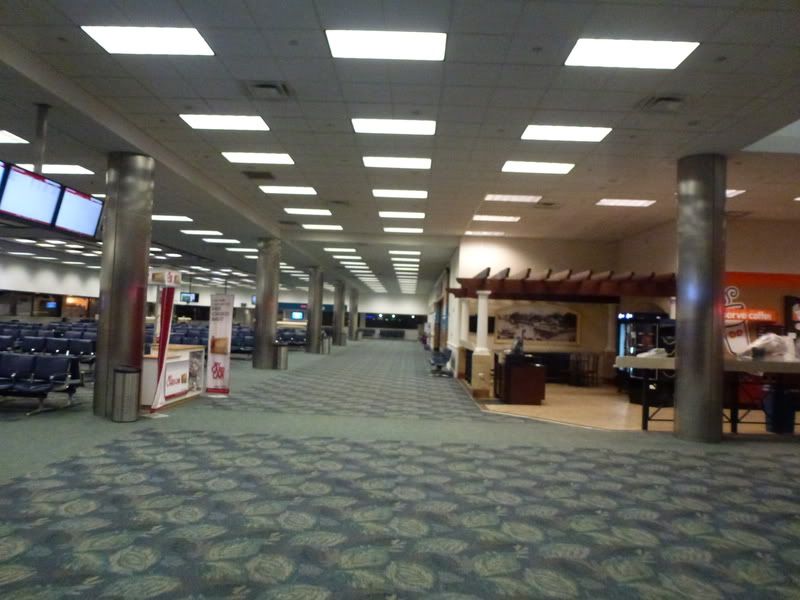 Here's my ride: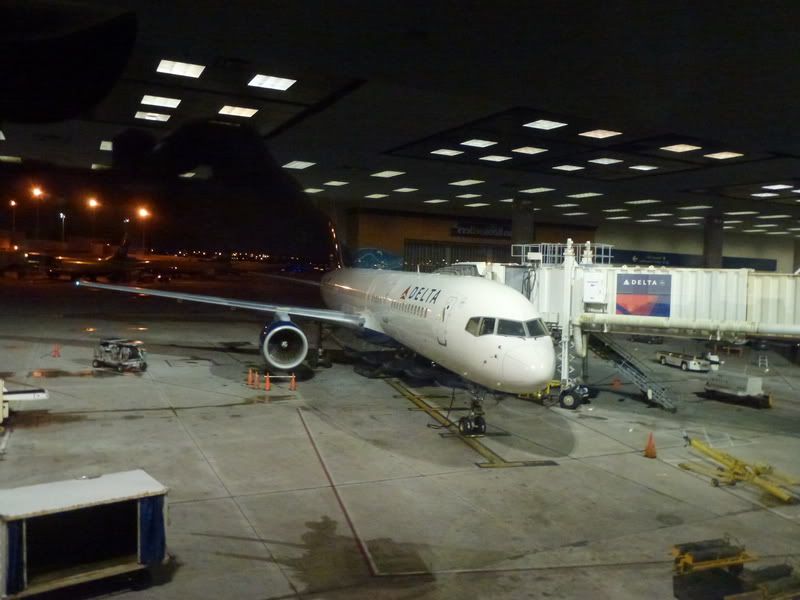 It turns out to be N673DL, the expected 752, will be doing the honors of serving as an introduction to my 150th airline flown - Delta.
Next I head to Delta's Skyclub: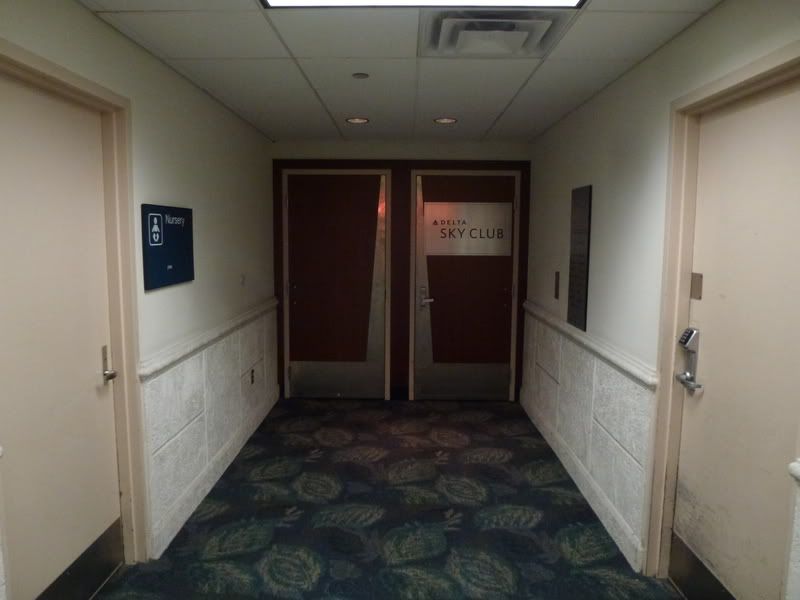 I thought that Delta was a bit more lax with their lounge access rules and offered it to Skyteam Gold members but this turns out not to be the case - you still need a same day international (presumably Skyteam) flight. Well the agent is very friendly and says that she'll make a one time exception (yeah right, I bet she has done these a lot during the years...) and admit me in. I thank her and tell her that I definitely appreciate her gesture. I also ask about my position on the upgrade list - when I checked last night I was still at position three with at least six First class seats still available. She says that things are looking good for me, which I'm delighted to hear!
Well, this Sky Club is nothing to write home about - but at least it beats the public areas. Reminds me of many generic Servisair lounges in the UK: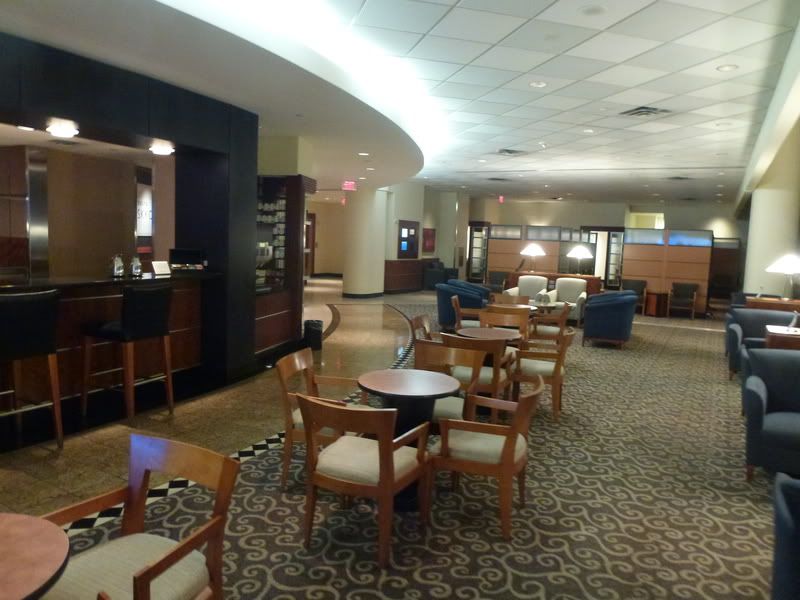 717flyer would be happy with the muffin selection here - I am happy with the bagels: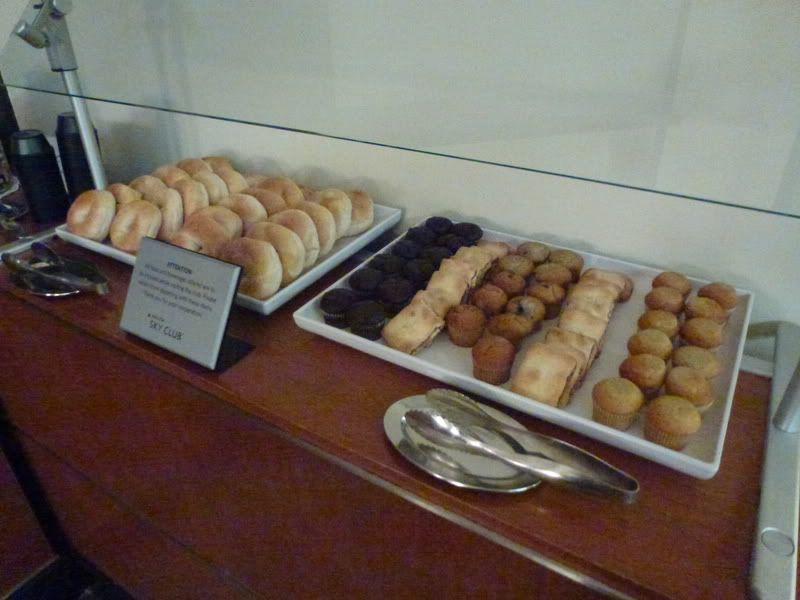 The staffed (well not at this moment though) bar can be seen towards the left:
Breakfast: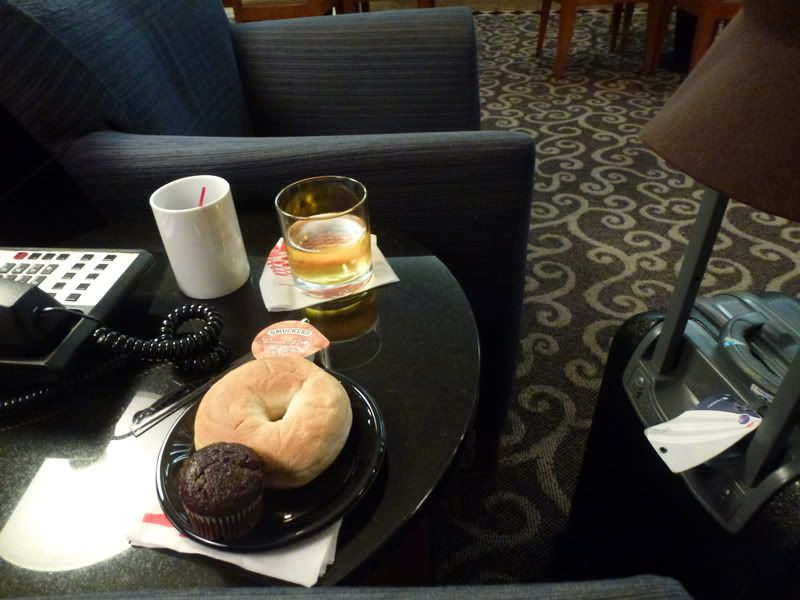 My ride, parked right outside - during the night a thunderstorm passed over, hence the air is fresh, and clear outside: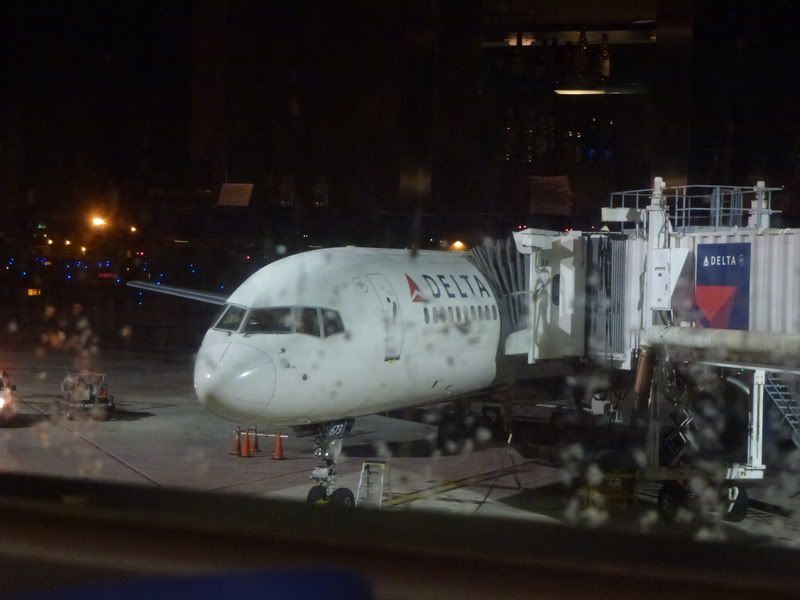 The MD-88 to Covington at the next gate: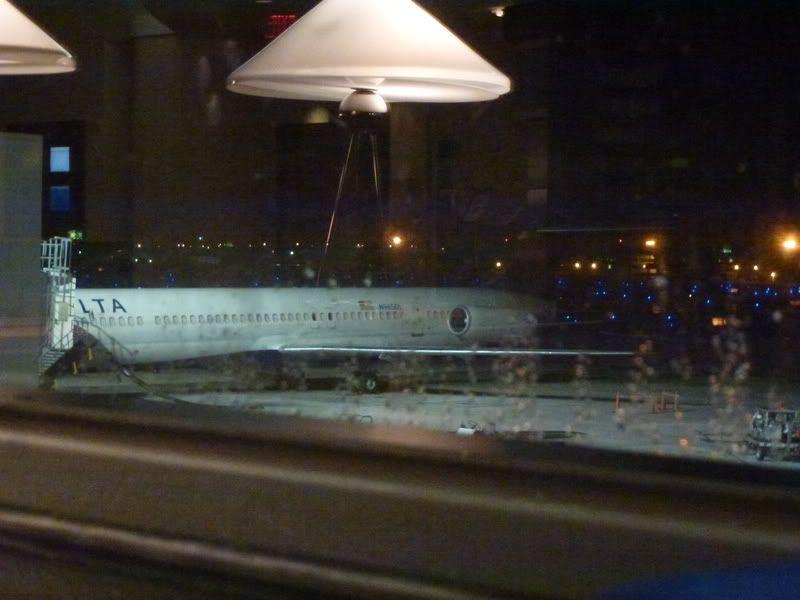 After two cups of coffee and two bagels (and a token muffin) it is time to board: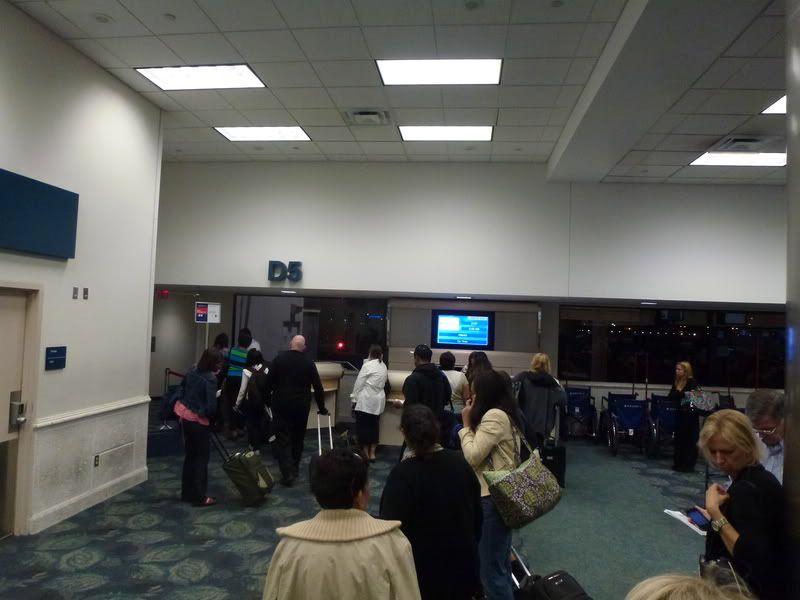 I ask the gate agent about my upgrade - at the same time he scans my boarding pass, the machine beeps and he hands me a new boarding pass for seat 3B - "I guess that's your upgrade right there!". Hey, Delta is definitely trying hard to impress me and win me over!
FLL - ATL
DL2127
B757-200 N673DL
Seat 3B
5.48 - 7.28
The jetway is attached to door 2L so I get to do the rather novel right turn after stepping onboard - I think the last time I did this was boarding an Air Finland 757 at Málaga Airport a bit over a year ago...
The welcome from the FA at the door wasn't very welcoming at all, just a forced faux smile, but once I enter the First class cabin the attitude of the FAs is noticeably different - all smiles and friendliness. The ladies working up front are quite senior, but very friendly and good.
As with most carriers in the US, the domestic F cabin is in 2-2 layout with rather large and very nice looking leather chairs. And not only feeling, once I sit down I also notice that the seats indeed
are
very comfortable!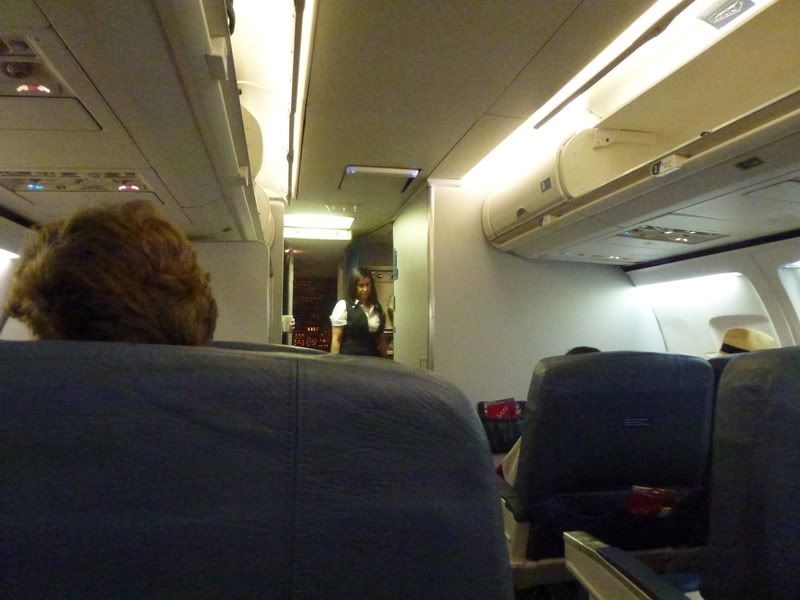 Plenty of legroom and enough pockets for all kinds of stuff: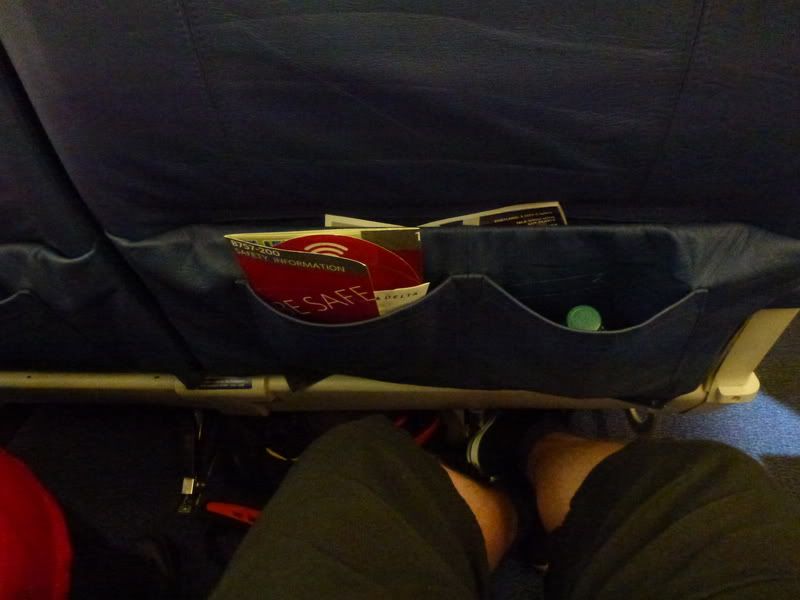 There's already a mini bottle of water in the seat pocket, very much appreciated: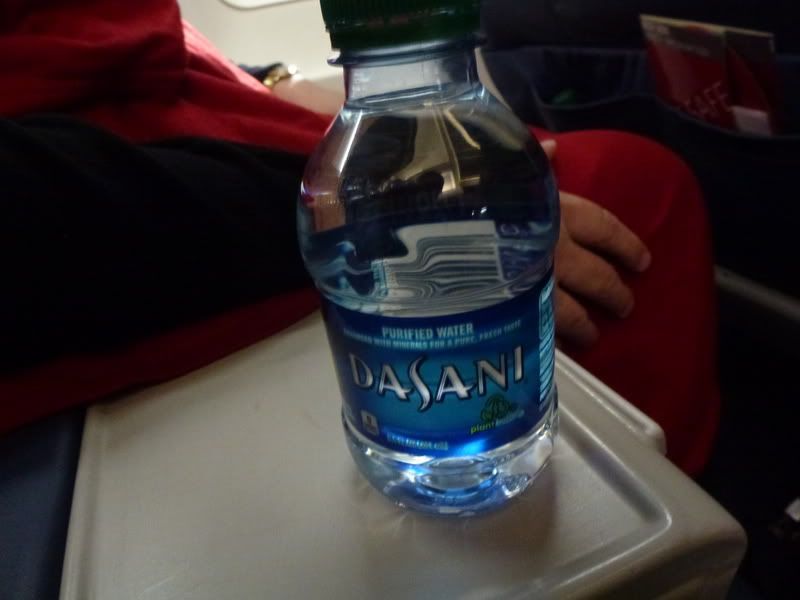 I'm not very happy with my aisle seat, but after checking with the purser she says that all the F seats will be taken today so unless I want to ask someone for a swap I'm stuck here. I make a half hearted attempt asking my seatmate (who I already saw at security and the Club - he greets me by saying "We seem to be running into each other all the time this morning!") but he says he prefers to sleep leaning on the wall, fair enough. So I guess it's an aisle seat then for me for a change.
Delta (like most US carriers - they are such a copycats when one of them introduces something new the rest will soon follow) has introduced the gogo inflight wifi to most (all?) of its domestic fleet, hence this sign above: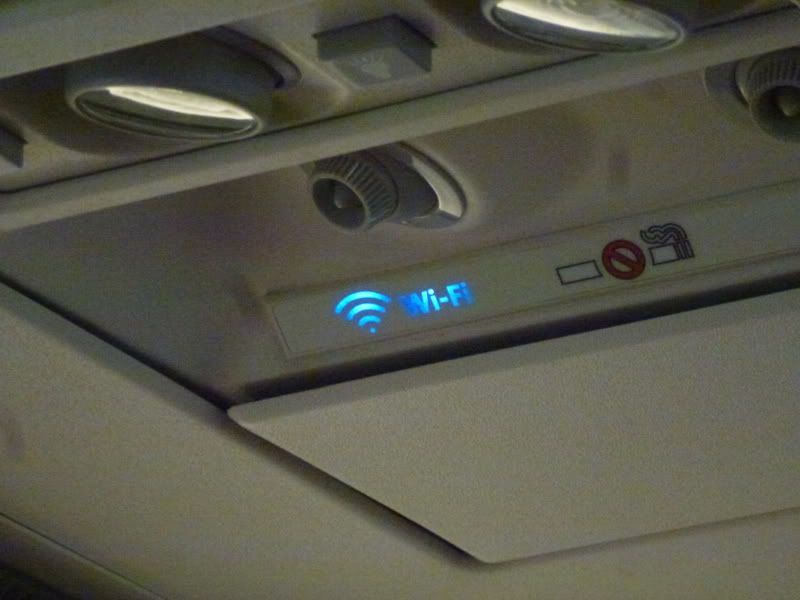 This is actually quite a nice feature - DL gives you 15 minutes free which is enough to download your emails and other reading material for the flight, so it is not really necessarily to pay money for an extended connection at least on a flight of this length.
Predeparture beverages are offered, I opt for more water. The crew makes repeated announcements about how they want to achieve an on time departure and for that reason everyone should find a place for their carryons and settle down as fast as possible. Eventually everybody does, and we manage to push back eight minutes late.
The CEO saying hello in the welcome video:
Followed by the scary, very scary Deltalina in the safety video: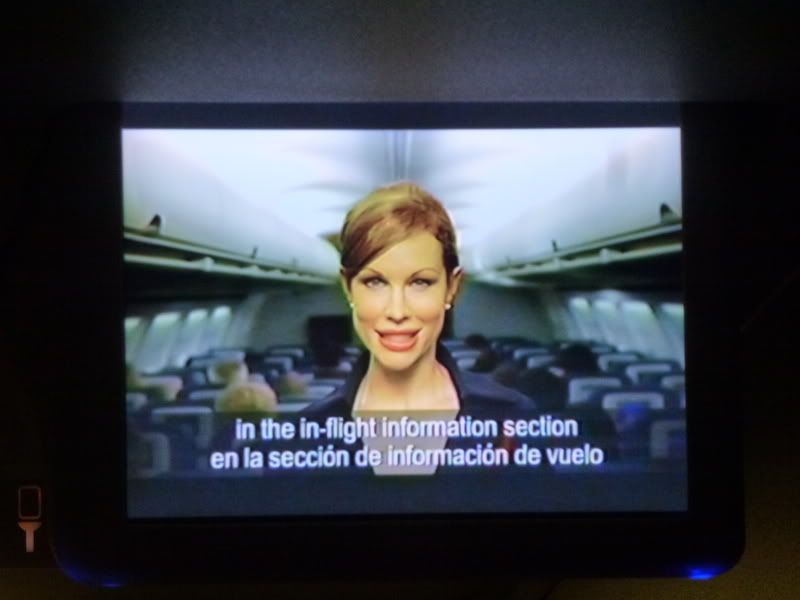 A lengthy taxi to 09L later we take off quite powerfully towards the Atlantic, performing a lazy left hand turn over the ocean to point us towards the northwest. A new day dawning from the east: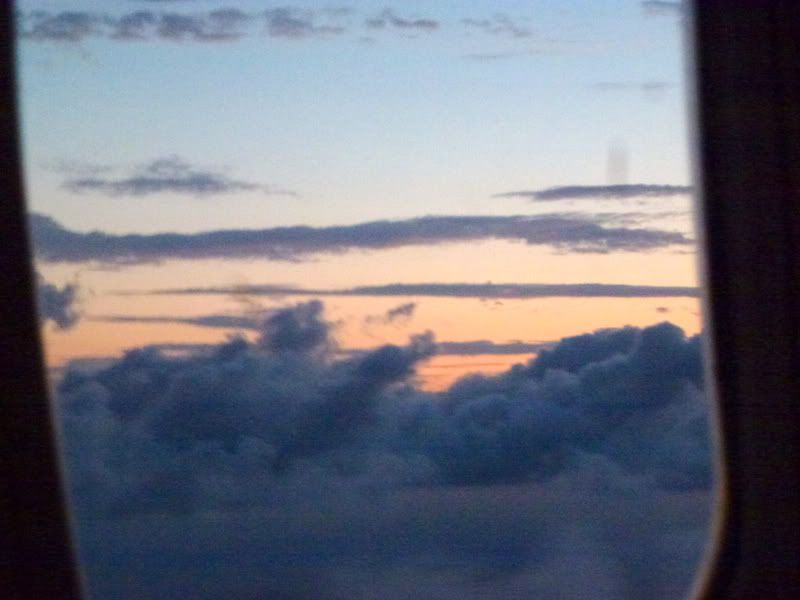 During the flight there are frequent beverage runs - the FAs ask each (awake) passenger individually about our drink choices and then deliver those one at a time which adds a bit of classiness to the service:
I guess again I expected something a bit more in First class for this flight with a scheduled block time of 1h45mins - a sandwich or a breakfast bagel or something like that, but it turns out three passes with the snack basket it all we get. I start with some peanuts.
Whoa, a grumpy old creature of habit is actually reading his favorite newspaper from an Ipad (conveniently downloaded using the free gogo time) - what is this world coming to: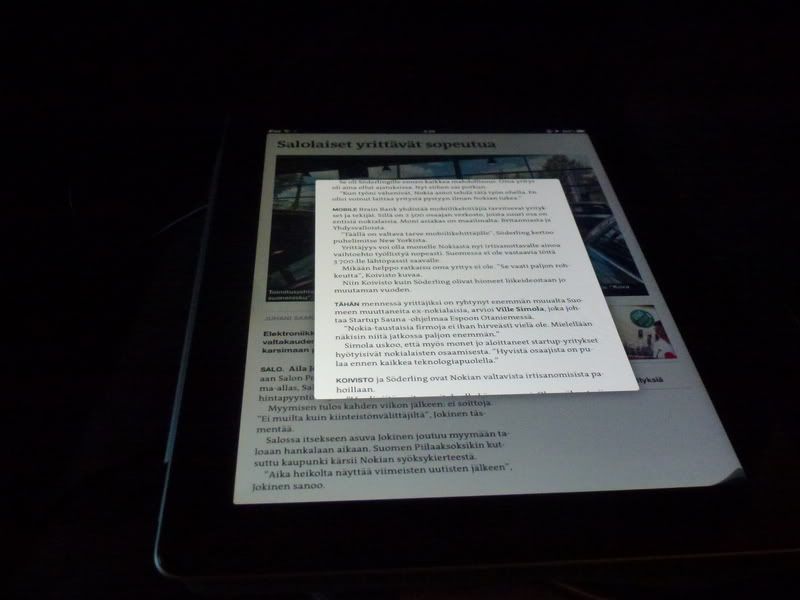 Sure it is no replacement for the good old dead tree -based version, but hey, it'll get me my fix while on the road far away from home!
The snack basket is full of your usual junk food - but at least they have bananas there so for the second pass I opt for one:
I seem to be pretty much the only passenger awake in the cabin - all the others are snoring away. I am not feeling tired at all (thanks to all these early morning wakeups I don't think I ever got fully accustomed to the local time during this trip, come to think of it)...
In what feels like no time at all but in reality must've been an hour or so we are already on our way down towards Atlanta.
Hello, Georgia: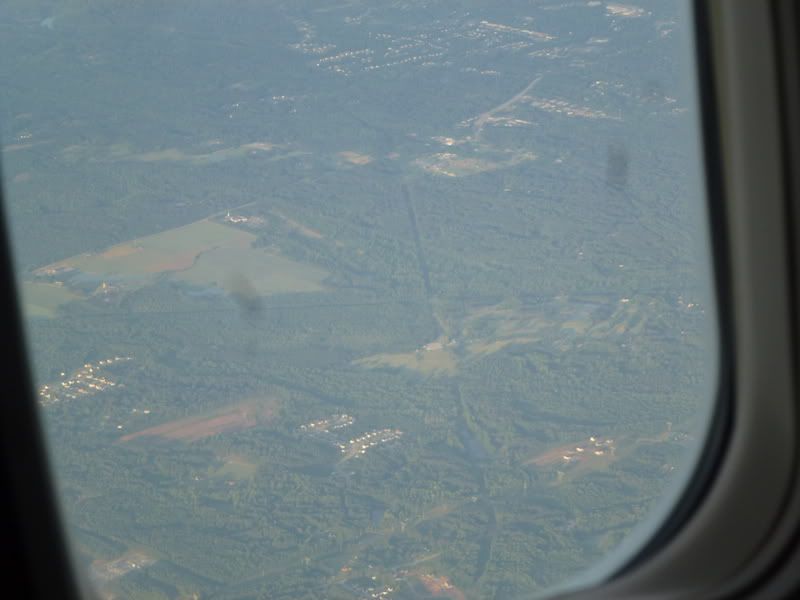 See, I'm not the only one wearing a stylish hat: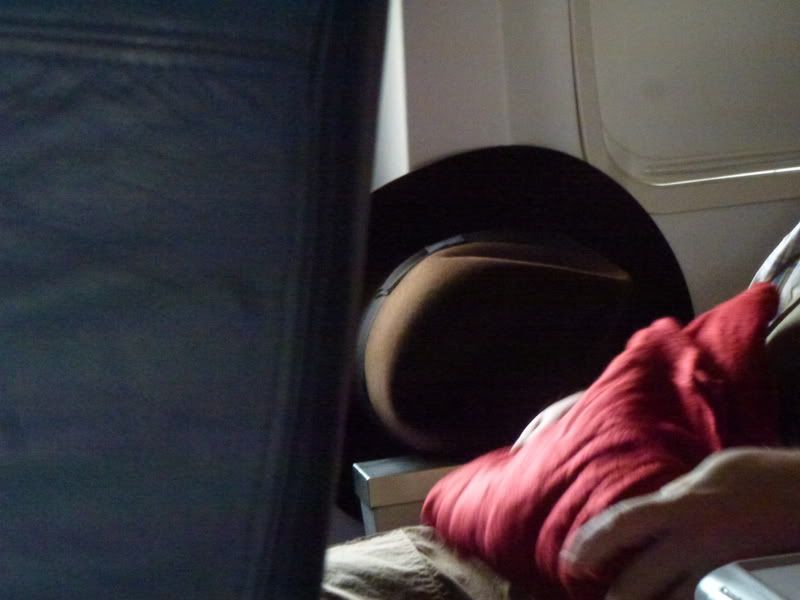 Atlanta skyline during our finals towards the east: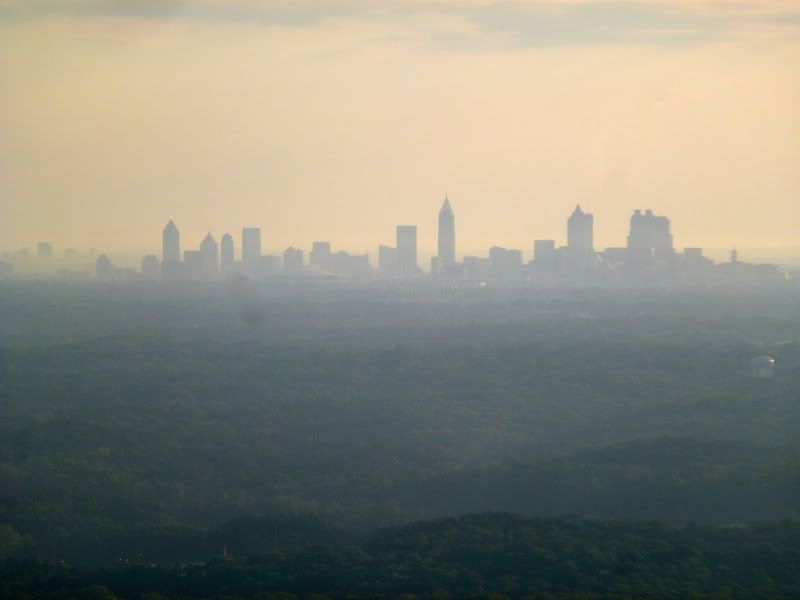 Almost there: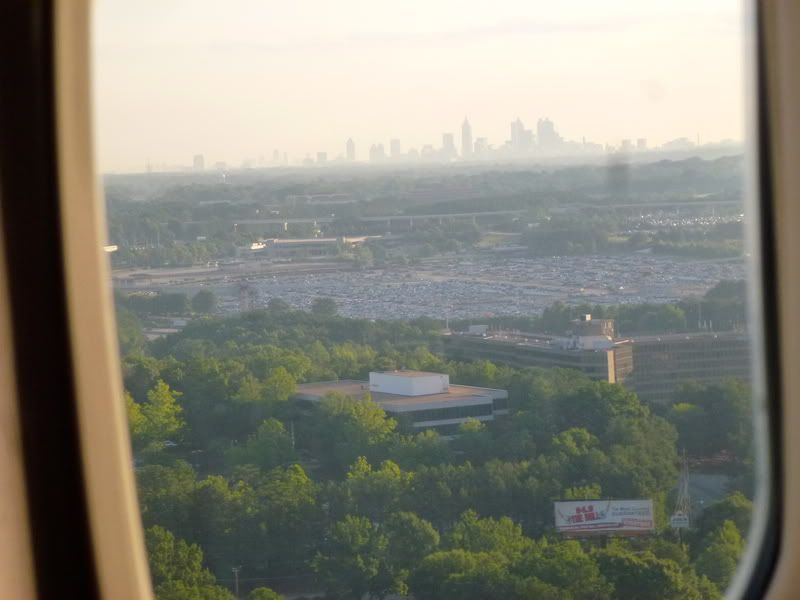 Landing on runway 10, total flight time around one and half hours: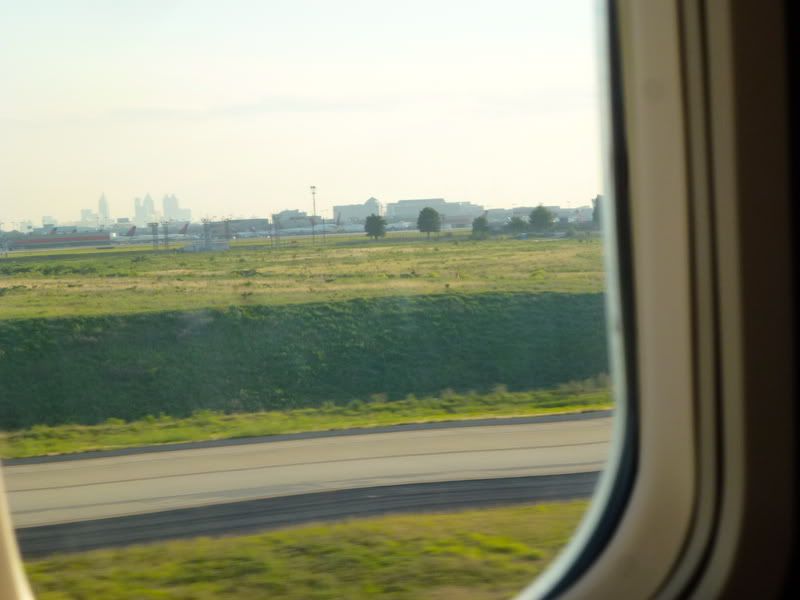 Must-have-a-717-in-a-report: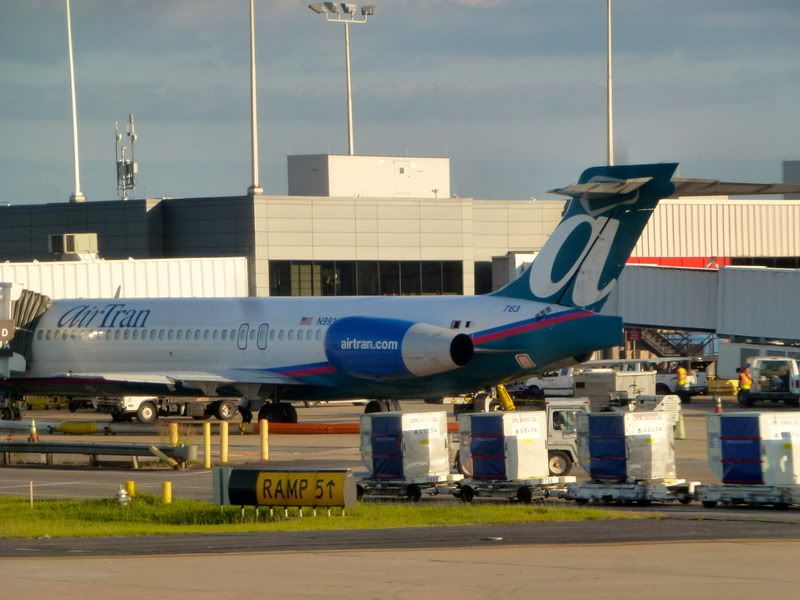 (Wait, am I not supposed to fly one in two days?!)
With 10-28 being the southernmost runway and with two active runways between us and the terminals it takes a while to get there, so despite landing almost ten minutes early we are somewhat late at the gate. But hey, such is life in the busiest airport in the world!
Once we have parked, everybody gets up, eager to get off the plane and make their connections... but.... nothing happens. The jetway is there, but the door is not open and there's no telltale knock on it signaling the cabin crew that it should be opened.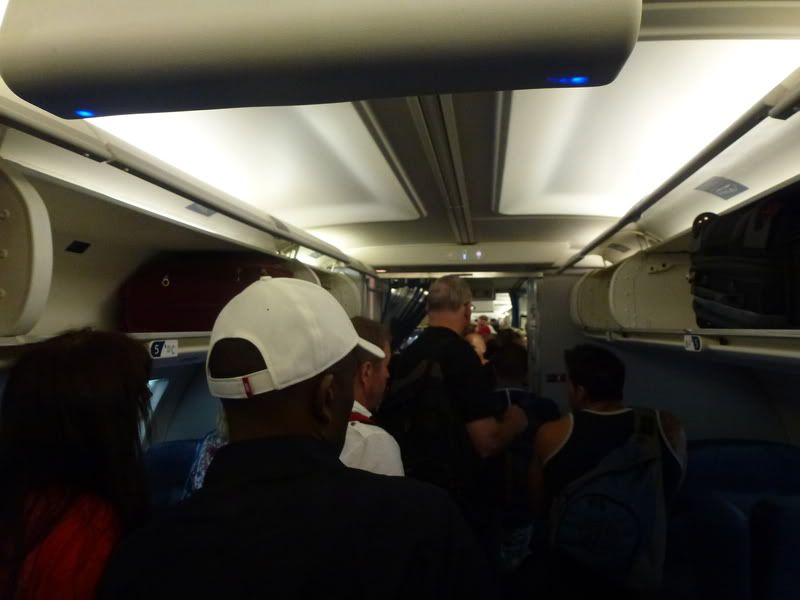 This is what one of the ceiling mounted monitors looks like from the behind - at least it is an LCD display and not a horrible old CRT like on some 757s I've seen: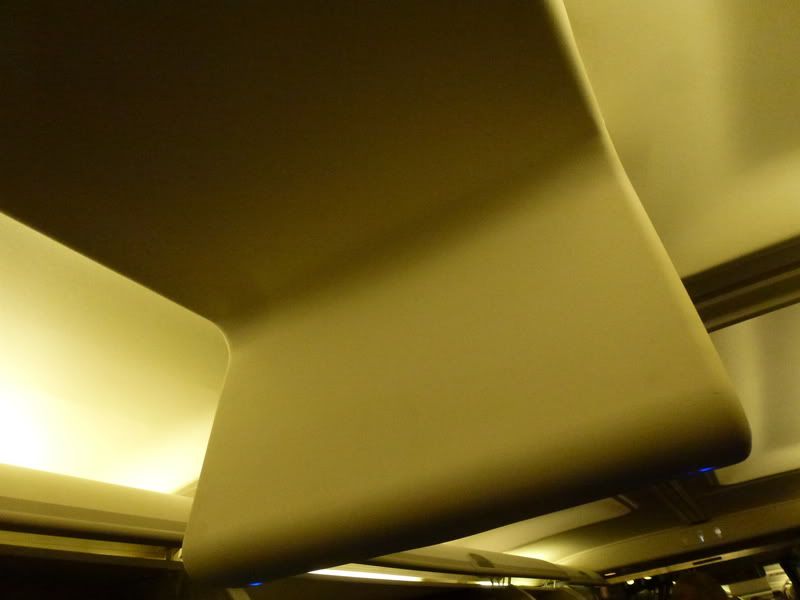 People are getting restless, there's a quick announcement by the purser that they don't really know what is going on but something with the jetway is not really working the way it is supposed to be. Five or so minutes passes, and finally the jetway moves a notch and the doors are opened, much to the delight of the mass of humanity that pours out of the plane as a result.
Hartsfield–Jackson Atlanta International Airport
Entering the terminal there's a Delta agent helping people with connections. I ask "Reagan?" and he says "Tango 10". Well, I have no idea where I am right now but see a sign pointing towards the other concourses so powerwalk there - soon I find out we are in the E concourse which is quite a long way from T!
This E concourse looks quite nice, way better than the tired FLL terminal: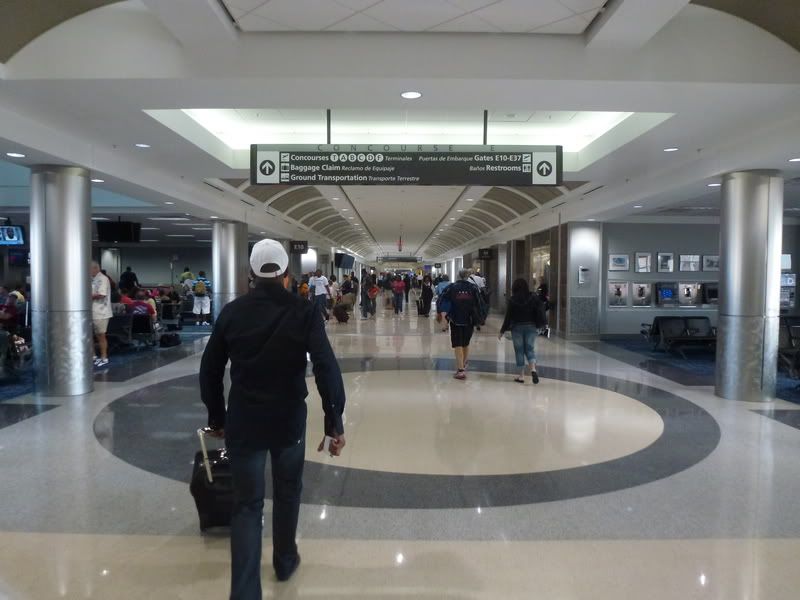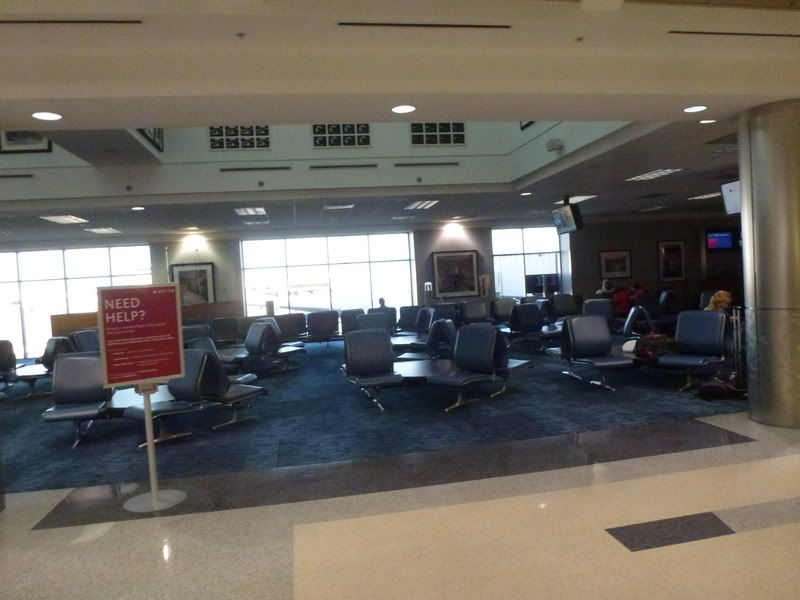 I find it funny that Aldeasa operates a duty free store here as well: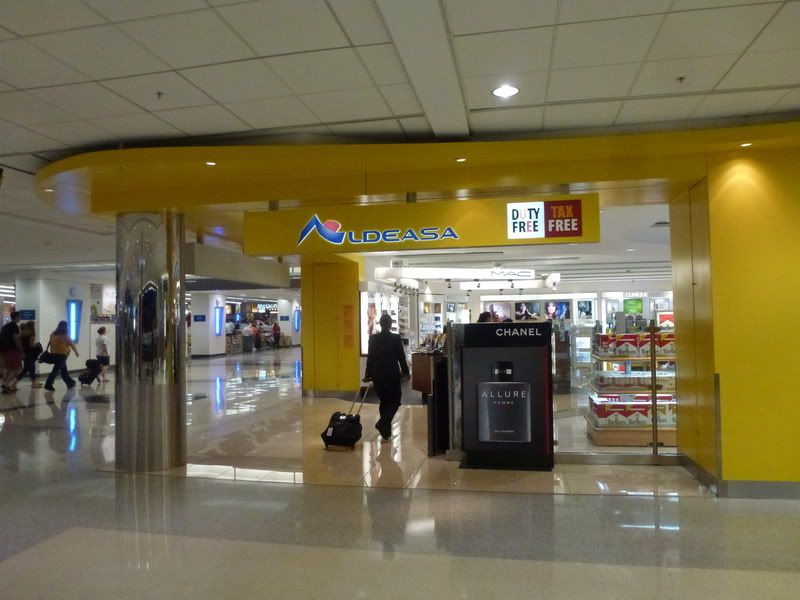 The signs point downstairs to a tunnel: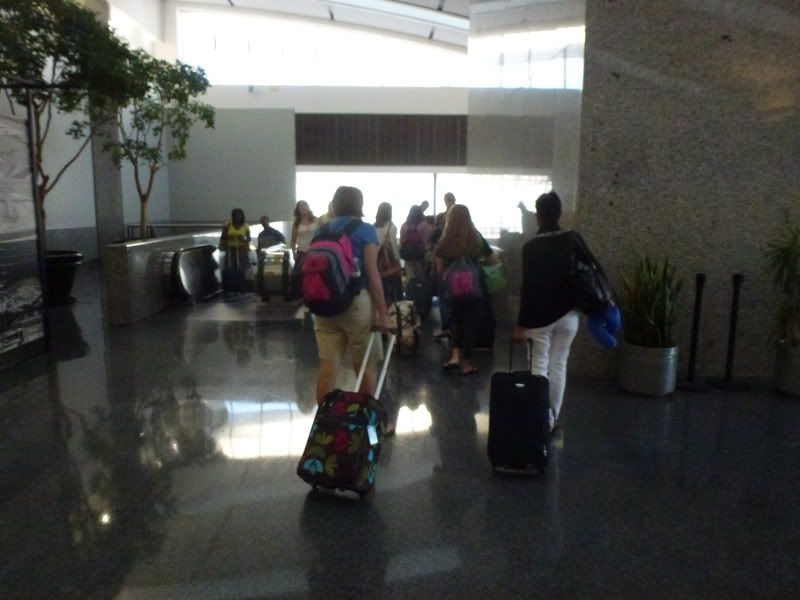 There's an option of either walking or waiting for the automated shuttle train thingy. Since T is the furthest one from E I decide to wait for the train - had it been the next one I'd just walked it instead.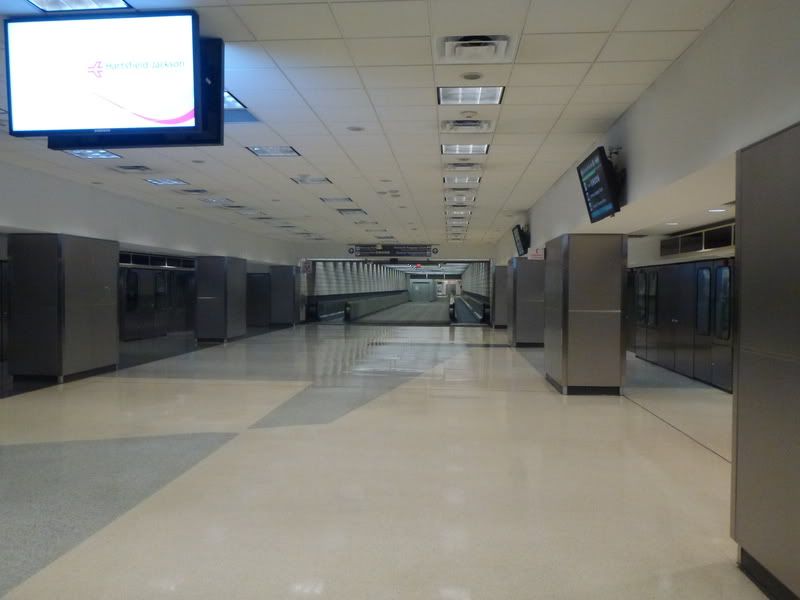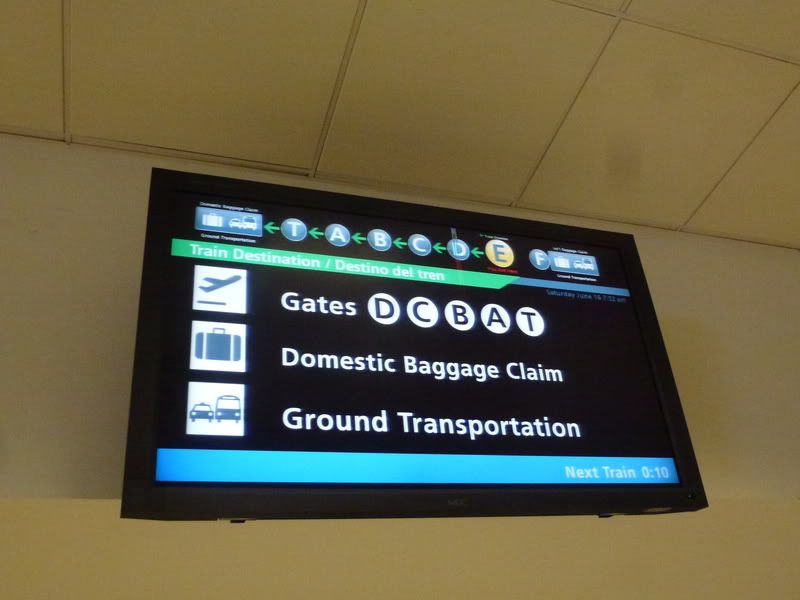 Whoa, carpeting inside the train - what the hell were they thinking: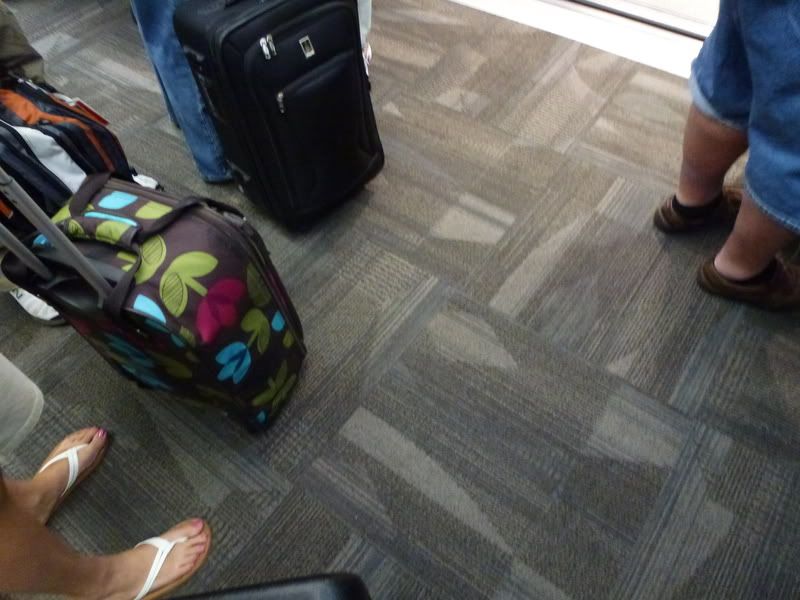 T concourse looks nice as well. I spot a couple of 738s at nearby gates so maybe I'll still make it.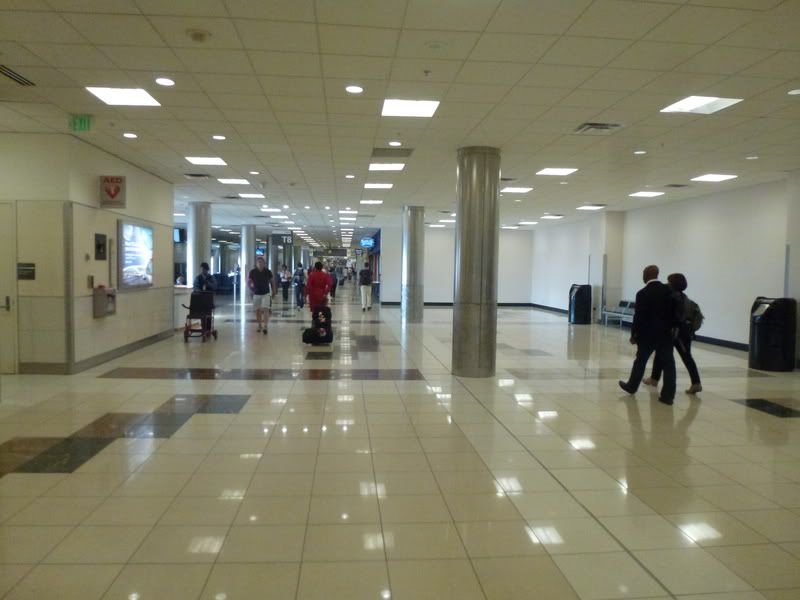 ...and if not maybe I'll go here then: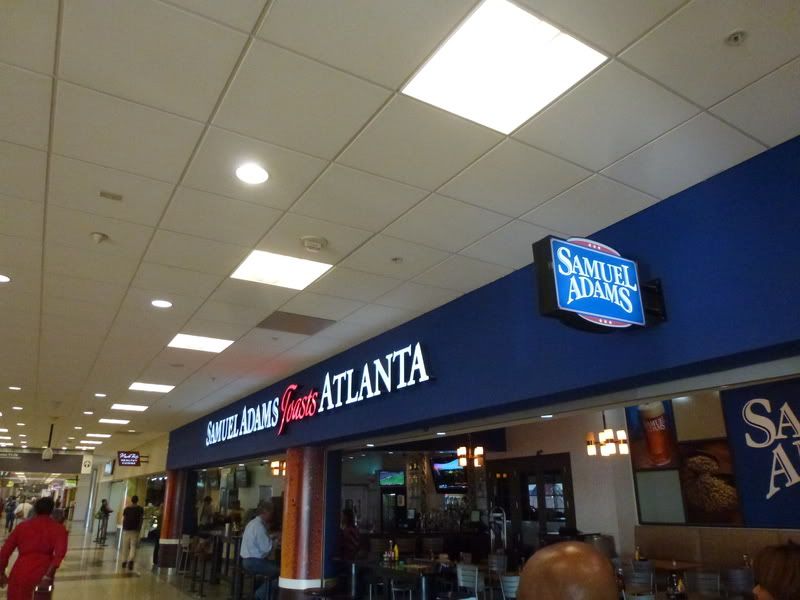 I arrive to a deserted gate but with the door to the jetway still open (good) and two agents at the podium (super). One of them asks me "Mr <something definitely not Finn>?"
- "No, Mr. Finn.".
- "Ahh, we just paged you! Good that you made it."
- "Well I arrived at the E concourse and made it here in under ten minutes!"
- "Have a nice flight, sir.."
Right after me another passenger arrives, I think he was on my flight as well - I guess he is Mr <something definitely not Finn>. No chance to catch the registration of my bird, but it definitely is a 738 at least.
ATL - DCA
DL1038
B737-800 N3768
Seat 11A
8.10 - 9.39
As I expected it is completely full apart from my seat in the economy comfort section of the plane and apparently the other guy's seat somewhere way back. I make the token effort of opening a couple of overhead bins but everything is jam packed - well what did I really expect? One of the FAs looks at me with a half amused and half pitied ("Is this guy for real?") expression on her face and shakes her head. The cabin chief waves me over and says that I need to surrender my rollaboard to the ramp agent in the jetway. I see no other choice so do so - he says he'll get back to me with my luggage tag in a moment.
I make myself comfortable, chat some small talk with my seatmate who was supposed to fly home from Vegas already yesterday evening but their plane to MSP had gone mech at the last moment and he was rebooked on a red eye flight to ATL and is only now returning home. He says he slept two hours on the plane and certainly doesn't look too good at the moment. Not surprisingly he keeps nodding off during the flight.
Soon I'm handed my luggage tag (thanks!) and the doors are closed, a flight time of 1h25mins is announced and push back conducted. And amazingly we manage to do so five minutes ahead of schedule - not too shabby at all!
757s next to us: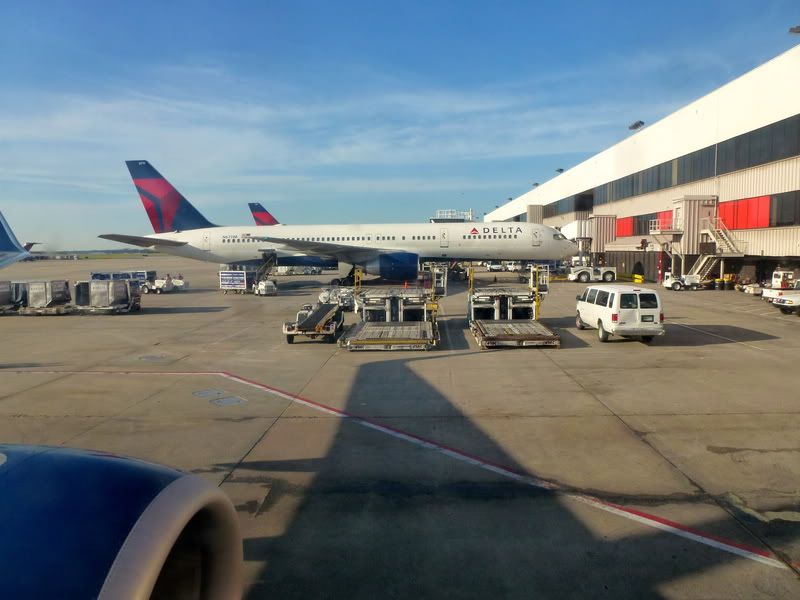 Another MD-88: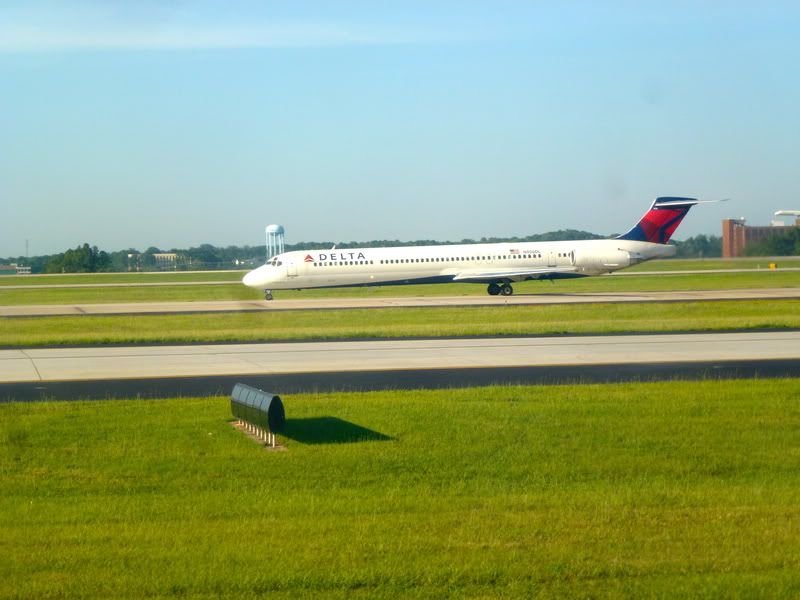 Starting our take off roll from 09L: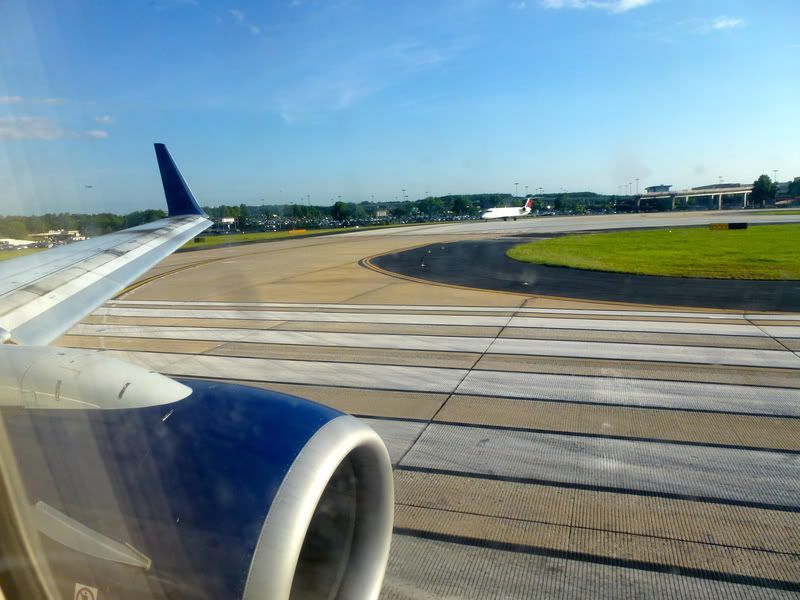 Bye ATL, you were certainly a fast experience: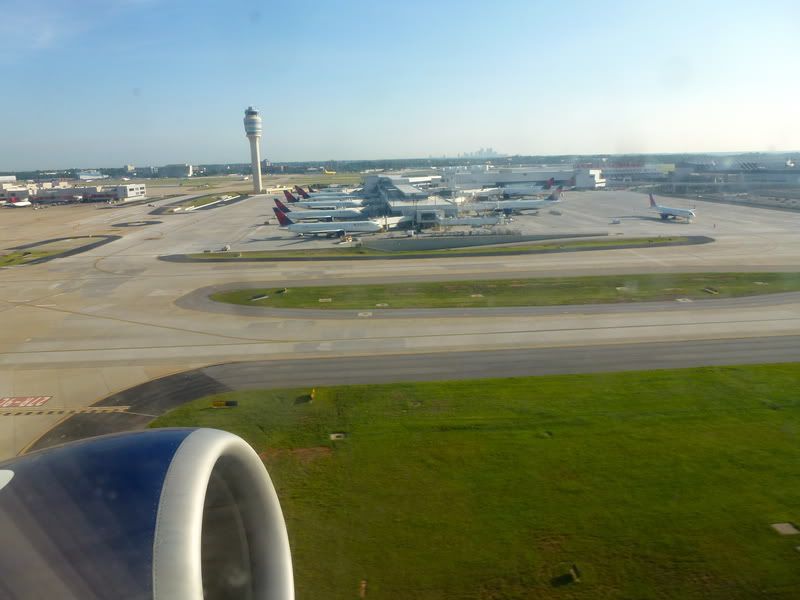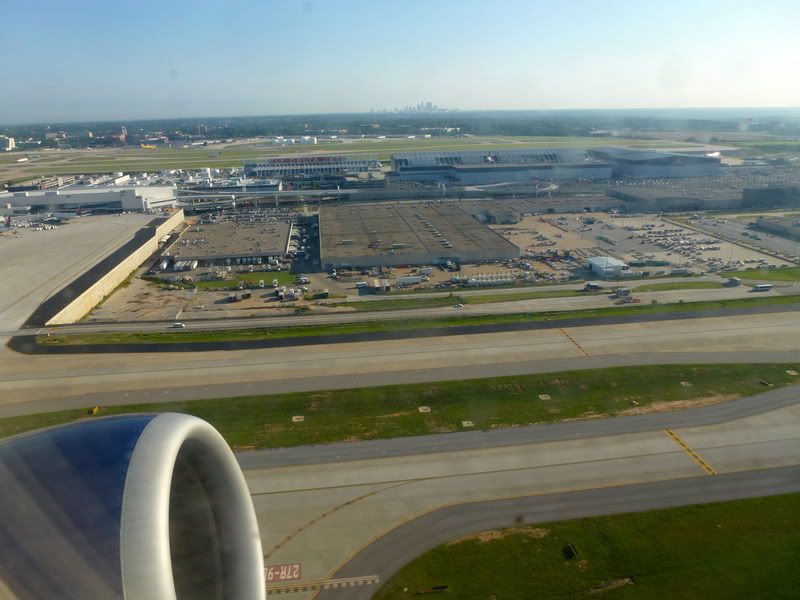 ATL skyline again: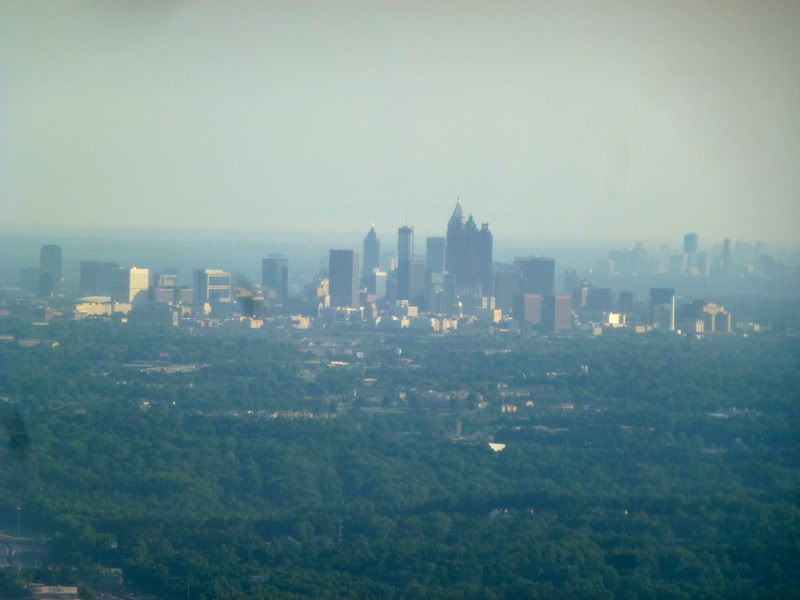 What's this - definitely not downhill skiing in Hotlanta: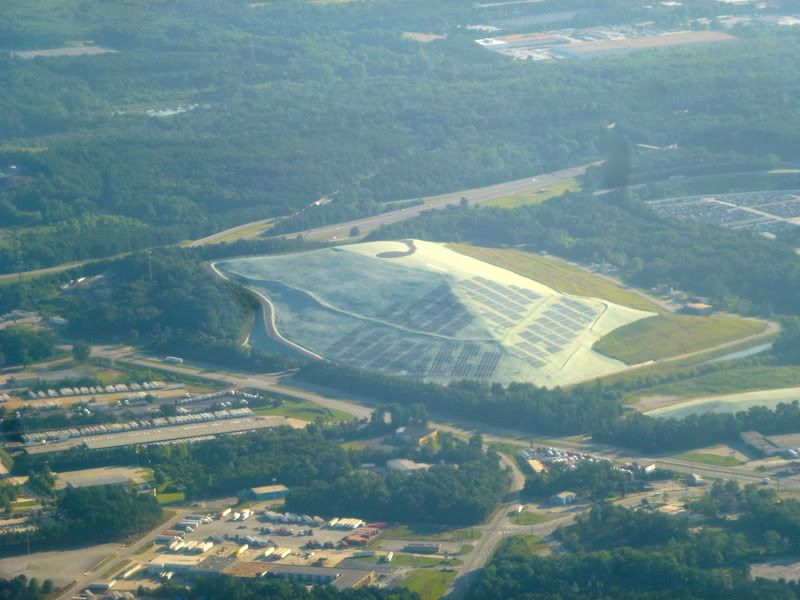 More man made mounds: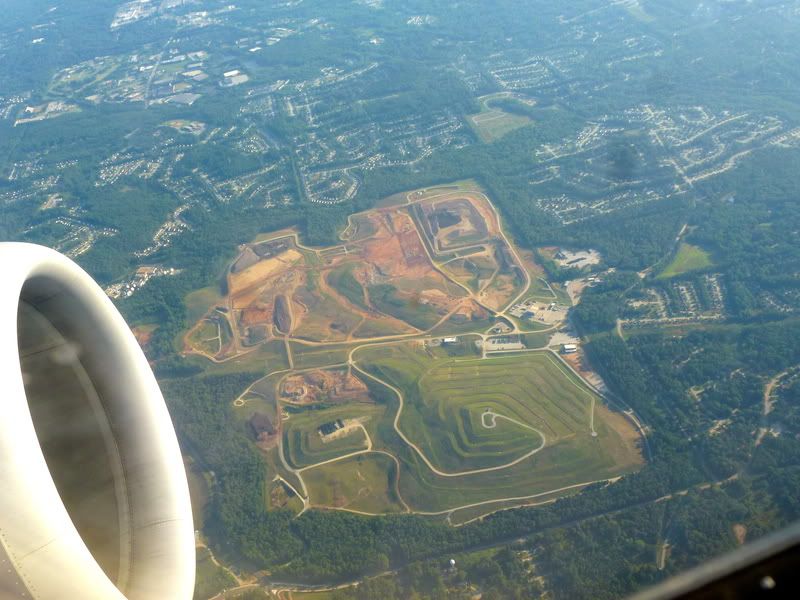 A quarry: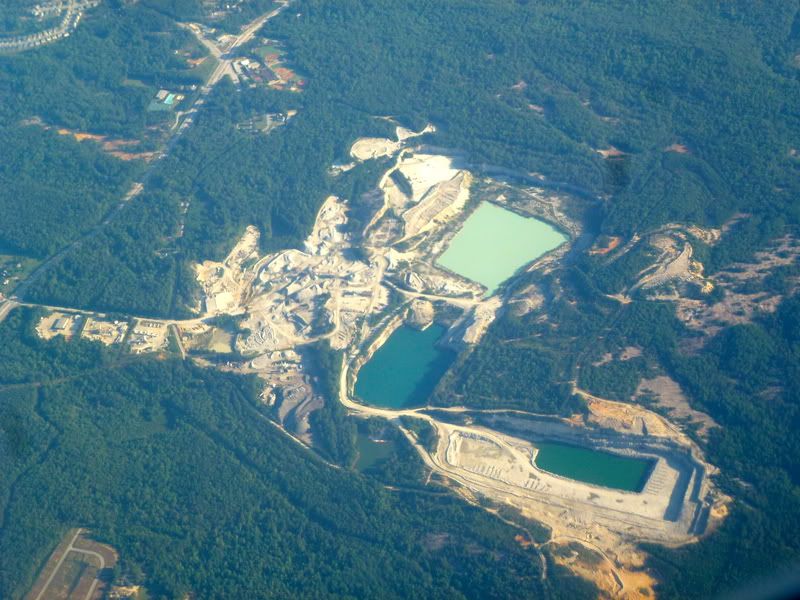 Sprawling subdivisions:
The weather is excellent with good visibility so I'm mostly glued to my window.
The 738s feature PTVs - and surprisingly large ones at that: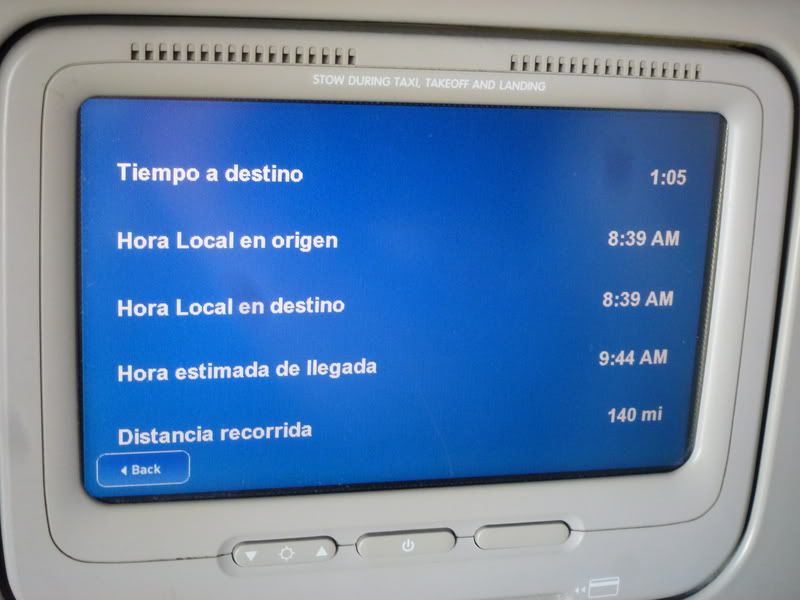 No idea what is offered there - I of course kept it on airshow all throughout the flight.
Anderson, SC - that sounds remotely familiar: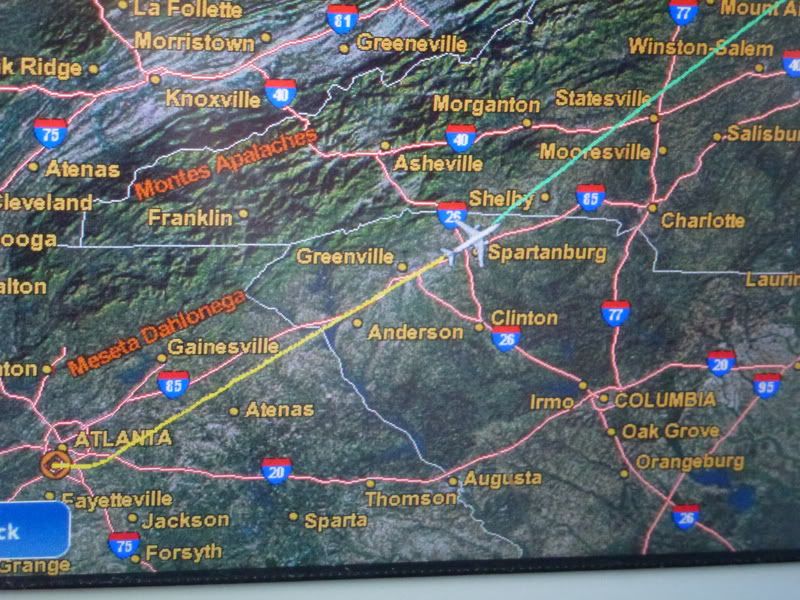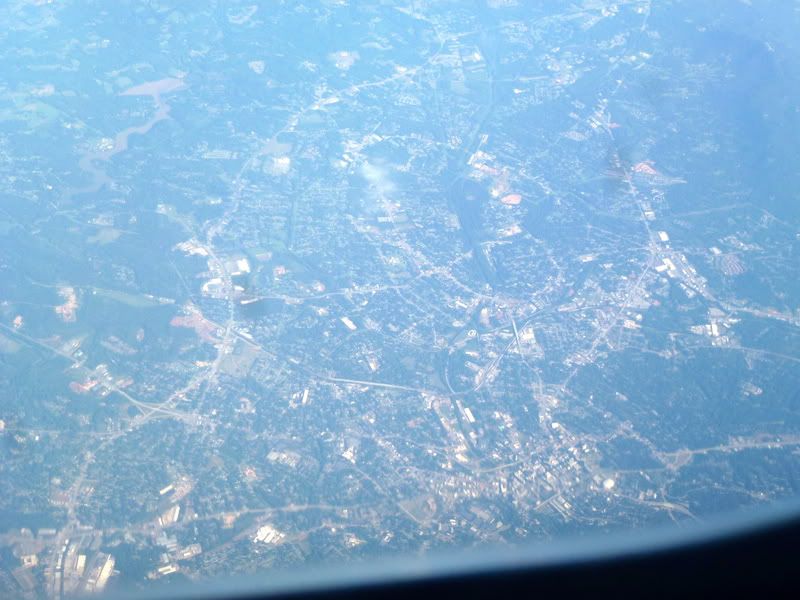 Service is a quick drinks run and it of course wouldn't be a Delta flight without some Biscoff. Another Ginger Ale test is performed - not sure what the brand is but it was quite mediocre: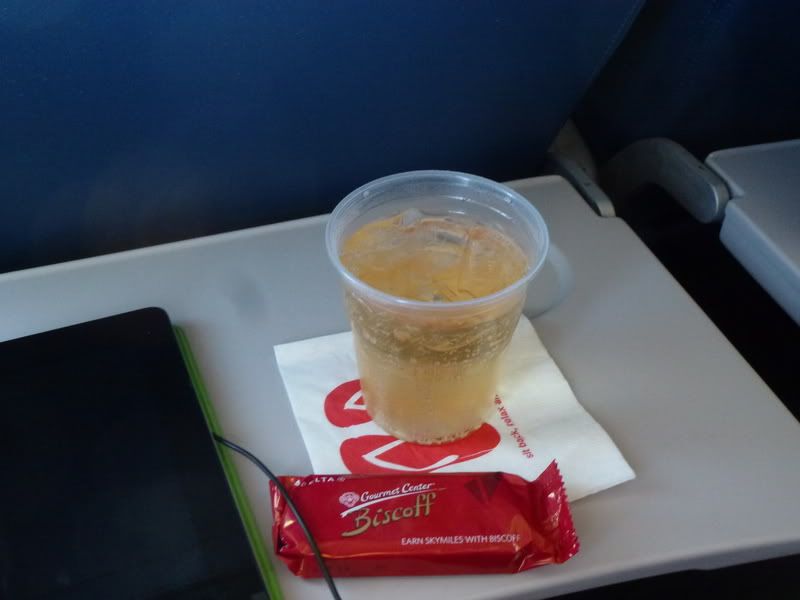 Here is Winston-Salem, NC - famous for the tobacco industry: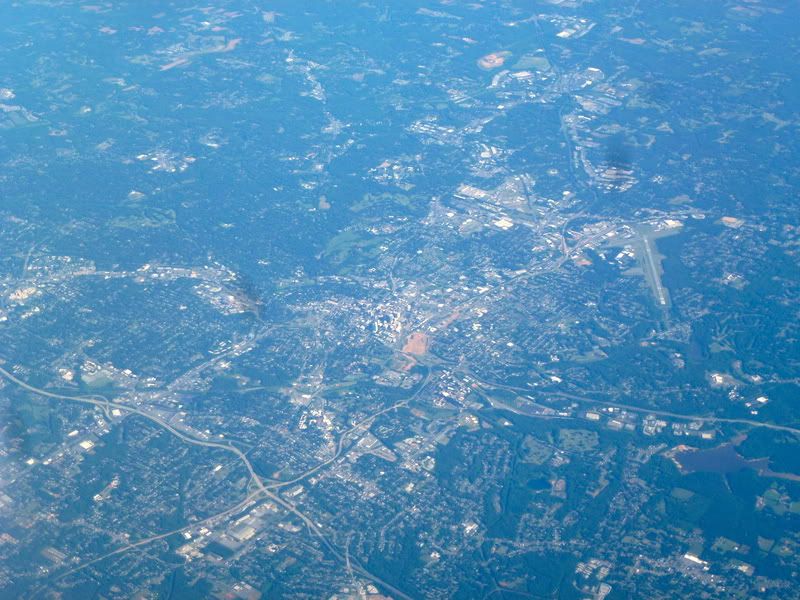 Closeup on downtown: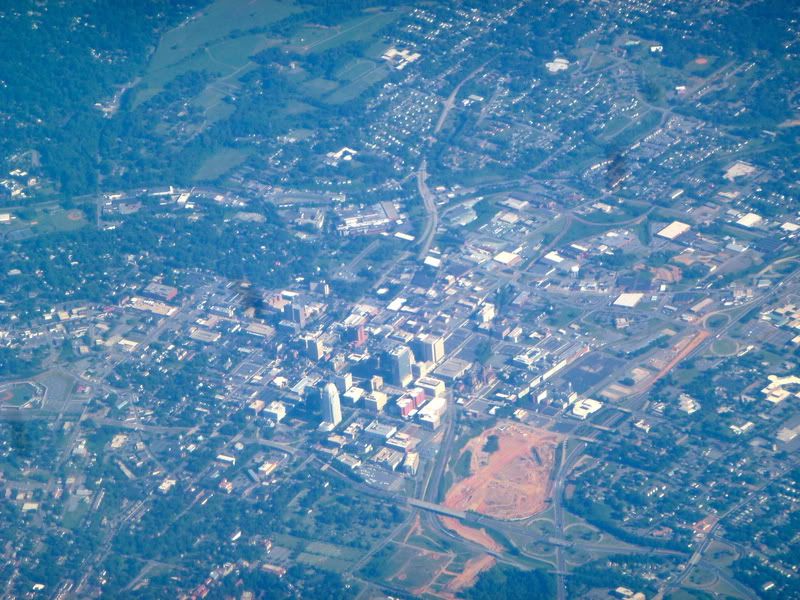 And the Smith Reynolds Airport: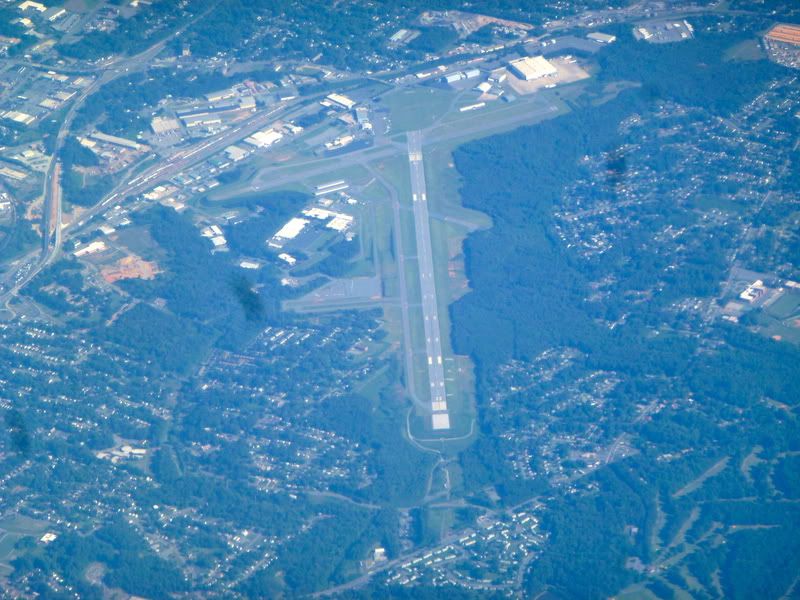 Danville (what a name), VA: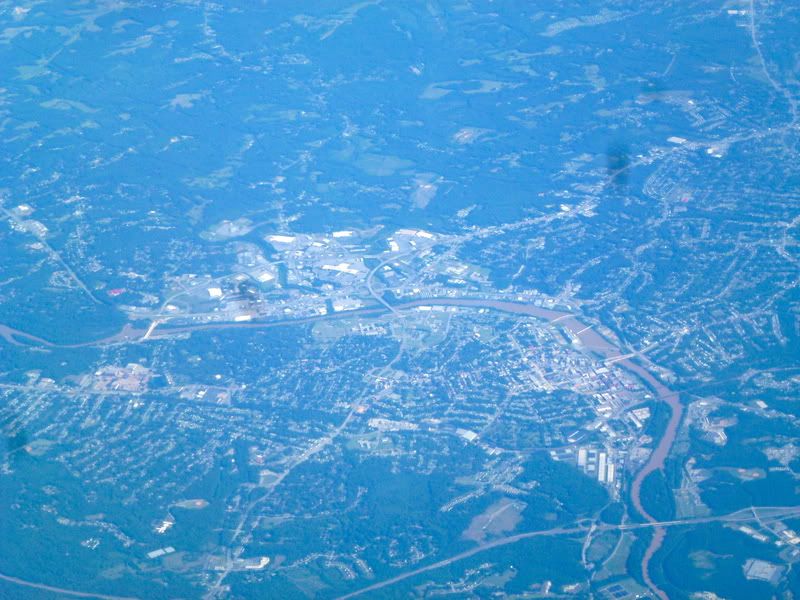 Danville Regional Airport: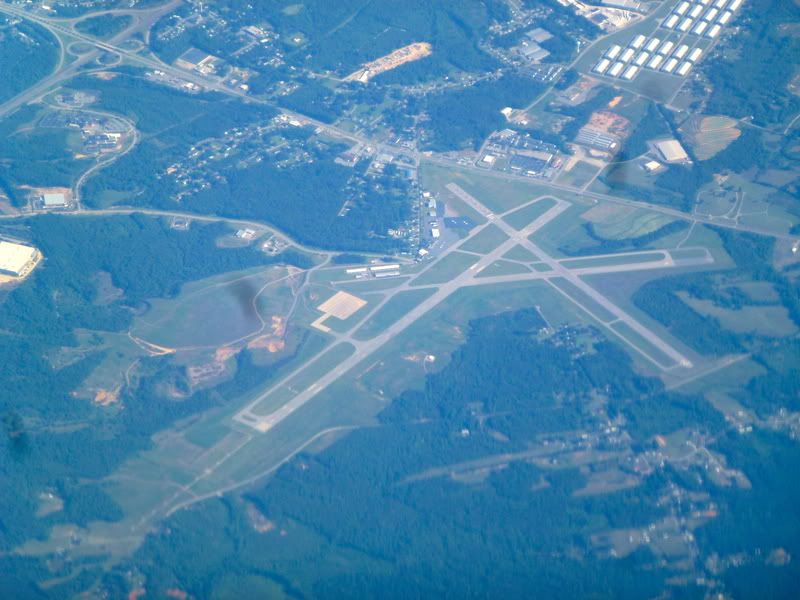 Getting nearer: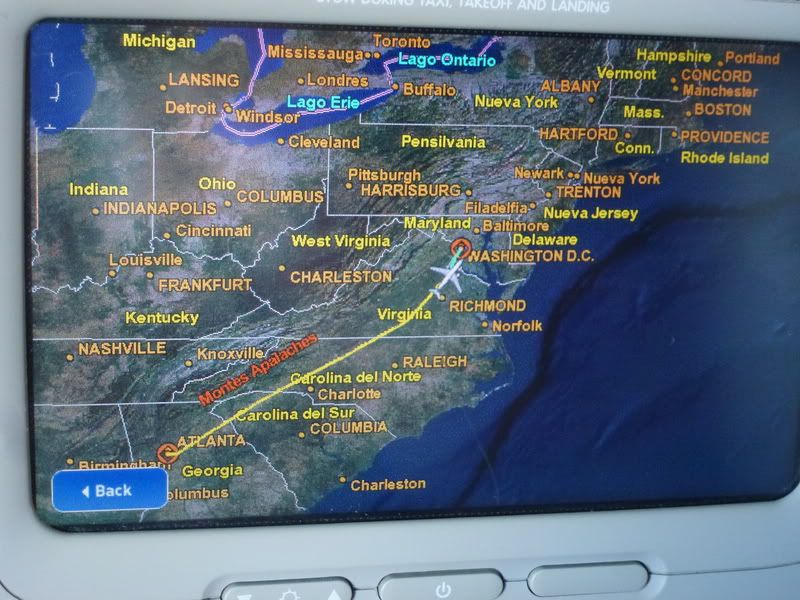 This flight literally flew past - I'm very surprised and kind of disappointed by the captain's announcement about our descent for Reagan National Airport. I'm also very surprised that there's no mention of that 30 minute "buckle up" rule for flights into DCA that was put into effect after 9/11 - have they done away with it? Anyway the captain also says that we are landing on the 01 towards the north so no Potomac approach for me, bummer!
Haha, I like this: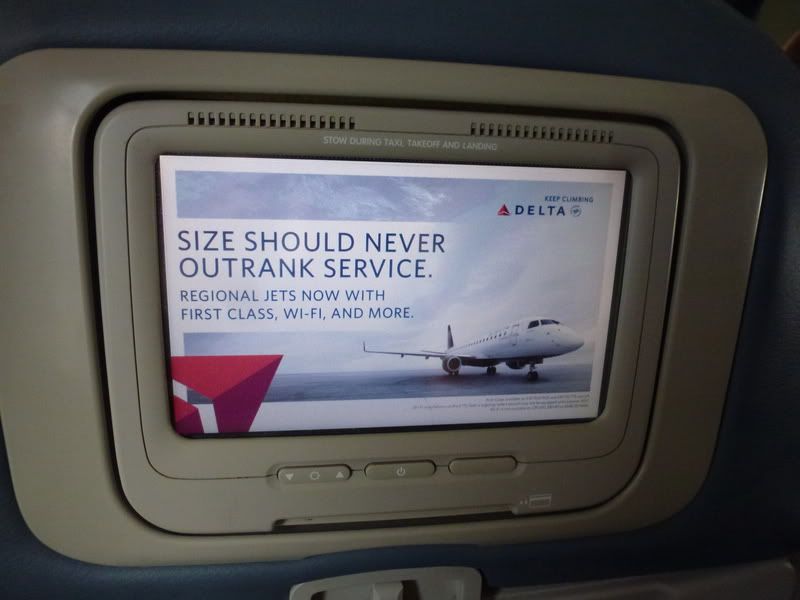 We crossed over to Maryland: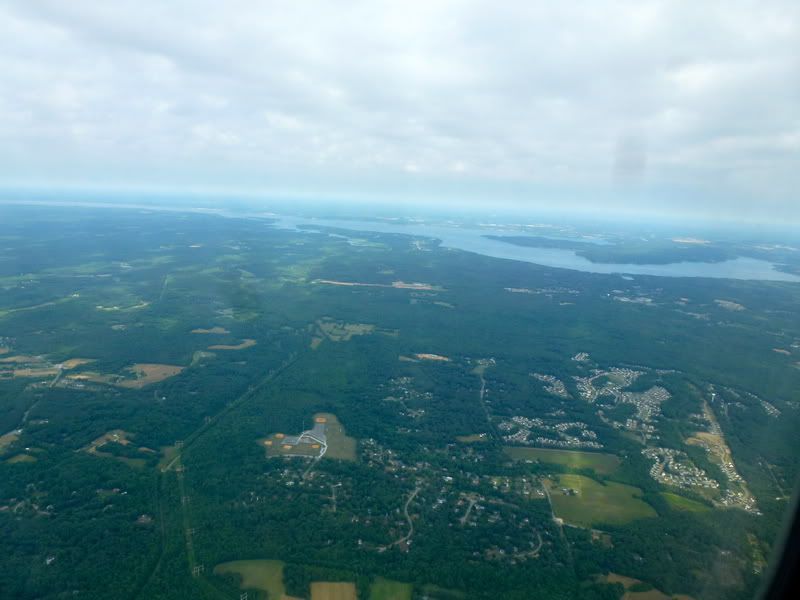 Which one is mine - they all look alike: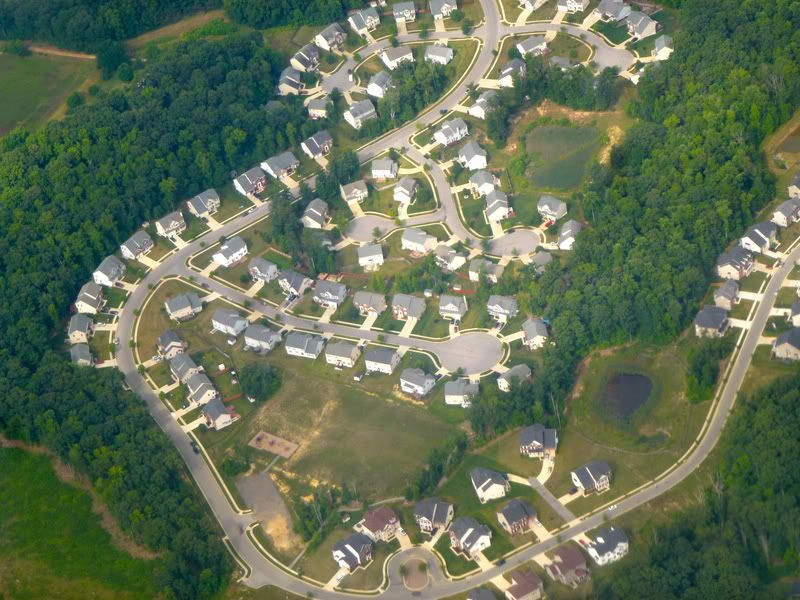 The Potomac river: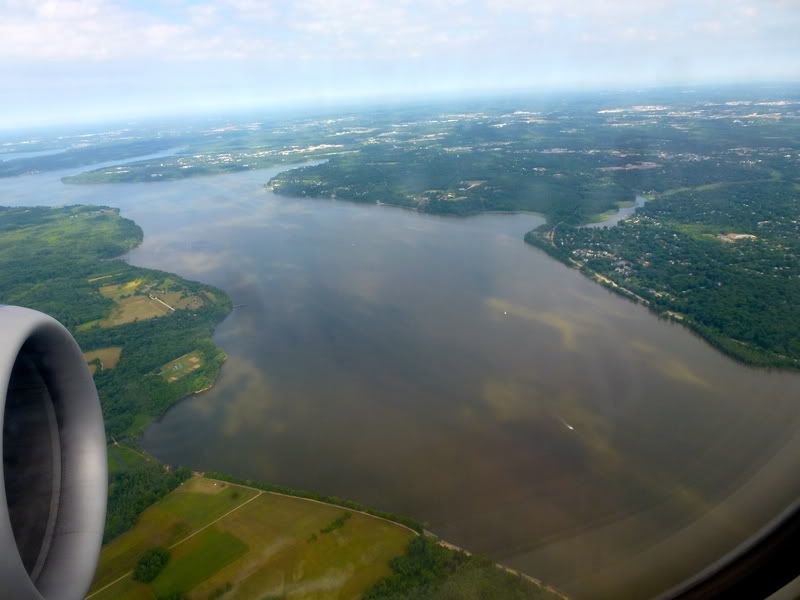 Our shadow: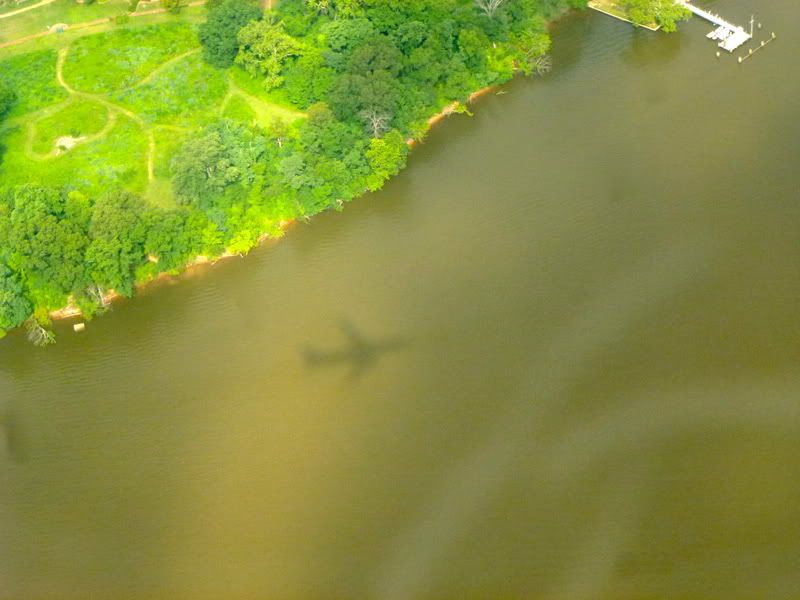 Interesting spaghetti junction in Alexandria, VA: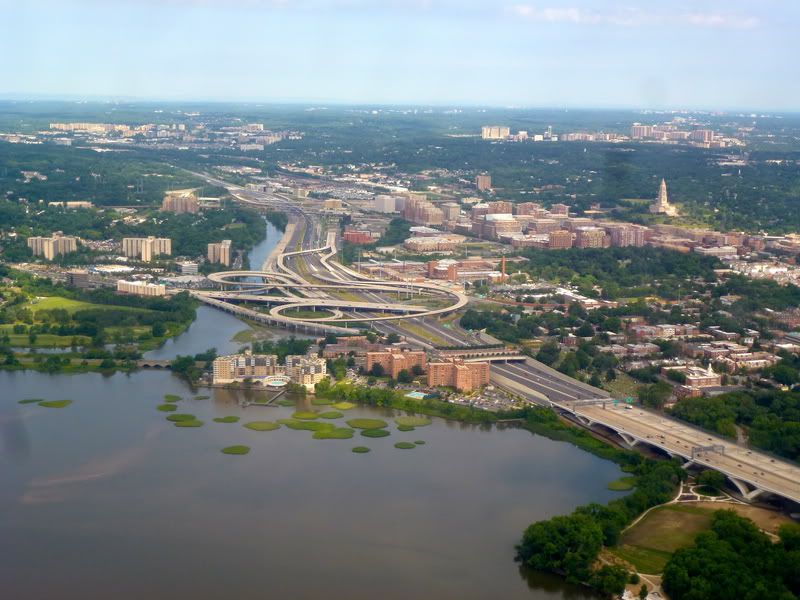 Government offices:
Over the Washington Beltway which itself is taking a bridge over the Potomac: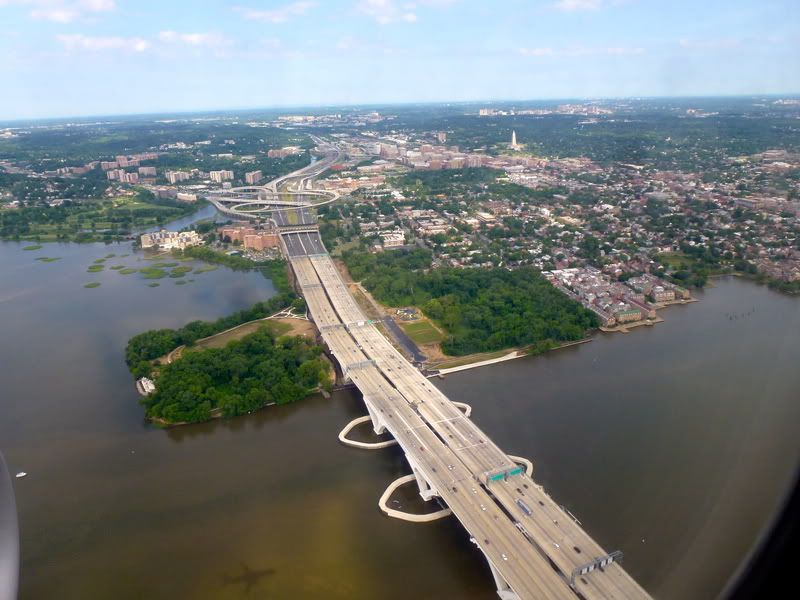 George Washington Masonic National Monument - yes, he was a member: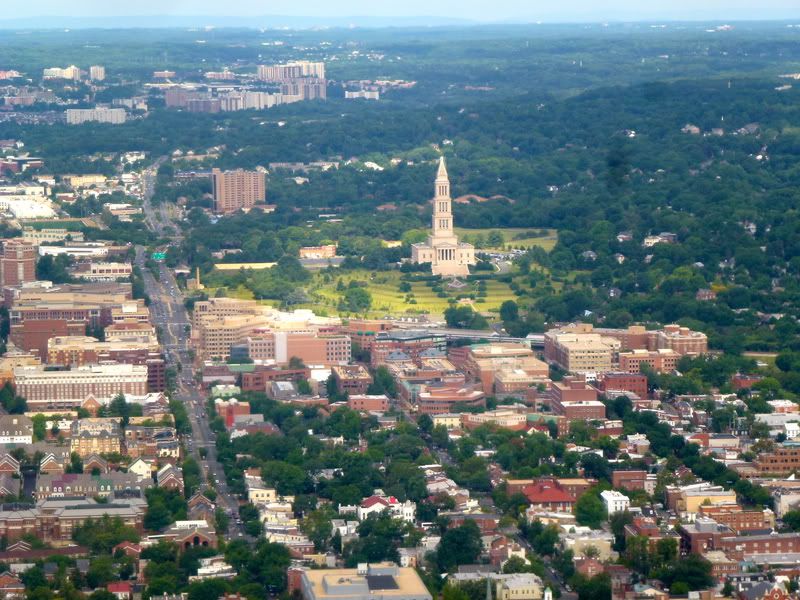 Alexandria, VA: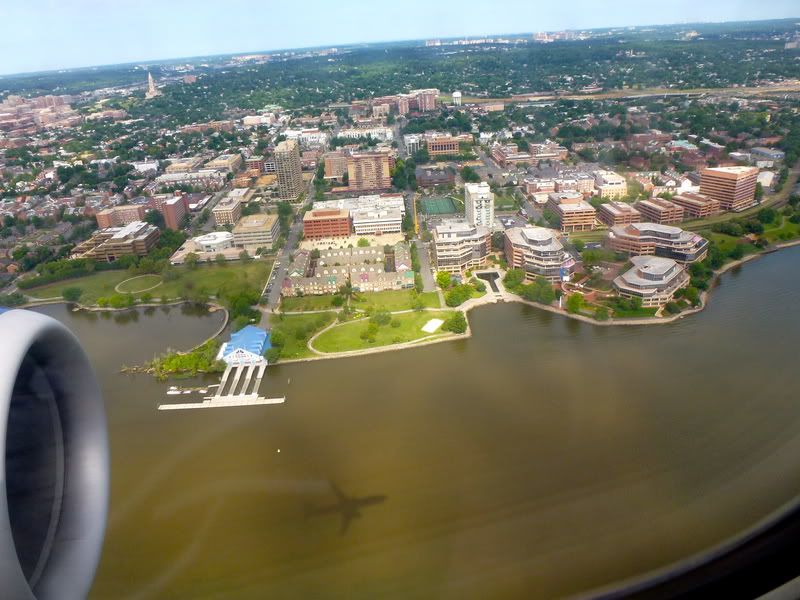 And finally DCA: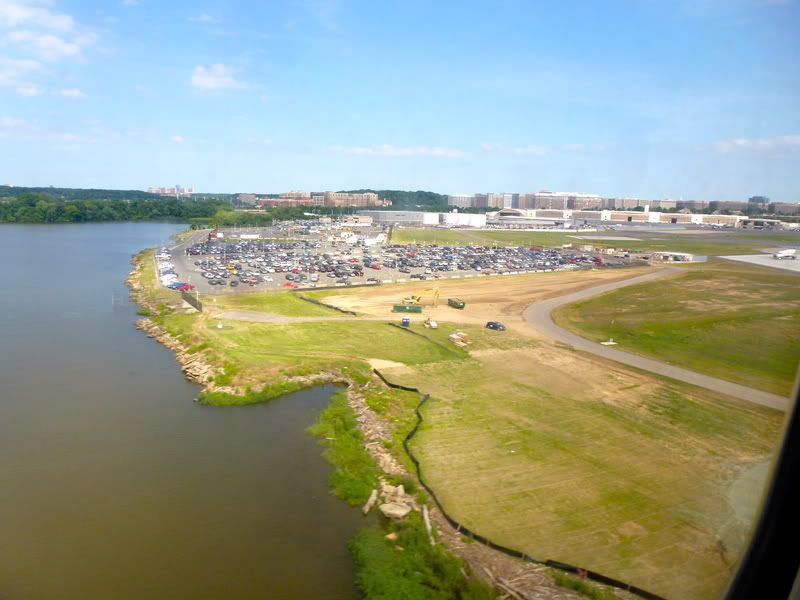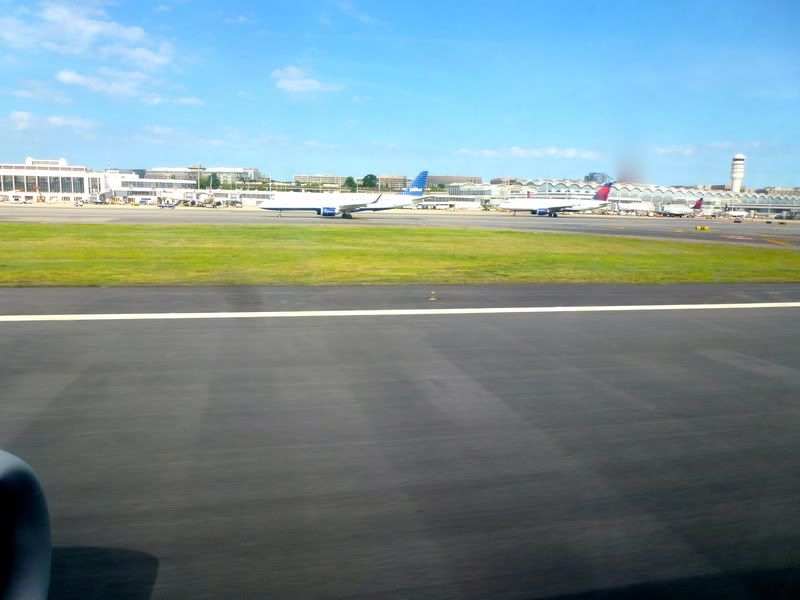 US has a large hub operation here:
Jetblue taking off after us: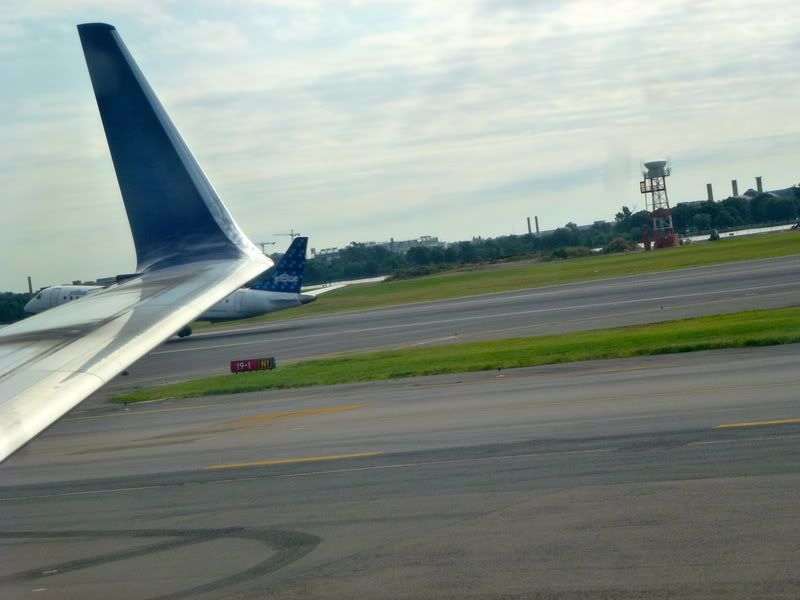 Parking next to one of these regional jets with all the whistles:
Top