Trip Report: EMA-DUB-SEN with FR/RE
Introduction
Hello fellow travellers! It's been quite a long time since I posted my
first trip report
here, and I did promise more at the time, but due to time pressures with my degree entering its final year, I wasn't able to complete them for you. I also had some bad luck, having to cancel two trips I booked last year because of falling ill and booking a flight on the wrong day. Still, I'm back now – and although I'm not made of money at the moment, I've managed to squeeze in one trip, and have another booked in September to say goodbye to BMI Baby.
Anyway, back to this trip. While booking my BMI Baby farewell, I'd done a quick search on SkyScanner for flights in June. Considering the 28th June was just two weeks ahead, I was surprised to find that eBookers were offering a flight between Dublin and London Southend airport for just £49 (including their booking fee) so I quickly jumped in and booked this – along with a Ryanair flight from East Midlands Airport for just £21 (including £6 'admin' fee). The final piece of the jigsaw was completed with a £16 train ticket from Southend Airport station (which confusingly has the code SIA in the rail booking system) back home to Lincoln. Annoyingly, I couldn't book my train tickets through my preferred vendor East Coast, as their site hasn't been updated to include Southend Airport station, so no reward points for me – annoying!
So with that completed, my flying itinerary looked like this (courtesy of GC Mapper);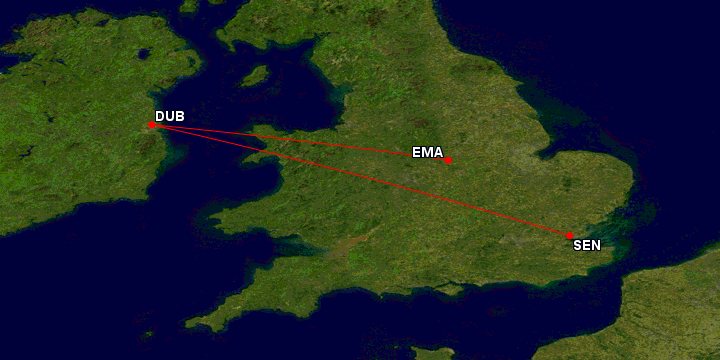 As the Ryanair flight left at 0635, I'd arranged to stay with my mum in Nottingham on the night of the 27th June. Just before leaving my home in Lincoln, I decided to head down to see the Olympic flame which was passing through as part of the 2012 torch relay, ahead of the games in London during July. For anyone who hasn't been, Lincoln is a beautiful and historic city – which unfortunately my pictures don't do justice too, as the uphill area was already quite crowded so I headed down to Tritton Road (where the first ever tanks were produced) and there was plenty of space for everyone to see the torch.
The Olympic Torch
by
Trentside Traveller
, on Flickr
After seeing the flame it was time to catch the 2045 train to Nottingham, operated by East Midlands Trains 156411 – an old friend of mine. The walk to my mum's flat was short, and when I arrived she offered to get me a taxi to their airport, allowing me an extra hour in bed over getting the airport bus – which only runs hourly at that time of the morning, despite there now being two competing services – they depart within 10 minutes of each other! My taxi arrived promptly at 4am (a long time since I'd seen that time!), the driver exchanging a few pleasantries but for the most part was quiet. With the roads empty, and the drivers heavy right foot we had arrived at the airport in 25 minutes – unthinkable during the day.
Heading into the terminal building, the BMI Baby branding and advertising is still apparent everywhere, despite their recent downsizing at EMA and total closure from the 9th September.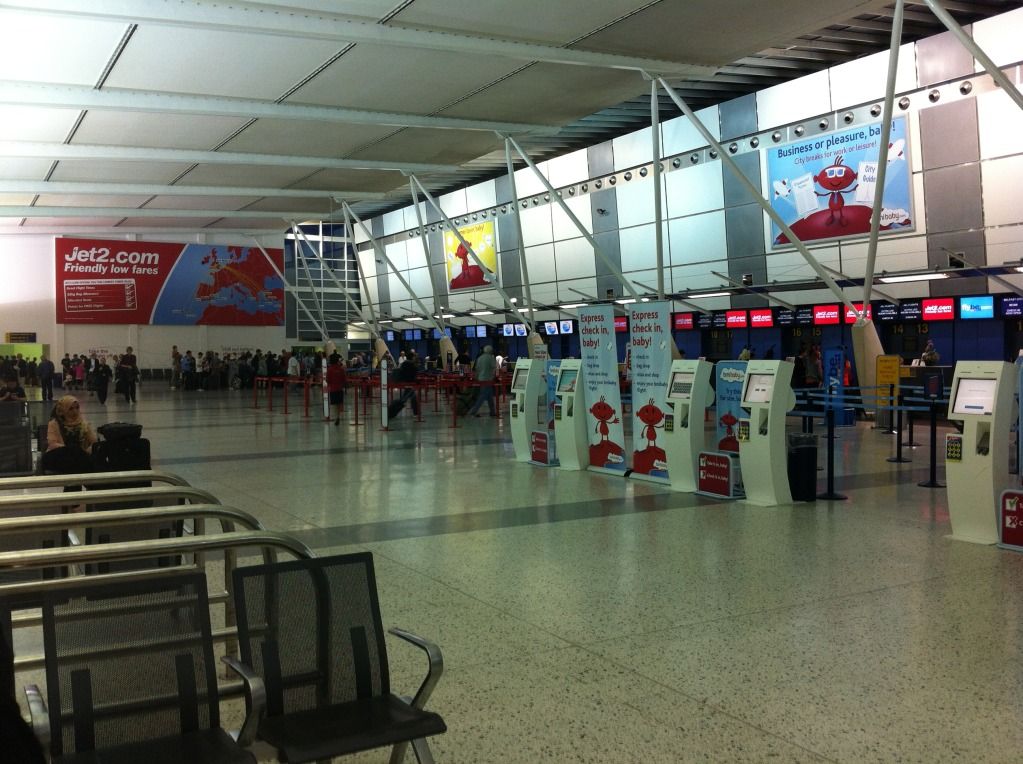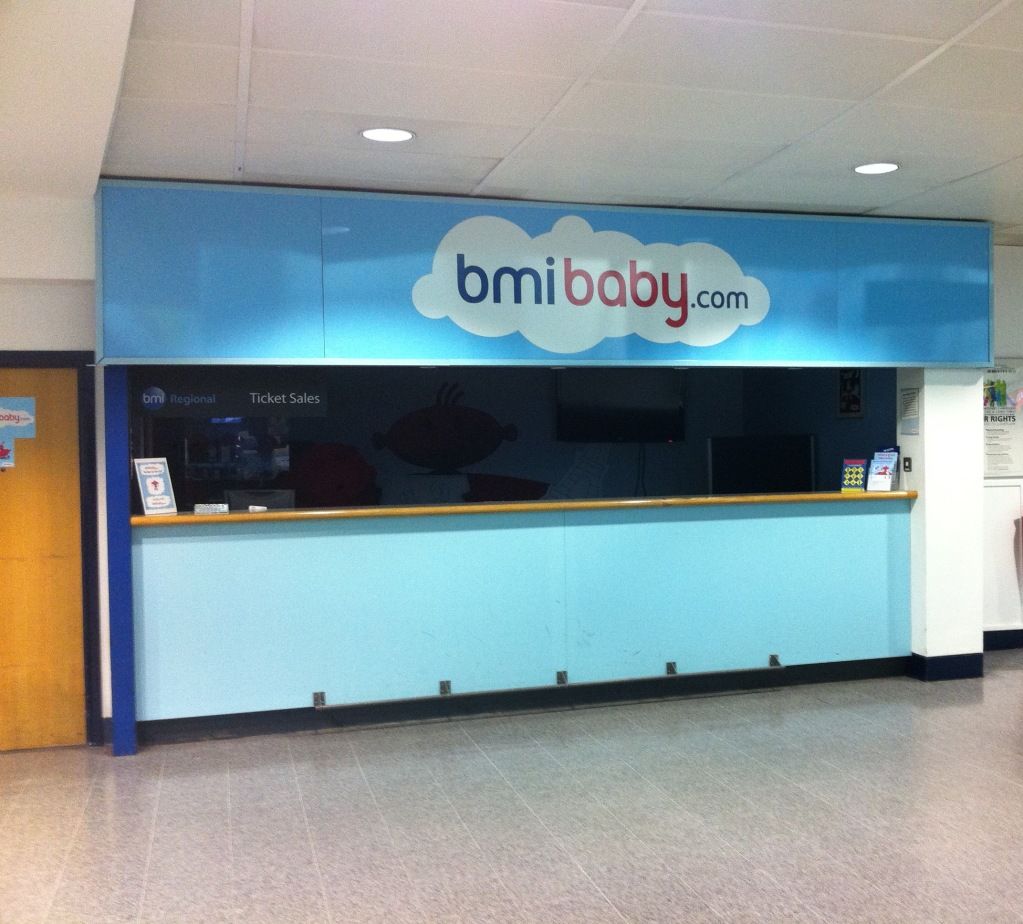 Even at this time, security was quite busy. Some girls are having problems finding their boarding passes and the guy manning the desk asks them to stand aside so other people can get through. I show him my boarding pass, and comment it's far to early for me and he retorts it's far to late for him. As I walk away, he tells the girls they should be more organised before coming through to security, something I will sympathise with later. Screening takes place fairly quickly and I'm through airside with no problems.
Straight to the FIDs, and the gate announcement is still 80 minutes away;
After this, it's time to pass through the awful walk-through duty free store. This is where MAG lose the brownie points they gained for their efficient and friendly security staff;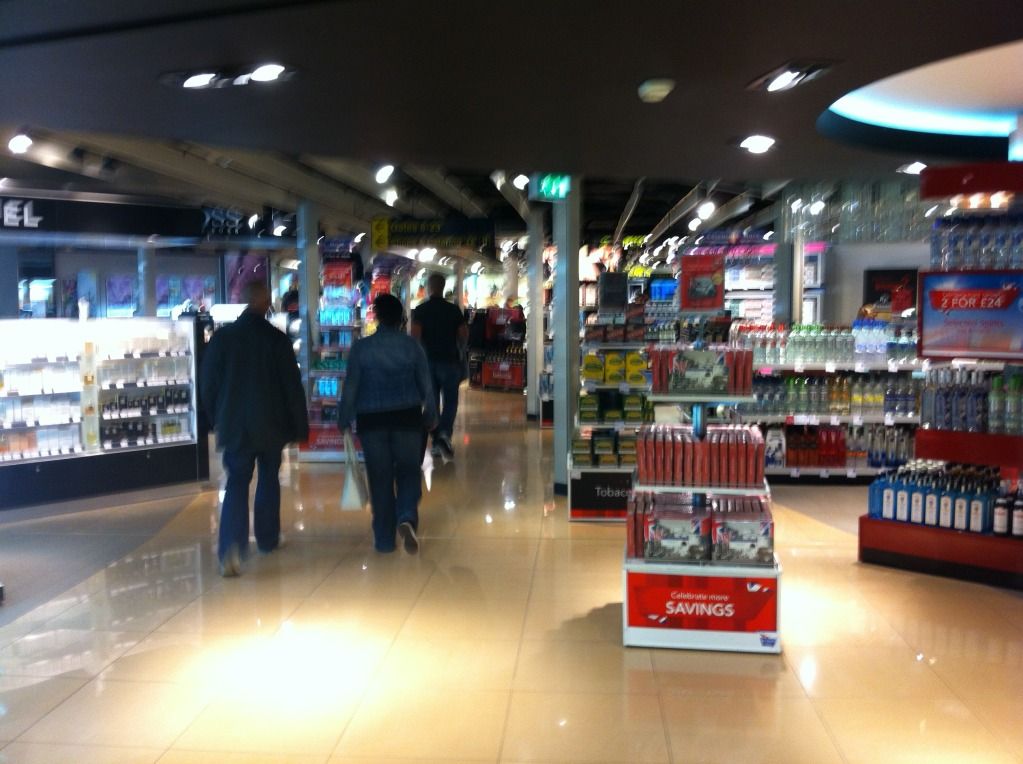 I grab a sandwich and a cup of tea from the Soho Coffee Company. With all the landside places charging around £5 for a sandwich, this outlet was slightly better value but the total for both was still £6. As I'm putting milk in my tea I notice the outlet is owned by SSP who have corned the market in railway station catering in the UK, but serve awful tea. A taste test confirms this is an SSP outlet, sadly.
After this, I've still got an hour or so to wait – and do a bit of spotting of the various planes parked outside the terminal. There's also quite a bit of freight activity, with operators including DHL, Iceland Air Cargo and West Air Europe – spying two of their lovely ATPs. Sadly, missed a photograph of those.
It wasn't long until boarding was announced through gate 5. Annoyingly this meant another walk through the duty free, and through what looked like a janitors closet into a small and overcrowded gate area I'd not visited before. The queue for the flight to Riga was blocking access to the Dublin gate so myself and another passenger ducked under the ropes and joined the back of the short queue.
The gate branding again showed who used to rule the roost here;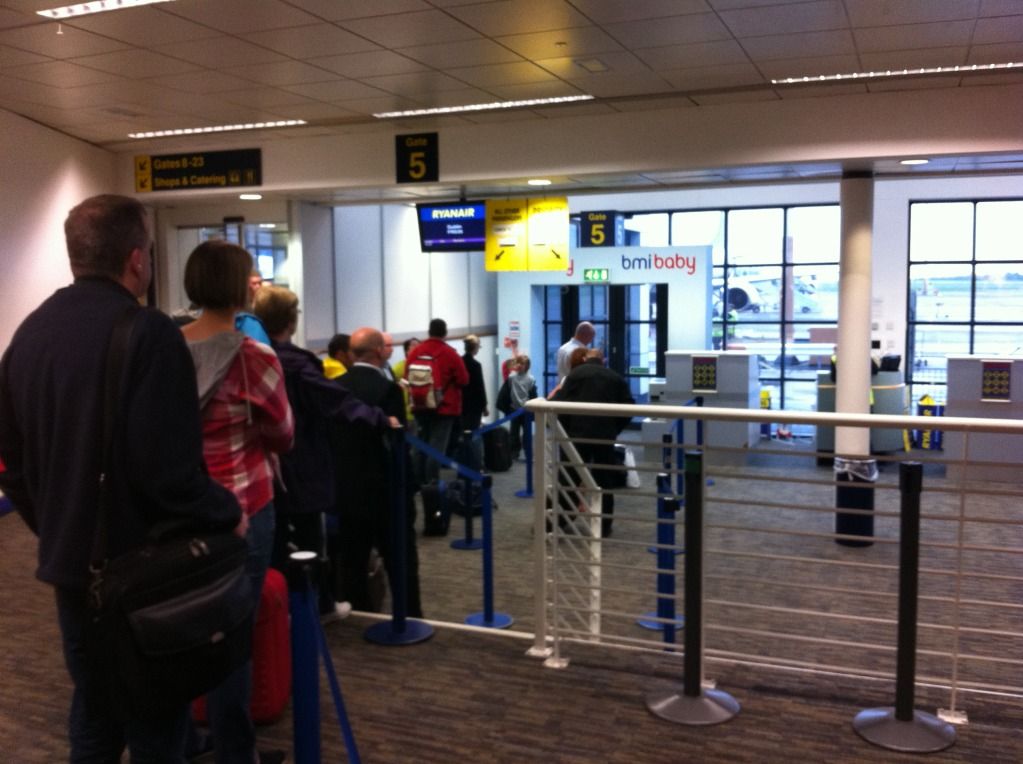 EMA-DUB
Flight Number:
FR535
Aircraft Type:
Boeing 737-800
Aircraft Reg:
EI-EFS
Scheduled Departure:
0635
Scheduled Arrival:
0735
Flight Duration:
1hr 00m
Boarding for the Riga flight was fairly slow, but eventually one staff member who had been manning the luggage size check came over to commence boarding for the Dublin flight. She was joined by an ununiformed colleague who started checking boarding passes and ID documents, which moved the queue on quickly. As I left the terminal, the heavy rain abated just enough to allow a photograph of our aircraft, EI-EFS – my first flight on this bird.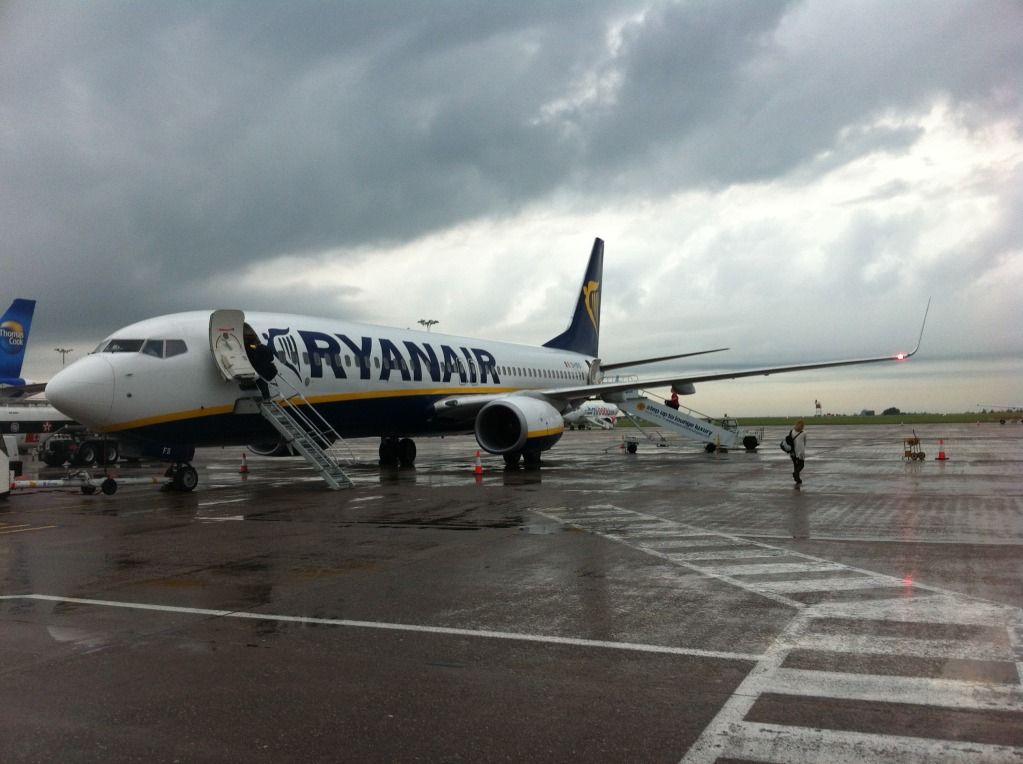 Another queue was already forming at the front door, so I headed to the back. A reasonably friendly greeting from the young FA in the back galley, who tells me to take a seat anywhere that the tray tables are up – evidently a light load on todays flight. I end up settling down just forward of the last blocked row. This proves a good choice as another gentlemen joins the aisle seat and blocks the middle seat – this seems to be the case on most rows. The crew soon shut off the boarding music and welcome us onboard. As usual with Ryanair the crew are of mixed origins, though I'd guess they were EMA based – our captain introduced himself and the FO by first names, himself being Irish and the FO British. Pushback was ontime and the crew completed the safety demonstration during this, and after the usual fast taxi out to runway 09 we are in the air and through the clouds by 0650.
The service onboard is standard Ryanair BOB, and I don't buy anything. The crew also display the usual level of indifference. The seatbelt sign is only briefly off during this flight as the stormy weather over the Irish sea causes a great deal of turbulence – the crew managed to continue their service, but the plane is really shaking and after the initial climb we are in cloud the whole way to Dublin. No further information comes from the flight deck, but descent begins at approximately 0710.
The view during the climb was initially ok;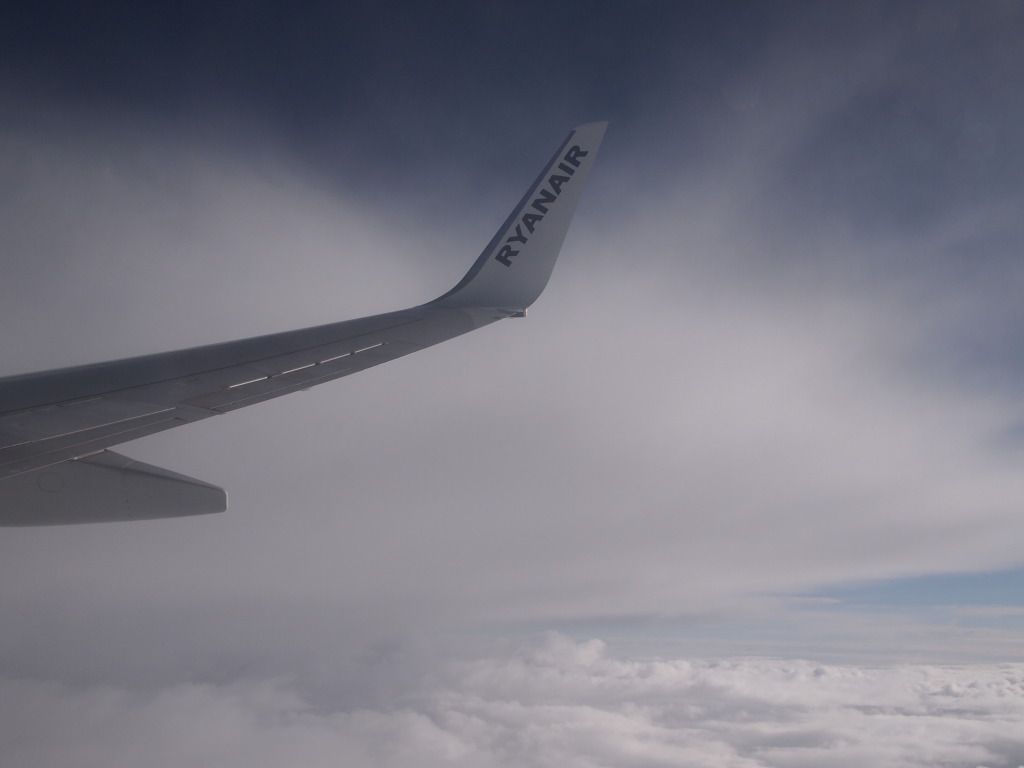 It soon turned into this, however – and remained so until touchdown;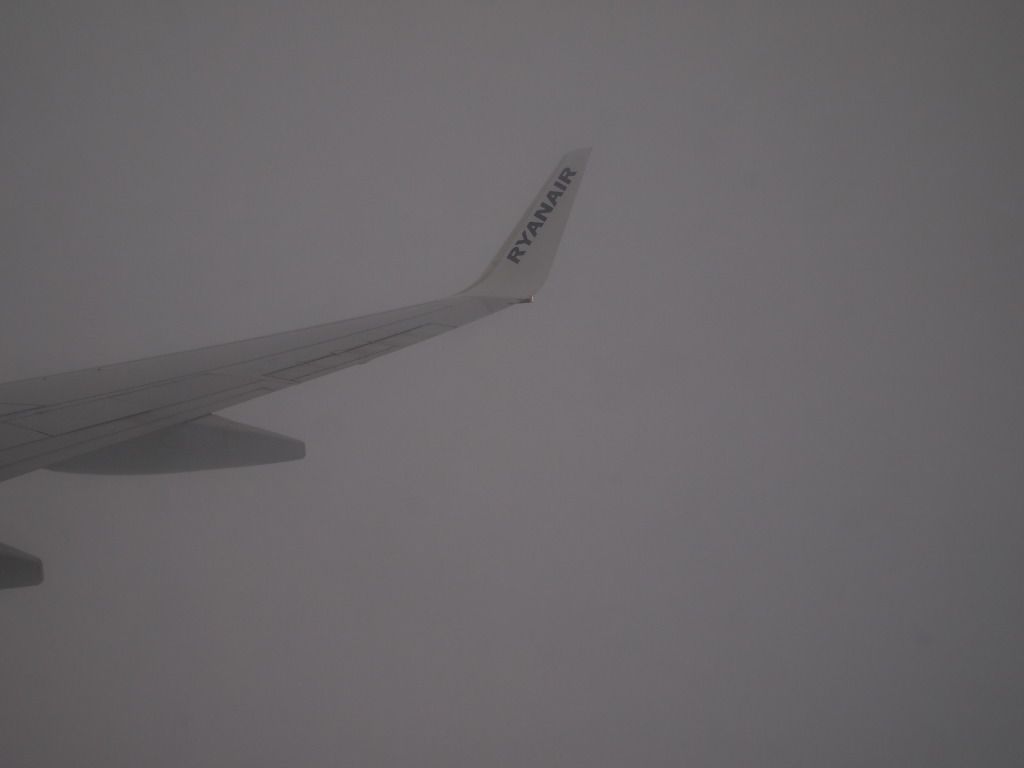 Some cabin views in flight, no doubt who you're flying with;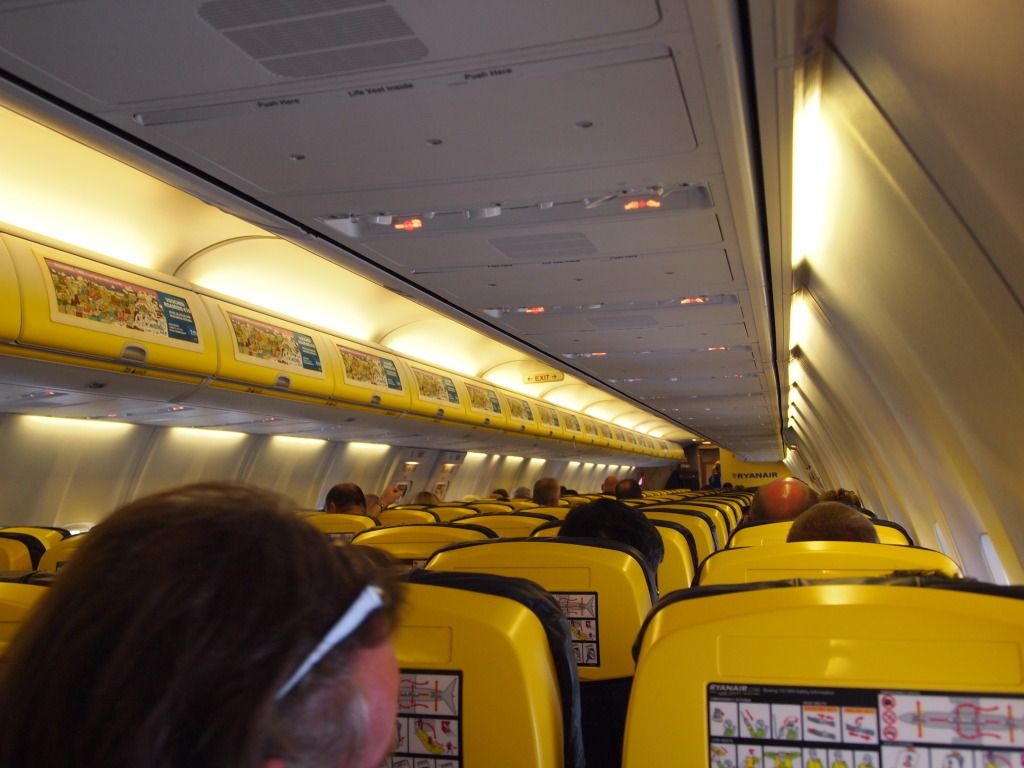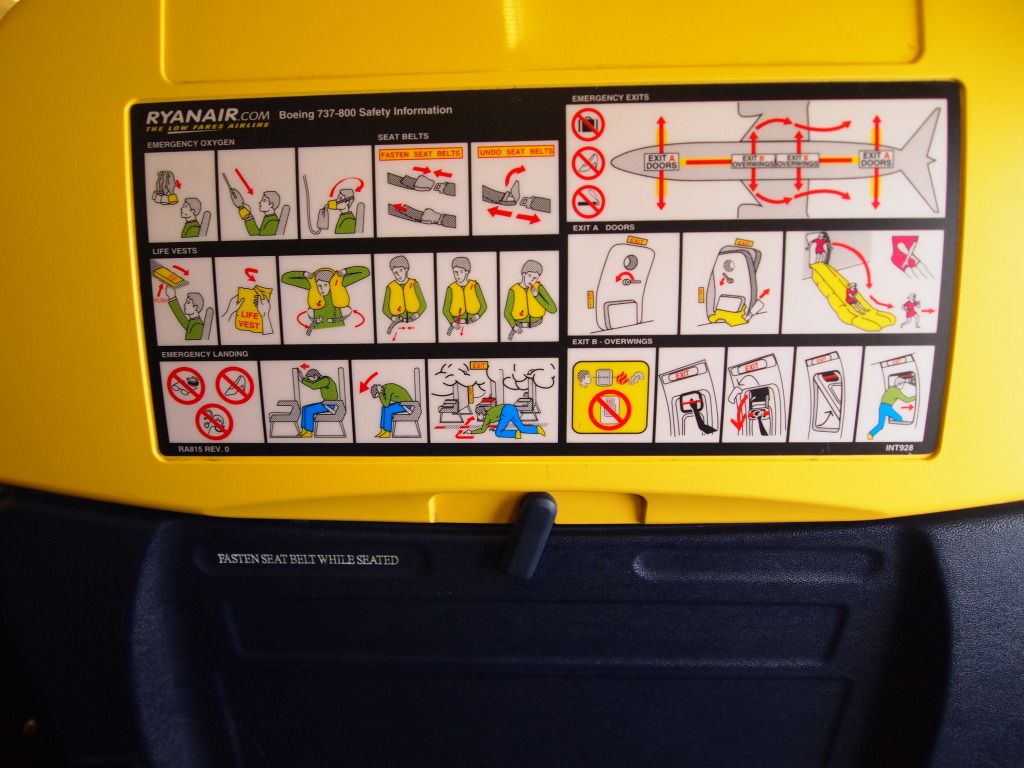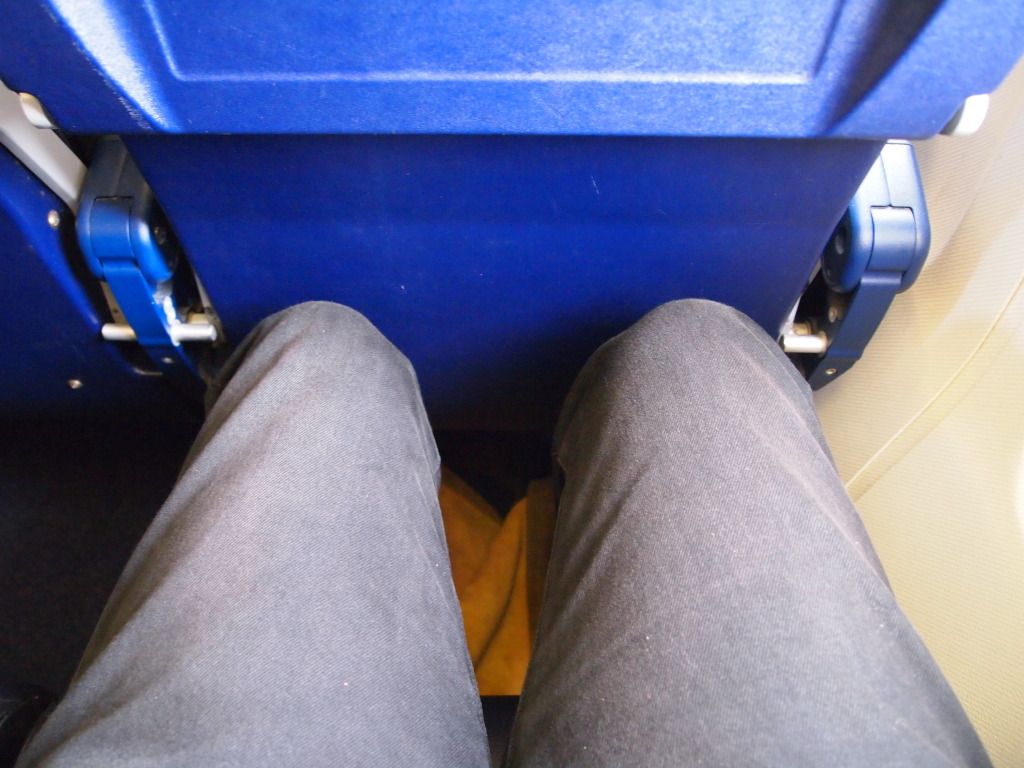 On the ground in Dublin, the weather is awful – the same storm would later cause flooding across much of the UK and the weather makes photography difficult through the window;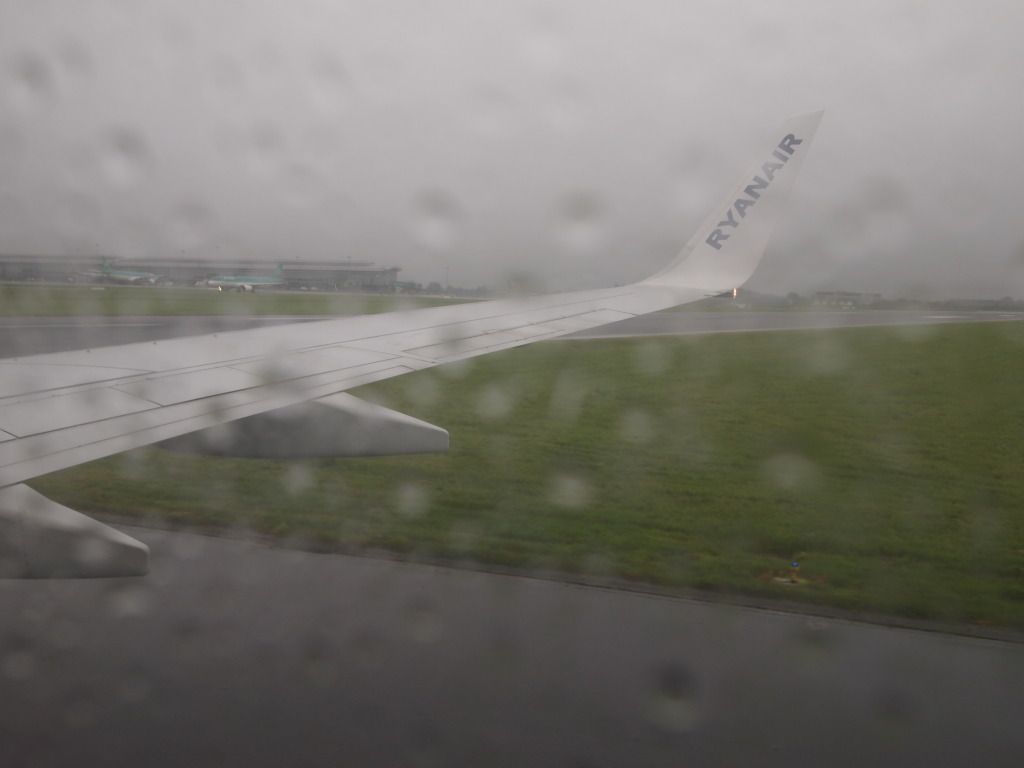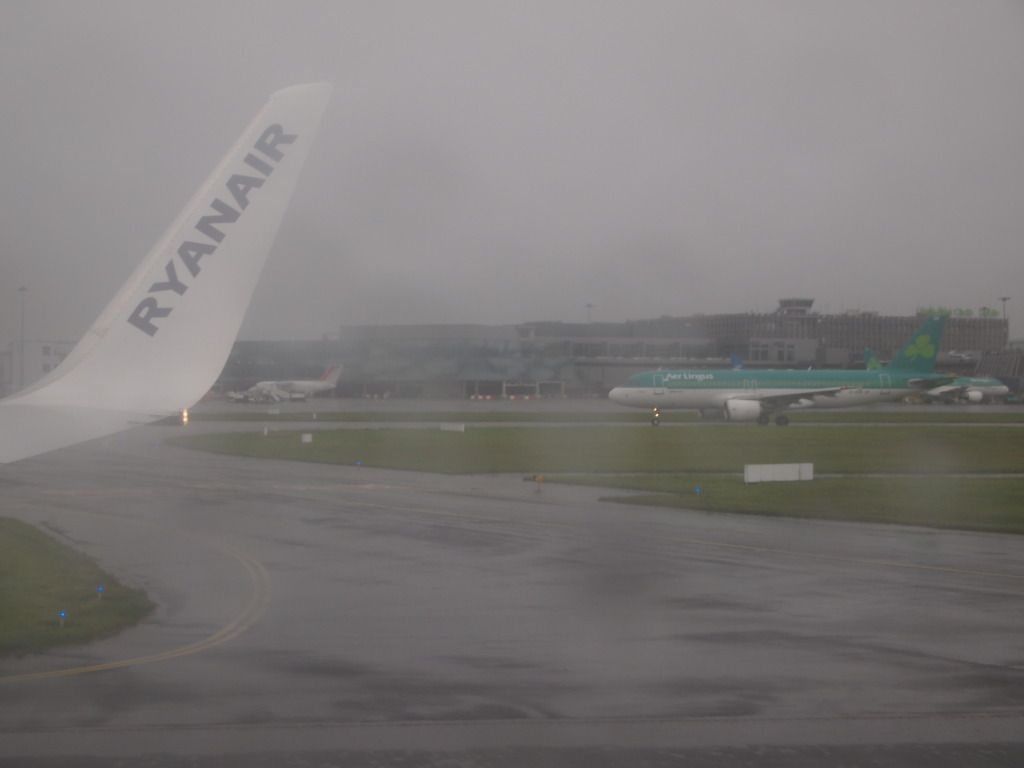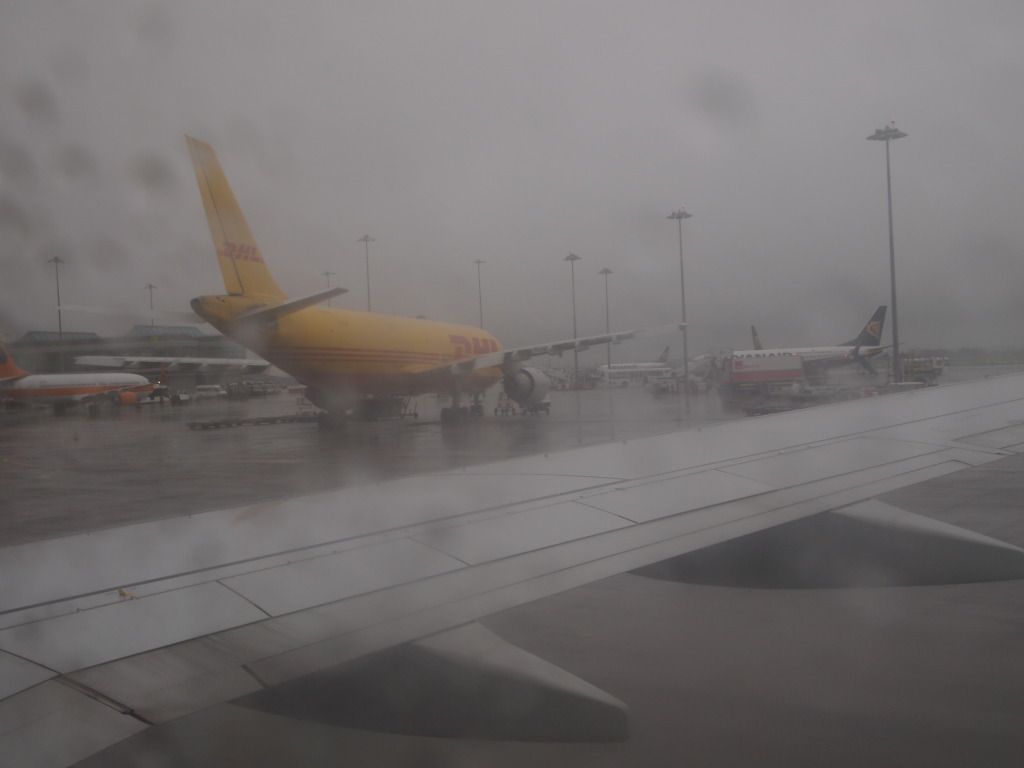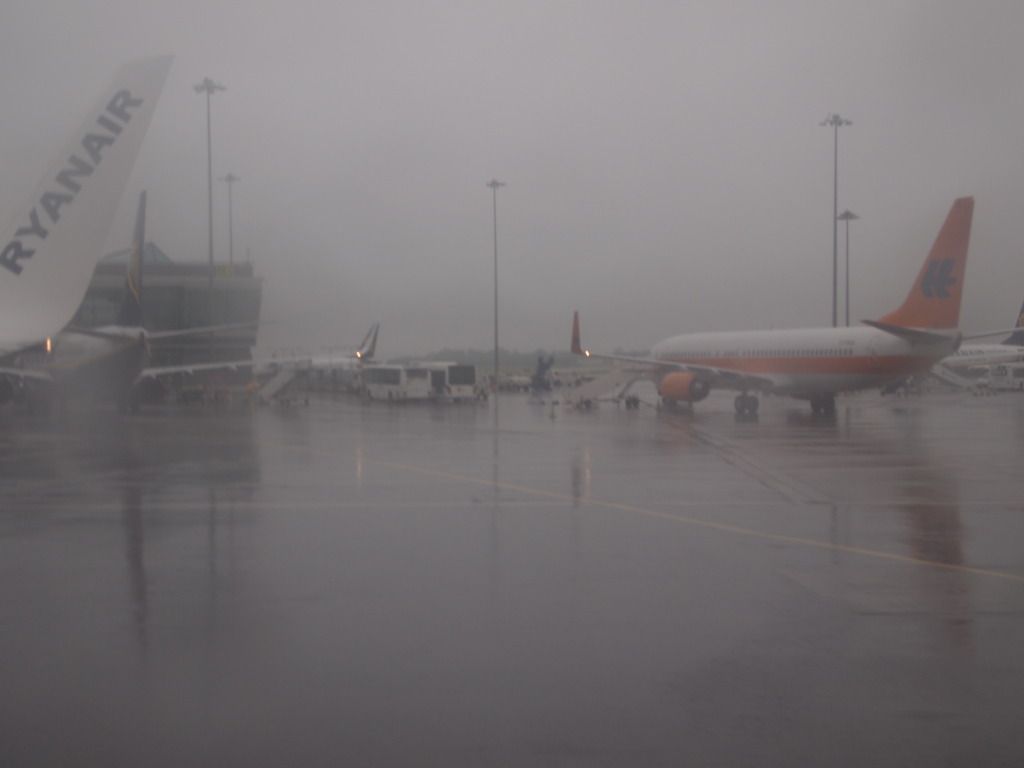 My next flight was also scheduled to depart from Terminal 1. The Aer Lingus website advised that such a connection should be easy, and that I just needed to clear passport control and then pass through the transfer channel. I had just over an hour to do this, but it seems that Ryanair arrivals are handled miles from anywhere;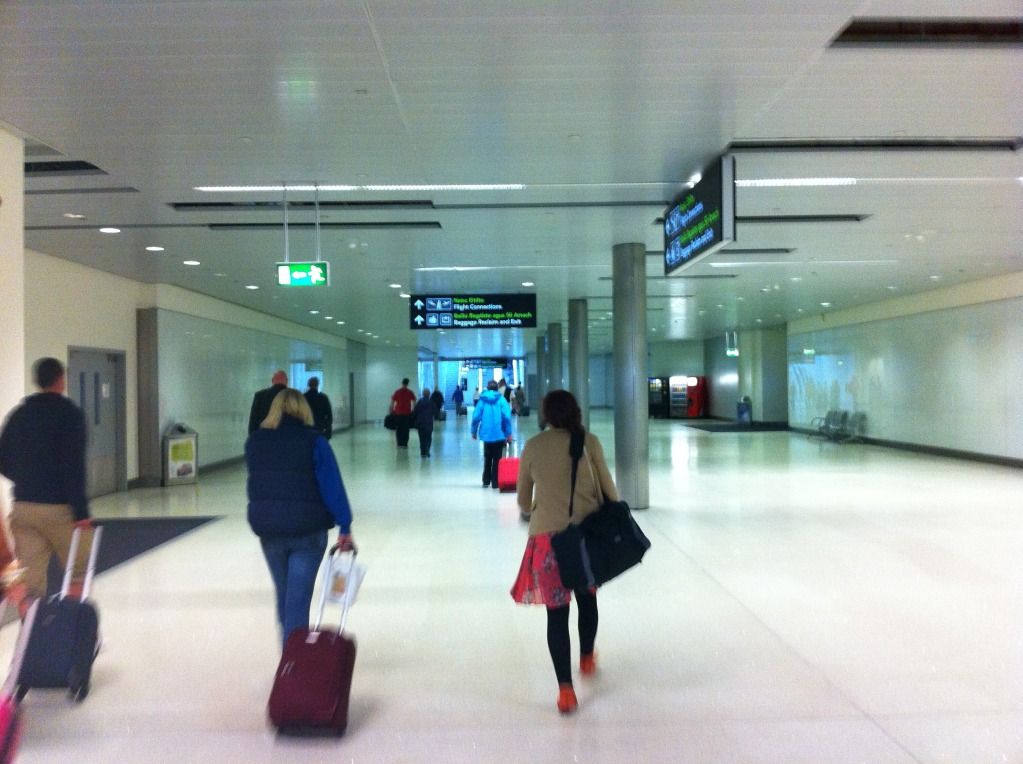 Passport control was passed through quickly, the agent not speaking a word. I went into the baggage claim hall and walked to the transfer channel, only to find it closed. The escalator was running, but the sign said closed. I had no choice but to head landside, and was quickly becoming stressed – the bad signage in departures didn't help, getting me lost in a food court before I found a completely unsigned route to security through various check in queues. The queue for security was very long, and as time ticked by I was getting worried about my connection. Eventually reaching the front, the friendly screener asked how I was doing and I vented my frustrations to him – he was apologetic and said the transfer channel should have been open, and that he would ask someone to get it opened straight away. Very good of him!
After security was done, I found endless shops but no FIDs. Again, poor marks to Dublin Airport. It was quite a walk to the nearest bank of FIDs and when I got there, the gate was just being announced;
With the gate announced as 218, I headed for gates – through a far better designed walk through shop with a clear path through it, see MAG – it is possible to do this properly. Only bonus points Dublin gets here;
Gate 218 turned out to be a bus gate, with the ATR-42 nowhere in sight. One other guy was at the gate when I arrived, and instead of taking a seat I used the opportunity to get some photographs of aircraft out on the tarmac (a good thing about this gate area).
General views of the downstairs gate area;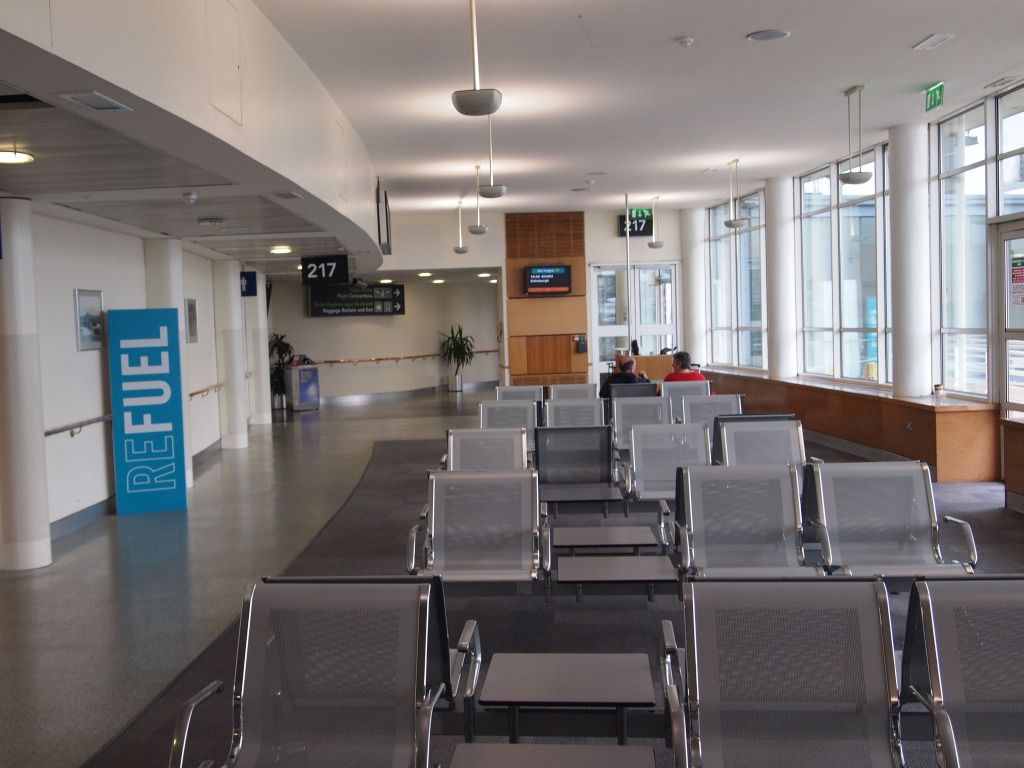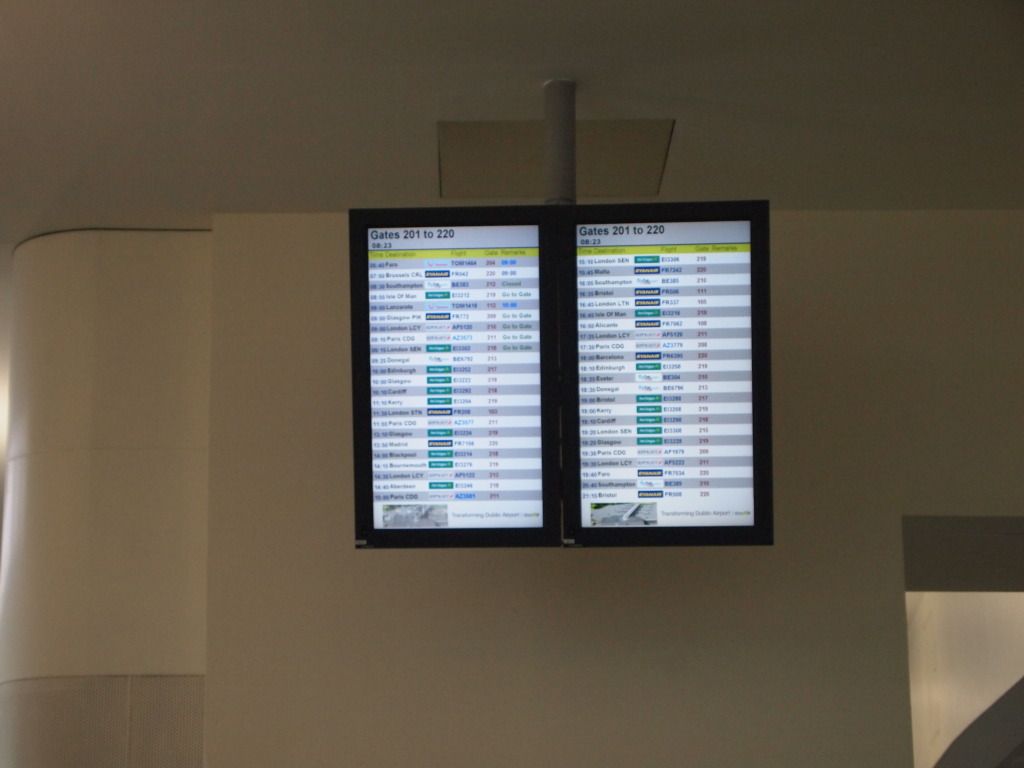 Some views of aircraft on the tarmac;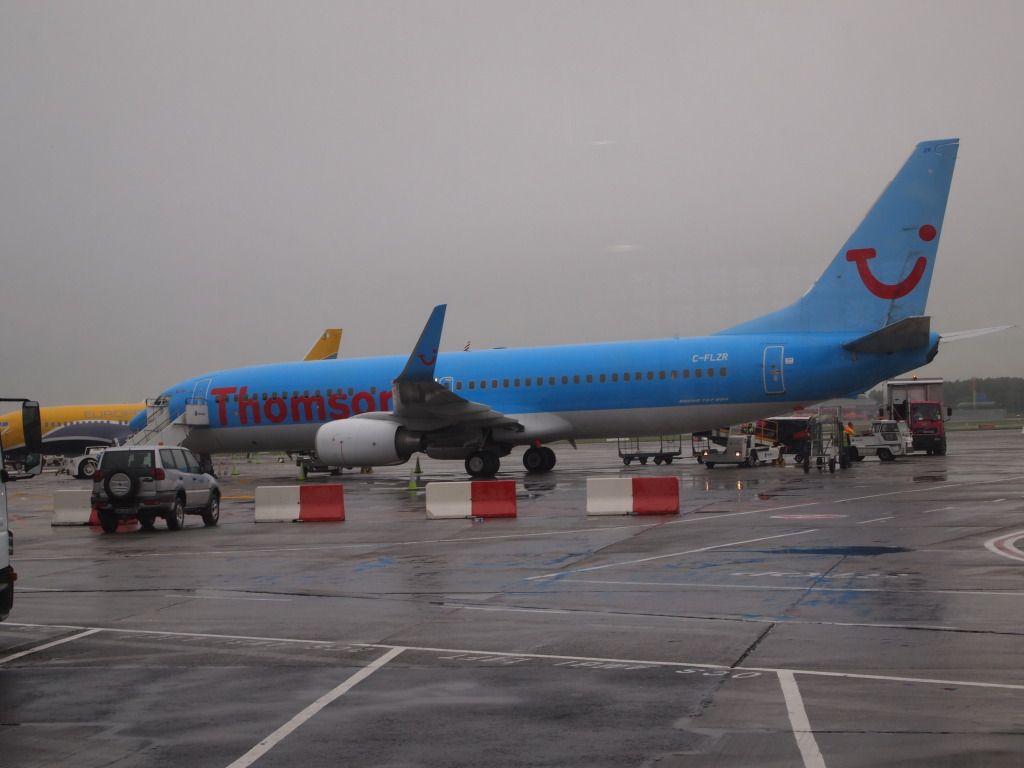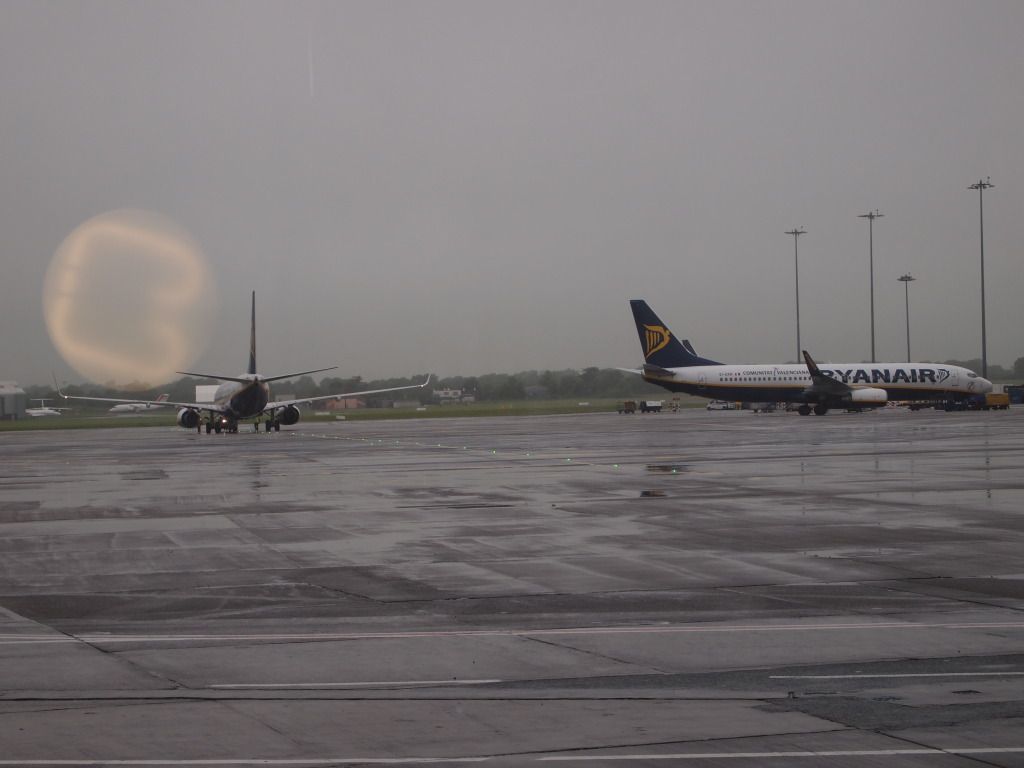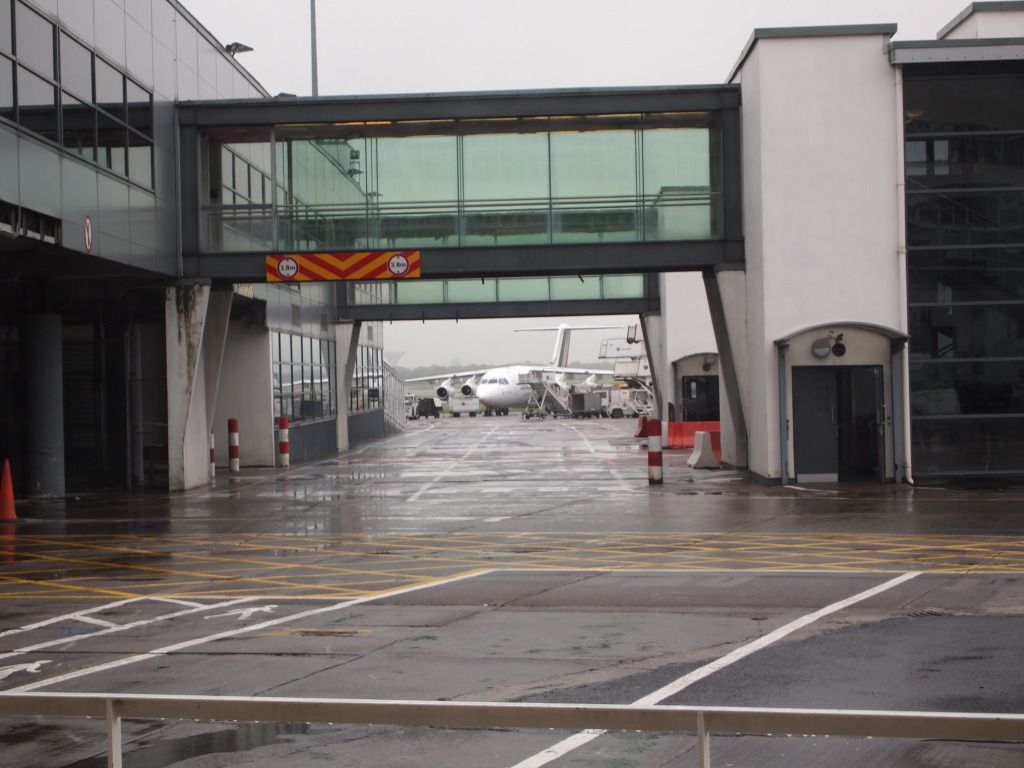 DUB-SEN
Flight Number:
EI3302
Aircraft Type:
ATR 42-300
Aircraft Reg:
EI-CPT
Scheduled Departure:
0915 (Actual 0945)
Scheduled Arrival:
1050 (Actual 1115)
Flight Duration:
1hr 30m
After taking some photos, I took a seat near the gate and waited for boarding to commence. A woman in Aer Lingus uniform appeared after not too long, and a bus also pulled up outside – the driver coming into the terminal. Gate closing time was given as 0850, but this time came and went with no announcement made. Eventually, a lady in a wheelchair was brought down and taken out to a special minibus, after which normal boarding commenced. I was one of the first onto the bus, and after a short wait we set off for the plane – passing the gate I'd first entered into from my FR flight.
Eventually, we reached EI-CPT parked on a remote stand, still in basic Aer Arran colours. The lady in the wheelchair had just finished boarding, and I deliberately waited to be last off the bus to allow for a few pictures. I certainly wasn't the only one as the two American tourists in front of me were doing the same.
EI-CPT on the tarmac;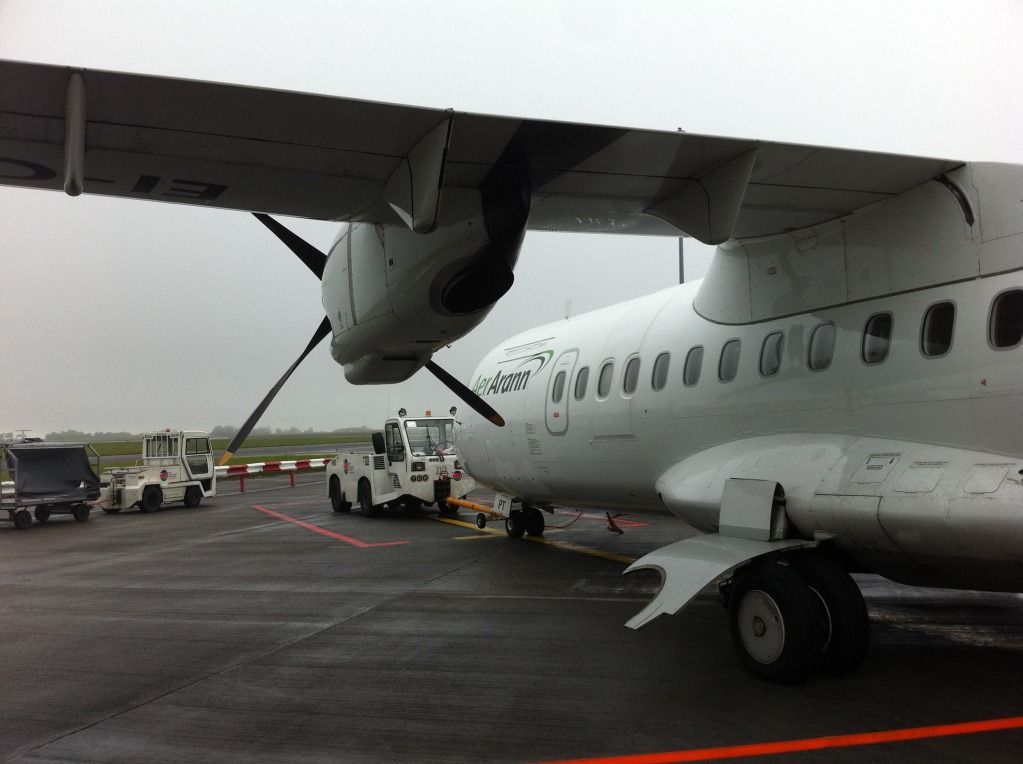 I was welcomed aboard by the sole flight attendant, and after taking my seat (3A) at the front of the cabin it was announced that due to the weather there would be a delay of approximately 30 minutes – the captain adding that our flying time would be 1hr 30minutes. He also mentioned that the flight shouldn't be too bumpy, but having just crossed the Irish Sea I wasn't so confident that this would be the case.
The FA quickly completed the safety briefing after the door had been closed, and gave instructions on the operation of the emergency exits to passengers seated in the row ahead of me. It turned out the chap in front of me was an ATR engineer, and said he was competent in their use and could even refit them again afterwards – raising a smile from the FA. The load wasn't too heavy, there being plenty of empty seats around the cabin – including next to me.
A few minutes later we pushed back and the left engine was started. The right engine was started during the taxi out, and we were in the air by 0950 – a very quick lift off the runway and through the clouds. It was pleasing to leave the cloud layer behind and finally see the sun.
Onboard service was buy on board, and having glanced at the menu I decided to just get a coffee. Service was started from the front of the cabin, which means I was served first, taking advantage of the empty aisle seat next to me by using that tray table;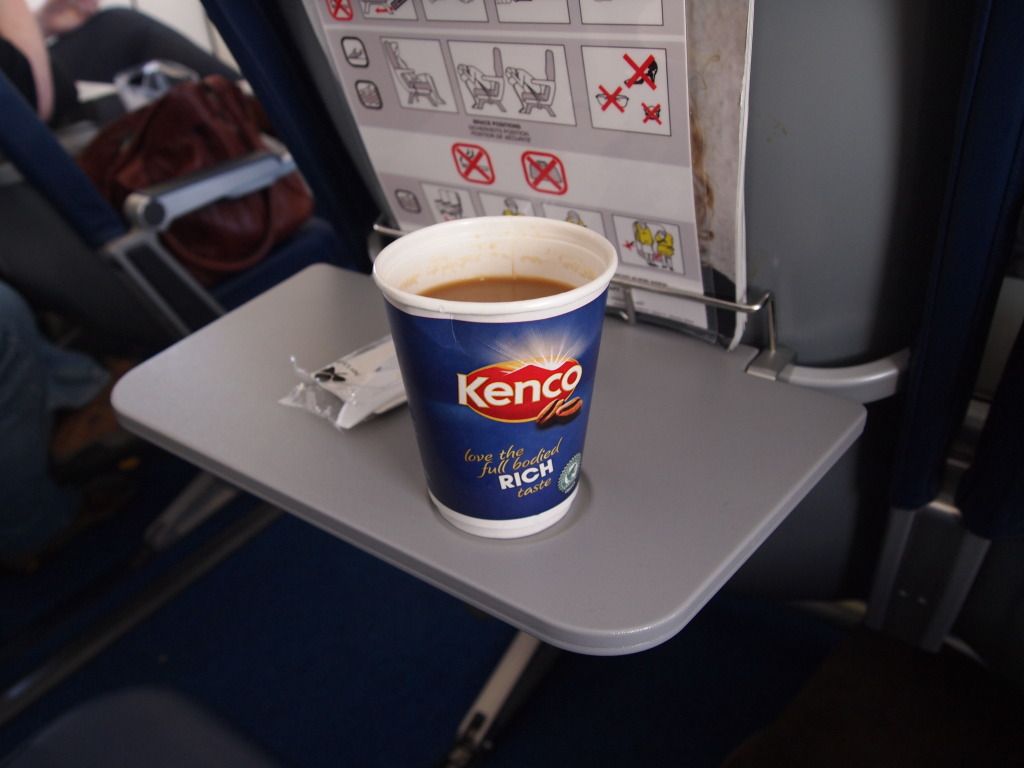 Despite his earlier announcement, we did encounter some turbulence and the captain did not turn off the seatbelt sign for the entire duration of the flight. We made a number of changes of altitude and heading, the flight crew presumably trying to avoid the worst of the turbulence. The weather did make for some spectacular views, however;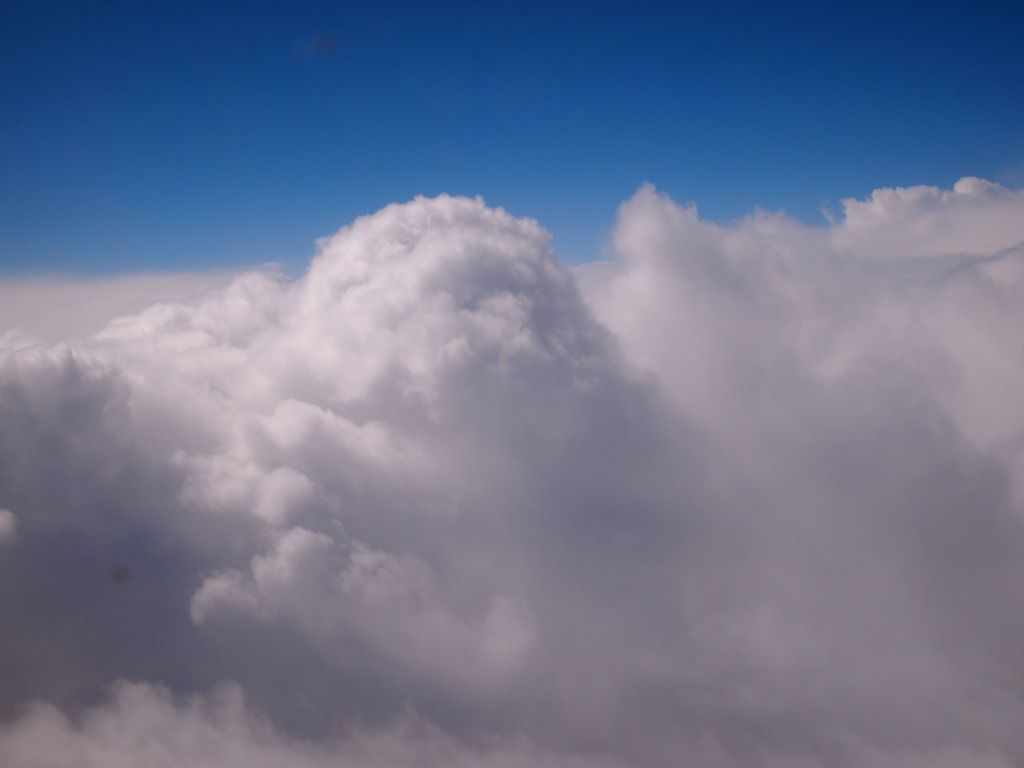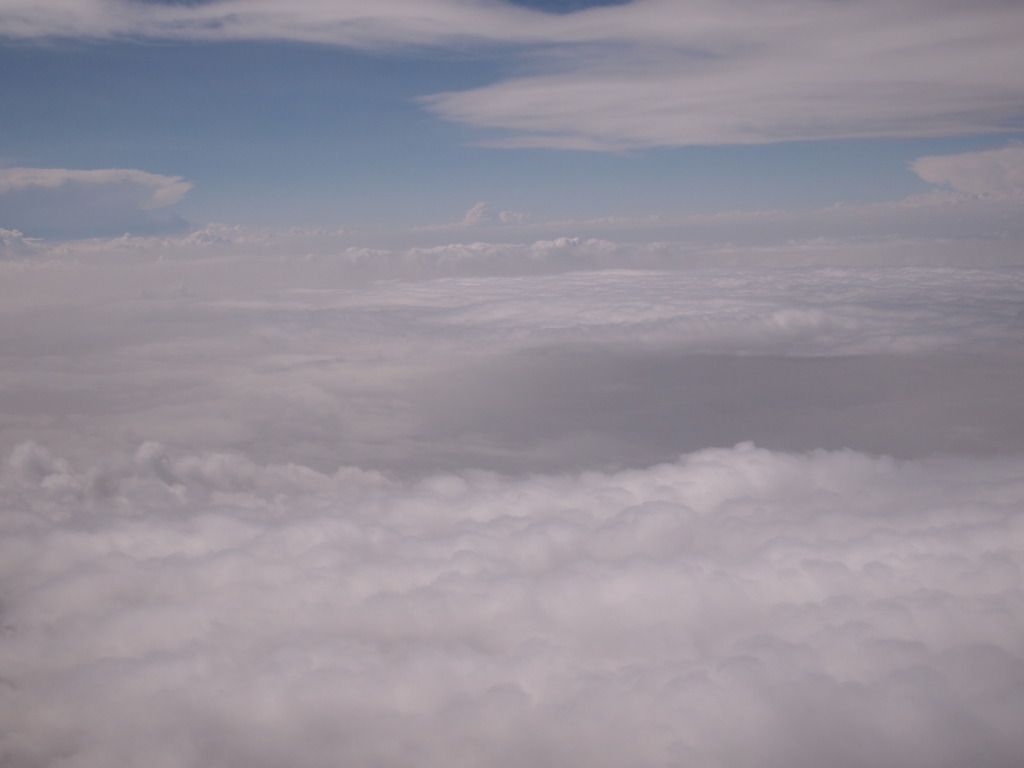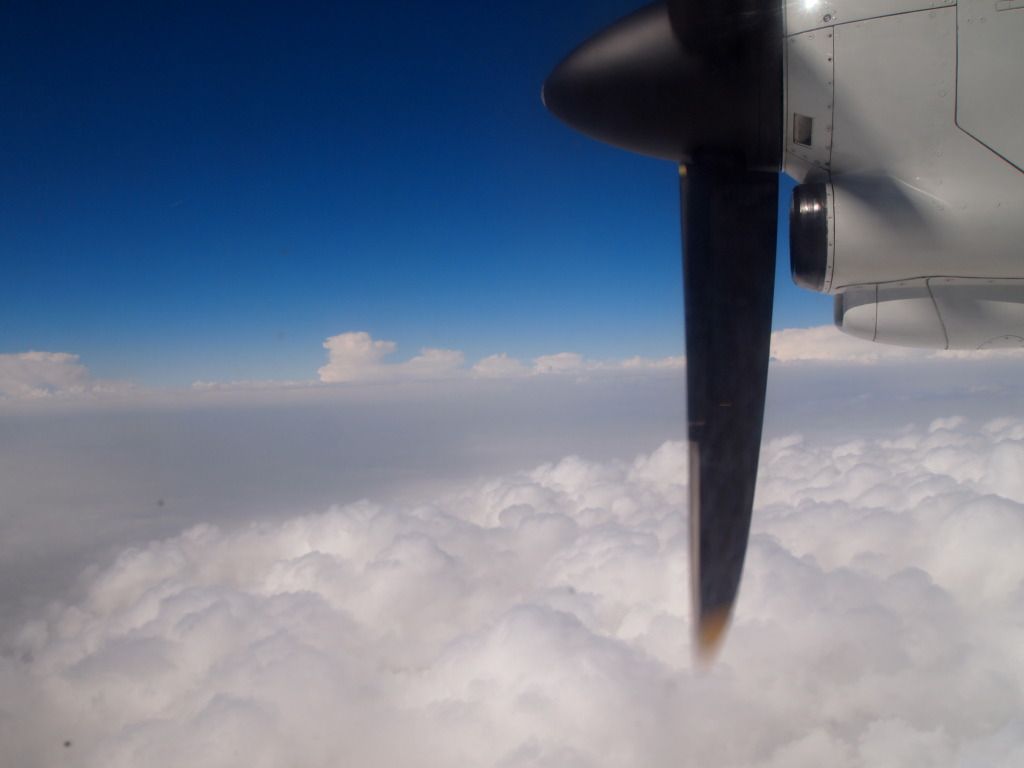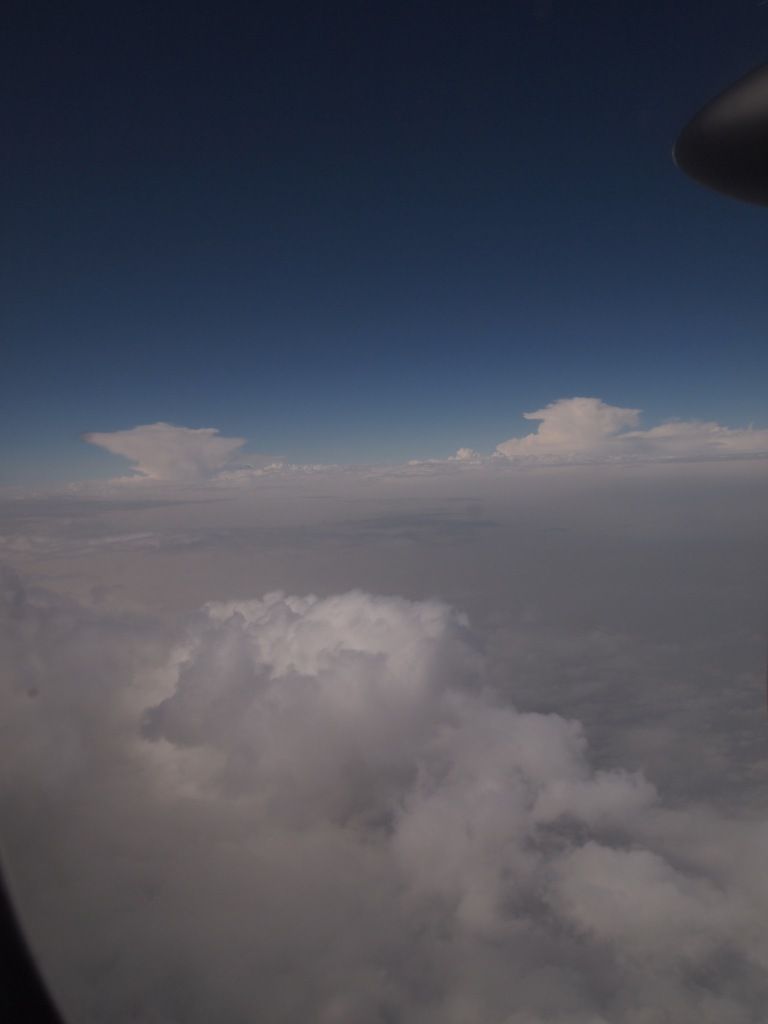 Shortly after taking one of these views, the FA appeared next to me, and apologising placed a lid on my coffee. She said that it would be safer with the turbulence that was going on – she was very proactive in this regard, making sure everyone was ok and had what they needed.
Coffee, now with lid;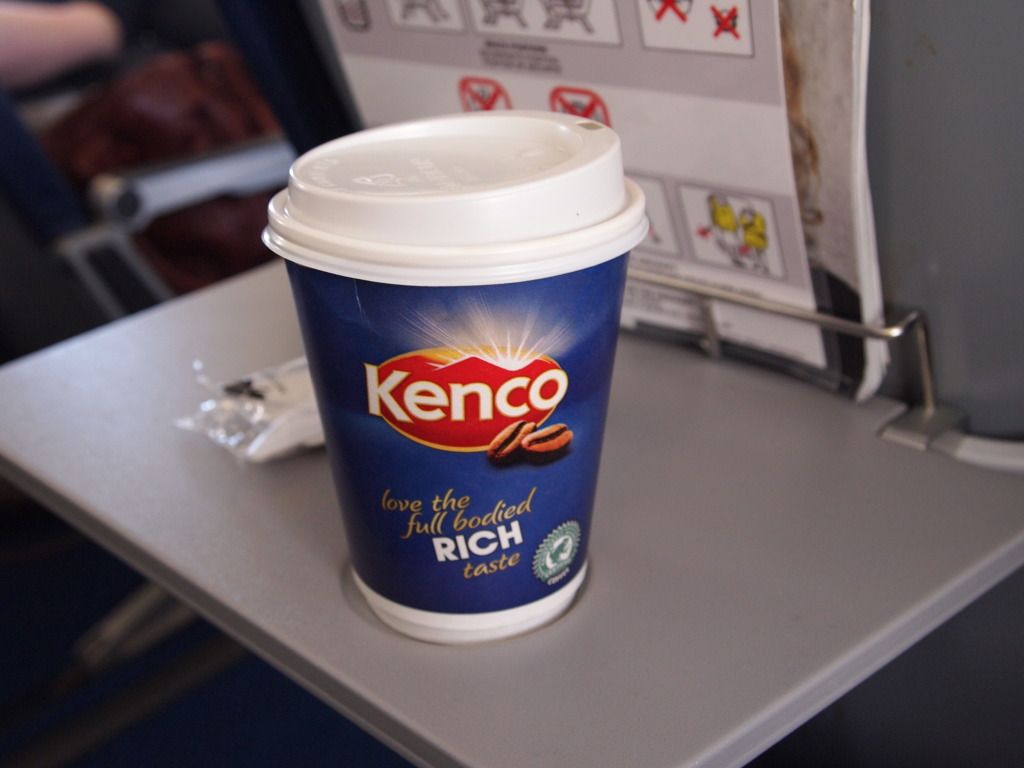 The cabin was in good condition, though I didn't have much in the way of a forward view;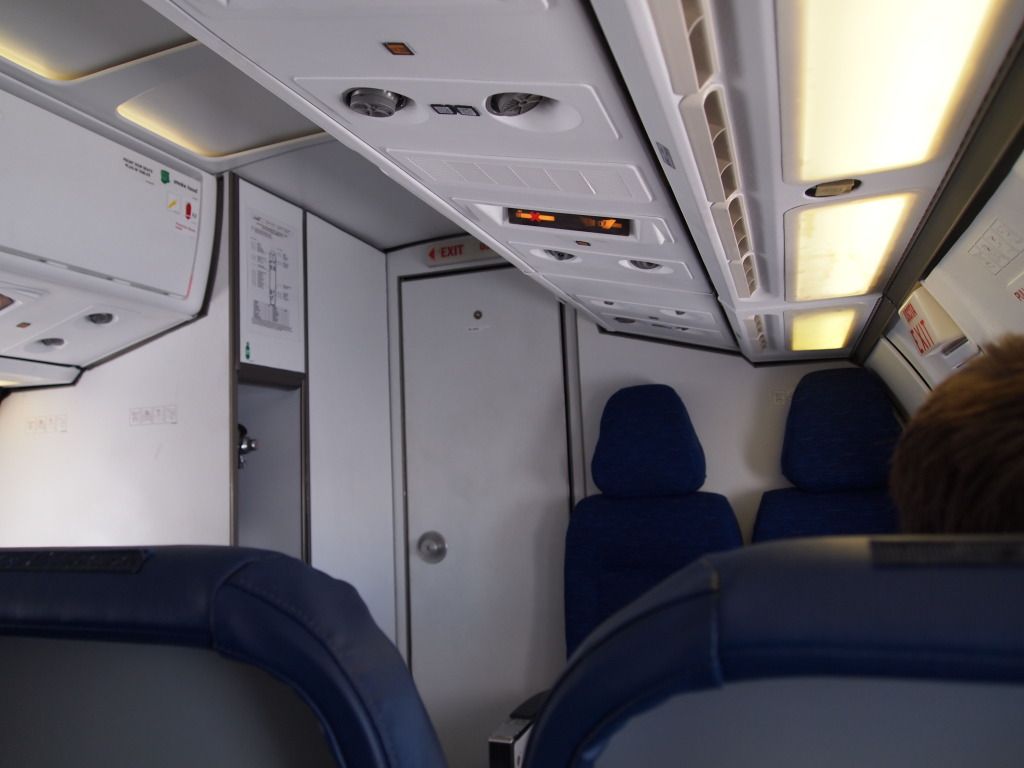 Legroom wasn't unreasonable;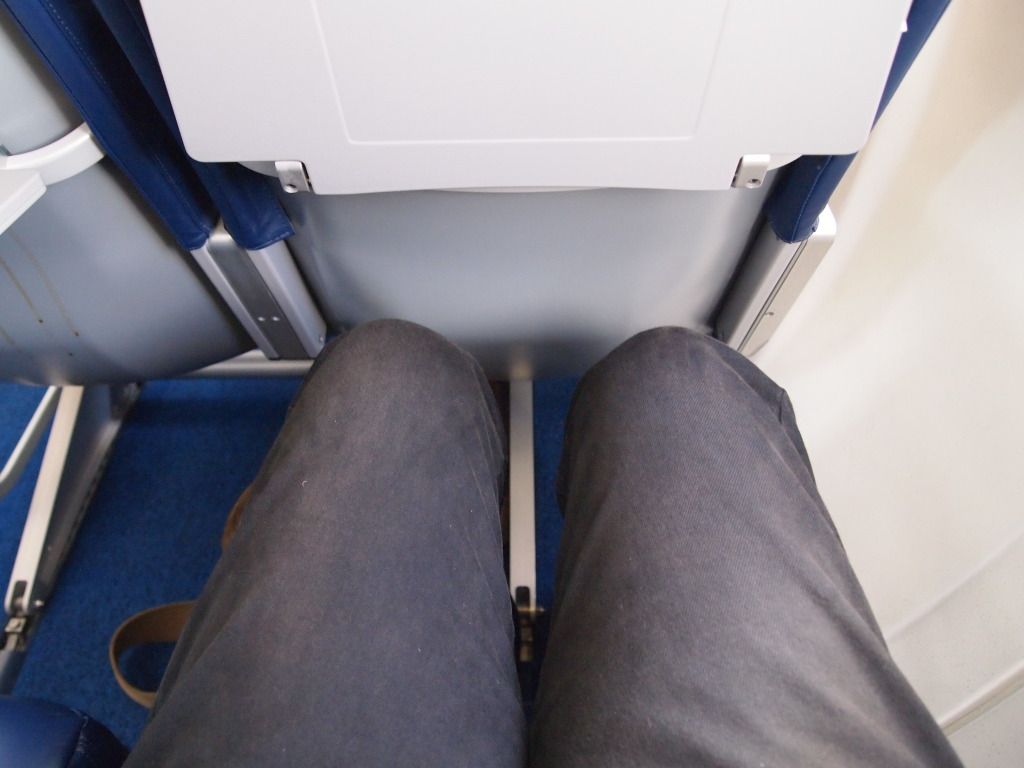 Though there had obviously been a spillage on an earlier flight that hadn't been cleaned up;
Seat pocket contents and safety card;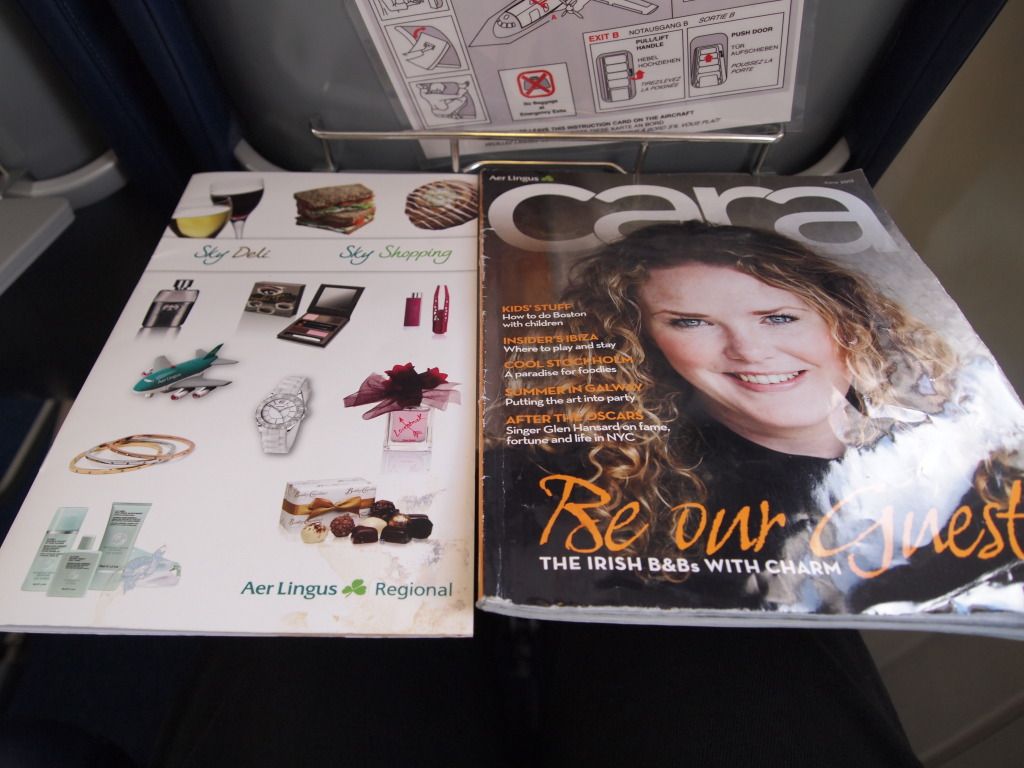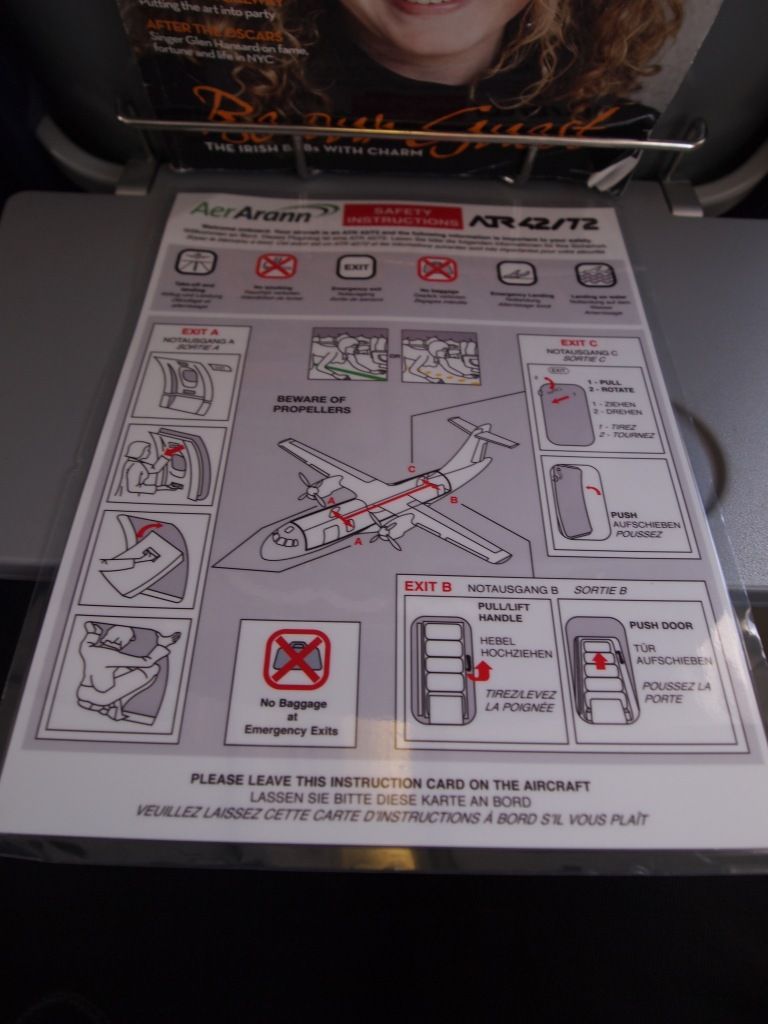 It wasn't too long before I noticed we were flying over land again. I struggled with identifying places for quite awhile, so if anyone knows I'd be greatful. I'm usually better at this, but was quite tired.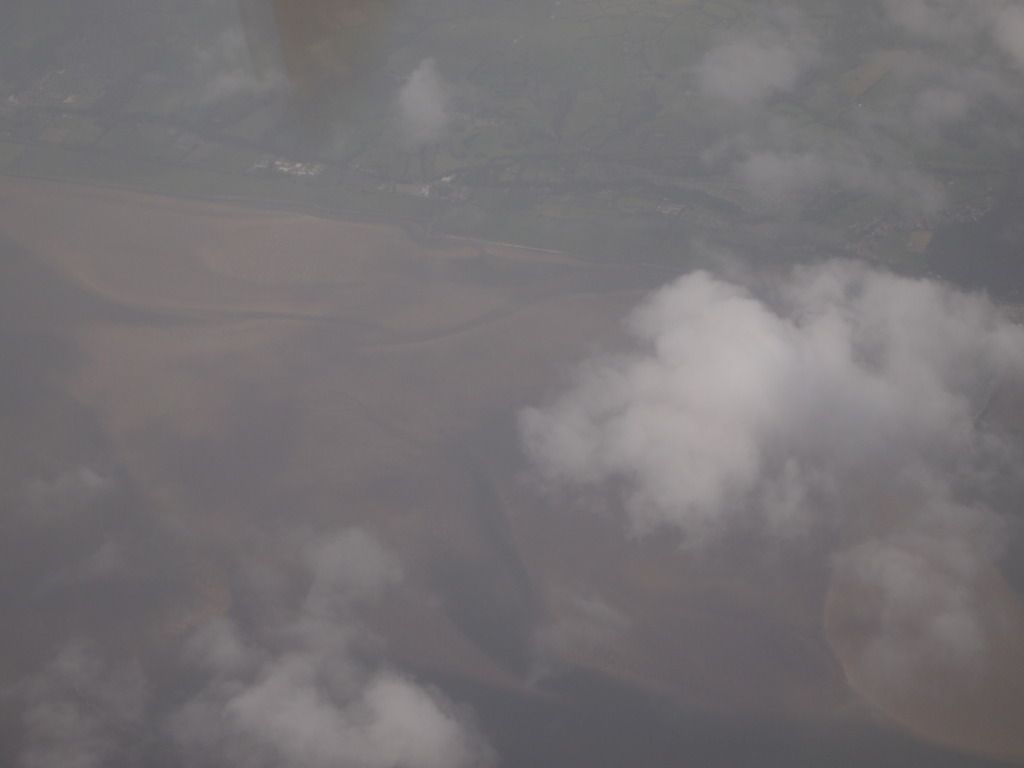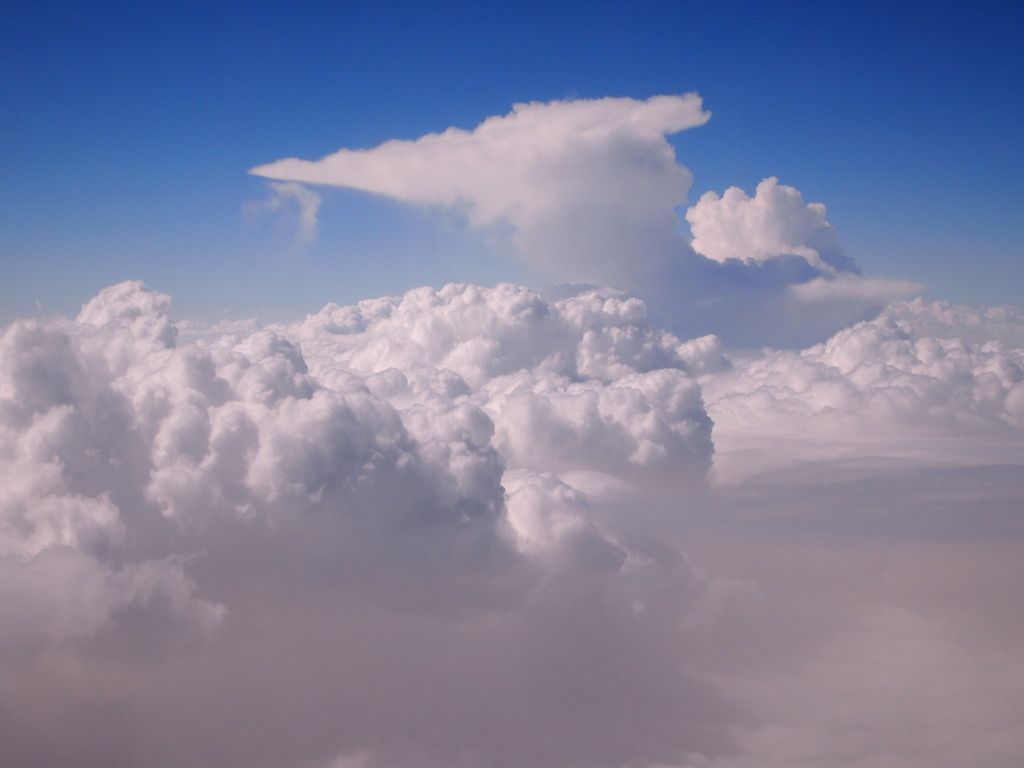 Onboard sales were also undertaken, though I didn't see anyone actually purchase anything. Also offered were train tickets from Southend Airport to London Liverpool Street or Stratford Regional. These were priced at 14 euros, which works out cheaper than those sold at the station itself. A few people did buy these, and I would've myself had I not already been holding a ticket.
Finally, I began recognising places below. First we overflew Dunstable;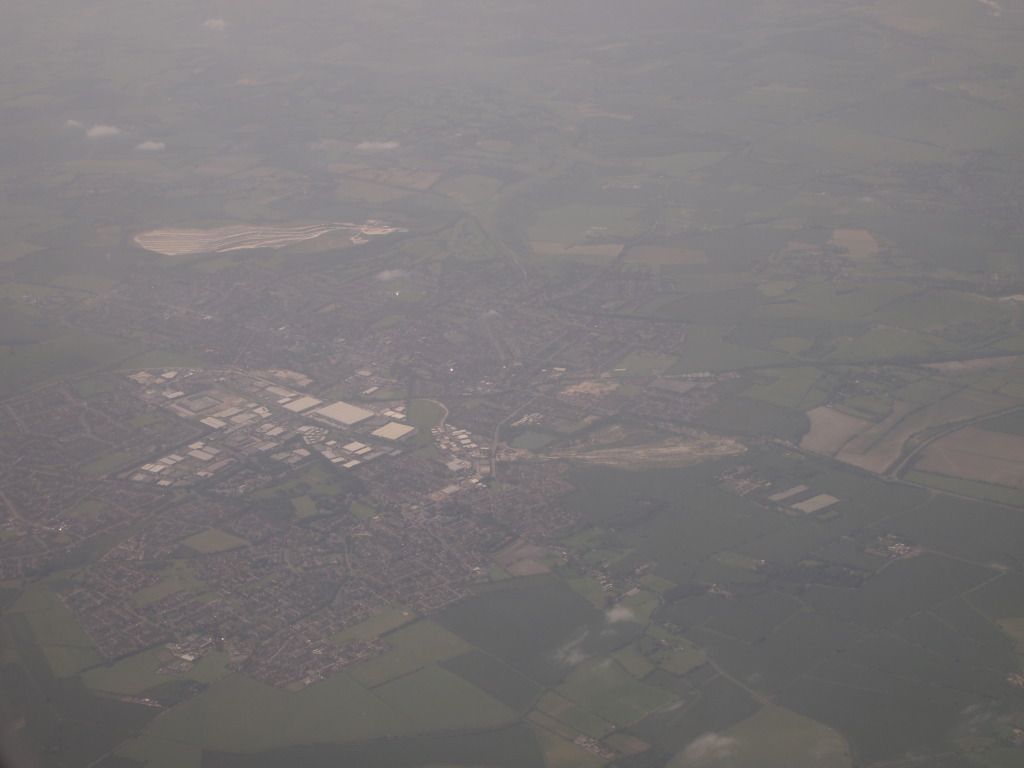 Then Luton, and LTN;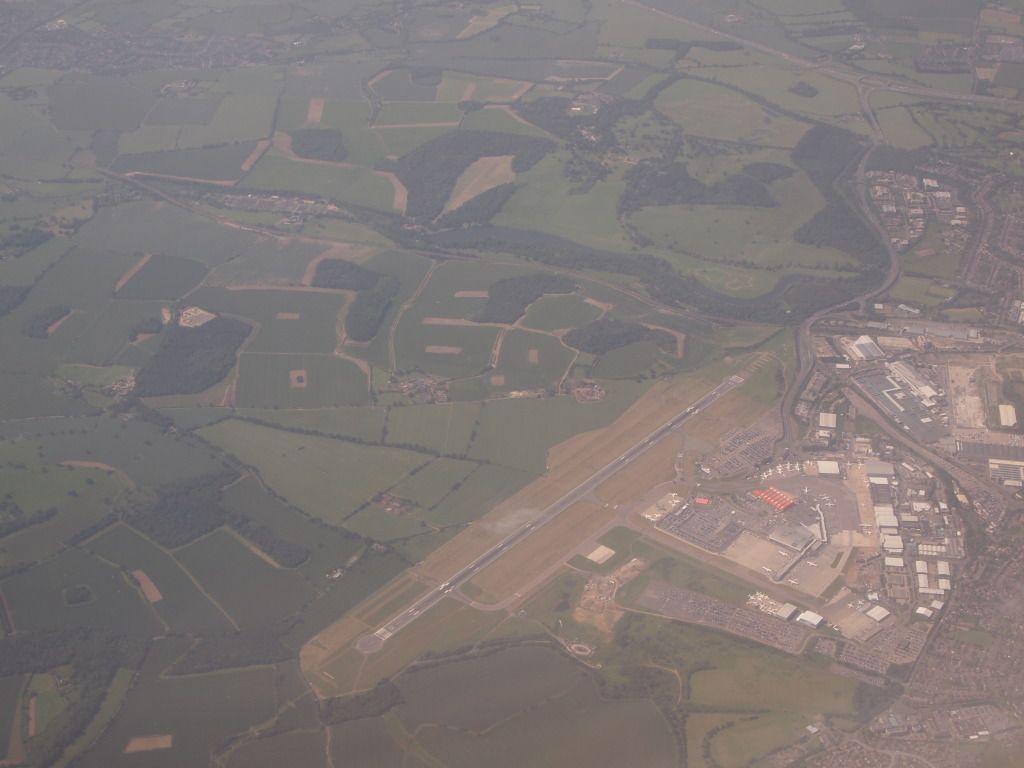 And Welwyn Garden City – the last city of its kind developed in the UK;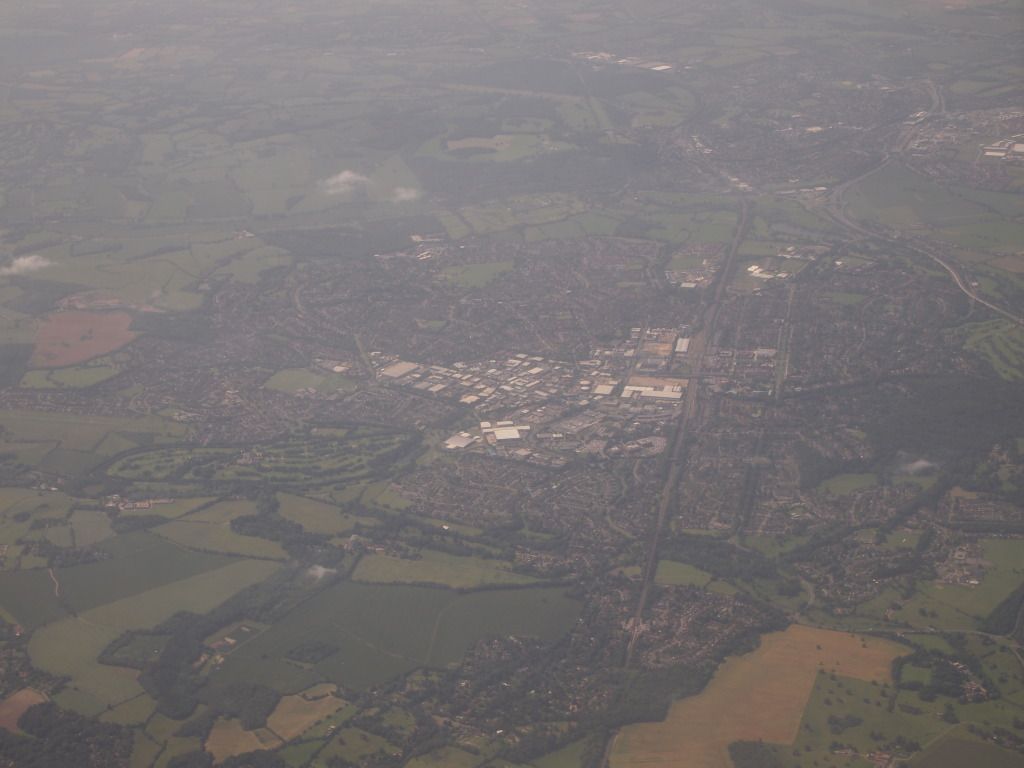 Just after overflying Luton, landing was announced as being around 10 minutes away, and the FA prepared the cabin for landing. As I only had my large camera (my compact is missing its charger), I had to pack it away – which was a shame as there were great views of the Thames and the Southend conurbation as we came in for the final approach. Landing was smooth and we were on the ground by 11:15.
Arrival into Southend was a very quick process, ID checks were done at the door and with no bags to claim I was outside the airport in time to jump on the 11:27 train into Southend Victoria. From there, after a quick look around, I returned home via London and the East Coast mainline, arriving back home for around 17:00.
Some views of Southend Airport and the new railway station;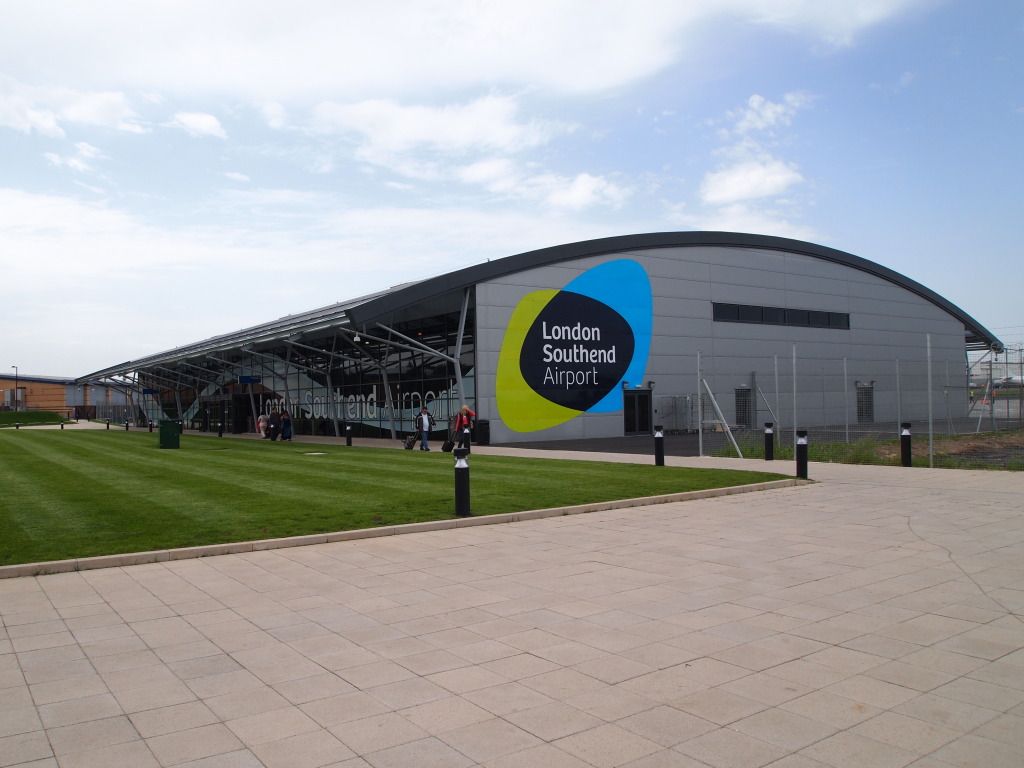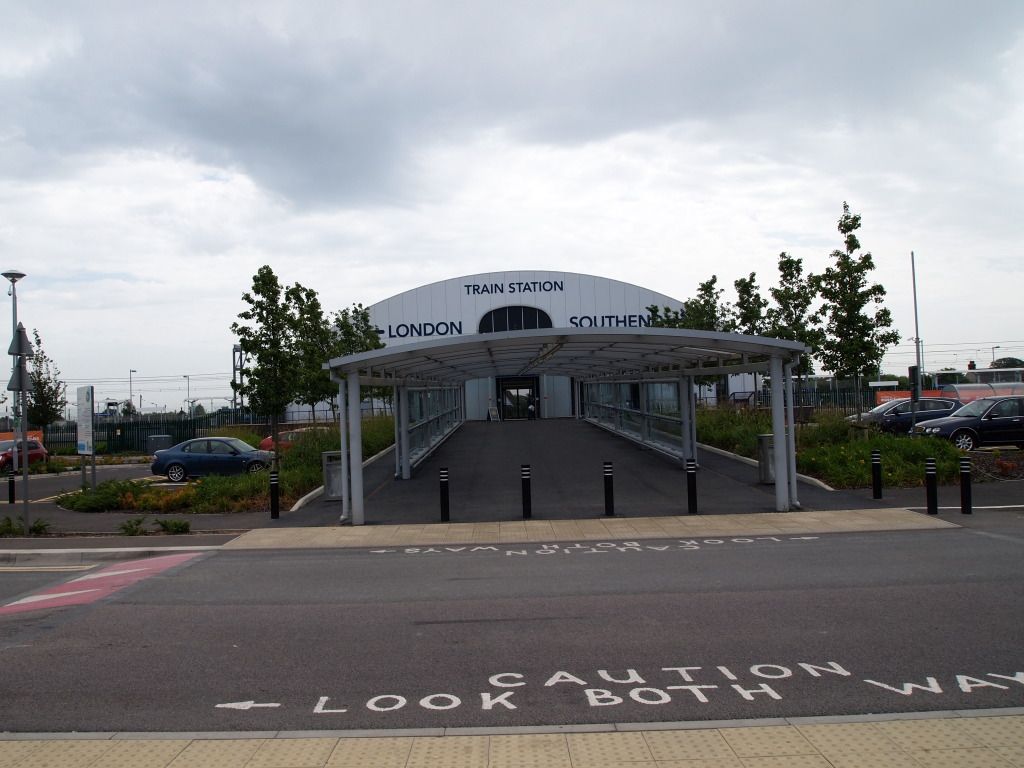 Conclusions
Overall, this proved to be a good trip. I was really pleased with the flight prices considering I booked just two weeks beforehand – and both provided what I expected. Ryanair were Ryanair, that is to say nothing special but got me there on time and cheaply. The Aer Lingus Regional flight (operated by Aer Arran) was great, the ATR-42 was a nice aircraft and the flight attendant was attentive and professional – if not overly friendly.
Dublin Airport proved very disappointing. The closed transfer lane created unnecessary stress, and I found the gate area cold and dilapidated. The lack of announcements in the terminal about the delay to the flight was also unwelcome. In contrast, Southend was a pleasure to use – and provided what I think is my quickest ever aircraft to train connection of just under 10 minutes.
Hope you've enjoyed this report – any feedback would be very welcome.
Trentside