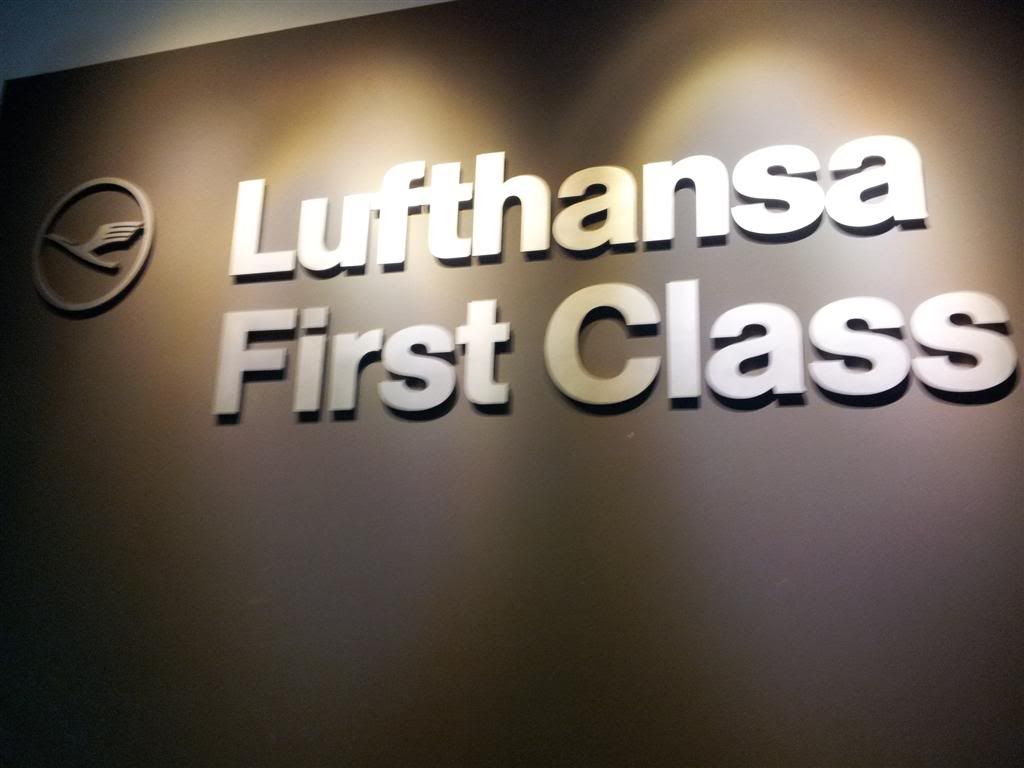 Thank you in advance for reading my newest trip report. This week I flew from Houston-Frankfurt-Narita in First Class on Lufthansa. I was originally booked from Dallas but decided to do a short "ferry" flight over to Houston so I could get on the 747. As luck had it, I was the only person booked upstairs until the day before departure but even with having a second person upstairs it still felt like a private flight. Overall I was very impressed with the service I received from Lufthansa on both flights and including my connection in Frankfurt. Thank you for your comments and as always, feeding is always appreciated.
Flight one:
Houston (IAH) to Frankfurt (FRA)
Boeing 747-400
D-ABTF Delivered March 29, 1991
Previously a combi aircraft .
Flight time aprx 9 hours.
Profile of the Lufthansa 747-400

Seat map of my configuration with the yellow box indicating my seating area. While my aircraft did not have the new LH First class seats, the seat next to you was still used as your bed.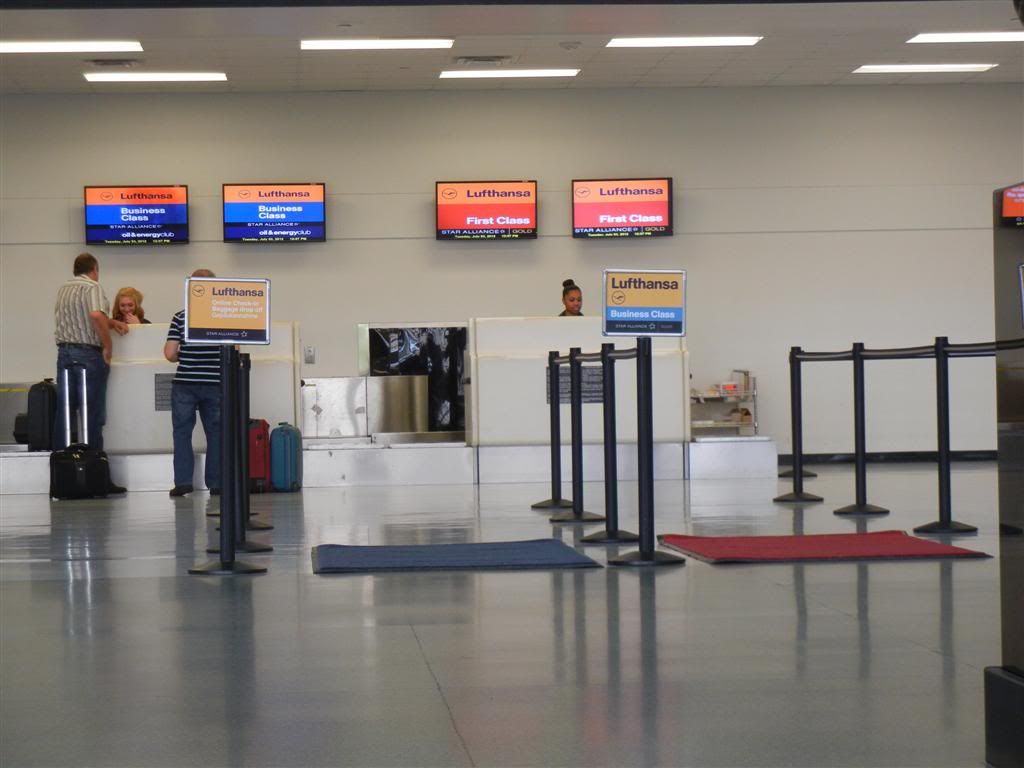 Pretty bland terminal D check-in area.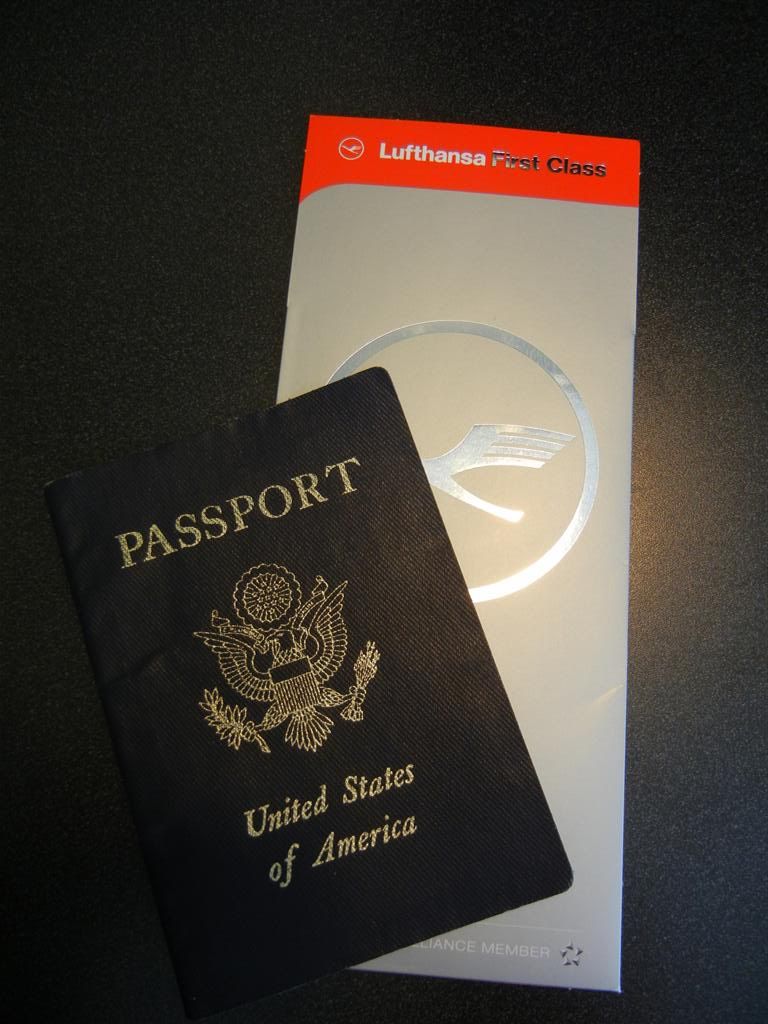 Lufthansa's signature first class ticket sleeves.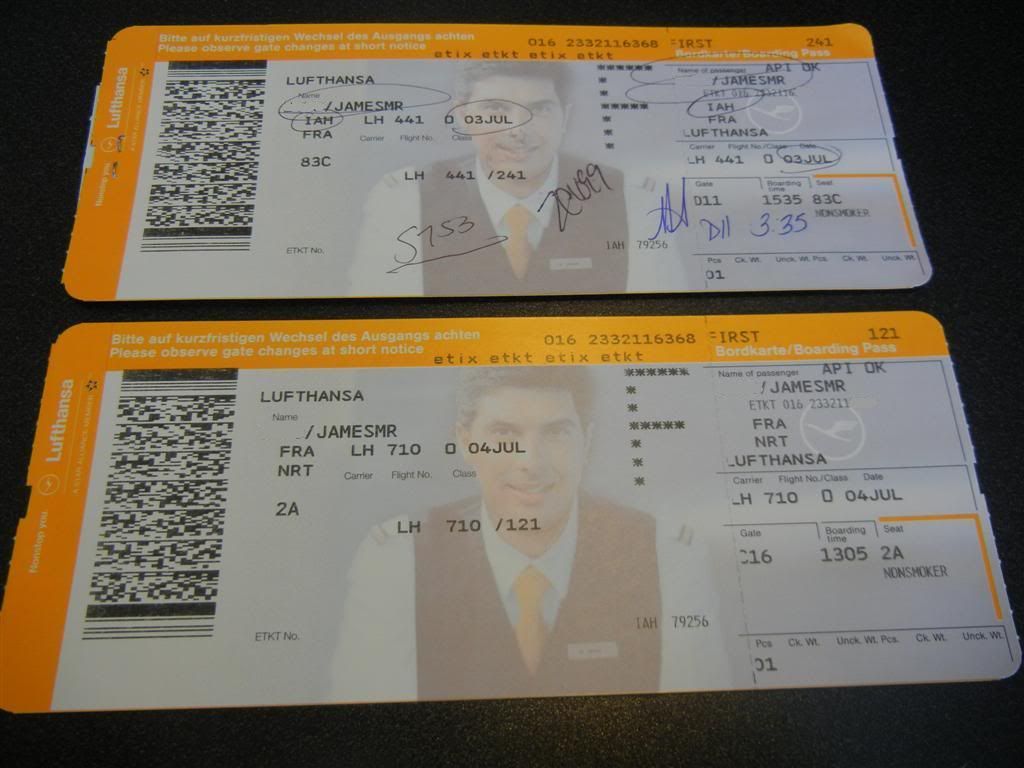 Tickets
I really enjoy Houston's airport. I think if you are using the pre-merger Continental terminals, B not included, it's a very nice facilities especially terminal E.
Terminal E IAH
767-400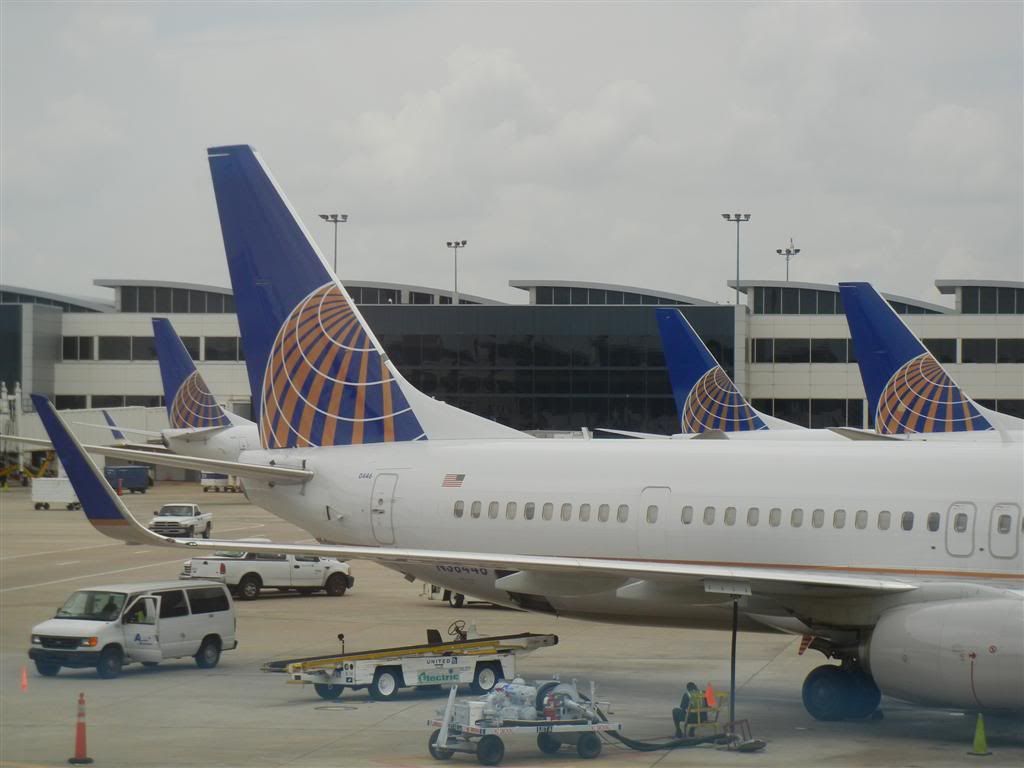 737s galore
Area of terminal E that looks up into customs walkway and the E United Club.
Since I had a few hours to kill I decided to go to both airline clubs I had access to. I really enjoy terminal E's United Club since the third level is normally quiet and has showers however lacks good food options. I also went to the lounge that Lufthansa uses in Terminal D which had better food items but lacked windows. Pictures below of both lounges below.
Terminal D club for Qatar, Emirates and Lufthansa premium cabin passengers.
Another view
Food offerings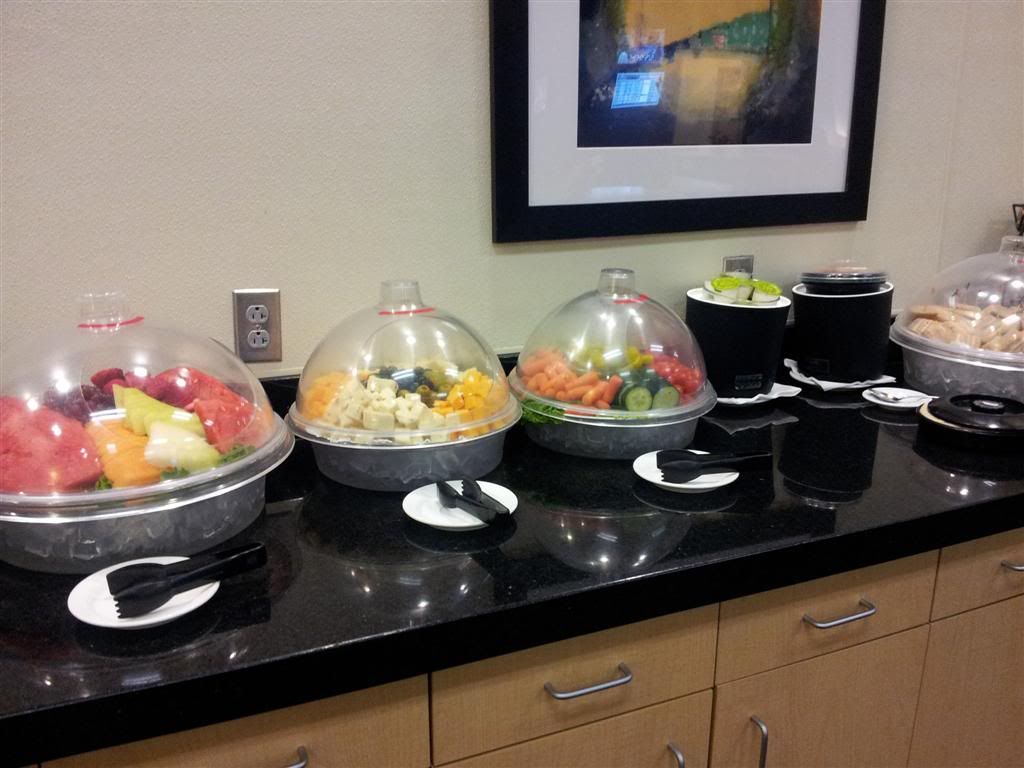 Food again
I really didn't want to each much because of the flights.
As you can see the United Club is much nicer, but totally lacks food.
Food offerings at the United Club.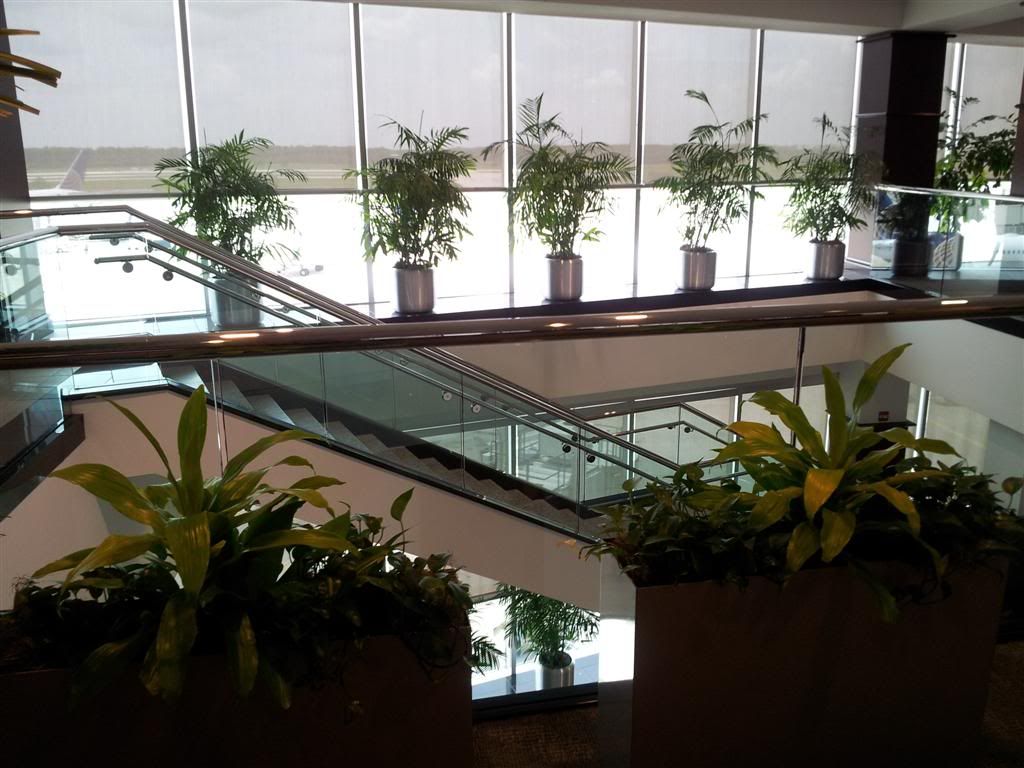 Nice and bright
Nice views of the tarmac from the UC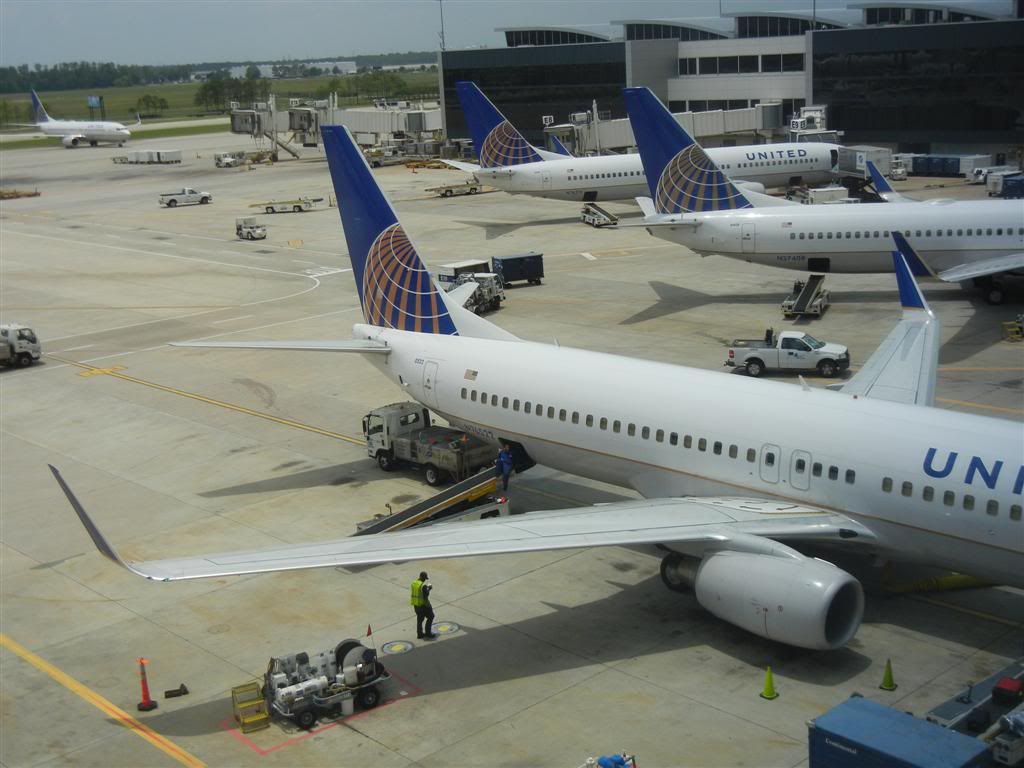 737-500 "guppy" these are leaving the fleet at a pretty quick pace.
Ok experts, is this a 757-200 or -300?
Inside a shower at the United Club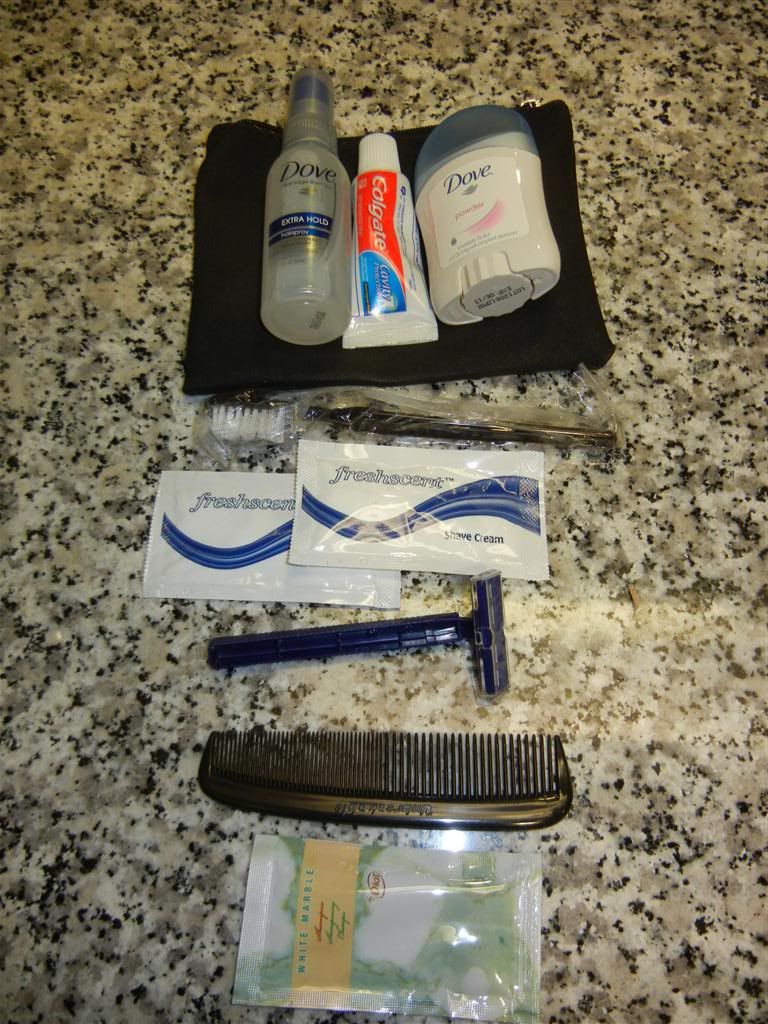 United shower kit.
I had some more time to kill so I decided to do some plane spotting. While most of the flights are United, I always enjoy the different birds that come into Houston's terminal D including the daily passenger Atlas Air 747 flights over to Africa. One nice change is you can finally get a good view of the Singapore 777-300s to Singapore via Moscow. This was the former Lufthansa gate but with the A380 gate now open, they have shifted their operations to D11 and D12.
Singapore 777 service to Moscow.
KLM to Amsterdam.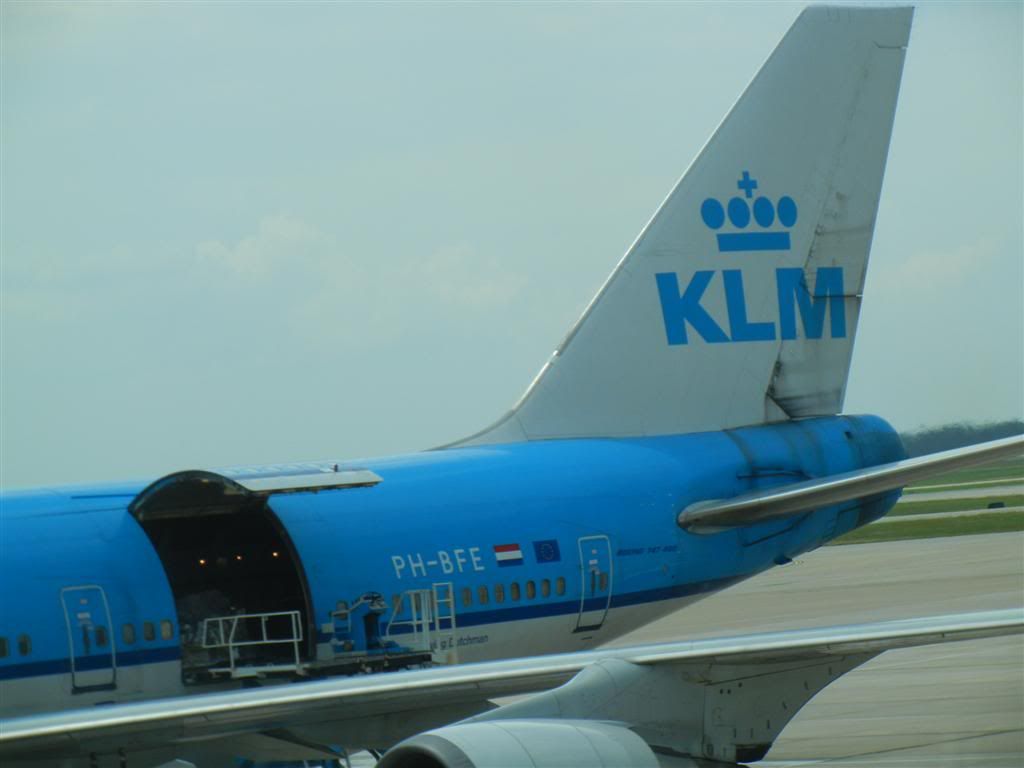 The KLM 747 is the combi version.
British Airways service to LHR.
Due to the new jetway location for Lufthansa, I couldn't get a clear image of my bird except for the tail.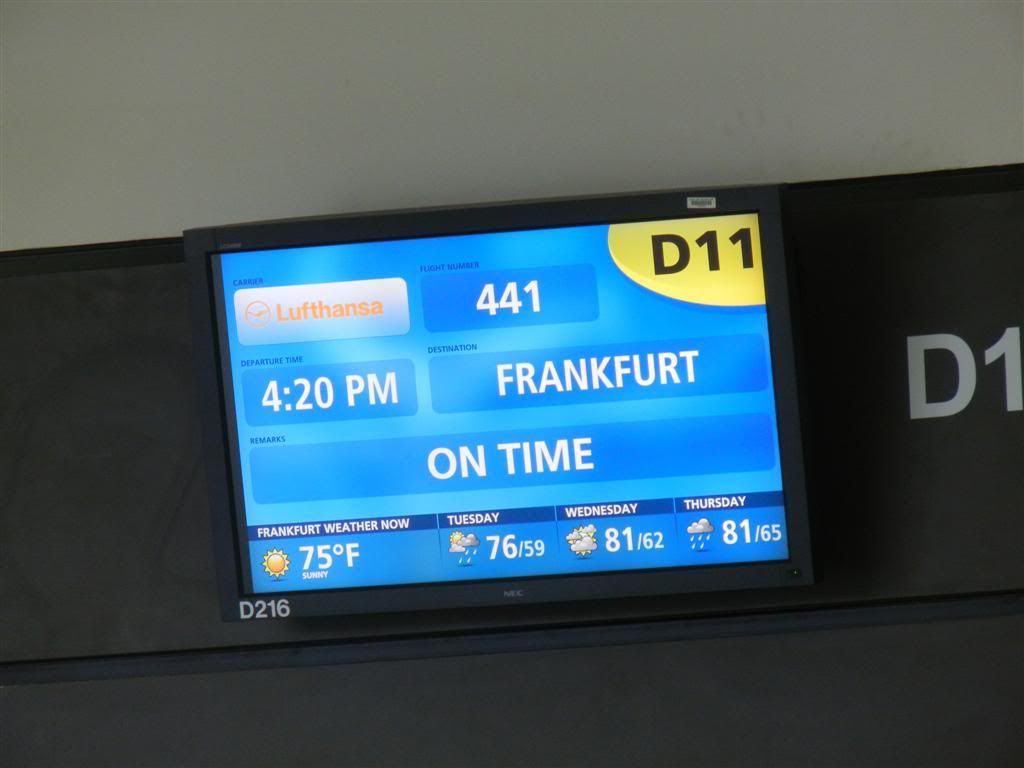 Boarding gate sign. My flight was on-time!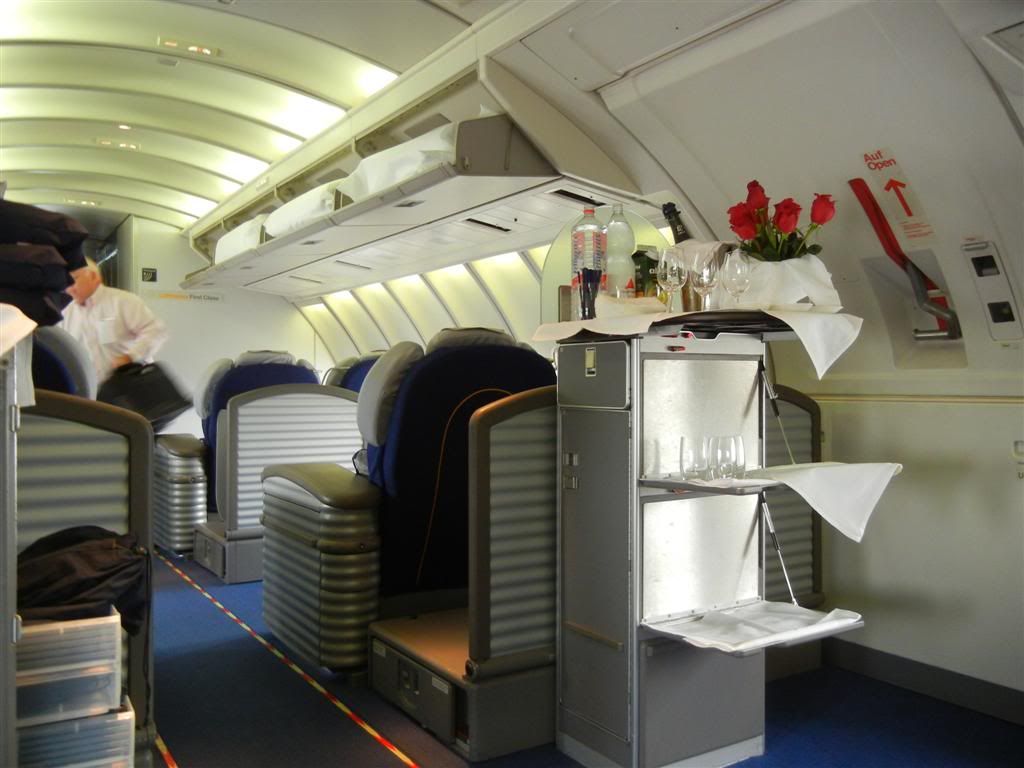 Onboard the aircraft on the upper deck.
Another view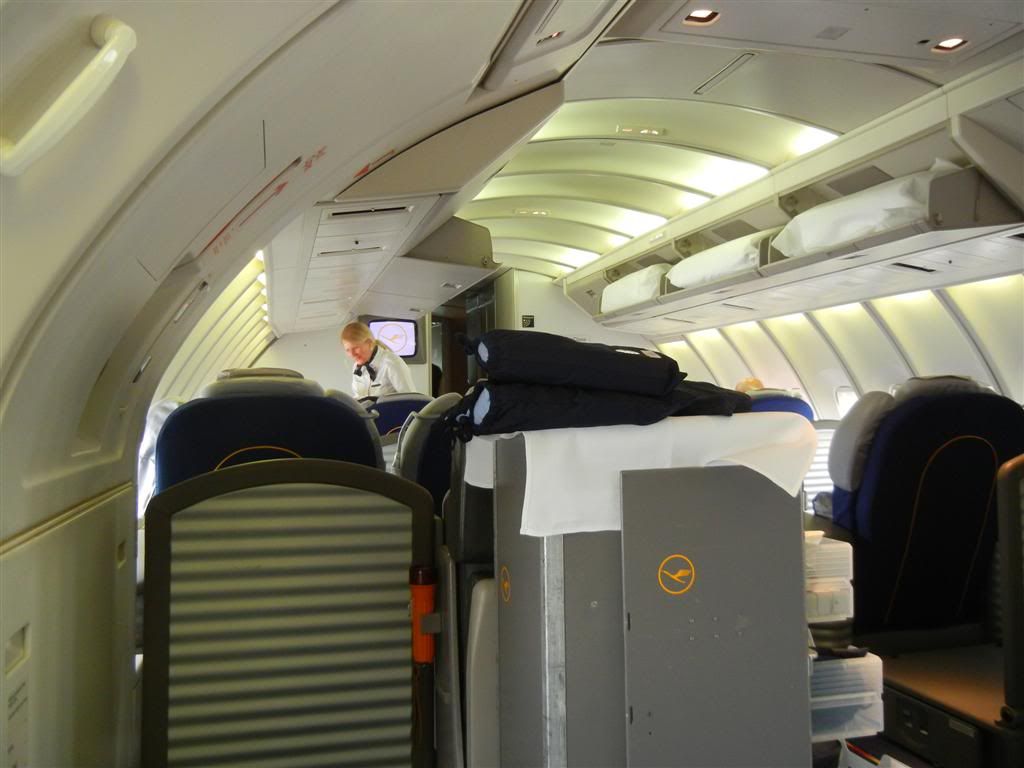 Looking forward
Back towards the galley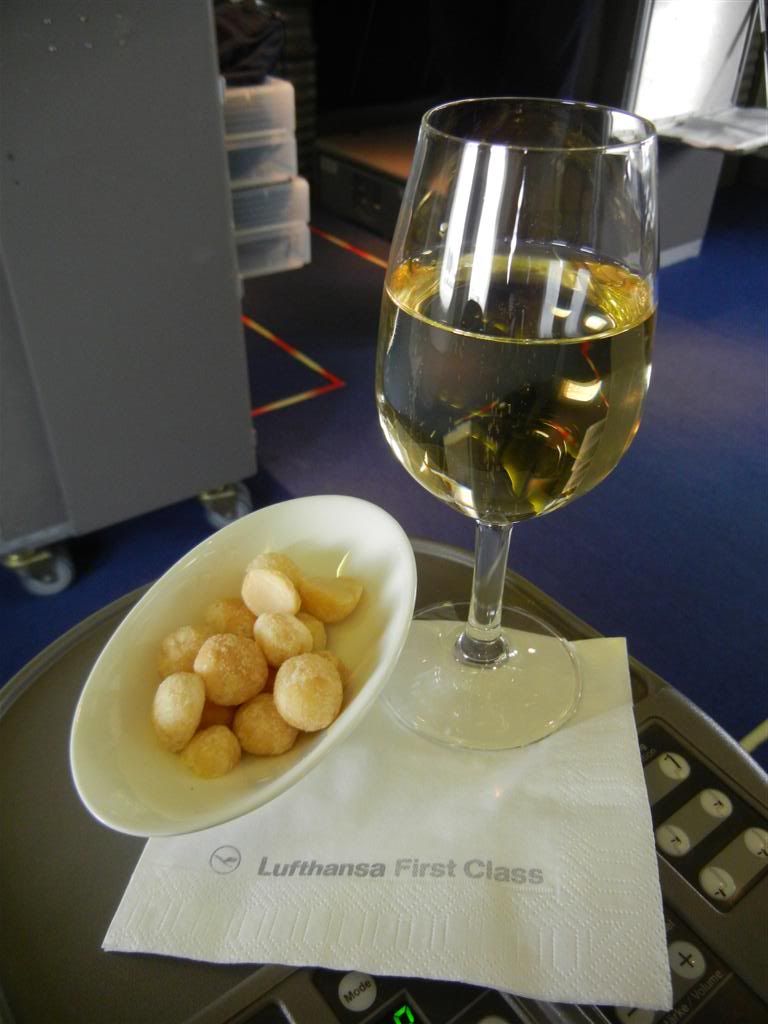 Pre-departure glass of Champagne and mac nuts
They handed out PJs for First passengers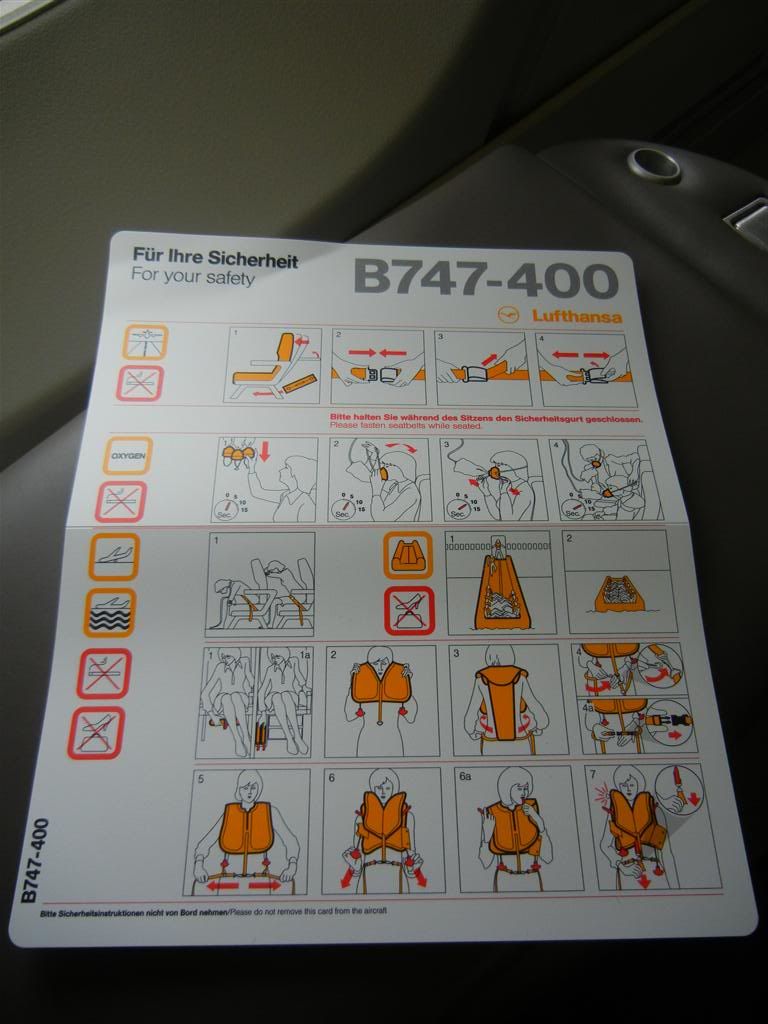 B747-400 safety card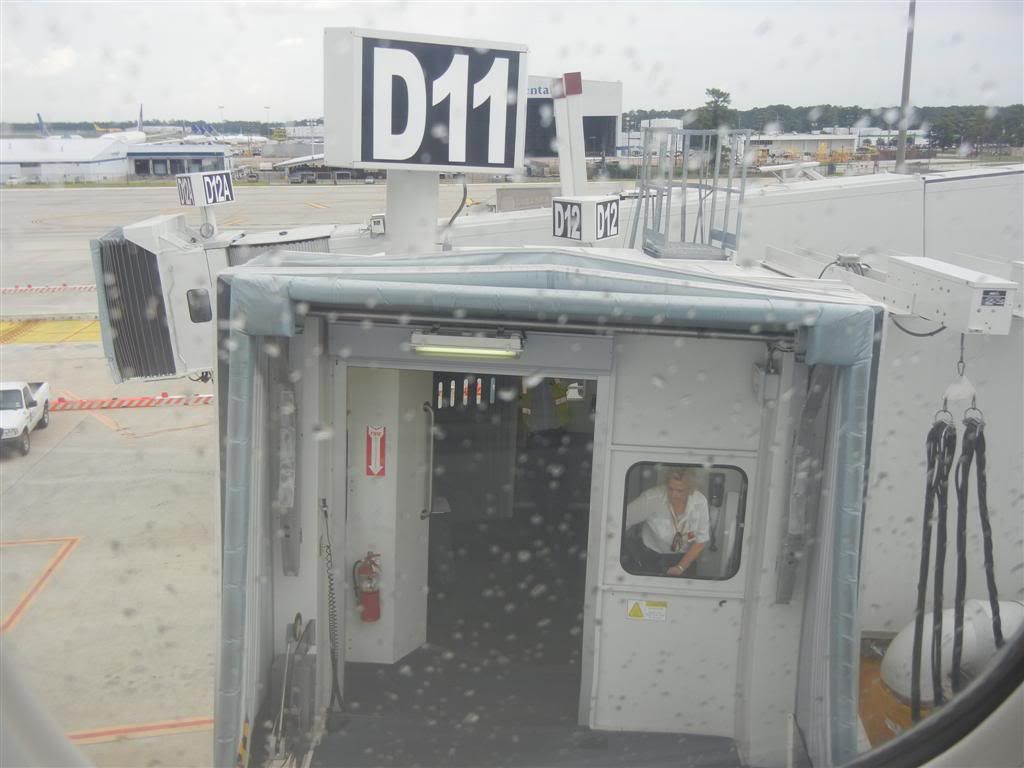 This woman was doin' WORK. She enforced boarding policies like a champ. Tough woman!!
View from my window.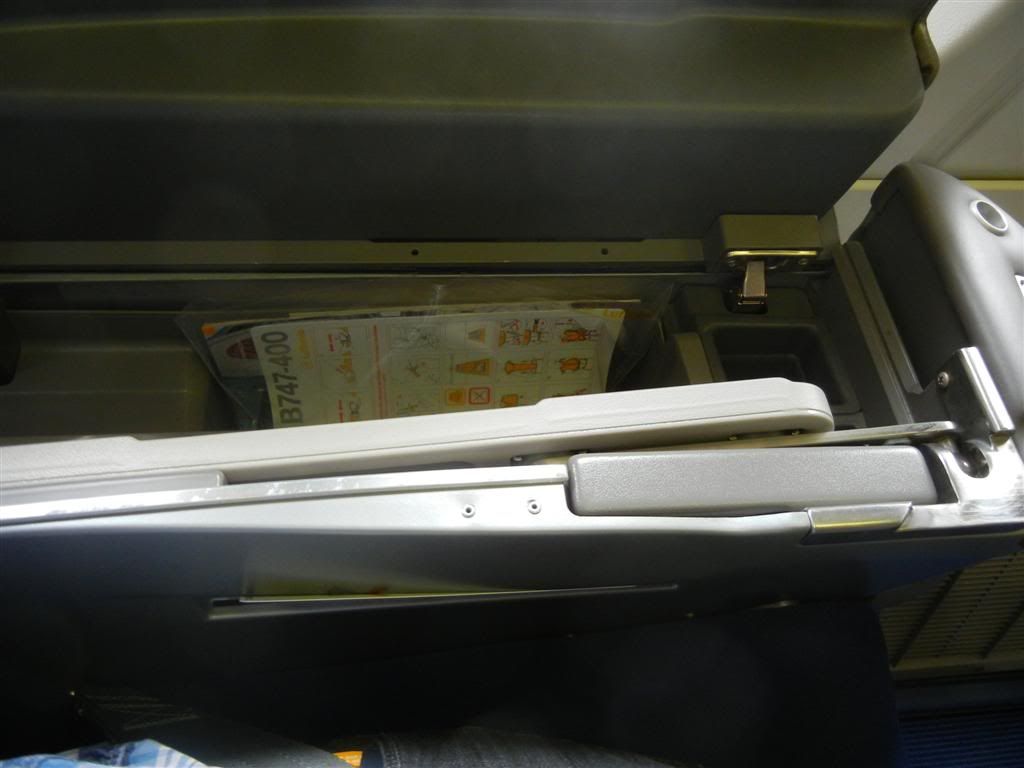 Seat storage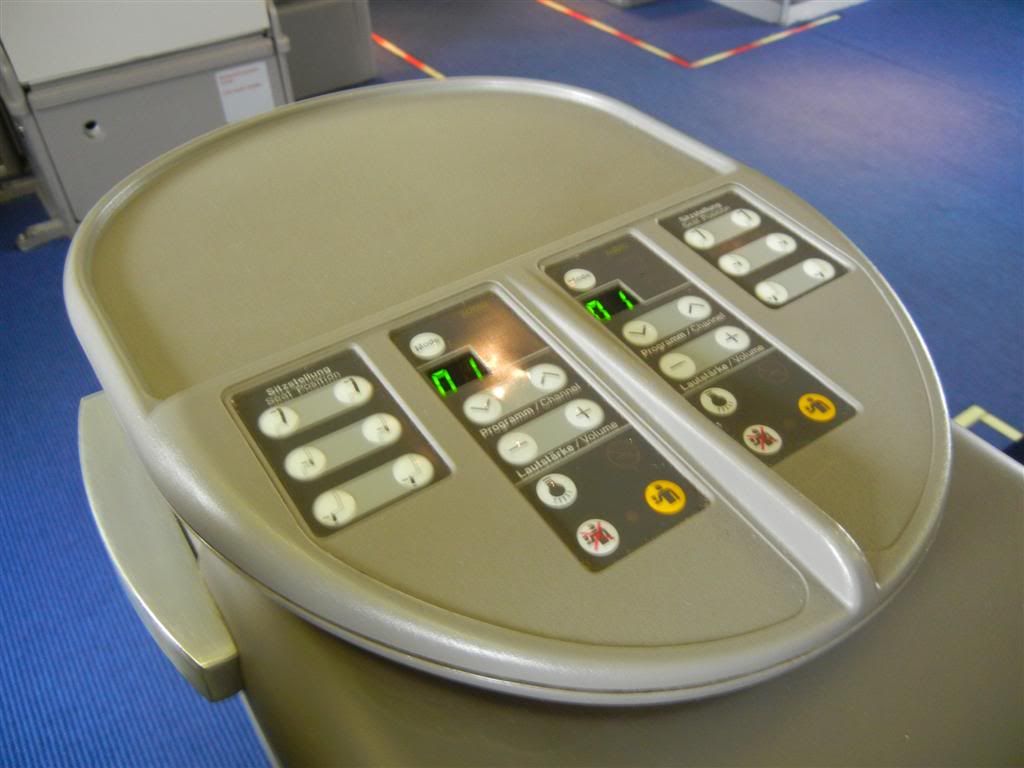 Old seat controls
The Perser came around the cabin and greeted us by name, introduced himself, asked us what we were doing in our final destination and had was very proactive with maintaining a conversation which was nice. He said if you want to do anything special or require anything special to please let him know anytime. He handed us menus with our names on them which I thought was a very nice personalized touch.
Dinner Menu outside
Very high quality menus with nice descriptions about the Chef and the different options.
Another menu shot
Menu again
One more menu
The aircraft door was closed on-time and we had a very short taxi to the runway. Since I was sitting across from the flight attendant we had a talk about Houston as a layover destination (she enjoyed the hotel so liked to just relax overnight) and she would soon lose this route when the A380 takes over but was not sad to see it go. Interestingly enough, I talked to the Person on the A380 leg who was not overly excited to have IAH added to her layover cities! Once we passed 10,000 feet they started to prepare the cabin for dinner service and set up the beverage action station in the middle of the upper deck cabin.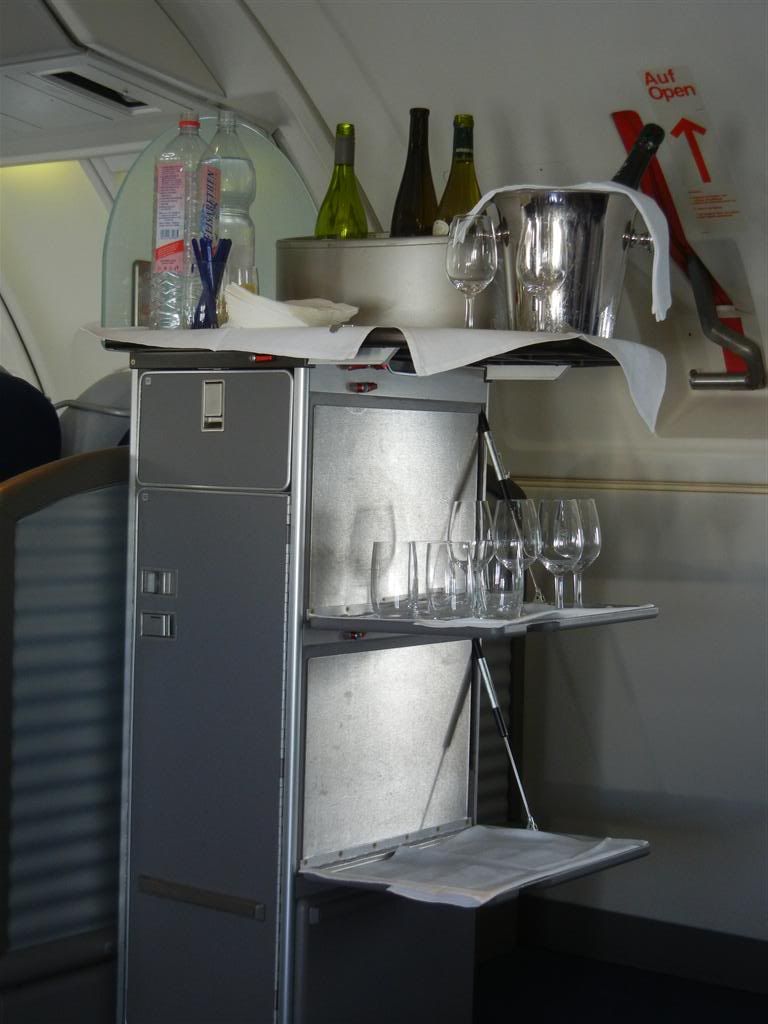 Beverage action station
This was the only real downside of the old first class product. The IFE was a joke. It was AVOD but the screen was very small and I didn't even finish my first movie.
Working our way across the states
Just under 9 hours left when dinner started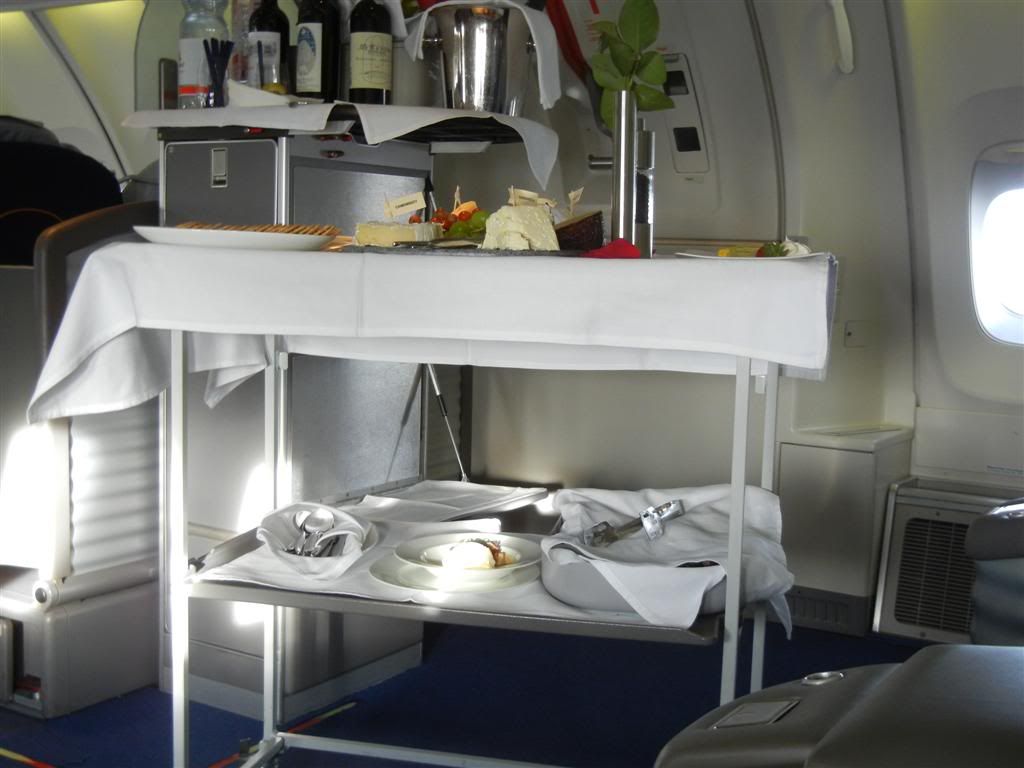 Tray
Legroom
Dinner service was started.
The flight attendant suggested I try their German wine onboard and I thought it was rather good and I'm not a big fan of white wine.
About the wine.
Next they handed out hot towels on a lovely plate with a rose pedal. You will notice in my pictures that Lufthansa loves roses and they were everywhere. The towel was large, boiling hot and had a nice scent added.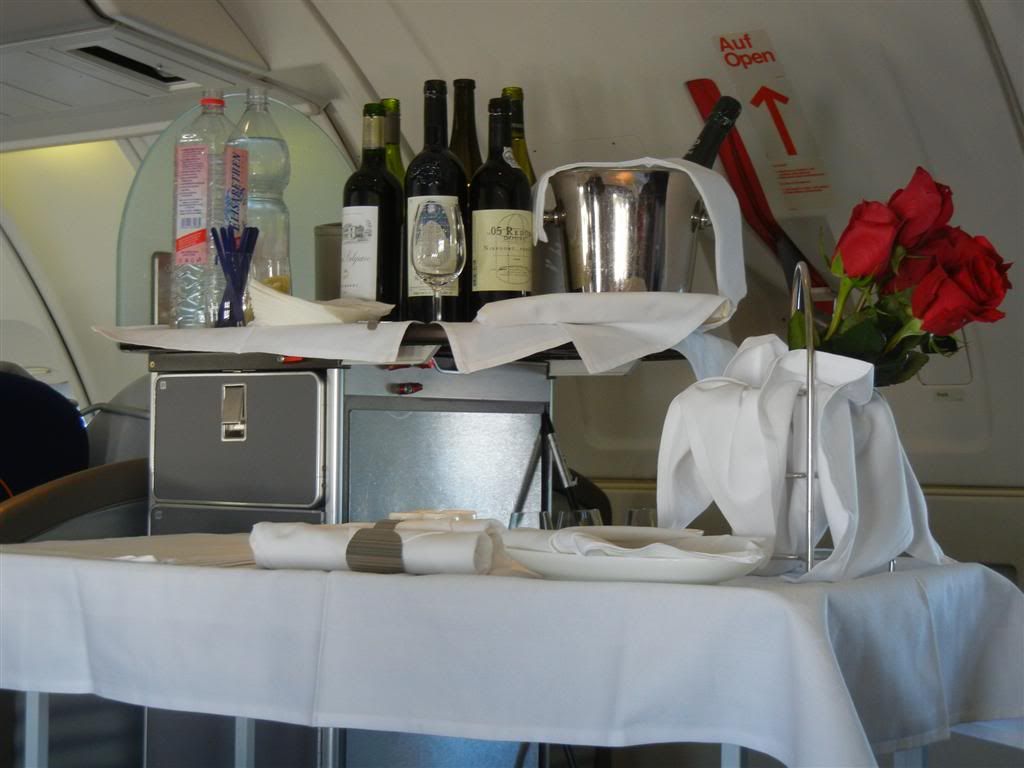 Beverage action station again
More roses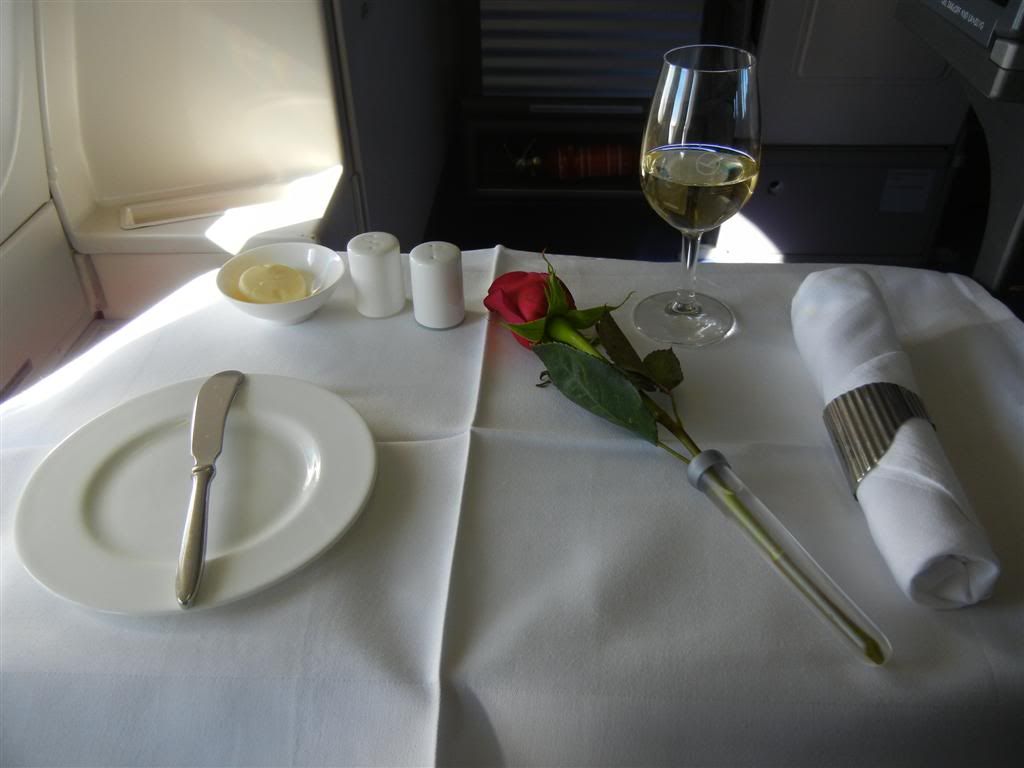 Table set-up with my rose.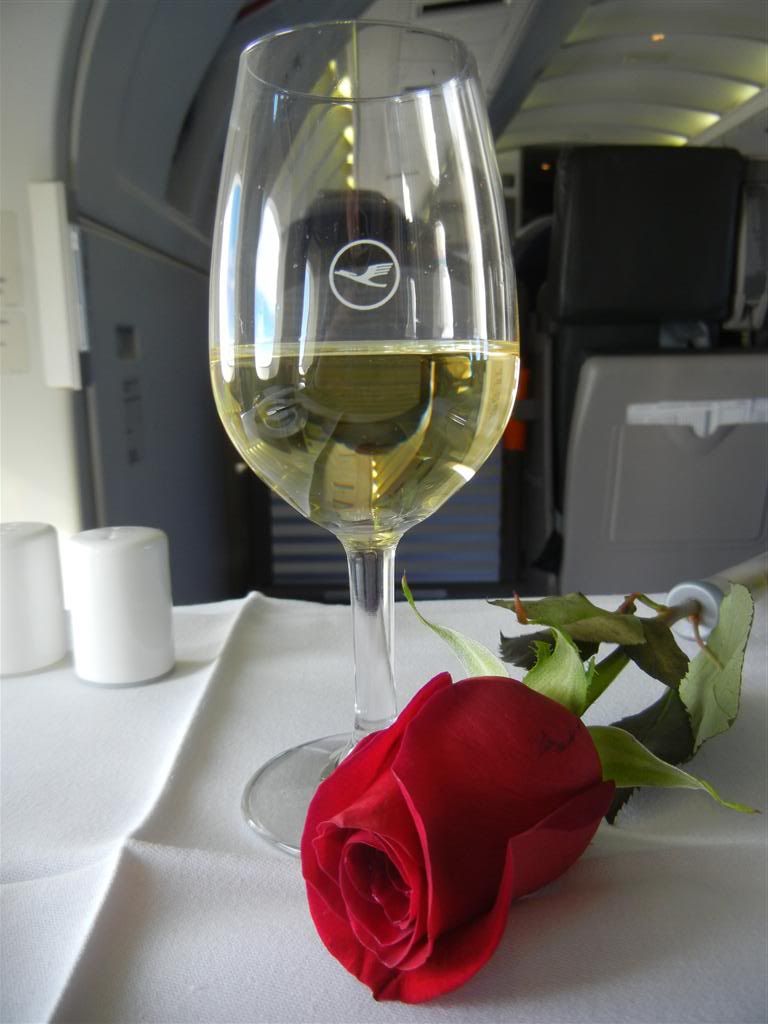 I think it's a nice little touch.
My "flying partner" for the flight.
View
The flight attendant came around with a selection of hot breads and I picked the garlic bread and toast for the caviar.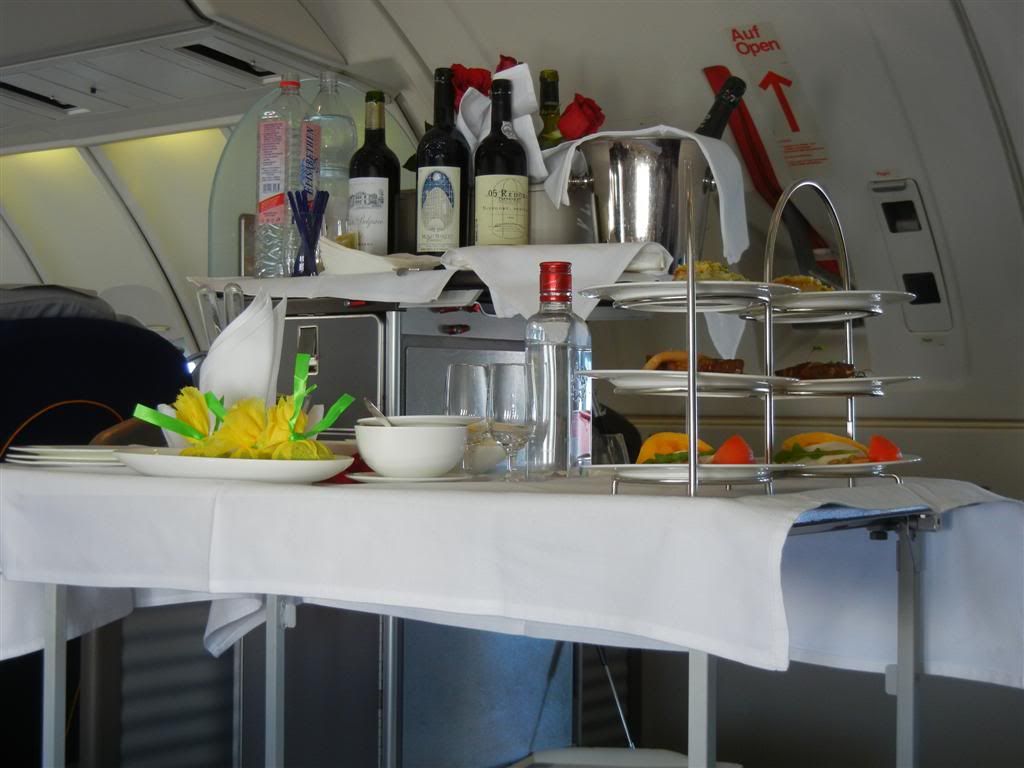 Appetizers and caviar trolley.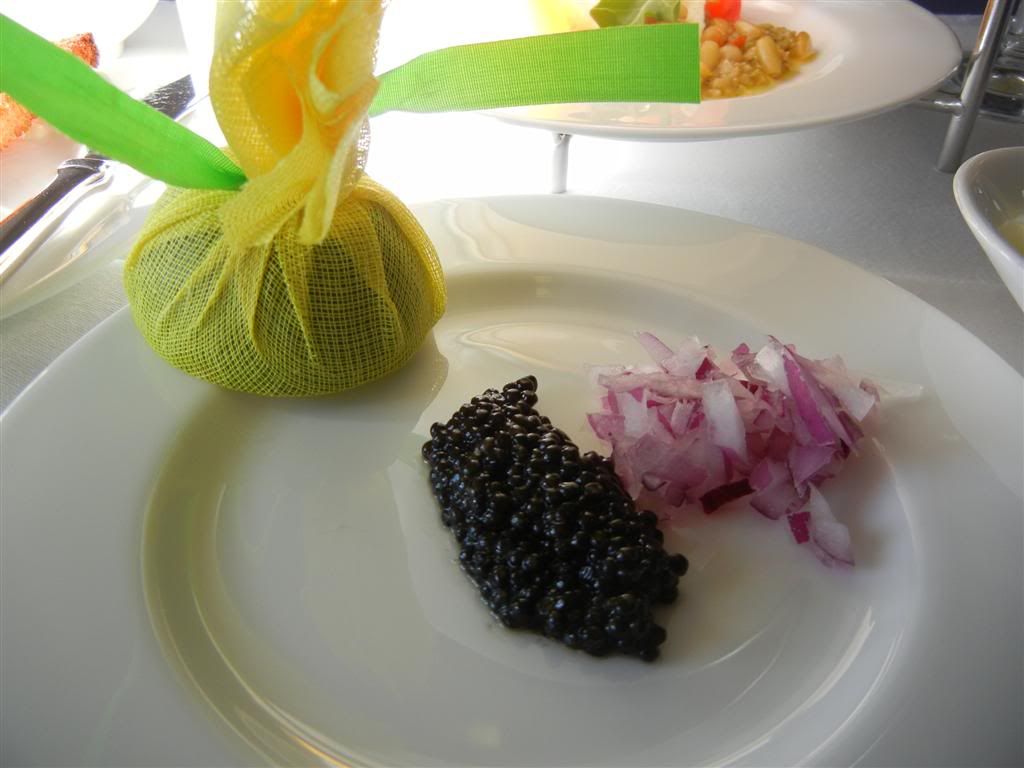 Caviar set-up
Appetizers set-up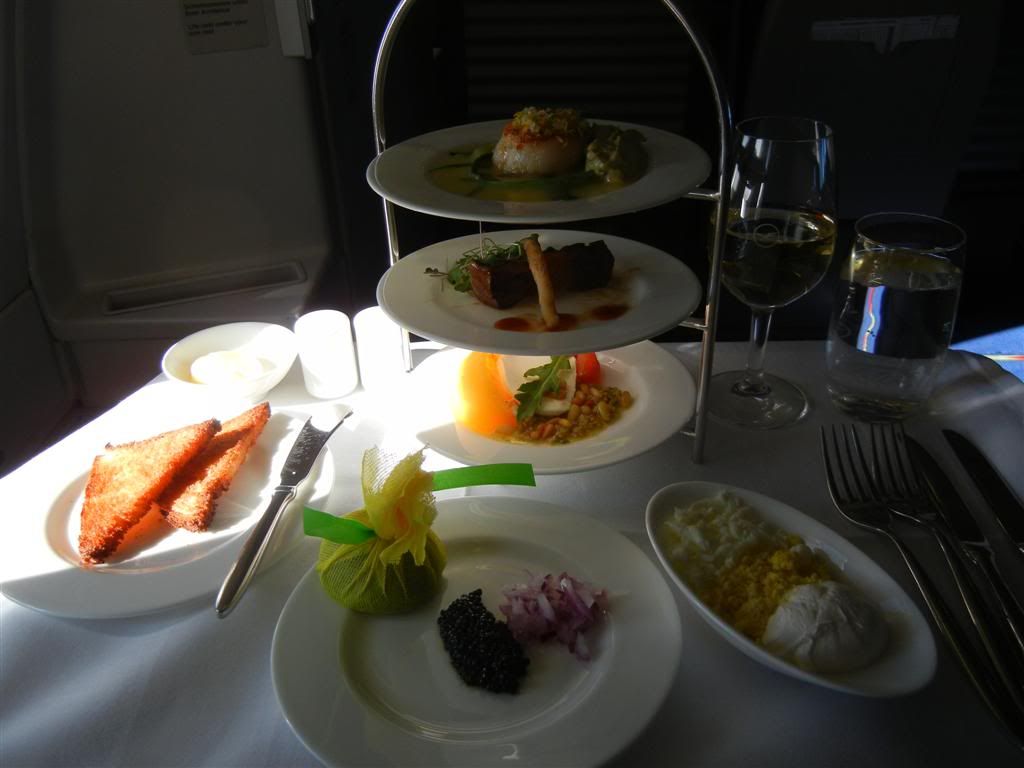 Tray table with the complete set-up
Another view
I like my caviar dressed so you can't taste the caviar.
Appetizer 1
Appetizer 2
Salad with a delicious sun dried tomato vinaigrette.
I decided to go with the pork dish. By far the best entrée I have ever had on any of my flights. The meat was cooked perfectly, the berry and citrus sauce was delicious.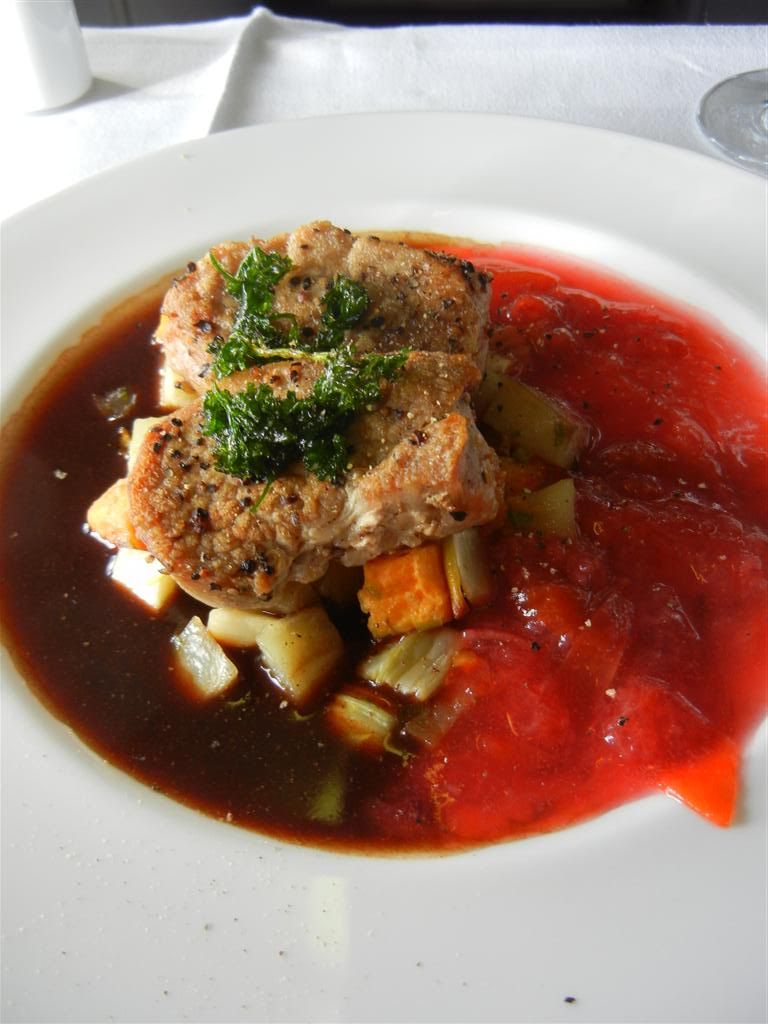 Another view
Location on the map
After dinner the cheese cart came around.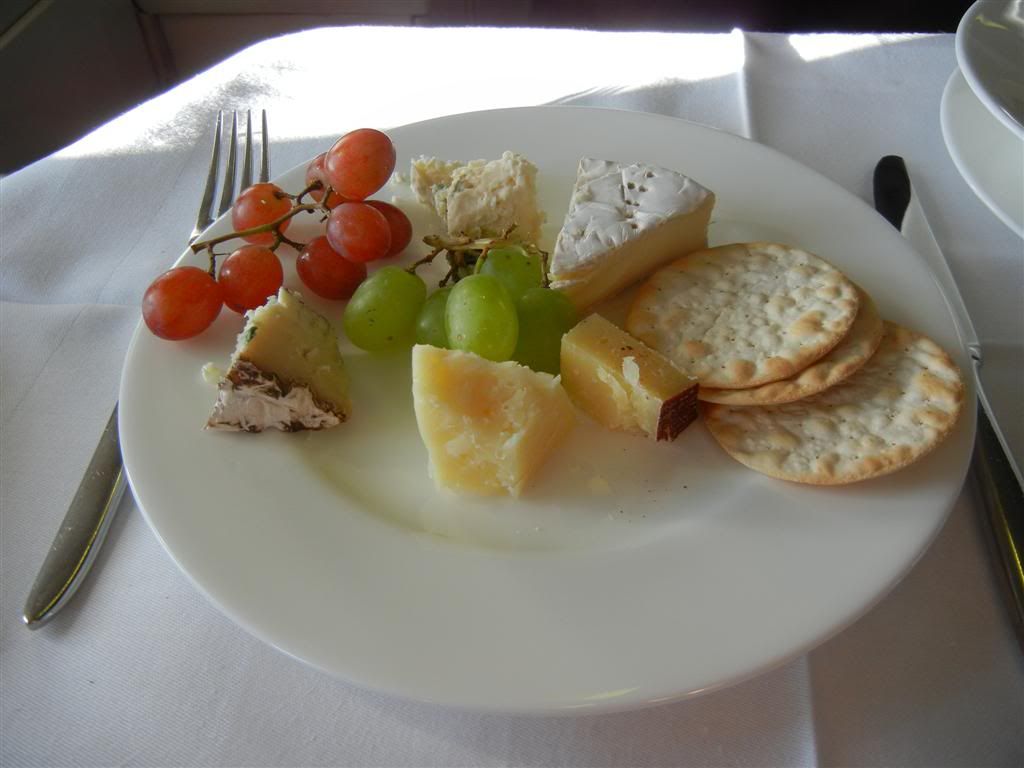 Selection of cheeses.
Banana bread pudding with ice cream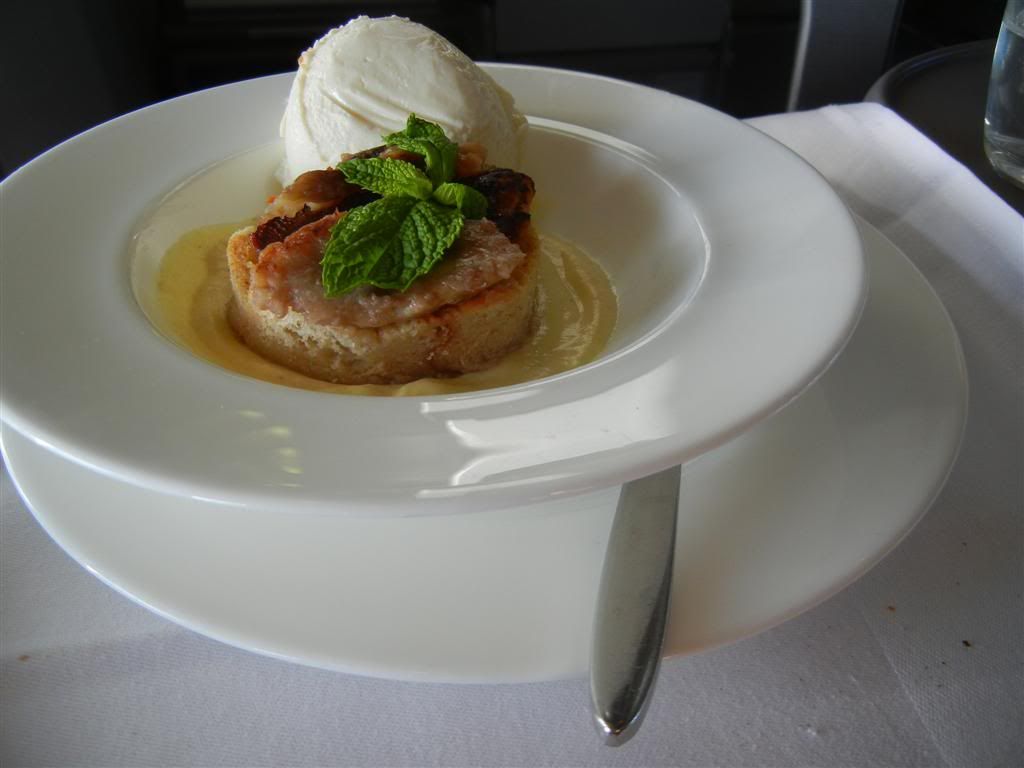 Another view
Even though I was so stuffed the food just kept coming! Chocolates were passed around.
To wash everything down I had tea, this was their set-up.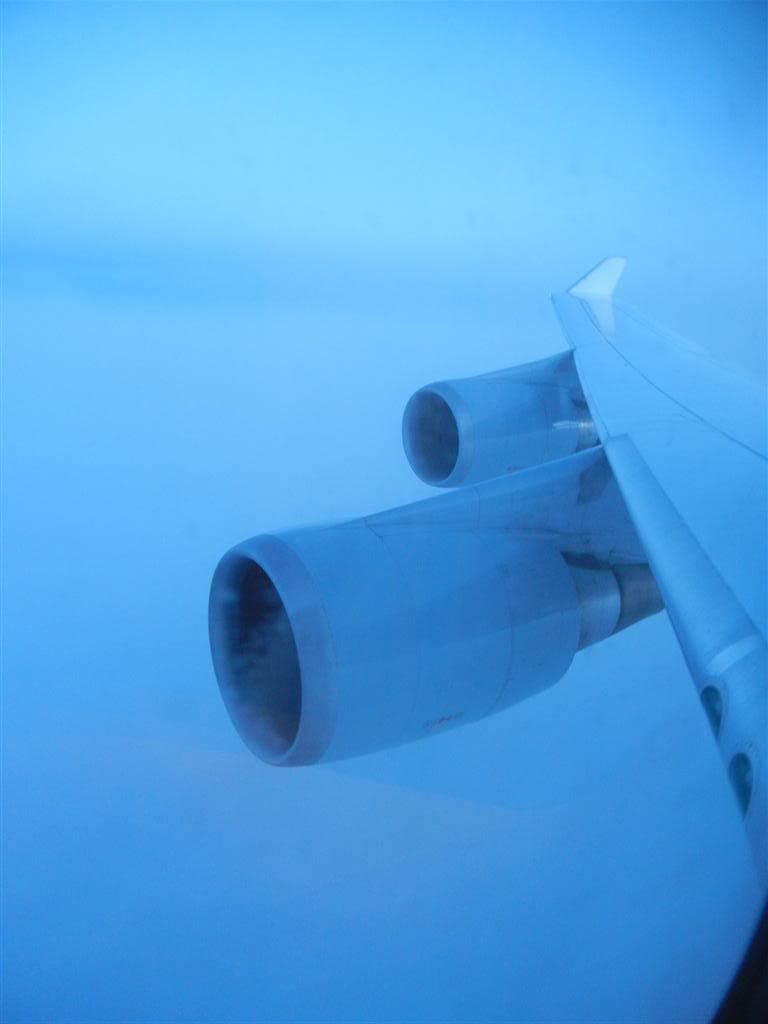 I decided to walk around the aircraft and look at the different classes. Sorry for the photos that were not very clear as I didn't want to do any flash photos.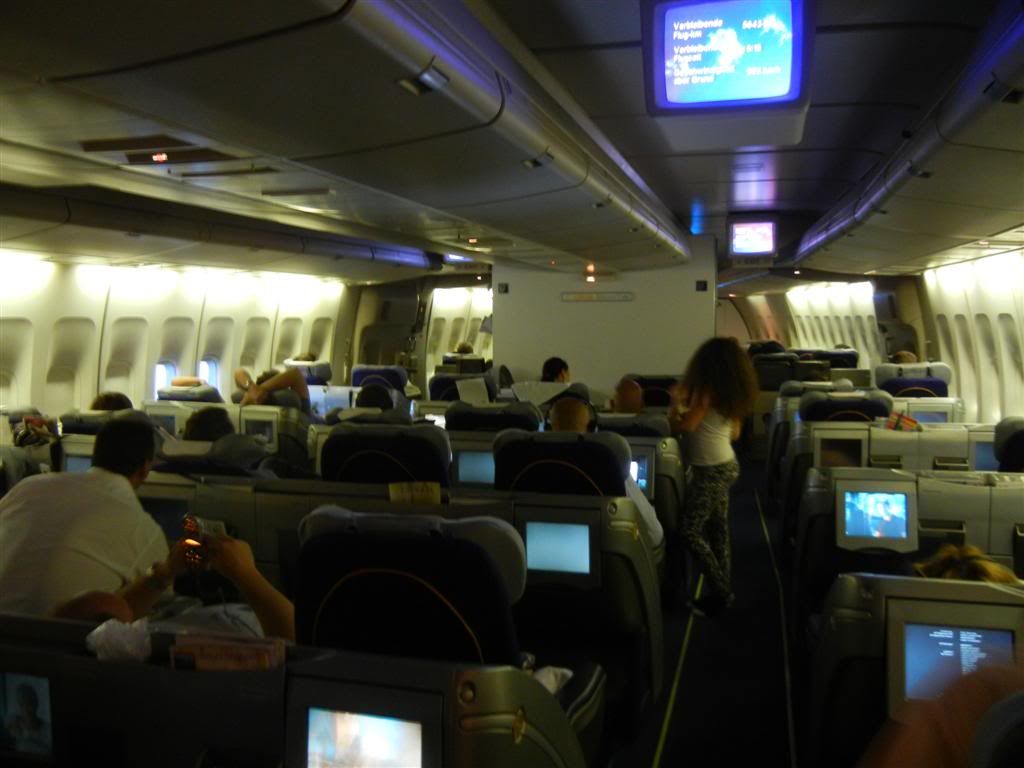 Business class with someone working the aisle?
Coach!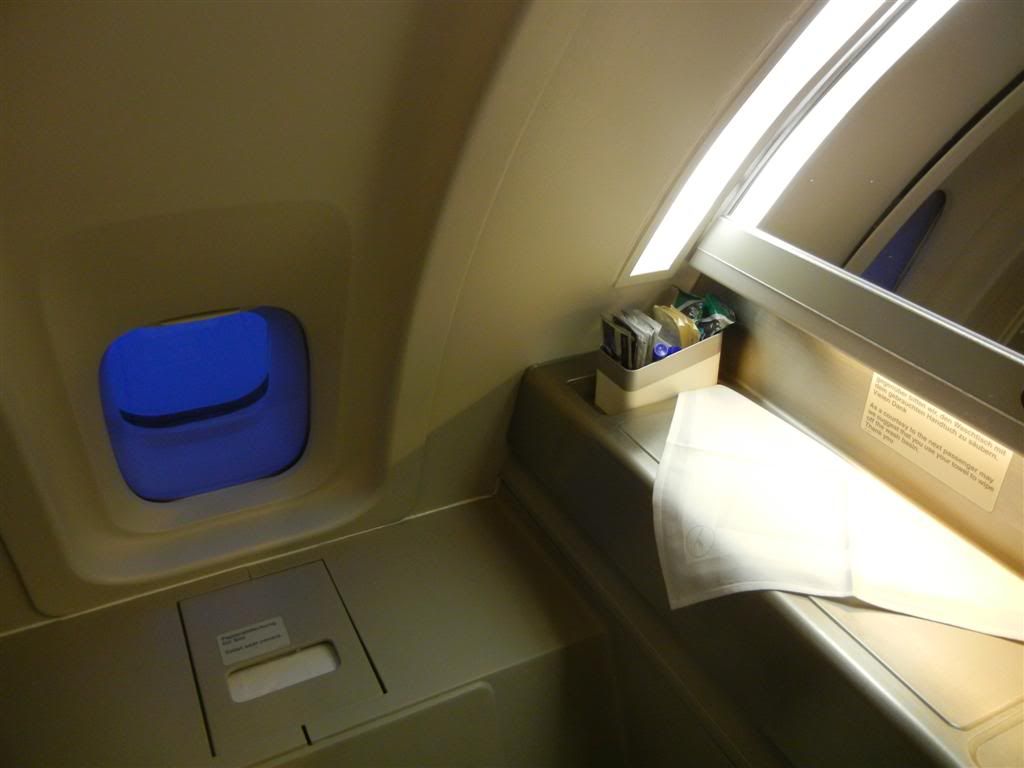 First class lav with a nice view.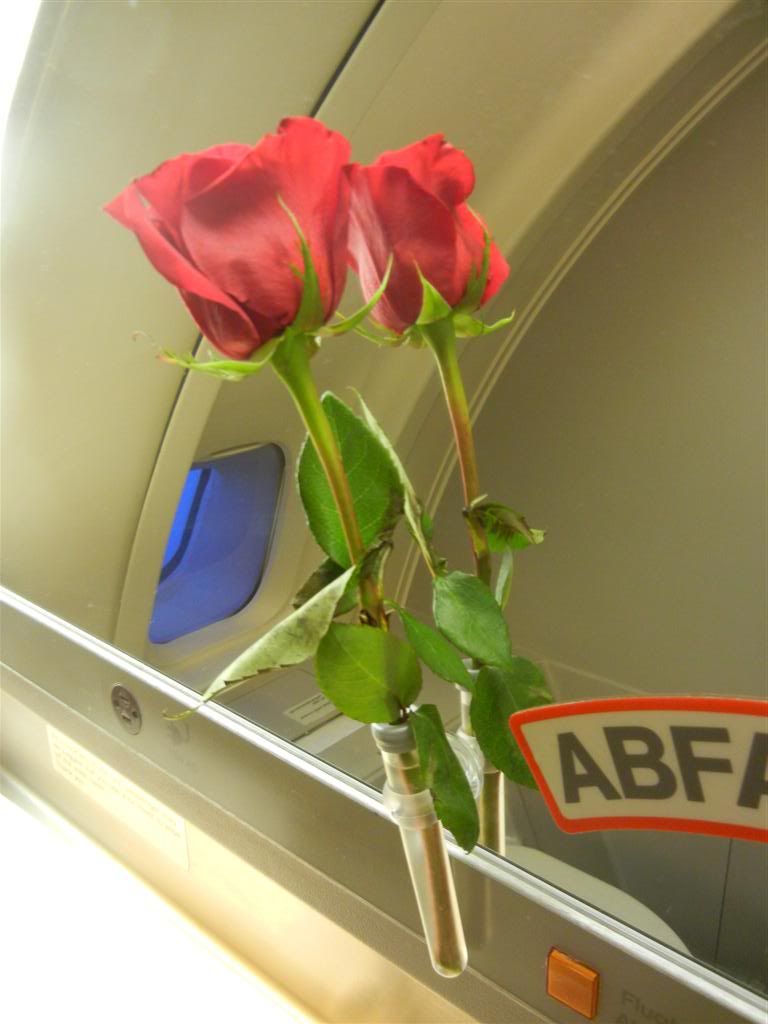 Another rose
While I went to the restroom to change into my pajamas the flight attendant came and turned my second seat into a nice flat bed. I got around 4 hours of sleep on this leg.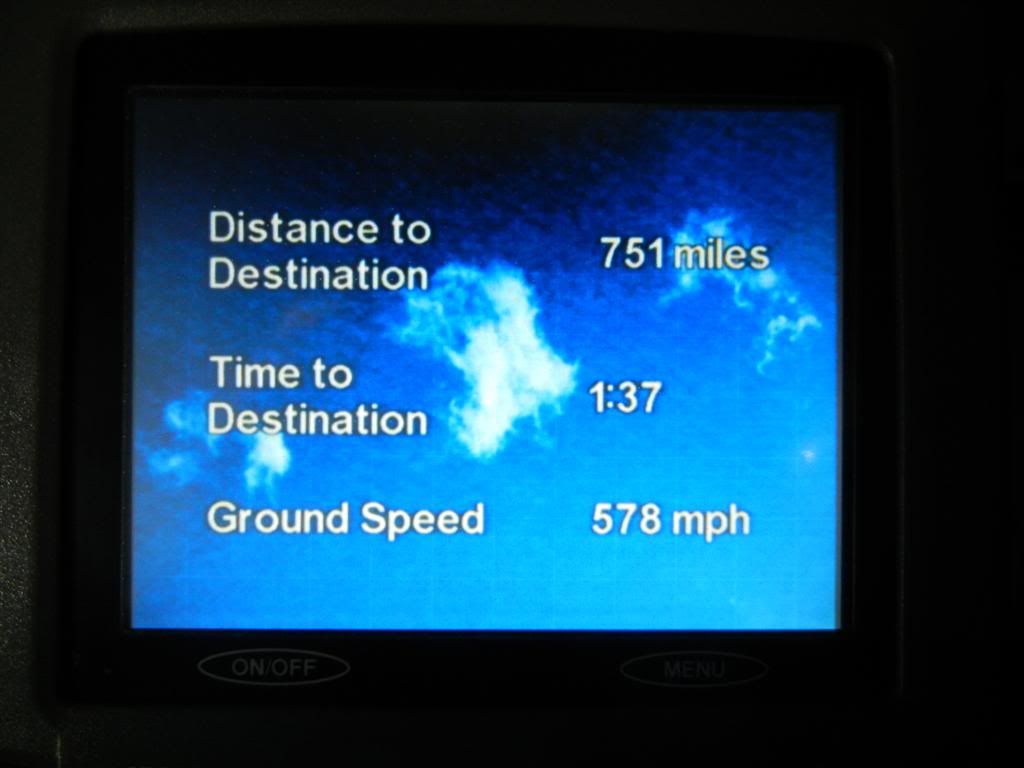 Getting closer
Breakfast service was started with another hot towel, fresh orange juice and menus provided.
Breakfast set-up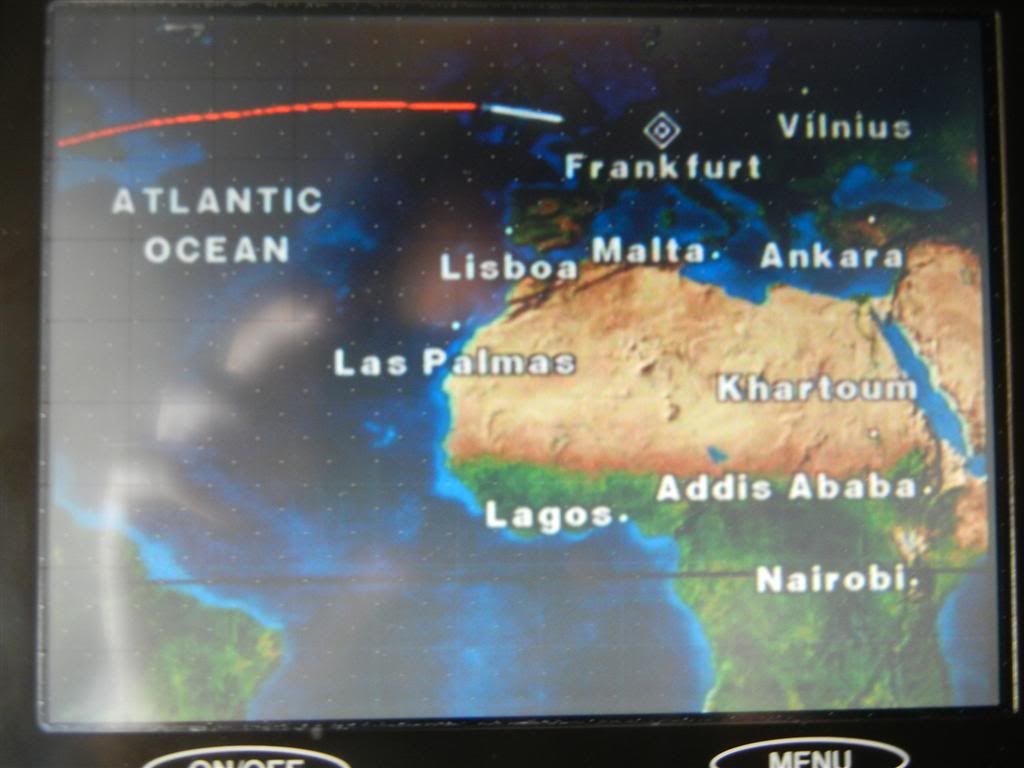 Our location during breakfast.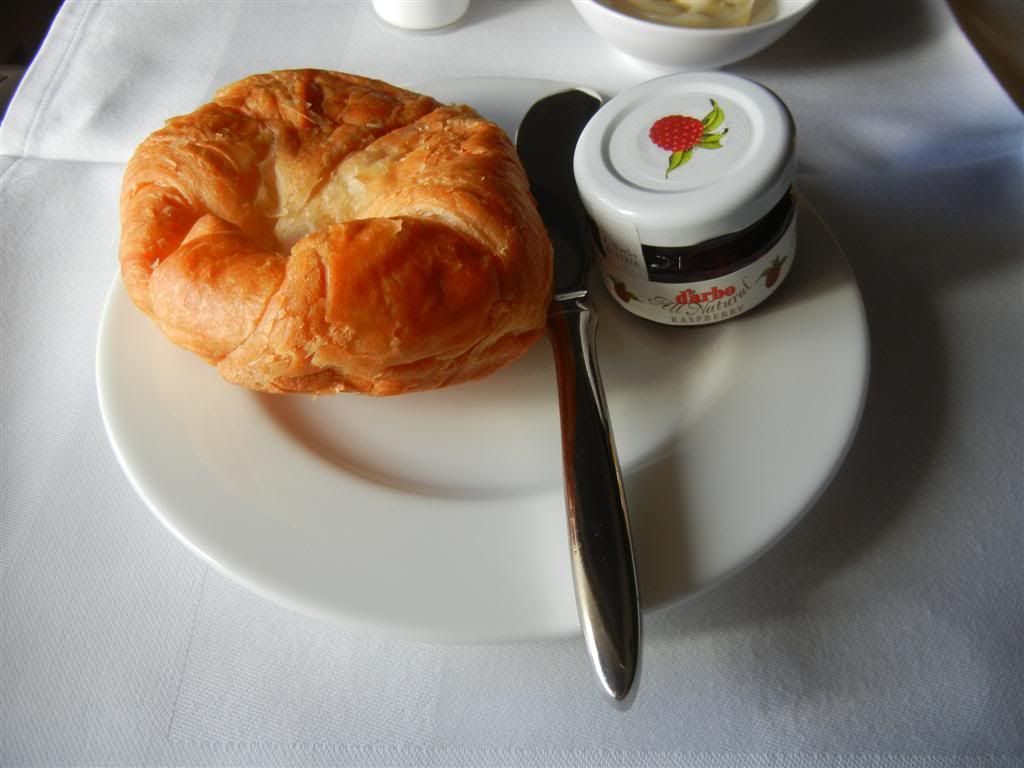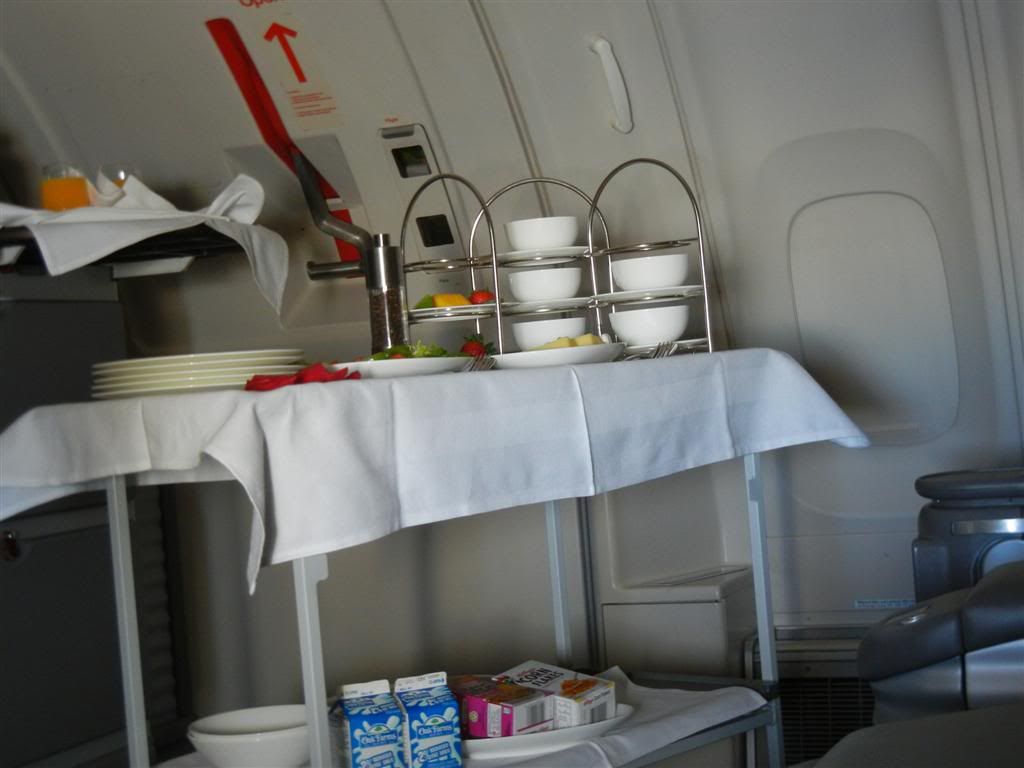 Trolly set-up with fresh fruits, cereal etc
Fresh fruit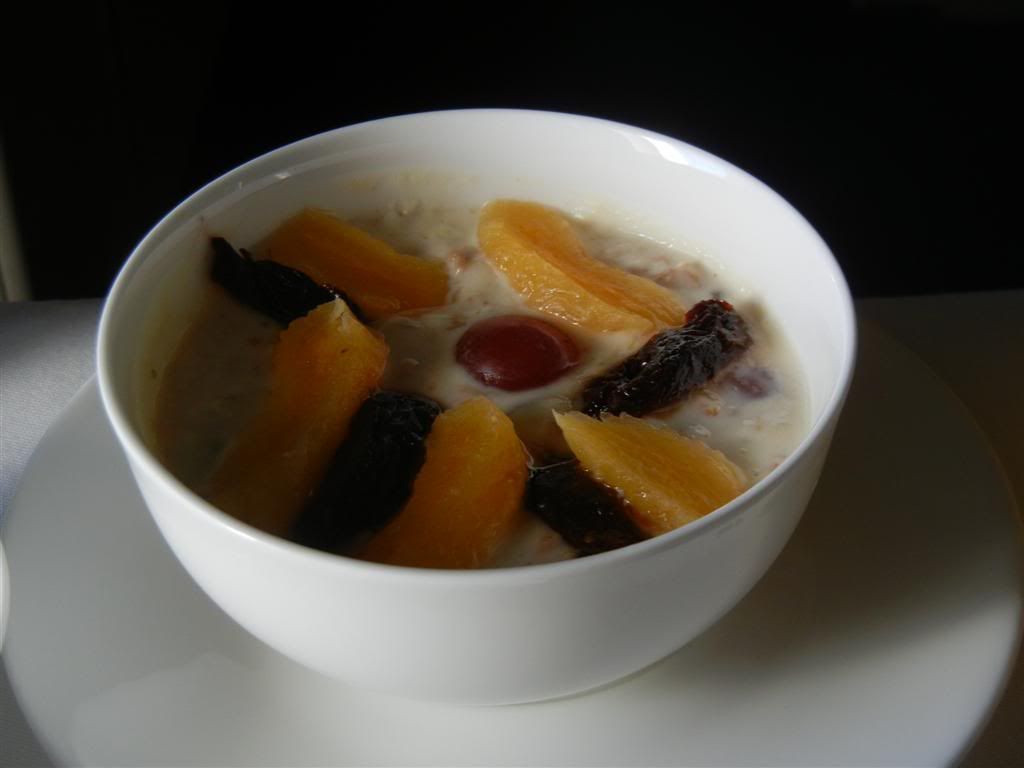 Yogurt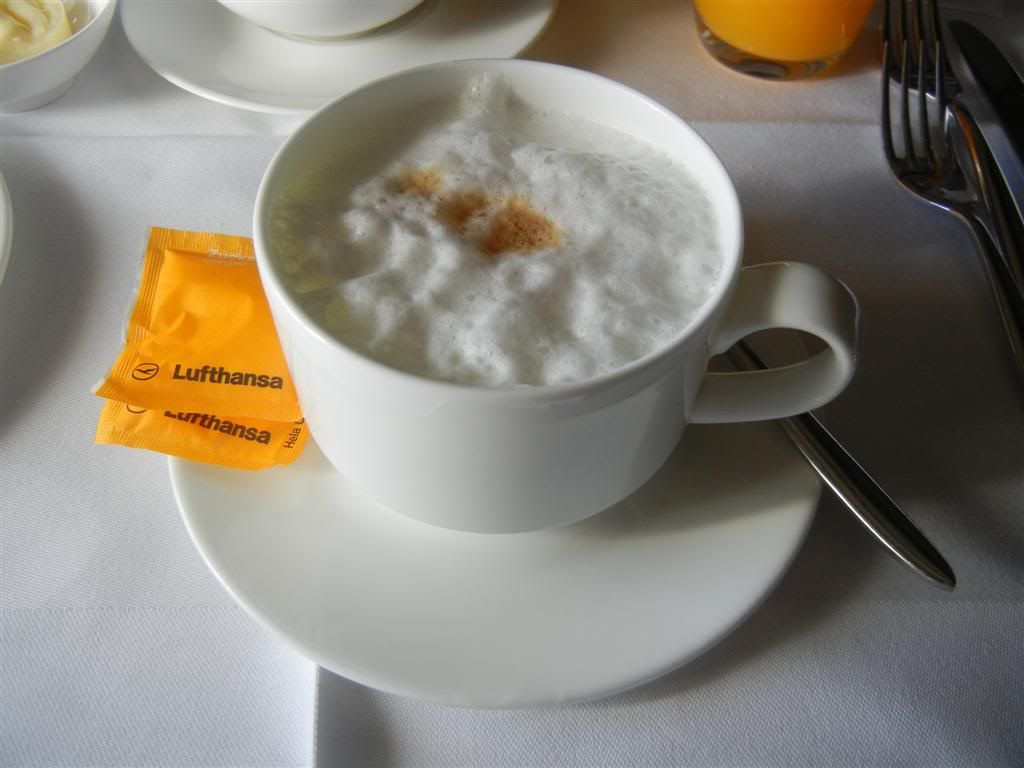 Cappuccino while the flight attendant made my eggs and bacon to order.
Eggs and bacon.
Empty upper deck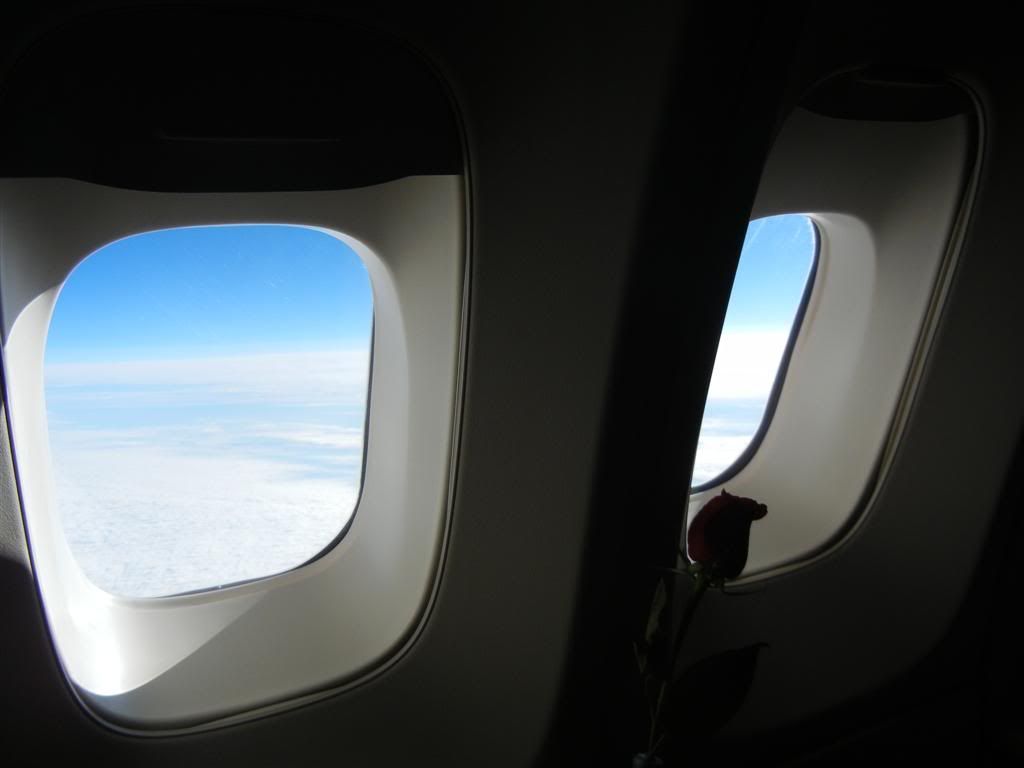 Always a beautiful day to fly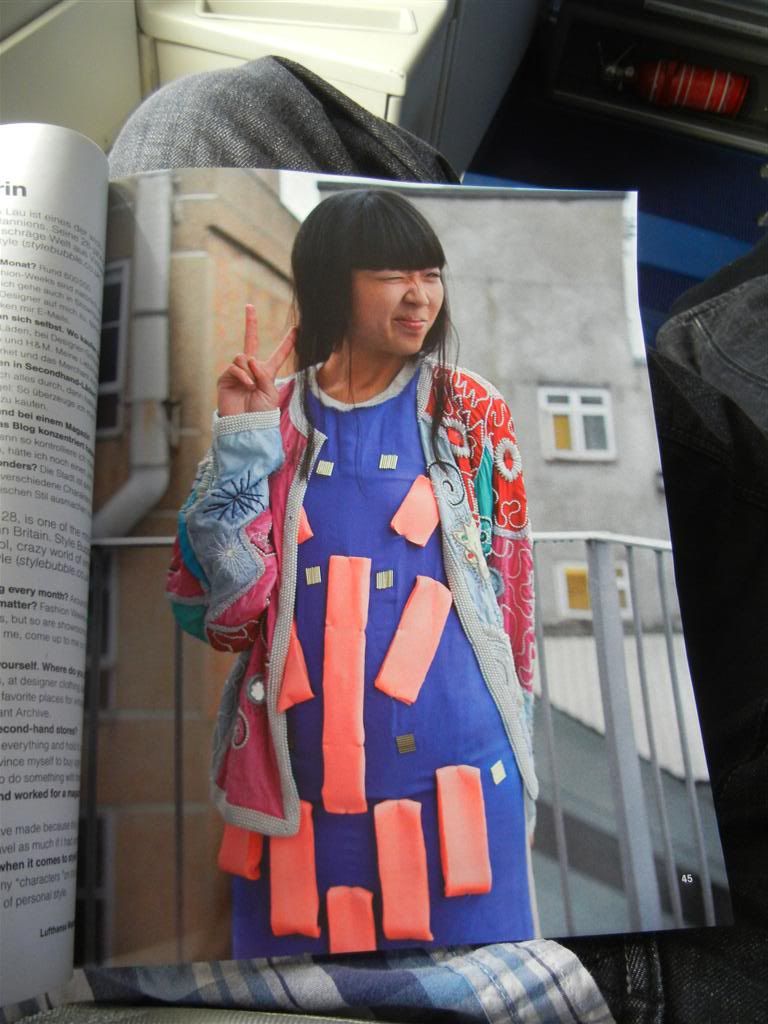 A pad dress?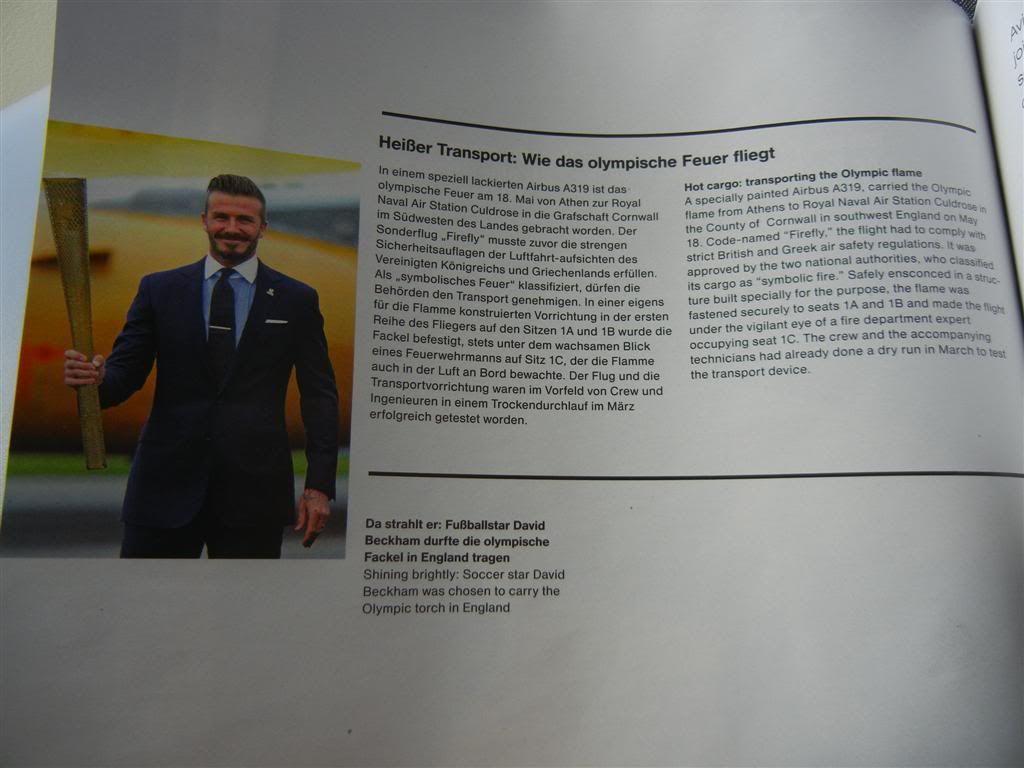 Lufthansa had an article about flying the Olympic torch but left out that it was on British Airways of course!!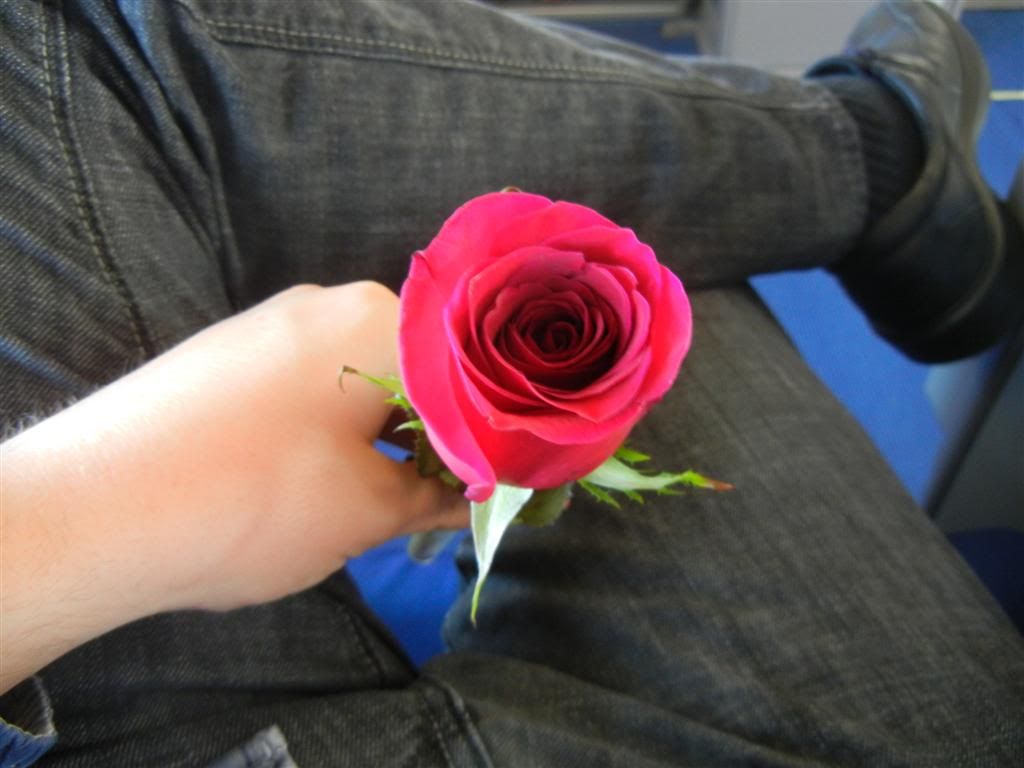 My rose still going strong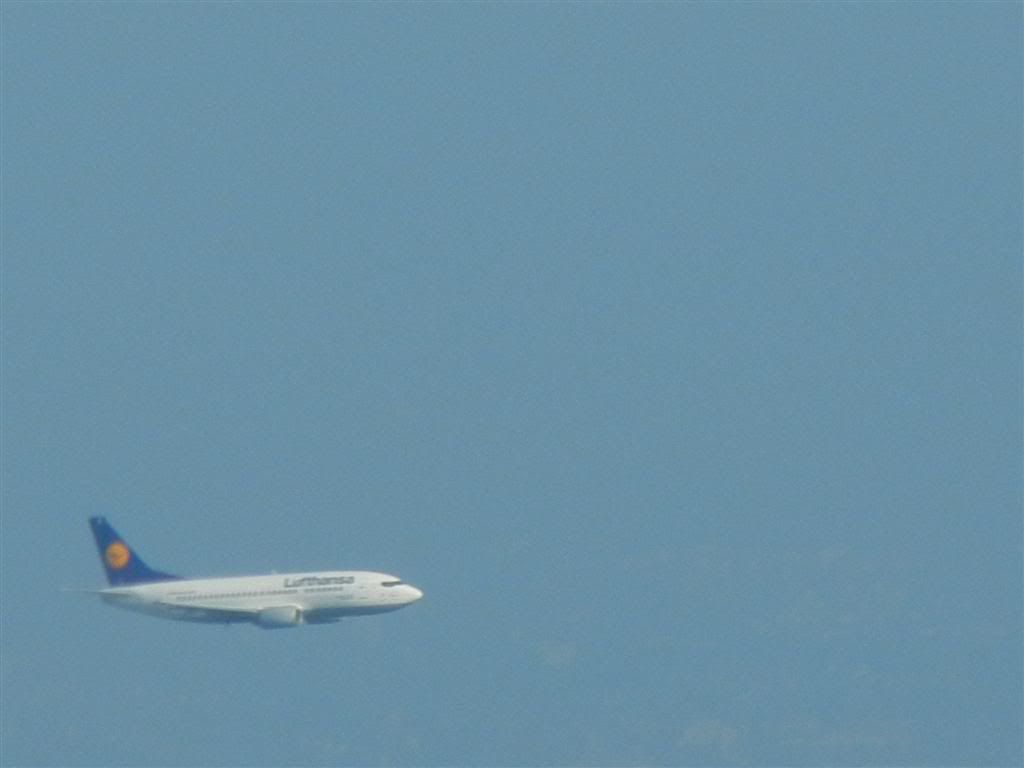 LH 737 guppy!
I had just under five hours to connect in Frankfurt airport and I'm pleased to say my experience with the airport was better this time. The airport always has great views for your enjoyment, especially if you don't mind areas without air conditioning! In this trip report I will show some photos of Lufthansa's Terminal B First Class Lounge.
First Class Lounge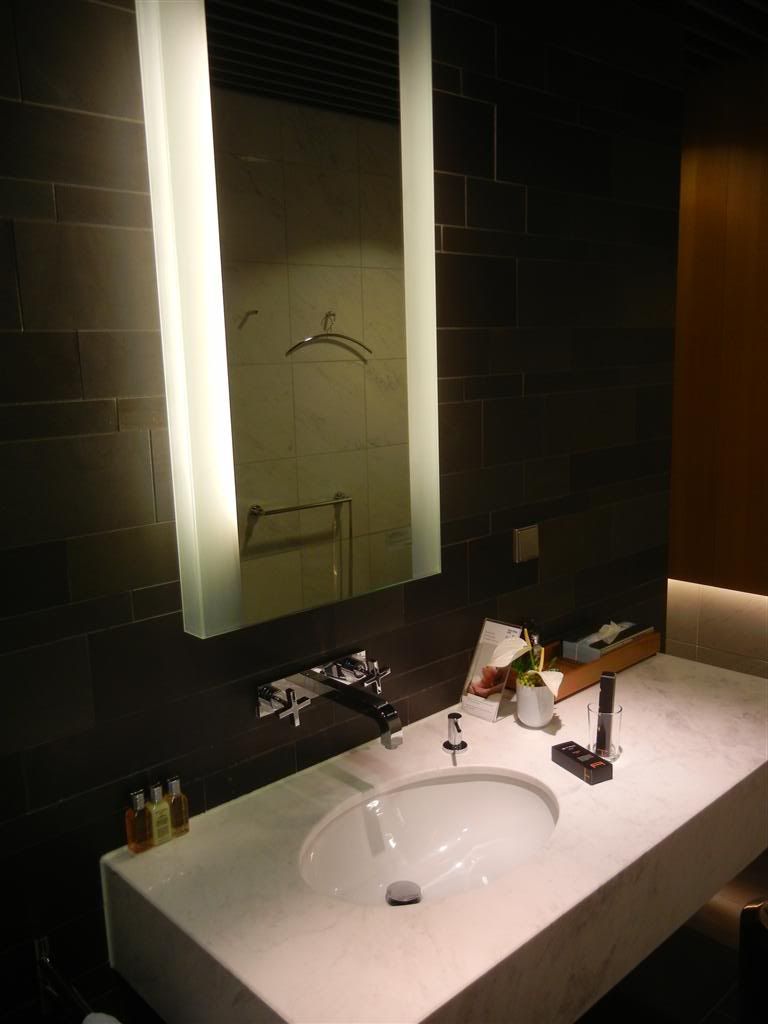 Decided to take a shower.
Enjoyed the rain head
Sink with amenities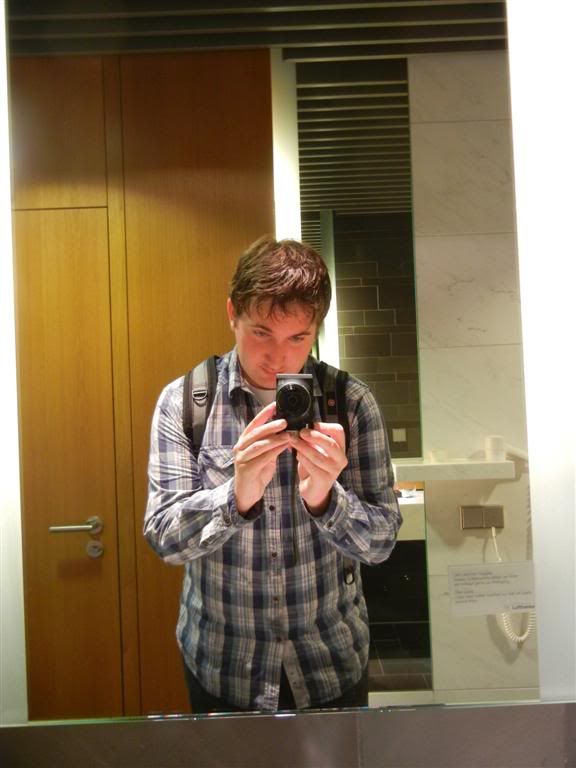 Feeling refreshed!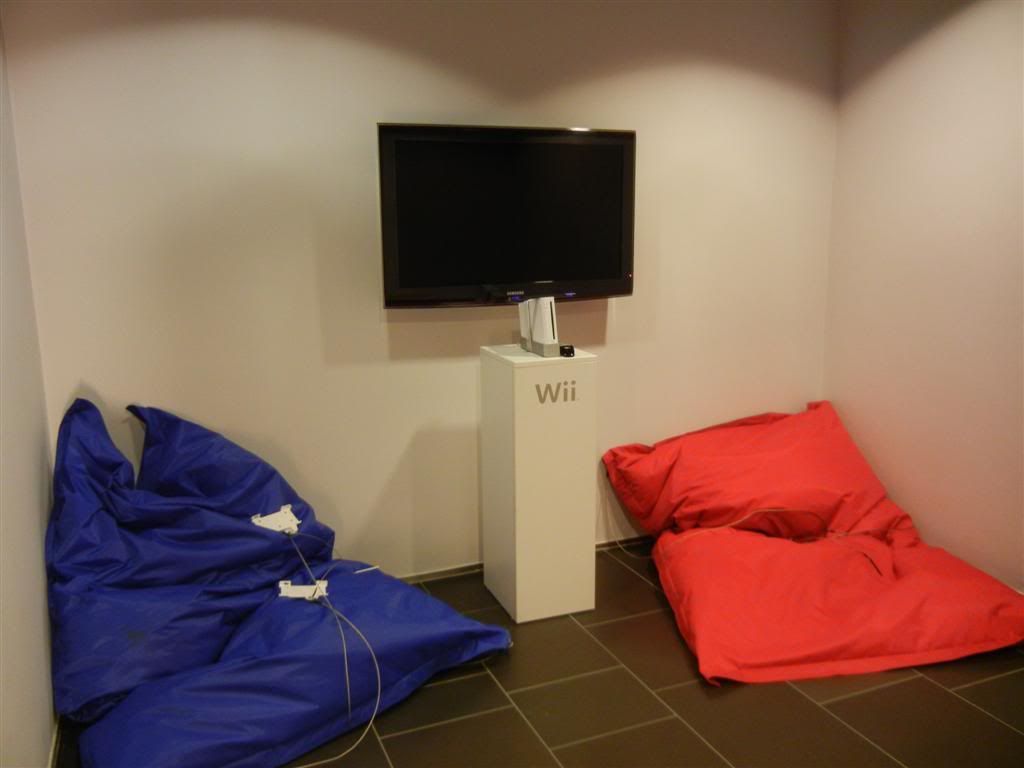 The club had a Wii room.
Private spas.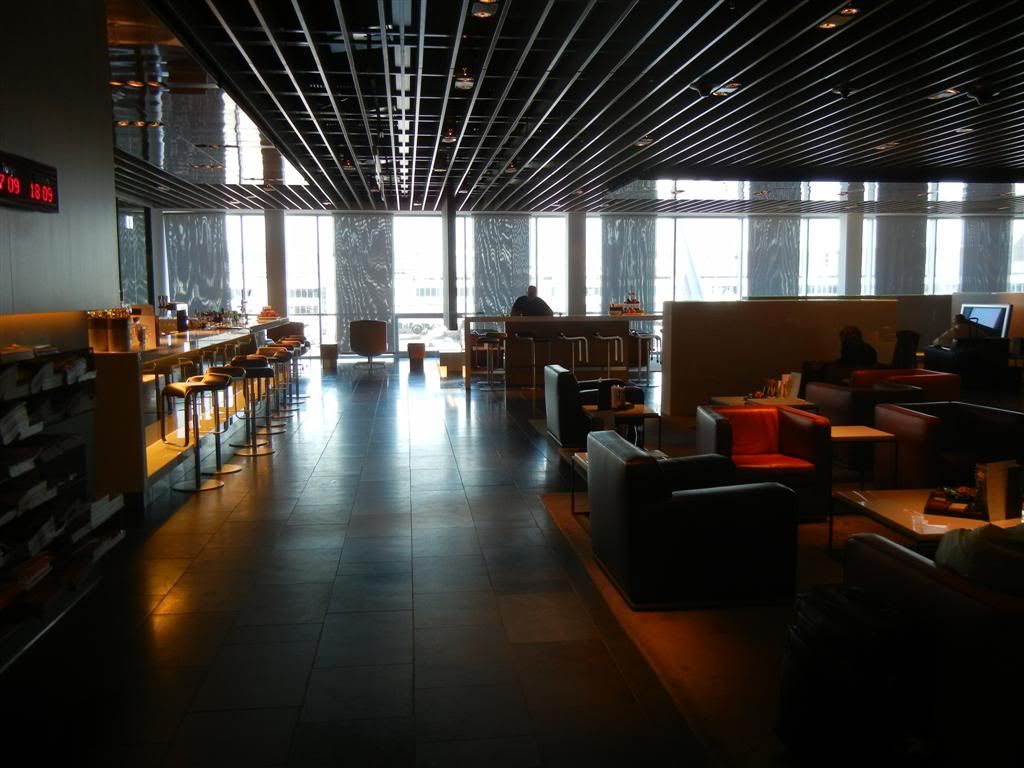 Lounge area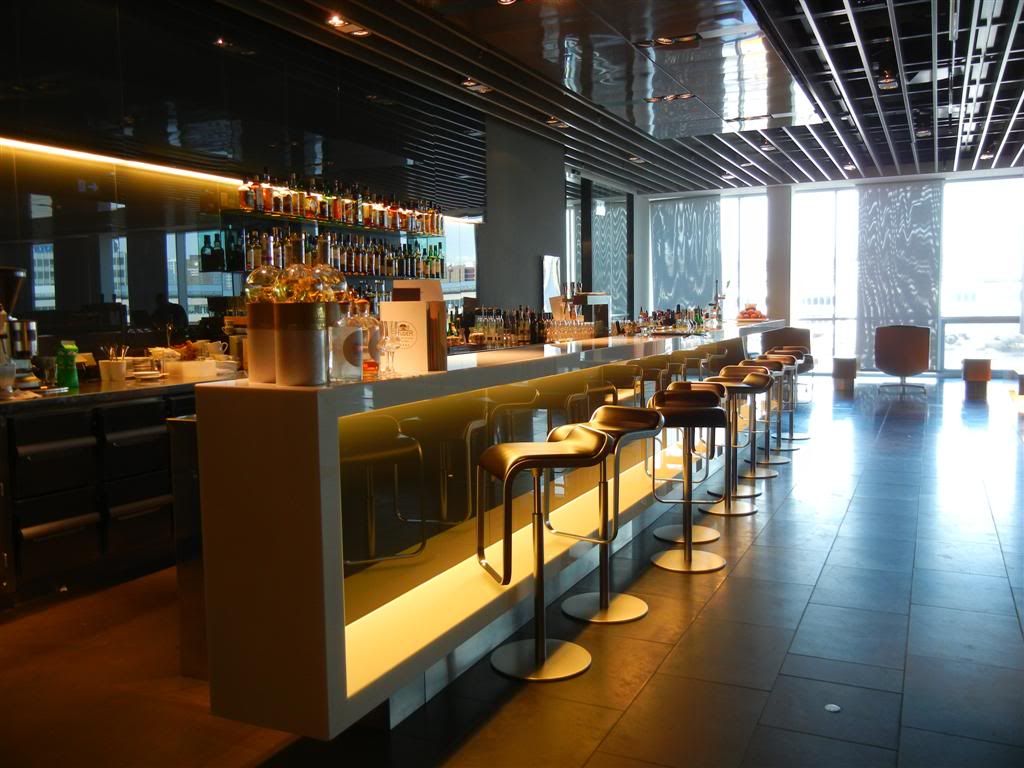 Very nice bar with just about everything you can think of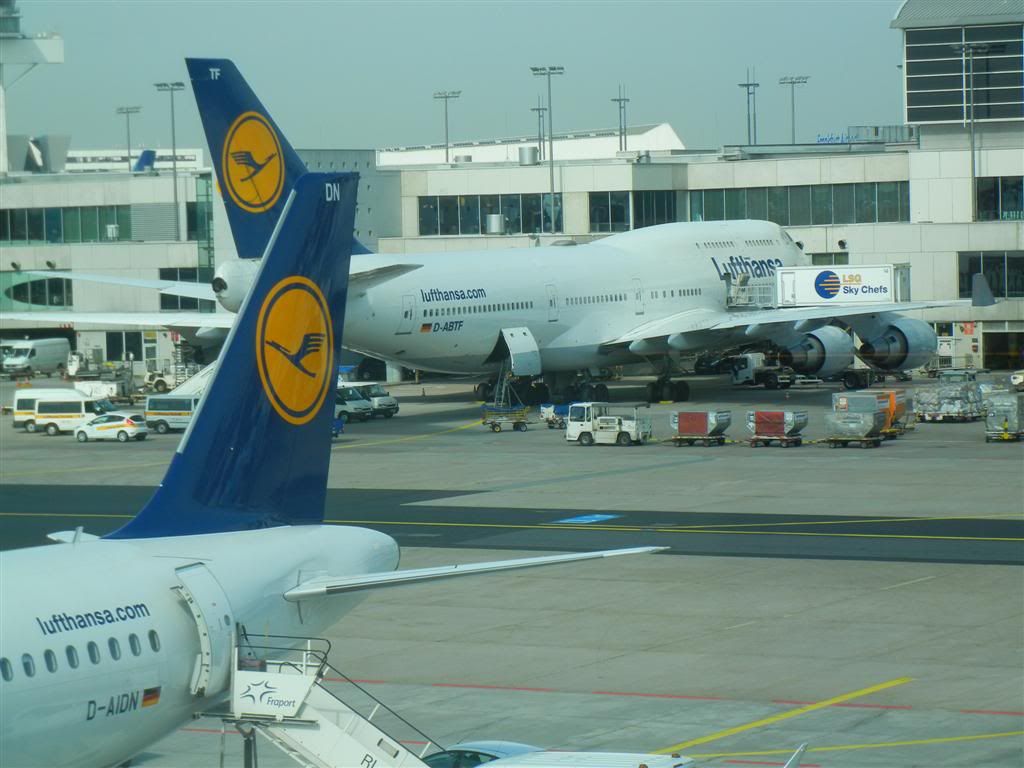 The 747-400 that flew me in from IAH
Log book in the lounge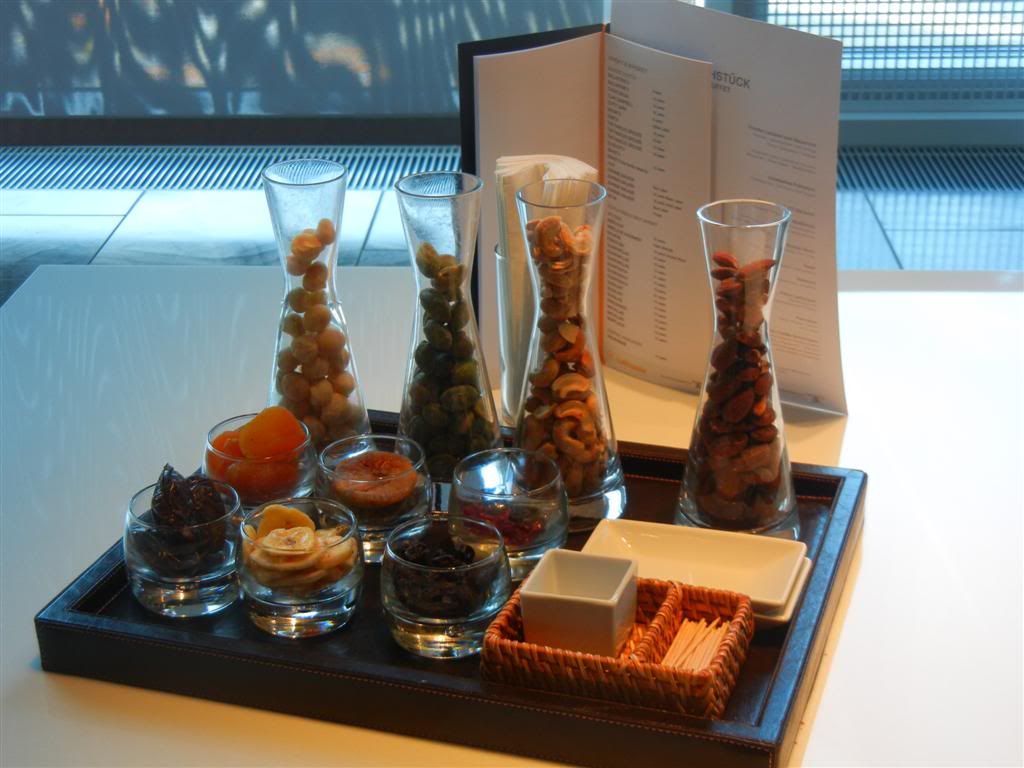 Snacks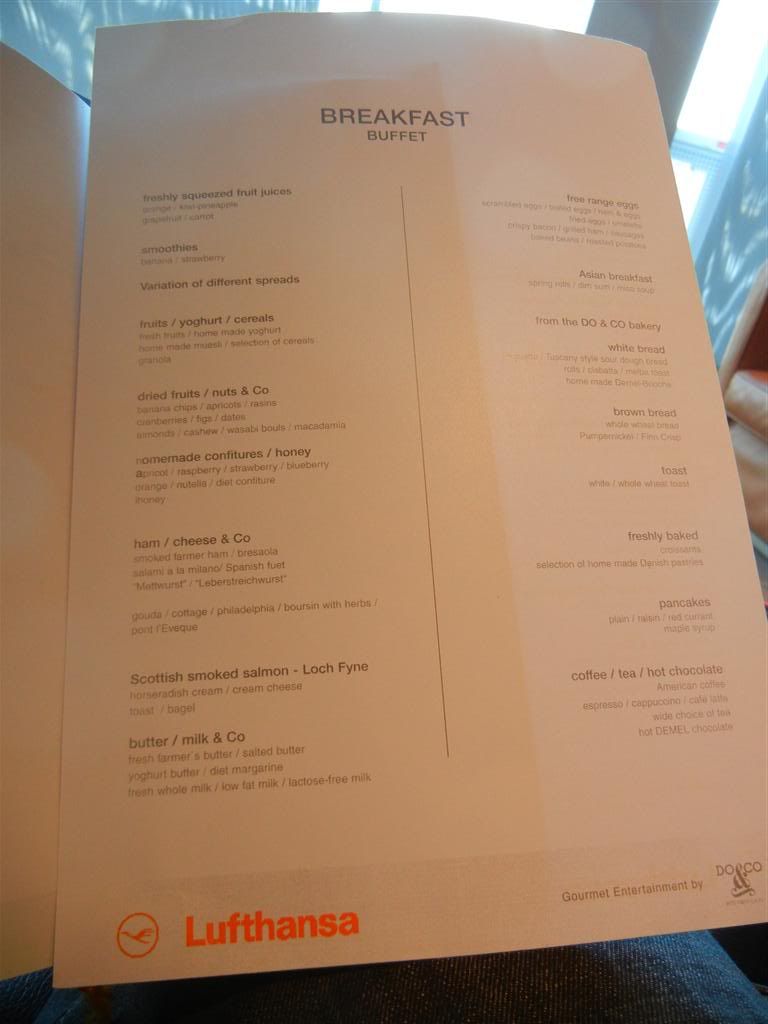 Restaurant breakfast menu
Cigar room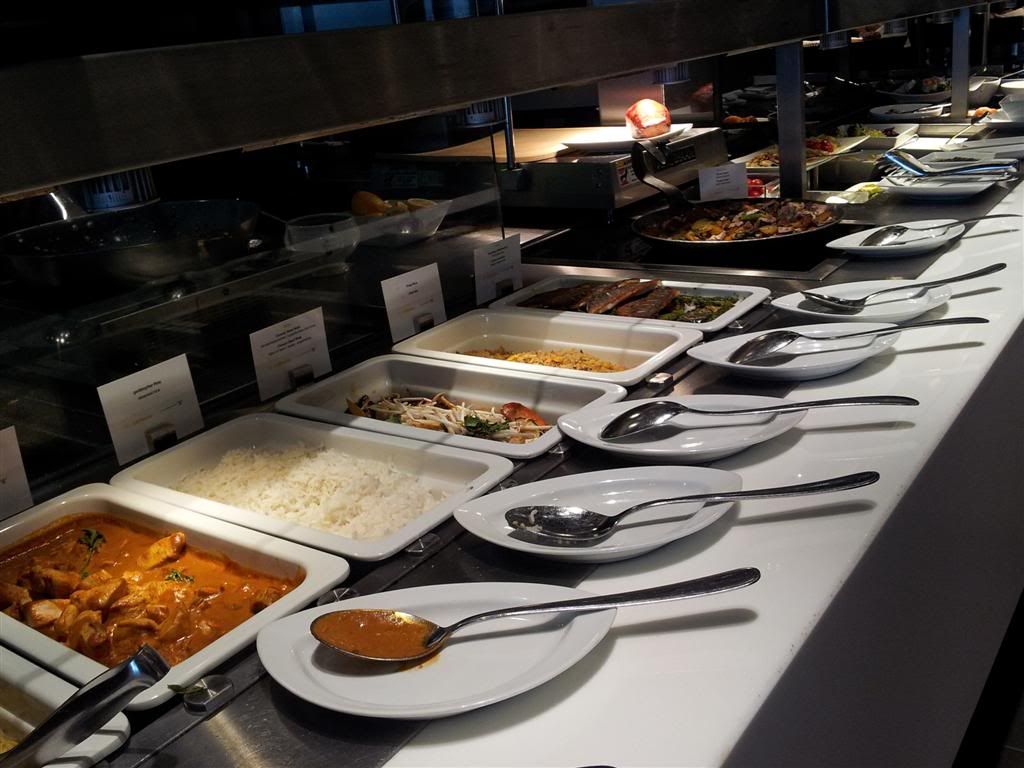 Food offerings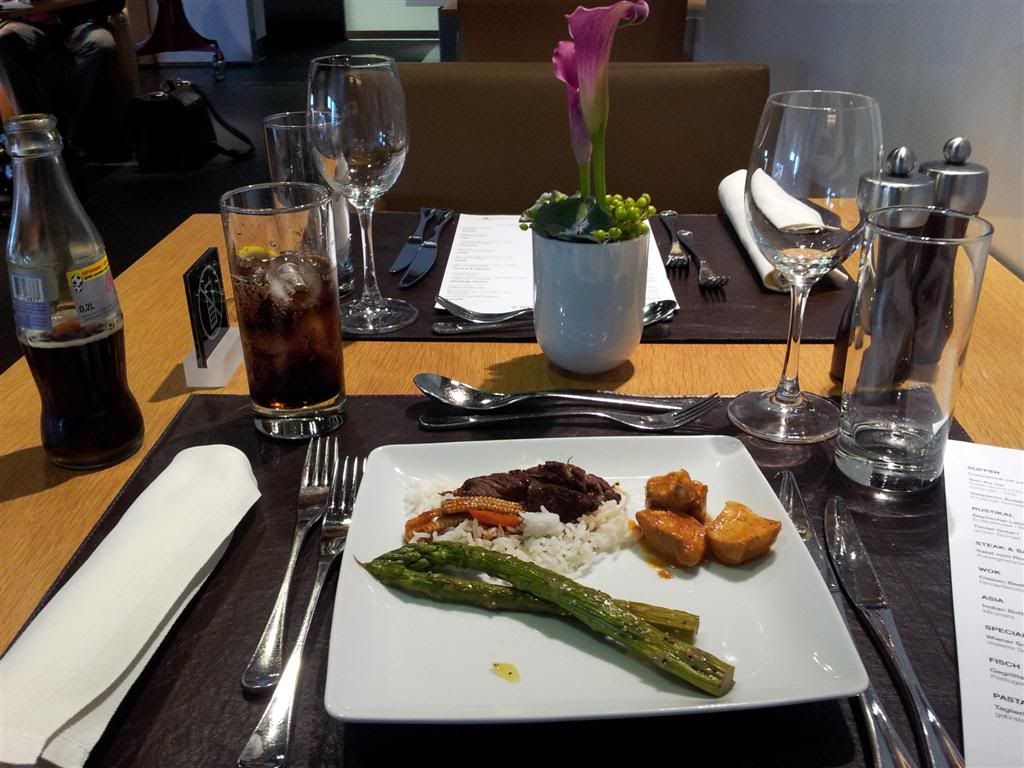 I had a light snack in the lounge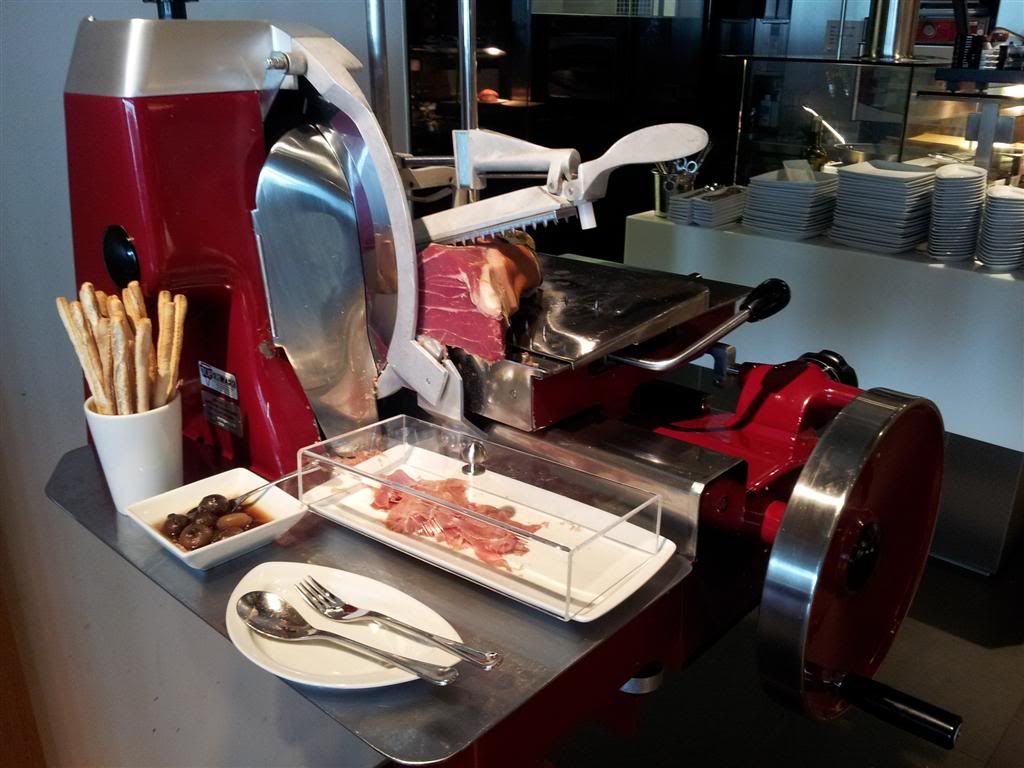 Meat slicer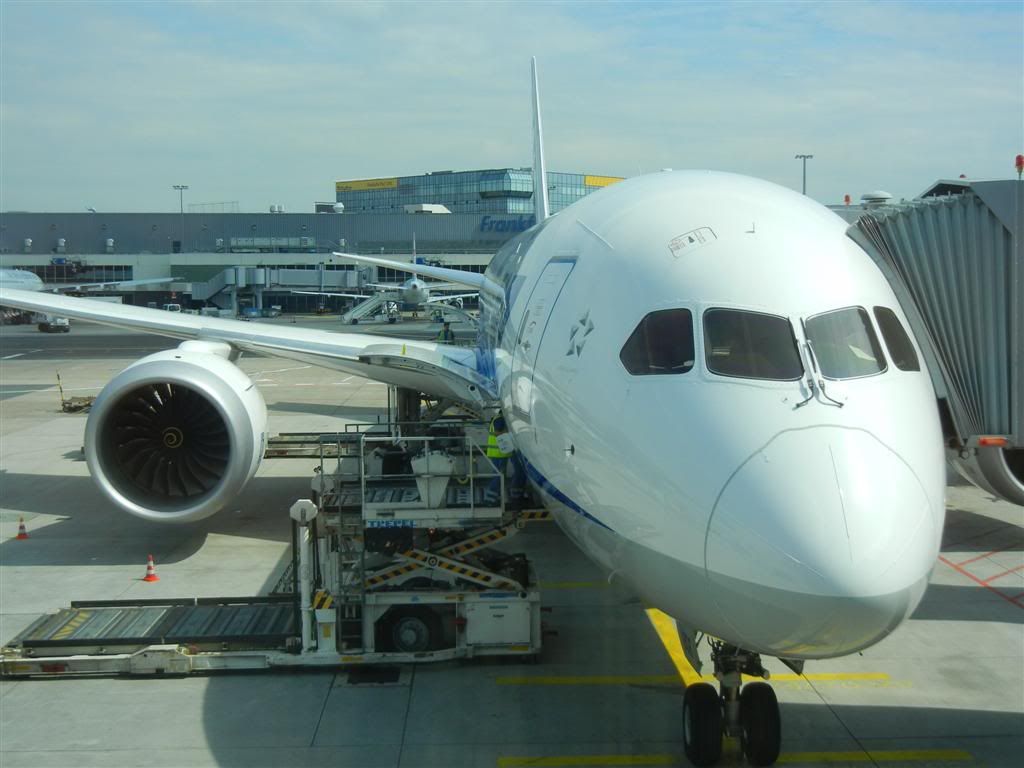 Finally got to see the 787 Dreamliner up close! Love those cockpit windows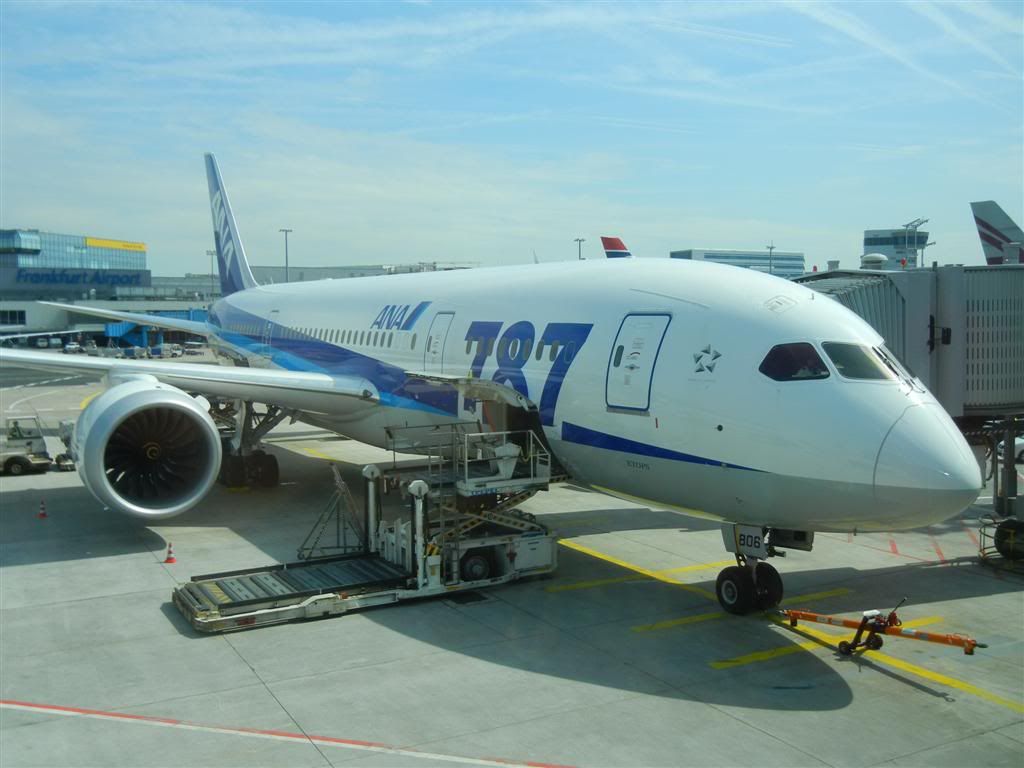 787 Dreamliner again
Newest Boeing 747-8i
My 747 pushing back for its next flight and its clear to see the remains of this combi configuration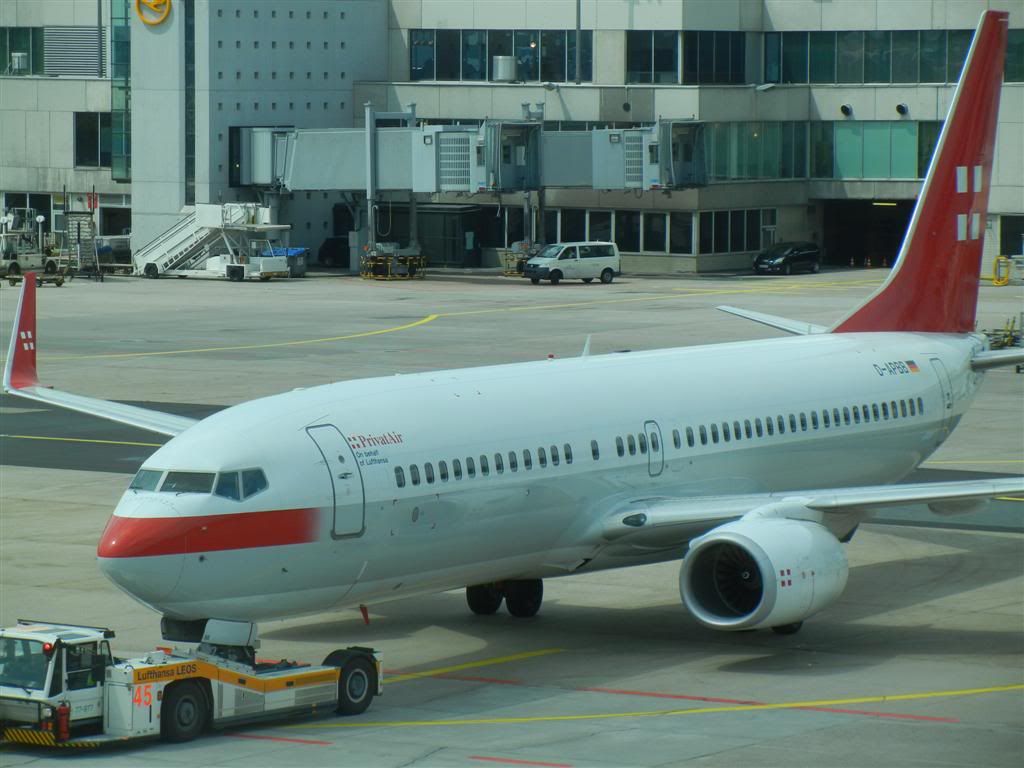 Boeing BBJ with the second over-wing exit blocked.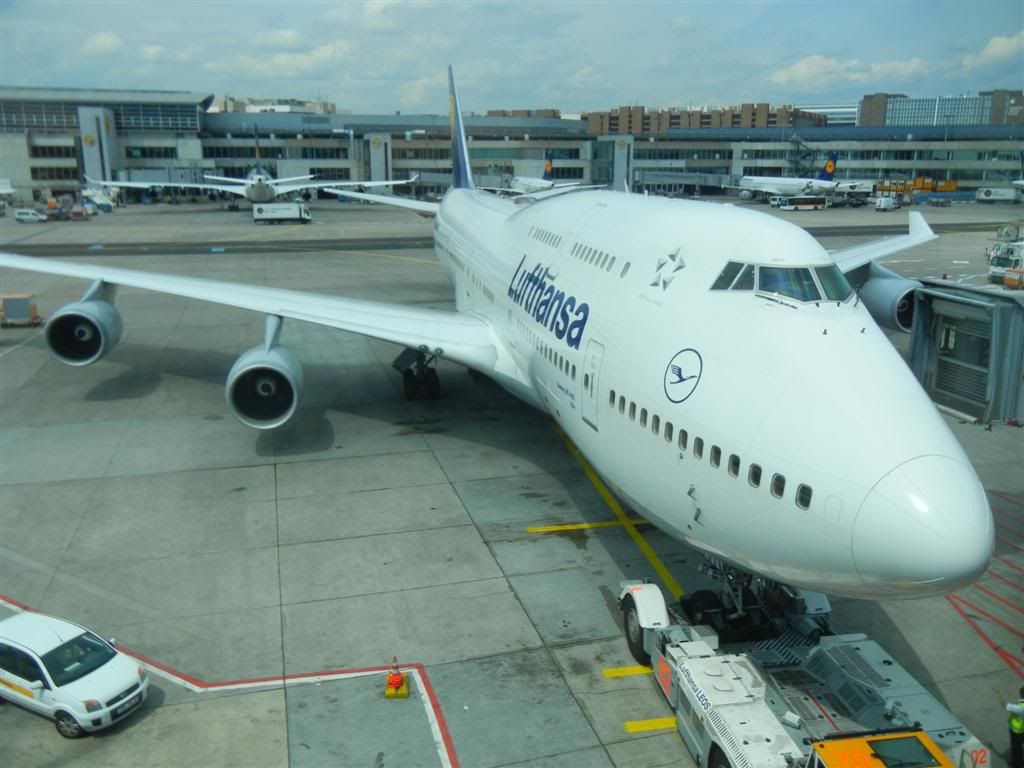 LH 744
When it was time for my flight to board I was taken down to the tarmac where my Benz car was waiting to drive me to my gate. This was a great experience and my driver was very friendly! When we arrived at the gate he proactively offered to take my picture with the A380 then took me all the way to the boarding door and introduced me to the purser. All the crew appeared to be very proud of their A380s from the 747 flight attendants to the lounge workers.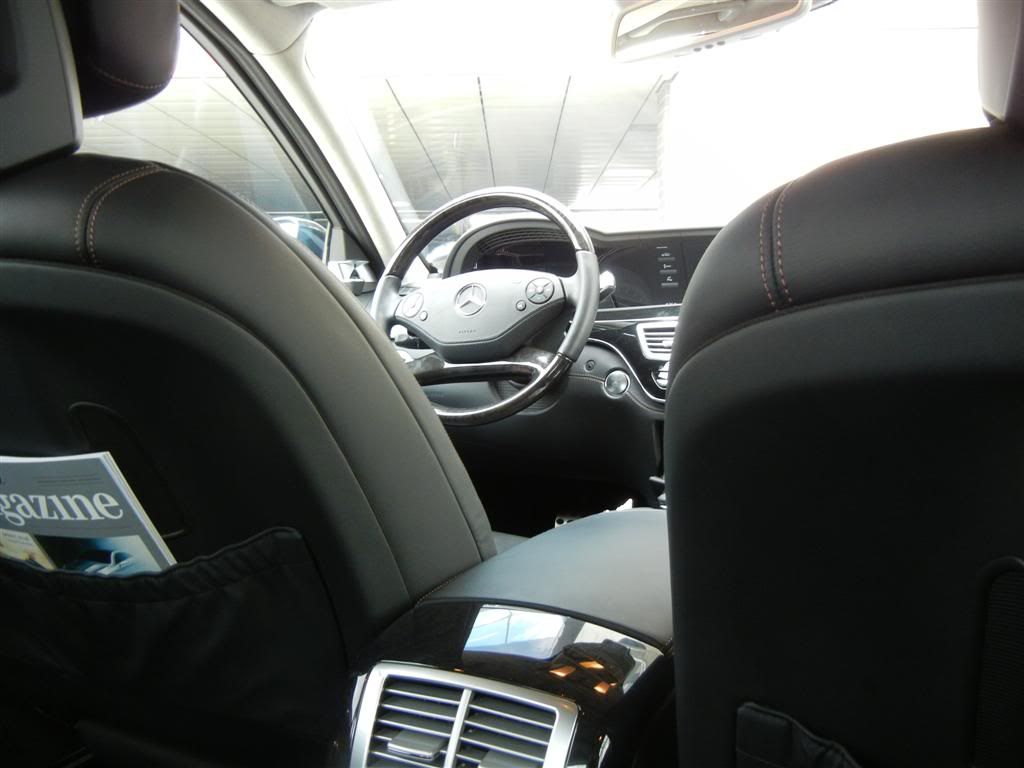 Car 1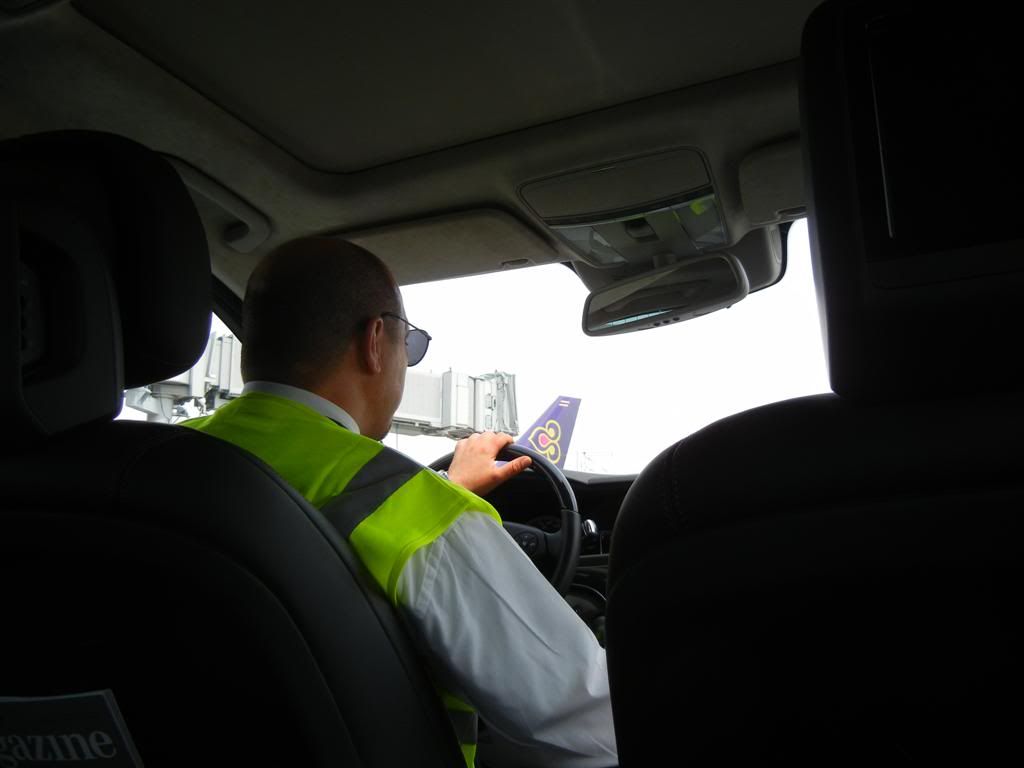 My driver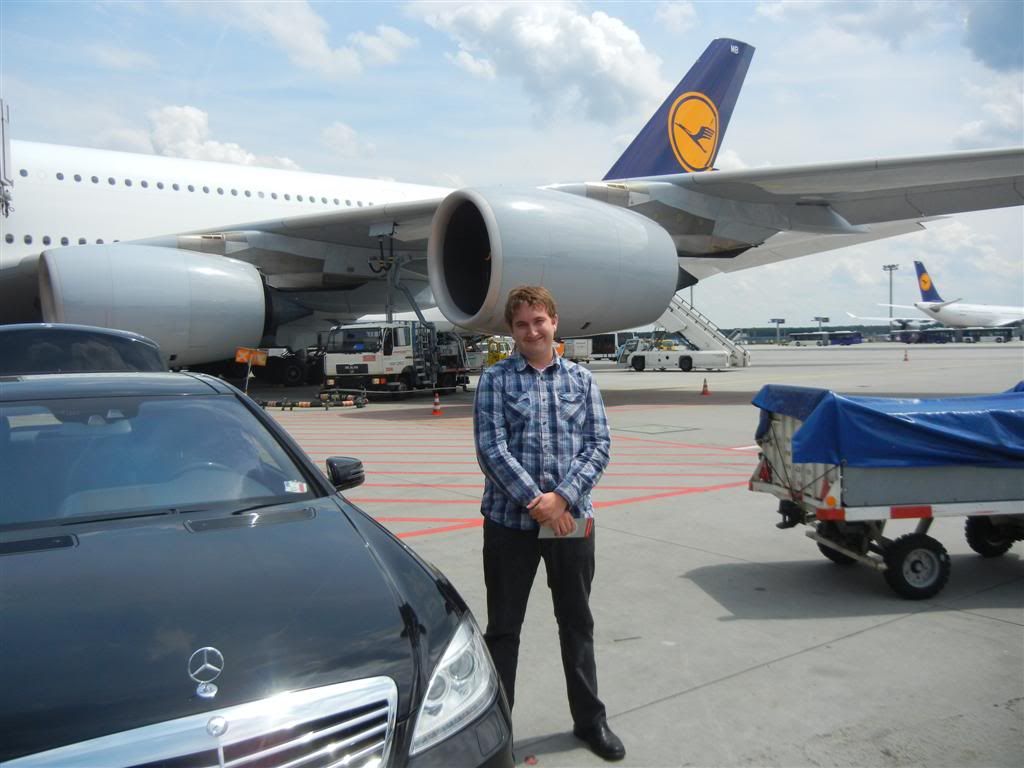 My car and A380 – I was pretty tired