.
"Announcing the departure of a code-share trip report from Ronerone and Airpearl, boarding now at gate C17…"
.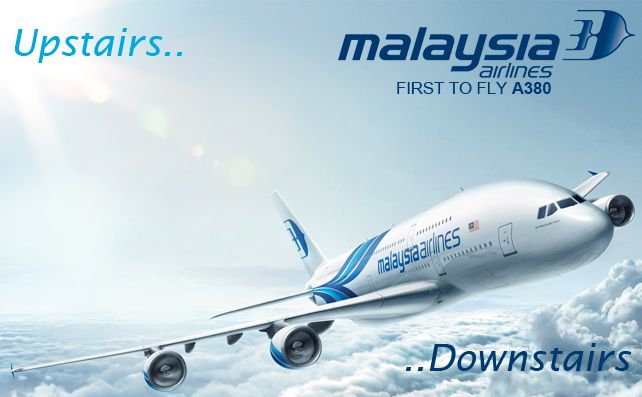 .
WELCOME ABOARD A JOURNEY OF EPIC PROPORTIONS
.
It was the best of times, it was the worst of times, it was the age of wisdom, it was the age of foolishness, it was the epoch of belief, it was the epoch of incredulity... or so the joint authors of this report - Ronerone and Airpearl - plagiarize, in the absence of anything more original to say.
But maybe it is fitting that we start the story of the first revenue-generating flight of Malaysia Airlines' first A380 by copying someone else's words. What with MAS being the eighth airline in the world to receive the super jumbo that's nearly five years in service, originality must surely be in short supply by now.
Everything that could conceivably be done with an A380 within the shrinking limits of airline economics has been tried. Install suites with double beds in first class and one would be copying Singapore Airlines, fitting showers or a plush bar mean tailing Emirates; inflight duty-free shops are the exclusive domain of Korean Air's planes, while an electronic art gallery has already been tried by Air France. Trying to invent something impressively original must be the bane of new A380 operators, especially when expectations linked with any new delivery of this largest commercial aircraft haven't yet been tempered, and yet niggling, party-spoiling accountants are telling management that the plane can only be paid off with an 11-abreast economy class.
So, excited as we are to be on this historic first flight, we think it is best to dampen our enthusiasm for now: building up hopes for a non-existent "wow" can only mean setting ourselves up for a mighty big fall (and it's really a long way down to the tarmac from the upper deck).
And all this without even considering the fact that MAS is not in the pink of financial health (to put it mildly), and probably shouldn't be taking delivery of a single A380 - let alone six. The airline ordered its A380s almost a decade ago in 2003 - some say because Singapore Airlines did. Sibling rivalry can be especially rough when you're forced into binding obligations that you regret later. So our first words of thanks (and commiserations too) must go to the long-suffering Malaysian taxpayers who are unwittingly footing the bill for this one and making tonight's inaugural flight possible.
It is they too who have seen to it that during the nine turbulent years since the planes were ordered, the airline, which has strayed perilously close to the brink more than once, stays afloat. MAS is being piloted by its fifth CEO since 2003 and the man at the helm today, though affable enough, has never managed an airline before. Had MAS been a truly private venture, this airline would be long gone by now.
That's where we are today. No doubt, this A380 inaugural is a celebration for Malaysia Airlines, but then again, Malaysia had already celebrated its first A380 just over six months ago, thanks to Emirates. So what are we celebrating exactly? We don't think we know for sure, but we both feel a need to give our token of support today, probably because history seems to have dictated so.
Ronerone, who was completely bowled over by an amazing MAS experience on a DXB-EWR flight many years back, is admittedly keener on the airline than Airpearl, who grew up flying MAS but now, disillusioned, goes out of his way not to. We'll of course try to be as objective as we can, but be forewarned that we're both carrying different emotional baggage on this flight!
We both however, agree that MAS has gone through a lifetime of troubles, and where it is headed to next remains uncertain. Today's celebration comes with great skepticism and controversy, but we are just thankful it is happening at all. When 9M-MNA, the airline's first super jumbo, was delivered a few weeks back from Toulouse, she looked devoid of all color and was singularly unimpressive, setting the stage for the lowest of expectations. Surely, we think, the only way is up from here.
.
View Large
View Medium


Photo © OlivierG
.
UPSTAIRS, DOWNSTAIRS: TWO VIEWS ON ONE FLIGHT
.
At this stage we should explain how this report works, which is a little differently from many of the previous joint-reports we'd seen on this forum. As mentioned earlier, this write-up is brought to you by two trip reporters, currently sounding as one. But they (or rather we) are travelling quite separately – in fact we hardly see each other the entire flight – and our individual voices will manifest themselves as we progress.
Flying especially high tonight is Ronerone (Roni) who is in business class and seated on the upper deck – but he starts his journey earlier today in Ho Chi Minh City. Never one to shirk responsibility, Roni is ever ready to don his babe-magnet shirt to please his many MH fans, even if it means having his hands constantly full to overflowing.
.
.
Meanwhile downstairs, Kuala Lumpur-based Airpearl (Kwan) is embarking from his home town and is booked in economy on the lower deck, seemingly hoping he'll find at least a few things to nitpick on. As Kwan is often seen as unfriendly to MAS, nobody initially wanted to pose with him. It is only out of pity that two stewardesses eventually agree to flank the poor sod, with the proviso he keeps his hands to himself.
.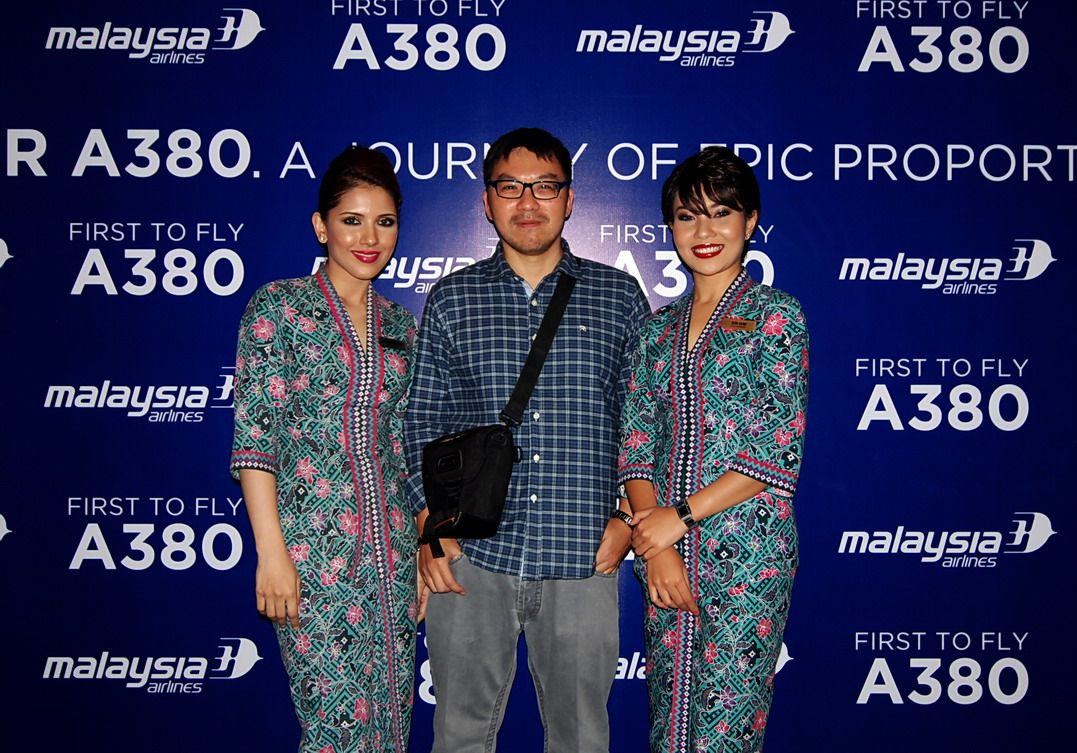 .
So there you have it, your two trip reporters who are all ready to go. What you will be getting from here is an unparalleled opportunity to savor two different flight experiences, on separate decks and separate classes, on the same inaugural service. Is that value for money? We certainly think so.
Do enjoy the experience(s).
.