After my first trip report in June when I flew BA from LGW to KIN, I now find myself flying to Jamaica, rather unexpectedly but this time my journey started at LHR and I was flying in to Jamaica's second and biggest airport, MBJ via MIA.
Flight BA207 and AA2071
LHR-MIA-MBJ
22 Aug 12
Boeing 747-400 and 737-800
Seat 61A and 5A
As we are living in austere times and belt tightening is required all around; I decided to take the Rail-Bus combination from my local station. It all worked very well. 20 minutes on the train and then 35 minutes on the bus and I was at Heathrow terminal 5.
Check-in area
Club World is in check-in zone H, opposite First class check-in (how the other half live). Unlike at Gatwick, there was a queue for check-in. I was served by a very polite and knowledgeable check-in lady, so no complaints there. She said she was looking forward to going to KIN next week, as cabin crew I assume. Nice bit of job flexibility, if that is the case.
After check-in it was quickly through security and in to the shopping oasis that is any BAA controlled airport, except T5 seems to be a mall on speed but with many of the same repetetive stores all having numerous outlets.
Getting to the Club World lounge was made a tad tricky by a malfunctioning escalator. So it was down in a lift, turn right walk 150m, take another lift, then an escalator and you were there in the Galleries South Lounge.
BA A380 model outside the lounge
Galleries Breakfast
The seats were comfortable, lots of food was available, and there was sufficient space. So all in all an ok lounge and I did not really do much other than surf the net and read the papers. Though I could, if I had wanted to; take a shower and or a spa.
View from the lounge
I then took the transit to get to concourse B where my flight was leaving from. The journey is very short and is only a minute if that. Once in concourse B it is a short walk to the gate, whence I realised that there's a lounge in B cocourse, doh. Boarding had already started and unlike at Gatwick their was a priority line so I was able to skip to the front and despite it being a 747, their wasn't an almighty que to get on as was the case with the 777 at LGW.
Once on board, I climbed the stairs and as I was not travelling with my Grandmother, I was able to choose a window seat. The gentleman in front of me was having issues with his seat as the armrest was broken.
The 747s are starting to look a tad aged and the overhead bins are actually quite small, though you do have more than enough storage space, thanks to the side bins next to the seat. The toilet door had to be man handled back on by the head steward (not is official job title, I know).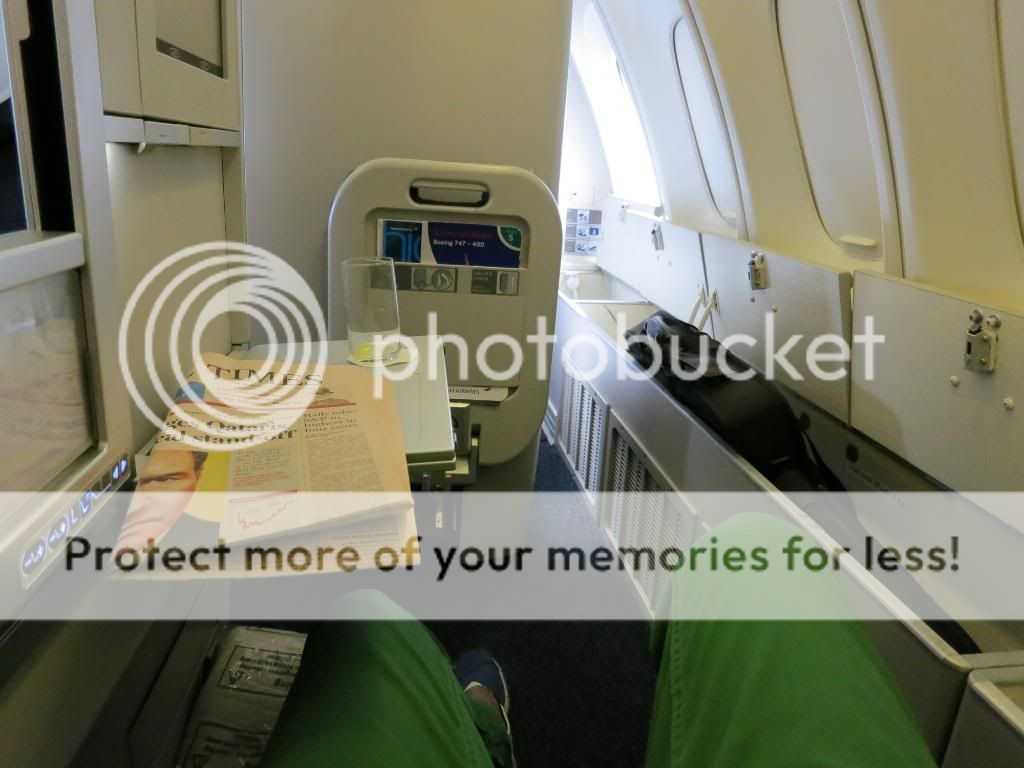 Take off was delayed owing to two transit customers not turning up and their baggage having to be taken off. We then pushed back and waited our turn in the lineup behind a Singapore airlines A380, and a BMI A330, amongst others. Then we were on our way. A very long roll along runway then we started what was a very southerly route (according to the captain) towards Southampton, then out across Lands End, south west towards the Azores. Then finally West towards Miami.
The inflight service started early with nuts and the obligatory red wine, Hahn Winery Piot Noir 2010, Monterey California. I only had the one topup as I was keen to see through the full three course. For a starter I had a classic smoked salmon with capers along with a seasonal salad. The alternative was a golden betroot salad.
The main course choice was between a Fillet of Herfordshire beef, hake fish pie or risotto. I went for the beef and it was very nice, especially the smoked garlic mash and other stuff, like artichokes.
Marketing feature about Trinidad and Tobago in the BA inflight magazine
For dessert I chosed the ice cream over a lemon curd cheese cake or cheese and biscuits. The ice cream tubs were rather small and reminiscent of something you would get in Virgin Atlantic economy, oh the horror, lol. I was allowed to have two of the vanilla tubs, so two thumbs up.
After my 3 course meal it was time to sleep but not for long because as ever the cabin temperature is maintained at too high a temperature, for me.
As I could not sleep I decided to eat and so helped myself to a light snack from the bar, downstairs.
My very messy personal space in the sky
Evening tea was served prior to our arrival in MIA and was comprised of a sandwich and tea but why the strawberry jam and clotted creams when we are served no scones?
Must say that the BA staff were very playfull and friendly and made flying a pleasure.
Arrived in Miami on time but premier economy customers who sit at the front of the plane are allowed off before the club world customers, weird. Then a very long walk to passport control, which allows you to take in the sights of MIA and build up a sweat during the trek from concourse D. Passport control was relatively painless.
A Surinam Airlines 737
I was then surprised that I had to exit customs and that meant an almighty queue and then i had to go through security again which meant losing all the toiletries and liquid gifts i had bought in london, nice.
Queue to go through customs clearance
Then on to the admirals club, which like everything else at Miami, is starting to look dated and a bit cramp. You do get free wifi and two drink vouchers and thats about it, other than the complimentary tea coffee and fruits. The restroom is basic with only one cubicle and one urinal.
The walk from the Admiral club to the gate is quite short and I boarded via the business class line. When we boarded, there was a technician of some sort actually working in the cabin but whatever he was working on was completed in quick time.
View from the lounge
The inflight service does not start until all passengers are boarded and then you recieve some orange juice in a plastic cup.
Once airborn we recieved some warm nuts and a juice of your choice but this time in a glass.
The partition curtain was not drawn and so this allowed customers in coach to come to the front and sit and chat with their buddies (only briefly) or wander through and use the toilet.
There was inflight entertainment but you needed to either use your own headphone or purchase one. This was only a 72 minute flight so I did neither.
Lights were not dimmed for landing even though we landed at 1920 and we arrived on time in Montego Bay. Parking up between a Virgin Atlantic 747 and a Condor 763.
Just like at KIN, there's a lot of walking to be done at MBJ but they do have some travelators. On arrival at immigration, there were only 5 desks opened for foreign nationals, inspite of the arrival of the three flights.
This airport seems to make a great fuss about immigration forms. They check it before you enter the queue and so causing a queue before a queue. Maybe they should print it in dual language but either way a lot of people seemed to be having issues.
Baggage retrival was comparatively quick and customs was painless, then it was on to collect my hire car.
Hassle free arrivals area
Montego Bay
Somerset Falls
Ken Jones Aerodrome near Port Antonio
The famous Blue lagoon
Negril beach
May Pen
Flight AA412 and BA206
MBJ-MIA-LHR
31 Aug 12
Boeing 737-800 and 747-400
Seat 3B and 20K
Arrived at MBJ via the city centre as it is known, I had never driven to MBJ before but I knew that if I headed in a certain direction I would get there.
Handed in the hire car and walked the short distance to check-in. There is a marked business class desk but staffed by non AA staff. I should really have apologised to the check-in agent for disrupting her day as she did not seem too pleased. She checked me in with the minimum of fuss and then gave me my boarding pass, marked, priority.
Arrivals area at MBJ
Departures MBJ
I wasted no time to get to immigration (you have to clear immigration before leaving Jamaica) and made my way through the ViP security line. Once I got to the immigration desk I was turned away because I needed a ViP pass, so I returned to the ViP desk in the departures area. It was then that I was told that, the MBJ ViP lounge has no relationship with AA so I would have to join the ordinary line and so I did. Clearing immigration and then security.
My lack of ViP status, meant I was able to savour the shopping mecca that Montego Bay is. Lots of Black, Gold and Green and almost all, made in China. I then moved to gate 17 to wait for my flight and take advantage of the free WIFI, that is available at MBJ.
Shops
Food court
Free WIFI is available at MBJ, not too sure whats available in KIN but don't think it is free. Both airports are quite modern with jet bridges and all the mod cons. They both have a lot of over priced shops but Montego Bay is definately catering for a foreign pallette as it does not have as many Jamaican eateries. KIN handles about half as many passengers as MBJ.
I had checked-in on line but only on the morning of my flights so my seat choice on two very full flights was pretty much already decided for me. On my AA flight to MIA I had the choice of aisle, aisle or aisle so I choosed seat 3B. The check-in sysetm should allow you to move from AA's system to BA's but it would not let me do that so I had to visit each site individually. BA already knows I want a window seat so I was downstairs in seat 20K.
Camera issues meant I was not able to take any photos during the short 82 minutes flight from MBJ to MIA. Boarding was pretty straight forward and whilst this was going on an Air Tran 737 departed and a Caribbean Airlines 737 arrived. A Jet blue Embrarer 190, Delta 757 and US Airways A320 were the other aircraft on the stands.
During the boarding the pilot allowed an inquisitive young boy to take photos with him in the cabin, which I thought was a sweet touch. Overhearing the stewardess (as you do) and she said their next rotation from MIA was to BGI, where she would overnite till 1pm the following day. Though it was not her choice as she was called in off standby due to people calling in sick.
Flight to MIA was uneventful at least I think so, because I slept for most of it only waking to eat the warmed nuts and orange juice that I was served. The curtain was drawn on this occasion but Coach customers were still allowed to use the bathroom upfront.
Arriving in MIA and the queue for immigration was considerably larger that the last time I was there, which lead one customer to exclaim "it is like being in Jamaica, all over again". The wait was actually only 34 minutes and I even had a conversation with the immigration officer, albeit a short one but goes to show that they are humans after all.
Unlike when I arrived from the UK, I had to collect my baggage on this occasion and then go through customs as before but thankfully there was no real queues. I then left my bags in a specified place and went through security to concourse E.
Concourse E has a BA lounge, which is shared with other One World partners. This was a much better lounge experience than the Admirals Club. Of course WIFI, fruits, tea coffee but wine and lots of wine and alcohol that you helped yourself to. Food that you did not have to pay for and lots of contemporary seats, that I did not take any pictures of because I was too busy making up for what I had not being able to eat in the MBJ lounge, lol.
Pre flight snack
Dutch Antilles Express pushing back and I am pretty sure she returned to the gates 30 minutes later
[ img ]http://i1163.photobucket.com/albums/q559/ba2262/BA%20AA%20to%20MBJ/IMG_0730.jpg[ /img ]
Unusually our flight departure was announced and we made the short walk down to gate E10 and boarded the plane. As usual, two passengers did not turn up so we had to wait for their baggage to be removed from the flight.
Whilst the boarding process was ongoing we were offered the choice of orange juice, wine or champage and again I chosed the orange juice.
We pushed back only a few minutes behind schedule and then waited behind what seemed like a procession of AA 757s, that were either taking off or landing.
Once airborne I recieved the menu and amenities kit, this was swiftly followed by nuts and some red wine. I decided to try the French Châteauneuf du Pape 2009, Domaine des Sénéchaux but did not find it to my liking so returned to the tried and tested Hahn Winery Pinot Noir 2010, Monterey, California.
Our planned route
My starter - Long Island duckling with pine nuts, fig and quinoa salad. The other option was grilled artichoke, blanched asparagus and tomato petals.
Main course - Breast of Guinea hen with pommes dauphinoise and broccolini. The other options were Parmesan and rosemary-crusted fillet of beef or Provençale vegetable lasagne.
Dessert - Dulce de leche. Other options were a selection of fruits and Morbier and Camembert cheese with wet walnuts.
The food was enjoyable and so with a full stomach and lashings of alcohol I was out for the count till 90 minutes before arrival. I then decided to wake myself up and review the in-flight entertainment, so I watched Veep and family guy and listened to the Radio 4 comedy highlights and I can report that I am contented with the inflight entertainment because they obviously keep them updated.
Breakfast - fruit juice, smoothie and fruits. A bacon roll was also available but it was too early for me to be consuming anything like that.
Route in to LHR
London calling
Disembraked the aircraft and then took the short ride on the shuttle train from concourse B and then walked in to a very large immigration queue.
After 28 minutes in immigration, I collected my bags cleared customs (which only entailed walking through the green lane) and decided I was going to use the arrivals lounge. So it was quickly upstairs and in to the lounge. Showed my ticket, handed in my bag and went for a shower. If I wanted to I could have had some clothes pressed but not this time.
After my shower I had some breakfast and with time on my hands till my Air France flight to Paris, I decided to take advantage of the Elemis spa and so sat down in their superb massage chair and had a beautiful lady massage creams in to my face for 15 minutes, whilst the machine pounded my back.
After 4 hours of idling in the lounge I was now ready to head to Paris so I left the BA lounge and headed to terminal 4.
Heathrow Express
So LHR is most definately a better Club World experience than LGW but the onboard product is the same. AA's Admiral Club, atleast the one's in MIA are nothing special, whilst MBJ and KIN are two modern airports that Jamaica can be proud of, I actually prefer KIN. The staff are more friendly and it is also a damn sight easier to get to, i.e on a highway.
Just a quick note on my Air France flight to Paris. It was on one of their brand new A318s. The eccentric pilot greeted everyone outside the aircraft and then did the welcoming address from the front of the aircraft before continuing on to fly us to our destination - how cool was that.
[Edited 2012-09-02 04:53:43]