Hi again,
Part 2 is here. From Milan Malpensa back home near Amsterdam. Air Europa, Skyteam member, offered the best oneway fare for about 70 euro's per leg including qualifying status segments for me. A good deal. Let's get onboard!

Mixed Feelings: Air Europa 737/E195 MXP-MAD-AMS
For those who missed part 1 including the domestic Alitalia A330-200 and 'Magnifica Class seat', have a look here first:
Al(l) Italia: 4 Flights + "Magnifica" On The A330
(by
airbuseric
Aug 28 2012 in Trip Reports)
On the bus I noticed this aircraft already parked for my flight…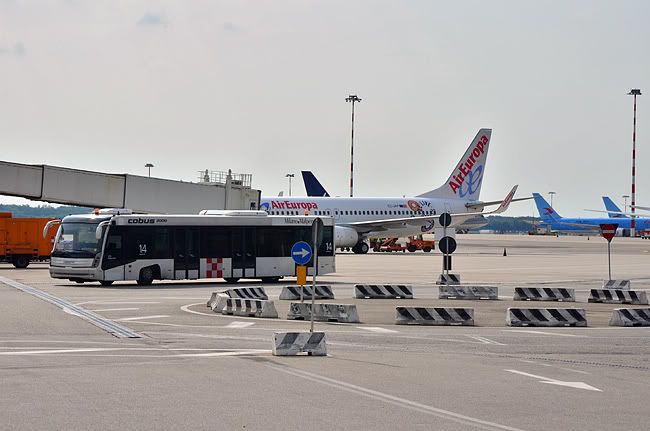 .
Air Europa… ready for my next flight on a gate nearby
My next flight is from gate A01, real close from where I was. At the gate a large amount of passengers for my flight, still I decide to proceed to the counter and request real boarding passes. I am really friendly served, and also a male UX groundstaff informs me that boarding would soon start. We have a short but nice talk, so good first impressions.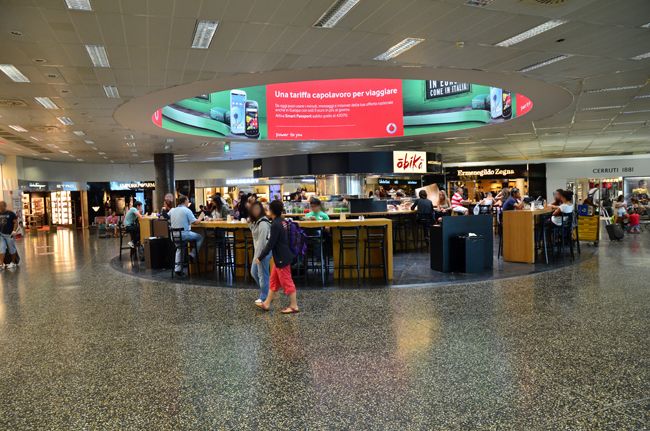 .
Follow the transit lane, without further security check, you arrive here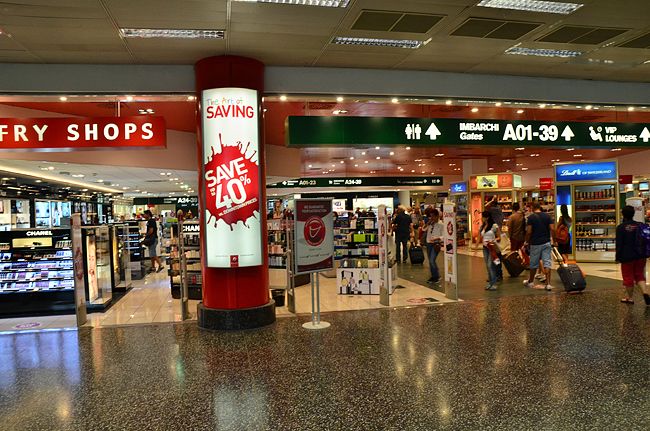 .
First join in for shopping before getting at your gate

.
A rather long walk to gates A

.
My aircraft being served at the gate
Well, it takes 15 minutes before they do real boarding, but they enforce the priority boarding here also strictly.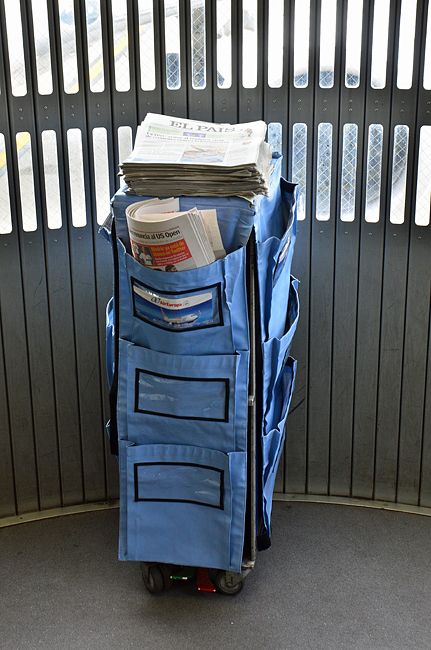 .
Worth a note: free newspapers for everyone in the boarding bridge!
MXP-MAD
Flight:
UX1066 /16AUG12
STD
11:05
ATD
11:28
STA
13:20
ATA
13:34
A/C:
EC-JAP
(Boeing 737-800)
S/N:
06A
(Economy class/Y)
View Large
View Medium


Photo © Robert Vilardebó Rulo
I am hardly welcomed when I step on board and proceed to my seat. Lightblue leather look, comfortable but for me limited legroom unfortunately. The seat next of me remains vacant on this flight.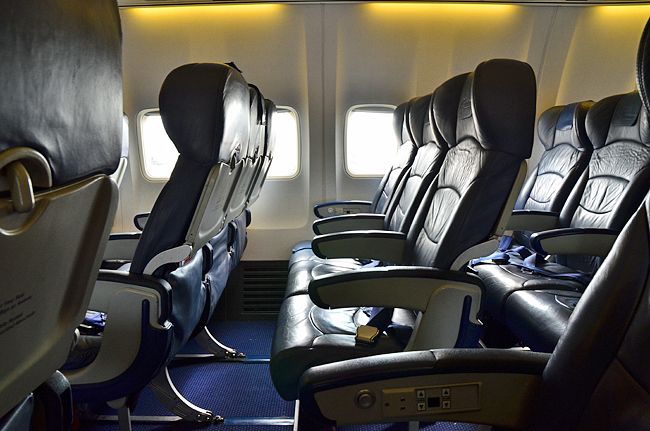 .
The cabin looks nice with these seats…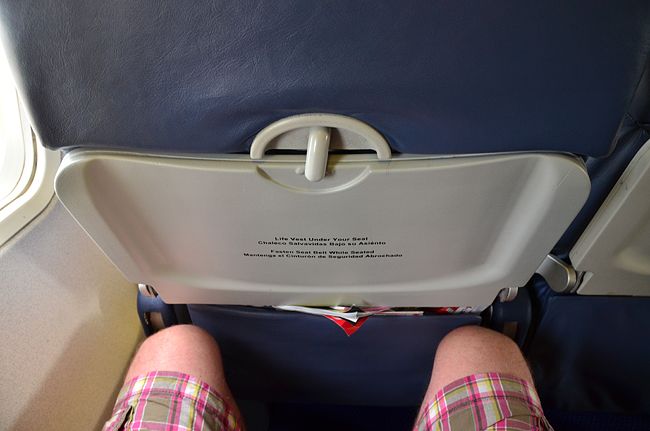 .
…but not happy with this legroom (personally speaking)
Boarding takes long and also the door remains open till after departure time. Hmm... When 15 minutes pass by and still no info I press the call button. Surprisingly immediately a female flight attendant comes and asks what I want.
"Excuse me, but why don't we leave? It is long after departure time and you give no info till now?!"
. She looks not too friendly now, but replies that 2 passengers did not show up and they offload their baggages. Well in that case, I have more understanding, but info please!
Doors close 5 minutes later and immediately we have pushback too. The purser is now on the intercom, makes apologies for the delay
caused by Milan ATC control
! WTF?! I don't believe these Spaniards anymore... They talk nonsense it seems. Different reasons for a delay, that is unprofessional or are they hiding the real reason?
We leave and taxi quickly via a shortcut to runway 35R for departure. By doing this, we surpass a Finnair and SN Brussels flight, so we make up some time here. With an estimated load of 85% we take off into the blue Italian sky again.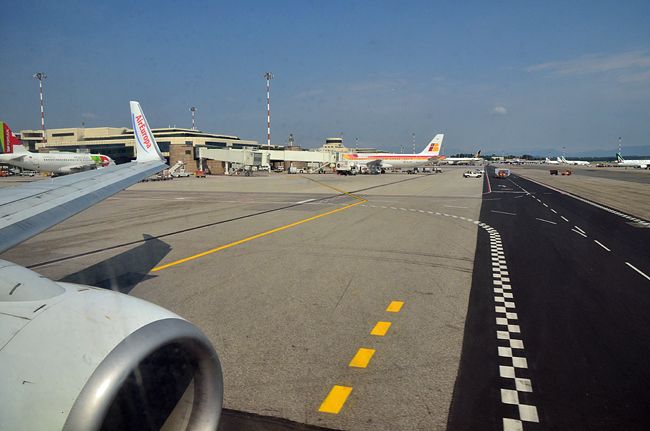 .
Pushback and taxi-out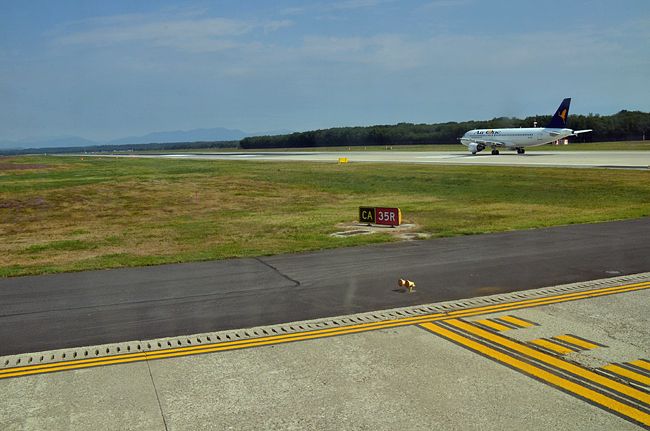 .
Lining up the runway with Air One A320 departing ahead of us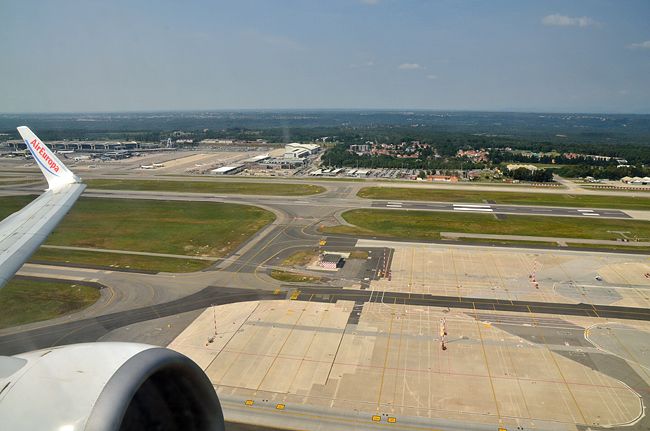 .
Off we go!

.
easyJet is welcome at this remote terminal at MXP

.
Turning away on a different heading. Last view on Malpensa
During the flight I notice several times the smell of cigarette, obviously this meant a smoking cockit crew (!), this also happened to me on UX before years ago. It is so bad bahaviour, so unprofessional. The bad air will be spread further back in the cabin via the airconditioning systems. Crew should know this, there is no way to hide.
UX: stop telling passengers that all your flights are strictly non-smoking! As long as your crew can't follow the rules, don't bother your passengers please. But for me personally this means to fly another airline next time. It's a poor show you are performing here.
The service is given halfway the flight, but basically is an buy-on-board concept, lowcost style here, with ridiculous prices on top of that. Still, I felt a bit hungry, and decided for a EUR 5.50 vegetable/tuna sandwich. With the possibility of creditcard payments, shown on the backside of the menu, I provide the crew with my Amex Gold card. But to my surprise, the male F/A turns back and request a Visa card instead!
Well, firstly I don't have Visa, secondly there was no way to provide any other means of payment under these rude circumstances. Very unprofessional, once again!
The sandwich was good enough though. By the way, they priced their inflight magazine at EUR 2.50 just in case you want to take it with you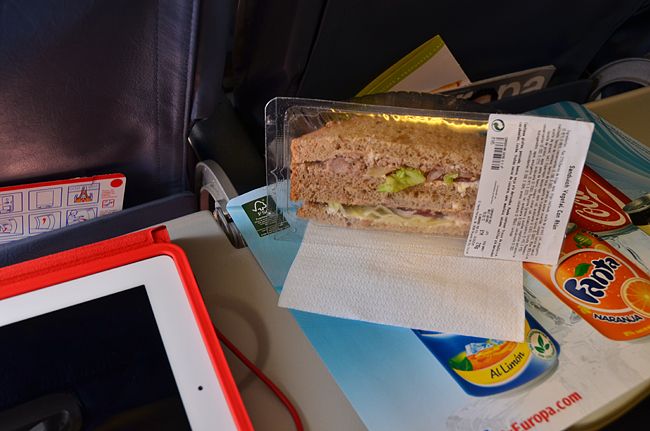 .
Sandwich pack for EUR 5.50

.
Cheap because not complimentary… EUR 2.50 if you want to take it home?!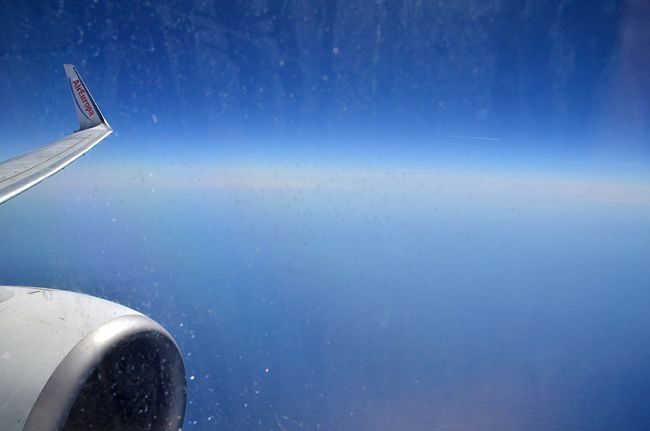 .
Blue skies all around on this flight. I love it!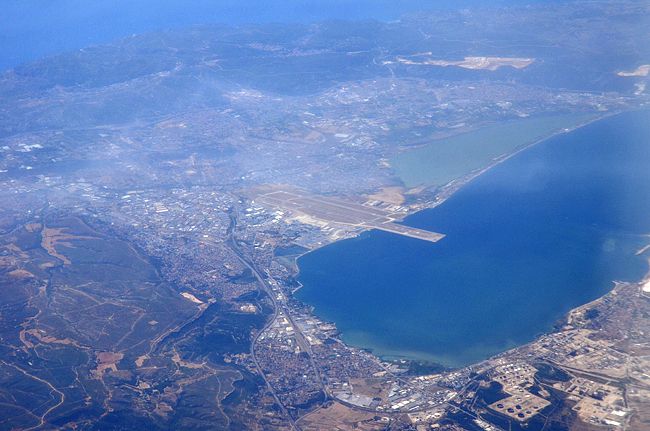 .
Oh, and this should be MRS
The flight is continuing smoothly, and 30 minutes before landing the crew announces gate numbers for all Skyteam connecting flights. Mainly UX and AM flights here, also my flight to AMS. I write down a note: gate B8. Well, the crew English language skills are not clear enough since the gate was finally D82.
Before landing, on runway 33R, standard the turbulence experience, mechanical turbulence caused by the wind flow over the rough terrain plus the high temperatures resulting in rising airflow. It is a characteristic for flying into MAD.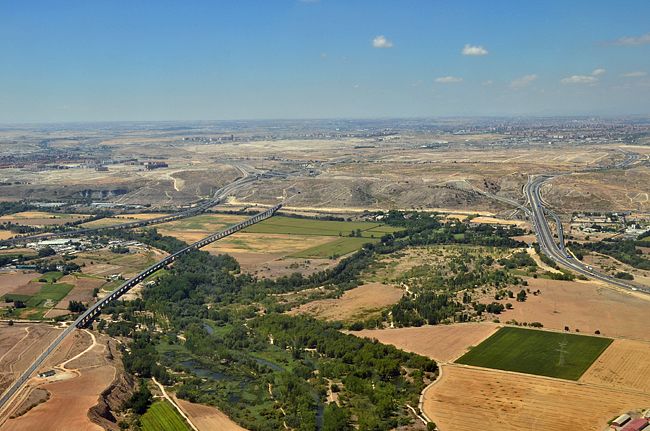 .
Wasting landscape and money here in Spain. What else is new…font>

.
Needed? Or Prestige? Bridges and tunnels… wasted money it seems to me!

.
Also Spain for you: roads unfinished and for nothing…
After landing it takes about 10 more minutes till we arrive at the old terminal. Interesting to hear the
Welcome to Madrid Barajas. We've landed on time
message. Because we are clearly 15 minutes late! No fanfare for you guys!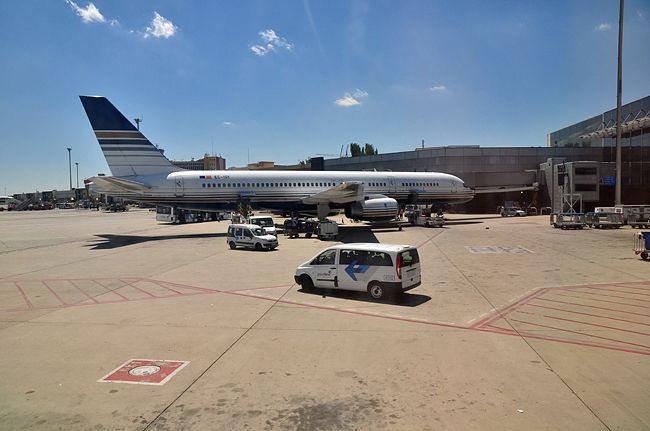 .
Parking is next to this beautiful Boeing 757-200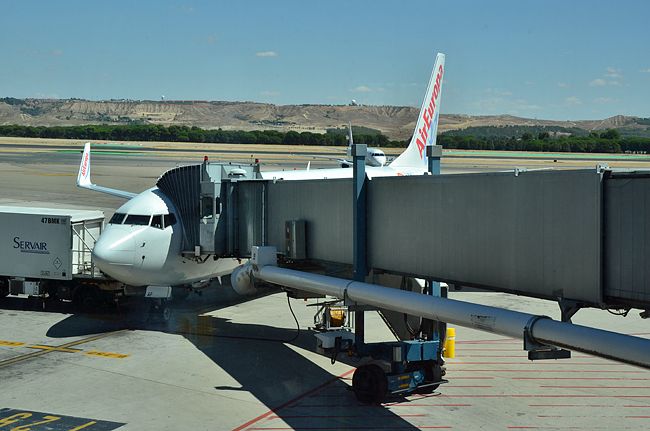 .
After deplaning, a last view on the 737 that flew me in
I disembark and notice that this aircraft was doing the next flight to ORY. For me, something smaller and newer on schedule, in the form of an Embraer 195. It was indeed this type I saw at my gate.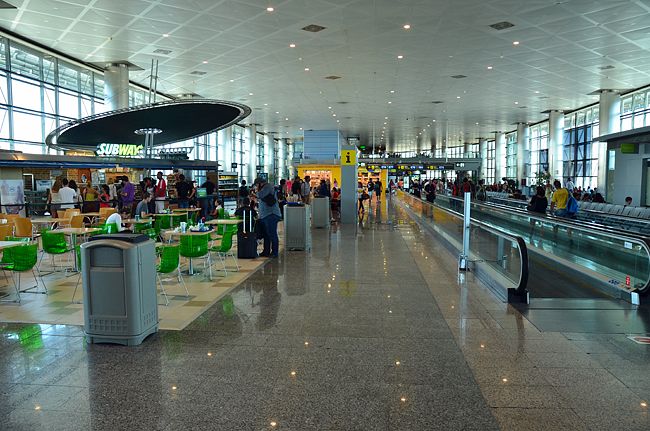 .
The terminal is not so bad overhere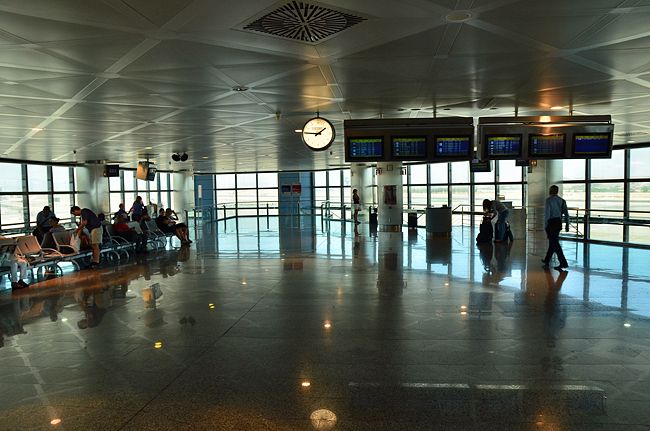 .
But near the boarding gate is gets really boring and sterile though
How nice to see on the FIDS here in Spain that we start boarding from 13:56. I like details, I like being exact. But you all know that nobody could make sure that we make this time, so I board from 14:10, 15 minutes later then expected.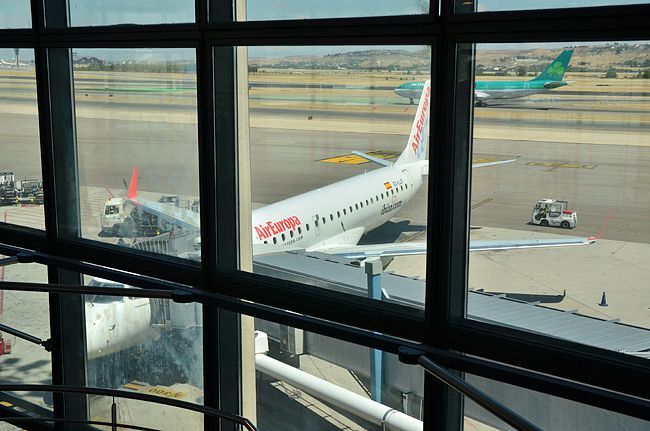 .
The expected Embraer 195 for me, with something big from Ireland around
MAD-AMS
Flight:
UX1093 /16AUG12
STD
14:35
ATD
14:34
STA
17:00
ATA
16:58
A/C:
EC-LLR
(Embraer 195)
S/N:
04A
(Economy class/Y)
View Large
View Medium


Photo © Fayaz Rasac
Priority boarding is taking place, I was the first one boarding, and even friendly greeted when I step onboard of this 1 year old Embraer. It looks good, also inside in good conditioning. Small 'hail' drops from the airconditioning on my head and shirt.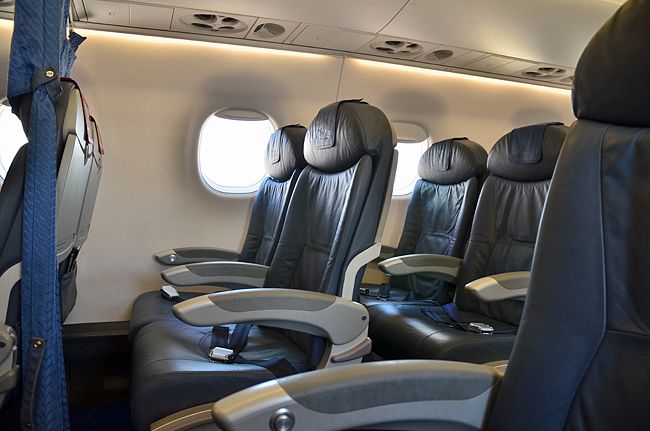 .
The legroom is OK, state of interior very nice and new
Boarding is finished on time, a nearly full house in Economy Class, 4 or 5 people in Business Class. Next to me an older Dutch lady, friendly but no talking.
Legroom is a bit better here compared to the 737, seats more slimline type, making the difference. Plus the bonus of 2-2 layout on these cute jets.
Departure is on schedule here, and since runway use did change, we taxi very shortly only to runway 15R for takeoff. The initial climb -as expected- a bit uncomfortable, but nothing serious. I see a large aircraft is ready to depart from Torrejón Air Base. I thought to recognize the shape of an Ilyushin Il-76, and when I follow the takeoff roll, it seems to use the maximum lenght of runway possible. No surprise, on hot days especially.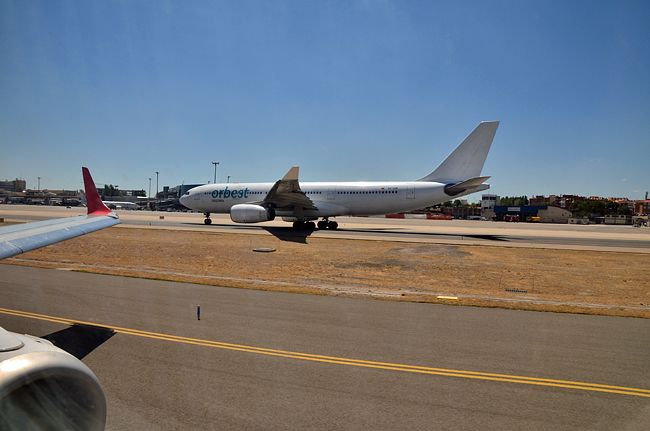 .
Taxiing out to the runway with this interesting Orbest A330 passing along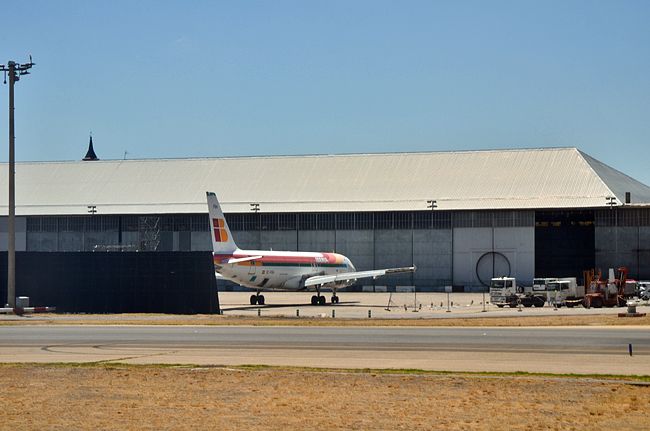 .
EC-FGH being stripped at MAD. Ex Iberia (as you might have noticed)

.
Airborne again, destination Amsterdam!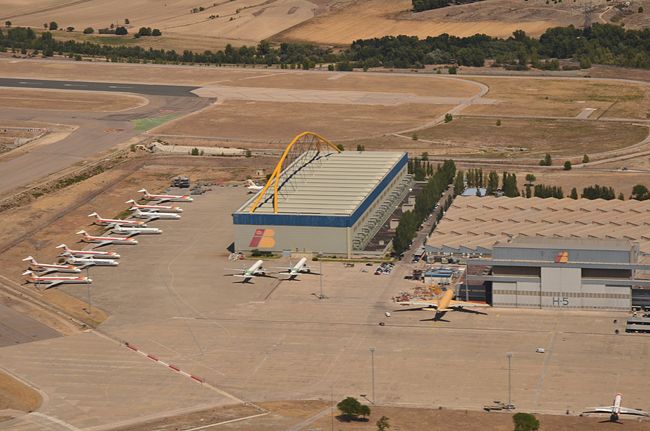 .
Some more aircraft for sale or stripping?

.
Beautiful colours below…
The flight continues smoothly all way and while I listen to some songs on my iPad, and write a bit more on this report, I look out of my window from time to time. It gets cloudy over France, but around Paris clearer skies again since the captain even points out that the city would be visible on the righthand side. Bummer!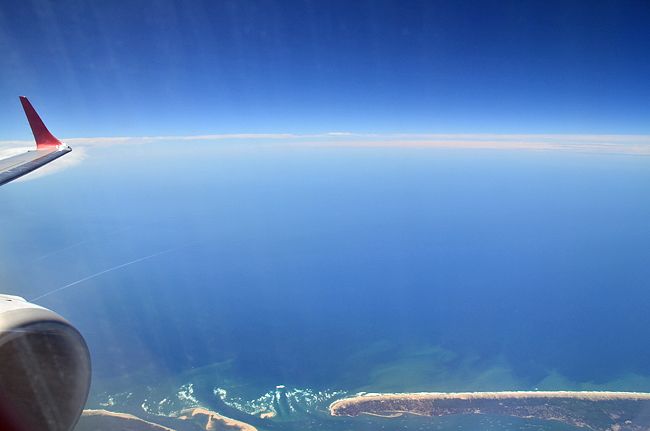 .
Westcoast of France
Service on this over 2 hour flight is non existing, the same overpriced buy on board menu is available. I decide not to spend more money, grab some of my emergency food aka a candybar from my bag and still have some water. The crew seems friendly though when they do their job.
Above the Antwerp area an announcement is made about our landing, which would be on runway 18R according the captain, weather is good and 29°C and we would fly along the coast. I am seated on the left side and therefore get views on the Southwestern islands of the Netherlands, the famous Delta Works with sluices, dams, and storm surge barriers. Did you know these construction is one of the seven wonders of the ancient world, recognized as such by the American Society of Civil Engineers (ASCE)? Also the recently finished Maasvlakte 2, newly reclaimed land which will host expansion of the Port of Rotterdam. After the aforementioned Delta Works, these is the biggest civil engineering project ever since in The Netherlands. I recently cycled this area and it's impressive.

.
Deltaworks to protect my country against rising water and high tide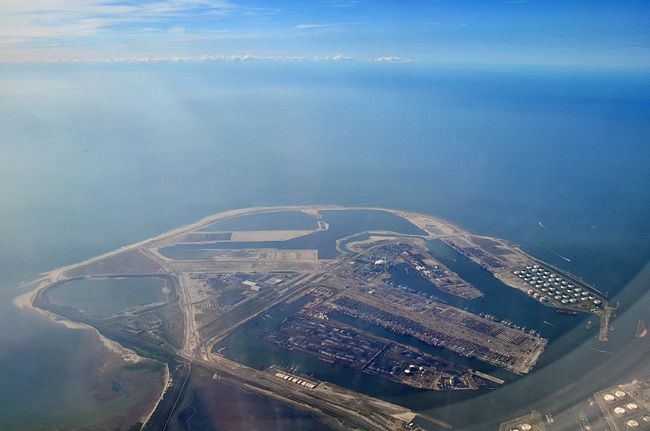 .
Maasvlakte 2 – newly reclaimed and future seaport extension for Rotterdam

.
StenaLine getting along side in Hook of Holland, arriving from Harwich.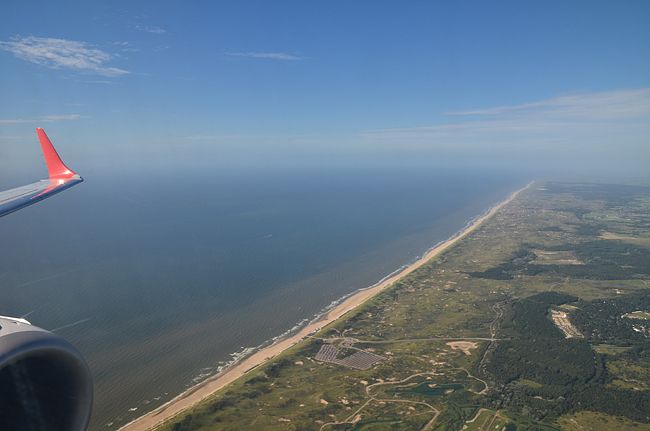 .
Passing the Dutch coastline and overflying the city of Castricum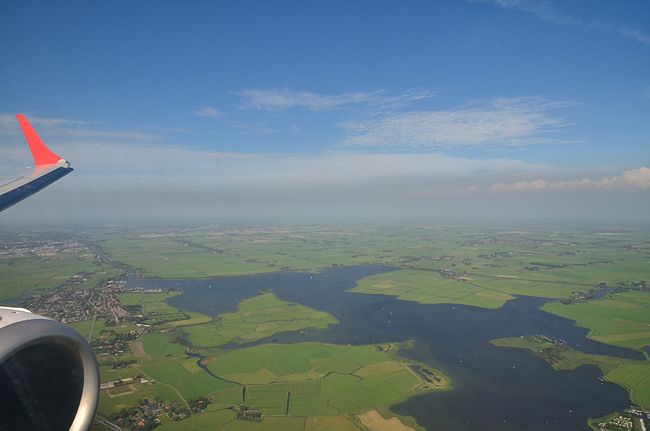 .
My country can look beautiful from above!
Well, not much later the Embraer is turned in for approach and finals for the 'Polderbaan' or 18R, landing is smoothly a little later.
The cabin crew welcomes us to Amsterdam and we taxi for about 15 minutes to our gate at the C-concourse. Finally I clock off this flight just on schedule, so it's a good performance here.

.
Back at Amsterdam Schiphol. Old and new control tower. Also my old office building (and MH017's)
I am on a train home just 15 minutes later and made me realize that I enjoyed these 2 days a lot. Special thanks for Robert for great company, to Nicholas to find the routing on UX. And despite my sometimes bold opinion about some subjects, I can say that I still like Italy a lot!
Thanks for reading, and feel free to drop me a comment, which is of course always appreciated!
Regards
Eric