Hi all,
Get Away to London with Cityjet and "Emirates"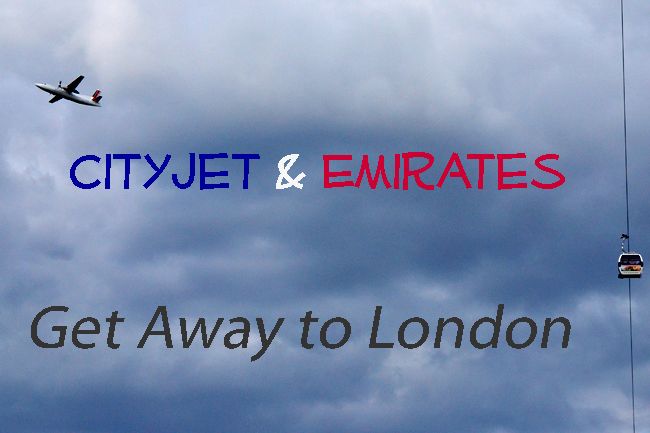 After fellow a.netter 'gabrielchew' visited my country recently and we did some sightseeing around, it was time for me to visit him as well. Of course, London was for me a known place, a city I've been to several times before and a city where I know my way usually. Still, every visit again is interesting. Therefore it was just a matter of mouseclicks when I came accross reasonable fares on my beloved airline Cityjet, partner of Air France-KLM.
To get the most interesting and cost effective itinerary, I would fly out of Rotterdam-The Hague Airport on a Fokker 50 (yeah!), back on a RJ-85 to AMS. I recently flew their RJ-85 also between AMS-BVE so if you missed it, it's here:
Fly To Brive Dordogne Valley On AF-Cityjet RJ-85
(by
airbuseric
Jul 15 2012 in Trip Reports)
Well, leaving on a Saturday becomes slightly troublesome to get to RTM timely. Of course, I could make some adjustments to get myself there but by just following the normal schedules it should work out when I took the 05.32am train changing at Leiden to an intercity service bound for Rotterdam Central. From there, the first bus of the day would drive me to the airport.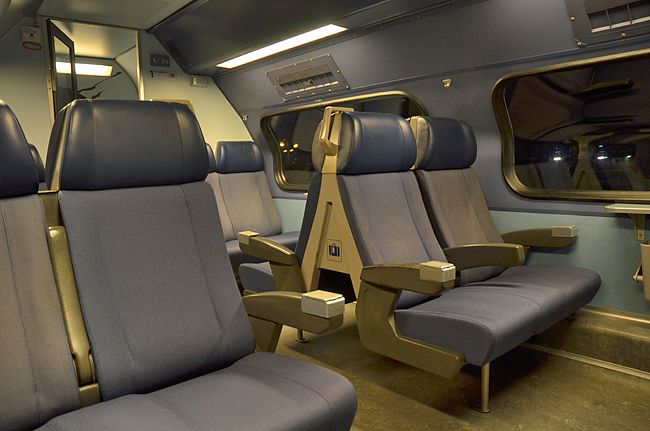 .
Train 1: Local all-stop train interior... Still dark outside

.
Train 2: (older) intercity train interior... More comfortable here

.
Arrived in Rotterdam (Central Station). Change for the bus to the airport here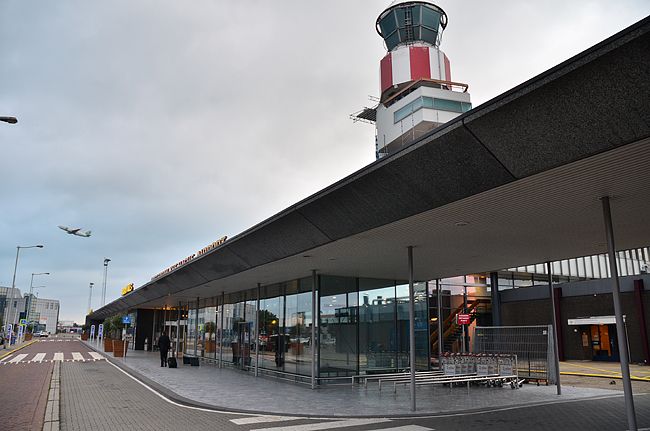 .
Rotterdam The Hague Airport after arriving by bus. Front view of the terminal
Rotterdam The Hague Airport
Well, this schedule worked all out perfectly fine on August 25th, and I reached RTM on time to get my boarding pass printed at one of the 3 open desks for Cityjet. Aside from the LCY service, a charter to the Channel Islands was scheduled as well.
Cityjet passengers can take complimentary newspapers from the stand but when I looked at these I noticed the Friday (previous day) ones. Never mind. Some cheap Transavia passengers where happy to grab some though (they're not for you guys!).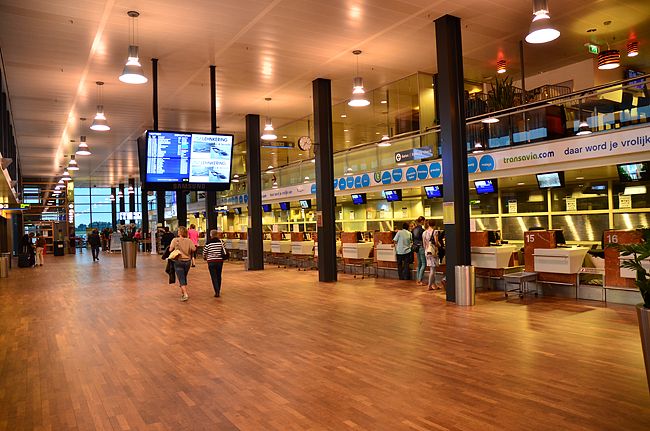 .
Check-In area at RTM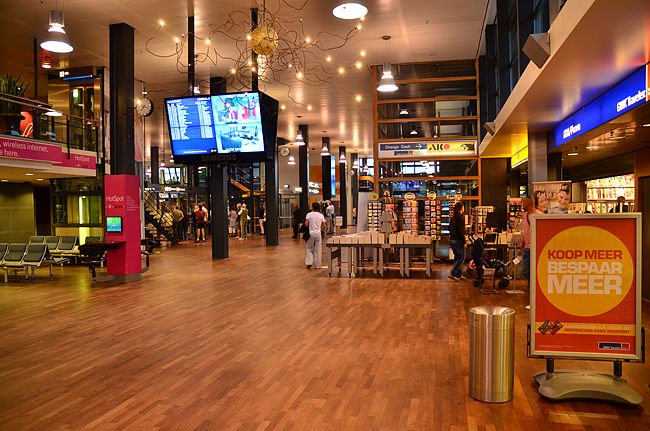 .
Check-In and further in the background, Arrivals at RTM
Security was slightly 'busy' with a few HV departures due, but my status in FlyingBlue gives me the 'SKYpriority' treatment, so fast track for me. Two HV pilots have to queue behind me, and as far as I can see, they were not happy with me -a passenger- in front of them. Well, security was basically a breeze aside from the random beep when I pass through. That means a pat down, but a friendly officer here and some talk. Job done in seconds, no issues. Also my bag had to be opened... A can of Dutch mints caught interest but was let through immediatly when they saw it.
The departure lounge in RTM is small, and with a few HV Boeing 737's departing around the same time, it gets crowded at moments. Though now it was OK, I buy myself a coffee, drink it, and go upstairs for a bit of fresh air on the open-air roof terrace.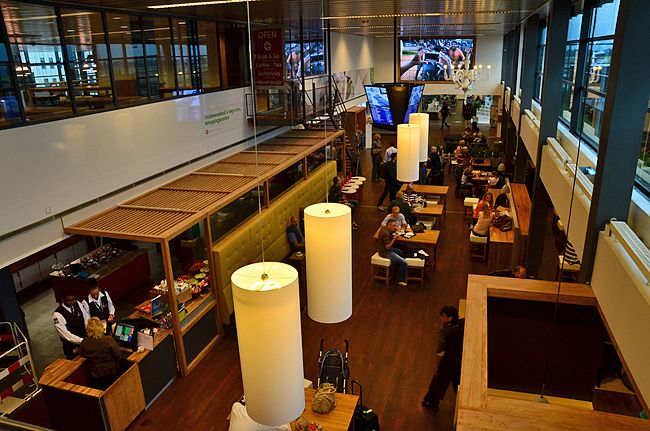 .
Inside the 'secure area', view from above on the waiting lounge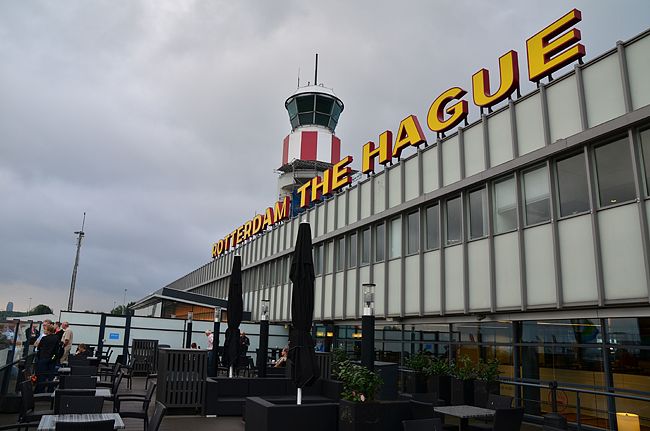 .
Outside observation terrace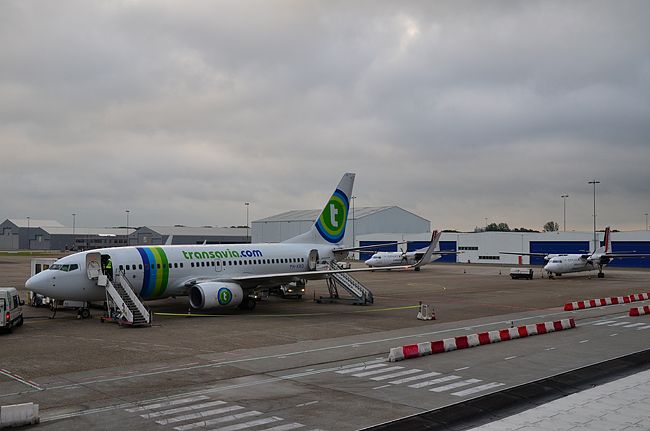 .
Transavia and Cityjet around (view from the observation deck)
The Flight: RTM - LCY

After that I swiftly pass the passport check, to gate 4. In the small waiting lounge there is enough room for a Fokker 50 load, though with a 737 (e.g. later that day an ArkeFly to Enfidha) it gets too busy for sure.
Meanwhile I count 27 passengers on my flight, and we are let into a bus that delivers us to one of 3 awaiting F50's.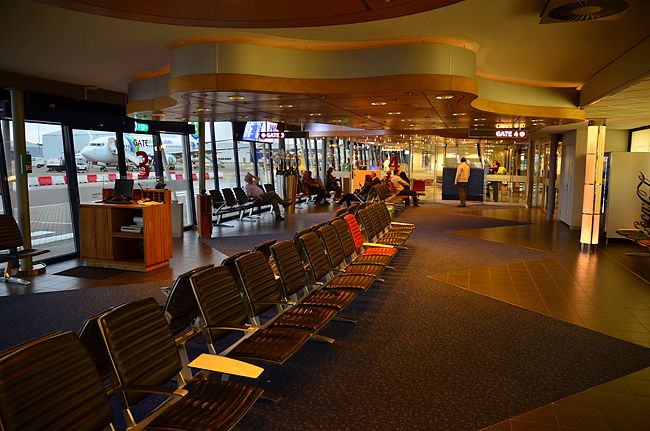 .
Boarding gate area
I got a happy face when I noticed that OO-VLP, or "The spirit of VLM" took honours to fly to LCY that morning. The name VLM is still around here and for me this particular machine is a new entry for the log after flown multiple examples of their fleet already.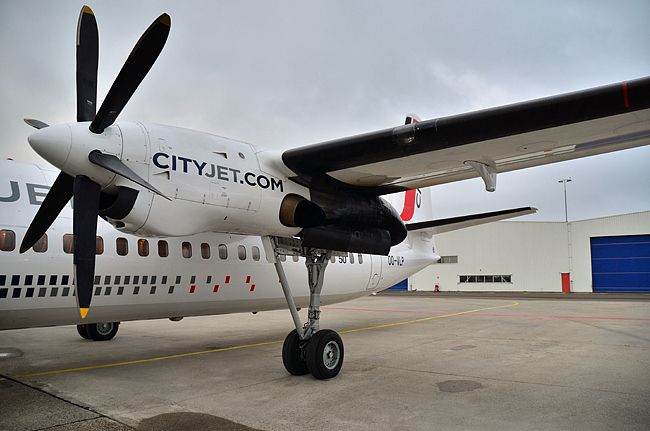 .
Fokker 50 for me this morning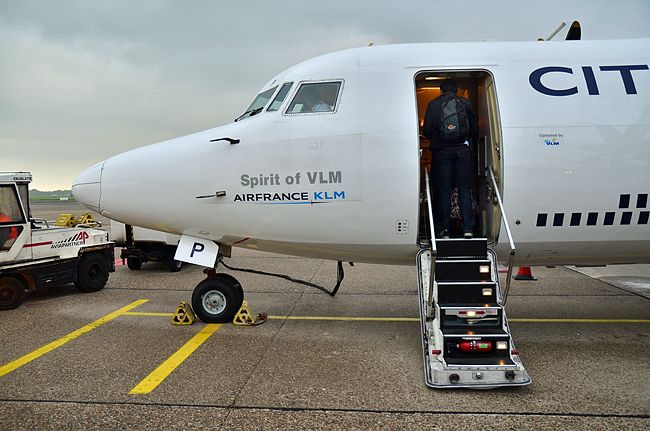 .
Entrance of 'Spirit of VLM'
It rains a bit when we go from bus to plane, I try to stay inside the bus as long as possible, and manage to be the last person boarding. A friendly greeting in Dutch from a Dutch male flightattendant, a female was standing in the back of the cabin. Both business friendly. I quickly ask if he was ok with me changing seat from 06A to 03D, and that was of course not a problem here.
RTM-LCY
Flight:
AF5072 /25AUG12
STD
08:05
ATD
08:10
STA
08:05
ATA
08:06
A/C:
OO-VLP
(Fokker 50)
S/N:
03D
(Economy class/Y)
View Large
View Medium


Photo © Matej Lelek
When we all get seated the captain welcomes us onboard, announces to keep the seatbelt fastened all way due to expected turbulence all the way accross the Northsea, caused by strong headwinds.
I buckle myself in, comfortable as always here on these brown leather seats, and startup is a few minutes late. The safety demo is performed, manually, meanwhile we taxi to runway 24 for a departure in Southwesterly direction.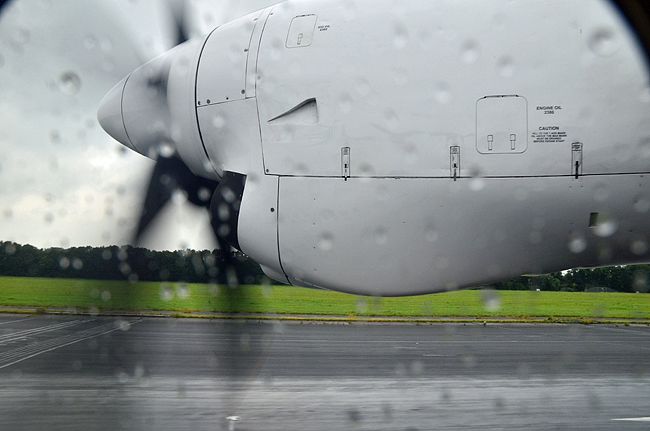 .
Taxiing to the active
We get airborne, with a few bumps here and there. Followed by overflying the city of Schiedam and soon Hook of Holland (from there the StenaLine ferry departs to Harwich).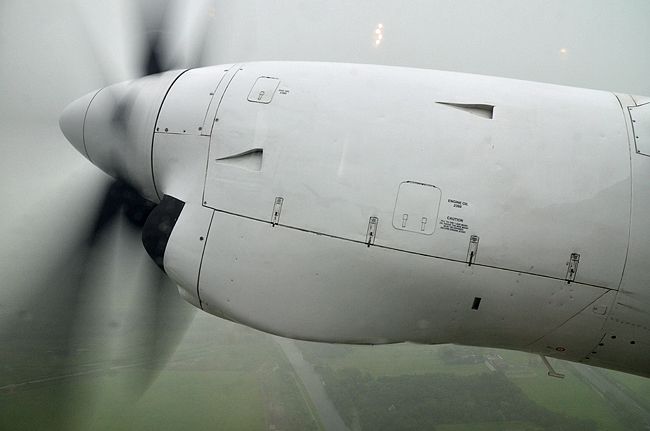 .
Climbing out in murky weather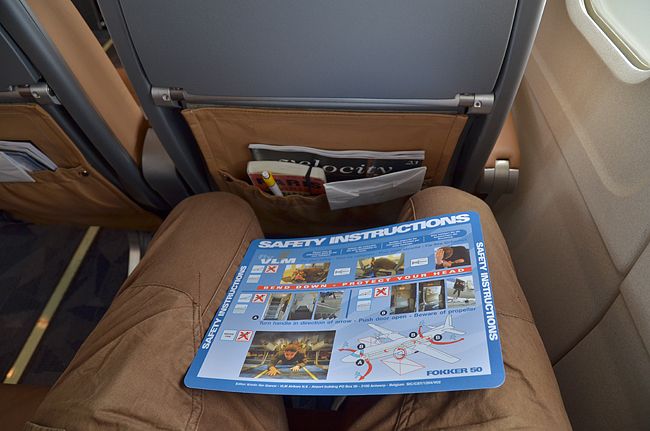 .
The safety card and your legroom shot

.
Comfortable seating here
The captains managed to get out of the clouds after a while, so the turbulence is mostly gone too from that moment, it seems that the headwinds are less then expected after all. So service is given here, not disappointing at all.
A coffee or tea, a choice of regular or chocolate croissant, and juice. A perfect choice for light breakfast here. Note that no second bread was offered, though, a second cup of coffee or tea was given.
I noticed the single person in CityPlus got a carton breakfast box which included additional yogurt and marmalade, plus some fresh fruit. This person got his drink in real glass/China instead of e.g. me in plastic/paper cups. Furthermore there was no difference on this flight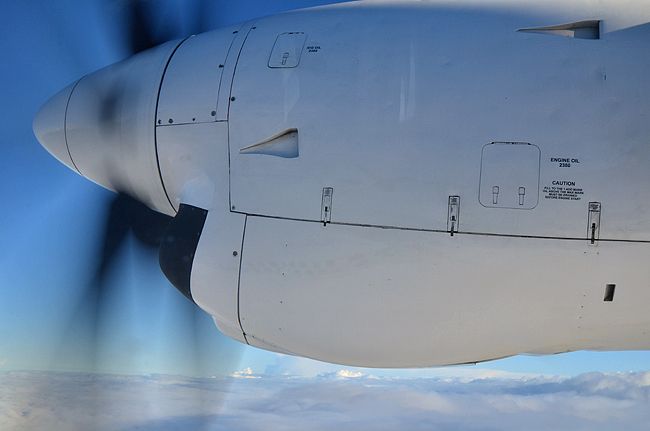 .
Clear of the clouds!

.
Breakfast

.
"TCAS Alert!" Hapag Lloyd is around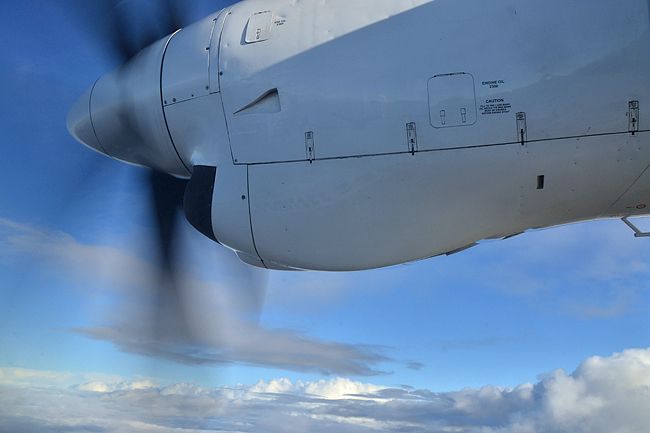 .
Coming closer to London now...
Soon I notice out descend for London was commenced and also the captain made a call that landing was foreseen in 15 minutes. Followed by the cabin crew preparing the cabin for landing.
Approach was straight in for runway 27, which offered no views on the city of London unfortunately. We touch smoothly and are able to take the second exit which leads to the apron here at City Airport, parking was immediately there at gate no. 2. Block-time here 54 minutes, not bad at all.

.
Approaching LCY runway 27

.
Vacating the runway

.
Disembarking at LCY
I'm off quickly, and must say that all passengers on my flight were luckily just in front of the arriving bus(load) of A318 passengers from the JFK-LCY BA flight whicharrived just ahead of us. I must say, I'm impressed by the amount of people coming off that flight.
LONDON
Well, with no other movements around, imigration took me 2 minutes max and I was let free into London. Another 2 minutes later I was able to catch the DLR railway into the city, changed to the underground Jubilee line and met up with fellow a.netter Gabriel (gabrielchew) just 20 minutes after my arrival. I'm now at London Bridge station, we walk off to Borough Market for breakfast, coffee and some good talk.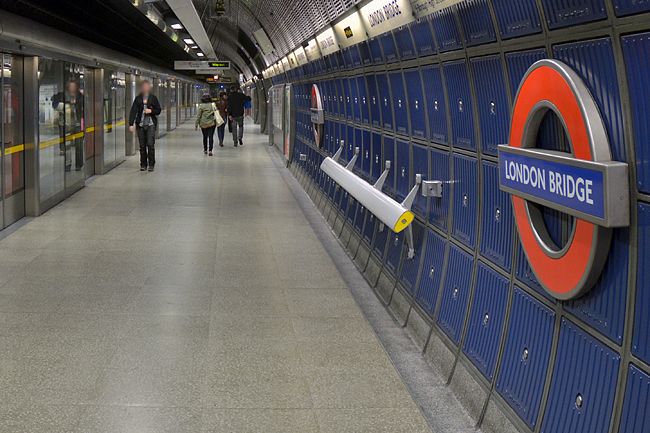 .
London Bridge Station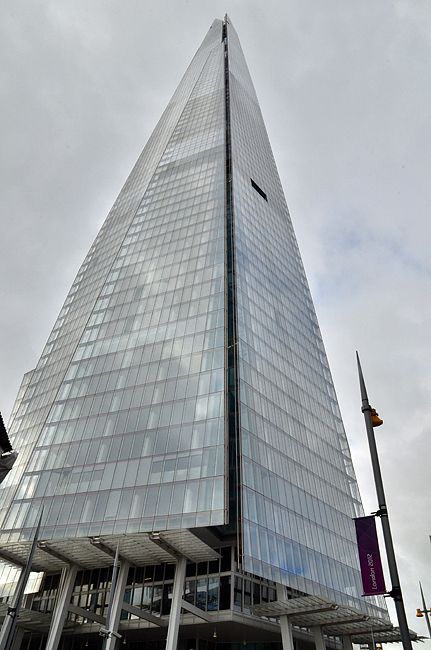 .
"The Shard" and with 309.6m height the tallest building in Europe (opened May 2012)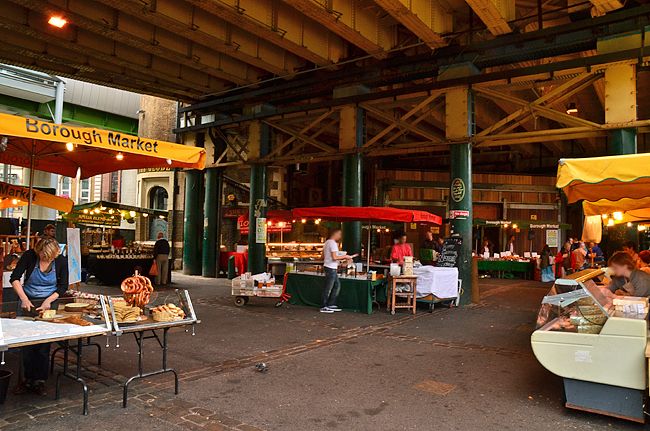 .
Borough Market

.
The Market Porter. Looks nice!
After breakfast, it's time to hit the city. We walk along the Southbank and enjoy the sunshine, the views, the talk, the Tate. Highly recommendable if you like some modern art. After the Tate it's accross the Millennium Bridge for St.Pauls Cathedral. We split up at this point since Gabriel had private appointments in the afternoon, whileI head off on my own for some city walking and my visit to the Photographers Gallery, another interesting museum which also had an exposition about Japanese photography.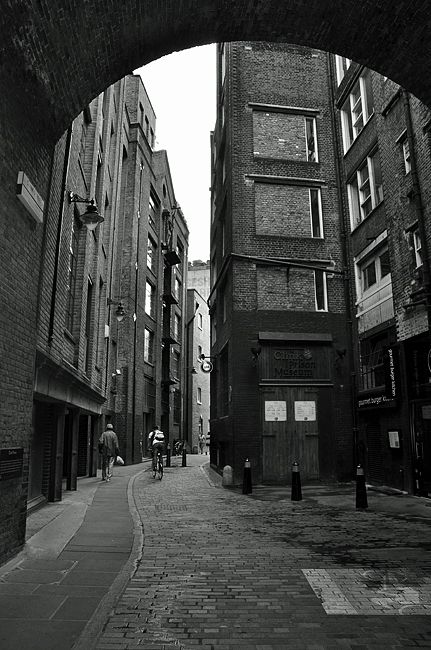 .
Soho Wharf

.
Bankside and "The Shard" rising high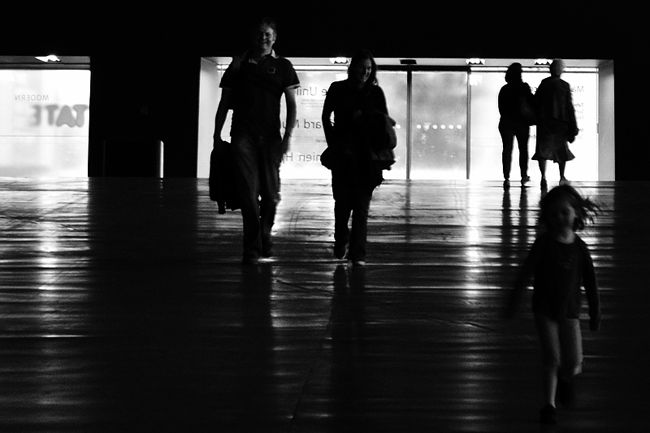 .
I enjoyed the Tate, lovely place to spend time!

.
Millennium Bridge to St. Pauls

.
St. Pauls Cathedral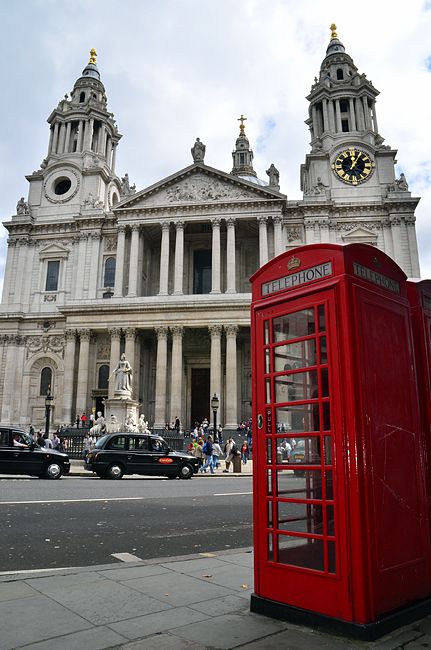 .
Typical London with St. Pauls

.
St. Martin-in-the-Fields

.
The Photographers' Gallery
A sudden thunderstorm hit me once in Oxford Street, luckily the shops were close by so I got some shelter. I didn't find anything of my liking to make a purchase though, sorry next time maybe again!
While the rain didn't stop for a while it seemed better to catch the tube again and transport myself to Knightsbridge for a quick Harrods (I hate that stores layout btw, though it gives a special feeling being in that huge store), bought a little souvenir at National Geographic (lovely store) and catched a coffee at Starbucks down the street where Gabriel came upstairs to join me again for the remainder of the day.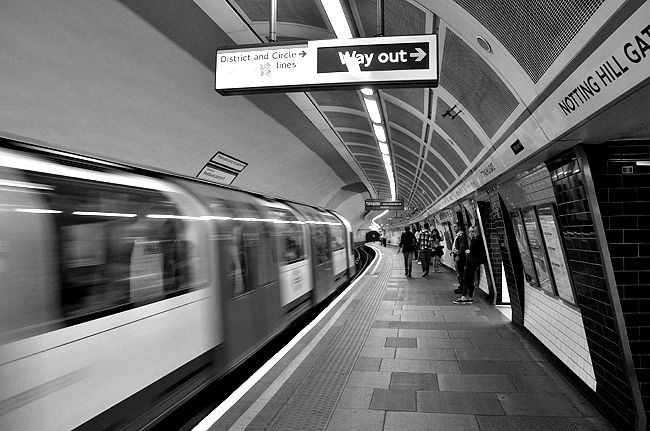 .
Riding the tube again...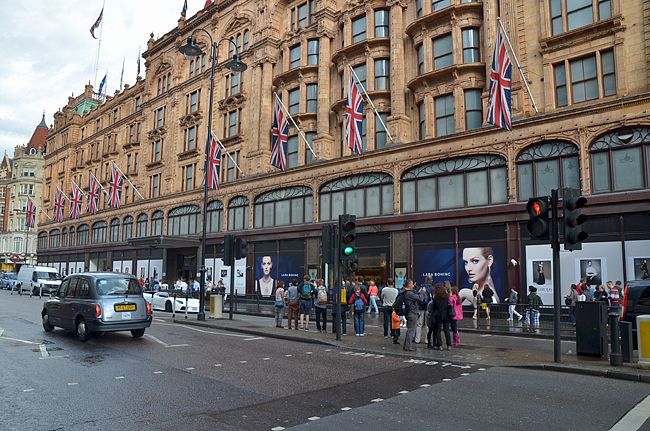 .
Harrods

.
August 2012: anybody in for Christmas Shopping?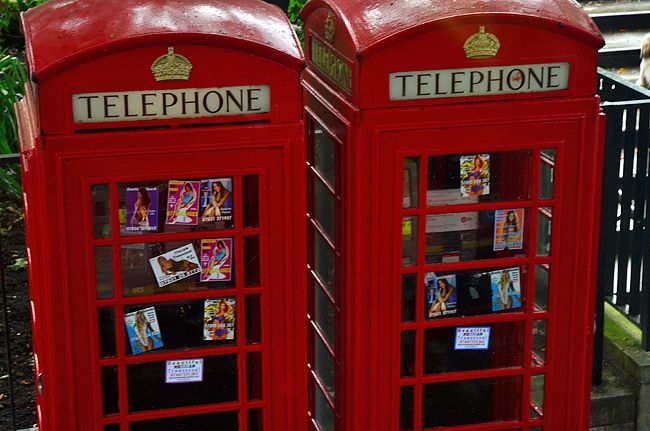 .
Call them here! (if you are in urgent need)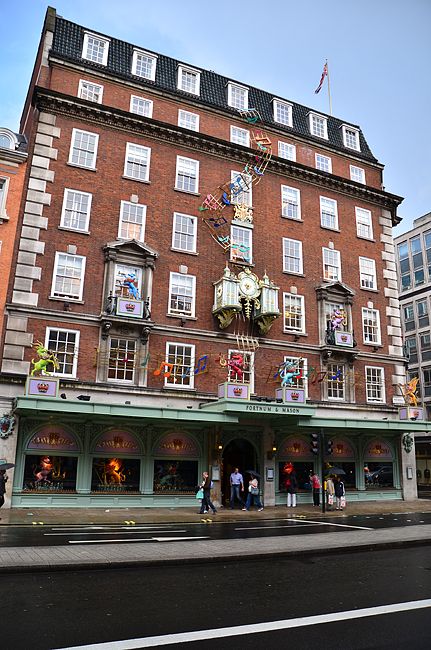 .
This department store I love most for it's delicious teas!
The night was spend mostly in an enjoyable Soho bar, happy hour G&T's, and another mix Gabriel mentioned about, forgot about it though. It was a good time there, nice people around and good vibe. Should go there again...
But what you do when you simply forgot dinner at the usual time; well, dim sum and Chinese noodlefood at 11.30pm. No problem when you're in London, especially not with Chinatown around the corner. Luckily on our way to the trainstation to catch a train to one of the London suburbs where I did some couchsurfing at Gabriels place for the night. Thanks mate! Great hospitality! And I enjoyed the ride on your overpriced train at night.
_________
Next day, Sunday August 26th. The sun is around, some clouds. Quite enjoyable weather that day. After some bites for breakfast we were off for a short walk around St Albans. The clocktower was open (according Gabriel a special event, only happening around 10 times a year). So the little donation was done here to climb up the 93 narrow steps. Do you know the original bell is still in place? It's named after Archangel Gabriel (cast round the bell is the Latin rhyme "From Heaven I come/Gabriel my name"). How nice and coincidence here. Another coincidence is that St Albans is twin town of a place called Nieuwleusen in The Netherlands, actually very, very close from where I was born.
We walked further along the famous The Cathedral and Abbey Church of St Alban. At 84 metres, it's nave is the longest of any cathedral in England.

.
St Albans clock tower

.
After 93 steps you get this beautiful view

.
The Cathedral and Abbey Church of St Alban
After all this we continued to the station to catch another train down into London. Here fellow member Tom (aka Tupolev154) met us. Well after a good time and snowball fight in Tallinn earlier this year it was good to see him again, so we shared some talk with lager and fish 'n chips in a British pub near Leicester Square.

.
In downtown London again before lunch
Well, for me the Codfather was a great choice and nice enough meal before we all went towards the Greenwich Peninsula for a flight on 'EK' Emirates, the Air Line. Check-in was only possible by cash payment at the counter of by Oyster, and queing the line of other passengers in front of us. We checked-in via the entrance gates, no security checks neccesary here, and were given a shared gondola, one of 34 working on this line and leaving at intervals of 15 seconds. Emirates named each gondola with the name of their destinations. If I remember correctly, Barcelona took us accross the River Thames with a departure just before 5.00pm in the afternoon. Just in time to arrive at the Royal Docks from where a DLR train would bring me back at City Airport for my 5.50pm departure to AMS. Yeah, we should not have flown much later, with not much room left to buffer errors in the schedule.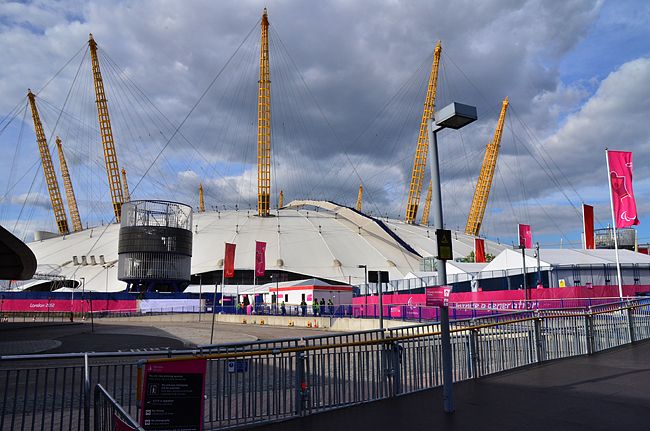 .
The O2

.
The Emirates Terminal

.
Queuing for check-in

.
This is the equipment Emirates is using for this new service

.
Boarding gate scene

.
Departure of the flight...

.
Canary Wharf in the back with "The O2" in front

.
London City Airport is visible here

.
We continue our flight on this busy airroute…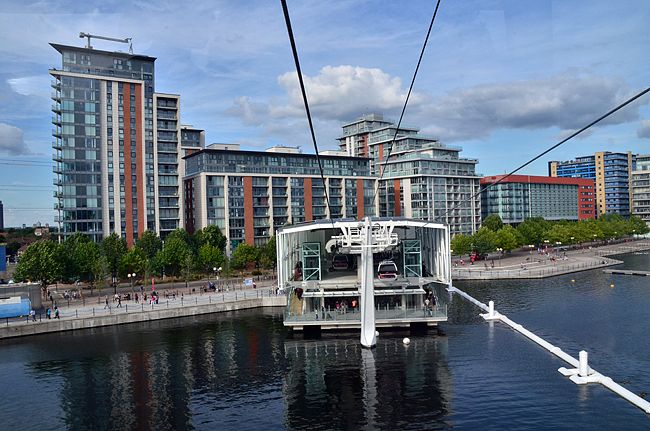 .
… but soon the journey comes to an end again. Arrival at Royal Docks
The DLR brought me at LCY around 5.25pm, check-in was done but I had to print out my boarding pass here. Window seat last row secured on the RJ-85. A 2-seater on this airline. You can't get much more comfort on these birds. Security lay-out is modernized, really nice structure here. 2 lanes open, of course I beep 'random' and get the full check, had to take my shoes off. I hate that, especially when it's just for 'random'. Anyway, the staff here really friendly and we chat a bit so that leaves me with a positive opinion in the end. It's all about attitude. No time here to hit the duty free or bars, just my flight shows as boarding.

.
Very quiet afternoon at LCY
I try to obtain a seat in row 1 or 2, just in case the remain empty. But the staff at the information desk tells me that the aircraft is completely booked out. Hmm... hard to believe, but true in the end. BA cancelled their previous Embraer 170 flight to AMS because the jungle jet broke down. Well, everythings goes smoothly when it has 4-engines-to-go, so good business here for Cityjet (AF/KL).
The Flight: LCY - AMS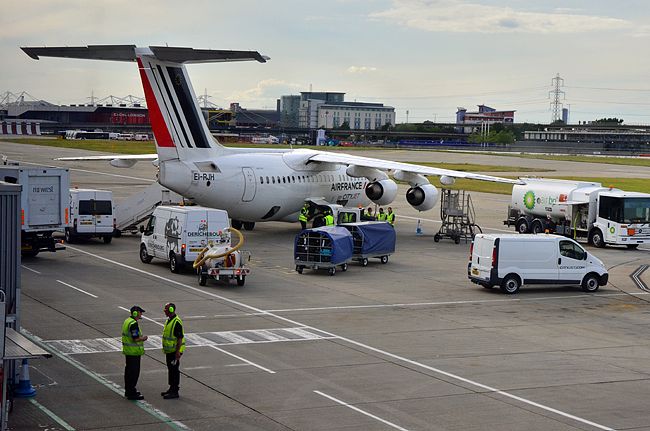 .
The expected RJ-85 is waiting for me...
Boarding at gate 7 and a friendly ground agent checks my ID before boarding (yes, she even addressed me in Dutch language!, kudos for that), onboard the friendly welcome by a female FA in the back, she stores my backpack in the galley locker. Nice touch!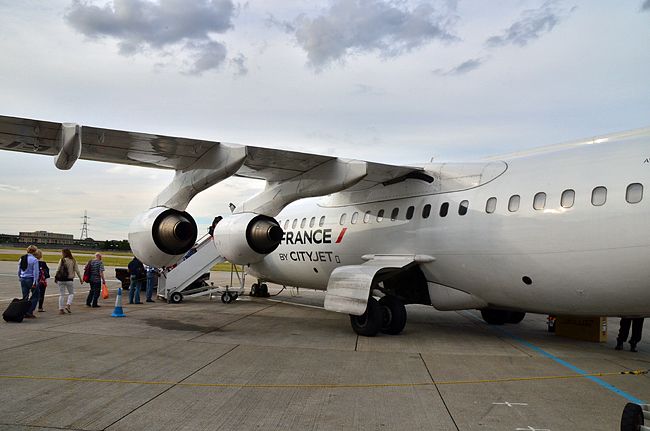 .
Boarding...
LCY-AMS
Flight:
AF5195 /26AUG12
STD
17:50
ATD
18:09
STA
20:05
ATA
20:04
A/C:
EI-RJH
(BAe Aerospace Avro RJ-85 )
S/N:
17A
(Economy class/Y)
View Large
View Medium


Photo © Elia Lechner
A welcome from my seatmate, an Australian guy visiting a friend in Amsterdam. Rebooked from BA, and not amused. Well, I said the service on Cityjet was better so he shouldn't be worried too much. He was fine with my picture taking, he even mentioned that Aussies are not that paranoid compared to Americans. Well, he's spot on I guess.
Doors closed a little late, no reason given, which dissappoints a bit. Though, the captain comes on the speaker and announces the short flighttime to Amsterdam and estimates ontime arrival which is good and what counts of course. He mentiones our cabin crew is cabin supervisor Natascha with Stacey in the back. Well, they would do a safety briefing now, the captain asks for our good observation, just in case...
Meanwhile we leave our stand and taxi onto the active runway for backtracking. Runway 27 in use again, a turning path is available and we await the arrival of another flight before lining up the runway for our takeoff. With brakes all set, full throttle is given and at some moment the meanwhile shaking RJ-85 is given a 'go' and brakes released. We quickly roll down the runway and soon climb into the clear London skies. But the steep climb rate, and followed righthand turn makes city views very limited.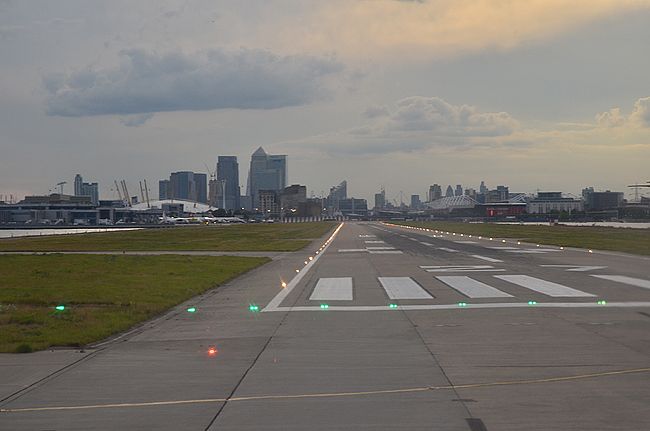 .
Lining up runway 27 with the city in the background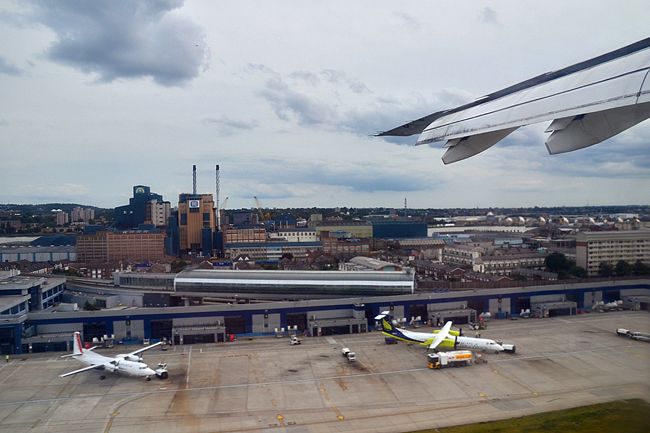 .
Airborne!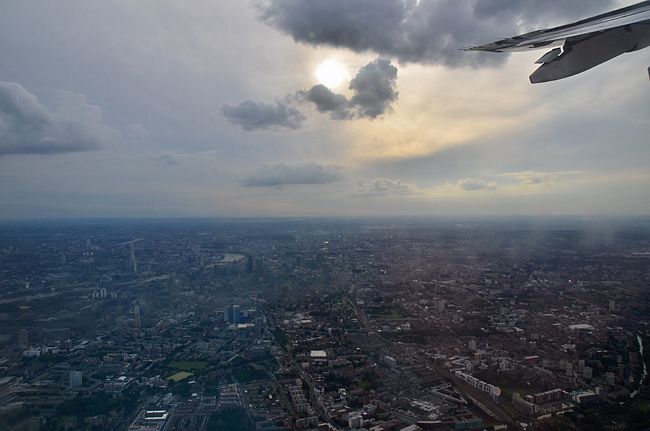 .
Turning away from the city of London
What followed was a calm cruise and limited view with some layers of haze below us.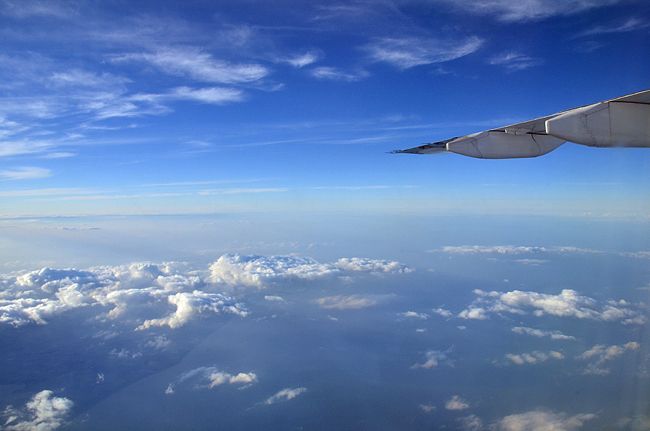 .
Smoothly Cruising
Service on this short flight was given from the front to the back rows, either choice of sandwich or snacks, plus drinks and full bar service. For me the 'Gouda' cheese and cucumber sandwich, along with doubles G&T, gladly given to me. But hardly time to eat. The crew is finishing my (last) row when the seatbelt sign is turned on and 15 minutes to landing is announced.

.
Generous catering on offer here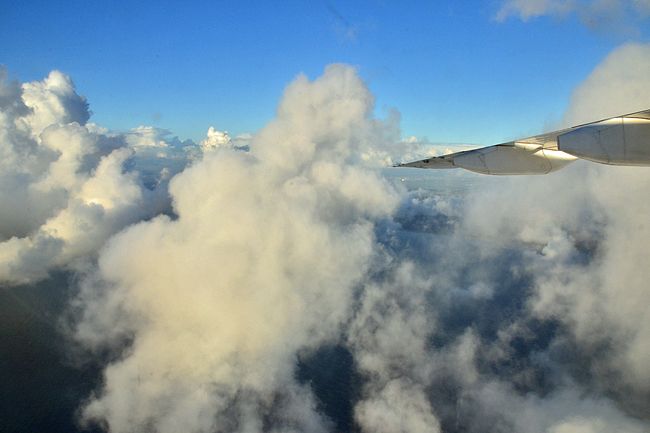 .
Descending for AMS
Approach is a nice routing to runway 36C, quite an odd runway to land on, so we overfly the -there is is again- city of Gouda (yes, from the cheese and Gabriel visited with me recently), nice setting sunshine and some clouds, reflections on the waters. A real joy to have the window seat for this matter. Landing was smooth with wet runway conditions.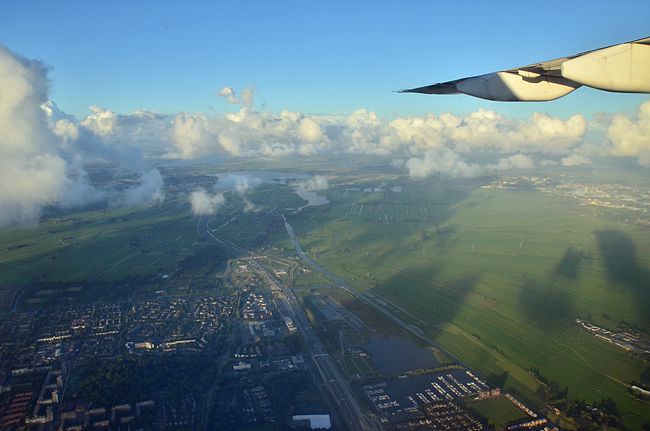 .
The beautiful Dutch landscape below me..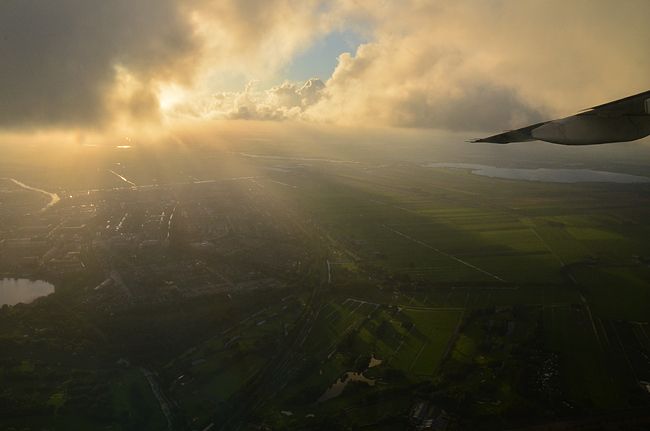 .
And you all know I love a sunset when I'm flying

.
Vacating the runway at AMS, a Corendon B737-800 is taxiing out
The captain was quick with taxiing but to my surprise no fingergate here in AMS, but a very odd parking spot on the D/E-buffer zone, with spot D95 ours, 2 buses waiting for the passengers. With the bus standby it's not so bad, but I never arrived as a passenger on this buffer area.
Good point here is that there is only a short walk from where the bus drops me off, close to immigration, and in a few minutes walk and waiting I'm entering my own country again. With no luggage to collect, I'm off to my house a few minutes later.

.
Back in Amsterdam! The end of a great weekend out in London!
Conclusion
Really convenient to travel this way, from such a city to Amsterdam, so convenient, so smoothly, good service and ontime performances. I hope Cityjet can keep their current level of service up in the air for the future also. I like them a lot.
All I hope is that you enjoyed the read. Feel free to drop me a line, comment or questions... please ask me.
Regards
Eric
[Edited 2012-09-15 10:13:19]