Hi all,
I hope you're not surprised to see yet another tripreport online, quite quickly after my most recent stories about some European flying.
After showing you some insight about flying on these Skyteam airlines:
-
Fly To Brive Dordogne Valley On AF-Cityjet RJ-85
(by
airbuseric
Jul 15 2012 in Trip Reports)
-
Al(l) Italia: 4 Flights + "Magnifica" On The A330
(by
airbuseric
Aug 28 2012 in Trip Reports)
-
Mixed Feelings: Air Europa 737/E195 MXP-MAD-AMS
(by
airbuseric
Sep 4 2012 in Trip Reports)
-
Get Away To London With Cityjet And "Emirates"
(by
airbuseric
Sep 15 2012 in Trip Reports)
, it was now time to bring you a slighly 'delayed' tripreport on Cathay Pacific, a
one
world member.
Due to changes in my personal life I decided to leave my country for a (very) short period in May 2012, to get my mind reset and get to understand some things better of life. A Dutch touroperator was at that time promoting a very attractive offer to Indonesia, to a place I was also in October 2011, back then in a different setting though. Still it felt comfortable and 'known' enough to me to push the 'book it' button, till my mother (who was on the phone) told me that she was willing to join me. So, I doubled the rooms and persons and got confirmed for a departure just a few days later.
This trip included flights in Economy Class on CX from AMS to DPS (via Hongkong, of course), which would entitle me to use the
one
world
Sapphire
benefits since I'm loyal with another airline in this global alliance. Of course, my mother was able to use the same benefits as travelling partner and guest.
Because the reason of this trip was personal and not really in the 'travelling mode' myself, I decide not to include many pictures aside from the ones related to the flights on CX. Also the text will just be briefly describing around the flights and transfers. Please join me!
Jumbo Jet's Galore!
CX in Y: AMS - Hongkong - DPS v.v.
__________
May 11, 2012: I meet my parents at the airport. They came by train, me also, but from another direction. With no hurry to check our bags and ourselves, we still decide to get rid of the 2 suitcases. I had arranged a row of 3 seats for me and my mother (middle one free) on both flights to DPS. That's what's left of my career at the airport in my former life. I know quite some people here and there. The flight was said to be close to fully booked, so I count myself lucky with these contacts. Normally the booking class of my ticket would not allow any advance seat reservation, as it also does not generate any mileage for the frequent flyers programms etc. These touroperators always have those pre-booked block-bookings with airlines, and I had taken advantage of the last available ones from them as last-minute. Good price, no flexibility.
The procedure was all served quickly at the Business Class counter in departure hall 3, after the boarding passes and lounge invitation (for the British Airways lounge) is given, and a quick chat with Steve (yes we all know him from Suryo's wonderful tripreport:
Cathay Pacific AMS-HKG: An Upper Deck Experience
(by
akhmad
Apr 7 2012 in Trip Reports) ), a former 'collegue' and check-in staff for the airline I worked for. A fantastic guy, super friendly and made for this job.
Well, after the formalities here were done, we enjoyed a quick coffee at the panorama terrace restaurant, mostly because my father enjoys seeing the aircraft. He would stay at the observation deck till our departure. With only 1 Cathay Pacific aircraft around, it would be easy to spot our flight for departure, of course.
After some time we bid farewell for that time, and me and my mother proceed through passport control into the airside area of the terminal. In the bookshop we buy some latest issues of Dutch magazines, probably needed as reading material on the beach or at poolside. After this, it was upstairs to the British Airways lounge, where we enjoyed some drinks. My mother though doesn't feel too comfortable in lounges, since she is not used to it and it hesitating to enjoy the free drinks, bites, lecture. I tried to make her comfortable and got her some drinks. After about 30 minutes in the lounge we decided to walk slowly to the G-concourse for our flight boarding from designated Cathay-gate G7.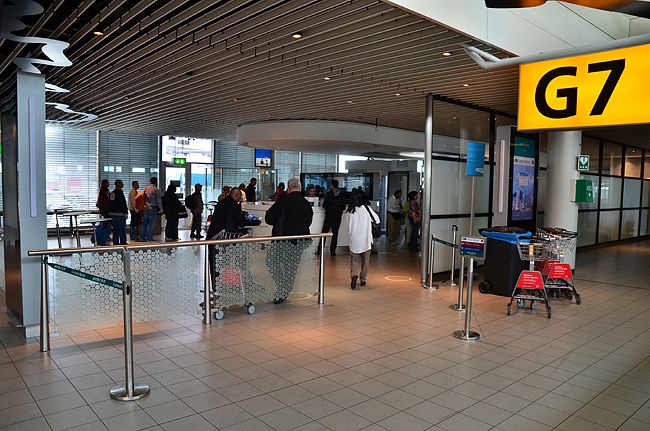 .
Gate entrance G7 at AMS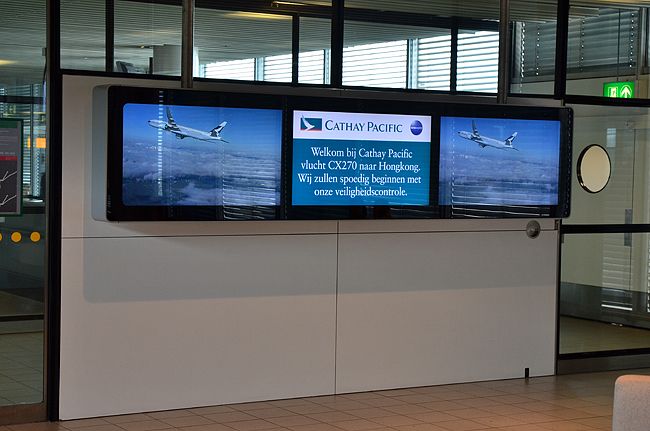 .
Dedicated screens and set-up here for CX flights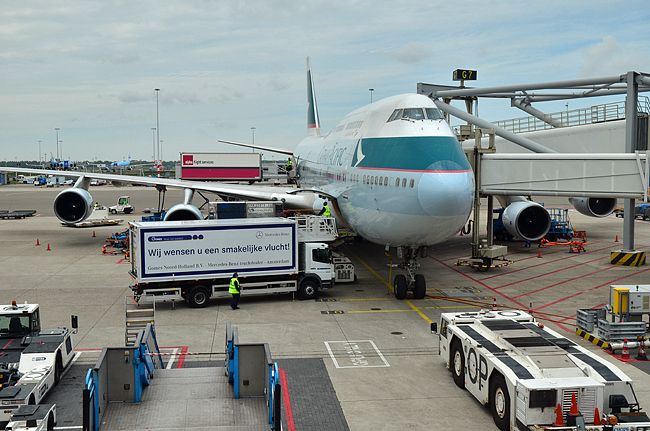 .
The Boeing 747-400 getting ready for another longhaul duty
Pre-boarding was well underway, a compulsory full bodyscanner was in use here, and one can opt out but that results in full body-search AND shoes off, which didn't attract me either so I give it a go once again (I used these machines in test-phase as employee some years ago). Well, still the same issue, while completely 'clean' I was still body-checked at since the machine mentions about possible metal items on my body (but there were none). It seems to be the case so often. I'm not a fan of these new devices so far. Well, the bag was all fine and the staff in OK mood, so no big deal and all.
We take our position in the priority boarding area, which was clearly too small to accomodate the amount of premium passengers and status holders for this full house flight on the Boeing 747-400 to HKG. Waiting didn't take long though and soon we were let on board, using the overwing boarding bridge for Economy Class (enter door 'L4' behind the wing).

AMS-Hongkong
Flight:
CX270 /11MAY12
STD
14:10
ATD
14:25
STA
07:10+1
ATA
06:56
A/C:
B-HKE
(Boeing 747-400)
S/N:
52A
(Economy class/Y)
View Large
View Medium


Photo © Yan David
We direct to the left and friendly receiving a welcome greeting. Row 52 is ours, window for me, aisle for my mother. Middle one we share. The seats are the economy ones where so much talking was about. Some think it's ok, others say it's not comfortable at all. Well can already mention that I was fine in these seats for all 4 flights, quite long durations. It didn't hurt my back, maybe the seat cushion could be a bit more soft but it's not annoying hard.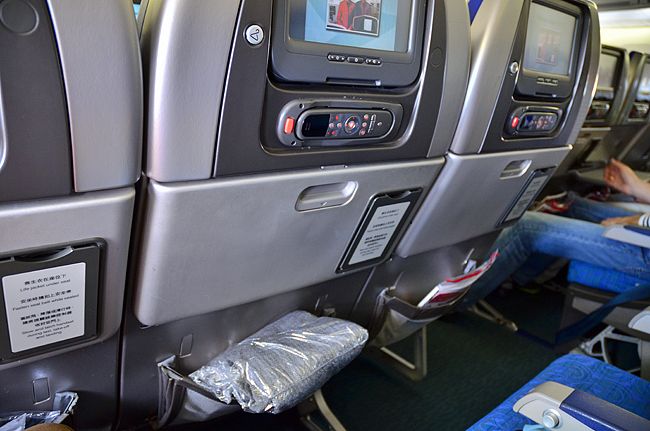 .
Legroom overview (and part of the seat in Y)
I see Emirates on my left with the Boeing 777-300ER, back then the standard equipment on the daily rotation from Dubai. Nowadays, the Airbus A380 is deployed and gains a lot of attraction in AMS.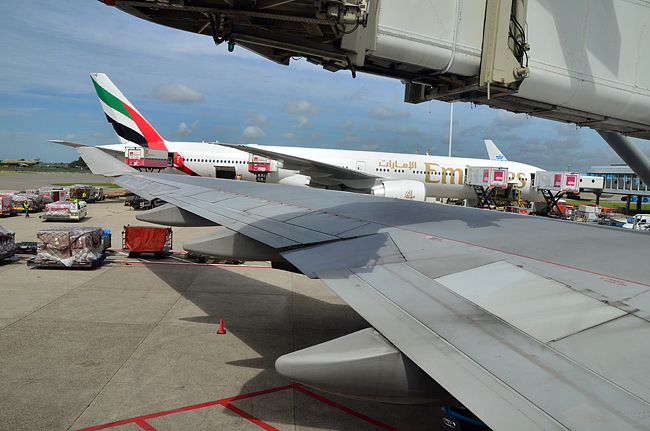 .
Emirates B777-300ER parked next door
Pushback is a little late, caused by late finish of fueling. During pushback, one of the flight attendants comes to me and confirms my order for a special meal. She already asks what I would like to drink with it (hmm... a bit early to ask?). The safety video is on each personal screen but without sound, plus a sloppy cabin check. Not the best impression about all of this to be honest.
For my comfort I find a blanket and earphones at each seat. What I'm missing here are socks or slippers. Well, maybe I'm spoiled by flying to Japan so much. It's common overthere and a must to supply the Japanese passenger with it. Even KLM does it
Hongkong or China in general is a different piece of cake me thinks.
We taxi to runway 24, I text my father who is on the observation deck, and he confirms that he sees us taxiing along. Departure was the standard long roll as on each longhaul fully loaded 747 flight, quite an experience especially for the less travelled ones among us who think that we would never get off the ground.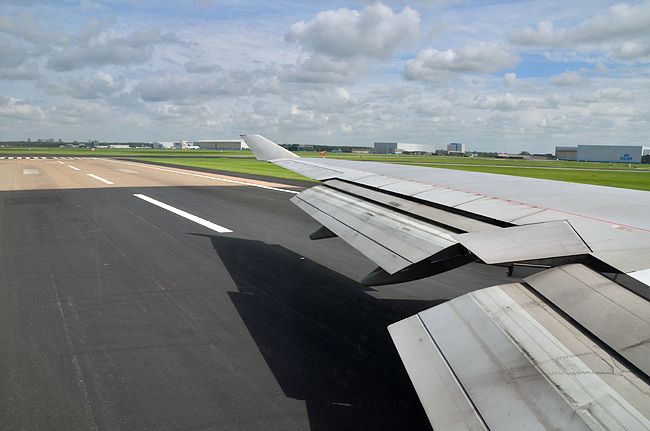 .
Lining up the runway for departure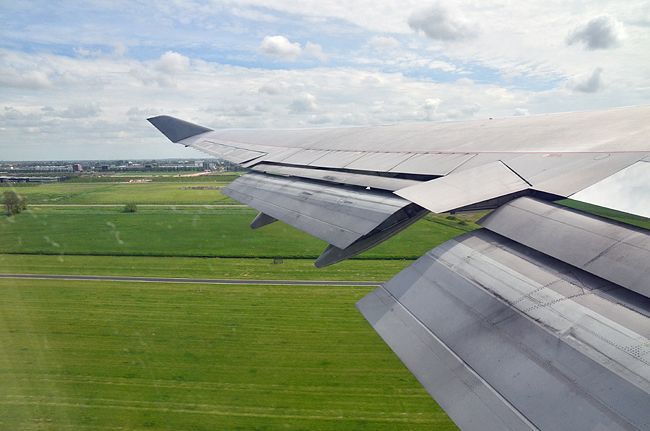 .
Off we go!
A righthand turn, so called 'Spykerboor' departure, and I spot my house on the left. Yes, I live close, and these 'Asia bound' flights climb out dangerously low sometimes lol. A lovely sight though. I'm going to miss this location for living at some day... and that day comes, sadly.

.
Turning away on a 'Spykerboor' departure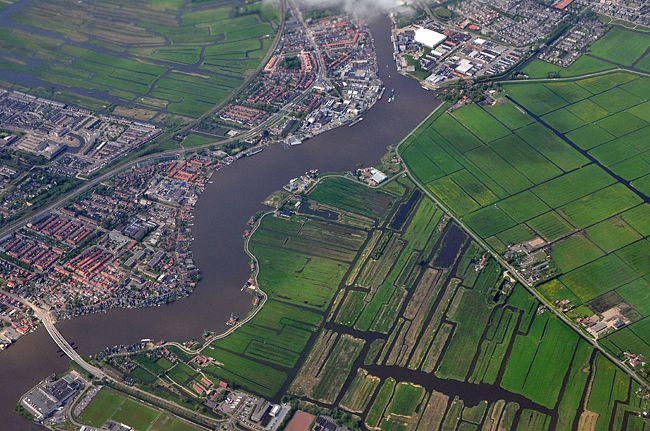 .
For our tourists: "Zaanse Schans": preserved historic windmills and houses
part of ERIH: European Route of Industrial Heritage
When we reach cruising altitude nothing happens till after about 30 minutes a choice of juice or water is offered along with peanuts and refreshing towel.

.
Reaching cruising altitude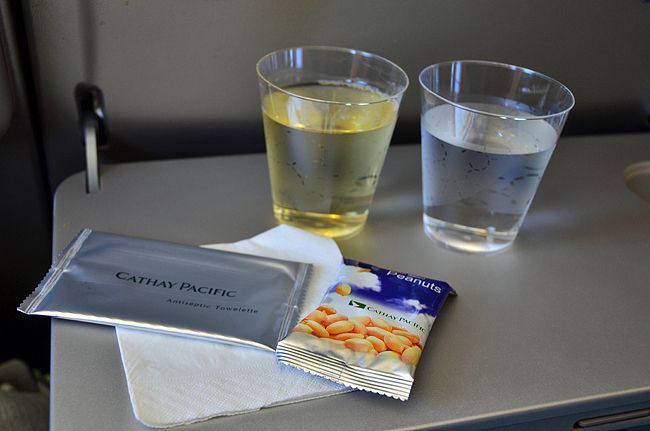 .
Snack and towel service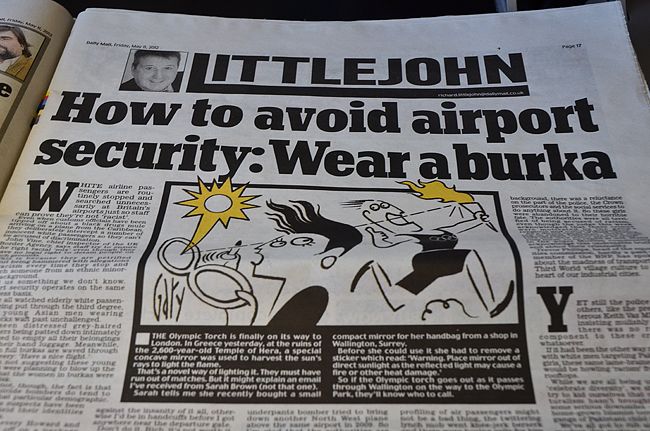 .
The Daily Mail gave an interesting read today
20 minutes later, the meals are distributed. I'm among the first ones to get serviced, my specially ordered VLML (Vegetarian Lacto-Ovo), mostly as personal preference. I'm not vegetarian, but cannot eat all kind of meats. The white wine is on the plate, plus I get water. Some Asian dish, good taste, even a bit spicy which I really enjoy. The salad and fruits are fresh.
When my mother is served, I get another white wine (at this point my mother thinks I'm drinking too much lol). I even manage to get the dessert from the normal meal (icecream), lucky me.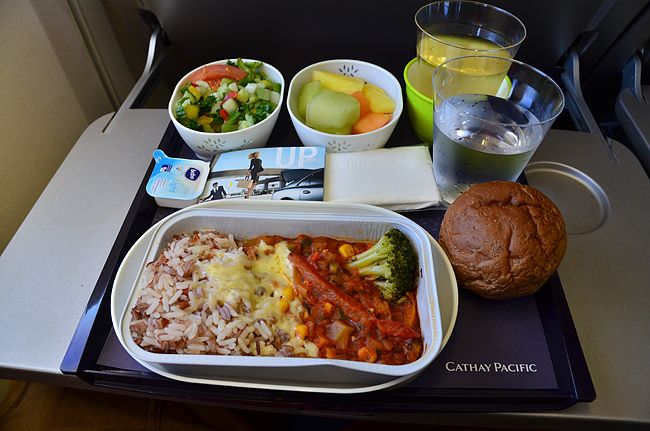 .
My 'VLML' mealservice
Point to mention though; if I order VLML it may include milk products, which includes icecream. There was no reason to take away icecream and replace by some fruit. I noticed this before and catering companies should take more attention to this. Not all vegetarian meals are the same and mine was actually more a VGML then a VLML

.
Icecream!
After the meal I go to explore the entertainment system, and the moving map. Exactly that moving map stops working after 3 hours inflight, not specifically on my seat but really on ALL seats (at least in my zone). For the remaining of the flights no reset was done. Other programms and audio/games worked fine all the way.

.
Cruising... Night comes in!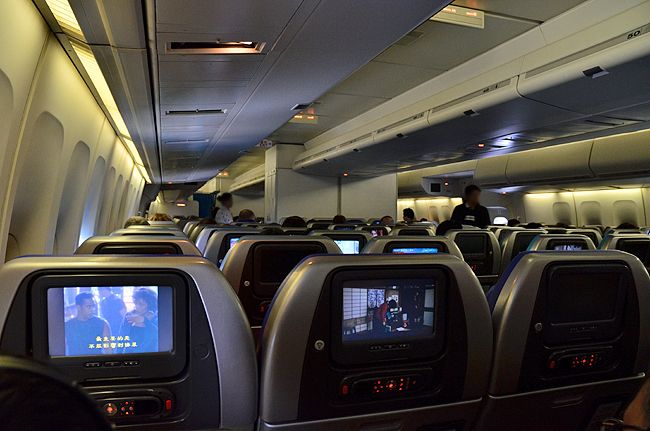 .
Cabin View (from my seat)
The cabin is dark for about 6 hours and even I manage some sleep. During the flight just limited drink runs are done with juices and water. One can always go to get something in the galley though. After exact 6 hours (after dinner), my breakfast appears out of a sudden. The cabin is still dark at this time.
My breakfast contains an omelet, some fruit again, yogurt and bread which was of better use to feed the birds. I open the window blinds and see a new day approaching. Or wait... we approach the new day.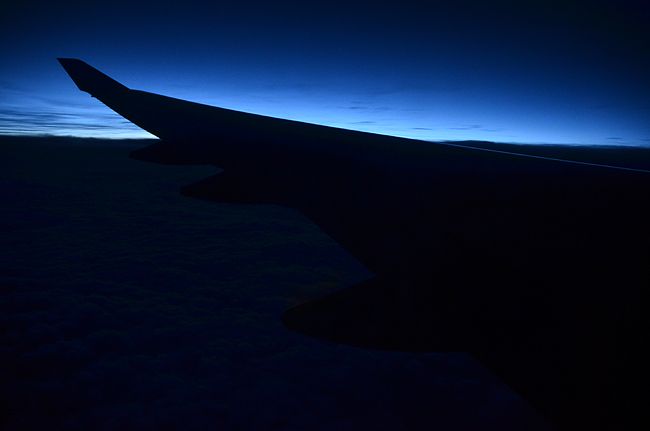 .
Time to open the window blinds again for a new day!

.
Breakfast service before arrival
After breakfast I want to brush my teeth, but no toothbrushes in the lavatories available. So I get myself one in the galley. I really like a refreshing mouth after such a long flight.
Descend started about 2 hours after breakfast, the sun rises and the cabin lives up. Around HKG these are some towering cumulus around, and give some rough air around them with a few bumps.

.
Towering Cumulus clouds during descent

.
Final Approach

.
Landing...
We touch down on runway 07R after an airborne time of 10h15 minutes, and taxi to stand/gate S27 at HKG. My first time arrival at this airport and it looks great with these mountains around and the high rising buildings (becoming a new Kai Tak someday?). Disembarking via 2 exits, so the cabin flows empty in no-time and with the sleepy feeling, the strange feeling of being in Asia all of a sudden, at 7am in a HKG which is getting ready for the new day. I know this feeling very well. I've experieced it numerous times. I don't know what I feel, it's not the most comfortable, I can't take all impressions I get from the people, sounds, location. I should see HKG again some day. Some day soon. I think I like it.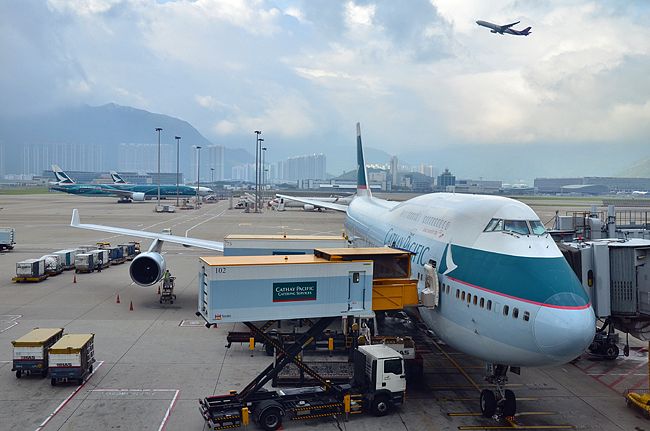 .
The B747-400 after arrival. Resting before another duty calls her...
__________
Well, my mother didn't feel too good at all so we slowly walk to the lounge at G16 where I got an invitation from. Not knowing that I was able to use 'The Pier' at that time, so we just hit that lounge for some coffee and some sweets. I checked my e-mails, and enjoyed the traffic on the apron. All together we didn't spend much time in there, plus, the lounge was not special at all. Some walking was maybe better, and we that's what we did in the end until we reached our gate again for the onward flight connection to DPS.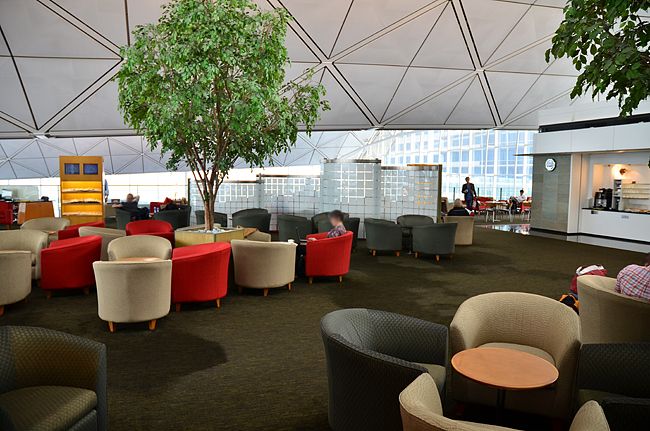 .
G16-lounge interior

.
G16-lounge: great views on the apron
__________
Gate 41, our place for the next ride on another Jumbo. The former
'Spirit of Hongkong'
is getting ready for this flight to Indonesia. Not the most complex journey for this beast.
Boarding starts early, priority boarding enforced and we make use of it via the dedicated line.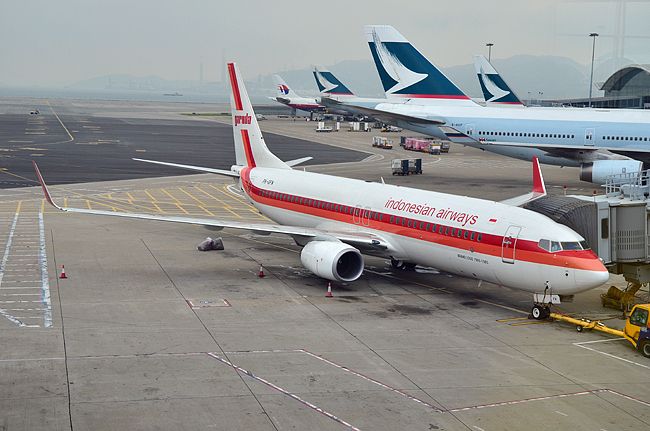 .
Should I board this one? Hmm.. I would like but maybe another time!

.
The area around my gate looks nicely designed

.
This seems to be my flight also with some codeshares on it

.
Another B747 Jumbo will bring me over to DPS

Hongkong-DPS
Flight:
CX785 /12MAY12
STD
10:20
ATD
10:23
STA
15:00
ATA
15:27
A/C:
B-HOX
(Boeing 747-400)
S/N:
49A
(Economy class/Y)
View Large
View Medium


Photo © Sneeze Lam
Boarding via the L2 door, welcome greetings and waved towards the back, first aisle, row 49. Seats A/B/C are all ours, real comfortable on another well occupied Boeing 747. Seems good business for this airline.
Same seats as the previous flight.Middle is free for our convenience. Thanks for that! Another B777-300ER on my left prior pushback, not Emirates, but Jet Airways this time. A company A330 is also around. Pushback nearly ontime. No special things to mention about, all similar as the AMS departure. We start up and slowly taxi out for runway 07R again. Busy activiy on the cargo apron with UPS, Atlas Air, TNT, CX and Hongkong Airlines around. We follow a company A330 and SQ to SIN. No 3 are us. Not so long take off roll till we fly again...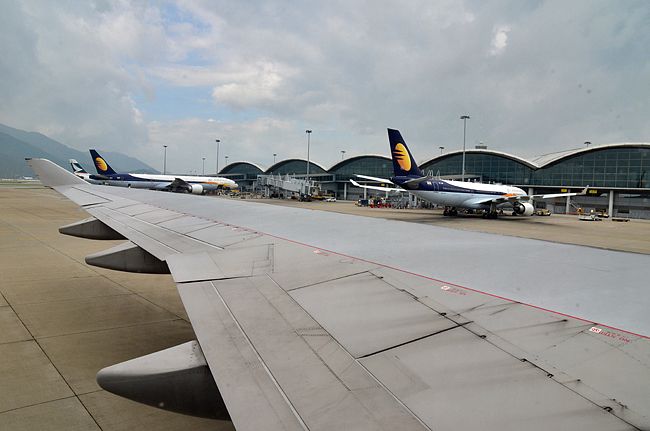 .
Pushback with Jet Airways also around

.
Company traffic ahead. I should fly their A330 also soon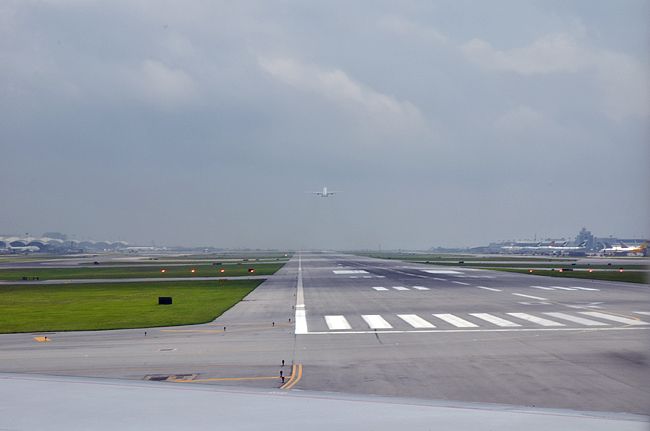 .
Lining up the runway... Traffic climbing out ahead of us

.
...and here we go again!
Peanuts and sprite for me after takeoff, the usual drink after departure is offered. Meanwhile another F/A comes and confirms my special meal. I decide to go for coke zero here. I'm given the complete 33cl can.
The flight itself, in daylight, mostly smooth apart from various deviation from course to avoid high clouds (CB's). Typical South East Asian weather. I spot Bandar Seri Begawan on my left including the airport, homebase for BI. The flight continues over Kota Kinabalu (where I was on MH in October 2003// MH81 from NRT with 9M-MRH) and crosses the island of Borneo. Rainforest all around down there.

.
Cruising altitude

.
Bandar Seri Begewan (Brunei)
The meal is offered during this period and contains a not so special vegetarian pasta (penne), with bland sauce, fruit, a disgusting breadroll, and -not my liking- tasteless rice -/or soy pudding.
I'm not impressed at all. CX could do so much better.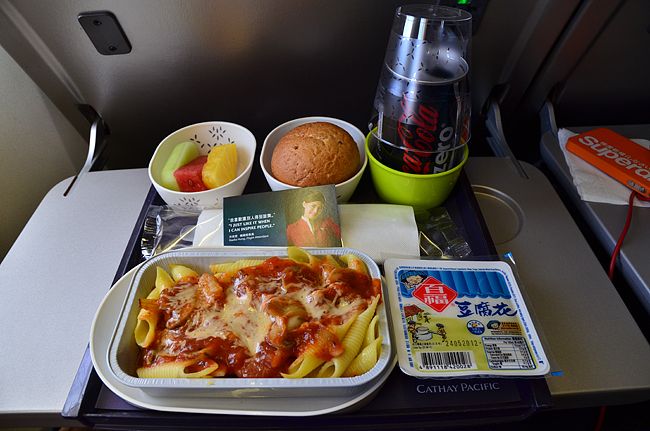 .
Dissappointing meal service
The weather around DPS and over Bali seems not favourable at all. A lot of dark grey clouds all around. Rainshowers visible. Probably thunder as well, very common in this area.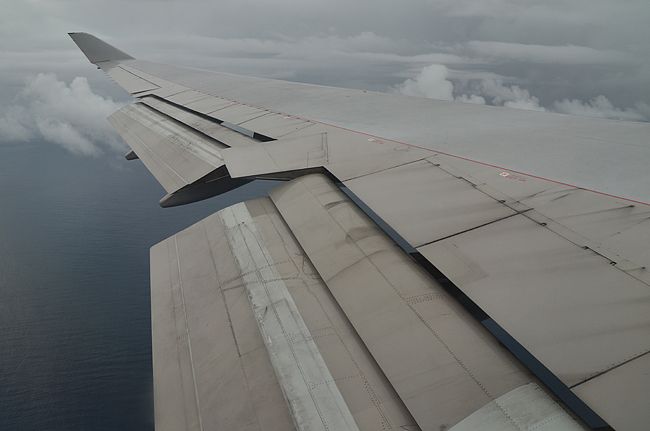 .
Where is the sun? Approach for DPS
We approach for runway 09, and descend further and further till I look forward and see dense clouds coming closer. I tell my mother at that time "Mom, beware, we're not going to land!". She is definitely not amused by my statement, but she better was prepared. We descend further and suddenly thrust is increasing and the captain aborts the approach in it's final stage.
A lot of rumor fills the cabin but the aircraft gently climbs to a bit higher altitude again. Very calm, nothing special honestly. Soon the captain comes on the speaker and announce the reason which was low visibility caused by heavy rain and the wet runway condition would not be good for landing. He tells that we would try again in 15 minutes.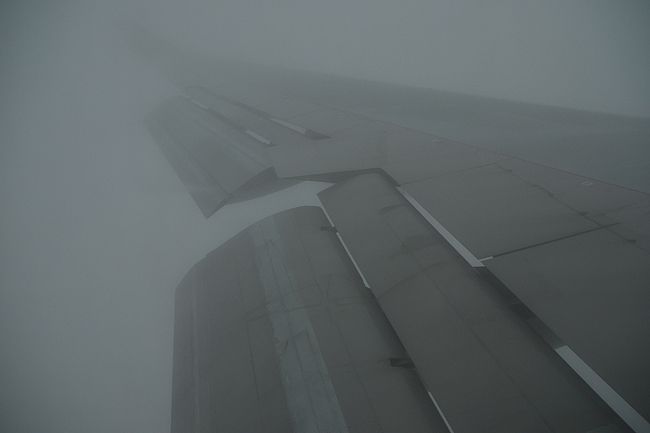 .
Very final approach runway 09/DPS. Definitely no landing in this condition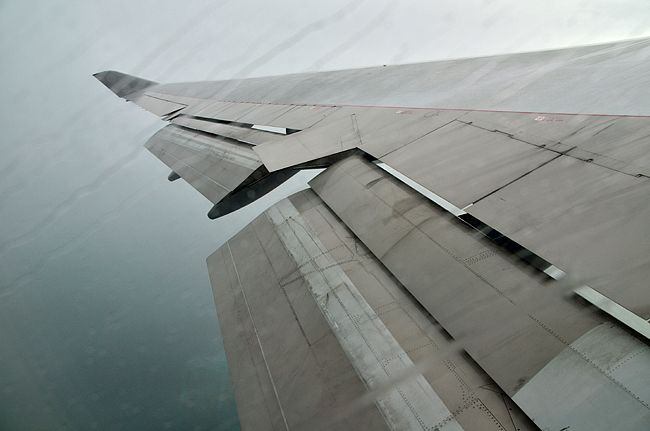 .
Go Around!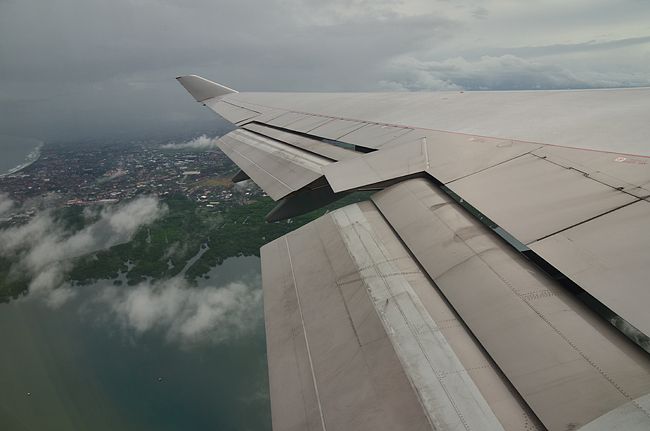 .
Levelled and beginning a new approach
Well, we circle a bit over Southern Bali and off the coast, must be around Nusa Dua area known for it's luxury (golf) resorts. Not a single glimpse of sunshine here. Hmm... that's not what you want to see after such a long flight.
The moving map tells me that the approach for landing would be opposite now, for runway 27 this time. We're following the direction of the rainstorm. Landing was smooth now, wet runway condition, but all fine. Taxiing to the gate was only a few minutes till we finally are on blocked with 27 minutes delay.

.
The inflight moving map shows an interesting path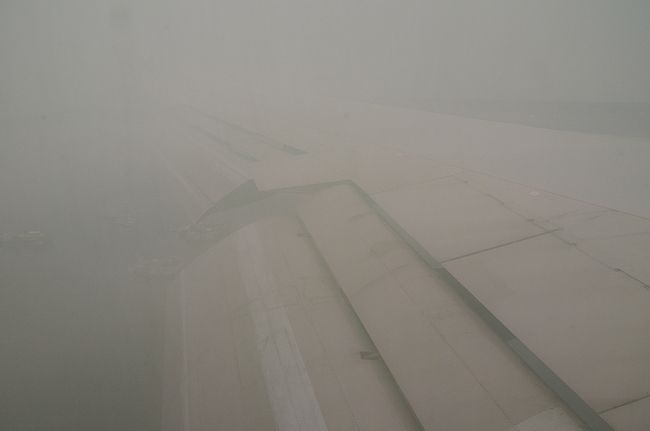 .
... approach for the opposite, runway 27, is not look good either

.
Well, ok on finals runway 27 visibility is good enough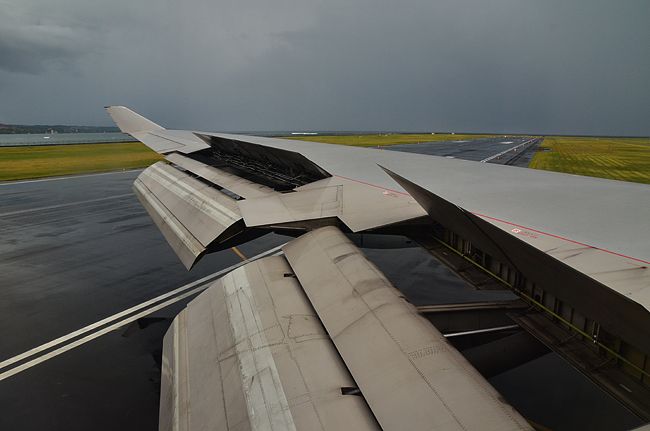 .
Vacating the wet runway
We thank the crew and walk to immigration which took about 20 minutes to pass, with Visa on Arrival. The baggage was put aside already in a corner with priority (tagged) bags, so no further waiting. Also custom check and exit x-raying was without trouble, so soon we would meet up with a representative of the tour operator (yes, this time I had transport included by minibus). A shame that some other passengers need a lot of time (30 more minutes) so we waited in the moisture air outside, and withstand all the taxidrivers offering their rides.
__________
May 19, 2012.
Time to fly back. 8 days Bali holiday and relaxation are over. The minibus drives us (and some other guests) from Sanur to the airport. The host even guides us through terminal security (entrance only with valid ticket and passing x-ray). He directs us to the economy class check-in counter but I politely point out that we can use the business class desk (which was not serving other passengers at that time). So, we check the bags and ask for a 2-seater in the back of the cabins, but no such luck. Then a row of 3 again? Hmm, no such luck. The lady says both flights are full but finally manages to gives 62 A/B/C to us with the middle free. But, to AMS -a nightflight-, 2 aisle seats in rows behind eachother would do fine. I'm happy with the service given here and thank the agent a lot.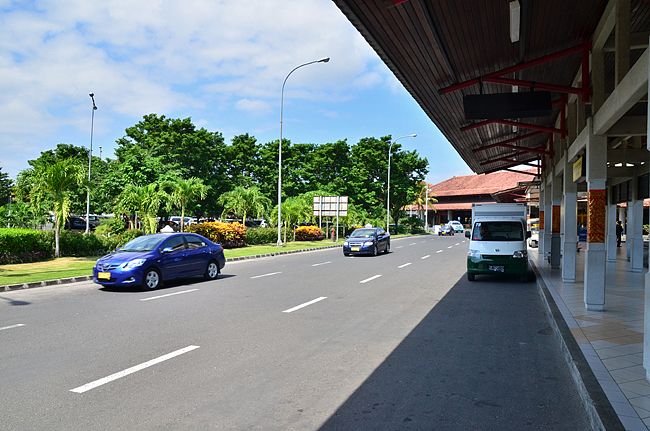 .
Outside of terminal at DPS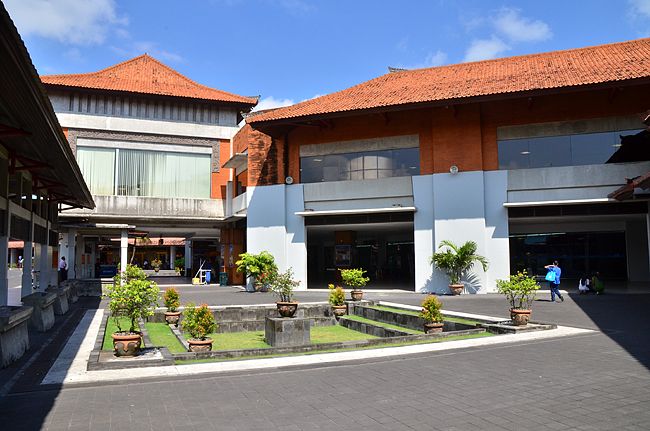 .
Outside of terminal at DPS

.
Cathay Pacific check-in zone

.
Flights displayed on screens
My mother wanted to smoke outside the building so we want to walk outside which is not allowed anymore. Officials guard the doors, one of these doors I open and walk out on which he replies that it's not possible anymore to get out. Well, I said my mother wants to smoke so we go outside again. Then he's fine with it in the end
Also coming back indoors is relaxed without further security since we already have a boarding pass. I can conclude that the security is a bit of joke, we all understand. Anyway... in some way they have control about it here. It's the Indonesian way. Let's respect it
Upstairs for departure and stamping the passport, not before spending another IDR 150.000 each for departure tax. Don't forget to bring enough last money... it's quite a bit compared to the pricelevel in Indonesia.
DPS offers a real wide variaty of shops in the secure area. Mostly souvenirs, but also some high end brands such as Gucci and Burberry brand stores. I buy a new polo from a Asian limited edition line of a wellknown surfbrand, and my mother is happily looking at carved wooden souvernirs.
But, I tell her, let's not forget to check the lounge here. It's 3rd party owned, called 'Prada Lounge (what's in a name). It's located one level down, no apron views, and quite busy too. Food and drinks on offer, including some Indonesian snacks, a salad and fruit selection plus the usual drinks. Spirits have to be obtained at the special (unstaffed) bar. No need for me.I use the complimentary wifi on my iPad while my mother used my phone to call her sister to bring over some birthday wishes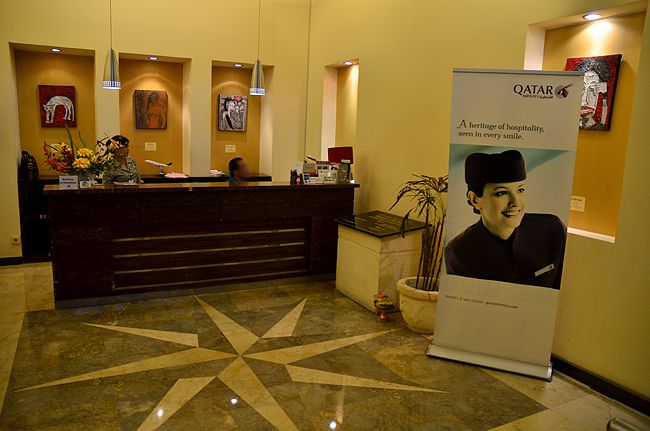 .
Lounge entrance at DPS

.
Lounge interior at DPS (Prada Lounge)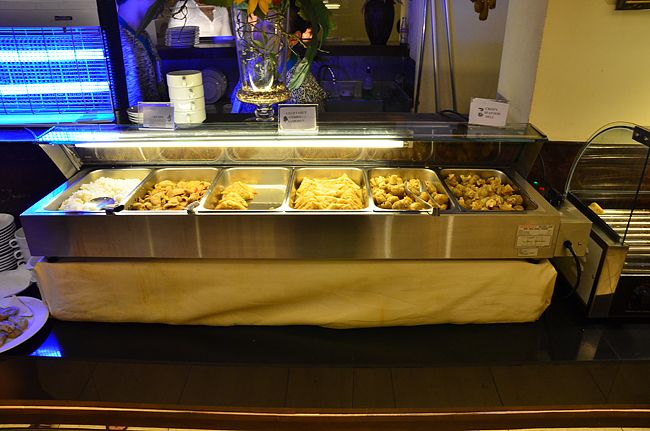 .
Hot snacks in the lounge
The flight was announced for boarding from gate 6, next to a Thai Airways flight to BKK, operated by B777. The area was packed. We do security here, peanuts, no confidence in this check lol. We walk a bit forward not having to wait so long, and soon we board among the first ones.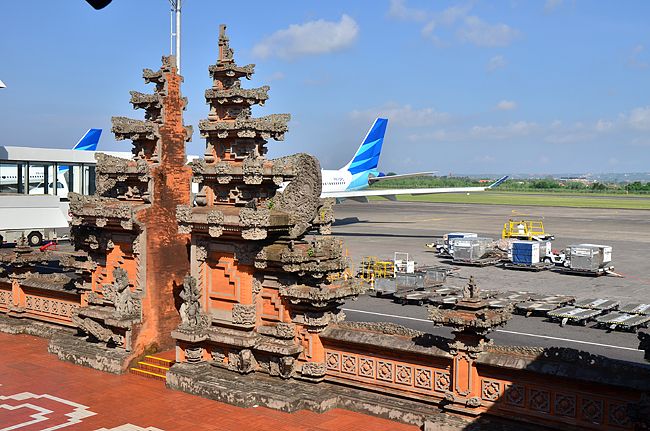 .
Nice views and Garuda aircraft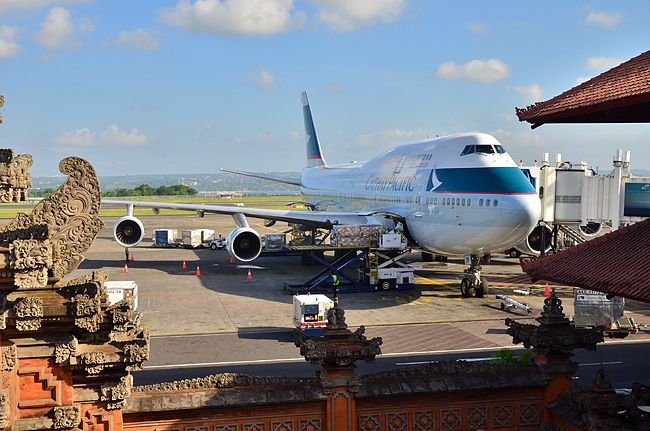 .
... also my Cathay aircraft is in

DPS-Hongkong
Flight:
CX784 /19MAY12
STD
16:10
ATD
16:29
STA
20:50
ATA
21:05
A/C:
B-HOP
(Boeing 747-400)
S/N:
62A
(Economy class/Y)
View Large
View Medium


Photo © K.H.Yim

.
Boarding
A welcome at the door here, standard. Also when walking down the aisle towards the back, cabin crew at their strategic locations all say 'a word of welcome'. Row 62 will do for the next 5 hours or so, I'm given window again because my mother prefers the free walk out. Not that I mind of course (although longhauls I take aisle when possible)
The cabin fills up quickly, tons of nationalities onboard here, many different Europeans, Asians... these flights always have such a mixload. We pushback late by almost 20 minutes, no reason given. During pushback and taxi out I watch other traffic from my window. I even manage to spot a MA-60 of Merpati which I flew in October 2011.

.
EVA Air A330-200

.
Merpati Nusantara Boeing 737-300

.
Merpati Nusantara AVIC-Xian MA-60 on landing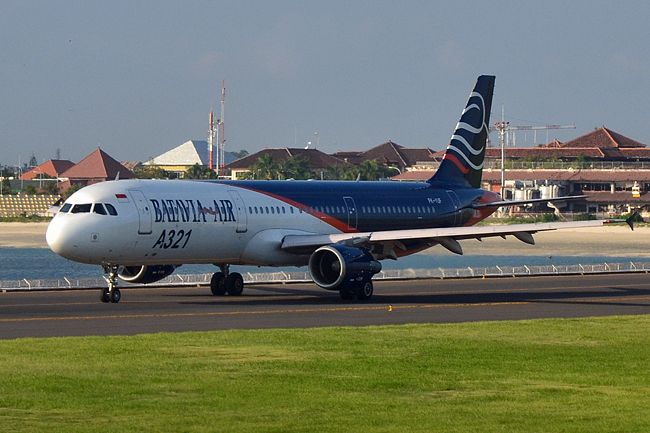 .
Batavia Air's single Airbus A321 following us
Runway 09 is used here for takeoff, a lefthand turn over Sanur beach and Denpasar city followed by a climb further away over the island. Not uncommon above the West part of Bali are the high clouds, with strong rains and thunder. It gives me some great views. This flight would give me many more beautiful 'window moments'. The characteristics Asian skies are so different compared to European skies. I love these views!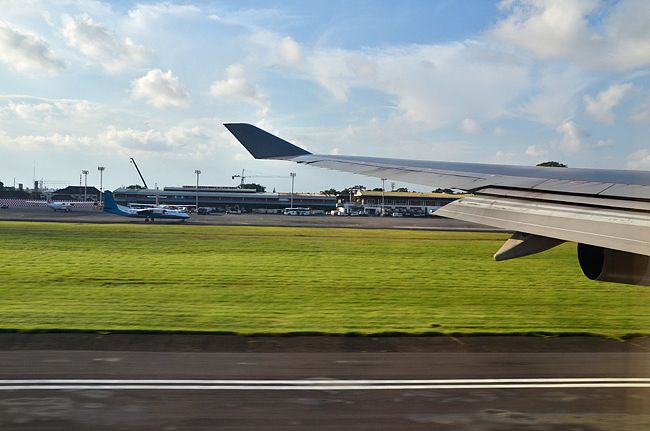 .
Airborne from runway 09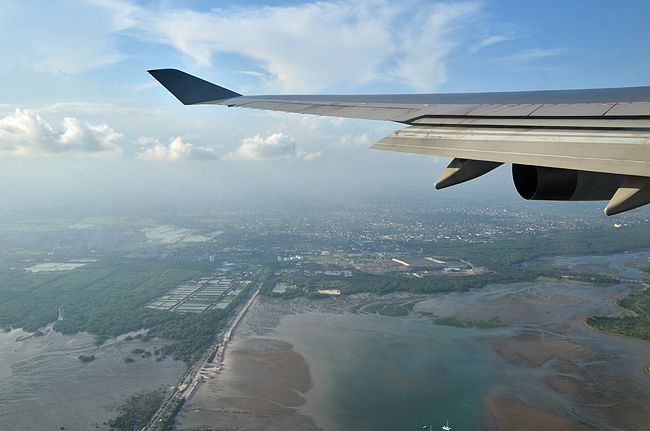 .
Climbing away from Bali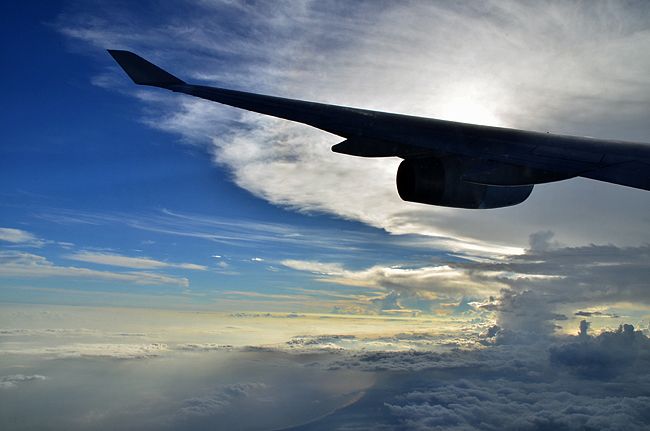 .
Some weather around during climb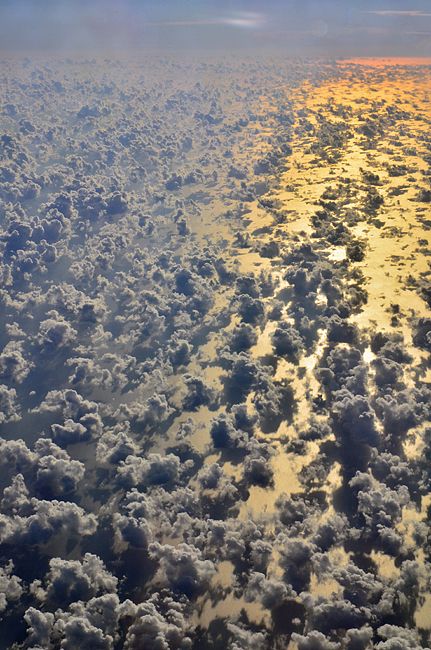 .
Isn't this beautiful... smart cirrocumulus floccus over the sea

.
Or this... high CB's on my lefthand side. Fantastic!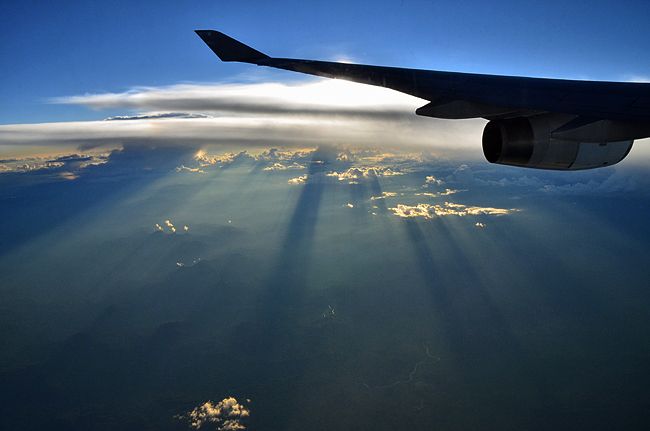 .
Another awesome moment... sunrays from a setting sun!
The route leads us again over Borneo and Brunei, before crossing the South China Sea towards Hongkong.
Meal service is given here, and CX made a major mistake to forget about my request for the special meal. Nobody came to ask me aforehand, but when the meal service delivery is getting at my row I ask the F/A and she checks, but confirms it's not shown on the manifest nor do they have a special meal onboard. So, I check the menu and see if a seafood or chicken option is available. Lucky me, seafood will do here and I must say, I'm not dissappointed. The dessert, caramel pudding, is not my liking though.

.
Mealservice (fish)
After dinner I listen to my music, enjoying a beautiful sunset. What else, at 38,000 feet?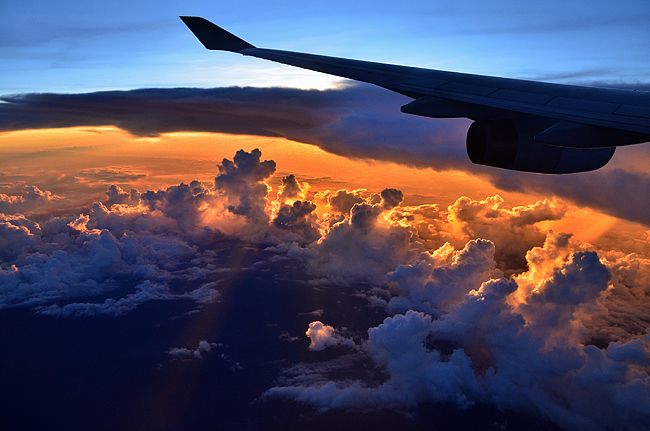 .
Enjoying the sunset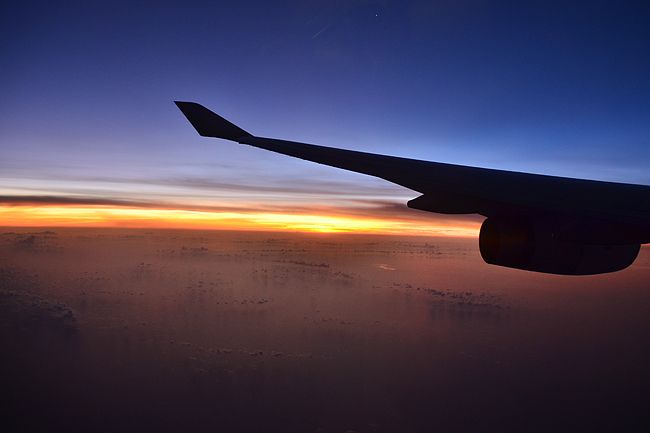 .
Sunset over South China Sea
Before landing arrival information is given with gate and also connection flights (till midnight, so not my flight to Amsterdam). Arrival gate 66, and 15 minutes late in the end. It shortens our connecting time on the ground a bit, so no problem at all.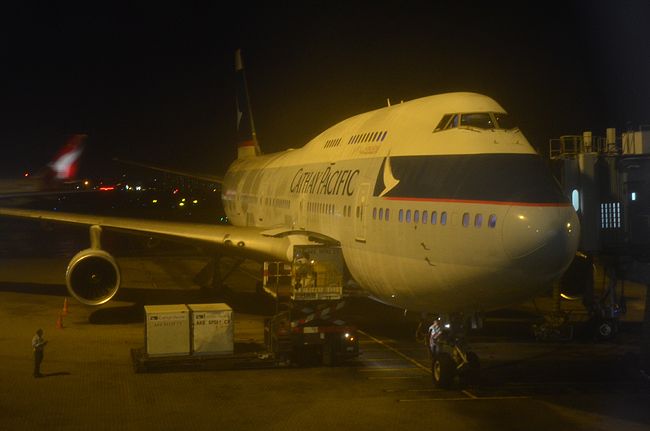 .
B-HOP after landing
At HKG we need to reclear security to get ourselves back in the departure lounge. It takes about 40 minutes. Just 1 single lane is open for this flight. Definitely not practical and after a long flight it can be quite annoying to queue this long time. There is no fast track lane of any kind, everybody get the same treatment.
Once back in the departure lounge we go to 'The Pier', Cathay's Business Class Lounge. It's conveniently located near gates 65/66, and that's exactly the place where our flight is scheduled to depart from (gate 65). The aircraft cannot be seen yet. Hmm, coming in a bit late maybe?
The long is packed, not many vacant duo seating, finally I find one and at the window as well. I decide to have some baileys, and also Japanese beer (it has been a while for me), I grab some fruit also.
For my mother cappucino (there is a coffee bar with barista) and some cake.

.
CX Business Lounge

.
Lounge Entrance

.
Bling Bling floors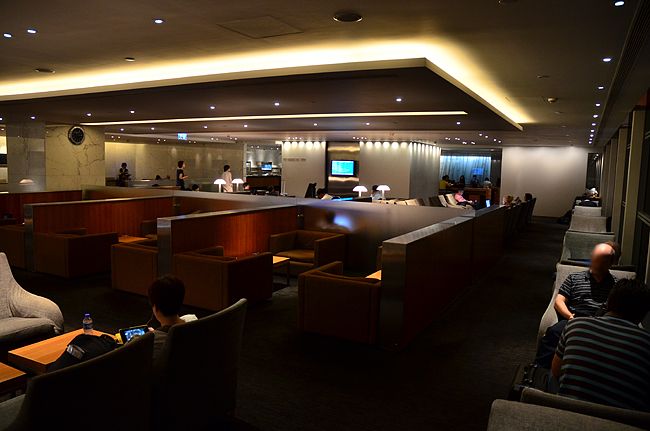 .
Lounge inside
On the screen I see a gate change to gate 67 now. It seems some adjustments have been made to let our flight leaving on time. We leave the lounge and proceed for boarding, using the priority boarding moment. It's not in an orderly manner, how this AMS/CDG flight is boarding, and it seems that most Europeans are desperate to get onboard of this nightflight.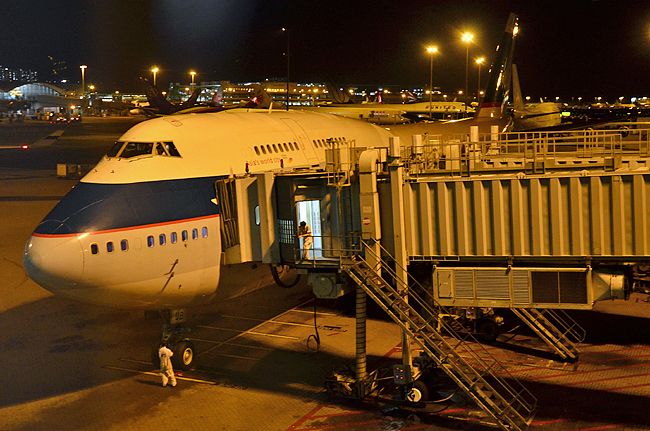 .
Another and my last B747-400 on this trip awaits me

Hongkong-AMS
Flight:
CX271 /20MAY12
STD
00:10
ATD
00:17
STA
06:25
ATA
06:46
A/C:
B-HUB
(Boeing 747-400)
S/N:
59H
(Economy class/Y)
View Large
View Medium


Photo © Alexander K.
Friendly greeting when I get onboard, straight forward through the galley and turn right to my seat in row 59, not too far from the back. My seatmate in the middle a nice Chinese guy in his twenties, and on the window a mid 30s Dutch man flying home from a business trip for his own company. We talk a bit and it's a relaxed moody start of this long journey home.
Takeoff is from 07R again, after a long roll. We slowly climb to higher levels in the dark night. Since the cabin is mostly darkened throughout this flight I felt not comfortable in taking too much pictures, plus, the flight was a copy from the others. Also here, no special meal onboard for me, so it's definitely not in their system (anymore). I can take the chicken option though, this is coming with white cooked rice and blackbean sauce, cold vegetables, Haagen Dazs icecream... all together a really tasty meal.
The flight itself is really calm. I sleep for a few hours nonstop till I wake up and end up in a kind of conversation with the Chinese guy. Really interesting experience to be honest, unexpectedly this guy made me realize some things in the end. Well, we end up watching a Chinese movie together

.
Dinner service (chicken black-bean sauce)
The flight is long, and 9 hours after the hot meal a breakfast is served. It's western style omelette, or Asian style with chicken, and noodles. I opt for the Asian version, and they even serve a croissant which is another piece of disgusting bread. Well, bread is really hit or miss onboard.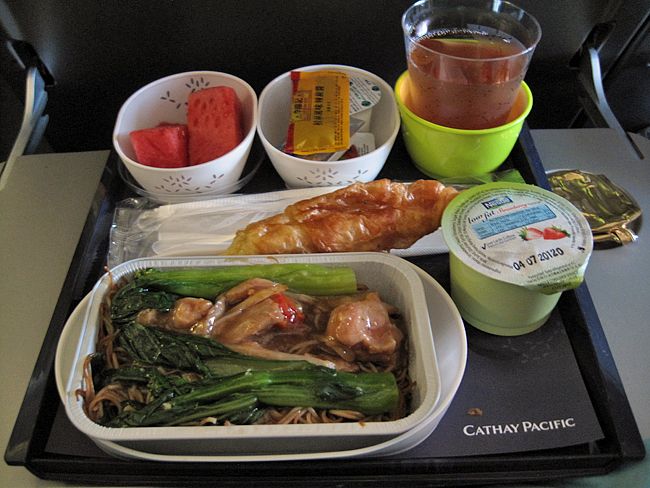 .
Asian style breakfast

.
A new day over Europe, overflying Denmark (picture taken by my Chinese seatmate)
When daylight is over Europe again I noticed that we overflew CPH and started our descend for AMS not much later. The captain is on the speaker here, mentioning 13°C and rain. Typical Dutch weather I thought. Landing was on runway 06 and we slowly taxied to gate G08 for arrival.
We arrive just after the SQ flight from SIN, operated by B777-300ER. It means, quite a load of passengers were on their way to immigration, and it took quite a while to get through. I assisted the Chinese guy with obtaining his Visa and all was finished in a few minutes.
The bags were on the carrousel already when we arrive, priority tags worked here. So all went quick, no further delay by customs (no checks), so back in my home country after being away so far for just 9 days. My father was at the airport by car and picked up my mother, while I go home by a direct bus from the airport.
All together, the holiday had a purpose and I think that it helped me further. Flying CX for the first time was a pleasant experience, but... I cannot say that I rate them on the same level with some other carriers. I flew on SQ, they're definitely the best in Y, but MH follows closely when it comes to food and crew. I love MH for the reason that they have such good crews. CX crew were more reserved. Also, less drink runs on CX compared to MH. The hard product is ok, but the big mistake is not loading a special meal on my return flight. Aside from that CX is not so easy to earn mileage on for the frequent flyer programms, like SQ. MH is much friendlier with it, and partner of Flying Blue where I'm in. Luckily my status on
one
world gave me some benefits on the flights anyway.
So will I fly CX again? Yes! No doubt about that. As long as the price is right and no good options on MH for me
Thanks for reading, I hope you enjoyed this tripreport and don't hesitate to post a comment or ask me a question. I would appreciate it!
Regards
Eric