Feedback always appreciated.
I > Background:
As frequent readers of my reports know, I made an excursion to Canada in the middle of 2011. During that excursion, I was fortunate to take several flights and do trip reports on quite a few of them. Here is a recap:
1/ 9.04:
First Air (129): YEG-YFB: 06/2011
2/ 7.99:
WestJet (131): YYZ-YYC: 06/2011
3/ 7.55:
Air Canada (132): YEG-LHR: 06/2011
– Executive First Cabin –
4/ 6.41:
Air North (127): YEV-YEG: 06/2011
5/ 5.80:
Canadian North (128): YEV-YVQ-YZF-YEG: 06/2011
Now, several (dreamlinerAL, debonair, kiramakora, etc.) were surprised that I had left the DC-3 of Buffalo Airways out of the routings. Well, the truth was that I thought I had misplaced the SD-Card and could not find the pictures of Buffalo until last weekend. Come on everyone, how could I fly to Yellowknife and not wish to fly the DC-3!
Anyways, so here is my delayed report of the Buffalo Airways flight on board an original DC-3 (not the ones with the new engines). This is the only scheduled commercial DC-3 in operation and Buffalo Airways flies them from Yellowknife to Hay River (YHY) 6 times a week. I believe this is the first report from Buffalo Airways and features the venerable DC3 – but then again, I suck at using the search function on A.Net.
II > Pre-Flight:
a) Before Airport:
Buffalo Airways is a family-run airline based in Hay River, Northwest Territories, Canada established in 1970 by Joe McBryan, also known as "Buffalo Joe". It operates scheduled passenger, scheduled cargo, charter passenger, charter cargo, firefighting and fuel services. Its main base is at Yellowknife Airport (YZF) with storage of some awesome aircraft at Red Deer. It was also the background to some TV shows that I had no idea about.
Buffalo Airways maintains a website (www.buffaloairways.com) but does not provide an online booking facility for its sole scheduled passenger service. You have to call in and reserve and they generously allow you to book when you actually get there.
b) At Airport:
Yellowknife is a small airport that is efficient enough to facilitate quick passenger traffic. However, it seemed a lot of flights are clustered around the same hour and I am sure that peak time is busy at the airport. Buffalo Airways does not fly from the airport – instead, it flies from its own hangar area which increases the exoticness of the flight. Upon arrival, you are greeted by a motley group of characters who seems to be regulars on the flight. A woman confirms your name on the list and allows you to hang out. You can of course do some shopping at the Buffalo Airways store, or sneak a peek through the hangar at the many exotic birds sitting still. When I introduced myself as an aviation enthusiast, I was graciously allowed in and given free access to take as many pictures as I wanted. How super cool!
Boarding involved one of the guys yelling in the waiting lounge to follow him to the aircraft. According to Buffalo policies, everyone starts off there and then goes on to work onboard, finally graduating to 1st Officer and then Captain. This guy "Mark" would later go on to be the inflight attendant for us. He is also a trainee pilot and hoping to soon be able to have the right seat.
As you walk onto the apron, a tremendous sense of history overcomes as you realize how incredibly lucky you are to be able to fly an aircraft that first entered service in 1936 (nearly 80 years!). Once you enter, you can immediately feel the odd sensation of walking "uphill" to your seat. Load factor was around 95%.
Airport - External:
(Yellowknife Airport: Buffalo Airways Hangar)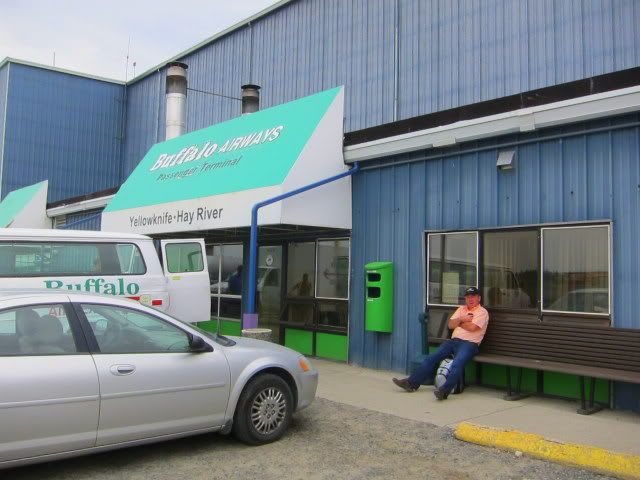 Check-in:
(Buffalo Airways Check-In Area)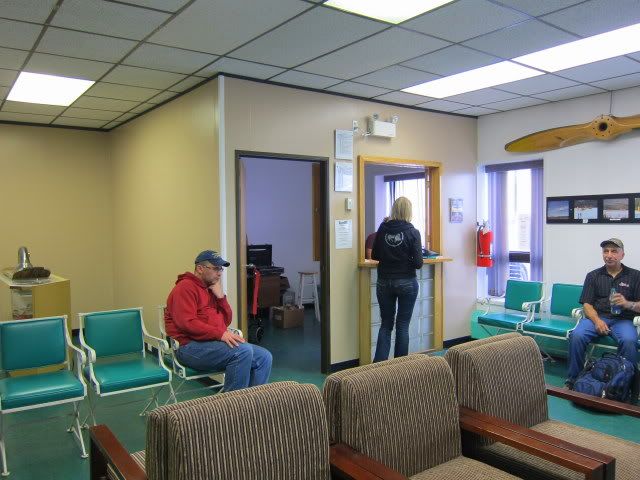 Airport - Internal:
(Buffalo Airways Hangar Area)
*
*
*
(Open Hangar always piqyes my interest and reveals special things …)
*
Scenes of the tarmac:
(Sistership)
Lounge
NONE
Boarding:
(Gate Area)
III> In-Flight:
a) Service Schedule + Impressions:
Nothing distributed while on ground. Surprisingly (due to flight stage length and the fact that this is the only scheduled operation of the aircraft), we were served a snack and drink.
The highlight of the flight was of course to fly the DC3 and also visit one more obscure Canadian airport (Hay River).
b) Aircraft + Seats:
The main reason for the trip was of course to fly the DC3 - and what an experience it turned out to be. Like the surroundings it served, the DC3 was an exotic bird in an exotic land. The seats were actually comfortable enough with decent legroom. However, unlike the AN-24, and like the HS7, the DC3 did not provide any recline - now, I don't know how much of that was a factor of Buffalo's modification versus that had already been the case. Does anyone know if the initial DC3's had seat recline?
The aircraft seemed to be well maintained and I truly enjoyed having the cockpit door open throughout the flight. At one point, I asked if I could go in, and the flight attendant graciously allowed me to do so. I guess this airline gets requests like this all the time. Finally, unlike the Antonov or the HS7 experience, there were no bathrooms on the DC3 of Buffalo Airways. This was weird to me as I could have sworn the ones I flew on Sol de America in Venezuela had them. Again, can anyone please shed light? The entire experience felt like a completely different era - very hard to explain. Staring out of the window, I could only imagine what would have felt like being a pioneering traveler using these exotic machines to go to far away lands. Take a look at the pictures, and just hear the sound of the engine if you remain unconvinced.
Oh, an one more thing, the DC3 is an incredible gentle aircraft and I remain impressed with how much quieter than what I had anticipated it was.
Aircraft:
(Glorious DC3 @ YHY)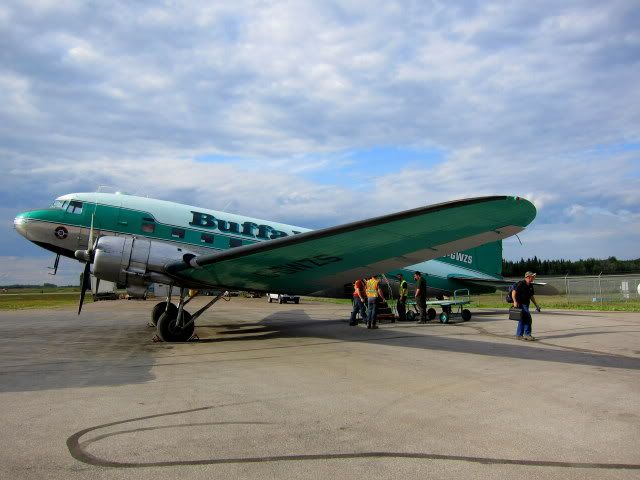 *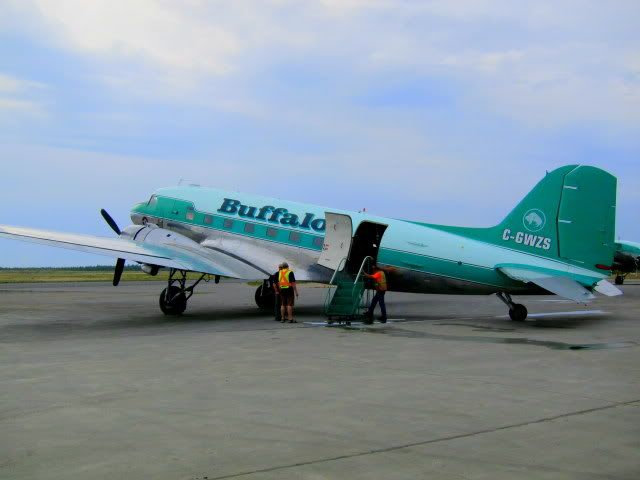 *
Views from Aircraft:
NONE
General Seat Views + Seat Legroom
(Legroom)
(Around Seat)
*
Seat Recline + Angle View:
(Recline)
NONE
(Angle view)
Cabin: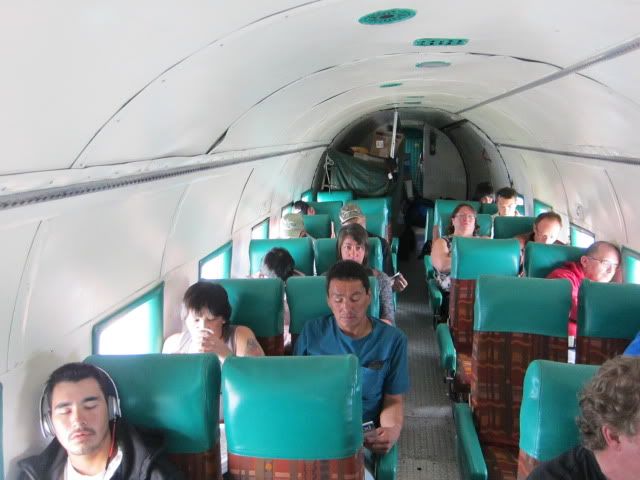 *
(Bathroom)
NONE
(Around Aircraft)
*
*
*
(Love those windows)
(Open cockpit door)
c) Meal + Beverage:
For a short flight on the airlines only scheduled service, I was not expecting much. Imagine my surprise when the attendant made an entire run with a cookie basket featuring several premium cookies and snacks. Additionally, there was a café service and water and soft drinks. Overall, rather impressive given the nature and duration of the service.
(Performing inflight service)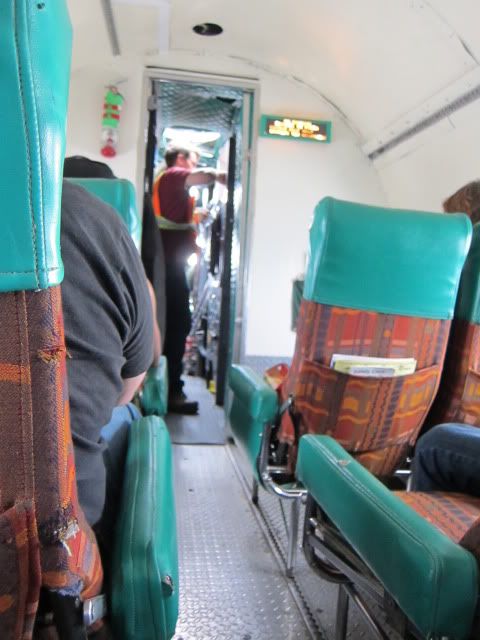 (Snacks on offer)
(Café and drinks also available)
d) Inflight Entertainment:
Unsurprisingly, Buffalo Airways had no in-flight magazine – and this being a DC3, no other IFE. I was however impressed by the generous amount of newspapers and magazines the airline carried on board featuring "Northern" content. Amazing how within Canada, the people in Yellowknife considered rest of Canada "Southern". Guess everything in life is relative EH ☺?
("In-flight magazines", Boarding Passes, etc.: Just look at all the stuff I got from them)
e) Crew:
As mentioned, the same guy who had yelled the boarding announcement provided in-flight service. He was a pleasant chap and smiled during the entire duration of the flight. During boarding, the guy helped some with baggage storage, and took control of service delivery once we leveled off. Given that he was training to be a pilot, I was impressed that he did his entire service with dignity and kindness. It would put a lot of regular FA's to shame! When asked to walk into the cockpit during the flight, he answered "no problem" and allowed us to spend as much time as we wanted, and taking as many pictures as we desired.
IV> Post-Flight:
YHY is a small airport and the only other action at this time was a First Air ATR heading back to YZF. We walked into the small airport after lingering outside for a few minutes taking some few final shots of the DC3 and soaking in "the beauty" one last time. Inside, it was one hall with check-in counters and the sole baggage claim carousel.
(Hay River Airport)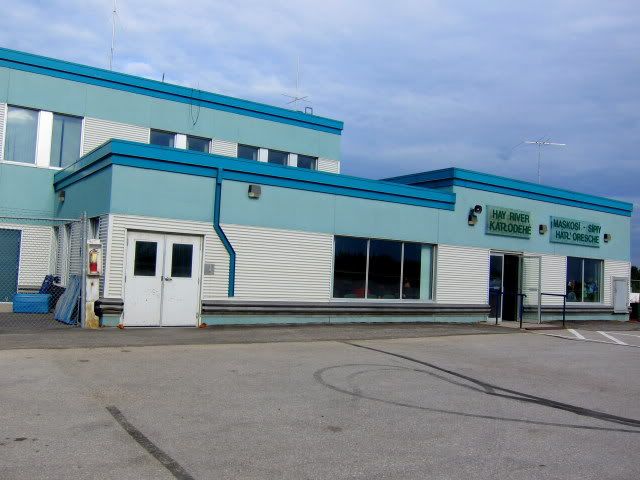 *
*
*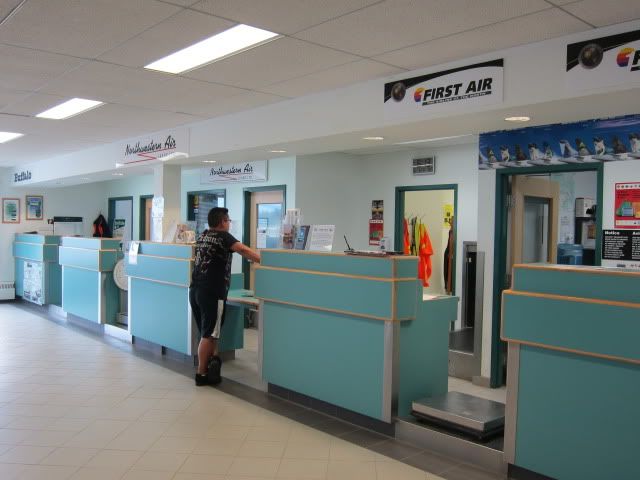 V> Impressions + Scores:
Like many of my other reports on segments such as this, I did not fly Buffali Airways to see whether it was the NH/9W/SQ of the North. I took it to experience an exotic carrier and that took me to places I never knew existed. In this respect, Buffalo Airways did not disappoint. Just like on Ir Aero and Air North, it was an amazing experience that took me back to an electric era on a pioneering aircraft where IFE involved talking to your fellow passengers and observing the scenario out of the window. The DC3 is a beautiful aircraft - something primal about the noise, the incline, and just the thought that that were being part of something historic.
Service wise, it was definitely a whole lot better than my other similar experiences on Ir Aero or Air North. The people running Buffalo Airways are true aviation enthusiast and they recognize and encourage those of us to be passionate about the flying as well. Everyone I encountered knew they were part of something great, and the best manifestation of this was through "Mark" who not only allowed pictures but transitioned gracefully between his roles. So in the end, a truly memorable experience - but something remembered for the setting and the equipment. Just for this, a two-thumps up.
VI> Other Trip Reports:
PREMIUM:
9.27: JET AIRWAYS **FIRST** (110): LHR-BOM: 10/2010
9.27: THAI AIRWAYS **FIRST** (108): BKK-LHR: 07/2010
9.00:
All Nippon: ANA (133): NRT-FUK-BOM: 12/2011
8.66:
Brussels Airlines (93): FIH-BRU: 01/2010
8.64:
Turkish Airlines (59): JFK-IST: 11/2008
8.63:
Jet Airways (88): JFK-BRU: 10/2009
8.61:
Air Canada (49): YYZ-SCL: 06/2008
8.54:
Turkish Airlines (77): GRU-DKR-IST: 04/2009
8.36:
Kingfisher (98): BOM-HKG: 01/2010
8.30:
Jet Airways (74): KWI-BOM: 04/2009
8.23:
United Airlines (72): SFO-SYD: 03/2009
8.11:
Aeroflot (33): MOW-DEL: 09/2007
8.05:
Air India (80): CCU-JFK: 06/2009
8.04:
Korean Air (40): NRT-ICN: 10/2007
8.02:
Delta Airlines (24): JFK-CDG: 08/2007
7.82: UNITED AIRLINES **FIRST** (110): SFO-ICN: 10/2010
7.82:
Singapore Airlines (06): EWR-SIN: 09/2006
7.66:
Sri Lankan (104): DEL-CMB: 07/2010
7.64:
Royal Jordanian (91): AMM-YUL: 12/2009
7.61:
China Southern (103): LOS-DXB: 04/2010
7.57:
Pakistan Airlines (102): ORD-BCN: 06/2010
7.55:
Air Canada (132): YEG-LHR: 06/2011
7.46:
LAN (55): YYZ-JFK: 09/2008
7.38: AMERICAN AIRLINES **FIRST** (112): LHR-JFK: 10/2010
7.38: CATHAY PACIFIC **FIRST** (109): HKG-LHR: 10/2010
7.36:
Turkish Airlines (134): IST-LAX: 10/2011
7.25:
Iran Air (88): BOM-IKA: 12/2009
7.23:
Air Pacific (120): NAN-APW-HNL: 01/2011
7.23:
Virgin Atlantic (81): BOS-LHR: 07/2009
7.14:
Swiss (52): SCL-GRU: 06/2008
7.11:
Aer Lingus (105): MAD-IAD: 05/2010
7.11:
Austrian (79): VIE-JFK: 06/2009
7.07:
Privatair (84): BOM-FRA: 08/2009
7.02:
Qatar (68): DOH-JFK: 01/2009
6.96:
Etihad (61): JFK-AUH: 12/2008
6.93:
Delta Airlines (18): SEA-JFK: 11/2006
6.88:
Egypt Air (123): LHR-CAI: 03/2011
6.84:
ConViasa (65): CCS-DAM: 01/2009
6.82:
Air Burkina (106): BKO-OUA: 06/2010
6.81:
Air Canada (17): ICN-YYZ: 10/2006
6.75:
Afriqiyah + Libyan (113): CAI-TIP: 11/2010
6.70:
KLM (32): EBB-AMS: 08/2007
6.52:
Emirates (99): LHR-DXB: 02/2010
6.39:
South African (97): EZE-JNB: 01/2010
6.36:
Privatair (60): MUC-BOS: 12/2008
6.29:
TAM Brasil (96): POA-EZE: 02/2010
6.25:
Korean Air (45): NAN-ICN: 10/2007
6.21:
Iberia (87): BOS-MAD: 10/2009
6.11:
A SKY (107): OUA-COO: 06/2010
6.11:
TAP Portugal (53): GRU-OPO: 06/2008
6.00:
Gulf Air (75): BOM-BAH: 04/2009
5.88:
African Express (89): DXB-NBO: 11/2009
5.75:
Singapore Airlines (16): CCU-SIN: 10/2006
5.64:
SATA Azores (101): BOS-PDL: 04/2010
5.64:
NorthWest (46): ICN-NRT-SEA: 10/2007
5.54:
Ethiopian Airlines (95): ADD-BOM: 01/2010
5.46:
Icelandair (83): KEF-BOS: 08/2009
5.39:
LOT (54): WAW-JFK: 06/2008
5.21:
Egypt Air (73): CAI-IST: 02/2009
5.11:
Tunisair (115): TUN-ORY: 12/2010
5.07:
TACA (66): JFK-SAP: 01/2009
4.89:
TAAG Angola (117): TMS-LAD: 12/2010
4.42:
Air France: CDG-JNB (25): 08/2007
ECONOMY: Long + Medium:
9.26:
Air India (48): JFK-DEL: 02/2008
9.04:
First Air (129): YEG-YFB: 06/2011
8.74:
Japan Air Lines (130): NRT-BOS: 04/2012 – INAUGURAL
7.99:
WestJet (131): YYZ-YYC: 06/2011
7.38:
Avianca (01): BOG-LIM: 07/2006
7.07:
Sri Lankan (62): KWI-CMB: 12/2008
7.00:
LAN (94): IPC-SCL: 01/2010
6.81:
STP Airways/Euro Atlantic (116): LIS-TMS: 12/2010
6.74:
Air Asia (136): VTE-KUL: 12/2011
6.67:
Air Malta (124): MLA-FRA: 04/2011
6.63:
Vladavia (126): KHV-PEK: 06/2011
6.41:
Air North (127): YEV-YEG: 06/2011
6.41:
Avianca (78): JFK-BOG: 05/2009
6.41:
American Airlines (58): LHR-BOS: 11/2008
6.39:
Condor (85): SEZ-FRA: 09/2009
6.26:
Jet Blue (21): CUN-JFK: 02/2007
6.11:
Caribbean Airlines (119): POS-FLL: 01/2011
6.06:
Air Canada (04): YYZ-YVR: 09/2006
5.89:
USA 3000 (19): PUJ-BDL: 01/2007
5.85:
Spanair (69): MAD-LPA: 02/2009
5.80:
Canadian North (128): YEV-YVQ-YZF-YEG: 06/2011
5.79:
Air New Zealand (42): RAR-NAN: 10/2007
5.52:
Aerolineas (86): USH-AEP: 10/2009
5.46:
TAP Air Portugal (23): OSL-LIS: 05/2007
5.19:
Air Europa (70): LPA-MAD: 02/2009
5.16:
Iberia (71): MAD-BOS: 02/2009
5.11:
Air China (82): FRA-PEK: 08/2009
4.59:
IR Aero (125): IKT-VVO: 06/2011
ECONOMY: Short
8.56:
Paramount Airways (38): BLR-MAA: 09/2007
8.56:
Kingfisher (64): HYD-CCU: 12/2008
8.24:
Kingfisher (14): IXA-GAU: 10/2006
7.87:
Indian (34): BOM-MAA: 09/2007
7.72:
Alliance Air (13): CCU-IXA: 10/2006
7.57:
Indian Airlines (10): DEL-CCU: 09/2006
7.23:
West Jet (03): YYC-YVR: 09/2006
7.15:
JetLite (37): BOM-GOI: 09/2007
6.98:
Air Koryo (100): PEK-FNJ: 04/2010
6.96:
Maldivian (137): MLE-TRV: 12/2011
6.96:
Lao Airlines (135): VTE-KUL: 12/2011
6.70:
Spice Jet (09): CCU-DEL: 09/2006
6.63:
Air Fiji (44): NAN-SUV: 10/2007
6.63:
Jazeera (67): DAM-KWI: 01/2009
6.58:
Air Tran (02): EWR-MDW: 08/2006
6.48:
Air India Express (63): CMB-MAA: 12/2008
6.44:
CO Micronesia (39): ROR-YAP: 10/2007
6.41:
Pacific Sun (43): NAN-SUV: 10/2007
6.37: Buffalo Airways (138): 06/2011
6.37:
Skybus (47): SWF-CMH: 02/2008
6.33:
Kenya Airways (29): NBO-BJM: 08/2007
6.33:
Sky Europe (56): LTN-BTS: 10/2008
6.31:
Indigo (15): GAU-CCU: 10/2006
6.31:
easyJet (57): BUD-LTN: 11/2008
6.22:
Air Link Swazi (28): MTS-JNB: 08/2007
6.22:
Air India (36): HYD-BOM: 09/2007
6.13:
Adam Air (07): SIN-CGK: 09/2006
6.13:
Air Rarotonga (41): RAR-AIT: 10/2007
6.04:
Suriname Airways (118): PBM-POS: 01/2011
6.00:
Transairways (27): INH-MPM: 08/2007
5.95:
Air Canada (05): ALB-YYZ: 09/2006
5.85:
SAS Norge (22): OSL-AES: 05/2007
5.81:
LAM Mozambique (26): JNB-MPM: 08/2007
5.69:
Air Deccan (12): IXZ-CCU: 10/2006
5.67:
Rwanda Air Exp (30): KGL-NBO: 08/2007
5.52:
Sevenair (114): TOE-TUN: 11/2010
5.37:
Felix Airways (92): SCT-SAH: 12/2009
5.11:
Aero Republica (76): BOG-CCS: 04/2009
5.07:
Go Air (35): MAA-HYD: 09/2007
5.04:
Biman (121): DAC-CGP: 01/2011
5.00:
Sky Airline (51): IQQ-SCL: 06/2008
4.96:
United Bangla (122): CGP-DAC: 01/2011
4.96:
Valuair (08): CGK-SIN: 09/2006
4.78:
Air Comet Chile (50): SCL-IQQ: 06/2008
4.74:
Fly 540 (31): MYD-LAU: 08/2007
4.33:
Viva Aerobus (20): ELP-MTY: 02/2007
4.11:
Air Sahara (11): CCU-BOM: 09/2006
(Note on Codes: Y – Economy, J – Business, F – First :: I/D – International/Domestic :: SR/MR/LR – Short/Medium/Long Haul)
(Note on Date: Dates are modified to be +/- 3 days from actual flight date to not reveal actual flight pattern)
VII> Other Pictures:
(Buffalo Airways goodies picked-up)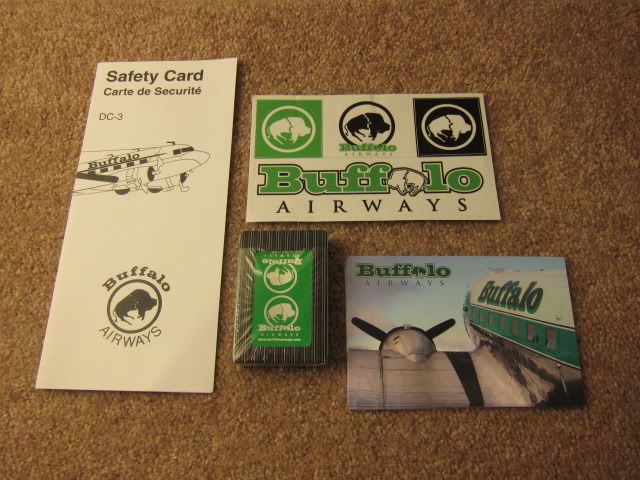 * Unbiased view on how an actual traveler may view the flight
* Not a professional photographer (so please keep in mind)
* Commitment that I won't identify myself to the airline as "reviewing them"