Hong Kong Airlines A320 Trip Report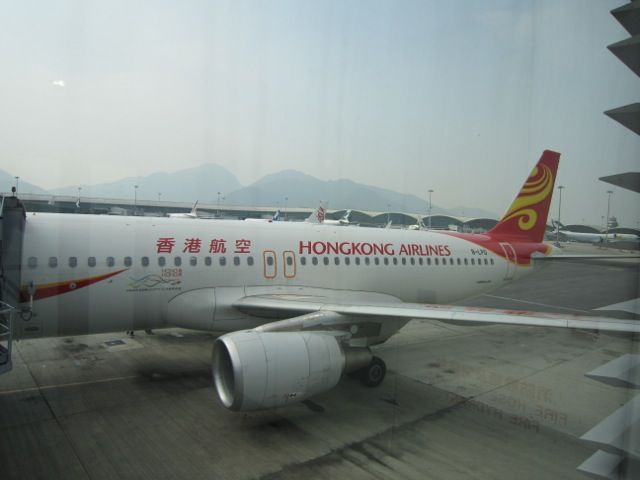 Hong Kong is where I was born and spent my youths, and it has been interesting to see how little growth the Hong Kong aviation has grown for the past few decades. Hong Kong can never support more than two independent airlines, and with Dragonair being a subsidiary of Cathay Pacific and the demise of Oasis Hong Kong, Hong Kong Express/Airlines remains the second airline based in Hong Kong, and one of the more ambitious ones too. With the support of Hainan Airline Group, it has expanded tremendously in the 2010 and 2011 with large aircraft order and the ambitious launch of all business class flights to Gatwick. However, thing seem to go downturn with the cancelation of Gatwick flights in August, as well as frequent news about its dwindling finances with canceled and delayed flights, and disputes with various suppliers. Unfortunately I never have the chance to fly the Gatwick flights, but am curious about how the new A320s score in terms of comfort. These Airbus A320s are ordered to replace the older Boeing 737-800s mostly by Hong Kong Express. I have been trying to find out more about these HX's A320s, but could not find any information. Why don't I find out in person? I have flown Hong Kong Airlines twice and its regional business class product is rather lackluster – the F/As seem to try harder, and you can see they try very hard with better seats on the A330s, but catering is weak and the lounge remains rather plain. So how have things change?
Booking:
Hong Kong Airlines' website is not the most customer friendly, but I manage to navigate through it and find a decent one-way business class fare from Taipei to Tokyo Narita via Hong Kong. My original plan is actually to fly the Peach's original inaugural flight from Taipei to Osaka Kansai on September 30, but it has postponed it till mid October, so that's why I have to look for an alternative flight from Taipei to Japan. I have thought about Jetstar Asia from Taipei to Kansai, but with baggage fee and an additional segment from KIX to NRT, the price is almost the same as the business class fare from Taipei to Tokyo on Hong Kong Airlines. That's why I settle on Hong Kong Airlines, and the fact that they are using A320s on these routes makes it an easier decision. I was able to pay in USD using my American Express and am able to select my seat on both segments. It is a very easy booking process.
Flight information: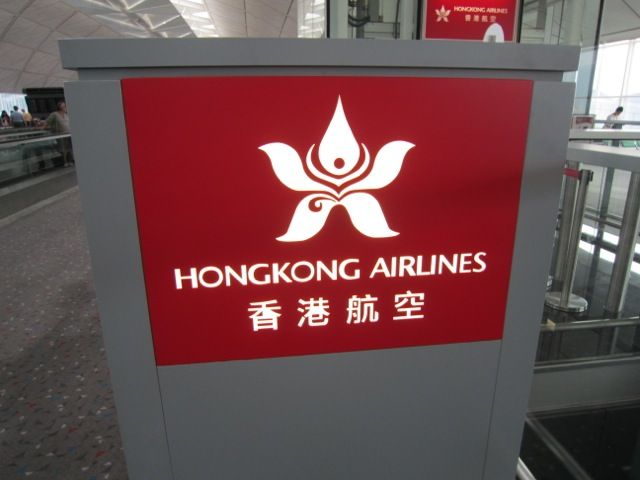 September 30, 2012
HX 285 TPE-HKG Lv0740 Arr0915 Airbus A320-200 B-LPD
Connect to
HX 618 HKG-NRT Lv1130 Arr1650 Airbus A320-200 B-LPE
Check-in:
Hong Kong Airlines uses EVA Air as their ground agent in Taipei, and it is no surprise, as EVA Air is now code-sharing with Hong Kong Airlines on all their flights between Hong Kong and Taiwan. Hong Kong Airlines operates from Terminal Two and uses Aisle 6 for check-in, and ironically, Dragonair is next door at Aisle 7. The counter was fairly empty at these early hours and there is a separate business class priority line.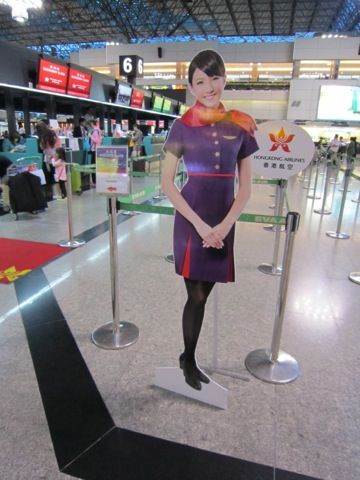 The EVA Air agent, who checked me in, was obviously in a bad mood and she did not say much to me. She did not smile once at all and thanked me for my business. She had to call on her supervisor, as she was unable to issue my connecting boarding pass to Narita, which was very surprising. She did not apologize for the inconvenient but told me rather stoically told me that the bag was checked through to Narita. Very bad impression to be honest!
Immigration and security were easy business this morning, and I headed to the rather unimpressive EVA Air Business Class lounge, which remains outdated and unimpressive. The saving grace is the large amount of food available, and I had some congee, which was always nice in the morning. I started to feel sick so my appetite was a bit low this morning. The lounge was just too depressed to stay in, and after a few emails, I decided to head to the gate, as our gate was all the way in Terminal One this morning, B9, and I wanted to visit the bookstore too.
Busy morning at TPE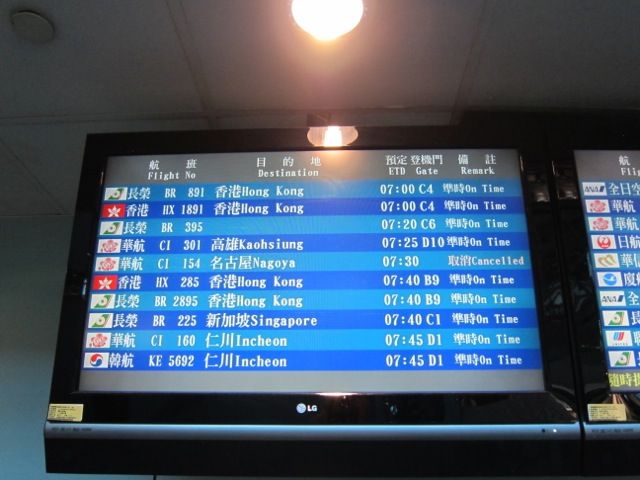 Gate B9
EVA Air codeshare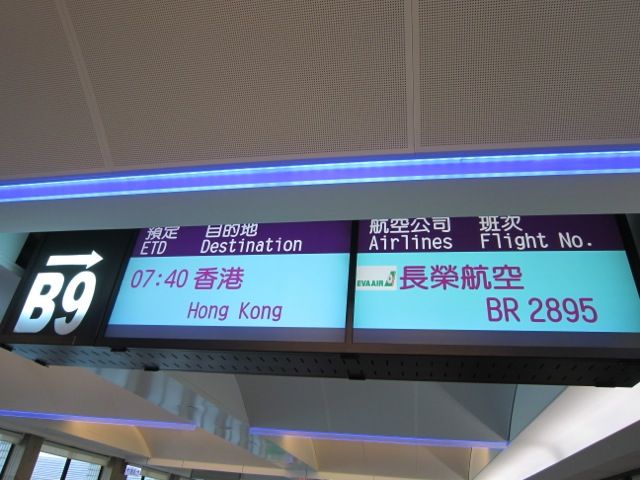 Judging from the gate area, our flight was relatively quiet and it was not surprised that HX has recently downgraded the flight from an A330 to A320. I tried to take photos of the planes, but it was impossible. Boarding finally began at 7:12am and priority boarding was available. The F/As were very cheerful this morning, and greeted every passenger, which was something I gave them credits on doing. Newspapers were available for both cabins and the Hong Kong papers were obviously from the previous day. My first impression of the cabin was "RED." It is very typically use by Mainland Airlines and I believe the newer Hainan Airline planes use the same upholstery. The character of "Fortune" is imprinted into the fabrics and there are two different red color hues being used. The same patterns are used in economy as well. Since both B-LPD and LPE are less than six months old, they look smart and well maintained!
Cabin Shot of economy class
My seat for the short flight from TPE to HKG – 2A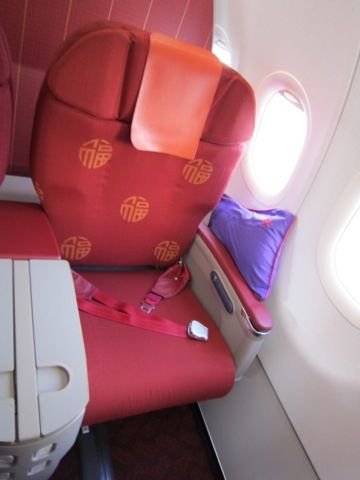 The F/A immediately offered me a pre-takeoff beverage along with a pair of headsets and a pair of slippers.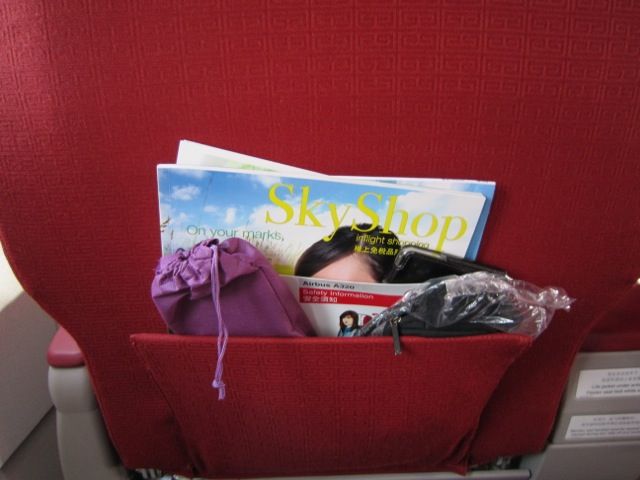 Also a hot towel on a tray
I definitely appreciate the offering of slippers, something that CX only provides for its first class passengers on long haul flights. As Chinese, slippers are pretty much staple items, and CX should offer them on medium haul flights in first and business class. The F/A also presented me a printed menu for the short hop to Hong Kong. With a light load, boarding should be quick but there seemed to be some confusions about seat assignment and some connection flights issues. The loading in economy is around 60 and 70% full and most of the passengers are budget travelers form Taiwan and the Mainland China. There are many Mainland Chinese passengers, and local Hong Kong residents are rather rare, with a few Westerners in between. Despite boarding completed early, door did not close till 7:50am, ten minutes after the scheduled departure time.
Flight information:
We pushed back at 7:54am and taxied towards R/W5R. Following an Air Macau's A319 B-MAK and Dragonair's A330 B-HWK, we finally took off at 8:09am for our short an hour and twenty minutes flight to Hong Kong. We cruised at 34,000feet.
Goodbye TPE