.
Sawasdee-krub! As this appears to be the Thai Airways International week on the A.net Trip Report Forum, I thought I too might join the party with this account of a recent journey on Thailand's national carrier. There is no doubt that the highlight of the past week had been the brand new A380 and its series of inaugurals, but the super jumbo is just one of a number of new happenings at Thai. The airline is currently in the midst of a transformative phase with upgrades to both its fleet and services. Last month, a semi-business trip gave me the opportunity of sampling the airline's newest addition from the Boeing line. And I found it rather promising. Read this report and let me know if you share the sentiment.
.
.
If you live in Southeast Asia and regard aviation as one of your passions, there is a very good chance that you will stumble upon
Thai Airways International
for its reasonable fares and propensity to order almost every version of every widebody aircraft flying, which are then run even on some of its shortest routes. So if you're looking to expand your aircraft-flown list, TG (as almost everyone in Thailand calls their national carrier) probably has an affordable flight for you to do it on.
This is the airline you go to for rides on the B744 even if you don't fly long haul (they ply some domestic Thailand routes) or if you wish to log the rarer birds like the A300 or A346. Pity the gorgeous A345s have now been sent for early retirement, but at least the oldest non-ER B772s (a relative rarity in the region) are in the process of being given an interior refresh, suggesting that we might be able to enjoy them for a little while longer. Even the mighty A380 - which a week ago made its debut appearance on TG (and a bit of a personal sore point as I had to miss the inaugural) - is being tried out on bunny hops from Bangkok to Hong Kong and Singapore. No wonder then why TG is so lovable - for among Asia's top legacy carriers, it is the perfect non-elitist airline that seems to know the way to a plane nut's heart.
Like many other airlines in the region, triple-sevens play a pivotal role in TG's route network. From BKK, these twin jets serve the carrier's farthest international port of call LAX (via ICN), as well as one of the closest RGN, with equal ease. Since taking delivery of HS-TJA, its first non-ER B777-2D7, in 1996, TG has gone on to collect more of the same, and also some of the similar. Its B777 fleet size, standing at 26 currently, isn't the region's largest by any means, but it's among the most diverse. With the notable exception of the -200LR, the attractive silky-smooth magenta orchid livery has been applied on every passenger version of the triple-seven so far.
This report is an account of my recent return trip on the airline's newest B777-300ER - or rather the first -300ER destined for TG and featuring its latest inflight products that are set to be the new standard on the longhauls. Even though TG had been flying the -300ER since 2010, the early planes are essentially Jet Airways-configured, dry-leased from Mumbai, complete with 9W's custom-designed three-class interiors. The delivery in Aug 2012 of HS-TKK, the first of 14 new B777-300ERs joining the fleet over the next 3 years, therefore marks an important milestone for TG as it attempts to provide a consistent, high quality hard product on its longhauls - something that was never the airline's strong point in the past.
.
.
HS-TKK began plying the BKK-NRT route on a daily basis from end-Aug and with delivery of the second machine, the new 77Ws will be operating the BKK-ICN-LAX route from the start of the winter schedule later this month. If regional trends are any indication, I'd imagine that TG will follow its major peers in replacing the current B744s on many European sectors with the new 77Ws. This is a plane I'd been really looking forward to flying, as it will be my first opportunity to experience the new TG inflight offerings, many of which are also found on its flagship A380.
As luck would have it, I need to be headed for Seoul in Sep - this is not yet a destination for the new plane but it's close enough to one for me to easily engineer a slight detour.
And so that's how on one wet Bangkok night last month, I find myself checking in for Thai's flight 642, the red-eye bound for Narita and sole scheduled route for HS-TKK, with an onward Korean Air connection to Incheon...
The Outbound
.
Maps generated by the
Great Circle Mapper
- copyright ©
Karl L. Swartz
.
.
Let's cut to the chase and give the check-in desks a miss, shall we? As a regional hub, Bangkok's Suvarnabhumi is well covered in many trip reports, so there's no need, I think, to retrace well-trodden ground: we start our journey today airside en route to departure gate D2. It's worth noting though that I stopped by TG's business class check-in to ask if there was any chance of a paid upgrade to J from Y - subject to availability, TG offers these standby upgrades for a reasonable price and a oneway to NRT would have set me back by another $475. The agent, though most cordial, tells me there's no chance: J class is overbooked - not only for my flight but also for TG640, a slightly earlier red-eye operated by a B744. The airline seems to be doing very well on its Tokyo flights, and this route is surely a contender for the A380. The agent is nevertheless kind enough to offer to check me in at the J class counter.
.
.
Late night is a busy time at Suvarnabhumi for longhaul (mainly European) departures and trunk Asian and Australasian routes. When I took this shot above of the FIDS screen, I didn't at first realize that every flight listed here is a code-share! The Hawaiian Airlines flight to Incheon (KE-operated) is a rather interesting one though. I make my way to the gate about an hour before scheduled departure where passengers, made up primarily of Japanese tourists and businessmen, are already streaming in steadily. It all feels very civilized - you get a sense that people are conscious of the need to be punctual, for barely 15 minutes after I arrive, almost the entire gate lounge is already completely filled with passengers waiting patiently for the boarding call.
.
.
Outside, HS-TKK awaits in all its splendor, or so I imagine. Among my biggest pet peeves about Suvarnabhuni is the absence of a view despite all the glass that makes up this airport. Getting a decent shot of the plane from the gate's concave windows is challenging during the day, and pretty much impossible at night...
.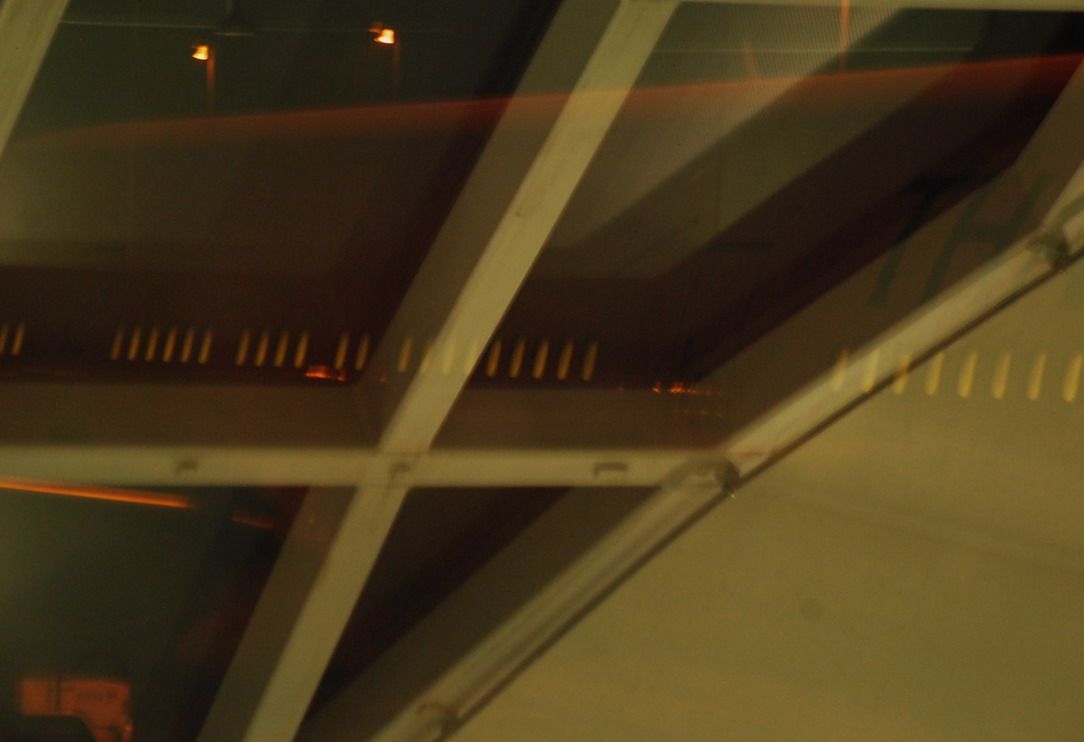 .
Bangkok to Tokyo (Narita)
Thai Airways International flight TG 642 in economy class
Boeing 777-300ER HS-TKK 'Philavan'
Dept: 12.15am Arrv: 8.12am (on time)
.
Boarding begins about half an hour before departure, with announcements in English and Thai, but strangely no Japanese. The usual priorities for business class and status frequent flyer members is followed by calls for passengers requiring assistance, and then by seat row number from the back. As my seat is in the front economy class cabin, I'm in the last batch of passengers to board thru 2L, where I am greeted in Japanese at the door.
.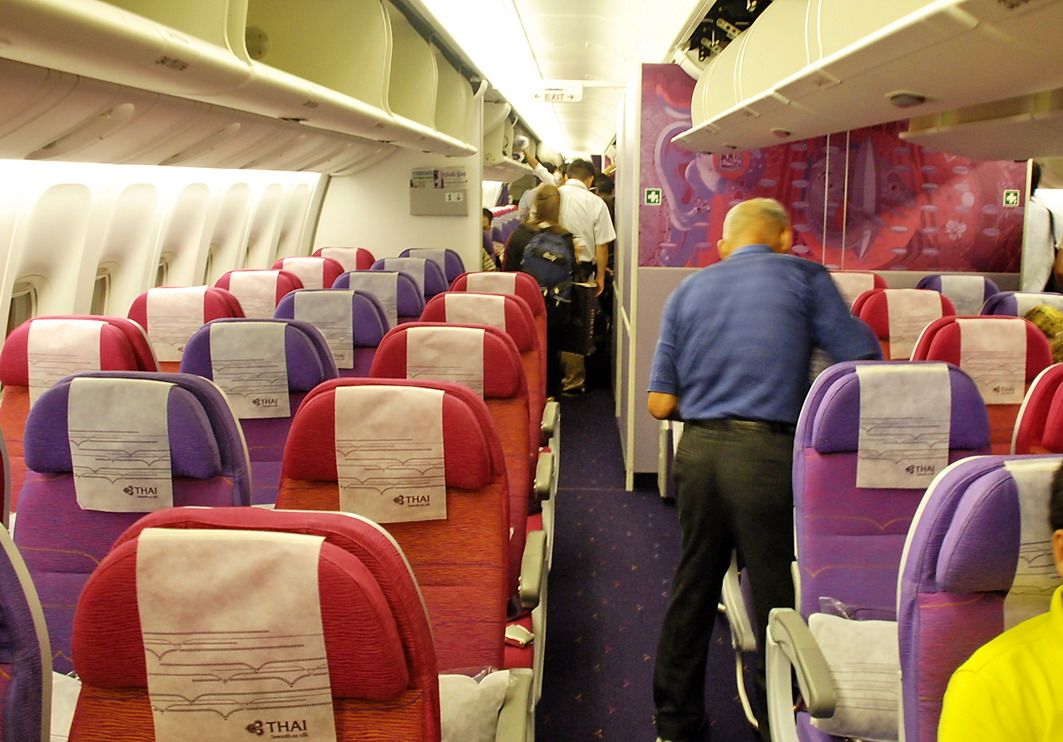 .
Moving down the aircraft from doors 2, I walk through a mini 4-row J class cabin in TG's new staggered 1-2-1 configuration, with flat-bed seats decked out in purple, before reaching the first of three Y class cabins. Now, here's a sight for sore eyes! There's no doubt: this is one of the most cheerful-looking economy class cabins I've seen of late. And if one was boarding this plane in some distant land, there's definitely no more attractive welcome to Thailand. The colors are somewhat similar to the previous TG version, except that the yellow is now gone while the reds and purples have been toned down, making for a much classier look all round. I also love the murals at the back, slightly different for each cabin, that capture so well the essence of both the country and its airline.
.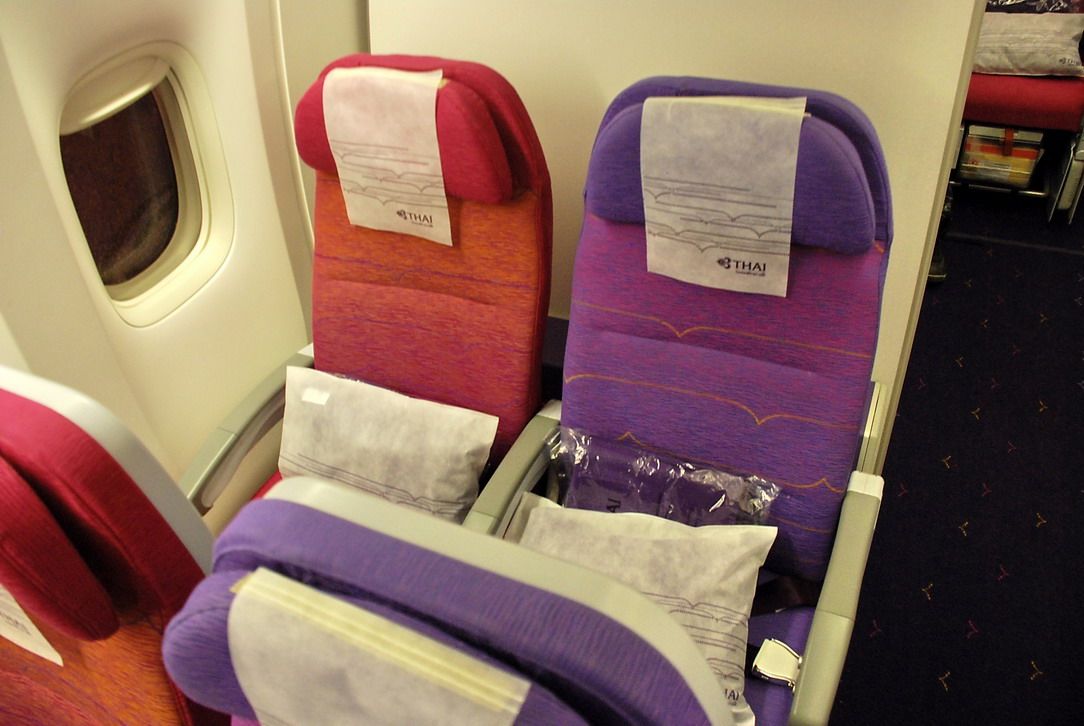 .
If you're traveling as a pair, one of the better seats to book on this 77W are rows 38 and 39 at starboard where there are two seats by the window instead of three. The only drawback are the washrooms which are relatively close by, but it wasn't too bothersome for me seated at 38K. The light colored seatbacks and large 10.6-inch PTV screens make for an equally attractive view looking ahead. Here, the last of the passengers are taking their seats in this front cabin - it's looking like a full flight in Y as well.
.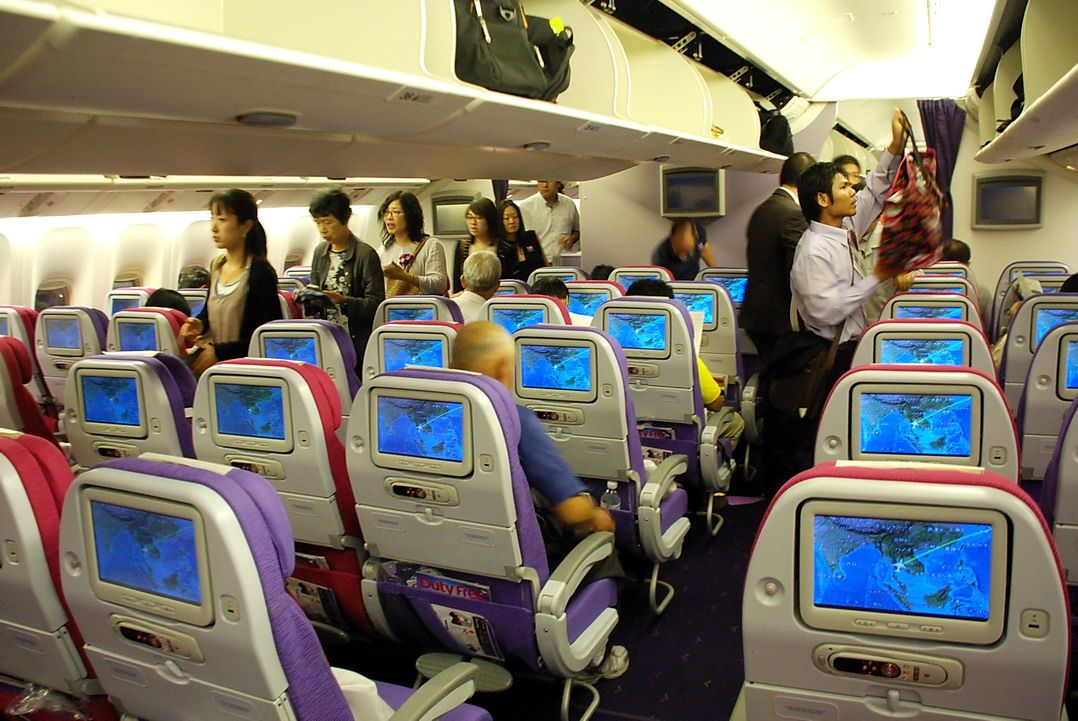 .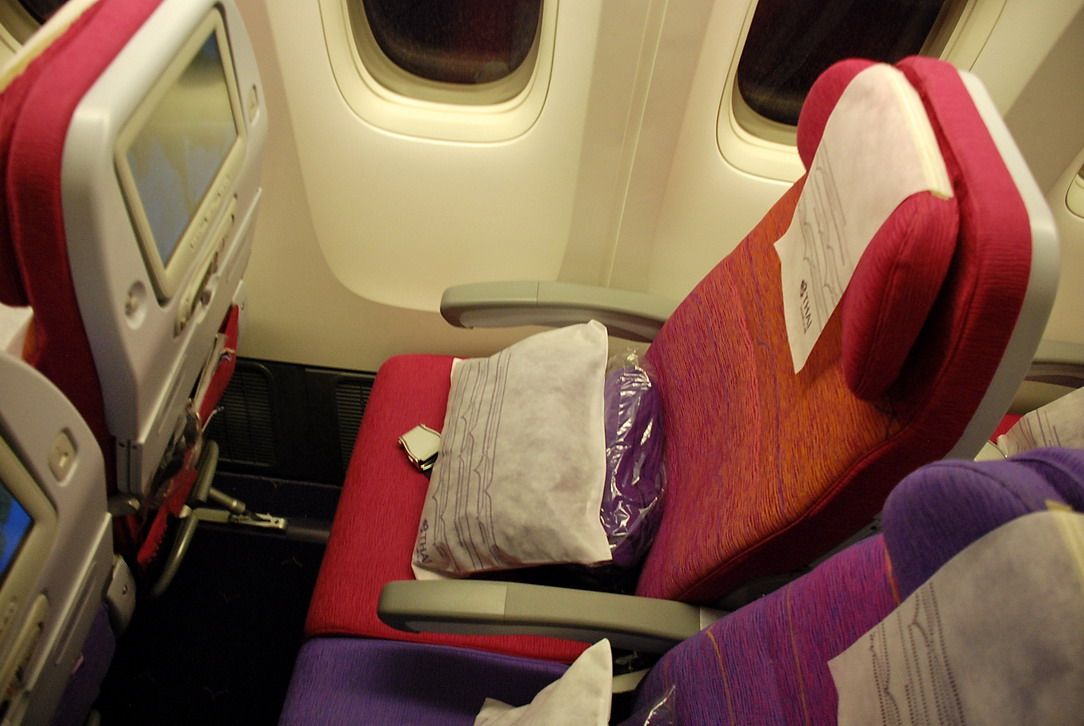 .
Before my neighbor arrives, I quickly take a snapshot of my window accommodation, one of 306 economy class seats on this plane. Already supplied with a pillow and blanket at my seat, I also find a headset stuffed into the seat pocket, together with the usual magazines, slightly dog-eared. The 32-inch pitch is adequate even if not especially generous, a comedown from the previous TG standard of 34 inches; but with a few exceptions, airlines appear to have taken to this measurement for the right balance between maximum profit and being sued for DVT. I suppose I can at least be thankful TG hasn't gone for 10-abreast, and 30 inches. At my feet, there's a legrest which I don't find particularly useful but thankfully, no PTV box to obstruct legroom.
.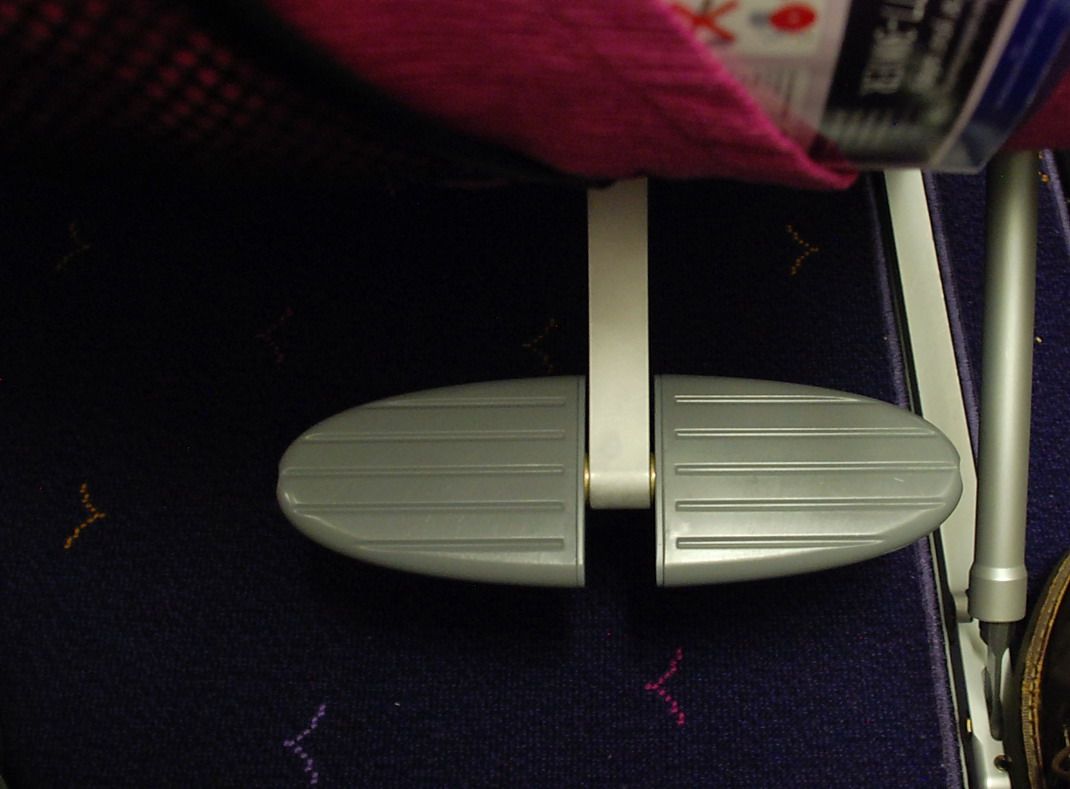 .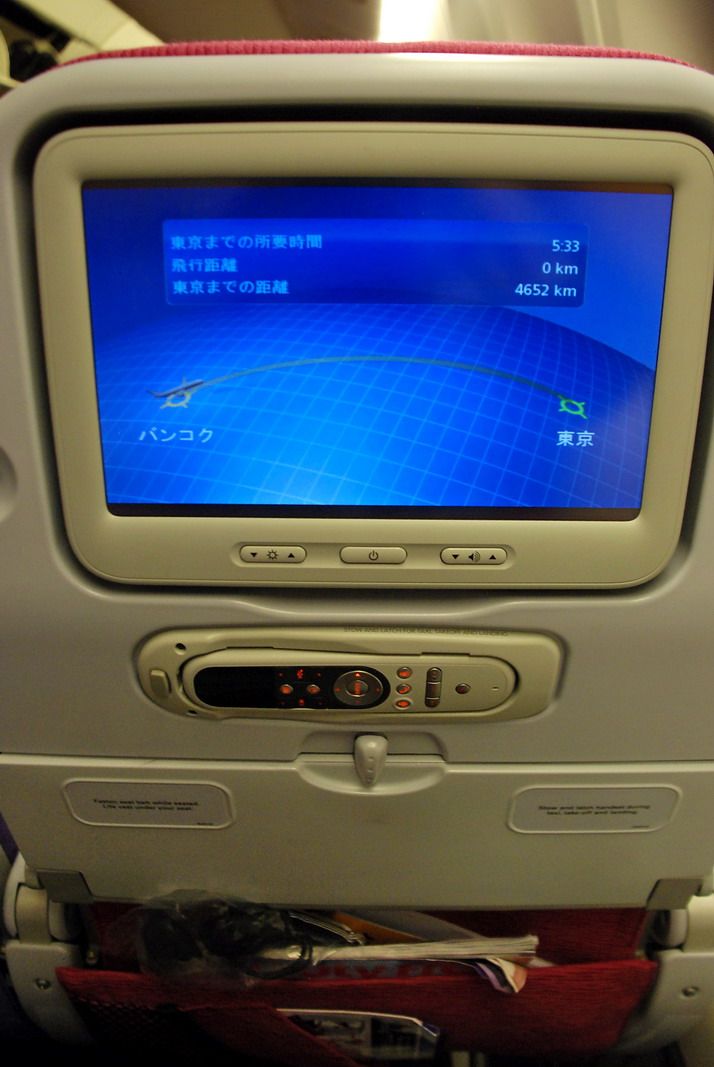 .
Ahead of me is the Panasonic IFE system with a good resolution touch-screen PTV. It's such a responsive system that I hardly feel the need to use the handset. There's a decent selection of entertainment; I didn't count them but according to TG, there's more than 100 movies, 150 documentaries, 500 CD albums and 60 games, a larger selection than previously. Flight time to Narita is shown as 5 hours 33 minutes, which is pretty fast, no doubt we'll get some help from tailwinds, as usual on eastbounds this side of the pacific.
.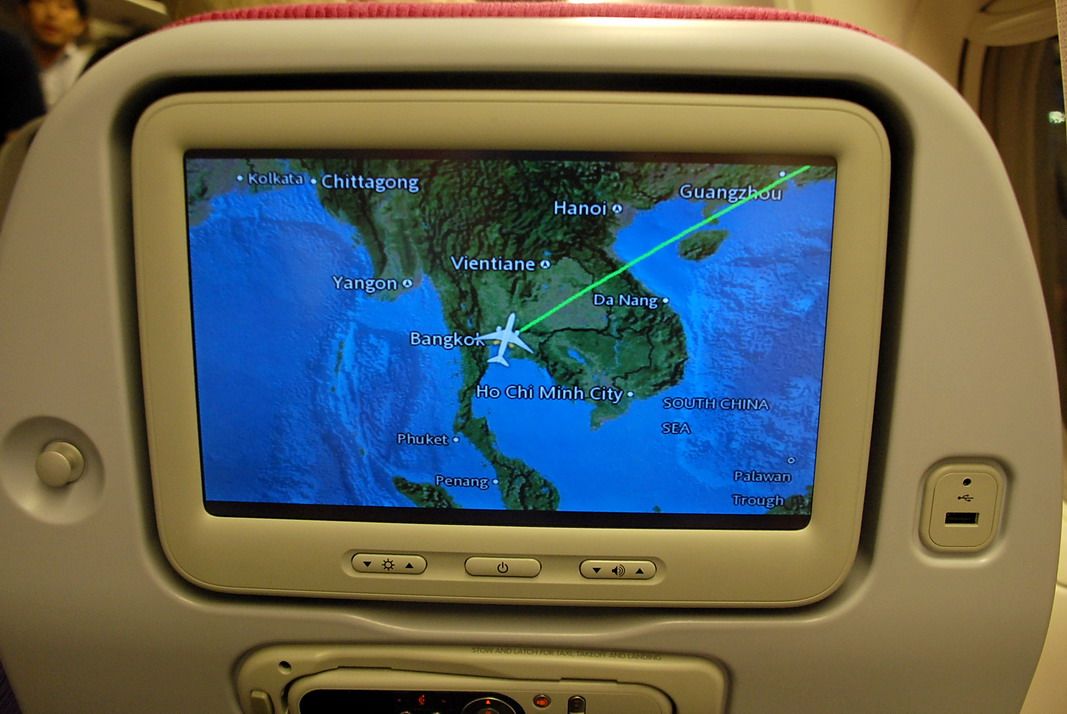 .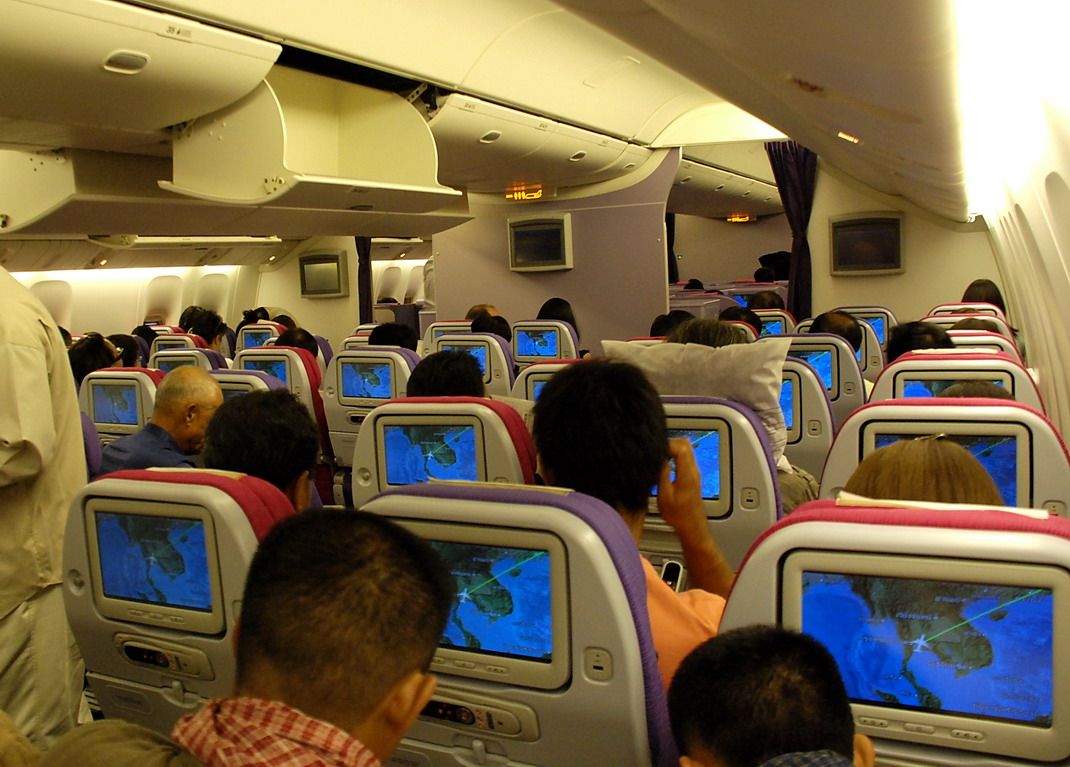 .
The doors are closed at 11.52pm, 2 minutes after scheduled departure and we're all set to go. Or at least, almost. A pilot comes on the blower to welcome us aboard and then apologize in advance for the slight delay on leaving the gate as the earlier thunderstorm had delayed our cargo loading, which was still ongoing. It's wet and still drizzling outside when we push back some 20 minutes later, to the loud whine of engine number 2 right outside my window. I hadn't been a fan of the GE90 before but am slowly warming up to it. What a great sound!
.
.
.
TG's usual safety video in Thai and English is played as we taxi towards 19R for departure. The AVOD system, switched on immediately after, has an interface in the various languages of the many countries served by TG. Our takeoff run seemed longer than I had expected for a relatively short hop for a 77W - perhaps we're heavy with cargo tonight.
.
.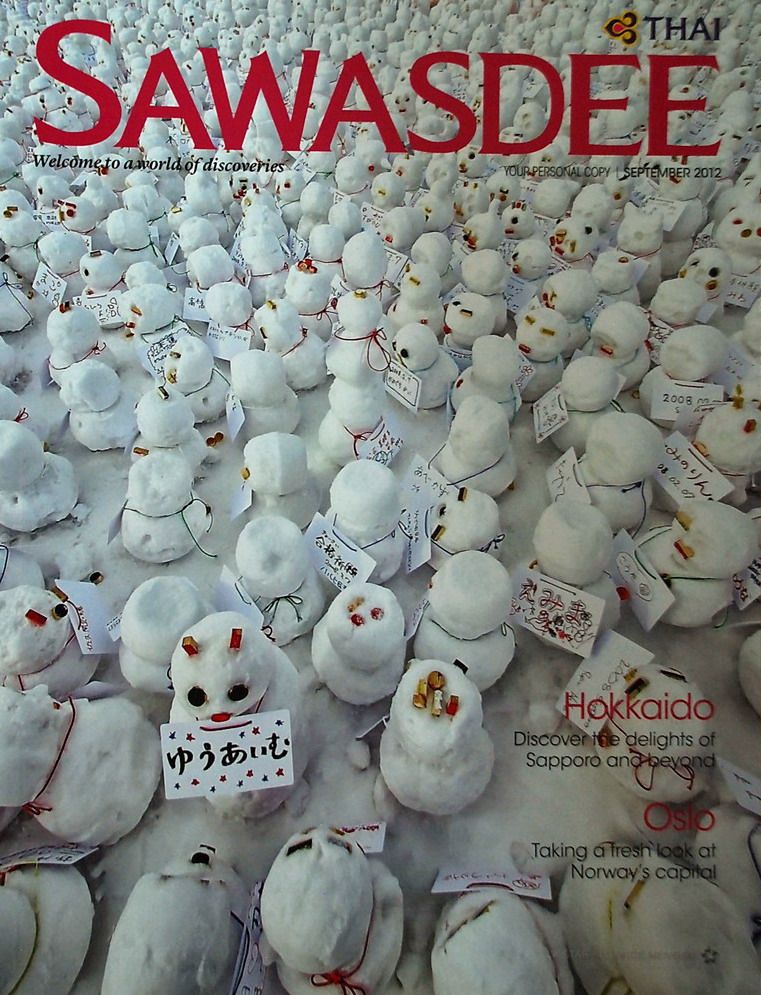 .
We fly through a little turbulence out of Bangkok and when the seatbelt signs come off, the cabin lights remain dim. As it's now well past midnight, many passengers are already asleep. I've started exploring the IFE but can't find anything worth staying up late to watch, so I stick with the moving map. I also flip through the
Sawasdee
magazine which this month is featuring TG's newest Japanese destination, Sapporo, as well as its latest acquisitions. Two pages are devoted to this newest B777. The article is mainly PR fluff and not particularly earth-shattering, but I do learn that the economy class seats, spanning 18.5 inches, are the widest in the industry. And Business class has LED overhead lighting. Another two-page advert sells TG's largest attraction in years, coming our way in Oct.
.
.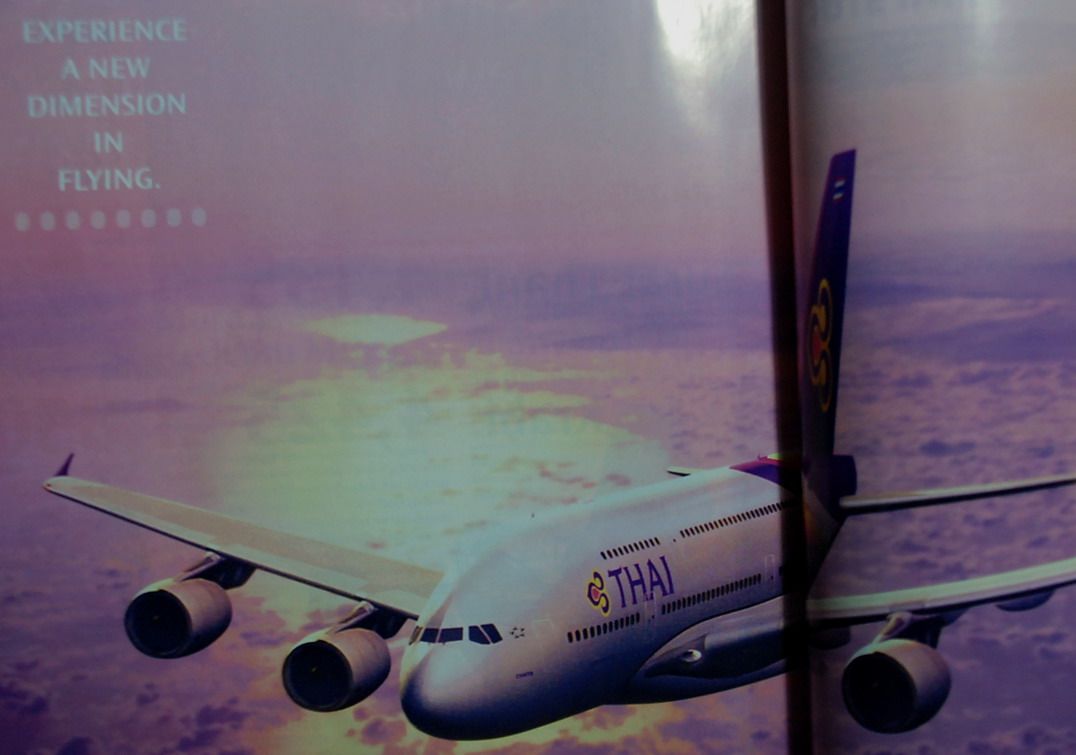 .
TG doesn't give out menu cards in Y class but the meal offerings are now uploaded on the system and viewable on screen. Like most carriers plying the longer east Asian red-eye, the priority for passengers seems to be getting some shut-eye on the flight and so the main meal is breakfast, served just before landing.
.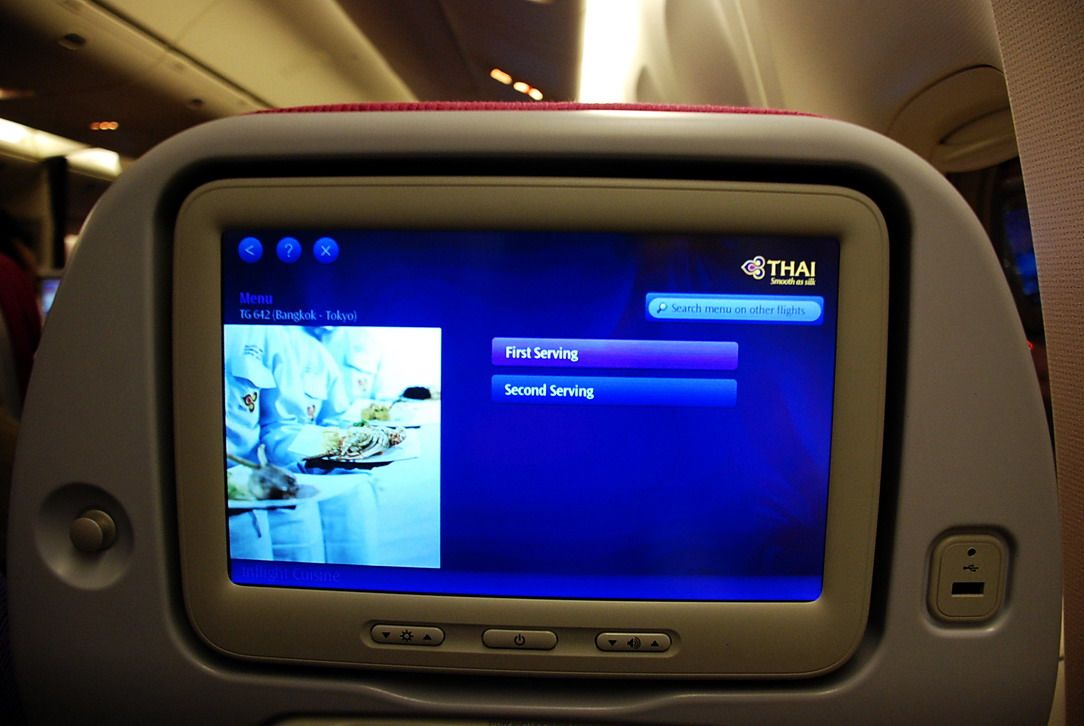 .
.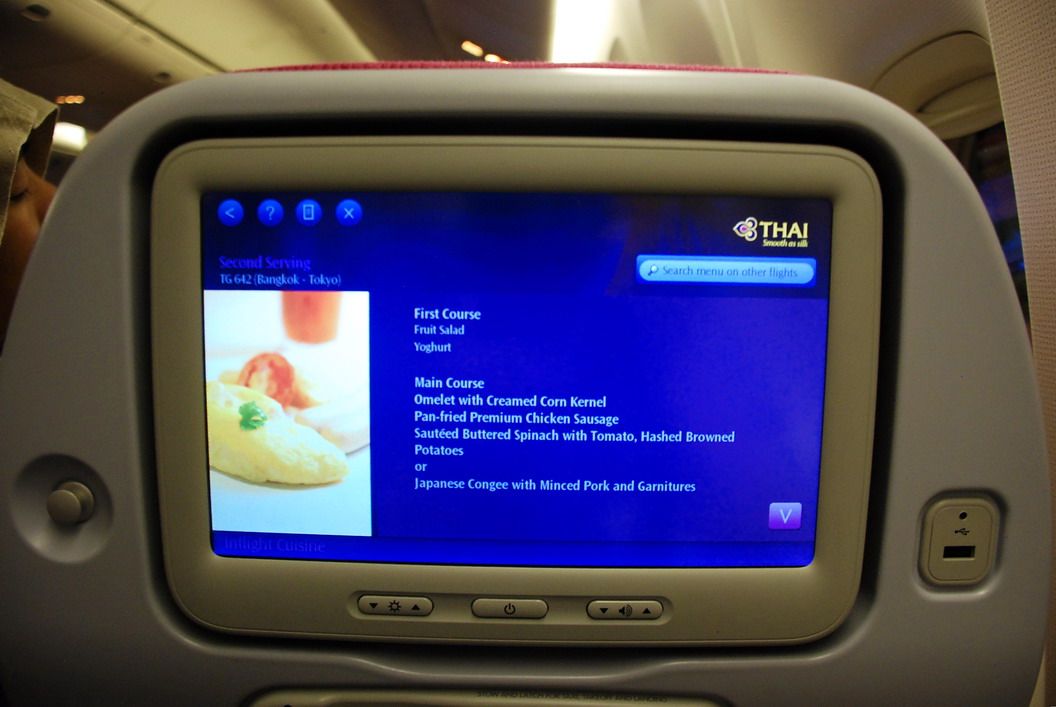 .
There's a certain urgency to the serving of a croissant sandwich as the late night snack. I'd never seen TG flight attendants rush down the aisle to serve a meal so quickly, even on short domestic flights. I am handed my packed supper, and then a drinks tray appears almost instantaneously. Sleeping passengers, like my neighbor, are left undisturbed. Once I finish, the empties are quickly dispensed with and in less than 10 minutes the "light meal" is over, and it's time for bed. Talk about an efficient meal!
.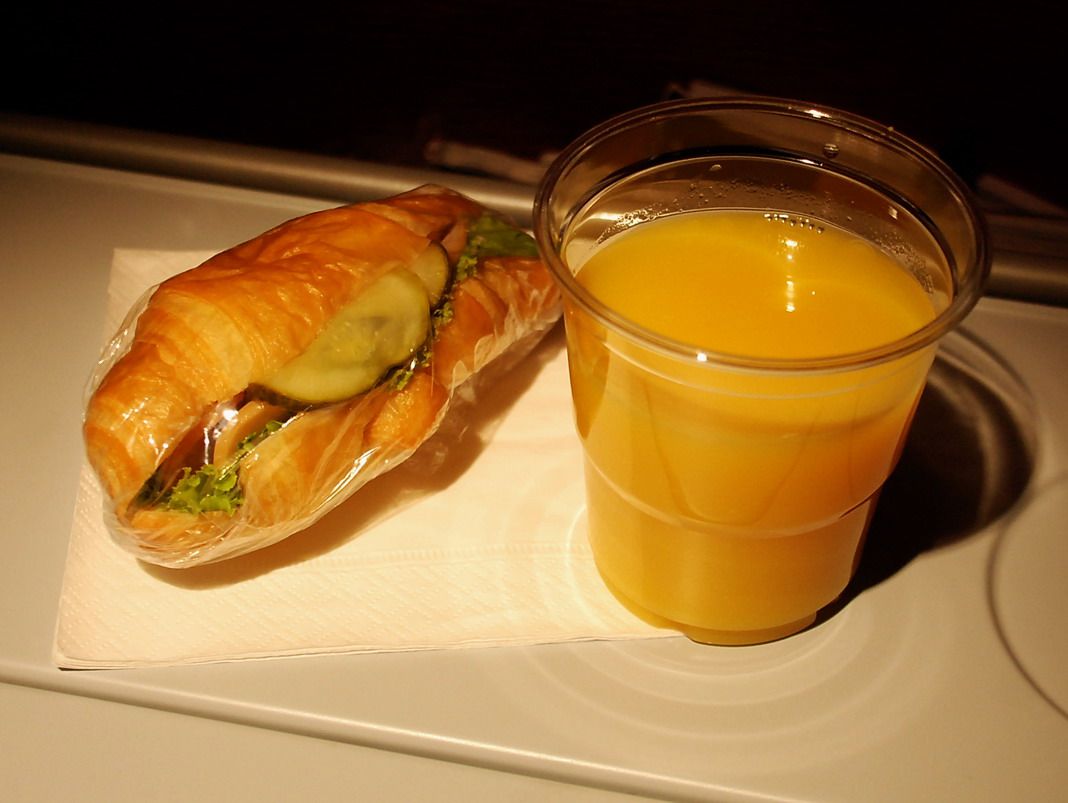 .
.
Too bad sleep doesn't come as easily. As we speed through the night over Vietnam, the South China Sea, and then Taiwan, I'm sleeping so fitfully that I'm checking for signs of dawn every 15-20 minutes. Somehow I'm just incapable of resting tonight. I can't blame the seat which has a bottom that slides out when I recline, as I'd been in similar seats before and slept quite well. The cabin temperature too is fine and as I'd been rather sleep-deprived over the past few nights, this insomnia is almost inexplicable. The only factor I can think of is my seat mate who has no problems sleeping but is so fidgety (he appears to time his elbowing of my rib cage every time I'm successful in nodding off) that I soon develop a strong dislike for this complete stranger who has the amazing ability to piss me off while he's sleeping!
.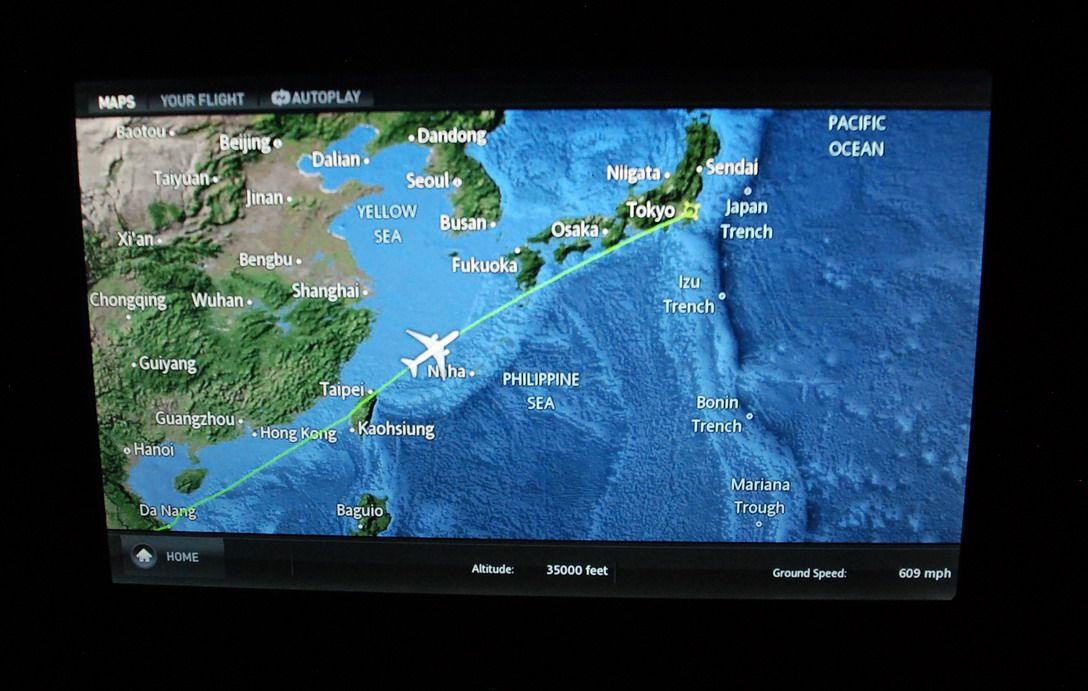 .
.
I've kept my window shades up during the flight as it's after all dark outside but when I awake from one of my catnaps, I find that someone, probably a crew member, had unobtrusively lowered all the shades. Raising mine again, I find what I'd been looking for all night: the first glimmers of a new day in the distance. We're about two hours from Narita at this stage and by my estimation on the map, we can't be too far from the Senkaku/Diaoyus islands, a couple of disputed rocks in the East China Sea that are driving Japan and China to the brink of war. How very exciting, and at the same time, how very silly. Anyway, moving quickly away from this hot potato, the rising sun is lifting both my spirits and heavy eyelids as I get the first proper view of the raked wingtips. Just the tonic I need to start the day, I think.
.
.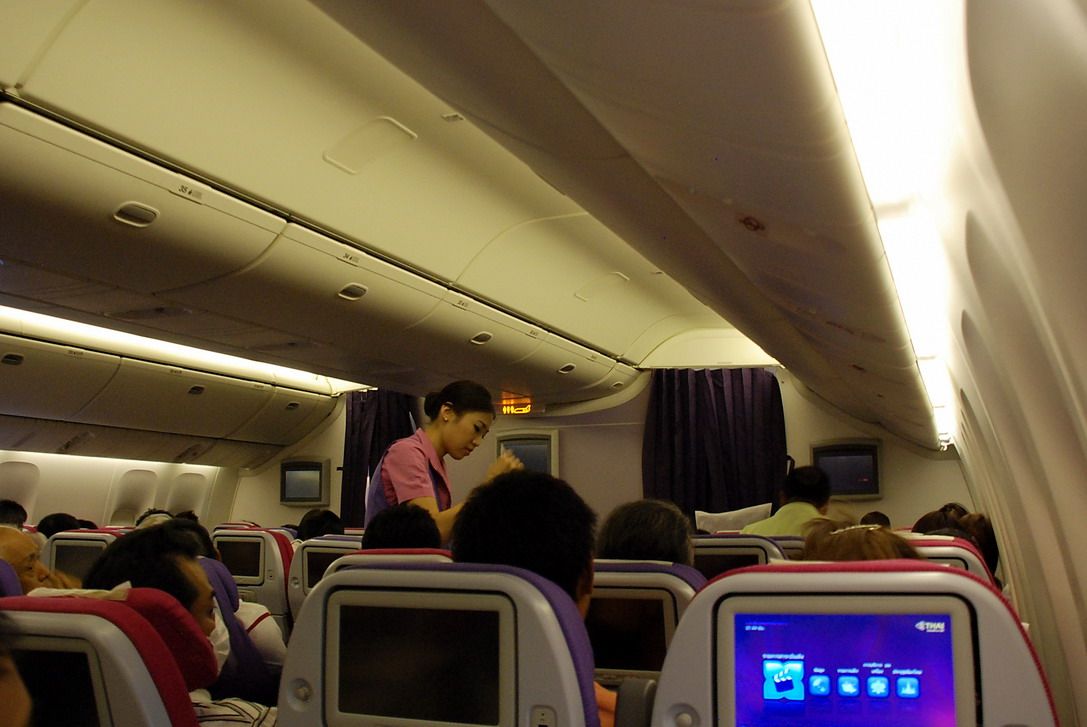 .
The cabin lights come on not long after and the crew, who have now changed attire from Thai silk costumes to their red and purple ground uniforms (I wonder which other airlines go to this trouble with cabin crew outfits), distribute warm towelettes, followed by juices from a tray. The meal tray that comes next has all the usual breakfast offerings of fruit, roll, yoghurt and coffee, and is quite adequate - and the Japanese congee which I opt for as my main more than satisfies. The cutlery is stainless steel which is interesting because for a while last year, the airline had gone for plastic in Y class, so this seems like a change of heart, which I whole-heartedly approve of.
.
.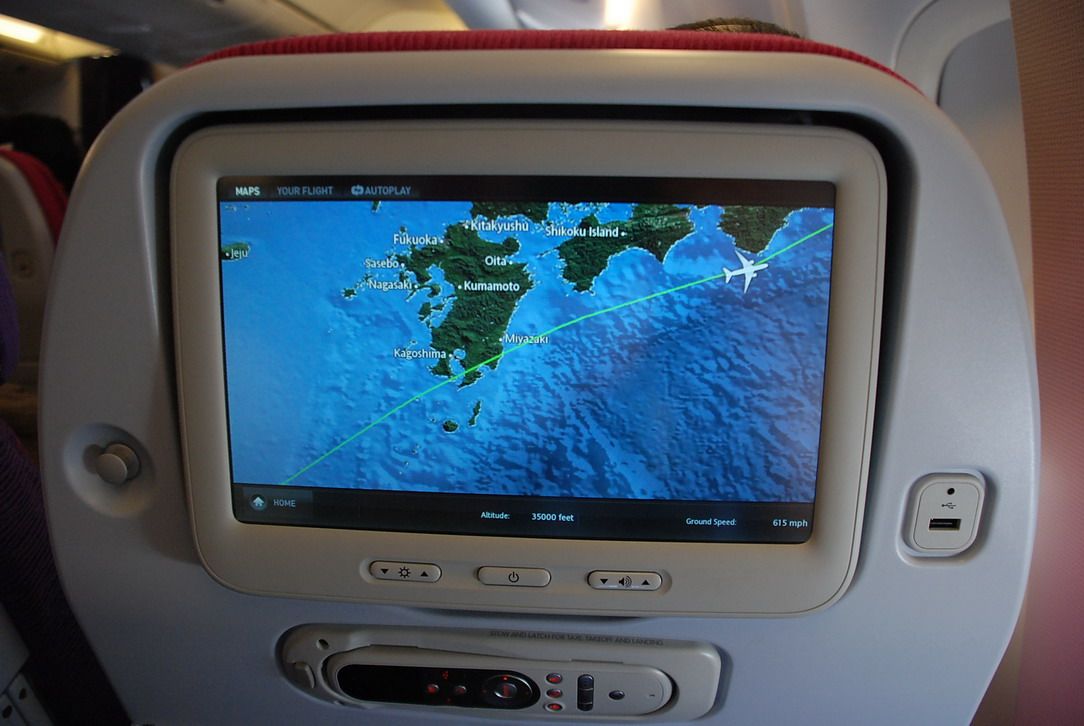 .
.
One hour of the flight to go and we're flying parallel to the coast of Japan: first above Kagoshima prefecture, then alongside Shikoku and Honshu. But there's no view to speak of even as we descend into Tokyo, with the skies remaining cloudy. There's rain and 20ºC forecast for our Narita arrival, but at least we've made up some time overnight and should be arriving on schedule.
.
.
Like the Bangkok departure, HS-TKK's arrival at Narita on 34L is met with driving rain. It's a smooth landing nevertheless and the engine outside my window is making such a sweet sound I feel it should carry me on to Seoul. But alas, this is the end of the line. There are also a number noteworthy planes worth taking out my camera for as we taxi to our Terminal 1 stand, but the weather isn't cooperating. My token photo of the outside is of the ANA B763 parked next to us as we nose in among Narita's Star Alliance players.
.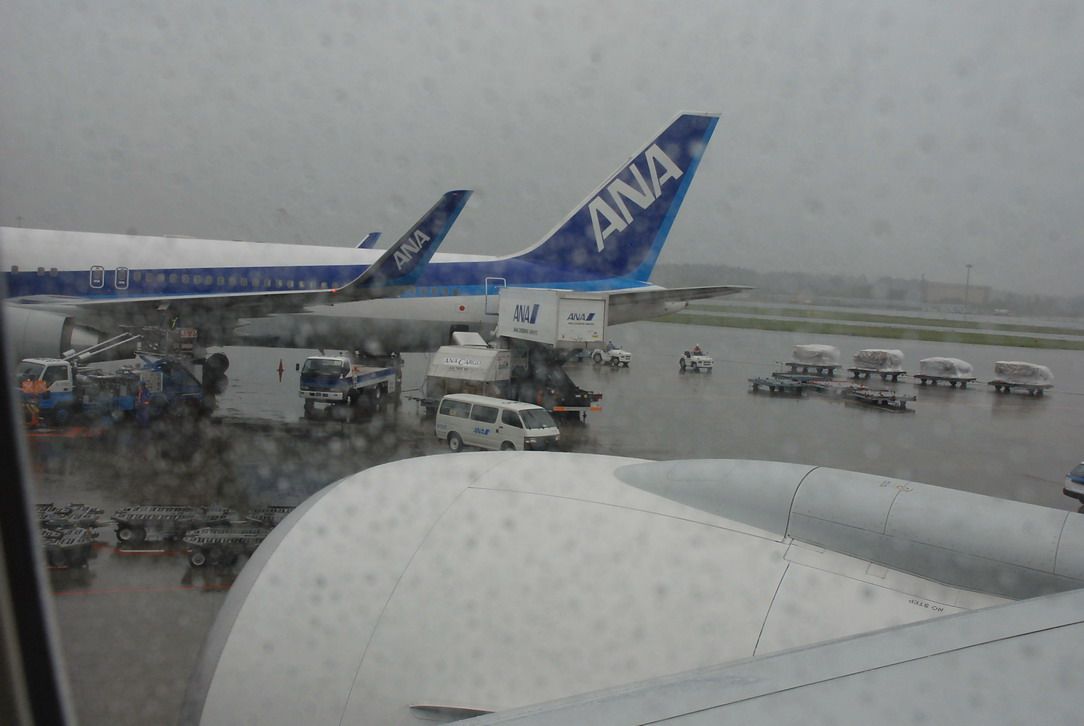 .
With loads of time for my connecting flight, I loiter around in the cabin, waiting for it to empty, so that I can take a few more interior shots. As passengers leave, the crew are meticulously checking the seats and overhead bins, removing newspapers and magazines and presumably also looking out for any left-behind items. I have to say that in the light of day, TG's new interior colors are even more attractive.
.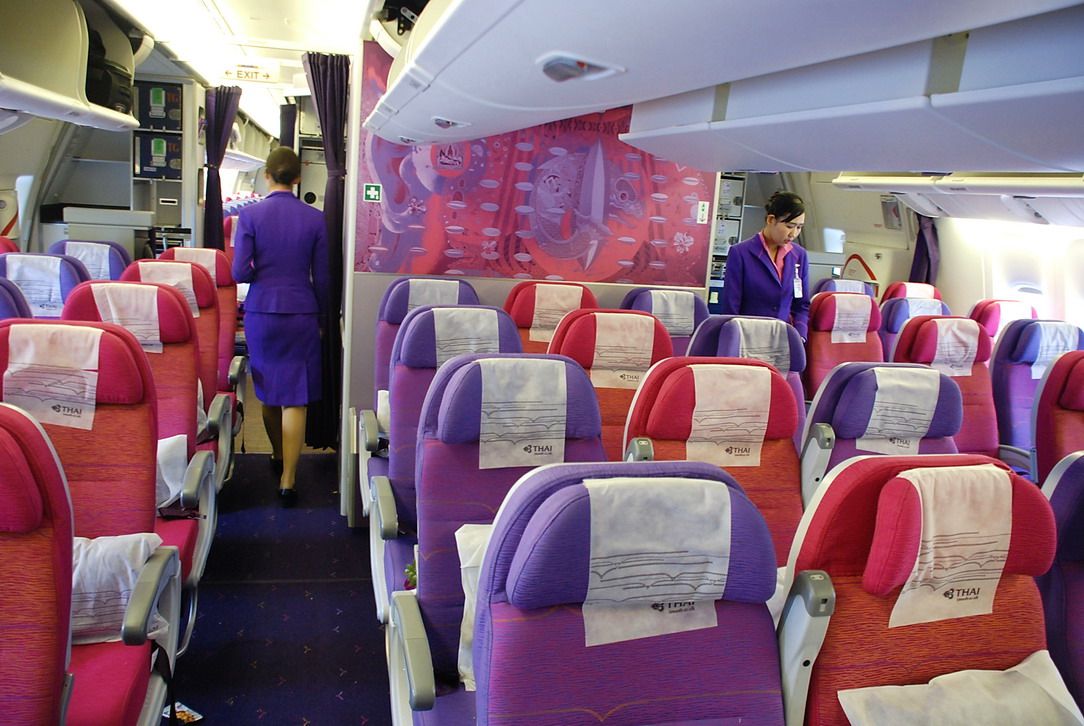 .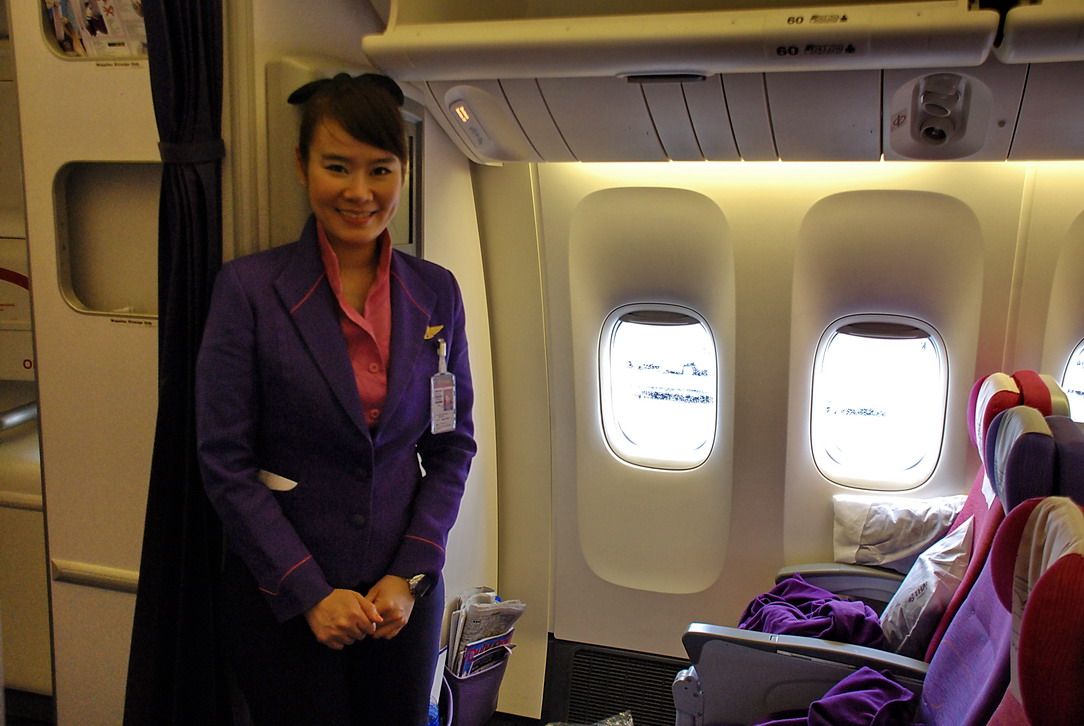 .
Unlike some northern Asian carriers, TG's crews will happily pose for you if asked. Without my prompting, the crews also tell me this is the airline's newest plane and that I'm "very lucky" to be able to catch it. I feign surprise and politely agree, and lest I look even weirder than I already seem, don't reveal what the voice in my head says: "
luck has nothing to do with it when you have intentionally traveled 1,000kms out of your way!
"
.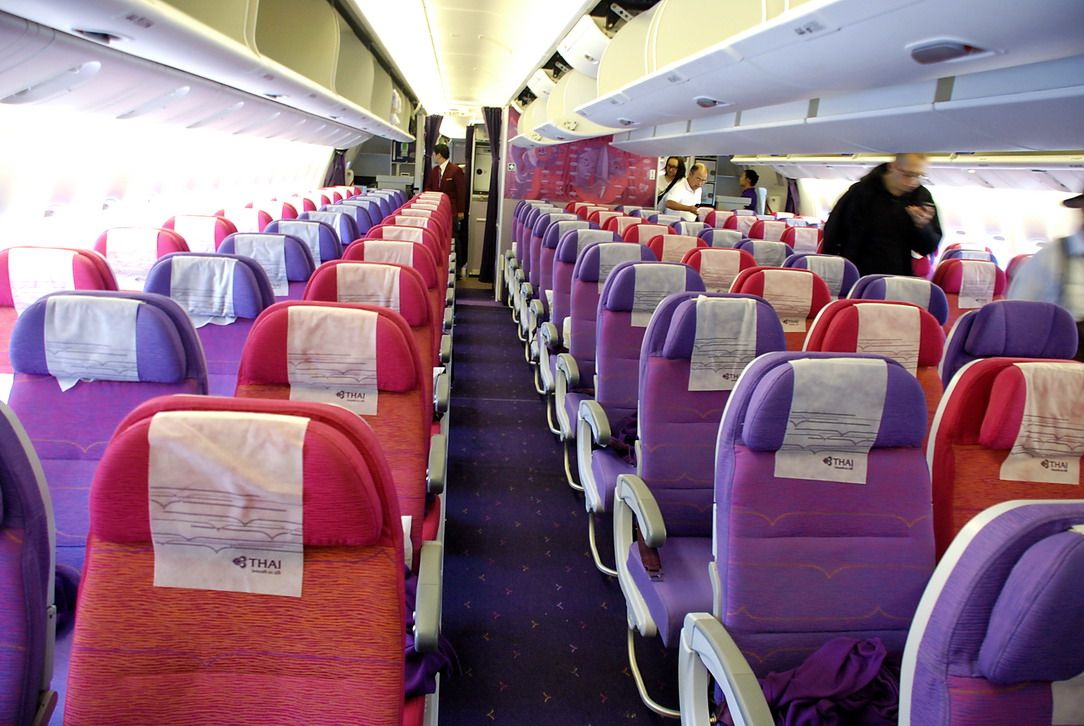 .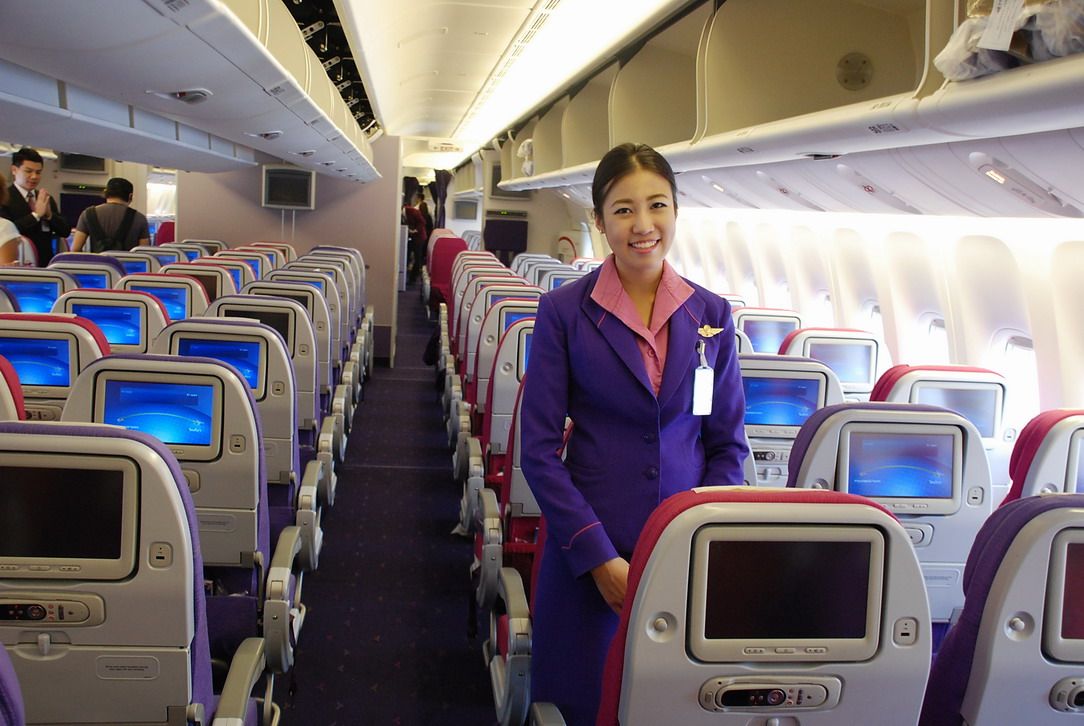 .
This had been a pretty standard TG flight in Y, but "standard" on this airline is usually enough to satisfy me. One can usually rely on inflight service and catering to be good at the back of the TG bus; although there are occasional lapses, there's strangely greater consistency here than say in its J class. What sets this flight apart is the hardware - the IFE and new interiors - which has gained a couple of notches from the airline's usual level. It's now up there among the best, though it would have been nice to have got an overnight kit on this flight as well. Also, it's encouraging to see the airline retrofitting some of its older planes with PTVs and new interiors, although at the rate they're being refreshed, it could all take awhile.
.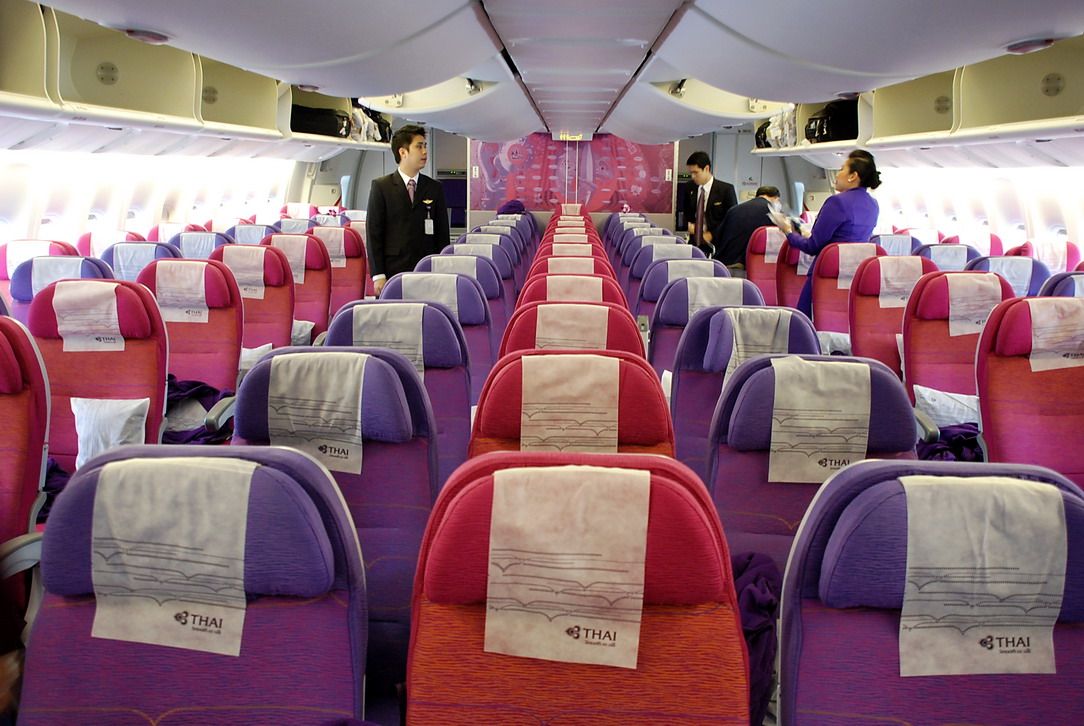 .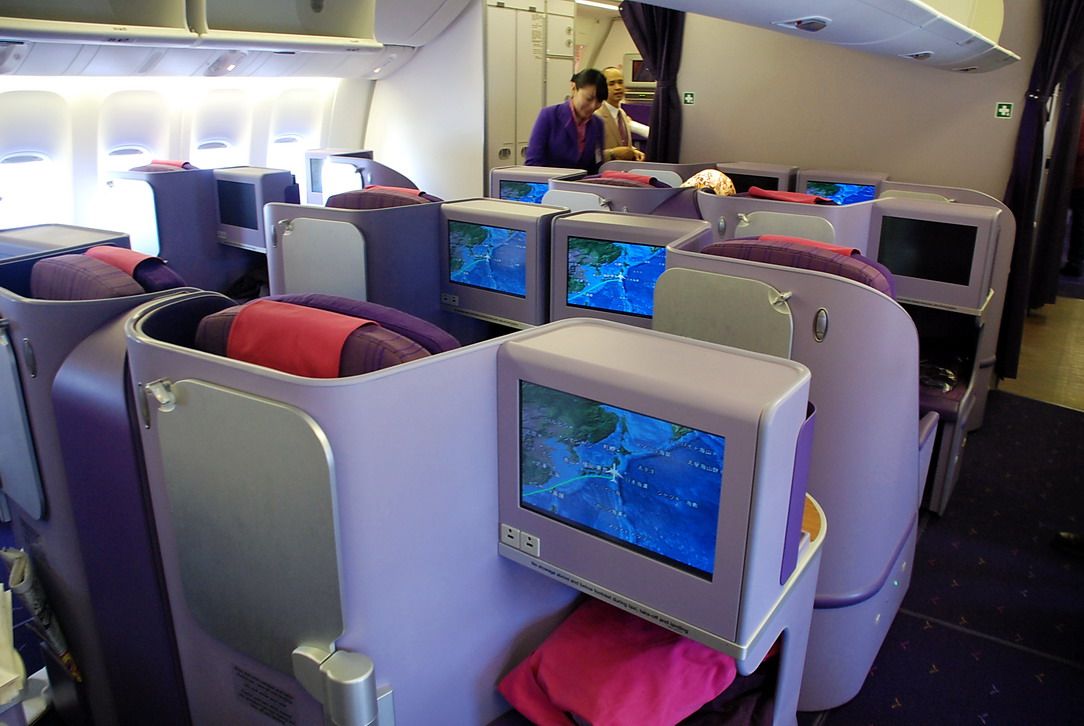 .
On the way out, I manage to take a couple of quick, but unsatisfactory, shots of the new business (Royal Silk) class cabin. For some reason, the Y class cabin looks more attractive to me; this one looks too purple - or perhaps it's just sour grapes on my part...
I would have liked to have been able to try these seats - maybe another time. There are 42 J seats in all, spread across two cabins; the smaller back cabin is located after doors 2 (above), and the larger front cabin is between doors 1 & 2 (below). It looks similar to the version you find on Etihad, with its staggered 1-2-1 configuration - 20-inch wide seats with an 87-inch pitch, all with direct aisle access, that convert into flat beds. This will be the new standard longhaul J for the airline, and there's no doubt it represents a major improvement over the current offering. TG doesn't talk about equipping its own 77Ws with a first class cabin so I wonder if the retirement of its B744s will also mean the end of F class service on some longhaul routes.
.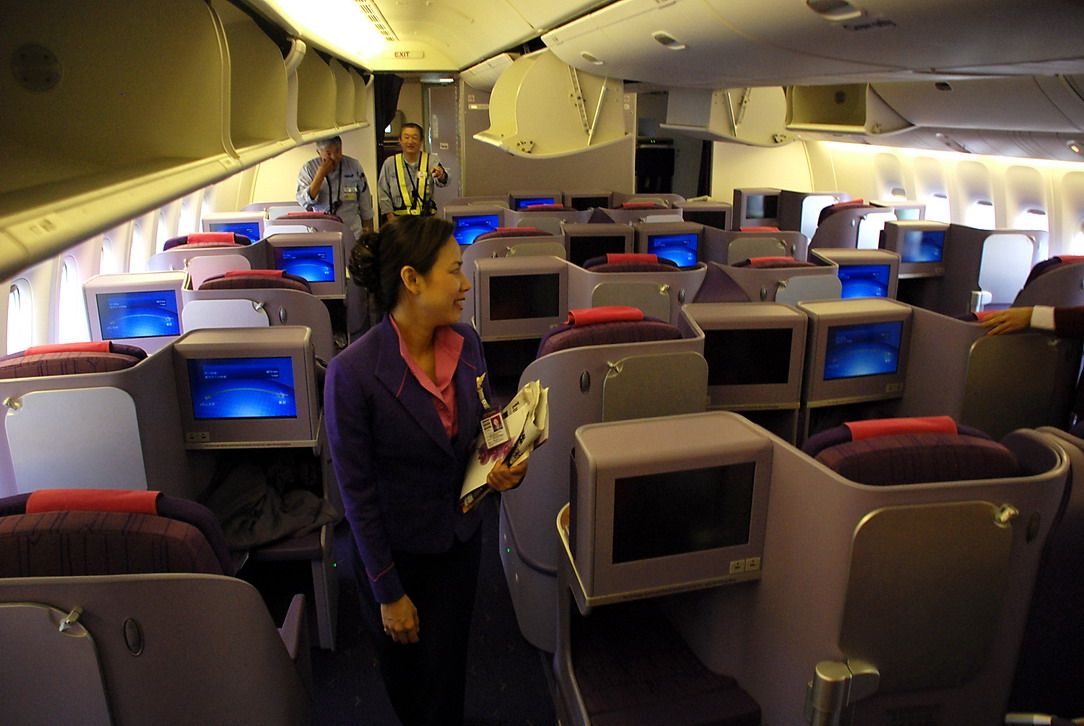 .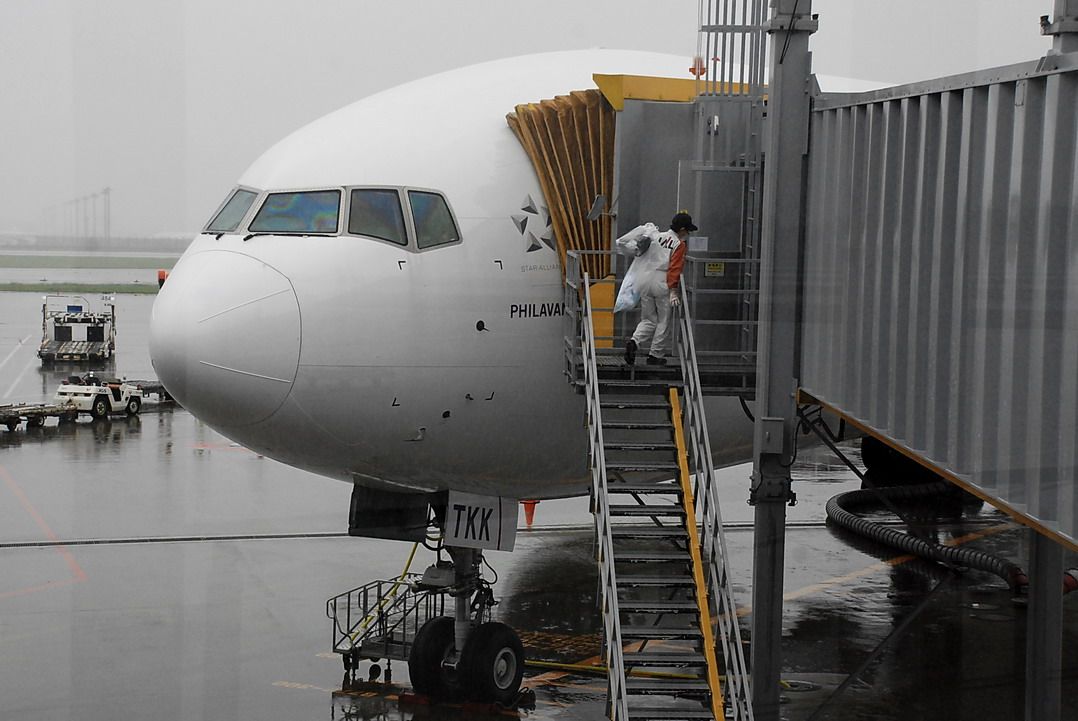 .
At the gate, I bid a fond farewell to
Philavan
, or at least temporarily, for I'm also booked on her operating as TG643 for my return flight to Bangkok - but that's not today. In the meantime, I hope you will indulge me in a not-so-short detour of Narita, and then my flights to and from Incheon. If your interest lies only in HS-TKK, speed-scroll down to the 'Back to Bangkok' section that follows on from there.
Transfers are easy at Narita. I follow directions for international connections at Terminal 1 where I encounter some of the most polite airport security personnel I'd ever had the pleasure of meeting. It's then a fair walk to the Korean Air transfer desk (which is located among the SkyTeam carriers) where another exceedingly polite agent issues my boarding pass. My onward flight is not for another five hours, and with me feeling, and probably looking, like something the cat dragged in, I decide to spend the next three catching up on sleep in a real bed - at the cost of $40, a Narita dayroom is quite the bargain.
.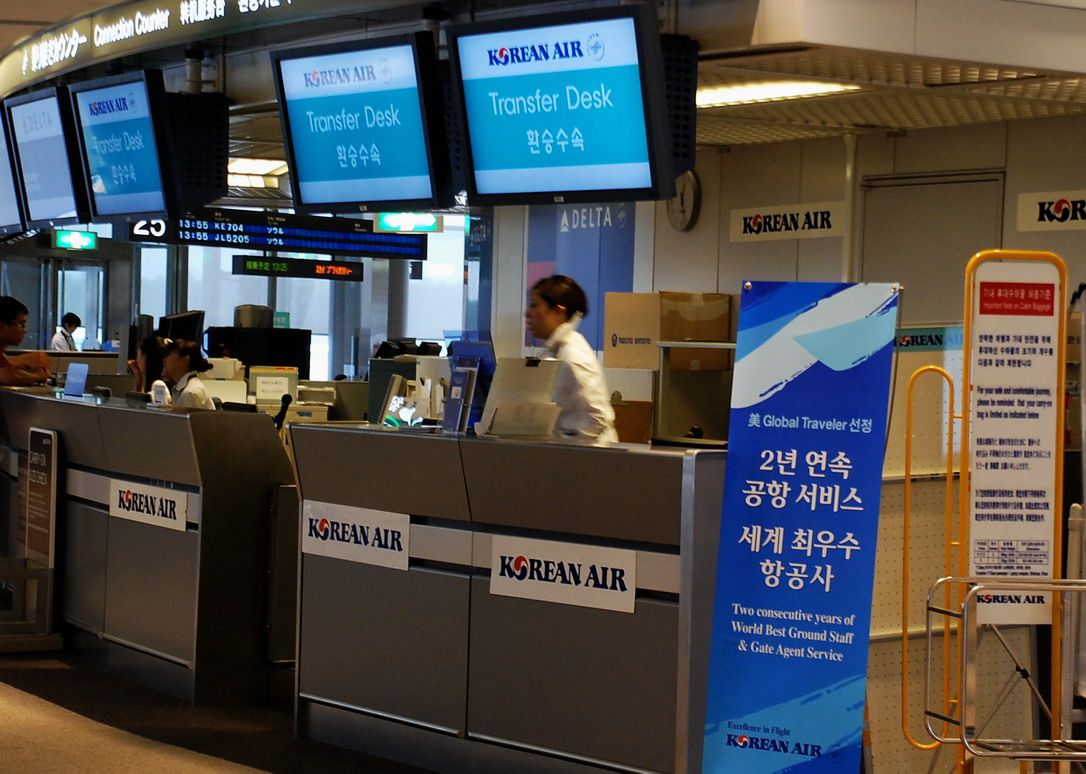 .
.
Fully rested and showered around midday in Japan, I'm ready to face the day ahead. It's still overcast and wet outside but at least I'm now in the right frame of mind for a little spotting before my onward flight. The separation among the three airline alliances are probably more apparent in Narita than at any other airport in Asia-Pacific. Terminal 1 is the domain of Star Alliance and SkyTeam, while Terminal 2 is the home to oneworld carriers. But even within T1, the distinction is very clear: the North Wing's lower-numbered gates are reserved for SkyTeam airlines while Star Alliance members take the higher-numbered gates of the South Wing. But of course this is precisely the sort of clarity one would expect from a Japanese airport.
.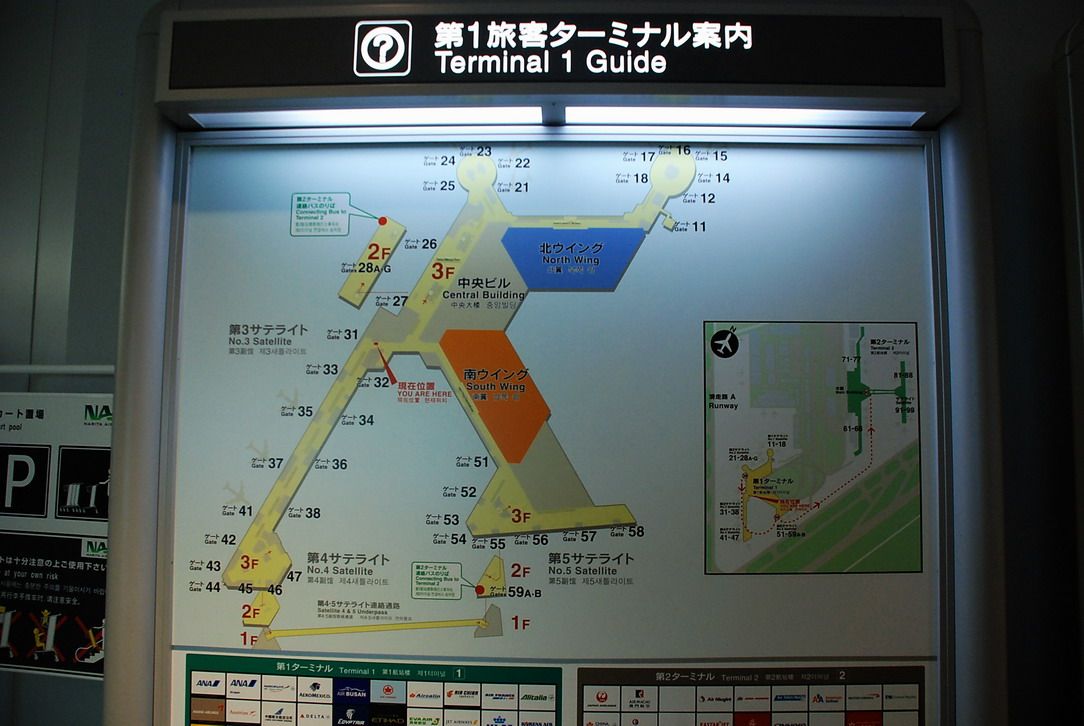 .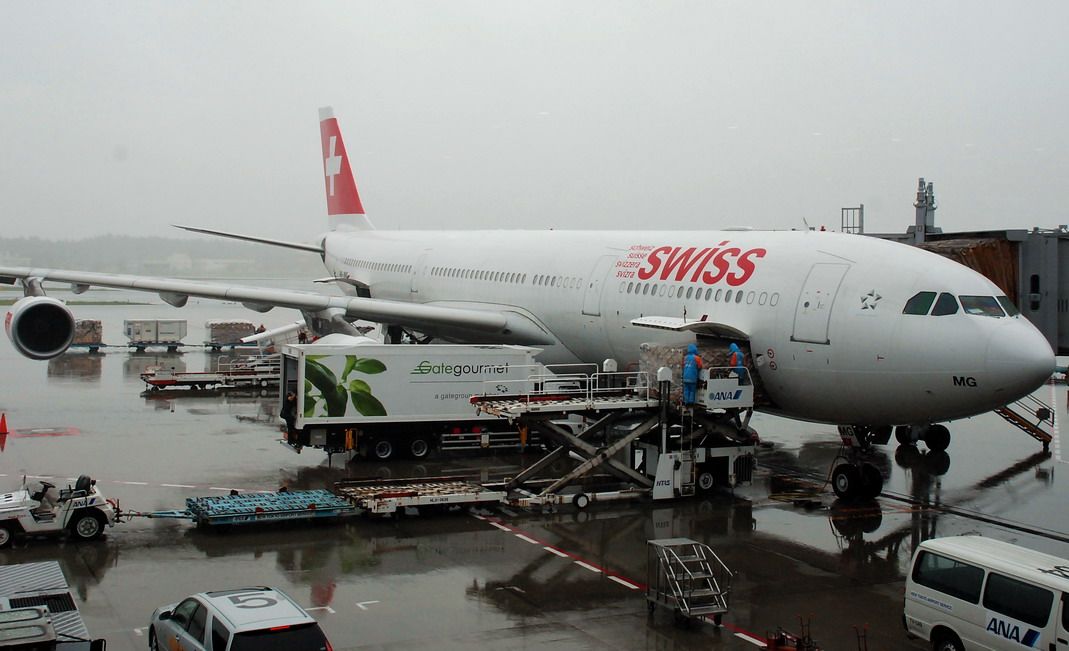 .
Earlier in the morning when I was looking in vain for the KE transfer desk, I should have been more alert to the obvious indicators of the planes that were parked near-by. These were a number of early arrivals being turned around for their usual late morning departures back to Europe. Is anything Star Alliance-linked not somehow also linked to Lufthansa these days?
.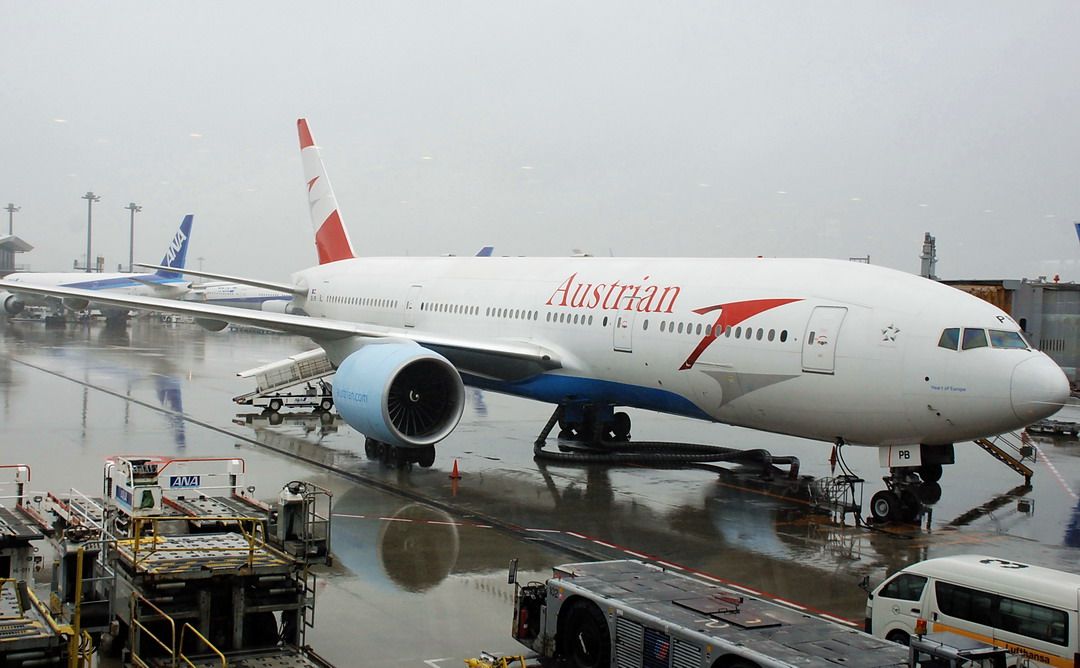 .
.
Such is the sheer volume of traffic between BKK and NRT that in addition to the flight I arrived on, TG needed to schedule another similarly-timed B744 overnight from Thailand. This jumbo is set to return to Bangkok exactly an hour before
Philavan
. It's also interesting that the airline has put HS-TGY, its only B744 so far with newly-retrofitted first class suites, on this route. The TG machine is firmly in Star territory but when you spot a SVO-bound Aeroflot A333 parked at the gate, it's safe to assume you've stepped across an invisible line into SkyTeam country and moving in the right direction for Korean Air.
.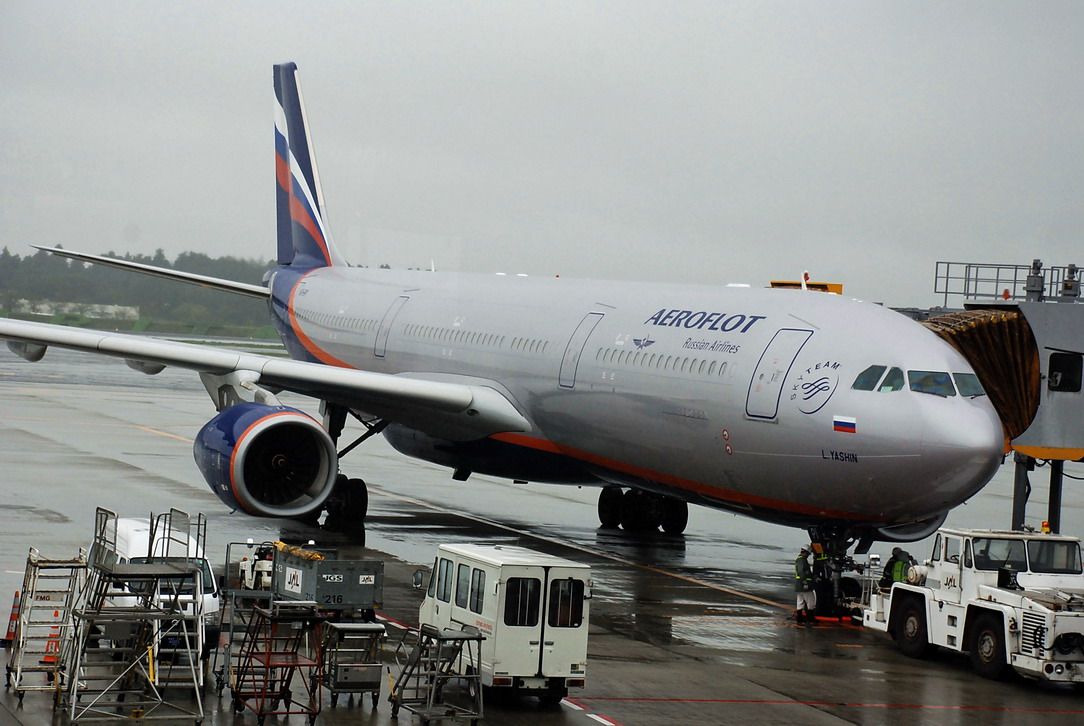 .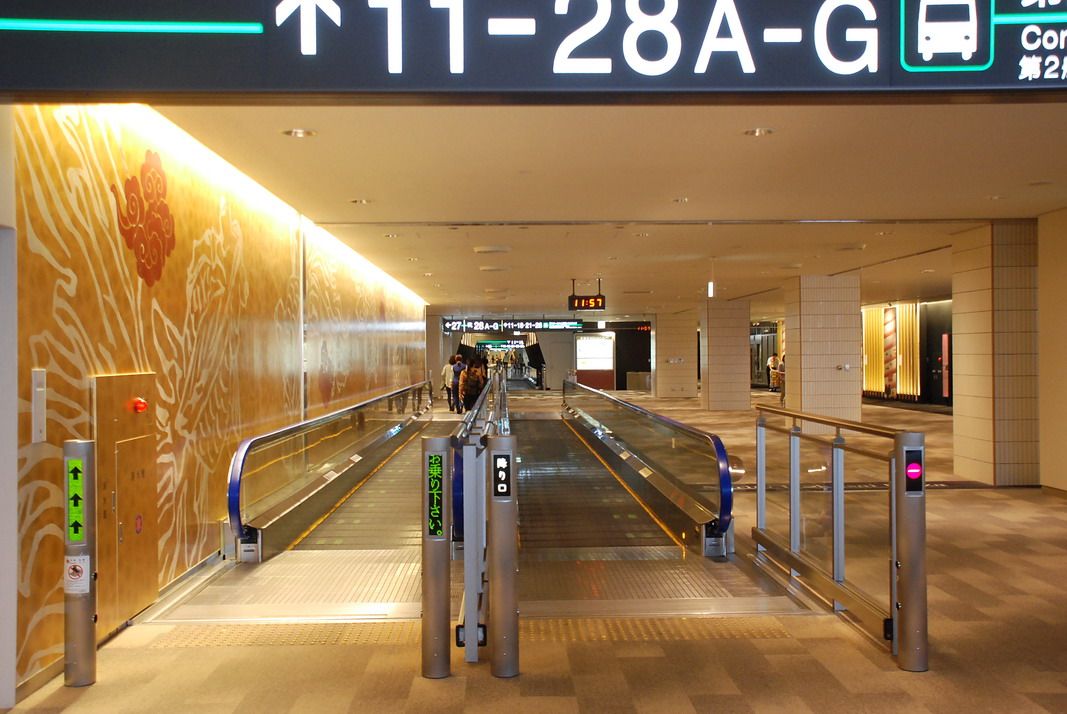 .
Narita may be one of the world's busier international airports but unlike some of the dazzling new facilities you now find in Asia, Terminal 1 feels as warm and convivial as a much smaller facility. Perhaps because it's an older design, the scale is human and this is an airport - rather than a shopping mall or architectural icon masquerading as an airport - where the focus is the not the shopper or somebody's ego, but the traveler and ensuring his basic needs are met (in spotless interiors, sufficient decently-comfortable seating, accessible clean washrooms, plenty of walkalators, drinks dispensers at every corner, good views and lots of natural light, a few but not too many shops, and a place for a quick bowl of udon noodles). I like it very much actually.
.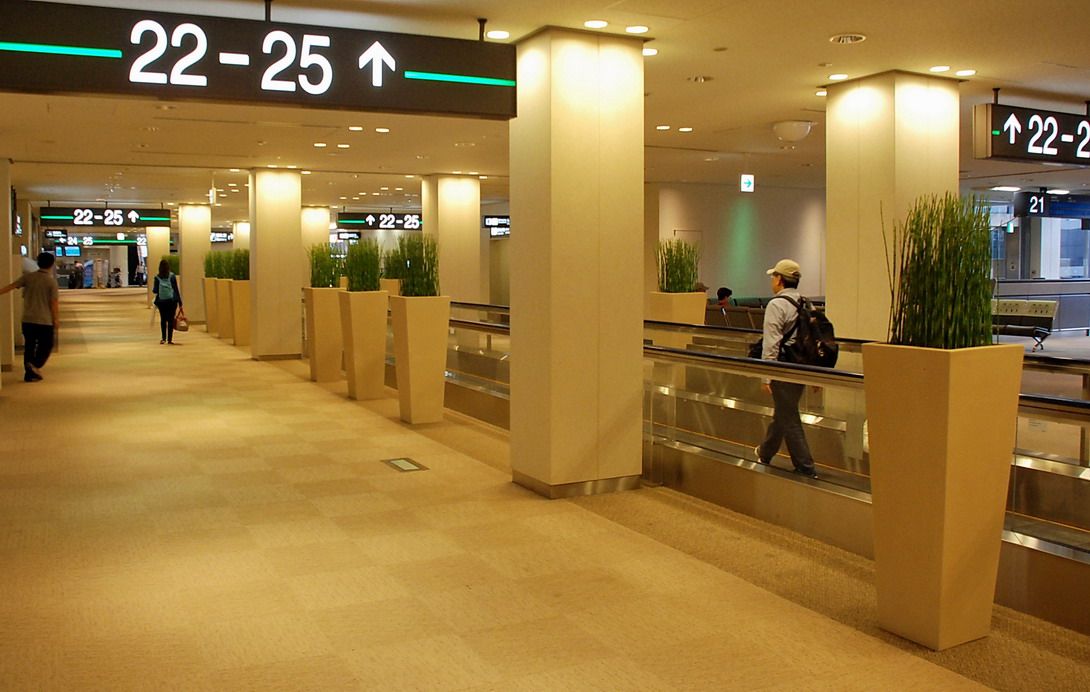 .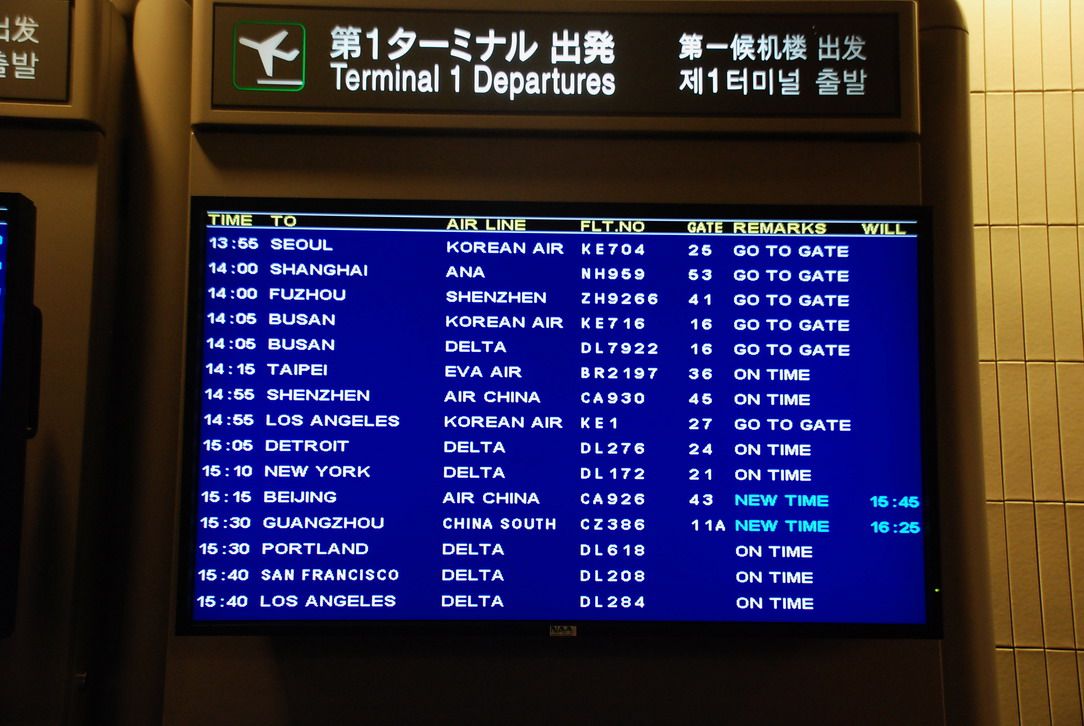 .
My flight - Korean Air 704 bound for Seoul - is shown as departing from gate 25 at 1355, and is one of a number of KE departures during the day for its South Korean hub. Even though two earlier flights could have connected better with my TG arrival, the reason I'd selected this specific departure (that it's operated by a B744 rather than B773 for the others) (i) can probably only be truly understood by the readers of this forum; and (ii) doesn't require further explanation here.
.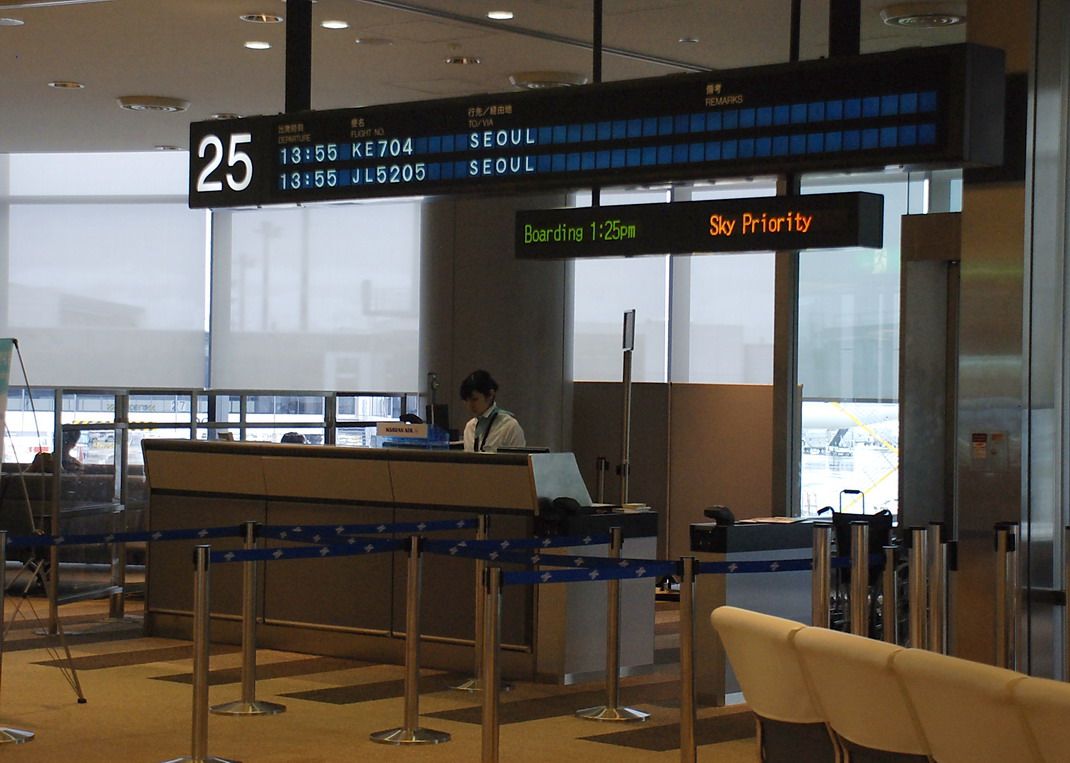 .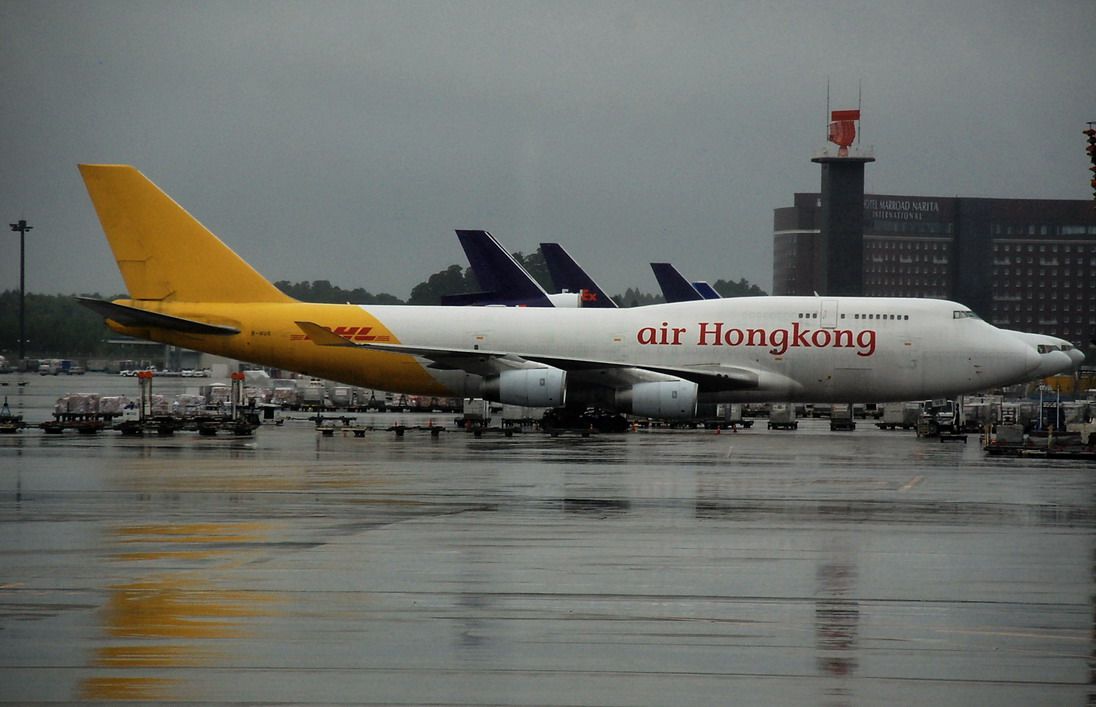 .
As I've still got plenty of time before boarding - plus my plane hasn't yet arrived - it can only mean more spotting time. Even from within the terminal and despite the weather, there's a decent view of tarmac happenings. At this hour, there seems to be quite a bit of freighter activity. Above, the Air Hong Kong RR-powered B744F with the registration B-HUS can only mean one thing - it had at some stage in its life been painted in a Cathay Pacific livery (the engine color is a giveaway too). Another result of a passenger-to-freighter conversion is this former-ANA B763 below, now operating for the airline's cargo division. OCS is the courier company controlled by ANA. And finally, how can one resist
not
snapping an MD11?
.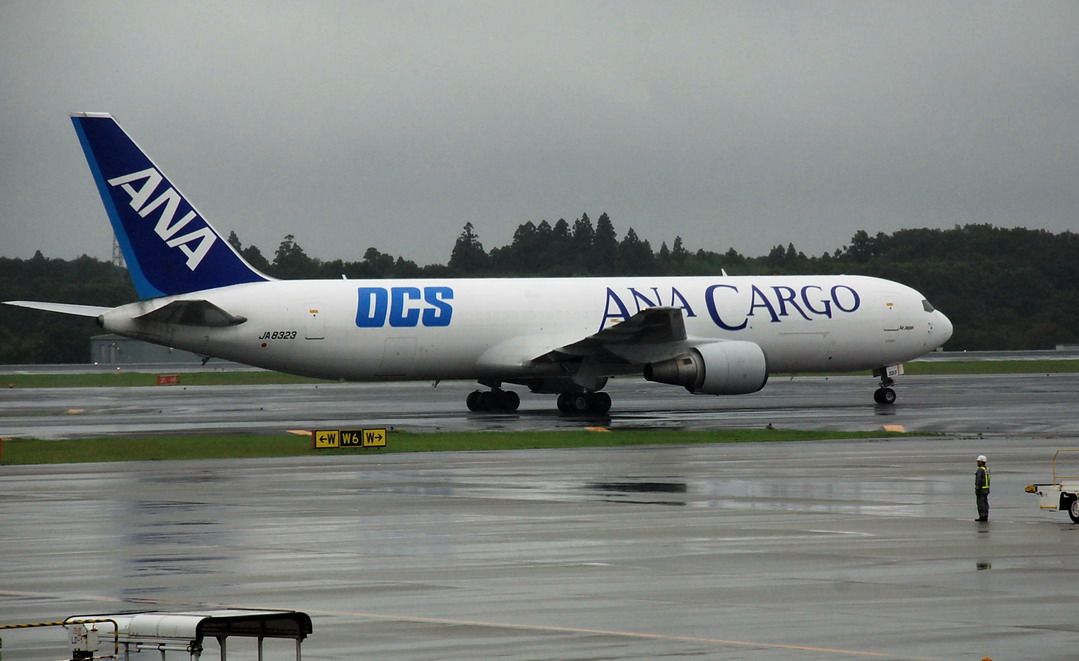 .
.
.
I like an airport that plans ahead for its future alliance members. It is not by chance that this CGK-bound Garuda Indonesia A333 is parked among the DL machines, and the Hello Kitty A332 coming in from TPE is taking up a position in Star's South Wing.
.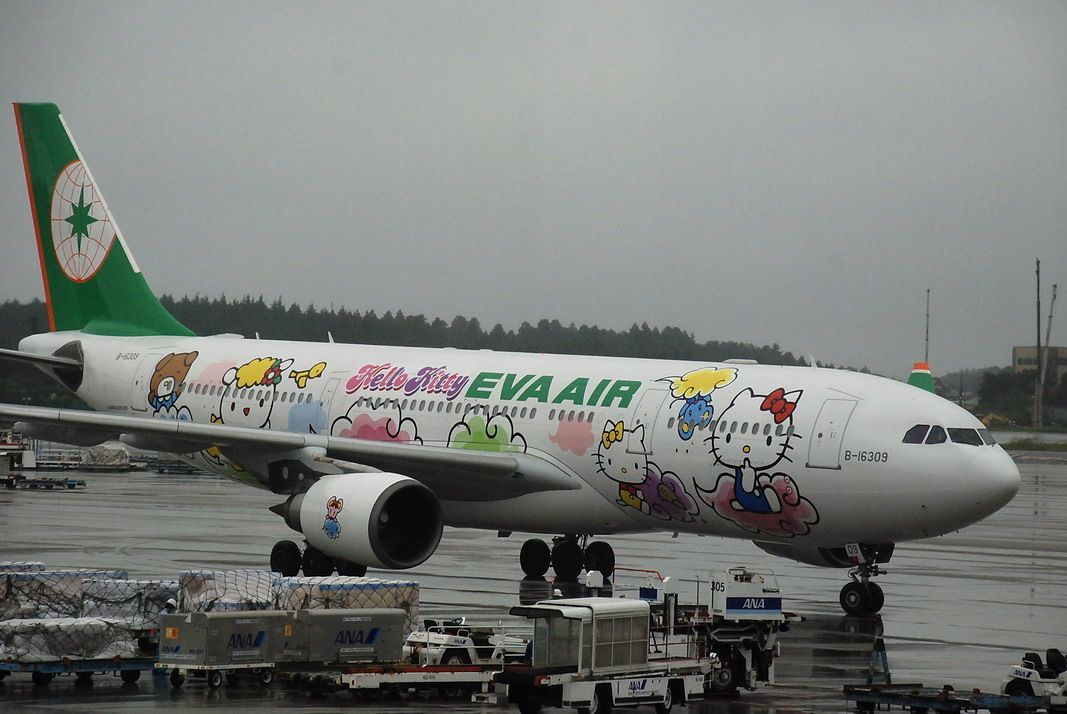 .
As I await the arrival of my flight, an impressive takeoff of an unmistakable plane on 34L catches my attention and gets me rushing for my camera. But I'm too late - my first sight of a Boeing 787 Dreamliner is a blurry vision of a Boston-bound Japan Airlines disappearing into the thick cloud.
.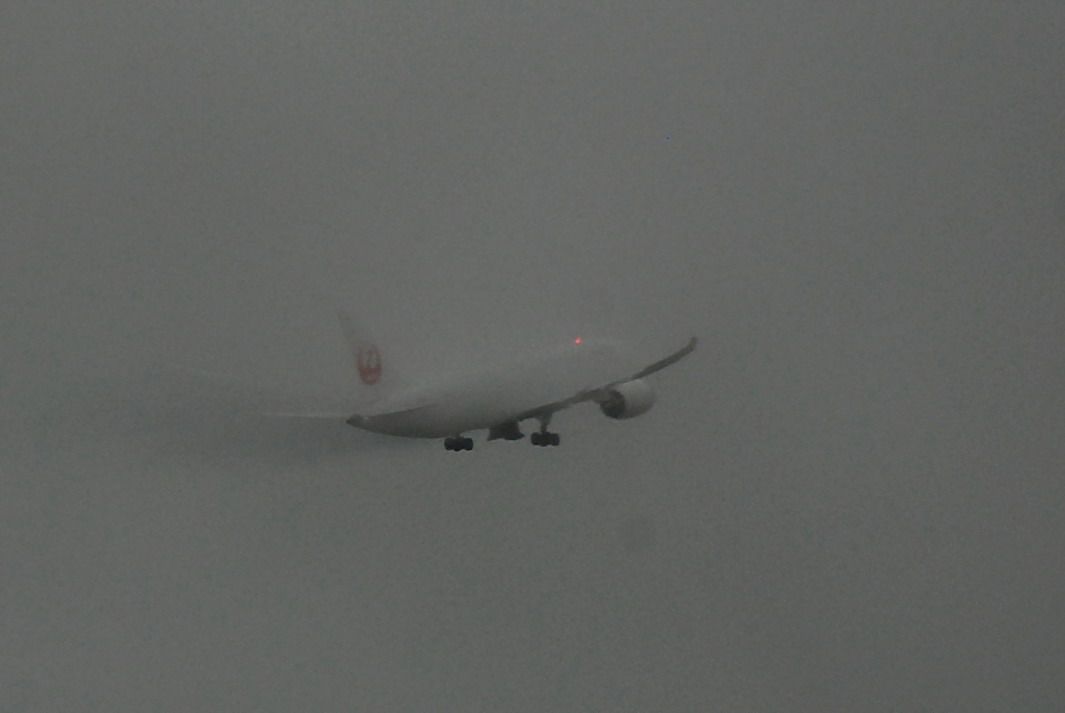 .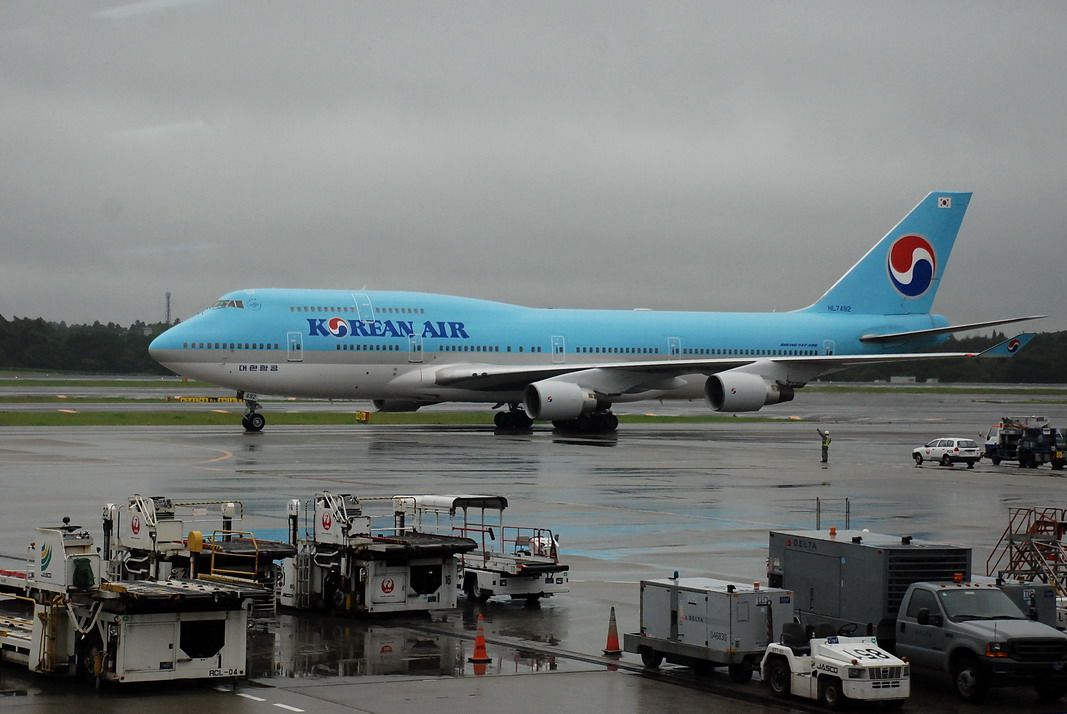 .
HL7492, a Korean Air Boeing 747-4B5 delivered in 1995 and arriving in Narita on schedule as KE703, will be my ride to Incheon. It's a handsome looking giant and as it taxies closer to the terminal, I can't help feeling how quickly the B747 passenger jet is disappearing from the skies. Narita used to house more of them than almost anywhere else and yet today, the sight of a jumbo like this is an increasingly rare one.
.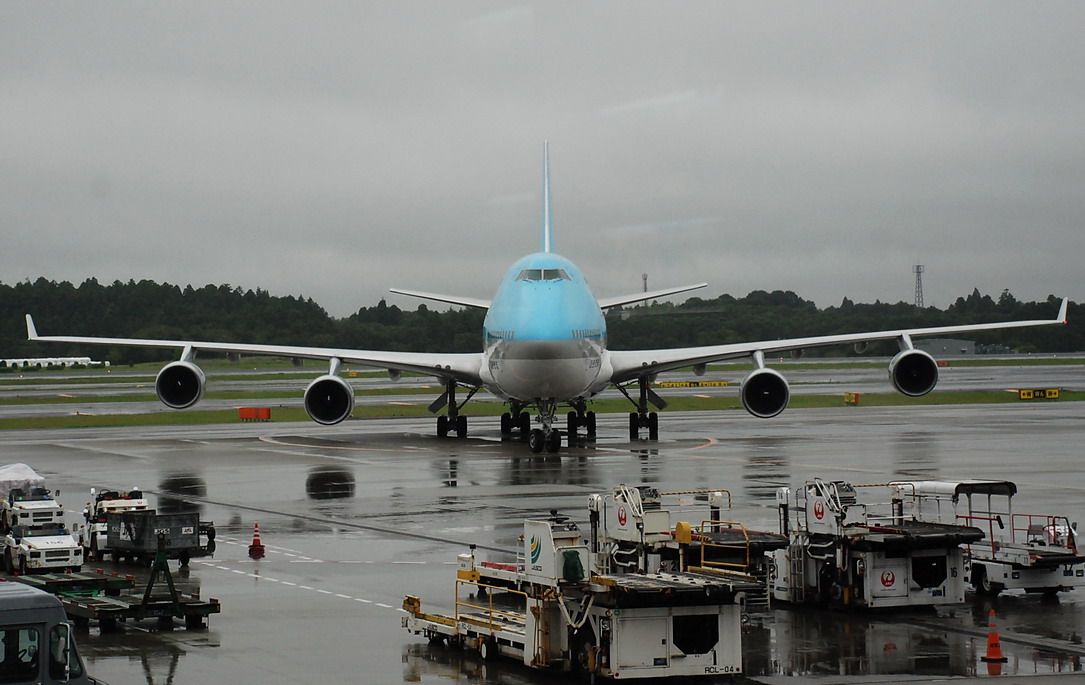 .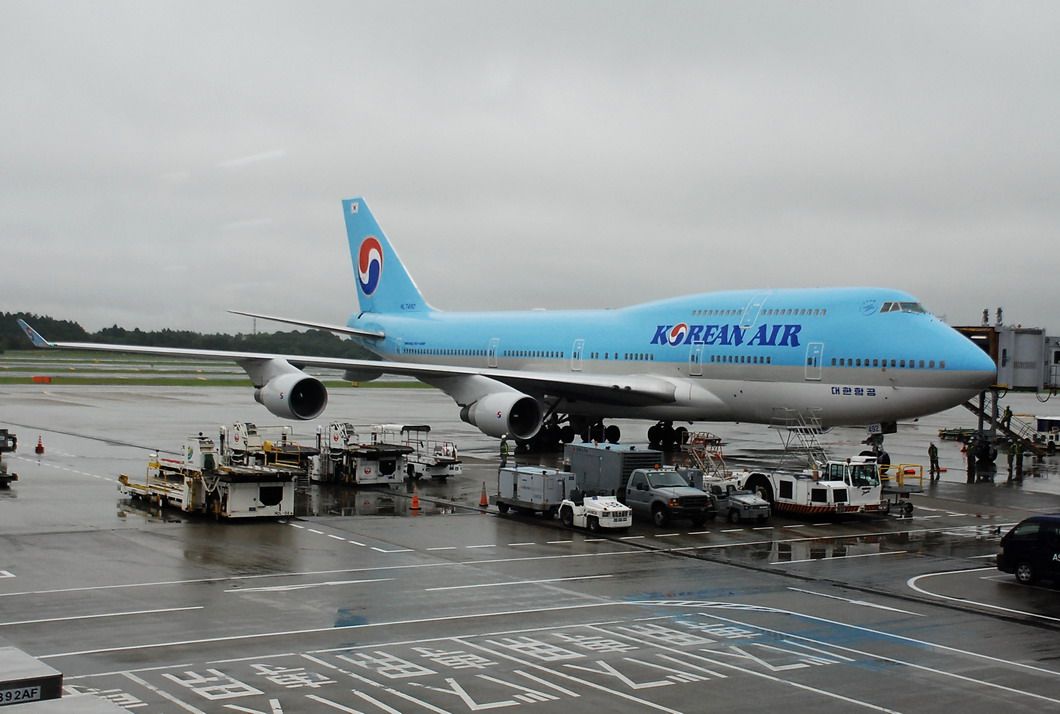 .
Boarding for KE704 begins exactly 30 minutes before departure. A queue forms at the gate and once the premium class passengers (in a separate line; there are not many of them) have boarded, the rest are let through. There's no boarding zones or specific seat rows to worry about on Korean Air, and in a way, this way of processing passengers feels more efficient than the 'boarding by row number' regime adopted by many other carriers. There's certainly less queue-jumping, and I think I prefer it.
.
.
Tokyo (Narita) to Seoul (Incheon)
Korean Air flight KE 704 in economy class
Boeing 747-400 HL7492
Dept: 1.56pm Arrv: 4.17pm (on time)
The welcomes on Korean Air are always cordial and the crews are all immaculately turned out. I'd reserved a window seat in the last row which is a great excuse for needing to make one's way down the entire length of this jumbo. The seat cushions, in dark blue or brown depending on cabin, may just look a tad sober, but there's no denying that the well-maintained and neat interior suggests a plane that is considerably younger than its 17 years.
.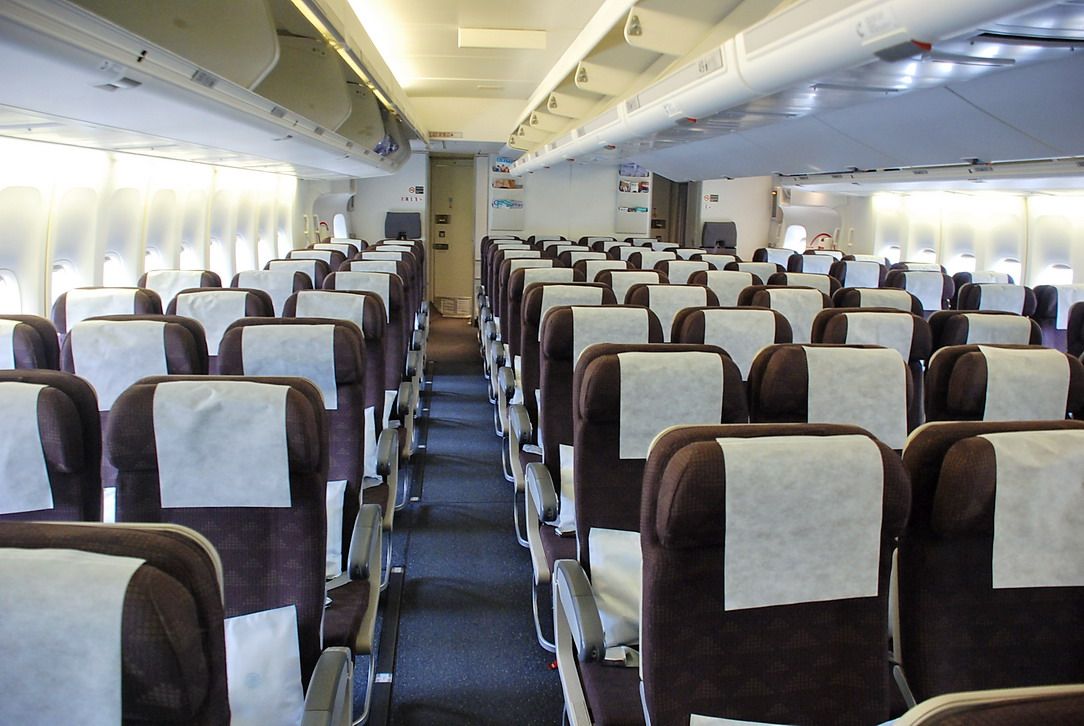 .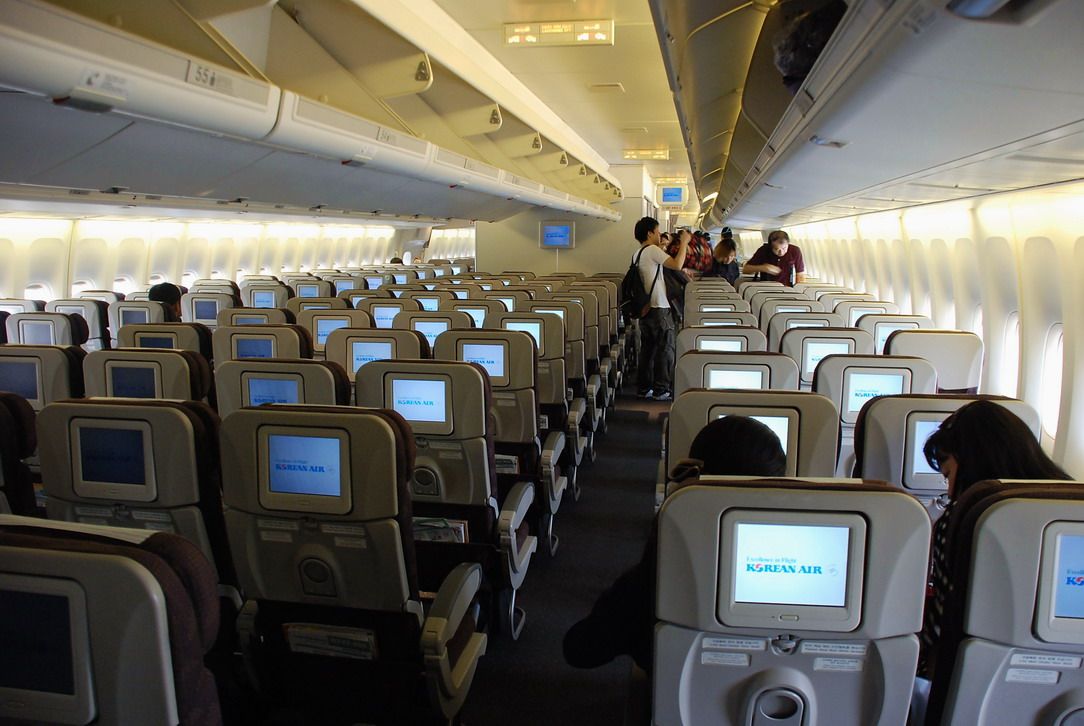 .
The cabin view from the very back of the plane is equally attractive. All seats come equipped with a light colored back on which is mounted a 8.4-inch screen for the AVOD IFE system. The last four rows by the window are 2-abreast as the cabin tapers towards the tail and my window seat (at row 56, just ahead of door 5R) is not a bad place at all to be.
.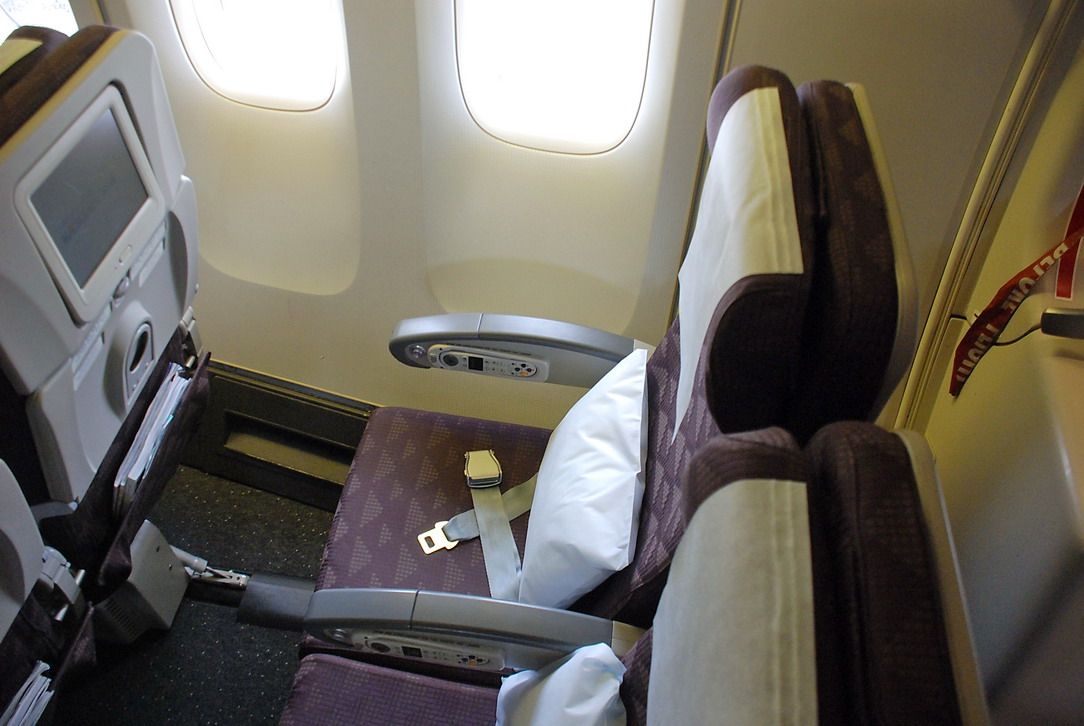 .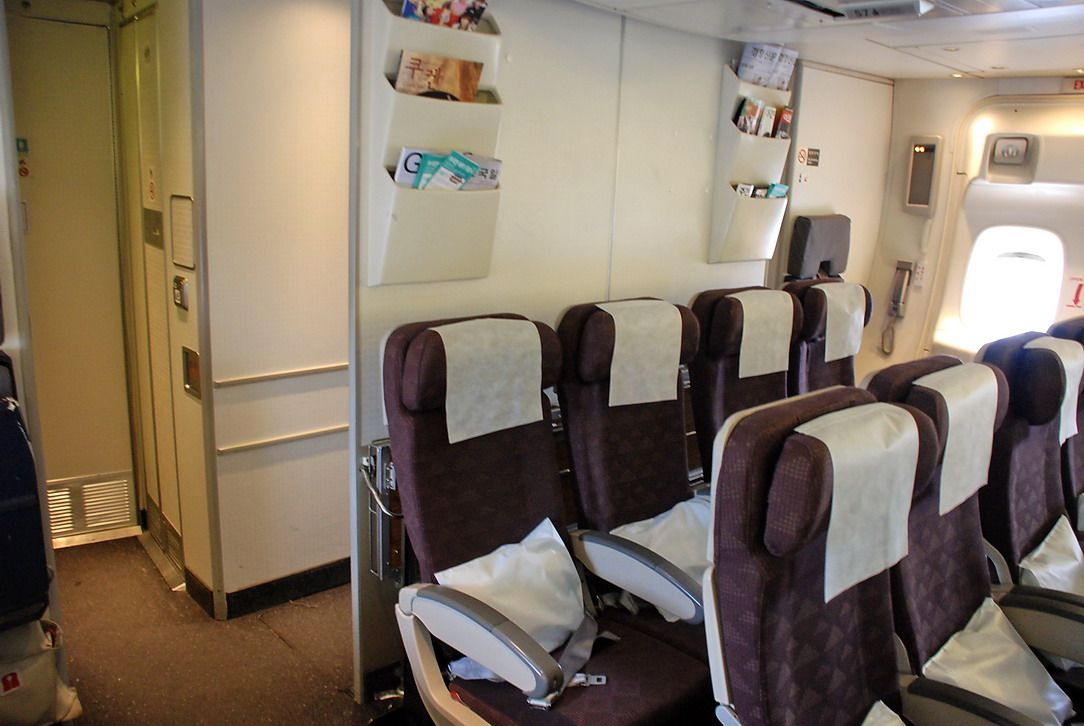 .
The rear-most part of the 747 is a favorite of mine. It always feel less crowded, more convivial and enjoys more turbulence (though I realize that's not everyone's cup of tea!). Today's flight isn't packed and although I get a neighbor at first, he soon moves to a seat across the aisle in an unoccupied block of four, making both of us happy. Generous legroom is one of KE's strong points - few airlines now offer a consistent 34-inch pitch in economy these days. Excellent!
.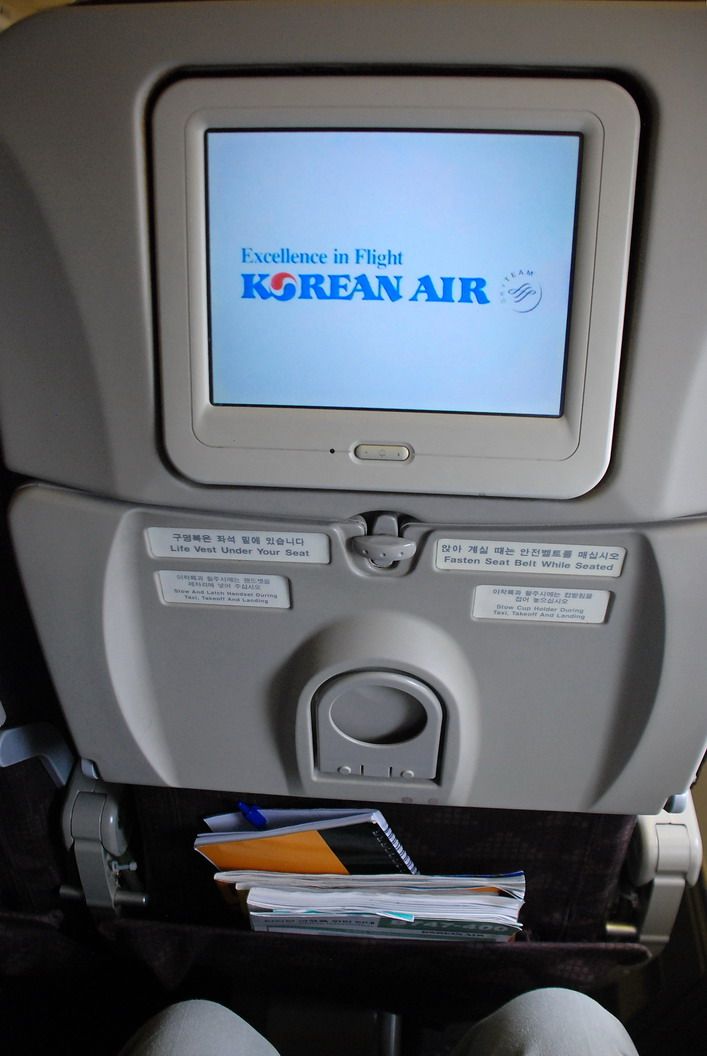 .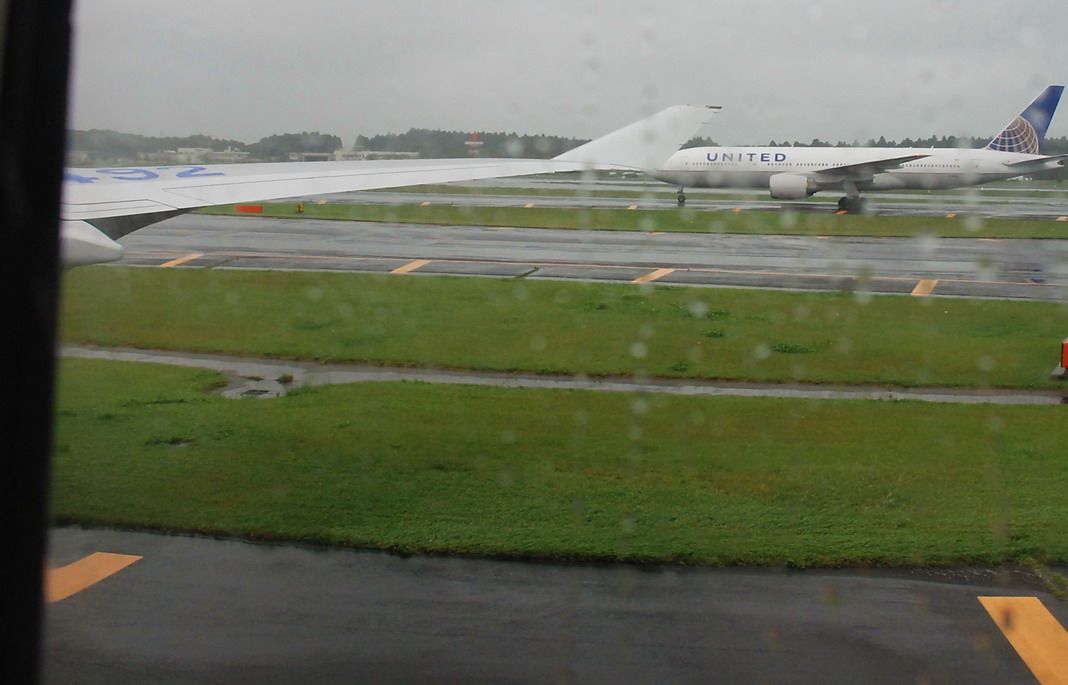 .
It's starting to rain again as we push back on schedule and head for runway 34L for departure. Flight time to Seoul is 2 hours 5 minutes; inflight announcements are in Korean, English and Japanese. The safety video however is only in Korean, with Japanese subtitles. While still on the ground cabin crew distribute earphones, neatly concealed in small blue boxes that can be taken away. Not all airlines will offer IFE on flights of this duration - even if their planes are equipped for it - so this is a nice touch on KE's part.
.
.
.
After encountering a few predictable bumps after take-off, we're finally clear of the low cloud and heading due west. From my window seat, there's a great view of my favorite winglets that distinguish the -400 from the other versions of the B747. In its day, the -400 revolutionized long haul flying, opening up new, viable nonstop routes like LHR-SIN and SYD-LAX. The term "game-changer" is used to describe almost any new plane these days, but it is arguable there hasn't really been a "game-changer" worthy of the name since the -400 rolled out in 1988. It is really sad to see her being described as a "gas-guzzler" instead these days.
.
.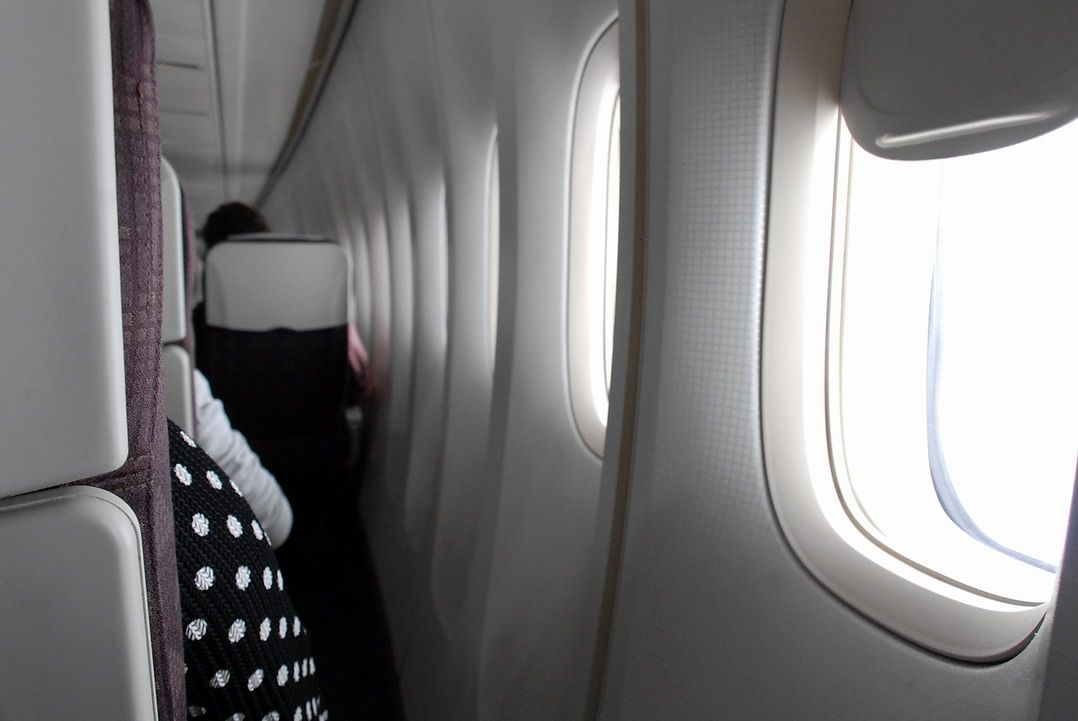 .
This is one of the reasons why the back end of the B747 is so liked. The seating by the window is 2-abreast and there's ample elbow room. The only drawback is the distance from the window, which makes the last row the ideal choice for me.
The catering on this flight is a nice surprise. I hadn't expected something so substantial for a non-meal time offering on a short hop. I thought maybe I'd get a snack of sorts, but instead receive a prawn salad starter, roll and butter, a creamy chicken dish with rice as the main course (though without an alternative), a jelly dessert, a packet of water and coffee, as well as drinks from the bar. Not bad at all.
.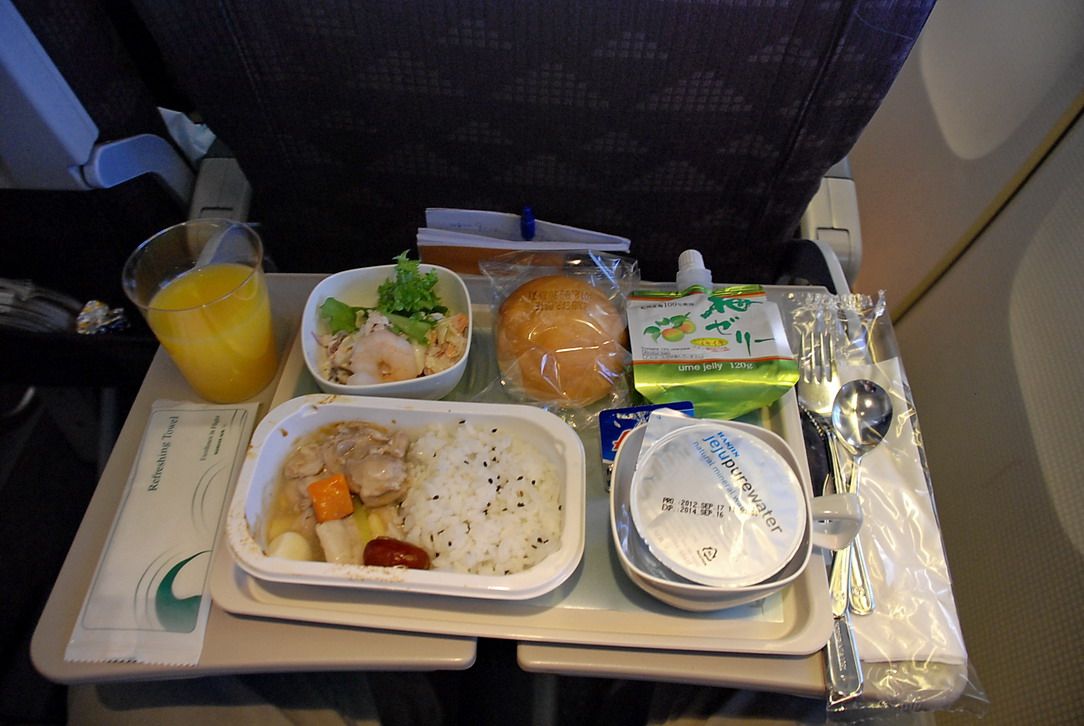 .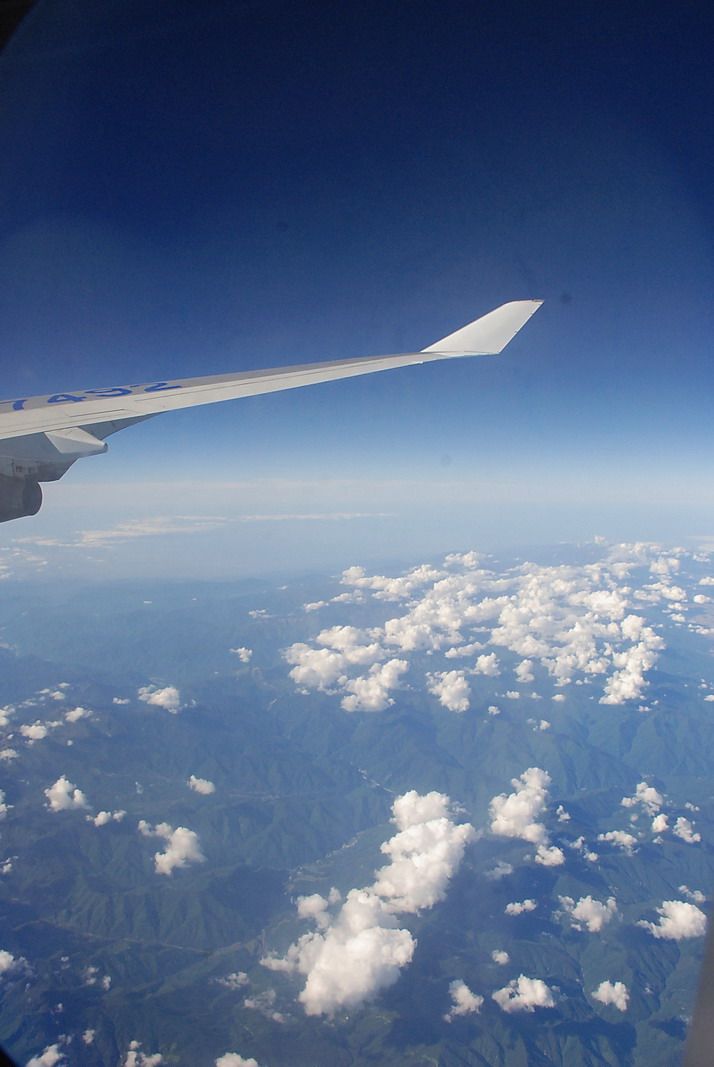 .
The weather continues to improve as we fly over Honshu and by the time we're near the west coast, the mountainous spine of the island is clearly visible below. It's then an uneventful ride across the Sea of Japan and we eventually come in to land on time at Incheon's runway 34, where the weather is much better than at Narita.
.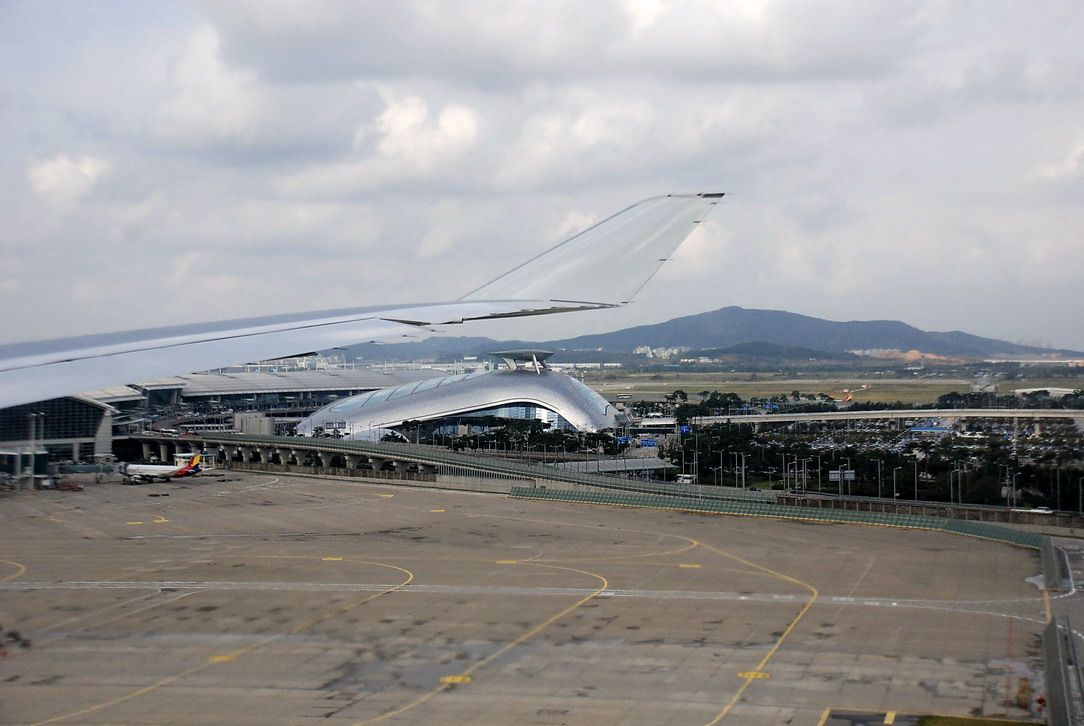 .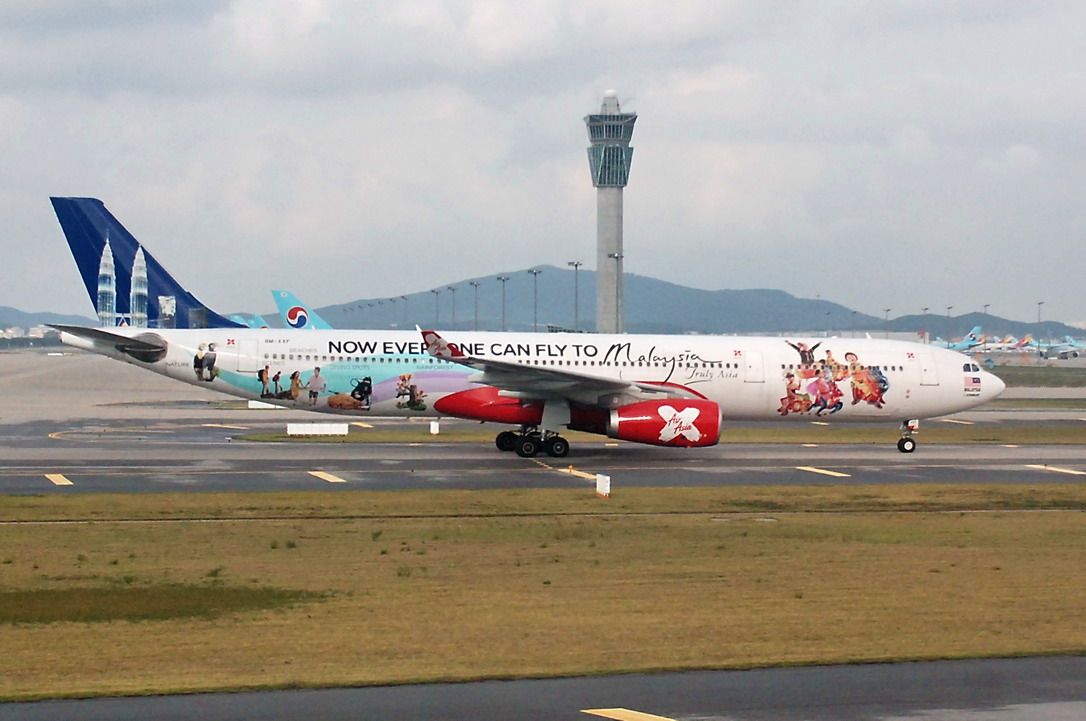 .
Arriving from KUL, this is AirAsia X's A333 9M-XXF that landed just headed us on runway 34. It's always nice to see a special livery for the first time, and AirAsia does them quite well, for this is another attractive one.
.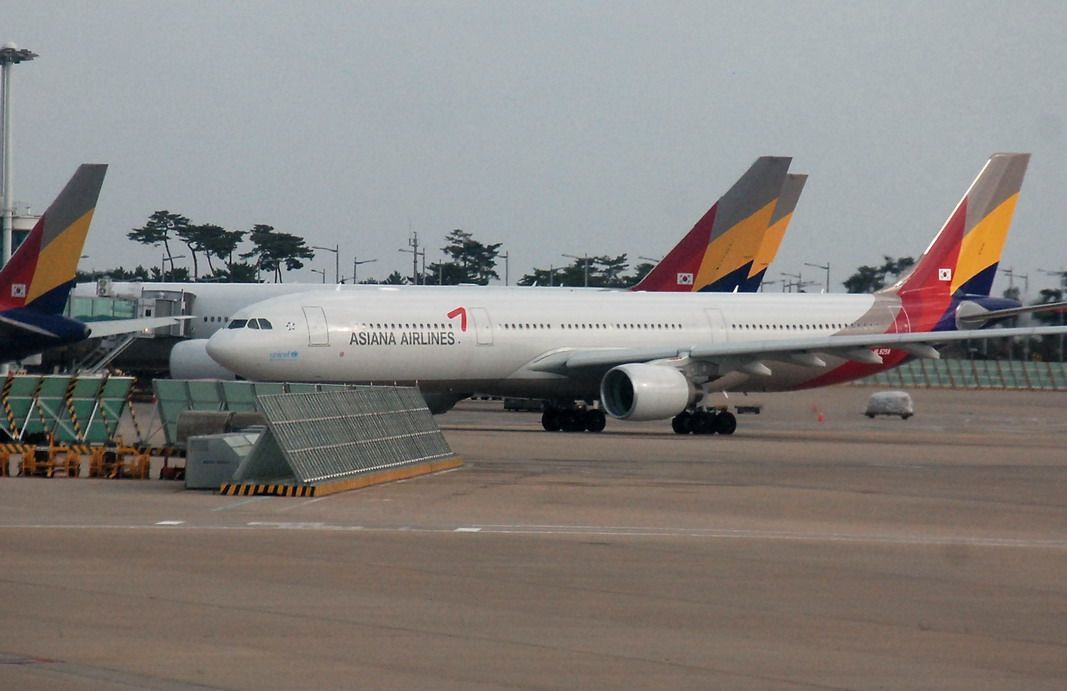 .
It had been a good flight on Korean Air. On the way to our gate, we taxi past a section of the main terminal devoted to Asiana and soon slip in among the family of turquoise jets. It's also the end of my deliberately-long journey from Bangkok and, thanks to the three hour dayroom nap, I'm more than ready to face Seoul, probably even for a night out! The queues at immigration are far shorter than I'd expected coming off a B744: in fact most of the passengers on my flight are on transit for somewhere else. There's little doubt Incheon has become a key hub for those traveling to and from Japan, rather like Schiphol's role in relation to the UK. Little wonder when you consider that Korean Air has direct links from some 15 Japanese cities to its ICN hub (Asiana has a similar coverage) while ANA, for instance, connects its main NRT hub with only nine domestic airports (JAL has even fewer, at five I think). No contest really.
.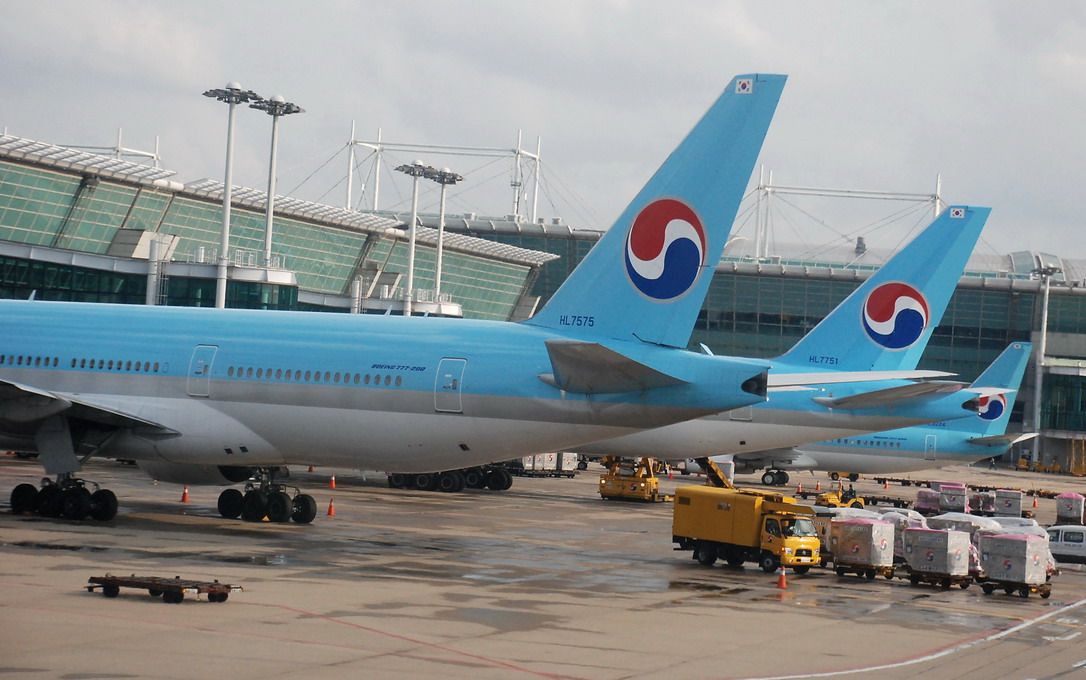 .
The Return
Seoul (Incheon) to Tokyo (Narita)
Japan Airlines flight JL 950 in economy class
Boeing 767-300ER JA603J
Dept: 8.03am Arrv: 10.15am (on time)
It's time to leave Seoul. A pre-dawn "limousine" (really just a plush bus) gets me from the city to Incheon in less than an hour where I find the airport abuzz with activity early this morning. I am ticketed on Korean Air but booked on its codeshare partner Japan Airlines' first departure of the day for Narita - in fact, it's the only flight from Incheon that allows for a sameday connection to TG's midday Narita-to-Bangkok flight. The single check-in queue for JL950 is long but it moves briskly and I'm soon attended to with the courteous efficiency one would expect from an agent of a Japanese carrier operating from Korea.
.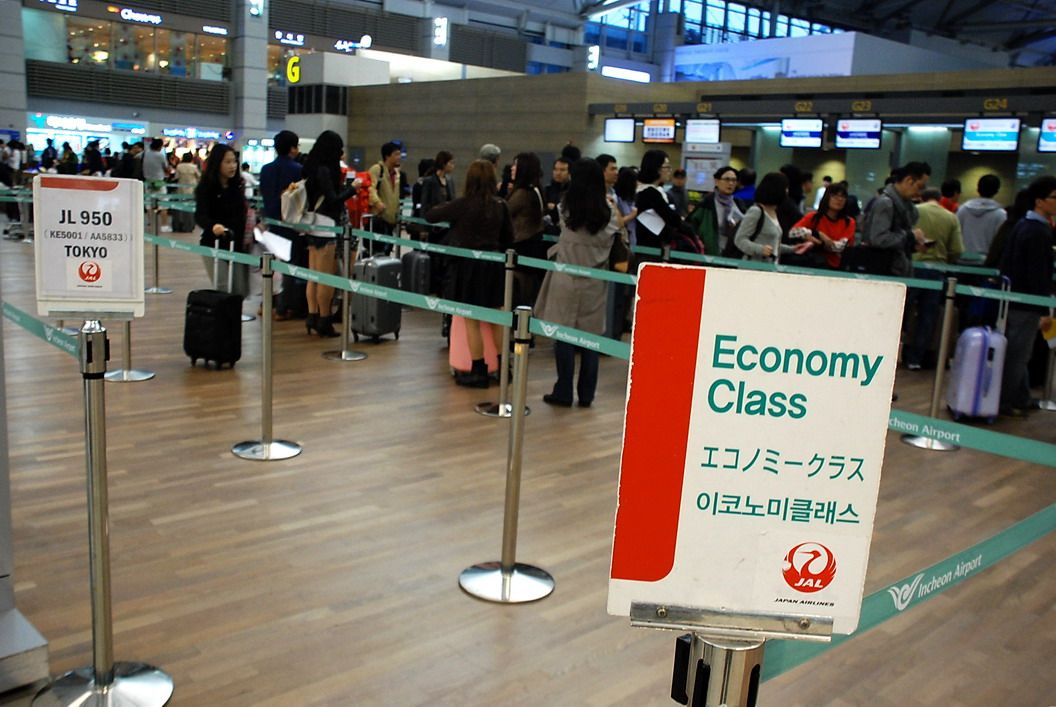 .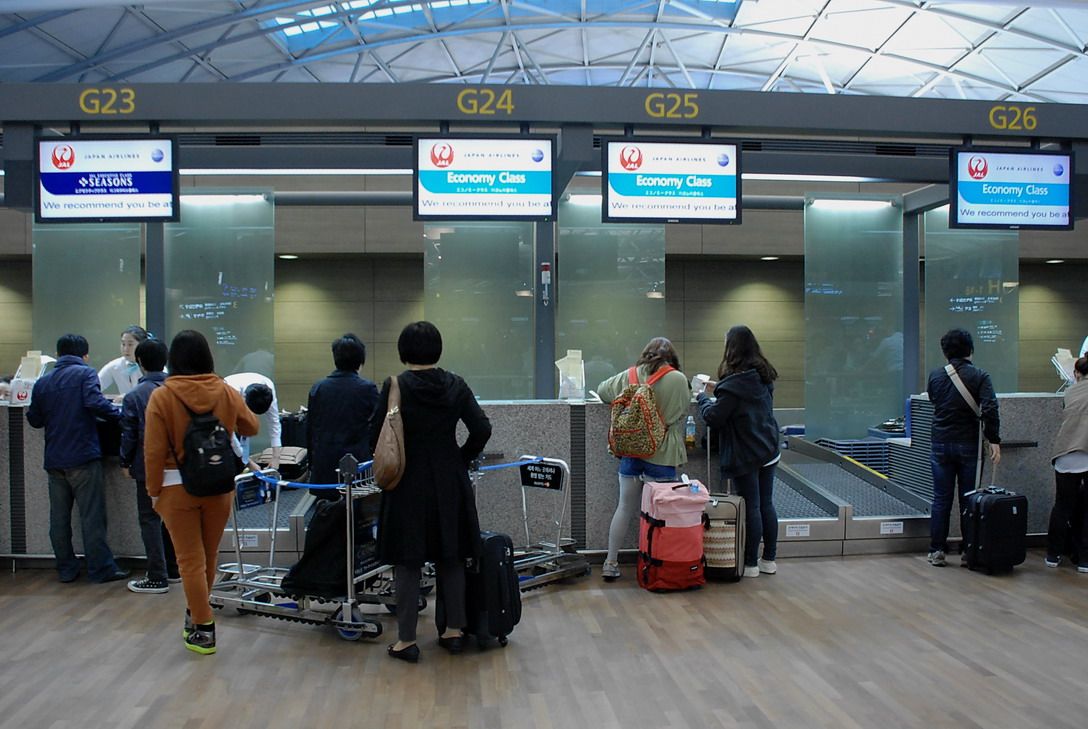 .
After a security check and immigration at the main terminal, I take the underground shuttle train for the "Concourse", which is the satellite terminal with some 30 gates catering to all airlines serving ICN except for Korean Air and Asiana. This is my first time at the Concourse but the interior - with its clean-line design and comfy seating areas - is almost indistinguishable from the main terminal. Incheon remains one of my absolute favorite airports.
.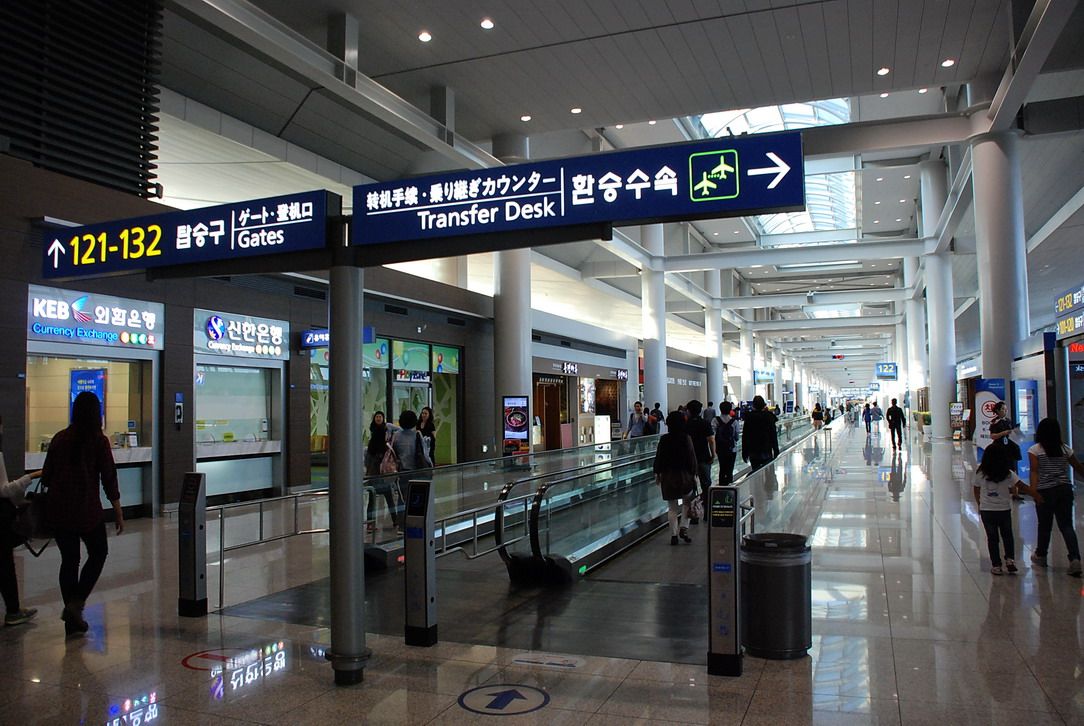 .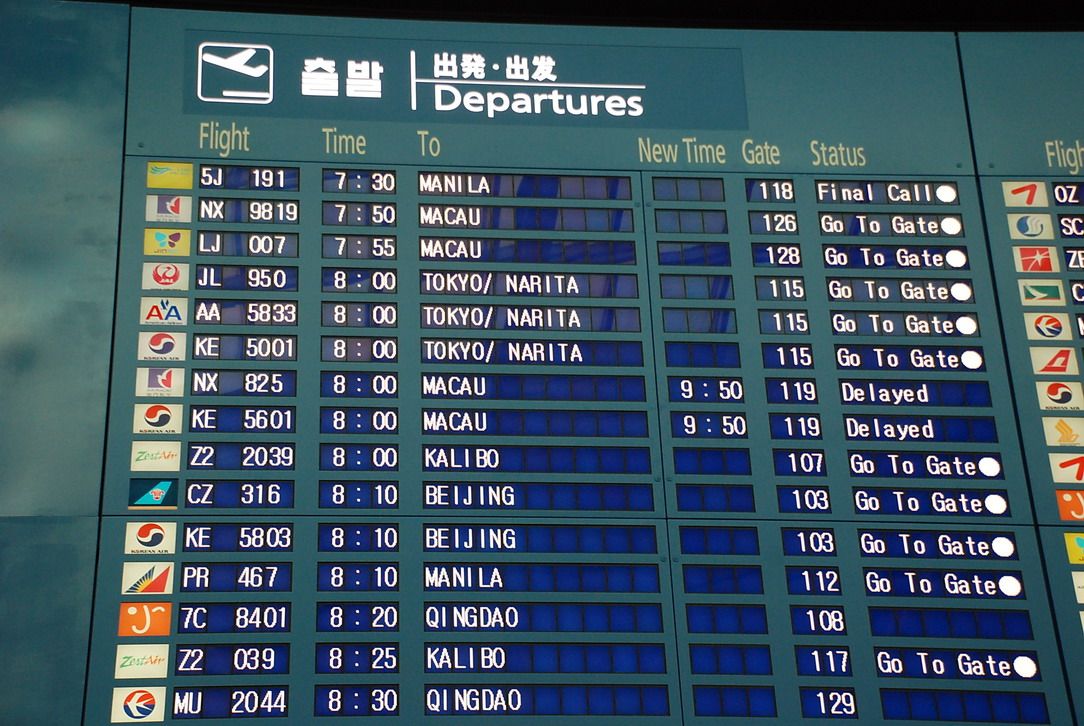 .
I have about 15 minutes before boarding starts which I can either spend comfortably having my caffeine fix at Starbucks, or rushing madly from one end of the terminal to the other with a camera in hand. I guess you can discern below which path I had chosen.
Today is the start of a long weekend in Korea so flights to leisure destinations are popular, such as this Zest Air A320, one of two flights leaving in quick succession to Kalibo, gateway to the Philippine resort island of Borocay.
.
.
.
This Cebu Pacific A320 is about to depart for Manila while in the distance, resting between flights, are some ICN regulars - a Cathay Pacific non-ER B773 and United B77E.
.
.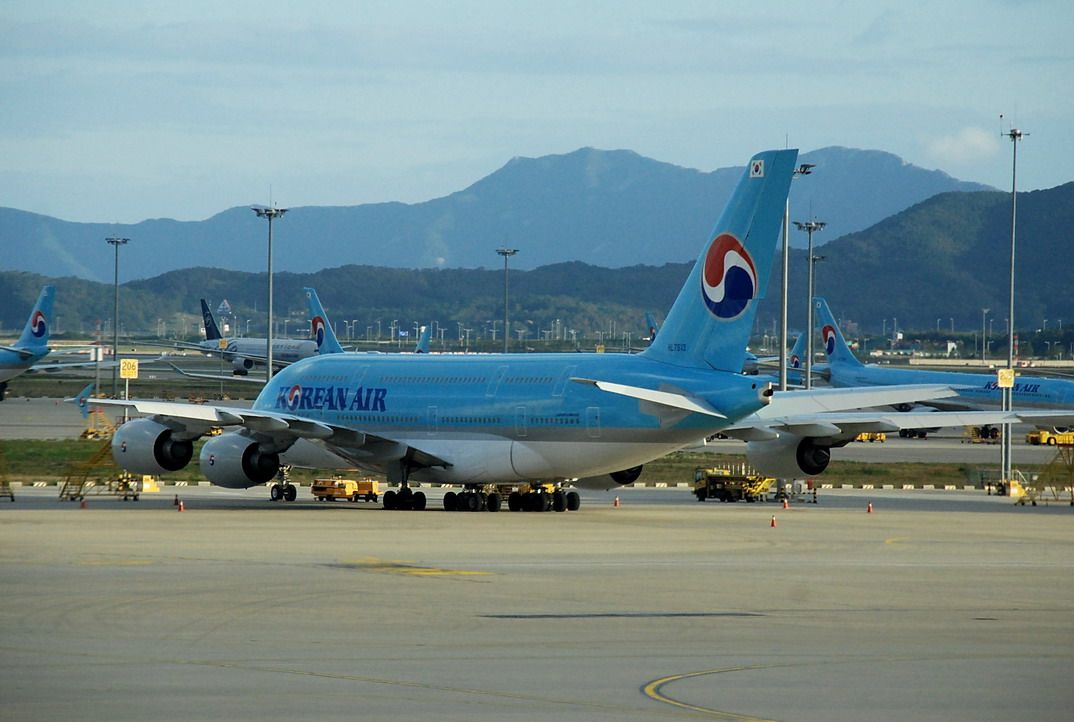 .
Parked at the remote gates is an entire family of Korean Air aircraft. These include two of the current fleet of five A380s - HL7613 (above) and HL7615 (below), both delivered in 2011, are the airline's third and fifth examples, respectively.
.
.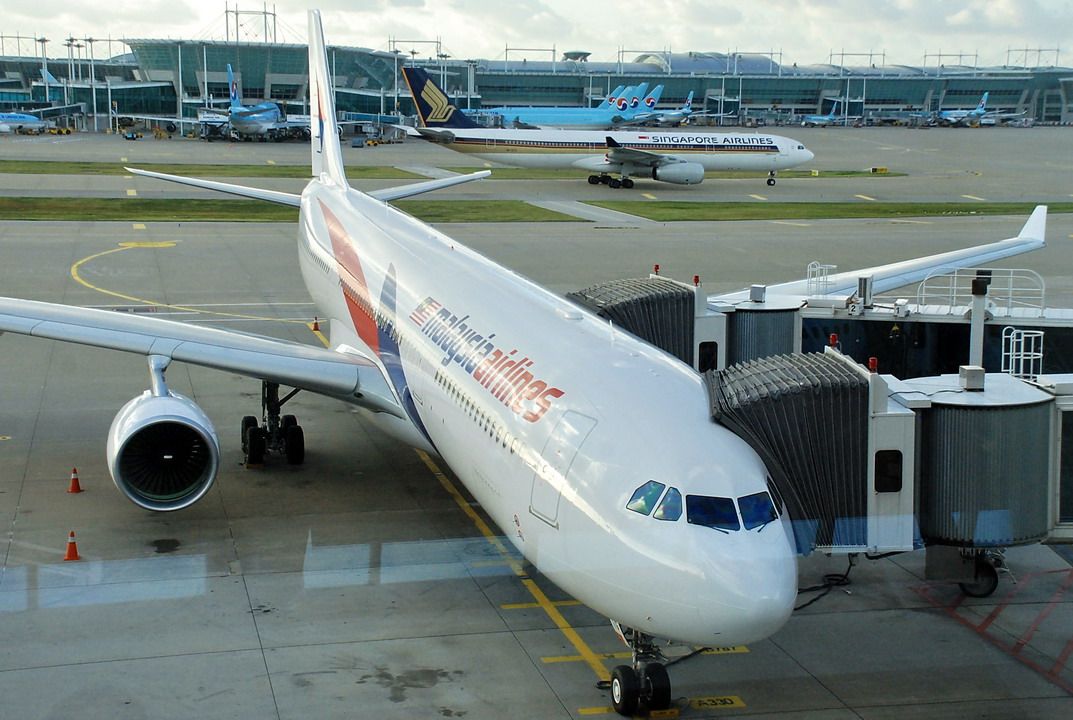 .
All Southeast Asian airlines that fly to ICN have at least one overnight service from their hubs that return home in the late morning next day. Both Malaysia Airlines and Singapore Airlines do these turnarounds on relatively young A333s. Vietnam Airlines operates A332s from Hanoi, while this B772 below would have come in from Ho Chi Minh City. Note that in the background are views of the main terminal, and the clear distinction between Korean Air's and Asiana's sections there.
.
.
.
I arrive at gate 115 just in time for the boarding of my flight. Like at NRT, the process is straight-forward: join the single queue and board in sequence which I'm definitely preferring to the 'boarding by row number' process. JL950 is operated this morning by a 10-year old B767-300ER, the backbone of the airline's medium-haul Asia network. I am greeted by a friendly senior crew member at the door and directed past a generations-old business class cabin into a very pleasant-looking Y class cabin with light colored seats, giving the impression of a well-maintained plane. My window seat is some two-thirds down the fuselage.
.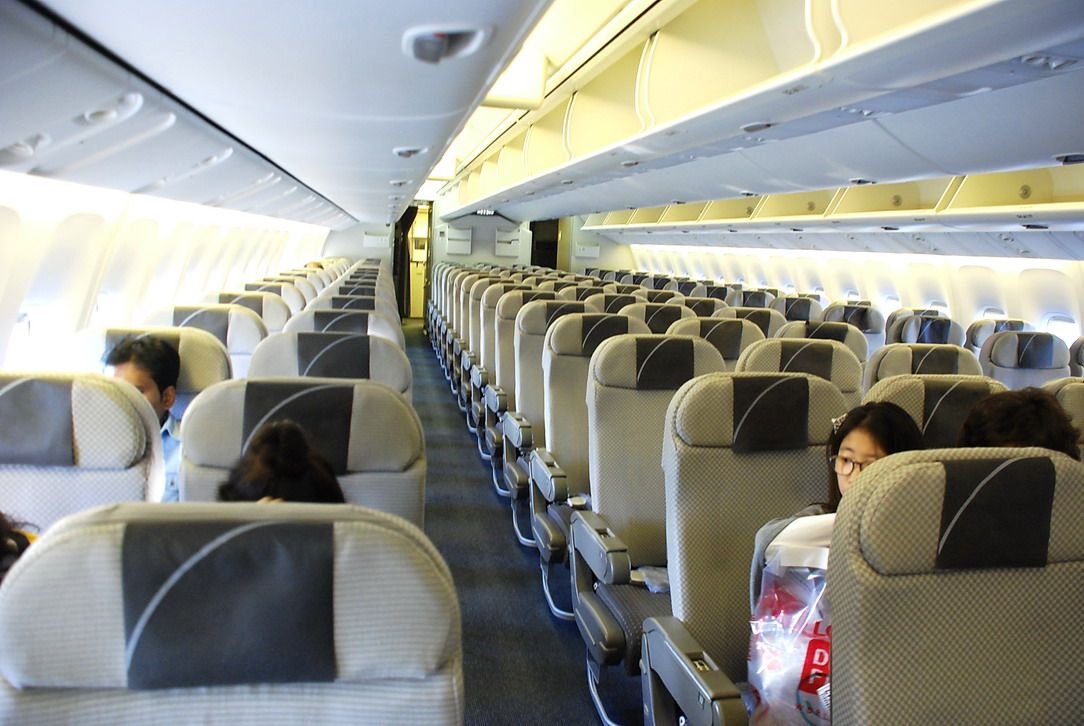 .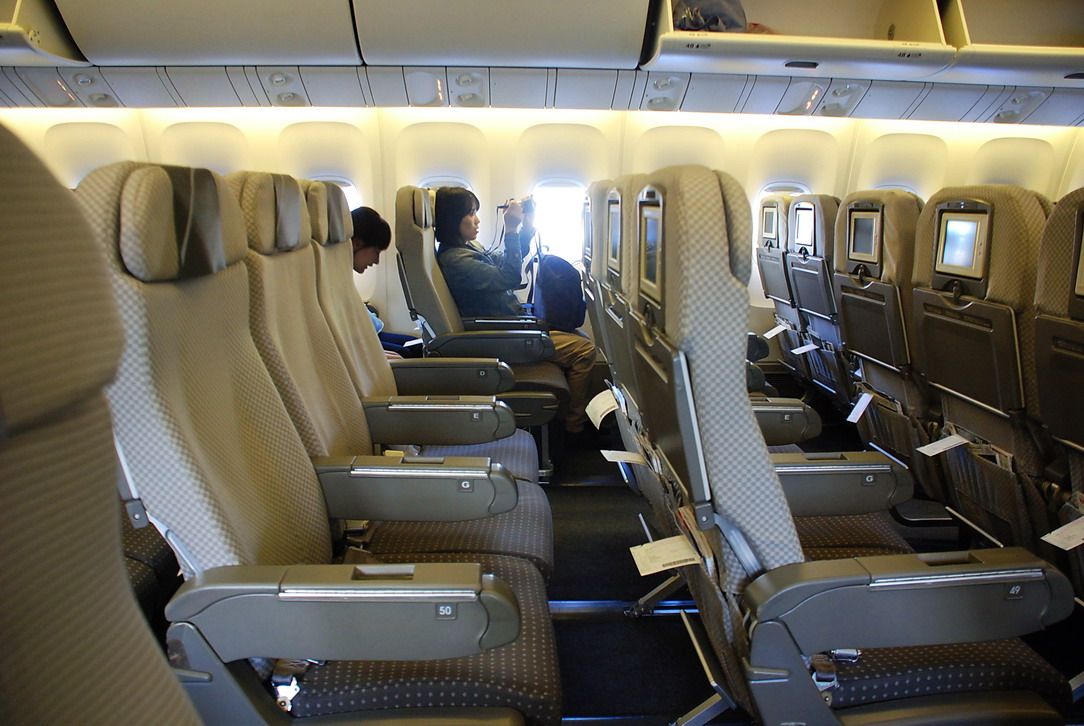 .
Configuration at 2-3-2 and the pitch is pretty standard at 31 inches, I'm guessing. Although the plane looks empty now, every one of these seats are eventually claimed, mostly by holidaymakers. I am a little wary of taking photos aboard JAL; a few years ago, I was told by a crew member (very politely of course) that it wasn't allowed, but I wonder if that has changed. Certainly the eagle-eyed cabin crew - and JAL crews really are! - did see me snap some shots but they didn't say anything so I'm thinking it must be okay now.
.
.
.
There's a PTV at every seat and an IFE guide in the seat pocket but unlike on Korean Air, the system is not switched on for this flight, nor are headphones distributed. Having IFE would have been nice but it's not especially critical for a short flight like this. (Still I could not understand why a Japanese TV news item and short features were playing mute on the overhead screens during the flight. Surely, the audience would be quite limited?)
.
.
.
Notwithstanding the strange deal with the IFE, there's a culture of meticulousness (if that's a word) with JAL that you wouldn't find with other carriers (except maybe ANA). Take the immigration forms into Japan as an example: each seat is supplied with its own, protuding just enough from the seat pocket so as not to be missed by the boarding passenger. Then to be absolutely sure nobody is missed, there are two crew rounds with these forms - one at the start of the flight, and one before our descent into Narita. Checking that overhead bins are secured and seat belts are fastened is almost a choreographed religious ritual, while I can fully guarantee that no single legrest is out of place for takeoff or landing on this flight. To top it all off, everything is done with amazing politeness.
.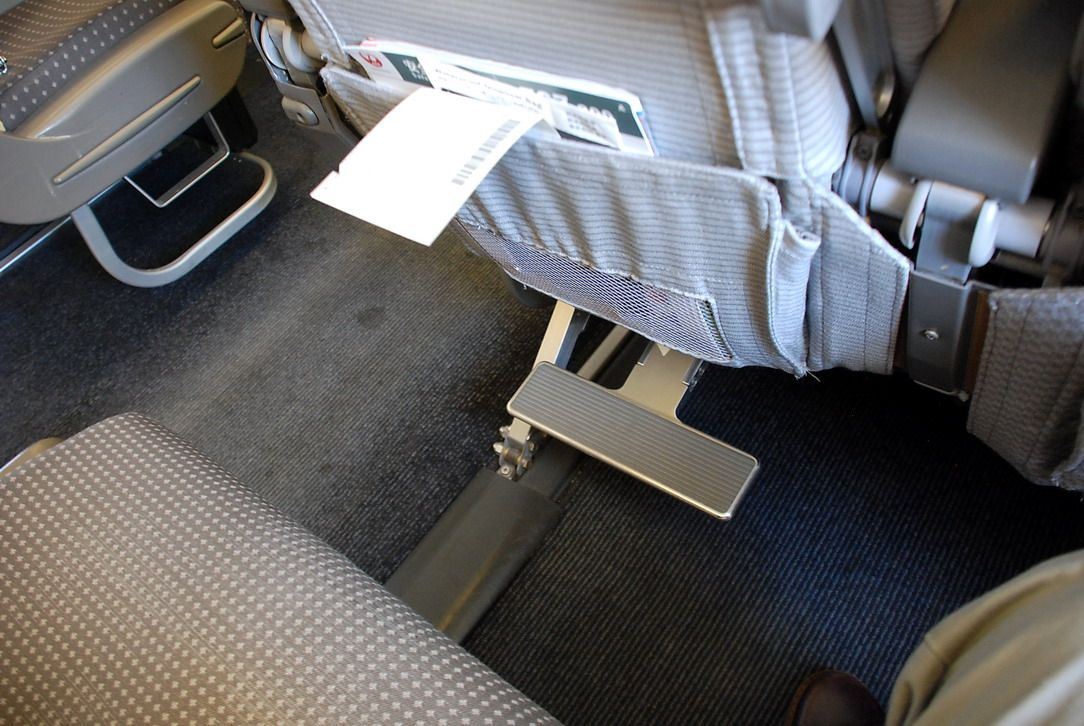 .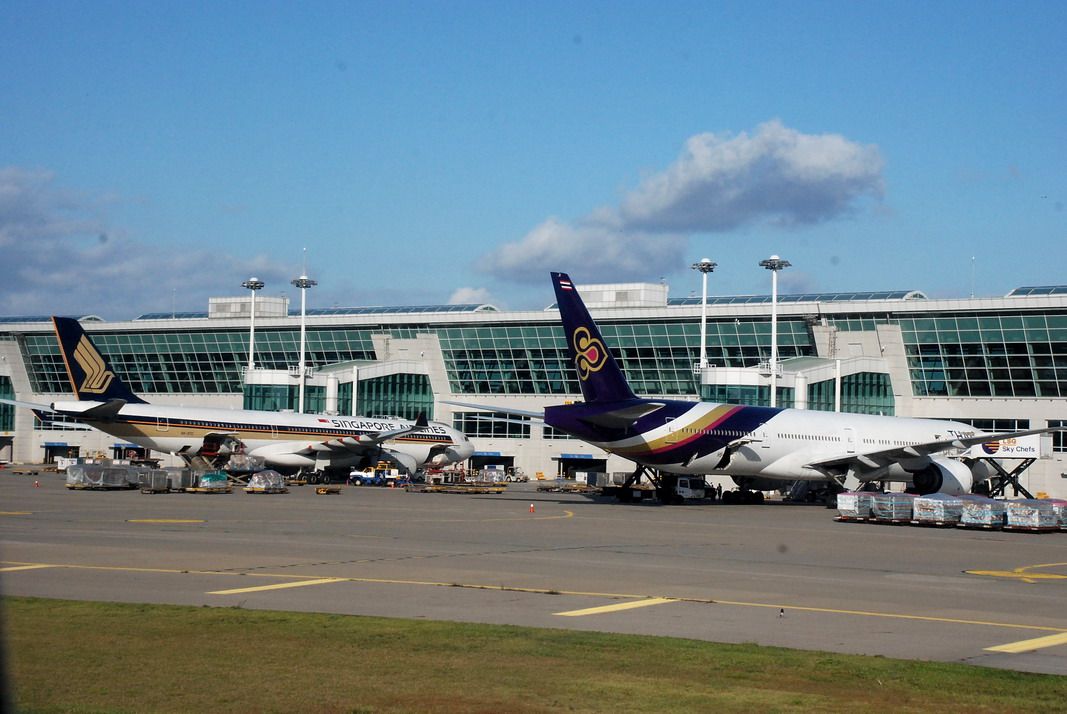 .
We push back almost on schedule with welcome announcements in three languages; flight time scheduled for 1 hour 45 minutes is slightly shorter than on the NRT-ICN flight. We taxi past the earlier SQ A333 and a TG B773 that will soon be headed back to base; both Star Alliance carriers have a decent presence here with each having four flights a day from ICN to their respective hubs using nothing smaller than A333s. Our takeoff on runway 34 is into a promising sunny late summer's day ahead for Korea.
.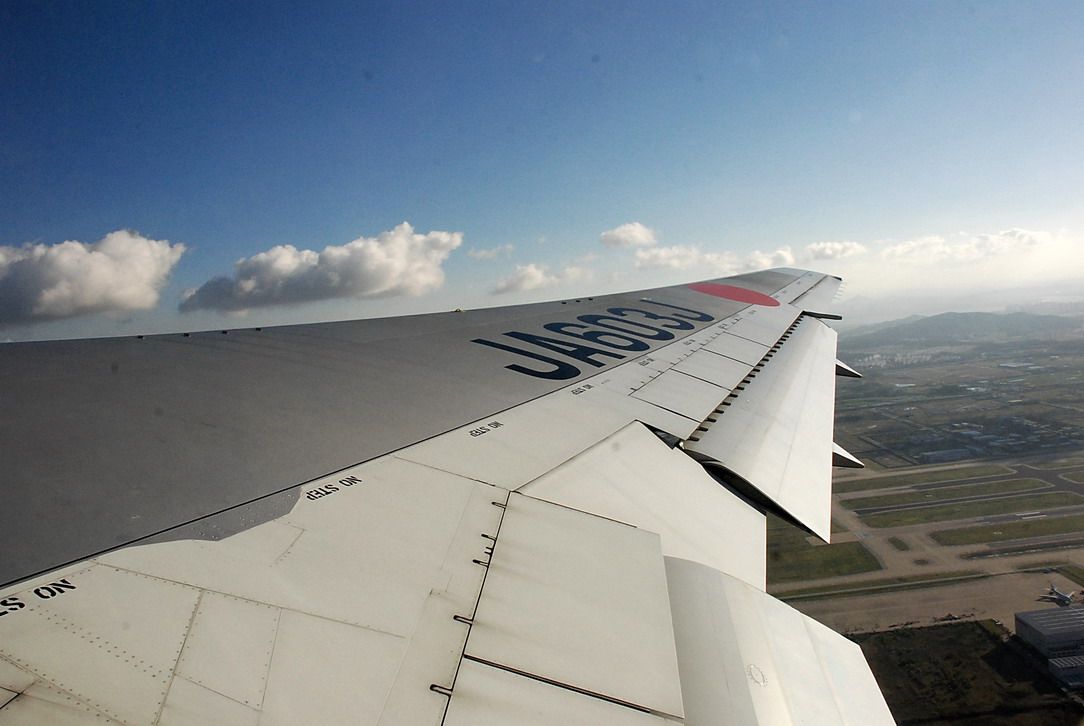 .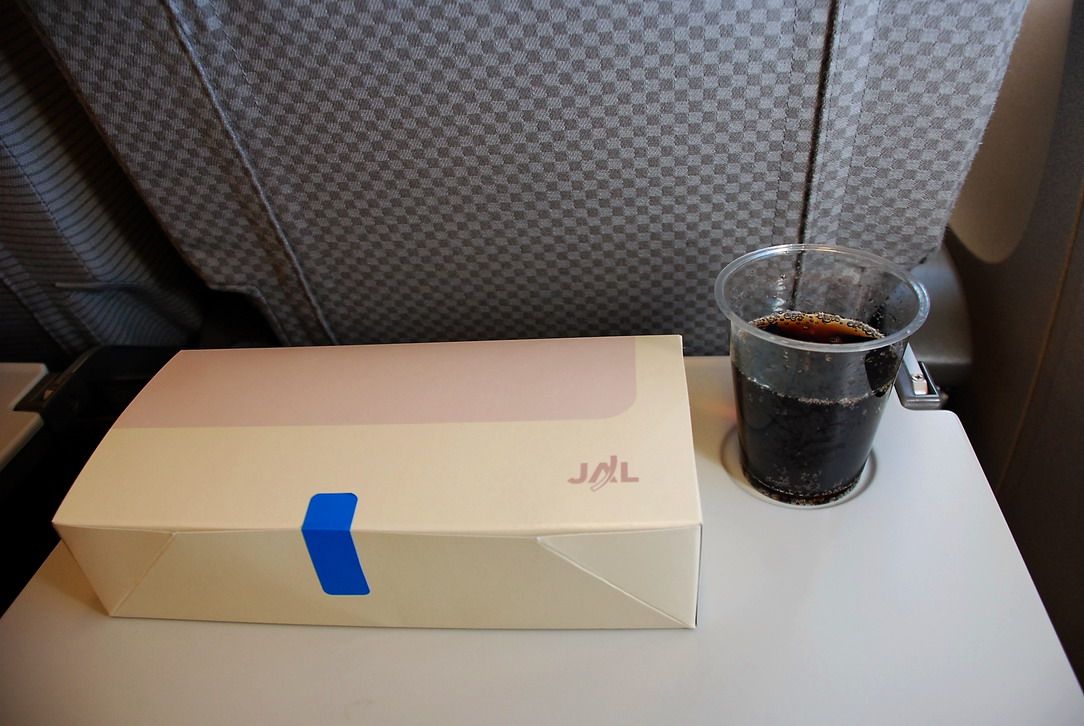 .
The meal service starts immediately after take off. The crew are equally meticulous when it comes to handing out the meal boxes, for a few stray drops of water spotted on the cover of my meal box entails a careful all-round wipe down of its surfaces before it is handed to me, together with a sincere apology for the 'delay' - quite amazing! That said, the contents of the meal box, though adequate, pale in comparison with what Korean Air offers on the same sector. After the last flight, my expectation is for a hot breakfast to be served, so this croissant and yoghurt combination has turned into a bit of a disappointment. Worse, as the meal box is as efficiently dispensed with as it is served, the trolley moves on without even an offer of coffee at the end, leaving me wanting.
.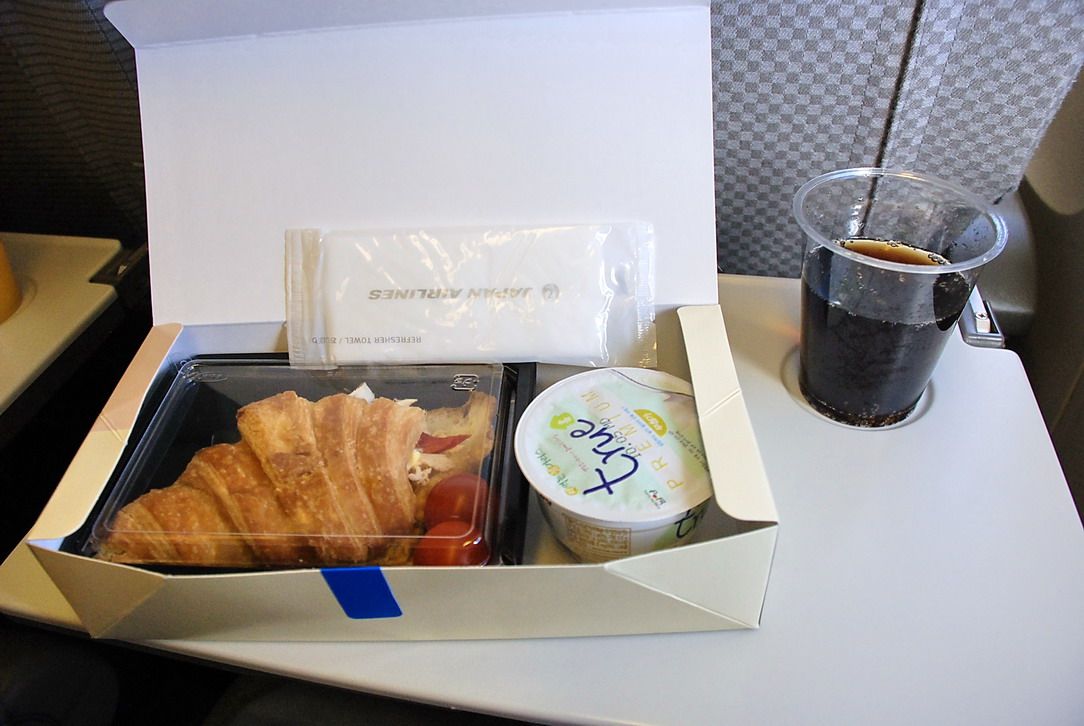 .
.
It is overcast, but at least not raining, when we land on schedule at Narita's runway 34R that's closer to Terminal 2, the home of Japan Airlines. I spot a number of its oneworld alliance partners like BA, AY and QF, as well as prospective member MH, here. Transfers are just as easy in T2 except that now I have to board an airside shuttle bus for T1 from where my TG flight will depart.
.
.
.
There are two bus stops at T1: gate 28 in the North Wing is close to the SkyTeam airlines, while gate 59 in the South Wing is the allocated stop for Star Alliance. The only problem with this seemingly clear-cut rule is the way the terminal has been designed, for the South Wing is divided into two parts separated by a wide tarmac. Getting off at Gate 59 is fine for some ANA flights but to get to many of the Star airline gates, including TG's, you will need to cross the tarmac via a long and empty subterranean passageway that feels a little like a nuclear bunker. It could well have been easier - though surely less interesting - to get off at gate 28 for the TG flight.
.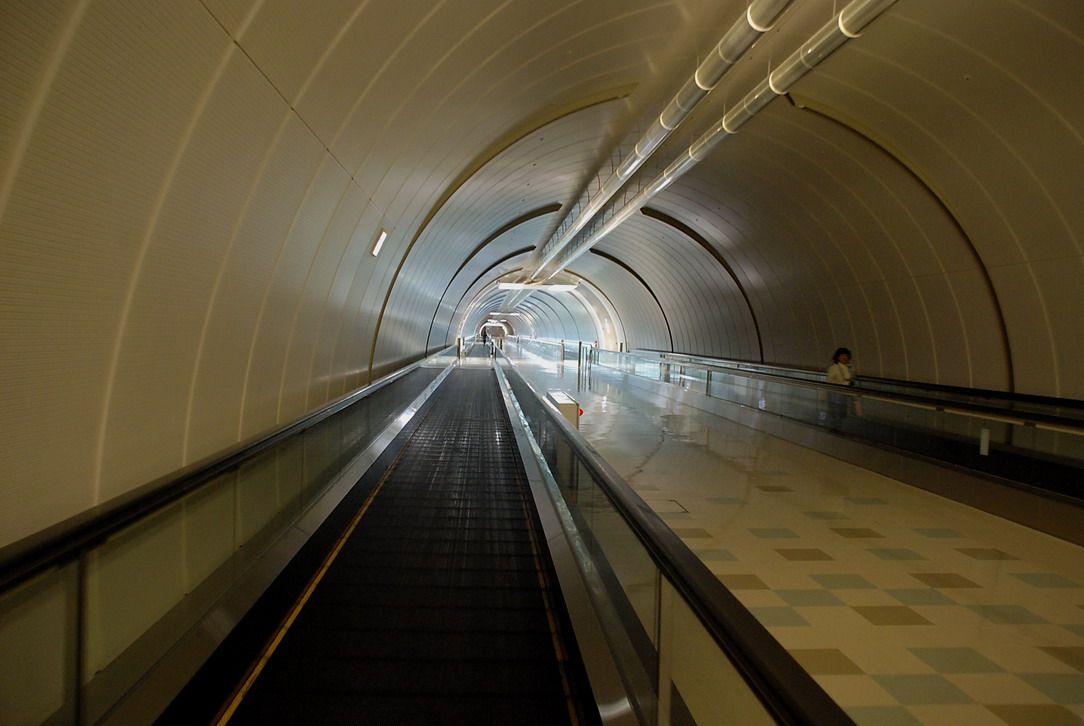 .