Feedback always appreciated.
I > Background:
I had been in a remote African country (name withheld as it gives away the client …) for 3 weeks and decided to "reward" myself for a mini 4 day weekend. South African Airways (SAA) was having a Business Class sale and since I had never crossed between Africa and Australia, decided to do my "get-away" in Perth.
Upon searching, this might be the first trip report in JCL on SAA's crossing over to Australia. AF Cabin Crew has an excellent report on YCL on Qantas' offering (the only other nonstop between mainland Africa and Australia) at
Qantas Airways QF63 SYD-JNB Economy Class
(by
AF Cabin Crew
Oct 10 2008 in Trip Reports).
II > Pre-Flight:
a) Before Airport:
South African Airways (SAA) is the biggest South African airline (3rd biggest in Africa) and operates from its hub in Johannesburg to all six continents. Besides its own operations, it plays an important role in the Star Alliance. Currently led by charismatic Siza Mzimela (one of the best airline CEO's out there), SAA has launched a new focused campaign to enhance connectivity in Africa and expand to new and fast growing markets such as South America (EZE/extra GRU), India (BOM/DEL on cards), and Asia (PEK), while retracting from stagnant markets in Europe.
I have had a love/hate relationship with SAA's online booking engine and so was pleasantly surprised to be able to quickly book my ticket at
www.flysaa.com.
Within minutes an electronic ticket was generated and delivered to my email inbox, and I was able to view and edit all the necessary information (including seat selection) on the site. Pretty impressive job overall. Of course, only domestic itineraries could be changed online – but that is an advanced function for most airline IBE's.
b) At Airport:
I had a long layover on a Sunday in JNB and since I had never been to Pretoria, decided to take the Gautrain and visit. South Africa's racial divide is still obvious as my fellow white people were in shock that I planned to get down at the main train station and walk to the key sites. In fact, they scared me enough to take a taxi, that when I got down I started looking for one. However, it was Sunday, and taxis apparently had to be phoned in. So I asked an extremely friendly train agent whether it was OK to walk, and she said I'd be fine. For the first ten minute of my walk, I was nervous (a rarity for me in new environments). But soon enough, you get the realization (like in Latin America), that the line between "danger" and "paranoia" is not as clear as one may think. I had a brilliant day in Pretoria walking around and then taking the Gautrain back. See pictures at the end of the trip.
Anyways, back at JNB using the excellent Gautrain, I made my way to the check-in counter for SAA. The "Star Gold" and "Business Class" queue was long and moving at snail pace. It took a good 20 minutes until I got served by a rather indifferent agent who went about mechanically issuing my boarding pass without ever looking away from her computer – not a terribly positive first impression.
Thankfully, Immigration and Security was rather quick, and I soon made my way to South African's flagship CYCAD lounge. The J class section is above average – but nothing out of this world. It had basic food and drinks and a working bar complete with rather affable bartenders. The showers were rather nice and I was able to find a "hidden" quiet corner in the middle of a rather busy lounge.
An hour before departure, I made it to the gate and was greeted by another security check. This one apparently mandated by the Australian government (never have seen it before) went through my liquids again before letting me in to the gate area. At the gate, I was astonished to see the amount of duty-free alcohol Australians bought. Don't think I have EVER encountered the volumes like on this flight. Can someone please educate me? Is alcohol that much more expensive in Australia? Anyways, the gate area had all sort of people – including an obnoxious "outback" type (with hat and all) who literally cursed at "black pigs". I made it a point to move away from him. Next, I chatted with a tremendously friendly Kiwi who told me of all his travels in southern Africa and inspired me to visit countries that would not necessarily have been my priority. As I chatted with him, I also realized the boarding time had passed and no agents were to be seen. Soon thereafter, an announcement was made that departure was delayed by over an hour. No explanation or apology was given – again, very poor ground service from MPV. Anyways, when boarding was announced, a surprisingly organized queue ensured that final departure pushback would be limited to "only" 90 minutes …
Upon entering the aircraft, the purser greeted me and took me to my seat. He did not seem super friendly, but was happy enough to take me to my favorite seat of "1A". This is usually one of my favorite parts of any long haul trips – taking seat 1A on an overnight flight between 2 exotic points and looking around the other passengers to see who else is on board. It is what I imagined travel would have been "back in the day".
After a little while, sparkling wine/OJ/water was offered, and I settled in with some sparkling wine. J load was around 50%, and Y was booked at 95%.
Airport - External:
(Johannesburg Airport)
*
Check-in:
(SA Check-In: Way Too Long)
Airport - Internal:
(Pre-Security @ JNB)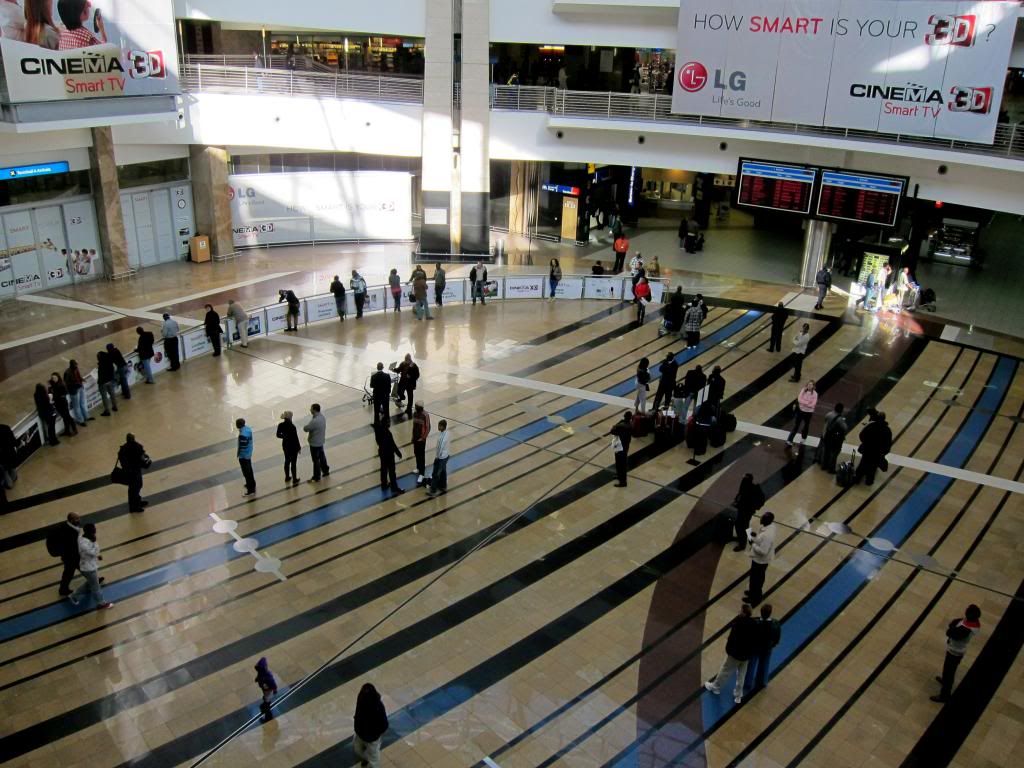 *
*
(Random dancing – how cool!)
(A Little over the top)
(FIDS: Love the exotic places)
(Post-Security @ JNB)
Scenes of the tarmac:
(Hello 380's)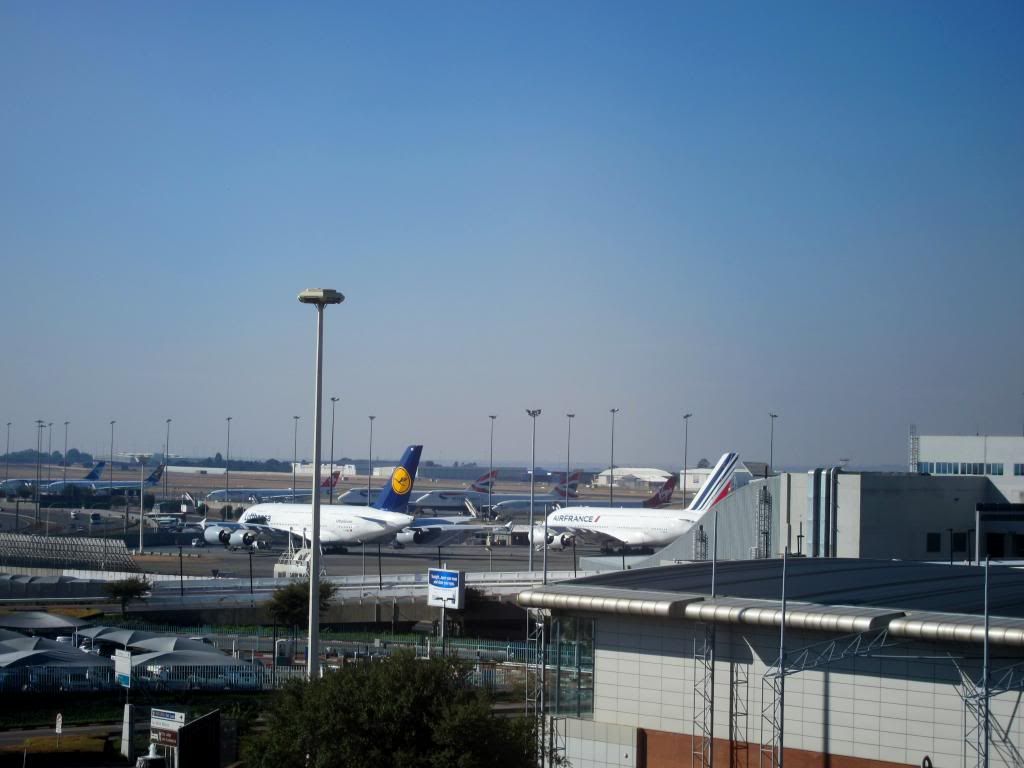 *
*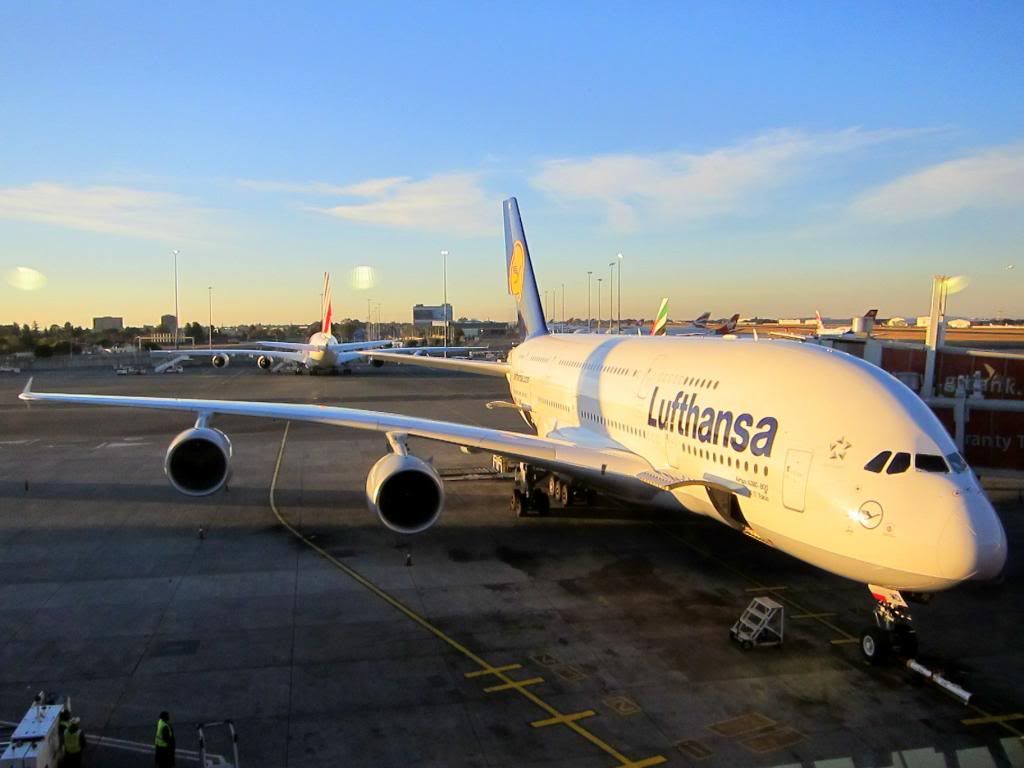 *
(But, I still prefer the 747 – the true Queen of the Skies)
*
(And, other action)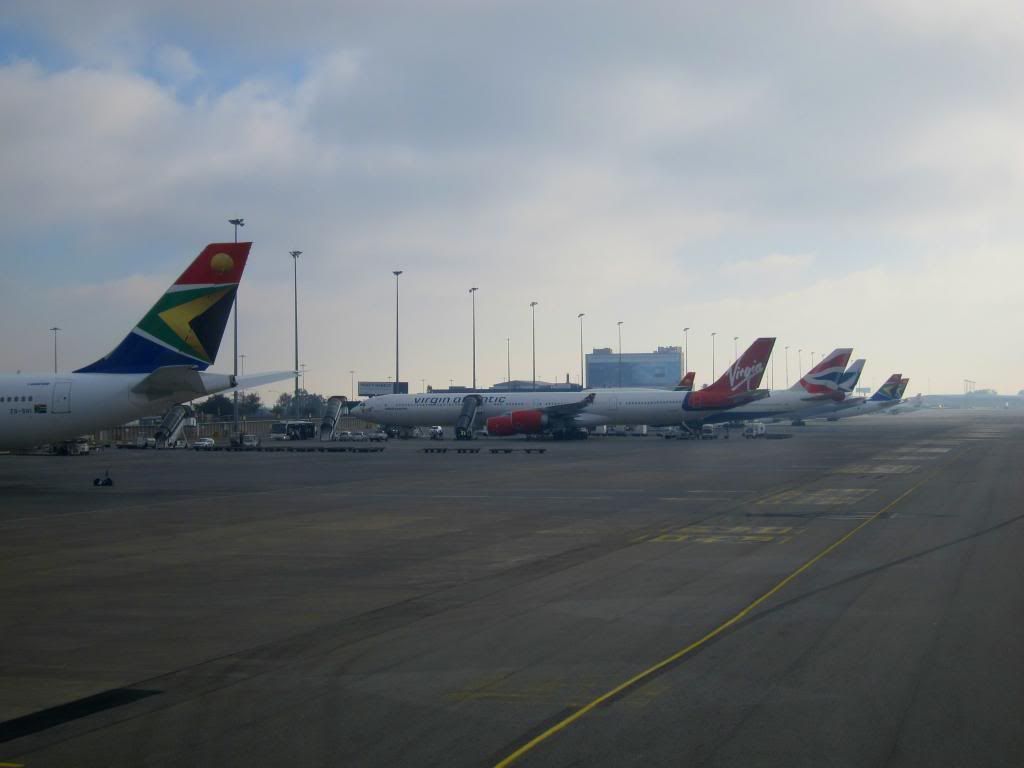 *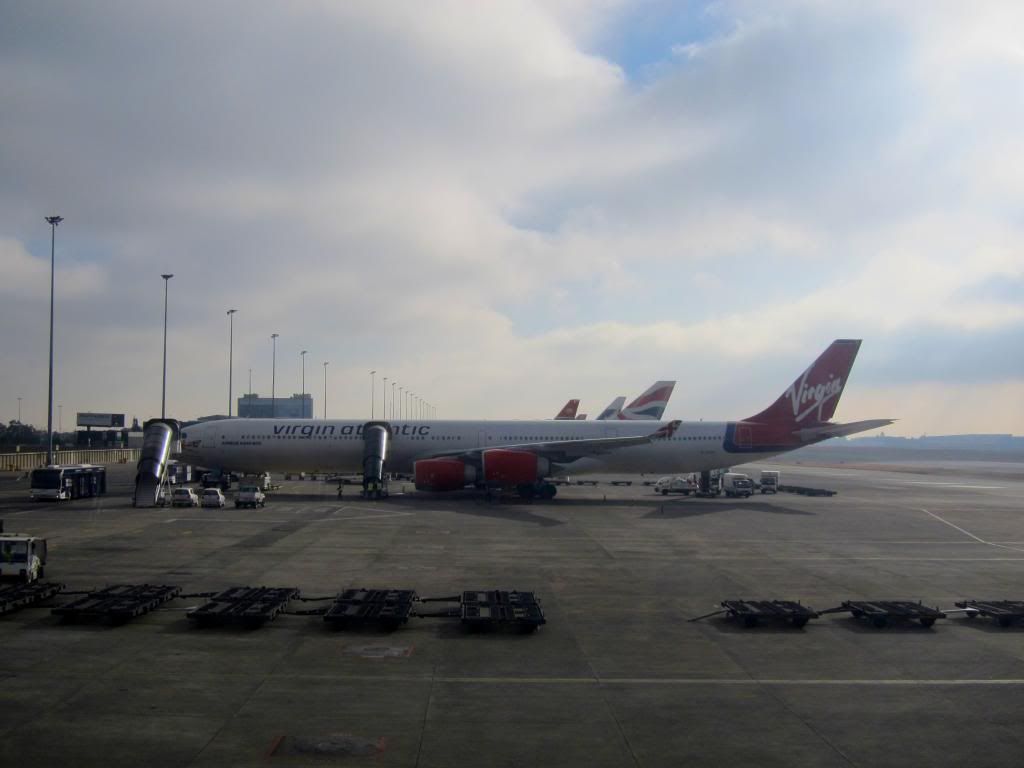 *
*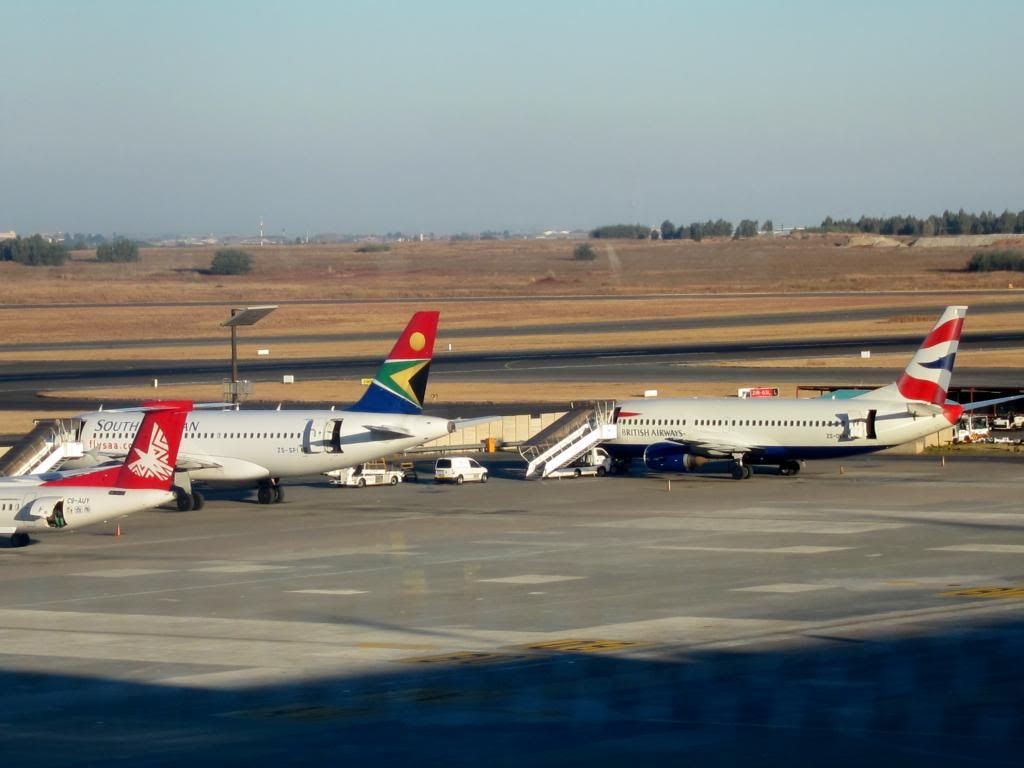 *
Lounge
(Hello rival)
*
*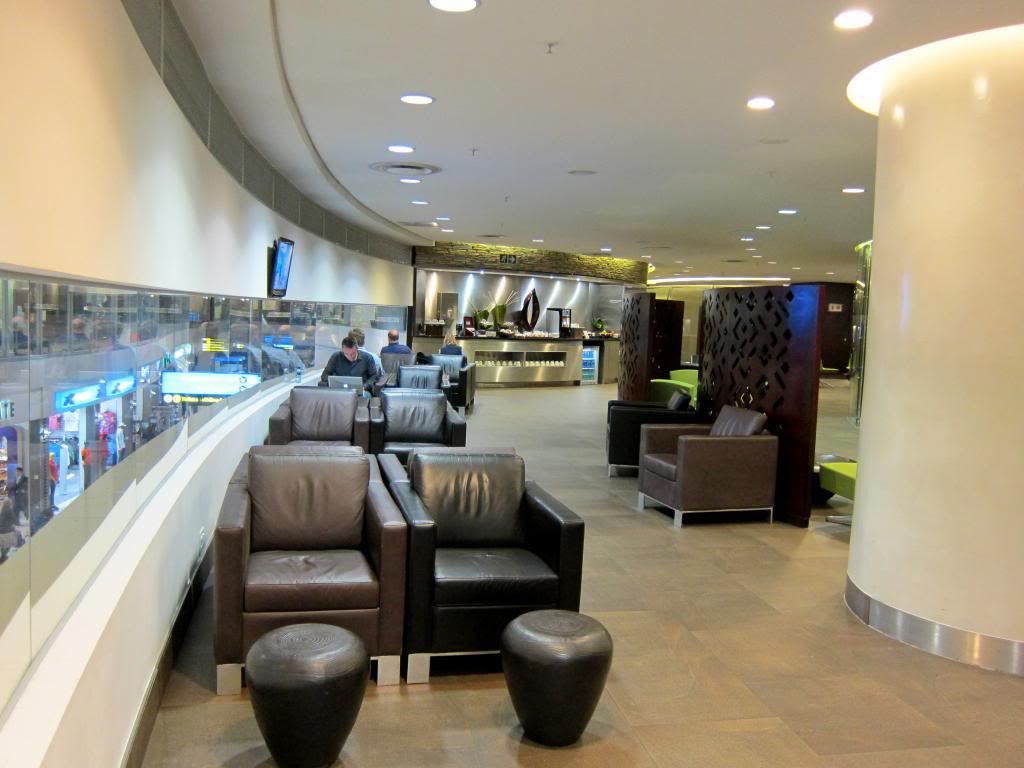 *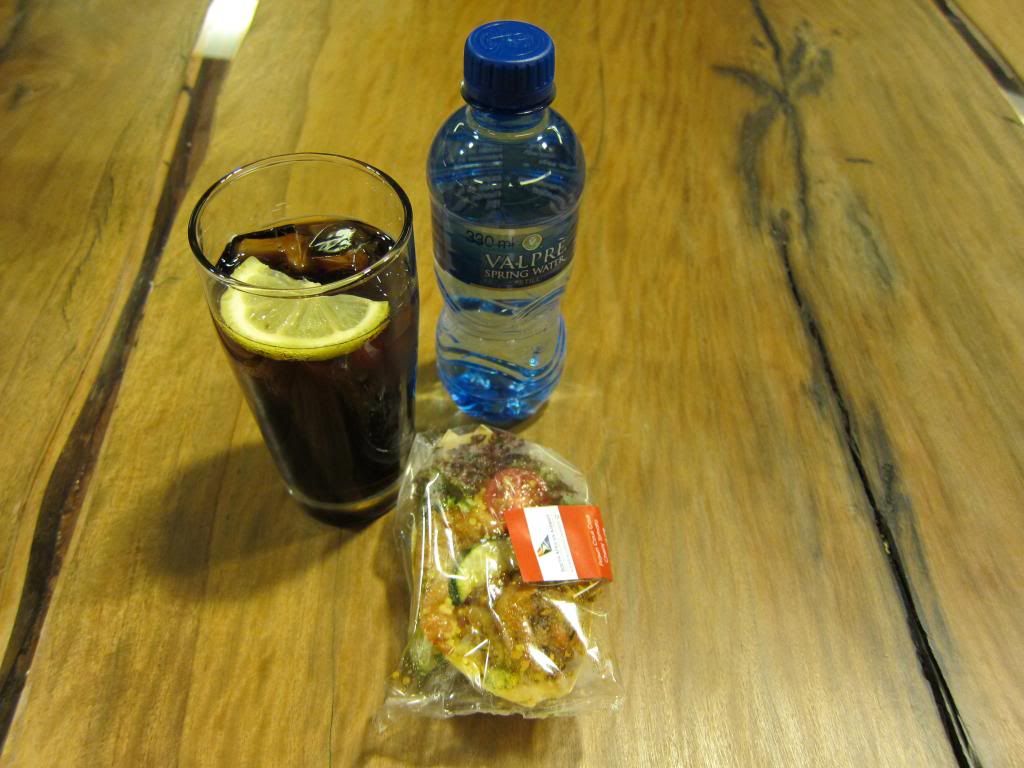 *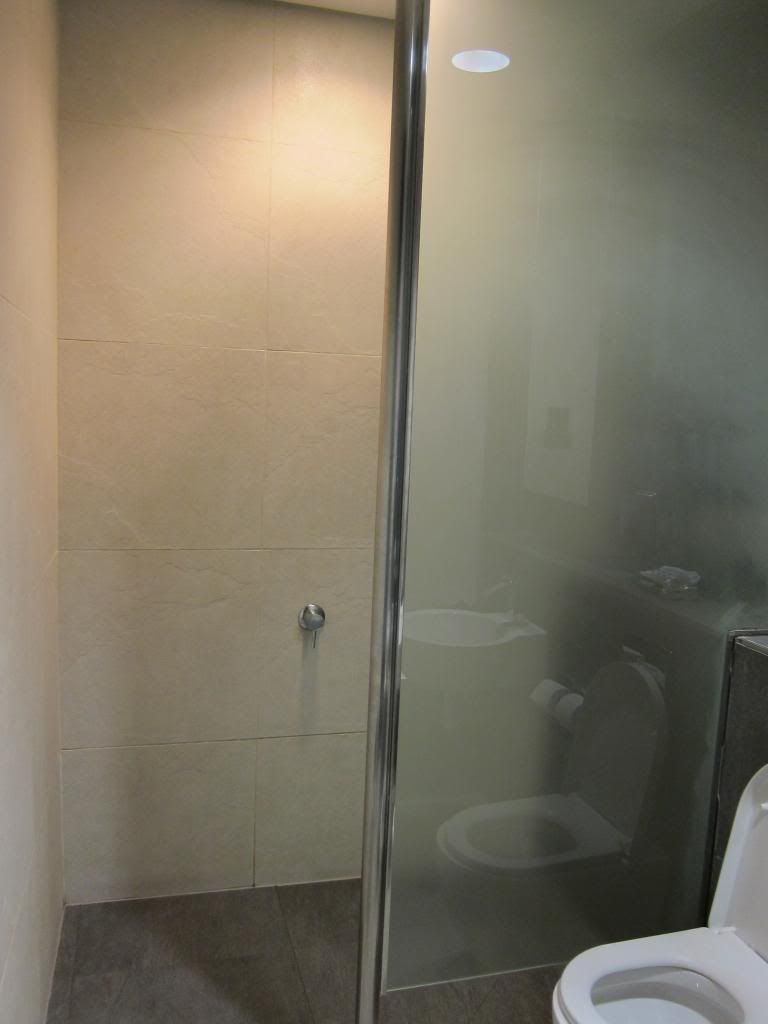 *
Boarding:
(Gate Area: Additional security Check)
*
(Is alcohol in short supply in Perth?)
*
(Chaotic, but organized Boarding)
*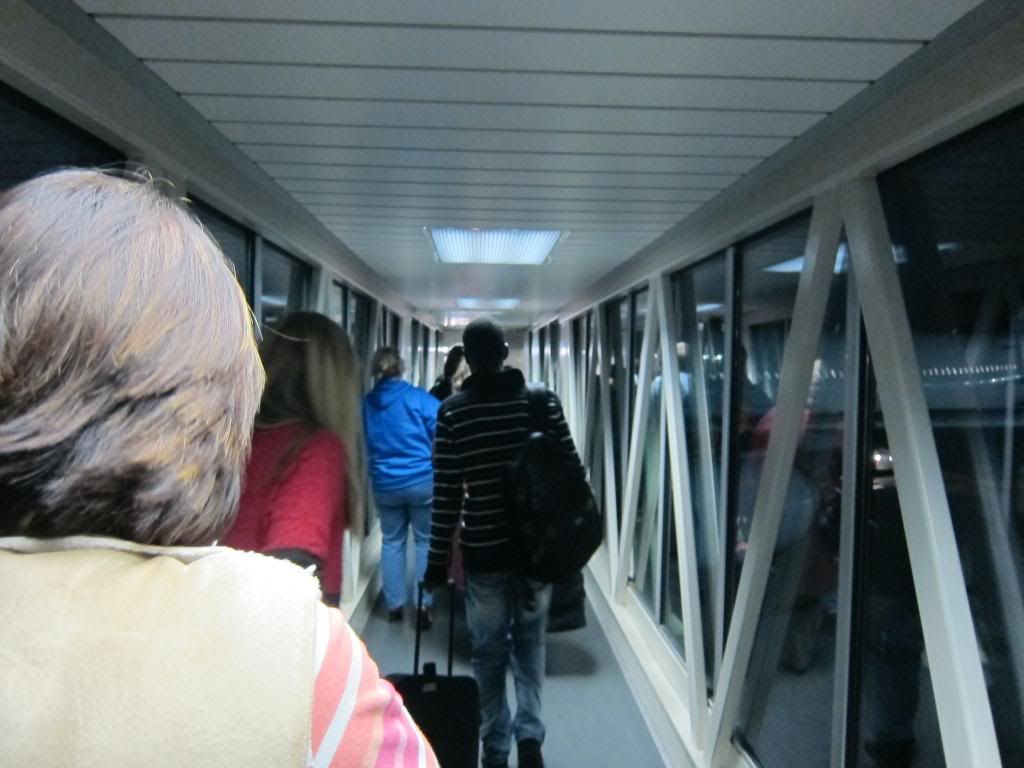 III> In-Flight:
a) Service Schedule + Impressions:
On the ground:
+ Water/OJ/Sparkling Wine (Menu said, Moët & Chandon – this was not the case)
+ Water bottles distributed
+ Amenity kits
+ Newspaper
In the air:
+ Hot towels
+ Dinner service
+ Hot towels
+ Breakfast service
b) Aircraft + Seats:
When SAA introduced their J class, it was best-in-the-industry. It still is a really nice full-flat bed and it still is impressive. I was able to sleep a good 5 hours on them. The seat is also comfortable in other position and there is enough legroom to feel airy and comfortable. It seems like the cabin had recently gone through an uplift, and this was most noticeable in the bathroom which no longer had those 1990 lighting. Interestingly, SAA still has probably the most amount of random crèmes, oils, etc. present in a J class lav.
Aircraft:
(Stunnng 343)
Views from Aircraft:
(Goodbye JNB)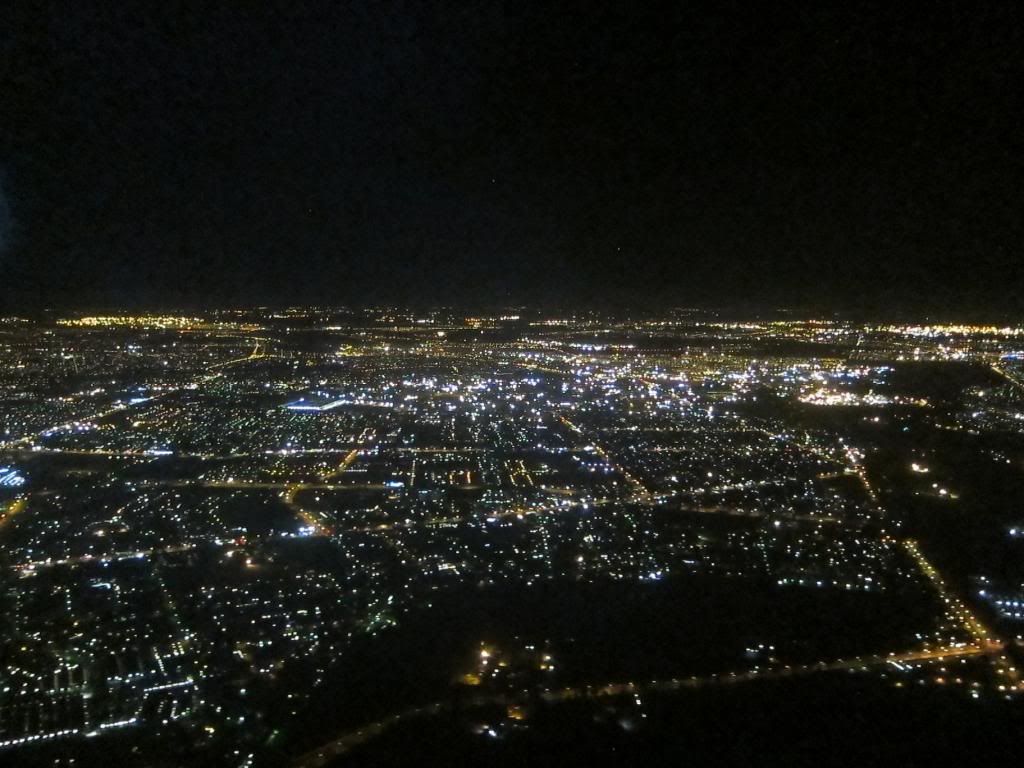 (Leaving the eastern coast of one continent, to embrace the western of another)
*
*
(Howdy Perth!)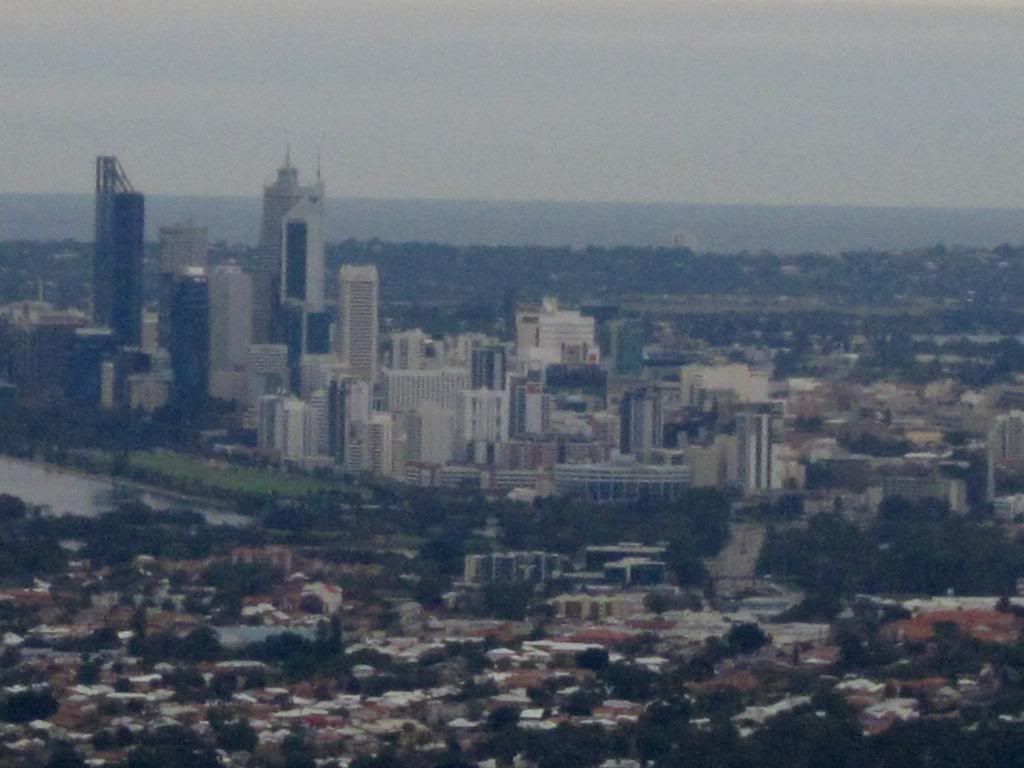 General Seat Views + Seat Legroom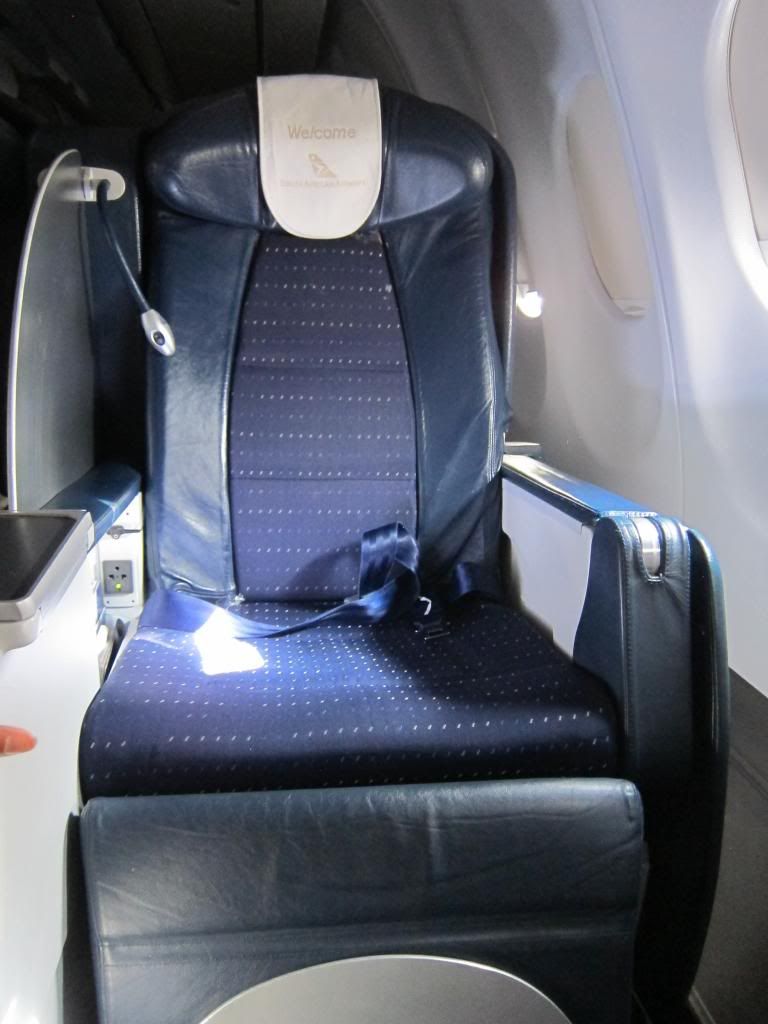 *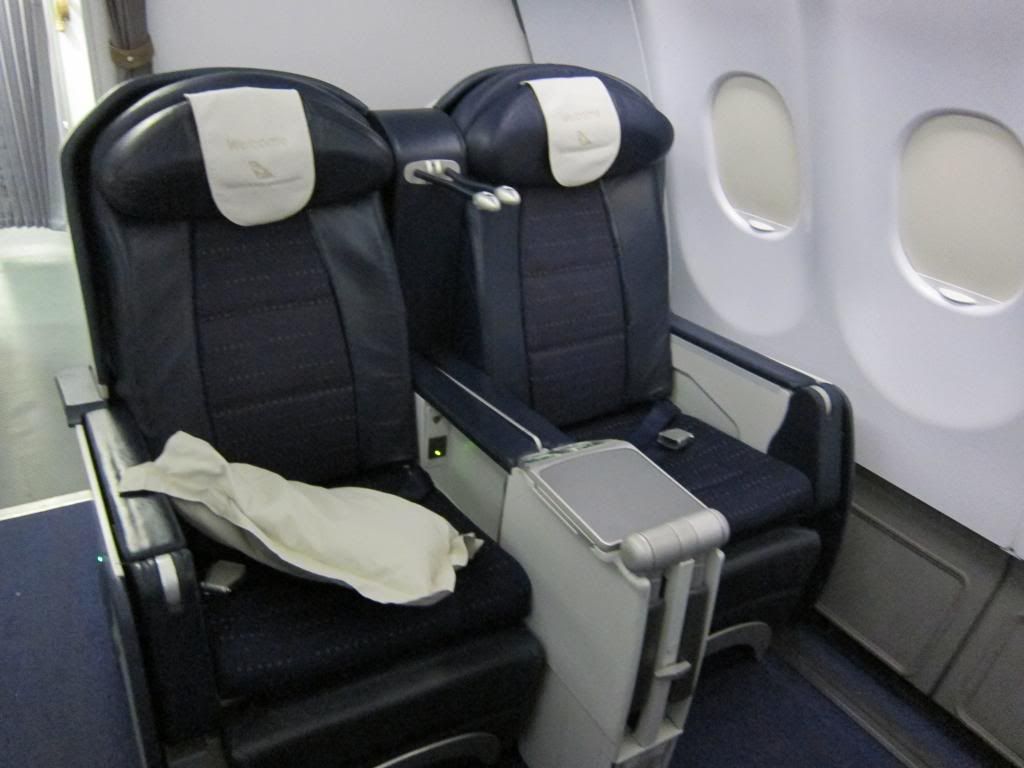 (Legroom)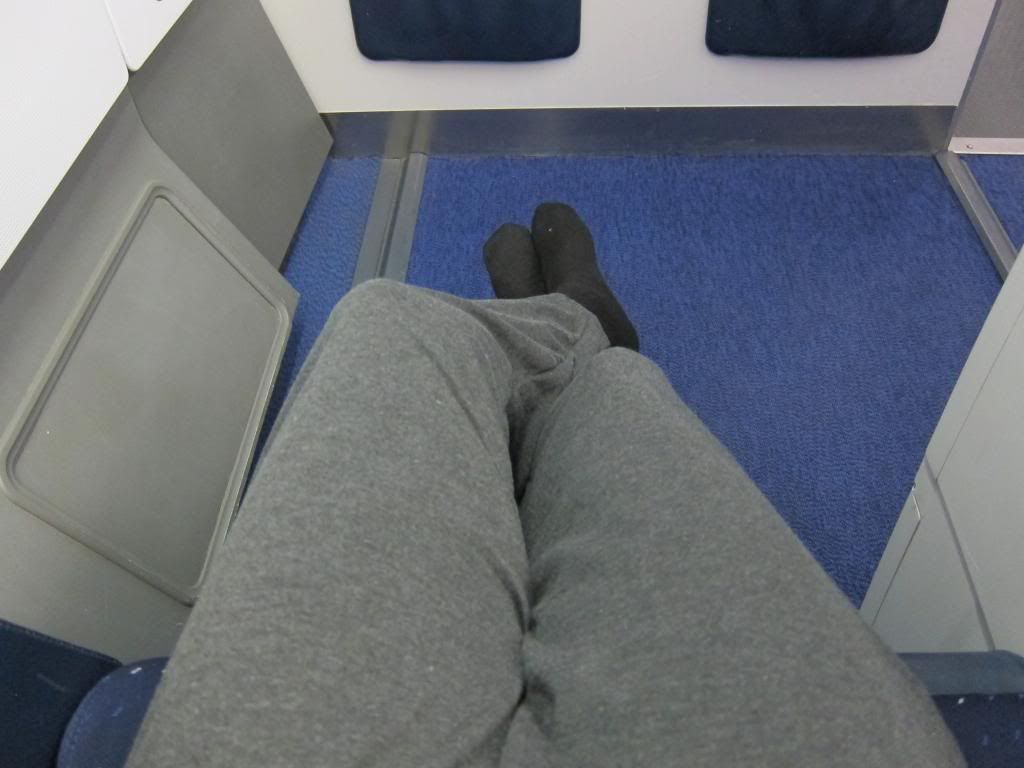 (Around Seat)
Seat Recline + Angle View:
(Recline)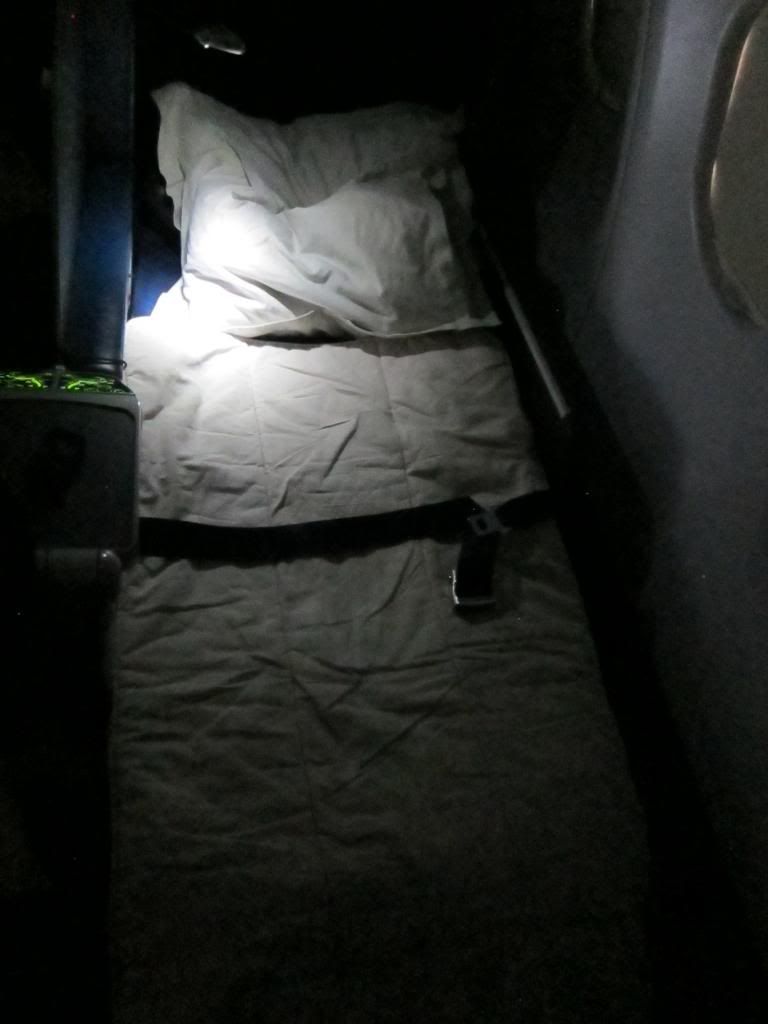 (Angle view)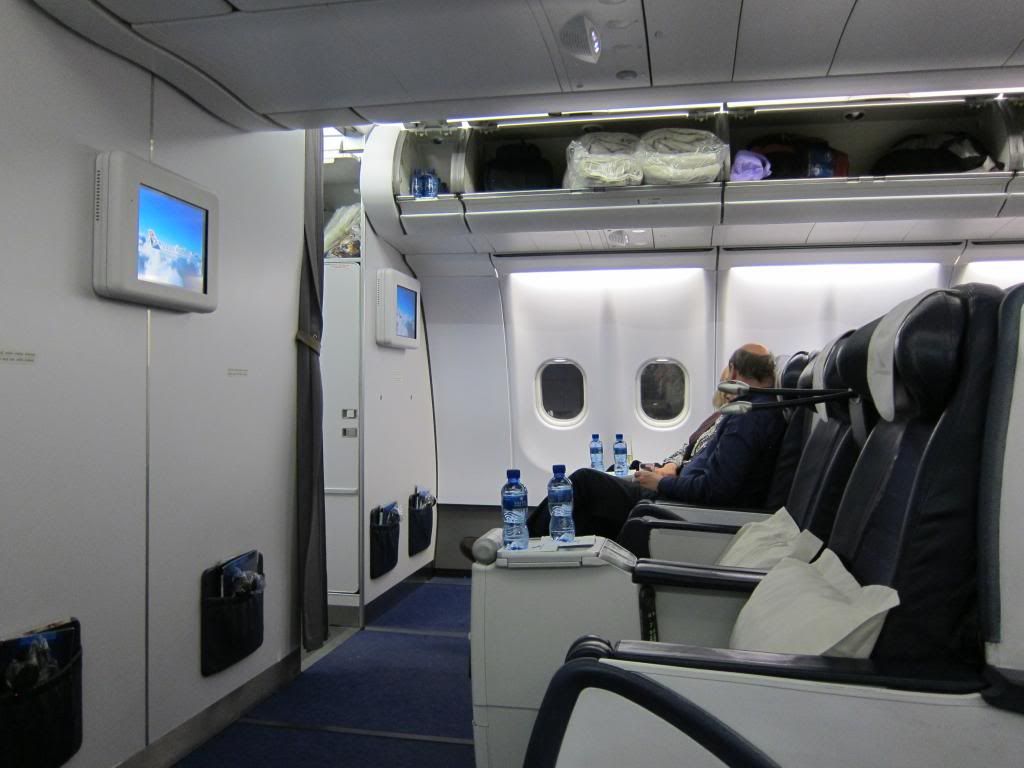 Cabin:
(Always chose this when booking)
*
(Bathroom)
*
(Random amenities)
c) Meal + Beverage:
Menu cards were distributed soon after take off and service seemed a whole lot more organized than my previous flights on SAA. Dinner service commenced with an appetizer featuring chicken in a small tart – a little weird overall, but perfectly acceptable. This was followed by a smoked salmon and prawn salad, which was served alongside a seasonal salad and warm bread. All of it was excellent and I appreciated the several rounds of bread being distributed during the entire meal service. For the main course, there was a generous choice of 4 including garlic and chili lamb cutlets, a Morocco chicken thigh, fish fillet, and an Indian vegetable jalfrezi. I ended up with the fish and this seemed to have been the wrong choice. While the risotto and the vegetables were good, the fish itself was drier than I would have liked. It just did not seem fresh and the portion was odd. Thankfully, the dessert of dark and white chocolate mouse (or, raspberry and litchi) was very nice and downed by an excellent glass of South African port. I am a self proclaimed port connoisseur and was actually pretty impressed to have discovered a low-end South African port that is truly good. At the end of the service, there was a cheese plate that I skipped. Overall, an average J class dinner experience, but a lot better than other recent SAA JCL experiences.
I had earlier told the crew I was going to be sleeping until descent into Perth. However, the super turbulent flight meant that I was awake early. The male purser seeing this jumped into service and offered to make me a quick breakfast. I appreciated this and thought the fruits offered were fresh and excellent. One could always pamper themselves more and go for the full breakfast – which included cheese frittata, a continental cold cut option, or a combination of cereal/yoghurt.
(Menu)
*
*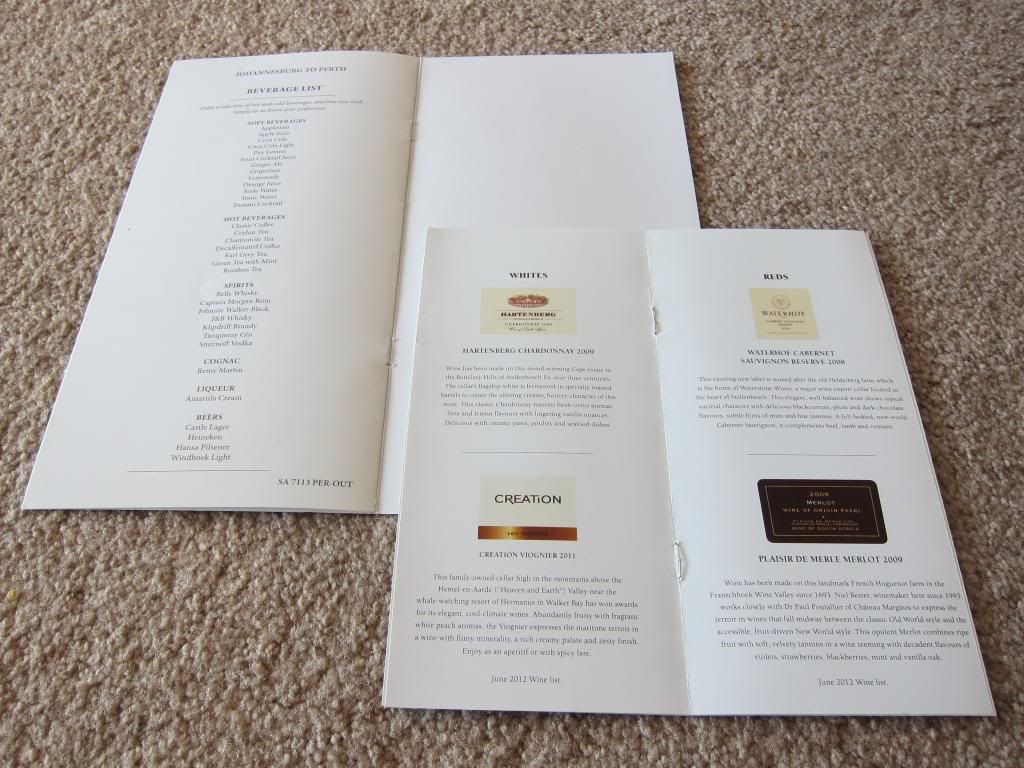 *
(Pre-departure)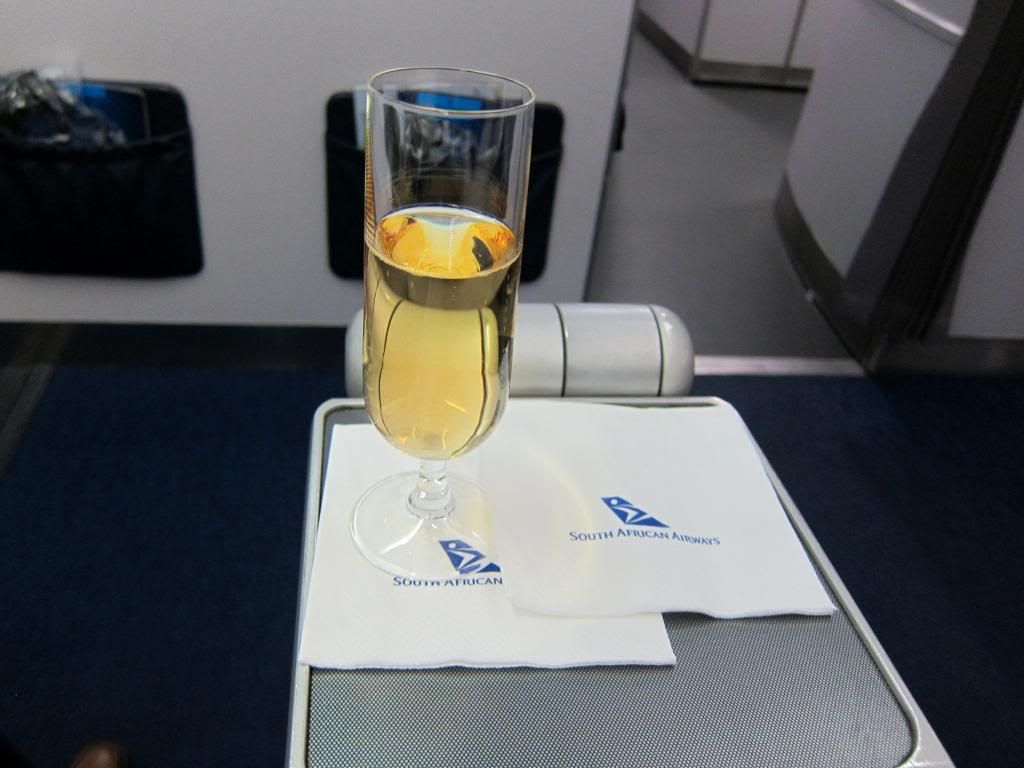 *
(Dinner service)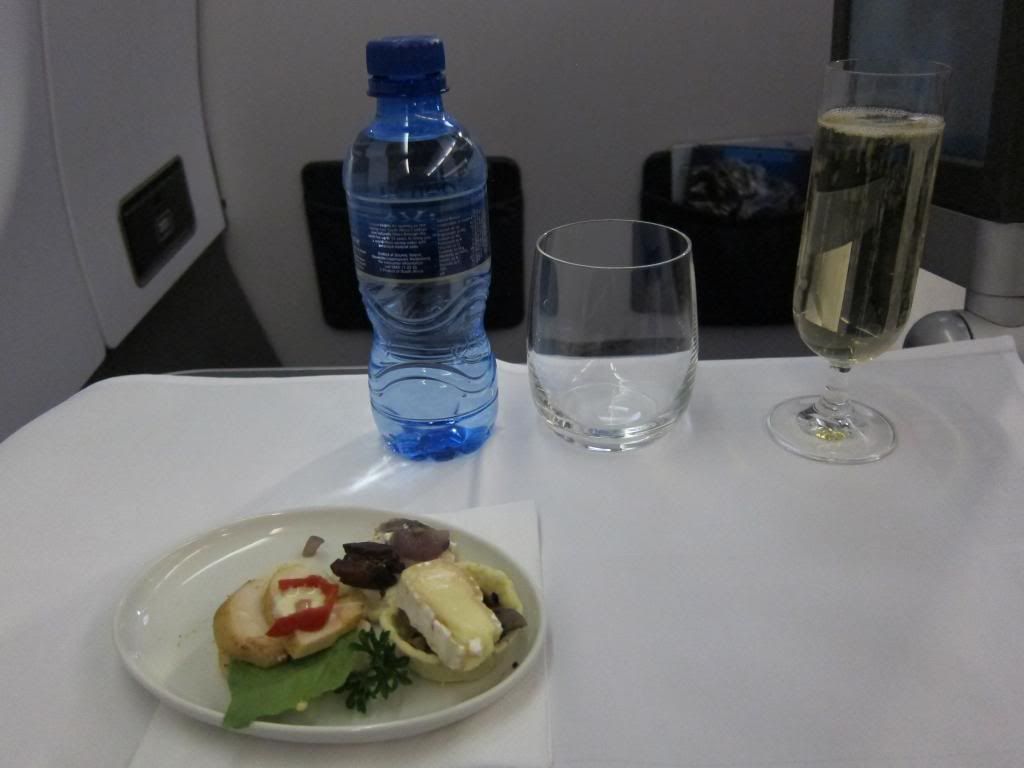 *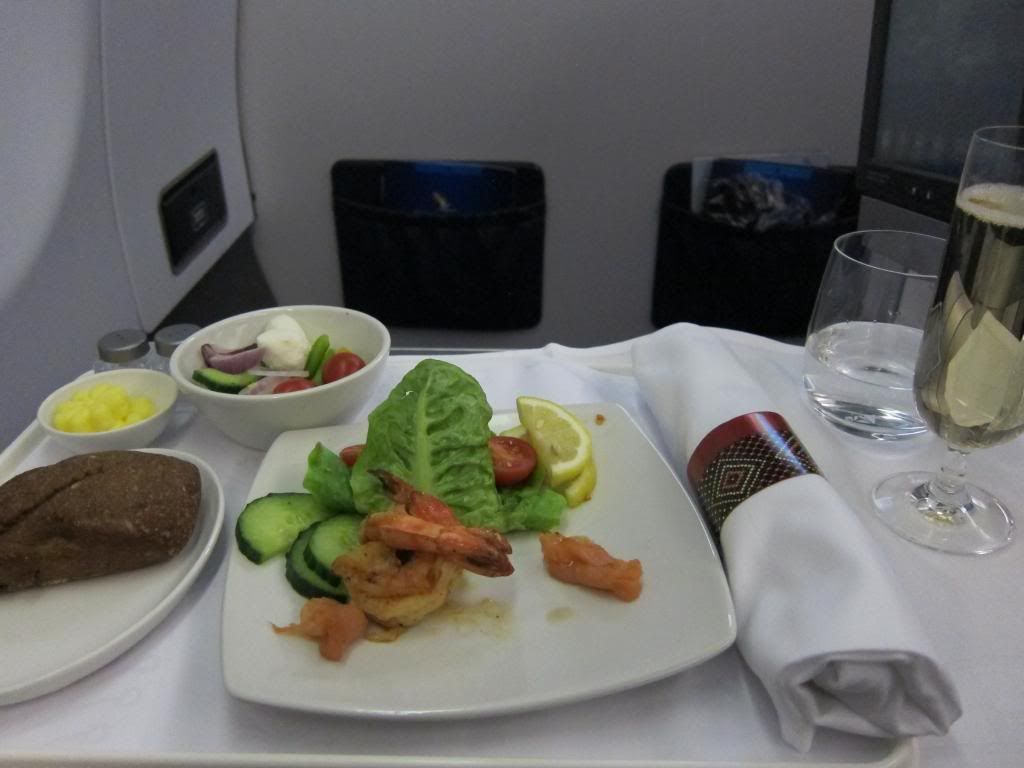 *
*
(Pralines placed when I woke up)
(Self Bar)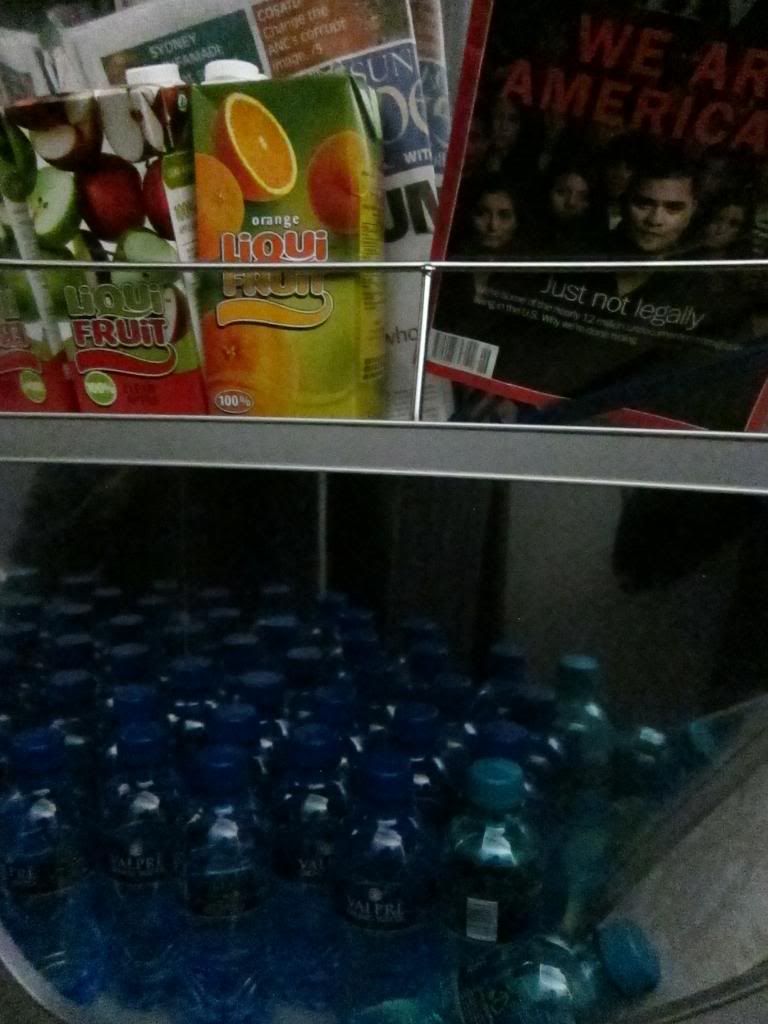 (Fresh fruits @ breakfast)
d) Inflight Entertainment:
IFE on SAA consisted of individual non-AVOD screens featuring some non-descript movies. To complement this (and I guess, go with this "ambience"), you get a pair of crappy headphones which below to Economy Class more than anything. Actually, I am scared to ask that they give out in YCL. Thankfully, the in-flight magazine continues to be good. But, when will SAA give better headphones?
(SA IFE – with those terrible headsets)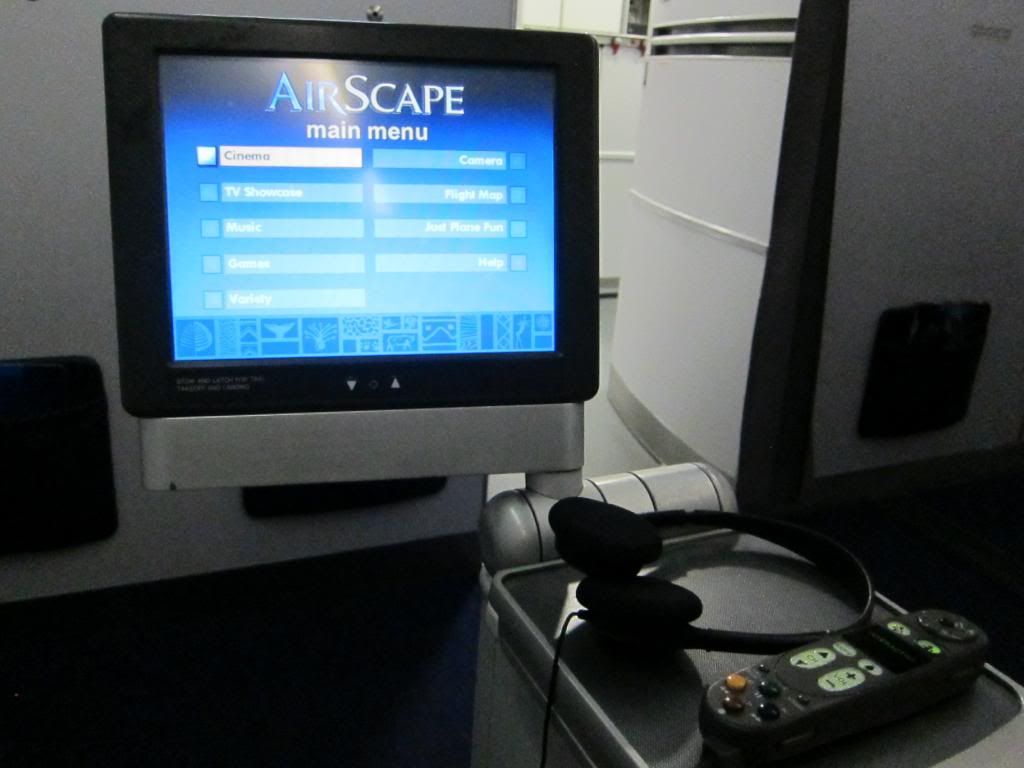 *
*
*
(Appreciate the camera)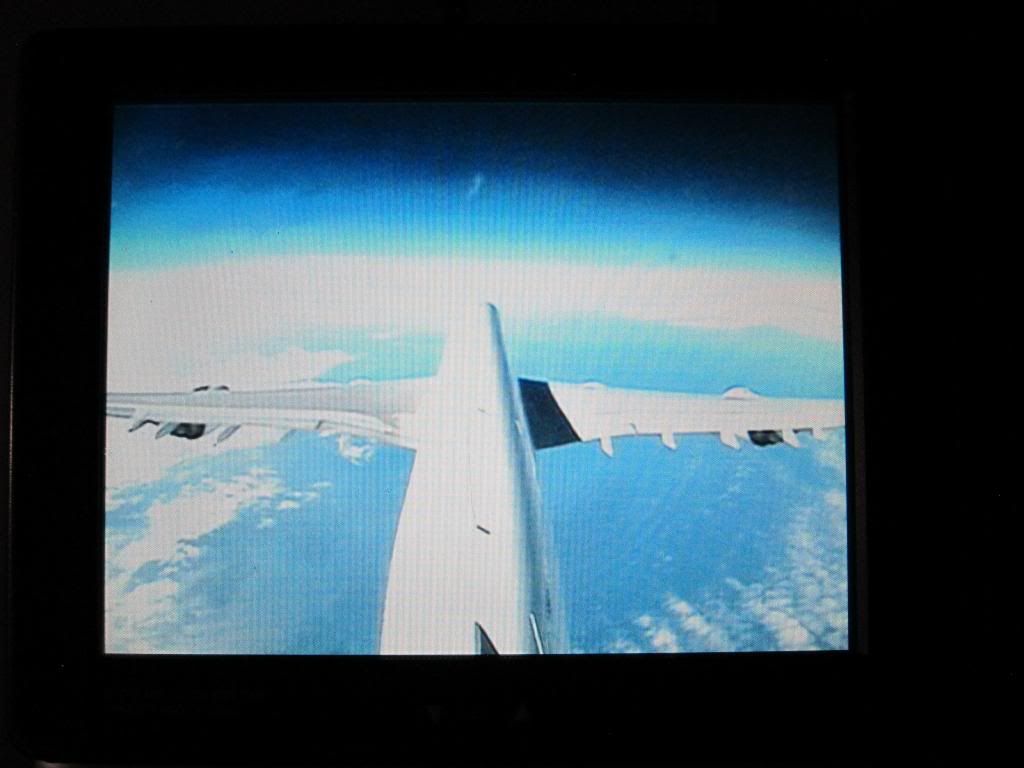 *
(But, do we know where we are going?)
*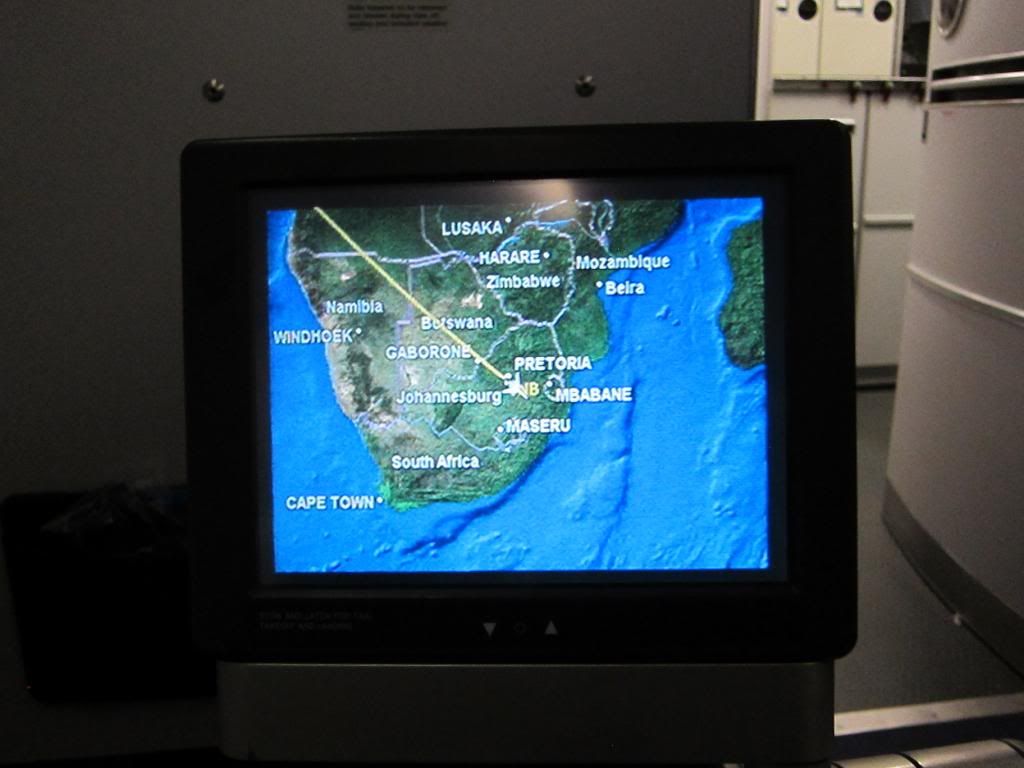 (Correcton at last – but why the 2 lines? Planned and actual? Thoughts?)
("In-flight magazines", Boarding Passes, etc.)
e) Crew:
Seldom do I have crew who grow on me during the flight. This SAA crew went on that "seldom" category. J class service was delivered by a very senior crew consisting of the male purser, and supported by another woman and man. Initially, I found them to be very detached and they seemed to be friendly with only fellow Afrikaan passengers. During boarding, there were not many pleasantries and they were always quick to disappear into the galleys. While doing the various components of service (giving blankets, menu, food service, etc.), there was never an eye contact or an interest to engage with the customer. After the meal service, I started a brief chat with the Purser and it seems he warmed up after that. Like many of my conversation with white South Africans, it was about the "old South Africa" and the "old boys club feeling" that was over and the new South Africa. Interestingly, the only black crew member was a woman in YCL. We chatted about SAA, the airline business, how the flight crew gets 2 days in Perth and the cockpit crew gets 1 day, and about the future of the airline. Upon finding out I worked in aviation, his demeanor seemed to have change. Hallelujah! We had made a connection, and almost immediately the service approach had changed. He offered me several glasses of sparkling wine and once I had fallen asleep woke up to some nice pralines. He again helped whip a quick fruit tray at breakfast – and played a prank of knocking my bathroom door and pretending it wasn't him when I was changing out of my PJ. All this reminded me of why I usually like South African crew I have encountered in other airlines such as VS and EK. Sadly, the other 2 crew members were not as warm, and they went about their duty. C'est la vie.
IV> Post-Flight:
The delay landing in Perth meant that we were held on the plane until the immigration counters became less busy. This was a first for me! Anyways, the process itself was rather quick and I probably encountered the friendliest and most hassle free entry to Australia. This is not usually the case, so I was happy!
(Hello Perth Airport)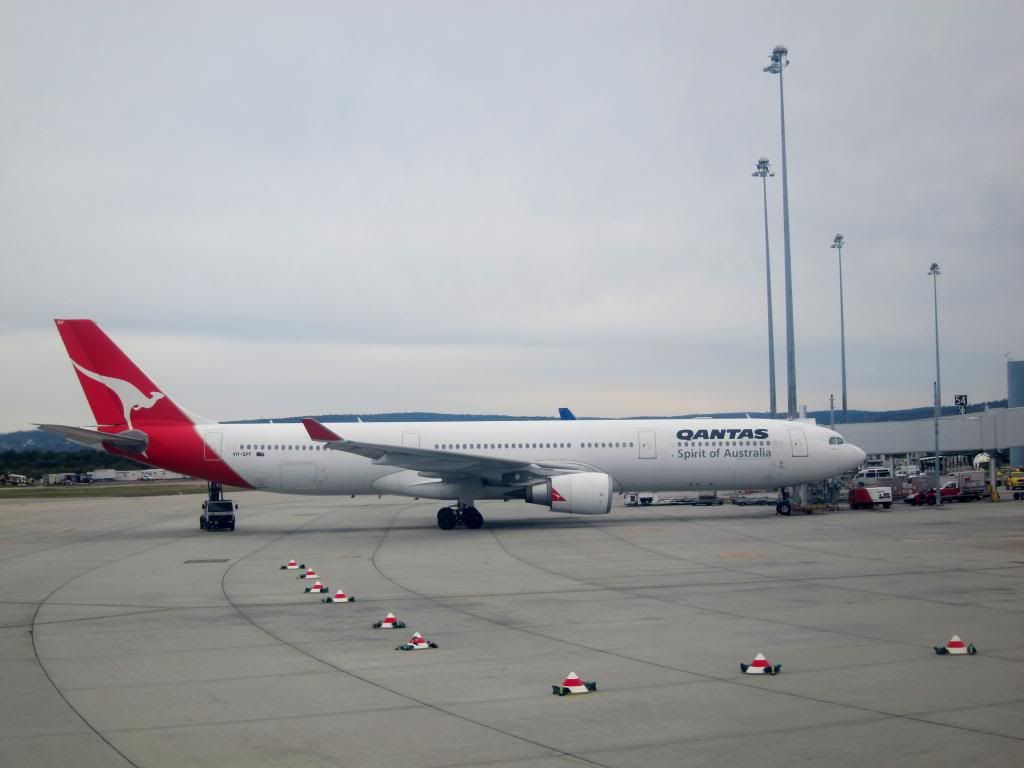 V> Impressions + Scores:
I have always had inconsistent experience on SAA, and never had anything exemplary. This flight was no different – BUT, a vast improvement from the past. While the hardware is still very good (6+ years later, Garuda just installed these seats I believe), there are pieces that need immediate replacement – foremost, their IFE. While my crew were inconsistent, there is again room for improvement, and as the male purser demonstrated, they are clearly capable of lifting their game. This inconsistency is limited not only to the onboard crew, but also to the ground crew. Speaking of the ground service, wouldn't it be nice if the premium service is improved? At their home airport, I just don't see why they would not open up more premium counters.
As South Africa faces enhanced battle from the Middle Eastern carriers, it does need to pick up its game. Under Ms. Mzimela, they have made the right strategic choices for network and fleet. However, this needs to be carried onboard and the service does need a "refresh". To get you from point A to B, I'd recommend SAA. In fact, if you are looking for a good bed in JCL, SAA is a winner. However, if there are competing options, I would pay a higher price to have a more refined level of service anyday. Overall, neither thumps up or down.
So how did SAA stack up with the rest of the competition? Well, the new graph will tell you below. Feedback appreciated on what people think. I had to write a macro for this!
VI> Other Trip Reports:
PREMIUM:
9.27: JET AIRWAYS **FIRST** (110): LHR-BOM: 10/2010
9.27: THAI AIRWAYS **FIRST** (108): BKK-LHR: 07/2010
9.00:
All Nippon: ANA (133): NRT-FUK-BOM: 12/2011
8.66:
Brussels Airlines (93): FIH-BRU: 01/2010
8.64:
Turkish Airlines (59): JFK-IST: 11/2008
8.63:
Jet Airways (88): JFK-BRU: 10/2009
8.61:
Air Canada (49): YYZ-SCL: 06/2008
8.54:
Turkish Airlines (77): GRU-DKR-IST: 04/2009
8.36:
Kingfisher (98): BOM-HKG: 01/2010
8.30:
Jet Airways (74): KWI-BOM: 04/2009
8.23:
United Airlines (72): SFO-SYD: 03/2009
8.11:
Aeroflot (33): MOW-DEL: 09/2007
8.05:
Air India (80): CCU-JFK: 06/2009
8.04:
Korean Air (40): NRT-ICN: 10/2007
8.02:
Delta Airlines (24): JFK-CDG: 08/2007
7.82: UNITED AIRLINES **FIRST** (110): SFO-ICN: 10/2010
7.82:
Singapore Airlines (06): EWR-SIN: 09/2006
7.66:
Sri Lankan (104): DEL-CMB: 07/2010
7.64:
Royal Jordanian (91): AMM-YUL: 12/2009
7.61:
China Southern (103): LOS-DXB: 04/2010
7.57:
Pakistan Airlines (102): ORD-BCN: 06/2010
7.55:
Air Canada (132): YEG-LHR: 06/2011
7.46:
LAN (55): YYZ-JFK: 09/2008
7.38: AMERICAN AIRLINES **FIRST** (112): LHR-JFK: 10/2010
7.38: CATHAY PACIFIC **FIRST** (109): HKG-LHR: 10/2010
7.36:
Turkish Airlines (134): IST-LAX: 10/2011
7.25:
Iran Air (88): BOM-IKA: 12/2009
7.23:
Air Pacific (120): NAN-APW-HNL: 01/2011
7.23:
Virgin Atlantic (81): BOS-LHR: 07/2009
7.14:
Swiss (52): SCL-GRU: 06/2008
7.11:
Aer Lingus (105): MAD-IAD: 05/2010
7.11:
Austrian (79): VIE-JFK: 06/2009
7.07:
Privatair (84): BOM-FRA: 08/2009
7.02:
Qatar (68): DOH-JFK: 01/2009
6.96:
Etihad (61): JFK-AUH: 12/2008
6.93:
Delta Airlines (18): SEA-JFK: 11/2006
6.92: South African (140): 02/2012
6.91:
Lufthansa (139): ASM-JED-FRA: 02/2012
6.88:
Egypt Air (123): LHR-CAI: 03/2011
6.84:
ConViasa (65): CCS-DAM: 01/2009
6.82:
Air Burkina (106): BKO-OUA: 06/2010
6.81:
Air Canada (17): ICN-YYZ: 10/2006
6.75:
Afriqiyah + Libyan (113): CAI-TIP: 11/2010
6.70:
KLM (32): EBB-AMS: 08/2007
6.52:
Emirates (99): LHR-DXB: 02/2010
6.39:
South African (97): EZE-JNB: 01/2010
6.36:
Privatair (60): MUC-BOS: 12/2008
6.29:
TAM Brasil (96): POA-EZE: 02/2010
6.25:
Korean Air (45): NAN-ICN: 10/2007
6.21:
Iberia (87): BOS-MAD: 10/2009
6.11:
A SKY (107): OUA-COO: 06/2010
6.11:
TAP Portugal (53): GRU-OPO: 06/2008
6.00:
Gulf Air (75): BOM-BAH: 04/2009
5.88:
African Express (89): DXB-NBO: 11/2009
5.75:
Singapore Airlines (16): CCU-SIN: 10/2006
5.64:
SATA Azores (101): BOS-PDL: 04/2010
5.64:
NorthWest (46): ICN-NRT-SEA: 10/2007
5.54:
Ethiopian Airlines (95): ADD-BOM: 01/2010
5.46:
Icelandair (83): KEF-BOS: 08/2009
5.39:
LOT (54): WAW-JFK: 06/2008
5.21:
Egypt Air (73): CAI-IST: 02/2009
5.11:
Tunisair (115): TUN-ORY: 12/2010
5.07:
TACA (66): JFK-SAP: 01/2009
4.89:
TAAG Angola (117): TMS-LAD: 12/2010
4.42:
Air France: CDG-JNB (25): 08/2007
ECONOMY: Long + Medium:
9.26:
Air India (48): JFK-DEL: 02/2008
9.04:
First Air (129): YEG-YFB: 06/2011
8.74:
Japan Air Lines (130): NRT-BOS: 04/2012 – INAUGURAL
7.99:
WestJet (131): YYZ-YYC: 06/2011
7.38:
Avianca (01): BOG-LIM: 07/2006
7.07:
Sri Lankan (62): KWI-CMB: 12/2008
7.00:
LAN (94): IPC-SCL: 01/2010
6.81:
STP Airways/Euro Atlantic (116): LIS-TMS: 12/2010
6.74:
Air Asia (136): VTE-KUL: 12/2011
6.67:
Air Malta (124): MLA-FRA: 04/2011
6.63:
Vladavia (126): KHV-PEK: 06/2011
6.41:
Air North (127): YEV-YEG: 06/2011
6.41:
Avianca (78): JFK-BOG: 05/2009
6.41:
American Airlines (58): LHR-BOS: 11/2008
6.39:
Condor (85): SEZ-FRA: 09/2009
6.26:
Jet Blue (21): CUN-JFK: 02/2007
6.11:
Caribbean Airlines (119): POS-FLL: 01/2011
6.06:
Air Canada (04): YYZ-YVR: 09/2006
5.89:
USA 3000 (19): PUJ-BDL: 01/2007
5.85:
Spanair (69): MAD-LPA: 02/2009
5.80:
Canadian North (128): YEV-YVQ-YZF-YEG: 06/2011
5.79:
Air New Zealand (42): RAR-NAN: 10/2007
5.52:
Aerolineas (86): USH-AEP: 10/2009
5.46:
TAP Air Portugal (23): OSL-LIS: 05/2007
5.19:
Air Europa (70): LPA-MAD: 02/2009
5.16:
Iberia (71): MAD-BOS: 02/2009
5.11:
Air China (82): FRA-PEK: 08/2009
4.59:
IR Aero (125): IKT-VVO: 06/2011
ECONOMY: Short
8.56:
Paramount Airways (38): BLR-MAA: 09/2007
8.56:
Kingfisher (64): HYD-CCU: 12/2008
8.24:
Kingfisher (14): IXA-GAU: 10/2006
7.87:
Indian (34): BOM-MAA: 09/2007
7.72:
Alliance Air (13): CCU-IXA: 10/2006
7.57:
Indian Airlines (10): DEL-CCU: 09/2006
7.23:
West Jet (03): YYC-YVR: 09/2006
7.15:
JetLite (37): BOM-GOI: 09/2007
6.98:
Air Koryo (100): PEK-FNJ: 04/2010
6.96:
Maldivian (137): MLE-TRV: 12/2011
6.96:
Lao Airlines (135): VTE-KUL: 12/2011
6.70:
Spice Jet (09): CCU-DEL: 09/2006
6.63:
Air Fiji (44): NAN-SUV: 10/2007
6.63:
Jazeera (67): DAM-KWI: 01/2009
6.58:
Air Tran (02): EWR-MDW: 08/2006
6.48:
Air India Express (63): CMB-MAA: 12/2008
6.44:
CO Micronesia (39): ROR-YAP: 10/2007
6.41:
Pacific Sun (43): NAN-SUV: 10/2007
6.37:
Buffalo (138): YZF-YXY: 10/2007
6.37:
Skybus (47): SWF-CMH: 02/2008
6.33:
Kenya Airways (29): NBO-BJM: 08/2007
6.33:
Sky Europe (56): LTN-BTS: 10/2008
6.31:
Indigo (15): GAU-CCU: 10/2006
6.31:
easyJet (57): BUD-LTN: 11/2008
6.22:
Air Link Swazi (28): MTS-JNB: 08/2007
6.22:
Air India (36): HYD-BOM: 09/2007
6.13:
Adam Air (07): SIN-CGK: 09/2006
6.13:
Air Rarotonga (41): RAR-AIT: 10/2007
6.04:
Suriname Airways (118): PBM-POS: 01/2011
6.00:
Transairways (27): INH-MPM: 08/2007
5.95:
Air Canada (05): ALB-YYZ: 09/2006
5.85:
SAS Norge (22): OSL-AES: 05/2007
5.81:
LAM Mozambique (26): JNB-MPM: 08/2007
5.69:
Air Deccan (12): IXZ-CCU: 10/2006
5.67:
Rwanda Air Exp (30): KGL-NBO: 08/2007
5.52:
Sevenair (114): TOE-TUN: 11/2010
5.37:
Felix Airways (92): SCT-SAH: 12/2009
5.11:
Aero Republica (76): BOG-CCS: 04/2009
5.07:
Go Air (35): MAA-HYD: 09/2007
5.04:
Biman (121): DAC-CGP: 01/2011
5.00:
Sky Airline (51): IQQ-SCL: 06/2008
4.96:
United Bangla (122): CGP-DAC: 01/2011
4.96:
Valuair (08): CGK-SIN: 09/2006
4.78:
Air Comet Chile (50): SCL-IQQ: 06/2008
4.74:
Fly 540 (31): MYD-LAU: 08/2007
4.33:
Viva Aerobus (20): ELP-MTY: 02/2007
4.11:
Air Sahara (11): CCU-BOM: 09/2006
(Note on Codes: Y – Economy, J – Business, F – First :: I/D – International/Domestic :: SR/MR/LR – Short/Medium/Long Haul)
(Note on Date: Dates are modified to be +/- 3 days from actual flight date to not reveal actual flight pattern)
VII> Other Pictures:
(SA's JCL Amenity Kit: I have not got these in several colors)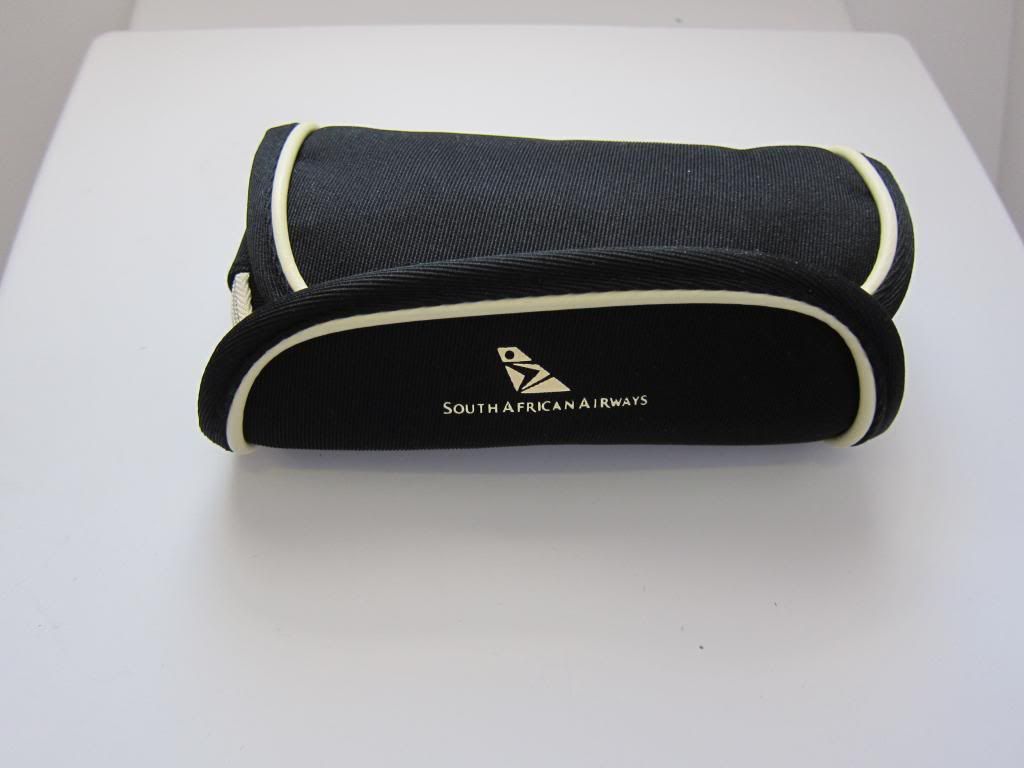 *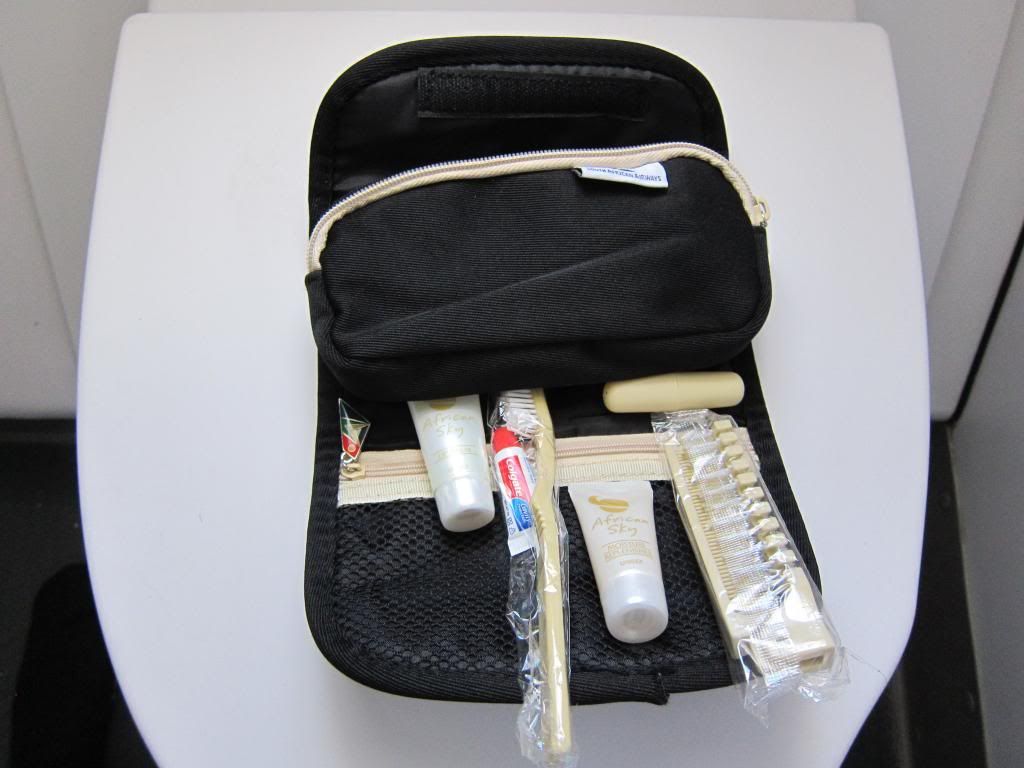 (Finally, some images of Pretoria)
*
*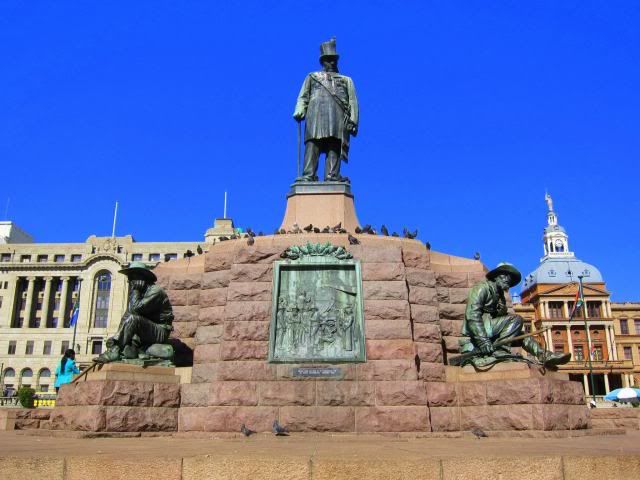 *

* Unbiased view on how an actual traveler may view the flight
* Not a professional photographer (so please keep in mind)
* Commitment that I won't identify myself to the airline as "reviewing them"
[Edited 2012-10-14 13:49:39]