Asia 3: Around China with KN, MU & CN
The map, courtesy of GC Mapper, of this report:
Flight 1: Beijing (NAY) – Chengdu (CTU)
Flight 2: Chengdu (CTU) – Shangri La (DIG)
Flight 3: Kunming (KMG) – Wulingshan (JIQ) – Beijing (PEK)
Flight 4: Beijing (PEK) – Nanning (NNG)
The map, courtesy of GC Mapper, of what is currently booked for this series:
Previous Reports in this series:
Part 1:
Limoncello with Alitalia. BA/AZ LHR-MXP-FCO-NRT
Part 2:
JALing it to Beijing. JL HND-PEK 772 Business
I was in China for nearly a month, and did a lot of travelling. I'll spare you the detailed text, and just share some of my favourite non-aviation photos as we go through.
So, from Beijing Capital Airport (PEK), I headed across the city to meet a friend for lunch, and then down to Beijing Nanyuan Airport (NAY). This is located down in the south of the city, and served only by the Chinese Military's civilian transport arm, China United Airlines. For many years I've tried various ways to fly on this airline and from the other Beijing airport. Finally it's worked out! NAY is actually China's oldest airport (and 40th busiest), having celebrated it's centenary in 2010. It is scheduled to be shut down in 2017 when the new super-airport in the far South of Beijing is opened.
As I said, this is a military airport, so the normal laissez faire attitude of photography in China is waived in this airport….most of the photos were taken with my phone.
I arrived at NAY just over an hour before departure. Check in was a bit of a mess, but I was checked in without too much of a wait, and given a window seat in the 2nd row of economy.
Security was quick, and before long I was in a rather busy, and terribly sterile and bland waiting area.
FIDS…oh dear, doesn't look good does it. I'm on the 1805 to Chengdu. Given the massive delay on the earlier CTU flight, I feared that any slot/plane that might come up for us would be given to them, thus also giving us a massive delay. I'm a little surprised about the codesharing with MU (China Eastern). KN used to/is 80% owned by Shanghai Airlines (notice the similarities with the livery?), but I guess that has now passed to MU?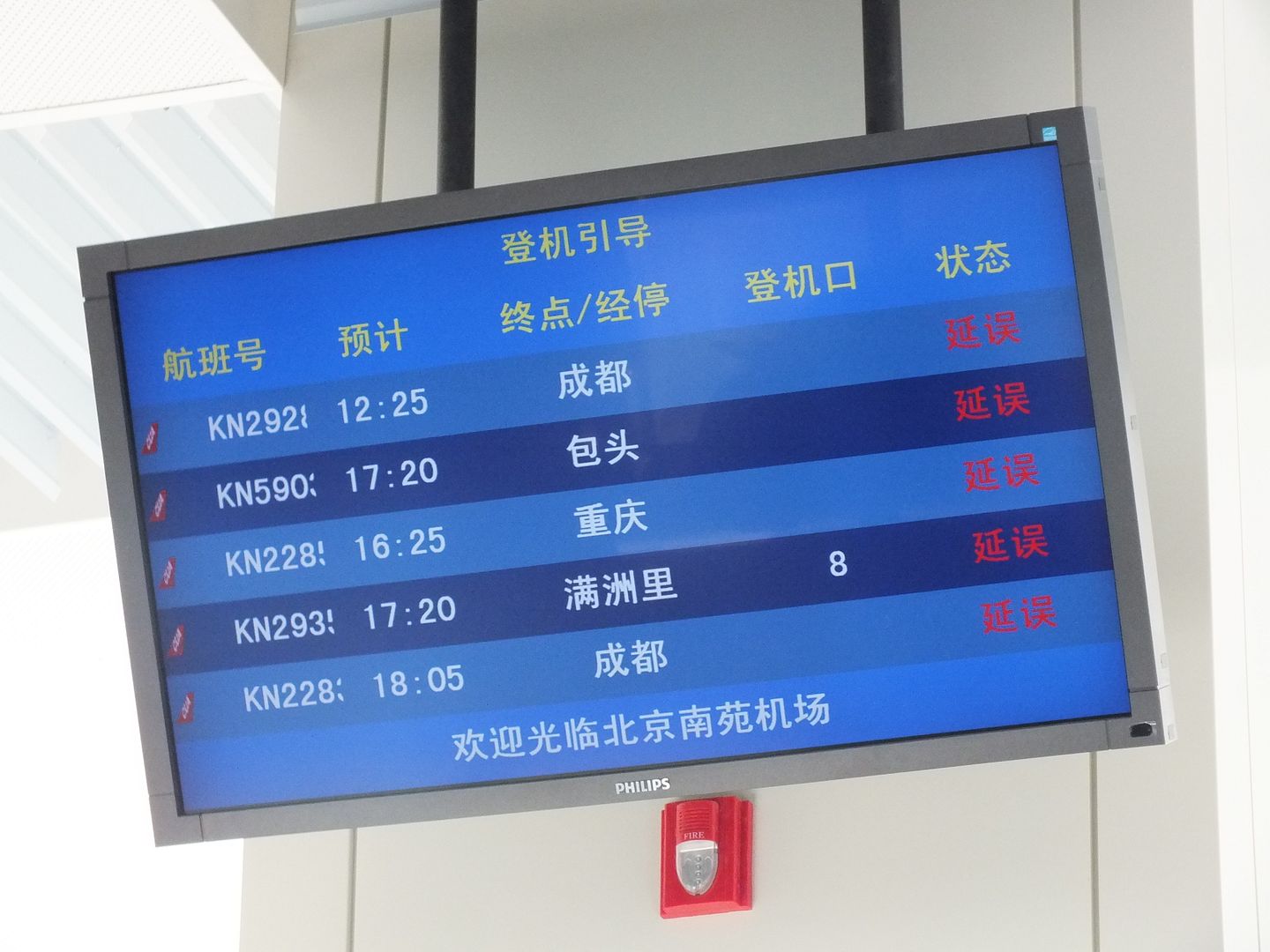 A KN jet taxiing past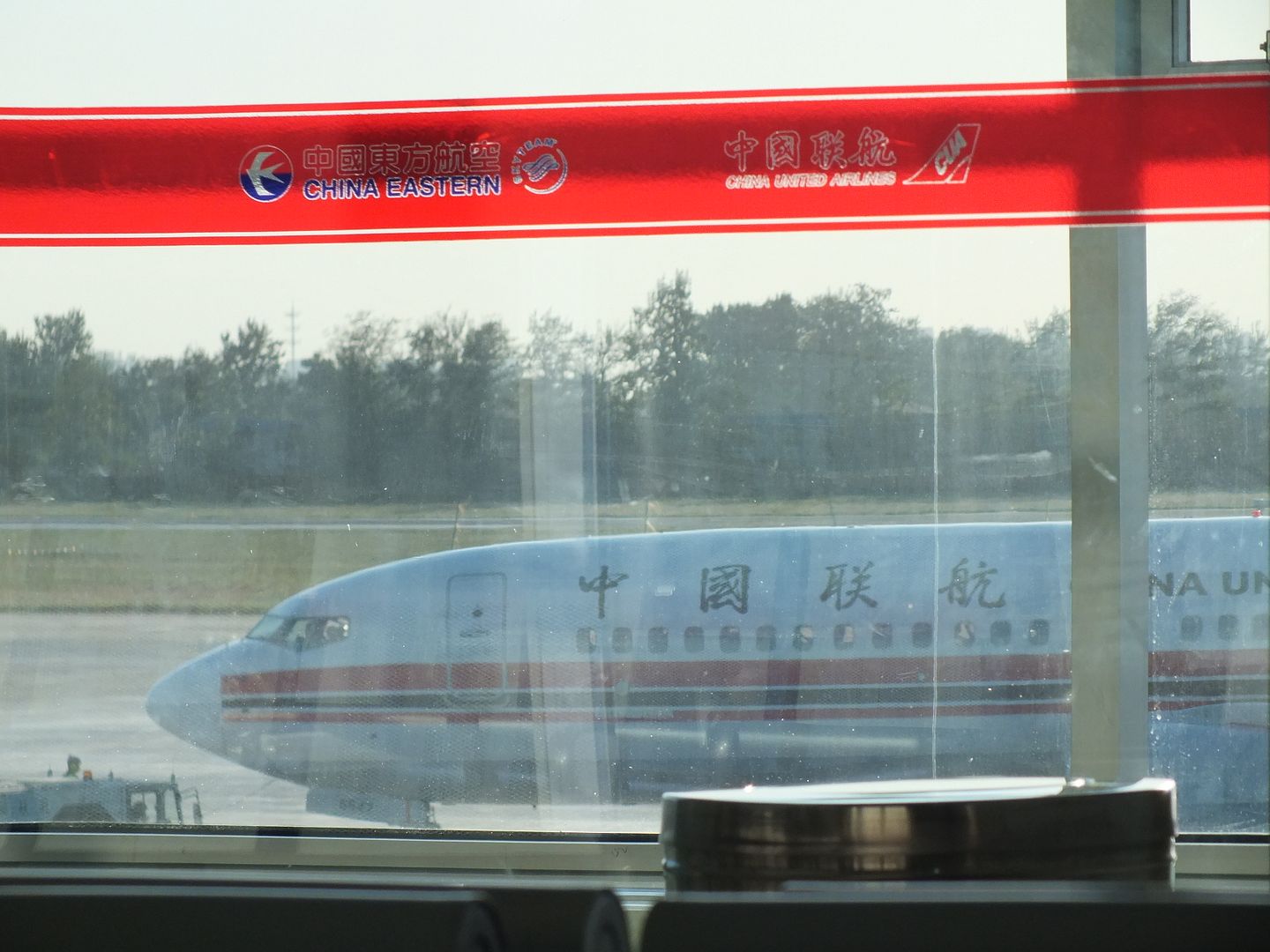 And something a little different
After a while, things started moving along…planes started landing, and then departing again.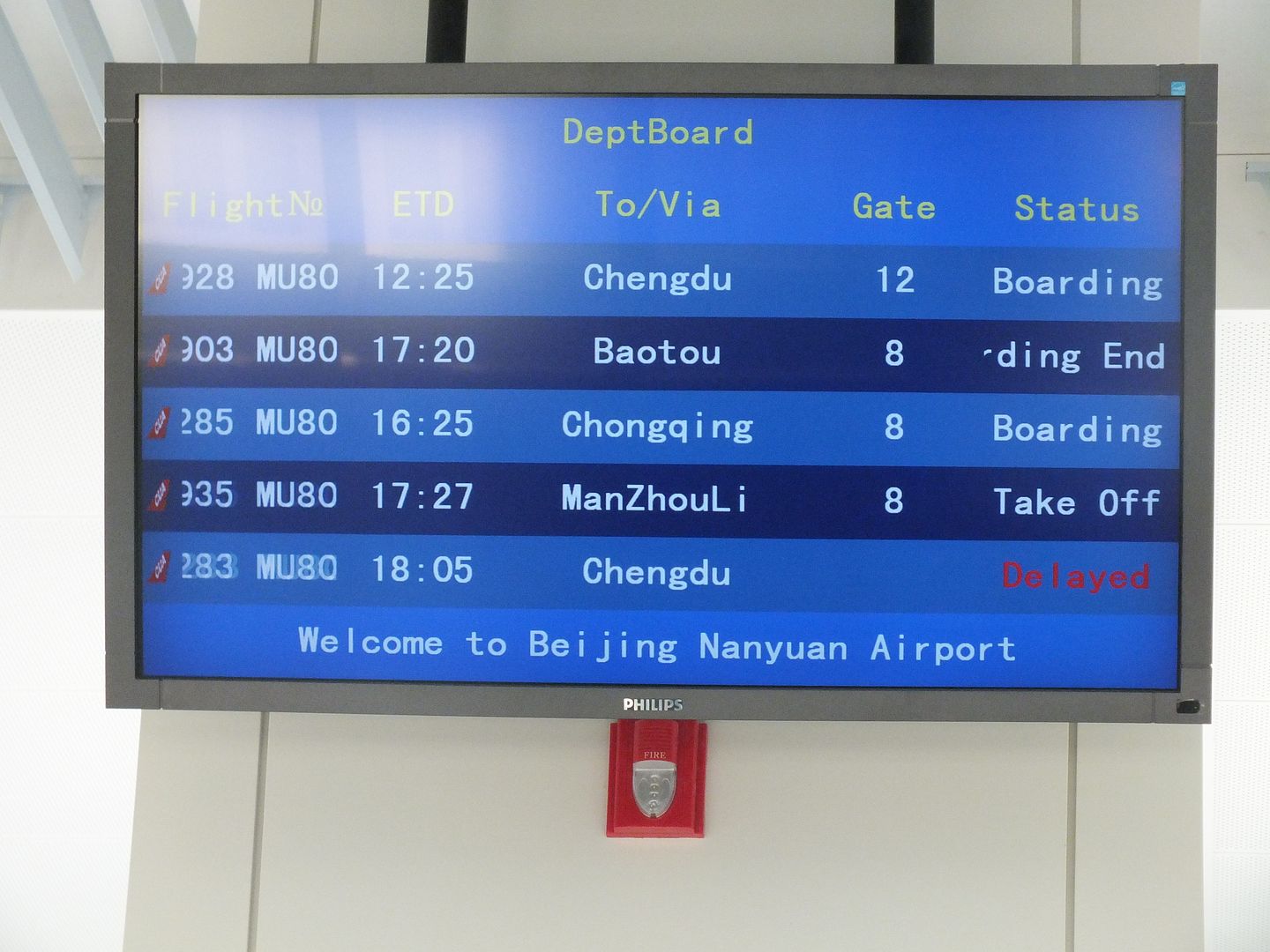 Finally boarding an hour or so late…of course being a military airport, there's no attempt at a real explanation for the delay….clearly it's not a weather delay.
The empty tarmac
Escalator onto the tarmac, and into the waiting bus
Oh no, looks like it will be an MU jet today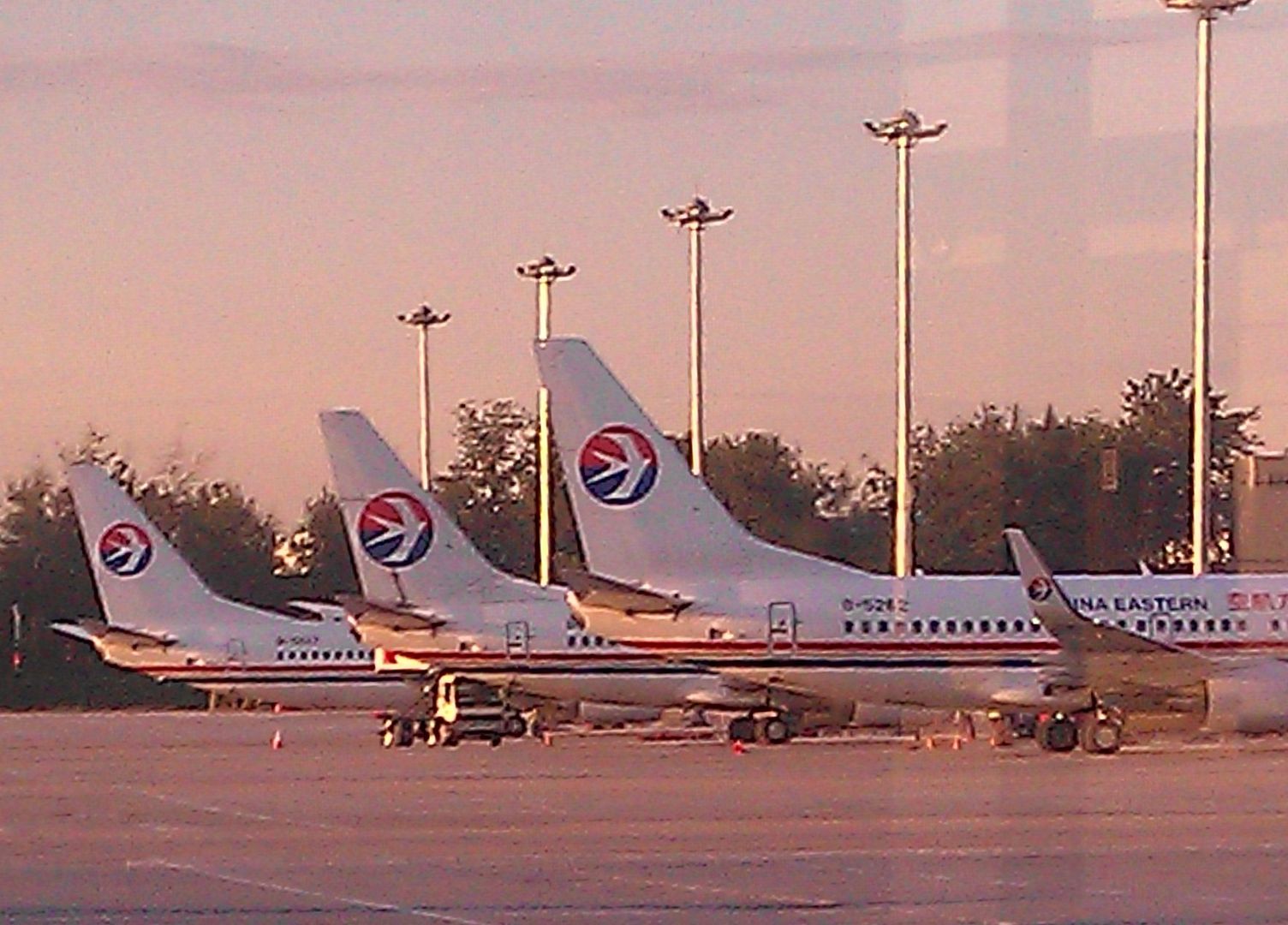 B-2684 today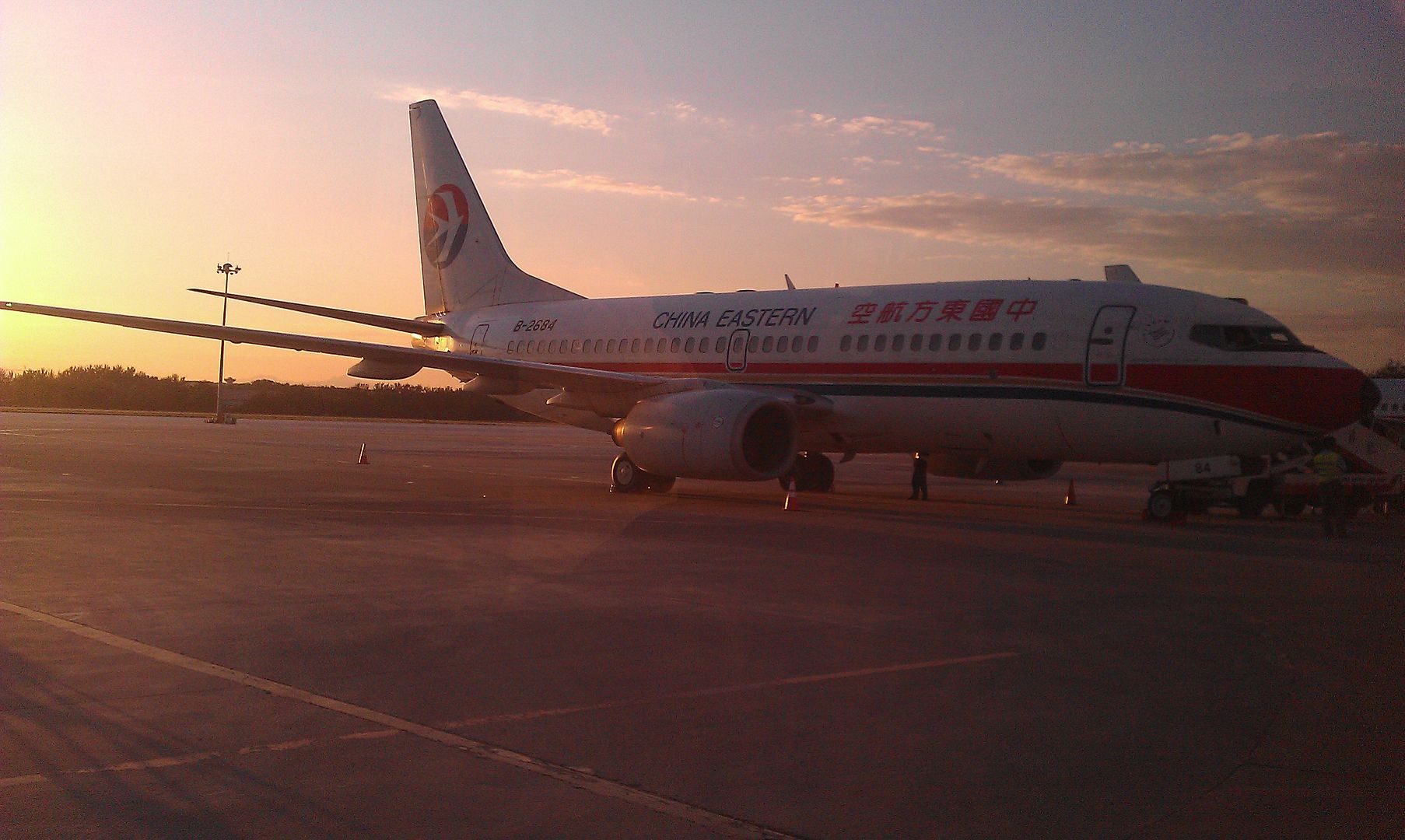 September 2012
Beijing Nanyuan (NAY) – Chengdu (CTU)
China United KN 2283
Scheduled: 1710-1950 (2h40m)
Actual: 1841-2118 (2h37m)
Boeing 737-700 B-2684
Economy Class
.
.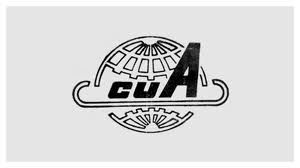 Welcome aboard!
The crew are all in MU uniforms, but announcements are all as per KN
An hour and a half late, we rocket (we have ex-military pilots, remember?!) into the beautiful Beijing evening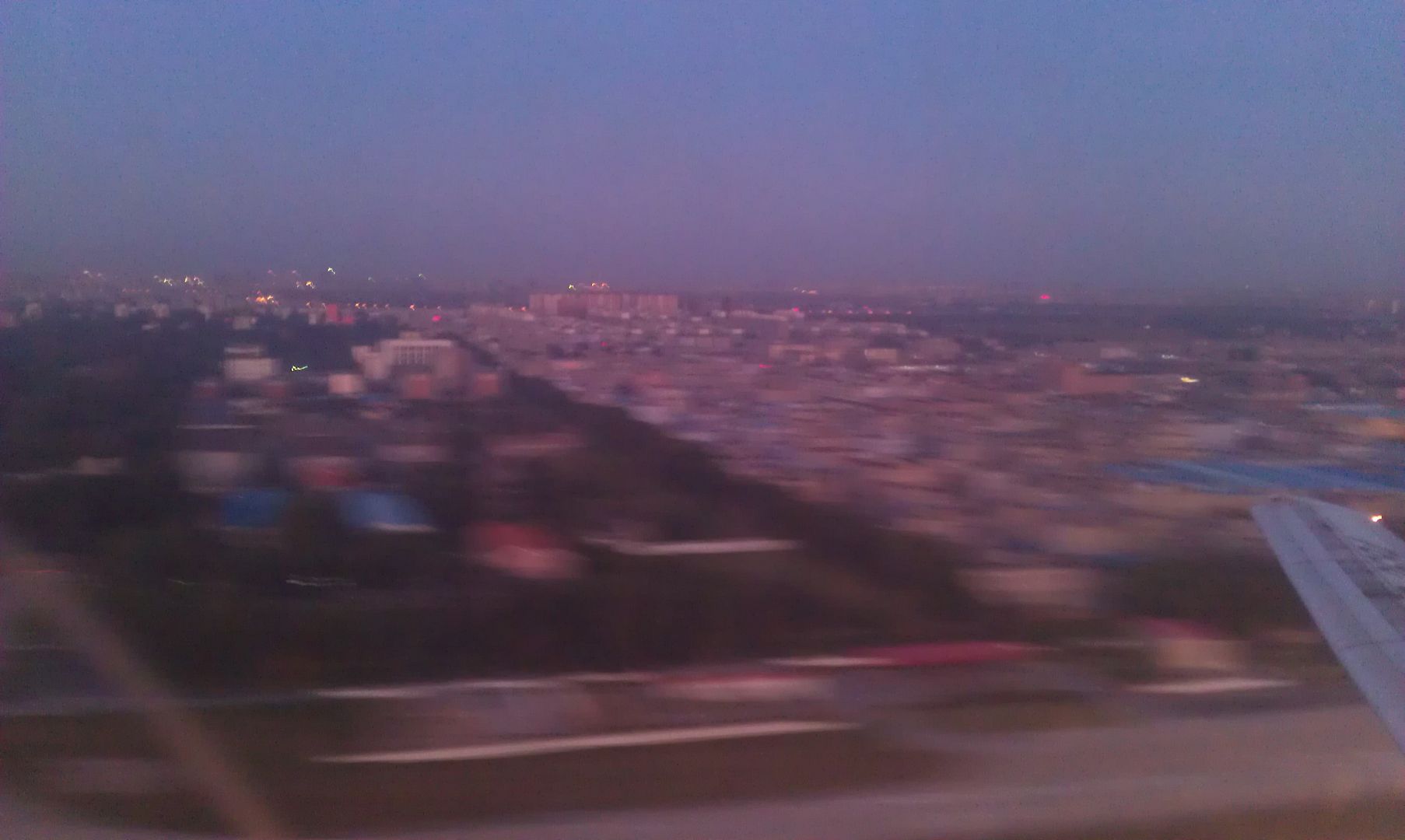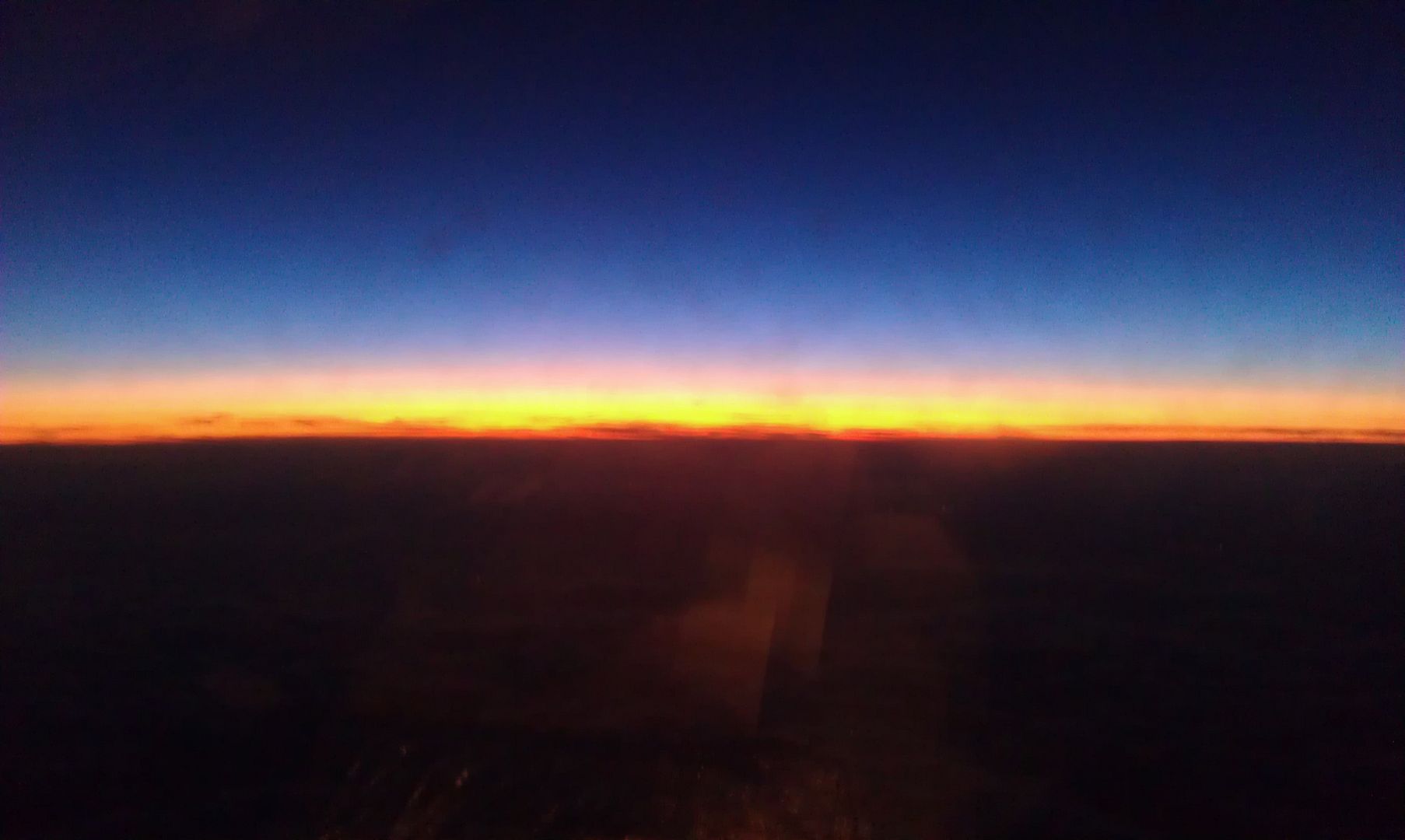 Half an hour after departure dinner is served. There is a usual choice of meat and rice, or meat and noodles. I go with the rice and chicken, which is surprisingly tasty. Sadly, all Chinese airlines have now stopped serving watery Chinese beer on domestics, so I go with a glass of lukewarm tea. What a feast!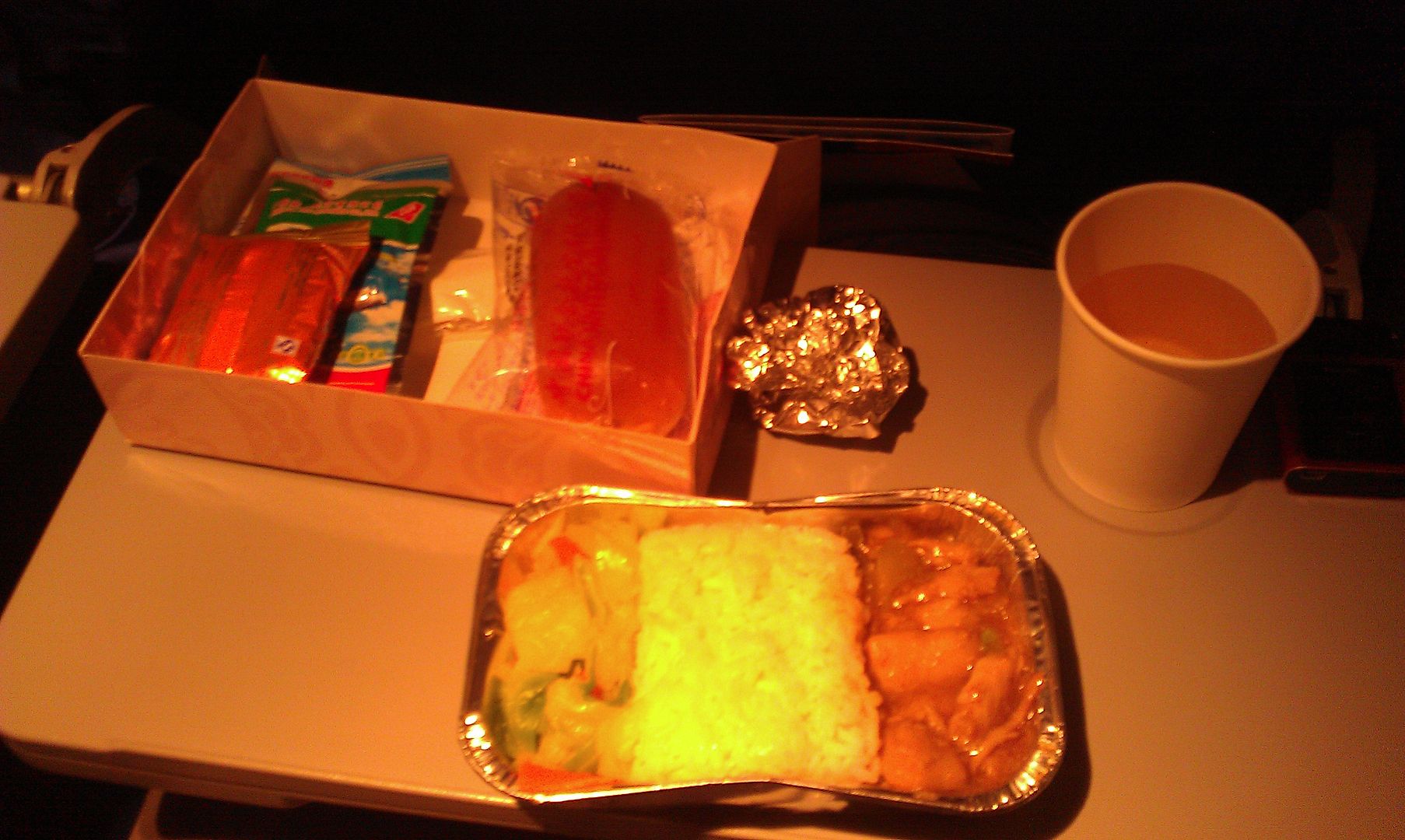 Our rather haphazard route out of the Beijing area. I wonder if the pilots get annoyed at these funny routings.
With no sensible diversions available, I opt to sleep until we arrive at Chengdu's glittering new terminal. We land 88 minutes late….8 is a lucky number in China – coincidence?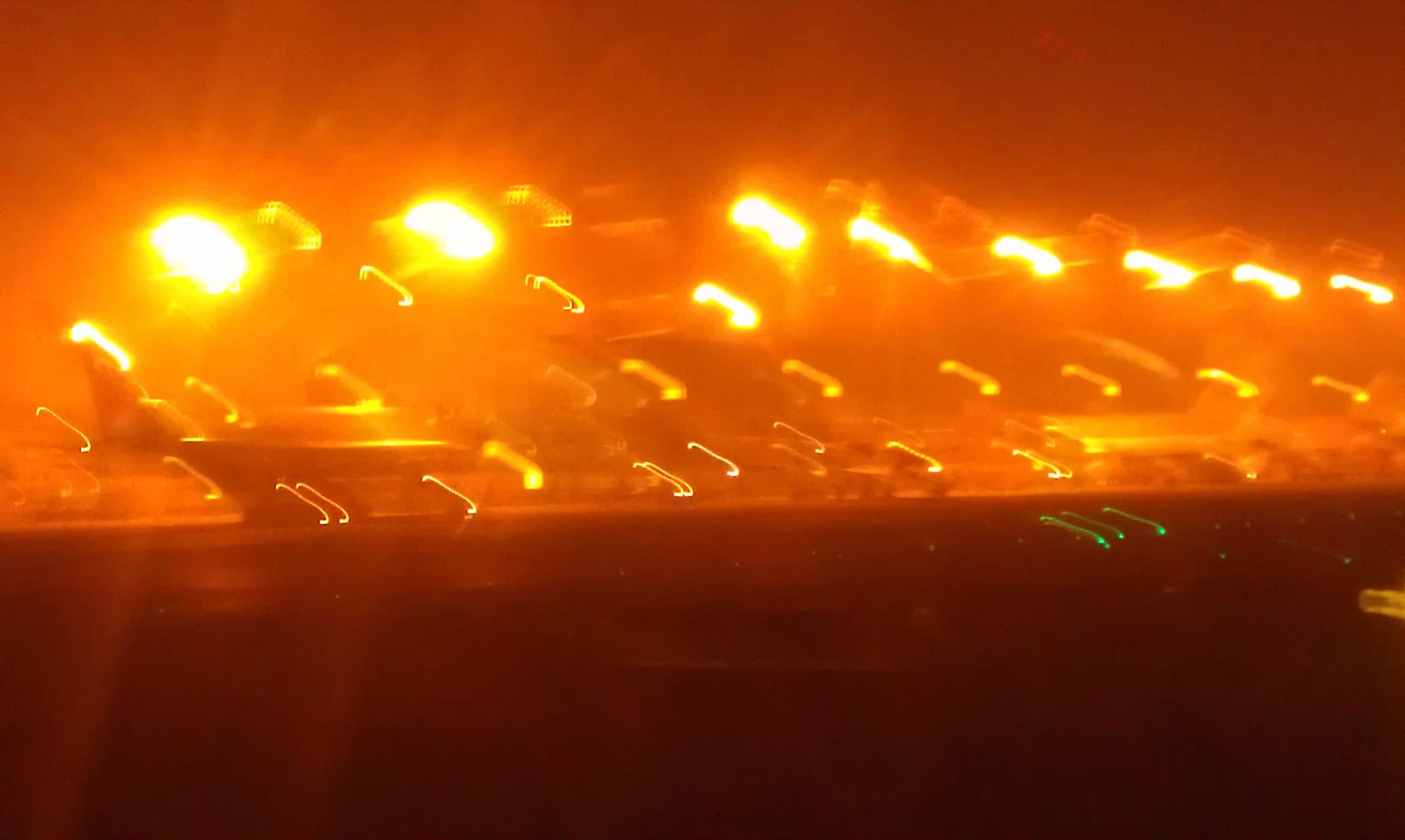 If the FIAS is to be believed, the earlier NAY flight only landed 6 minutes before us.
Glittery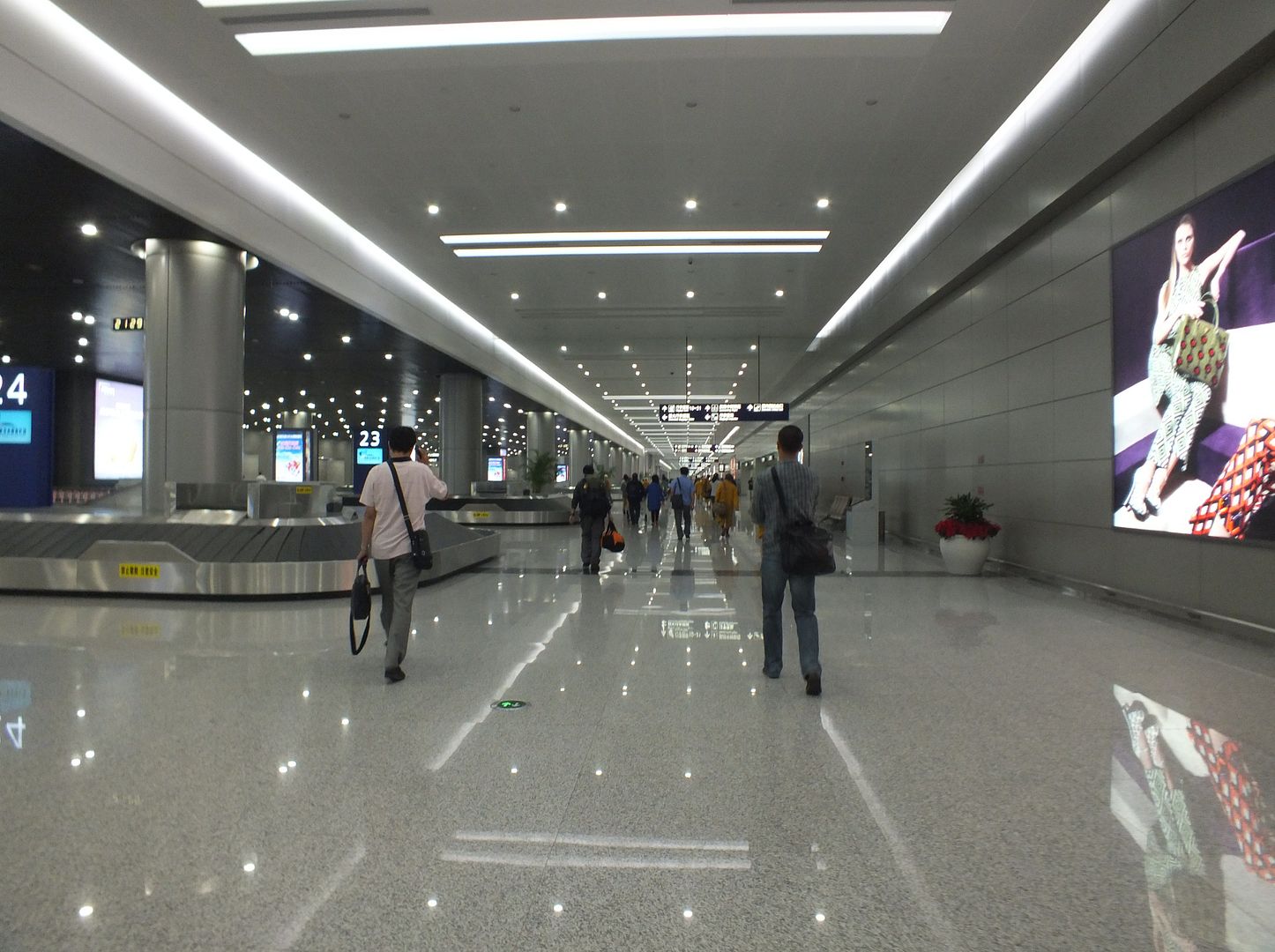 Bags don't take too long, and I'm soon in a taxi heading for the city.
Chengdu was the meeting point for a friend I went to uni with, where we'd be starting our 3 week tour of China. After many Skyping sessions, we decided on a route around Sichuan and Yunnan provinces, before heading back to Beijing for a reunion with a few more uni friends. She flew in from CDG via PVG on a combination of Air China and Chengdu Airlines…her PVG-CTU flight was 2 hours late as well, with no particular excuse given.
First stop on our itinerary was Jiuzhaigou (geo-jai-go, 九寨沟), somewhere I've been wanting to visit for years. To sum it up: stunning, expensive, busy. Worth going to? Definitely. There are some great walks you can do through the valley, and if you try hard, you can escape the crowds (who like to stay on their tour buses). Some photos: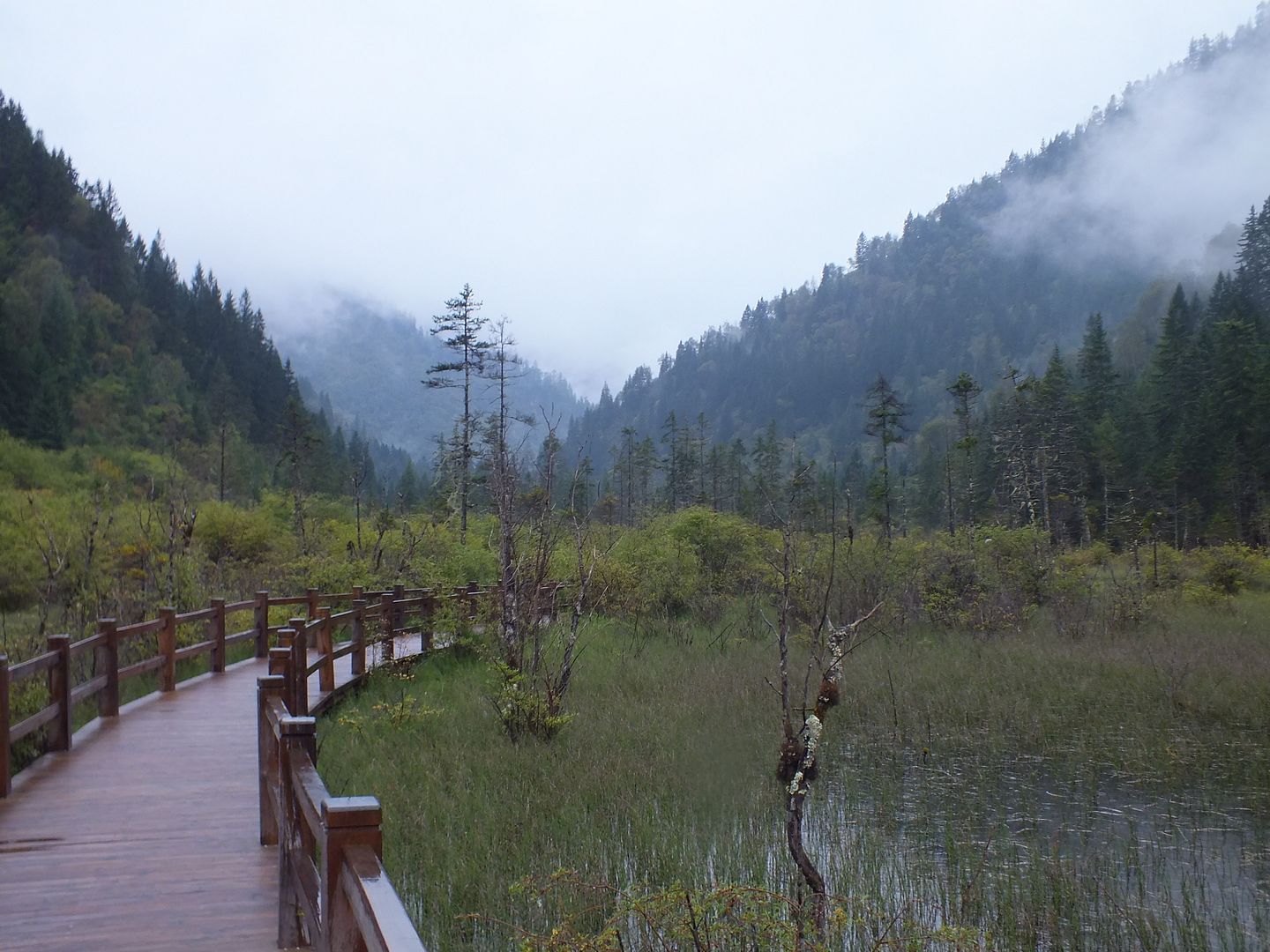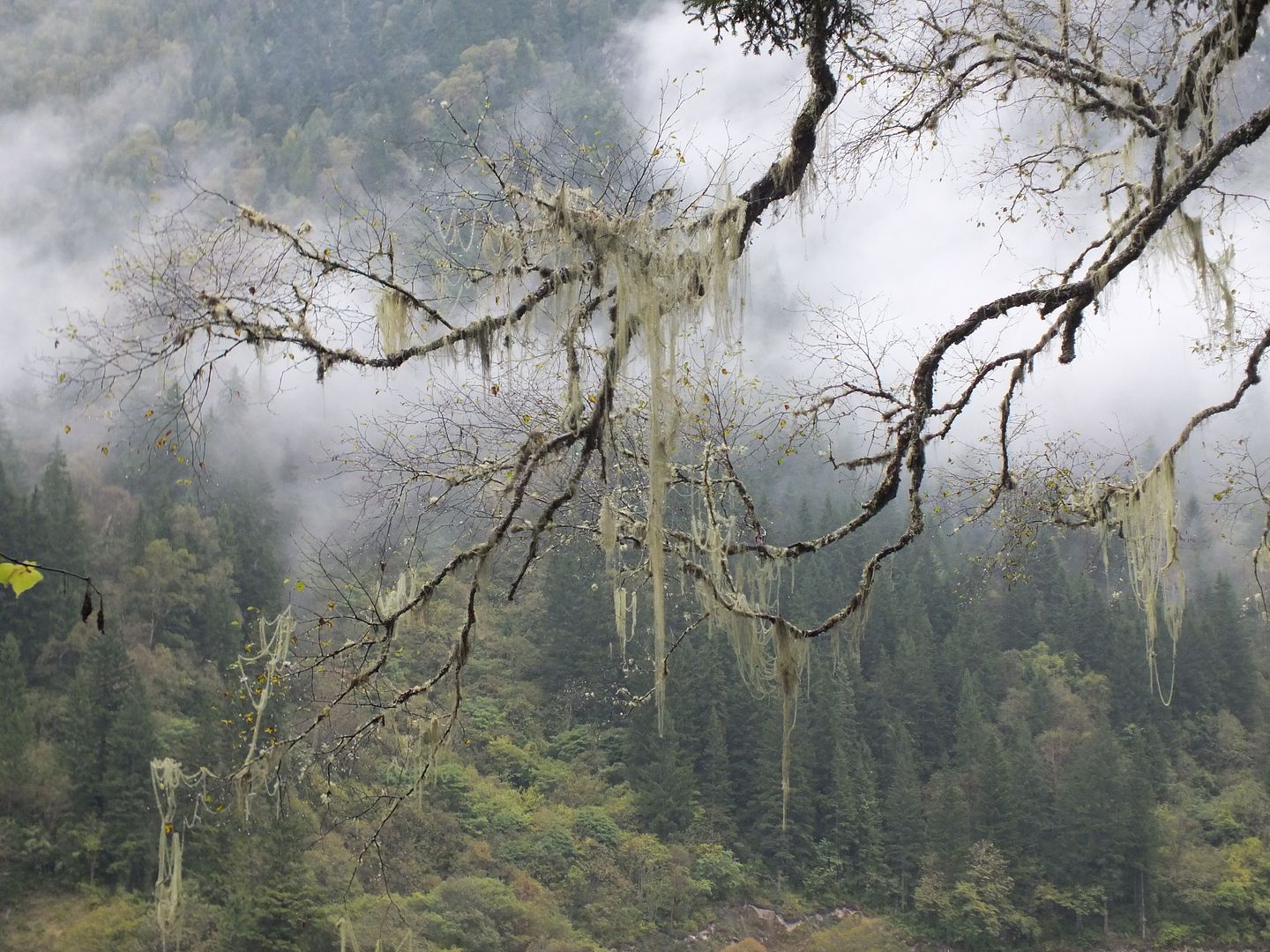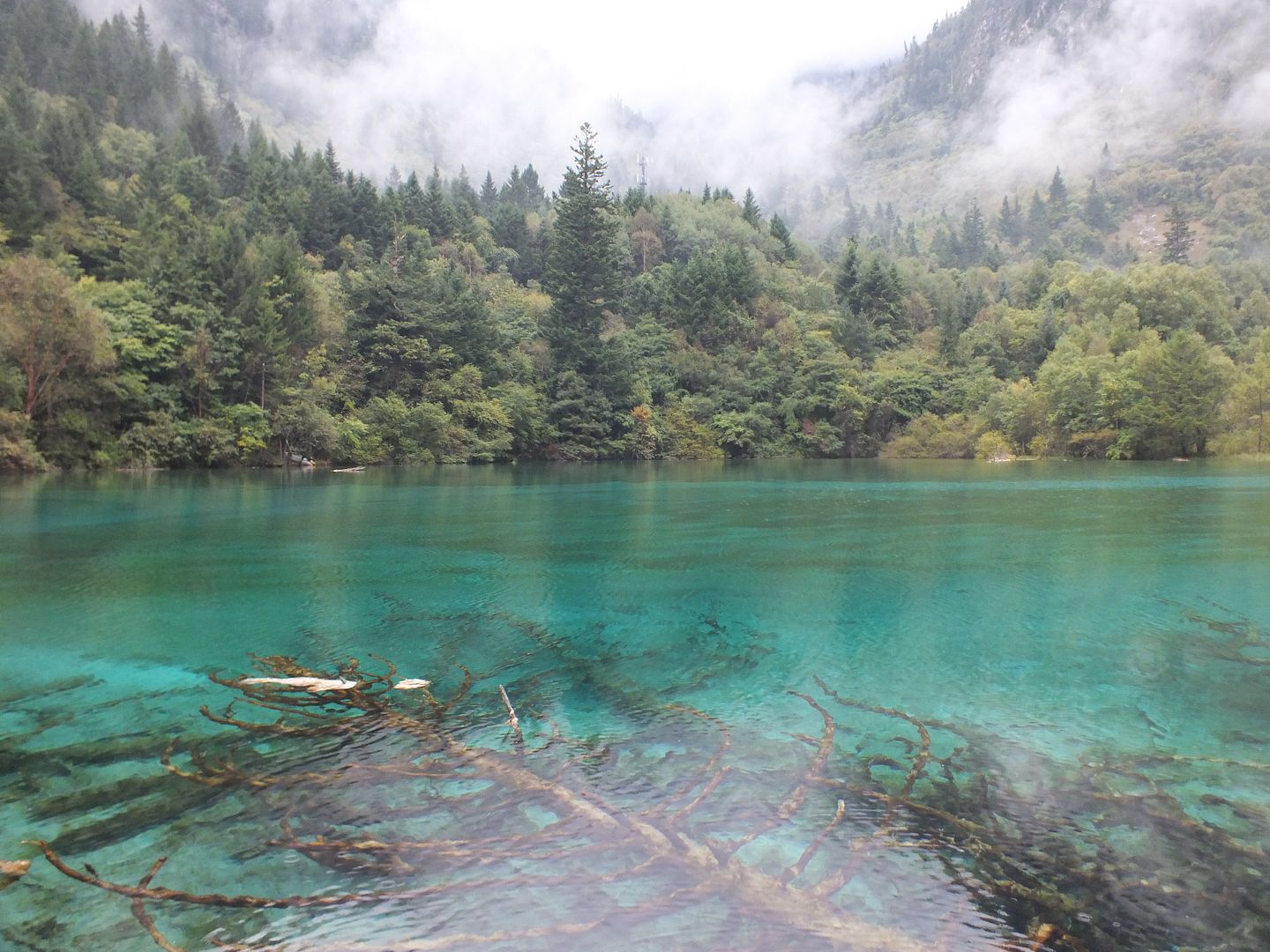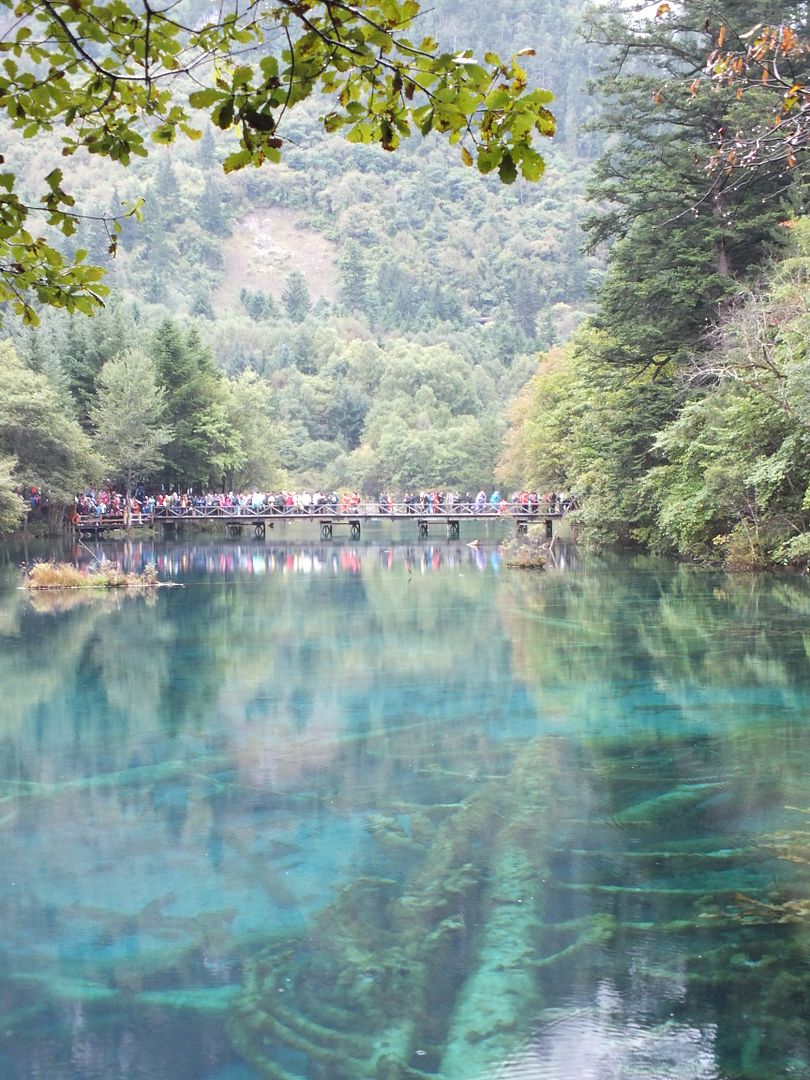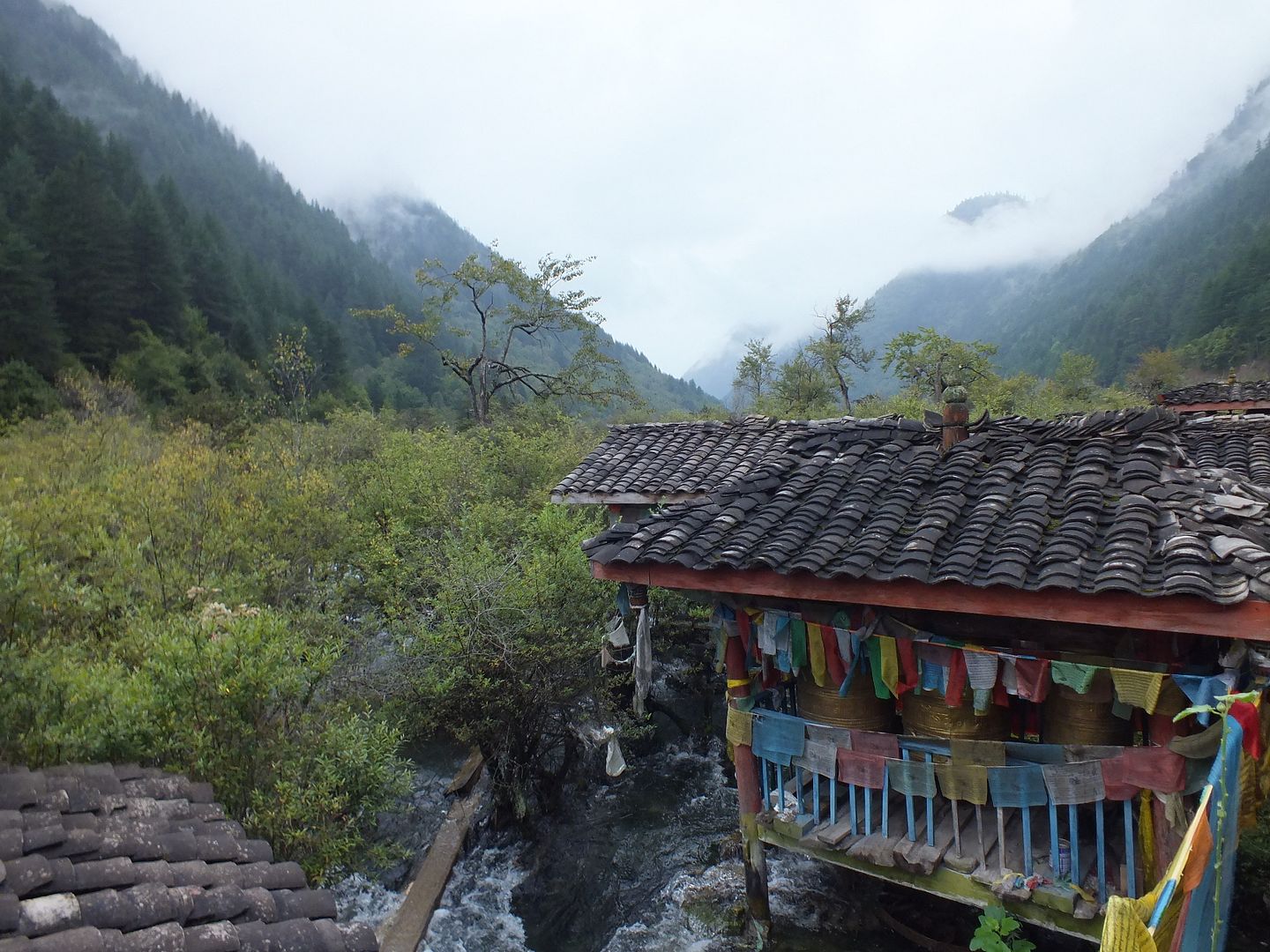 Day 2, the sun came out!
And my favourite photo of the 2,000+ I took over 2 days….
So, pretty nice, huh? the place is pretty remote, so we ended up taking a 10 hour bus to get there and back. A flight would have only taken 30 mins, but the cost was really quite outrageous. Having done the return trip, I think I'd plump for the plane in future, as the ride was scary.
First off, the driving was awful. We passed lots of crashes.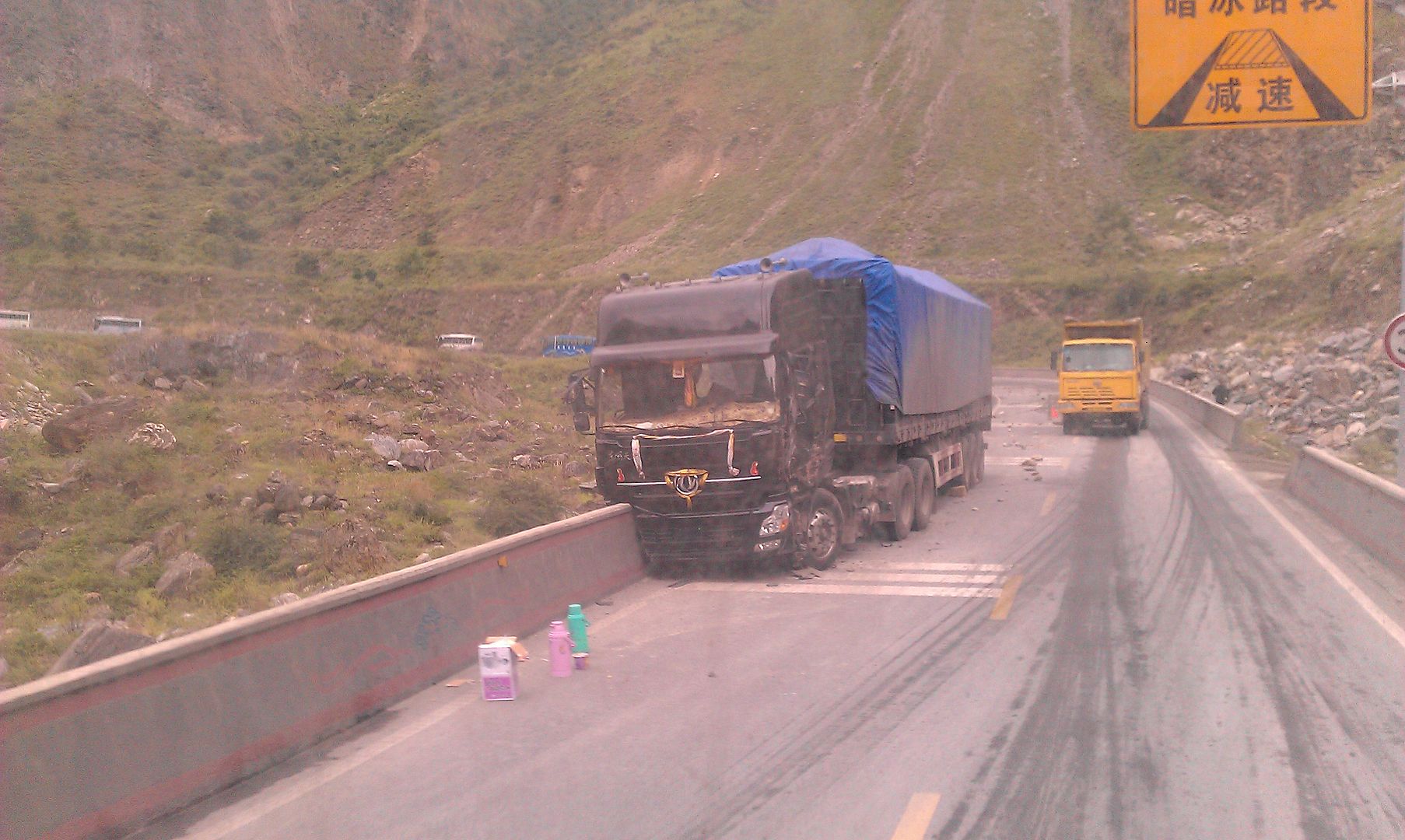 Drivers showed no mercy or compassion. Why help the driver how's truck has hit a bus, when you can force your way past (blocking off the road to oncoming traffic)?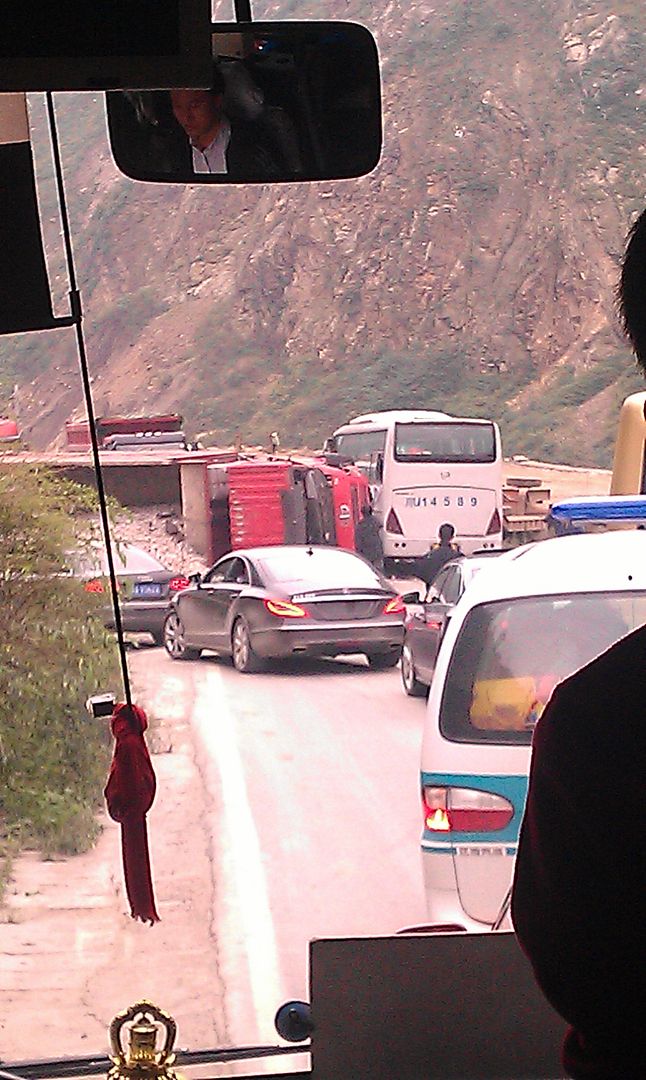 The scenery was amazing, but also terribly inhospitable. This was the area hit by the 2008 earthquake. I can understand now how 70,000 people died, and 5 million left homeless. When an earthquake strikes and you're in a valley with a raging river, there's nowhere to run to. The bridge in the middle is one of many still lying broken.
Continuing, some photos of Chengdu:
The famous "mask changing" of Sichuan
The diablo is a national pastime here (and where better to do it than in a bamboo grove?!)
The next stop on our trip would be Zhongdian, or better known in the west as Shangri-La. Well, this is what the Chinese have decided is Shangri-La at any rate. There is one daily flight from Chengdu, operated by China Eastern, sadly at night, so no nice views.
The nice exterior of CTU
Queuing at the communal check in. The queue was long, but moved quickly.
When I first came to China, the CAAC was busy amalgamating all the various regional airlines into just 3 (CA, MU and CZ). Today, the policy of "just three big airlines" has clearly been thrown out of the window. How many codes do you recognise? I've flown 10 of them. More appear every time I go back to China.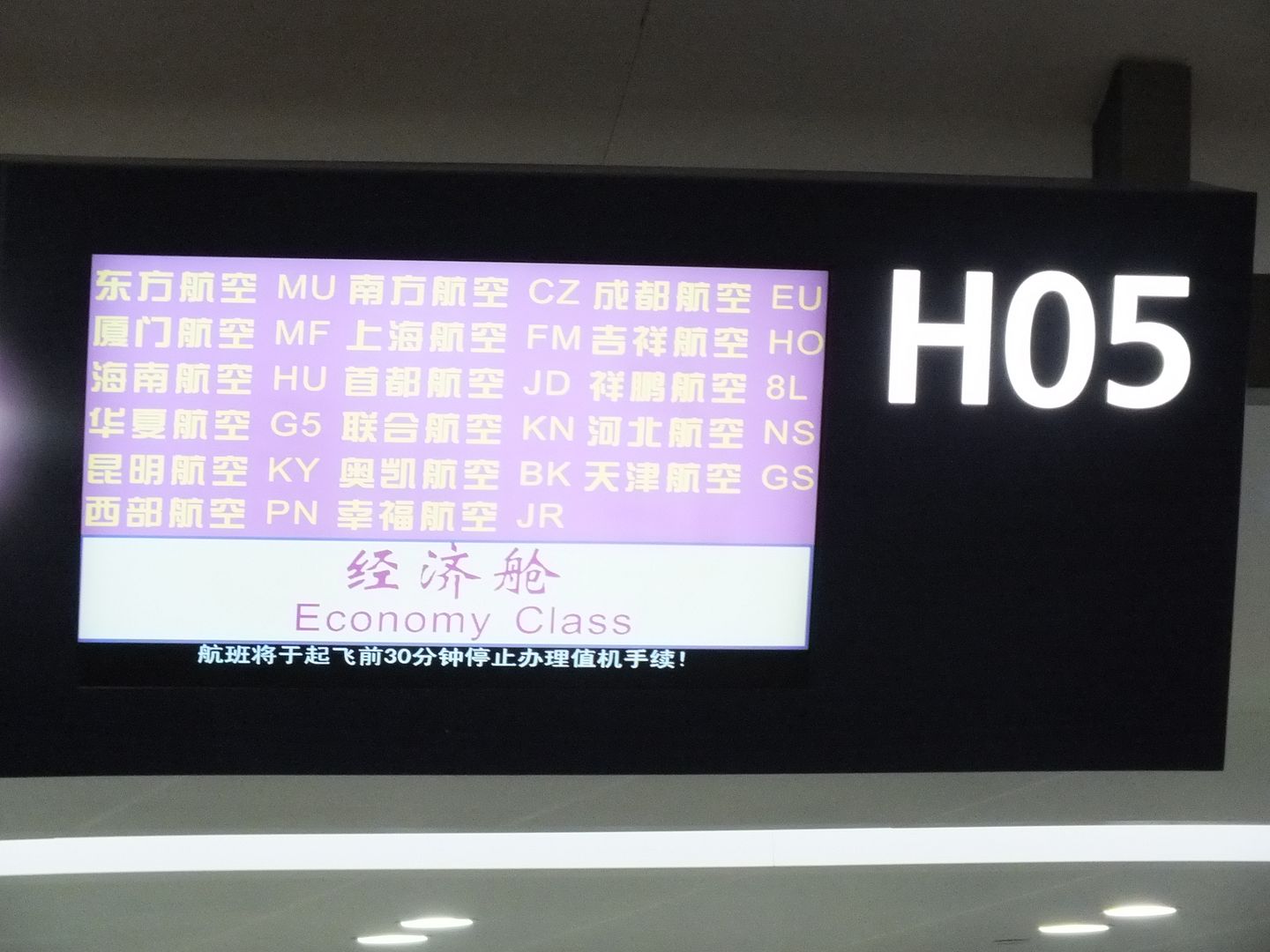 The view over departures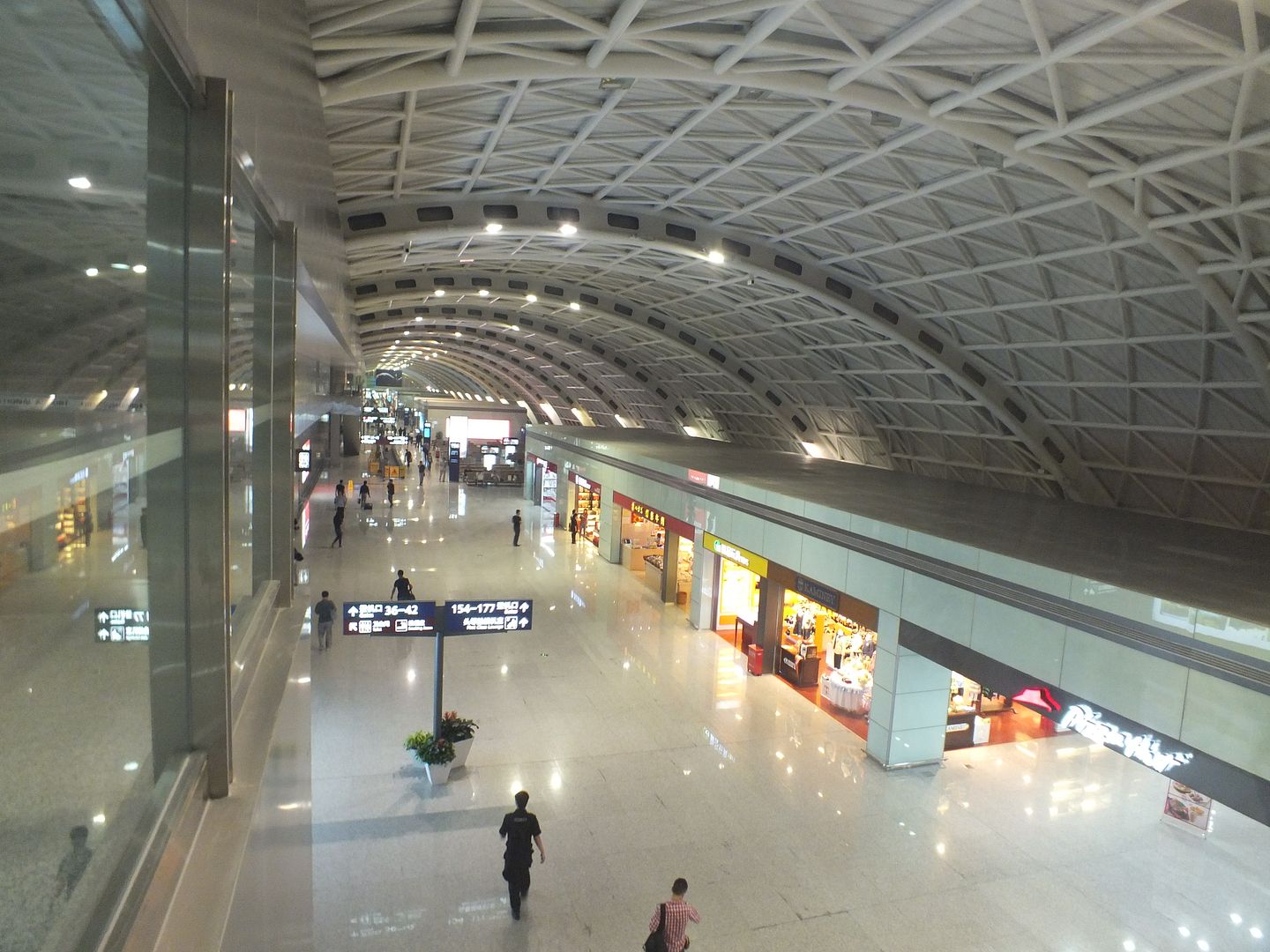 We paid a quick visit to the food hall on the upper level….a beer and some wonton soup
FIDS…another day, another delay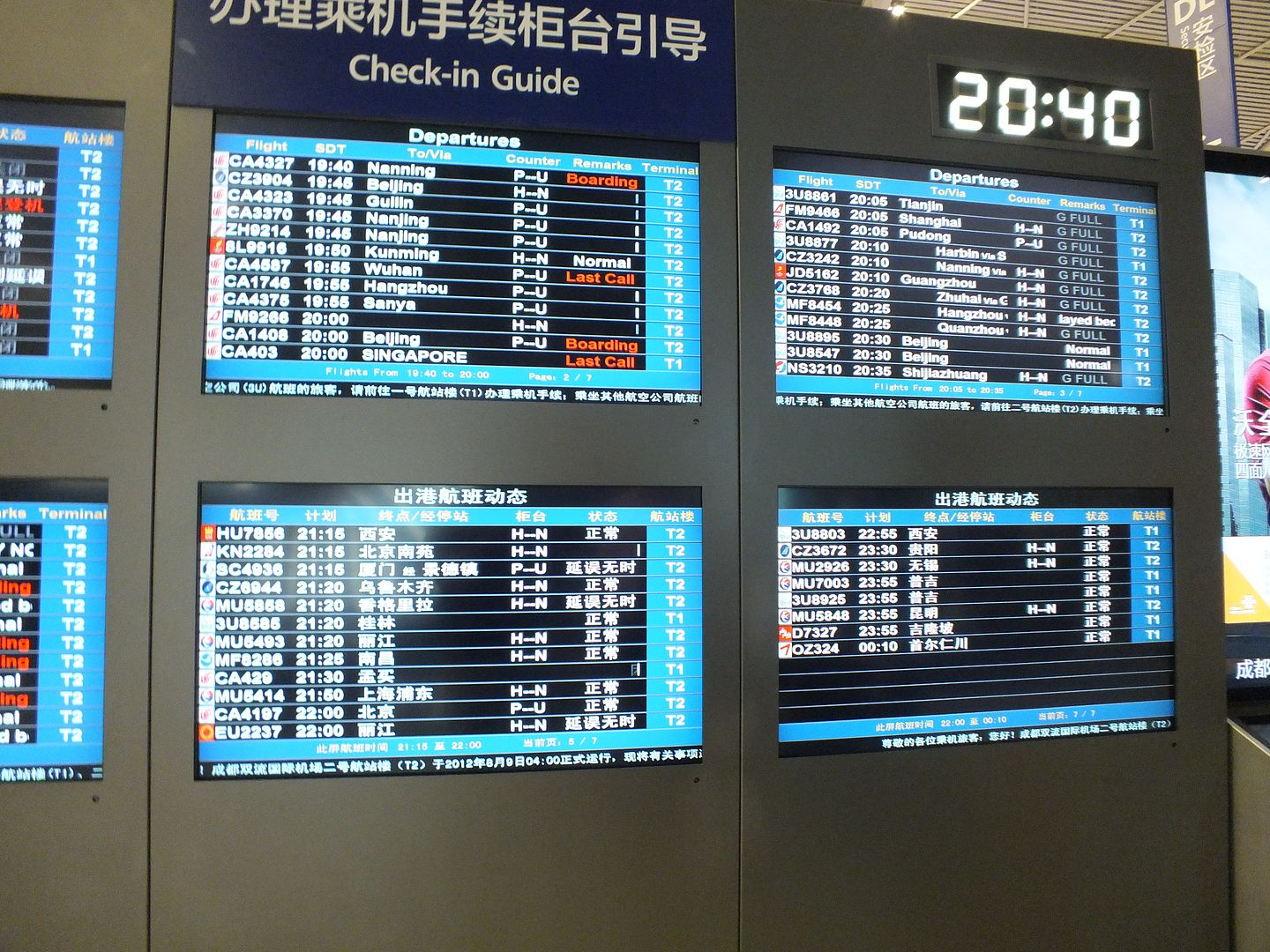 The CA flight to "Mengmai" is actually to Mumbai (BOM)….clearly the FIDS person didn't know what to translate it to…not terribly useful for non-Chinese speakers.
We headed through security, and down to the gate
Xianggelila (aka Shangri-La)…"no time", not a good sign, especially as it was quite a late arrival anyway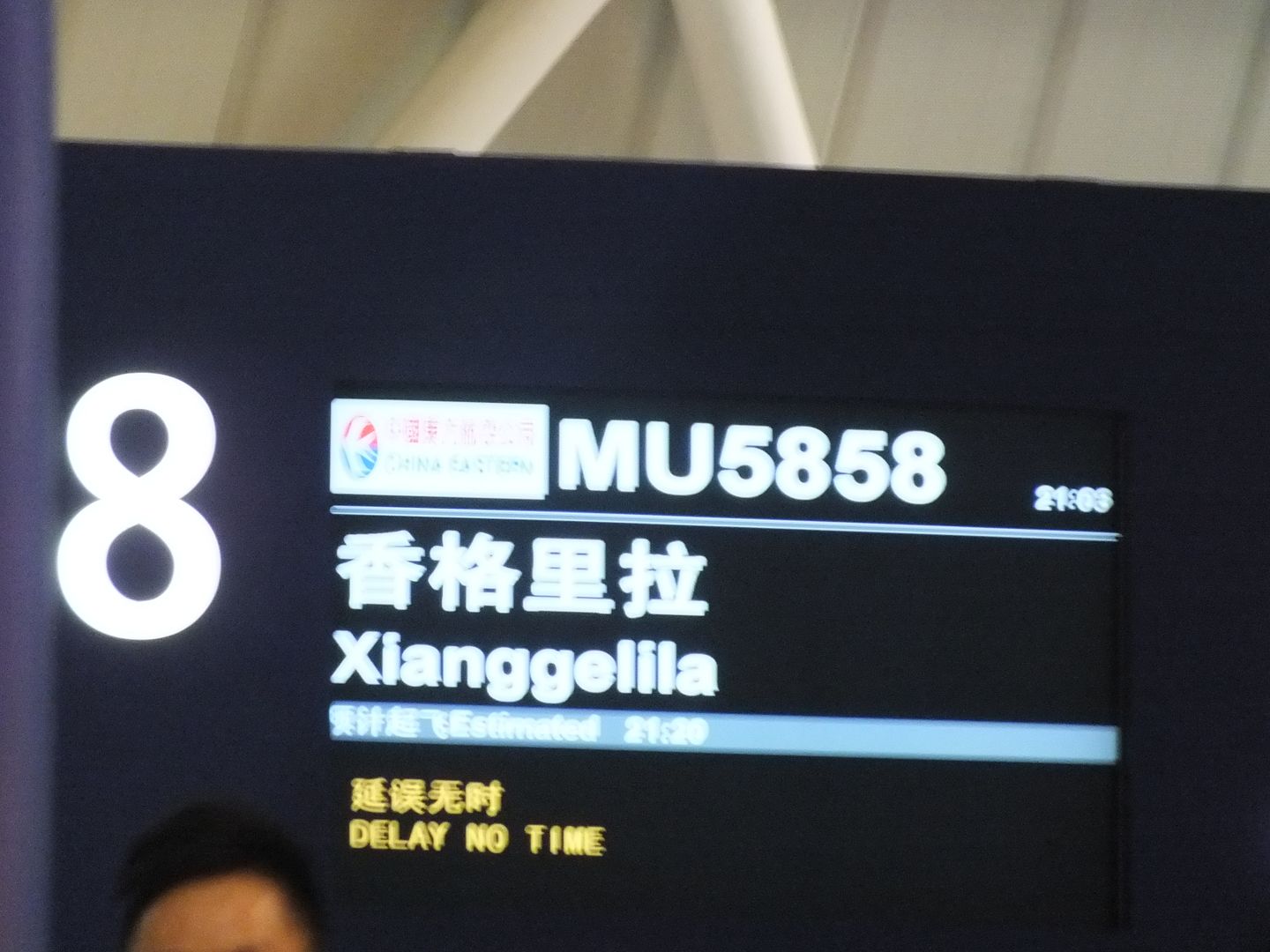 We were handed a bottle of water and some biscuits at the gate
About an hour after our STD, a plane taxied on stand…not too bad a delay I guess