Dear a.netters,
Welcome to a new story, a new 'longhaul'. It seems going longhaul is the trend in 2012 among a few of the European tripreporters. This route and airline combo hasn't been reported for a while now, and even mine is done a few months ago, it might still be for an interesting read to some of you.
Well, I was looking forward to this trip a lot. A few days out with my partner enjoying the most of the vibrant city of New York. Well, people who know me more personally know the outcome of this trip, hence I only write about the outbound flight. The happening let me leave this city with mixed feelings. Can I ever return without being 'hurt'? Hmm,… time will tell. But it will carry on certain memories, certain places will not be the same. But I'll have to go on. And only the future knows how things will continue.
For now, let's go to the USA. And, in the USA everything is better and bigger (they say), so I thought why not going with a better airline in a bigger plane. From my homebase in AMS this would not be possible, since anything bigger then the B77W/B744 (KLM) isn't offered. I decided to look at my neighbours in the East, also known as Germany. They would've something for me. I was attracted by the Singapore Airlines A380 operated flight, on offer for a little 420 Euros per person for the return. Pre-seat selection was possible, and I decided to go for the privacy on the upperdeck with the 2-seaters available on my flight(s). For my meal choice I decided to go for the 'SFML' Seafood option, which is already of special notice here that this is offered. It's just a customer preference to eat seafood and it comes in handy for me. These meals are usually of good quality but expensive from the airlines' point of view. I know JL/NH/TK/MH offer SFML, not sure which others do this.
Anyway, let's check out this ride!
A great way to Fly to New York
On a Saturday afternoon in April 14th, 2012 to be exact, we left by car and drove to Frankfurt in 4 and half hours (roughly), using the direct highway from nearby my house (A12) becoming the A3-Autobahn in Germany, all the way to Frankfurt (Airport). An easy drive, with a stop halfway to grab some food.
On arrival I parked the car in the underground garage of the Park Inn Airport Hotel, where I booked a room with 1 week parking included, plus transfers to the terminal. The staff was very friendly here, the room modern and of good comfort.
The next morning we were driven by the hotelbus to the terminal.

.
Park Inn hotel – the room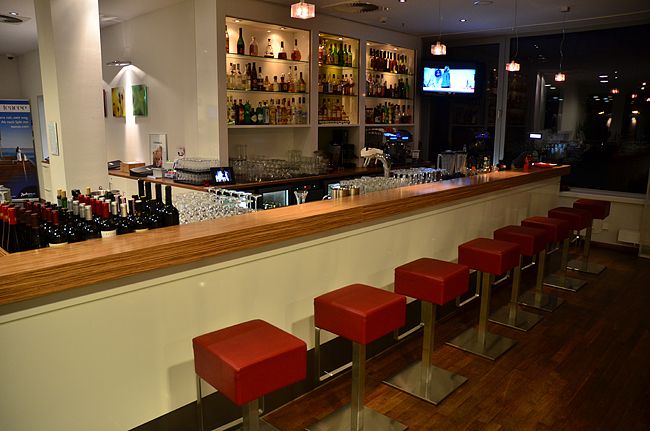 .
Park Inn hotel – the bar
Check-in was in progress, and staff was making sure each passenger ended up at the right desk (internet check-in, baggage drop off, regular economy, or the premium desks). It wasn't busy, so we got served quickly. SQ branded boarding passes were given.

.
Check-In Desks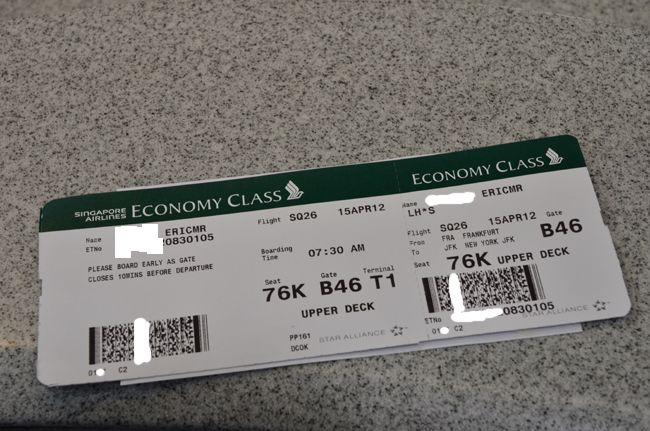 .
My boardingpass, yeah!

.
Impressive, typically FRA. I notice some mistakes though…
A light breakfast was taken at a Starbucks facility opposite of the LH World Shop before proceeding through security and passport control into the clean area.
On the way towards the gate I see some nice traffic around. Yes, also the B787-8 from Japan is in, still a special sight.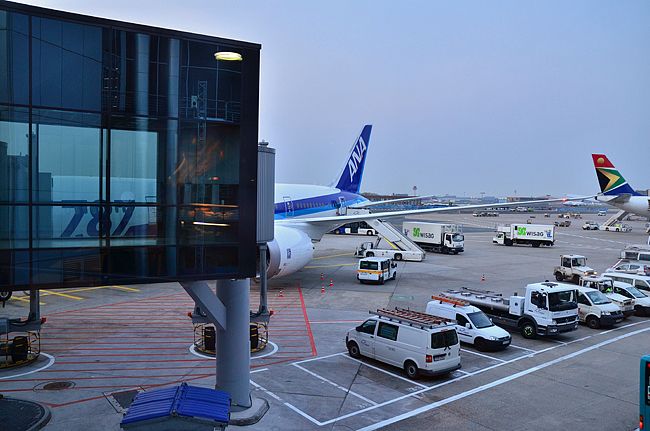 .
Looking around the corner and what do I see there?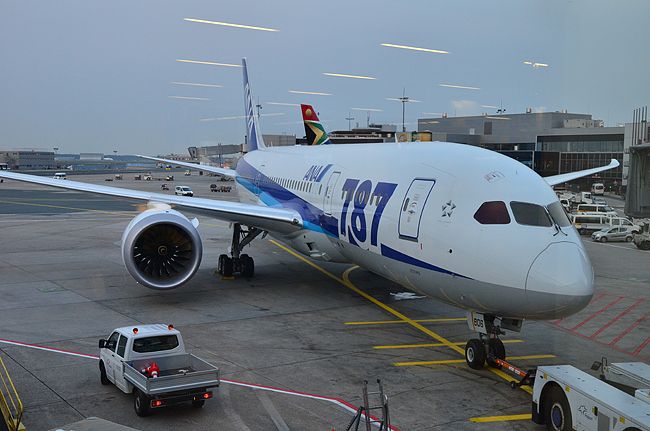 .
I just looks good, I think. Always I loved the ANA livery!
Since we arrive at the gate (B46) a bit early, and I spot a LH Business Lounge upstairs around the gate area, I decide to get in, making use of my LH FTL status, grab a few sandwiches and coffee. I bring the sandwiches out for my partner and eat those while watching the A380 and some other traffic nearby.

.
Something big here at my gate, in this early morning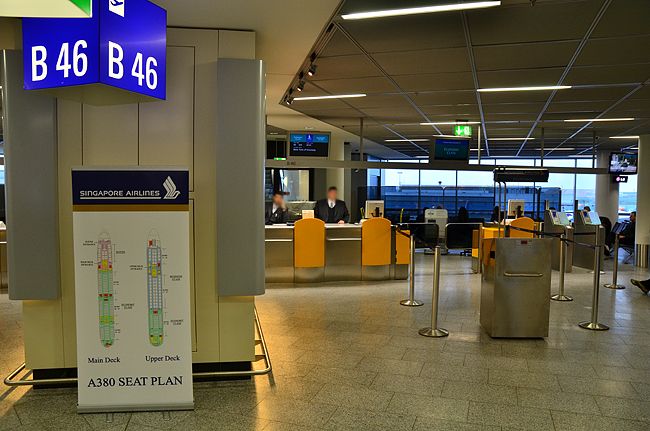 .
Boarding Gate B46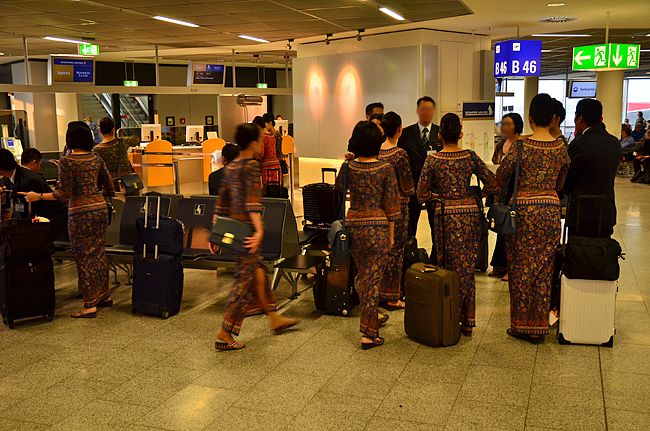 .
Cabin Crew arriving at the gate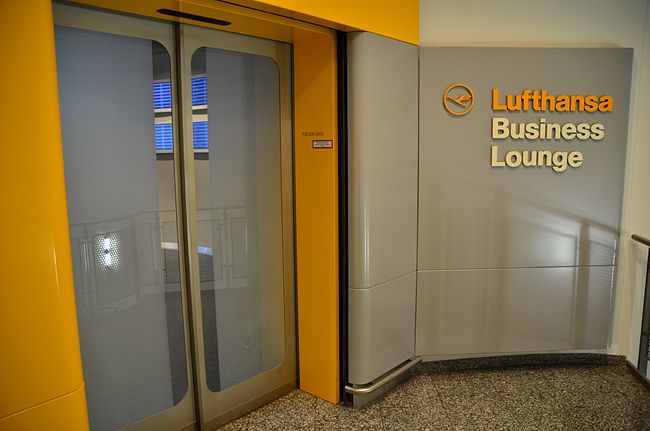 .
LH Business Lounge entrance (at gate B46)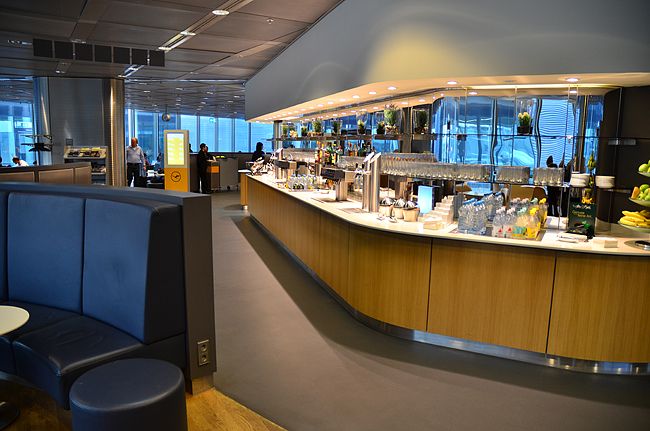 .
Food/drink bar area in the lounge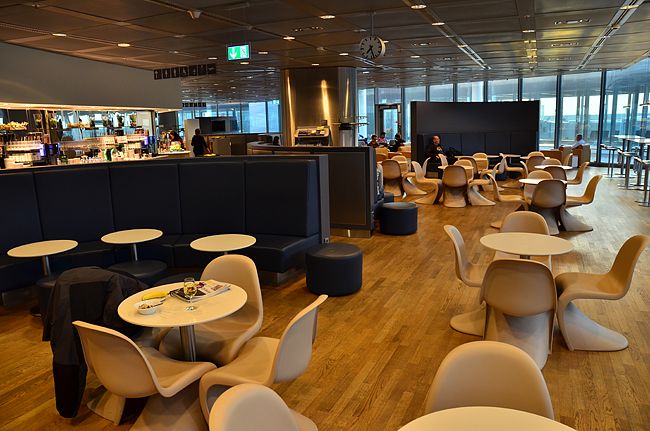 .
Not busy inside. But I can say this interior is not my personal taste.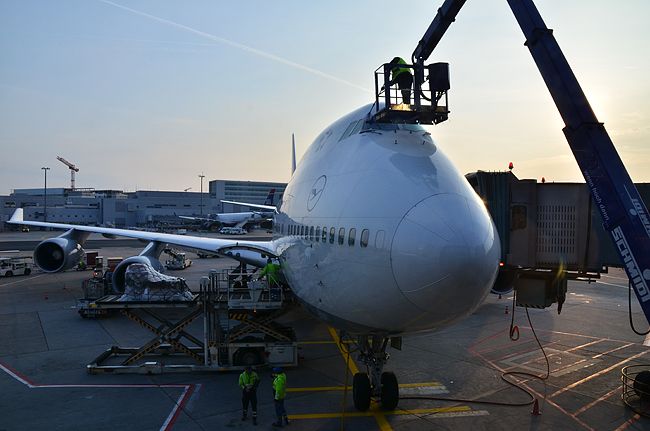 .
Some work to do. Window cleaners action on the 747 next door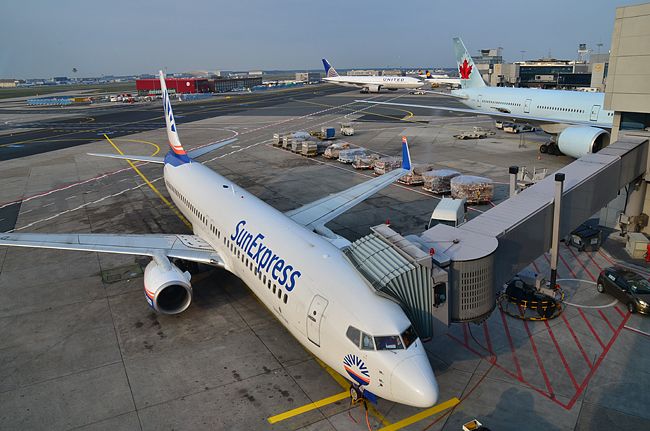 .
And at the other next door, is SunExpress bound for Turkey
It gets busy before boarding and it's quite chaotic when they do the actual boarding. People don't seem to listen to the boarding sequence and the staff have quite a job to get it all run smoothly. Nevertheless we manage to get onboard, friendly greeted and directed to our seats.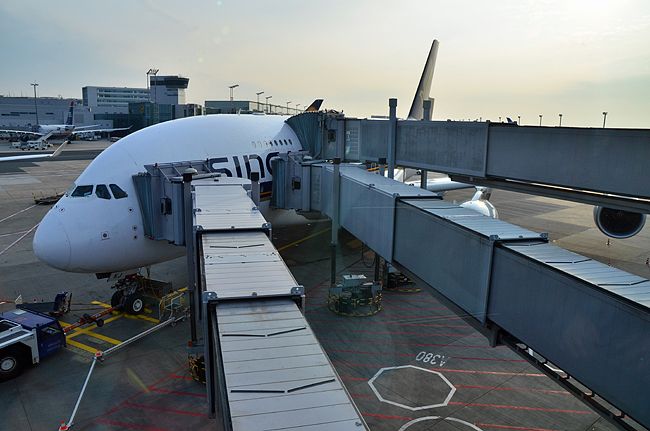 .
Boarding in progress…

.
A final picture before stepping inside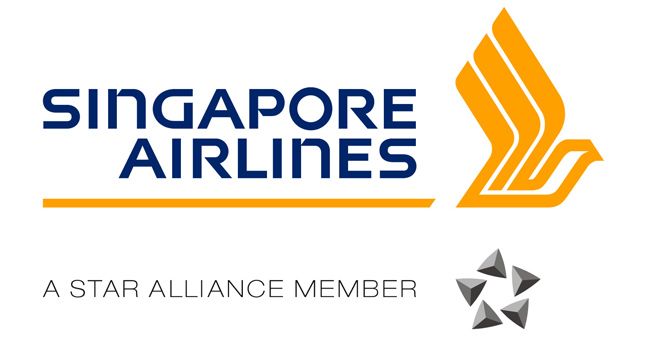 FRA-JFK
Flight:
SQ026 /15APR12
STD
08:30
ATD
08:35
STA
11:00
ATA
11:00
A/C:
9V-SKJ
(Airbus A380-800)
S/N:
76K
(UD Economy class/Y)
View Large
View Medium


Photo © Sneeze Lam
When I find my seat I'm pleasantly surprised to find a pillow, blanket and headphones already there. After settling down I notice a generous enough legroom, nice IFE system in front with a large screen, USB and Ethernet socket (yes FF76, not only on Aeroflot). Of course, the upperdeck on A380 provides sidebins, which came in handy to store the blanket, pillow, my camera etc.
Soon a flight attendent comes to confirm my name and my special meal selection
. And another crewmember hands out hot wet towels!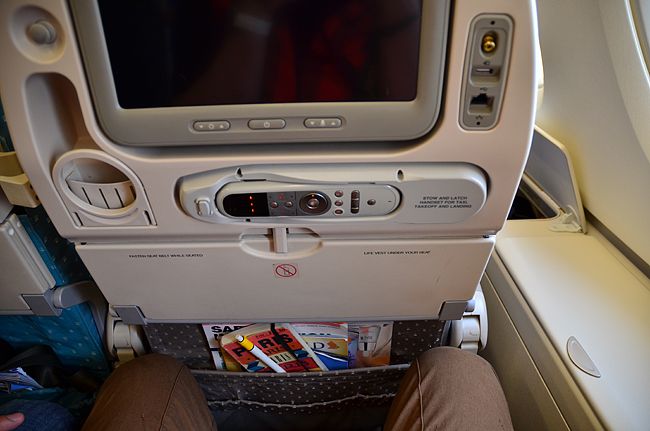 .
Legroom is sufficient enough

.
Wet towel before departure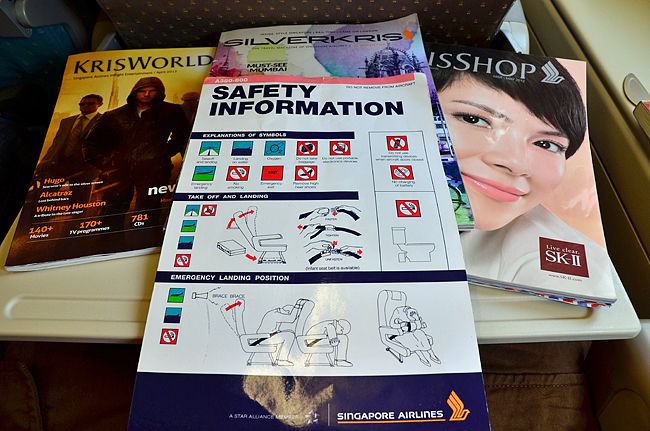 .
Contents of the seat pocket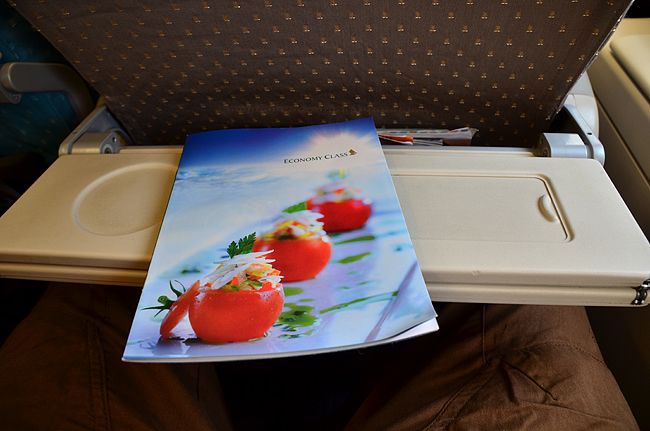 .
Menu's are given as well…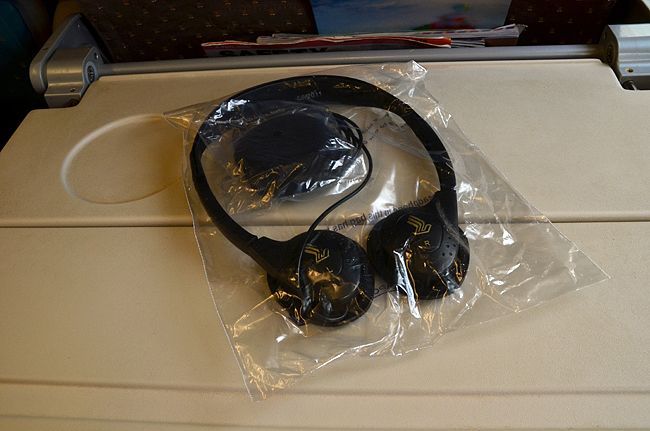 .
…and headphones to use with the IFE system
We are pushed back exactly on schedule, and as I noticed before on my AF A380 flights, the startup is hardly noticable. The cabin is very quiet. We gently taxi out to active departure runway 25C. Soon the captain announces 'cabin crew at your stations', announcing that we would get cleared for takeoff soon.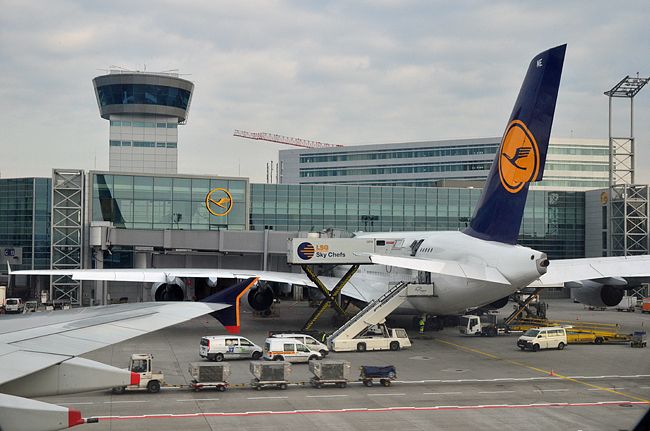 .
Say hello to the other big brother (or sister)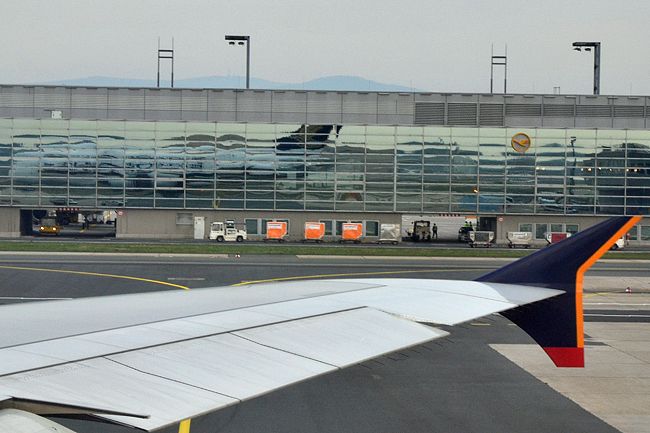 .
Can you see me in the mirror?
Such an aircraft as the A380 also climbs gently, so after some rolling down the runway we climb in a not to steep rate of climb into the calm skies over Germany.

.
Airborne!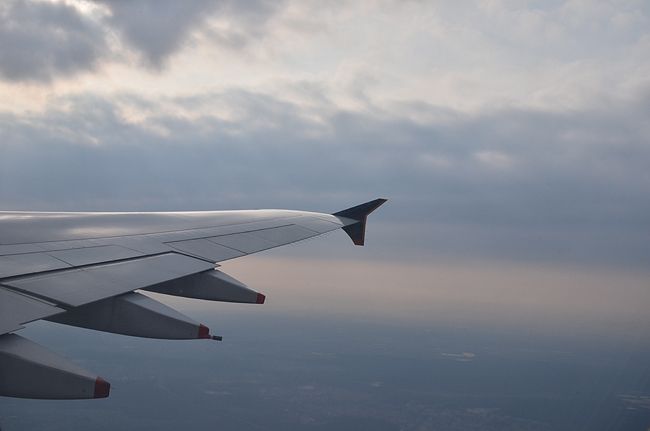 .
Smoothly climb into the hazy skies
After in the air for 15 minutes, crew hands out small "Givenchy" amenity kits, actually surprised because we not see this often in these days of Economy Class travel. Inside the little bag I find a pair of socks and a toothbrush + paste.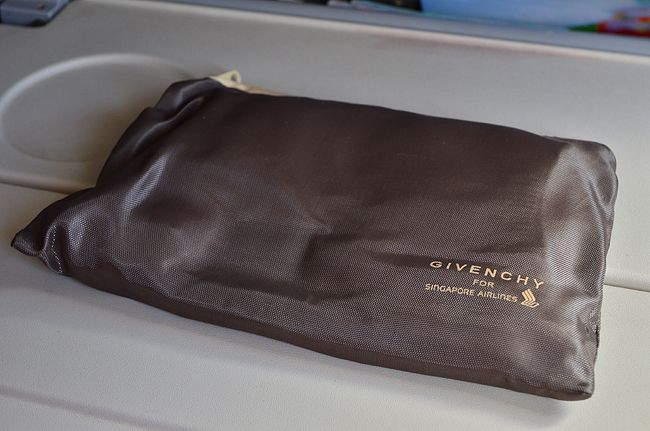 .
Amenity kits for Economy Class
I explore my seat a bit more and find a traytable to be folded in half if you like, including a small mirror for the ladies. With the first drink (juice/water) being handed to me, the cupholder comes in handy and I keep the table in stowed position.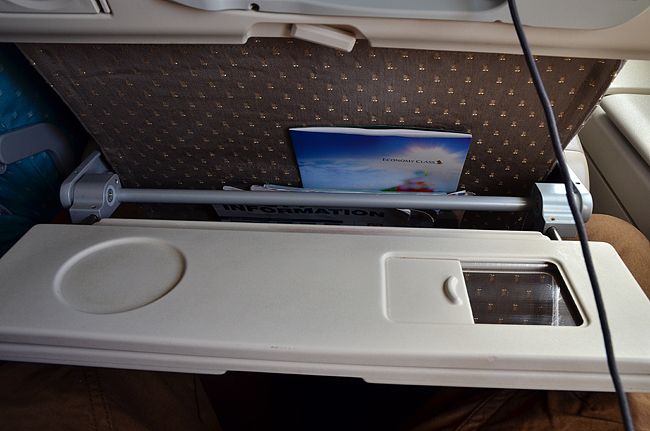 .
Interesting tray tables
The juice was just a starter, and my friend Gavin always talked about the famous 'Singapore Sling', the airlines' signature drink. Let's go for one.
Interesting to note is that this flight goes directly over my house in The Netherlands (I often see it flying straight overhead with clear skies). So, cheers to my neighbours down there!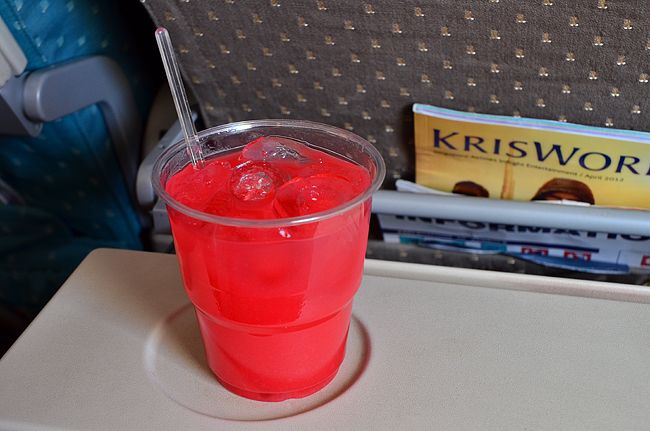 .
Singapore Sling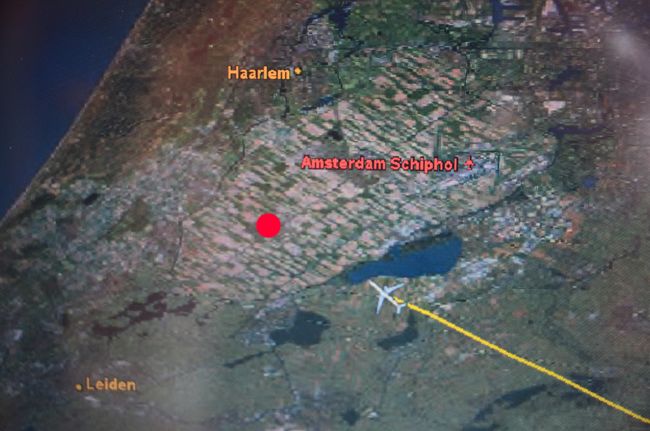 .
I live somewhere under the red dot. The flight goes straight overhead
Mealservice was the next episode on this flight, and my seafood meal is delivered ahead of the normal meal delivery. Well, let's see what is on my menu today. I was surely not dissappointed!

.
My Seafood Meal (special meal)

.
The main dish. Omelette and prawns. Real tasty
My partner got from the normal menu, a chicken tortilla, and I quickly snapped a picture: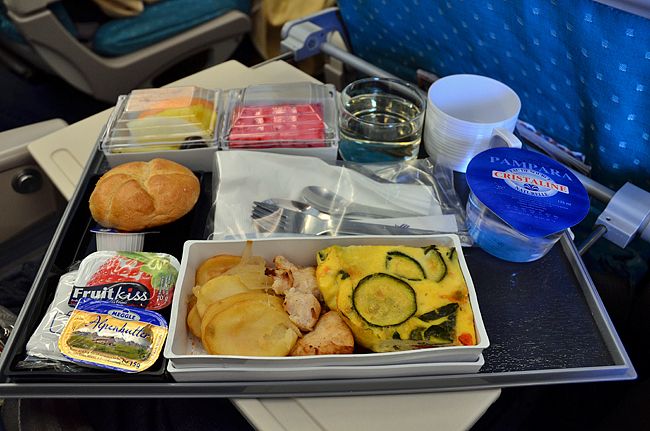 .
Chicken tortilla (regular meal)
After the meal, a coffee/tea service is done and delivery is nicely on mini plates. Really classy I think: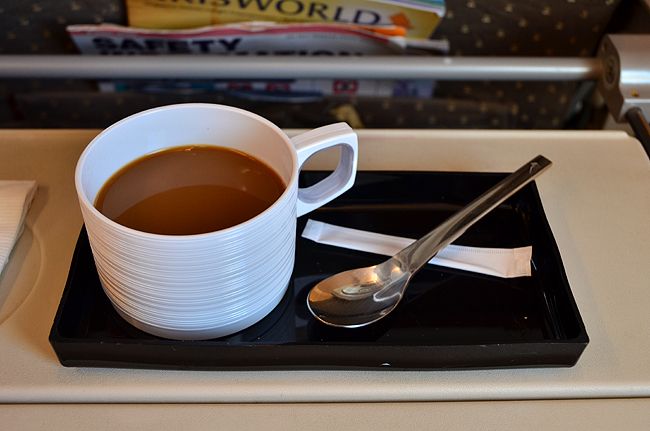 .
Coffee or Tea service also stands out
After all of this the flight continues smoothly for a few hours and I sit a bit, explore the cabin a bit, drink a bit, wait for Greenland but it never came insight (clouds), sleep a bit… Soon we reached the Canadian eastcoast.

.
After the meal, let's look outside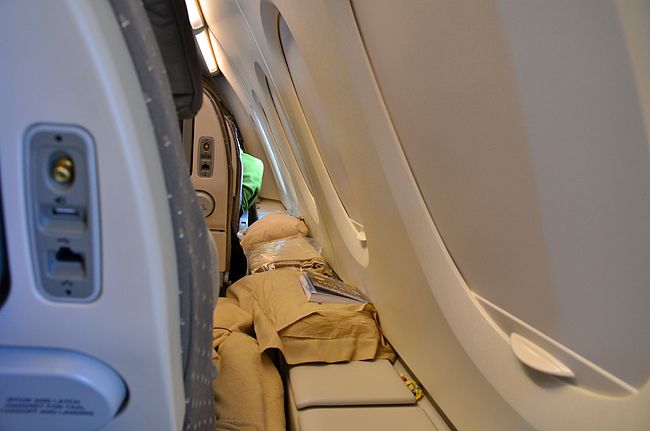 .
Or look ahead. Why do people not store it in their bins on the sidewall?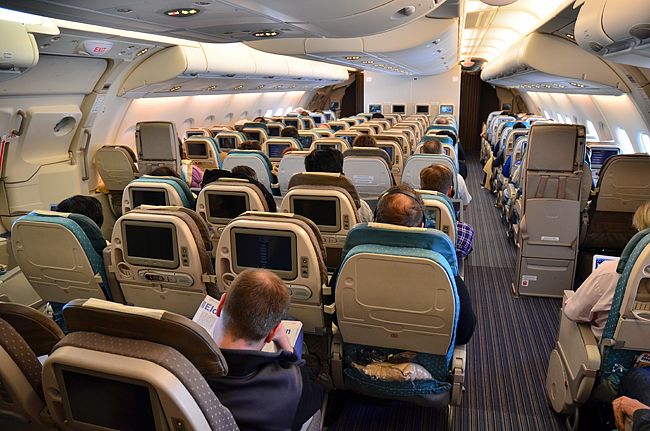 .
Cabin View – Upper Deck YCL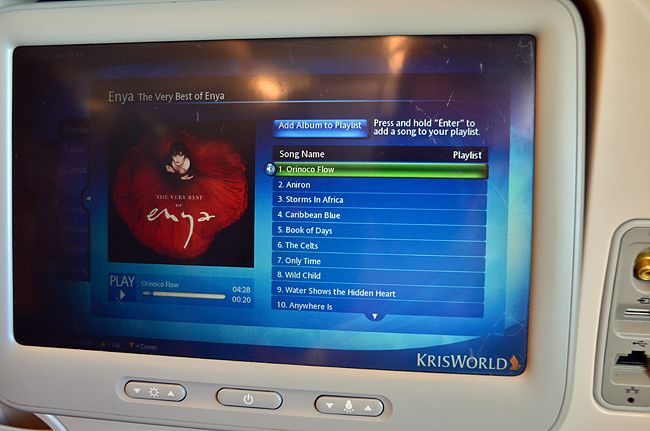 .
Suryo; not only on CX. Relaxing music is loaded on here as well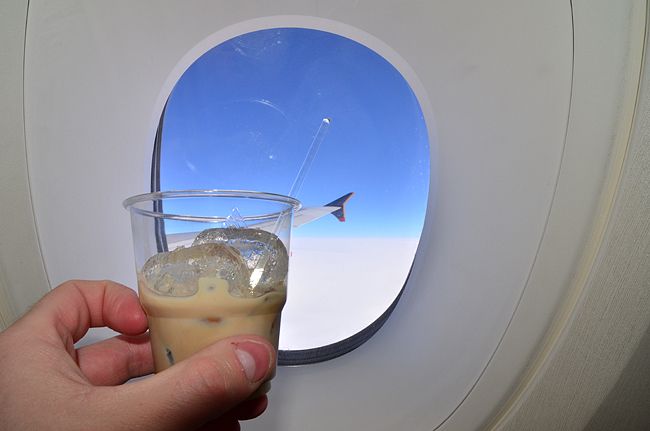 .
Of course, Baileys is available for me. Good to have one over the Atlantic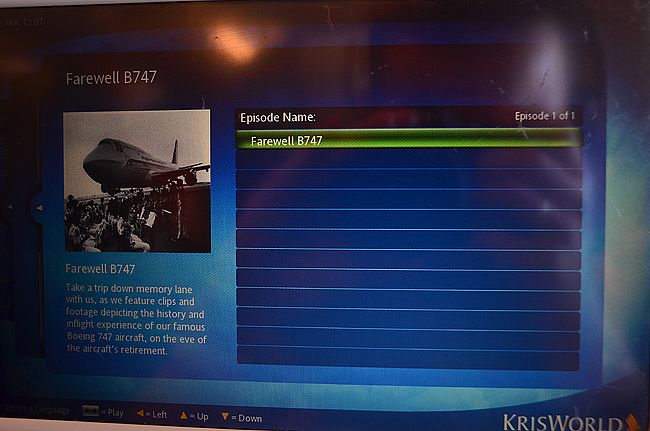 .
…and the Boeing 747 retires, and SQ made a movie about it. Interesting!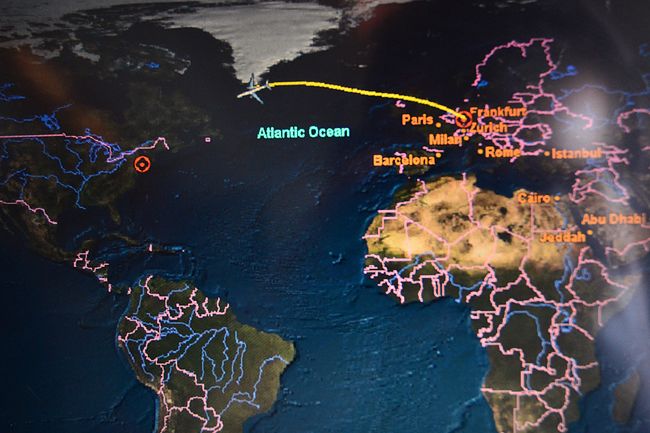 .
The flight continues. Almost reaching Canada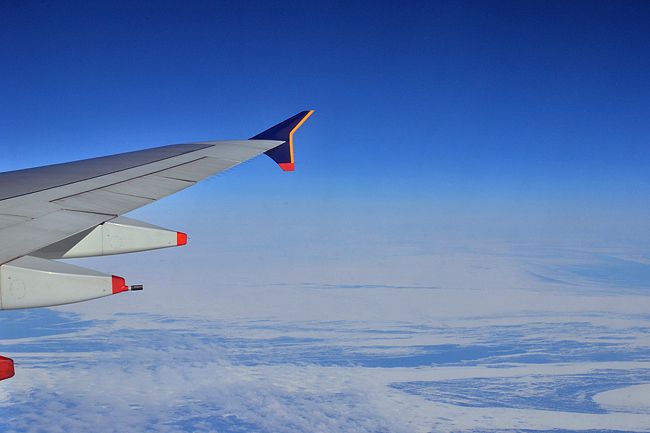 .
Here is Canada visible. Lot's of snow and ice.
It's 2½ hours before landing at the moment that a second (another!) hot meal is served. Again my seafood meal comes early, and the taste is really good. It's halibut with white rice, some vegetables, with shrimp salad as side dish, fruit for dessert. Nothing to complain about.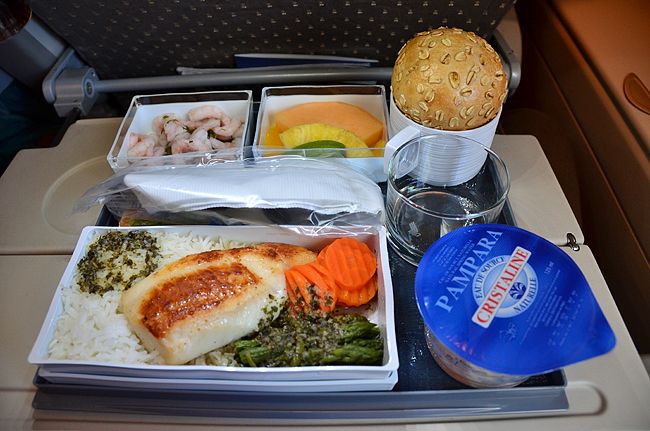 .
2nd hot meal service. Here the seafood meal (special meal order)
My partner decided for the beef option, with mashed potatoes and pasta salad (no dessert !)

.
Regular meal: beef in horseradish sauce, mashed potatoes and roasted veggies
And what a surprise. Dessert comes later? After the meal the friendly crews hand out chocolate icecream (Nogger Dir einen on SQ!).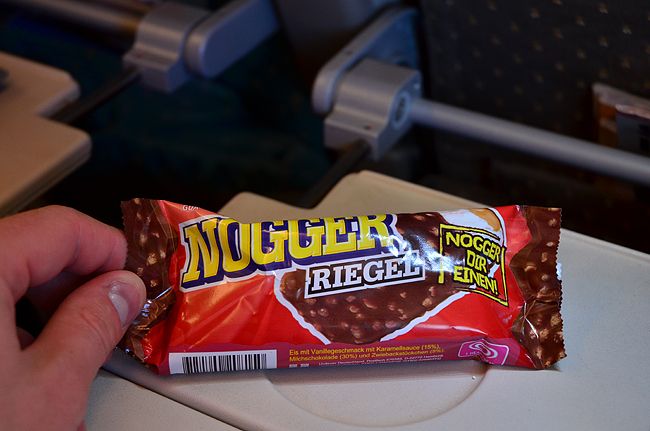 .
Icecream
Soon I notice that we get closer to New York, and while still at quite high altitude, I suddenly pick JFK Airport below us. Really nice to see, and since I was now aware of our location, I also find the Manhattan skyscrapers in a distance.

.
JFK down there… Manhattan in the distance
Final approach is bumpy and that makes my female fellow passenger in front of me deciding to vomit around her seat, luckily the majority ended up in one of her disposal bags. But the smell was quite disgusting to say at least. But, I also kept looking out of my window to follow the (for me unusual) approach to runway 13L. We had to bank sharply to the right on finals to get aligned with this runway, and that was at a low altitude over suburban areas (which surprised me). And with the wind that day, it made for a sudden bounce on the runway surface, really it was a hard landing. I imagined how much weight the landing gear had to withstand. Impressive!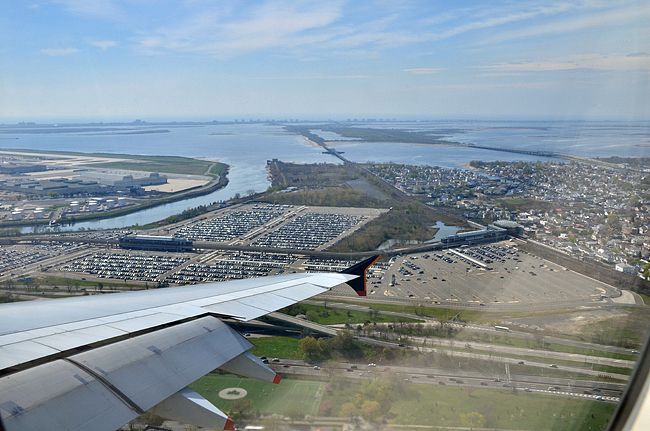 .
Final Approach gets bumpy and a bit uncomfortable to say at least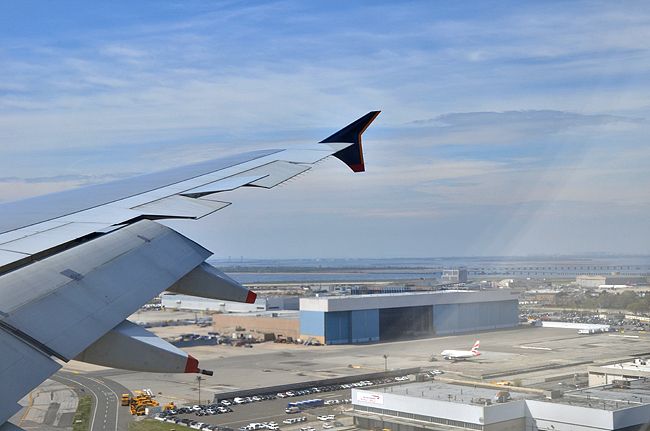 .
A surprising strange move on finals at low altitude…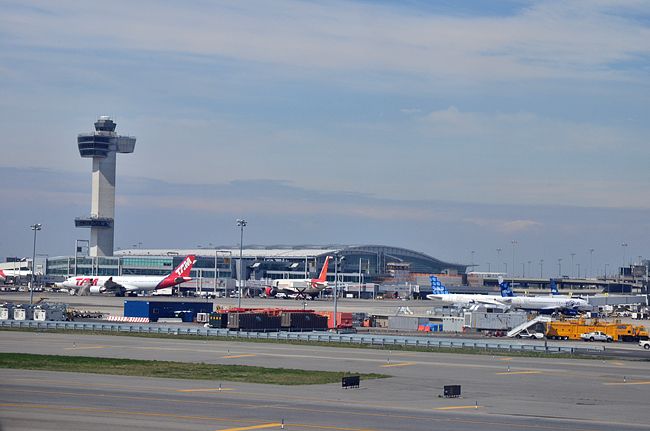 .
But that's JFK. I made it. TAM and Air India already arrived as well.
Well, there I was, New York, here I come. Fair weather conditions, 17°C, and ontime arrival at a quiet JFK. Gate number 6 was ours and soon I found myself in the queue for immigration in Terminal 4. Waiting time this time: 10 minutes. And, another friendly officer, like on my previous visits to JFK.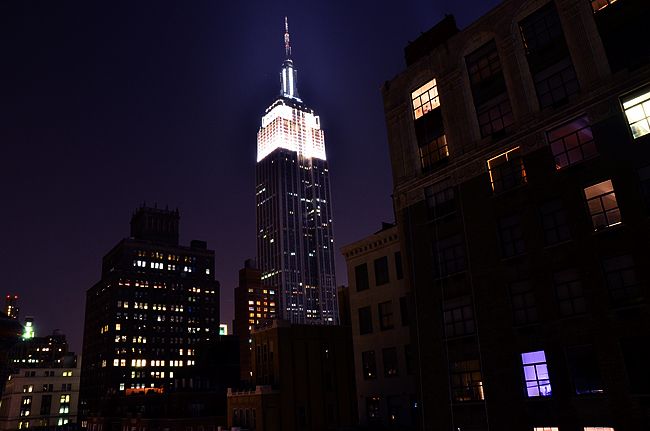 .
Just stayed for one night in this room with a view. Maybe next time again …
Well, that was my short story on the FRA-JFK Singapore Airlines flight, I think it is quite popular for Germans who seek a flight to this interesting city for (I think) fair pricing and receiving top notch service for an Y-class product.
I think no other airline can achieve these same service level for Y-class, and therefore SQ seems the best choice to cross the Atlantic from FRA. Such a shame that SQ is so reluctant with giving mileage to the various frequent flyer programms for discounted fare classes. For all other aspects, a big thumbs up for this airline. Nothing failed from my point of view.
Thanks for reading, your comment is always more the welcome and I would gladly answer any questions.
Regards,
Eric