Introduction
Hello to all! This is my second trip report, and this time I have taken more pics so I hope it will more interesting than my previous report. My sister is on Erasmus (an European scholarship for studying abroad) in Karlskrona, Sweden. The nearest airport to Karlskrona is Copenhagen Airport, which is a three-hour drive away from it. We decided it would be great to spend a weekend with my sister in Sweden so we booked tickets with Iberia using Avios for my parents, my grandma and me to CPH and then rent a car and drive all the way to Karlskrona. In the outbound flight everything went smoothly but in the inbound I experienced the longest delay in my life, so this report is going to be a little more interesting than I expected.
Thursday, October 11th
We were ready to leave to the airport at 9.30AM after some struggling trying to fit all the baggage in the trunk, something that can turn out to be really difficult.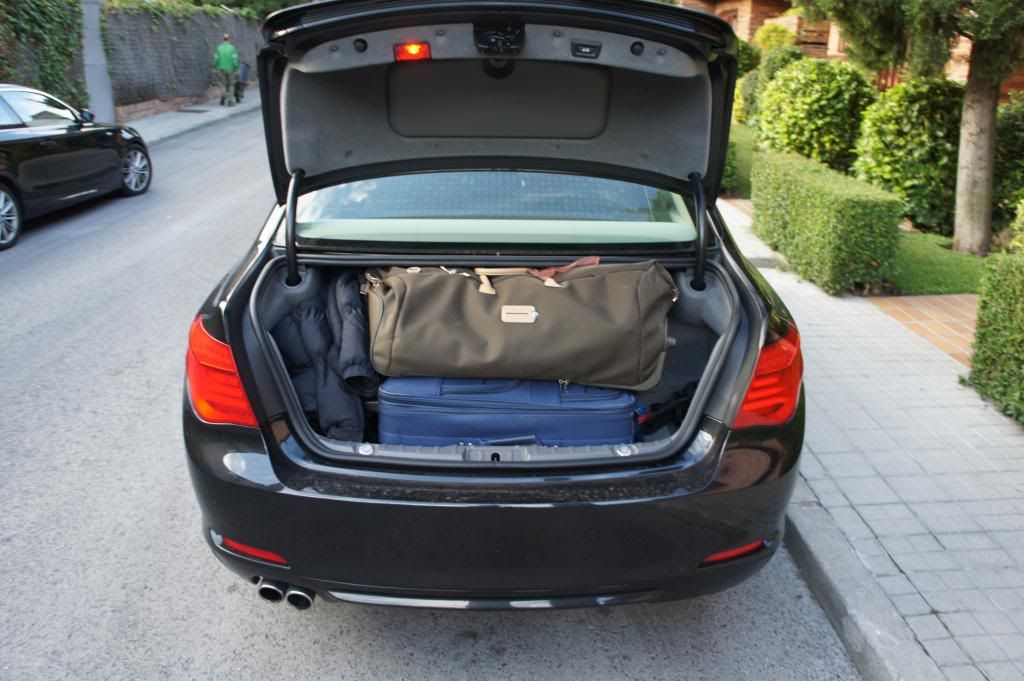 stuffed trunk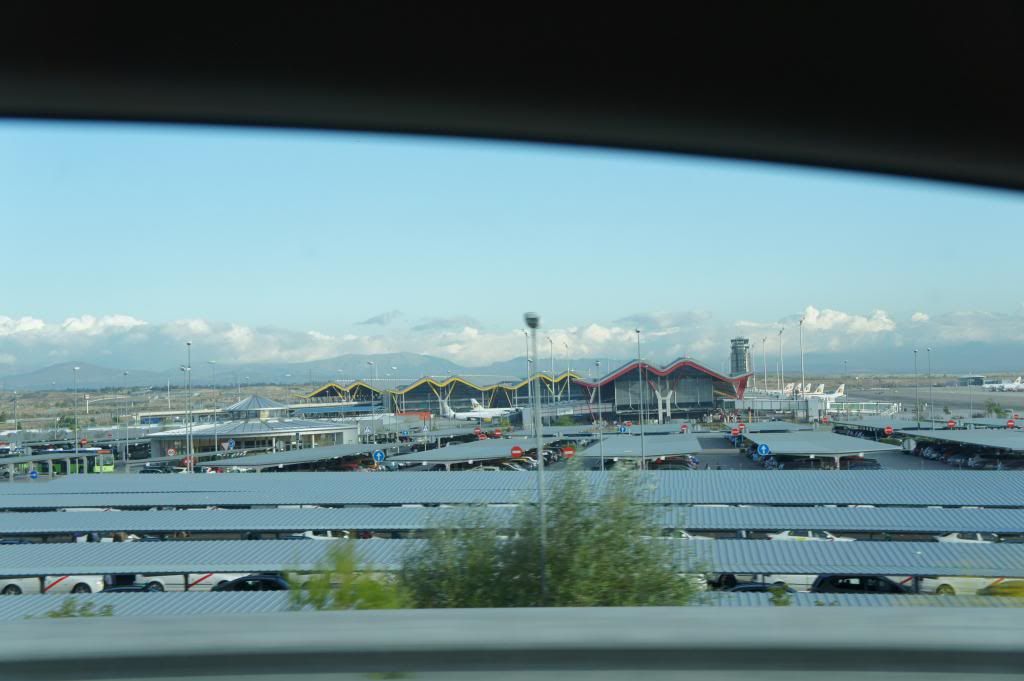 T4 from the road
Welcome signs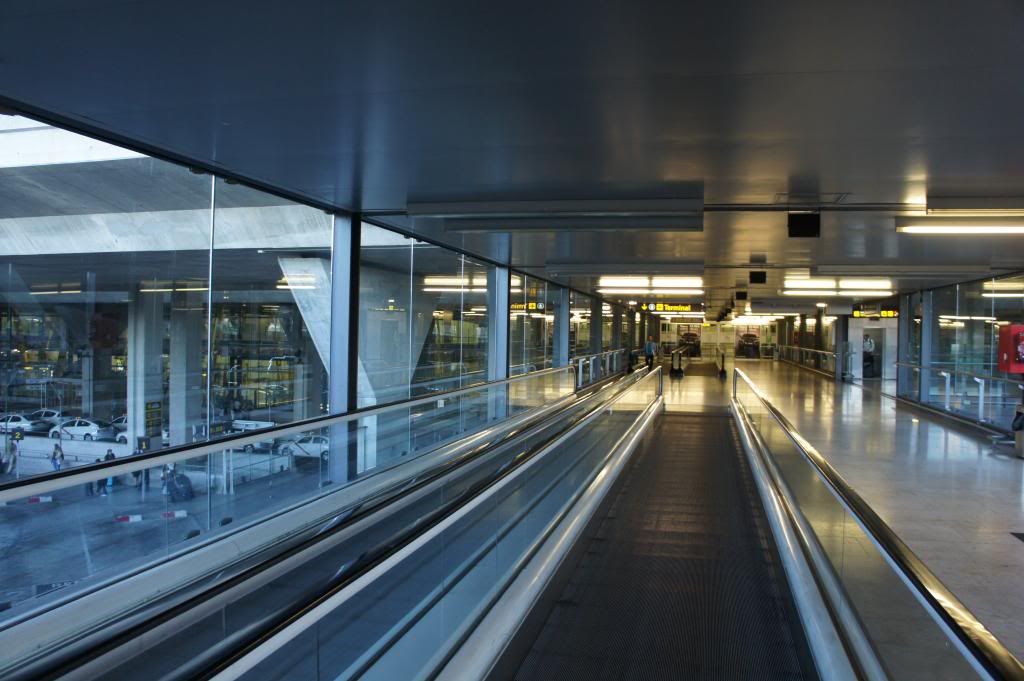 In our way to check in area from the parking lot
About 45 minutes later we arrived to Terminal 4 at Madrid's airport and we headed off to Iberia's check-in counters, there were a lot of people and it was a little chaos as it was rush hour, but we managed to drop our bags off in half an hour without any problem. Then we went through security and directed to the gate so my grandma could take a seat and rest a little. Luckily this time the gate was in the middle of the Terminal, so we didn't have to walk a lot. I decided to go for a walk around and do some shopping; we bought four bottles of Spanish wine for my sister, which turned out to be cheaper in a shop in Karlskrona.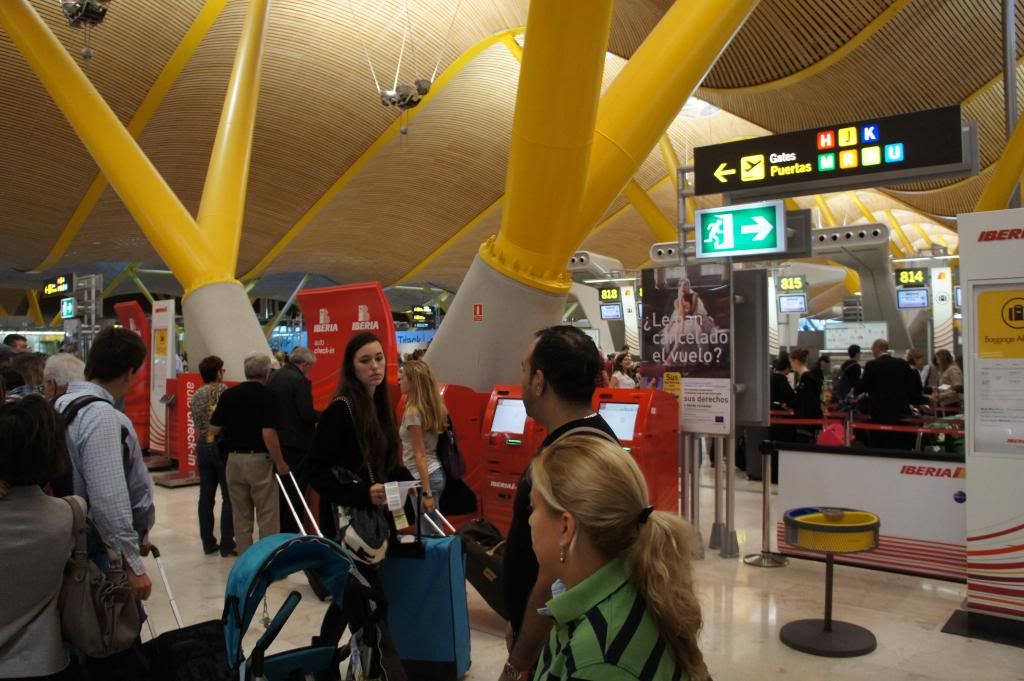 Lots of people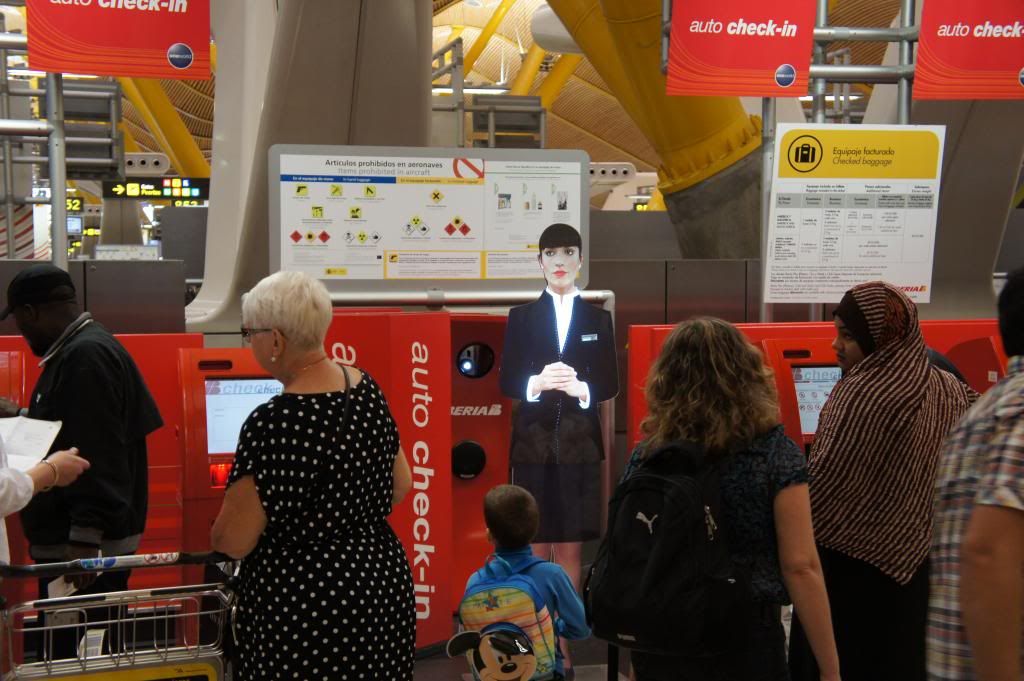 Virtual assistant
Our turn is near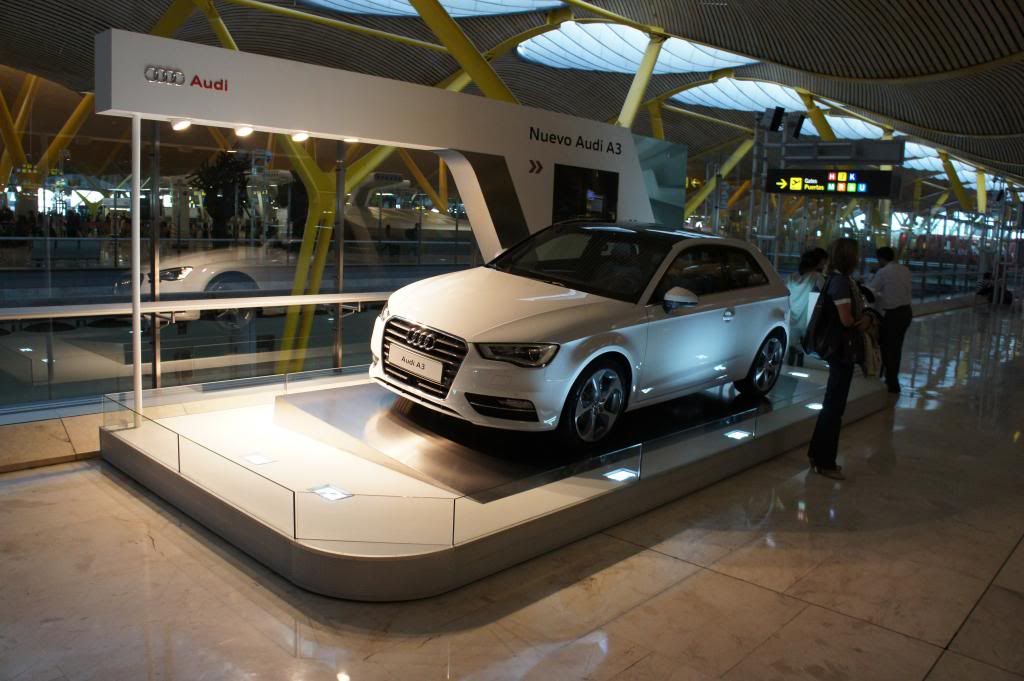 A3 anyone?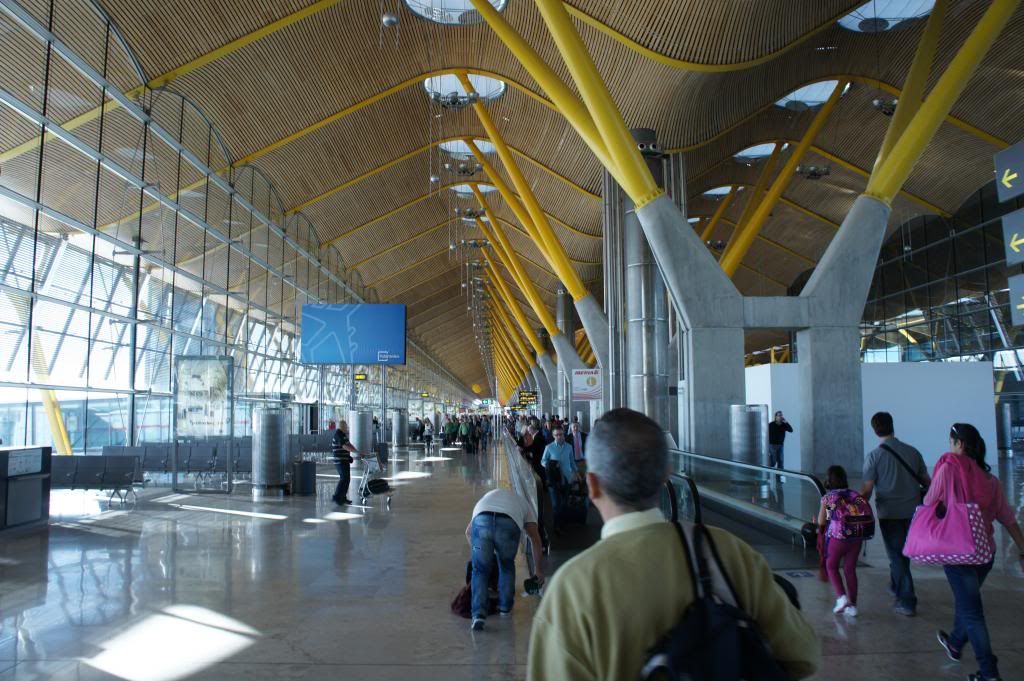 Always impressive T4
FIDS, my favorite flight wasn't operated that day: IB6171 to LAX
Our plane getting ready
Iberia Express is becoming larger
Boarding pass
Boarding was called on time and they asked passengers sitting in the final rows to board first. Our seats were in row 5 so we had to wait a little before entering the airplane.
Flight details.
Flight Number: IB3304
Origin: MAD
Destination: CPH
Airplane: Airbus A320-211
Reg: EC-HYD
Seat: 5A
ETD/ATD: 11:45/11:44
ETA/ATA: 15:00/14:55
Load factor: 100% in J (14/14), 100% in Y (150/150)
The purser was at the door welcoming the passengers; she was holding an iPad, a new tool that pursers now have in every Iberia flight. They have a lot of information about the flight uploaded on them, such ad the passenger information list, seat maps, connecting passengers, etc. (I read that in Iberia Ronda magazine). The purser came over the PA to welcome us on board and in no time we pushed back and were ready for taxi. During taxi the manual safety demonstration was played in Spanish, English and Danish. After that the captain made an announcement giving us the details of the flight. We used runway 14L for take off and reached cruise altitude quickly. At that moment I was getting really hungry so I decided to order some food from BOB service. The crew began service an hour after take-off, too late in my opinion; luckily I was seated in the first row of Economy. The FA's were very friendly and joyful, they also were very attentive to my grandma, and once we finished our snacks the remains were picked up briefly. The rest of the flight was uneventful and we landed in a sunny Copenhagen five minutes ahead of schedule. After collecting our bags, we rented a car and headed off to Sweden crossing Oresund Bridge.
33" of legroom
Taxiing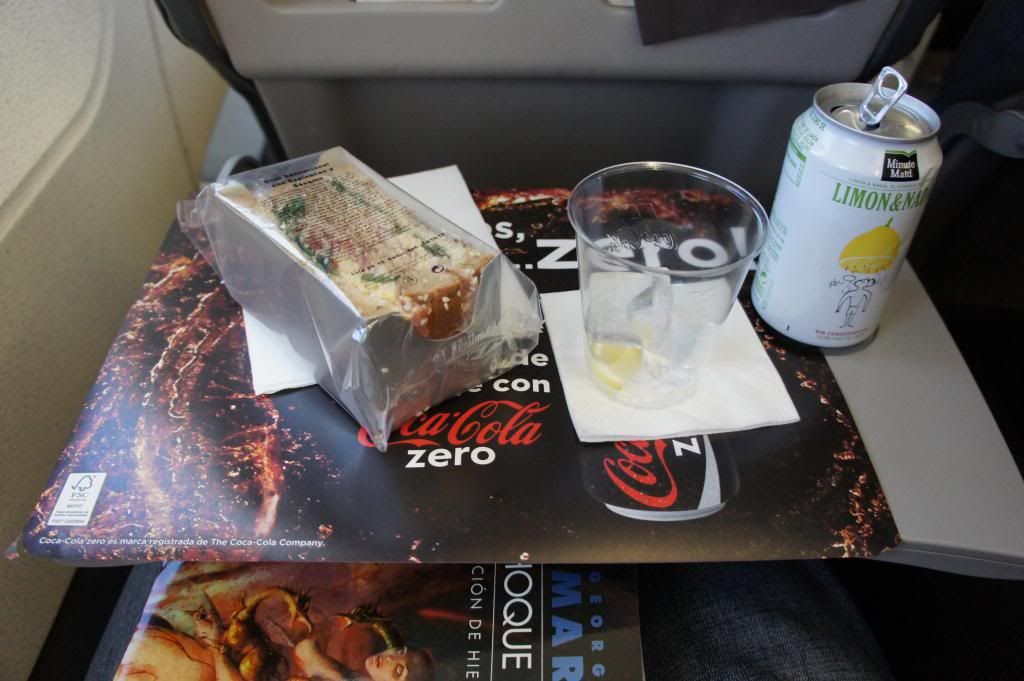 My meal, it cost about 11€, quite expensive, but the sandwich was good
Up in the air
Cabin view, every seat was taken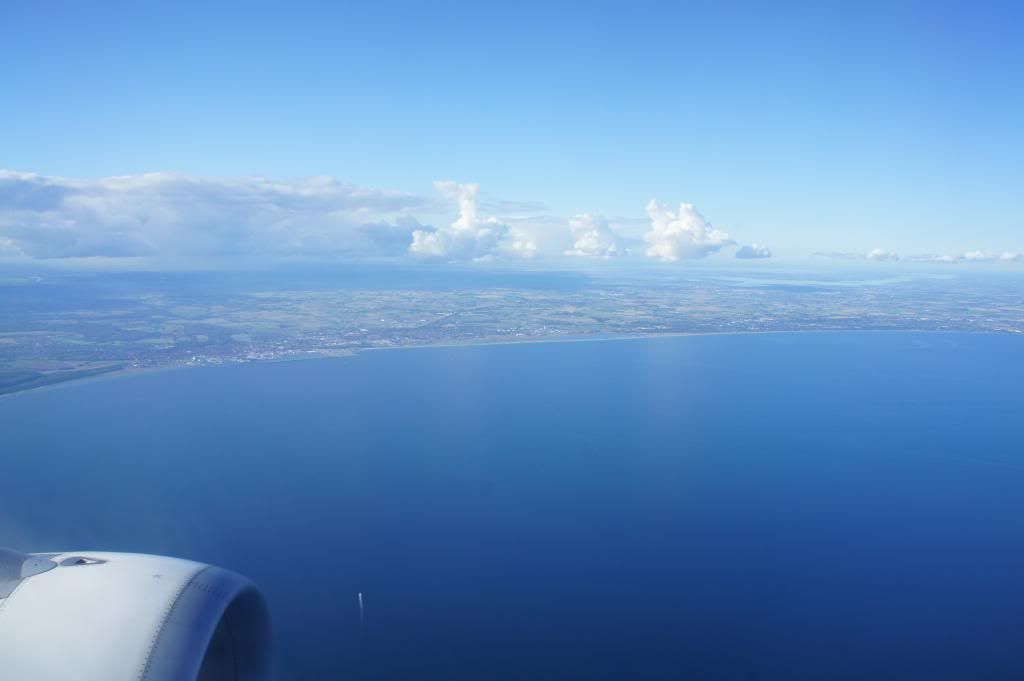 Approaching CPH
Finally there
In our way to Karlskrona, Sweden
Sunday, October 14th
We had an awesome time with my sister and enjoyed one day of sunny weather, the following day it was rainy. On Sunday we had to go back to Copenhagen Airport. After returning the car, we went to Iberia's check-in counters at T2. We got the seats I had selected beforehand (row 5) and walked to the security check.
Check in counters, two for Economy and one for Business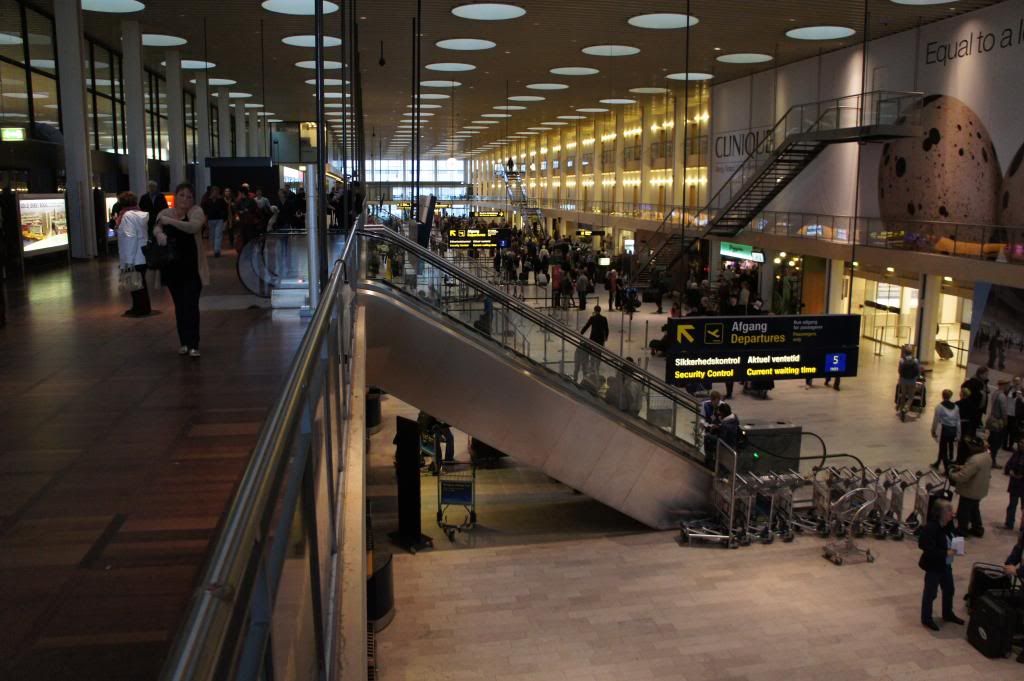 Copenhagen's T2 check in hall
After that we had a nice lunch at O'Neill's restaurant and then headed to gate A15, where the plane was already parked, which was EC-LEA, named Fuerteventura. There I met casually with a good high school friend, she went to Copenhagen to visit her brother who was also on Erasmus scholarship. That was something I didn't expect at all, if I were flying from Paris, London or Rome wouldn't be that unusual, as much more Spaniards travel to that cities.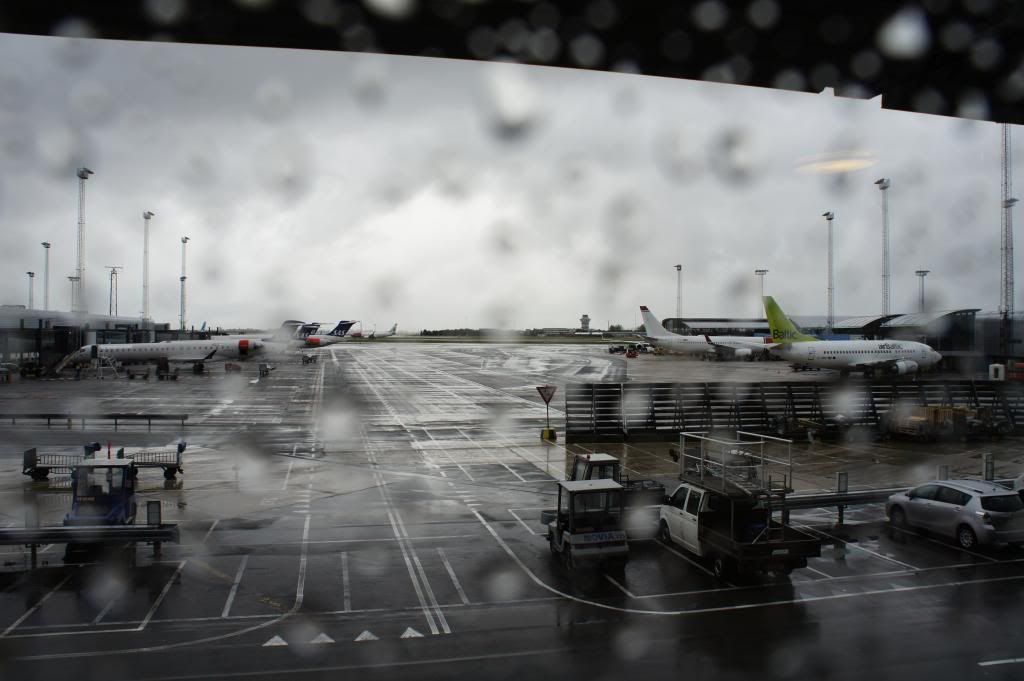 A nice view while having lunch, CPH is similar to MAD because in both you see the planes taking off or landing far away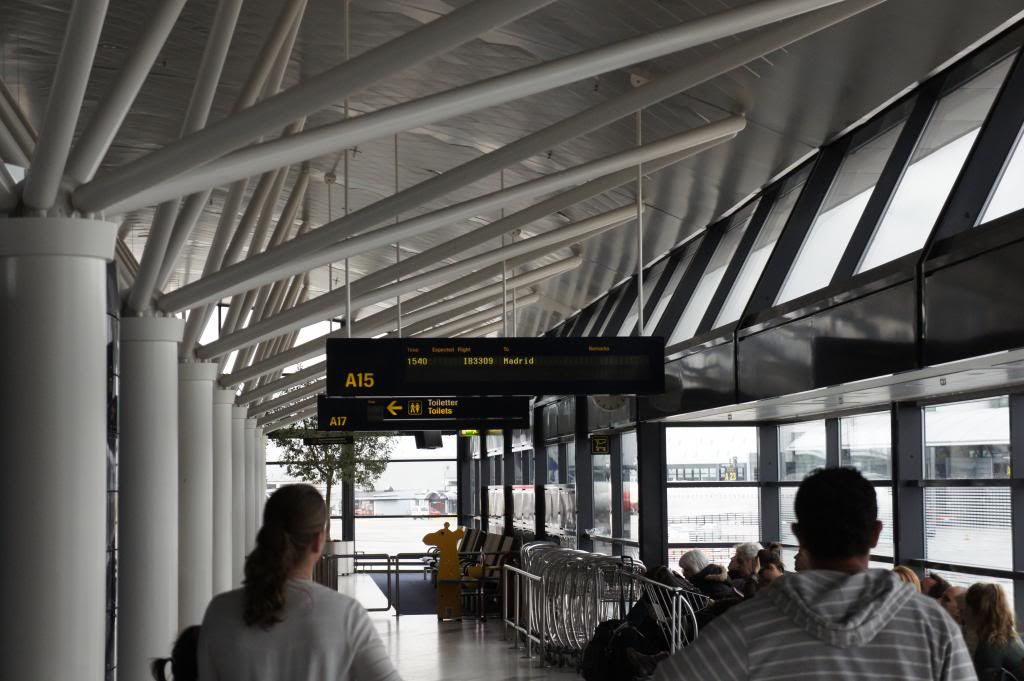 The gate
One of my favorite 747s out there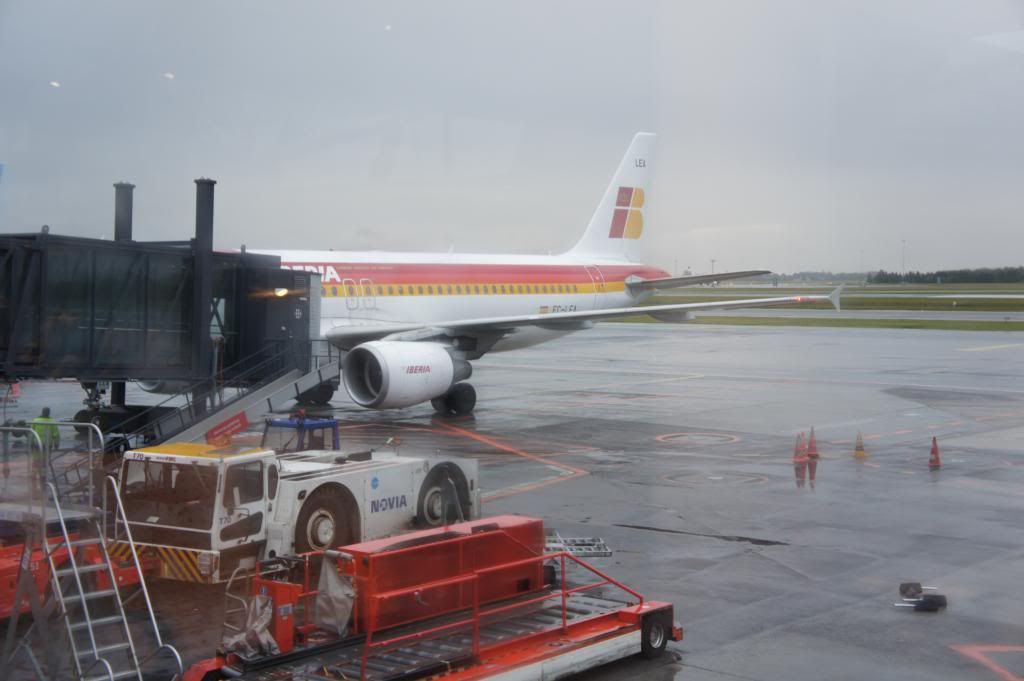 Our plane arrived 5 minutes ahead of schedule
Soon pre-boarding was announced at 15:10, and after some waiting it began to be late, afterwards I saw the captain going down from the boarding bridge to check the right engine, that's when I knew that something was wrong. Some minutes later, Iberia's agent came over the PA to say that there was a technical problem with the right engine and that they were going to fix it, so the flight will be delayed for two hours. He said they couldn't do anything about passenger's connections at Madrid and also offered us meal vouchers that could be issued at the Transfer Centre. I take the opportunity to catch up with my friend, remembering old times, and went to take our vouchers. They consisted on 80DKR (10€) for each passenger, so we decided to buy a coffee and a muffin at Starbucks. When we got back to the gate, the mechanics were working on the engine, some minutes later they towed the plane off from the stand.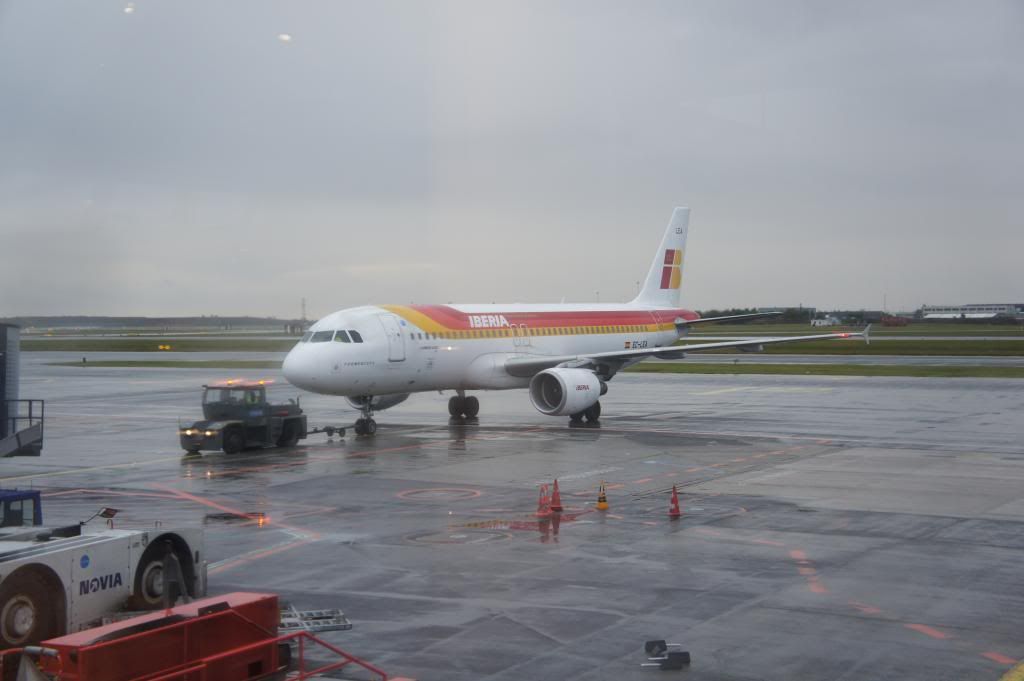 Hey! we are you going?
We waited for a total of 4 hours, during that time no announcement was made, something very disappointing. At 19.30 a Finnair plane parked at A15 and that's when they told us to go to the Transfer Centre. When we arrived there was a crowd of people who were from our flight (load factor was 100%). We were told that they needed a part of the engine to fix it and that it was arriving on next day flight from Madrid, they were making arrangements to accommodate us in Hilton Copenhagen Airport with full broad and that we were supposed to leave next day at 17.00. We picked up our baggage and headed off to the hotel, which was practically part of the Airport. At the reception desk we were given our room keys after a brief line by a very friendly staff. We had buffet dinner and went straight to bed, as we were really tired.
Awesome room at Hilton Copenhagen Airport, I have stayed in three different Hiltons and I must say all of them were excellent
The view from my room
Monday, October 15th
The phone rang at 7.00, we were told that the flight was now leaving at 10.00 so we dressed up and had a quick breakfast before checking in again.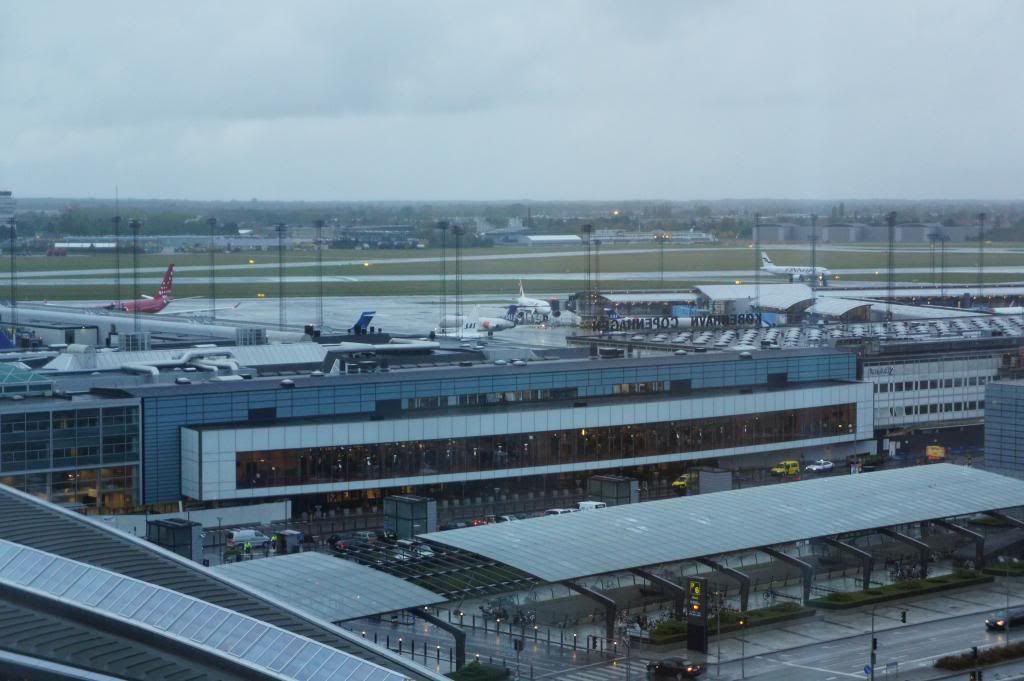 Good morning guys!
The agent told us that because of a system error we were given stand-by status, but we don't have to worry because the plane was half-full. That really annoyed me because I had reserved extra legroom seats in the front of the plane. Another issue with that was that only half of the passengers from the original flight were traveling that morning, I don't know what they were doing with the other passengers, guess they were flying on Monday's regular flight. We cleared security again and directed to the gate (I only remember it was a B gate) and saw the plane parked, it was a different one: EC-ILS, so a new plane was flown from Madrid to pick us up.
Our new plane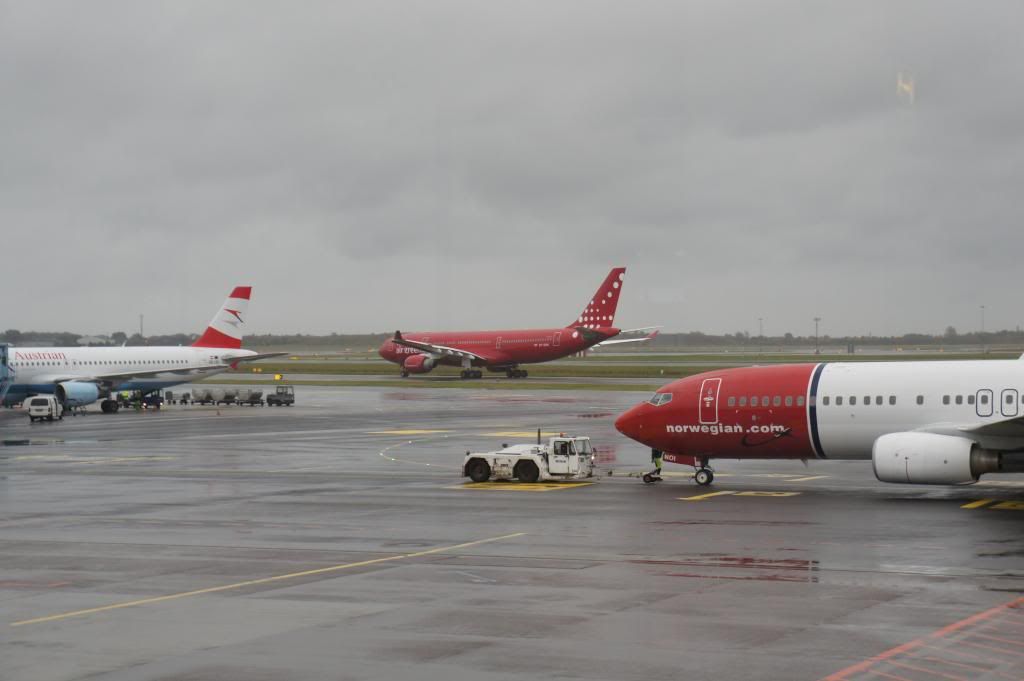 A special one you only get to see in CPH
Finally going home
Some minutes later boarding was called only for passengers with assigned seats, then everyone was called to go on board. At the gate we were given random seats, I told the agent we were seated together in row 5, but that seats were taken as every seat from rows 3 to 7, so no extra legroom seats available. That was really disappointing and I showed my annoyance to the agent because as full-fare tickets holders we were allowed to reserve our seats in advanced, and now that seats were taken. She apologized and offered me seats in row 11, which was emergency exit row, and I accepted.
Flight details.
Flight Number: IB3309
Origin: CPH
Destination: MAD
Airplane: Airbus A320-211
Reg: EC-ILS
Seat: 11A
ETD/ATD: 15.40/10:23+1
ETA/ATA: 19:00/13.33+1
Load factor: 100% in J (6/6), 50% approximately in Y.
The purser was at the door giving the welcome. She turned out to be my mother's friend, so I guess I won't give you an impartial opinion of the crew on this flight, as they were very friendly to us. The boarding was finished 20 minutes later than expected, as some passengers arrived late. The captain came over the PA and apologized for our heavy delay and gave flight details. We were going to fly over Holland, Belgium, Paris and then to Madrid. During taxi manual safety demonstration was played and then we took off.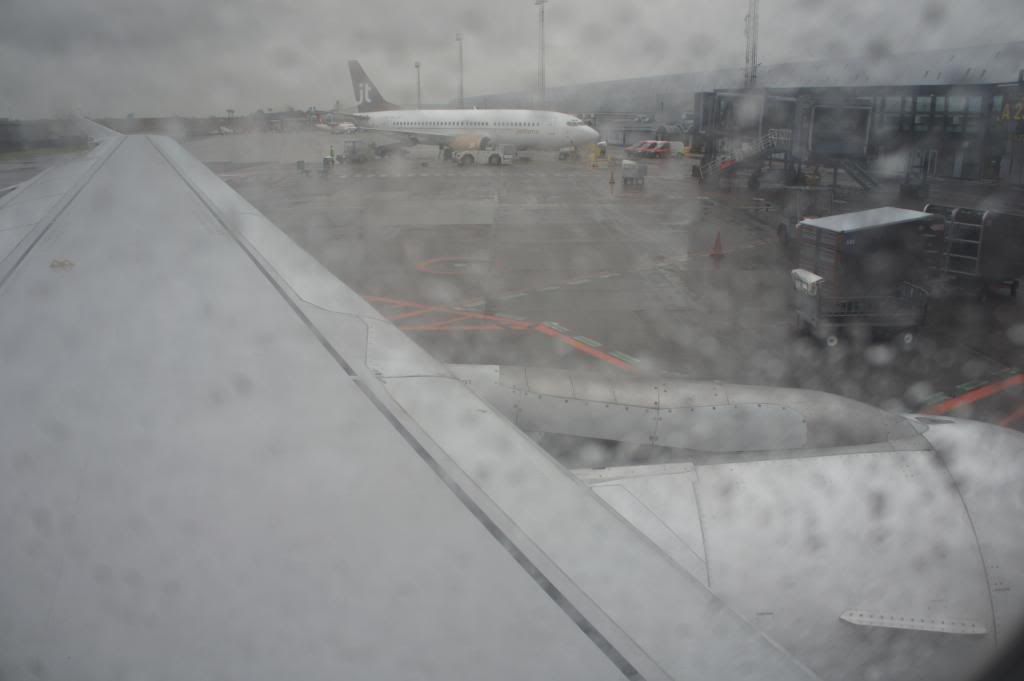 Rainy and cold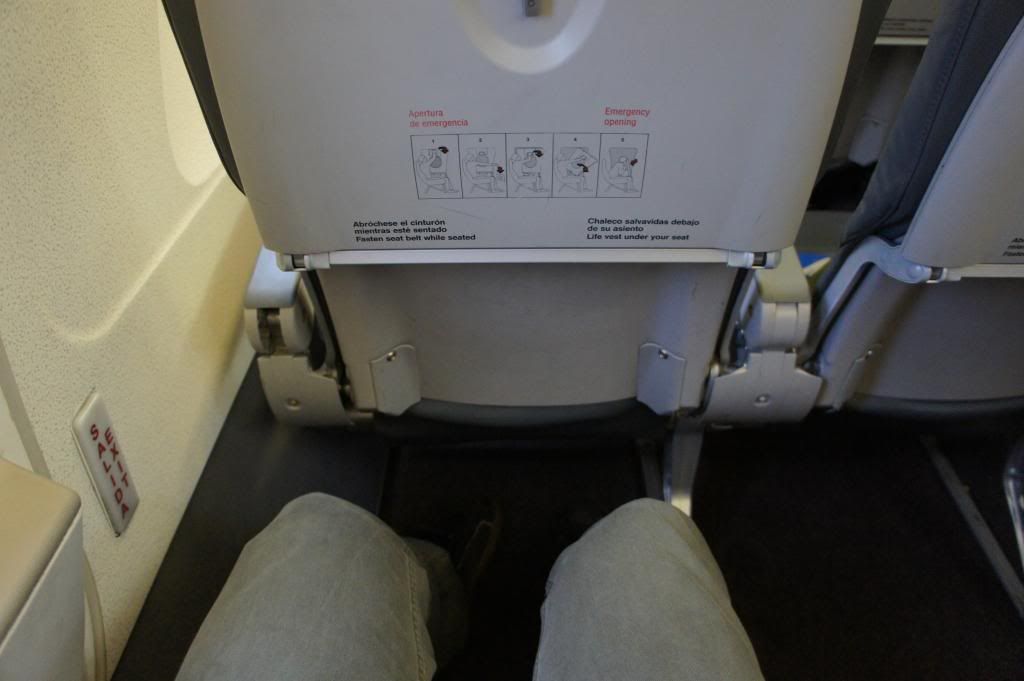 Huge legroom
Once in the air the crew started service with no delay (unlike the other flight). I was thinking of having a milkshake, but the crew invited us to drinks and several nuts bags from Business Class. A nice gesture as it was my mother's birthday.
I noticed the crew were also friendly to other passengers, smiling and chatting with them. There were several empty rows so I took the opportunity to prove 28" pitch in Iberia's 320s and 319s as I have always seated in front rows or 321s (where the pitch is 30") when flying with them. I'm 183cm tall and didn't find it awful, but if the flight is full I think it would be different. I went to the bathroom twice and it was clean and fully stocked.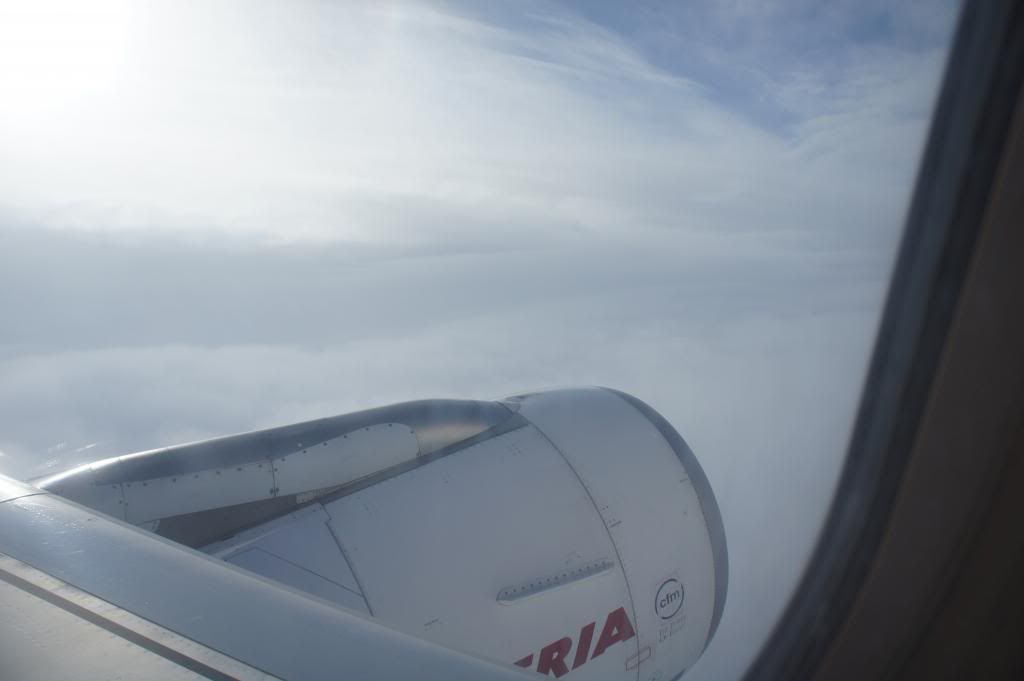 Over the clouds
Nuts, cookies and Coke, courtesy of the crew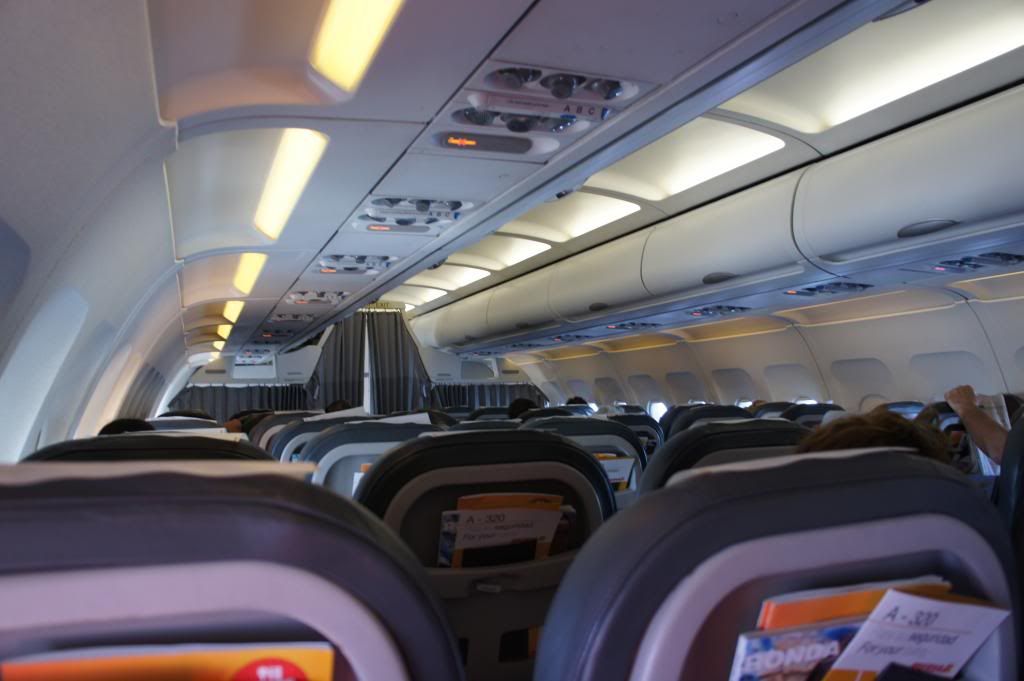 Cabin view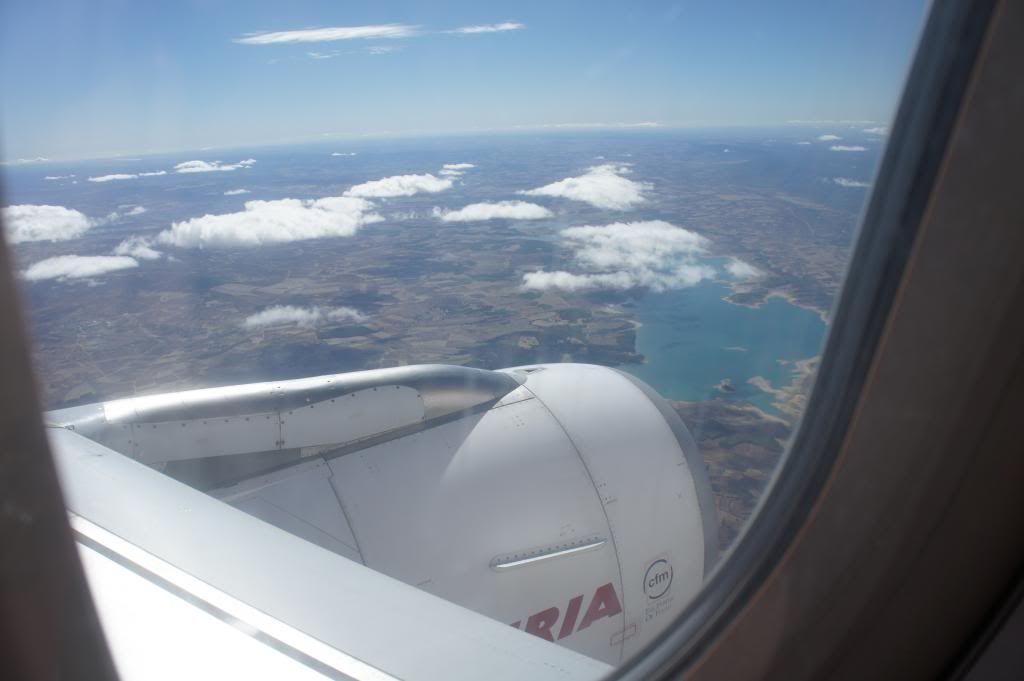 Nice weather in The Netherlands
The rest of the flight passed by without any issue and we landed in a sunny Madrid's afternoon.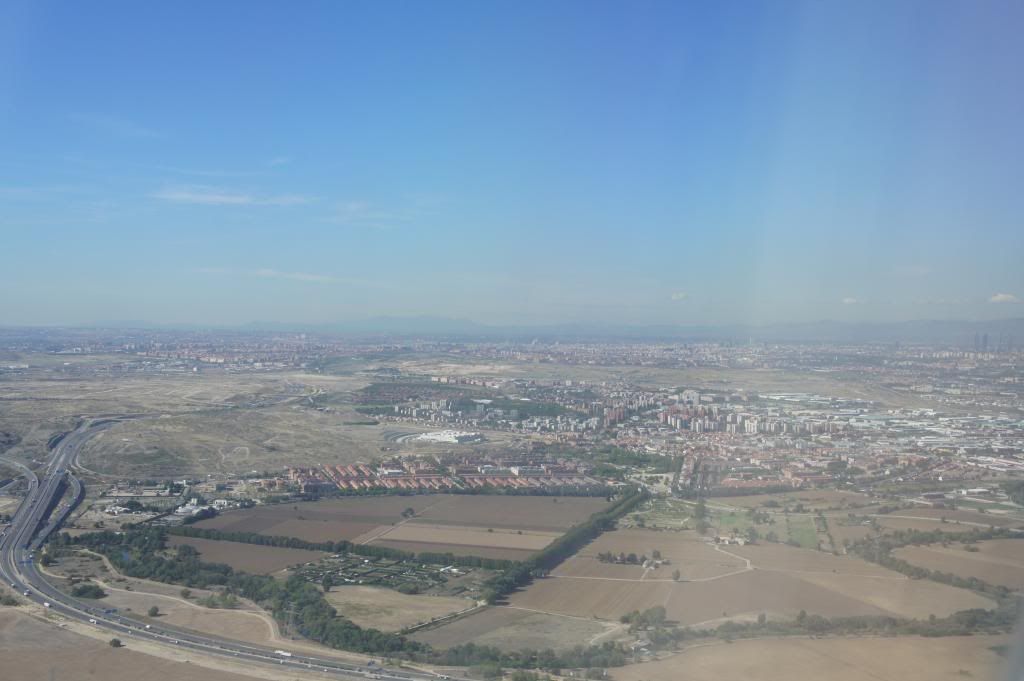 Final approach to MAD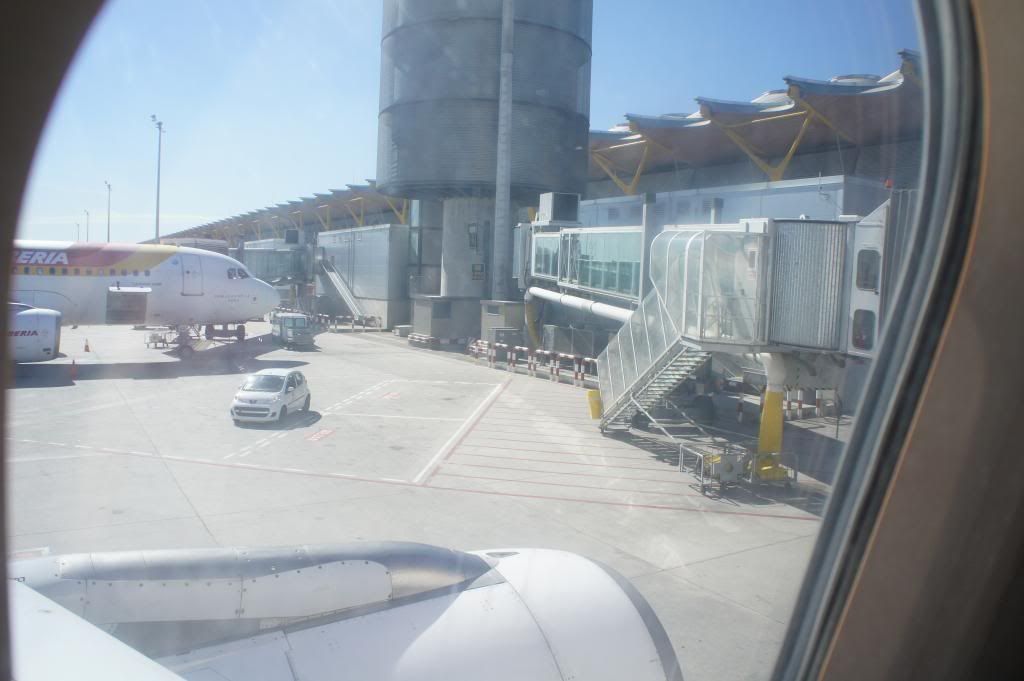 After a 18h delay, we made it
When we arrived baggage claim area, our flight wasn't shown on the screens, we went to the information desk and we were told that it would appear on the screens soon, it actually didn't, but after half an hour baggage began to come out in the nearest belt to the screens and it turned out to be ours. We were a little disappointed about this but happy to be finally in Madrid.
In conclusion, you realize how really good is an airline when something goes wrong. In this case, not everything was perfect, we were a little uninformed by the ground crew during the delay and not showing the baggage belt in the screens in Madrid was really annoying. Anyway, we got a very nice hotel room, dinner and breakfast, and they sent us a plane to pick us up so we arrived in Madrid as soon as possible, don't know what happened to the other half of the passengers, I guess they were connecting to other flights so it was more convenient for them to take another flight later or their connection was arranged in other ways. On board service was very good in my opinion, at least in the outbound flight I was an impartial judge. The only difference between Iberia and the others is that you have to pay for food and drinks.
I hope you have enjoyed reading my report, and sorry if I made any writing mistake, as English is my second language and even I'm not very good at writing in Spanish. I'm looking forward to reading your comments and questions.
Martin
[Edited 2012-11-03 04:32:52]
[Edited 2012-11-03 04:33:18]
[Edited 2012-11-03 04:34:05]