Asia 10: Take me home Saudia! DEL-RUH-LHR B777
Previous Reports in this series:
Part 1:
Limoncello with Alitalia. BA/AZ LHR-MXP-FCO-NRT
Part 2:
JALing it to Beijing. JL HND-PEK 772 Business
Part 3:
Around China with China United, China Eastern & Grand China
Part 4:
First with Cathay Pacific: HKG-TPE F on the B744
Part 5:
Fine Dining on Scoot. TPE-SIN on the 777
Part 6:
Silk Air and Firefly around the Malay Peninsula. SIN-LGK-SZB
Part 7:
Going Beyond Expectations. MH KUL-DAC on the A330
Part 8:
United Airways DAC-ZYL, Jet Airways DAC-CCU
Part 9:
Air India 787. Calcutta - Delhi
Hi!
Thanks for clicking on
Part 10
(and final part) of my Autumn Asia series.
Way back in August before I left on my trip, I went hunting for a suitable return flight. Getting from India to London is terribly easy, and there are hundreds of routings available. Thankfully, prices are, by and large, very reasonable for one way journeys.
Looking on Expedia, the cheapest I could find was for around GBP 250 on the likes of QR and GF….not bad. I then thought about checking airline websites directly. MS had some good fares via Cairo, but after my far from acceptable
business class flight BKK-PEK
with them a few years ago, I looked elsewhere.
I then stumbled across the Saudia (SV) website. Wow, the prices were great! The cheapest I found fitting my dates and destinations was for GBP 140 o/w (EUR 172/USD 225) for CCJ-JED-LHR. After a bit more hunting, I found a similarly priced flight from Bangalore, routing BLR-DMM-JED-LHR on the new A330 and B77W. And a domestic flight included. This was too good to turn up. I decided to go for a slightly higher fare class (improving flexibility as well, as giving 75% rather than 25% Flying Blue miles), which brought the fare to GBP 180. Not bad! For around GBP 500, I could have gone in Business, but I was trying to be frugal.
I've long held an interest in going to Saudi Arabia, but obviously visas are a rather awkward hurdle. This routing would satisfy my intrigue into the country, at least for a few years. Booked.
My planned route, courtesy of GC Mapper:
As you should have read by now, my suitcase was stolen in Bangladesh a few days before getting to India. This took the wind out of my sails a bit. After quite a bit of umming and ahing, I decided to cut my trip to India short, down from my planned 35 nights, to 10 nights.
Thanks to my flexi fare, I was able to get my flights changed over the phone from Bangladesh. Annoyingly, they couldn't take the change fee over the phone with a credit card, so asked me to go into an office to pay…very annoying. Sadly, the change also meant losing my cool itinerary. I'd now be on a more boring DEL-RUH-LHR routing on the B772. My stopover (originally just a few hours in JED, and 30 mins in DMM) would now be 10 hours in RUH! Not ideal, but this is the price you pay for flying odd airlines at bargain rates.
The map, courtesy of GC Mapper, of this report:
My final map for the series, courtesy of GC Mapper:
I had prebooked 3 nights in Delhi. I'd now be playing it by ear as far as my itinerary goes. My first stop was to try and get a ticket to Agra to see the Taj Mahal.
I took very few photos in Delhi, but these few sort of sum it up.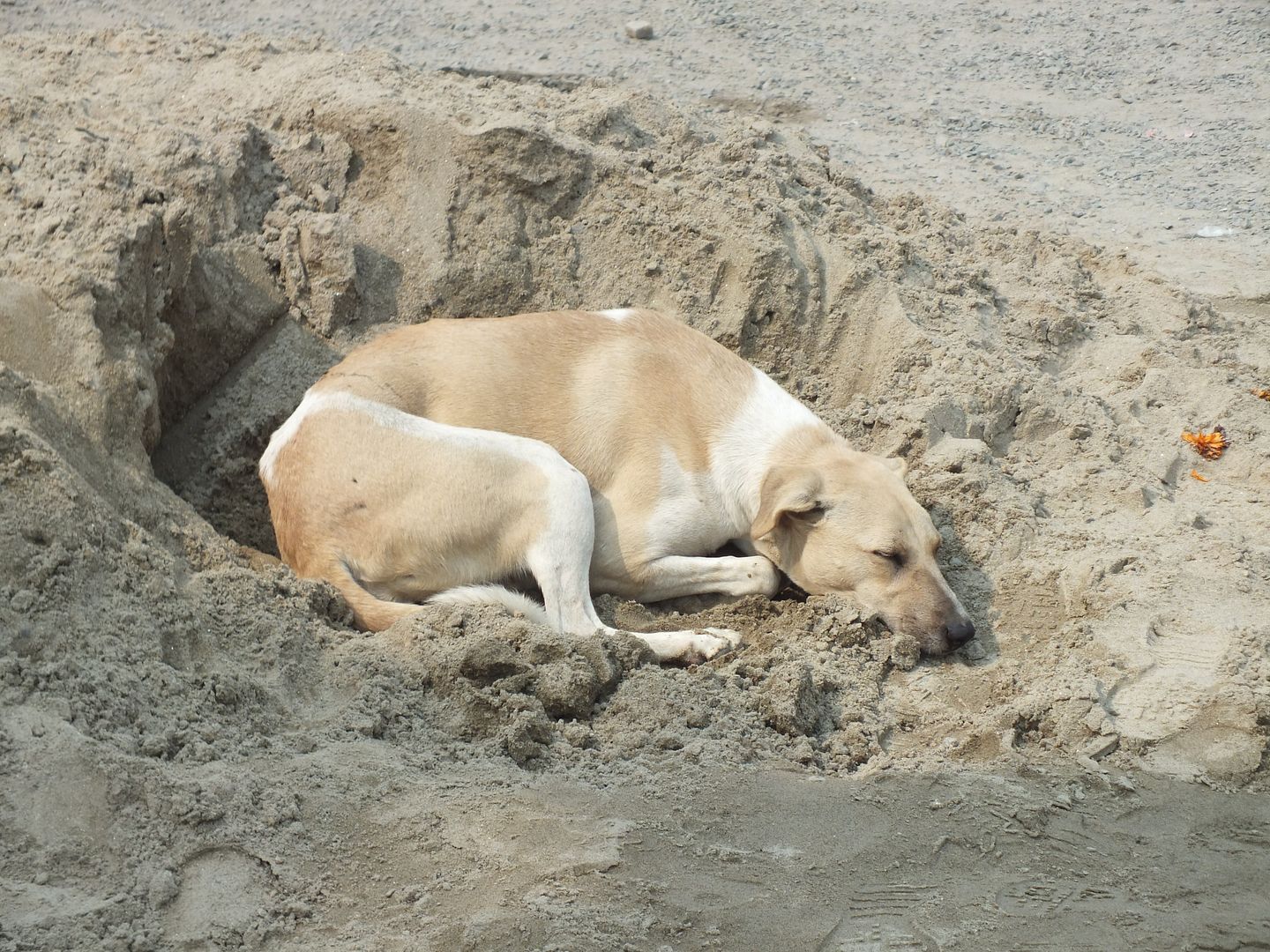 It's true, it doesn't seem too bad, but for some reason, I really did not enjoy it. My hope in getting to the Taj Mahal quickly turned into depression when it emerged that it would be impossible to get there for a few days, and even then, return travel would be very awkward. Fast forwarding through my thoughts, feelings and emotions that morning, I elected to get the first flight out of Delhi I could find. My stay in India had dropped from 35 to 10 to finally 4 nights.
After a painful hunt for the SV office, and then an hour waiting for the agent to type the changes into my booking, I handed over a pile of rupees (cash only!) and in exchange got a print out for my new flights back to London, leaving 2 days later. I must say, I was very relieved.
The next day, thankful it was my last full day in India, I thought I should at least achieve something by way of sightseeing. My first target was the Qutub Minar.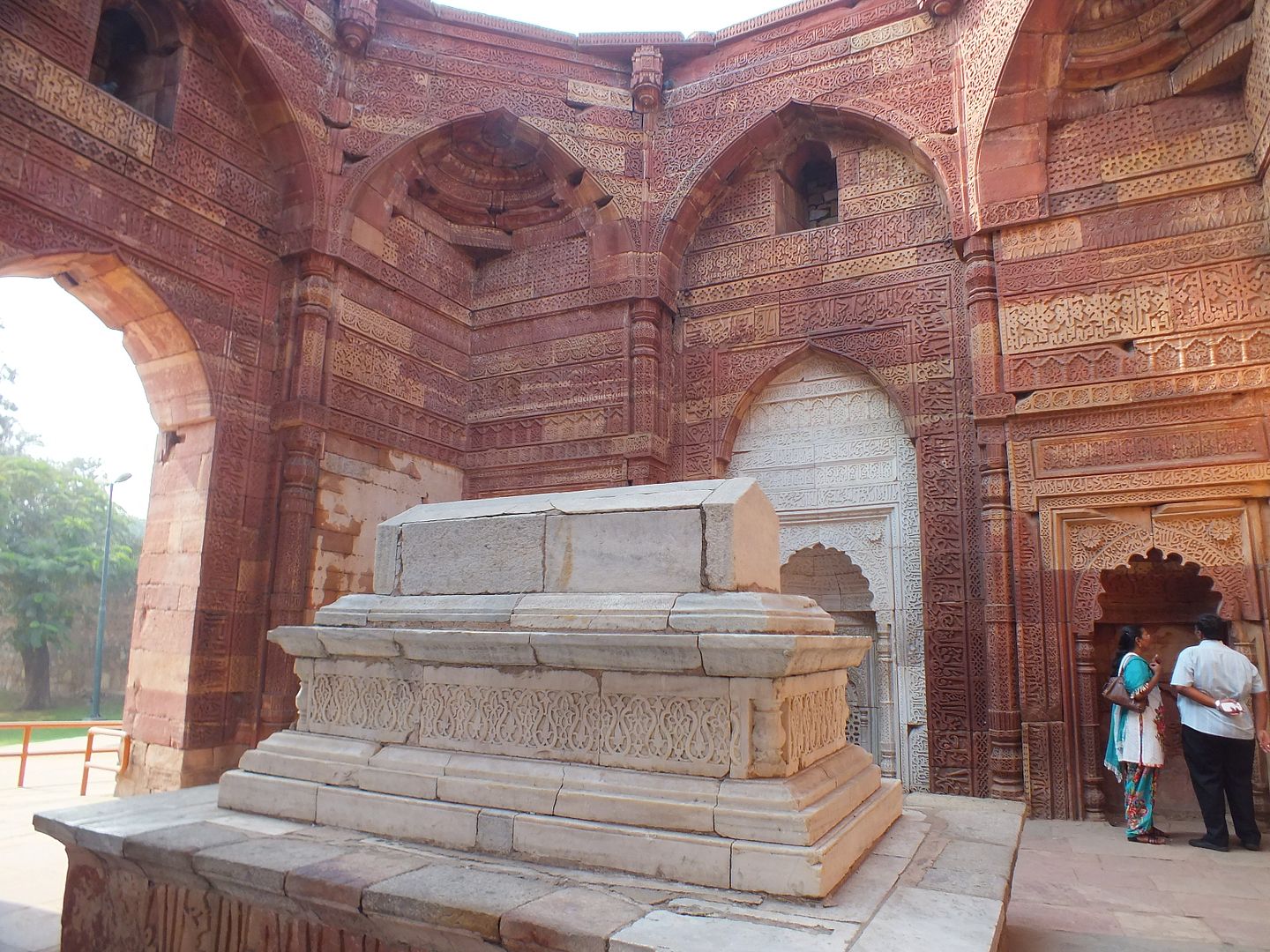 The complex was very interesting and I'm glad I made the effort to see it.
My visit was enhanced thanks to the Minar's location under the main DEL flightpath!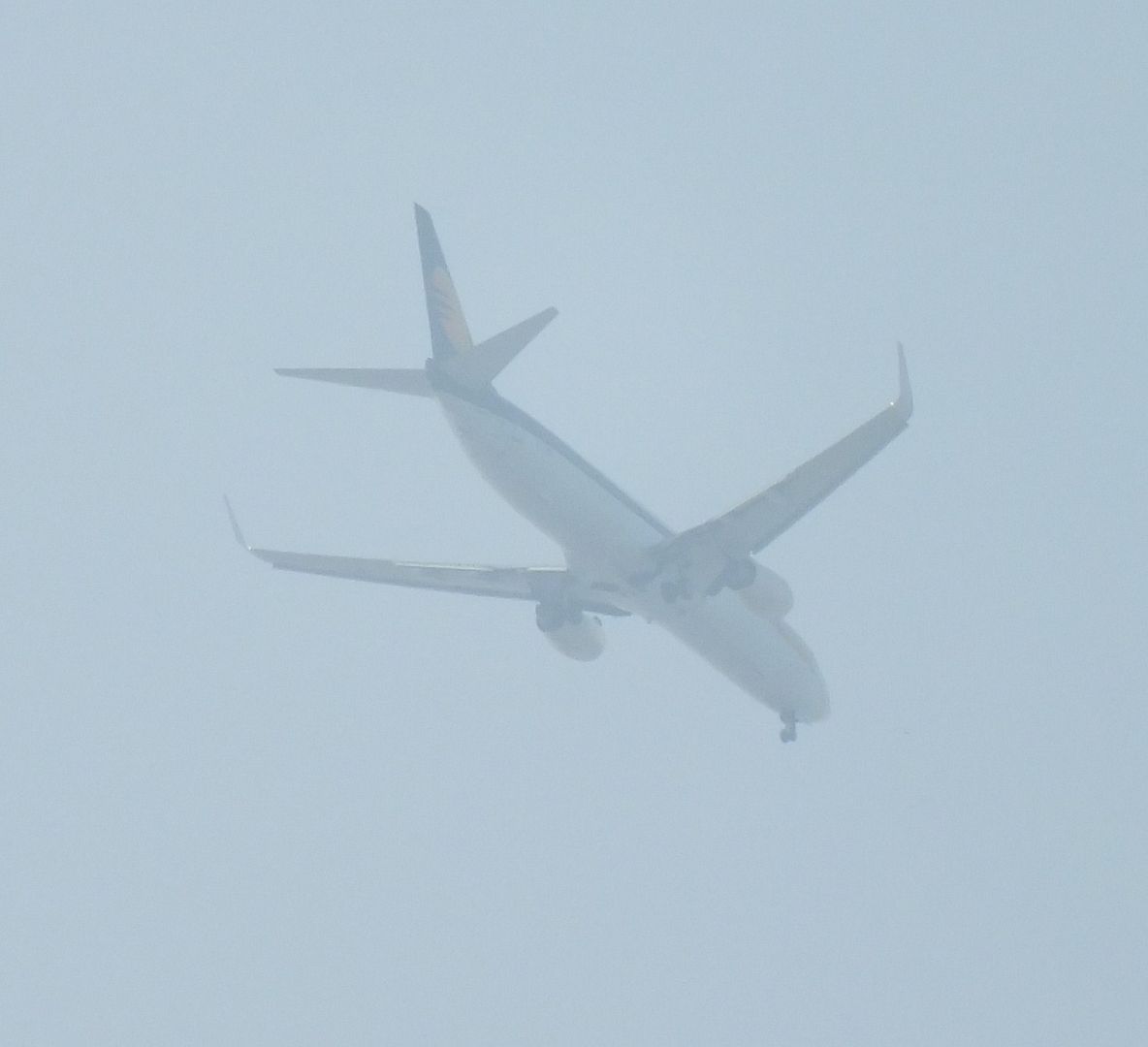 Next stop was Humayun's Tomb, the architectural inspiration behind the far more famous Taj Mahal.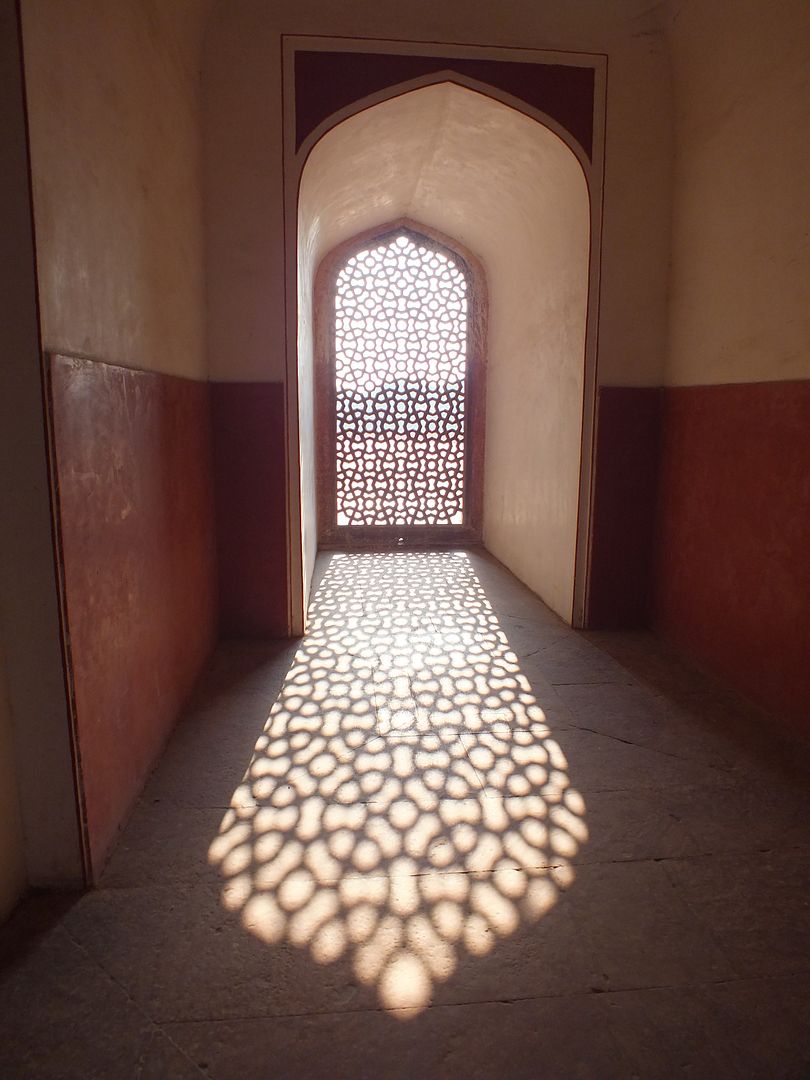 With my sightseeing done, I had one final thing to achieve…shopping for a jumper (I thought flying home to a wintry UK in just a t-shirt was a bad move). Sadly, this was a LOT more difficult and frustrating than I could have ever imagined. I did manage to procure one by the end of the afternoon, although the process did nothing to endear me to India, Indian culture or Indian people whatsoever (in fact, quite the opposite).
I had a final dinner in the restaurants on the roof of the hotel, and went to bed….only to be woken a few hours later with fairly serious food poisoning.
After a particularly awful night, I was first in line at the pharmacy the next morning. I'd booked a taxi for 10am, and was delighted to be finally on my homeward journey. I've honestly never been so keen to either leave a country, or get home.
I'd been monitoring the loads of my flight since I changed the route and date. The afternoon of the rebooking, the DEL-RUH flight was looking very busy…lucky I was able to get a seat.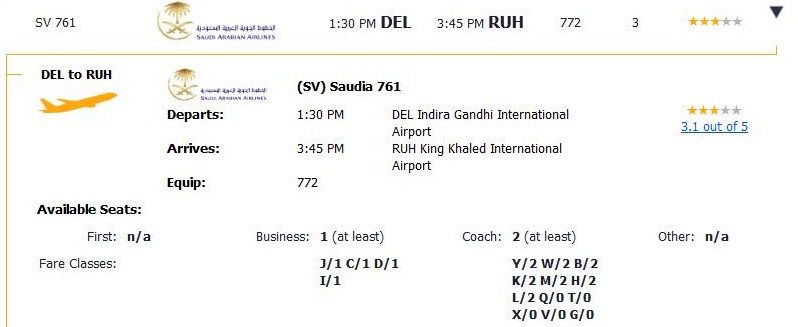 The morning of departure, however, availability had gone down to 0 in all classes. Hmm, can I use this to my advantage to get onto a different flight?
The RUH-LHR seemed to have plenty of space, however.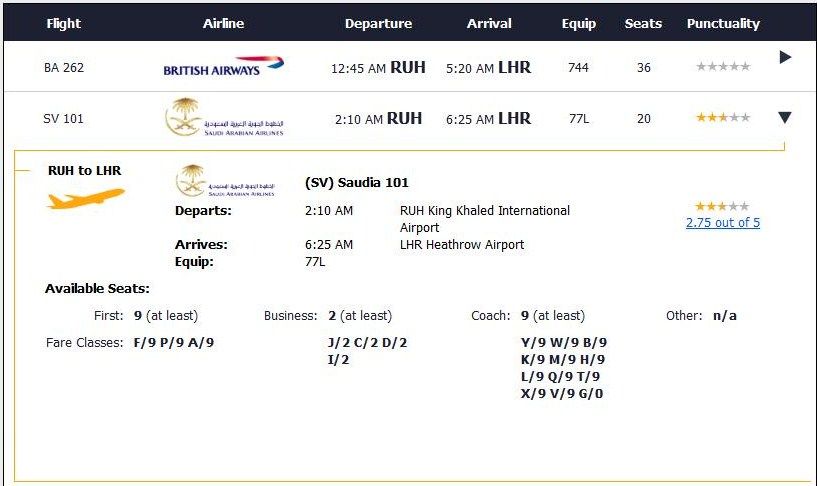 Still feeling very sick, and rather stressed/depressed, I thought I'd push hard to be offloaded onto (ideally) the direct 9W or VS DEL-LHR flight, or at least another Middle Eastern airline with a shorter connection.
After being dropped off on the forecourt, I made my way through the crowds of people seeing relatives off, had my passport and printout checked, and was then allowed into the check in area.
Before I could approach the SV desks, I was redirected to the visa check desk, despite my protestations that I didn't need a Saudi visa. Once this was confirmed at the desk, I went back round to the check in desks, and headed for the C desk. I thought I might as well see if there were any cheap upgrades to be had, or at the least, if I could get bumped to a different flight.
The guy on the desk was friendly, but was unable to help. Business was overbooked by one, and economy had at least one empty seat. Looks like I'll be spending 10 hours in Riyadh airport! Thankfully, I was checked in at the business desk, and given both my boarding passes.
Next was immigration and security. Whilst there weren't a lot of people in the queues, it did take a long time, which was very uncomfortable given my stomach's delicate disposition.
Finally, I was airside. The terminal was very nice, although I wasn't in the mood to appreciate it. With the last of my rupees (that the bureau de change refused to change), I bought some reading material in WHSmiths, before buying some chips in McDonalds that I promptly threw up. This is going to be a fun day.
FIDS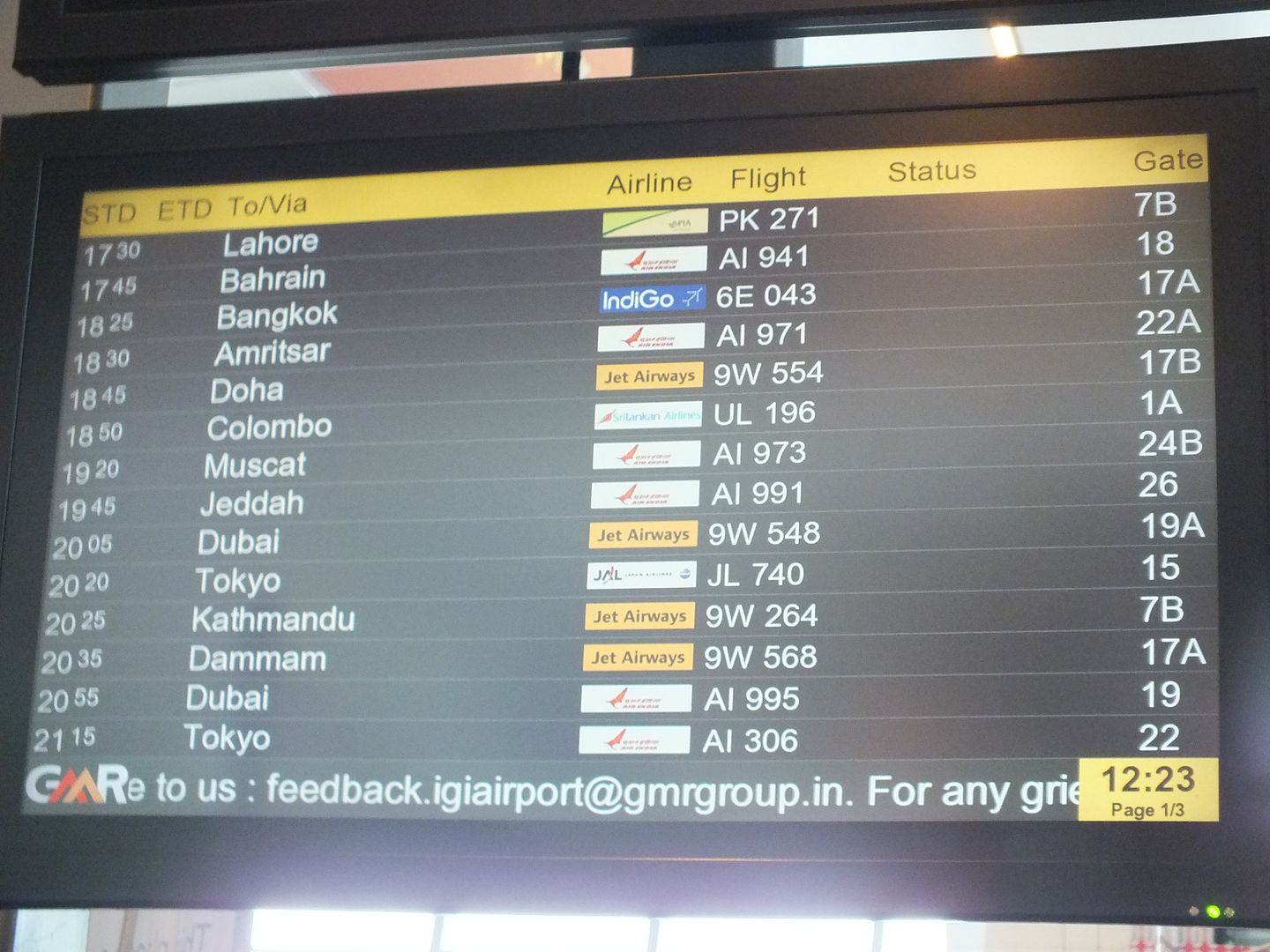 Departure Hall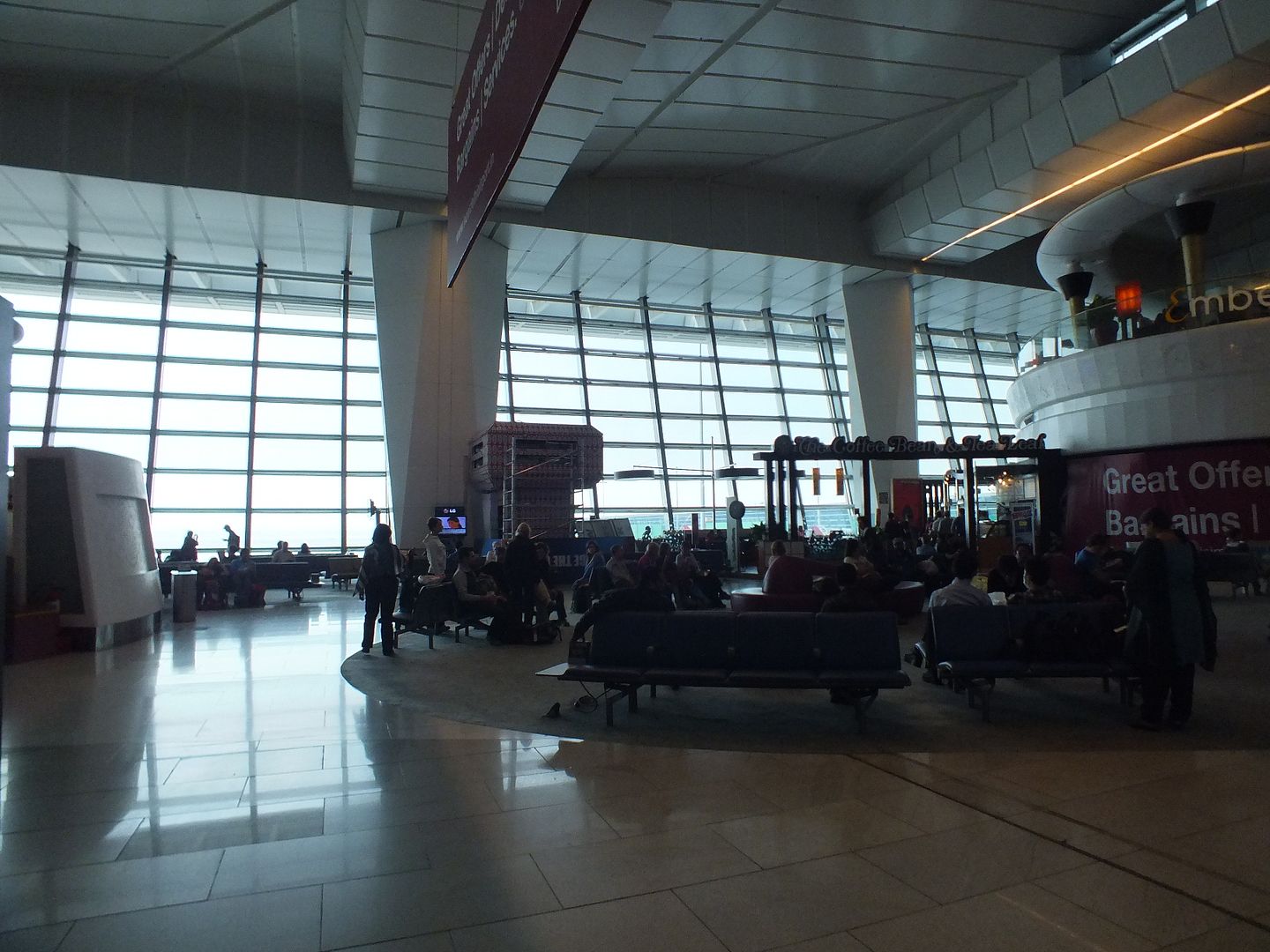 View outside…yes, it's the 787 en route to Frankfurt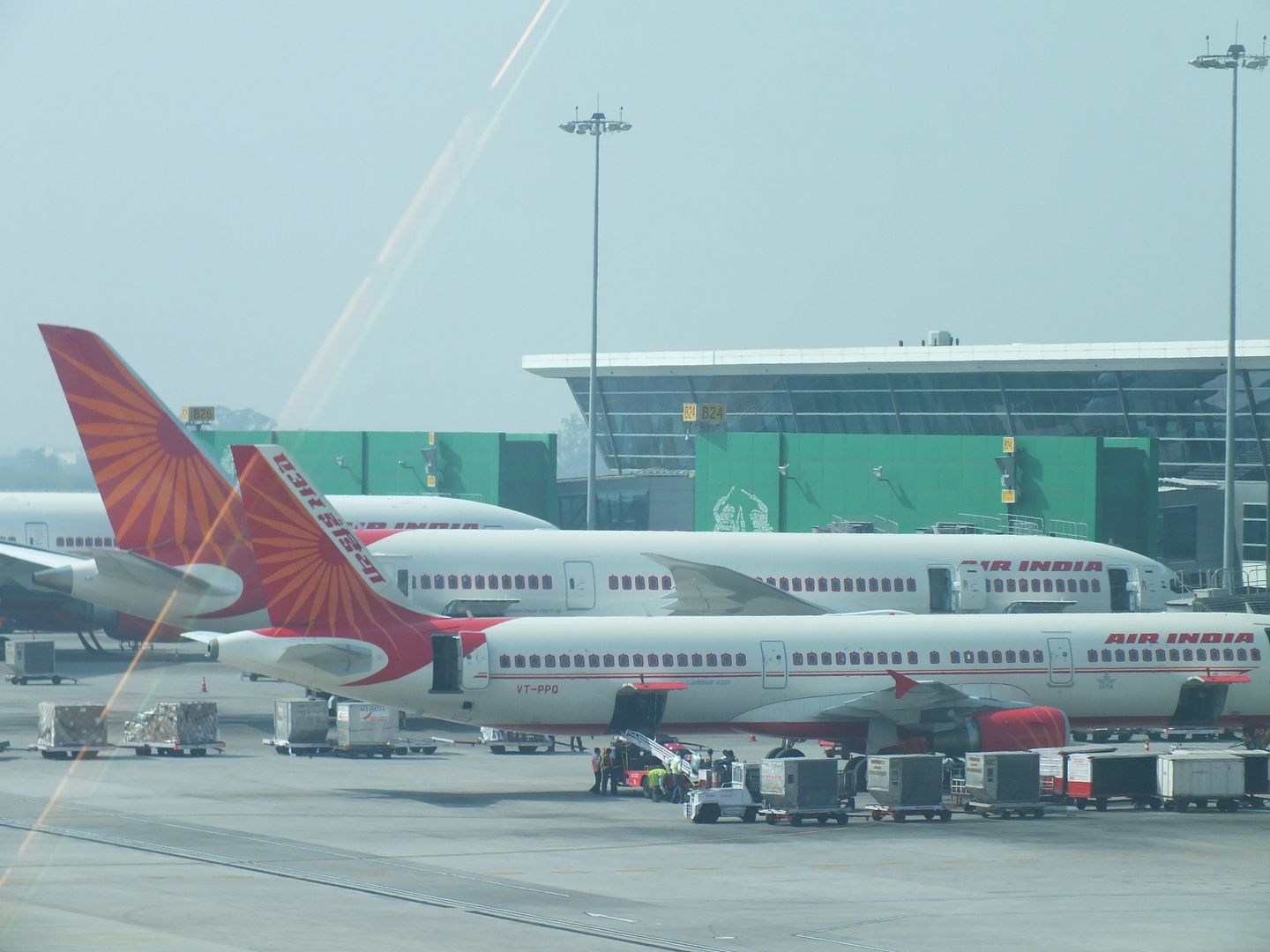 Keen to make sure I was definitely on the plane, and to ensure there were no
Istanbulesque
mishaps, I was at the gate in plenty of time. Looks like my first Saudi plane will be HZ-AKV, an 11 year old veteran.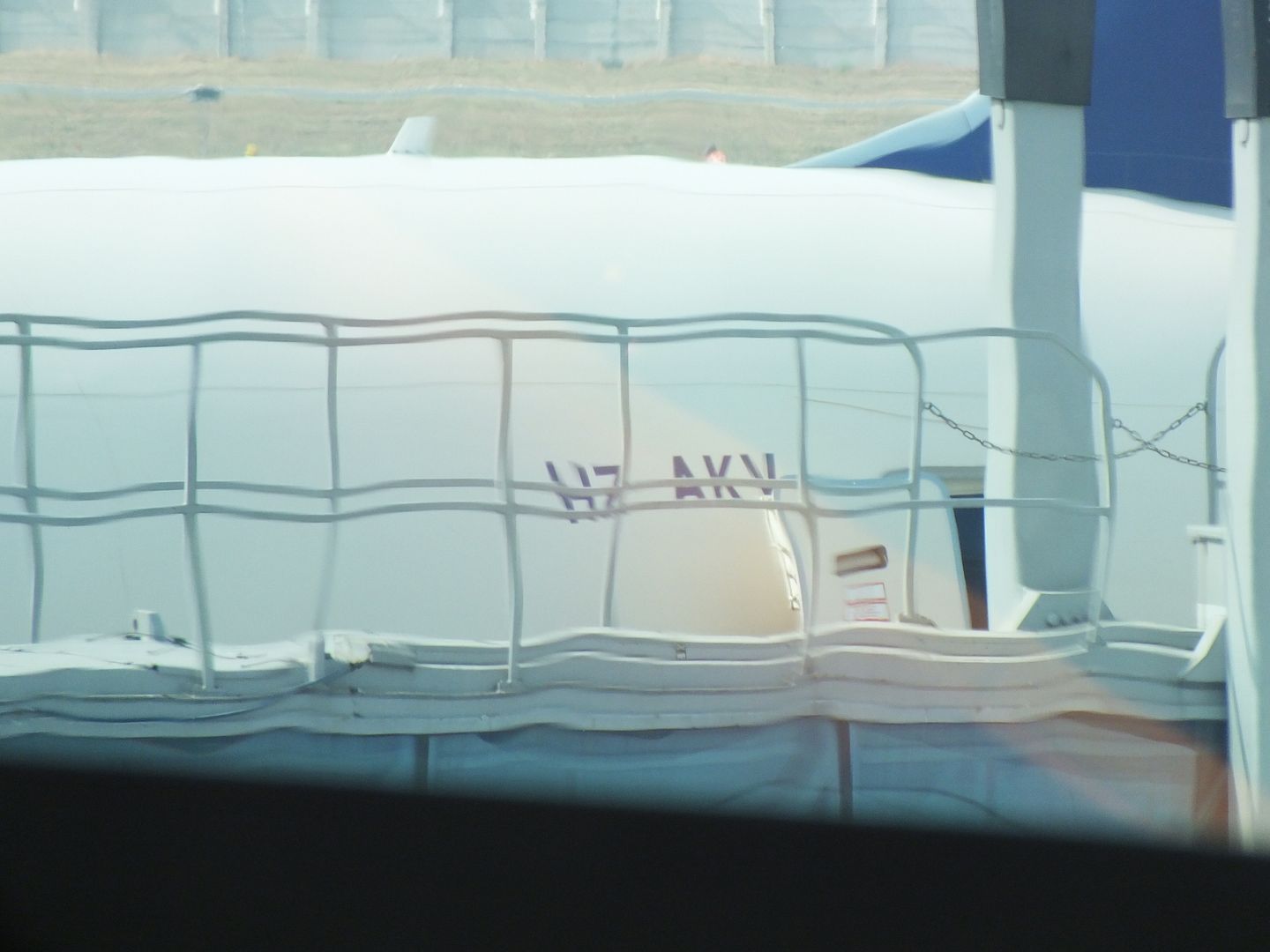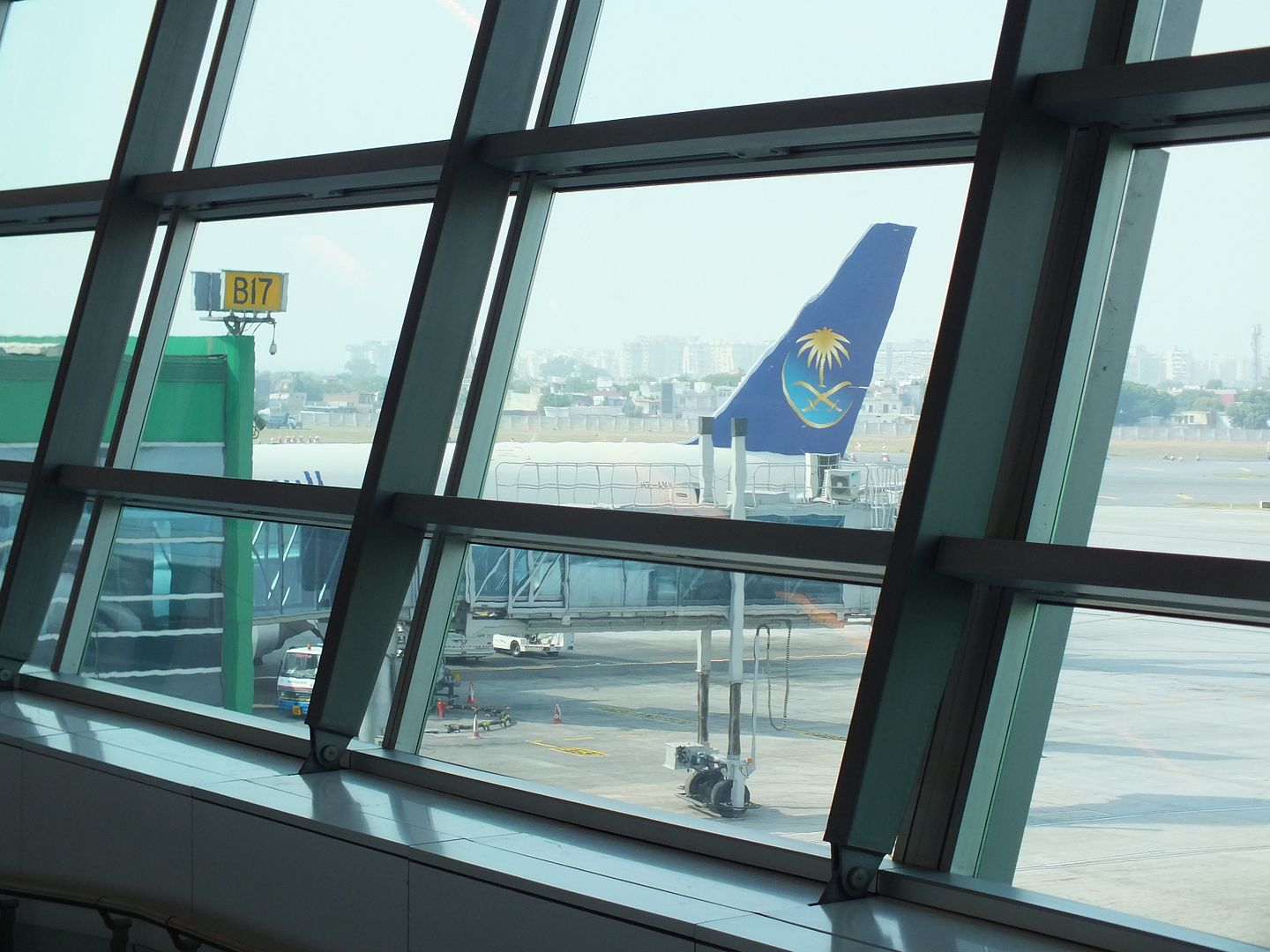 From looking at the passengers waiting, as expected, the vast majority of travellers were Indian males. In fact, other than the crew, I think I saw just 2 women, and 3 children onboard.
After a short queue, my boarding pass was checked. A few metres further on was a woman checking that every piece of hand baggage had a stamped tag (this caught out a guy ahead of me…no idea what happened to him). Just before going down the airbridge, there was a final stop, this time frisking people. From what I could see, I was the only person not to be frisked, I was just waved past….profiling in action?
I love that flag!
November 2012
Delhi (DEL) – Riyadh (RUH)
Saudia SV 761
Scheduled: 1330-1545 (4h45m)
Actual: 1402-1537 (4h05m)
Boeing 777-200 HZ-AKV
Economy Class
The new logo/name
Old logo: Recently, SV have returned to their old name, whilst retaining the palm tree and swords
.
I was greeted at the door by a smiling lady FA, and pointed down the aisle. This 777 forms part of the backbone of the shuttle for sub-continent workers travelling to the Gulf, and as such, is configured with just 2 rows of business, the rest being economy.
My (fairly limited) research had led me to believe that the plane would be quite horrible. No entertainment, and uncomfortable seats. I was therefore quite shocked to find this when I sat down: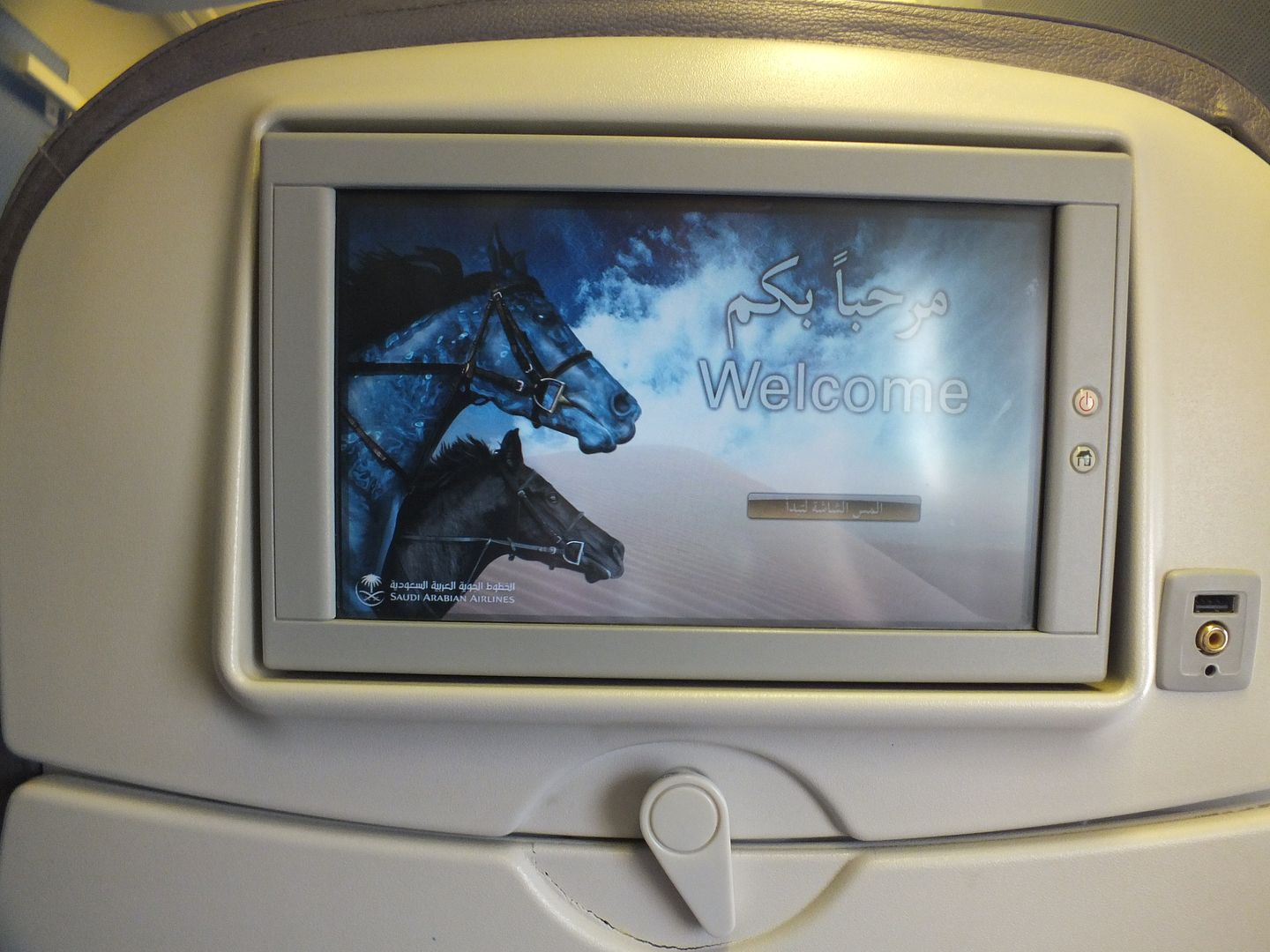 A TV! With AVOD! Wow, I wasn't expecting that!
SV have joined the posse of operators with 3x4x3 seating in Y. Just as on
Alitalia
and
Scoot
, I found the seats width to be fine, just with rather narrow aisles. SV allow you to select your seat for free from the time of reservation. I guess most of SV passengers don't know about this as even 2 days before the flight, there were barely a handful of seats pre-assigned. I'd selected one of the few pairs of seats, just behind 3R:
For those of you wondering what "P" is on the map, it's the Muslim prayer area. Basically, it was an empty carpeted space, with curtains for walls, and a moving map displaying the direction of Mecca.
The whole plane: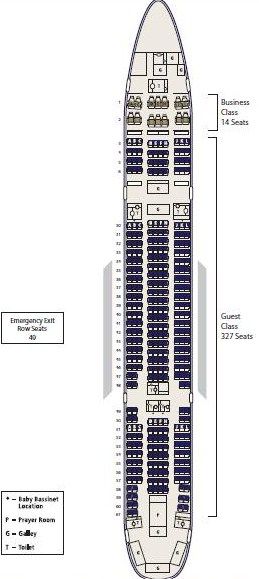 Reasonable legroom
View across the cabin. The crew uniform doesn't show much skin.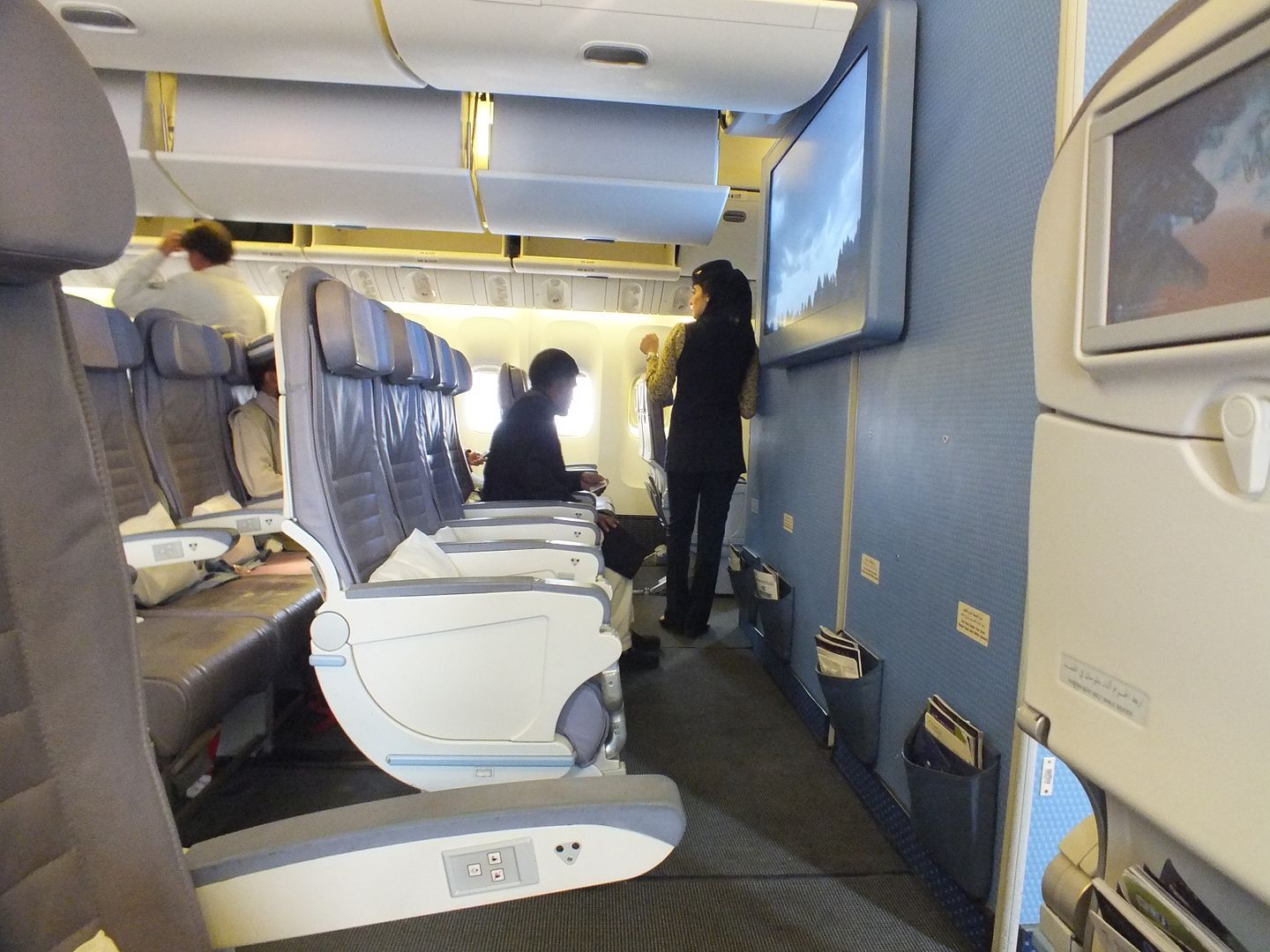 Outside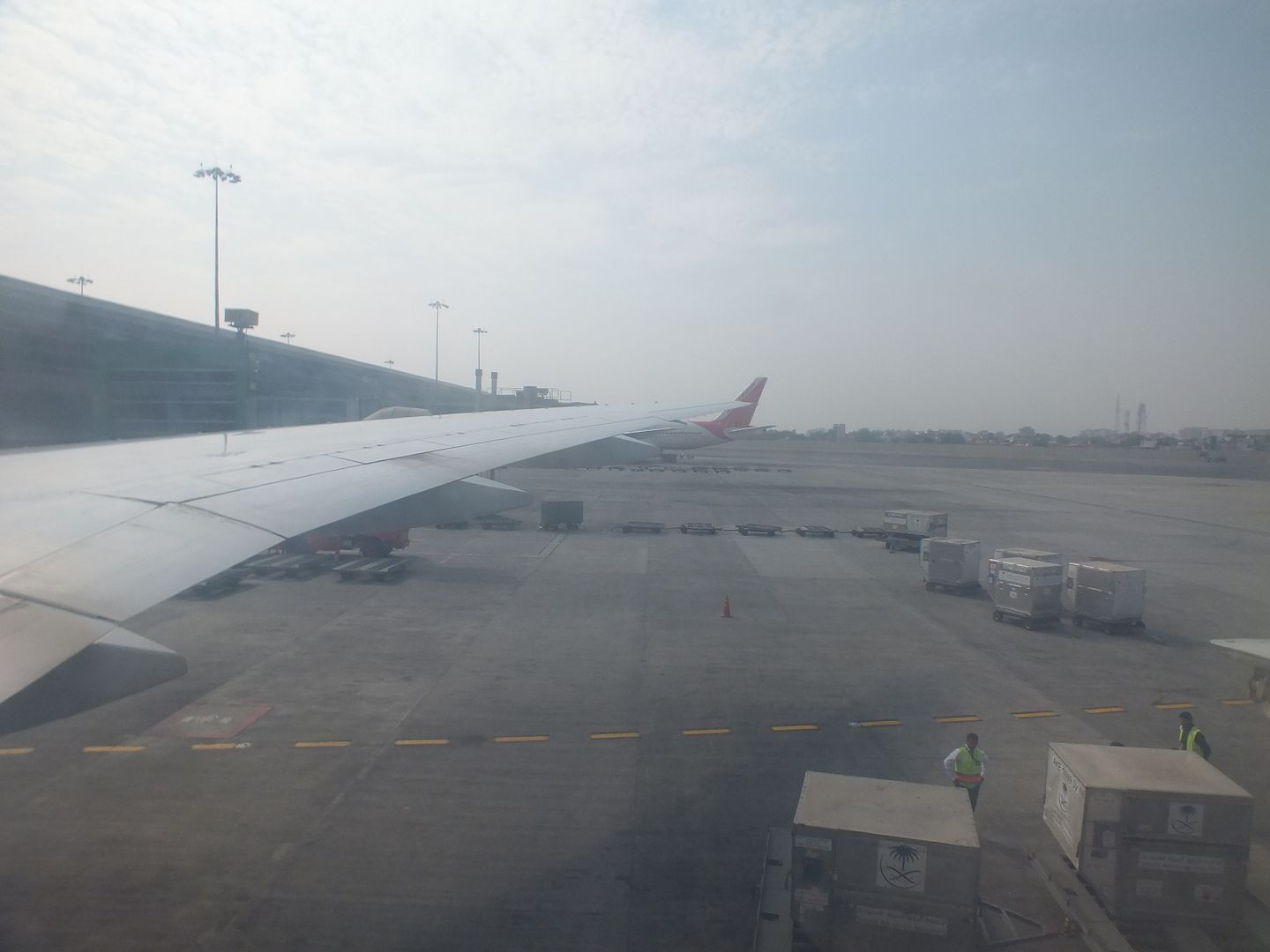 The cabin gradually filled up, with ever seat taken, as far as I could see.
Magazine
Map
Clearly, this isn't first generation stuff…it's been updated fairly recently.
Films available of this flight…not a bad selection.
Newspapers were handed out (another surprise), although the FA announced them in barely a whisper.
Towelettes
Safety card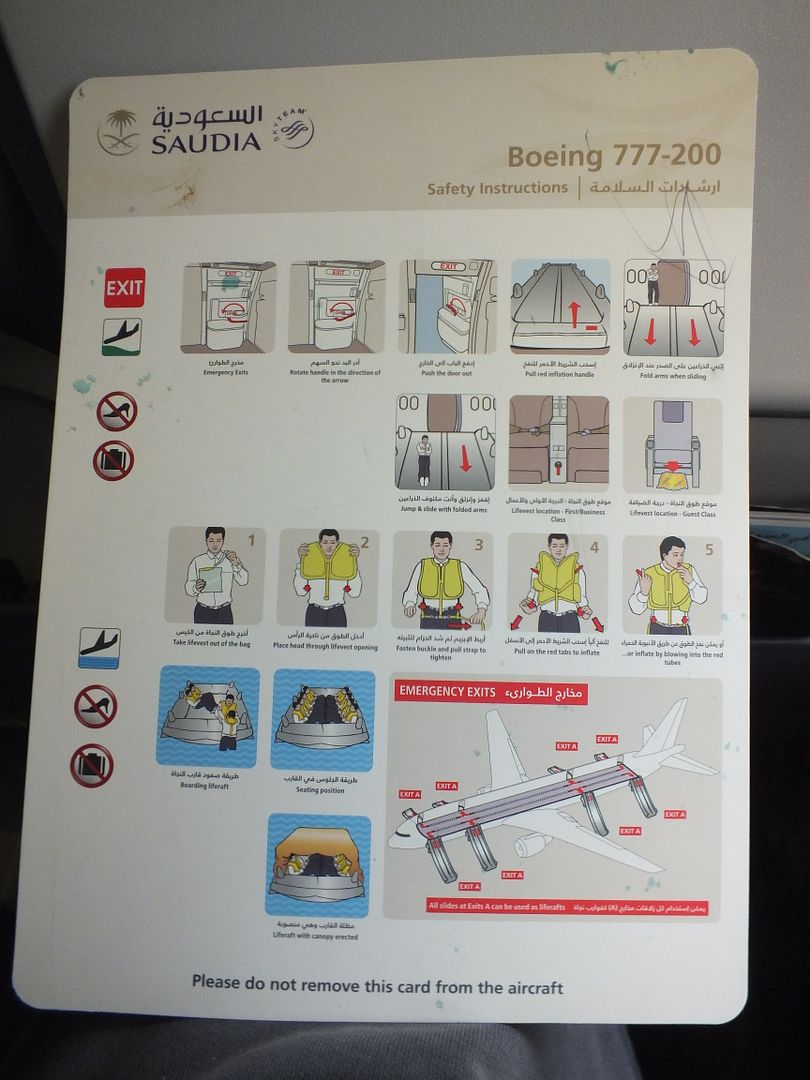 And a demo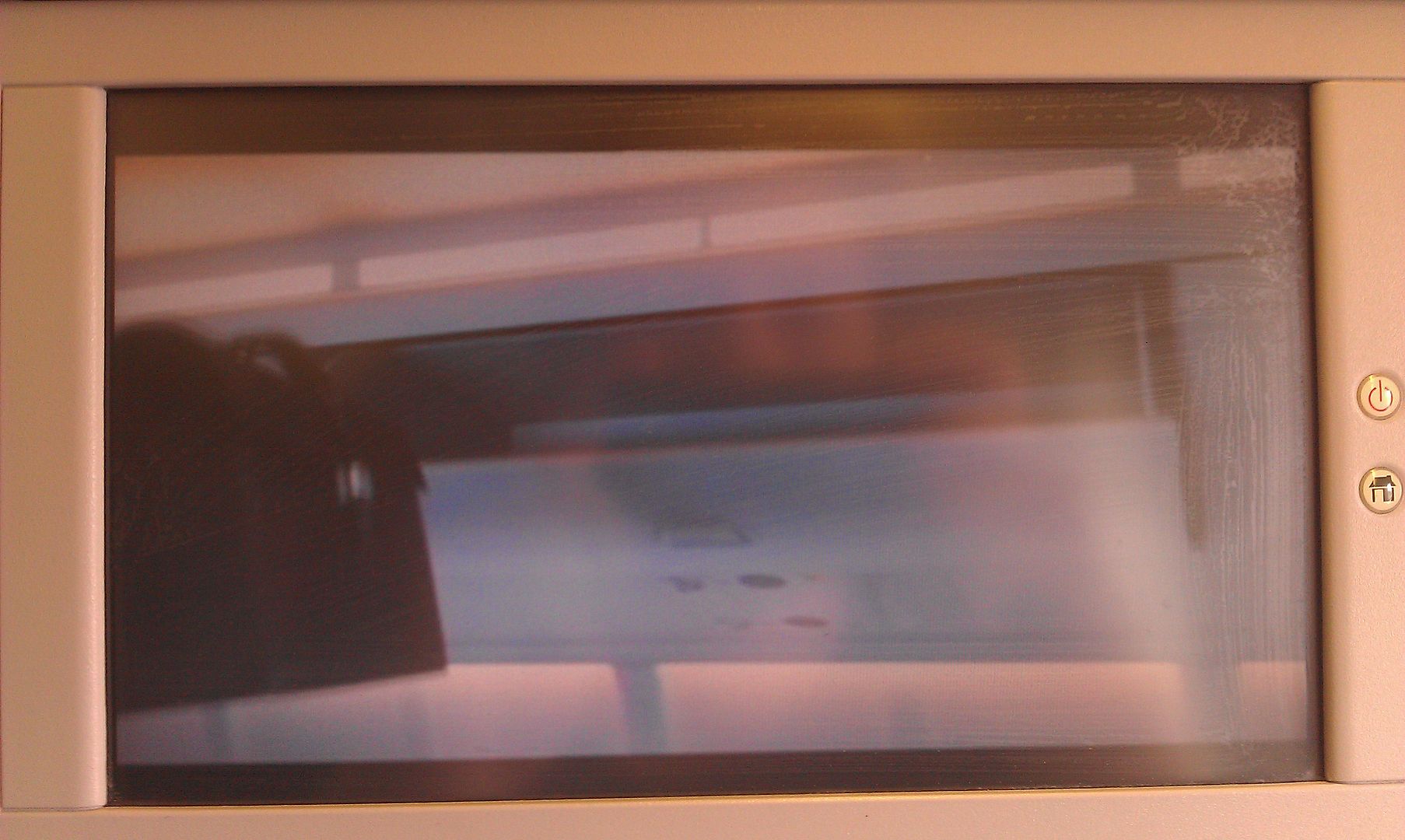 There's also a pre-take off payer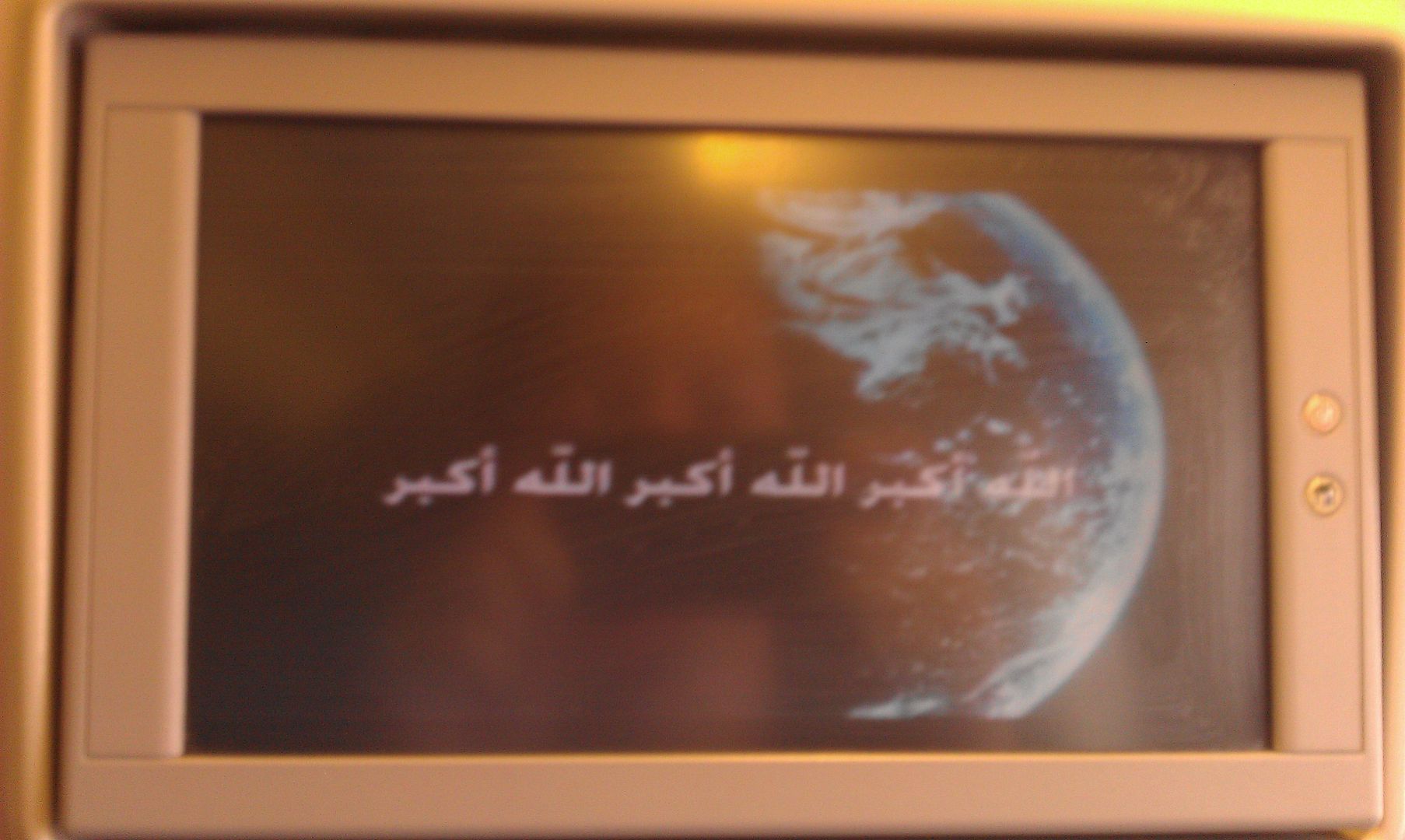 Passing the VS plane I'd hoped to be shunted onto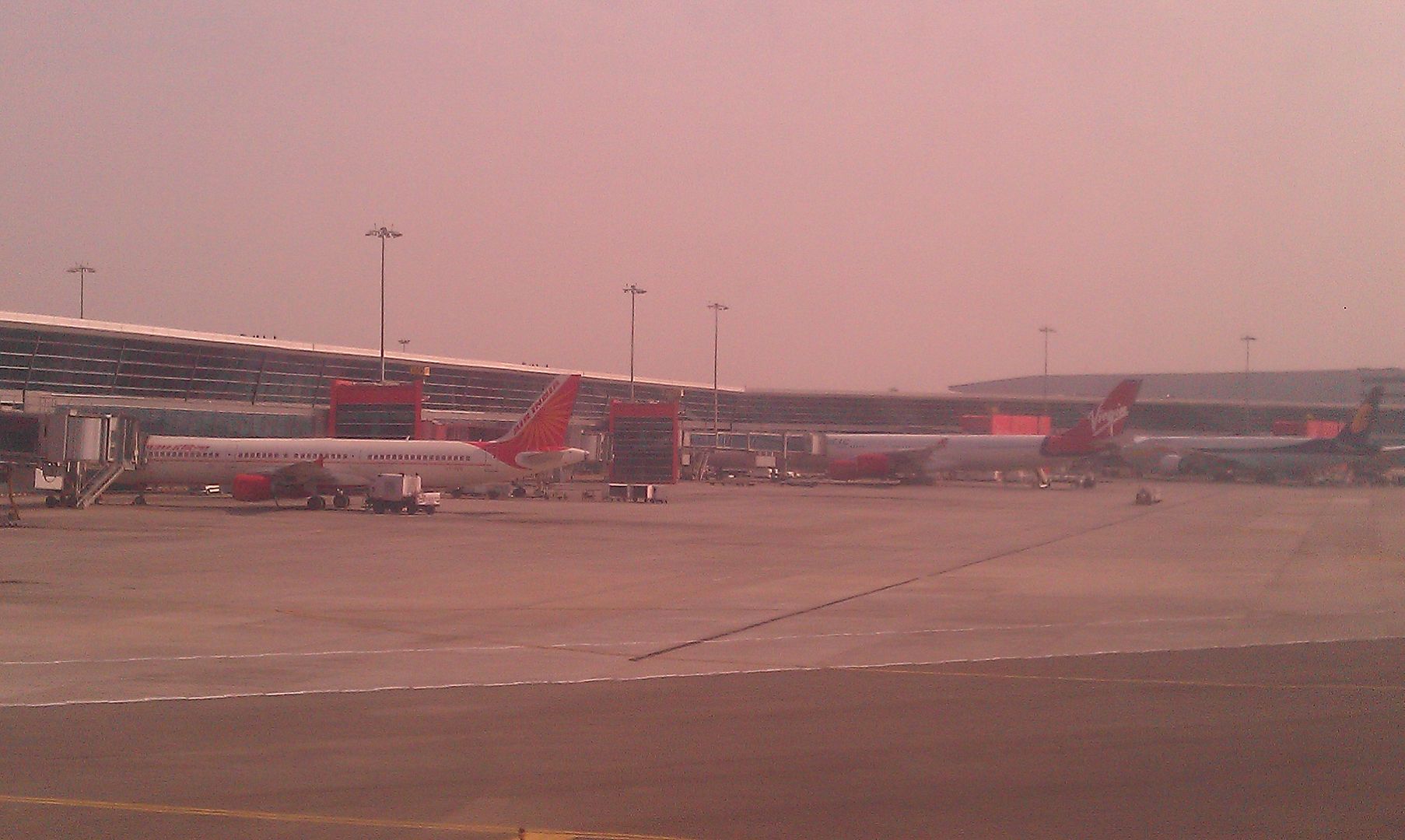 There was a long (+15 minutes) taxi to the runway, before we were finally off to Saudi