Dubrovnik with British Airways. Club on the B734
Hi!
Thanks for clicking on my latest report, covering my December flight to
Dubrovnik with British Airways in Club Europe
.
So, how
did
this trip come about? Well, like so many other trips, it started with an email. As I was packing and preparing in Delhi for my
homeward journey to London
, I got this email from BA.
Hmm, so what deals did they have. Well, most of Europe was on sale for around £300 return. However, there were two destinations on sale for a lot less. One was Jersey, and the other Dubrovnik. I've long since wanted a journey to both of these exotic locales. Thankfully, the price was perfect for both of them…£129 return…in Club (€159/$207). And it was cheaper in business than economy!
How could I say no? The dates available were fairly limited (just 2 weeks before and after Christmas), so it was a choice of one or the other. Obviously, Dubrovnik is quite a bit further than Jersey (1052 miles vs 161), so was obviously my preferred choice. A bit of warm weather was also very alluring, so without further ado, I was booked for a weekend in Croatia. Time to escape the Christmas shopping madness!
The map, courtesy of GC Mapper, of this report:
It was when I was filling in my Flight Memory details that I realised that this flight would cover a nice landmark, namely my Millionth Kilometre flown. Of course, with all the circling I've done over the years, I'm sure I actually passed this landmark a few flights back, not to mention the fact that I only started counting flights from the age of 5 or so, when I'd already done a good hundred thousand kms (those London-Tokyo via Anchorage flights really add up).
Talking of landmarks, my previous report with
Saudia
finally got me into the "100 Airlines" club, not that I realised at the time. Oh, and I've nearly completed my 25th circumnavigation of the world, having finished my return trip to the moon a year or so ago. (Don't you just love flightmemory.com for these useless facts?!)
Over the coming weeks, it was interesting to watch the Club section grow. When I booked, there were just 3 rows for Club (10 seats). By the time of the flight, we'd reached the maximum of 9 rows (34 seats).
Loads a week before the flight. Interestingly, the were happy to sell 7 award seats (I class), but only 5 full fare business tickets (C class).

Award availability
Two days before departure, availability has gone down a bit it Club, but still economy seems quite roomy.
BA has taken an interesting route for seat selection. With the exception of First Class, which has free seat allocation from the time of booking, if you aren't a Gold/Silver card holder or on a full fare ticket, then you have to pay for seat reservation. So, even if you've spent £4,000 on a return to Sydney in Business Class, you'll still have to stump up the cash (in this case £120 for a return flight). Whilst it left me playing seat roulette (i.e. hoping a good seat would be available at OLCI, rather than stump up the £20 o/w fee), I think it's a fairly good policy, enabling more important customers (e.g. Gold card holders) the best choice of seats even when booking late, whilst enabling everyone to choose a seat in advance if they wish.
Thankfully, when OLCI did finally open, I'd been pre-assigned a window near the front….4F will do.
As I often do with morning flights out of Gatwick, I stayed the night with a friend in Redhill. Not too early the next morning, he gave me a lift to the station, and ten minutes later, I was in Gatwick South station. I did a big U-turn, and was shortly on the shuttle over to the North Terminal, where BA operates from.
Emerging from the shuttle outside the North Terminal
From the entrance, it's not far to the BA desks. The place seems pretty busy today. No problem, I'm in Club, so head over to the nicely walled off Premium desks, as seen on the far right.
Oh dear. The queue for these desk snakes around, and out of the side. The 3 or so desks seems to have a queue of around 15, mostly families with a huge amount of luggage. Well, this isn't very good. I about turn, and join an economy class bag drop line. In around 2 minutes, I'm seen to. Despite not having printed my boarding pass or bag tag yet (as one is supposed to do for these lines), the guy is friendly, quickly printing out the required documents, and commiserating on the massive lines in the premium area. He asks if I know where the lounge is (I do), and wishes me a pleasant flight.
There's no queue for the "Premium Gatwick" security, and the guy is very friendly, escorting me around the corner, and pointing me towards the machine. Sadly, there is a family ahead of me with three teenage girls, fully decked out in leather boots, belts and metallic jewellery….unsurprisingly, it takes a while to get through.
Departures
FIDS. Seems like Barbados (Bridgetown) is popular this morning with 4 flights. And the "Commies" take over at noon.
With a good 90 minutes to go before boarding, I had to the lounge, and then for a shower (not having got up early enough to have one at my friend's place)…good water pressure here.
Of course the large queues at check in mean that the lounge is correspondingly busy. So busy in fact that I find just one free table in the very far corner. It's a grim old day.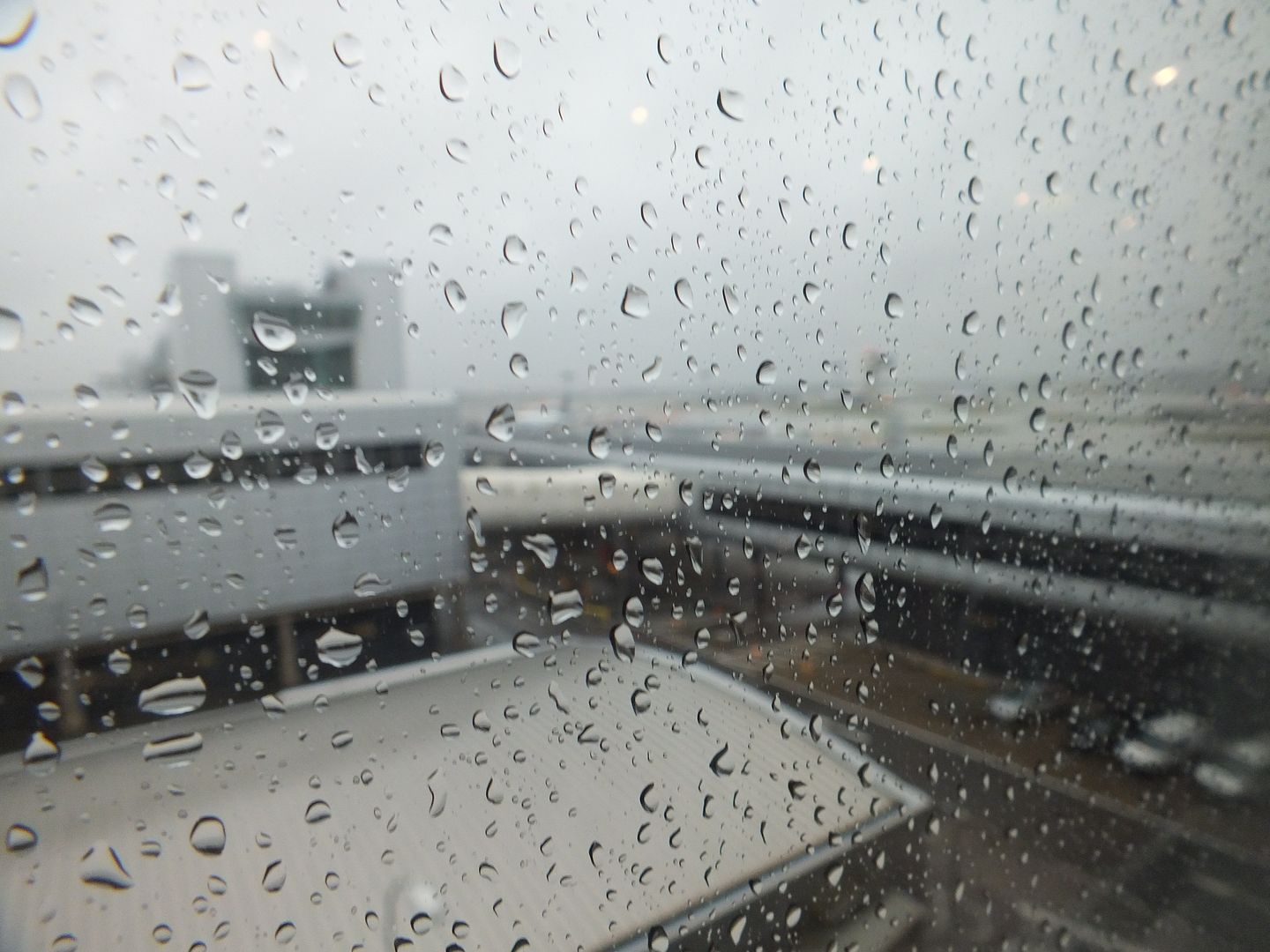 LGW lounges don't do a hot breakfast (unlike LHR), so it's time for some fatty pastries and sugary fruit.
And an espresso
And the weather? The cold and crisp weather of the last few days in gone to be replaced with lashing rain…what a joy. I would normally be rejoicing that I was off to Southern Europe, although sadly Dubrovnik's weather forecast is even worse than London.
After a while, the lounge emptied a little (although it was far from empty), so I took a quick seating photo.
In terms of lounge offerings, other than cold breakfast, there was cereal and toast. On the drinks side, there was everything you'd normally expect, plus some nice additions since my last time in a BA lounge….they now stock two types of pre-mixed cocktails (Mai Tai and Cosmopolitan)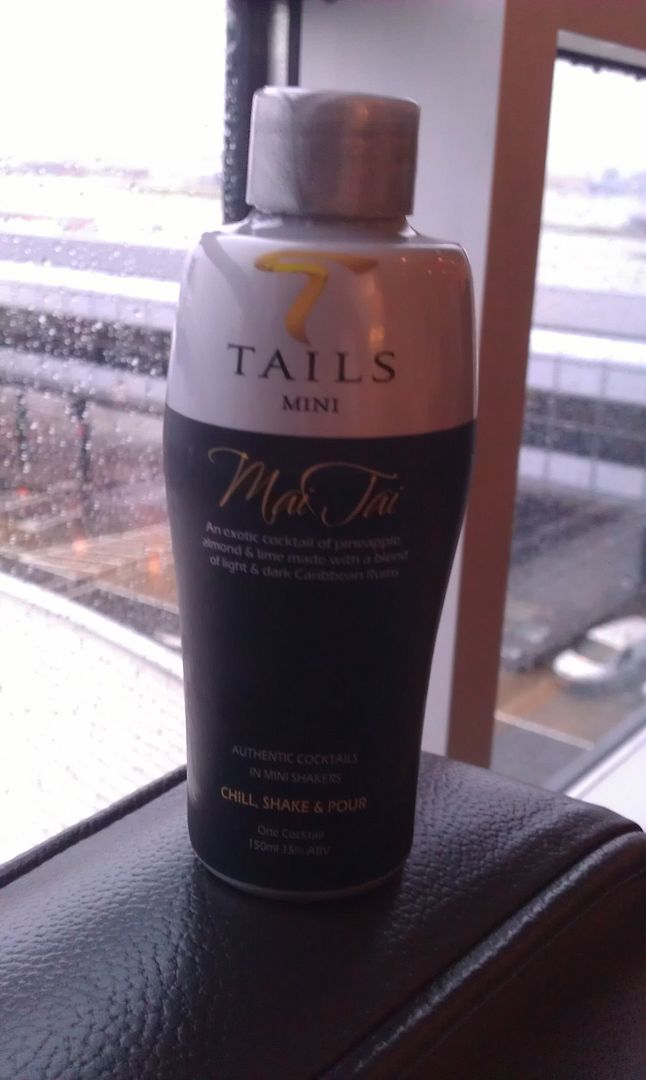 Around 45 minutes before departure, I pack up my things, and head to the gate. I'm happy to see that we have a gate "over the bridge". They have some quite nice naturalistic piped music playing in the corridors.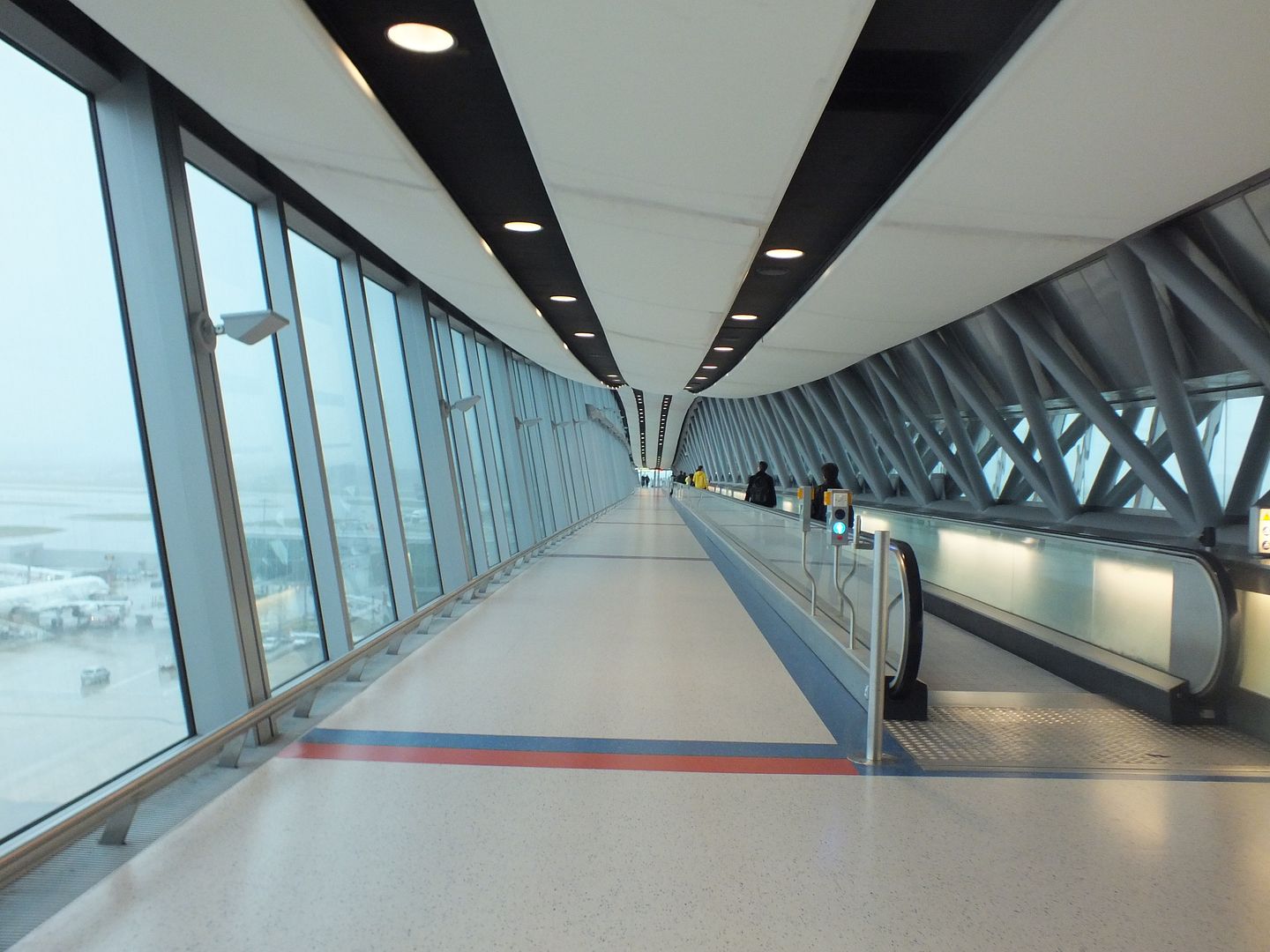 You get some great views up here. Shame about the rain.
I was delighted to be crossing just as a Vietnam Airlines 777 was being towed to its gate ahead of its noon Hanoi departure.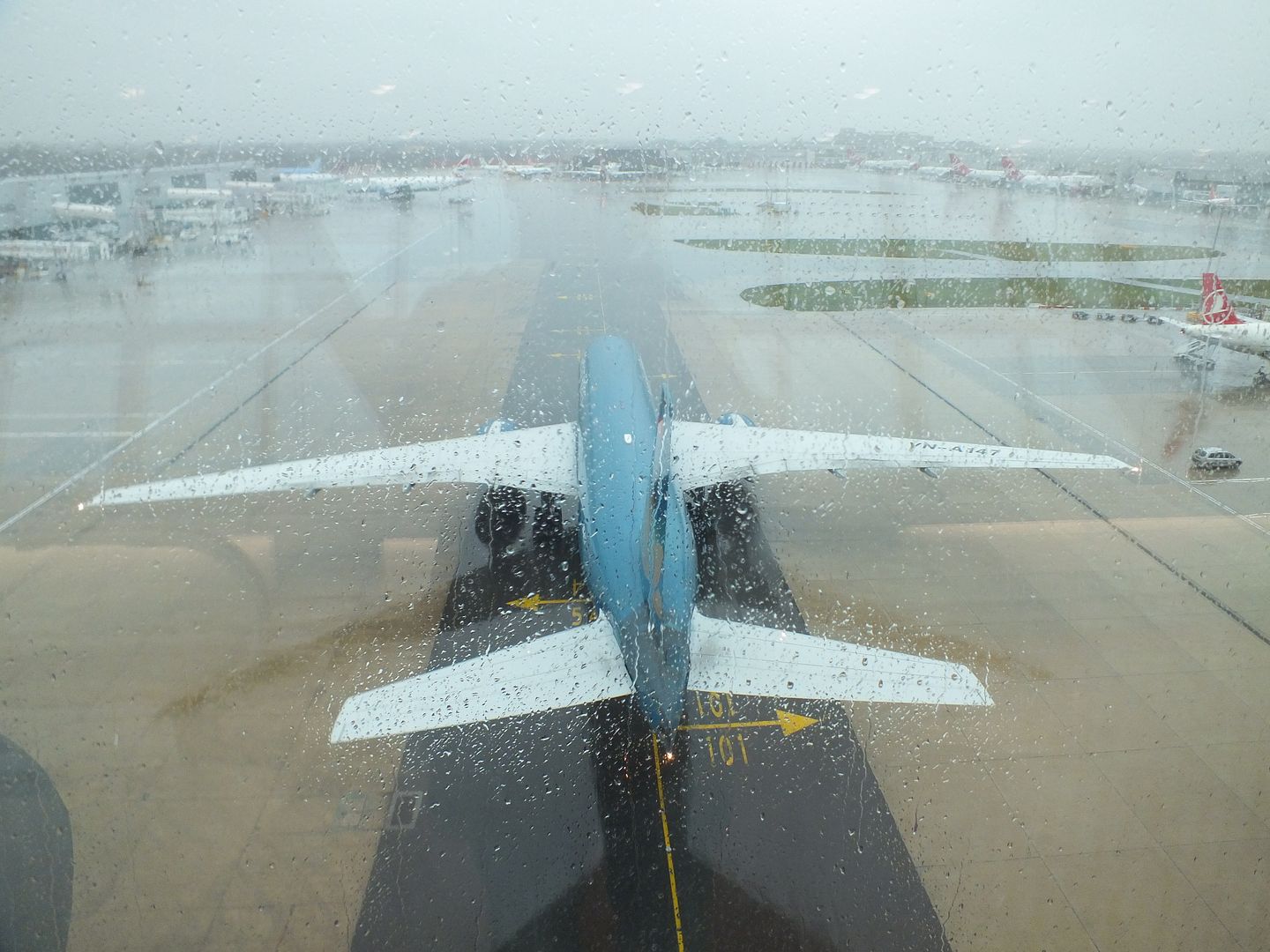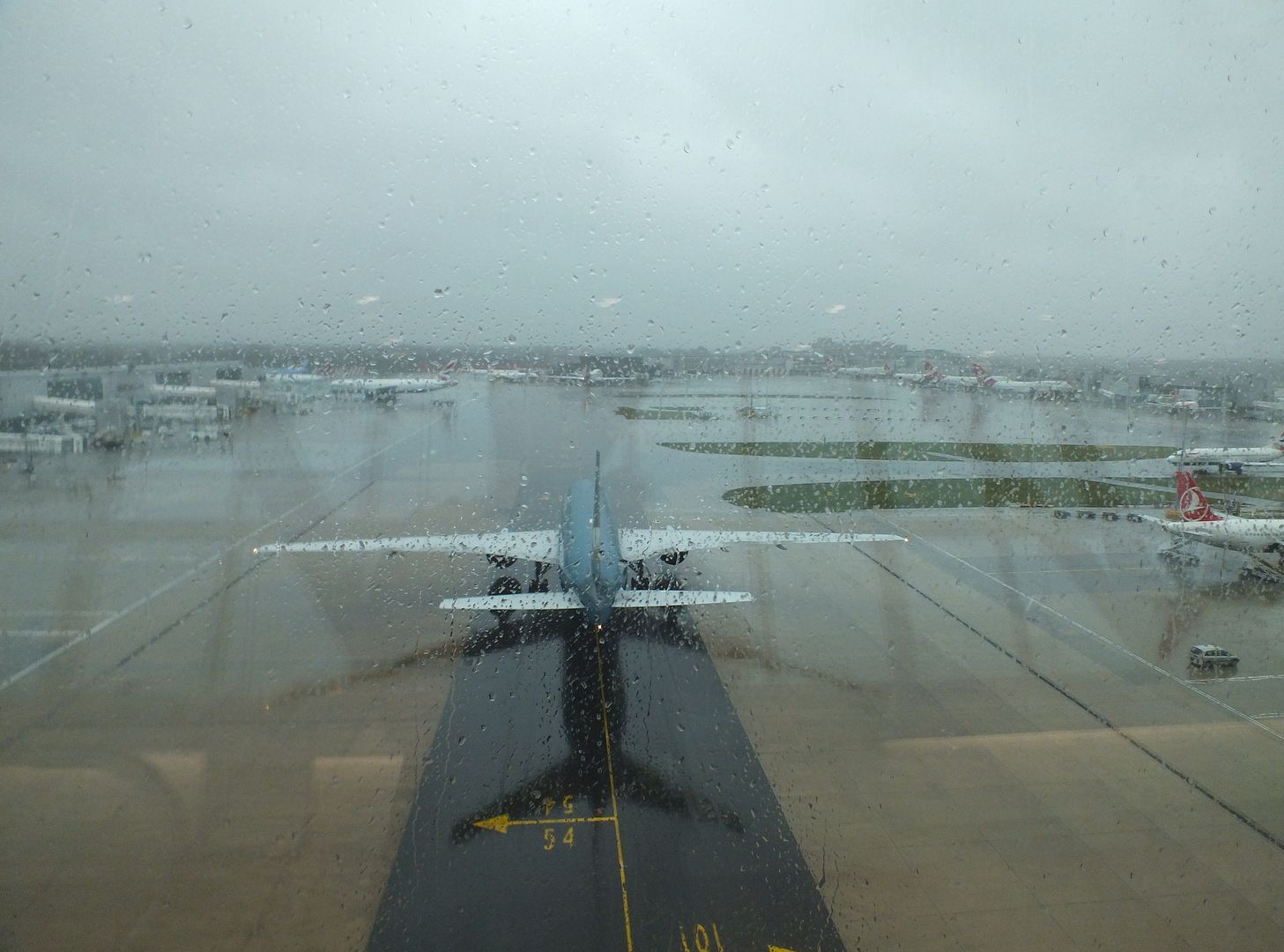 There's not much the other side of bridge, other than a shop or two. Here's the delayed Algiers flight boarding. Algiers is actually closer to London than Malaga, Gibraltar and Dubrovnik. Sadly this isn't recognised in relation to fare prices or entry requirements.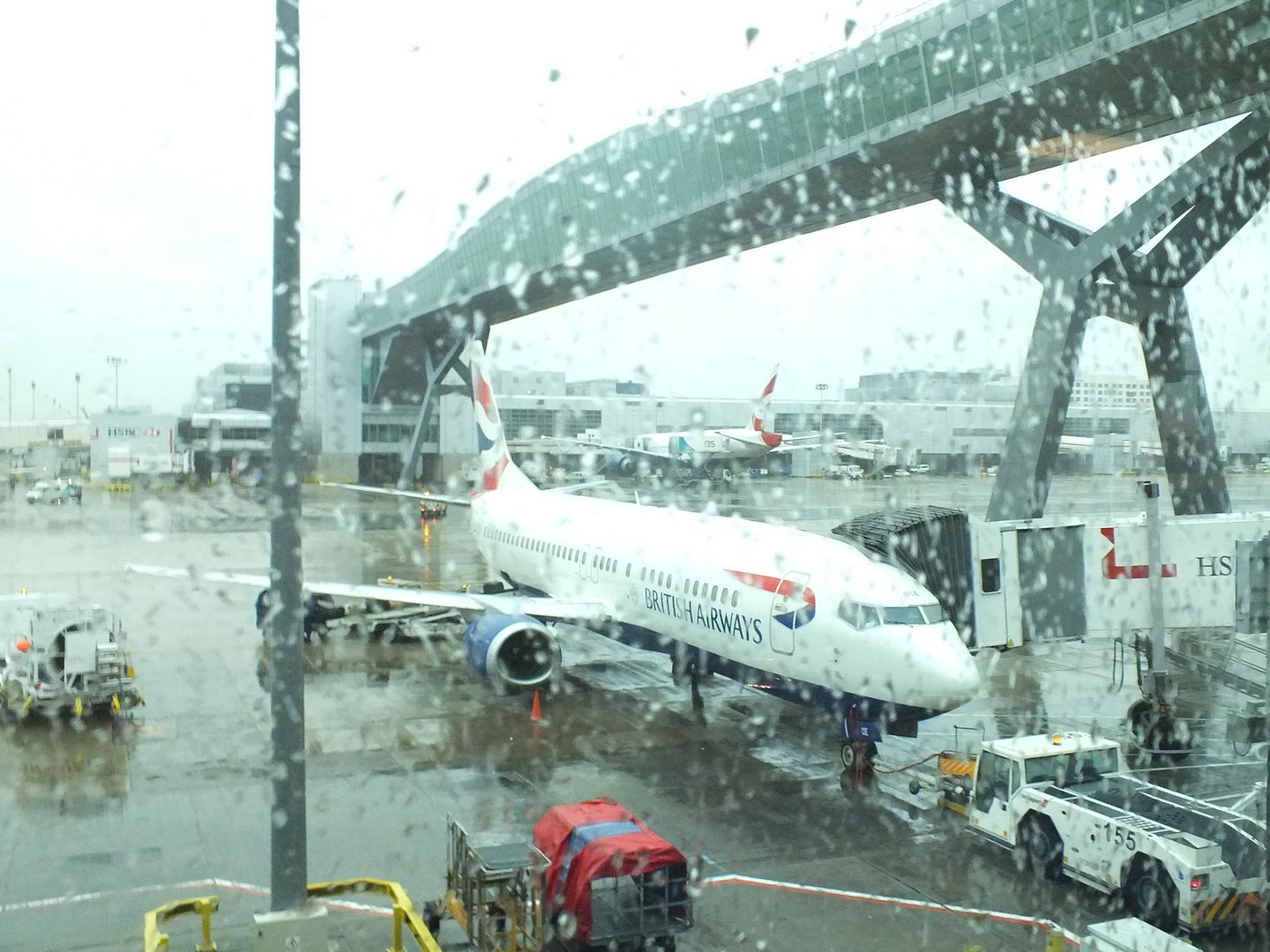 Over the way, at gate 107, is G-DOCW, my plane today down to the Adriatic. This'll be my third flight with her, having previously flown her LGW-AGP and MRS-LGW.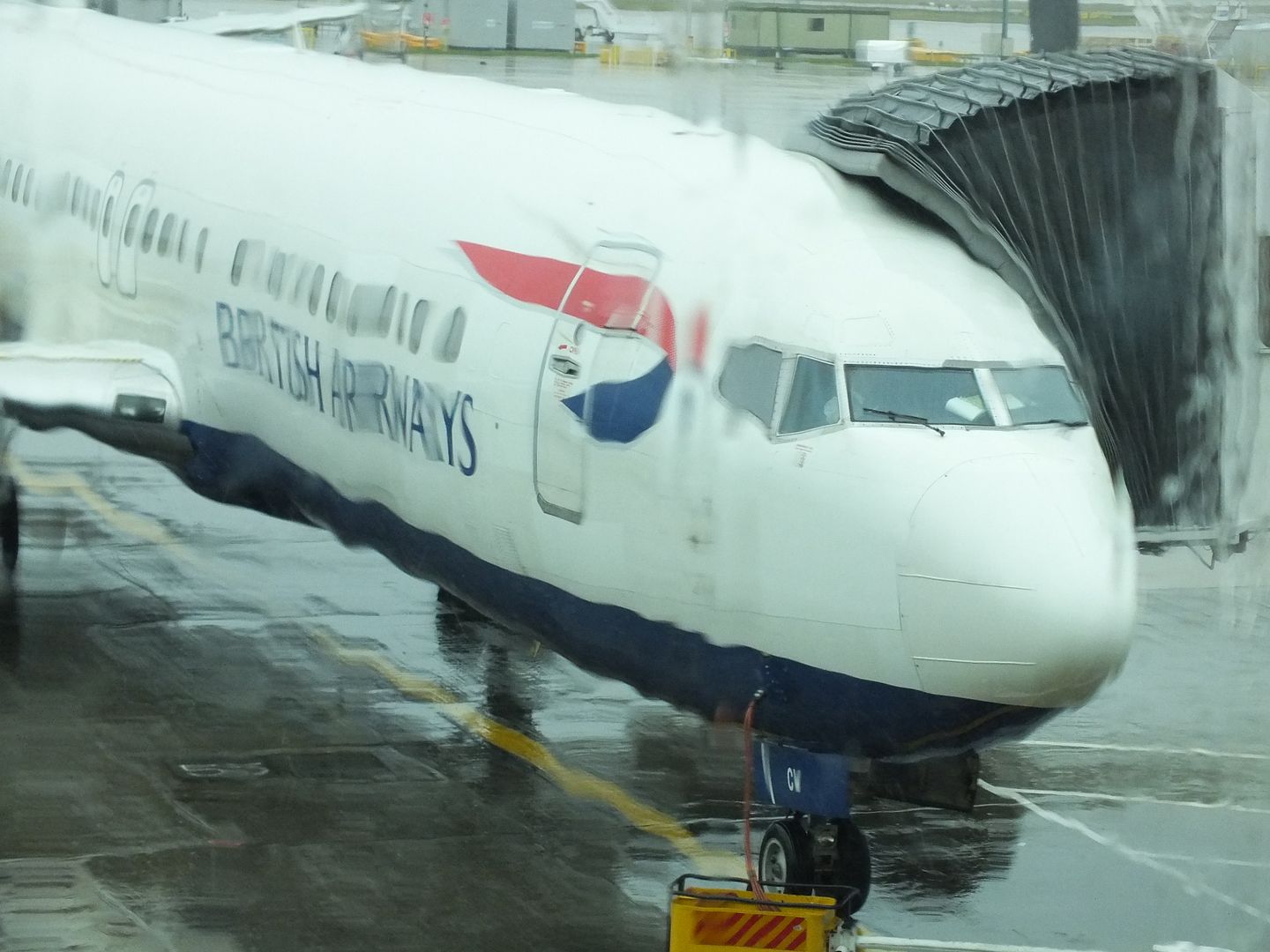 Boarding is very civilised, with a clear boarding announcement for "Fast Track" passengers to board first. This is strictly enforced. I'm roughly tenth to board, and pick up some papers on the way.
December 2012
London Gatwick (LGW) – Dubrovnik (DBV)
British Airways BA 2678
Scheduled: 1110-1450 (2h40m)
Actual: 1120-1427 (2h07m)
Boeing 737-400 G-DOCW
Business Class (Club Europe)

I'm greeted at the door by a large friendly lady (whom will spend most of the flight laughing), and directed down the aisle (as if my seat cold have been in front of 1L).
I stop at row 4, and start putting my bag in the overhead. I hear a "yes" behind me. The lady in 4D is standing about 1 cm behind me seemingly desperate to sit down. Hang on! With my back pack stowed, I sit down, closely followed by 4D. I thought for a second she mind go for the middle seat she was so close behind me. Nice legroom at the front.
It's still pouring
The cabin slowly fills up. As far as I can see, the front 8 rows are completely full, with row 9 (the last row) being completely empty.
We push back a bit late, and taxi out of the soaking wet runway.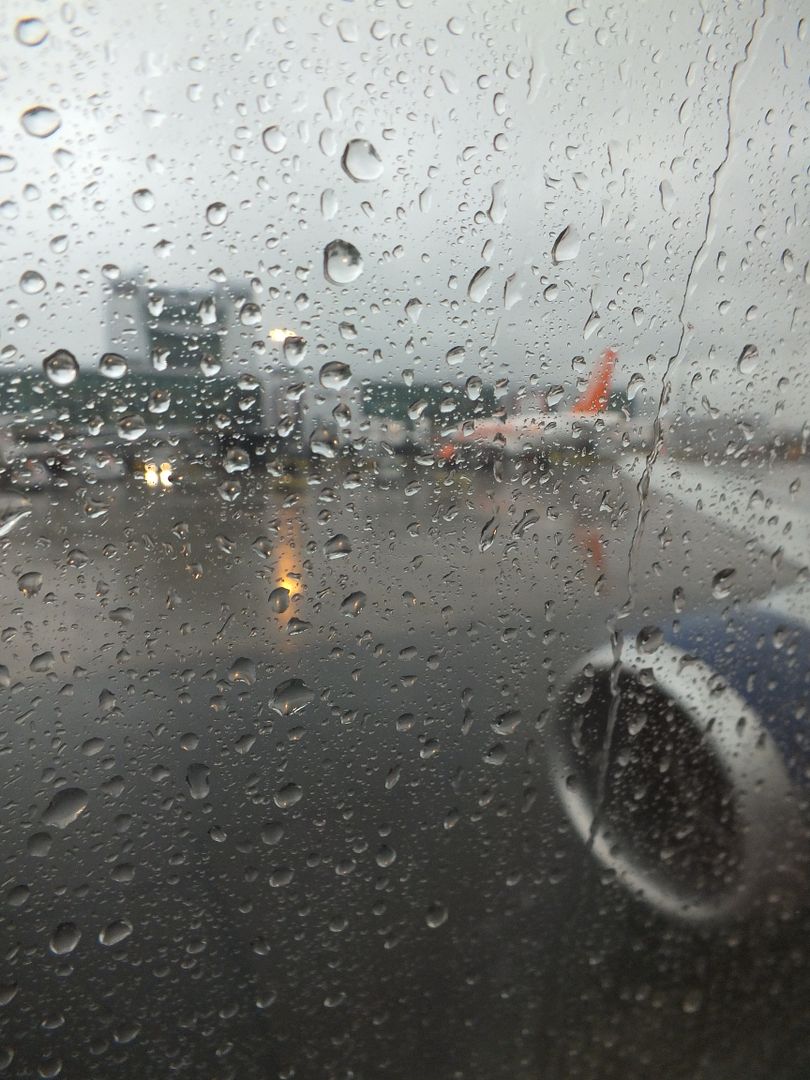 Of we go!
An Openskies 757 in LGW for some R&R.
As you can see, LGW is very handy for the railway. This is the main London-Brighton route.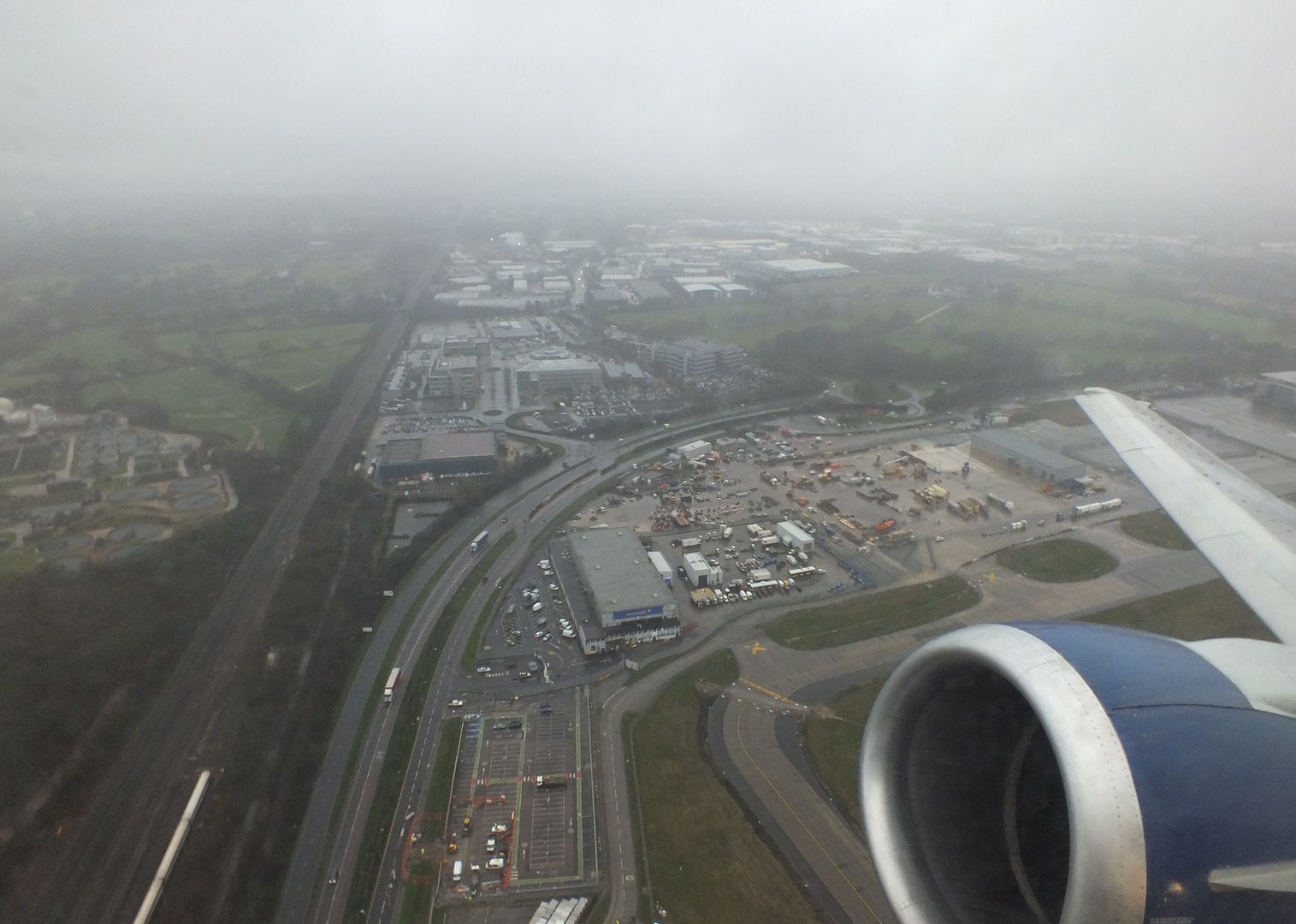 Five minutes after take off, the curtains are drawn between Club and economy, and the two crew start the service. When there are more than 15 people in Club, there are 2 FAs working in the cabin (and 2 in economy). With 15 or less, there is just 1 in Club, but still 2 in economy. First off, it's time for hot towels (which are luke warm at best). Nice to have the cocktail tables. As always, I use the towel to give the arm rests/table/anything else I can reach a good scrub.
Still cloudy outside
The cabin. I like the Millennium Bridge photos on the bulkhead
My selection of newspapers. Gatwick is still the only place I've seen the China Daily on offer anywhere in the UK. Never seen it in a shop, or at LHR.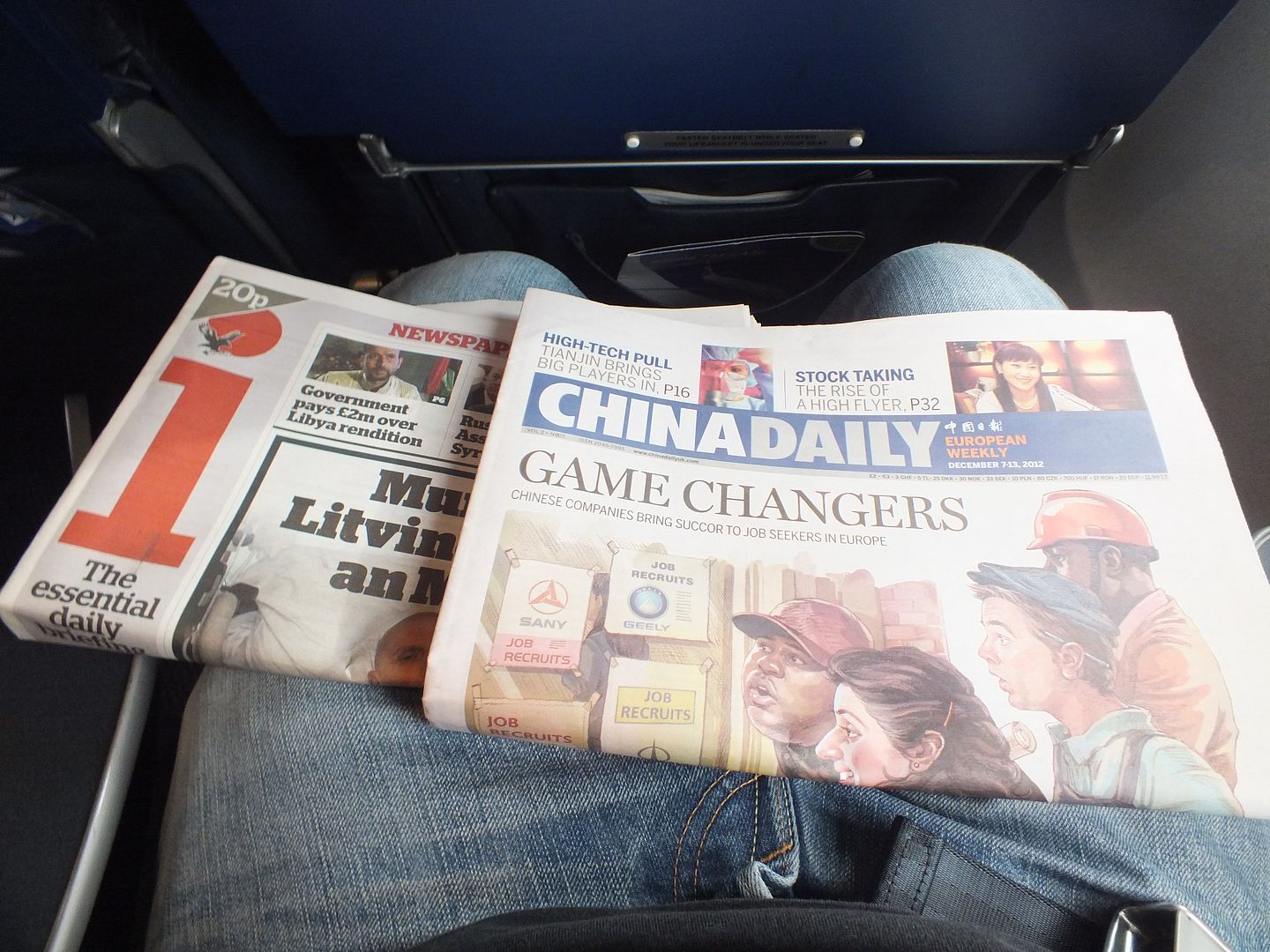 The sun's finally burning it's way through
Twenty minutes after wheels up, lunch is served. Well, I say lunch, but this meal has been branded as "brunch" by BA. Thankfully, I'd read this
wonderful thread
before the journey, was able to plan my meals accordingly.
In their infinite wisdom, despite the flight leaving around 1130, and arriving into destination at around 1430, lunch is not served in business class. Lunch only starts at 1200. Clearly ridiculous, especially when the choices are "would you like a croissant or the cold cuts". Er, seriously, "a croissant" is NOT a meal choice! To be fair to BA, the croissant does come with a saucer of fruit. Having eaten a plate full of pastries and fruit in the lounge, I go for the cold cuts.
It's pretty tasty – nice to have the smoked salmon and cream cheese. I did half keep expecting the crew to come by and give me a choice of hot main courses, but of course they didn't. I'm sorry BA but this is NOT ok. I can only imagine what an SQ flight attendant would say if that's all they had to offer on a Singapore-Bangkok flight (which is some 25% shorter). I'm pretty sure that most people on a post-11am flight will have had breakfast, and be
expecting
lunch.
As one should do when in Club, I go for a champagne.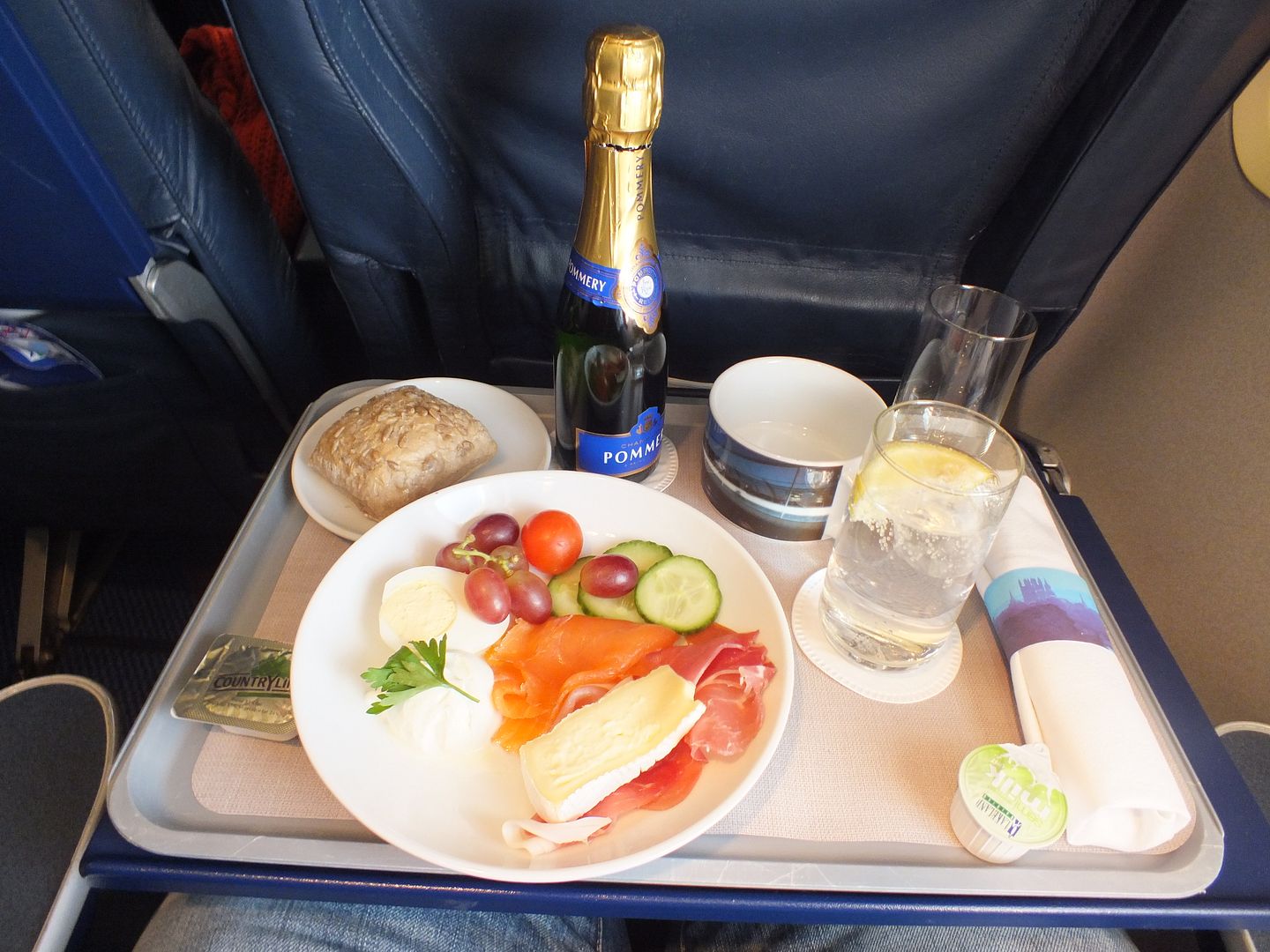 Still rather hazy
Given the rather dainty portion, it doesn't take long to finish.
By this time, we have it some nice weather. Looks nice and snowy down below.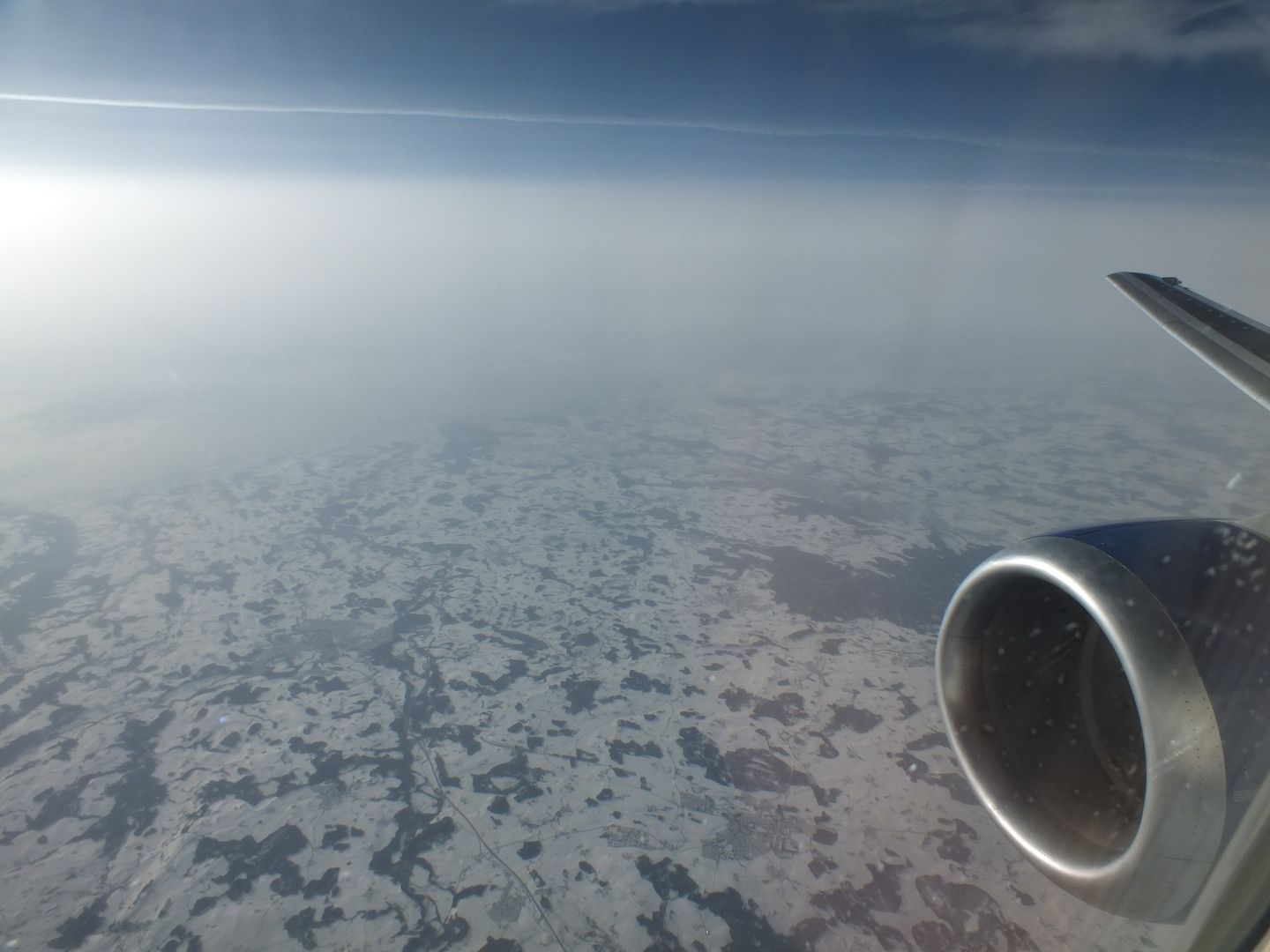 Gradually, the plains give way to mountains.
A nice shot of Bregenz and Lake Constance. You can just about make out Alternrhein Airport at the bottom of the hill. I used to think this was in Austria, as it's served frequently from VIE on OS, but it actually lies just over the border in Switzerland.
And with all the international features pointed out!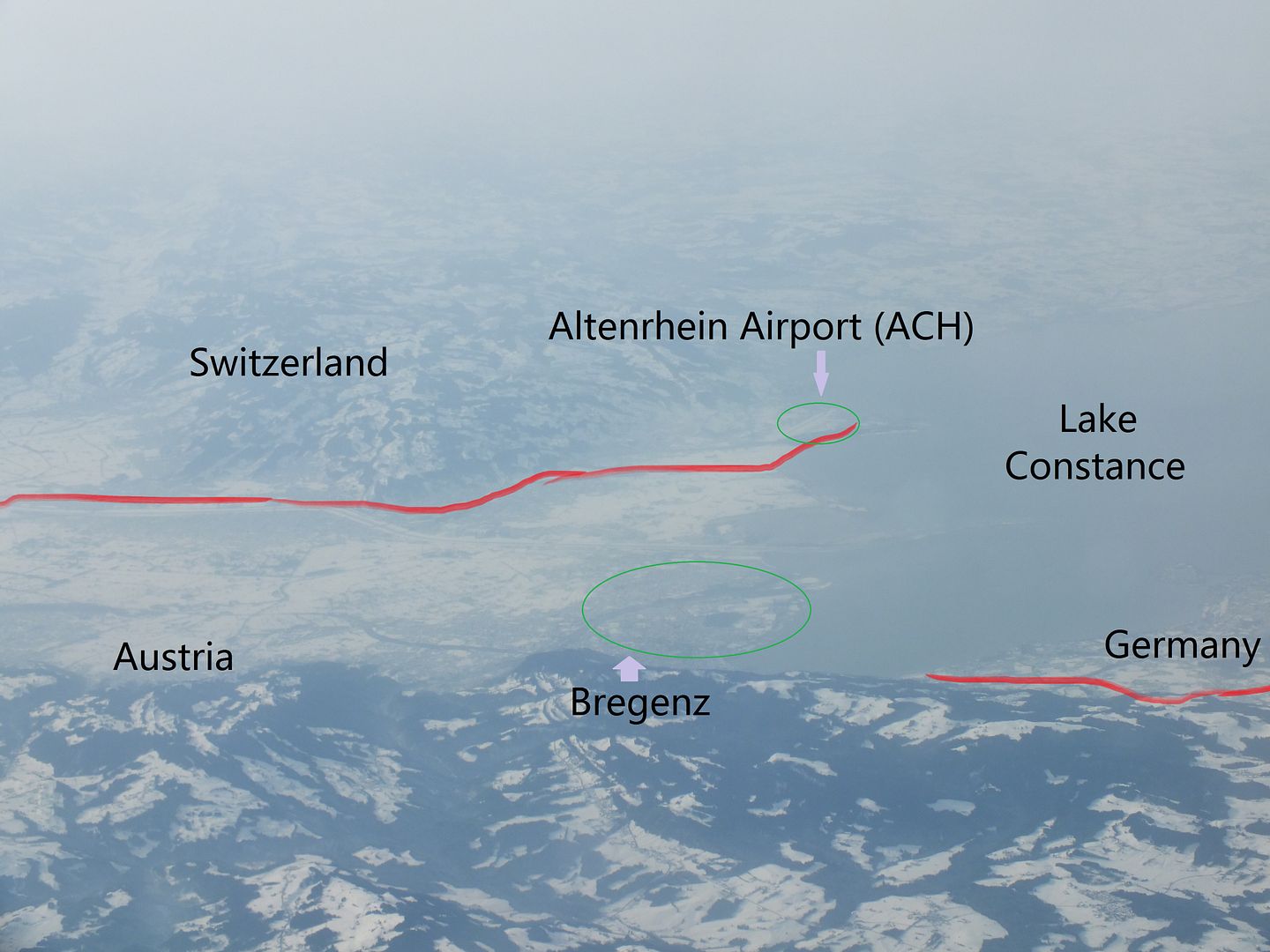 What a gorgeous day above the Austrian Alps
Before too long, the crew are back, clearing the trays, and taking more drinks orders. It seems like everyone is going for a post-brunch champagne. I love how most of the time, people might have a tea, or a coffee, or a coke with lunch. But today, whilst flying over the Alps,
everyone
turns into a lush, quaffing champagne like there's no tomorrow.
More mountains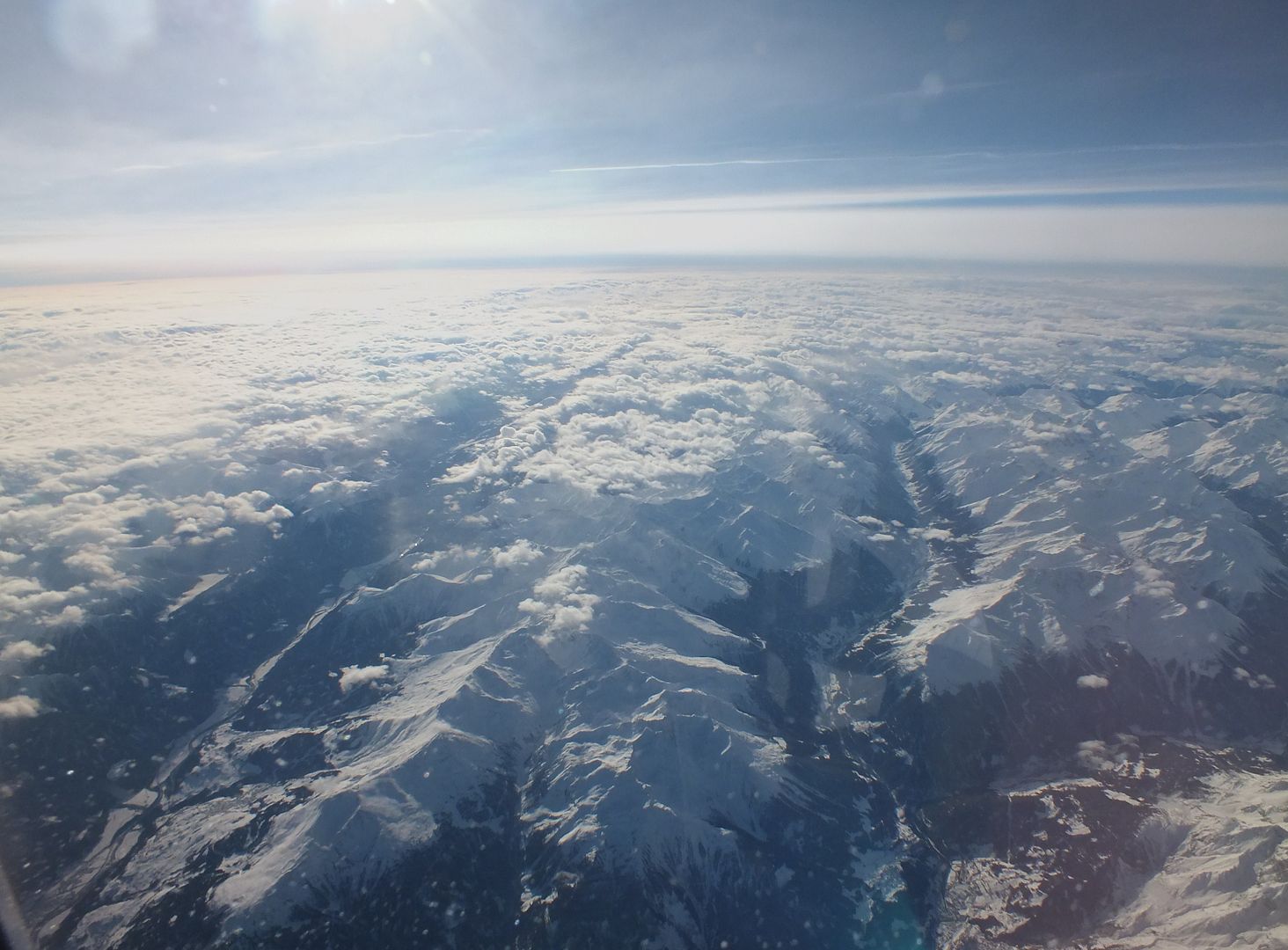 Of course, as well as champagne, there are quite a few extra items in the BA Club Europe bar trolley.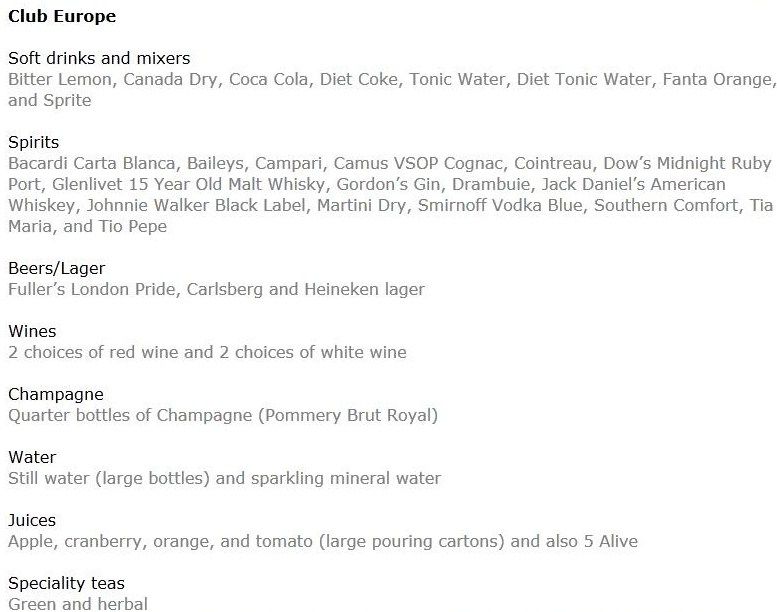 As I've done my last few premium flights, I go with a Cointreau. I'm also given a bag of Club World "Out of Africa" nuts.
Checking out Highlife
Seems like they've updated the look of the maps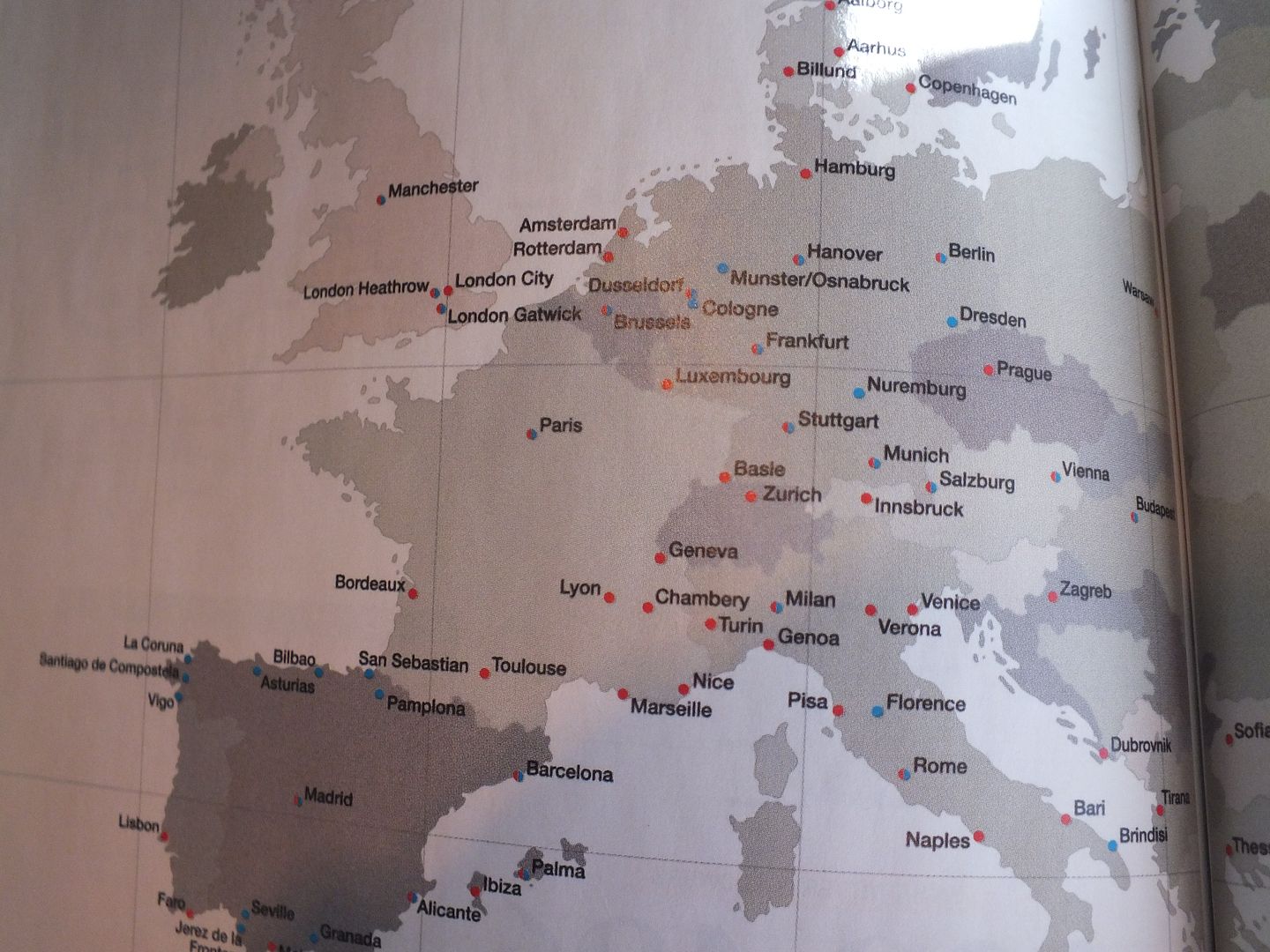 Another cabin view whilst my seat mate is away.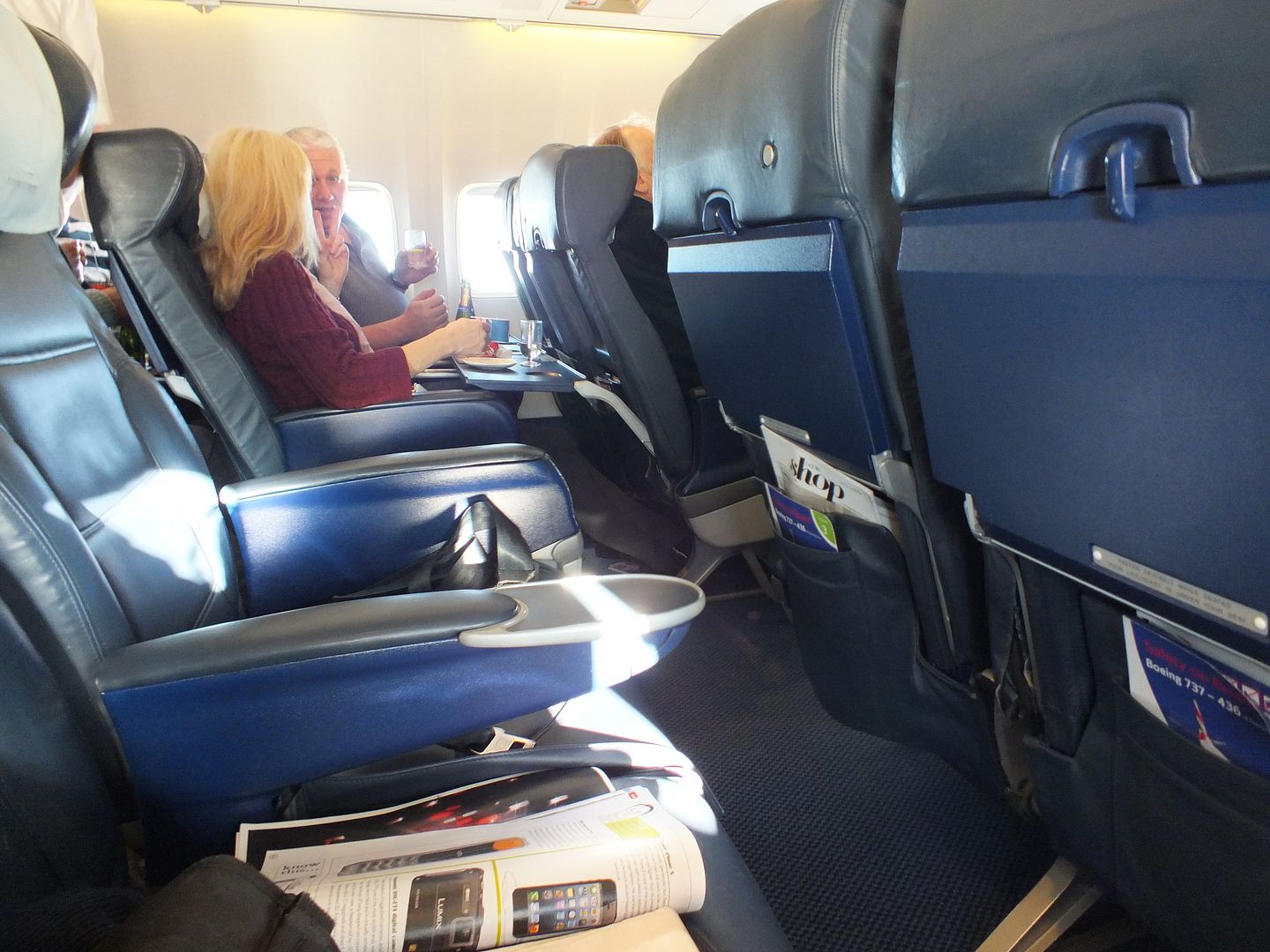 Sadly, the clouds are back, so no chance of any more views.
Whilst waiting to use the toilet, I do a bit of papping in the galley.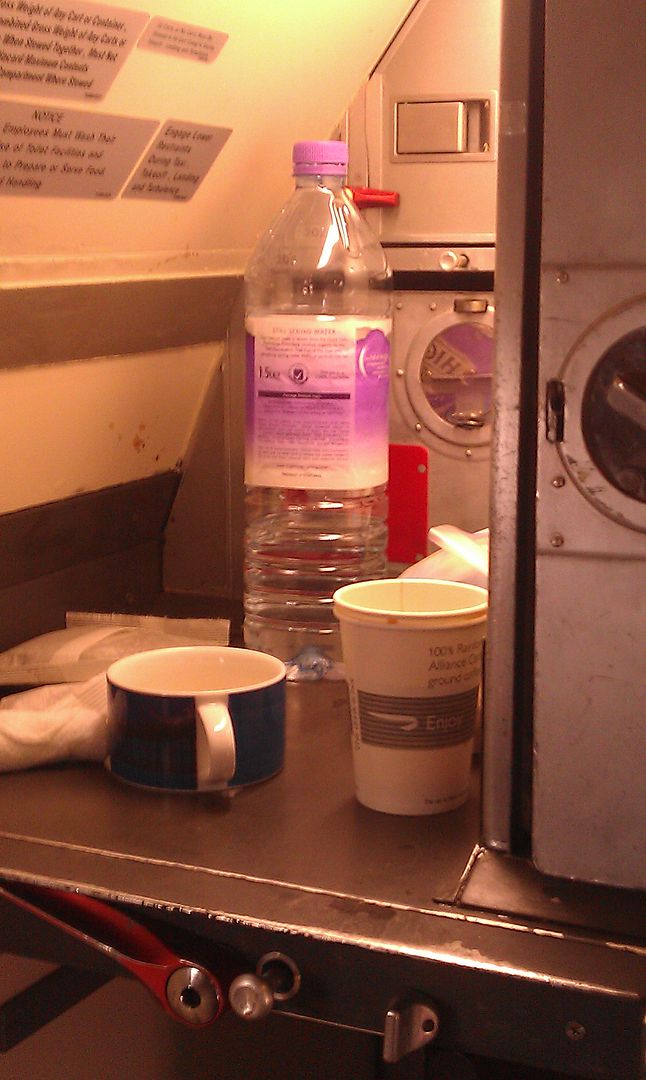 Despite the plane's age, the toilet area is clean and functional.
As this is a celebration flight (not that I needed an excuse), I thought I might as well order a few more drinks. On my way back from the facilities, I asked in the galley about getting a couple more Cointreaus. "Hmm, let me check if they're any more. They don't load many, as no one asks for them". I guess no one asks, as no one knows about them! All the more for me. Thankfully, there are two left, neatly bandaged together. I also ask for a comment form.
Ta dah! I love those little bottles!
Sadly, the flight is drawing to a close. Into the clouds we go.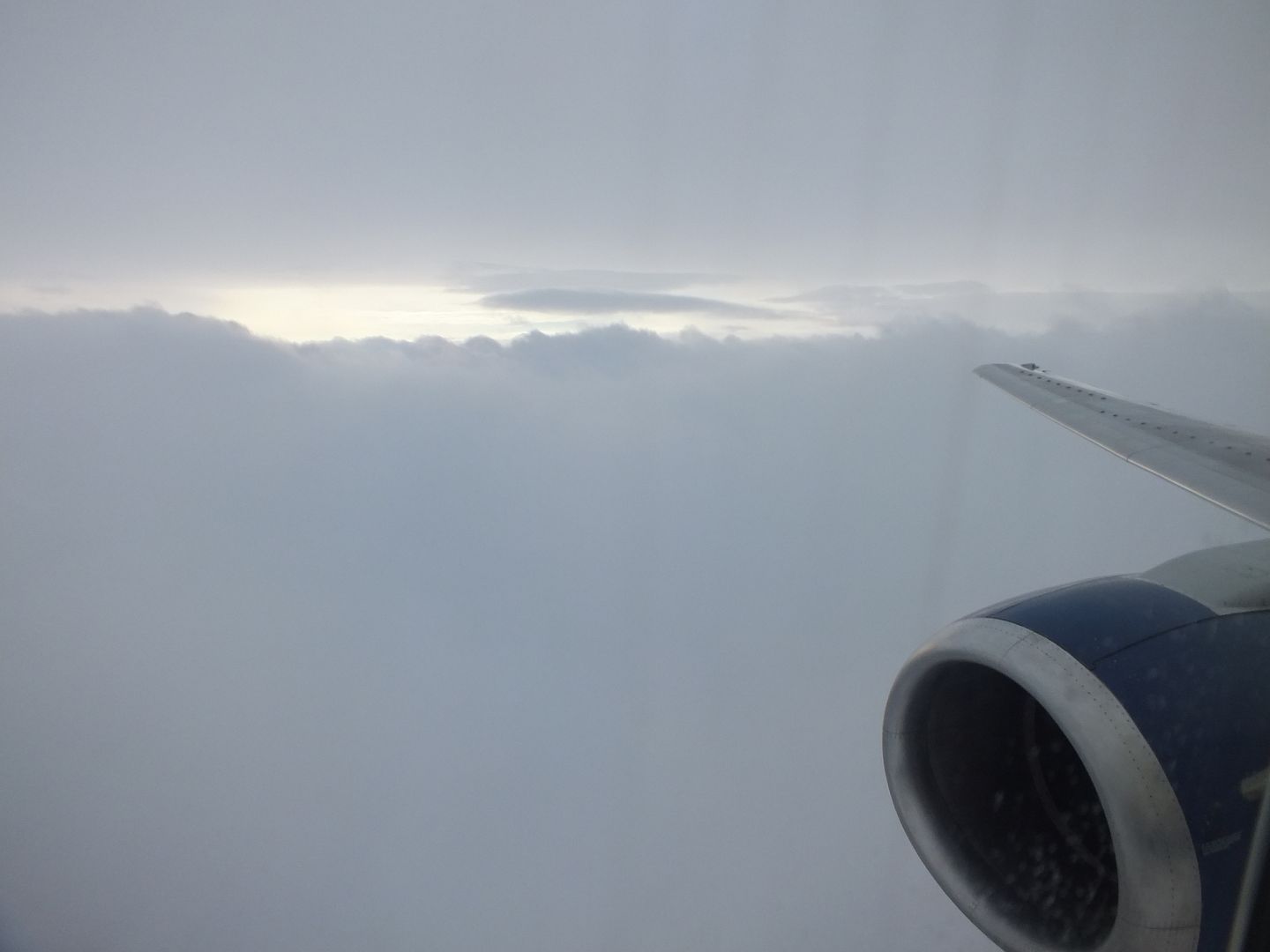 The crew come through for a final time collecting empties. They have a stack of plastic cups on their trolley…most people seem to still have a drink with them, which are duly transferred into the new cups, ready for landing. Unlike my last business class flight to a leisure destination (i.e.
flying to Cyprus with Aegean
), people on this flight did enjoy the bar! I also handed back my comment card praising the crew (I don't think they sat down once. They were constantly in the aisles making sure everyone was happy and their alcohol requirements gratified), as well as lambasting BAs choice of catering on the route and the lack of desks at check in.
Doesn't look like the Adriatic sun is shining today. At least it's not raining.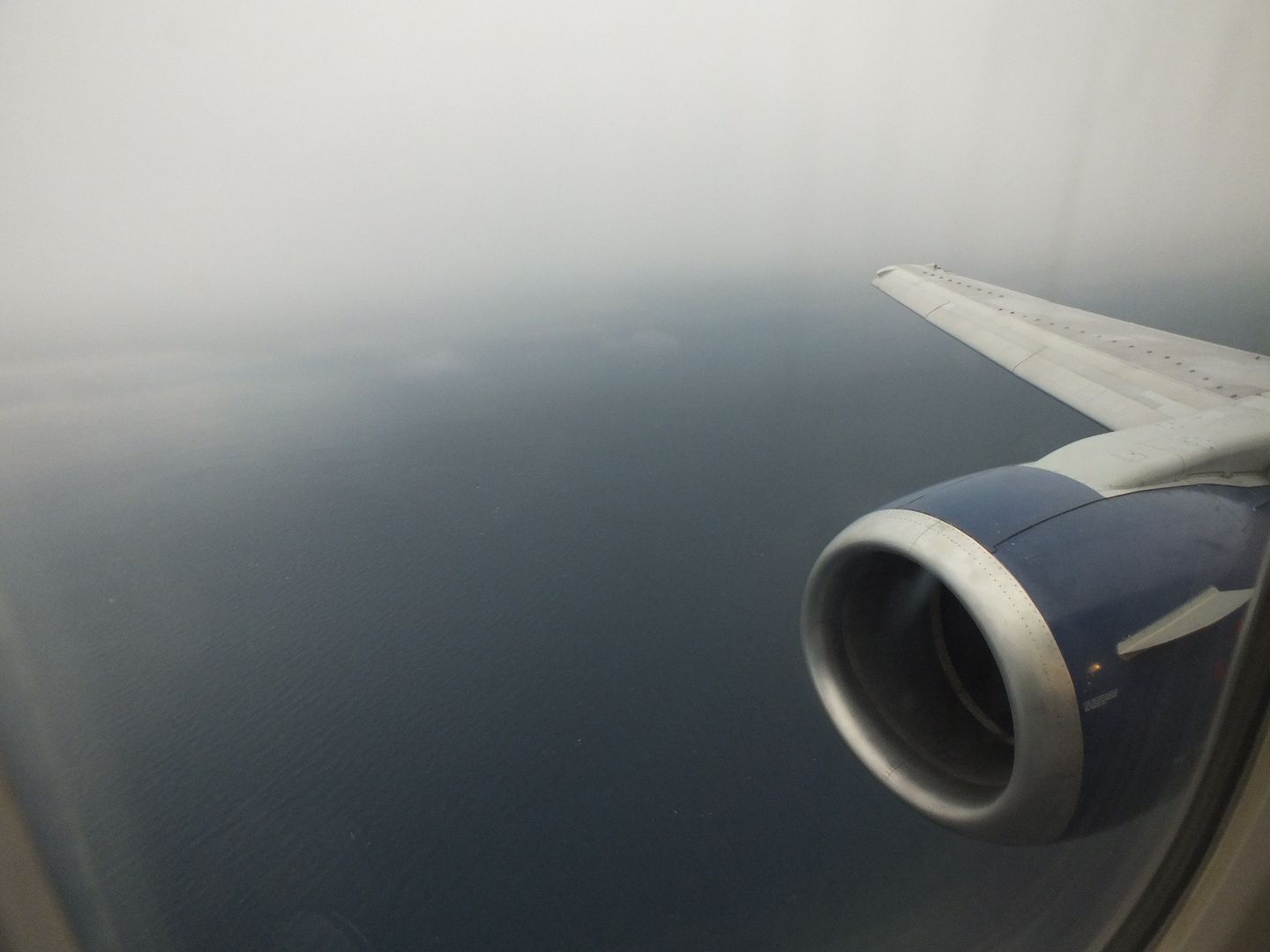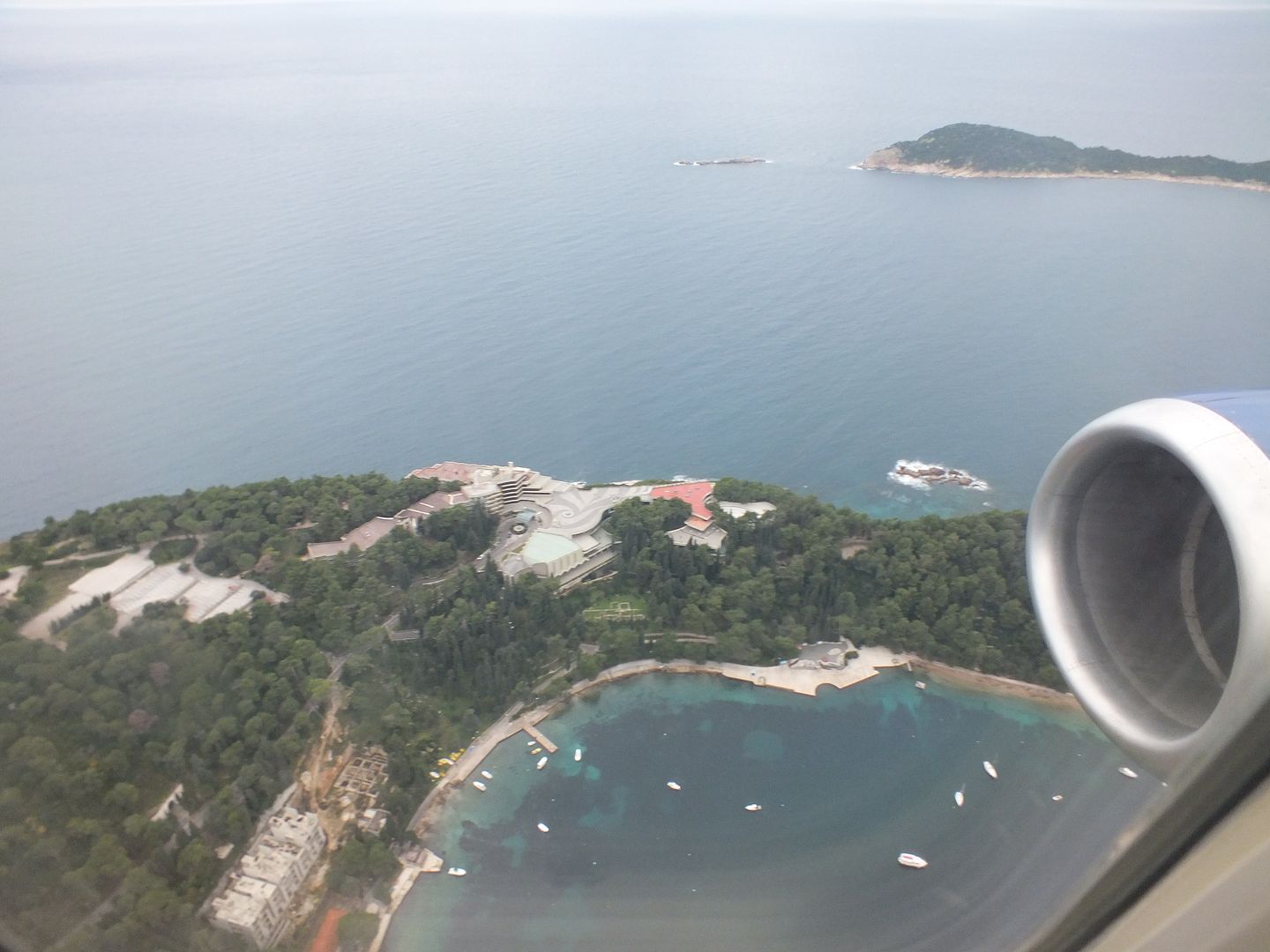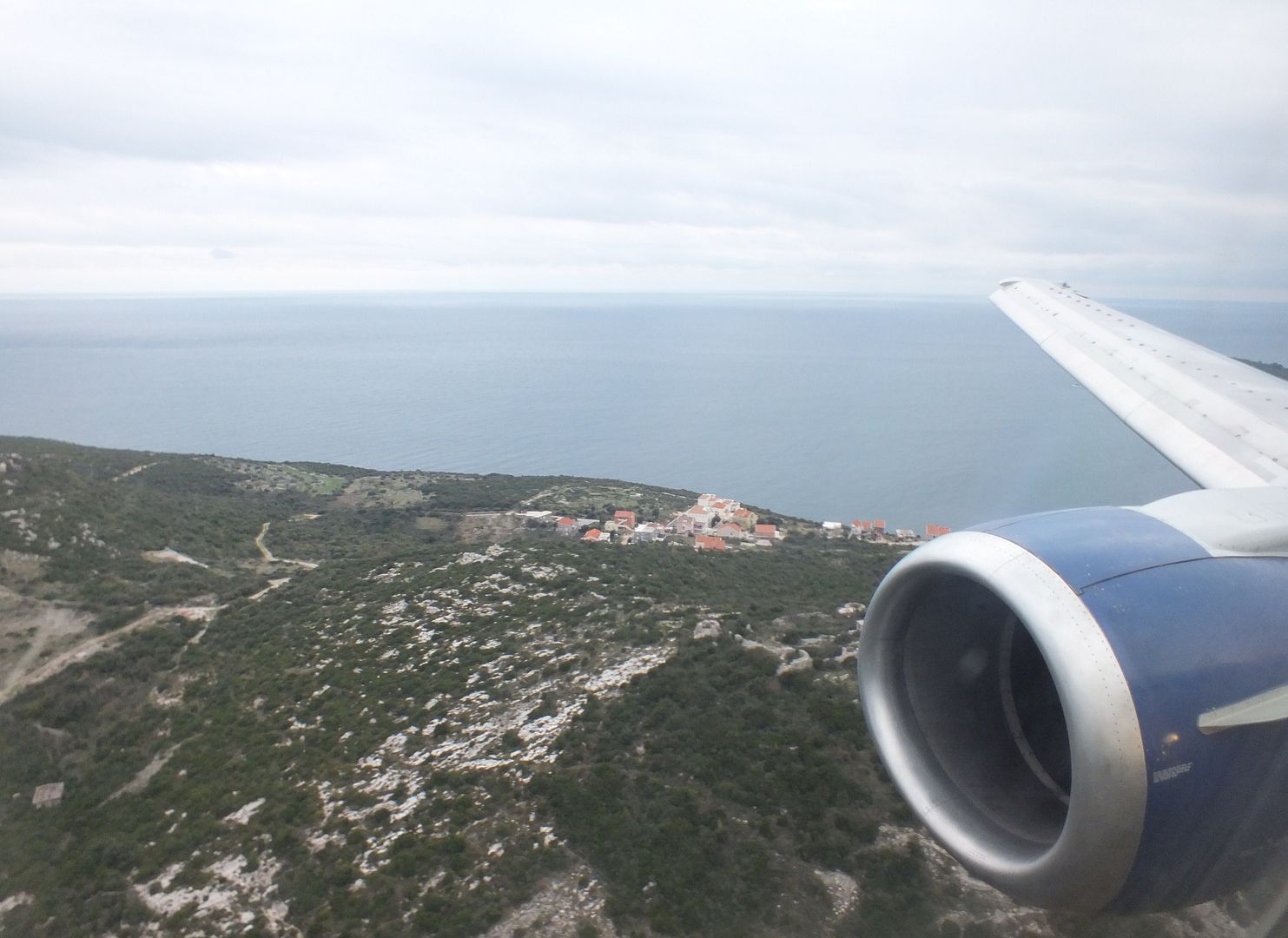 Welcome to Dubrovnik!
The terminal and tarmac are empty. During the summer, the airport is packed. Mid-winter, decidedly less so. Today sees a handful of flights from Zagreb, and one each to Rome, Frankfurt and London. Saturday's even bleaker, with just 2 ZAG flights and a MUC.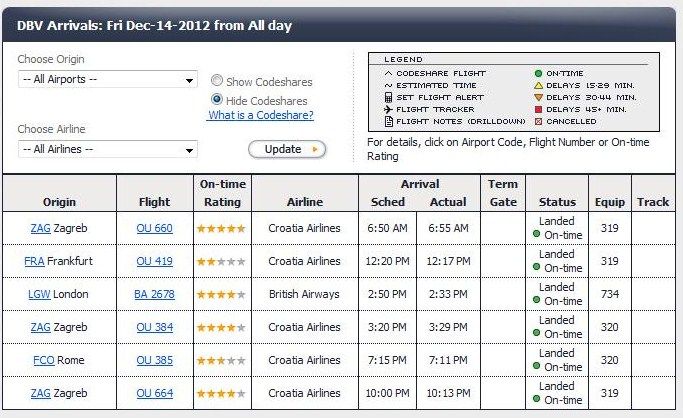 What's what I see on the hills?
Snow! This is
not
what I was expecting (or hoping for)!
There're no airbridges in DBV, so it's across the tarmac to the terminal.
Once final look at G-DOCW…I hope not to see you on Sunday!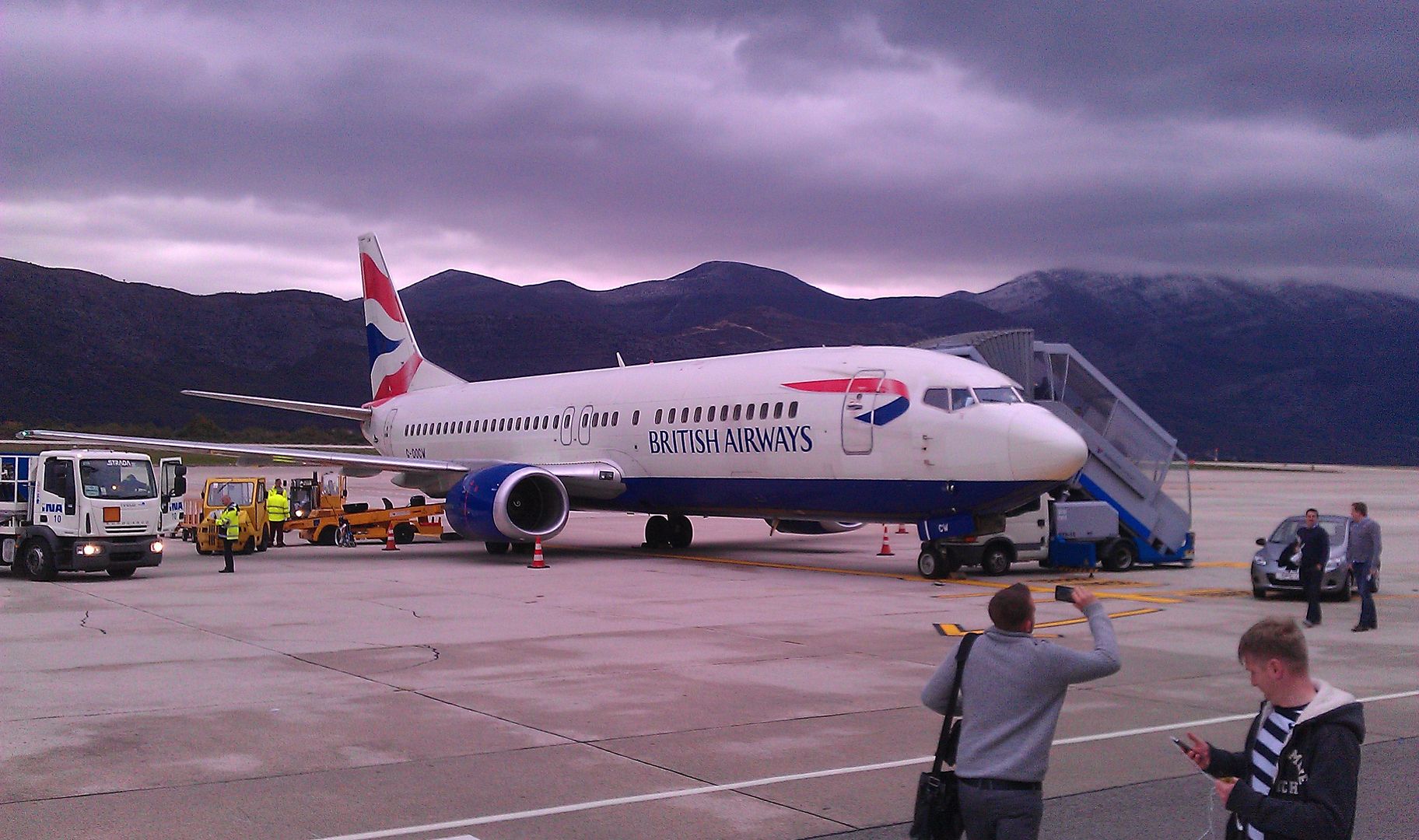 Obviously passport control is empty apart from us, and after a few minutes wait, I'm stamped in (I'm surprised that Croatia still insists on stamping the passports from the UK…hardly any country stamps in Europe if they can avoid it….and what do they do with people arriving on ID cards?).
The bags take a while to be spewed onto the belt. I'm happy to see that priority tagged bags do come out first.
Against my SOP, I stop at a bureau de change to change enough money for the bus. Croatia is pretty good when it comes to international credit card acceptance (in fact, better than most European countries, apart from the UK of course with our love of plastic), as well as being able to spend Euros in most places.