It was designed to be the ideal trip for the love of the plane.
A round-trip itinerary from Seattle to Manila. Price was dirt cheap. The itinerary afforded not only the opportunity to gain a significant amount of Premier Qualifying Miles (PQMs) to retain Star Alliance elite status, but also to test out new aviation boundaries and come home replete with tales to share with friends, family and fanbases alike.
I am one of those crazy types: I like doing things for the story. I covet the opportunity to fly on insanely random, weird and novel routes, all the time. This trip could not have combined more chances to do that all in one place.
Therefore, I recruited one of my best friends, and fellow aviation fanatics, anetter username Chicawgo, to come along with me. As many of you know, he and I both live and reside in Chicago, IL.
The tickets were booked in early July for an itinerary departing on October 25, 2012. The outbound journey from Seattle to Manila would be flown on All Nippon Airways (ANA) via Tokyo Narita. Although expedia was displaying a 777-300 as the equipment type from Seattle to Tokyo, we knew that ANA was planning on going live with the 787-800 Dreamliner that very month. High risk, high reward.
The return itinerary also provided us the opportunity to voyage back to the States via Guam and Honolulu; essentially, crossing the vast Pacific Ocean in a non-traditional way, out of no disrespect to the Great Circle mapper, of course. My friend and I would deviate: he would fly MNL-GUM-HNL-SFO, and I opted to take the United 'Island Hopper' from Guam to Honolulu, which goes via Truk, Pohnpei, Kosrae, Kwajalein and Majuro before going to Hawaii. He knows his mileage run limitations. I, on the other hand, wanted the thrill.
Imagine the sheer trepidation I felt going on this journey: I was insanely excited and nervous, all at the same time. Call me crazy, but I had a laundry list of things that made me fearful if anything went wrong on this trip, including (but not limited to) the things below:
The Dreamliner: what if it didn't happen? What if All Nippon failed and we would be stuck on a 777-300ER from Seattle to Narita, 10 abreast!?!


The Island Hopper. Could I honestly survive 48 hours in Y-class, 14 of which would be spent traveling a mere 4,365 miles between Guam and Honolulu involving 5 island stops in the middle of the Pacific Ocean?


I had to fly between Chicago and Seattle. On a separate ticket. How could I possibly book this arrangement while minimizing the possibility of missing the connection to that ANA flight? Even the return trip would be risky: I had a 10 pm arrival in Seattle that depended on 10 flights prior arriving on time before finding a red-eye option back to Chicago.


My itinerary with the return to Seattle was on a "direct" flight which required me to make stoppovers in Los Angeles and San Francisco. I couldn't ditch out on those without forgoing precious PQMs on the HNL-SEA segment. Would I have the energy for this?

In the end, I decided to use Delta miles to book a roundtrip Chicago to Seattle flight. The ANA flight departed Seattle at 1:15 PM local time, thereby allowing me a limited choice of options to get from ORD to SEA in time to connect.
By the grace of God, I chose to forgo buying a revenue ticket on United, American etc. to Seattle and instead applied the Delta miles to take an 8 AM Alaska Air flight to SEA. The on-time performance of this flight was 96%. I figured that was trustworthy enough. On the return, after landing in SEA around 11 PM local time, I would take a DL red-eye back to Chicago via MSP. The worst.
When I say "grace of God," I'll explain why later.
So, this was the final routing outbound and return:
Outbound:
ORD-SEA-NRT-MNL
Inbound:
MNL-GUM-TKK-PNI-KSA-KWA-MAJ-HNL-LAX-SFO-SEA-MSP-ORD
Nuts, isn't it? Time travel and everything. Boy, was getting on the phones with res agents prior one confusing process.
My colleague, Chicawgo, opted to take an 8:10 AM UA revenue flight out of Chicago to Seattle that same day on Thursday, October 25. Given that his itinerary had to be open-jaw (ORD-SEA, SFO-ORD) his options were more flexible.
I'll save the details for the next few installments of the trip reports, but we were about to be in for one crazy week of travel.
Pre departure
Chicawgo and I literally were tracking the ANA 787 launch date on a daily basis. September was an agonizing month ridden with anxiety. Not only that, ANA was a c*cktease about the whole situation, vacillating between a less-than-daily deployment, back to daily, then flip, and such and so forth.
It wasn't until we were actually able to confirm seats that were operated on the ANA 787-800 that we felt the sigh of relief. Thank goodness for that.
I also was frantically doing as much research as possible to find out anything I could about the UA Island Hopper routes. Much to my chagrin, I discovered that the 737-800 ETOPS a/c used on the Island Hopper, as well as the 757-300s used on the HNL-LAX-SFO-SEA flights, were non-PTV/AVOD equipped planes. Meaning, the best IFE for those segments was through the windows.
Not that I wanted to be a spoiled brat, but I realized I had to take the plunge and use miles to get a confirmed upgrade on those flights. I needed as much comfort as possible. Fortunately, GUM-HNL counts as a domestic operation, as does HNL-SEA, so the miles were worth the expenditure (35K, not bad).
Chicawgo wanted to throttle me insisting that I should wait till just before to see if I could use my Complimentary Premier Upgrade (CPU) but I was not willing to take that risk. Even if the 738 and 753 are just domestic F seats, I needed as much comfort as I could get.
However, while I was confirmed on Honolulu-SEA, I was waitlisted on GUM-HNL. I'd have to wait until I checked in at Manila to find out what was the ultimate decision. So, I bought an iPad and every possible form of entertainment to prepare for the worst.
I have many friends/contacts at UA who would look at the upgrade availability from time to time. Things did not look great for the most part. I decided the best route was to simply not worry and go from there. The decision had been made and I had to live with it.
Departure Date
After 1:15 PM PST on Wednesday, October 24, while checking in, Chicawgo and I were shocked to discover that we had been UPGRADED to All Nippon J class on the flight from NRT to MNL! Although operated on an Air Japan 767, with non lie-flat seats, this was an amazing bonus! We'd get to try out some semblance of a medium-haul business class product on an intra-Asia flight, on an Asian carrier. Things were looking up!
To this day, I'm still unsure as to WHY we were upgraded. I know that ANA does not do complimentary premier upgrades, but perhaps the NRT-MNL flight falls under some sort of UA-NH JV jurisdiction that permitted this to happen? That, or Y was sold out and they bumped up Star elites? Whatever - wasn't going to ask!
The following morning, I was en-route to ORD and checking every possible tool and resource that was available to insure that my flight to SEA on AS 21 was on-time. Chicawgo simultaneously was rushing and panicky. After reading this, I'll bet none of you want to ever travel with me nor him. That's a very valid concern. I'd make a run for it.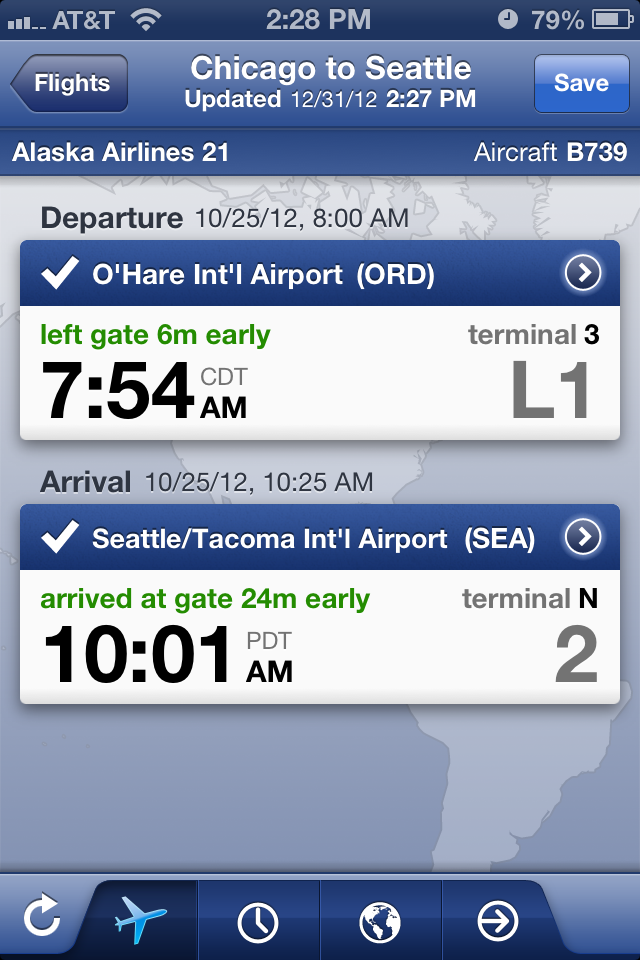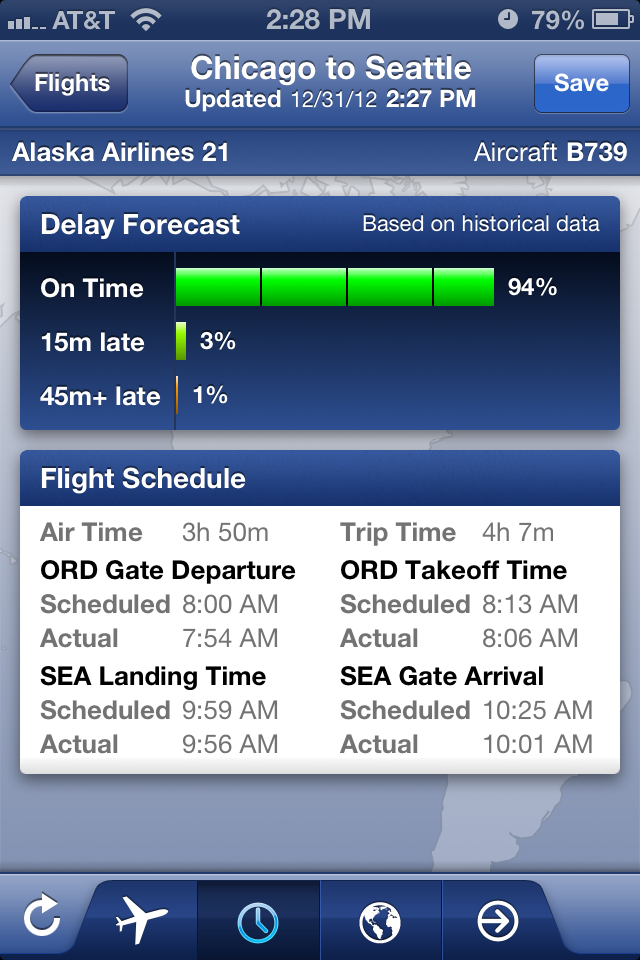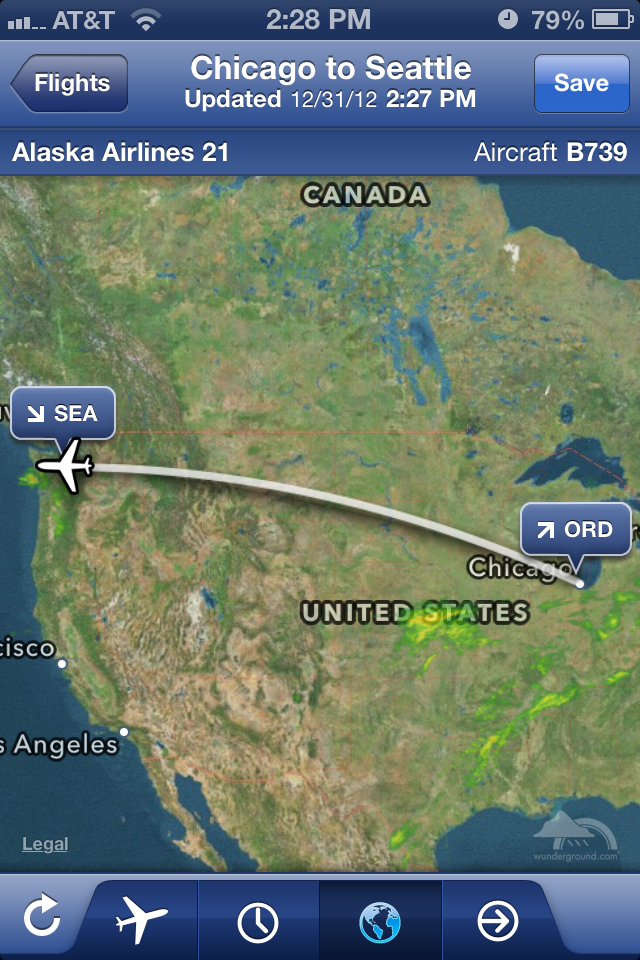 For the record, any person traveling out of T3 at ORD on a non-AA carrier should be warned that the TSA lines are terrible. On the verge of sounding like a snob, which I don't intend to by any means, you have to contend with a lot of people using the far left-side of security which is populated by travelers on Spirit, Alaska, Virgin America, jetBlue and WestJet, among a few others.
What that means is, a large number of leisure-oriented PAX, including families with small children. Hence, lines are SLOWWWWW. This is never a problem I've had at the UA screenings at T1, not so much AA screens elsewhere at T3, and definitely not DL/US at T2.
Right before the doors closed on the ORD-SEA flight, Chicawgo texted me to inform me that his UA flight to Seattle had been delayed 30 mins. Not a big issue, I thought, but not comforting, either.
The ride to SEA was uneventful. AS is a charming little airline. I enjoyed a delicious $6 Buy-On-Board snack and chatted with the couple next to me, a Chicagoan pair heading up to Vancouver for holiday. Bless. I read my booked and enjoyed the scenery changes from the Midwest to the Pacific Northwest. My anxiety was too much to allow for sleep. I carried my Rosary and prayed several times that morning.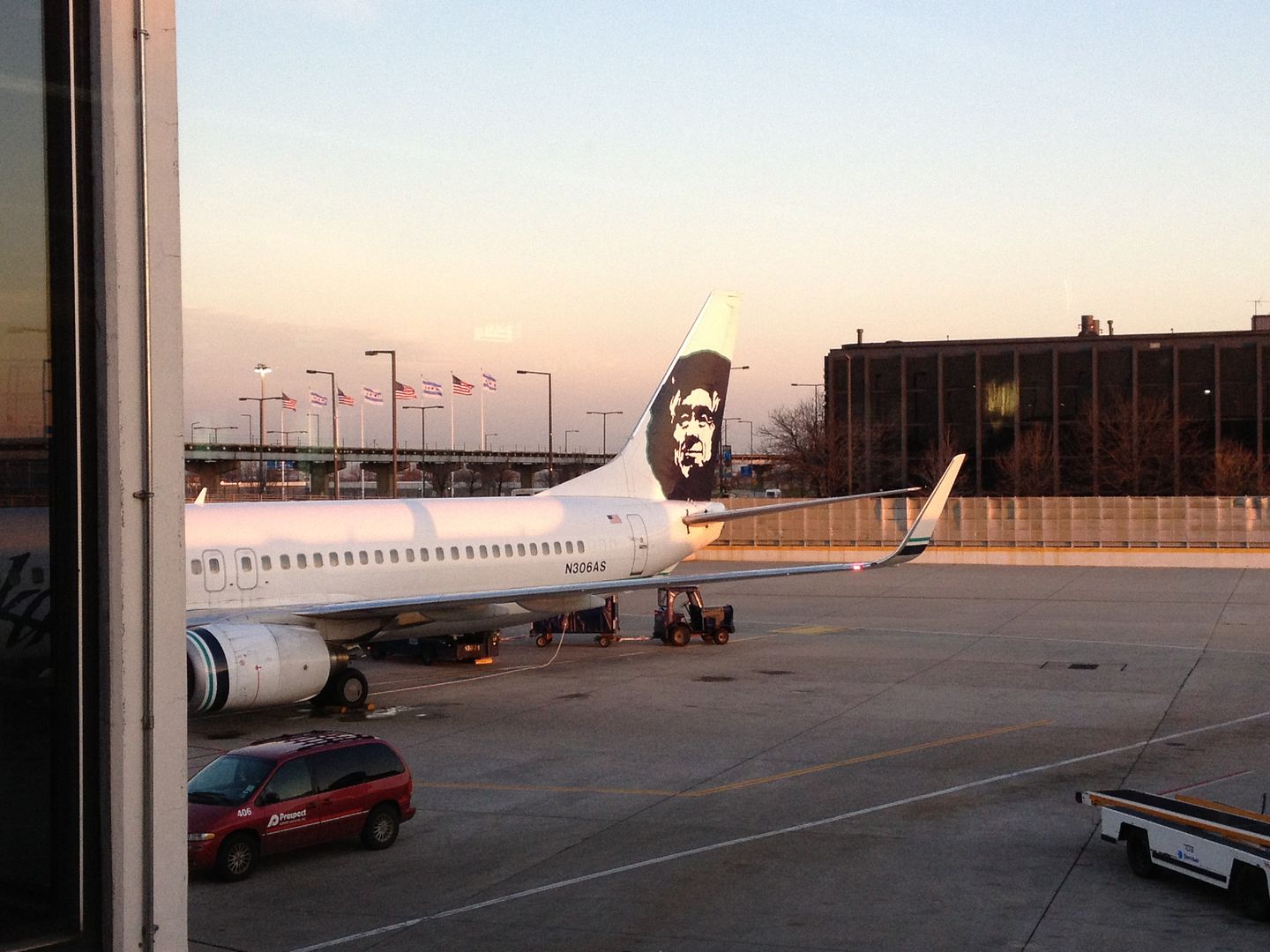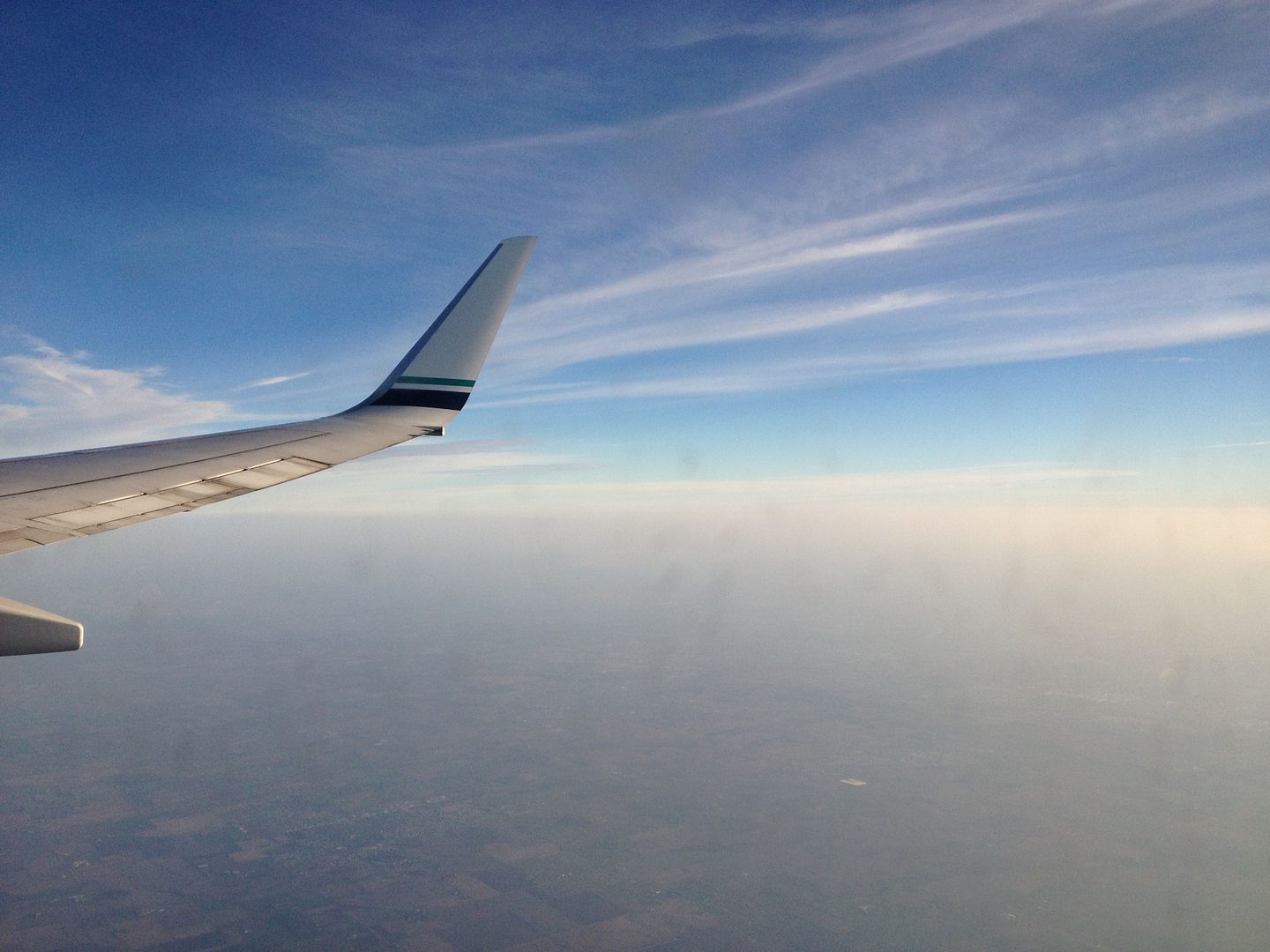 The bomb is dropped
Instantaneously upon landing in Seattle, I checked the flight info for UA 1105, my buddy's flight, scheduled to depart Chicago at 8:19 AM, and this is what I saw: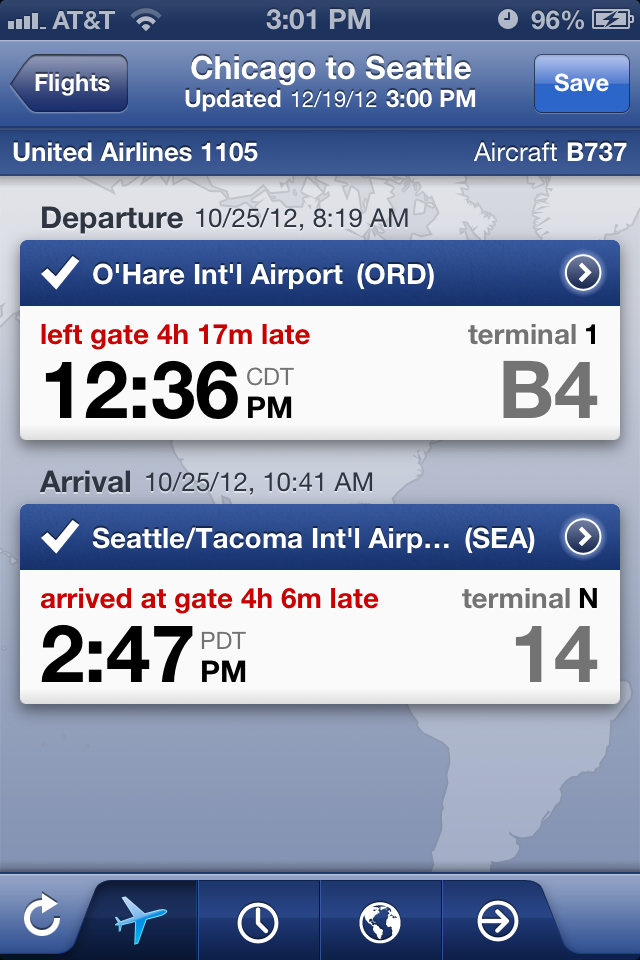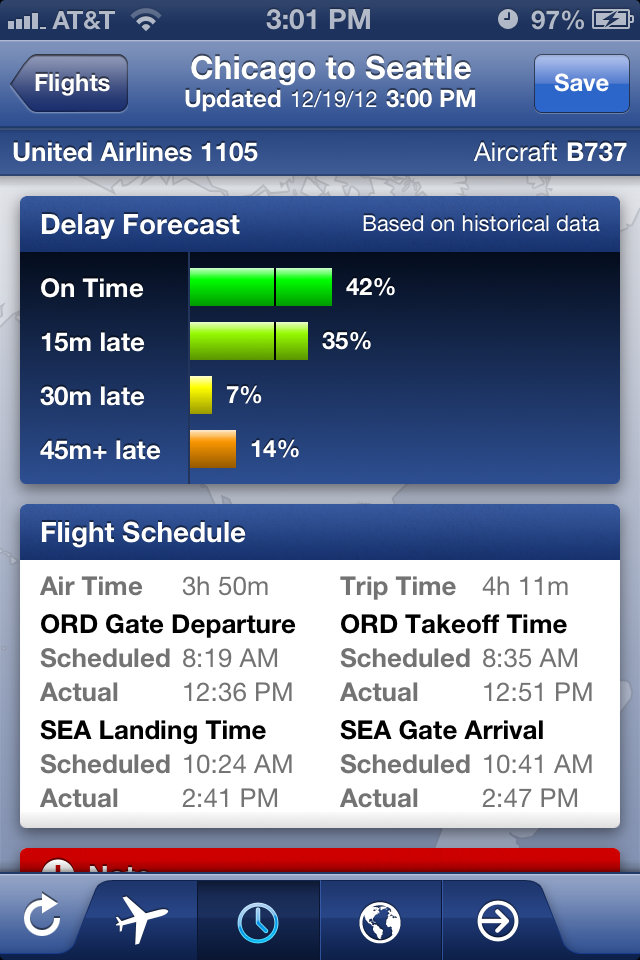 I will never forget that feeling of panic, mixed with disgust, mixed with sadness, upon knowing that my best friend was delayed by four hours and would therefore not be traveling on the Dreamliner at the same time as I, arriving too late and resulting in a misconnect.
United Airlines, per standard operating procedure, still exemplifies failure as much as possible.
I cursed myself, "**** you, United! Why do I give you my business when our relationship sometimes feels akin to an unfaithful marriage with an alcoholic billionaire!"
I called him immediately, praying he would not answer his phone. No text from him so far. Maybe he jumped on the 10 AM UA nonstop and was en-route to SEA? Although that would give him a tight connection to the ANA flight, he'd still make it (hopefully).
I did not even bother to hope that the NH 1077 flight from SEA to NRT would be delayed, even by an hour. Sans for the inaugural mishap delay of 24 hours, that flight had gone out on-time every day for 25 days thereafter.
He picked up the phone. My heart sank.
"I've come to accept the fact that today, I will not get to fly on the Dreamliner with you," he said with as much grace as he could muster together.
"Only United," he said. "Of course, always United."
[This is a person who is well on his way to getting million-mile status with UA, for the record]
The reality sunk in. His ORD-SEA flight was delayed due to mechanical error. First 30 minutes, which turned into an hour, which became two hours, which finally amounted to four.
He painfully recounted running between various agents at O'Hare, begging for some sort of short-term solution. The bottleneck in the whole situation was that he was booked on separate reservations from ORD to SEA and SEA to NRT/MNL. He was turned away, told nothing could be done. The ANA nonstop from ORD to NRT had already left.
However, he finally managed to beg an agent to get him on the nonstop flight to NRT from ORD. He would meet me in Narita and then we'd proceed to Manila together. He even bought them chocolates and cheesecake out of desperate conciliation. At least that part was secure, but there were some inevitable sacrifices: one, being no-Dreamliner.
Two, UA 747 in Y class used on the nonstop ORD-NRT. (No Y+ was available and No PTV). The daily ANA flight from ORD to NRT had already left. If this were October 2013, he could have jumped on the later ANA flight slated to start in June (yay!)
(Still, thank G we live in Chicago and not Saginaw, MI which is still devoid of a n/s to NRT).
Even more worrisome, the ANA NRT-MNL flight was on ANA ticket stock. Without him boarding at SEA, his NRT-MNL flight, or at least his upgrade, could have been in jeopardy.
How I felt
I can't really describe how I felt at that moment. I felt like I had just failed an exam. Or lost a game. Upset a friend or a family member. Disappointment could not even begin to describe how awful that moment was for me.
More than anything, I felt guilty. I did not deserve this experience alone. Chicawgo is crazier about airlines and aviation than I am. I knew this would be a huge damper on the trip and he would not be happy.
So what was my near-term solution? I did what I do best: hit the bars.
In the airline industry, networking is everything. I have been so fortunate, through my connections in Chicago and previously working at Southwest, to have friends everywhere to help me out in times of need. I just so happened to have a buddy, also based in CHI, who works for UA and was in SEA at the same time, en-route to NRT to visit his significant other in Tokyo. We both have UA lounge access, so I pinged him and went over to meet him to chow down and drink my sorrows/anxiety away. He was on the UA flight to NRT leaving slightly ahead of mine out of SEA. Apparently, the UA SEA-NRT flight is the stairway to heaven for UA employees wanting to non-rev to Tokyo.
I felt calmer as I had someone to vent to, and after a few rounds, he and I went our separate ways for our flights. I must say, the transfer experience at SEA blows. What kind of airport system is designed requiring passengers to take three separate tramways to get from one end to the other?
Restless in Seattle
The Terminal E Pier at SEA has a very international feeling to it. To SEA's credit, the recent explosion of international services to Asia, the Middle East and Europe is impressive given the size of the Seattle-Tacoma area.
Despite this, the F&B (food and beverage) options suck. I was warned of this by a friend earlier. I was lucky that the UA Club had enough grub to sustain me until the flight, but I was disappointed by what was available.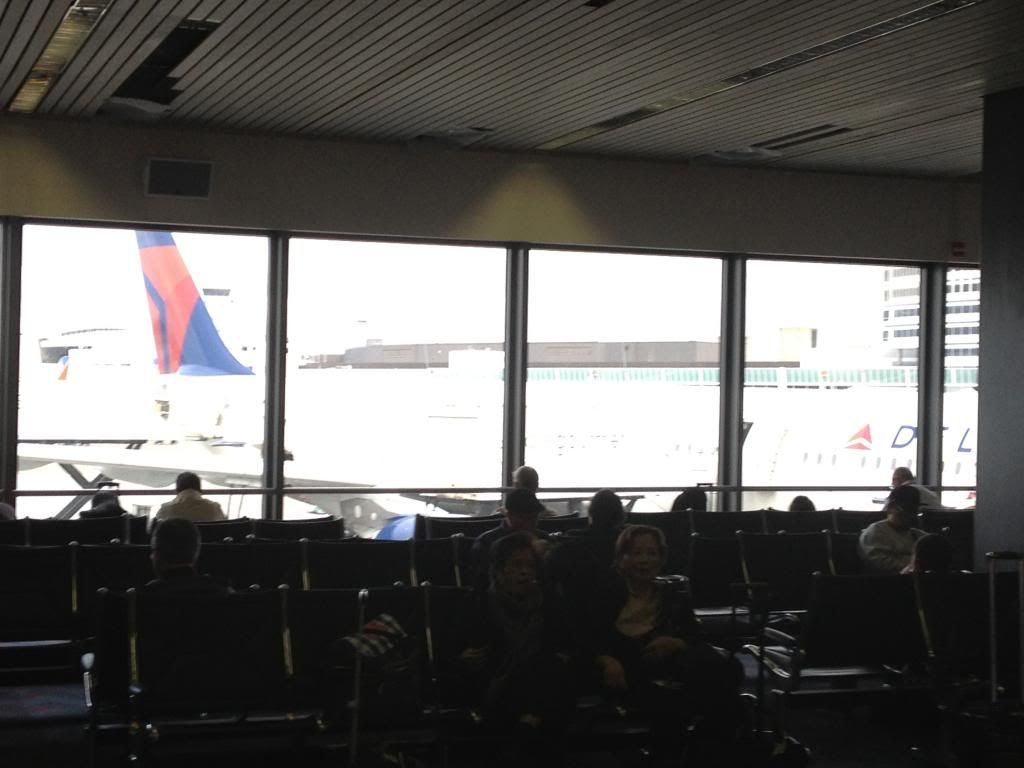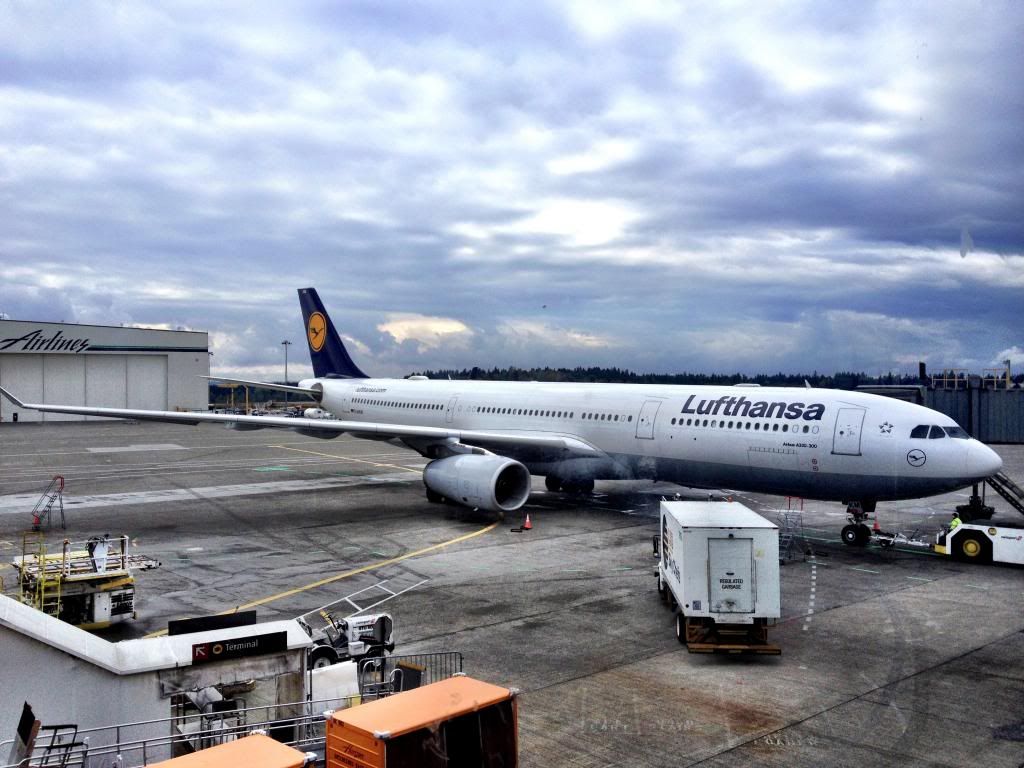 At the gate area, I observed the ANA 787 in all her beauty. Sadly, this was the one picture I managed to capture. The gate alignment was truly terrible for capturing plane pornography.
Slowly, the area began to fill up. The mix of passengers seemed to break down between foreign expats living in the States, but there were a decent number of Japanese citizens as well. Note the guy on the side practicing martial arts.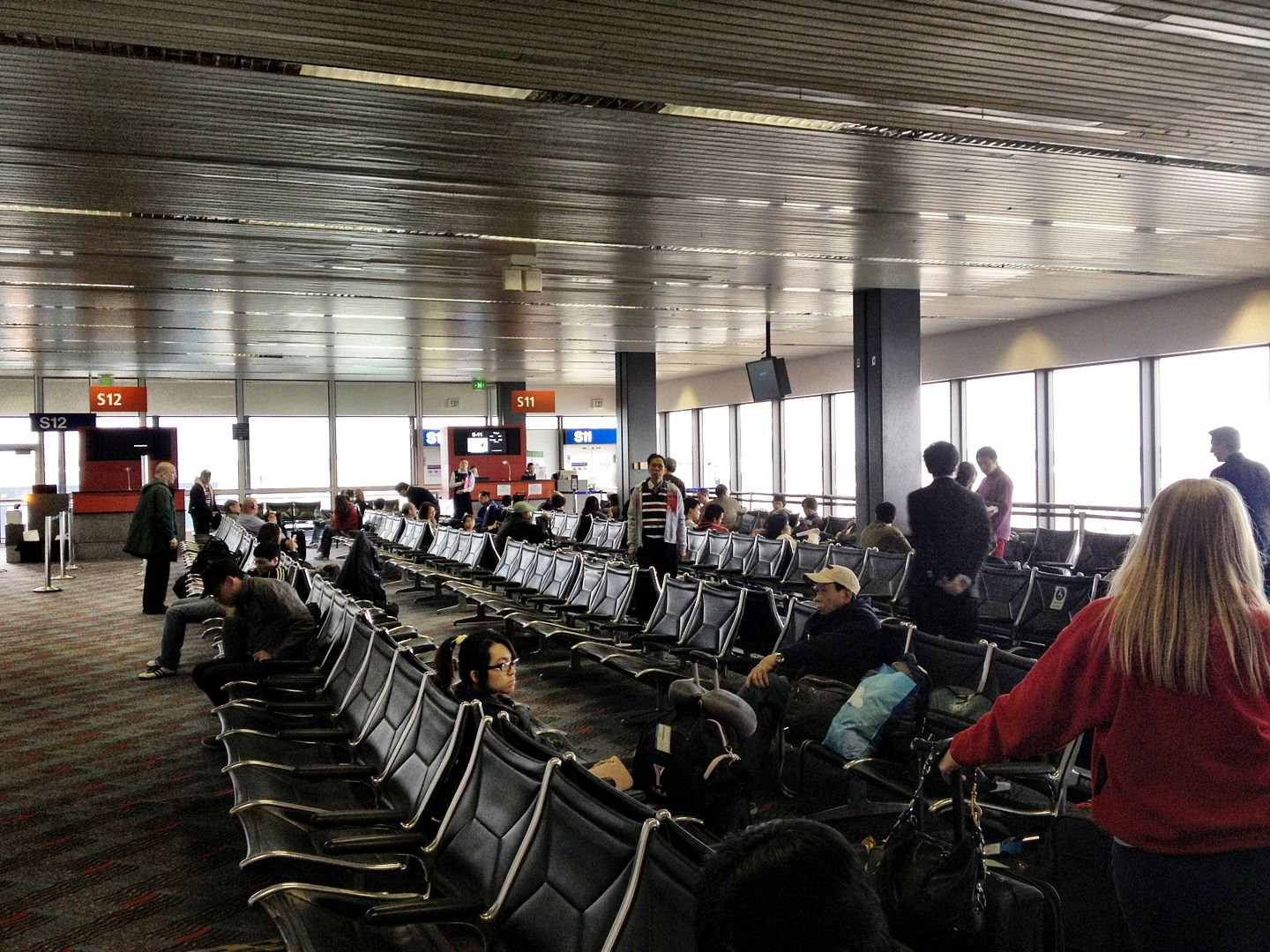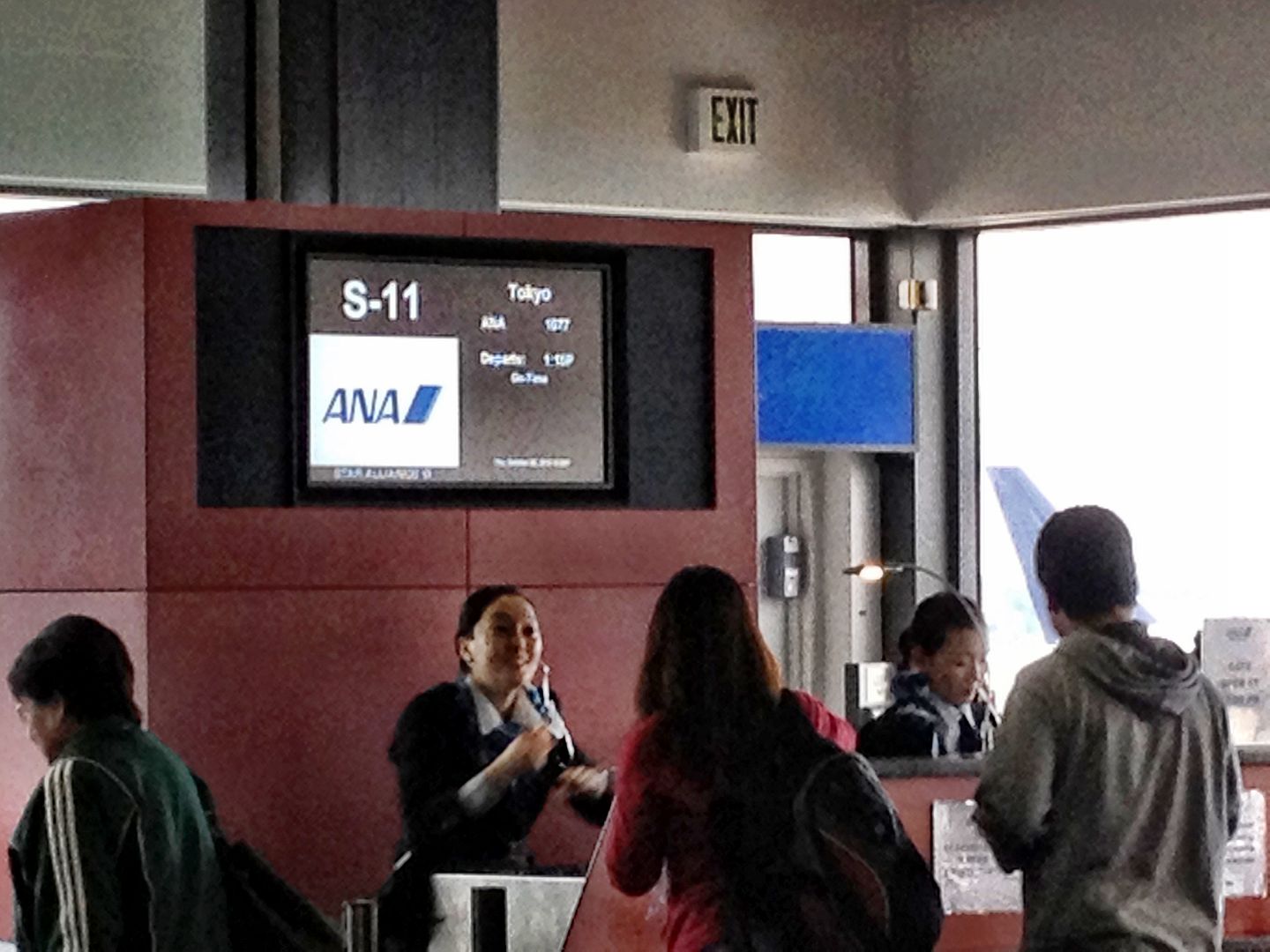 I wandered around, taking pictures and such. At Seattle's best coffee, I had a chat with a Korean Air pilot, originally from Australia, who used to work for Emirates. What a crazy world we live in!
Boarding happened fairly quickly. True to the style used by international airlines (intentionally singling out US-based ones as an exception) the entire boarding environment felt very professional. There were uniformed people stationed to help with passenger flows, handle passengers with Special Service Requests, etc. The foreign carriers know how to do it right!