(
WARNING
: This TR contains 332 images. It will take a while for the pics to load, so please bear with me here.)
Flying can be a very thrilling, rewarding experience for a lot of people. For me, I find satisfaction in getting onboard a plane, sitting down and watching the clouds as we cruise by to whichever destination. However, to meet this end, sometimes we need to be both flexible and crafty in planning our trips well in advance, just so no important dates will be hit.
Flying also becomes a thrilling, rewarding experience when you get to be part of history, bearing witness to the birth or end of an airline's service after having served for so long. They've become part of us, and now, we strive to become part of it as much as we can.
Luckily for me, none have been hit so far, and perhaps it is this (and a bit of recklessness on my part, maybe) that led me to finally pursue a miniature island-hop across the Philippines back in 2009. Luckily for me as well, this is also the time capsule which will serve as an eternal memory as one of the Philippines' largest airlines, Air Philippines, finally begins its long journey home before retiring (albeit temporarily) after nearly fifteen years of service to the people of the Philippines.
The best reports oftentimes are not the most recent reports, nor are they the ones with the fanciest seats and the best service. Sometimes, the best reports can be those borne by pure, unadulterated nostalgia: when looking back at these memories, processing them should somehow make us feel good. And, in the process, we learn to yearn for those things that we have lost, never to have again. For now, allow me to take all of you back to a time when the world was different: to a time when Philippine aviation remained familiar, but was still different to some degree. To do this, allow me to bring back some hints of good nostalgia.
Prologue
Immediately after arriving from Japan back in June 2009 (the report is
here
on FlyerTalk), I was so impressed by Philippine Airlines that I decided to jump upon the next immediate opportunity to fly with them again. It was a gamble I was willing to risk at the time, since I told myself that I would keep most of my weekends free of any activities so that I have the freedom to do anything as I pleased. It was from this decision which led me to finally consider a little hop through the Philippines. Though it is done, it is a rare occurrence, and most Filipinos do not fly for the sake of mileage runs or airport tours, but for the sake of getting to their destinations safely.
Over the next two weeks and with nothing better to do since I would not be allowed to enter the Ateneo for another week because of the A(H1N1) scare, I began scouring around for possible itineraries which I can use to hop around the Philippines. Within my shortlist were itineraries such as MNL-DVO-ZAM-CEB-MNL, MNL-ILO-CEB-DVO-MNL, MNL-LGP-MNL-PPS-MNL, MNL-ZAM-CEB-DVO-MNL and a bunch of others, but I finally settled on MNL-ILO-CEB-MNL as a way to finally see the new Iloilo International Airport (open since June 2007) with my own eyes. I did quite a lot of canvassing for the routes, and this one apparently was the cheapest, clocking in at around P4199 (the other routes cost at least P5000).
However, I didn't realize that at the time, PAL was having a seat sale, which made the itinerary much more affordable. When I re-checked the PAL website for the cost of the itinerary, I saw that the price had gone down to P2779, and finally convinced over the cost, I booked on June 22, sticking to MNL-ILO-CEB-MNL. The original itinerary looked like this:
* PR 139: MNL-ILO; departing 5:00 am, arriving 6:15 am
* 2P 21: ILO-CEB; departing 7:35 am, arriving 8:15 am
* PR 848: CEB-MNL; departing 9:45 am, arriving 11:05 pm
I did realize later on though that I wouldn't want to be in the airport at 3:00 am to catch the 5:00 am flight to ILO, so I opted the next day to reverse the itinerary, landing in Cebu first. With no cost to me, the final itinerary (or what I thought was the final itinerary) looked like this:
* PR 847: MNL-CEB; departing 7:30 am, arriving 8:55 am
* 2P 20: CEB-ILO; departing 12:10 pm, arriving 12:50 pm
* PR 144: ILO-MNL; departing 2:05 pm, arriving 3:15 pm
On June 25, I had to go to the PAL ticketing office to pay for the ticket and get my itinerary, the closest one being the ticketing office at the Araneta Center in Cubao, Quezon City. I decided to do this during a 2.5-hour break I have between my Filipino and PE classes, and I asked the guard how to get there. However, instead of reaching the PAL ticketing office, he led me to the Air Philippines ticketing office instead. I asked one of the ticketing agents if she can print my itinerary, but she informed me that they cannot retrieve bookings made with mainline PAL because (at the time) their reservations systems are different. Running out of time to get back to the Ateneo to get to my PE class, I decided to go back and perhaps, if I have time, I'll go to the PAL ticketing office on Friday on the way home from school.
I did go back to the Ateneo, and luckily for me, we earned a free cut (meaning the professor wasn't there) from PE, which meant that I had the time to go all the way back to Cubao, even though I wished that it was announced earlier so that I didn't have to spend going all the way back. So much for academic loyalty, I suppose.
When I returned to Cubao, I asked another guard how to get the PAL ticketing office. He told me that their ticketing office is in Ali Mall (yes, the mall named after Muhammad Ali) and that I will need to walk to get there. Making your way to the other side of Araneta Center is no easy task (granted this was done in the late afternoon, so I didn't have much of a problem), but soon enough I make it to the PAL ticketing office, which inside Ali Mall is virtually indistinguishable from the other stores inside the mall (because of a lack of signage) save for the PAL logo etched multiple times onto the window.
For the next hour, I was listening to my iPod and doing Math homework until I was called. The agent had a very professional demeanor despite her youth, though her professionalism didn't compromise her courtesy. Within fifteen minutes, I had paid for the ticket, receiving it in a Mabuhay Class ticket jacket, which is unusual since I'm flying Fiesta Class (which comes in a red ticket jacket). In no time, with ticket in tow, I was finally on my way home.
Yes, for the next two months, this ticket went untouched, so untouched that two trips had preceded it despite this being the first ticket I booked independently.
That is, until now.
Sometime in August, Air Philippines announced through their timetable that they will cease flying to Cagayan de Oro and Puerto Princesa by August 25, which did not seem like a big deal to me since I am not flying there. What took me by surprise was the announcement that came afterward: for reasons unknown to me (but perhaps in a bid to consolidate its hold over the domestic market), Air Philippines was going to cease
all
operations, flying its last flights on August 31 before shifting all of its flights to PAL Express on September 1, save for one route: their Cebu-Davao route will be taken over by mainline PAL, the first time mainline PAL will be flying to a domestic destination other than Manila from Cebu in over a decade.
Since my flight was on September 5, I had to check the timetable to make sure that my flight was not affected. Contrary to my expectations, it was: what was then a single Air Philippines flight departing at 12:10 pm became two PAL Express flights, one leaving at 9:10 am and the other at 3:20 pm. This was not good, since that means either I will arrive too late at CEB to catch my flight to ILO, or I will arrive too late at ILO to catch my flight back to MNL. It was a risk I wasn't willing to take, especially since I confirmed that I will be attending a friend's debutante ball (though it really isn't a debutante ball in the sense of the word) later that evening of September 5.
I scrambled to call PAL to inform them of my predicament, starting off on Tuesday. For some reason, my telephone kept on shutting itself off for no apparent reason, so I always get cut. At least though after several tries and failed attempts, I got to talk to a PAL ticket agent who for some reason had no idea what she was talking about. She claims that Air Philippines will not stop any operations, and that the PAL Express flights will simply add capacity. She claims furthermore that the timetable is erroneous and that it hasn't been updated yet.
I couldn't buy her story. Word has spread all over that Air Philippines is ceasing operations, so why would a PAL agent tell me otherwise? Nevertheless, the next day, I called the one source that could help: an Air Philippines agent. This particular agent, who cannot access my itinerary (as always), did confirm that Air Philippines will cease flying, and that PAL Express will take over, with those having Air Philippines tickets moving to available PAL Express flights.
The following day, I gave PAL another call, and after five failed attempts to connect (three on hold, two with an agent) within the day, I finally got to speak to a PAL agent around midnight. Luckily for me, my phone lasted for the entire time the call did, otherwise I would throw the phone to the wall. She did inform me that Air Philippines will cease flying, and I mentioned my predicament to her. She informs her supervisor (the first long hold) and gave me two options:
* I take the 4:10 am flight to Cebu (this flight is the flight which flies to Davao afterward) so I can catch the 9:10 am flight to Iloilo
* I take the 3:20 pm flight to Iloilo from Cebu so I can catch the 6:15 pm flight to Manila
I couldn't accept either option, since it either requires me to be at the airport at 2:00 am (and I've had enough of red-eye flights as it is), or I will arrive at the airport at around 7:30, which is too late for me to justify attending my friend's debut (and I've missed a lot of them as it is). I asked for a second, more radical option: since August 31 is National Heroes' Day (actually August 30, but thank Holiday Economics for moving it to a Monday), why not keep the same itinerary, but fly it on August 31? She puts me on hold again so she can discuss it with her supervisor, me fearful that the phone will suddenly shut off.
After about ten minutes, the agent returns with good news: I can be accommodated on August 31, and that since my entire itinerary will be affected by the transition of Air Philippines flights to PAL Express, I was exempted from their P672 per sector rebooking fee. I thanked her and returned to schoolwork before going to sleep.
In hindsight, I did come to realize something: this will be the first (and incidentally the last) time I will be flying Air Philippines. I think I consider myself fortunate that I will be on what is perhaps their final flight to Iloilo from Cebu, though I don't know if I can give fair judgement now on Air Philippines as they are winding down their operations. Perhaps on their last flights perhaps forever, they will go at all lengths to make sure that it sticks.
I. Pre-departure: MNL-CEB-ILO-MNL
I don't like the idea of saying to myself repetitively that I will wake up at 4:00 am, only to get up by 5:00, and leaving the house by 5:30, all because I was up finishing my last TR just so I can clear my mind for this one. The ending isn't pretty, but I'll polish it somehow.
After getting my weekly allowance from Ate Mimi (who at the time I called Manang Mimi, or Old Lady Mimi, since her passport had a typographical error saying she was born in 1949 instead of 1979), I quickly left the house without any sense of breakfast, down the quiet street of my neighborhood to Mayapis Street. I had no money, and I didn't want to spend my entire allowance all in one go, so I had to go to the bank to withdraw.
Down quiet Mayapis Street was the ever-busy Zobel Roxas Street, home to car parts shops and lots of morning chickens used for cockfighting. In Manila, Makati is the cockfighting center, or so it seems.
I cross to the other side of the road, or more appropriately to the other street, Pablo Ocampo Extension, previously (but still commonly) known as Vito Cruz Extension, where the bank was located. After withdrawing P800 to complement the P200 I already have (plus the additional P200 I'm getting from my allowance even though today is a holiday), I go down Vito Cruz and cross back to Zobel Roxas in order to hail a taxi.
Hailing a taxi on the northbound side of the South Luzon Expressway was a definite no-go, I had to cross to the southbound side. As it was in the morning, it wasn't so hard to cross, but the speedy traffic on the normally busy thoroughfare meant that I will need to be careful. Crossing to the other side, I said to myself, "I will never cross an expressway again", though I highly doubt I'll follow up on that.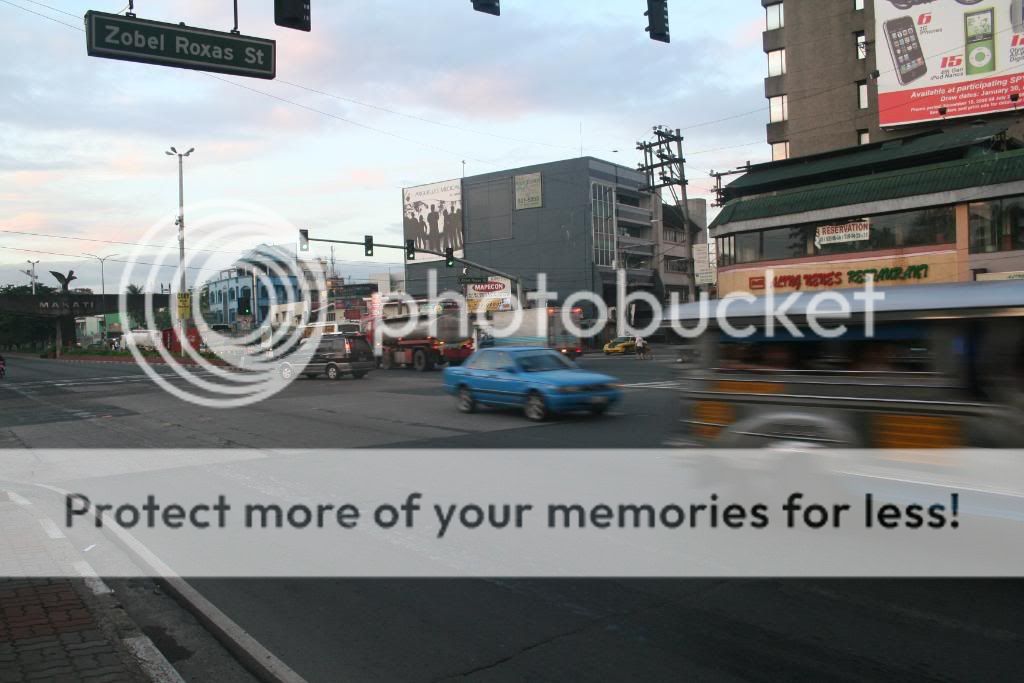 At Zobel Roxas, I hailed a taxi out for its first rounds, and I quickly made my way to Terminal 2 of Ninoy Aquino International Airport.
The road to NAIA, which is the same route I took when I had to go to the Domestic Terminal to fly Zest Airways to Cebu, was definitely traffic-free. However, I was saddened that nothing has changed at Aurora Boulevard down in Pasay, where garbage-lined streets are still the norm.
A swift run through Andrews Avenue and Domestic Road brought me to Airport Road, also known as MIA Road, where the only point of traffic was found. At that time, cars were still moving quickly to those leaving from Terminal 1.
Five minutes and P100 later, I was finally at the departure ramp of Terminal 2. Sorry guys, no receipt-issuing cabs today.
In order to be able to enter any terminal of the Ninoy Aquino International Airport, you must be in possession of a ticket valid for the day of departure (which in this case is today). Since I haven't gotten my updated ticket yet, I had to make my way through the busy South Wing to the Philippine Airlines ticketing office.
The North Wing, on the other hand, was busier.
The ticketing office, located at the center of Terminal 2, was catering to a few passengers when I entered, though the place seemed quiet. The humming of printers printing tickets and other information seem to prove that despite the quiet atmosphere, there was still a lot of work to be done.
Meanwhile, the Airbus A330 model which continues to stand today at the end of the ticketing office seems to pride itself in quietly watching over its prospective passengers.
Although I was issued stub 437, I was allowed to go to the express counters where passengers who have flights leaving less than two hours away can claim their tickets. I asked for my ticket to be issued and the ticketing agent quickly complied, giving me my ticket in no time. However, I was confused: the ticket which was given to me said that my flights to Cebu from Manila and back to Manila from Iloilo were departing on August 31, but my flight to Iloilo from Cebu was still bound to leave on September 5. I had to get that issue fixed.
I returned to the same ticket counter where my ticket was issued, informing the ticketing agent of the discrepancy in my ticket. She did ask why I had my itinerary changed, and I told her it was because of the scheduling brouhaha that would take place effective tomorrow (at the time this TR was initially written), being unable to afford leaving at 4:15 am for Cebu from Manila, or 6:15 pm for Manila from Iloilo. After a lot of typing, she fixed my ticket, and I was on my way. However, the status on my ticket for Cebu-Iloilo still said "CTRL" (control) instead of "OK" as indicated for my other two flights. She said that it's the same as "OK", and that I should be allowed to board.
Relieved from the prospect of being stranded, I folded my ticket and lay it beside the other two tickets that were in my possession, proof that I needed three tickets (and fifteen minutes) just to get my affairs in order.
After exiting the ticket office, I make my way to a line leading to the entrance of domestic departures.
II. Pre-flight: PR 847, MNL-CEB
The very busy check-in hall greets me upon entering after security, where my bag fell and I had to ask the security officer to pick the bag up for me. I informed her there was a camera, but it was too late: the camera fell out of the bag. She said it should have been closed, but I informed her that I closed it before going through security, having opened inside the X-ray machine. At least it came out okay.
Unlike my trip to Tokyo, the FIDS worked this time. The common FIDS, exemplified by the LCD screen, was non-functional in a game of role reversal.
The right side check-in counters were full of passengers connecting to various PAL flights, and so logically I'd presume that would be where I need to line up.
However, that was not the case. The security agent told me that check-in for my flight would be at the left side check-in counters, which was not as busy. What a relief.
The only people in front of me were two male passengers traveling together, and soon after they were called to a check-in counter, leaving me in line. A couple which just got in line tried to get past me, but the security agent there told them that there was a line. The guy behind me said "It doesn't look like a line" in Filipino. I retorted to myself: "Wow, I don't look like a line." Forgiving older women pushing through the line to check in is one thing, but people saying that a solitary person in front is no line is another.
Not long after that incident, I was called to Counter 29.
In a very big sigh of relief, the check-in agents at Terminal 2 today were male and female. Mine happened to be male. After he took my ticket, Mabuhay Miles ID card (though I'm not earning miles on this itinerary) and Pennsylvania state ID (the most convenient ID I had), I asked what aircraft we were using today. Like what the booking engine said, we would be using an A320 today. However, I did inform him that I wanted to be moved to the 9:00 am flight so I can try the AVOD on the 747 again since it didn't work last time. I did ask though if we would be using a new A320 (implying the A320s with Recaro seats), and he said yes, with the additional remark that all PAL A320s are new. "Really now," I thought to myself, since I know that not all PAL A320s are new.
He asked if I wanted a window seat, and I nodded in approval. My boarding pass is then printed, where I make my way to the terminal fee counter. After paying the terminal fee and going through a final bout of security, I was finally at the pre-departure area of Terminal 2 on this very busy National Heroes' Day.
Judging by the list of flights in the FIDS earlier, it can be deduced that all these passengers were bound for the next five flights out of Terminal 2: Davao, Legazpi, General Santos, Dumaguete and Cebu, all the while this LED TV, also installed at Terminal 3, was showcasing how NAIA is indeed the airport that goes the extra smile.
Gate S5, which was where my flight was leaving today, was full of people waiting for the plane to arrive, as incidentally the plane hasn't arrived yet from wherever it was coming from. (I should note that the antiquated CRT monitor that you see here has since been replaced by a new LCD screen around a year ago or so.)
Meanwhile, I decided to do some spotting. First off was B-HLK, a Cathay Pacific A330…
…then the oddball 747, RP-C7475, which will be used later for the 9:00 am flight to Cebu (hopefully for passengers flying on that flight, the AVOD will work)…
…followed by a parked A320.
Since there wasn't much to do at the airport, I decided to sit down at the laptop station in order to continue writing this TR.
Setting up wasn't hasslesome, though I did notice that a whole bunch of children bound for General Santos was walking towards their gate.
An American man was taking pictures of things inside the airport, including the guy in front of me at the laptop counter, who apparently was his friend. He noticed the camera on my neck and he politely said "Hi" before returning to his area near Gate S3.
The laptop I brought this time around is an MSI Wind, my dad's Netbook, as the charger for the Vaio still went unfixed and I would have no charger to use it with. In addition, this laptop places less strain on my shoulders as it is much lighter, all the while giving me the ability to write this TR.
Apparently, the Wi-Fi at NAIA seems to work. However, when I tried connecting to it, it was, as always, an epic fail.
There was always more spotting to do at this very glassy airport terminal. There was RP-C3247, the Cebu Pacific A320 I rode to Manila from Singapore ten days prior.
Boarding was called not too long after taking that picture, and the line quickly got long. Apparently, for narrow-body aircraft, row numbers are not called, and everyone just lines up willy-nilly.
A woman behind me was complaining to her companion that she was waiting for the row number to be called, later believing that only Cebu Pacific boards passengers by row number. I interject, informing her that only widebody aircraft use seat-row boarding than free boarding, agreeing in turn.
While in line, the Northwest Airlines 747 which I always ride going home to the United States (as NW 72) has just taken off.
After my boarding pass was checked, I went down the gate and took a picture of this A320's beautiful nose.
Later on, I suspected that the gate agent was wrong, and I checked whether or not he was right. Apparently, he was wrong: we were going to use RP-C3231, the close cousin of RP-C3230 which definitely did not fit the description of "new, Recaro A320".