31.12.2012
UX6037
BCN – PMI
Embraer 195LR
EC-LCQ // On service with UX since March 2010.
Gate: C77
Seat: 30F
Take-off runaway: 25L
Landing runaway: 24L
SDT: 11.50 // 11.45
SAT: 12.35 // 12.20
Wheels up: 11.54 }
} Flying time: 23 minutes
Touch down: 12.17 }
Bon dia!
My last and first trip of the year has been a very short one, 20 minutes flight time to PMI to celebrate with friends the arrival of the New Year.
When I started considering the options to PMI there were very few options, basically four: VY, FR, UX and AB. AB has only one flight that did not suit my timing, FR was out of question, VY offers the boring A320 and UX has the more attractive offer, both price and machine wise: the Embraer which is a lovely plane, so there we go. As I had to carry some luggage for a friend who recently moved to Palma UX was a gainer here too as it includes a suitcase in their basic price, which VY does not, let alone FR.
The flight was booked online without much hassle and OLCI done right after the 48 hours line, which gave me sequence #1, some of the seats were already taken but 30F, last row window seat, was available so I jumped on it.
You need to know where to go and who your neighbors are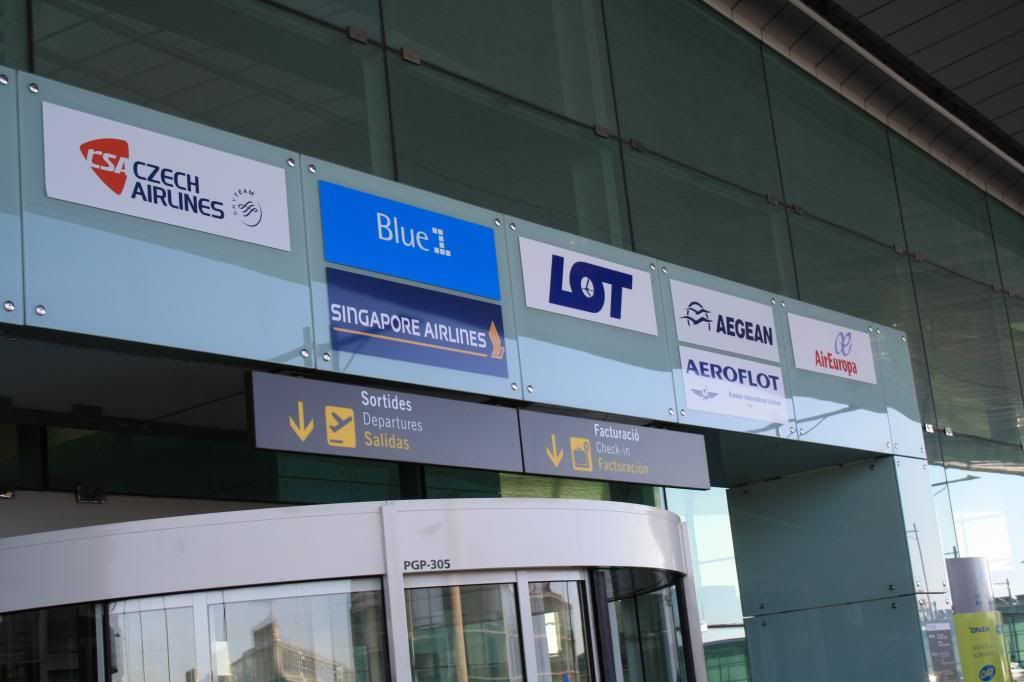 Check-in area for UX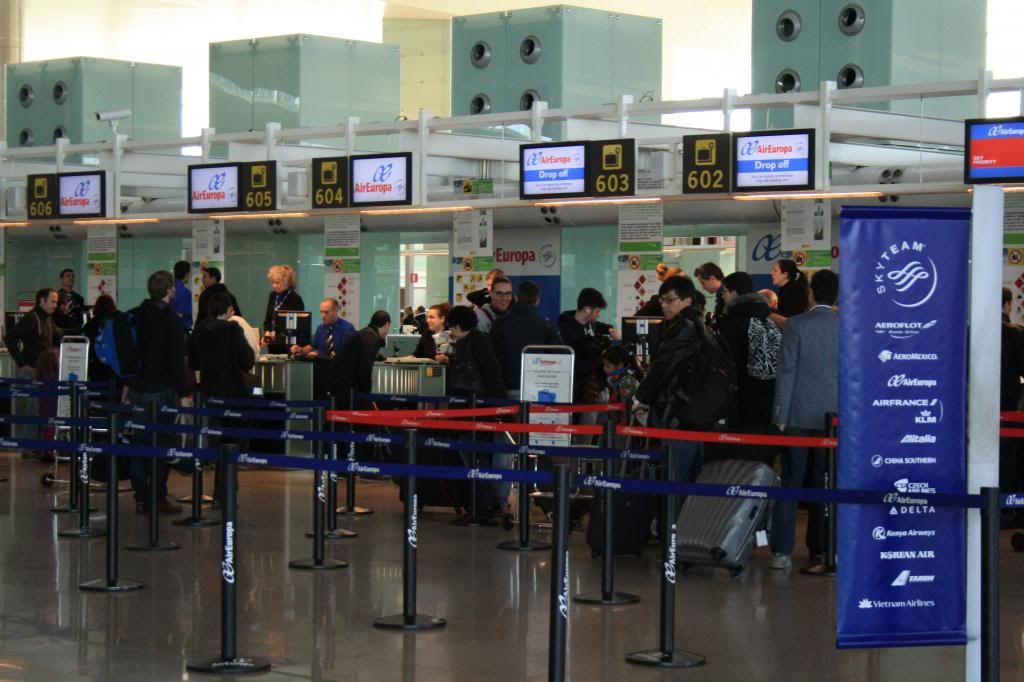 As the last day of the year started I packed my things, stuffed all my friends belongings into the suitcase and took the bus to the airport. It was quite busy although the airport was rather empty, no lines for security, very short waiting time at check in where I was promptly assisted by a young fellow who after checking my luggage wished me a Happy New Year, same to you young man. I asked him about the load and he confirmed my suspicions, about 60%load and everyone seated at the front.
A new security area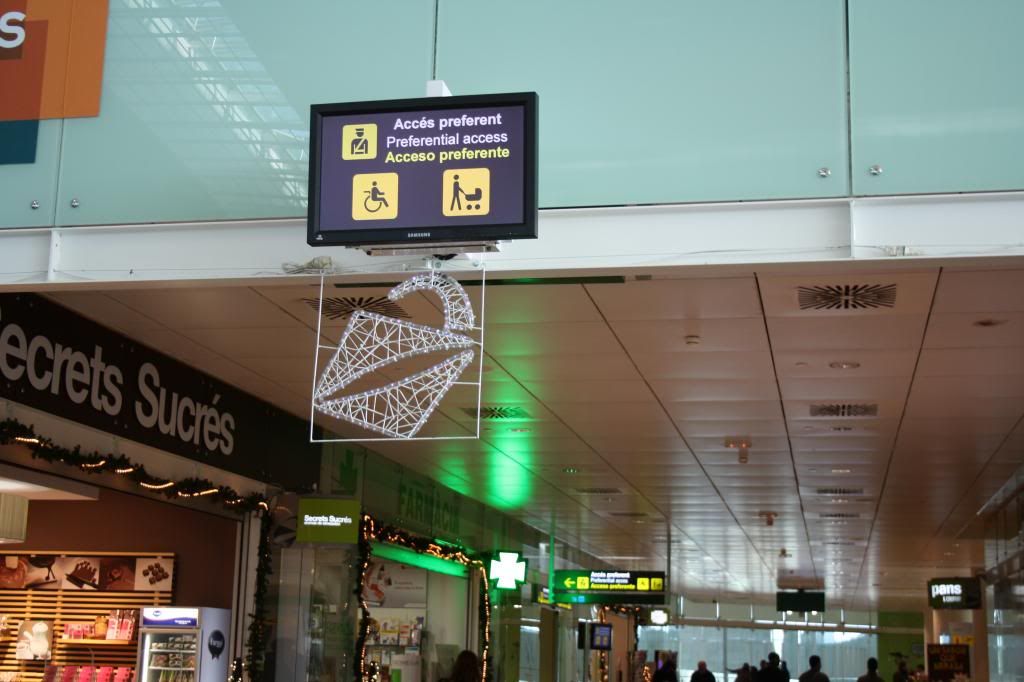 The more info the better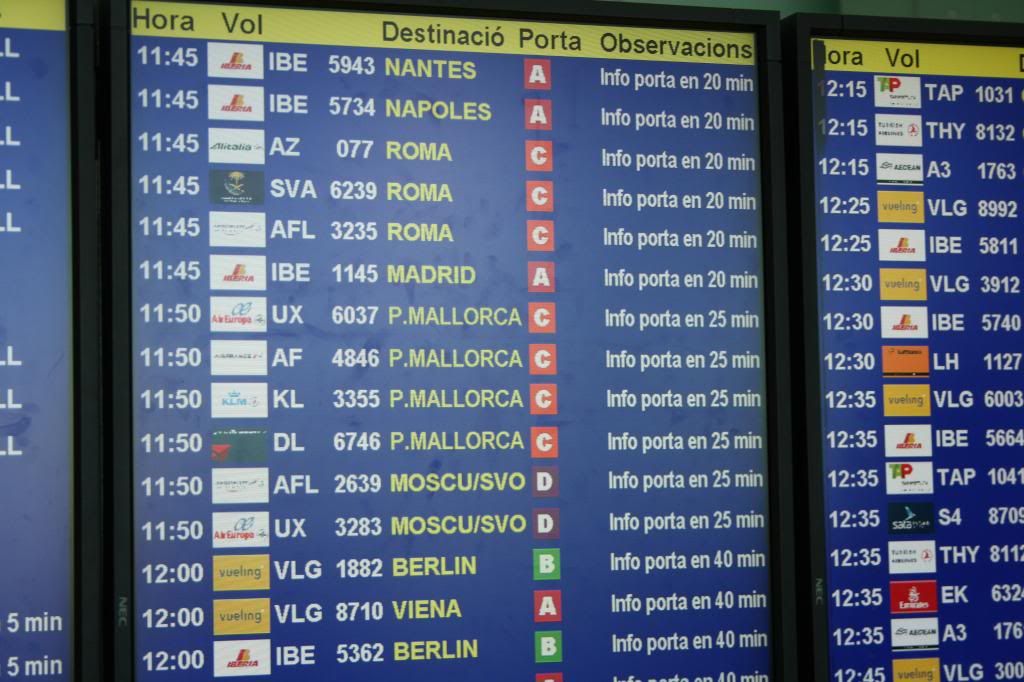 Waiting for the flight back to DOH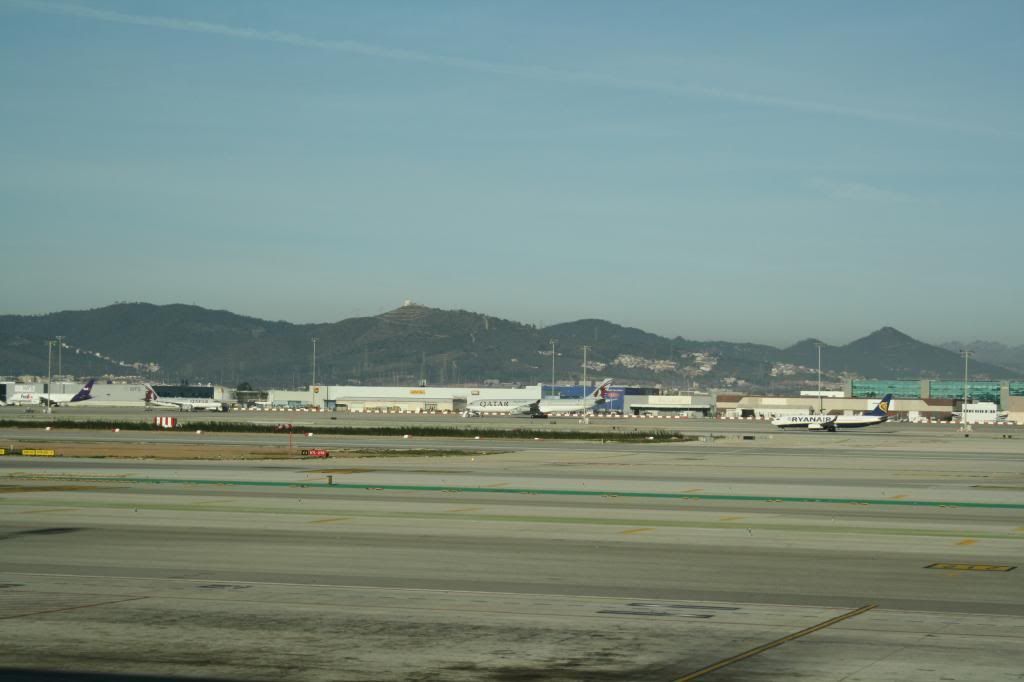 Crossing security was a matter of seconds and I went for a sightseeing tour of the tarmac. An A330 from Qatar Airways caught my attention as it was seating at the cargo apron, I figured it is the regular service from/to DOH which lands at 7.20 as QR65 and leaves then at 15.25 as QR68. Some days a week two daily services are operated by QR to / from BCN , so it seems they are doing quite well. BTW, stay tuned for Feb. 24th and March 1st as EK is sending one of their A380s to BCN due to the Mobile World Congress, nice to see it as it is a first for Spain on a regular service, about three years ago LH sent one to BCN and MAD but just as promotion flights. I was lucky enough to be at the airport that particular day:
A Flying Afternoon: BCN-MXP-ZRH-BCN (LH+LX) +A380
(by
rogerbcn
Oct 9 2010 in Trip Reports)
Let's go back to the trip itself, not bad for a short trip to PMI, isn't it?
Apron view with UX, KL and VY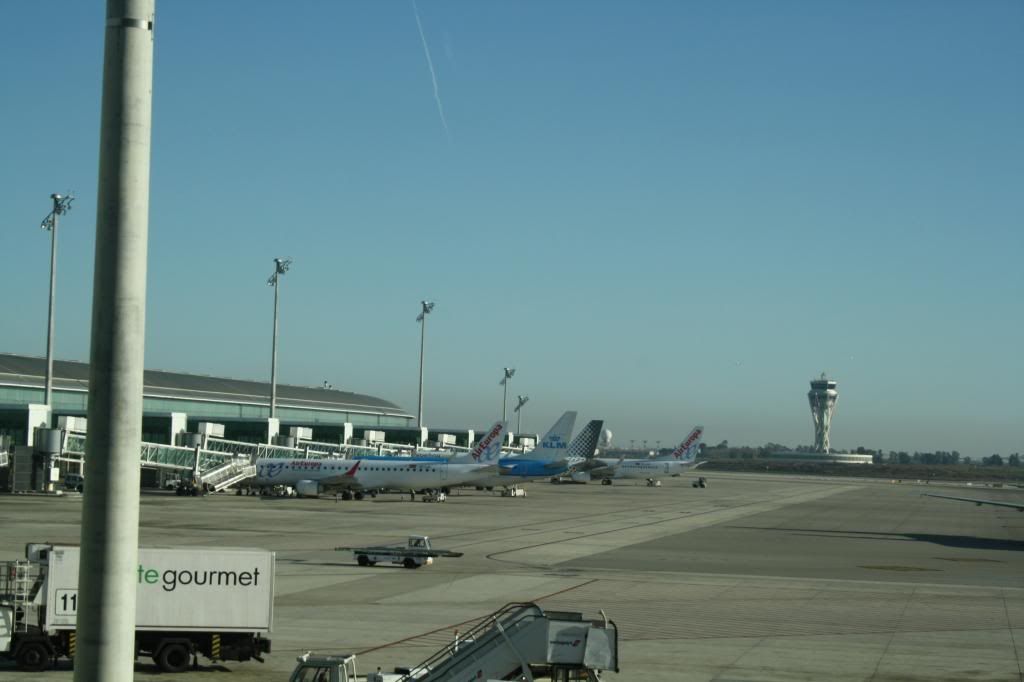 AZ arriving from FCO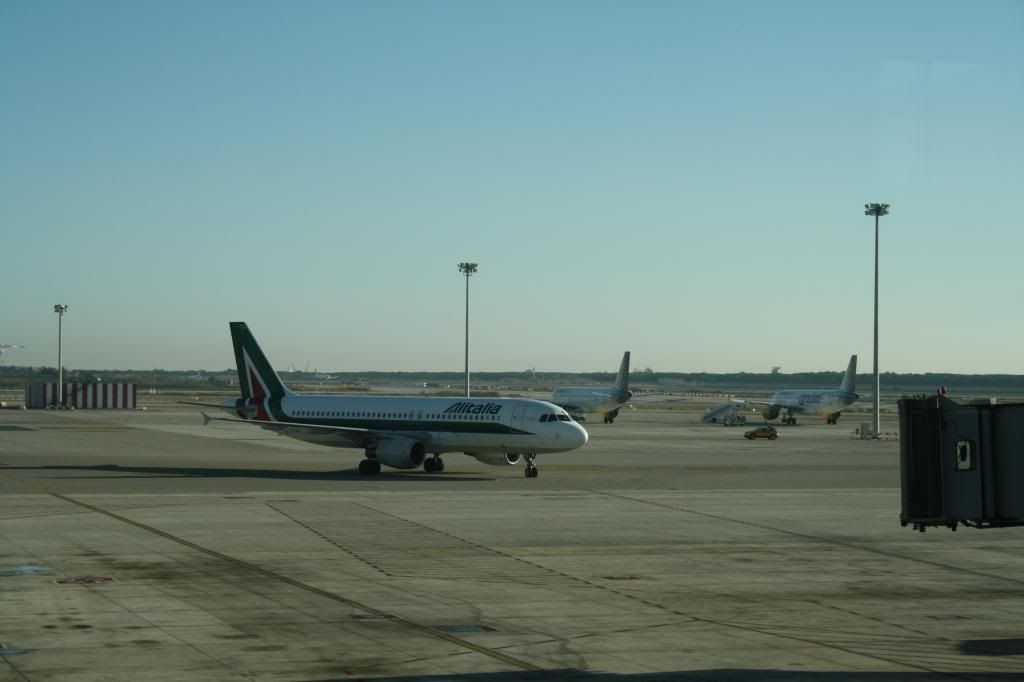 The American cousin, DL to JFK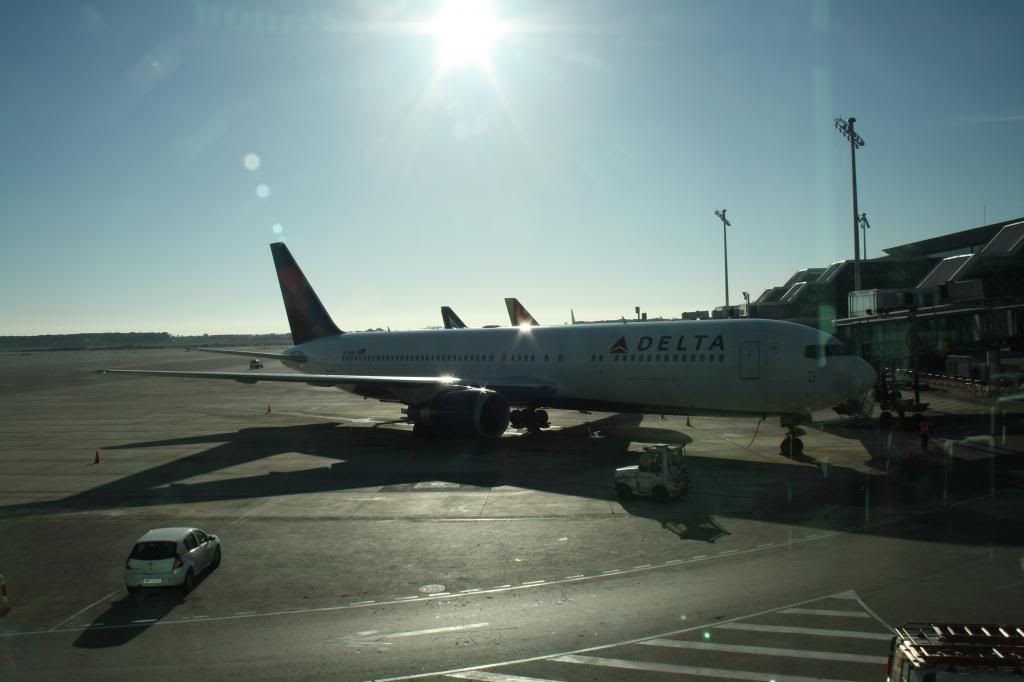 The Russian cousin, SU to SVO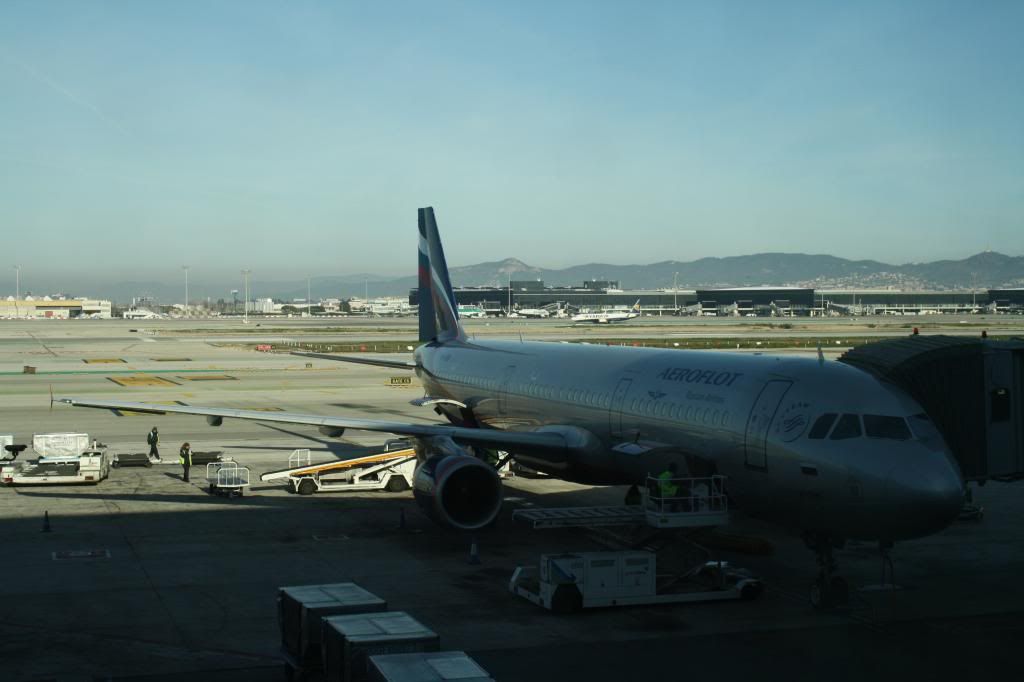 My gate announced, time to move there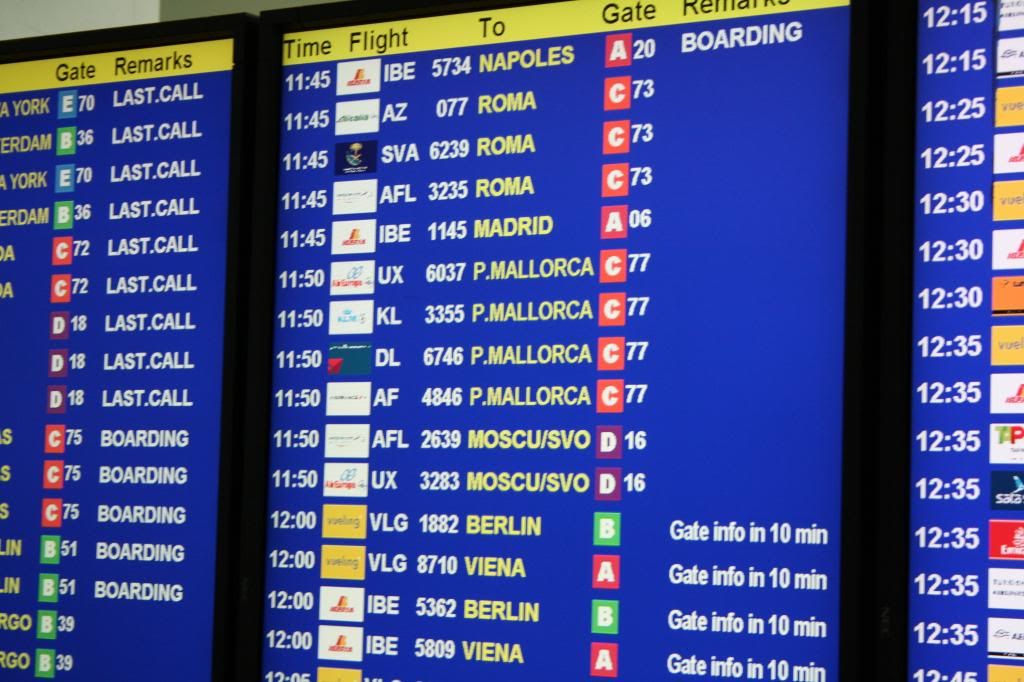 Went to my gate about boarding time to find quite everyone there about to board the plane which was called right on time with the typical announcement for special assistance passengers and elite Skyteam members first, then rows 30 to 15, hey that's me so there I go. A greeting from the purser at the door and start my walk to the end of the plane which was empty except for a father who was assisting her daughter getting seated at 29C.
Certainly, this is the gate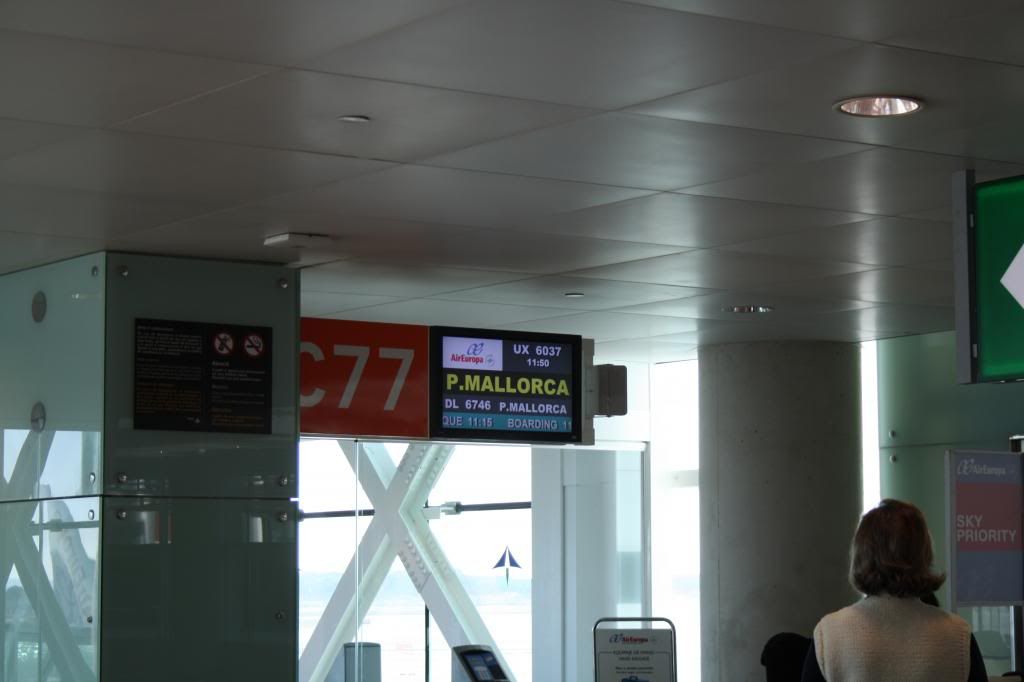 And this is the bird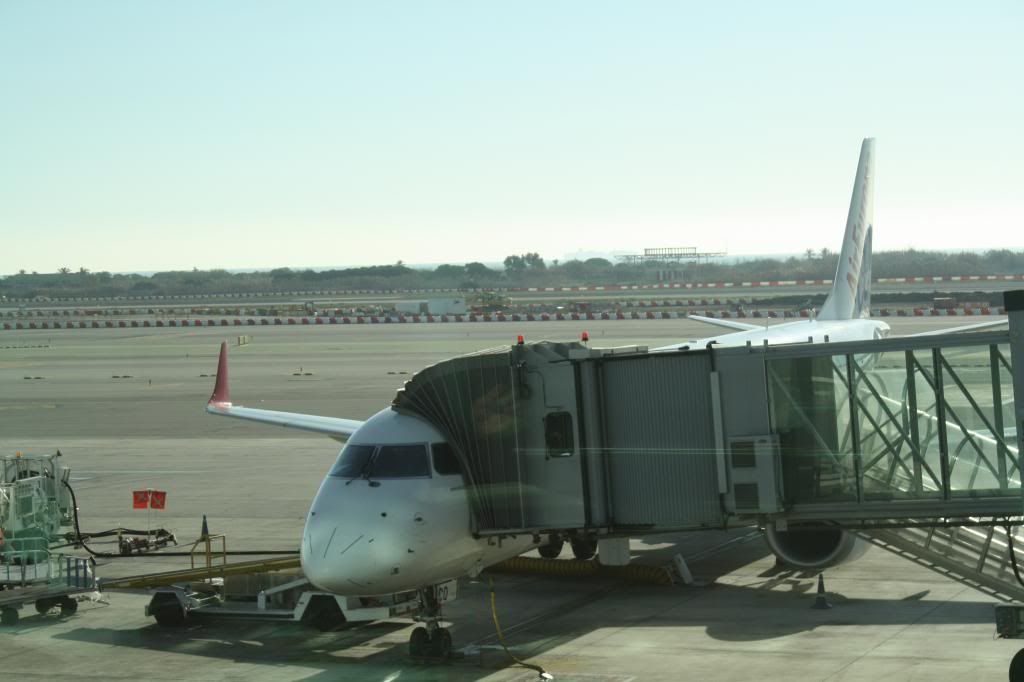 Meanwhile, KL to AMS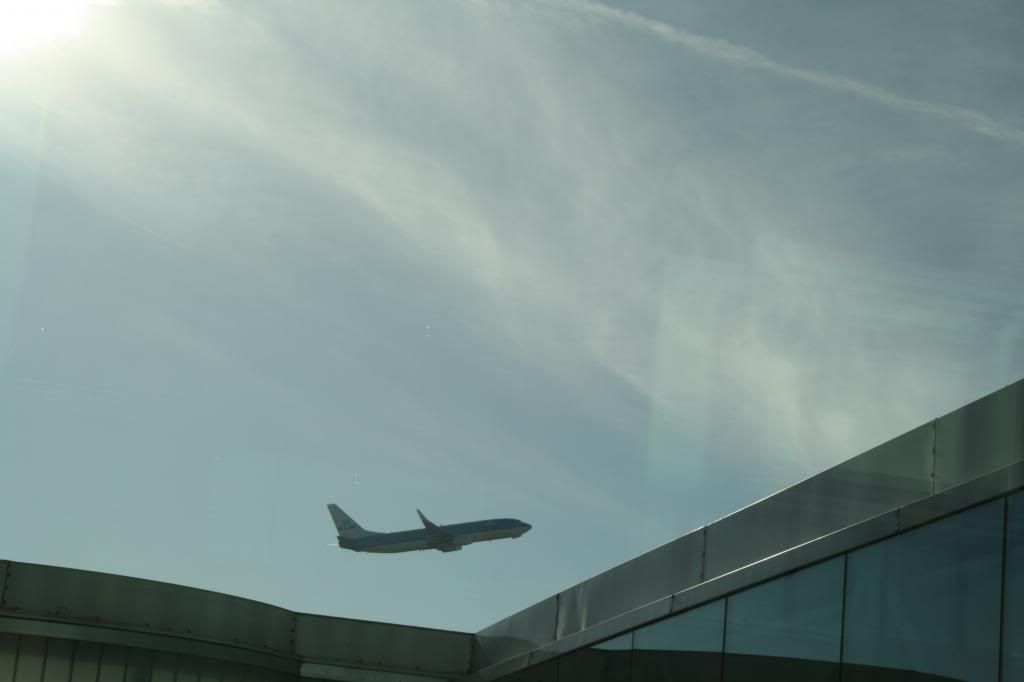 One of the many VY flights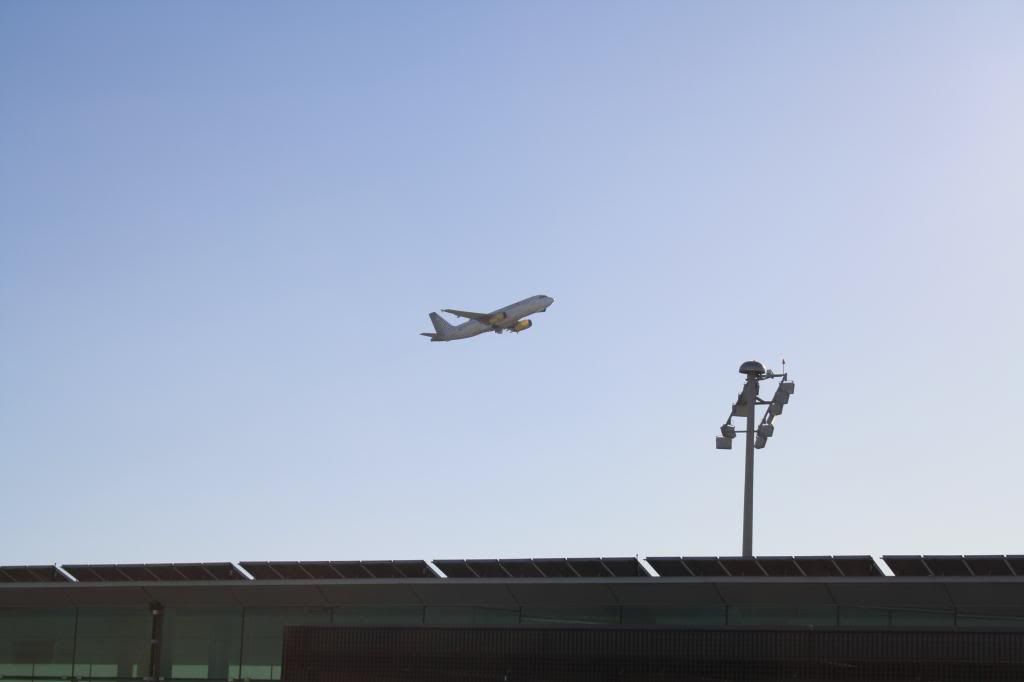 Another one leaving, DL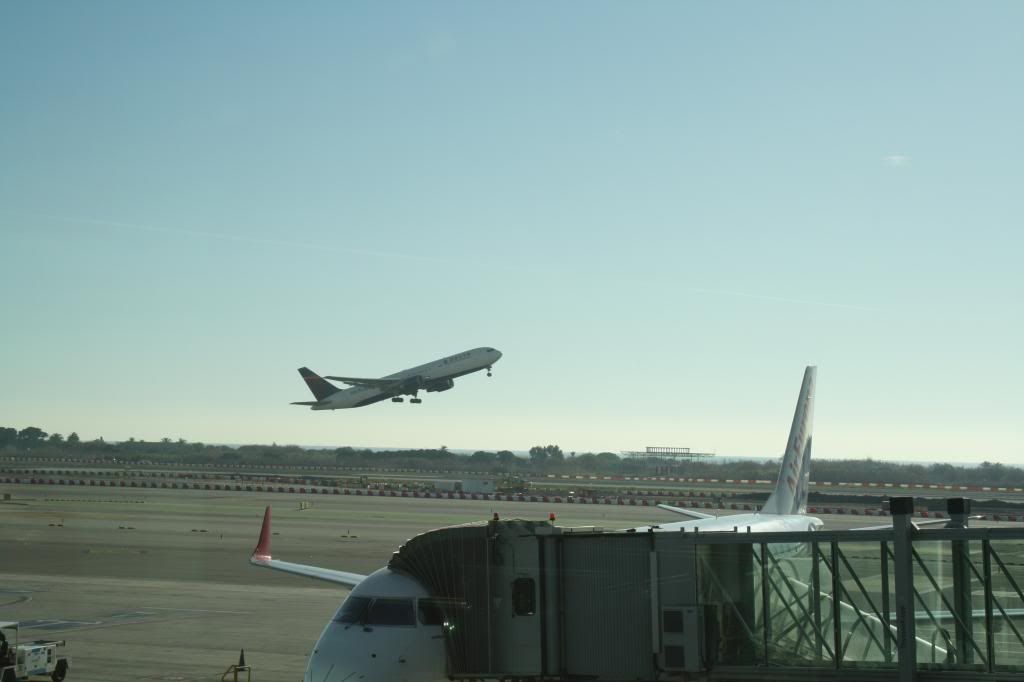 And even a smaller neighbor, NI to OPO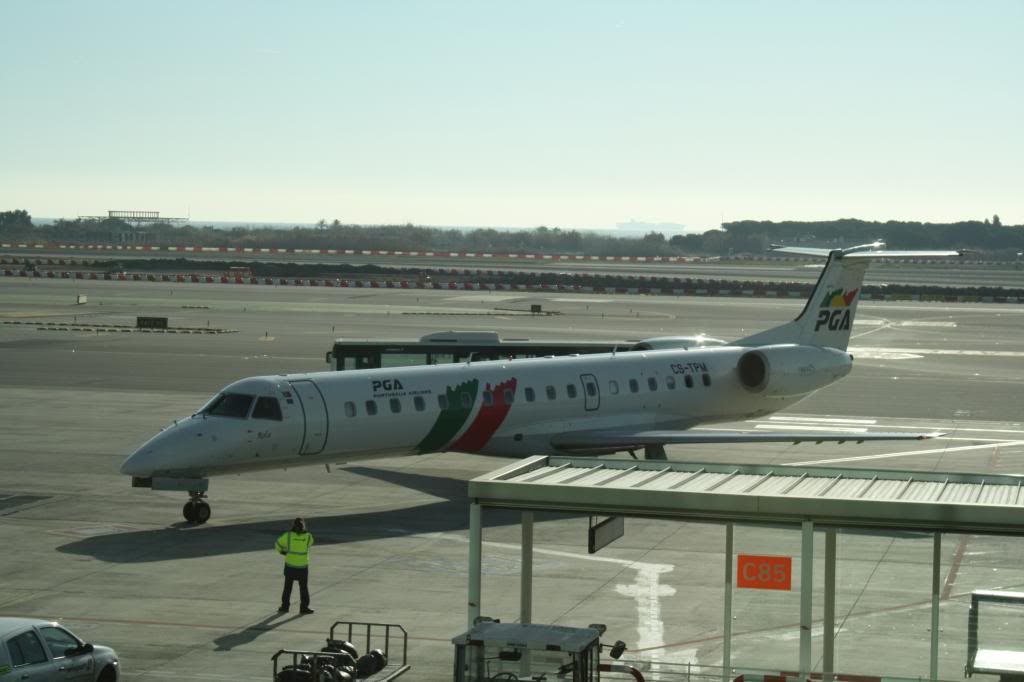 And its older brother to LIS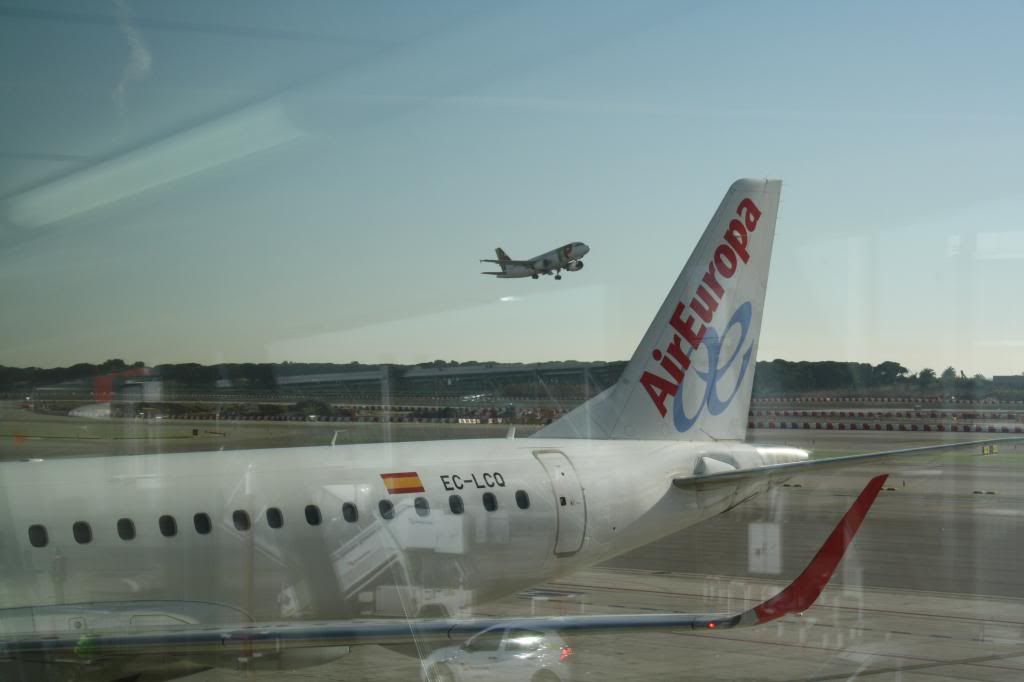 And on the other side, a A3 to ATH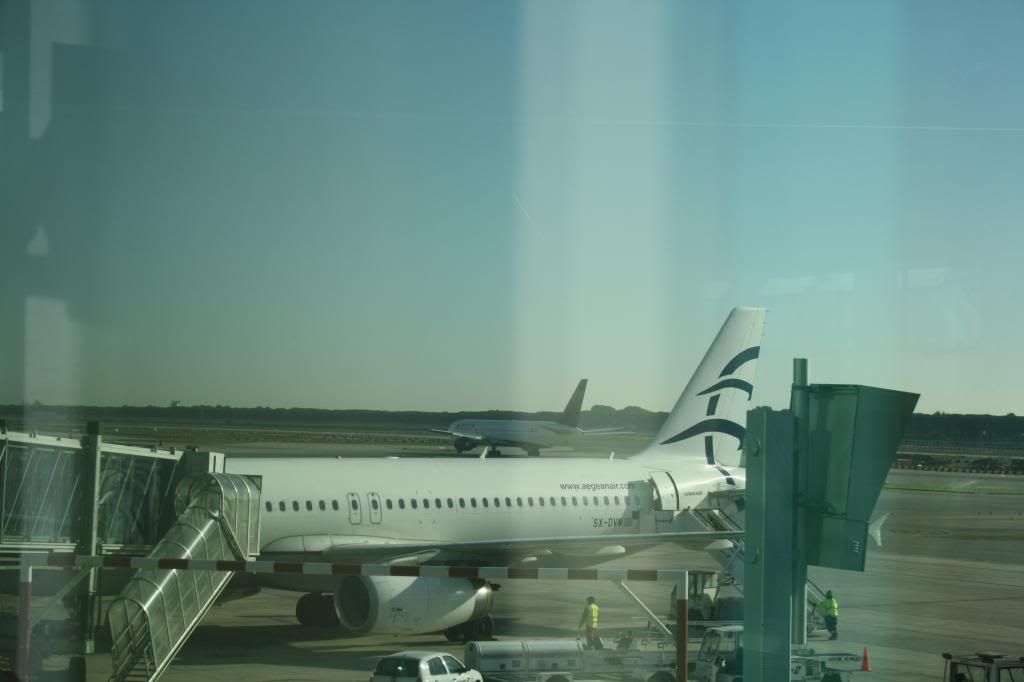 Huge winglet covering my view of the TK to IST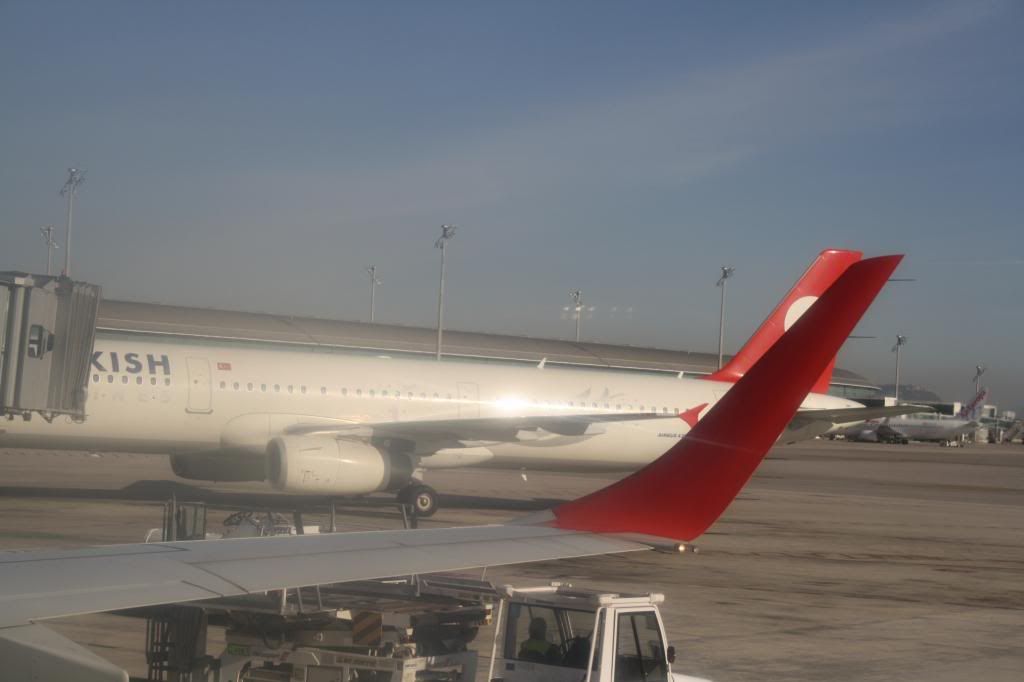 The seat was comfortable and the legroom a lot better than expected, enough to move my legs around for this short hop.
Last row, all to myself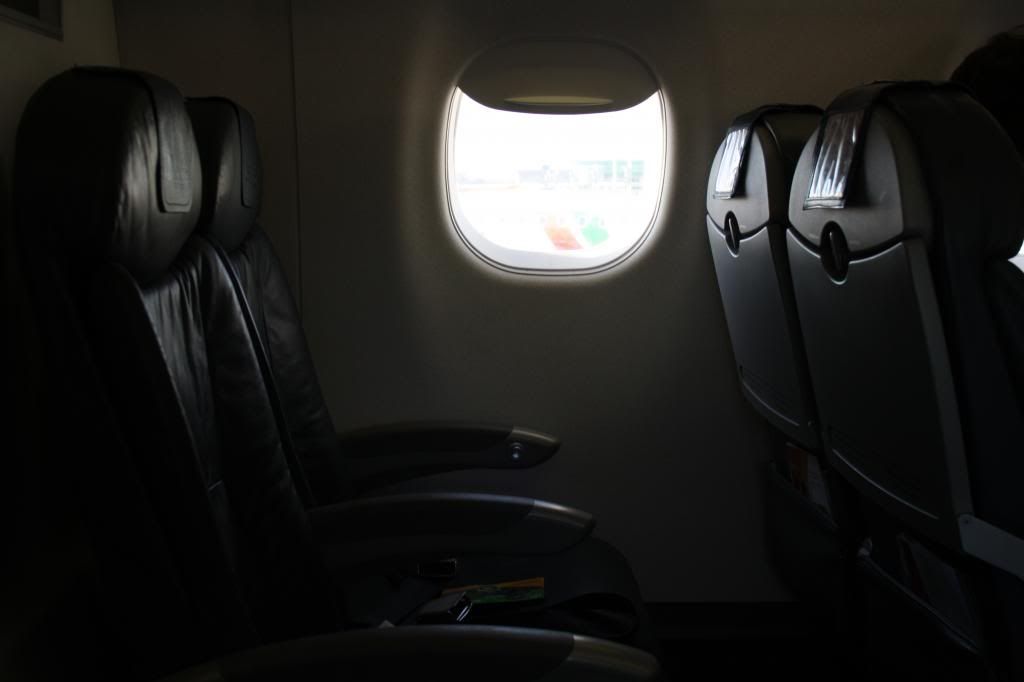 Two middle aged FAs were at the back making sure everyone got to his/her seat comfortably and the luggage stored on the overhead bins.
Half full plane
Obligatory legroom shot
Once everyone is on board a welcome by the purser is heard on the cabin announcing a flight time of 35 minutes, first in Spanish and then in English. The safety procedures are recorded in both languages while the FAs do the manual demonstration.
Seat pocket contents
Bigger ones get pushed first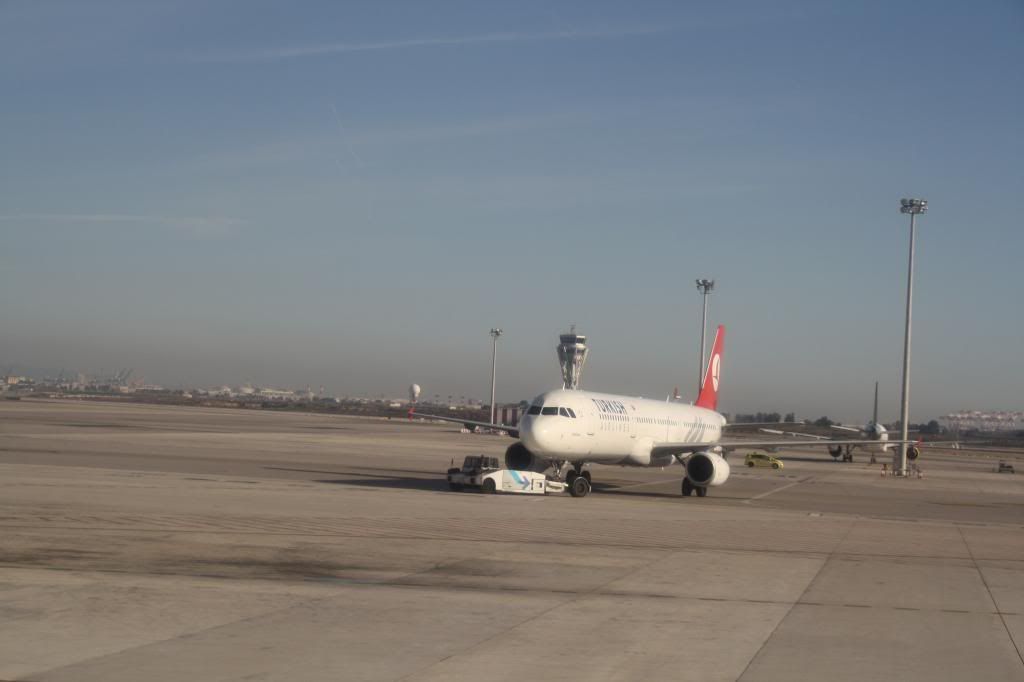 We are pushed back five minutes earlier and the track to the take off starts, no welcome or any route, level information is heard from the flight deck, just the take off in 2 minutes.
We take off and start climbing to the usual height for these flights, 19FL, which lasts for about 5 minutes, then starts the descend at 12.05 with some weather information for PMI, clear skies,14C and some publicity of their credit cards.
Mallorca on sight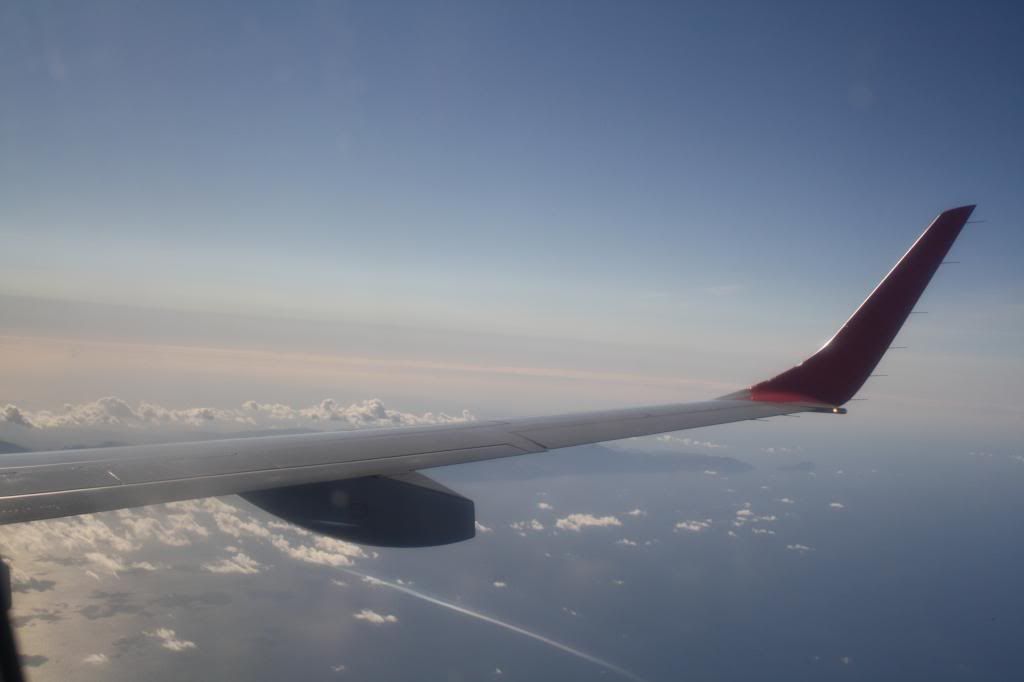 Serra de Tramuntana
During the flight the BOB service is only conducted to those passengers requesting it, I do not see any trolleys moving around, only trays with cans.
Puig Major, at 1445m, Mallorca's summit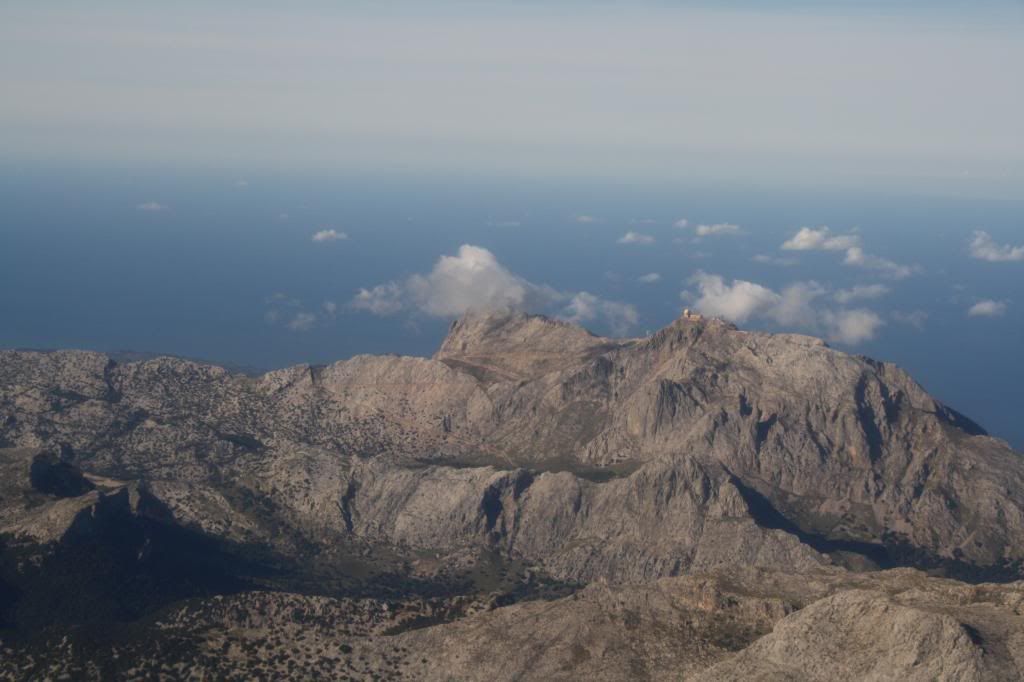 The flight has been very smooth until now when the plane shakes a little bit as we approach the airport.
Turning onto PMI airport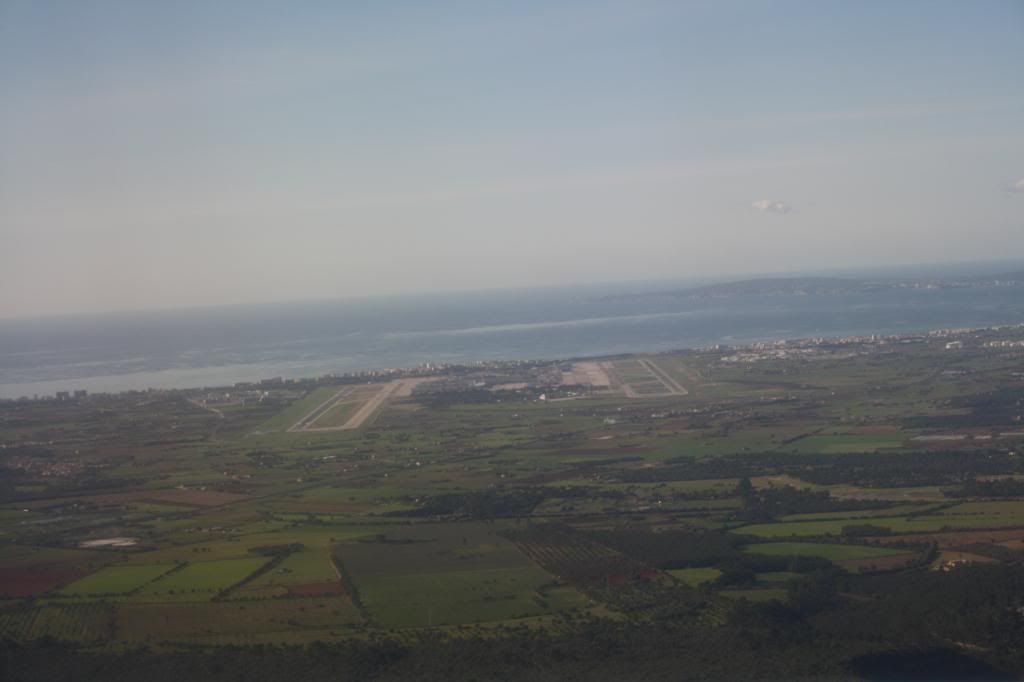 We land at a deserted PMI, none of the gates on this side is occupied, in fact the whole A pier is closed during winter time.
Deserted airport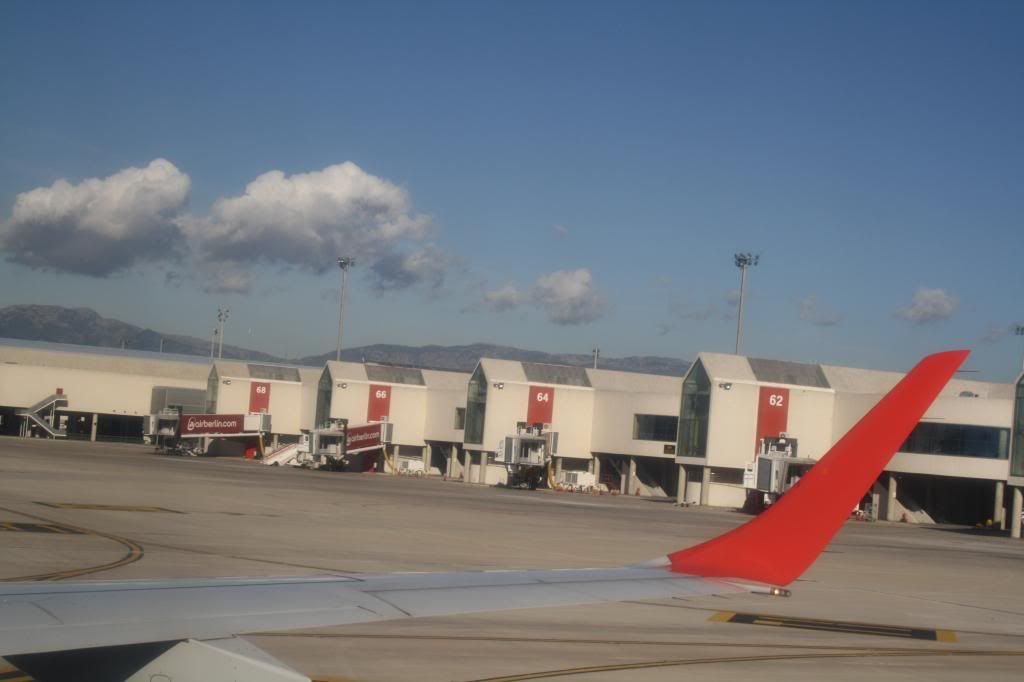 Not really, a sister from MAD is here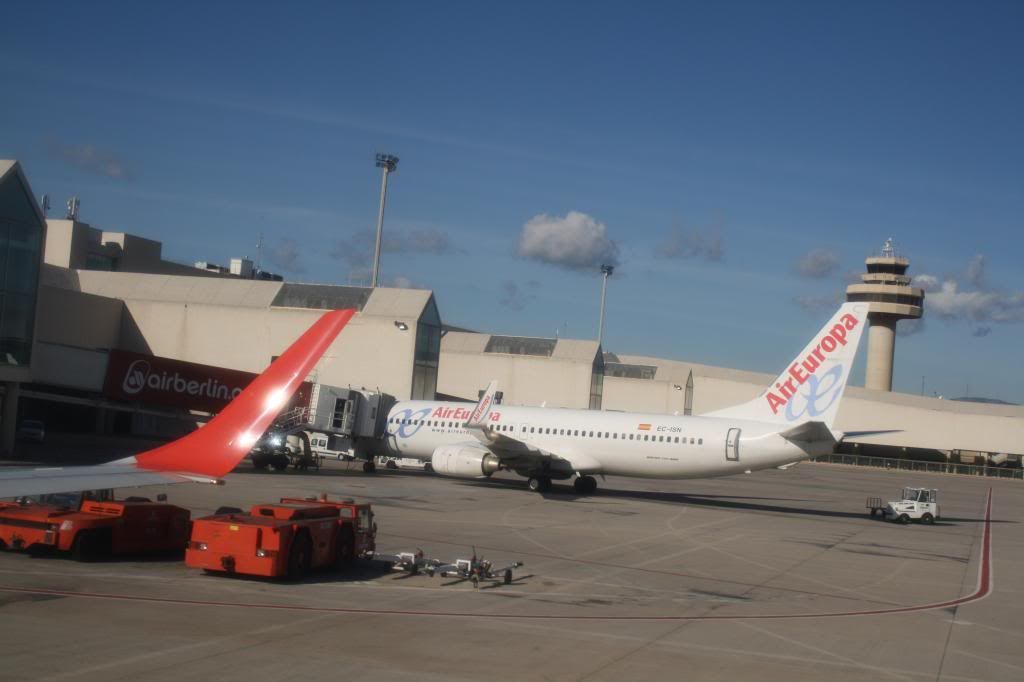 As I get ready to disembark I exchange some words with one of the FAs, Ms. A, she tells me they have four return flights everyday, this plane is now going to ZGZ, back to PMI and then back to BCN. I ask her if such short flights are boring, she confirms that these as well as longer ones are not very pleasant. I am surprised to hear such an answer, I expected some more enthusiasm for the job
I take it easy as I have to wait for luggage which arrives in five minutes to the carrousel, it takes quite a while to reach the luggage area from the plane.
Luggage waiting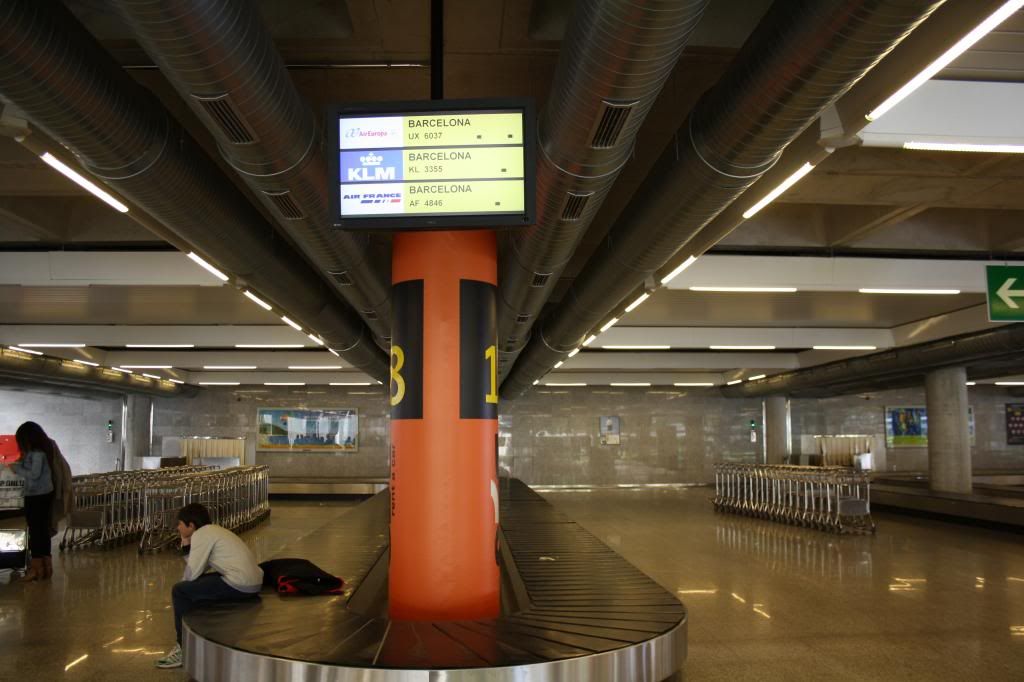 Last sunset of 2012
As I exit the airport I realize this has been my last flight of the year 2012.
________________________________________________________________________
02.01.2013
UX6072
PMI – BCN
Embraer 195LR
EC-KYO // On service with UX since April 2009.
Gate: D88
Seat: 30F
Take-off runaway: 06R
Landing runaway: 25R
SDT: 16.45 // 16.40
SAT: 17.35 // 17.20
Morning spotting, a Swiftair small one
An AB new one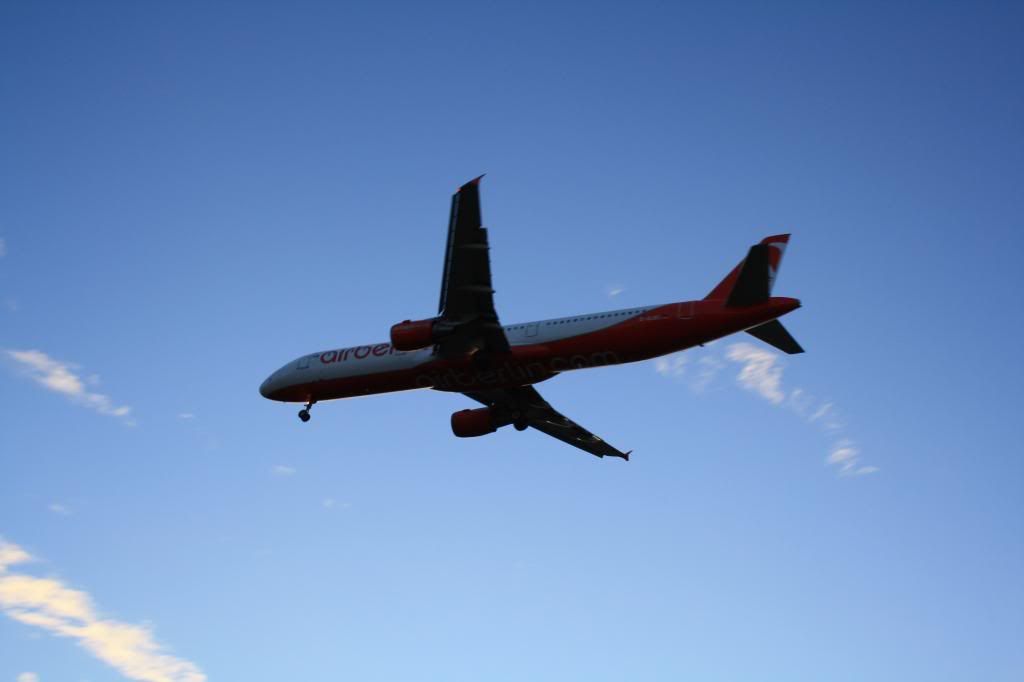 And an AB oldie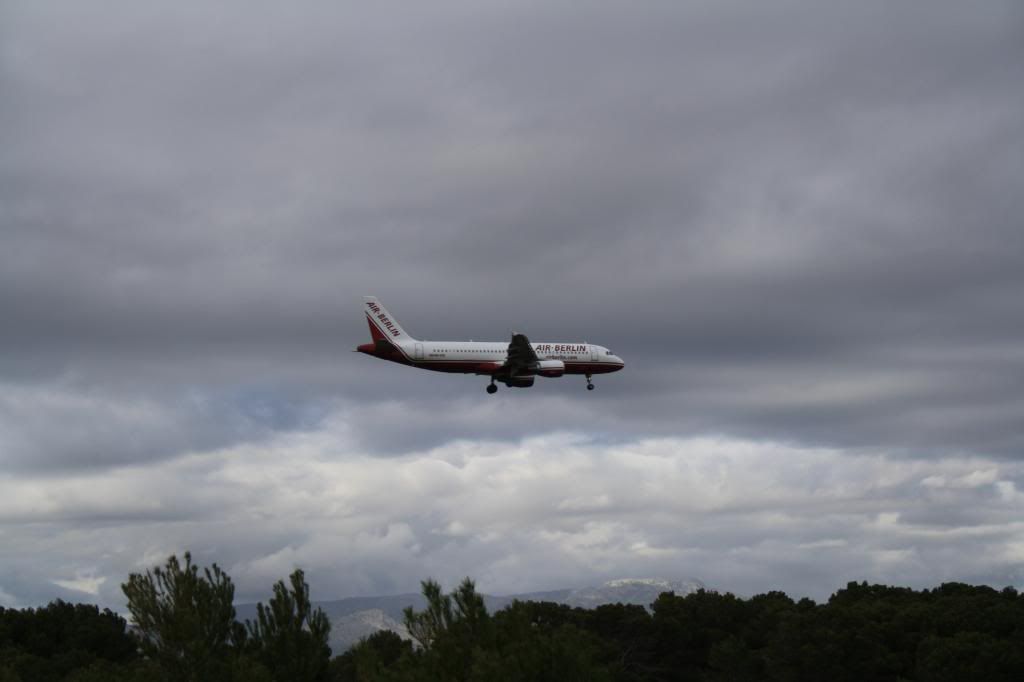 and another one from right underneath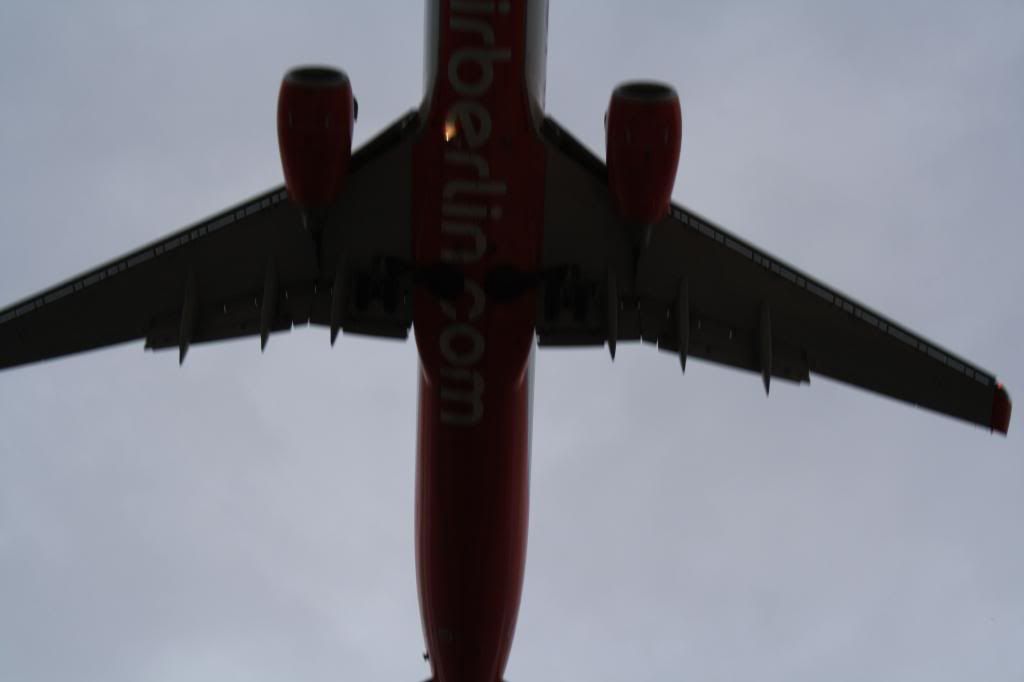 Follow the light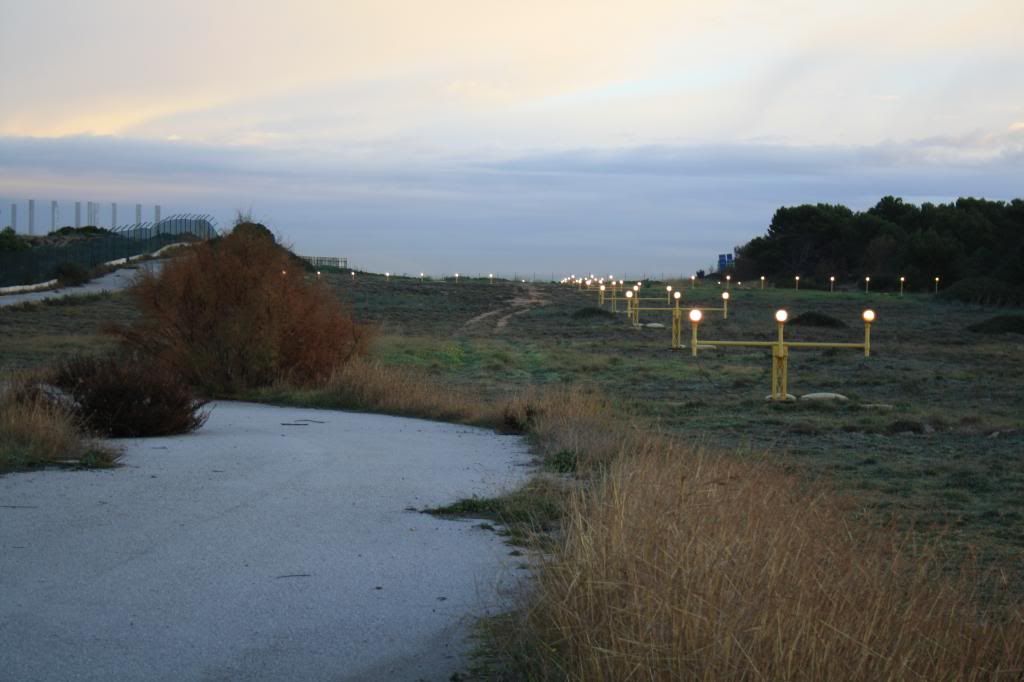 and so he did, an I2 from MAD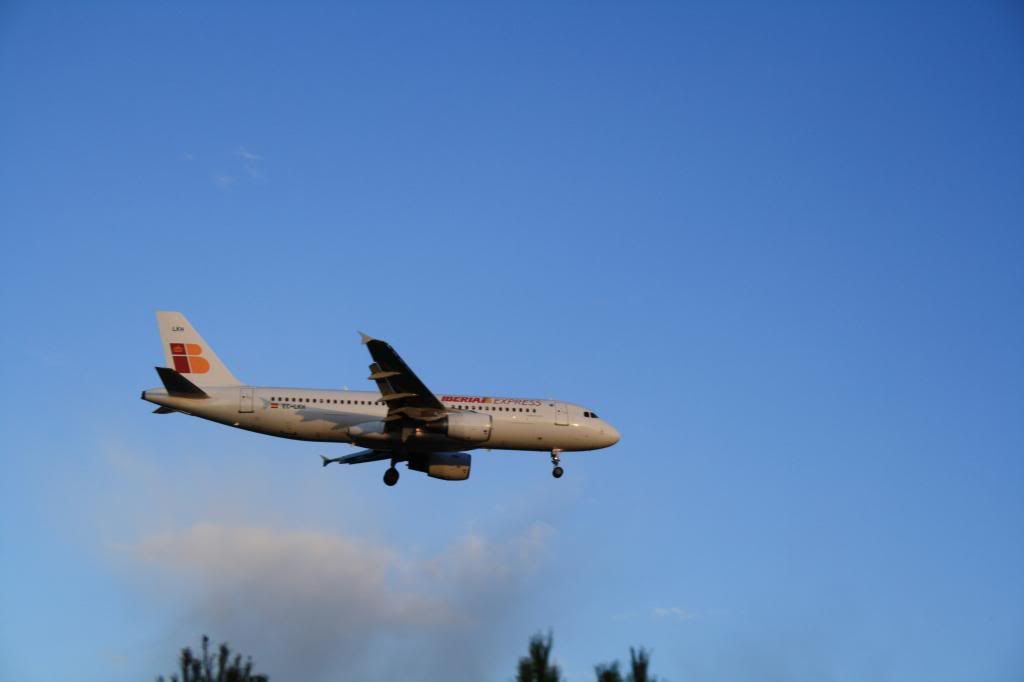 After two days in PMI enjoying the New Year and being able to get some pictures of the landing planes coming in from the sea I am driven to the airport which is empty at this time of the day, basically all passengers seem to go to BCN: UX, FR and VY have flights to BCN around that time.
BCN is a popular destination this time of the day: UX, FR and VY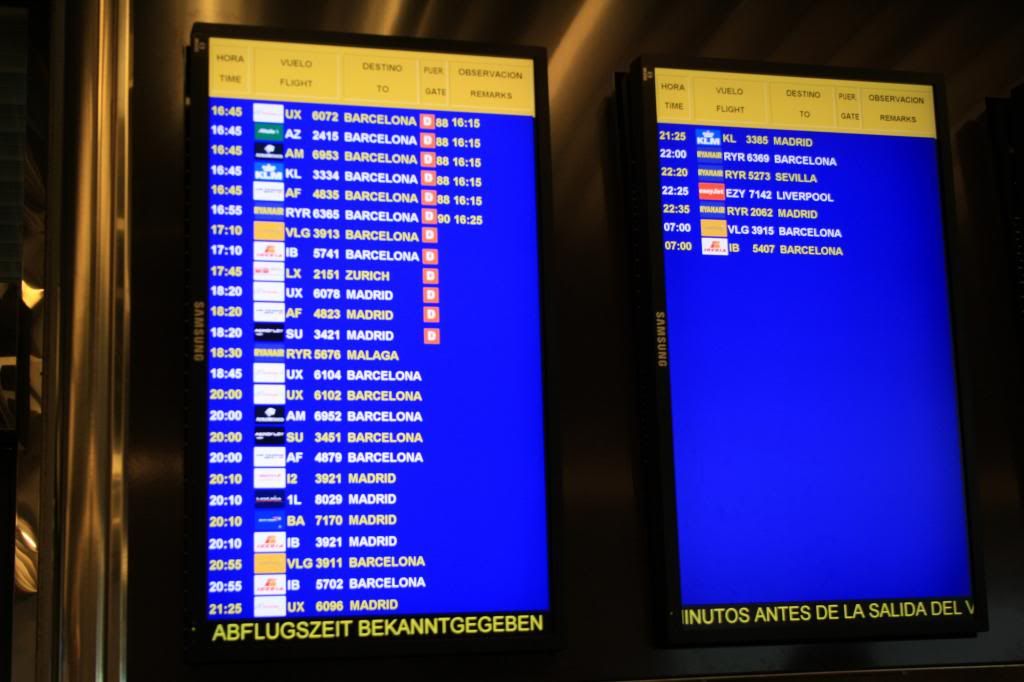 The gate area is now full and so is the next gate where a long line is formed by all the FR passengers.
My gate, four flights in a small Embraer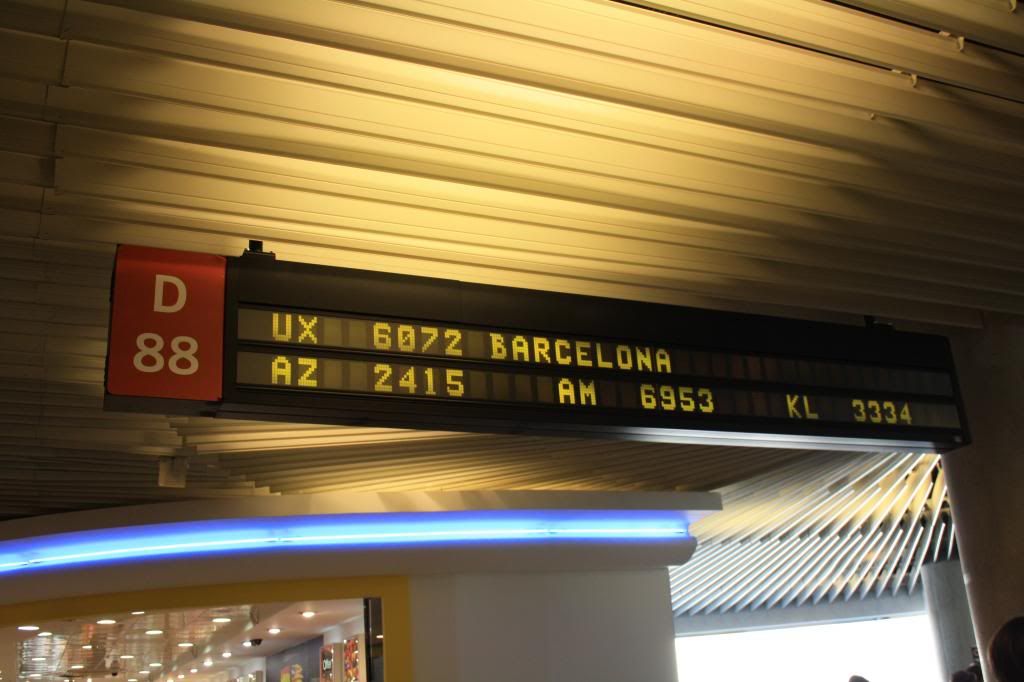 My bird, a flying princess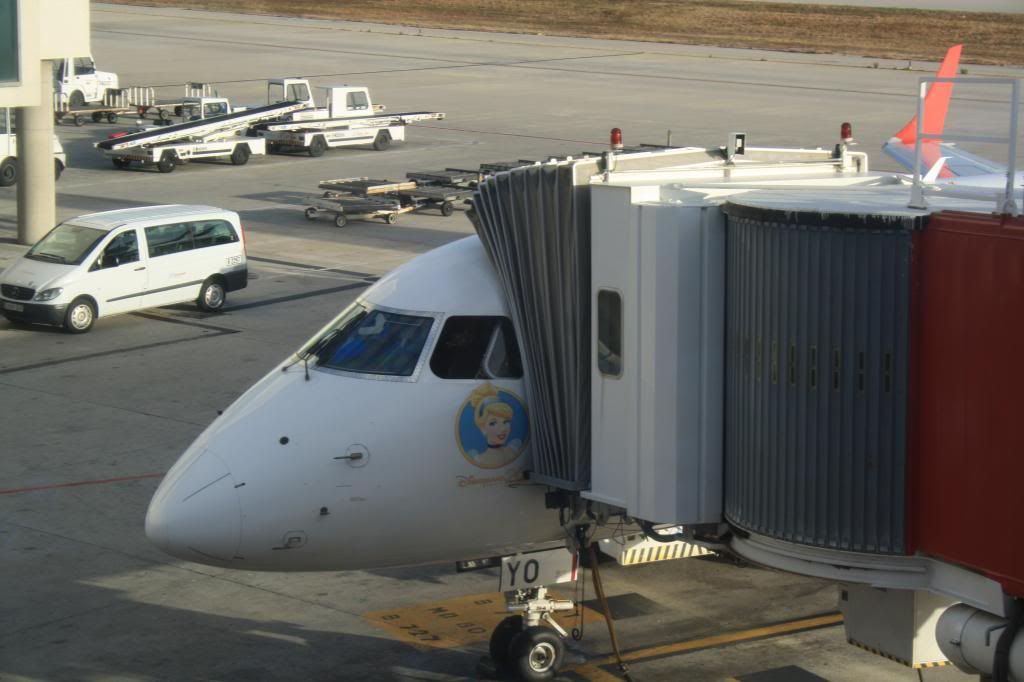 Our flight is called on time with the usual priority boarding and row order, I go disciplined into the plane to find a long line of people trying to squeeze into their seats.
Mine is bigger than yours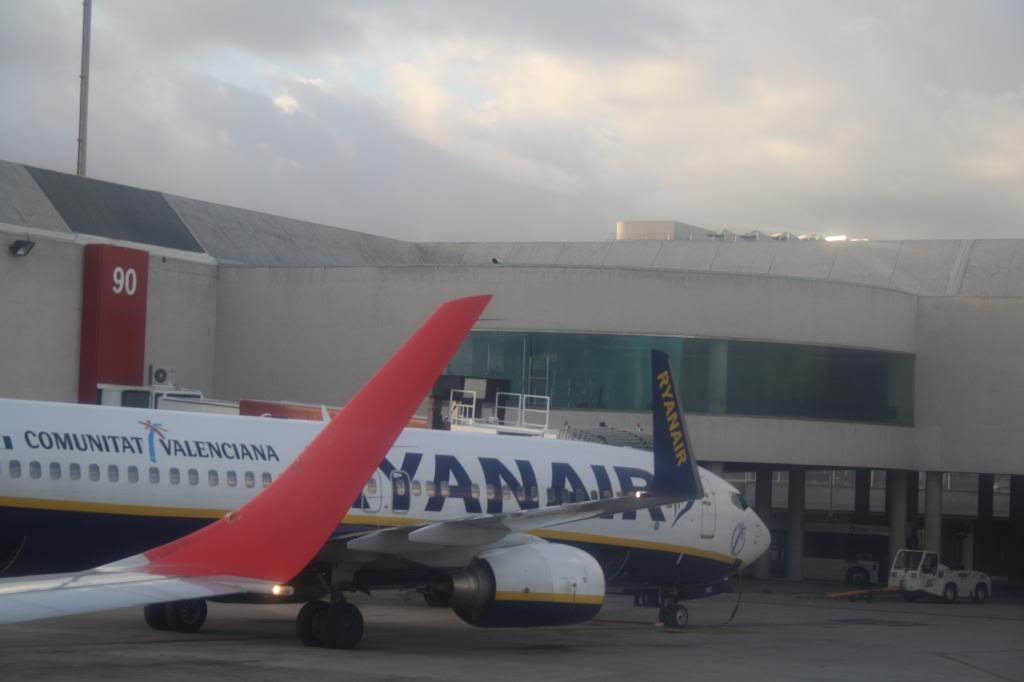 I got to my seat which was one of the few which was empty, luckily 30D was still empty and so remained until one of the last passengers to board took it ending my dream of having a free seat next to mine.
The cheerful flight attendant, Ms. A, is back on this flight; I greet her and she recognizes me from Monday flight: same seat, camera on hand and note block ready to write down my experiences on board, I assume I am not the typical Mallorca passenger.
The plane is packed to the grills; the purser welcomes us on board and throws some publicity on the UX credit cards... they did the same announcement on the previous flight but not during welcome announcement, but on the descent information.
We are pushed back 5 minutes early and once we get to the beginning of the nearby runaway full power is applied to the engines as we turn and we enter the runaway at some speed which increases as we roll on until we start flying.
Mallorca countryside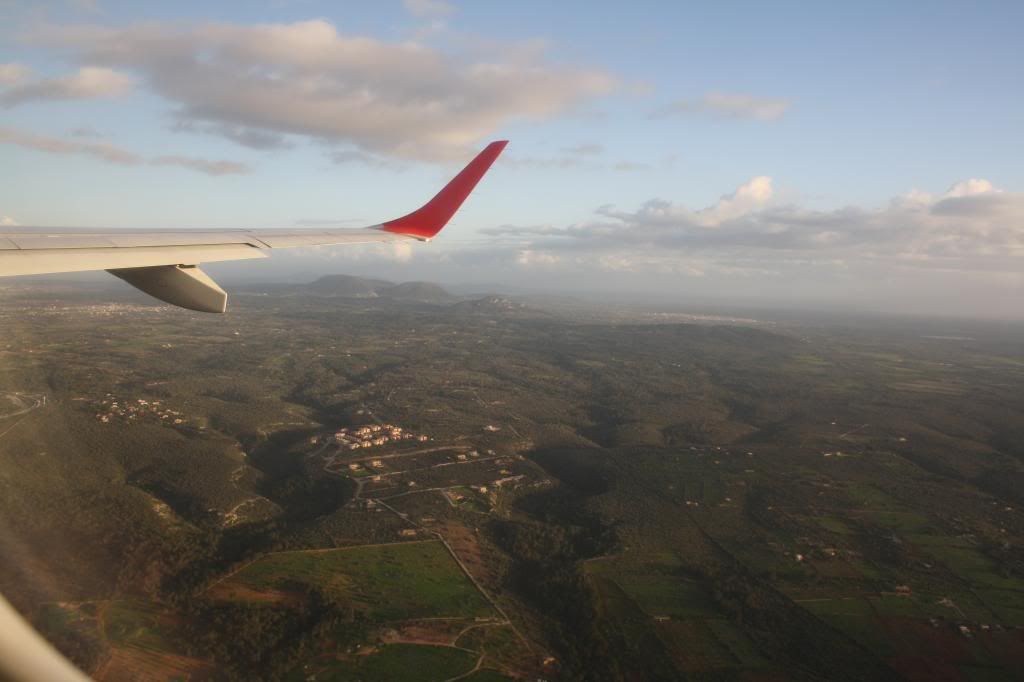 Over the clouds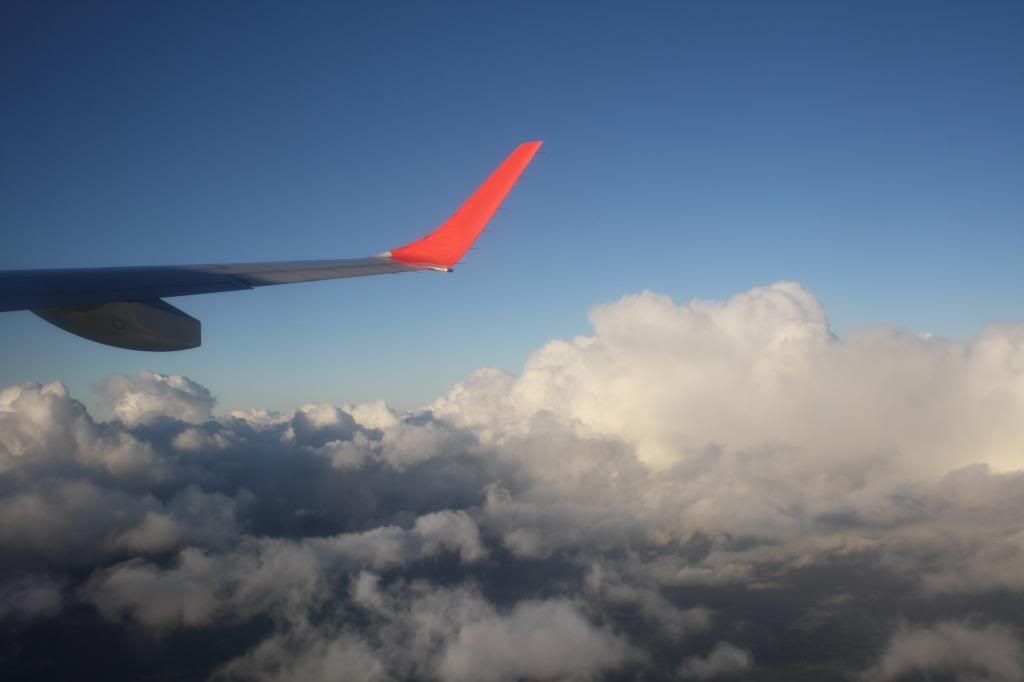 Inca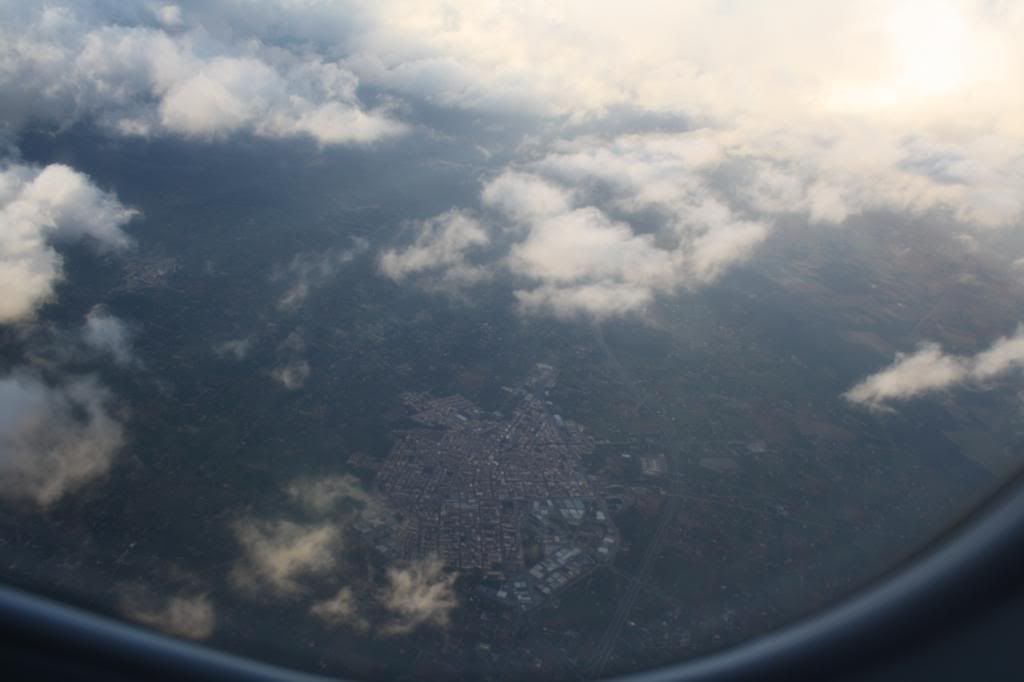 We climb straight forward until we reach the village Inca and then turn NW over the mountains, Serra de Tramuntana, and onto the sea to BCN. We are now at 10FL as the seat-belt sign is turned off.
Despite the turbulence, the winglet stays there
Turning to lose altitude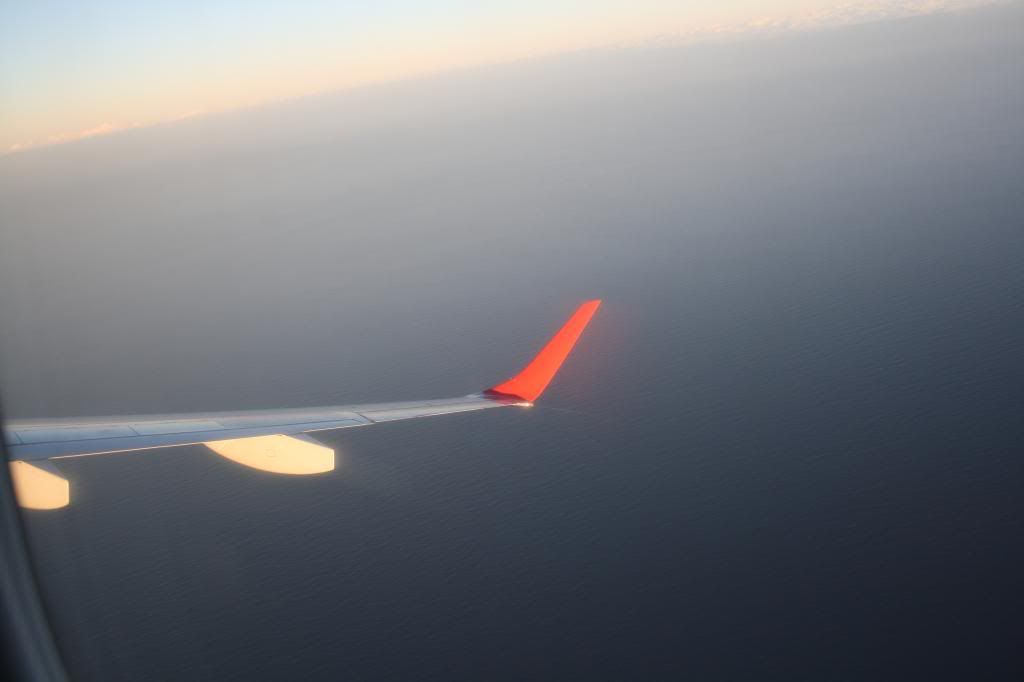 At mid flight, that is 10 minutes after take off, we hit some turbulence which makes the captain turn on the seat-belt sign, it is quite violent and the plane moves up and down and from side to side until we start our descend into BCN. I assume we reached 18FL as, again, there is no flight info form the cockpit.
BCN at dusk
Nice reflections from the W Hotel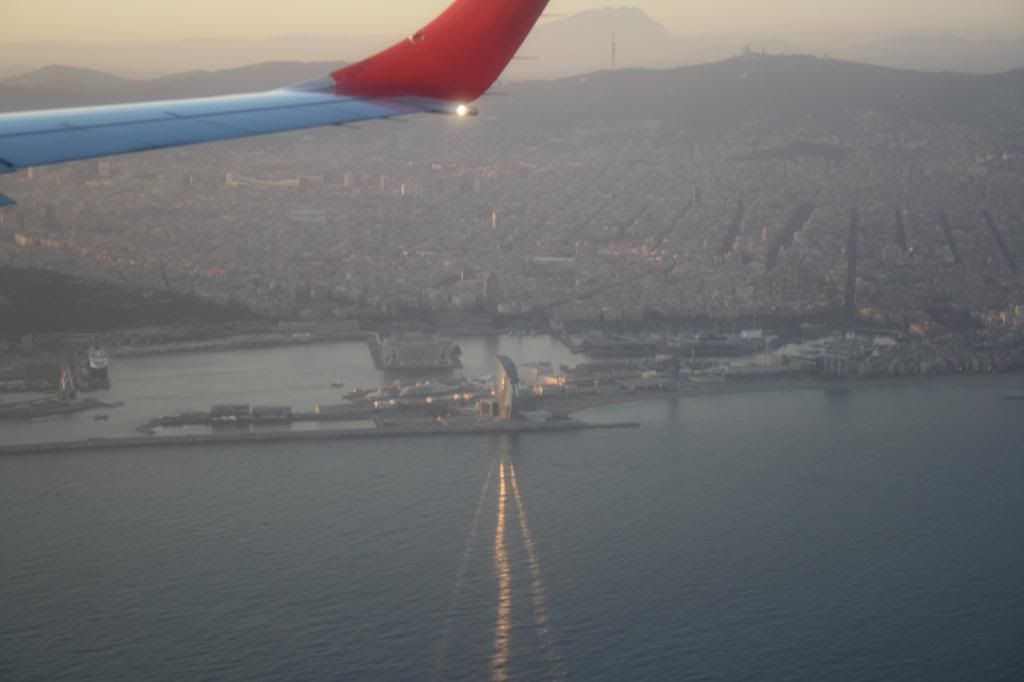 Landed at the right place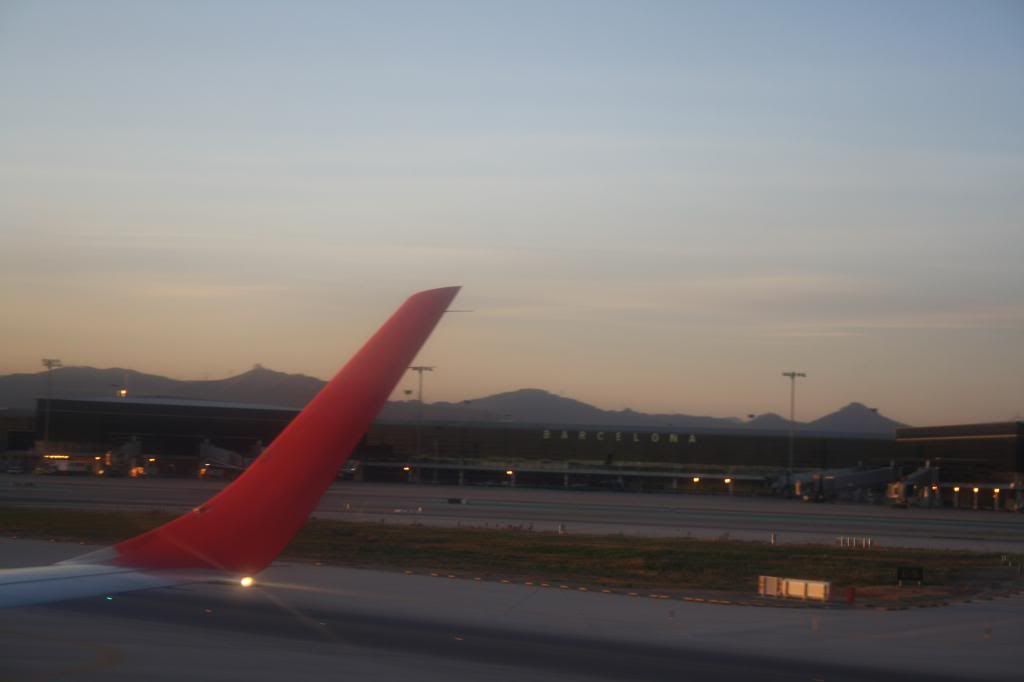 Sunset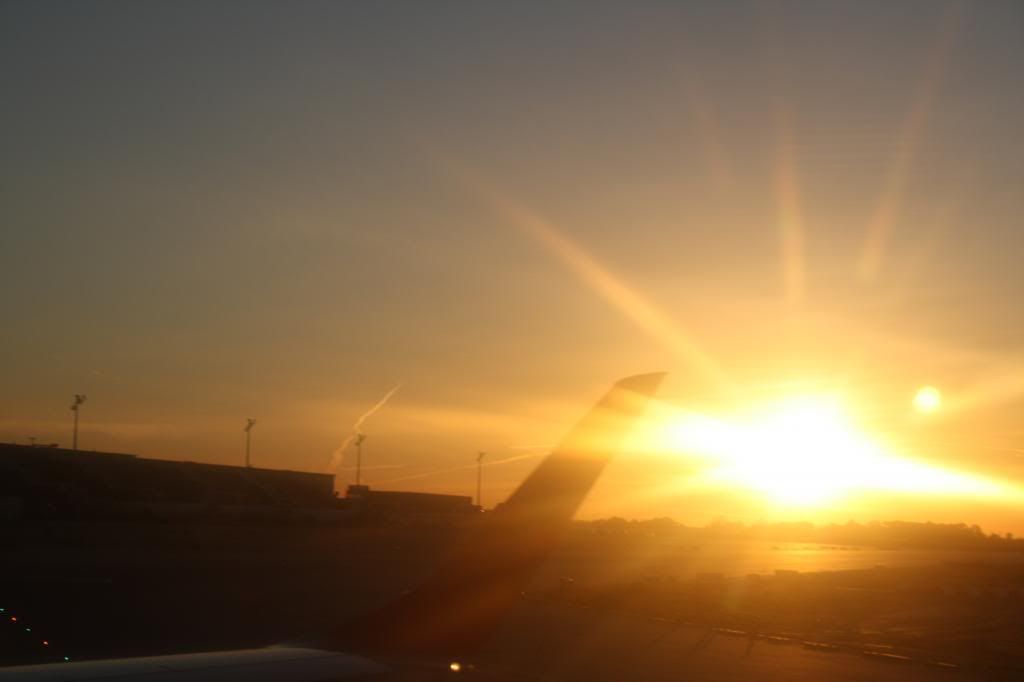 Intersting advert from VY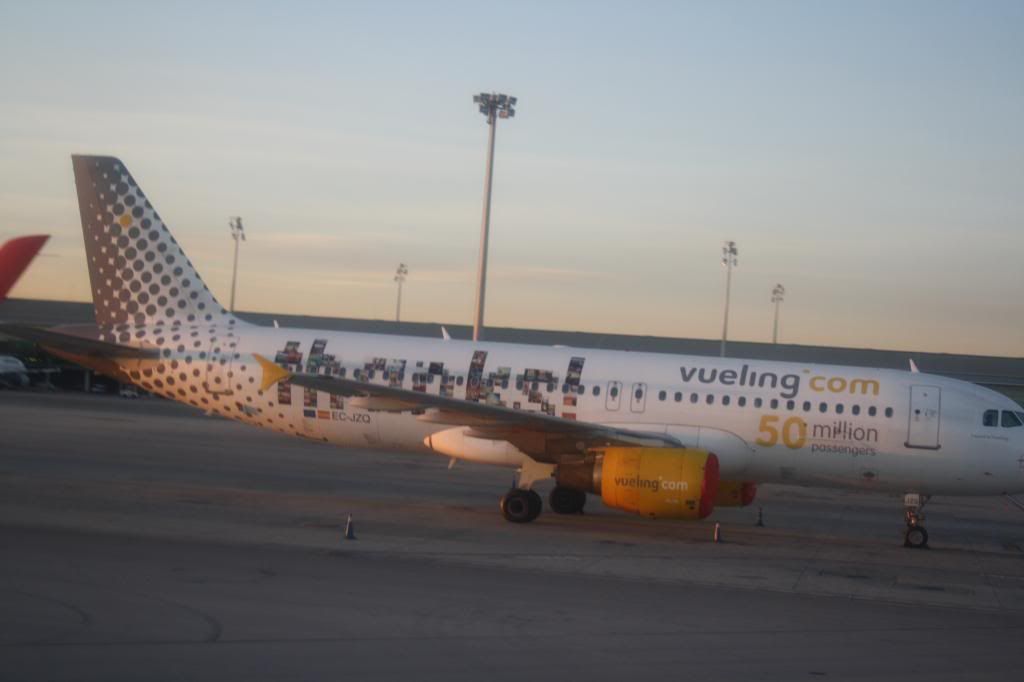 Still there? Ah no!, one of the three TK flights to IST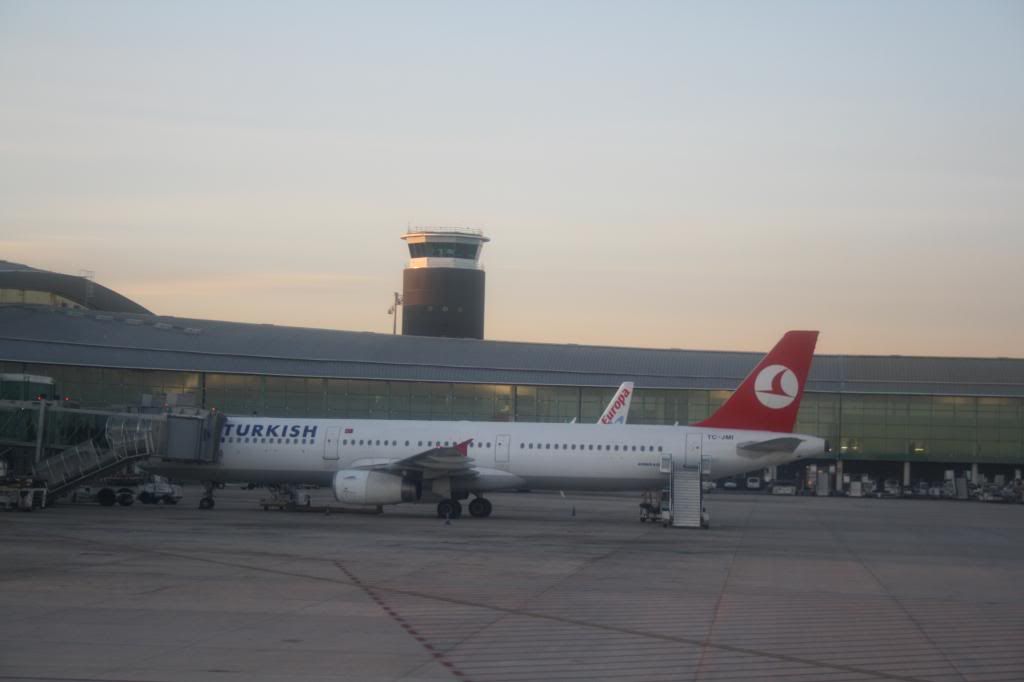 We land smoothly onto BCN and the purser reminds us that it is again an early arrival as we taxi to the gate.
Many more flights to come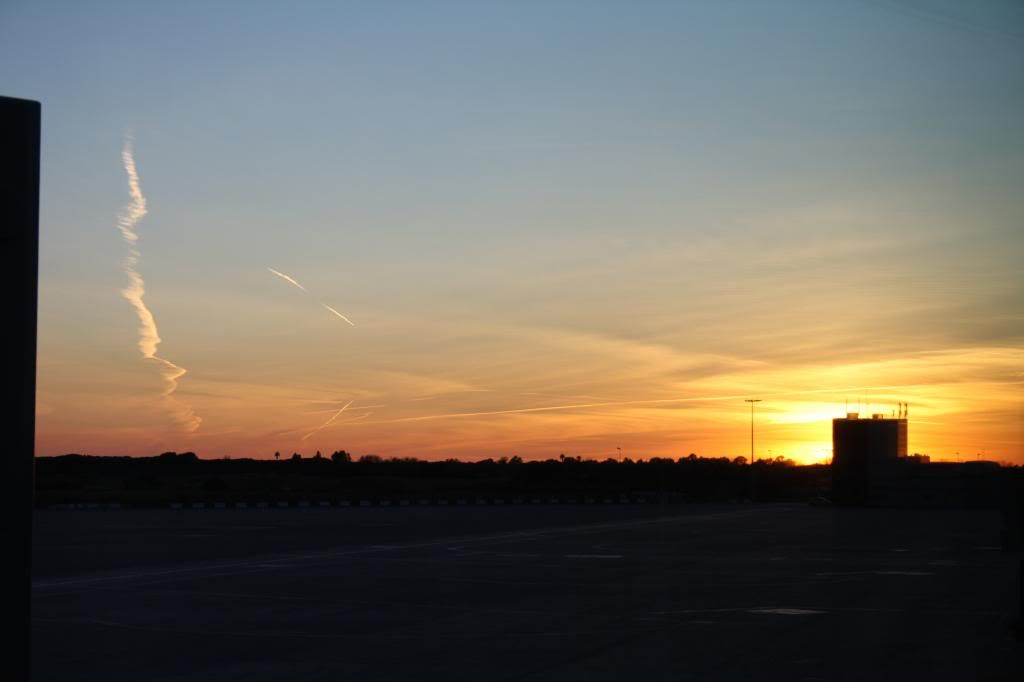 Verdict
I enjoyed the flights with UX and I will be flying them again to PMI, they have better prices than VY. Besides, I enjoy the Embraers better than the A320s.
Just hope to find FAs that enjoy their jobs although their performance was adequate for such a short hop and their very basic tariffs even qualify for miles and level threshold.
Have a great flying year and please leave a comment if you wish.
Roger