Previous part of this Trip Report
Part 1 - LHR - KWI
Part 2 - KWI - DXB
Part 3 : DXB-HKG-PVG
3A. Cathay Pacific
DXB - HKG
Flight number CX 738
Seat number 33A
Premium Economy
Reg number
B-LAC
Airbus A-330-343X
Load was passengers – 39 Business, 28 Premium Eco and 203 Economy
Date. 31 01 2013
Take off 00:55 ( 01:20 )
Landing. 12:00. ( 12:10 )
Leg 3A and 3B of our journey – MiddleEasternChina trip.
Checked in online the in the morning and the check in process was seamless. We got good seats, or at least i felt that they were alright as we were allowed to choose seats in the front, which looked like a small little separate cabin. We would be in or a surprise, later..
Arriving at Dubai airport Terminal 1, it felt more like a fish market than a modern airport. There were hoards of people everywhere and queuing for various different lines. For Cathay, we were initially supposed too enter via Gate C. they have a pre-screening of baggage's before entering the check in desk. The line for Gate C was a mile long, so instead joined line B and entered the check in area within 15 minutes.
Upon reaching the check in area we were in for rude surprise - the check in terminals were down and all had to be done manually! Nightmare! Stood at the end of a mile and half long queue for Cathay, and this was nearly 2.5 hours before the flight. Asking my wife to wait in the queue, I walked in front of the queue, near the check in desk, and behold, they had a separate queue for online check in. Luckily I checked in online earlier, as I had previously decided not too check in, but had some spare time so availed of the online check in facility.
In spite of jumping in front of the queue, the check in assistant took over 15 minutes to hand us our boarding passes - handwritten,
. By this time I also received a text message from Cathay saying that the flight would be delayed by an hour, which meant that we would miss our connection as we only had an hour of transit at HKG.. speaking to the desk attendant, she guaranteed that HKG would sort it out for us.
Hand written Boarding pass
After another 10 minute in the immigration we were into the shopping area of terminal 1. By this time too tired too chop so headed directly into the Lounge area using my Lounge access card.
The lounge that we used was very good (Near gate C8)- ample amount of space, great verity of food and drinks - including Nasi gorang! And quick wi-fi access. It was down to having a great dinner, and a glass of scotch whilst catching up on some emails. Spent almost an hour at the lounge, during which we got another text message from Cathay saying that the flight would only be delayed by 30 minutes instead of the 1 hour previously stated. Good on Cathay to keep their passengers informed, excellent. It would be seen finally that the flight indeed was only 25 minutes late. It was later realised that the check in counter had sorted their technical issues and were able to issue electronic boarding passes.
DXB Lounge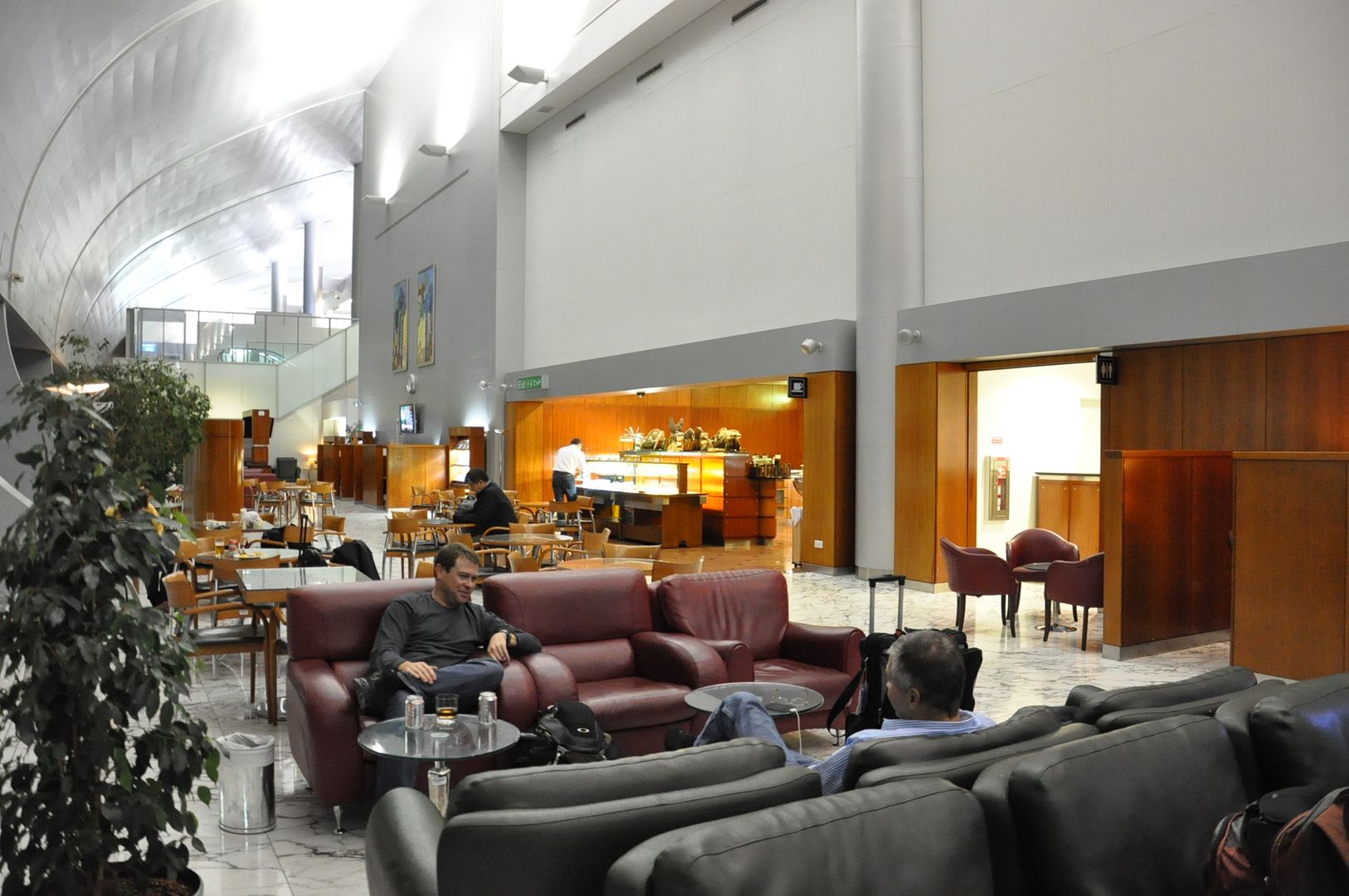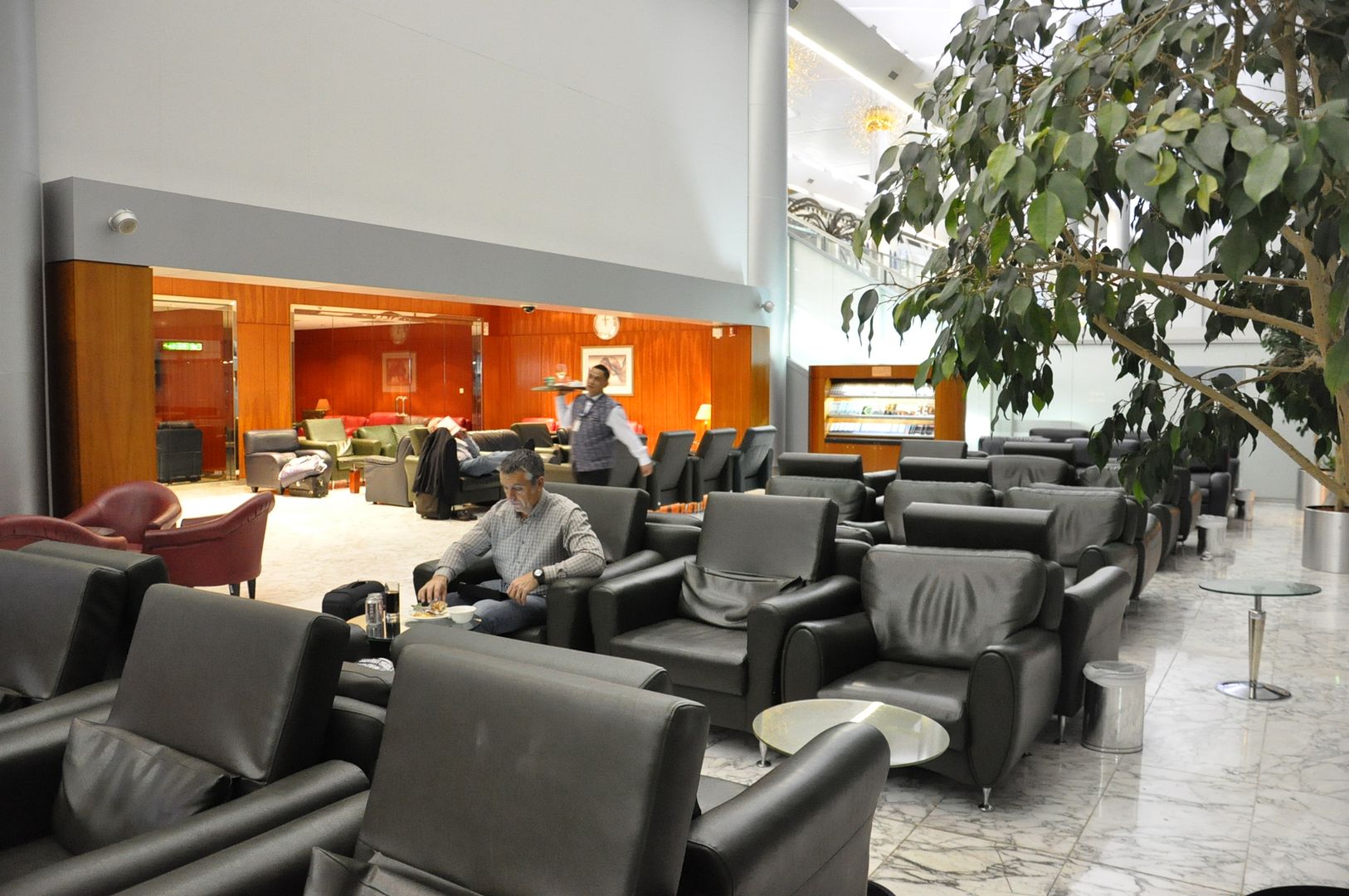 A quick walk to gate C1, and this is where we were given our printed boarding passes for the hand written one. Boarding was very orderly and efficient.
DXB Airport - Terminal 1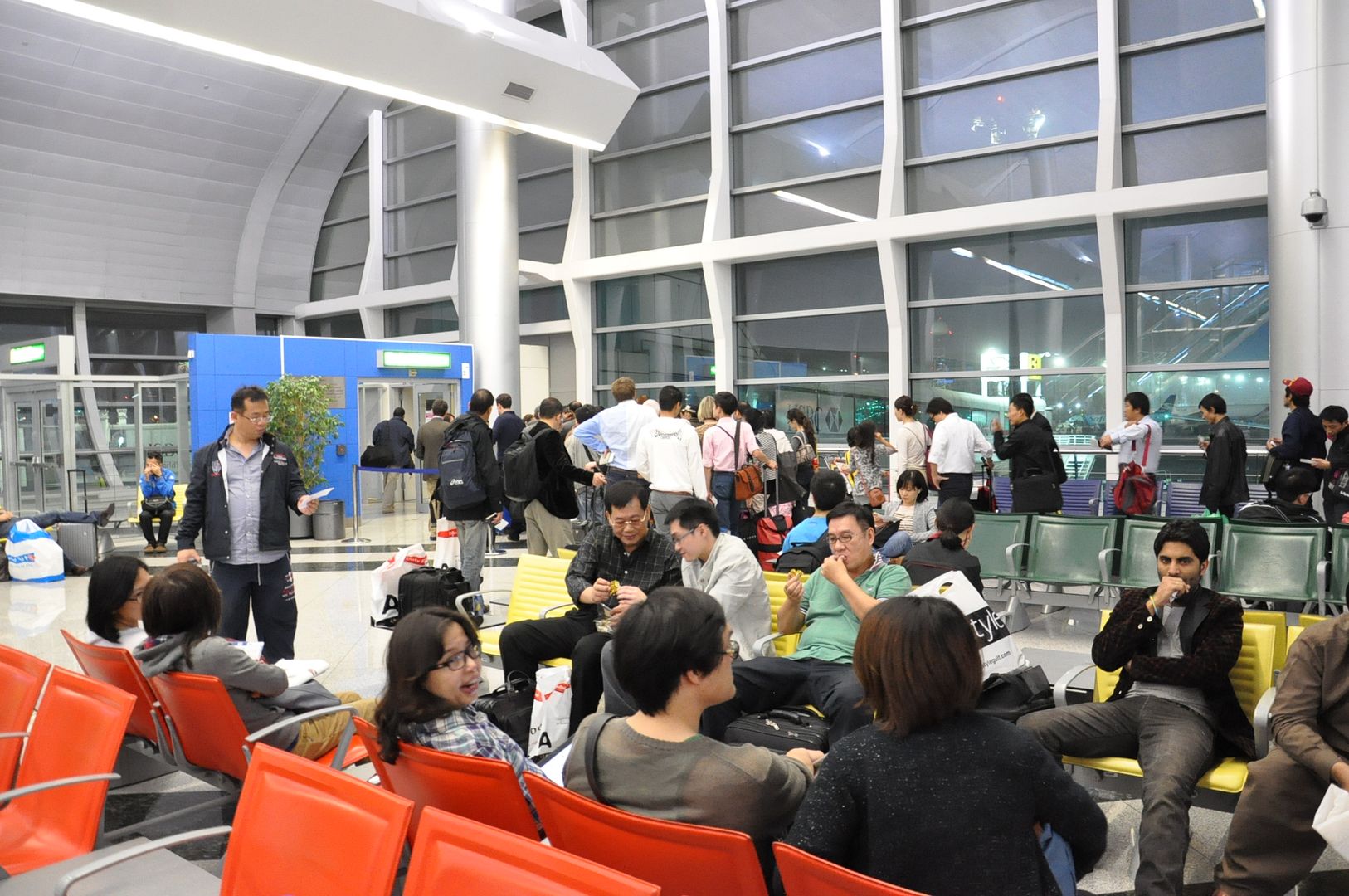 DXB Plane spotting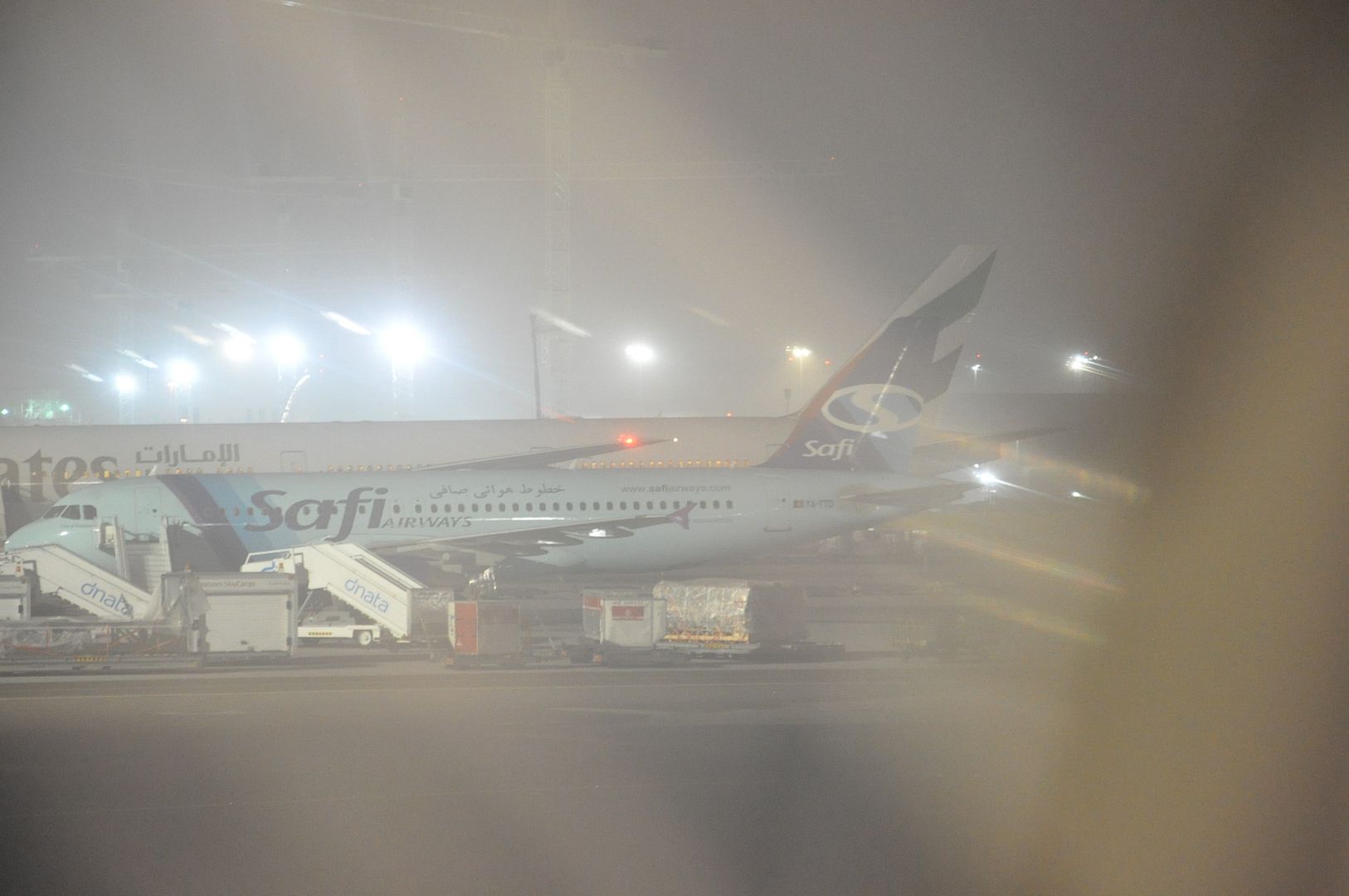 Rare..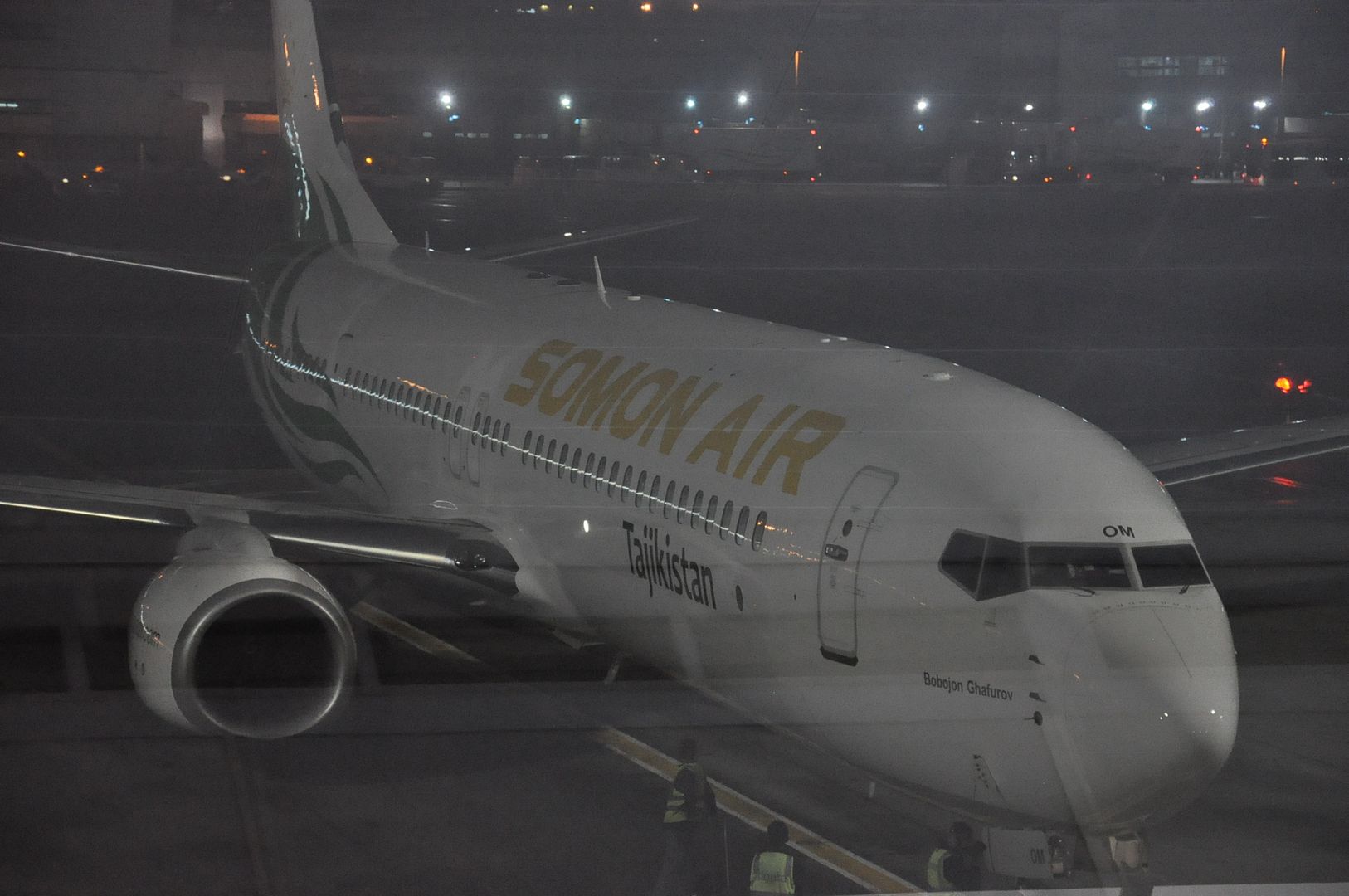 CX 738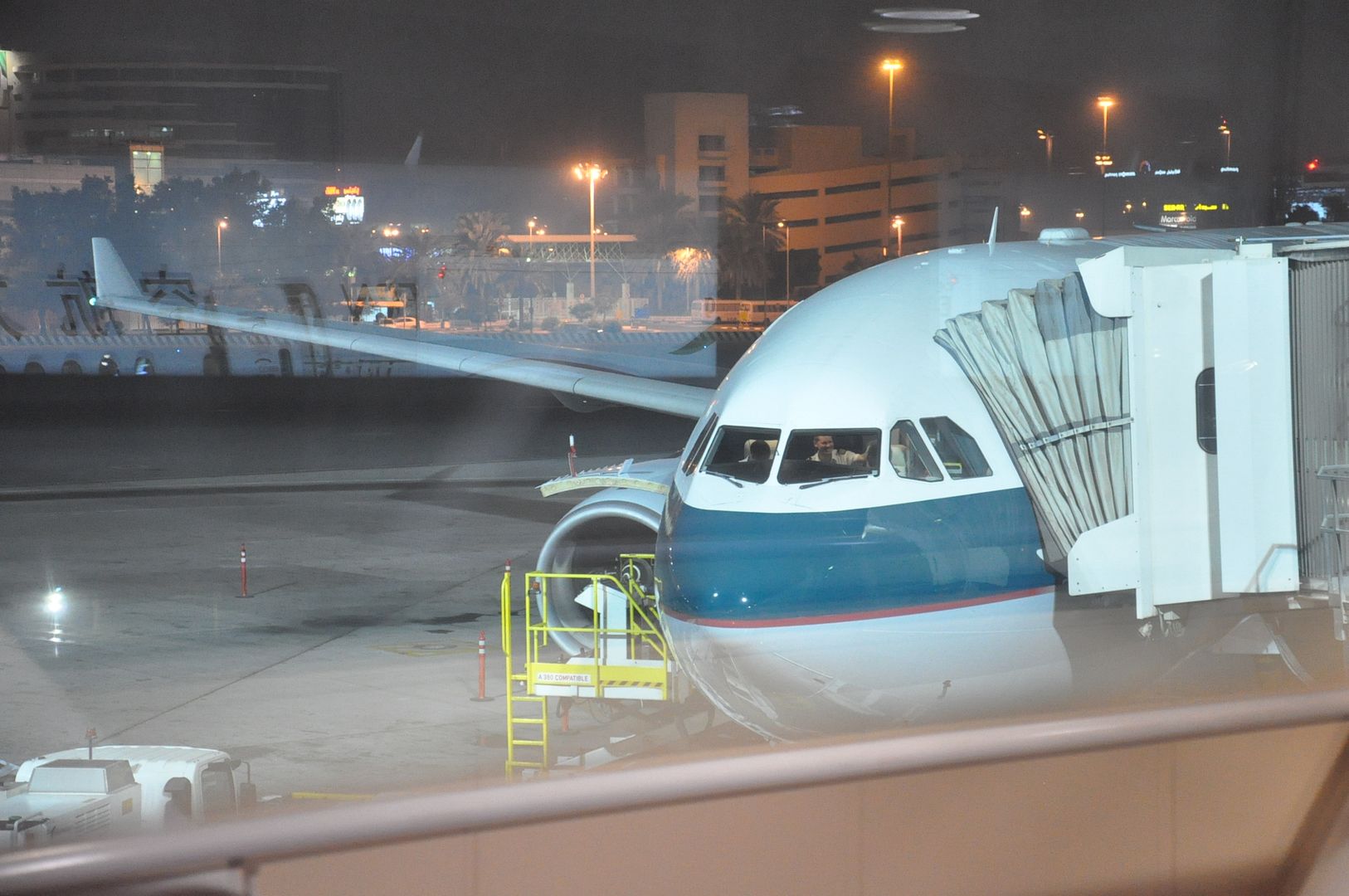 This was my first experience on a Cathay metal. Upon entering the flight we were welcomed with a warm smile and greeting. Walking through the cabin - Surprise.! The little cabin that I was able to select our seats for in fact their premium economy cabin.! Yes, for the first time, we had been upgraded to premium economy.
Inside CX 738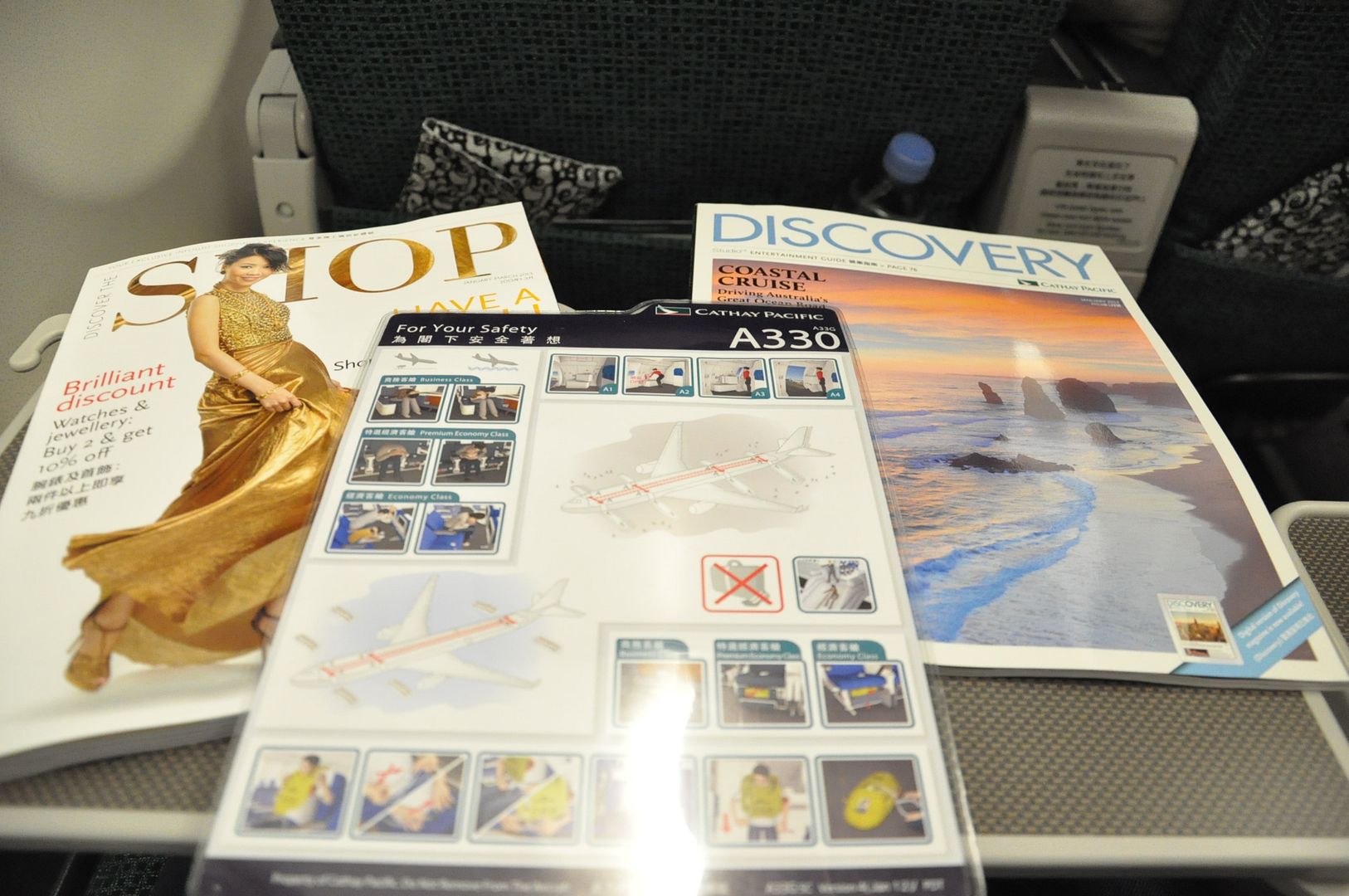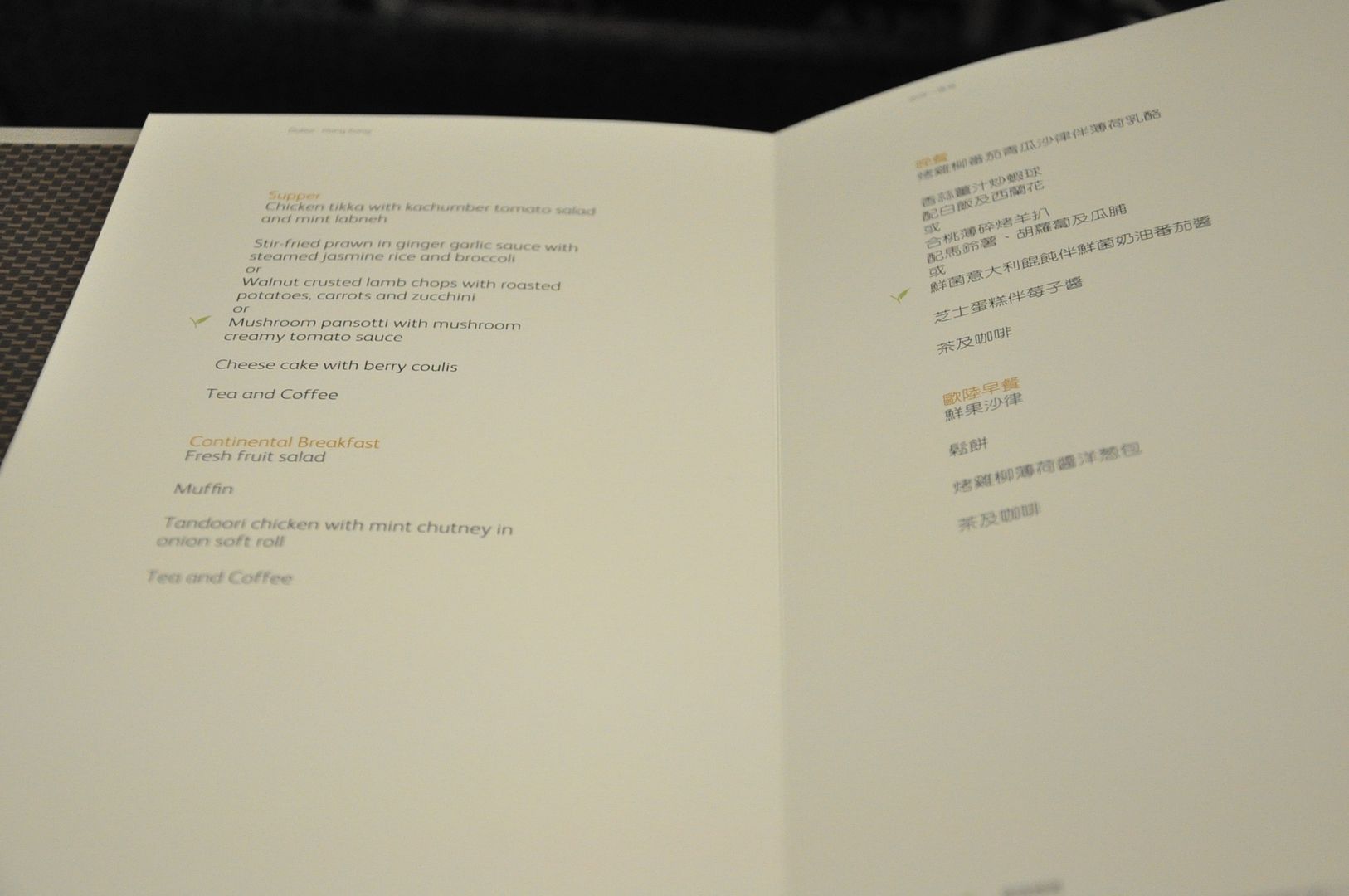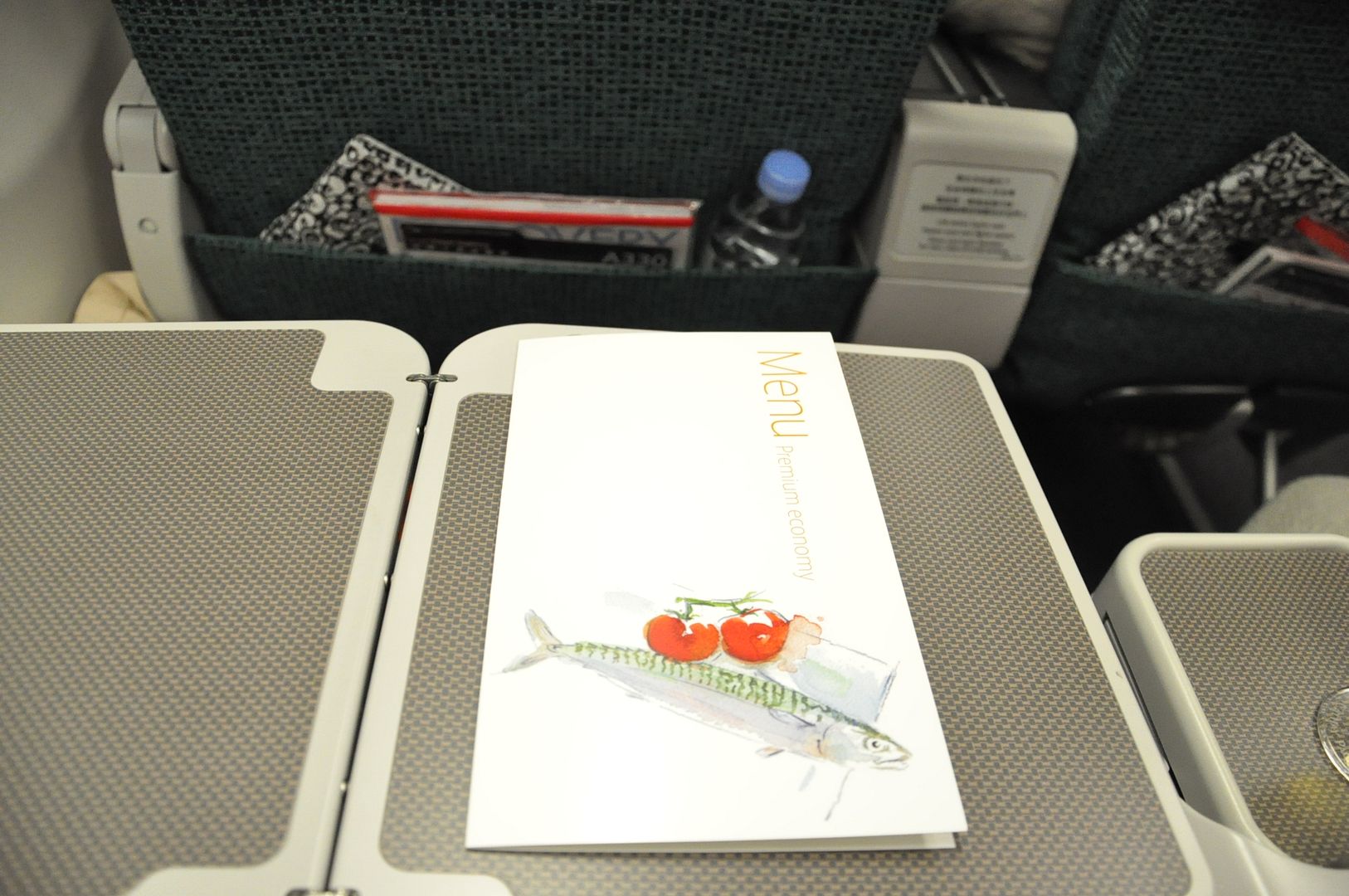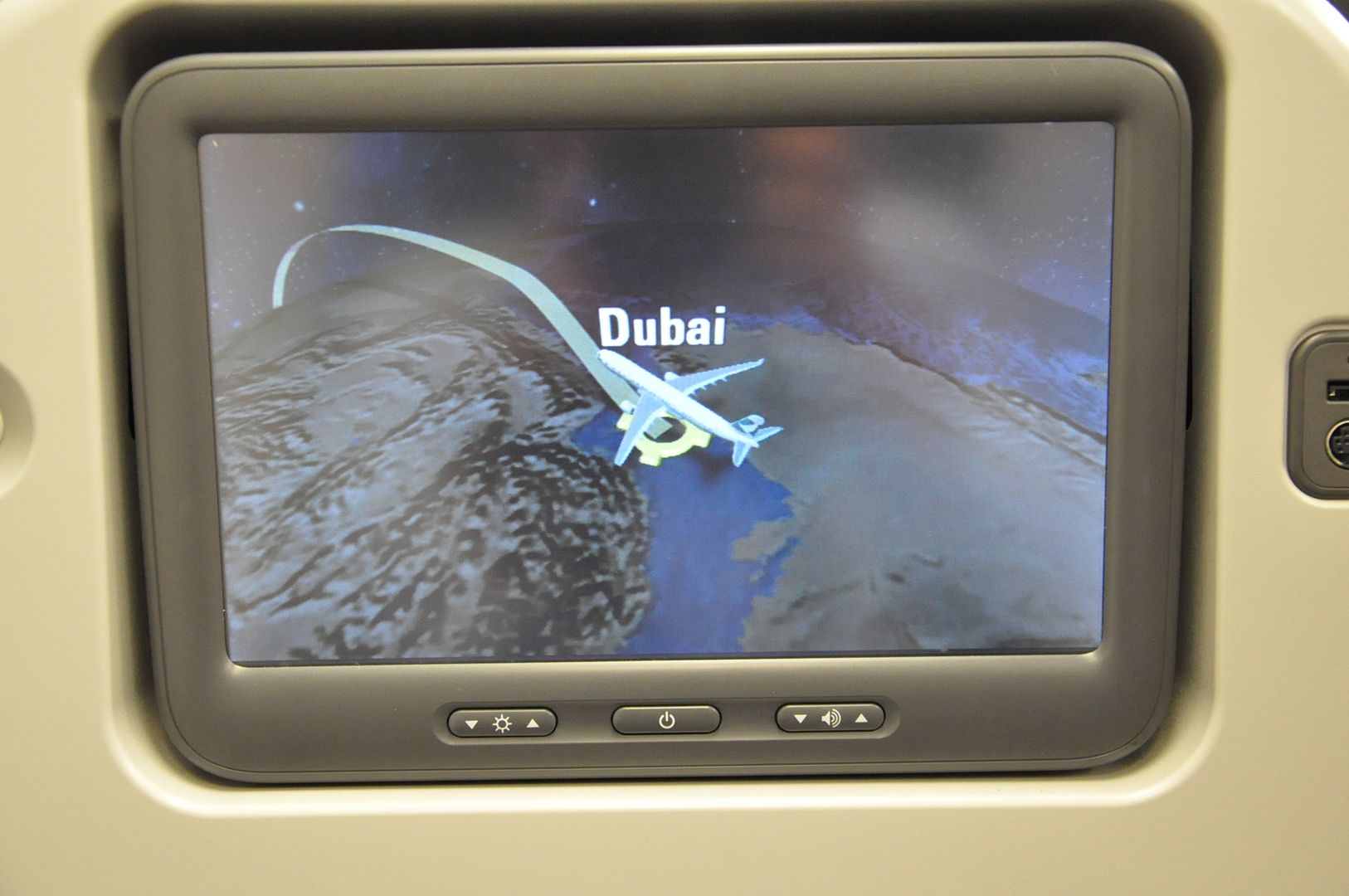 The first view of the cabin looked great. 4 rows of 7 seats each. We were welcomed with a choice of fruit juice or champagne. The only drawback on first inspection was that we would have to use the economy toilets when needed, but again, not a big deal as we experienced it during our flight.
The seat recline were great and we were looking forward to our 7 hour flight to HKG.
Take off at 1:20 and airborne soon after. Soon after drinks and dinner service had started. Along with my booking and one world member account, they duly noted my special low fat meal, although this was a mistake as my fish was way too dry to eat. The other normal options were a lamb dish, a beef dish or a vegetarian option. The normal options looked good and great for flight food.
Enjoyed the ife whilst having dinner. They have a great noise cancellation headphone. And off course a fantastic choice of movies and tv shows. Almost on par with Emirates. Although soon after dinner, Dubai got the better of me, and combined with the comfortable seats I dozed off half way watching a movie. Next thing I was woken up by the lighting up of the cabin and hour and half before landing when the stewards were serving breakfast. Comfortably slept for over 4 hours.
The service was top notch. Had a chance to speak to the head stewardess and informed her that I was writing a trip report. She duly obliged, I think she was used to it, as she immediately got a pen and paper and gave me all the information I needed even before asking - registration and load. Truly impressive and personal.
Breakfast was again substantial and great for flight food. Although I didn't eat much as jet lag had got the better of me.
Landed 10 minutes behind schedule. First time in HKG and love the approach. Looks like you are landing on the sea, until the very last minute. Landing was smooth and on the whole a very enjoyable flight - great interiors, service, food and IFE.
Landing into HKG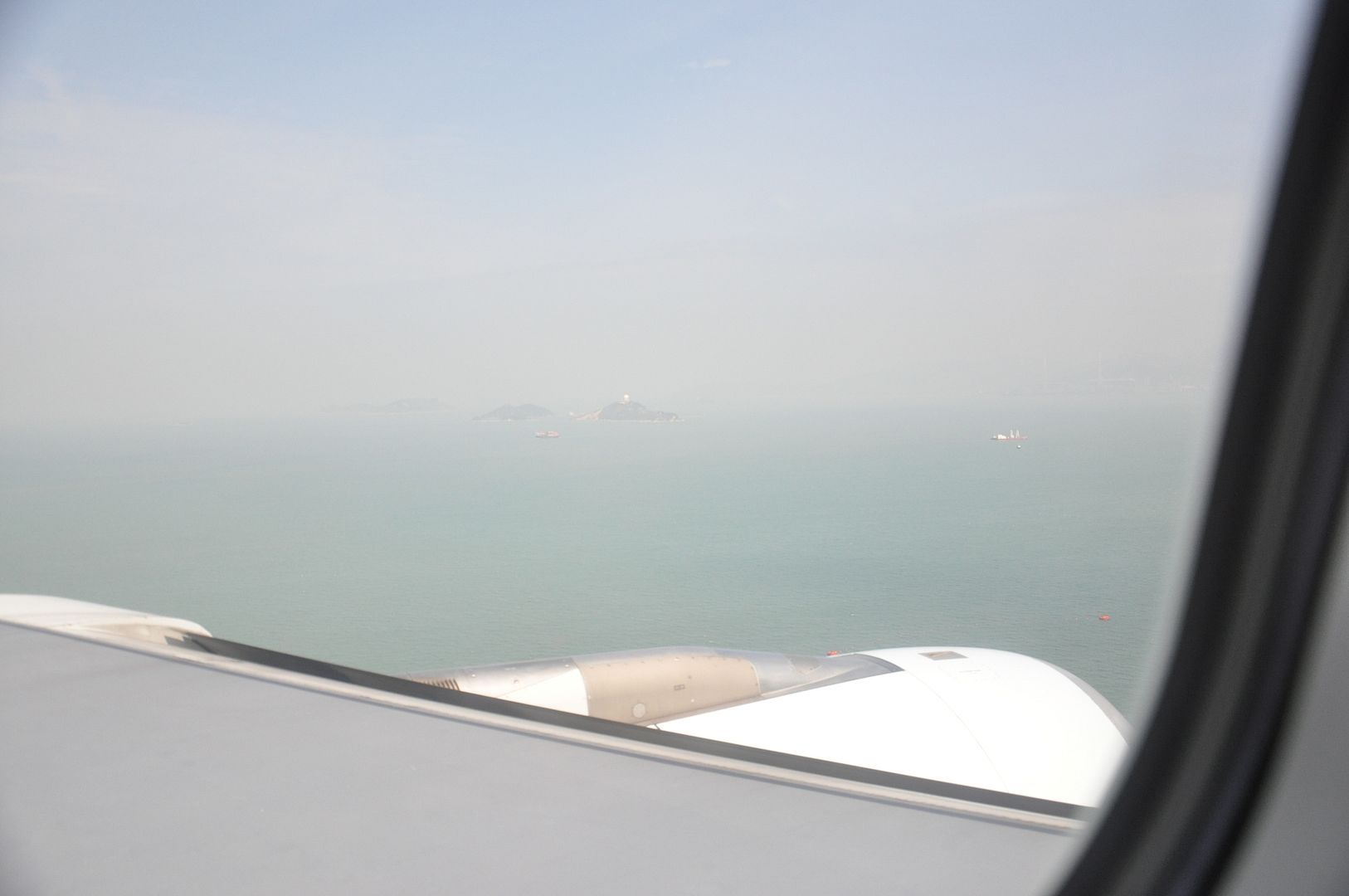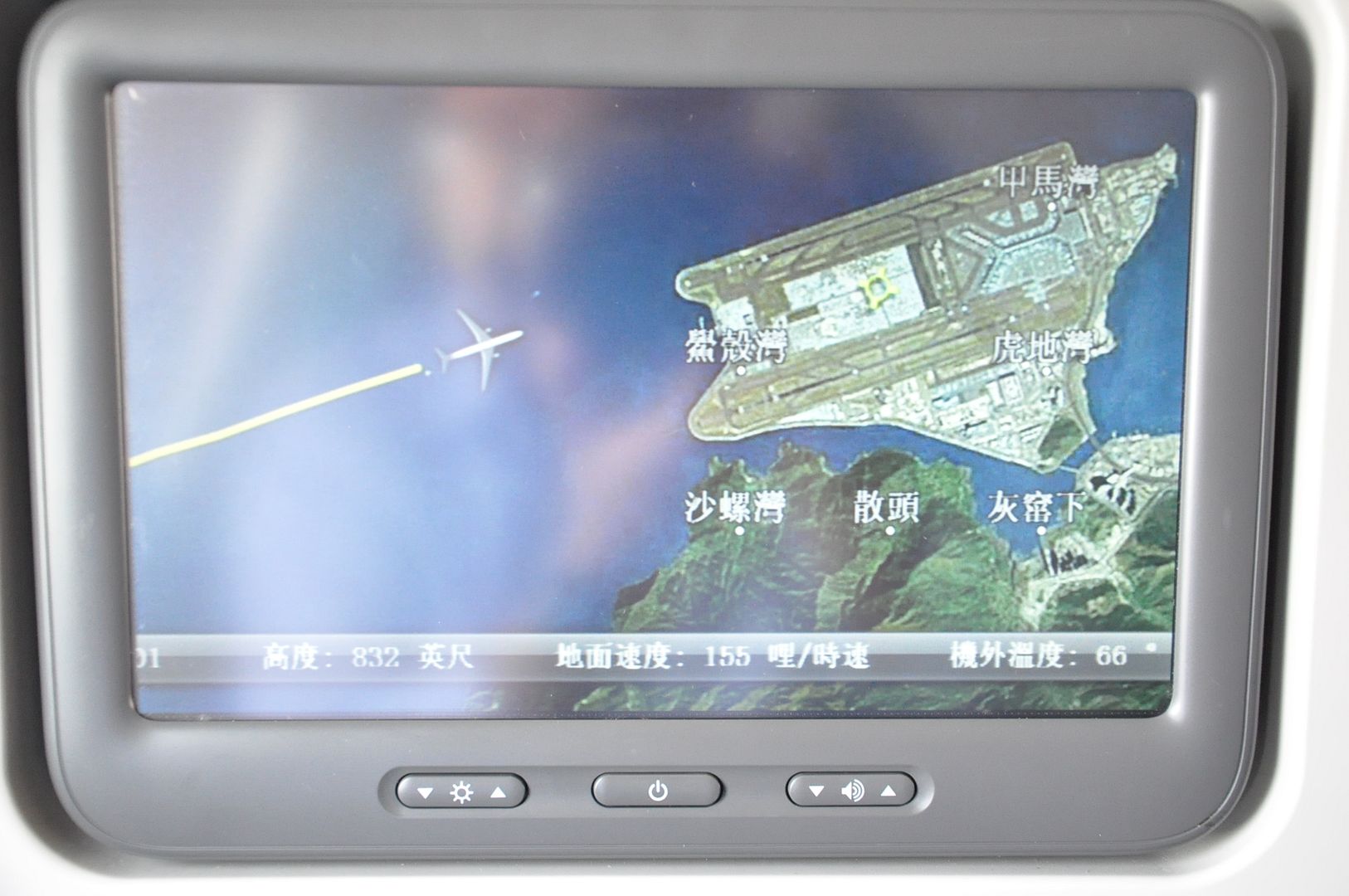 As promised, as soon as we disembarked, there was a personal from Cathay pacific holding a board for our next flight and swiftly took us through security and right up to our gate, within 15 minutes of landing.! Superb, efficient.! Next leg of our journey on Dragon Air (KA) ......
3B. Dragon Air [KA]
HKG - PVG
Flight number KA 874
Seat number 37H
Economy
Reg number
B-HYF
Airbus A-330-342
Load was around 80% full across both classes
Date. 31 01 2013
Take off 13:00 (13:05 )
Landing. 15:20. (15:20 )
This was our second leg of the DXB - PVG Sector, via HKG. As said in the previous report, we were quickly whisked away to our boarding gate within 15 minutes of landing into HKG from our previous DXB - HKG sector.
First time on a dragon air metal, and was excited in seeing the livery of this bird - a dragon livery across the fuselage. I had noticed this aircraft while our dxb-hkg bird was taxiing.
Boarding had already commenced by the time we had reached the gate. Only a few minutes to shoots few pics of HKG.
Warm welcome and directed towards our seats. The plane looked a bit worn out but nothing out of the ordinary, and it looked maintained well.
KA 874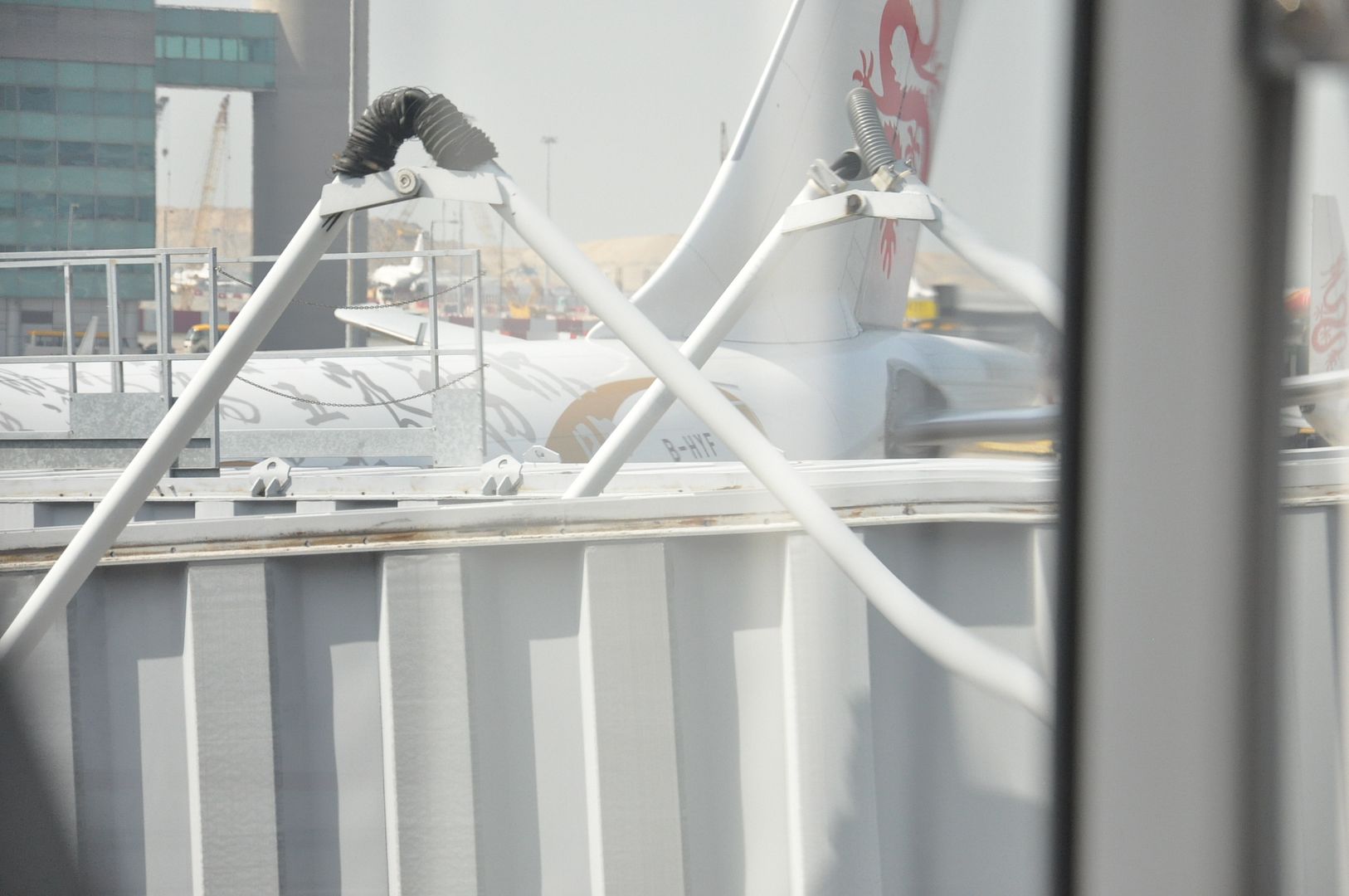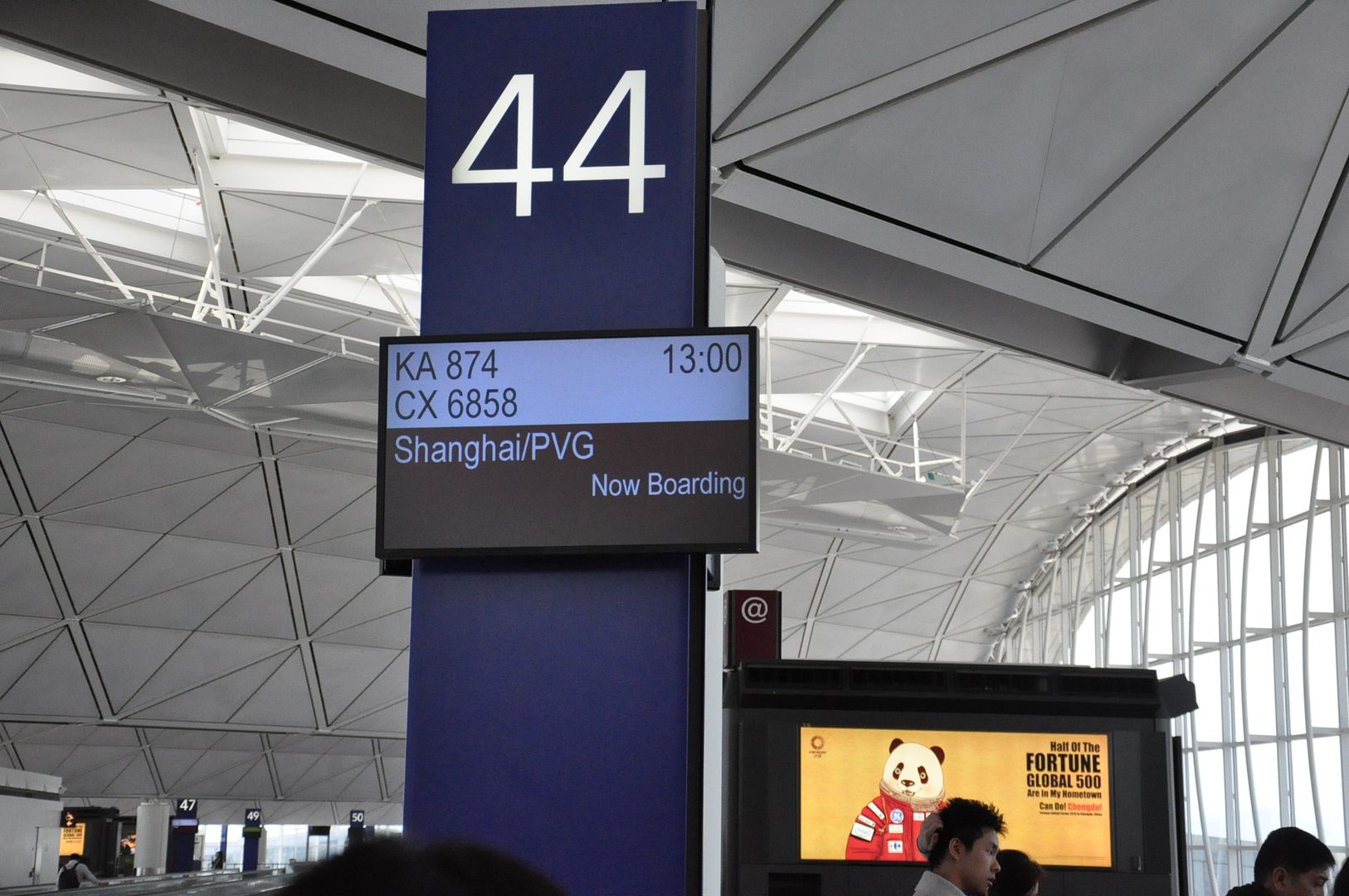 inside KA 874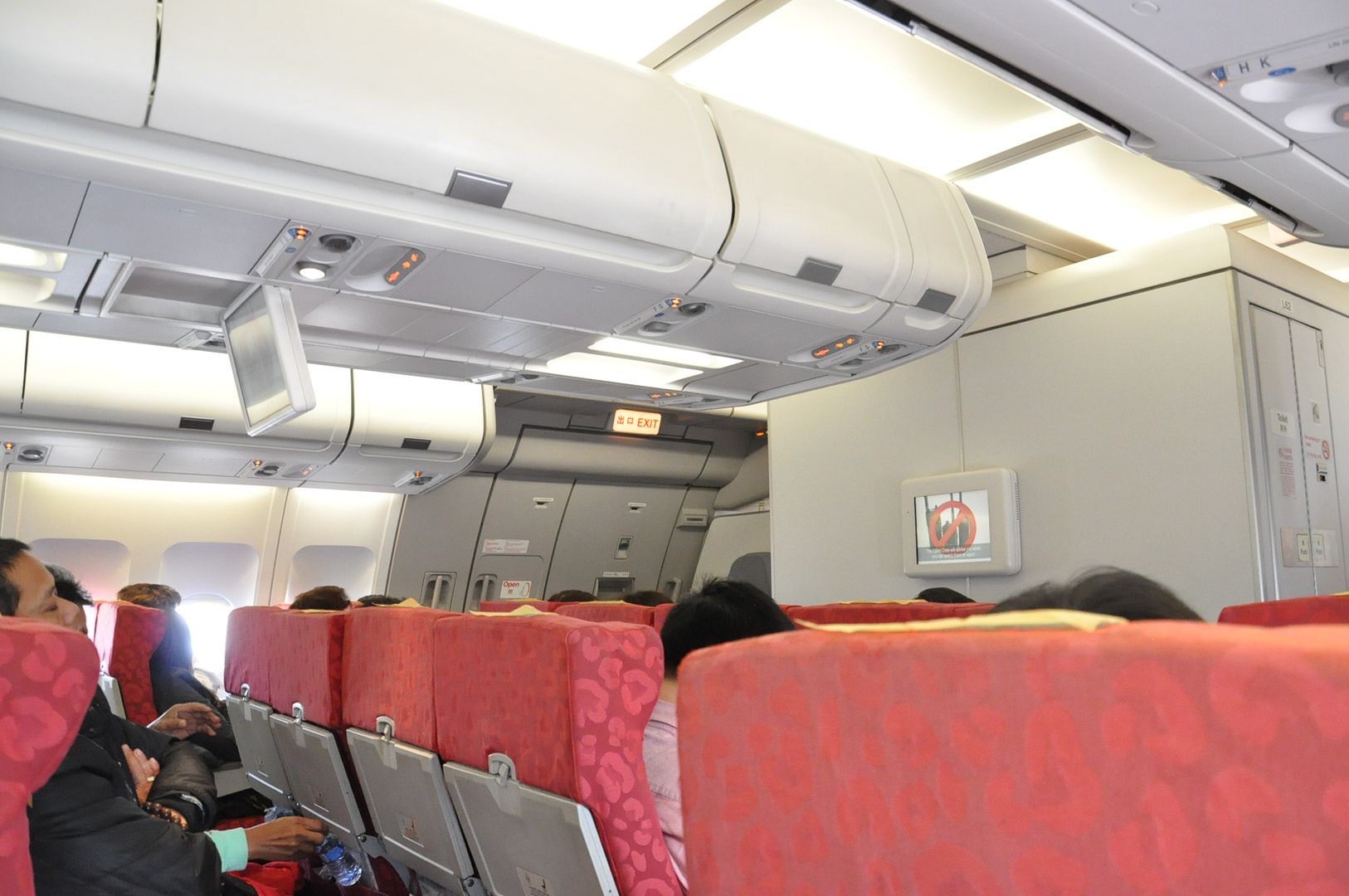 HKG Airport Plane Spotting from KA Mettel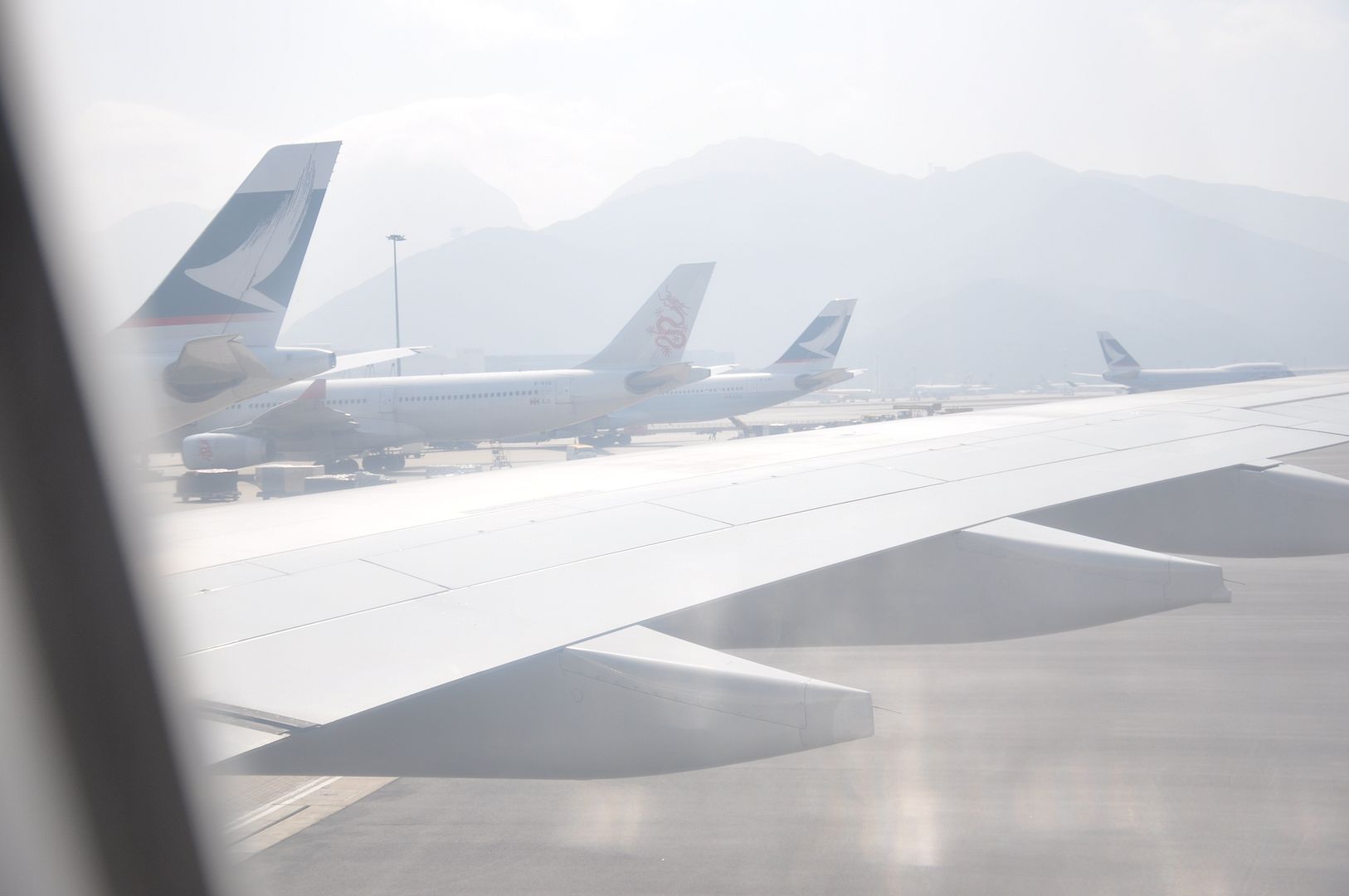 Started taxiing 5 minutes later than the scheduled departure time. I wasn't expecting much of this flight as i thought Dragon air was a low cost subsidiary of Cathay. But was quietly surprised to find a full meal service on board.
Consisted of a beef or chicken option. Not sure what the vegetarian option was. I had the chicken one with rice and it was quite tasty. not bad for airline food. But the deal clincher had to be when we were served individual pots of Hagen dasz. Yummy. Superb.
Service was prompt, seats comfortable for a 2 hour flight. There were no individual screens but there was some TV program playing in a loop in the central screens. Didn't bother using my headphones as it was a short hop onto Shanghai.
Rest of the flight was uneventful in a good way
Landed on the dot at Shanghai. Great airport to plane spot Chinese airlines and got some pics of few of them.
Landing into Shanghai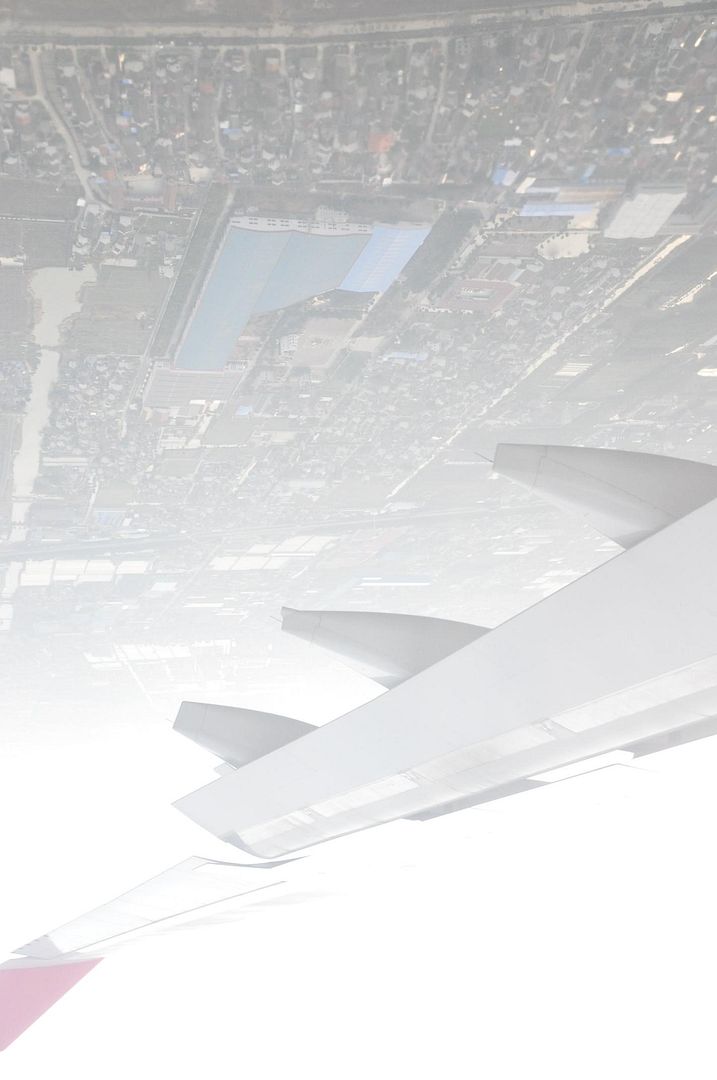 Shanghai Airport PVG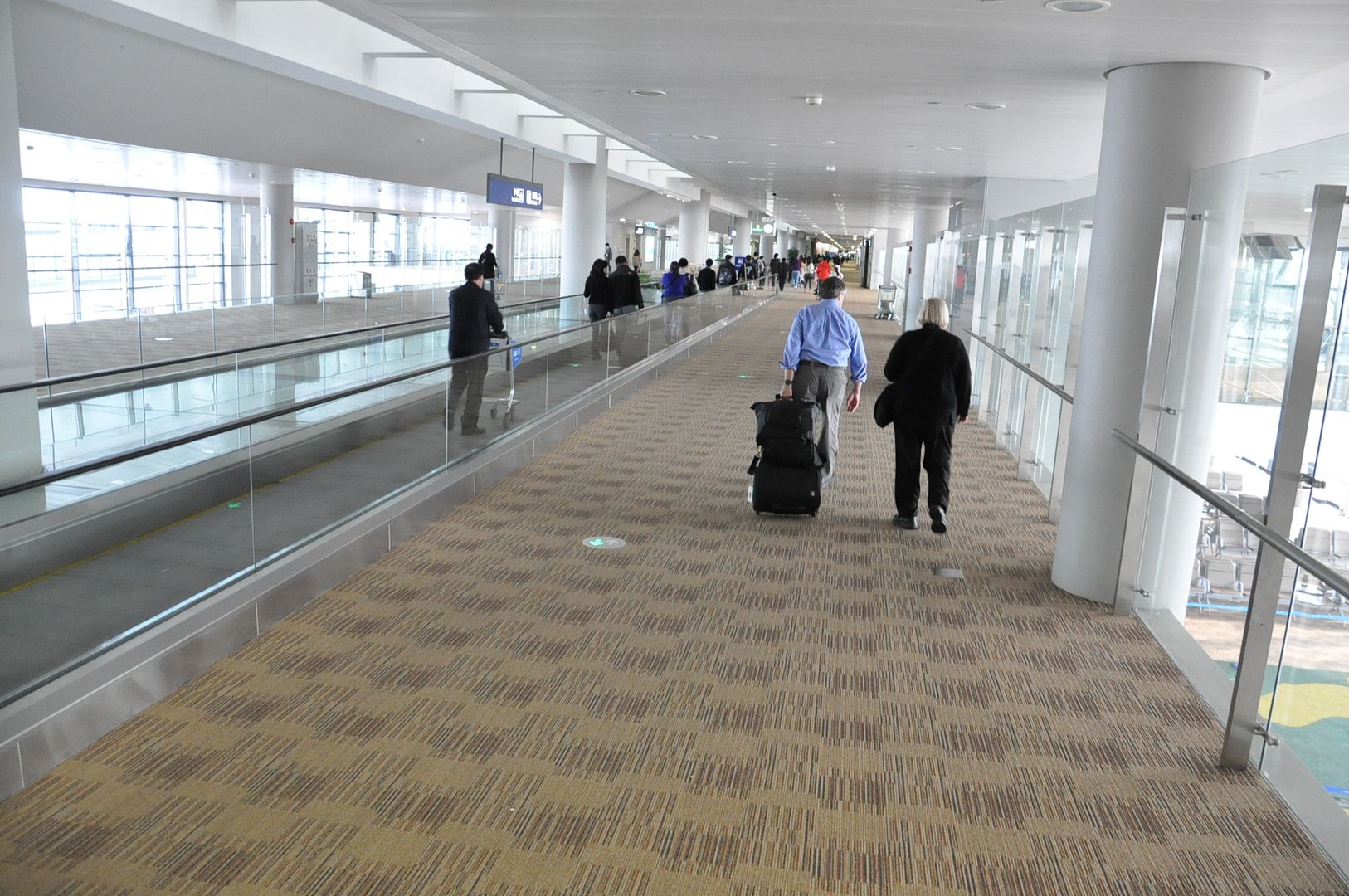 Plane spotting at PVG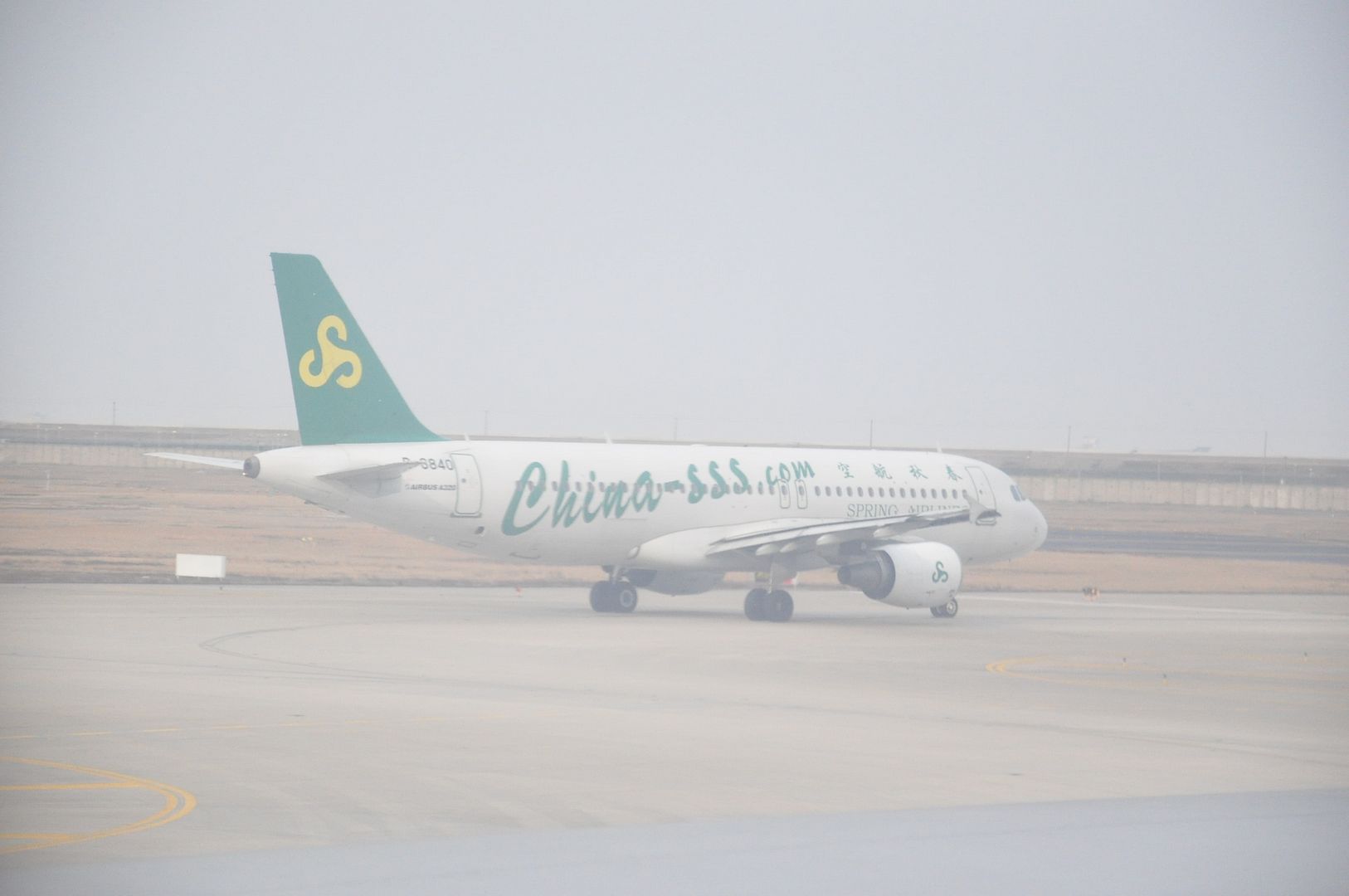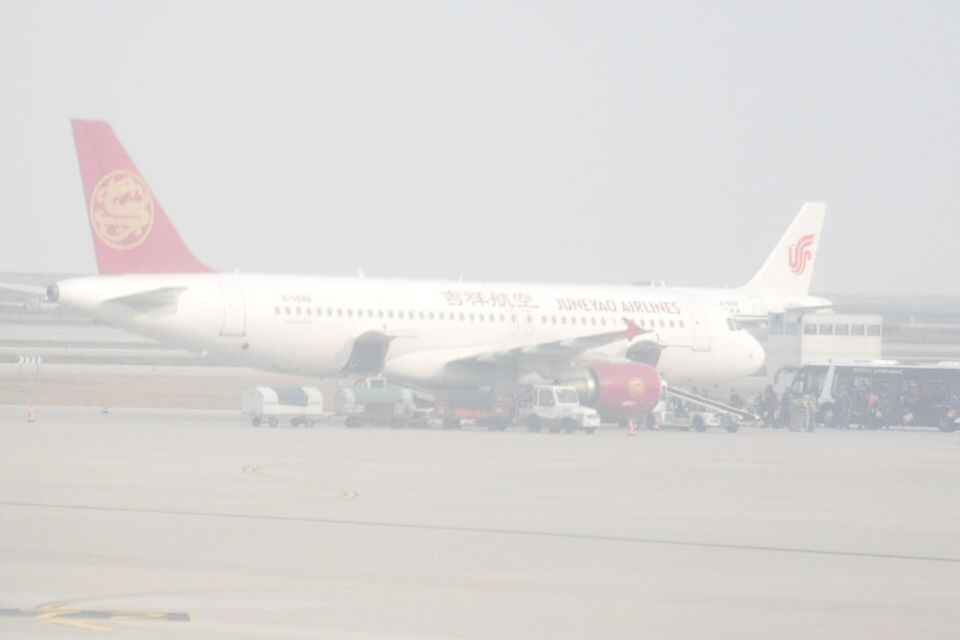 Didnt know would be going on one of these in a few days time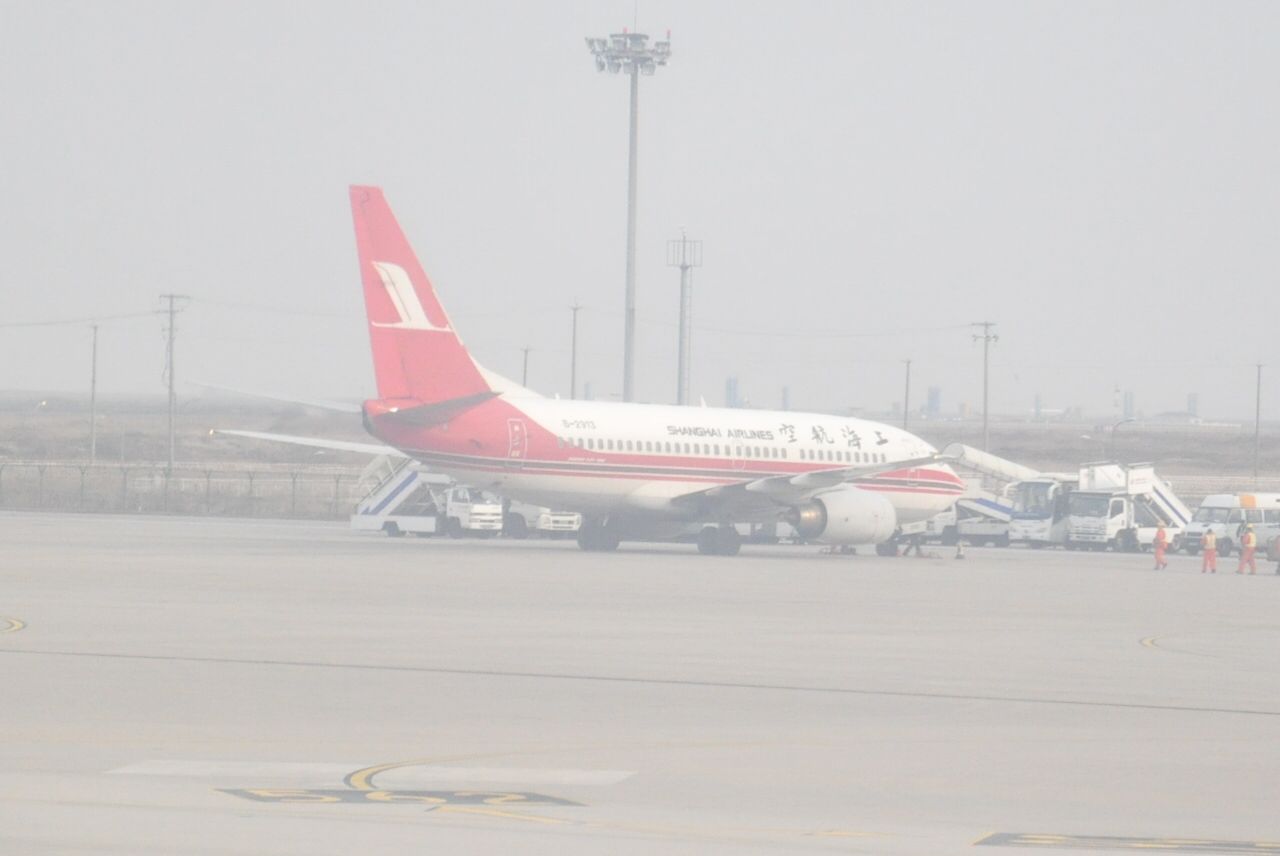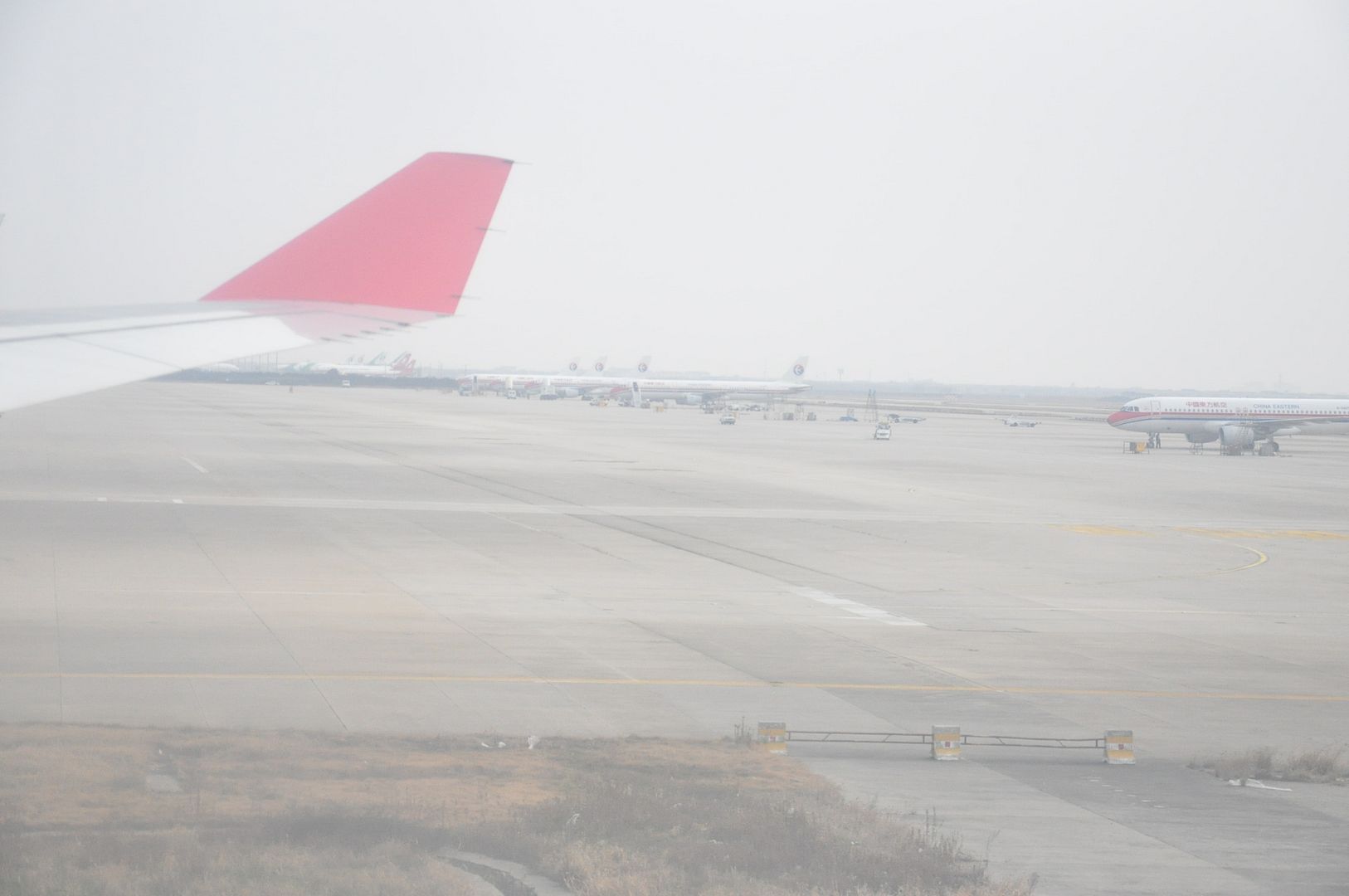 Immigration took a while, around 30 minutes. But we thought that this would mean that our baggage would be waiting in the conveyor belt for us. But that was not to be. My worst fears were confirmed when the baggage representative confirmed that our bags were not loaded due to a short transit time at hkg. It would be loaded on the next flight due to land in an hours time. It was then a wait for around an hour at the baggage collection point. Nothing much to do there except there seemed to beautiful mad rush at the two small duty paid shops selling alcohol and cigarettes. I can only imagine this to be a gift giving and receiving season, with the Chinese new year and spring festive al fast approaching. As promised our bags were on the next flight and one of the first to be offloaded.
It was then the long walk towards the Maglev station and was quite excited in getting in the Maglev. 30 KM in 8 min! And it truly was the entire distance in exactly 8 min. Great experience and worth doing it if You are in shanghai, although the final stop is still in the suburbs of shanghai and you will be forced to cab it from there.
The Fantastic Maglev from PVG to Downtown Shanghai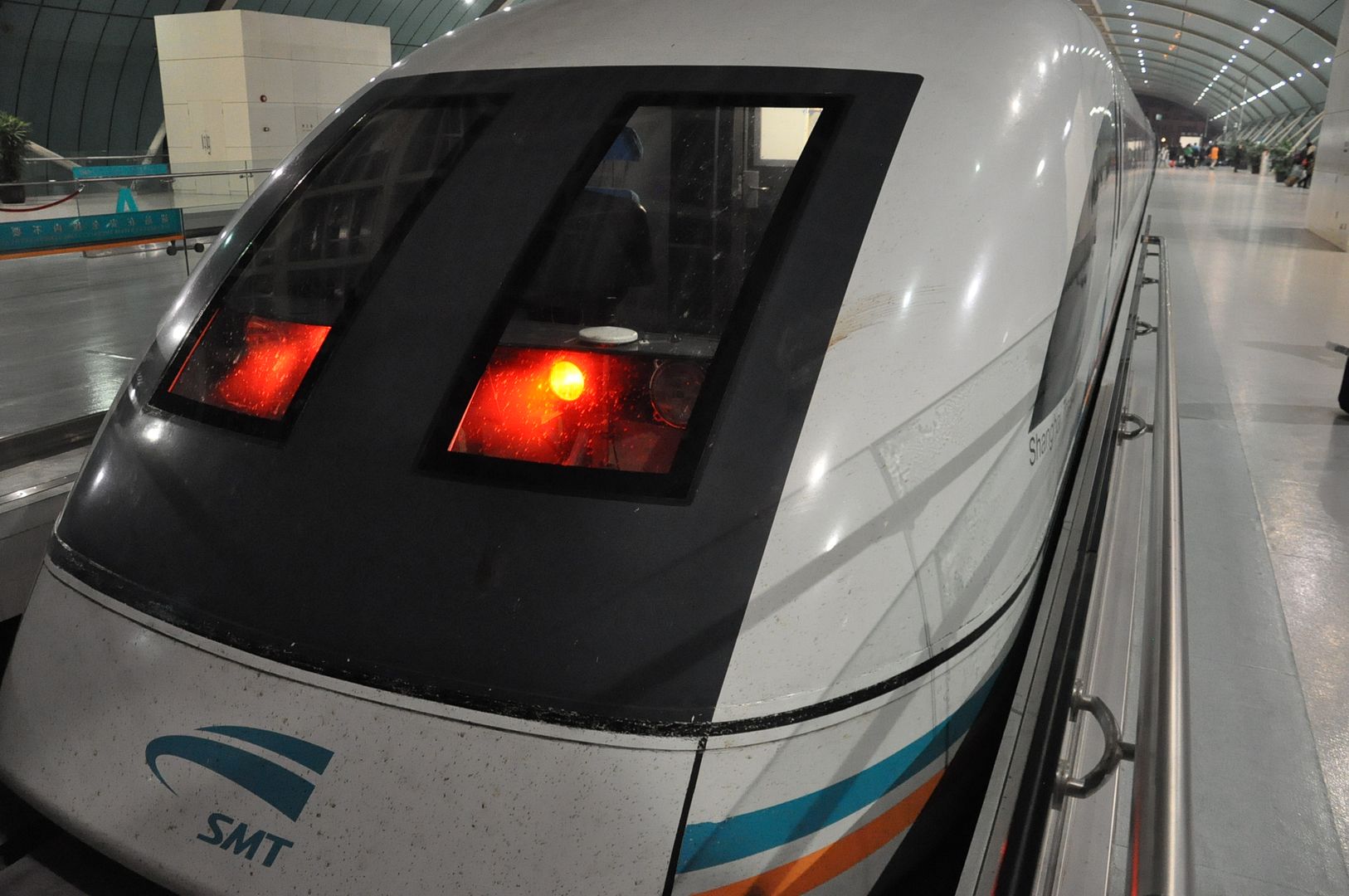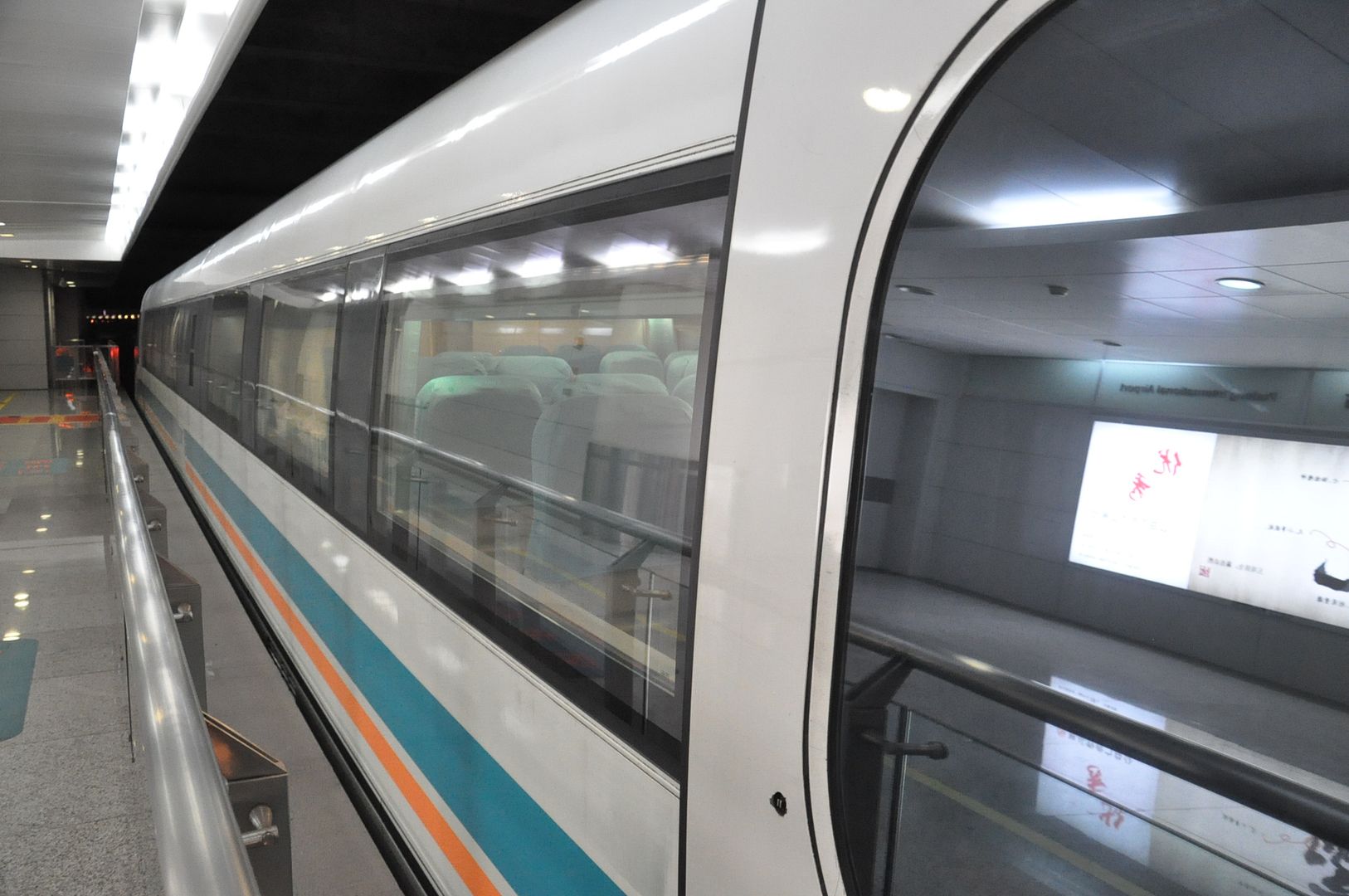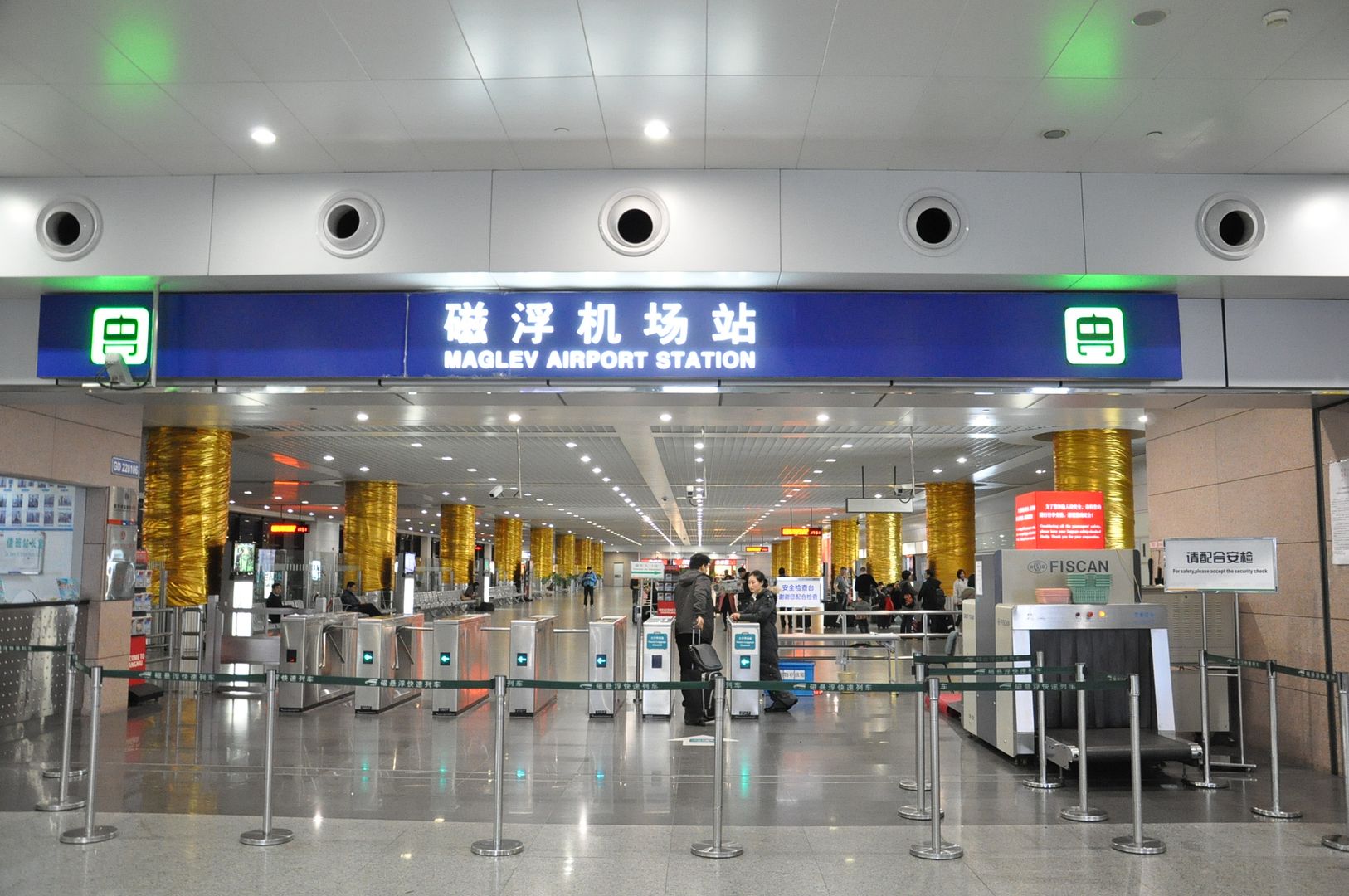 On the whole a very satisfying way to get from Dubai to Hong Kong and then to shanghai and would definitely recommend it. Would use it again if needed and given a choice. But be advised if you're taking this same route from Dubai to shanghai, expect your bags to be loaded on the subsequent flight from HKG to PVG
Tip: I booked this through Cathay website but for the price paid It was said that I would not get any Asia mileage, yet I get miles BA avios.
Previous Trip reports
Morocco Trip
[Edited 2013-02-17 02:23:07]