Report: Alaska Airlines Nome-Anchorage-Honolulu
Philippine Airlines Honolulu-Manila-Cebu
The Beginnings:
This is my first trip report on airliners.net. I hope you enjoy reading about my travels and I look forward to everyone's comments. My wife Gracy is from the Philippines and this was our first trip to see her side of the family since moving to the US in late 2011. Not wanting the headache of flying from Alaska to the lower-48 to catch a trans-pacific flight we decided to fly Alaska Airlines to Honolulu, Hawaii. After a 2-night layover in Waikiki we would then fly Philippine Airlines to Cebu. We could have opted for Hawaiian Airlines, but since Manila is the only destination they serve and we were headed to Cebu, we thought it would just be easier to stick with PR. Switching terminal in Manila can be cumbersome, so flying stickily out of Terminal 2 with PR for both our international and domestic flights was ideal.
We purchased our tickets in September 2012. I booked on alaskaair.com and used a $99 Companion Ticket coupon that I receive yearly from my credit card company. Also, Gracy and I are members of Club 49, an Alaska Airlines promotional program (for Alaska residents only) that gives us both two free checked bags on our flights. For us to fly round-trip to Honolulu was $1,068 including taxes and fees -- very reasonable. Booking on philippineairlines.com was also easy. I did have a problem with them accepting my credit card on the first try, but my second attempt worked fine. The fare was $2,333. Of which $220 was extra fees to upgrade to emergency exit row seating.
More background:
Alaska Airlines own and operate their own terminal building in Nome. I'll try to upload some photos of the terminal later that I can't find at the moment on my computer. The terminal building was originally built in the mid 1980's. It received a substantial upgrade a few years ago adding much needed cargo space and additional passenger seating. Last year they added a windmill in their efforts to go-green. Alaskans rely on air service just to meet our basic needs. Medicine, mail, and food... it all comes on the jets. Nome is served 3x daily by Alaska Airlines. All flights are scheduled on 737-400 Combi's. On occasion we see regular -400s and on a rare day a -700 passes through.
Alaska Airlines Flight 151
January 17th 2013
Nome to Anchorage
737-400 Combi
The day began at 6:30am with a hot shower and shave. Then with our bags loaded in the car we made the short drive to the airport. Check in, as always, was a breeze. We were the first passengers in the terminal when it opened at 7:30 am. We checked 3 bags, each weighing a perfect 50 pounds. Boarding passes in hand we drove back to the house to wait. The weather this morning was crisp and cold with clear skies and the aurora borealis still faintly filling the morning sky on our drive back to the house. We made our way back to the airport around 9am. Our aircraft touched down at 9:02am. We proceeded through the TSA Security line and then once given permission by the Alaska Airlines staff, we walked across the tarmac to board the airplane from the rear door. The load was very light today. I would guess less than 50%. The door soon closed and we departed Nome almost 20 minutes early at 9:45 am. Our departure was choppy but within a few minutes everything smoothed out quite nicely. Two flight attendants offered 15 minutes after departure a snack and drink; plain and simple service one would expect on a short 1 hour and 20 minute flight. We flew over Norton Sound and across the mighty Yukon River as we progressed towards Anchorage. Descent began 20 minutes prior to landing and overcast skies and flurries greeted us in Anchorage. The Ted Stevens Anchorage International Airport is one of my favorite airports. With three hours of time to burn before our next flight Gracy and I grabbed lunch at Chilis. Then it was off to the observation deck to relax before our flight to Honolulu.
The bulkhead that separates the customers from the cargo up front.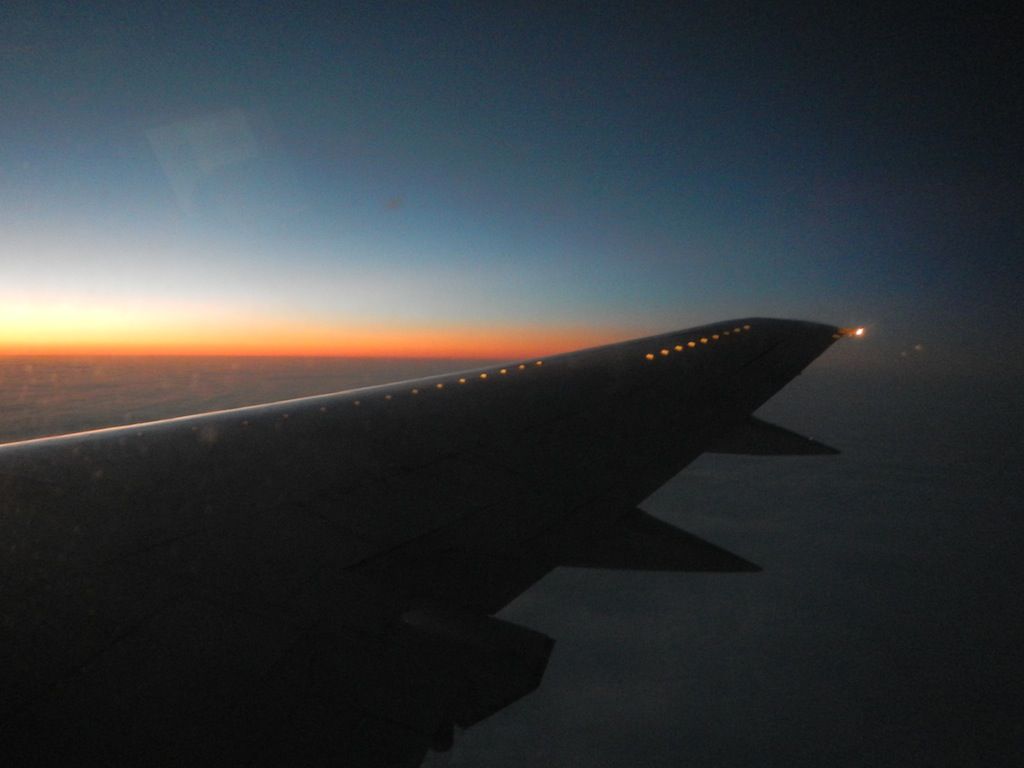 Sunrise at 10am in Alaska in February.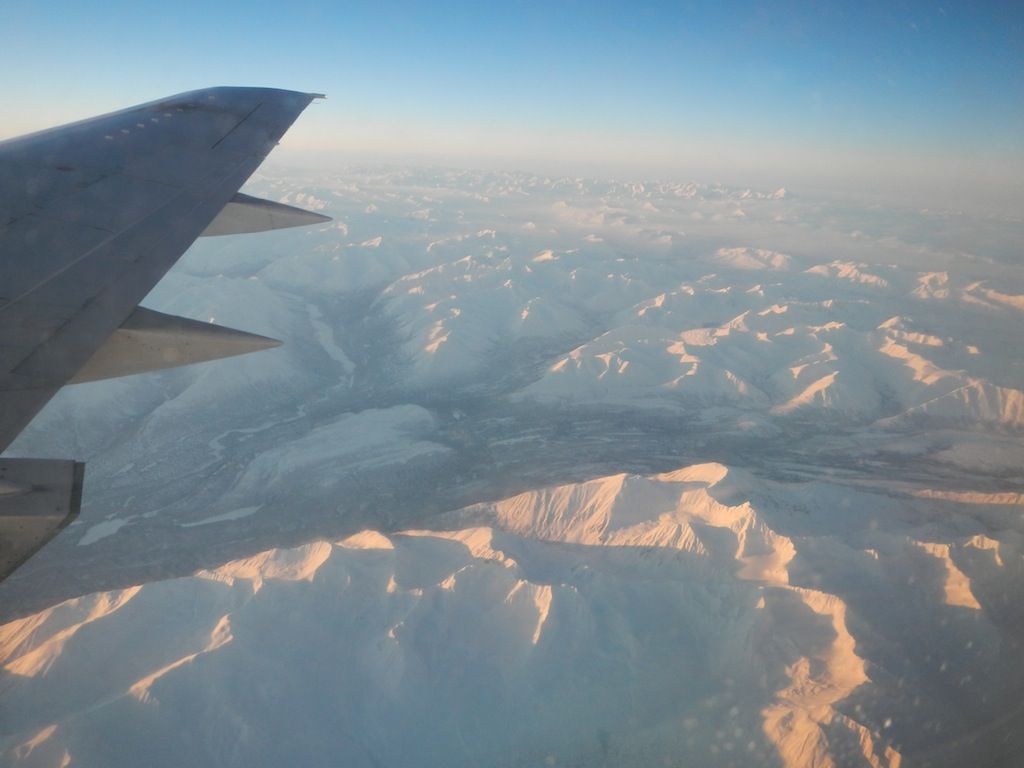 Cruising towards Anchorage.
Landed. Flaps retracting.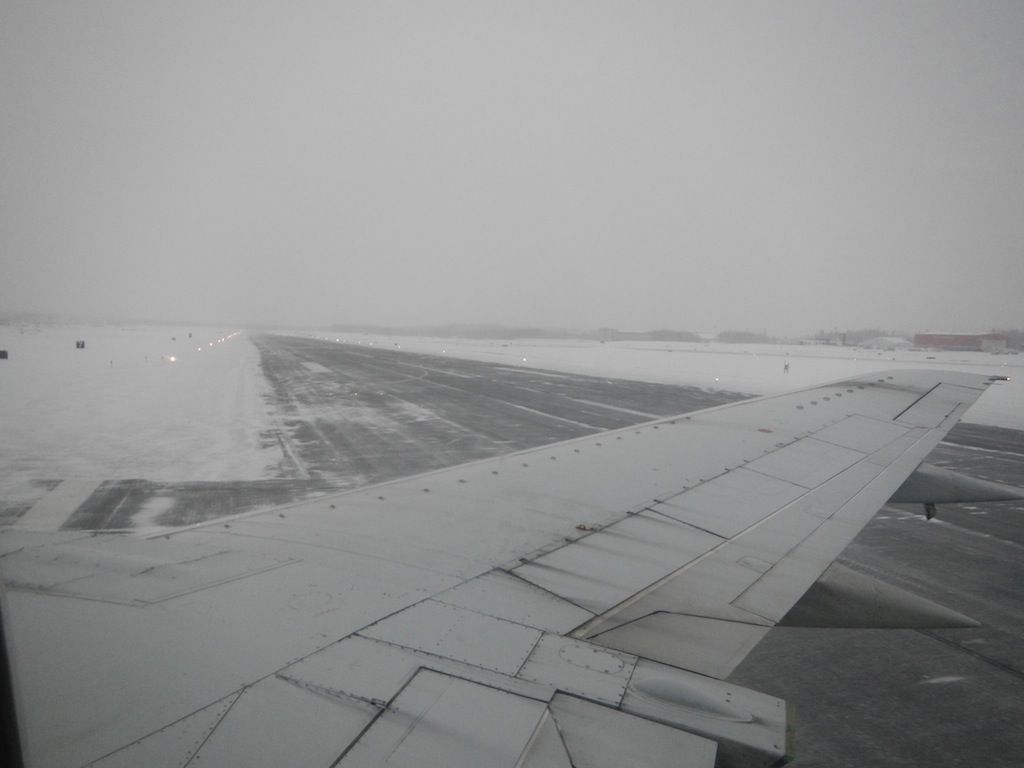 Exiting Runway
Concourse B serves all the major airlines with exception of Alaska Airlines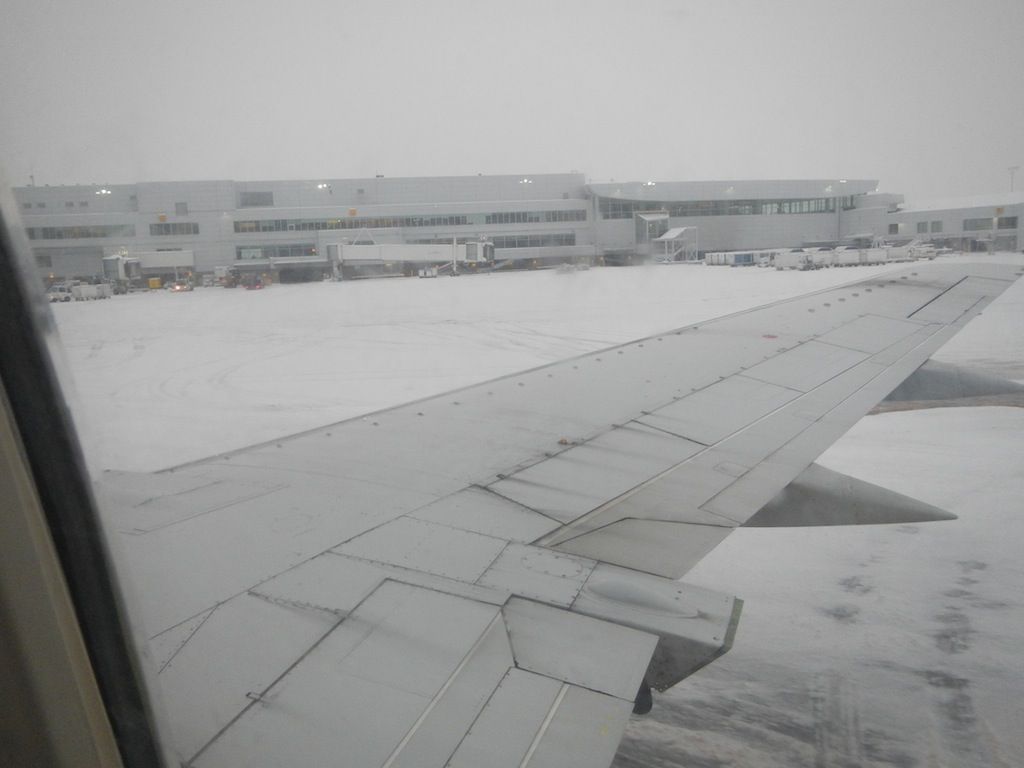 Half view of Concourse C, which serves all of Alaska Airlines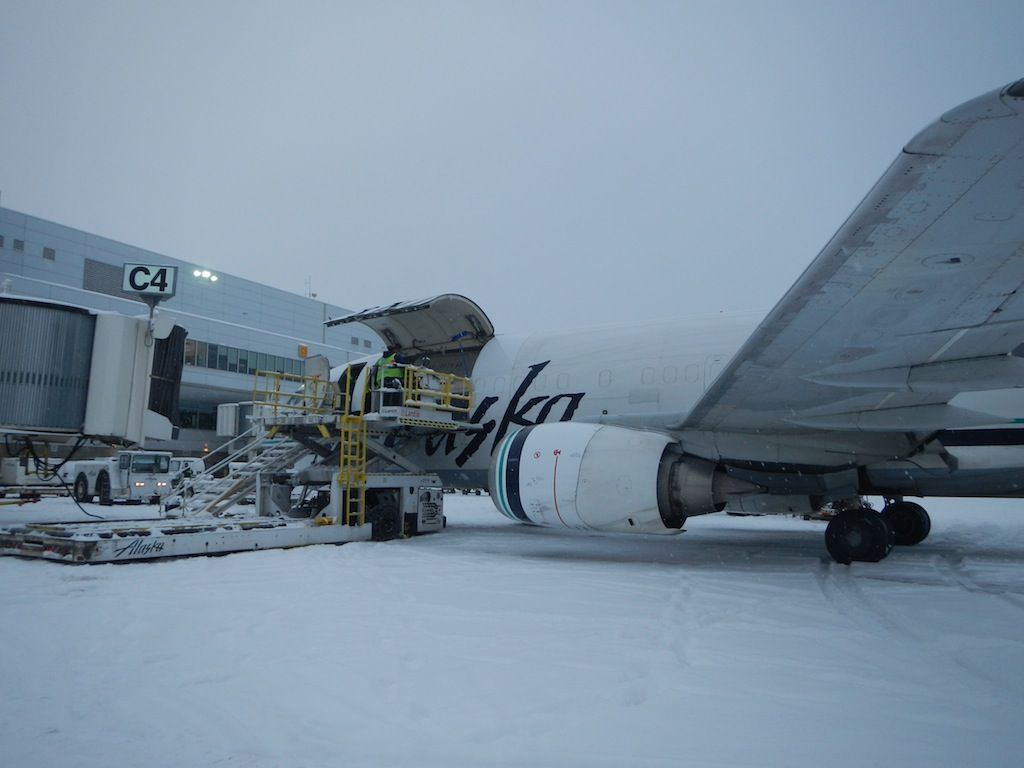 Deplaning.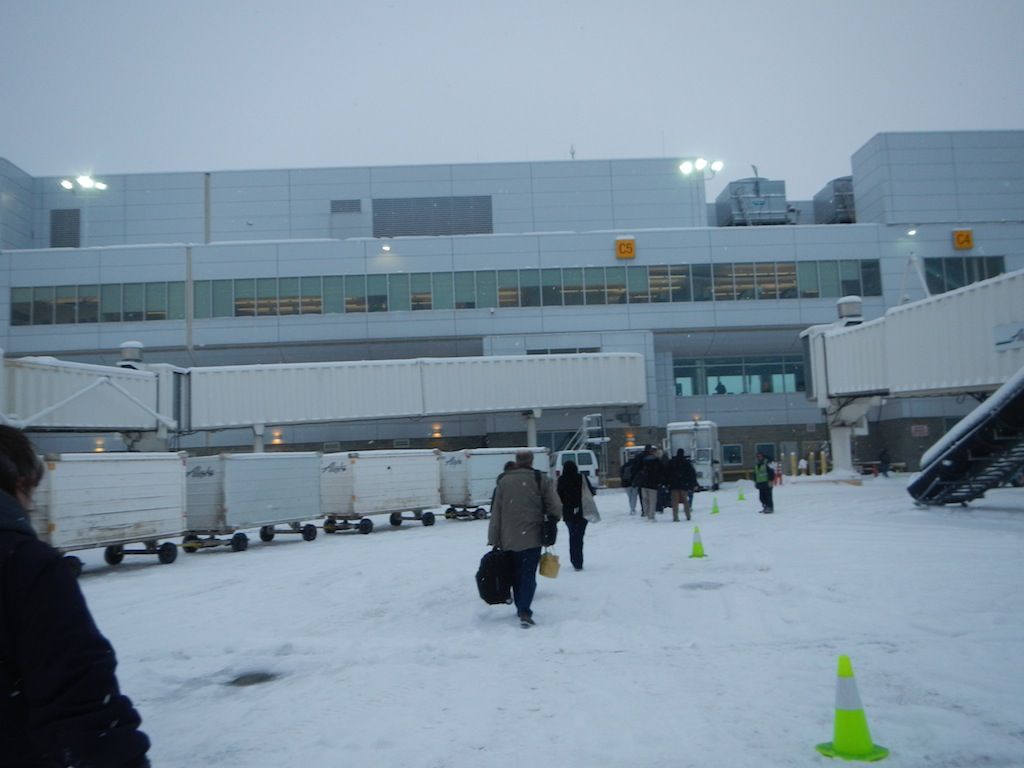 Walking to the terminal.
Combi in action.
Okay, Alaska Airlines Flight 868 to Honolulu is coming up next. Stay tuned.