INTRODUCTION
Copenhagen has always lured me in as a trendy city to visit. Its modern architecture which lays side-by-side with the old and the many images I'd seen of the coloured houses by the river (which apparently is actually a lake as I found out!) had made me want to visit for years.
Last August I started talking to a lovely girl called Klara on Twitter. Over the months we became great friends and finally met up in London not too long ago. One night on Twitter (as you can see I have a bit of a thing for Twitter) I saw a Tweet from Liverpool Airport saying that Norwegian would be launching flights from LPL to Copenhagen from just £35! Perfect!! Straight away I FaceTime'd Klara and checked that it would be cool for me to stay during that weekend and booked myself onto the inaugural just a few minutes later.
I've always wanted to fly Norwegian, I have only ever heard good things about this rapidly expanding airline and the Twitter addict inside me would appreciate the offering of free onboard WiFi.
My journey would be on Norwegian's inaugural Liverpool - Copenhagen on April 5th, staying for the weekend at Klara's and then returning to Manchester with easyJet on the 7th.
____
On a surprisingly sunny Staffordshire morning I got a lift from Dad to the train station in Stoke-on-Trent. The train journey to Liverpool Airport involved a change of trains in Crewe. If you've ever caught a train in the UK then the chances are you've been through Crewe! Crewe station is an absolutely massive place, trains depart and arrive pretty much every minute from one of its 12 platforms. Luckily I go to college in Crewe so changing here wasn't as stressful as it may be for some who aren't used to it.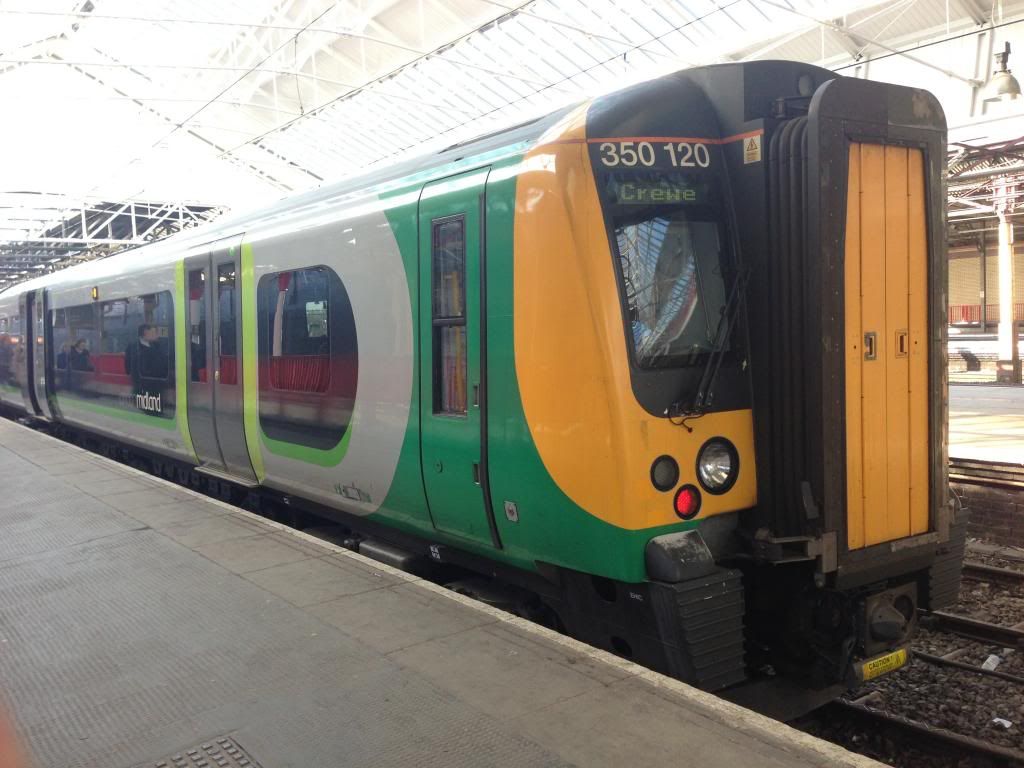 Around an hour later I arrive at the fairly modern Liverpool South Parkway where I caught the bus to the airport, which took no longer than fifteen minutes.
I got to the airport at around 11. A quick enquiry at the Servisair desk revealed that check-in would open two hours before departure. I wandered up and down the terminal to kill time, remembering back to scenes from the popular TV show Airline which followed easyJet staff here at LPL.
At around 1145 two Servisair staff sat themselves down at desks 38-39. I was quick to be first in the line and they called me forward a few minutes later, where by now a queue was beginning to form behind me.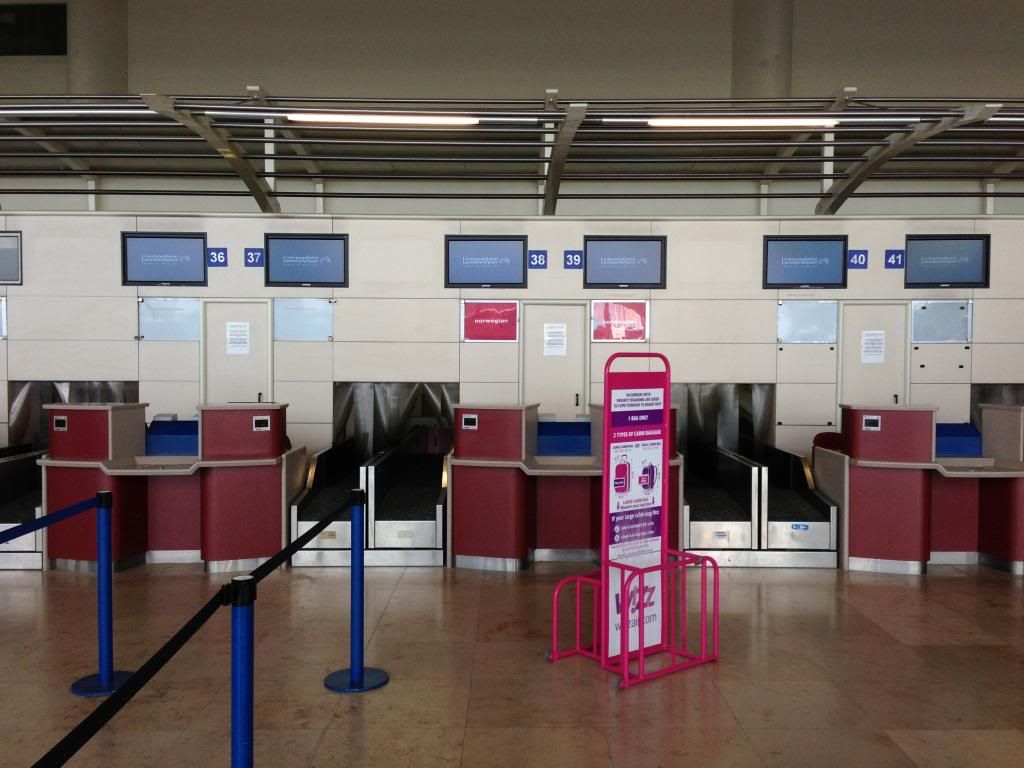 I must say that I do wonder how well Norwegian will cope with just two desks for 189 pax, for some reason they don't do OLCI so everyone has to check-in at the airport.
Check-in formalities completed I was handed a flimsy boarding card and was told that I could use the Fast-track lane today.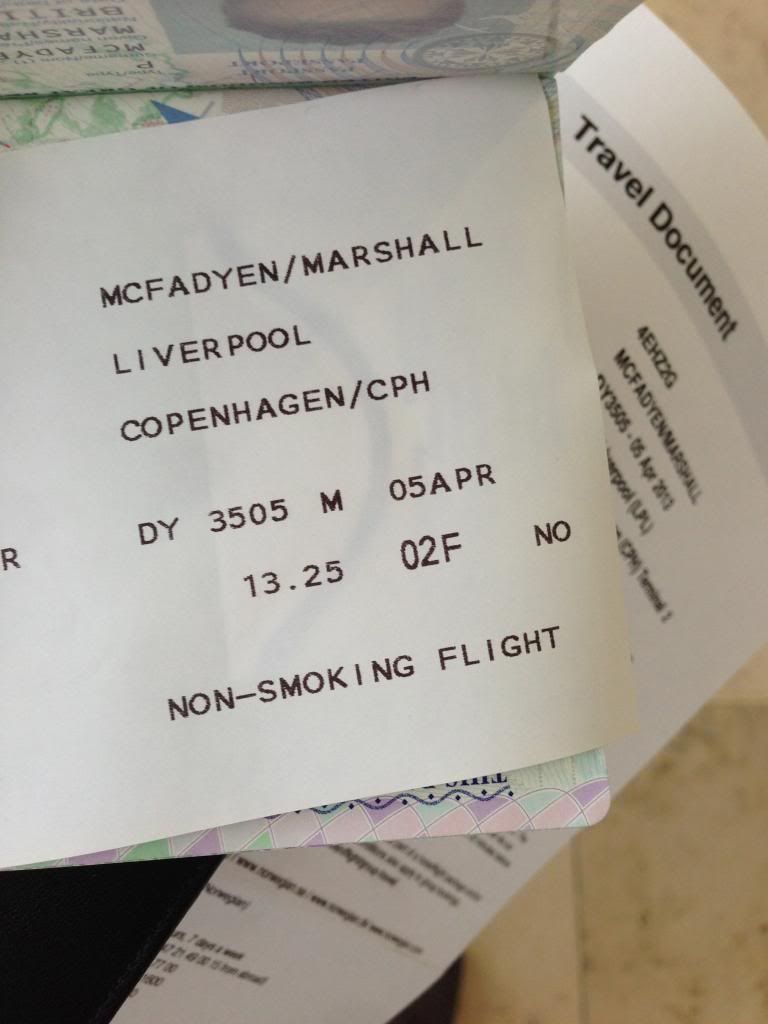 Through security, the whole departure lounge was decorated in Danish flags, like everywhere, the whole place!! Every single shop was covered in red and white. I was sick of seeing the Danish flag even before I got there!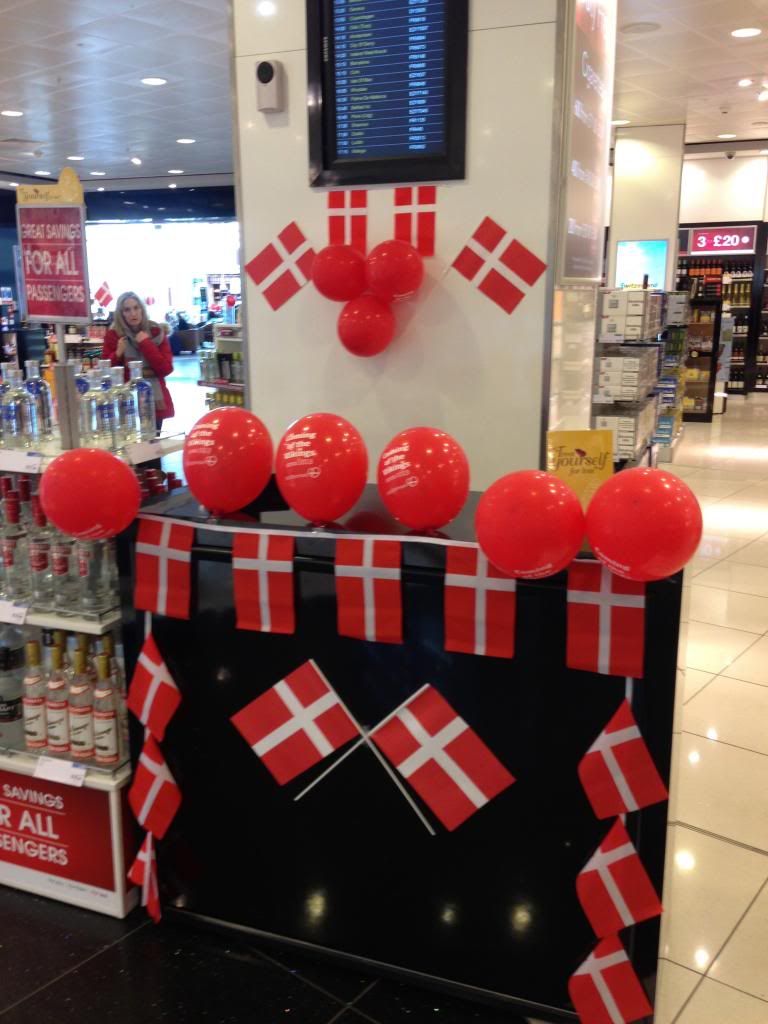 There was a DJ playing what I assumed to be Danish music, a Lego stand complete with a man dressed in a Lego costume, a face paint stand and of course a person posing to be the Little Mermaid! People dressed in Viking outfits were handing out competition forms to win a free flight to CPH. Unfortunately the pen that I bought with me had ran out, damn!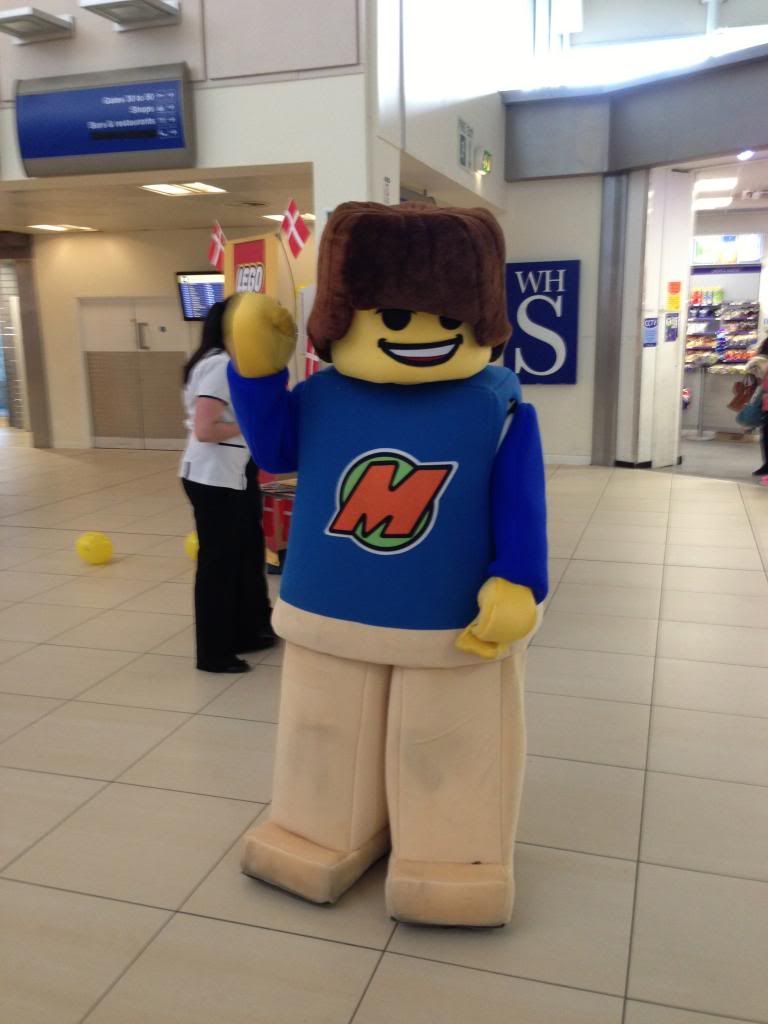 An area of one of the restaurants was cordoned off with Danish flags and Visit Denmark balloons, which I assumed us passengers on the Copenhagen flight would be invited to however just airport staff were allowed in. There was food, drinks and champagne - looked pretty good!
I looked outside and noticed that two of the airport's fire trucks were positioning themselves opposite each other on the apron...
It could only mean one thing! This would be my first ever time seeing a water cannon salute, so I positioned myself by the window of Burger King to get a good view.
A group of people in high-vis jackets were down on the apron to take some photos of the salute.
Here she comes!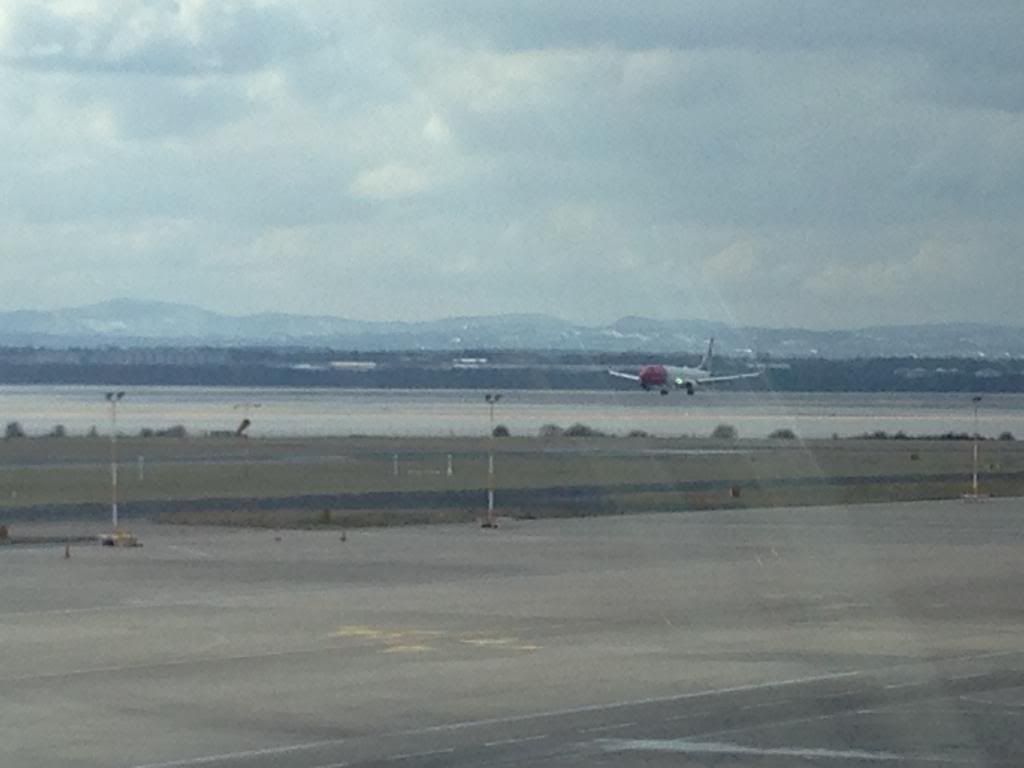 The aircraft arrived on the stand so I made my way down to gate 1 where a small queue was forming. Shortly after, a boarding call was put out for rows 13-31 and then of course 1-12. After boarding passes and passports were checked we were led into a sort of corridor/tunnel/greenhouse thing where we waited for a good ten minutes.
We were finally able to go down the stairs and make our way to the aircraft. Boarding was by the front door only, which was understandable considering the light load.
Two very attractive and typical Norwegian blonde and blue eyed flight attendants greeted me at the door. They were wearing Liverpool FC scarves with the Liverpool Airport's logo stitched on to them which I thought was a cool touch.
First impressions of the cabin was 'wow'! This was my first flight with the Boeing Sky Interior and boy was I impressed1 The mood lighting is fabulous, the new shape of the windows (I should probably say the wall hole sculpting!) feel noticeably bigger and the cabin felt much more roomy. In fact I felt extremely cramped on the EZY flight home, not just because it's EZY but because the ceiling felt MUCH lower.
Our captain for today's flight, Pete Owens, welcomed us aboard and apologised for the "welcoming committee" causing the delay to the departure. FO Neil Robinson would be flying us across to Copenhagen today. Both cockpit crew were Scousers, and one of the cabin crew had a slight hint of Liverpudlian in her accent too.
LPL-CPH
APRIL 5TH 2013
DY3505 1355-1655
LN-DYW
We finally pushed back and the safety video was played, albeit 25 minutes late.
We made our way to RWY 27 where we then flew over the Mersey.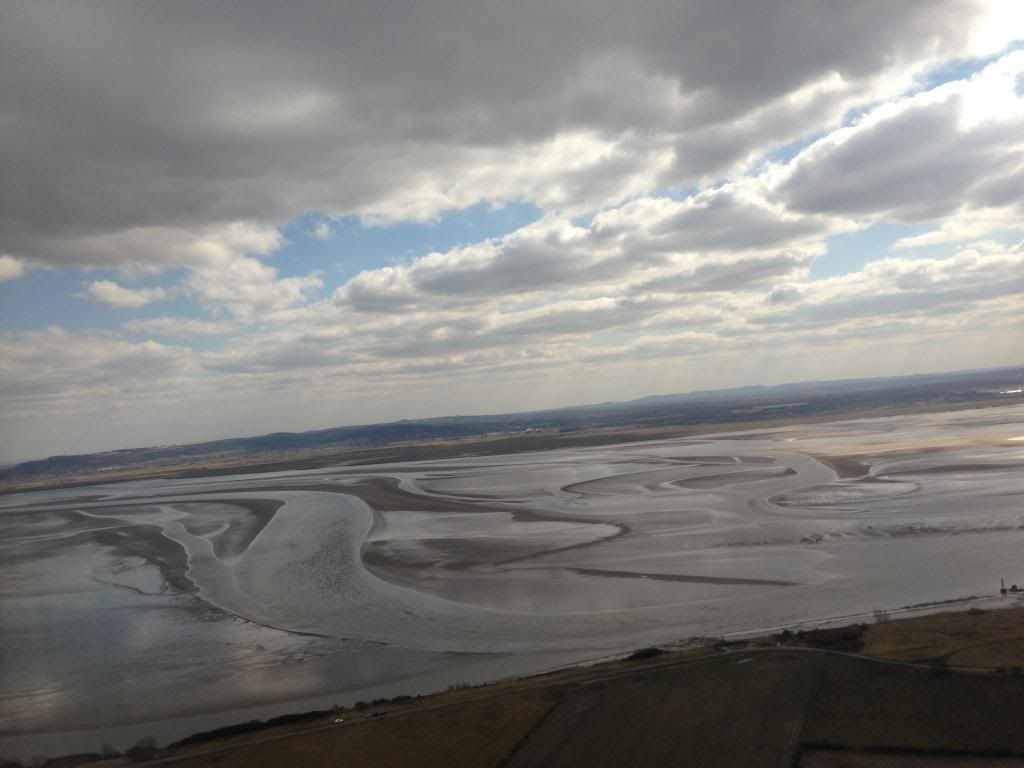 The sand formations look great!
We took a left turn just before Runcorn Bridge, which my train went over earlier in the morning.
The BOB service started almost immediately after takeoff. I didn't buy anything as I had purchased a lovely chicken and bacon sandwich from W H Smiths at the airport beforehand and the range didn't really look that great.
Our route took us over Sheffield and across the Northern Sea over to Esbjerg.
Having free inflight WiFi was AMAZING! This was the first time I've ever flown with an airline that offers it and I was blown away. My two favourite things are Twitter and aviation, so having the two put together was just the best - I was on cloud nine.
Having the WiFi made the time fly by, I couldn't believe how fast the time went, I think I tweeted ~100 times on the flight haha!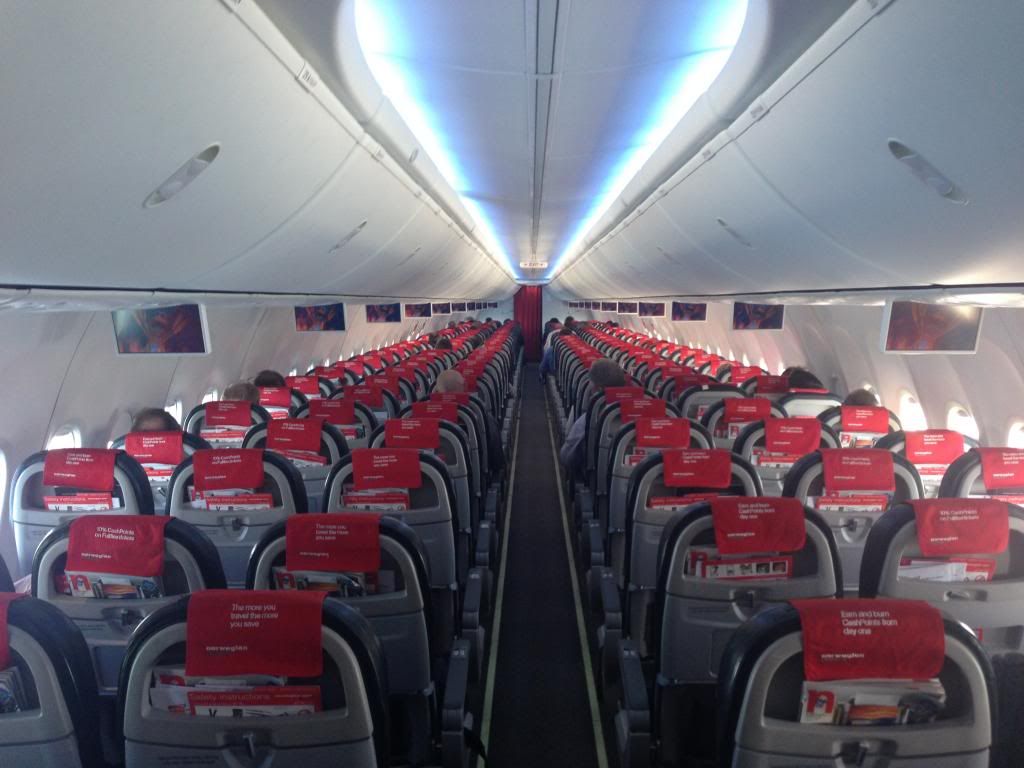 The very slick looking cabin!
We soon started out descent into Copenhagen. The WiFi was unfortunately turned off as we descended below 10,000ft but this wouldn't be a problem as there is free WiFi throughout Copenhagen Airport so I wouldn't be too long without being able to tweet! Unfortunately I was sitting on the wrong side to get views over the city but I didn't really think about it in advance so it's my own fault.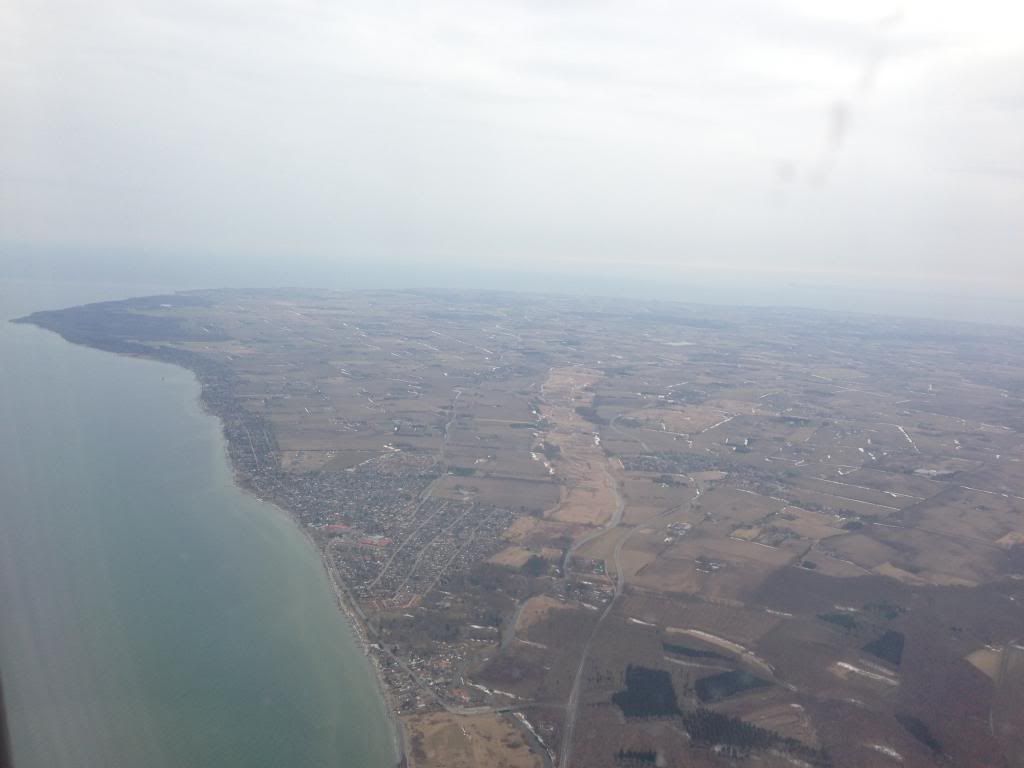 Didn't really realise how flat Denmark is!
We touched down in Copenhagen early, despite leaving nearly half an hour late.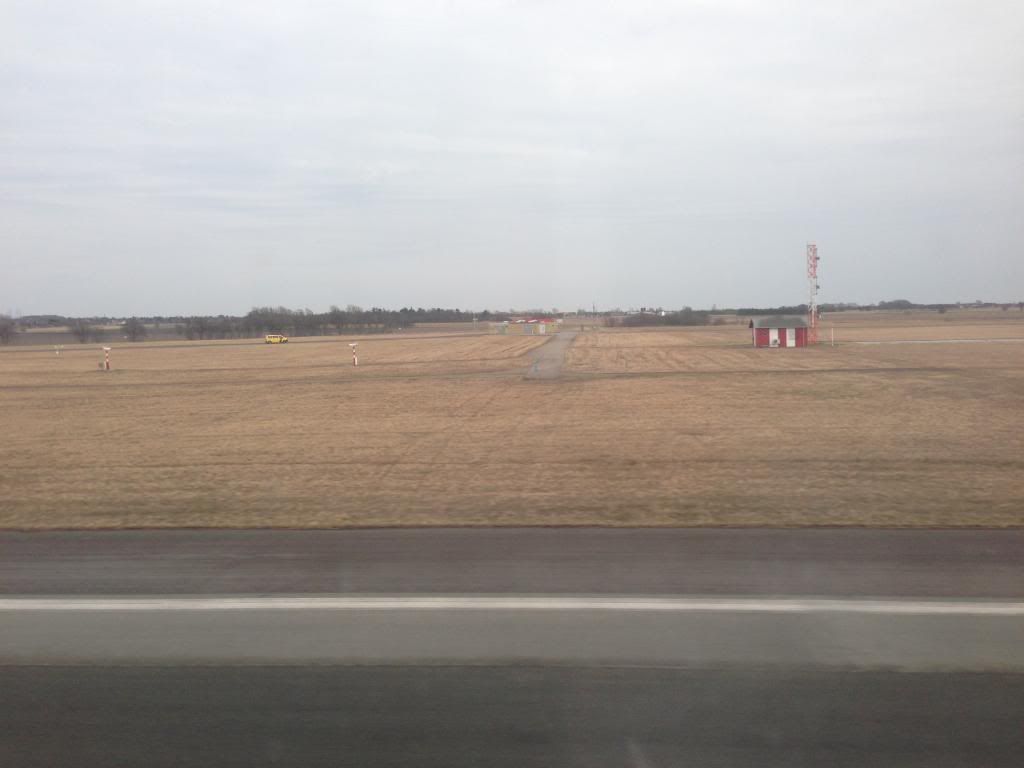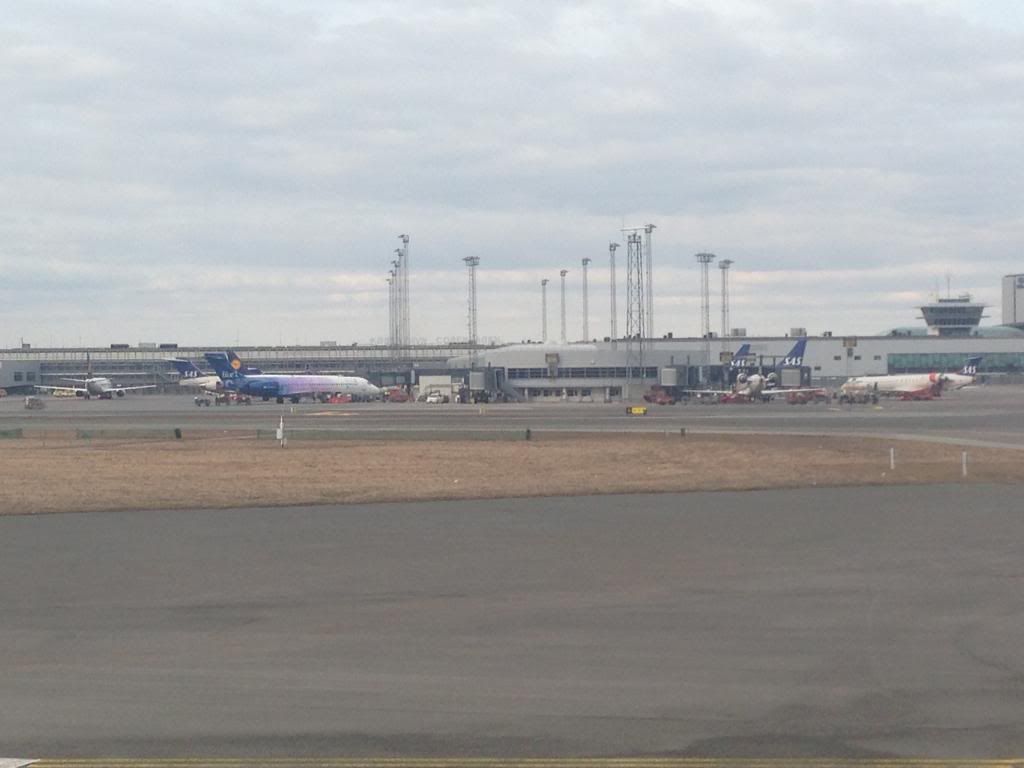 I'm most definitely in Copenhagen!
We were bussed from the aircraft and dropped off in the terminal. It was just a short walk to passport control, but there were just two desks open. Luckily I was through in a couple of minutes and my baggage was already on the carousel when I got through (this is Danish efficiency at its best!)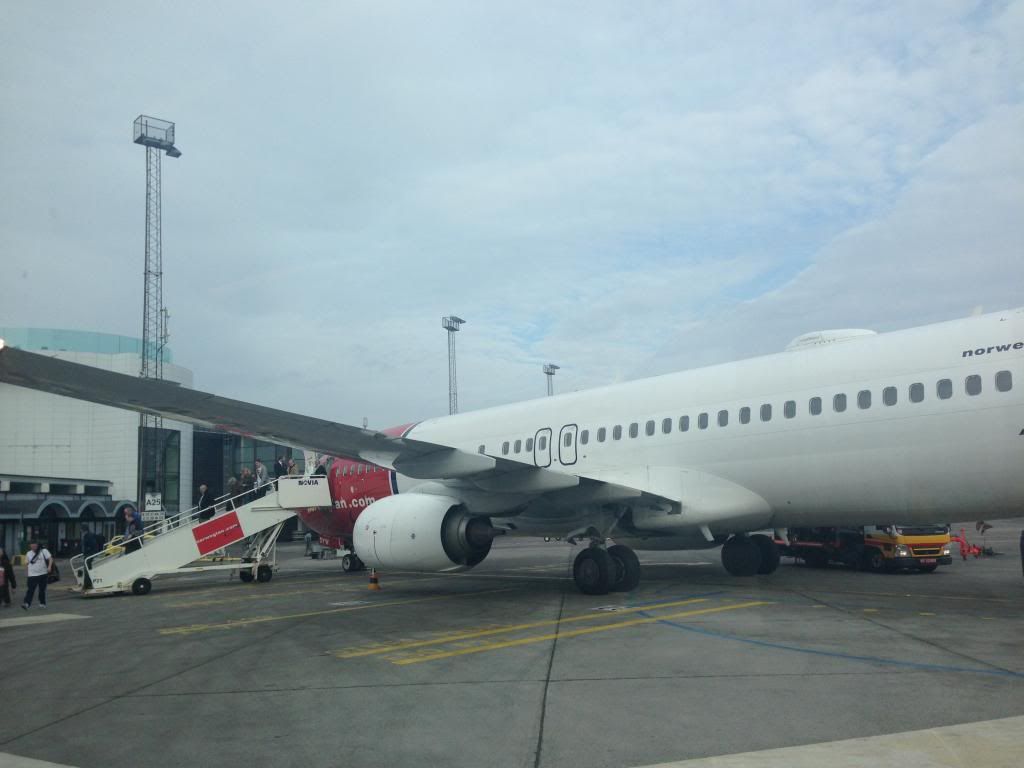 I met Klara in arrivals and we made our way to the metro for the quick journey into the city centre.
Here's a few snaps of the beautiful city that is Copenhagen!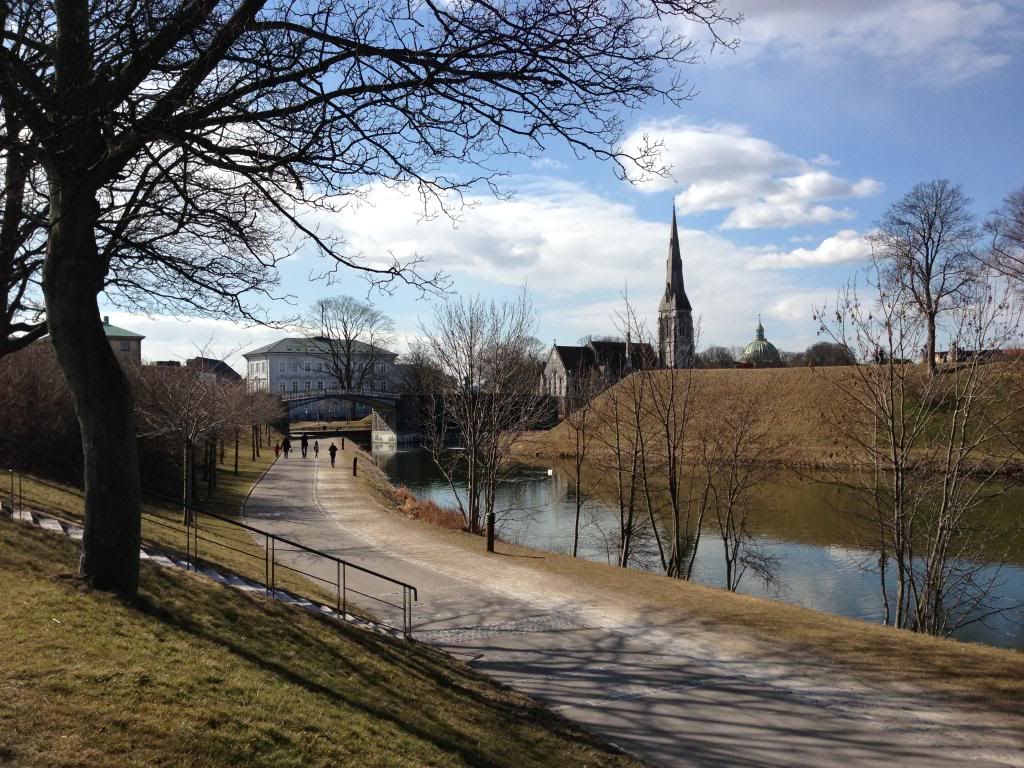 Of course
Unfortunately I had missed the opening of Tivoli Gardens for the season by just a few days. I guess it's just another excuse to come back for the summer
I had a very positive experience with Norwegian and I would go out of my way to fly with them again. Liverpool Airport created a great atmosphere with the celebrations, it was evident that the airport was very pleased after *finally* attracting a new carrier after its blow of loosing KLM not too long ago. I wish DY every success with their CPH-LPL route, however I am sceptical to see how long it will last... Only time will tell!
And of course, you can follow me on Twitter @marshall_mcf
Tak, og farvel!