Hello all and welcome to my first ever trip report! First of all, Iet me provide a little background about myself : I'm a fifteen-year-old aviation enthusiast from NYC who's been living in Paris for the past seven years. Mostly because of my parents' respective jobs, I travel quite a bit, mostly back to the US or Norway (where I have family), but quite often to different destinations around the world. My a.net status has been relatively idle since I joined just over a year ago. With the occasional post in the Civil Aviation forum, I've been an avid trip report reader for over three years now. My original intention was to post frequent trip reports covering my travels, but after one attempt, I made an amateur photo-uploading mistake when this report was already online (if you can remember I'll be impressed) and after a day or so, I requested that it be taken down because none of the photos were visible. This is my second attempt. As you can see, I'm starting out simple (really simple..), but don't worry, I have a huge backlog of reports to upload! Before I start, I would like to casually apologize for the 1.5 year delay in this report - sorry about that.
This report takes place in December 2011, when the few months when I was living back in NYC were coming to an end, and my dad was invited up to Boston for work reasons. My mother and I decided to tag along, and include a visit to Providence, RI to see some old friends while we were at it. We would take a morning Jetblue A320 from JFK up to Boston (shame it wasn't an E190!), where would meet my dad, and then, several days later, take the train back down to NYC (stopping in Providence for a day), the ride on which I've decided not to cover. I'm sorry for this painfully long introduction, and would like to thank you for reading my trip report début!
Saturday, December 17th 2011
The car service finally arrived around 6:20, 20min late. After a speedy drive, it took a quick 30 minutes to reach JFK Terminal 5 from Manhattan's Upper West Side. At a quick press of the button at one of the self-service machines to check our status, we dropped off our bag and headed for security.
Very busy this morning:
It's hard to wonder what terminal we're in...
The lines were quite long, and it took a half hour for us to get cleared through. We then proceeded to Gate 24 just in time to watch our eight-year-old bird 'Can't Stop Lovin' Blue' (N579JB) pull into the gate.
Sometimes I wonder if Jetblue would exist if not for Florida...
Our aircraft resting after an early morning flight in from Rochester as B6 45:
Boarding started EXACTLY on time at 07:59, since we were seated at the rear of the plane, I was down the jetway at 08:01, and in the plane at 08:02. Flight time was announced by our pilot as 36 minutes.
Down the jetway...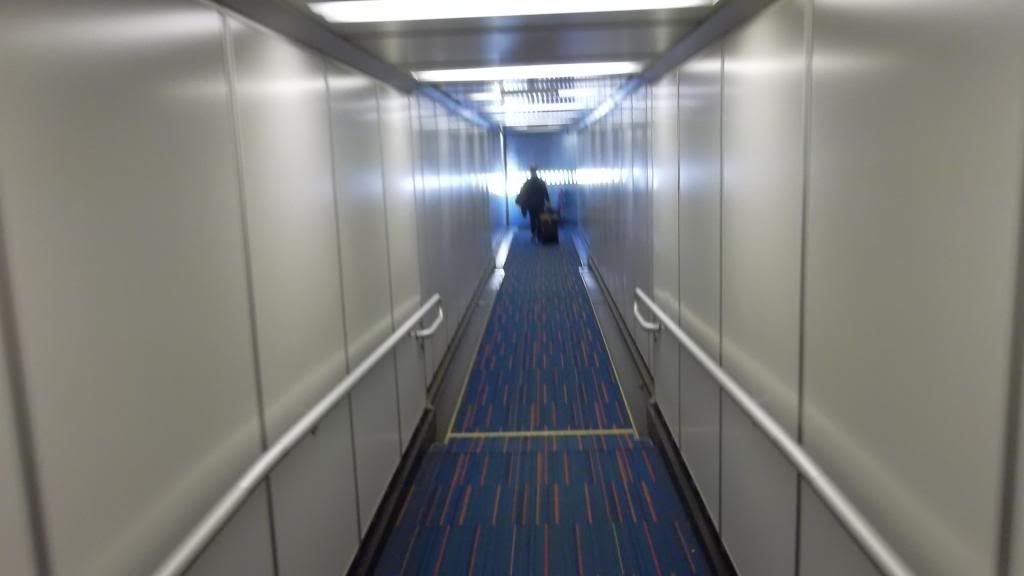 Jetblue Airways Flight 1028 – 17/12/11 : JFK – BOS
N579JB (Can't Stop Loving Blue) – 8.2 years old
S. Departure - S. Arrival : 0829 – 0946
A. Departure - A. Arrival : 0828 - 0928
Seat : 23F
Flight time : 35 minutes
Cruising Altitude : 17,000 feet
After some announcements by the flight attendants regarding carry-ons, and spotting our luggage being put in the hold, pushback occured a minute early at 08:28. I spotted a UA 752, FedEx DC10, China Airlines Cargo 747F…
Luggage handlers: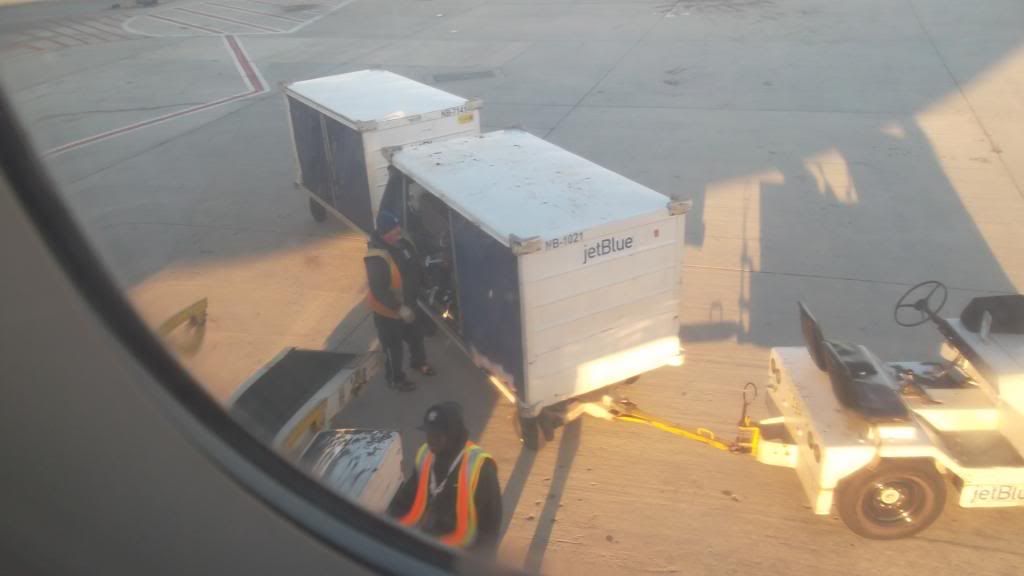 'Blue-T-Ful' (N624JB) bound for Barbados as B6 871:
Cabin with passengers still settling in:
Safety Card:
N560UA, bound for SFO as UA 397: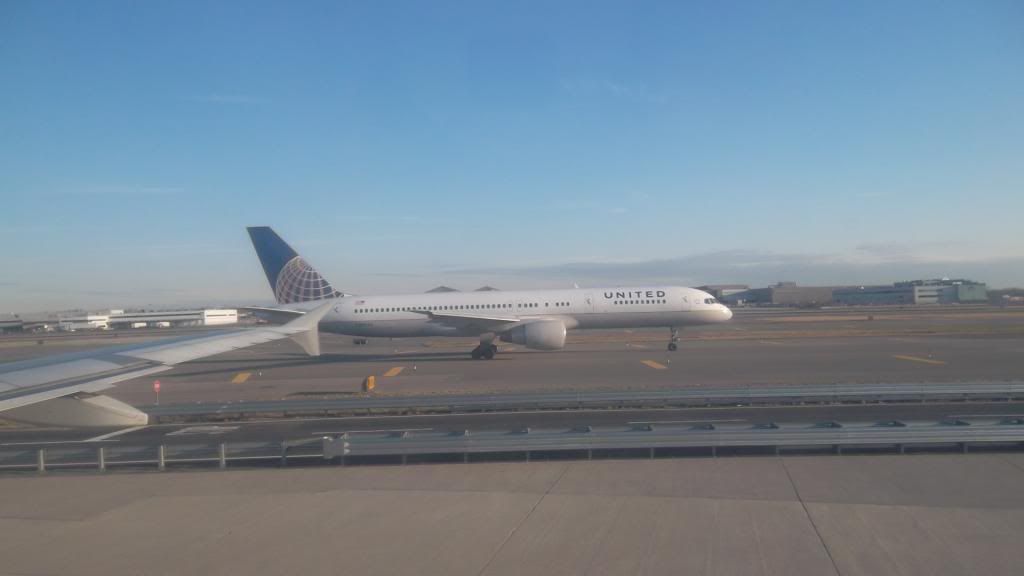 A look at T5 and T8: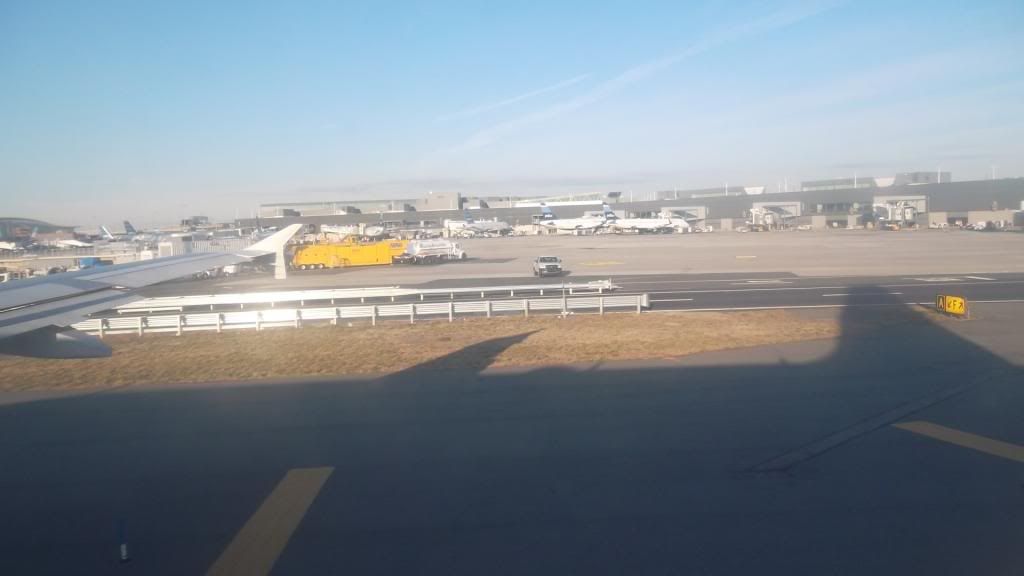 Eventually, we were #6 for take-off, and we slowly edged our way closer and closer to the threshold of the runway. At 08:50, our engines powered up and sent us leaping into the blue skies above Queens. We immediately performed a sharp turn left over the ocean. We climbed to 17,000 over the clouds, and I enjoyed the moving map.
I'm not picky about the quality of a moving map on a 35 minute flight...
I believe that this is Long Beach, NY on Long Island:
It's short, but it's still paradise!
On this short hop up the east coast, water, OJ, and coffee were being offered. There was also a choice of Butter Cookies and Nuts, of which I chose the former. They were very good - kudos to Jetblue for the service on this short flight!
Far too soon, we began our descent into Boston, and were descending through 15,000 feet at 09:11.
After a nice, long approach along the Massachussets coast (there were many nice small islands nearby), we were on the ground at Logan at 09:25, 21 minutes ahead of schedule!
And here we are!
After a short 3 minute taxi, we made our way to Gate C32. We had to pause for about 30 seconds as we were turning into the gate for an unknown reason.
Pulling in next to one of the newer JetBlue A320's : N793JB sporting the rather funny name of "My Other Ride Is A Jetblue E190" bound for Fort Lauderdale-Hollywood as B6 961.
Bye! (Our aircraft was now bound for Montego Bay, Jamaica as B6 1765).
Once we picked up our suitcase (very quick and convenient baggage claim), we took the Silver Line Bus to South Station, and then the Red Line Subway to Central Square in Cambridge, MA.
Waiting for the Silver Line...
Conclusion
Would I recommend JetBlue? Definitely! Nice crew, excellent entertainment (albeit ad-spammed), and great seats (my apologies for the lack of the required legroom shot). Here is my rating :
Reservation/Online Services : 9/10 – Good .
Check-in : 6/10 – Slightly Chaotic
Boarding : 10/10 – Efficient.
Crew : 9/10 : Very Nice.
In Flight Service : 10/10 – Excellent.
In Flight Entertainment : 8.5/10 – Many Ads but excellent nonetheless!
Seat : 9/10 : Only thing that's missing is a footrest!
Timeliness : 10/10 – Excellent!
Overall score : 71.5/80 = 89.38% - Very Good.
For those interested, I have included some quick shots of Cambridge during our two-day stay there:
Cambridge City Hall:
Post Office:
Some street scenes near where we were staying: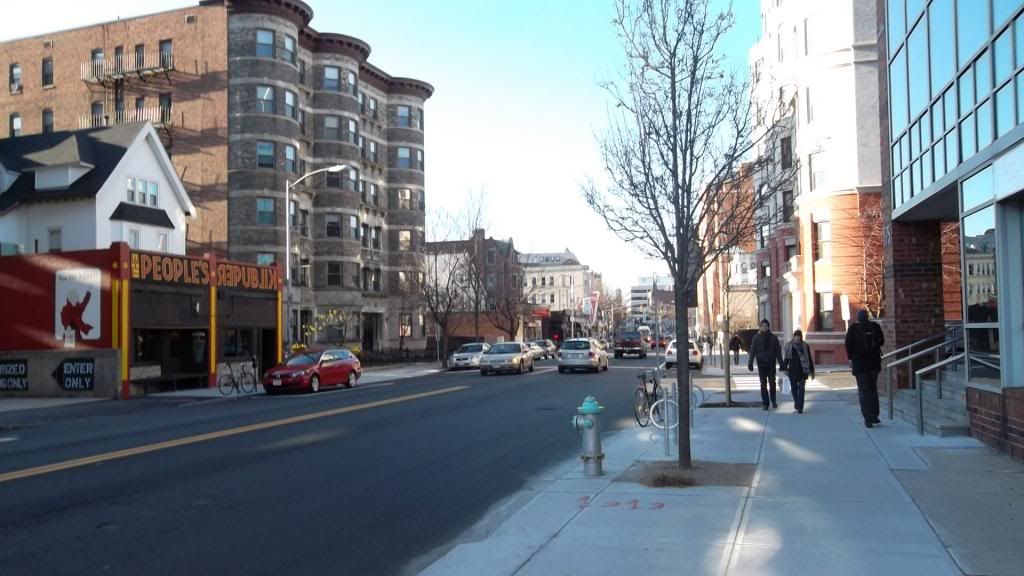 After two days in the Boston/Cambridge area, it was time to head down to Providence, and then back to New York, thus concluding our short-side trip. The train rides were both comfortable and uneventful, and it was great seeing some old friends again!
Just for the heck of it, I've included a photo of our Northeast Regional train used for the 1st segment 45-minute segment down to Providence (pictured right):
Thank you all for reading my very first (and very short) trip report on a.net and please know that there's much more to come in the near future! Comments, questions, and feedback are very much appreciated! Thank you all once again!
Next Up : EWR-SFO-EWR on a rare Boeing!