Trip Report – The New American is Arriving
I finally have a chance to experience the new American Airlines' Boeing 777-300ER and if this is the future of AA, I am looking forward to more of it, and hopefully the tired domestic cabins will feature these new changes including new seats with power outlets and personal TV featuring audio video on demand. In general, I really like the new first class seat, which is definitely a major step above the former flagship suite on Boeing 777-200ERs. The new suite is definitely comparable with British Airways' new first class suites (even a bit better) and Cathay Pacific's first class suites. The inflight service, which is usually American's weakest part, was pleasant and the DFW crews were usually a bit better than the Chicago and New York based crews. However the wine list and the menu are definitely not up to par, especially the wine list. The menu is almost the same as business class, with a few additional courses and side dishes. I will point out the difference in the menu transcript. The wine list is just sad and I don't expect AA to bring back the Perrier Jouet, but can we settle on a better champagne brand that is better known? Business class is served the same kind of Gosset champagne but a lower grade.
May 2, 2013
AA 50 DFW-LHR Lv1835 Arr0750+1 Boeing 777-300ER N720AN/"7LD"
Check-in:
I arrived at the airport around 1pm and the premium check-in counters at DFW Terminal D were not too busy. There were more agents than passengers, but I might be a bit early even there were a number of European flights taking off soon. The agent was very friendly. But there is no Flagship check-in like other major American Airline hubs, like LAX and JFK. I am not sure if it is important, but it is nice to have a more private check-in experience.
Boarding
AA 50 has been using gate D25 everyday since Boeing 777-300ER has been introduced on this route.
Gate D50 before the crowd arrived
Admiral Club – most underwhelming part of the trip, despite this Admiral Club is one of the nicer ones in DFW. However, I still think it is ridiculous not to have a flagship lounge here at DFW, one of American's largest hubs. Even as a first class passenger, I only get one single premium beverage coupon (and I honestly think a refreshment coupon will be more appropriate). The Admiral Club is very busy during this early afternoon hours and getting more crowded as the afternoon proceeds.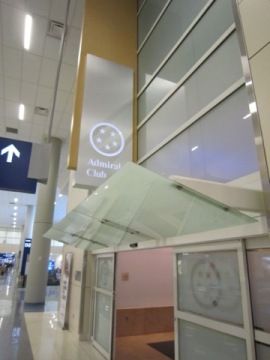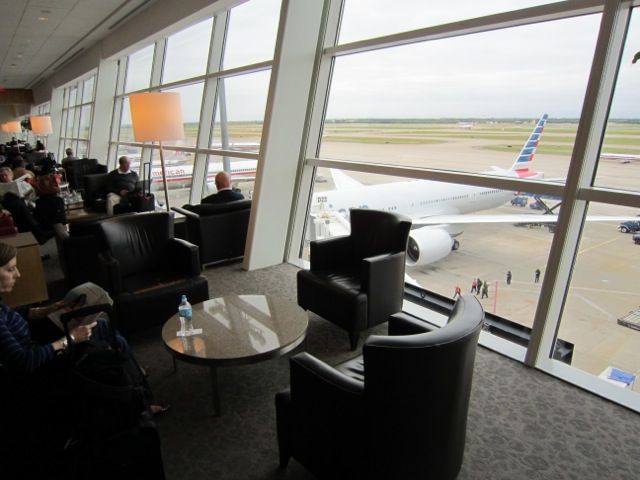 The best part of the Admiral Club at Terminal D is the view of the apron especially it provides a good view of the planes parked at D24 and D25, which are not surprisingly occupied by American Airlines' latest fleet additions – Boeing 777-300ERs. N721AN had just arrived from LHR, and would be taking a break here at DFW today, while N720AN would operate my flight to LHR after spending the night here at DFW. I wonder if there are some trainings going on before the introduction of a tighter schedule in June.
N720AN taking me to LHR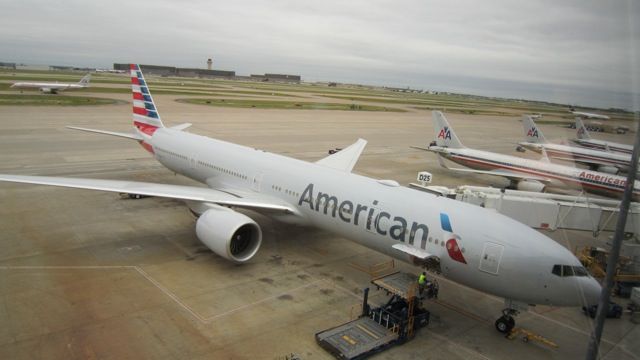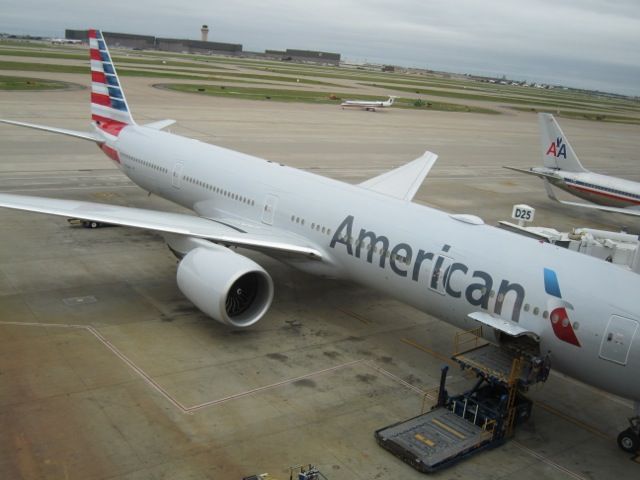 N721AN getting ready to push back for a break at DFW for the night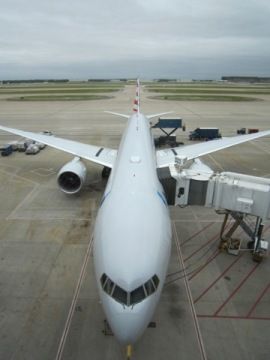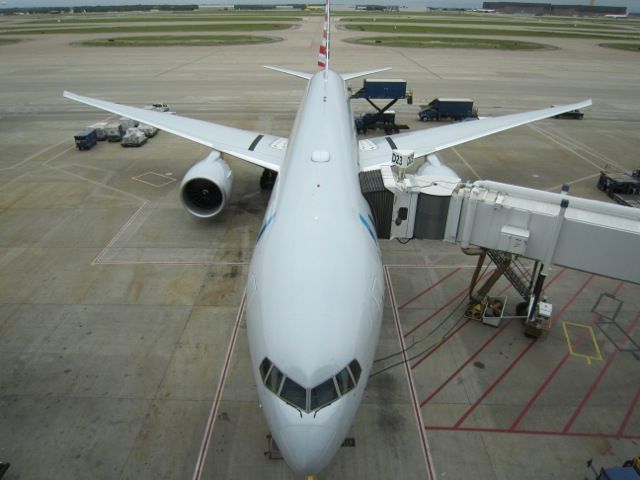 Pushing Back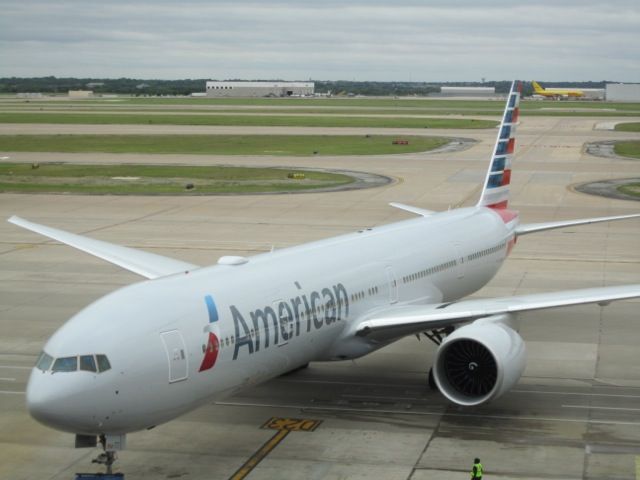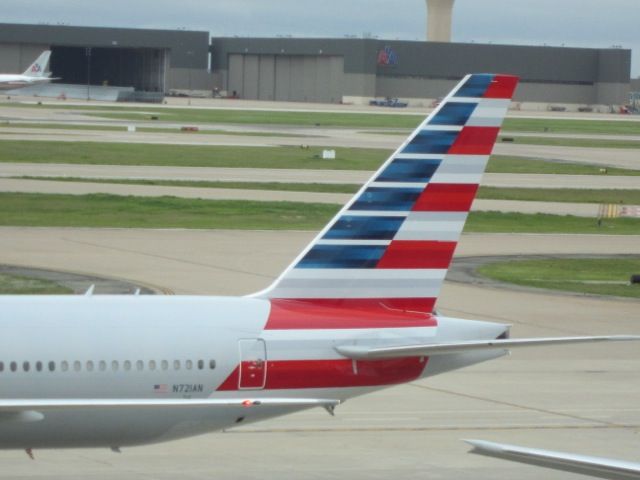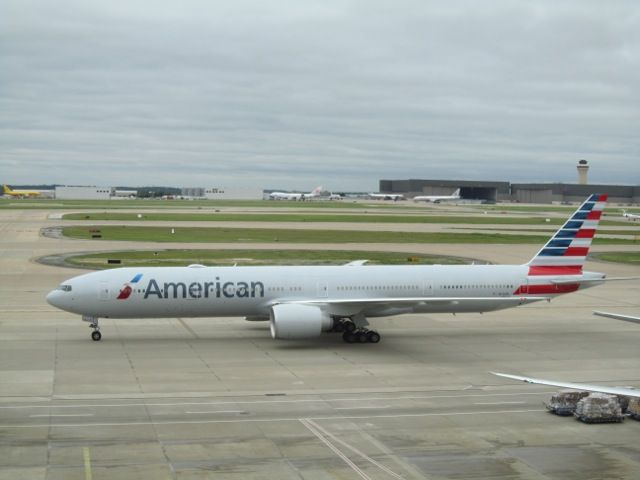 Double 77Ws at DFW
Lufthansa A330-300 arriving from Frankfurt