Hello fellow Anet'ters. Hope you're all well. It's been a while since I've written a report so here goes...
Background for this trip.
Finally the much awaited Barra – landing in the beach trip arrives with gusto and the thought of three days away from work is the icing in the cake. We had planned for this trip way back in January and were looking forward to breaking the fast paced life in London.
The below trip report comprises of the entire trip – 2 BA flights LGW-GLA-LHR and 2 FlyBe flights from GLA-BRR-GLA
Gcmap route map - thanks once again the excellent gcmap, just love It.!
1. British Airways BA: LGW (Terminal North) - GLA
BA 2968
Flight reg:
G-DOCH
Boeing 737-436
Seat 4C
Load : 90%
Departure time 21:15 (21:05)
Arrival 22:30 (22:20)
03rd May 2013
Already checked in the day before, exactly 24 hours before departure at 21:15 GMT. I could see that the plane was a 737 domestic config one. The first 6 rows had a 2-3 layout, hence chose 4C and D – both aisle seats, but hoping it may be slightly wider than the normal 3-3 layout. Not sure as I've not been on a UK domestic BA service. So let's see what happens tomorrow.
As a side note, my other flight from GLA – BRR, on FlyBe, I had pre-selected seats 1A and 2A so that we both get window seats and can view the landing at Barra. But upon check in see that my seat has been changed to 7A! Grr.! That too after paying extra for the seat selection. Need to speak to them first thing tomorrow morning to have this issue resolved.
Fantastic- next day, called up FlyBe, they not only amended my current booking to my previous booked seats, since they moved my seats without informing me, the lady even pre-assigned my return flight seats to my preferred choice- free of charge.! Kudos to FlyBe so far.
Next step online check in on FlyBe, our seats changed again! From 1A and 2A to 2A and 3A. Nevertheless, Barra, here we come!
It was a quick trip from home to the airport. A train, tram and another train hop away. At the airport, inside an hour despite a small fire scares at Gatwick.
The north terminal was unusually quiet for a bank holiday weekend. Check in was within few seconds. The self check in working brilliantly. Past the security and into cafe rouge for a quick dinner with plenty of time to spare.
LGW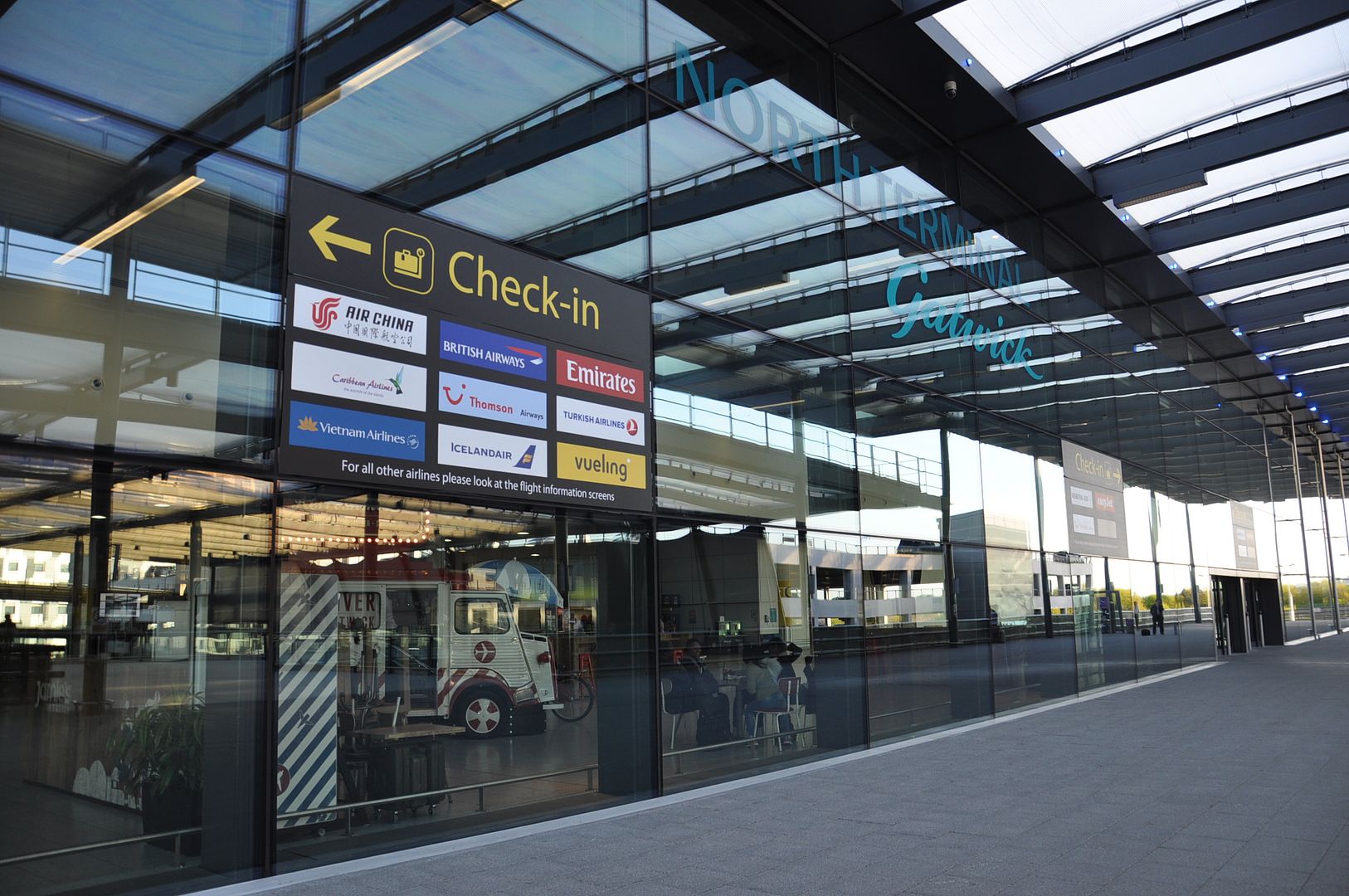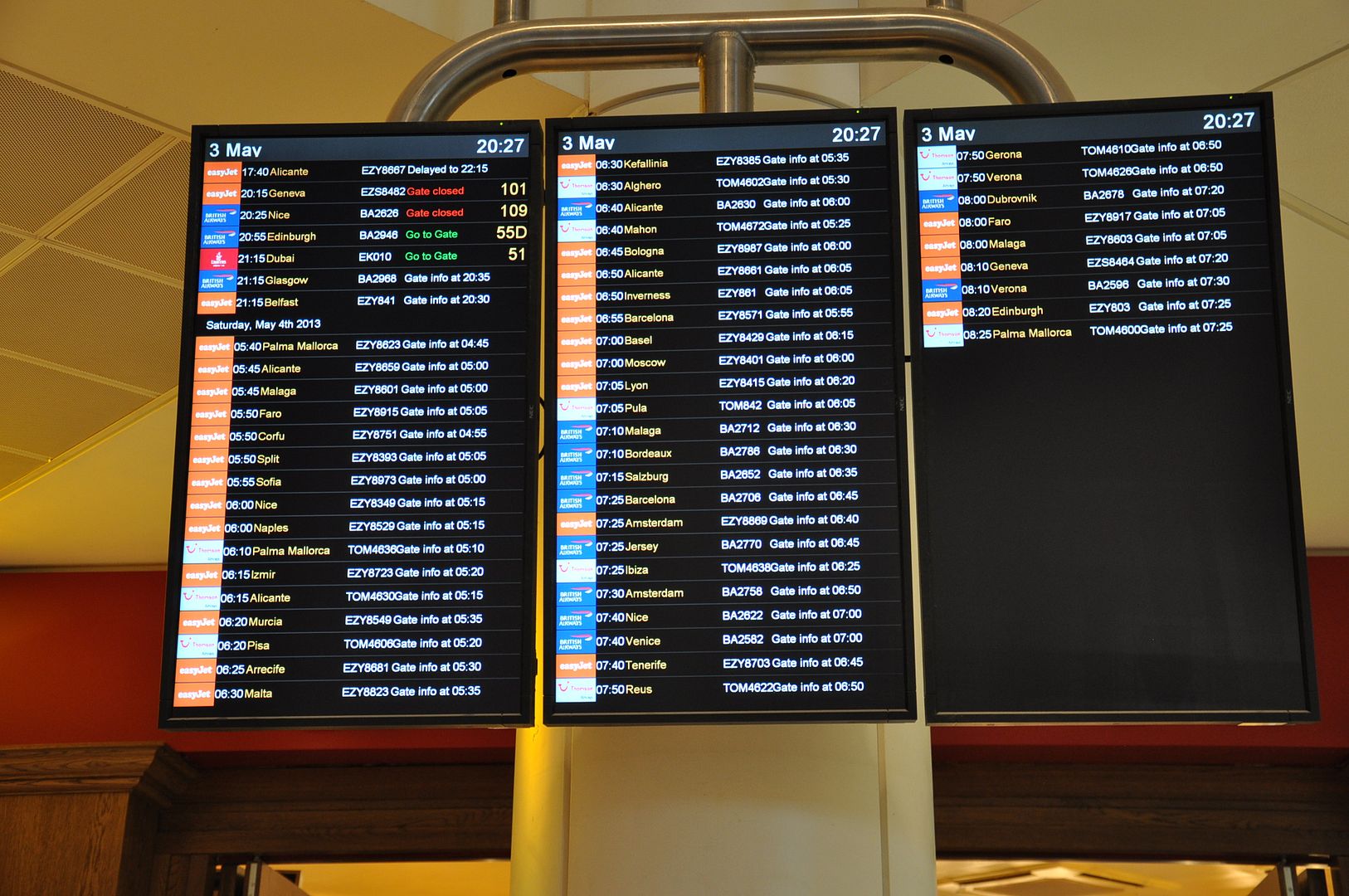 Gate 55F was displayed at 20:35 and boarding commenced soon after. The flight was full, 100 % load. The flight was quickly loaded for a full load and we were ready to taxi by 21:10, 5 minutes before schedule.
The seats. Great for a domestic service. Especially the front 6 rows that are a 2-3 arrangement. We were in row 4. Although Mrs VR wasn't a fan of sitting in the aisle seat. I personally enjoyed the extra space.
The plane itself was one of the ancient 737-436 that BA use at Gatwick, but as always very well maintained, neat and tidy seats and the aircraft didn't look like a 22 year old bird. Well done BA. One thing funny was Aircraft registration was a pencil scribbled mark on the door. !
The pilot seemed to be in a hurry and would've put Michael Schumacher to shame at the speed at which we hit the run way and took off. We were airborne at 21:17. Exactly 7 minutes after embarking from the gates! Never seen a quicker exit. A true Italian job!
G-DOCH - To GLA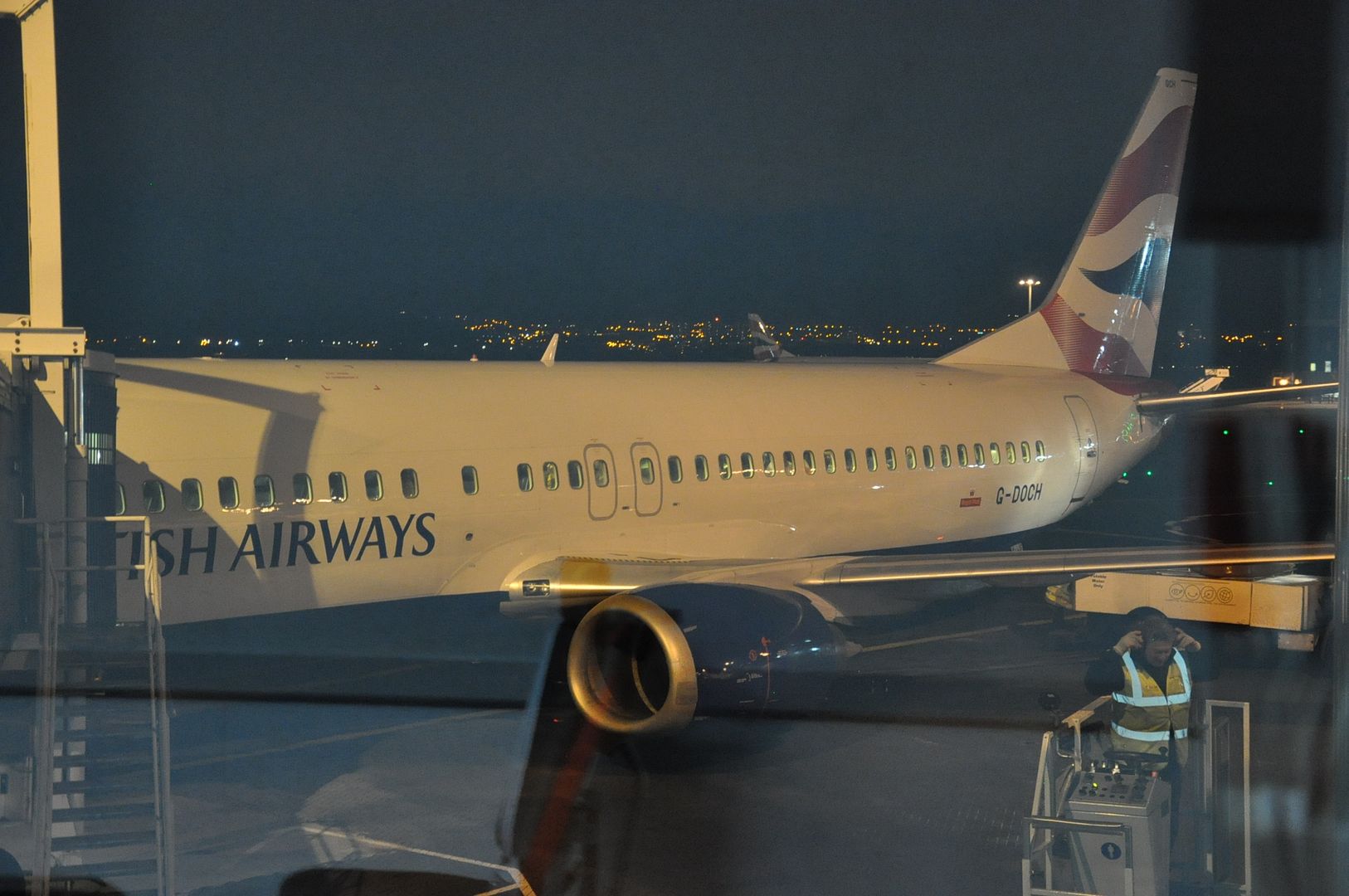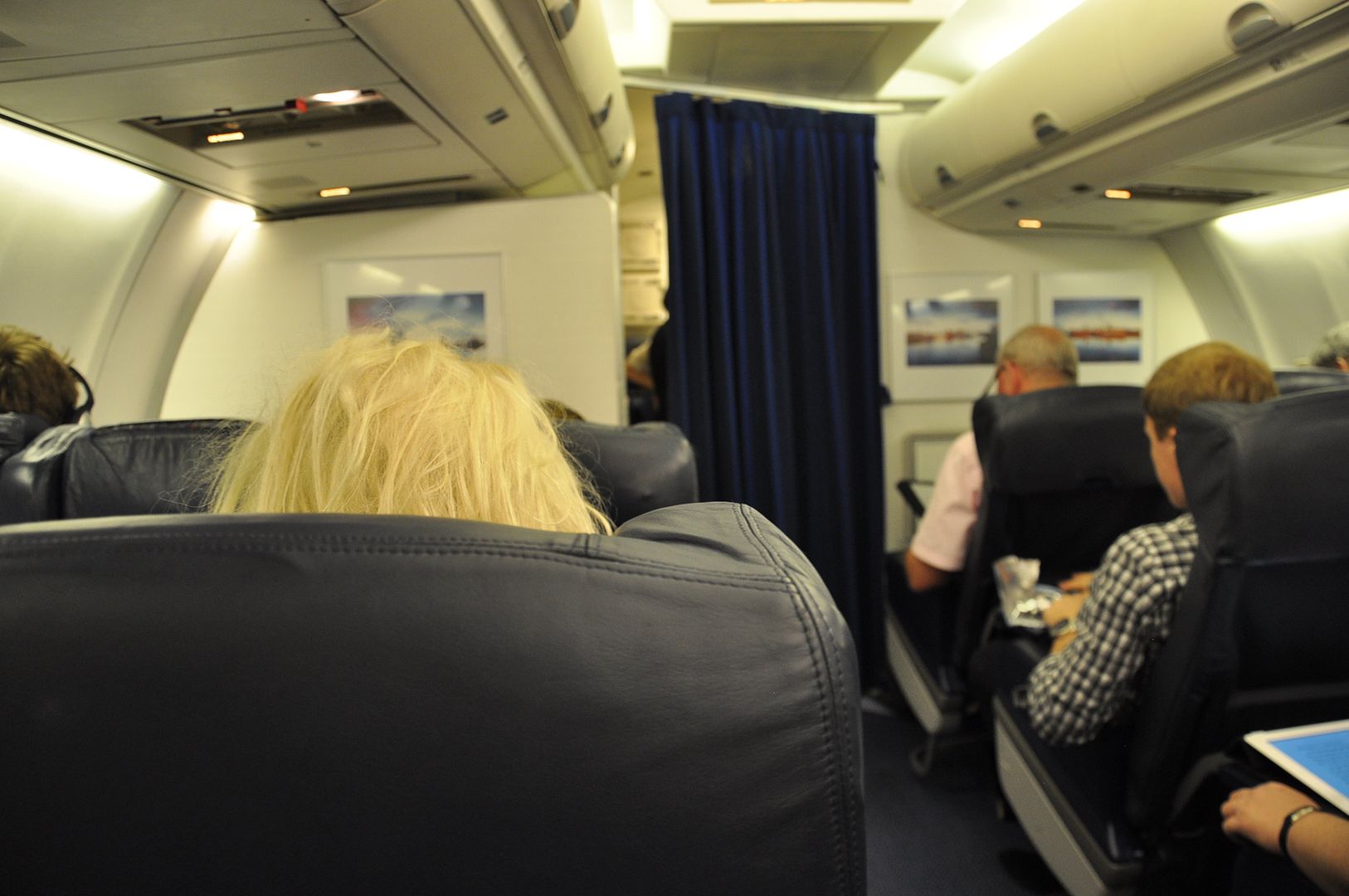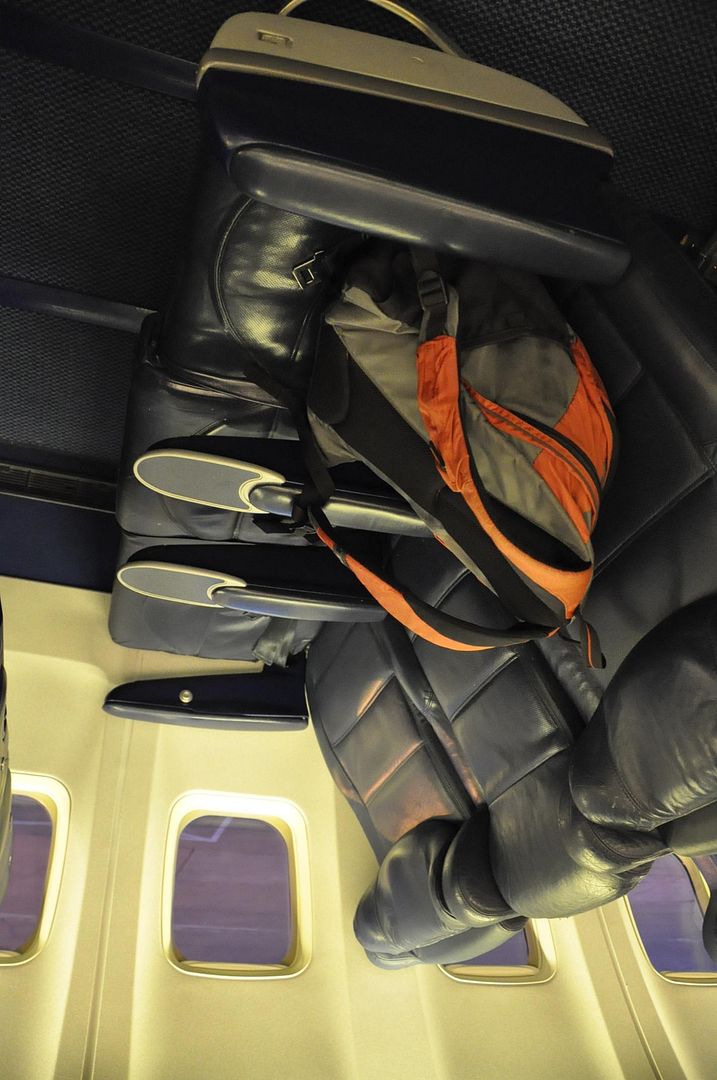 The speed just didn't stop there. It followed across the in-flight service too. The 4 cabin crew on board were swiftly parading down the galley with the drinks and snacks cart.
The in-flight magazine proved to be n excellent read for the hour long flight. Some great articles and they also had a special plane spotter section on the BA A380. !
A tiger beer and excellent sea salt crisp later, we landed at GLA at exactly 22:20, 10 minutes behind schedule
An excellent way to reach Glasgow from London. Highly recommend it. Smooth, hassle free, efficient way to travel. Kudos to BA for a flawless service.
Baggage was received within 10 minutes and was out and into our hotel for the night in 5 min - the holiday inn just adjacent to the international arrival. A quick hop, step and a jump and lovely welcome from the reception and glad to know that we got upgraded to an executive suite.
Rooms very good and ideal for an overnight at GLA. Next stop Barra.!
Holiday Inn GLA Airport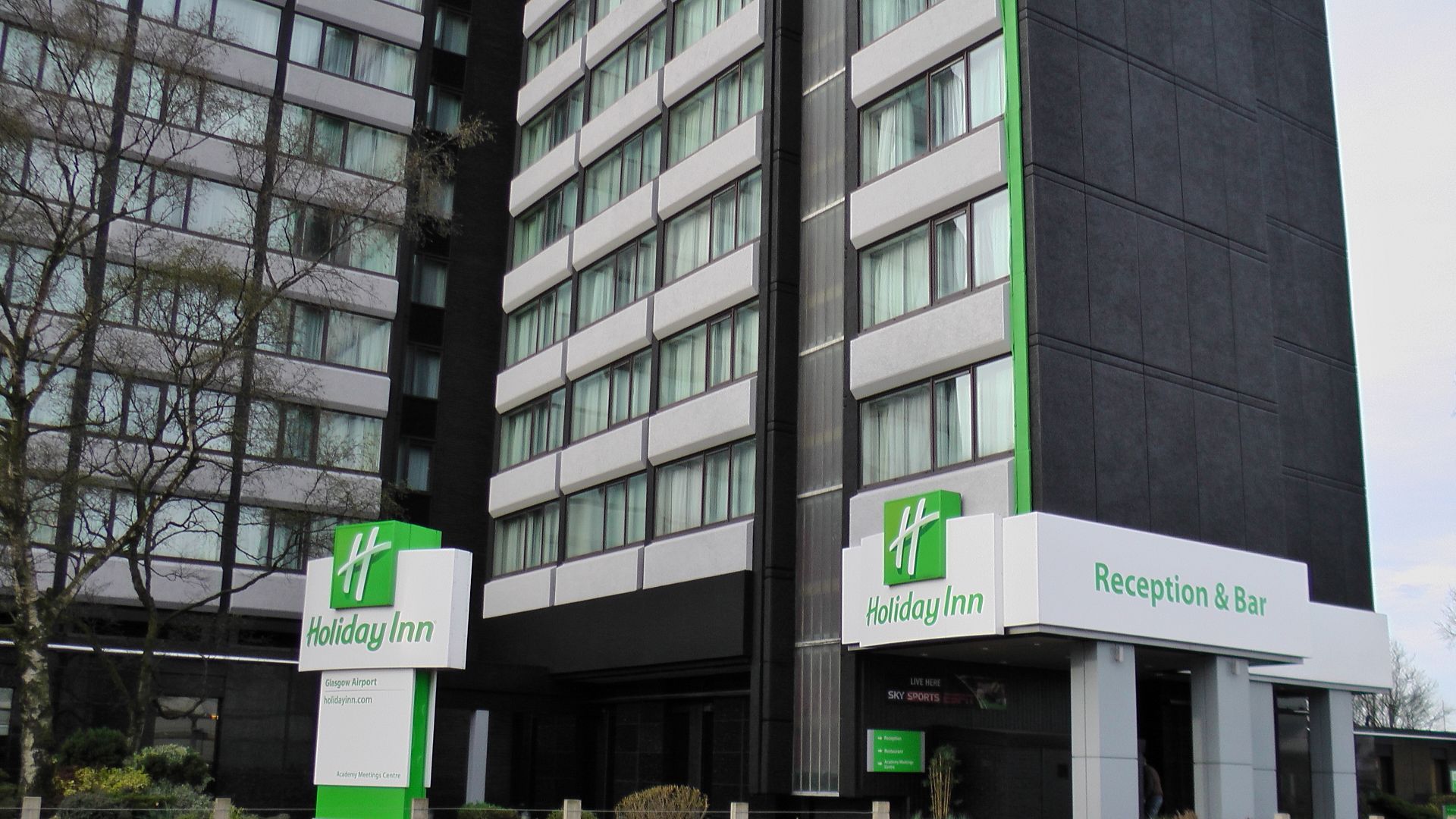 With Compliments at GLA Holiday Inn
GLA
2. FlyBe BE: GLA - BRR
BE 6851
Flight Reg : supposed to be
G-BVVK
Rescheduled service via Coach and Ferry
De Havilland Canada DHC-6-310 Twin Otter
Seat: free seating
Load: nearly empty
Departure: 08:50 (12:00)
Arrival 10:05 (20:30)
04th may 2013
Next day woke up on time and reached the airport with and hour and half to spare only to be greeted with travellers worst nightmare - Barra: flight cancelled!!! No, this cannot be happening. But within 5 minutes the disaster set on me. The aircraft had suffered some fuel leak and both flights to Barra for the day had been cancelled. Our option was a 3 hour coach trip to Oban followed by a 5 hour ferry ride to Barra.
Heartache...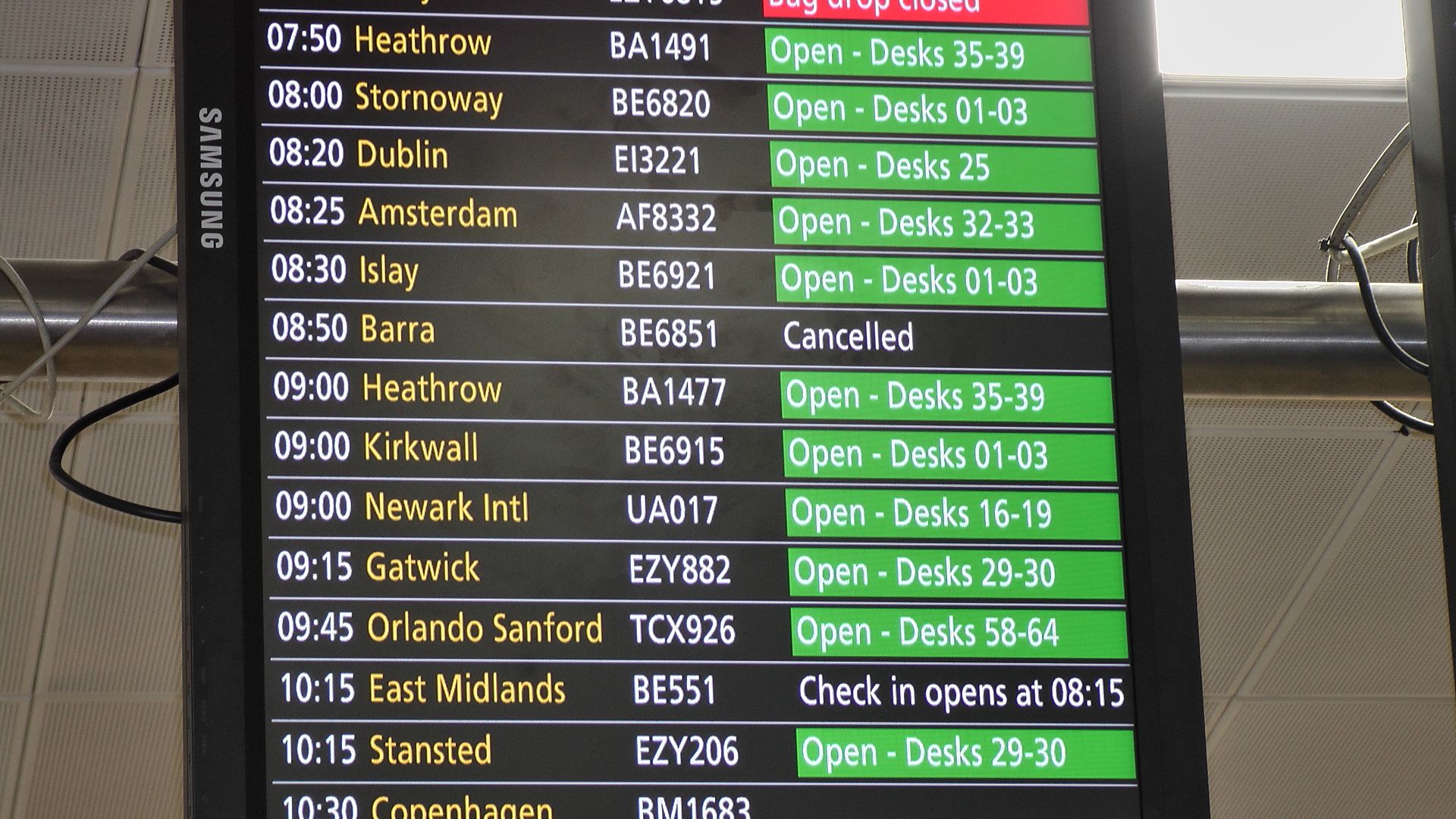 A flight to Benbeculla was an option but FlyBe said they took no responsibility after Benbeculla. Didn't want to risk it and hence decided to stick with FlyBe option. Which meant a wait of around 3 hours for the coach.
Headed back to holiday inn to find out that they were willing to give us our room for the next 2 hours. Yaay to holiday inn! Watched a couple of episodes of everybody loves Raymond and then headed to the FlyBE counter.
We were given a £16 voucher for light refreshments which was well used at Starbucks and the local Tesco express. Reached the customer service counter at 11:00 and they were few other passengers already waiting at the desk. We were finally told to go over to the waiting coach outside. We departed GLA at around 12:00 noon. The coach journey was comfortable and didn't have any issues, reaching the Oban ferry terminal by 3:00 PM.
Coach to Oban
Having reached the terminal we were told that we would have to buy the tickets on our own and would be reimbursed at a later date. I shall update this thread as and when I hear anything back from FlyBE. So far all I have heard is that they will contact me soon.
Tickets bought, we boarded the MV Clansman Ferry at 16:30 for a 16:40 departure. Departure was on time and it was going to be 5 hours before we reached CastleBay, Barra.
Ferry to Barra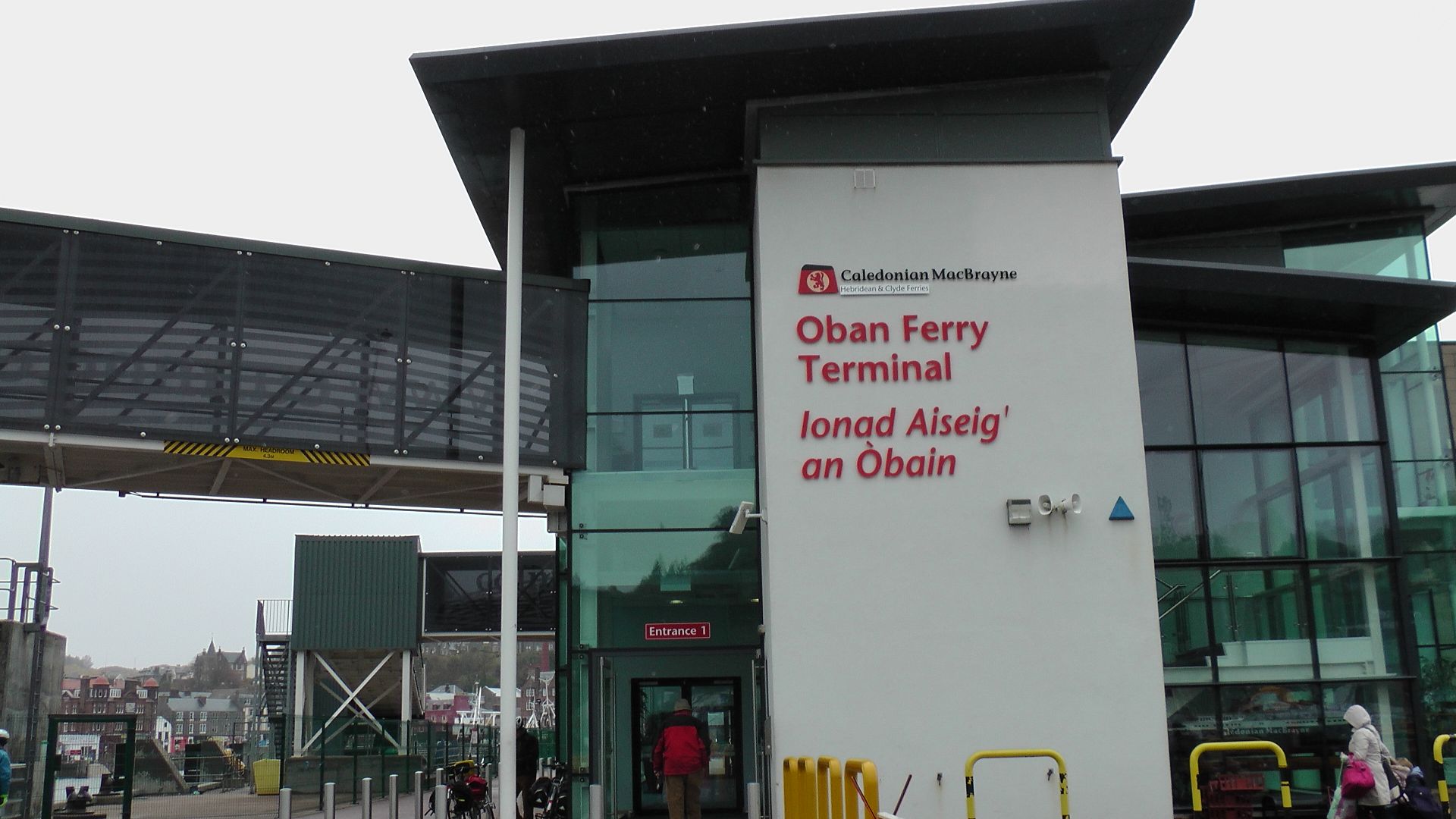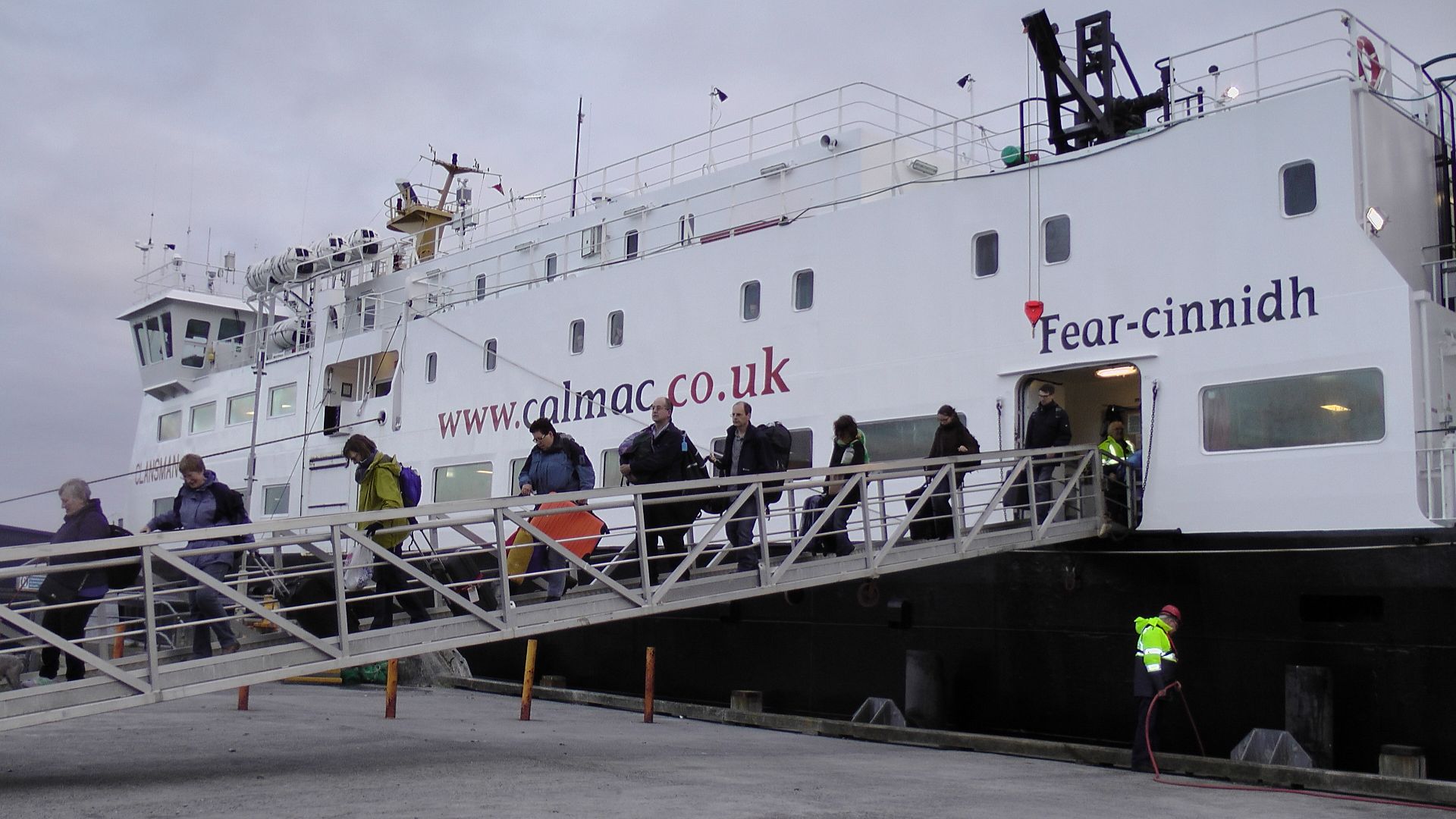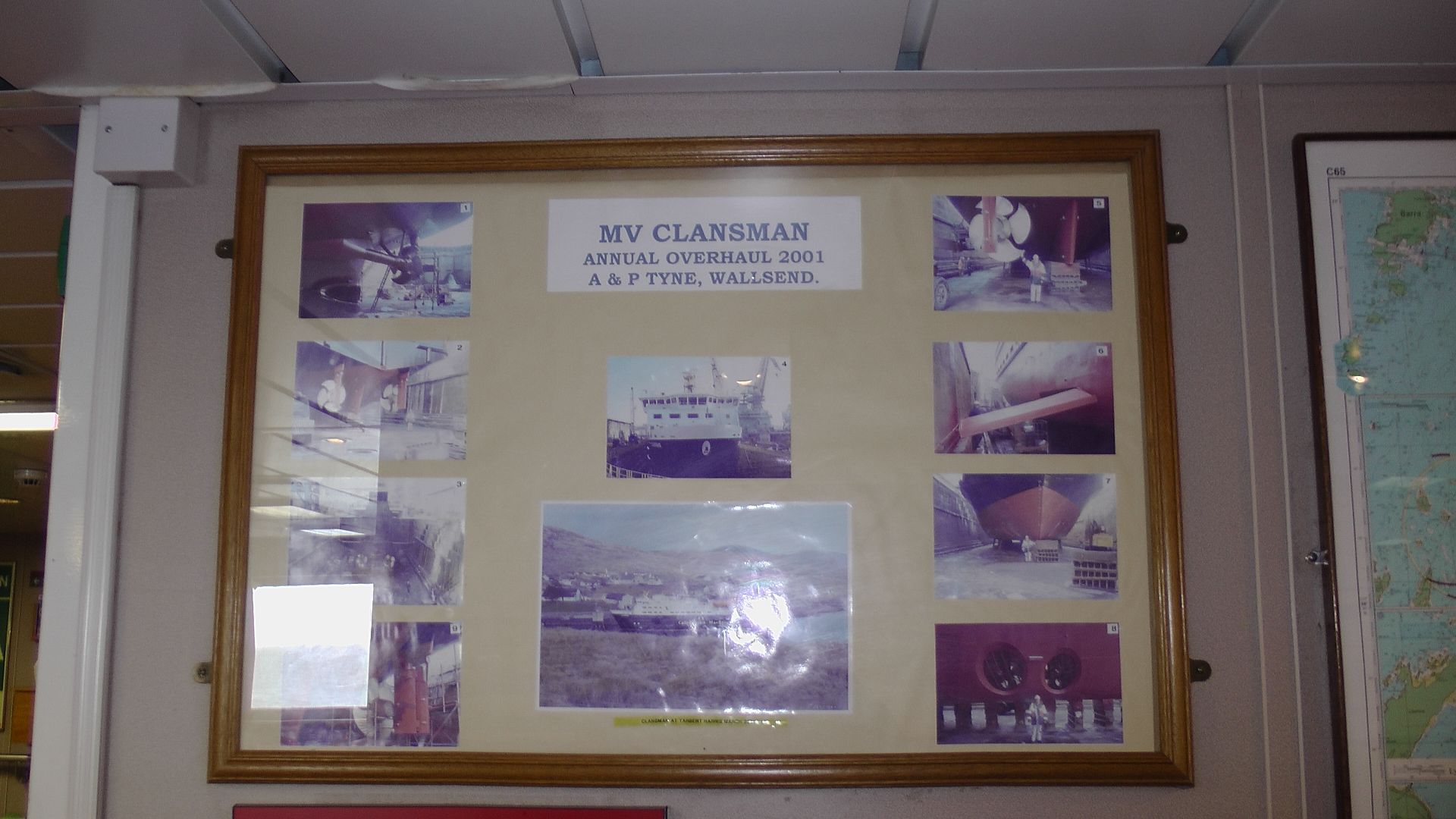 At first glance, the Ferry looked well equipped for the 5 hour ride – good sized restaurant, a bar and souvenir shop, children's play area, pets area, couple of TV's with different channels on them and good seating areas.
The views are apparently very good on this route with the Isle of Mull on the Port side and Fort Williams on the Port. But due to poor weather, we could hardly see anything beyond a few 100 meters. It was a very cloudy and windy evening with intermittent rains.
The sea started getting choppy as we approached the sea of Herbedies. 5 hours after a couple of beers (great local beers on board), some food, and rolling about in the cabin we finally reached our destination – some 11 hours after our scheduled arrival!
But nevertheless our car hire was at the port, waiting for us (Barra Car hire - Excellent service), and we were up beat of our trip.
We were warmly welcomed by our hosts at NorthBay House. A great place to stay at the Island. The rest of Sunday was spent lazily driving around the island and trekking a bit around Vatersey. A great little island with loads of outdoor activities. Bike hires, car hires, good accommodation and food. Great for a weekend break.
Some pictures of the island below.
Sights and sounds of Barra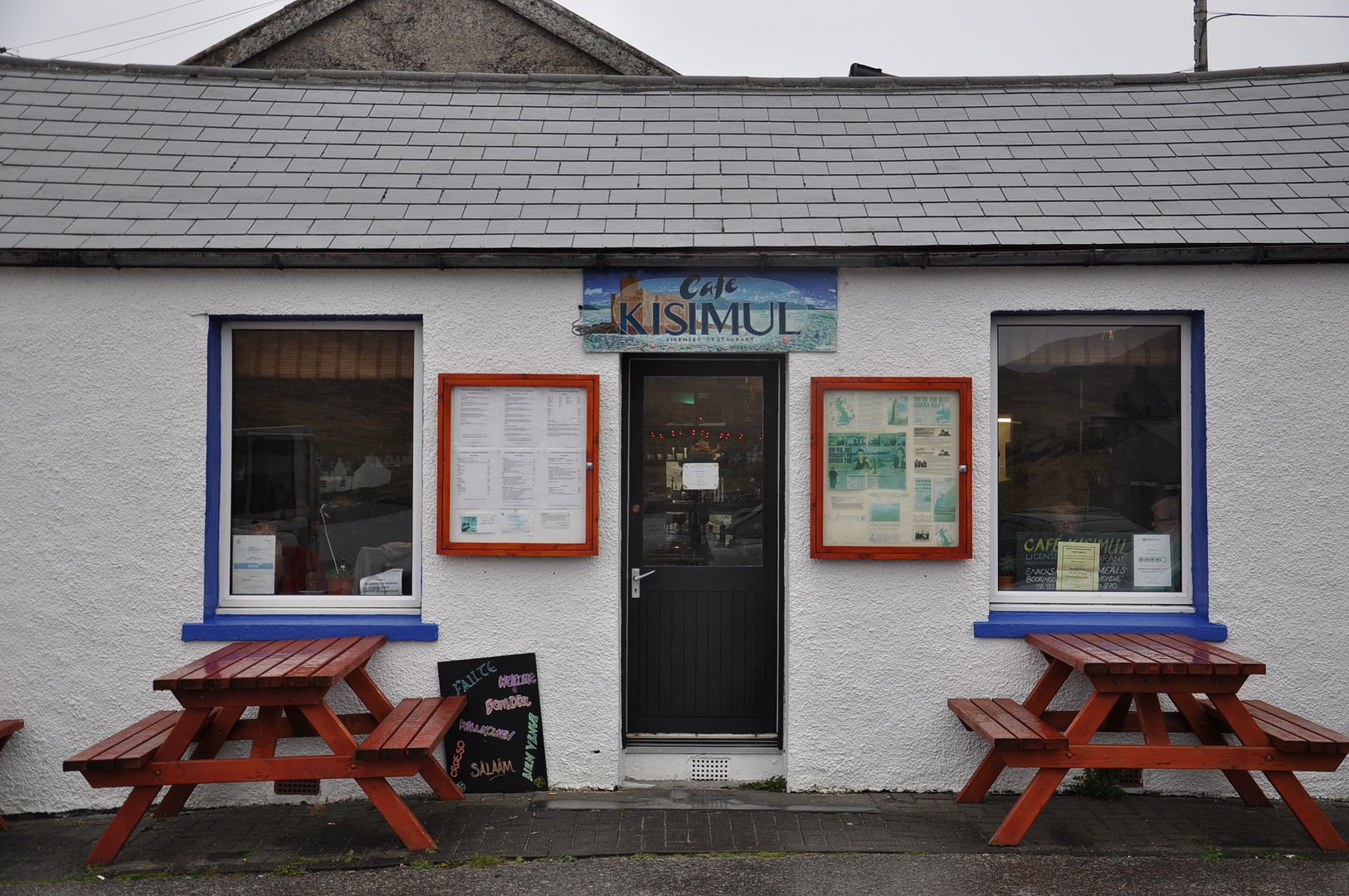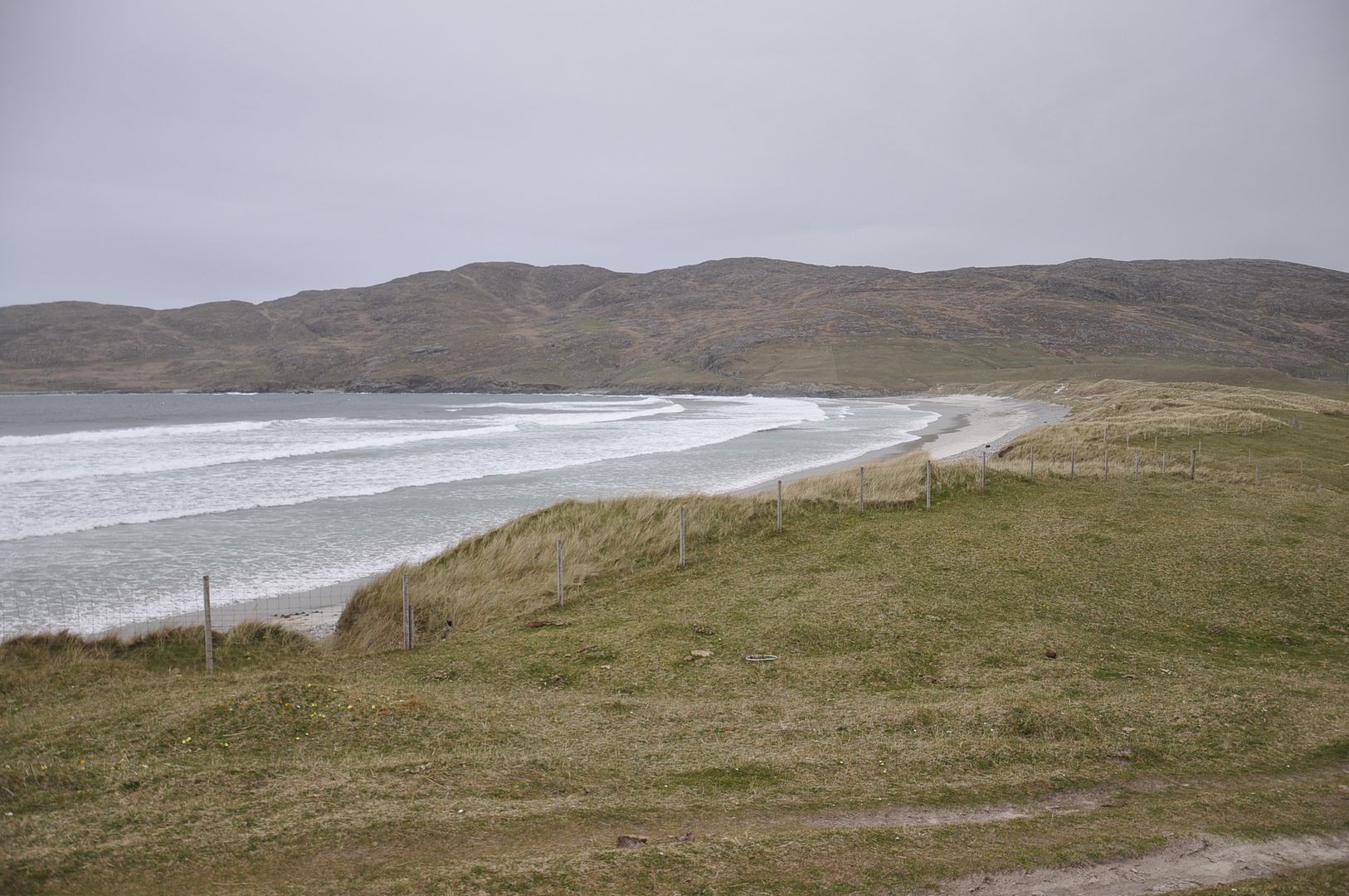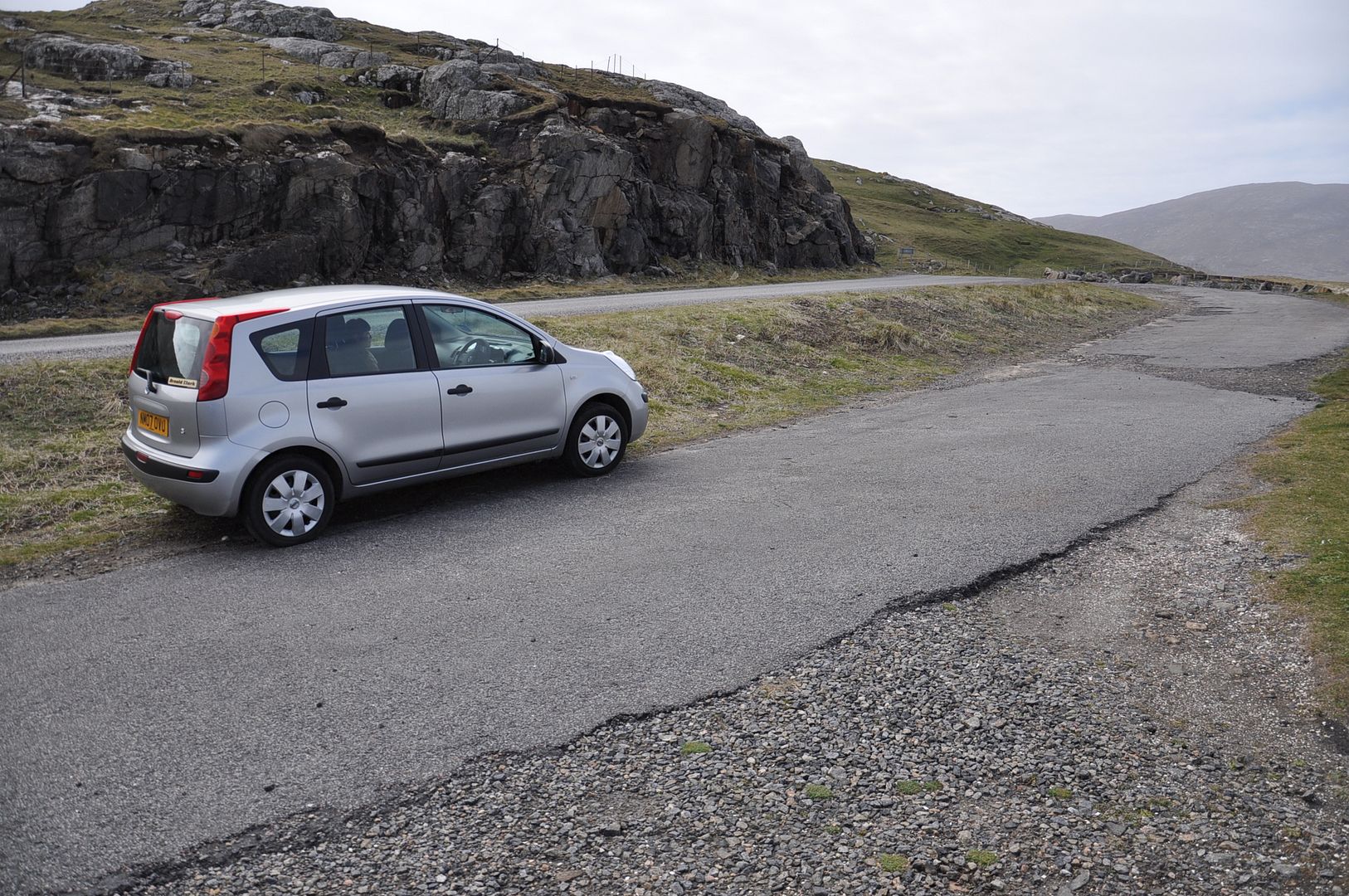 3. FlyBe BE: BRR - GLA
BE 6852
Flight Reg : supposed to be
G-BVVK
Rescheduled service via Ferry coach and Flight [url=
http://www.airframes.org/reg/glgnn]
G-LGNN [/url]
Saab-Scania 340B
Seat: 11C
Load: 14 out of 34 passengers
Departure: 10:25 (13:30)
Arrival 11:30 (14:30)
06th may 2013
The following morning, after a sumptuous breakfast, made our way to the airport, where we dropped the car off (great service one way pick and drop for no extra charge!).
Quite excited when the lady behind the check in counter handed in our boarding passes. She did warn that the flight was delayed by a bit. Nevertheless, not wanting to miss this opportunity of filming the plane land on the beach headed right out the car park as soon as we checked in.
Barra Airport: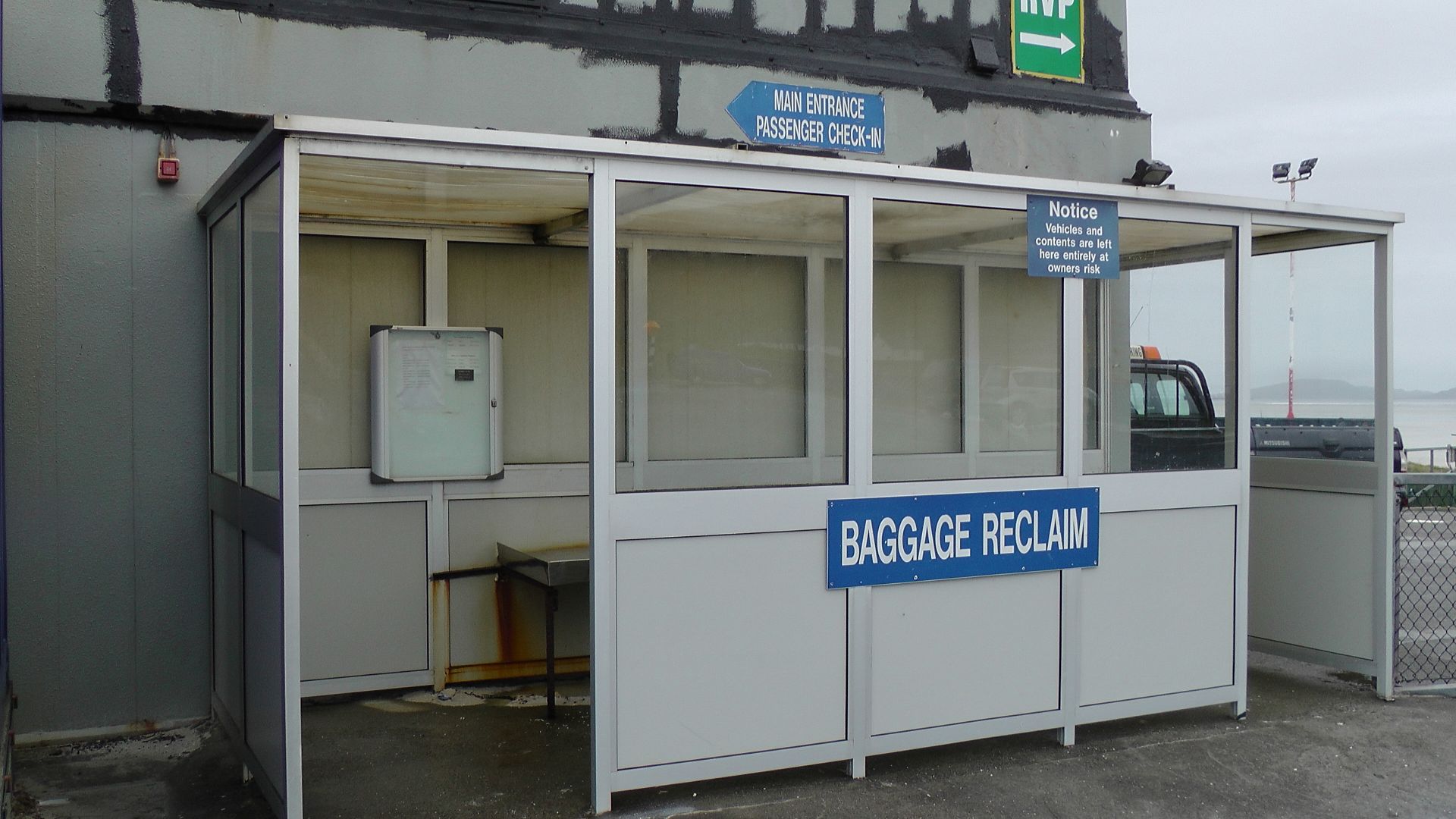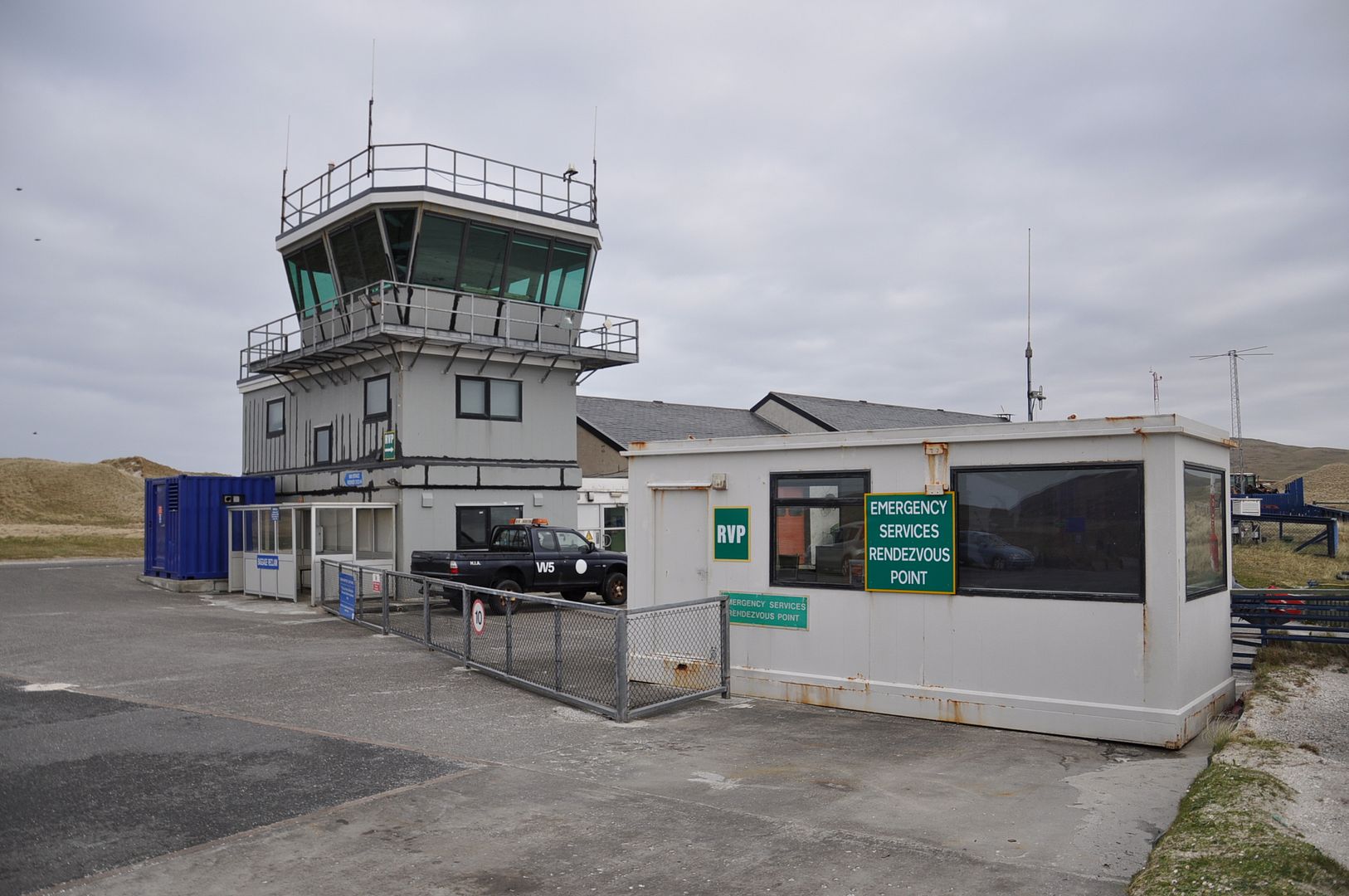 Check in counter at Barra Airport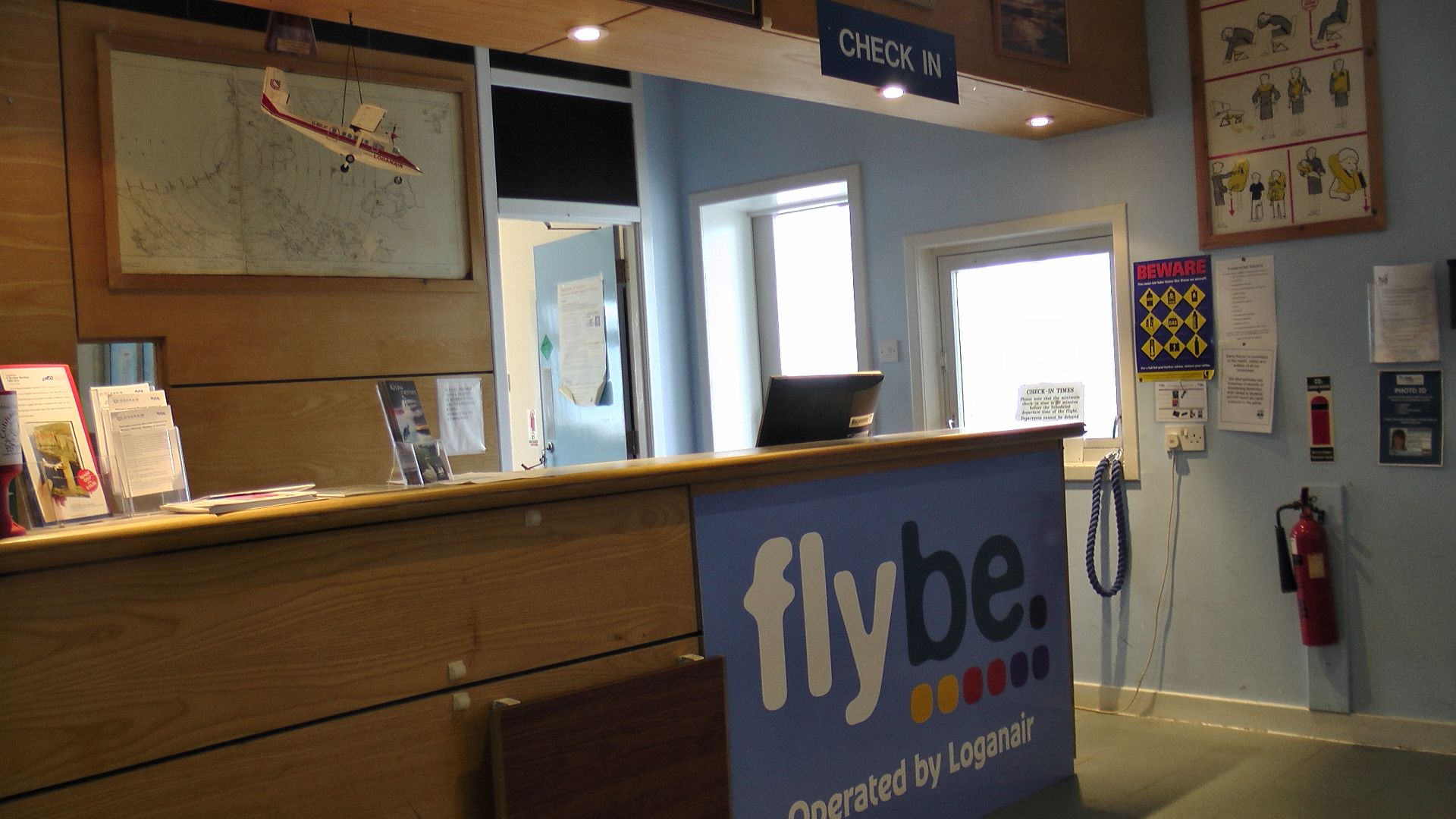 20 minutes turned to an hour, when we were finally hit by the bad news – flight cancelled! Again! The gods of Barra were not very happy with us being there it looked like.
There was no 5 hour ferry this time around, as they asked to board one of the airport vans and dropped us off to the nearest ferry.
40 minutes in the ferry later we were at the next island – Benbeculla. An hour in the coach later we were outside Benbeculla airport, ready to board the 13:30 chartered flight to Glasgow. It looks like they had boarded the Barra passengers from Glasgow in it and we returned back on that aircraft.
BEB Airport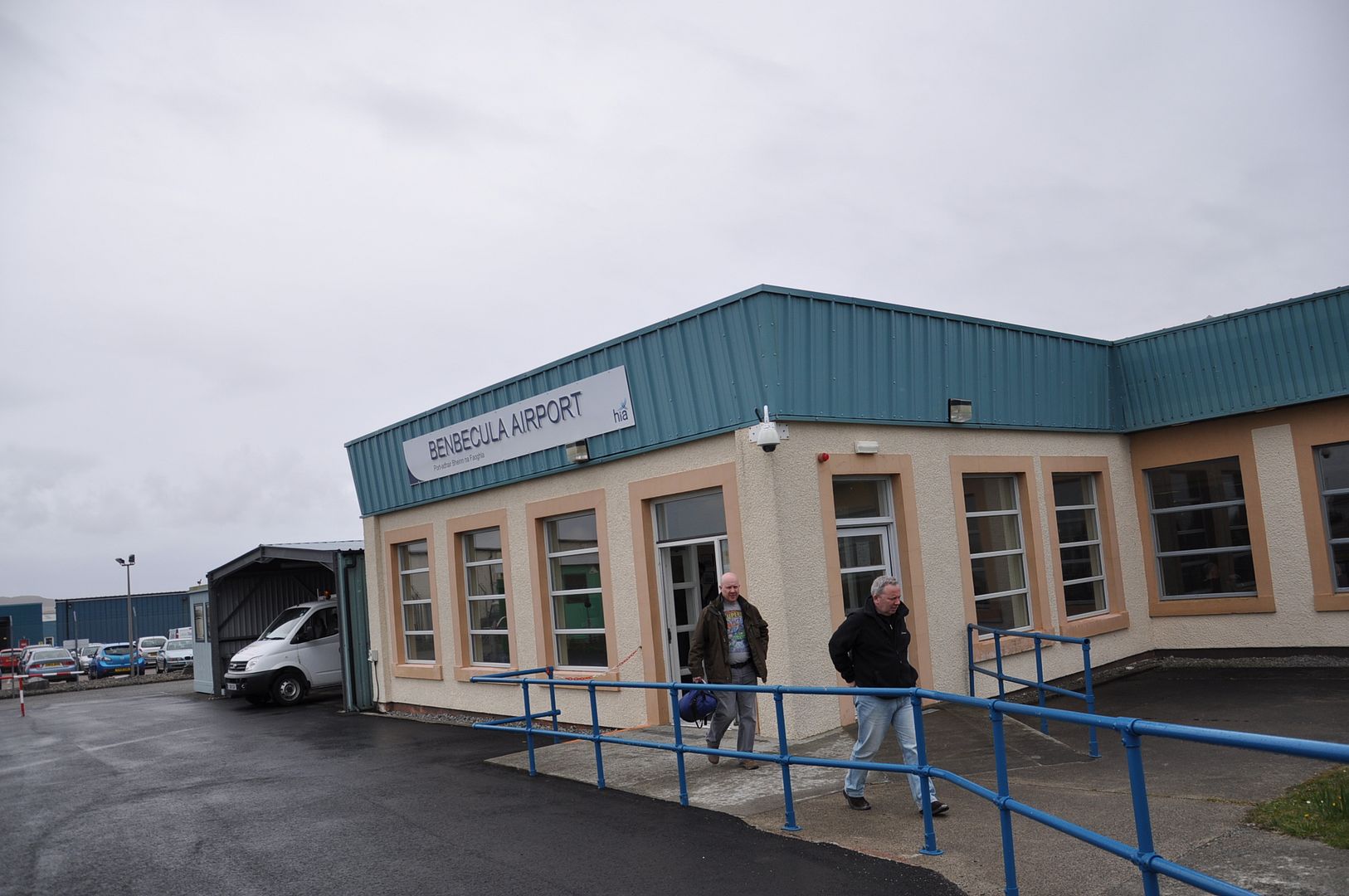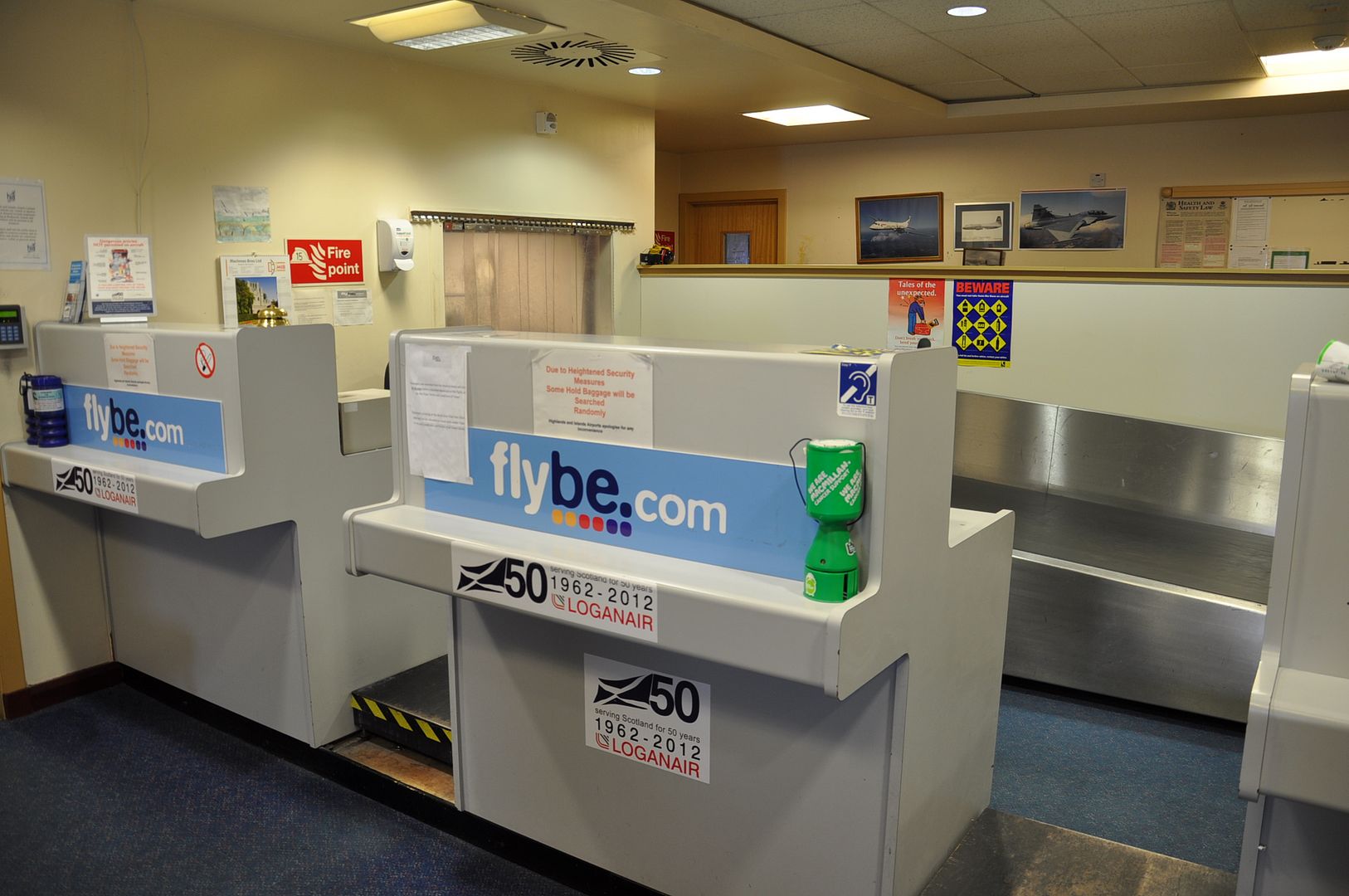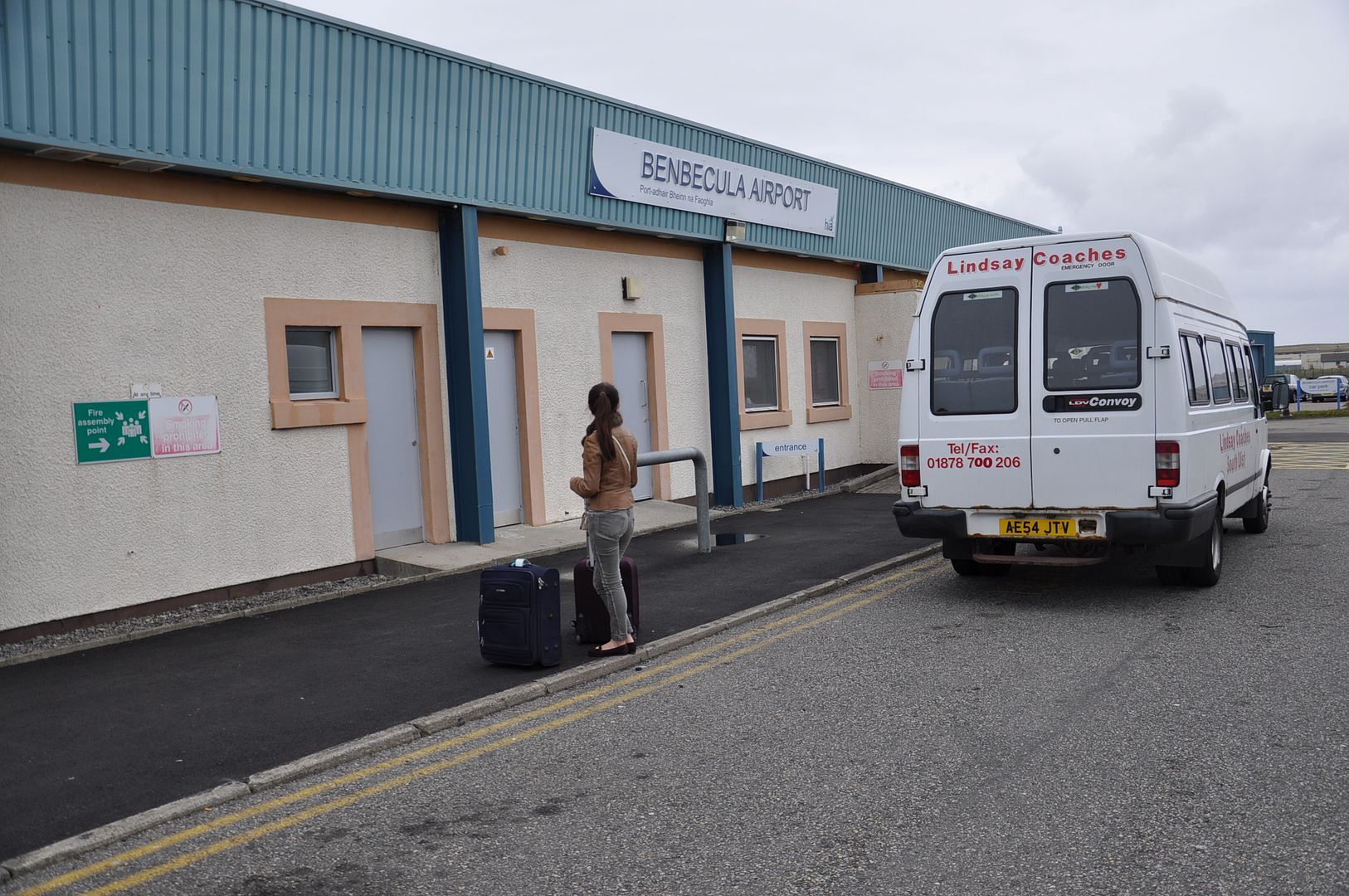 Nevertheless a new aircraft for me to try our, the Saab 340. Benbeculla airport is once again a really small airport. But they did have a proper security check with your shoes and belts off!
The Saab that we were flying seemed to have an interesting history as per airframes.org. It was for a period of time serving Wells Fargo Bank. And another interesting point for me was that this was the smallest aircraft I was flying, the previous smallest one being a South African AirLink Avro RJ85
BE to GLA - Saab 340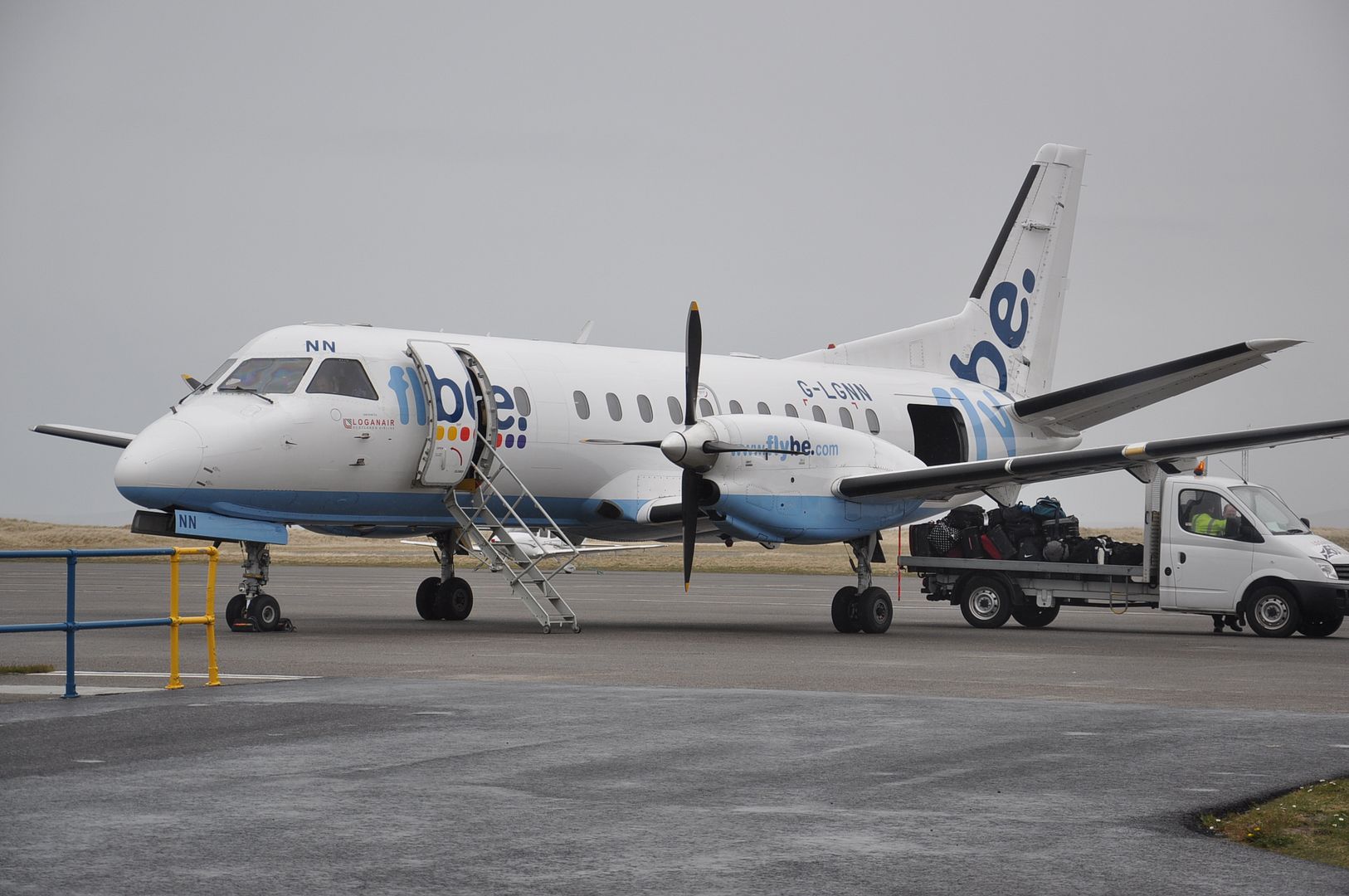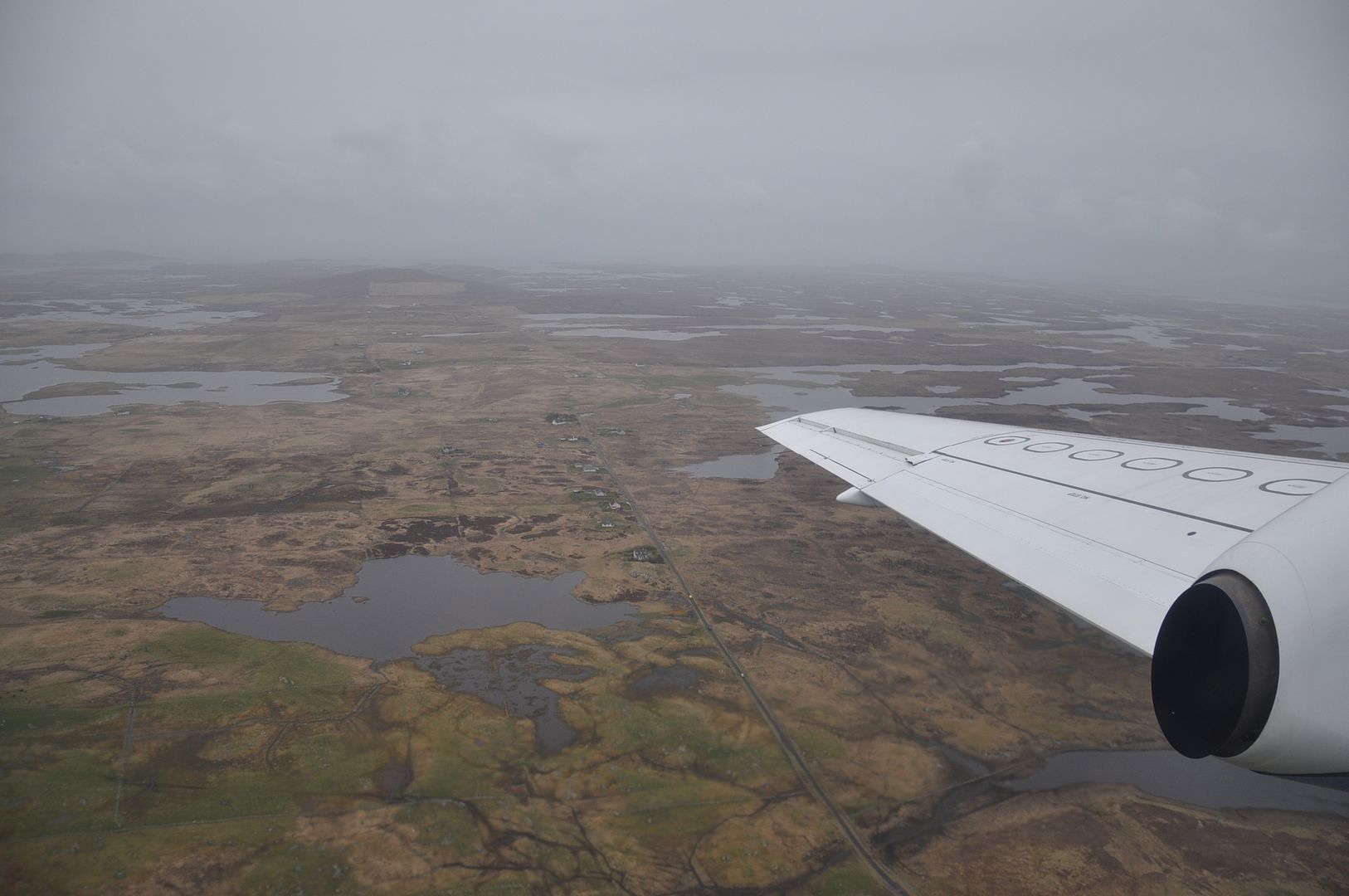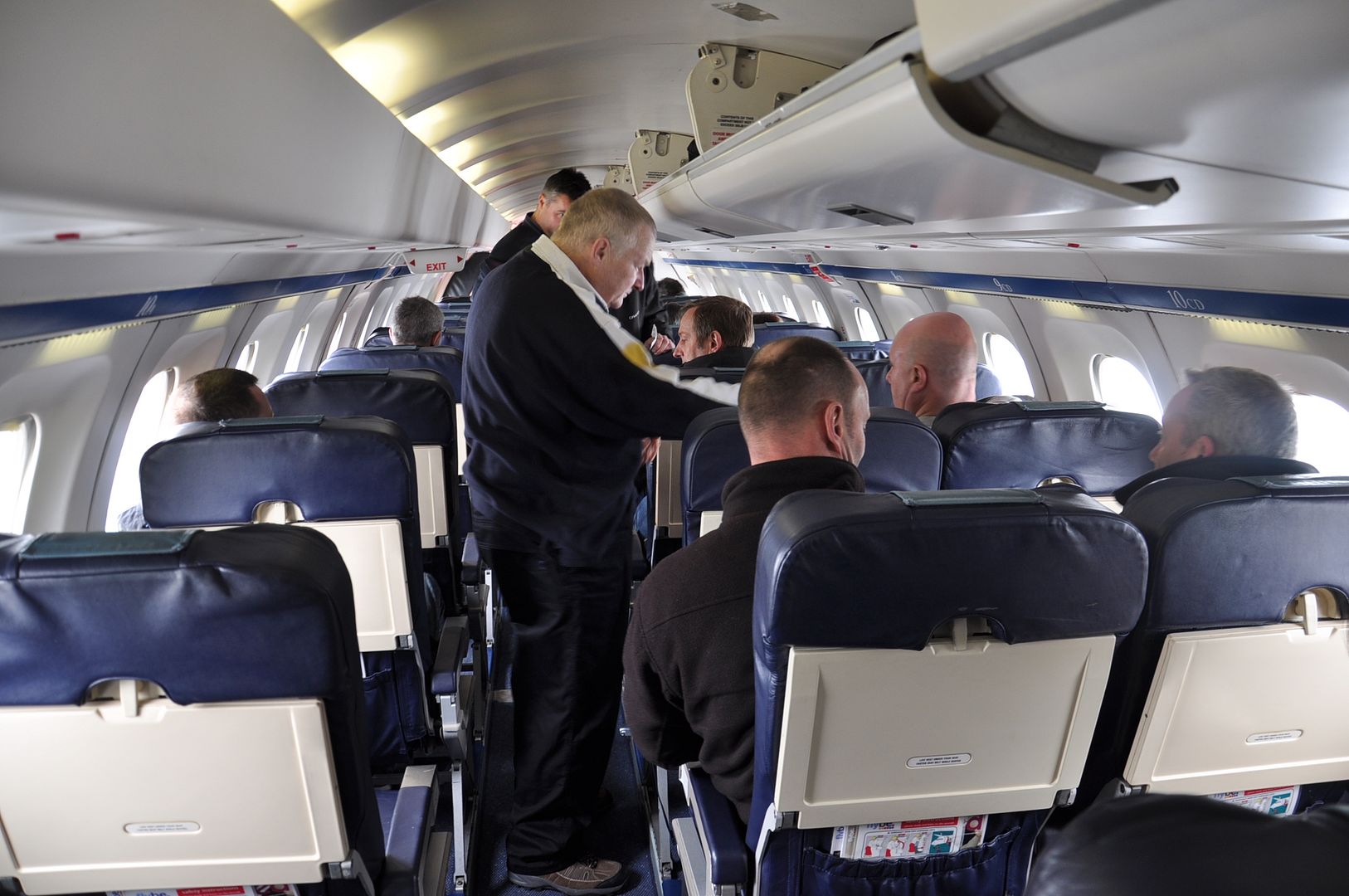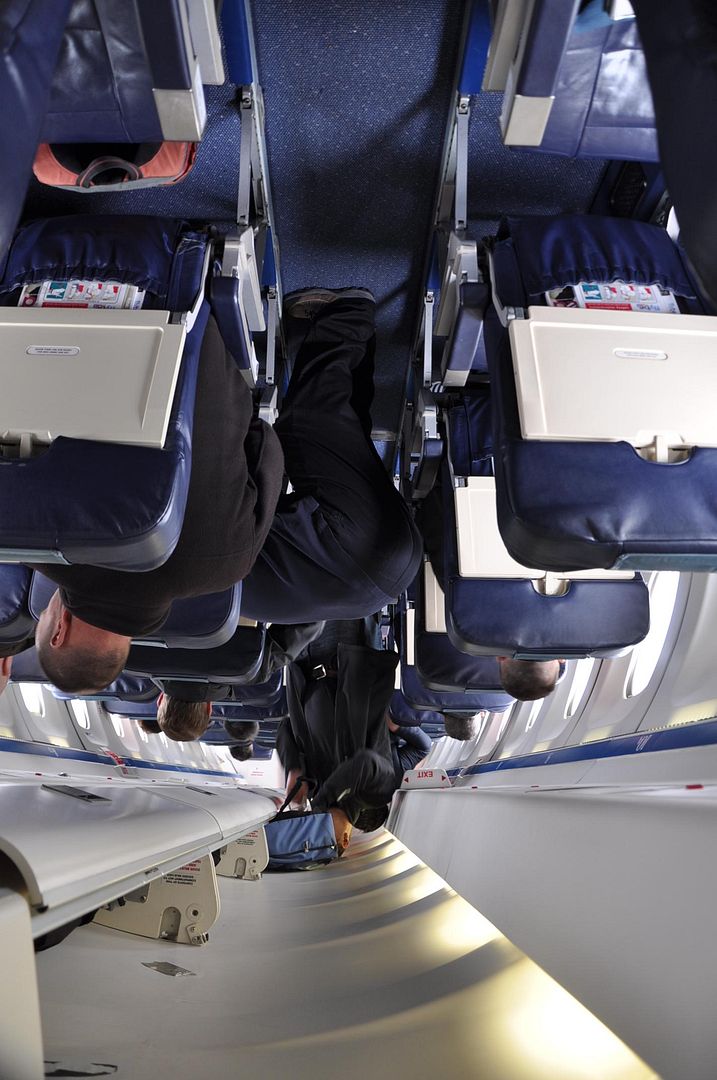 View over Benbecula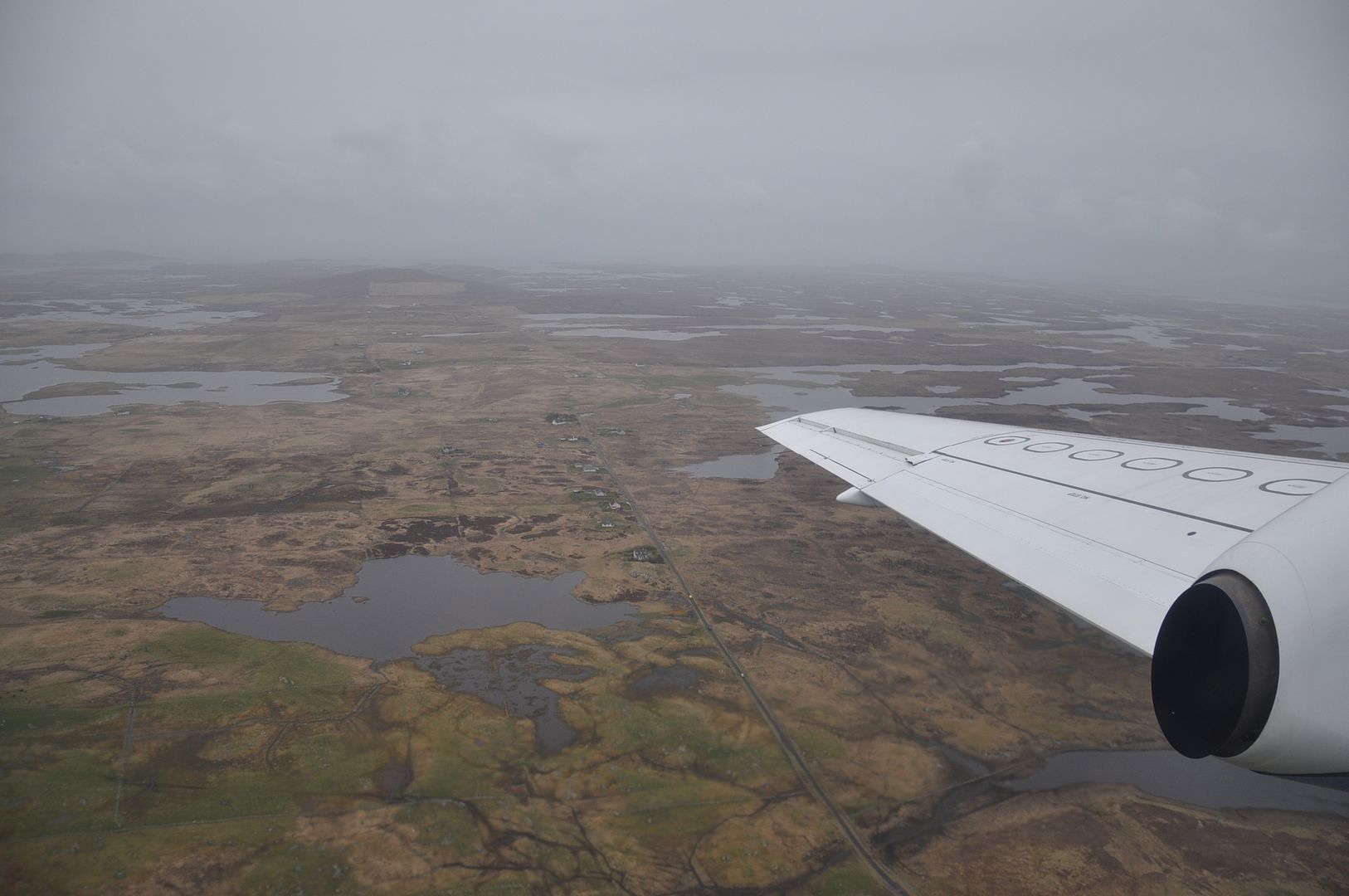 There were snacks and drinks served on this short hop flight and we landed into Glasgow in little less than an hour.
G-BVVK - supposedly our flight from BRR
While waling towards baggage collection we could see the twin otter that was supposed to have flown us in from Barra, but not to be
Baggage's arrived very quickly; in fact ours was the first two to arrive amongst 15 other baggages.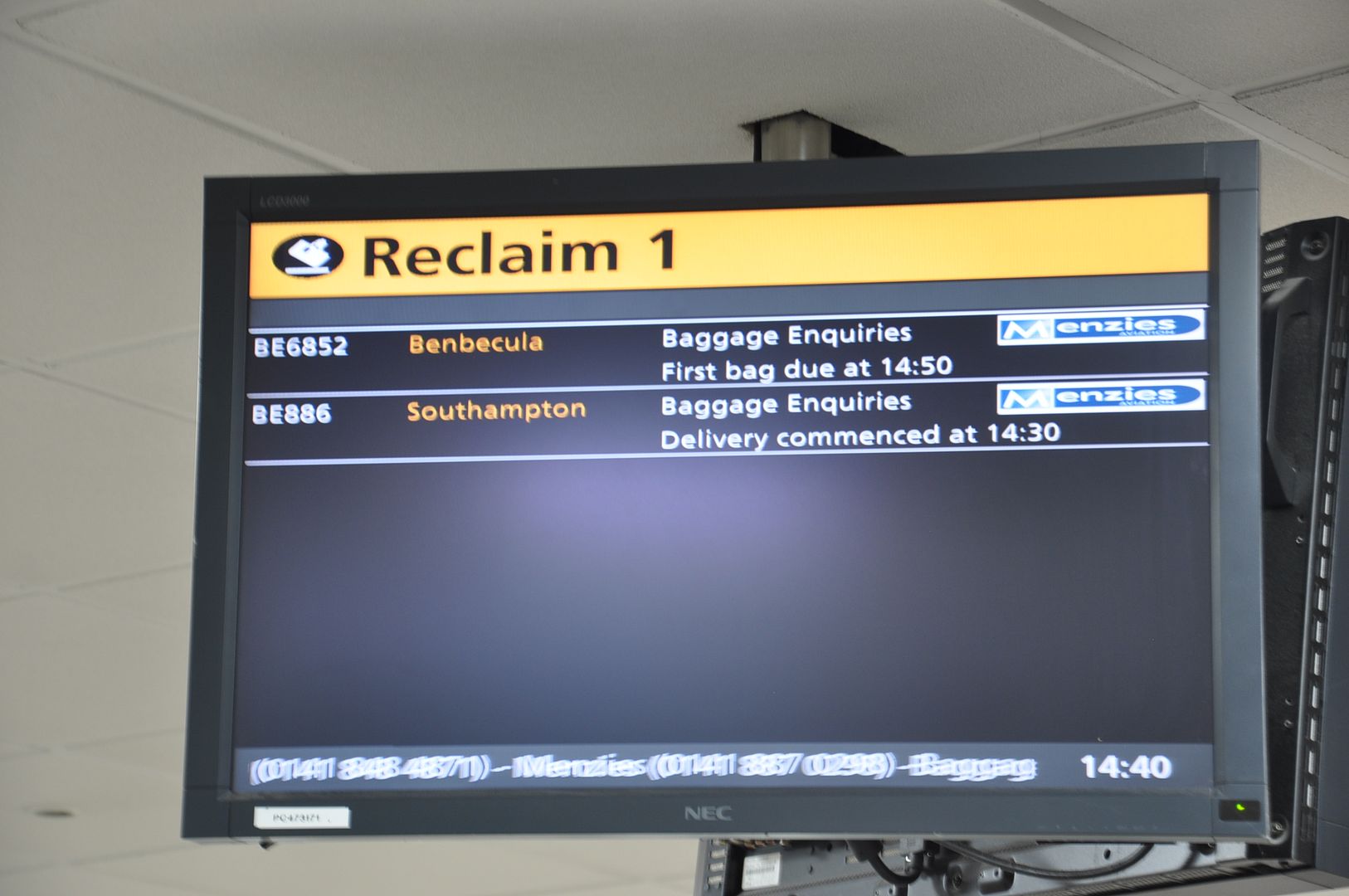 Next stop BA check in desks.
4. British Airways BA: GLA - LHR
BE 1489
Flight Reg: [url=
http://www.airframes.org/reg/gbnwz]G-BNWZ[/url]
Boeing 767-336ER
Seat: 20E
Load: 100%
Departure: 16:20(16:15)
Arrival 17:30 (17:30)
06th may 2013
It was a short hop to the BA check in. Used the check in machines and noticed that the 767 was full. Got two adjacent seats, but not to our liking, but hey, it's a one hour hop, so not a problem at all.
Baggage's dropped, and then a quick jaunt to the Lounge. It was serviced by Servisair. Nothing noteworthy, in a good way maybe. Good views and some nibbles to eat. Loads of booze though... So +1 from my side on that aspect. 
plane spotting at GLA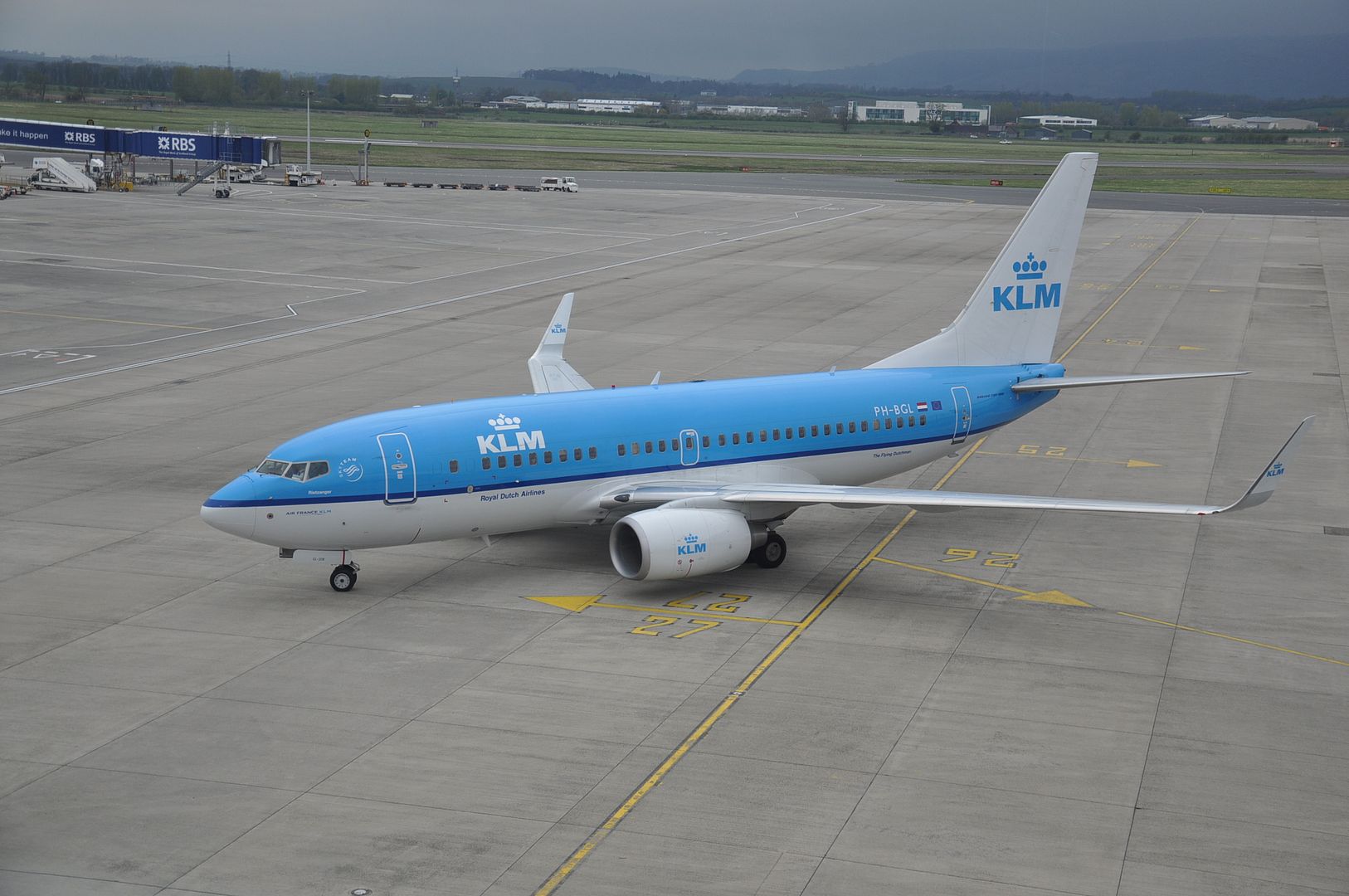 GLA Lounge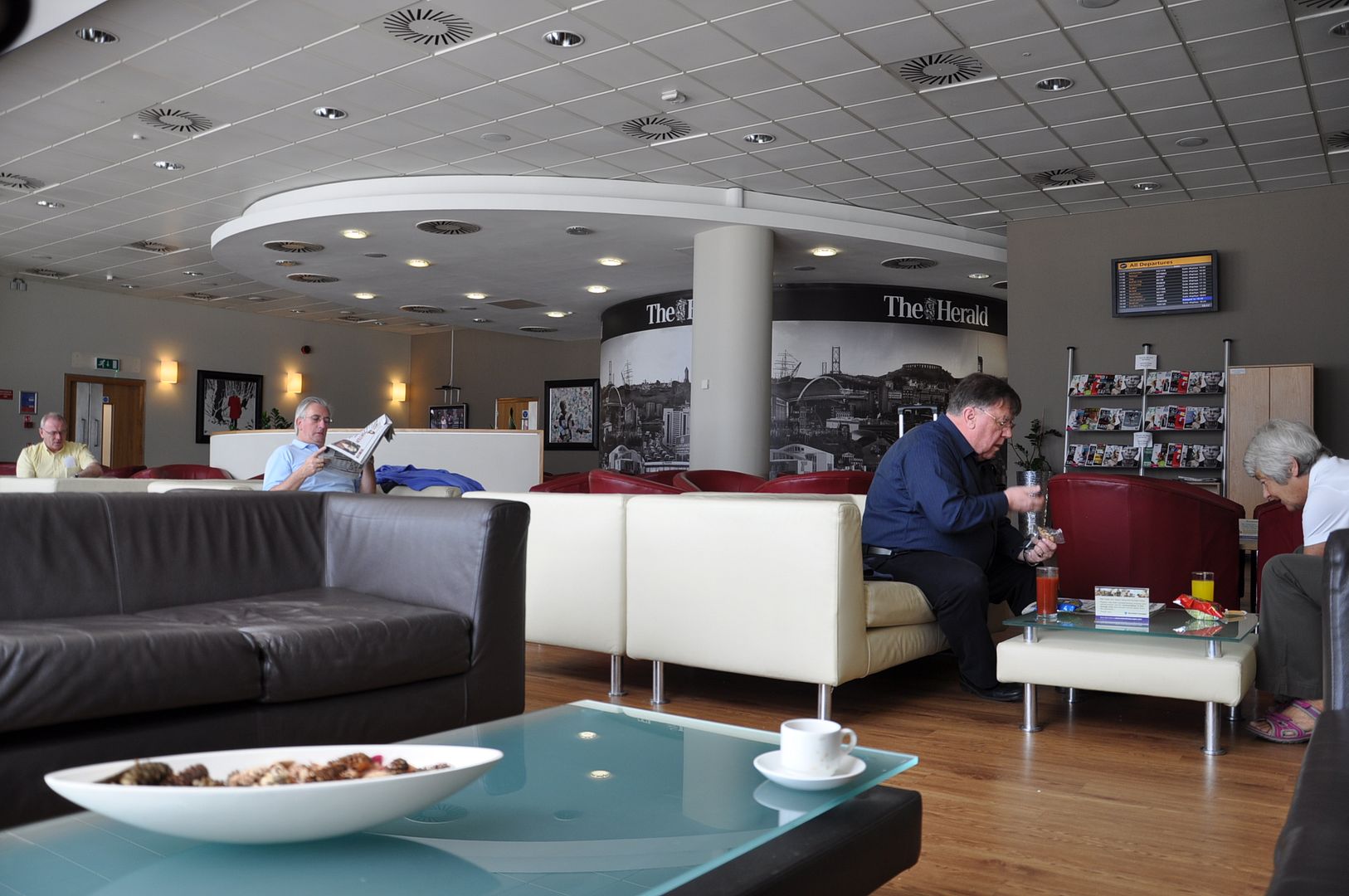 Boarding commenced at exactly 16:00 and had already started by the time we had reached the check in area. Boarding commenced the usual way – parents with children, gold silver members, last rows first and then the front rows. Orderly and timely.
G-BNWZ
Once on board it was a quick turnaround. We were off within a few minutes after the doors were shut.
The aircraft looked like it had a refurbished. It looked brand new. Excellent seats and great for a short hop. On board service was also great. A Normal BA service then – efficient and not over done. Snacks and drinks on this flight.
Funny incident during landing – a bunch of team USA rugby players on board and were not used to 'Not listening to music' during landing and take off and found it amusing that they were asked to remove their headphones during landing and take off.
All in all, a good flight into Heathrow. Baggage's arrived in 10 minutes and into Heathrow express within 20 minutes of landing.
Hope you enjoyed reading this. We did have a good trip on the whole, but the entire purpose of this trip was never met, unfortunately. hopefully sometime in the neat future..
Until next time, adios, and happy flying..
Previous trip reports:
LHR - KWI - BA 747 - Part 1 - Middle East - China
Part 5 : PVG-LHR - BA - Economy - B777
Part 2:KWI-DXB - FlyDubai - Economy - B737
Part 4A&B - SHA-SJW-SHA - FM : Eco : B737
Part 3A&B : DXB-HKG-PVG: CX & KA :Eco: A333
Morocco Trip - LGW-RAK-TNG-LHR - EasyJet & Iberia
Dusseldorf Calling - BA & EZY - Club/Eco - A321
Update from FlyBe:
After few email and phone conversations with a representative directly from LoganAir, they have now agreed to refund the entire amount for the GLA-BRR-GLA sector, including the ferry costs and any costs incurred on the ferry. +1 for LoganAir. Very good and prompt reply from them each time I contacted them