Hello fellow ANet'ters. Hope you're well. This was a quick trip and planned suddenly on the back of a small family emergency, but do not worry, the family emergency has been resolved and all is well.
GCMap Route Map:
1A: Jet Airways 9W: LHR (Terminal 4) – BOM
9W 119
Flight Reg:
VT-JEH
Boeing 777-35RER
Seat 59C
Load 95%
Departure time 09:30 (09:20)
Arrival 23:00 (23:00)
31 May 2013
Checked in the previous day at exactly 24 hours before check in. The amount of seats available to choose were very limited, expecting it to be a full load flight. This is when the penny dropped; Jet had converted their 3-3-3 layout for the 777 to the sardine can layout of 3-4-3. Researching a bit I noticed that they changed this since mid 2012 onwards.
Not looking forward to this
, nevertheless, how bad can it be. I at least got the 2-4-2 part of the aircraft, row 59, although it was an aisle seat. But hey ho, first time on a long haul 9W flight so let's do it.!
Next day it was a quick 50 min drive to the airport, prepaid purple parking (very good and recommend it for the price and service, thus far). Reaching terminal 4 in 20 minutes after parking the vehicle along with a complimentary coach service.
Terminal 4 seemed a bit crowded during this time – Jet and KU were the main ones which had long queues. The online check in counter for 9W was comparatively short and it took me around 20 min to check in and another 15 to get through security.
LHR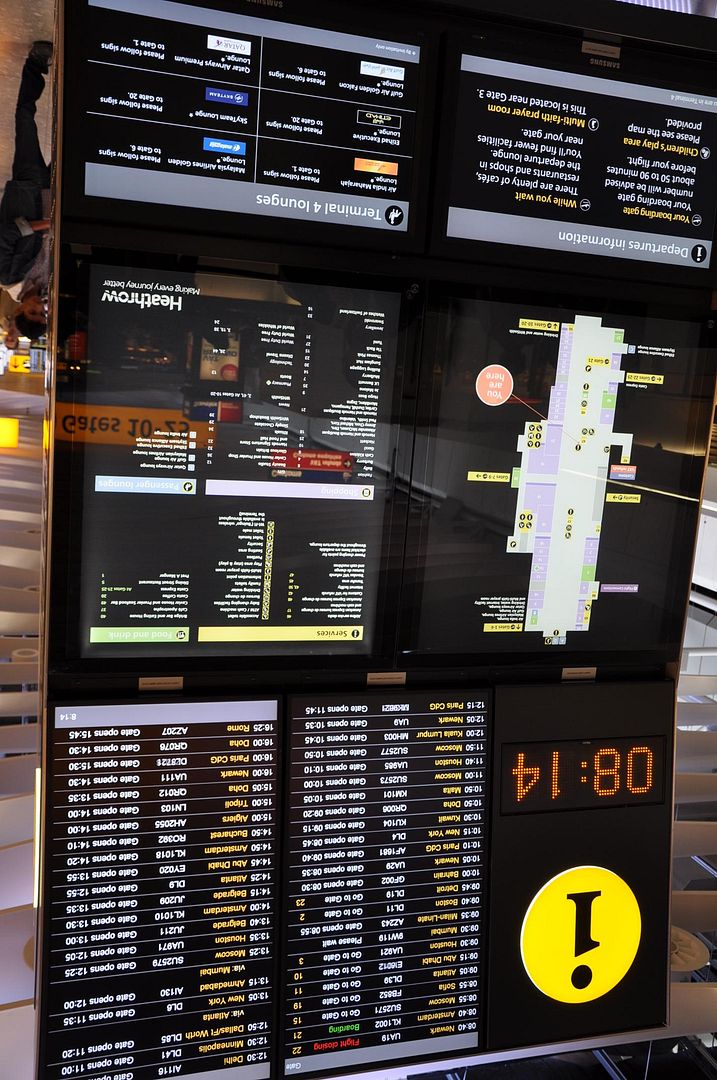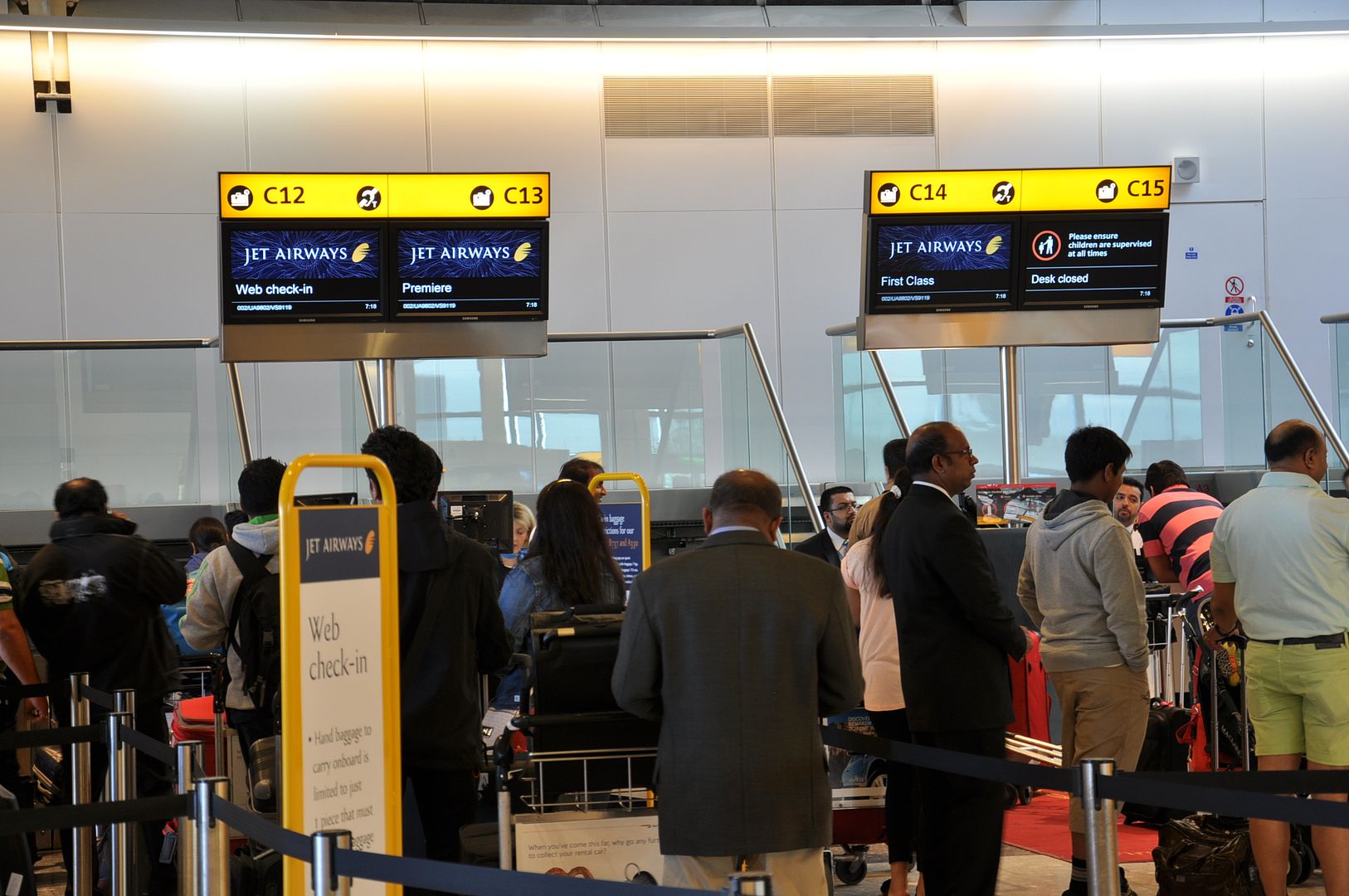 Surprisingly it mentioned an 8:00 am boarding time for a 9:30 departure on my boarding card, which seemed a bit too optimistic.
Faffing around T4 duty free for 45 minutes, boarding started exactly the time I reached the gate – at 8:30, and I was the first to board coincidently.
Plane spotting at LHR
Just missed – AI 787 (Saw another Ethiopian 787, but missed snapping)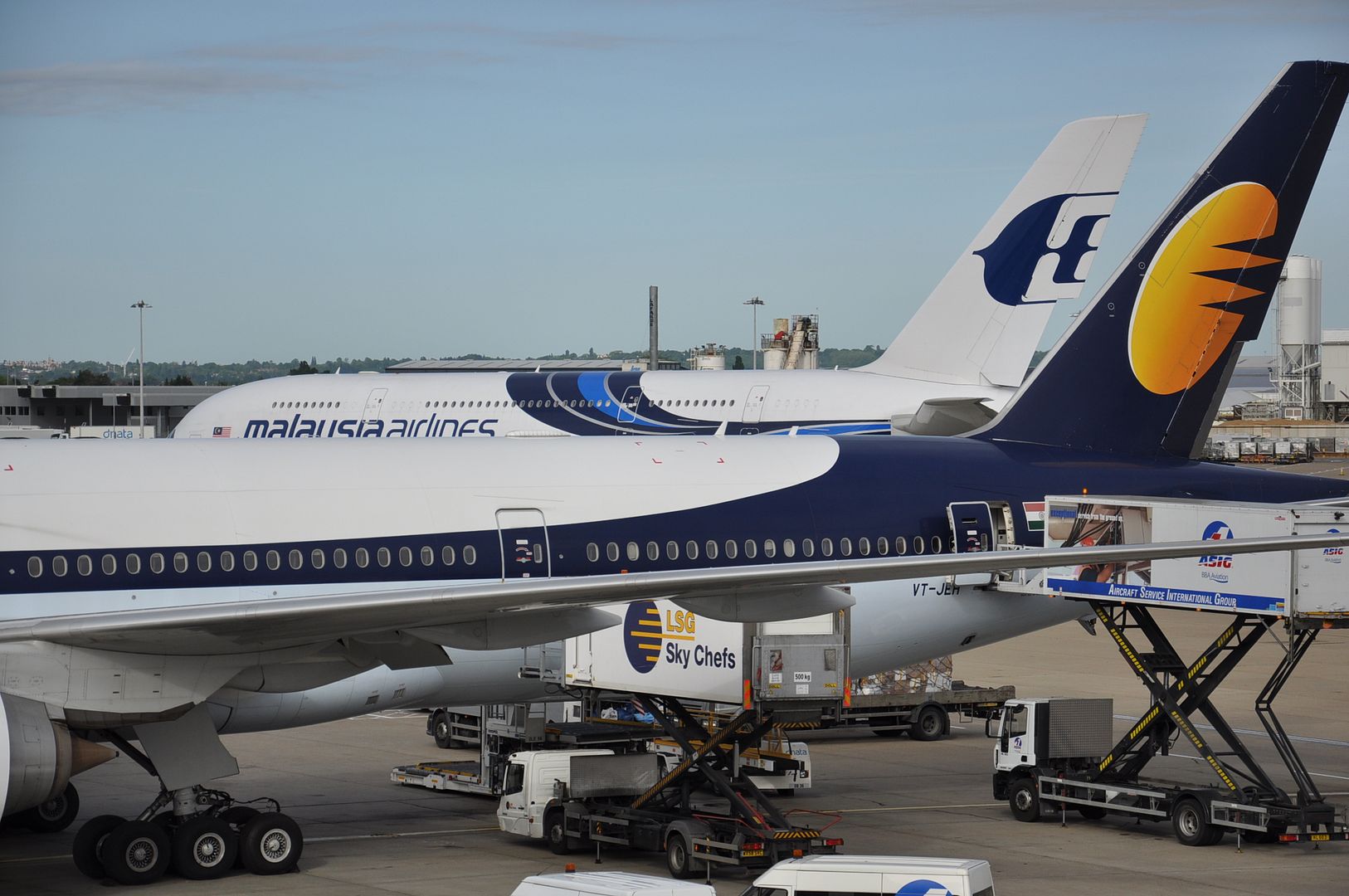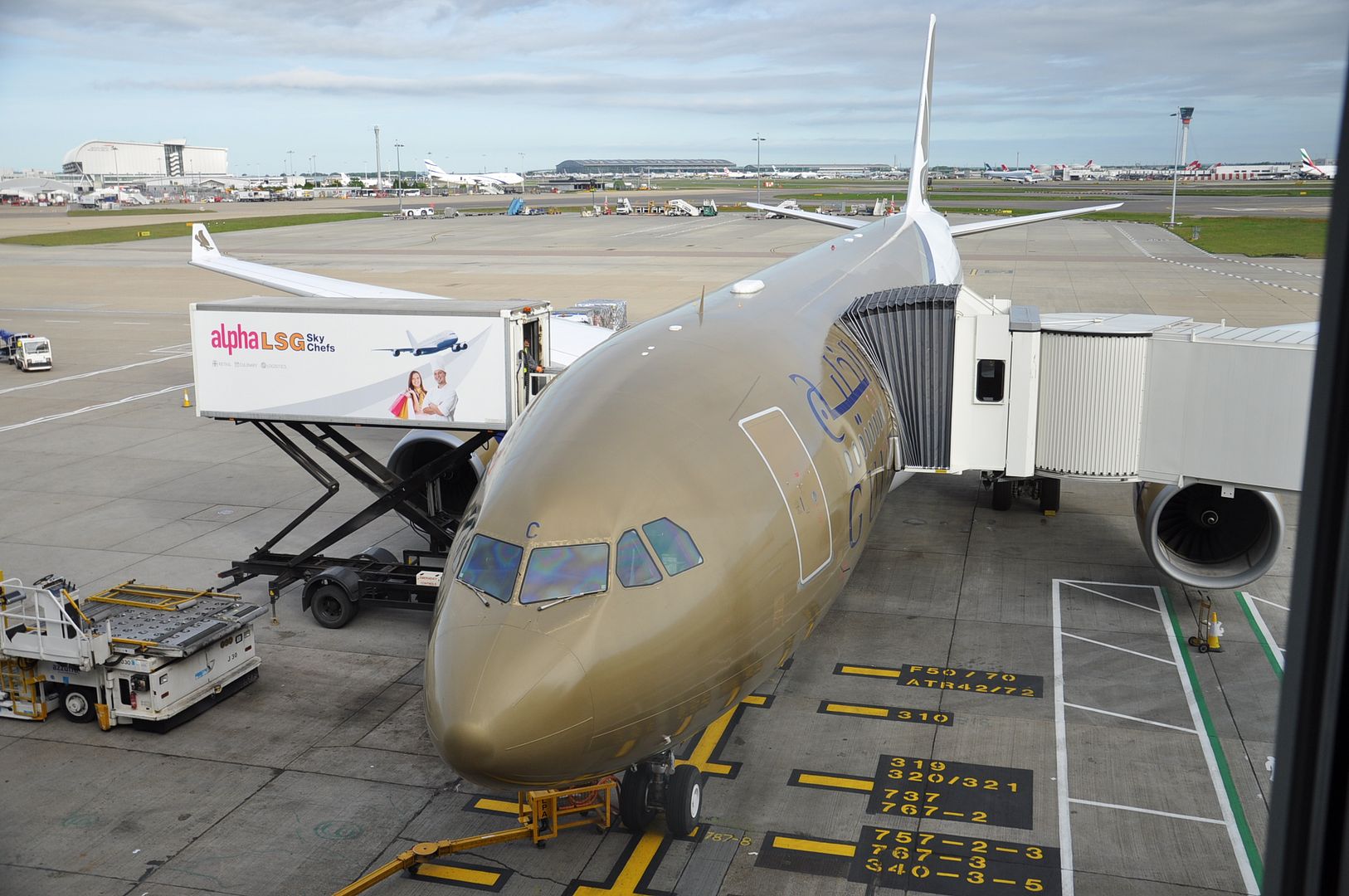 Big boys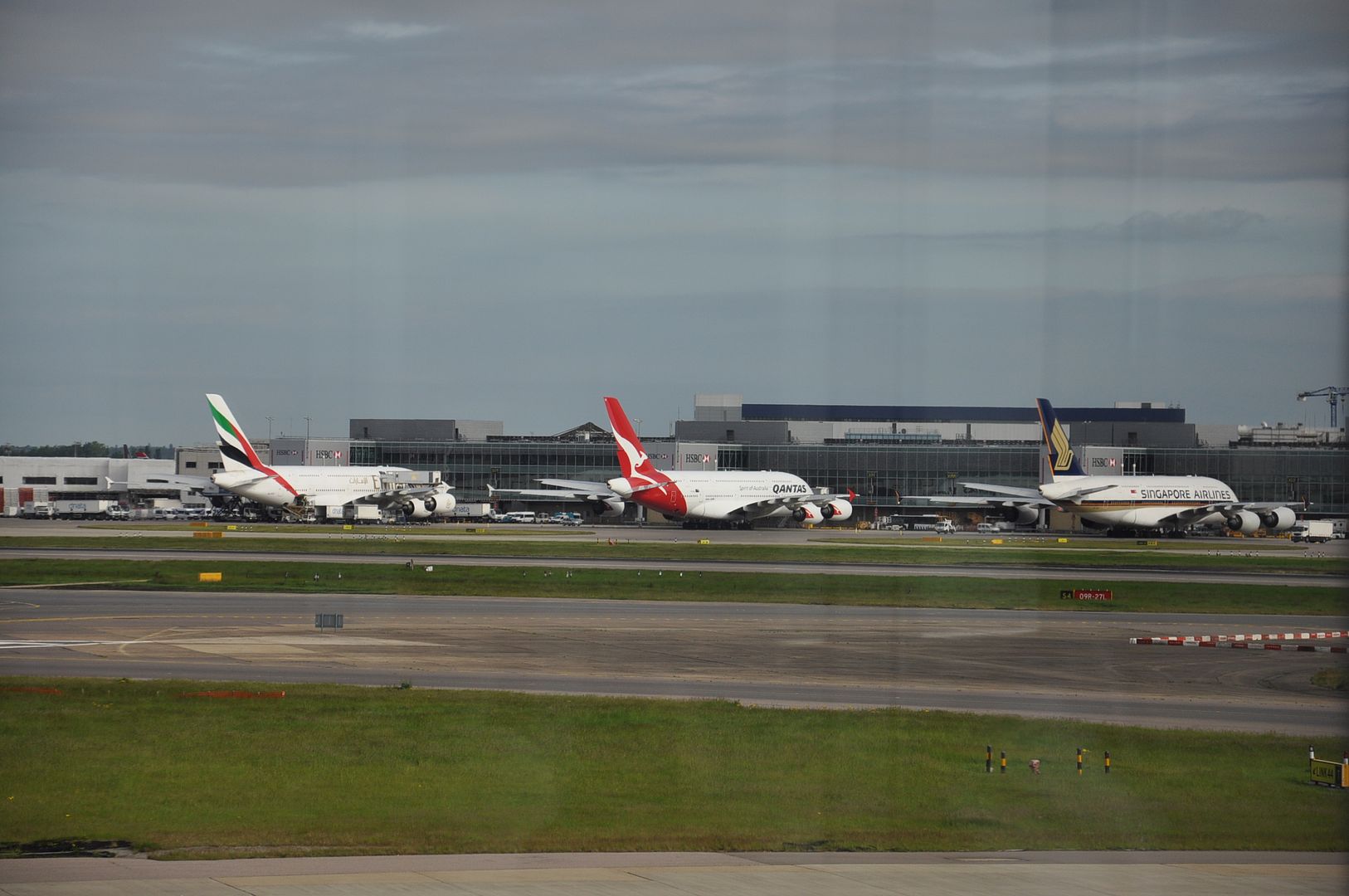 As soon as I boarded the flight and walked through to the sardine can class, it was apparent why the 777 in the 3-4-3 config was doing so well – loads of passengers very little space. The 32 inch pitch is negated by the 17.5 inch width (unlike this
one
. Nevertheless, again, being positive, I was quite happy with me seat. This aircraft had a total of 8 first class (1-2-1 suites), 30 business class (1-2-1 Herrinbgone) and 279 economy class seats (3-4-3). I struggled to find the right seat map for this aircraft online.
The aircraft was fully laded by 9:00 am and disembarked from the gate 10 minutes early. There was a small traffic and take off was at 9:55.
VT-JEH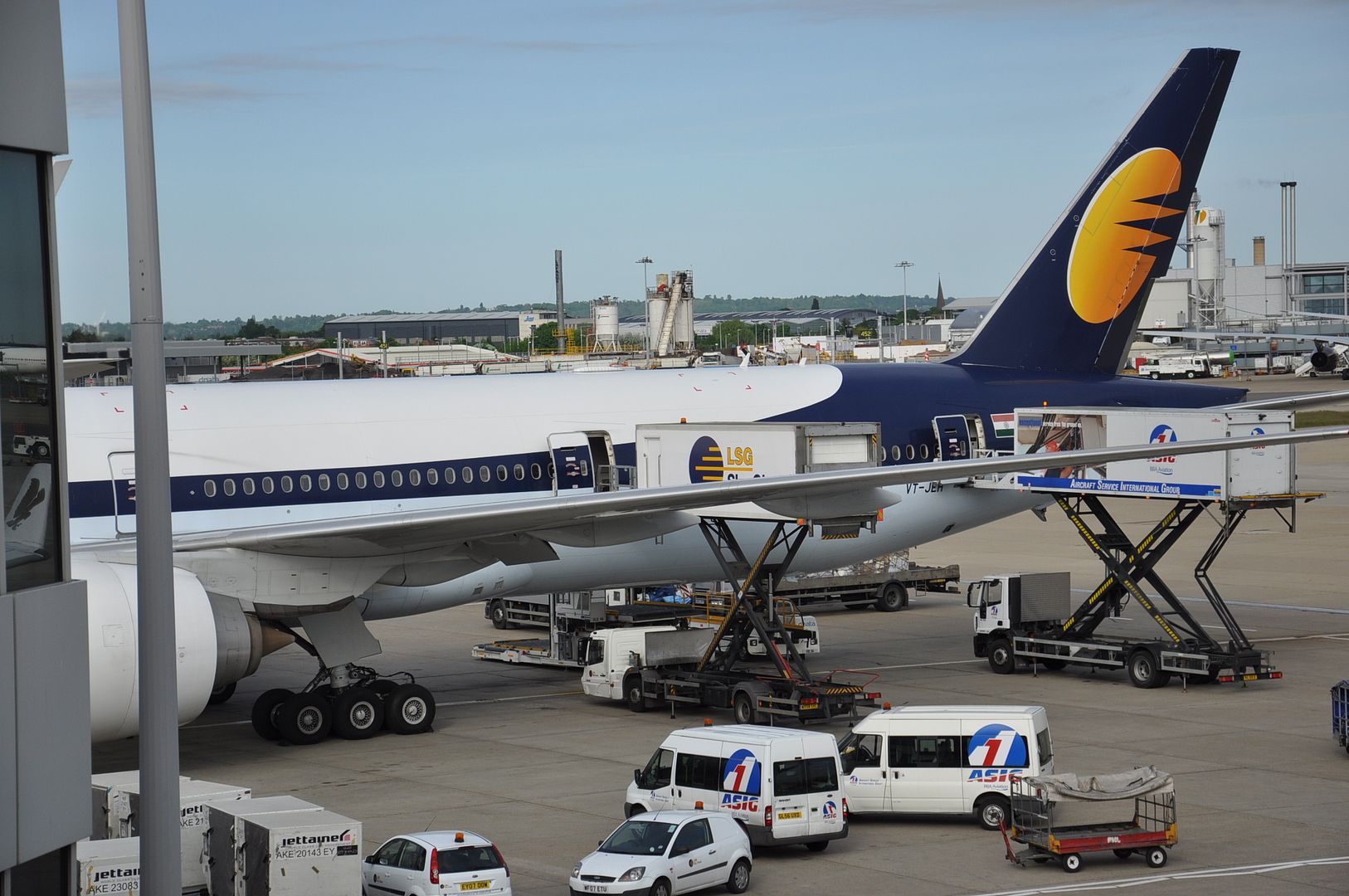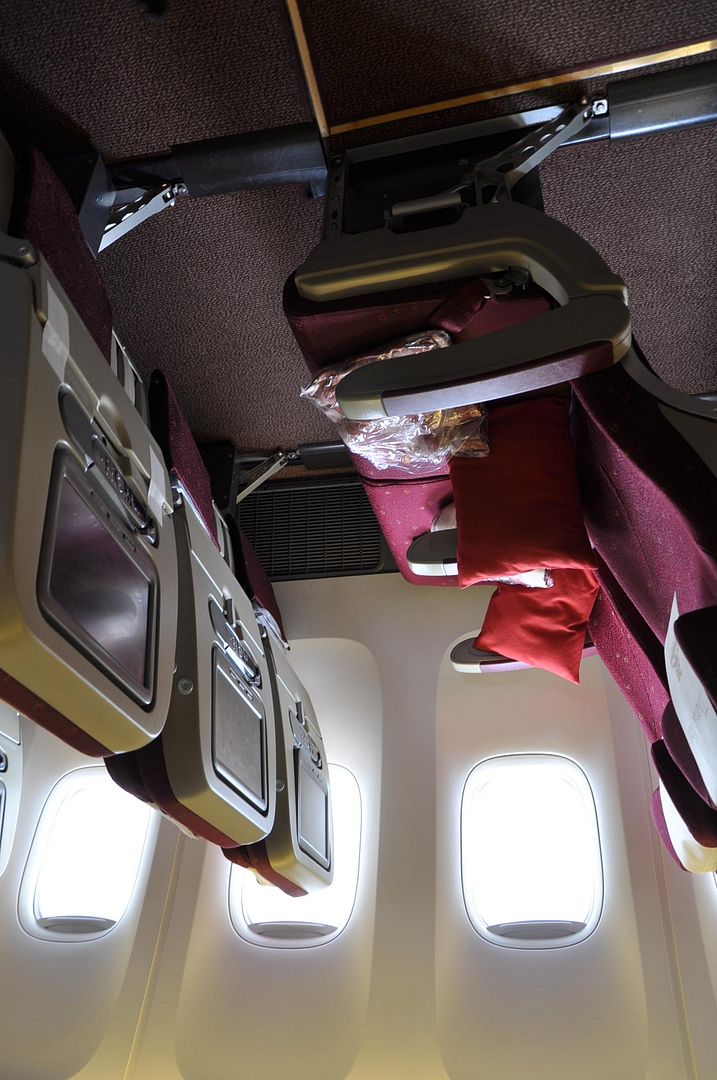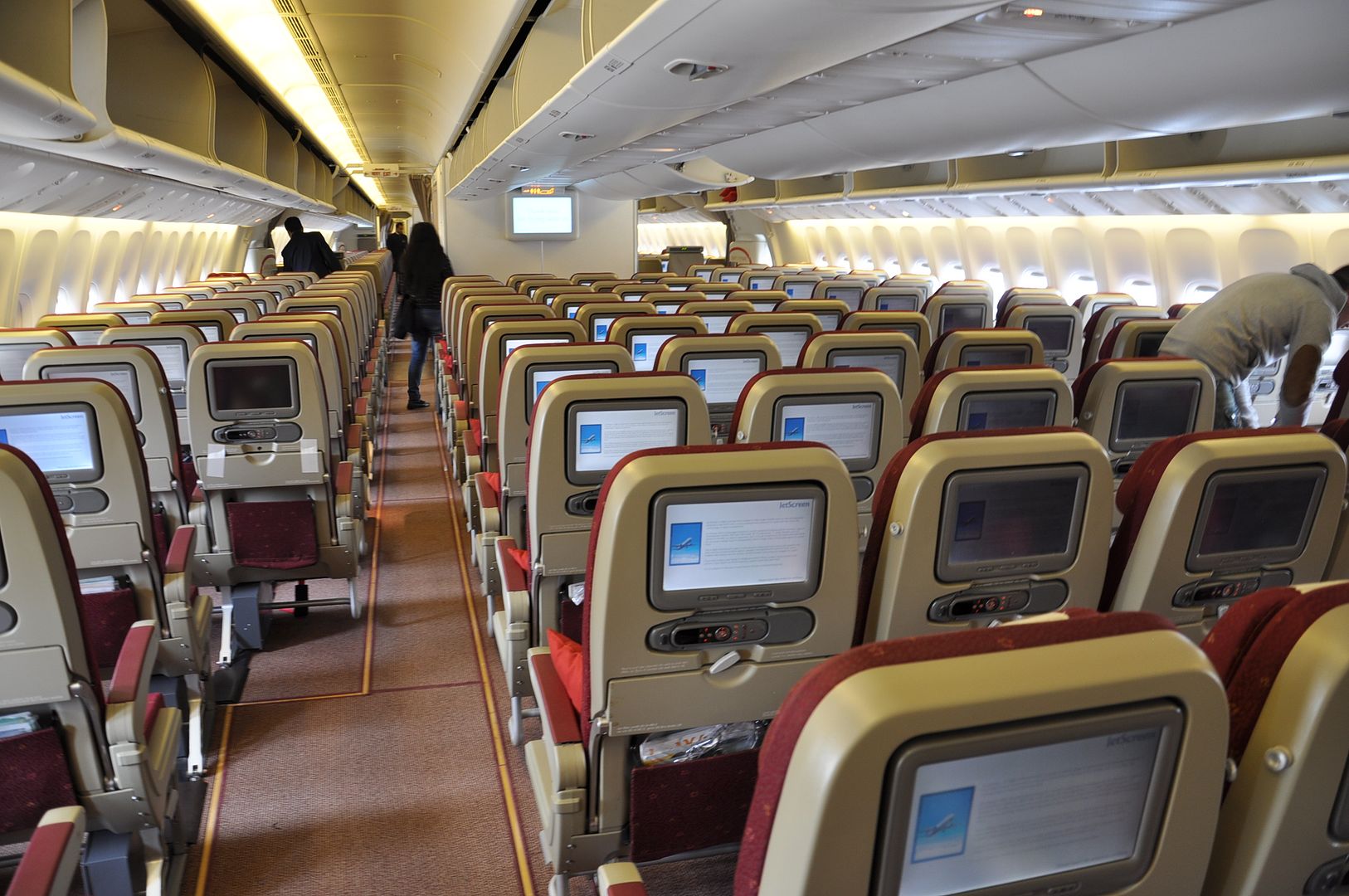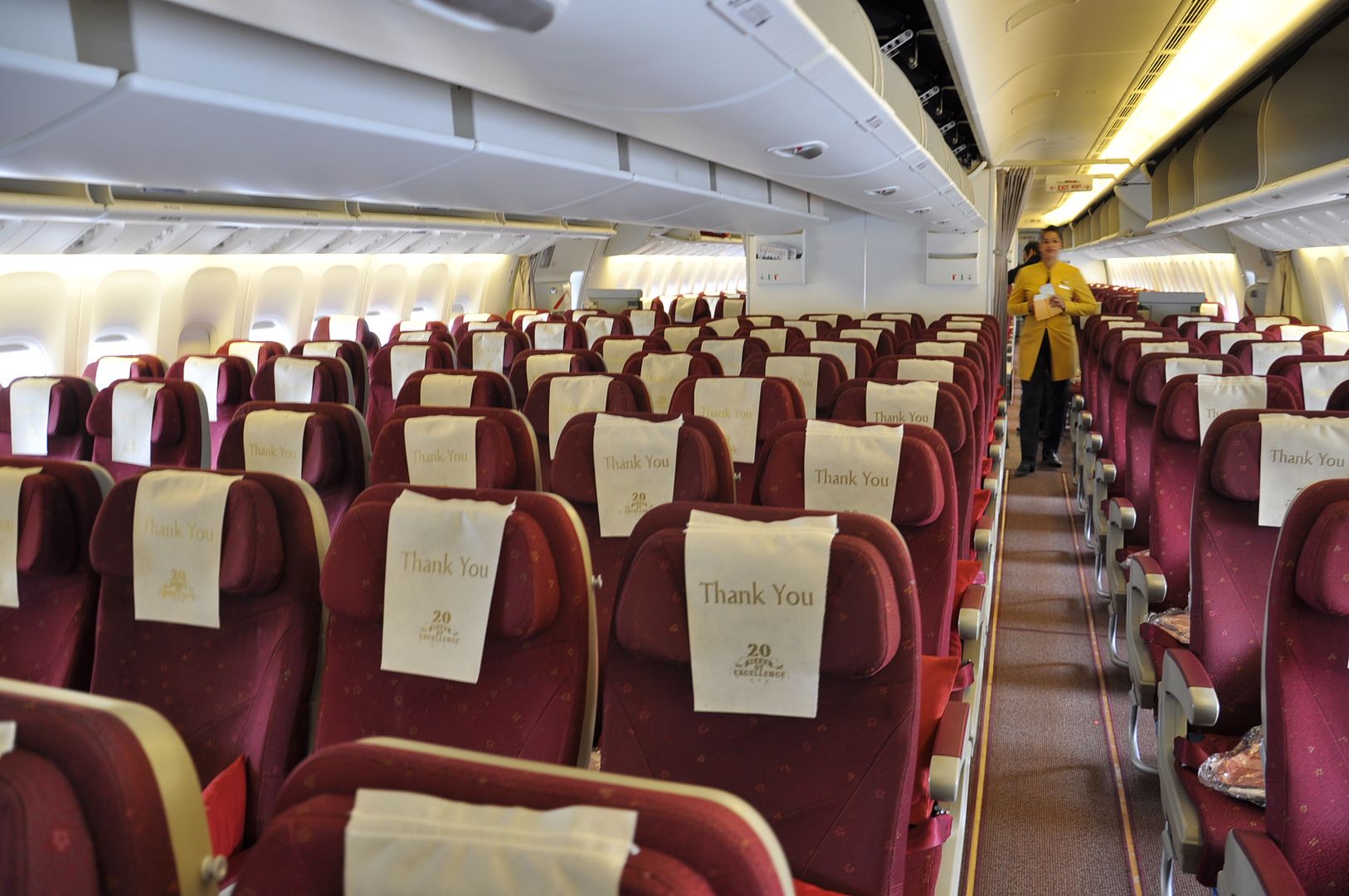 Lunch was served within an hour after take off. It looked as though the food had been packed in Mumbai and the aircraft seemed to be carrying 2 loads of meals on the way into Heathrow, I could be wrong though. I say so as it had an Indian company branded on the meal top cover (choice of Chicken Navratan and a Veggie dish – only 2 options in economy). The drinks selection was quite good for an economy class. Good selection of hard and soft drinks.
Nevertheless the meal tasted good but the quantity was significantly less. Followed it by 2 glasses of Vodka diet coke, watched a movie and a couple of hours of sleep.
The rest of the flight was uneventful. A meal snack was served an hour and a half before landing and once again it was (Choice of Chicken roll or a vegetable noodle roll – was shameless enough to ask for one of each, which the stewardess duly obliged and gave it to me with a smirk)
wasn't able to take any photographs of the meals as by the time it was on the tray, i was too cramped to bend down and take the camera to click some pictures (excuses,! ill try to on the way back
)
AVOD – very limited English options, although pretty decent, not on par with any of the bigger names. Loads of Hind and Indian movies though, extremely good options. They also had a wide verity of comedy serials, which was a good watch.
Stewards were efficient but not warm. They were more interested in serving us food and hitting the crew bunk area. No snacks kept in the galley either. Negative points for Jet for that.
On the whole I would rate Jet airways a 6 on 10 (economy class), as the competition on this route is significant and there are quite a few other airlines that are way ahead of the game (I would even rate AI higher than 9W on this route, economy). An open snack bar in the galley could go a long way for sure.
Would like to mention my window seat companion who made the journey interesting and was a good chat – Miss CB was an interesting companion, good jokes around, a life of a construction worker, to a restatement dishwasher to the manager of the restaurant - you go girl, Respect..! Hope you have a good stay back home in your village in Thailand.
Landing was spot on time – 23:00 exactly. It took me close to an hour and a half to walk out of immigration and collect my baggage from the overly crowded customs area. I am quite sure Mumbai airport will be a much better place if people just stand in their respective queues and be a bit patient. It is nowhere as crowded as LHR during peak time but it felt like LHR T3, 3 times over!
After collecting my checked in bags and passing through customs (chaos – as some were standing in some queue, some were walking straight past, some were cutting queues, it was all happening!) I just walked past and turned right towards the domestic transfers.
Chaos part 2 – we had to re-check in the baggage's and stand in a line to board the coach that would take us to the domestic terminal. People were unaware of this and I had to work part time and inform people that they had to first check in their baggages before standing in the queue for boarding the bus. There were two Jet Airways staff in the vicinity but they were mere bystanders.
The coach was fully packed and the drive to the domestic terminal was around 25 minutes. I started to wonder how Jet were going to manage my transfer on my return as I only had a 2 hour transfer time – from domestic to International. Let's worry about that on the way back.
Tip – Once at the domestic terminal, if you want to venture out of the airport, get out through the Arrival section. Do not pass through the Boarding pass check, once you do that you are stuck within the confines of the terminal.
I was meeting a friend in Mumbai so exited through the Arrival section, had a quick catch up with my friend at the Starbucks just outside the terminal and then a quick walk into the departure section.
Mumbai (BOM) Domestic terminal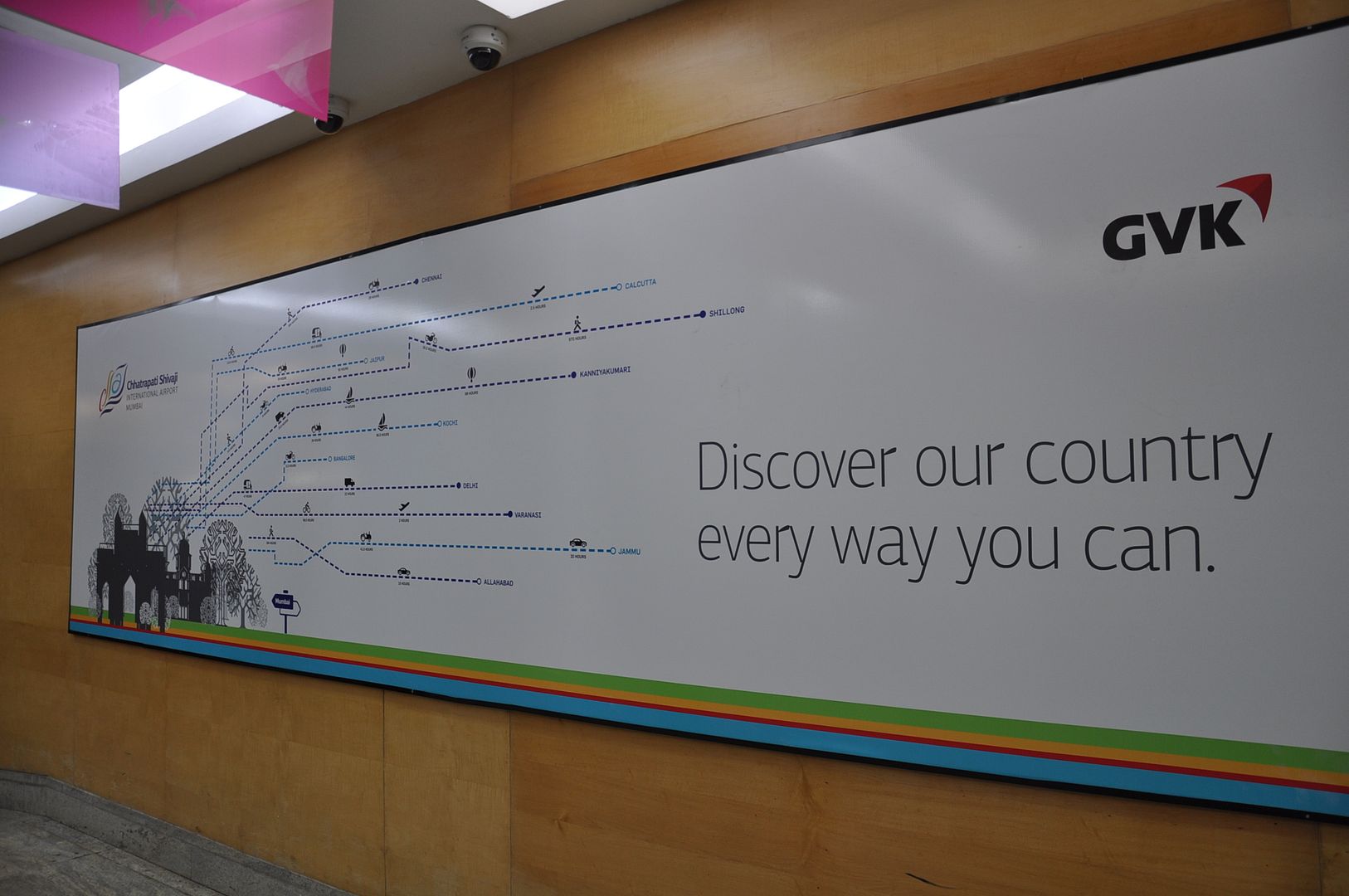 There is nothing much opened or to do at the domestic departure section between 12:00 and 4:00 am. There was a bar opened, which was alright. Apart from that most of the transit passengers were just finding places to rest a bit.
1B: Jet Airways 9W: BOM (Terminal 1B) – COK
9W 405
Flight Reg:
http://www.airframes.org/reg/vtjgq] VT-JGQ
Boeing 737-85R/W
Seat 10F
Load 80%
Departure time 06:20 (06:10)
Arrival 08:30 (08:20)
01 June 2013
Come 4:00, when one of the first domestic departures take place, the entire domestic terminal transforms into a busy hub. Out of nowhere hoards of people are ready to board, run, eat, speak, pack, and re-pack. The entire terminal comes to life.
Boarding started promptly at 5:30 and we were bussed away to the waiting aircraft. The plane was completely boarded well in time and we disembarked early. But there seemed to be some traffic and we were 6th in the queue. 20 minutes later we were airborne.
VT-JGQ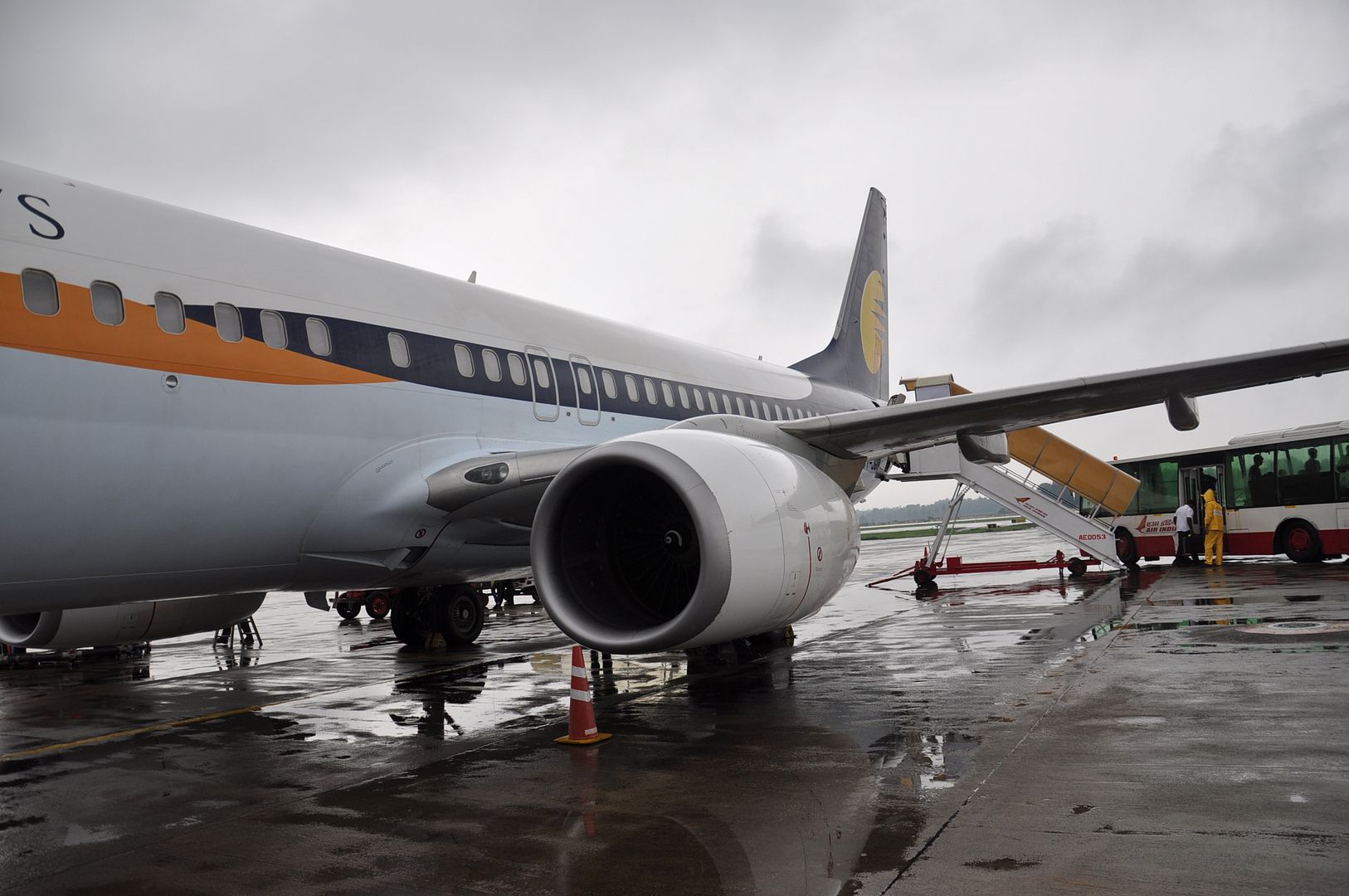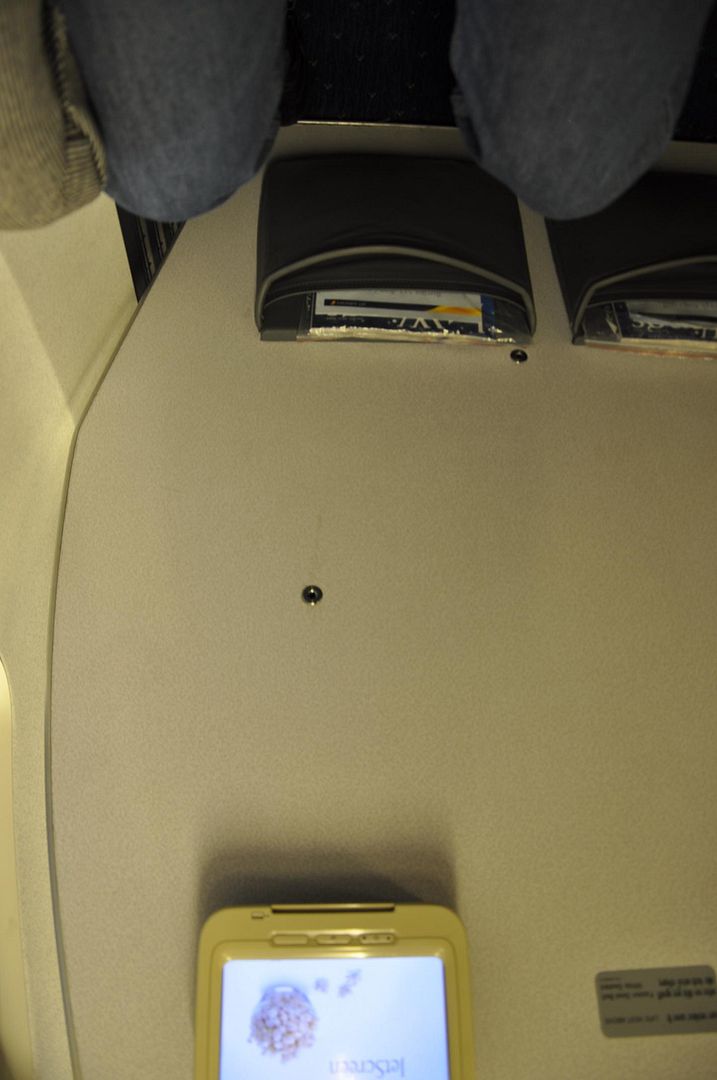 Blurred
Breakfast was served on this sector. A choice of south Indian (Idly and Sambar; rice cakes with accompaniment), omelette and bread, and there was another choice. This is where I feel Eu carriers need to learn a lesson. A full breakfast although not wholesome, more than adequate and quite tasty.
The flight time of 1 hour and 30 min soon evaporated and we were welcomed into Rainy weather in Cochin. It was a slightly bumpy landing with reverse thrust in full action to get this bird to a complete halt.
Landing in Gods own country – Cochin, Kerala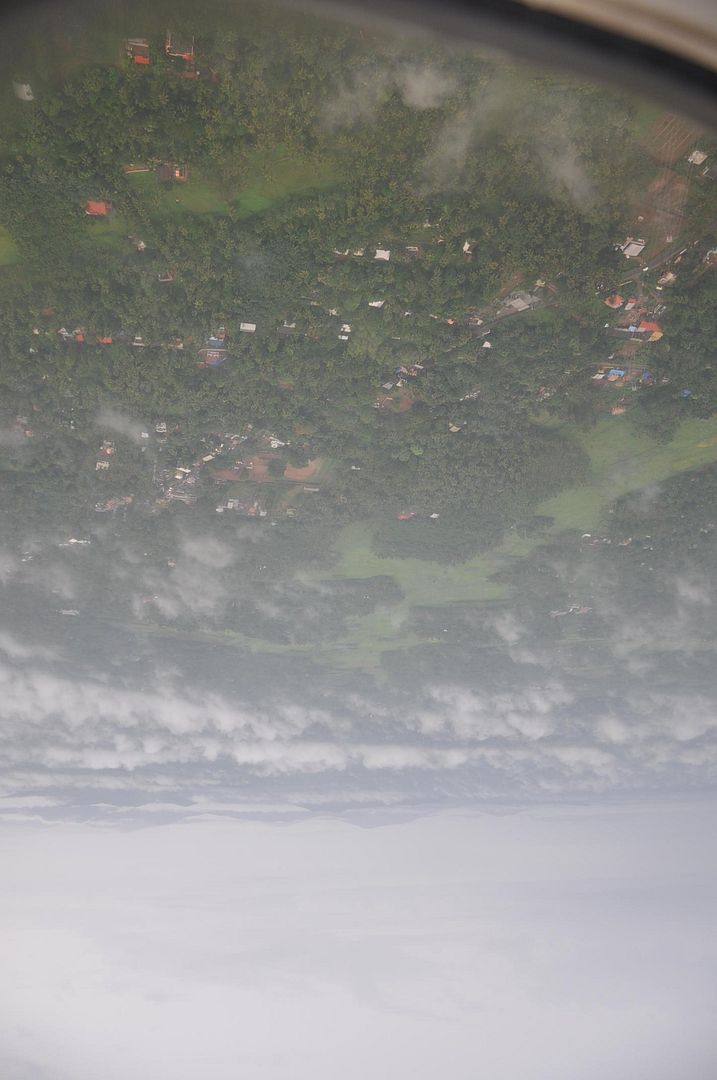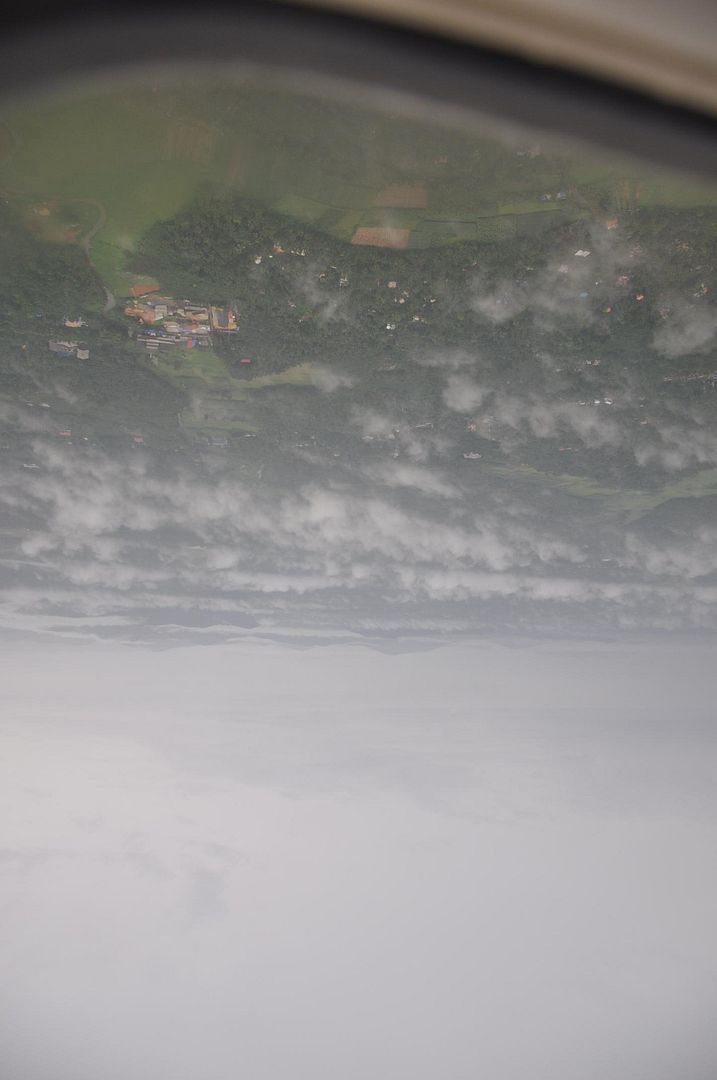 Baggage's arrived soon after and I was out of the airport in 20 minutes, before booking my prepaid cab inside the airport.
Return trip in 5 days time, until then, adios!
Previous trip reports:
Barra Trip – that was not to be
LHR - KWI - BA 747 - Part 1 - Middle East - China
Part 5: PVG-LHR - BA - Economy - B777
Part 2: KWI-DXB - FlyDubai - Economy - B737
Part 4A&B - SHA-SJW-SHA - FM: Eco: B737
Part 3A&B : DXB-HKG-PVG: CX & KA :Eco: A333
Morocco Trip - LGW-RAK-TNG-LHR - EasyJet & Iberia
Dusseldorf Calling - BA & EZY - Club/Eco - A321