B A C K G R O U N D
I first flew on a Korean Air 777 in May 1997 when they were less than two months old. I flew SEL-PUS on a 777-200/ER with my good friend Rich who lived in Seoul at the time. It was my first 777 flight in my attempt to fly on different carriers 777s (although I had already been on United Airlines) and it was a very short flight. I did not make a trip report at that time so when I was in Bangkok and thinking of a way back home, I wanted to try a KE 777 again and this time write a report.
T H E F L I G H T
Date : 19 April 2013
Route : Bangkok BKK – Seoul ICN
Distance : 2277miles
Flight : KE 954
Flight Time : 4:41h
Dep. Time : 23:51
Aircraft : Boeing 777-3B5
Registration : HL7534
Dep. Gate : E 1
Seat : 29A
Inflight Entertainment : Moving map, video games, telephone
214th flight on a Boeing 777; 2nd on a Boeing 777-300.
Flown on 122 Boeing 777 aircraft (frames).
I arrived about 20 minutes late to Bangkok from Kuala Lumpur on Thai Airways and my connection was now closer than what I had planned for. To make things worse, we had to wait for a bus to get to the terminal. I soon realized that the KE 773 was a little late in arriving as well so that made me more at ease and sure that I would make this flight.
I went to a transfer desk and was then sent to the gate for the seat assignment. They gave me an aisle and I quickly had that changed to a window.
Boarding started about 15 minutes later and it was very quick since there were not many people on this flight. I was one of first to board to try to take pictures of the cabin when it's not so full.
I like the colors of the cabin as they are soothing and warm to me. The colors match the livery and even the flight attendant's uniform. There was a blanket and pillow at every seat. There were no amenity kits but a package with slippers, a toothbrush and toothpaste.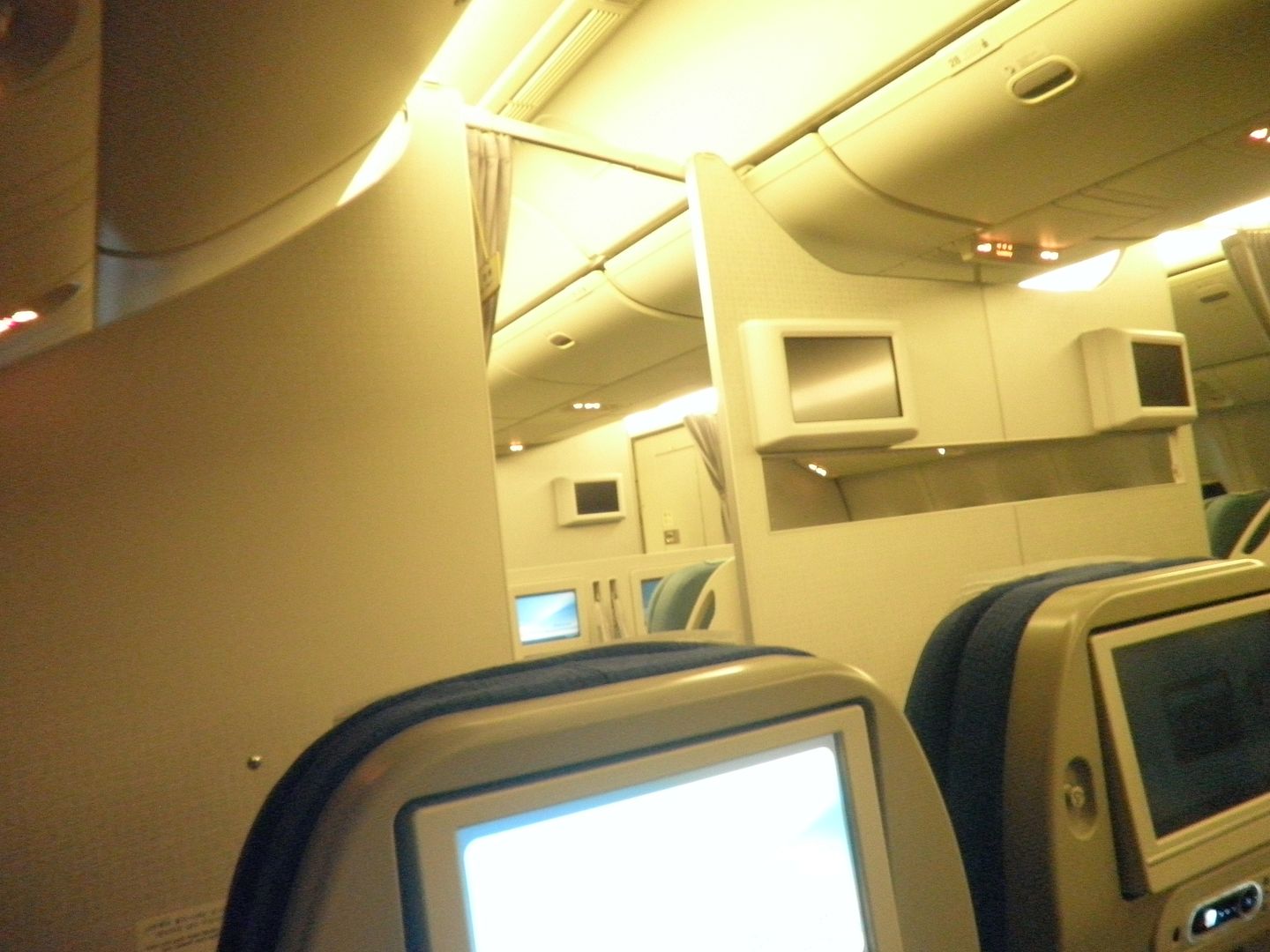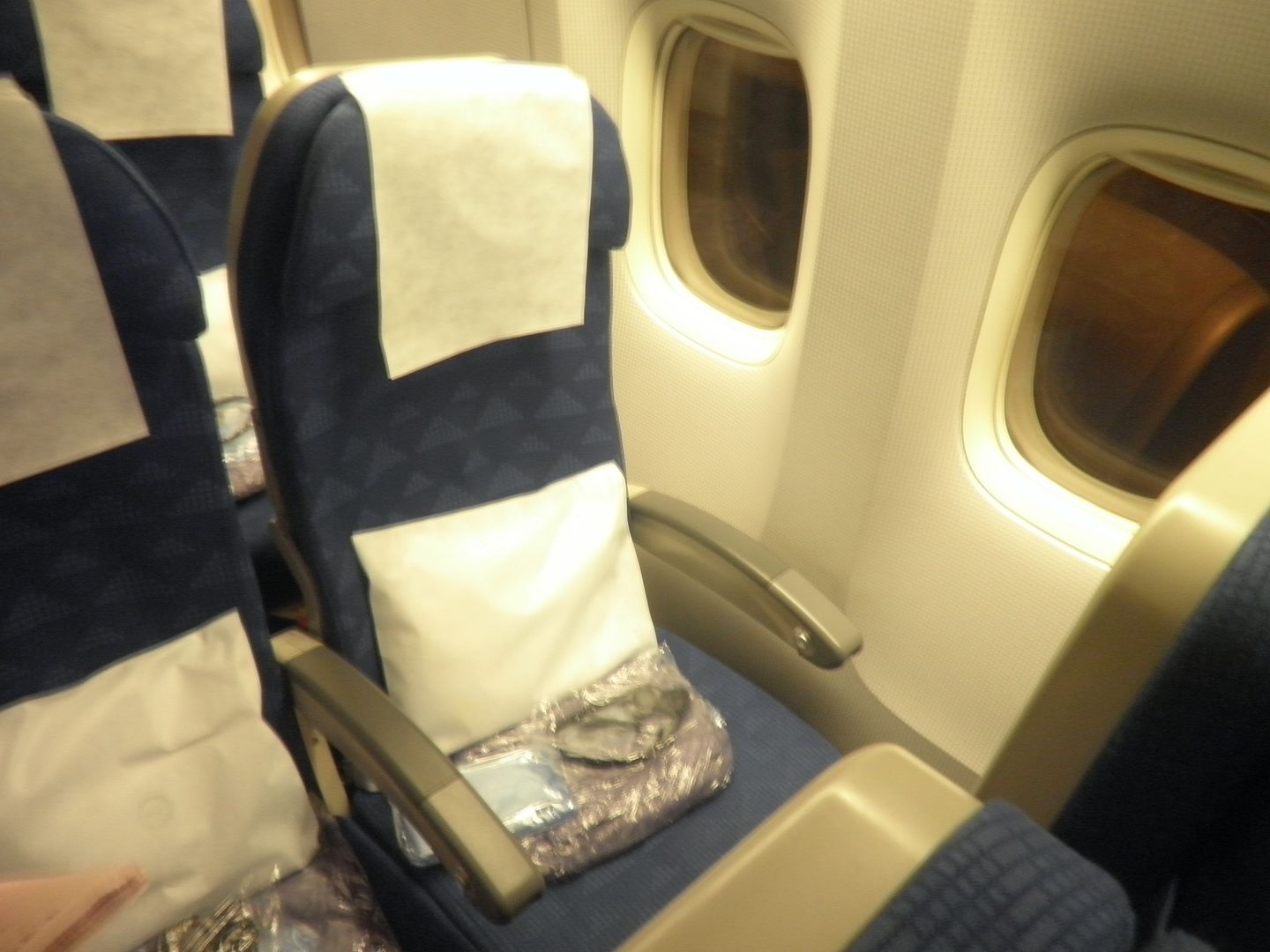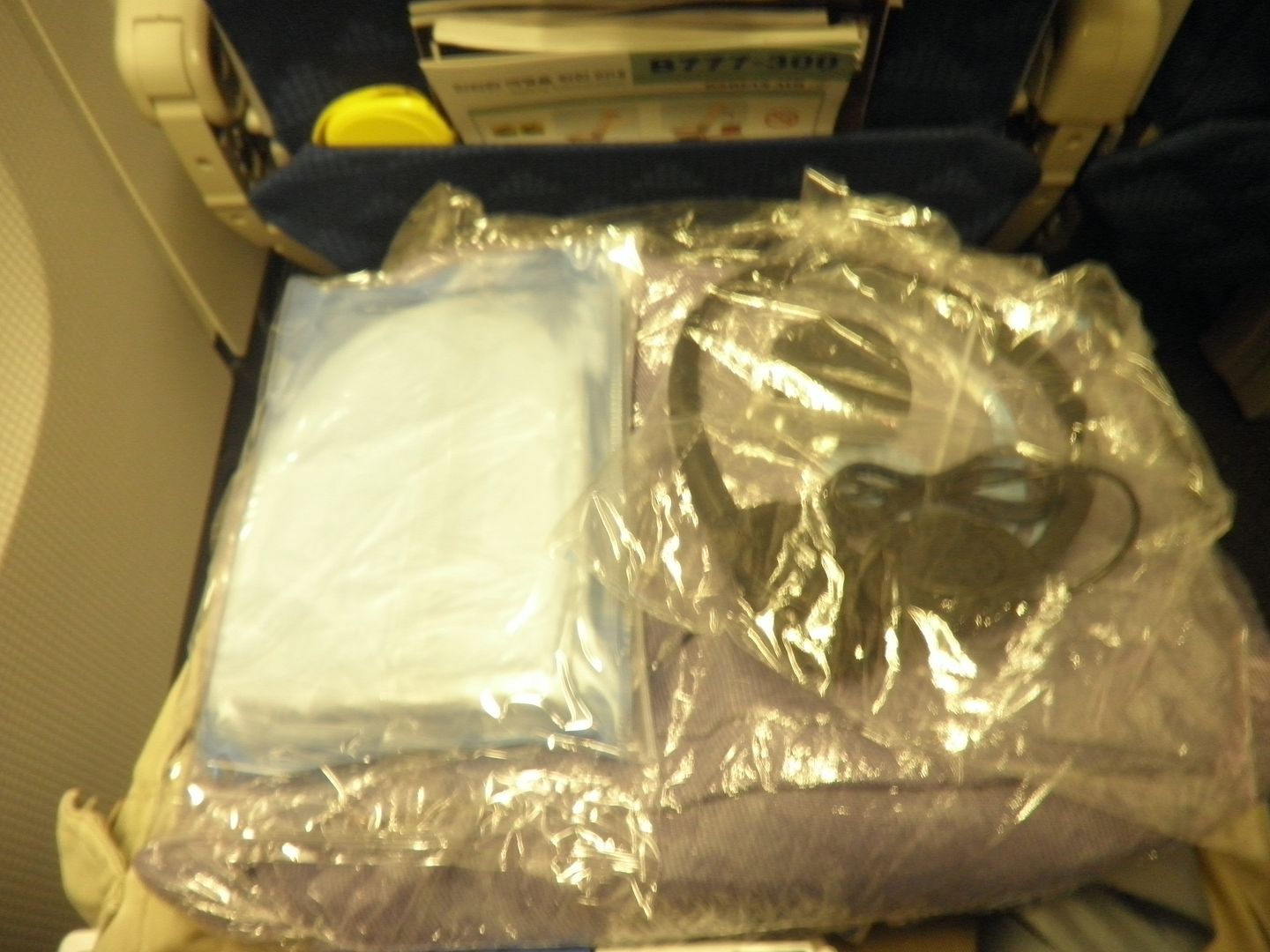 Legroom was good and the seat was comfortable. There was a USB port which comes in handy to charge phones and other devices. Nice also that the jack for the head set was the single prong which is what I prefer. A bit surprising was that the duty free catalogue was twice the size of the regular magazine.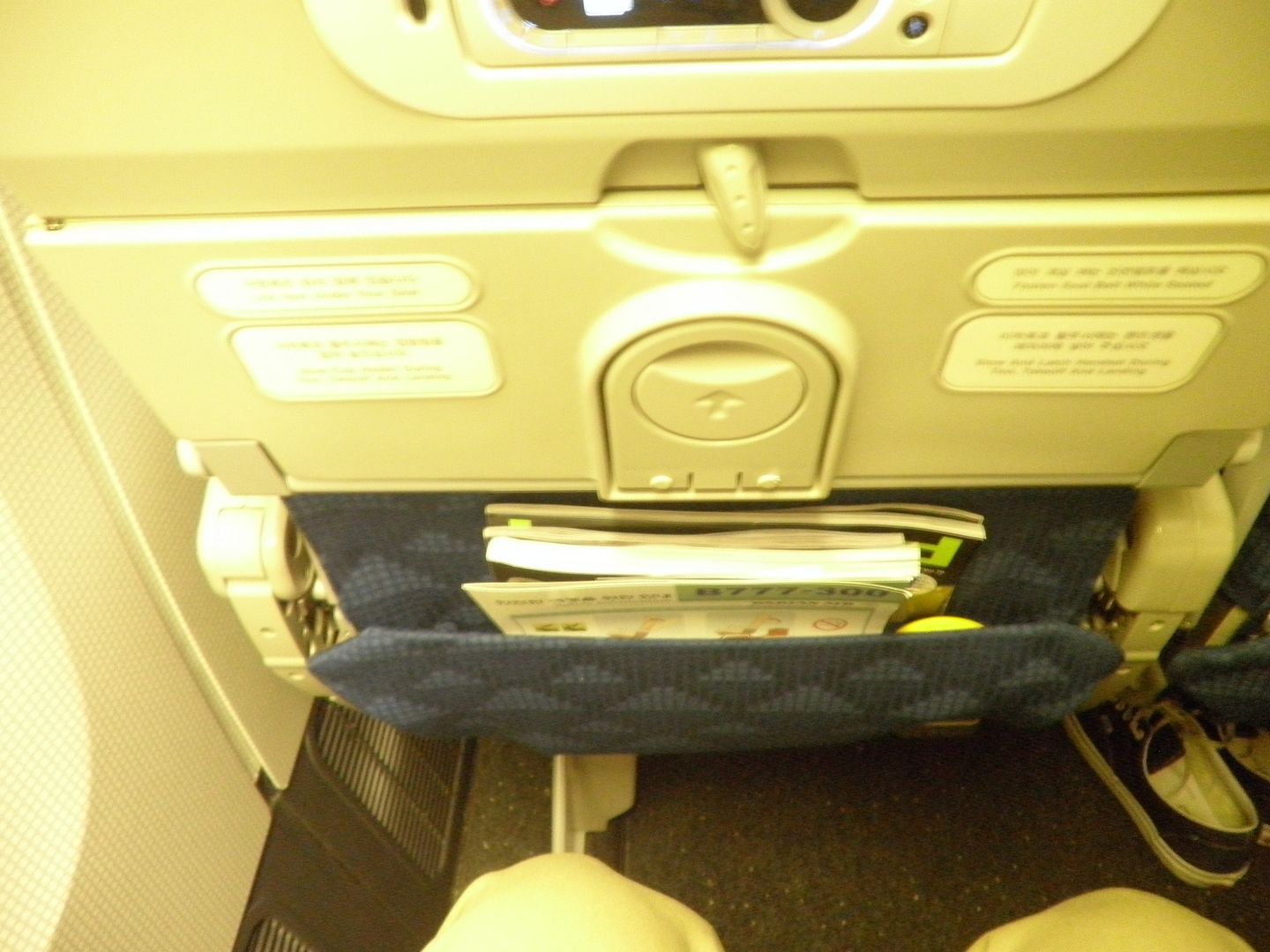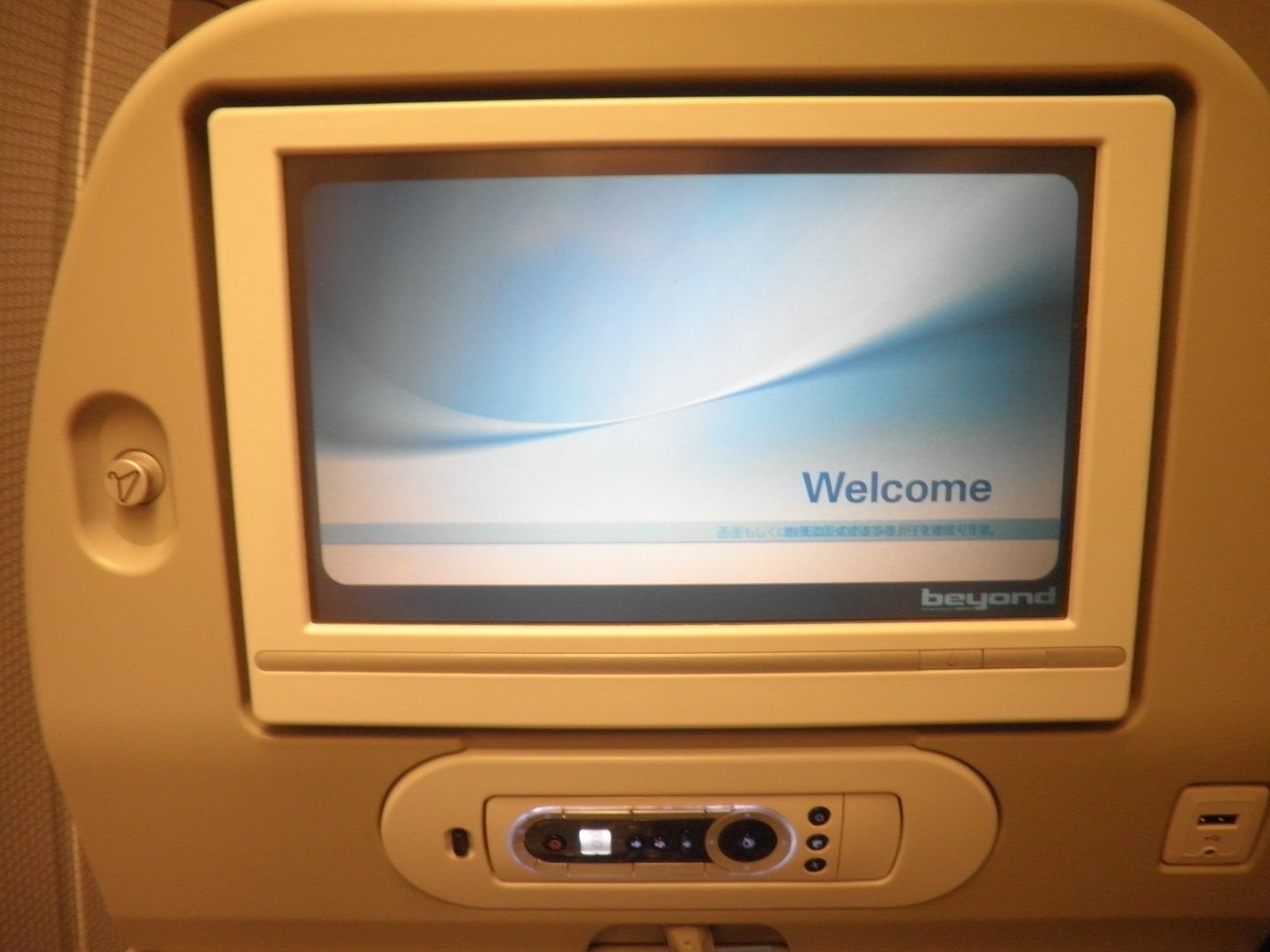 The flight attendants were very friendly and went around the cabin to make sure people were comfortable. The load on this flight was only about 60 %. Even though boarding started very late, we only left the gate about six minutes late.
There was a man in the aisle but when the door closed, there was no one in the section behind us so he moved back there so that we each could a section of three seats to ourselves.
A short taxi and then a nice powerful take off followed. Once we reached altitude, flight attendants came offered a drink service and I had orange juice and honey roasted peanuts.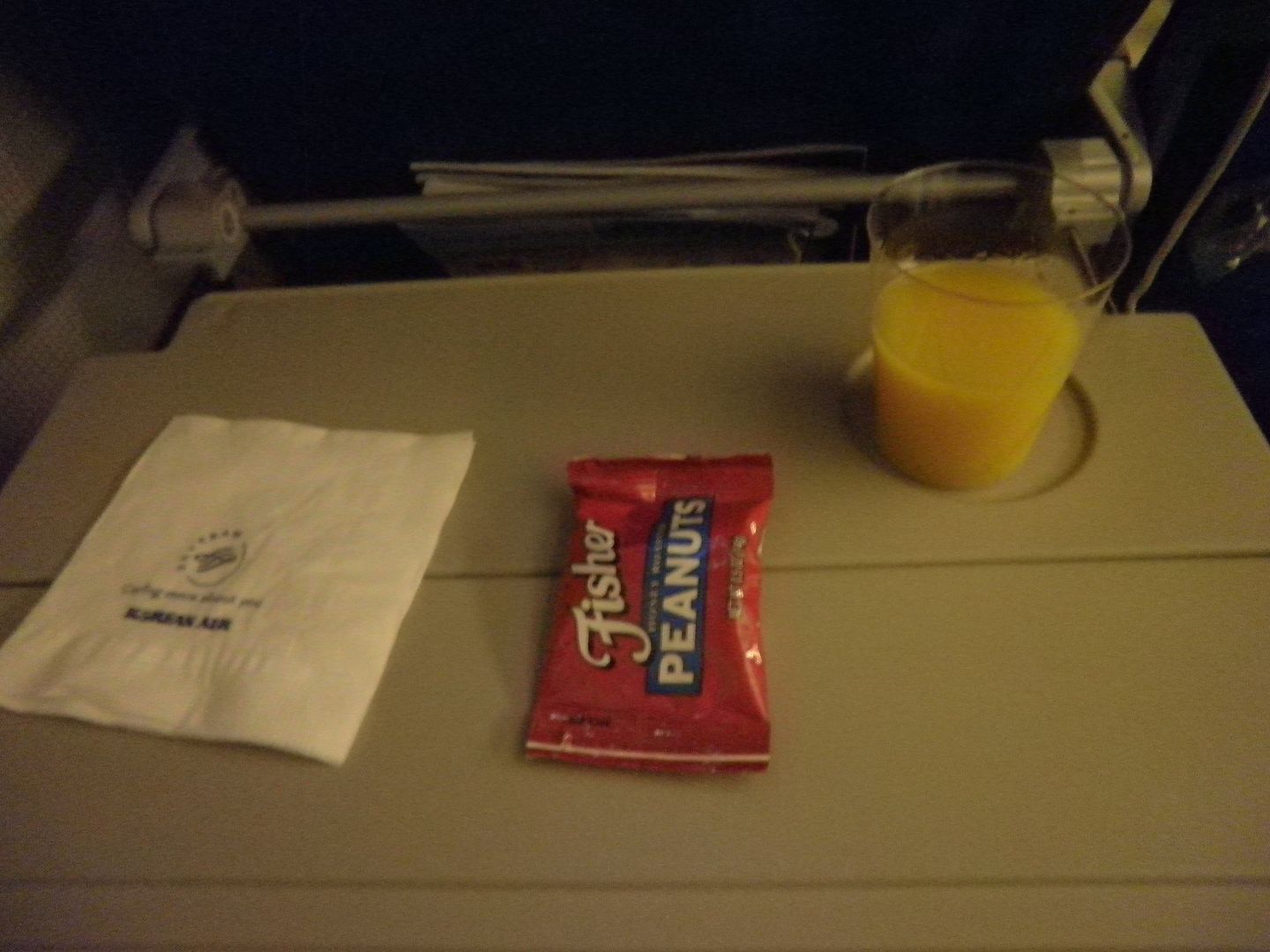 I also started to explore the in flight entertainment system. It had a very nice map feature and a new feature I haven't seen before; relative location indicator. You can put in one or two points and it will show where you are in relation to those points. This is similar to the indicator pointing out the direction to Mecca on other carriers but here you can choose the point yourself.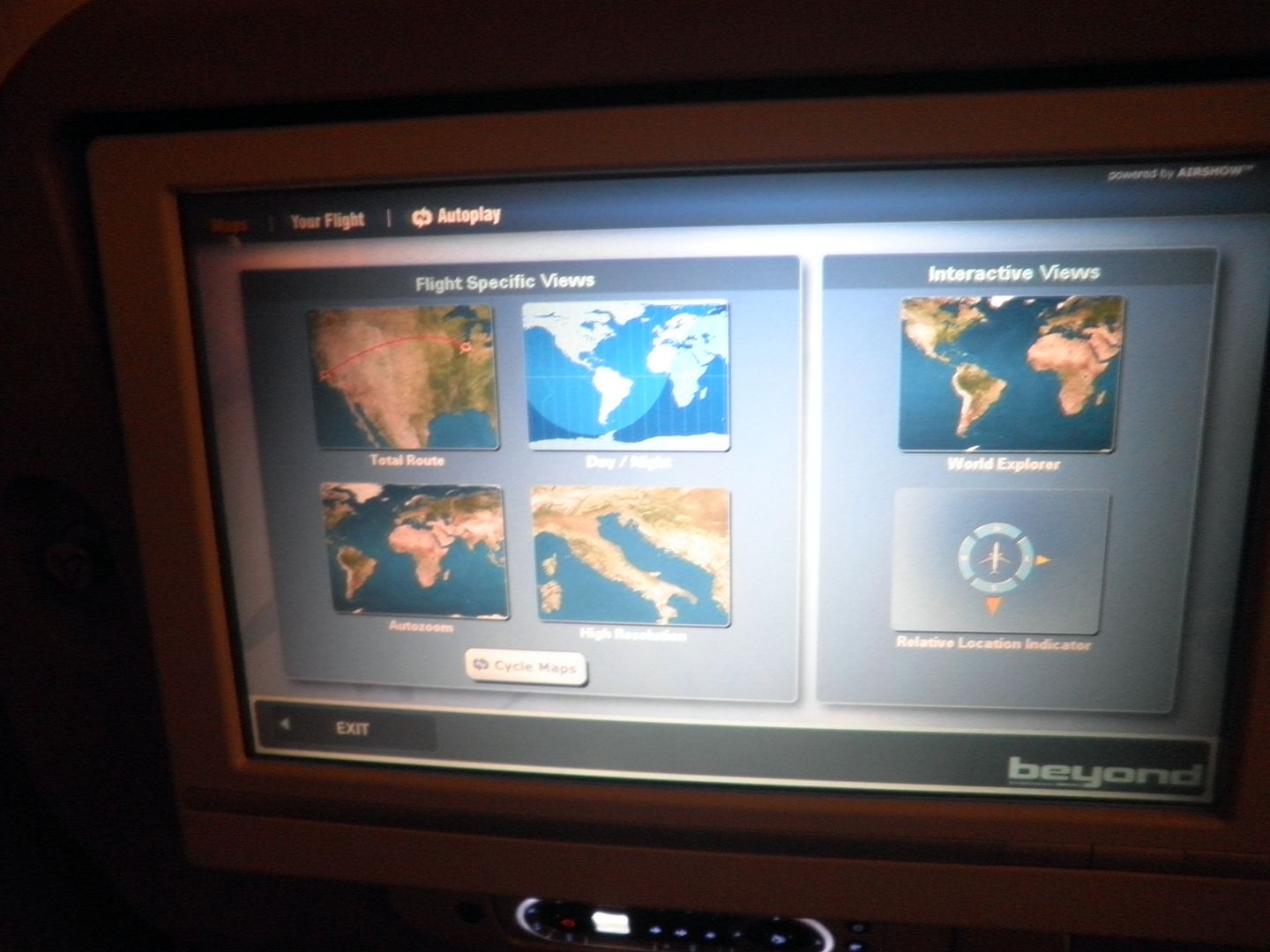 I was tired and decided to sleep. I slept about three hours before I woke up and shortly thereafter the breakfast service started. This was about 1h 40 minutes before arrival. I had omelette with sausage and orange juice to drink. It was very tasted very good and the portion was good size. Korean Air uses metal cutlery and also provides a tooth pick.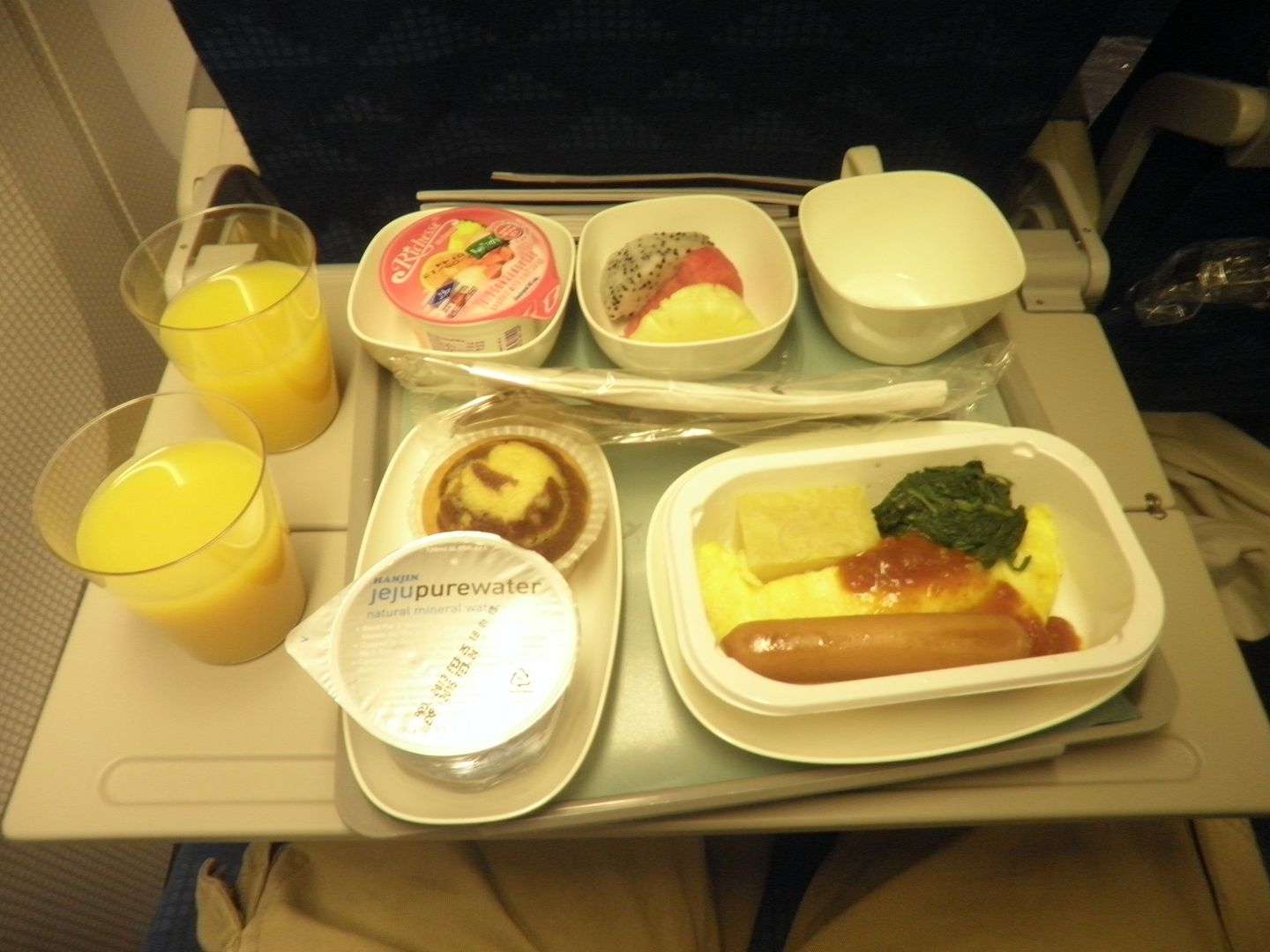 It's interesting to note that the routing changed; first the maps showed a route over China but in the end we flew to the east of Hong Kong and then onwards to Seoul. The highest altitude we got to was 37 000 feet.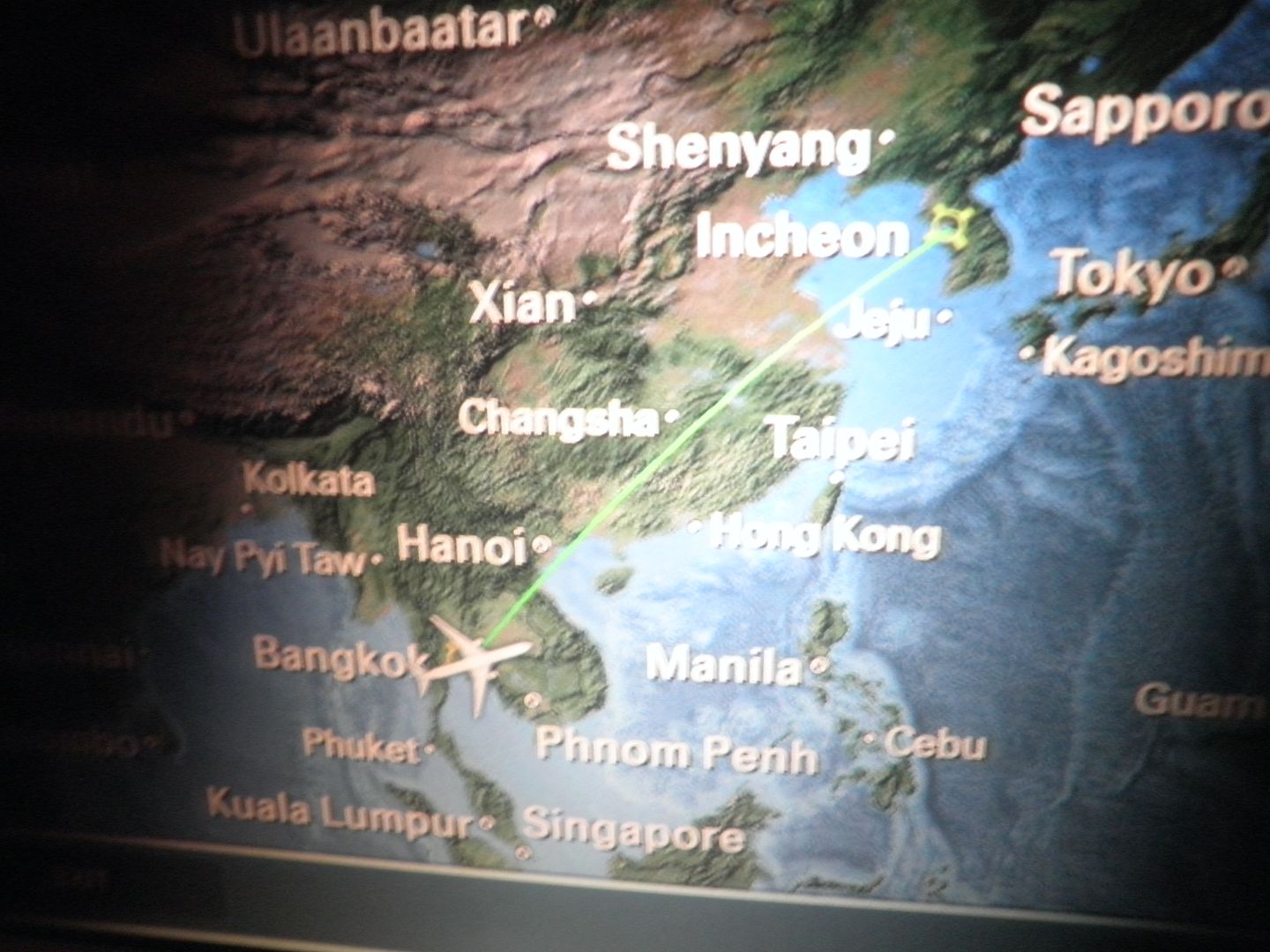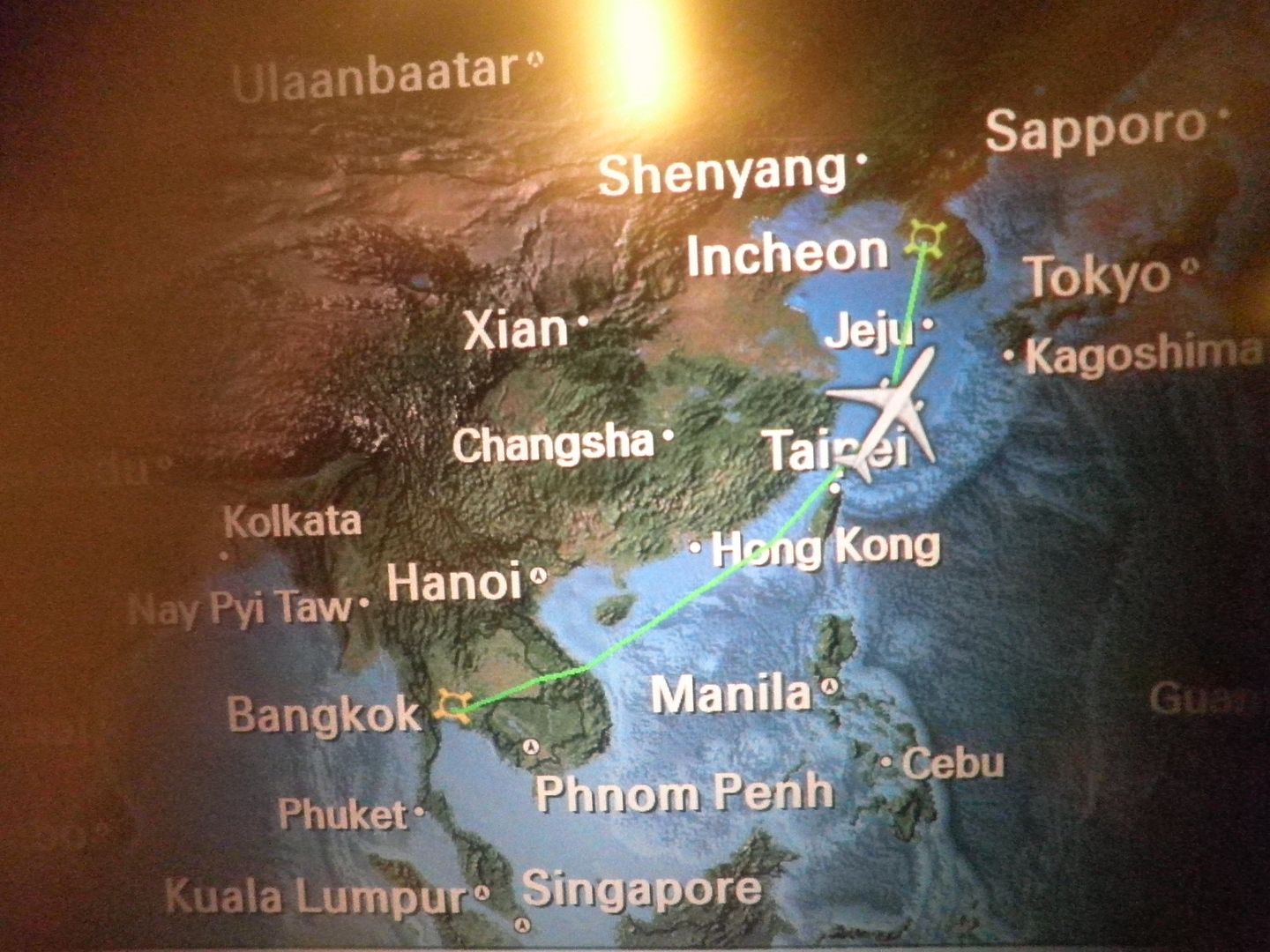 Just before we landed they announced connecting gate info for passengers. A lot of people were continuing to the USA or Canada.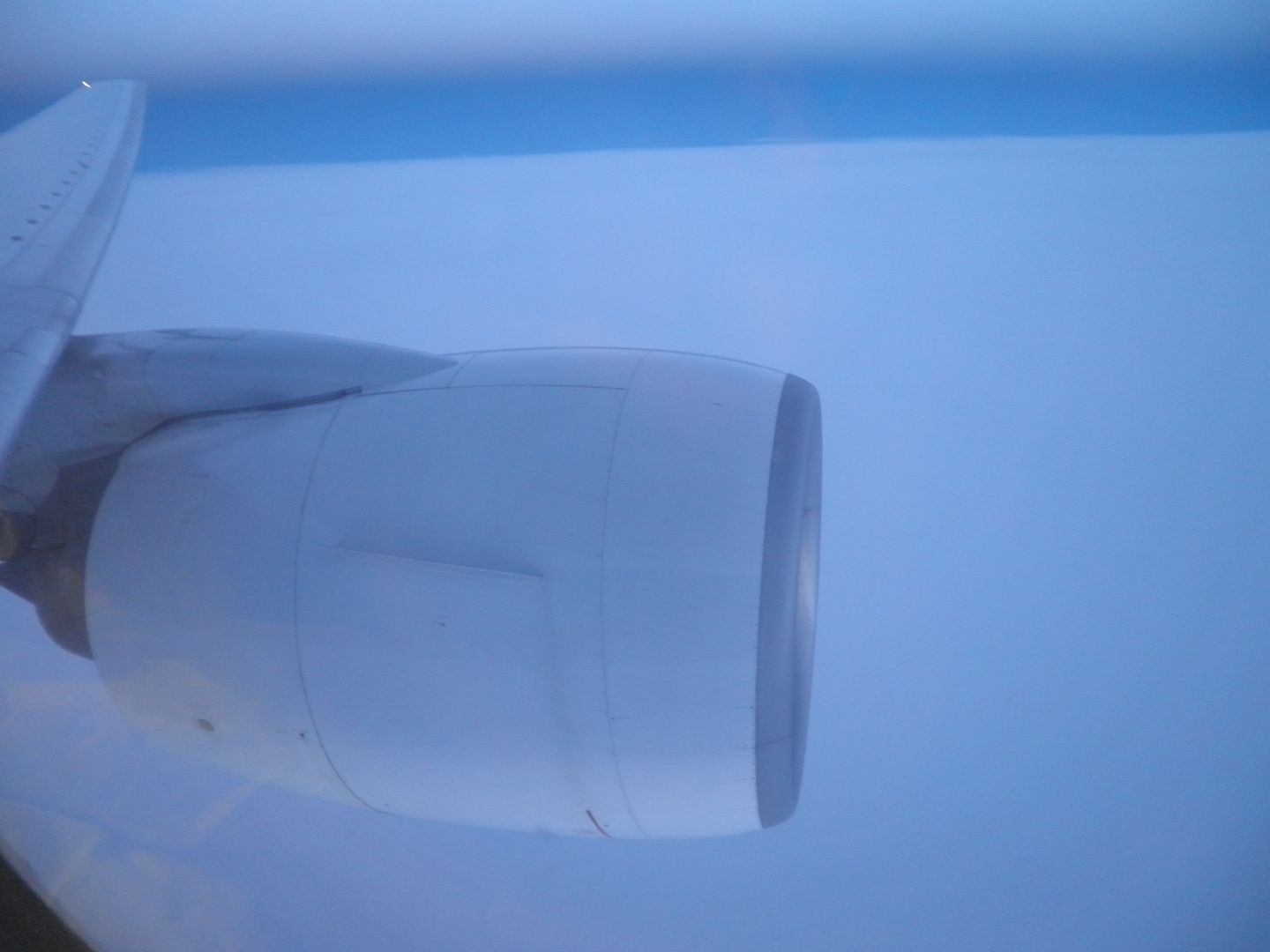 C O N C L U S I O N
A great flight with Korean Air! Very service minded flight attendants, good legroom and the food was good. In flight entertainment was great too and extra plus for the large and comfortable blanket that was provided.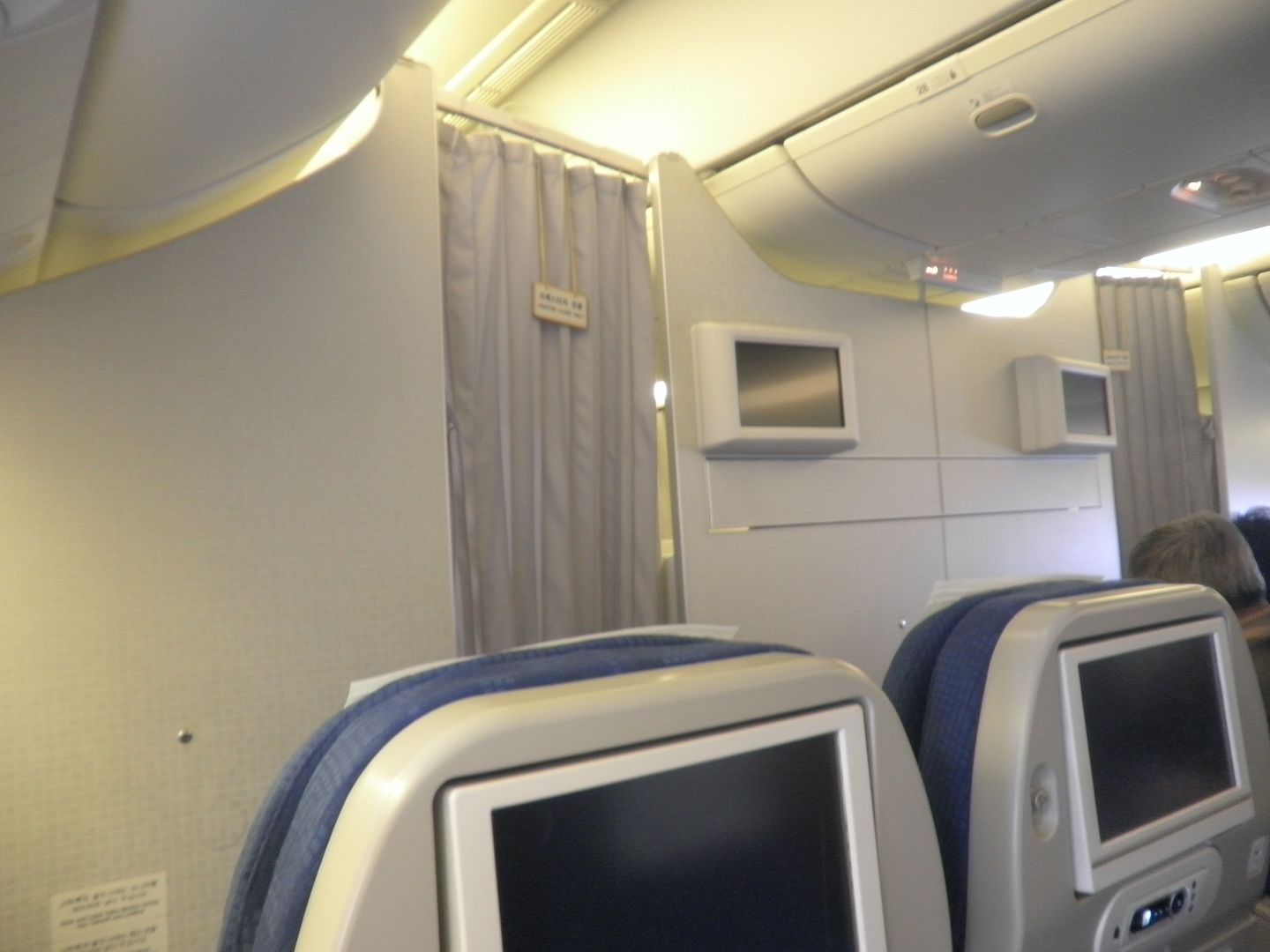 ]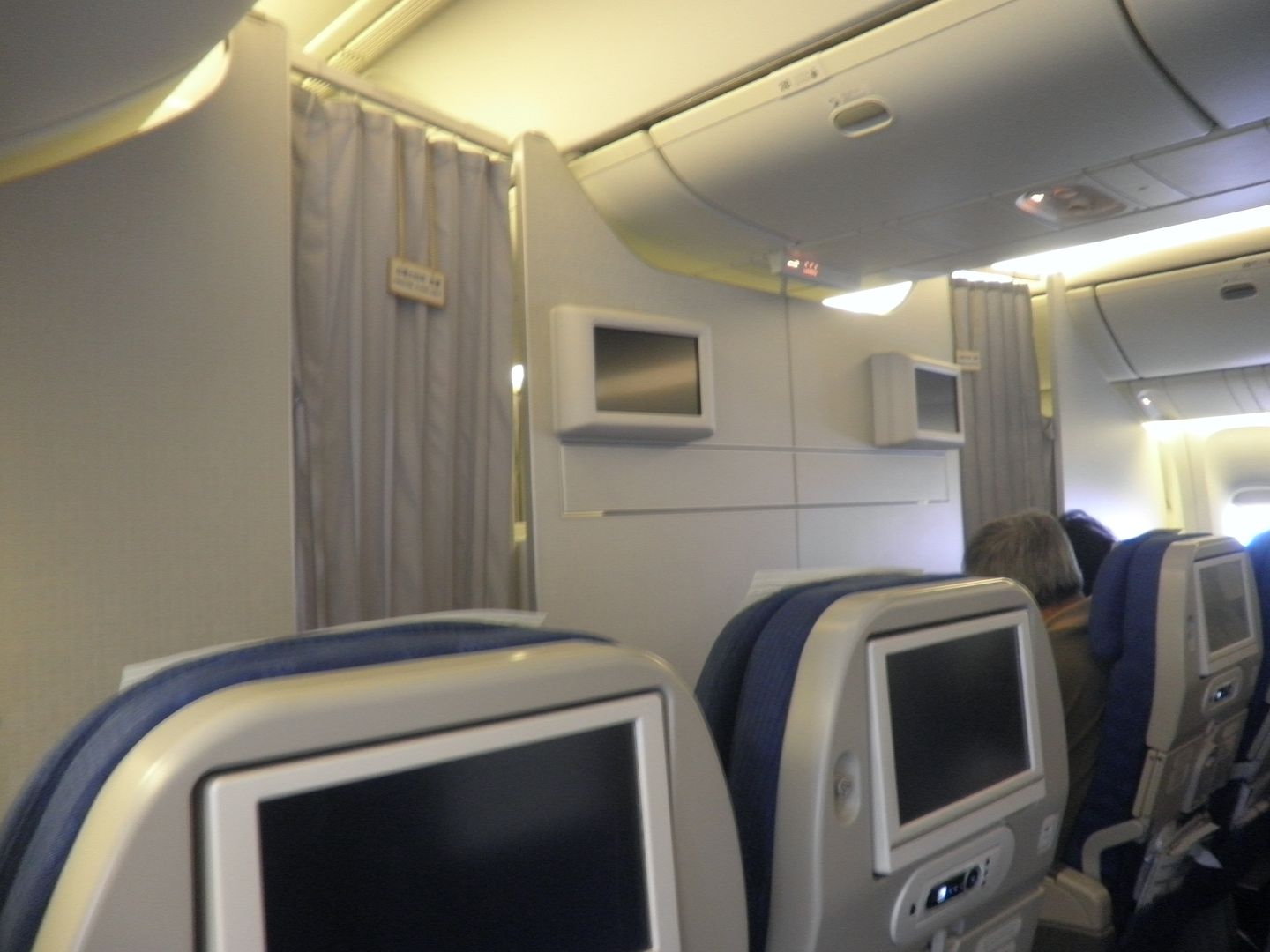 E P I L O G U E
I was supposed to connect to Asiana Airlines to Osaka-Kansai but they said they were full. They were not very helpful and would not accept my ticket to Tokyo-Narita. My plan was to fly from Osaka-Itami to Tokyo-Haneda on Japan Airlines before spending the night at Narita. So I missed two more 777s and ended up going ICN—NRT on United and then spent the night there. I had a nice day of spotting at Narita before flying home to LAX on United Airlines.
It was too bad I didn't get to go on Asiana Airlines since I had planned to write a trip report about them and Japan Airlines as well.
Comments are welcome !
The777Man