An ad for the DC-8 in
Life
magazine (April 1, 1957):
What will it be like to fly in a jet?

Your first jet flight will add a most meaningful dimension to your life—a new measurement of time and space.

You settle in your deep, soft seat in the graceful plane with the swept-back wings.

A short, swift run—and you are airborne. The nose points up eagerly and the earth drops away below you.

You climb steadily, serenely, quietly. The muted sound of the jets falls quickly behind, for in the DC-8 you move almost as fast as the speed of sound itself.

The splendor of the stratosphere

Up you go—up, up beyond the limits of today's planes. Up seven miles from the earth, and now almost eight.

You level off in the stratosphere. And even though the DC-8 puts half a mile behind you with every breath you draw, you feel no sensation of speed or flight.

Just outside your window the temperature in the thin air is 60 degrees below zero. But the air in the cabin has the soft touch of a June day, fresh and sweet and comfortable.

The view of the earth moving lazily and distantly below is exhilarating, with glimpses of fields and towns and mountains in miniature, or silver stretches of the seas.

Up this high, too high for the longest fingers of weather to touch you, you sense a tranquility, a detached peacefulness, a freedom of spirit. You share a feeling of majesty with the sun and moon, often seen hanging in the sky together.

During the day, the sky is an ocean of shining blue. In the evening, the blue deepens into dark velvet. The moon sends forth its milky light. The stars loom larger and brighter, and you are enthralled by the ghostly radiance of the night sky.

Witness to a miracle

Now, almost unnoticeably, you are descending from your secret corner of the sky—down to earth again.

On the ground, you realize how far you've come in how short a time. Realize, too, that you have witnessed—and even played a part in—one of the miracles of our age…the miracle of commercial jet flight through the stratosphere to distant places; so swift, so convenient, so beautiful and rewarding as to leave all other ways of travel in its wake forevermore.
…
As you these words fall afresh on your minds, I ask you to consider the following: sure, the destination may not be exotic, but there's a great equalizer. No matter whether you're going to northeast Pennsylvania or to the other side of the world, all it takes is a peer through the window to remember that the journey is filled with the same sense of beauty and reward.
photo courtesy: andypalumbo.blogspot.com; the pro titling is mine
Hello again, fellow A.netters! I know it's been a little while, but that doesn't mean that I've just been at home sitting on my hands. I've been here and there since the time when we met last. Among the highlights: my first transcon, my first redeye, my first diversion (all on the same flight), three new variants flown, my second diversion, two 787s denied, and nine hours spent at ORD. Curious? Ask and you may receive a boring, yet informative retelling. But I seem to have gone off on a tangent…this trip report will feature, if only for a few moments, an airport that has never been reported on. And if it has, I'd wager that it's been a while. Enough words. On with the show!
(Some of the pictures have been omitted for your convenience. If you wish to see them all, feel free to follow the link: Slideshow for The (United) Express Lane to Pennsylvania)
Wednesday, May 22
There are few days when I'm quite eager to go to work, but this day was one of them. It was the day that I'd leave early and fly somewhere, of course.
I fast forward to my arrival at the airport. With the busy holiday upon us coupled with parking garage maintenance (that they seem to have been at forever), both garages were full. No biggie; there were plenty of outside spots, and weather was not going to be an issue.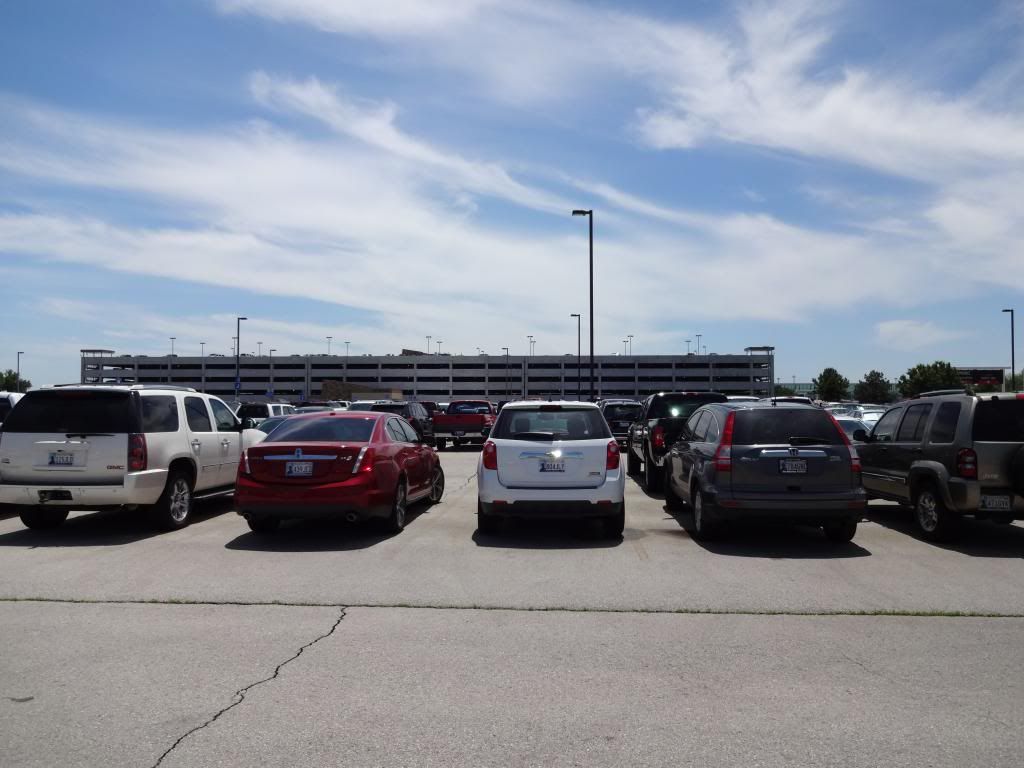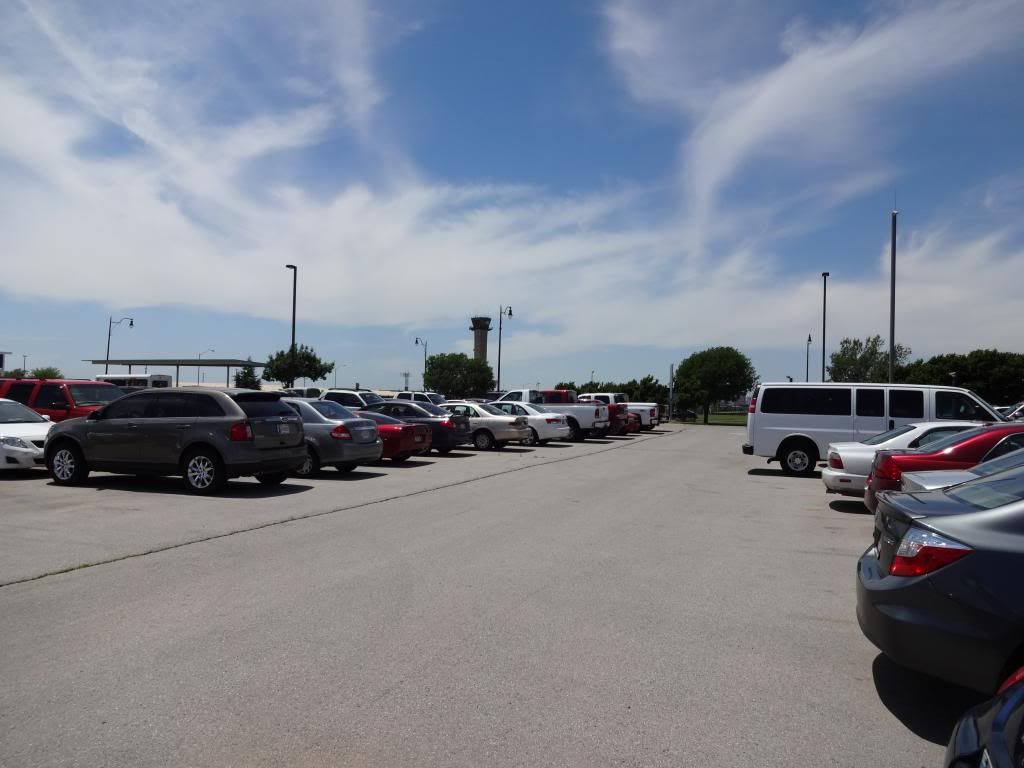 A Frontier Embraer fails at trying to hide behind a smaller family member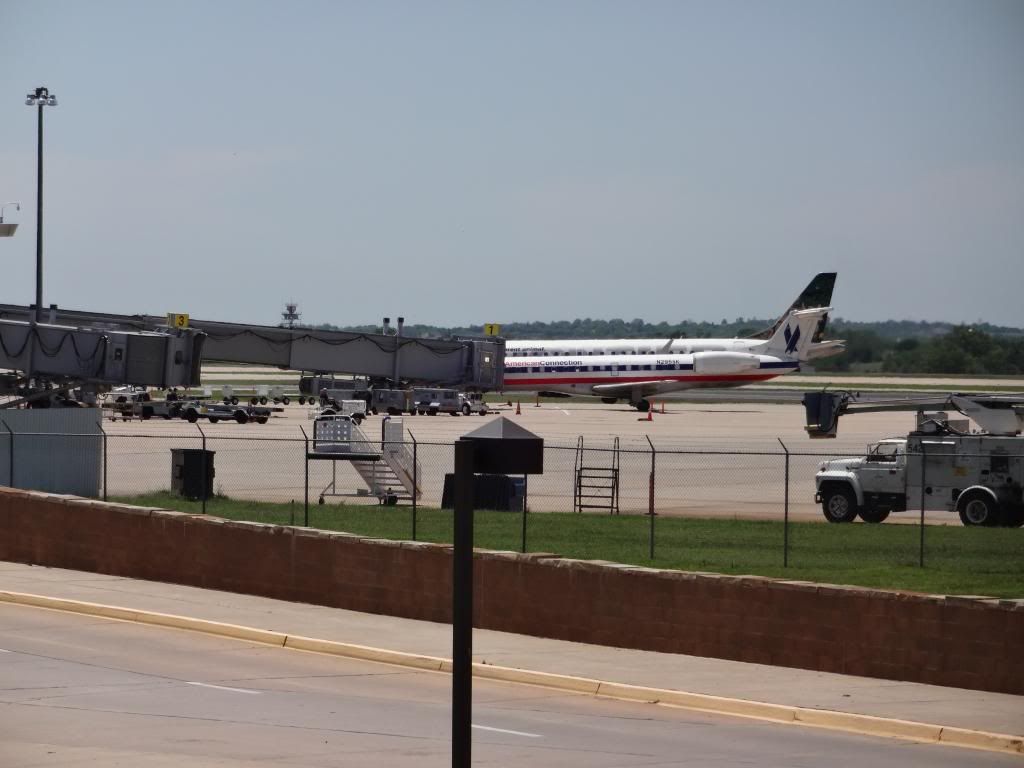 Looking down the west end of the ticketing/check-in area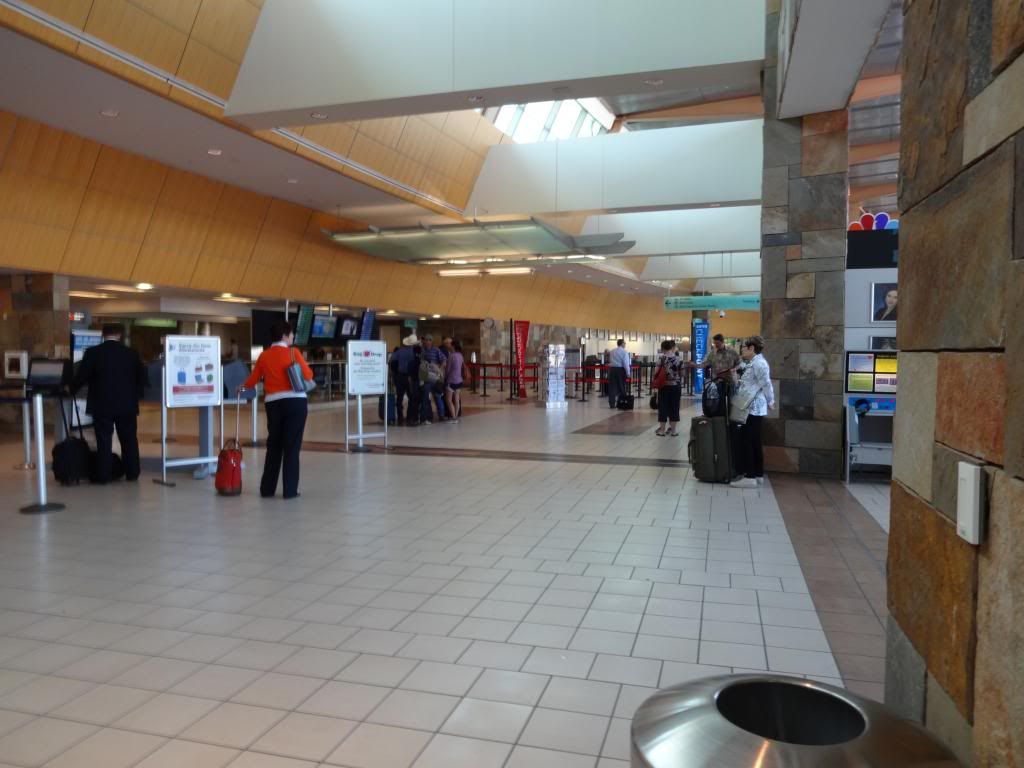 The UA kiosks; the last time I was there unknowingly signaled the start of an adventure…
The western end of the terminal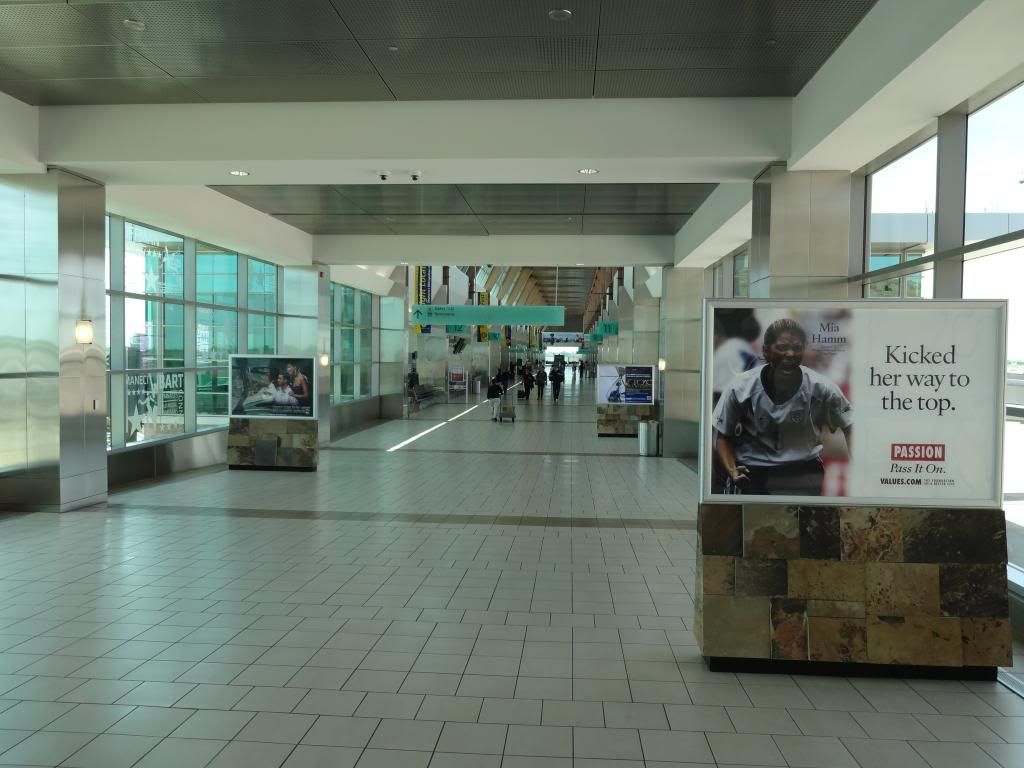 I arrived at the appointed gate and saw…well…an empty space.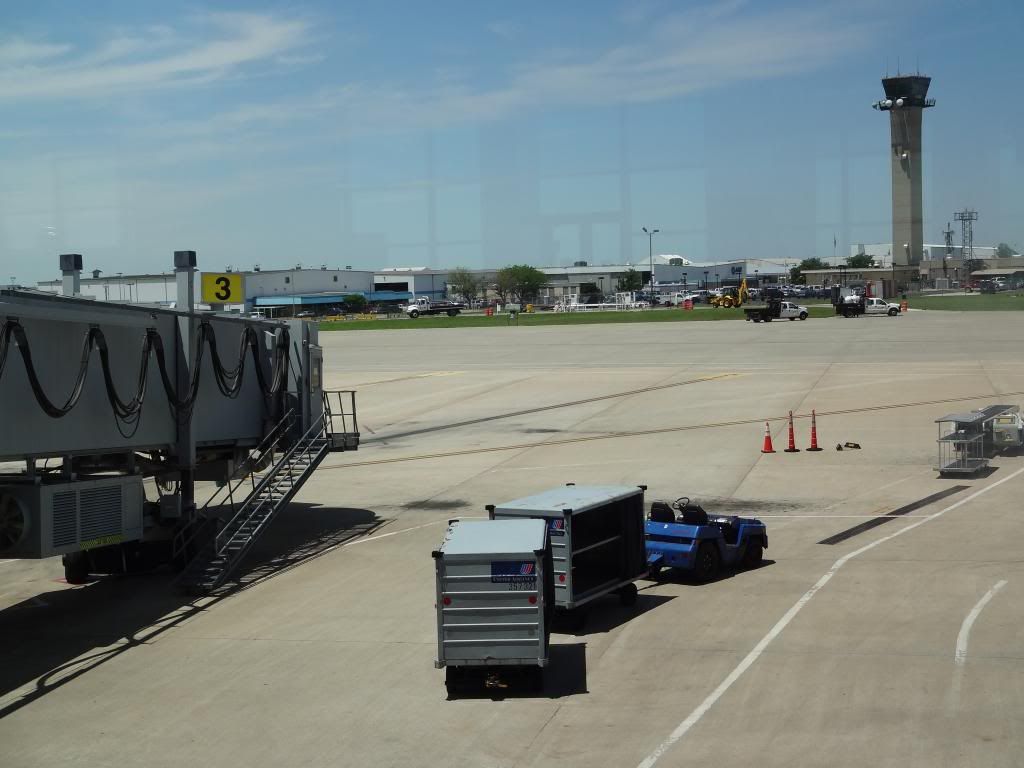 An investigation revealed that the plane would be late in arriving, so I'd be about one and a half hours behind. With plenty of connection time built in, I was firmly in the league of the unconcerned. Not long after that, we were told by the gate agent that ORD was in the middle of a ground stop, so once the plane arrived, it would be held here until 5:30. Almost immediately, a line formed at the agent's desk to address the potential missed connections. No longer in the league of the unconcerned, I joined the line.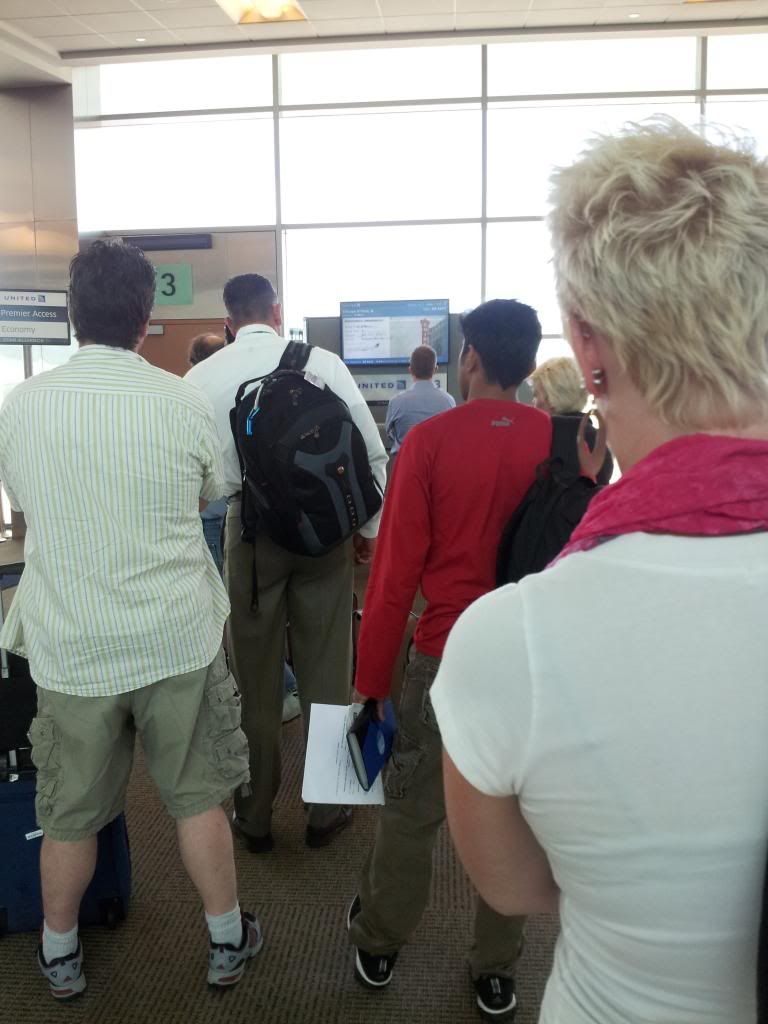 A few minutes into the cavalcade of standing, a woman came up and asked if the line was for something important. The duty somehow fell upon me to break the bad news, whereupon her expression dimmed a bit and she trudged to the back of the line. A man later walked into the Premier Access lane and looked around in bewilderment. Following a query about the line, I again had to deliver the bad news and send a poor, unfortunate soul to the back of the line. And so we continued to wait…
One hour and twenty minutes later, it was my turn. I showed my boarding pass and the agent (an assistant who showed up to help the first one) started clacking on the keyboard. It was literally a matter of seconds after that when the other agent got word from the pilot that we were ready to board. In this case, I was obviously glad that my time standing in line had been a waste.
I hastily scrambled to the window to snap this pic before we shoved off…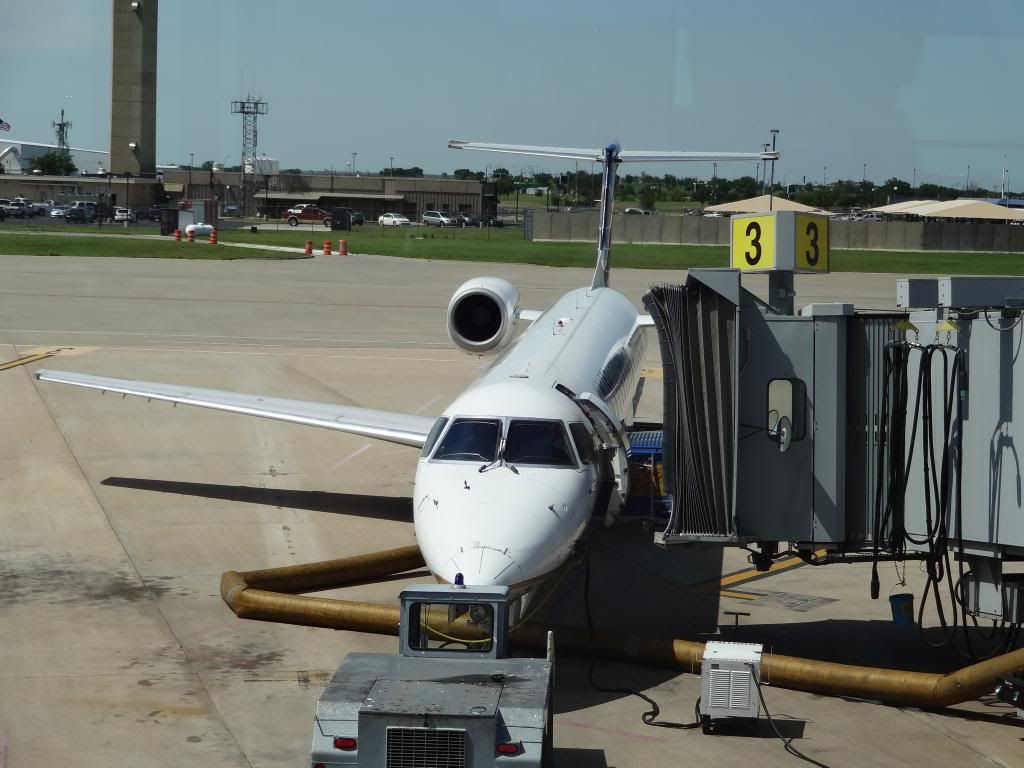 United Airlines 6167 OKC-ORD (operated by ExpressJet Airlines dba United Express)
Scheduled: 14:40-16:40
Actual: 16:02-17:44 (wheels up/wheels down); ??-17:48 (gate to gate)
Embraer EMB-145LR [ERJ-145LR] (N12552)
The luxurious legroom in ERJ Economy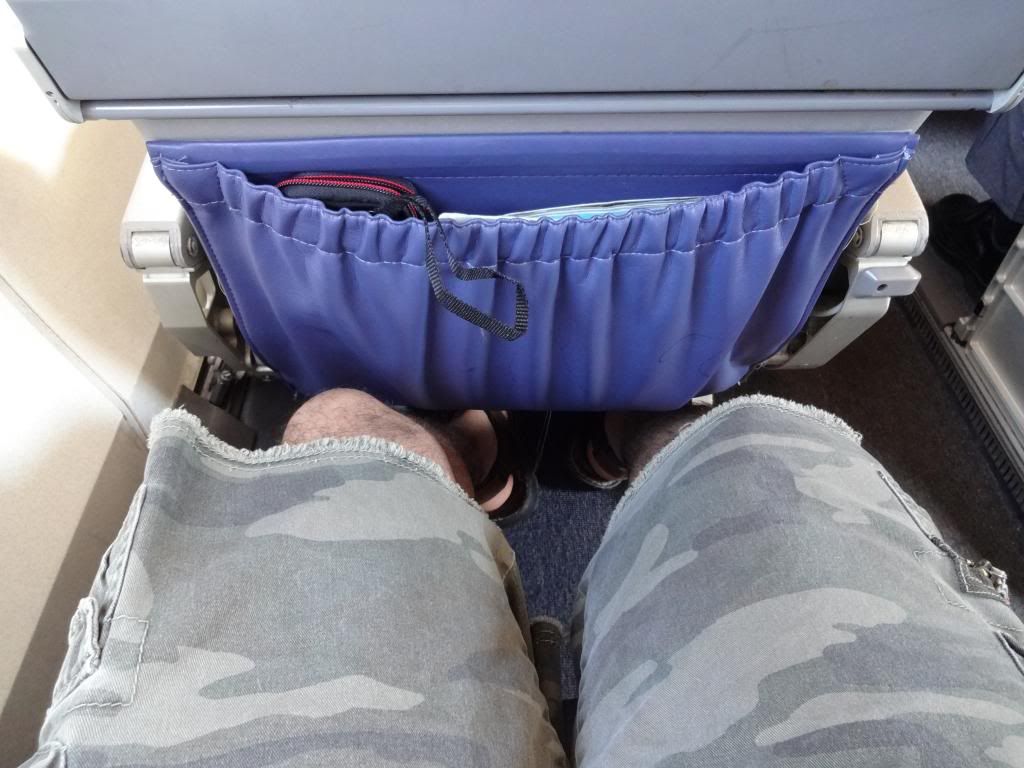 To my chagrin, the window was dirty and scratched, which negatively affected some of the pictures I took. I apologize in advance.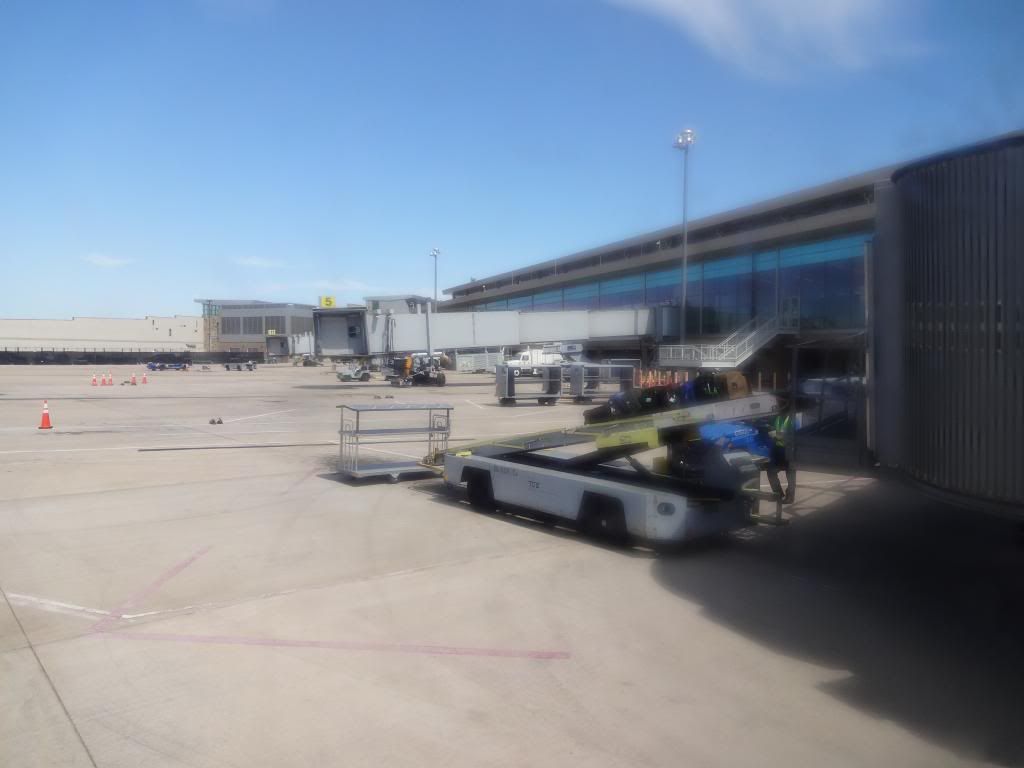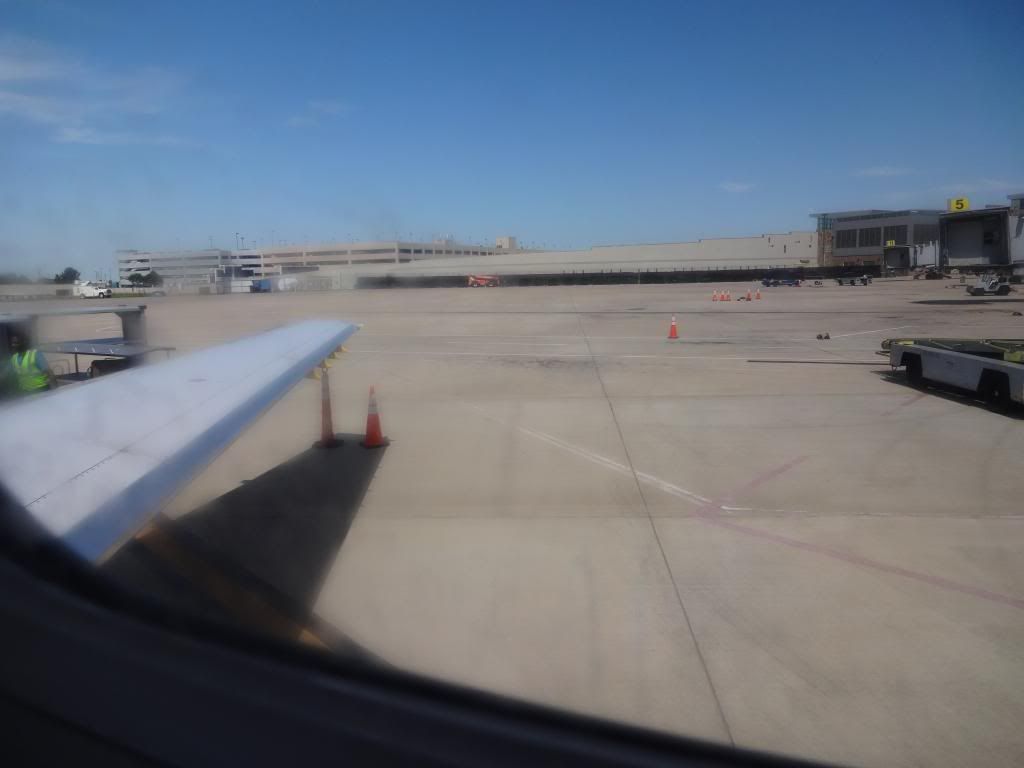 A takeoff video (by the way, all videos are available in fabulous HD, if you're into that sort of thing) provided for your viewing pleasure:
http://www.youtube.com/watch?v=OwHGTwGvy78
There was a somber moment while I recorded, however, as our flightpath took us over an unsightly line that had been scratched into the earth. Only two days earlier, a massive tornado took that path through the city of Moore, a city that is already no stranger to strong tornadoes. Though the damage couldn't be made out, the pictures from the media frenzy were fresh in my mind. They were fresh in the minds of the other passengers, too, judging from the audible gasps and comments as the area came into view. Twenty-four people lost their lives during that storm, and I took a brief moment to remember those lost and to remember the power that nature can wield.
Time to identify airports again! This be University of Oklahoma Westheimer Airport (OUN / KOUN)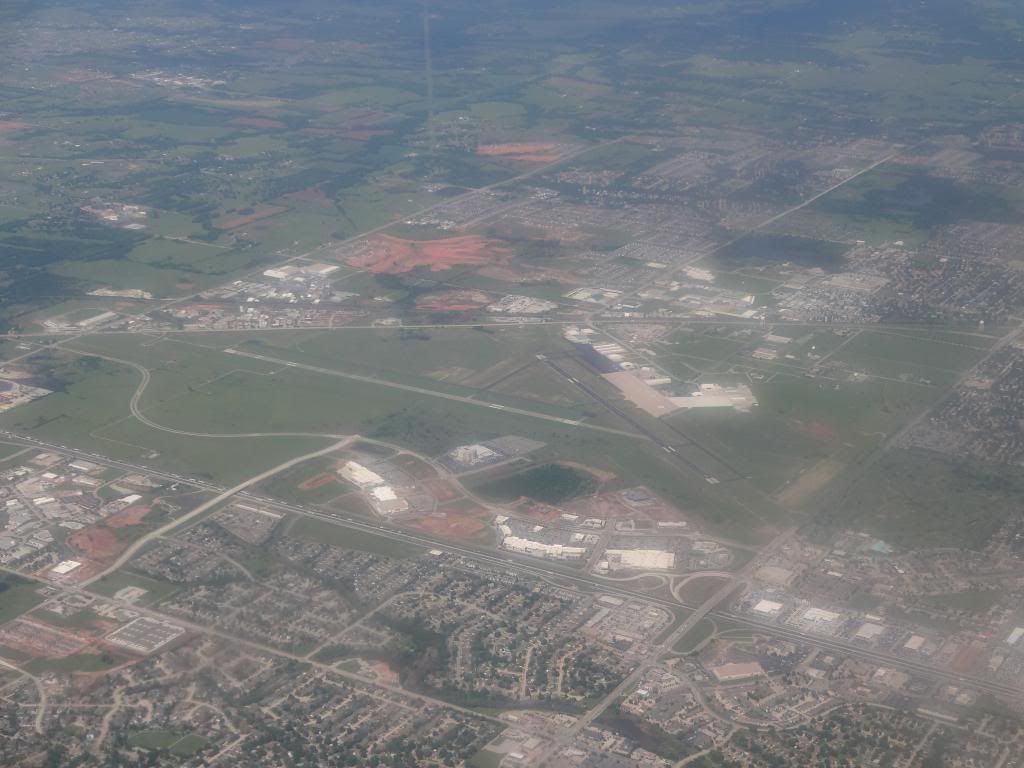 The OU campus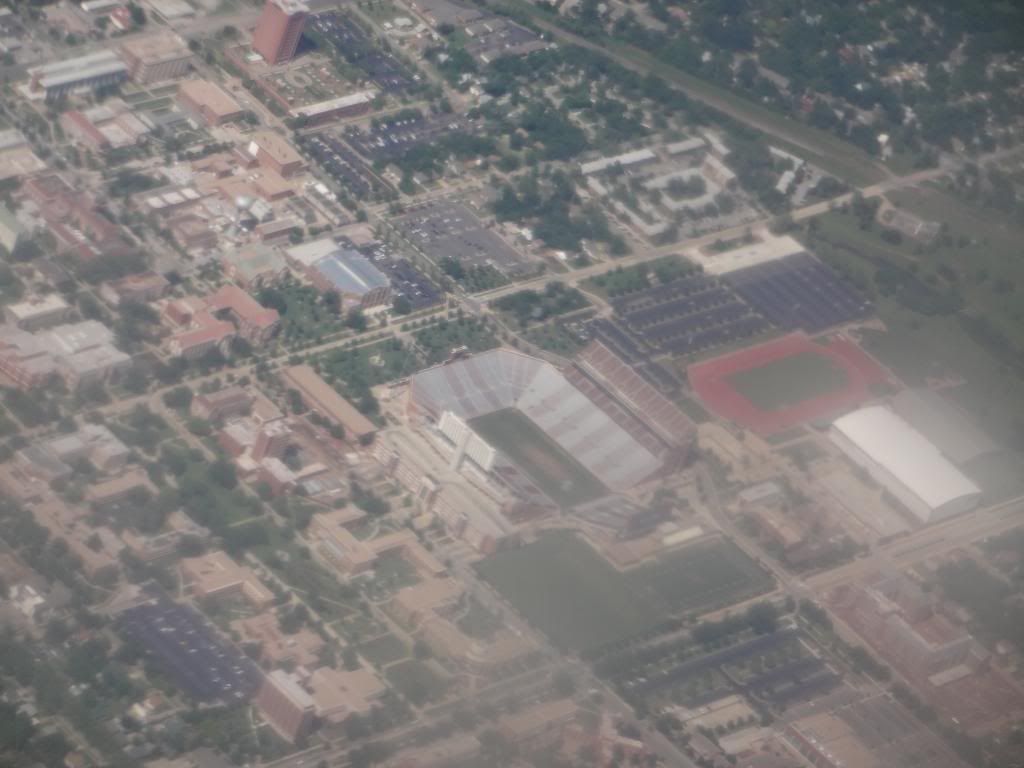 OKC in the distance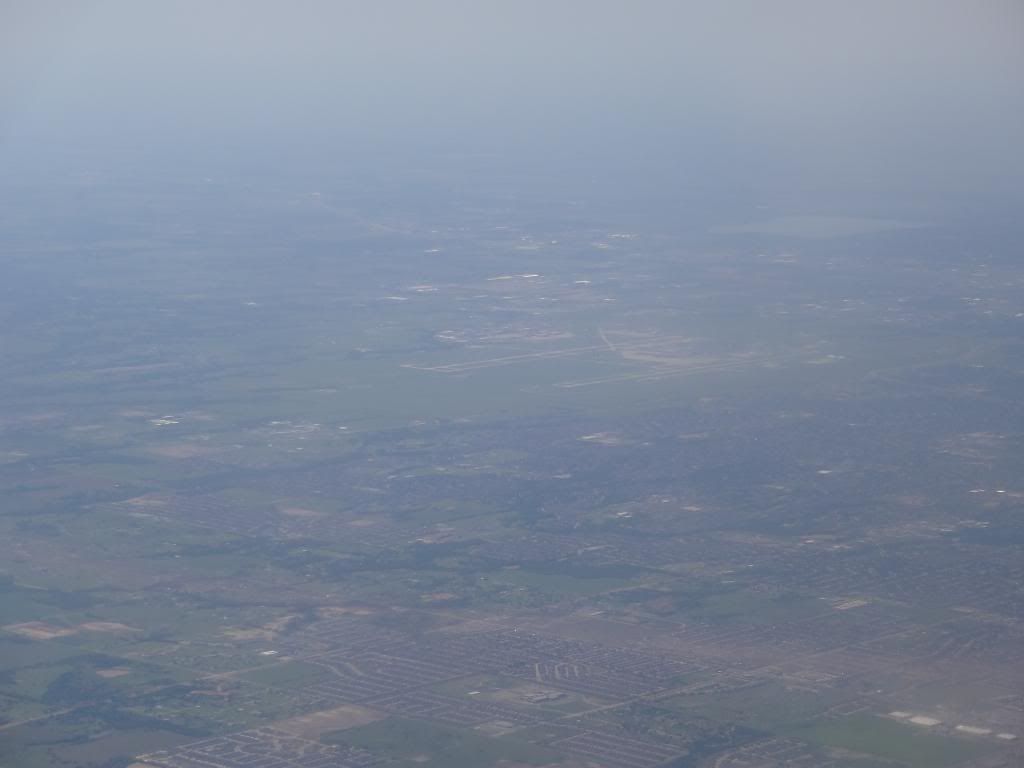 Looking over the recently devastated city of Moore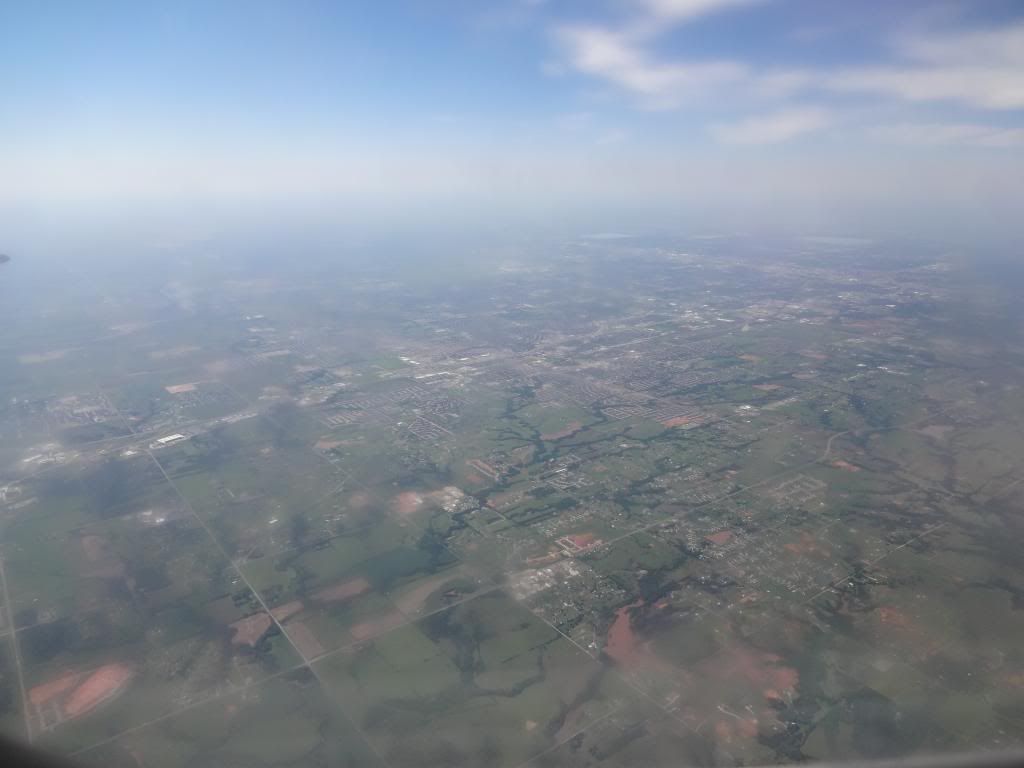 Tinker AFB (TIK / KTIK) and Lake Stanley Draper
Both airports in the same shot; I realize the crappy window makes it difficult, but they're there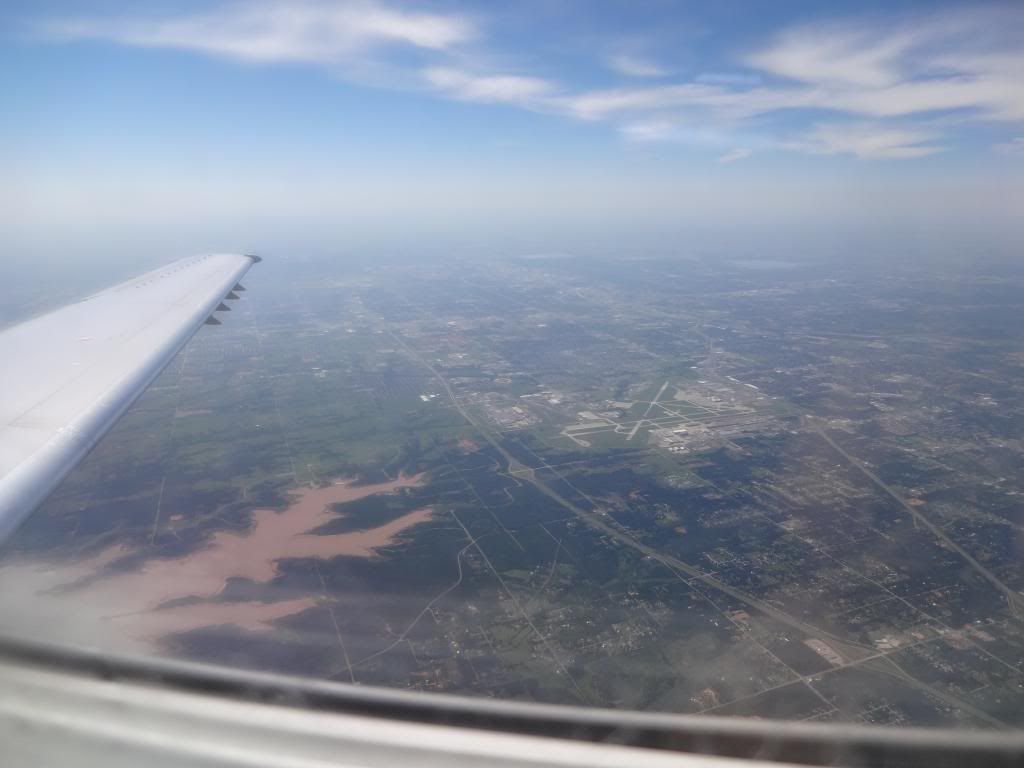 Agra, OK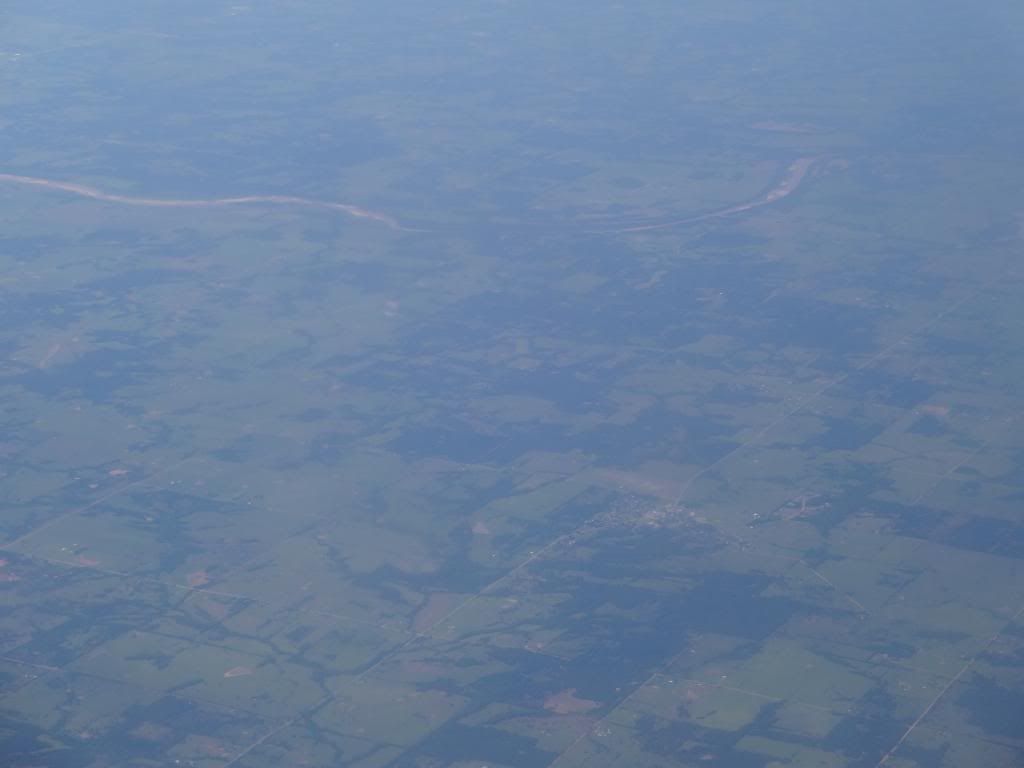 Cushing, OK, its Municipal Airport (CUH / KCUH) on the left, and the tank farm (Trivia: it's the largest crude oil storage facility in the world)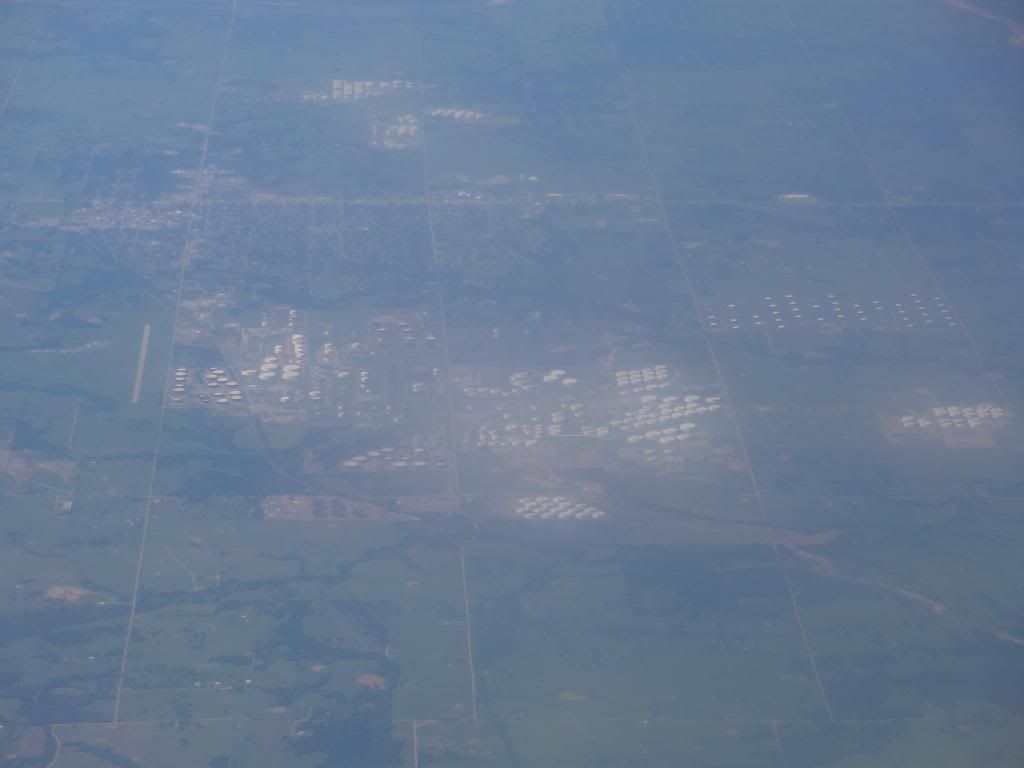 William R. Pogue Municipal Airport (KOWP), northwest of Sand Springs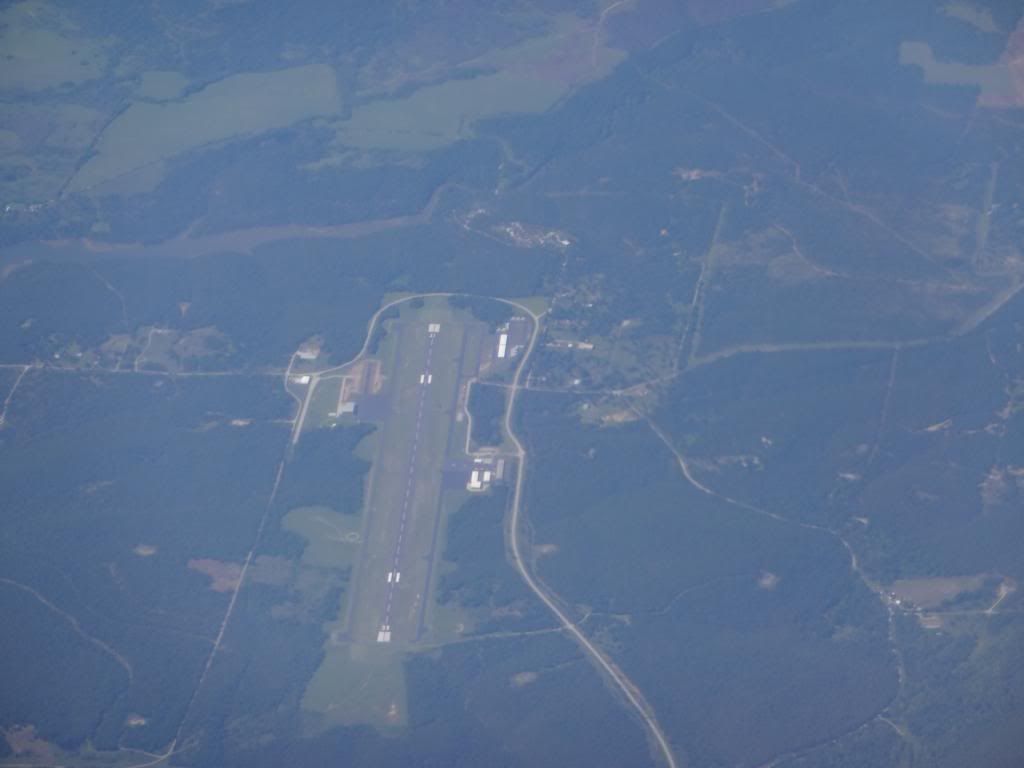 As you can see, the camera decided that only the window was worth focusing upon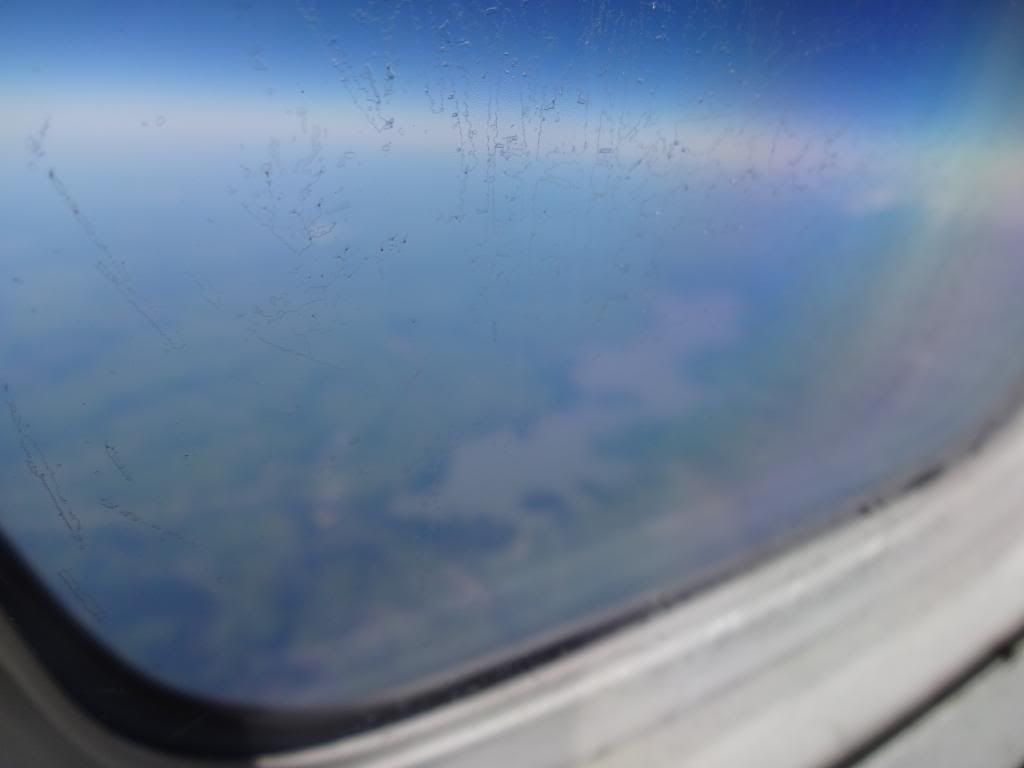 Oologah Lake and the city of Chelsea (Trivia: Chelsea is the site of Oklahoma's first oil well)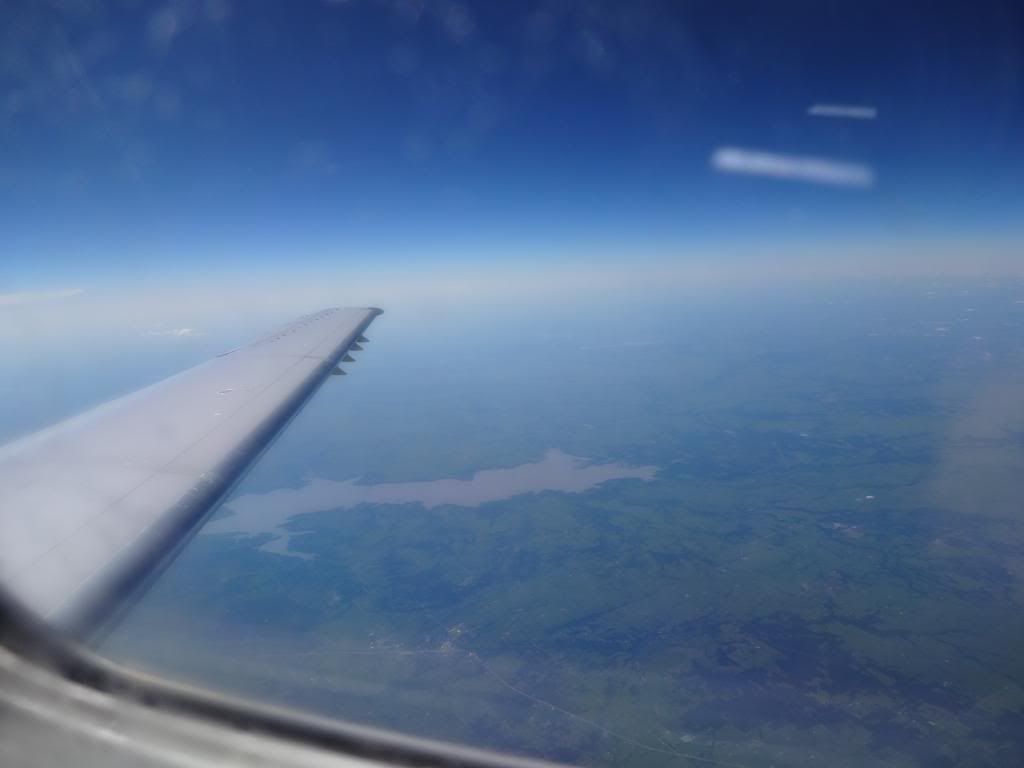 Miami, OK (pronounced "my-AM-ə"), its Municipal Airport (MIO / KMIO), and the city of Commerce just to the north (Trivia: baseball great Mickey Mantle was raised in Commerce)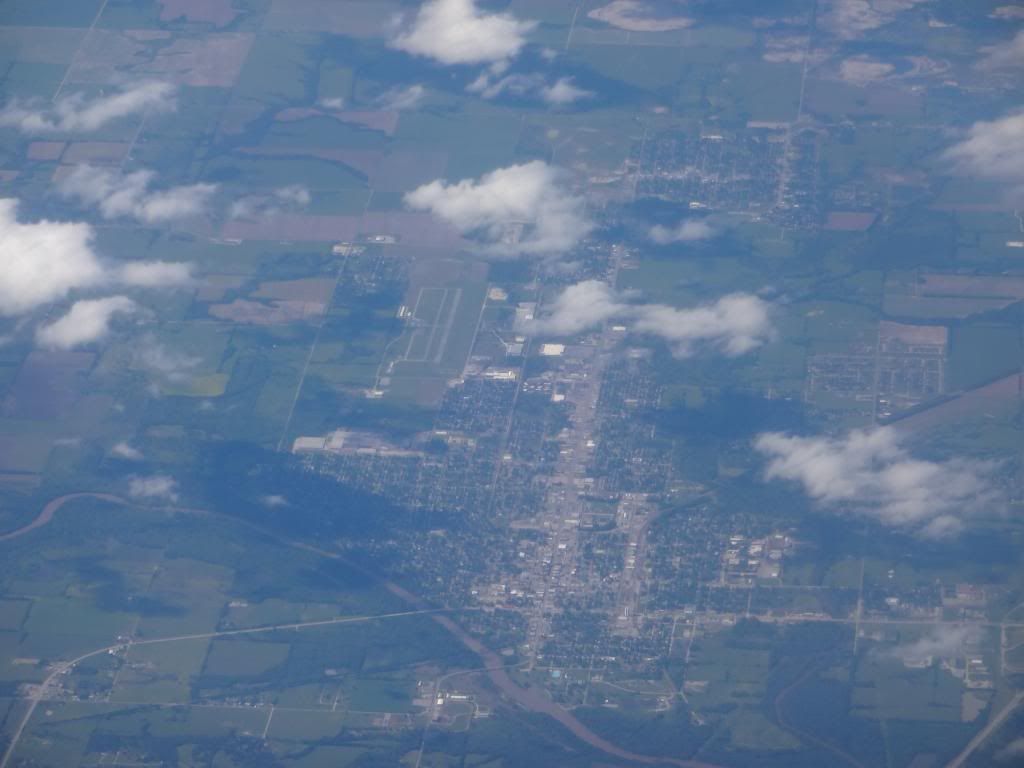 Coke Zero; no different pronunciations, and I'm pretty sure Mickey Mantle never drank any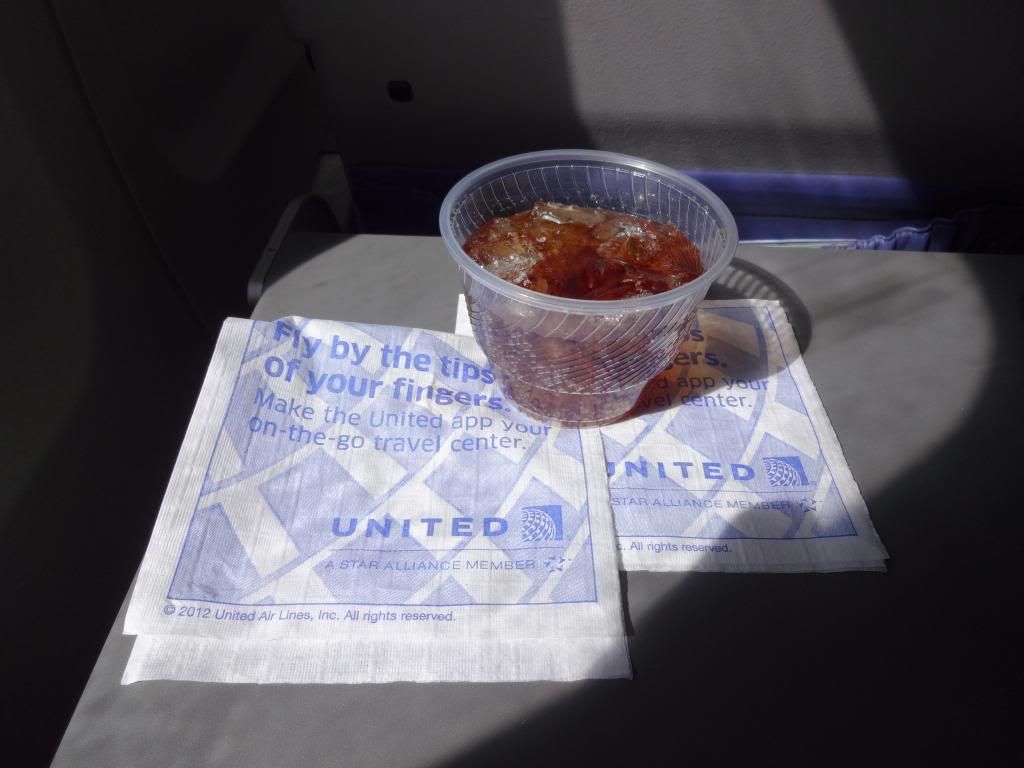 The dirty window prevented me from snapping pics of two planes that crossed our path: an AA MD-80 and a WN 737. Drat! Instead, have another shot of some low-res clouds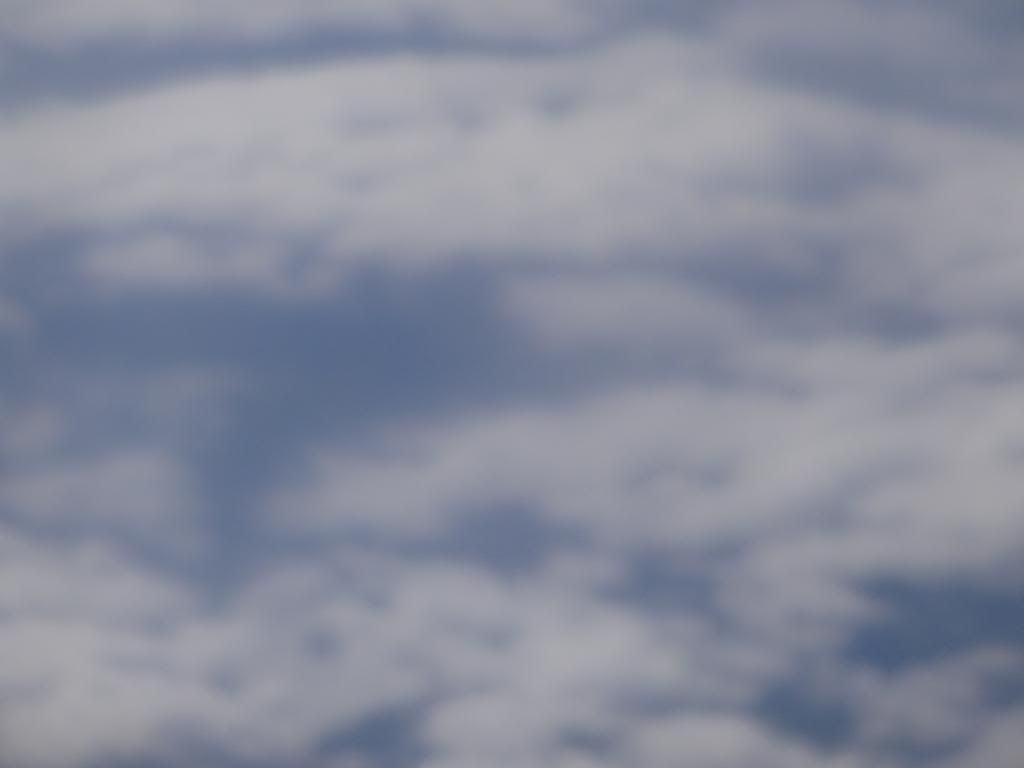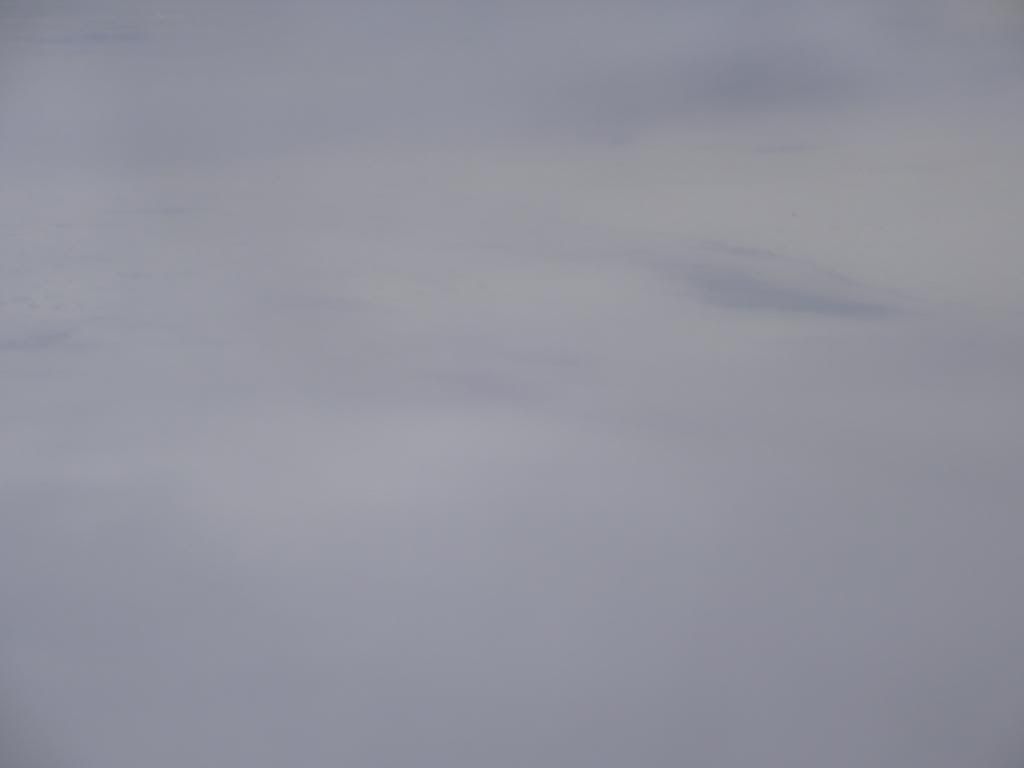 On descent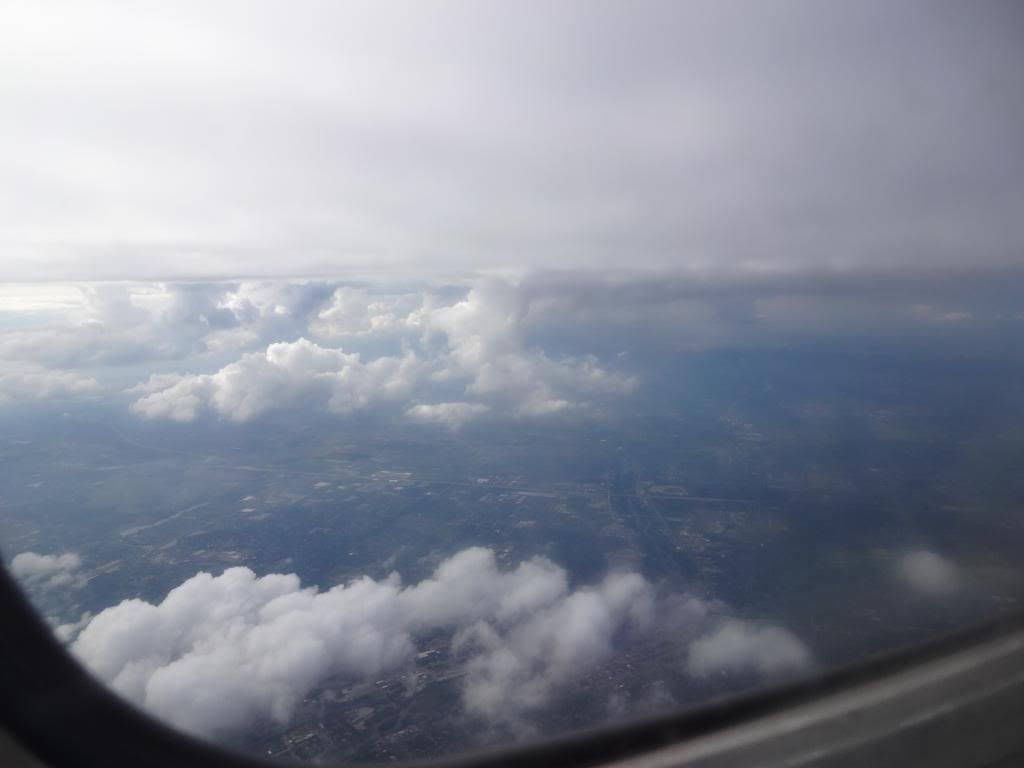 Seen in Illinois: DuPage Airport (DPA / KDPA); Batavia; Fermilab. Those two circles? Click:
http://en.wikipedia.org/wiki/Tevatron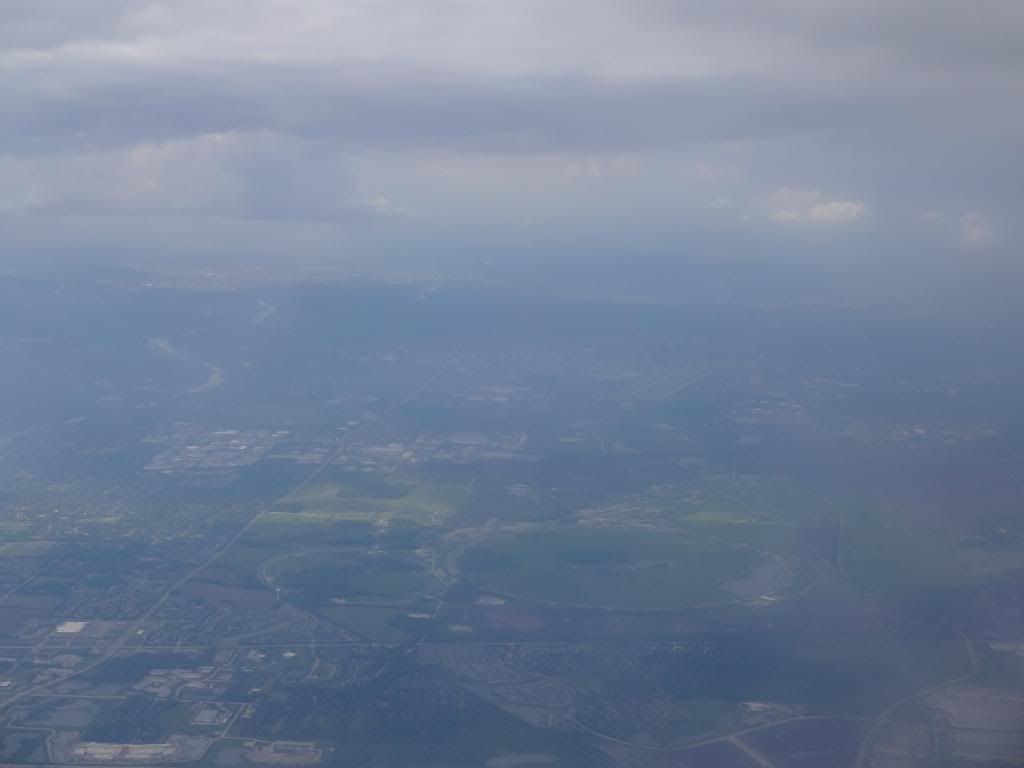 A landing video presented for your convenience:
http://www.youtube.com/watch?v=_Zhmn-Mk0ak
Parked next to a CR2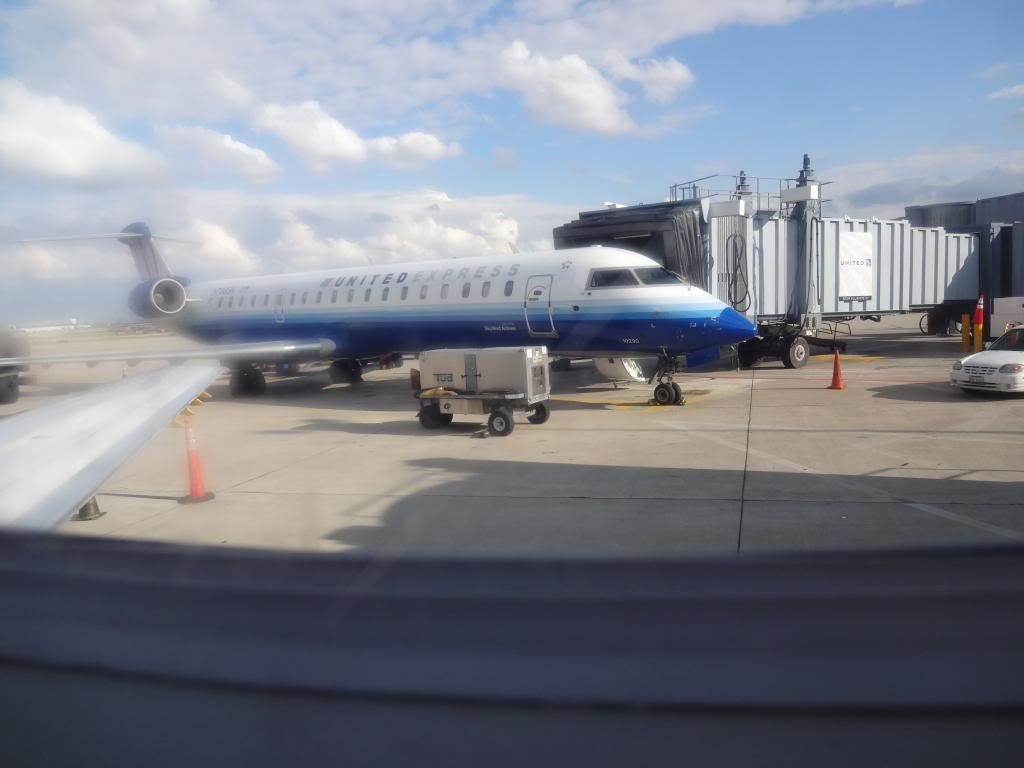 I arrived in Chicago with no time constraints (thankfully) and proceeded to grab something to eat. Since Concourse F isn't the most exciting of all airport buildings, I'll refer you to one of my previous sojourns through the airport, available at the bottom of the report.
The effects of the weather problems that gripped ORD earlier in the day were still being felt at the airport. There were people here, there, and everywhere. Nearly every decent restaurant was filled to capacity, with lines stretching through the entrances. (Indeed, I ate my food whilst sitting on an air conditioning unit in the T1/T2 connector.) But perhaps this picture tells the best story: the FIDS lit up like a Christmas tree. (Oops, I mean Holiday tree. I hope I didn't offend anybody.)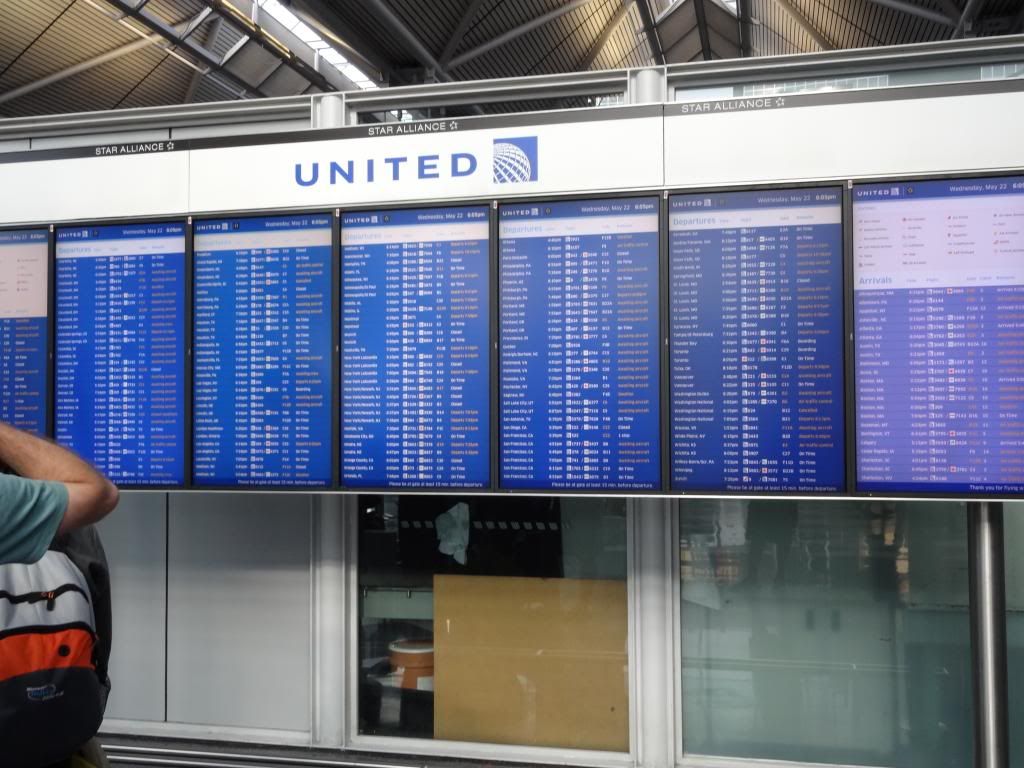 Still pine for seeing the Continental name? Seek out an ERJ.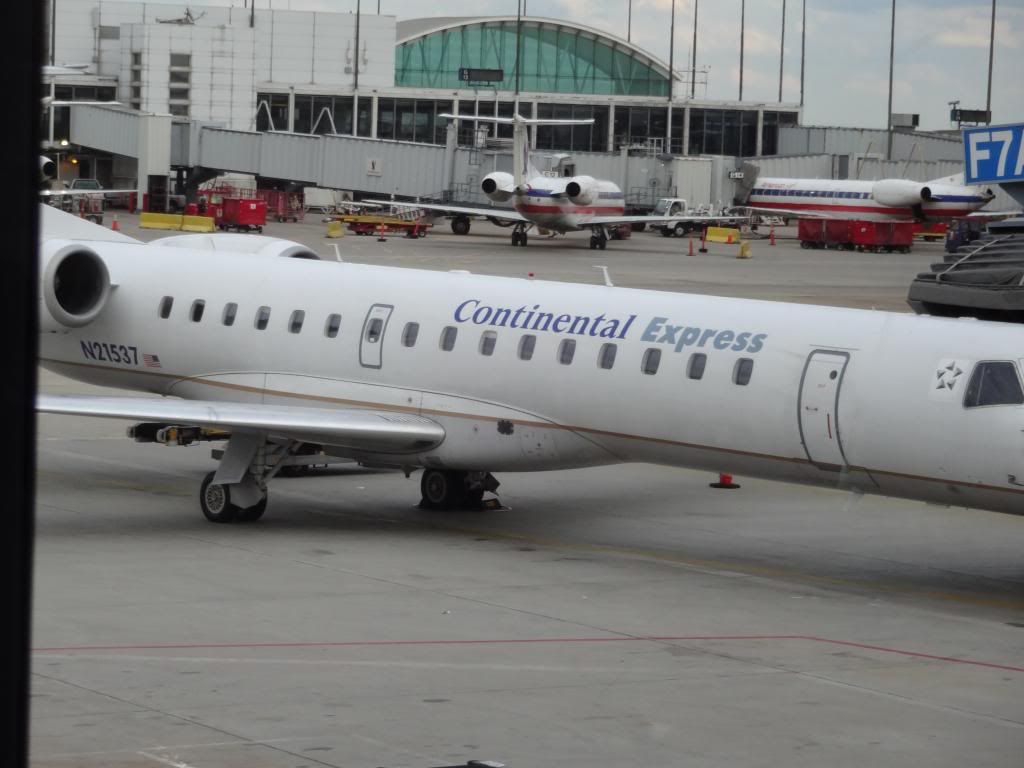 Following the acquisition of food and drink, I made for the gate area to wait out the rest of the time. Once parked at an outlet at the end of Concourse F, I was treated to a nice view of taxiing aircraft. Believe it or not, the highlight wasn't the Dreamliner…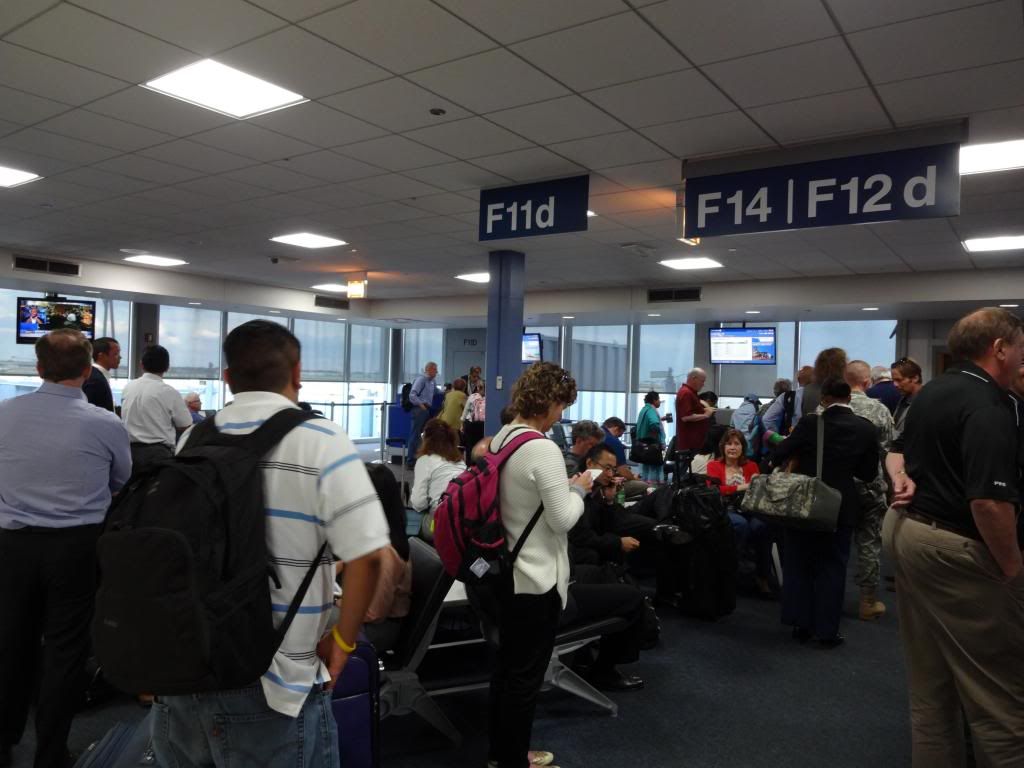 An American MD-82 passed by, registration N7537A. Though the camera was near, I couldn't snap a pic while it was in the clear, so I excitedly sufficed myself with this shot with a jetbridge in the way: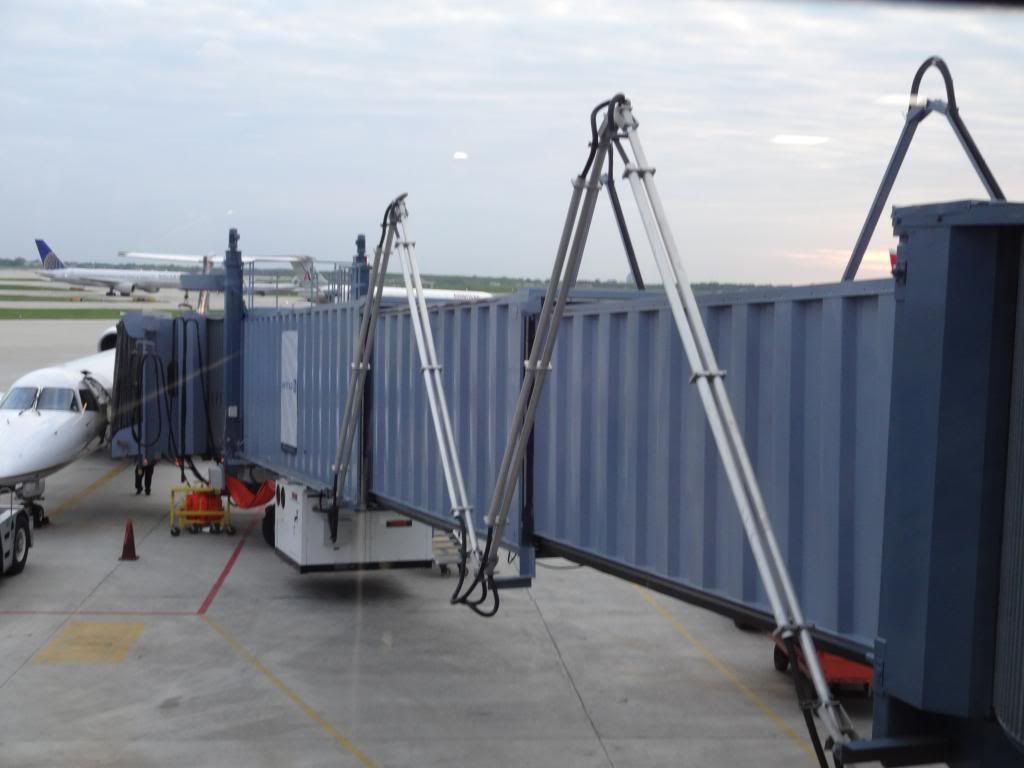 And this shot through the window shade: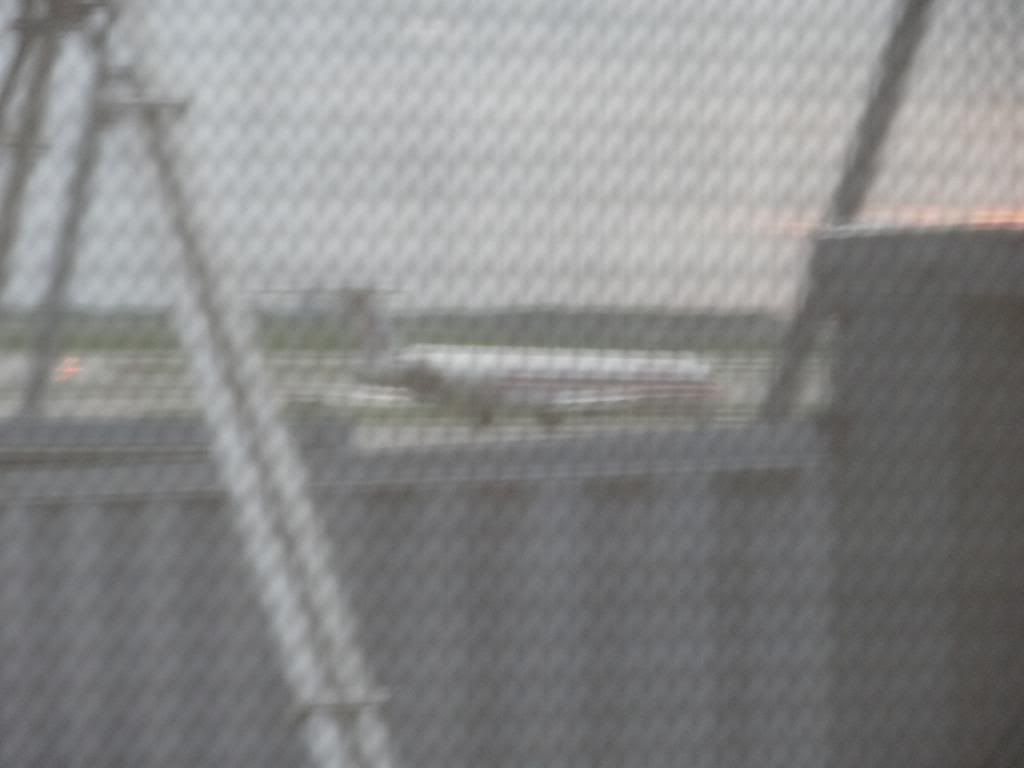 Why go to that length? Because N7537A is the very first plane I had the pleasure of making a flight on, that's why! It was the third day of June 2005, a short OKC-DFW hop on the way to BWI. A mere 176 flights later and there I was looking at the silver-skinned beauty once again. As it silently slid out of sight, I turned my attention back to my laptop and continued to wait.
An earlier flight (which was now quite delayed; surprise, surprise) to my destination was nearby. Not for long, though, as it was cancelled due to weather at the destination. I briefly worried that the same fate would befall me, but I imagined that the two hours tacked on to my departure time would allow the weather to pass. And so I waited some more, complete with two gate changes. Finally, the time came to depart the hub for a spoke.
United Airlines 5843 ORD-AVP (operated by ExpressJet Airlines dba United Express)
Scheduled: 19:53-22:40
Actual: 21:31-23:57 (wheels up/wheels down); ??-00:01(+1) (gate to gate)
Embraer EMB-145LR [ERJ-145LR] (N16919)
Night had fallen on the Windy City, and this was another standard jungle jet hop, so the only pic I snapped was of our neighbor: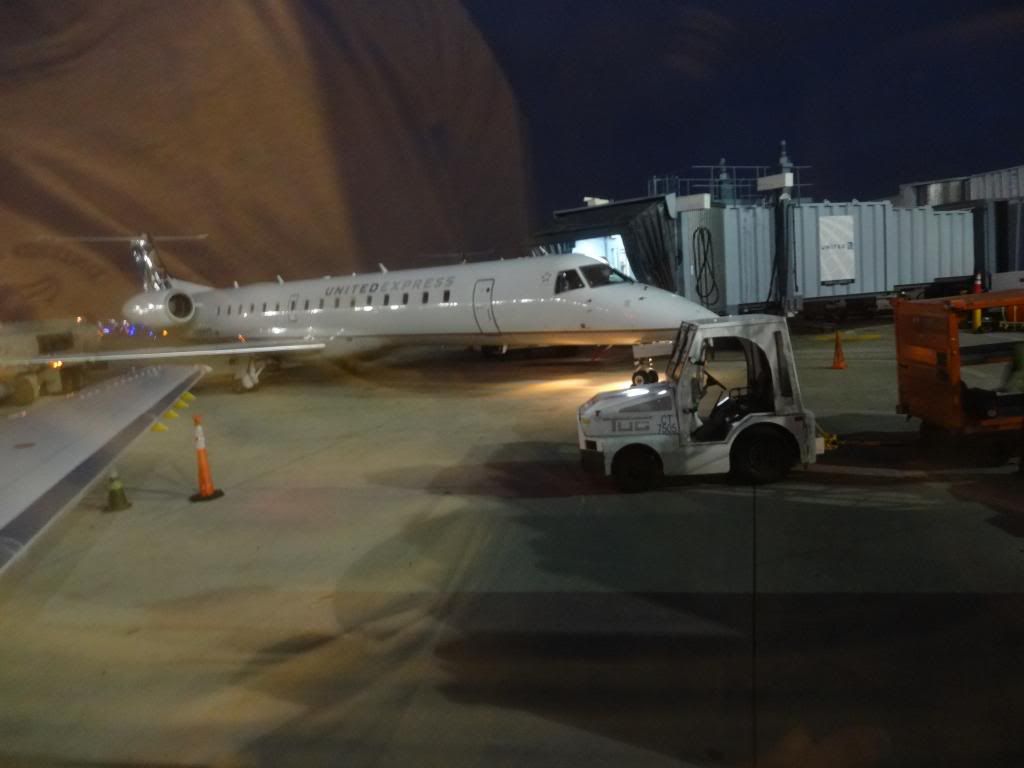 As for the flight…it was uneventful, so there. However, as a matter of protocol, you get this landing video into an airport you may not have seen here before…Wilkes-Barre/Scranton International Airport.
http://www.youtube.com/watch?v=luQfsweCAy4
You can see from this shot that the airport has windows meant to thwart shutterbuggers such as myself.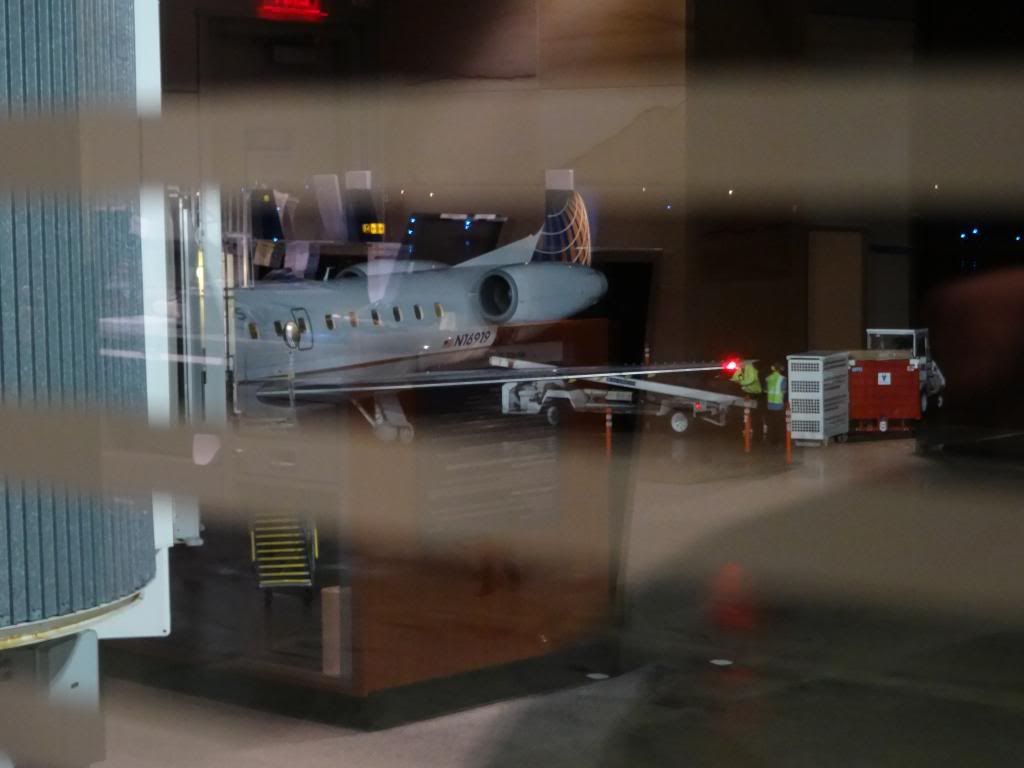 Behold the AVP terminal. As you can imagine, there's not a lot to it, but what they have looks very nice. It's not a bad place to be if you're stuck there for a few hours. Believe me, I know that feel from a previous trip. The free internet helps quite a bit.
FIDS; it's not quite like the one you saw at ORD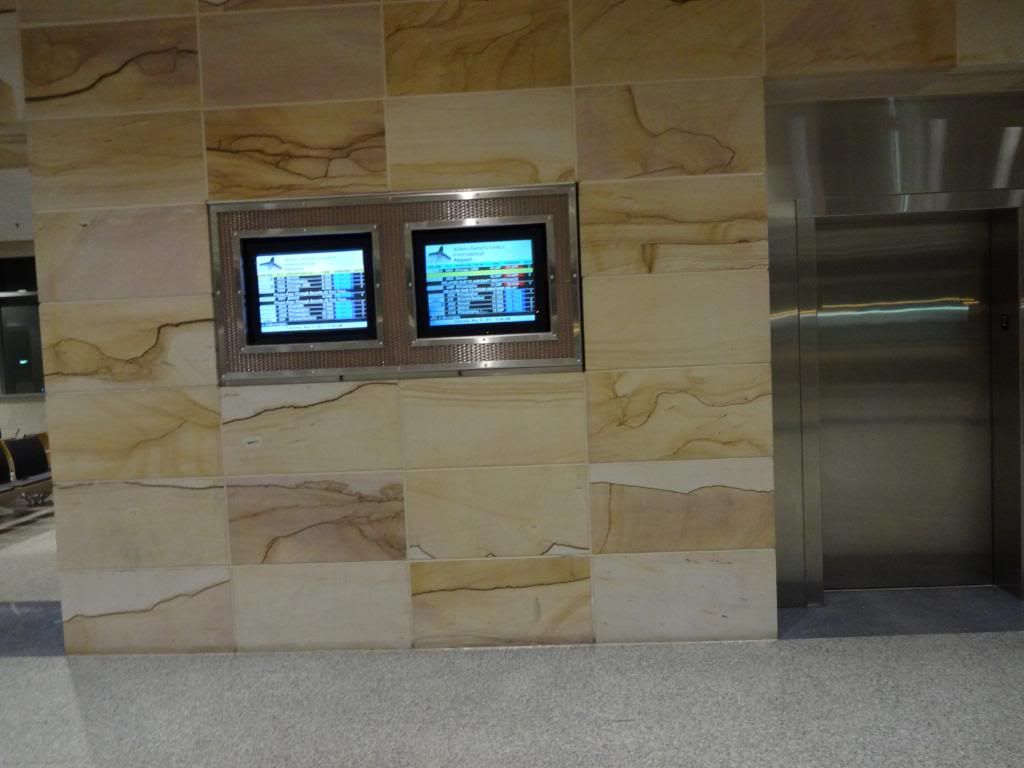 It's been a while since I've had the opportunity to do this, but…a new bathroom for you to see! There are no complaints with the facilities. They have always been clean and convenient.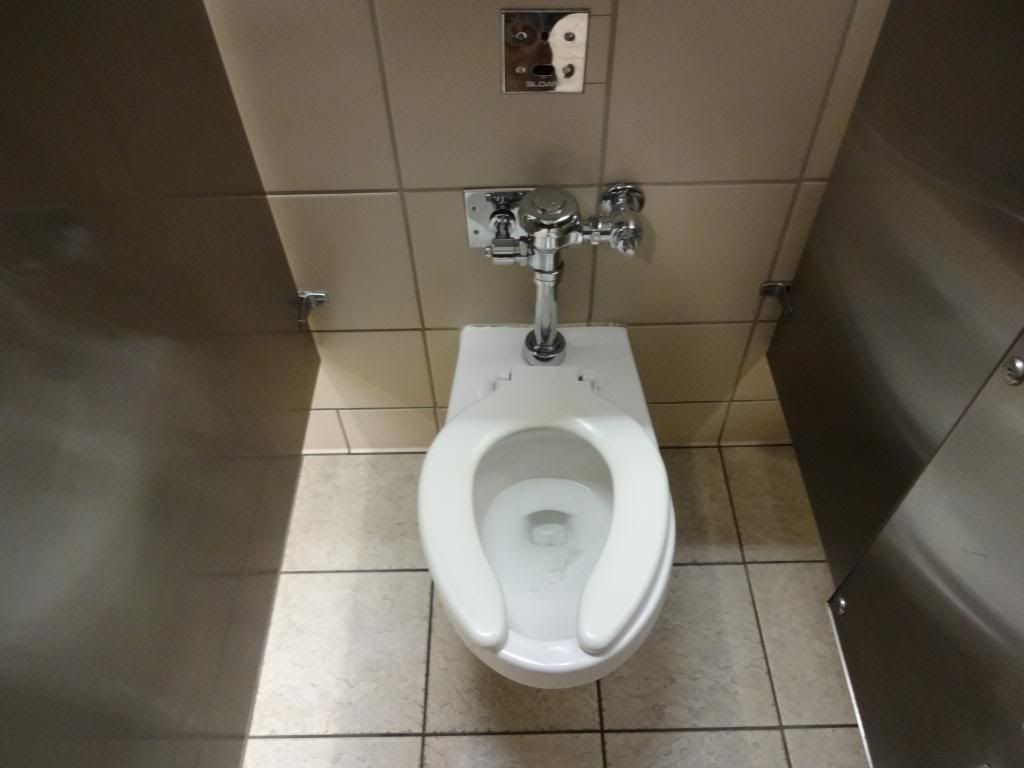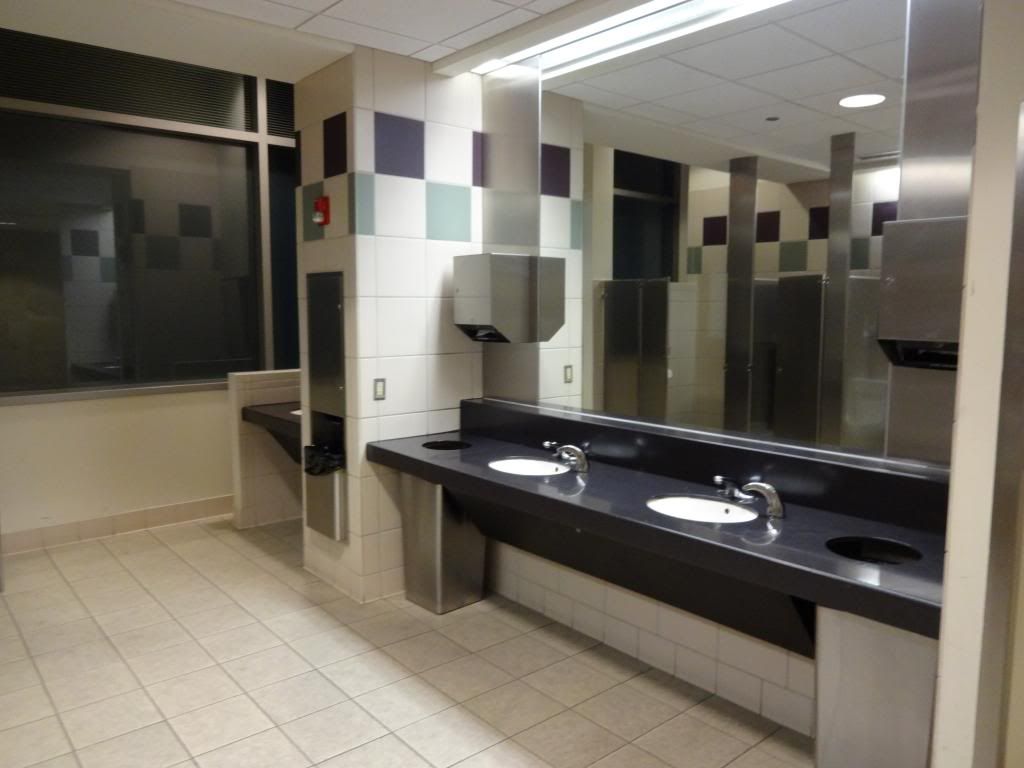 As it was quite late (rather past midnight by this point) I retrieved my bag from the claim belt, got my rental car, and got the heck out of Dodge. I had a chance to speak a bit with the woman in front of me at the rental car desk; she was rebooked from the earlier EWR-AVP that got cancelled. It had been quite a long day for her. As the bags emerged from behind the wall, she looked at every red one that exited in search for hers, but no dice. After I got my red bag, the first few red bags came back out again. Cue the exasperated reaction at her luggage being, well, not where it should have been…
And so the main objective of the trip…I was there to see a friend and complete various activities. The pickup was completed and we headed for the hotel. You will see here our accommodations:
And then the view the next morning: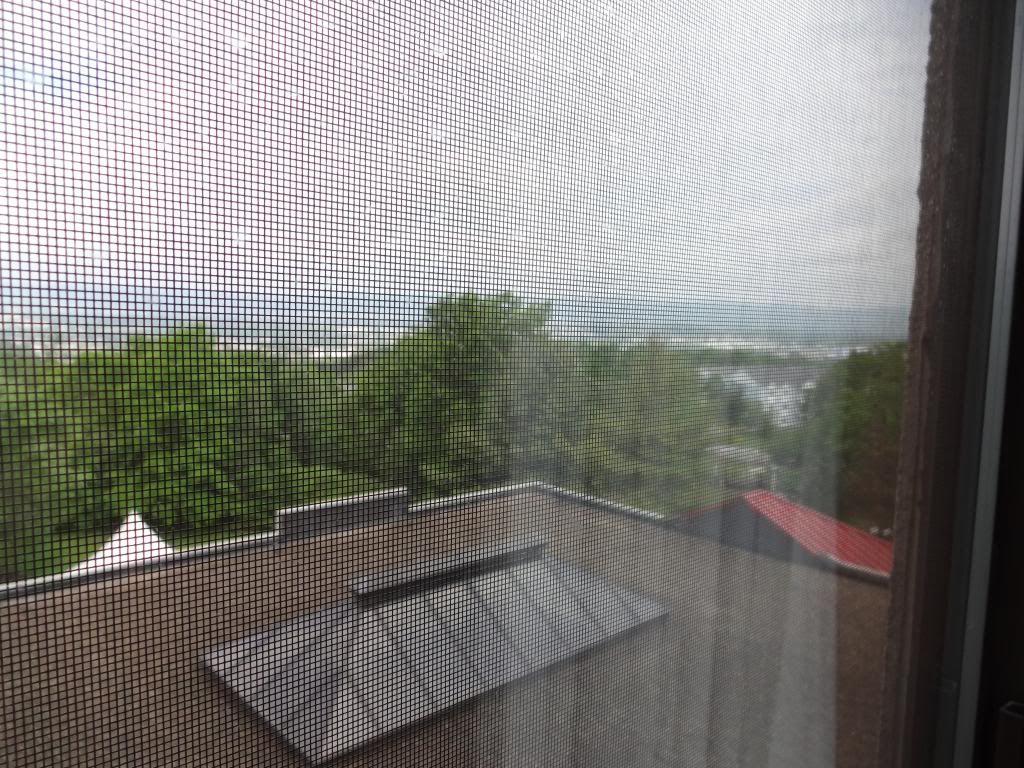 I gloss over the next few days as the focus was less on sightseeing and more on going through the plans that were had. Among them were a ride to see another friend in Delaware and yet another ride for an overnight stay at another friend's house that's way out in the sticks. That, and the weather wasn't totally cooperative for part of the stay. This isn't to say that there's nothing to see, however. Given that my return to the area is guaranteed, I'll get around to walking around and seeing the sights when the weather is better and the free time is more plentiful. Stay tuned, y'all…
Sunday, May 26
All of a sudden, it's Sunday! Time to return home, it is. We'll start off with an exterior shot of the hotel. I definitely enjoyed the stay there. Breakfast was complimentary and tasty every day. The pool and spa were nice, and it's in a convenient location. I give it a "yay" rating.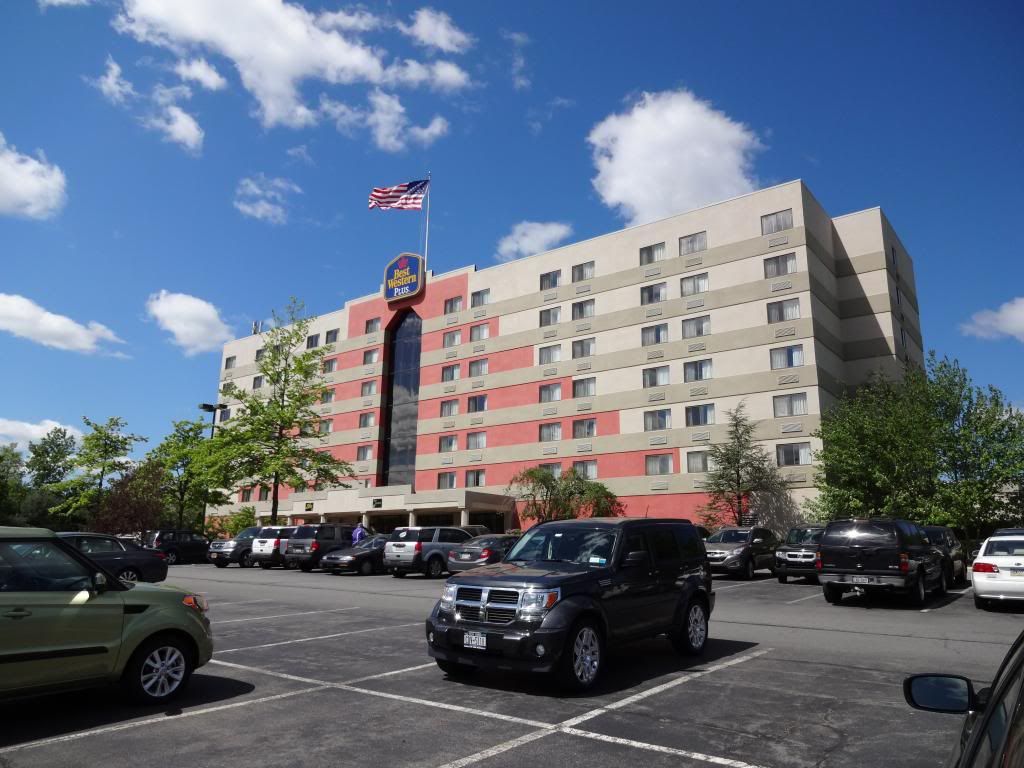 The drop-off of the friend was completed; I then made for the airport once again. I was wondering if I would be in for another exciting (read: delayed) trip again, but it was not to be. With that cloud no longer hovering over my head, I gathered images of AVP…
The old terminal building and control tower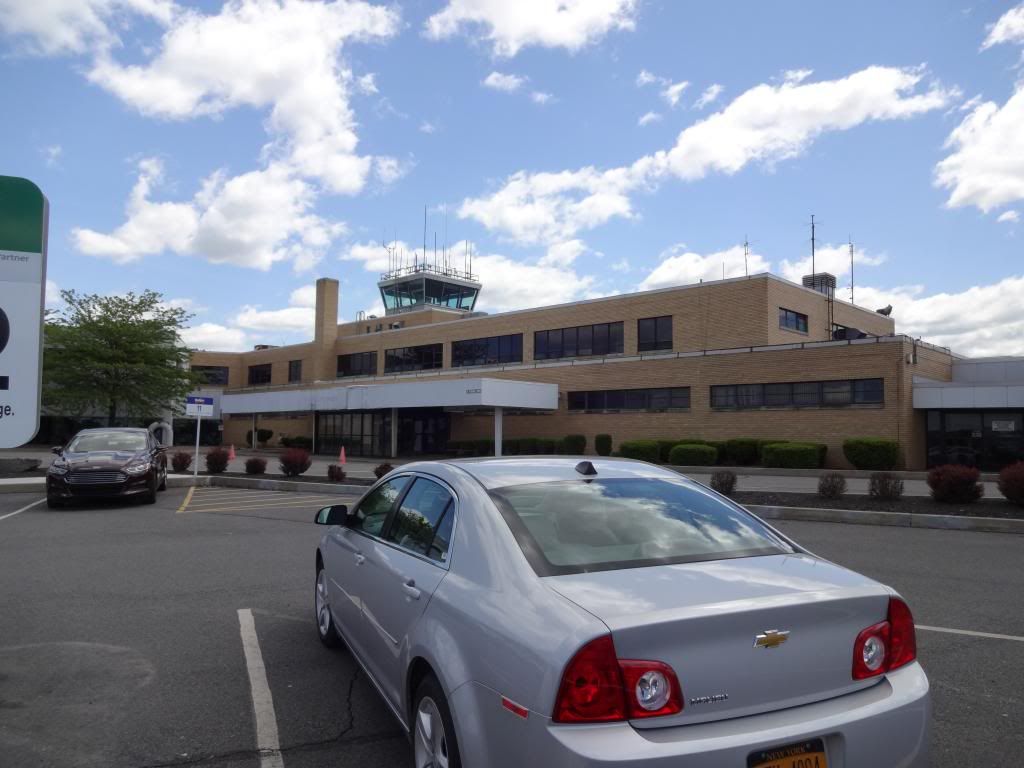 The new terminal building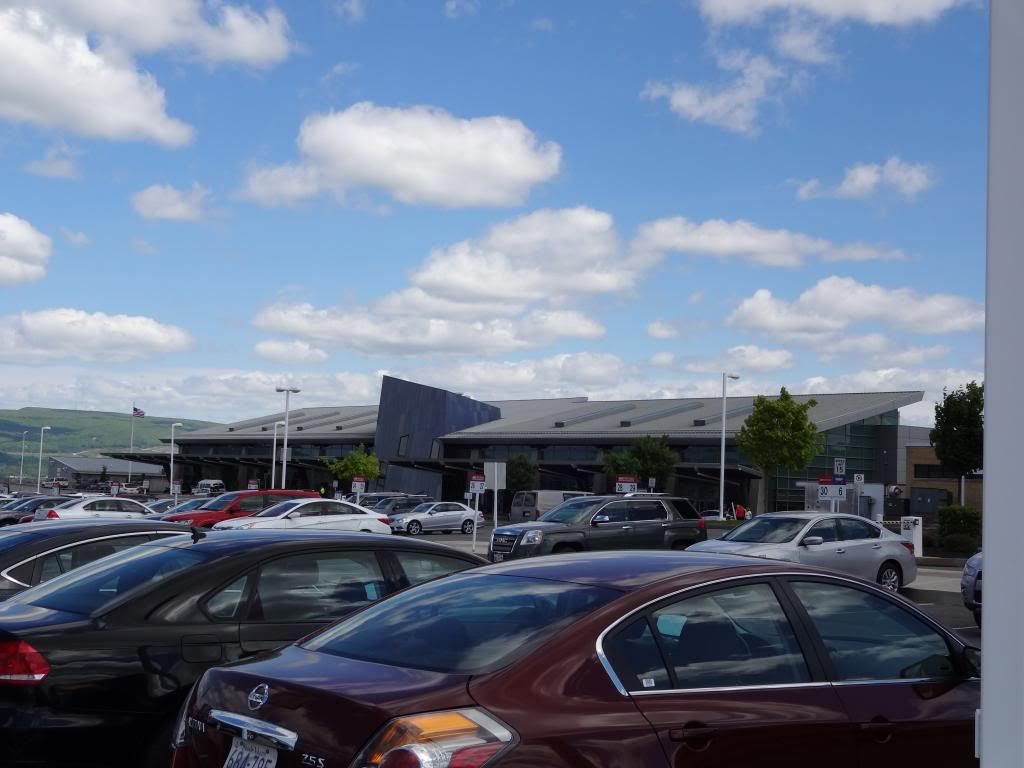 Baggage claim and rental cars
Memorabilia display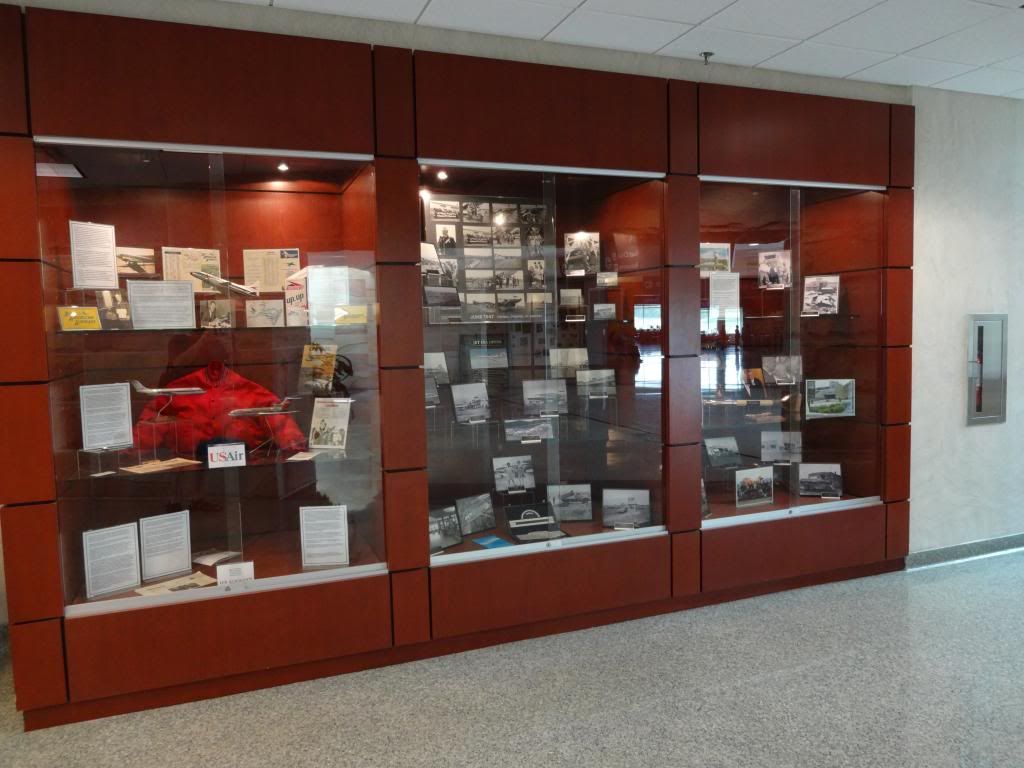 See what we photographers have to deal with?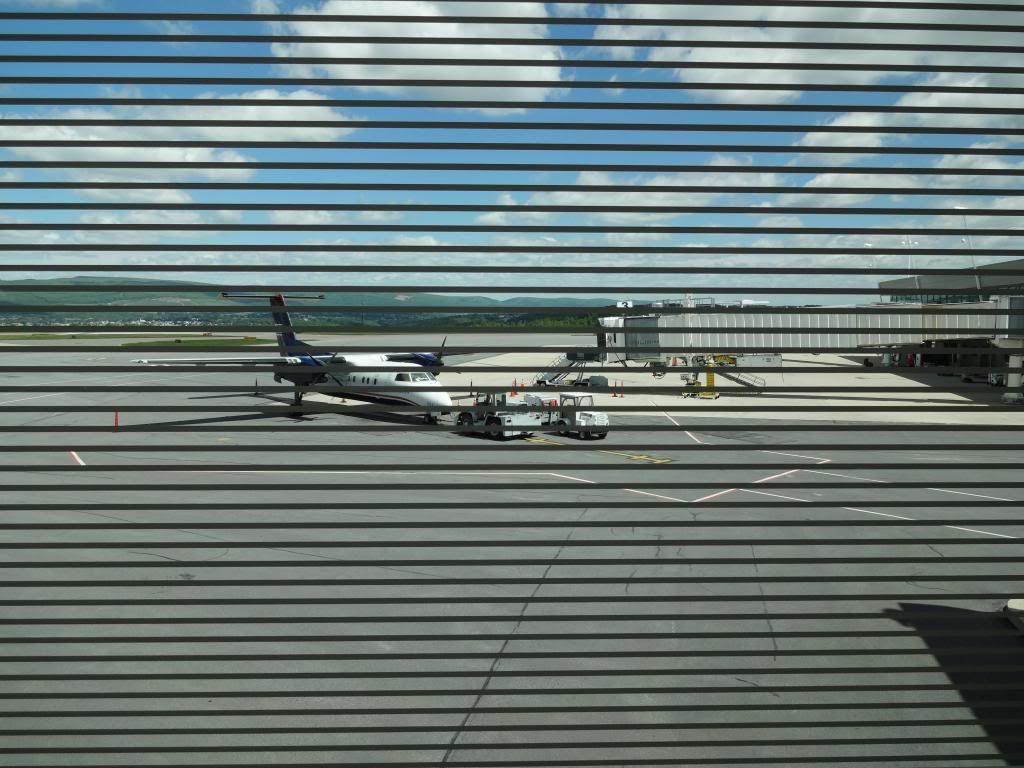 Pre-security: the checkpoint is ahead and on the left; a restaurant is straight ahead
Just past security: here be the main level of the terminal, six gates and an express food store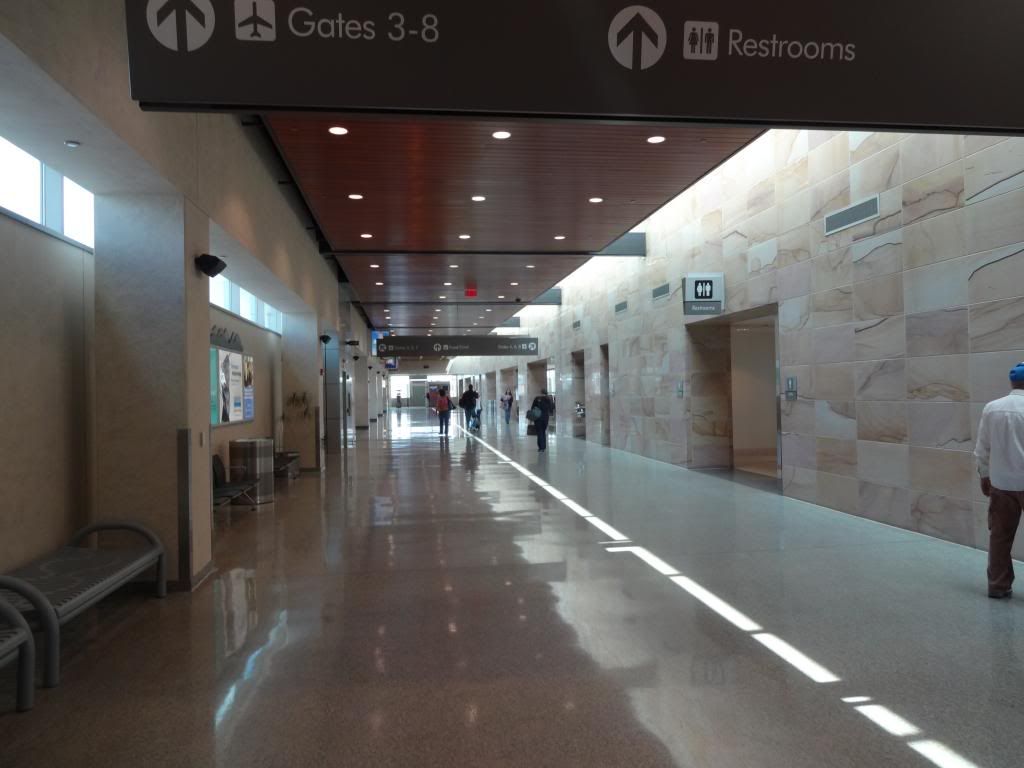 Downstairs: gates 1 and 2, usually hosting the turboprop flights serving EWR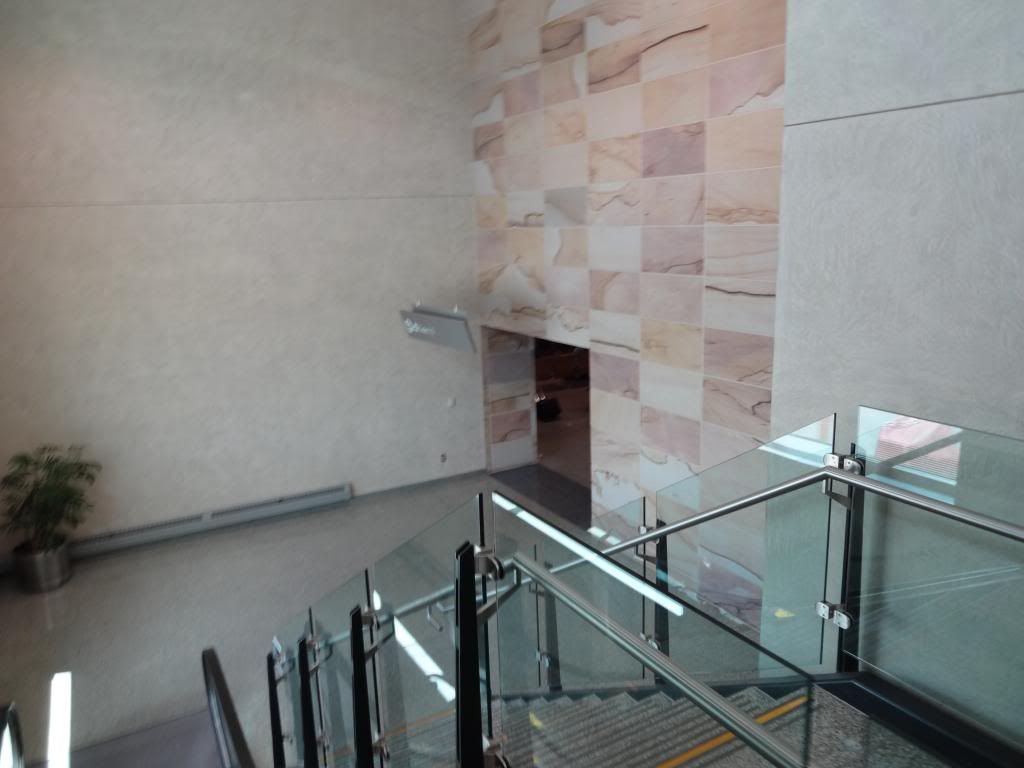 Speaking of which, it's a turboprop aircraft!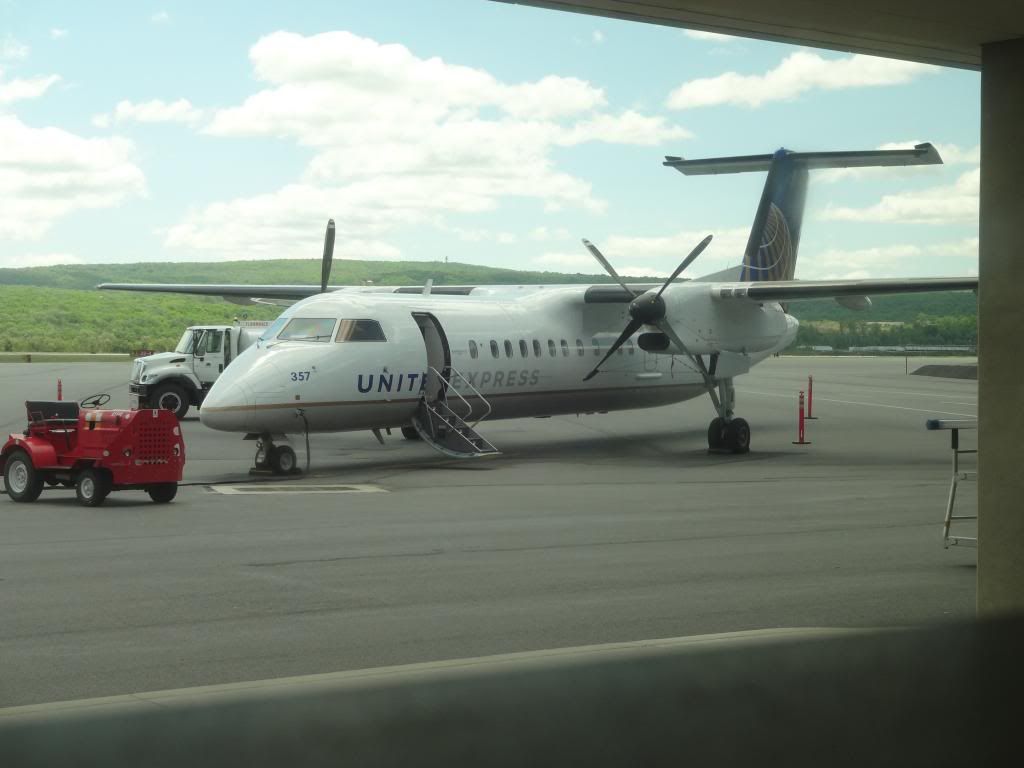 Looking out at the ramp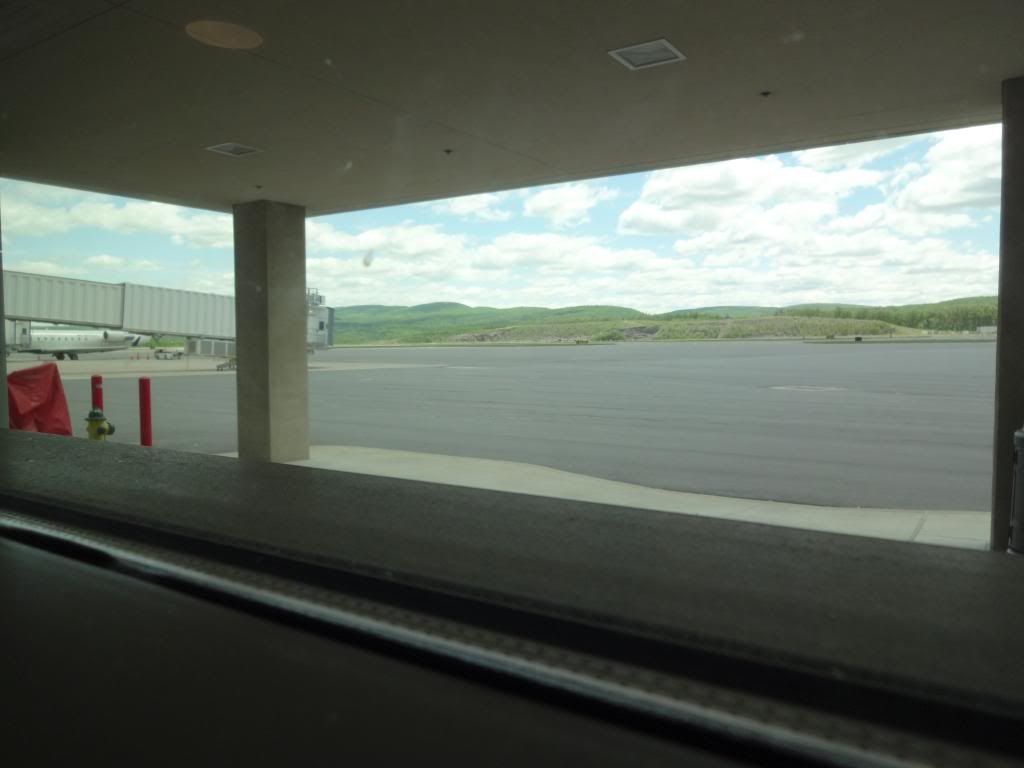 I popped back upstairs to get this shot of the ceiling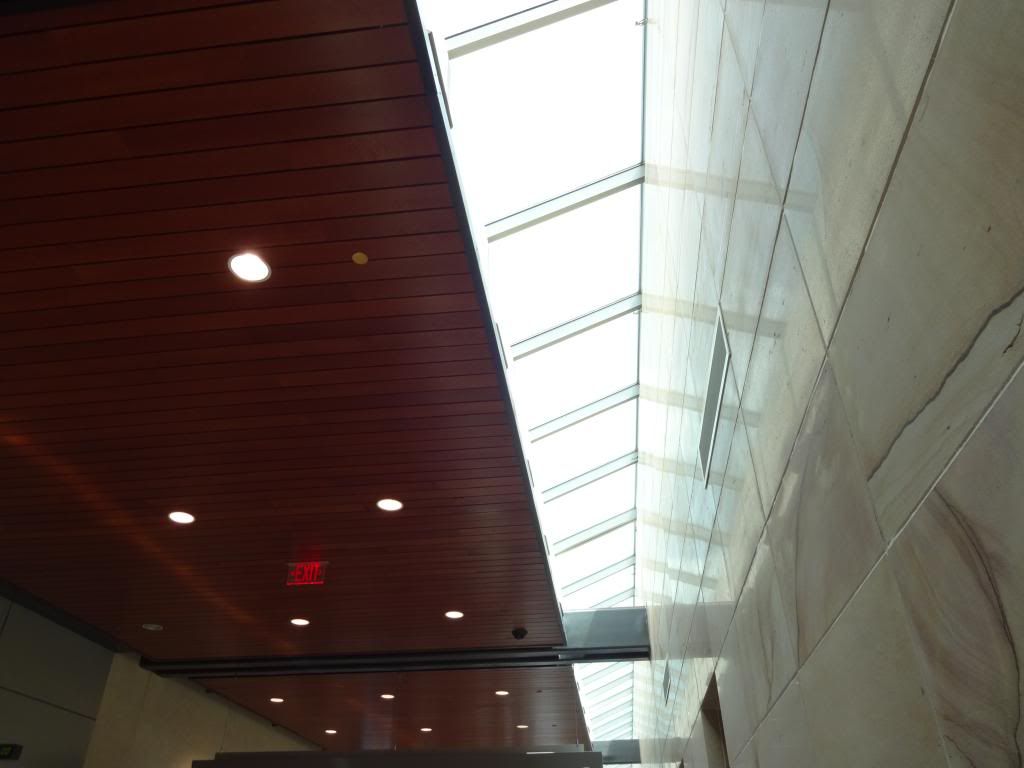 The lounge for gates 1 and 2
I didn't have to wait too terribly long before we were called to board the aircraft. I must say, being able to walk outside and board an aircraft is quite the refreshing experience, no matter what size the airplane is. One gets to see the unfiltered goodness that is the world of aviation.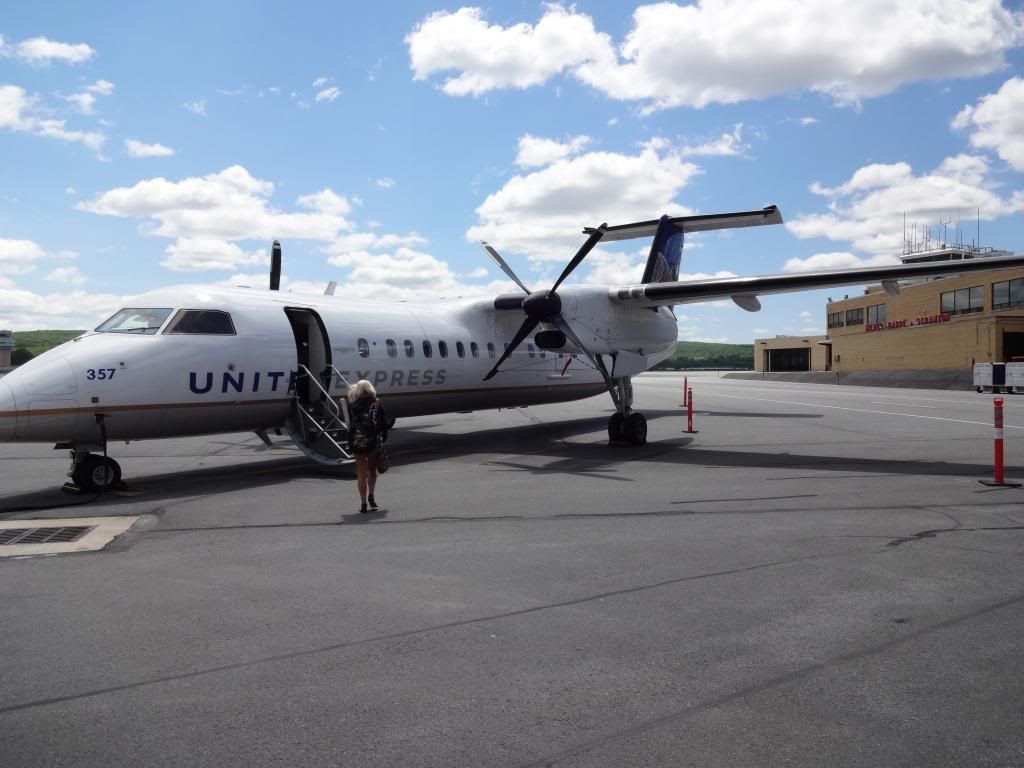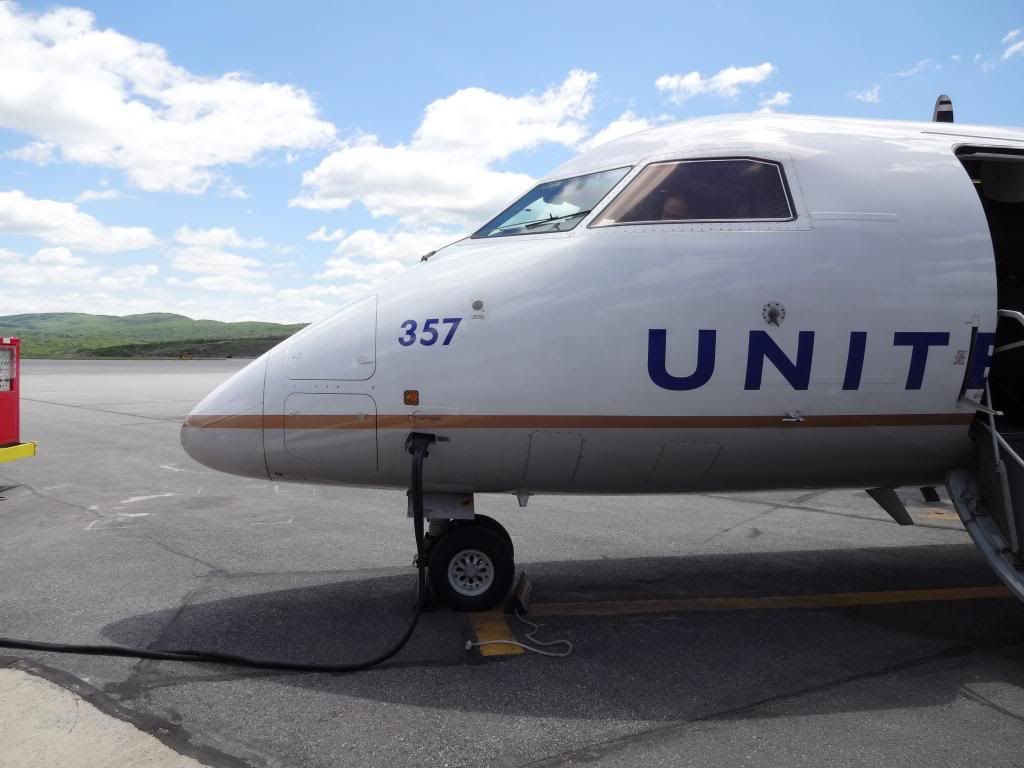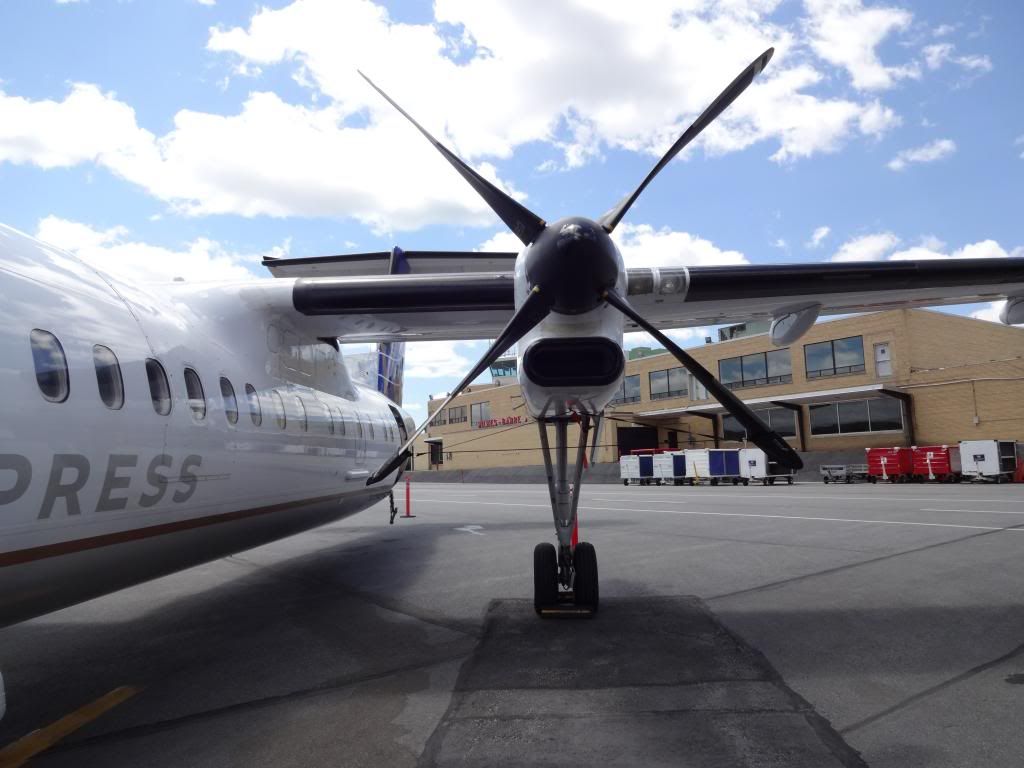 United Airlines 3585 AVP-EWR (operated by CommutAir dba United Express)
Scheduled: 12:29-13:32
Actual: 12:32-13:04 (wheels up/wheels down); 12:19-13:15 (gate to gate)
De Havilland Canada DHC-8-314Q Dash 8 (N839CA)
Legroom; more than adequate for such a short flight, but I was on a Q400 for an hour and 40 minutes once before, and it was quite the comfy ride. Anywho…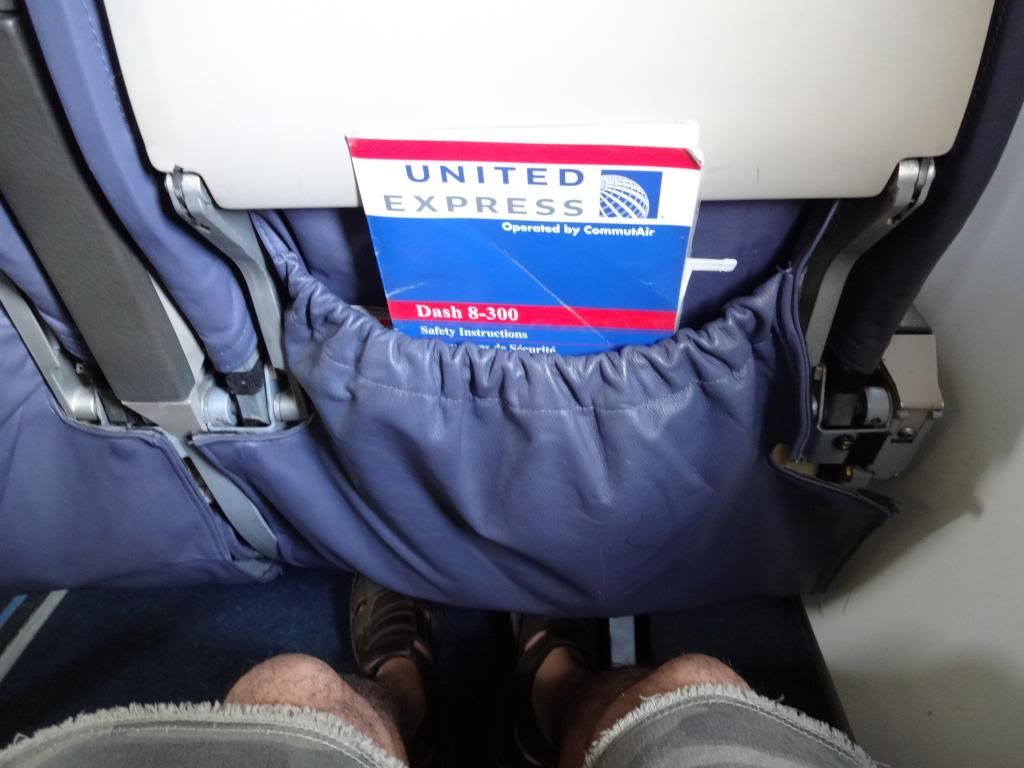 What one sees from my seat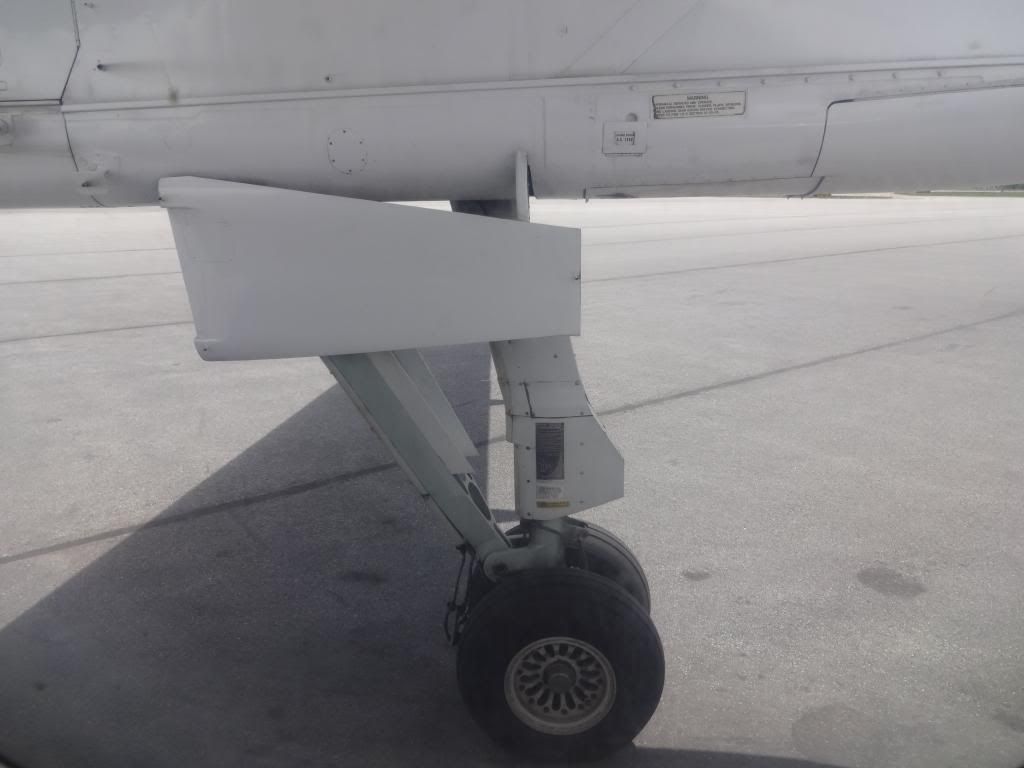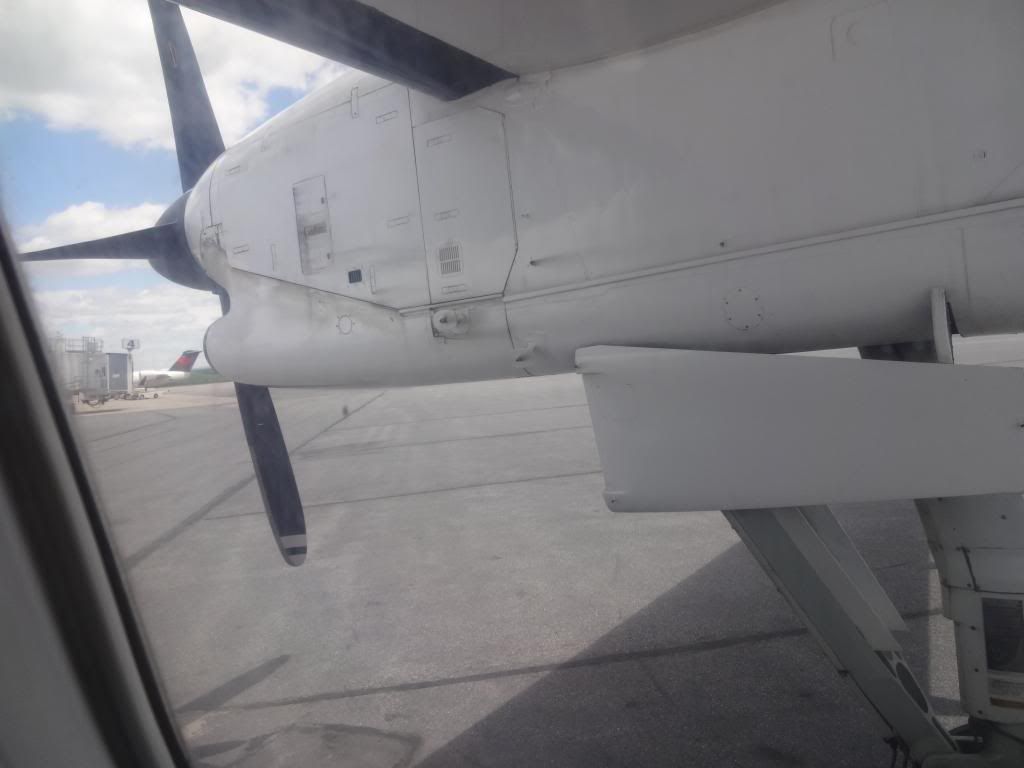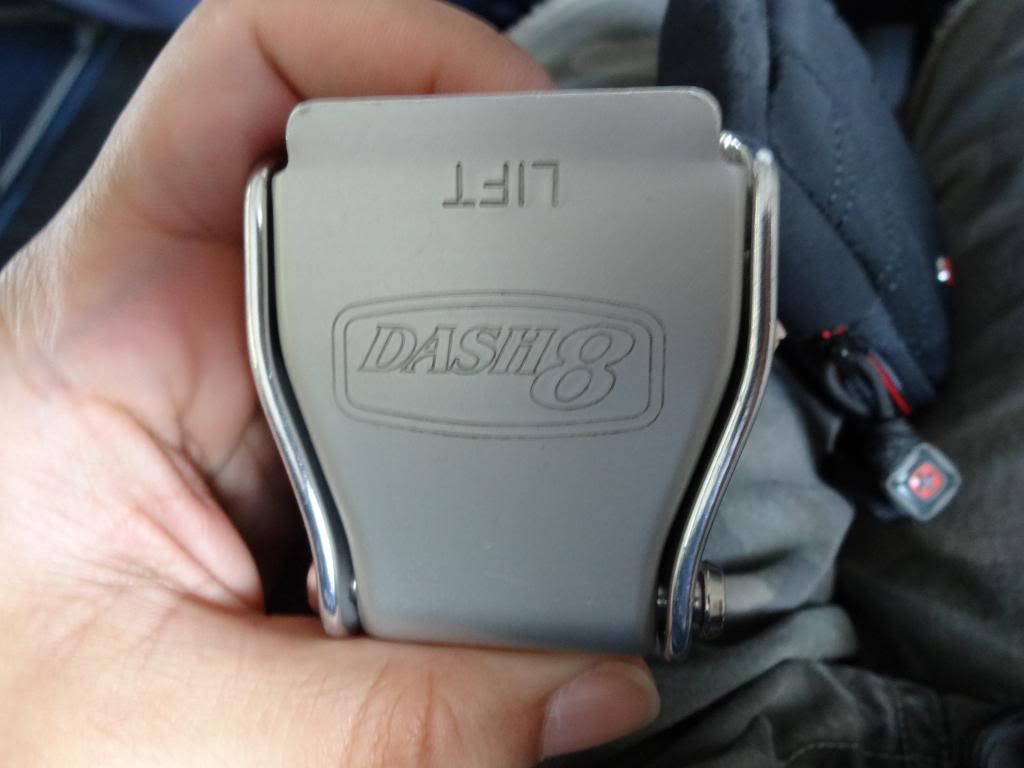 Guess what? Another takeoff video for your viewing pleasure! Golly, I seem to be full of those…
http://www.youtube.com/watch?v=M8iisfEAqxg
An aerial of the airport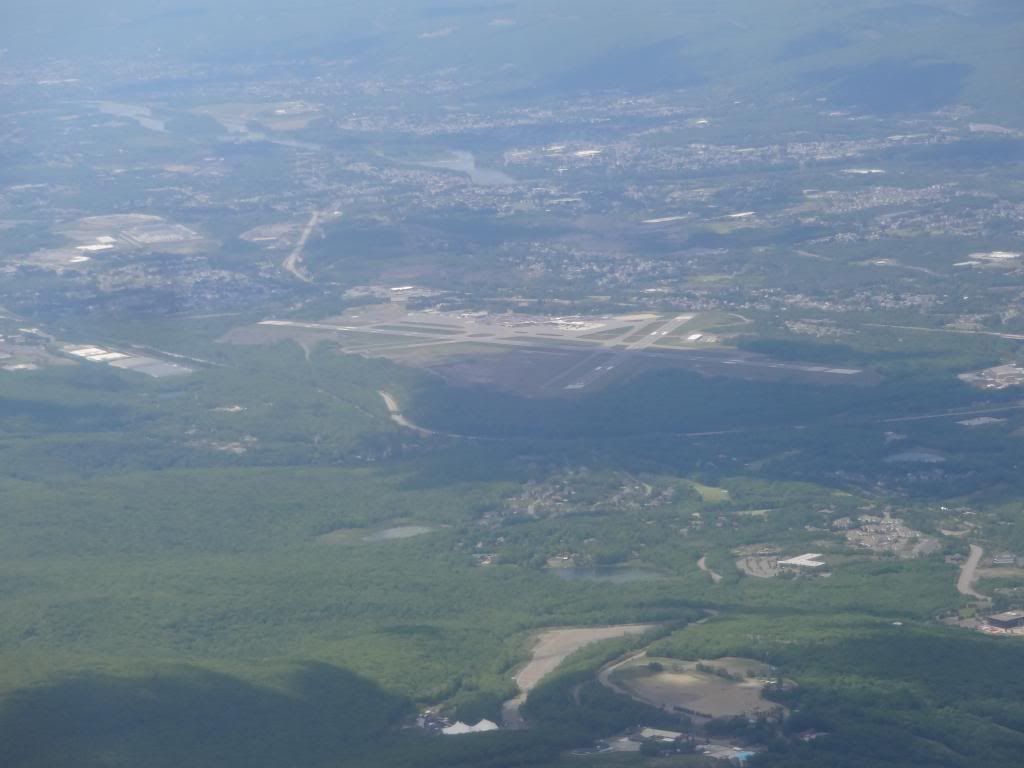 Seen in PA: Effort, Brodheadsville
Also seen in PA: Roseto, Bangor, Pen Argyl, Wind Gap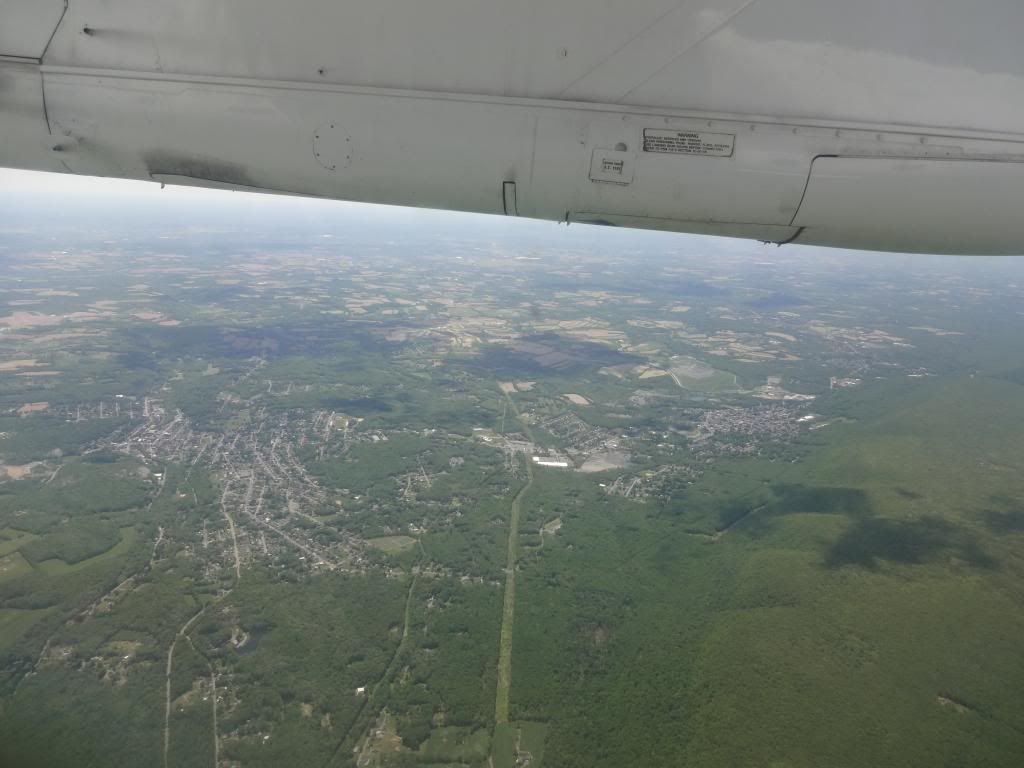 Seen: Delaware River separating Pennsylvania (right) and New Jersey (left); Belvidere, NJ; Martins Creek Power Plant
Seen in NJ: Hackettstown, Beattystown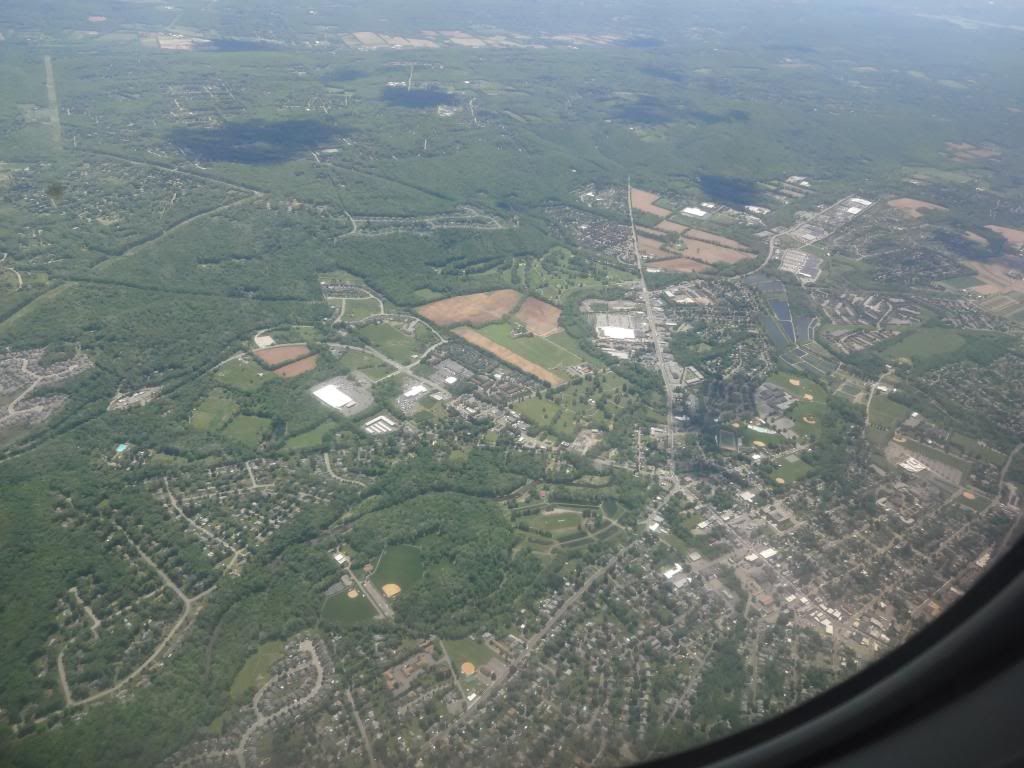 Dover, NJ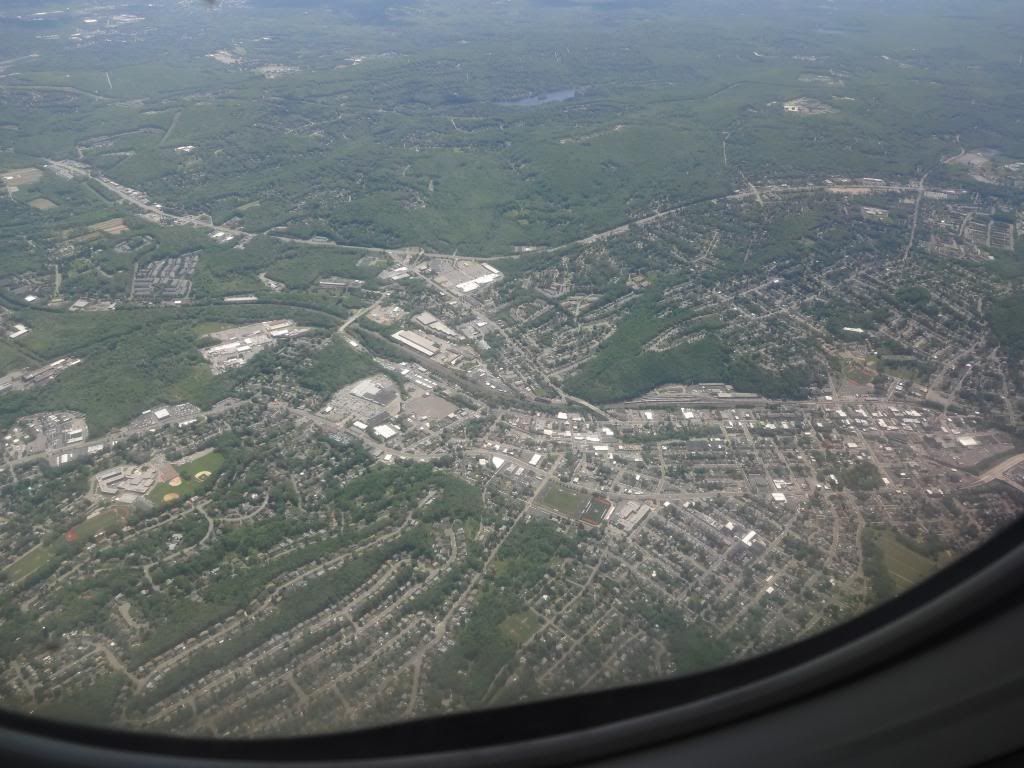 Lincoln Park Airport (FAA location identifier N07), about a 20 minute drive from Paterson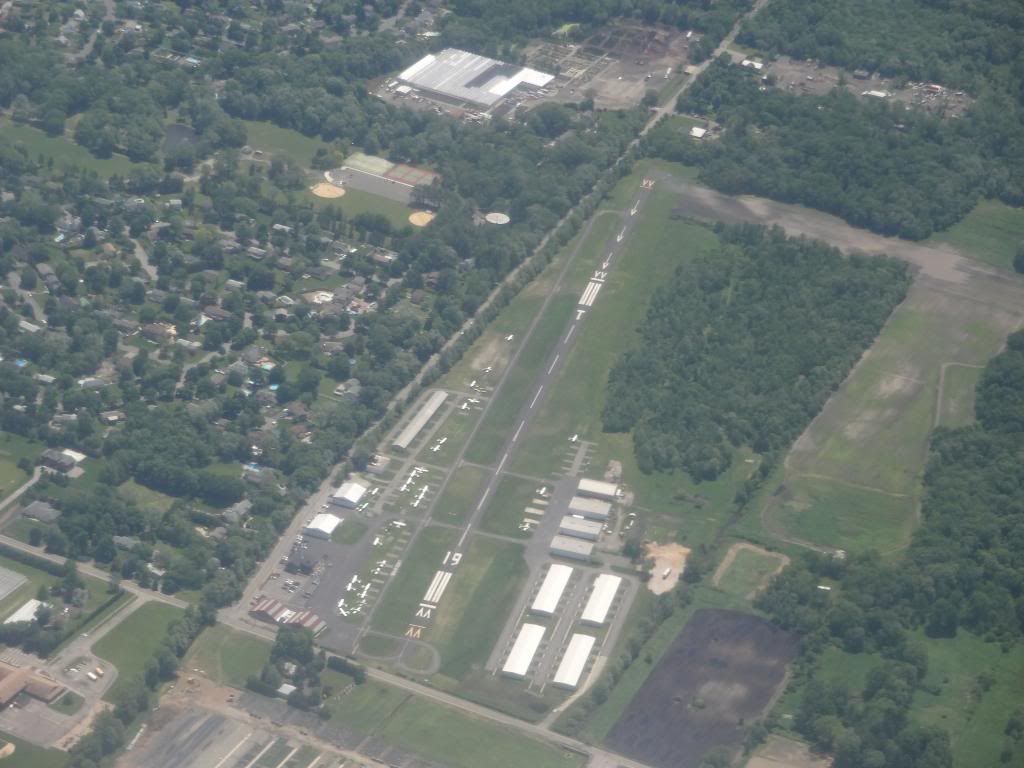 Over the Point View Reservoir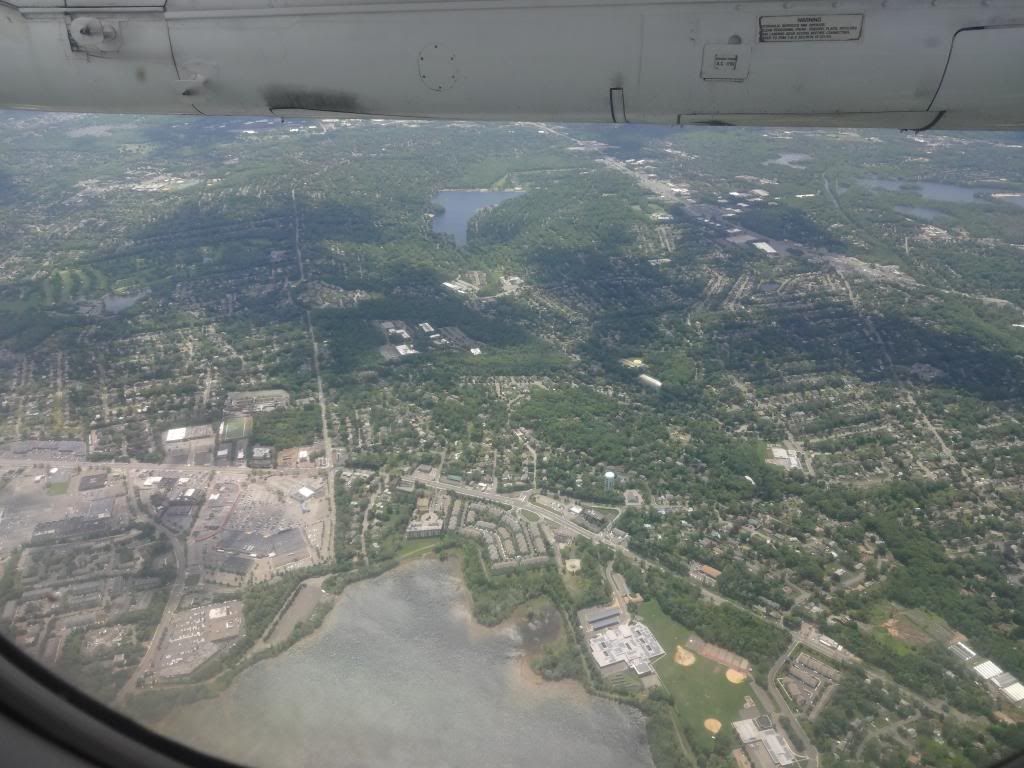 Paterson and Clifton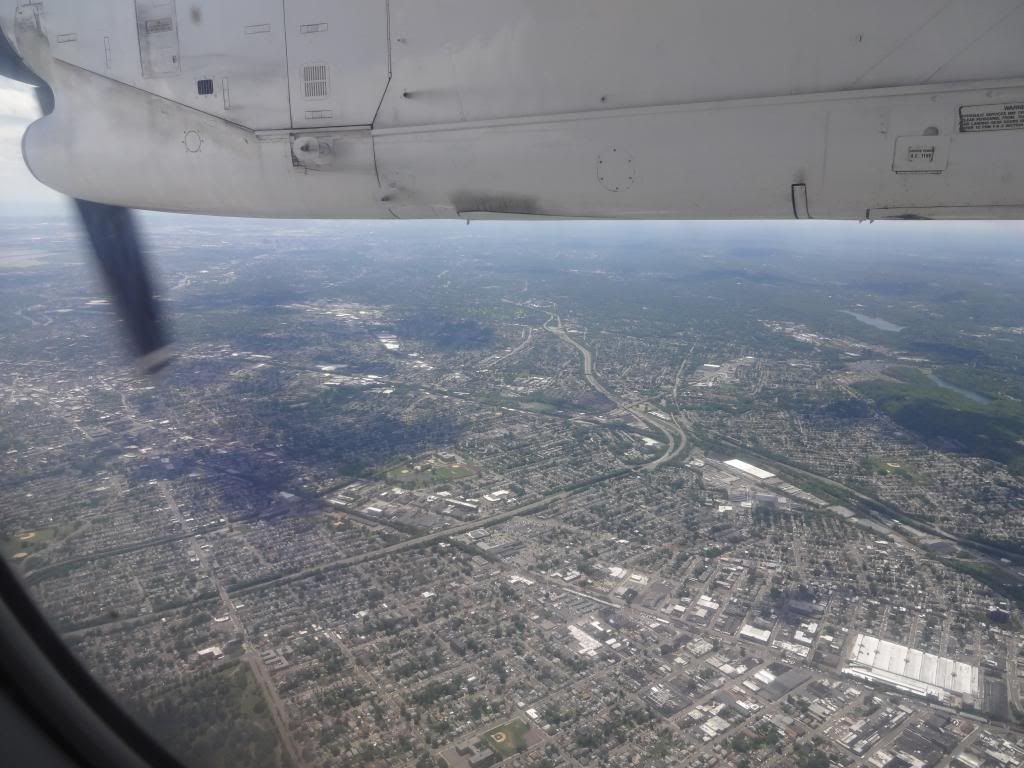 Bad news: the aerial photo tour of fabulous New Jersey is now at an end. Good news: yet another landing video!
http://www.youtube.com/watch?v=vA1r3tcPQD4
Perhaps the biggest surprise for me was the relatively short taxi time. It seemed as if we were at the terminal in no time at all. As is often the case, all bets are off when one flies through Newark. Once again, we stepped through the door of the plane and into the open air…
Nary a window to separate me from the sights and the sounds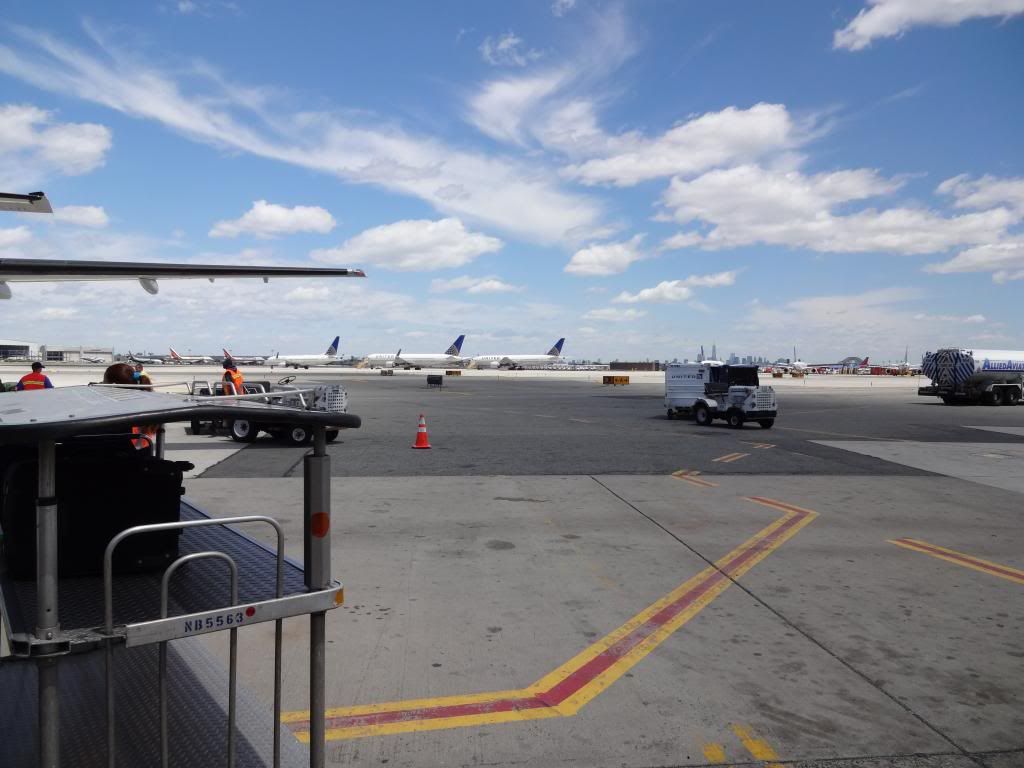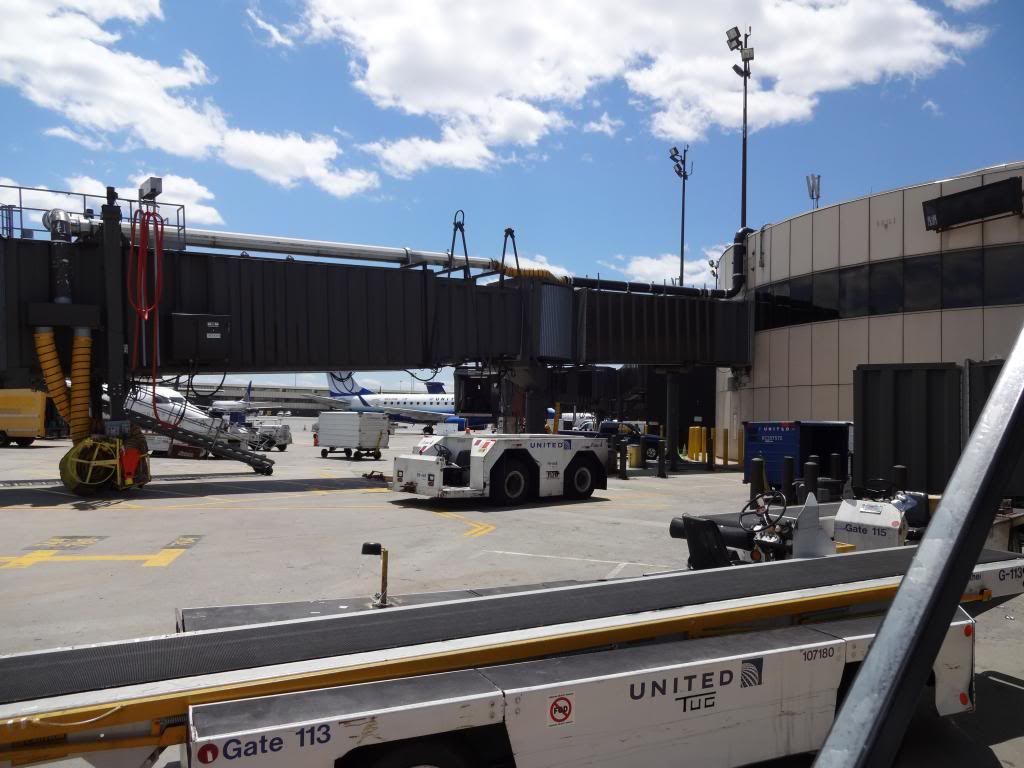 Back inside, I found myself with a few hours to operate. Since my next flight would depart from Terminal A, I decided to spend most of the time in the considerably prettier C. So it was that I operated. Among the operations: catching these 777s pass each other. Have a look at N77006 and G-ZZZB. Just a tiny bit bigger than the plane I came in on, eh?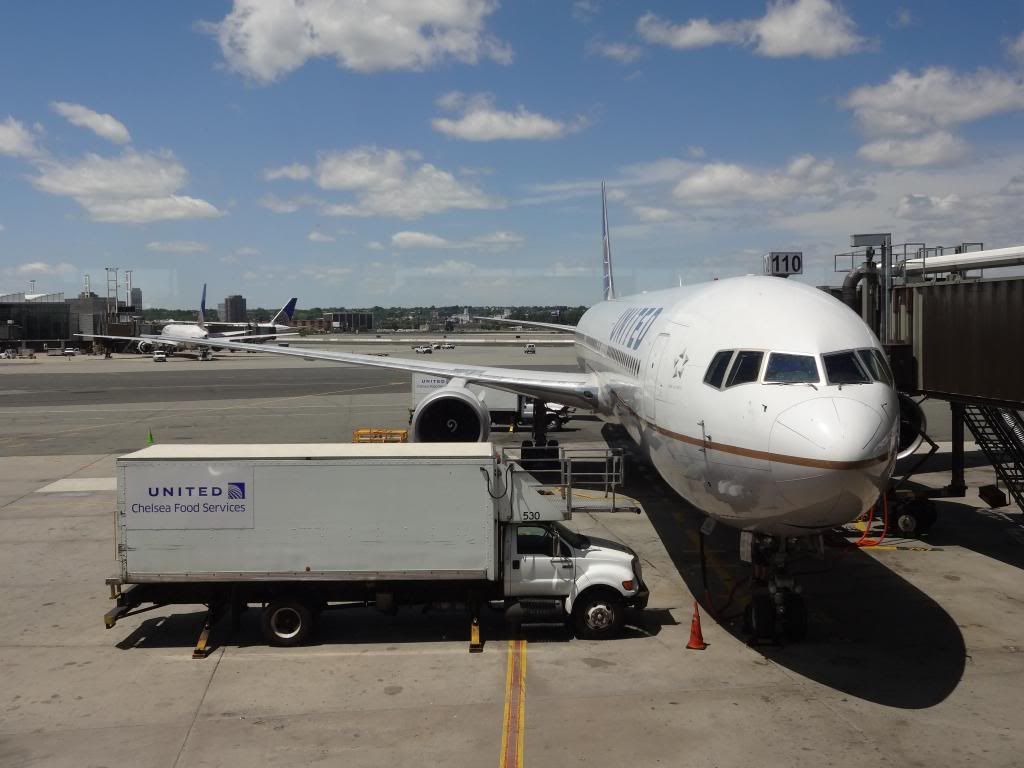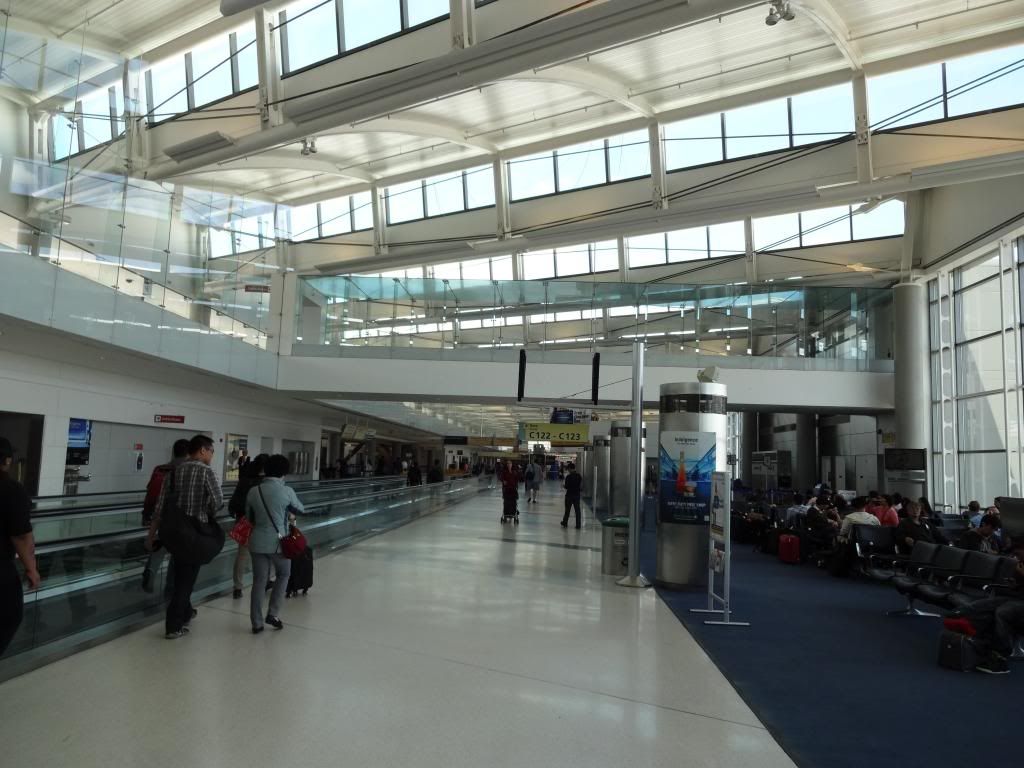 As I made my way around, I eventually ran across this blockade…
…and I wondered why they'd do such a thing. I reversed myself and looked around a little more: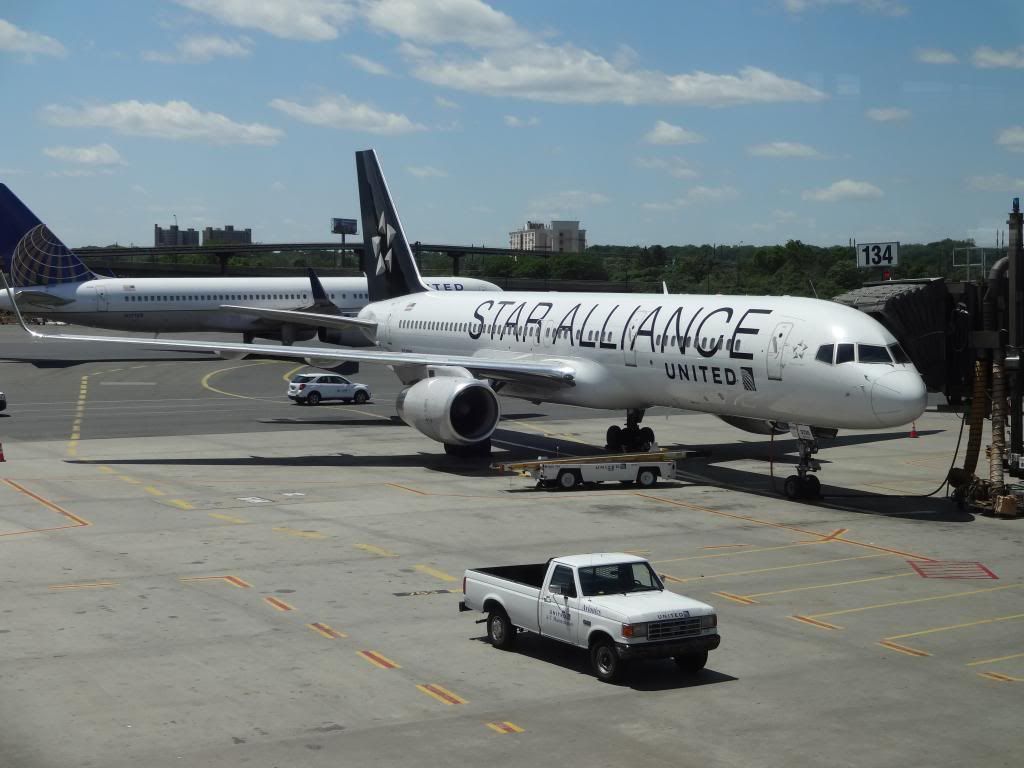 I think N17560 is missing something…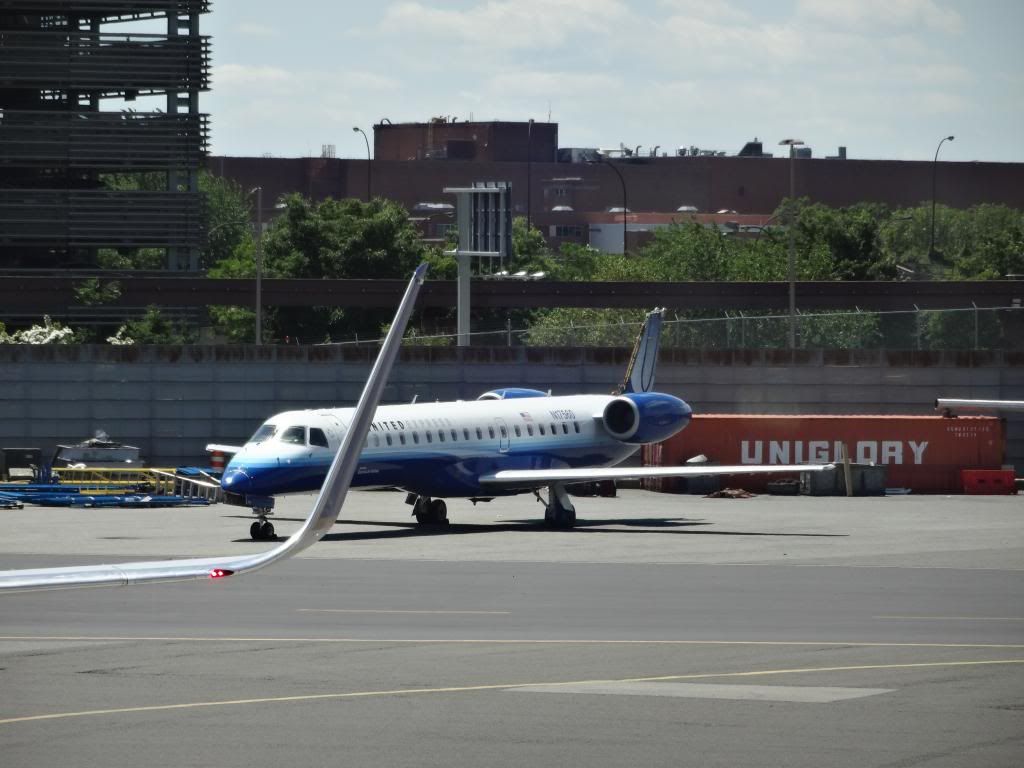 I reached the other side of the blockade and quickly figured out why they had that setup: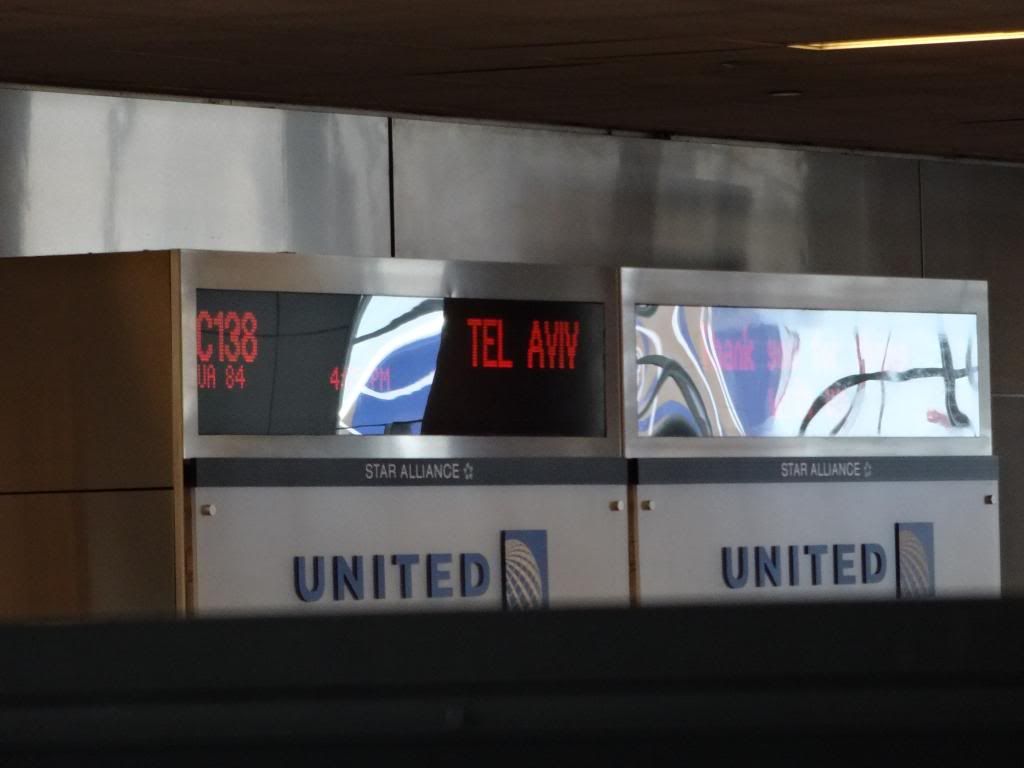 N78008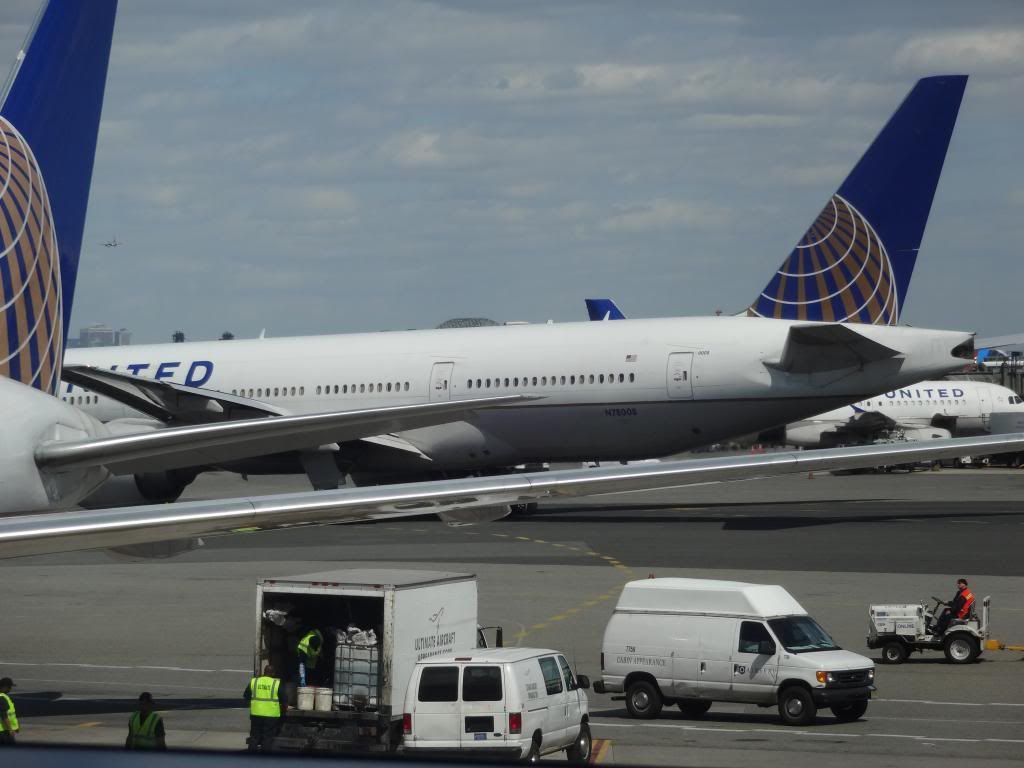 As I sat at a mostly empty lounge area nomming on the food got from the food court a few steps away, I noticed a curious thing happening to N663UA: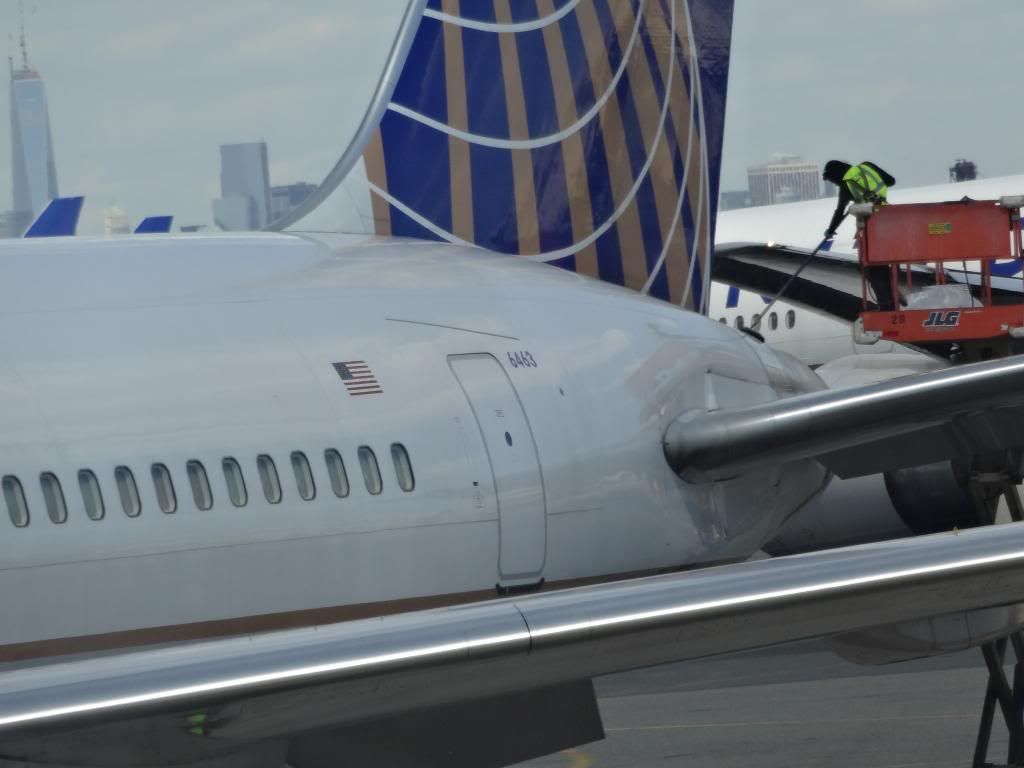 A crew was hard at work washing the plane! With still a couple or so hours yet to go, I wouldn't have minded putting on a pair of gloves and spit-shining that 767 clean.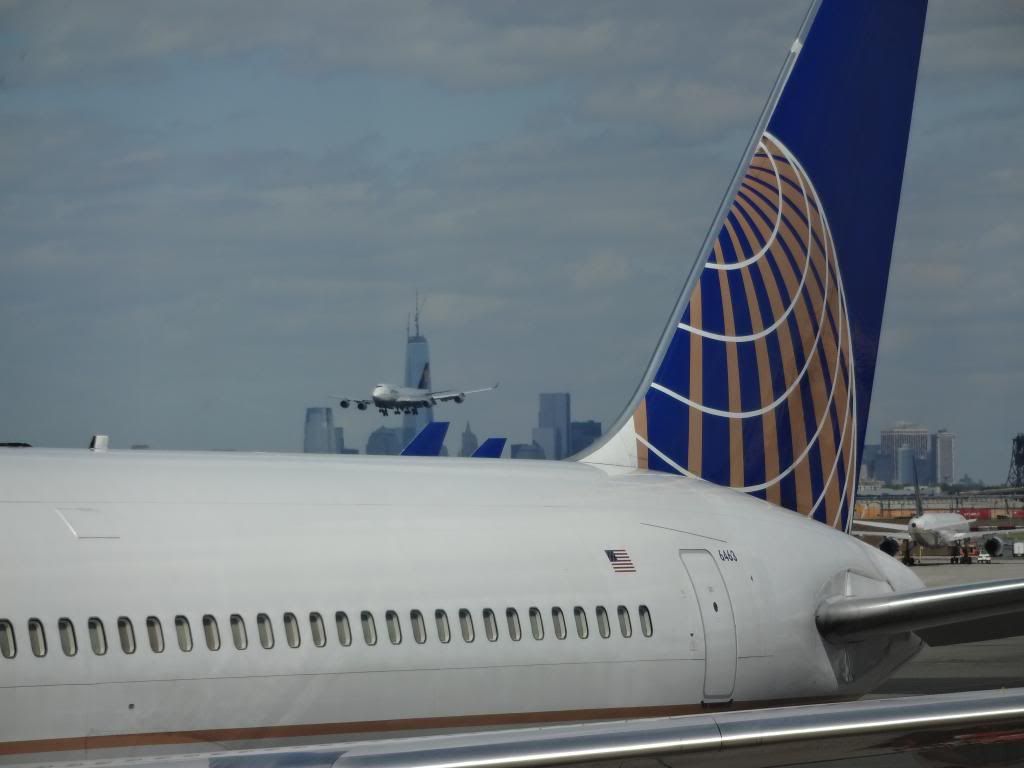 Lufty; also, the Airbus in that pic, N847UA, was sporting battleship gray the last time I saw it. I even have the database pic to prove it: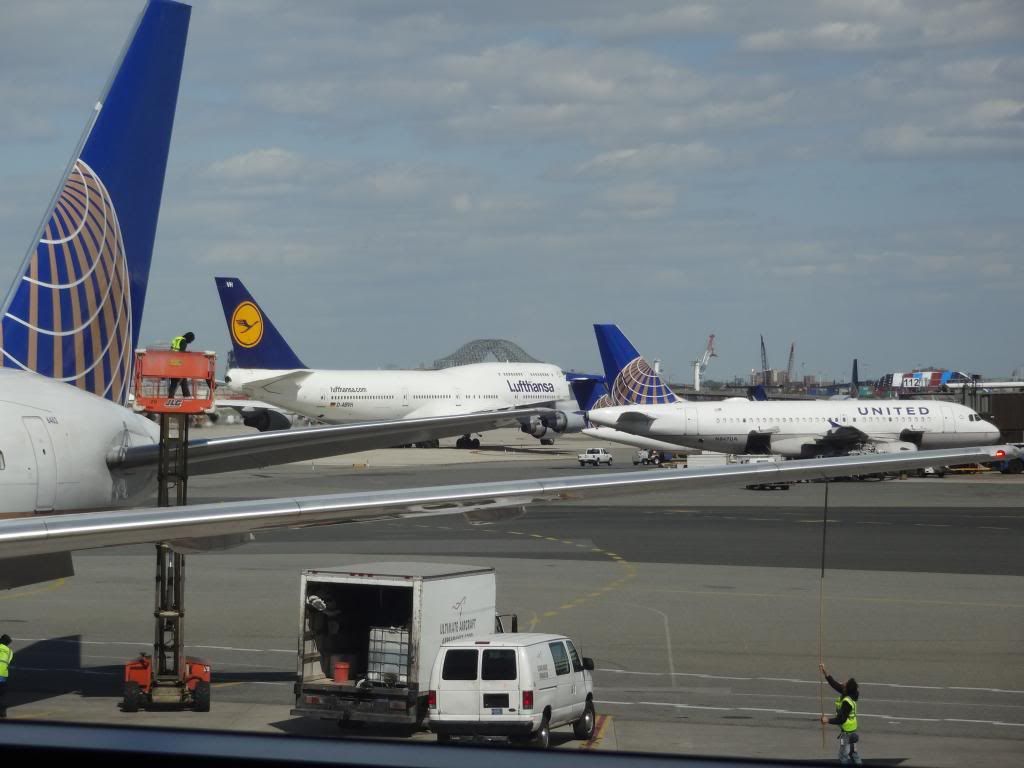 View Large
View Medium


Photo © Eric Brown
Having spent enough time enjoying Terminal C, I snapped this last photo on my way to Terminal A:
One shuttle bus later, and I was in the appropriate node to wait for my flight home. There wasn't much to do except look around and wait. Have a look at what I looked around at.
A bird of a different sort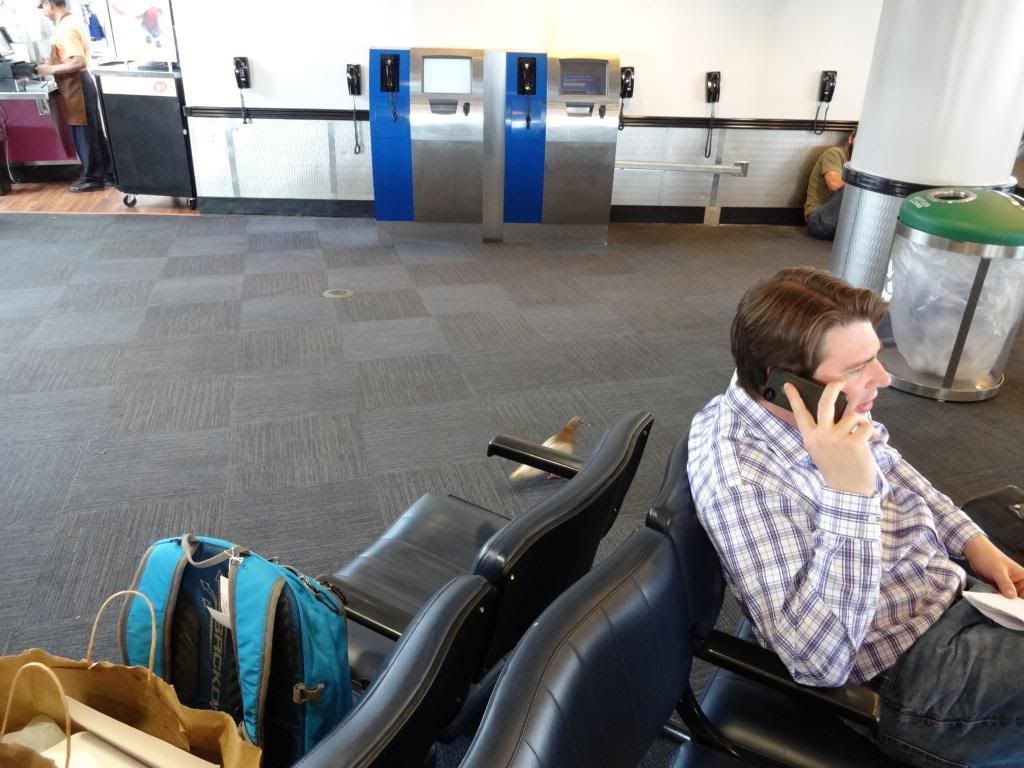 Yo, why is the monitor for our gate off kilter?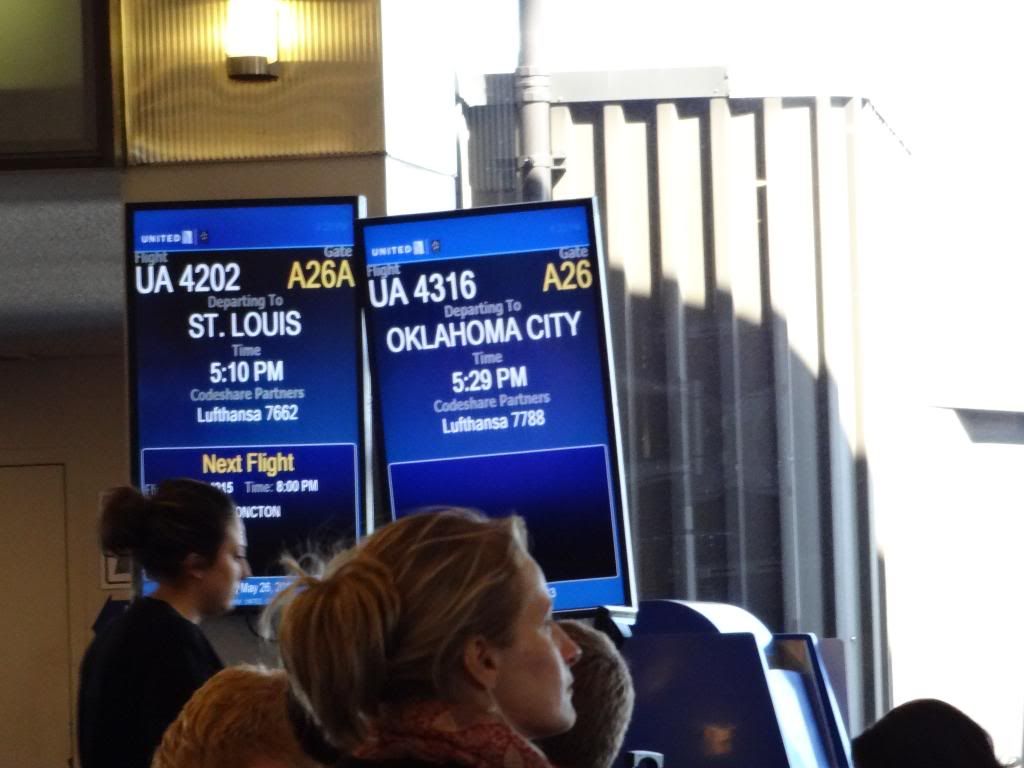 Something you won't see often: United customer service desks…and nobody in line!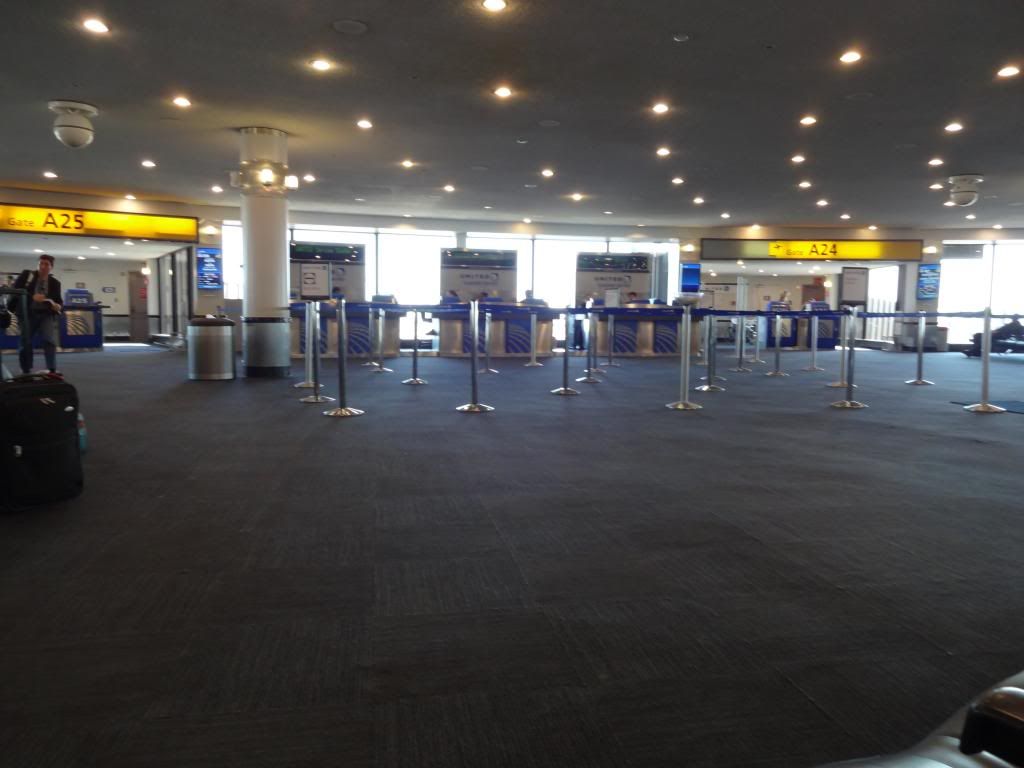 There's my plane with a busy EWR behind it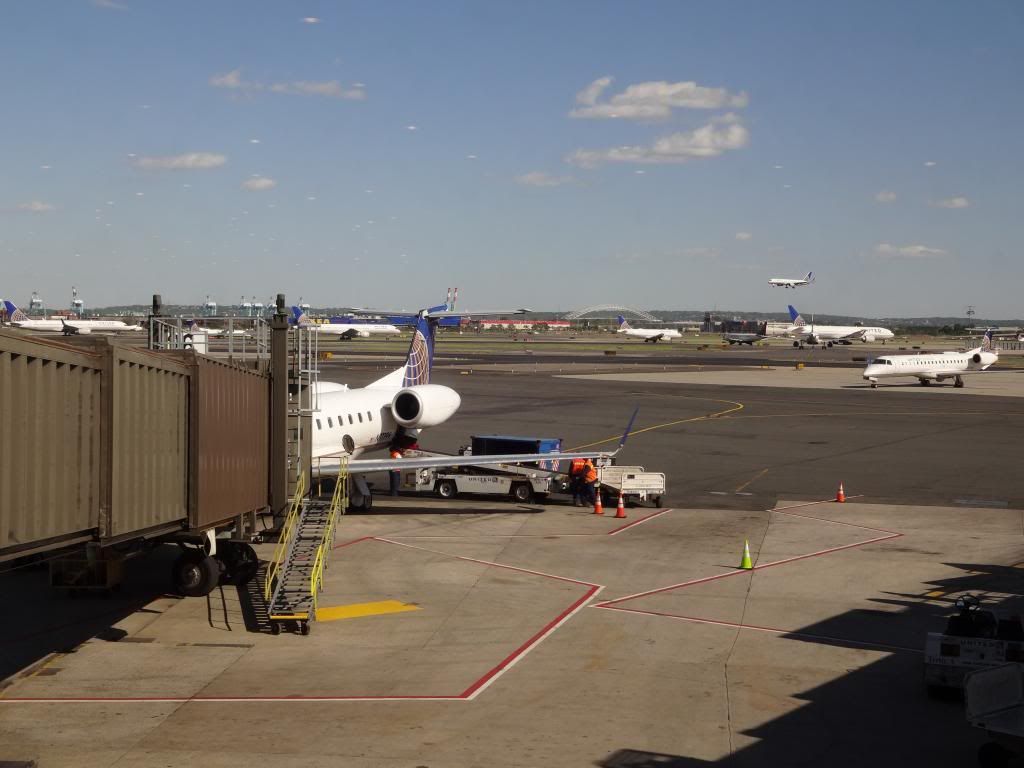 Then boarding was called, yadda, yadda, yadda…
United Airlines 4316 EWR-OKC (operated by ExpressJet Airlines dba United Express)
Scheduled: 17:29-20:10
Actual: 17:37-19:36 (wheels up/wheels down); 17:25-19:44 (gate to gate)
Embraer EMB-145XR [ERJ-145XR] (N11199)
A glance at our neighbors