Background
After a couple of years of flying with Star Alliance partners I managed to accumulate a bunch of points in my UA Mileage Plus account. As many of you know this is somewhat ironic as
I freaking hate
,
I strongly dislike
I'm not the biggest fan of United. However miles are miles and I was happy to have enough for a roundtrip award trip (albeit in the rather inflexible "saver award" category only). I was eager to use these miles as soon as possible because the more they stayed in my account the more inclined I was to keep accumulating them (i.e. keep flying United). I had to stop being a hoarder, purge those miles and move on...
The obvious question was where to fly to. Due to the relatively limited number of miles I possessed I was restricted to destinations within a 700-mile radius from my starting point (Chicago). Initially I examined options like OKC, OMA, and a bunch of East Coast airports. However, I was craving something more unusual. Then I thought about FAR (Fargo, North Dakota). FAR was appealing for a number of reasons: It was remote and thus "exotic", the airport was right next door to an Aviation museum, plus I had never been to North Dakota before.
Booking
While booking my flights I noticed that UA offered 4 direct flights from ORD to FAR, but in addition to those I was also given the option to fly back to ORD via DEN (the 700-mile radius rule does not apply to connecting airports). This was a very appealing option given that I'd never been to DEN before. However, this plan required a relatively early departure from FAR, thus ruining my plans to explore Fargo to the extent I wanted. As much as I liked the idea of flying via DEN, I was not interested in squeezing a bunch of flights in my day without the opportunity to explore any of the destinations. Somewhat half-heartedly I decided to ditch the idea of flying via DEN and booked a simple ORD-FAR-ORD itinerary. The plan was to fly out there on an ERJ-145, stay in town for around 8 hours and then fly back on a CRJ-200. Checking United's website I noticed that this itinerary would have cost a paying customer a whooping $1162! If one had to guess where FAR was on the basis of this price, one would think it was indeed very
far
away...
Here is the complete map of my summer's Midwestern wanderings, featuring the states visited (or to be visited). In red, the segment reported here
And here's the first segment of my Midwestern Summer series:
Who Said That Flying SUX?
Pre-Flight
I wanted to blend in with the locals at Fargo so I chose to wear a shirt featuring the Norwegian flag. More than 40% of Fargo's population can trace their ancestry back to Scandinavia, and Norway in particular
My flight to FAR was on an early Sunday morning. I deliberated as whether to take a taxi or rely on the somewhat slow and very infrequent (especially on Sundays) public transportation. I went with the latter and this almost cost me my flight. Despite the complete lack of traffic the bus driver went 10mph the entire way, and because of that I missed my connecting train to the airport. Eventually I got to ORD just 90 mins before my flight (possibly my personal record for late arrival at any airport). The lines at security were the longest I've ever seen in ORD (that says a lot) and moved at a snail's pace. Long story short, I barely made it through. I won't complain about the way security screenings happen at ORD because I have done so too many times already.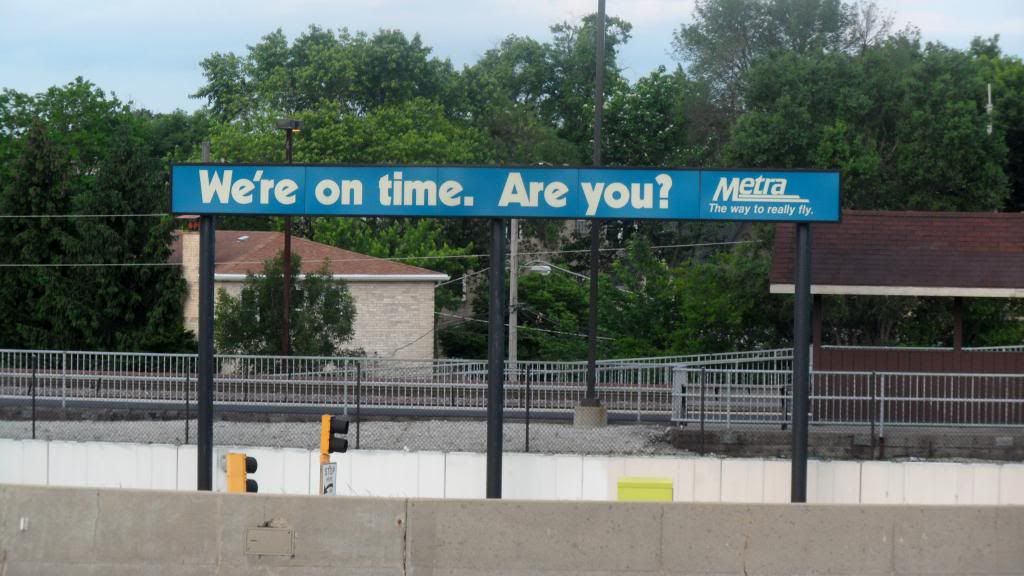 Thanks to the stupid bus I'm not. Thanks for reminding me
Flying to Somewhere FAR Away
Having gone past security, I sighed in relief and tried to relax again. No time for spotting though; boarding was about to be called at any moment. Our aircraft (operated by ExpressJet) was behind a double jetbridge so I never got to see its registration.
Are you my chariot? No you are not.
United Express and AA were the only carriers I could see from where I was sitting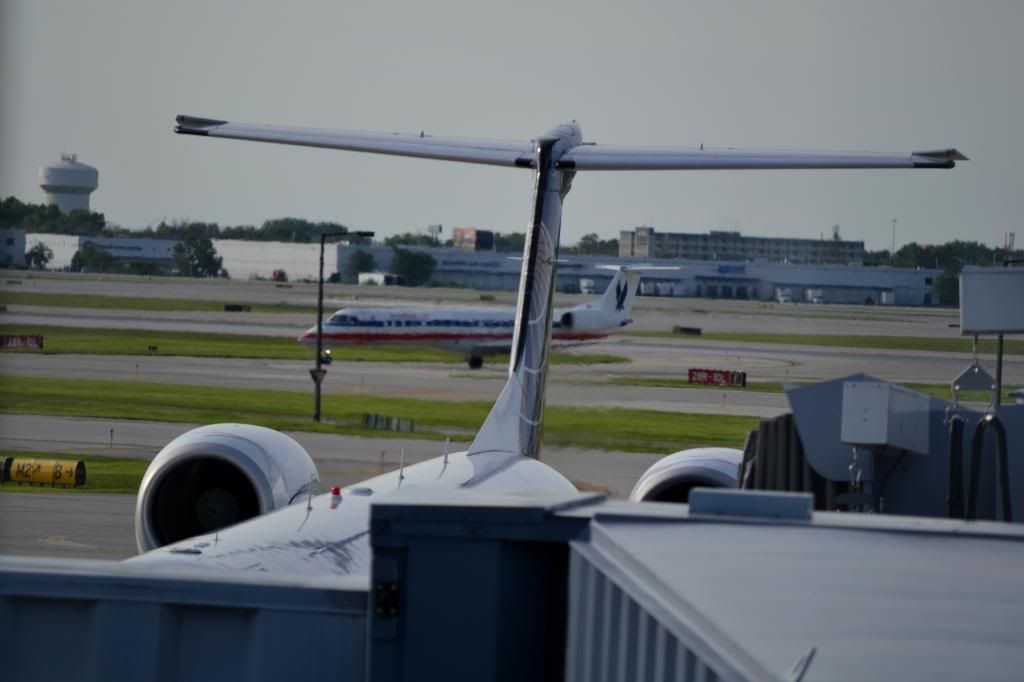 Of course. Here is my boy hidden from view behind a double jetbridge. Seriously why do jetbridges hate me so much lately?
When boarding was announced, we were told that there would be only 12 of us. I had a Group 3 boarding pass but given that nobody was in Groups 1 and 2, I was the first to board the plane. I got to my seat, put my bag on an overhead bin and relaxed. I have the feeling that more than 12 people got on board (maybe 18 or so) but nonetheless the aircraft was pretty empty. Once the door closed I moved from 10A to 7A so that the closest person to me was 3 rows away.
The joy of boarding first
Very decent pitch, certainly comparable to that of American Eagle's ERJ-145s
Peeking at the cockpit just in case the registration was on display (like it is on American Eagle ERJs). It wasn't visible from where I was sitting though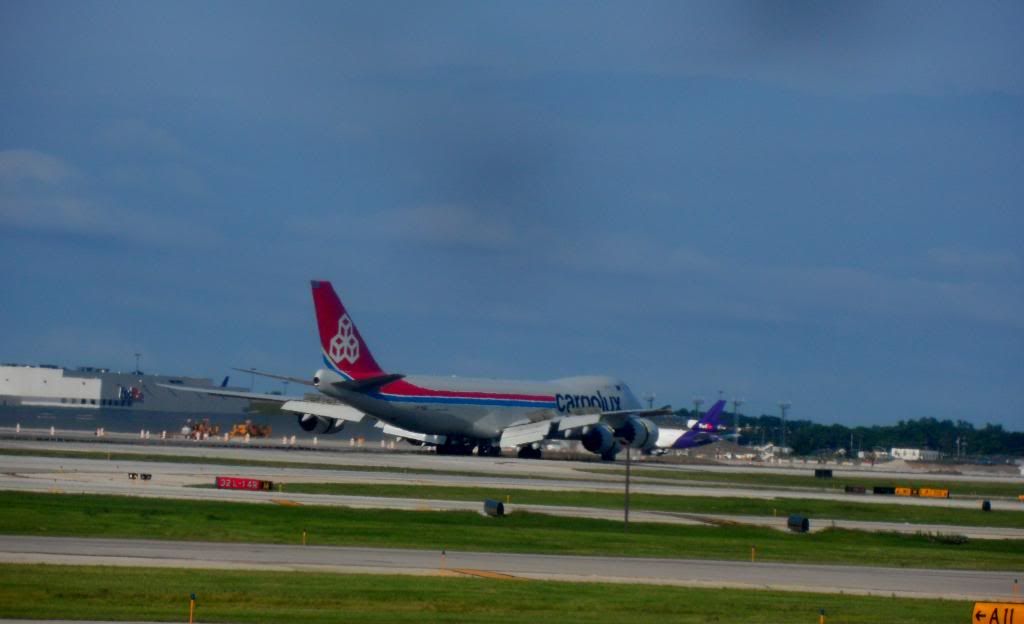 I love the look of CargoLux's jumbos
Pushback was on time, a quick taxiing to runway 32 and a smooth and effortless take off, no doubt assisted by the light load. Initially we headed north along Lake Michigan until we reached Milwaukee and then turned west, past central Wisconsin and on our way to Fargo.
Taking off was smooth and effortless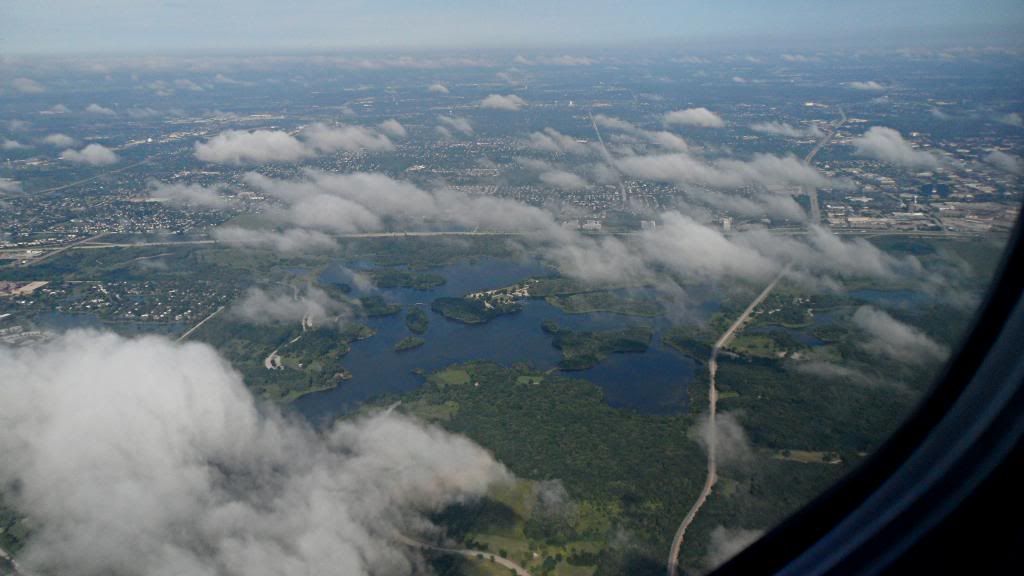 Flying over Chicago's northern suburbs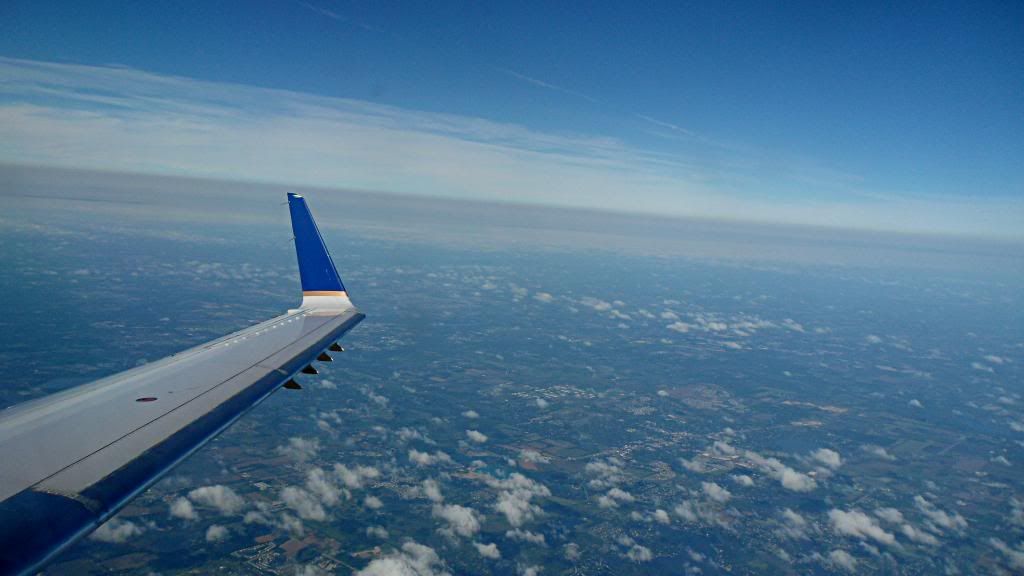 Continuing our ascend over Wisconsin
The potential subject of my next report: MKE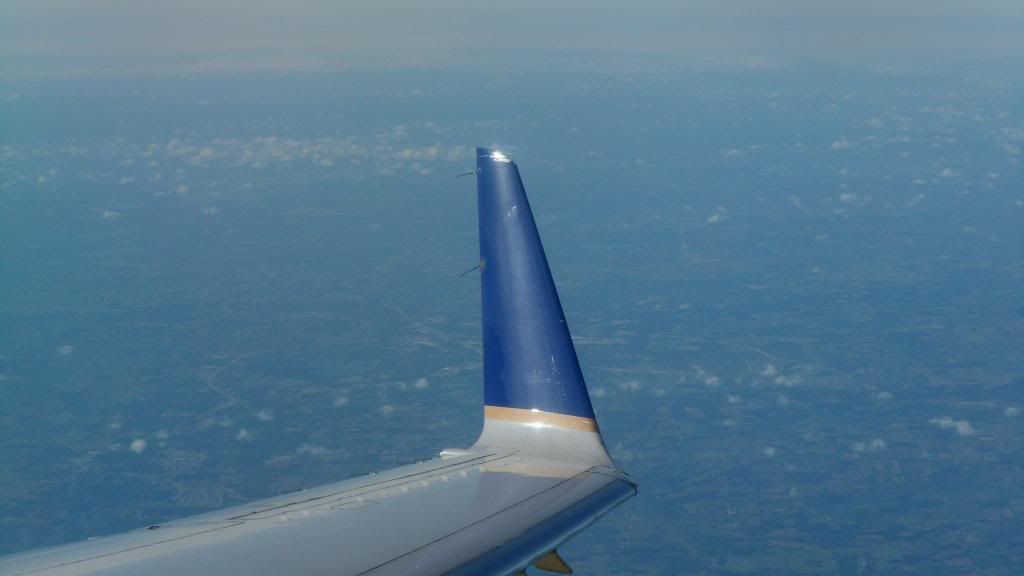 These winglets look pretty nice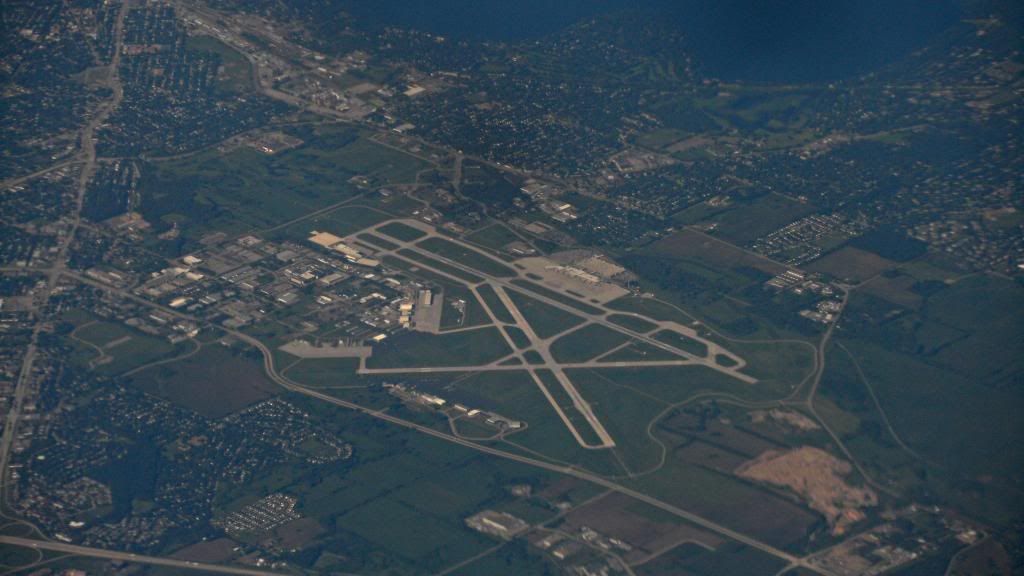 Flying over Madison, the capital of Wisconsin, and its airport MSN
The young female flight attendant was very friendly but also efficient during the drink service. I got myself some orange juice and spent the rest of the flight enjoying the views. Thankfully there were hardly any clouds. For much of the way we followed the Mississippi River north, making it easy to orient myself. We flew directly over the twin cities of Minneapolis and St.Paul but after that I lost track of our position for all I could see were innumerable small lakes and ponds as far as the eye could see. Minnesota calls itself
"Land of 10,000 lakes"
, but I think they are selling themselves short.
My choice of refreshment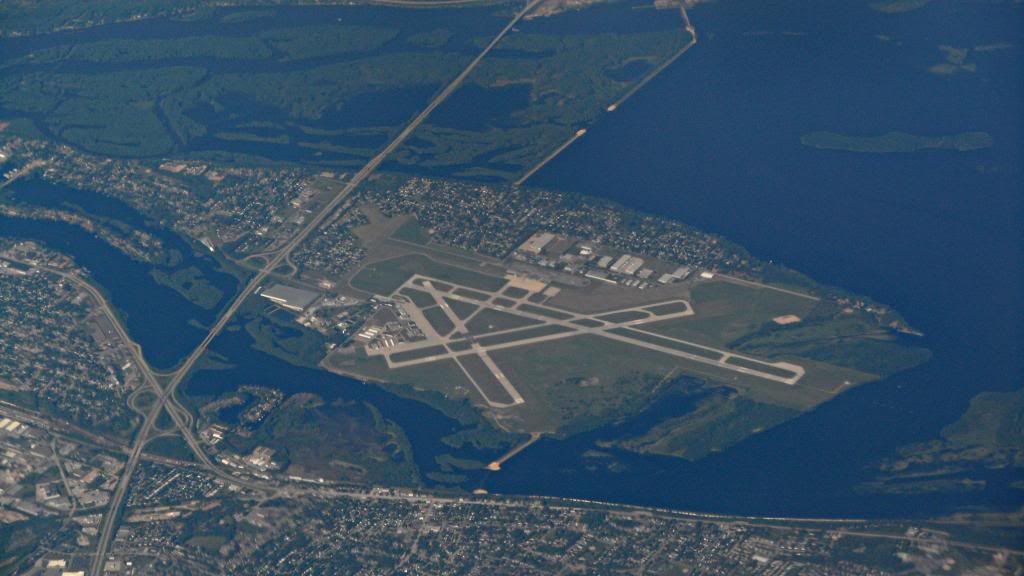 Not many airports can claim to be located on a Mississippi River island. Here is LSE serving the the town of La Crosse, Wisconsin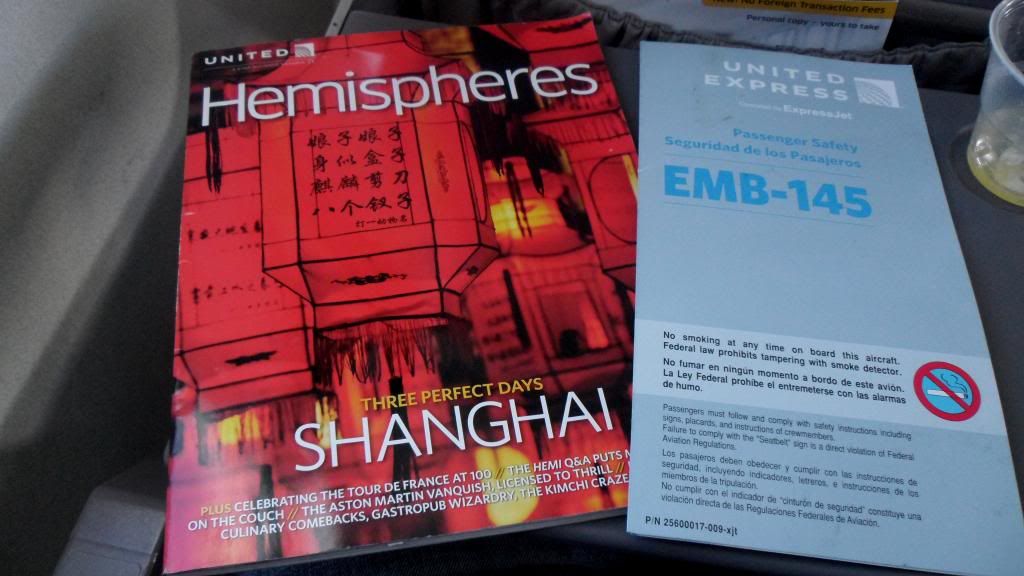 Some entertainment
Possibly my favorite airport in the entire country: MSP
Downtown Minneapolis
Enjoying the empty cabin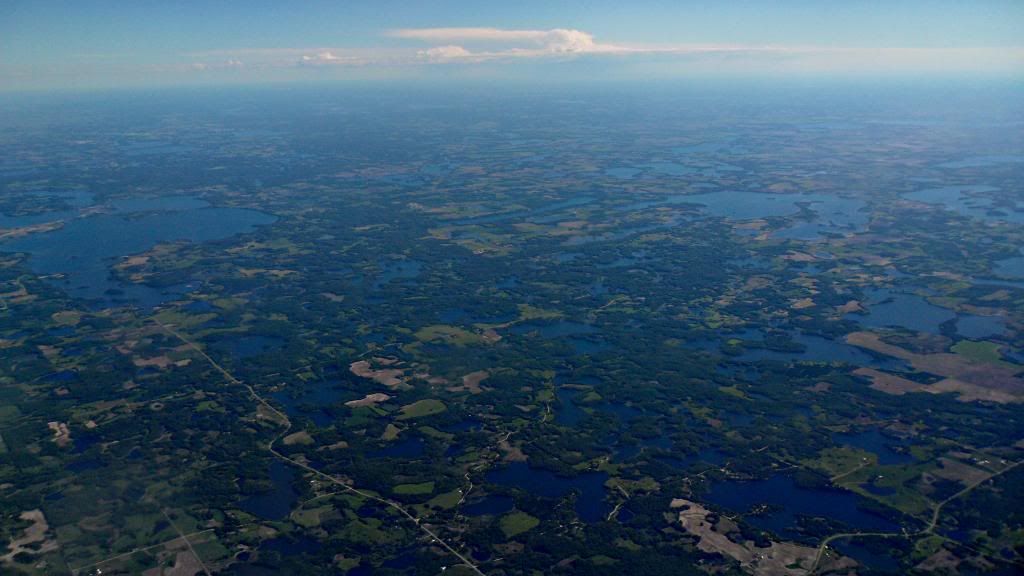 Land of 10,000 lakes? You betcha.
I wasn't sure which side of the aircraft would give me the best view of Fargo during landing but I suspected it would be the right so I moved to a seat on that side. At the very last moment however I realized that we would loop around Fargo to land from the north so I switched sides again... I'm sure the flight attendant did not appreciate this move but I'm a sucker for city views during approach/landing so I simply had to do it. Indeed, we ended up looping around Fargo and landed at FAR from the north.
Here's Fargo and (at the bottom of the photo) the town of Moorhead, Minnesota.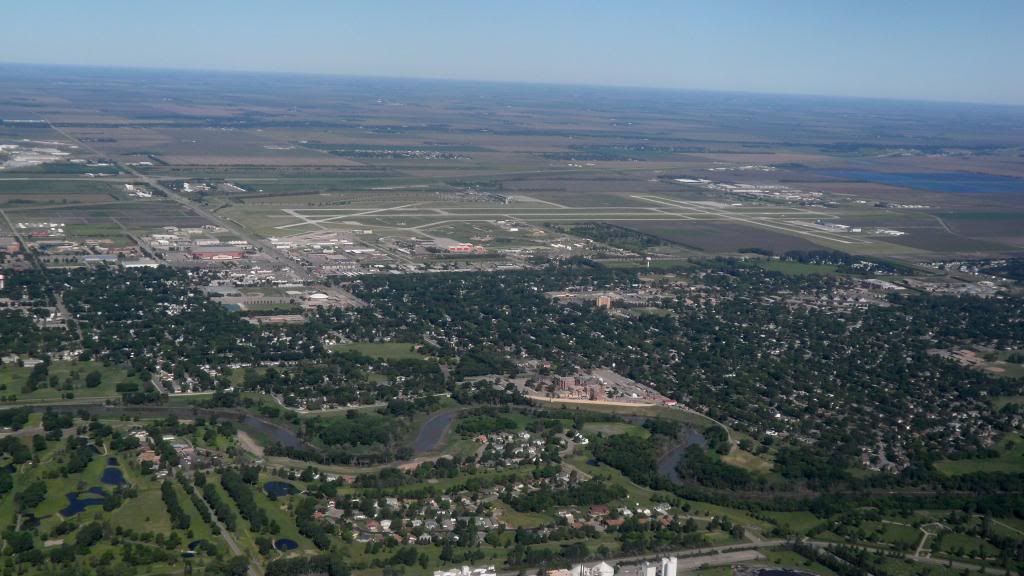 And here's FAR in the distance as we prepare to loop around it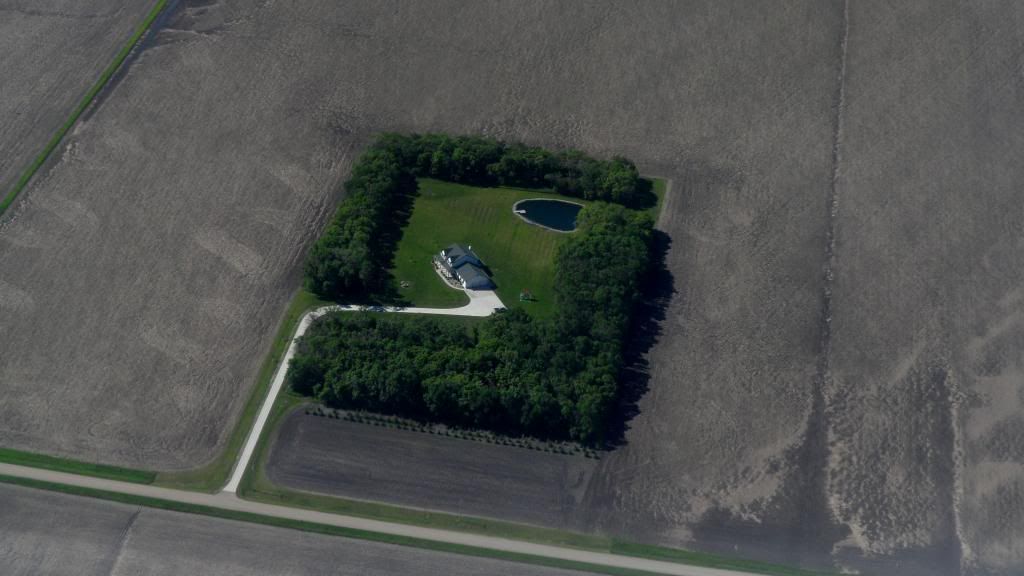 Moments before touchdown
The cute little terminal and its 5 jetbrides
From some research I had done in advance, I knew that there were no buses that serve the airport and that there are usually only 1 or 2 taxis waiting outside. Wanting to make sure that I got one of these taxis I marched to the arrivals area. I didn't even bother to look behind me to check if I could see the registration of our aircraft. No time to check out the airport either. This had to wait until later in the afternoon. Luckily I managed to get one of the taxis and headed for downtown.
Fargo, the friendly locals and the Norsemen
Fargo is the largest city in North Dakota and it's home to just over 100.000 people, many of which are of Norwegian or other Scandinavian descent. Witnesses to this are the names of local businesses like
"Bjornson Oil"
,
"Rasmusen Insurance"
,
"Bergstrom Optics"
,
"Gustafson & Son"
and the existence of many Lutheran churches. I started my exploration from the Amtrak station on the north side of town.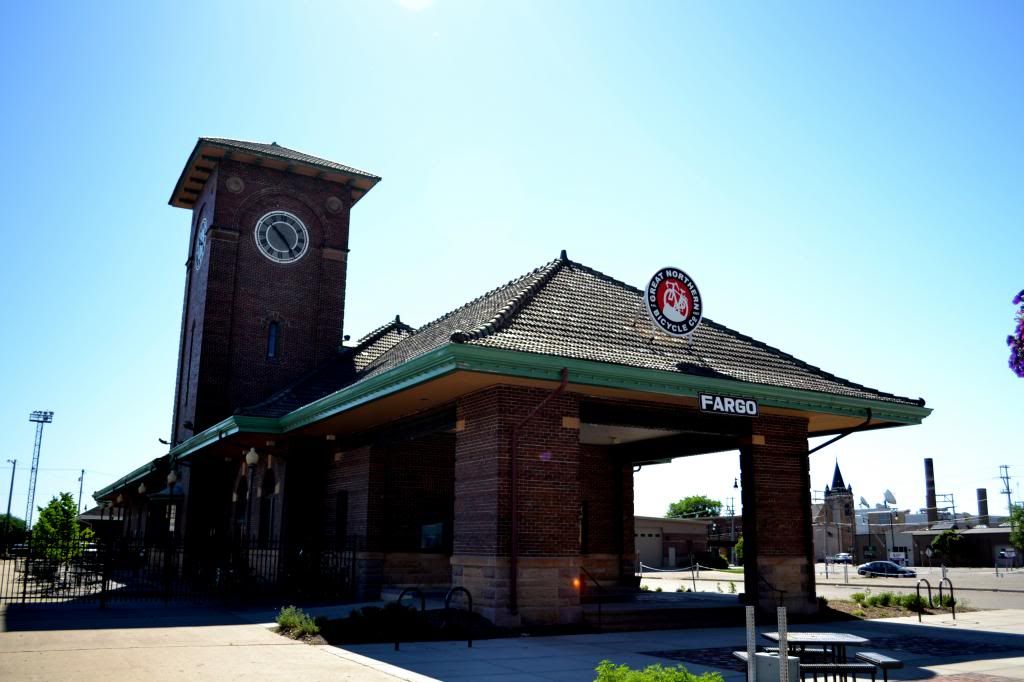 The Fargo Amtrak Station deserted at this time of day. The only trains that pass through here (trains traveling between Chicago and Seattle) do so at 2 or 3 in the morning
Skywalks are quite popular here too, much like in Sioux City
Fargo is home to North Dakota State University
A weeping Buffalo?
I walked along Broadway Drive, one of Fargo's main drags, checked out its beautiful old buildings and then walked down to the river to chat with some of the fishermen there. I had a really nice chat with a Native American couple who was having a little fishing picnic by the river. They told me that they fish there very frequently and quite often they see deer, wild turkeys, beavers and other wildlife on the banks of the river. In general I found the locals to be very friendly and chatty. People would just stop and chat with me. It reminded me of Japan. This being Sunday, most streets were quiet but whenever I came across someone he/she would greet me verbally, or at least nod.
The Red River of the North forms the border between Minnesota (left) and North Dakota (right)
A tiny fishermen's pier extending into the river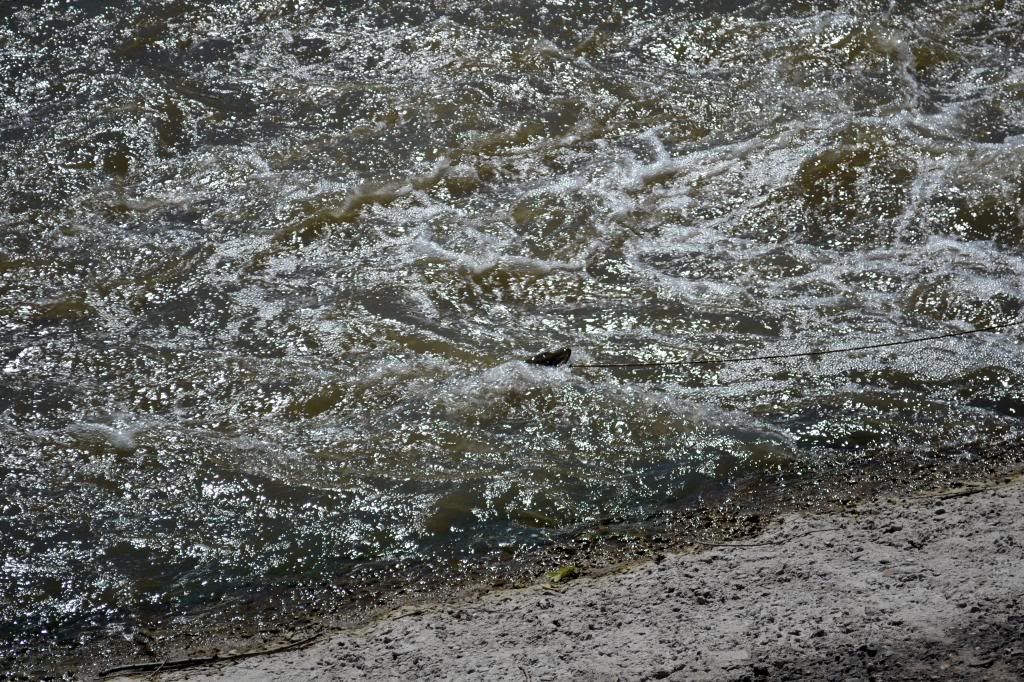 Several people were fishing at the river. A guy had just caught a Northern Pike (its head sticking out of the water is just about visible here). The first fish I ever caught was one of these toothy fellas
A small replica of Lady Liberty. New York is one of my least favorite cities. The only reason I would go back there is to visit the Statue of Liberty. Now I don't have to.
An old (and by the looks of it, grumpy) man and his boat
Hard to believe that this is right next to downtown
After exploring the Fargo side, I decided to cross the river over to Moorhead, Minnesota, and check out the Hjemkomst Center, a museum dedicated to Norwegian heritage. The centerpiece of the museum is the
Hjemkomst
viking ship after which the place is named. It was built by volunteers under the guidance of Robert Asp (a local of Norwegian descent) and it was then sailed(!) to Norway back in the 80s ("Hjemkomst" means "homecoming" in Norwegian). Unfortunately Robert Asp did not live long enough to witness this feat. Another impressive part of the museum is
Stavkirke
, the replica of a Norwegian wooden church. A very friendly museum guide gave me a tour of both the boat and the church. It turned out he was originally from Iowa so we had a nice chat about how much we both love the Hawkeye state.
Entrance to the Hjemkomst Center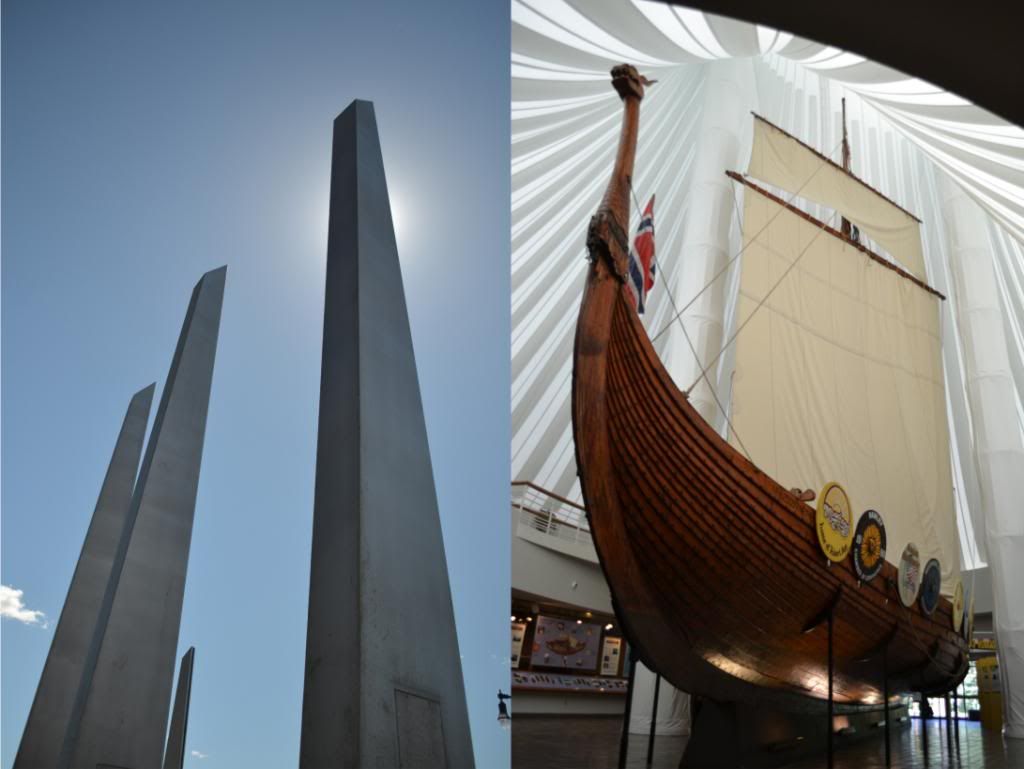 And here's the boat itself on the left. Very impressive, especially knowing that this thing crossed the Atlantic. On the right you can see the pillars found at the Veterans Memorial Bridge not far from the Hjemkomst Center
Stavkirke is a replica of a wooden church located in the town of Vikøyri, Norway. Much like the Hjemkomst boat, this church was built by volunteers who wanted to preserve their Norwegian heritage
The tour guide told me that back in the day many churches of this kind in Norway were abandoned and used as barns instead. It's interesting to think how Norwegians always found ways to use churches for purposes other than the ones they were build, like storage or, in recent years, for firewood
.
Having plenty more time to spend around town, I kept walking along the river, enjoying the tranquility of the place and the absolutely astonishing skies.
Continued Below