Dear readers and fellow tripreporters,
welcome to the first tripreport on the brandnew Boeing 787-8 Dreamliner of Thomson Airways, from United Kingdom! For me, also a first time encounter with this aircraft!
___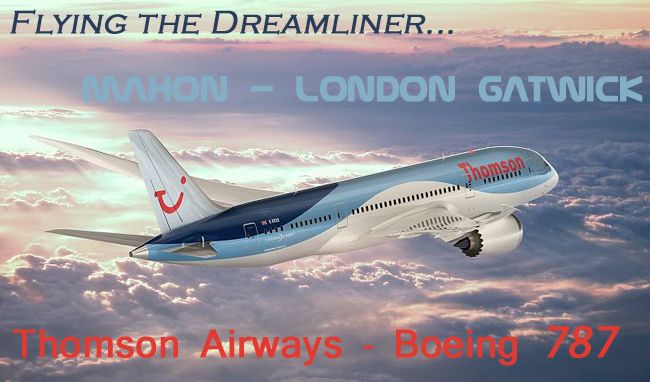 ___
Thomson 1st 787 Dreamliner: MAH-LGW
___
UK based leisure airline Thomson Airways, part of TUI group, took delivery of their first Boeing 787 Dreamliner on May 31, 2013. Part of an order of 8 aircraft, G-TUIA was the first Boeing 787 on the British register. The delivery flight was from Paine Field to Manchester.
Thomson announced that the first intended longhaul flights will start from July 8, to Florida and Mexico, with 47 passengers in Premium Club Class and 291 passengers in Economy Class seats.
Prior to the regular operations, a couple of training flights for crew were operated to various UK airports and also Hanover in Germany. But more interesting was the day that I found out a couple of commercial flights within Europe on this new aircraft. That made me and some friends decide to book on the first day of operations, a daytime flight from the Mahon to London Gatwick. I think it would be mostly interesting and a good way to find out more about this aircraft.
Some more information about Thomson and their Boeing 787 Dreamliner and the history of flight can be seen when you click on this image: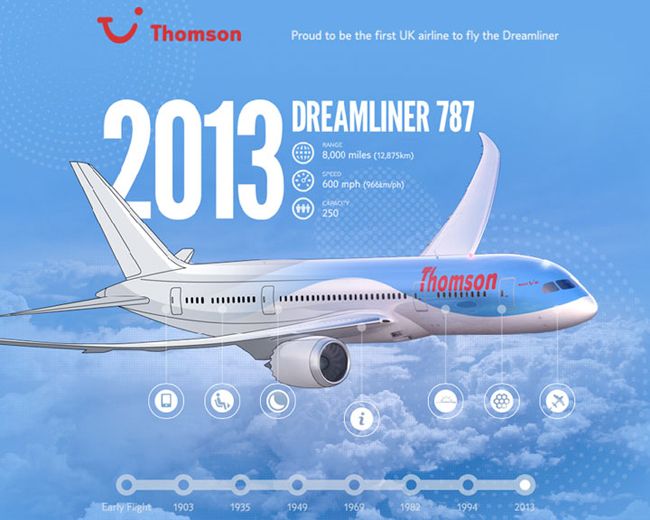 ___
On this trip, my friends and fellow a.netters MEA-707 and DunaA320, as well a few other a.netters were joining. Me and MEA-707 decided to fly in the day before on KLM and JET2 via Manchester. The flights may be covered in a seperate tripreport at a later moment.
Friday June 21, 2013
After a night in a Maó hostel and a nice breakfast in the old town and in the sun, it was time to take the public bus service (fare: €2.60 payable at driver) to the airport. The bus runs every 30 minutes. We arrived at the airport just 15 minutes later.
Mahon Airport & Check-In
4 desks were open for check-in. It took about 30 minutes to get served, the lines were moving slowly. In the building we got annoying company of a group of people asking attention for the high unemployment rates.
The check-in desks had some decoration in place mentioning about this special flight.
The boarding pass was printed in Iberia stock, unfortunately.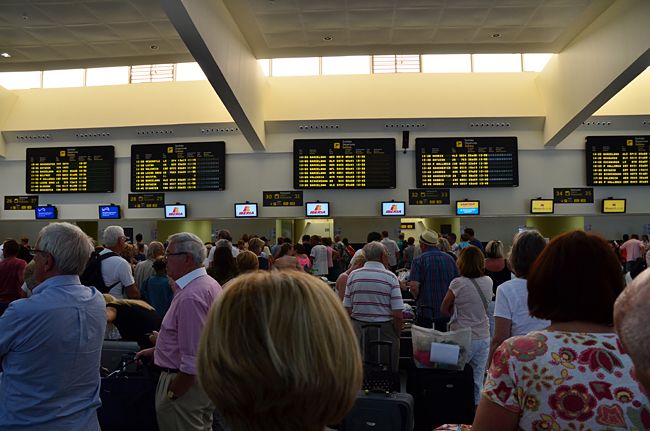 .
Lucky people in line checkin' in for the 787 flight... (most of them are not aware of it)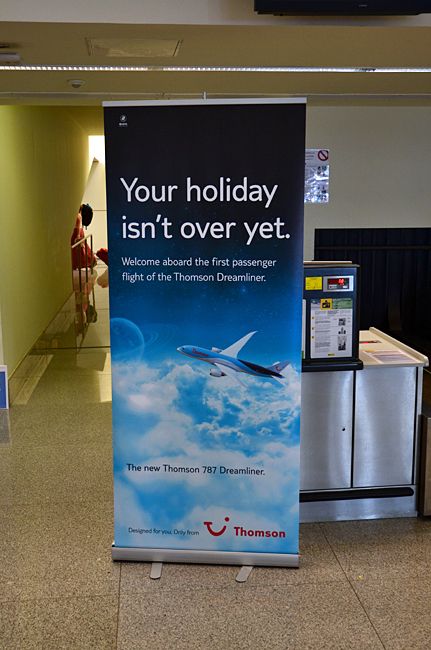 .
Thomson set up posters to tell us about it!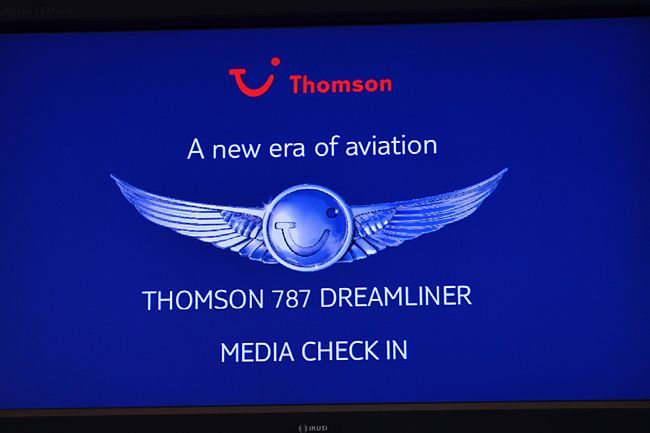 .
How about this sign above check-in?
Well, tripreporting is media as well. I'm in the correct line here!
Off to security then, which was a breeze and took little time only.
Departure Lounge & Boarding
After security you'll end up in a taxfree store first, no way to get around of it. Once in the waiting lounge you'll find several shops and bars, as well great views on the apron.
It was clearly British 'changing day' on the island with loads of British charters around.
Our gate was 16, at the far corner of the building, and it offered a great view on the apron and, the aircraft that was awaiting us! Nicely positioned in the bright sunlight, with matching updated TUI colours under the blue sky!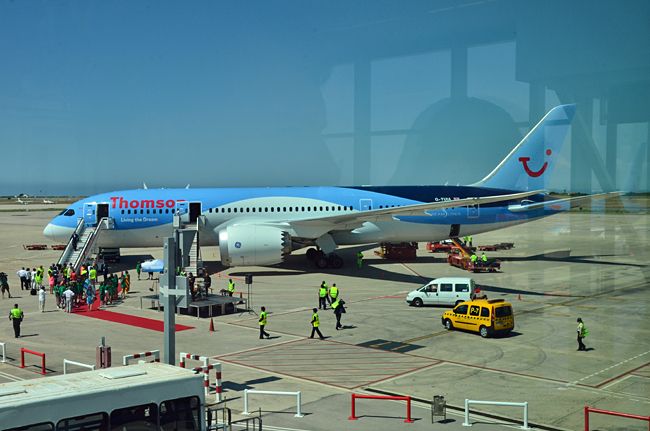 .
The expected DreamLiner is in already and being serviced
Some festivities were held on the apron for VIPs and press, a band was playing. For us, only a red carpet and some great photo opportunities would remain...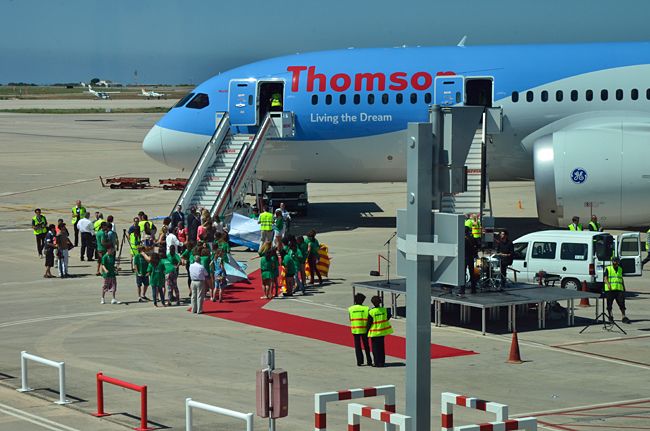 .
Is here something to celebrate?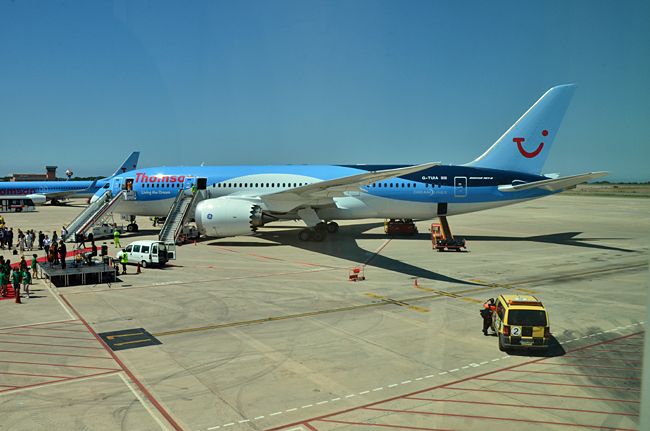 .
How about another in full size?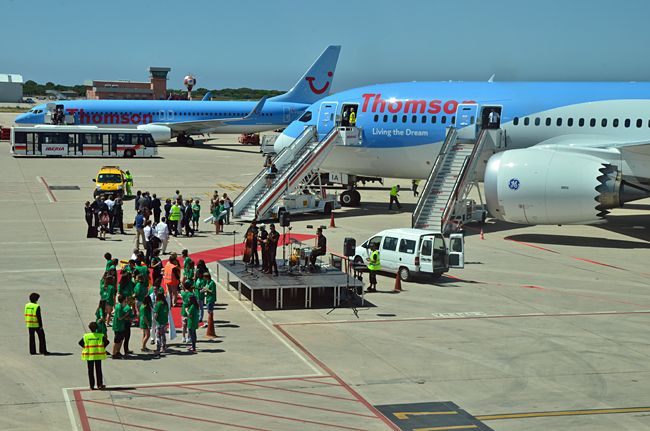 .
Thomson was all around this day, also in their previous livery
Boarding was called for early and we could go on the apron and move freely, nobody bothered us when taking pictures of ourselves or the aircraft.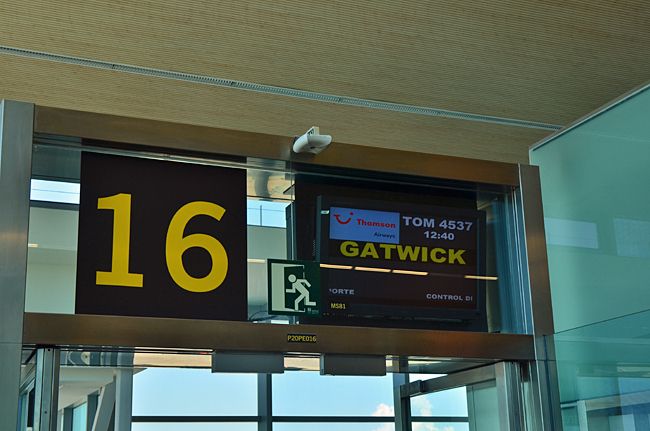 .
Boarding at gate 16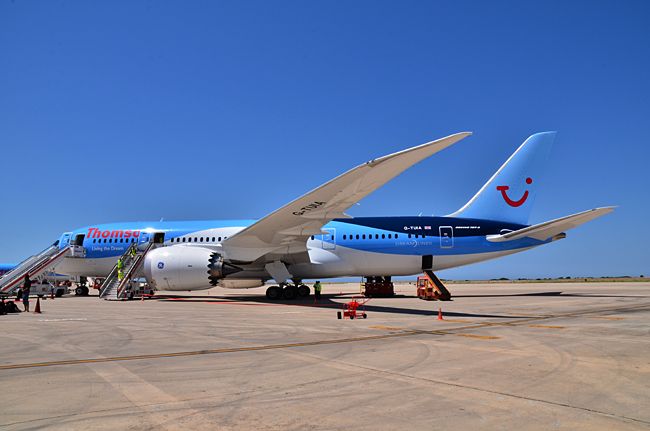 .
Getting closer now to this beauty

.
A striking livery, a beautiful wing, a beautiful day!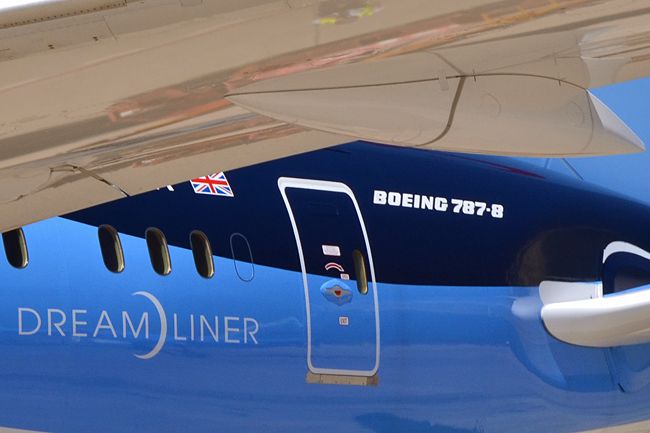 .
Up and close with the 787-8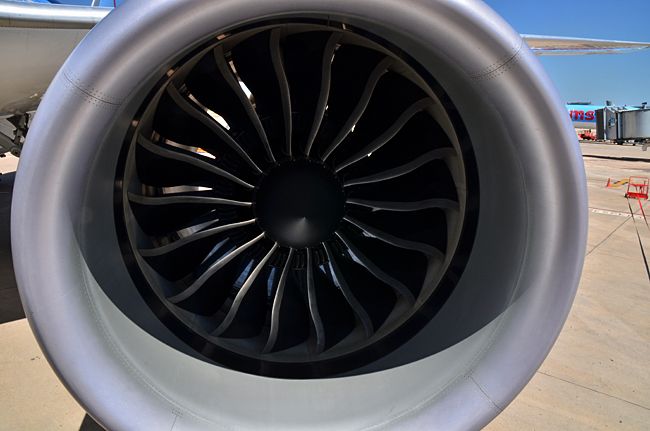 .
GEnx engine to power up this bird...

.
Let's go on board now!
Once the green light was given to board, I felt honoured to be the first passenger to board this beautiful aircraft

| | |
| --- | --- |
| Flight | Thomson Airways - TOM4537 |
| Date | 21.06.2013 |
| Route | MAH-LGW |
| Aircraft | Boeing 787-8 Dreamliner |
| Registration | G-TUIA |
| Scheduled Departure Time // Actual Departure Time | 12:35 // 12:35 |
| Scheduled Arrival Time // Actual Arrival Time | 13:55 // 13:48 |
| Class of Service | Economy Class |
| Seat No. | 39A |
Notes:

- Seat 30A, 30J (emergency row), 37A and 37J are without windows
- Row 39 have 2-seaters pairs AC and GJ
- Seatpitch: a generous 34"
- No crewrest facility on ship TUIA, TUIB, TUIC (others do get crewrest areas)
The Flight
Welcomed as being the first passenger, by friendly male crewmembers. I got directions to my seat. A good impression already now.
The cabin for Economy Class is split up in 2 sections, having a set-up of 3-3-3 seats in darkblue leather, with adjustable headrest and a 34" legroom. Impressive!
The seatback reclines (also in the last row). Additionally every seat has personal inflight enetertainment (IFE), with loads of audio, video and games loaded. The touchscreen works smoothly and navigates quick and easy. There is a connection for USB and iPod.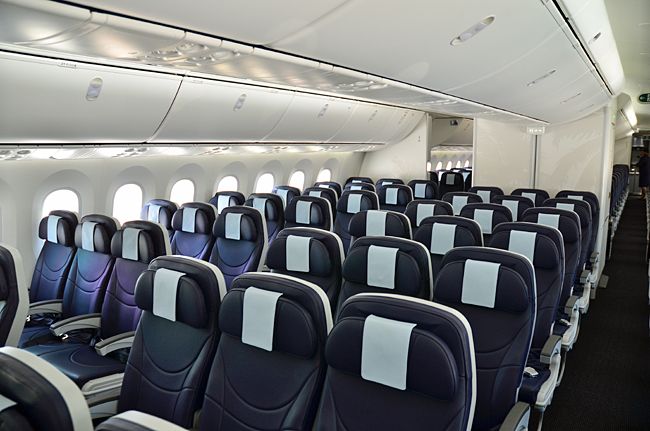 .
Mid-cabin section is Economy Class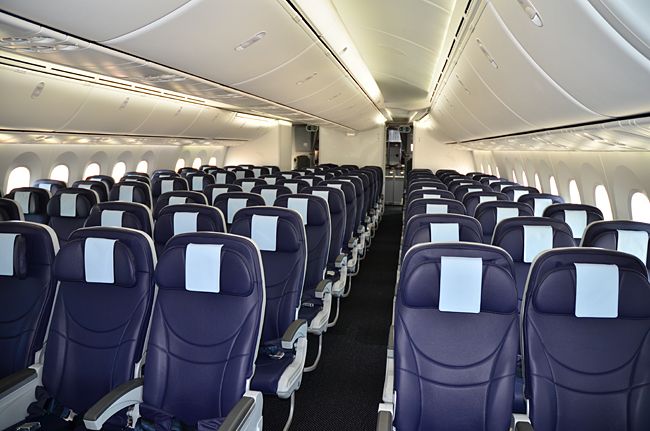 .
Aft cabin section of Economy Class

.
Legroom in Economy Class is 34"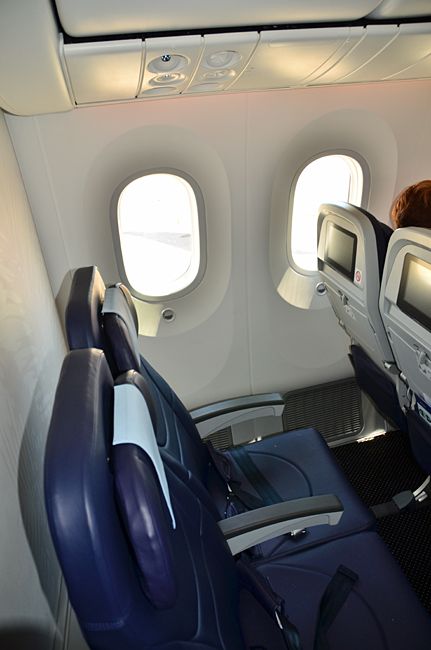 .
Row 39 has 2-seaters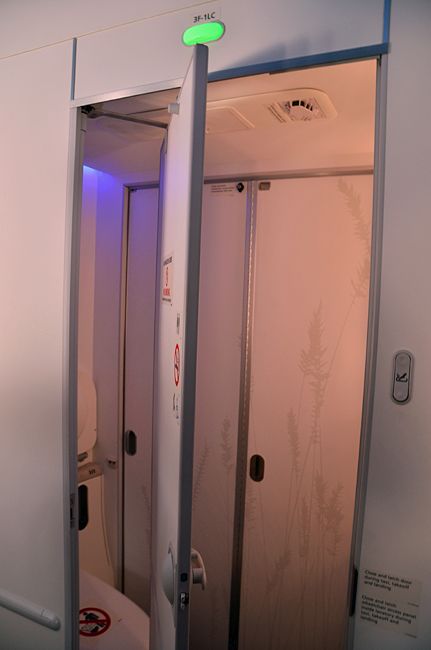 .
A new type of door for the lavatory as well on this aircraft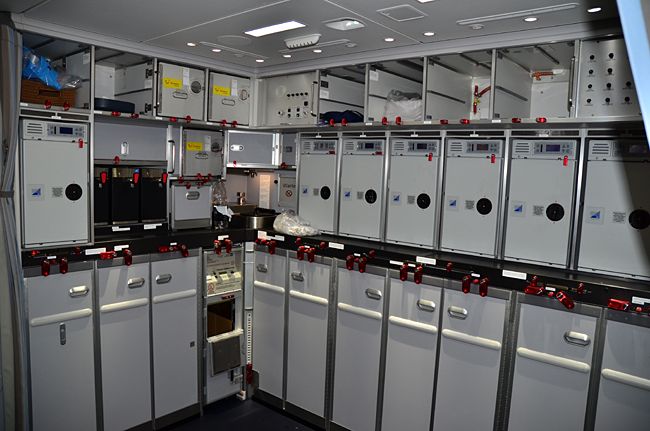 .
The aft galley is huge!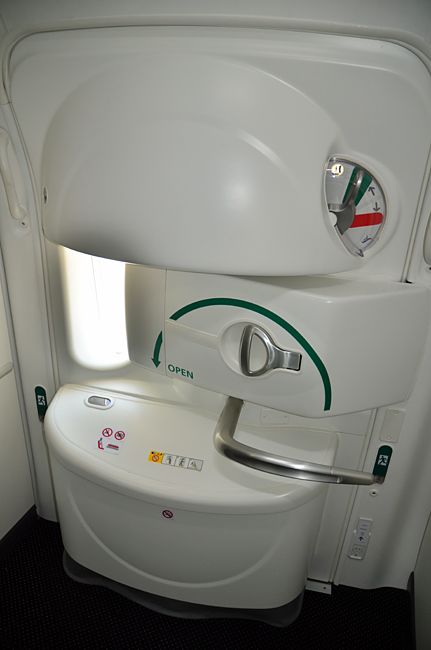 .
The passenger doors are huge as well
Before departure, the captains takes a microphone in mid cabin to welcomes us 'personally' on this brandnew state-of-the-art aircraft. In 2 hours he would fly us to London at an altitude of 43,000 feet. He mentioned about the quietness of the engines, which would certainly guarantee a comfortable flight.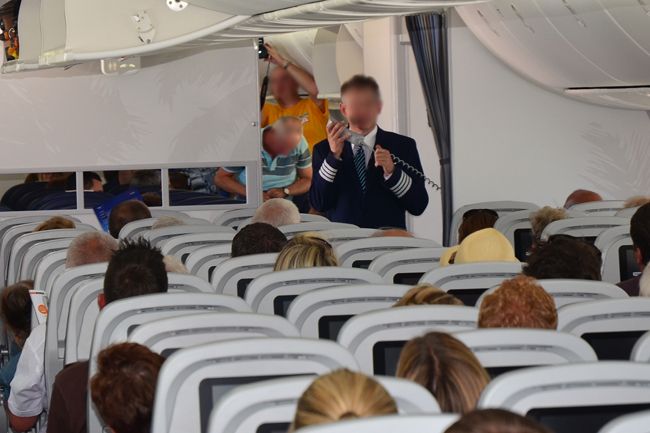 .
Welcome from the captain himself prior pushback
Then one of the crew offers me the last row of 2 (originally I was in another row), so I was free to move myself when taking pictures during the flight. I accepted his offer of course.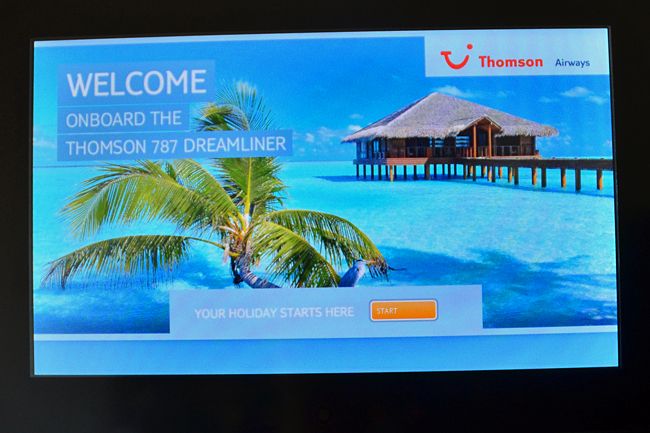 We block-out exactly on schedule and interesting enough, the safety briefing was done manually! I did not expect it honestly. In the meantime (I know, it's not good) I check what's inside the seatpocket: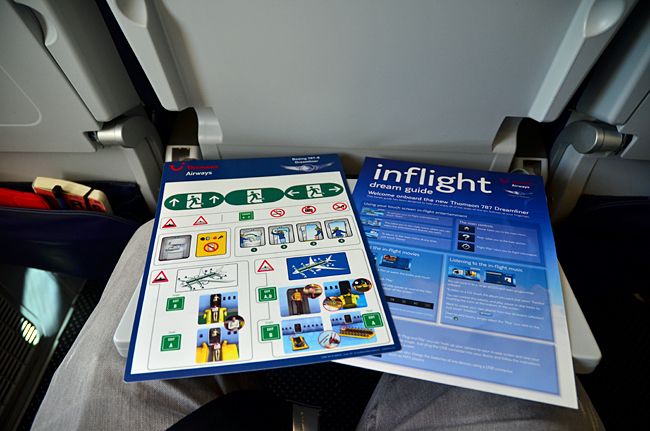 .
Safety card and IFE information/explanation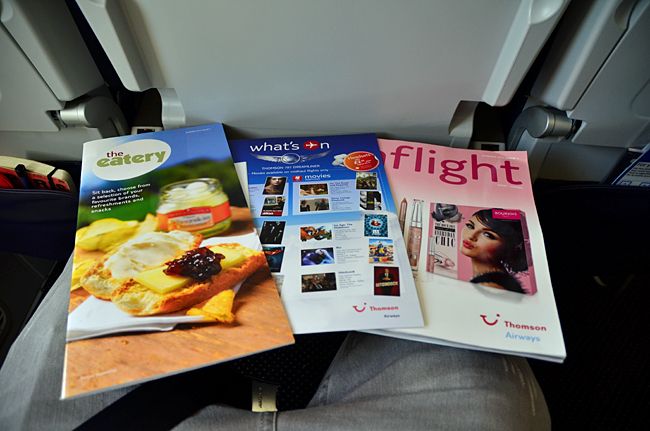 .
"Inflight" magazine, the menu or "What's on?"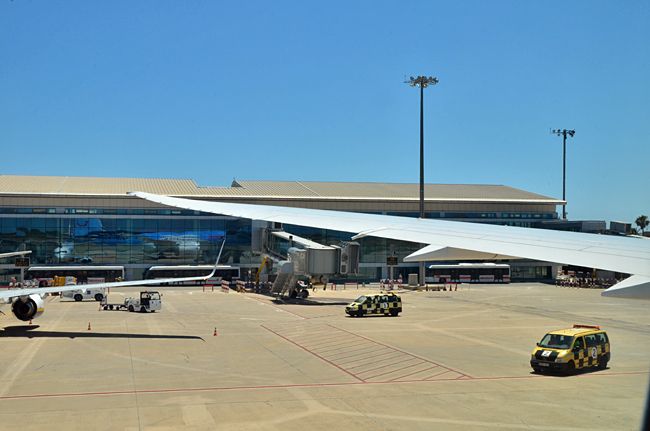 .
Pushback and a 787 in the 'mirror'
And man, what is the Boeing 787 quiet indeed! During taxiing and flight, only the sound of the blowing airconditioning is what I hear. It is comparable to the Airbus A380 noise level though.
We taxi to the active, runway 19R (the other runway, 01R-19L is closed and used as taxiway). We must hold short for an arriving Thomson Boeing 767-300 and BA Cityflyer Embraer 190, before we can line up and spool up the engines!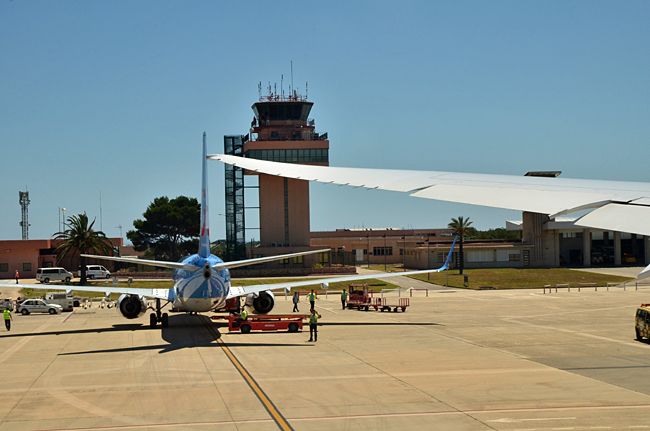 .
Compare ourselves with a Boeing 737-800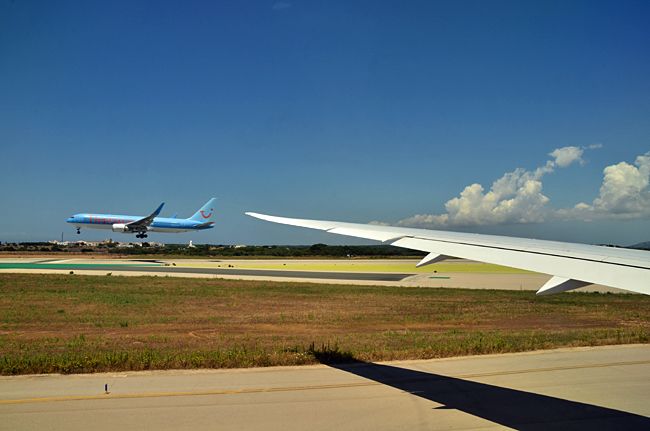 .
Holding short for a company Boeing 767-300 that flies in
The departure is very smooth and other from other passengers I hear some 'oh' and 'ahh' when we take skies.
What followed were some great views of the Balearic island Menorca, from which we just took off...

.
Off we go!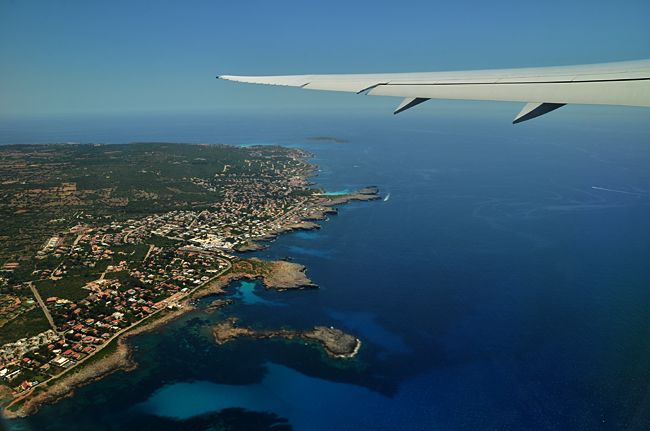 .
Leaving the island of Menorca behind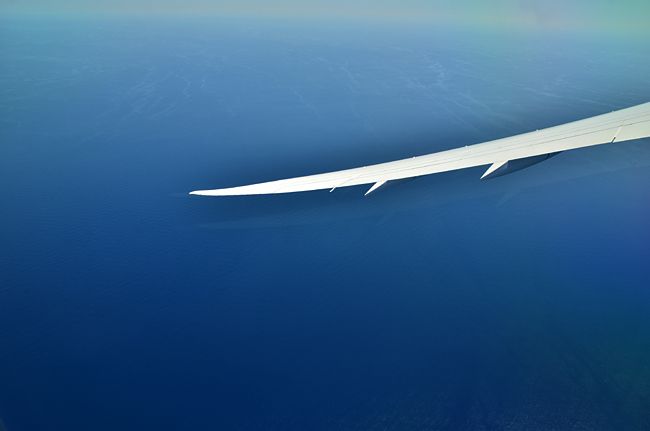 .
Just something blue, or it's the sea! Banking sharply towards the Northwest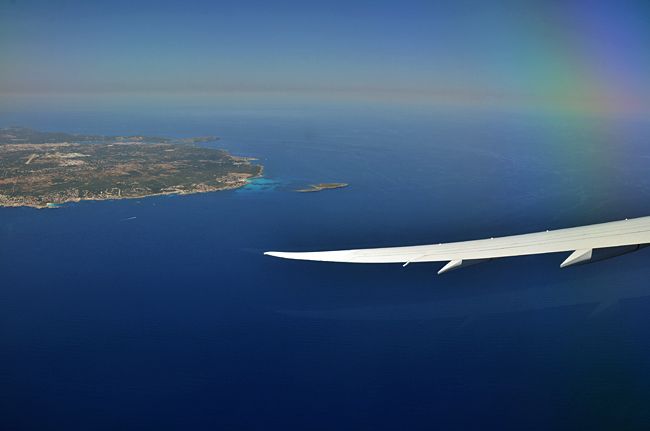 .
Menorca is insight again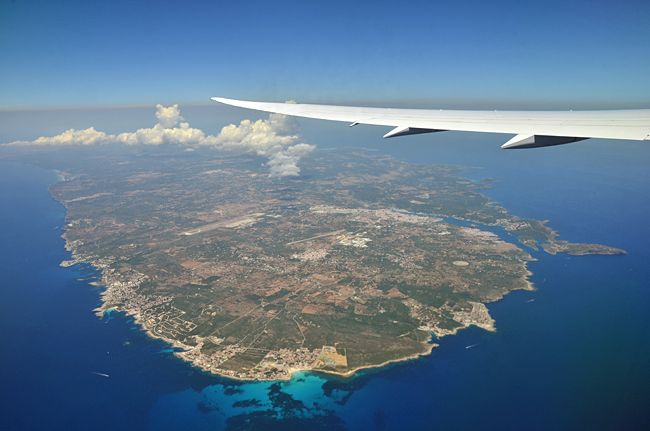 .
How about this? You can also find the airport on this picture
During the flight we were handed out a questionnaire first, not specially related to this particular flight. During the handout, the windows were blinded (controlled by crew), and mood lighting was shown to us.

.
Start menu of the IFE system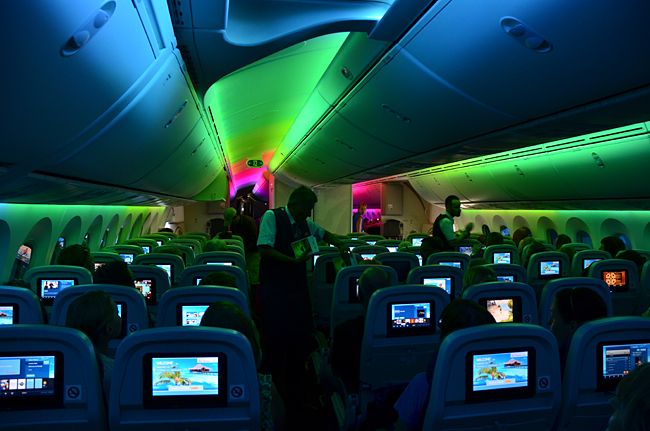 .
Windows dimmed, and demonstration of mood lighting...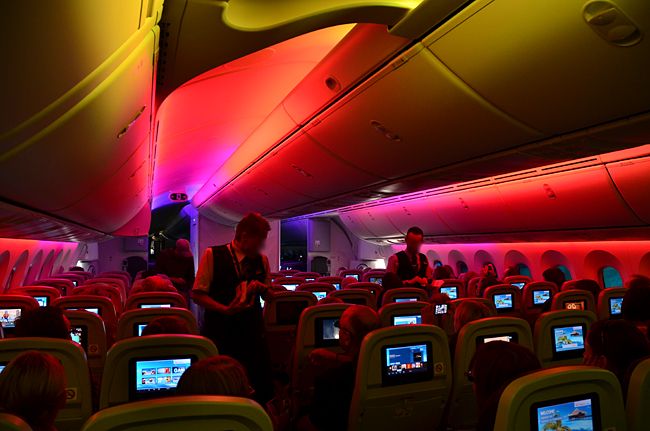 .
Or you prefer this mood?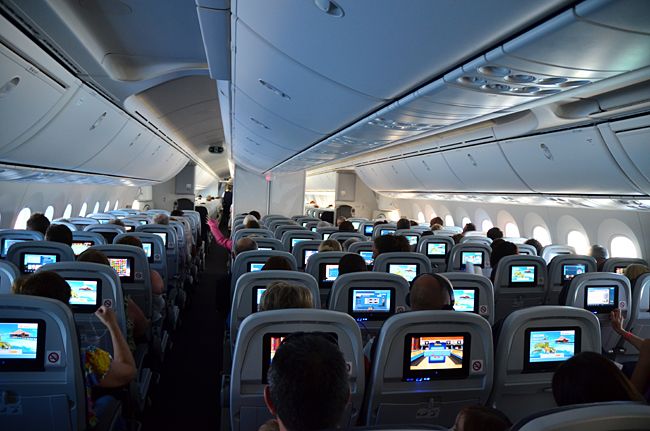 .
... or don't you have a mood today?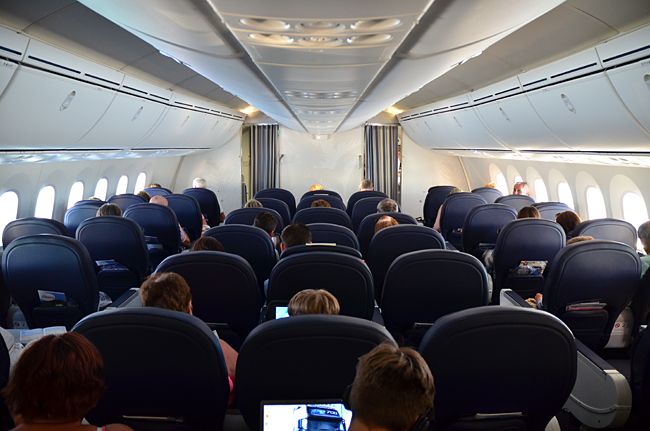 .
Premium Club Seating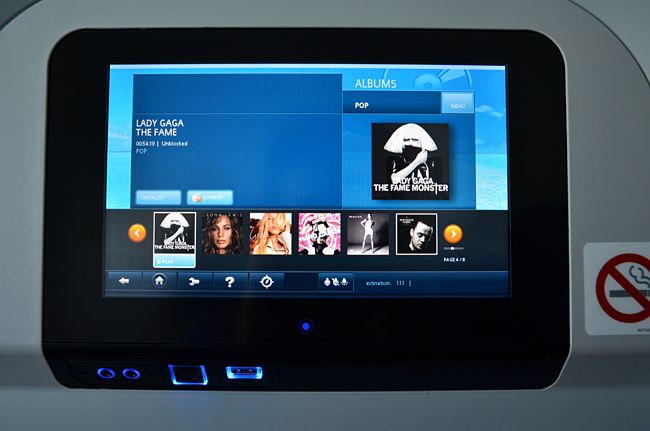 .
Time for some music, I think...
On behalf of the airline, a free drink of choice was offered, however no champagne. I got a rose wine with ice. Really nice to have this offered. Normally it would be for sale.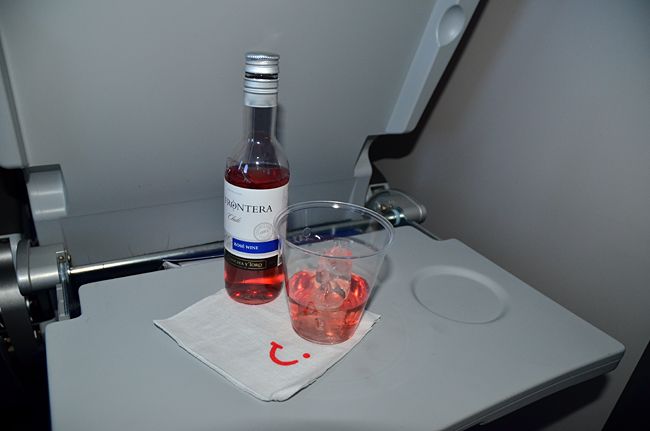 .
... music goes nicely with a drink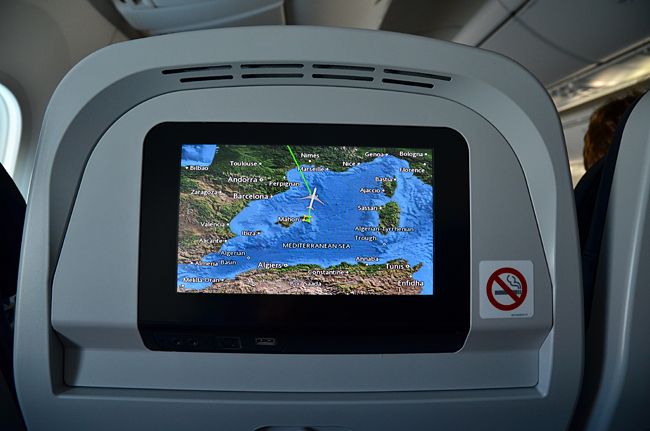 .
The music continues when I check the flightmap.
Multitasking works well in this IFE system
During the flight there was also taxfree sales. The snap-together Boeing 787 aircraft model was sold out quickly, I overheard. It seems they're doing good business with it!
I must say, together with us only a few other 'geeks' were onboard taking pictures and everything. The crew were real good to us, letting us free in doing the tripreporter-job! A photomoment in the cockpit was offered after landing already.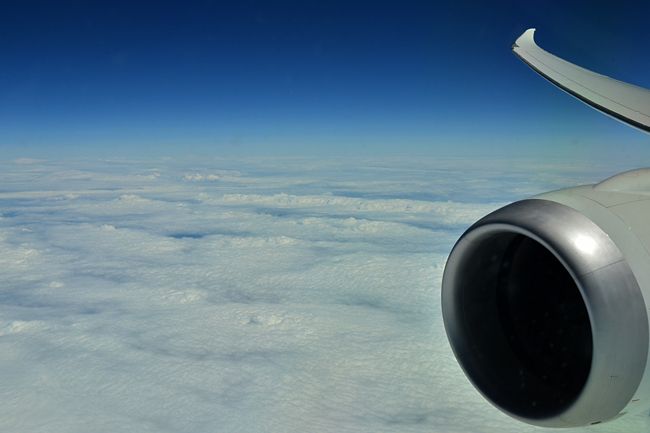 .
The wing and engines are so good looking!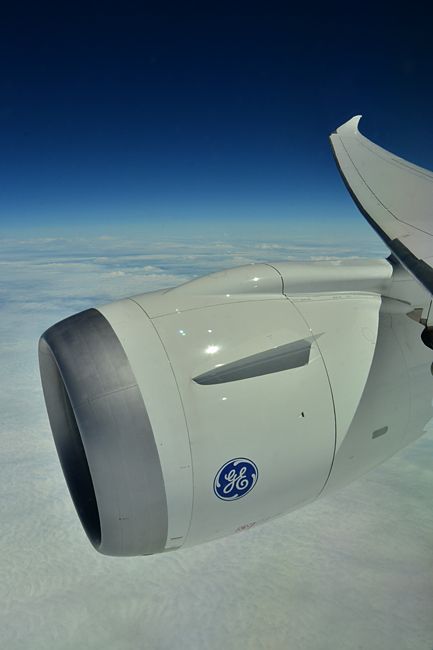 .
GEnx engine at work at 43,000 feet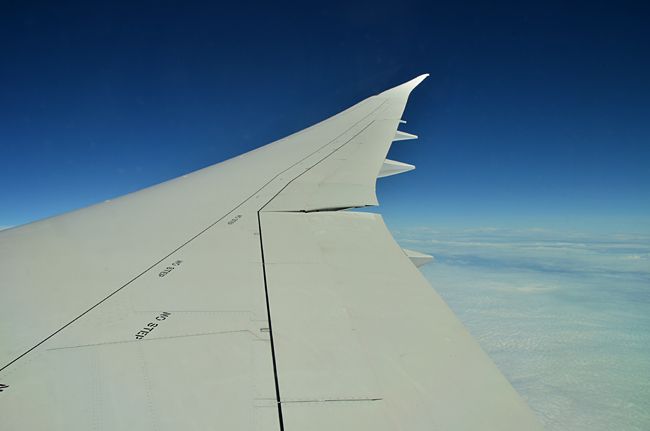 .
New wing design, looks great isn't it?
After 1h30 minutes approximately we started our initial approach for Gatwick. Clouds were all around, like a blanket over Britain. No good views anymore till final approach. From the flight map I find out that the temperature is 18°C, overcast low clouds. Not really nice.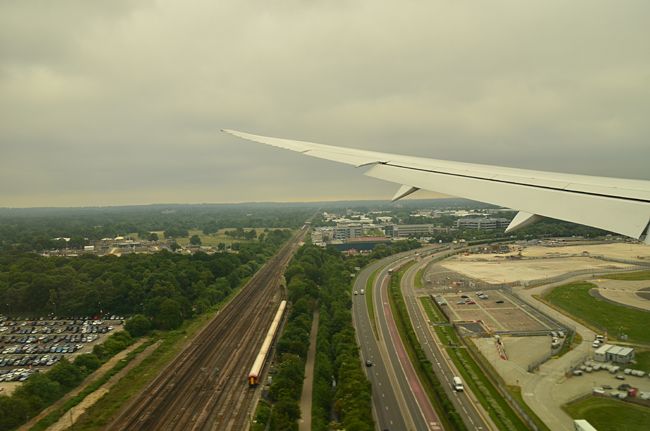 .
Final approach for Gatwick runway 26L
Landing is done smoothly on the concrete of runway 26L, followed by interesting braking of the 787, where one can see the interesting construction of the wing.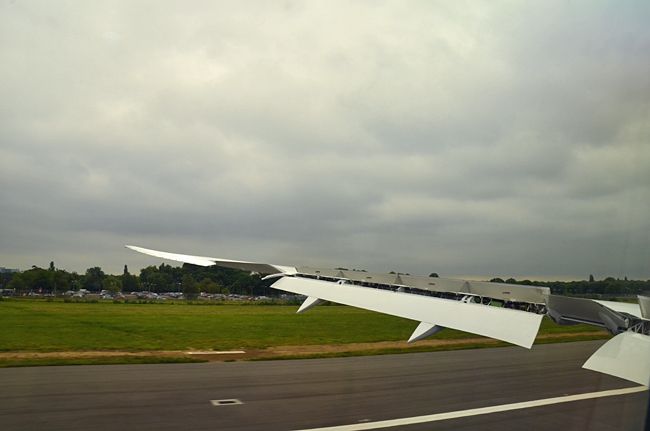 .
Some breaking power is shown. Look at the wing!
The cabin crew welcomed us after our first DreamLiner experience, followed by a welcome from the captain. They invited us onboard future DreamLiner flights with Thomson to try out the great product. Soon we arrived on stands, about 10 minutes ahead of schedule!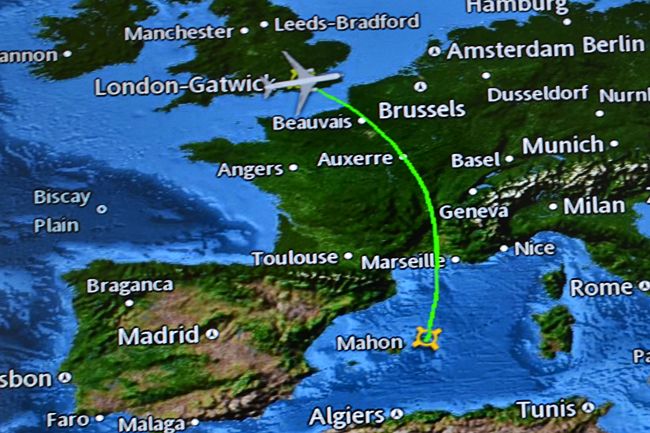 .
According the flightmap we're almost there!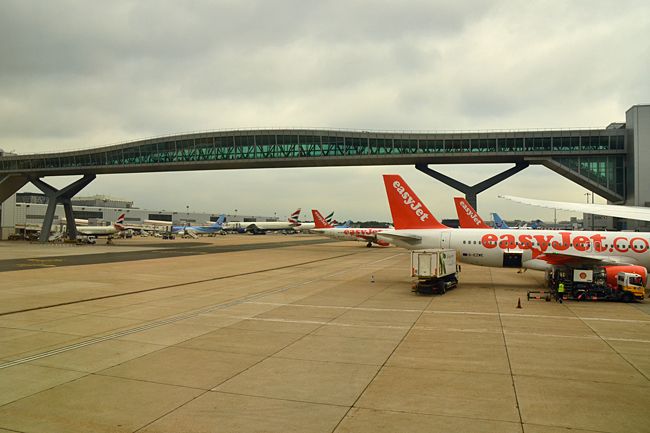 .
Arriving on stand 111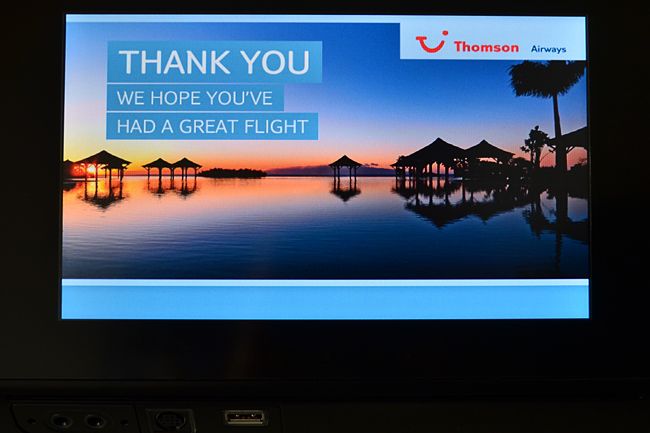 ___
That brings also my first DreamLiner experience to an end. Before disembarking we get ourselves in the cockpit, and captains seat! Pictures taken, and some good informative talk with the copilot done. He was a proud man, being able to fly this bird.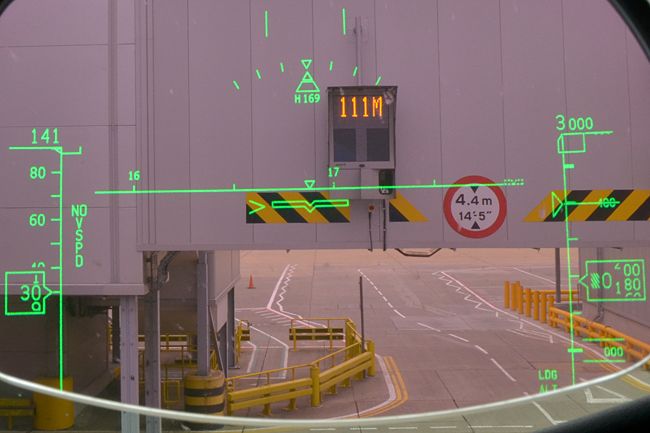 .
Captains seat HUD (Head Up Display)
The 787 has 2 of these displays
After Flying
Thank youThomson Airways for bringing your new aircraft on selected European routes for training purposes. For us it was a great way to get in touch with the new product.
Special thanks go to crewmembers David and Simon in the back, for nice talk, showing the galleys new features and attentive service. Thanks for the golden coin
, thanks also to 1st officer Phil for your time on the flightdeck with us. Hope you do many comfortable and safe flights on the 787's.
And I don't know all your names, but thank you all crew on TOM4537. You were a great team on this flight. Very welcoming, attentive, friendly and proud people, it was definitely showing!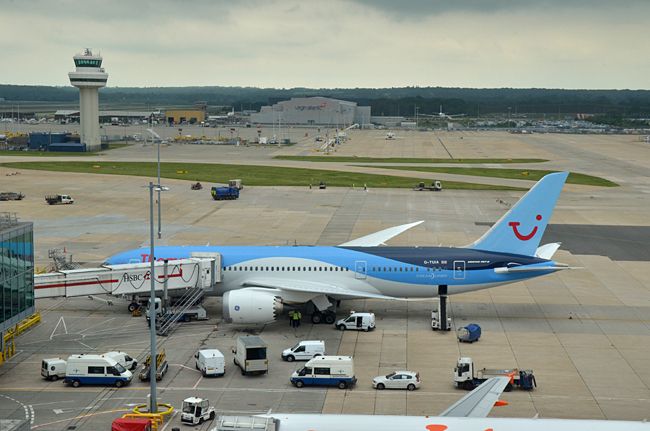 .
A last view... taken from the famous bridge. G-TUIA prepared for another flight to MAH
___
I would highly recommend this aircraft for longhaul flights, don't be afraid to get uncomfortable. The cabin, IFE and crew will give you a good time onboard in the air!
Thanks for reading, of course questions, your feedback or comments are welcome and appreciated a lot.
Regards,
Eric