View Large
View Medium


Photo © Patrick Kane
Before everyone flames me, I just want to say that I love Singapore Airlines. I know it's everyone's favorite airline (my 2nd favorite behind Thai Airways) but my flight last month was not usual for Singapore Airlines.
Work had me make a trip down to Singapore for a few days. Since I was going down to Singapore for a few days, I most certainly had to meet up with Ryanair!!! to raise some hell!
I wanted to fly on Thai Airways A340-600 but that flight fills up quick. To me, flying on a twin on a route where a 4-holer is an option is sacrilege. I really wanted to get the A340-600 flight but the mid-day flight was sold out as well as the day before and for the next three days. So I took Singapore Airlines which just uses a 777.
I've flown on Singapore Airlines 777 before and had a magnificent experience! Mainly because of their service and their meals. This time was a huge let down.
Check in went smooth with the Thai-based Singapore Airlines reservation agents.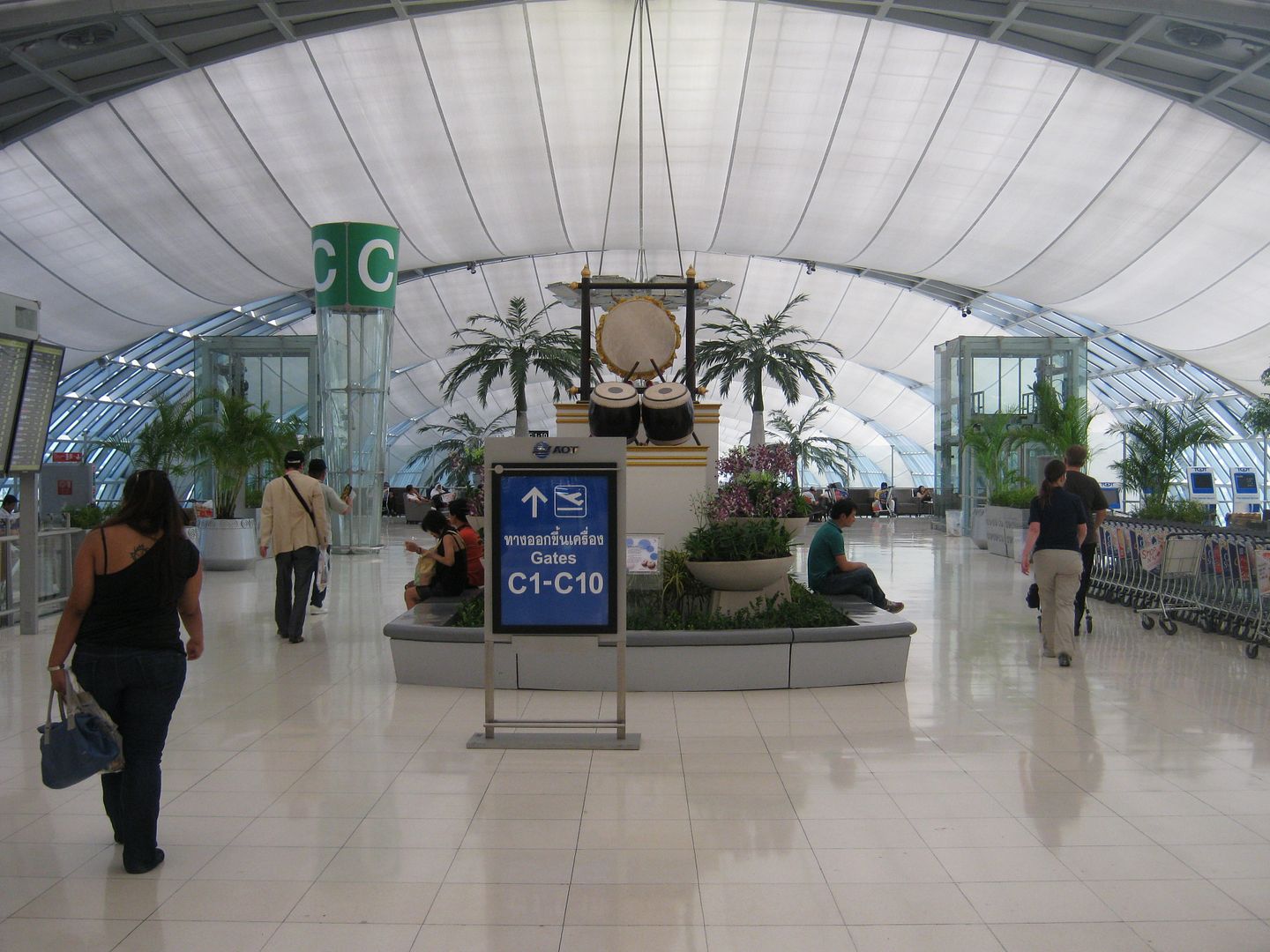 As I'm walking to my gate, I see the beautiful Thai Airways A340-600 that I really wanted to fly on pushing back and headed for Singapore.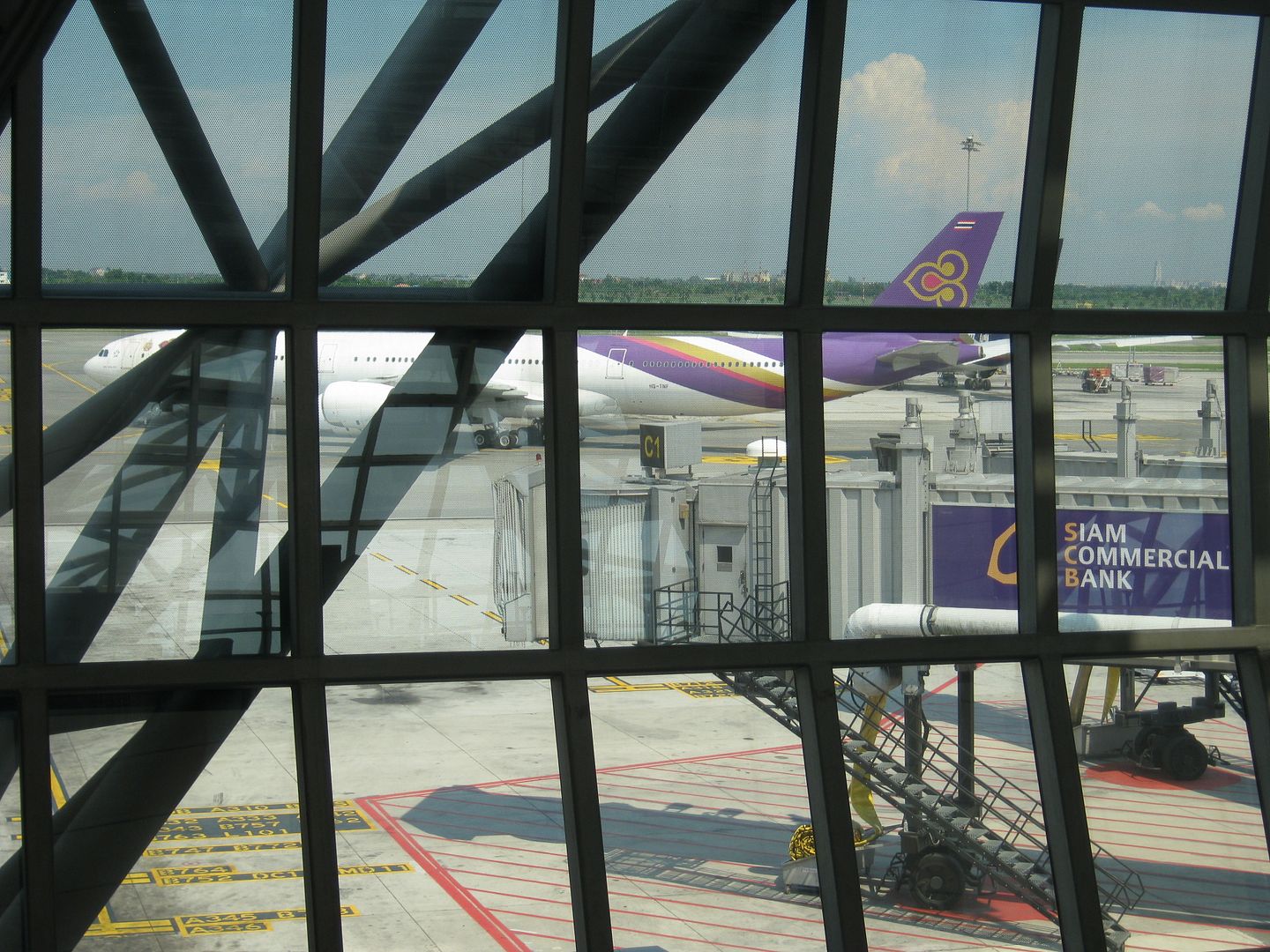 I get to my window seat and find the seats very comfortable.
It was a full flight. My seatmates was a friendly older British couple headed back home to Singapore.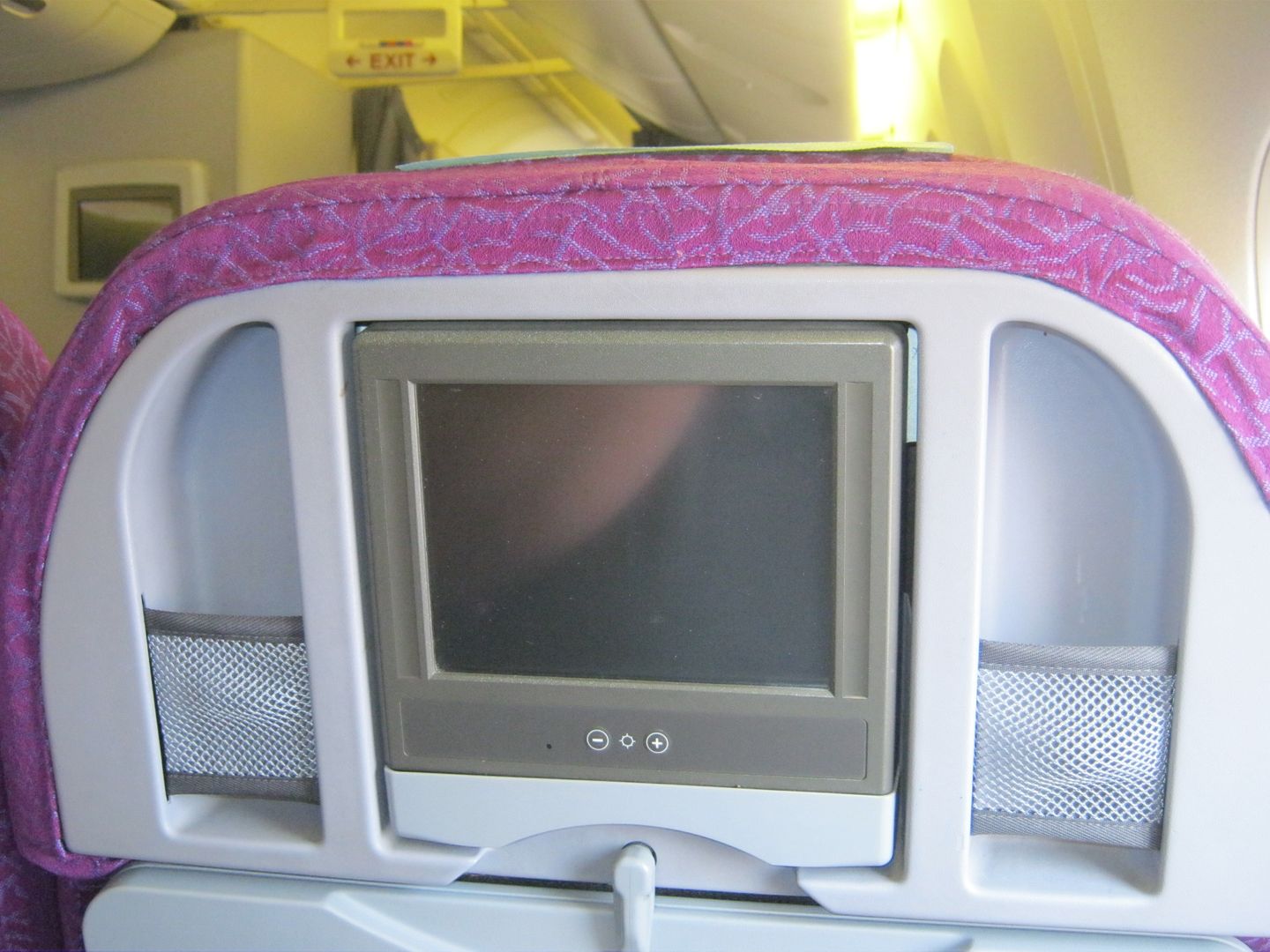 We push back on time and off we go.
We take off in to the hot & hazy sun over Bangkok and bank southeastward towards Pattaya.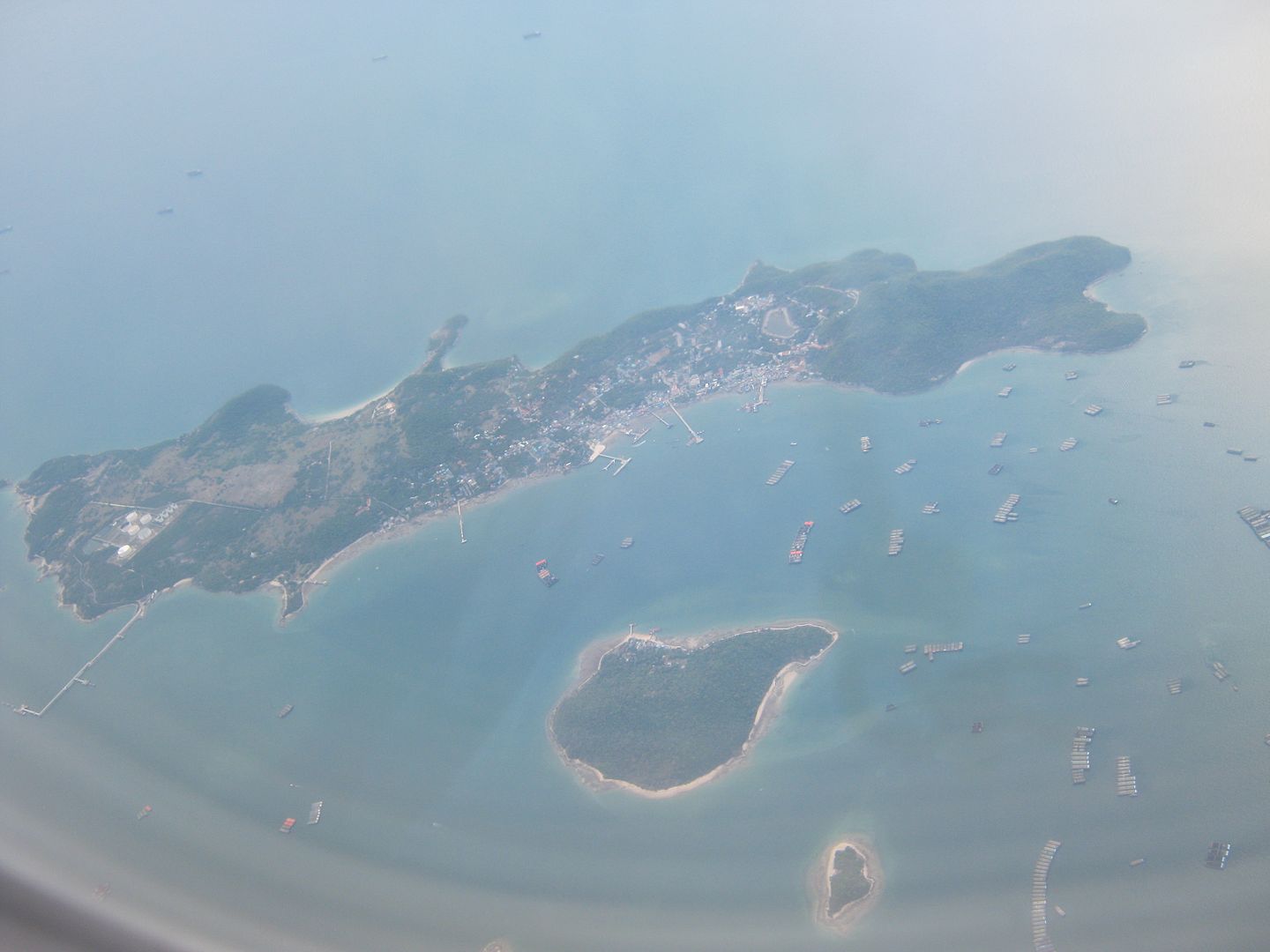 Koh Larn below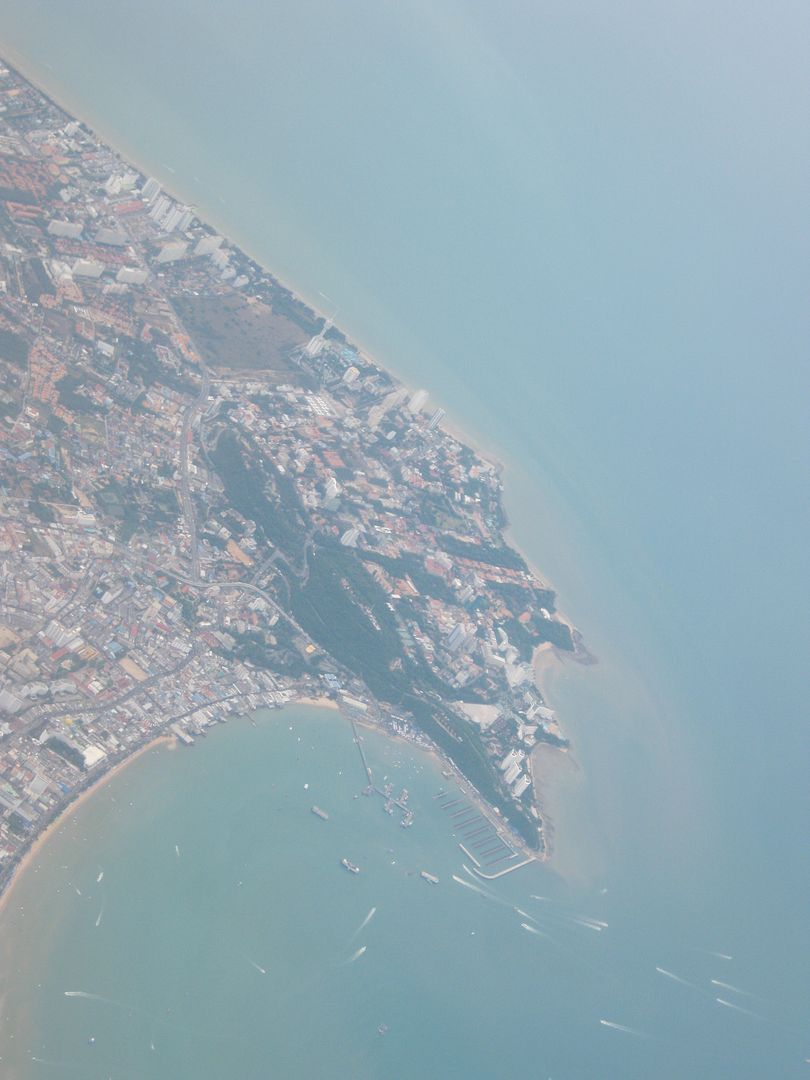 Pattaya
Now here is where the problems start. Service begins but only for some. This flight must have had at last 50 passengers with their 'special dietary needs'. I understand there are some people that are diabetic or have allergies and can only eat certain foods. That's fine. It's the unusually large amounts of vegetarians, vegans, Halal or what ever their needs were that took service away from everyone else. I understand that the few special needs passengers get their meals first.
The flight attendants refused service to everyone else that didn't have a special 'need' with their food. The flight attendant was extremely rude to the lady in the aisle seat in my row. She simply asked for water and was told to wait and the flight attendant was not friendly about it at all.
The family in front of us was over the top with their 'needs'. Their 10 year old son kept complaining about his meal being too cold and again for not liking the flavor and wanted to try other dishes the airline had to offer. The flight attendant went back & forth THREE TIMES with a different meal just to appease this little brat!
When I was a kid traveling on an airplane, the thought of giving a flight attendant (stewardess in my day) a hard time was completely unheard of.
The older British lady asked again about a half hour later when our meals were going to come and the flight attendant was even nastier to her and told her not to ask again. Several other passengers had asked but the SQ crew didn't seem interested in dealing with any non-special needs passengers for the first half of the flight. The older lady was polite both times but the Singapore girl was mean to her both times.
After 1 hour, we finally get our meals. It was good but not as good as the meal I had several years ago when I flew this route. It was chicken curry with rice and shrimp salad.
The beverage cart comes around and I asked for a whiskey & coke. The flight attendant gives me an annoyed look and asked if I wanted juice instead.
I gave her a stern look and pointed to the bottle of whiskey already on the beverage cart and told her I'll have a whiskey coke.
What the hell?!?!?
I guess she didn't know. When Superfly ask for a whisky & coke, don't offer Hawaiian Punch! You ask Superfly if he wants it shaken or stirred!
...and don't forget the swizzle stick!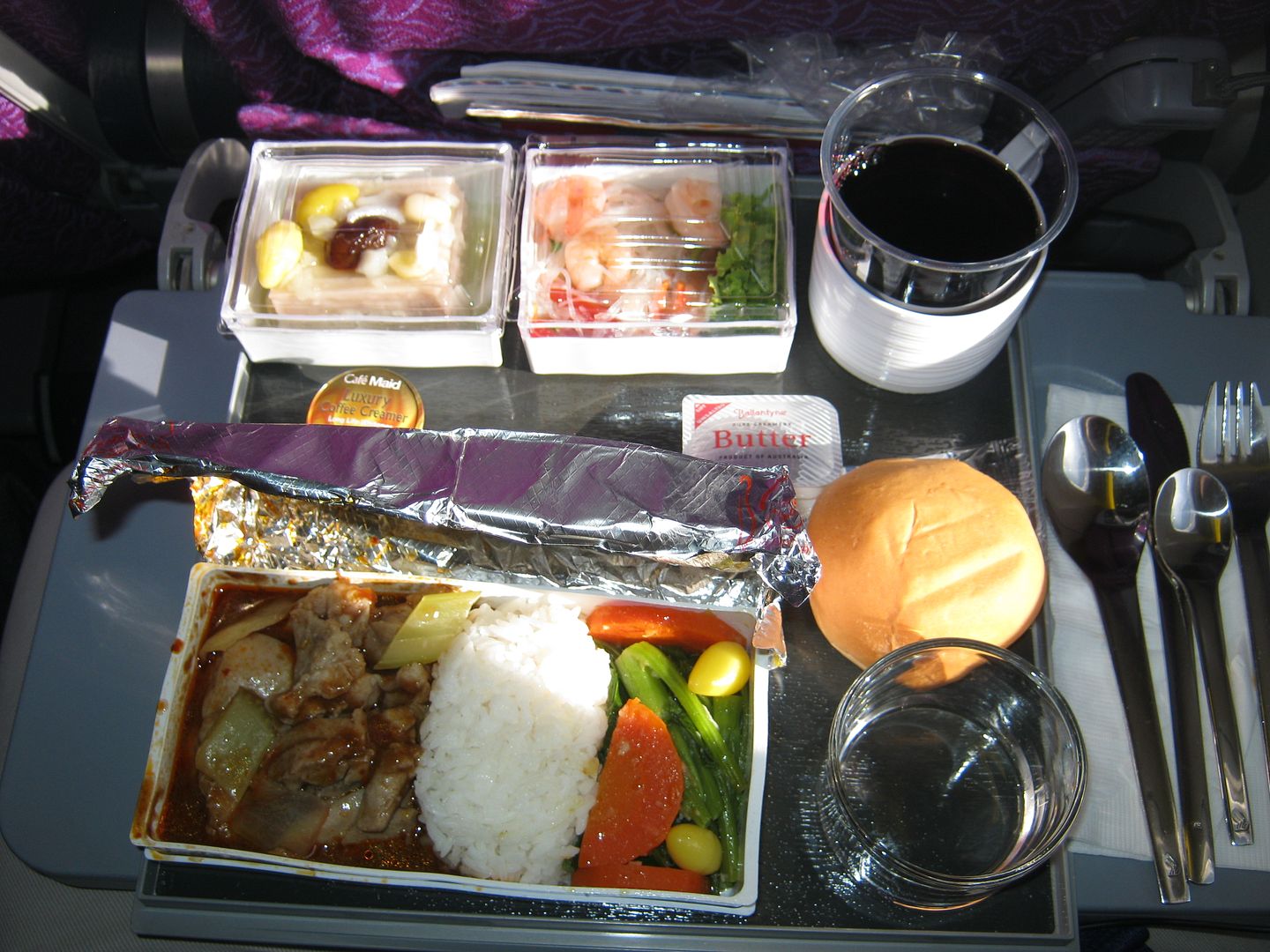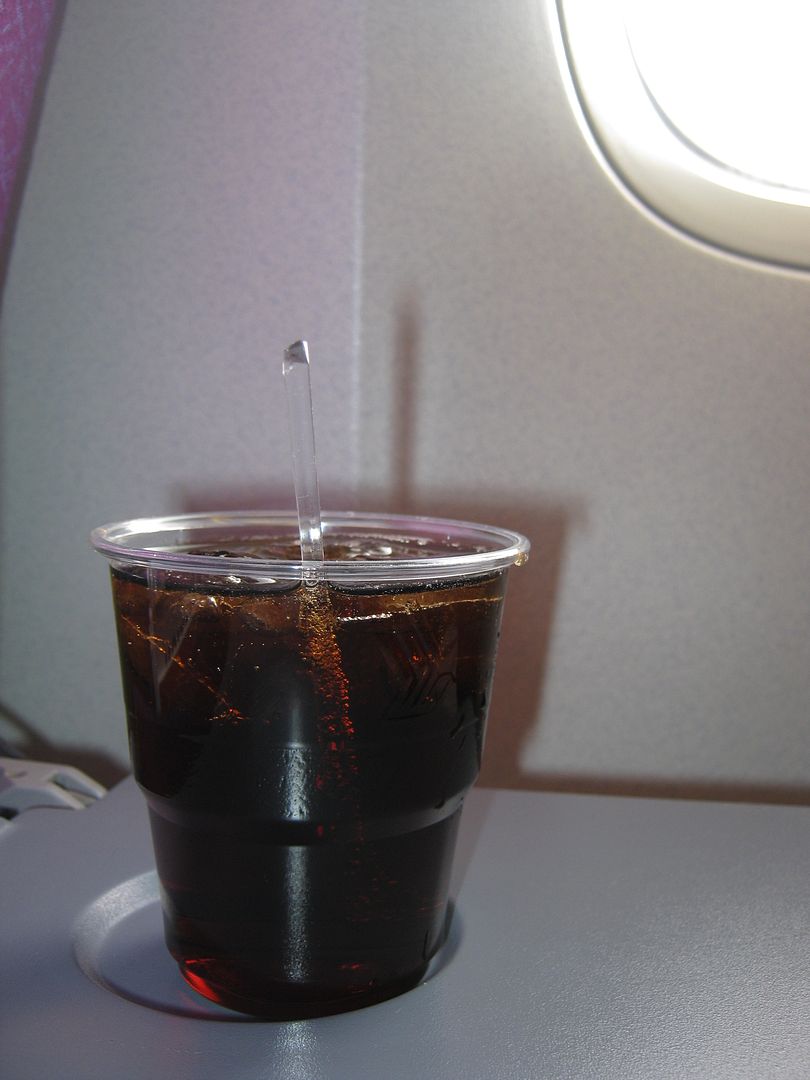 My goodness! This crew must have lost their minds!
The service was rushed since this is a 2 hour flight. Service for the rest of us passengers without food hang-ups didn't get any service for the first hour of flight. Then in-flight service ended prematurely. We only had about 30 minutes of service and no one was getting service as soon as our descent to Singapore started.
I really thought Singapore Airlines would have had a better handle on things.
Perhaps it's time for that crew to Scoot…..
I didn't take any photos because I don't want to get anyone in trouble.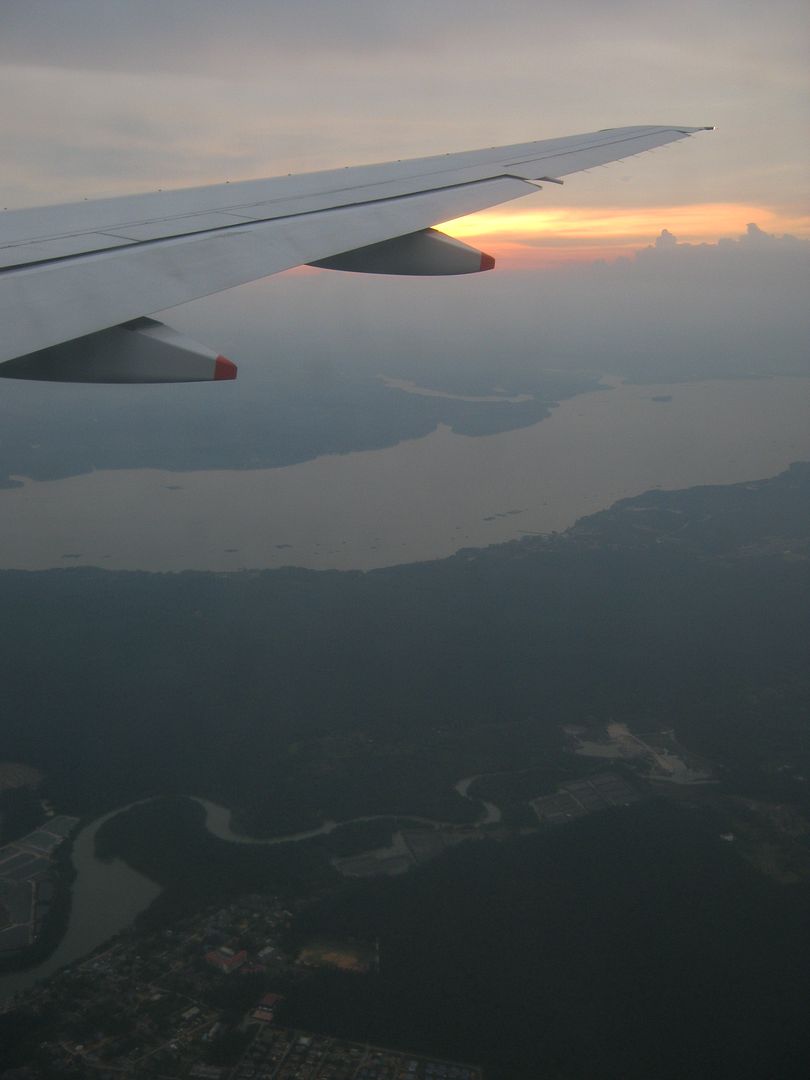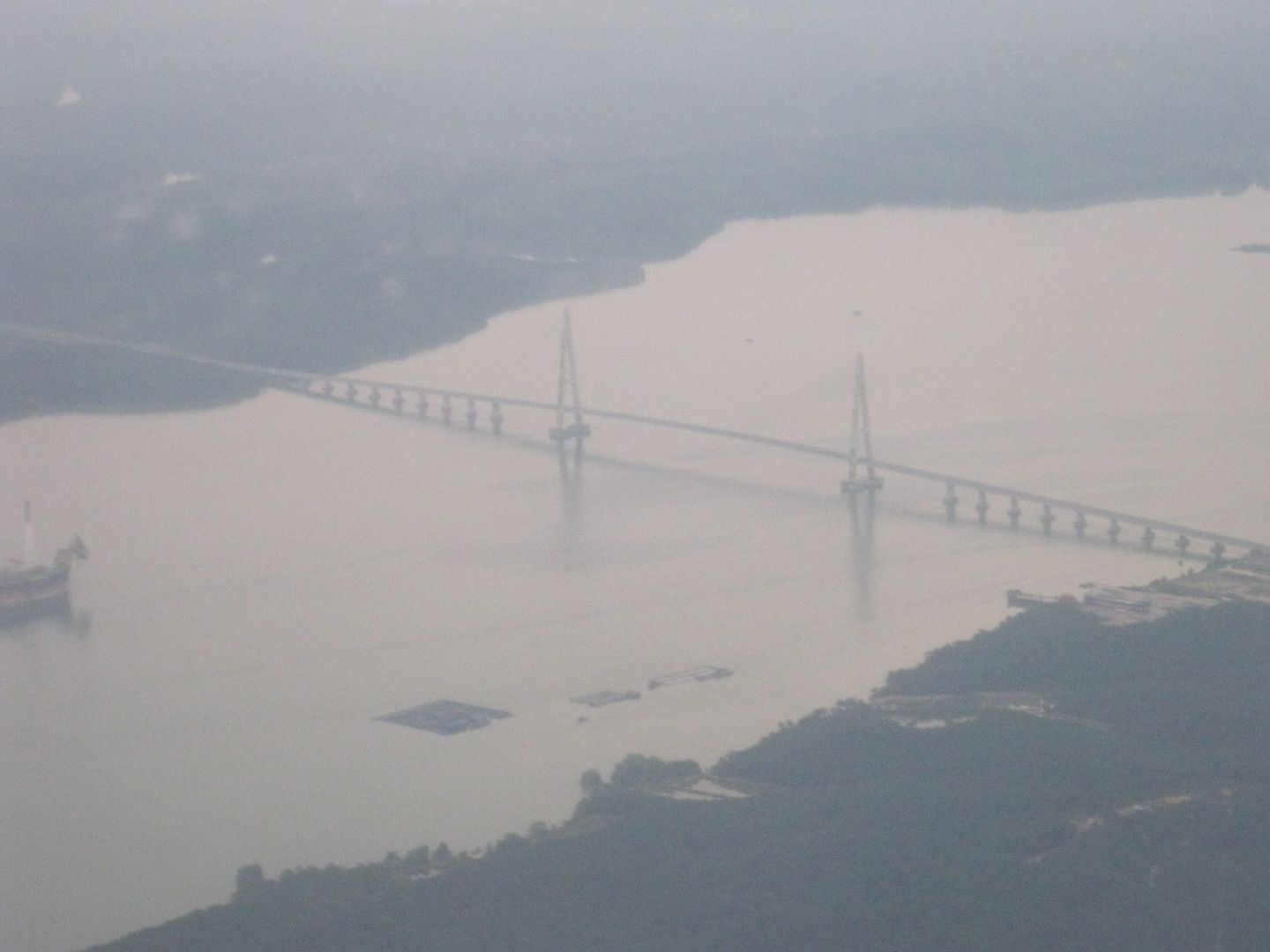 Arrive in Singapore, check in with customs and hop on the MRT to my hotel. This time I stayed in the Geylang district. This area in known for it's street vendors and selection of good food.
I check in to my hotel.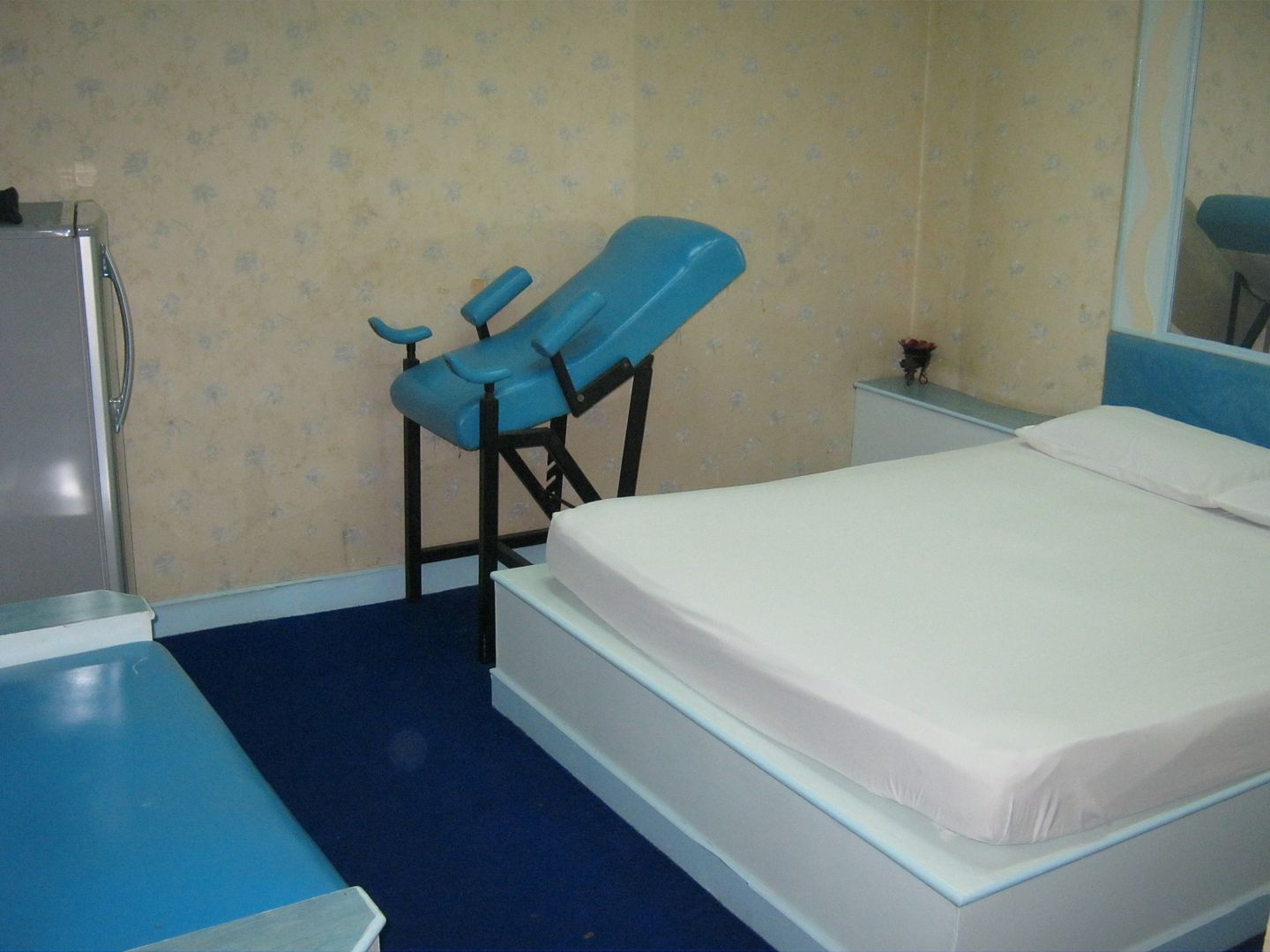 Later met up with the famous Ryanair!!!.
We planned on raising some hell and starting trouble but we both had an early morning the next day and I was coming down with a cold.
So we drank as responsible adults the first night.
Had some great Chinese-Singaporean food!
Thanks steering me in the right direction on food.
Later that night, me & Ryanair!!! went spotting at SIN. Even though it was night, we had a great view of the bay and saw planes fly in really low. Nothing interesting flying in, just a bunch of twin jets. For the first time, I heard wake turbulence loud & clear. THAT was cool!
Ryanair!!! takes me back and he heads off home.
View from my hotel the following morning.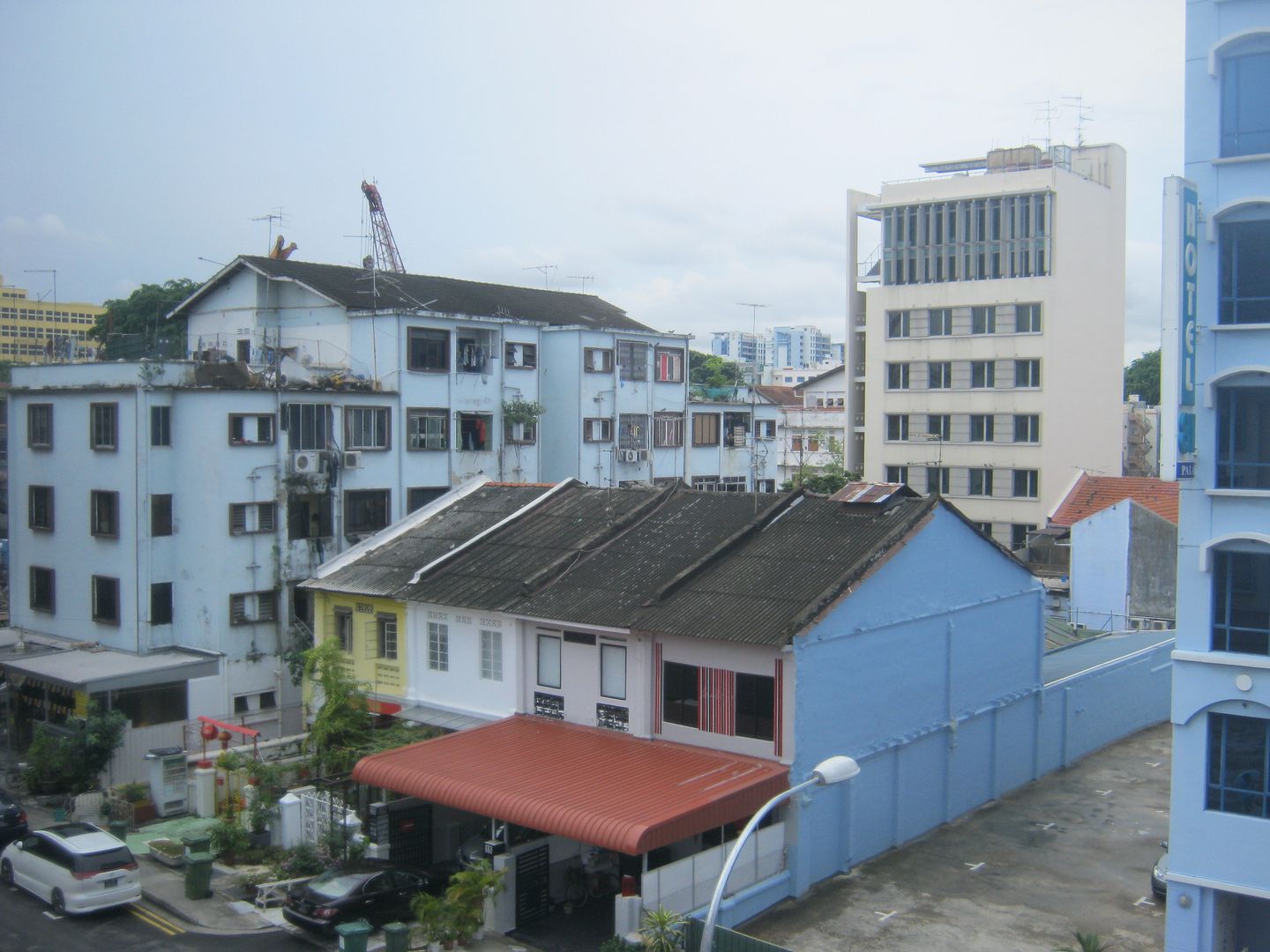 The following day, I did some sightseeing and met up with another friend. One thing I like about Singapore is that they use the Toyota Crown Comfort as their taxis. They are far more comfortable than the little crap-box cars used as taxis here in Bangkok. These have a high roofline and are easy to get in & out for us big people.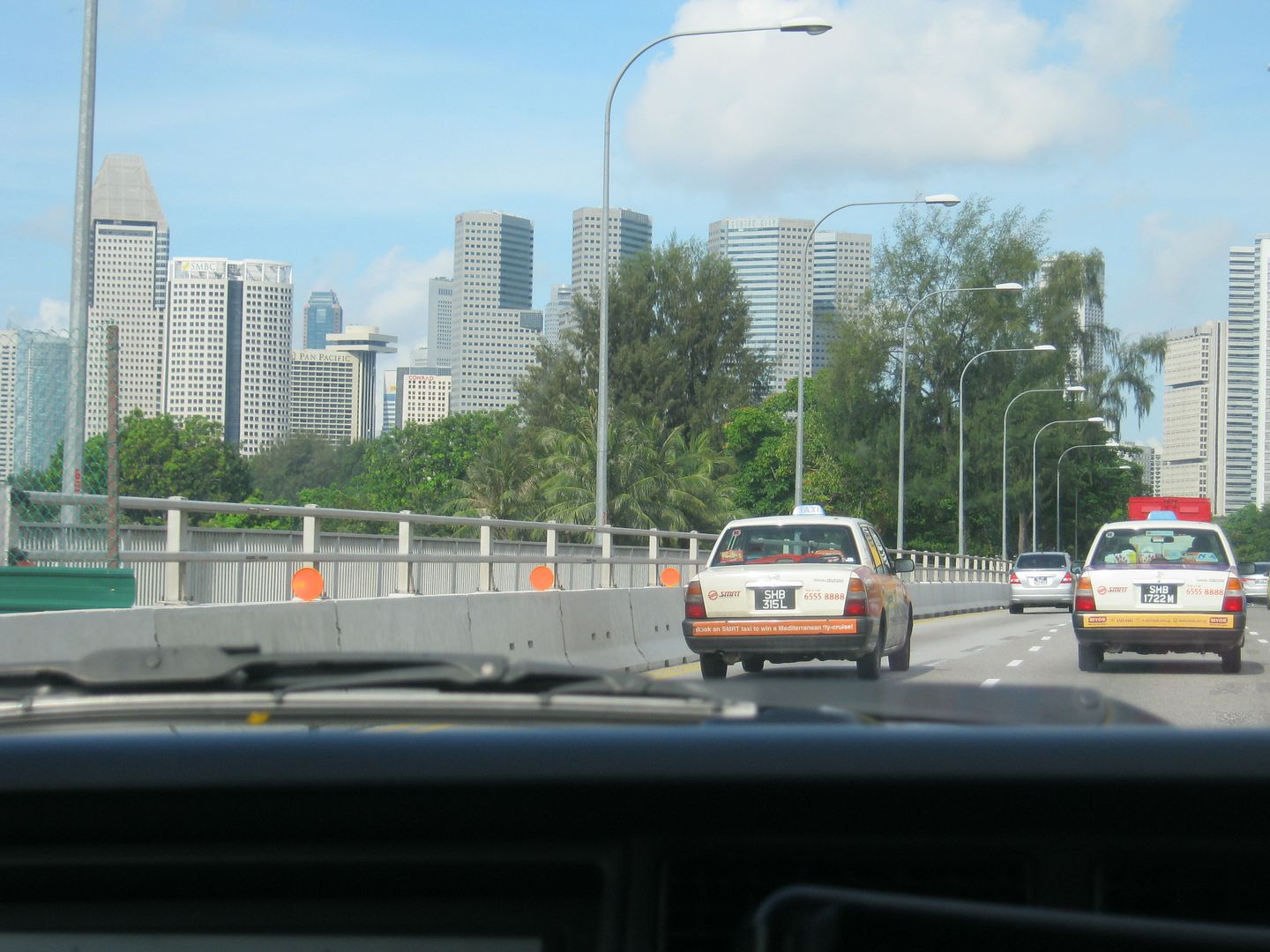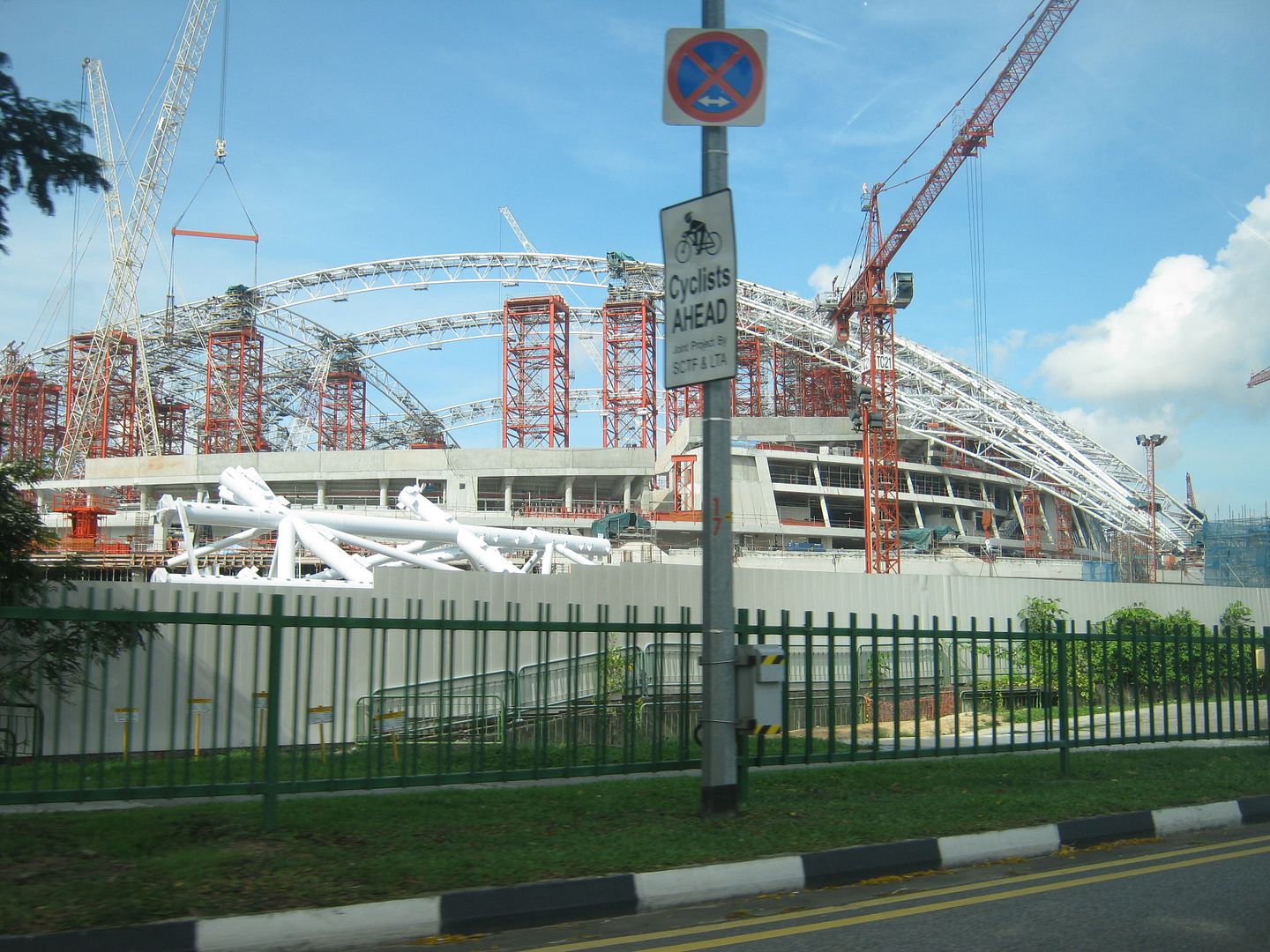 Construction for a new stadium of some sort.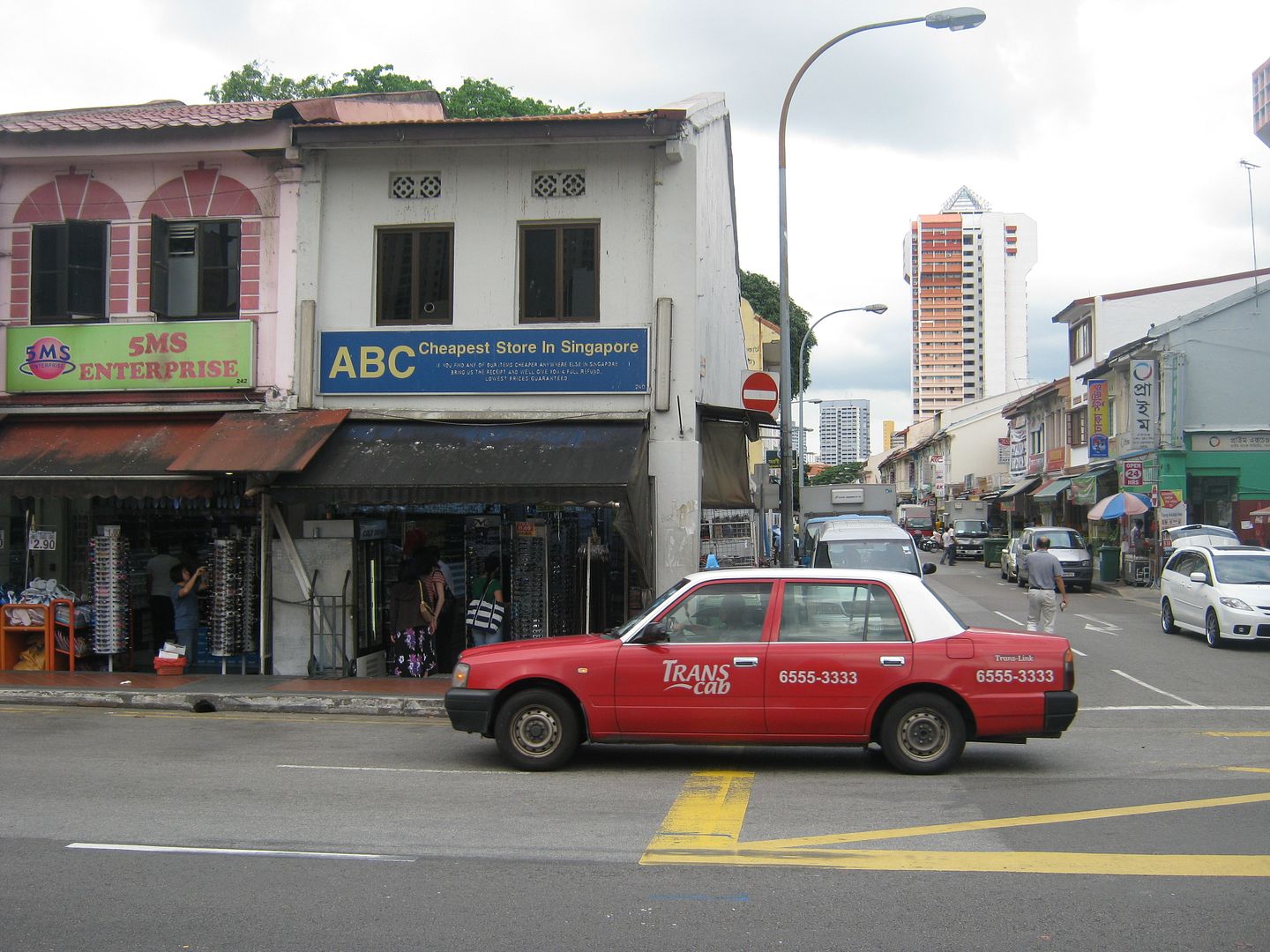 The cheapest store in Singapore
I love this building! The Park Royal which I find more attractive than the Marina Bay Sands building.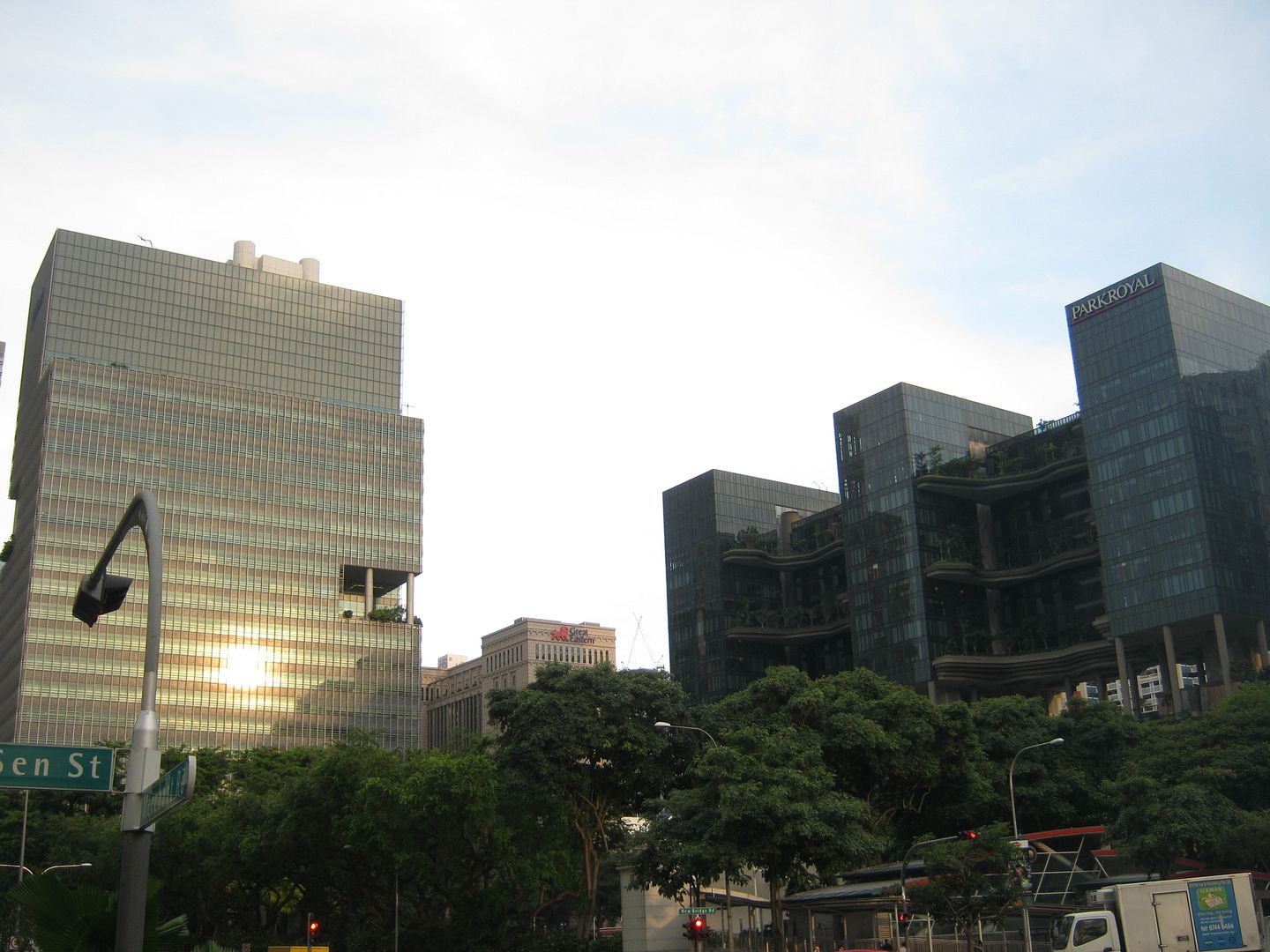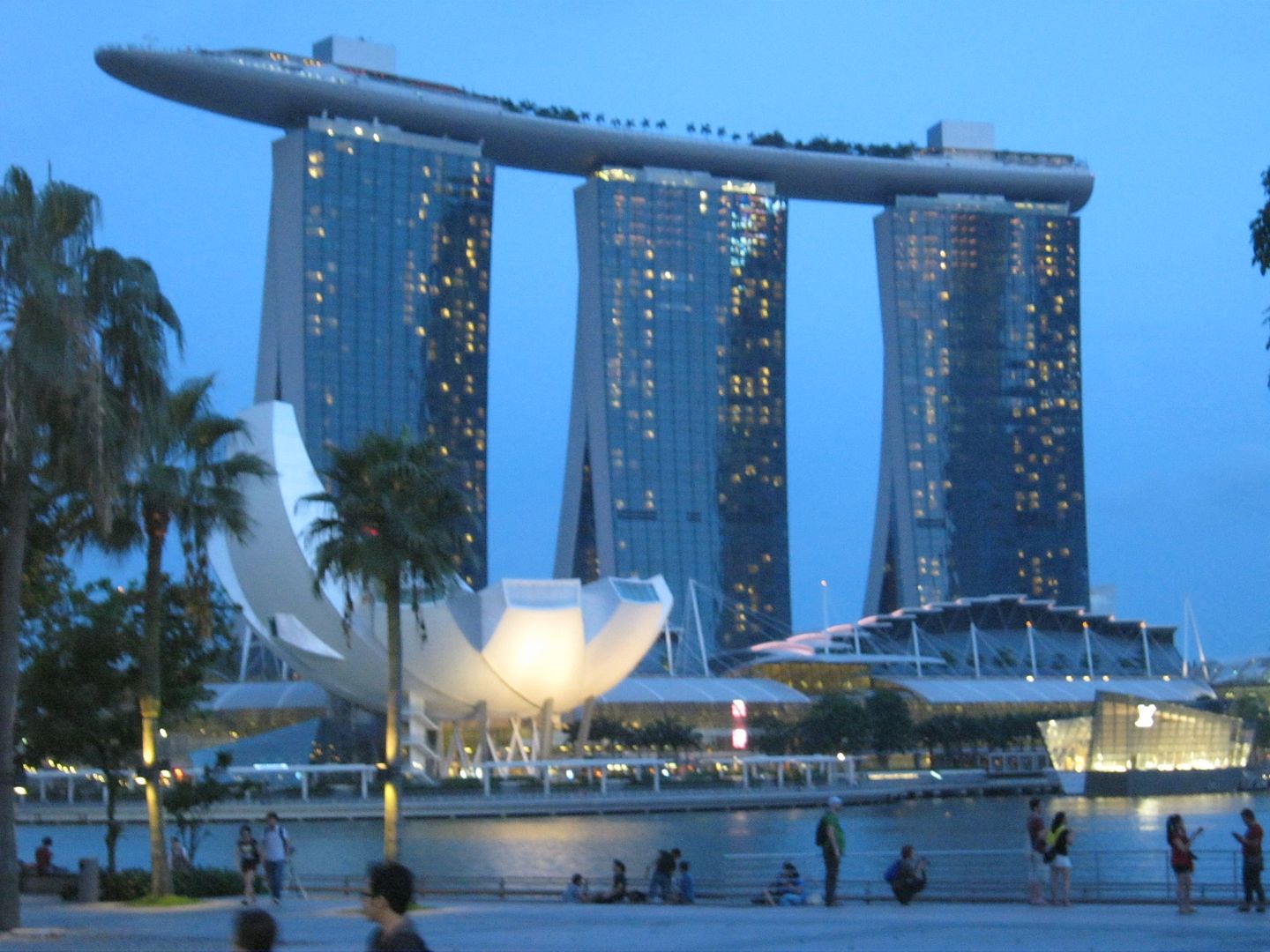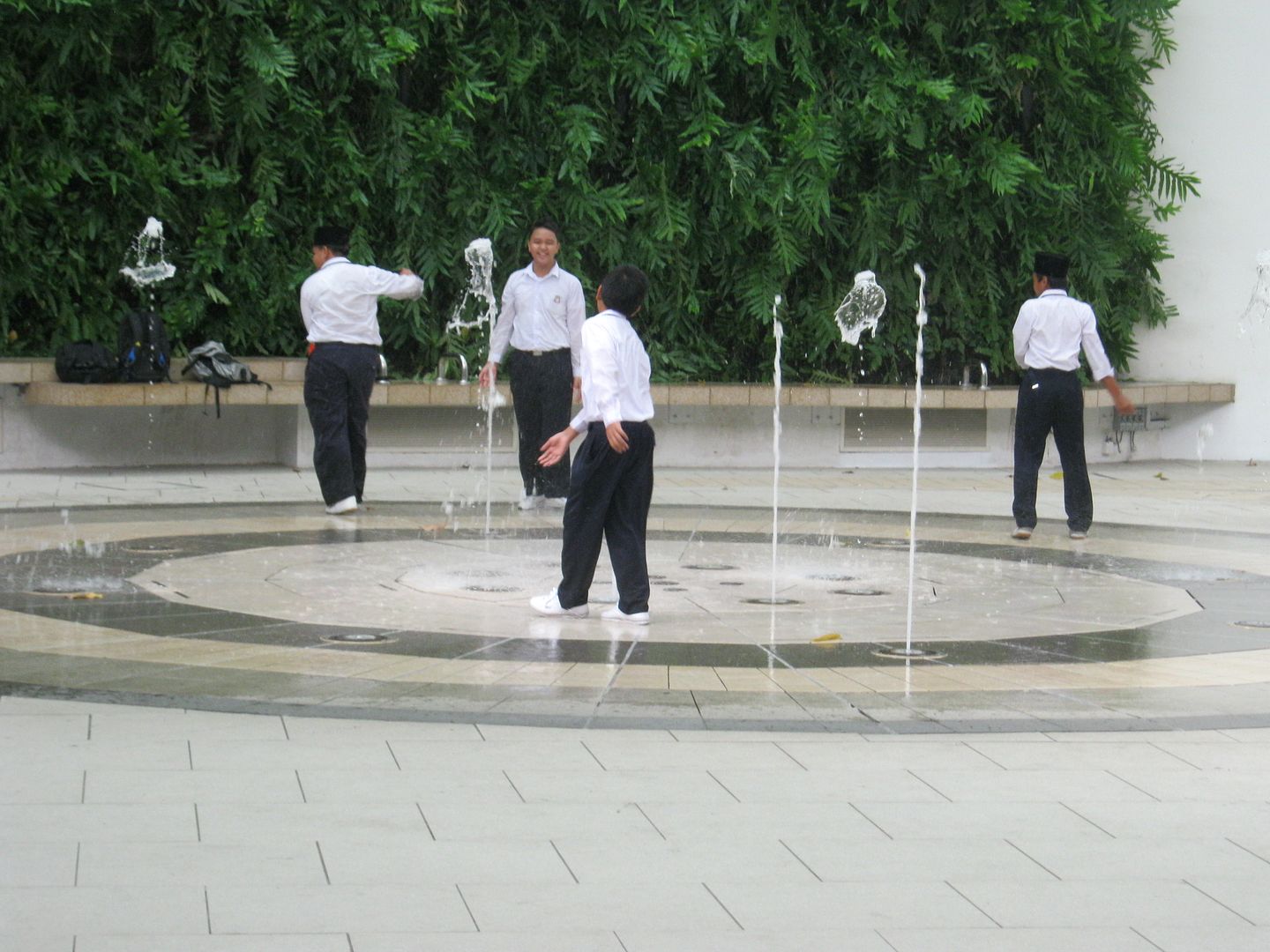 Waiters playing in a water fountain. I thought people get cained for doing this kind of stuff in Singapore.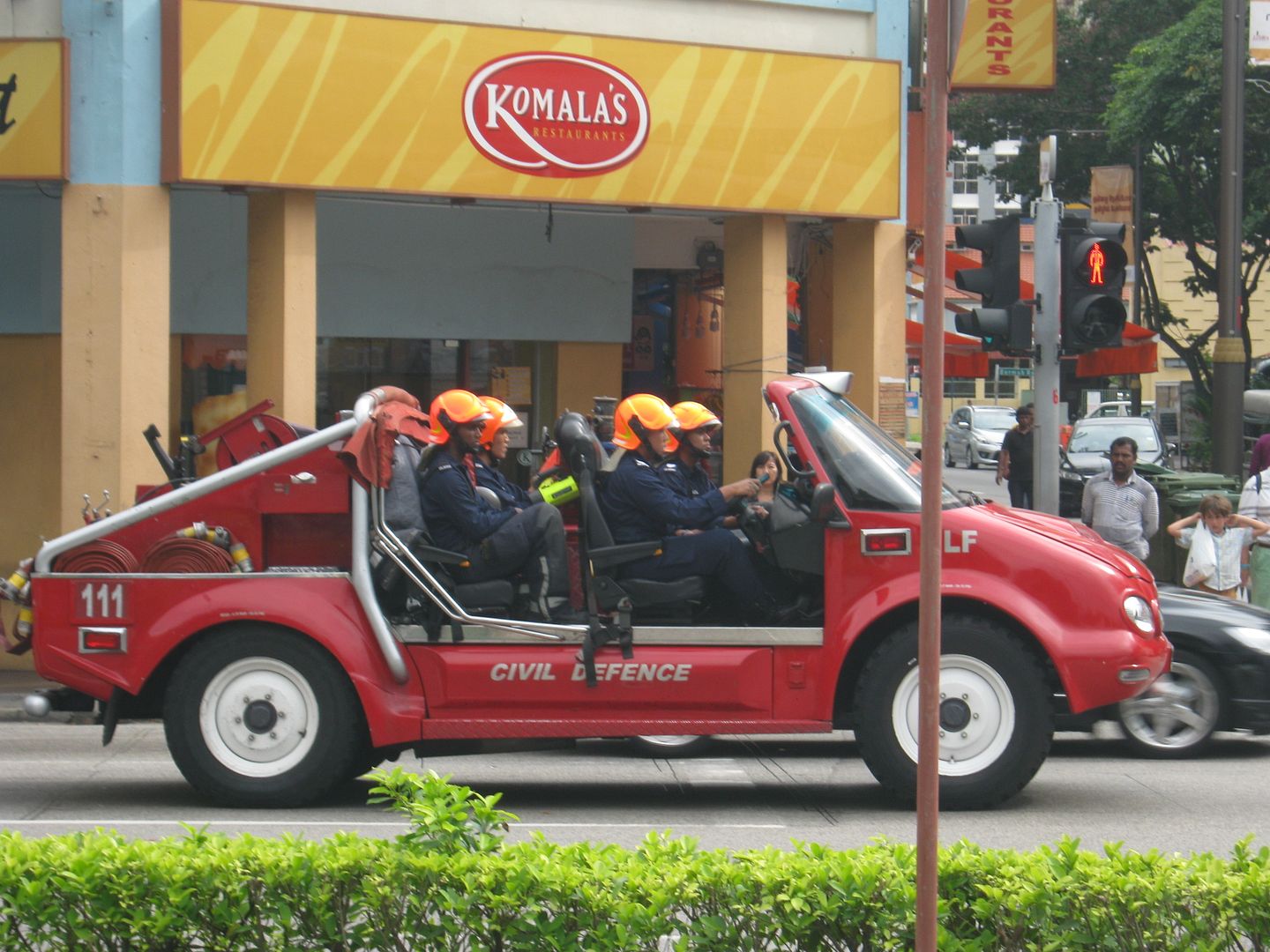 Civil defense patrol. Looks like something I'd see in a Sci-fi movie.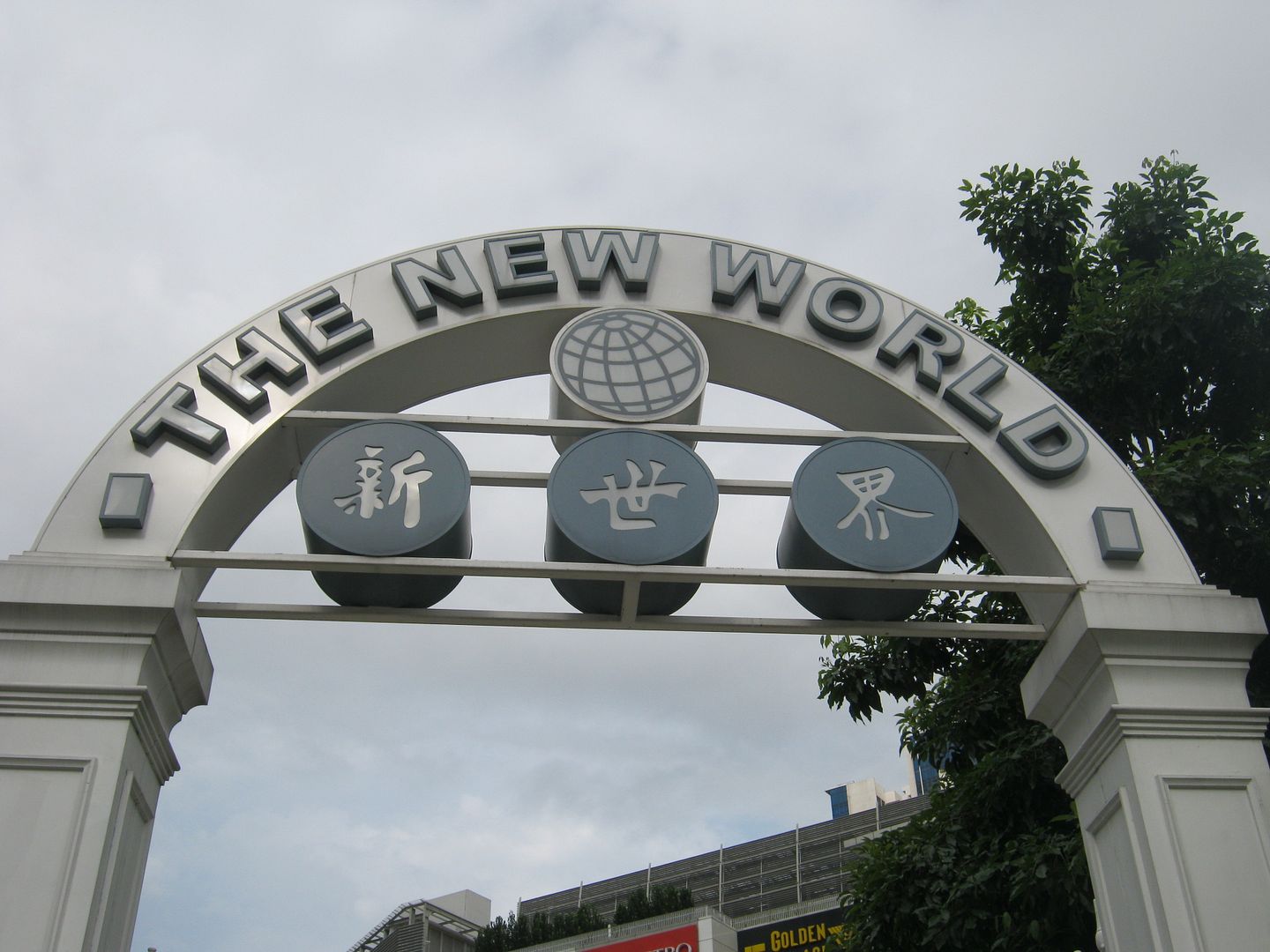 The new world….
Heavy-handed government that charge tolls to drive downtown.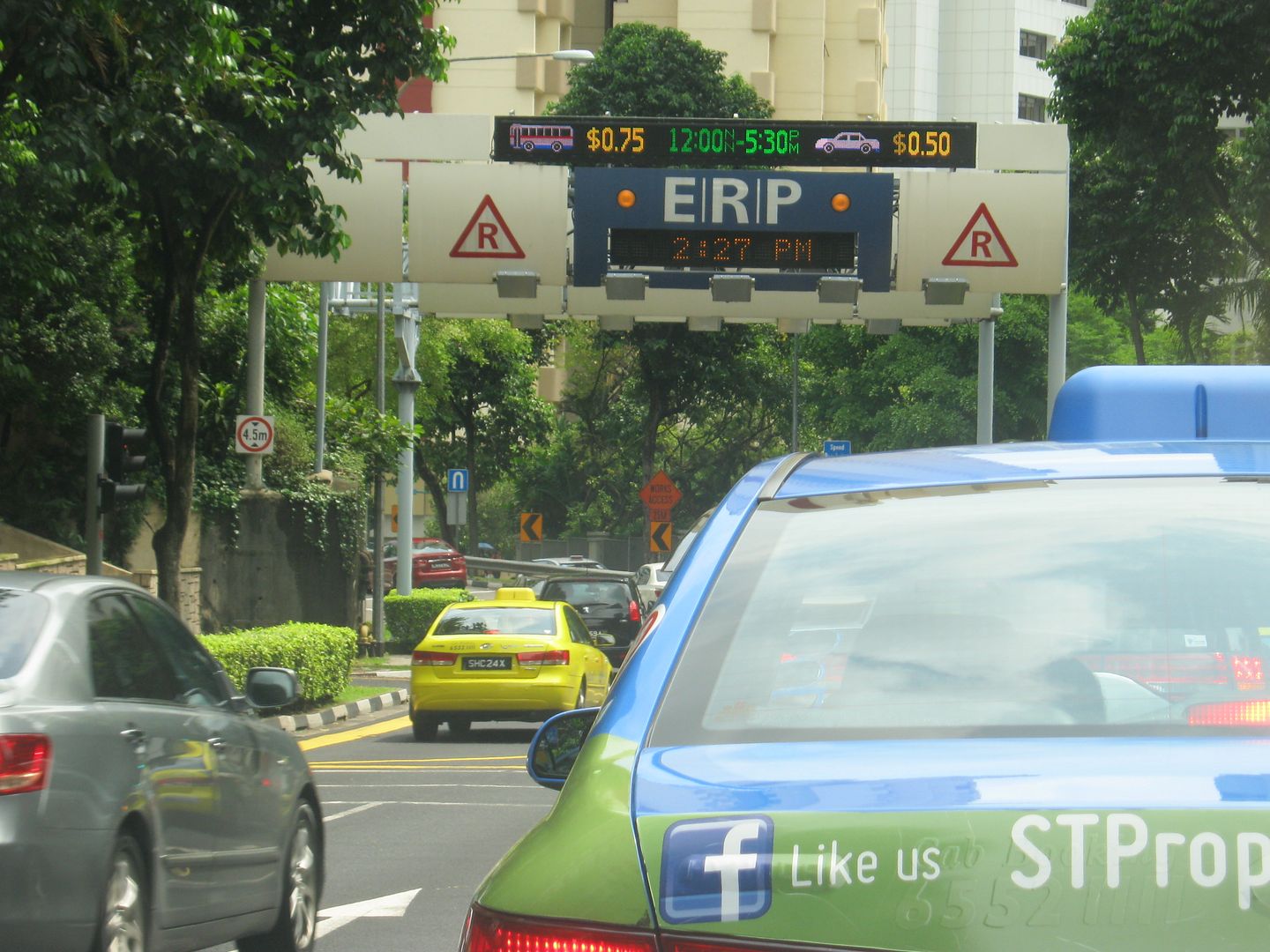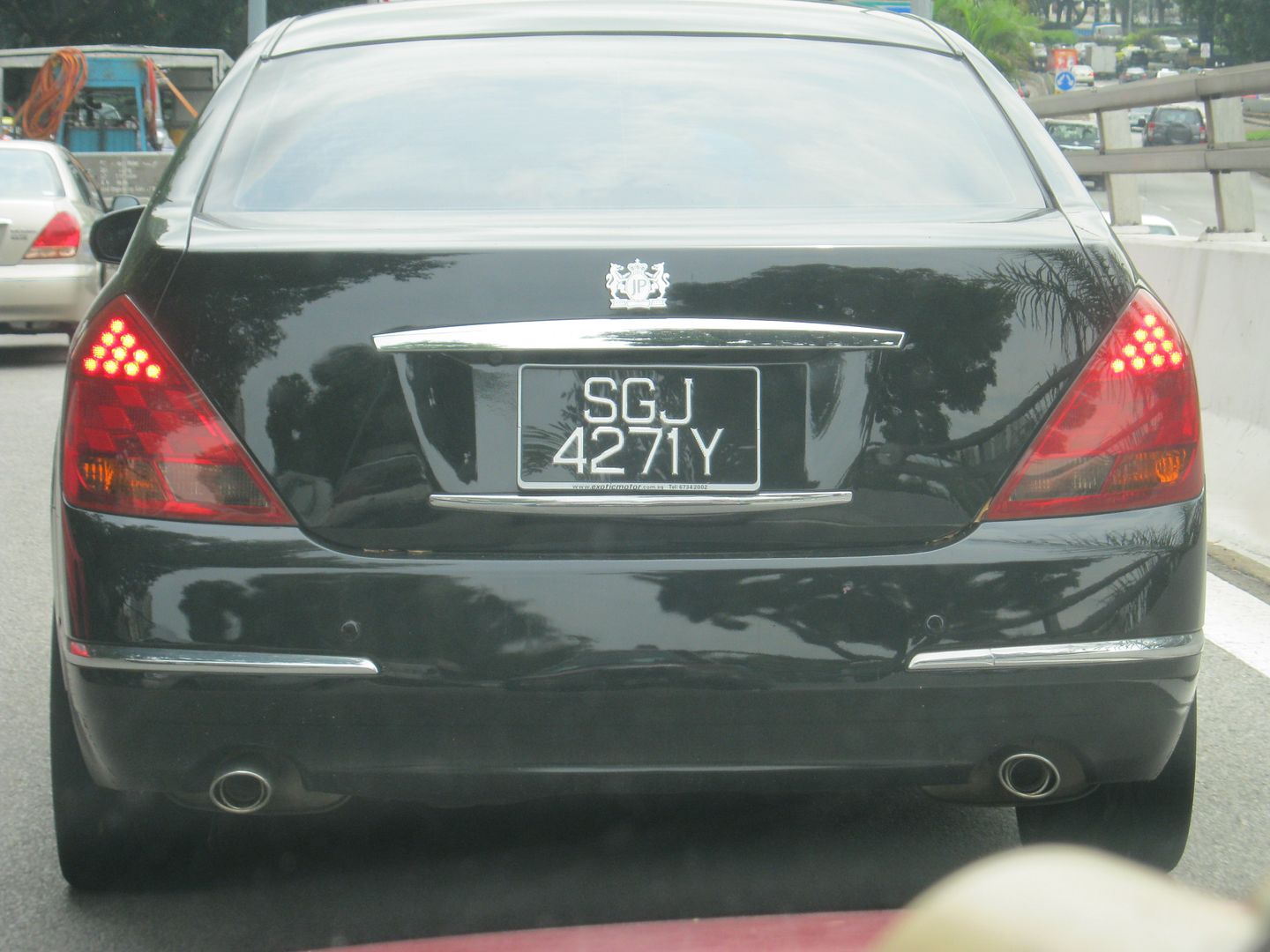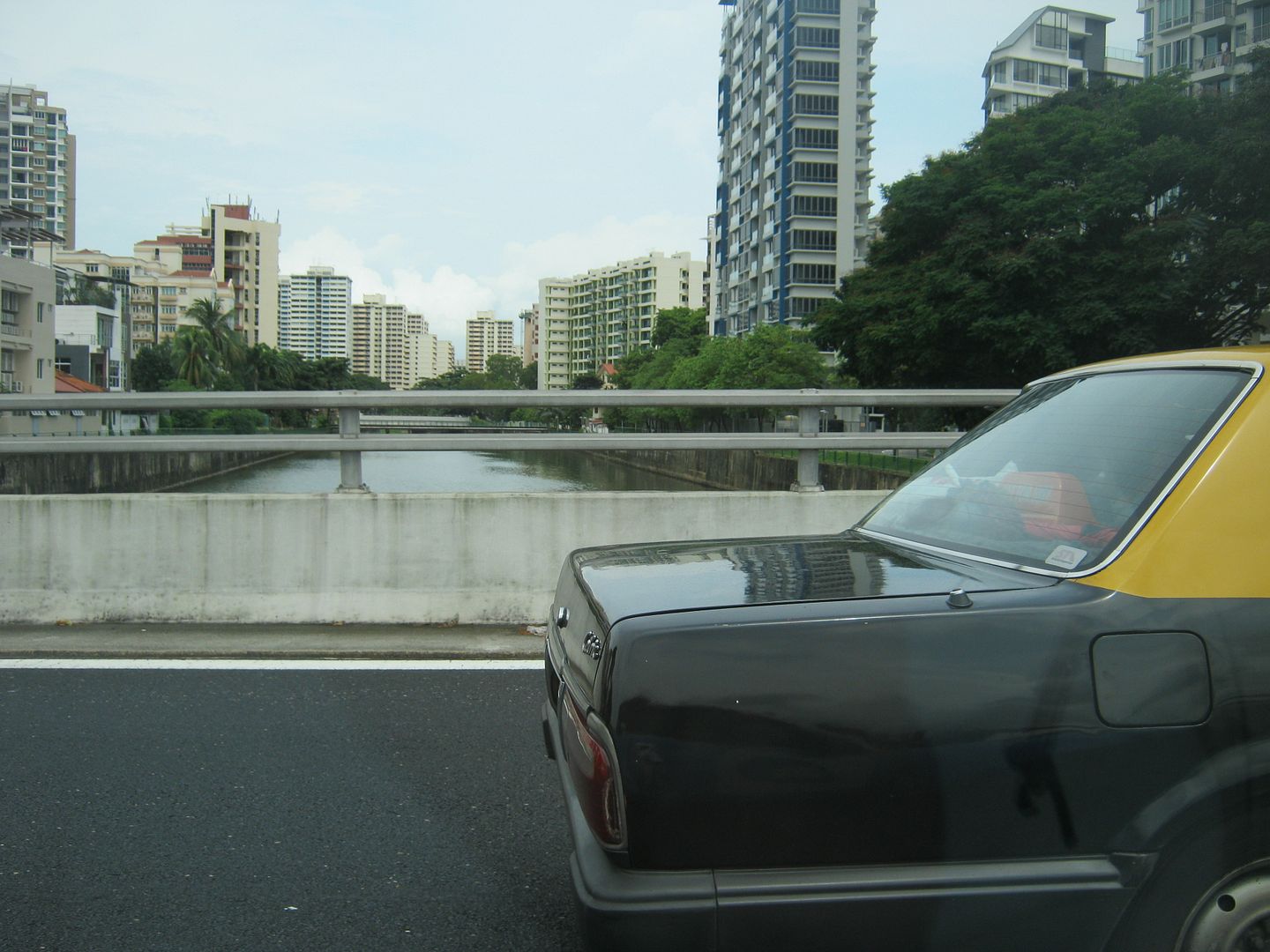 Was supposed to meet up again with Ryanair!!! but work requirements kept him tired up. I had done enough sightseeing already so decided to stay close to my hotel. The Geylang district is also the red light district. Not sure why my boss put me in the red light district….
That didn't bother me but the large groups of men just standing around loitering standing around like zombies was kind of odd. They should go inside the place of entertainment rather stand around. Most looked to be from Bangladesh or India.
I decided to call it a night and have a few fine beers I can't get in Thailand.
Had a lot to do the next day before my flight home.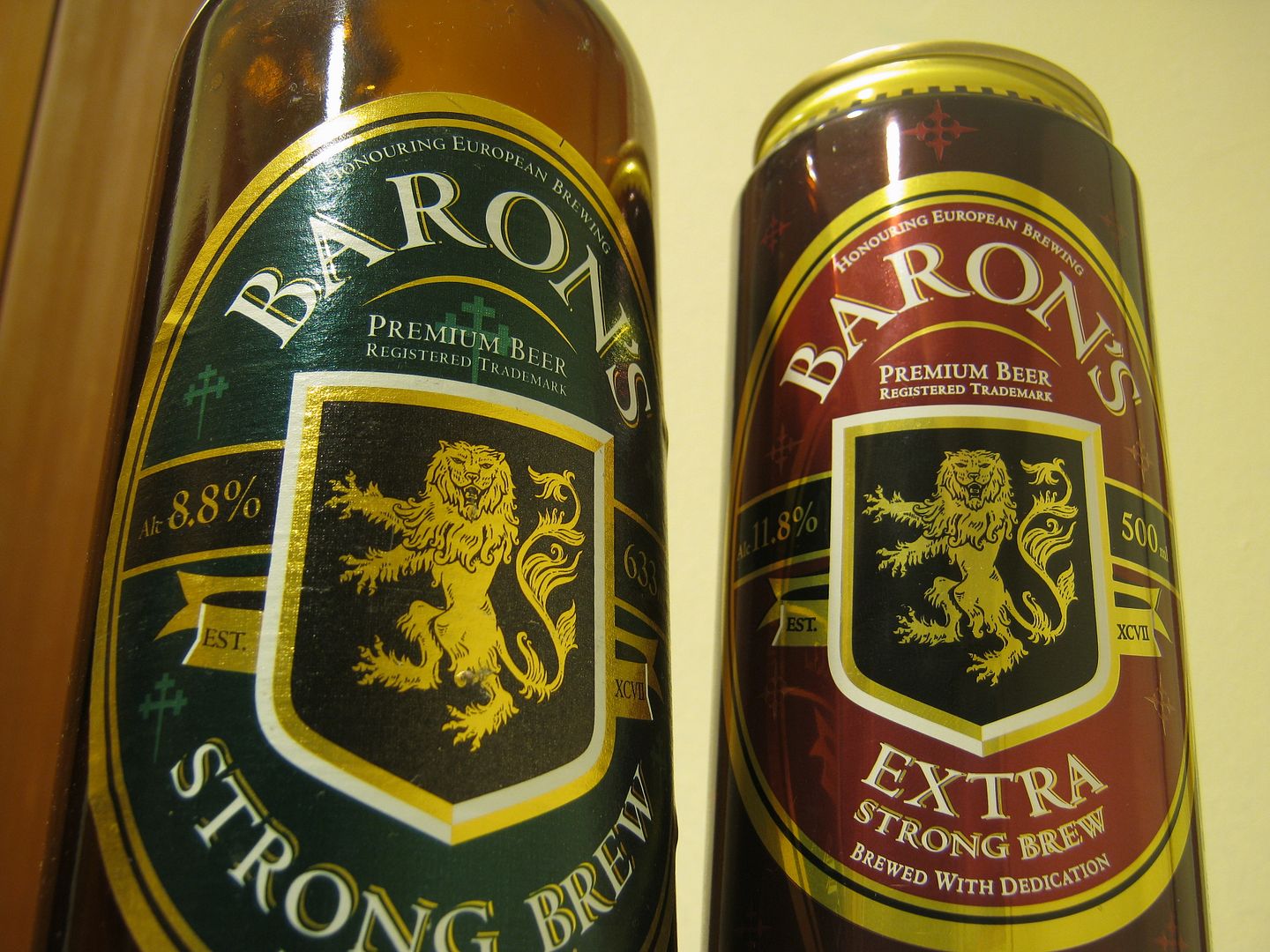 Housing along MRT to SIN.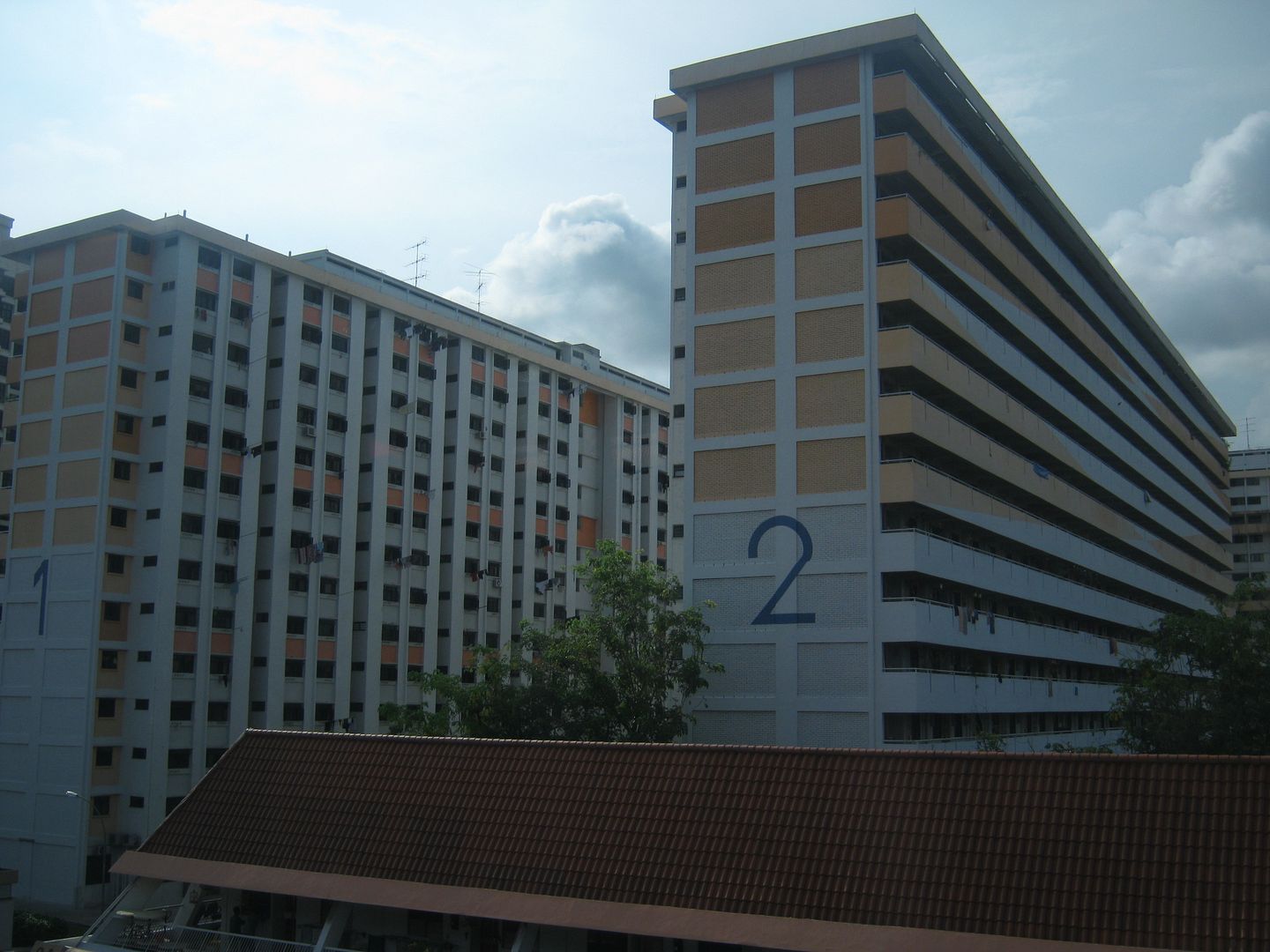 Check in to SIN the following day. No problems to report.
Had some really good Indian curry chicken in the airport.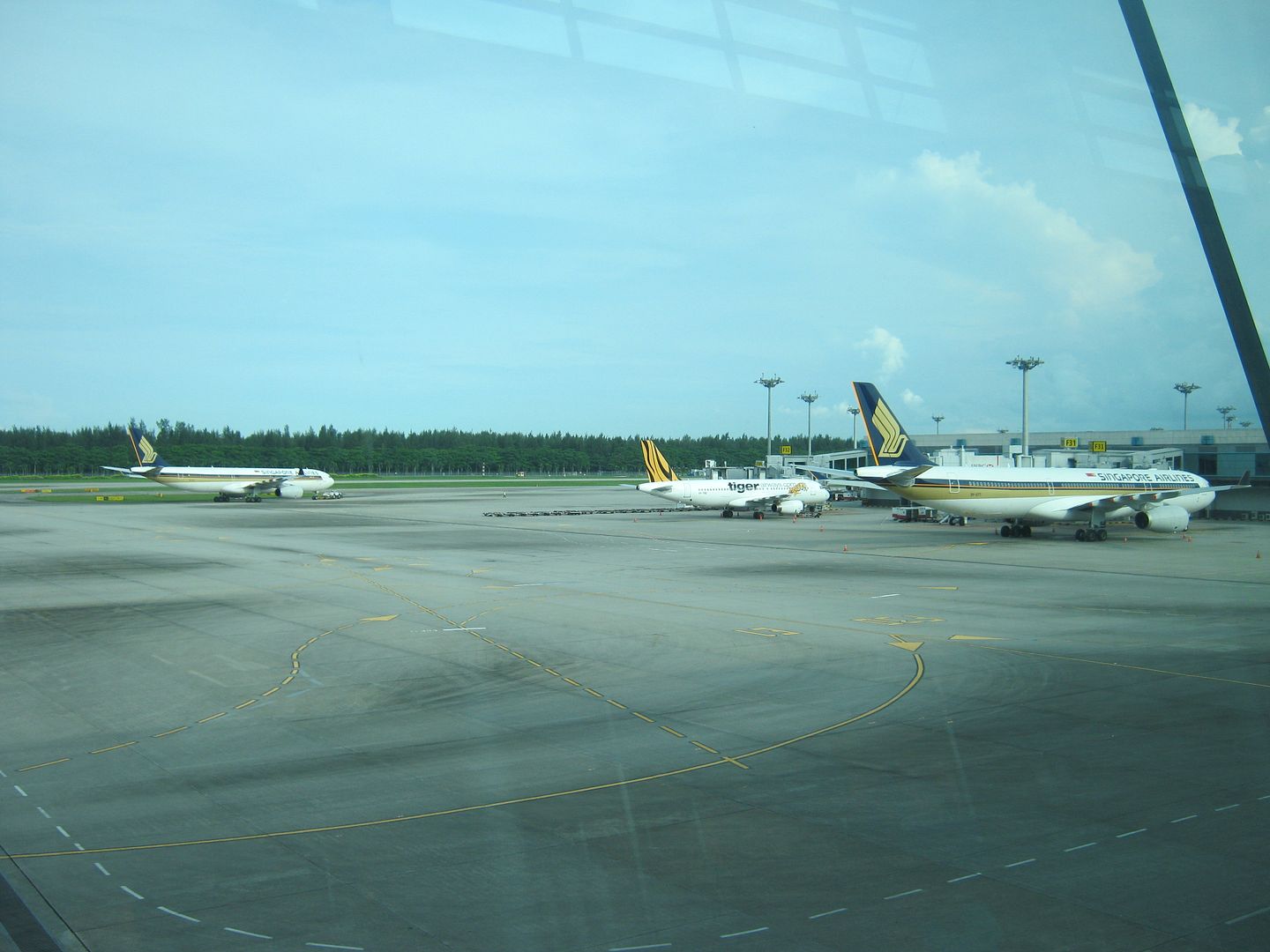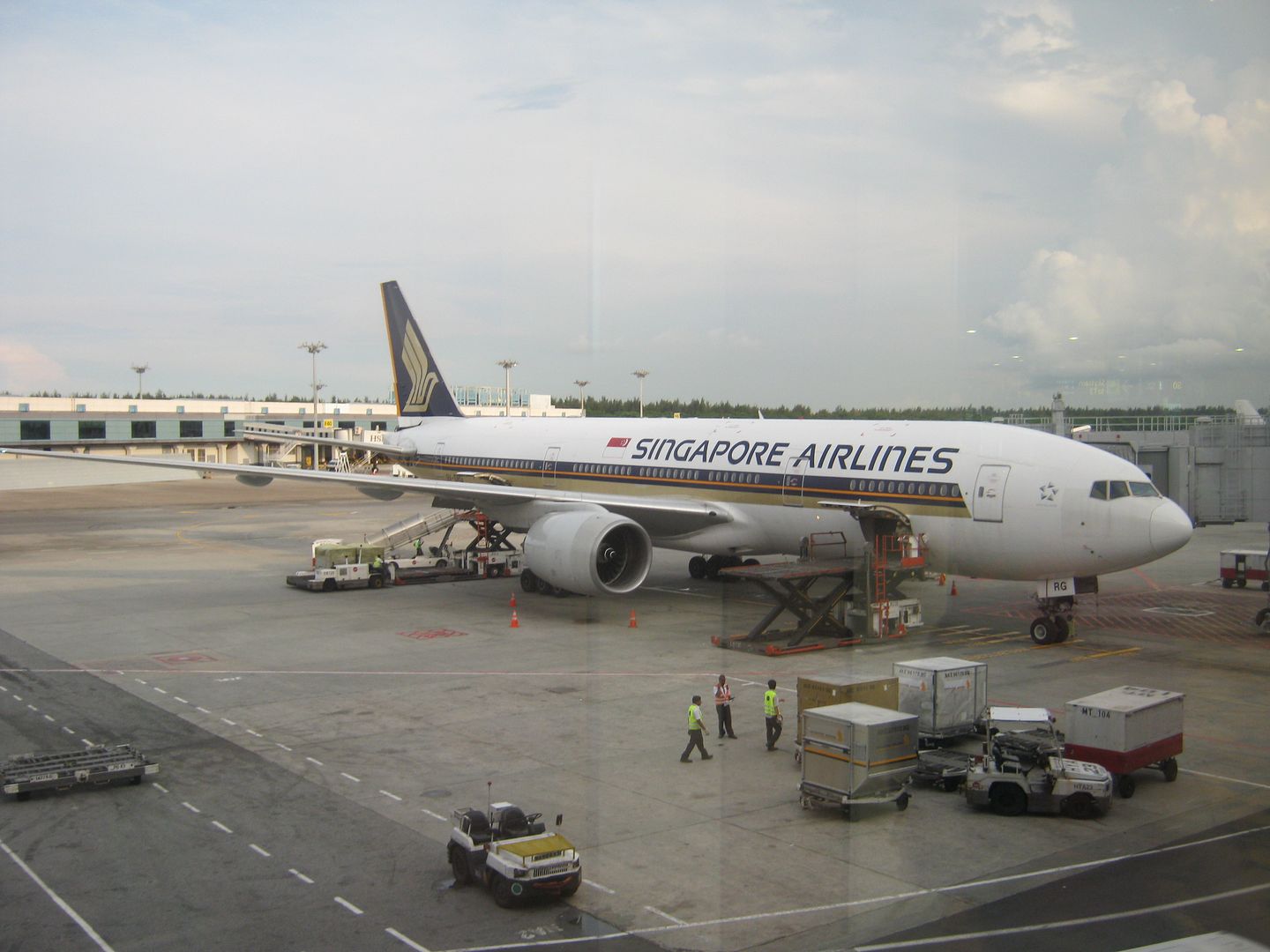 We board on time.
We push back on time.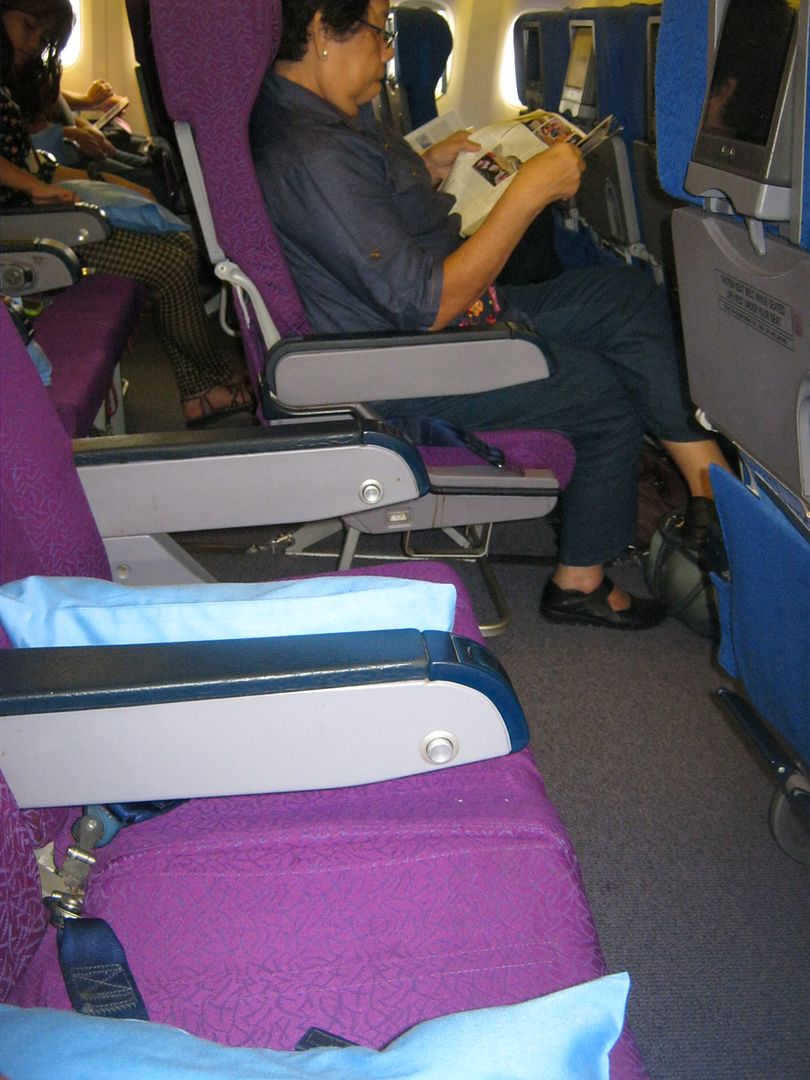 Ryanair!!!'s Scoot
I didn't notice on the previous flight. The armrest has a hole with a lid over it. I stuck my finger in the hole but nothing happened.
What is this for?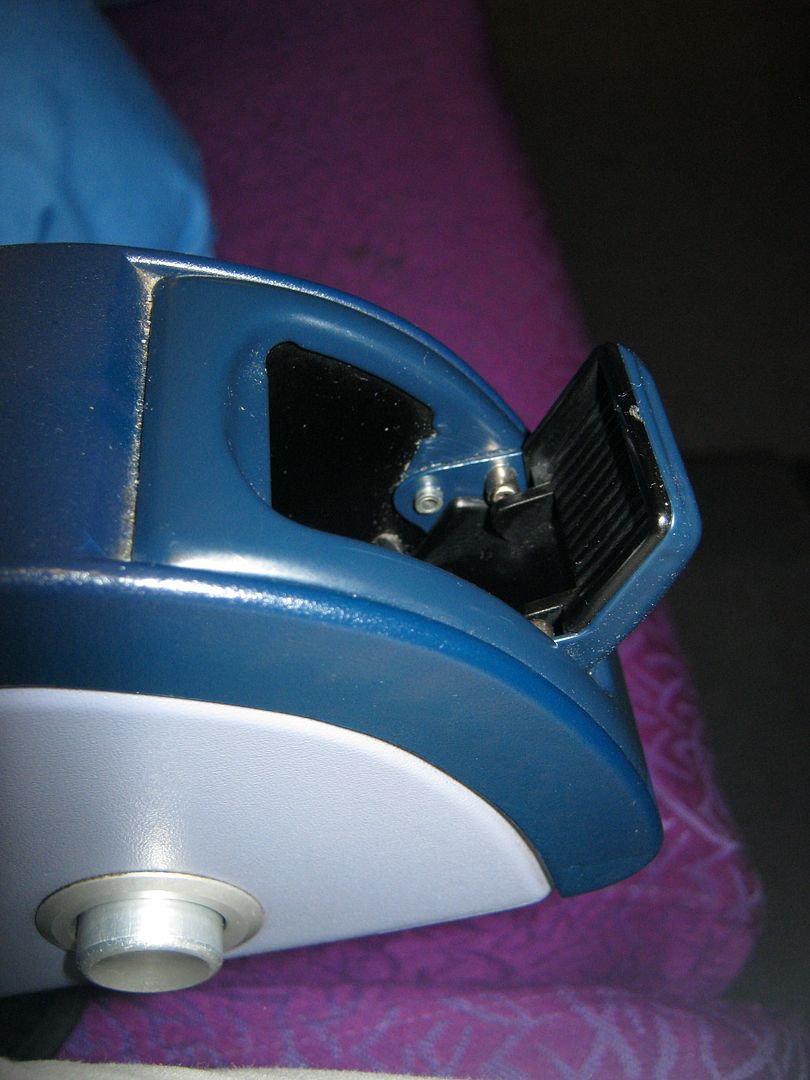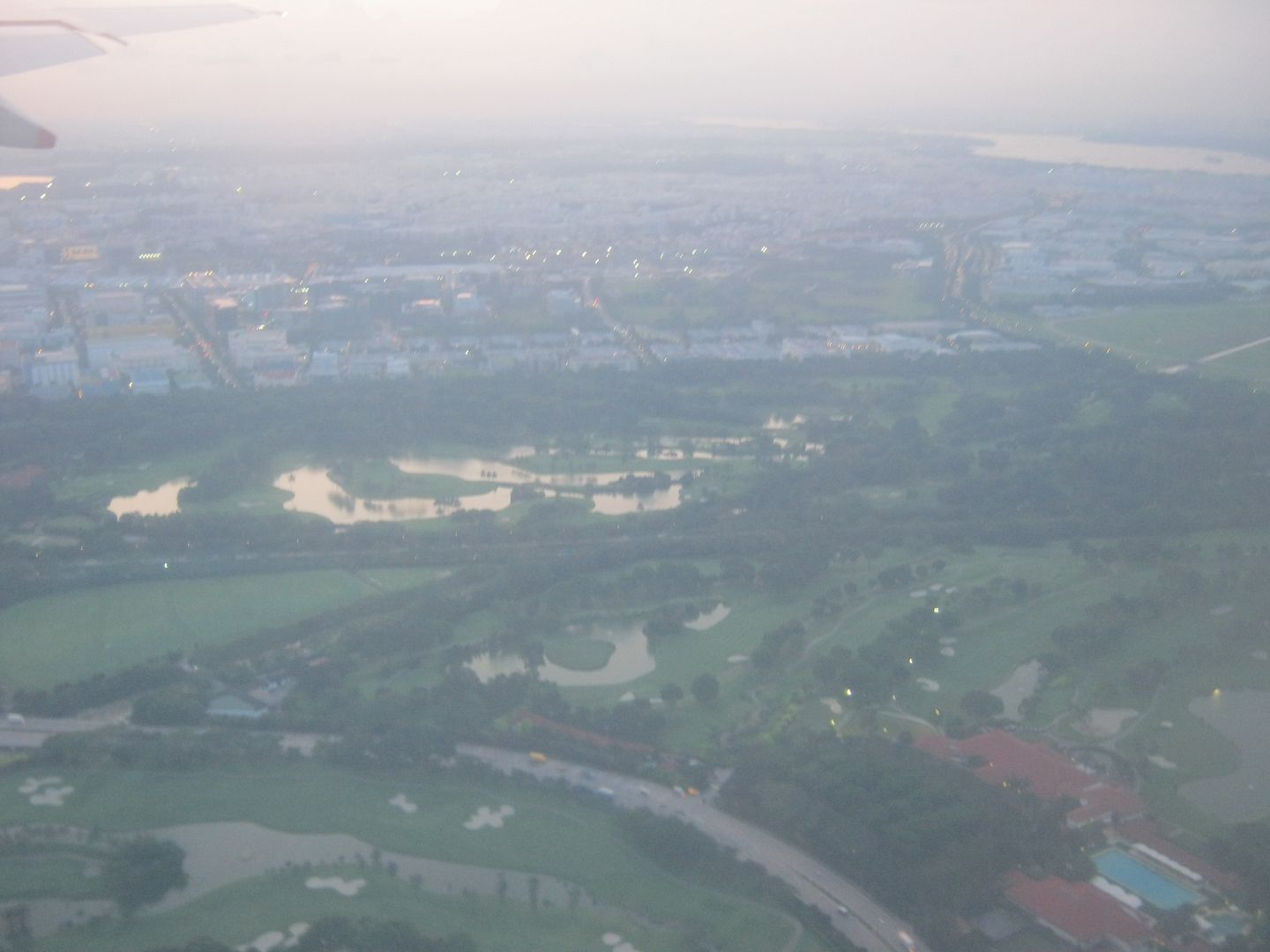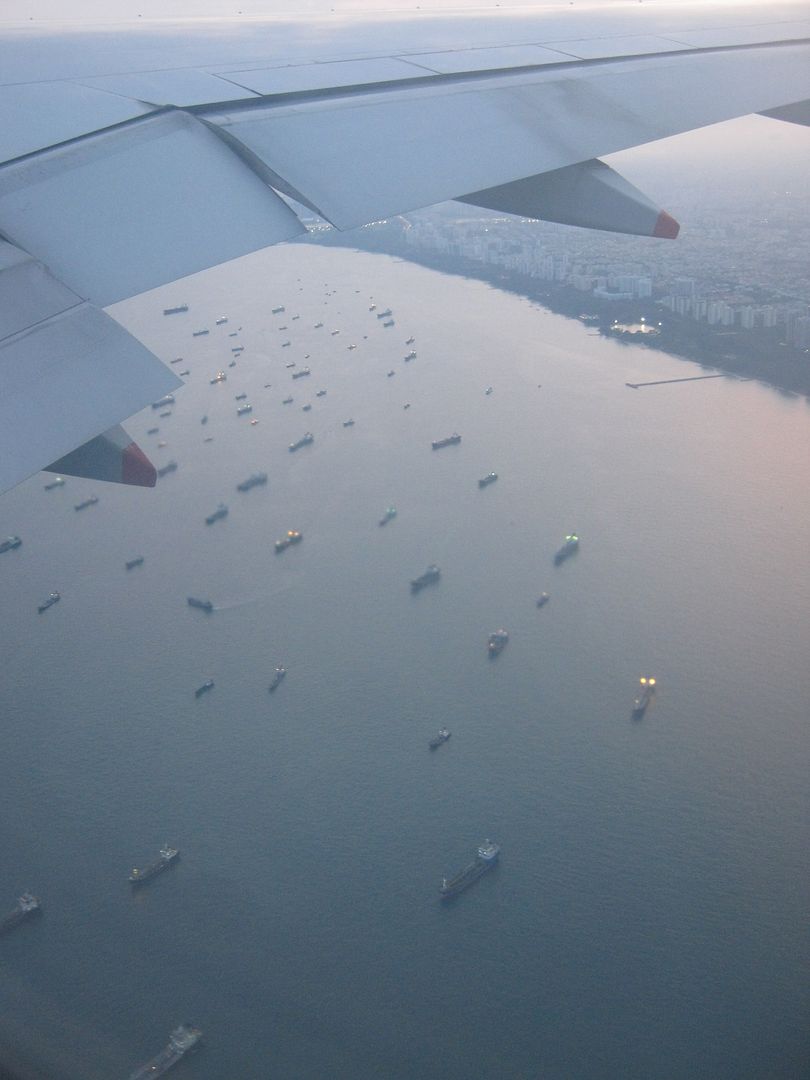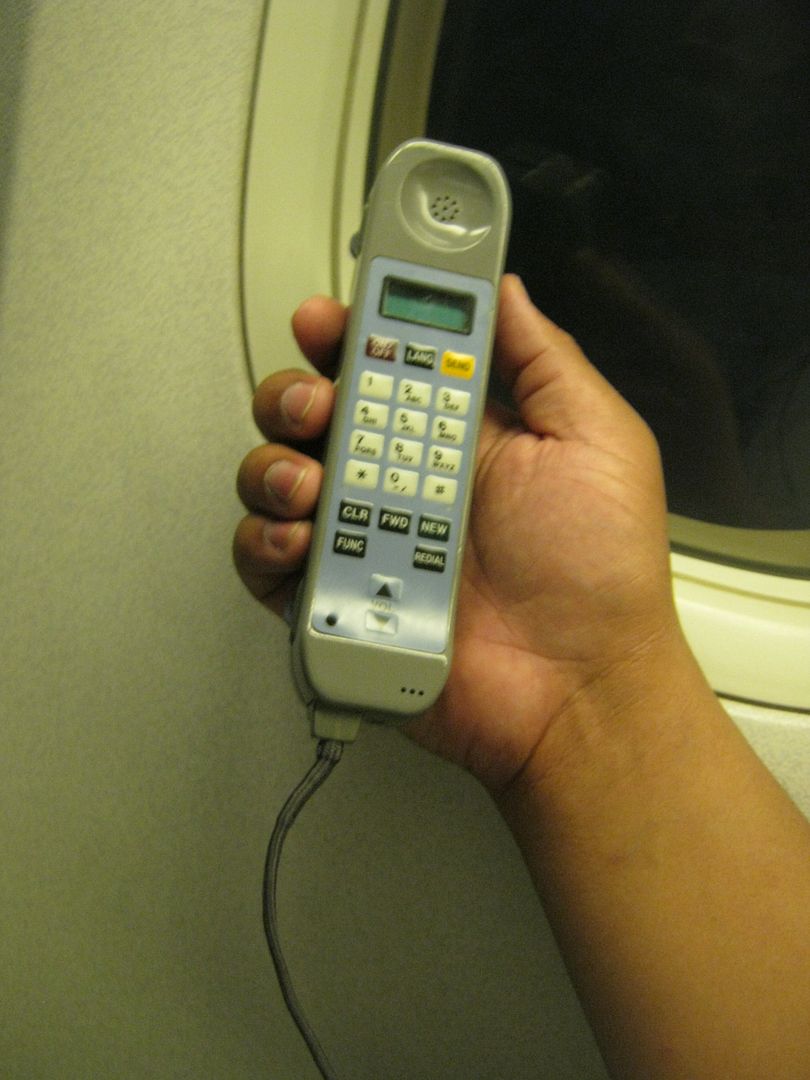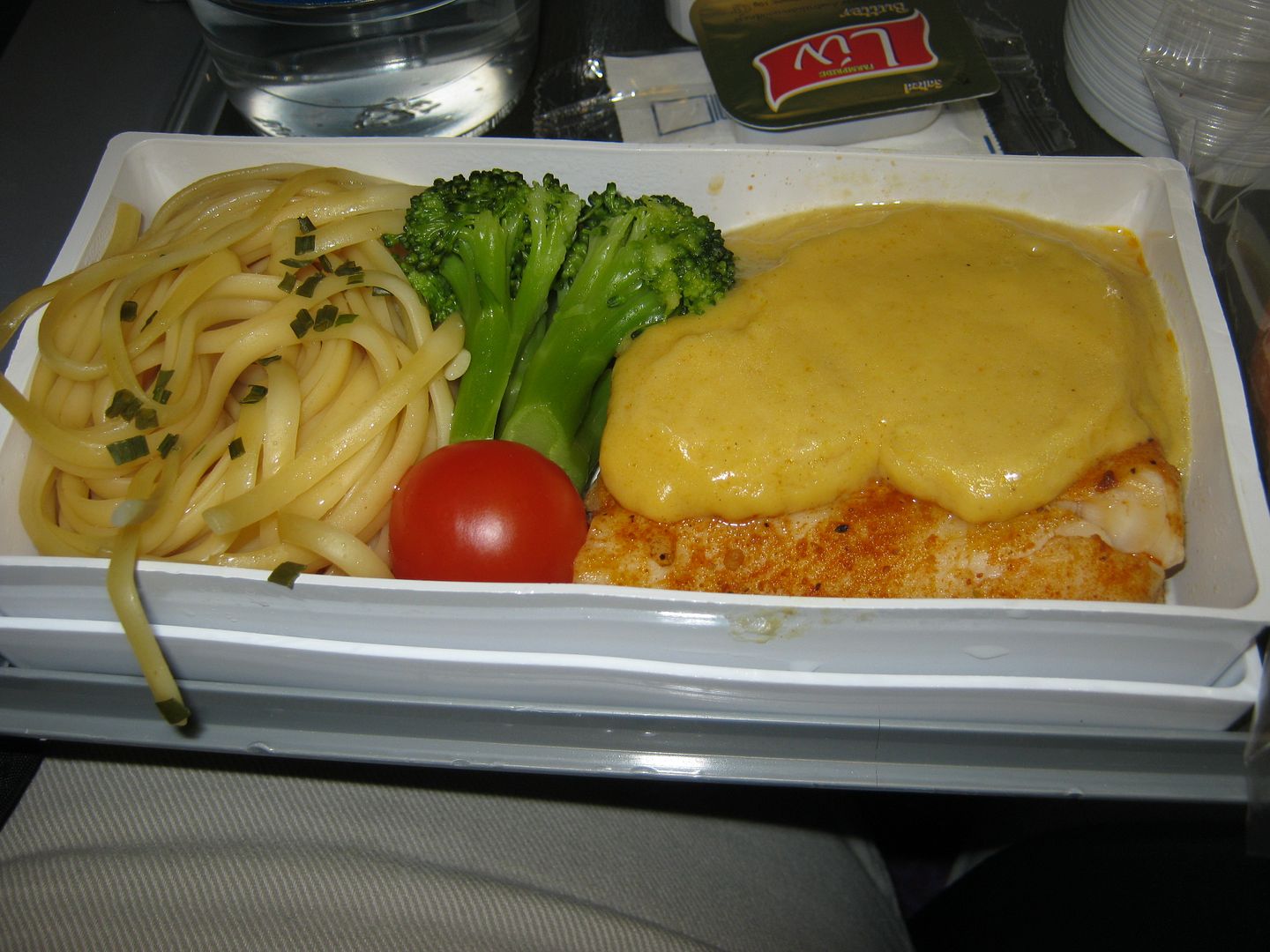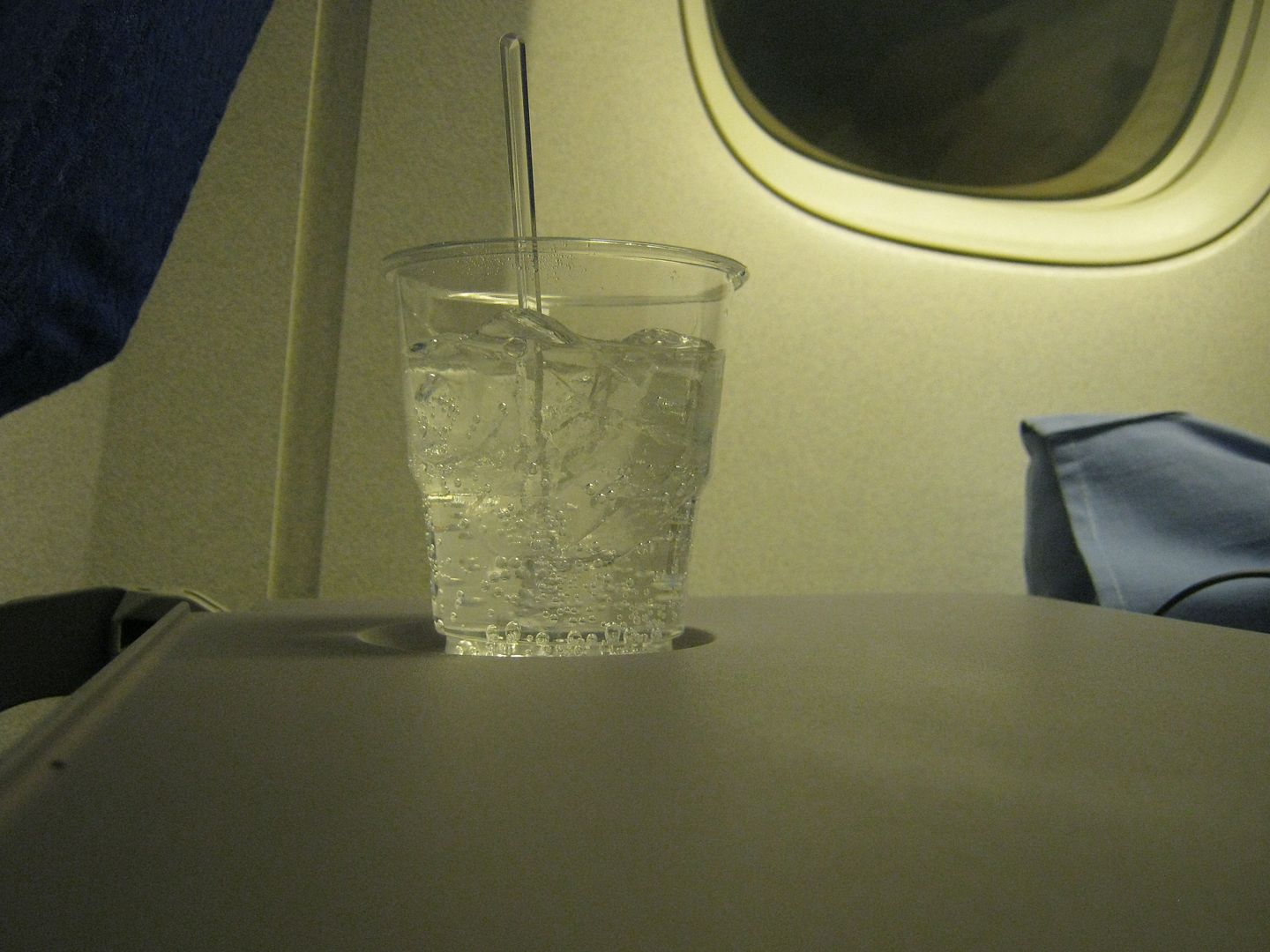 The service was MUCH better on the return flight and what I'd expect on Singapore Airlines. The food was some kind of fish with pasta and creamy sauce with vegetables and a few other things. This crew was generous with the booze as well. No fussy passengers with food hang ups either.
Despite the first leg of the trip, I'll still fly SQ in the future. My hope is that this was an exception and not a new trend at Singapore Airlines.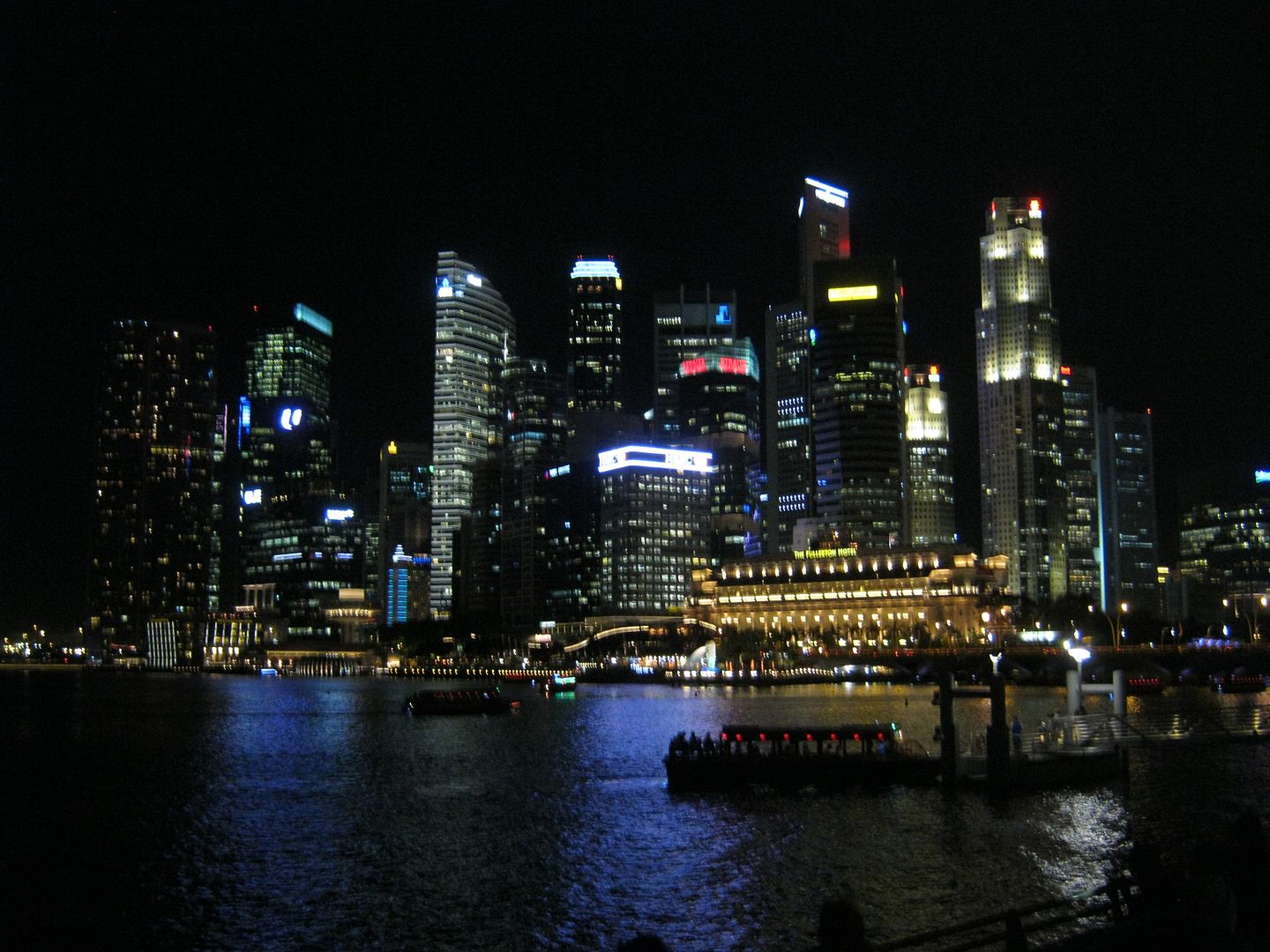 [Edited 2013-06-23 13:51:24]
[Edited 2013-06-23 14:35:00]