I posted my outbound trip report from SYR-PDX but hit the wrong link and the pictures wouldn't upload the right way so im doing the return the right way.
After 5 days in PDX over spring break it was time to head back to upstate NY
.. flying B6 to PDX has its pluses in minuses both flights are at night and the return is a redye so you dont have to waste a day traveling but i messed up when i made my flight and didnt realize i would be leaving PDX on a redeye on April 7 and would fly to SYR April 8 and i went
Sunday April 7, 2013
Flight # 166 KPDX-KJFK N537JT "Red White and Blue"
Airbus A320
Departure gate- C6
Arrival gate- 17
Scheduled Depeture-9:39PM
Actual depture -9:51PM
Scheduled Arrival -5:41AM +1 arrived 4/8/13
Actual Arrival-5:24am +1 arrvied 4/8/13
Flight Time - 4 hours and 33 minutes
Being from SYR and having the same few CRJ's and ERJ's whenever i get to go to a airport with a variety of planes and airlines its really cool, last time i flew out of PDX i got there 5 hours early and as i was checking in i was talking to the customer service agents for B6 at PDX and they where so impressed with how much i knew about flying and B6 and the next day Dave Barger the CEO of B6 was in PDX, and they told him about me and he sent me a model plane!! it was so cool and i have it on my dresser its a B6 A320 with the moasic tail.
This time i wanted to get there about 3 hours early but it took a while to get out of the house and then we had to stop at a store so by the time we got to PDX it was only like 2.5 hours so i was kinda bummed but when i got inside i found out i had to wait about 20 mins to check in because the counter wasnt open and so it turned out to be good we where running late because other wise i would have been waiting on line for about an hour.
My sister took me to the cell phone lot before we left to check in and i saw a few planes land and take off on 28L
Alaska 737's
A terrible but there was a rainbow it was cool!!
N529AS taxing in the rain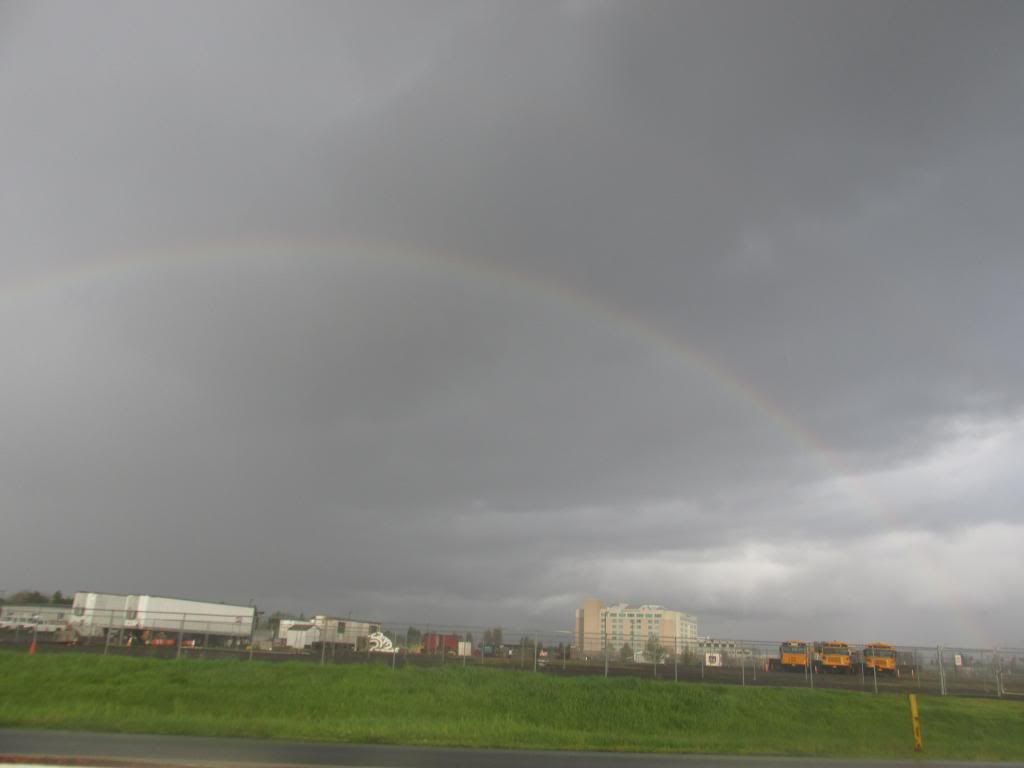 here is a little better pic
PDX atc tower
heading inside
B6
B6 counter sorry it was blurry
Since i had about 20 mins to kill i went and took pics of all the check in counters
SWA
F9
AS
UA
AA
DL
Arrivals board
Checked in, to the gate!! there was probably about a half hour long after check in B6 should come sooner since there is also a redeye to BOS
AS
AS and WN
Ive never been to the A concourse so i went down there to see what it was like,
Oregon ducks
N566AS to LAX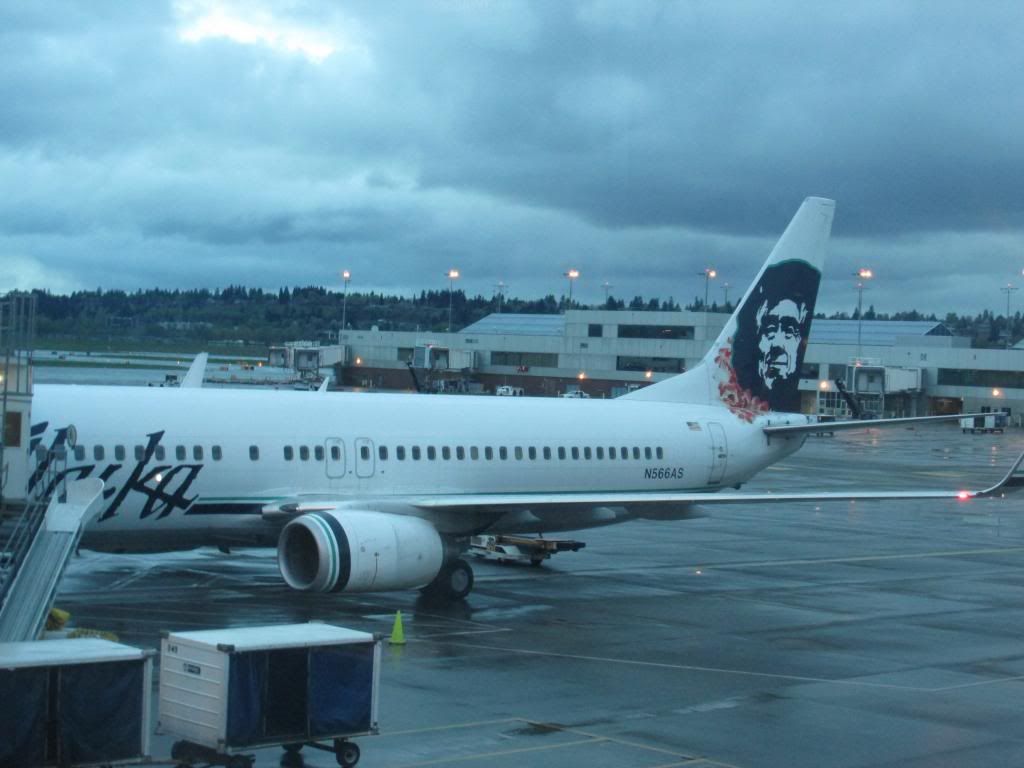 US 91 to PHX, the flight was so empty there where like 40 people on it i think they said that everyone could have there own row!!
Exiting to 28L
gate C6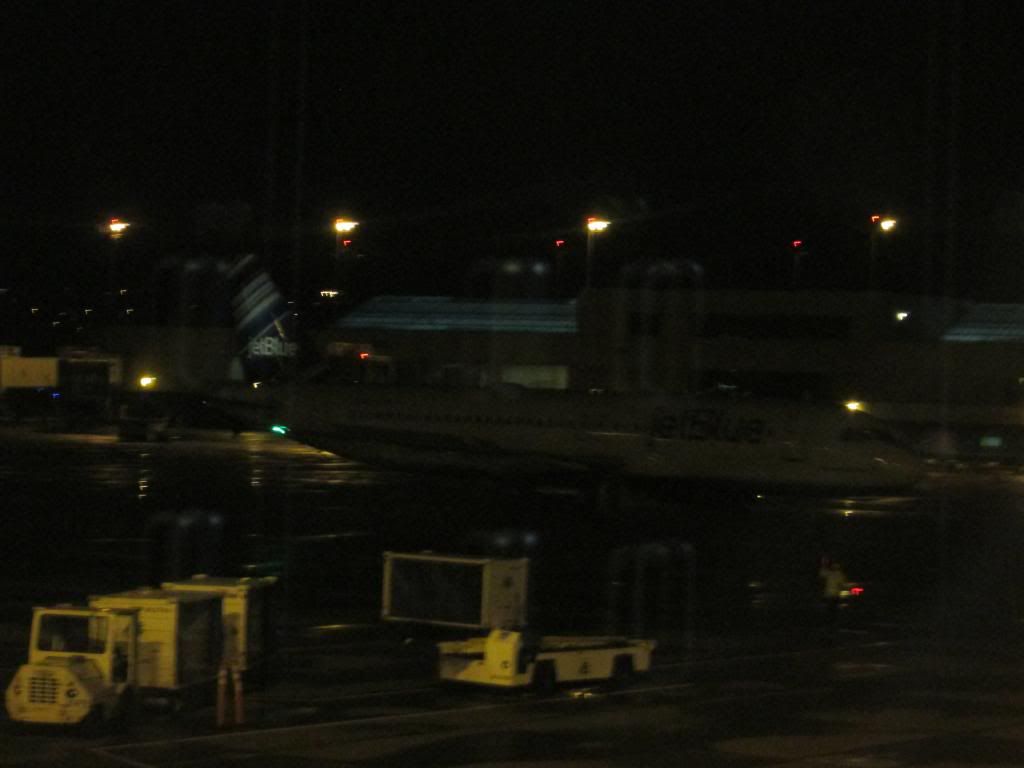 B6 1424 from LGB
red white and blue at gate C6, it was weird the spoilers where up until we boarded and pushed back and started engines.. anyone know why?? did they just forget to put them down.
side view of N537JT
gate C6 from across the hall where i was charging my phone
Boarding
Gate C6
About to get on
spoilers still up
1/2 way through boarding
after a quick boarding process and an announcement made by a male F/A he had a voice that sounded like he should be on a meditation cd a lot of people where laughing that they could go to sleep listening to him .. good thing it was redeye.
pushback
taxing out we passed N565JB arriving from BOS headed for our gate just as we where leaving and that airbus was headed to BOS on a redeye as flight 96.
almost to runway 28L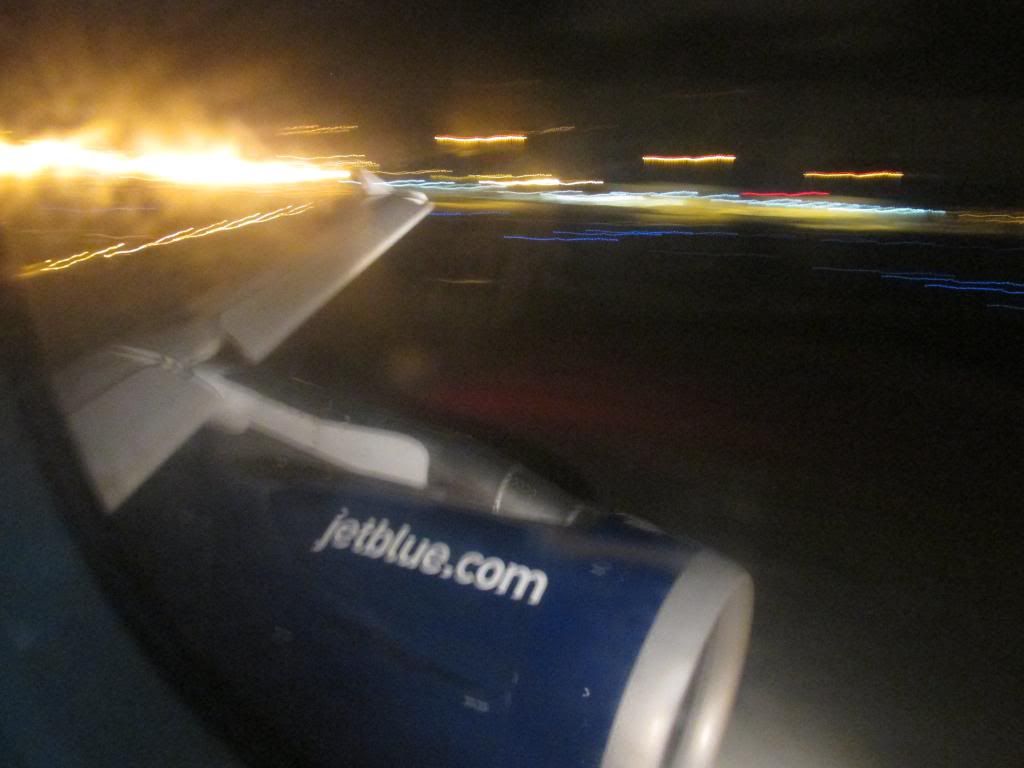 At 9:51pm we took off on a fast and steep and very powerful take off we climbed pretty quick then make a wide right turn and we where headed east to JFK..
http://www.youtube.com/watch?v=qaCnrrLzB-8
takeoff video
right before the service i got an iced tea, and dunkin dounts coffe becase i wanted to stay up for the flight.
moving right along
Wisconsin
sorry it was blurry
Starting our descent.. unfortunately since it was april we wouldnt be landing while the sun was rising but it was a great sunset from the ground at JFK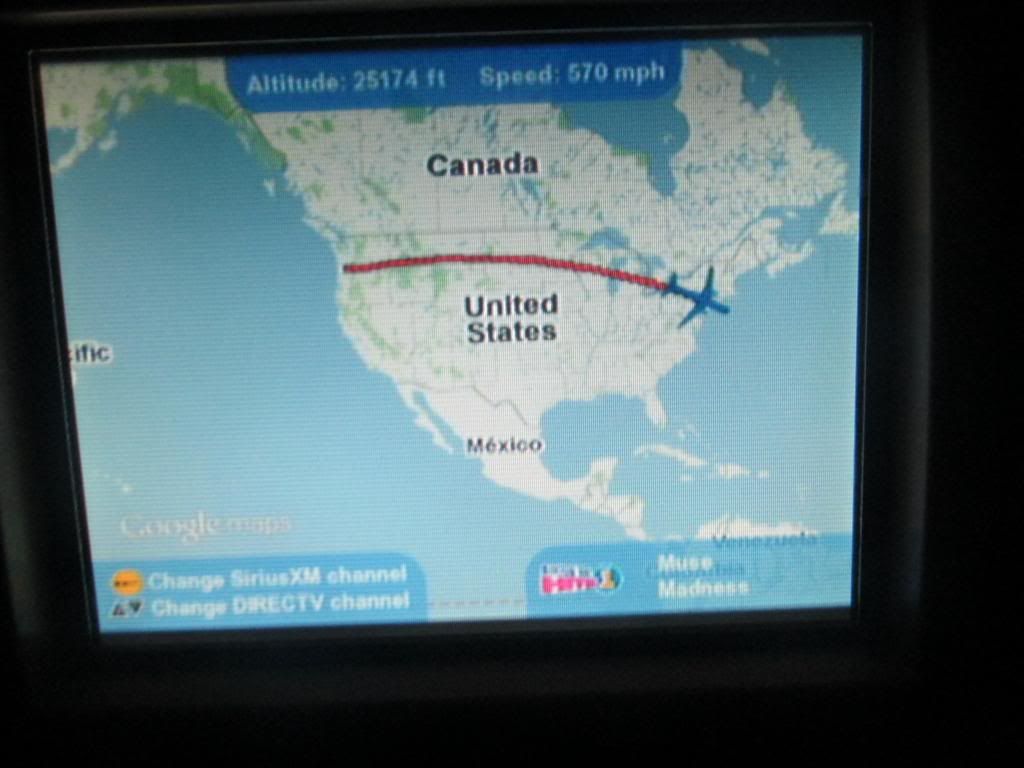 south of buffalo
final
slowing over the Atlantic
Final for 4R
http://www.youtube.com/watch?v=veqSGtBDJrs
here is a video of our plane landing
a B6 E190 @jfk this morning
we arrived at gate 17 and my flight to SYR leaving @ 730am arrived at gate 16 after a redeye from SFO about 20 mins before us
N663JB
Paint the town blue
2 hour layover not to bad , time to go see the early morning flights leave
My plane at gate 16 to SYR and my plane from PDX next to it
B6 departure board.. ill go to HNL its better then SYR
Headed to SDQ
from gate 9
N662JB headed to PUJ as flight 865 leaving out of gate 7
N563JB about to pushback from gate 6 to RSW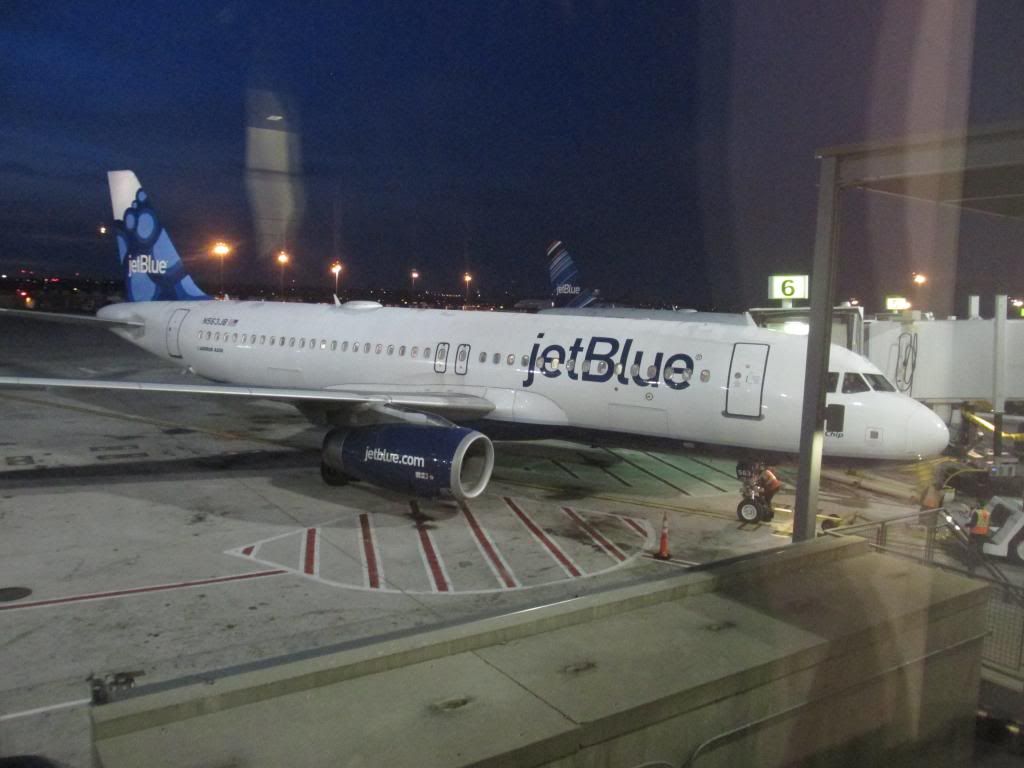 N523JB being towed over from T4 after a redeye from STI and leaving to CUN as flight 751
Sunrise the A320 headed out is N563JB to RSW
N632JB headed as B6 to SFO and N523JB as flight 751 to CUN
N638JB as flight 501 to FLL after arriving the day before from UVF it Remained Over Night (RON) at jfk
Early morning line up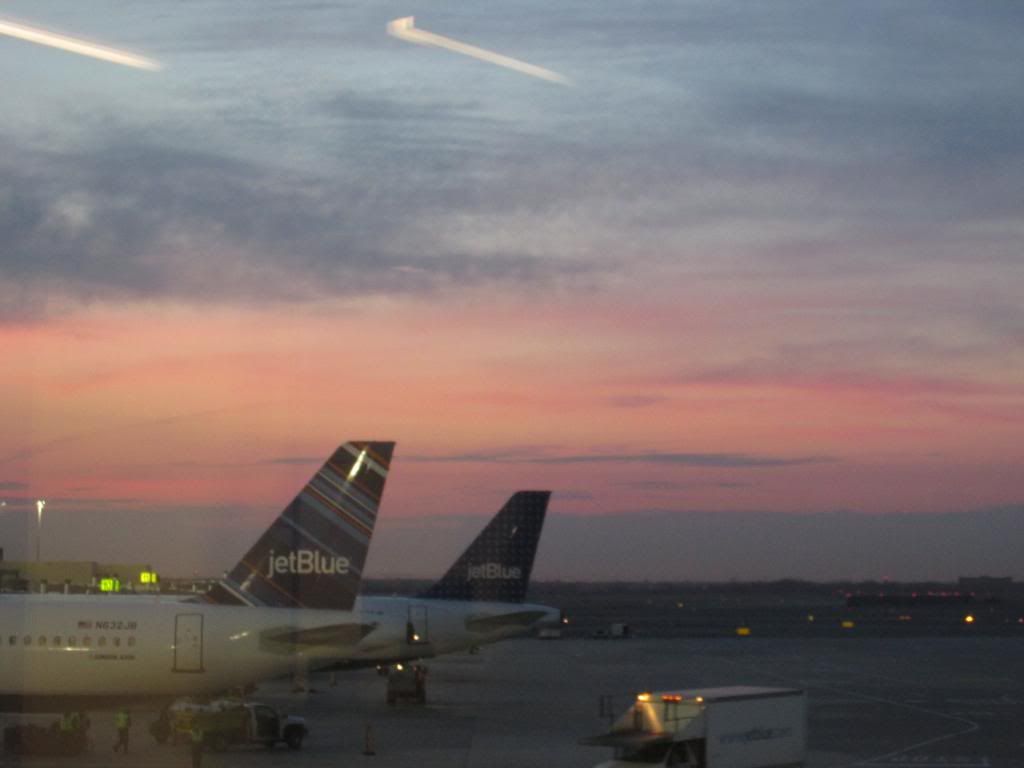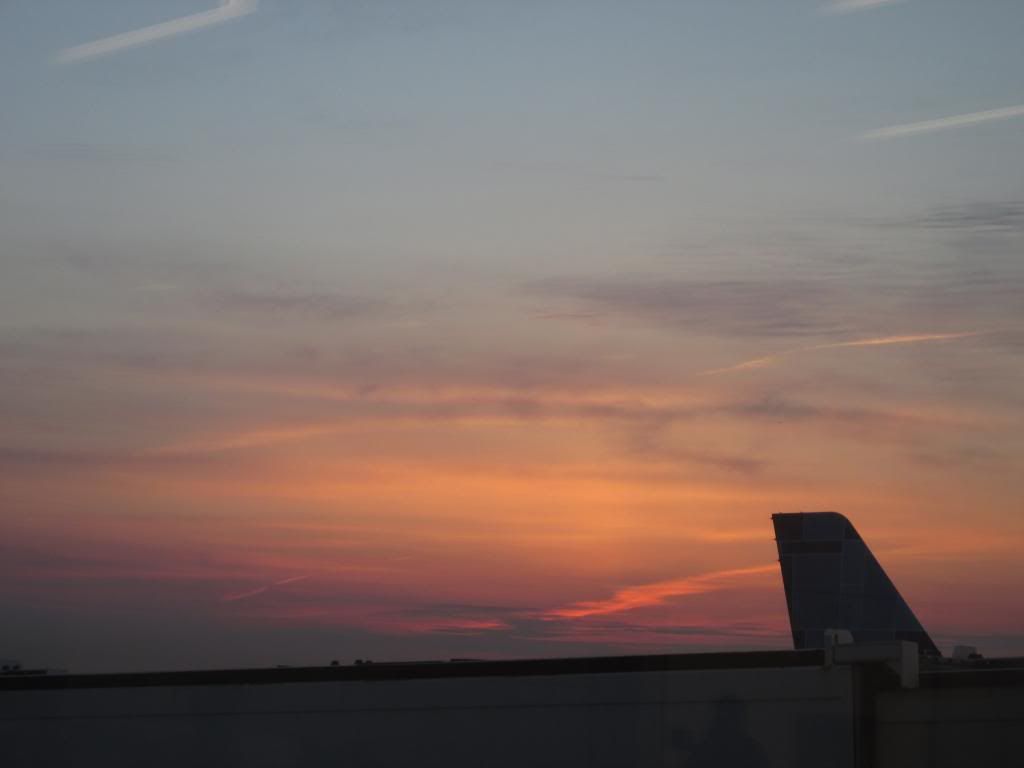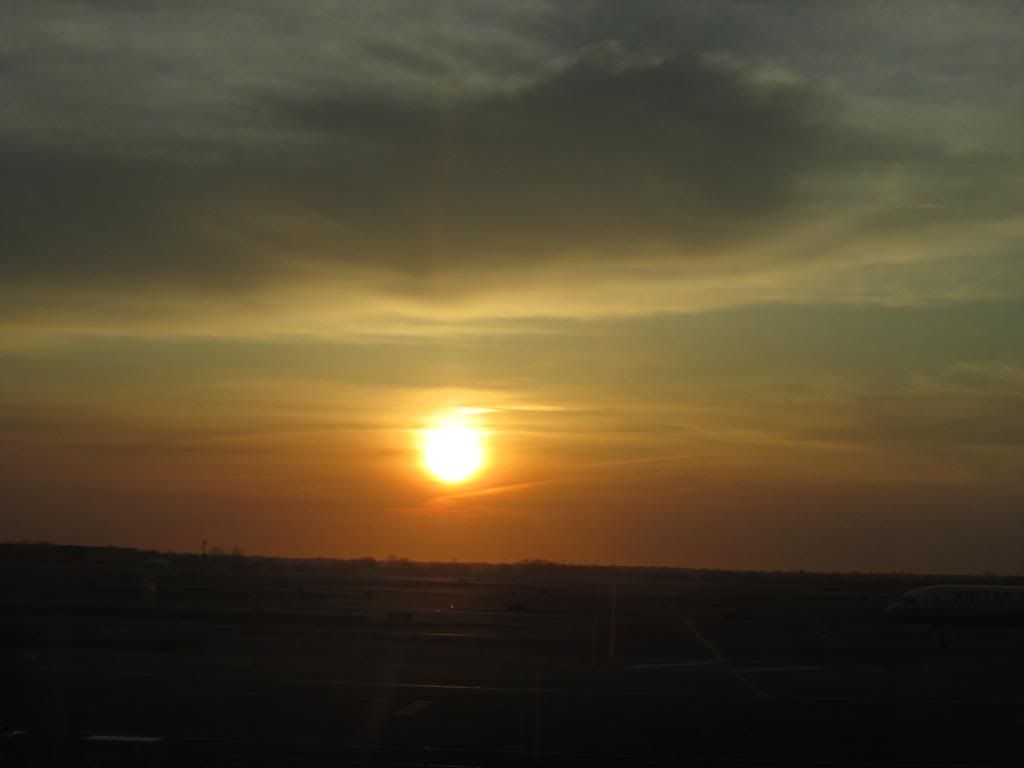 cool ,lifesize engine !!
Arriving as a redeye from HNL headed to gate 14
N606JB at gate 21 arriving as flight 82 a redeye from SEA and turning as flight 459 to Kingston, Jamiaca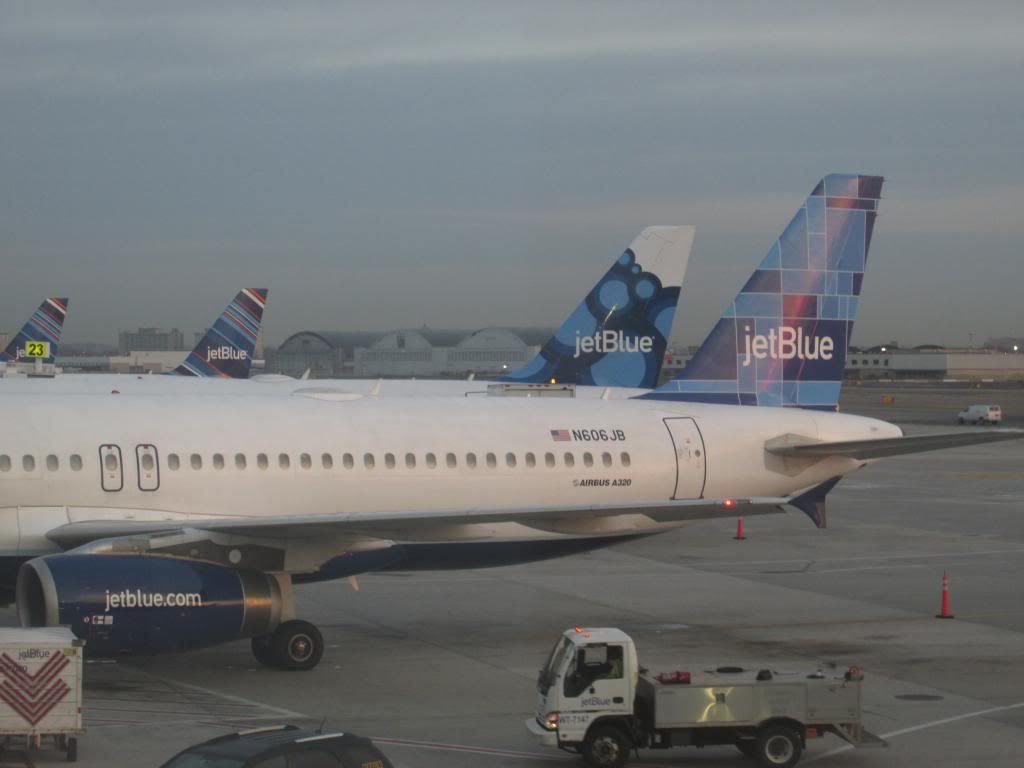 My plane from PDX getting ready to depart as flight# 208 to BUF and N804JB after being pulled in from an ovver night stay after arriving from SFO the night before , leaving as flight # 201 to FLL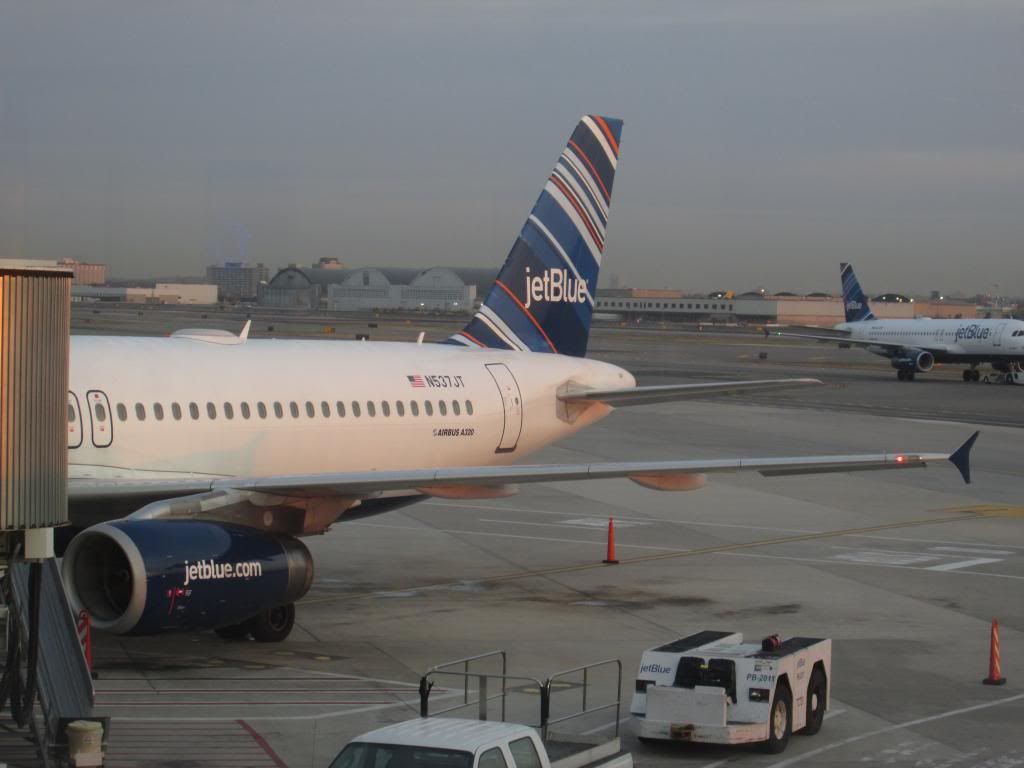 N663JB to SYR
about to board
Monday April 8, 2013
Flight #44 KJFK-KSYR N537JT "Paint The Town Blue"
Airbus A320
Departure gate- 16
Arrival gate- 15
Scheduled Depeture-7:28AM
Actual depture -7:43AM
Scheduled Arrival-8:19AM
Actual Arrival-8:27AM
Flight Time - 44 minutes
flightaware map of the flight
Gate 16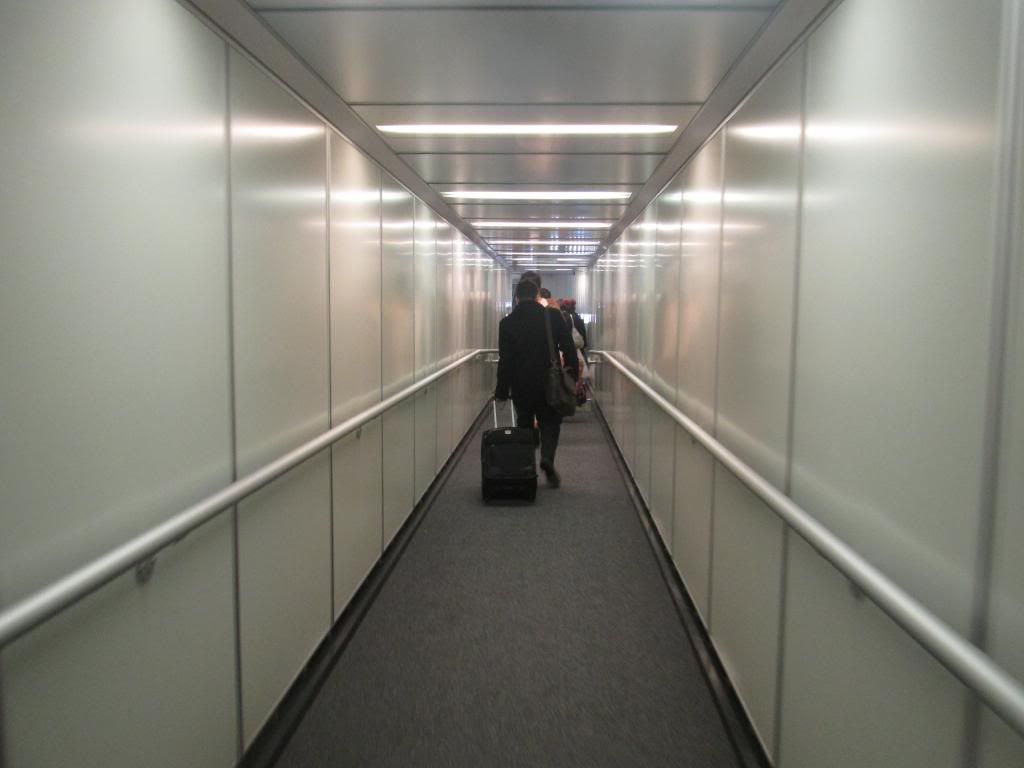 About to board
Seat 5A at gate 16
Boarding complete
After a really funny saftey demo from the FA on the left of the pic above and a quick pushback and engines and flaps set to takeoff , we began our taxi for 22R a pretty quick taxi from anywhere @ T5 the quickest of all the runways espically from gate 16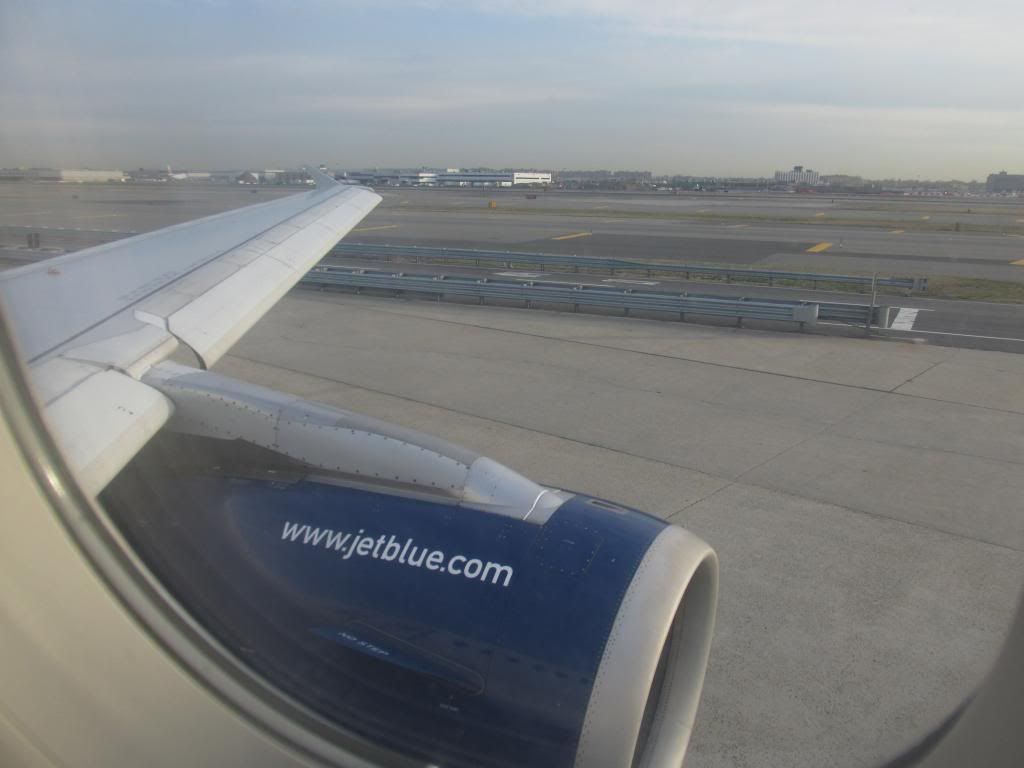 We followed this AA 767 leaving to LAX or SFO to 22R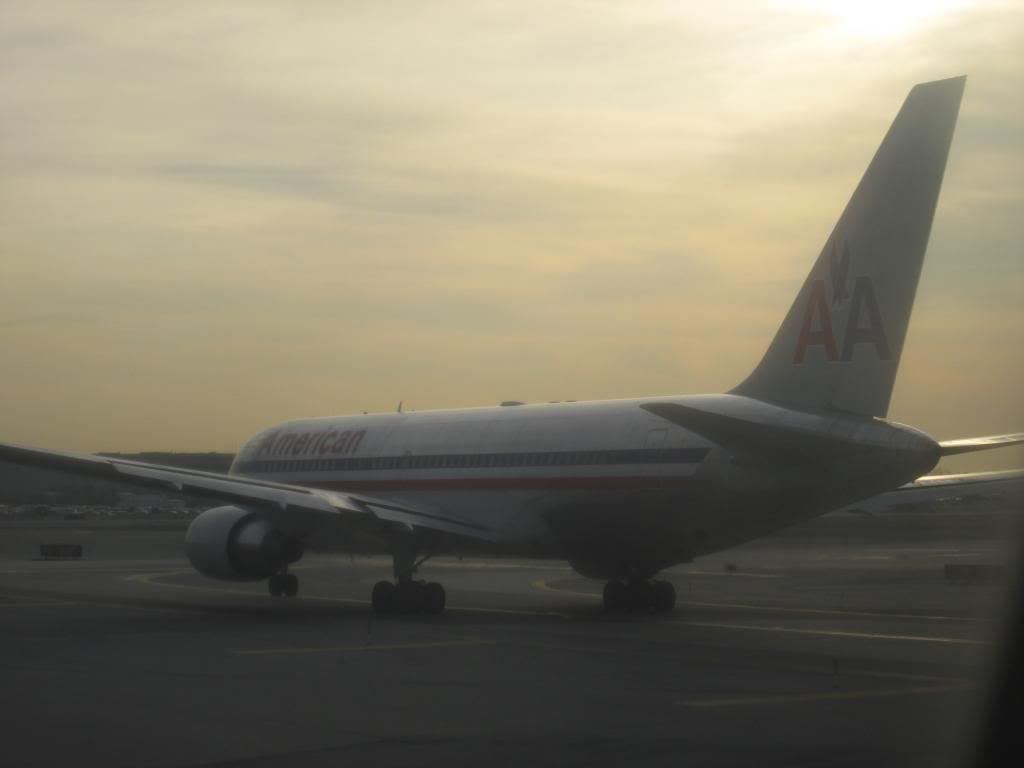 "Jetblue 44, 22R line up and wait"
A pretty slow and sluggish take off and climb for this flight and after a few left turns we where headed to SYR
Sunshine @ 21,000 feet
and as always as we begin the descent to SYR the clouds come into sight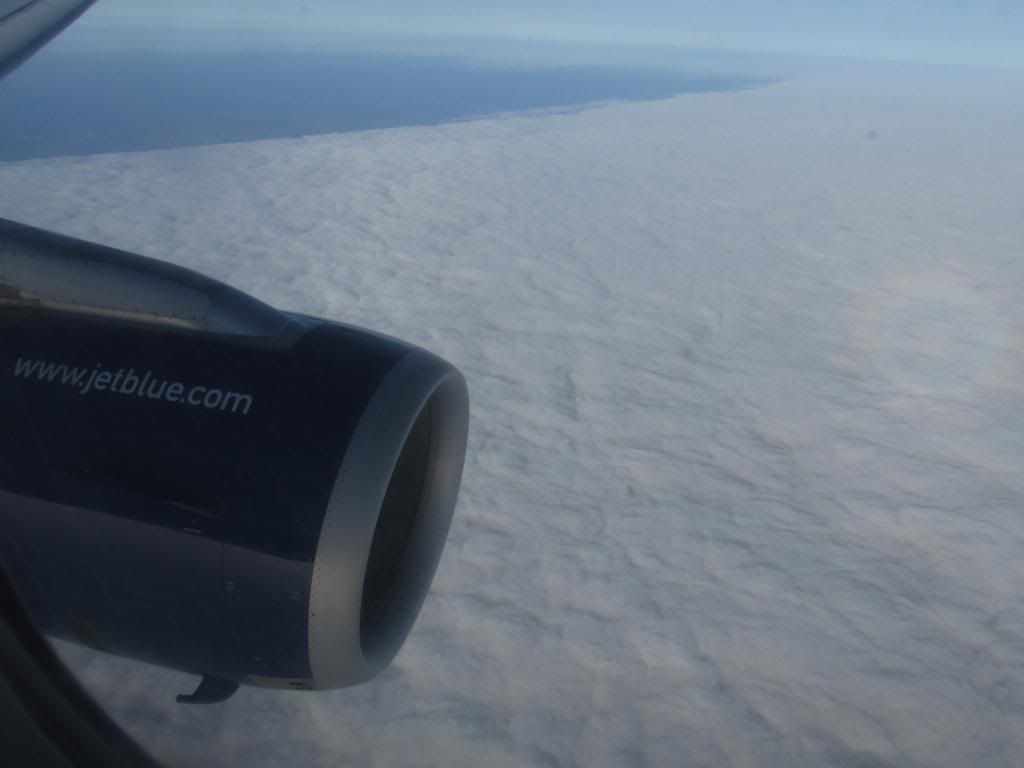 Sunny uphere but under neath gray skies and rain
chasing our shadow into the clouds
Back in Syracuse
when i left 6 days ago it was snowing so ill take this over that
Final for runway 28
After a smooth touch down and a smooth landing we exited the runway taxied straight into gate 15 and shut down the engines after a quick hop from JFK and it was back to school for me.. from my favorite thing to my lease favorite thing in a matter of minutes, health and studyhall where not bad but by the time i was in bio at the end of the day, i had to take a little nap .. I was so tired
parked at gate 15
N663JB @ gate 15 at SYR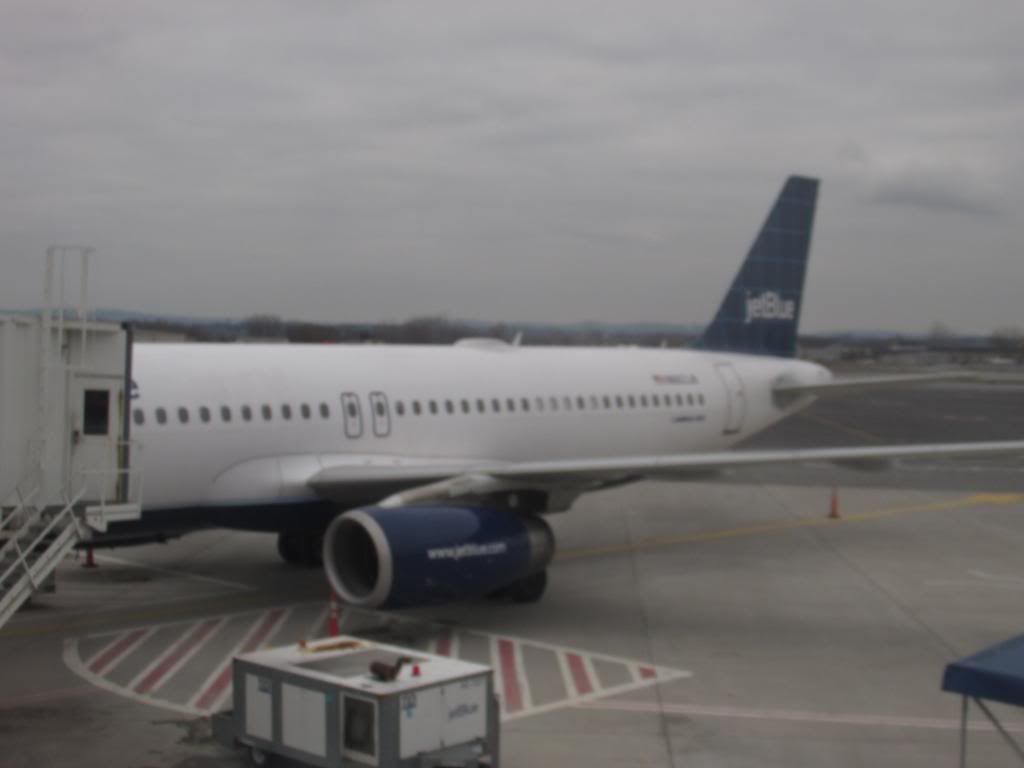 thanks for reading i hoped you like it....Max