Background
As part of my birthday present my wife was kind enough to let me use her UA miles to book a flight for myself. I was delighted! The problem was that she only had enough miles for me to book a one-way trip. Was this part of her master-plan to get rid of me? Either way I still had to purchase a ticket to get back home to Chicago. I then remembered that contrary to popular belief, trains
do
exist in the USA, and I could potentially use them to return home. While trains can indeed be found here, they
suck
are infrequent and slow. I had to therefore pick a destination that had a railway connection to Chicago but wasn't too far away. That left me with two options: MKE and SBN (both airports have direct railway connections to downtown Chicago). UA offers direct flights from ORD to both these airports (in both cases it's just a 25min-long hop) but I fancied something more complex.
While looking for alternative routes, UA's booking system offered me this monstrosity: MKE-CLE-GRR-ORD-SBN for just 10.000 miles. This amazing "one-way" itinerary got me drooling like palmjet in a cake shop. The problem was that the layovers were understandably quite tight, allowing me little or no time to explore these destinations (or even the airports themselves). This itinerary would have also required 2 train rides (one from Chicago to MKE and another from SBN to Chicago) which would have made it impossible to fit everything in a single day. I had to be realistic and ditch the plan. Instead, I settled with the idea of flying from ORD to MKE via CLE. UA offered me an itinerary that allowed 6 hours in Cleveland, more than enough time to check out the downtown area. I went ahead and booked it.
Here's the complete map of my Midwestern Summer series. In red the segments covered in this report
There were 2 major downsides to this plan (some may argue that there were 3 downsides, if you included the fact that the trip involved a visit to Cleveland): The first was that the departure from ORD was scheduled for 5:52am. In general I'm an early morning person but a 3am wake-up is never fun. The second drawback was that the ORD-CLE segment was
not
to be flown by United Express (which I find to be pretty decent) but by the
much-more-reliably-bad
United itself (on an A320). The CLE-MKE segment, however, was to be operated by United Express (in fact, ExpressJet) on an ERJ-145, an aircraft I have grown very fond of.
This daytrip will conclude my 3-segment Midwestern Summer series. Here are the previous 2 parts:
Part I:
Who Said That Flying SUX? Sioux City, Iowa
Part II:
So Close Yet So FAR. Fargo, North Dakota
As a bonus, at the end of this report I'll include some photos from a side-trip I took to the Quad City Airshow held at DVN (Davenport, Iowa).
A very bumpy ride to Cleveland
Knowing that I had to wake up really early for my flight I tried to go to bed at 9pm the night before. Alas, it was hopeless, I just couldn't fall asleep. I tossed and turned for what felt like hours before I finally managed to doze off.
I was having trouble sleeping. Maybe because of the full moon outside? (That's somewhat unlikely, because unlike dc9northwest I was not brought up in the vicinity of Transylvania so the moon should not have such a profound effect on me)
The alarm clock rang at 2:45am and before I knew it I was in a taxi on the way to ORD. Twenty minutes and several Ahmed Bukhatir songs later I was dropped of at Terminal 1. I knew that ORD security does not open until well after 4am but I wanted to join the lines as early as possible before they turned into something out of a horror movie. A force of about 200 uniformed US Army soldiers was taking up much of UA's check-in area. I've never seen so many soldiers in a non-military airport. I wonder where they were heading. By the time security opened at 4:15 the line was indeed so long I could not see where it ended. However being one of the first in line I went through in no time. Having beaten most other passengers to security I was greeted by an eerily empty airside area, a nice change from the usually crowded state it is in during the day.
The colorful tunnel connecting concourses B and C at ORD
Really empty. The only people around were cleaning staff
A good looking 757 anchored at the gate next to mine
The overnight rain created a bunch of puddles on the apron
By the time I got to the gate our aircraft was already parked there and unloading passengers from its overnight flight from SAN. Outside it was still really dark and the rain that commenced a few moments later made things even worse. The rain was so strong that the apron in front of our gate had complete flooded and, on top of that, the roof above our gate started leaking in at least 2-3 spots (one of them directly above where I was seated). The rain continued in full force until shortly after we boarded the plane.
Our bird, barely visible behind the glare created by the lights inside the terminal
Soon the rain started again but this time it took the form of a thunderstorm
It was raining so hard the apron practically flooded
Despite being in boarding Group 3 I was one of the first few to board the plane (practically nobody was in Groups 1 and 2). I ended up having an empty seat between myself and the lady sitting by the isle. She was in a very chatty mood and started small talk with me almost immediately. She told me how she was coming home to Cleveland from a conference in San Diego. When she found out that I was flying to MKE via CLE and that I had voluntarily chosen to layover at CLE for 6 hours she gave me a perplexed look. I'm not surprised. A young couple and their kids were sitting across the isle from us and they appeared to be very unhappy with the FAs. I couldn't quite understand what the problem was but at some point the husband demanded that the FAs gave him their names. There was a bit of shouting but fortunately it did not last long. Did UA screw something up again or was this a case of passengers with unrealistic demands?
Pretty standard legroom
The rain finally stopped after we got on the plane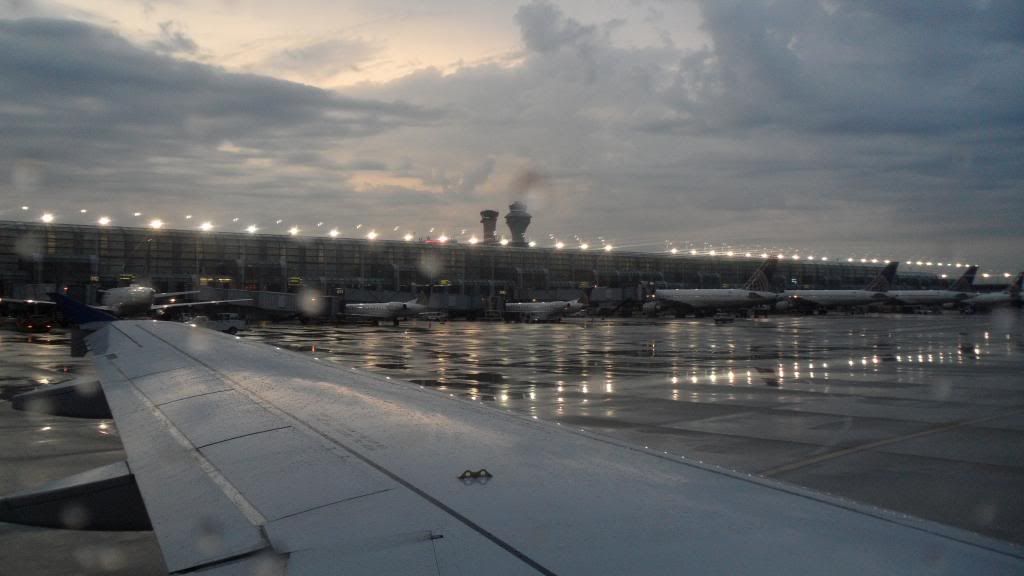 Pushback
Pushback was on time and due to the lack of traffic at this early hour we took off from runway 32 almost immediately. Our ascend was rather bumpy and I noticed that the seatbelt sign remained on for longer than usual. Several minutes after take-off the captain finally turned off the seatbelt sign and apologized for the delay in doing so. He explained that it was due to the turbulance and that it was very likely we'll encounter some more on the way. The drink service started shortly after but had to be stopped completely a few moments later due to some more, very violent, turbulance. At one point the aircraft shook so hard it felt like someone had slapped it in the face. It was some of the worst turbulence I've ever experienced. I was sitting by the wing so I bet it felt even worse for those at the front and back of the aircraft. Some of the FAs didn't even bother to go to their usual seats and simply took whatever passenger seat was closest to them. I must admit I got somewhat nervous. The seatbelt signs remained on for the rest of the flight and the drink service was never completed.
Cruising above the state of Michigan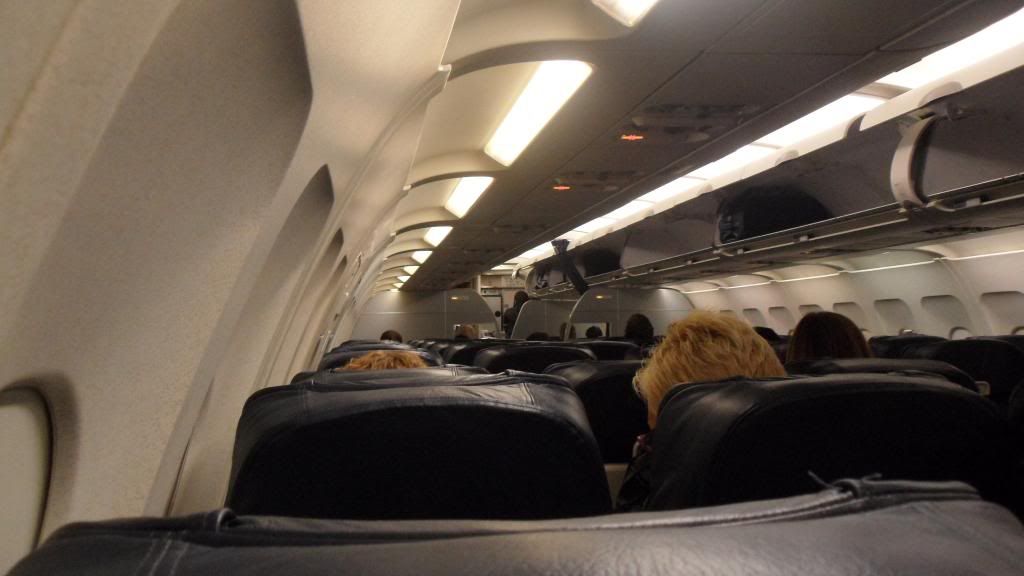 Cabin view. After the FA's request most people kept their window blinds closed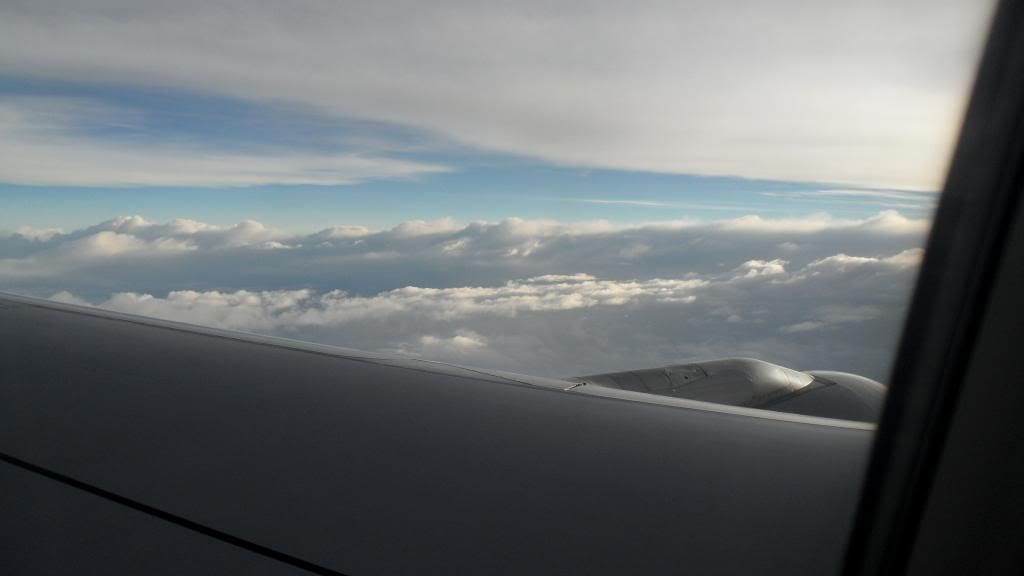 Lots of clouds over the Midwest this morning
Some reading material courtesy of UA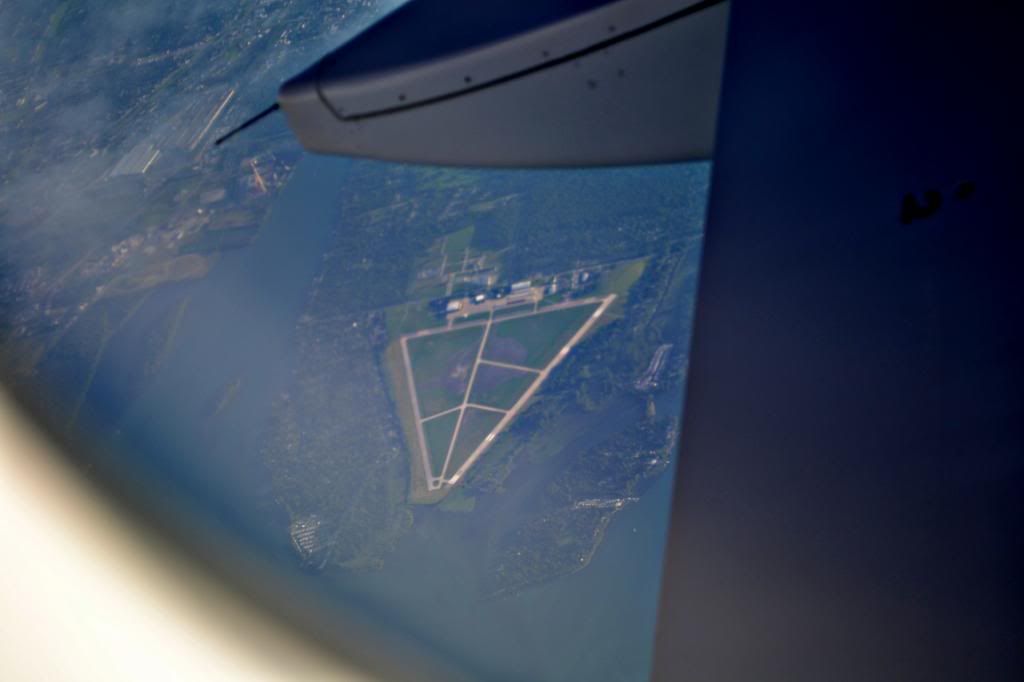 A glimpse of Grosse Ile Airfield (KONZ), on the island of the same name.
Despite the cloudy sky looking outside the window is still the best kind of entertainment while on a plane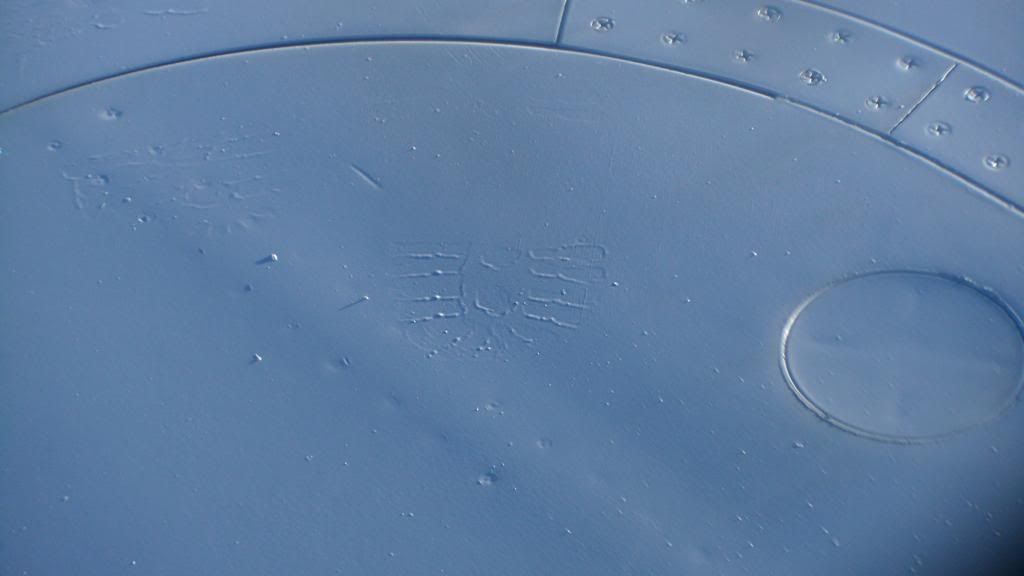 How interesting. It seems like someone stepped on the wing before the new paint had had the chance to dry completely
An interesting peculiarity about many flights between ORD and CLE is that for a portion of the route they use Canadian airspace, even though if you look at the map it does not seem to be necessary. What's even more interesting is that flights between CLE and MKE don't do that, even though MKE is further north than ORD. I guess it has to do with the direction of flight and the traffic patterns (CLE-ORD flights for example do not use Canadian airspace, yet MKE-CLE flights do). Our flight indeed crossed over into Canada and flew over portions of Ontario and also between the Canadian shores of lake Erie and Pelee Island, the southernmost inhabited part of Canada. After re-entering USA airspace, we looped around the east part of Cleveland, flew over downtown and landed at CLE several minutes ahead of schedule.
Crossing over to Canadian airspace. In the distance one could see Detroit
The southern coast of Ontario. On the other side of the aircraft one could see Pelee Island, the southernmost inhabited area of Canada.
Leaving Canada behind.
Descending over lake Erie
Flying over Cleveland's other airport: BKL
Flying over downtown Cleveland and its skyrises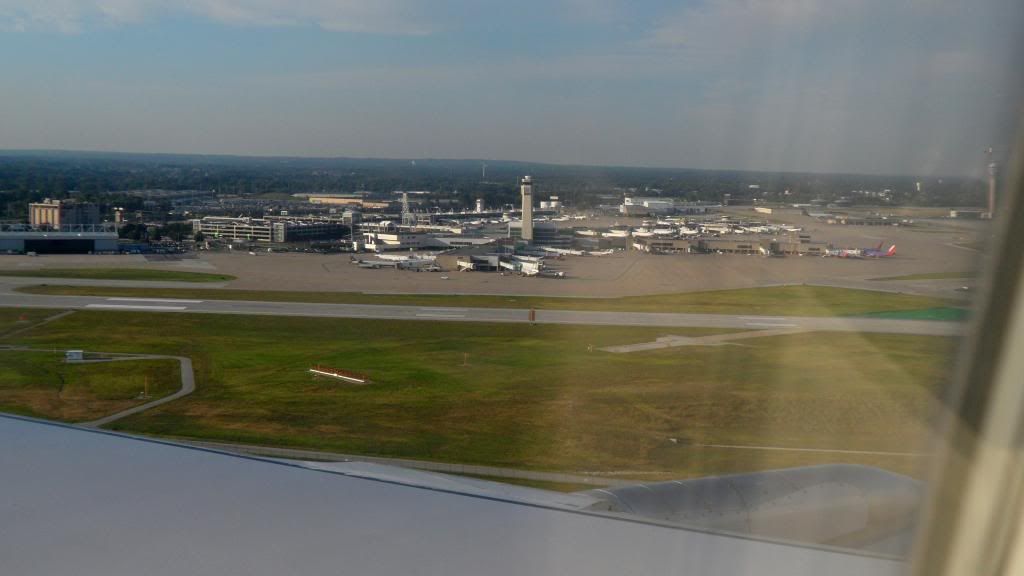 And here's CLE itself
Parked at our gate and ready to disembark.
My plan was to take the RTA (rapid transit) train to downtown Cleveland and spend some time sightseeing. I had some trouble locating the station (the signs were not very helpful) but once I did I bought my tickets from the infamous ticket machines (there are entire web blogs dedicated to how badly-designed, user-unfriendly, and frustrating Cleveland's RTA ticket machines are) and waited for my train. The station was dark and hot but the walls and floors were decorated with images of airplanes which I thought was a nice touch. The train itself was very old fashioned (the train cars reminded me those in certain eastern European cities) and not terribly well maintained. Especially the windows were in terrible shape. In addition, the seats provided legroom that was worse than that of Vueling. I'm glad the ride to downtown was only 30 minutes long.
CLE's subway station, still empty at this early hour
Airplane sign on the floor of CLE's subway station
And here's the train
Speeding through the outskirts of Cleveland
Arriving in downtown
Continued Below