Hello fellow A'netters. Hope you're all well. The below trip report is our 5 day trip to Norway in August, 2013.
GCMap Route Map:
LGW-TOS;+TOS-TRD-BGO;+OSL-LGW&MS=bm&MR=180&MX=540x540&PM=*" width="540" height="540" border="0"/> thanks to the Amazing GCMaps..!
1: Norwegian Air Shuttle DY: LGW - TOS
DY 2470
Flight Reg: LN-DYJ ; delivered Jan 2011
Boeing 737-8JP/W named "Georg Brandes"
Seat 2A
Load 55%
Departure time 08:15 ( 08:30 )
Arrival 12:50 ( 13:00 )
24 Aug 2013
Price: GBP 60.90 (All inclusive including hold luggage)
Start of the trip as usual it was a Rainy day in London. We Used the south long term parking. being a bank holiday weekend the airport and the parking facilities were Pretty busy. Finally found an empty parking bay, and a quick shuttle ride later we were at the entrance of the South terminal, at London Gatwick.
LGW Shopping (Duty free)
Taking over Gatwick.?? – i don't see why not, superb experience with Norwegian on this trip. Faultless.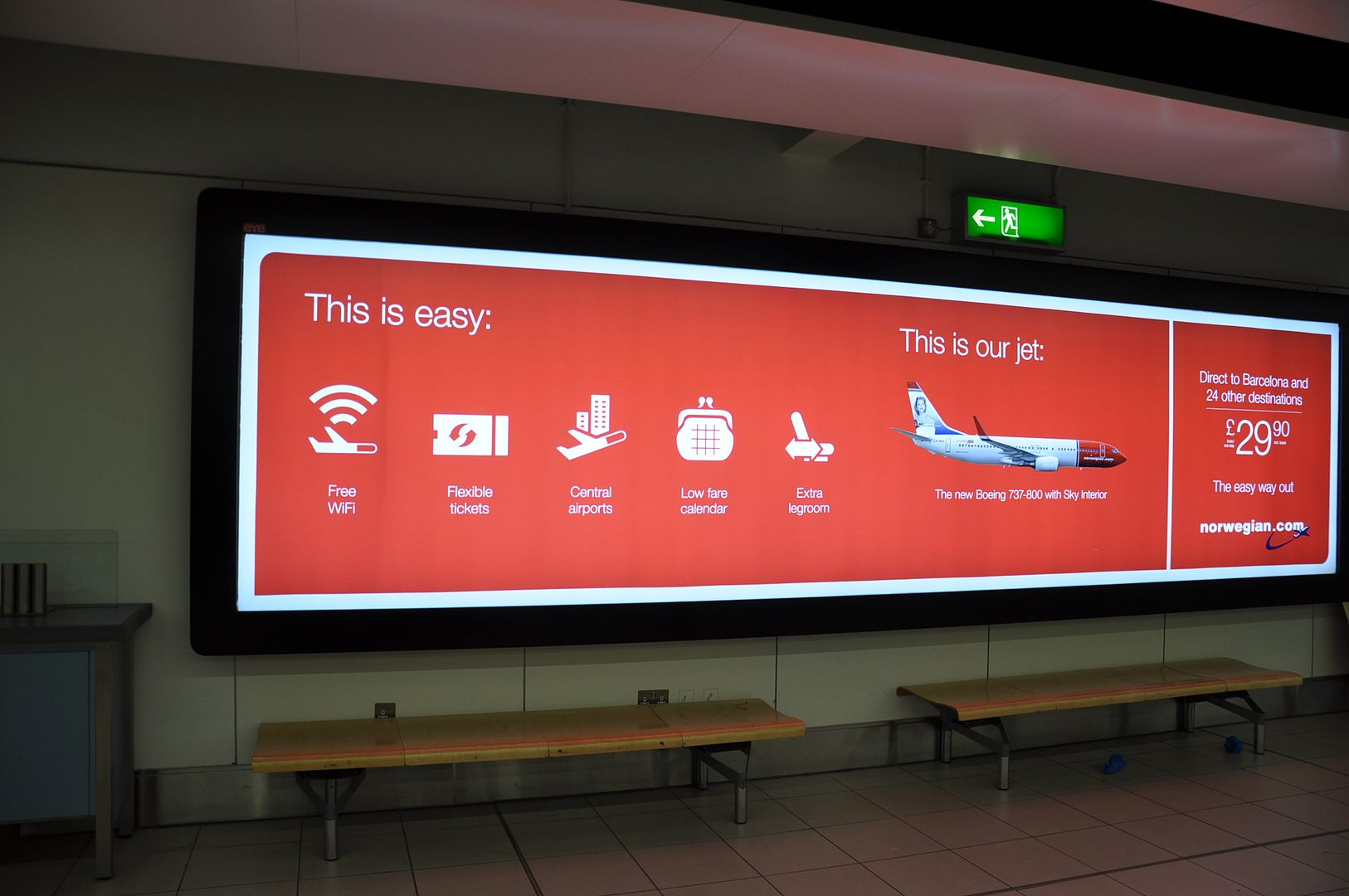 Self scanned bag drop. Worked very well for our trip. Always less than 5 minutes to check in, print boarding passes and baggage drop. Simple, clean and modern!
Gatwick on a bank holiday Saturday morning, 6:30 AM.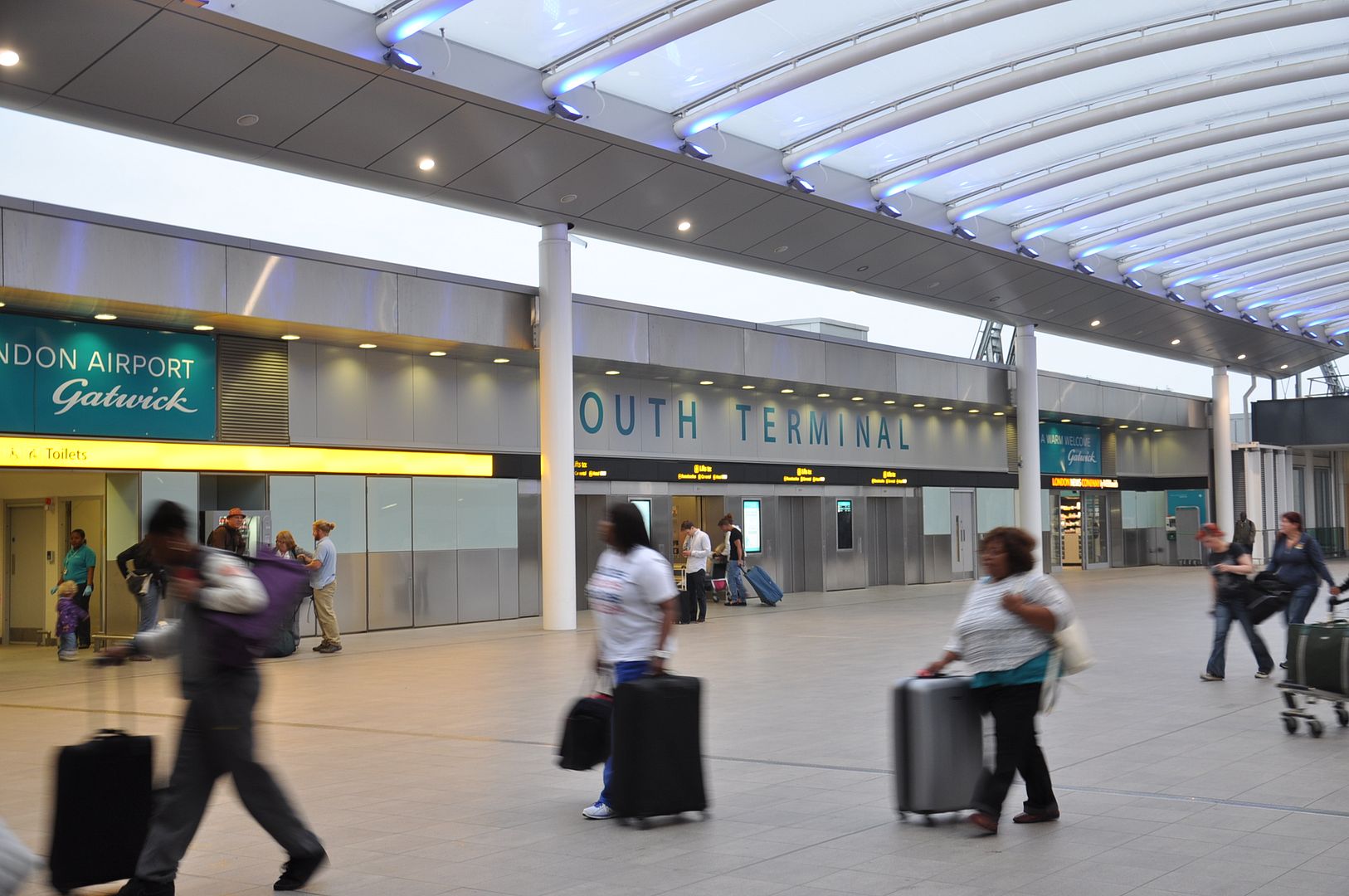 FIDS at LGW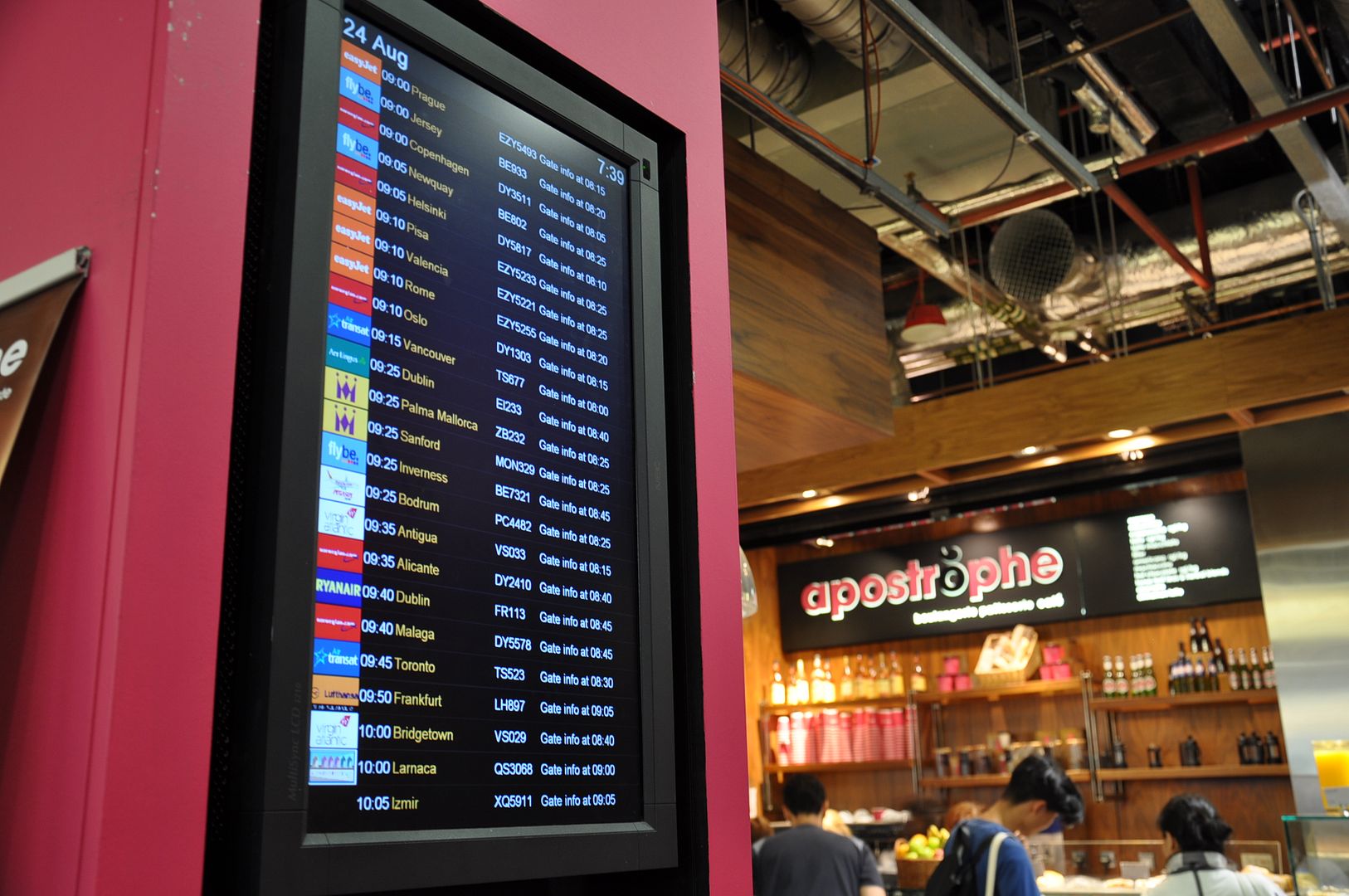 We were flying Norwegian this time, to Norway, and this was our first time with them. Wasn't expecting too much being a LCC, but had heard a good review of them thus far.
Check was through self check-in kiosk. Very efficient and quick, Bag drop is also a self scan procedure. Scan the bag and away it goes.
Amazing Norwegian! Text message before every flight with gate details and link to the ticket page, Superb!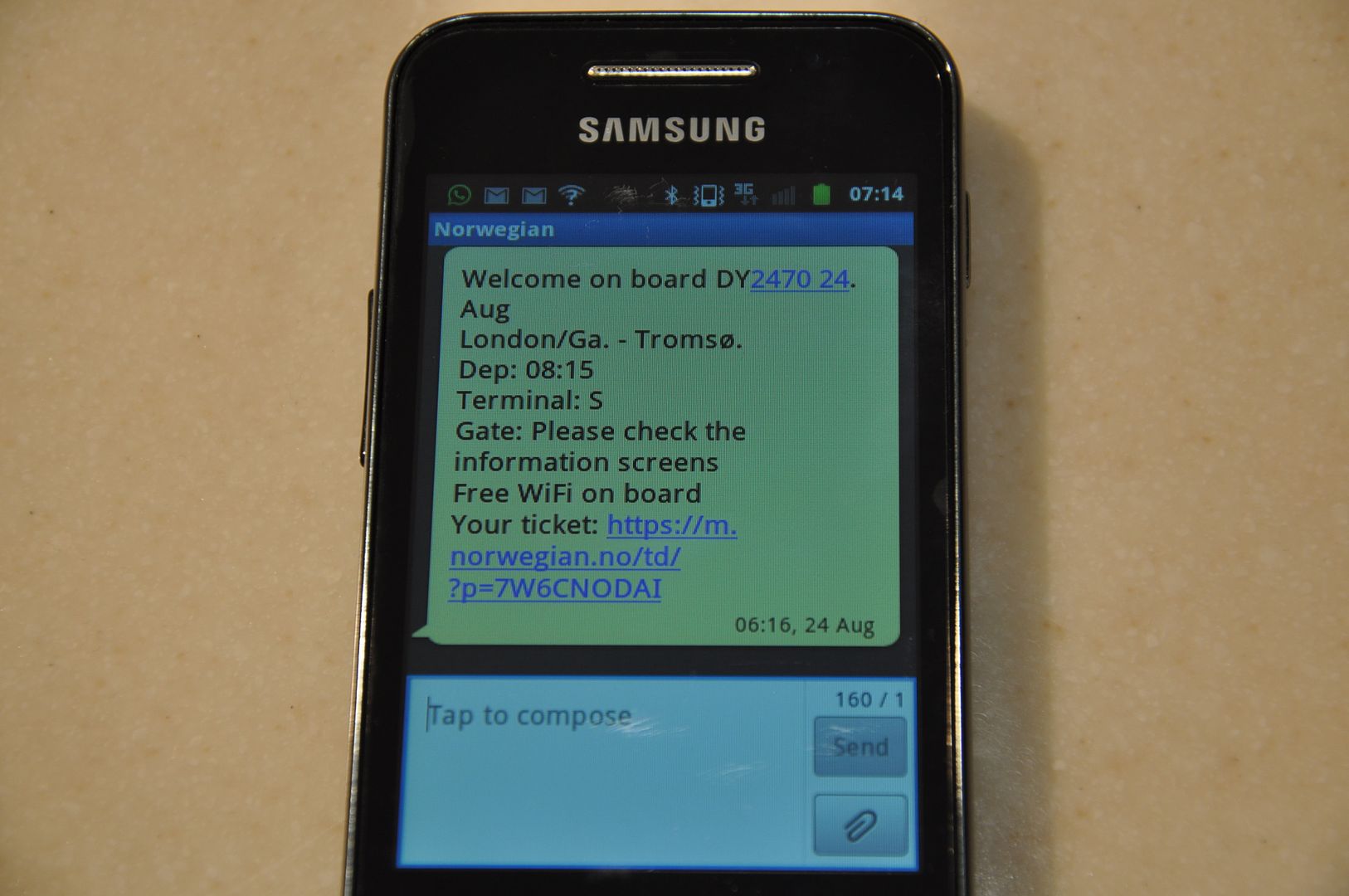 Through security check and air side in less than 15 min. Love the new gatwick airport.
Quick grab of coffee from apostrophe. Duty free shopping. And gate was announced.
Looked like a fairly empty flight as the gate was pretty relaxed and empty. Boarding called on time. Everyone on board by 8:10. But due to bank holiday weekend gatwick was busy and there was Delayed slightly because of fueling.
Embarked from the gate at 8:30. But again there was a lot of traffic on the single gatwick runway. Finally airborne by 9:05.
LGW-TOS: Georg brandes. A danish literary critic. LN-DYJ; Boeing 737-8JP/W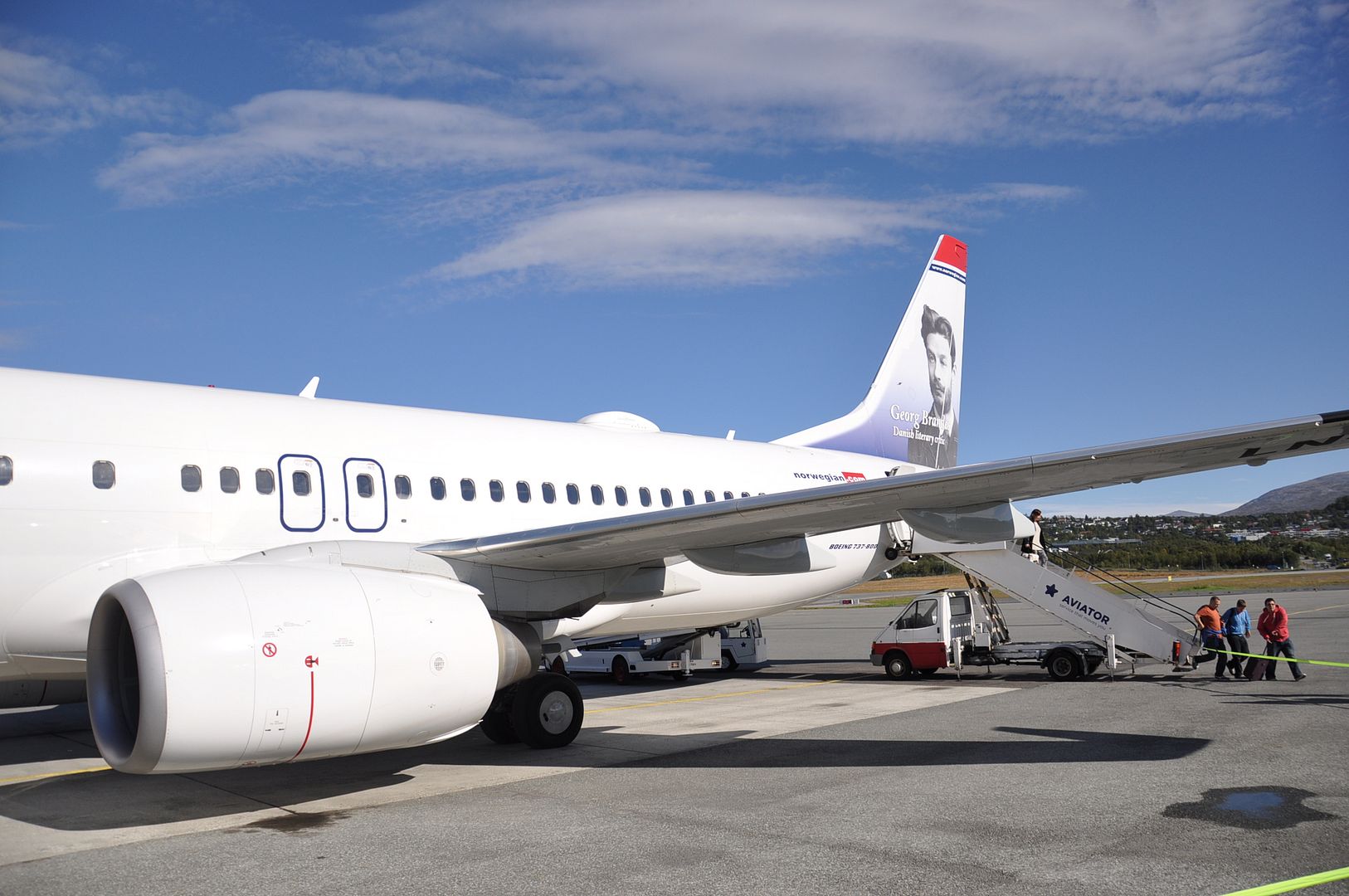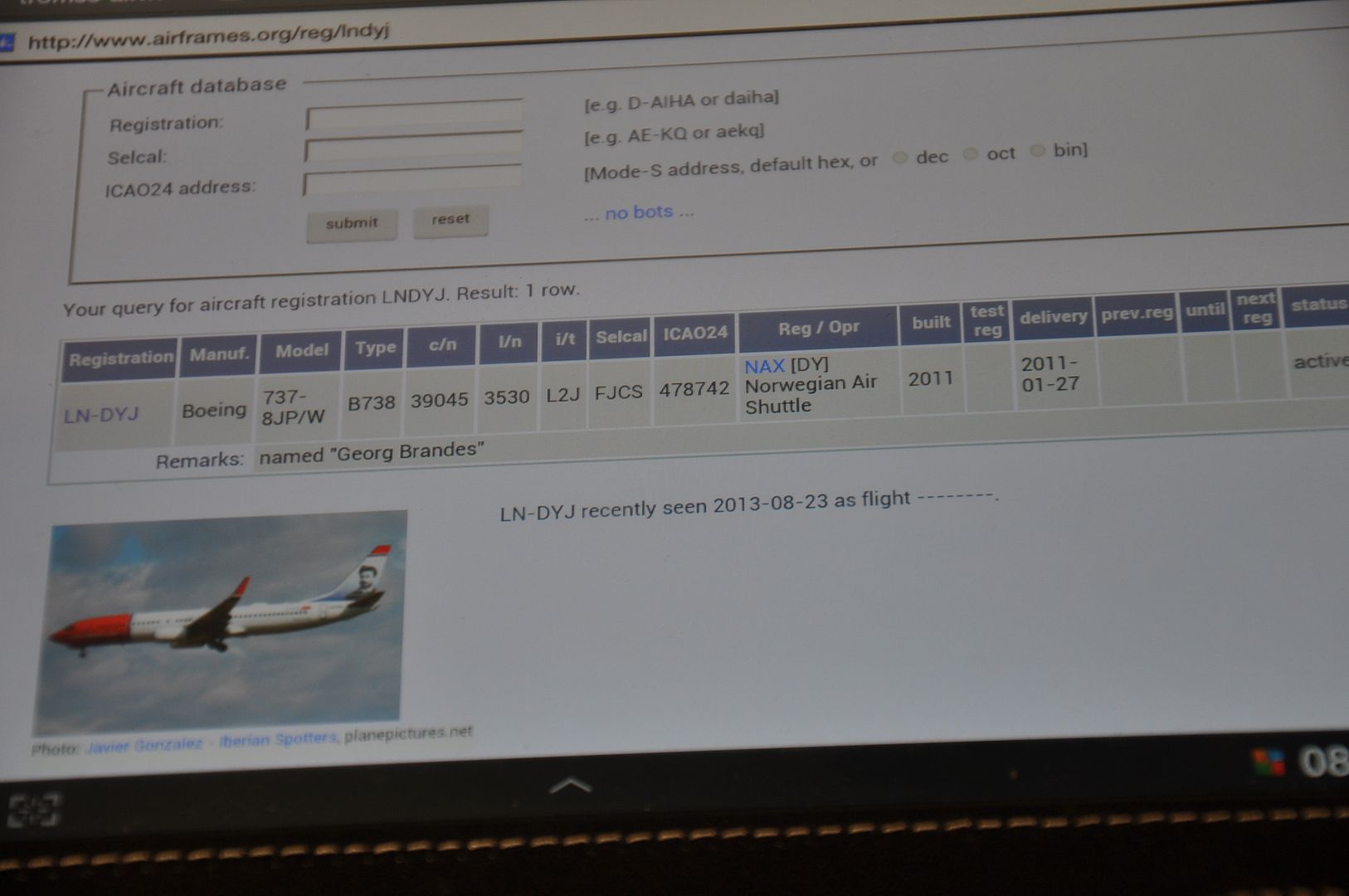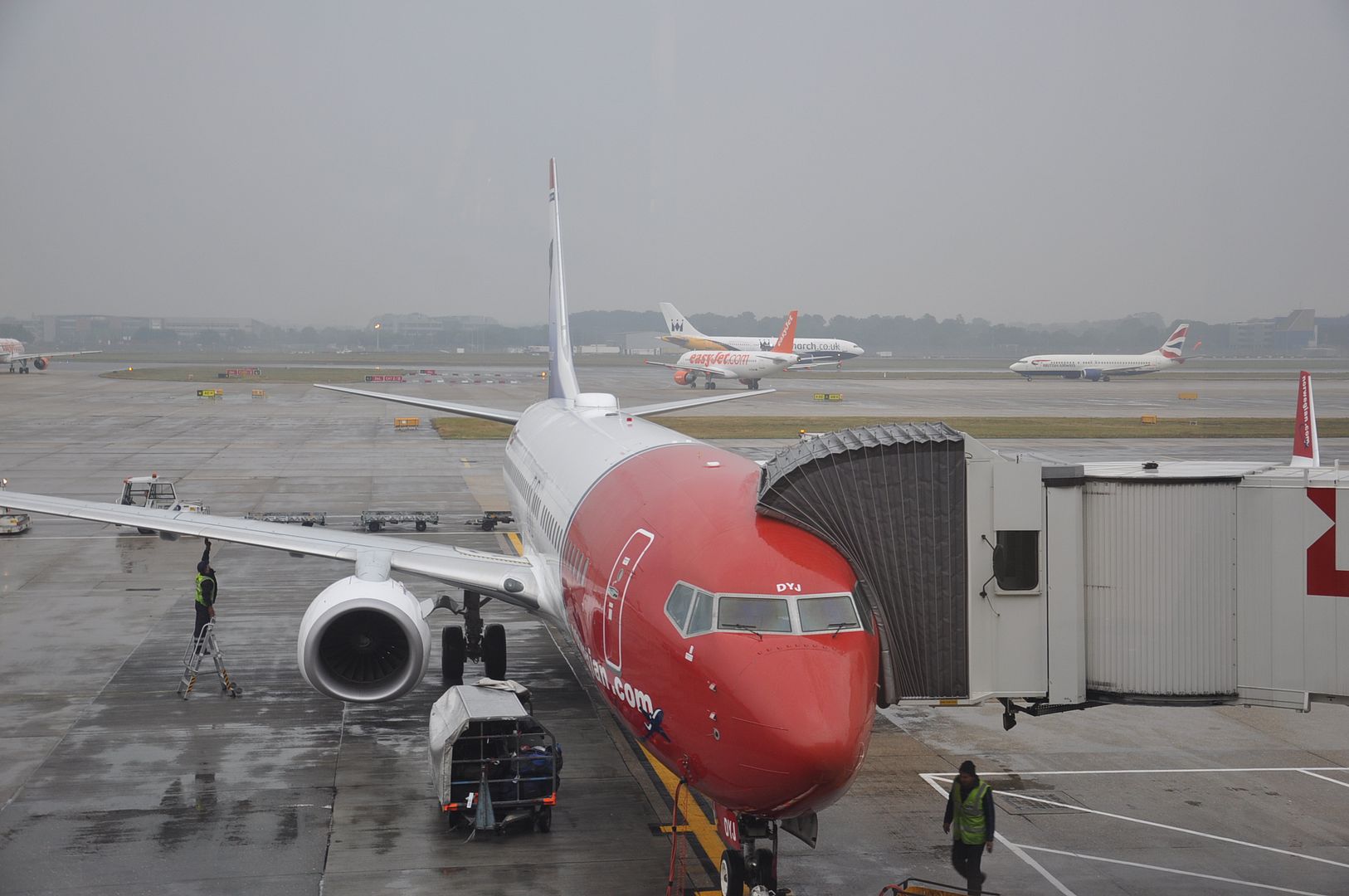 Captain announcement was superb and explained the delay was due to the aircraft arriving late at the gate from the remote terminal where it was parked overnight. He asked us to expect turbulence for the first 15 min followed by a fairly smooth flight through to tromso. Very good announcements.
So far this is proving to be easily the best domestic European carrier I have flown in. Leave alone a lcc.
On board Norwegian aircrafts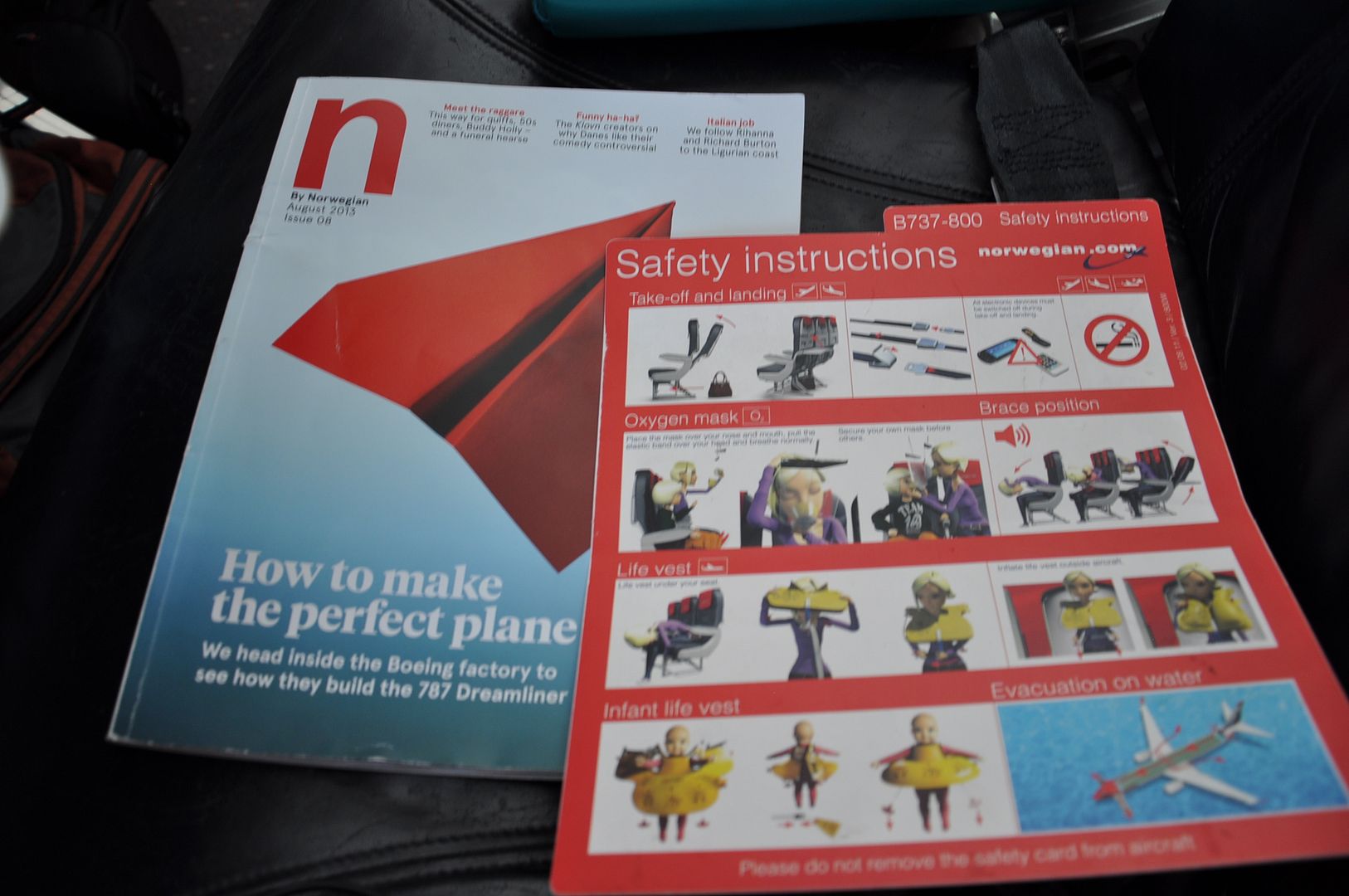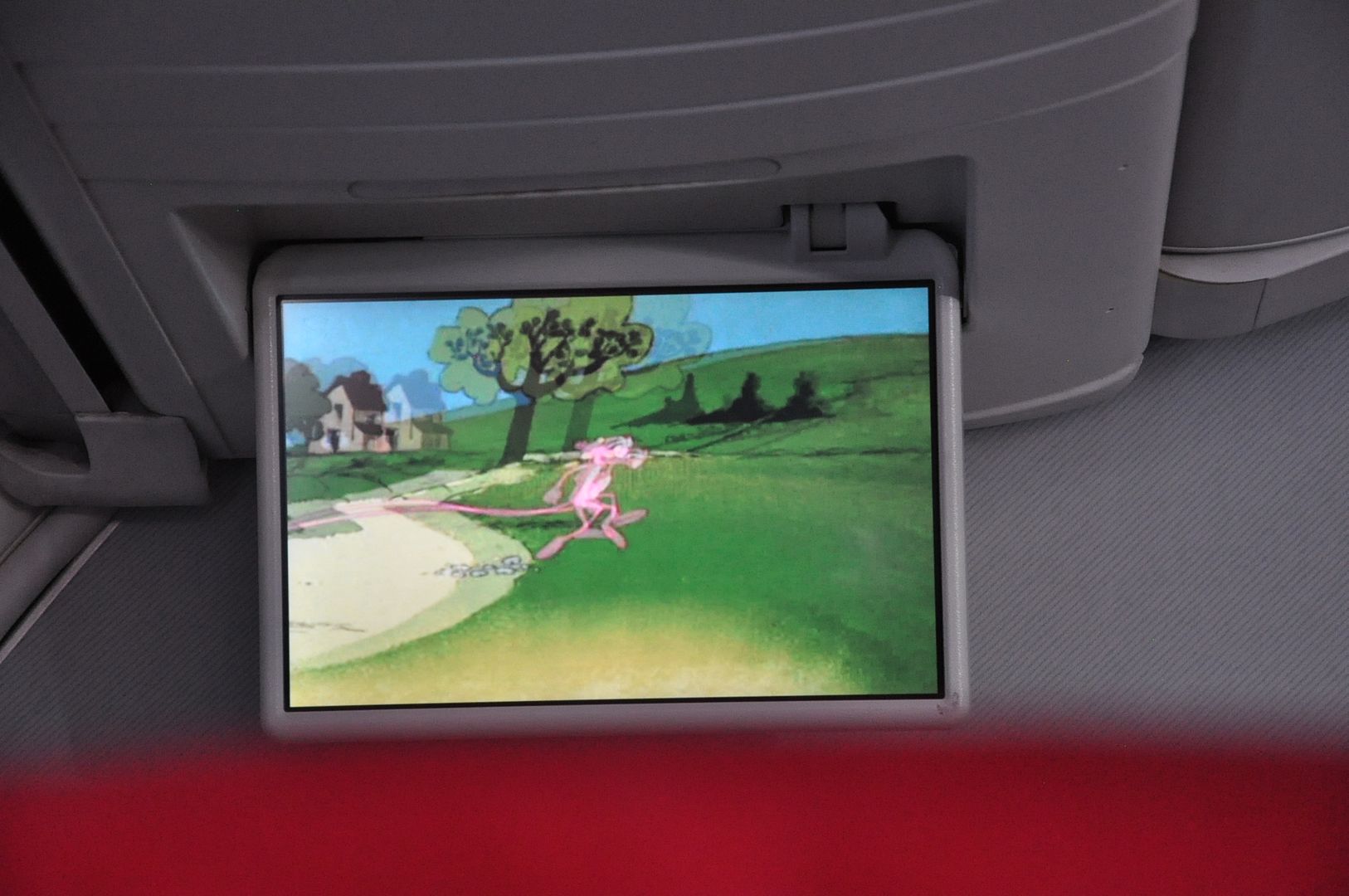 Wi-fi working seamlessly on board the Norwegian. It worked well in all our 4 flights, without a single glitch! Kudos!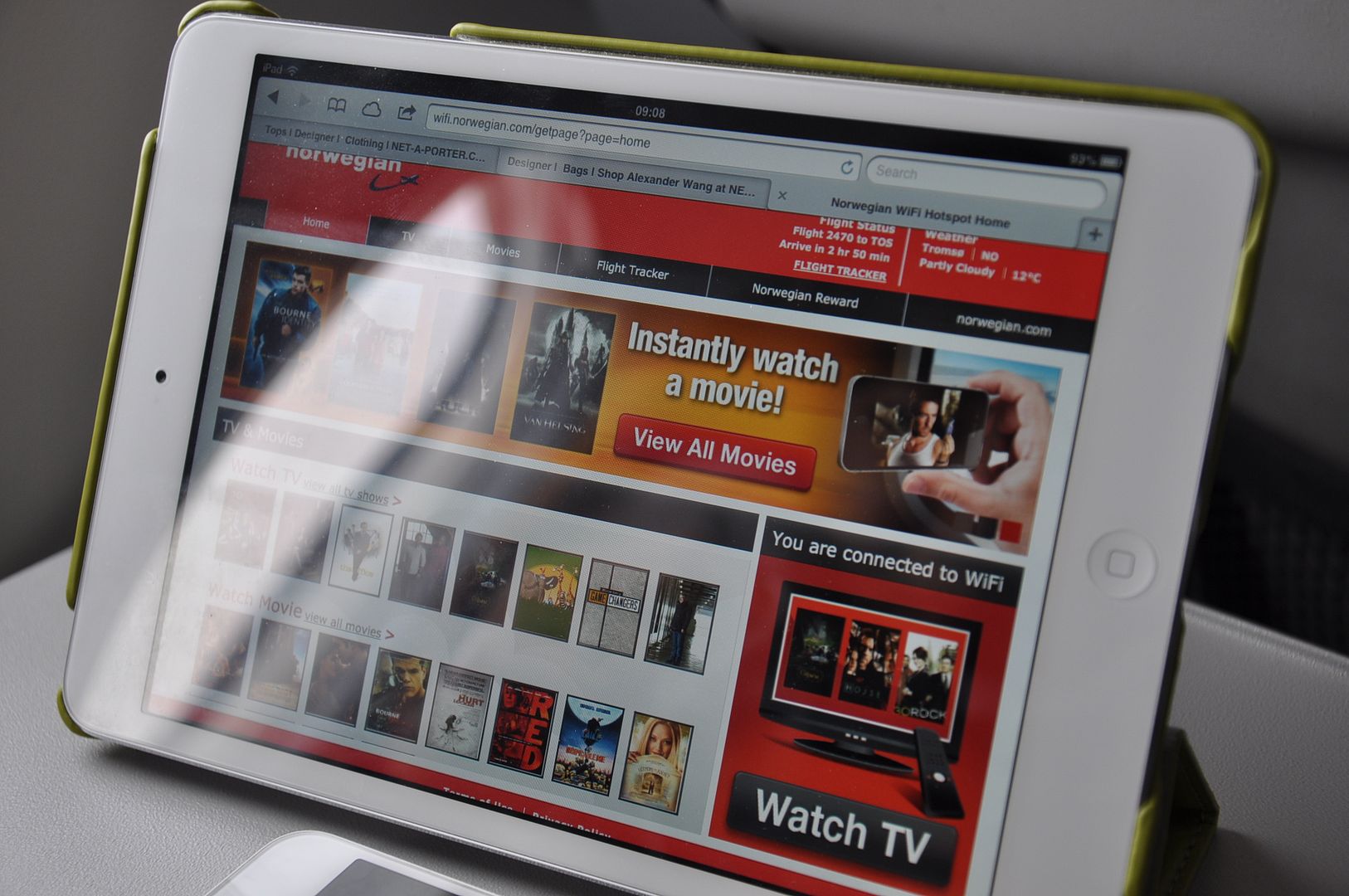 The Lovely Boeing 737 with sky interiors – i personally prefer this so much more than an A320, not sure why though.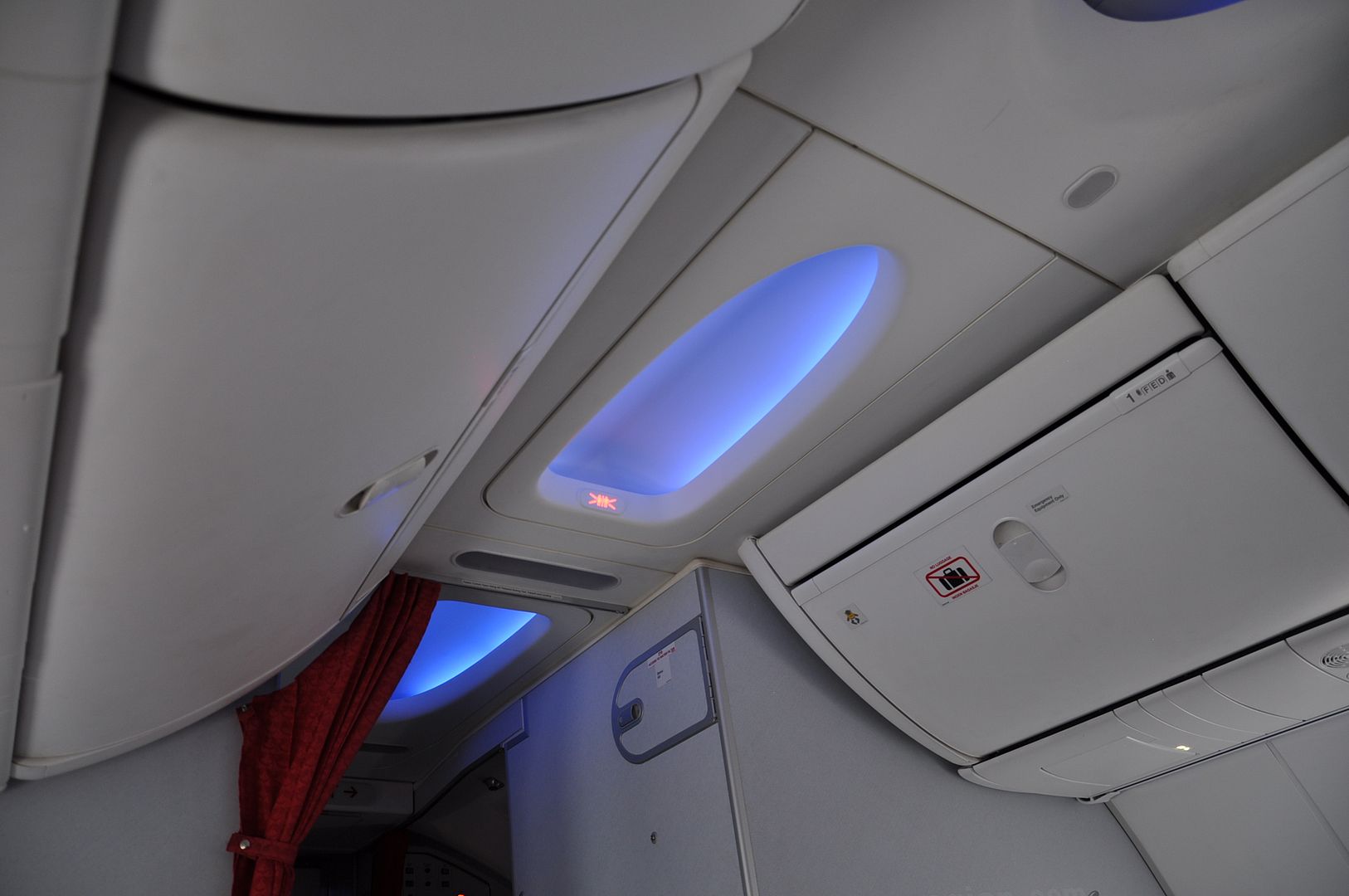 Cockpit view Boeing 737
Was allowed to take a photo of the flight deck. Very impressed.
Free wi fi on board worked a treat. Youtube. Voip phone calls all worked seamlessly. Only thing I wasn't able to do was login to any secured https secure website. Wanted to book a flight ticket but could never reach the card details page. So gave up after sometime.
Fairly empty flight. Total of 75 passengers.
Great sky interiors.
Leg space in the first row of a Norwegian B-737
Very good service. Comfortable aircraft. Good seat pitch. Ideal for a 3.5 hour flight.
Landed at 1:00 pm local time. Great views whilst landing. In fact one of the best I have witnessed. Fantastic weather.
Tromso – view from above, before landing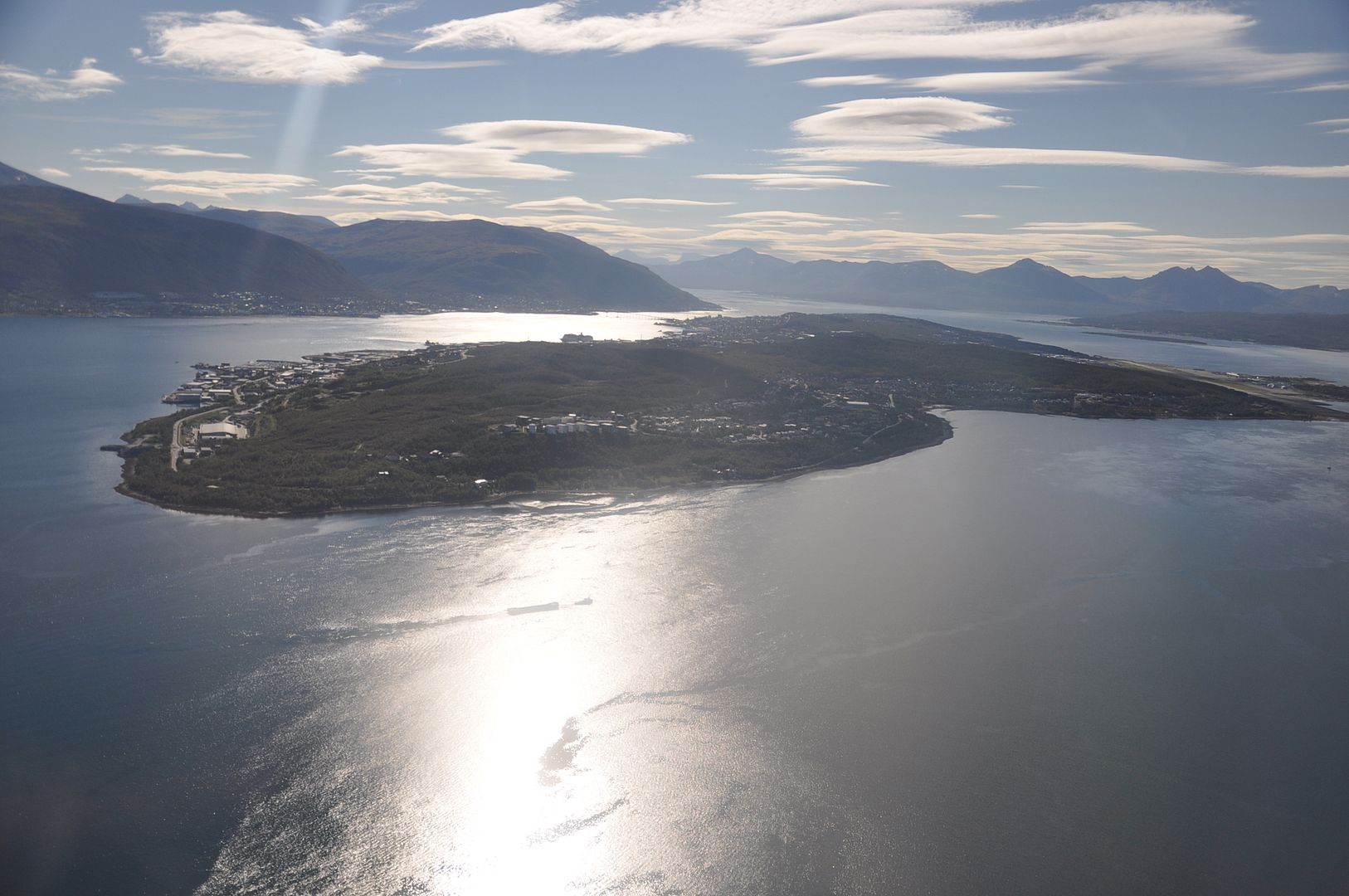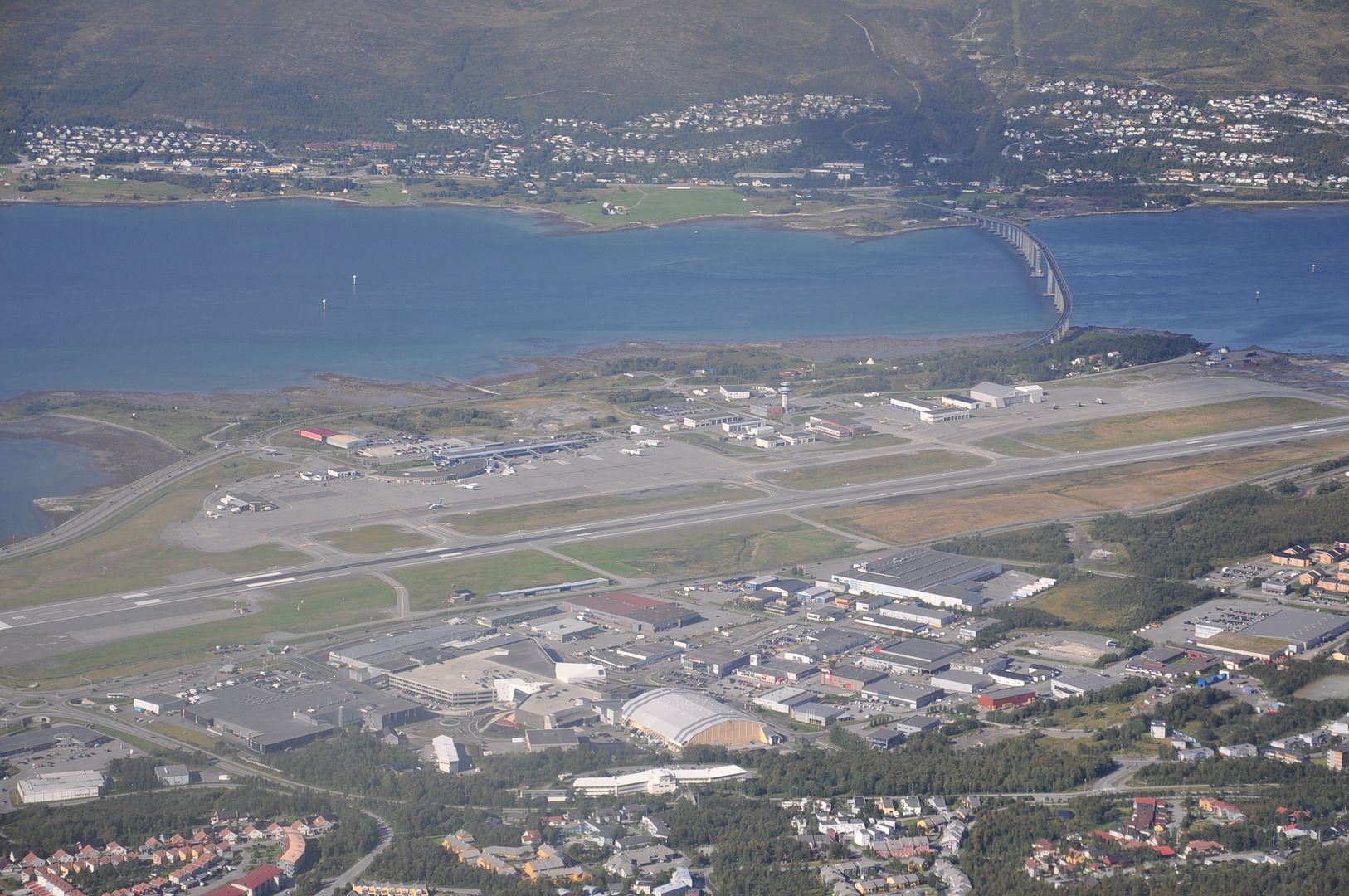 Enroute to Tromso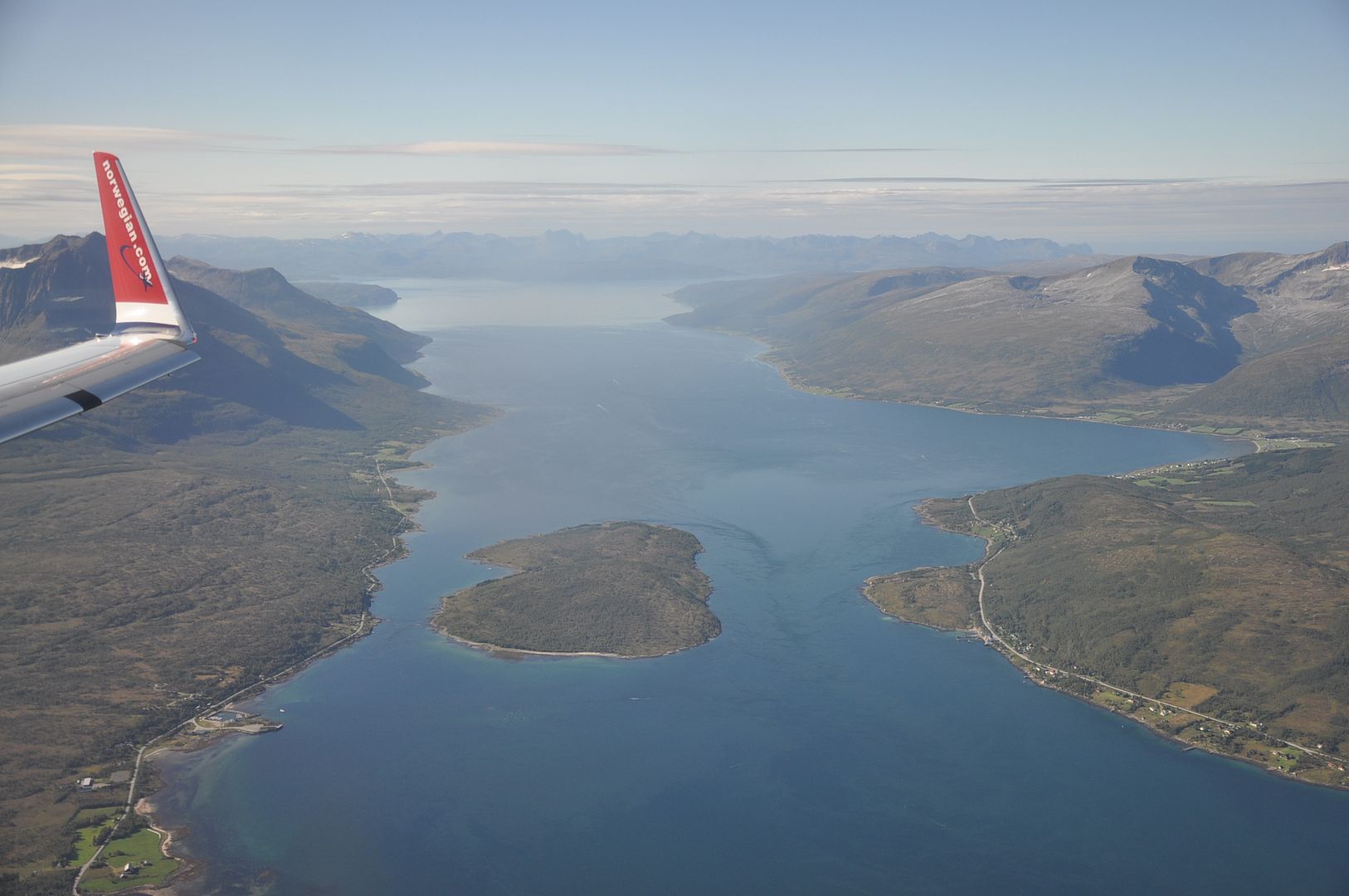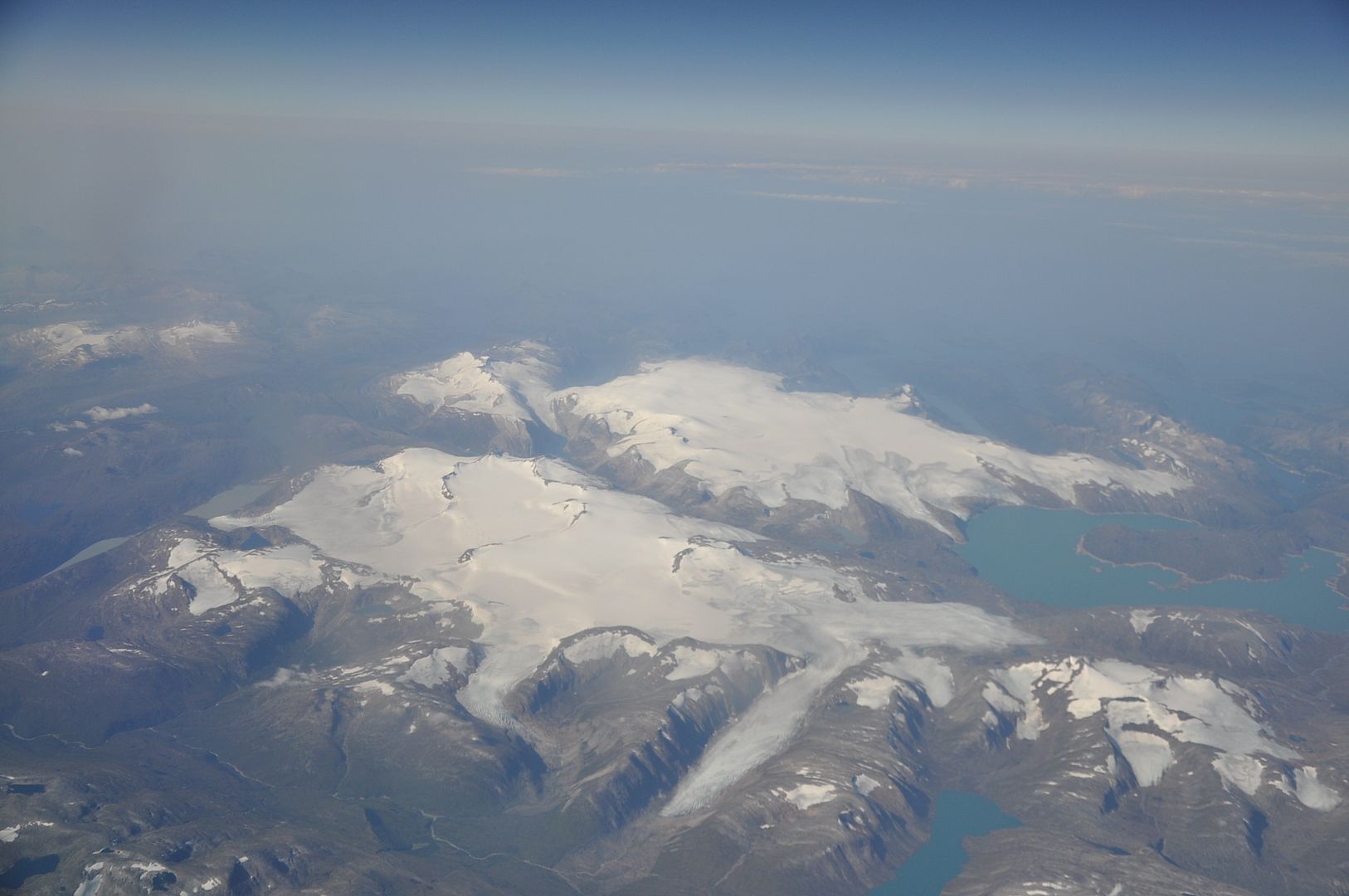 Tromso airport is minuscule but does its job well. Car rental was a breeze. And Tromso. Here we come!
Inside Tromso airport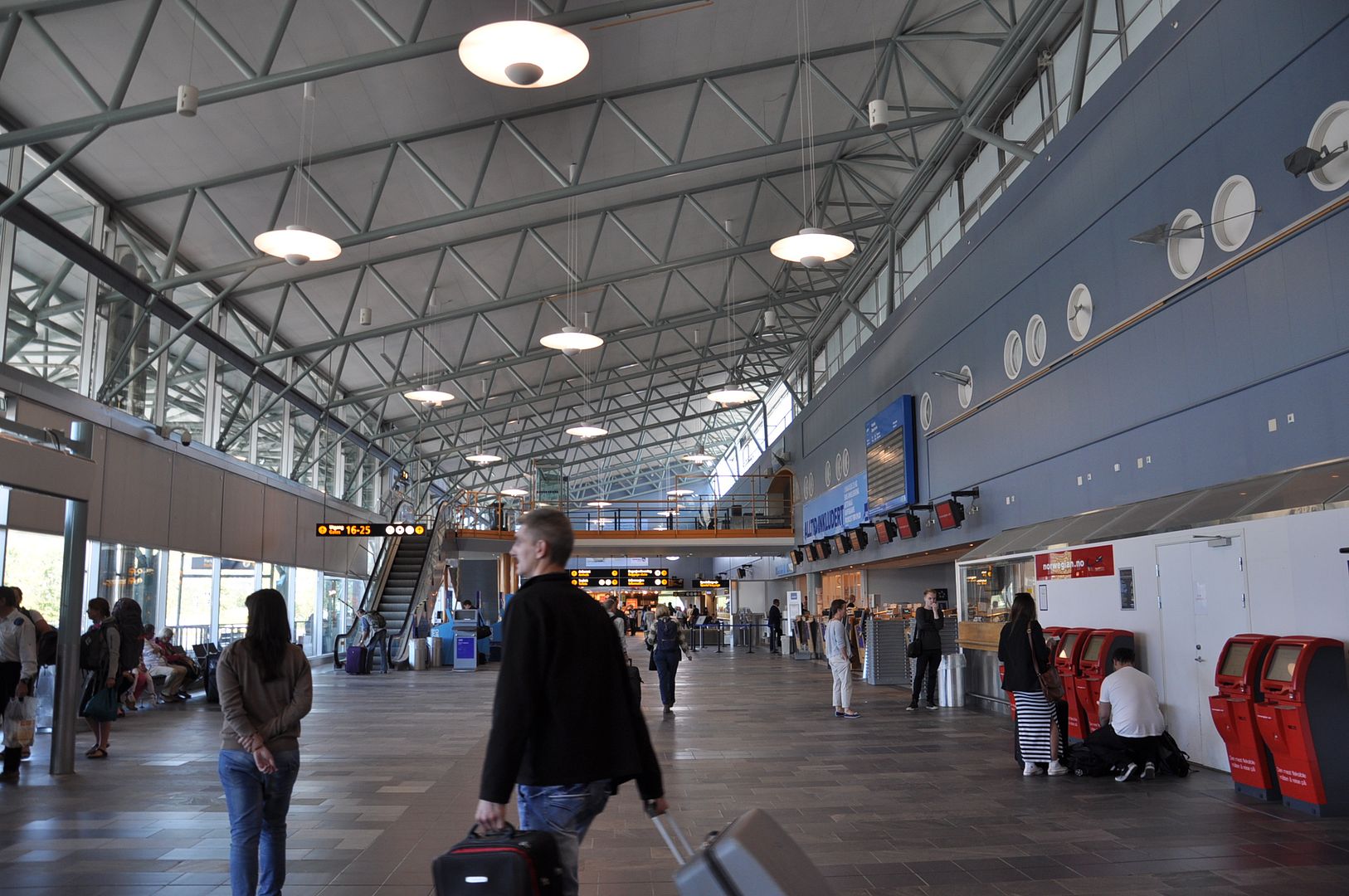 Tromso is a small little island with a unique charm to it. We were at our hotel in 15 minutes of picking our car.
The first evening we Whiled away at the botanical garden, the arctic church and the cable car up the mountain ( very table mountainesuqe ) . We ended our day shopping at the coop for our next days drive as we were warned that 'everything' will be closed on a Sunday in Norway.
The next day we started our drive into Senja after our breakfast. And we knew it as soon as we left Tromso that we were in for a spectacularly beautiful drive and we were not disappointed one bit.
The roads in Norway are of very high standard but speed limits are low. This is mainly due to the terrain and the windy and rollercoasteresque roads. But on the whole a pleasure to drive. Our ride, the Peugeot 208 was nippy and was a fun car to be in.
From Senja it was a quick ferry ride into Sommoroy, and within an hour, we were back in Tromso. Pretty eventful day and we ended it with a sumptuous meal at a Thai restaurant in the outskirts of Tromso. Our next part of the iternerary was our flight from Tromso to Bergen, via Trondheim, the next day.
2A: Norwegian Air Shuttle DY: TOS - TRD
DY 151
Flight Reg: LN-NOY ; delivered Jan 2012
Boeing 737-8JP/W named "Knud Rasmussen"
Seat 1A
Load 80%
Departure time 16:00 (15:50)
Arrival 17:30 (17:20)
2B: Norwegian Air Shuttle DY: TRD - BGO
DY 175
Flight Reg: LN-NOC ; delivered Feb 2008, previously with Air Europa; built 2001
Boeing 737-8JP/W named " Portrait of "Ole Bull" "
Seat 1A
Load 80%
Departure time 20:20 ( 20:15)
Arrival 21:20 (21:10)
26 Aug 2013
Price: GBP 78.40 (All inclusive including hold luggage)
Dy 151 Tromso to trondheim. Again check in was super quick. Was at the airport by 1:30pm. Dropped car keys. Self printed boarding pass and baggage tag and dropped at baggage drop in counter. Nothing much to do at arrivals section so proceeded to security.
Again got front row seats 1 a and b for both sectors of the flight.
Oslo bound Norwegian at TOS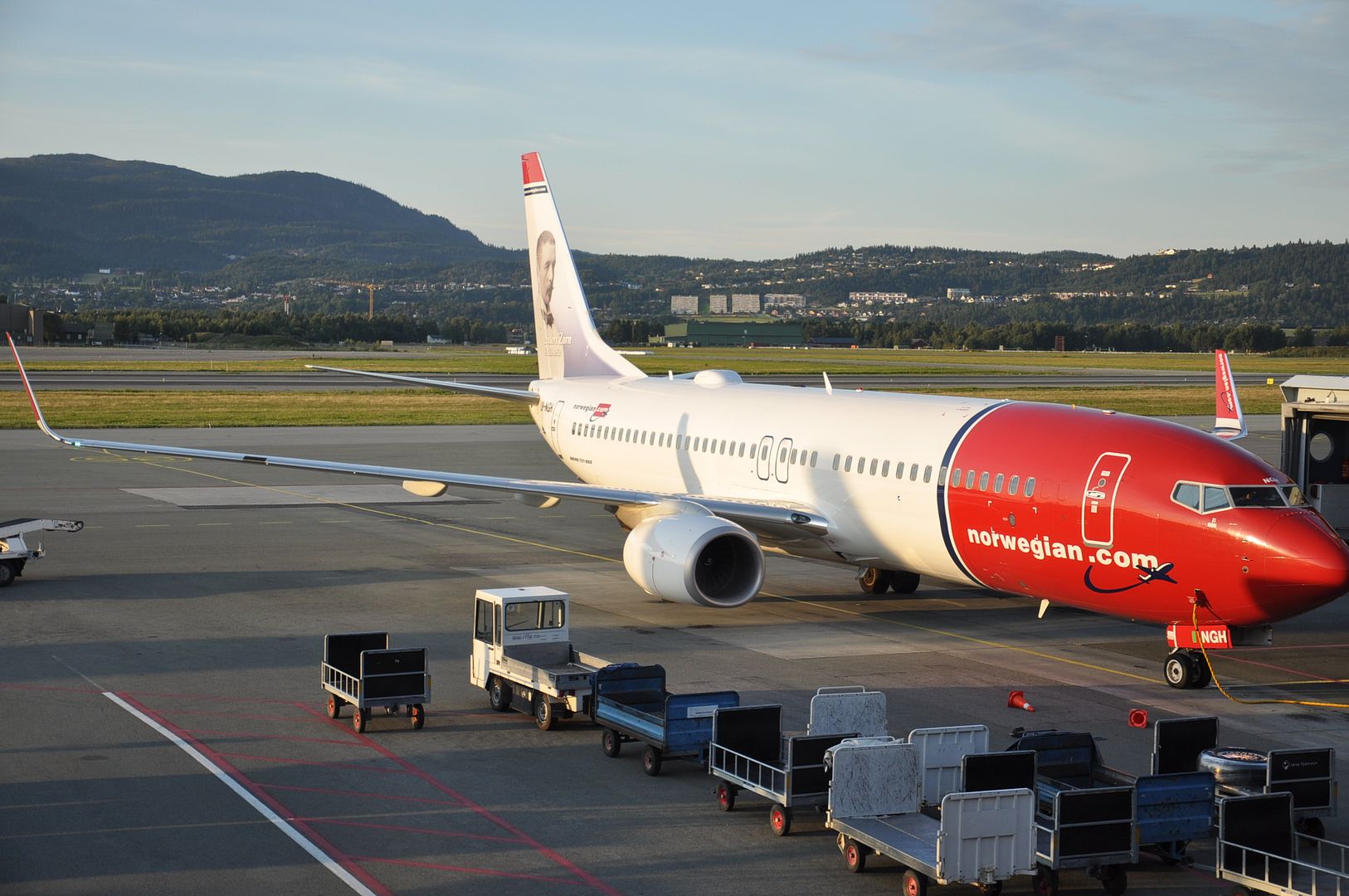 Once air-side there were a few duty free shops and some decent restaurants. There was also free wi-fi for two hours. Which worked well.
Whiled away time surfing the net and watching few programs online and before we knew it it was time to board our first flight of the day to trondheim.
The packed cup noodles did prove effective and it was lunch sorted! Result!
Not too much to plane spot as there were only a few sas and windroe flights. The traffic started picking up near the time of our flight. There was a Norwegian to alicante about the same time as our flight.
Tromso – Trondheim : LN-NOY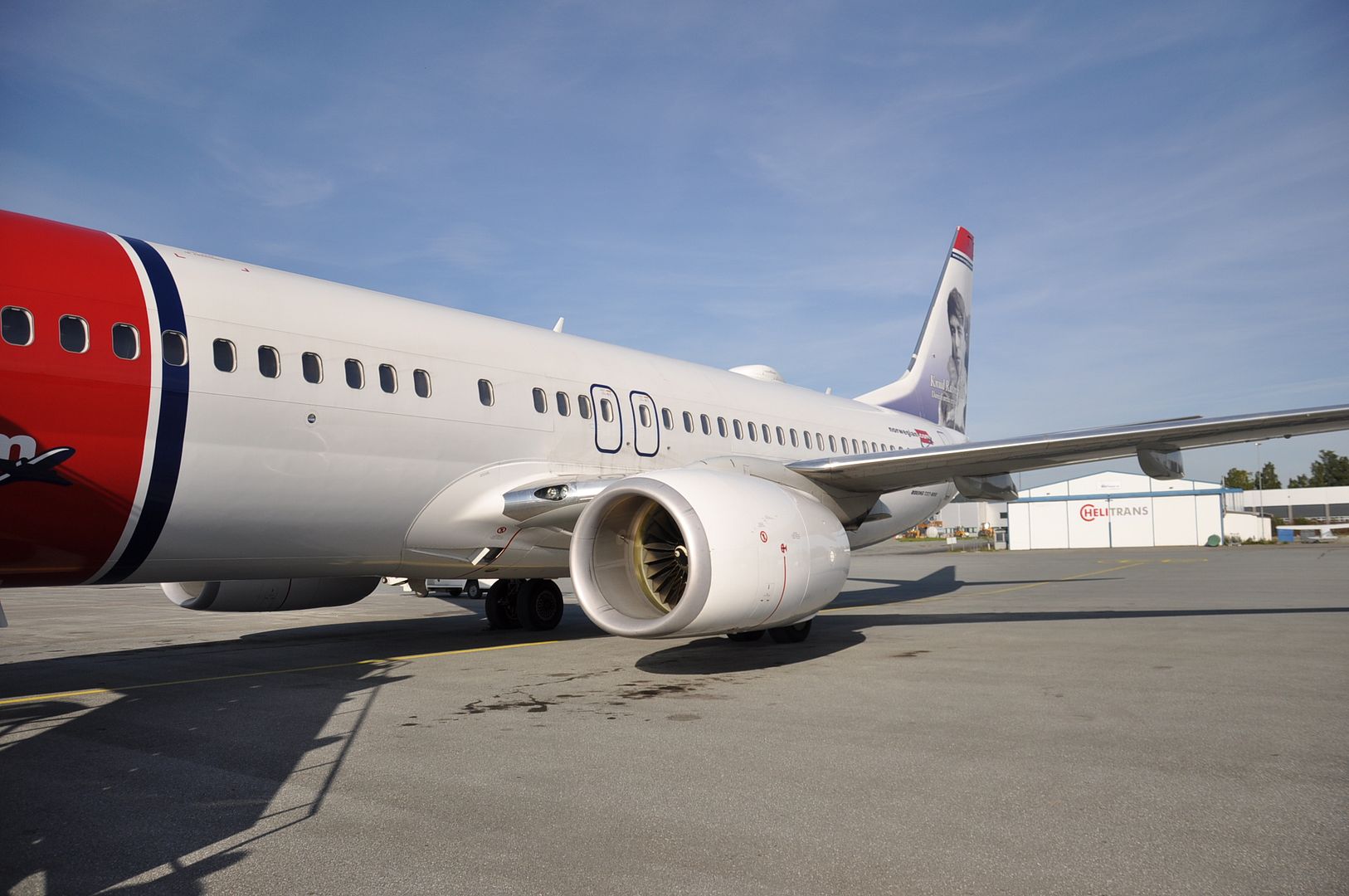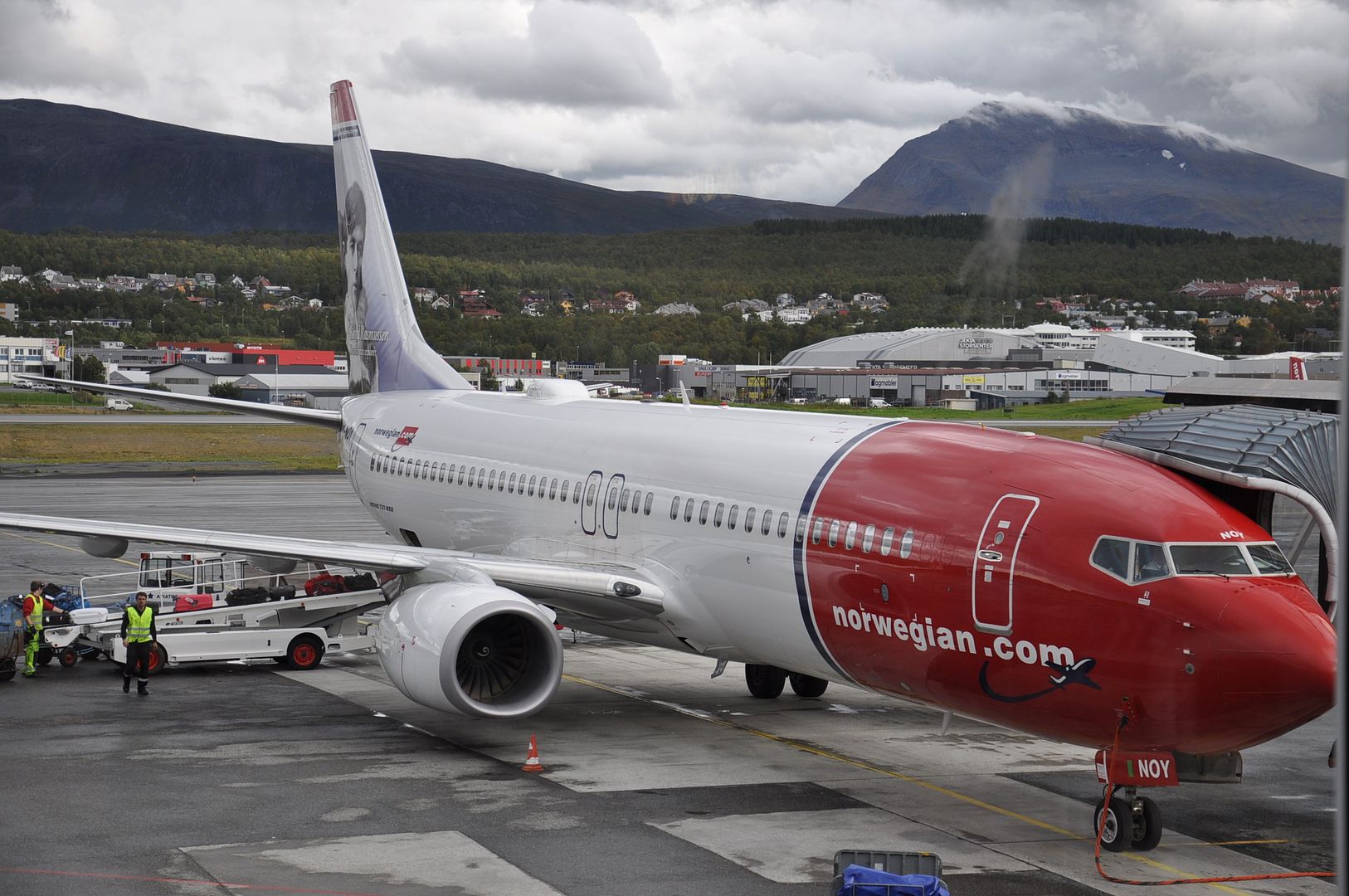 Plane spotting at TOS: Wideroe Bombradier Dash 100
Is this LHR or TOS? Traffic at TOS.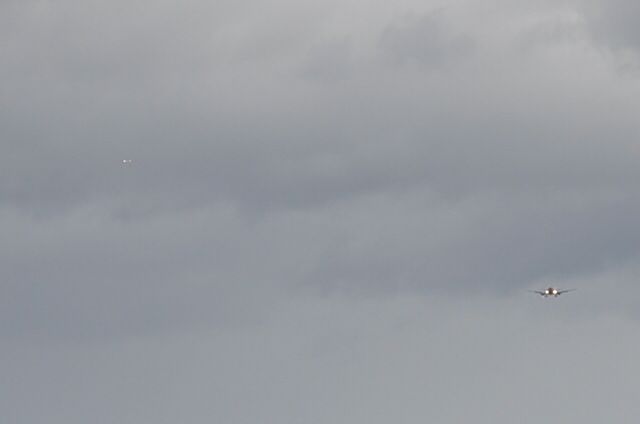 TOS airport; very similar to TRD airport, in one of the other pictures here, similar layout and the choice of duty free.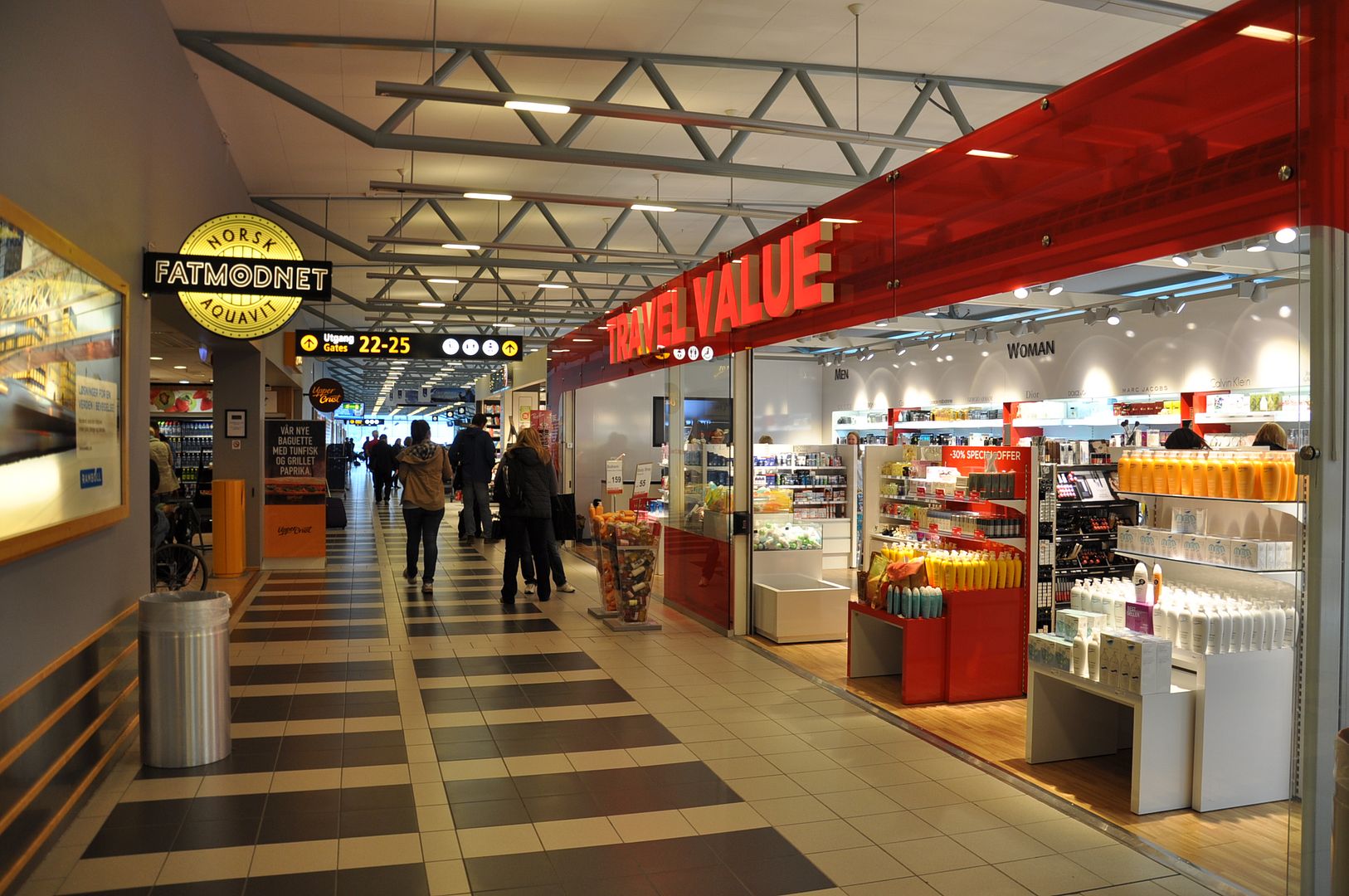 FIDS at TOS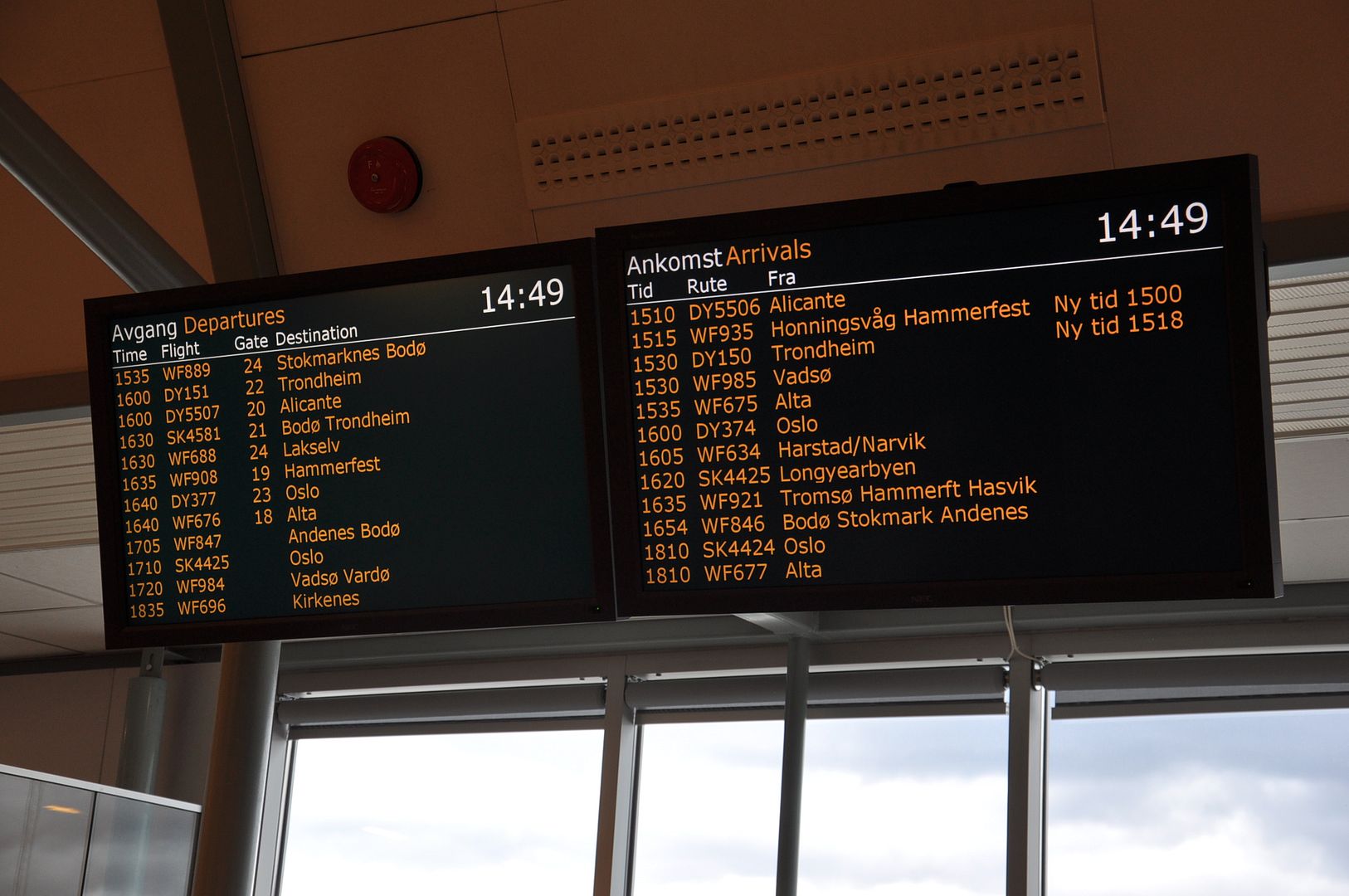 TOS airport, airside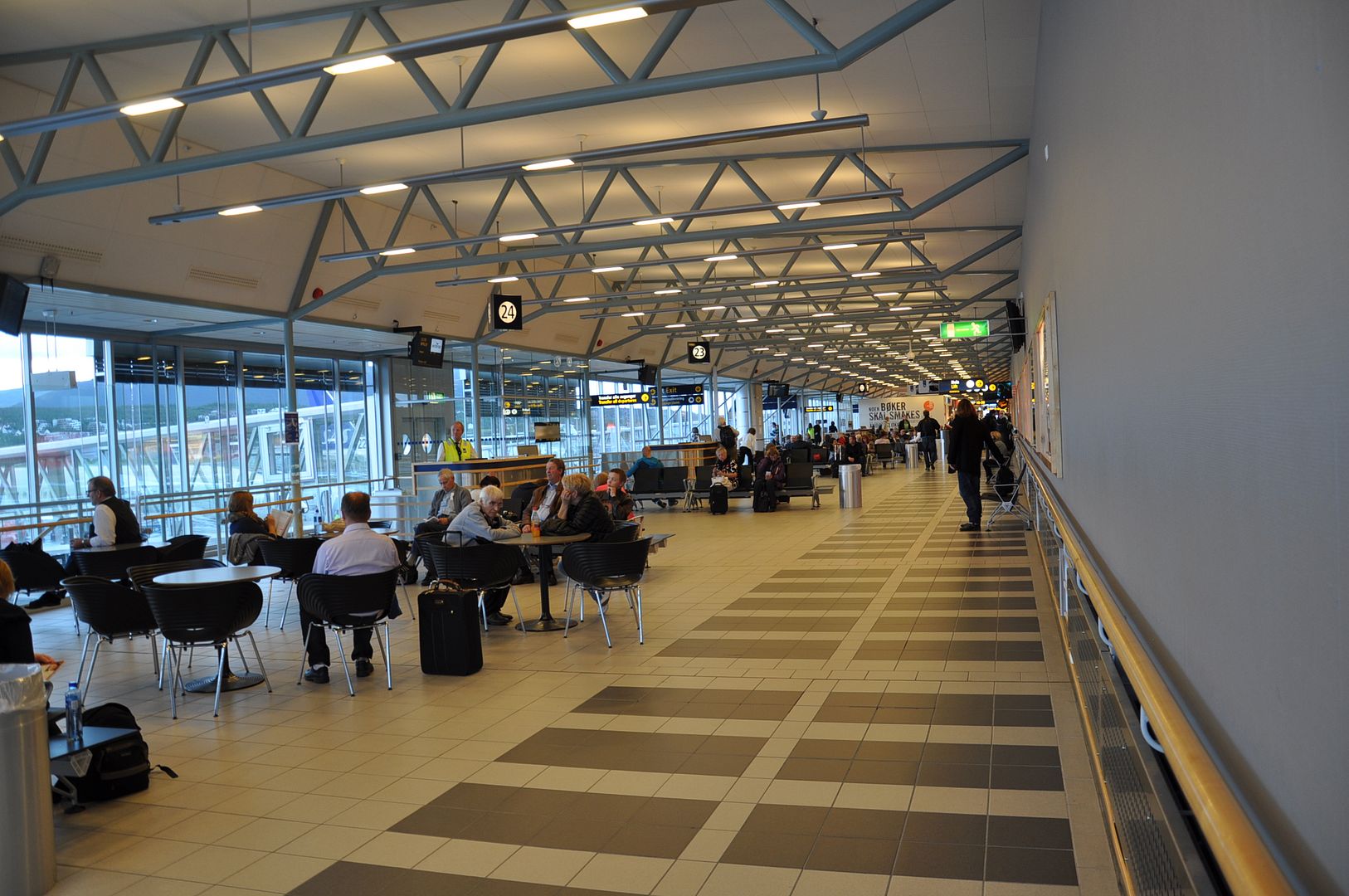 Plane spotting at TOS; a 1998 built Boeing 737-683, SAS: LN-RPZ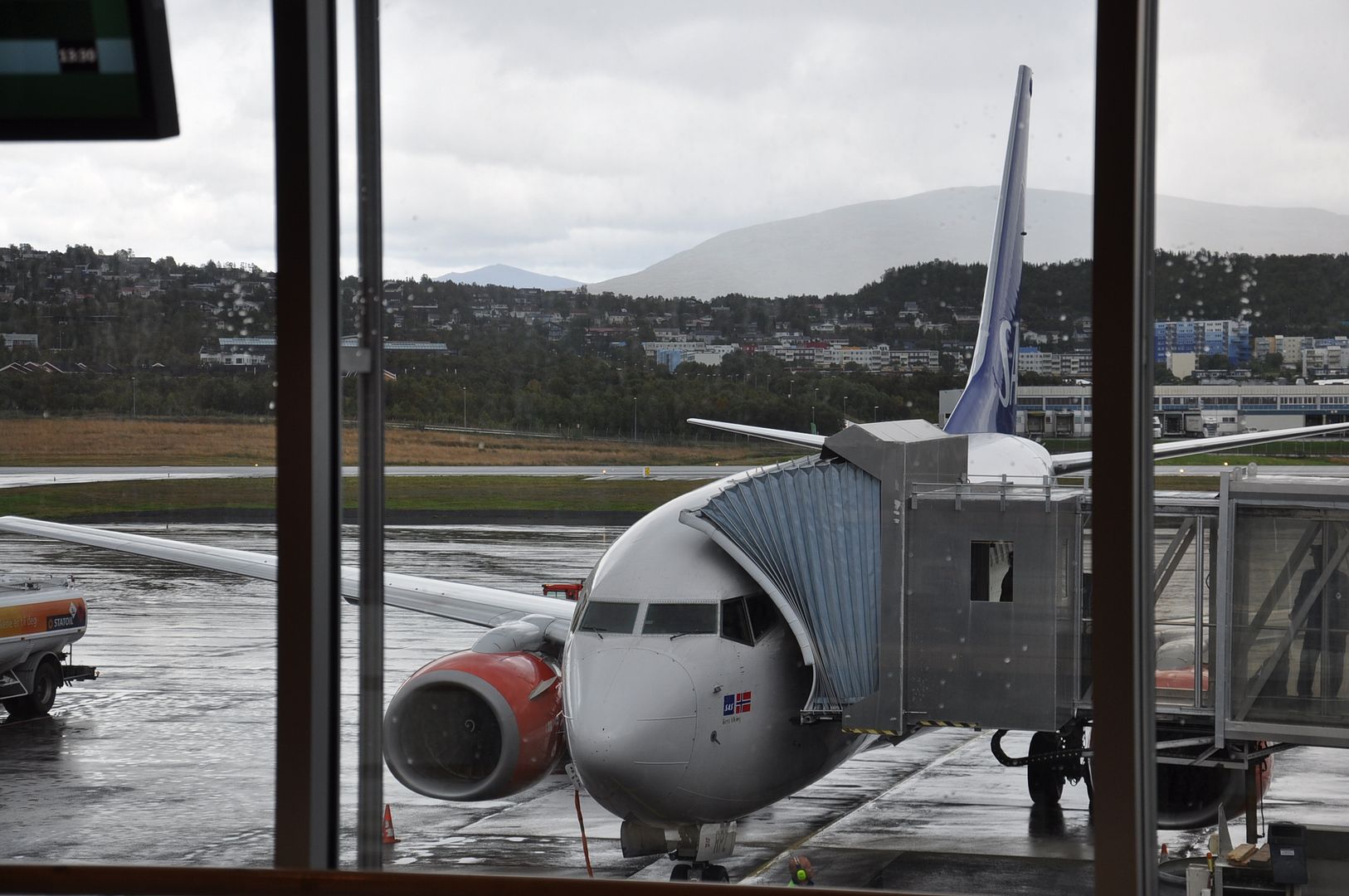 TOS airport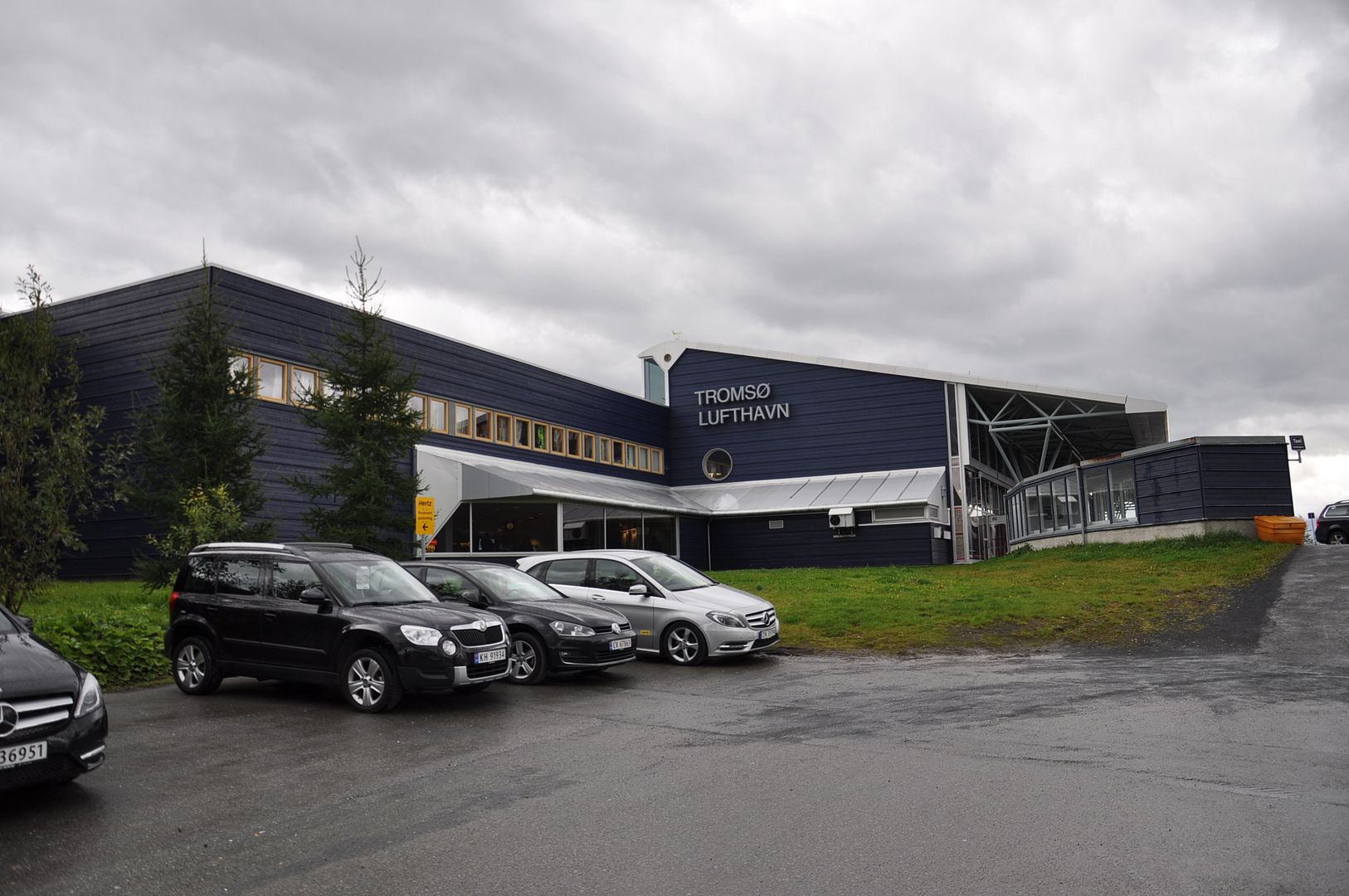 Front row seats fantastic leg space although the width of the seat is compromised by the tables inside the arm rest. Only drawback being you cannot keep luggage with you whilst take off and landing. Not even your camera and jackets needed to be worn or kept in the overhead locker. This was something the cabin crew were strictly enforcing and it seemed to be adhered to strictly in all Norwegian flights. Due to this no landing and take off shots were possible. Maybe row 2,3 or 4 maybe be a better option as the leg space is good enough yet you are able to keep your belongings with you.
Good fun with the 'make your own plane' in the in-flight magazine. Also an interesting article on the 787 complete with facts and figures. A good read.
Aircraft from TOS - TRD
Take off was 10 minutes early at 15:50. Flight time of 1hr 16 minutes announced.
Through checked in for our flight from Tromso to Bergen via trondheim. Really good of Norwegian. I don't think I know of another lcc that do through check in. Anyone knows of any? In fact I am not sure Norwegian is actually a lcc. Even iberia charge for food domestic Europe and are considered spains national carrier. So Norwegian with its free wi-fi and through check in facilities, not so sure. So far Norwegian have exceeded my expectations. Two more sectors with them. Lets see how it curtails.
All airports seem to have aerobridges. in terms of convenience its very good but not so good for the plane spotters and photos
Super quick and efficient turn around of Norwegian aircraft. Whilst my short stay in Norway airports I have hardly seen any Norwegian aircraft stay in any airport for over 30 minutes.
Trondheim to Bergen. LN-NOC. 12 year old bird, being with air europa until 2008. One of few older aircraft that Norwegian have.
Trondheim Airport, airside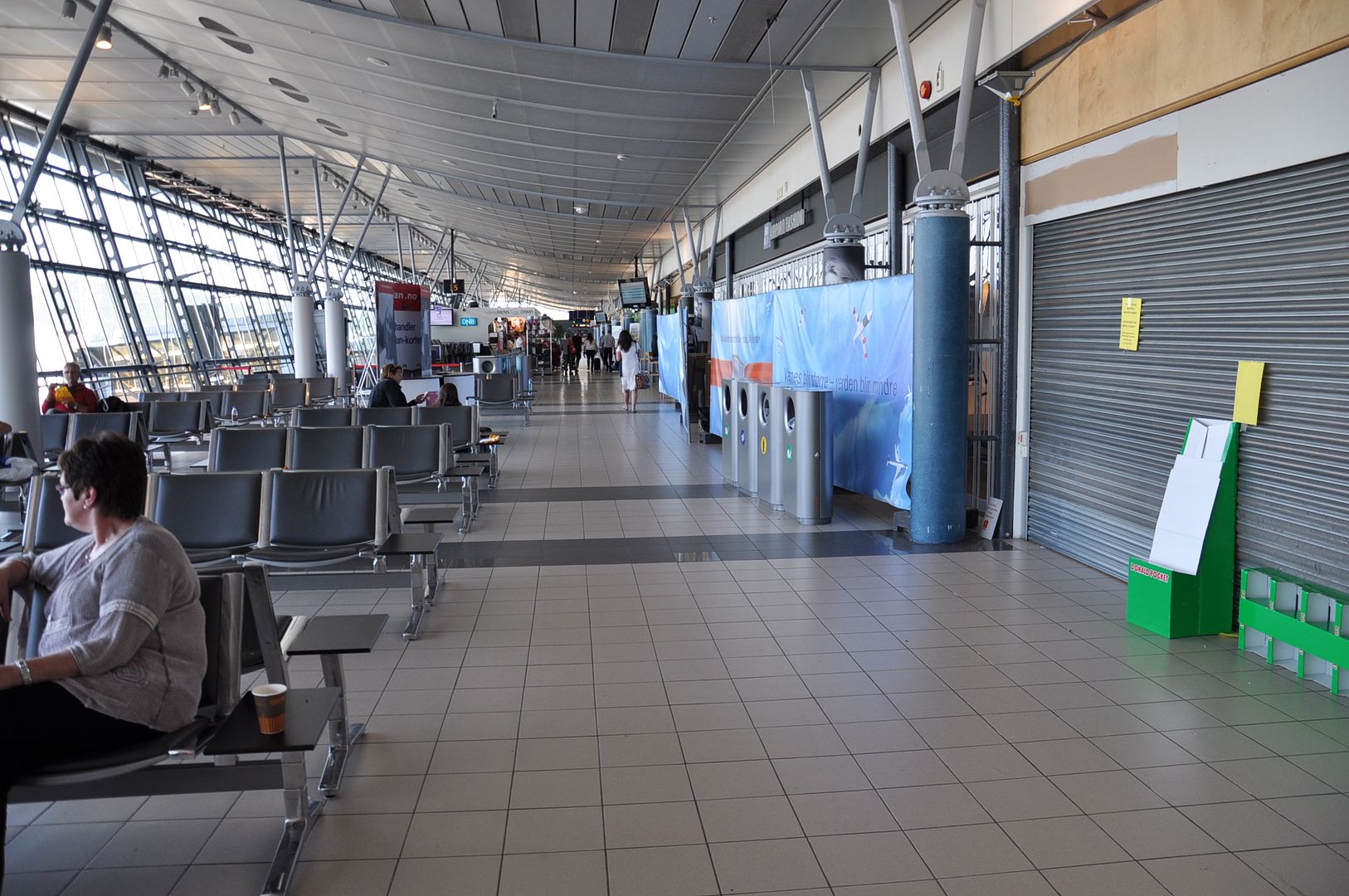 It was a quick 55 minutes flight into Bergen and we had parked at our gate by 9:10 pm. Baggage was quick to arrive and we were out of the airport within 15 minutes.
Norwegian flight from TRD – BGO; LN-NOC ;delivered Feb 2008, previoudly with Air Europa; built 2001
Once out of the airport there a couple of options in reaching the city center. Via the express shuttle there are two options. One is the more direct flybusruggen and the other a slightly more convoluted sas bus. We chose the sas bus as it stopped closer to our hotel. 35 minutes later we were in our hotel room.
Airport shuttle in Bergen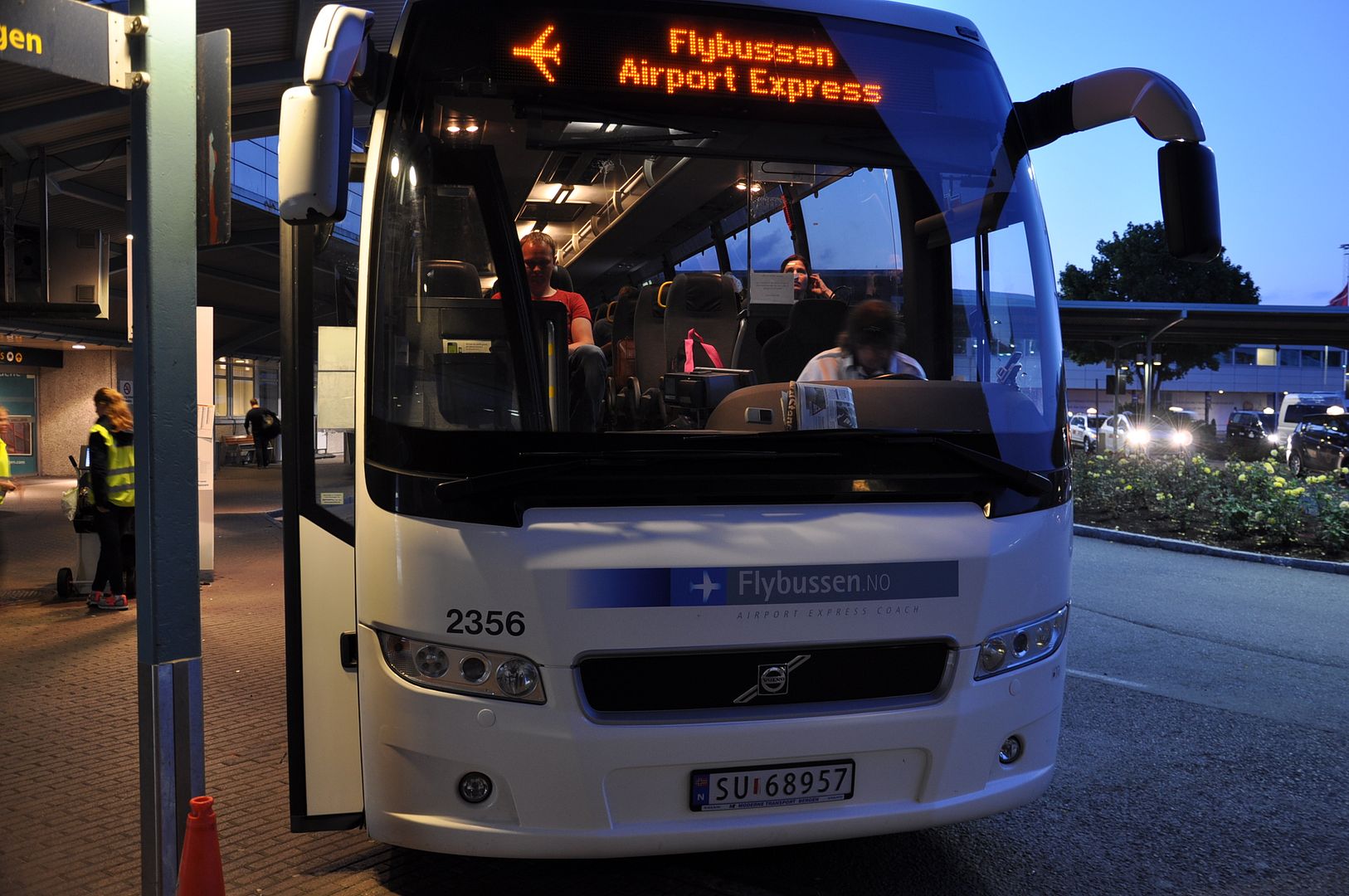 The next day was the start of our Norway in a Nushell tour – comprising of a train ride from bergen to Voss, followed by a coach drive from Voss to Gudvagen, and then onto a Fjord cruise to Flam. All the while the scenery was breathtaking and few sample pictures attached along this report.
We had an overnight halt in scenic Flam, and then continued our journey onto Oslo the next day, via the Flam railway to Myrdal and finally a 5 hour train ride from Myrdal to Oslo Central.
3: Norwegian Air Shuttle DY: OSL - LGW
DY 1302
Flight Reg: [url= http://www.airframes.org/reg/lnnoz ] LN-NOZ [/url]; delivered Jan 2012
Boeing 737-8JP/W named " Gidsken Jakobsen "
Seat 7A
Load 90%
Departure time 07:20 (07:20)
Arrival 08:40 (08:30)
29 Aug 2013
Price: GBP 42.90 (All inclusive including hold luggage)
We had an early morning flight the next day to London Gatwick. Similar to all our Norwegian flights so far, the check in process was seamless at Oslo, and being their Hub, i wasn't expecting anything less.
OSL Airport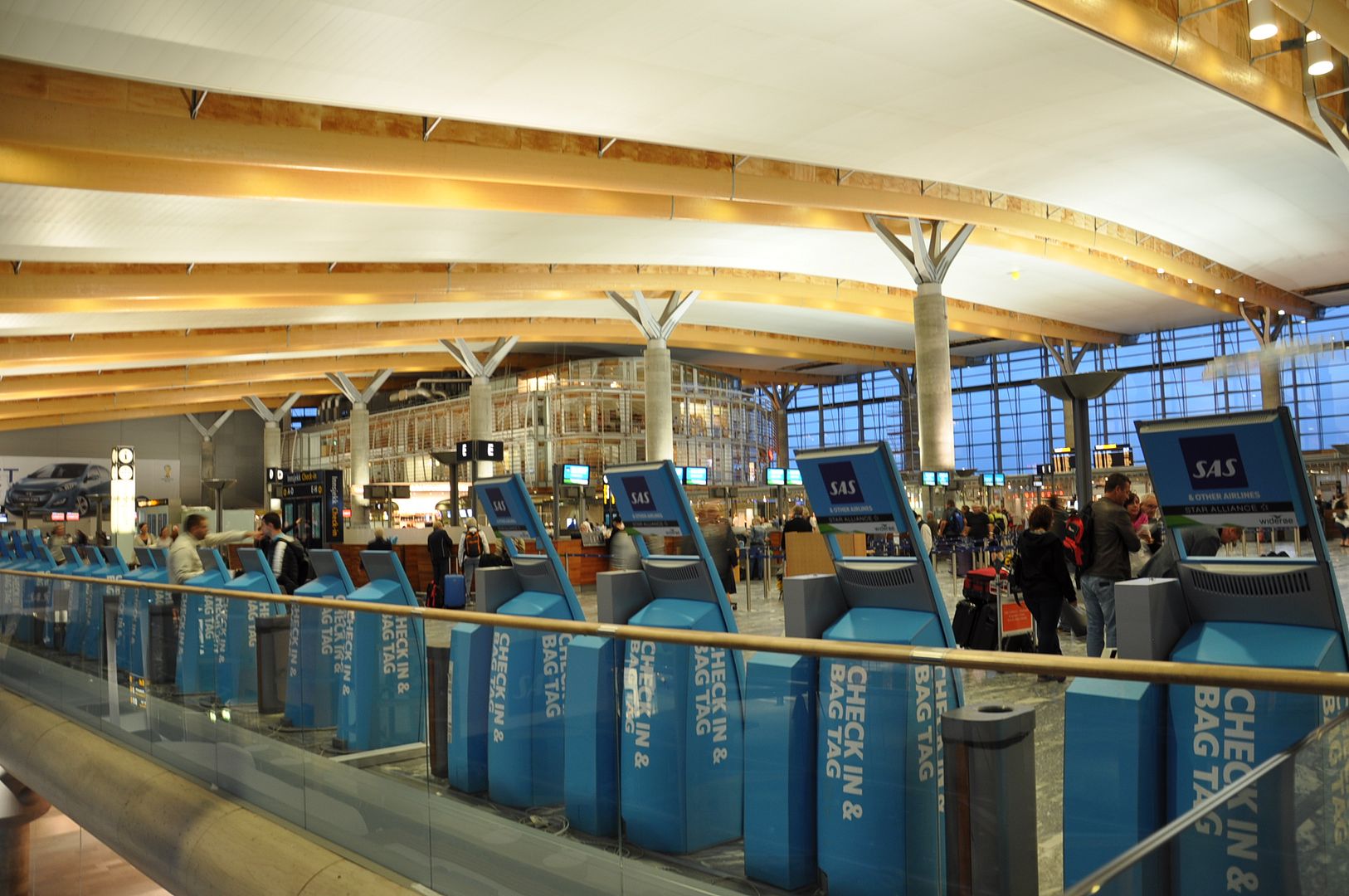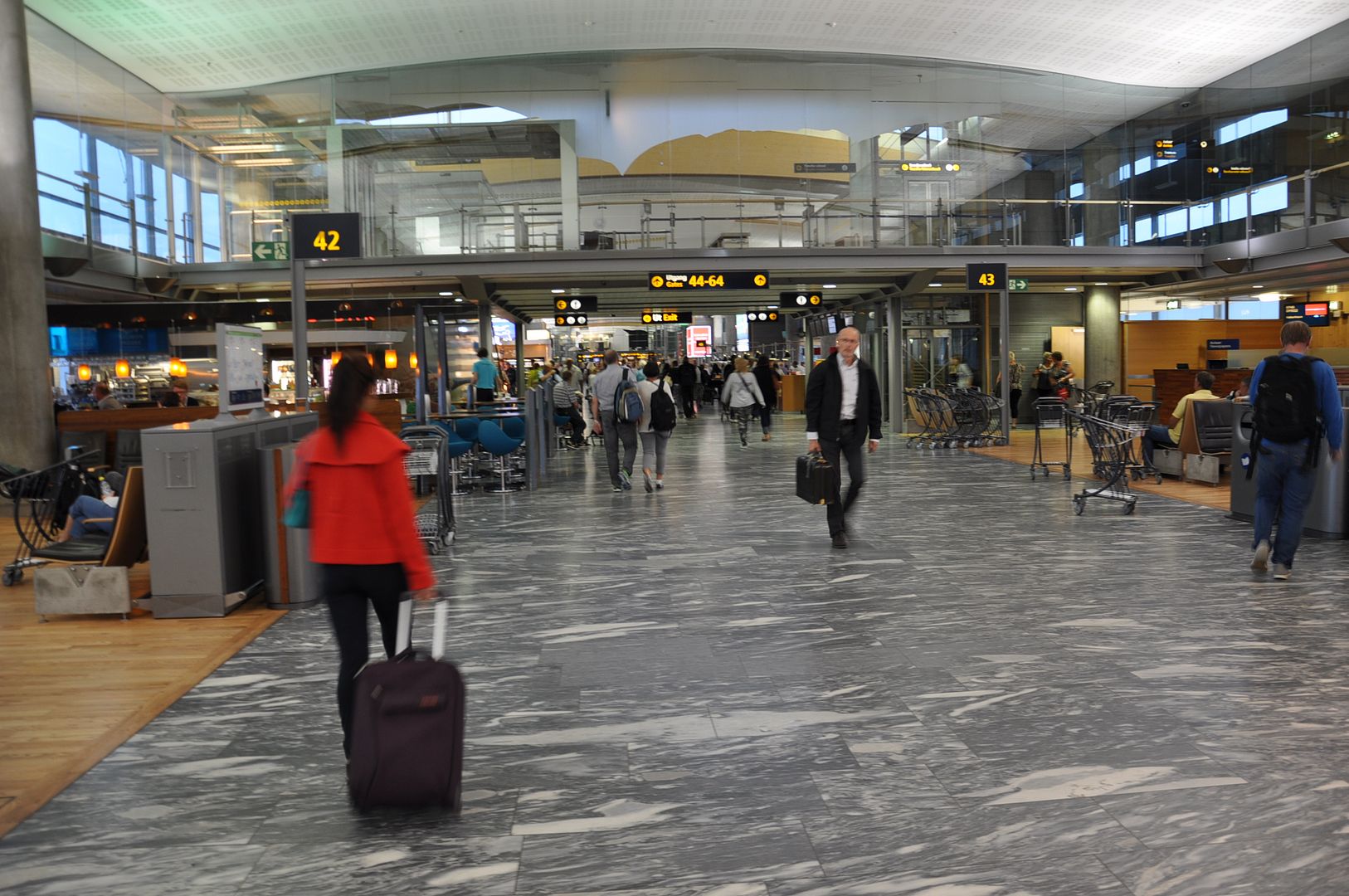 FIDS at OSL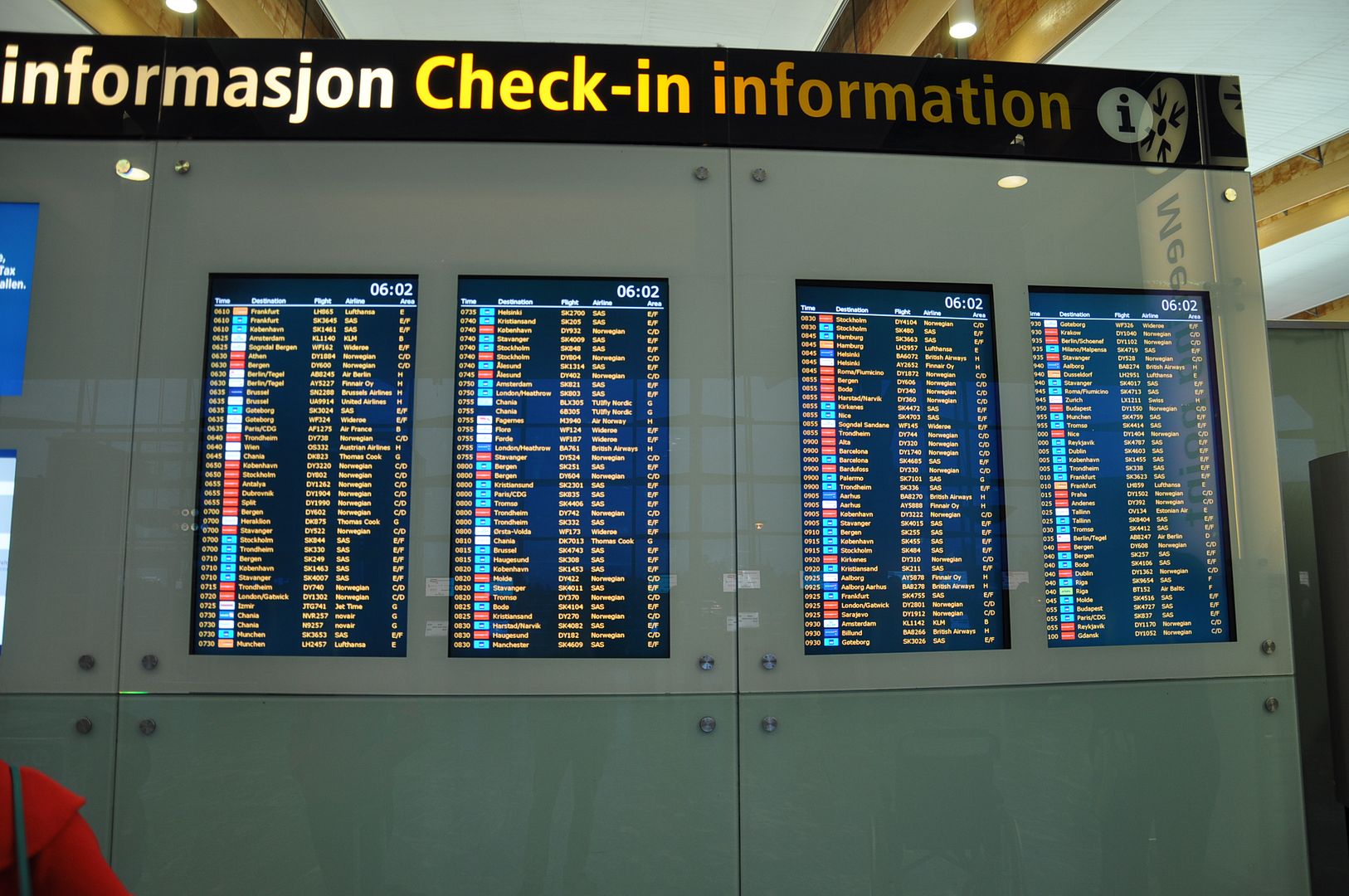 LN-NOZ – Flight from OSL – LGW; Gidsken Jakobsen; delivered Jan 2012
Plane spotting at OSL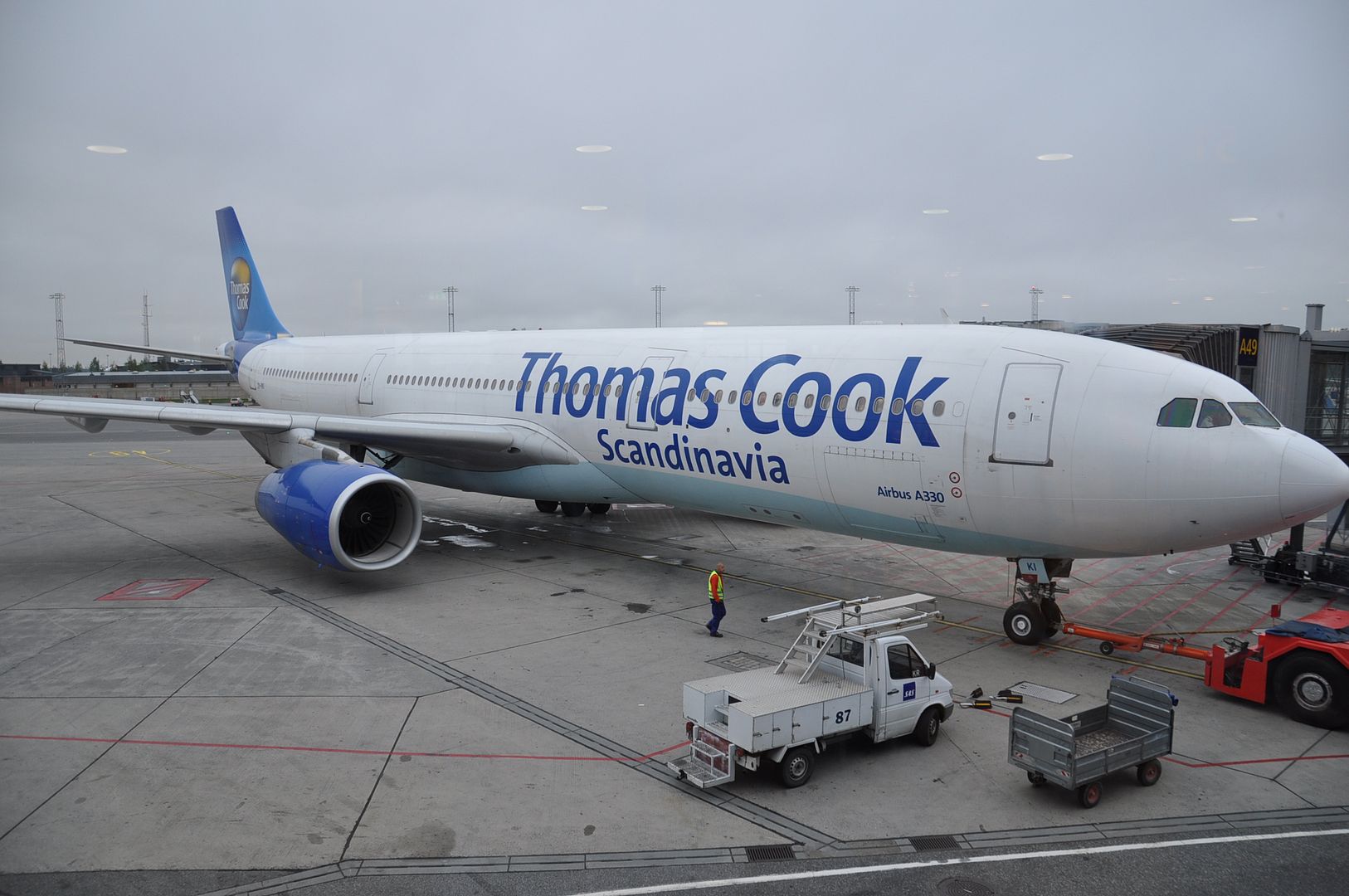 It was a busy period at Oslo airport at the time of the day. Once through security check, the duty free is pretty decent and a wide selection of shops and restaurants.
We reached our boarding gate with 20 minutes to spare and boarding was just about to begin. The flight looked fairly full and we boarded on time.
The captain announced that we would be on time and the it was going to be a smooth ride in Gatiwck, and true to his promise it was once again an uneventful, in the nicest possible way, flight and we were out of the London Gatwick within half an hour of landing.
As always, you never realise how quickly time flies when you are having a great time, and Norway did not disappoint us at all. The only small gripe about Norway is the lack of food options and the prices charged for it. But food aside, the scenery was absolutely stunning, and through out our trip we got to experience great weather with great sunshine and a cool temperature.
Hope you liked the report and please feel free to comment. Until next time, happy flying and a safe trip.
Few snapshot pics from our trip, hopefully i could do justice to the raw beauty of Norway.
Sunset views from Tromso
Senja island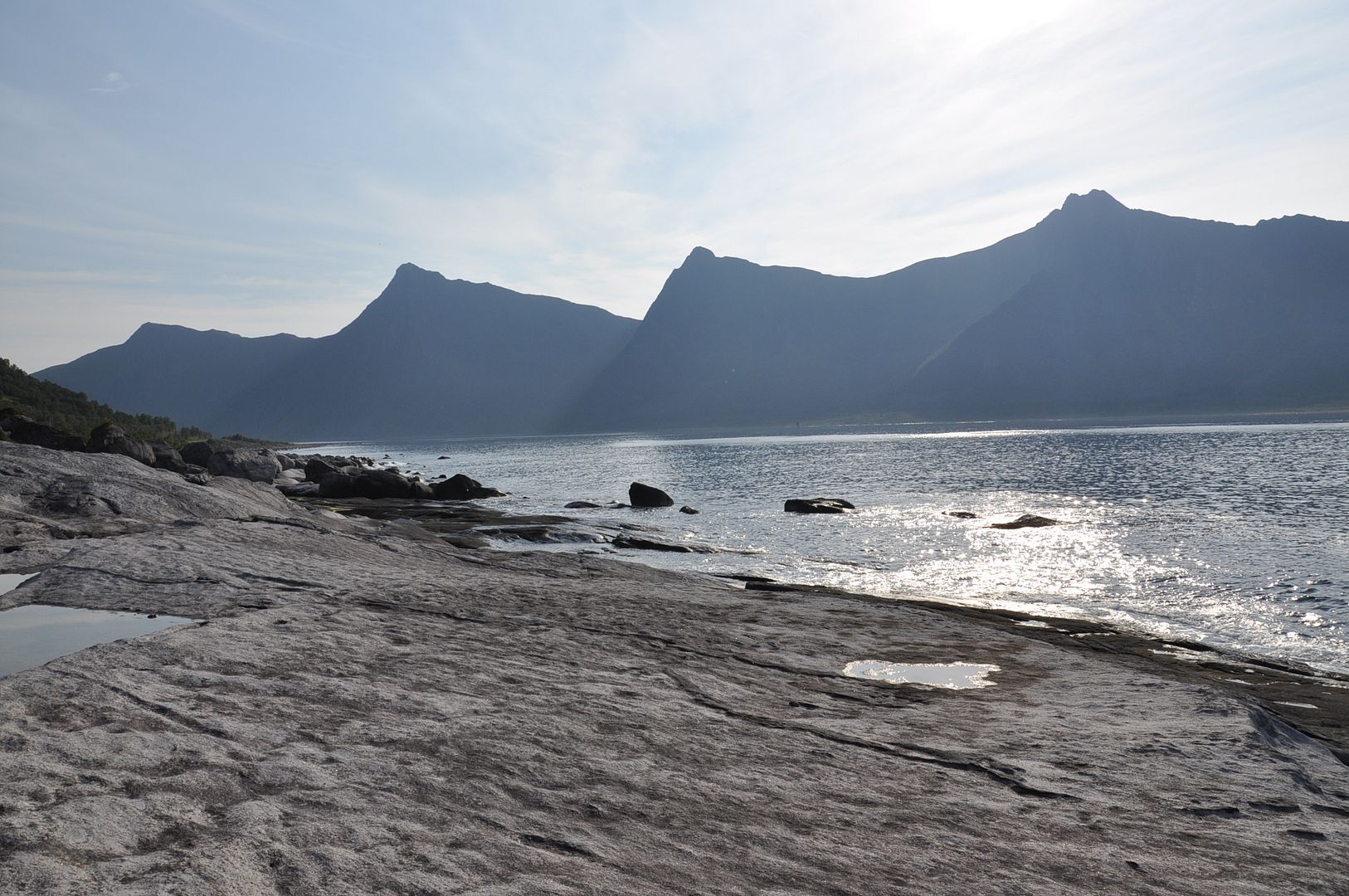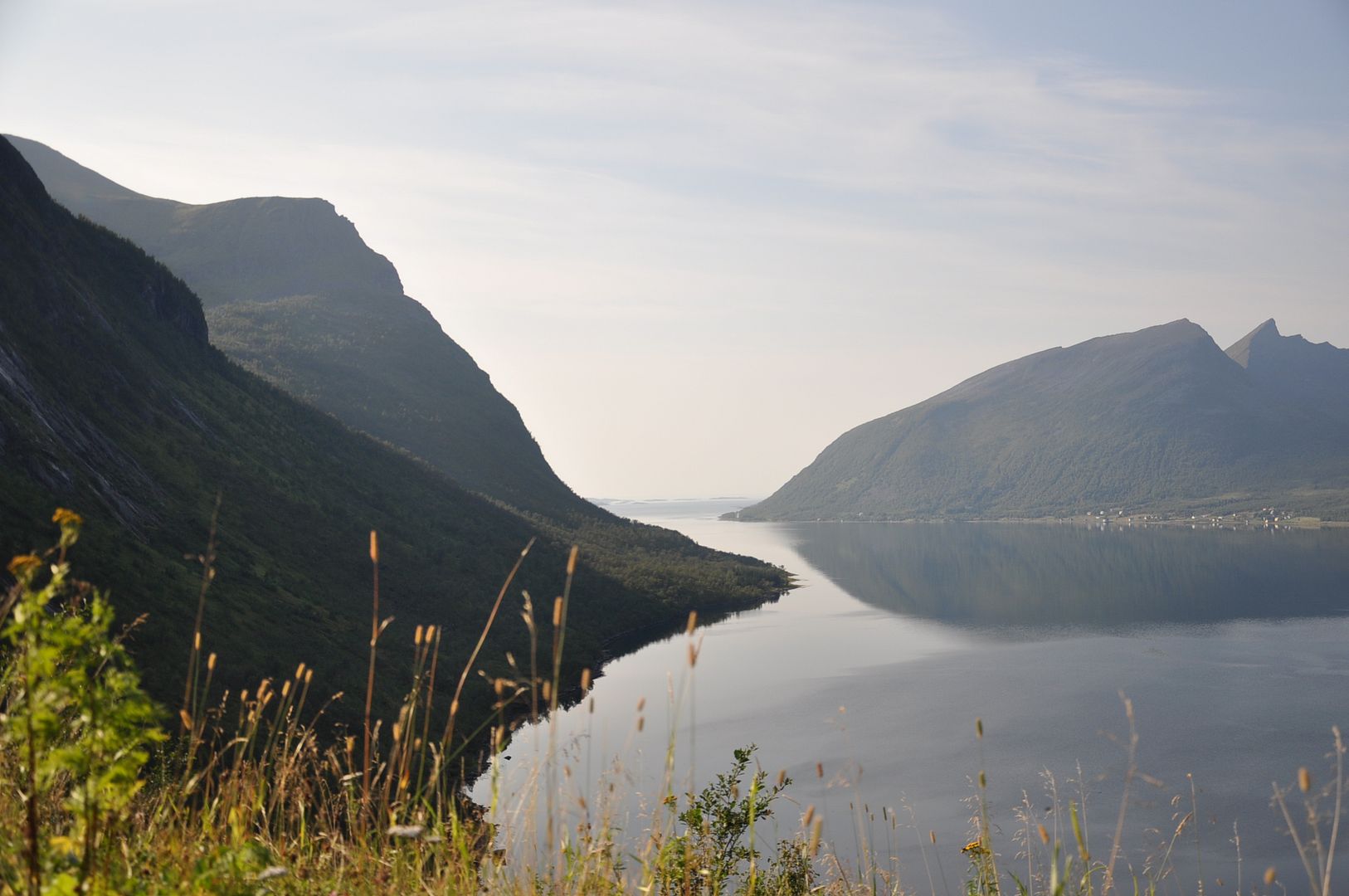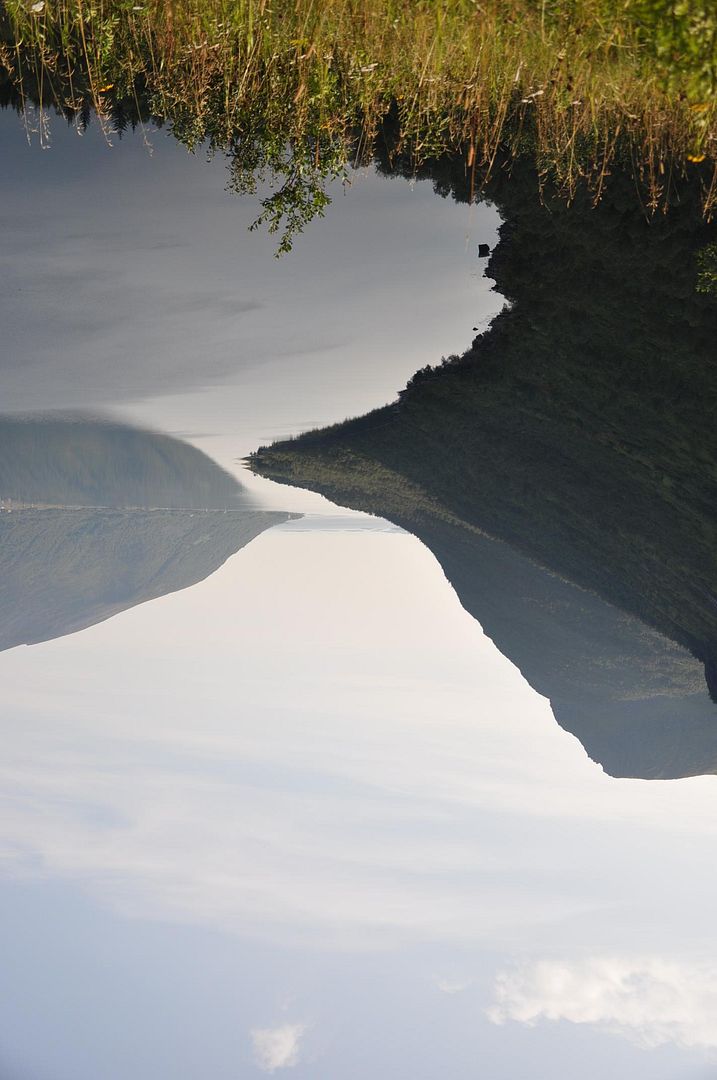 View from the Top – Tromso island; note you can see the Arctic Cathedral on this picture
Arctic Cathedral, Tromso
Train to Voss from bergen Train station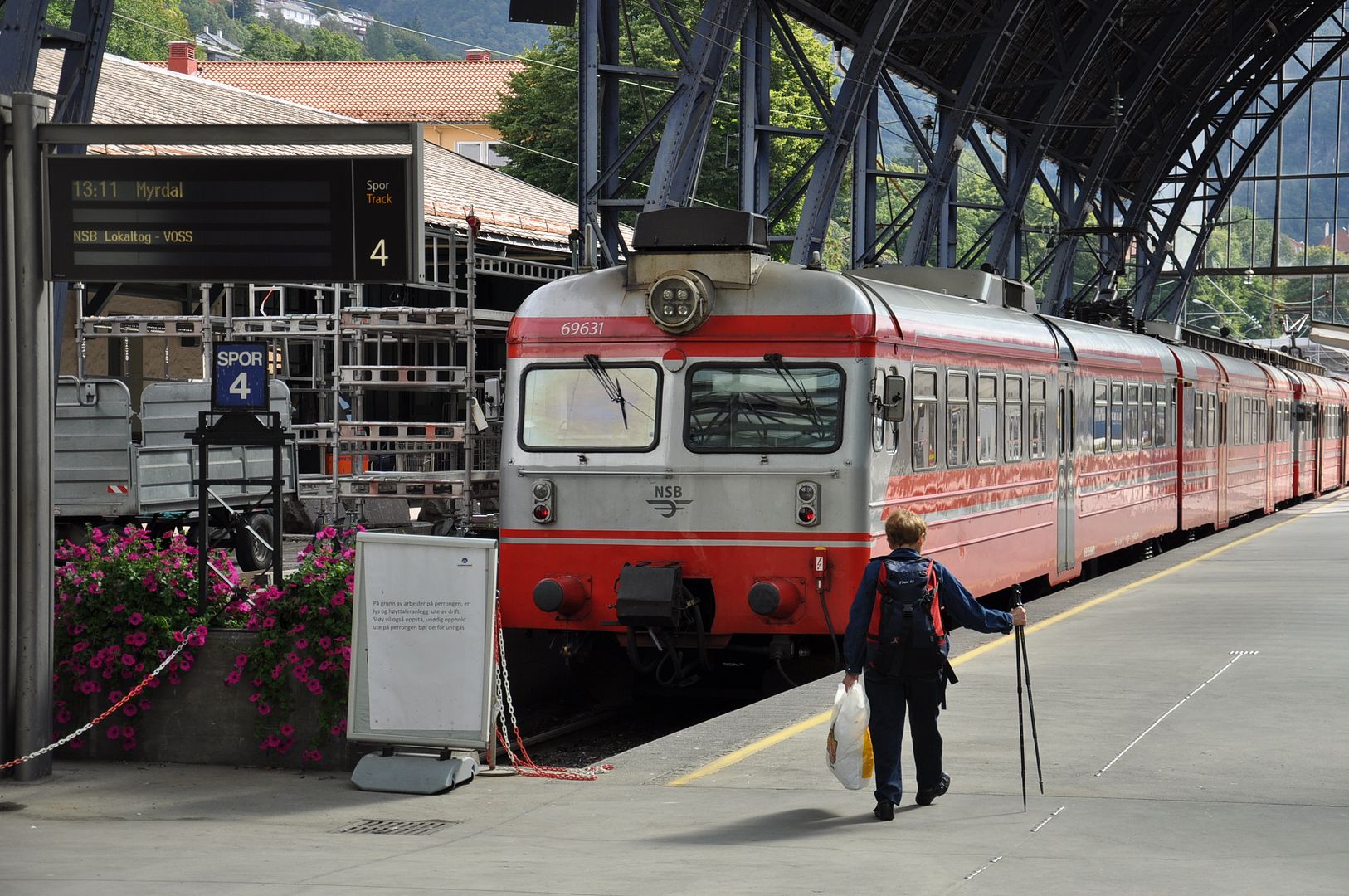 Top