Background
After my amazing trip to the Greek region of Epirus last year I was eager to return and explore further that lovely part of the world. The plan was simple: Fly from Chicago (where my wife and I live) to Bulgaria, visit my family, then drive across the border to spend some time on the Epirus mountains and beaches, and then fly to Austria in order to cool down before heading back home to Chicago. I won't bore you too much with how we booked the flights. Suffice it to say that we chose to fly ORD-FRA-SOF with LH, then fly out of SKG to FRA (on A3) and then from FRA to INN (on OS/VO) for a couple of days on the Alps. From there, back to FRA (with OS/VO) and finally onward to ORD (with LH).
This was meant to be my first visit to INN and the first time flying with Austrian/Tyrolean. No new aircraft types for me this time. However both TATL segments were scheduled on a 747, which is always exciting. Surprisingly, this was also meant to be my first TATL crossing on LH.
Here's a map of the entire trip:
I've decided to break our trip down to 2 segments in order to make it more manageable to read. Here's a map of what's to be covered in this first part: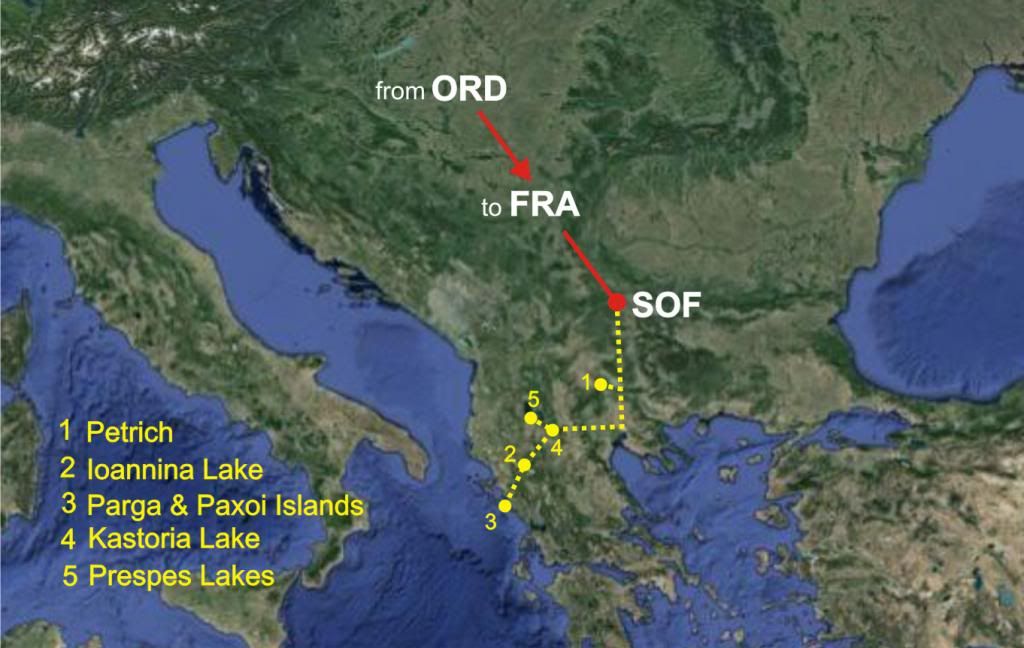 Pre-Flight
A few days before heading out I went to a bank on the South Side of Chicago to make some foreign currency. Here's the dialogue (believe me, this is
not
made up) between myself and the young female cashier, who didn't seem to be in a particularly good mood:
-Hi. I would like to buy some foreign currency, please. I would like to get the equivalent of 400 US dollars in Euros
- (blank stare)
You mean, you'd like 400 Eurodollars or 400 US dollars turned into Eurodollars?
-
Eurodollars?
-Yeah, do you want to pay 400 US dollars or get 400 Eurodollars?
-You mean Euros.
-Huh?
-They're called Euros.
-Same thing.
___________
In the days prior to our departure I was getting a bit nervous about the TATL segment of our trip. Out of Lufthansa's 22 Boeing 747s, only 17 had been retrofitted with the new interior (meaning PTVs on every seat). Would we be on a retrofitted 747, or would we be unlucky enough to get one without the new interior (meaning overhead monitors only)? The day before we were to leave I twitted LH asking what registration was to operate the next day's afternoon ORD-FRA flight. To my surprise, a few hours later LH got back to me saying that D-ABVH would be our aircraft. I checked online and, to my delight, I found out that D-ABVH was retrofitted! How excellent.
LH's response to my twitter question. (By the way, I don't actually have a real twitter account. I just created one to ask LH this question. I doubt anyone cares for what I have to say).
Continued below