In December 2011 my aunt had her 50th birthday party in NYC so we went down to celebrate with her.
Friday December 9,2011
Syracuse,NY(SYR) -New York City(JFK)
Flight#75
Departure runway-28
Arrival runway 22L
Departure gate-15
Arrival gate-17
Airbus A320 N760JB "The blues where made for flying" seat 3A
The Flight was scheduled to leave at 4:46PM so my mom took off the afternoon from work and she picked us from school at 1:30PM and we went home and packed and drove to SYR. We where meeting my other aunt at SYR she was coming to, At SYR you could for the most part arrive 45-1 hour early and make your flight you should be just fine but since it was a friday night to JFK and 6AM and 5PM are the busiest time we got there about 245PM 2 hours early. The bad thing about the night flight to JFK depending on the time of the year its between 4:45 and7:45PM is that it gets delayed like 7 or 8 times out of 10. Ive been on this flight and been delayed between 30 mins and 4 hours. Tonight we boarded pushed back and started our taxi and i thought we lucked out but no such luck..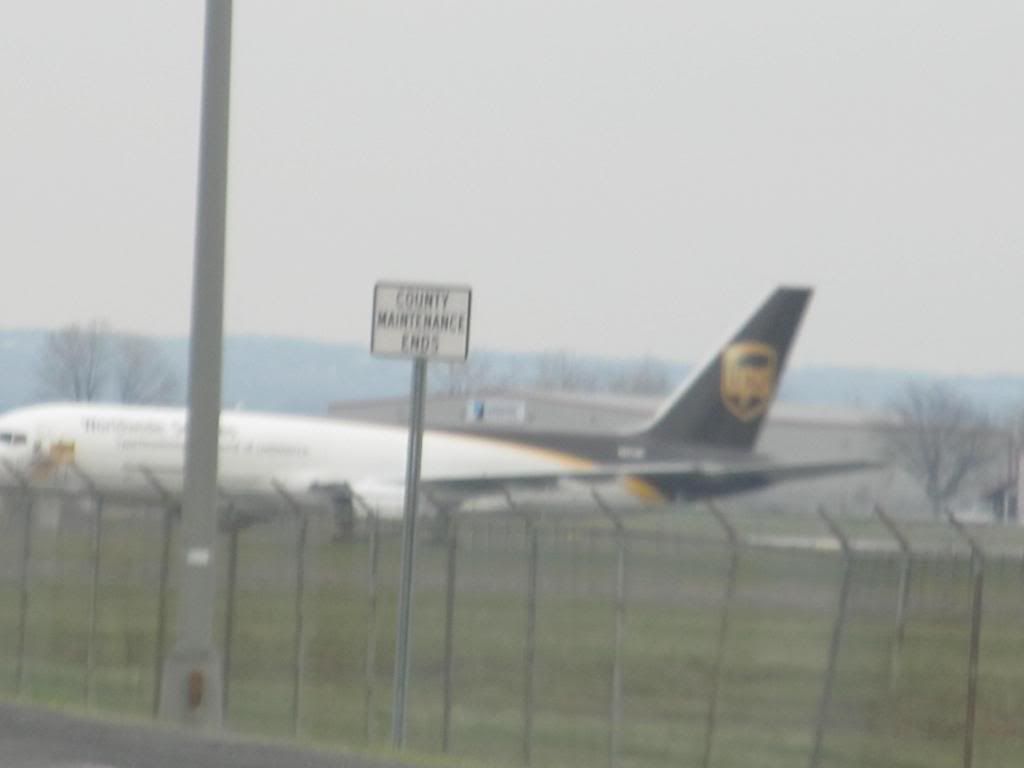 The UPS 757 @ SYR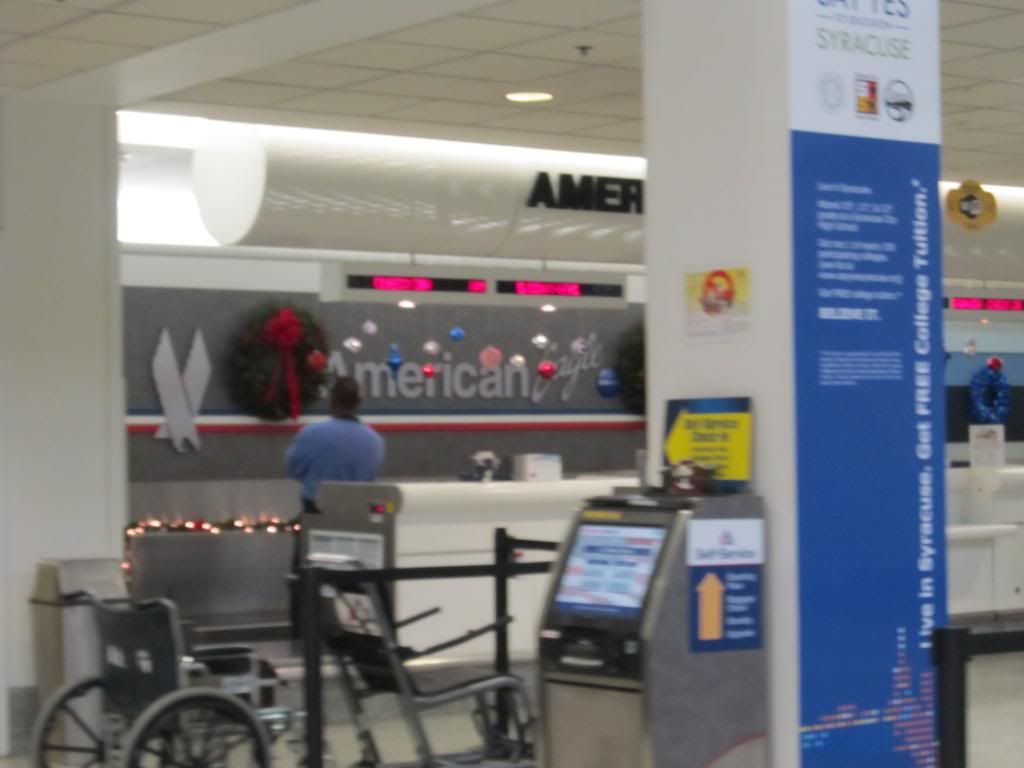 AE counter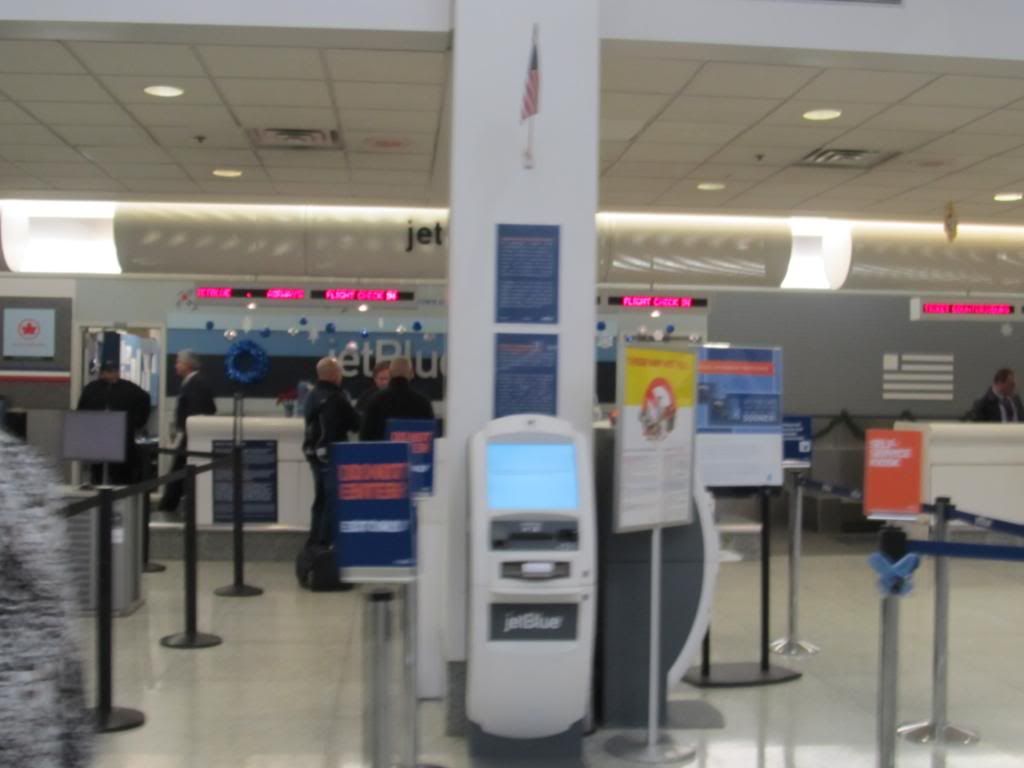 B6 counter
once i was through security we went to one of the "resturants" which is more like a little place that sells like candy and drinks and on the way back i saw our plane..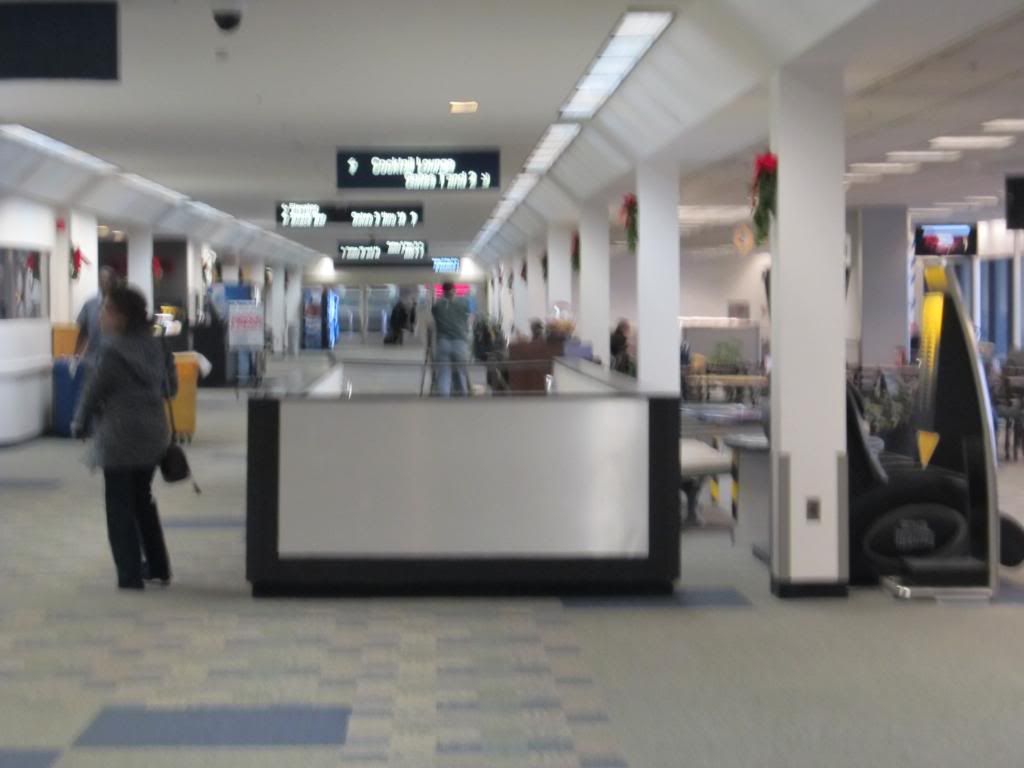 "Terminal"A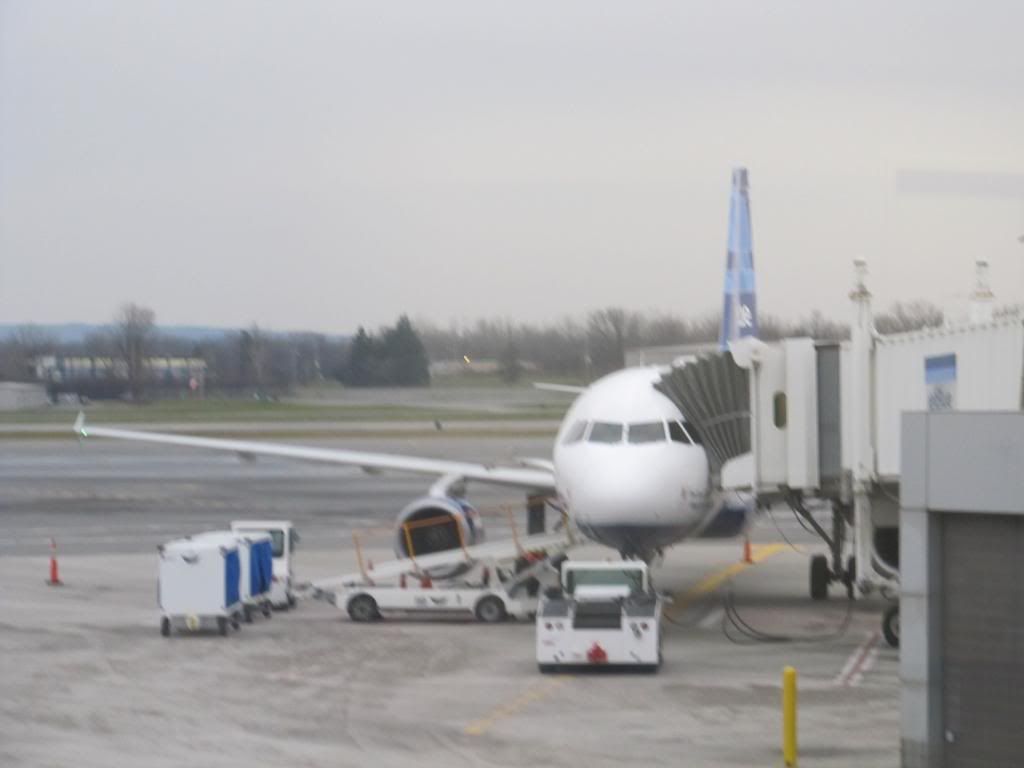 On the way to the gate
I then headed down to the end of the concourse and saw some planes
DL CR2 at gate 25
Flight info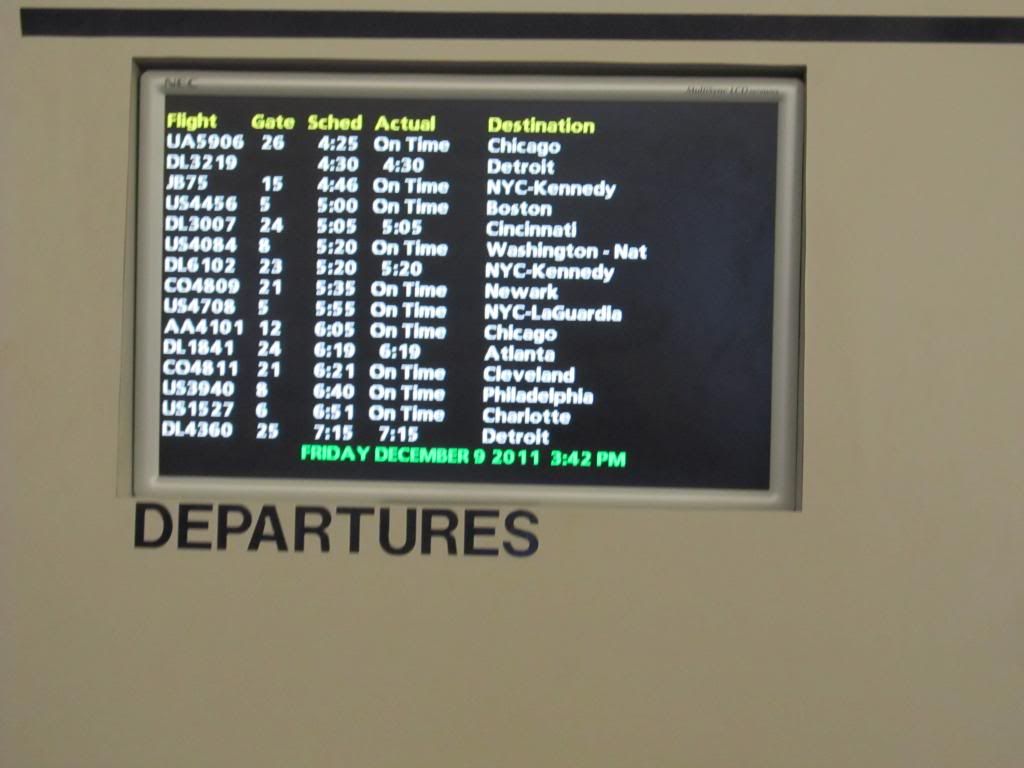 The US gates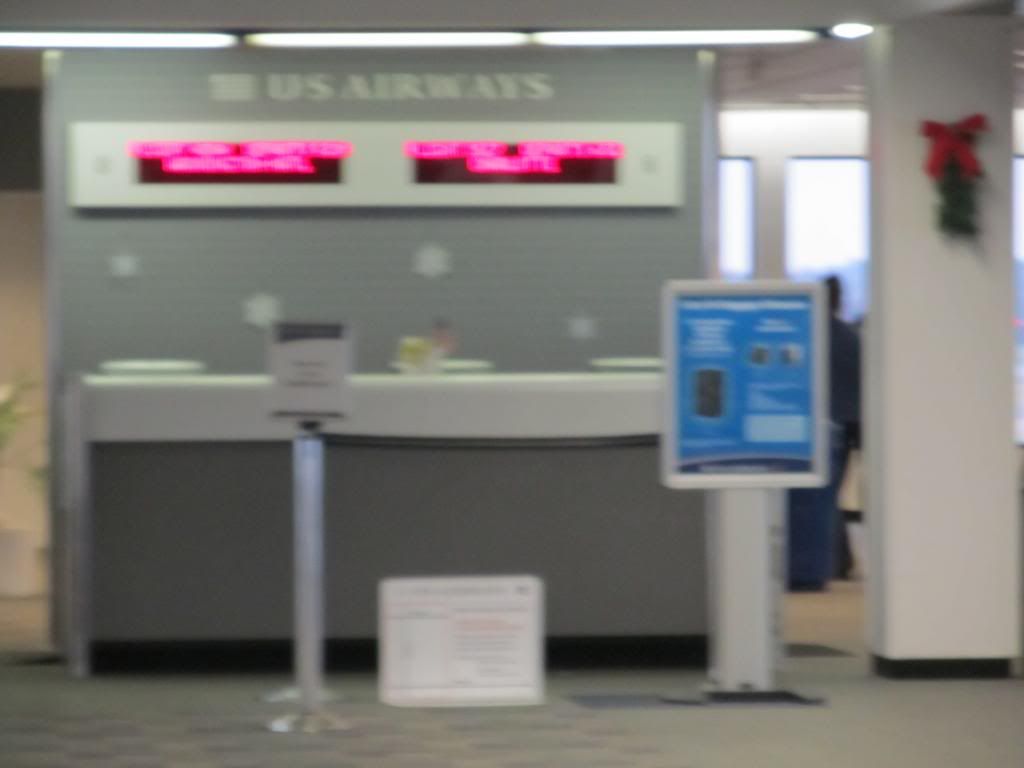 AE gate 12
A UA ERJ-145 arriving runway 28
A DL CR2 arriving
A US CR2 pushing back from gate 8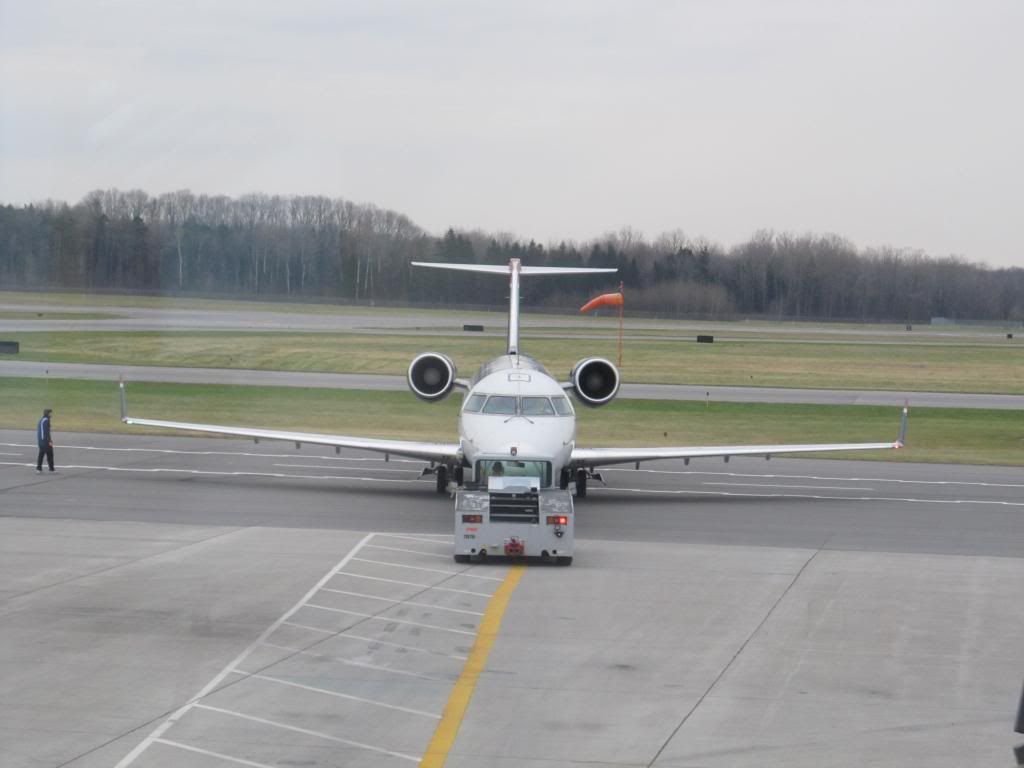 A UA ERJ-145 taxing to gate 26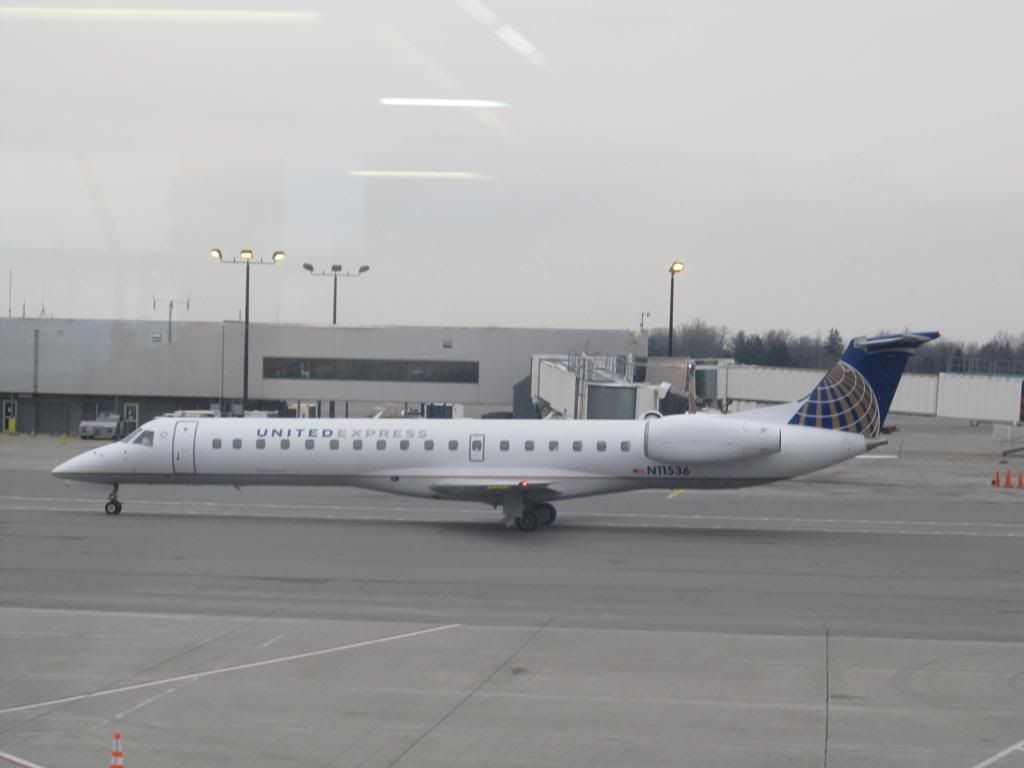 My aunt was running late and met us at the gate right as we where about to board .. here is our plane gate 15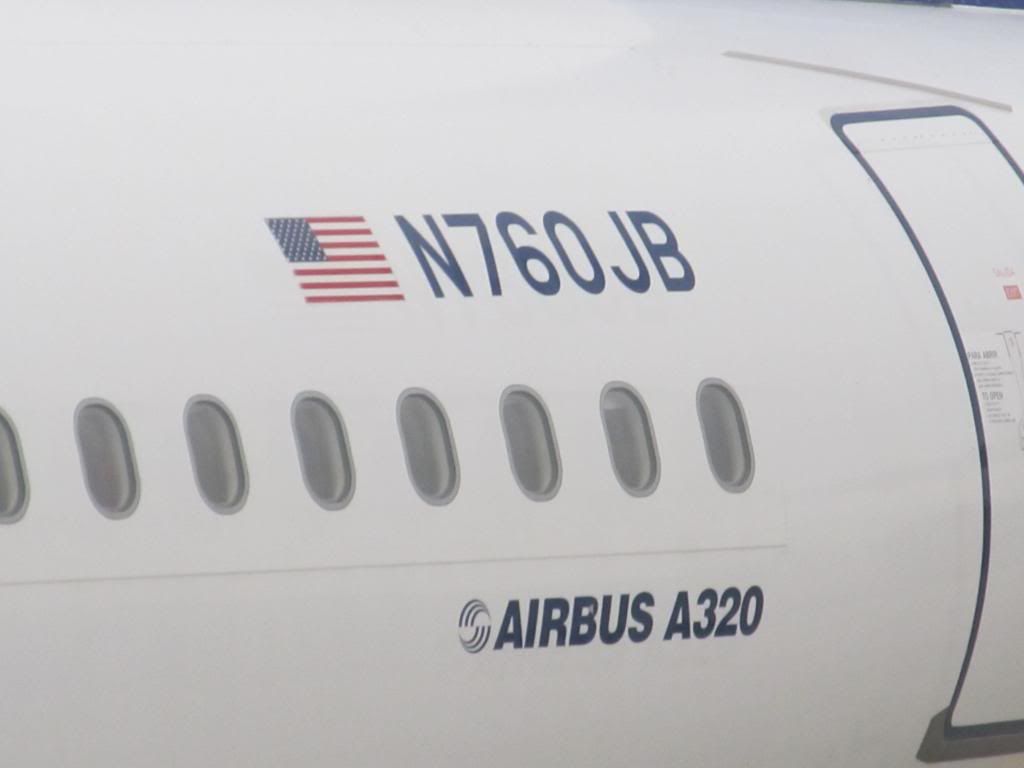 Flight info as we where about to board
Gate 15
About to get on
After i boarded there was a FA who is based in JFK and lives in SYR and he has been on a few of the flights ive been on from JFK-SYR or SYR-FK and he was in my seat 3A and i had 3A my mom had 3C and no one in the middle and he wanted a window so he moved to a empty 4A
looking forward during boarding
After they closed the door we pushed back and started our taxi to runway 28 but right before where about to reach the runway(runway 33) that you have to cross to get to runway 28 we turned on to taxiway M(mike) and backtracked the way most planes use M so i thought we where gonna use runway 15 which is opposite 33 but instead we turned right onto S(sierra)and taxied onto runway 15 and shut down the engines and the pilot made an announcement that there was a ground delay program at JFK and we would have to hold here for about an hour it turned out to only be 45mins or so but as i said earlier this flight on friday never usally leaves ontime and tonight wasnt any different.
the jetway being pushed back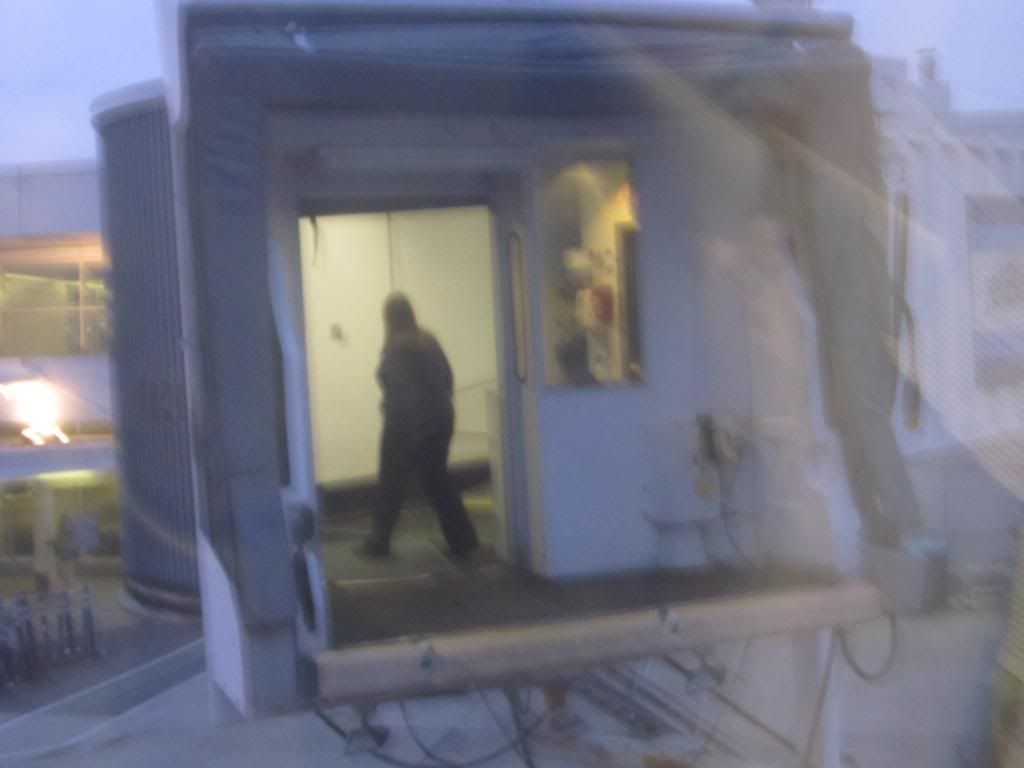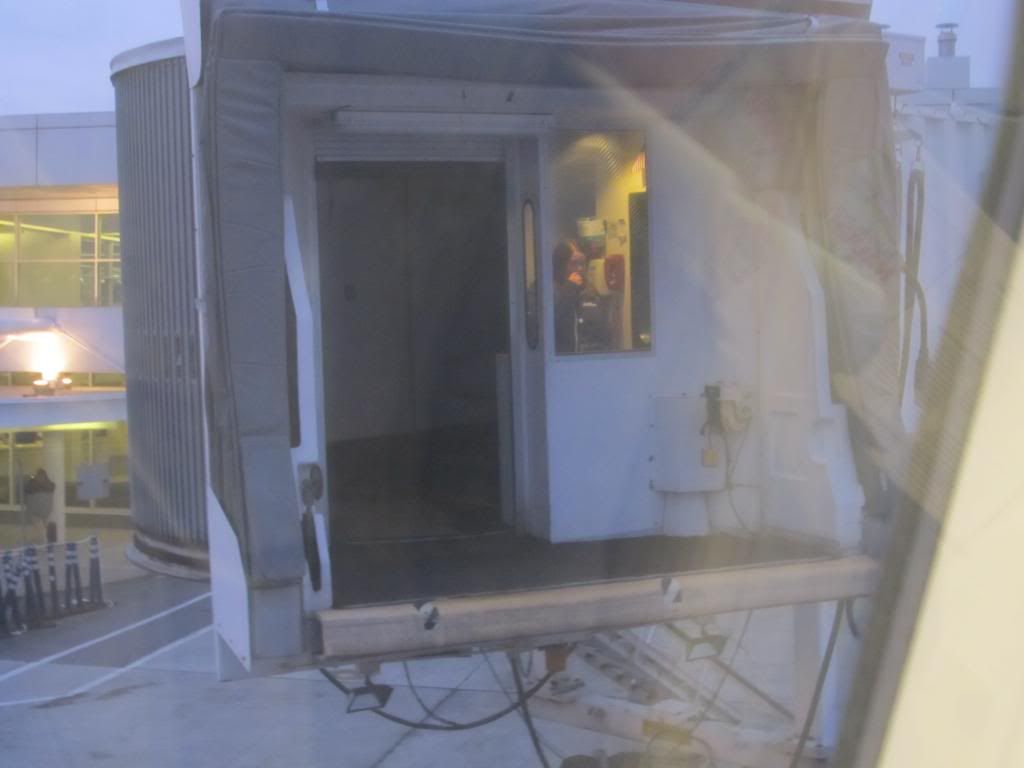 Pushback
Right after turning onto taxiway sierra
20 mins later
After we where released by JFK we started our engines and made a quick 2-3 minute taxi to runway 28 and had a pretty powerful and a nice climb we made our usual left turn to heading 150 to the POMPY VOR and then we are on the way to JFK.
Headed for Runway 28 about to cross runway 33
http://www.youtube.com/watch?v=b-6dzxnujEU
video of our takeoff
A few mins the map had to be reset because it said we where still on the ground
one of the newer cabins during the express service
Cabin from the last row -row 25
the flight is only around 40 mins so as usual once your up at 21,000 feet within a few minutes you are slowing down and beggining the descent into the JFK area
circling out over the Atlantic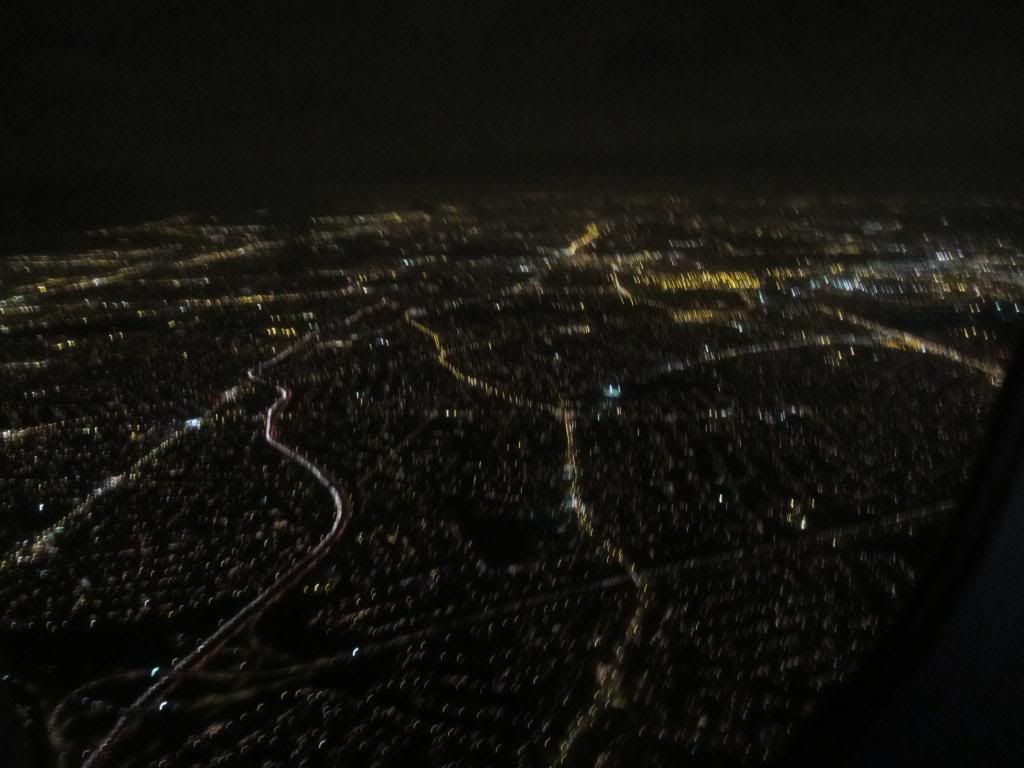 about to pass over jones beach at around 4000 feet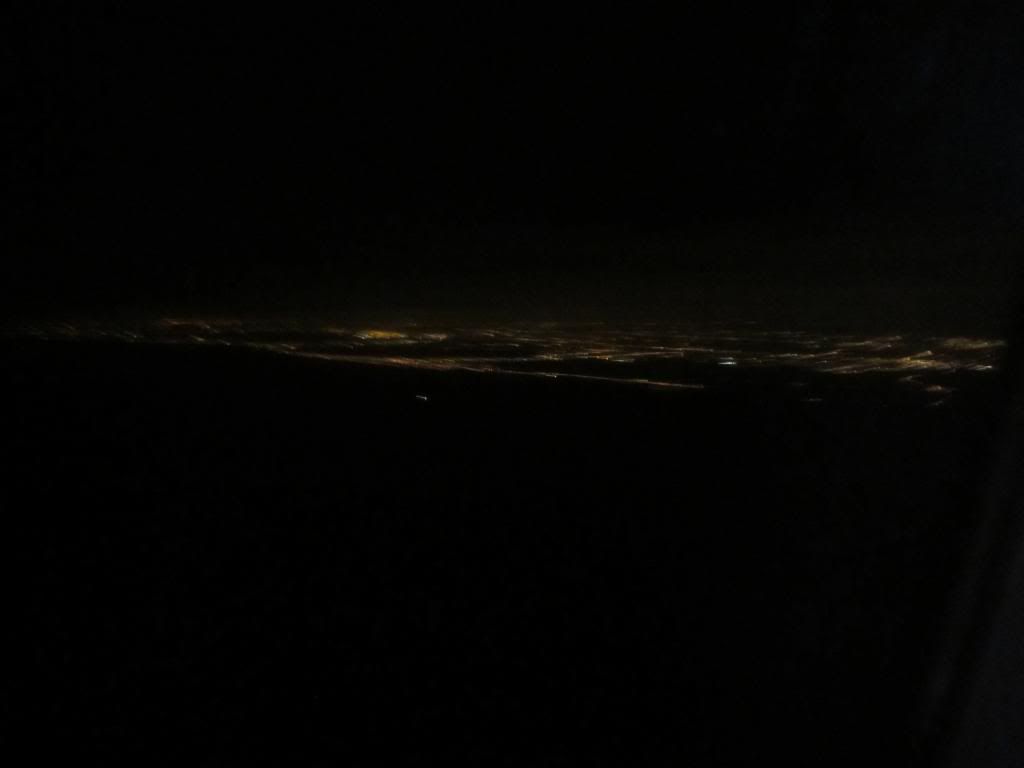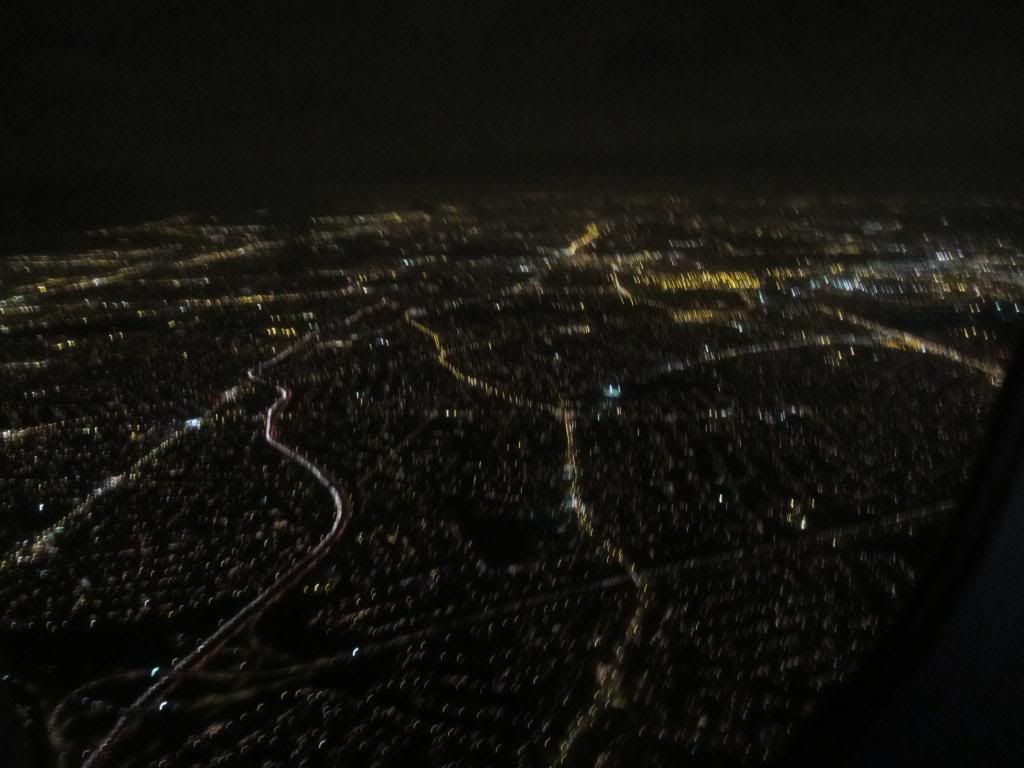 http://www.youtube.com/watch?v=tgK8aAtgTQc
Video of our landing on 22L at JFK
N635JB at gate 15 about to pushback as flight 173 to SJC
Once we arrived at the gate we started deplaning pretty quick and before long we where on the way to baggage claim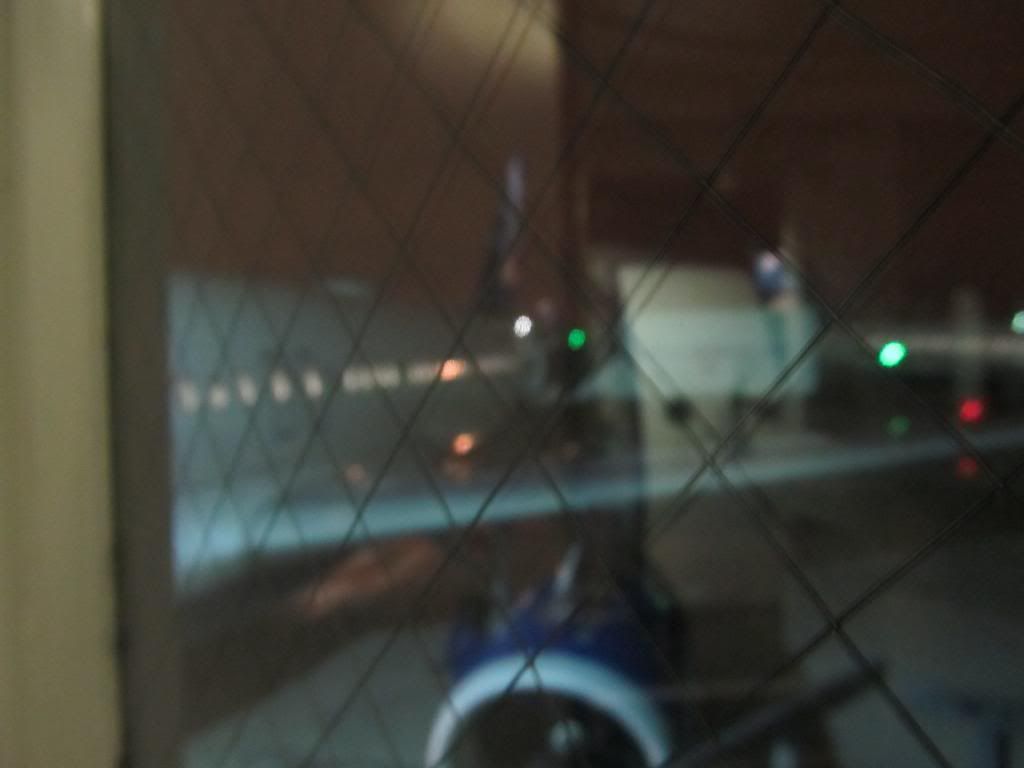 looking out at our plane
view of our plane from the terminal
a pretty empty T5
only shot i could get of the BA A318.. from the airtrain on the way from getting our bags to renting our car and then driving to terminal 2 to pick up my cousin arriving on a DL CR9 from PIT.. thoose A318's seem tiny to fly on for a transatlantic flight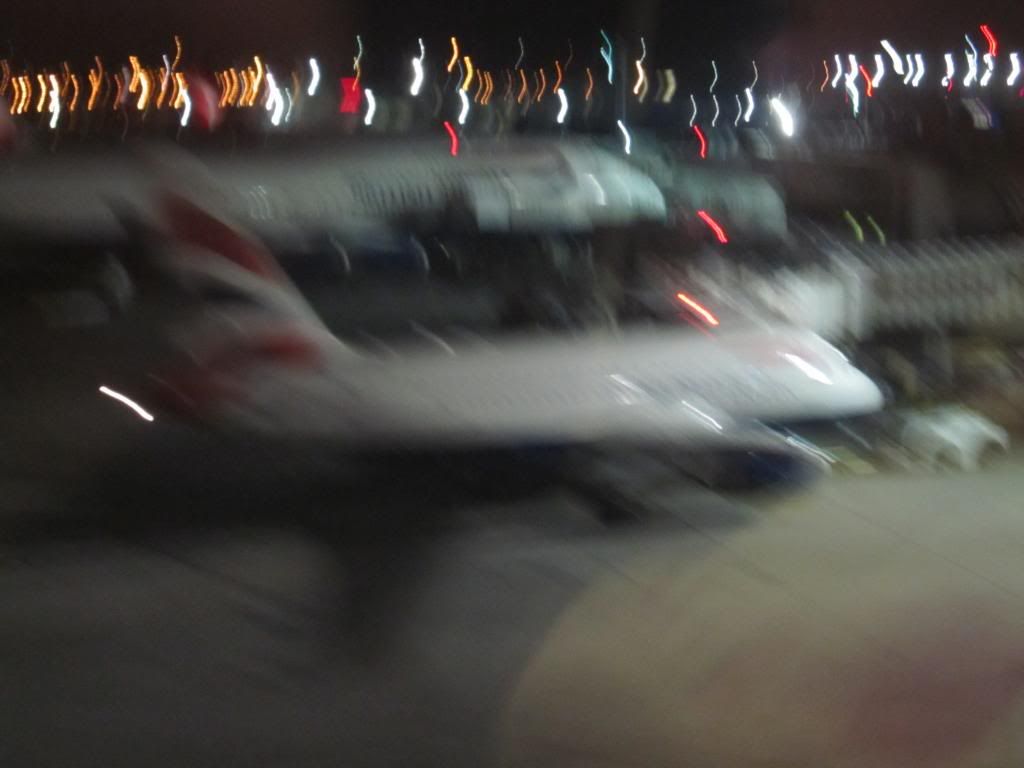 We had a fun weekend and the weekend flew by and we had to get up early sunday to get to JFK ontime to return our car and drop my cousin off for his DL flight..
This DL 763 headed out taken from the car rental area
AA 757 headed out of JFK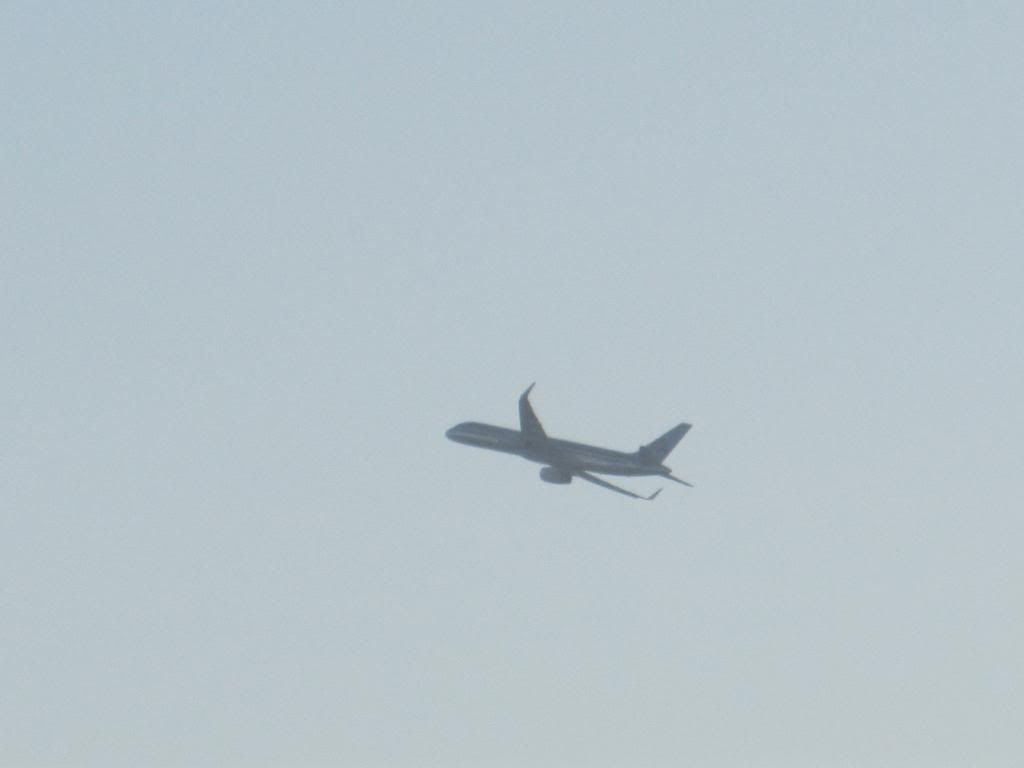 These pics where taken from the airtrain on the way to T5..
My plane is the second one seen here a little while after arriving as flight 676 the redeye from LAX the first one is N526JL headed to Liberia Costa Rica as flight 1691
N518UA pushing back into the alley
N657JB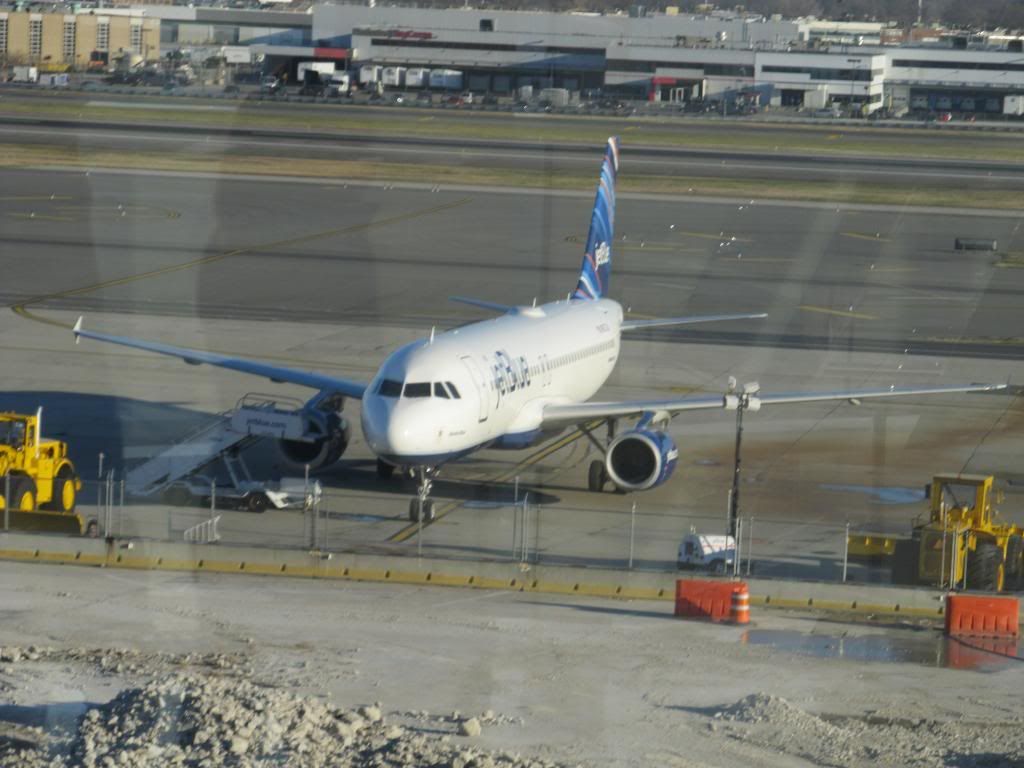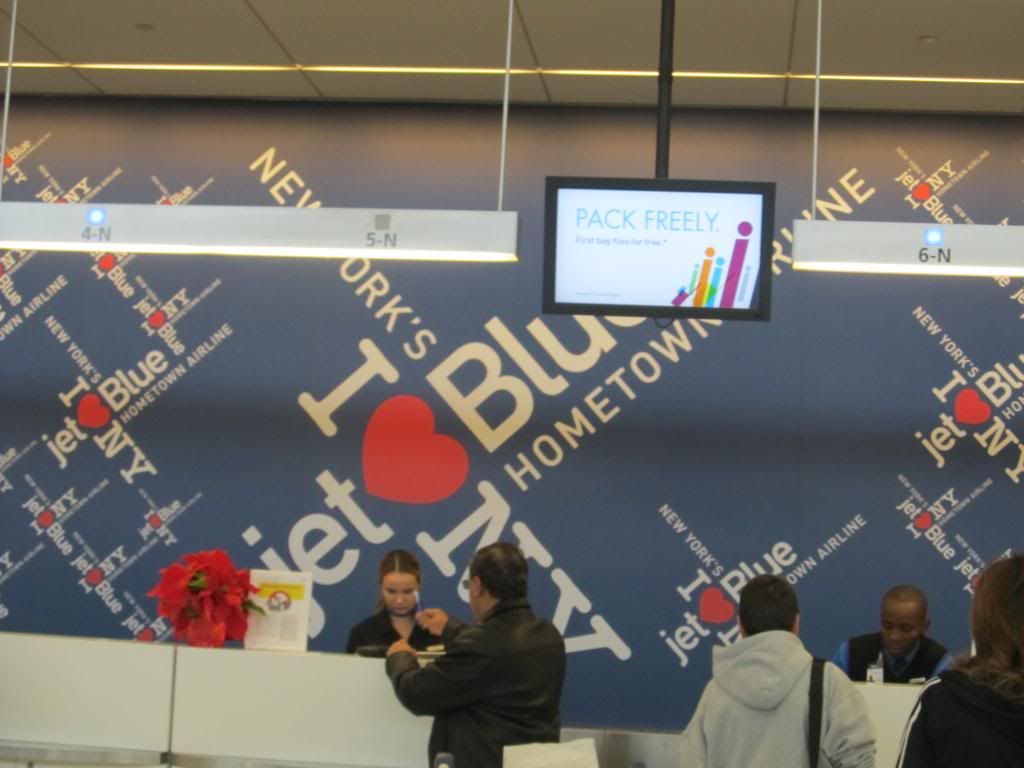 Check in counter
Between returning the car and then a long check in/security line by the time we got to our gate which was gate 2 they where wrapping up boarding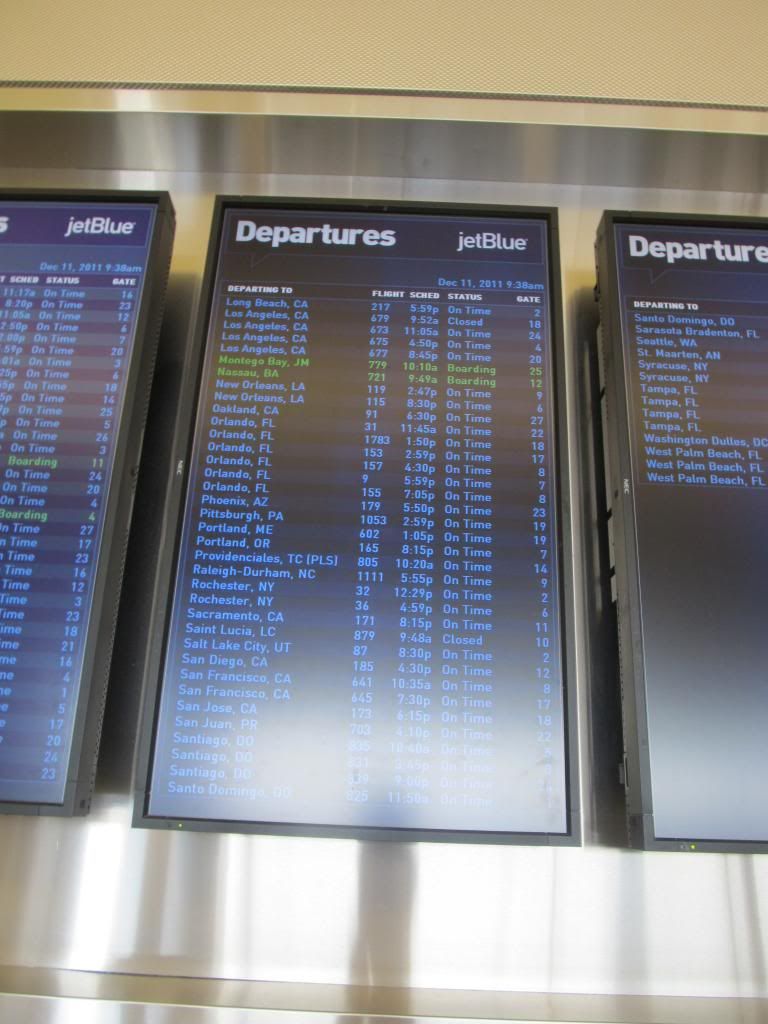 Flight info
Our plane To Syracuse,NY(SYR) N789JB"What's white and blue and flies all over" at gate 2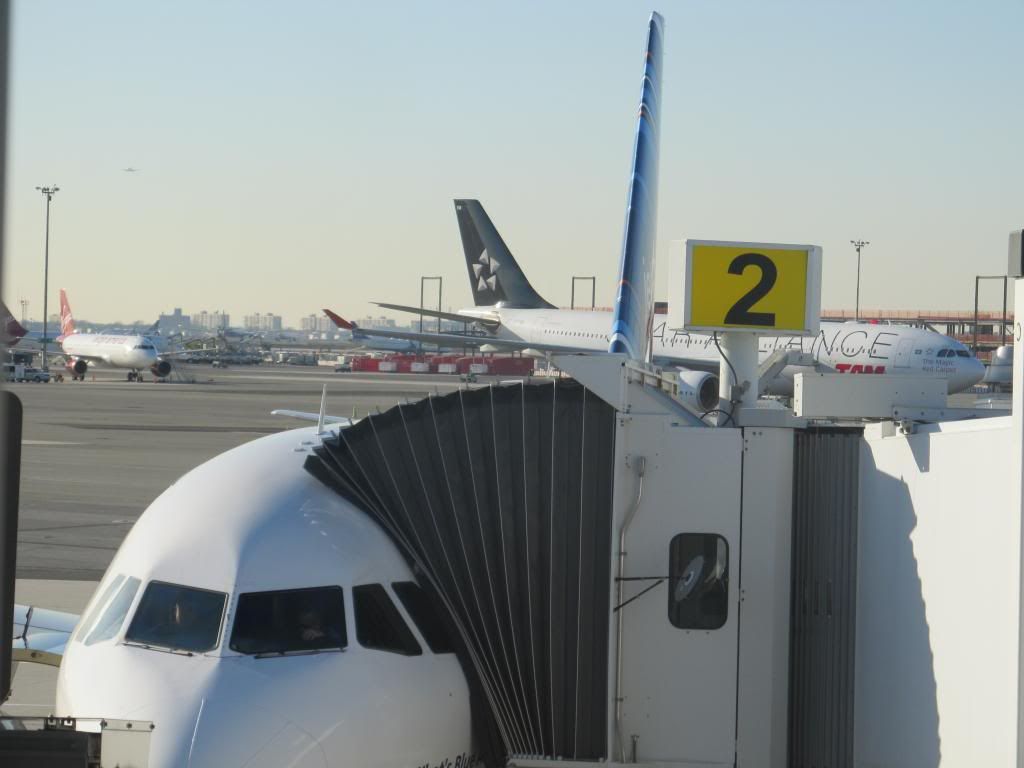 Flight info prior to boarding
Sunday December 11,2011
New York City(JFK)-Syracuse,NY(SYR)
Flight#42
Departure runway-31L
Arrival runway 28
Departure gate-2
Arrival gate-15
Airbus A320 N789JB "What's white and blue and flies all over?" seat 9F and 17A
Gate 2
looking out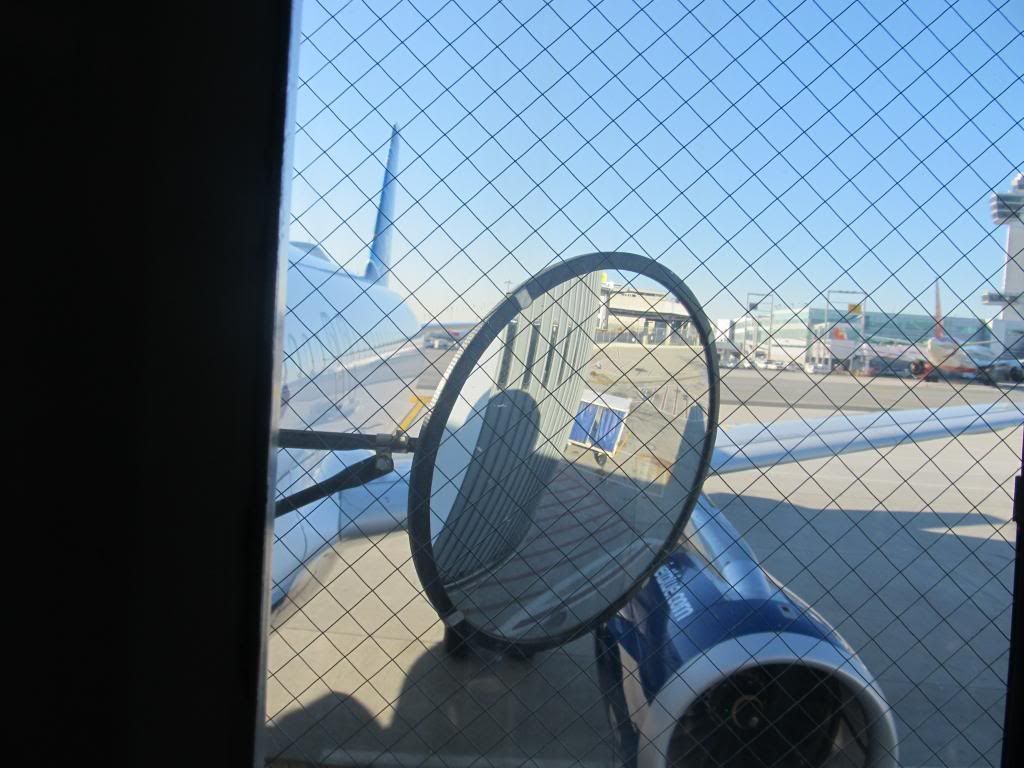 About to get on
We where one of the last to board which was a bummer because i like to go in the cockpit and talk to the pilots but this time it didnt work ..oh well.. just as the doors where about to close,looking out at the ramp and our company N274JB at gate 3
looking back at the cabin load was about 40-45%
Engine
oncethe doors where closed the saftey demo was done and before long we where pushed back in the alleyand starting our taxi for 31L
looking forward during boarding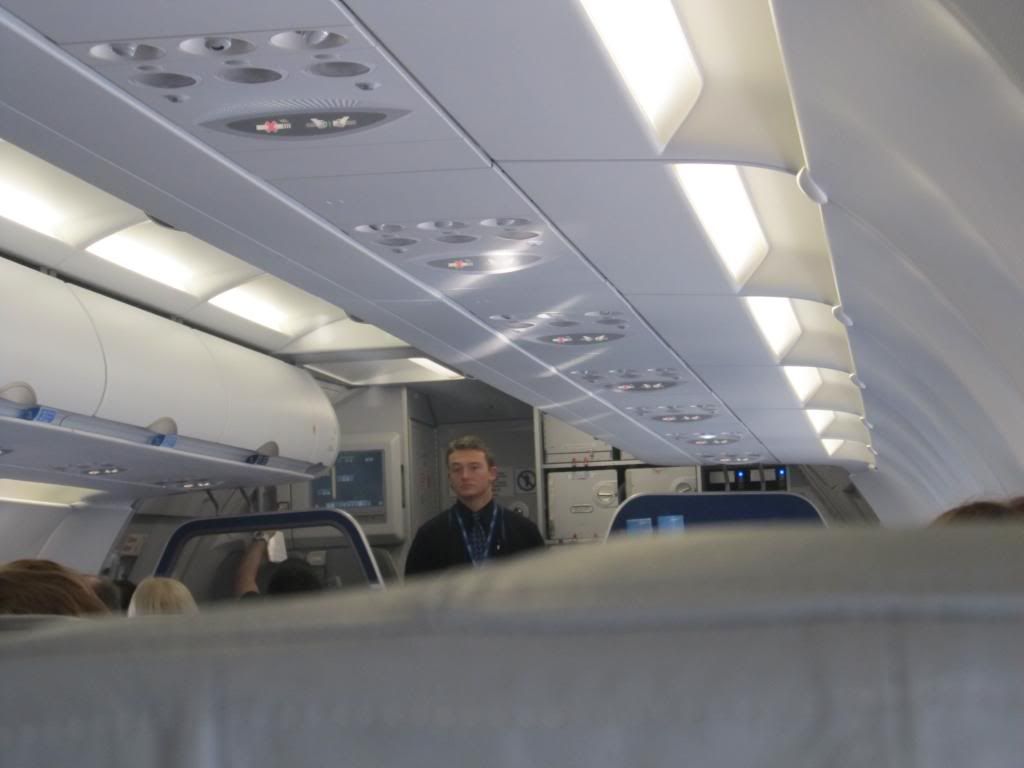 TAM A330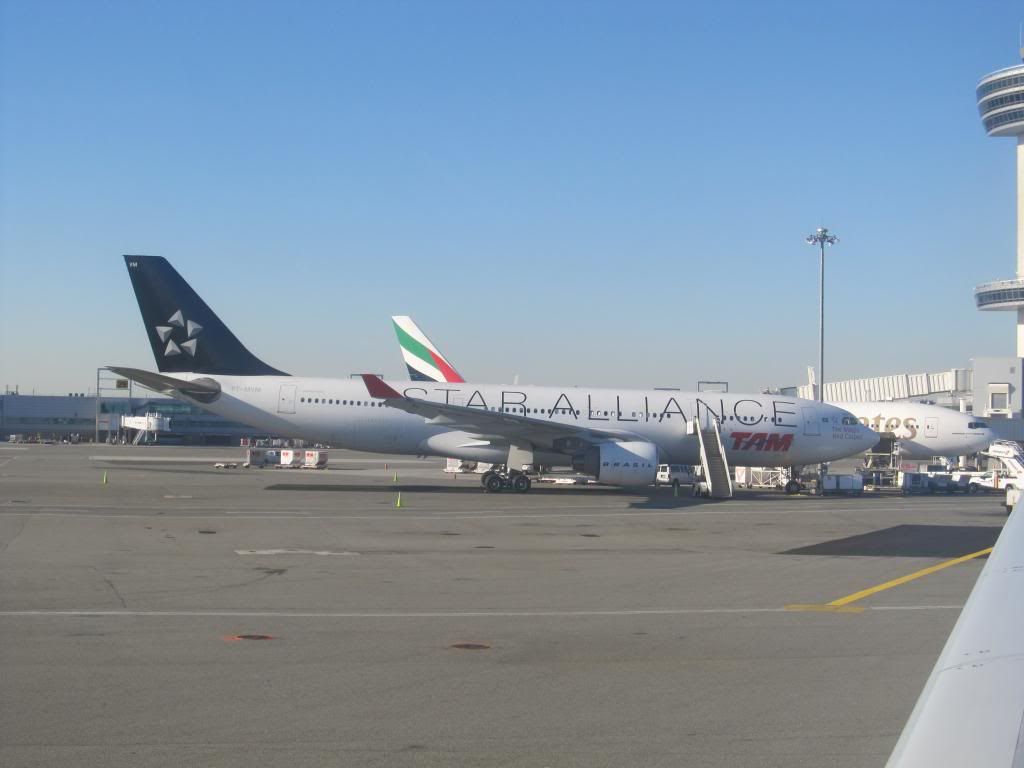 starting our taxi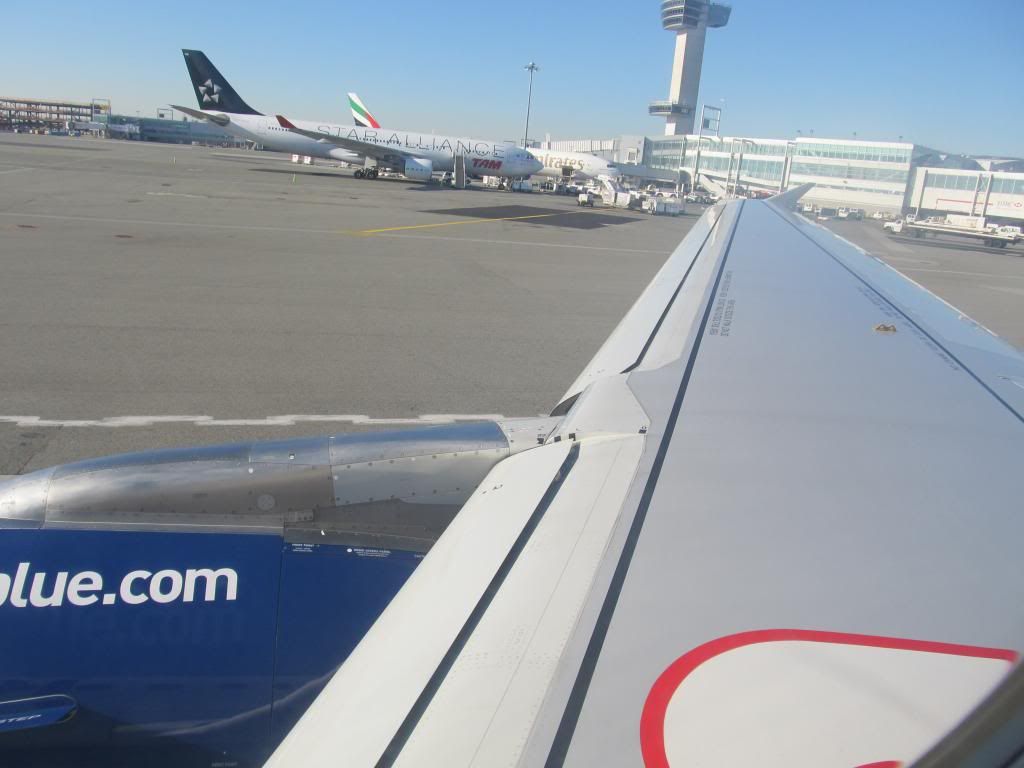 Asiana 777
2 redwood A320
Leaving 31L i took this on the way to 31L
next in line to go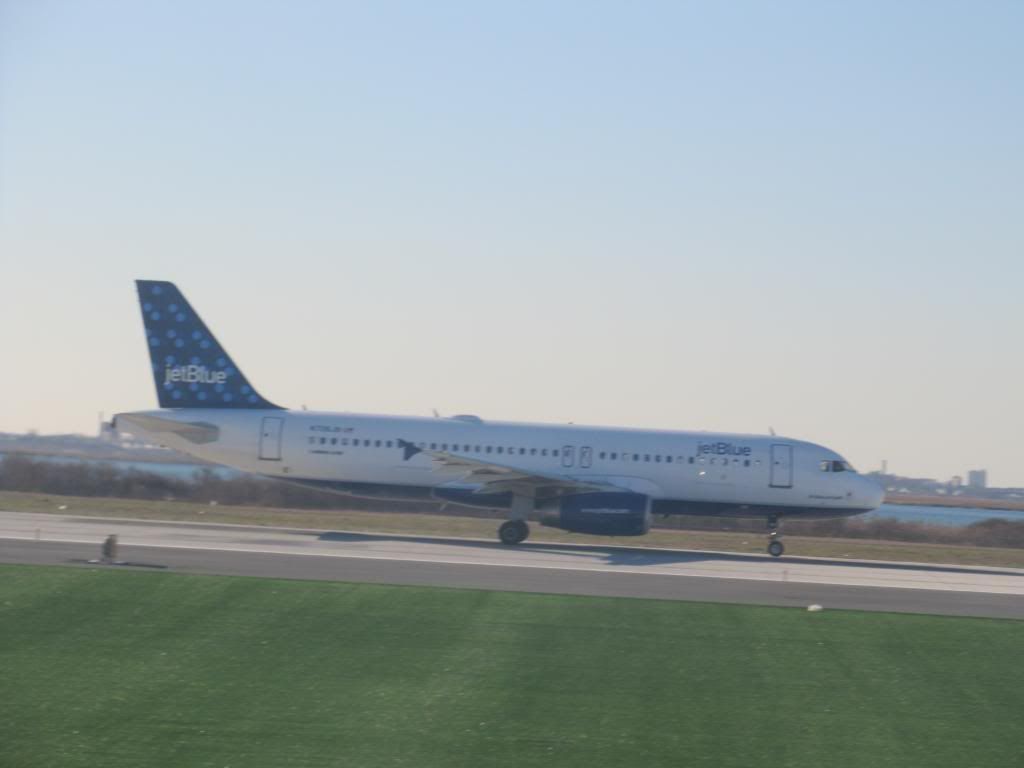 and the line behind us
video of our takeoff
http://www.youtube.com/watch?v=UQRheX-mmAM&feature=youtu.be
shortly after takeoff
passing through 16,000 feet on the way to 21,000 feet.
Nice sunny day at 21,000 feet as the FA's began the express service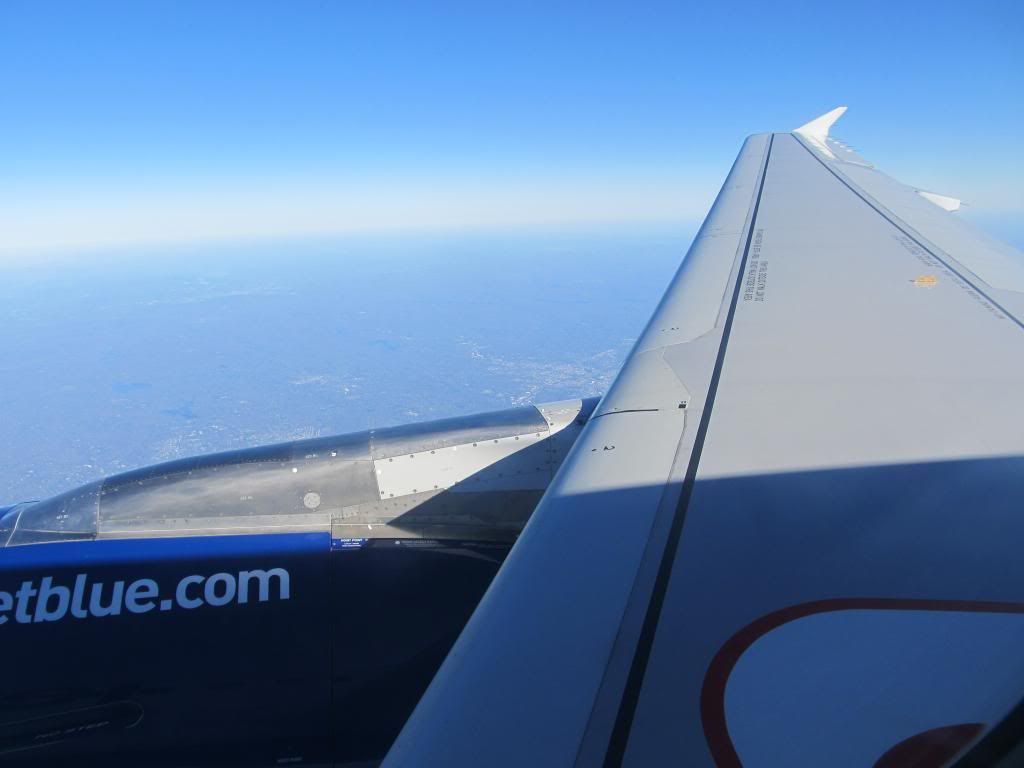 Cabin during service ..with a ton of empty seats
since it was really empty i wanted a row to myself and the first one empty was row 17 so i moved my stuff there and sat there for the rest of the flight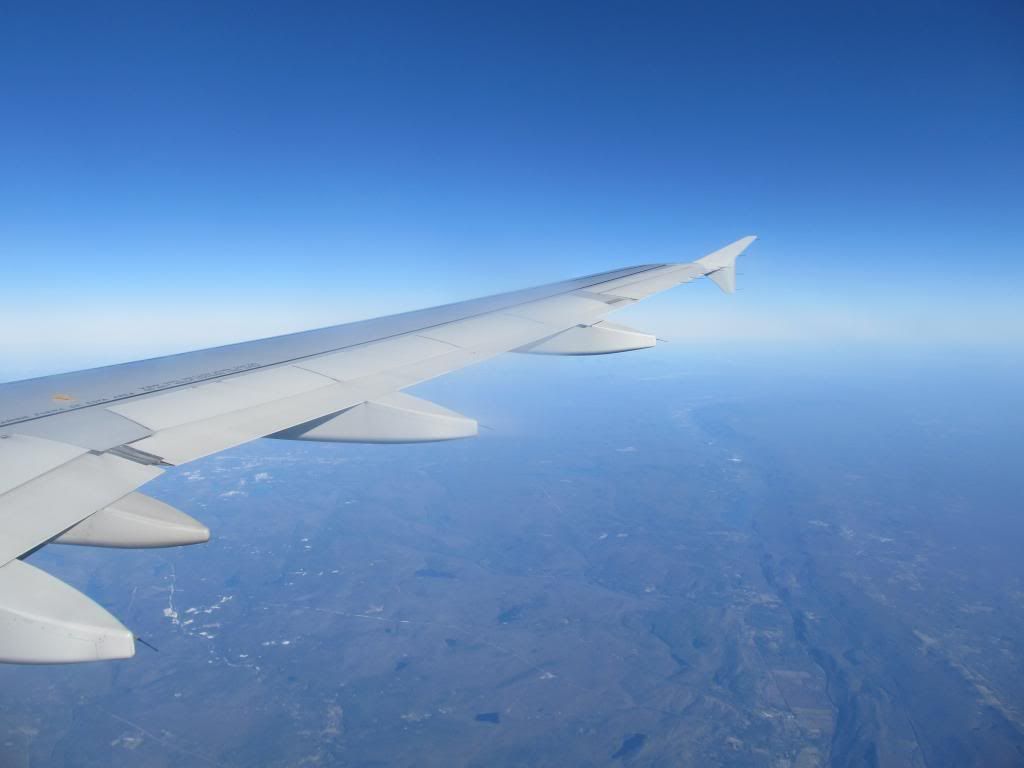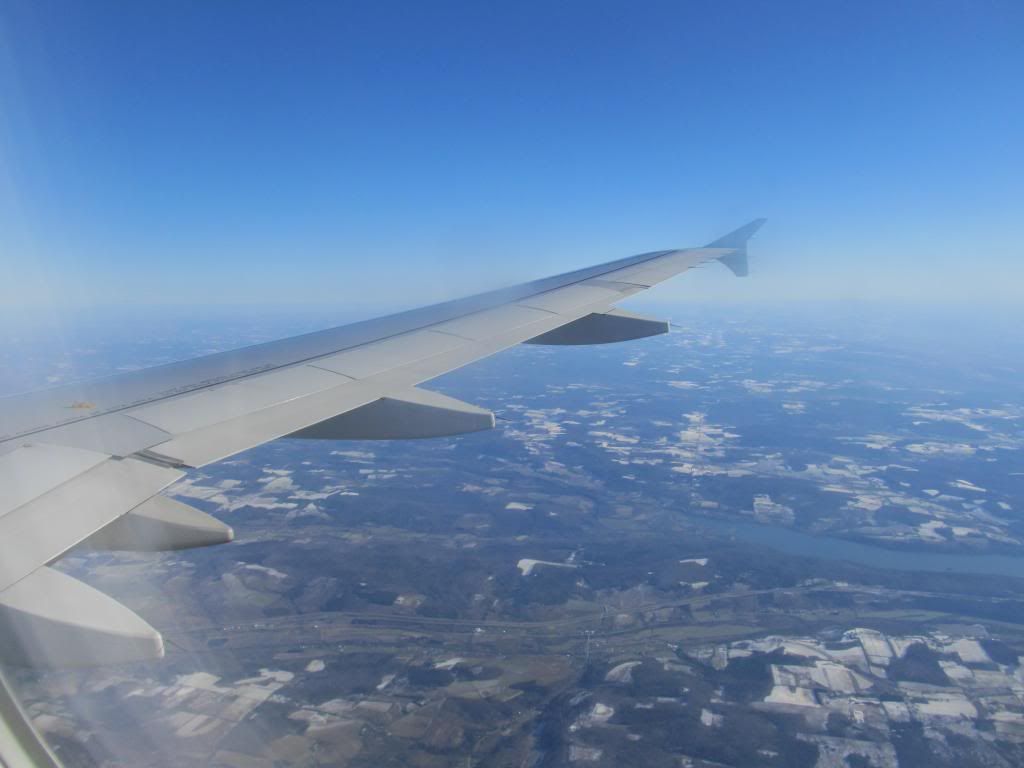 and as snow started to come into sight we began our descent into a sunny but cold SYR
making one of the turns to line up for runway 28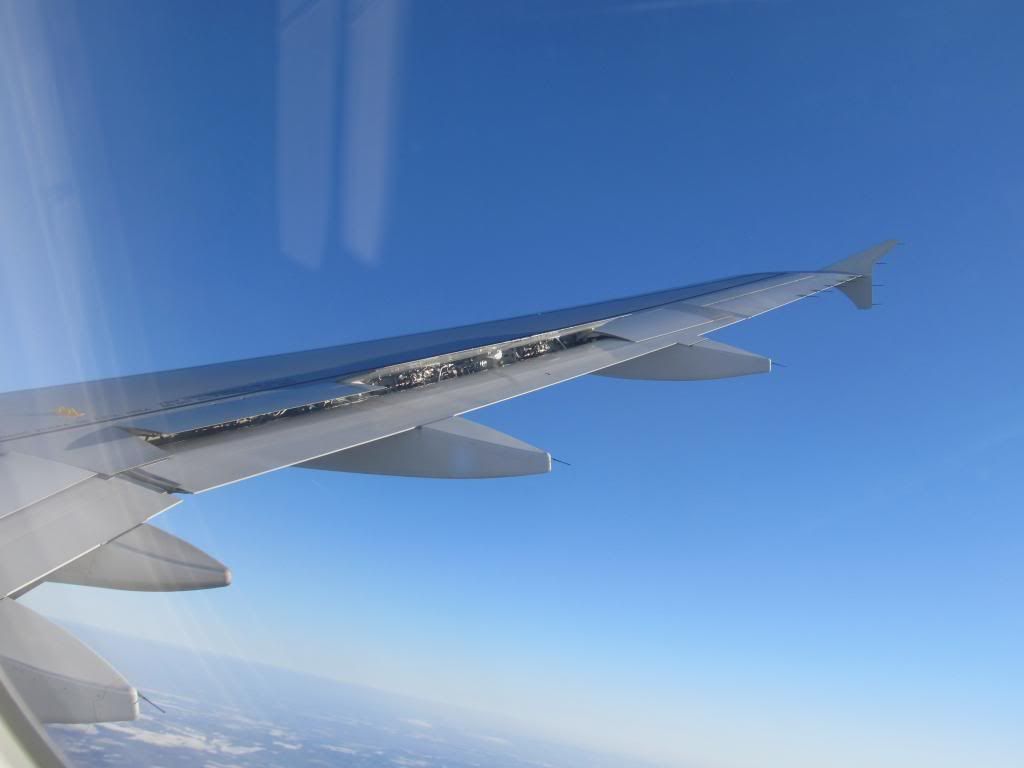 after a quick flight and descent we where on final for runway 28
http://www.youtube.com/watch?v=JhJTF02vMUw&feature=youtu.be
video of our landing.. the B6 A320 headed out was N509JB as flight 23 to JFK
once we got to the gate with so few people onboard we where able to deplane quick and my mom and sister met me at the baggage claim..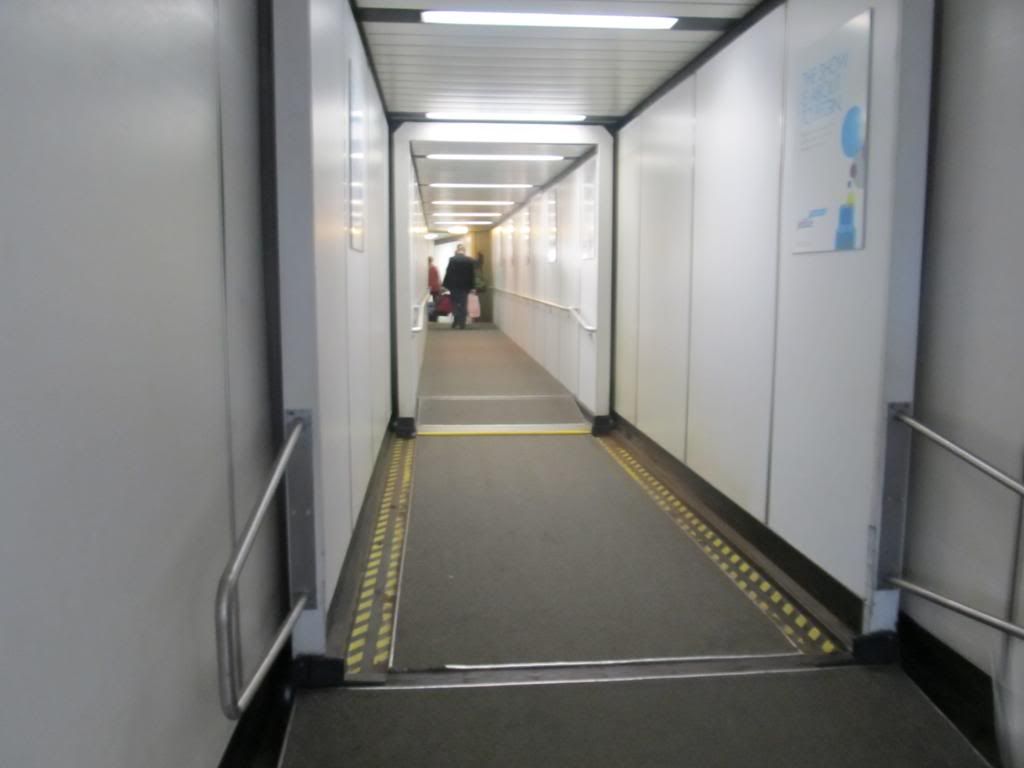 gate 15
i met my aunt and mom and sister and my aunts bag was the first to come out so she left and we got our bags at the end and where on our way home. While we where wating for our bags i went out and saw our plane boarding for flight 69 back down to kennedy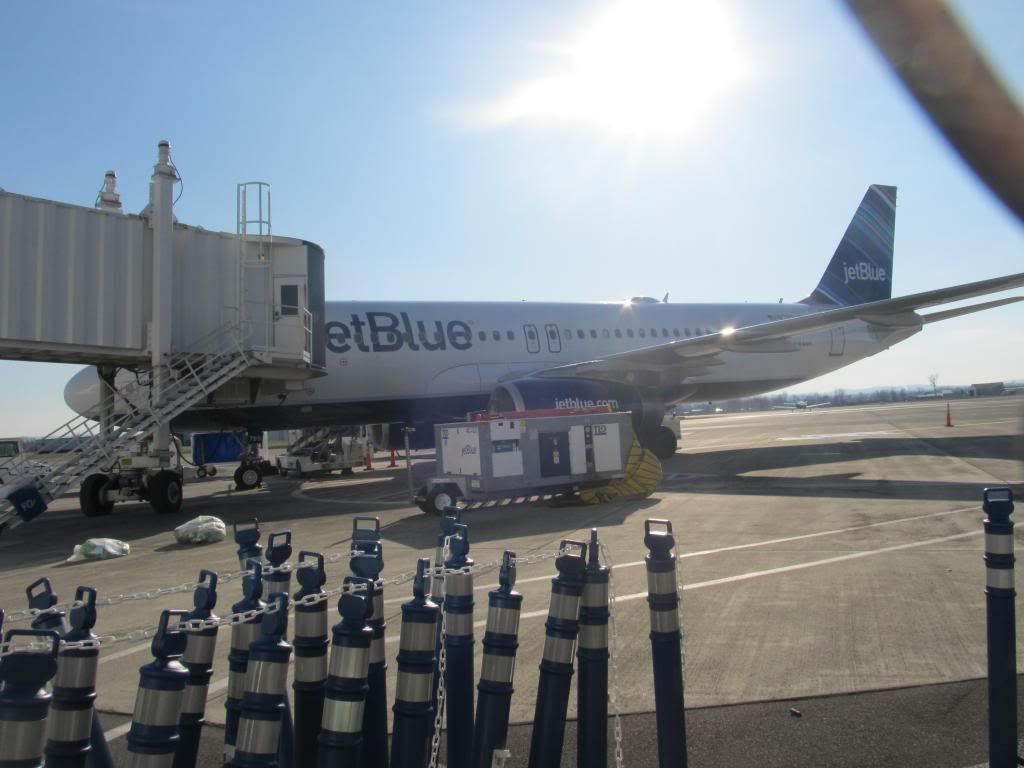 last picture of our plane from the parking garage
thanks for reading
[Edited 2013-09-07 21:31:27]