B A C K G R O U N D
Garuda Indonesia first ordered six Boeing 777-200/ER on 25 June 1996 and then kept delaying delivery every few years. A few years ago they converted the order to 777-300/ER and ordered four more. Finally on 24 June this year, Garuda took delivery of their first Boeing 777.
Garuda Indonesia has also changed a lot in the last few years and has started up a route to Europe after a long absence there. A lot of positive news also about their inflight service in the last few years as well.
Finally, it's time to fly on a Garuda Indonesia 777!
T H E F L I G H T
Date : 11 September 2013
Route : Jakarta CGK – Tokyo NRT
Distance : 3620 miles
Flight : GA 884
Flight Time : 7:04h
Dep. Time : 23:20
Aircraft : Boeing 777-3U3/ER
Registration : PK-GIA
Dep. Gate : E5
Seat : 51K
Inflight Entertainment : Moving map, Videogames, Telephone, WiFi, Movies, Music, Live TV
228th flight on a Boeing 777; 19th flight on a -300/ER
Flown on 128 Boeing 777 aircraft (frames)
I booked this flight on Garuda's website in May very soon after the flights were scheduled as 777s. I wasn't able to reserve a seat but was able to look at the reservation thru the GA website. I called their call center in the US and was told to call back. I did do that about two weeks before departure and was told it was still not possible to assign seats on the flight. I was getting concerned now since I really didn't want to get stuck in a middle seat, especially on a paid ticket. I was able to send a message thru their website and got a reply with 24 h where it said that I wasn't eligible for an advanced seat assignment due to my booking class. I wish reservations would have told me that two months beforehand……
I arrived on a KLM 777 from Kuala Lumpur about 6h before departure and went directly to the transfer counter for Garuda which was conveniently located on the way to the transit area.
There was no line so I got assistance right away. Almost immediately, there was a problem; they needed the manifest from the KLM flight in order to check me in. That sounded very odd to me but okay. So we waited for KL to give the manifest to GA. They also told me I needed a visa for Japan which is not correct. Long story short, it was my worst check in experience EVER in over 30 years of flying. Eventually they asked if I had a onward ticket and then I was cleared. I took ONE hour before I finally had my boarding pass. VERY, very poorly handled by Garuda's ground staff. They didn't communicate well, they didn't speak English well enough and everything was no for five minutes before a maybe was mentioned.
I was escorted out of the arrivals level and up to departure level where I directly went to a Starbucks to charge my phone. I stayed there for about an hour before I tried to do some spotting but it was dark and the lay out is not great for it anyway. I eventually found an empty gate where I was able to some spotting, mainly due to Flightradar24.
Boarding started about 35 minutes before departure and I was one of the first to board. This is very important to me when I do trip reports so that I can pictures of the cabin before it gets too full.
I was greeted by smiling flight attendants and went to my seat. We boarded thru door 1 so I passed thru the First and Business class cabins which booth looked really nice. I think the business class cabin looked similar in lay out to Etihad's new J cabin. It turns out I was in the second to last row and the last row where it was still 3-3-3.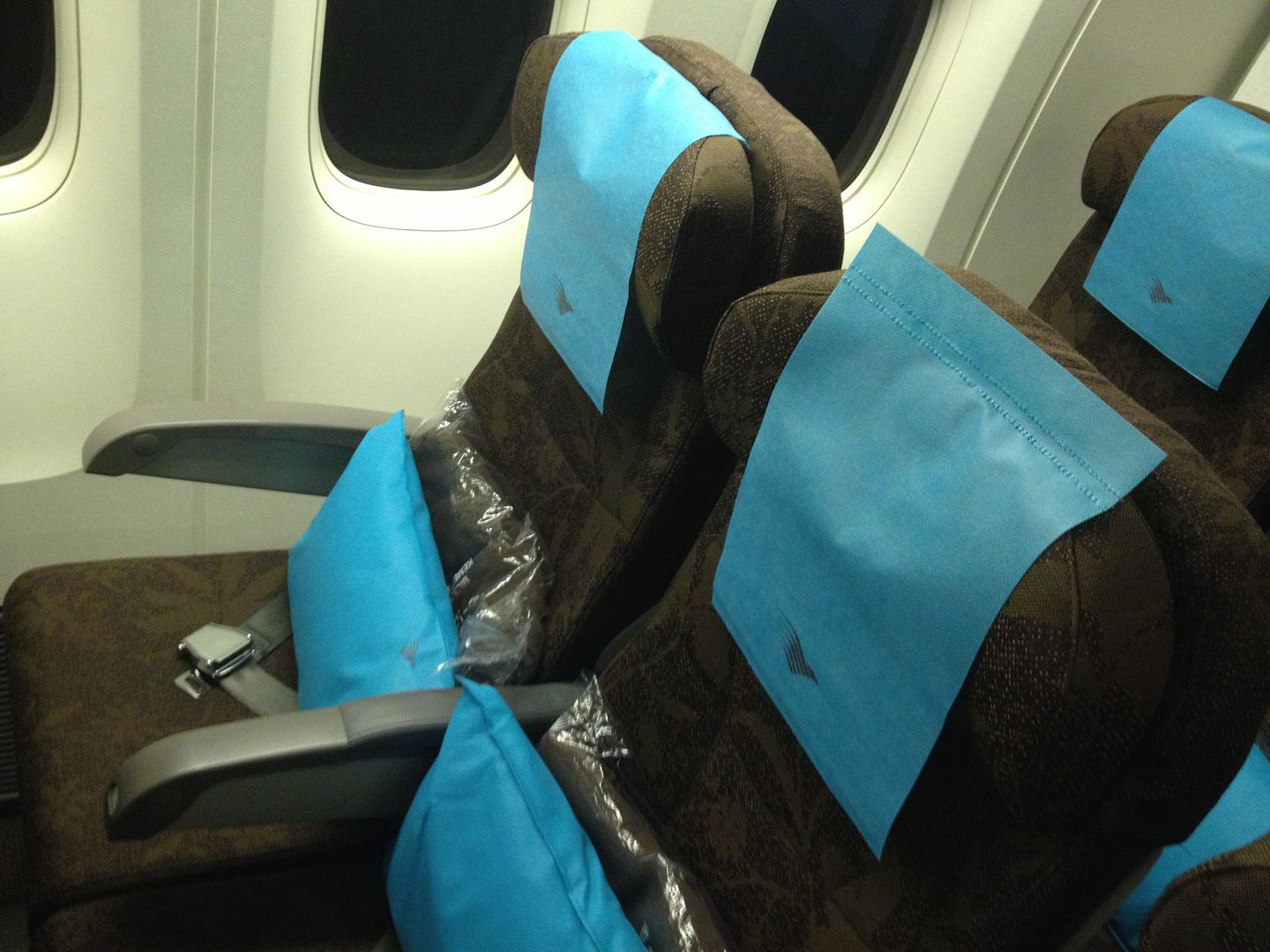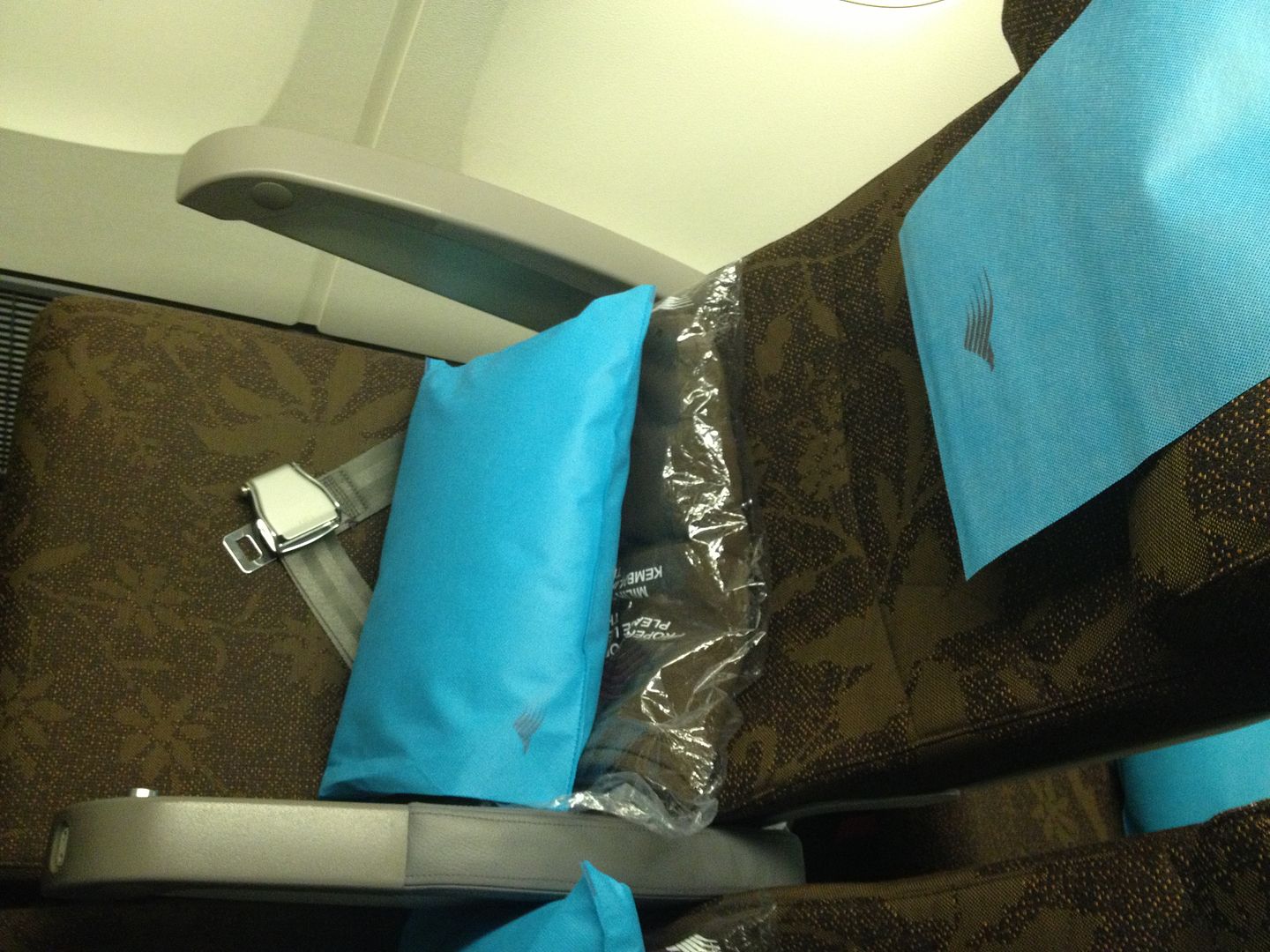 First impressions was great; very nice colors in the cabin, great legroom and a comfortable seat.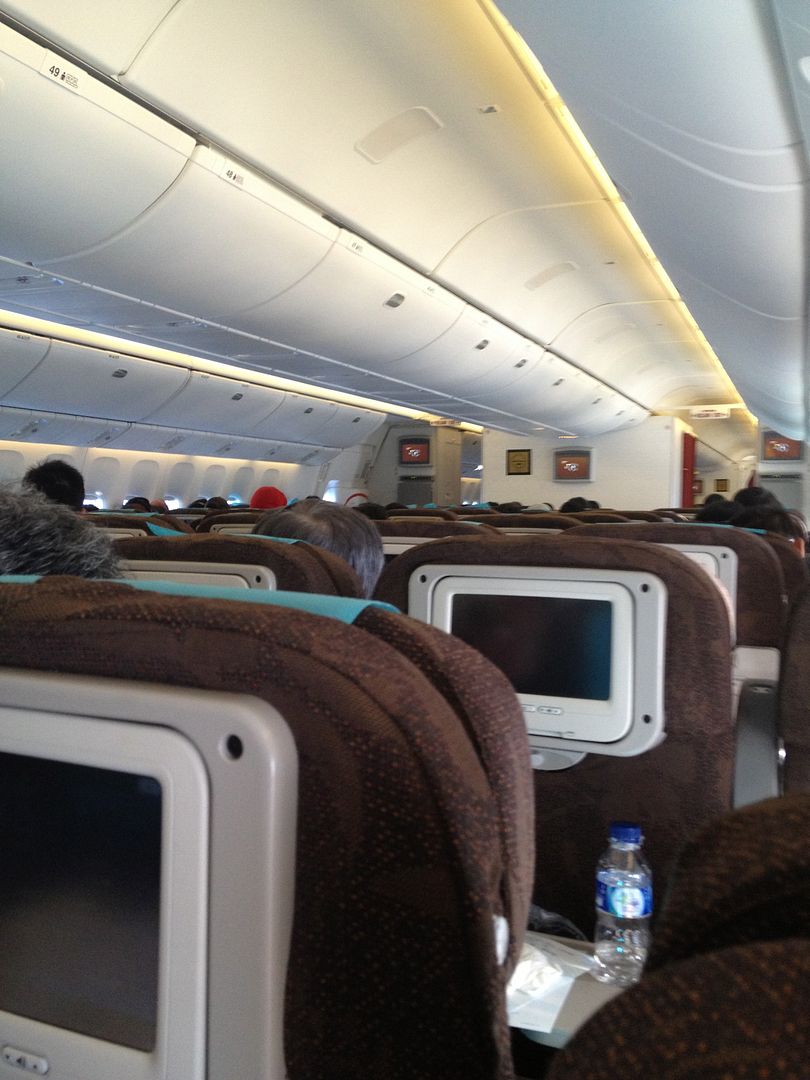 The screen was large and the IFE was the latest from Panasonic which is great.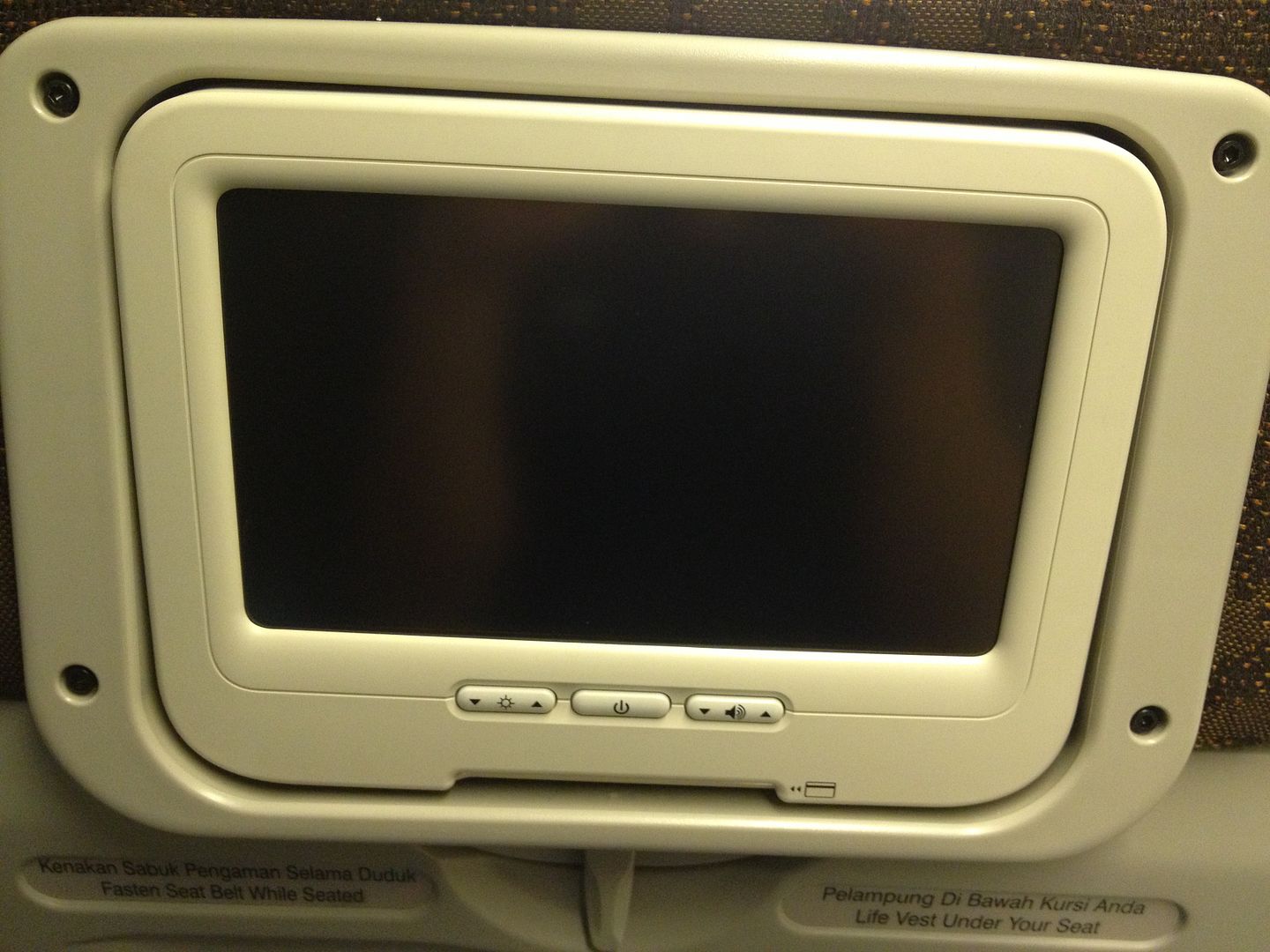 There was a leg rest which is nice although I rarely use it. There was an electrical outlet for charging personal devices between the seats.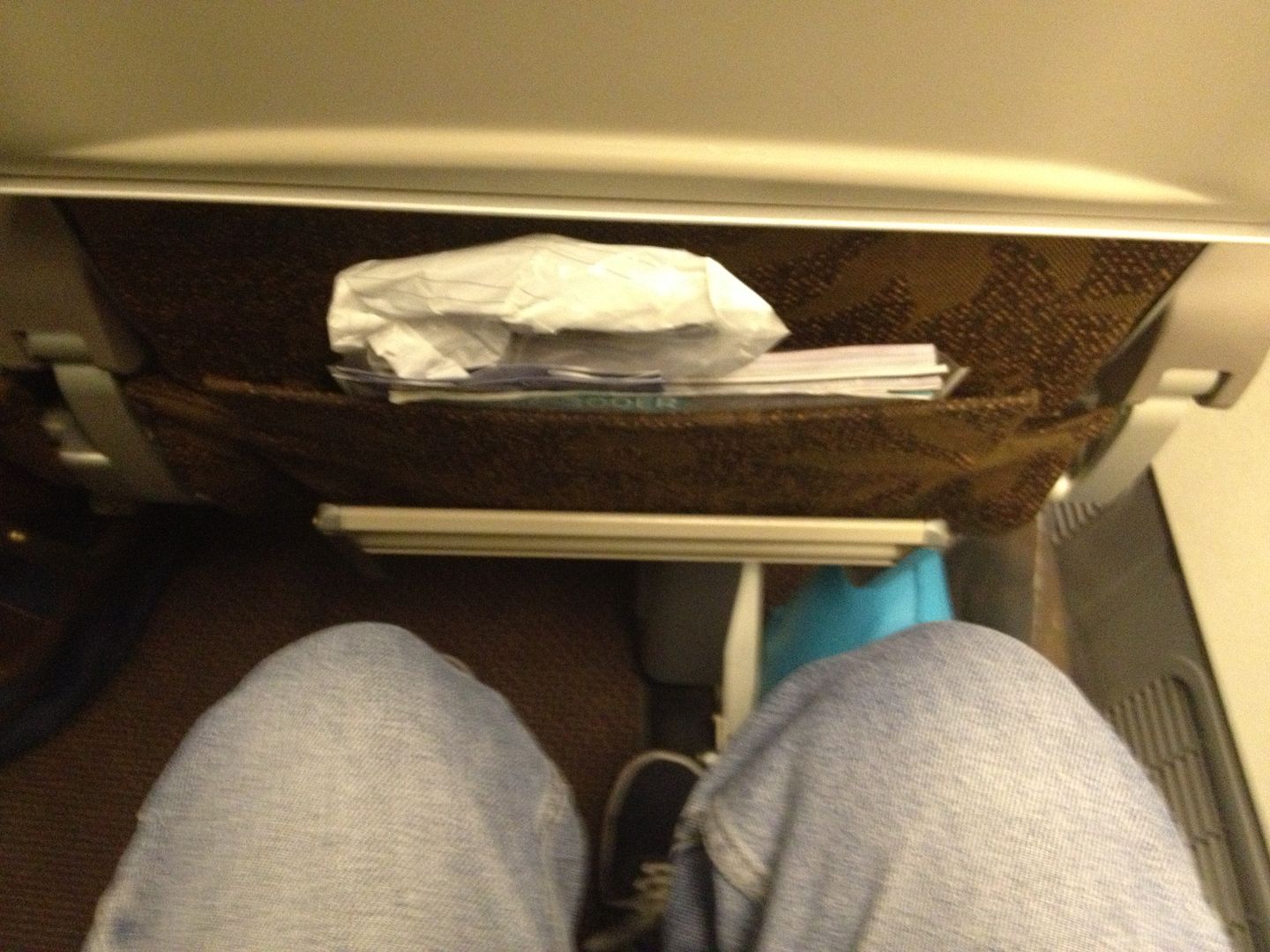 That's better than a USB port since some people may want to charge things that don't have a USB outlet. There was a USB port as well though. The armrest was wide and part of it was padded as well, something that I haven't seen before on other airlines.
The flight attendants were very petty and after 10 minutes or so came around with apple juice. Very nice with a pre-departure drink In Y!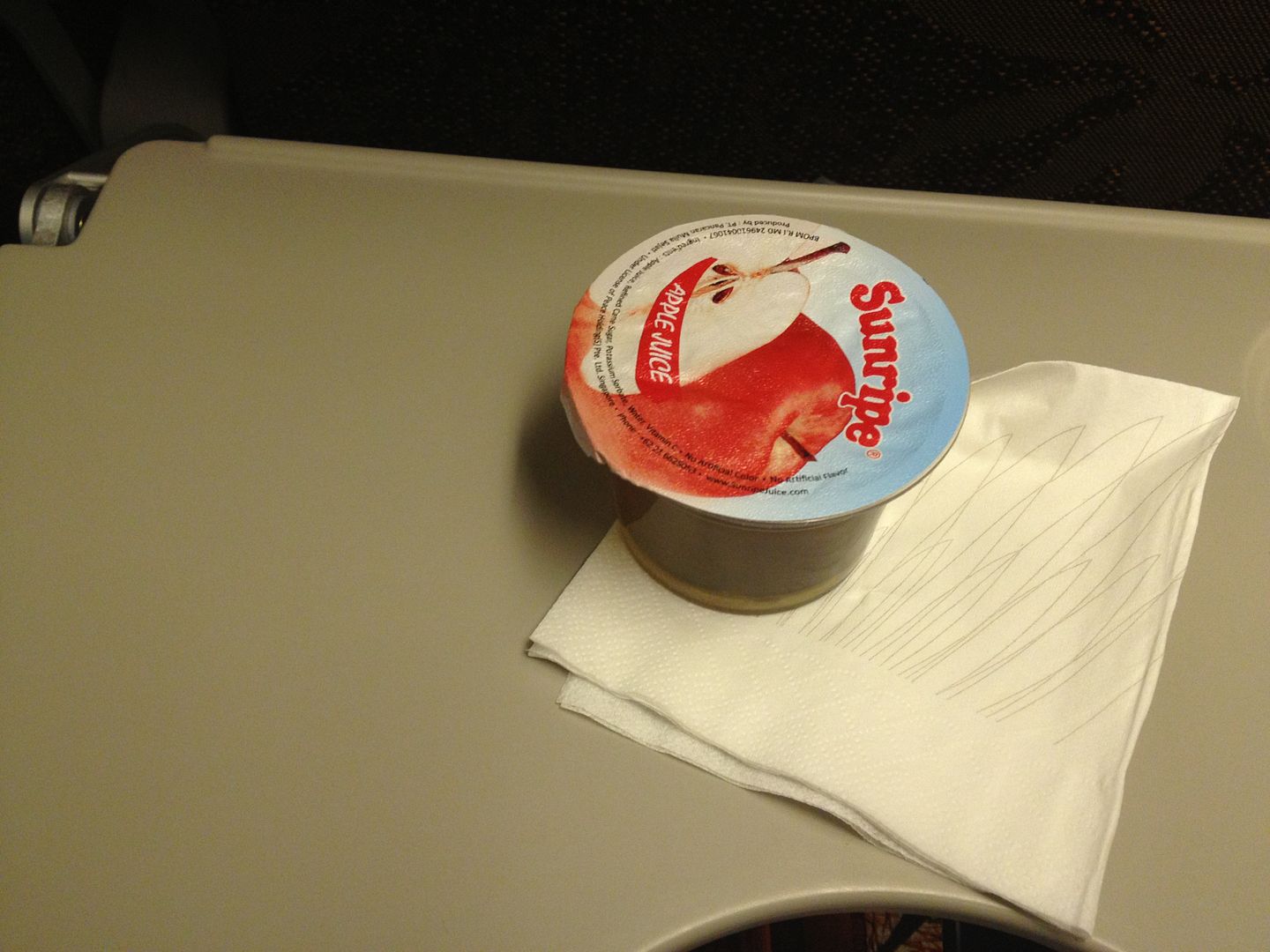 We were almost done boarding and the flight wasn't very full. I had both seats next to me open, which meant I could get some sleep. The armrest next to me went up almost all the way but not the next one between the middle and the aisle seat. Load factor was probably 30 %.
Amenity kits were also handed out which contained socks and eyeshades.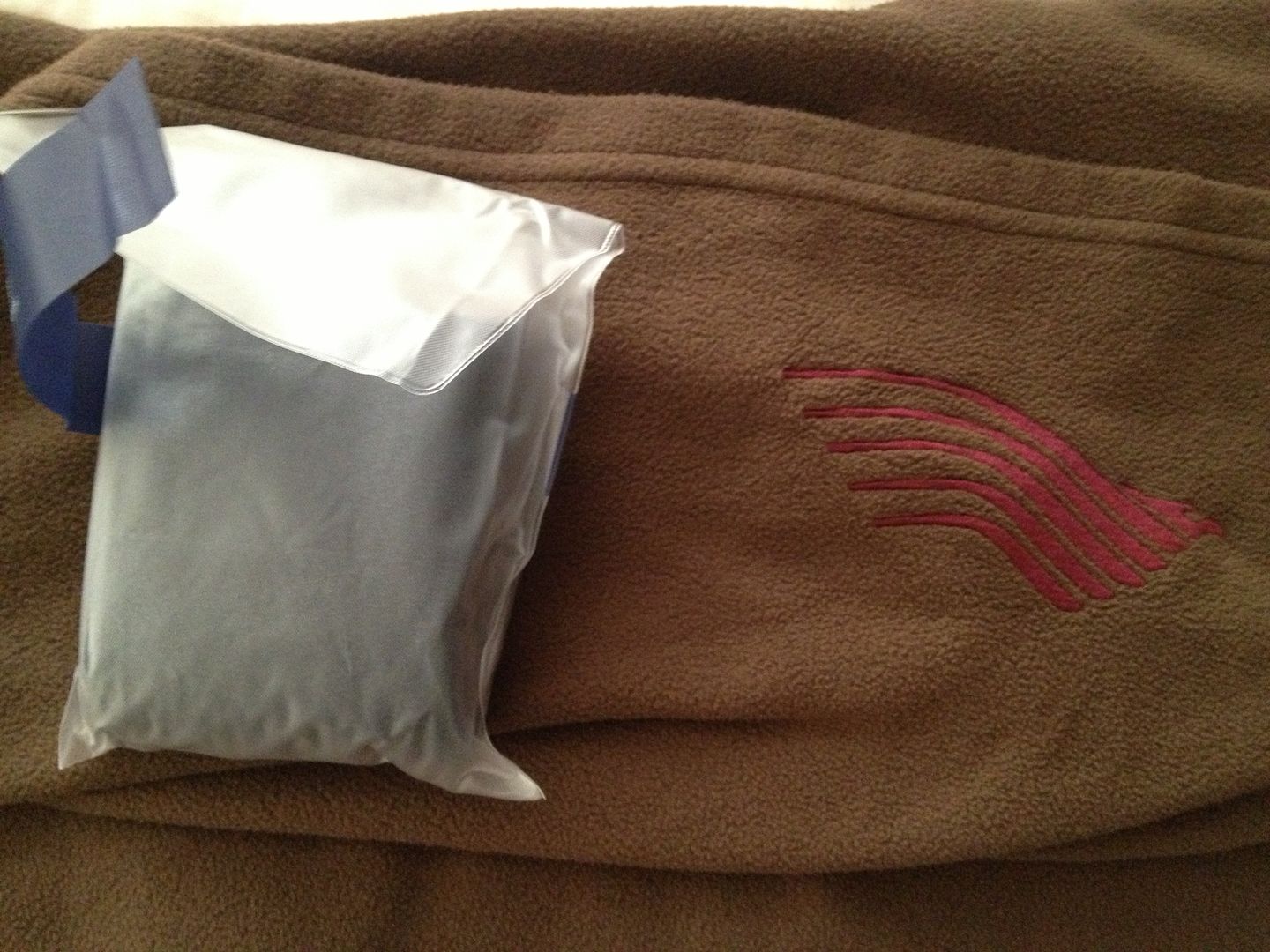 We pushed back five minutes late but no reason was given for the late departure. We taxied for a few minutes before departing to the west. As we were climbing up to altitude, I explored the IFE system more. Head seats were in the seat pocket but I used my own which is what I usually do. There was WiFi available for $11. 95 for an hour or 21.95 for 24h hours. LiveTv was another IFE option and I have never seen that yet. BBC, CNBC and CNN were some of the available channels. There was also something called Plug and Play where you could supposedly play your content on the screen. I couldn't get it to work though. The movie selection was okay but not much choice in music. Hardly any modern western music like pop, rock or dance music.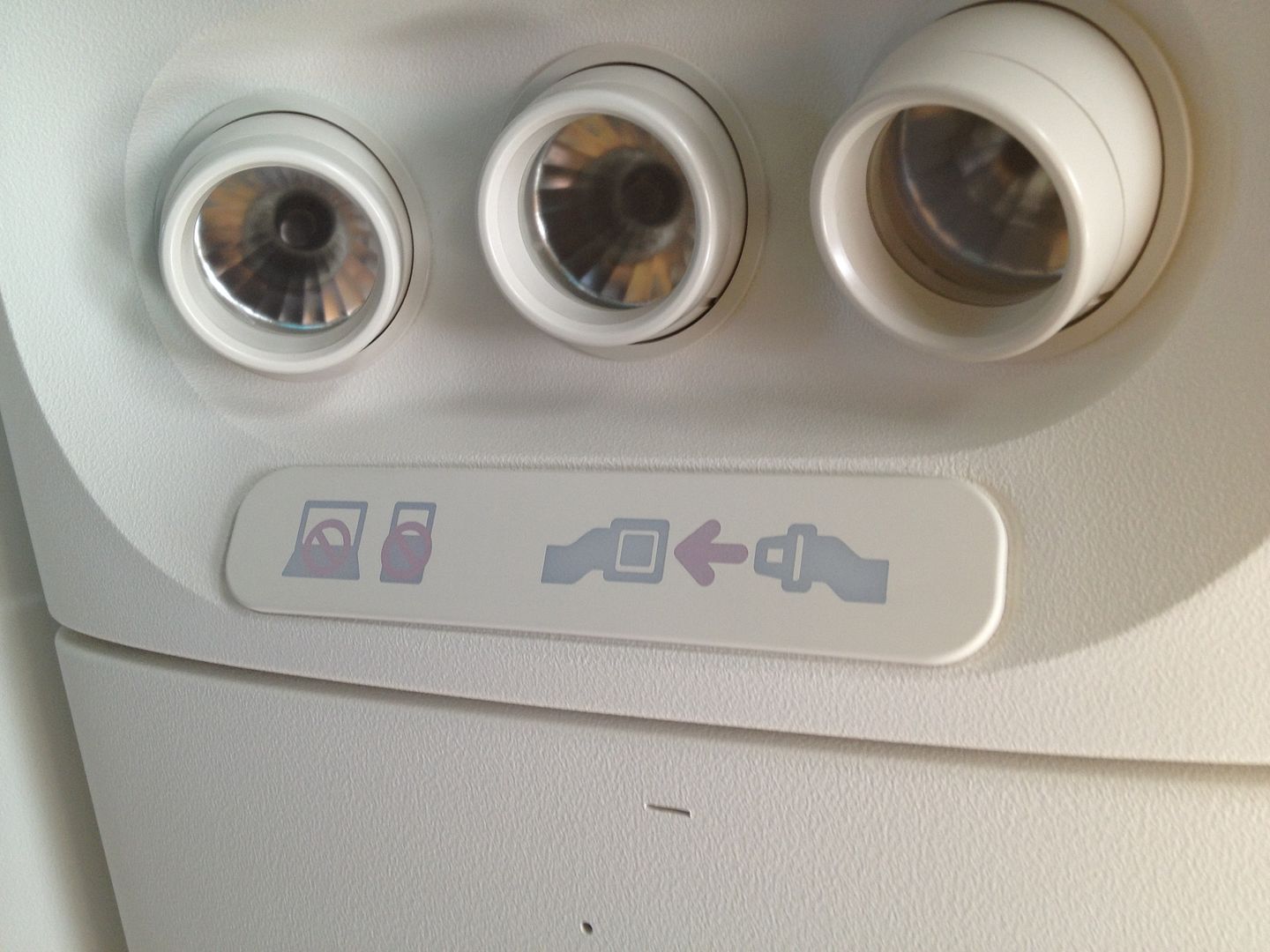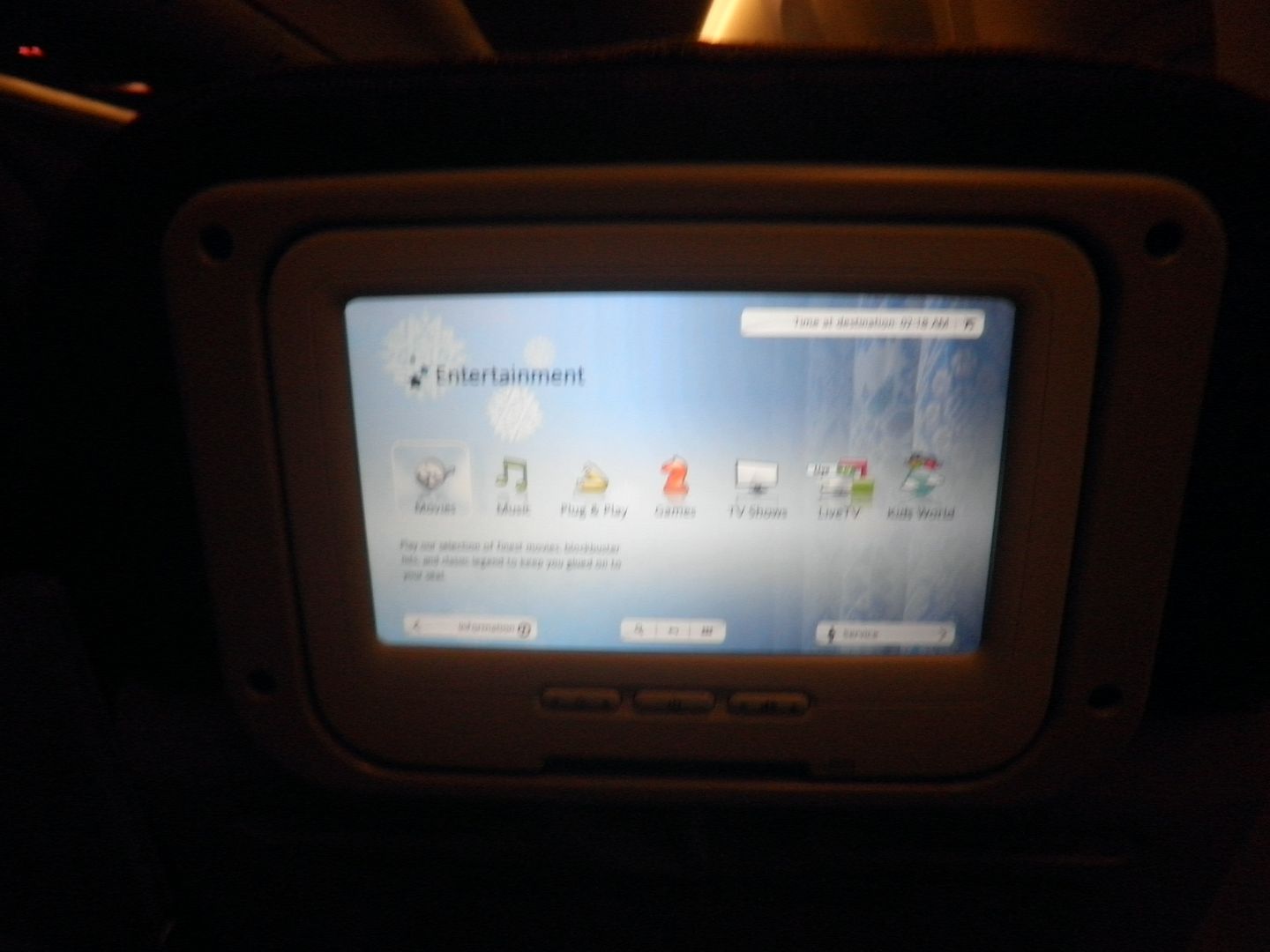 About 1h after take off, there was a snack served. It was sandwich filled with meat and I was offered a full can of Coca Cola to go with it. The sandwich was very tasty and afterwards, I went to sleep.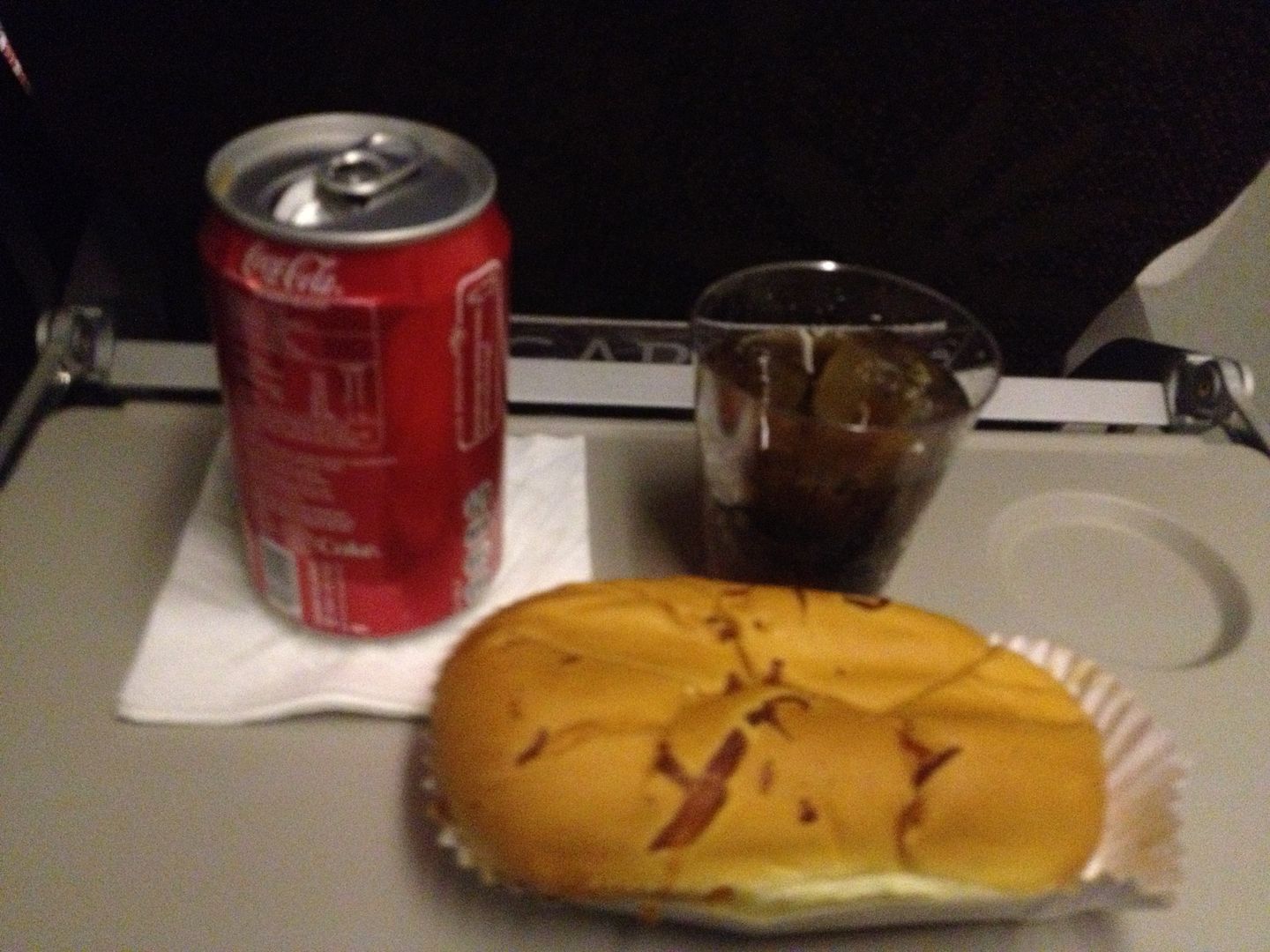 An orange juice given during a drink run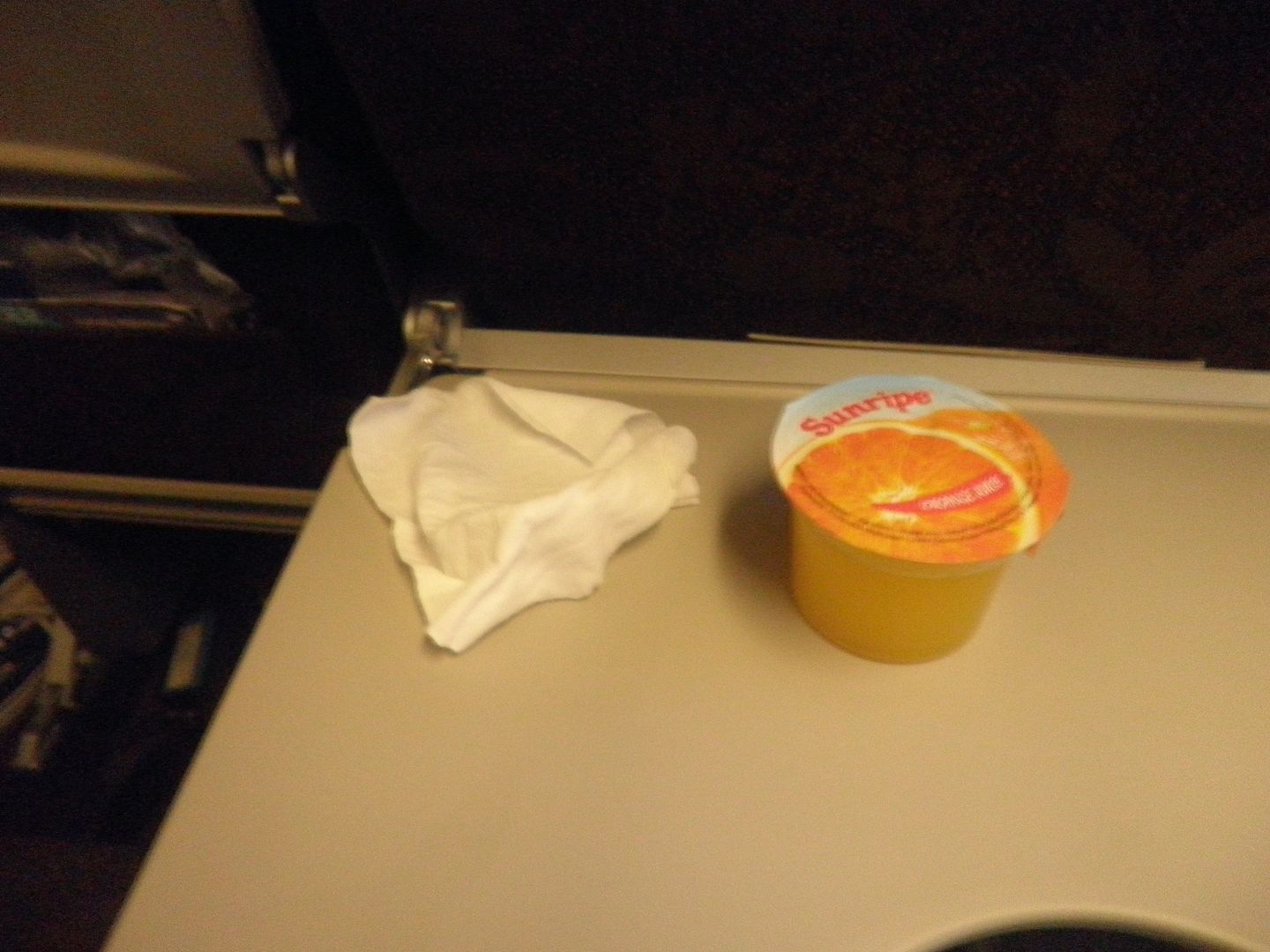 There was light to moderate turbulence for 2/3 of the flight so I kept waking up but I did get some sleep.
Breakfast was served about 2h 30 min before arrival which is too early in my opinion. I had the Japanese option with teriyaki chicken and rice. I ordered orange juice with the breakfast and also asked for some Coca Cola but that wasn't available. A few minutes later warm croissant was offered which was really good. When I was done with the breakfast, the flight attendant came back with a can of Coca Cola which was much appreciated.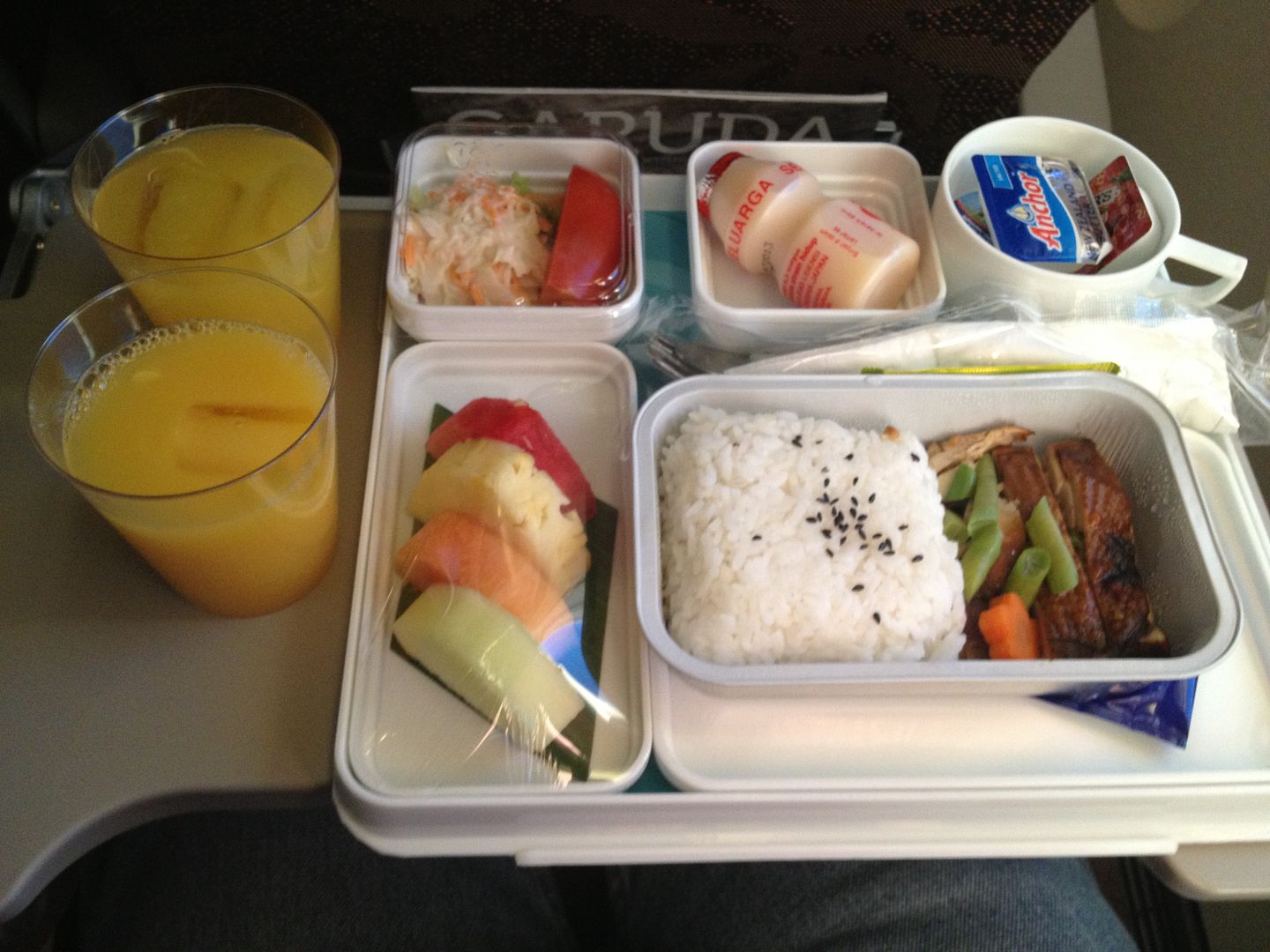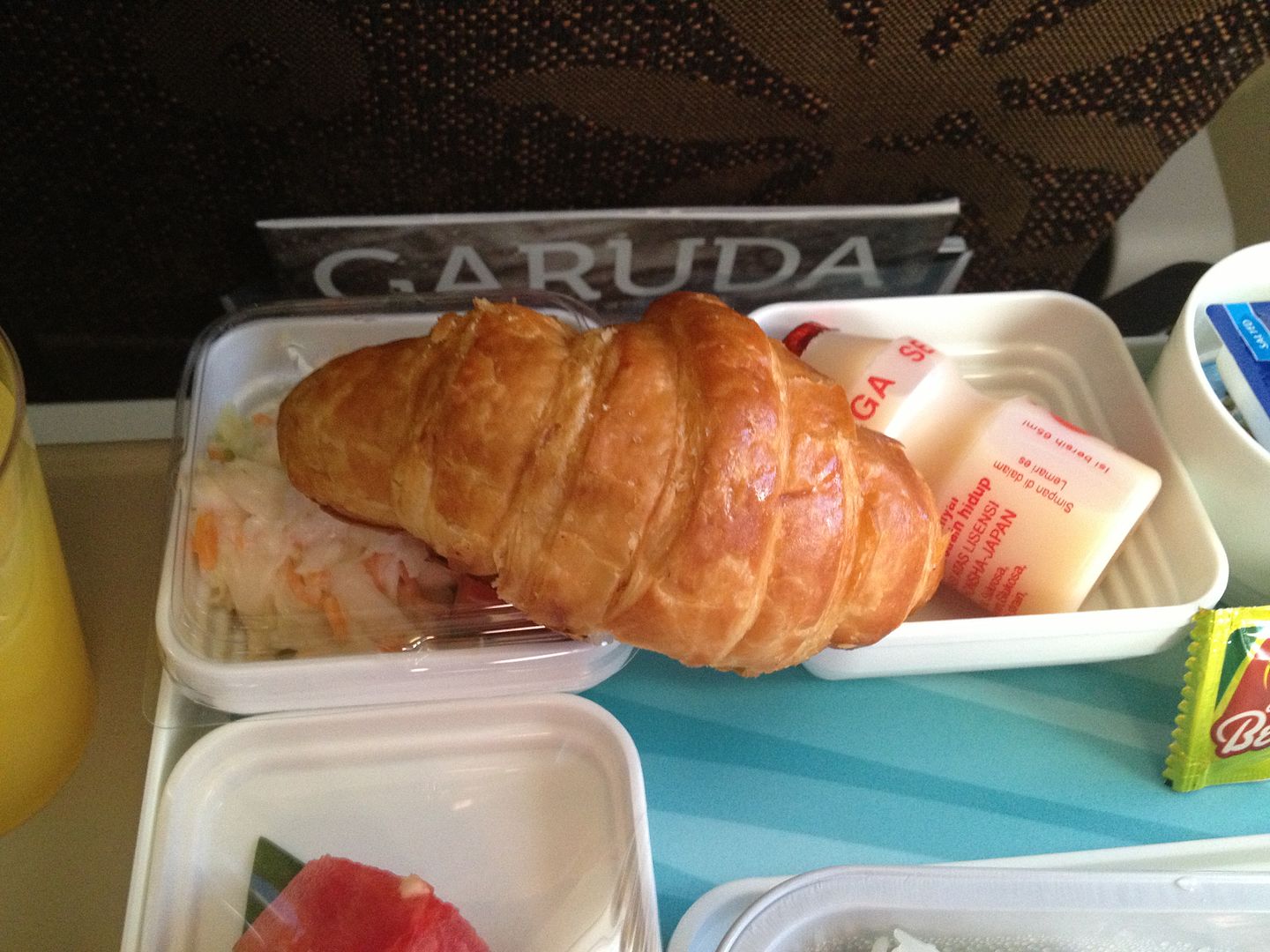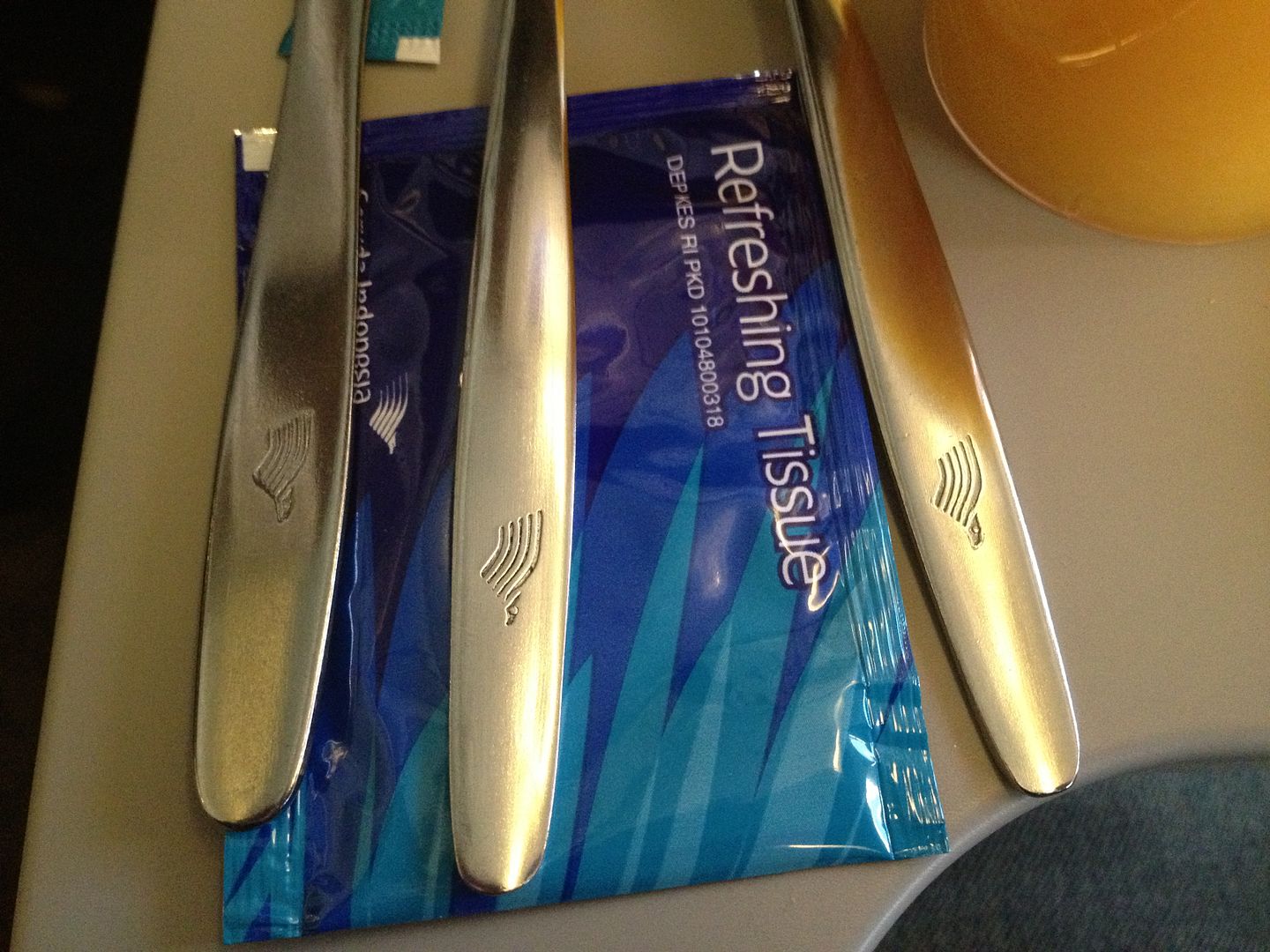 I spent the remaining time enjoying the scenary outside and watching the map display. I also tried the WiFi for an hour an chatted with some friends on Facebook and also checked on our flight on Flightradar 24. I also checked for the other GA 77W that was on the way from DPS to see if it was ahead or behind us.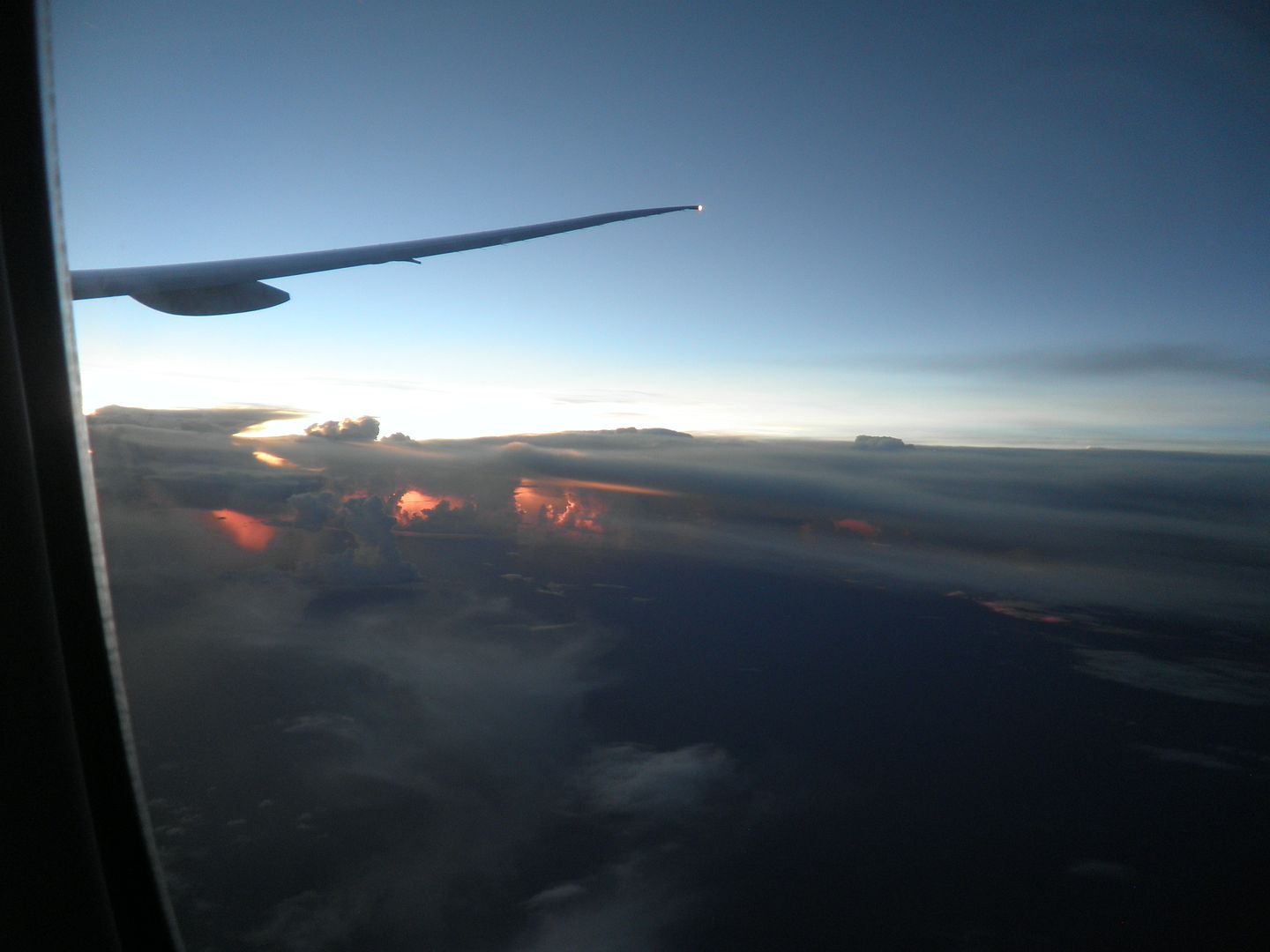 We cruised eventually at 37 000 ft and routing can be seen in the pictures. We did have a speed of Mach 0.857 which seems very fast for a 777 but I'm not sure how accurate that is.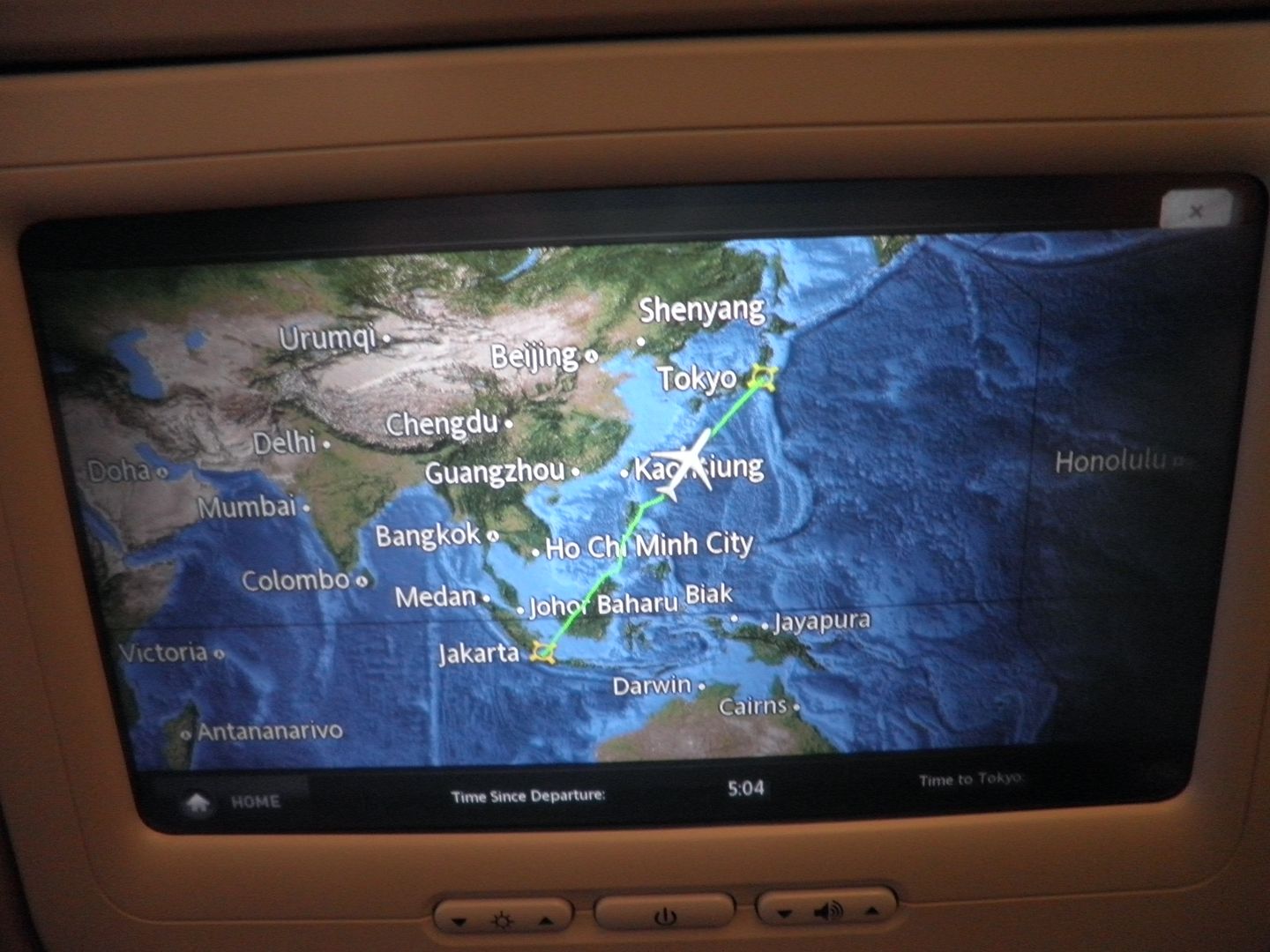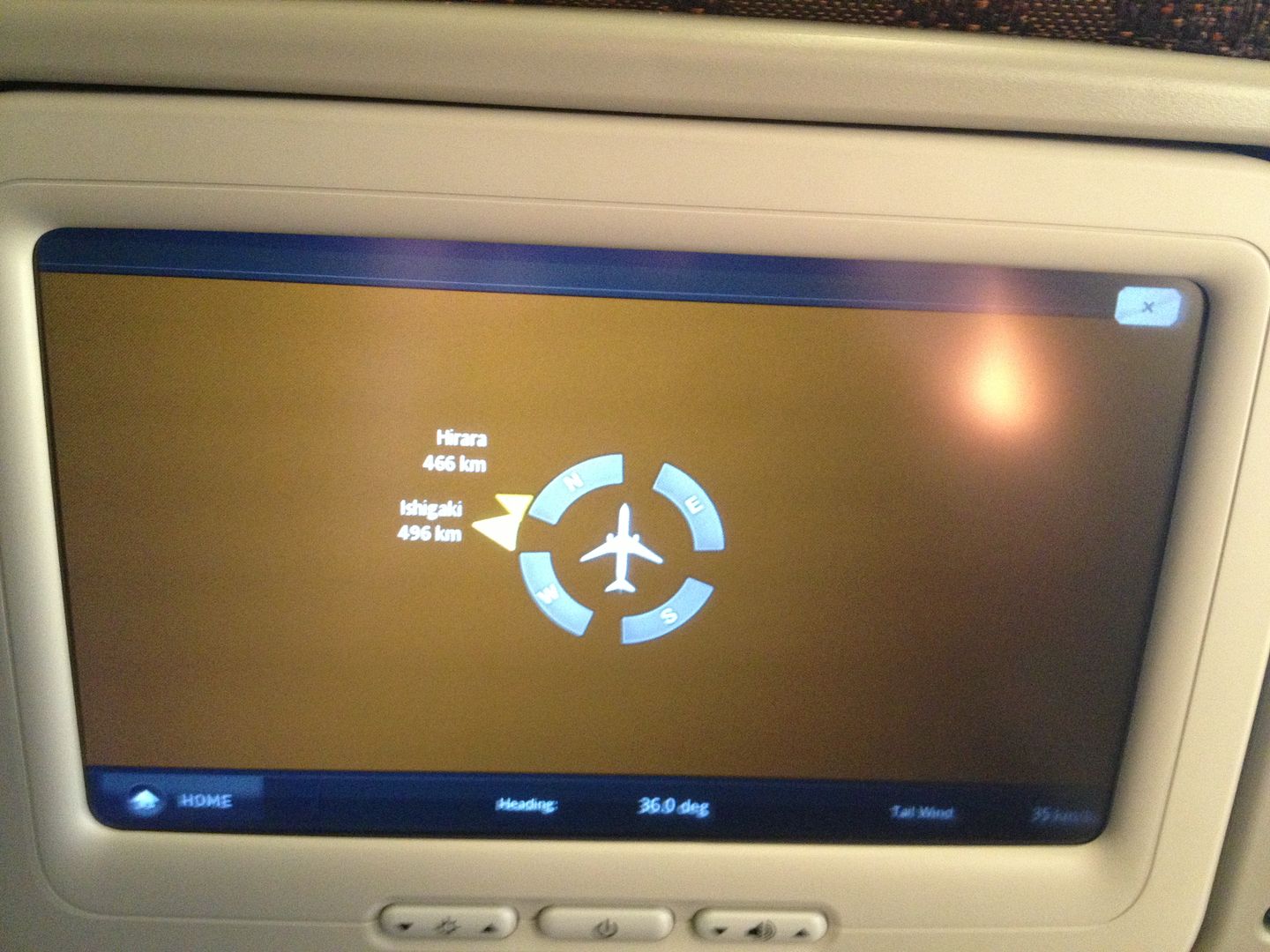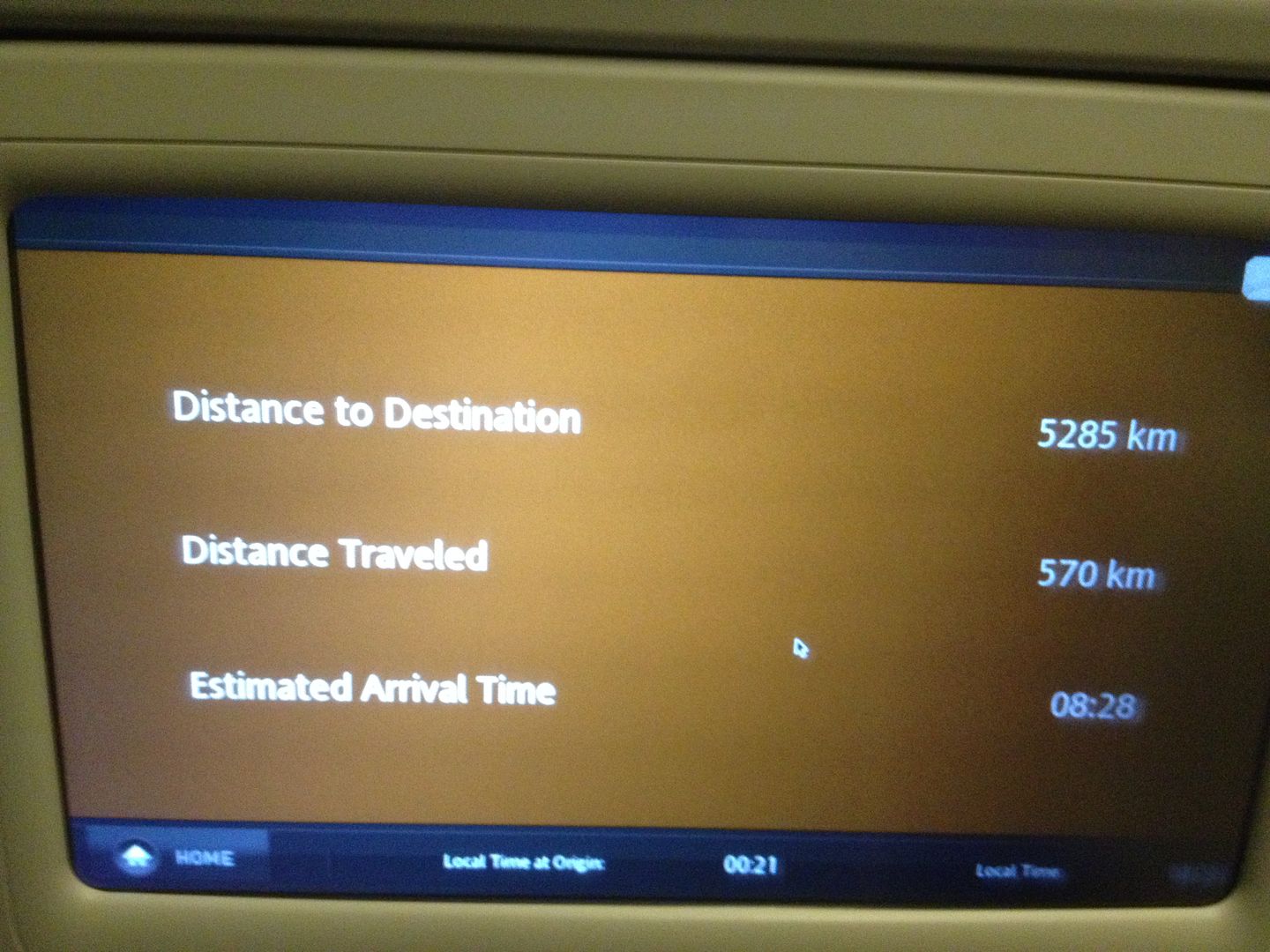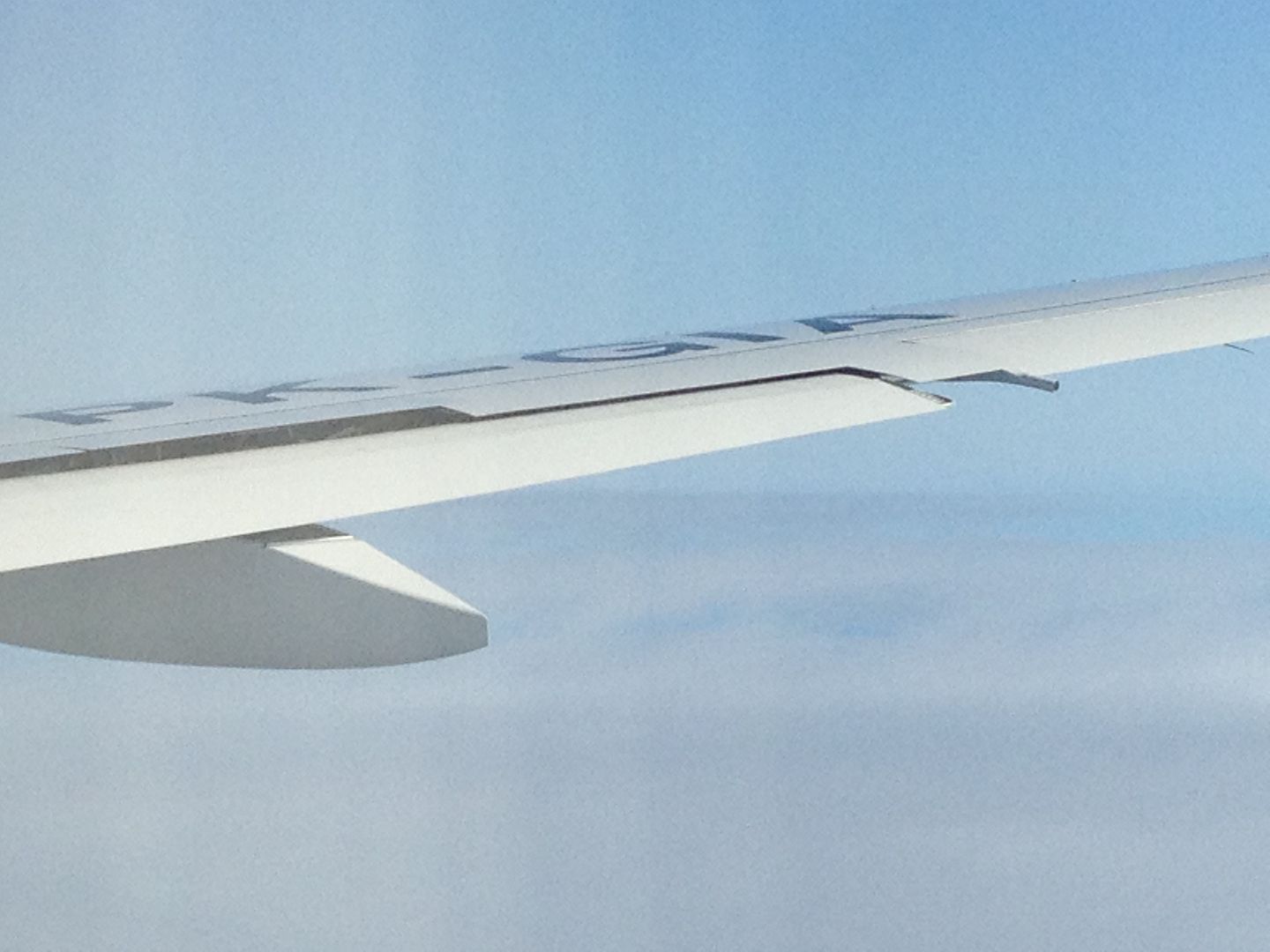 C O N C L U S I O N
I was very happy to finally try the Garuda Indonesia 777 after such a long wait and their new improved service that has been mentioned in other reports did not disappoint.
The flight exceeded my already high expectations and I told the flight attendants on my way out that this was much better than Singapore Airlines service.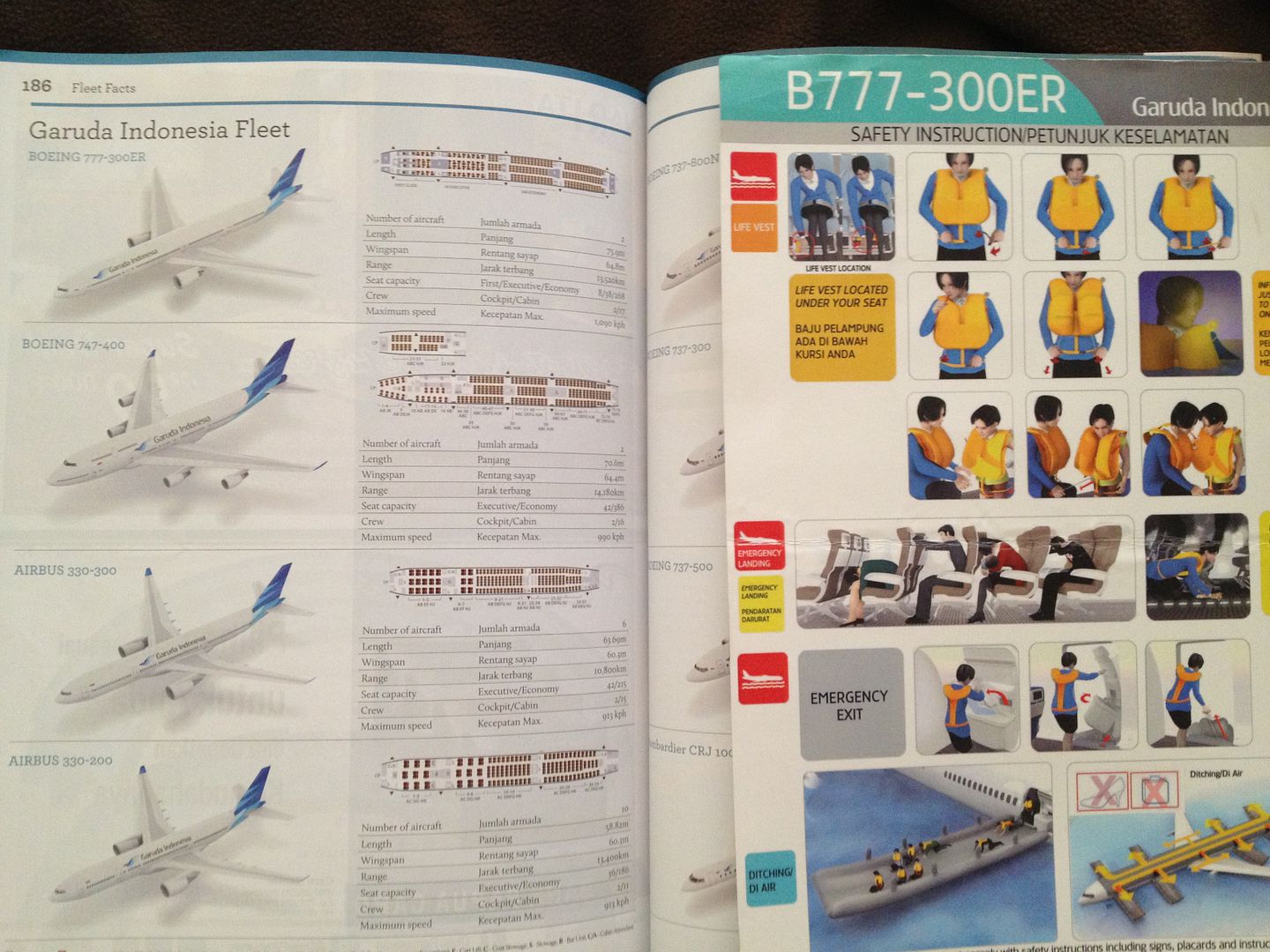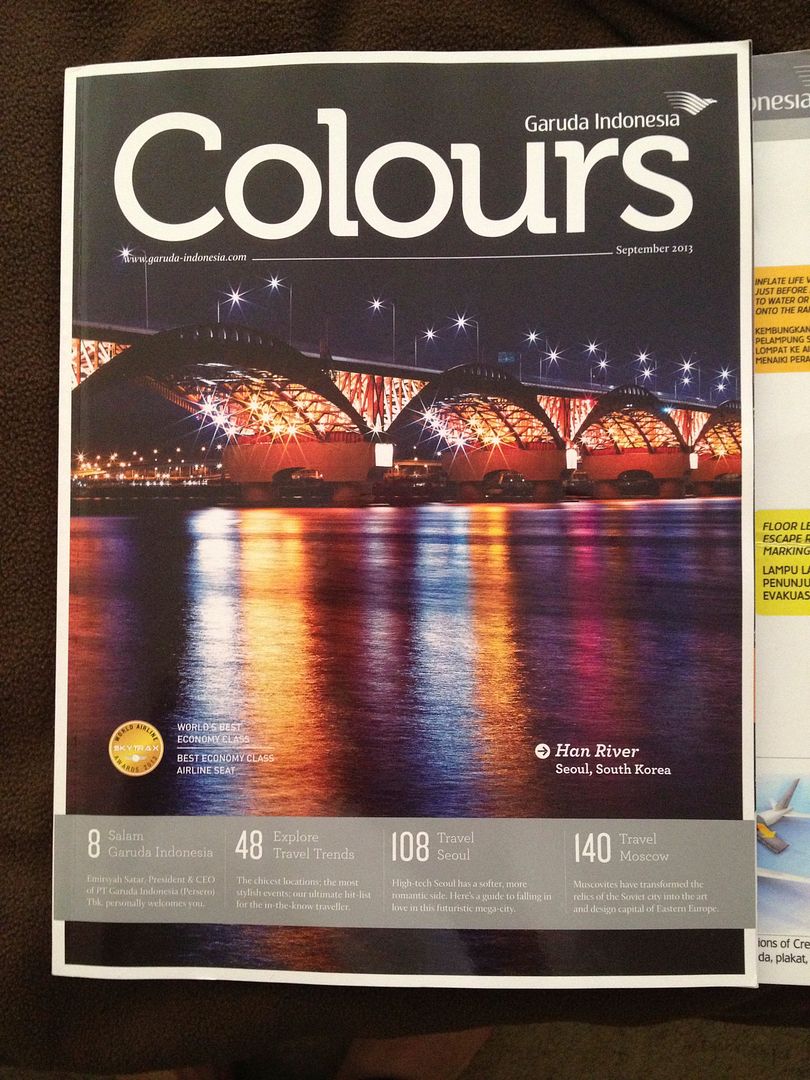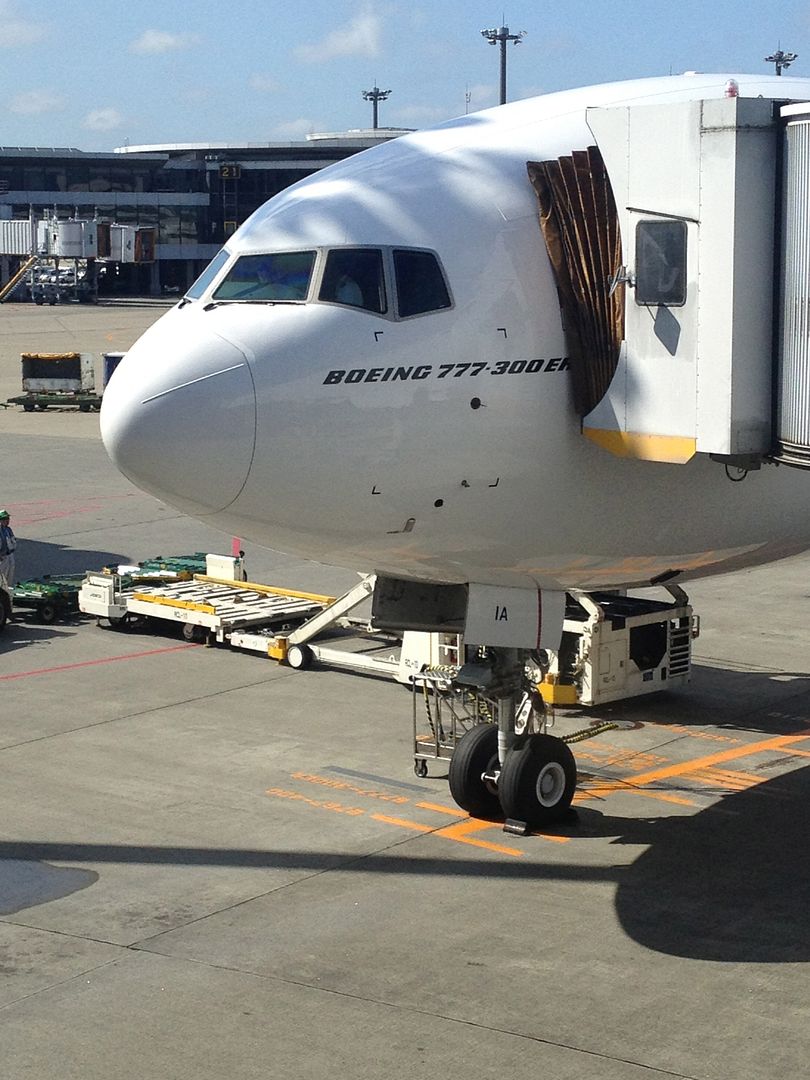 Comments welcome !
The777Man