Longest Commercial Flight in the World – SQ 22 Singapore to Newark on September 2013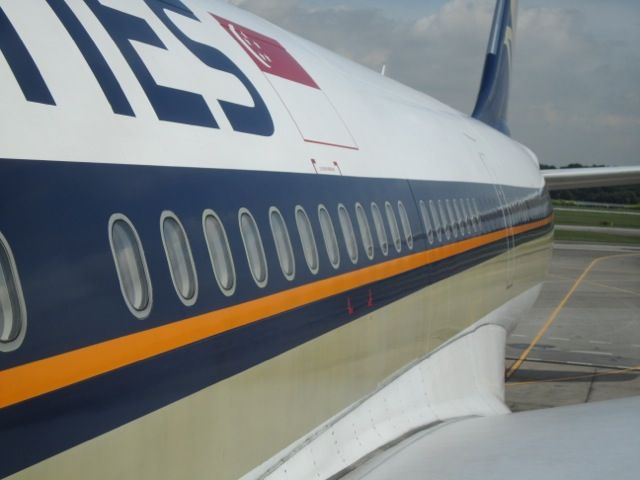 I finally got a chance to experience the world's longest commercial flight before it will bid goodbye on November 2013. Thanks to a very generous cousin, who redeems this free one-way award ticket on SQ 22 using her Silver Kris miles. She offered me a roundtrip ticket, but SQ 21 really departs at rather unattractive time. I honestly am appreciative of this opportunity to fly this special flight before its discontinuation. This flight has been recorded before so I am going to go into too many details. In terms of catering and services, it is fairly typical Singapore Airlines. For this particular flight, I can't really fault the crews but in the same time, I feel that they are not very personable like other Asian airlines. Catering – I still think three meals should be offered, not two meals and refreshment. I will discuss more as we talk about it later.
Here is the full photo album:
http://s1213.photobucket.com/user/Ca...field76/library/SQ22SINEWR09112013
SQ 22 SIN-EWR Lv1055 Arr1750 Airbus A340-500 9V-SGC
Check-in:
It was very quiet here in Singapore Changi's Terminal Three, as all morning flights have already departed. The business class area was not busy and there were plenty of counters to choose from.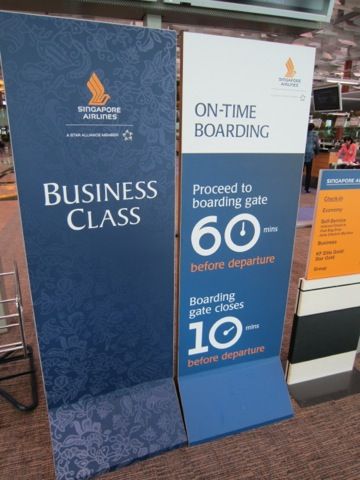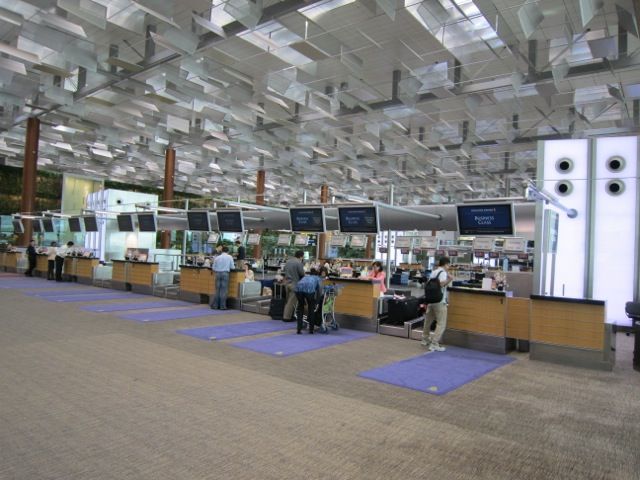 I went to the Silver Kris lounge and spent a few hours there. Sorry that there were no photos, as there were plenty of them in various trip reports. The breakfast buffet was very nice this morning and I love chicken porridge offered – a perfect light dish to enjoy before a long flight.
Various SQ planes at T-3 this morning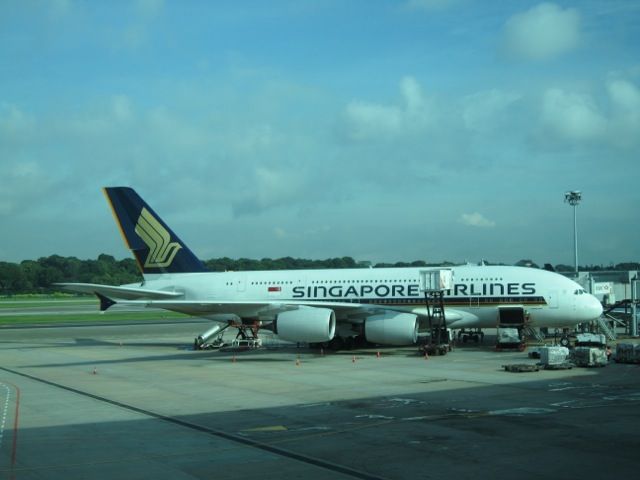 SQ 22 departed from gate A15 this morning, and instead of riding the shuttle, I decided to walk there, as I would be stuck in a tube for the next 19 hours. I arrived t the gate quite early but unfortunately gate A15 did not allow any good angle for taking a good picture of the plane. There was an additional document check before passing the security checkpoint. Everyone was extremely friendly and I felt that the staffs were specially selected to handle this all-business-class flight.
9V-SGC before the long flight to Newark
Gate A15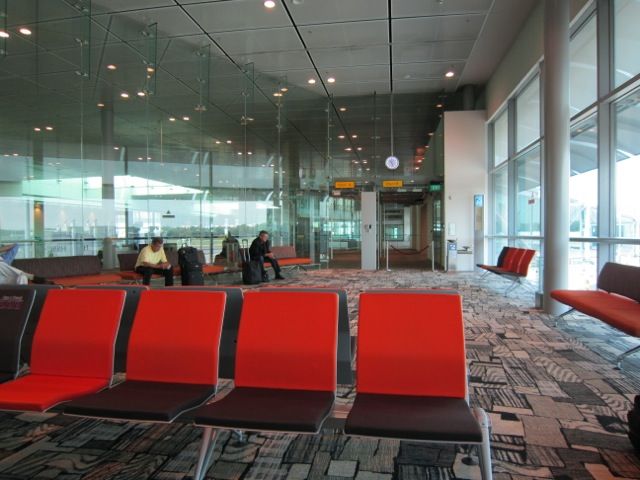 Most passengers rushed to Door "A" but since my seat was 20A this morning, I just used Door "B". A flight attendant immediately welcomed me onboard and I was not very happy when I see my original seat 20A!
There was a window missing, but thankfully the flight was not full and I asked the F/A if I could move to 19A, the bulkhead window seat. She went to check and I got the okay. Here is my new seat 19A.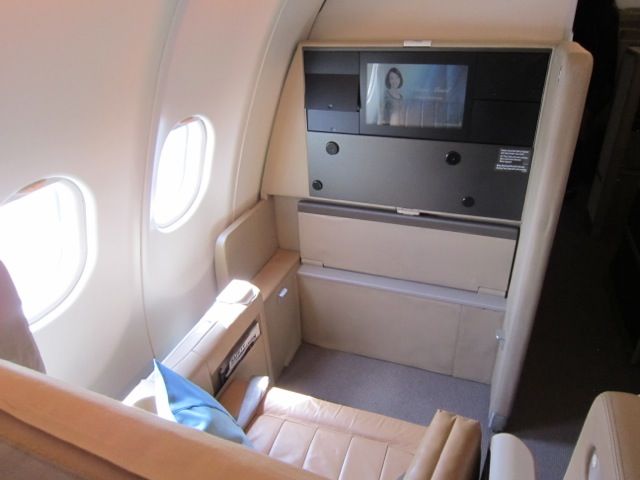 It was clear that it was a very experienced set of crews, as everyone knew what to do. Headsets and menus were first offered, and then pre-takeoff beverages were offered. I got the special SQ cocktail – I believe it was the Silver Kris Sling.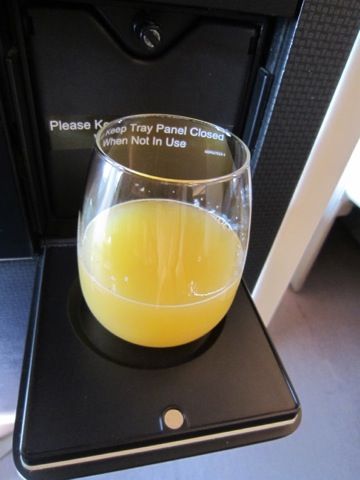 Newspapers and magazines were then offered, and I was happy to get a copy of the New York Times, despite it was two days old.
Here are the reading literatures – safety card, Krisworld guide, duty free catalog, and SQ inflight magazine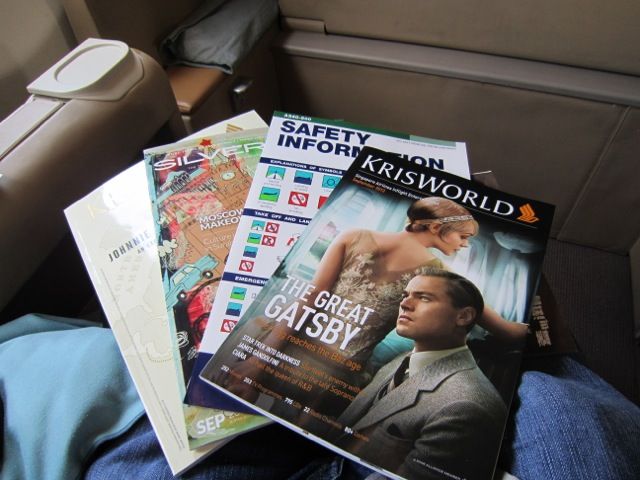 View of the engines
Flight information:
Boarding began at 10:30am and with a light load of around fifty passengers, the process was completed in less than fifteen minutes. Door was closed at 10:50am and we pushed back six minutes later. It took ten minutes for the plane to start up but unfortunately we had to stop in a taxiway for a while, due to congestion and a last minute runway change. Beverage and lunch entrée orders were also taken during the delays.
Philippine Airlines A319 heading to Manila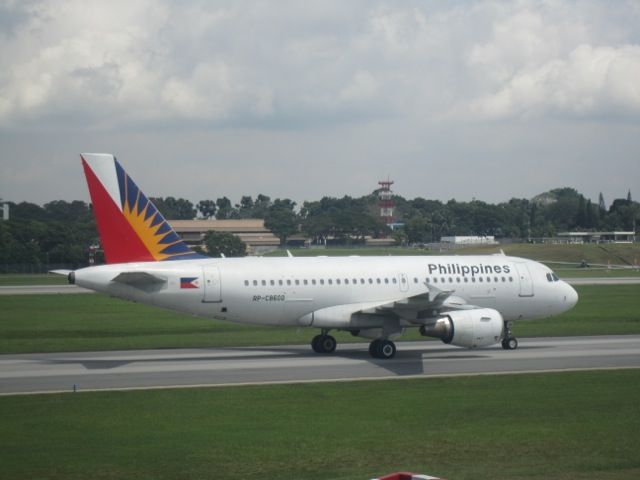 An all-white ex-SQ Boeing 777-200
We finally took off at 11:35am from R/W20C and the runway roll lasted almost a full minute (58 seconds to be exact) before lifting off. Some views shortly after takeoff as we left the Singapore strait!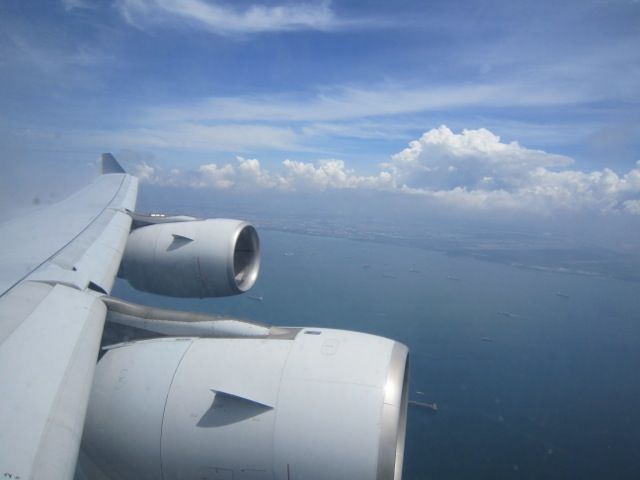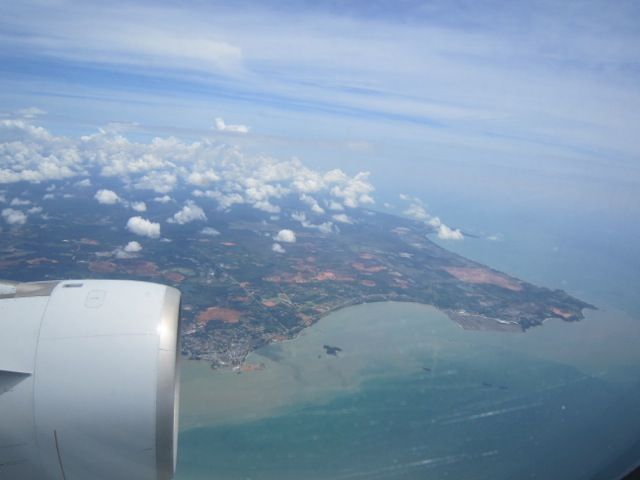 The routing today was fairly normal, as we took the Great Circle route across the Pacific Ocean.
Here is a map of our route:
We first climbed to 31,000feet as we entered the South China Sea, and then we climbed to 32,000feet before crossing the North of the Philippines. We further climbed to 35,000feet before passing Naha and the Okinawa Islands. We cruised along the Japanese coast before heading towards the Pacific Ocean. We then climbed to 37,000feet before passing the Attu Islands and Bering Sea, and entering the Alaskan coast and passing cities of Kipnuk and Willow. We further climbed to 39,000feet and passed Gulkana Airport and then entering the Canadian Airspace and crossing Yukon, Northwest Territories, Manitoba, and then reached our final cruising altitude of 41,000feet. We crossed Lake Superior, city of Sault Ste Marie, North Channel, Oower Sound, Shelburne, Toronto, and entering the US airspace again by passing the city of Rochester. We descent to 27,000feet and took a circular route (ATC delay) and then headed towards Newark.
Seat belt sign was turned off at 11:46am and the F/As first passed out the familiar socks and eyeshades. This topic has been discussing to death and I personally think these amenities are cheap looking. One can debate if amenity kit is necessary (IMHO, an amenity kit is necessary and SQ should have no issue finding a sponsor. Given how expensive a SQ business class ticket is, skipping an amenity kit is just cheap!) However I think a real pair of cotton slippers is not too much to ask. I brought my own slippers. I actually think SQ should have offered pajamas for the nonstop LAX and EWR flights especially they did not offer any amenity kit.
The first beverage was offered at 11:56am and a bowl of warmed mixed nuts was offered.
Here is the wine list:
Wine List
Champagne
Bollinger Special Cuvee Brut, Champagne, France
White Wine
2010 La Crema Monterey Chardonnay, Monterey, USA
2011 Reichsgraf von Kesselstatt Riesling Kabinett, Mosel, Germany
Red Wines
2009 Chateau Loudenne Medoc Cru Bourgeois, Bordeaux, France
2011 Torbreck Woodcutter's Shiraz, Barossa Valley, Australia
Sweet Wine
2009 Chateau Filhot Sauternes
Port
Taylor's 10 Years Old Tawny Port, Portugal
My choice for the first beverage was the Silver Kris Sling
One of Singapore Airlines' special touches, this cocktail is a delicious mix of gin, Cointreau, orange juice and pineapple juice, topped with Champagne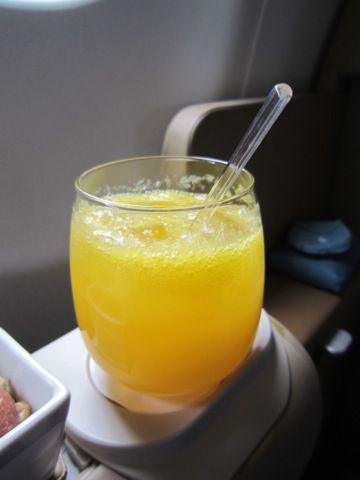 It was delicious and I like the fact that SQ uses freshly squeezed orange juice for this cocktail. Lunch was then served, and SQ no longer uses tray for its main meal services, and tables are individually setup like traditional first class.
Catering:
Menu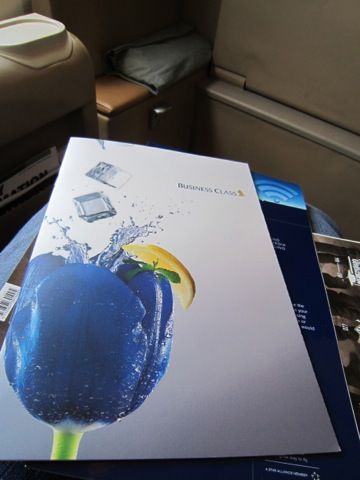 Lunch
Salt & Pepper Shaker and butter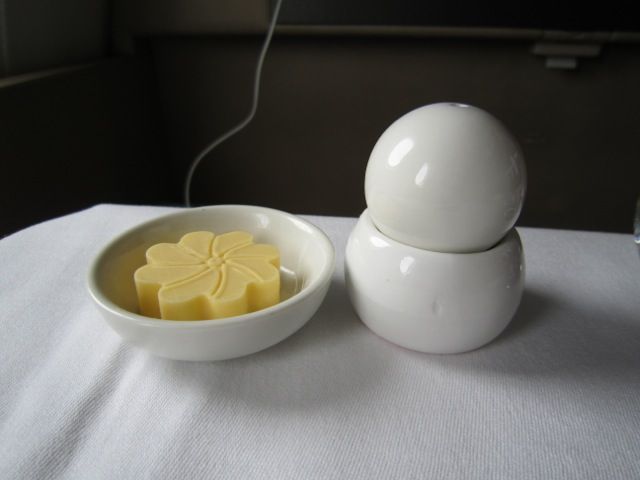 Singapore Airlines logo in the bottom of the glasses
Bread plate
Starter
Trilogy of salmon with Mesclun salad
Slices of hot smoked, cold smoked, and marinated salmon
This was a very nice salmon appetizer and it showcases different ways that salmon can be presented.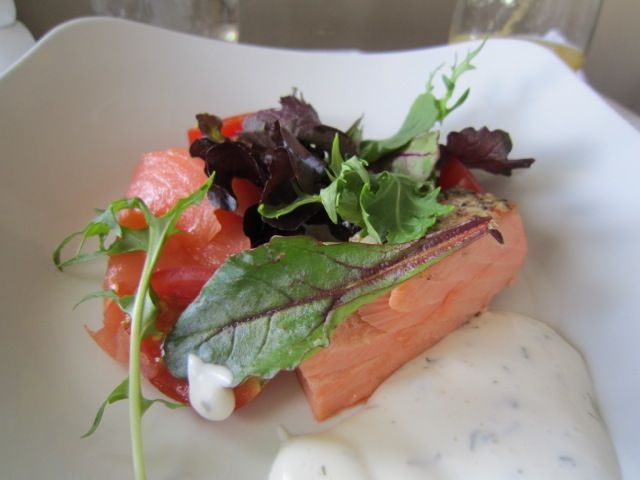 Main
*Spring chicken with pork chorizo sausage, chickpeas and sautéed cavalo nero leaves
Exclusively created by Matthew Moran of Aria Restaurant, Sydney
I got to give SQ credits for these innovative and restaurant quality entrées. I would have gladly paid for this dish in a restaurant. The chicken was cooked just right.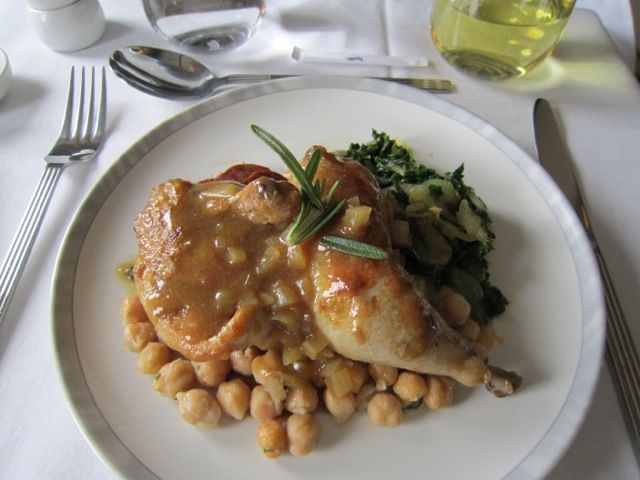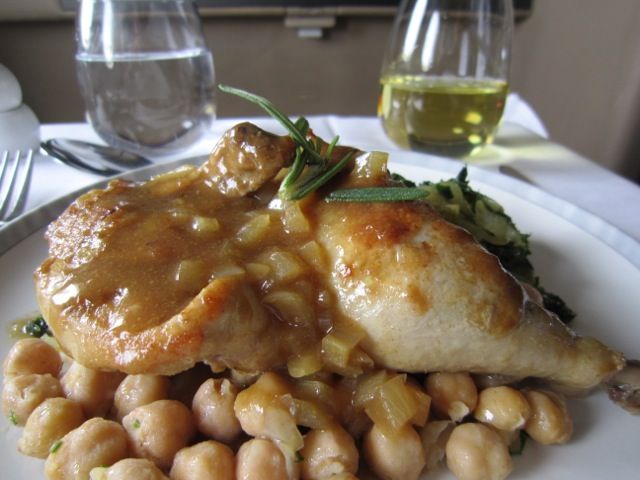 Or
Gaeng phed pla
Thai style red curry fish, seasonal vegetables and steamed rice
Or
Seared tournedos of beef with thyme jus, roasted vegetables and seared asparagus
A healthier choice – lower in carbohydrate and calories
Or
Char siew and wanton noodle soup
Egg noodles in rich broth garnished with honey roasted pork, pork dumplings and leafy greens
A renowned favorite in Singapore
Finale
Choice of dessert
Viennetta ice cream or panna cotta with citrus compote
Dessert was always a weak part for most Asian airlines, but this panna cotta was quite interesting – a perfect end to the lunch service.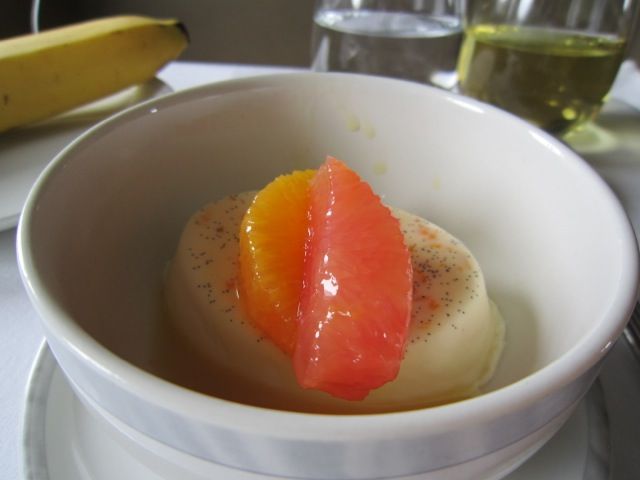 Fruits in season
It was interesting that fresh fruit basket was only offered for lunch service, and there was no cheese service. Dinner was the opposite. The selection of fruits today included bananas, cantaloupes, peach, sliced pineapples, and apples.
Gourmet coffees & selections of fine teas, with pralines
[Edited 2013-09-17 23:44:29]