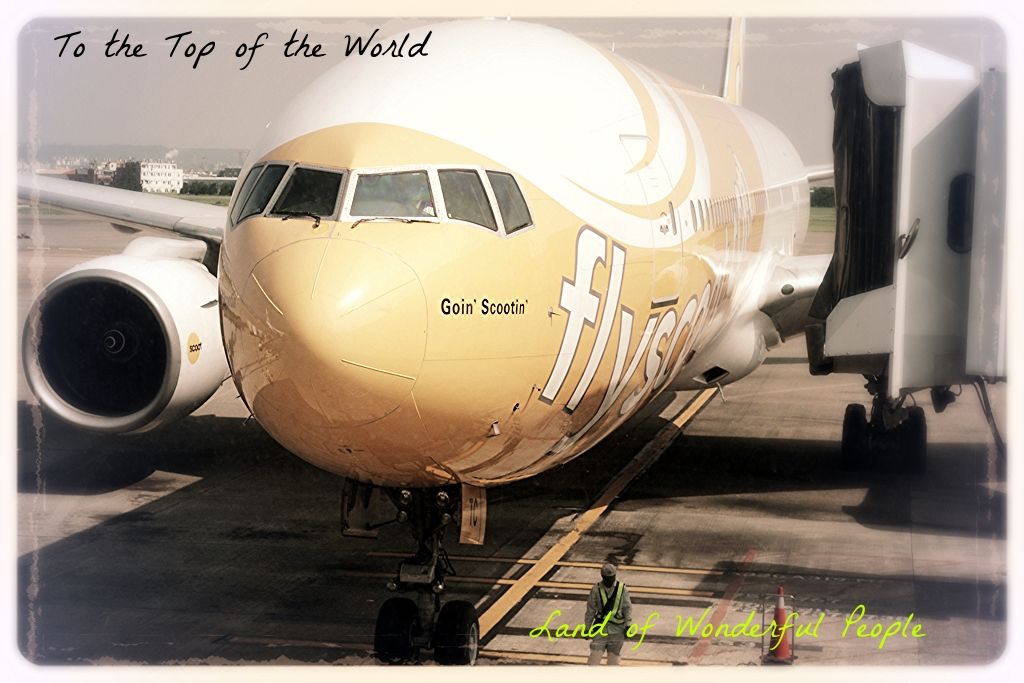 Introduction
Shortly after booking my tickets for my
Sydney Trip
in August, Scoot came out with a promotion - Buy the outbound ticket and get the inbound free and it applies to all Scoot destinations. So, after a short
30 seconds
discussion (yes, it was that short!) with another of my buddy, Edward, we decided to go to Taipei for our holiday. Tickets were bought for just around $220 per person. With all the additional baggage, food and stuff, it came up to $370 per pax.

Look at how a simple $220 per pax turned out to $370 per pax!
The most infuriating thing was around 2 weeks after I made my booking, they actually came up with a 2 cents promo per way, making the tickets just less than $100! Not forgetting to mention that this one-way free promotion came just after I made my Sydney trip booking, making the tickets cost $200 less than what I originally paid for. Oh well, Scoot never fails to amuse.
Hotel wise, we decided on
One2Stay Inn
, recommended by a friend whom we regard as a "Taiwan Guru". It's located right at the heart of Ximending, Taiwan's famous shopping district and just a 20 metre walk away from Ximen Metro Station!
Pre-Flight
On this exciting day, I went to the roadside to grab a cab as usual for my commute to the airport. Hyundai Sonatas were flooding Singapore's streets since a few years ago, hence I tried my very best not to get on one. Probably lady luck was smiling at me today, I got onto a
Toyota Crown
taxi, one of the best cars produced ever! After picking Edward, it was time to head off to the airport via the vast expressway network of our little island.
We headed straight to row 10 for check in, my third time so far in Changi. It was also my first time checking in for a Scoot flight in daylight, seeing my past 2 trips with Scoot were to Sydney and that flight departs at an ungodly 2am.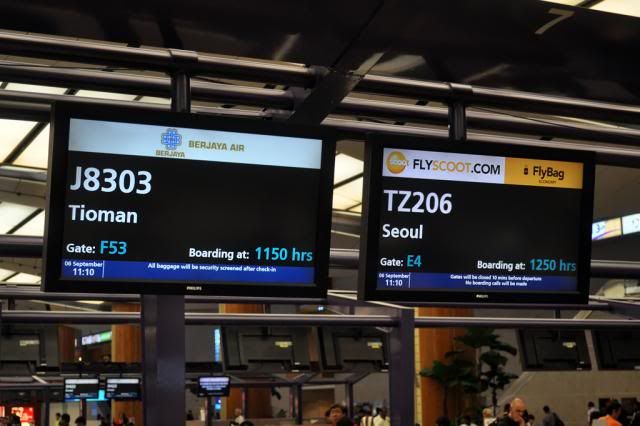 Check-in for our flight. I have to get onto the Berjaya Air flight one day! I know someone is eagerly awaiting to get onto the flight...
Thankfully, I did not exceed my purchased allowance of 15kg and soon we were given our boarding passes. With more than 2 hours to go, we decided to go for a quick lunch.

Time to pamper ourselves!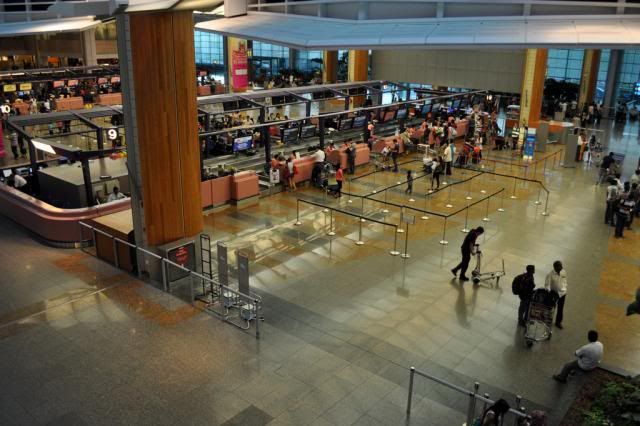 Not forgetting to have a bird's eye view of Terminal 2's check-in area
We settled on
Pasta de Waraku
, a casual Japanese pasta restaurant. Food here is average but if you are looking for a place where you think your 10% service charge should be well worth it, avoid this place at
ALL COSTS
. Service here is one of the worst I had ever seen. They do not even welcome you to the restaurant and guide you to your seat coldly. Their wait staff does not even smile! Well, enough of that. On to the food -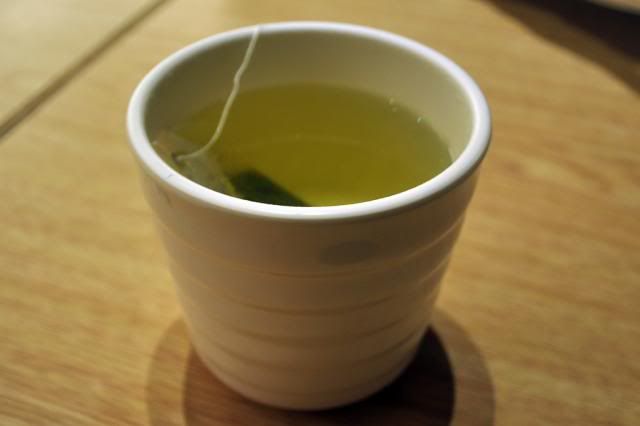 Japanese Green Tea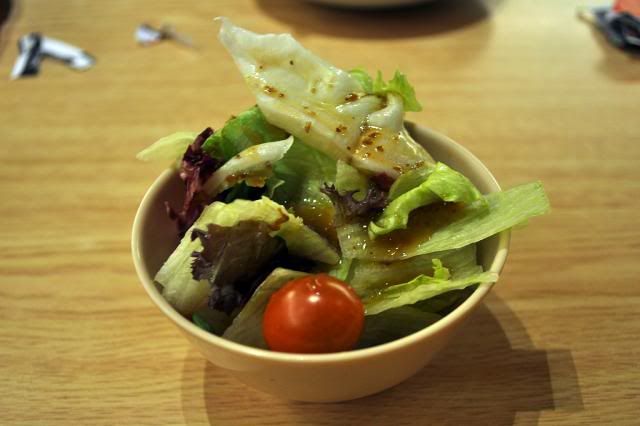 Wafu Salad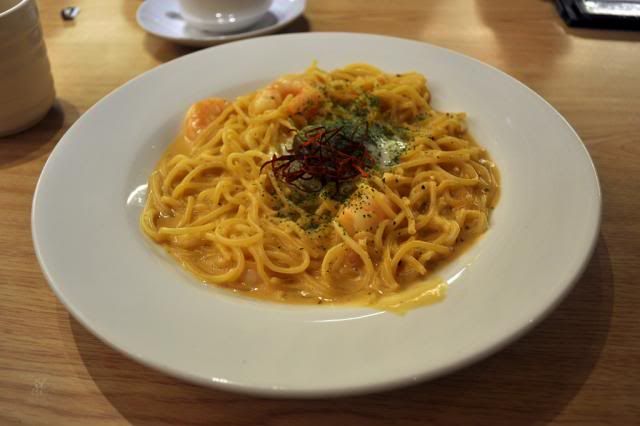 I forgot what I exactly ordered, but this was good



Service lapse - Who serves the soup after the entree? The corn soup was nice nonetheless
I have passed through Changi Airport at around 50-60 times and have already memorised the layout somehow. Sometimes I did not even want to take photos as all of them turn out the same way. I somehow break my promises though, so here are some photos.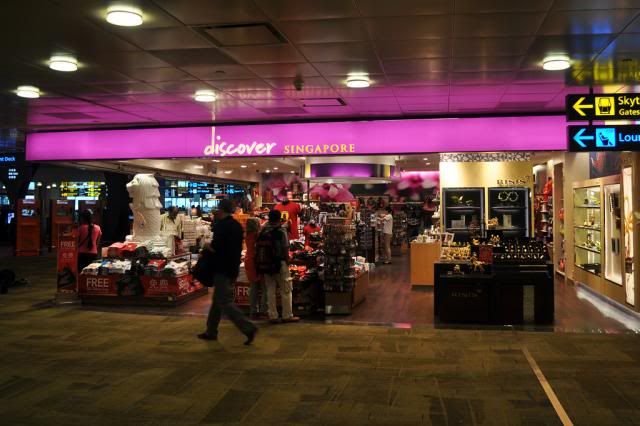 Letting tourists clear some of their remaining Singapore Dollars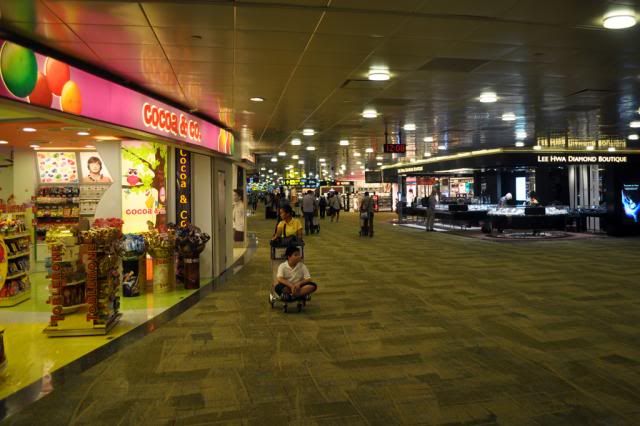 More places for you to clear your currencies
Having a habit to check which aircraft will be flying me before my flight, I did a check the night before and found out that once again,
Barry
will be flying me to Taipei! What? 6 flights with Scoot and thrice with Barry, what a chance! Probably Barry is taking his revenge on me, as I always thought it was the most ridiculous name ever for an airplane! This also marks my 2nd flight on Barry on seat 23A.

Hi Barry, once again...



Once flew on 9M-FFF when it was still with Firefly, on my birthday in 2011 from Kuala Lumpur to Kota Kinabalu. I think when MH took over these birds they should have painted it in their new livery! Such a huge contrast when I saw it in Firefly's livery, as seen below: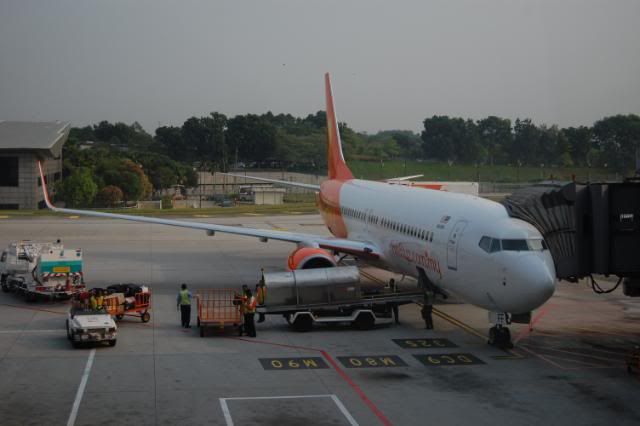 A beautiful 9M-FFF when it was just 2 weeks old in July 2011
The Flight
Scoot Flight TZ 206 - 06 SEP 2013
Origin
: Singapore Changi Airport (SIN/WSSS)
Destination
: Taiwan Taoyuan International Airport (TPE/RCTP)
Registration
: 9V-OTA (Barry)
Aircraft
: Boeing 777-200ER
Scheduled Time of Departure
: 1.35pm
Actual Time of Departure
: 1.45pm
Scheduled Time of Arrival
: 6.15pm
Actual Time of Arrival
: 6.02pm
Airborne Time
: 4h 17m
Class of Travel
: Economy
Seat
: 23A
We headed to our boarding gate and waited for it to open. It seem like lots of people decided to do the same thing and it was a crowd at the boarding gate with over 100 people. When it was finally open, we were one of the first to go through.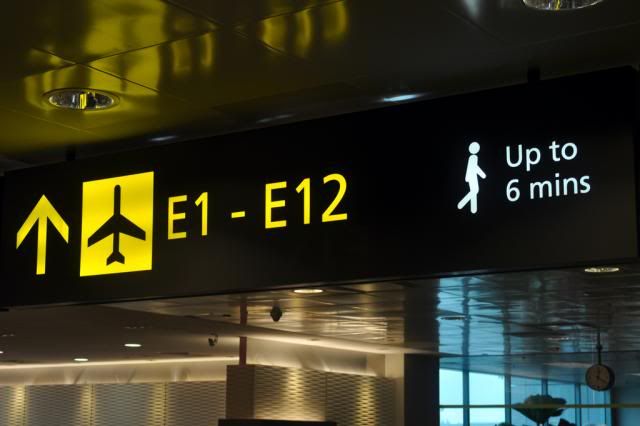 On our way to our gate



If not for the signage, I would have thought this is an airline lounge!



Our gate, E4. Thankfully not like the one in HKG whereby you have to walk right to the very end of the terminal



Our flight continues to ICN, hence the Korean characters
Boarding was called around 30 minutes to departure. Once again, I was disappointed they did not call us in the front cabin together with those seated at the back. We were the very last group to get on even though our cabin is between doors 1L and 2L. Not sure why they previously did that but they do not do it now. Once onboard, I was once again back into the comforts of seat 23A.

It has been some time since I took a legroom shot, so here goes. Coincidentally, my last legroom shot I posted was on Barry, also in seat 23A!



My last legroom shot on Barry, 26th June 2012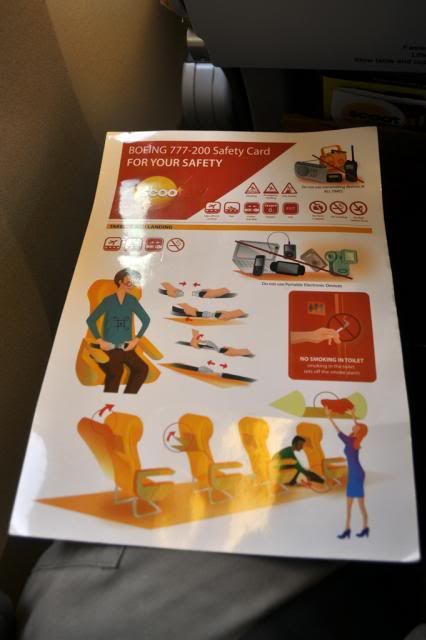 Seat pocket contents
We soon started out taxi to runway 20C in preparation for takeoff. On the way, I spotted something interesting, never to be seen in SIN, or to put it in another way, something you would put on your "least expected to be seen" list. It appeared right in front of my eyes, a LAN Chile Airbus A340-300!

I would have guessed this guy came in for maintenance, looking at its state. Still a nice catch though



Lifting off Singaporean soil, bound for Taipei!



A ferry terminal, looks like there are still lots of parking lots left!



Keep flying...



I have always wondered why they put this headrest cover which consists of only Chinese characters. I have no problems understanding it, but they do have to understand that they serve cities like Gold Coast and Sydney too. It was the same throughout the plane



Our entertainment for the flight. Who needs an iPad?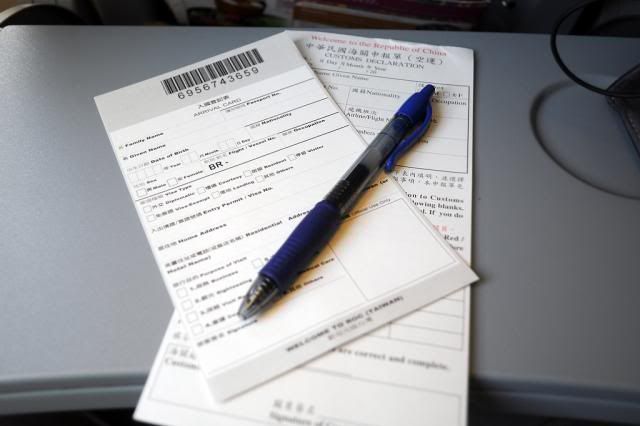 Immigration cards given out. Any reason why was "BR" pre-typed in the airline field? I thought if they were to pre-type an airline it would be CI since it is their national carrier
Shortly after takeoff, as usual, the premium meals were served first. I was fully expecting a Nasi Lemak meal according to their menu for the premium meal onboard this sector, but I was brought a Bibimbap instead. In fact, I was confused as to why were vegetables like cucumber, beansprouts and mushrooms appearing in Nasi Lemak. What confused me even more was the small container of minced meat and sauce which obviously did not look like Nasi Lemak chilli sauce. So, the mystery was solved after me staring at the meal for a complete 30 seconds.

My premium meal, before mixing



After mixing and figuring that it was Bibimbap and not Nasi Lemak



Nasi Lemak clearly listed for SIN-TPE, but I'm not complaining!
Rest of the flight was spent watching movies and laughing uncontrollably at their funny actions. Trust me, the 1970s/80s Hong Kong movies are still the best! After spending a good time laughing our hearts out (and having the guy in the aisle looking at us like we were some madman), it was time to prepare for our landing.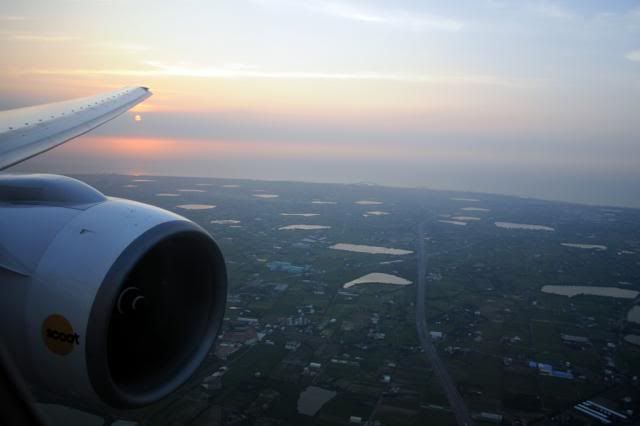 Mr. Sun preparing his shift for somewhere else in the world... He never rests!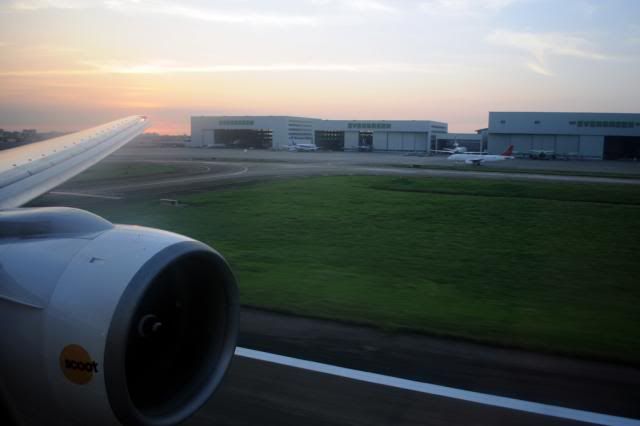 We have landed!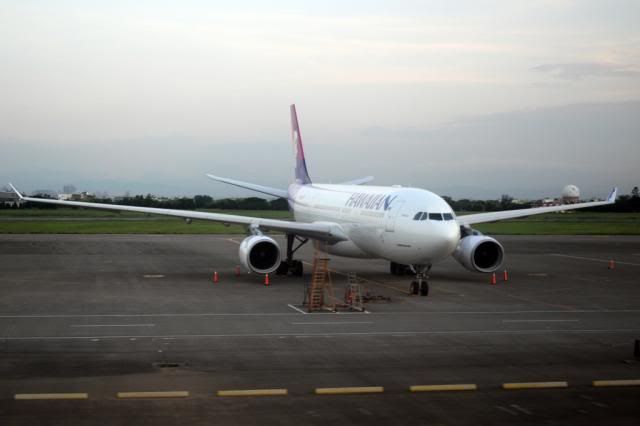 My first sighting of a HA aircraft. Looks nicer in reality compared to photos!



Also my first sighting of an Eva Air Airbus A321-200!



Thanks for the 2 flights, 23A



Bye Barry! It is ok to come and say hi to me while I am spotting, but please do not appear at my gate again!
The cons of arriving at evening time would be the huge bank of arrivals, especially CX from HKG. I could see a CX Boeing 777-300 and Boeing 747-400 which I guessed just arrived from HKG not long ago. Queues at immigration were long. Thankfully, a counter opened just beside ours and in a Singaporean
kiasu
(afraid to lose out) manner, I made a dash for the queue and was the first few in line. Immigration was finally cleared and we went on to the restroom. This was when I discovered something smart about TPE. They have these little machines with environmentally friendly cups made of paper that dispenses hot, warm and cold drinks for your enjoyment. Totally free!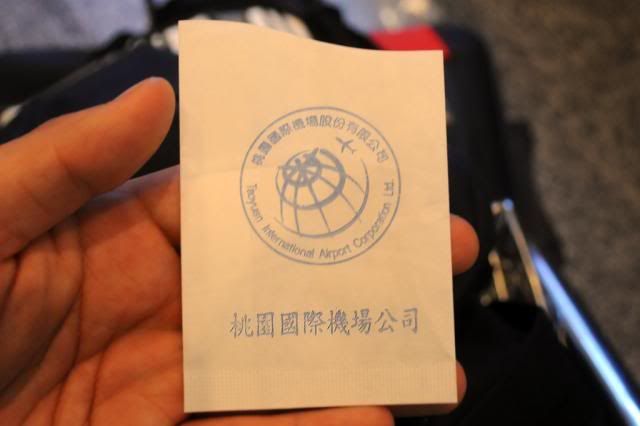 The cute little cups. Both environmentally friendly and space saving!



The drinks dispenser
It was time to grab a taxi to our hotel. We got pretty lucky as we got a brand new
Toyota Camry Hybrid
as our taxi. It only costs S$50,000 in Taiwan whereas the same piece of machine would cost you S$203,000 here in Singapore and you can only drive it for 10 years!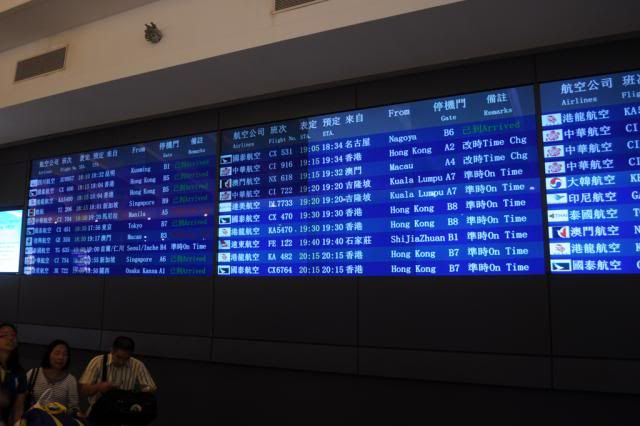 Very classy FIDS, they just have to fix the dark patches
Touring Taipei, the Land of Nice People
It was around a 45 minutes drive to our hotel and we actually reached our hotel within 90 minutes of landing. Pretty impressive timing! Since One2Stay is a branch, we had to enter the door and use their phone to call their staff over. After a short wait, a kind gentleman came over and handed over our room keys. The hotel provides free wifi which was a major plus! The speed was pretty decent too.
Do also allow me to mention how good the Taiwanese are. Each and every of them makes you feel welcome (similar to Australia) when you approach them. They are willing to share with you the information that they know and help you out in whatever ways they can. Even the taxi drivers, knowing that you are unfamiliar with the roads, will let you know which route they are going to take and the reason for doing so (mostly because to avoid traffic jams or road closures). Hence, Taiwan earned the name, "The Land of the Nice People".

Our bed for the trip



Sofa and TV, never used although the sofa was used to place our clothes and such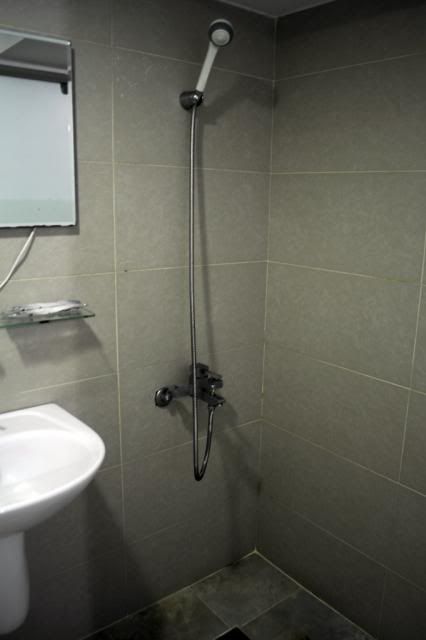 I love this shower, it provides a nice water pressure. Even better than mine at home!
Since the Ximending Shopping District was just below our hotel, we decided to go and have a walk. My first stop was the famous 阿宗面线 (Ah Zong Meesua) which is the must-try if you do visit Ximending.

Very busy street with a huge advertisement about the (then) upcoming GTA 5



Ok, we are not lost




Looking back to our hotel. It is blocked by the back of the blue bus passing by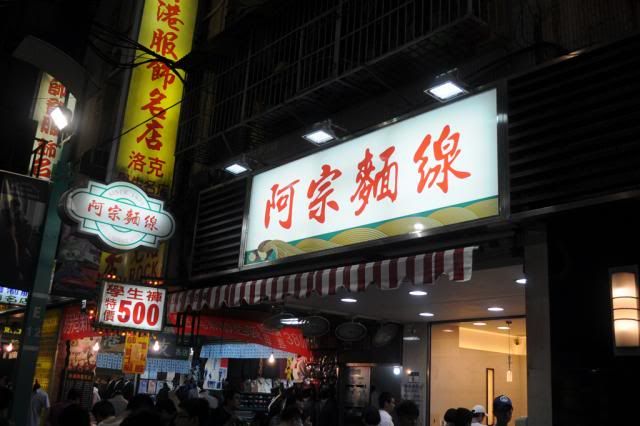 Ah yes, I missed this so much!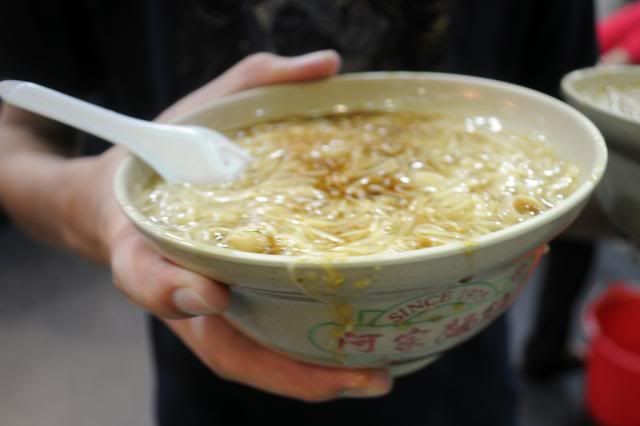 I ordered the large size, pretty reasonable price at NT$60



A nice shabu-shabu dinner for around NT$400 per person with unlimited meat and vegetables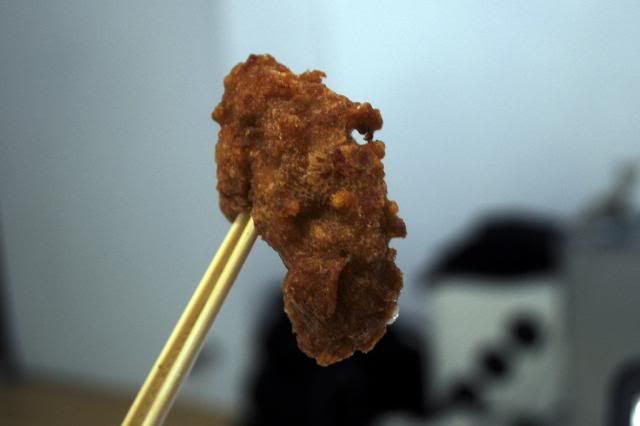 Famous fried chicken from 继光香香鸡 that got me head over heels about it
After a good night's sleep, we woke up the next morning and went across the road in search of breakfast. Indeed, we found a nice little shop selling delicious breakfast.

Nice toast and beef patty for around NT$55
Not wanting to waste any time, our first stop was to head on to the Chiang Kai Shek Memorial Hall. You cannot be telling someone you have been to Taipei but not visited this! It was a quick train ride, just 2 stops and we were there.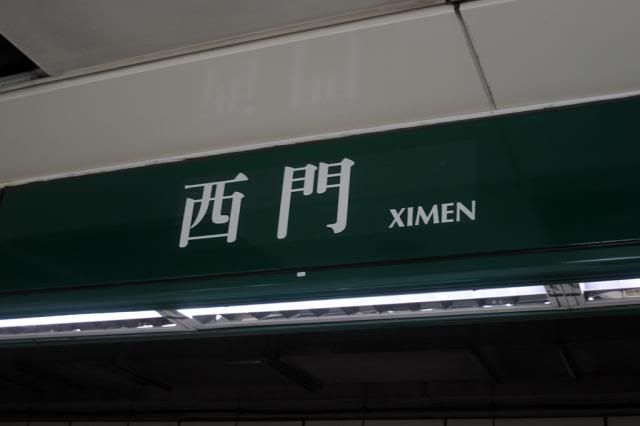 Ximen Metro Station



Not very crowded at 9.29am, as the clock suggests



Pretty oriental style design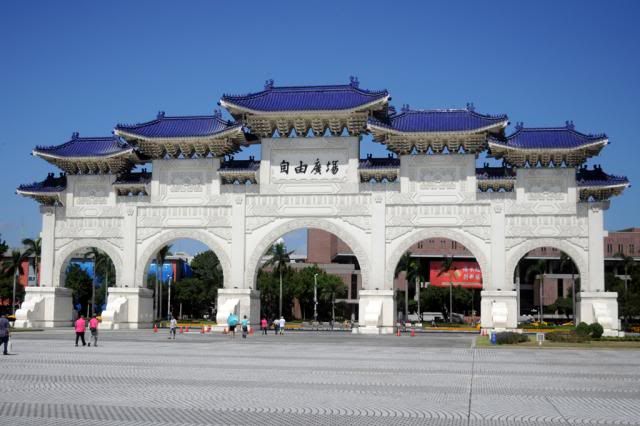 The walk was actually longer than the metro ride itself, but we eventually made it here!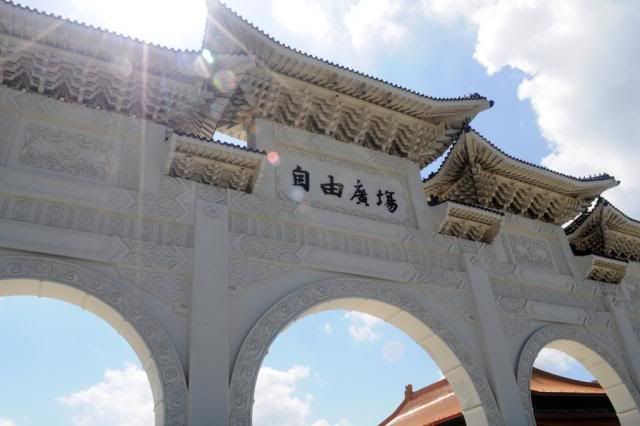 On to the other side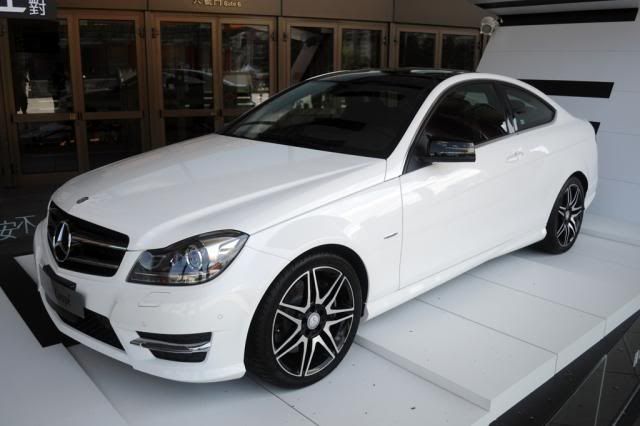 Not sure why would they display a Mercedes out of nowhere, but looks pretty tempting though. Sadly not 4-door! Always disliked 2 door cars for their practicality especially when you are a front seat passenger



Making our way to the Chiang Kai Shek statue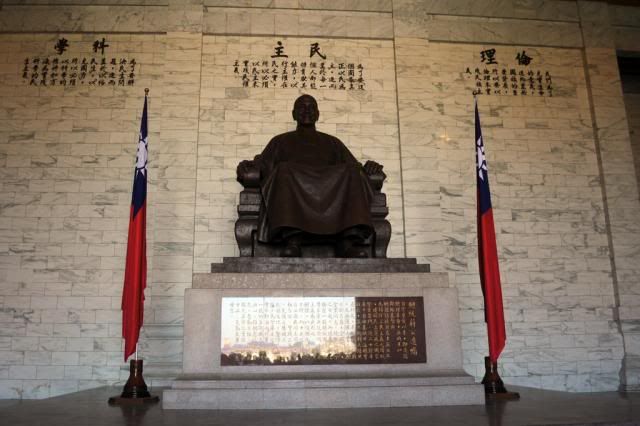 The man himself... Ok, not really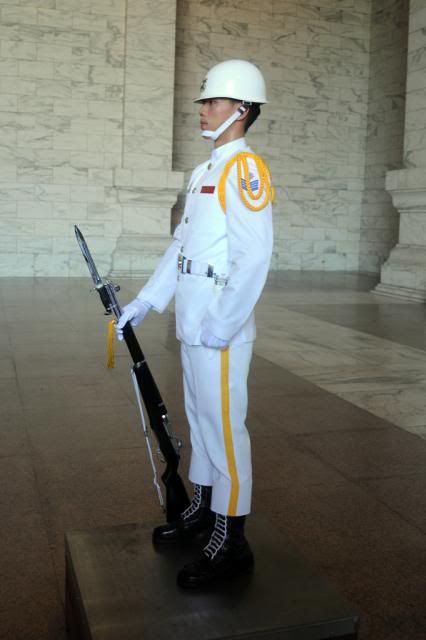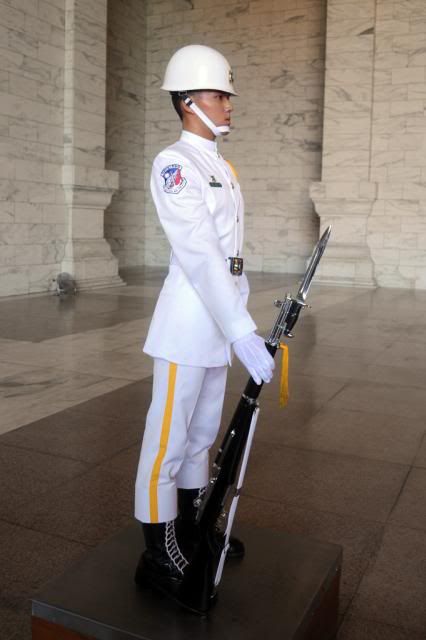 I definitely pity these soldiers, they have to stand guard for such a long period of time without moving and have to stand pictures of them being taken and so many visitors coming in and out of the room!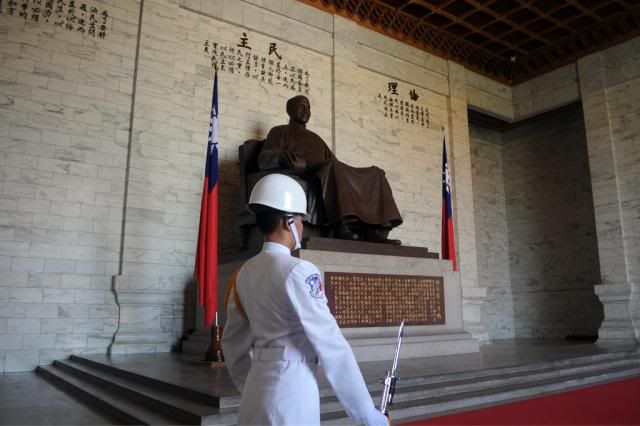 Closely guarded
We had an afternoon meeting and having nowhere to go for now plus being tired from all the walking, we decided to head back to the hotel to rest for a while. Highlight of the day was meeting with
Charles
, also known as
9V-SVC
on a.net for him to bring us around this wonderful city.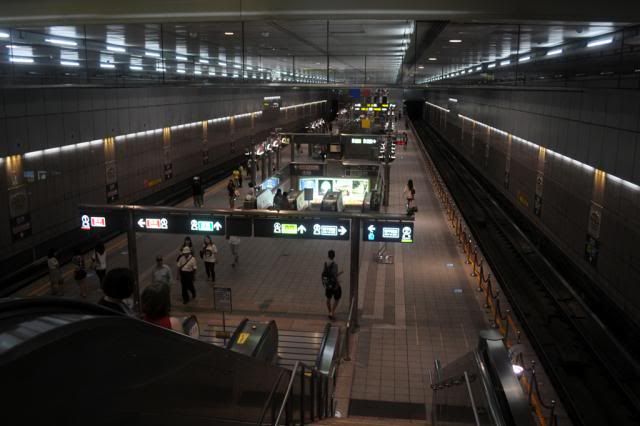 Back to the metro station
I expressed my interest to visit the
A380 Kitchen
in Taipei but was told that the food there was not very nice. I wanted to try it out myself, so we went for lunch. It was one of the worst decisions ever made! Let's see...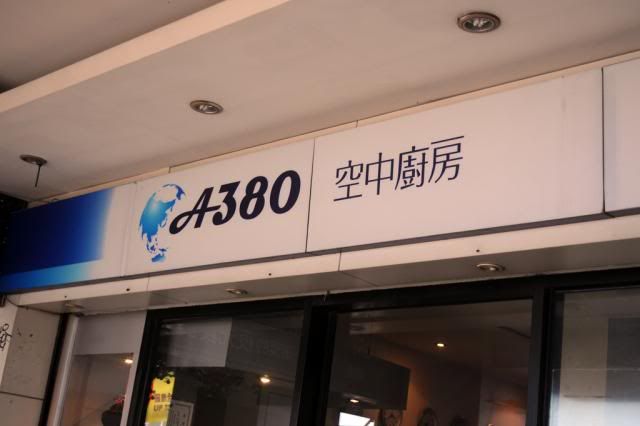 Upon reaching, we were told that we had to wait for 30 minutes for a seat as it was full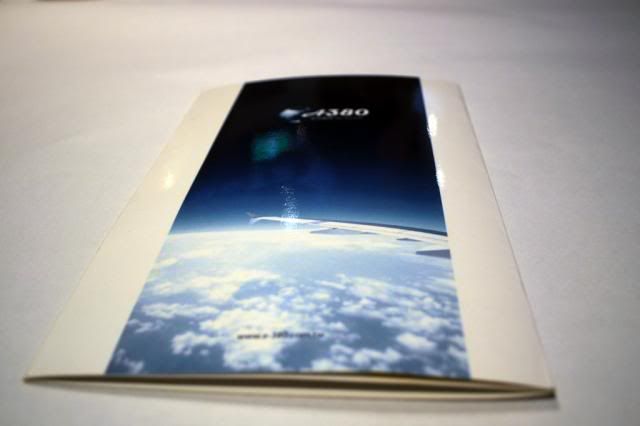 Pretty "airline" like menu



First Class? No



IFE!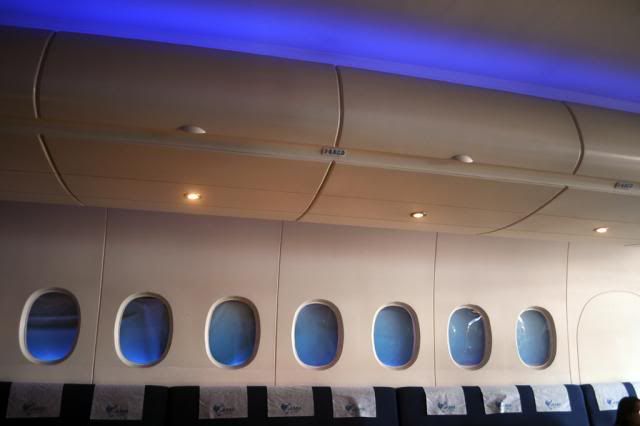 Pretty identical interior I would say



Even with headrest covers, just like on an airplane



Even with world clock and route map. I could not figure out which airline's route map they are mimicking. Any idea? At least I am sure no airline flies direct to Ottawa from Asia as of now



Coke for Charles



I opted to upgrade to a meal, so I got a soup



Plus a soup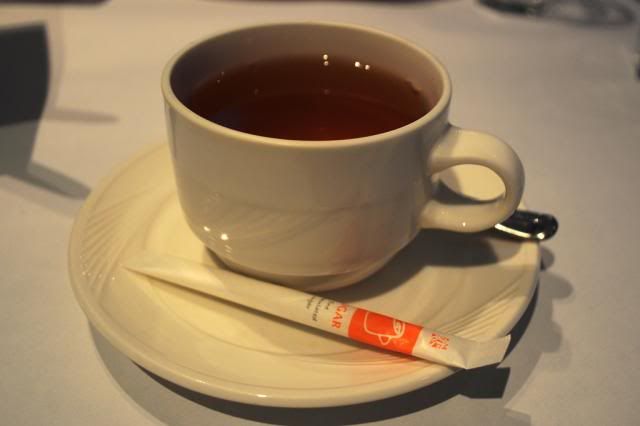 And a drink!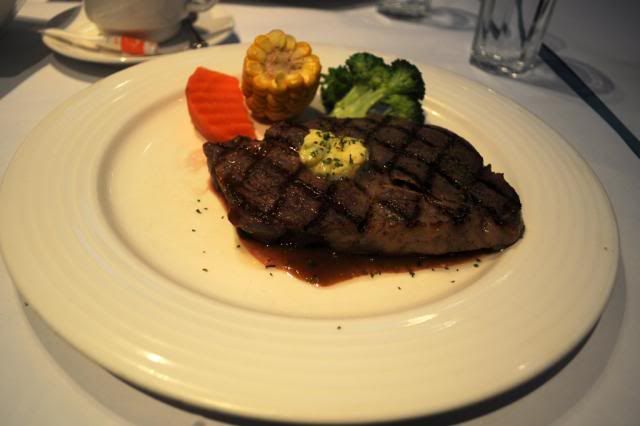 This was where the nightmare began. Hands down the worst steak I have ever tasted! Both Charles and myself requested for medium but it looked more like rare and it was rubbery and hard to chew on. I literally had to give myself a pat on the back for finishing this steak!



At least the ice cream gave me some comfort!
Our next stop was to 淡水 (Tam Shui). It was a long metro ride, around an hour from the A380 Kitchen so we pretty much had a nice chat about aviation. I was so jealous from the 787 cabin pictures that he showed me! Since Edward is not
that
into aviation, we talked about buses too. Once we reached our destination, we headed to the old street to purchase some snacks and drinks for sunset viewing at 渔人码头 (Fisherman's Wharf). One of the best sunset ever!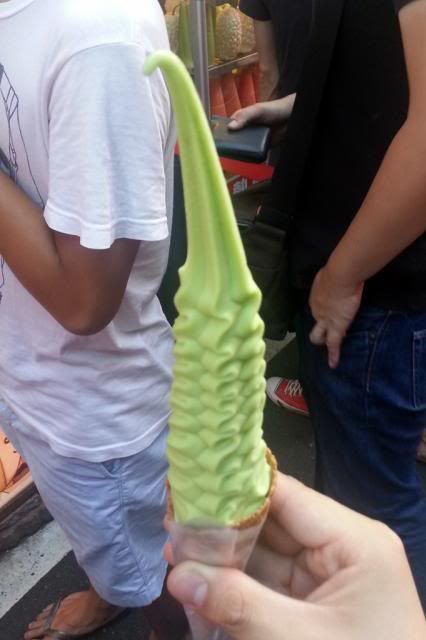 Cooling off from the summer heat with some ice cream!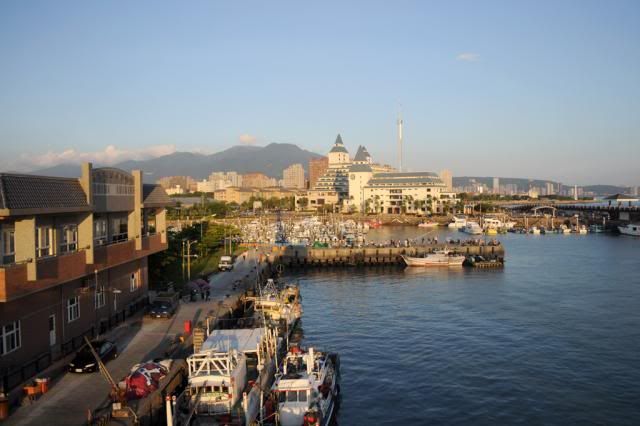 Reached Fisherman's Wharf with a short bus ride, with the bus driver actually stalling the engine halfway and made the whole bus giggle



Nice long bridge



Presenting to you, from left to right, myself and Charles!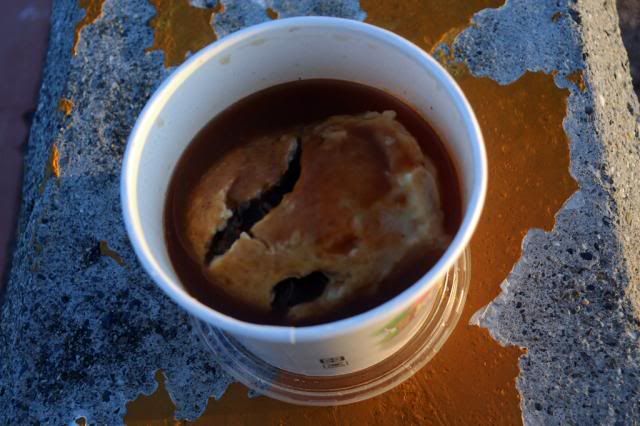 阿给, a tofu dish with rice vermicelli stuffed inside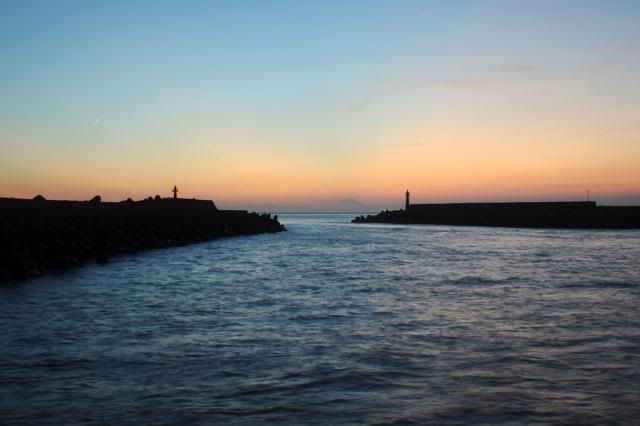 Mr. Sun heading off somewhere else to work



The white bridge becomes a rainbow at night!
Our day did not end right after the sunset. We had another stop on our itinerary, 饶河街观光夜市 (Raohe Street Night Market). You cannot leave Taiwan without a visit to one of their night markets which is where the cheapest and best food is found!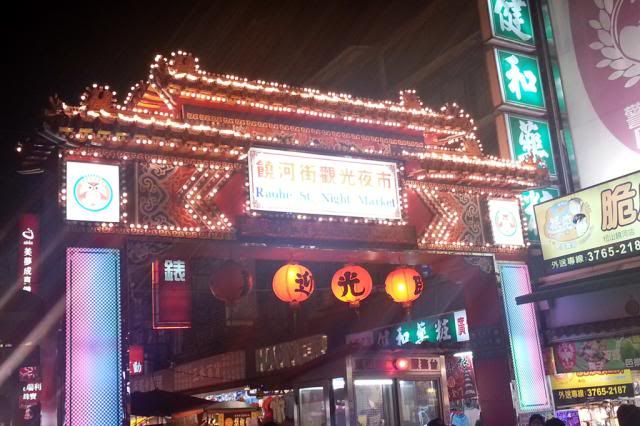 We have reached!



Always wanted to give this a try when I saw it in a TV show. The chicken wing is stripped of the bones, leaving it totally boneless except the small portion at the end and rice is stuffed inside instead. It felt funny biting into a chicken wing and not feeling the bone, but makes the whole experience pleasant! Adding on, this is grilled and not fried. Definitely not oily at all!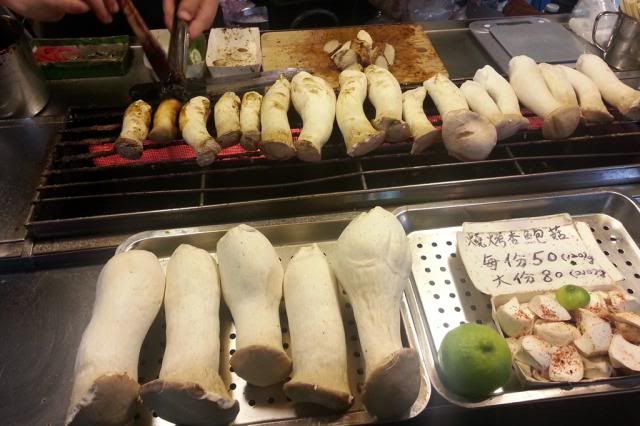 Some grilled oyster mushrooms for you?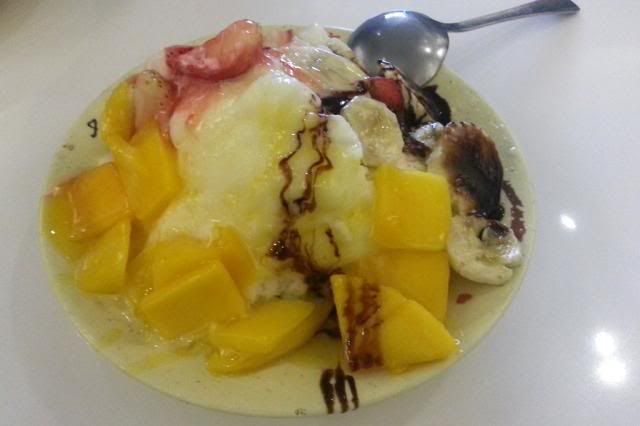 Plus some nice shaved ice to cool off



Probably one of its kind and only found in Taiwan - Ice cream with peanuts in a nice and fluffy popiah skin
By the time we finished our walk at the night market, it was already 10pm and Edward and myself decided to take a taxi back to our hotel while Charles took the metro. It was a long and tiring day so the sleep was well worth it!
The next morning we headed to 九份 (Jiufen), a town located up the mountains. The main highlight here would be the endless row of shops to explore. Both for food and shopping, but mostly for the former.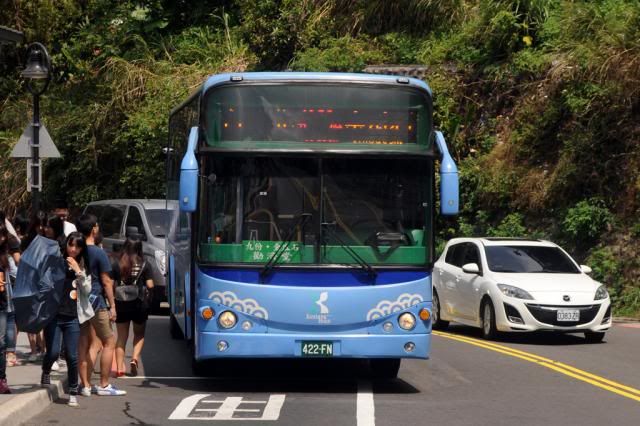 Our bus up, took us around an hour and cost NT$110



Very crowded on a Sunday morning!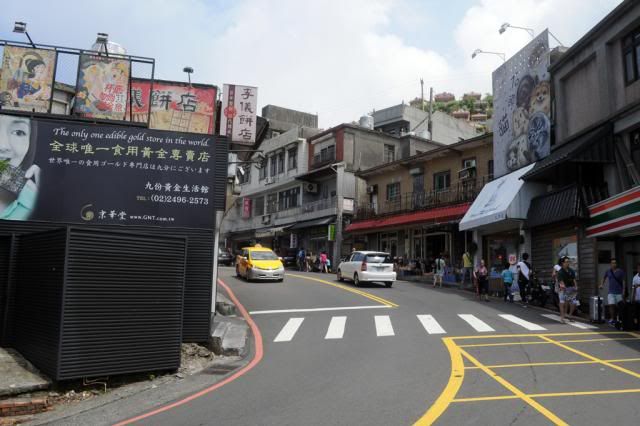 Road has yet to get busier, but it was a scary jam on this stretch at noon time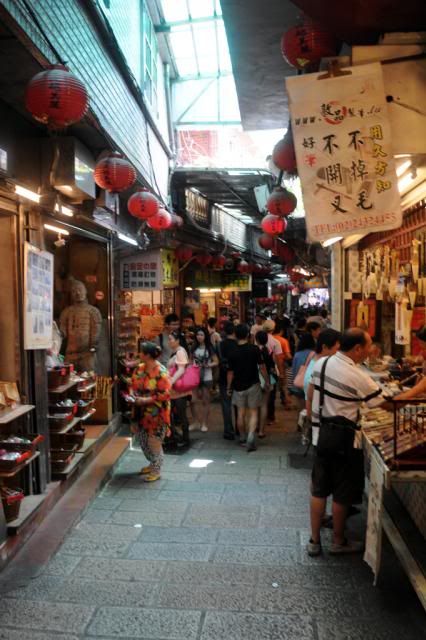 Lots of shops!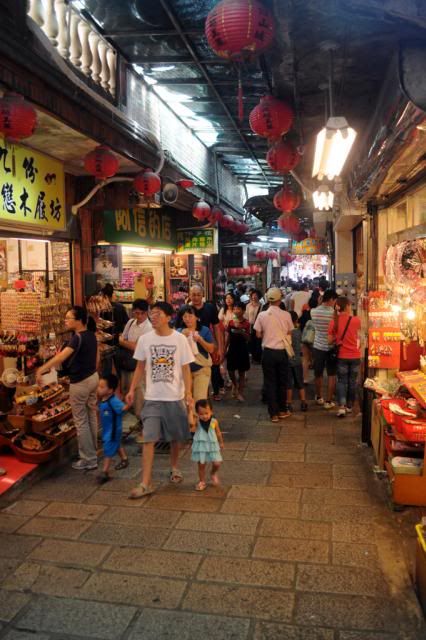 More shops



Bought a serving of snails (I think?) for NT$50. Not disappointed to say the least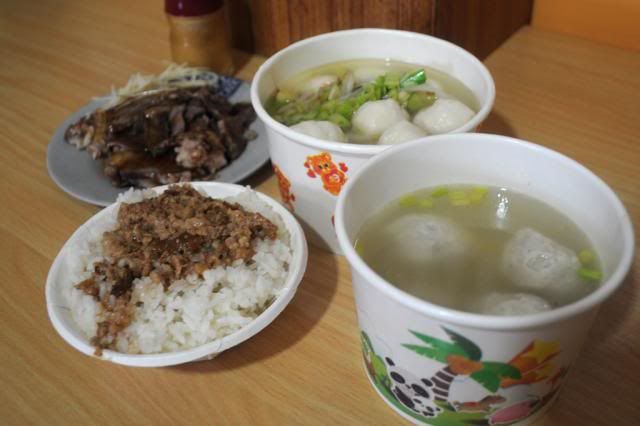 Stopping by for lunch at a nice eatery selling fishballs



Nice scenery out there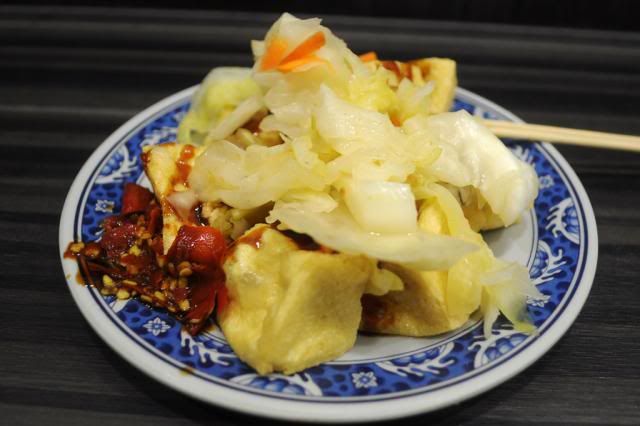 This is smelly tofu, a food with an acquired smell and taste. To me it smells the best!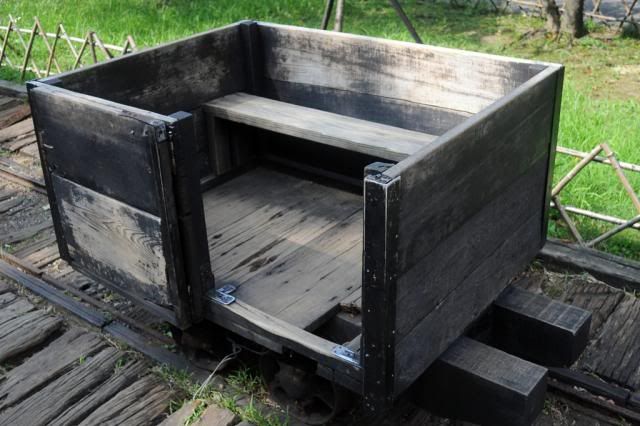 We took the same bus up to 金瓜石 (Jinguashi) next, which depicts the gold miners of the early days



Nice scenery again, but the heat was unbearable!
We decided to retire to the hotel early for today as we were too tired so we spent the later part of the day watching movies. Somehow the hotel is pretty nice to pass time too!
Our itinerary for the next day included visiting the Toilet Restaurant which is just a stone's throw away from our hotel but unfortunately, it was closed for renovation. What made me pinch was that the renovation started today! Should have visited a day earlier!

Despite following the map and our phone's GPS it still took us around 30 minutes to find this place but was shown this notice instead!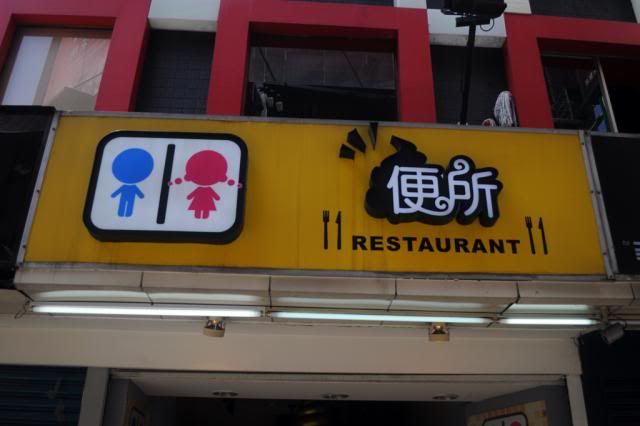 Ok, maybe next time...
Following a failed lunch attempt at the Toilet Restaurant, we headed to
Taipei 101
, which needs no introduction.

Tall, tall, very tall...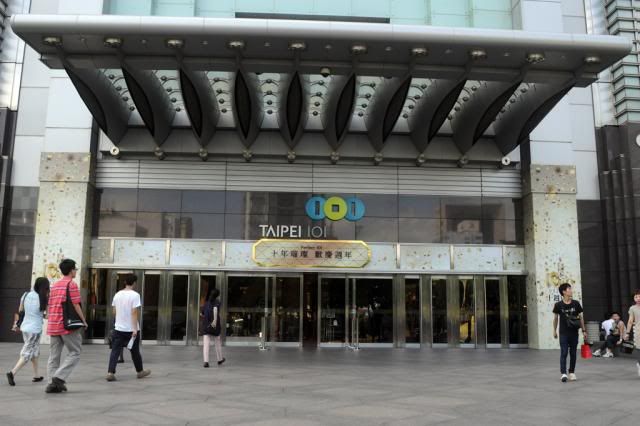 Notice the logo clearly shows "101" and is in the shape of ancient coins. I guess this is to bring luck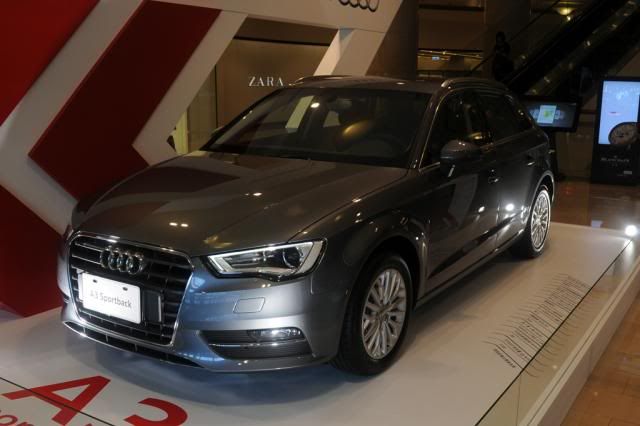 Now THIS is the perfect car for me! If only it costs as cheap in Singapore...



Settling down for a slightly premium option in their food court, Japanese



One of the best Japanese meals I ever tasted!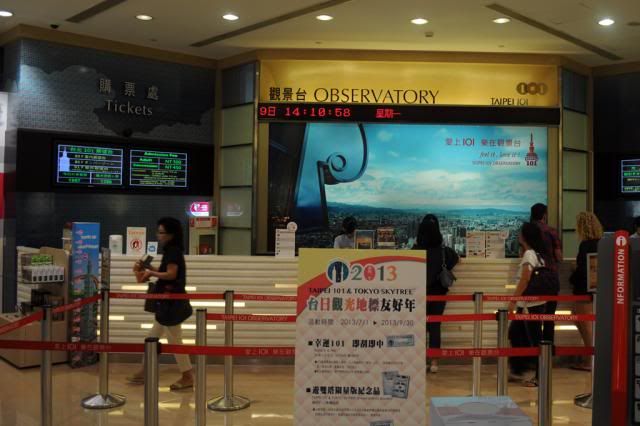 Up to the observatory next at NT$500 per pax. Pretty pricey



I would say the gift shop coupons are just another tactic to make you spend more money, so we skipped the vouchers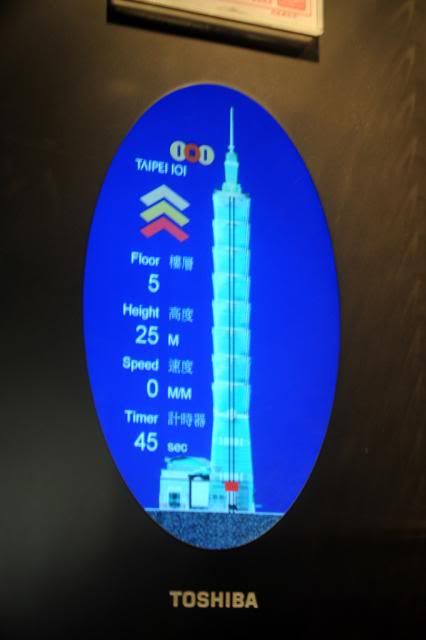 Onto one of the fastest elevators in the world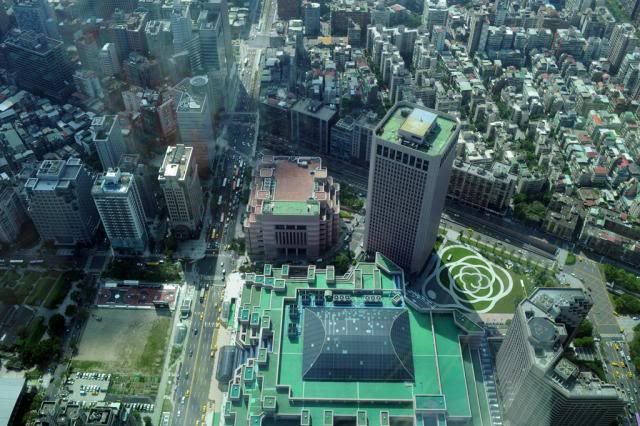 Oh yes, we are at the Top of the World!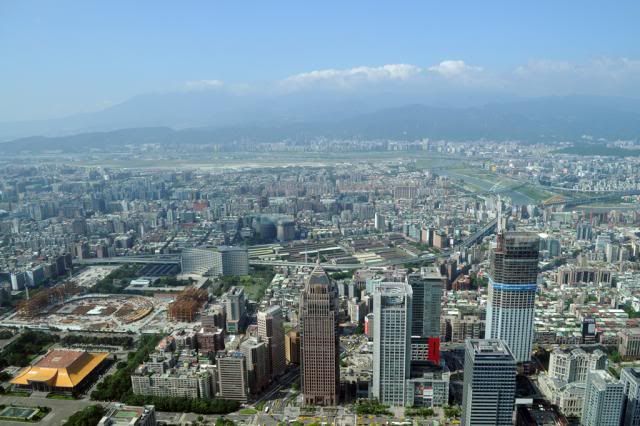 In the background is TSA, now serving cross strait charters and regional flights. It used to be the main airport for Taipei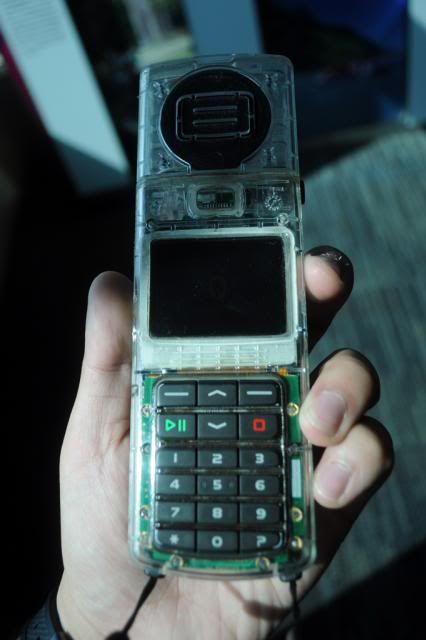 Free audio guide



Huge damper!



One last photo from the indoor observatory at the 89th floor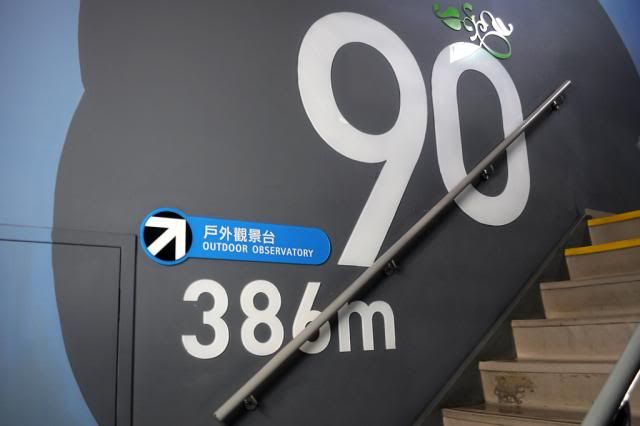 Off to the outdoor observatory at the 91st floor, which turned out to be a disappointment



You literally have to walk past a HUGE section of shops selling bling blings before you are allowed to step onto the elevator back down... Another tourist trap
It was soon our last night in Taipei and not wanting to waste it, we decided to make a nice ending to our trip - A visit to 士林夜市 (Shihlin Night Market), the most famous night market in Taiwan. We had a nice chat with the taxi driver who brought us there in his 2003 Toyota Corolla and decided to charter his taxi to the airport the next day for a nice price of NT$1000.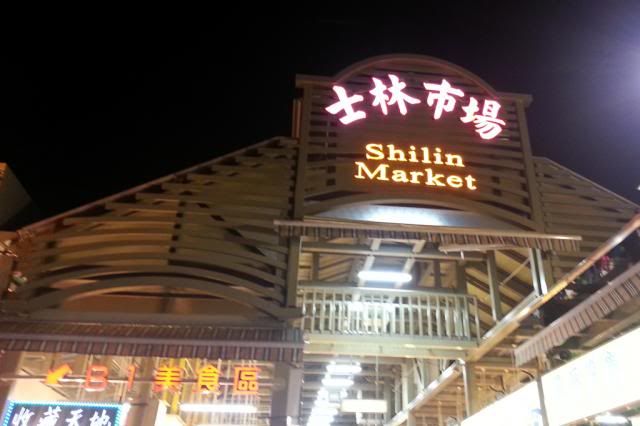 We are here!



This is a must try! Nice and juicy chicken cutlet for only NT$55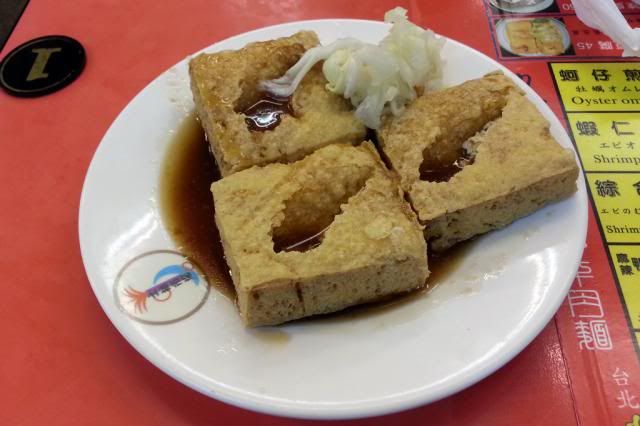 Smelly tofu again, you can see how much I love this delicacy!



Fried oysters



Nice grilled meat skewers!
So, as the saying goes, "Time flies while you are having fun". It was already time for us to head back to Singapore! Our taxi driver arrived 20 minutes ahead of schedule.

Into TPE again, this time the departures



See the odd yellow logo there?
The Taiwanese never fail to amaze me at their great customer service skills! I was at a shop selling lots of foodstuff and was particularly interested in 乌鱼子 (Mullet Roe) and asked a shop keeper about it. Not only she explained how to prepare it, she even insisted that they give me a set of instructions to ensure that I prepare it correctly. She was in charge of only the tea station but she went the extra mile to help me which I was pretty grateful. She tried to introduce me to the tea that she was selling but since I had too much tea in my house already, I politely and apologetically told her that I will not be buying any. Not only did she not ignore me after that, she even invited me to try her tea and told me to buy next time if I do want it. In total, she treated me to 4 small cups of the tea while having a nice chat and letting me know the difference between the first and second pot in terms of the taste. Not forgetting that she even told me to take some samples from a nearby shelf to go with the tea, which was wonderful! Both thumbs up for Taiwan! Soon it was time to bid goodbye to her and head off lunch at their underground food court before checking in for our flight since check-in was not open yet.

Another wonderful meal



Check-in was finally open after lunch, this was when we just passed immigration



Long and depressing corridor



Ahh, back to reality
The Flight Back Home
Scoot Flight TZ 201 - 10 SEP 2013
Origin
: Taiwan Taoyuan International Airport (TPE/RCTP)
Destination
: Singapore Changi Airport (SIN/WSSS)
Registration
: 9V-OTC (Goin' Scootin')
Aircraft
: Boeing 777-200ER
Scheduled Time of Departure
: 3.35pm
Actual Time of Departure
: 4.02pm
Scheduled Time of Arrival
: 7.55pm
Actual Time of Arrival
: 8.02pm
Airborne Time
: 4h 00m
Class of Travel
: Economy
Seat
: 22A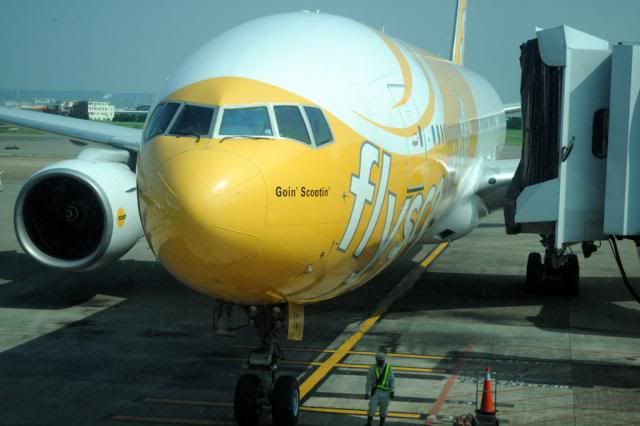 The problem when you fly an airline with only 5 aircraft in fleet - the high possibility of you getting onto the same aircraft! Here we see 9V-OTC aka Goin' Scootin' flying me back to Singapore, my 2nd time on this aircraft. It flew me previously on SYD-SIN. The 2 flights on this trip seem to be a remake of my 2012 Australia trip seeing that the outbound was on Barry and inbound on Goin' Scootin'. Looks like Big Yella Fella and Maju Lah loves to hide from me! I have not even seen them in "person" yet!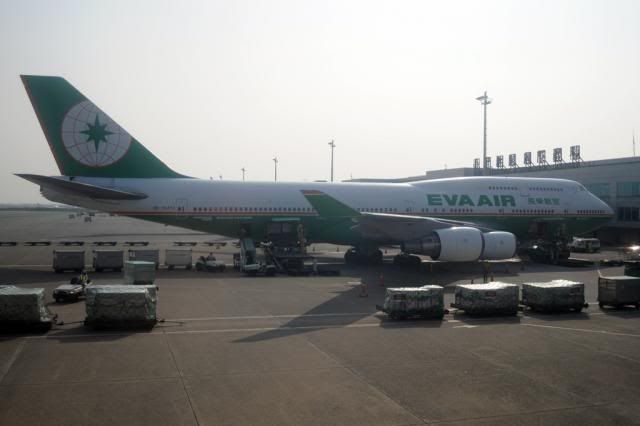 A soon to be gone beauty next door



Transasia's Airbus A321-200, my first sighting of one too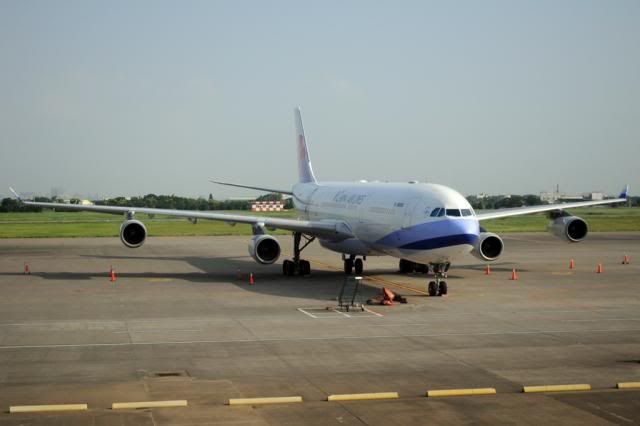 B-18806 with special decals mentioning that CI is the official airline for climate monitoring



An all white Boeing 747-400F probably awaiting for her next owner



Boeing 777 vs Boeing 747. Which do you prefer? I love both in different ways



China Airlines' Boeing 737-800 landing before we roll for takeoff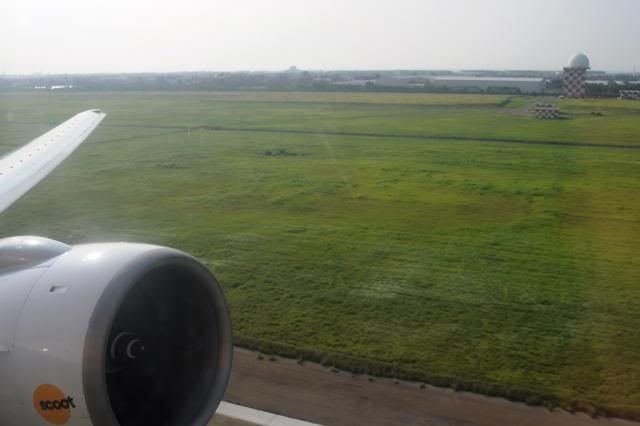 Liftoff!



Pretty clear waters at the Straits of Taiwan



The headrest again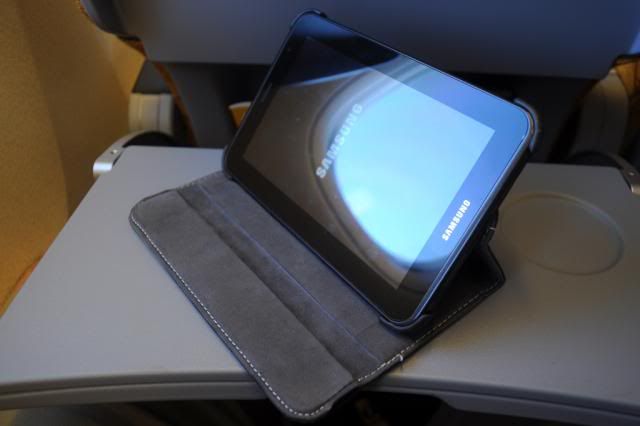 The trusty tab doing its work again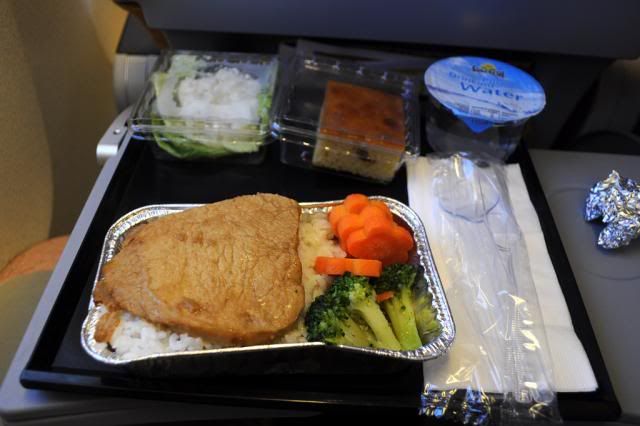 My meal was once again served first, but this time different from the menu again. It was supposed to be a pork cutlet, but turned out to be pork chop. No complaints from me again as the taste was wonderful!



Edward bought me this to munch on

I decided to clear the last of my Taiwanese dollars for these



Edward's Nasi Briyani meal, which he in the end gave me all the chicken from that dish as he could not take the spiciness
The rest of the flight was spent once again watching movies. It was already dark when it was time to descend. Funnily enough, when we were descending I suddenly felt pain at my forehead just above my right eye. It was so painful that I felt my blood vessels were about to burst. Thankfully it went off after landing. This happened once before, on TG 404 SIN-BKK back in Jan 2008 but it never came back on my 50 odd flights so far. It decided to make a comeback suddenly. Anyone knows the reason?
We landed into SIN at 8.04pm, slightly late because of our slight delay at TPE and we are finally home.
Conclusion
Scoot has made the right decision to offer premium meals for their flights and it will be my de facto choice when flying with them next time. However, I feel that the premium meal should be something better, not Nasi Lemak which they show on the menu but thankfully it did not appear on my flight. They should probably consider other iconic Singaporean dishes like Satay Beehoon or a soup dish like Laksa (if it is even possible to serve it onboard!). Best still, provide several premium meal choices for selection online so that customers can have a choice, at least from Singapore. I would have guessed that they catered the different dishes from the different destinations that they serve on the way back. I would have appreciated it that they let us choose what to have on our flight instead of assigning each route from Singapore a specific dish since from what I know, they already offer at least 3 dishes outbound from Singapore. Namely the Western Breakfast, Nasi Lemak and Braised Beef Brisket Noodles.
Service wise, they have gone a long way as mentioned in my previous trip report. I definitely would not hesitate to fly with them again if their fares are right. In fact, I am trying to look for any cheap ScootBiz fares to hop on. Always wanted to try out the premium class of a LCC!
A little spoiler for my next report - It will feature an airline that I have never flown, an airplane I have never been on and an airport I have never been to. Let the guesses begin! You will have to look at my next report to find out though, so leave it to guesses for now.
Previous Trip Reports
Flying 5 Star - SQ SIN-CAN-SIN (2009)
(by
Initious
Mar 26 2010 in Trip Reports)
Sardines In A Can - Jetstar Asia SIN-HKG-SIN
(by
Initious
Mar 29 2010 in Trip Reports)
Away We Go - China Southern SIN-CAN-WUH Vv (1/2)
(by
initious
Apr 2 2010 in Trip Reports)
Away We Go - China Southern WUH-CAN-SIN (2/2)
(by
initious
Apr 14 2010 in Trip Reports)
Oldest Vs Newest: Royal Silk Class On Thai
(by
Initious
Jun 13 2010 in Trip Reports)
First On Airliners.net - CZ Shanghai To Shantou
(by
Initious
Jun 27 2010 in Trip Reports)
18 Hours Of Royal Orchid Service: Thai PVG-BKK-SIN
(by
initious
Jul 27 2010 in Trip Reports)
Good Morning Borneo! - Where Silkair Unwinds...
(by
initious
Oct 17 2010 in Trip Reports)
Irama AirAsia! - Kota Kinabalu To Singapore
(by
initious
Oct 24 2010 in Trip Reports)
Great Asia Trip Part 1 - Propping To Luxury
(by
Initious
Mar 23 2011 in Trip Reports)
Great Asia Trip Part 2 - In Love With Emirates
(by
initious
Mar 27 2011 in Trip Reports)
Great Asia Trip Part 3 - The Arabian Adventure
(by
initious
Apr 15 2011 in Trip Reports)
Great Asia Trip Finale - Brothers In Bangkok
(by
initious
May 9 2011 in Trip Reports)
Flying The Orange Star Monopoly - SIN-SWA On 3K
(by
initious
May 18 2011 in Trip Reports)
China Southern SWA-CAN - Do They Deserve 4 Star?
(by
initious
May 21 2011 in Trip Reports)
A Dream Come True - SQ Business Class CAN-SIN
(by
initious
Jun 13 2011 in Trip Reports)
Malaysia Boleh! - To Malaysia With 3K And AK
(by
initious
Jun 30 2011 in Trip Reports)
Flying On My Birthday - The Triangle In SEA
(by
initious
Jul 18 2011 in Trip Reports)
Happy Beyond Words - SIN-PEN-SIN On MH & TR
(by
initious
Nov 6 2011 in Trip Reports)
People: They Make An Airline. Cathay SIN-HKG
(by
Initious
Jan 28 2012 in Trip Reports)
Cathay, Make Up Your Mind! HKG-SIN On The A333
(by
initious
Mar 26 2012 in Trip Reports)
1 New Airport, 10 Steps Forward. Jetstar SIN-SWA
(by
initious
Apr 22 2012 in Trip Reports)
China "Sudden" Airlines SWA-HKG - 4 Star? Really?
(by
initious
Apr 27 2012 in Trip Reports)
Celebrities In Asia's World City - Jetstar HKG-SIN
(by
Initious
May 13 2012 in Trip Reports)
Get Outta Here! With SCOOTitude - Down Under!
(by
Initious
Jun 28 2012 in Trip Reports)
Flying In OZ On A Virgin Kangaroo - SYD-MEL-ADL
(by
initious
Jul 2 2012 in Trip Reports)
Exploring Unknown Lands - Wonders Of South Aussie
(by
Initious
Jul 11 2012 in Trip Reports)
Scoot - Where's The SCOOTitude?
(by
Initious
Aug 2 2012 in Trip Reports)
The Definition Of Awesomeness - With D&Y To M'sia
(by
Initious
Oct 16 2012 in Trip Reports)
The Taste Of Freedom - A Trip Down Under
(by
Initious
Sep 3 2013 in Trip Reports)